Whenever we visit a new city, we try to diversify our food choices to create as complete a culinary picture as possible. There are only so many meals in one day so we aim to have as many different dishes as we can.
Not so in Kanazawa. Bordered by the Sea of Japan in Ishikawa prefecture, Kanazawa is home to some of the freshest seafood in the country. And any city in Japan that has superb seafood will offer superb sushi. That was exactly the case in Kanazawa.
Sushi is my absolute favorite Japanese food in the world so I welcomed the opportunity to have sushi as much as I could in Kanazawa. It was fresh, available everywhere, and relatively cheap compared to other cities in Japan.
If you're exploring Japan's central Chubu region, then listed below are ten great Kanazawa restaurants you can visit. Over half are sushi restaurants but there are others as well that offer Kanazawa food specialties like wagashi and Kaga ryori.
FOOD IN KANAZAWA QUICK LINKS
To help you with your Kanazawa trip planning, we've compiled links to recommended hotels, tours, and other travel-related services here.
HOTELS
Top-rated hotels in the downtown area, the most convenient area to stay for first-time visitors to Kanazawa.
TOURS
OTHER SERVICES
Save This on Pinterest!
No time to read this Kanazawa food guide now? Click on the save button and pin it for later!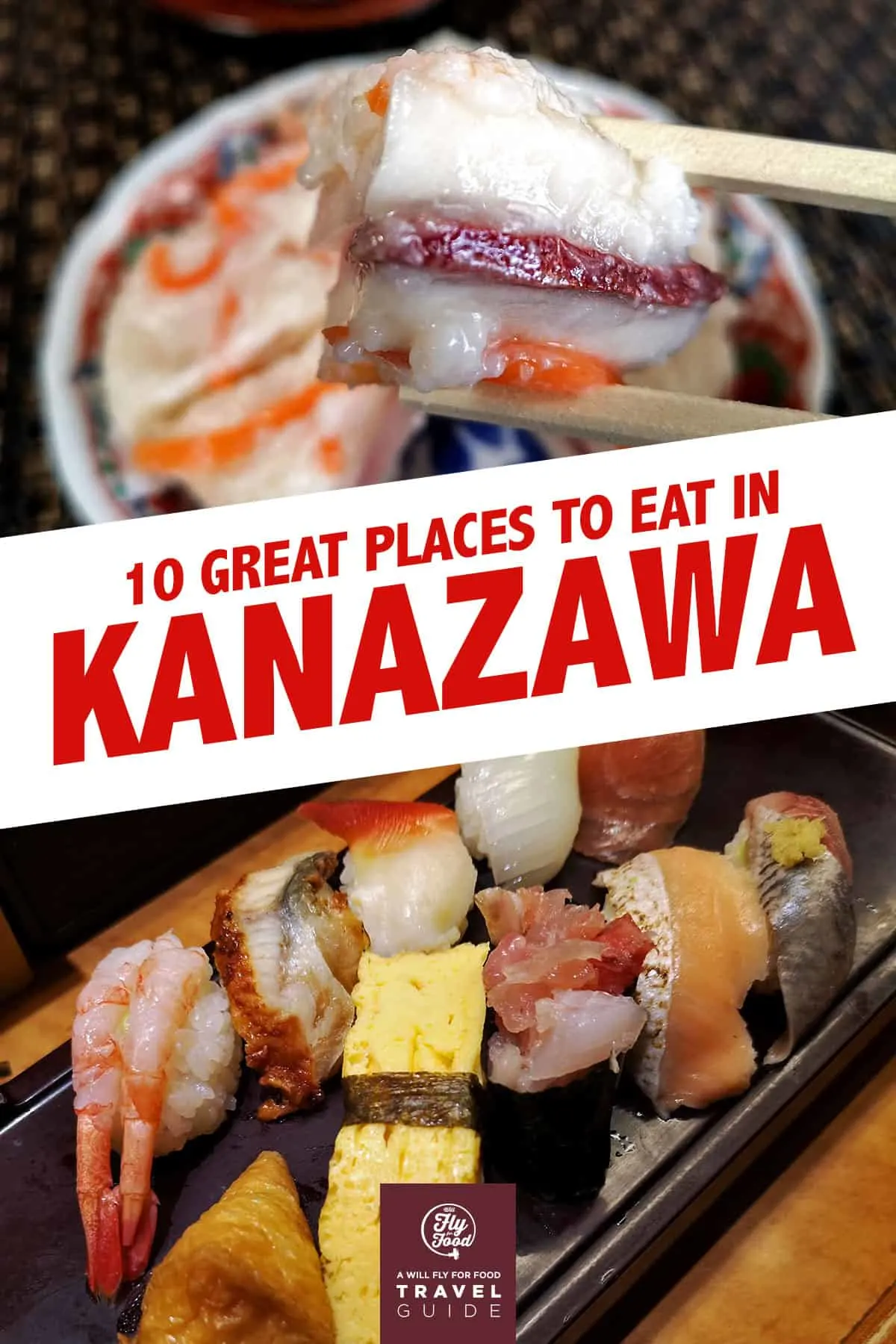 THE BEST KANAZAWA RESTAURANTS
1. Omicho Market
The first entry in this Kanazawa food guide isn't a restaurant but a market. Similar to Kuromon Ichiba Market in Osaka and Nishiki Market in Kyoto, Omicho Market is a covered market with over 200 stalls selling a wide variety of fresh seafood caught from the Sea of Japan. It's been the largest fresh food market in Kanazawa since the Edo period.
Omicho Market was the very first place I visited after checking in to my hotel. Kanazawa doesn't get as many tourists as Osaka or Kyoto so the experience of exploring Omicho Market was a much more pleasant one.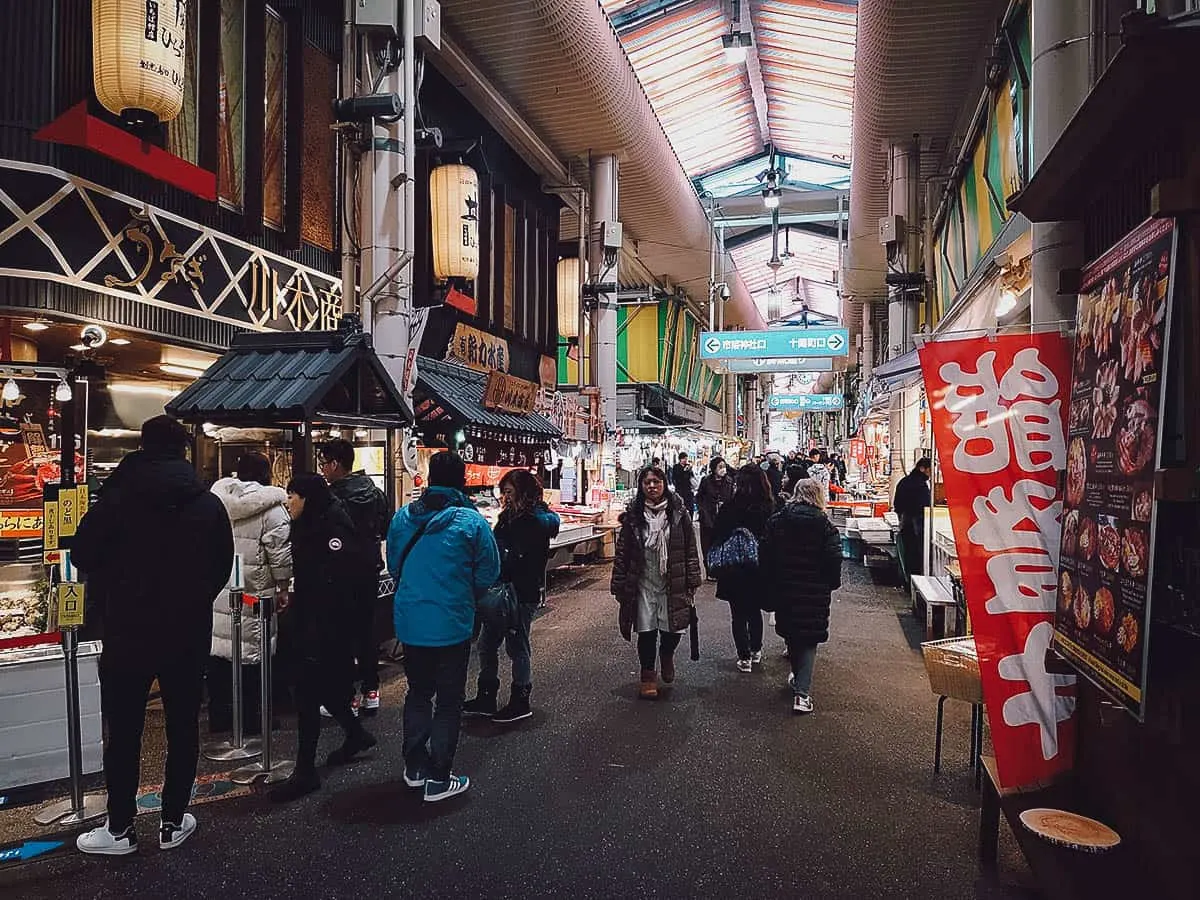 Crabs are some of the best things you can have in Kanazawa. Pictured below are ice boxes filled with king, snow, and hairy crabs.
Crabs are incredible in Japan but they're also very expensive. That box with three crabs on the left goes for about USD 200 (JPY 21,600).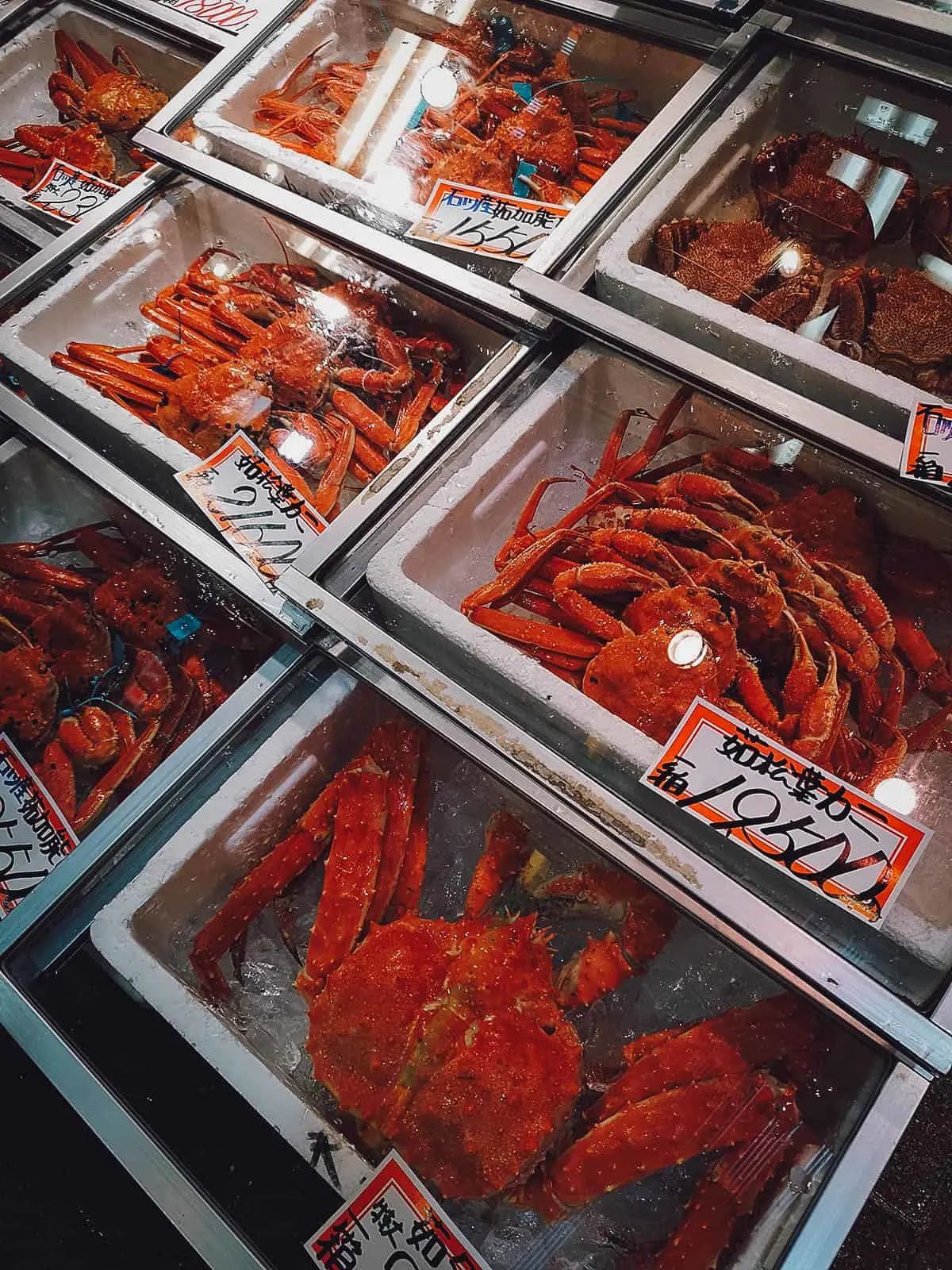 There are plenty of stalls at Omicho Market selling cooked food. This grilled skin-on Atka mackerel irozuke looked interesting so I tried it. It was good – sweet, savory, and a little smokey.
There isn't as much information about irozuke online but I believe it refers to a local method of food preparation and preservation. It entails coating seafood in a thick sweet and savory glaze made from a soy sauce and sugar reduction.
I was on my way to a sushi lunch at Kaitenzushi Okura so this irozuke was all I had, but there are plenty of dishes to snack on at Omicho Market. If you travel for food like we do, then exploring Omicho Market is one of the best things you can do in Kanazawa.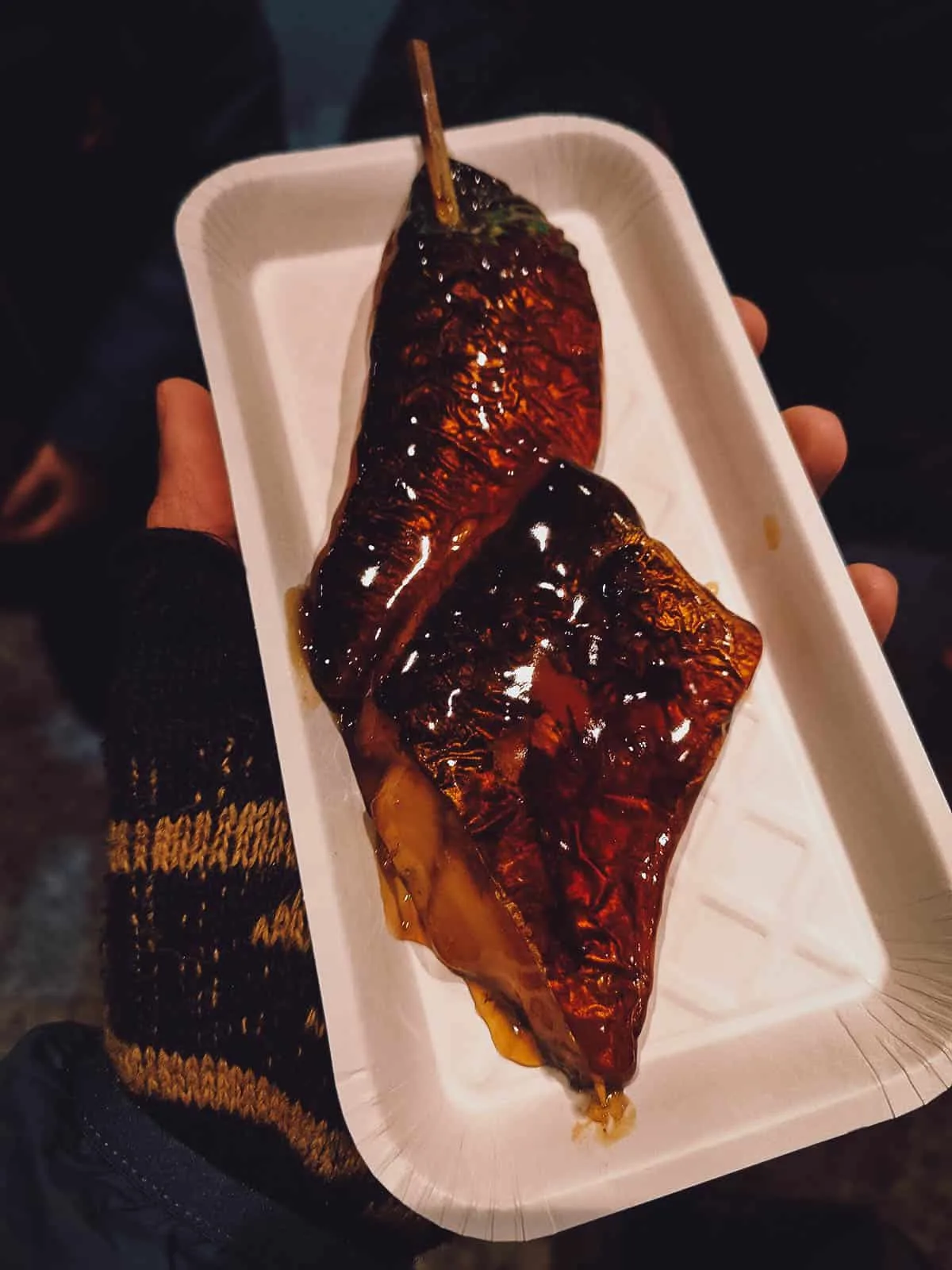 Omicho Market
Address: Japan, 〒920-0905 Ishikawa, Kanazawa, Kamiomicho, 50
Operating Hours: 9AM-5PM, daily
2. Kaitenzushi Okura
Aside from market stalls, you'll also find a good number of restaurants at Omicho Market. Located near one of the entrances, Okura is a small kaitenzushi restaurant offering unbeatable sushi lunch sets.
Kaitenzushi refers to a type of Japanese restaurant that serves sushi on conveyor belts. I love kaitenzushi restaurants but I was here to try one of Okura's lunch sushi sets. Between 11AM and 3PM, they offer 10-piece sushi sets for as little as JPY 500. At today's exchange rate, that's less than USD 5!
Okura offers five different types of lunch sets ranging in price from JPY 500 to JPY 3,000. Pictured below is the JPY 500 set which contained some of my favorites like unagi (eel), amaebi (sweet shrimp), maguro (tuna), and inari (tofu skin). This was by far the least I've ever paid for sushi in Japan. Wow!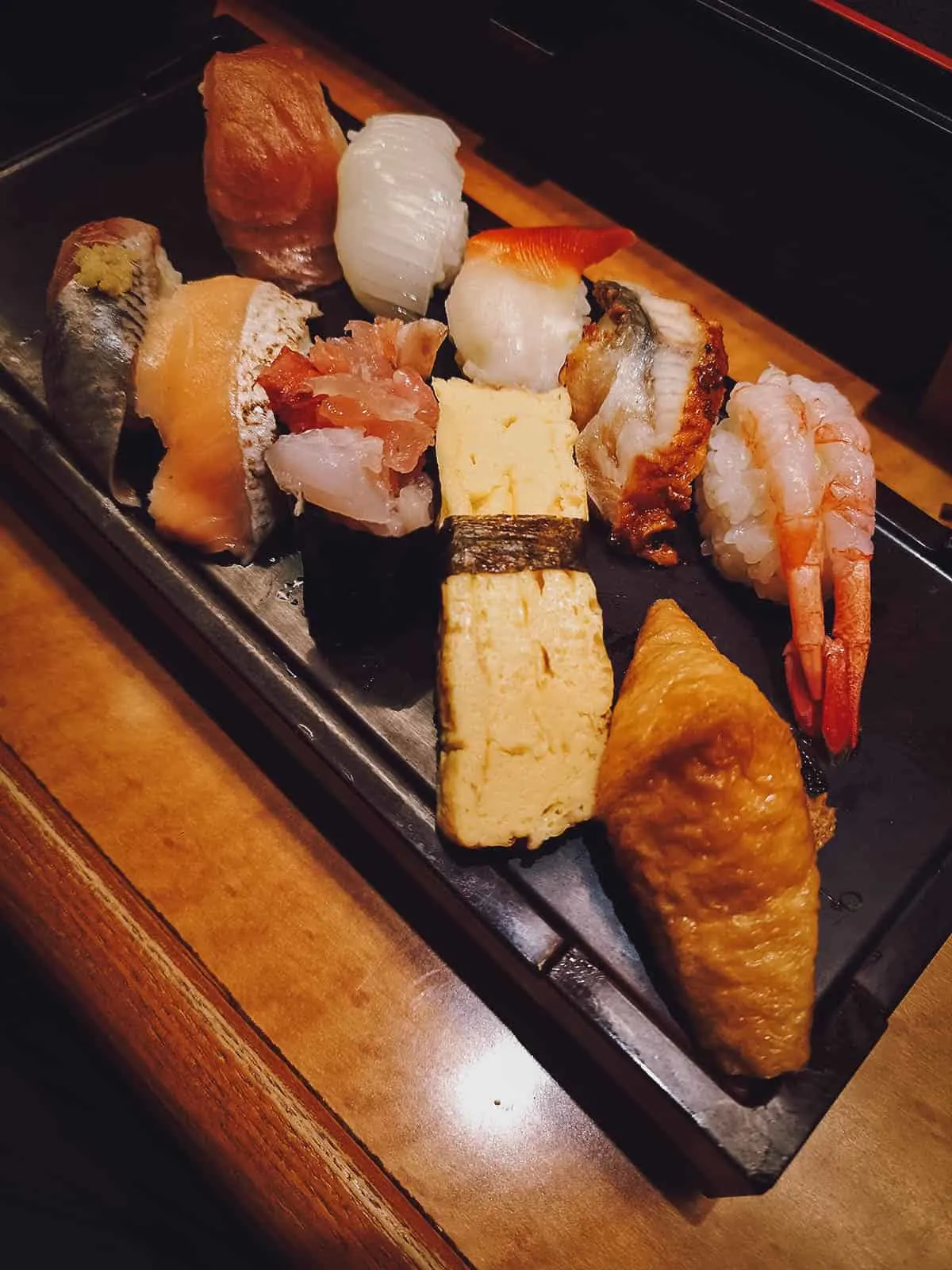 Kaitenzushi Okura is located right by one of Omicho Market's entrances. If you're looking for a cheap Kanazawa sushi restaurant, then this is a great place to go.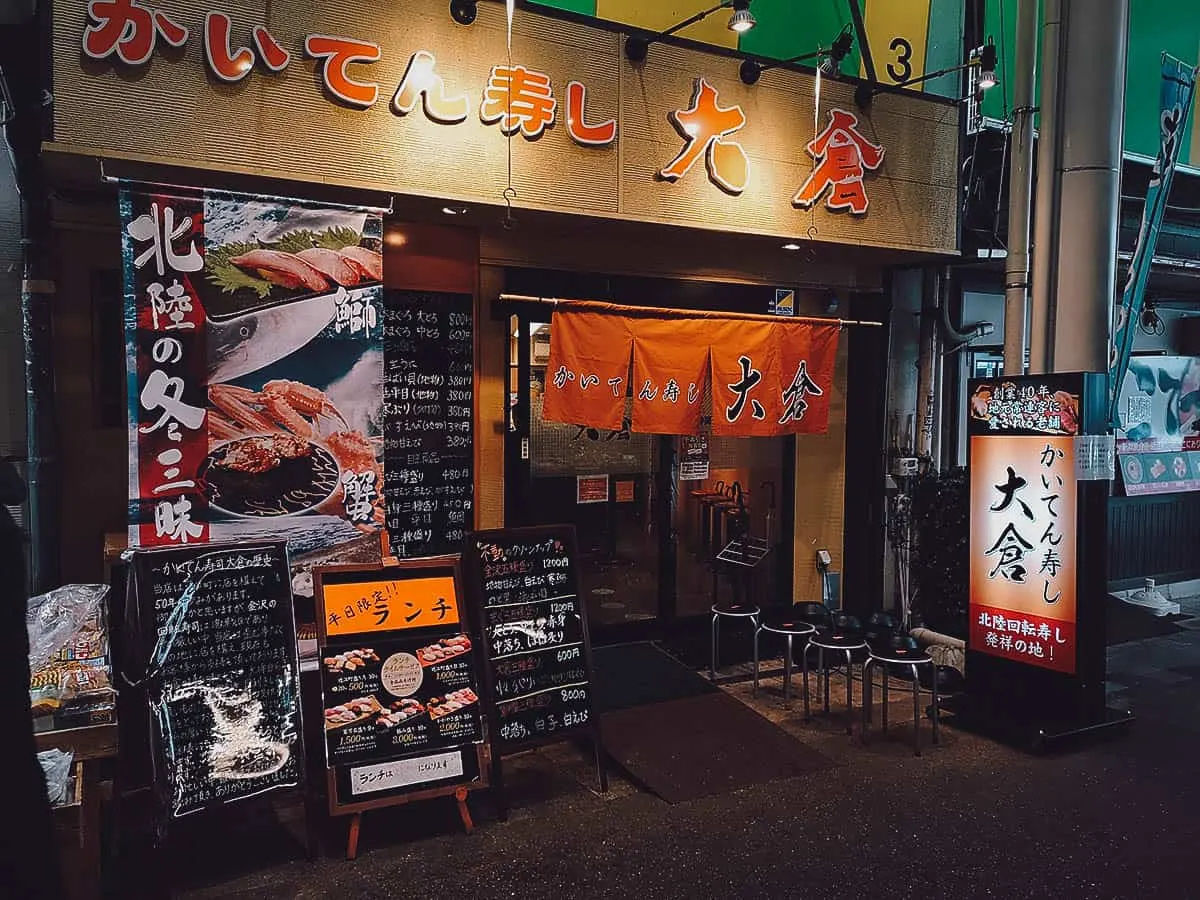 Kaitenzushi Okura
Address: 38 Shimomicho, Kanazawa 920-0917 Ishikawa Prefecture
Operating Hours: 10:30AM-8PM, daily
What to Order: Sushi
Expect to Pay: About JPY 550 (with tax)
3. Ichinokura
Also located at Omicho Market is Ichinokura, a Kanazawa seafood restaurant that offers kaisendon bowls. Kaisendon refers to a bowl of unseasoned white rice topped with different types of raw seafood.
Ichinokura has several kaisendon bowls ranging in price from JPY 990 to JPY 2,850. Pictured below is the JPY 2,500 bowl topped with ten different types of seafood including sake (salmon), tako (octopus), amaebi (sweet shrimp), and kani (crab). Their most expensive bowl has crab, salmon roe, and boiled pufferfish.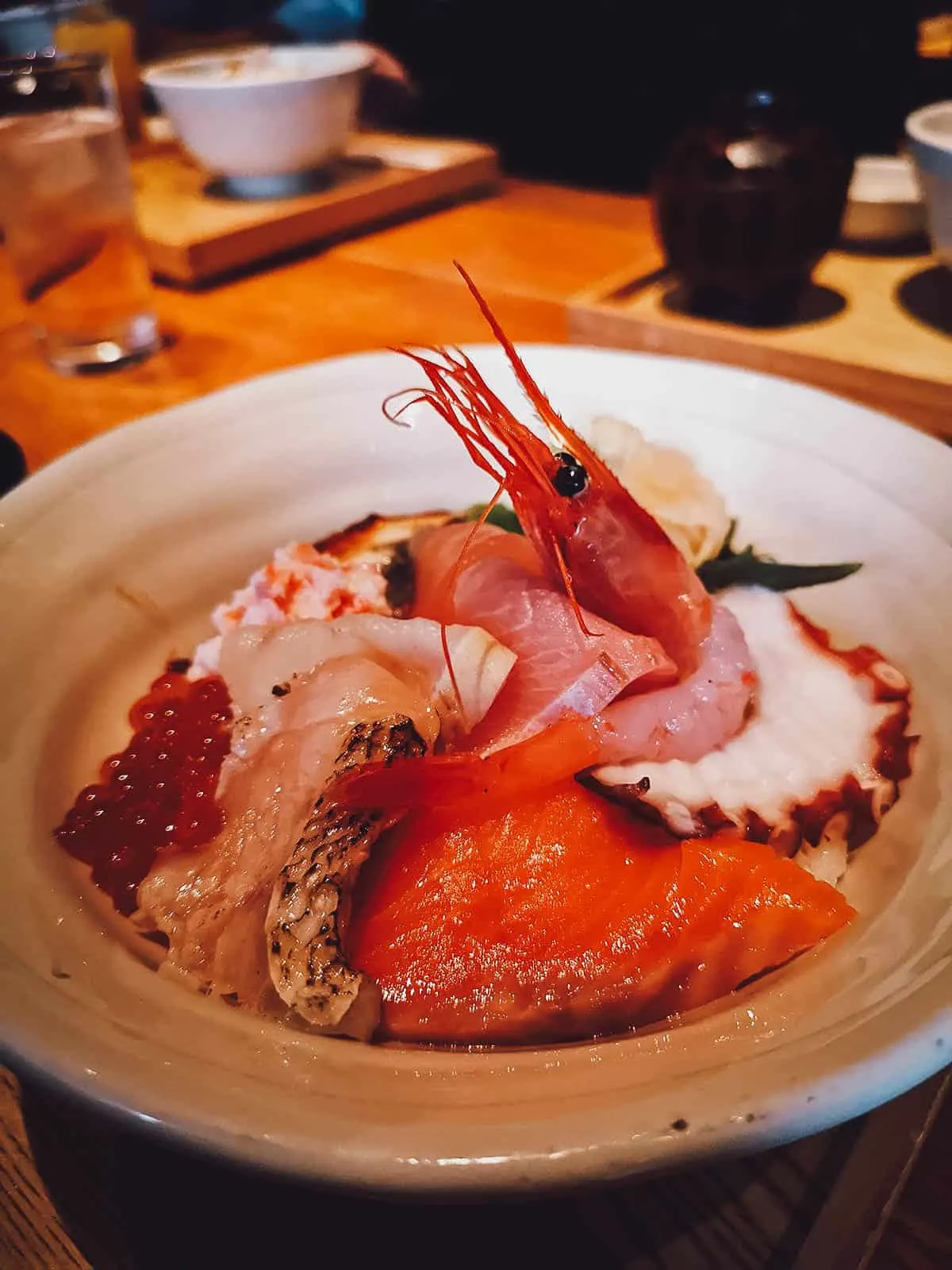 Ichinokura is located on the second floor of Omicho Market so it isn't as easy to spot.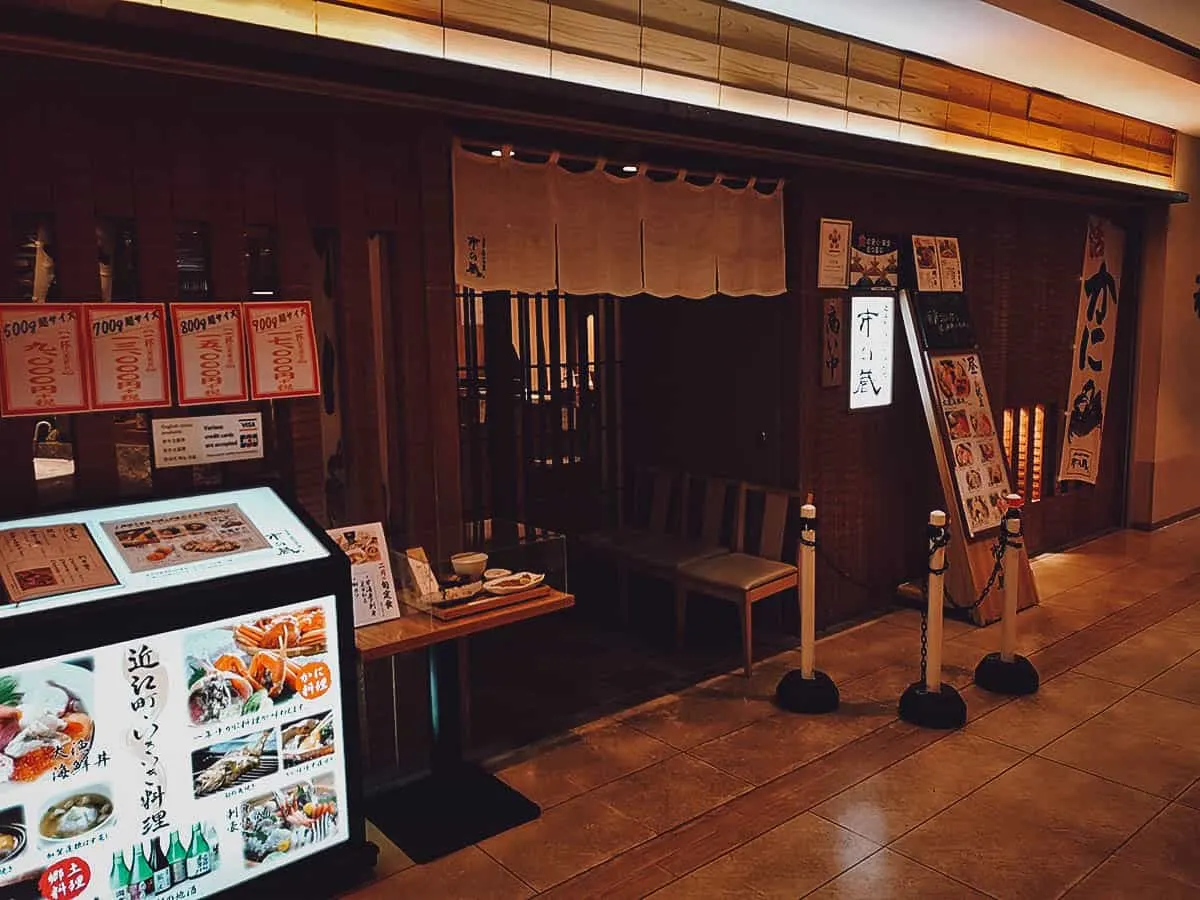 Ichinokura
Address: 88 Aokusamachi Omi-Cho Ichiba-Kan 2F, Kanazawa 920-0907 Ishikawa Prefecture
Operating Hours: 11AM-11PM, daily
What to Order: Kaisendon
Expect to Pay: About JPY 2,500 for the large kaisendon
4. Kourin Sushi
Kourin Sushi is a great but inexpensive Kanazawa sushi restaurant. In fact, it's one of the most highly-rated cheap sushi restaurants I could find in Kanazawa.
You can order nigiri sushi per piece, or in 5- or 10-piece sushi sets. They also have chirashi bowls, kaisendon, and maki rolls.
I was choosing between the JPY 2,300 high-end sushi set and the JPY 1,200 omakase (chef's choice) set. I went with the latter, and as you can see below, it included a couple pieces of aburi or blowtorched sushi.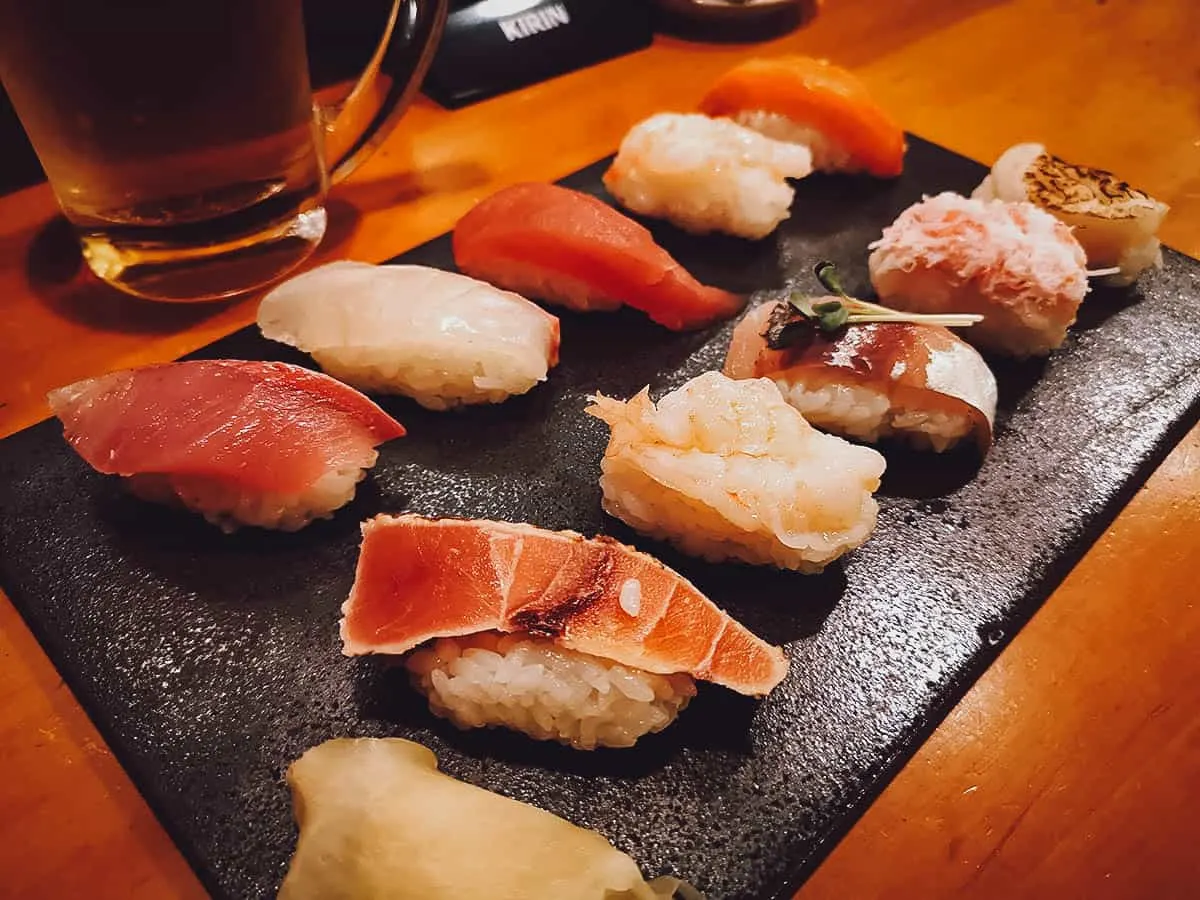 Kourin Sushi is a TripAdvisor Certificate of Excellence awardee that maintains a perfect 5-star rating, even after over 500 reviews. Like many restaurants in Japan, this Kanazawa sushi bar isn't that big so try to come early if you can.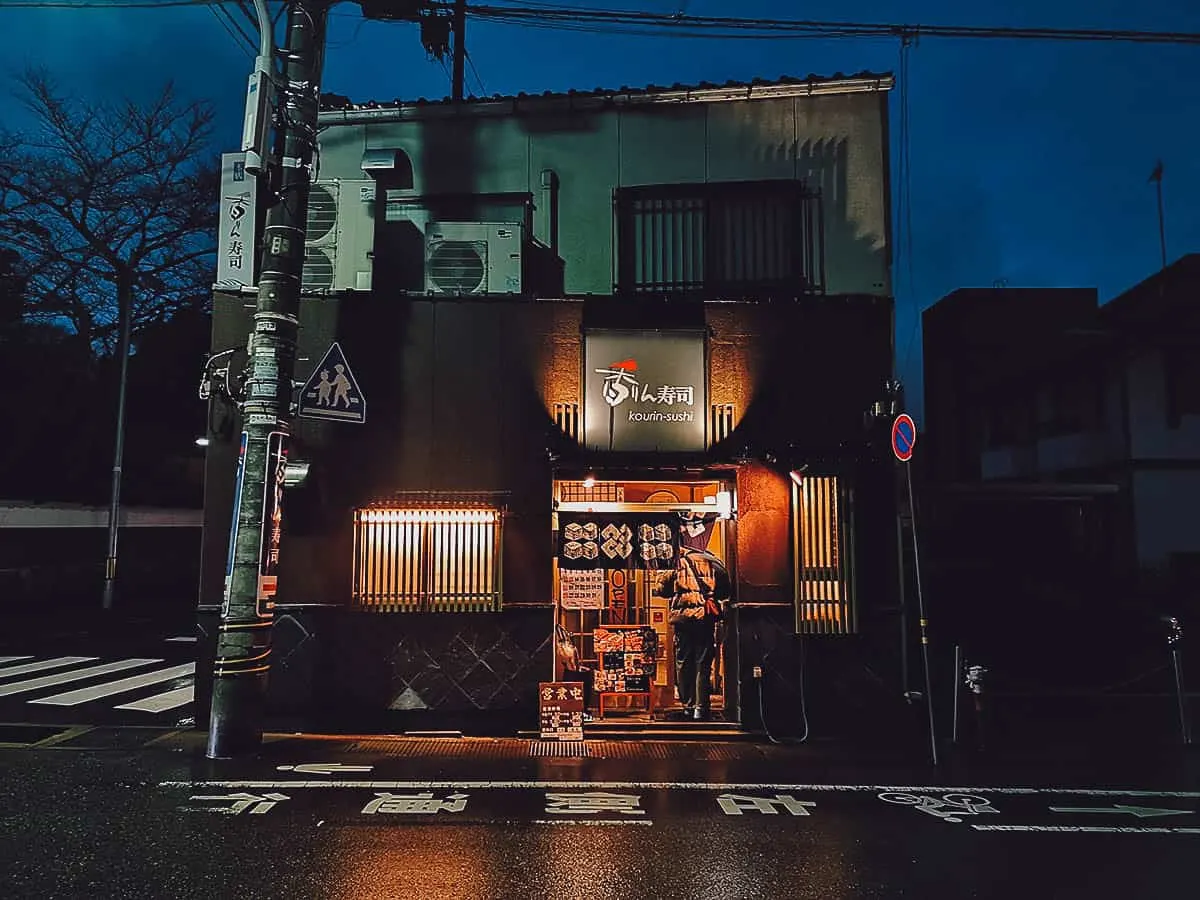 Kourin Sushi
Address: 79 Bakuromachi, Kanazawa, Ishikawa 920-0903, Japan
Operating Hours: 11:30AM-1:30PM, 5:30-10PM, Thurs-Sat, Mon-Tue / 11:30AM-1:30PM, Sun (closed Wednesdays)
What to Order: Sushi
Expect to Pay: Between JPY 100-400 per piece of nigiri sushi
5. Mawarusushi Ponta
Mawarusushi Ponta is a gem. It's a very local kaitenzushi restaurant that had the second best sushi deal I found in Kanazawa. They offer 10-15 piece sushi sets for JPY 800 to JPY 1,280.
Pictured below was the 15-piece sushi set for JPY 1,280. It included a few choice pieces like unagi (eel), hamachi (yellowtail), sake (salmon), and mirugai (geoduck).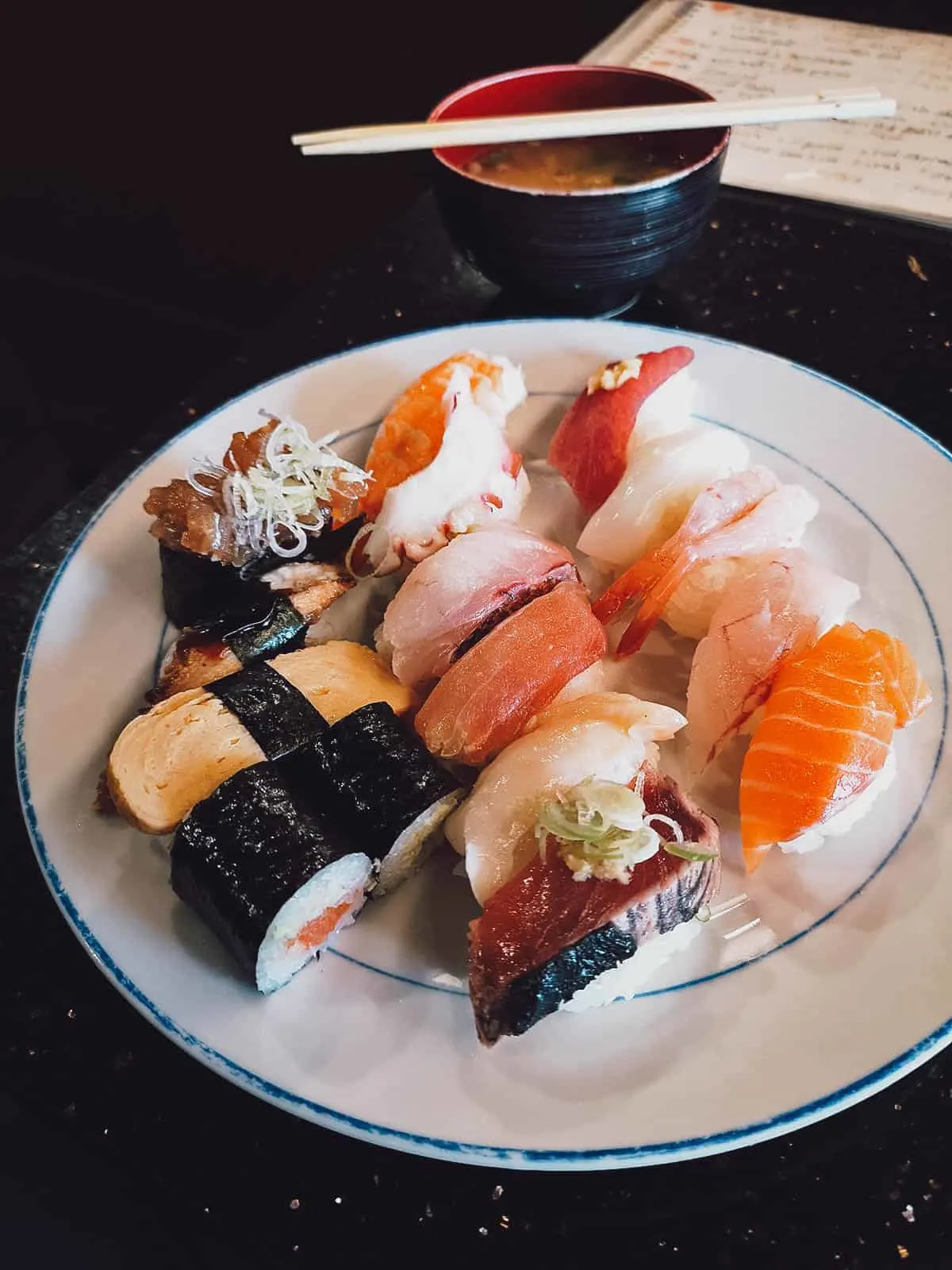 Customers can help themselves to as much miso soup as they want. It's made with whole fish parts so it's swimming with flavor. Just be careful of all the fish bones.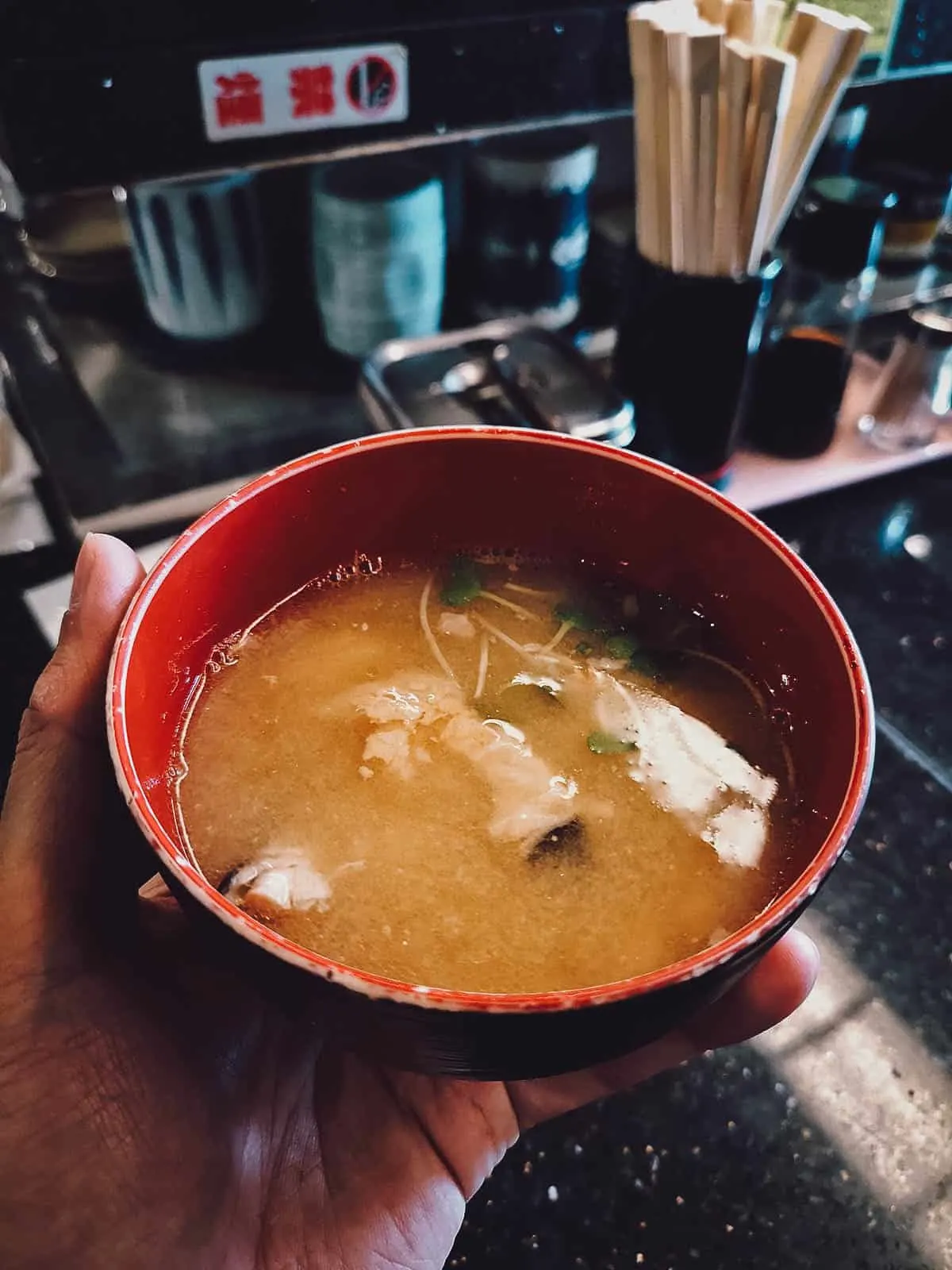 Mawarusushi Ponta is a bit far from the city center, about 2 km (1.2 miles) northwest of Kanazawa Station. It's located in a non-touristy part of town with mostly warehouses and about a half-dozen Japanese restaurants. It's well worth the effort if you like sushi and good deals.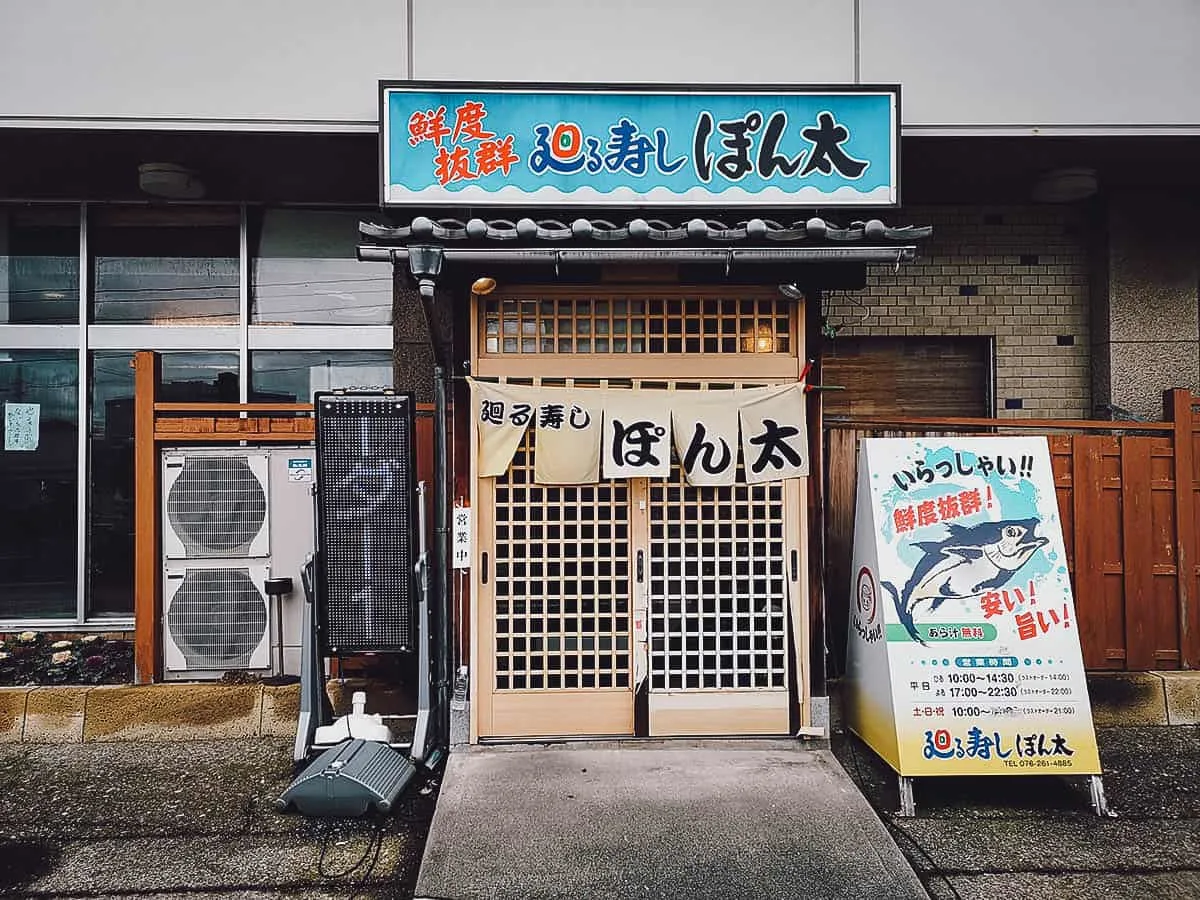 Mawarusushi Ponta
Address: 4-15-1 Sainen, Kanazawa Ishikawa Prefecture
Operating Hours: 11:30AM-2PM, 5:30-8PM, daily
What to Order: Sushi
Expect to Pay: At least JPY 800 for a sushi set
6. Takasakiya
Takasakiya is a Kanazawa sushi bar owned and operated by the cutest elderly Japanese couple. The husband makes the sushi while his wife serves the drinks.
Takasakiya offers two omakase sushi sets, one for JPY 2,300 and the other for JPY 2,800. This was my last meal in Kanazawa so I went with the more expensive set.
As expected, it came with the most premium pieces of fish among all the sets I enjoyed in Kanazawa. Some pieces I recognized like akagai (ark shell), ikura (salmon roe), and toro (fatty tuna), but a few pieces were completely foreign to me.
In broken English, he tried to explain to me what each one was but he described many of them as "local fish, local clam, or local shrimp". Whatever they were, this omakase set was fantastic and my best sushi meal in Kanazawa.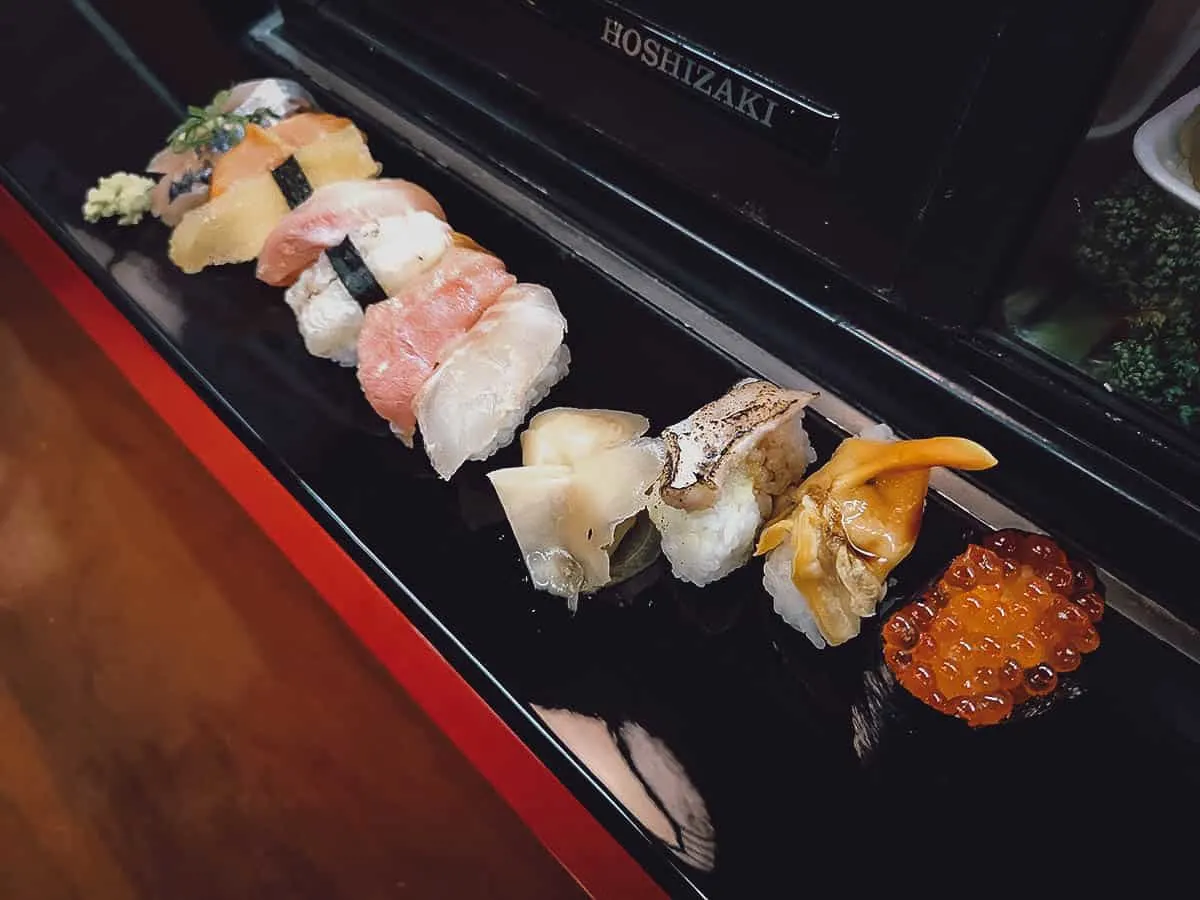 Takasakiya is a cute and cozy counter sushi shop that doesn't have a lot of reviews, but they do have a perfect 5-star rating on TripAdvisor. I definitely recommend checking them out.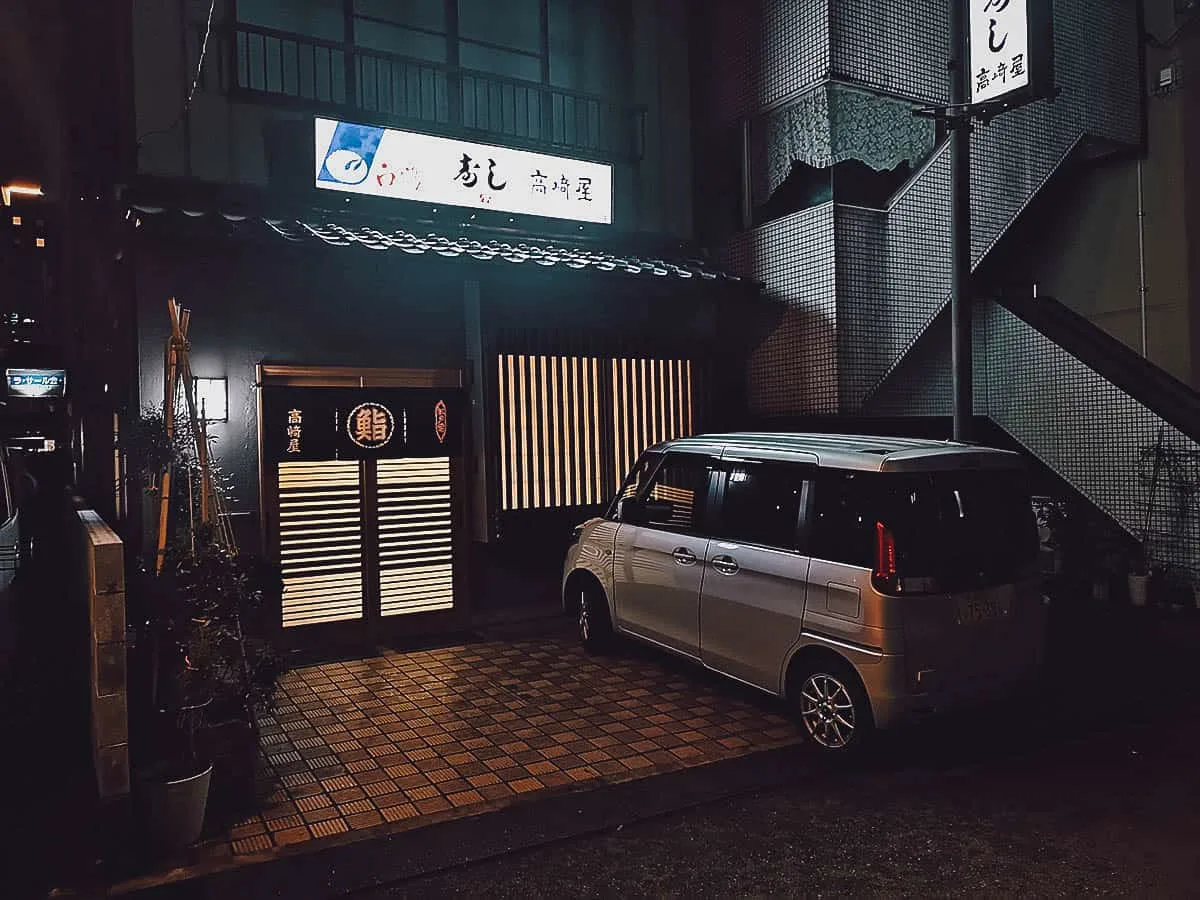 Takasakiya
Address: Japan, 〒920-0864 Ishikawa, Kanazawa, 高岡町Takaokamachi, 7−33 寿し高崎屋
Operating Hours: 11:30AM-1:30PM, 5-9PM, Fri-Wed (closed Thursdays)
What to Order: Sushi
Expect to Pay: At least JPY 2,300 for on omakase sushi set
7. Shijimaya Honpo Yayoi
If you'd like to experience regional Kanazawa food, then you should try kabura zushi. It's a type of nare sushi associated with Kanazawa. Nare sushi (or narazushi) refers to an early form of sushi made with fermented fish pickled with rice.
Kabura zushi is commonly sold in these takeaway packs so you can eat it at home. From what I gather, it's more of a snack food rather than something you can order at restaurants. Thankfully, Shijimaya Honpo Yayoi had a small cafe in their shop so I could try it on the spot with some tea.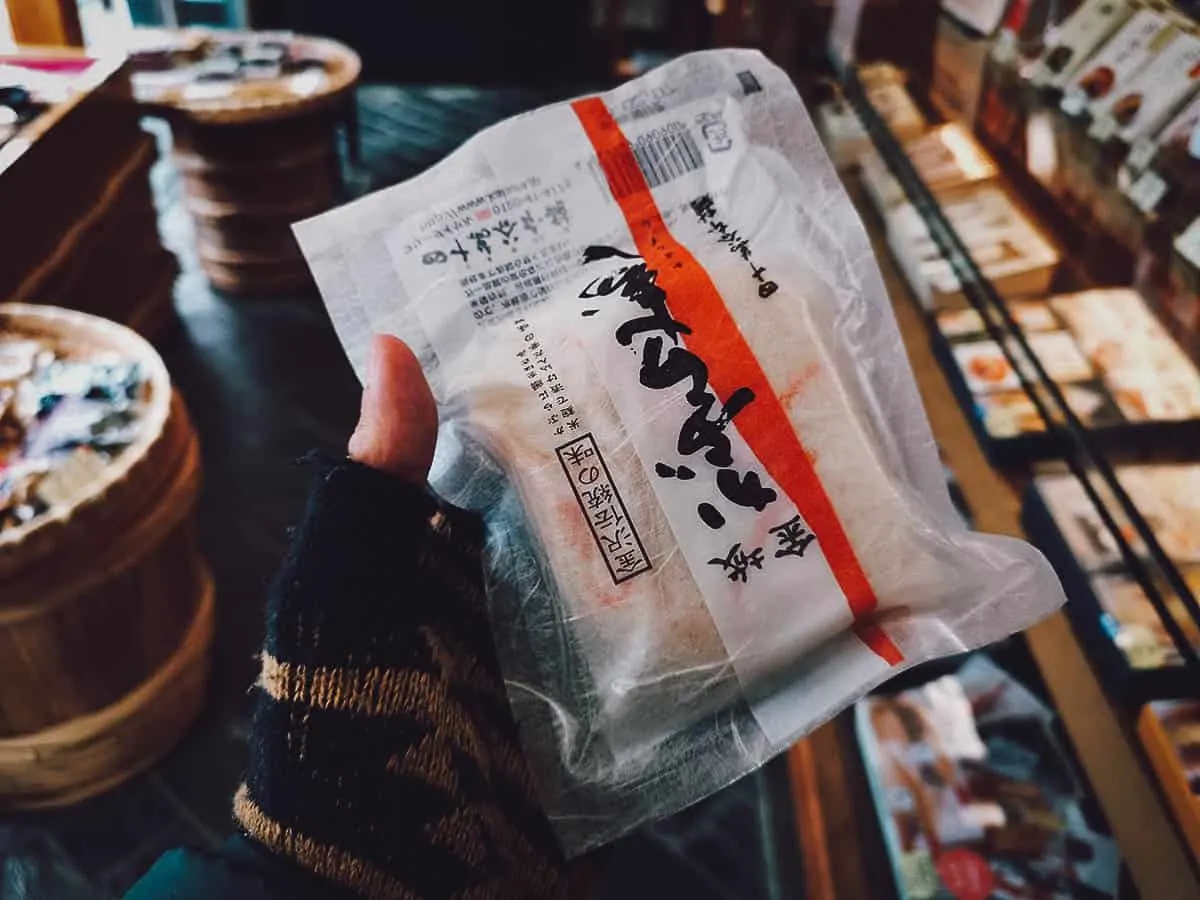 Is this the strangest sushi you've ever seen? Kabura zushi is made with salted buri (Japanese amberjack or yellowtail) sandwiched between pieces of pickled turnip.
It's left to ferment in a tub with strips of carrot and koji – the same starter mold used to make miso, soy sauce, and sake – to break down the fish proteins and concentrate the flavor. Kabura zushi was invented as a method of food preservation and typically consumed in winter.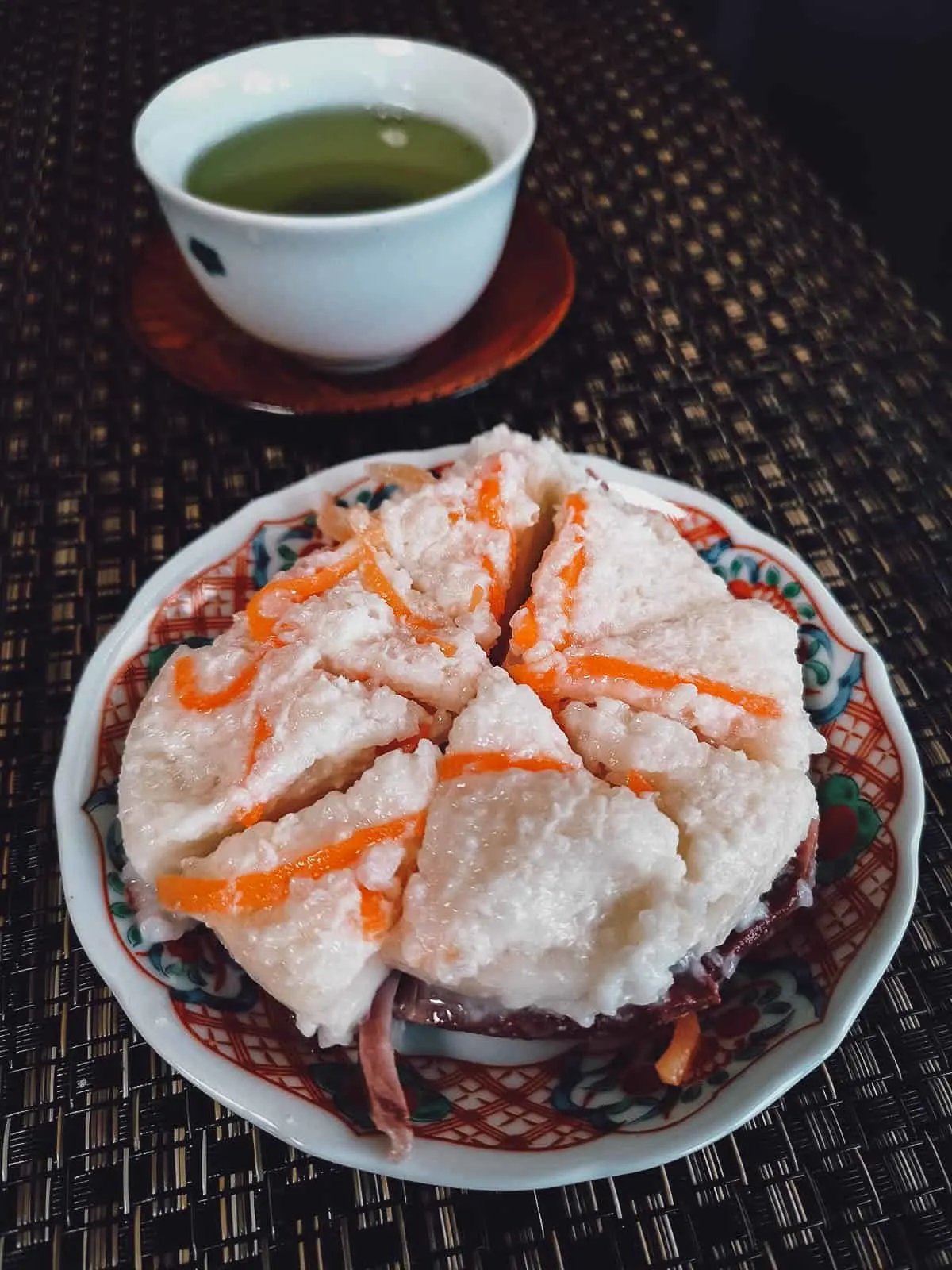 Served at room temperature, kabura zushi has an interesting taste and texture. It's crunchy, a little sour, sweet, and with a good punch of saltiness and umami from the fish.
Kabura zushi was definitely the most interesting dish I had in Kanazawa. It's good but somewhat of an acquired taste. It was surprisingly pricey as well, about USD 10 for one serving.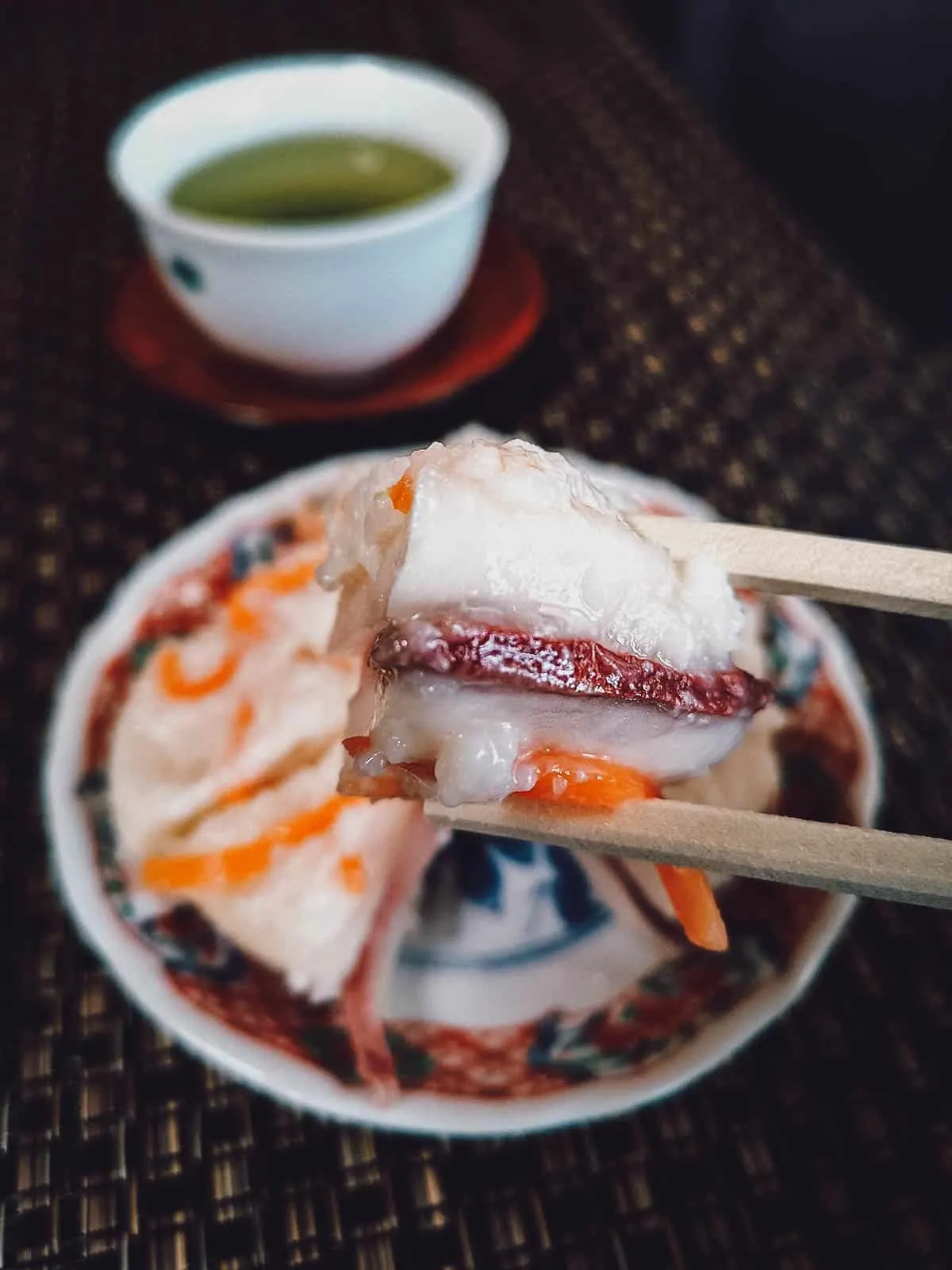 My research for kabura zushi led me to this shop – Shijimaya Honpo Yayoi. It was a bit of a walk from the downtown area so you may want to find a kabura zushi shop closer to central Kanazawa.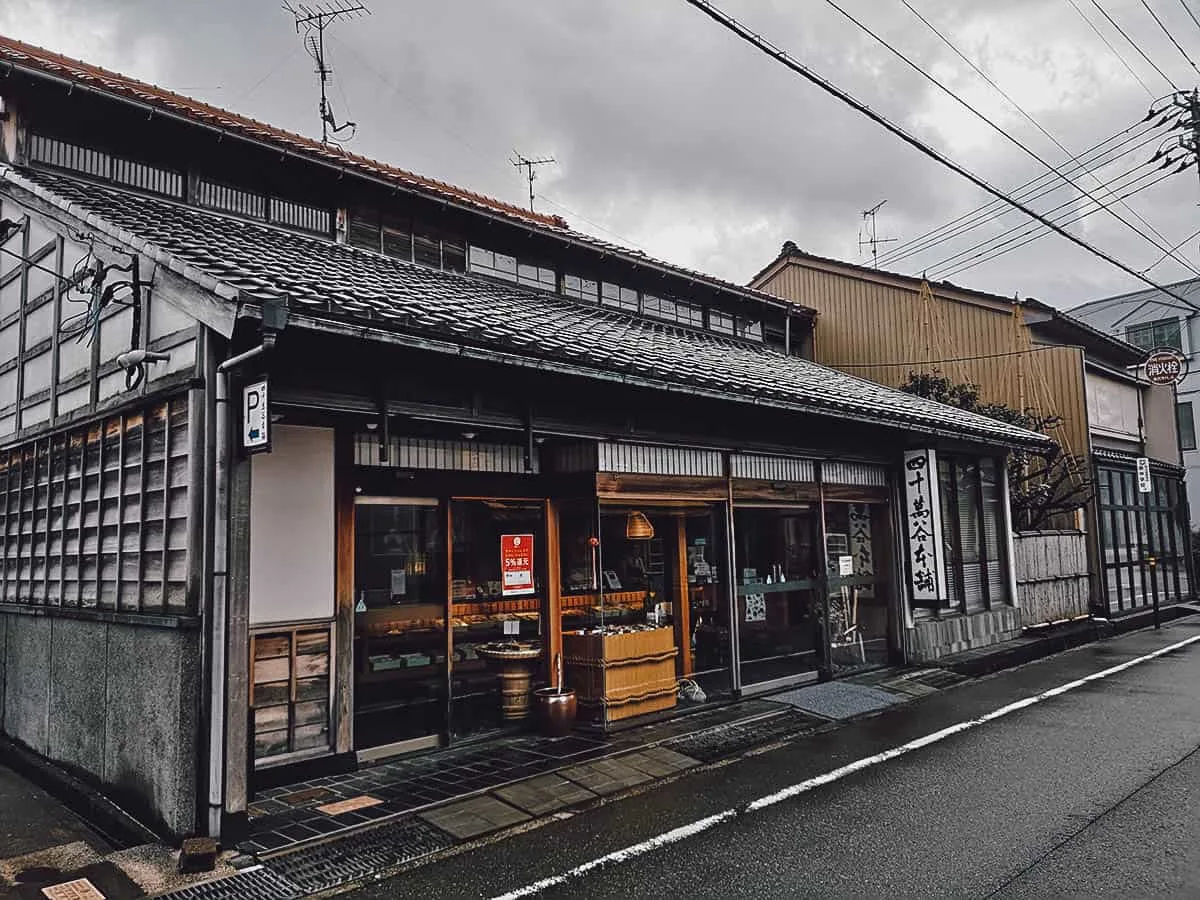 Shijimaya Honpo Yayoi
Address: Yayoi 1-17-28, Kanazawa 921-8541 Ishikawa Prefecture
Operating Hours: 9AM-6PM, daily
What to Order: Kabura zushi
Expect to Pay: About JPY 972 for one serving
8. Shogyotei
If you'd like a special meal in Kanazawa, one that's representative of the local cuisine, then you should definitely have Kaga ryori. It refers to a multi-course dining experience made with locally sourced ingredients.
I was confused by the experience at first because Kaga ryori seemed no different from kaiseki. Kaga ryori means "Kaga cuisine", with the name Kaga being in reference to an ancient province of Japan.
I asked my Japanese friend and he confirmed that Kaga ryori is indeed a type of kaiseki. Kaiseki refers to a traditional multi-course meal made up of a sequence of artfully prepared dishes.
The Kaga ryori we had at Shogyotei consisted of a nine-course meal that was as much a feast for the eyes as it was for the stomach. We started with this lovely basket of bite-sized morsels made with locally sourced fish, vegetables, and other ingredients.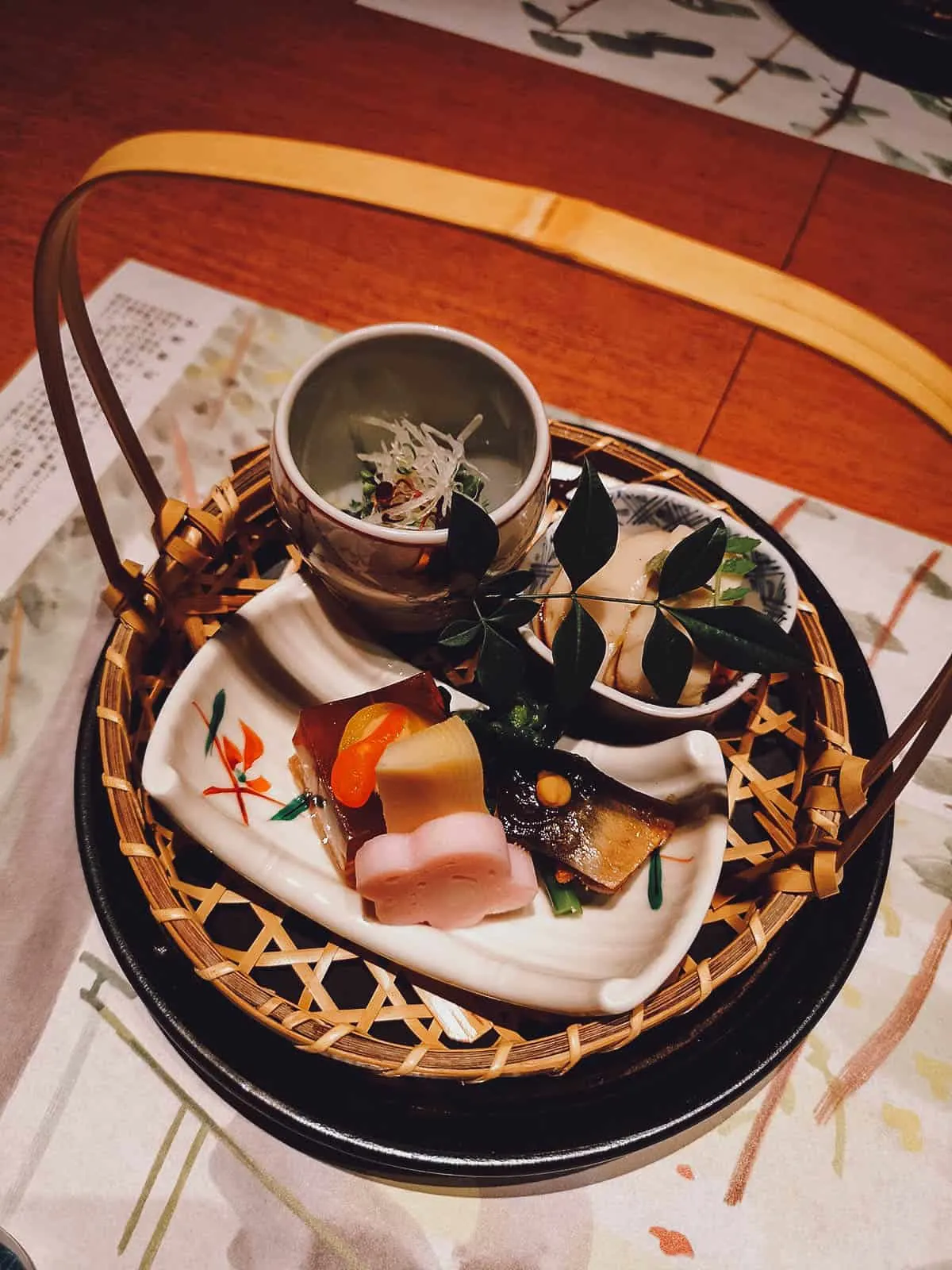 Like kaiseki, Kaga ryori courses are always beautifully presented. This course consisted of raw shrimp caught from the Sea of Japan.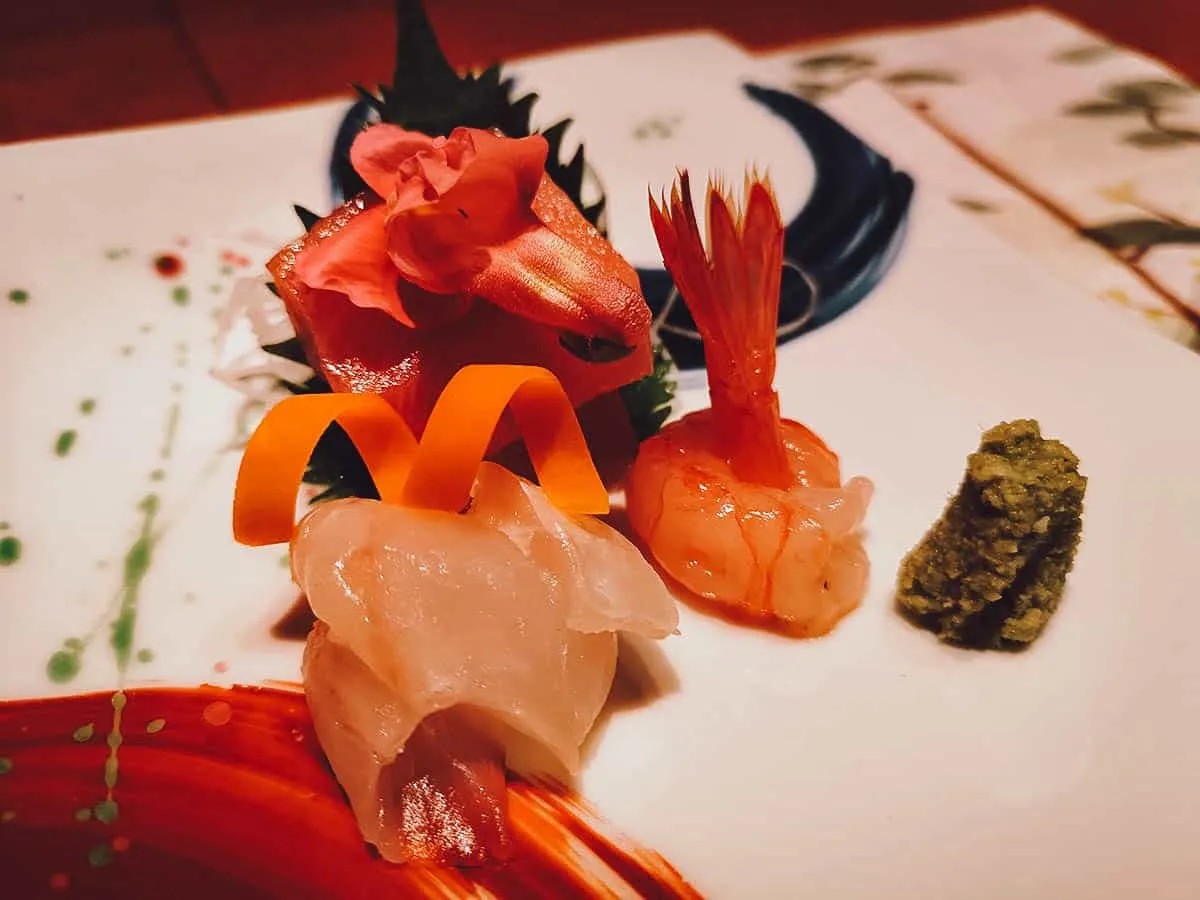 This course consisted of udon noodles in a clear broth topped with thin slices of beef and chopped green onion.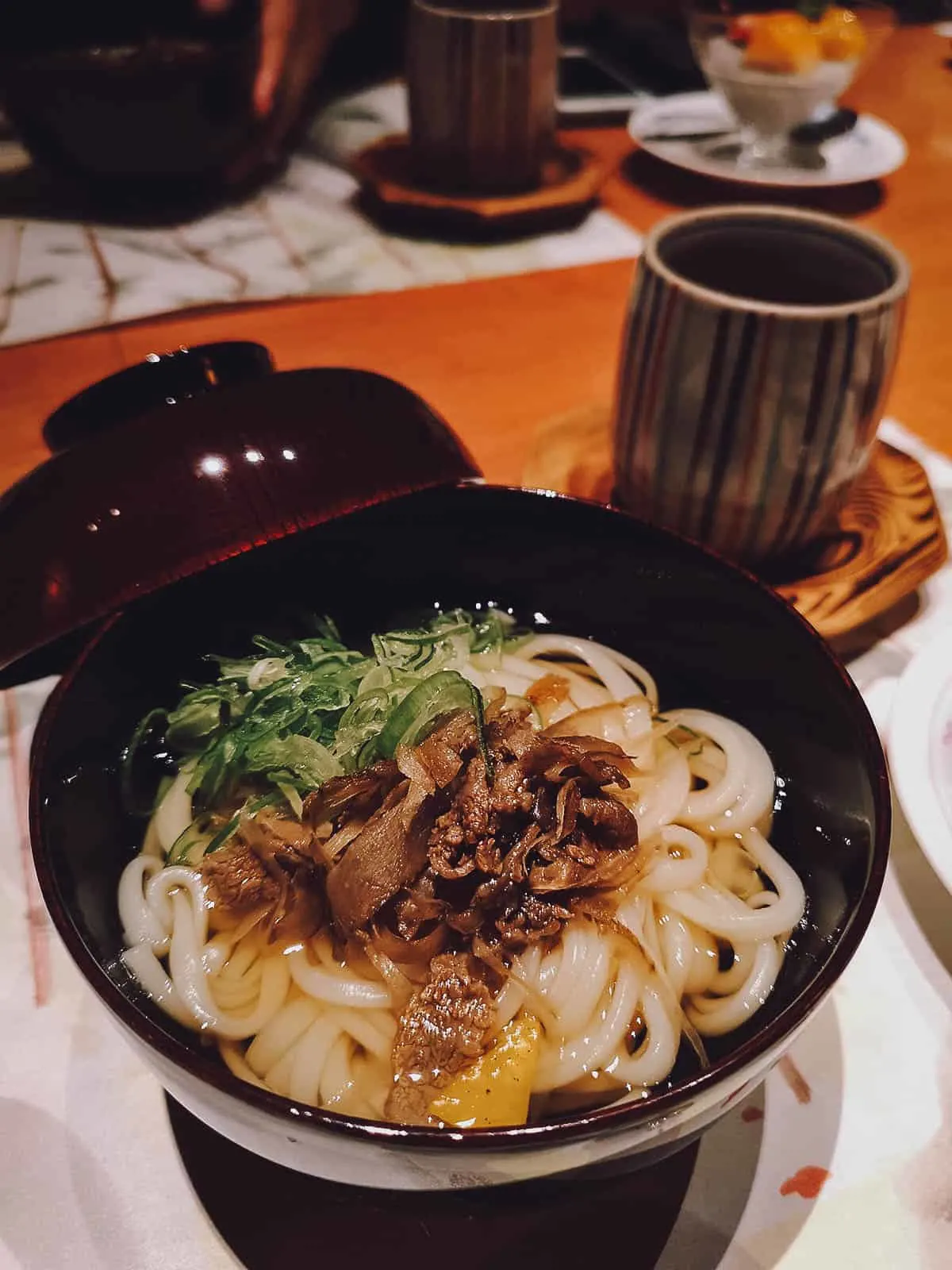 We enjoyed our Kaga ryori meal in this private room at Shogyotei. It had a horigotatsu which is a type of low Japanese table with a recessed floor so you could stretch your legs underneath.
We were taken to Shogyotei on a press trip with JR Central and from what I understand, they're one of the best restaurants in Kanazawa for kaga ryori. Gourmet food lovers need to enjoy a meal here.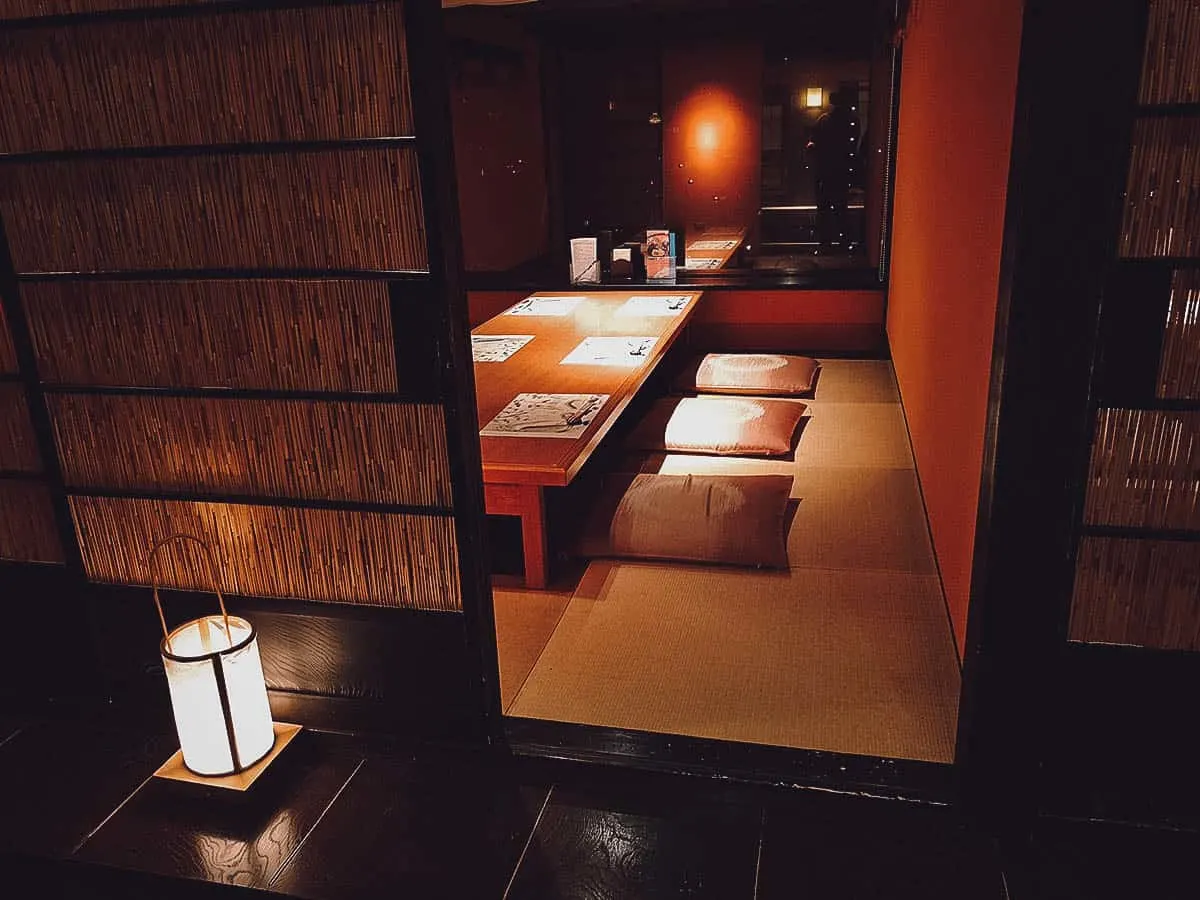 Shogyotei
Address: 1-38-30 Higashiyama, Kanazawa 920-0831 Ishikawa Prefecture
Operating Hours: 11:30AM-3PM, 5-10PM, daily
What to Order: Kaga ryori
Expect to Pay: Starts at about JPY 6,000
9. Kagura
It rained almost everyday when I was in Ishikawa. It gave me a serious craving for ramen so I had lunch at this Kanazawa restaurant that offers miso ramen. Originally from Sapporo, miso ramen is a type of ramen made with fermented soybean paste.
On their menu, Kagura lists their ramen as "aged miso" ramen. Based on what I've read, commercially available miso is typically aged for 6 months to 2 years. The longer it ages, the deeper and more pronounced its flavor gets.
As you can tell from the picture below, the broth looks fairly dark. I'm not an expert but I'm guessing Kagura uses miso that's been aged for a considerable amount of time.
This wasn't the best bowl of ramen I've ever had, but it hit the spot and gave me a nice break from all the sushi I'd been eating. It contained two hefty slices of chashu pork, two wontons, half a ramen egg, nori, and some microgreens.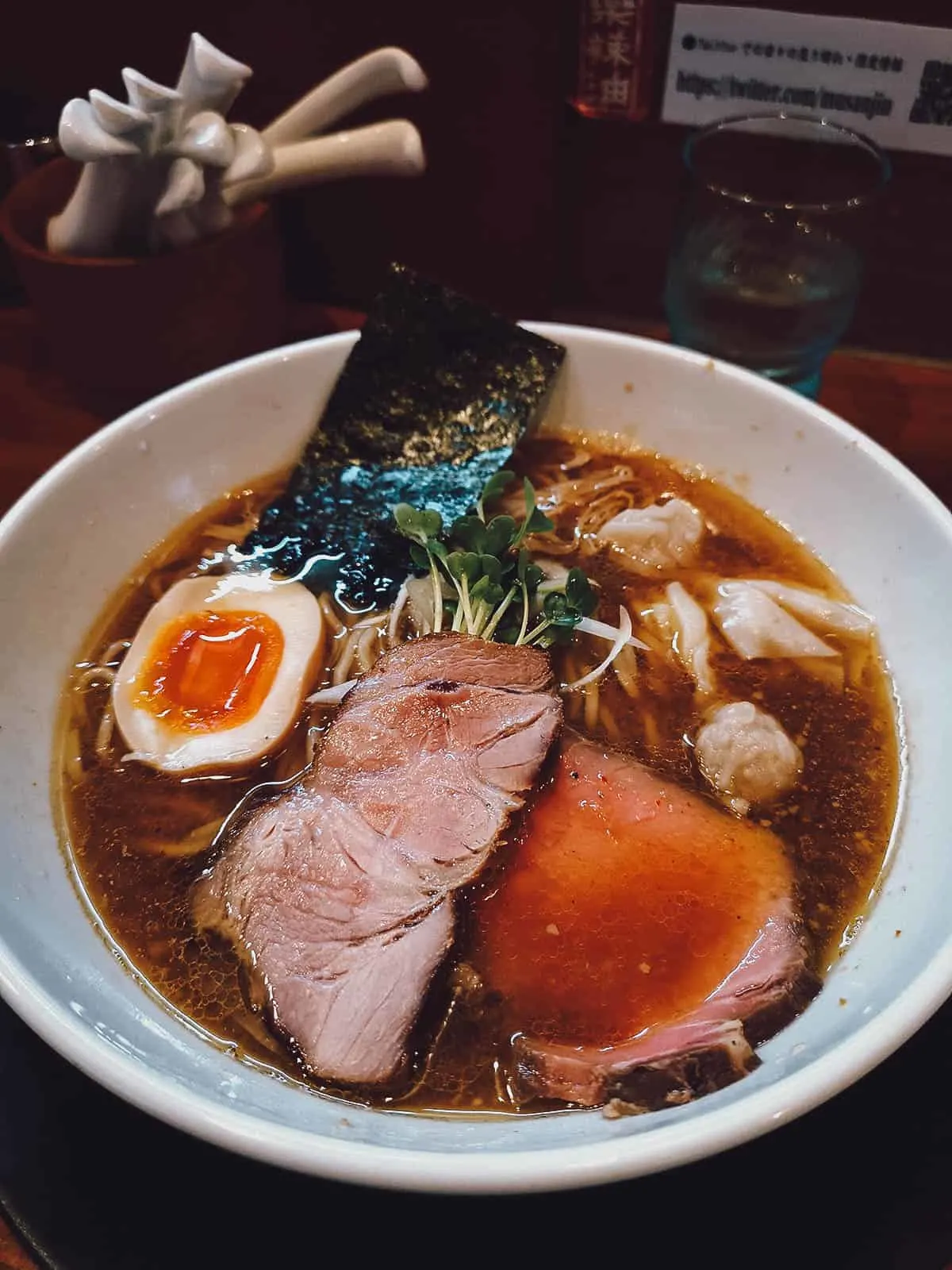 Kagura
Address: 1 Chome-20-10 Teramachi, Kanazawa, Ishikawa 921-8033, Japan
Operating Hours: 11:30AM-2:15PM, 5:30-8PM, Tue-Sat / 11:30AM-2:15PM, Sun (closed Mondays)
What to Order: Ramen
Expect to Pay: About JPY 1,000
10. Gyokusen-Inmaru Garden
A tea ceremony is one of the most quintessential cultural experiences you can have in Japan. Called chado in Japanese, it involves the ceremonial preparation and presentation of matcha or green tea to guests.
So important is chado to Japanese culture that it's considered one of the three classical arts of refinement, the other two being kodo (incense appreciation) and kado (flower arrangement). They even have a term for the artful way in which the tea ceremony is performed – otemae.
Chado can be both formal and informal. Formal tea ceremonies are called chaji and typically include a full-course kaiseki meal that can last for up to four hours.
Informal tea gatherings are called chakai. This is what you can expect from the teahouse at Gyokusen-Inmaru Garden.
Pictured below is my serving of matcha and wagashi, a Japanese traditional confection typically served with green tea. Wagashi comes in many forms and can be made with a diverse array of ingredients and preparation methods.
The type of wagashi served at tea ceremonies is called namagashi. It's made with rice flour and a sweet bean paste filling artfully shaped to reflect the season.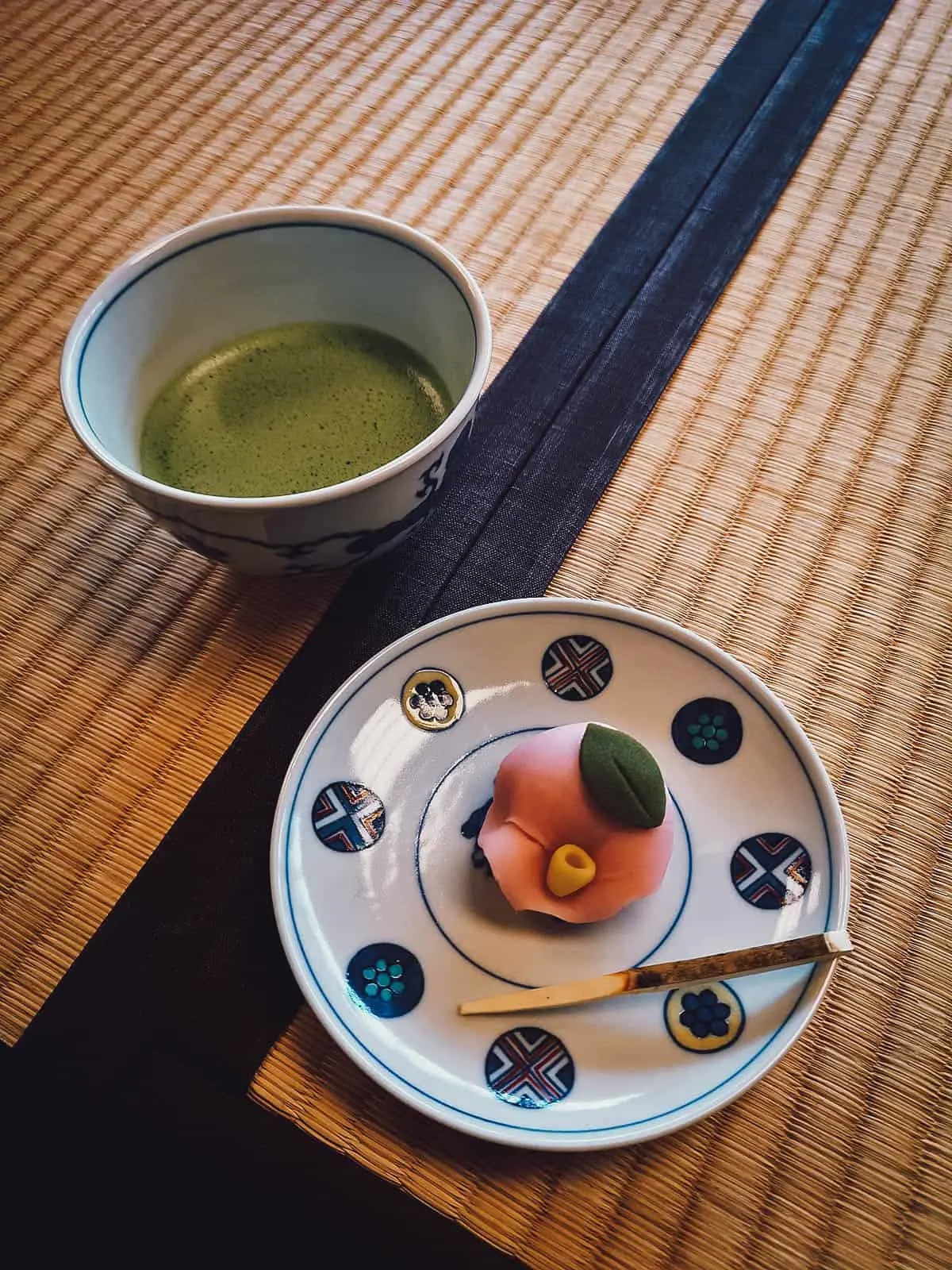 What makes this tea ceremony special is the view. You sip your tea on tatami mats in a room that overlooks Gyokusen-Inmaru Garden. It's a small but lovely garden located on the grounds of Kanazawa Castle.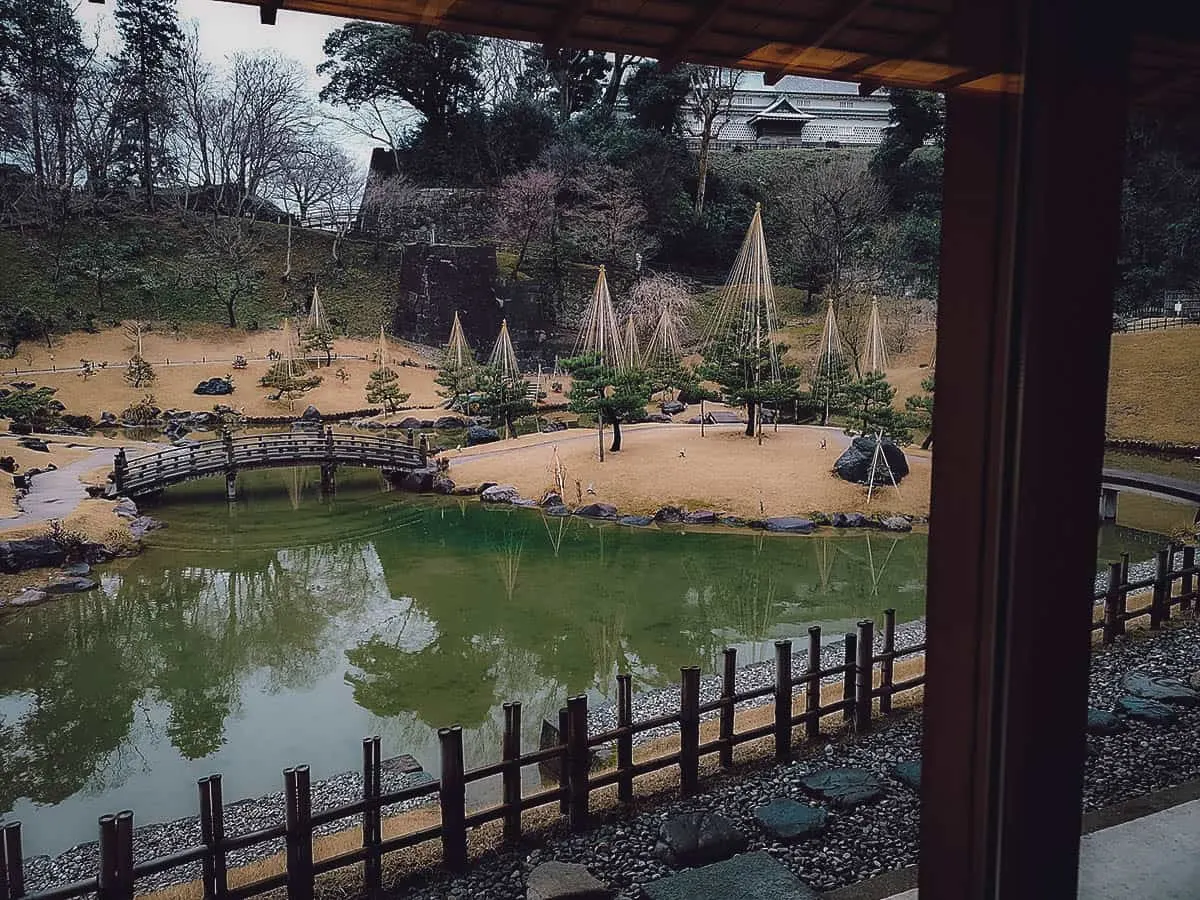 Gyokusen-Inmaru Garden
Address: 8-3 Koshomachi, Kanazawa 920-0932 Ishikawa Prefecture
Operating Hours: 9AM-4PM, daily
What to Order: Tea ceremony
Expect to Pay: About JPY 730
LOCATION MAP
To help you find these Kanazawa restaurants, I've pinned them all on an interactive map. Click on the link to open the map in a new window.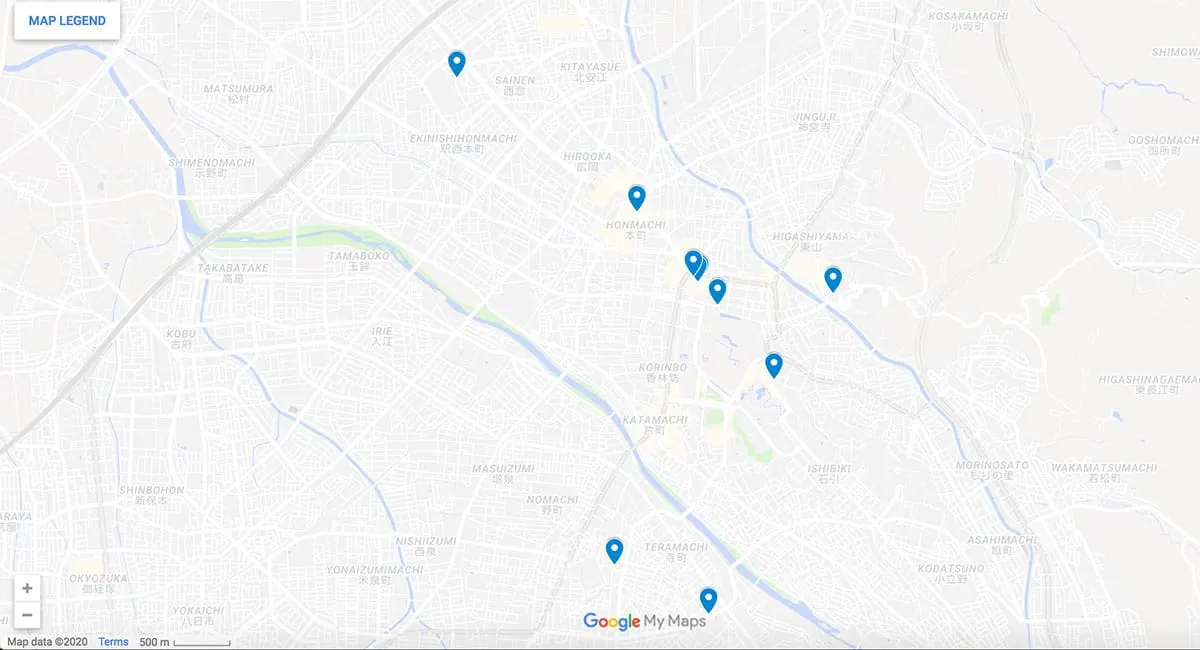 FINAL THOUGHTS ON THE FOOD IN KANAZAWA
I think it goes without saying – if you love sushi like I do, then you're going to love Kanazawa. The fish is always fresh, there's a lot of variety, and it's cheaper than in most other Japanese cities.
You can find good sushi almost anywhere in Japan but it's often on the expensive side so I find myself holding back. Not so much in Kanazawa.
As good as the sushi is, don't forget to try the other Kanazawa food specialties as well, especially Kaga ryori. It's an interesting meal that's just as pleasing to the eye as it is to the palate.
The Kaga ryori I had at Shogyotei didn't have it but look out for jibuni. It's typically one of the courses served during the meal. It's a traditional Kanazawa food of stewed duck coated in flour and served with vegetables and wheat gluten in a thick soup.
Lastly, if you plan on visiting Kanazawa and exploring more of the Chubu region, then you may want to get a Takayama Hokuriku Pass. It'll give you unlimited access to JR trains in the Chubu region (and part of the Kansai region) for five consecutive days. Check out our 5-day Chubu itinerary to help you plan your trip.
Disclosure
Some of the links in this Kanazawa food guide are affiliate links, meaning we'll get a small commission if you make a purchase at no added cost to you. As always, we only recommend products and services that we use ourselves and firmly believe in. We really appreciate your support as this helps us make more of these free travel guides. Arigato gozaimasu!