When I told my friend Tom we were going to this part of the country, he said there's a good chance we'd be eating the best crab in Japan. He was right.
I was in the Kansai region this January with a group of about 15 bloggers/media from 4 countries. We were guests of JR West and taken on a whirlwind tour of Western Japan. They took us to scenic places I had never heard of before like Amanohashidate and Kinosaki Onsen. We got to pound fresh mochi in Kannabe then eat it afterwards. For the first time in my life, I strapped on snowshoes and hiked up a volcano to have tea and banana chocolate fondue at its crater. And to rest our heads for the night, they put us up in these Japanese-style inns where I was treated to one of the most amazing meals I've ever had in Japan – Matsuba crab.
After a long and eventful day, it was like being led to a pot of gold at the end of a rainbow. 😯
Minshuku
We were split up by country and Team Philippines got to stay at this lovely 9-room minshuku called Nashikisou. A minshuku is a Japanese-style bed and breakfast similar to a ryokan, though it technically isn't one. According to the owner, ryokans have to follow a strict set of guidelines to be classified as such. The tatami has to be a specific size, the rooms have to be oriented in a certain way, etc. If I understand correctly, the differences are mostly technical but the feeling is essentially the same.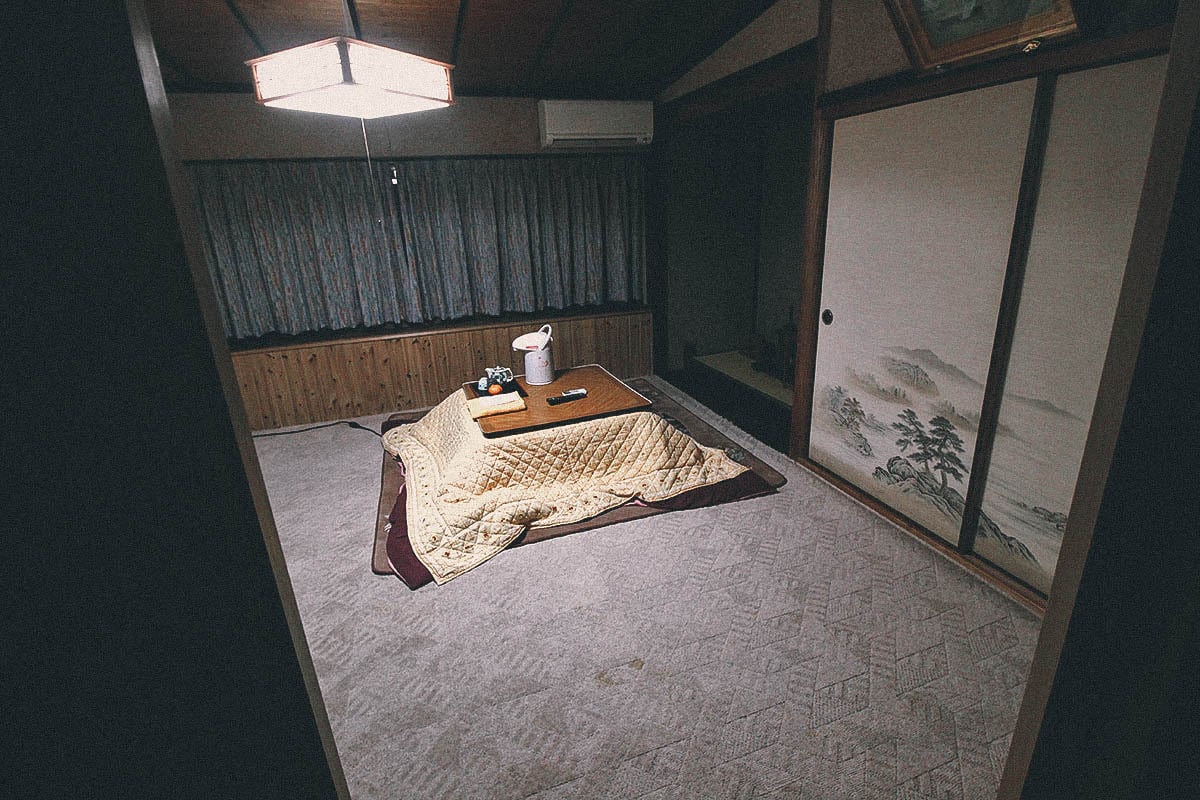 There's a flat screen TV in every room and a kotatsu which is a low, wooden table covered by a heavy blanket. Built into the table is an underside heat source. You lay the Japanese-style mattress and futon on the floor and stick your feet under the kotatsu to keep them nice and toasty.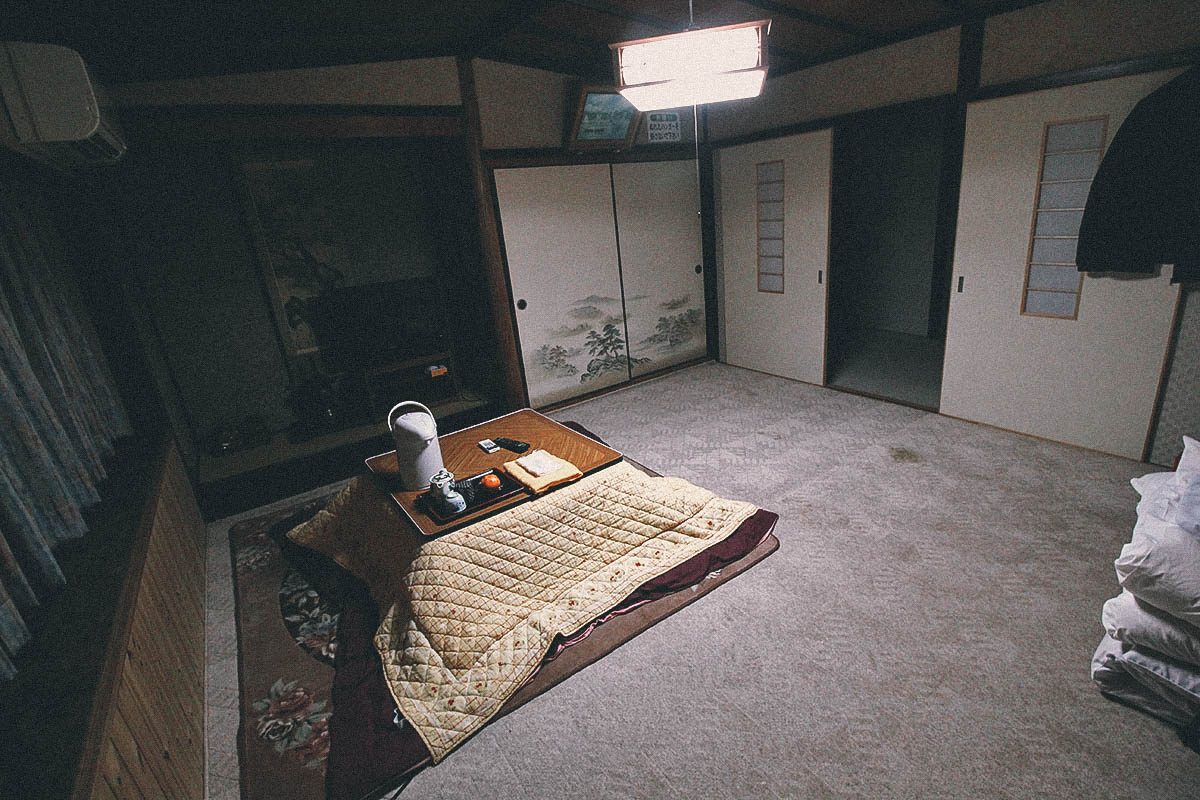 Hallway outside my room on the second floor. There's a communal bathroom downstairs as well as male and female baths.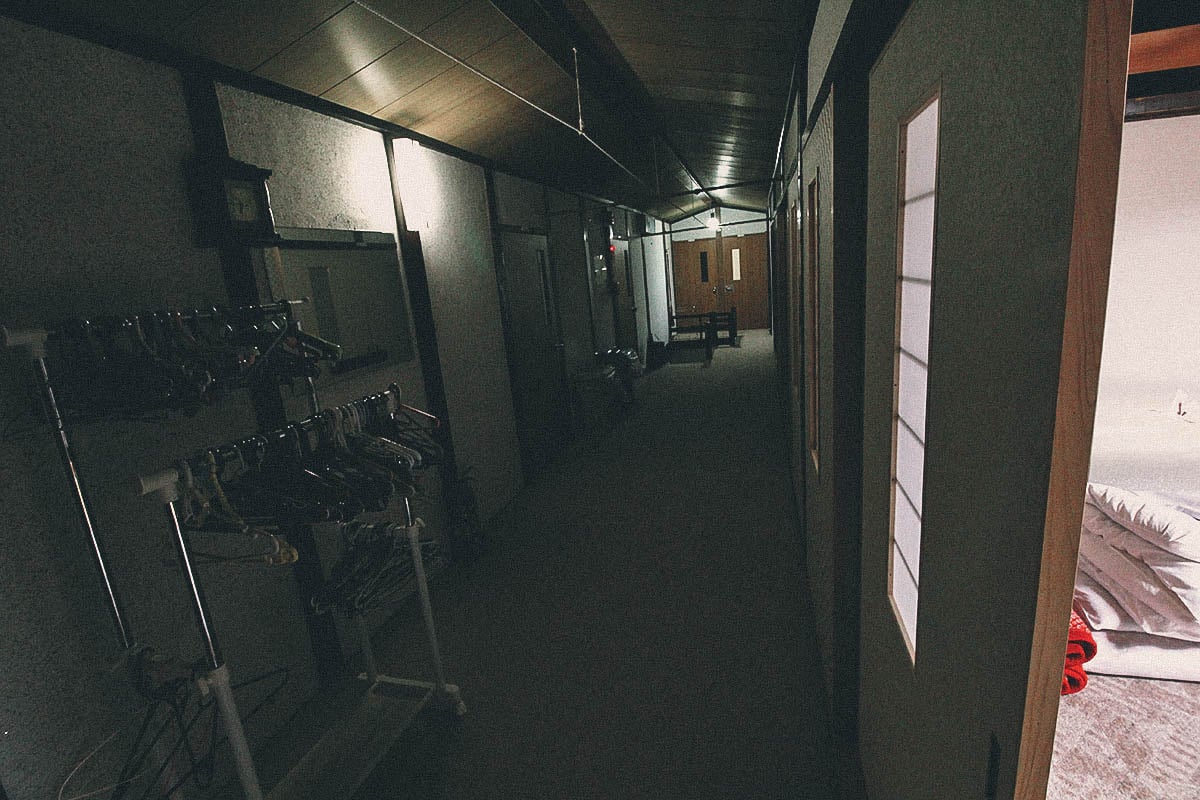 The aforementioned pot of gold. I love crab so I was overjoyed to find this waiting for us. I had almost given up hope! 😆 We had it hot pot style which according to Tom, is one of the best ways to enjoy crab in Japan.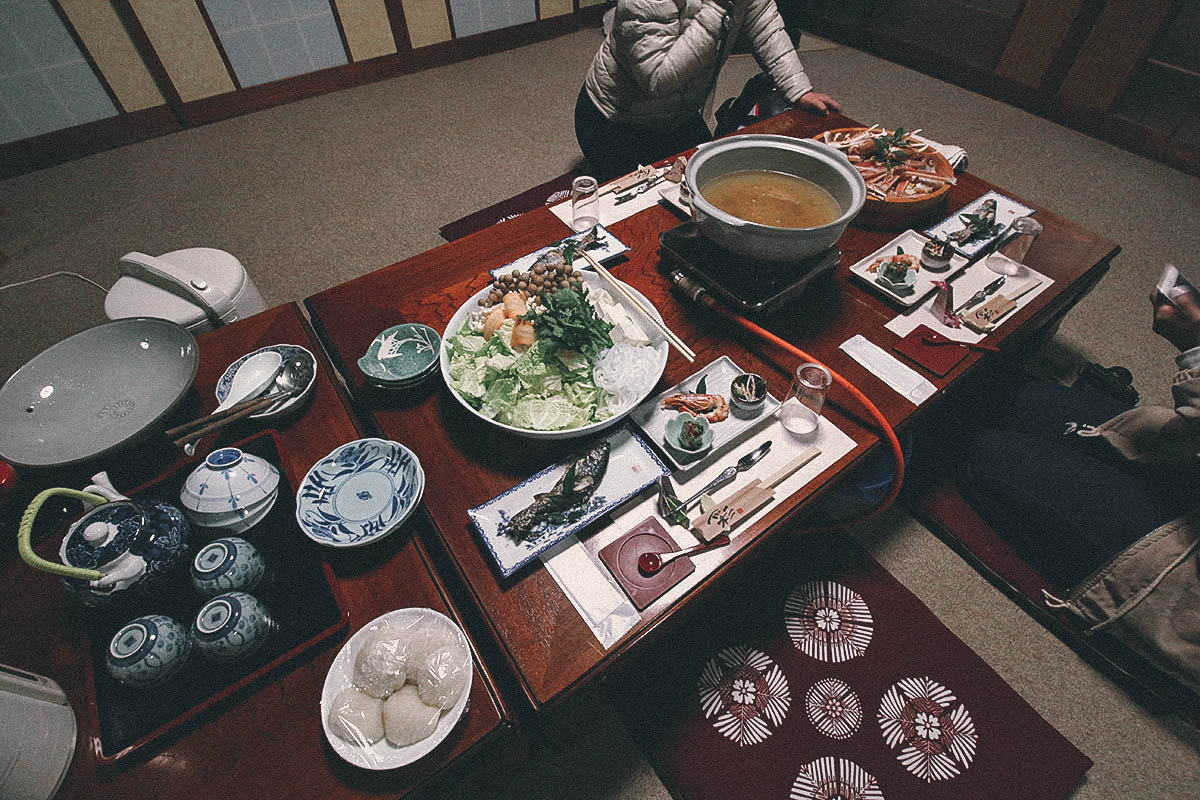 Matsuba crab is the term given to male snow crabs fished from the Sea of Japan. When served in this way, you can either cook it completely in the boiling pot of water or just dip the meat a few times so it remains partly raw. I loved both ways. The crab meat is naturally sweet and just delicious. Some people are intimidated by crab but much of a snow crab's meat is in its legs so you don't have to work hard to get it. Matsuba crab isn't cheap so I was super grateful for this experience.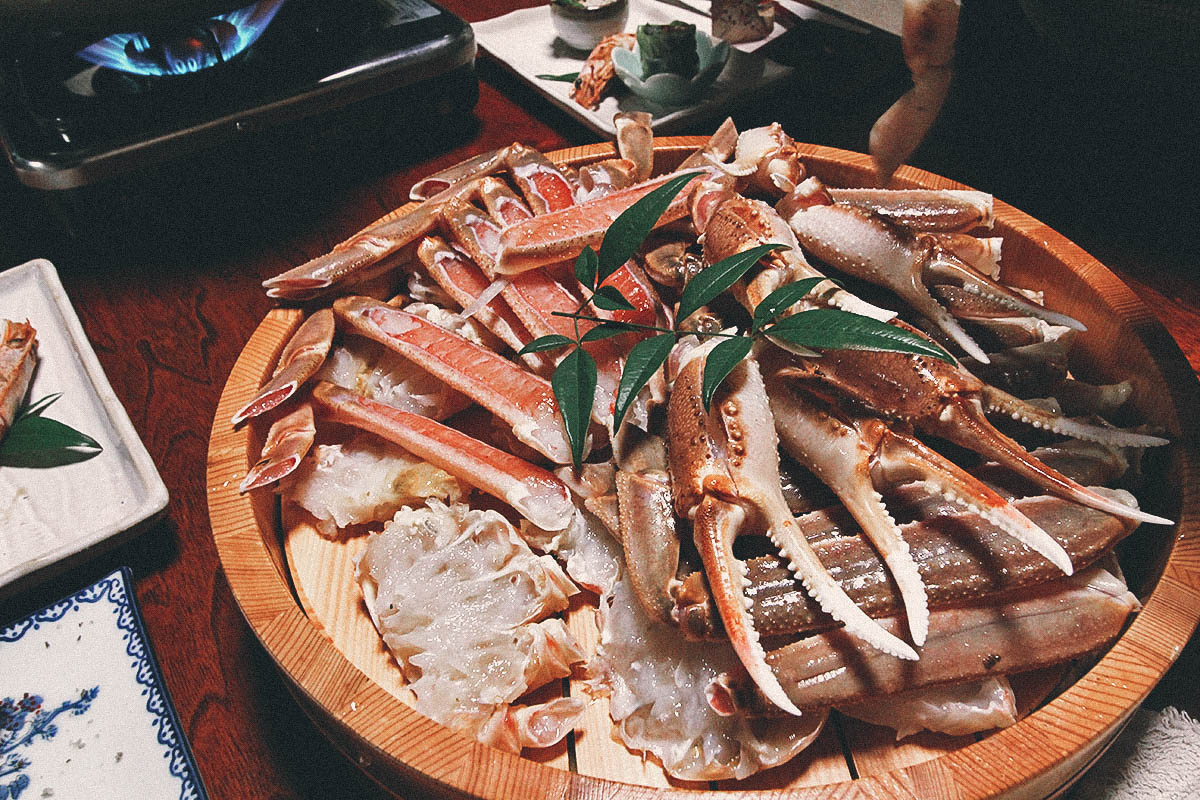 That bowl of noodles, veggies, mushrooms, and tofu also goes in the hot pot to cook. She also made us fish, shrimp, and a chawan mushi (egg custard) made with crab. We were so spoiled! The owner is a very kind and lovely lady who grows her own fruits and vegetables. She even let us taste her homemade yuzu and strawberry sorbet made with fruits from her garden! Everything was so good!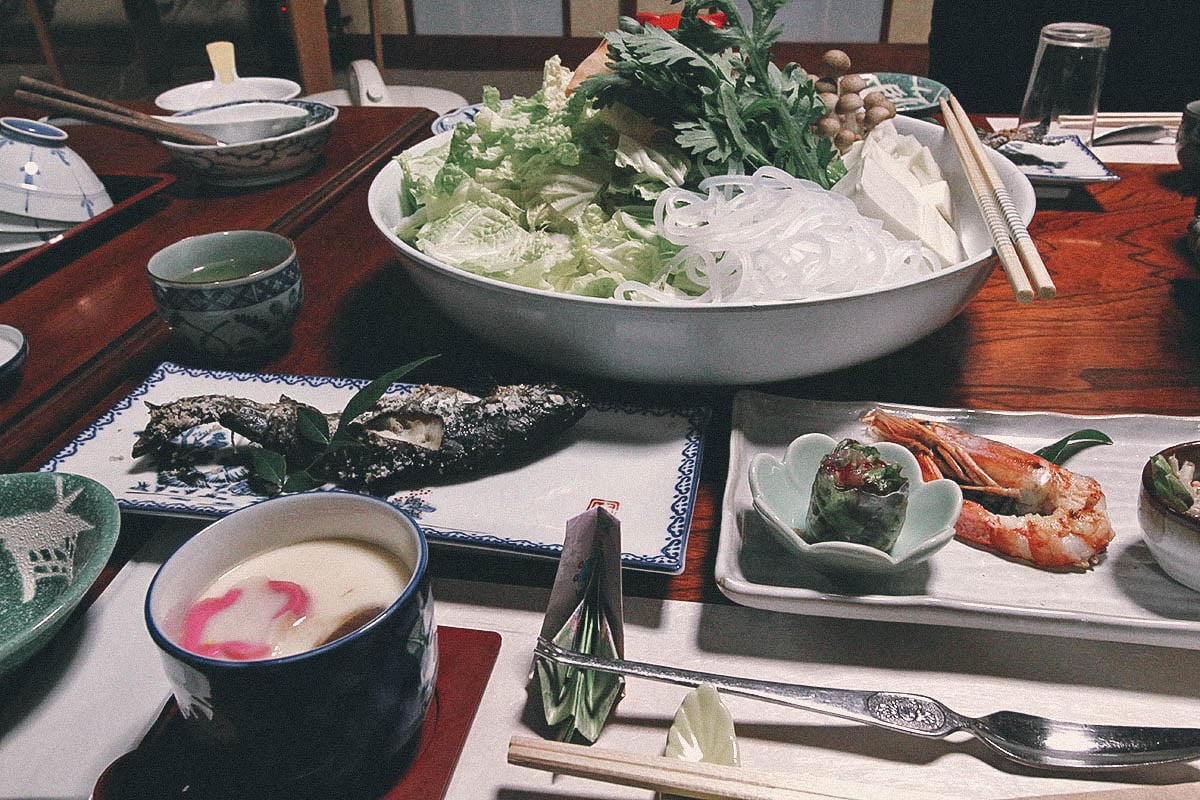 As if dinner wasn't impressive enough, this was what she made us for breakfast. We had salmon, croquettes, onsen egg, a tofu hot pot, and a bunch of other little Japanese dishes. Like dinner the night before, everything was homemade and delicious. Thank you so much!!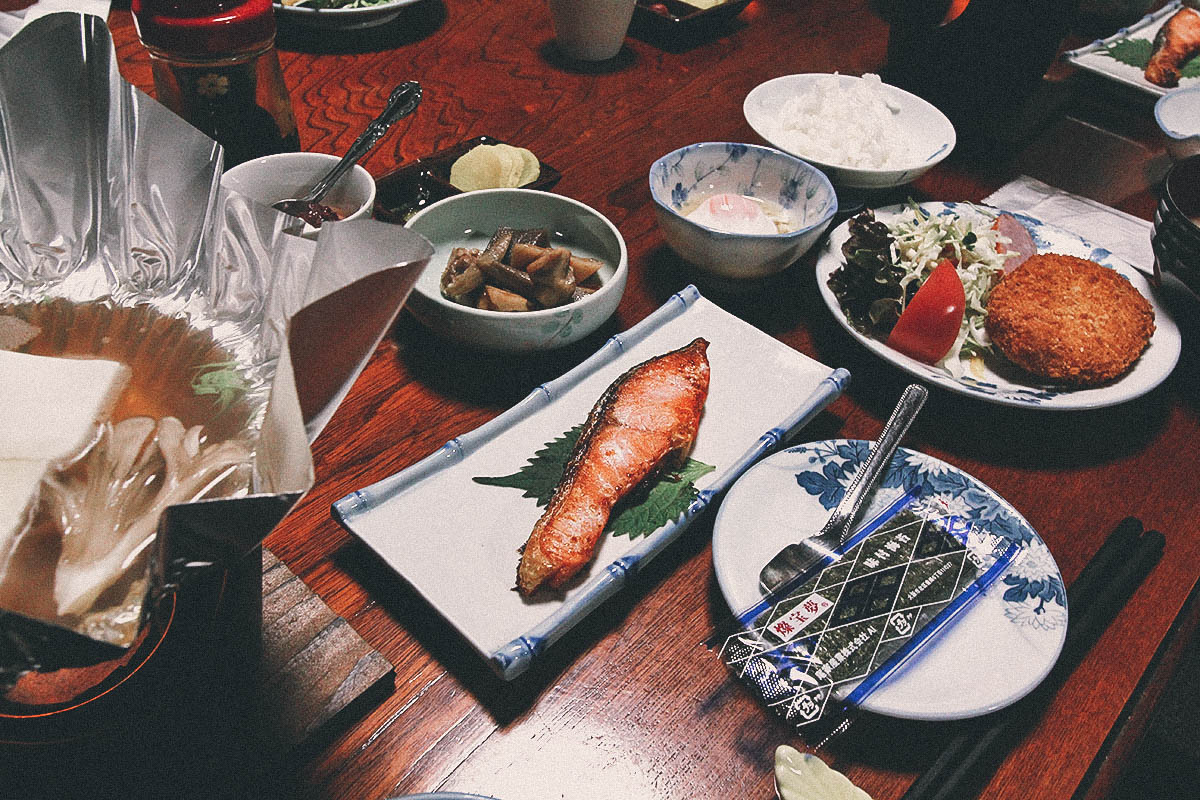 This was my first time staying at a Japanese-style inn and I loved it. I had no idea I would sleep so well on the floor! I enjoyed it so much that I booked three rooms just like it on a recent trip to Sapporo, Yufuin, and Kurokawa Onsen. I often get lower back pains when sleeping but I didn't experience any of that here. I guess sleeping on a firmer surface helps? In any case, we plan on visiting Japan at least once a year for the next five years so I intend to make similar arrangements whenever possible. Aside from the good sleep, I like how spacious the room feels without the clutter of furniture.
With that said, traditional Japanese inns, especially ryokans, do seem a bit more expensive than Western-style accommodations. We paid around JPY 10,900 a night for a ryokan in Yufuin and JPY 12,600 for one in Kurokawa Onsen earlier this month (Feb 2017). I did a dummy booking on Booking.com and it costs JPY 8,400 to rent a room here at Nashikisou in March 2017. You can stay for considerably less than that at a hostel. If you don't care to spend too much on accommodations then an inn like this probably isn't for you. But if you don't mind spending a bit more to get the full Japanese experience, then I'd highly recommend it.
There are a few ski resorts in the Toyooka area which is why we were brought here. As mentioned up top, we had a snowshoe experience not far from Nashikisou which I'll write about in another post. Toyooka is about 2.5 hours from Osaka or Kyoto making it an ideal place to do a skiing side trip from either city. If you're considering a stay at this inn, then please be advised that the JPY 8,400 a night is for 2 people and doesn't include breakfast. Breakfast can be had for an additional JPY 1,000. I don't know how much a Matsuba crab feast would run you but if you love crab and have money to burn, then I suggest just going for it. It's an experience you won't soon forget.
If you're looking to visit the Toyooka area and would like to book a room at Nashikisou, then you can do so through Booking.com.
Nashikisou
102, Nashiki, Hidaka-machi, Toyooka, Hyougo 669-5379 Japan
Tel: +81-796-45-0569
Fax: +81-796-45-1140
Website: nashikisou.com
Facebook: 名色荘
Email: nashikisou102attoyahoo.co.jp
Approximate Room rate: JPY 8,400 per night for 2 people (as of March 2017, breakfast not included)
HOW TO GET THERE:
Now comes the hard part. As described, we were shuttled around in trains and buses so I didn't get here on my own. I did some research and found that Ebara station is the nearest station to Nashikisou. You can get there by train from wherever you are. You can refer to hyperdia.com for train information. I saw that it's another 30 mins by bus from the station to the inn but I unfortunately don't know which bus you need to take. I suggest contacting Nashikisou via the details above for exact directions.
MAKE A RESERVATION: Booking.com
Disclosure
I was a guest of JR West and given free room and board for one night at Nashikisou. Along with a group of bloggers/media from four countries, I was invited by JR West to promote Western Japan. As always, the opinions expressed in this post are mine and mine alone.
Some of the links in this post are affiliate links, meaning we'll get a small commission if you make a purchase at NO extra cost to you. We really appreciate your support as it helps us keep this website going. Thank you!