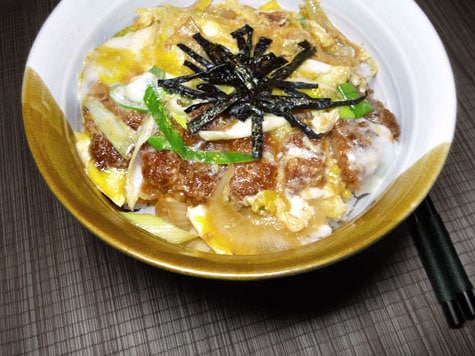 If Quentin Tarantino were to make a hard-boiled film about Japanese gangsters, this is how a confession-inducing bowl of katsudon would look under police interrogation. What pinky-less Yakuza lieutenant wouldn't fold under the pressure of this enticing bowl of breaded, deep-fried pork cutlets? Got noir-i?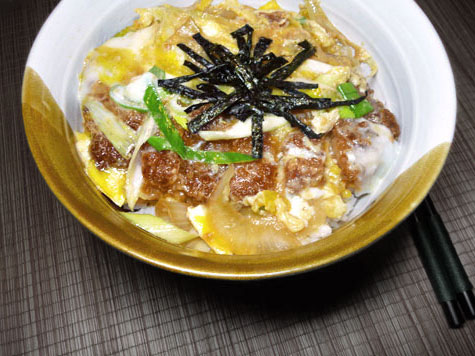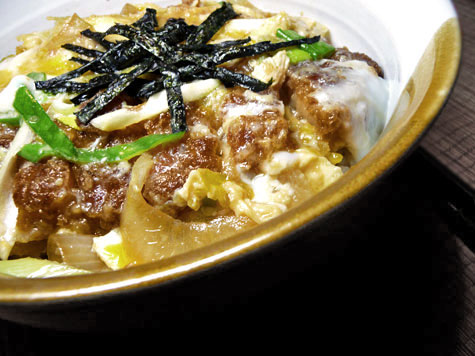 Ingredients
FOR TONKATSU
4 boneless, skinless pork chops
White pepper, to taste
3 Tbsps flour
1 egg, beaten
Japanese breadcrumbs (panko) 1-2 cups
Vegetable oil, for frying
FOR SOUP STOCK
1 Tbsp sugar
1/4 cup Japanese sake or rice wine
1/4 cup mirin (sweet sake)
1/4 cup soy sauce
1/2 cup dashi or soup stock
OTHERS
1 large onion, sliced
1 Tbsp sesame oil
Steamed rice
4 large eggs, lightly beaten
Small leeks and/or green onions, sliced diagonally
Nori (dry seaweed), finely cut, to taste, for garnish (optional)
Directions
Prepare assembly line of 3 bowls containing the following (in this order) – flour, egg, panko.
Season pork with salt and white pepper then dredge in flour. Dip in egg then cover with panko. Set aside.
Heat oil for deep frying until hot but not smoking.
Fry pork, turning only once, until golden brown. Transfer to chopping board and slice into half-inch strips while still hot.
Meanwhile, heat sesame oil in small skillet on medium high heat and add onions. Saute until translucent.
Pour sake and mirin to skillet and bring to boil.
Add sugar, soy sauce and soup stock and bring to boil.
Slide tonkatsu on top of onions and cook for about 2 minutes. Lower heat.
Pour beaten eggs all over pan, making sure spaces between pork are filled up. Add leeks/green onions.
Cover and cook on medium heat for another minute.
It's ready when eggs are cooked on top but still half-cooked on bottom.
Fill 4 serving bowls with steamed rice and top each with tonkatsu and omelette. Pour remaining sauce over each bowl.
Garnish with nori and serve.
DID YOU KNOW?
That it has become a modern tradition for Japanese students to eat katsudon before a major school exam? It's because "katsu" is a homophone of the verb 勝つ katsu, which means "to win" or "be victorious."