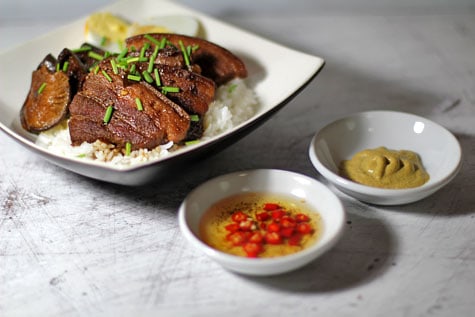 Japanese Braised (and Smoked!) Pork Belly (Buta No Kakuni)
Dhungar Diaries, Entry No. 2
Having previously made Chinese braised pork belly, Ren wanted to see if there was an equivalent in Japanese cuisine. Sure enough, there was. Well, sort of. Called Buta No Kakuni, it's a dish that's likely Chinese in origin, but belongs to a unique style of Japanese-Chinese cuisine served by Chinese restaurants in Japan.
Of course, she wasn't content in merely following the recipe, so she added her own Reneelicious twist. In keeping with her newfound obsession for all things dhungar, she smoked this mother to give it that deliciously charred flavor that would make any Awadhi cook proud. If you're wondering what dhungar is, it's an Indian method for quick smoking food that you can read more about HERE.
Her second dhungar dish in as many days with plenty more promised for next week, it looks like she'll be keeping true to her word of wanting to smoke anything and everything that she can get her hands on. Having once been a reggae-listening hippie-slacker who attended less than half of his classes in college, I can certainly relate. 😆
Dhungar Diary Archives
Entry No. 1: Aristocrat-Inspired Baked (and Smoked!) Chicken with Java Rice and Java Sauce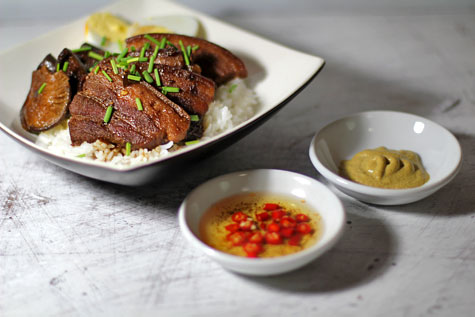 Served with a side of spicy brown mustard and mitsukan rice vinegar with diced red chilies. Dee-licious!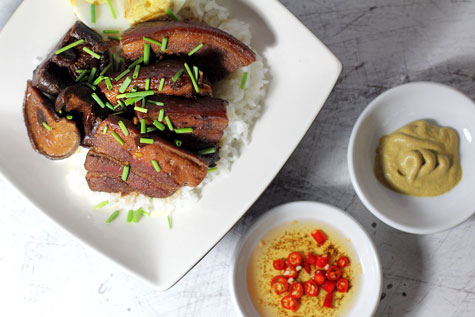 Ingredients
About 450g / 1 lb pork belly
2 Tbsps brown sugar
1 leek stalk, sliced
1 large piece of fresh ginger, sliced
1 star anise
1/4 cup dark soy sauce
1/4 cup sake
1/4 cup mirin
2 cups water
Shiitake mushrooms, optional
4 hard-boiled eggs
Green onions, silced, for garnish
1 pc all-natural charcoal, about the size of a lemon
A little oil
Directions
Cut pork into approximately half-inch slices. Heat up heavy-bottomed large pot. Fry pork belly slices with a little oil until brown on both sides.
When meat is browned, set it to one side and put sugar into fat that's accumulated on bottom of pot. Stir until a bit caramelized. Stir and toss so meat gets fully coated by sugar.
Add rest of ingredients, except hard-boiled eggs and bring to a simmer then lower heat. Put lid on and allow to simmer gently for about 1 1/2 to 2 hours, turning occasionally. Add hard-boiled eggs during last 20 minutes of cooking. Once cooked, prepare to smoke using dhungar method.
Heat charcoal over flame until smoldering and red. Place in small metal bowl and put over braised pork. Pour a little oil over charcoal and cover pot immediately soon as it starts to smoke. Make sure no smoke comes out. Let it sit for at least 30 minutes.
Remove bowl with coal and discard, then serve pork over steamed white rice or noodles with a side of Japanese hot yellow mustard (karashi), (I don't have karashi so I used spicy brown mustard instead and it was really good too) and/or mitsukan rice vinegar with diced red chilies.
DID YOU KNOW?
That the term kakuni, literally means "square simmered"? Chūka, which literally means "Chinese food", is the adjective for Japanese style "Chinese" dishes, or the restaurants in Japan which serve them.