EDITOR'S NOTE: Traveleater Lionel Lee believes that the best way to learn about a place, as a traveller, is to ask the locals. That's why he specializes in writing about Singapore for travelers. Here he shares with us his favorite 5 places to eat Hainanese chicken rice in Singapore.
Hainanese chicken rice is one of the most popular Singaporean dishes and often considered by locals and foreigners as one of our National Dishes. It can be found in places like hawker centres at 2 USD to premium Singaporean restaurants at 25 USD for a plate. In this post, I will share with you the top 5 Chicken Rice places you should check out when you visit Singapore.
What makes a good chicken rice? Some say it's the rice, some say it's the type of chicken that you select, others say it's the condiments that make or break the dish. For this post, my recommendations will be based on two criteria: Great tasting chicken and convenience for travellers.
Save This on Pinterest!
No time to read this now? Click on the red save button and pin it for later!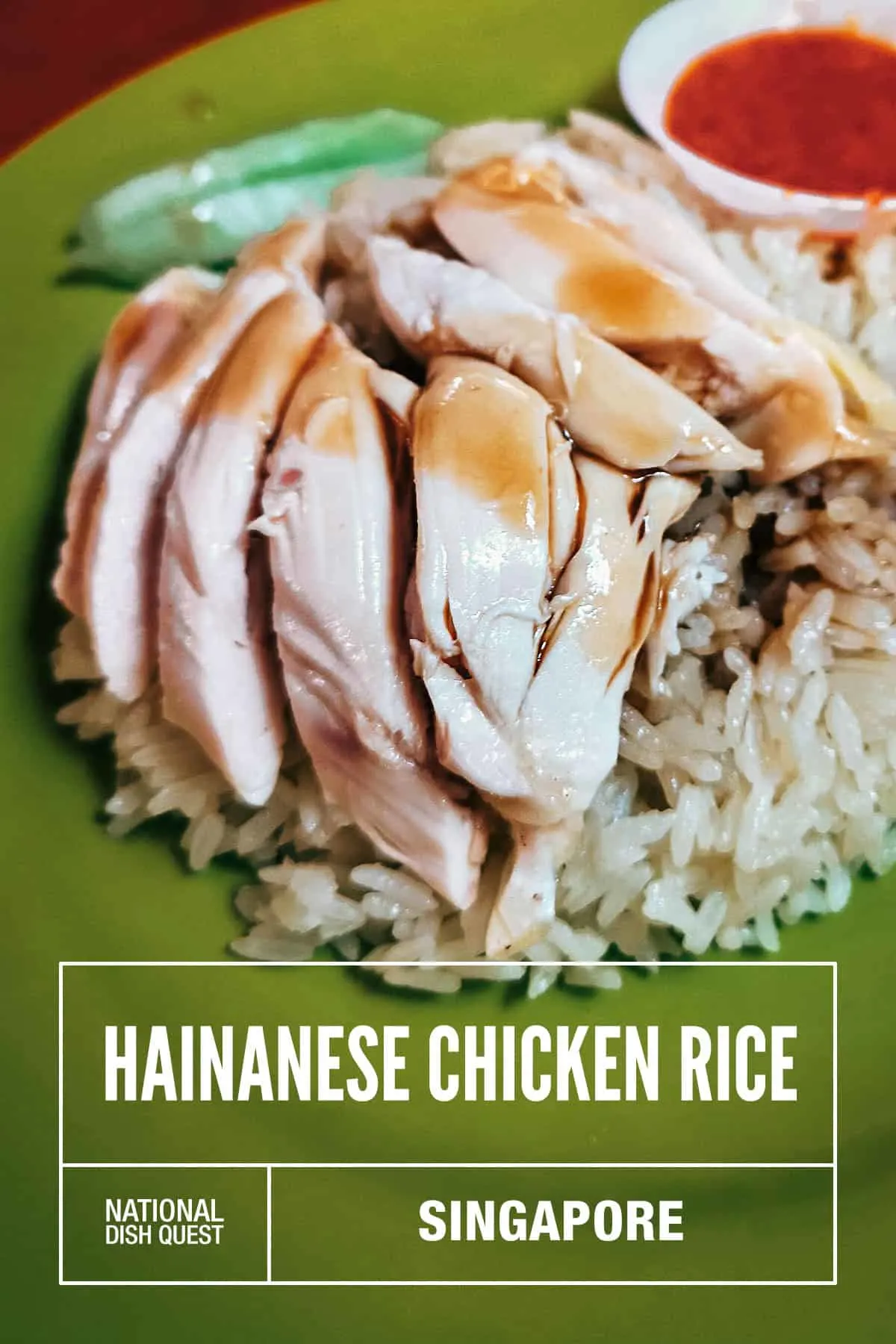 5 PLACES TO TRY CHICKEN RICE IN SINGAPORE
1. Wee Nam Kee Chicken Rice (Marina Square)
Wee Nam Kee Chicken Rice is one of the more established chicken rice brands in Singapore. In addition to Marina Square, there are 3 more outlets located islandwide.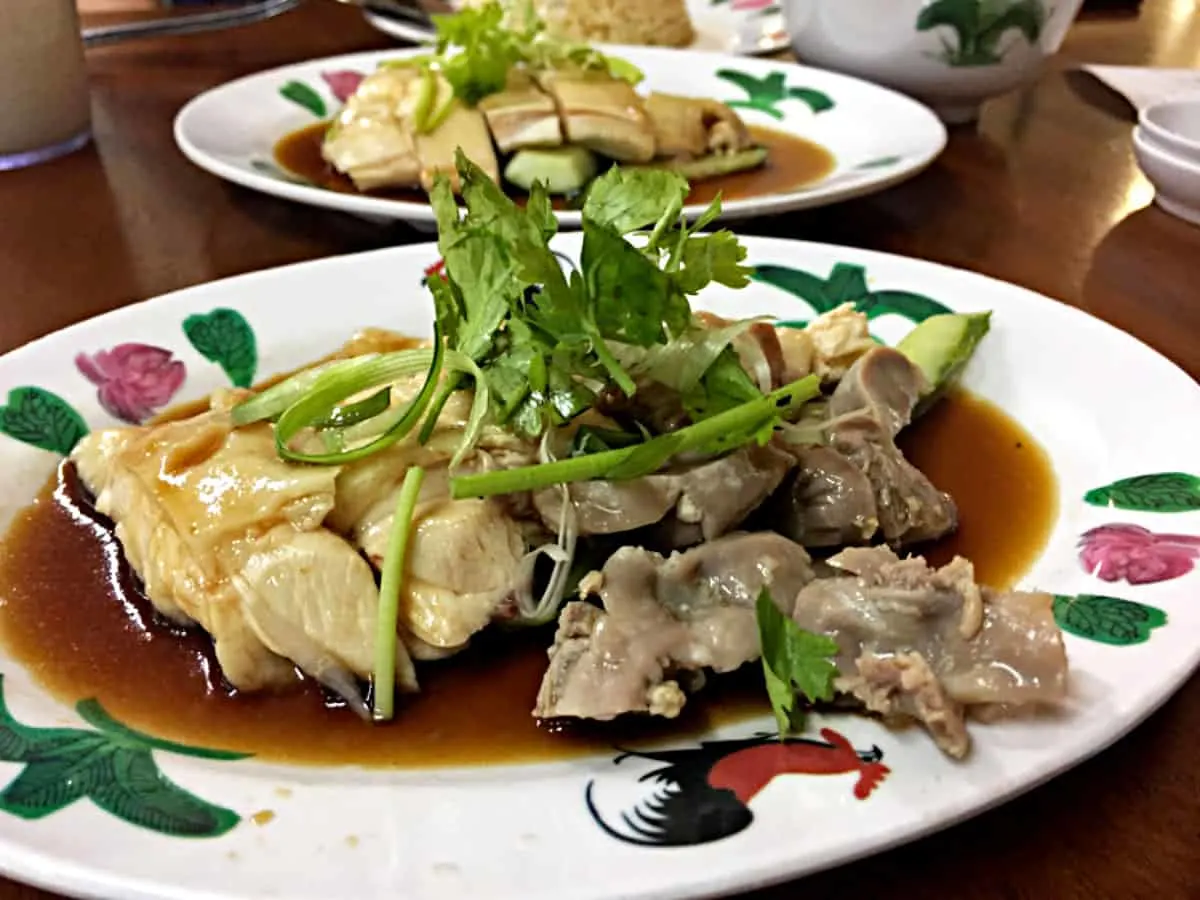 Other than the traditional Hainanese chicken (poached/steamed version), the restaurant also offers roasted and soya chicken. I had the poached chicken rice with chicken gizzard when I visited the outlet.
The poached chicken was cooked to perfection, and the meat is moist and flavourful. The rice was fragrant, but slightly on the oily side. To take it up a notch, you can coat your rice with a generous serving of dark soy sauce or dip your chicken into the chilli sauce and ginger paste before you send them into your mouth.
I would personally recommend for you to get a mixed serving of steamed/roasted/soya sauce chicken so that you can indulge in different versions of authentic local chicken rice all in one go. Personally, I like my chicken rice deboned and I am glad that the restaurant provides boneless chicken.
2. Tian Tian Hainanese Chicken Rice
Tian Tian Hainanese Chicken Rice is considered to be one of Singapore's most famous chicken rice stalls. Due to its fame, long queues can be sighted at their flagship outlet located at Maxwell Food Centre almost every day.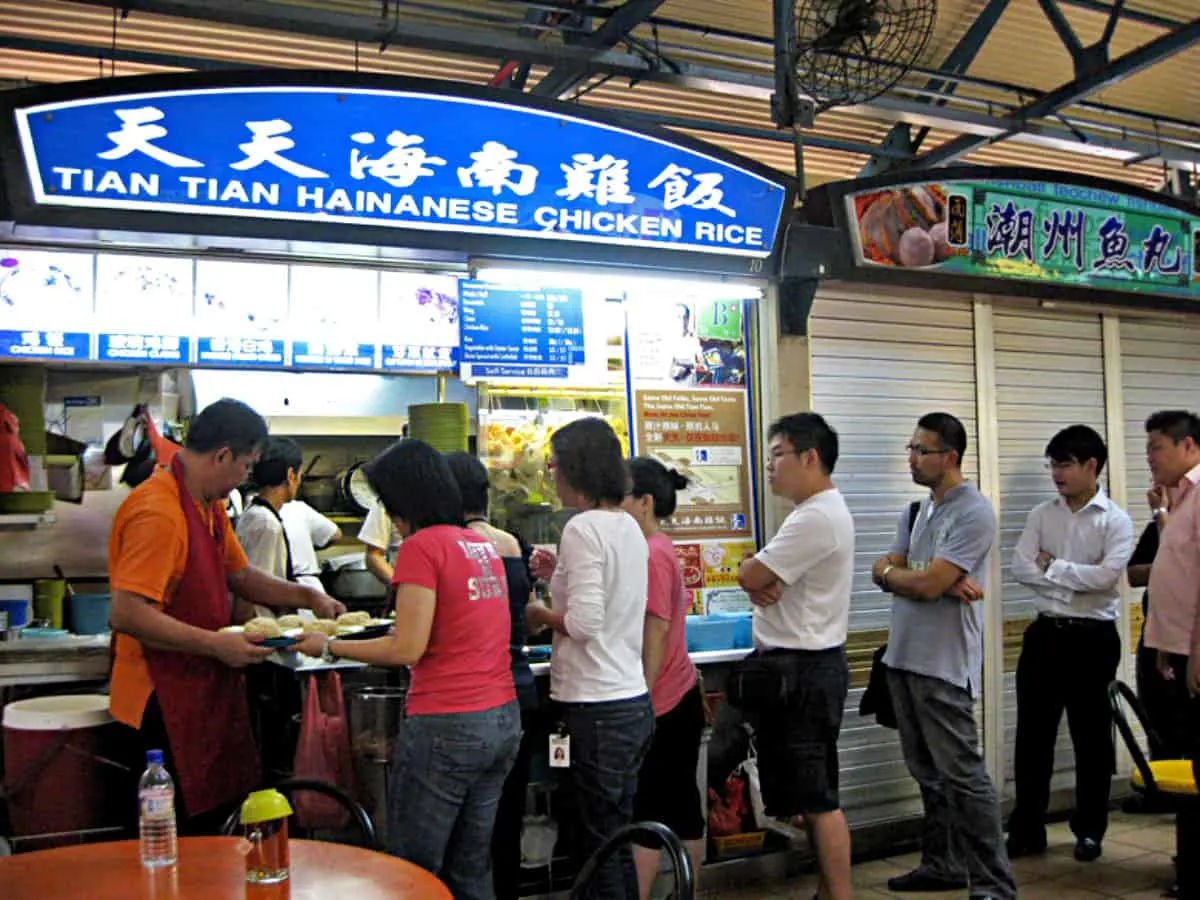 In 2013, superstar Chef Gordon Ramsay came to Singapore to challenge local chefs in the preparation of 3 Singapore National Dishes. He won the Chilli Crab Challenge but he lost the Laksa and Chicken Rice Challenges. Guess who he lost to for the Chicken Rice Challenge? It's none other than Tian Tian Hainanese Chicken Rice!
The rice, when served was warm, fluffy, fragrant, but was slightly too oily for my liking. Homemade dressing, instead of the standard soy sauce and sesame oil, is drizzled over the dish, pleasantly lifting the flavours of the poached chicken. Prior to serving the dish, the chicken was soaked in an ice bath, so the meat was served fresh, cold and succulent. Drizzle the warm fluffy rice and cool poached chicken with tangy chilli sauce, flavourful dark soy sauce and ginger paste and have a mouthful. You will understand why it it's rated as one of the best chicken rice dishes in Singapore.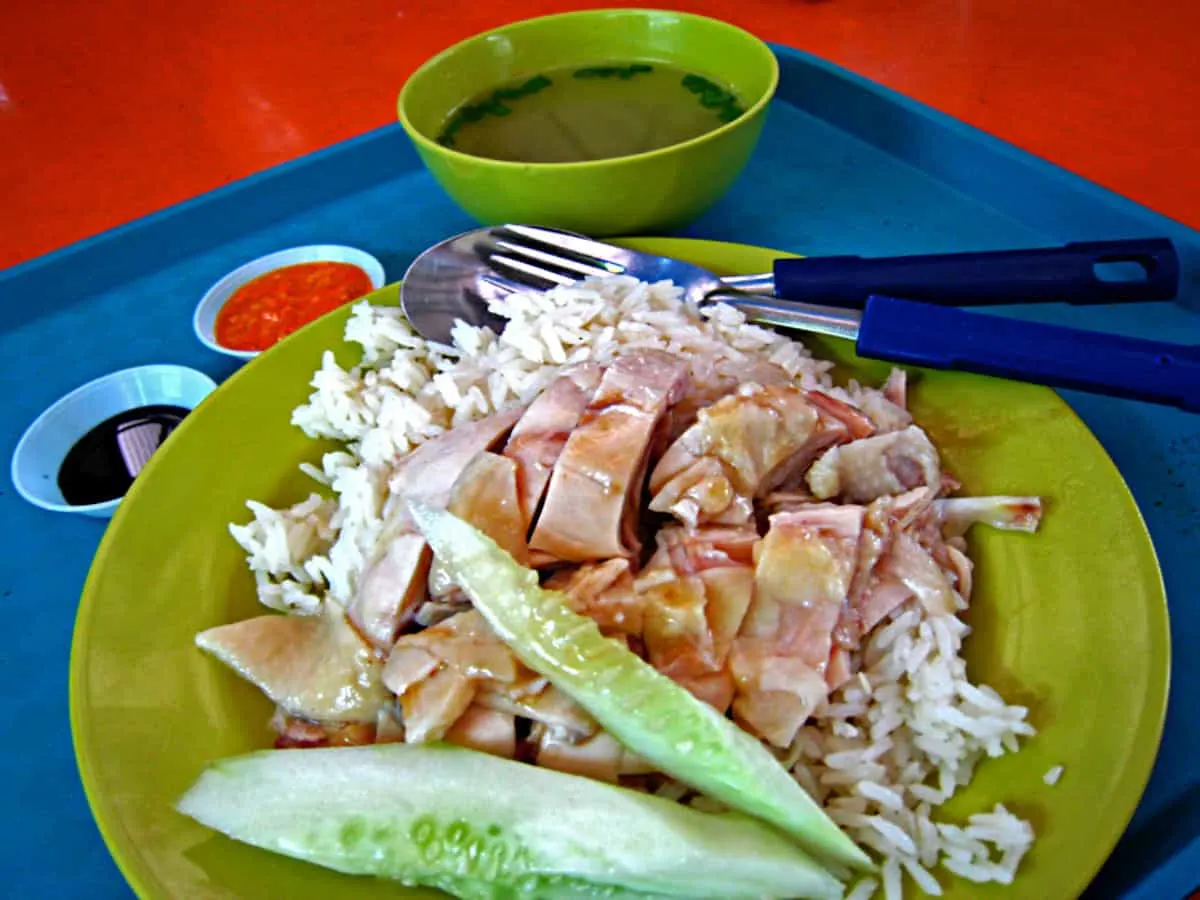 Many might say that Tian Tian is not worth the waiting time, but still, I would recommend travellers to make a trip there. Being located at Maxwell Food Centre, which is just a stone's throw away from the Buddha Tooth Relic Temple and Museum and Chinatown, makes it an ideal location for you to have an early or late lunch (avoid the lunch peak). Also, you get a local dining experience with options to purchase other local food from neighbouring stalls for a good hearty meal.
3. Chin Chin Eating House (Pulvis Street)
Established in 1934, Chin Chin Eating House offers Hainanese style dishes that include steamed chicken rice, pork chop, fish head curry, beef hor fun (flat rice noodles), chap chye (mixed vegetables) and more. I ordered chicken rice for one.
Both the chicken and the rice is drizzled with light soy sauce, instantly enhancing the flavours of the dish. The chicken is perfectly cooked, and you get to experience the moisture and tenderness of the meat in every bite. Couple it with fragrant rice, flavourful ginger paste and tangy chilli sauce and you will get an explosion of flavours in your mouth!
The place is not only famous for its chicken rice, but also other delectable Hainanese dishes so I would suggest that you order a smaller portion of chicken rice and fill the rest with value for money dishes such as the Hainanese pork chop and chap chye (mixed vegetables).
4. Boon Tong Kee (Bukit Timah)
Boon Tong Kee has 7 outlets in Singapore, making it accessible for both locals and travellers to patronize the popular chicken rice food chain. In addition to chicken rice, Boon Tong Kee also serves full courses of Chinese cuisine at its outlets, so you get to dine on a wide variety of local Chinese dishes in one setting. I ordered the steamed chicken rice during the visit.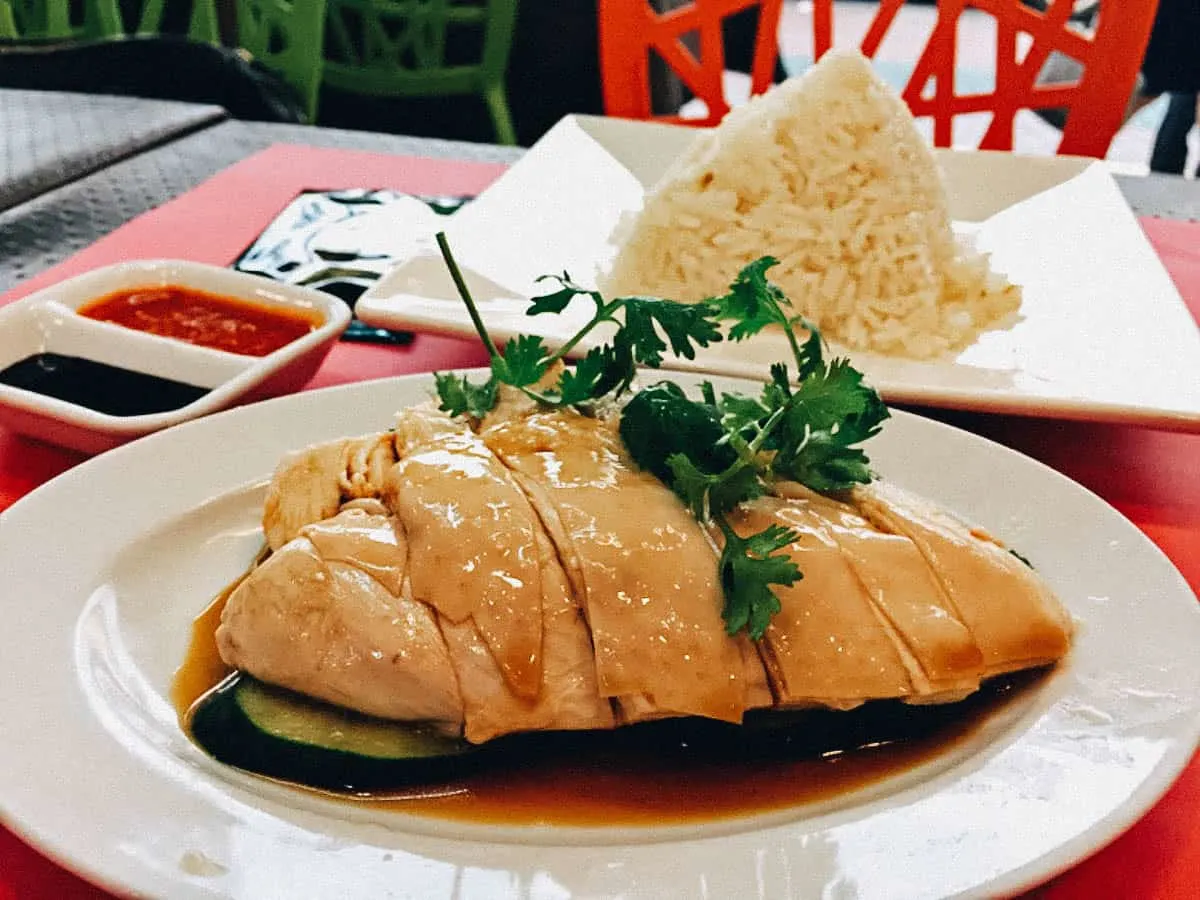 The chicken, when served, does not come along with any soy sauce and sesame oil. Instead, the service crew will come up to you with a small kettle that contains the gravy, and you can decide how much of the sauce you want on your chicken. This directly affects the fragrance (and the saltiness) of the steamed chicken. The chicken served here was tender and soft, and since I opted for lesser gravy, I could taste the sweetness of the meat. The pyramid-shaped chicken rice was my personal favourite. It's fragrance and texture goes especially well with dark soy sauce and the chili was spicy and tangy, which perfectly complements the meat and the rice.
Prices might be slightly higher as compared to other chicken rice stalls, but rest assured that it will be a satisfactory meal. If travelling in groups, get a small poached chicken set (1 person serving ~ ½ chicken depending on number of diners) and complete your meal with other popular local Chinese dishes to make the trip worthwhile.
5. Liao Fan Hawker Chan (Smith Street)
After receiving one Michelin Star from the Singapore Michelin Guide 2016, Chef Chan, owner of Liao Fan Hong Kong Soya Sauce Chicken Rice and Noodle partnered with Hersing Culinary to start a restaurant under the brand name known of Liao Fan Hawker Chan. In the span of one year, the restaurant has expanded to 3 outlets islandwide. I had the Soya Sauce Chicken rice with Char Siew.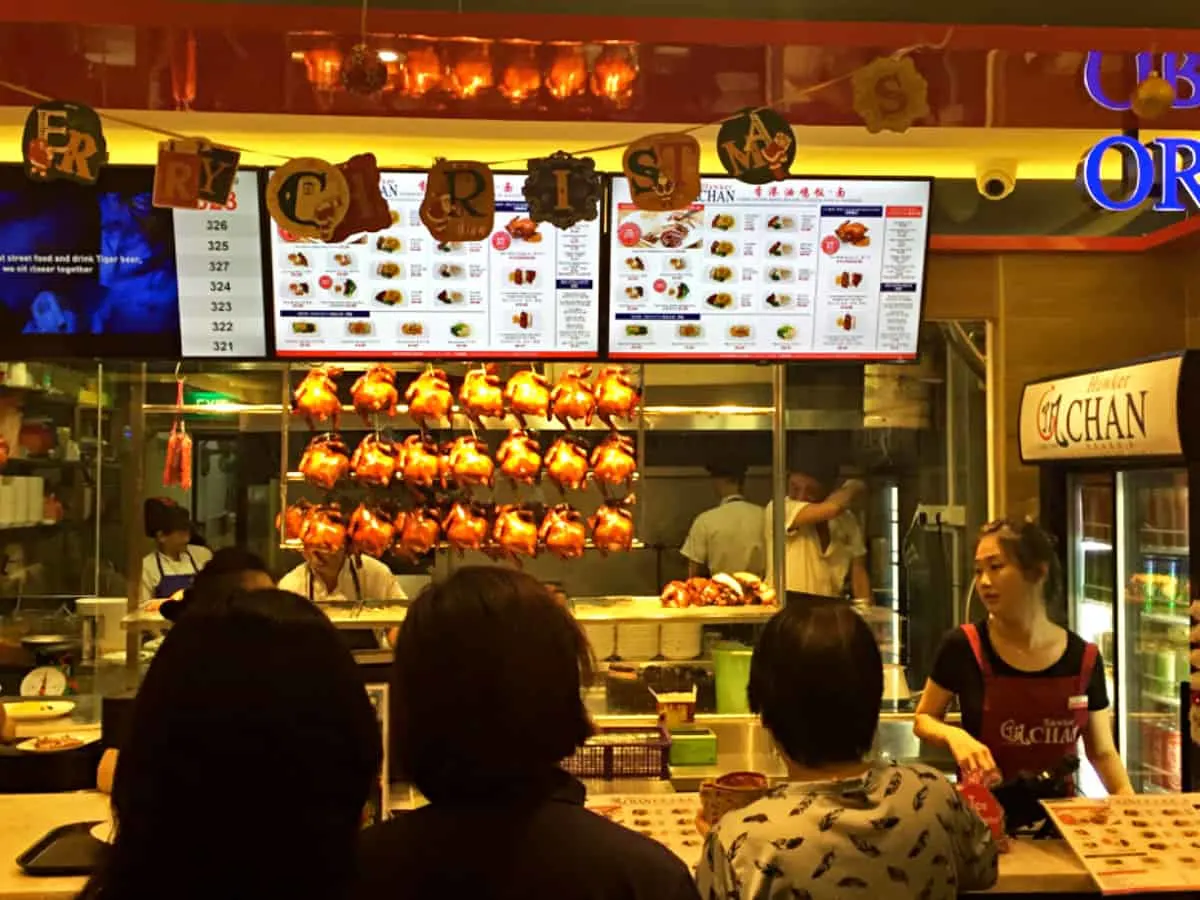 In one mouthful of the succulent chicken, you get to savor the perfectly marinated skin and the soft tender meat that is rich in spices. The thick gravy that was drenched over the rice gave the dish another layer of herbal aroma and it softly lingers in your mouth after you finish your meal. Also, do note that the rice is plain white rice, not the flavoured ones you would normally find at Hainanese chicken rice stalls. Unfortunately, the char siew failed to meet the mark. Even though it was flavourful, the meat lacked a caramelized texture to it. It felt more like a braised char siew, rather than barbequed.
Dining at Liao Fan Hawker Chan is like having a meal in a fast food joint. Definitely not the best experience to dine like a local, but a quick and cheap way to experience Michelin awarded cuisine.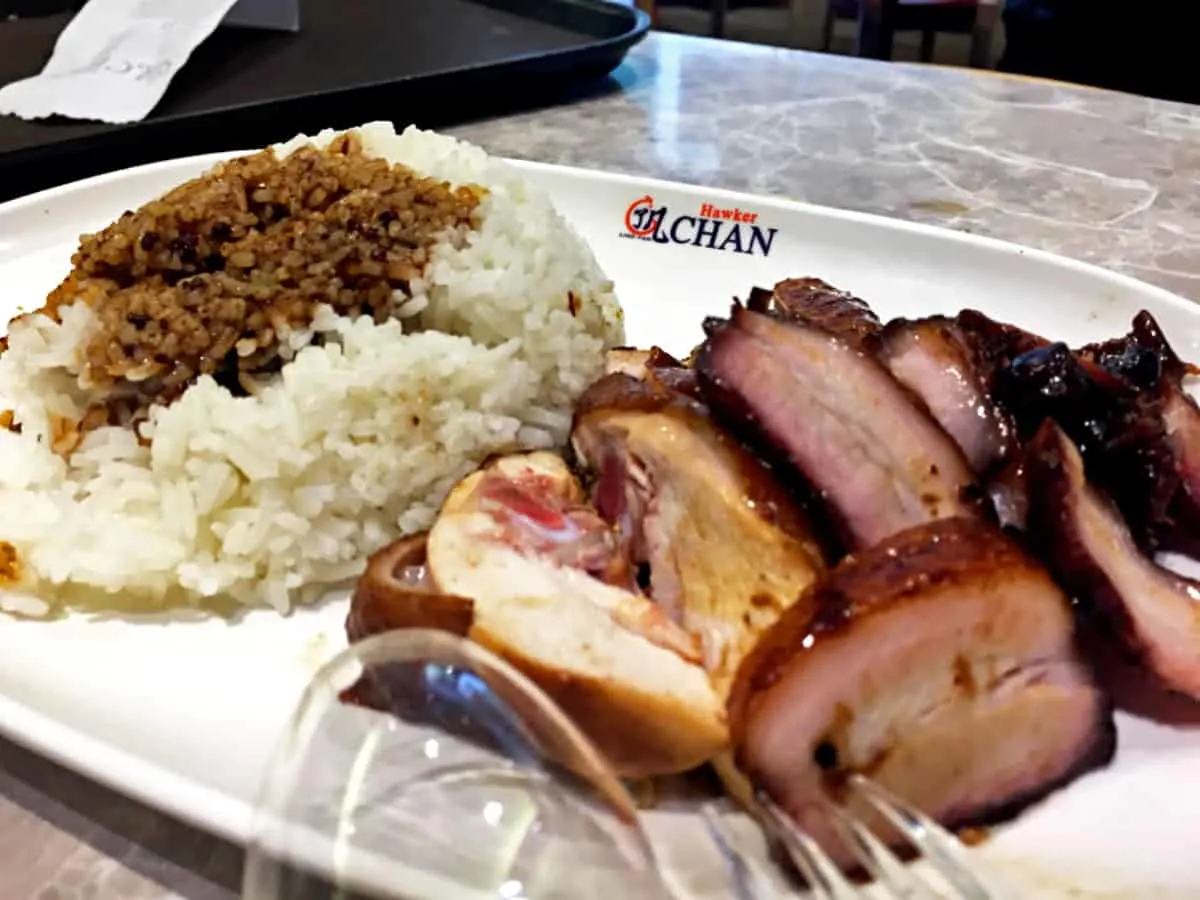 Photos by Lionel Lee