Who doesn't enjoy a good spring roll? Eaten with your hands, they make for great starters.
Spring rolls are served as appetizers in many East Asian and Southeast Asian countries. Fried varieties like Filipino lumpia or Vietnamese chả giò are tasty, but for me, fresh spring rolls are the best. In the Phiippines, we have lumpiang sariwa (fresh lumpia). In Malaysian or Singapore, you can find different types of popiah. I haven't tried them but I've read that popiah, both fresh and fried, is popular in Taiwan and Thailand as well. There are many varieties of fresh spring rolls but my hands down favorite is the Vietnamese gỏi cuốn. Translucent with alternating hues of orange and green, not only are they some of the tastiest fresh spring rolls, they're also among the prettiest.
Save This on Pinterest!
No time to read this article on Vietnamese goi cuon now? Click on the red save button and pin it for later!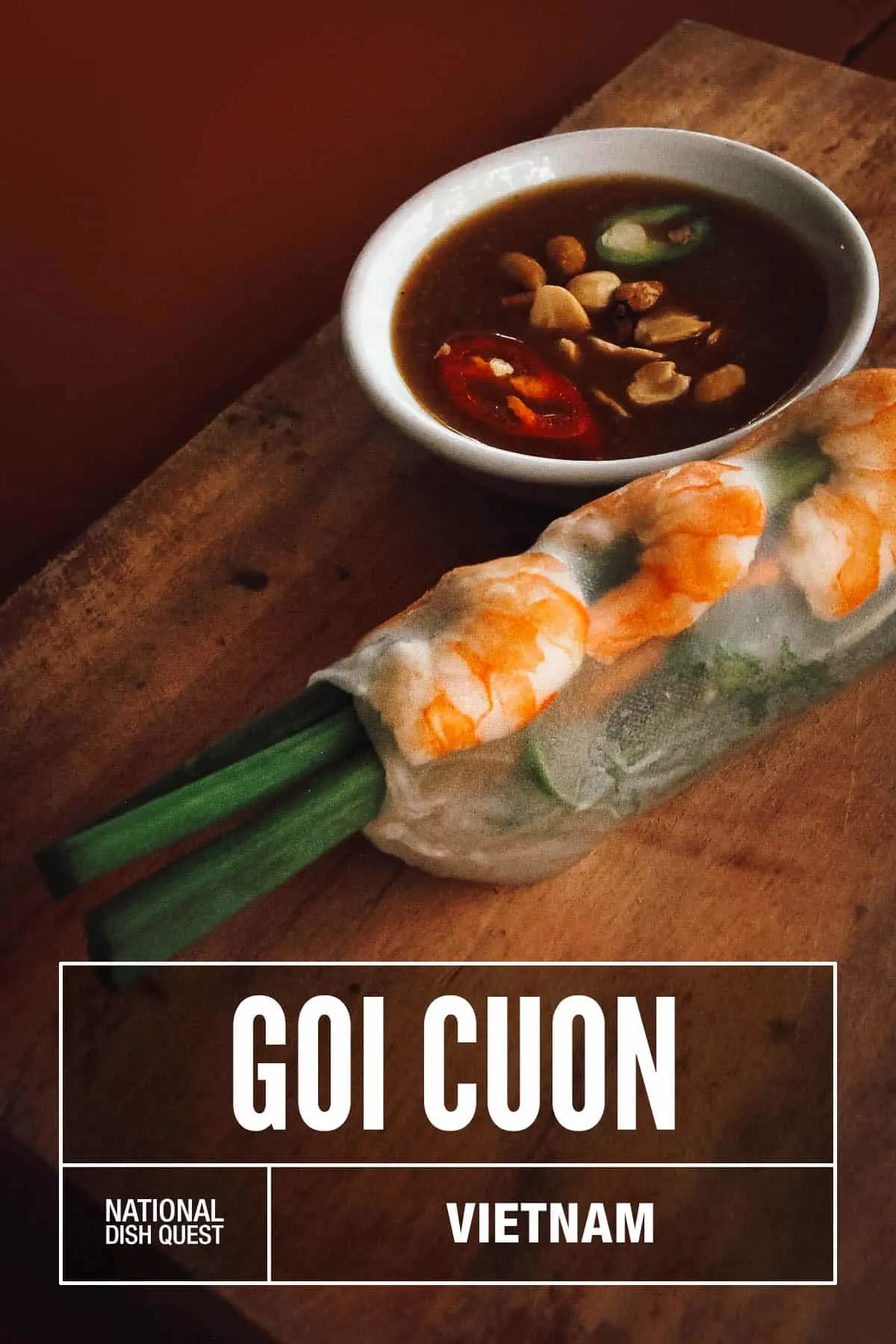 WHAT IS GOI CUON?
Gỏi cuốn is a Vietnamese fresh spring roll made with shrimp, pork, vegetables, herbs, and rice vermicelli wrapped in bánh tráng or Vietnamese rice paper. One of the most popular staples in Vietnamese cuisine, it's considered a national dish of Vietnam along with phở and bánh mì.
Gỏi cuốn, like other types of Asian spring rolls, are believed to have originated from China. They were a seasonal food consumed during the spring, which is how it got its name. Filled with the new season's freshly harvested vegetables, spring rolls were a welcome change from the preserved foods of the long winter months.
Spring rolls have been a popular appetizer in Asia for centuries. But thanks to migration, they've become widely available throughout the rest of the world as well.
HOW TO MAKE GOI CUON?
We took a cooking class in Hoi An and the first thing we learned how to make was gỏi cuốn with a nuoc leo (peanut hoisin) dipping sauce. Here's our instructor Hien showing us all the ingredients that go into a gỏi cuốn.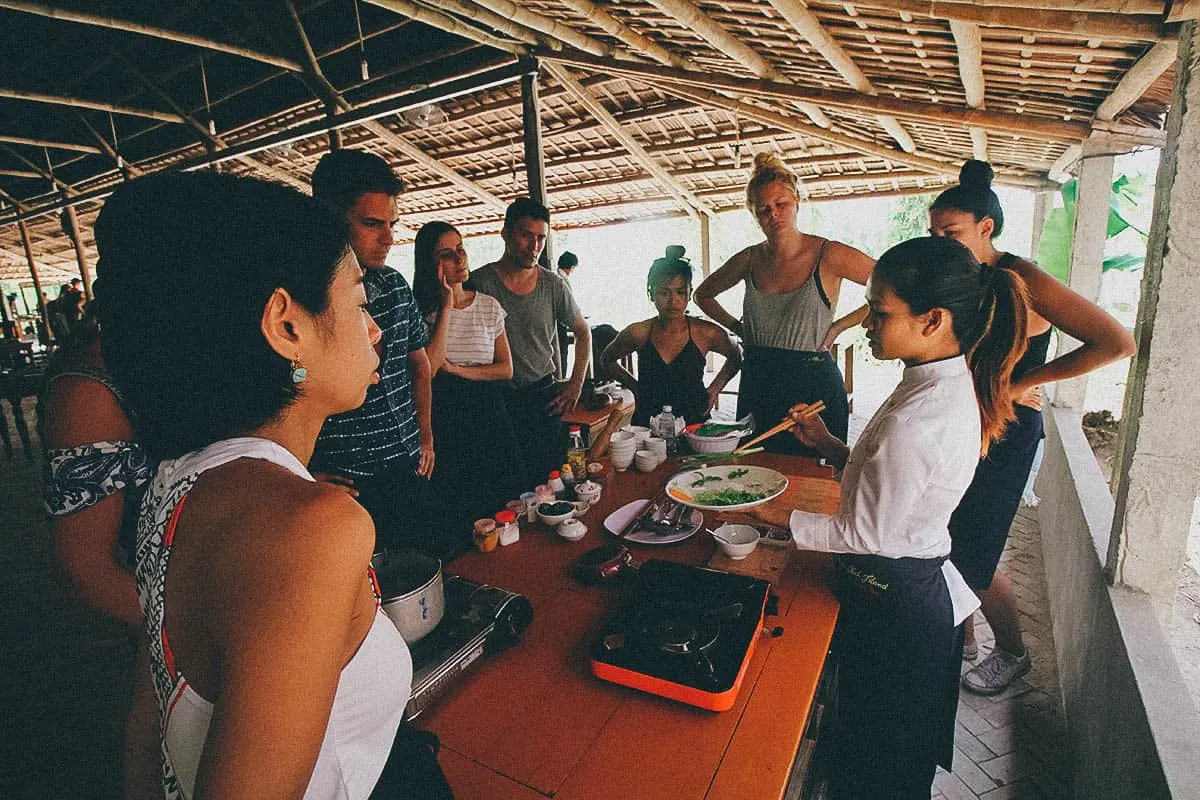 Here's the perfectly rolled example she made. It's beautiful right? I love how colorful and fresh it looks. I don't think I've seen a prettier spring roll than Vietnamese gỏi cuốn.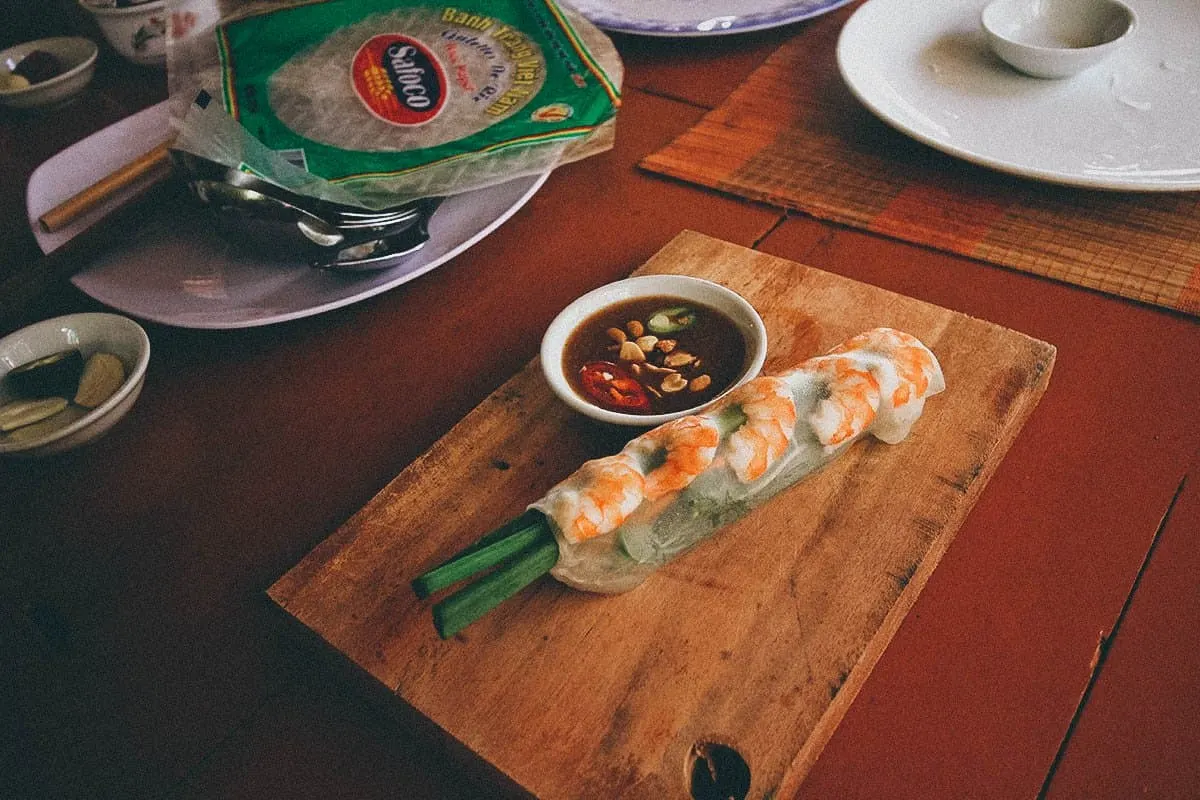 To make the gỏi cuốn, a sheet of rice paper is first dipped in water then laid flat on a chopping board. The chopping board helps soak up excess water to keep the paper from becoming mushy. You then lay the ingredients down beginning with the lettuce, followed by the herbs and veggies, then the pork. Rice vermicelli is then spread evenly on top before topping it all off with another lettuce leaf. You fold both sides of the rice paper and roll up from the bottom. Stop about two-thirds of the way to neatly arranged the shrimp in a row, color side down, so the colorful side of the shrimp is showing through the translucent rice paper. Add some chives then roll all the way up, making sure to have your chives sticking out from one end of the roll.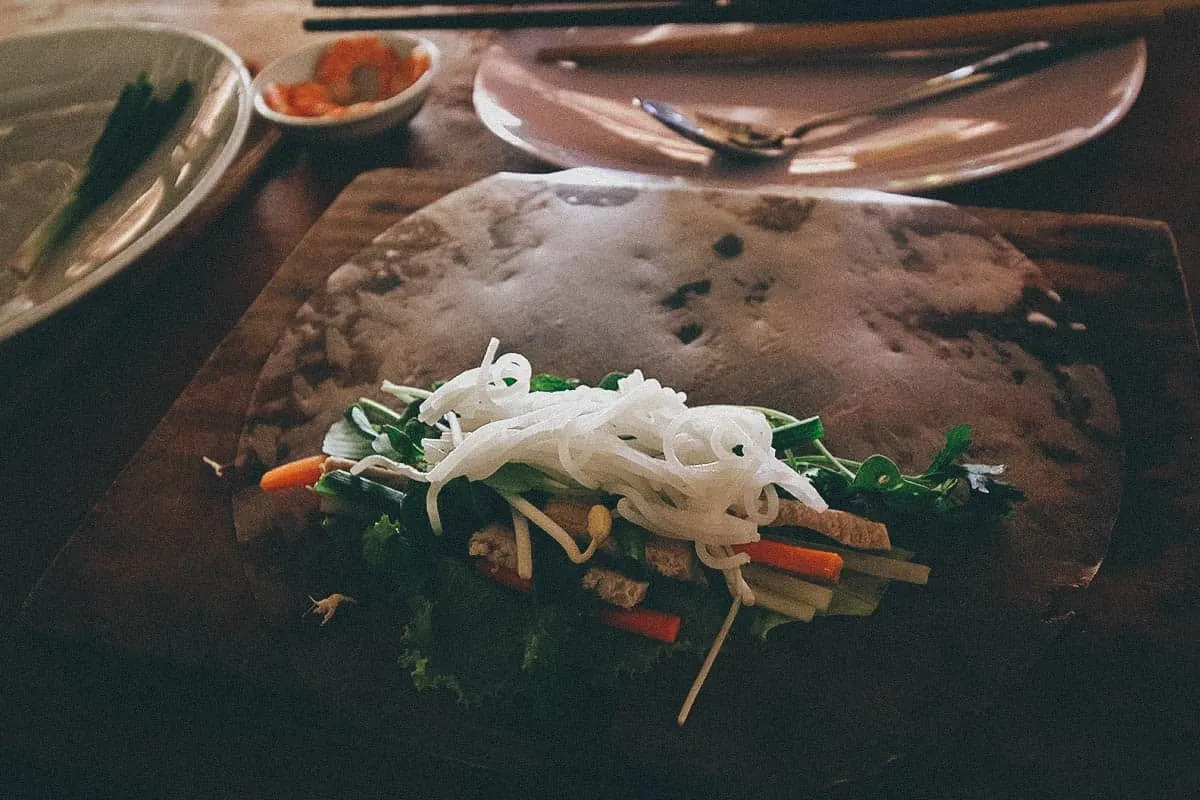 Here's the one Ren made. It looks just as pretty as Hien's! 😯 What I love most about fresh spring rolls is that they don't leave you feeling unctuous and heavy. I often get that feeling after eating (too many) fried spring rolls. Fresh spring rolls aren't cooked so you can eat as many of these as you like without the guilt.
I just love how fresh and crunchy these things taste. They're healthy too so you feel good eating them. If spring rolls were meant to usher in the new season, then Vietnamese gỏi cuốn is the perfect way of doing that. Simply put, these rolls LOOK like spring. ♥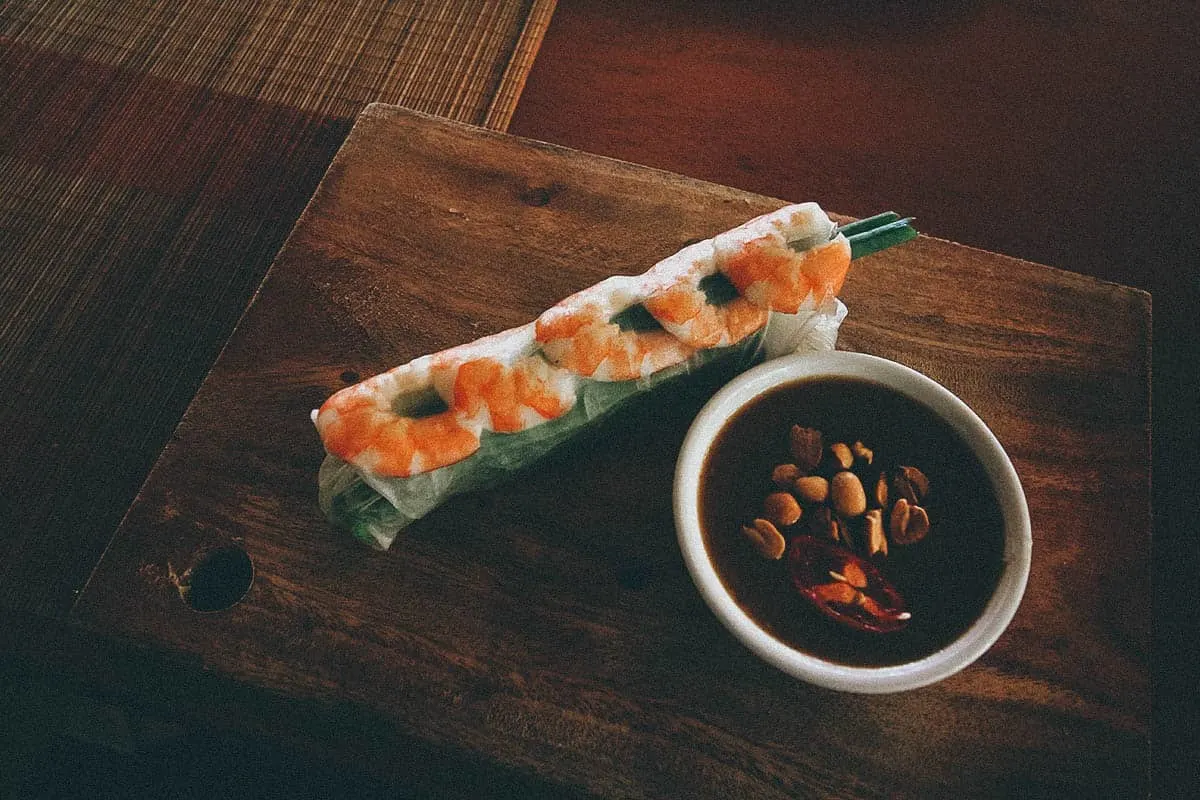 And here's the stumpy one I made. I rolled it too tight and forgot to leave an opening for the chives. Oh well, at least it tasted good. 🙂 Posted below is the exact recipe we learned from Thuan Tinh Island Cooking School. Enjoy!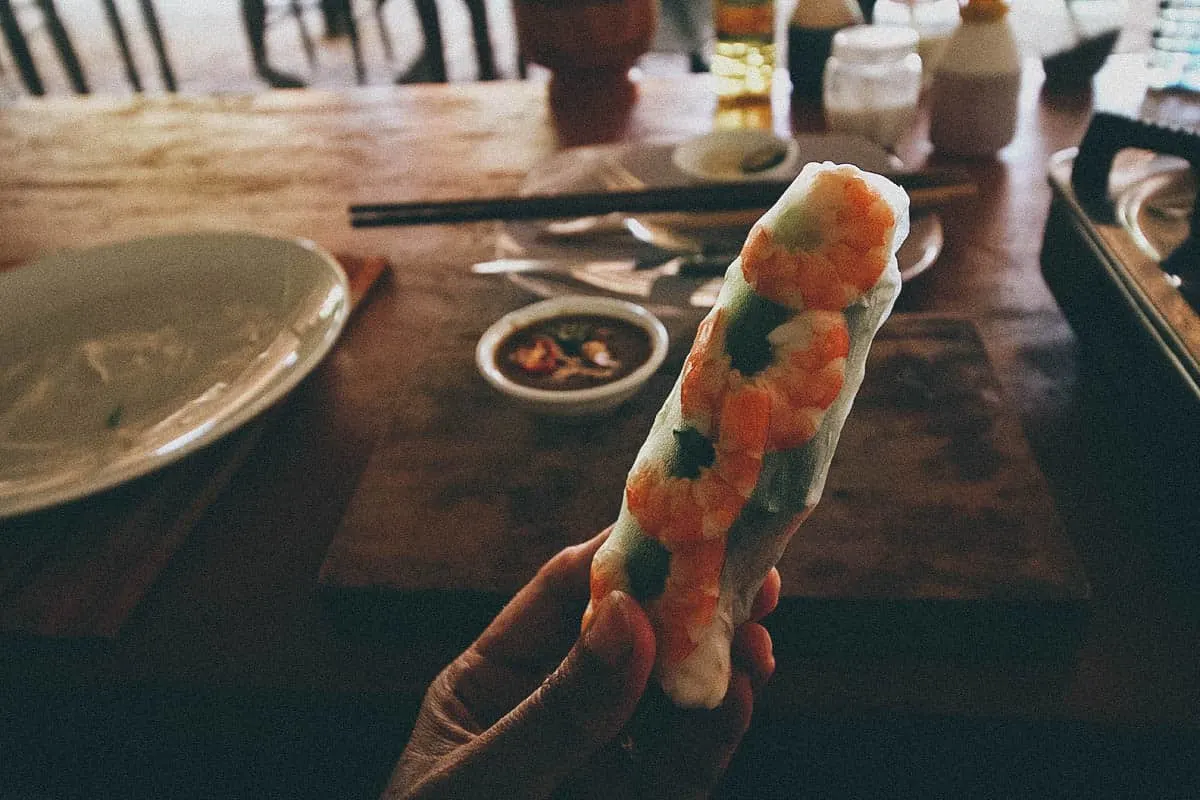 GOI CUON RECIPE
INGREDIENTS
10 pcs medium-sized shrimp
50g pork tenderloin
1 package rice vermicelli noodles
Vietnamese rice paper
Lettuce
1 small cucumber
1 small carrot
Green onions
Bean sprouts
Mint
Coriander
Lemon basil
Purple perilla (if available)
DIRECTIONS
Fill a small saucepan half full of water and bring to a boil. Add 10 medium-sized shrimps and reduce heat to simmer for 2 minutes. Do not discard water. Remove shrimps and set aside to cool.
Trim fat from 50g pork tenderloin and return water to boil. Reduce heat and poach pork at a low simmer for about 5-6 minutes. Remove pork and set aside to cool. Reserve light stock for peanut hoisin sauce.
Follow package directions to cook rice vermicelli noodles.
Peel and devein shrimp, then lay flat and cut in half horizontally. Cut tenderloin in half lengthwise, then cut across the grain to create thin slices of pork. Set shrimp and pork aside.
Fill a large bowl with cold water then quickly dip a piece of Vietnamese rice paper, making sure to wet the entire piece. Shake off any excess water. Lay the wet rice paper down on a wooden cutting board (or a professional grade towel) to help absorb excess water. Do not use a plate because the rice paper will become mushy and/or stick to the plate. Place a small half lettuce leaf at the lower end of the rice paper. Lay the following evenly across the rice paper in very small quantities – julienned cucumber, bean sprouts, mint, coriander, lemon basil, purple perilla, julienned carrot, julienned pork, and rice vermicelli. Cover with half a lettuce leaf to hide the filling.
Roll the rice paper 2/3 of the way, then evenly lay 5 shrimp slices with the orange side facing down. Fold the edges and add a small green onion with 3-4 leaves sticking out about 1″ from the ends. Continue rolling while keeping it tight. The roll should look long and slim, otherwise you put too much filling. Don't put too much vermicelli and salad.
Repeat steps 5 and 6 until all the shrimp and pork have been used up. Serve with peanut hoisin sauce.
NUOC LEO (PEANUT HOISIN SAUCE) RECIPE
INGREDIENTS
Soybean oil
Roasted peanuts
2 cloves garlic
1/2 cup light stock
Peanut butter
Chinese soy sauce
Premium fish sauce
Sugar
Hoisin sauce (optional)
DIRECTIONS
Add a teaspoon of soybean oil in a small saucepan then fry 2 finely chopped cloves of garlic.
Add 1/2 cup of light stock, 1 Tbsp peanut butter, 2 tsps Chinese soy sauce, 1 dash fish sauce, 1/2 tsp sugar, and 1 tsp hoisin sauce (optional). Bring to a boil, then reduce to low heat while stirring until peanut butter is completely dissolved.
The sauce should thicken when cooked to a mustard-like consistency. Adjust consistency with more light stock if necessary.
Adjust seasonings (soy sauce, salt) to taste. Garnish sauce with freshly roasted chopped peanuts.