I thought we had booked a bike tour. It wasn't until we hopped in an air-conditioned SUV with our guide Turtle did we realize something was amiss. He described the afternoon's itinerary in detail but made no mention of bicycles.
"Bicyles? Aiya no way! My Son very far! Even if you pay me 300 dollar I still don't bike there!" After half an hour of driving through the highway, I realized he was right. My Son Sanctuary was way too far to reach from Hoi An on bicycles, especially in this heat! I reviewed our email trail and read the tour description on their website and true enough, there was no mention of bicycles anywhere. Ren gave me her signature eyeroll after I was so sure Turtle was the one who had messed up. 😆
Often referred to as a "mini Angkor Wat", My Son is a Hindu sanctuary dedicated to the worship of Shiva. It's a UNESCO World Heritage Site and the most popular day trip destination from Hoi An…by car.
My Son Holy Land Full Day Tour
Pronounced mee-sun, My Son Sanctuary is a little over an hour away from Hoi An. Entrance is VND 150,000. We went on a private My Son Holy Land Full Day Tour with Simply Vietnam Travel and paid VND 1,200,000 per person (minimum of two) inclusive of entrance fees, bottled water, and snacks.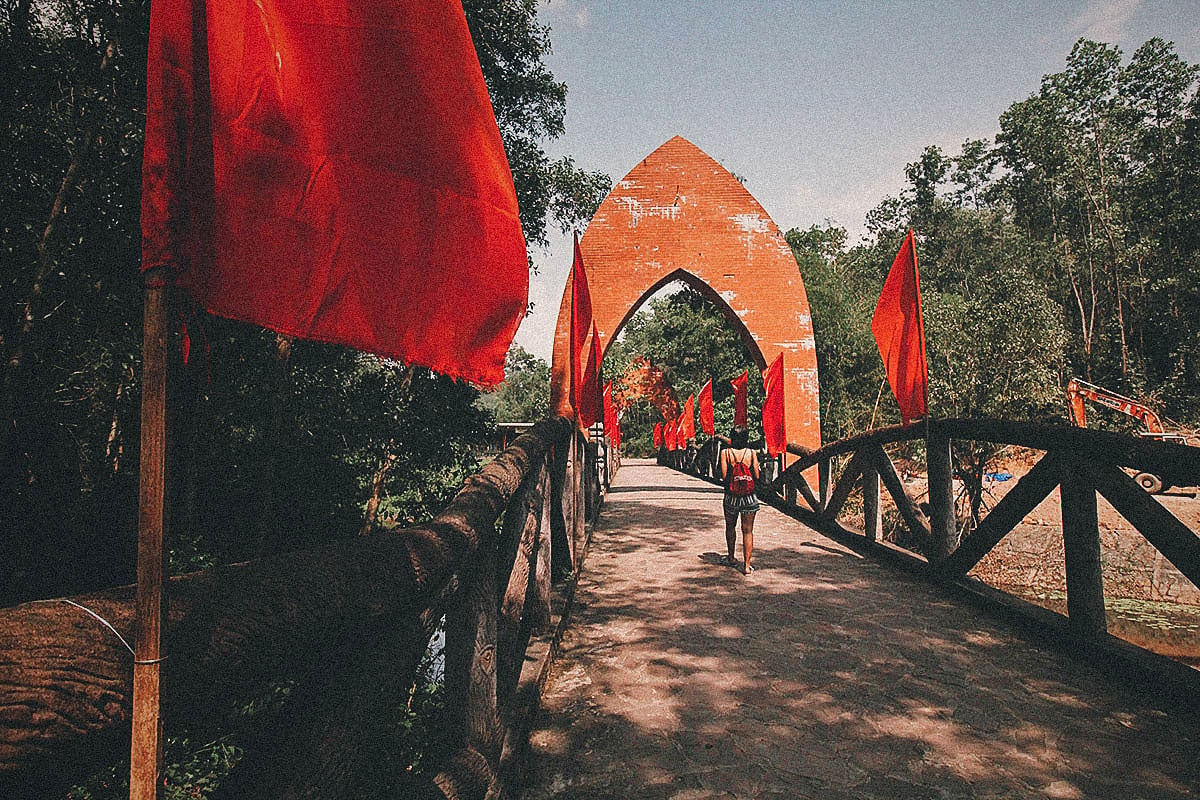 Upon entering the sanctuary, you can hop into one of these shuttles to bring you closer to the temples. Some people walk but it's about 2 km to the site from here.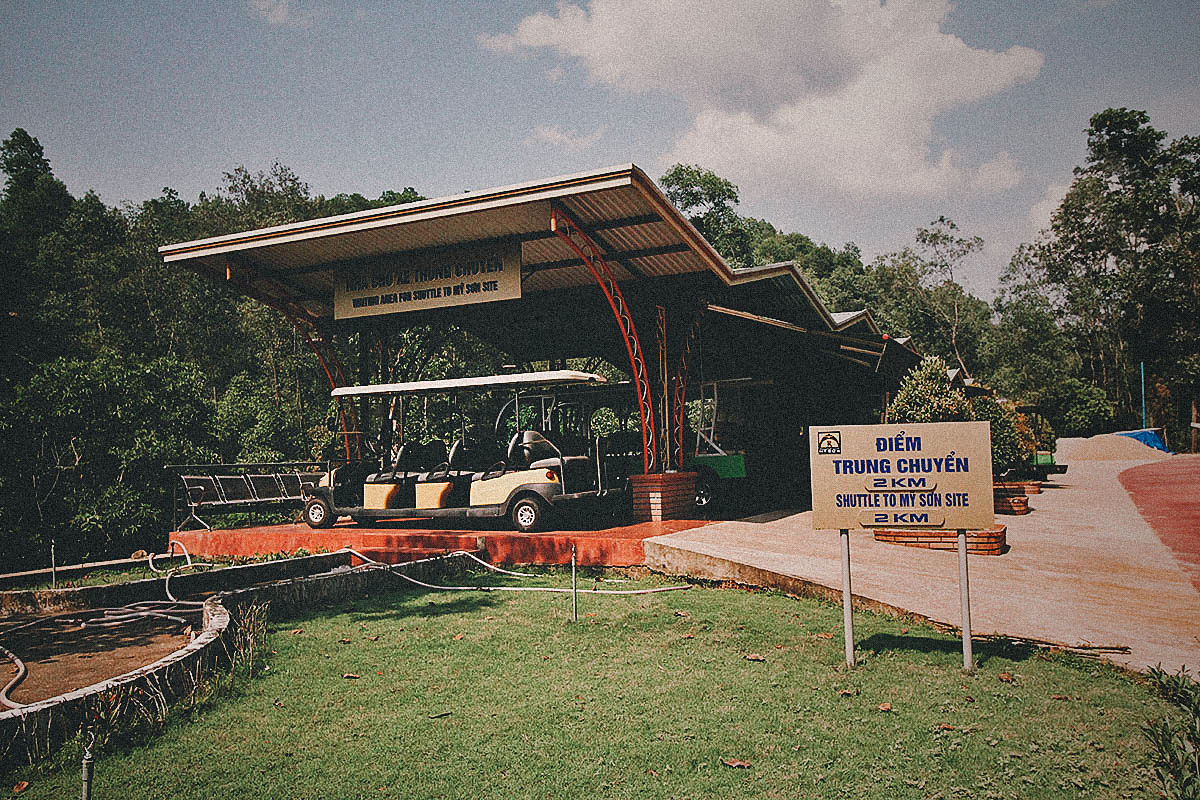 When we arrived at the other shuttle station, Turtle sat us down to give us a brief background of My Son Sanctuary before proceeding on foot to the actual site. I'll describe what we learned as you go through this post.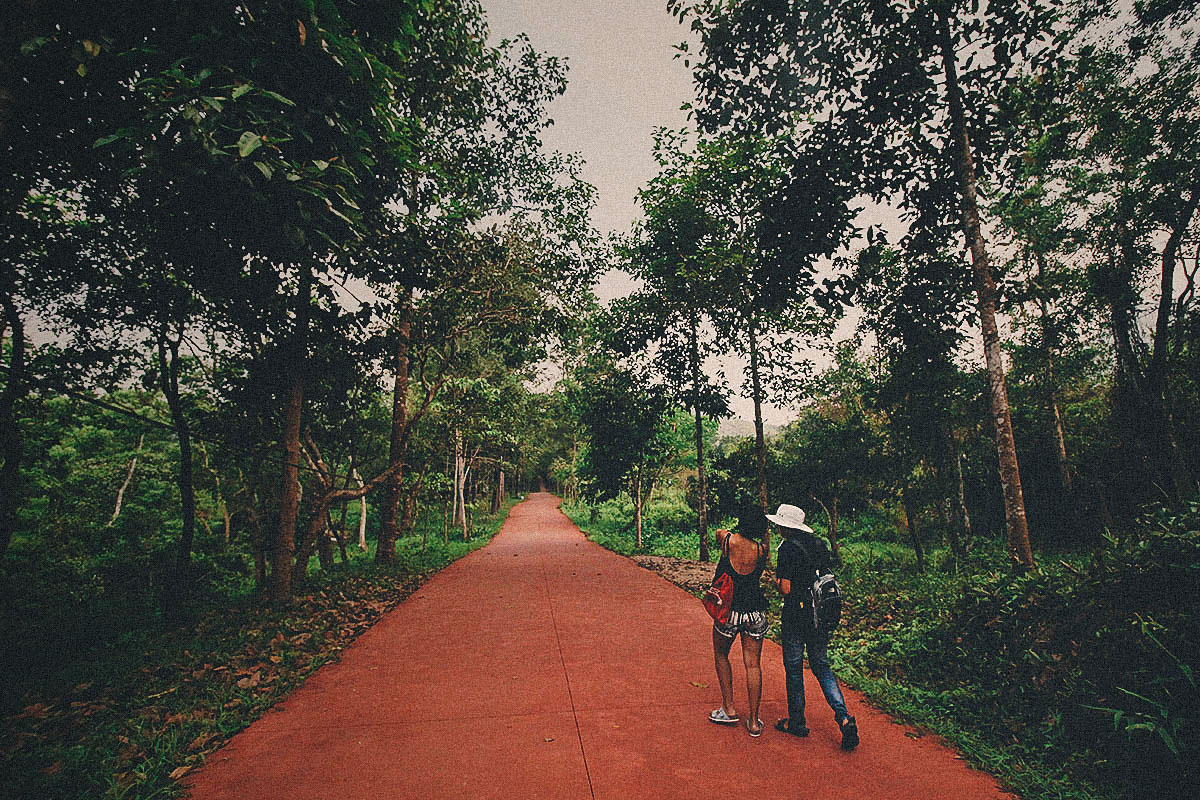 Here are some of the ruins coming into view now. Over 70 structures comprised the sanctuary at one point but many were destroyed by bombings during the Vietnam War. Today, only about 20 remain with the most well-preserved located at the main site. We'll be coming up to it shortly.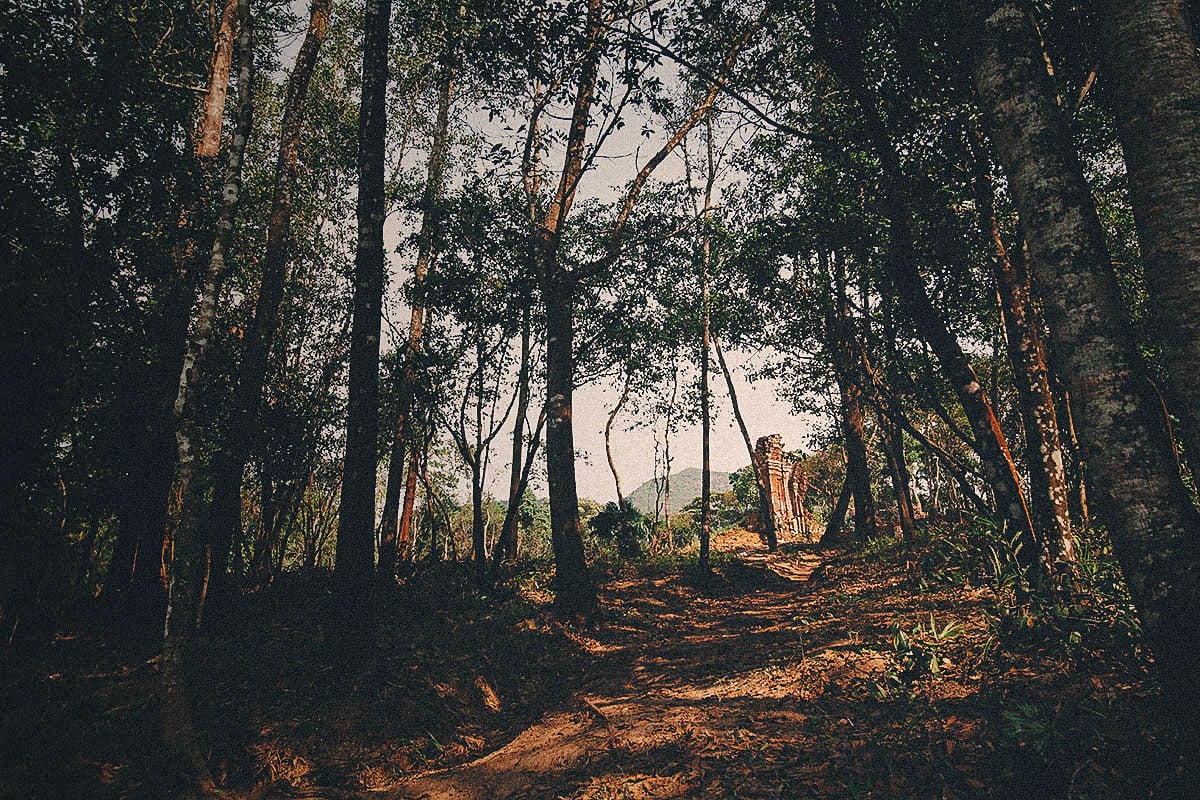 There it is now. If I remember correctly, there are 5 clusters of temples here. Many have been reduced to rubble but this main cluster is still in relatively good condition.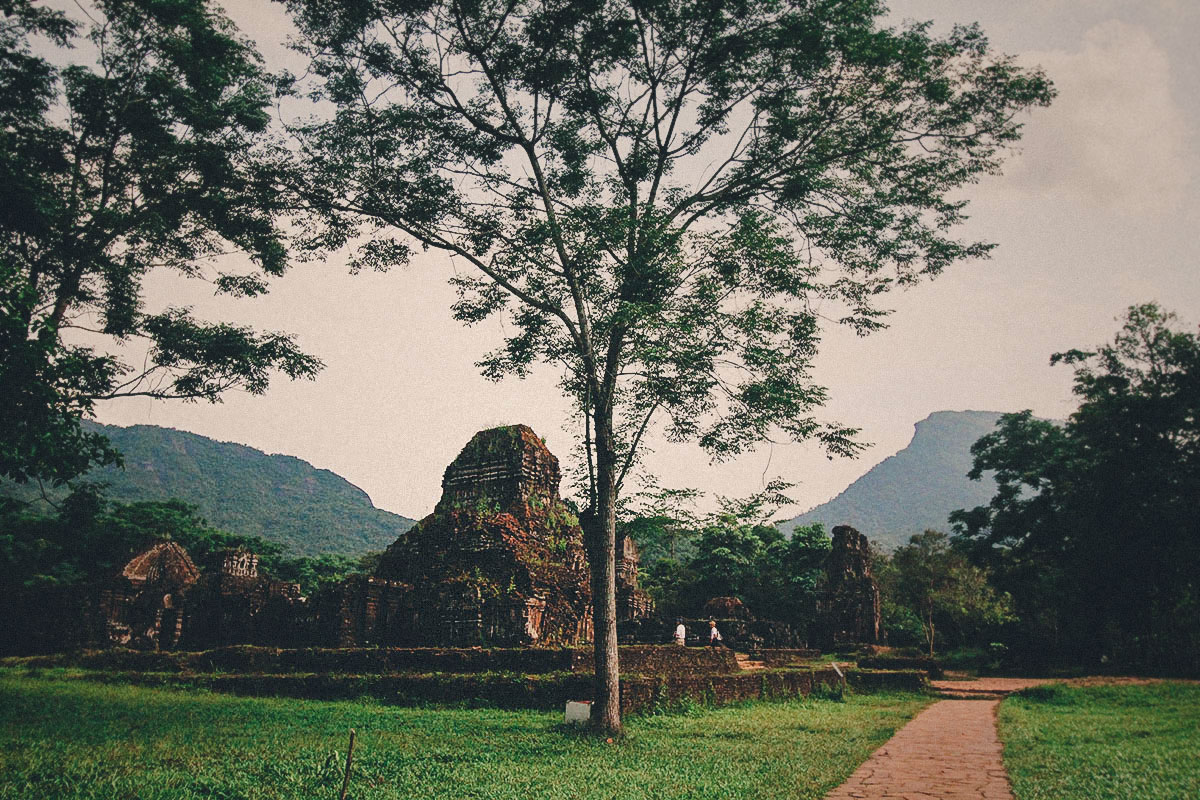 See why people describe it as a "mini Angkor Wat"? My Son Sanctuary was built between the 4th and 14th centuries by the Cham people of Vietnam, an ethnic group of Austronesian origin in Southeast Asia. I had never heard of the Chams before so I asked Turtle if they had migrated here from India since they were Hindus. It's possible he said, but no one really knows for sure. I looked it up and scholars speculate that Indian merchants may have introduced Hinduism to the Champa Kingdom in its early years. According to Turtle, a history of tension and conflict has existed between the Chams and the Vietnamese. Today, they've largely been driven to the southern regions of the country bordering Cambodia.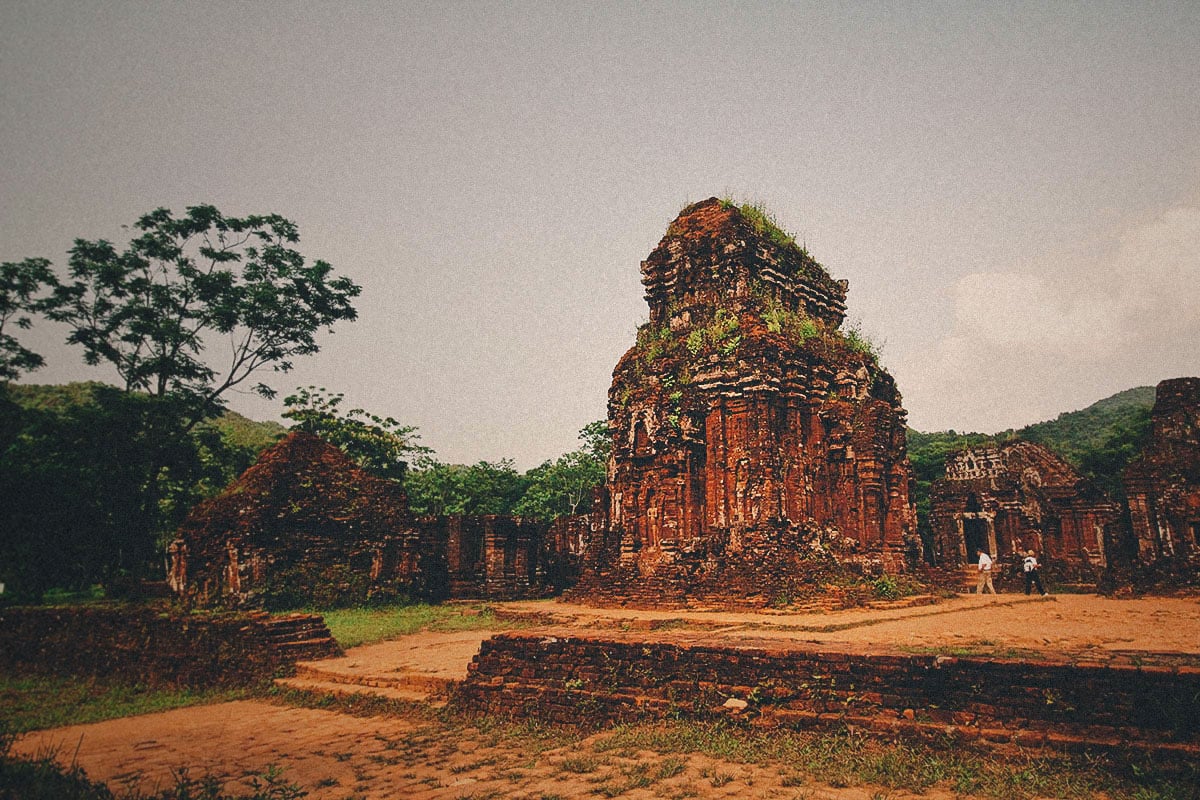 See this massive crater? It was created by an American bomb during the Vietnam War. All throughout the site you'll find many of these bomb craters. Turtle likes to call them "American swimming pools" because of their tendency to fill up with water during heavy downpours. The humor of this guy. 😆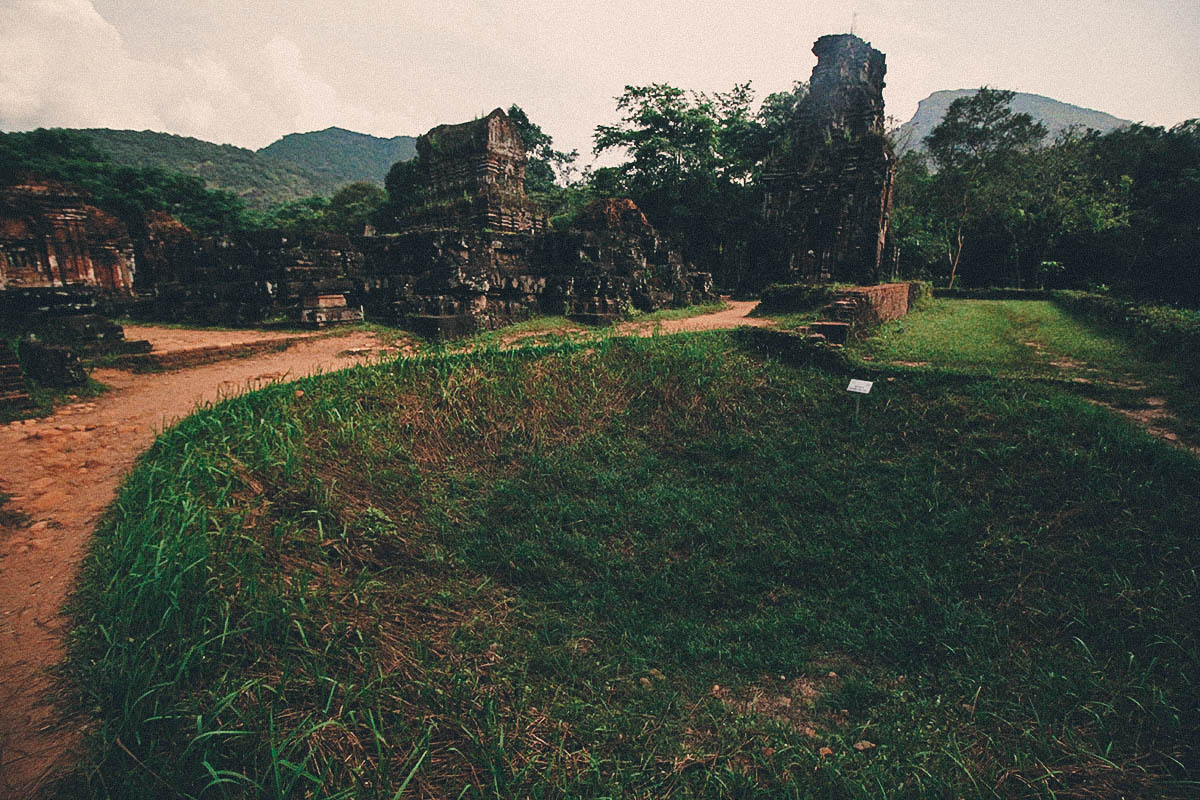 This is the central tower or kalan. It's meant to symbolize the sacred mountain meru, which is believed to be the center of the universe.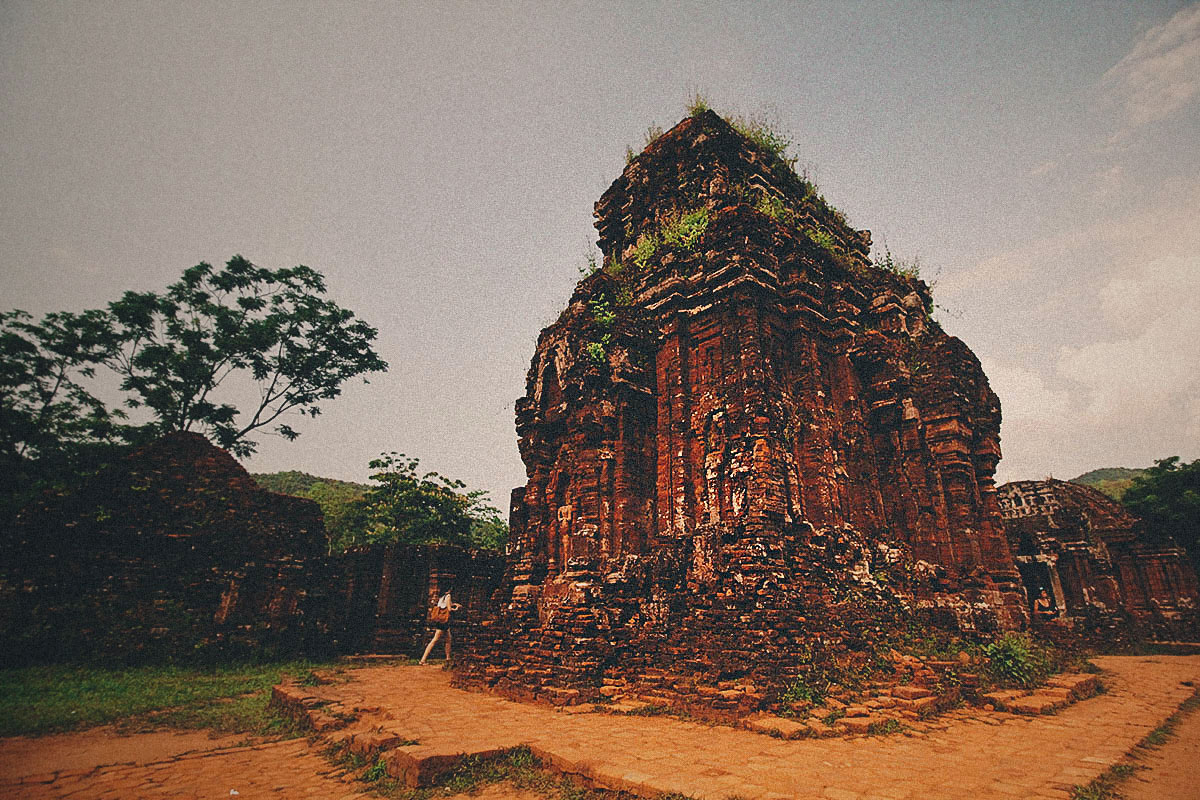 Turtle gave me a few minutes to photograph the structures before describing them in more detail. I really wanted to fly my drone here but unfortunately, it wasn't allowed. 🙁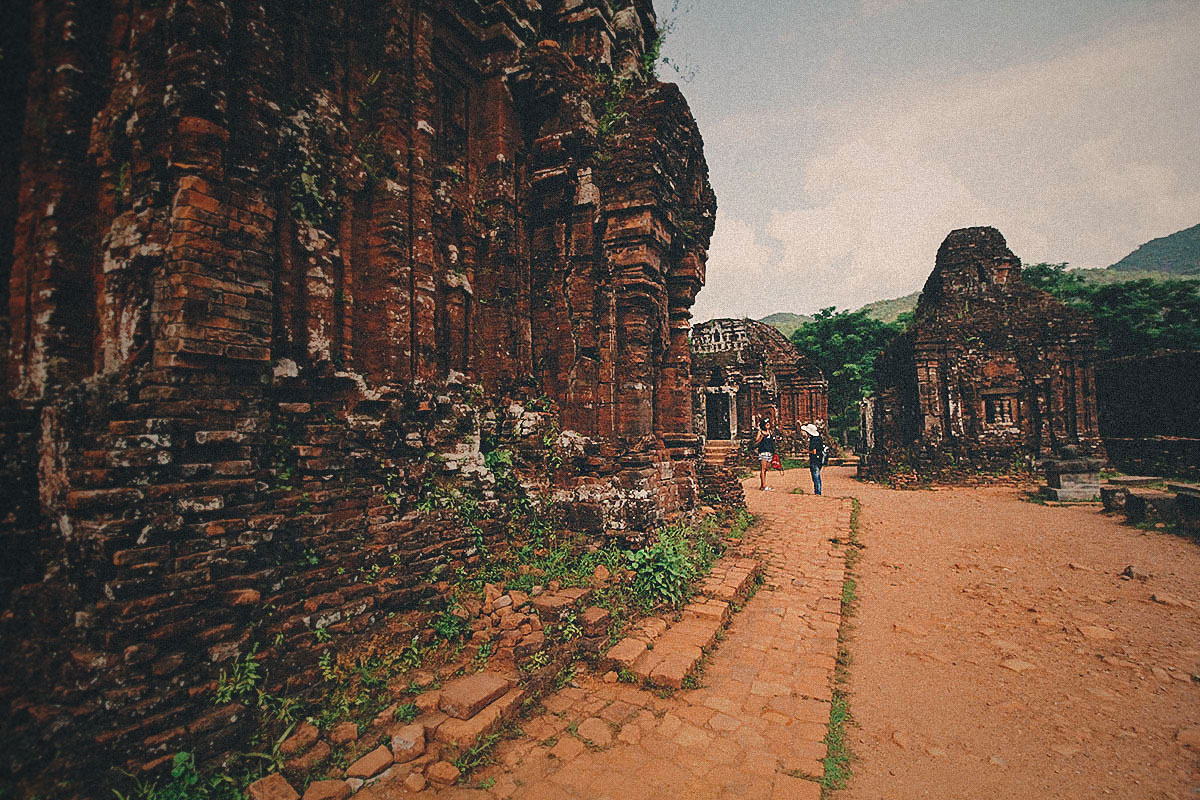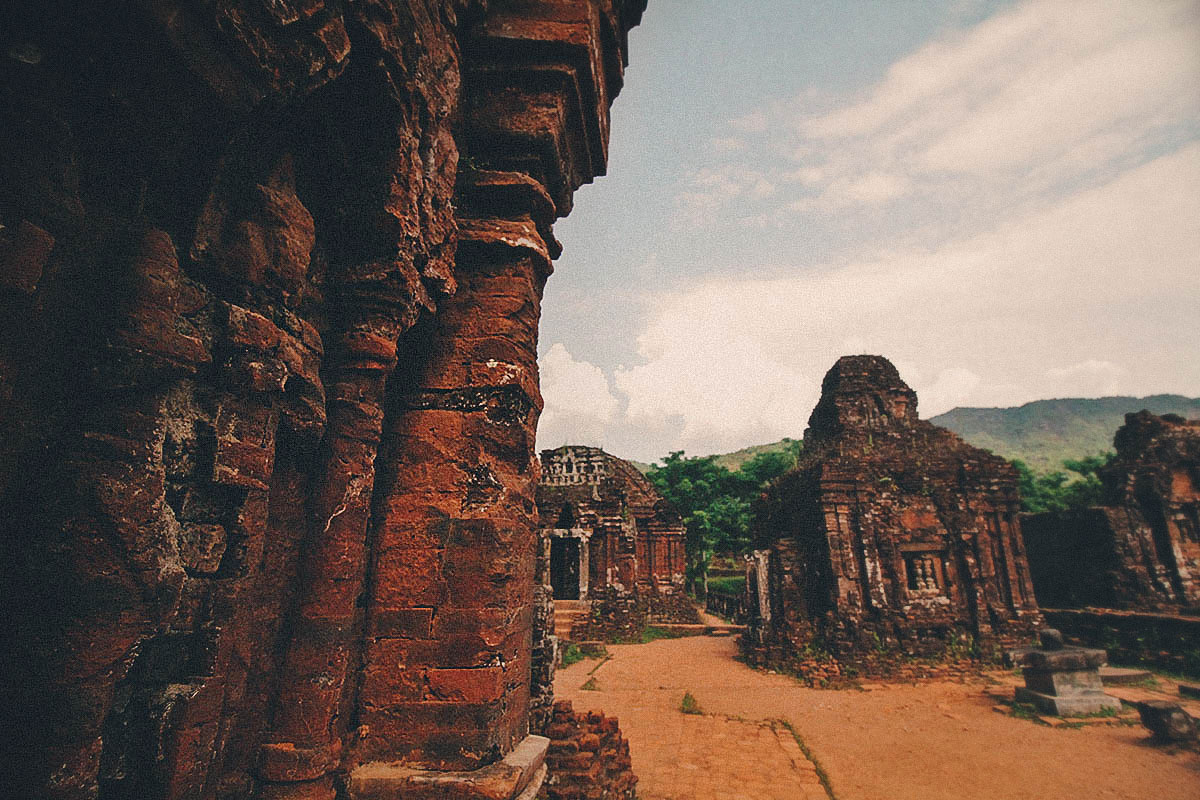 On the right is a Cham fertility symbol. It's comprised of the yoni or base which is a stylized representation of female genitalia, and the smooth phallic cylinder known as the lingam. The yoni represents Shakti while the lingam symbolizes Shiva in Hinduism. Turtle joked that this particular lingam didn't threaten his manhood. 😆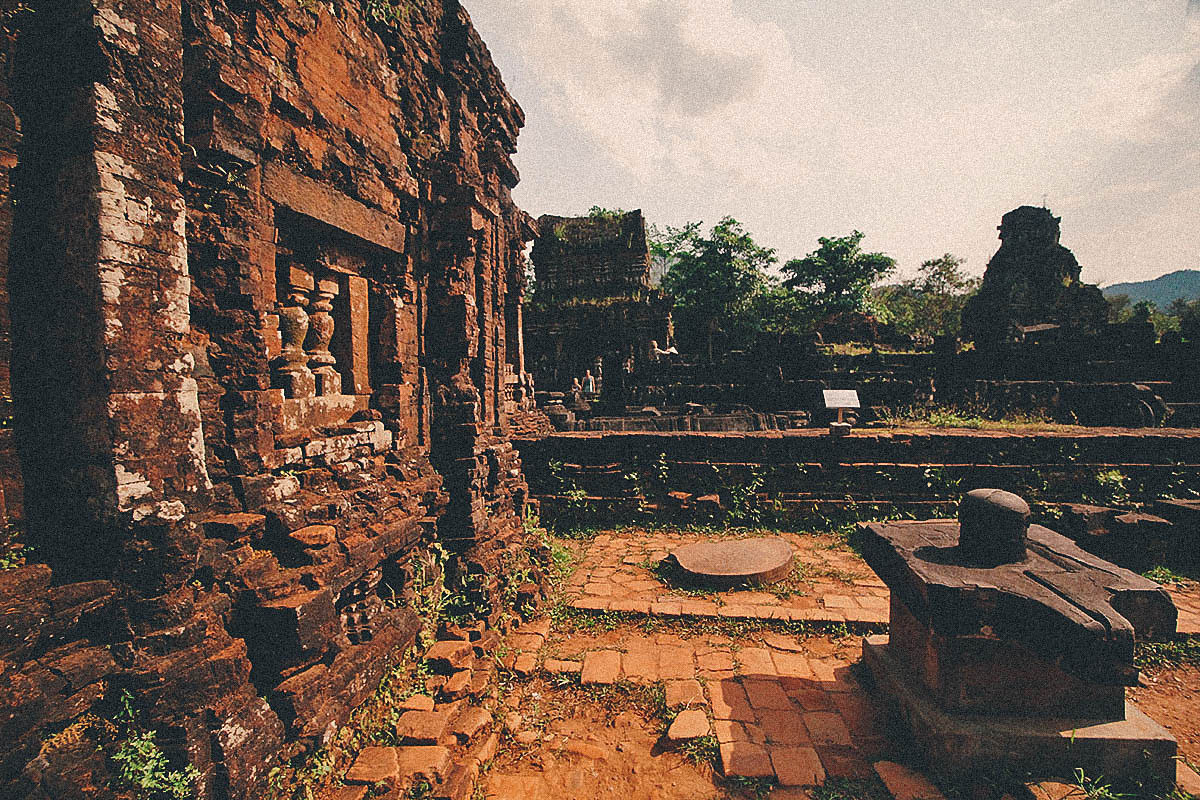 Aside from maybe one or two other groups, we practically had the whole place to ourselves which is in stark contrast to morning tours. According to Turtle, mornings are much more crowded at My Son so go in the afternoon if you can. Simply Vietnam Travel offers morning and afternoon tours. Turtle said there are so many people in the morning that it's impossible to get a clear shot!

These structures may be centuries old but they're marvels of engineering. Turtle described how the Chams built these temples without using any mortar to bind the bricks together. How they were able to do it remains a mystery today. More on that later.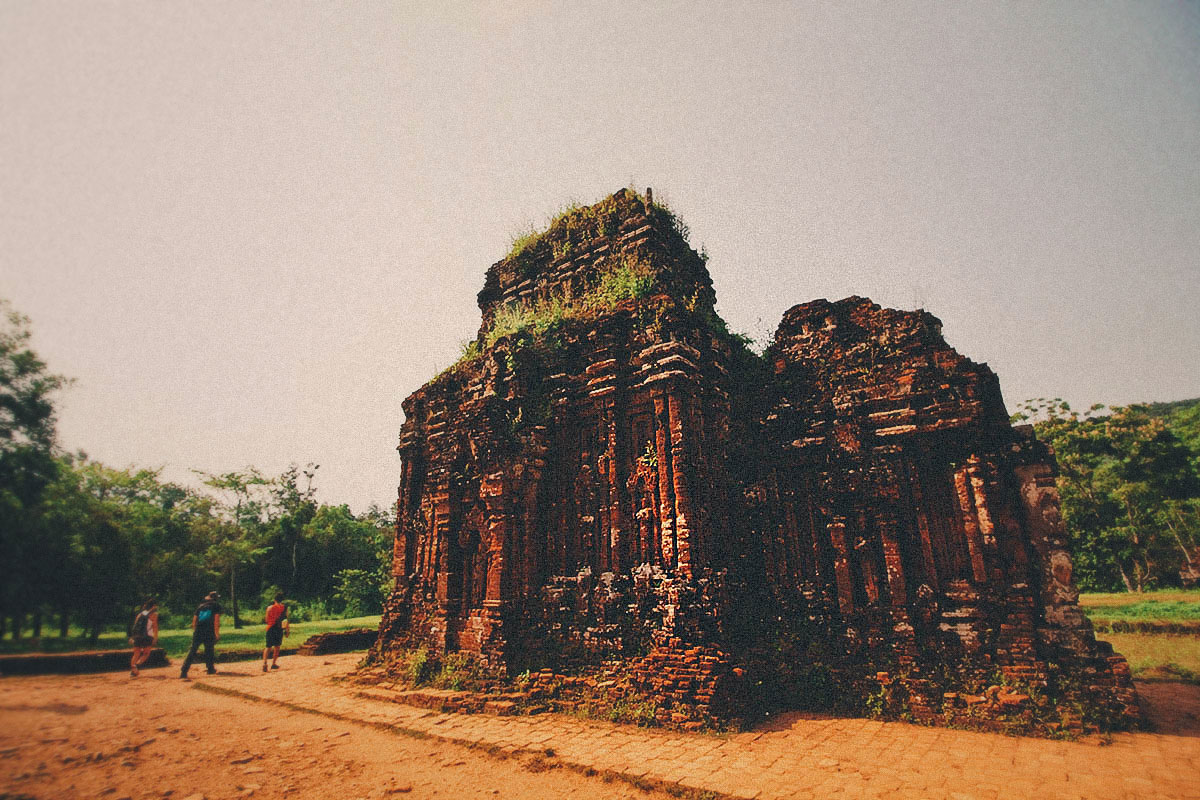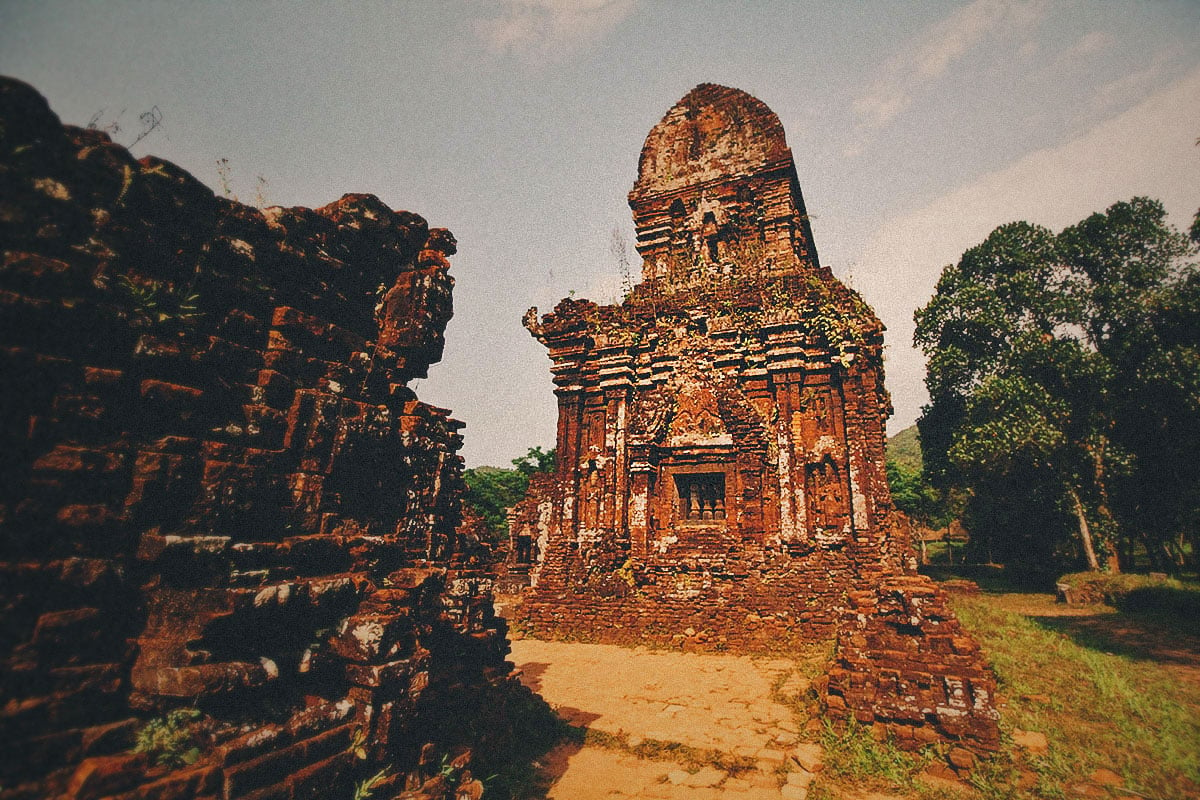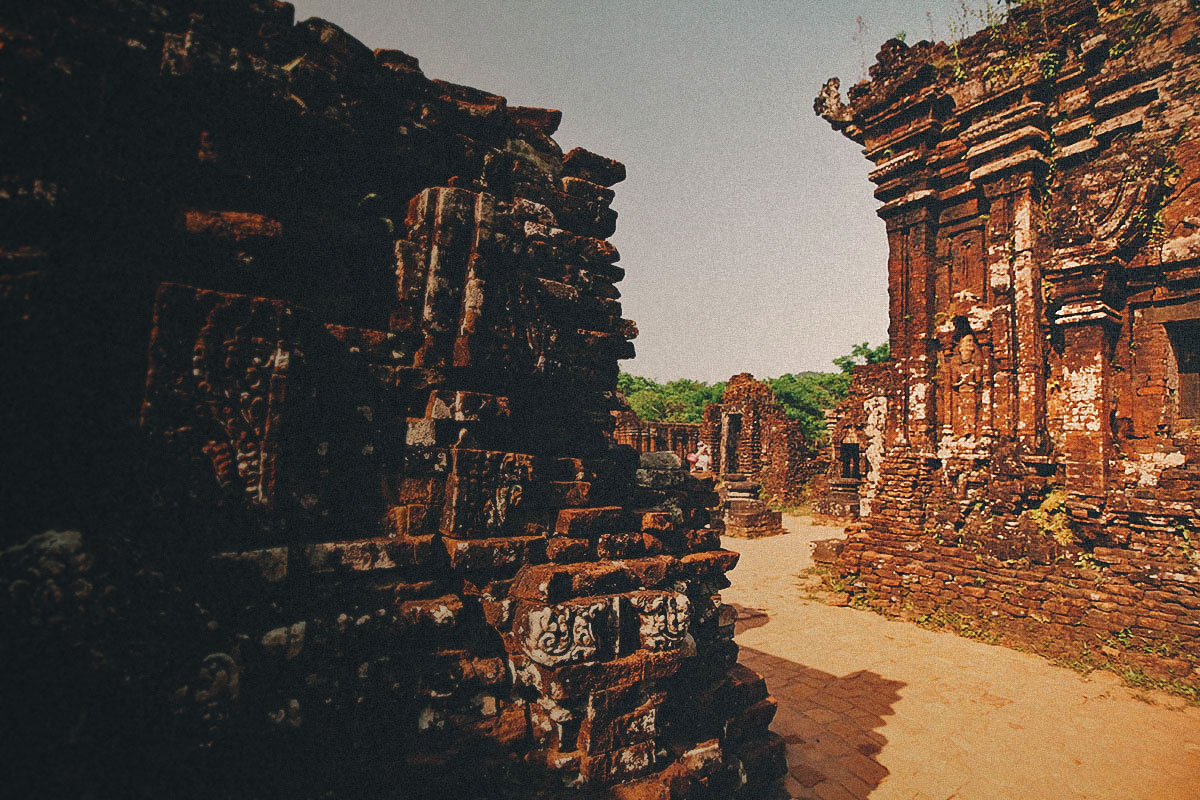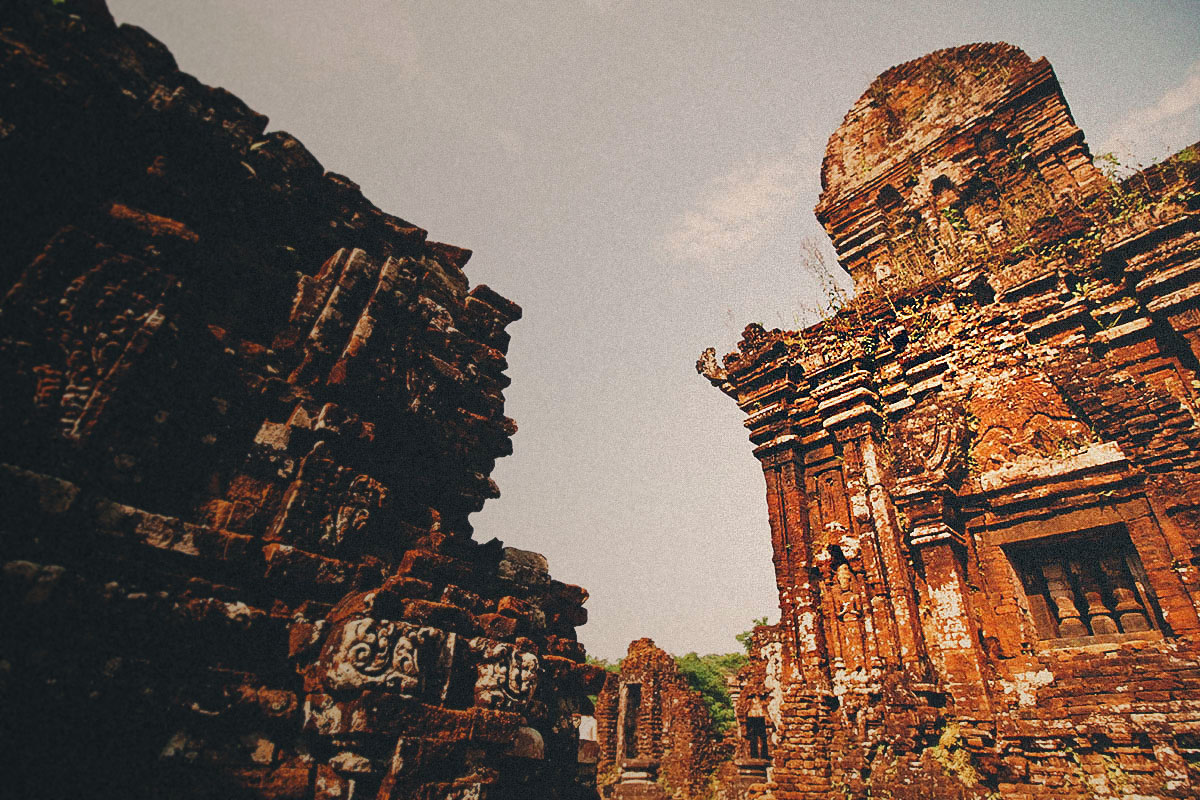 Here's a yoni without a lingam.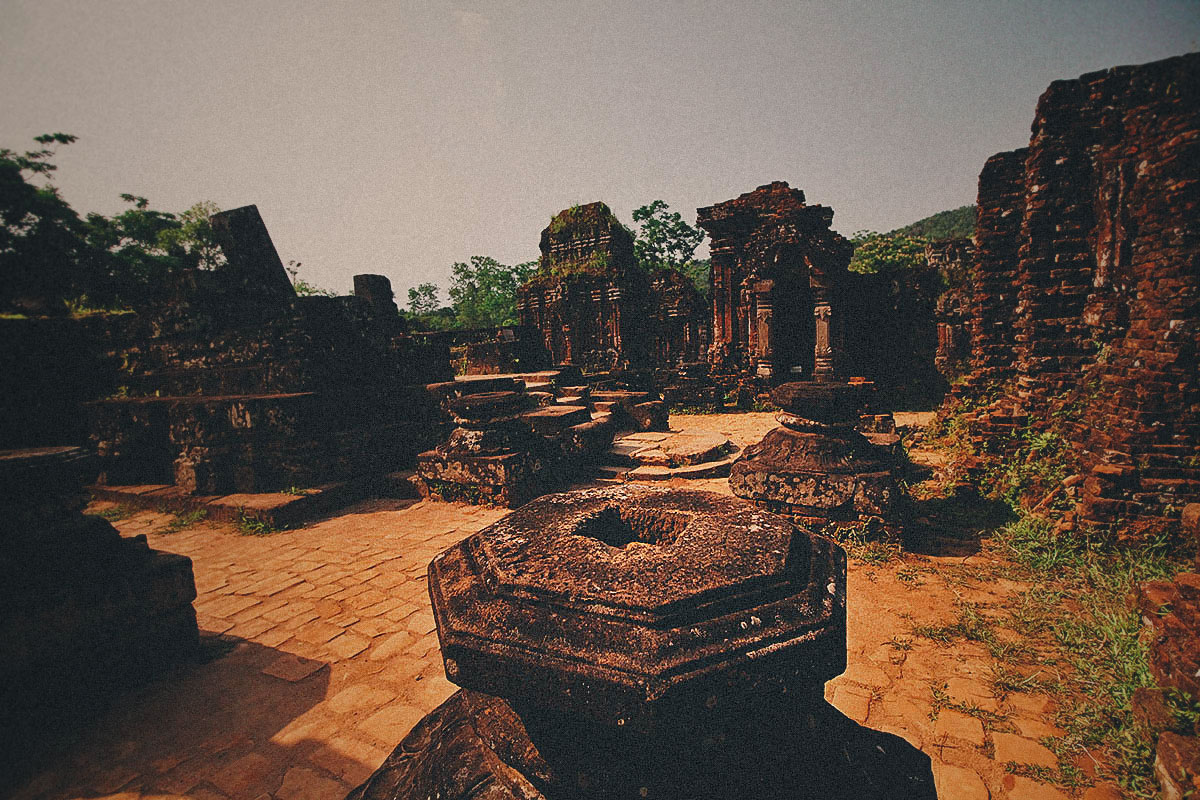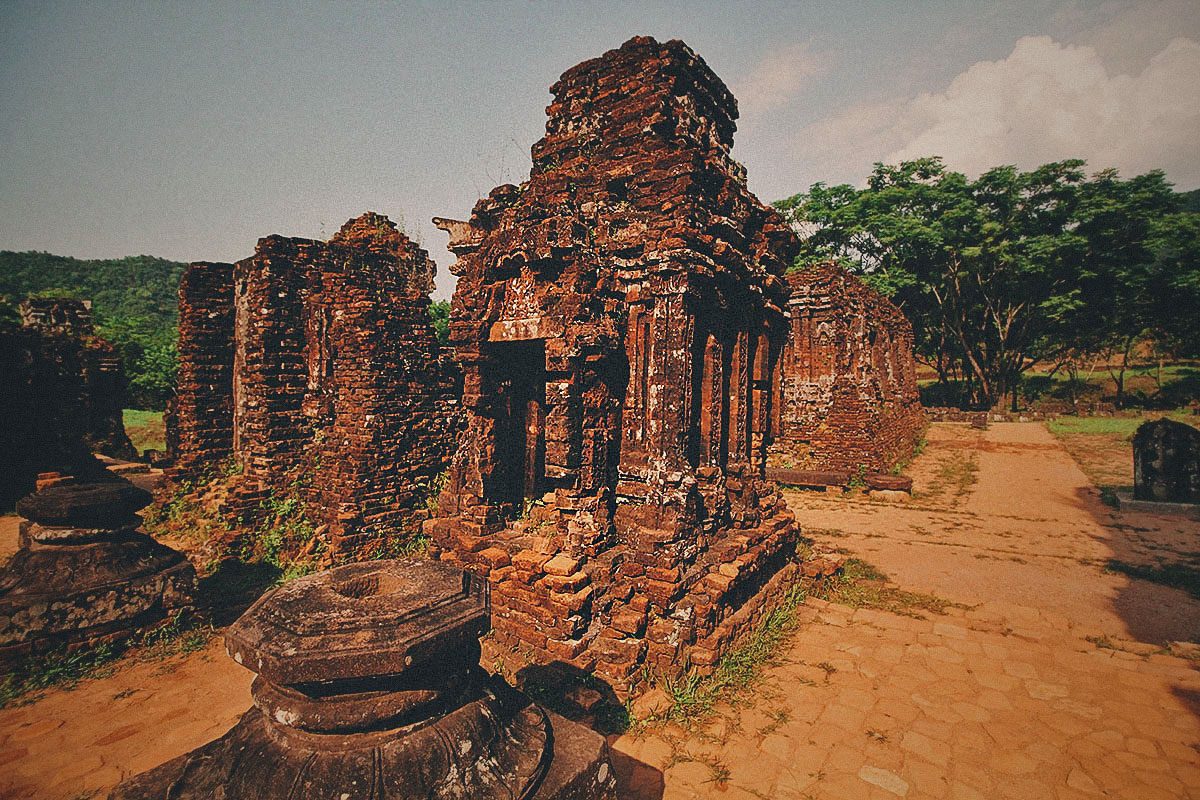 Just when Turtle was talking about Champa history, we saw a band of Cham performers walking down a hill. They were a troupe of musicians and dancers who perform traditional dances for tourists.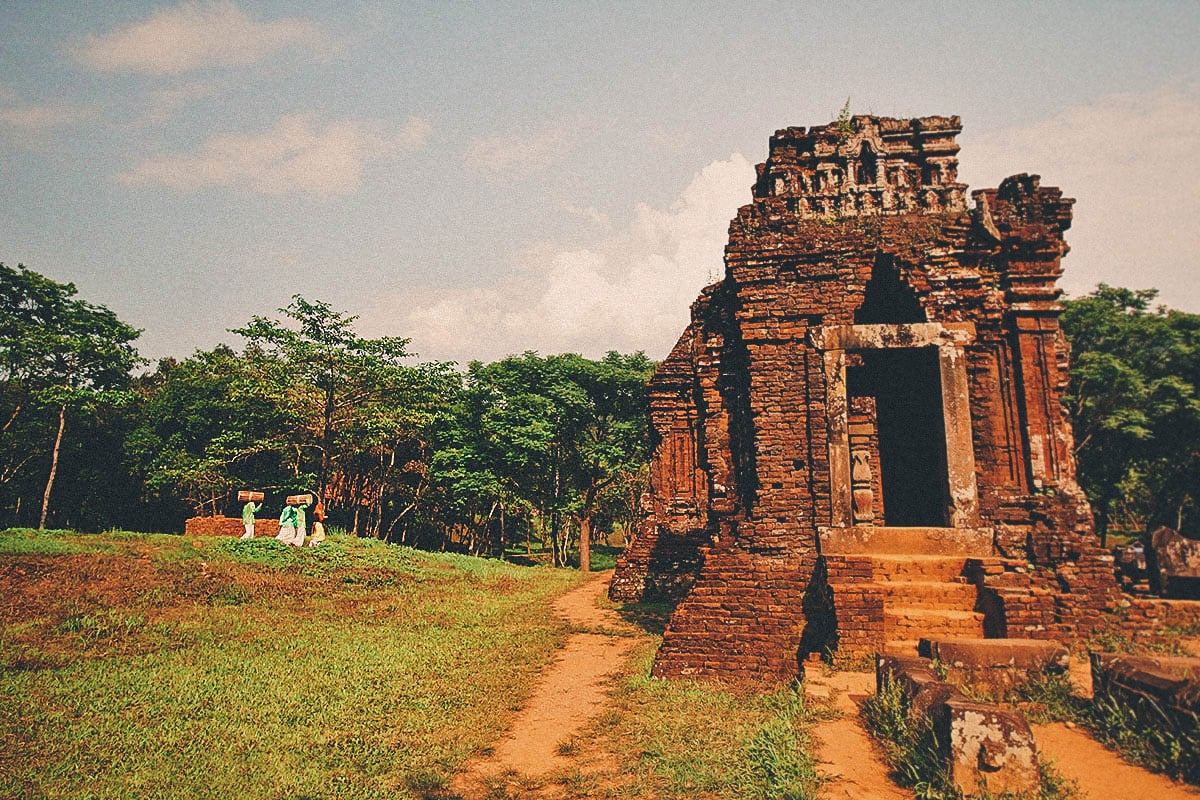 Inside one of the temples was another yoni without a lingam. When Turtle asked me if I knew what it was, I said "a rice mill?" 😆 It kinda looks like one with that spout on one side.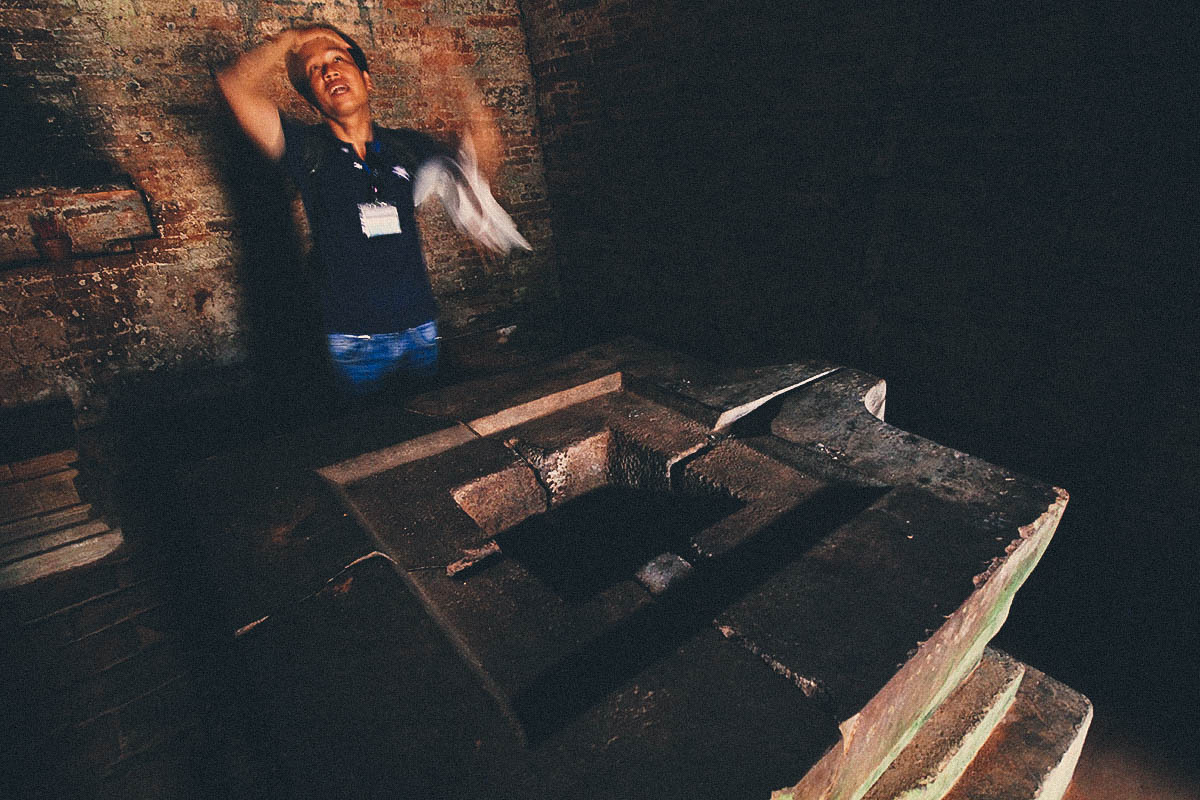 Another yoni and lingam. Turtle said this one makes him feel mildly insecure.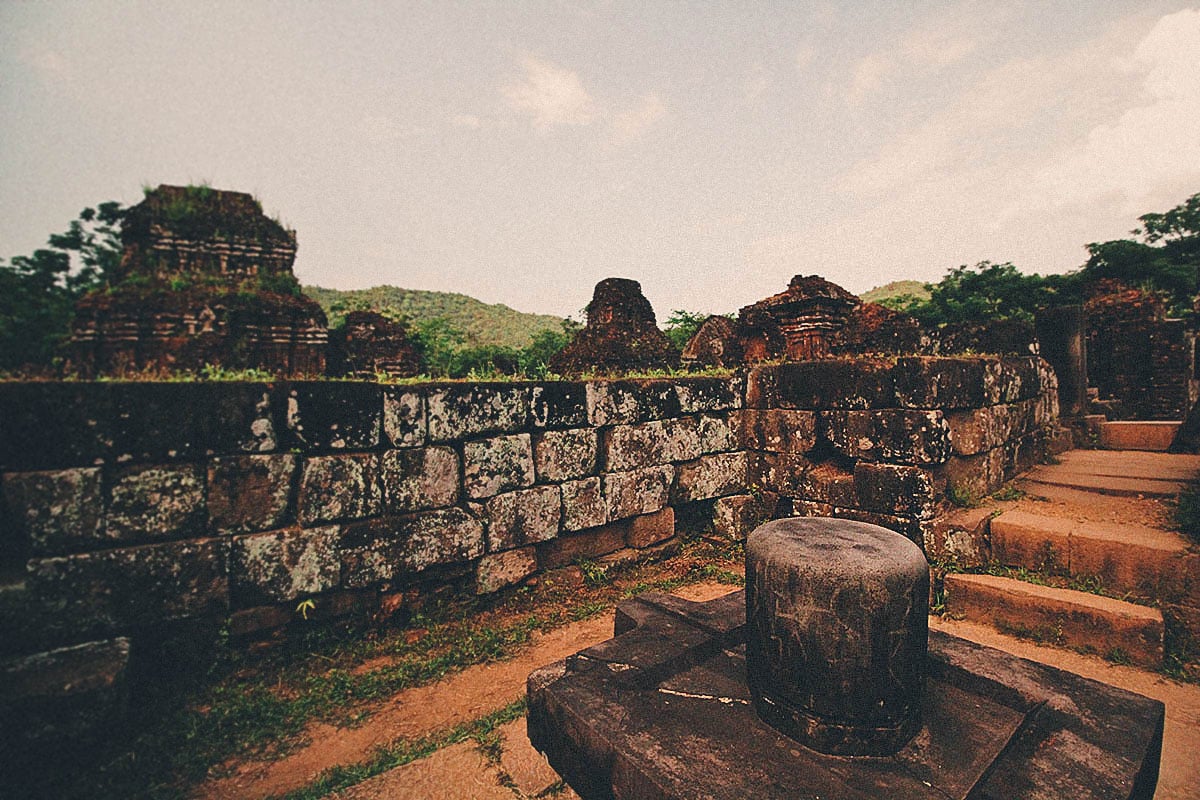 A tablet with ancient Cham writing. Turtle said that the Chams of today don't understand this writing anymore. Or at least they say they don't. 😉 #secrets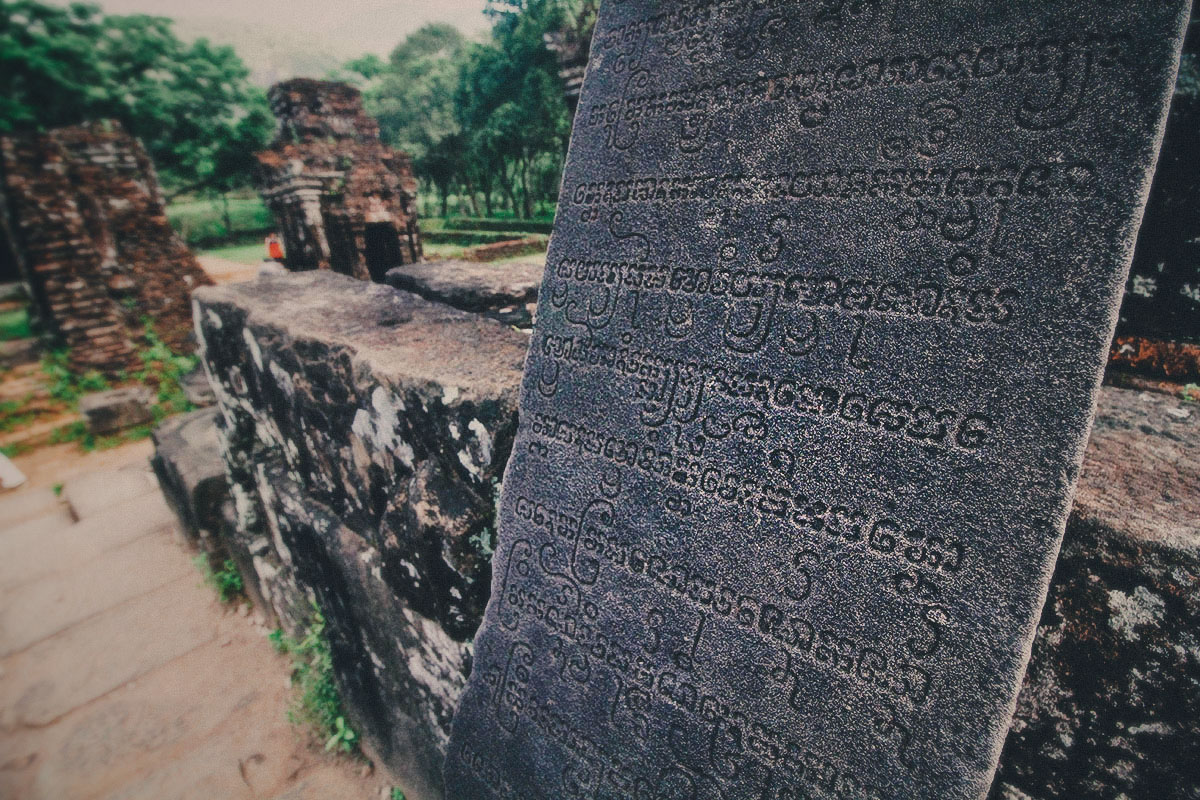 Now THAT's a lingam! Turtle admits this one definitely challenged his manhood. 😆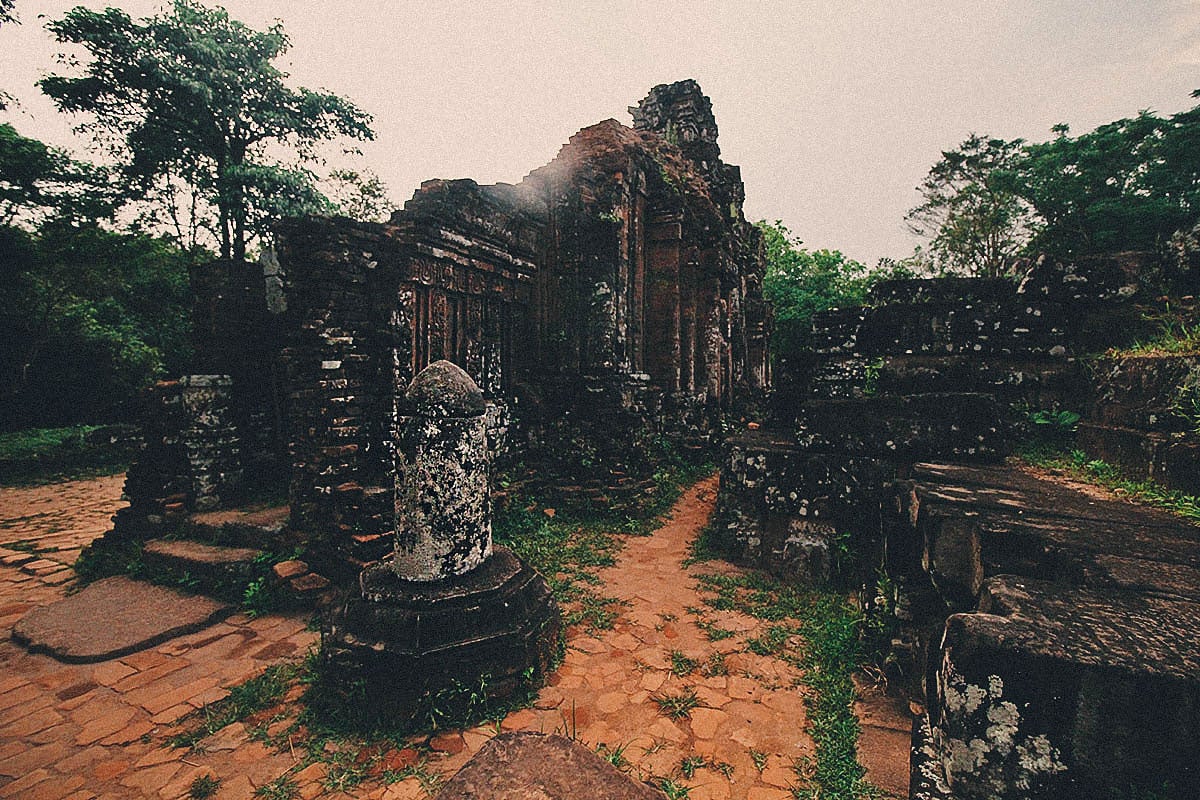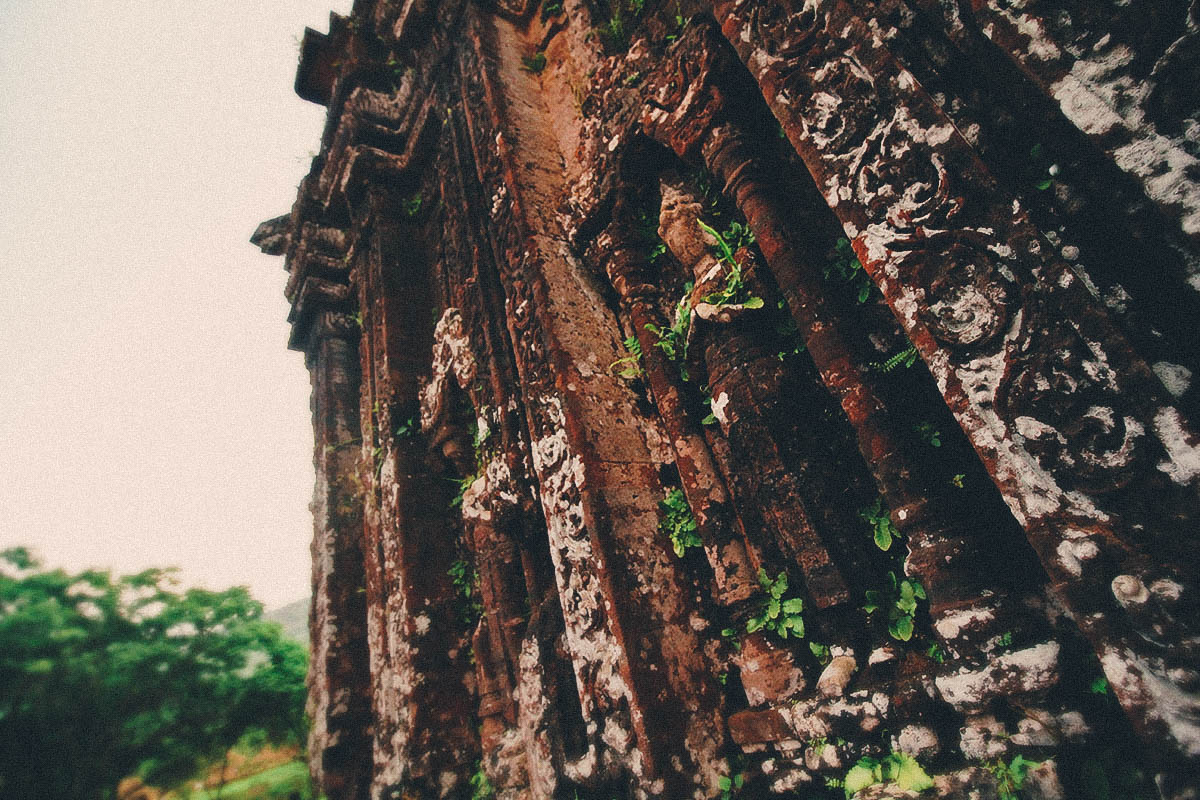 A headless statue. Turtle explained that when the French rediscovered My Son, many removed the heads of statues to take home as souvenirs.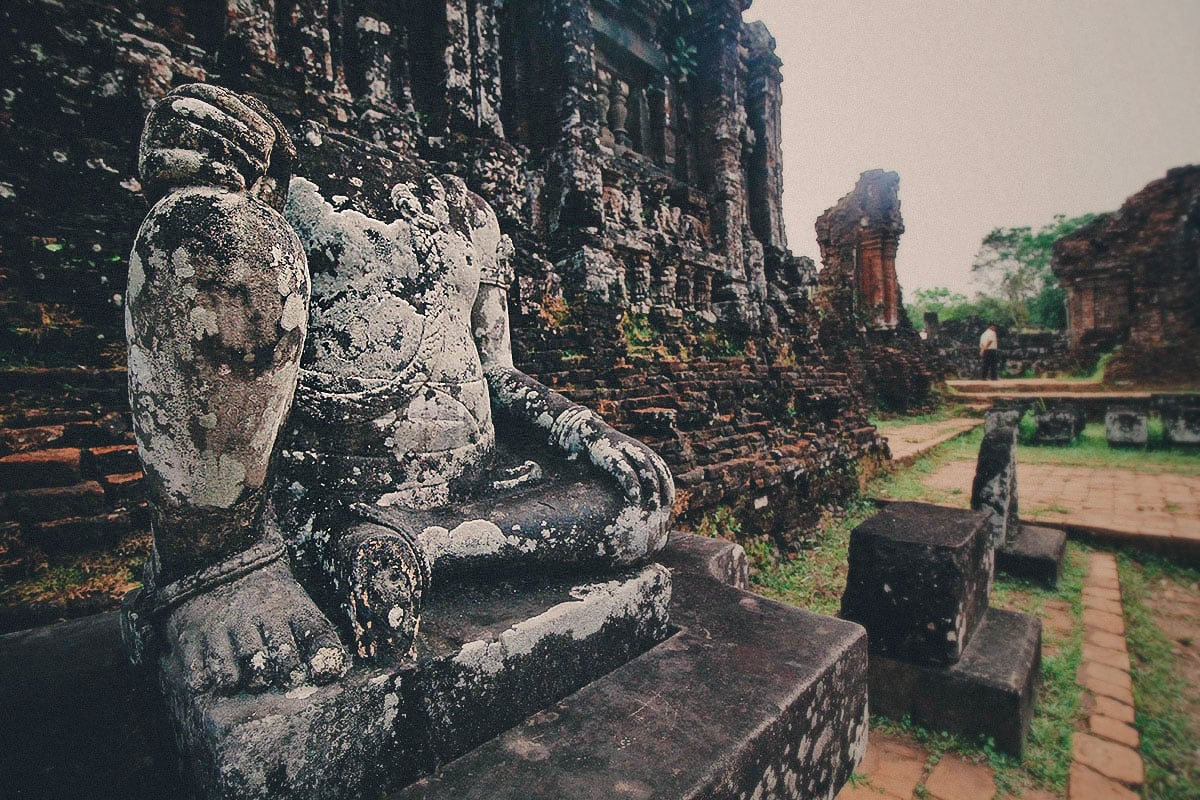 Inside one of the temples was this makeshift museum. Do you know which god is represented in this relief? Shiva. Turtle explained that he's always depicted with a snake.

We moved on to another cluster of temples that have seen better days.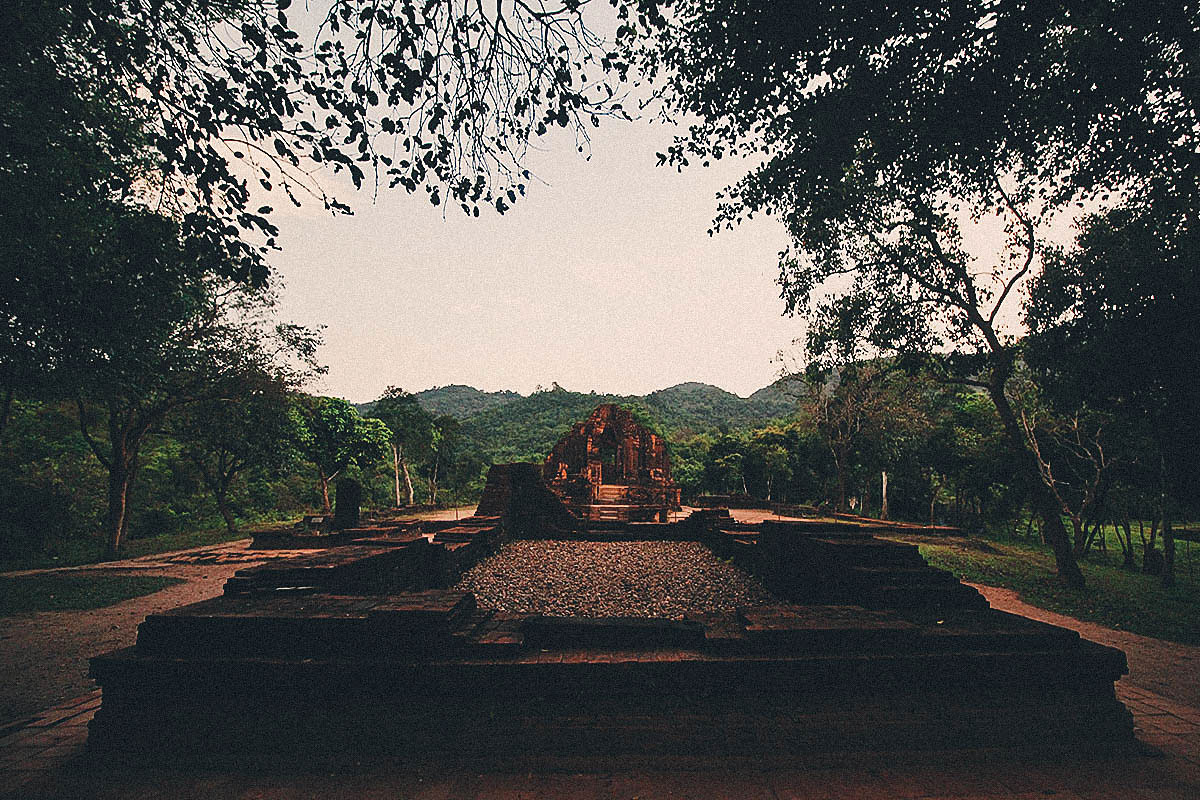 Remember what I said earlier about the Chams stacking bricks together without mortar? Here's a perfect example. Whenever Turtle asked me to identify which bricks were new and which were old, I always got it wrong. Amazingly, new bricks looked old and the ancient bricks looked new! Even when modern restorers tried to replicate the technique and put bricks together without mortar, there was always a giveaway – moss. It would eventually grow between the cracks. Researchers speculate that the Chams used some type of substance, perhaps resin, to coat the bricks so no moisture could get through. No moisture, no moss, slower decay. I was amazed by this and never looked at bricks the same way since.
When we arrived back in town, I pointed at a wall and told Ren with disappointment: "Oh look, mortar." I got one of her patented eyerolls again. 🙄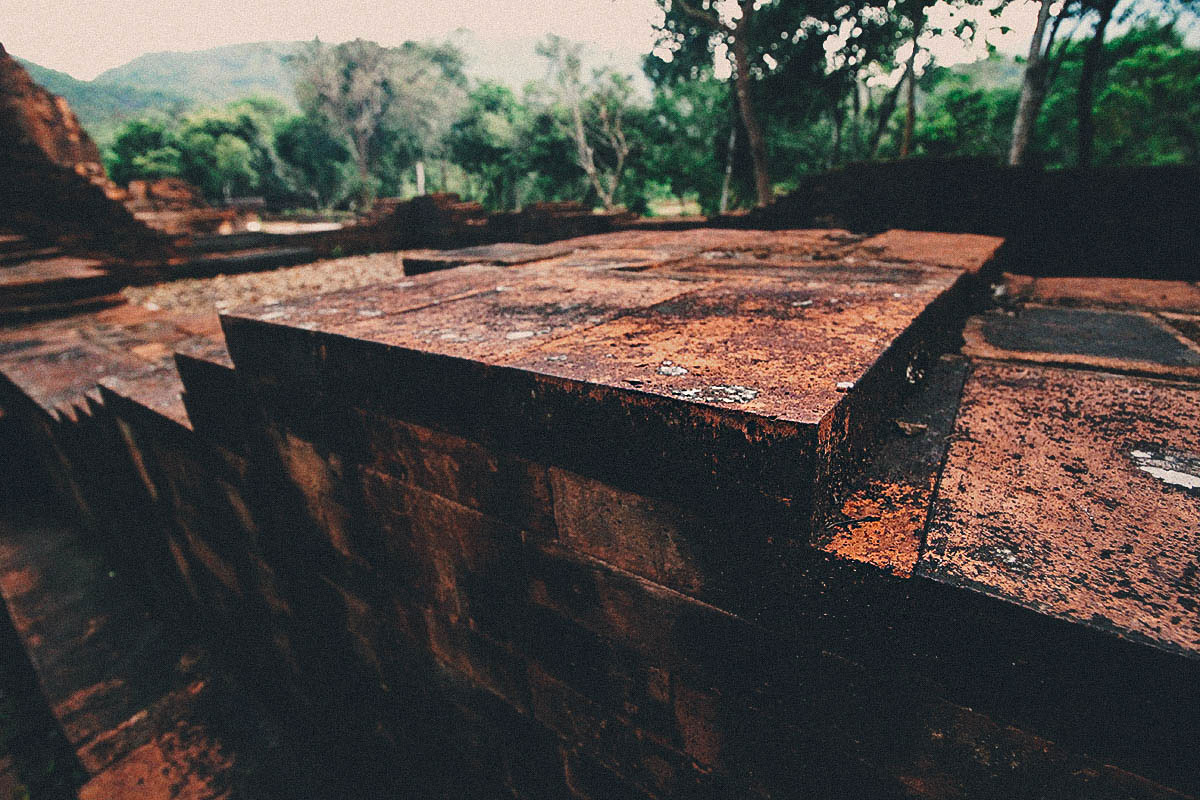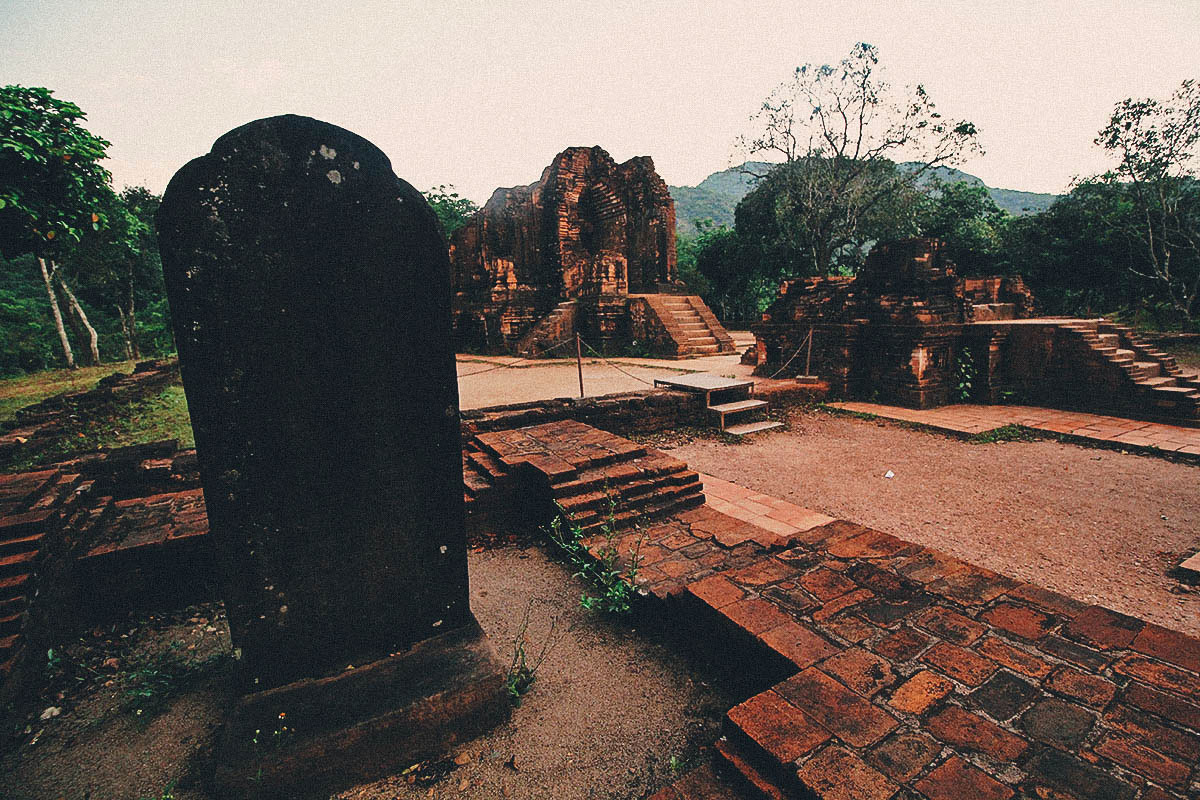 Stairway to nothing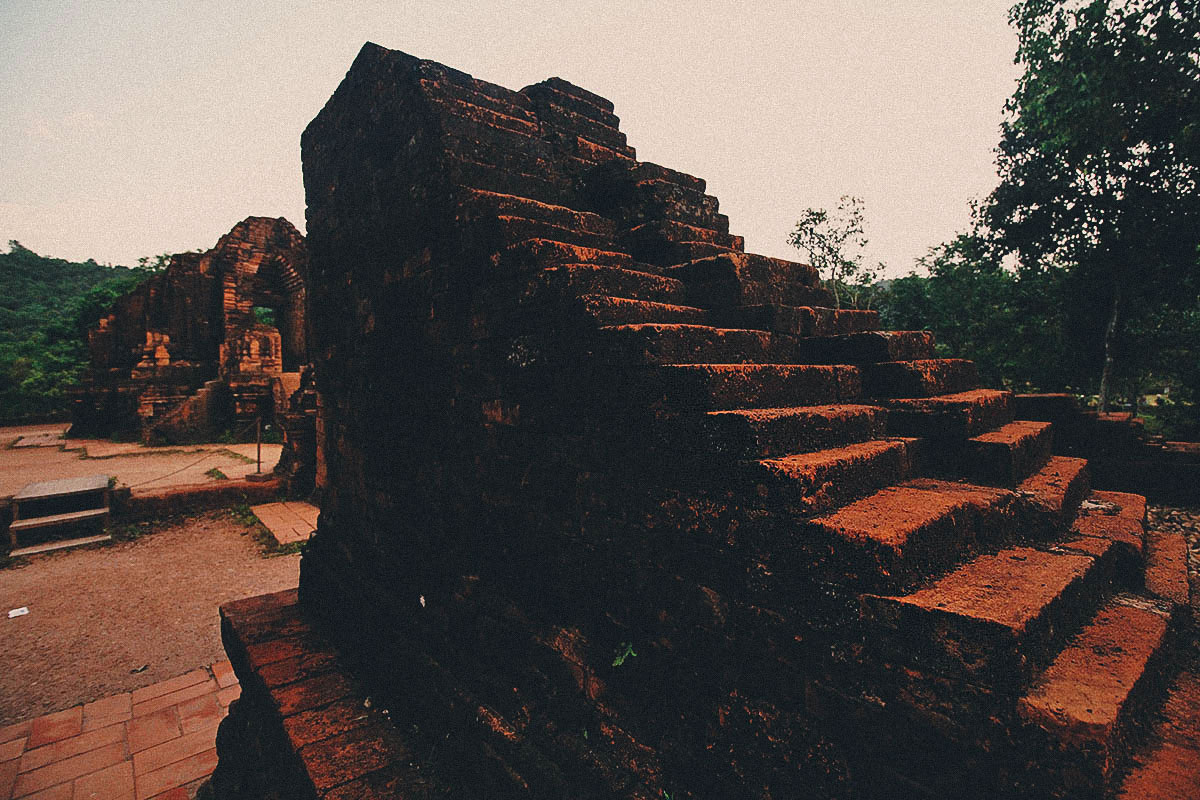 My Son Sanctuary has been undergoing restoration since the early 2000s. Here's an example of a fully restored temple.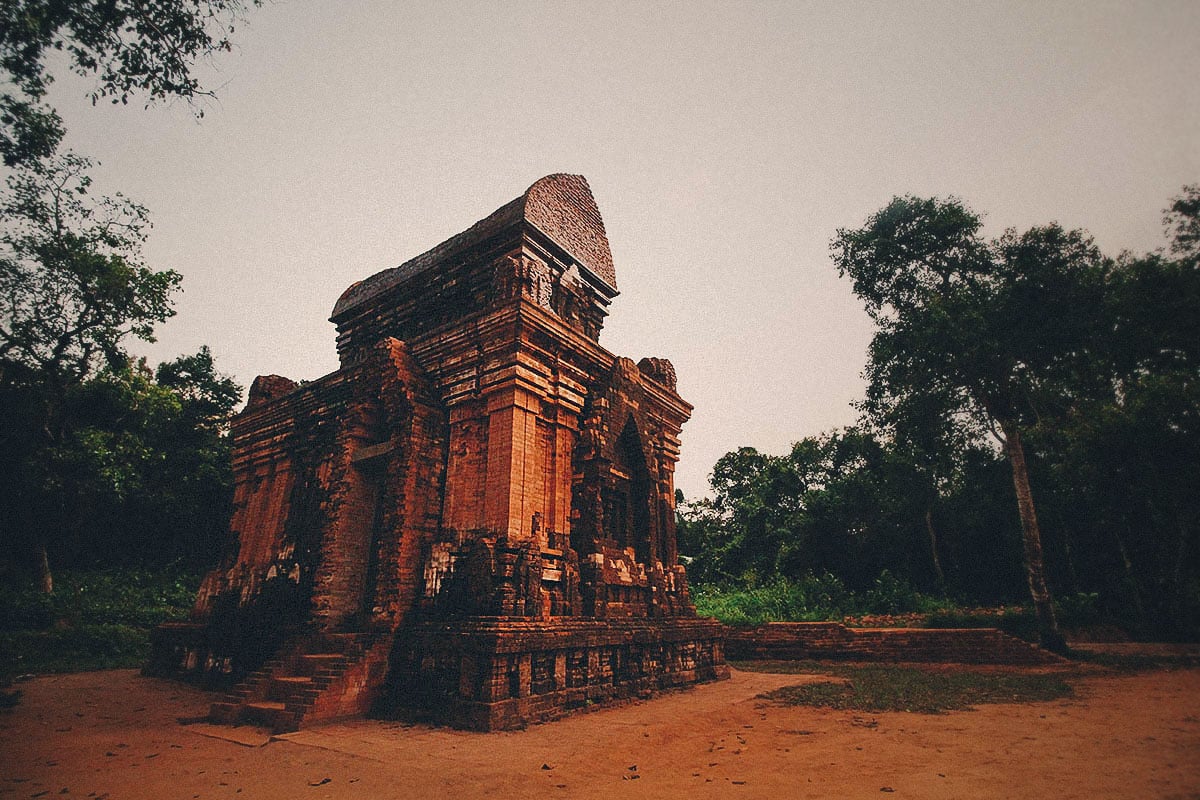 It looks beautiful restored, though it looks a bit like a cyborg temple doesn't it? With age, perhaps the brick tones will even out.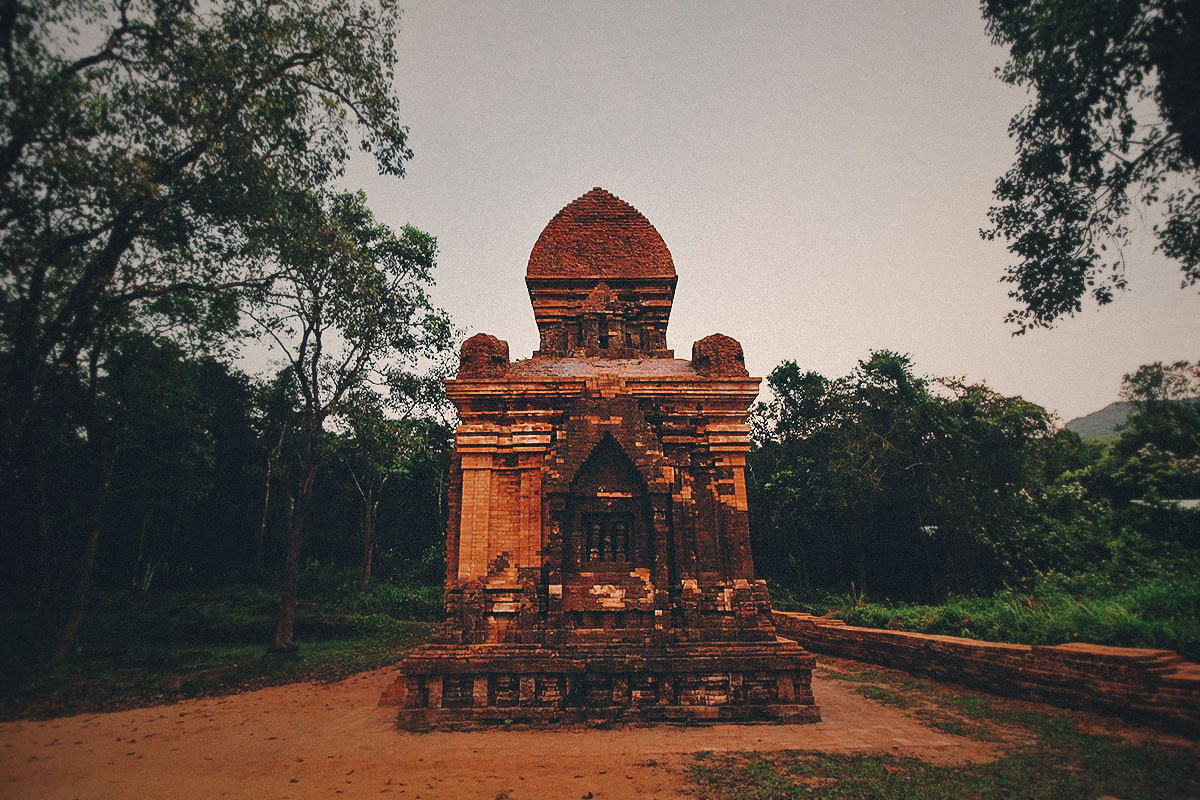 Here's a restoration site with a private "American swimming pool" in front of it.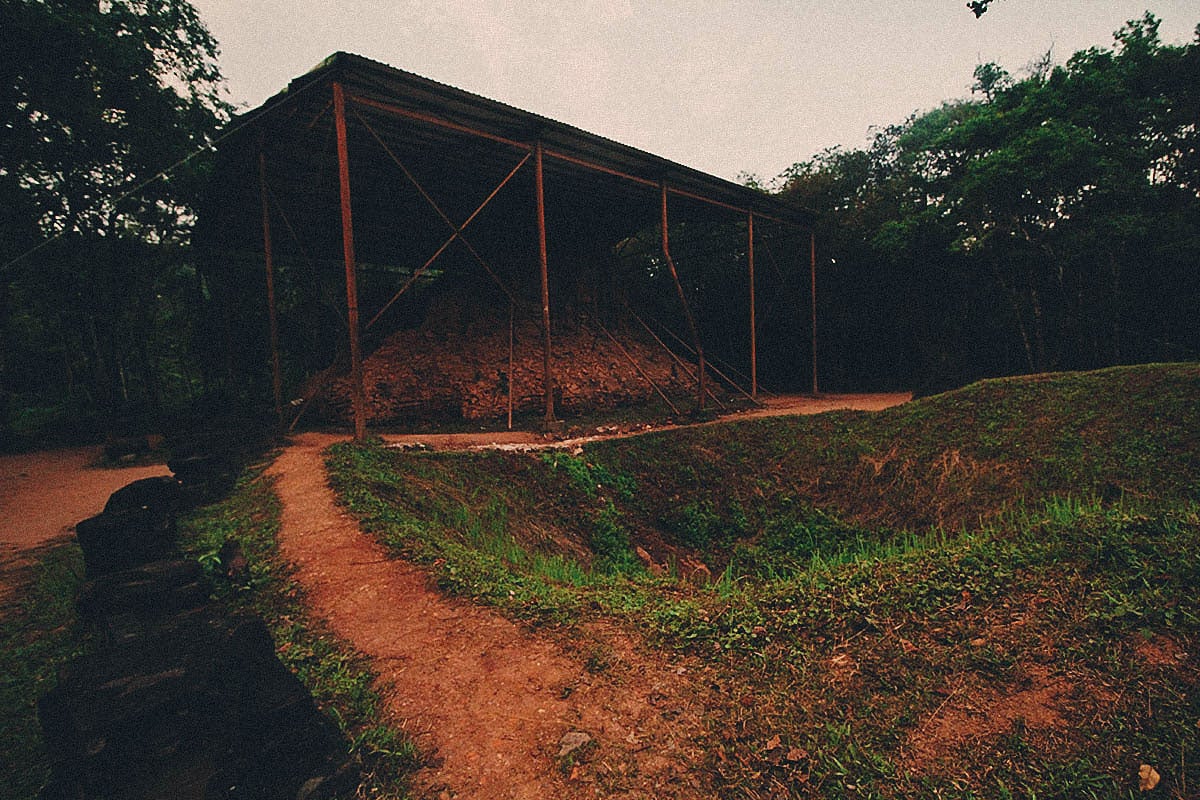 Restoration work in progress.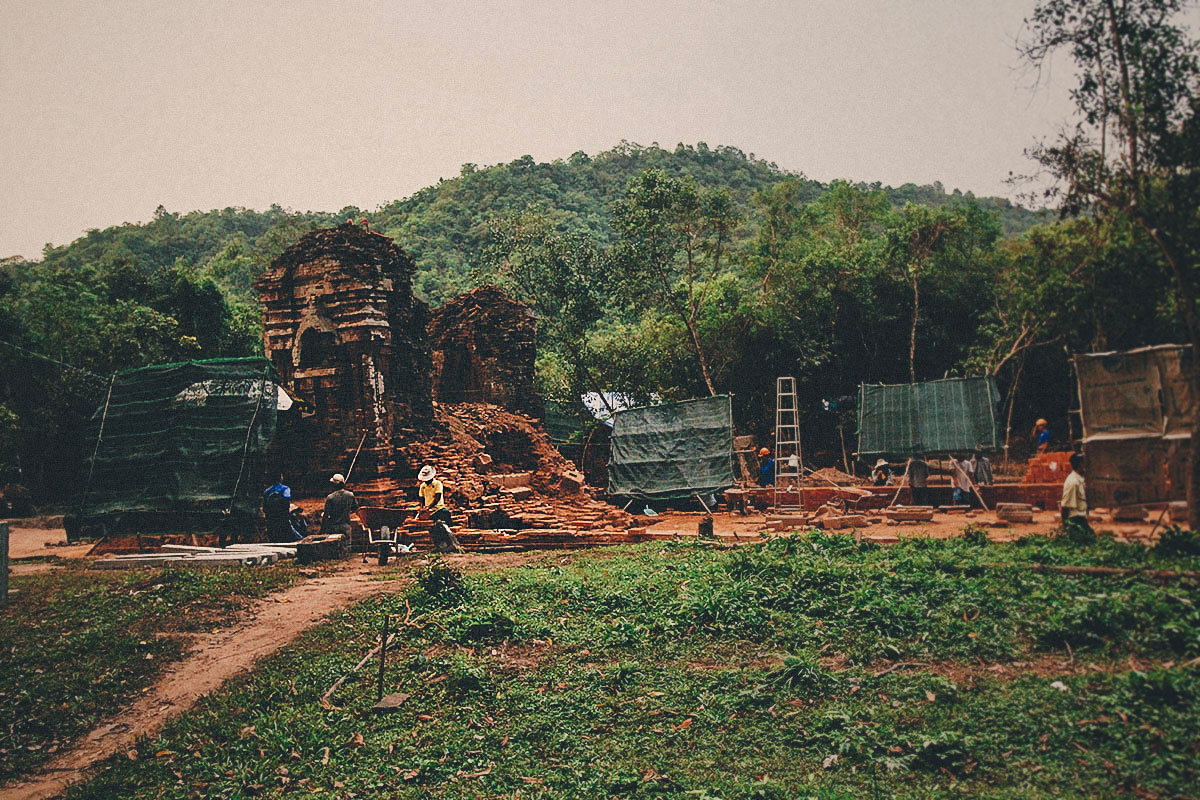 After spending about two hours exploring My Son Sanctuary, we drive to the pier to take a short boat ride to Thanh Ha Pottery Village. On the way, Turtle stops to buy us some snacks. 🙂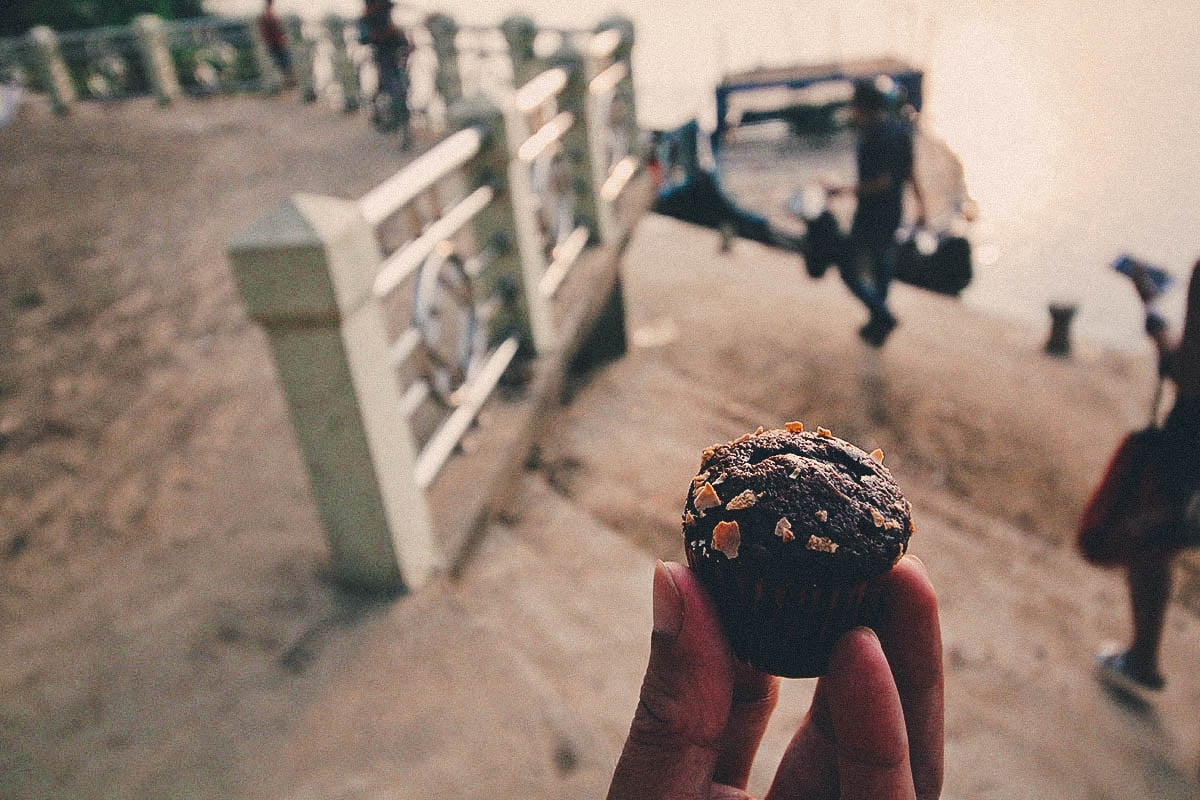 Thanh Ha Pottery Village is a quick 15-20 minute boat ride away.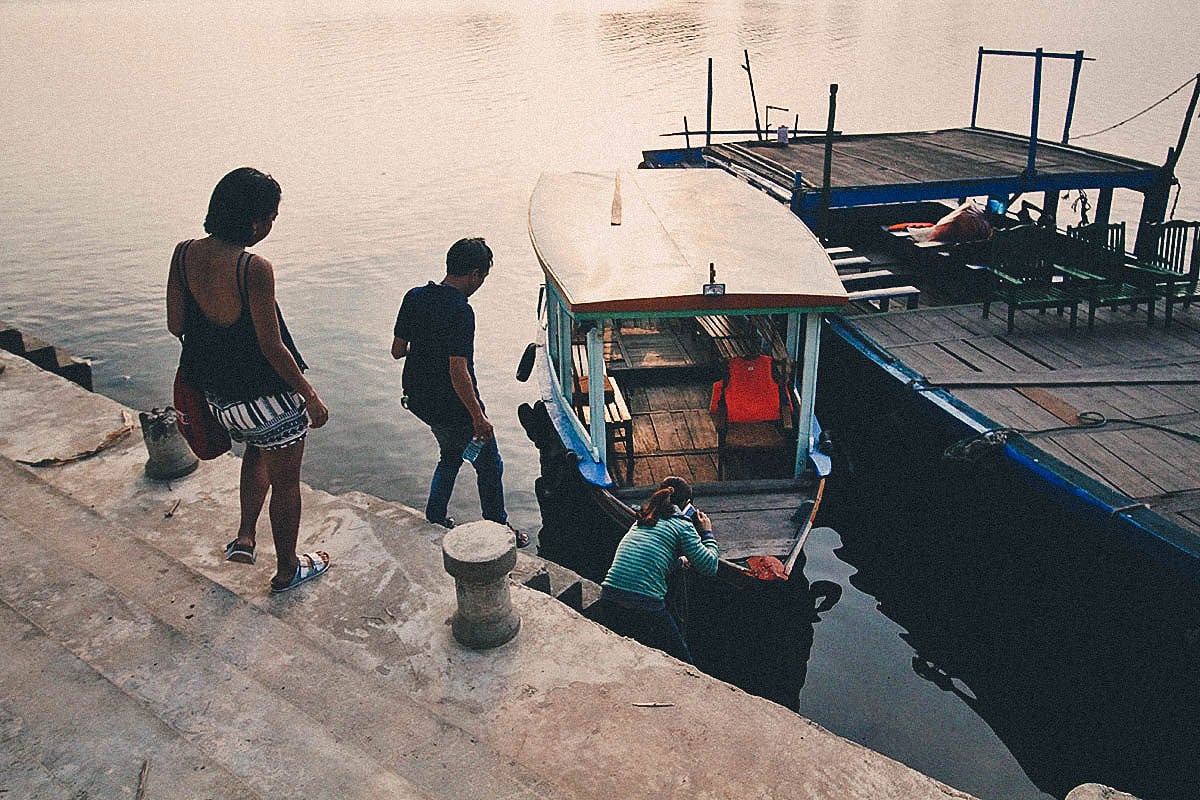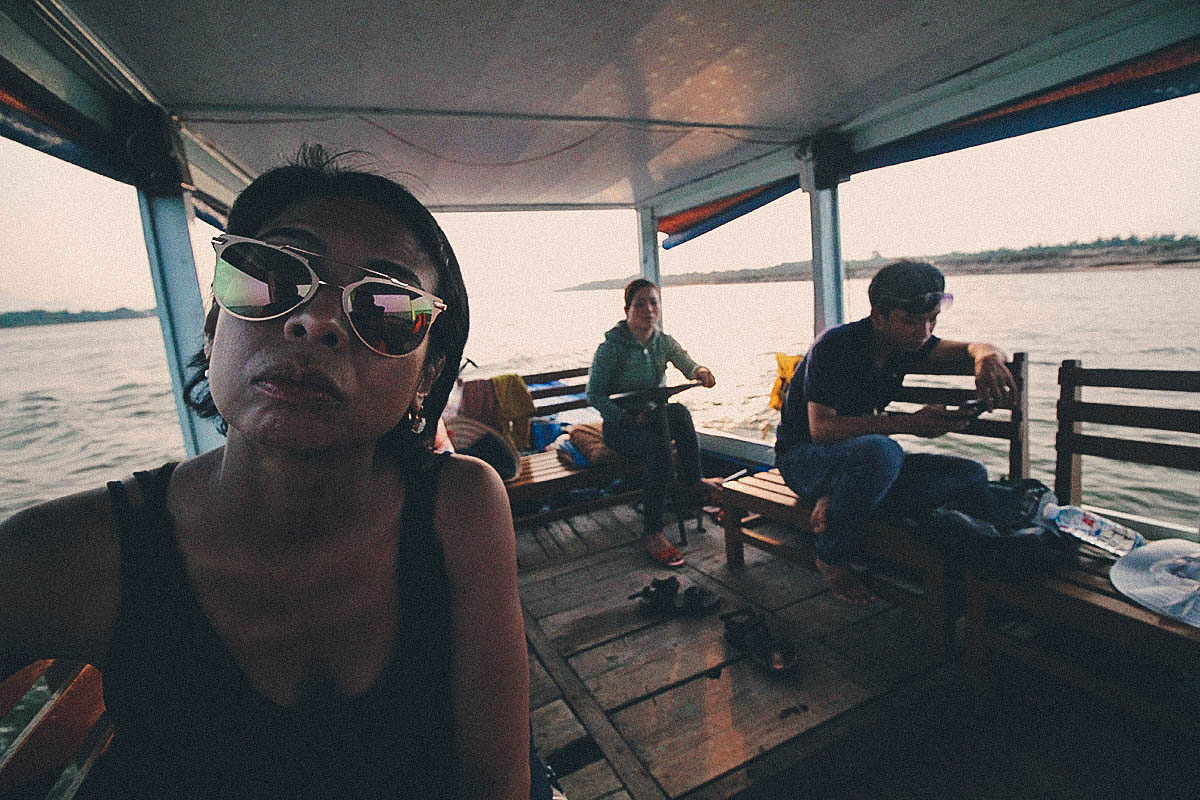 Smile Turtle! 😀 This guy was a lot of fun – super high energy and always cracking jokes. He knew a lot about My Son too and presented the information in an interesting way. Thumbs up!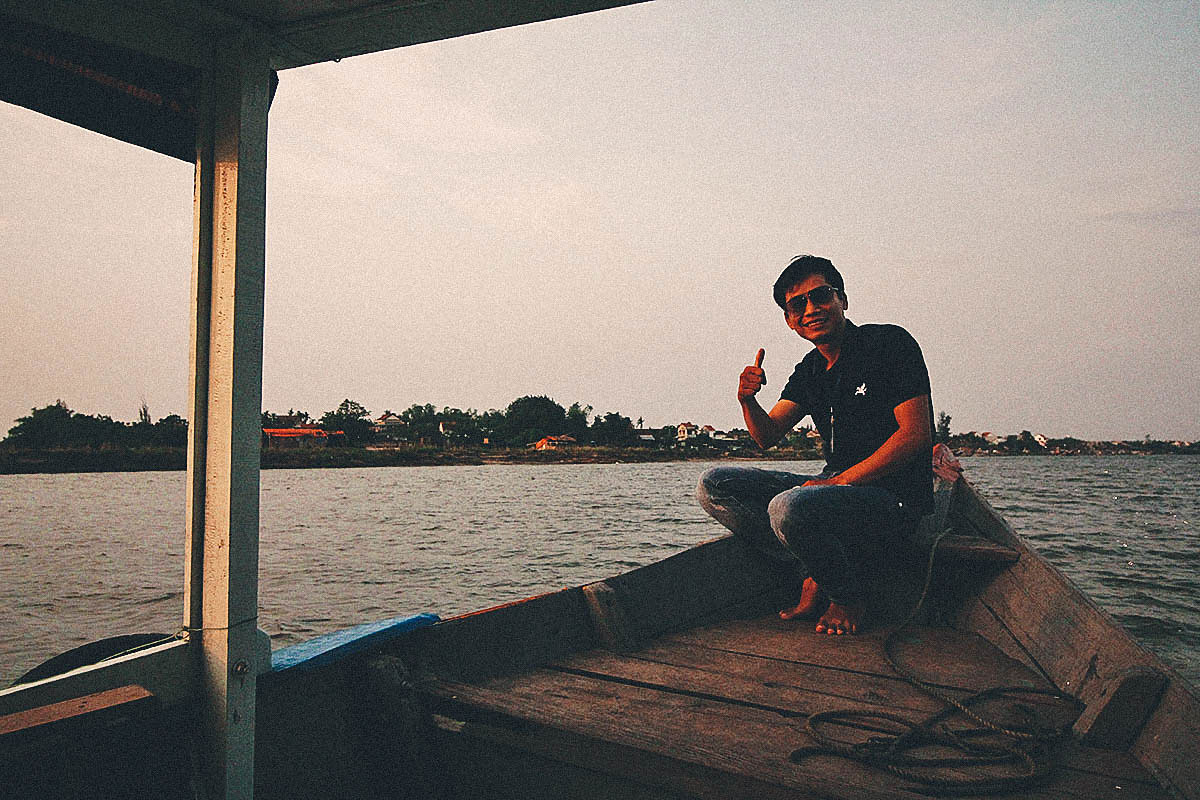 According to Turtle, Thanh Ha was once a thriving pottery village but it's seen better days. For reasons he didn't elaborate on, the demand for their pottery isn't what it used to be which is probably the reason for this stop, to help give them a tourism boost. We were treated to a quick pottery demonstration by oh my love, my darling.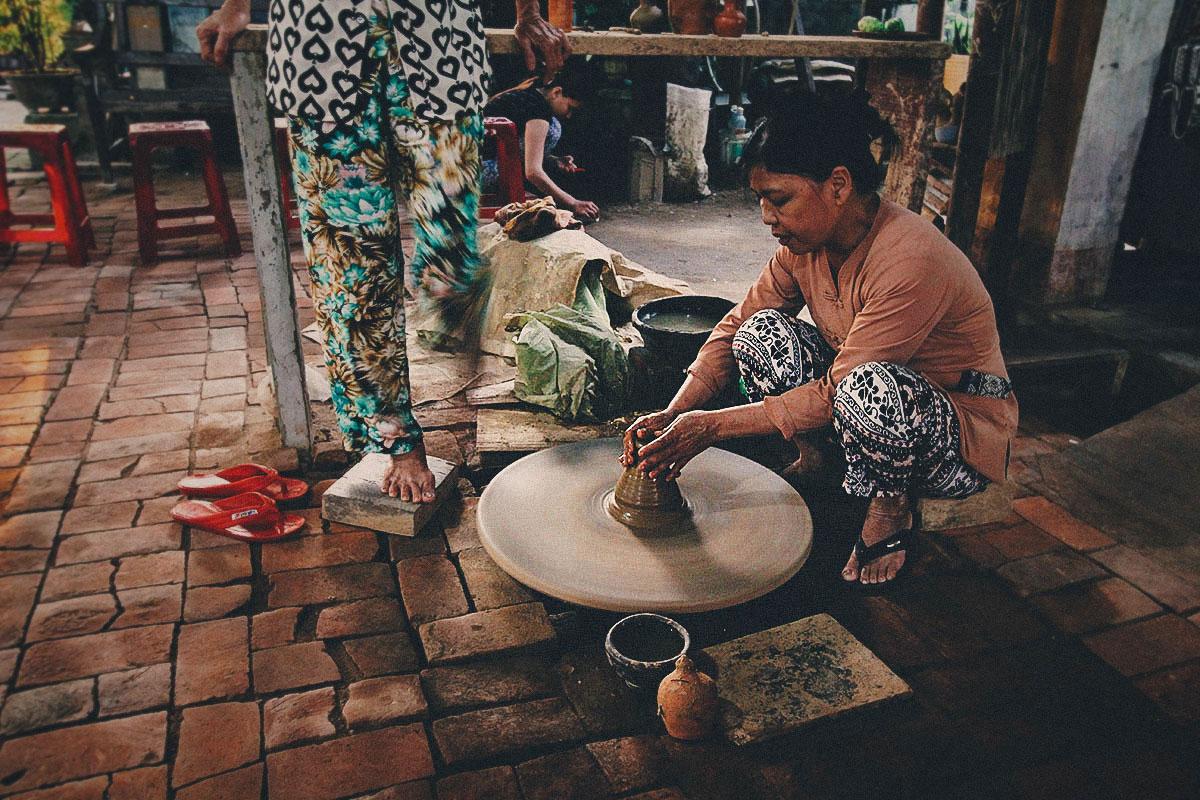 They invited me to try afterwards and I obliged. I had never tried pottery before and quickly realized it's harder than it looks!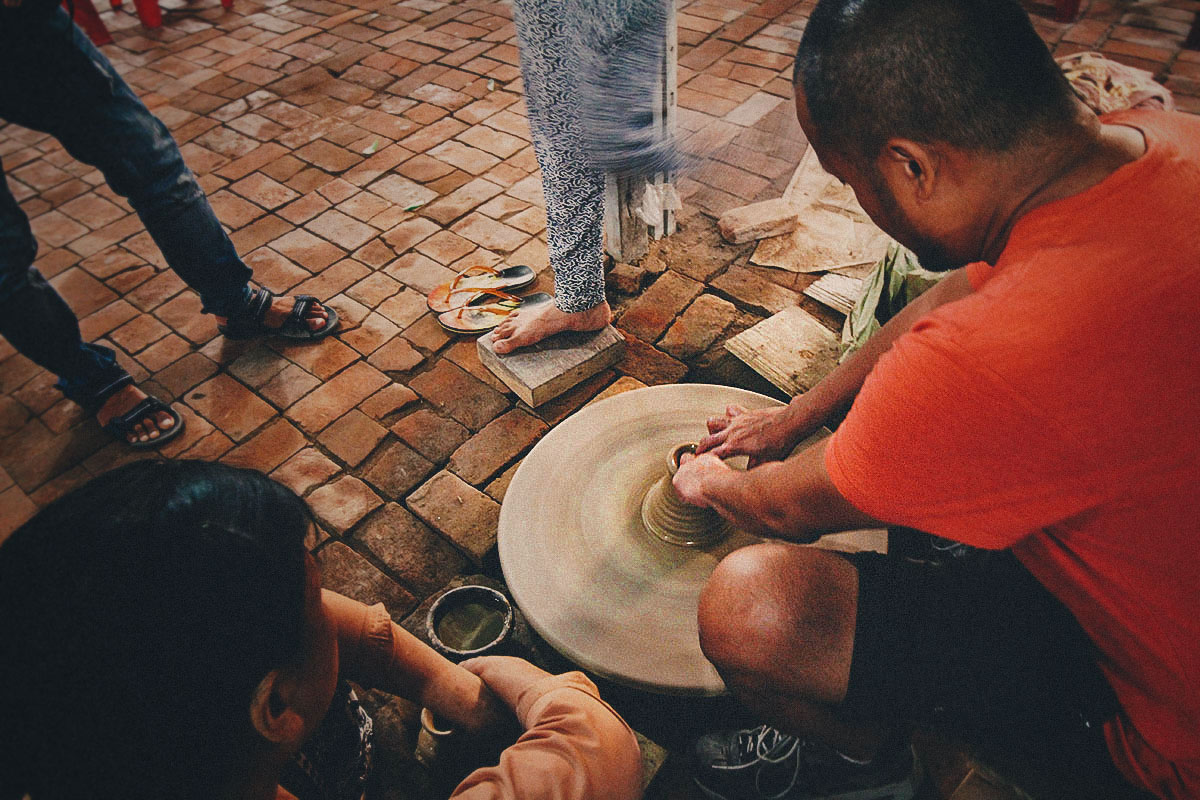 Going for avante-garde, I call this piece "Askew". Hey, it's all in the marketing. 😆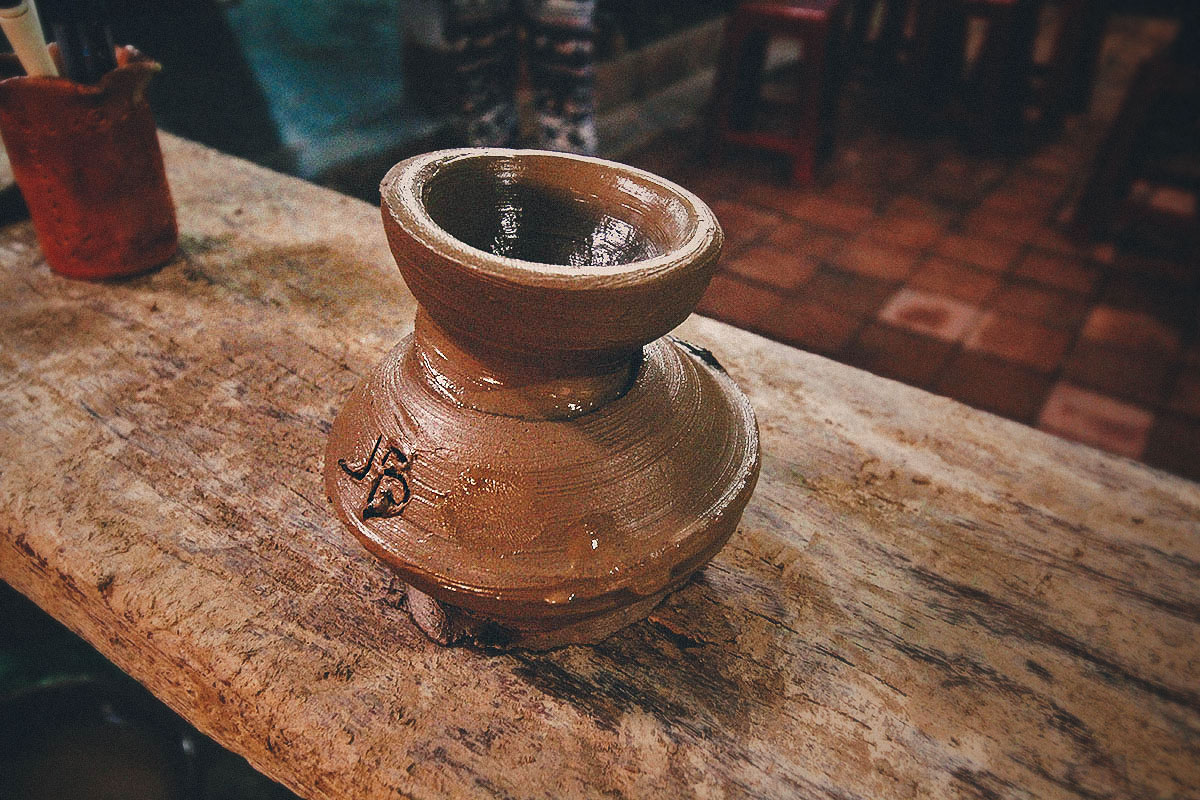 It isn't surprising that My Son Sanctuary is the most popular tourist attraction in Hoi An. It makes for a fascinating day trip, especially if you go with a guide. There were a few people there who rented motorbikes and went on their own. That's cool too and something I probably would have done had I been confident enough to ride motorbikes in Vietnam. But then again, it makes it so much more interesting when you have a guide explaining everything to you. It's a different experience when you know what you're looking at. We don't usually go on guided tours like this but I'm understanding the benefits now.
As previously described, we booked our tour with Simply Vietnam Travel for VND 1,200,000 each. This comes with entrance fees, bottled water, and snacks and requires a minimum of two people. If you're thinking it's a little pricey, it is. I thought so myself. But you have to remember that this is a private tour hence the extra cost. If you'd rather not pay as much, then you can join a group tour with Klook. They're considerably cheaper but based on people's reviews, groups can be uncomfortably big. If you want a more personal experience, then you may want to go with the My Son Holy Land Full Day Tour with Simply Vietnam Travel.
Personally, we had an awesome time with Turtle. As mentioned above, he's fun, energetic, and full of jokes. It's been three weeks since our trip and Ren and I still find ourselves repeating some of his expressions. "Ssssssso CUTE!" 😆 Best of all, he loves food! When he found out how much we love Vietnamese food too, he took us to this noodle place in Hoi An after the tour. Frequented mostly by locals, they're known for serving the best banh canh in Hoi An. It was delicious and one of the best meals we had in Vietnam. If you enjoy food too and decide to go on this tour, then be sure to ask him about that banh canh. 😉
Simply Vietnam Travel, Hoi An, Vietnam
287 Nguyen Duy Hieu Str, Hoi An City, Quang Nam Province, Vietnam
Tel: +84 01 213 553 385
Website: simplyvietnamtravel.com
Email: [email protected] / [email protected]
Tour Cost: VND 1,200,000 per person (at least 2 people per group)
Disclosure
Some of the links in this guide are affiliate links, meaning we'll get a small commission if you make a purchase at NO extra cost to you. We only recommend products and services that we use ourselves and firmly believe in. We really appreciate your support as this helps us keep this website going. Thank you!