When you think of limestone karsts in Vietnam, you think of Ha Long Bay. When you think of colorful paper lanterns, you think of Hoi An. When you think of pristine rice terraces and trekking, you think of Sapa.
Located about 320 km northwest of Hanoi, Sapa is home to the Hoang Lien Son mountain range and some of the most popular trekking trails in Vietnam.
Travelers who make the trip to Sapa go on single- to multi-day treks through a verdant mountainside of rice paddies and villages inhabited by the colorful people of Vietnam's northern ethnic groups.
I recently visited Sapa to go trekking and to experience the region's highland cuisine, which is described as being one of the most unique in Vietnam.
If you're planning on visiting Sapa – whether to go trekking, to eat, or to just enjoy the town's cool mountain atmosphere – then I hope this Sapa travel guide can help you plan your trip.
VISIT SAPA QUICK LINKS
This Sapa travel guide is comprehensive and detailed. In other words, it's very long. For your convenience, I've compiled links to hotels, tours, and other services here.
HOTELS
Top-rated hotels in downtown Sapa. These hotels will put you in the heart of the city.
TOURS
OTHER SERVICES
Save This on Pinterest!
No time to read this Sapa travel guide now? Click on the save button and pin it for later!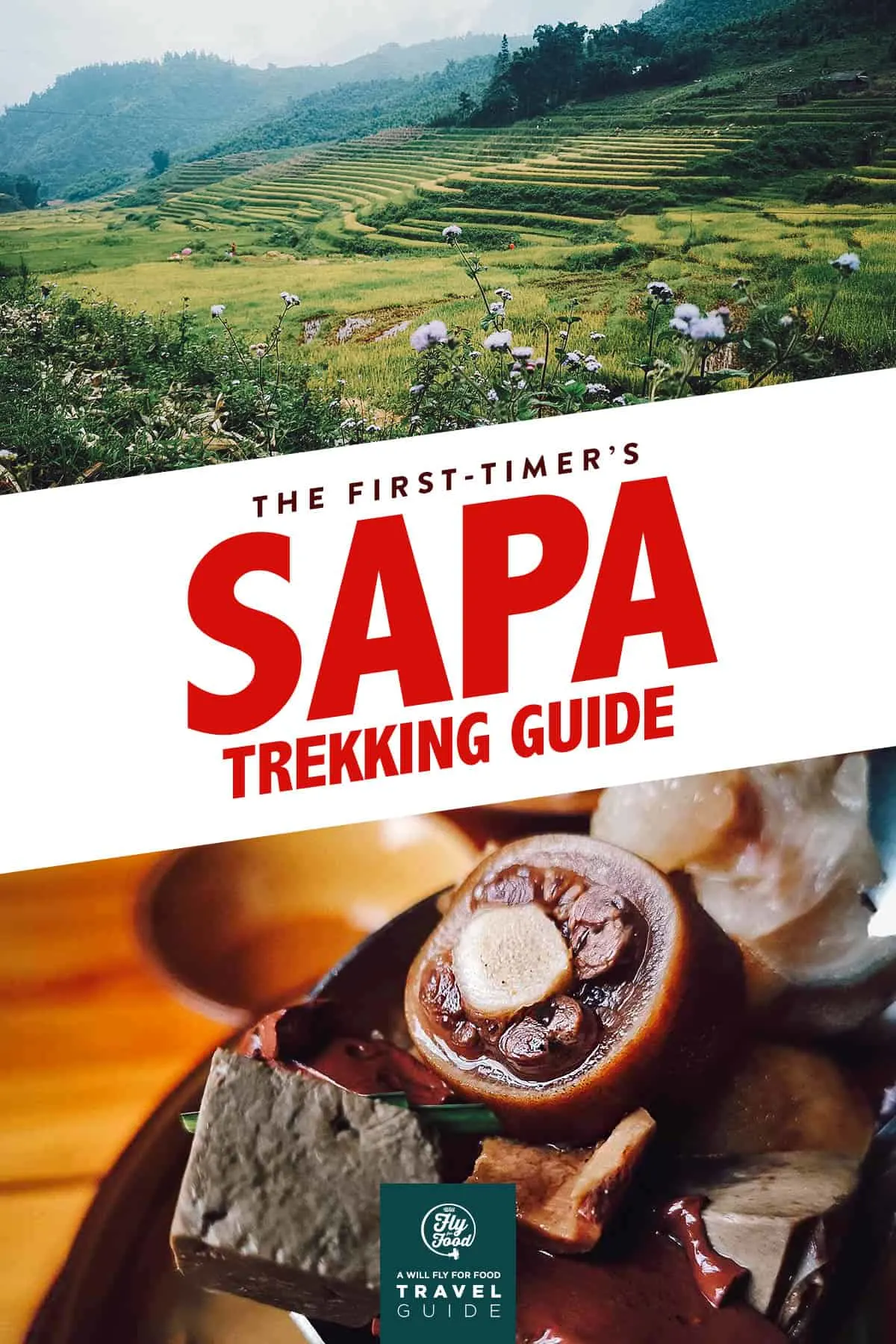 GUIDE TABLE OF CONTENTS
SAPA TRAVEL RESTRICTIONS
Because of the current global situation, travel guidelines can change suddenly. To keep you updated, our friends at Booking.com created a website that lists detailed information on travel restrictions around the world.
Before planning a trip to Sapa, be sure to check Booking.com for information on travel restrictions to Vietnam. If you do decide to visit Sapa, then we highly recommended getting travel insurance with COVID coverage.
HOW TO APPLY FOR AN E-VISA TO VIETNAM
You may need an e-visa and medical declaration to visit Vietnam depending on which passport you carry.
I'm a Philippine passport holder so I can visit Vietnam visa-free for up to 21 days. However, I wanted to stay longer so I applied for an e-visa through iVisa.com which allowed me a stay of up to 30 days. In my case, the approval process took about 2-3 days.
Requirements and fees may differ depending on your passport, so you can visit iVisa.com for more information and to apply.
SAPA AT A GLANCE
The term Sapa refers to both the town and the district in Lao Cai Province.
The town itself is fairly small, occupying an area less than 25 sq km. Published population numbers are inconsistent but based on a 2009 census, there are an estimated 9,000 people living in Sapa town with a good number more living in communes and villages throughout the district.
The majority of the Vietnamese population is comprised of the Kinh people. They make up about 86% of the country's total population, but they never colonized Vietnam's highest valleys.
In Sapa, only about 15% are Kinh. The vast majority is comprised of people from the Hmong, Dao, Giay, Xa Pho, and Tay highland tribes.
BEST TIME TO VISIT SAPA
The best times to visit Sapa are from March till mid-May and from late September till November. Days are sunny with little rain, making it an ideal time to go trekking.
MAR-MAY: Spring is one of the best times to visit Sapa. The weather is pleasant and the skies are clear, though it does start to get rainier in May.
JUN-AUG: Summer is the wettest time in Sapa and peak season for domestic tourism. Trekking is a big part of the Sapa experience so this may not be the best time to go.
SEPT-NOV: Towards the end of September till November is arguably the best time to visit Sapa. The weather is similar to spring and the rice terraces are at their greenest and most beautiful.
DEC-FEB: Sapa experiences cold winters. It's the only place that experiences snow in Vietnam so this may not be the most comfortable time to go. But if you don't mind the cold, then this is one of the most beautiful times to be in Sapa.
I visited Sapa in early September. Days were generally overcast so I didn't bother taking the cable car to Fansipan Mountain. It didn't rain but it would drizzle everyday, making trekking a bit worrisome. I was always concerned about getting caught in a downpour while out on a trek.
Climate: Annual Monthly Weather in Sapa
For more on Sapa's weather, check out these climate graphs from climate-data.org. I've also created average temperature and annual rainfall graphs with the most ideal months to visit marked in orange.
Average Temperature

Annual Rainfall

TRAVELING TO SAPA
The majority of people traveling to Sapa will be coming from Hanoi, mostly by bus or train. I wrote about it in detail in our Hanoi to Sapa article but I'll describe each method briefly below.
BY BUS: This is the best way to get to Sapa from Hanoi. It's a few hours faster than trains and much cheaper. Plus, buses can take you directly into Sapa town. Follow the link to book bus tickets from Hanoi to Sapa.
BY TRAIN: You can take an overnight train but the total journey will be about 3 hours longer than a bus. Sleeper trains are also considerably more expensive and less comfortable. On top of that, trains can only go as far as Lao Cai Station so you'll need to complete the journey in a minibus. Click on the link to book train tickets.
If you're traveling to Sapa from a point of origin other than Hanoi, then you can check Bookaway or use the widget below to find transportation options available to you.
WHERE TO EXCHANGE CURRENCY
The unit of currency in Vietnam is the Vietnamese Dong (VND).
I already had enough VND with me so I didn't need to exchange currency in Sapa, but the best place to do it is at a bank. There are a few around Sapa Lake and near Sapa Station.
Instead of exchanging currency, a better option may be to withdraw VND from an ATM. In my case, rates are comparable and it saves me from the hassle of having to bring too much foreign currency.
I suggest letting your bank know that you plan on using your ATM card abroad so you don't run into any problems. In my experience, my card works in some machines but not in others.
NOTE: Some ATM machines may ask if you'd like to proceed with or without conversion. Always proceed WITHOUT conversion. That way your local bank does the conversion at better rates. Proceeding with conversion often leads to terrible exchange rates.
BEST AREAS TO STAY IN SAPA
If it's your first time in Sapa, then it's best to stay within the town itself. But there are plenty of accommodation options in Lao Chai and Ta Van as well which are villages about 7-10 km from Sapa town.
SAPA TOWN
I stayed at Little View Homestay which is a spartan but comfortable boutique inn about a 5-10 minute walk from the town square. Rooms are small but clean, and they serve breakfast at the top floor which offers terrific views of the valley.
The inn is located down a hill so you'll need to walk uphill everyday to get to the heart of town. Sapa is a mountain town so very few roads, if any, are flat.
You can book a room at Little View Homestay on Booking.com or Agoda. If you don't think this is the right place for you, then you can check these links for alternate listings: Booking.com | Agoda.
Check out some of the top-rated hotels in the Sapa downtown area.
LAO CHAI / TA VAN
Lao Chai is a Black H'mong commune about 7-8 km southeast of Sapa town. It consists of three villages with about a hundred Black H'mong families. A little farther away is the village of Ta Van. It's occupied by people from the Giay, H'mong, and Dao ethnic groups.
Both Lao Chai and Ta Van are popular trekking destinations from Sapa town. You can get to either village by car or motorbike but the journey is perhaps best enjoyed on a trek.
If it's your first time in Sapa, then you can perhaps spend a night or two in Sapa town before moving to Lao Chai or Ta Van. You can book a room at either village on Agoda.
You can also book hotels and homestays in Sapa using the handy map below.
TREKKING IN SAPA
As described, going on a trek is one of the best things to do in Sapa. I went on a self-guided trek for half a day but you can arrange for multi-day guided treks with stays in nearby villages if you like.
Self-Guided Trek
The easiest self-guided trek you can do is from Cat Cat Village. You can walk down to the village which is about 2 km from Sapa town. From there, you can take a leisurely trek along the trails that go beyond the village.
I walked along this trail for a few hours before turning back. I'm not sure where it goes but I believe it takes you to the popular trekking destinations of Lao Chai and Ta Van villages.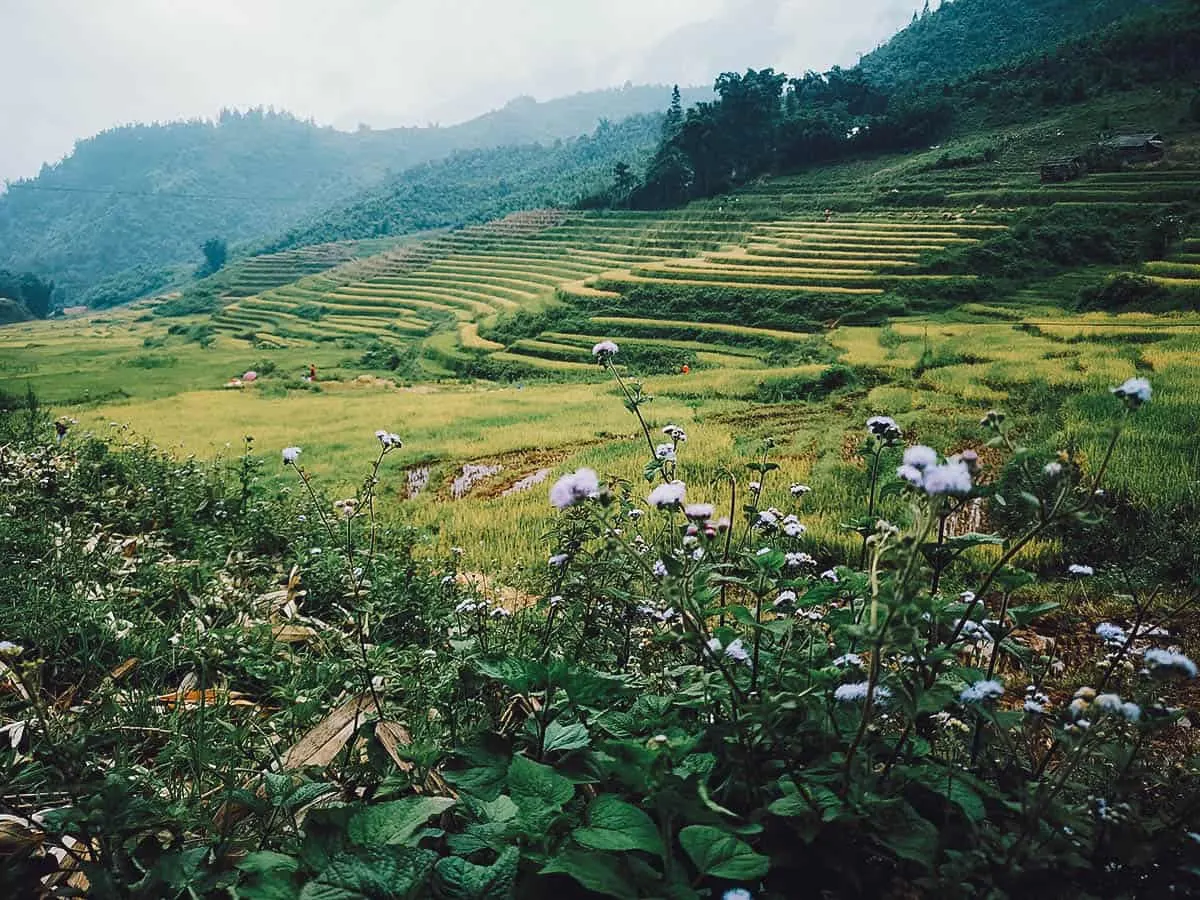 Guided Trek
People looking for a longer and more serious trekking experience will need to hire a guide. You can trek for as many days as you like but 2-day treks seem to be the most popular.
Based on what I've read, treks can cost anywhere between USD 20-40 per person per day depending on the length and difficulty of the trek. This typically includes meals and homestays.
You can book a trek in advance through Get Your Guide but it may be cheapest to arrange for one in Sapa. People will approach you offering treks but I suggest asking your hotel for recommendations.
Listed below are some of the villages you'll be visiting on the most popular 2-day treks through the Muong Hoa Valley.
1. Y Linh Ho Village
Located about 5 km from Sapa town, Y Linh Ho Village is the first stop on many 2-day treks. It's a small commune consisting of about a dozen hamlets scattered about the terraced mountainside.
Y Linh Ho Village is inhabited by people from the Black H'mong ethnic group. They're referred to as Black H'mong because they wear traditional clothing dyed black from indigo.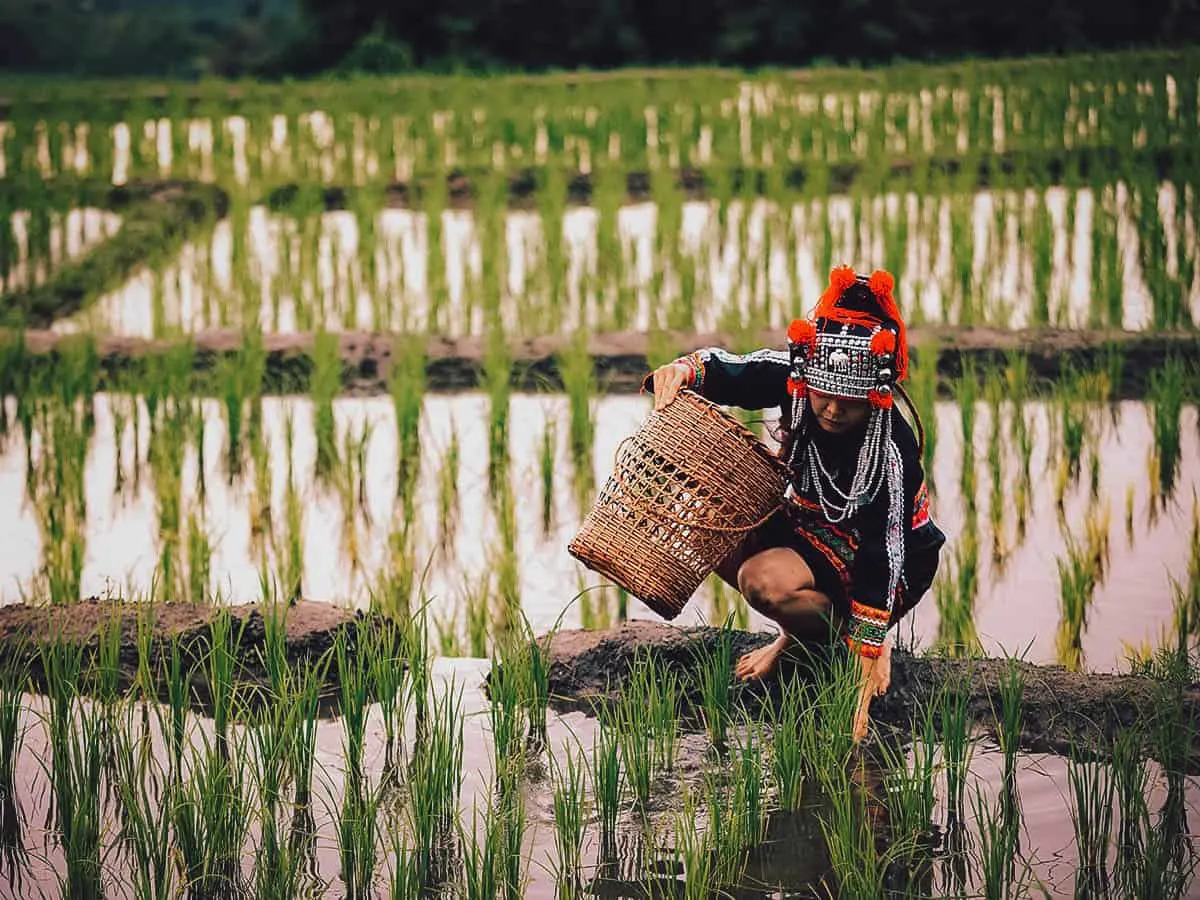 Photo by MENG KONGSAK via Shutterstock
2. Lao Chai Village
Lao Chai Village is a larger Black H'mong commune made up of three villages with over a hundred families. As previously described, there are a few hotels and homestays in Lao Chai. I checked on Agoda and there are a handful you can book in advance.
3. Ta Van Village
About 2 km west of Lao Chai Village is Ta Van, a village of about a thousand people from the H'mong, Giay, and Red Dao ethnic tribes. The majority of people on a 2-day trek will stay here for the night. There are quite a few hotels and homestays you can book in Ta Van on Agoda.
4. Giang Ta Chai Village
Located about 15 km from Sapa town, Giang Ta Chai Village is the next village from Ta Van. Inhabited by people from the Red Dao ethnic group, it's often the first stop on your second day of trekking. Highlights include the Cau May Waterfall and a suspension bridge.
5. Hau Thao Village
There doesn't seem to be as much information about this village but Hau Thao appears to be a H'mong commune as well. It's one of the last stops you'll be making on your second day of trekking before heading back to Sapa town.
OTHER THINGS TO DO IN SAPA
1. Take the Cable Car to Fansipan Mountain
At 3,147 meters (10,326 ft) above sea level, Fansipan Mountain is the highest peak in Vietnam. You can take a 15-20 minute cable car ride to the top for spectacular views of the valleys below.
Ideally, it's best to go on clear days because clouds can obscure the view. It was overcast every day I was there so I didn't wind up going. I read that March and April are the clearest months in Sapa.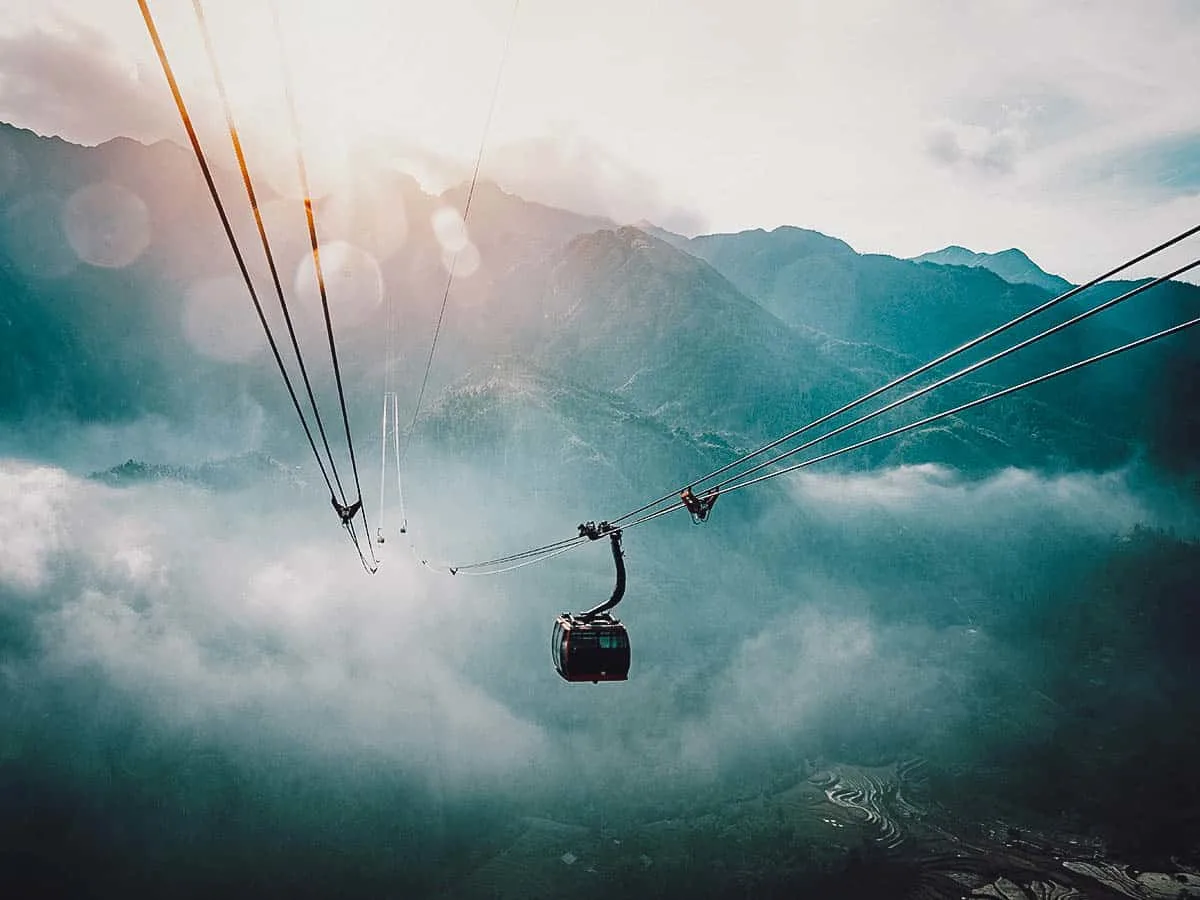 Photo by diy13 via Shutterstock
You can purchase cable car tickets here at Sapa Station or in advance through Klook. You can also book trekking tours with visits to Fansipan Mountain through Get Your Guide.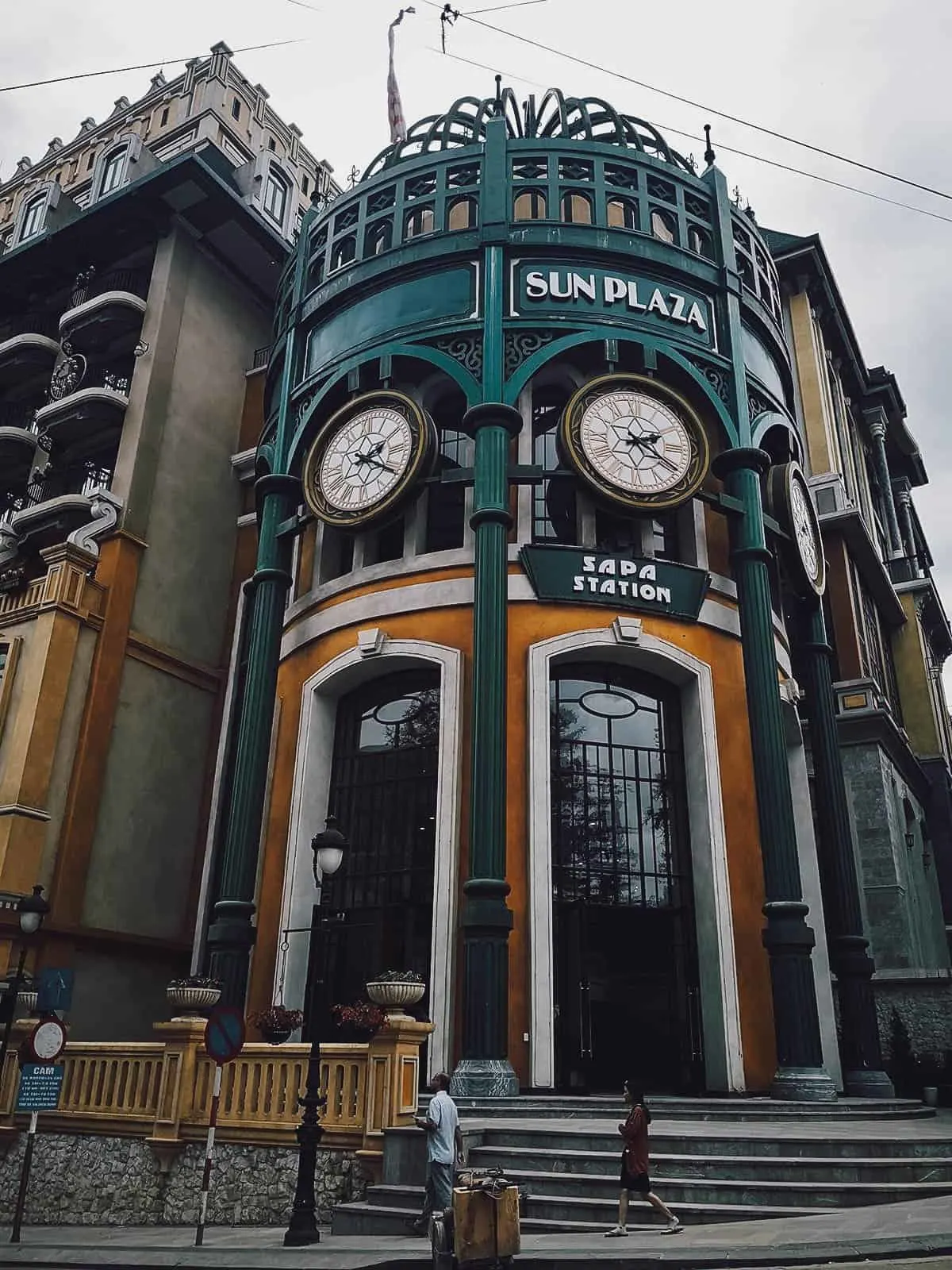 Cable Car Fare: VND 800,000 roundtrip
Estimated Time to Spend: At least half a day
2. Explore Cat Cat Village
Cat Cat Village is the easiest trek you can make from Sapa town. It's a H'mong and Dao hill tribe village located about 2 km from the center of town.
Because of its proximity to Sapa town, Cat Cat Village is always crowded, mostly with domestic tourists dressed in traditional H'mong costumes. There are many picture-taking spots throughout the village which were obviously set up for the sole purpose of taking souvenir photos.
Cat Cat Village is pretty, though many parts look quite touristy and fake. Regardless, it makes for a pleasant day trip for people looking for an easier trek from Sapa town.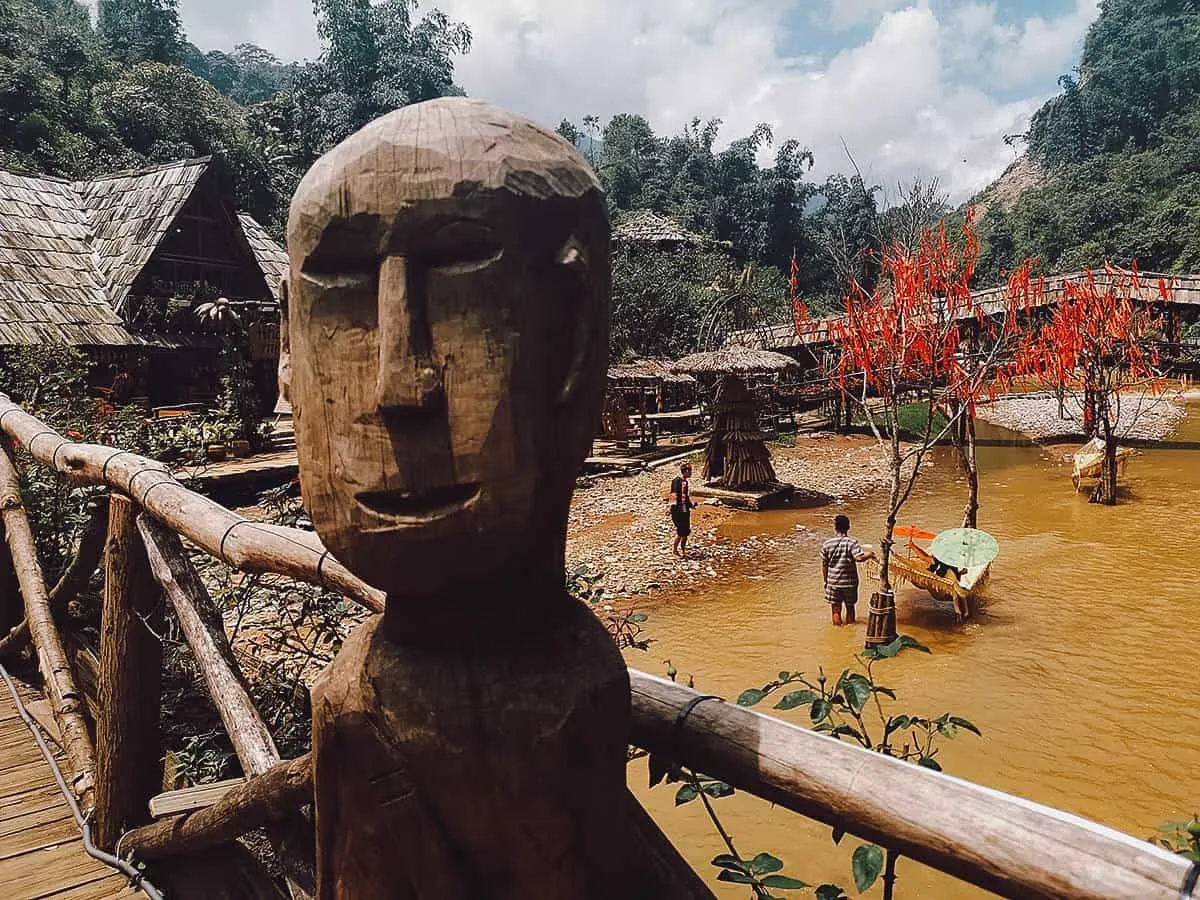 One of the most popular selfie spots in Cat Cat Village is Tien Sa Waterfall. Known as Cat Cat Waterfall in English, Cat Cat Village was named after this waterfall.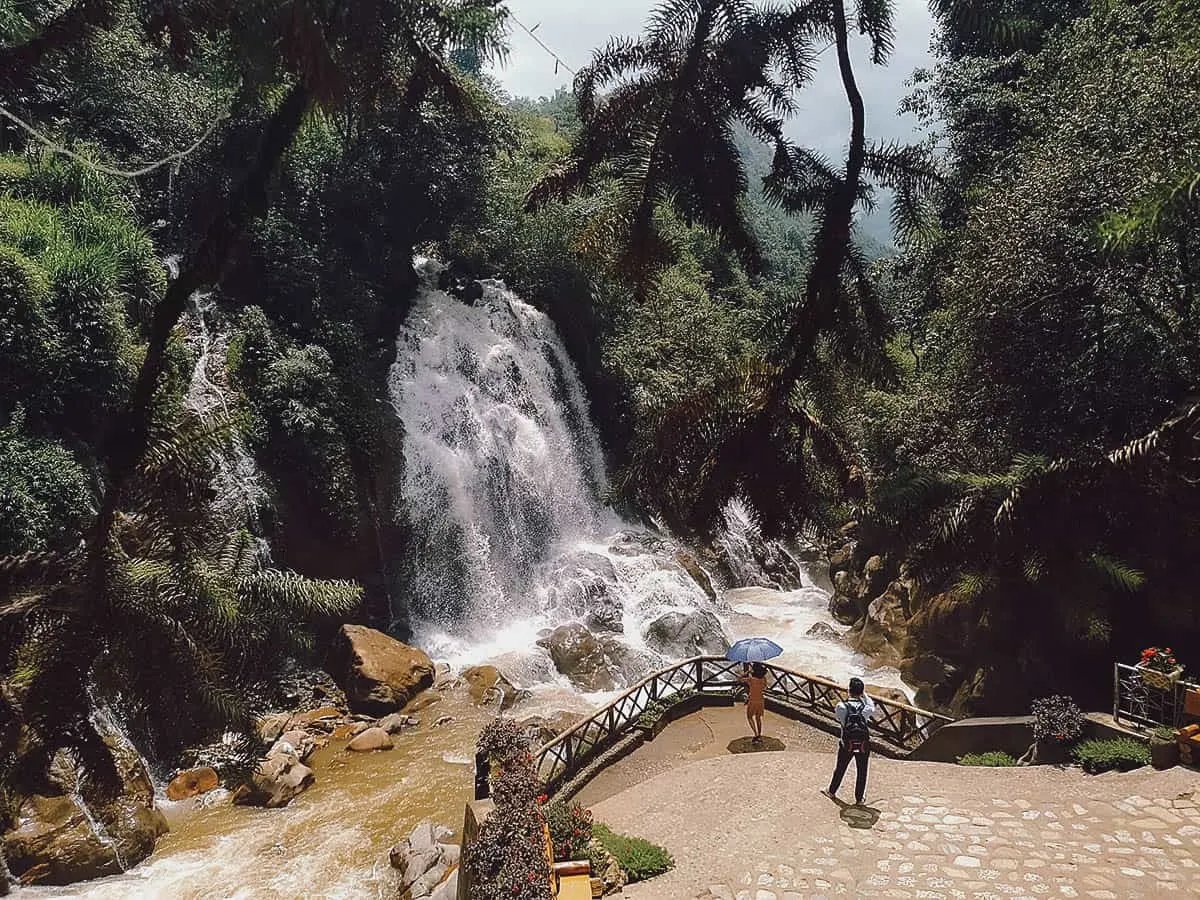 Admission: VND 70,000
Estimated Time to Spend: At least half a day
3. Visit Love Waterfall and Silver Waterfall
Sapa is home to beautiful waterfalls. Love Waterfall and Silver Waterfall are two of the most beautiful. Located about 15 km west of Sapa town (and about 3 km of each other), I arranged for a motorbike to take me to both for VND 250,000.
Pictured below is Love Waterfall which is arguably the prettier of the two. It's nestled within a thick wooded area at the end of a scenic 30-minute walk through the forest.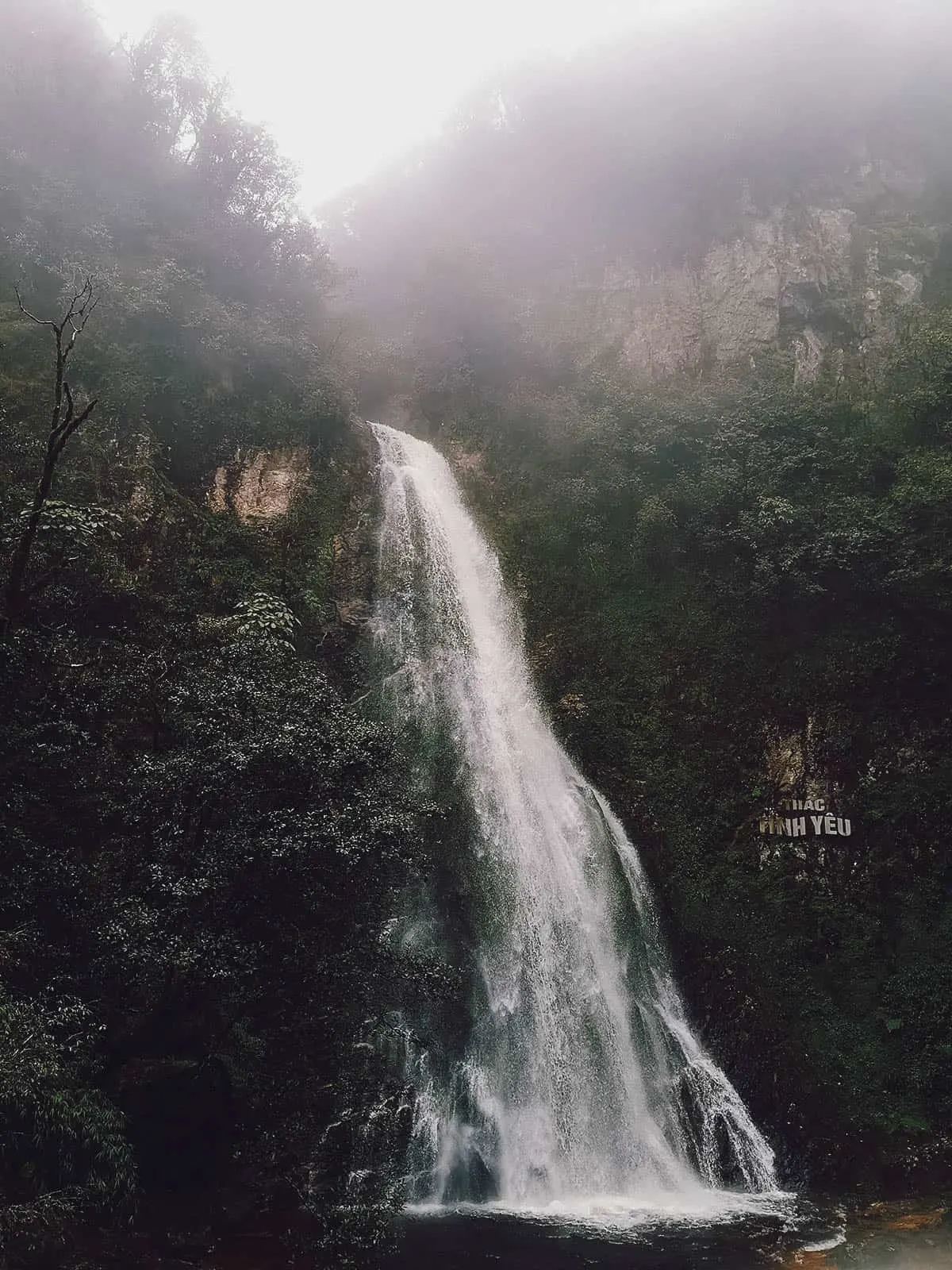 Grander and more powerful though perhaps not as picturesque is Silver Waterfall. It's located along the main road about 3 km before Love Waterfall.
Unlike Love Waterfall which you can't get as close to, there are steps on the side of Silver Waterfall which you can climb to get to a steel viewing bridge about 30 meters (100 ft) above the ground.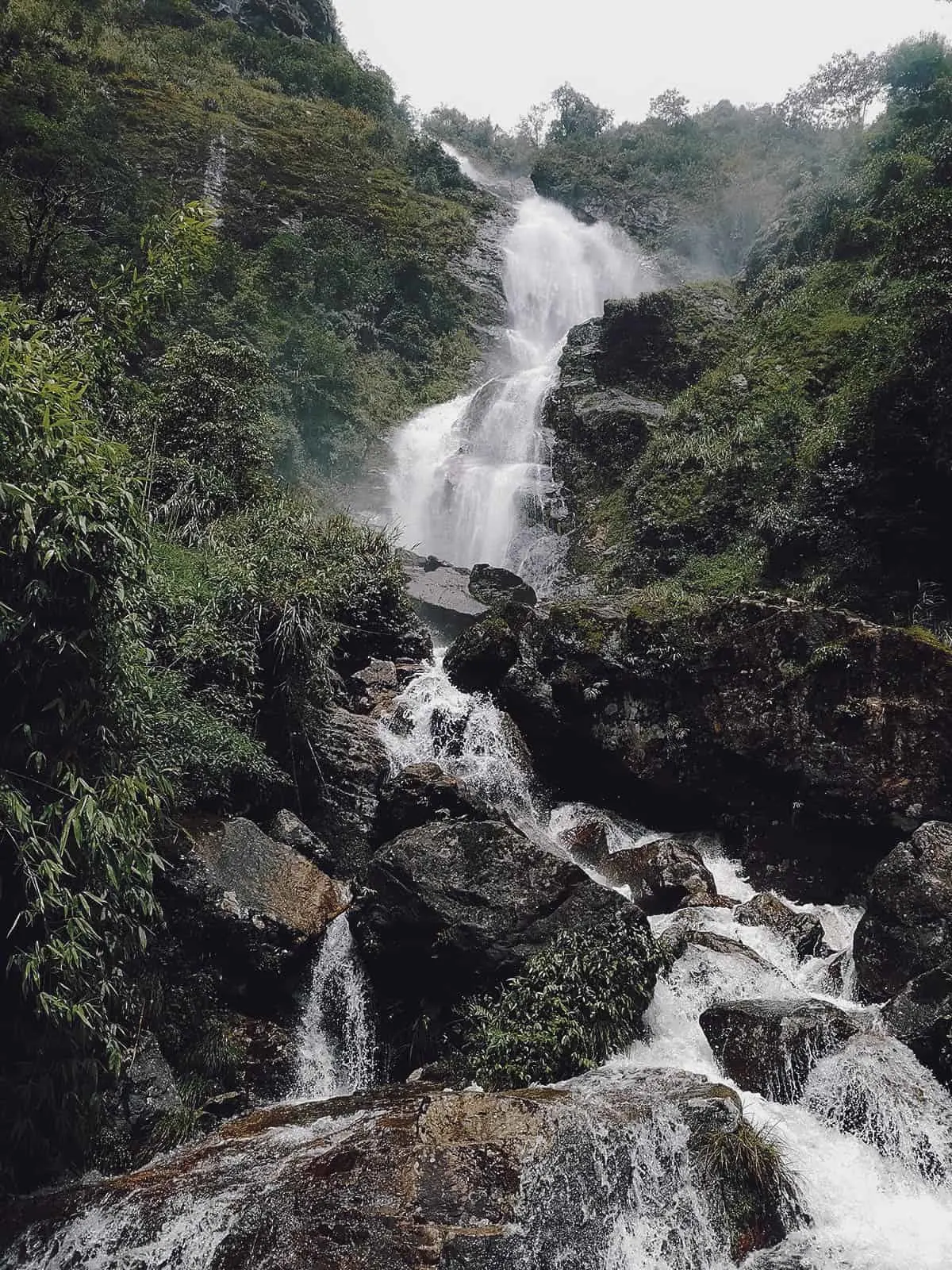 Admission: VND 70,000 (Love Waterfall), VND 20,000 (Silver Waterfall)
Estimated Time to Spend: About 3 hrs for both
4. View the Exhibits at Sapa Museum
Sapa Museum is a small museum with a few exhibits on the history and ethnology of the Sapa region. It isn't that big and well-maintained but it's free so it's worth a quick visit. It's about a 2-minute walk from Sapa Station.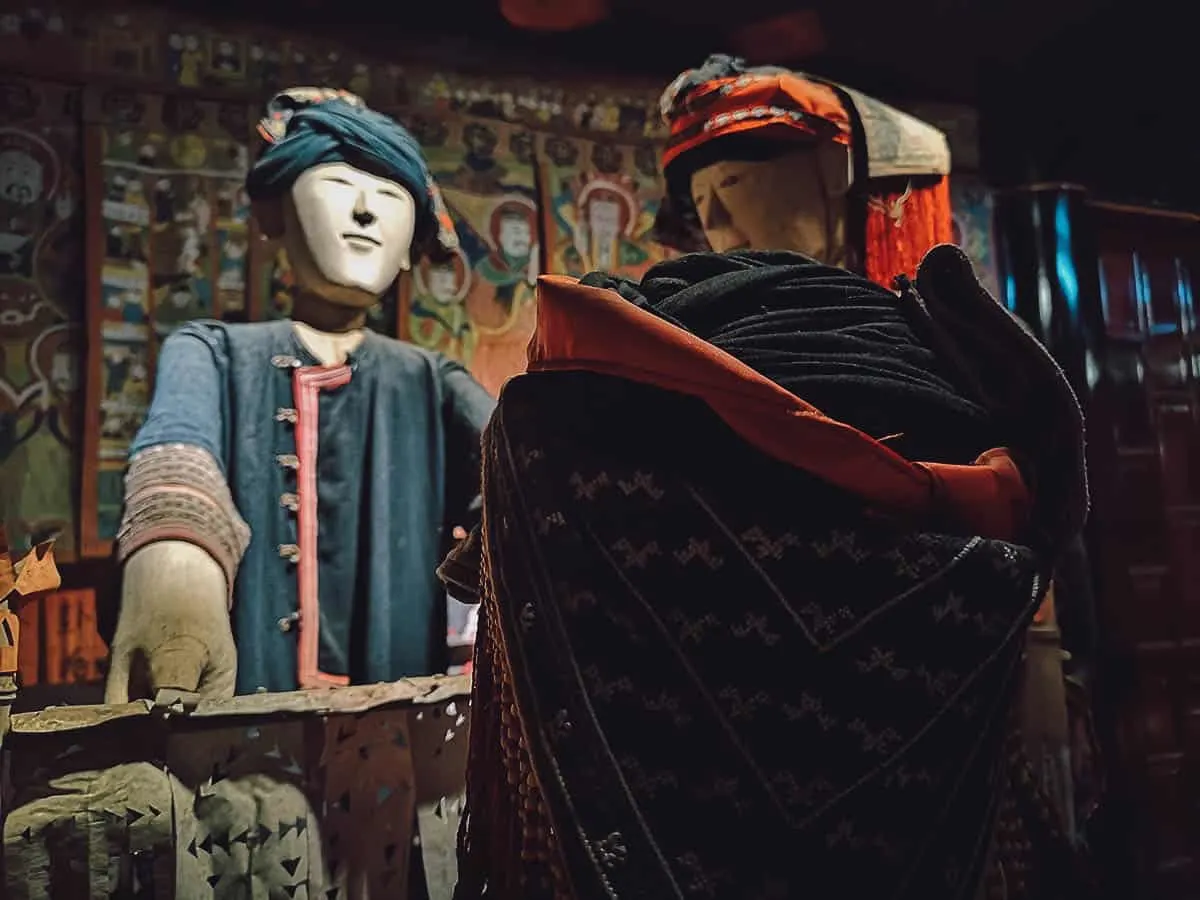 Admission: FREE
Estimated Time to Spend: About 30 mins
5. Visit the Stone Church
The Stone Church with its unique architecture stands out. Formally known as the Holy Rosary Church or the Church of Our Lady of the Rosary, it's a Catholic church built by the French in the early 20th century.
The Stone Church is located by the town square so you can't miss it. If you visit on a Saturday night, you'll find an outdoor market set up in front of the church and around the town square area.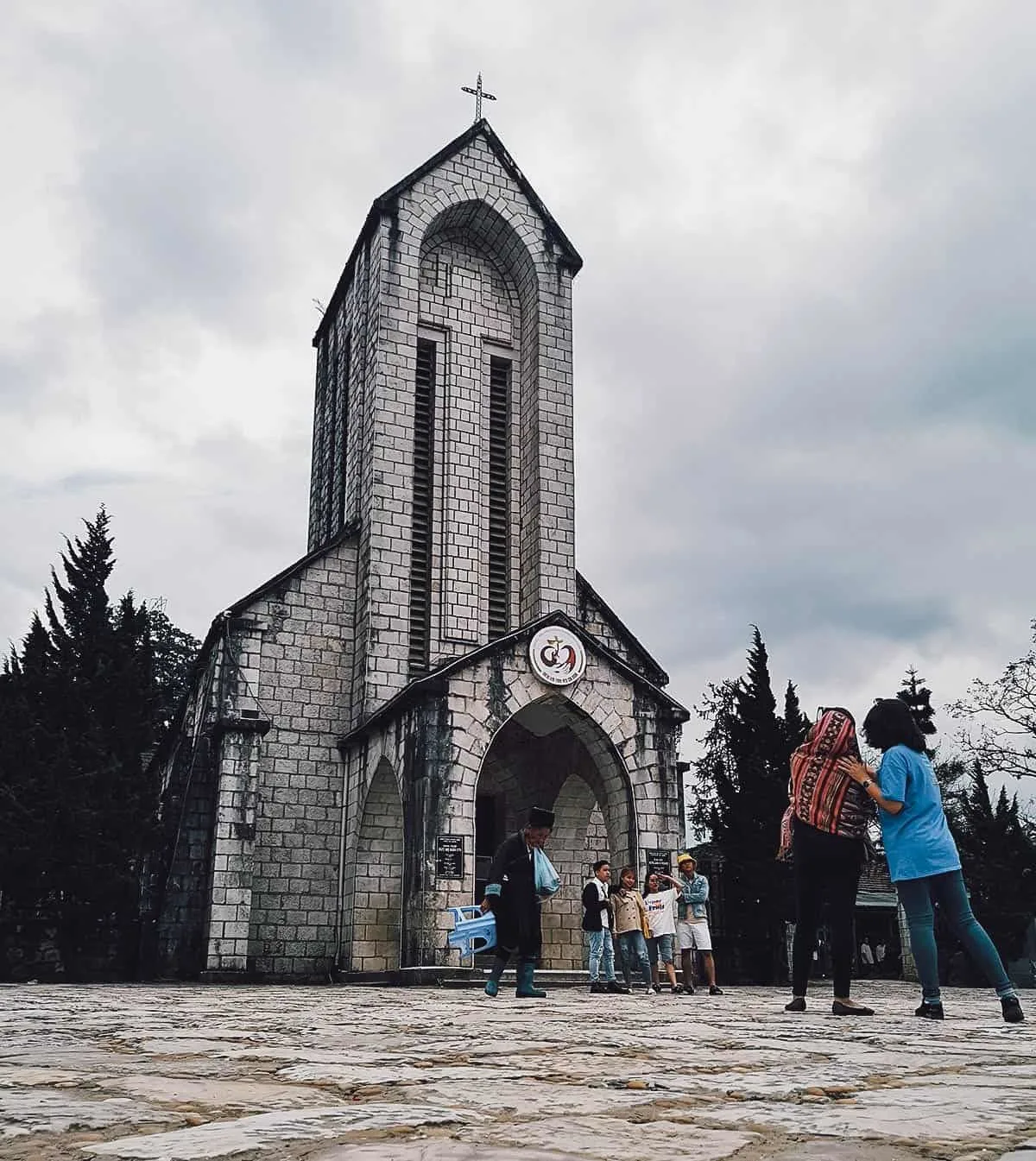 Admission: FREE
Estimated Time to Spend: About 15 mins
6. Try Buffalo Jerky
Sapa is home to one of the more interesting regional cuisines in Vietnam. One dish you may want to try is dried buffalo meat (thit trau gac bep). You'll find it hanging from many market stalls in Sapa.
Born from a need to preserve food, buffalo meat is marinated then hung to dry so it keeps for the duration of the rainy season, typically for 8-12 months. When ready to eat, it's grilled, smoked, or stewed into many dishes.
I had smoked buffalo meat with pickled vegetables at The Hill Station, one of the best restaurants in Sapa town.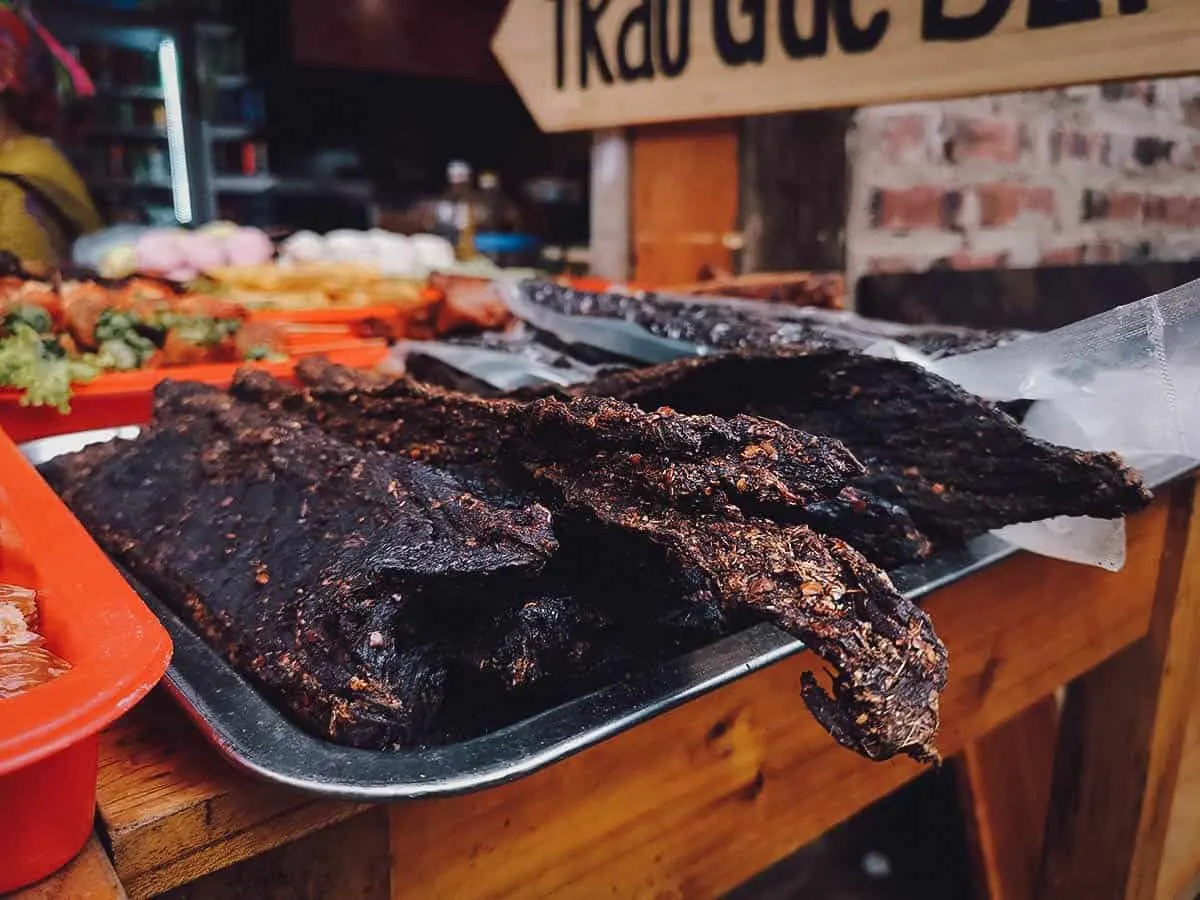 VIETNAMESE FOOD GUIDE
Vietnamese food is one of our favorites. If you'd like to learn more about Vietnamese cuisine, then check out our guide on Vietnamese food for a list of the best dishes to eat in Vietnam.
From thang co in Sapa to mi quang in Da Nang to com tam in Ho Chi Minh City, you'll be pleased to find that Vietnamese food is every bit as diverse as its landscape.
If you have a sweet tooth, then be sure to check out our Vietnamese dessert guide as well.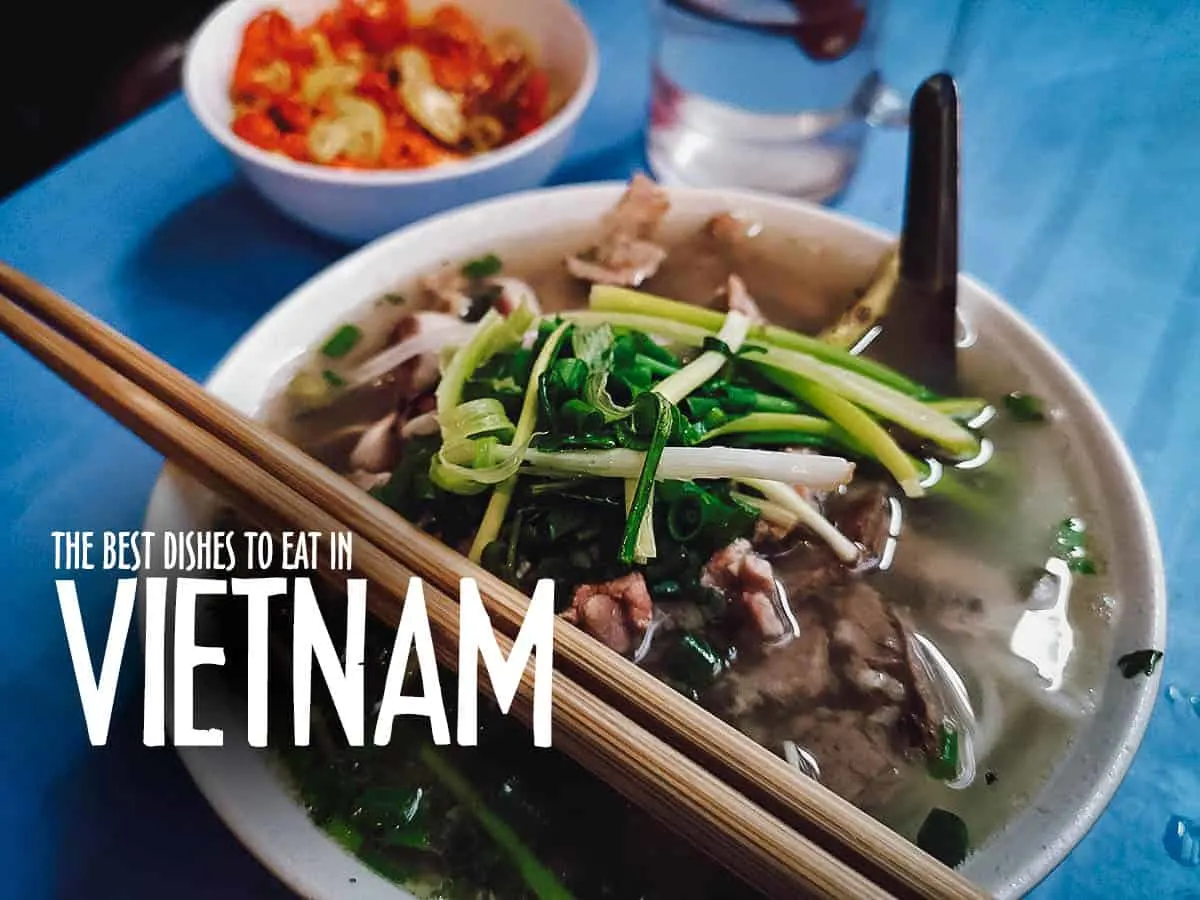 WHERE TO EAT IN SAPA
1. A Phu Restaurant
If you were to have just one dish in Sapa, then it should probably be thang co or horse meat stew. It's a traditional H'mong hot pot dish made with horse and other types of meat like buffalo, pork, and goat.
Horses that are too old or sick to work are butchered for food. The meat is simmered in a large pot or pan for hours with up to twelve different spices. As you can see below, they use every part of the horse like its lungs, tail, kidneys, and intestines so nothing goes to waste.
Hot pot servings in Sapa are typically for at least two people but A Phu Restaurant was kind enough to prepare a single serving for me so I could try it.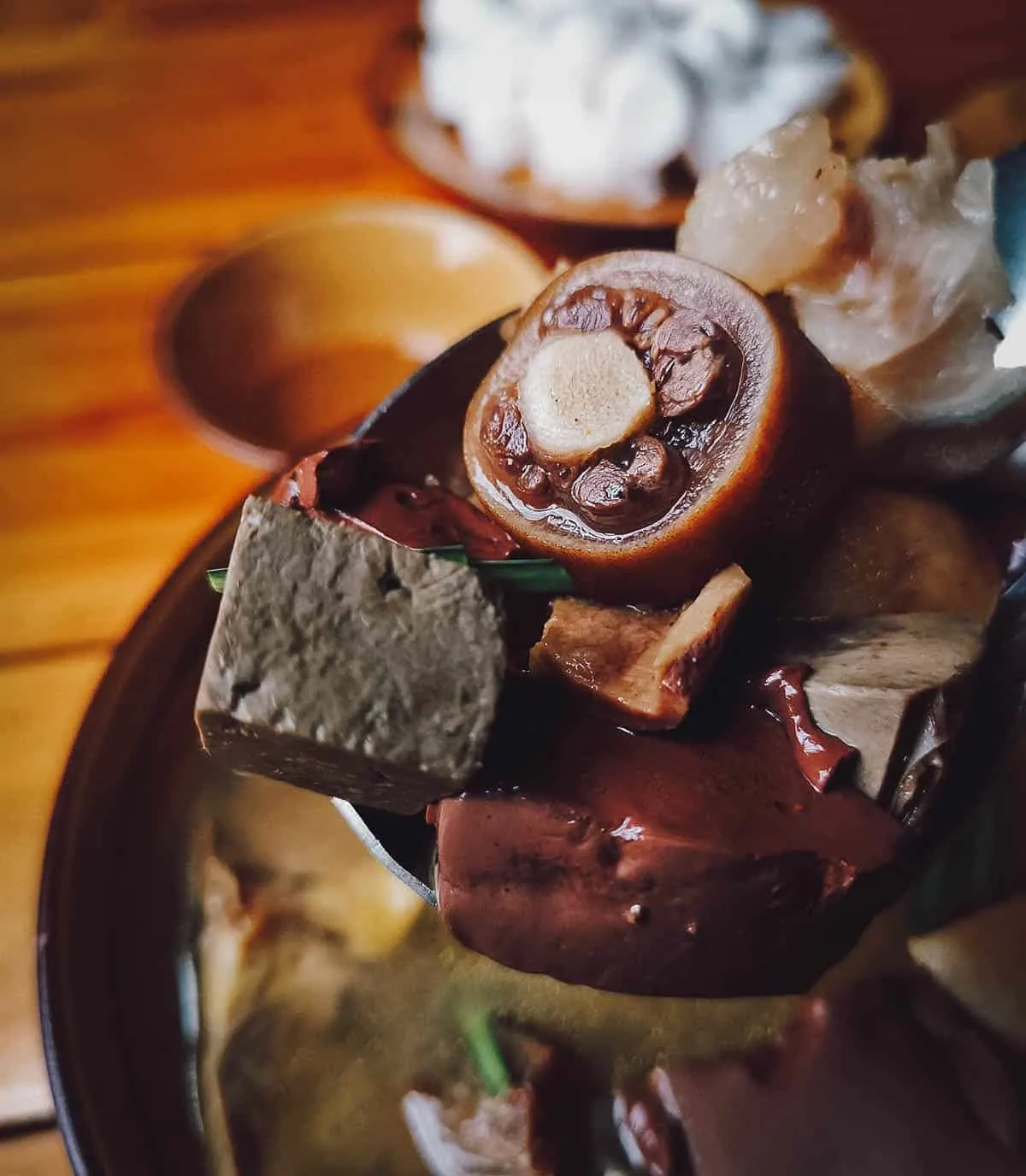 Thang co is typically served with rolls of flattened rice noodles which you dump into the broth to eat with the meat. Served with seasonings like salt, chili, and lime, it's a hearty and filling stew that's ideally suited to Sapa's harsher winters.
If horse meat is a bit extreme for you, then you may want to try salmon hot pot instead. Salmon has been successfully farmed in the region for over a decade so it's as ubiquitous as thang co. Sapa restaurants serving thang co will often serve salmon hot pot as well.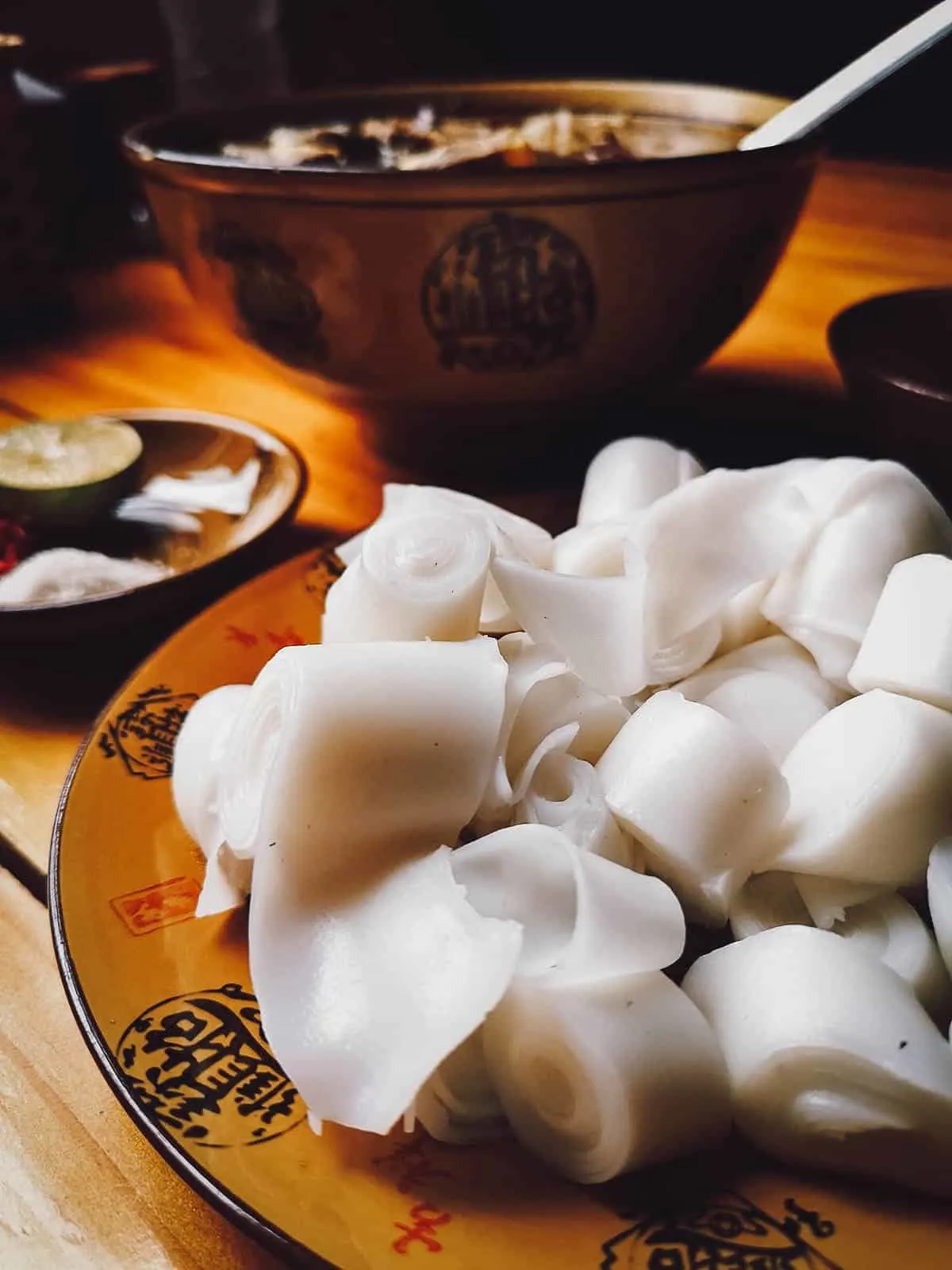 When searching for the best place to have thang co in Sapa, two places often came up, one of them being A Phu Restaurant.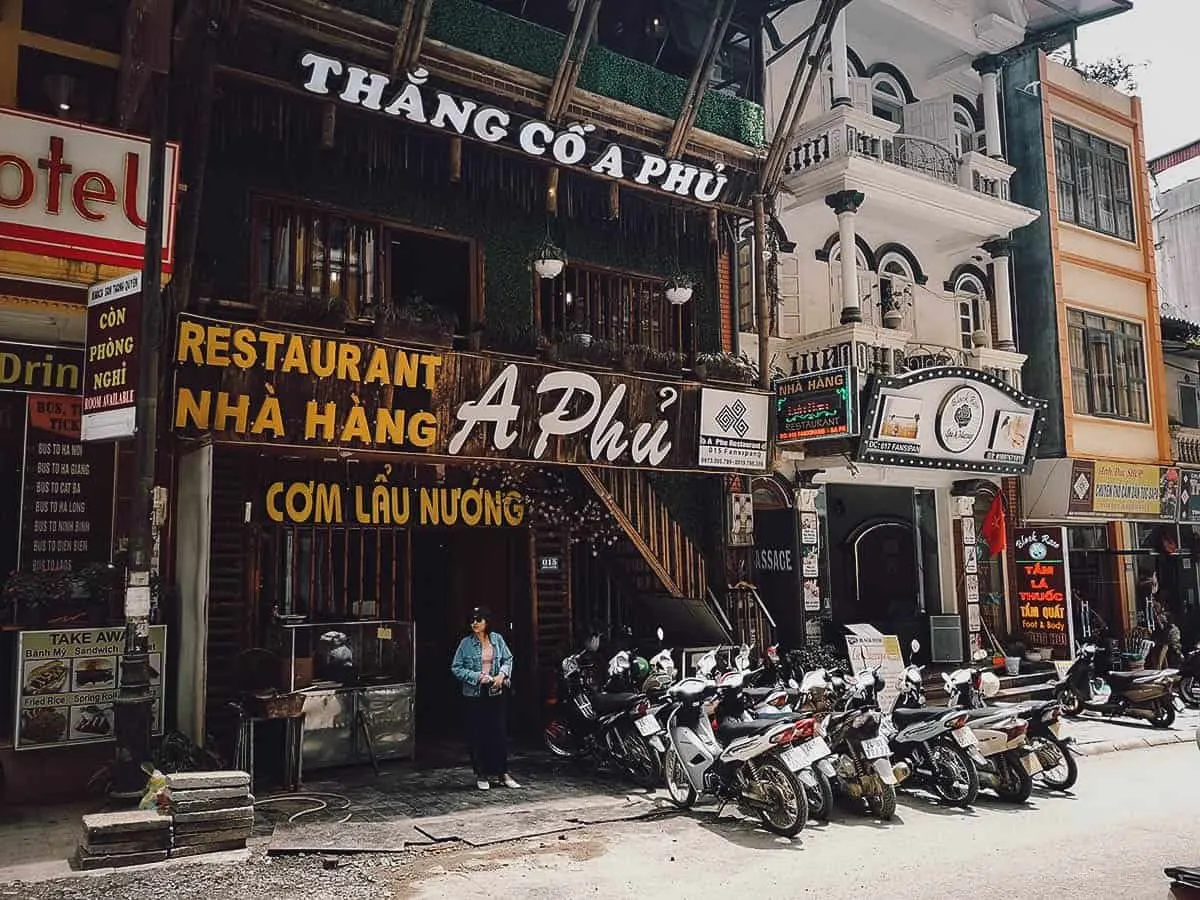 2. Thang Co A Quynh
This was the first restaurant I visited to try thang co. Unfortunately, none of the servers could speak English well so I couldn't negotiate for a single serving.
Instead of thang co, I tried other Sapa specialties like free-range pork and bamboo sticky rice. Pictured below is a tasty dish of grilled pork with lime leaves. Pork in Sapa is typically roasted or grilled.
Sapa pork has an interesting name in Vietnamese. It's referred to as thit lon cap nach which means "pig brought by armpit". This refers to how small pigs would be carried under the armpit to sell at the market.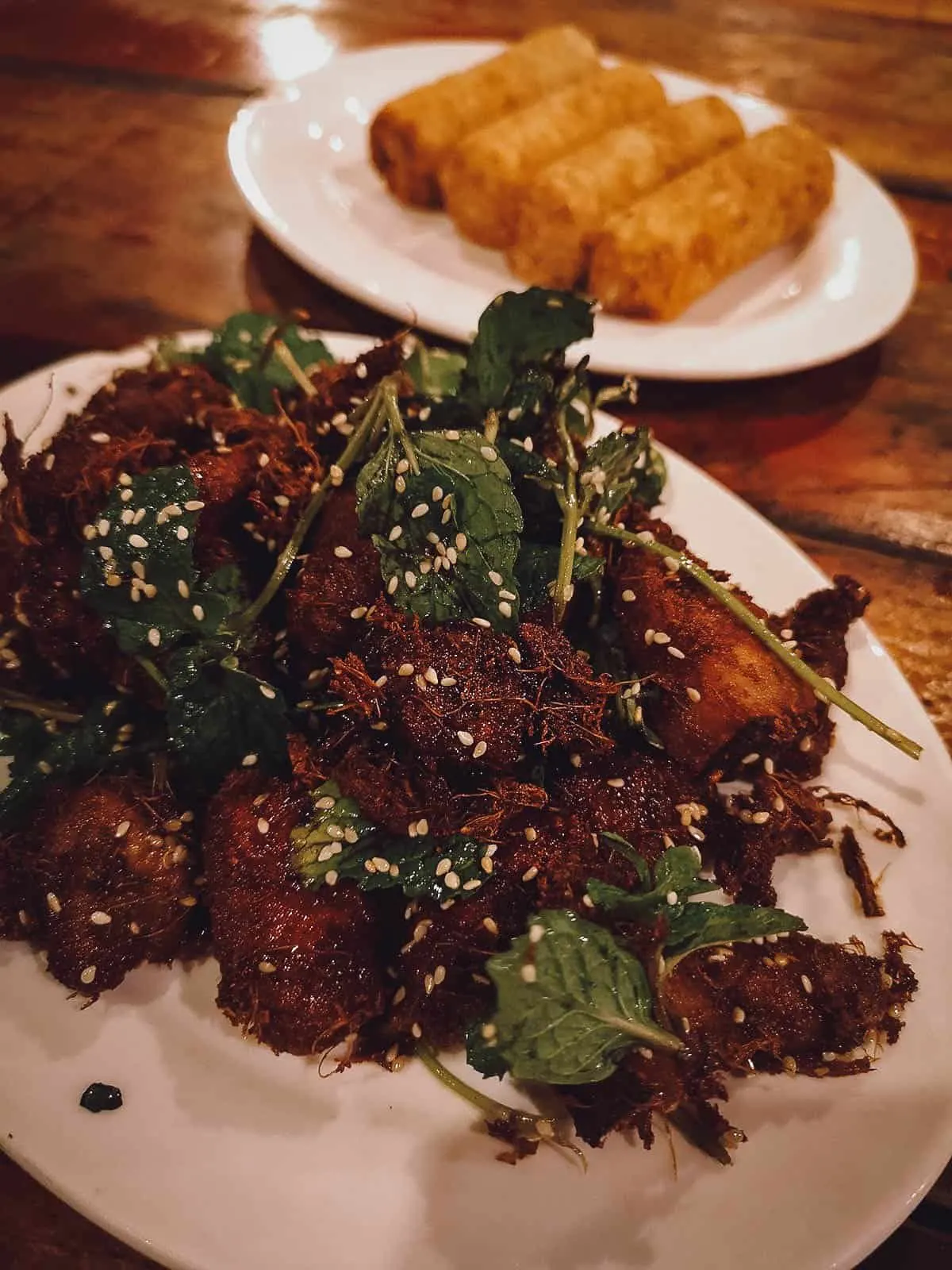 Known as com lam in Vietnamese, bamboo sticky rice refers to glutinous rice cooked in bamboo tubes. In the past, hill tribe people didn't have any pots or pans to work with so they learned to cook rice using bamboo.
To prepare, bamboo is stuffed with salted glutinous rice and water then capped with banana leaves. According to online descriptions, the bamboo is fried but I believe it's roasted over a fire.
The cooking process results in a roll of rice that's crunchy on the outside but chewy and sticky on the inside. You can find com lam at virtually every restaurant and market stall in Sapa.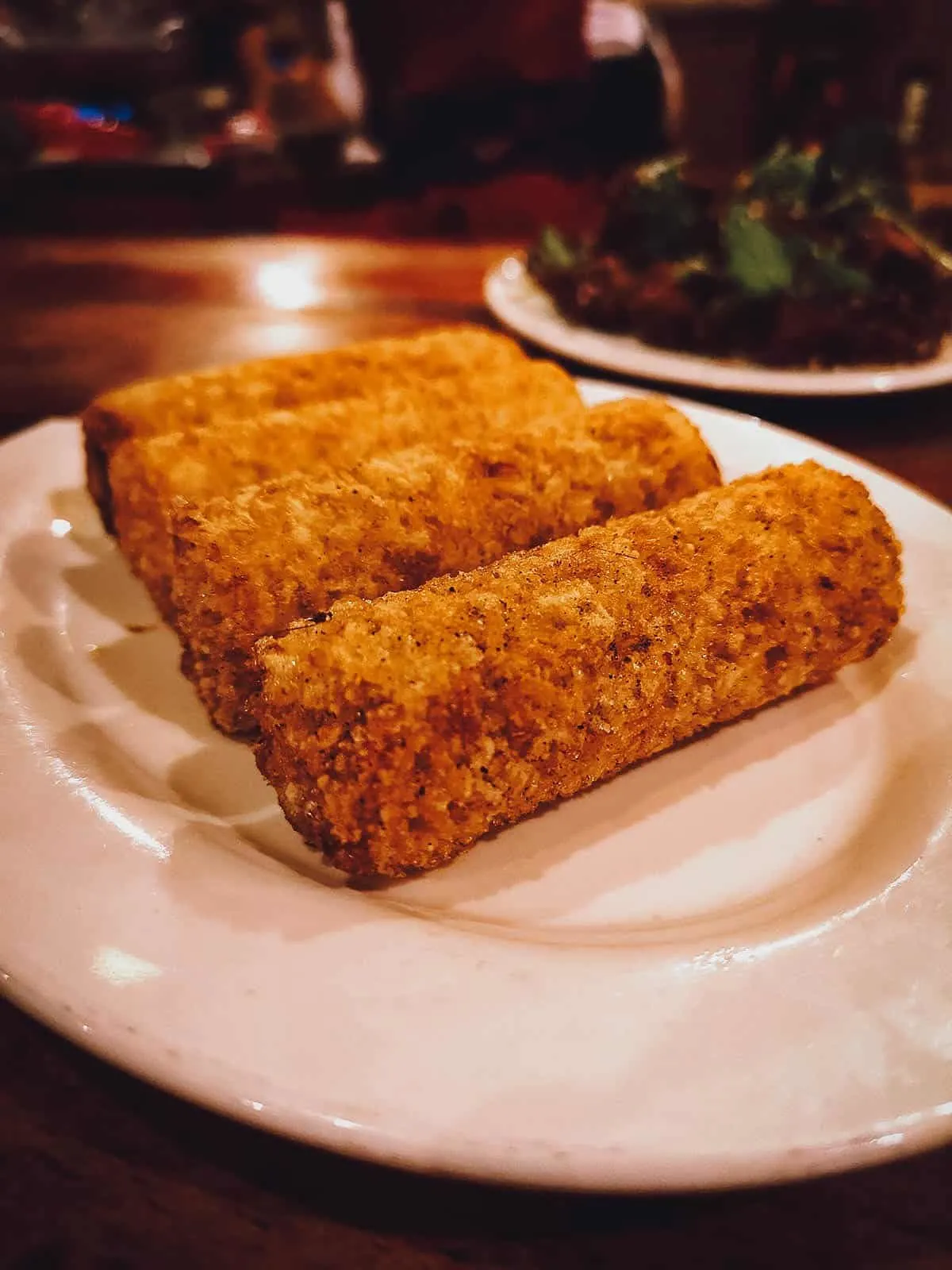 Like A Phu Restaurant, Thang Co A Quynh is often cited for serving some of the best thang co in Sapa. It's a traditional restaurant where diners sit on low platform tables to eat.
Can you see the large cauldron on the left? That's what they use to cook thang co.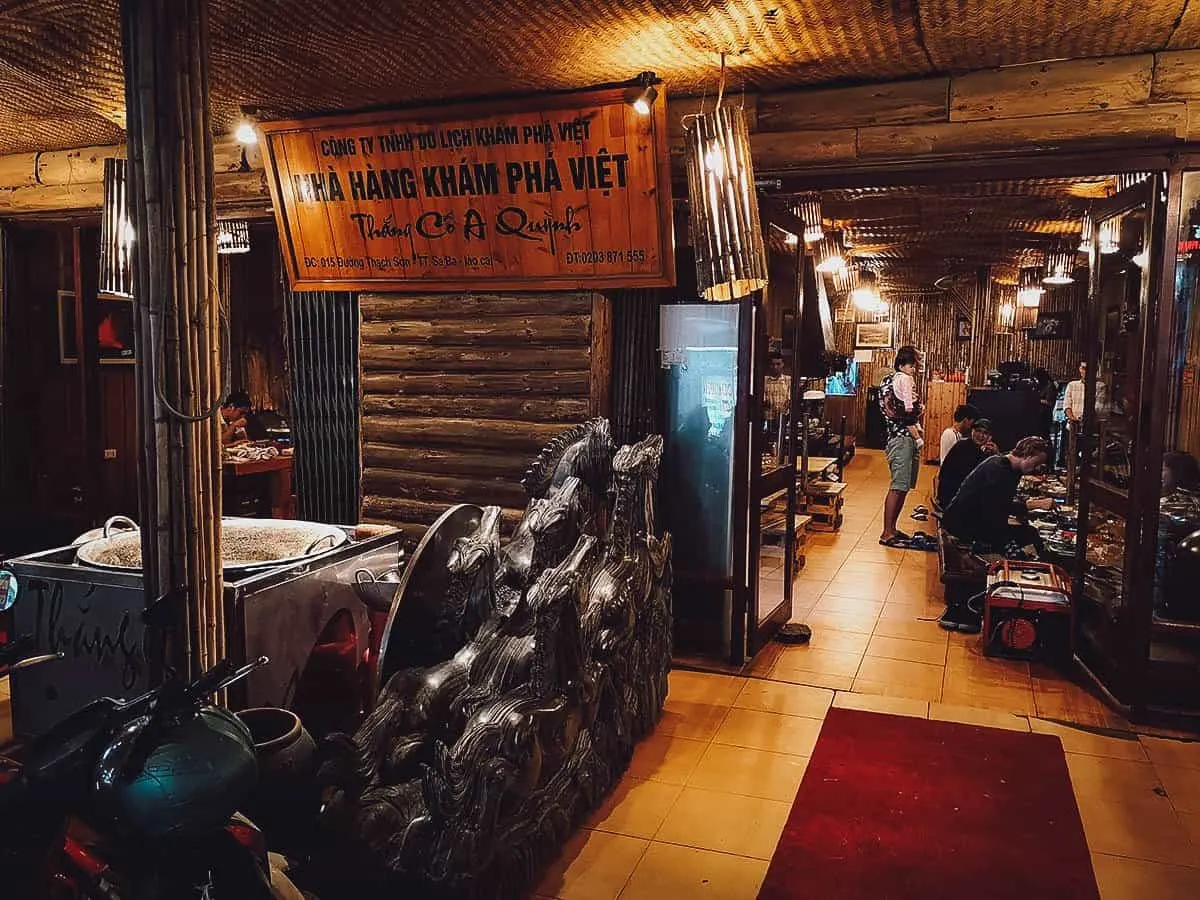 3. Little SaPa Restaurant
Little SaPa Restaurant isn't as traditional as the other restaurants on this list but they serve very good food. I asked my server for recommendations and she suggested the sweet and sour pork and these fried "Little SaPa" spring rolls.
Made with pork, chicken, onion, and vegetables, these delicate spring rolls were some of the best I had in Vietnam.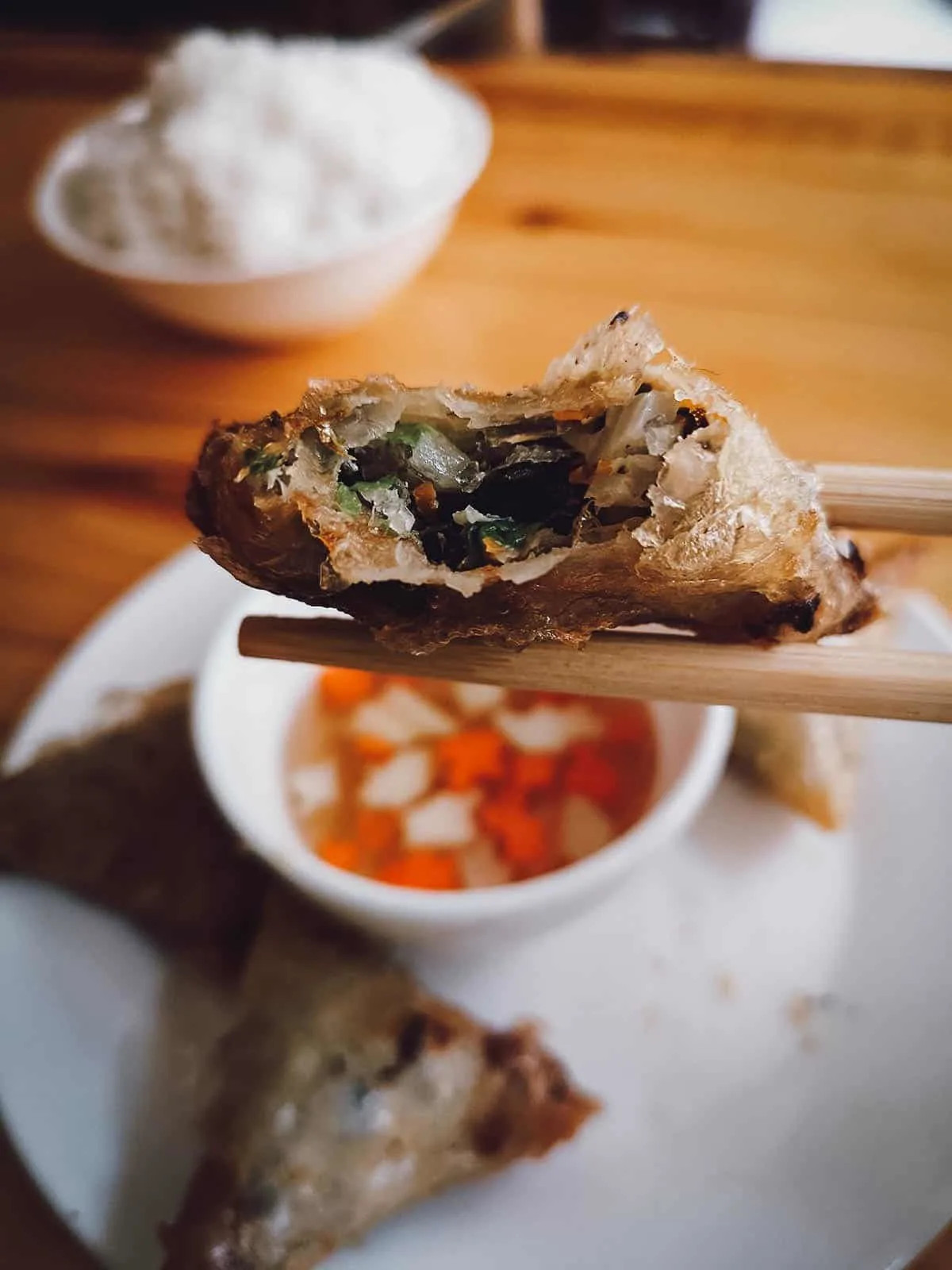 Little SaPa Restaurant is one of the most popular eateries in Sapa. They're a TripAdvisor Certificate of Excellence awardee with a 4-star rating and over a thousand reviews.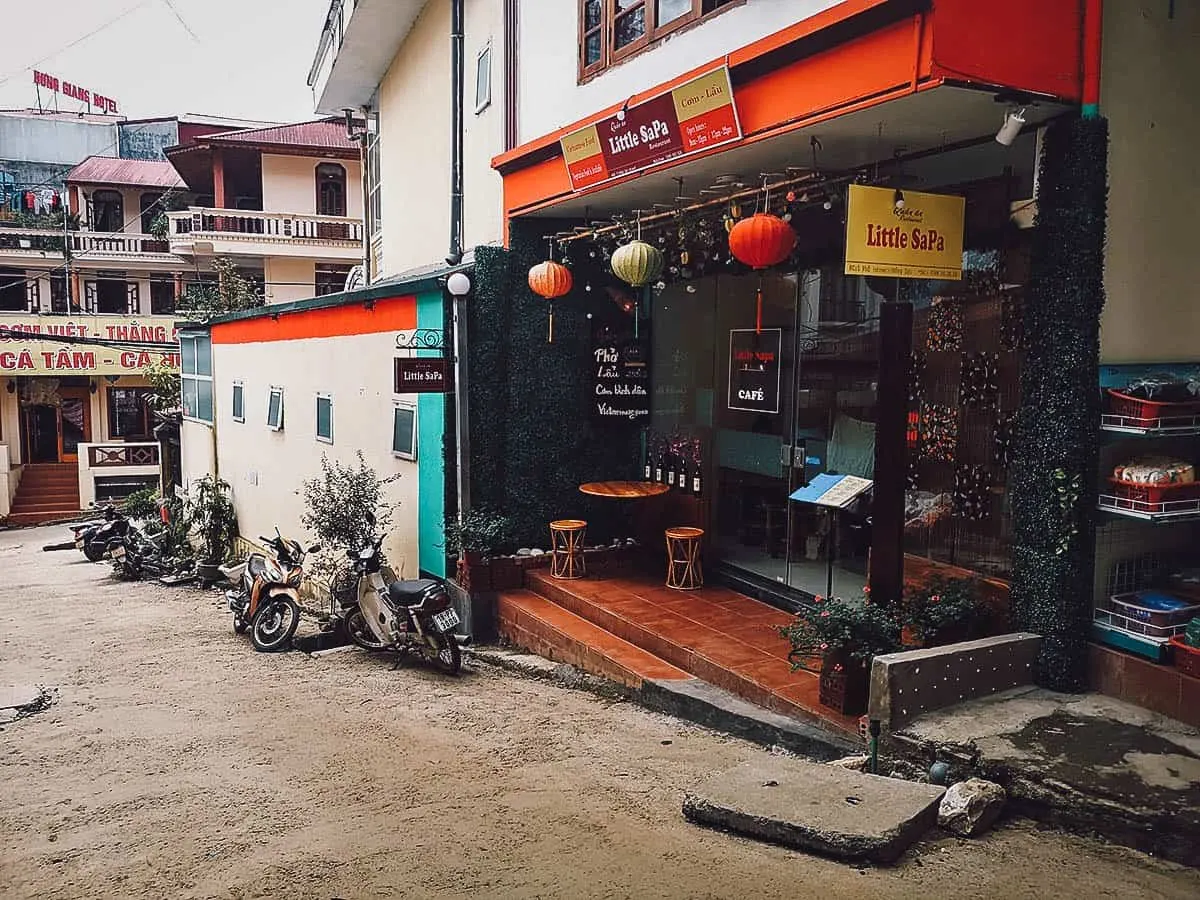 4. Anise Restaurant
Anise Restaurant serves traditional ethnic food but presented in a more refined way. Pictured below is a dish of deep-fried native chicken cooked with lemongrass.
As you can see, it's served with a roll of com lam made with colored sticky rice. Rice colored with leaves is another specialty in Sapa. It can come in seven colors – dark red, light red, pink, indigo, green, yellowish green, and yellow.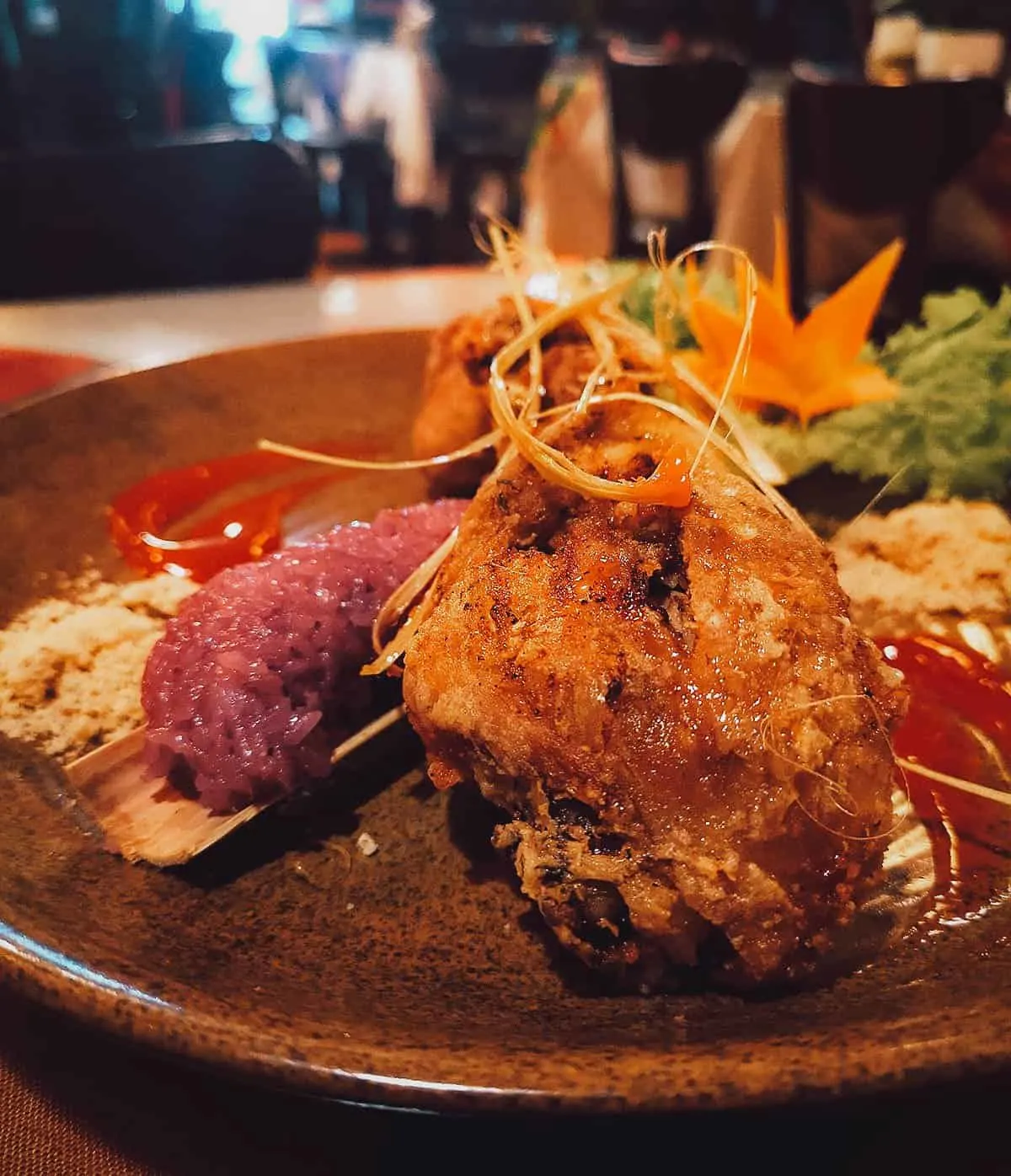 Anise Restaurant is tucked away in a stairwell alley just off Sapa Park, so it can be a bit hard to find. You can refer to the location map near the bottom of this guide for its exact location.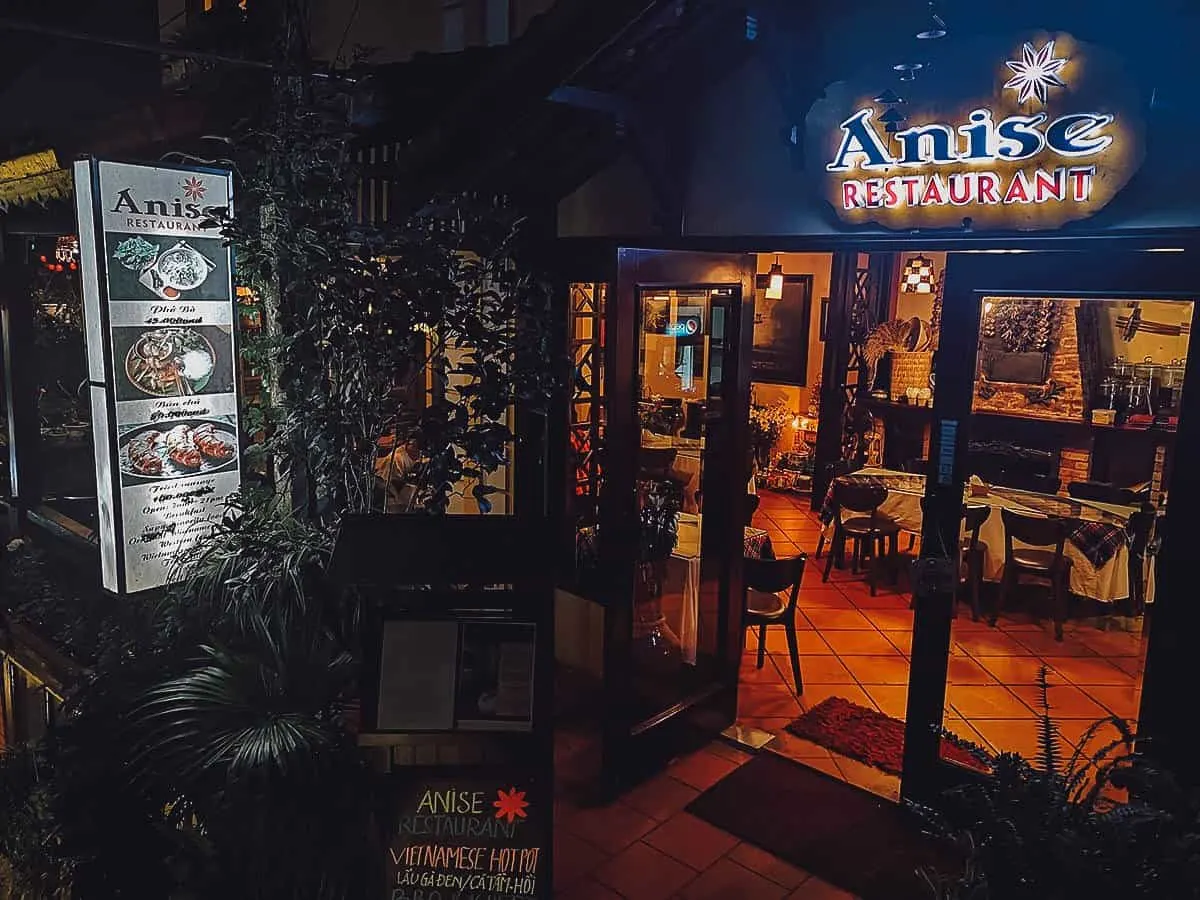 5. The Hill Station – CLOSED
The Hill Station is arguably the best restaurant in Sapa. Like Anise Restaurant, they're known for serving traditional ethnic food prepared in a more refined way.
I asked my server for recommendations and she suggested I have rainbow trout or buffalo. I had the smoked buffalo with pickled vegetables and this pretty three-colored Dzay sticky rice. It was my best meal in Sapa.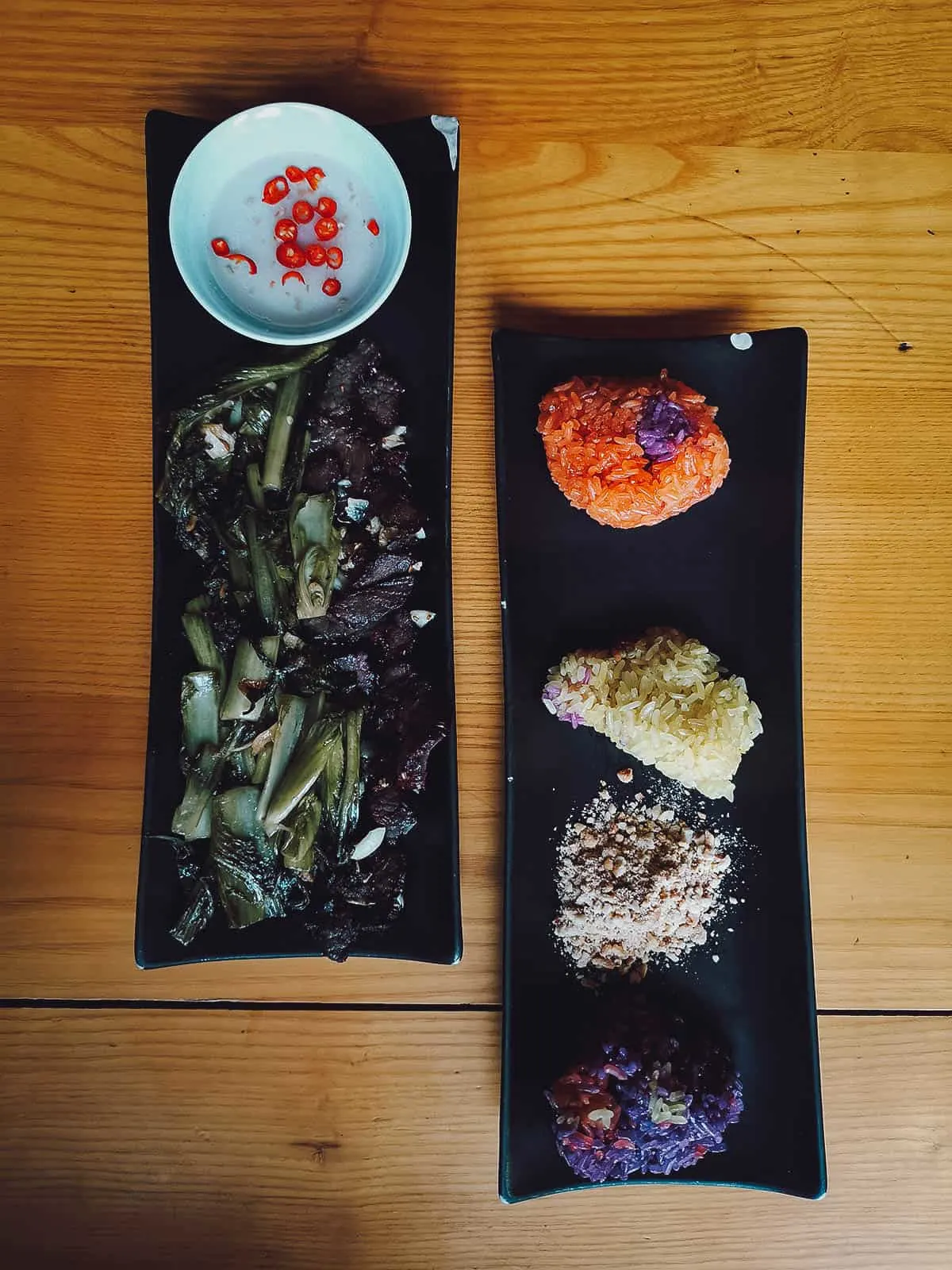 The Hill Station has two branches in Sapa. I went to the signature restaurant located in the same building as their boutique hotel. They have a deli as well about 5 minutes away.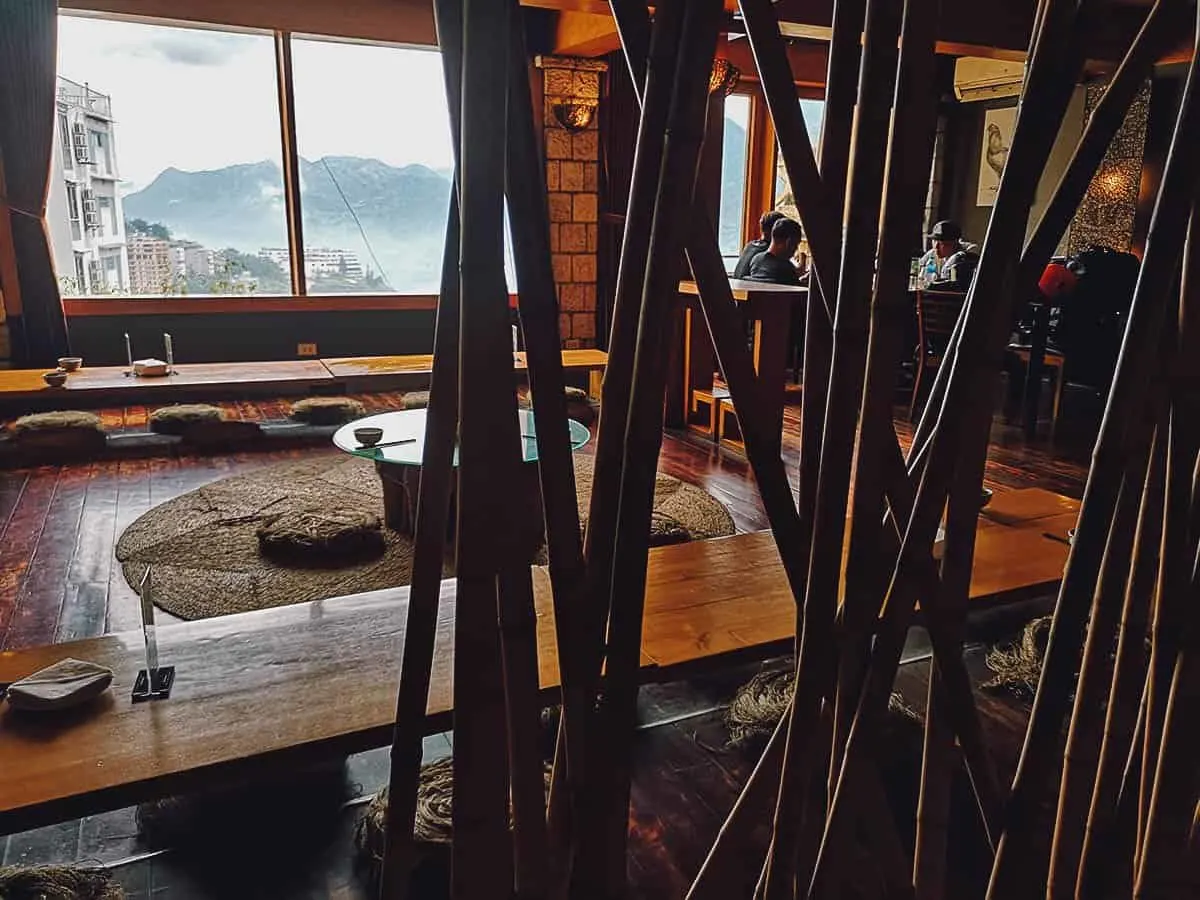 WHICH CAFES TO VISIT IN SAPA
1. Dao Coffee
The area around Sapa Park gets pretty lively at night so it's a great place to go people watching. The roofdeck of Dao Coffee is one of the best places to do that.
Sitting up here with my Vietnamese drip coffee after a satisfying dinner was one of my fondest memories from Sapa.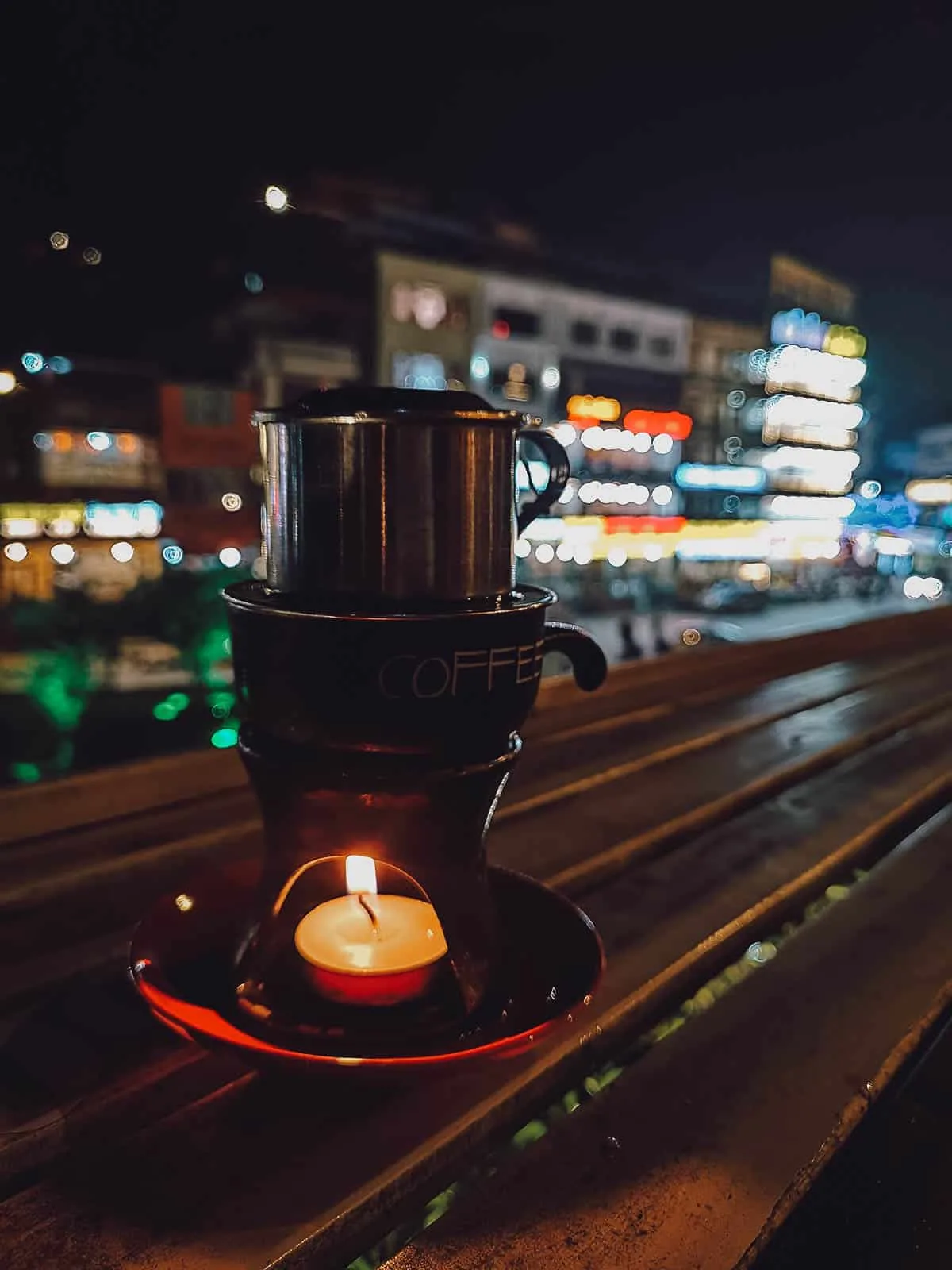 Dao Coffee is located on Thach Son Street overlooking Sapa Park.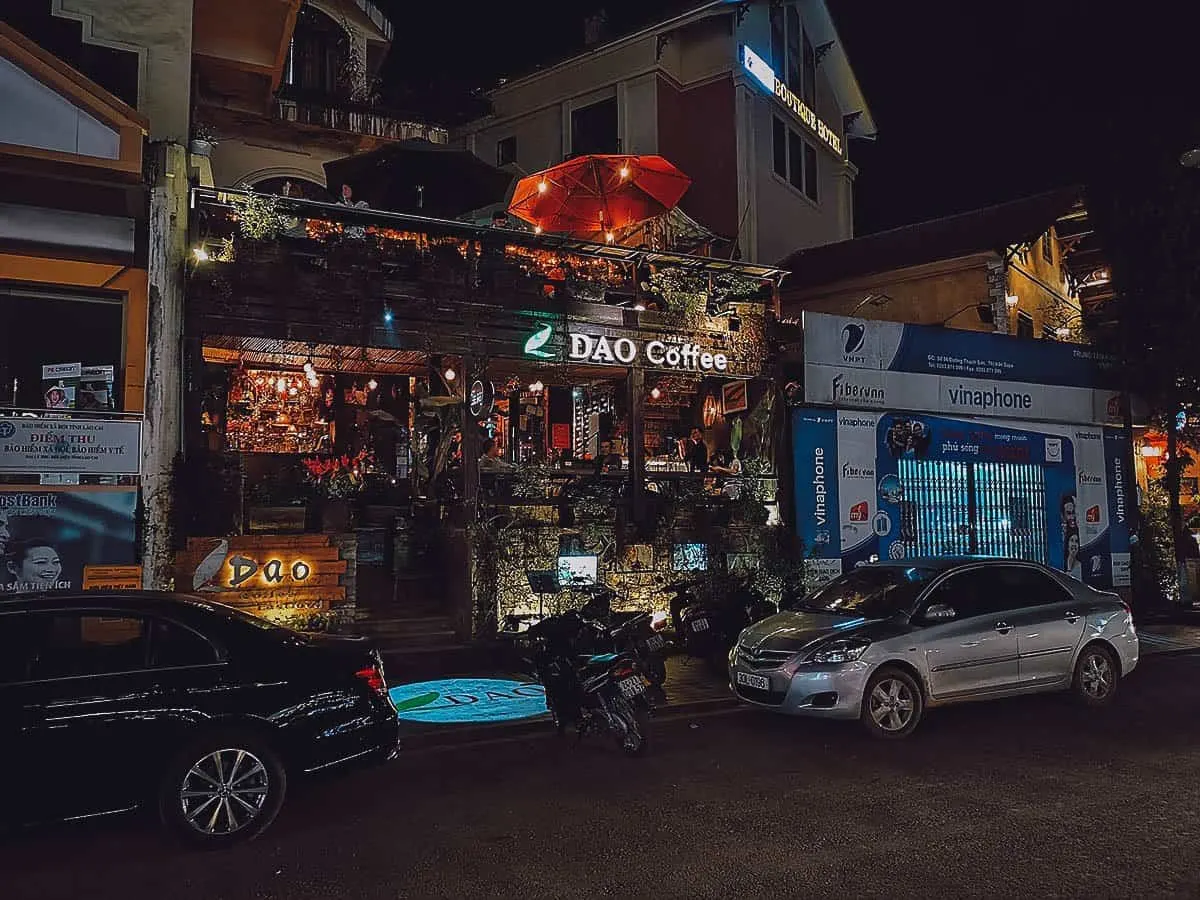 2. Cong Ca Phe
Cong Ca Phe is a Vietnamese coffee chain with a cute Viet Cong theme. They serve good Vietnamese coffee but they're best known for their ca phe cot dua or cold coconut coffee.
Made with condensed and coconut milk, ca phe cot dua is basically a coconut coffee slushie. It's delicious and refreshing and one of my favorite things to drink to cool off in Vietnam.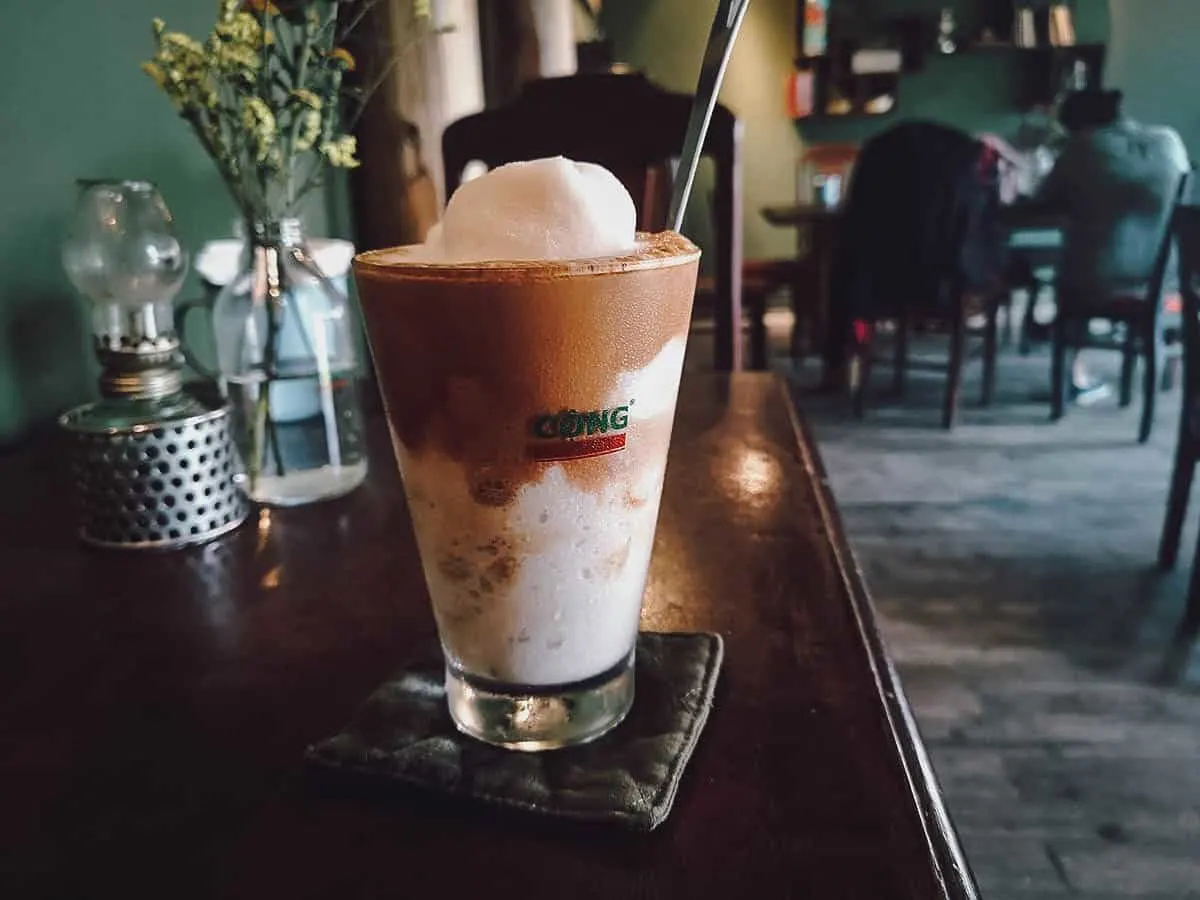 Cong Ca Phe is a Hanoi coffee chain that's become one of the most successful cafe brands in Vietnam. The have outlets throughout the country, including this one in Sapa which is located almost directly opposite Dao Coffee.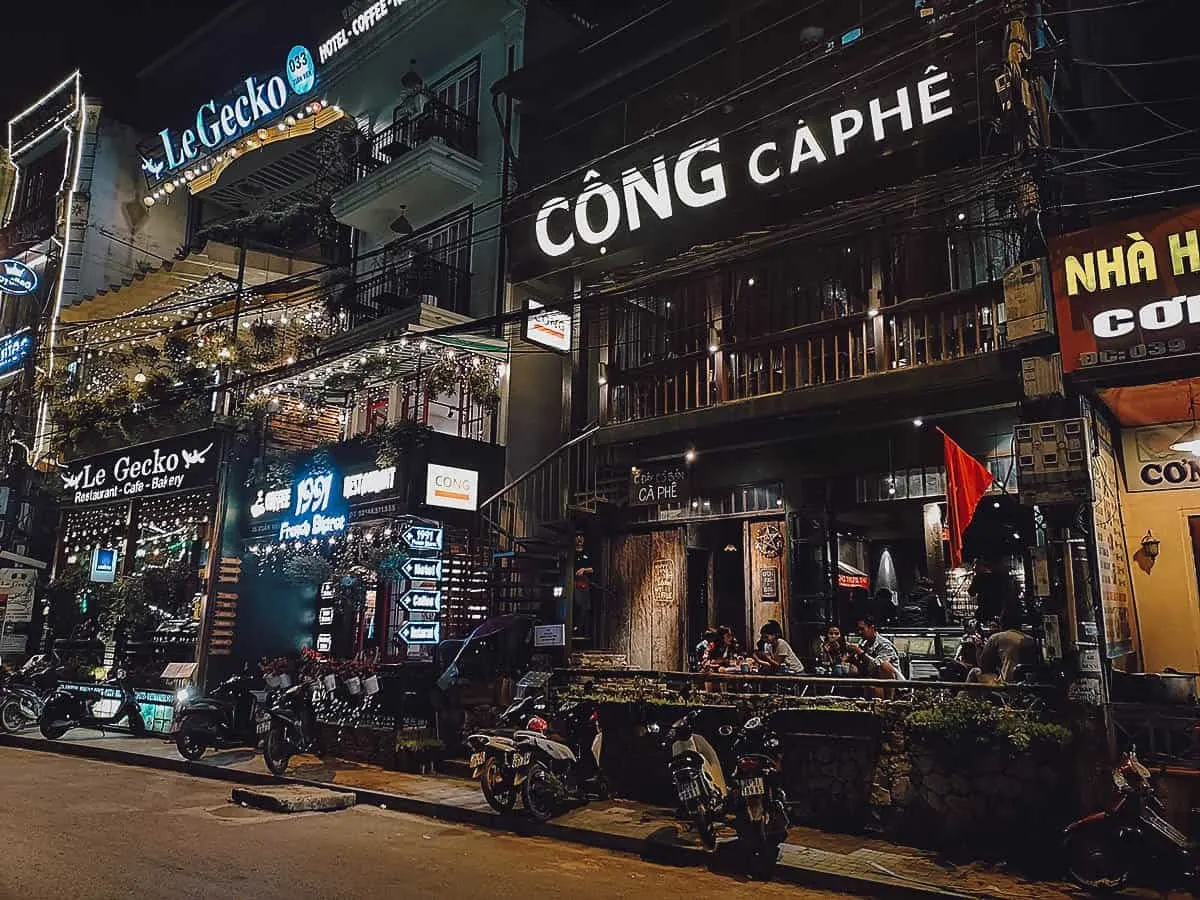 3. Kafa Cafe
I enjoyed the evening vibe at Sapa Park so much that I looked forward to having coffee there every night after dinner. Kafa Cafe is the largest cafe in Sapa and one of the first buildings you'll notice.
I was happy to sit by the sidewalk but Kafa Cafe offers multiple levels of open air seating offering great views of the park.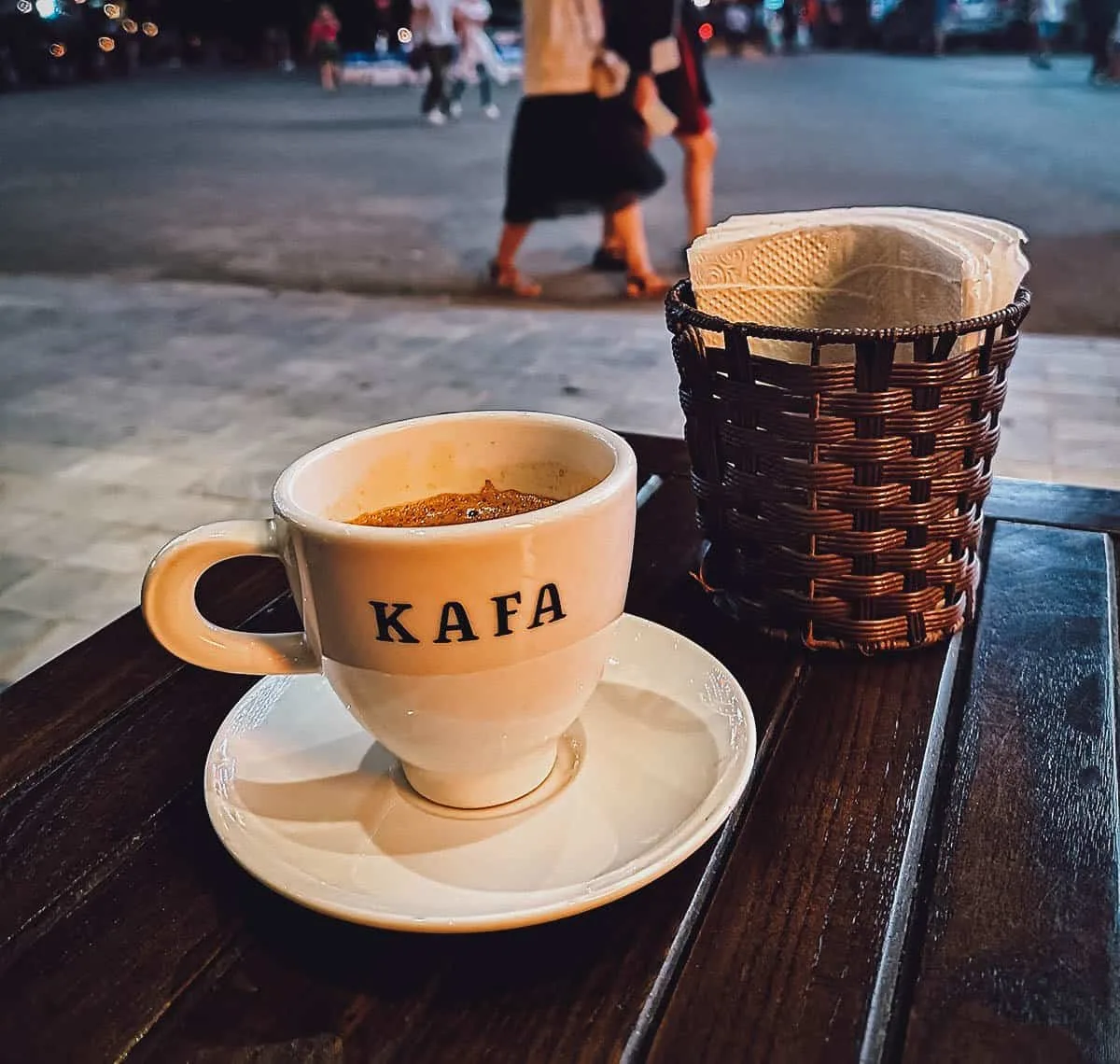 As described, Kafa Cafe is the biggest coffeehouse in Sapa. It occupies an entire building on one end of Sapa Park.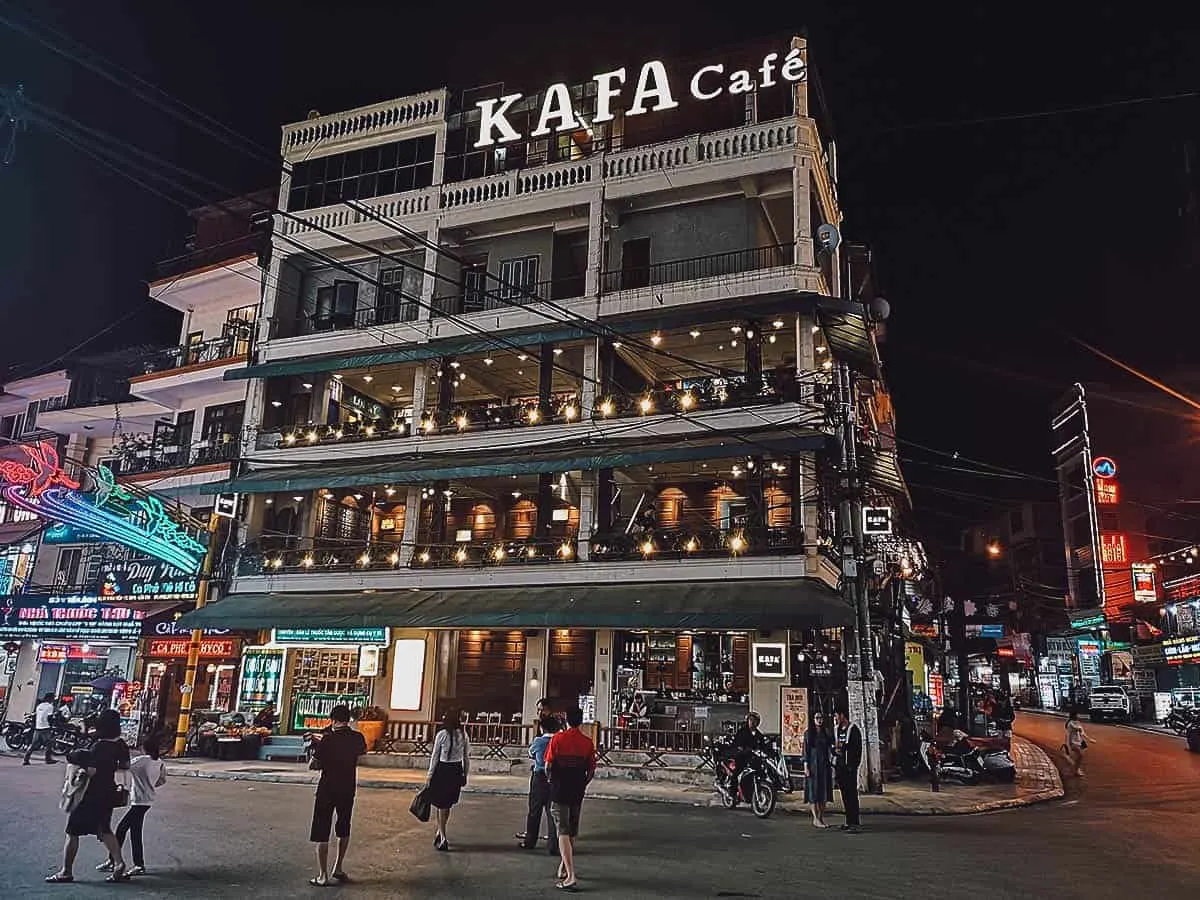 POINTS OF INTEREST IN SAPA
To help you visualize where everything is, I've pinned all the places recommended in this guide on this map. Click on the link to open a live version of the map in a new window.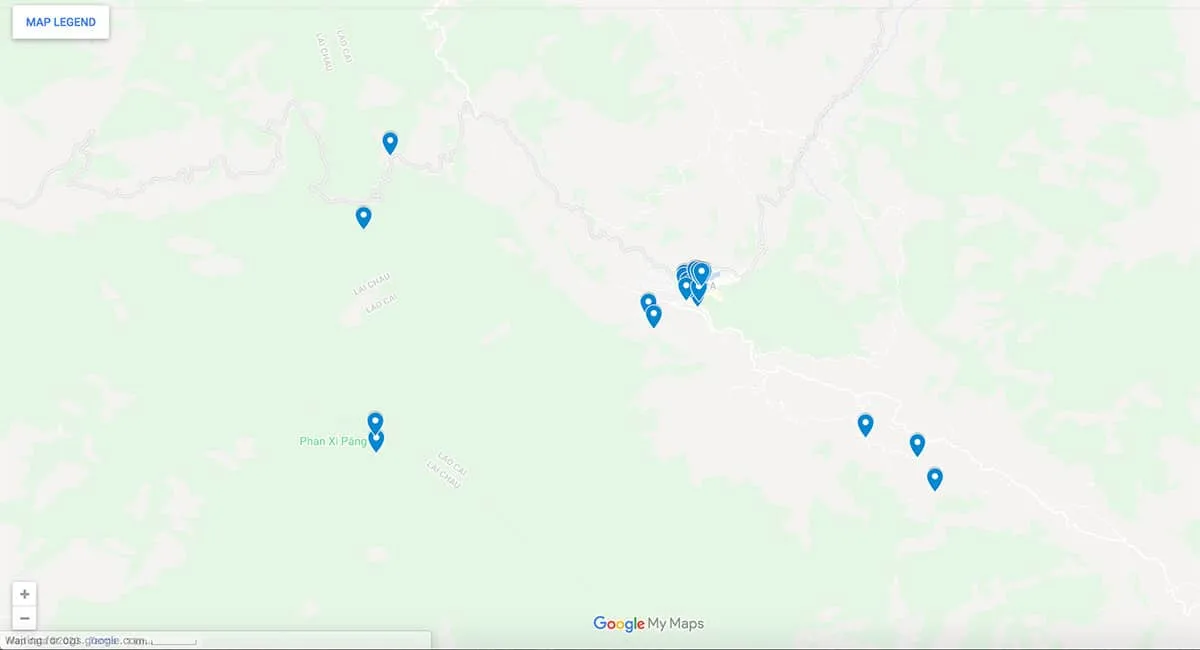 HOW TO GET AROUND IN SAPA
Sapa is a small trekking town so you'll be getting around mostly on foot.
I only needed to hire motorbikes twice. The first time was to take me to Love Waterfall and Silver Waterfall. The second was to take me back up to Sapa town from Cat Cat Village.
The trek back up to Sapa from Cat Cat Village is very steep so I hired a motorbike to take me up the rest of the way. But if you're in better shape than I am, then you may not need to do that.
HOW MANY DAYS TO STAY / SAPA ITINERARY
How many days you should stay in Sapa depends on how long a trek you intend to do. One- to three-day treks seem to be the most popular.
To make the most of your time in Sapa, I think 3 days is ideal. You can devote 2 days to a trek then an extra day for the rest of Sapa's attractions. Here's a 3D/3N sample itinerary to help you plan your trip.
DAY ONE
• Fansipan
• Love Waterfall
• Silver Waterfall
• Cat Cat Village
DAY TWO
• Trek to Y Linh Ho Village
• Lao Chai Village
• Ta Van Village (spend the night here)
DAY THREE
• Giang Ta Chai Village
• Hau Thao Village
• Back to Sapa
SAPA TRAVEL TIPS
1. Plan your Trip with Sygic Travel
I've been using Sygic Travel for many years now and it's still my go-to app for travel planning. It isn't perfect but it makes creating itineraries easier. It allows me to pin all points of interest on a map then organize them by day to create as efficient an itinerary as possible.
You can download Sygic Travel for free on iTunes or Google Play. Check out my article on Sygic Travel for more information.
2. Rent a Pocket Wifi Device
Having a fast and reliable connection to the internet is a must these days, especially when traveling. You'll need it to navigate, convert currencies, and do last minute research. We never go on a trip without renting a pocket wifi device first.
Most people visiting Sapa will be coming from Hanoi. You can rent a 4G pocket wifi device through Klook and have it delivered to your hotel in Hanoi. We prefer pocket wifi devices because we find them easier, but a cheaper alternative is to get a sim card or an eSIM.
3. Don't Give Money to Children
I heard this a few times from locals in Sapa and Hanoi – don't give money or candy to children no matter how much they beg.
One, it encourages them to stay on the streets and keep begging from tourists. And two, giving something to one child will cause all the other children to expect something as well. My guide on this food tour in Hanoi warned me that kids can follow you for miles!
I read that buying trinkets and souvenirs from street vendors is discouraged as well, though I don't understand the rationale for that as much.
4. Tip Your Guide
Tipping isn't mandatory in Vietnam but it will certainly be appreciated. Many people in Sapa rely on tourism so even a relatively small tip will go a long way.
I didn't go on a guided trek but I read that a VND 100,000 tip is standard. If you're happy with your guide, then you're always welcome to give more.
5. Check for Sapa Travel Deals
There are many online tour companies offering travel deals. The ones I use the most are Klook and Get Your Guide. Follow these links for a complete list of Sapa tours and travel deals on Klook and Get Your Guide. Even if I don't buy anything, it's always fun to look just to see what's available.
6. Get Travel Insurance
Travel insurance isn't something we get before every trip, though we do find ourselves buying it more often these days. Call it middle age I guess.
If we plan on doing something physical on a trip, things that could get us hurt like skiing or bike riding, then we'll definitely get travel insurance. We want that safety net in case something goes wrong.
When we do feel the need for it, we always get insurance from SafetyWing or Heymondo. They're travel insurance providers often used by many long-term travelers. Click on the links to get a free quote from SafetyWing or Heymondo. Get 5% off on Heymondo when purchasing a policy using our link.
7. Don't Be Confused by the Currency
Vietnam's currency is confusing. All the zeros are confusing enough but some banknotes even look the same. For example, VND 100,000 bills have a similar green hue as VND 10,000 notes.
Based on what I've seen and heard, tourists overpaying for things isn't uncommon in Vietnam. In fact, it happened to a woman who was on this Hoa Lu and Tam Coc tour with us in Hanoi. Instead of giving a vendor a VND 50,000 banknote, she mistakenly gave her a similarly red VND 200,000 bill instead.
Be careful when paying for things with cash in Vietnam because if you make a mistake, some vendors may not correct you.
8. Bring the Right Power Adapter
Vietnam has Type A, Type C, or Type F electrical outlets so be sure to bring the right power adapters for your devices. Electrical voltage is 220V and the standard frequency is 50Hz.
Have Fun!
I'm hardly an expert on trekking in Sapa but I do hope this guide helps you plan your trip. I'm only sharing some of the things I learned from my trip. If you have any questions or comments, then please leave them in the comment section below. You're welcome to join our Facebook Travel Group as well.
Thanks for reading and have an amazing time trekking in Sapa!
OUR GEAR
These are some of the things I brought with me to Sapa. Have a look inside our backpack to see what other gear we use. (NOTE: The following links are Amazon affiliate links.)
Disclosure
Some of the links in this Sapa travel guide are affiliate links. If you purchase anything through them, then we'll make a small commission at no extra cost to you. We only recommend products and services that we use ourselves and firmly believe in. We really appreciate your support as this helps us make more of these free travel guides. Thank you!