If you have an interest in history and in Vietnamese food, then you're going to love Hue. It's the former capital of Vietnam and home to some of the best regional food in the country.
Most of my fondest memories revolve around food but there are plenty of other things to do in Hue – a central Vietnamese city on the banks of the Perfume River. Highlights include the vast 19th century Imperial City and the royal tombs housing the remains of nine of the thirteen Nguyen dynasty emperors.
We missed Hue on our first two trips so I made sure to spend a good chunk of my time there on a recent month-long trip through Vietnam.
If you're visiting this ancient capital and need help planning your itinerary, then listed below are ten of the most popular things to do in Hue.
HUE ATTRACTIONS QUICK LINKS
To help you plan your trip to Hue, I've compiled links to hotels, tours, and other services here.
HOTELS
Recommended hotels and homestays in the Imperial Citadel, one of the most convenient areas to stay for people on their first trip to Hue.
TOURS
OTHER SERVICES
HUE TRAVEL GUIDE
Before you visit Hue, be sure to check out our detailed Hue travel guide. It'll tell you all you need to know – like when to go, where to stay, what and where to eat, etc. – to help you plan your trip.
Save This on Pinterest!
No time to read this guide on the best things to do in Hue? Click on the save button and pin it for later!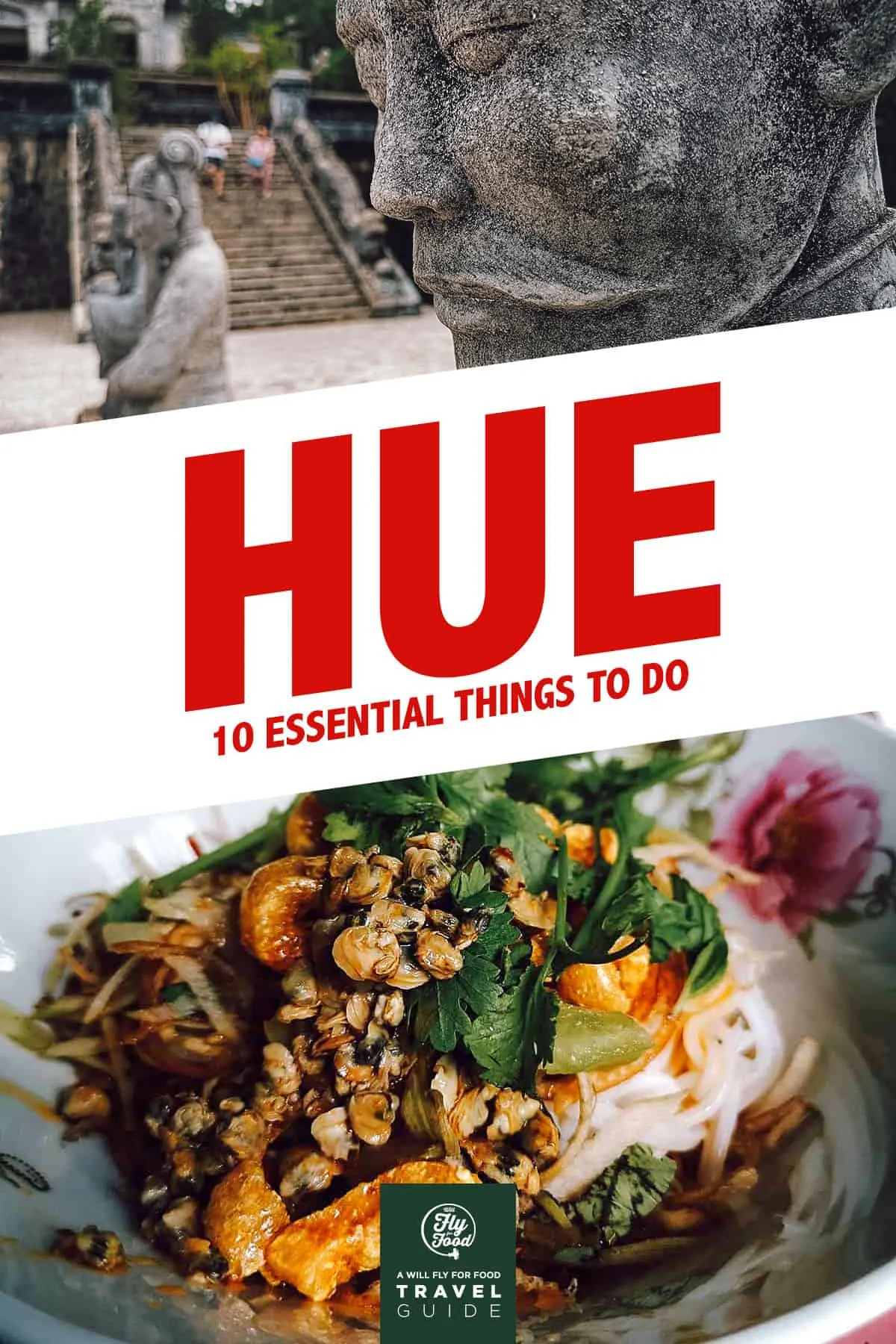 THINGS TO DO IN HUE
1. Enjoy Salt Coffee
You may have heard of ca phe trung or egg coffee in Hanoi, but have you heard of Hue's ca phe muoi? Like egg coffee, it's a homegrown coffee creation that's unique to Hue.
Ca phe muoi literally means "salt coffee". It's a type of iced coffee drink that's made by filtering Vietnamese coffee into a frothy mixture of fermented milk, salt, and cocoa powder.
Coffee with salt may sound odd at first but it works surprisingly well. The salt brings out the sweetness of the cocoa and milk while tempering the bitterness of the coffee. It's delicious and unique and something you need to try in Hue if you're fond of coffee.
I had salt coffee a couple of times in Hue but I suggest trying it at the place credited for inventing it – Ca Phe Muoi. Their salt coffee had the best balance of sweetness, saltiness, and bitterness.
For more coffee suggestions, check out our Hue coffee guide for a list of the best cafes in Hue.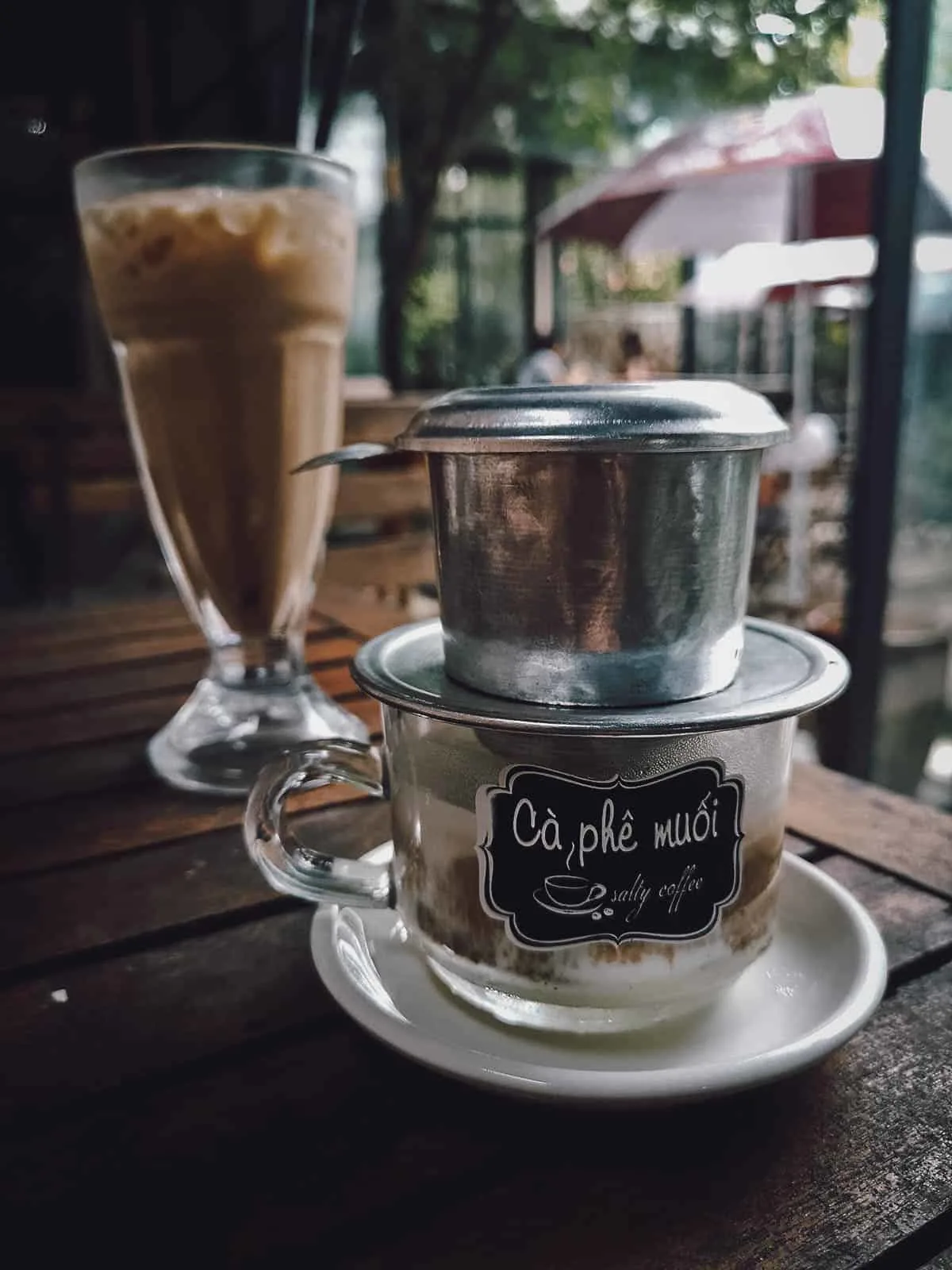 Address: 142 Đặng Thái Thân, Thuận Hoà, Thành phố Huế, Thừa Thiên Huế, Vietnam
Operating Hours: 6:30-11:30AM, 1:30-10PM, Mon-Fri / 6:30AM-10PM, Sat-Sun
Expect to Spend: VND 15,000 per cup
2. Visit the Imperial City
If you have an interest in Vietnamese history, then a visit to the Imperial City is one of the most important things to do in Hue. It's a key Hue attraction and refers to a walled palace complex that served as the seat of power of the Nguyen dynasty from 1802 till 1945.
If you look at a map of Hue, you'll notice a square moated area within a larger square moated area. The terminology is still a bit confusing to me but I believe the term "Imperial City" refers to the inner square while "citadel" refers to the larger area surrounding it, though the term citadel seems to be used to refer to the Imperial City as well.
Hue citadel is comprised of residential neighborhoods and commercial spaces so you're free to explore this area as you please, but entering the gated Imperial City requires an entry fee of VND 200,000.
If you plan on visiting the royal tombs, then you can get a combination ticket that includes entry to two or three tombs for VND 420,000 and VND 530,000 respectively.
The Imperial City is a large complex consisting of numerous temples, pagodas, royal quarters, tombs, and the Forbidden Purple City – a private inner space that was accessible only to royalty and select servants. You'll need at least two hours if you plan on exploring the Imperial City on your own. You can refer to this DIY Imperial City tour for suggestions on which sites to visit and in what order.
I wanted the benefit of a guide so I went on this full-day tour that took me to the Imperial City, two royal tombs, Thien Mu Pagoda, and a few other cultural stops.
If you don't think this is the right tour for you, then there are other historical Hue tours you can choose from on Klook or Get Your Guide.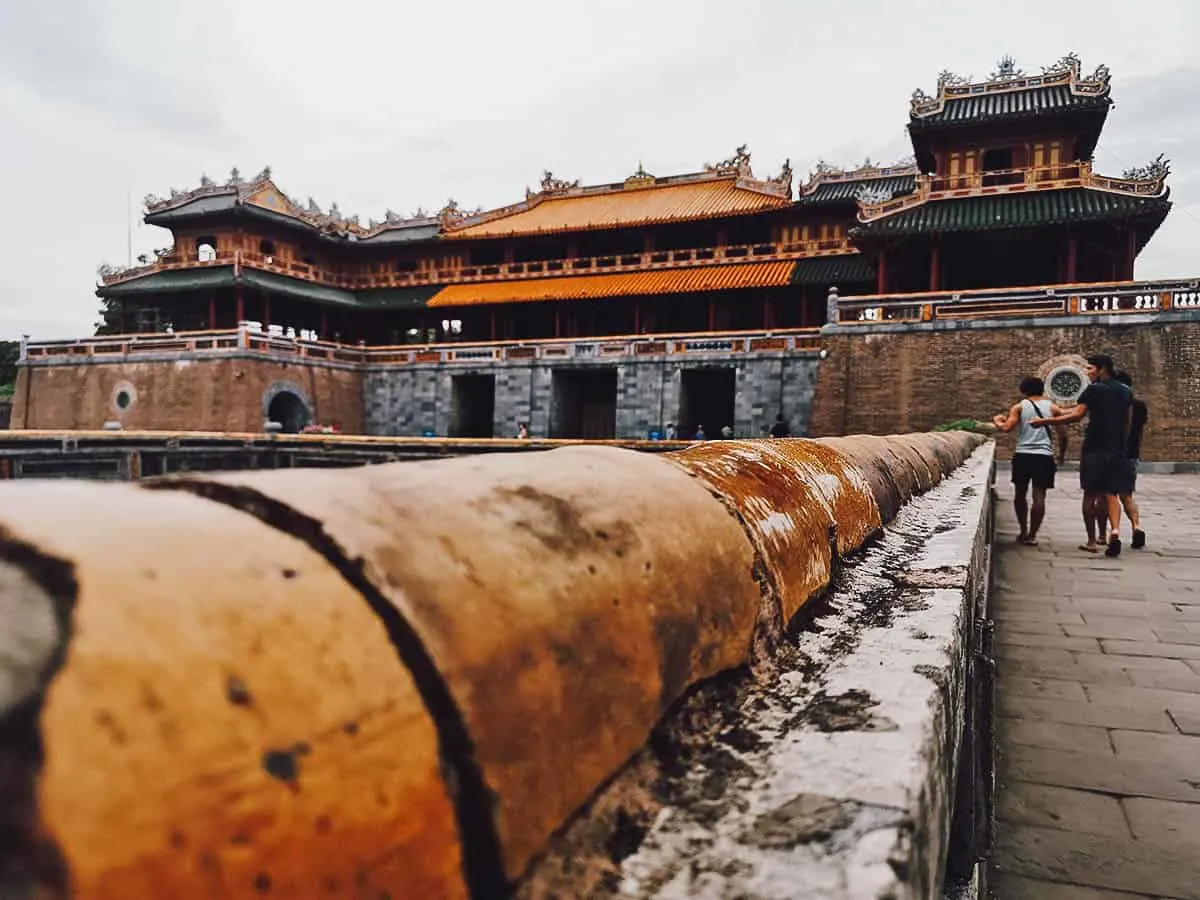 Operating Hours: 8AM-5:30PM (Fri-Wed), 8AM-10PM (Thurs)
Admission: VND 200,000 (Imperial City) / VND 420,000 (Imperial City + 2 royal tombs) / VND 530,000 (Imperial City + 3 royal tombs)
3. Eat Bun Bo Hue
Diving into a bowl of bun bo is one of the most delicious things to do in Hue. It was one of my favorite dishes to eat not just in Hue, but in all of Vietnam.
To signify where it's from, the dish is known as bun bo hue anywhere else in Vietnam but in Hue, it's typically referred to as just bun bo. It's an exceedingly tasty noodle soup made with rice vermicelli, thin slices of beef, and meaty chunks of beef shank.
We've had bun bo many times in Hue, all of which have been outstanding. Bun bo is a dish I could seriously have everyday.
For more food suggestions, check out our Hue food guide for a list of the best restaurants in Hue.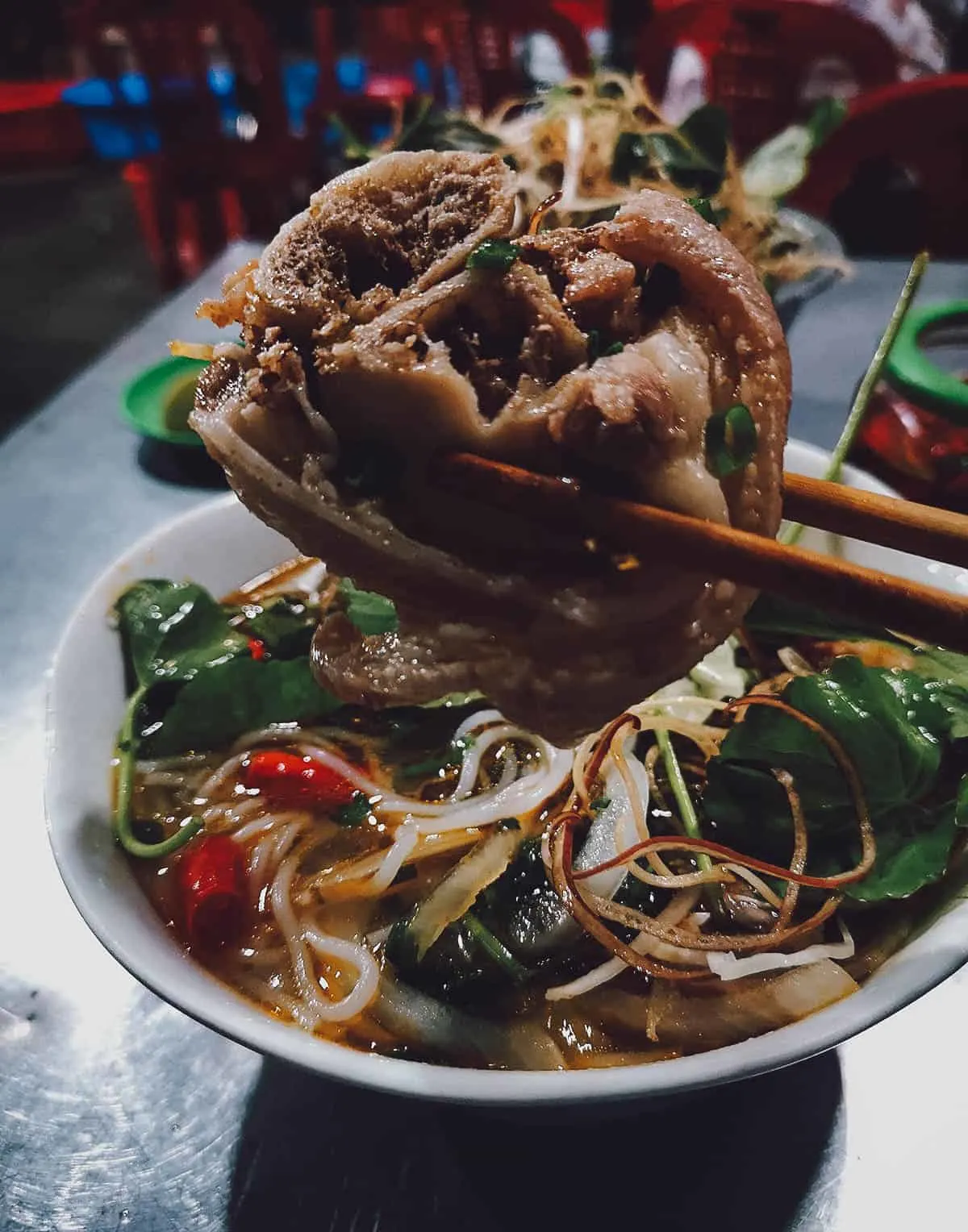 Where to Try It: Mu Roi, Quan Cam, My Tam
Expect to Spend: Around VND 30,000 per bowl
4. Explore the Royal Tombs
Like the Imperial City, visiting the royal tombs of the former emperors is one of the most popular things to do in Hue. There are seven known royal tombs, though only three of them – the tombs of Khai Dinh, Minh Mang, and Tu Duc – are frequented by visitors. This is due to the tombs' relative good condition and ease of accessibility.
You're welcome to visit all seven tombs if you like, but unless you have a particular fascination for the Nguyen dynasty, then the aforementioned three should suffice.
Each of these three tombs is located at least 5 km (3 miles) from downtown Hue so you'll need to arrange for transportation to get there (cyclo or Grab).
Admission is VND 150,000 per tomb but you can get combination tickets that bundle admission to the Imperial City and two (Minh Mang, Khai Dinh) or three tombs (Minh Mang, Khai Dinh, Tu Duc) for VND 420,000 and VND 530,000 respectively.
As described, I went on a full day guided tour that took me to the Imperial City and the tombs of Minh Mang and Khai Dinh.
Emperor Minh Mang Tomb
According to my guide, the tomb of Emperor Minh Mang is one of the largest of the seven known royal tombs in Hue. It's also the most symmetrical, consisting of about forty structures thoughtfully positioned within a forested 44-acre lot bisected by a central walking path.
Unlike the Mausoleum of Emperor Khai Dinh where you can see the actual tomb, my guide explained that the precise location of Emperor Minh Mang's tomb within the monument's grounds is unknown.
Minh Mang was the 2nd emperor of the Nguyen dynasty who ruled from 1820 till his death in 1841. According to Wikipedia, he was known for his opposition to French involvement in Vietnam and his rigid Confucian orthodoxy.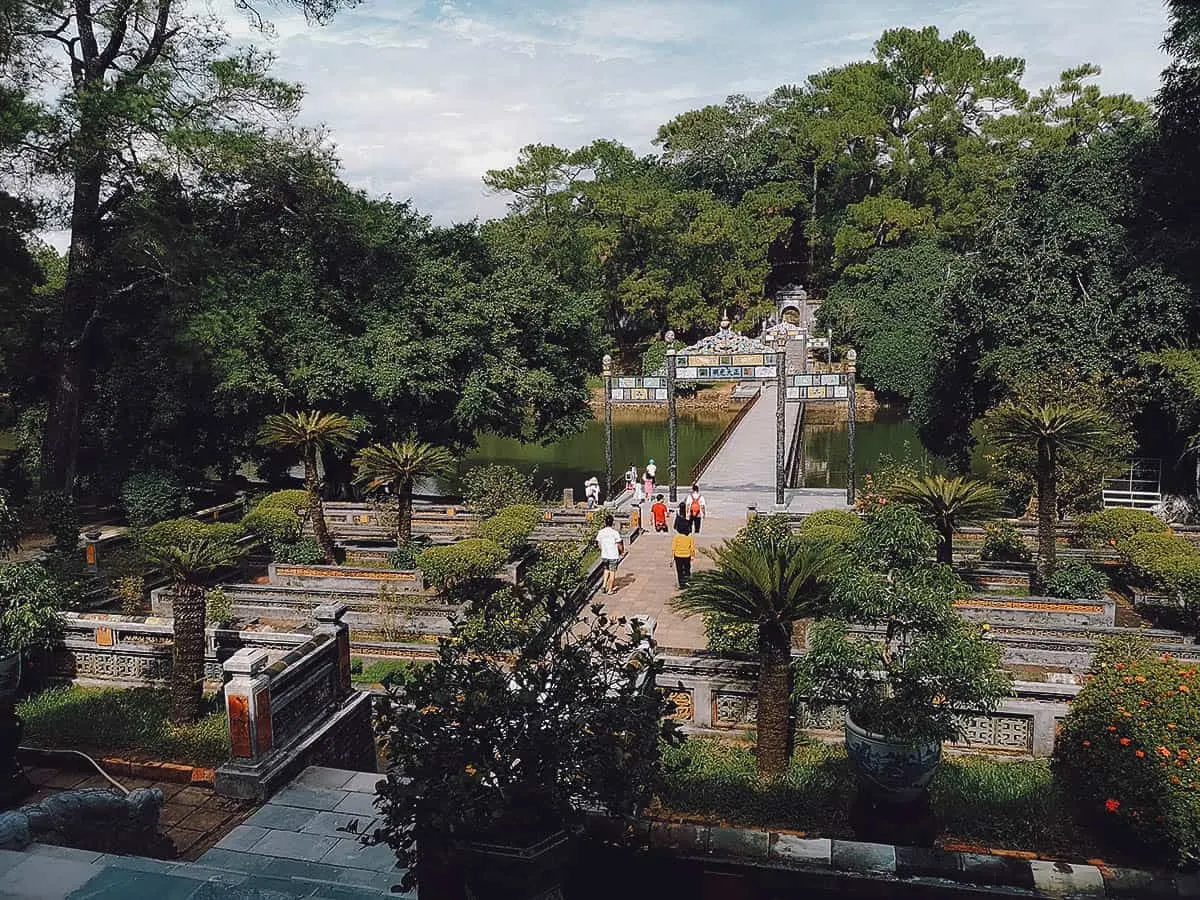 Operating Hours: 8AM-6PM, daily
Admission: VND 150,000
Mausoleum of Emperor Khai Dinh
The mausoleum of Khai Dinh is considerably smaller in area than Minh Mang's tomb but more impressive in its monumental style and attention to detail. Ostentatious in design, it feels like you're visiting a royal emperor's tomb rather than a park.
Built on the side of a mountain, you'll need to climb up stairs with carved dragon banisters then cross a courtyard with stone honor guard statues to get to the tomb's inner sanctum at the top of the monument.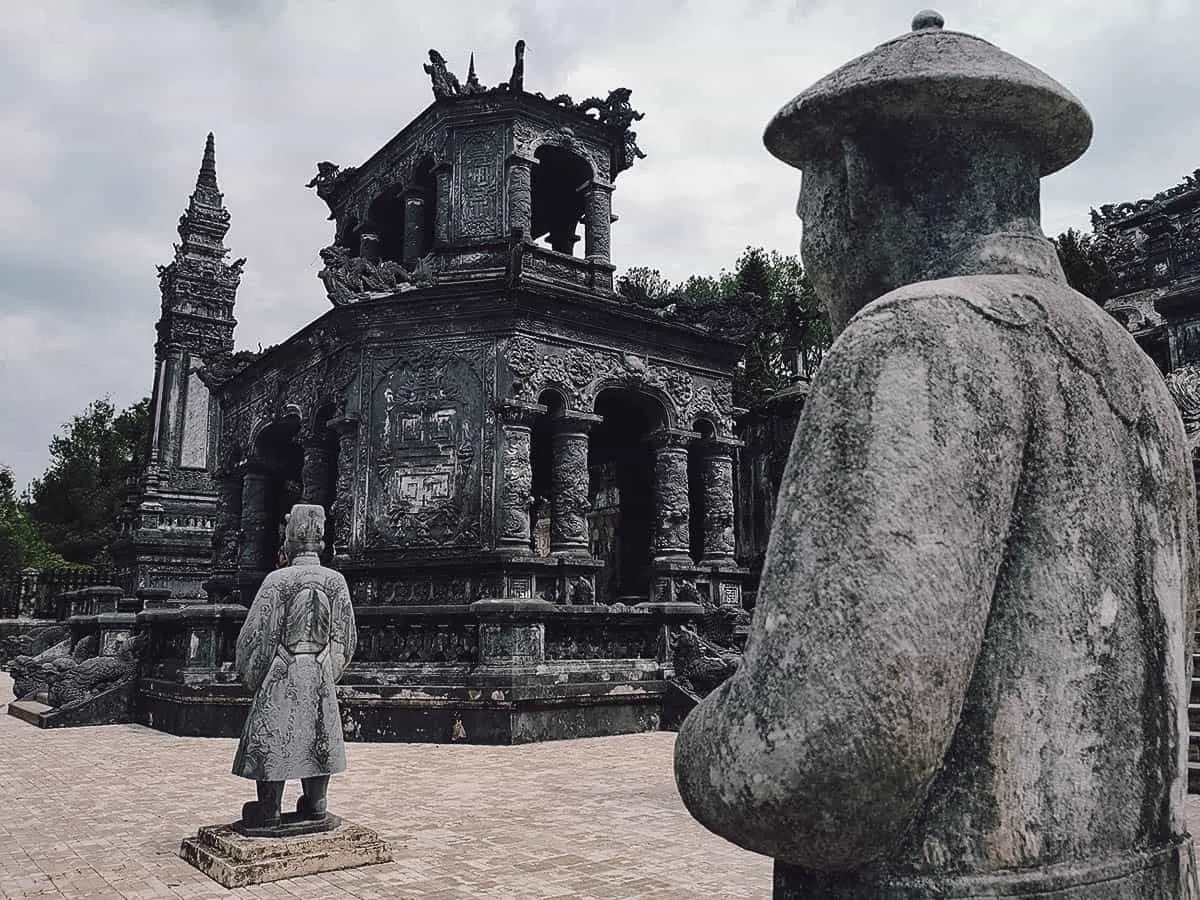 Inside the crypt is this life-size bronze statue of Emperor Khai Dinh. He was the 12th Emperor of the Nguyen Dynasty and the last to have a royal tomb constructed in Hue. His successor, Bao Dai, would be the last ruling Nguyen emperor.
Khai Dinh is remembered as an unpopular emperor who taxed his people heavily to finance the construction of this tomb.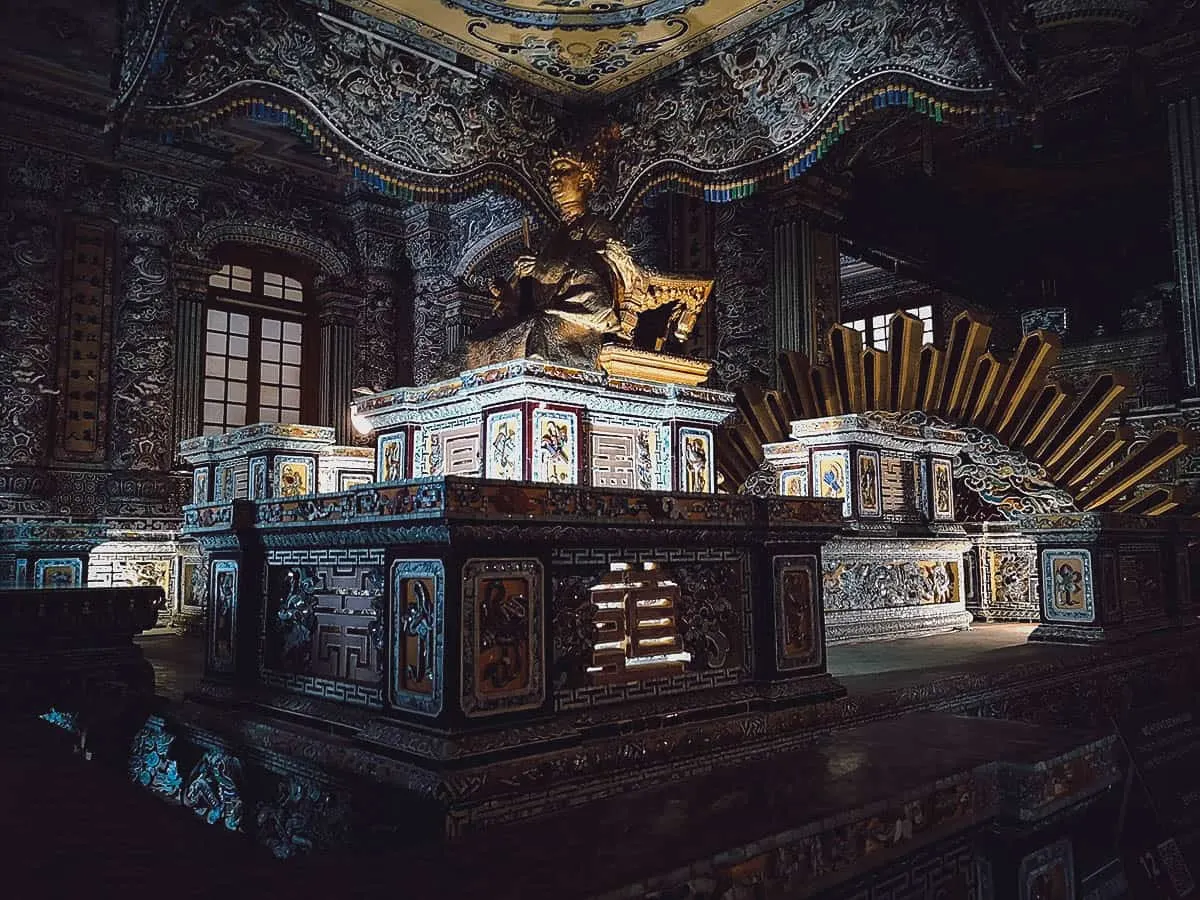 Operating Hours: 8AM-6PM, daily
Admission: VND 150,000
Tomb of Emperor Tu Duc
I didn't visit Tu Duc's tomb but it's described as the largest and most luxurious of all the royal tombs. It's the only tomb that doubled as a home for the emperor, leading to its exacting design as both a tomb and a living space.
Towards the end of his life, Emperor Tu Duc retreated into this tomb which included a sprawling 30-acre manor, pine forests, pavilions, and a lake with its own island where the emperor could hunt small animals.
Tu Duc was the 4th emperor of the Nguyen dynasty and its longest reigning. He ruled for 36 years, from 1847 till his death in 1883. He died childless and was succeeded by his adoptive son Kien Phuc.
According to Wikipedia, Tu Duc is remembered for his staunch Confucianism and opposition to foreigners and innovation.
Most guided tours on Klook or Get Your Guide include visits to the tombs of Minh Mang and Khai Dinh, but not to Tu Duc's, which is unfortunate considering it's the grandest and closest of the three to the Hue city centre. Only this tour it seems takes you to all three.
Photo by Nadezda Murmakova via Shutterstock
Operating Hours: 7AM-5:30PM, daily
Admission: VND 150,000
5. Visit Thien Mu Pagoda
Thien Mu Pagoda is one of the most important attractions in Hue. It covers an area of over two hectares and its seven-story 21-meter (69 ft) octagonal tower – Thap Phuoc Duyen (pictured below) – is viewed as an unofficial symbol of Hue.
Thien Mu Pagoda is also known as the Pagoda of the Celestial Lady. Legend has it that an elderly woman appeared on Ha Khe Hill where the pagoda stands. She prophesied that a Lord would build a Buddhist pagoda on that hill.
Upon hearing her prophecy, Lord Nguyen Hoang ordered the construction of the temple in 1601. It was built simply at first, but it would see many renovations and expansions in the following centuries. In fact, it wasn't until 1844 that the iconic Thap Phuoc Duyen would be built.
Thien Mu Pagoda is located on the banks of the Perfume River, about 3 km west of the Imperial Citadel. You can visit the pagoda on your own (via cyclo, Grab, or dragon boat), but I went there on the same guided tour that took me to the Imperial City and two royal tombs.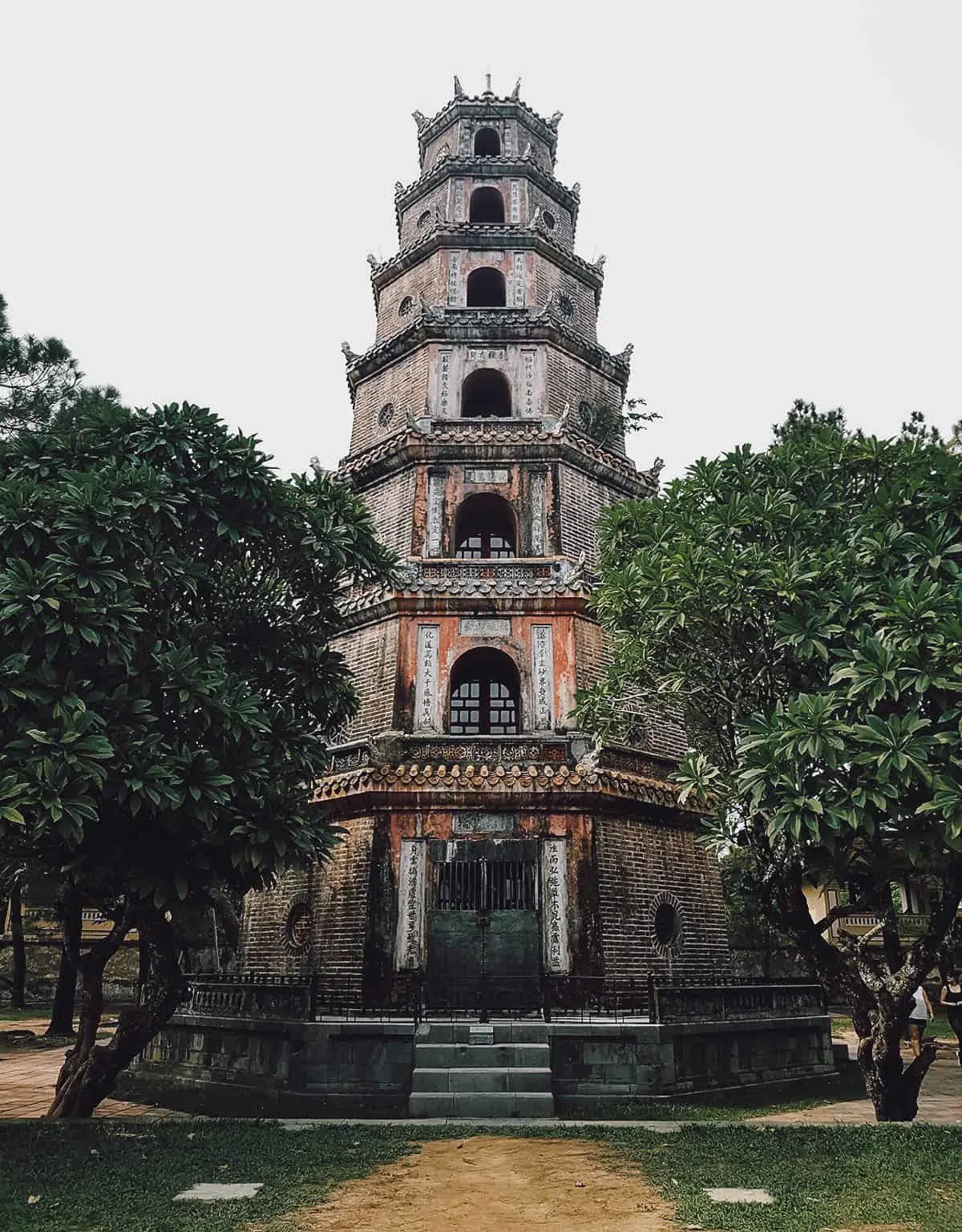 Operating Hours: 8AM-5PM, daily
Admission: FREE
6. Explore Dong Ba Market
Dong Ba Market is the oldest market in Hue. Located by the banks of the Perfume River, it occupies an area of about 16,000 square meters and contains hundreds of stalls selling fresh meat and produce, clothing, handicrafts, and household items.
Asian markets are always fun to explore so you can spend a few minutes or a few hours at Dong Ba Market navigating its labyrinth of alleyways and stalls. Street photographers will enjoy getting lost there.
Aside from a glass of nuoc mia (sugarcane juice), I didn't eat at the market but there's a food court offering many delicious-looking Vietnamese dishes for cheap.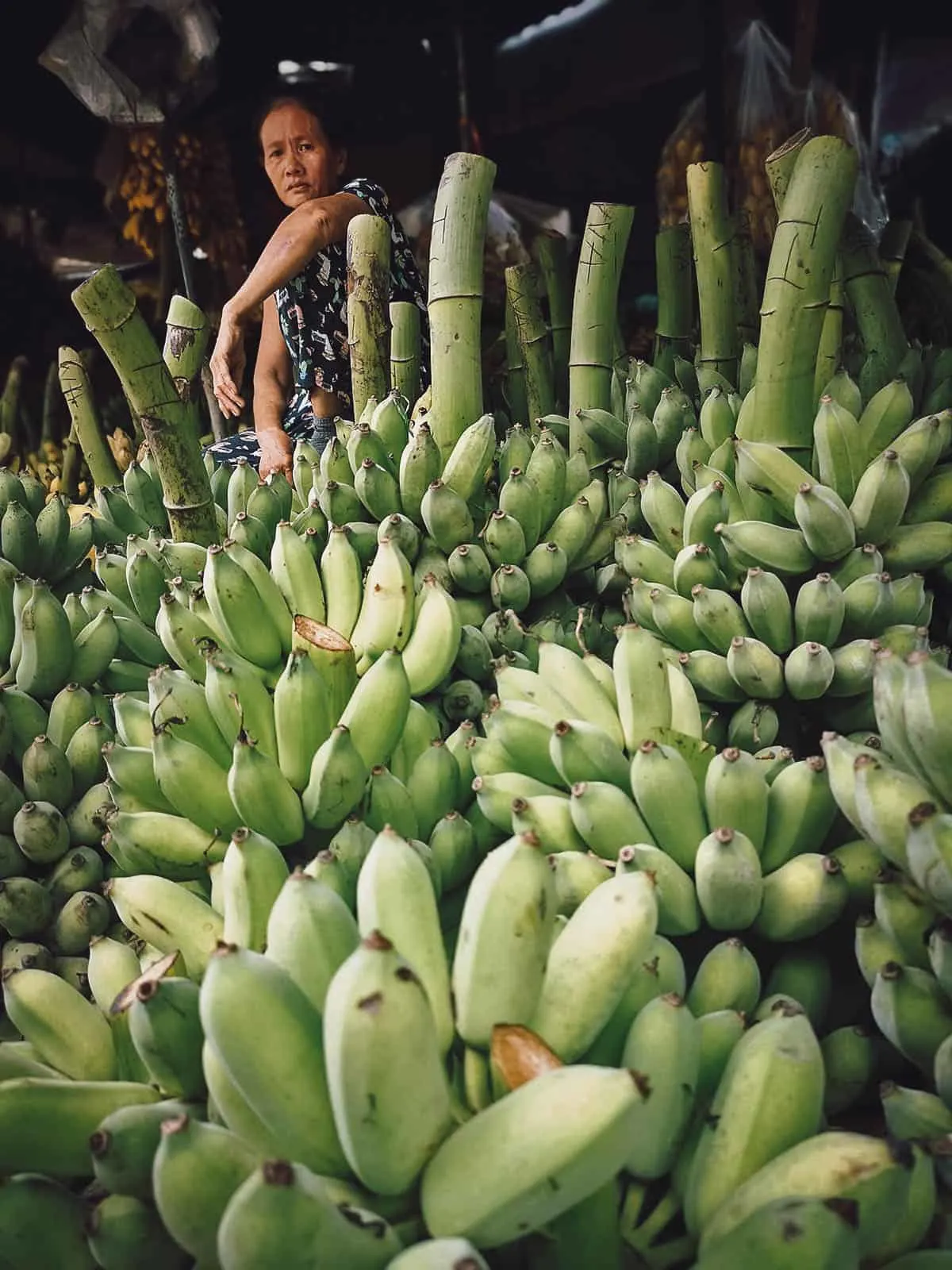 Operating Hours: 6AM-6PM, daily
7. Eat Banh Hue
Known collectively as "banh hue", this family of small rice flour cakes is perhaps the most interesting set of dishes you can have in Hue. I had six different kinds and each one was made with rice flour and shrimp in some form.
Banh beo (pictured below) is perhaps the most well-known but other types include banh uot, banh ram it, banh nam, banh loc, and cha tom.
Because they're made with similar ingredients, they all taste relatively the same – soft, silky, and packed with umami flavor. That's the best way I can describe how they taste, like little flavor bombs.
You can order different types of banh hue separately but many restaurants will serve them in sampler sets. I suggest trying that. Original Hang Me is known for serving some of the best banh hue in town.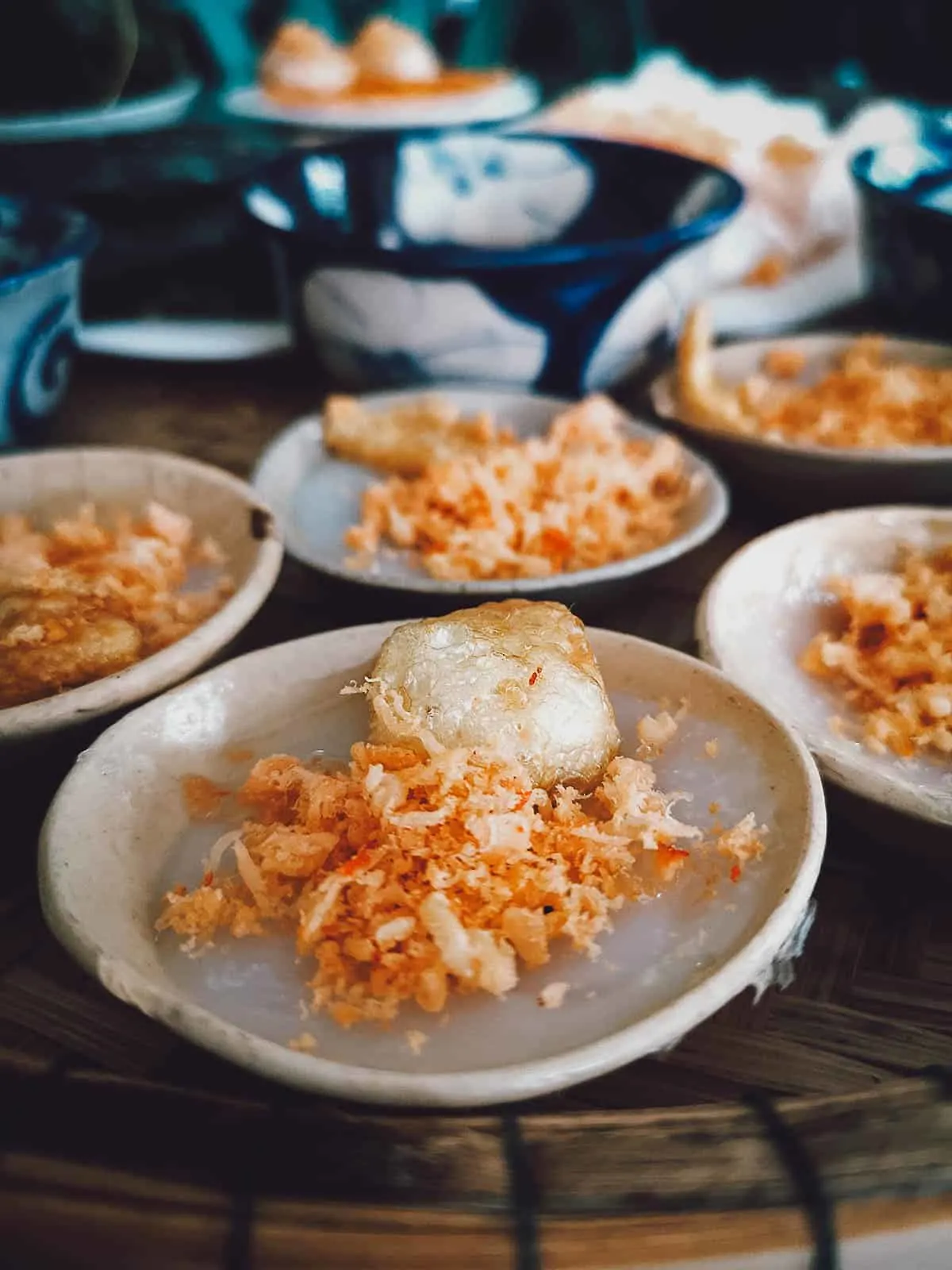 Where to Try It: Hane Me, Hang Me Me
Expect to Spend: About VND 180,000 (for two)
8. Try Com Hen and Che Bap on Con Hen Island
If bun bo were my favorite regional dish in Hue, then com hen or bun hen would be a close second. It's another dish associated with Hue made with rice (com) or noodles (bun) topped with stir-fried basket clams, vegetables, and a host of other ingredients.
I had com hen and bun hen multiple times at different restaurants in Hue. Com hen is the original version of the dish but I enjoyed the texture of the noodles (bun) more than the rice (com). It's a small meal typically enjoyed as a snack so you can easily try both versions in one sitting.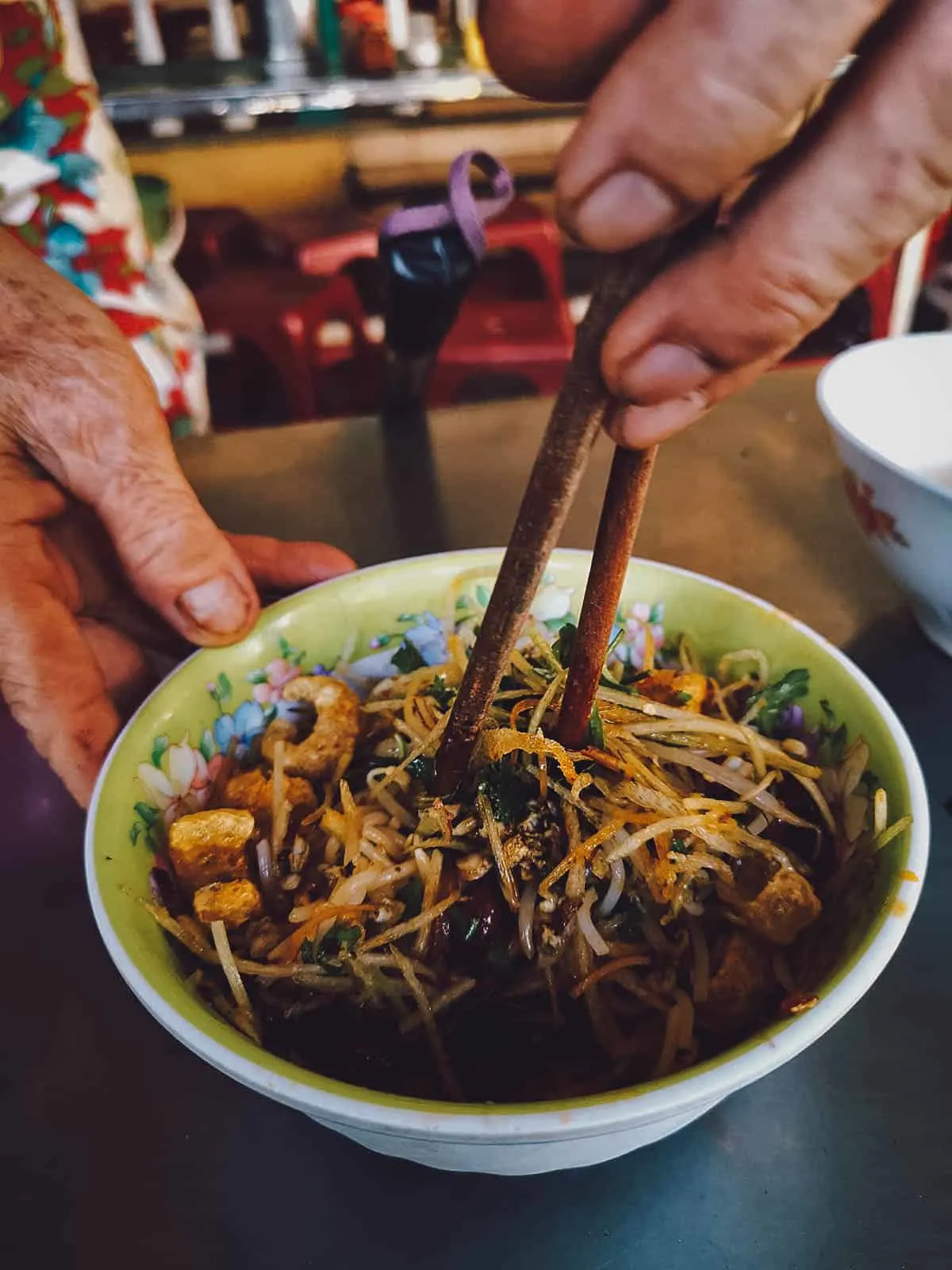 I didn't meet a bun hen I didn't like in Hue, but my favorite version was the bowl served at Com Hen Hoa Dong (pictured above) on Con Hen Island.
Con Hen Island is a tiny sliver of an island located in the middle of the Perfume River. It's recognized as the birthplace of com hen so I suggest trying it there. Com Hen Hoa Dong is the best place to have it.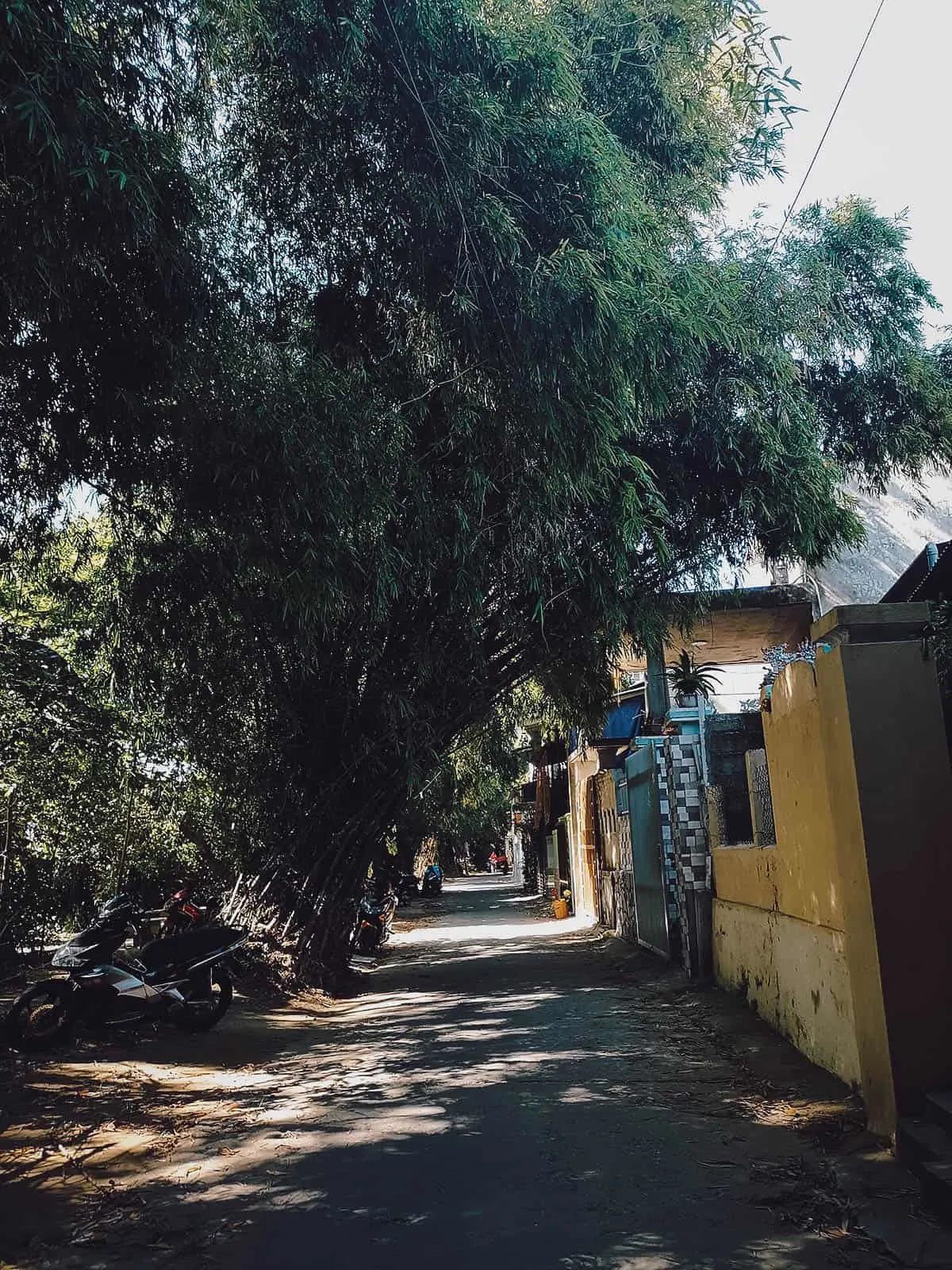 A dish that's often enjoyed with com hen is che bap. It's a type of che or Vietnamese dessert soup made with sweet corn. You can have che bap anywhere in Hue but the best versions are said to be made from corn grown on Con Hen Island.
Restaurants that serve com hen and bun hen will typically serve che bap as well. Com Hen Hoa Dong also had the best version of che bap I tried in Hue. It was so thick and creamy with crunchy bits of the sweetest corn.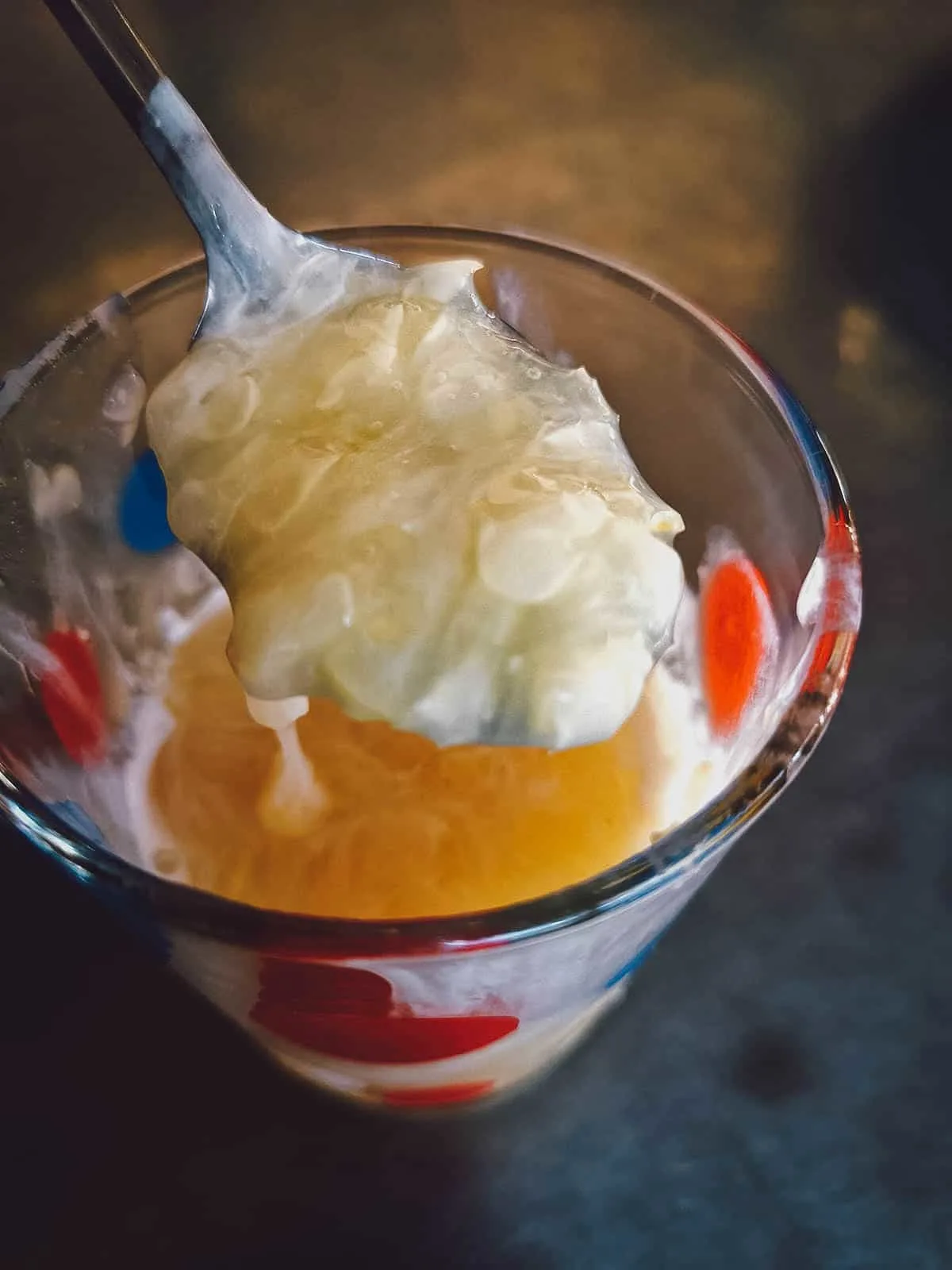 Where to Try It: Com Hen Hoa Dong
Expect to Spend: About VND 10,000 for com hen, VND 8,000 for che bap
9. Visit an Abandoned Water Park
Exploring abandoned spaces seems to be a thing for many tourists these days. It gives more adventurous travelers a chance to do something a little more offbeat and unexpected.
In Hue, you can visit Ho Thuy Tien, an abandoned water theme park that's been closed to the public since 2006, just two years after its unveiling. No one seems to know why they shuttered so quickly but locals seem to believe the park is cursed, making it one of the eerier attractions in Hue.
A reported VND 70 billion (about USD 3 million) was put into the park which makes its sudden closure even more baffling. Ownership changed hands in 2013 but attempts to convert it into an eco theme park have repeatedly failed.
Ho Thuy Tien is located about 8 km south of downtown Hue so you'll probably need to rent a motorbike or book Grab to get there. There may be a guard manning the entrance but I read you can pay him VND 10,000-20,000 to let you in.
Exploring Ho Thuy Tien is one of the more unusual and exciting things to do in Hue, but do understand that the park is abandoned so it may not be the safest place to visit. Proceed at your own risk.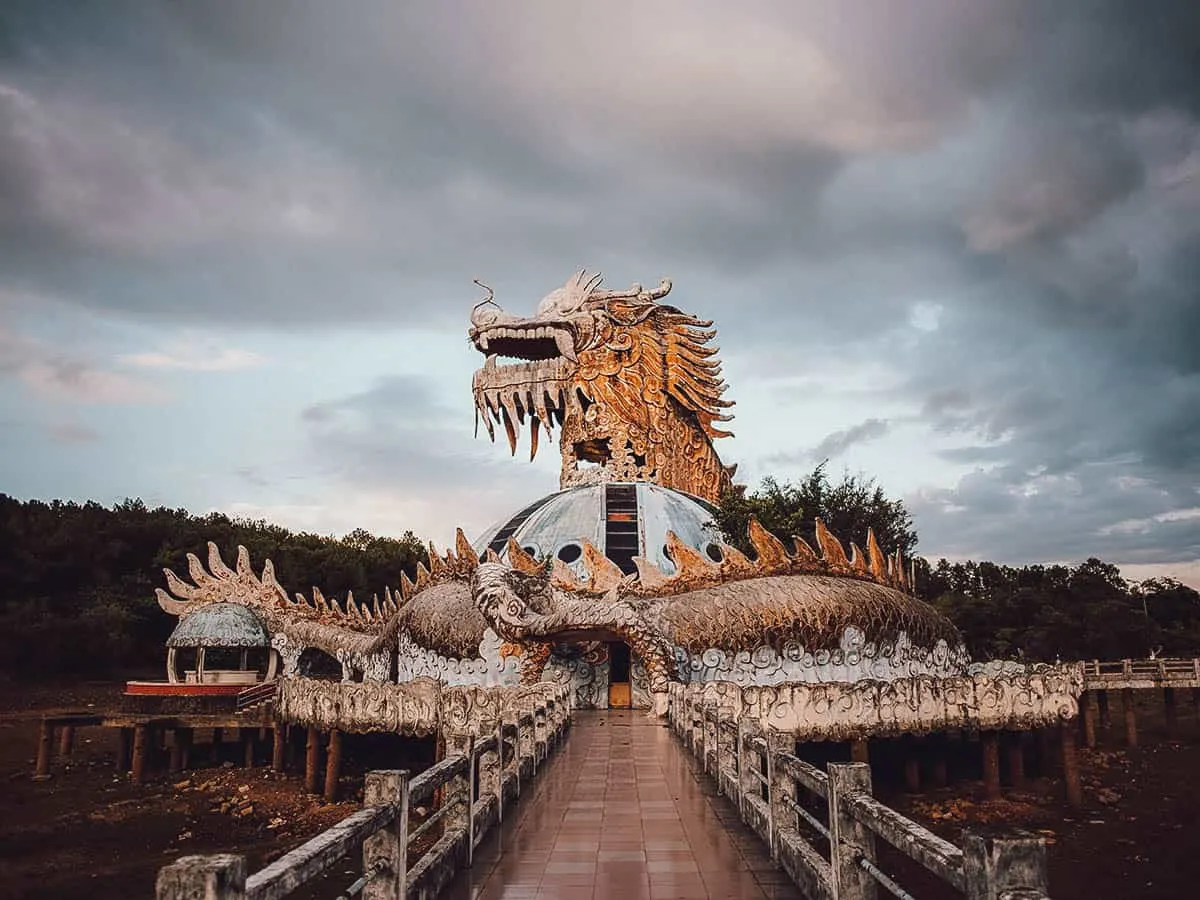 Photo by Yuttana Suntivong via Shutterstock
10. Experience Hue Royal Cuisine
If you're looking to have a proper sit-down meal, then you may be interested in Hue's royal cuisine. It's a set meal with about eight or nine courses that are meant to recreate imperial dishes served to royal court members of the Nguyen dynasty.
Pictured below are grilled beef meatballs wrapped around stalks of green onion. As you can see, presentation is key so many of the courses are served with vegetables meticulously carved in the shape of different animals.
Admittedly, the experience did feel a bit touristy, but that may have stemmed from my lack of knowledge of this type of cuisine. I wish I had a Vietnamese food historian explaining these dishes to me.
In any case, I enjoyed the experience because not only was the food good, but it gave me the opportunity to clean myself up and sit down to a proper meal after all the street food I had been eating in Vietnam.
Several places in Hue serve imperial cuisine but Ancient Hue Garden Houses has the best reviews by a mile. They're also twice as expensive as everywhere else but I thought it was worth paying extra for a meal I was probably going to experience just once in my life.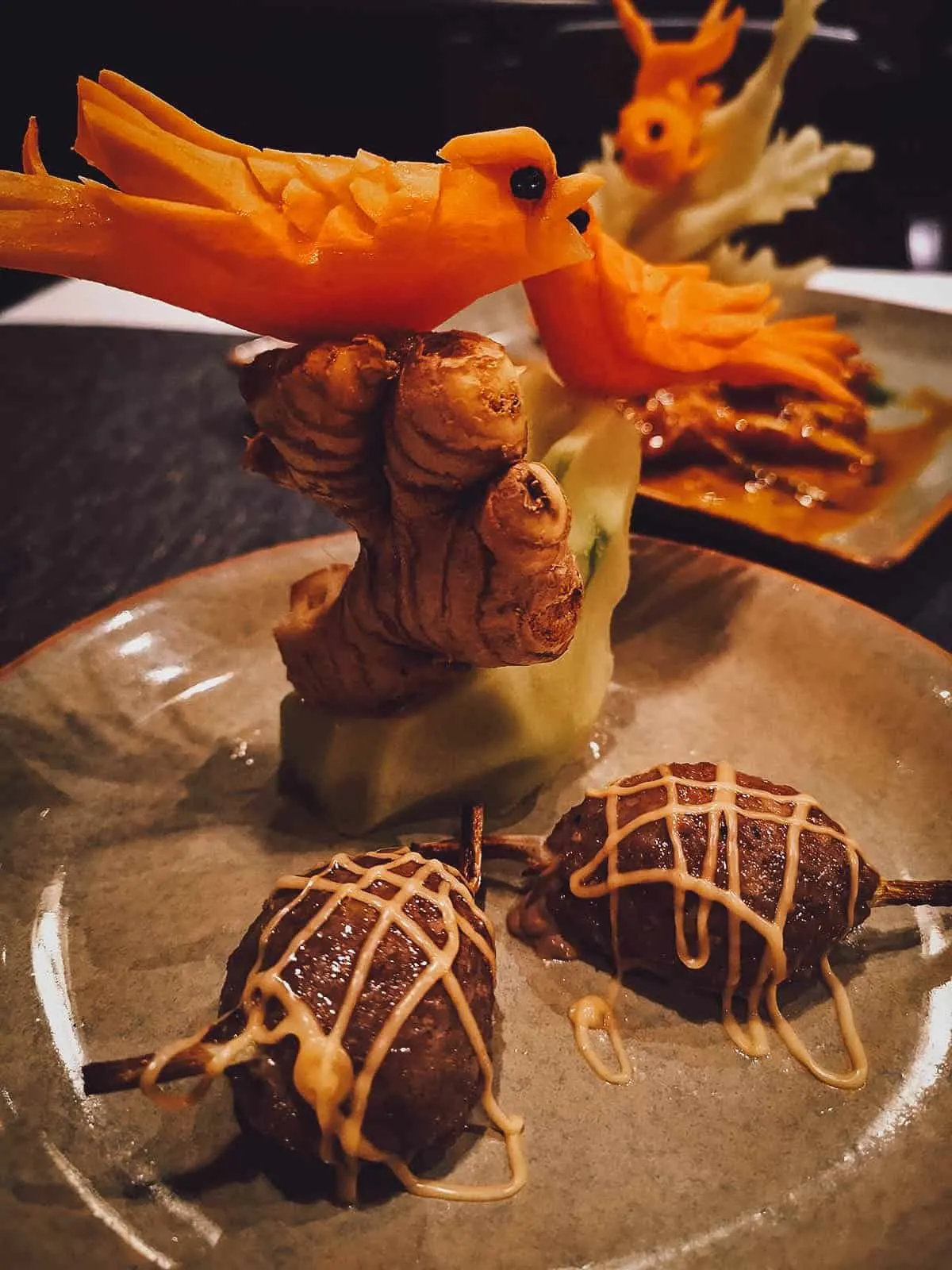 Where to Try It: Ancient Hue Garden Houses
Expect to Spend: About VND 1,179,000+ per person
FINAL THOUGHTS ON THE BEST THINGS TO DO IN HUE
I hope I've given you enough suggestions on things to do in Hue to help you plan your trip.
I didn't go but another popular thing to do in Hue is to take a day trip to Bach Ma National Park – a former hill station about 1.5 hours south of the city center. It's home to over 220 sq km of lush jungle with trekking trails, lakes, and waterfalls. You can book a day trip to Bach Ma National Park through Klook or Get Your Guide.
To be honest, Hue's historical attractions are interesting but we travel for food so the city's regional cuisine is what resonated with me most. Within the first few spoonfuls, bun bo hue became one of my favorite Vietnamese dishes. Bun hen and cafe muoi made significant impressions as well.
I feel like I've already talked too much about food in this guide but I haven't even mentioned nem lui, banh khoai, banh ep, or banh trang trung!
Many cities fascinate us but only a few endear themselves to us to such a degree that we actually want to live there. Hue – with its excellent Vietnamese food, fascinating history, and laid back small town vibe – is one of those cities.
We will definitely be back.
Disclosure
This article on the best things to do in Hue contains affiliate links, through which we'll earn a small commission if you make a booking or purchase at no extra cost to you. As always, we only recommend products and services that we use ourselves. We really appreciate your support as this helps us make more of these free travel guides. Thank you!