We've been on many food and sightseeing tours on our trips, but never quite like this.
I had already been in Vietnam for a month. I started in Hanoi and slowly made my way south, to the Mekong Delta, before meeting Ren and finishing up in Ho Chi Minh City. Along the way, I went on a few organized tours, including a motorbike tour in Saigon which I thought was pretty different from anything I had done to that point, until this shiny red Citroen 2CV pulled up in front of our hotel.
I had seen the pictures on their website so I was already excited about the tour, but it wasn't until we got in and stuck our heads through the roof did it truly hit me how much fun this was going to be.
Save This on Pinterest!
No time to read this now? Click on the red save button and pin it for later!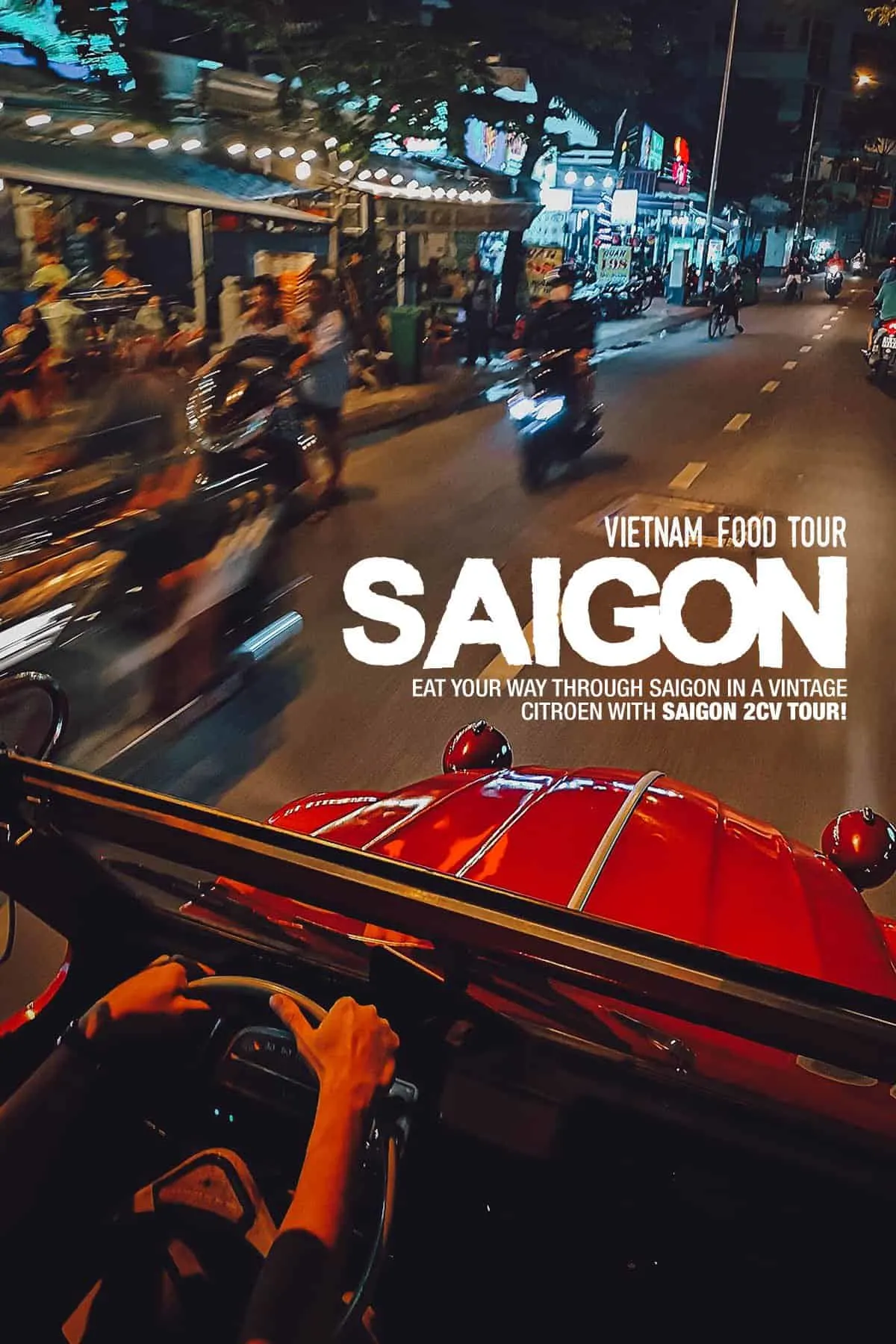 Saigon 2CV Evening Food Tour
This Saigon 2CV Tour takes you on a three hour food tour of Ho Chi Minh City. You'll be picked up in front of your hotel at 7:15PM in a vintage Citroen 2CV (or La Dalat), then taken to several food stops to try Vietnamese classics like nuoc mia, banh trang nuong, and banh xeo. The tour costs VND 1,400,000 per adult (plus VAT), which you can book directly on Saigon 2CV-Tour.
If you check their website, you'll find that there are three versions of this 2CV tour – morning, sunset, and evening. The morning version is more of a sightseeing tour while the sunset tour includes a cruise on the Saigon River. If food is what you're most interested in, then I recommend going on this evening tour.
What is a Citroen 2CV?
A Citroen 2CV is a French automobile that was in production from 1948-1990. 2CV is short for deux chevaux-vapeur which literally means "two steam horses". It was debuted in 1948 as an economy car to help motorize farmers still using horses and carts in 1930s France.
According to Top Gear, the 2CV was designed with very specific requirements, namely to carry four people and 50 kg of goods at 30 mph. It's said that prototypes needed to transport baskets of eggs across a ploughed field without breaking a single one, and manage 80 mpg while doing it.
The 2CV succeeded and has since become a cult classic with a following on par with original Minis and VW Beetles. Being as handsome as it is, I'm not surprised!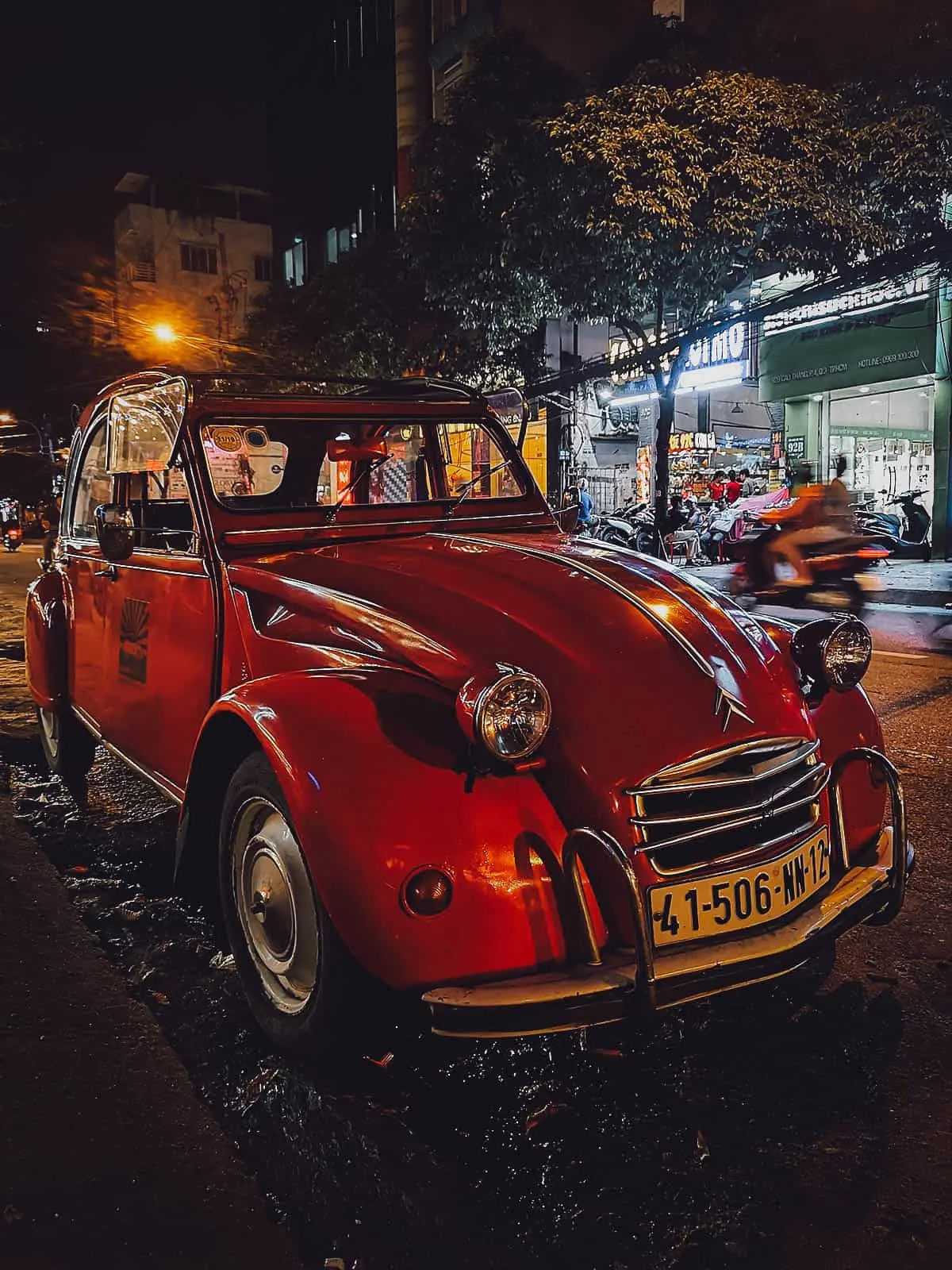 The operators of Saigon 2CV-Tour also run an interactive mystery tour called Urban Tales. It's designed to lead you on a self-guided walking tour of the city by challenging you to solve murder or family mysteries in historic parts of Ho Chi Minh City. We didn't get to do it in Saigon but I may try it in Phnom Penh. It looks like fun!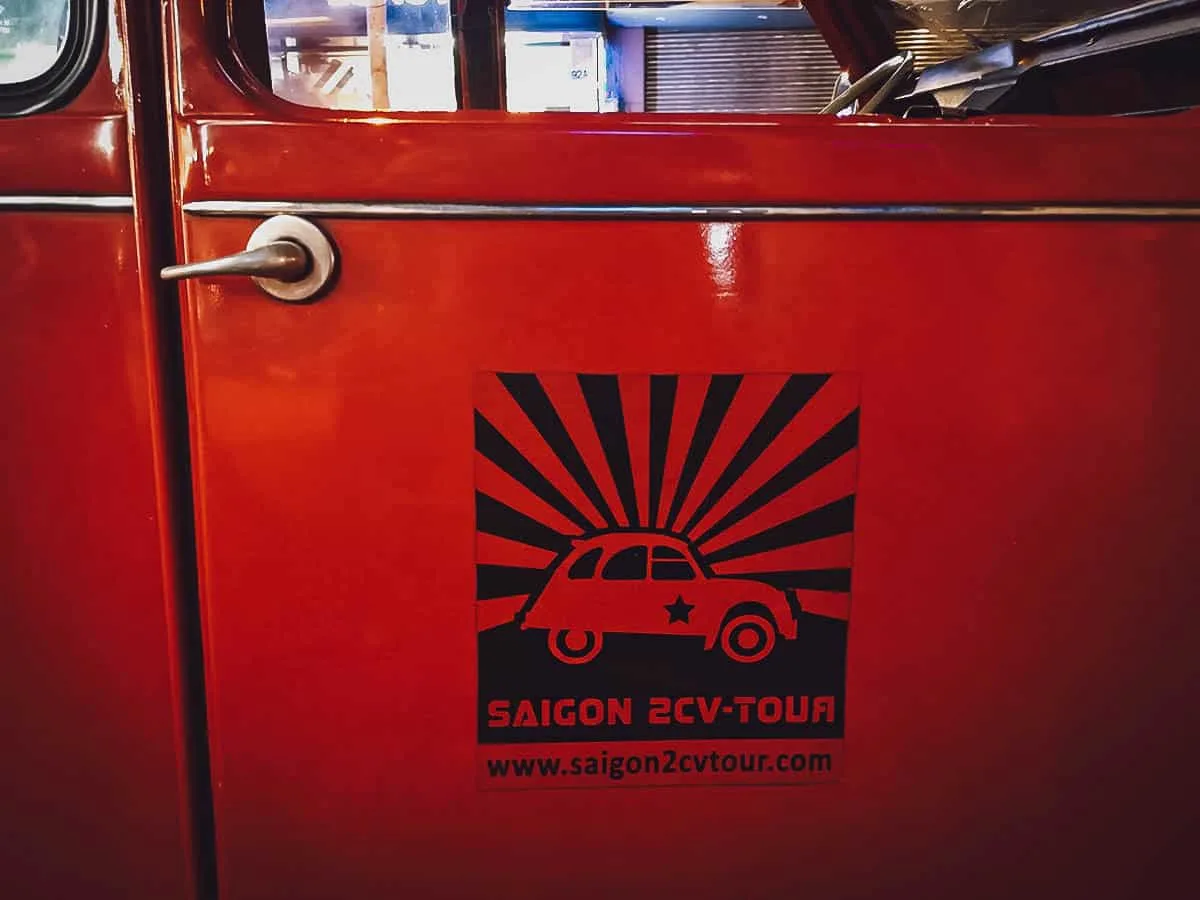 The 2CV was manufactured in France from 1948 and 1988, then in Portugal from 1988 to 1990. Over 3.8 million units were produced during that period.
The British automobile magazine Autocar once described the design of the Citroen 2CV as "undoubtedly the most original since the Model T Ford". Others have called it a "car like no other" and the "the most intelligent application of minimalism ever to succeed as a car".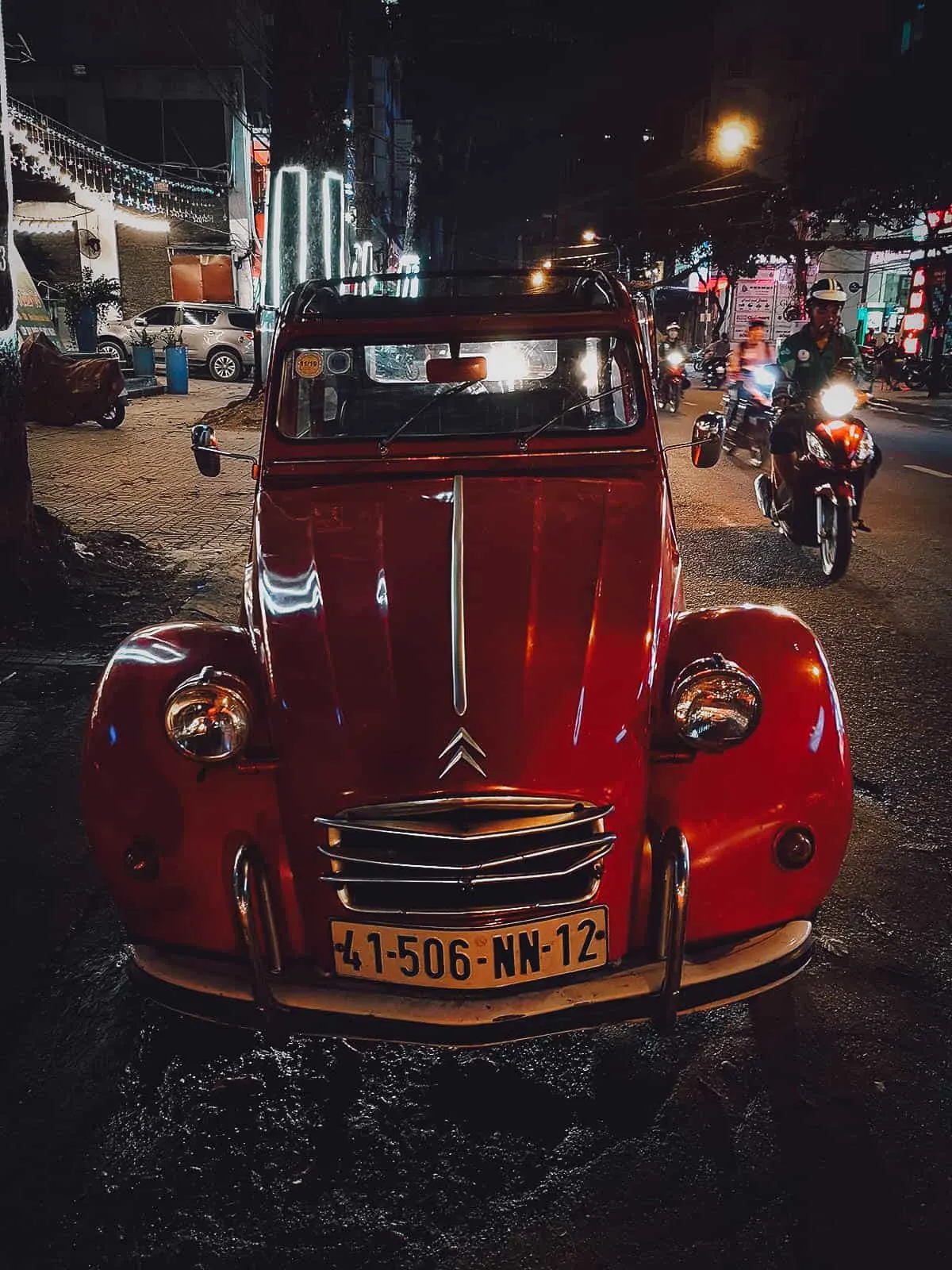 I'm not an automobile expert or enthusiast but I found the 2CV to be incredibly charming, much like a VW Kharmann Ghia or Kombi. It's a timeless design that turns heads even today. In fact, every time I stood up from the backseat, it felt as if all of Saigon's eyes were on me.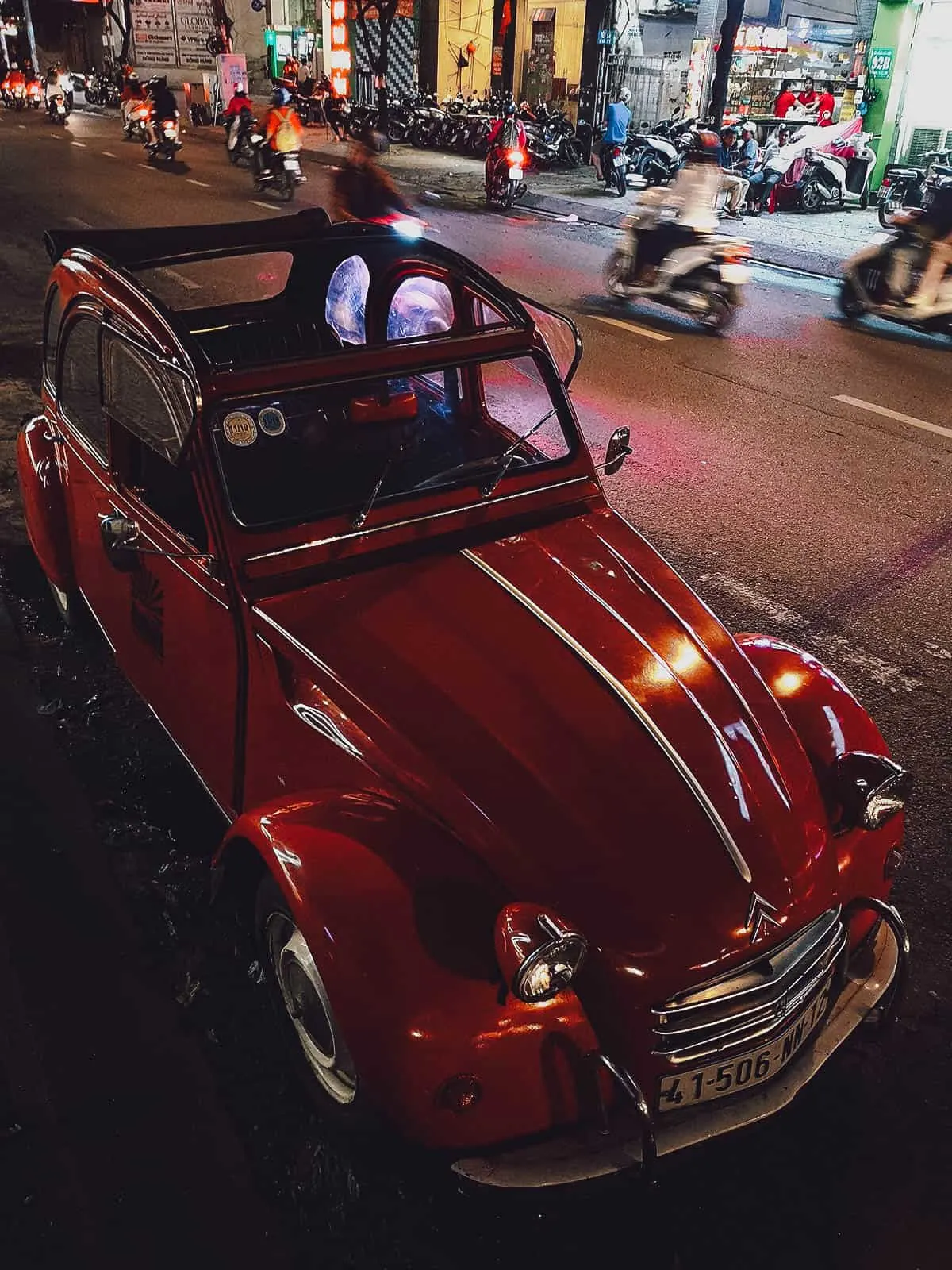 And away we go! Along with the driver, you'll be accompanied by an English-speaking guide. Saigon 2CV-Tour is a French-owned company so French-speaking guides are available for an additional VND 350,000 per group.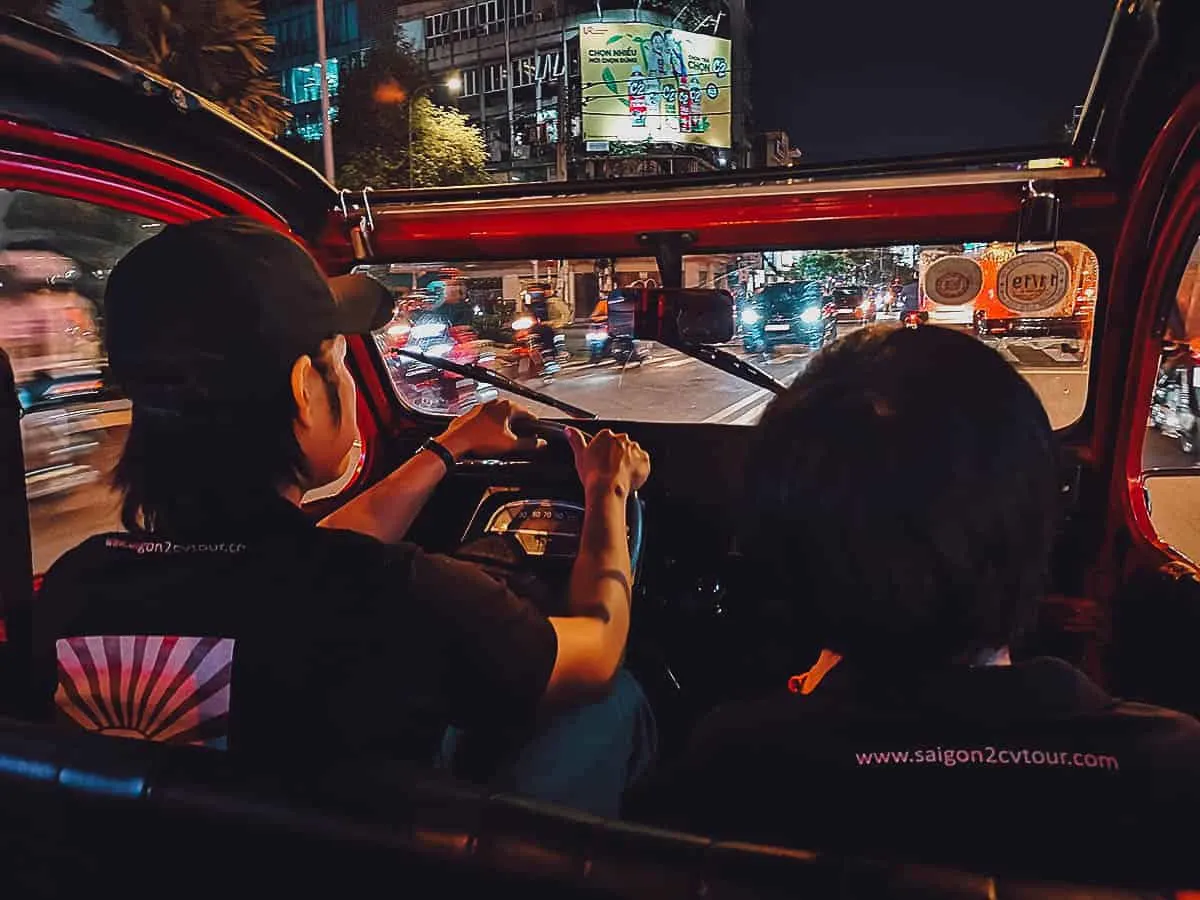 There were thunderstorms earlier that day so I was worried we'd have to go with the roof of our 2CV covered. Thankfully, it stopped to give us nothing but clear skies and a gentle breeze throughout our tour. This tour is so much more fun when you can stand and feel the evening breeze on your face.

The driver doesn't go too fast so you can feel comfortable standing and taking as many pictures as you like. I suggest tethering your camera or phone to you neck or wrist to keep it from falling or getting snatched. As you may already know, Saigon is a city of motorbikes so you'll often be within arm's reach of other motorists.

After picking us up, our driver took us to our first street food stop in District 4. I don't know if they make the same stops on every tour but we visited four on ours.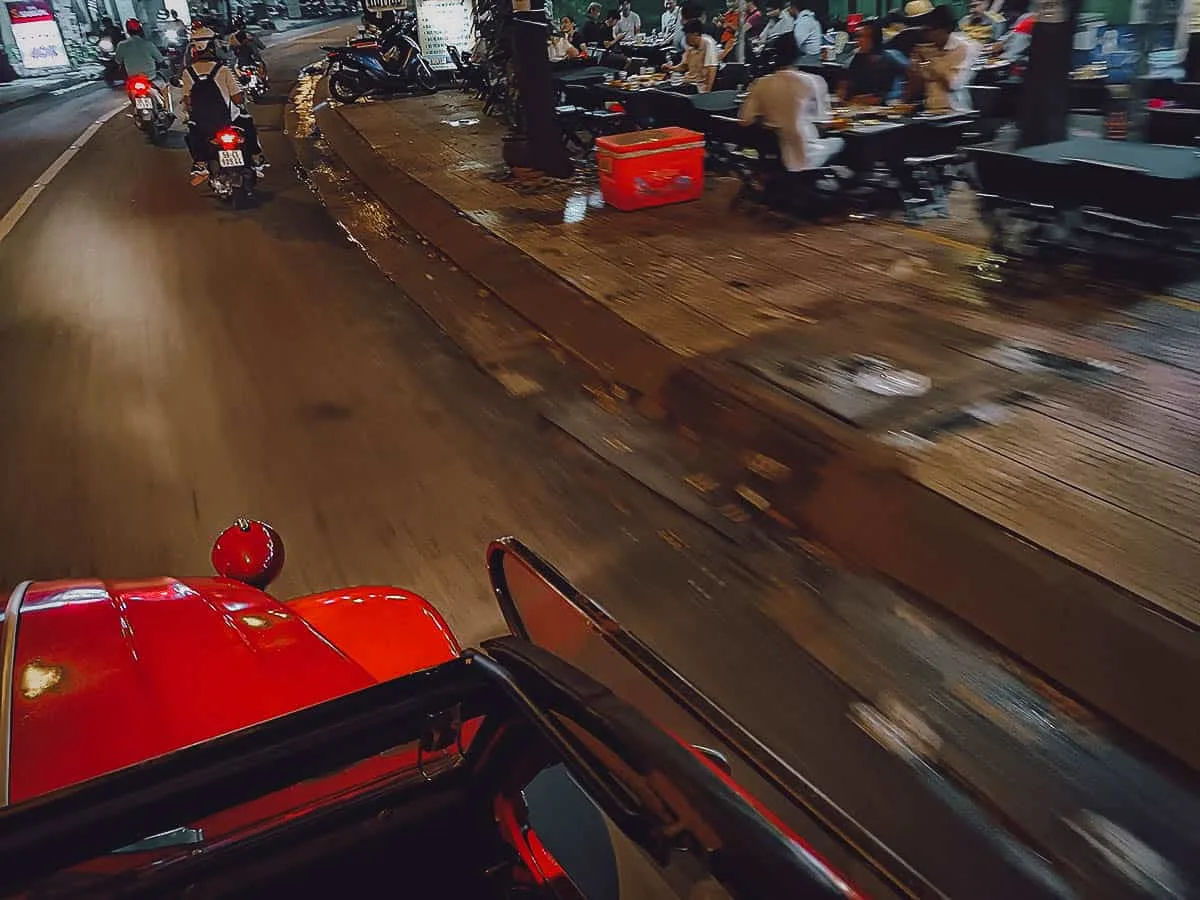 There are a number of ways you can experience Saigon at night, but I doubt many are as unique as this.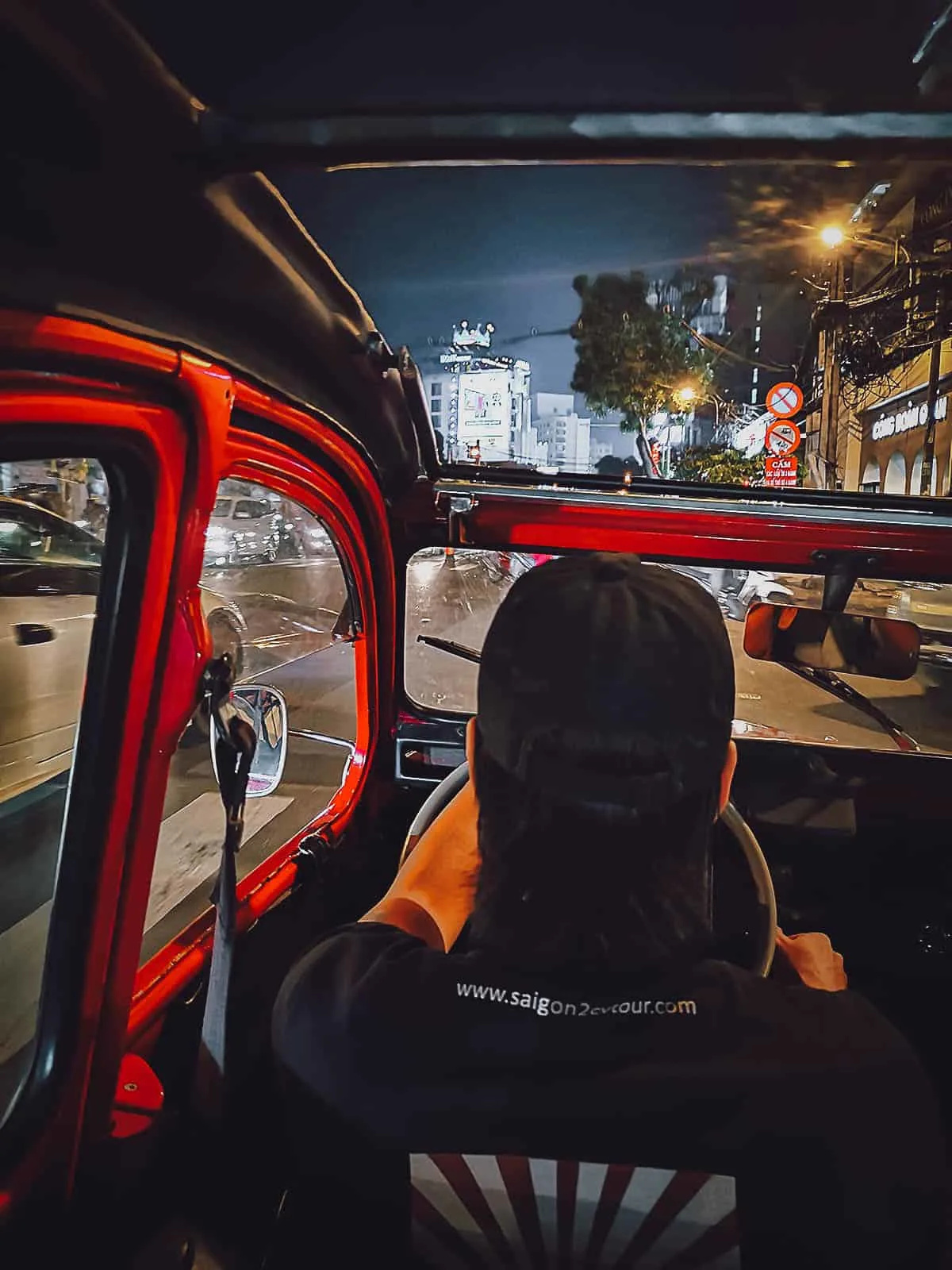 Here we are having a blast in our 2CV. This beats walking any day!

Vietnamese Street Food
As described, we drove to our first stop in District 4 where we had two street food dishes, the first being this refreshing glass of nuoc mia or freshly pressed sugarcane juice. This was my favorite drink in Vietnam. I must have had it over ten times in one month!
Sold as street food everywhere in Vietnam, vendors take stalks of sugar cane and run it through a press to extract the juice. Different vendors may mix it with other fresh juices like kumquat or lime to balance the sweetness. Personally, I like it best when it isn't mixed with too much of anything else so I can really taste the leafy freshness of the sugar cane. It's so good and perfect after an afternoon of walking.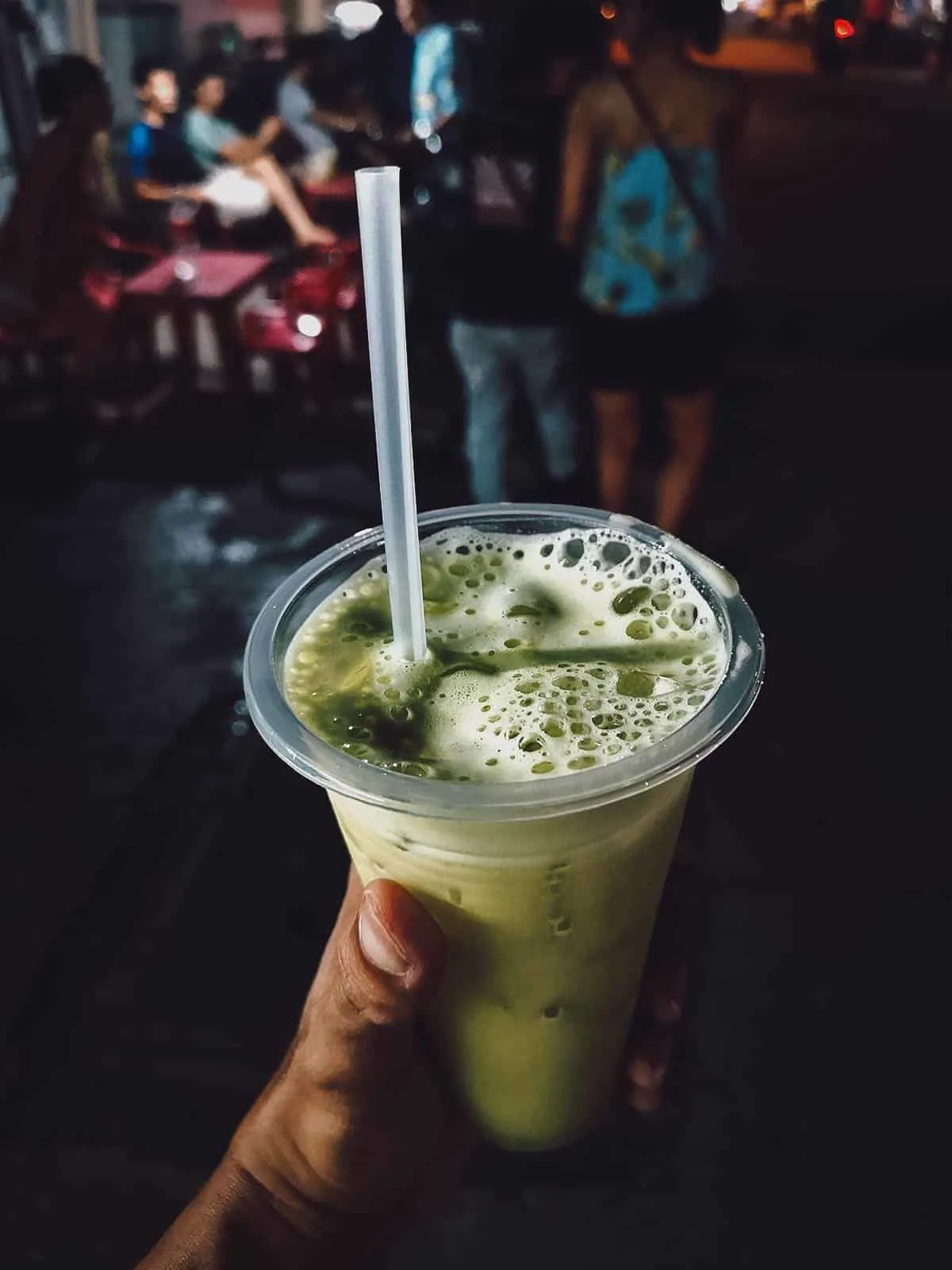 Not far from the nuoc mia stall was this vendor selling Vietnamese steamed dumplings filled with shrimp and pork. They were delicious, like typical Chinese dumplings but topped with crispy fried shallots and served with fresh leafy greens.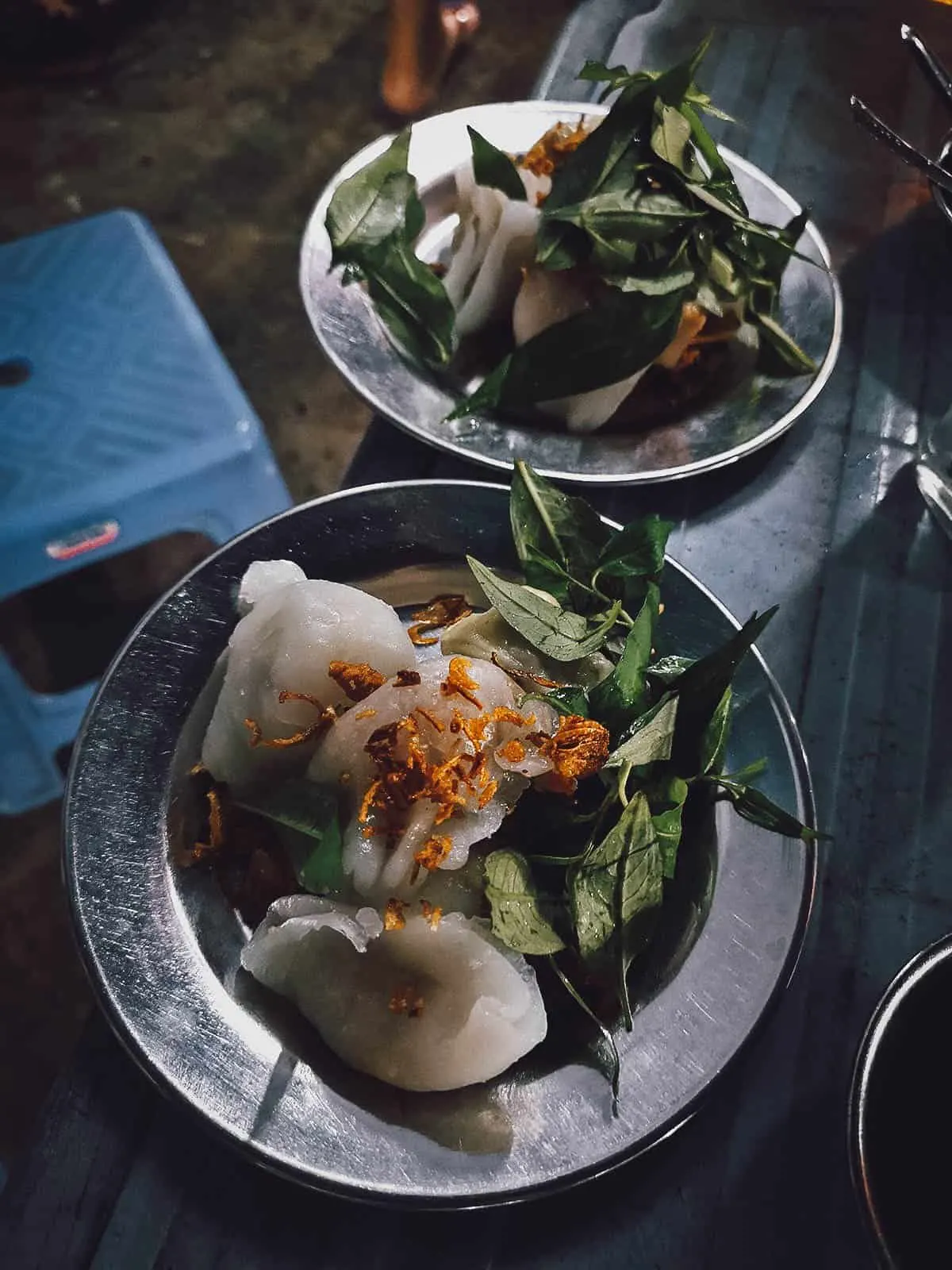 This was timely. We were planning on going to a banh trang nuong stall later in the evening but as it turns out, it was already on this tour's menu. And to top it off, our guide Van told us that this streetside stall makes the best banh trang nuong in Saigon! Awesome!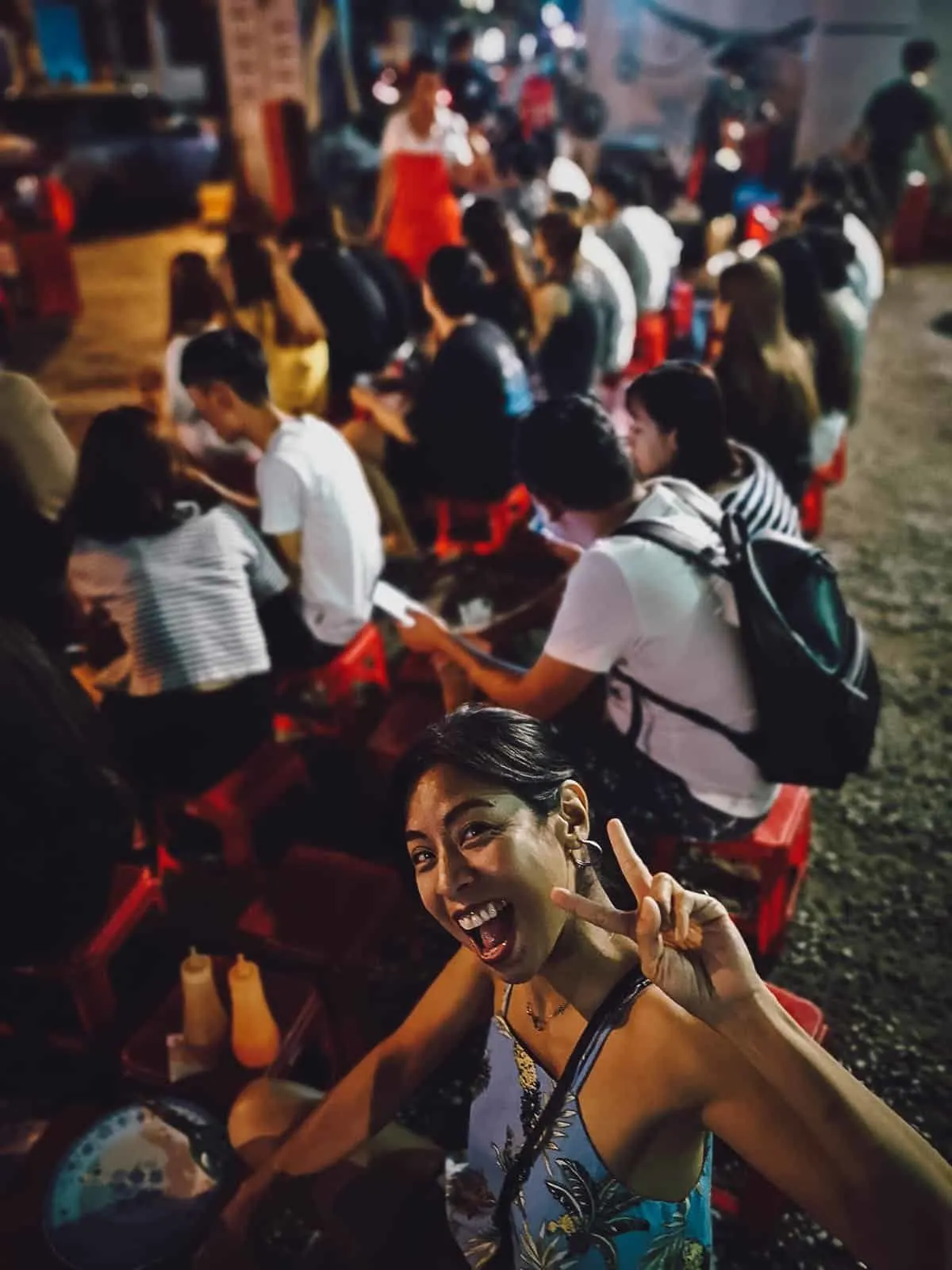 And there she is, our beautiful banh trang nuong being cooked over charcoal. Banh trang nuong are round crunchy rice crackers topped with a variety of ingredients. Referred to as Vietnamese pizza, quail or chicken egg is beaten and mixed with spring onion before being poured over the rice paper. This keeps the rice paper from burning and holds all the toppings together.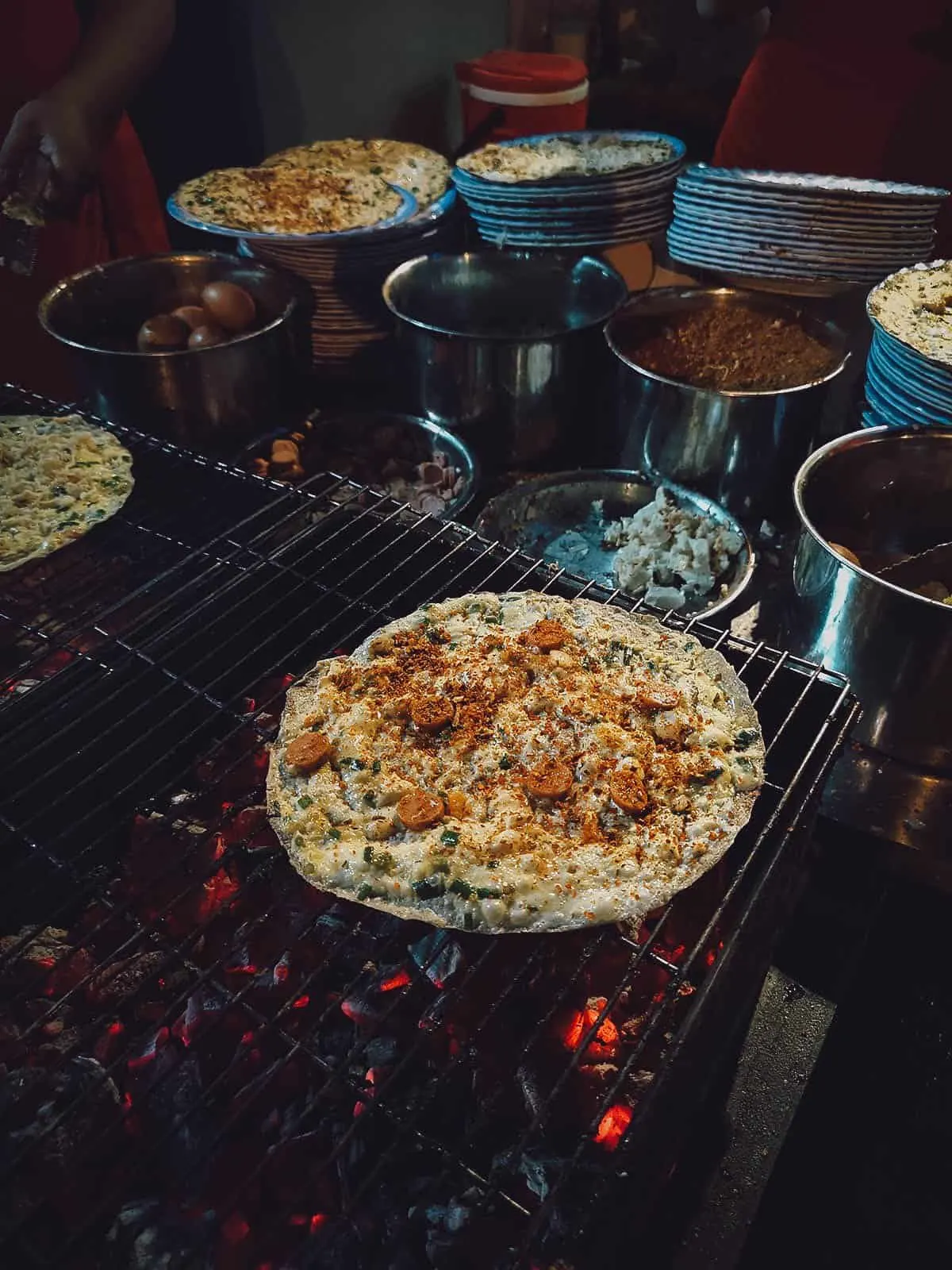 Our guide Van ordered us two Vietnamese pizzas, this one topped with beef and the one behind it with chicken. She cuts them with scissors into quarters to make them easier to eat. They're crackingly crisp, eggy, and delicious and would have gone so well with beer.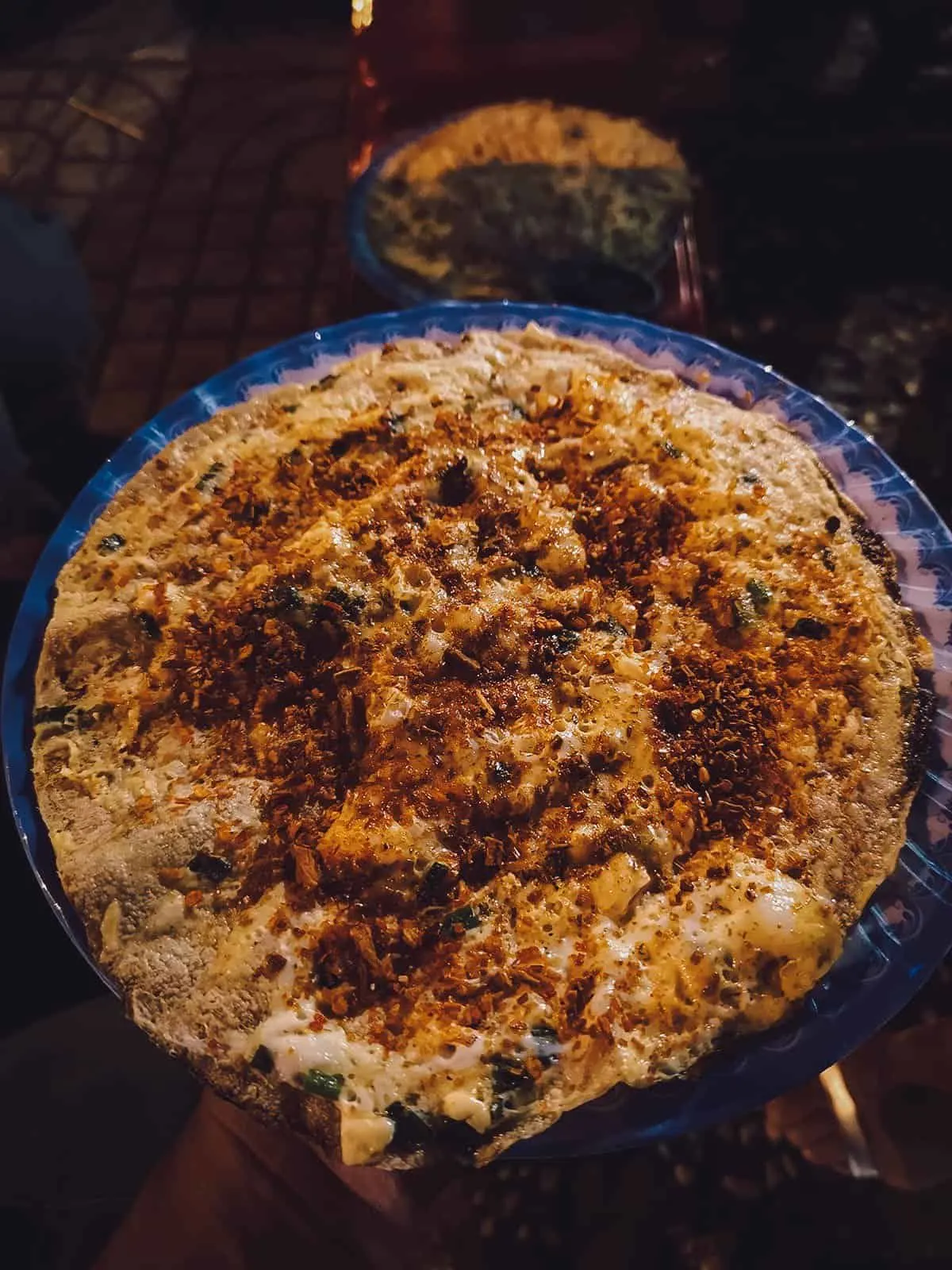 Here's a close-up of the banh trang nuong topped with shredded chicken. Sitting on low plastic stools, enjoying freshly made Vietnamese pizza by the side of the road, this is what Vietnamese street food is all about!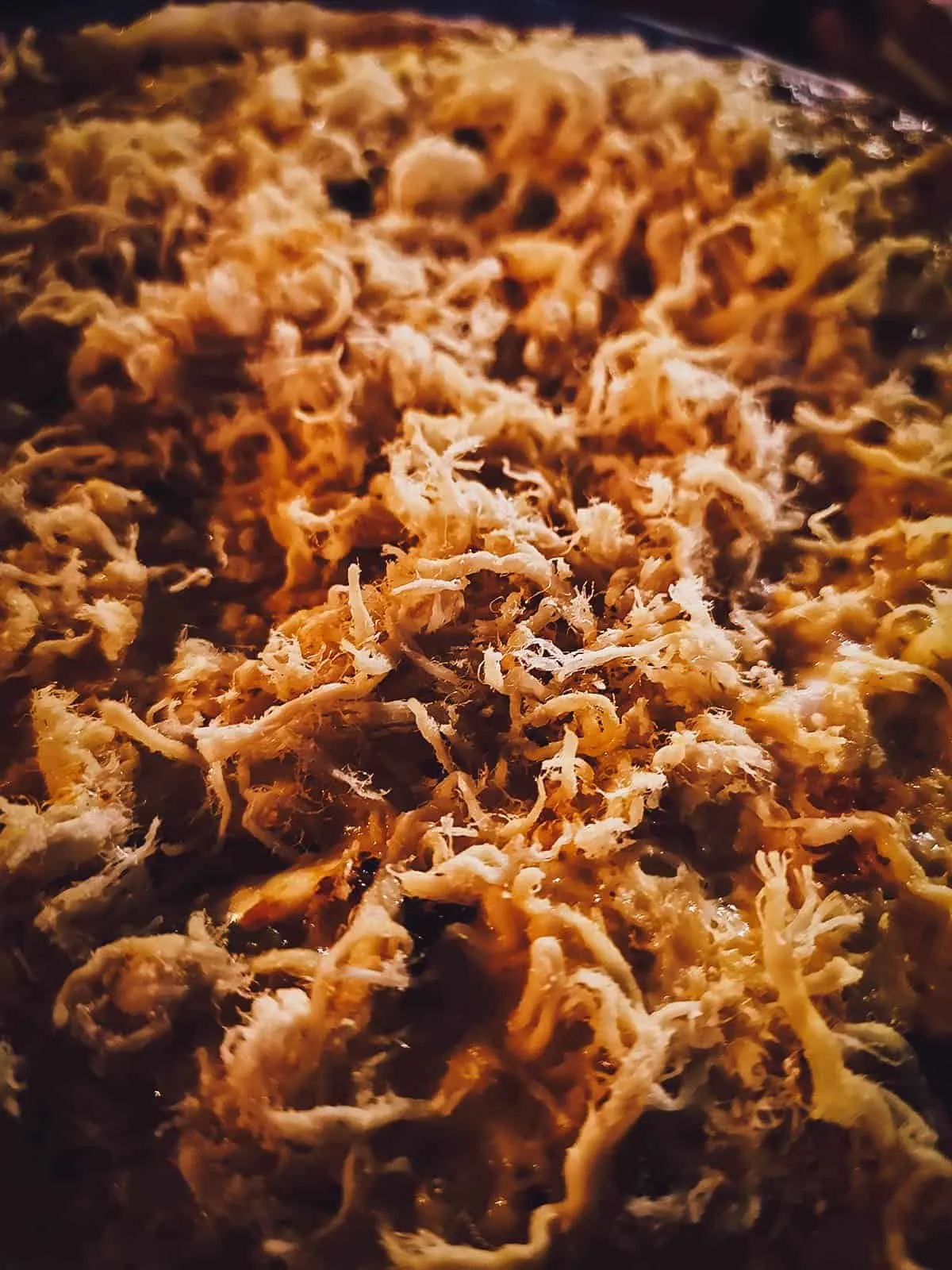 For our third stop, Van gave us a choice between banh xeo and seafood. We had already enjoyed seafood many times in Saigon so we went with the banh xeo. She took us to this restaurant which specialized in banh xeo and banh khot.
In the foreground below is the banh khot – mini pancakes made with a batter of rice flour mixed with turmeric and coconut milk. The batter is cooked in a grill pan with wells, like a takoyaki griddle, then topped with shrimp, green onions, and more coconut milk.
Banh khot is usually crispy on the outside and creamy on the inside, but Van ordered us a different version. These were thin and crisp, like crunchy wonton or taco cups. They were labeled on the menu as "special" banh khot, so they may be available only at this restaurant. Nice!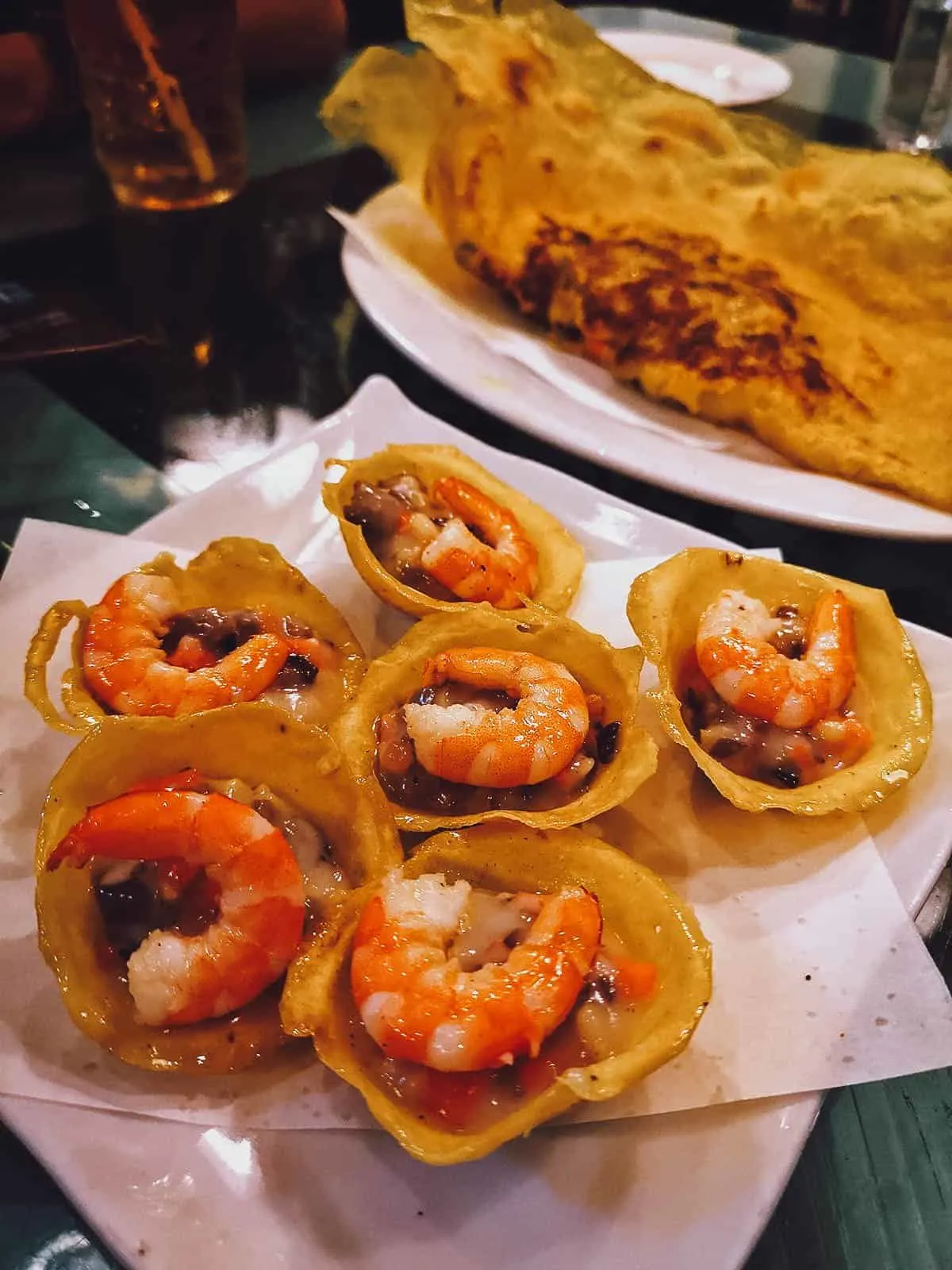 We've had banh xeo a few times in central Vietnam but this was the first time we had it in Saigon. The southern version is much larger, like a dinner plate folded in half, and it isn't served with peanut sauce and rice paper. Instead, it's dipped in nuoc cham which is a Vietnamese dipping sauce made with fish sauce, lime juice, vinegar, and sugar.
Banh xeo literally means "sizzling pancake" and refers to the sizzling sound the batter makes when poured into a hot skillet. It can be filled with a variety of ingredients but the one I chose had shrimp, squid, baby clam, and mushroom.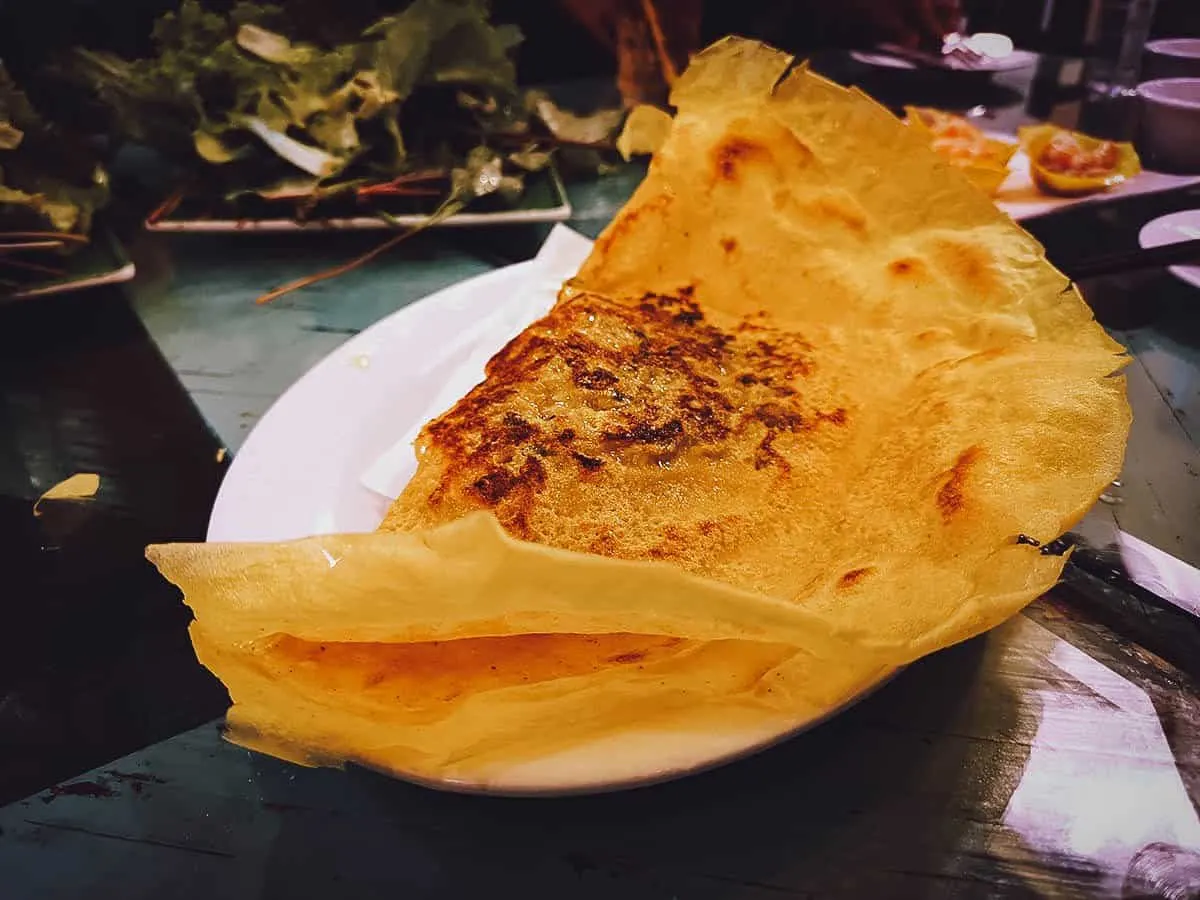 Banh khot and banh xeo are eaten in the same way – wrapped in lettuce or mustard leaves with leafy herbs and dipped in nuoc cham. They're actually quite similar, with the most noticeable difference being the addition of coconut milk in the banh khot. It makes them sweeter and creamier.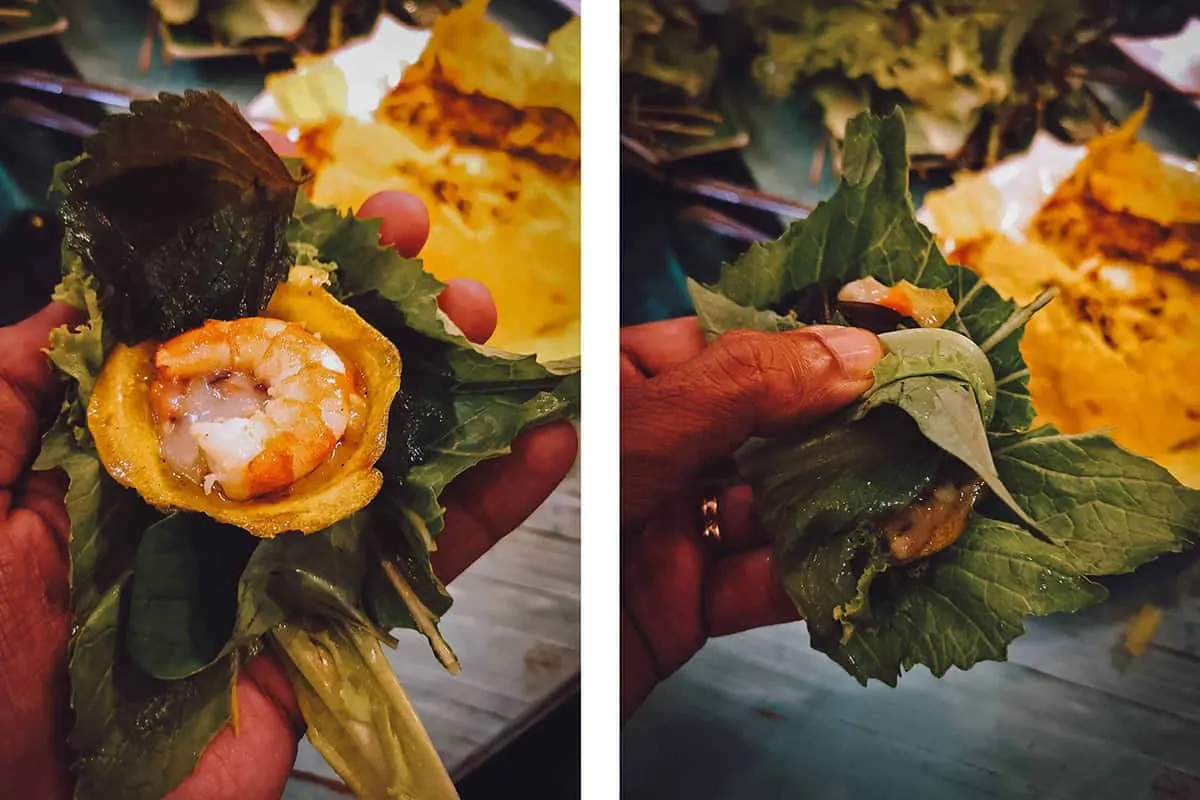 For our fourth and final stop, Van took us to this street food vendor selling che, which refers to a family of Vietnamese dessert soups or pudding. According to Van, this woman has been selling che at this very spot for over twenty years. Exactly my kind of place and the type you'd find only with a local like Van.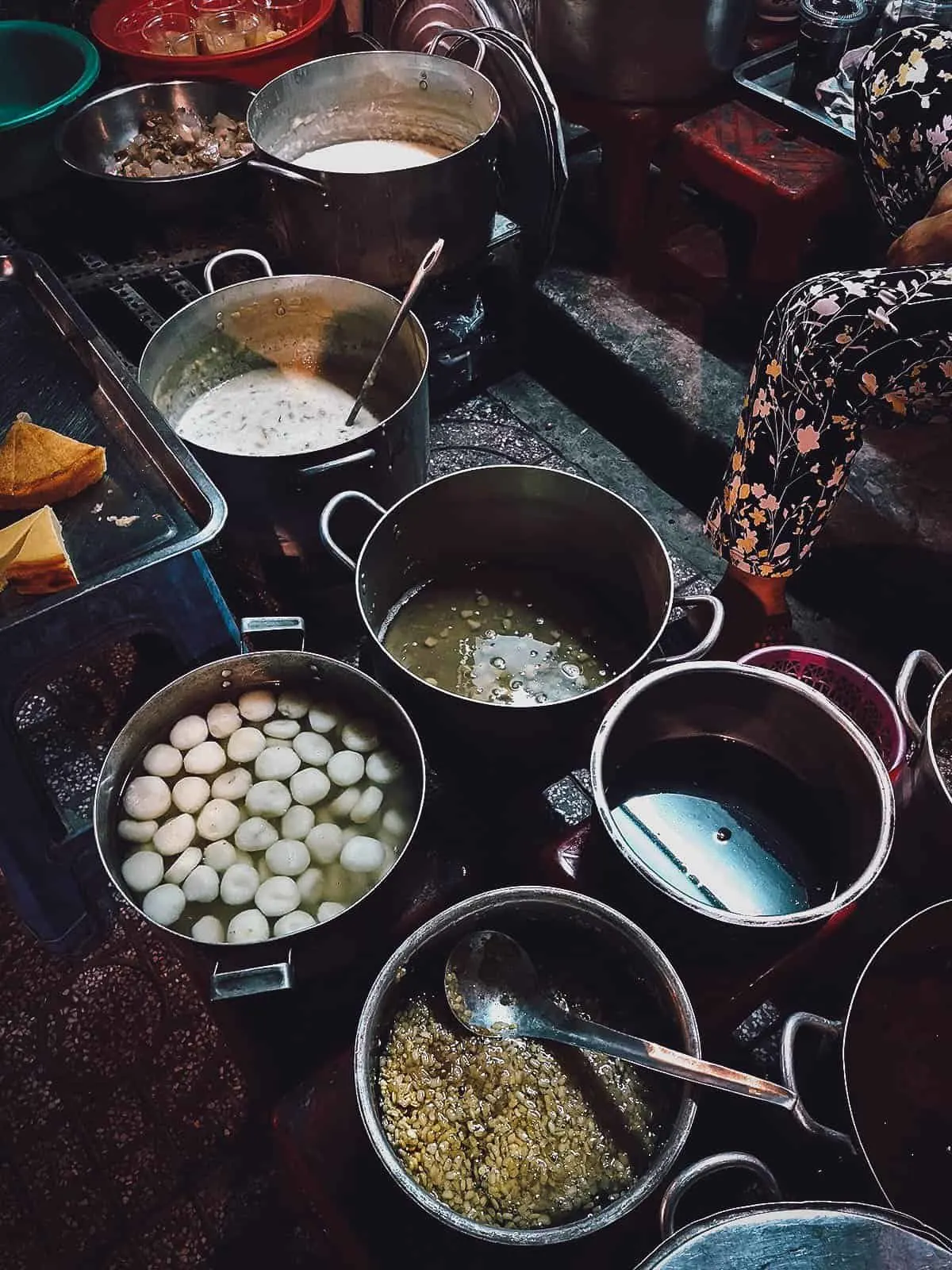 I don't know what was in my che but it was delicious – creamy, textured, and just mildly sweet. Che can be made with an infinite combination of ingredients, but it typically contains fruit, beans, seeds, glutinous rice, tapioca powder, and coconut milk.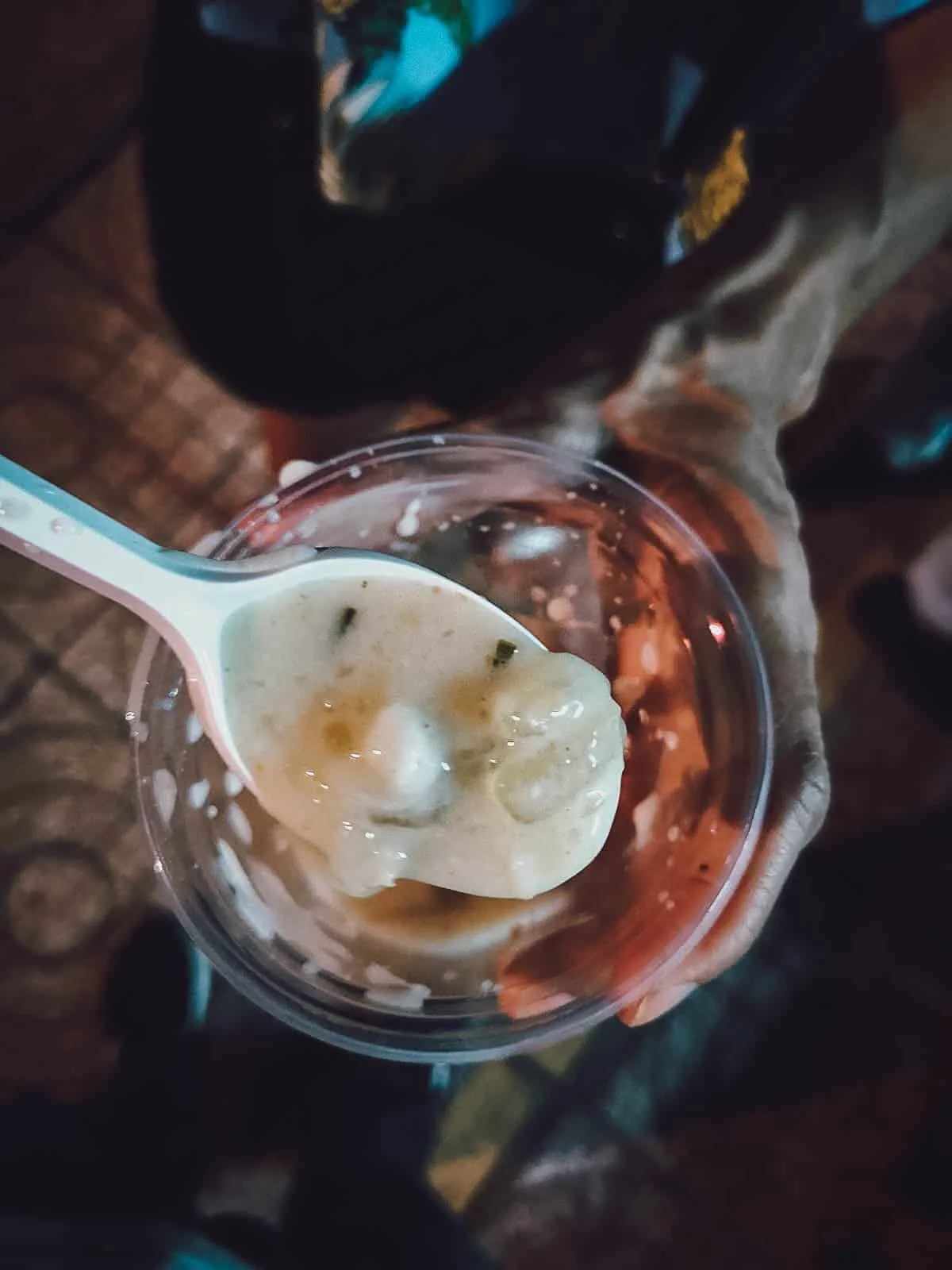 Final Thoughts
After scooping up the last bits of che from my cup, we spent the last hour or so of the tour just driving around the city. They took us to popular tourist spots like Notre Dame Cathedral, Saigon Central Post Office, Ben Thanh Market, and City Hall. We just stayed in the car the whole time and enjoyed the sights from the comfort of our 2CV.
Not many tours surprise me, but this one did. Like I said at the top of this post, you won't know how much fun it is to ride in an open top vintage car until you're actually sitting in one. Having the freedom to stand up and sit down as often as I wanted made it that much more enjoyable. It's definitely one of the things I'll remember most from this month-long trip to Vietnam. Honestly, I can't think of a better way to have ended it.
If you're looking for a fun and unique way of experiencing Saigon at night, then you may want to check out this tour. It costs VND 1,400,000 per adult and comes with all food and drink. You can book it directly on Saigon 2CV-Tour.
Saigon 2CV-Tour
Website: saigon2cvtour.com
Facebook: Saigon2CVTour
Pinterest: ubiquest
Instagram: saigon2cvtour
Email: [email protected]
Disclosure
Saigon 2CV-Tour gave us complimentary tours in exchange for an honest account of the experience. As always, all words, thoughts, and opinions expressed in this post are mine and mine alone.