Among all the cities we've visited in Vietnam, Hoi An made the best first impression. It wasn't our favorite city but it was the most impactful. And a lot of that had to do with the Ancient Town.
Unlike Hanoi or Ho Chi Minh City, Hoi An is small and provincial in feel. It's a UNESCO World Heritage Site that provides a fascinating glimpse into what port life was like in 18th century Vietnam.
Walk around the Ancient Town and you'll find a well-preserved labyrinth of shophouses and pagodas with paper lanterns zigzagging from building to building. It's lovely at any time of the day but at night, it turns into something magical.
If you're visiting Hoi An for the first time, then this detailed travel guide will tell you everything you need to know to plan your trip.
Save This on Pinterest!
No time to read this now? Click on the red save button and pin it for later!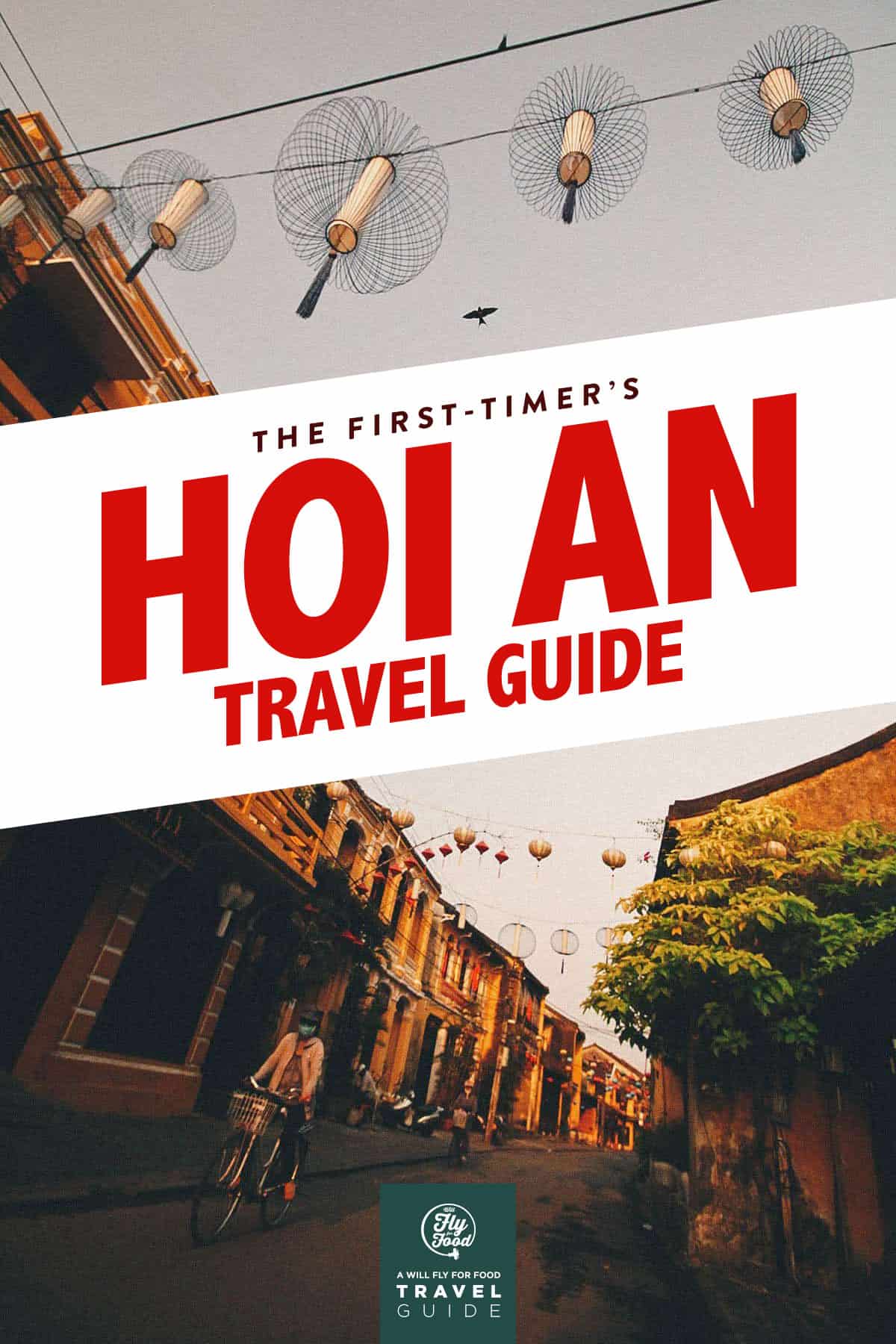 GUIDE TABLE OF CONTENTS
TRAVEL RESTRICTIONS
Because of the current global situation, travel guidelines have been changing often. Our friends at SafetyWing created a website that lists detailed information on travel restrictions around the globe.
Before planning a trip to Hoi An, be sure to check the Flatten the Curve website for information on travel restrictions to Vietnam.
HOW TO APPLY FOR AN E-VISA TO VIETNAM
Depending on which passport you carry, you may need an e-visa and medical declaration to visit Vietnam.
I'm a Philippine passport holder so I can visit Vietnam visa-free for up to 21 days. However, I wanted to stay longer so I applied for an e-visa through iVisa.com which allowed me to stay for up to 30 days. I paid USD 45 and the approval process took about 2-3 days.
Requirements and fees may differ depending on your passport, so you can visit iVisa.com for more information and to apply.
HOI AN AT A GLANCE
Hoi An is a city in Quang Nam Province in central Vietnam. It's a UNESCO World Heritage Site that was one of the most heavily-frequented trading ports in Southeast Asia.
During that time, many foreign merchants lived in Hoi An, mostly Chinese and Japanese then later Europeans, creating a unique fusion of cultures that can't be seen anywhere else in Vietnam. The name Hoi An translates to "peaceful meeting place".
Hoi An's prominence as a trading port fell sharply at the end of the 18th century. This was due in part to the silting up of the Thu Bon River as well as the rise of nearby Da Nang as the new center of trade in Central Vietnam. Fading into a forgotten backwater, Hoi An has been left largely untouched by the changes to Vietnam over the next 200 years.
Today, Hoi An is a well-preserved community of merchant houses, temples, and ancient tea warehouses that harken back to its days of prominence as a trading port.
BEST TIME TO VISIT
Unlike Northern Vietnam which sees climate changes akin to the four seasons, Hoi An truly has just two seasons – dry (Feb-Aug) and wet (Sept-Jan). Weather-wise, the best time to visit Hoi An is from February till April.
I've been to Hoi An twice – the first time in late April and the second in early September. The weather was great on both trips. I was expecting it to be rainy in September but luckily for me, it wasn't. Like any Southeast Asian city, it would get hot during the day but it wasn't intolerable.
DRY SEASON: Hoi An's dry season is from February to August. It's hottest from June till August when temperatures often reach 35°C (95°F). February to April is the driest time of the year and the best months to visit Hoi An. Humidity is low and temperatures are relatively mild.
WET SEASON: The rainy season in Hoi An is from September until January. Heavy showers are frequent which may come with typhoons and flooding, especially in October and November. These aren't the best months to visit Hoi An.
Another factor to consider when planning a trip to Hoi An is the Tet holiday or Vietnamese New Year celebration. This happens sometime between the end of January and early February. Many restaurants and shops will be closed during this time and hotel rates will be at their highest.
Climate: Annual Monthly Weather in Hoi An
For more on Hoi An's weather, check out these climate graphs from weather-and-climate.com. I've also created average temperature and annual rainfall graphs with the most ideal months to visit marked in orange.
Average Temperature


Annual Rainfall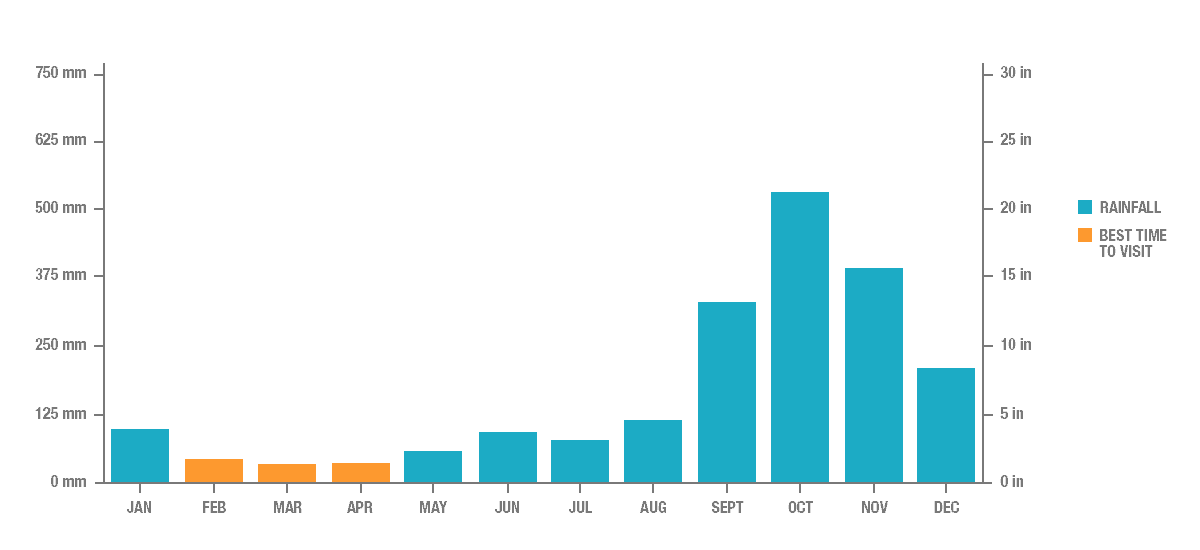 TRAVELING TO HOI AN
You can get to Hoi An by plane, bus, or train. On our first trip, we flew from Hanoi to Da Nang International Airport (DAD) then arranged for a private transfer to take us to our hotel in Hoi An. On my second, I took a sleeper bus directly into Hoi An from Hue.
I'll describe each method in more detail below but you can go to Bookaway to check for transportation options to Hoi An from wherever you are.
By Plane
If you're flying into Da Nang, then you'll need to arrange for an airport transfer into Hoi An. Da Nang Airport is about 30 km away so it'll take about 45 minutes to get there by car.
PRIVATE TRANSFER: This is the easiest and fastest way to get to Hoi An from Da Nang Airport. We arranged for a private transfer through our hotel but you can also book it through Bookaway.
TAXI: Based on what I've read, it'll cost you at least VND 350,000 to get to Hoi An from Da Nang Airport via taxi. Going by taxi is fine, but you'll probably pay less if you arrange for a private transfer.
SHUTTLE: A cheaper alternative would be to take a shared shuttle bus transfer from Da Nang Airport to Hoi An. It costs about VND 130,000 each way and you can book it in advance through Bookaway.
By Bus
Sleeper buses in Vietnam are awesome. The seats are reclined to such a degree that you're lying almost flat. The more luxurious sleeper buses even have individual TVs and curtains for privacy. They're my preferred means of transport for shorter distances in Vietnam.
Pictured below is the sleeper bus I took from Hue to Hoi An. Unlike planes and trains that can only take you as far as Da Nang, buses can take you directly into Hoi An. Not only is it the most comfortable option, but it's also the most convenient.
Taking a bus to Hoi An may or may not be feasible depending on where you are in Vietnam, so you can check for available routes on Bookaway.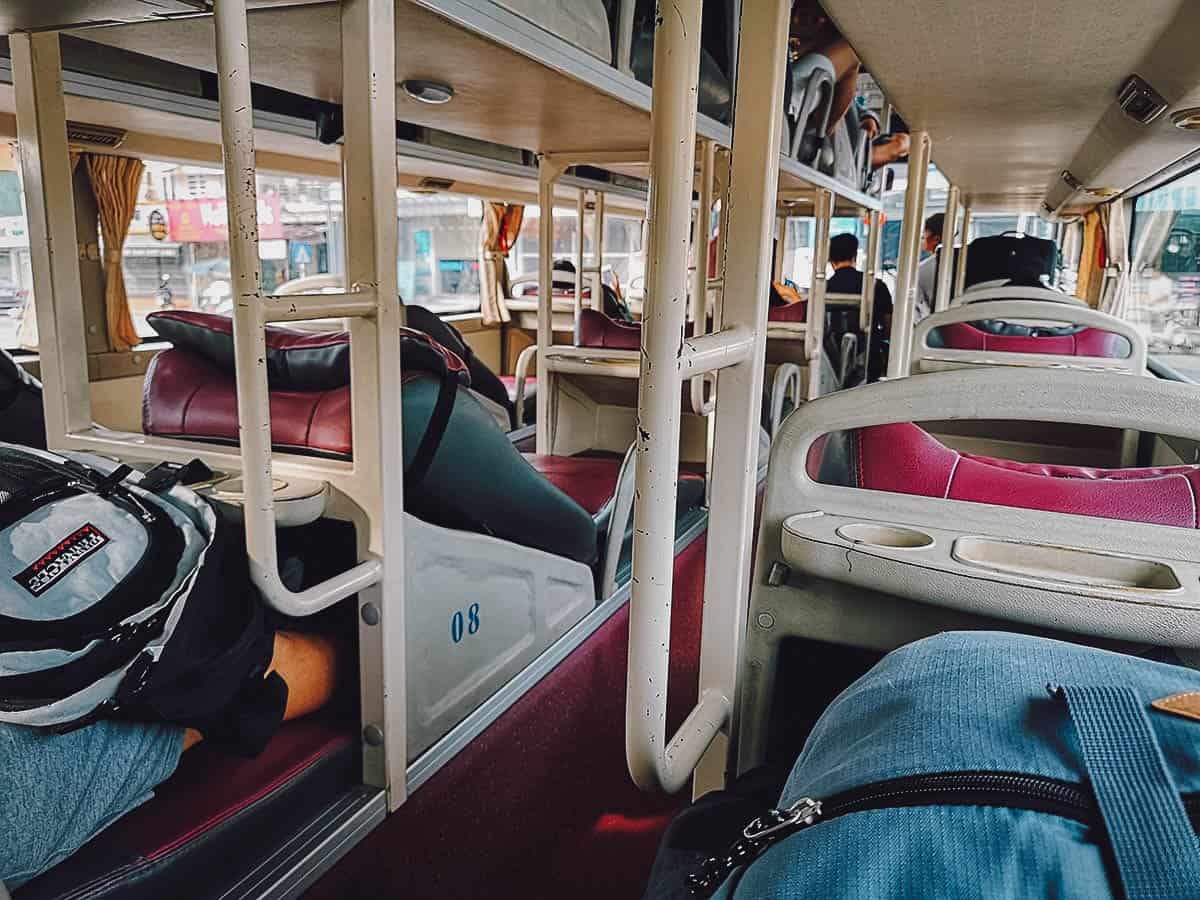 By Train
I haven't taken a train in Vietnam but I've read that they generally aren't as comfortable as buses. However, they're available for long distances and are cheaper than flights so they may be a viable option if you aren't in a rush.
You can check for available train routes to Da Nang Railway Station on Bookaway. From there, you can take a taxi or arrange for a private transfer to Hoi An through your hotel. It should cost about the same as an airport transfer.
WHERE TO EXCHANGE CURRENCY
The unit of currency in Vietnam is the Vietnamese Dong (VND).
Banks and gold/jewelry shops generally give the best exchange rates in Vietnam. We didn't need to exchange currency in Hoi An but I read that the gold/jewelry shops around Hoi An Central Market give favorable rates. Just shop around and look for the best rate.
You can exchange currency at hotels and some restaurants too, but the rates aren't as favorable. The same goes for the airport. If you'll be arriving at Da Nang International Airport and need to exchange currency, then change a small amount there, just enough to get you to your hotel, and change the rest at a gold shop near the Central Market.
A better option perhaps would be to withdraw VND from an ATM. I find myself doing this more often these days. Rates are comparable and I don't have to bring too much foreign currency with me. Just make sure to advise your bank that you plan on using your ATM card overseas so you don't run into any issues. In my experience, my ATM card works in some machines but not in others.
NOTE: Some ATMs may ask if you'd like to proceed "with or without conversion". Always proceed WITHOUT conversion so your local bank does the conversion. Otherwise, the foreign bank operating the ATM will perform the conversion, usually at terrible rates. According to this article, the difference in rates can be as high as 10%.
BEST AREA TO STAY
If it's your first trip to Hoi An, then the Ancient Town is the best place for you to stay. It's right at the heart of the tourist area and puts you closest to many of Hoi An's top attractions and restaurants.
Listed below are some of the most convenient areas to stay in Hoi An, along with a color-coded map to help you better understand where each of these areas are. Click on the link for an interactive version of the map. (Please note that marked areas are approximations only)
RED – Hoi An Ancient Town
YELLOW – Minh An
BLUE – Cam Pho
GREEN – Cam Chau
ORANGE – Cam Thanh
PURPLE – Cam An
I'll provide targeted links under each description but you can book accommodations in Hoi An through Booking.com or Agoda.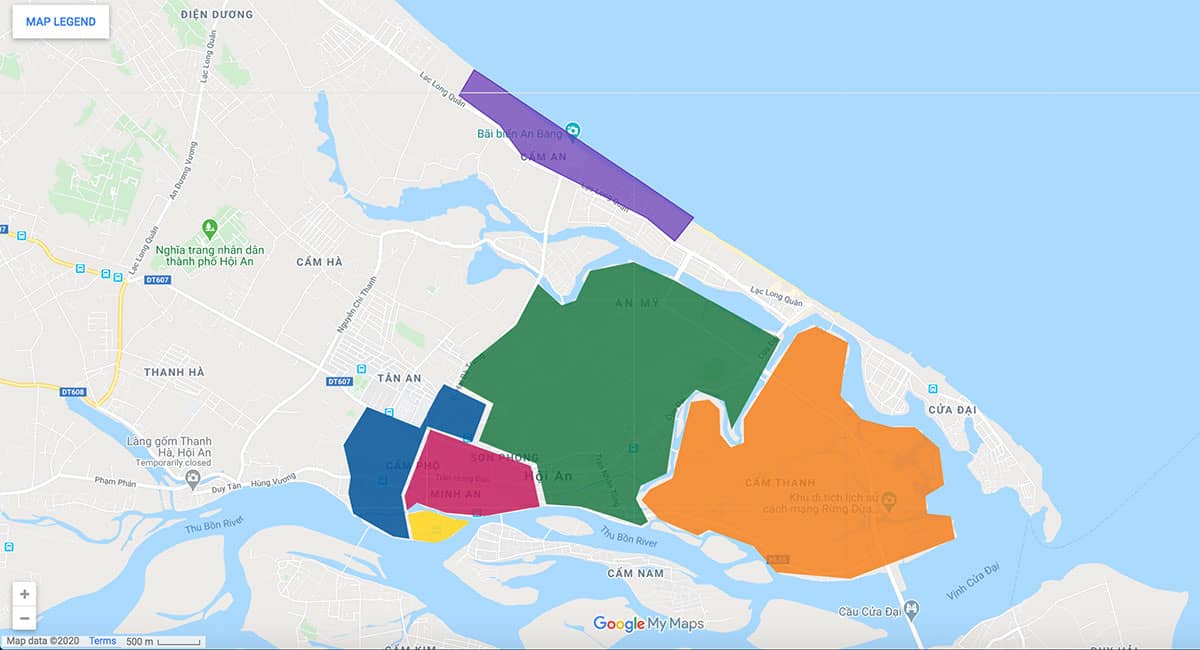 HOI AN ANCIENT TOWN
The Ancient Town is the historic and cultural heart of Hoi An. It's a UNESCO World Heritage Site and where you'll find the city's well-preserved complex of heritage houses and pagodas.
If you stay in the Ancient Town, then you probably won't need to do much walking since most of the city's top attractions are located here. It's home to plenty of shops, cafes, and restaurants as well.
As convenient as the Ancient Town is, it's the most touristy part of Hoi An so expect it to be crowded, especially in the evenings when the lanterns are lit up. You can search for accommodations in the Ancient Town on Booking.com.
MINH AN
I'm not an expert on Hoi An's administrative divisions but Minh An appears to consist of a small section of the Ancient Town and the eastern half of An Hoi, the small island across the Bridge of Lights.
Whatever the boundaries may be, Minh An is where you'll find Hoi An Night Market and a good number of hotel options. This is as convenient an area to stay in Hoi An as the Ancient Town. You can search for accommodations in Minh An on Booking.com or Agoda.
CAM PHO: Riverlife Homestay
Looking at a map, Cam Pho is comprised of the western half of An Hoi Island and the area directly west and north of the Ancient Town. It's described as a good place to stay for budget travelers with its wide range of cheaper accommodations.
I stayed on the An Hoi part of Cam Pho on my most recent trip to Hoi An. It doesn't have as many commercial establishments but it's much quieter than the Minh An half of the island.
I stayed at Riverlife Homestay which is a clean and comfortable boutique inn run by a lovely Vietnamese family. They have a roofdeck offering great views of the Thu Bon River.
You can book a room at Riverlife Homestay on Booking.com or Agoda. If you'd like to stay in Cam Pho but don't feel this is the right hotel for you, then you can search for alternate listing via these links: Booking.com | Agoda.
CAM CHAU: Ngan Phu Villa
Cam Chau is where we stayed on our first trip to Hoi An. It refers to the quieter, more residential area between the Ancient Town and the beach. If you'd prefer a more authentic experience in Hoi An, then Cam Chau is a good place to stay.
We stayed at Ngan Phu Villa which is a lovely bed and breakfast with big rooms and a swimming pool in a relaxed garden setting. We had free use of the hotel's bicycles which was helpful because it's located a bit far from the Ancient Town, about 20 minutes away on foot.
You can book a room at Ngan Phu Villa on Booking.com or Agoda. If you'd like to stay at a different hotel in Cam Chau, then you can check these links for alternate listings: Booking.com | Agoda. For a more convenient stay, I suggest finding one closer to the Ancient Town.
CAM THANH
I haven't explored this area but Cam Thanh is described as an ideal place to stay for people looking for a more rural experience in Hoi An. It may be a bit far from the heart of town but if that's what you want, then Cam Thanh sounds like a good place to be.
Based on what I've read, many expat families live in Cam Thanh. It's home to waterways and rice paddies and a good number of authentic local eateries, cafes, and temples. You can search for accommodations in Cam Thanh on Booking.com or Agoda.
CAM AN
If you'd like to have a beach holiday in Hoi An, then Cam An is the ideal place to stay. It's home to An Bang, Hoi An's most popular beach.
An Bang Beach is over 6 km from the heart of town so you'll need to arrange for transportation to get to the Ancient Town. Luckily, Cam An is home to plenty of restaurant options so food won't be a problem. You can search for accommodations in Cam An on Booking.com or Agoda.
THINGS TO DO
1. Explore Hoi An Ancient Town
Hoi An Ancient Town is stunning. It's beautiful during the day with its rows of preserved shophouses and dangling paper lanterns. But at night, when the lanterns are illuminated and the streets come alive with people, it feels almost like a dream.
It isn't enclosed but you technically have to pay VND 120,000 to enter the Ancient Town area. It's like an archaeological fee that includes 5 passes to any of the 22 sightseeing attractions in town like the Japanese Bridge and Phuoc Kien Assembly Hall.
There's lots to see and do in the Ancient Town so you should dedicate at least half a day to this UNESCO World Heritage Site. You can refer to my article on Hoi An Ancient Town for more pictures and information.
It's easy enough to explore the Ancient Town on your own but if you'd like to go on a guided tour, then you can book one on Klook or Get Your Guide.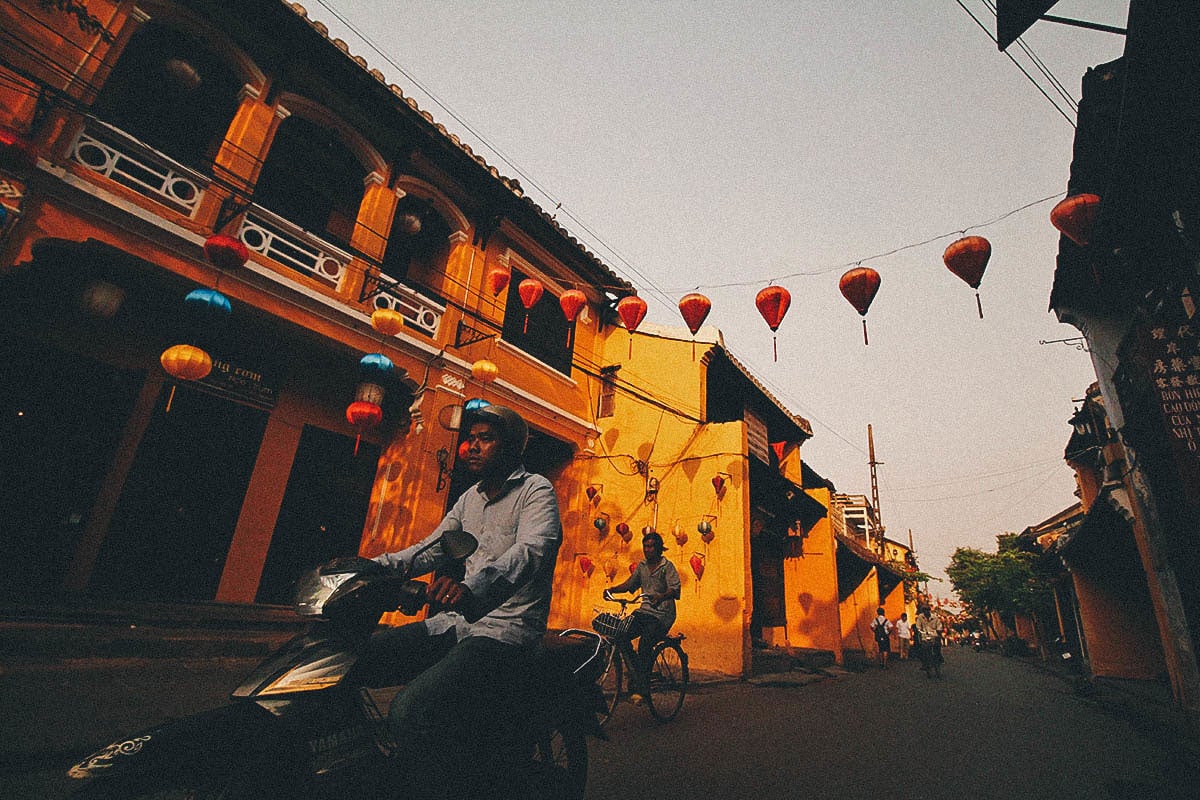 Hoi An Ancient Town Ticket: VND 120,000
2. Take a Cooking Class
Taking a cooking class is one of the best things you can do in Hoi An. It's a lot of fun and a great way to learn about Vietnamese cuisine.
Cooking classes are popular in Hoi An so you'll find many hotels and restaurants offering them throughout the city. We booked an excellent class at Thuan Tinh Island Cooking School where we learned to make classic Vietnamese dishes like goi cuon, pho, and banh xeo.
Check out my article on Thuan Tinh Island Cooking School for more pictures and information. You can also book a Hoi An cooking class through Cookly.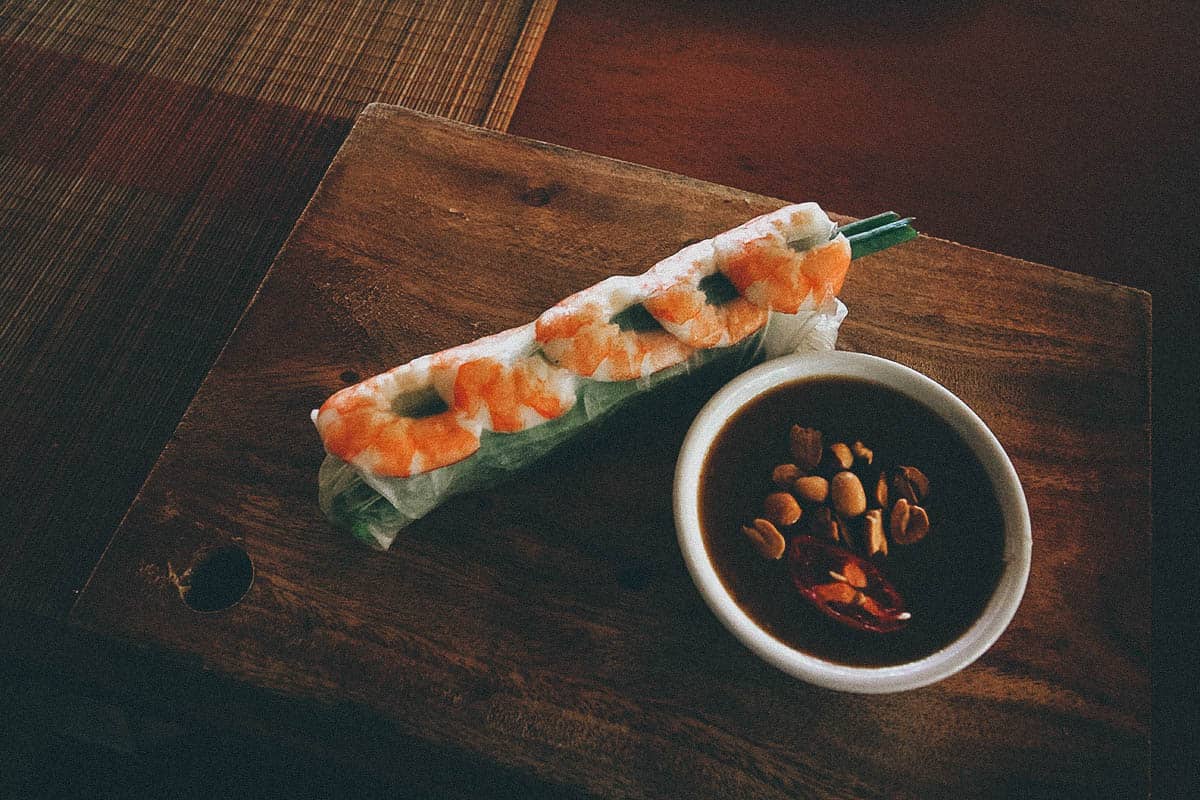 3. Visit Hoi An Central Market
No matter where you are, visiting a market is always fun. It gives you a glimpse into what everyday life is like for the locals.
Located in the Ancient Town, Hoi An Central Market is a typical Southeast Asian market selling different types of meat, seafood, noodles, spices, and fresh produce.
It stays open till late afternoon but it's best experienced early in the morning when it's most active. Wake up early enough and you may catch the bartering of fish that typically starts at around 7AM.
If you're looking for a cheap place to have lunch, inside the market are several stalls selling different types of cooked Vietnamese food.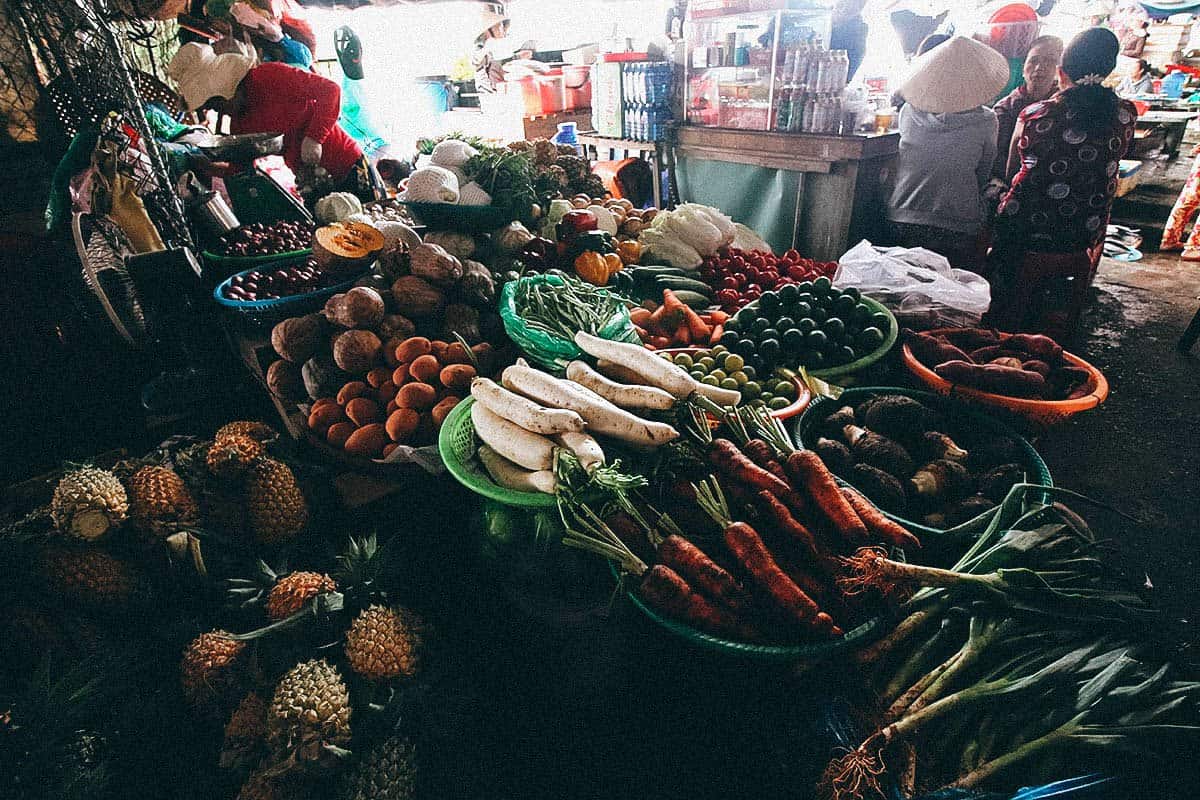 Operating Hours: 5AM-4PM, daily
4. Ride a Boat
You'll find plenty of tourists cruising the Thu Bon River on these wooden canoes around sunset and early in the evening. I haven't done it but it must be a great way of experiencing the Ancient Town when it's illuminated at night.
To make it even more magical, hundreds of small paper lanterns with candles are released into the Thu Bon every evening to create a river of drifting lights. It looks amazing from the shore so I can only imagine how cool it must look from a canoe.
I believe it costs around VND 100,000 per hour to go on a Thu Bon River cruise, but I'm not sure.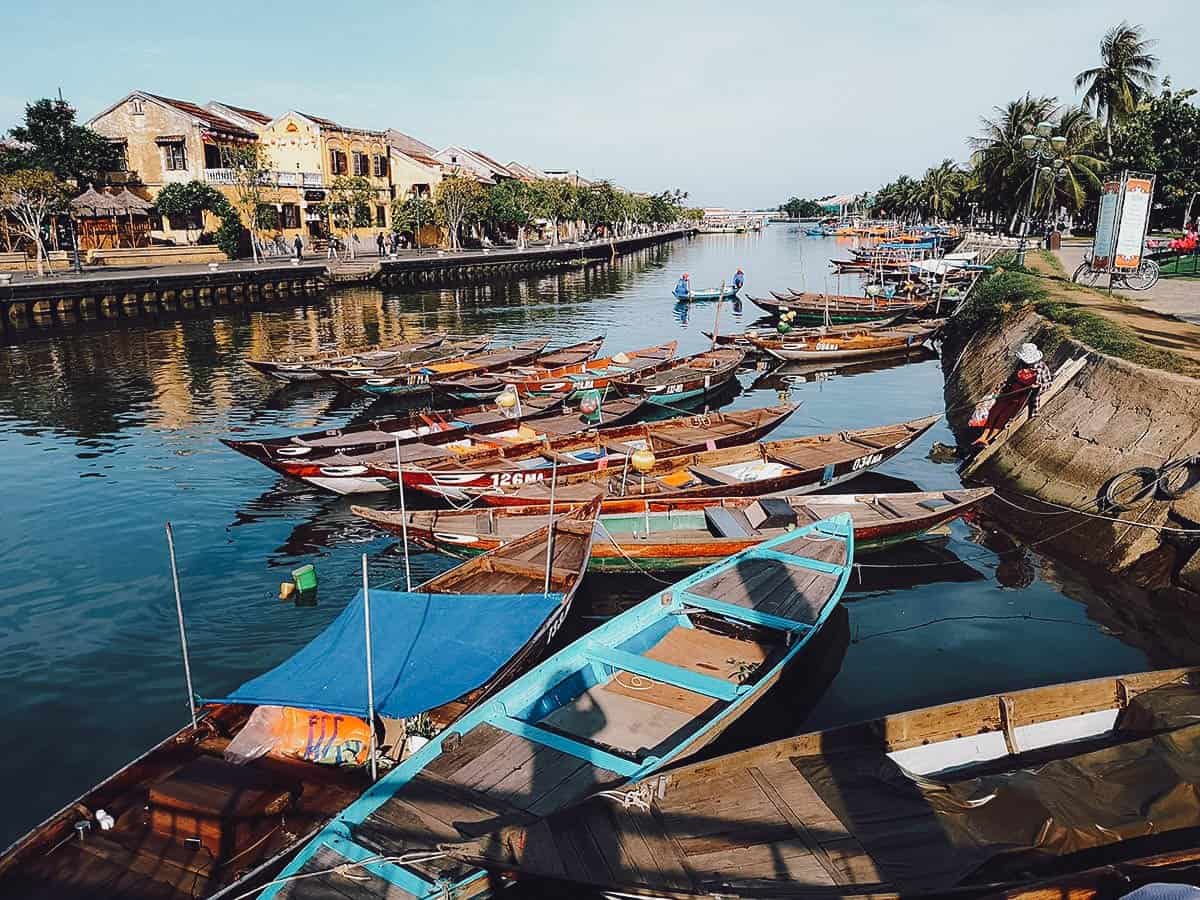 As beautiful as it looks, a Thu Bon River evening cruise is fairly touristy. If you'd prefer to do something more local, then you may want to ride one of these basket boats instead.
These round basket boats have been in use since French times and have become an iconic symbol of Vietnam. It's definitely a more unique way of experiencing the waterways of Hoi An. You can book a basket boat tour on Klook or Get Your Guide.

Photo by Pinglabel via Shutterstock
5. Visit Tra Que Vegetable Village
I only learned about Tra Que Village after my most recent trip to Hoi An which is a shame because I would have loved to visit this place.
Tra Que Village is a 40-hectare island known for growing vegetables without the use of pesticides, GMOs, or any harsh chemicals. They don't even use manure as a fertilizer.
Instead, they grow their vegetables using an all-natural algae found exclusively in the village's lagoon. It results in produce that's described as being the freshest and cleanest in Hoi An.
Tra Que Village is located about 3.5 km north of the Ancient Town so it's easy to get there on your own by bicycle or on foot. There are about ten restaurants in the village, most of which offer cooking classes. If you'd prefer to go on a guided tour, then you can book one through Klook or Get Your Guide.

Photo by Jean-Francois Perigois via Shutterstock
6. Explore the Night Market
After marveling at the river of paper lanterns from the Bridge of Lights, you may want to cross over to An Hoi Island and explore Hoi An Night Market. It's a typical Asian night market that opens from 4:30 till 10PM every evening.
The night market area in Minh An is one of the liveliest neighborhoods in Hoi An. It's a fun atmosphere with plenty of stalls selling street food, drinks, and souvenirs. It's a great place to unwind after a day of sightseeing.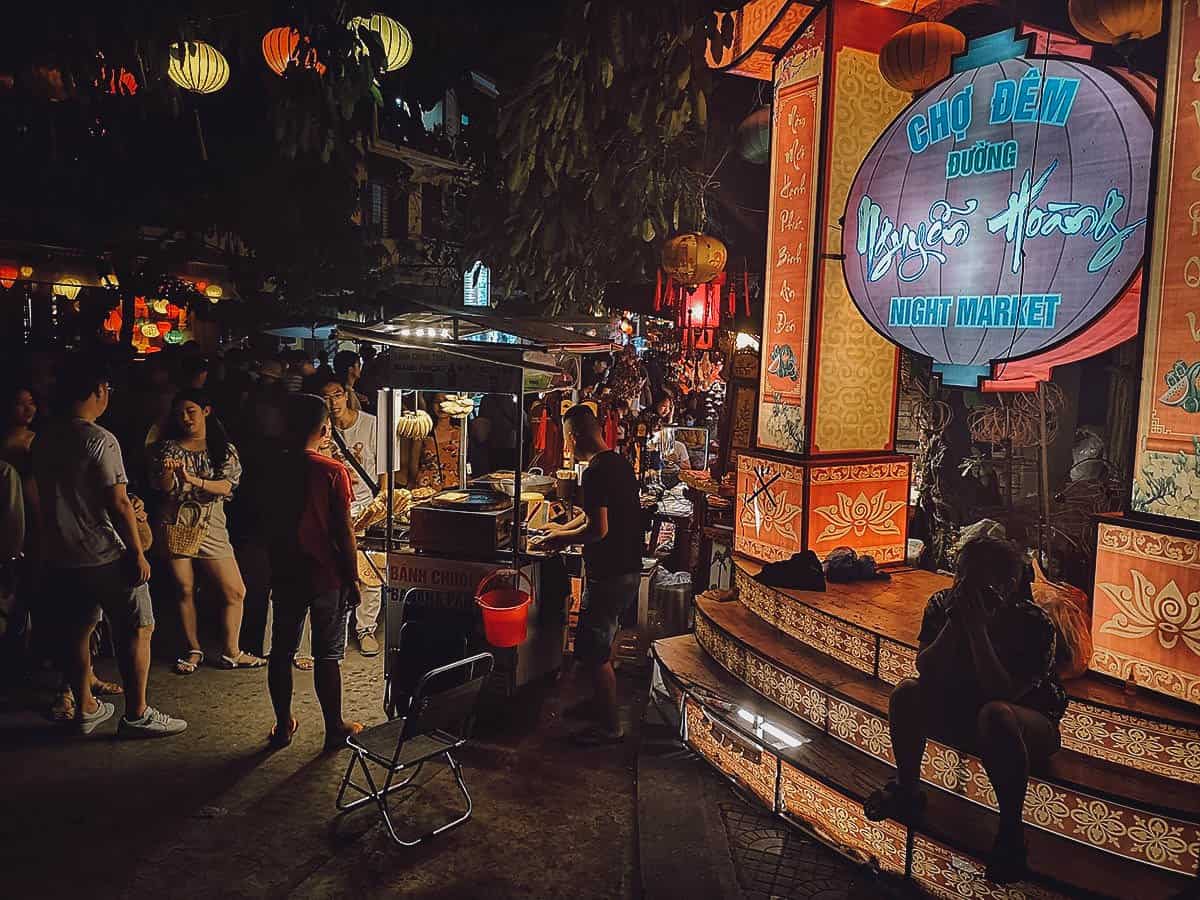 Operating Hours: 4:30-10PM, daily
7. Have a Suit or Dress Custom-Tailored in 24 Hours
One of the most popular things to do in Hoi An is to get a dress or suit custom-tailored. The tailoring tradition goes back many generations in Hoi An so you'll find hundreds of tailor shops that can produce exact replicas of what you want in 24-48 hours.
I've read that not all tailors are honest so I suggest asking your hotel for recommendations. You can also refer to this TripAdvisor post on Hoi An tailors for guidance.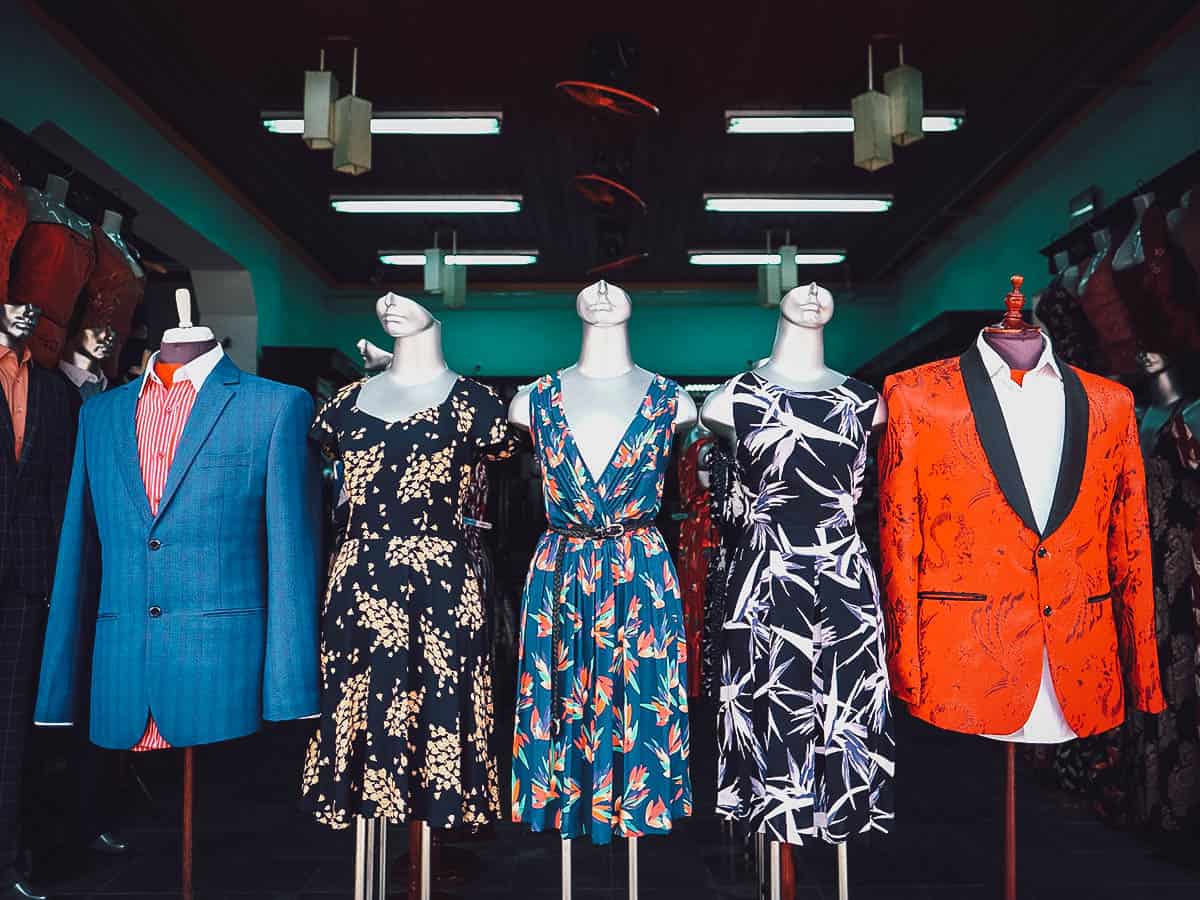 Photo by Tee11 via Shutterstock
8. Experience and Give Back with Backstreet Academy
If you'd like to have authentic experiences that leave a lasting impact on local communities, then you may be interested in booking an activity with Backstreet Academy.
They're one of the pioneers of impact travel, a movement that aims to give tourists genuine experiences that also benefit the local communities.
In Hoi An, you can learn how to fish from a real fisherman or join a crafting workshop at a famous wood-working village with up to 80% of tour revenues going back to the communities. Follow the link for a list of Backstreet Academy experiences in Hoi An.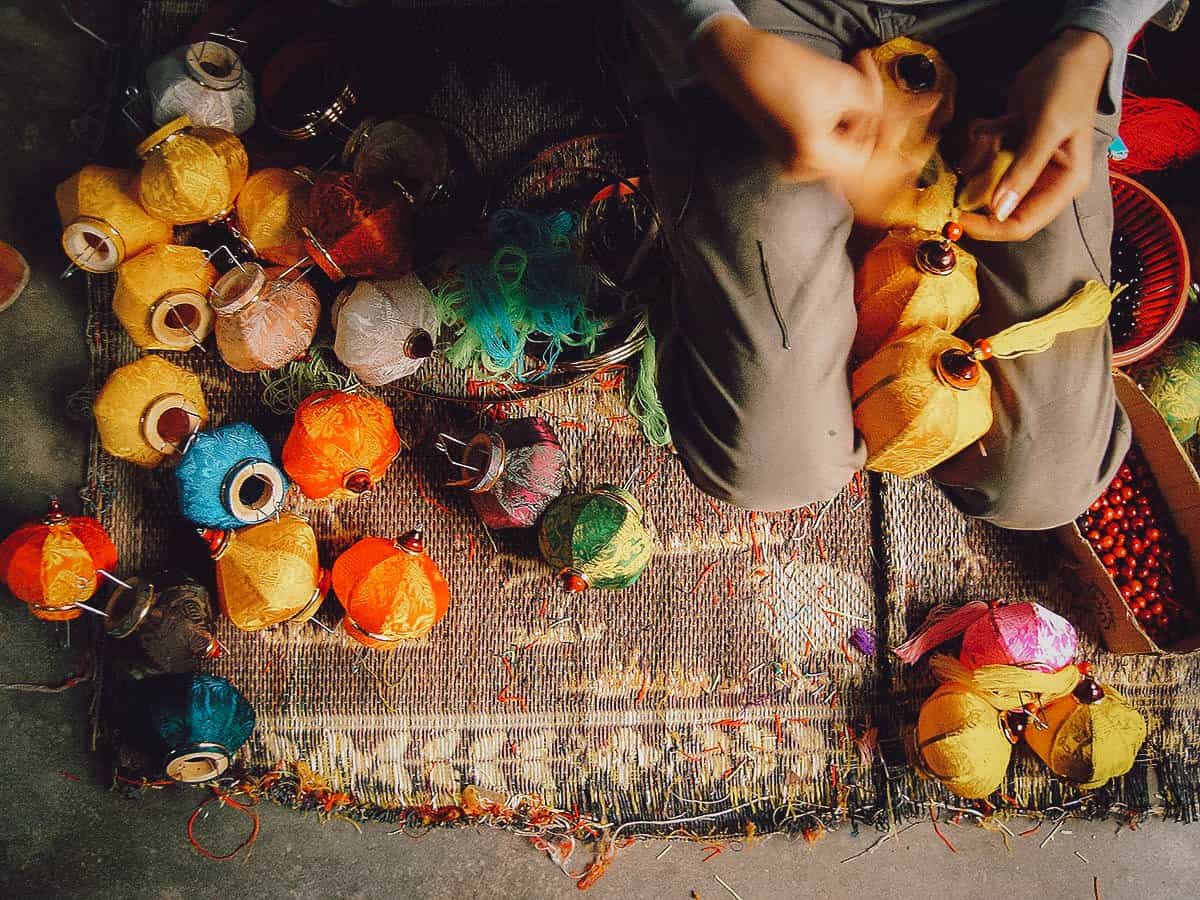 Photo by Paitoon Keatkeereerut via Shutterstock
DAY TRIPS FROM HOI AN
1. My Son Sanctuary
My Son Sanctuary is the most popular day trip you can make from Hoi An. Often referred to as a "mini Angkor Wat", it's a UNESCO World Heritage Site that was built by the Cham people of Vietnam between the 4th and 14th centuries.
If you enjoy visiting temples and ancient ruins, then My Son Sanctuary makes for an interesting day trip from Hoi An. Check out my article on My Son Sanctuary for more pictures and information.
We booked a private tour through Simply Vietnam Travel but there are group tours you can book through Klook or Get Your Guide.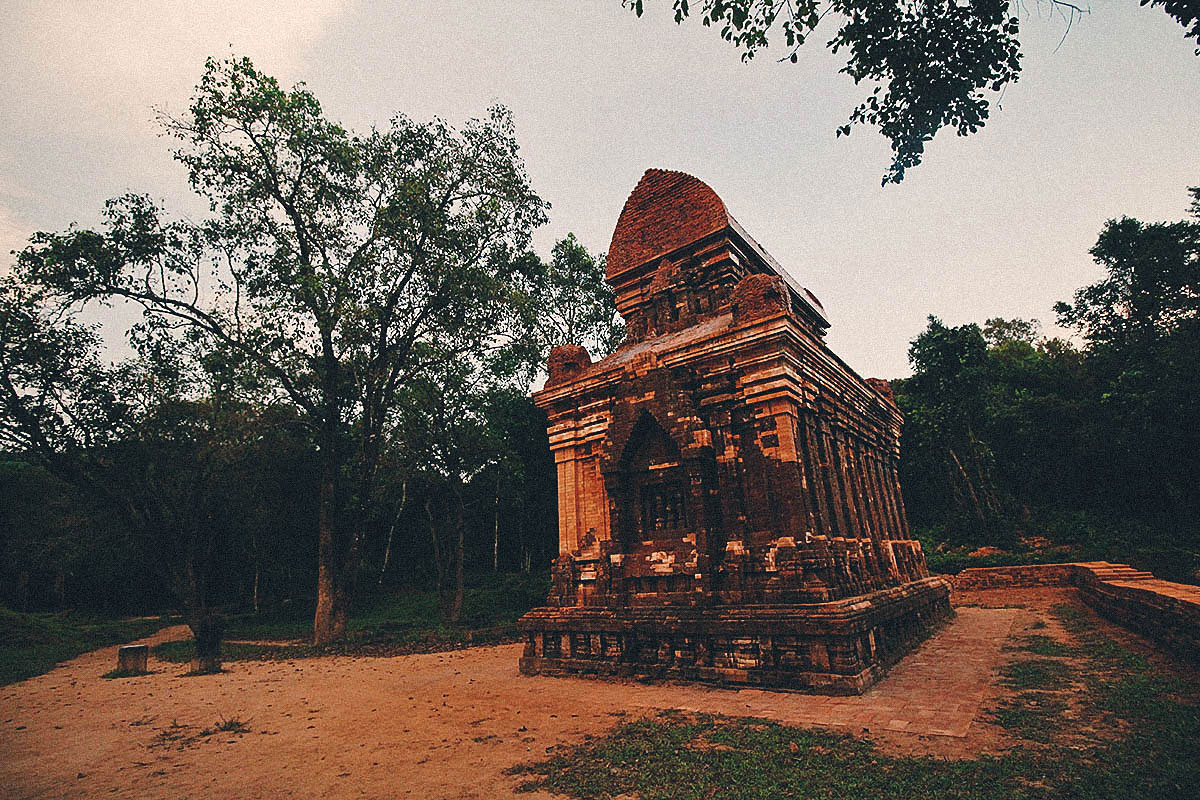 2. Golden Bridge
This unique pedestrian bridge made its rounds on social media not too long ago. It features a pair of giant stone hands that seemingly hold up a 150-meter-long (492 ft) footbridge at the top of Ba Na Hills.
The Golden Bridge is the newest addition to the Sun World Ba Na Hills amusement park, which is located about 29 km (18 miles) west of Da Nang. The bridge is just one of many attractions at the park so you could conceivably spend the entire day there.
The easiest way to get there is by arranging for private round trip transfers or booking a tour from Hoi An. You can do so on Klook or Get Your Guide.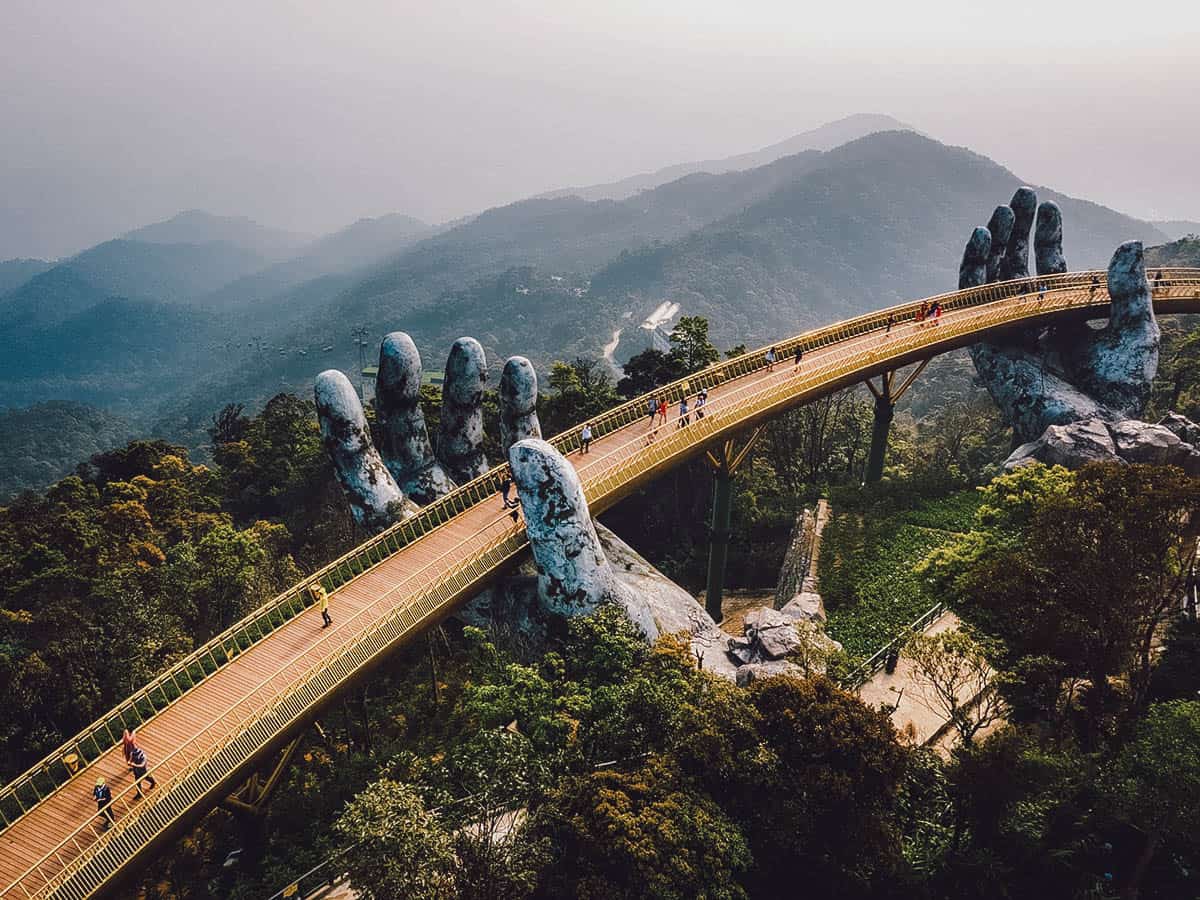 Photo by Hien Phung Thu via Shutterstock
3. Marble Mountains
The Marble Mountains are a cluster of five limestone and marble hills in Da Nang. Named after the five elements, the hills are located in a coastal area renowned for stone-cutting and sculpture.
If you arrived in Hoi An via Da Nang Airport, then you probably noticed large marble statues on display along the coastal highway. From what I understand, these used to be carved from rock extracted from the Marble Mountains but not anymore. To preserve the mountains, the raw material is now sourced from quarries in Quang Nam.
The Marble Mountains are located about 20 km north of the Ancient Town, making them an easy day trip from Hoi An. Each hill has caves, tunnels, and Buddhist sanctuaries you can explore.
You can rent a motorbike and explore the Marble Mountains on your own or you can book a guided tour through Klook or Get Your Guide.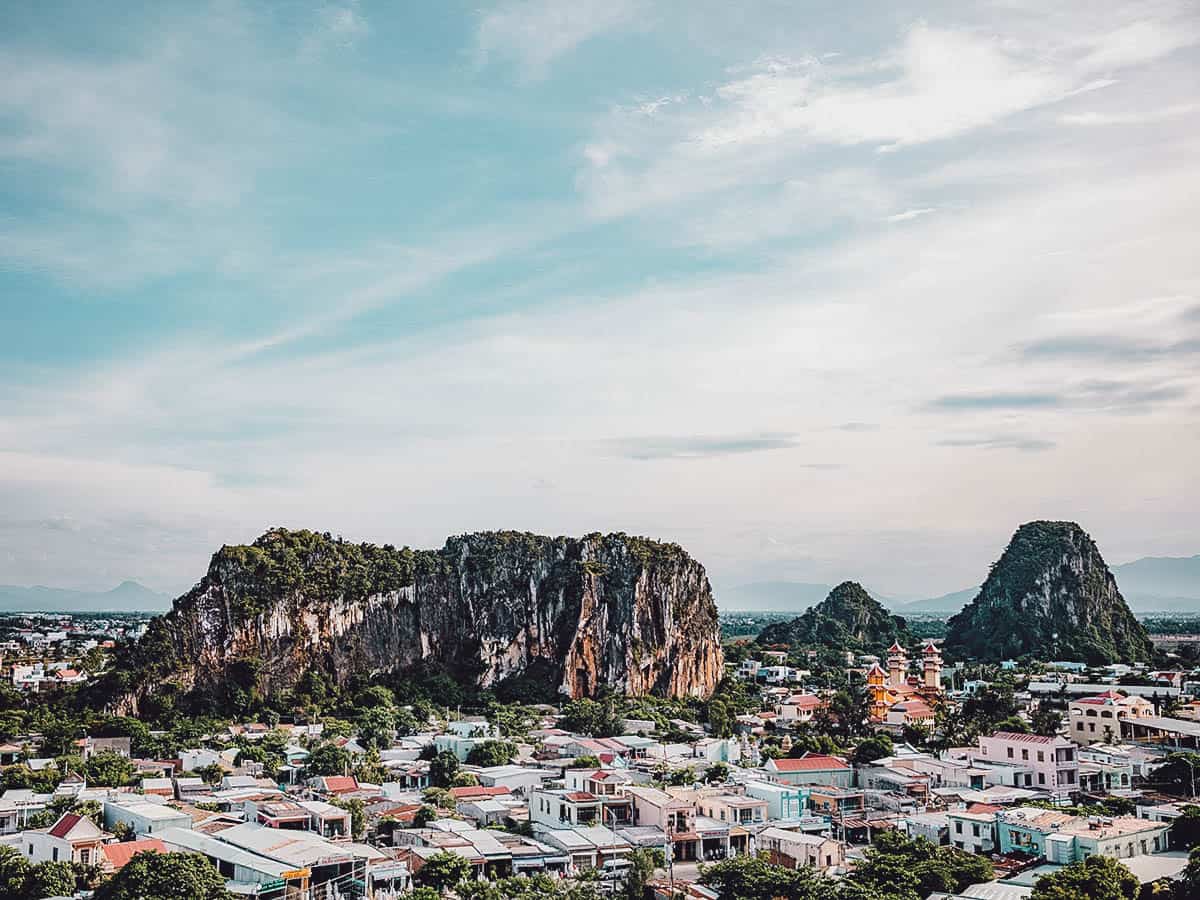 Photo by StarvingLele via Shutterstock
4. Cham Islands
The Cham Islands are a cluster of eight small islands about 9 nautical miles (16.7 km) off the coast of Hoi An. It's a UNESCO World Biosphere Reserve offering plenty of opportunities for watersports, snorkeling, scuba diving, or just laying on the beach.
The Cham Islands are best visited from March till September when the weather is sunny and water conditions are favorable. For scuba diving and snorkeling, June till August is ideal.
The Cham Islands are accessible by public ferry or speedboat from Cua Dai Pier in Cam An, but the easier and more popular option may be to book an organized day trip through Klook or Get Your Guide.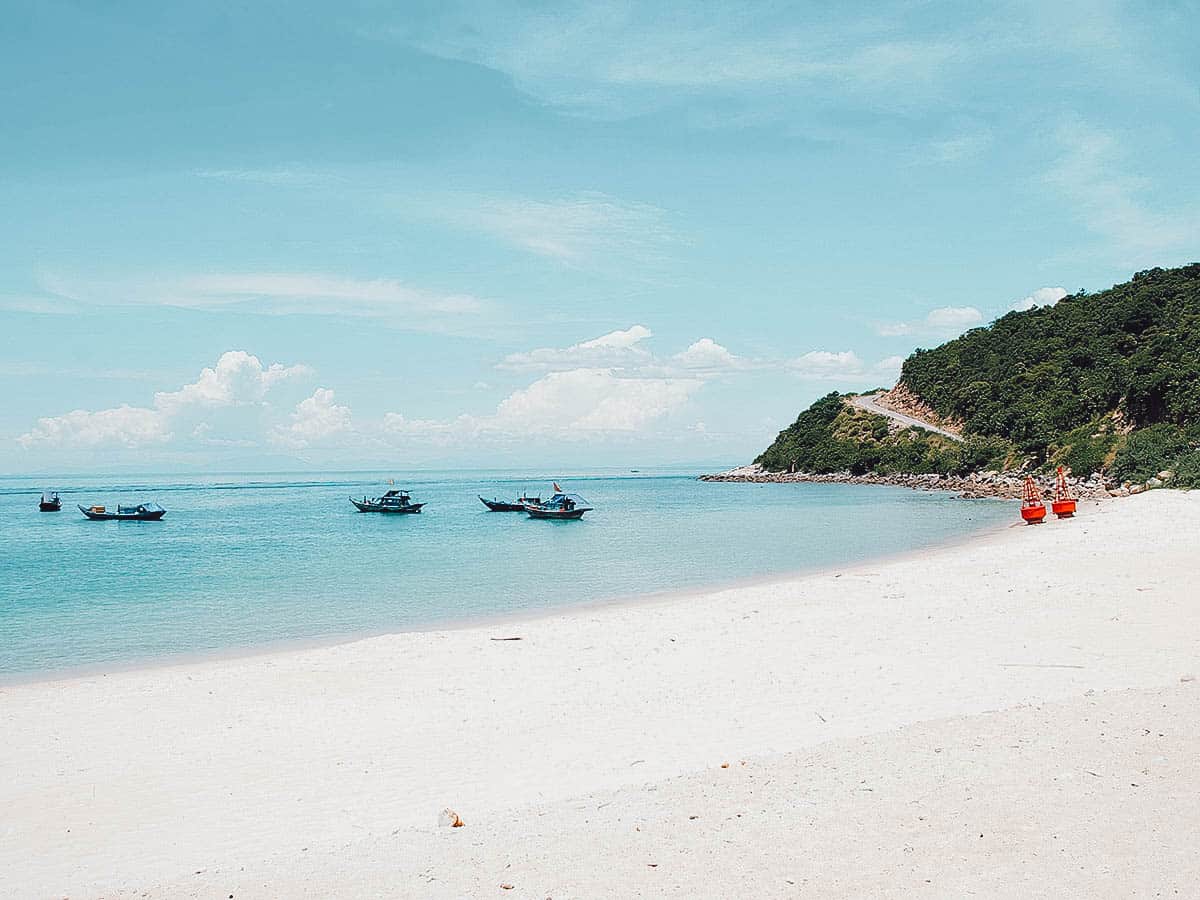 Photo by avtk via Shutterstock
5. Bach Ma National Park
Bach Ma National Park is a protected area about 2.5 hrs north of Hoi An. It's a former French-era hill station covering an area of about 220 sq km.
If you're staying long enough in Hoi An and would like to do a day of trekking, then Bach Ma is the place to do it. It's home to a lush jungle with lakes, waterfalls, and an abundance of plant and animal life.
You can arrange for an organized trekking trip to Bach Ma National Park from Hoi An through Klook or Get Your Guide.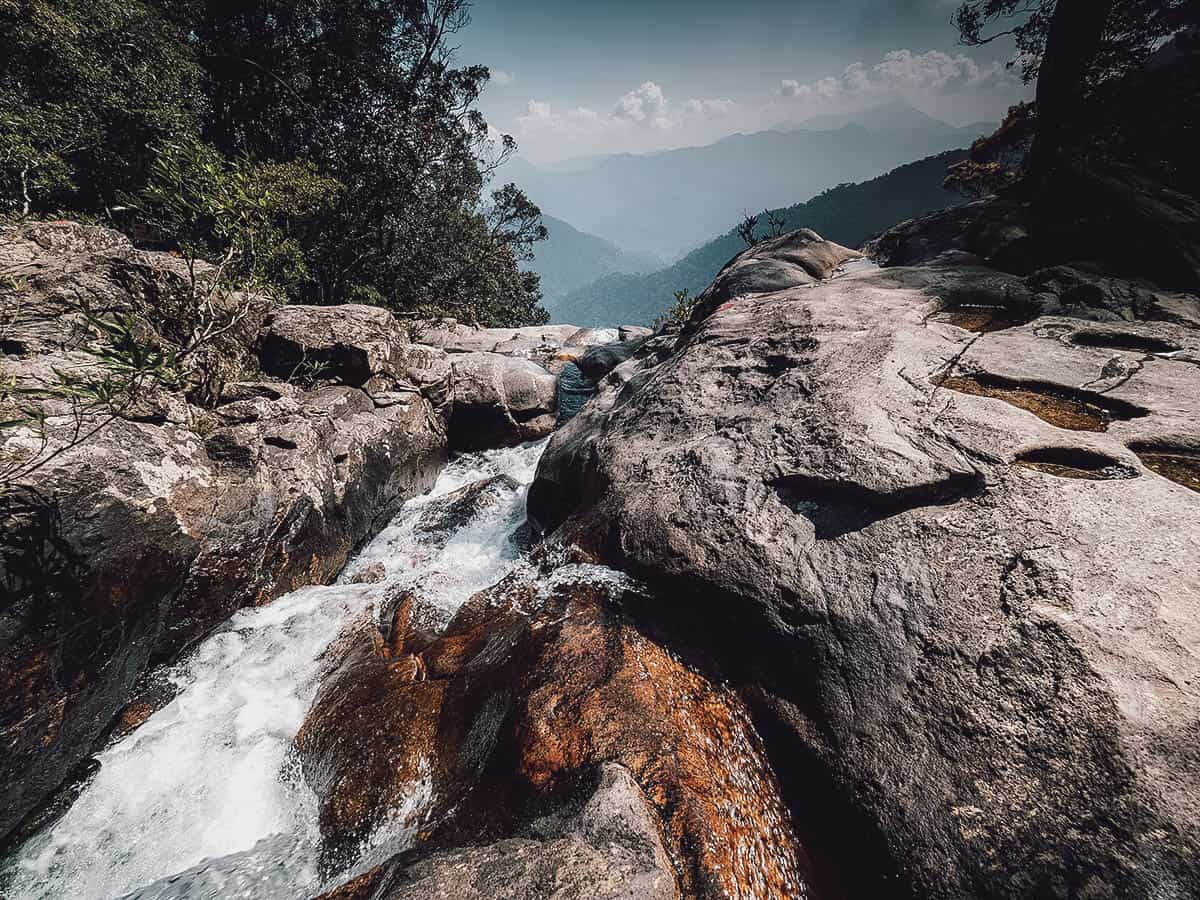 Photo by FoTonBuijs via Shutterstock
6. Hue
Less than 3 hours north of Hoi An is the imperial city of Hue. It served as the seat of the Nguyen Dynasty and Vietnam's capital from 1802–1945.
There are plenty of things to see and do in Hue which make it a worthwhile day trip from Hoi An, in spite of the distance. Though if you have more time in Vietnam, then Hue should be its own trip. Check out our Hue travel guide for more information.
Highlights include the Citadel, the royal tombs, and some of the best and most interesting regional food I've tasted in Vietnam. You can book a guided tour to Hue through Klook or Get Your Guide.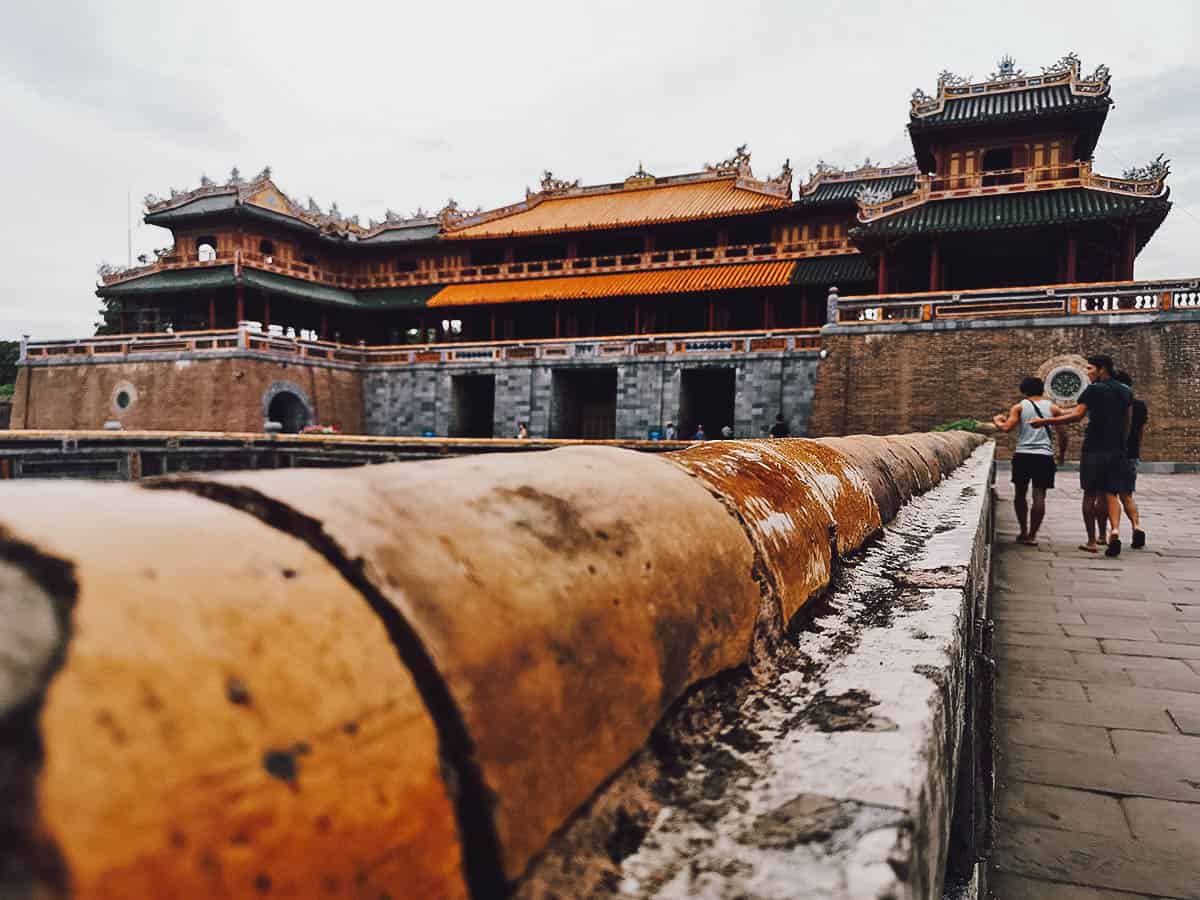 VIETNAMESE FOOD GUIDE
Vietnamese food is one of our favorites. If you'd like to learn more about Vietnamese cuisine, then check out our Vietnamese food guide for a list of the best dishes to eat in Vietnam.
From banh cuon in Hanoi to cao lau in Hoi An to com tam in Ho Chi Minh City, you'll be pleased to find that Vietnamese food is every bit as diverse as its landscape.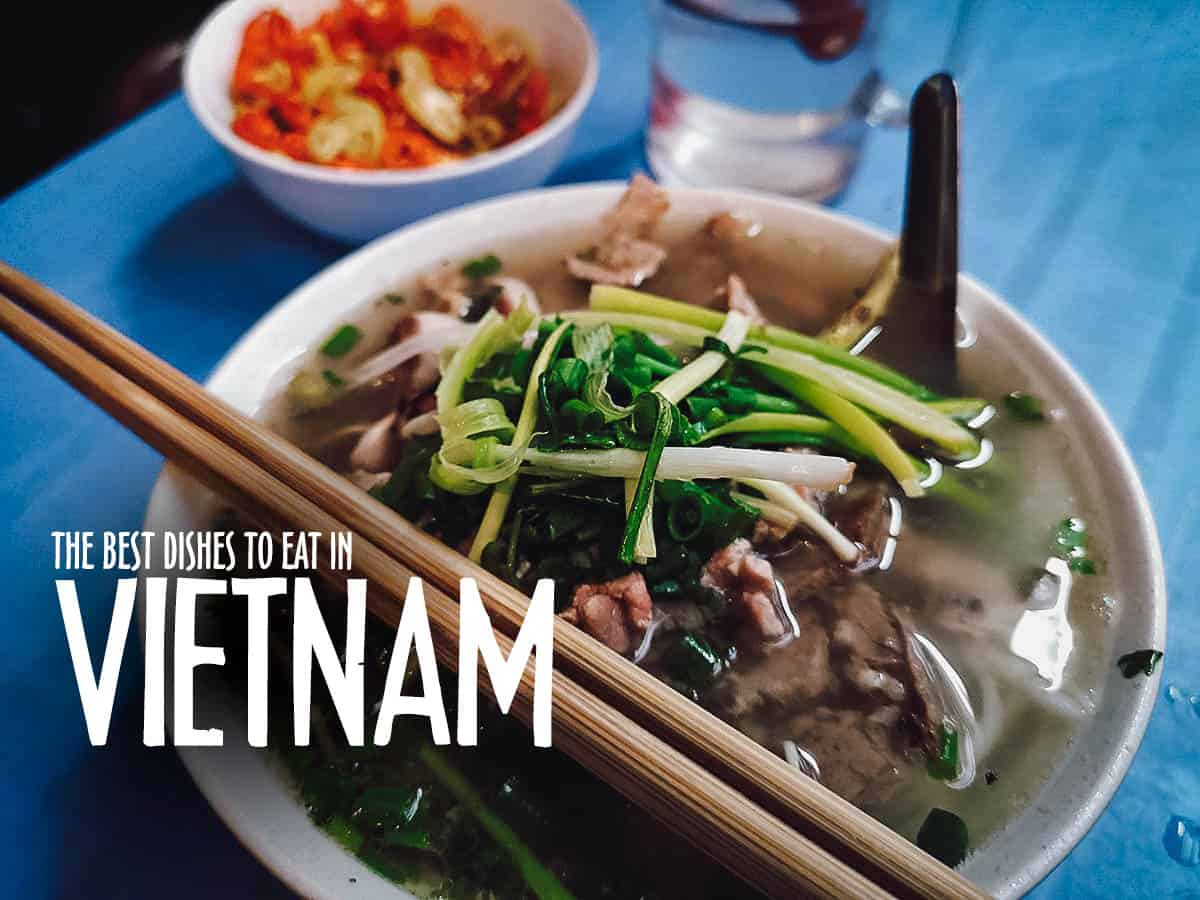 WHERE TO EAT IN HOI AN
20 of the Best Restaurants in Hoi An
While our Vietnamese food guide focuses on the best dishes to have in Vietnam, our Hoi An food guide lists some of the best restaurants in Hoi An. If you'd like to try excellent examples of dishes like cao lau, banh mi, and com ga in Hoi An, then this list will be useful to you.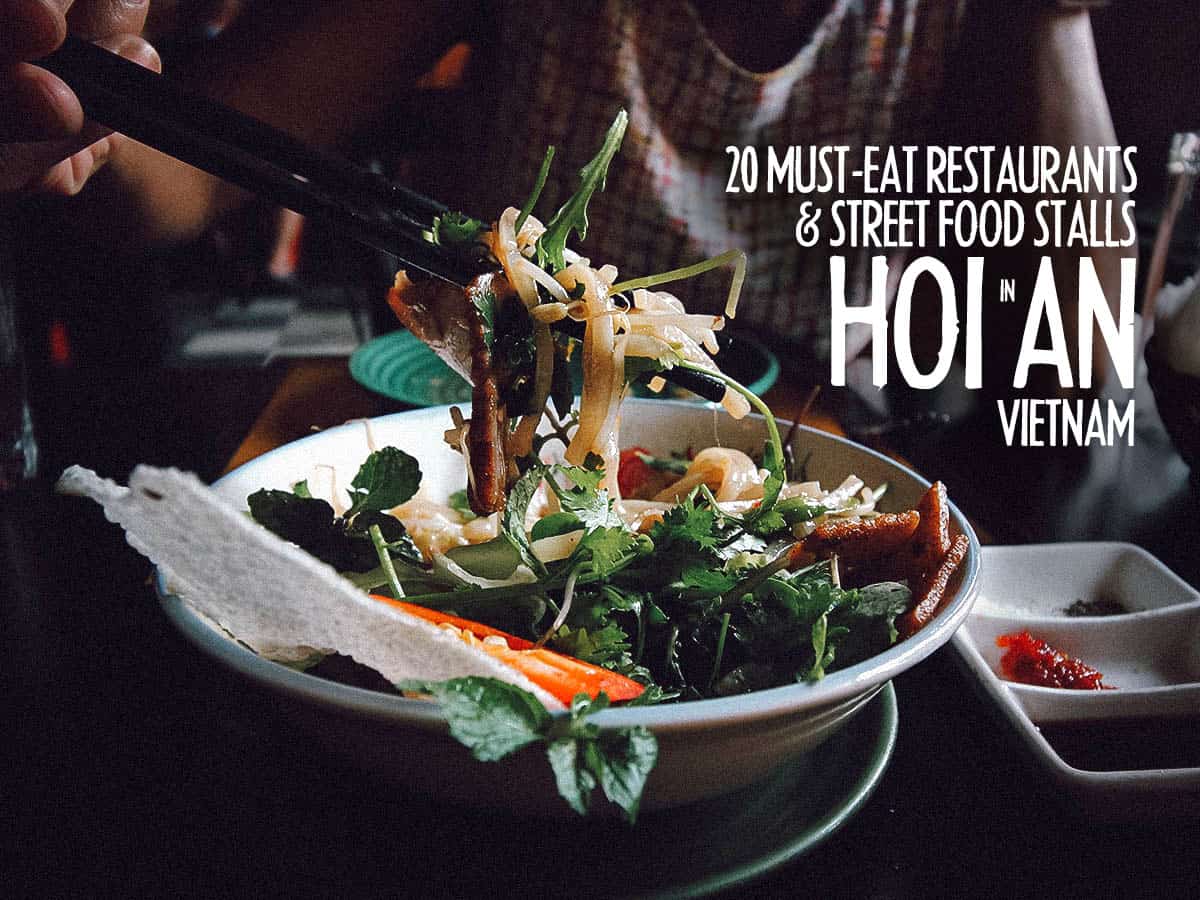 Twenty may be too many for most travelers so I've listed our five favorites below. But be sure to click through to the full Hoi An food guide for more pictures and information.
1. Madam Khanh – The Banh My Queen
Ask any local and most will tell you that there are only two contenders for the bast banh mi in Hoi An. The first was recommended by the late great Anthony Bourdain on an episode of No Reservations, while the second is Madam Khanh – The Banh My Queen.
Both places were fantastic and better than any banh mi I had anywhere in Vietnam, but I may have to give the slight nod to the Banh My Queen. She douses her banh mi in a secret sauce that sets it apart from the rest.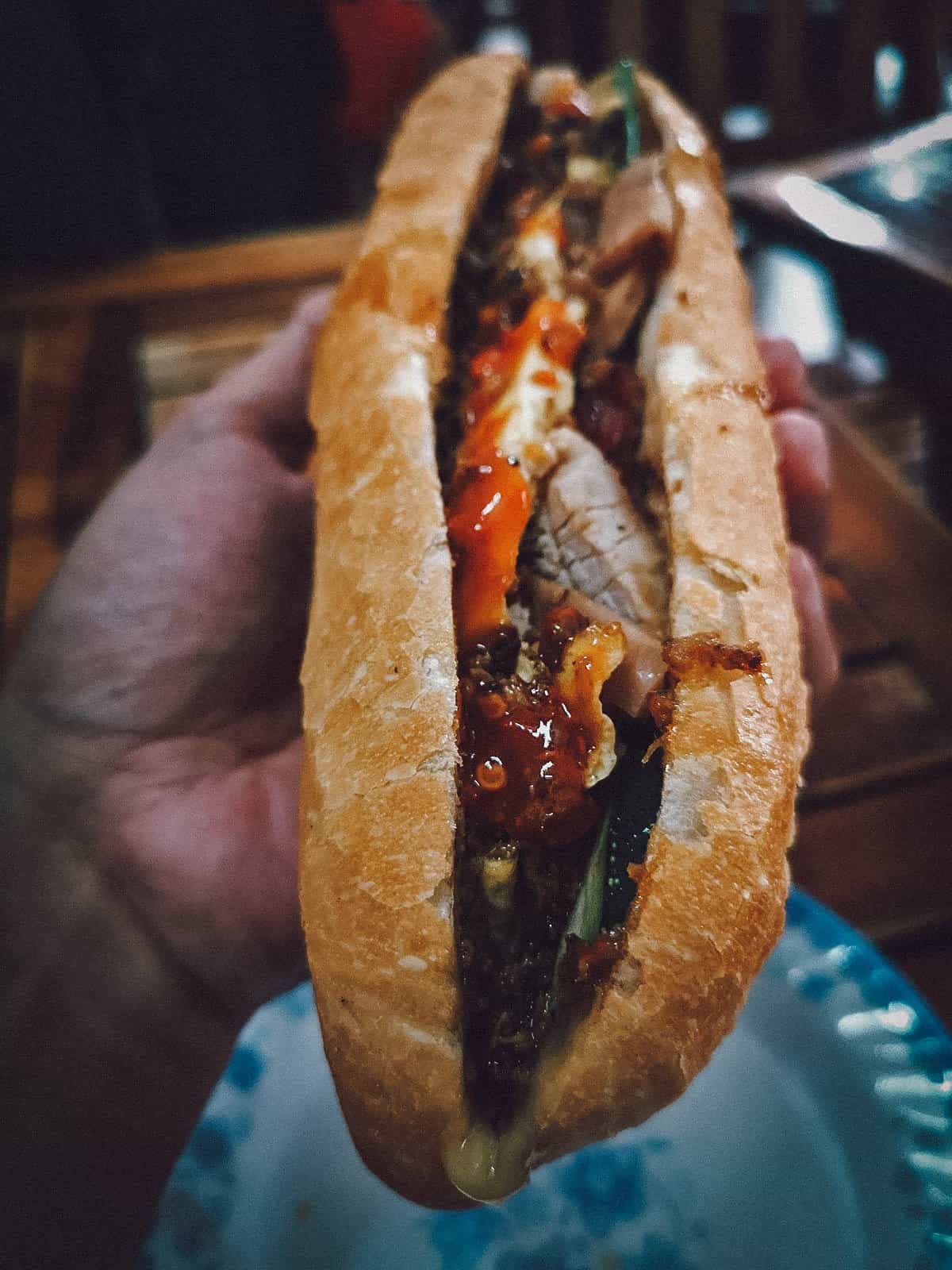 Expect to Pay: Around VND 20,000-30,000 per banh mi
2. Long Com Ga
Together with banh mi and cao lau, com ga constitutes the holy trinity of Hoi An food. Originally from Hainan, it's basically the Vietnamese version of Hainanese chicken rice.
I had com ga several times in Hoi An. All were terrific but for me, Long Com Ga in the Ancient Town was the best. It had the best balance of flavor and texture, not to mention the most offal which they heap on top of the rice and in the soup.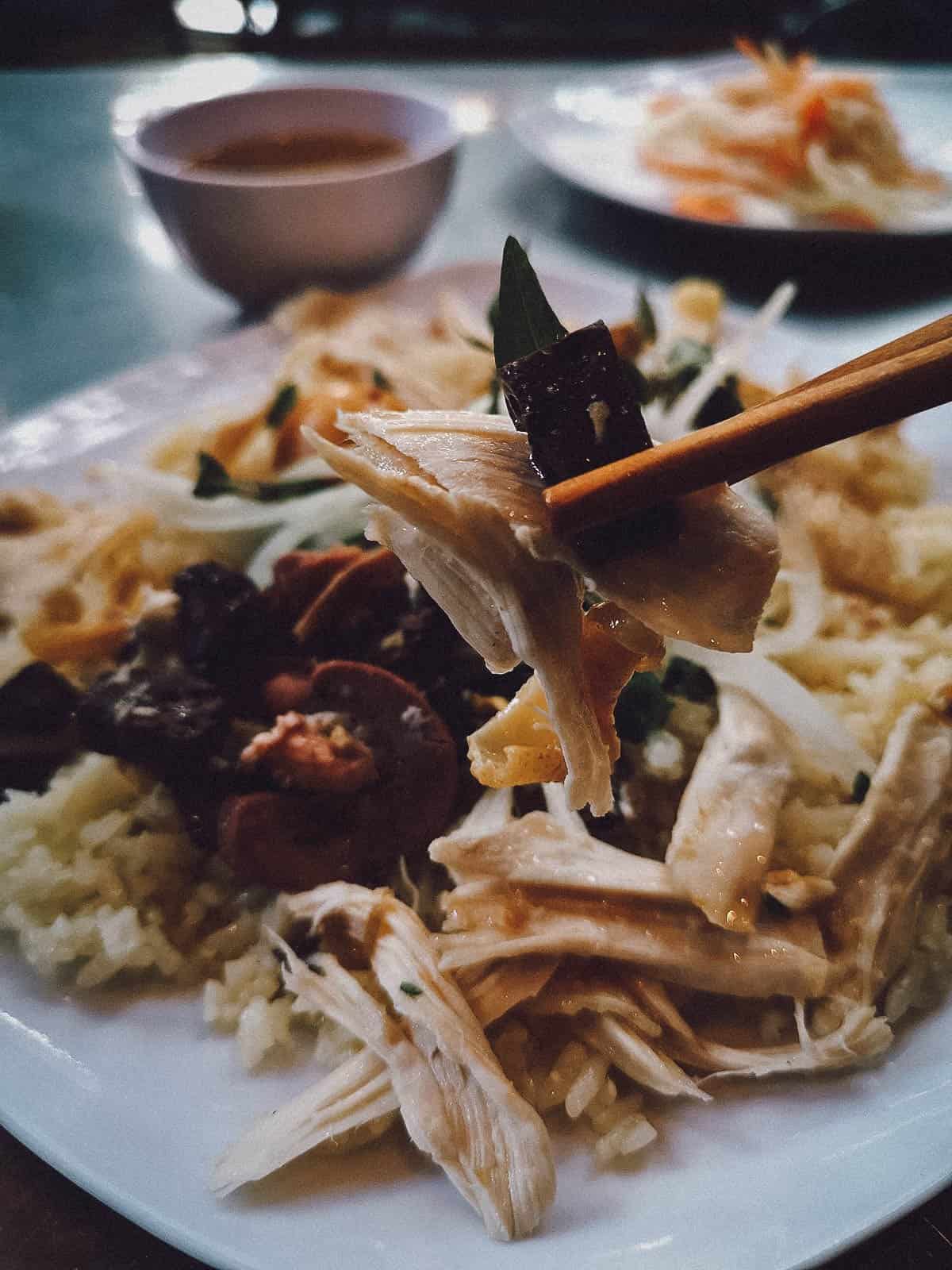 Expect to Pay: Around VND 35,000 per order of com ga
3. Morning Glory Restaurant
Morning Glory Restaurant is owned by Ms. Trinh Diem Vy, a celebrity chef, restaurateur, and cookbook author. Her pioneering cooking course was the impetus that launched all Hoi An cooking schools.
Morning Glory Restaurant is a lovely restaurant located in the heart of the Ancient Town. They have an extensive menu offering many local favorites like cao lau, mi quang, and banh xeo.
Considering the restaurant's ambiance and prime location, their prices are higher than the more humble eateries on our list, but it's worth it. Pictured below is their delicious version of cao lau, one of the best I've had in Hoi An.
Cao lau is a rice noodle dish topped with cha siu pork, fresh herbs, bean sprouts, rice crackers, and deep-fried pork skin. It's an important Hoi An regional dish and one of the best things you can have in the city.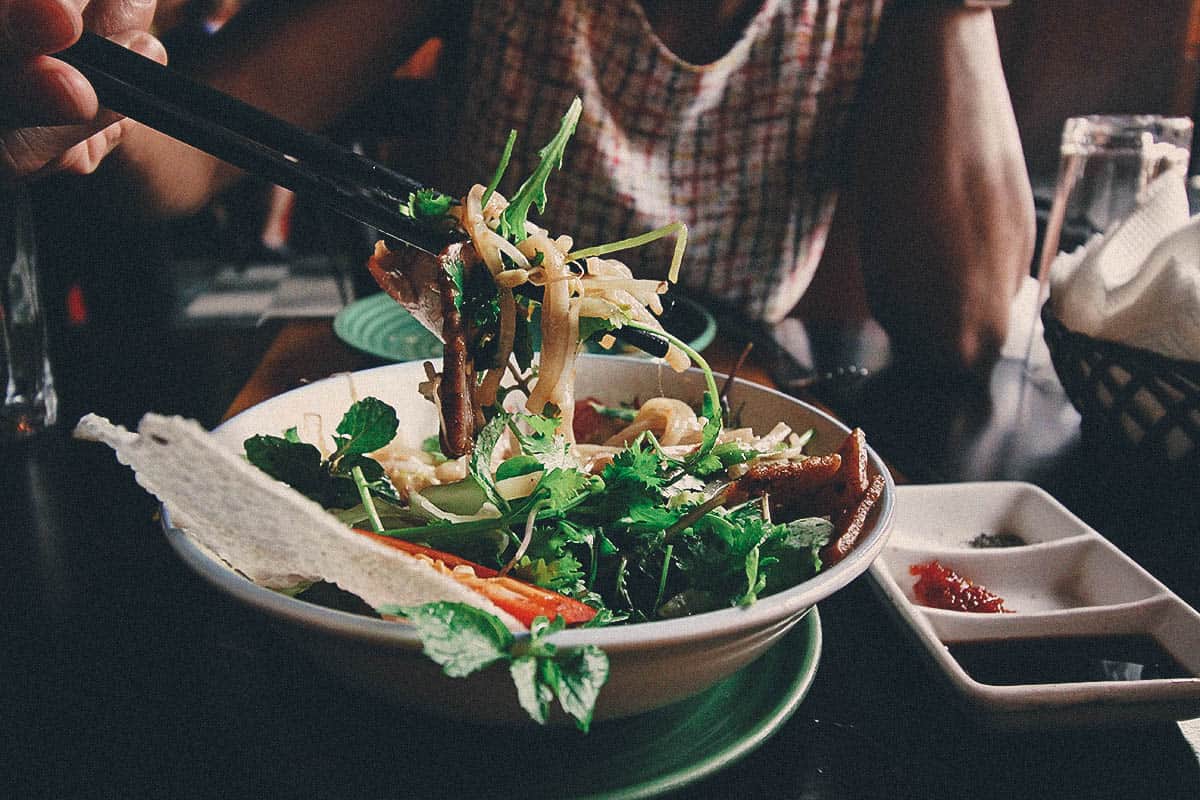 Expect to Pay: Around VND 60,000-90,000 per dish
4. White Rose Restaurant
White Rose is a Hoi An institution. They're famous for a dish called White Rose dumplings or banh bao banh vac. In fact, it's just one of two items they serve on their menu, the other being fried wontons which are also known as "Hoi An pizza".
These flower-shaped dumplings are made with translucent white dough filled with spiced minced shrimp or pork. They're topped with crispy fried shallots and served with a special dipping sauce made with shrimp broth, chilies, lemon, and sugar.
You'll find many restaurants and street food vendors selling White Rose dumplings in Hoi An. The recipe is a well-guarded family secret so most of the dumplings you see in town are supplied by White Rose Restaurant. I suggest trying them at the source.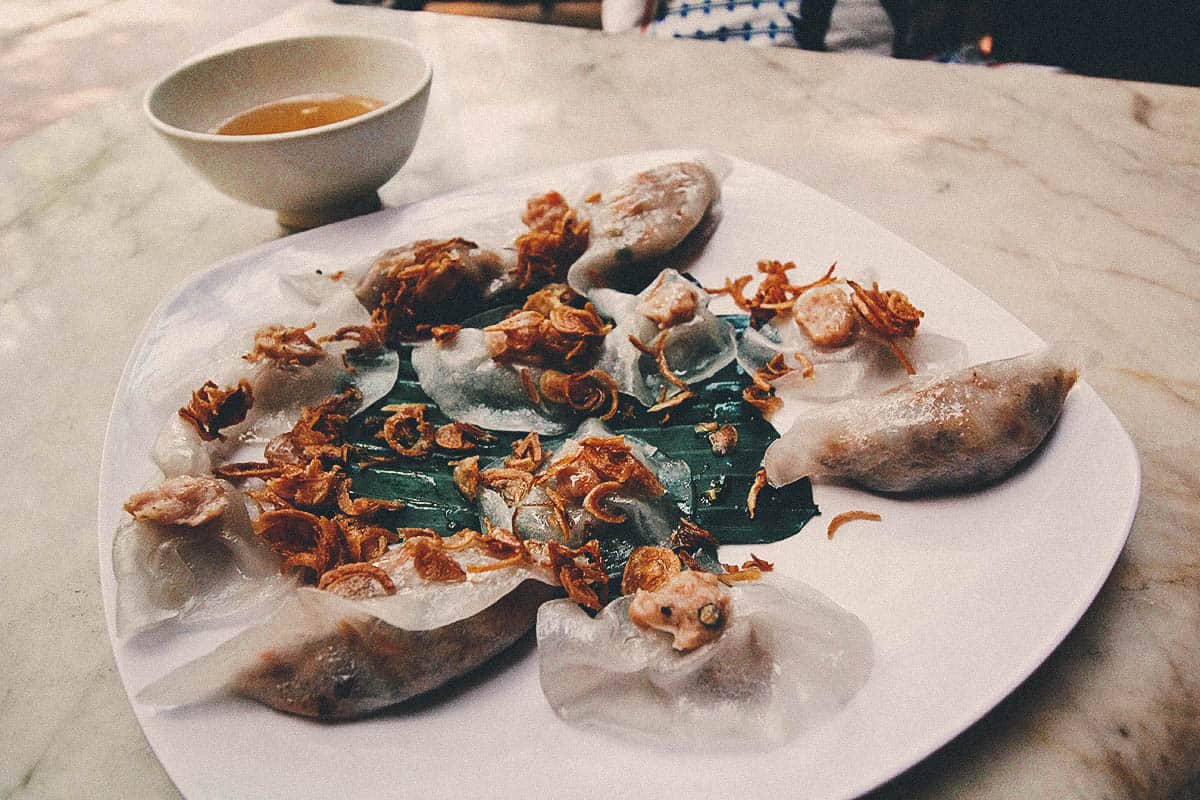 Expect to Pay: Around VND 70,000 per order of white rose dumplings
5. Ong Hai (Mr. Hai Restaurant)
Ong Hai is a local favorite that specializes in cao lau and mi quang (pictured below). Mi quang is an equally popular rice noodle dish that originated in Da Nang.
Unlike cao lau that's made with hardly any broth, mi quang is a slightly soupier dish made with a concentrated broth and a wider type of rice noodle. It's topped with pork, shrimp, or chicken and a host of other ingredients like hard-boiled egg, peanuts, rice cracker, and fresh herbs.
We had mi quang as often as cao lau in Hoi An and Ong Hai's version was one of our favorites.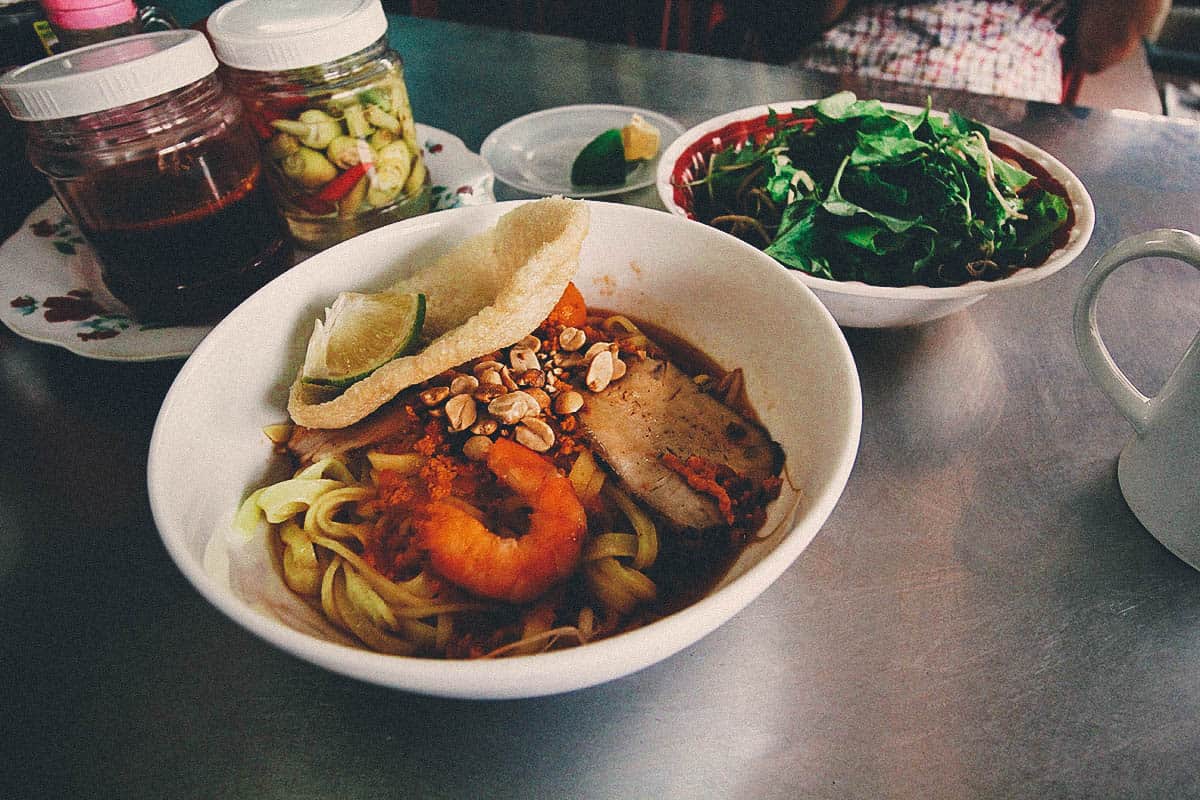 Expect to Pay: Around VND 35,000 per bowl of mi quang
WHICH CAFES TO VISIT
9 of the Best Cafes in Hoi An
Vietnam is the second largest producer of coffee in the world. From Hanoi's ca phe trung to Hue's ca phe muoi to Ho Chi Minh City's cafe apartments, you'll find interesting cafes and unique coffee creations throughout the country.
Like I did in every city, I sought out as many coffeehouses as I could to come up with this list of 9 of the best cafes in Hoi An.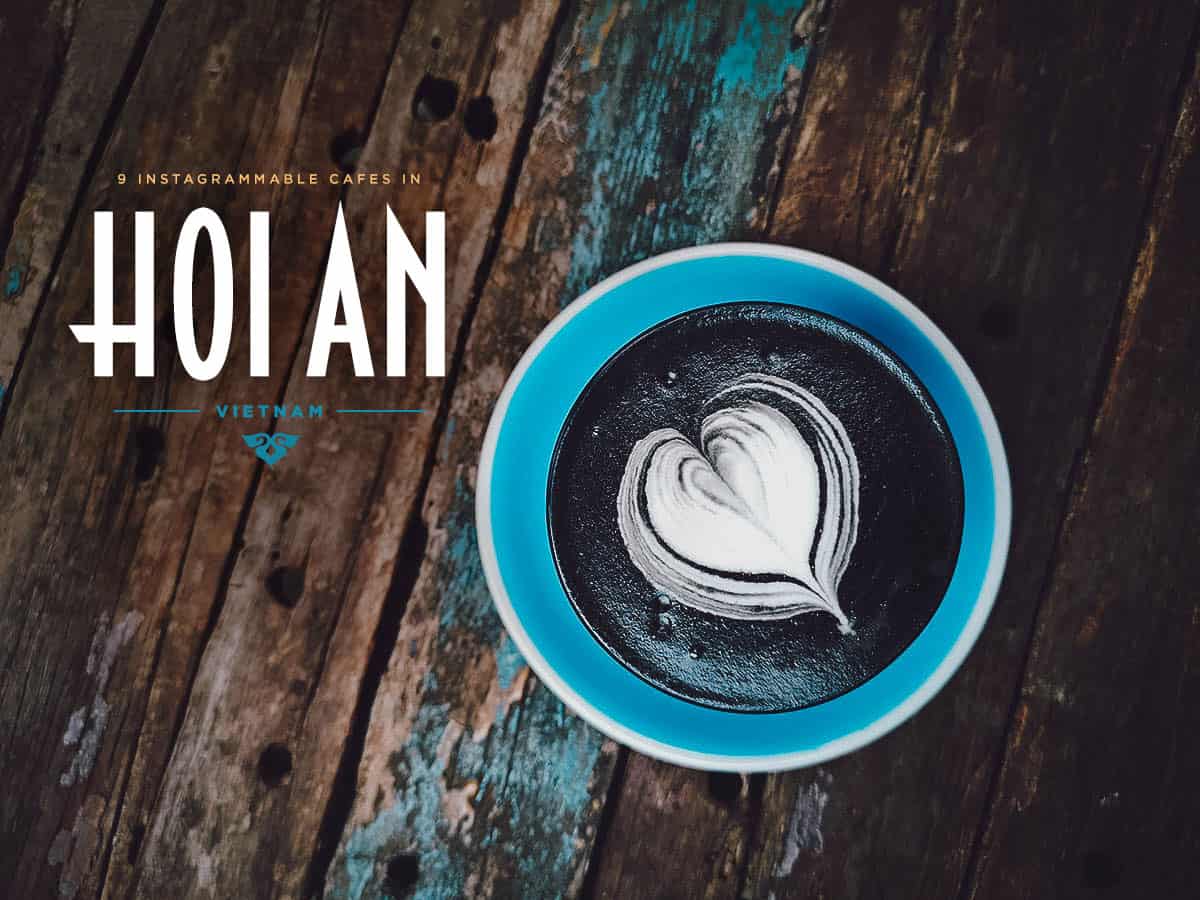 Hoi An had some of the cutest cafes I visited in Vietnam but these three were among the most interesting. Be sure to click through to the full Hoi An coffee guide for more pictures and information.
1. Phin Coffee (Original)
Many locals feel that Phin Coffee makes the best coffee in Hoi An. They have knowledgeable baristas who'll happily demonstrate the coffee making process for you.
I went to two Phin Coffee outlets and had two types of coffee – phin coffee and vot coffee. Phin coffee (pictured below) makes use of a traditional phin filter while vot coffee refers to a dying method of filtering coffee using a cloth strainer.
I preferred their phin coffee but vot coffee isn't as common so I suggest trying both. In fact, this was the only place I had come across vot coffee anywhere in Vietnam.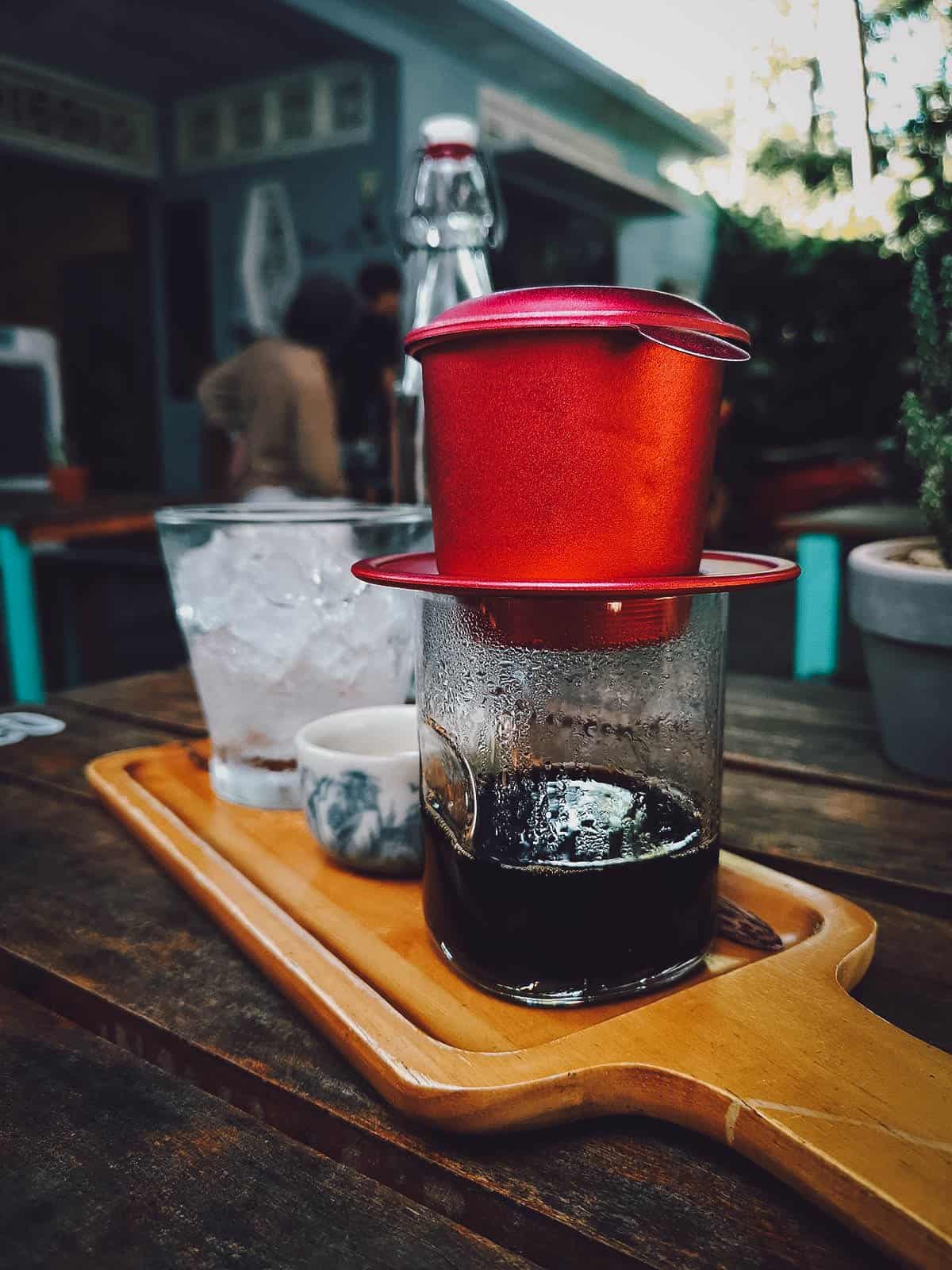 Expect to Pay: Around VND 50,000 per order of Vietnamese coffee
2. The Espresso Station
Among all the cafes I visited in Hoi An, The Espresso Station had by far the most interesting coffee creations.
This cup of coffee as black as night is what they call a "dark soul latte". Made with espresso blended with milk and activated charcoal, it's as delicious as it is dark.
I didn't get to visit the Espresso Station a second time but on our next visit, I'm going for the "coffee ice cubes" which are frozen coffee cubes topped with cocoa powder and served with a side of warm milk.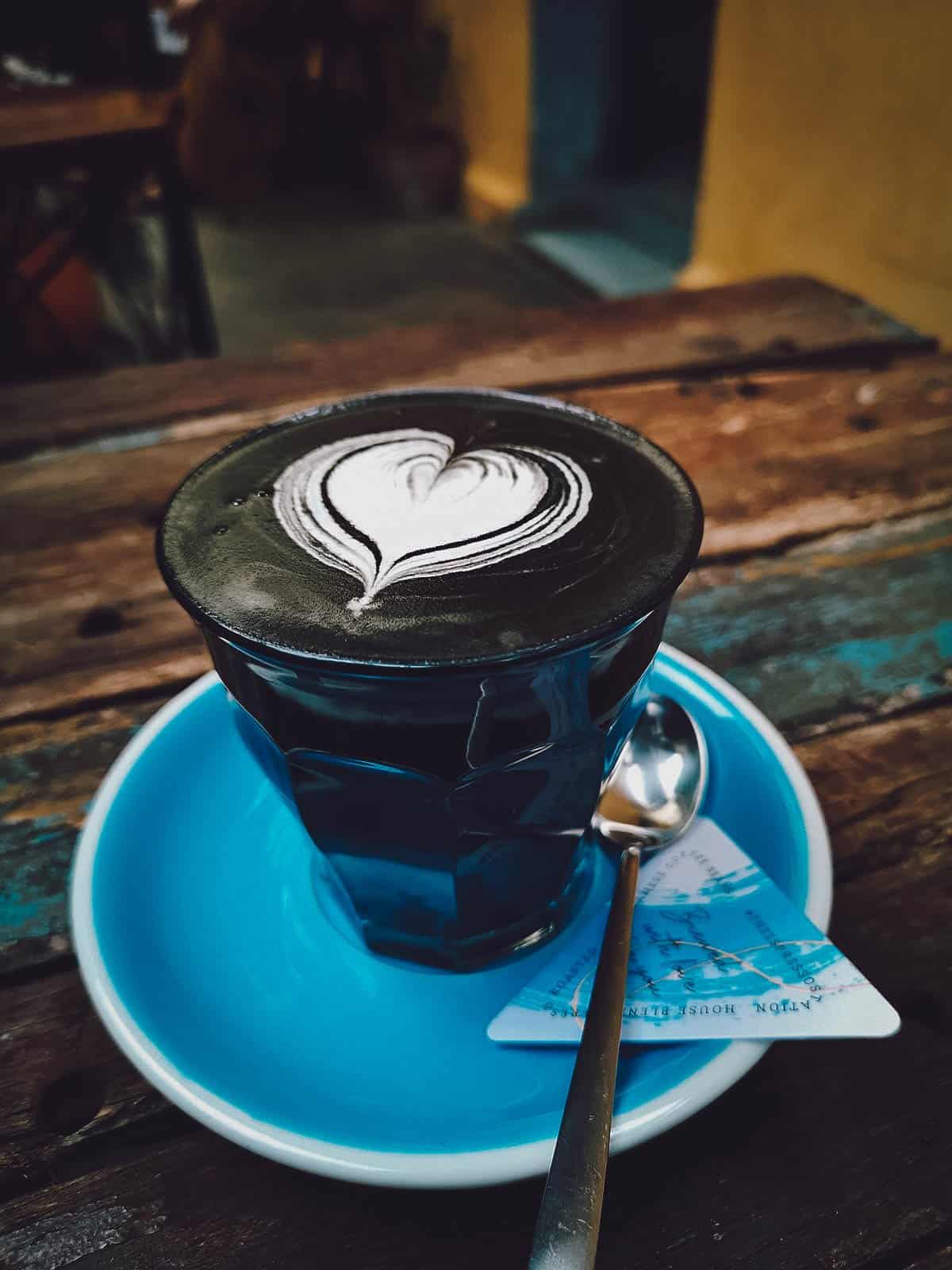 Expect to Pay: Around VND 65,000 per order of Vietnamese coffee
3. Reaching Out Tea House
The Espresso Station may have the most interesting coffee creations, but Reaching Out Tea House has the most interesting concept. At Reaching Out, you're encouraged to enjoy your coffee or tea in silence.
Reaching Out Tea House is managed by the speech and hearing impaired. You're urged to communicate with your servers using handwritten notes or by presenting blocks with pre-written messages like "Bill", "Ice", or "Thank you". It's an interesting place that serves good coffee.
They have three coffee blends and four types of tea to choose from, but I suggest getting the coffee or tea sets which include smaller servings of every kind.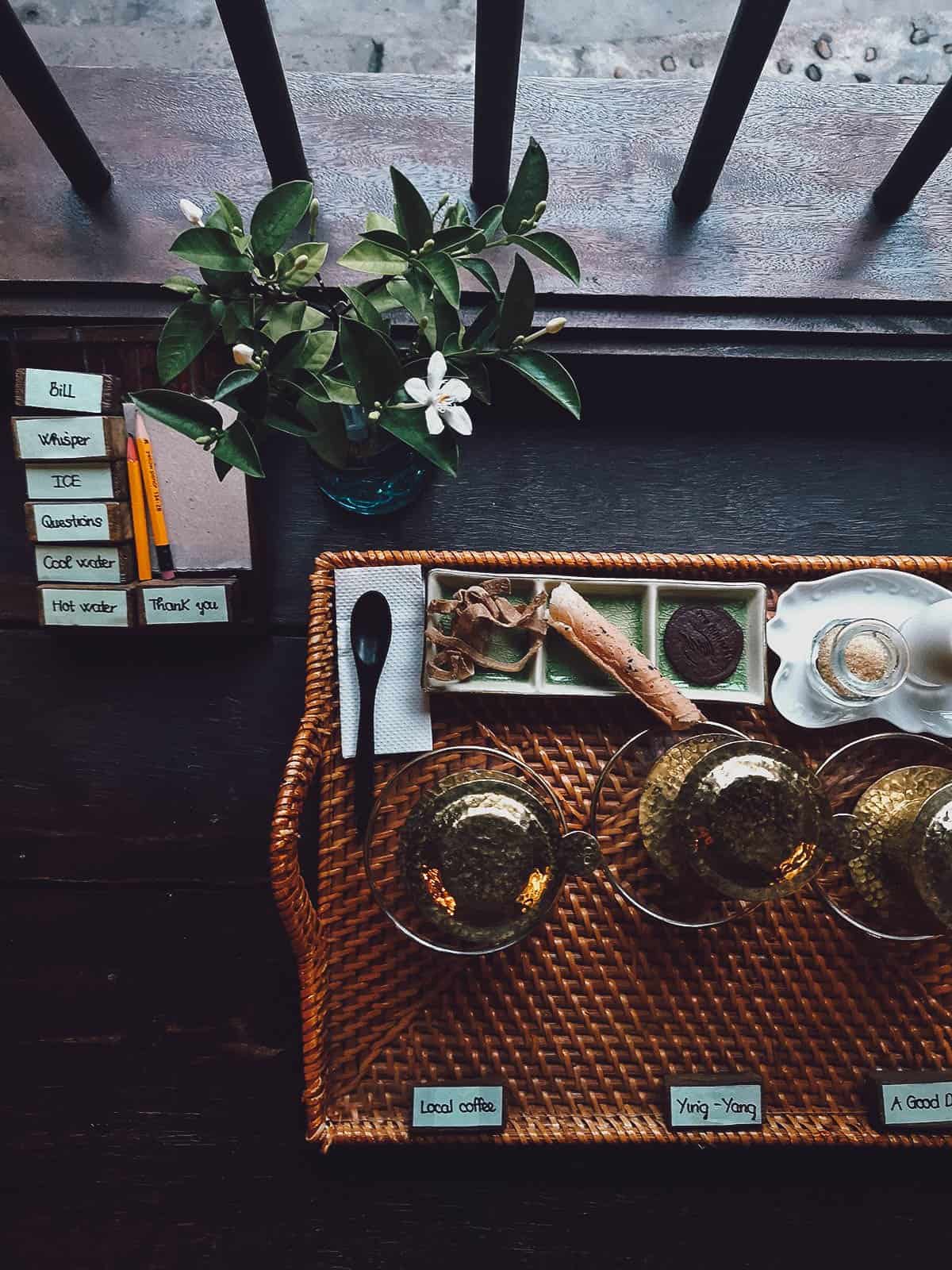 Expect to Pay: Around VND 135,000 for the coffee tasting set
POINTS OF INTEREST IN HOI AN
To help you visualize where everything is, I've pinned all the places recommended in this guide on this map. Click on the link to open an interactive version of the map in a new window.
HOW TO GET AROUND
Hoi An is a walking town. It's compact enough that you can easily get around on foot or on a bicycle. If you're staying near the Ancient Town, then you may not need one but getting a bicycle would be a good idea if you're staying in areas like Cam Chau or Cam Thanh.
If your hotel doesn't provide bicycles, then there are plenty of bike and motorcycle rental shops around town. I did some research and it typically costs about USD 1 a day to rent a bike and USD 5 to rent a motorcycle.
Bicycles are fine but if you're planning on traveling farther to places like the Marble Mountains, Da Nang, or My Son Sanctuary, then a motorcycle would be better.
I never had to use it in Hoi An but I've used Grab in other cities in Vietnam like Hanoi, Hue, and Ho Chi Minh City, so I'm assuming it's available in Hoi As as well.
HOW MANY DAYS TO STAY / SAMPLE ITINERARY
Hoi An isn't that big so you won't need a lot of time to see its top attractions. However, it isn't the type of destination you'll want to just breeze through. Hoi An is best enjoyed at a snail's pace so if you can stay for 4-5 days, then that would be ideal.
If you don't have as much time to spare, then 2-3 days should be enough. Here's a 3D/3N sample itinerary to help you plan your trip.
DAY ONE
• Hoi An Central Market
• Minh Huong Communal House
• Chua Ong Pagoda
• Phuoc Kien Assembly Hall
• Old House of Tan Ky
• Japanese Covered Bridge
• Bridge of Lights
• Thu Bon River Cruise
• Hoi An Night Market
DAY TWO
• Cooking Class
• My Son Sanctuary
DAY THREE
• Tra Que Vegetable Village
• Basket Boat Tour
BUDGET / SUMMARY OF EXPENSES
Vietnam as a whole is pretty cheap. You can have a good meal for less than USD 2 and stay at a hostel for as little as USD 5 a day.
Assuming you're traveling with one other person and staying in Hoi An for two full days, then a daily budget of around VND 450,000 per day should be enough. This takes into account a modest hotel room, meals, the Ancient Town entrance ticket, and pocket wifi rental.
If you plan on going on any tours or taking a cooking class, then please take that into account when setting your budget.
ACCOMMODATIONS
This is highly variable, but accommodations in Hoi An are pretty cheap. On my most recent stay, I paid about USD 17 a night for a nice room in Cam Pho. If you're traveling on a budget, then expect to pay as little as USD 5 a night for a hostel dorm room.
MEALS
Food is cheap and delicious in Vietnam. If you stick to street food, then a food budget of around VND 100,000 per day will be enough. Add more if you plan on having coffee everyday.
ANCIENT TOWN TICKET
The Ancient Town ticket costs VND 120,000.
POCKET WIFI RENTAL
Renting a pocket wifi device from Klook will set you back about USD 5 per day.
TOTAL


This comes out to about VND 420,000 a day per person. Ren and I are middle of the road travelers who enjoy good food and drink, so the recommended budget works for travelers like us. Adjust accordingly based on your own travel preferences.
TRAVEL TIPS
1. Plan your Trip with Sygic Travel
I've been using this trip planning app for many years now. It allows me to plot all points of interest on a map – things like our hotel, tourist attractions, restaurants, and metro stops – so I can see where everything is and create as efficient an itinerary as possible.
You can download Sygic Travel for free on iTunes or Google Play. Check out my article on Sygic Travel for more information.
2. Rent a Pocket Wifi Device
Do you ever travel without packing your toothbrush? Never right? That's how I feel about pocket wifi devices. It's become such a necessity these days that we never go anywhere now without renting a pocket wifi device first.
For our trip to Vietnam, we rented a 3G pocket wifi device through Klook. We prefer pocket wifi devices because we find them easier, but a cheaper alternative is to get a sim card. You can purchase a sim card through Klook then pick it up at Da Nang International Airport.
3. Check for Discount Tickets
There are many travel ecommerce websites but the ones I use the most are Klook and Get Your Guide. KKday is another good one while Backstreet Academy is ideal for more hands-on experiences.
Follow these links for a complete list of Hoi An deals on Klook, Get Your Guide, Kkday, and Backstreet Academy. You'll often find interesting activities that you wouldn't normally think of yourself so it's always worth a look.
4. Get Travel Insurance
We get travel insurance more often now but there was a time when we didn't get it at all. It seemed like an unnecessary expense.
The way I see it, if you plan on doing physical activities while on a trip, then you should definitely get travel insurance. But if all you'll be doing is going to a country like Singapore and traveleating for a few days, then you may not need it as much.
When we do feel the need for insurance, we get it from World Nomads or SafetyWing. They're both leading travel medical insurance providers used by many long-term travelers. Check out my article on why we buy travel insurance for more information. You can follow the links to get a free quote from World Nomads or SafetyWing.
5. Pay Only in VND
Some hotels, restaurants, and shops may accept payment in USD, but you should always pay in VND. If something is priced in VND, then you should definitely pay for it in VND because using any other currency will lead to terrible exchange rates. As advised, the best place to get VND in Hoi An is at gold/jewelry shops and banks, or from ATMs.
6. Don't Be Confused by the Currency
I don't think I've ever been as careful paying for things than I was in Vietnam. Their currency is so confusing! Having all the zeros is confusing enough, but some banknotes even look the same. For example, VND 100,000 bills have a similar green hue as VND 10,000 notes.
Based on what I've seen and heard, tourists overpaying for things in Vietnam isn't uncommon. In fact, it happened to a woman who was on this Hoa Lu and Tam Coc tour with us in Hanoi. She mistakenly gave the vendor a VND 200,000 note when she meant to give her a similarly red VND 50,000 bill.
Be careful when paying for things with cash in Vietnam because chances are, vendors won't correct you if you make a mistake.
7. Bring the Right Power Adapter
Vietnam has Type A, Type C, or Type F electrical outlets so be sure to bring the right power adapters for your devices. Electrical voltage is 220V and the standard frequency is 50Hz.
Have fun!
I'm hardly an expert on Hoi An but I do hope this guide helps you plan your trip. I'm only sharing some of the things I learned from our trips there. If you have any questions or comments, then please leave them in the comment section below. You're welcome to join our Facebook Travel Group as well.
Thanks for reading and have an amazing time exploring Hoi An Ancient Town!
Disclosure
Some of the links in this guide are affiliate links. If you purchase anything through them, then we'll make a small commission at no extra cost to you. We only recommend products and services that we use ourselves and firmly believe in. We really appreciate your support as this helps us make more of these free travel guides. Thank you!