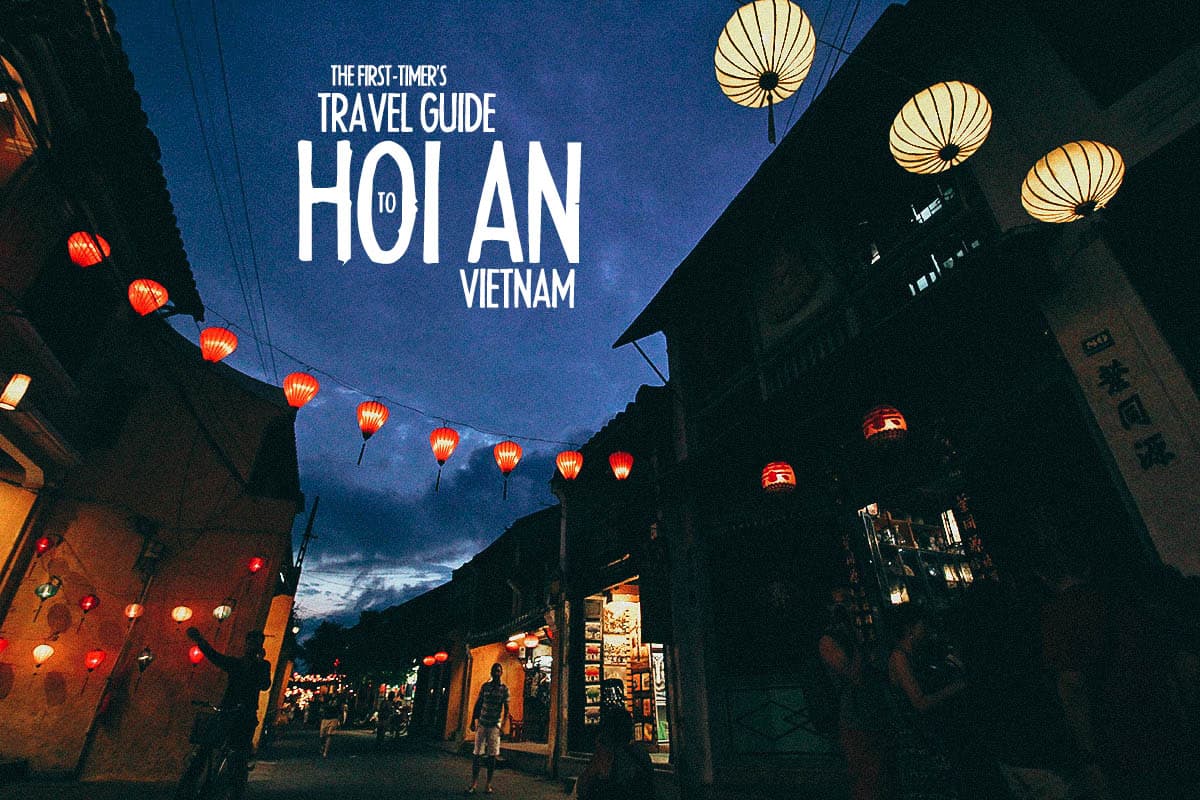 The First-Timer's Travel Guide to Hoi An, Vietnam
NOTICE: Your health and safety come first. Please adhere to the WHO recommendations and avoid any non-essential travel at this time. If travel is unavoidable for you, then please refer to these advisories on COVID-19 coverage from our friends at World Nomads and SafetyWing.
DISCLOSURE: Some of our articles contain affiliate links. The ones that do will have a disclosure statement at the bottom. You can refer to our privacy policy and terms of use for more information.
Like you, we travel to see and experience new things. Some of the things we experience are quickly forgotten while others leave a more lasting impression. For me, seeing Hoi An for the first time at night is an experience I will never forget. As pretty as this town is during the day, it turns into something magical at night.
After spending our first morning in Hoi An exploring the Ancient Town, we rode our bikes west to have dinner at this roadside eatery called Mì Quảng – Cao Lầu Bích. It was getting late so we quickly inhaled our bowls of cao lầu and mì quảng (both of which were delicious) before getting on our bikes and following the river back to the Ancient Town. By the time we got there, night had already fallen. Temperatures had cooled so the streets were buzzing with people. It was too busy to keep riding so we got off and walked our bikes onto Nguyen Thai Hoc Street.
Turning the corner, that's when we saw it for the first time, Hoi An at night.
Lit from the inside, the paper lanterns we were admiring that morning were glowing like fairy orbs against a midnight blue sky. They were hanging from shophouse balconies, from trees, from building to building in zig-zagging rows that stretched the entire length of the street. Bathed in that soft colorful light, the Ancient Town looked so beautiful it almost didn't seem real. For a moment, it felt like we had walked into some kind of Vietnamese fairy tale.
We've been lucky to visit many beautiful places on our travels, but seeing Hoi An lit up for the first time like that is one of the most stunning things I've ever seen. I'll never forget it.
GUIDE TABLE OF CONTENTS
HOI AN AT A GLANCE
Hoi An is a city in Quảng Nam Province in Central Vietnam. It's a UNESCO World Heritage Site that was one of the most heavily-frequented trading ports in Southeast Asia from the 17th to the 18th centuries. During that time, many foreign merchants lived in Hoi An, mostly Chinese and Japanese then later Europeans, creating a unique fusion of cultures that can't be seen anywhere else in Vietnam. The name Hoi An translates to "peaceful meeting place".
Hoi An's prominence as a trading port fell sharply at the end of the 18th century. This was due in part to the silting up of the Thu Bon River as well as the rise of nearby Da Nang as the new center of trade in Central Vietnam. Fading into a forgotten backwater, Hoi An has been left largely untouched by the changes to Vietnam over the next 200 years.
Today, Hoi An is a well-preserved community of merchant houses, temples, and ancient tea warehouses that harken back to its days of prominence as a trading port. It's become one of Vietnam's most popular and beloved tourist destinations.
BEST TIME TO VISIT
Unlike Northern Vietnam which sees climate changes akin to the four seasons, Hoi An truly has just two seasons – dry (Feb-Aug) and wet (Sept-Jan). It stays warm throughout the year with an average temperature of about 29°C (84°F).
DRY SEASON: Hoi An's dry season is from February to August. It's hottest from June to August when the mercury is known to reach 35°C (95°F). February to May is the best time to visit Hoi An. It's the driest time of the year, humidity is low, and temperatures are relatively mild.
WET SEASON: The rainy season in Hoi An is from September until January. Heavy showers are frequent which may come with typhoons and flooding. This isn't the best time to visit Hoi An.
We went in late April and the weather was great. Like any Southeast Asian city, it would get hot during the day but it wasn't intolerable. It didn't rain once and I don't remember it being too humid either. Based on weather averages and our own personal experience, February to April seems like the best time to visit Hoi An.
Just know that the Tet holiday or Vietnamese New Year celebration happens sometime between the end of January and early February. Many restaurants and shops will be closed during that time. Hotel rates will also be at their highest (if you can still get a room).
HOW TO GET THERE
We flew in to Da Nang International Airport from Hanoi and arranged for private transfer to our hotel in Hoi An. It's about 45 minutes by car from Da Nang to Hoi An. Assuming you'll be arriving via Da Nang as well, then you can get to Hoi An either by by car, taxi, or bus.
BY PRIVATE TRANSFER: We arrived in Da Nang at night so we arranged for a private transfer through our hotel. We paid VND 300,000 each way. If you can, then I suggest making similar arrangements with your hotel. Another option is to book a private transfer through Klook. They offer two transfer options – for passengers arriving during normal hours (5AM-10PM), and for people getting in during off-hours (10PM-5AM).
BY TAXI: Based on my research, it should cost you anywhere between VND 300,000-400,000 to get to Hoi An from Da Nang Airport via taxi. Going by taxi is fine, but you'll probably pay less if you arrange for a private transfer through your hotel.
BY SHUTTLE: I read that there's a shuttle bus which takes you from the airport to Hoi An for USD 5. It leaves every hour from 5AM-11PM. There doesn't seem to be much information about it online, so I suggest asking airport personnel about the shuttle bus when you arrive in Da Nang.
BY BUS: The cheapest way to get to Hoi An from Da Nang is by public bus. It costs VND 25,000 (about USD 1) each way. However, it doesn't stop at Da Nang Airport so you'll need to take a taxi first to Da Nang central bus station. From there, buses leave every 20 minutes from 5:30AM until 6PM. It will make several stops and get you in to Hoi An in about 70-80 minutes.
As described, we got to Hoi An via Da Nang but there are other ways to get there depending on where you are. You might want to check out 12Go Asia to see what route options available to you. You can click on the link or use the widget below.
HOW LONG TO STAY
We had two weeks to divide between Hanoi, Ha Long Bay, Hoi An, and Saigon. I did research to figure out how best to divvy up that time and suggestions were overwhelmingly in favor of spending the most time in Hoi An. Simply put, Hoi An is a favorite among the vast majority of tourists. Some people stay for weeks, even months at a time.
We stayed 3 full days which was a decent amount of time to spend in this small town. We got to enjoy its highlights without feeling rushed, though I wouldn't have minded at all if we stayed longer. Like Ubud in Bali or Langkawi in Malaysia, Hoi An is the kind of destination that invites you to relax and do absolutely nothing. We could easily have spent a week here just walking around everyday and enjoying the food of Central Vietnam.
3 full days is enough to see the best of Hoi An. It's enough time to enjoy the Ancient Town, take a cooking class, visit My Son Sanctuary, and even take a day trip to Huế and the Marble Mountains. But stay longer if you can. Hoi An is the type of destination best enjoyed when you aren't rushing from one place to the next. Take a boat ride, sit by the Thu Bon River, eat cao lầu, enjoy a beer. Hoi An has its attractions, but for me, those are the absolute best things you can do in this timeless, picturesque town.
HOW MUCH MONEY TO BRING
The unit of currency in Vietnam is the Vietnamese Dong (VND). Vietnam is one of the cheapest countries we've been to which is part of the reason why we enjoyed it so much. If you're traveling with one other person and sticking mostly to street food, then a budget of around VND 500,000 per day should be plenty. This takes into account your hotel room, meals, the Ancient Town entrance ticket, pocket wifi rental, and some light shopping. If you plan on going on any tours or taking a cooking class, then please take that into account when setting your budget.
A lot of people ask for budget recommendations and I always find it hard to give a straight answer. Traveling is subjective. We each have our own preferences so one person's budget may not always work for someone else. But if you were to consider just the essentials, then I'd say VND 500,000 is a good baseline. Please feel free to adjust based on your own travel habits.
WHERE TO EXCHANGE CURRENCY
Banks and gold/jewelry shops generally give the best exchange rates in Vietnam. We didn't need to change currency in Hoi An, but we did try a gold shop in Hanoi and a bank in Saigon and exchange rates at both were great. In Hoi An, I read that gold/jewelry shops are slightly better than banks. I recall seeing several gold shops around the Central Market with favorable rates. Just shop around and look for the best rate.
You can exchange currency at hotels and some restaurants too, but the rates aren't as favorable. The same goes for the airport. If you'll be arriving at Da Nang International Airport and need to exchange currency, then change a small amount there, just enough to get you to your hotel, and change the rest at a gold shop near the Central Market.
Another option is to just withdraw VDN from an ATM. I find myself doing this more often now. Rates are comparable and I don't have to bring too much foreign currency with me. Just make sure to advise your bank that you plan on using your ATM card overseas so you don't run into any issues. In my experience, my ATM card works in some machines but not in others.
WHERE TO STAY: Ngan Phu Villa
When you're in a town as laid back as Hoi An, you need to stay in a place to match. Ngan Phu Villa, with its garden setting and relaxed vibe, is that kind of place.
We got good deals on accommodations throughout Vietnam but Ngan Phu Villa was a steal. For just USD 20 a night, we got a huge private room with breakfast for two already included. On top of that, guests have free use of the hotel's bicycles! This was super convenient because Ngan Phu Villa is about 15-20 minutes away from the Ancient Town on foot. If you don't mind the distance, then this place is perfect. Check out my post on Ngan Phu Villa in Hoi An for more pictures and information.
You can book a room there through Booking.com or Agoda. Be sure to check both sites to find the best rate. You can browse through those links for other listings in Hoi An as well.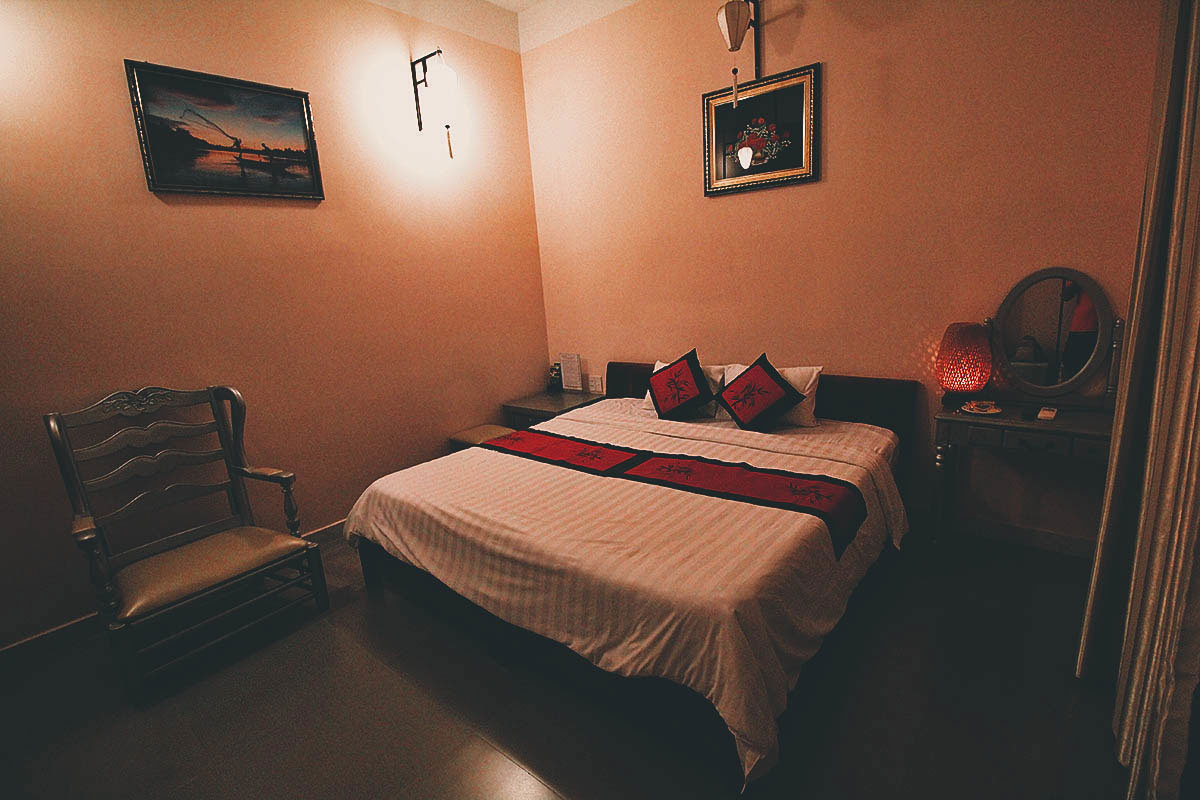 Approximate Room Rate: Around USD 20 per night (as of April 2017, with breakfast)
WHERE TO GO / WHAT TO DO
1. Be Enchanted by Hoi An's Ancient Town
Hoi An Ancient Town is stunning. It's beautiful during the day with its rows of preserved shophouses and dangling paper lanterns. Walking down its streets, you feel like you're in 17th century Vietnam. But at night, when the lanterns are lit up and the streets come alive with people, it feels almost like a dream. When we were there the first night, we could tell exactly which tourists had just arrived in Hoi An. They had the same awestruck look on their faces as we did.
Hoi An, at any time of the day, is one of the most beautiful towns we've been to in Southeast Asia. As described, most tourists to Vietnam spend the majority of their time here. Spend one day in Hoi An and you'll understand why. Check out my post on Hoi An Ancient Town for more pictures and information.
Please be advised that you'll need a ticket to enter some attractions like the Japanese Bridge and Phuoc Kien Assembly Hall. The Ancient Town entrance ticket costs VND 120,000 and includes 5 passes that you can use at any of the 22 sightseeing attractions in town.
It's easy enough to explore the Ancient Town on your own but if you'd like to have a local explain everything to you, then you may be interested in booking a guided tour.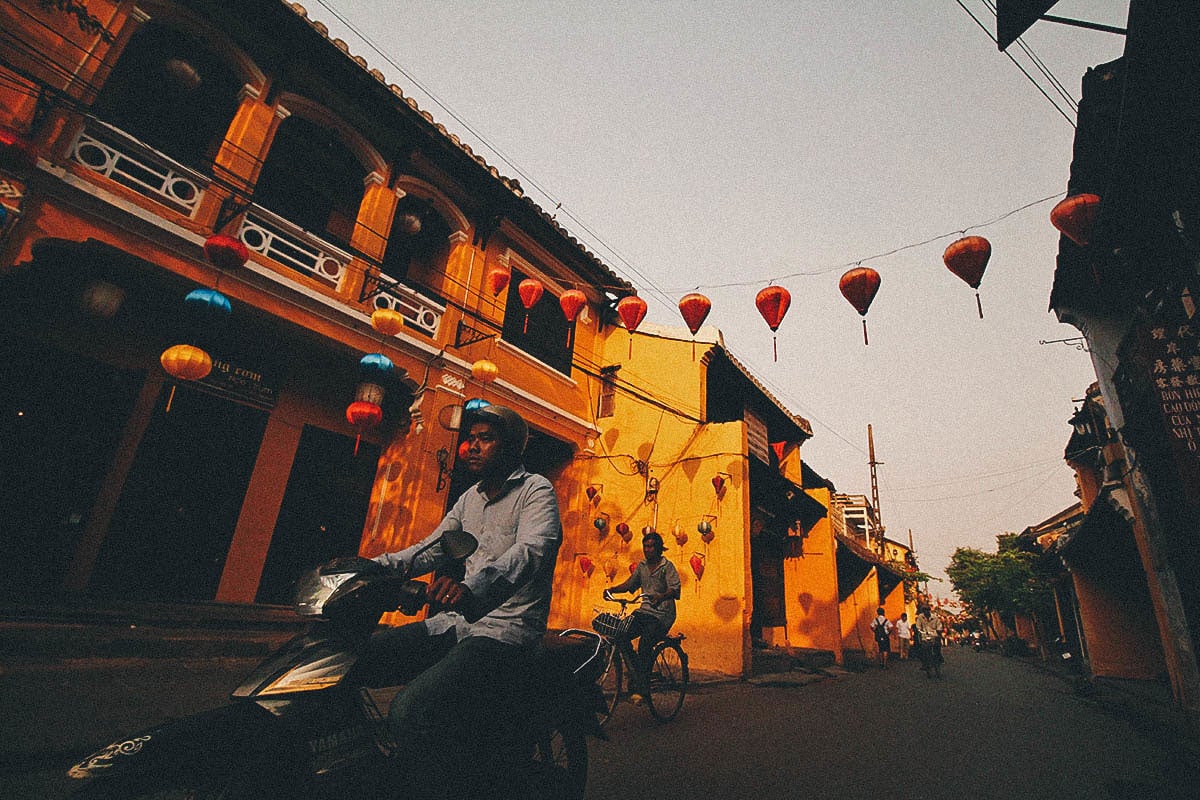 Length of Walking Tour: Full Day / Admission: FREE for the Ancient Town, VND 120,000 for up to 5 attractions
2. Channel Your Inner Luke Nguyen and Take a Vietnamese Cooking Class
Before our trip to Vietnam, my knowledge of Vietnamese food was limited. Outside of phở and bánh mì, pretty much all I knew was what I saw on the Vietnamese episodes of Chef Luke Nguyen's show, Street Food Asia. With Ren being a terrific cook, it made sense for us to take a cooking class which is one of the most popular things to do in Hoi An. We had a blast learning how to make Vietnamese favorites like gỏi cuốn, phố bo hà nội, and bánh xèo. It was one of the most fun things we did in our two weeks in the country.
We took a cooking class at Thuan Tinh Island Cooking School. We loved this class but if you'd like to choose from several classes, then you can check out Cookly. They're a booking platform that focuses only on cooking classes so for me, there's no better place to find cooking classes while traveling than on Cookly. Follow the link for a list of cooking classes in Hoi An.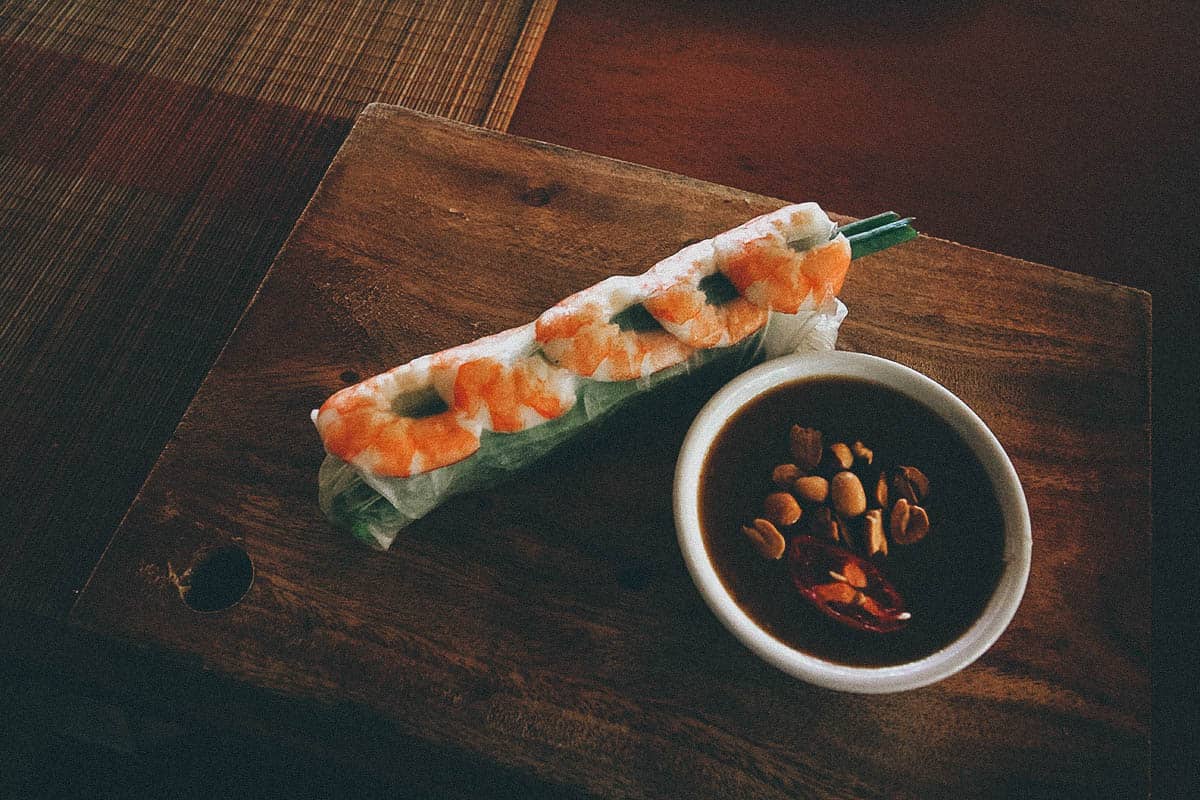 Length / Cost of Class: Varies
3. Take a Day Trip to My Son Sanctuary
According to our guide Turtle, My Son Sanctuary is the most popular tourist attraction in Hoi An. It's a Hindu sanctuary dedicated to the worship of Shiva. Often referred to as a "mini Angkor Wat", it's a UNESCO World Heritage Site that was built by the Cham people of Vietnam between the 4th and 14th centuries. If you enjoy visiting temples and ancient ruins, then My Son Sanctuary makes for an interesting day trip from Hoi An.
Check out my post on My Son Sanctuary in Hoi An for more pictures and information. We booked a private tour through Simply Vietnam Travel but if you'd like to go on a more economical group tour, then you can check out Klook for My Son group tours.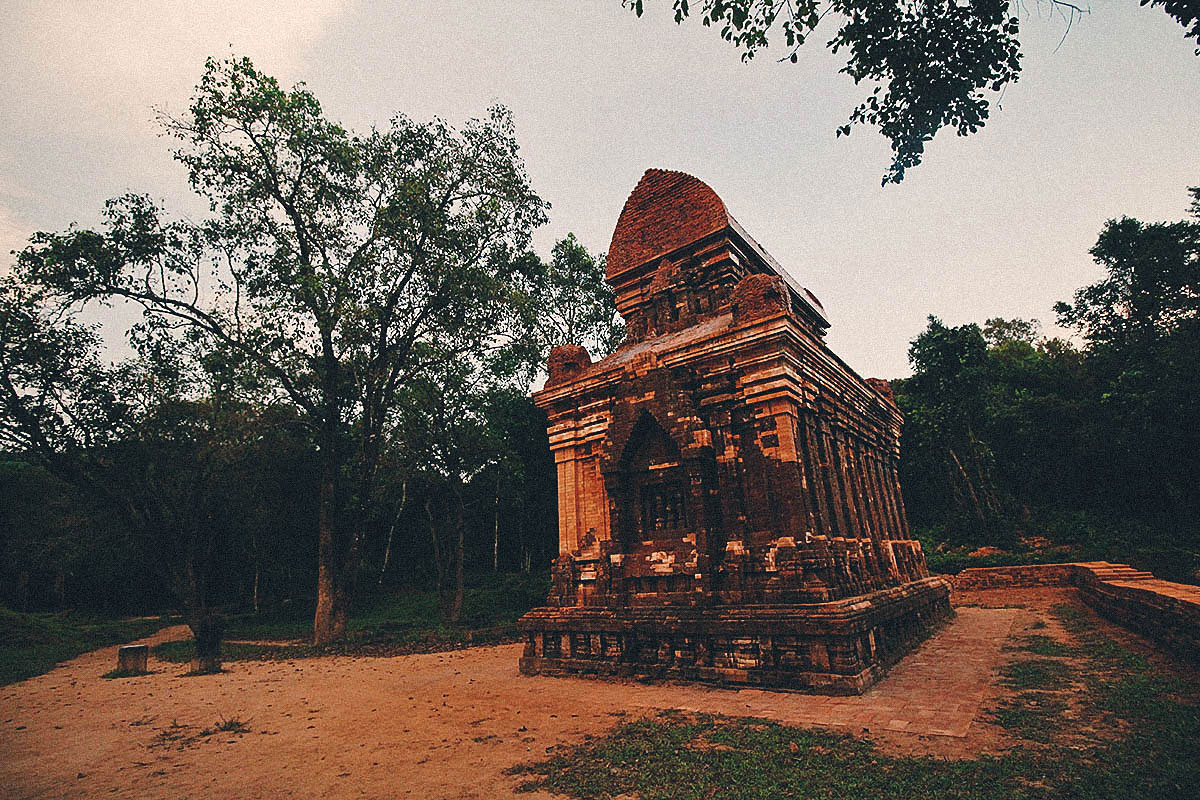 Length of Tour: At least 4 hrs / Cost: Starts at USD 10 per person (group tour)
4. Take a Day Trip to the Imperial City of Huế
About 3 hours by car from Hoi An is the imperial city of Huế. This city served as the seat of the Nguyen Dynasty and Vietnam's capital from 1802–1945. The Nguyen Dynasty was the last ruling family in Vietnam before transitioning to a communist government under Ho Chi Minh.
We didn't have time to visit Huế this time around, but we definitely will on our next trip to Vietnam. Aside from being Vietnam's seat of power for well over a century, the region also features highly decorative food which is a vestige of ancient Vietnamese royal cuisine. We want to spend a few days there to really explore the cuisine, but if you're interested in getting just a taste of Huế, then you can do so on a day tour from Hoi An. If you'd prefer a private tour, this one takes you to Huế and Da Nang's famed Marble Mountains.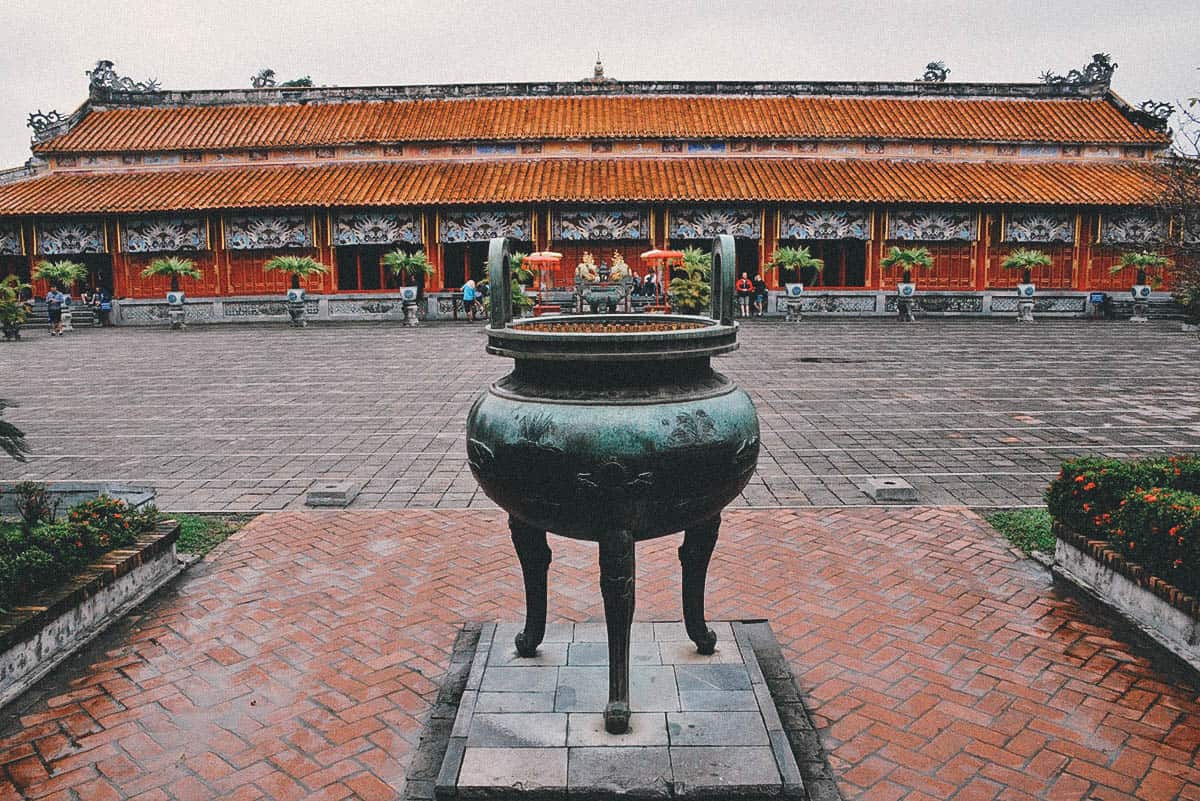 Length of Tour: Full Day / Cost: Starts at USD 43 per person
"Hue imperial city (Hue, Vietnam 2015)" by Paul Arps, used under CC BY 2.0 / Processed in Photoshop and Lightroom
5. Have a Suit or Dress Custom-Tailored in 24 Hours
One of the most popular things to do in Hoi An is to get a dress or suit custom-tailored. The tailoring tradition goes back many generations in Hoi An, so you'll find hundreds of tailor shops in town that can produce exact replicas of what you want in 24-48 hours. Unfortunately, I've read that not all tailors are honest. If you'd like to have something made but aren't sure where to go, then you can refer to this TripAdvisor post on Hoi An tailors for guidance.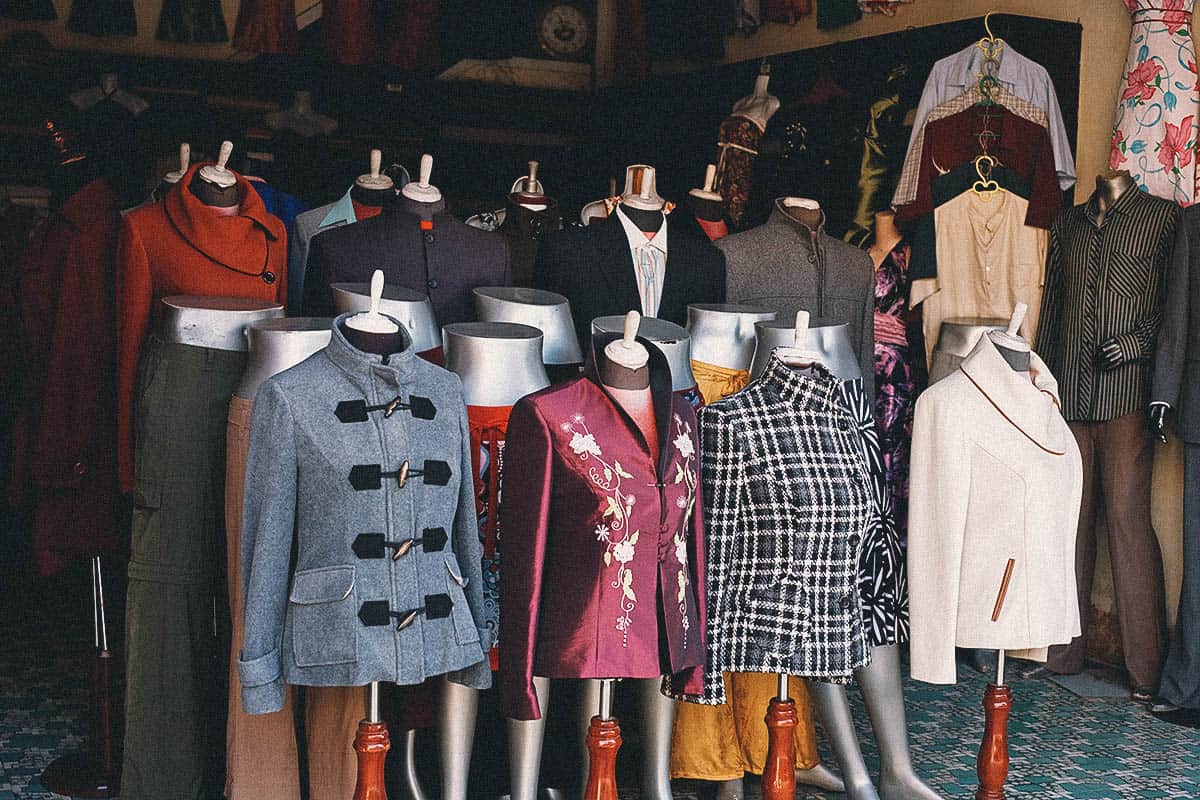 "Tailor Shop Hoi An" by Caitlin Childs, used under CC BY-SA 2.0 / Processed in Photoshop and Lightroom
6. Experience and Give Back with Backstreet Academy
Do you want to have authentic experiences while traveling and still give back to the community? If you do, then you may be interested in booking an activity with Backstreet Academy. They're one of the pioneers of impact travel which is a movement that aims to give tourists genuine experiences while benefiting the local communities. Check out this video for more information on impact travel and Backstreet Academy.
In Hoi An, you can learn how to fish from a real fisherman, join a crafting workshop at a famous wood-working village, or have a farming experience with up to 80% of tour revenues going back to the communities. Follow the link for a list of Backstreet Academy experiences in Hoi An.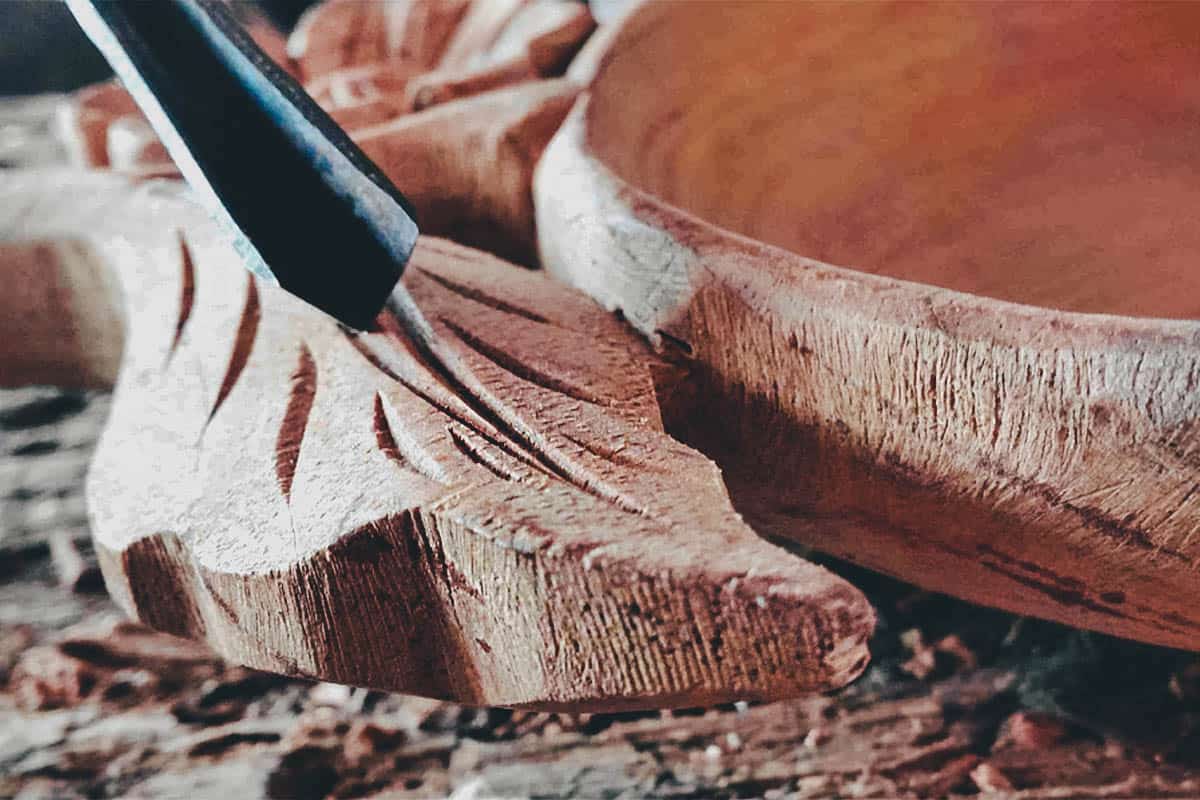 Picture borrowed with permission from Backstreet Academy
VIETNAMESE FOOD GUIDE
Ren and I were impartial to Vietnamese food before this trip but we left with a deeper respect for the cuisine. After spending two weeks eating our way through Vietnam, it's now become one of our favorites. If you're curious to learn more about Vietnamese food, then you might find our Vietnamese Food Guide interesting. From bánh cuốn in Hanoi to cao lầu in Hoi An to cơm tấm in Ho Chi Minh City, you'll be pleased to find that Vietnamese food is every bit as diverse as its landscape.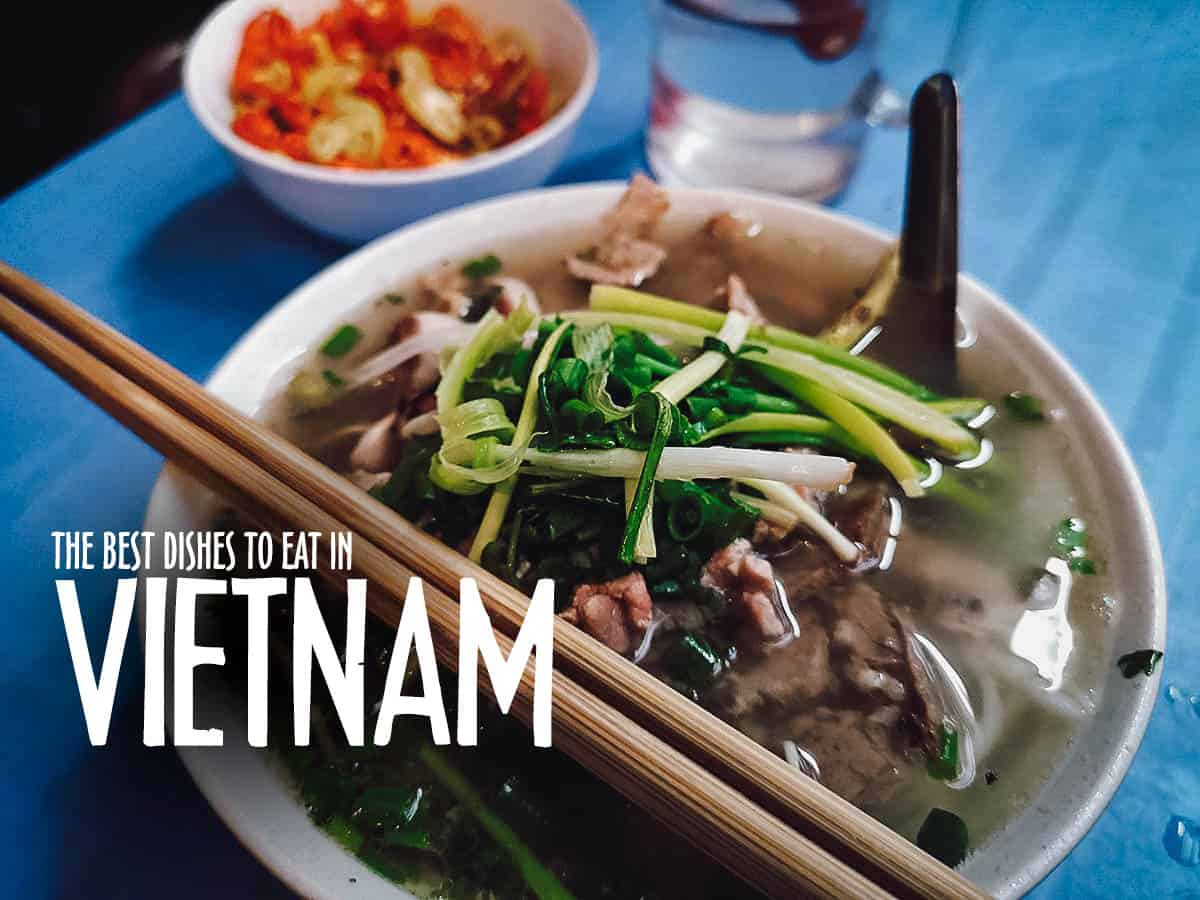 WHERE TO EAT IN HOI AN
20 Must-Try Vietnamese Restaurants & Street Food Stalls
While our Vietnamese food guide talks about Vietnamese cuisine in general, our Hoi An food guide helps you find the best places to eat in the city. From nationwide favorites like bánh mì and bánh xèo to Hoi An specialties like cao lầu and White Rose Dumplings, this list of nine eateries will show you where to find some of the best places to eat in Hoi An.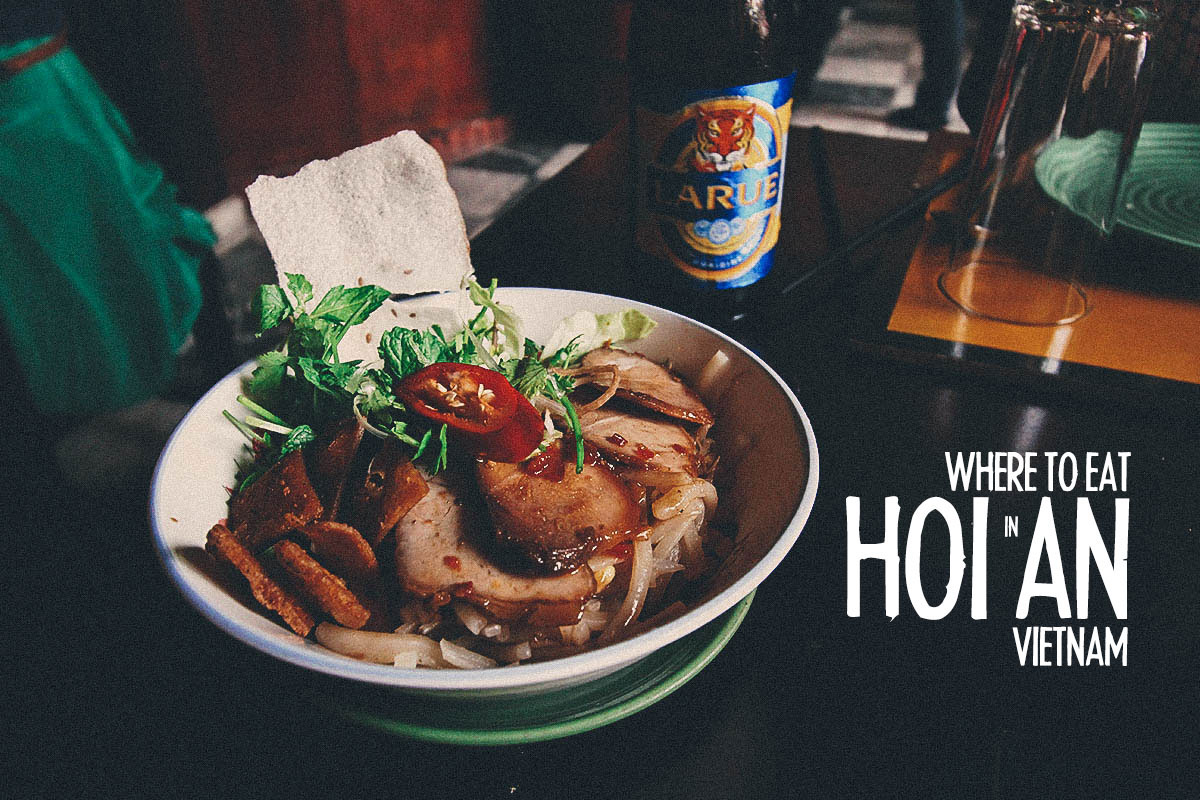 Of all the cities we visited in Vietnam, I enjoyed the food in Hoi An the most. The food was delicious throughout the country, but for me, Central Vietnamese cuisine was the most interesting. If you don't have time to visit all twenty eateries on our list, then you should at least visit these four.
1. Morning Glory Restaurant
Morning Glory Restaurant is owned by Ms. Trinh Diem Vy, a celebrity chef, restaurateur, and cookbook author. As mentioned earlier in this guide, cooking classes are a popular activity in Hoi An and Chef Vy is credited for pioneering the cooking course that launched all Hoi An cooking schools. Morning Glory Restaurant is in the heart of the Ancient Town and serves many local favorites like cao lầu and mì quảng. It's a little pricier than the other restaurants on our list but worth it.
Pictured below is a delicious bowl of cao lầu which is probably the single most important Hoi An dish. Made with water sourced from a local well, it's a dish of rice flour noodles topped with cha siu pork, fresh greens, herbs, rice crackers, and fried pork rinds. If you were to have just one dish in Hoi An, then this should be it.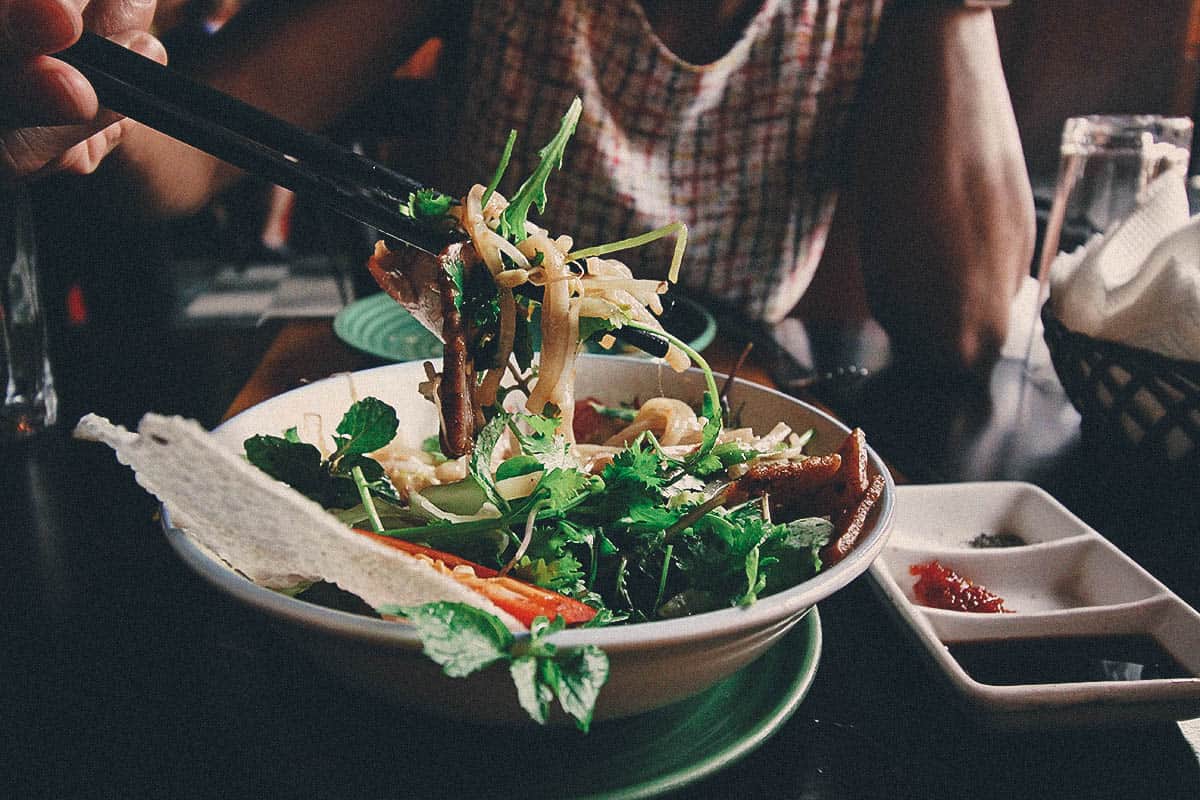 Expect to Pay: Around VND 110,000 per person
2. White Rose Restaurant
This restaurant is a Hoi An institution. They've been open for three generations and are famous for a dish called White Rose Dumplings. Known locally as banh bao banh vac, these flower-shaped dumplings are made with translucent white dough filled with spiced minced shrimp or pork. They're topped with crispy fried shallots and served with a special dipping sauce made with shrimp broth, chilies, lemon, and sugar. Like cao lầu and mì quảng, white rose dumplings are unique to the region and a must-try in Hoi An.
You'll find many restaurants and street food vendors selling White Rose Dumplings in Hoi An. The recipe is a well-guarded family secret so most of the dumplings you see in town are supplied by White Rose Restaurant. Aside from these dumplings, the restaurant serves just one other dish – crispy wontons.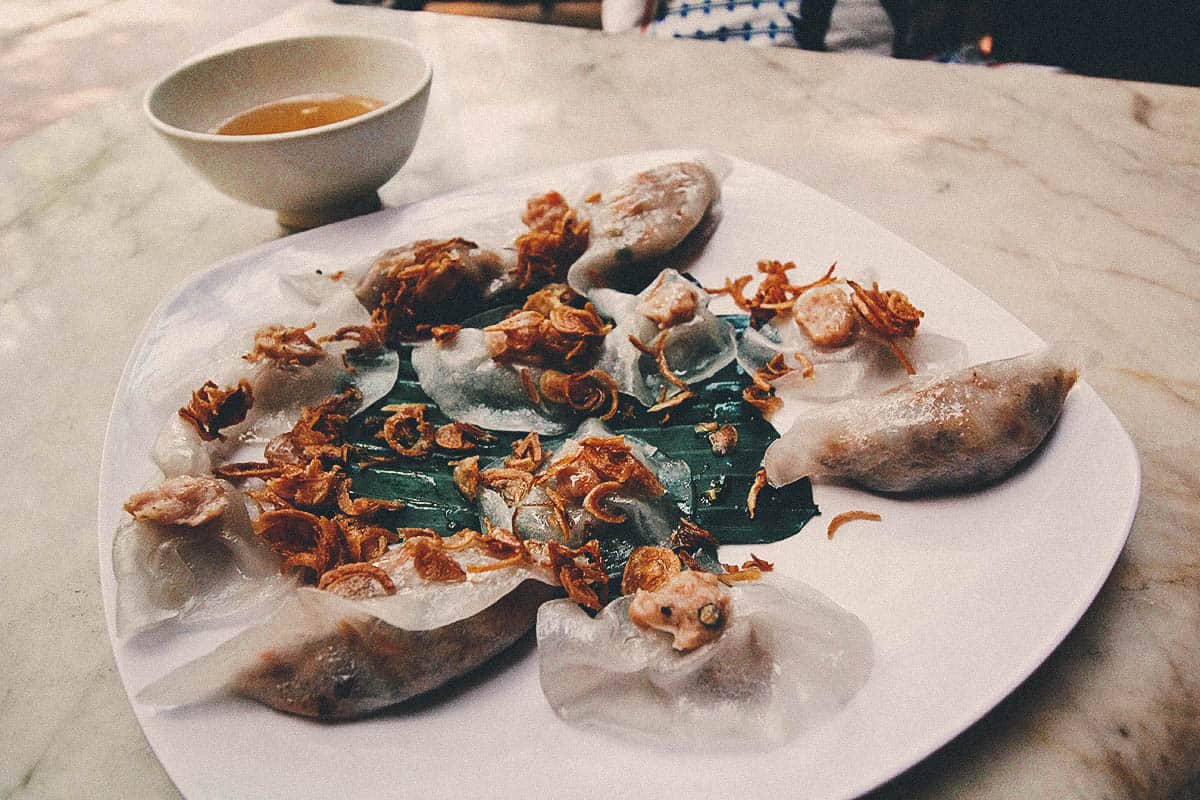 Expect to Pay: VND 70,000 per order of white rose dumplings
3. Ong Hai (Mr. Hai Restaurant)
If Morning Glory Restaurant feels a little touristy or pricey, then perhaps you'd prefer this place. Frequented mostly by locals, Ong Hai is a much simpler venue with plastic chairs and stainless steel tables. They specialize in cao lầu and mì quảng, which is an equally popular rice noodle dish that originated in Da Nang.
Unlike cao lầu that's made with hardly any broth, mì quảng (pictured below) is a slightly soupier dish made with a concentrated broth and a wider type of rice noodle. It's topped with pork, shrimp, or chicken and a host of other ingredients like hard-boiled egg, peanuts, rice cracker, and fresh herbs. Like cao lầu, mì quảng is a core Quảng Nam Province dish. Equally delicious, I couldn't decide which one I liked better. Just try both.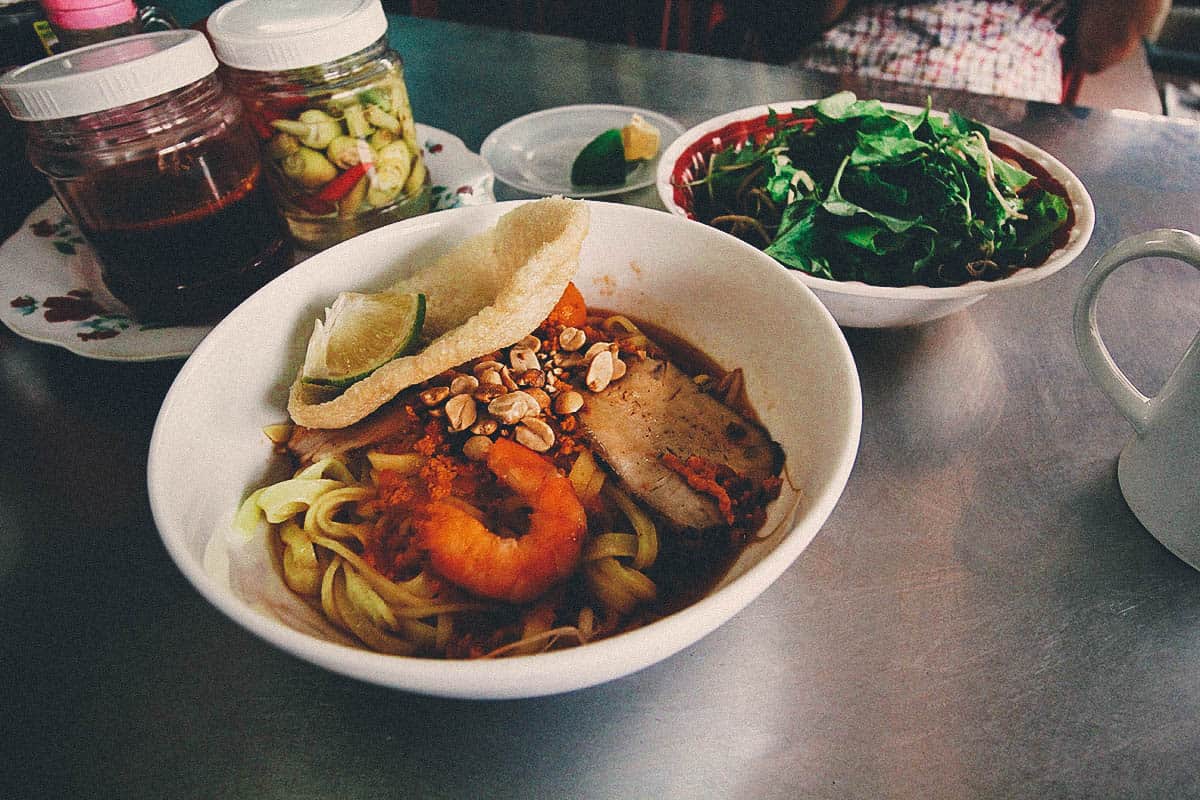 Expect to Pay: Around VND 35,000 per bowl of mi quang
4. Aunt Bay's Banh Beo
Banh beo or "water fern cake" is an interesting dish originally from Huế. It refers to a variety of small steamed rice cakes topped with savory ingredients like dried or fresh shrimp, scallions, roasted peanuts, mung bean paste, fried shallots, and fish sauce. If you're familiar with Singaporean food, then you may find these to be similar to chwee kueh. They're delicious and loaded with umami.
Banh beo is sold mainly as a street food. There are many well-known banh beo vendors in Hoi An, but one of the most famous is Aunt Bay. You can find her outdoor setup at the corner of the old wall on Hoàng Văn Thụ Street after 3PM everyday.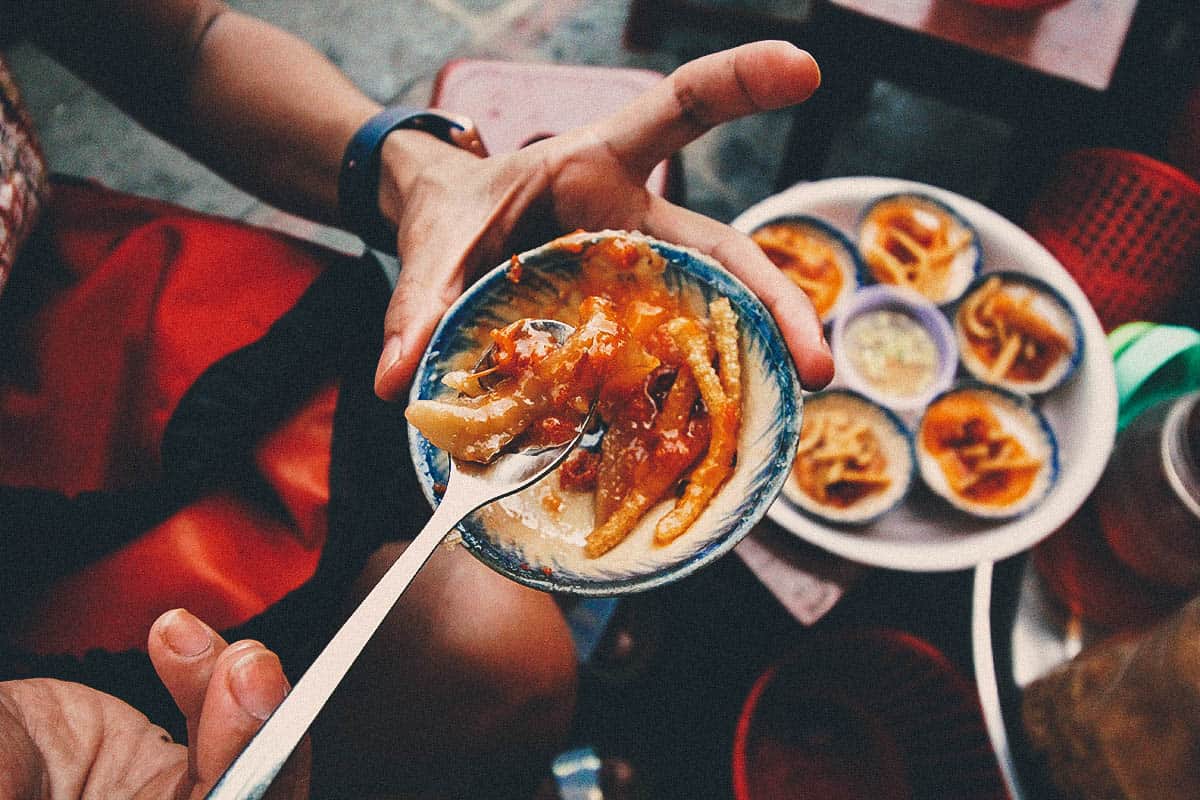 Expect to Pay: VND 15,000 per order of banh beo (3 small plates)
TRAVEL TIPS
1. Rent a Pocket Wifi Device
Do you ever travel without packing your toothbrush? Never right? That's how I feel about pocket wifi devices. It's become such a necessity these days that we never go anywhere now without renting a pocket wifi device first.
For our trip to Vietnam, We rented a 3G pocket wifi device through Klook. We prefer pocket wifi devices because we find them easier, but a cheaper alternative is to get a sim card. You can purchase a sim card through Klook then pick it up at Da Nang International Airport.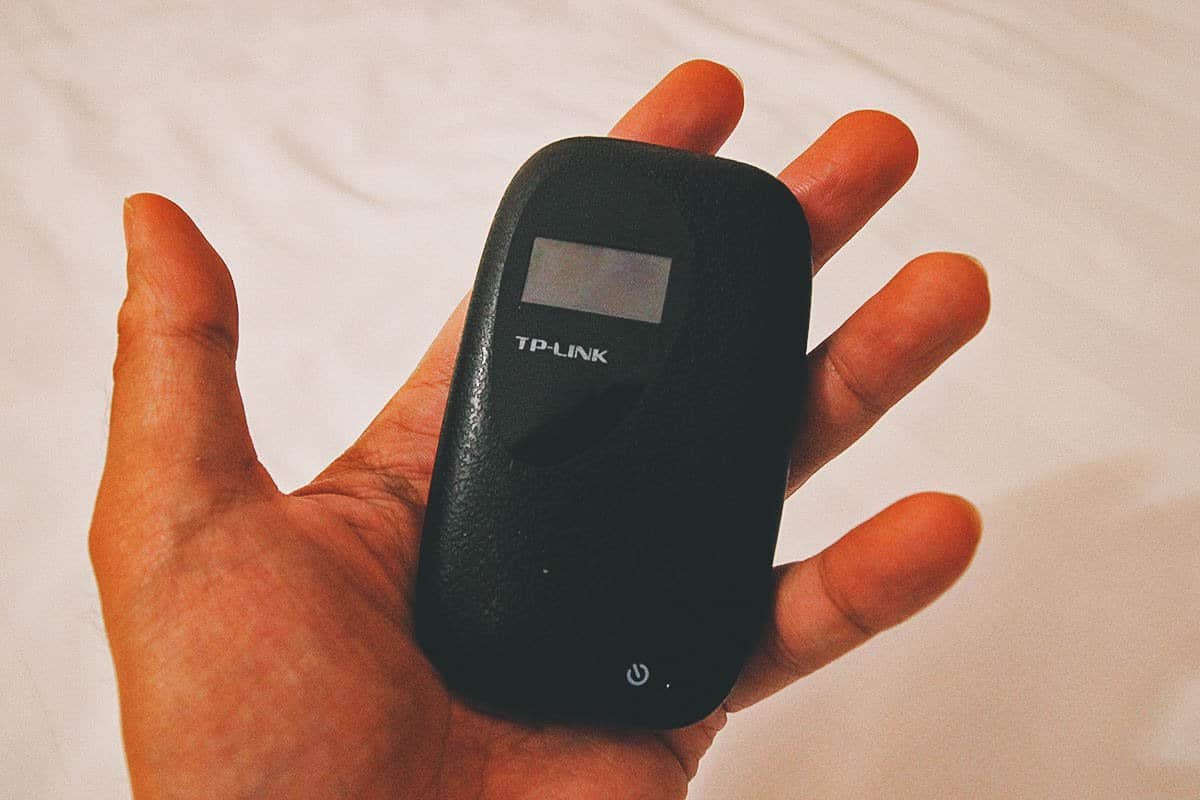 2. Plan your Trip with Sygic Travel
I've been using this free app to create our itineraries for several years now. It allows me to plot all the attractions and restaurants we want to visit on a map, so I can see exactly where they are in relation to one another. That way I can easily group points of interest together to create as efficient an itinerary as possible. Check out my post on the Sygic Travel app to see how it works.
Follow this link to check out our 3-day Hoi An itinerary on Sygic Travel. You can also download a copy of our 2-week Vietnam itinerary in editable Word format from our EAT-ineraries page. It goes north to south and covers Hanoi (including Ha Long Bay), Hoi An, and Saigon.
3. Check for Discount Tickets
I use several online tour providers but my favorite sites to use for trips around Asia are Klook and KKday. They're based in Asia so they have the best prices and often the widest selection as well. I didn't book any in Hoi An except for the pocket wifi device, but I did book two tours in Hanoi. We were pleased with all of them.
Follow these links for a complete list of Hoi An deals on Klook and Kkday. You'll often find interesting activities that you wouldn't normally think of yourself so it's definitely worth a look.
4. Get Travel Insurance
We get travel insurance more often now but there was a time when we didn't get it at all. It seemed like an unnecessary expense.
The way I see it, if you plan on doing physical activities while on a trip, then you should definitely get travel insurance. But if all you'll be doing is going to Singapore and traveleating for a few days, then you may not need it as much.
When we do feel the need for insurance, we get it from World Nomads or SafetyWing. They're both leading travel medical insurance providers used by many long-term travelers. Check out my article on why we buy travel insurance for more information. You can follow the links to get a free quote from World Nomads or SafetyWing.
5. Pay Only in VND
Some hotels, restaurants, and shops may accept payment in USD, but you should always pay in VND. If something is priced in VND, then you should definitely pay for it in VND because using any other currency will lead to terrible exchange rates. As advised, the best place to get VND in Hoi An is at gold/jewelry shops and banks.
6. Don't Be Confused by the Currency
I don't think I've ever been as careful paying for things than I was in Vietnam. Their currency is so confusing! Having all the zeros is confusing enough, but some banknotes even look the same. For example, VND 100,000 bills have a similar green hue as VND 10,000 notes.
Based on what I've seen and heard, tourists overpaying for things in Vietnam isn't uncommon. In fact, it happened to a woman who was on this Hoa Lư and Tam Cốc tour with us in Hanoi. She mistakenly gave the vendor a VND 200,000 note when she meant to give her a similarly red VND 50,000 bill.
Be careful when paying for things with cash in Vietnam because chances are, vendors won't correct you if you make a mistake.
7. Bring the Right Power Adapter
Vietnam has Type A, Type C, or Type F electrical outlets so be sure to bring the right power adapters for your devices. Electrical voltage is 220V and the standard frequency is 50Hz.
HOW TO GET AROUND
Hoi An is a walking town. You can easily get around on foot or on a bicycle. As previously mentioned, we were allowed to use our hotel's bikes for free so you may be able to borrow one from your hotel as well. If not, then there are bike and motorcycle rental shops around town. I did some research and it typically costs USD 1 to rent a bike for the entire day and USD 5 for a motorcycle. Hoi An is a small town though so unless you plan on going farther out, like to My Son Sanctuary or the Marble Mountains, then a bicycle is best.
Have fun!
I'm hardly an expert on Hoi An but I do hope this guide helps you plan your trip. I'm only sharing some of the things I learned from our time there. If you have any questions or comments, then please leave them in the comment section below. You're welcome to join our Facebook Travel Group as well.
OUR GEAR
These are some of the things we brought with us to Hoi An. For a list of all our gear, check out our "What's in Our Backpack?" post. (NOTE: The following links are Amazon affiliate links.)
Disclosure
Some of the links in this guide are affiliate links. If you purchase anything through them, then we'll make a small commission at no extra cost to you. We only recommend products and services that we use ourselves and firmly believe in. We really appreciate your support as this helps us make more of these free travel guides. Thank you!