Hoi An Ancient Town is incredibly pretty, especially at night.
Head out to the Bridge of Lights (Cau An Hoi) at around 8PM to see what I mean. True to its name, the bridge and surrounding areas are illuminated with paper lanterns of every color. They hang from the bridge, from storefronts, between houses, and float down the Thu Bon River.
Hordes of tourists congregate on this pedestrian bridge to take pictures of the magical scene that manifests itself every night in the Ancient Town.
Admittedly, the crowds can get a bit overwhelming. But as touristy as it can sometimes be, it's still one of the most memorable things to do in Hoi An.
If it's your first time visiting central Vietnam, then this guide will show you ten of the best things you can do in this magical fairy tale town called Hoi An.
Save This on Pinterest!
No time to read this guide on the best things to do in Hoi An? Click on the save button and pin it for later!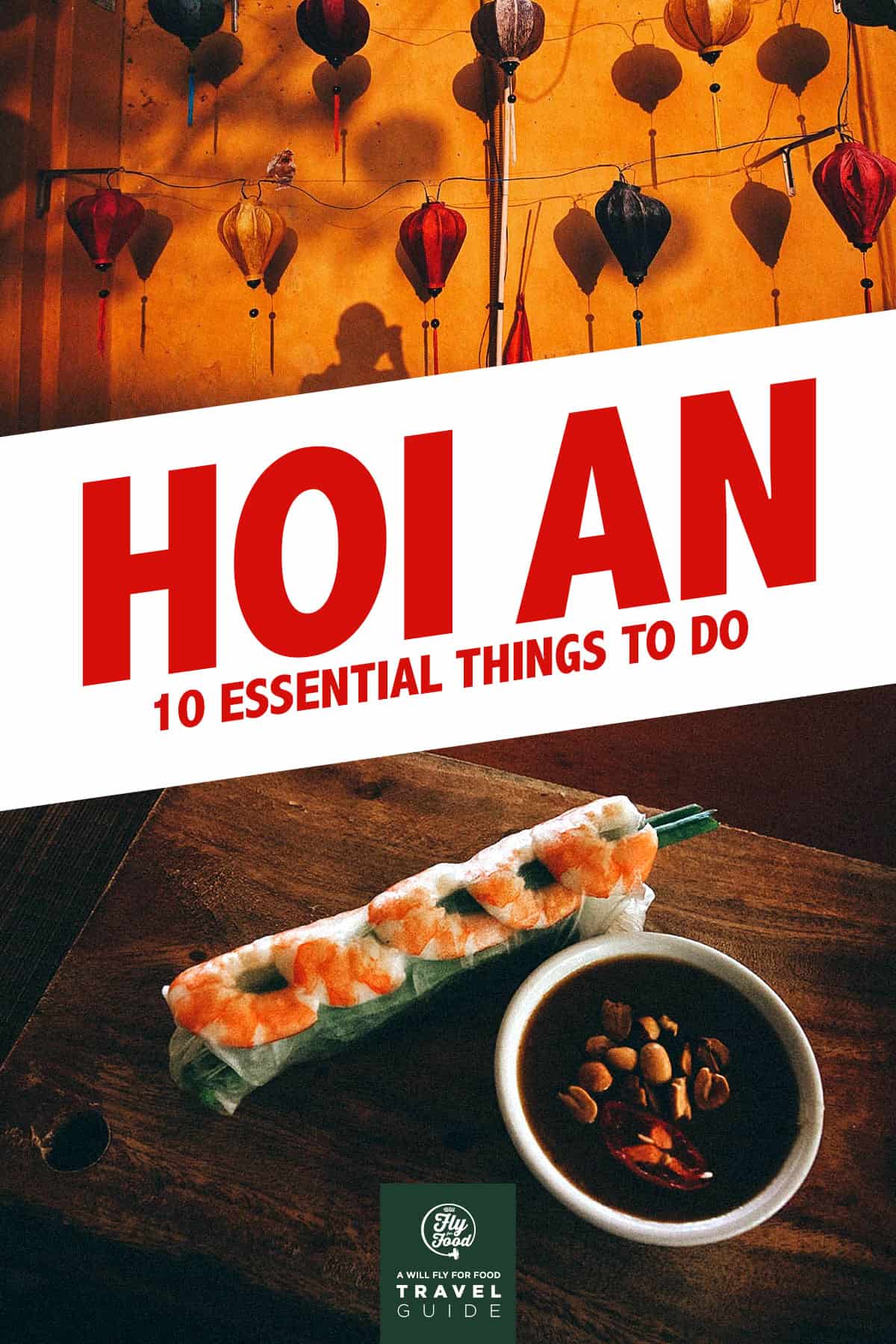 THINGS TO DO IN HOI AN
1. Explore Hoi An Ancient Town
Getting lost in the Ancient Town is one of the most fun things to do in Hoi An. It refers to a thirty hectare area near the mouth of the Thu Bon River that was one of the busiest trading ports in Southeast Asia between the 16th and 18th centuries.
At one point, it was the exclusive trade conduit between Europe, China, India, and Japan, leading to a unique fusion of cultures that can't be seen anywhere else in Vietnam.
Today, Hoi An Ancient Town is a UNESCO World Heritage Site that's home to an exceptionally well-preserved complex of timber frame buildings, pagodas, and heritage houses. Collectively, it's the top attraction in Hoi An and a big reason why people enjoy this city.
The Ancient Town is the heart of Hoi An and its hub of commercial activity so you'll be spending most of your time there. It's a fascinating area to explore with its lanyrinthine network of restaurants, cafes, shops, and museums.
Hoi An Ancient Town is at its most dramatic at night, but if you're into photography, then you may want to explore it early in the morning as well. It looks incredible bathed in the golden glow of sunrise. Plus, you'll have the town all to yourself. You can check out my article on Hoi An Ancient Town for more pictures and information.
The Ancient Town is fun to explore on your own but if you'd like to learn more about it on a guided tour, then there are several you can choose from on Klook or Get Your Guide.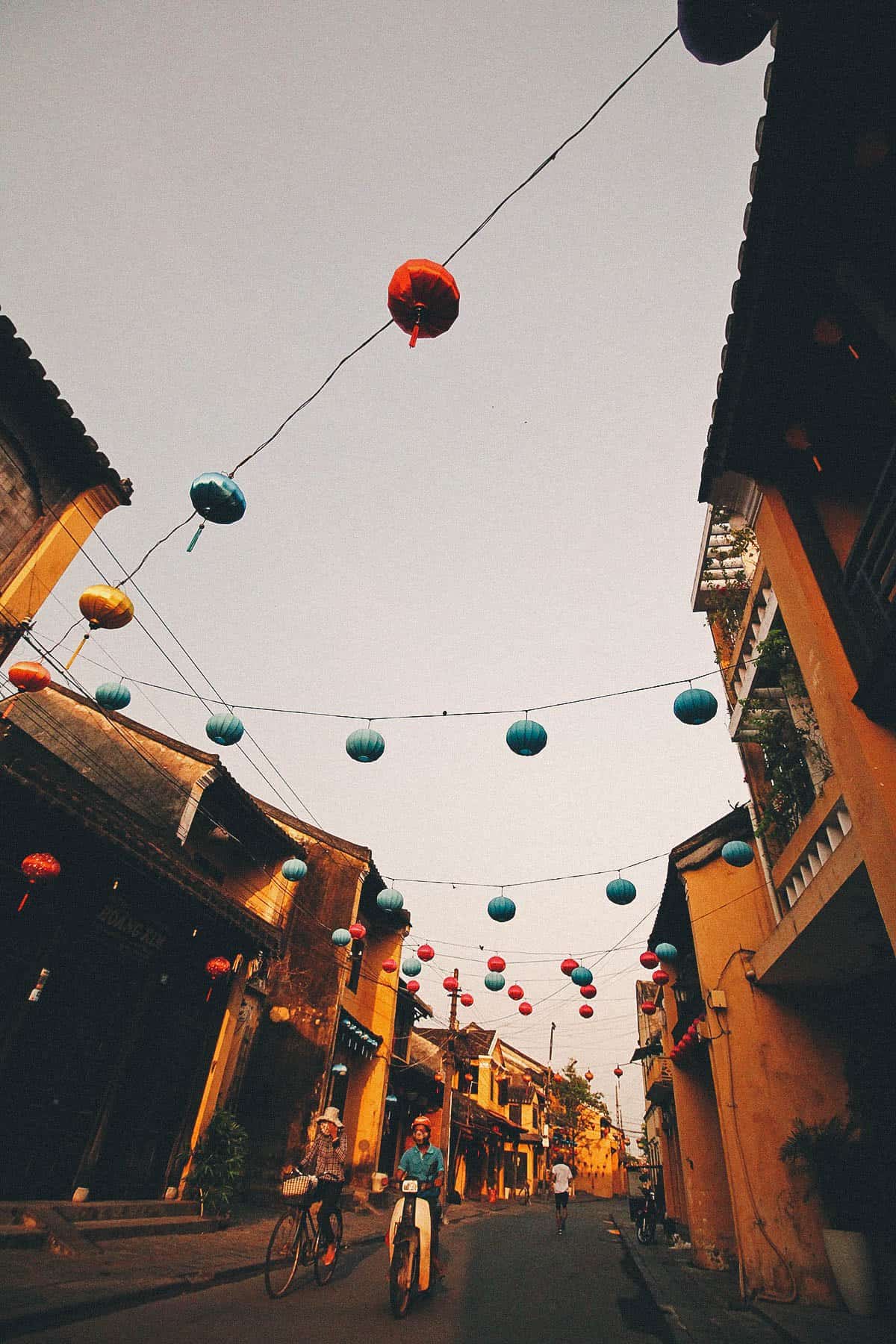 Hoi An Ancient Town Ticket: VND 120,000
2. Eat Cao Lau
If you travel for food like we do, then this is something that you absolutely must do in Hoi An. There are three dishes that make up the holy trinity of Hoi An food – cao lau, banh mi, and com ga. Of the three, cao lau may be the most important.
Cao lau is a rice noodle dish made with cha siu pork, rice crackers, bean sprouts, fresh herbs, and deep-fried squares of pork skin. What makes it special are the noodles. Authentic cao lau noodles are made with water drawn from the ancient Ba Le Well.
The well's alkaline water mixed with wood ash from the Cham Islands gives cao lau noodles its distinctive yellow tinge and chewier texture.
With cao lau being such an important Hoi An dish, I've tried it many times but my favorites so far are from Cao Lau Khong Gian Xanh and Cao Lau Thanh. Both are local favorites known for serving some of the best cao lau in Hoi An.
You can check out our food guide for a list of the best local restaurants in Hoi An.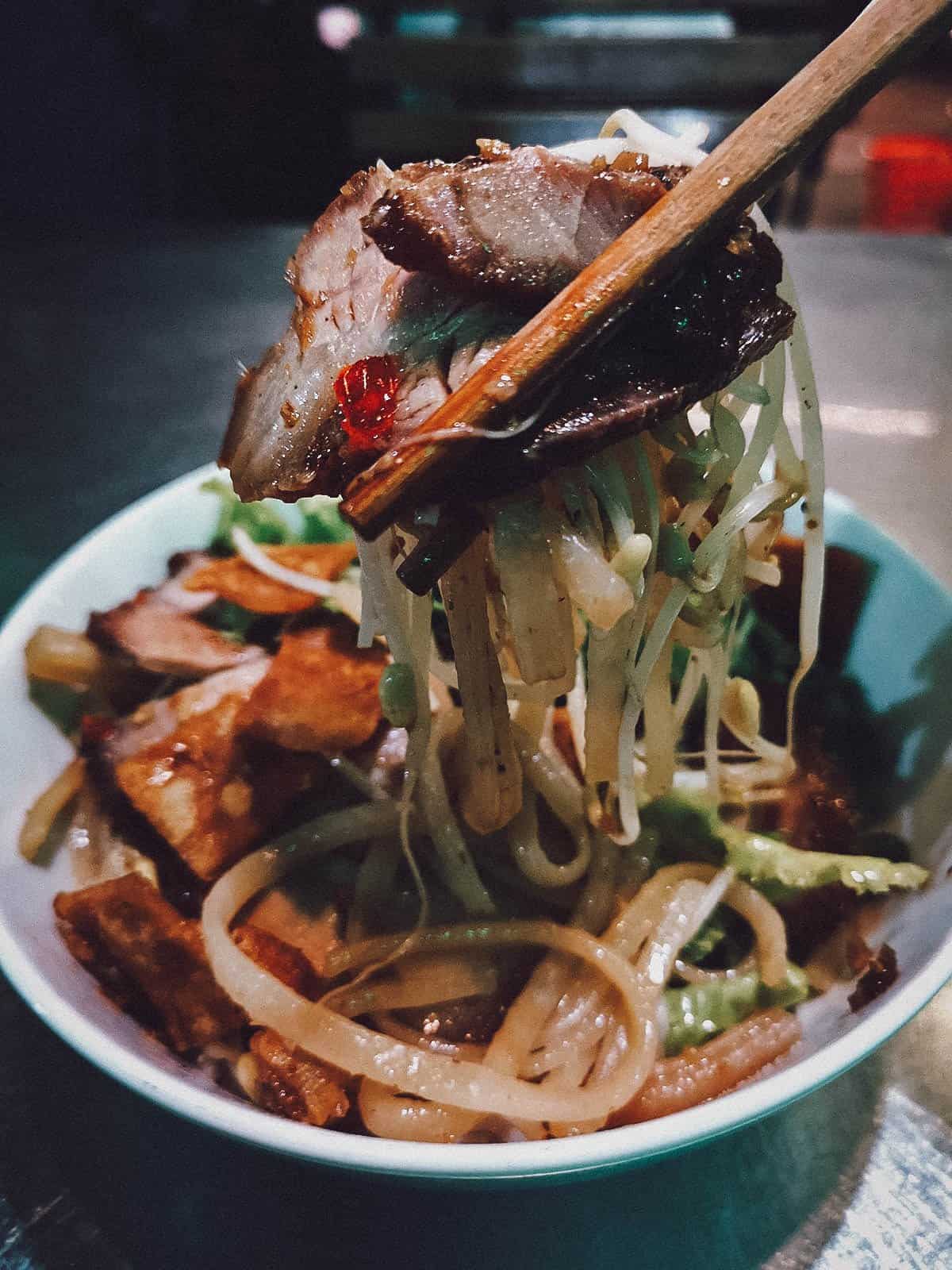 Where to Try It: Cao Lau Khong Gian Xanh, Cao Lau Thanh
Expect to Spend: About VND 35,000 per bowl
3. Take a Cooking Class
Taking a cooking class is one of the best and most popular things to do in Hoi An. In fact, the class we took at Thuan Tinh Island Cooking School was the very first cooking class we had ever taken on a trip. We had so much fun that we've been doing it ever since.
Many restaurants and hotels offer cooking classes but one of the most recommended is Thuan Tinh Island Cooking School. They're a TripAdvisor Certificate of Excellence awardee with a perfect 5-star rating, even after over 3,200 reviews.
If you don't think Thuan Tinh Island Cooking School is the right place for you, then you can check out Cookly for a list of cooking classes in Hoi An. They have dozens to choose from.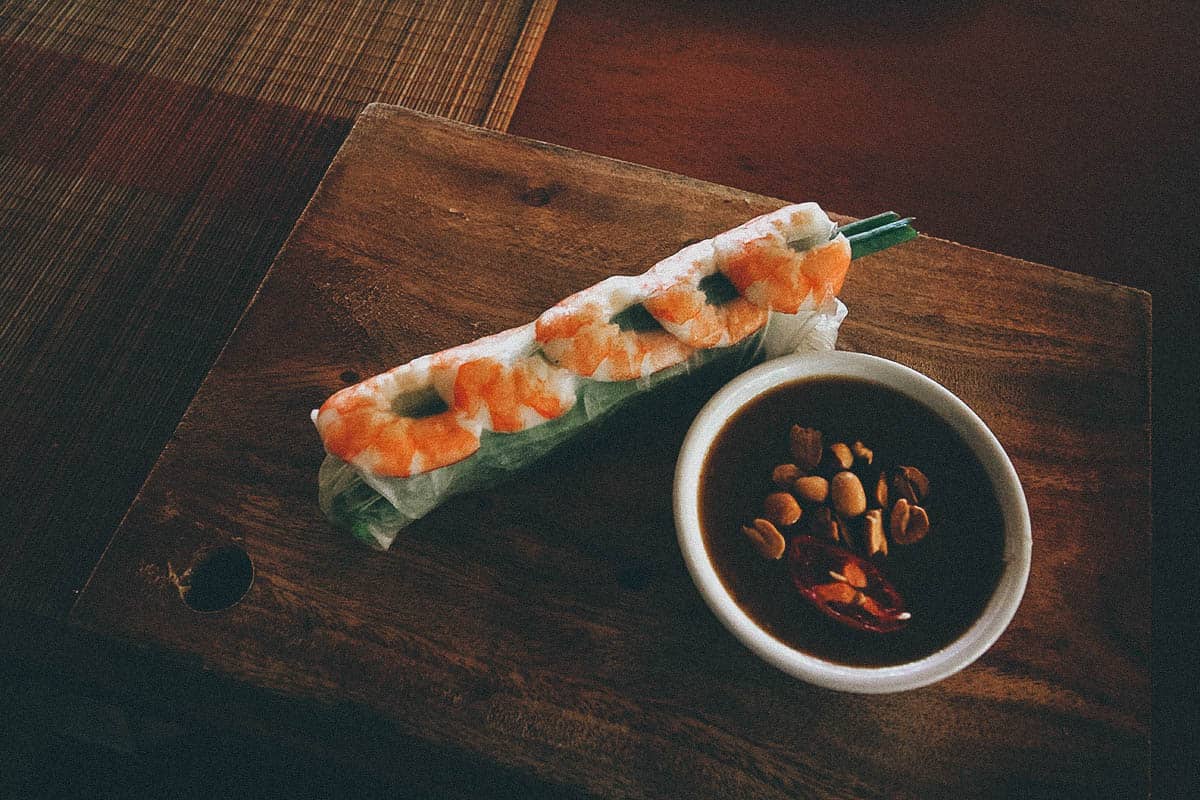 4. Ride a Basket Boat
Riding one of these round basket boats has to be one of the most fun things to do in Hoi An. They're popular in southern and central Vietnam and have become an iconic symbol of the country.
When I booked our cooking class at Thuan Tinh Island Cooking School, included on the itinerary was a short boat ride to Thuan Tinh Island. I assumed it would be on one of these round boats but we wound up riding wooden canoes instead.
The origin of these round boats is unclear, though some people speculate they may have been born from a similar reason as the narrow houses in Hanoi – French taxation.
When the French levied taxes on boats like they did on houses, fishermen found an ingenious way of circumventing taxation by creating large "baskets" that doubled as boats. They quickly became popular because of their tax-free status and clever design.
You can hire wooden canoes to take you up and down the Thu Bon River but I suggest riding one of these basket boats instead. It's a more unique and authentic way of experiencing the waterways of Hoi An. You can book a basket boat tour on Klook or Get Your Guide.
Photo by Pinglabel via Shutterstock
5. Eat Banh Mi
Banh mi is a Vietnamese national dish. You can have it anywhere in Vietnam but many people, including the late great Anthony Bourdain and CNN, say that the best banh mi can be found in Hoi An, and much of that can be attributed to the bread.
Strictly speaking, the term "banh mi" refers to bread but it's often used to describe the sandwich made with a small French baguette. It can be filled with any number of ingredients but the most common fillings include liver pate, cold cuts, pickled vegetables, cucumber slices, and cilantro.
Ask locals for the best banh mi in Hoi An and most will point you to the Banh My Queen or Banh Mi Phuong. Both were outstanding and two of the best banh mis I've had anywhere in Vietnam.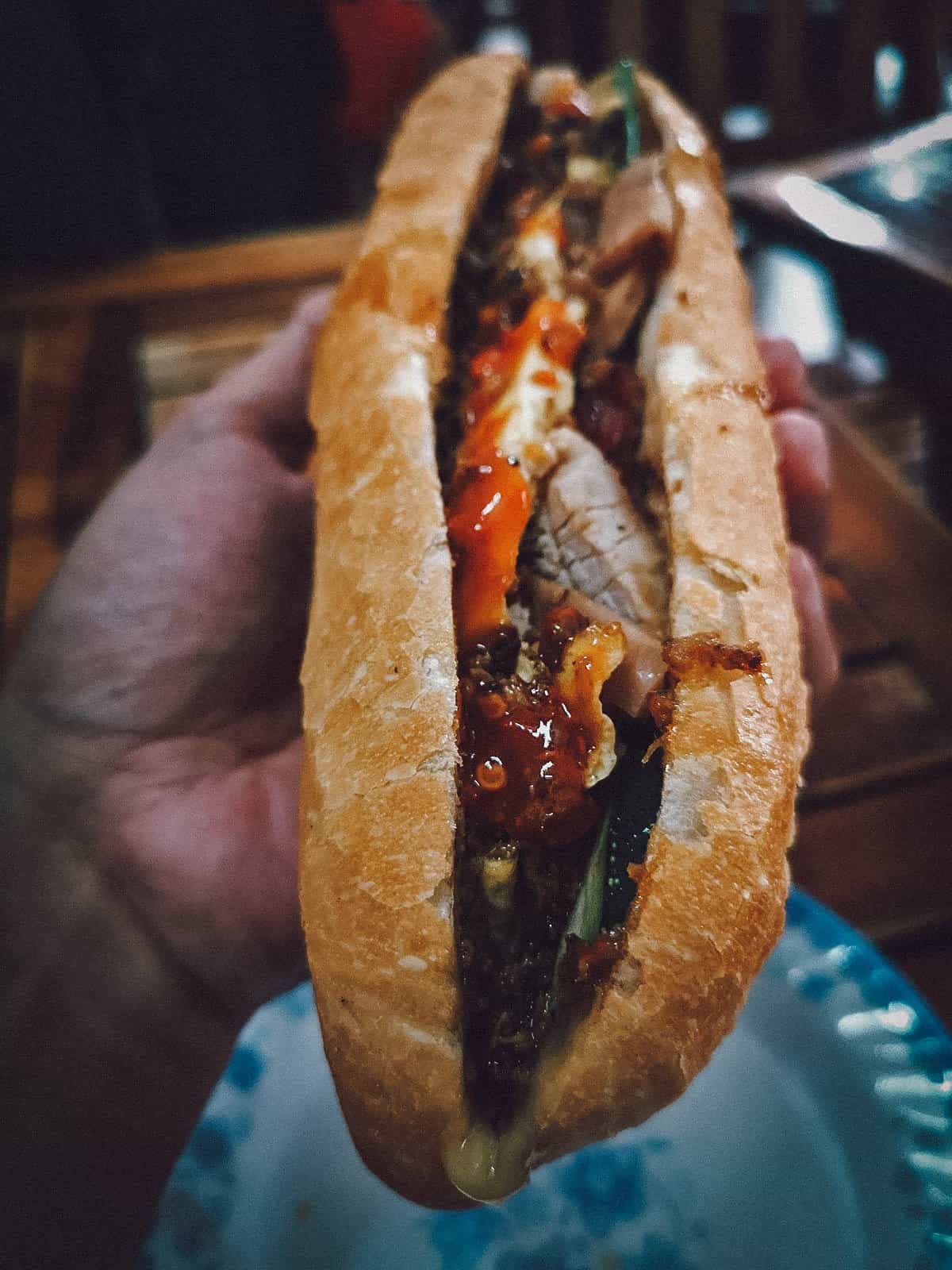 Where to Try It: Madam Khanh – The Banh My Queen, Banh Mi Phuong
Expect to Spend: About VND 20,000-30,000 per banh mi
6. Have Coffee or Tea at the Reaching Out Tea House
There are many cute cafes serving good Vietnamese coffee in Hoi An, but this has to be one of the most interesting. At Reaching Out Tea House in the Ancient Town, you're meant to enjoy your coffee or tea in silence.
Reaching Out Tea House is managed by the speech or hearing impaired. Instead of communicating verbally, you're encouraged to correspond through handwritten notes or by using blocks with messages like "Bill", "Ice", or "Thank you".
Reaching Out is a lovely initiative that serves good coffee. They offer just three coffee blends and four types of tea. You can get them separately or try them all in these coffee or tea tasting sets.
As of this writing, Reaching Out Tea House maintains a perfect 5-star rating on TripAdvisor even after over 2,600 reviews. You can check out our coffee guide for more of the best cafes in Hoi An.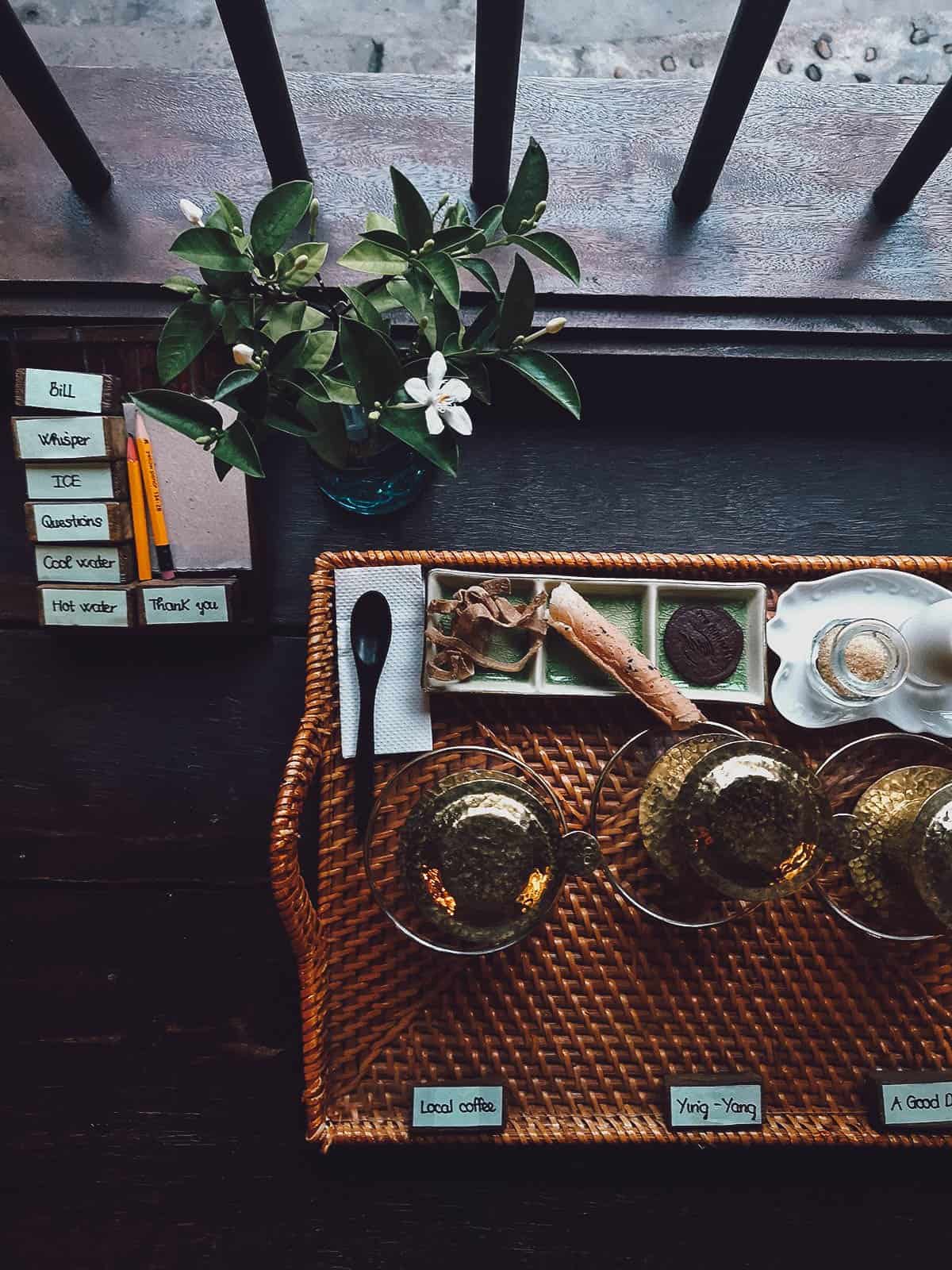 Expect to Spend: About VND 135,000 for the coffee tasting set
7. Explore My Son Sanctuary
A visit to My Son Sanctuary is by far the most popular day trip you can make from Hoi An. It's a Hindu sanctuary with temples and ancient ruins that's often referred to as a "mini Angkor Wat".
My Son Sanctuary is a UNESCO World Heritage Site that was built by the Cham people between the 4th and 14th centuries. You can check out my article on My Son Sanctuary for more pictures and information.
We booked a private tour to My Son Sanctuary with Simply Vietnam Travel but you can book group tours through Klook or Get Your Guide.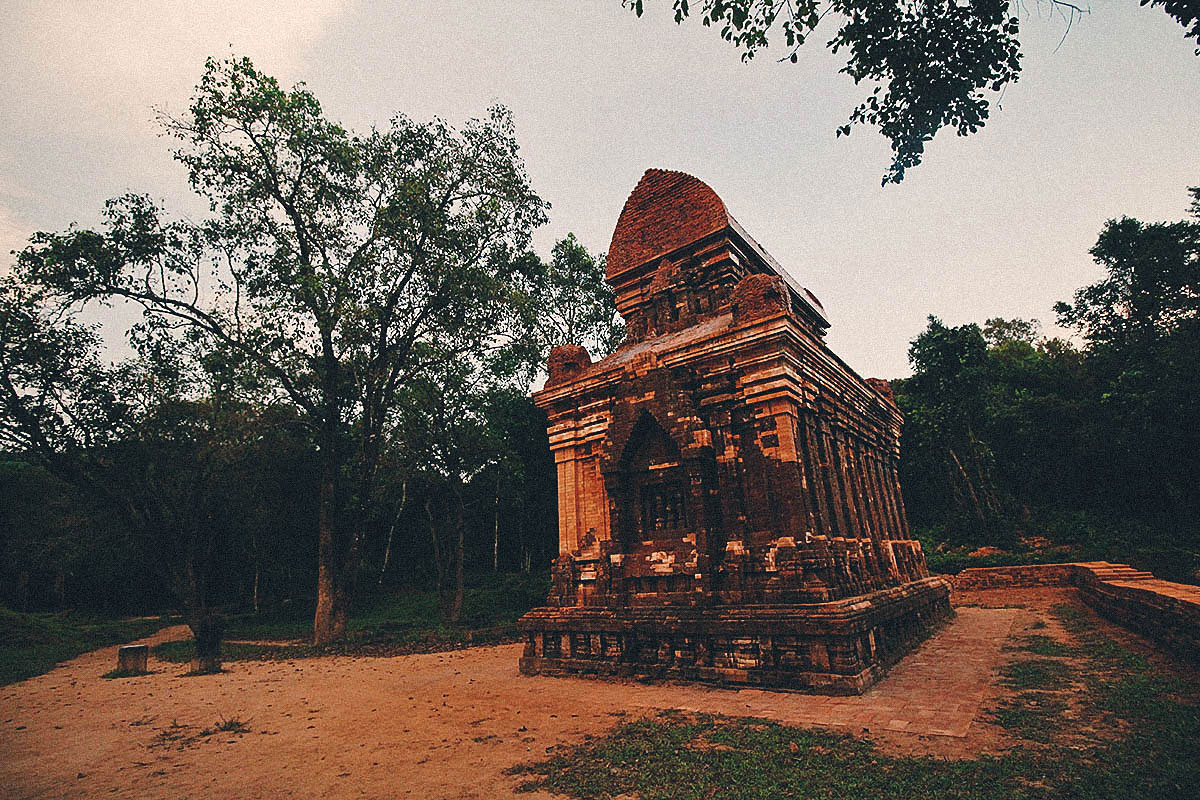 8. Eat Com Ga
Com ga is the third member of Hoi An's holy trinity of regional Vietnamese food, and it may be my favorite. It's basically Vietnam's version of Hainanese chicken rice, which was brought to Quang Nam Province by Chinese traders from Hainan.
Com ga is made with shredded poached chicken, seasoned pilaf rice, green papaya and carrot strands, fresh herbs, and a tasty bowl of chicken broth that may or may not contain bits of offal and congealed blood. It's absolutely delicious and one of my favorite things to eat in Hoi An.
I've tried com ga at a few places in Hoi An but my favorite was definitely Long Com Ga, a small restaurant tucked away in an alley in the Ancient Town. Their com ga was the tastiest for me and served with different types of offal.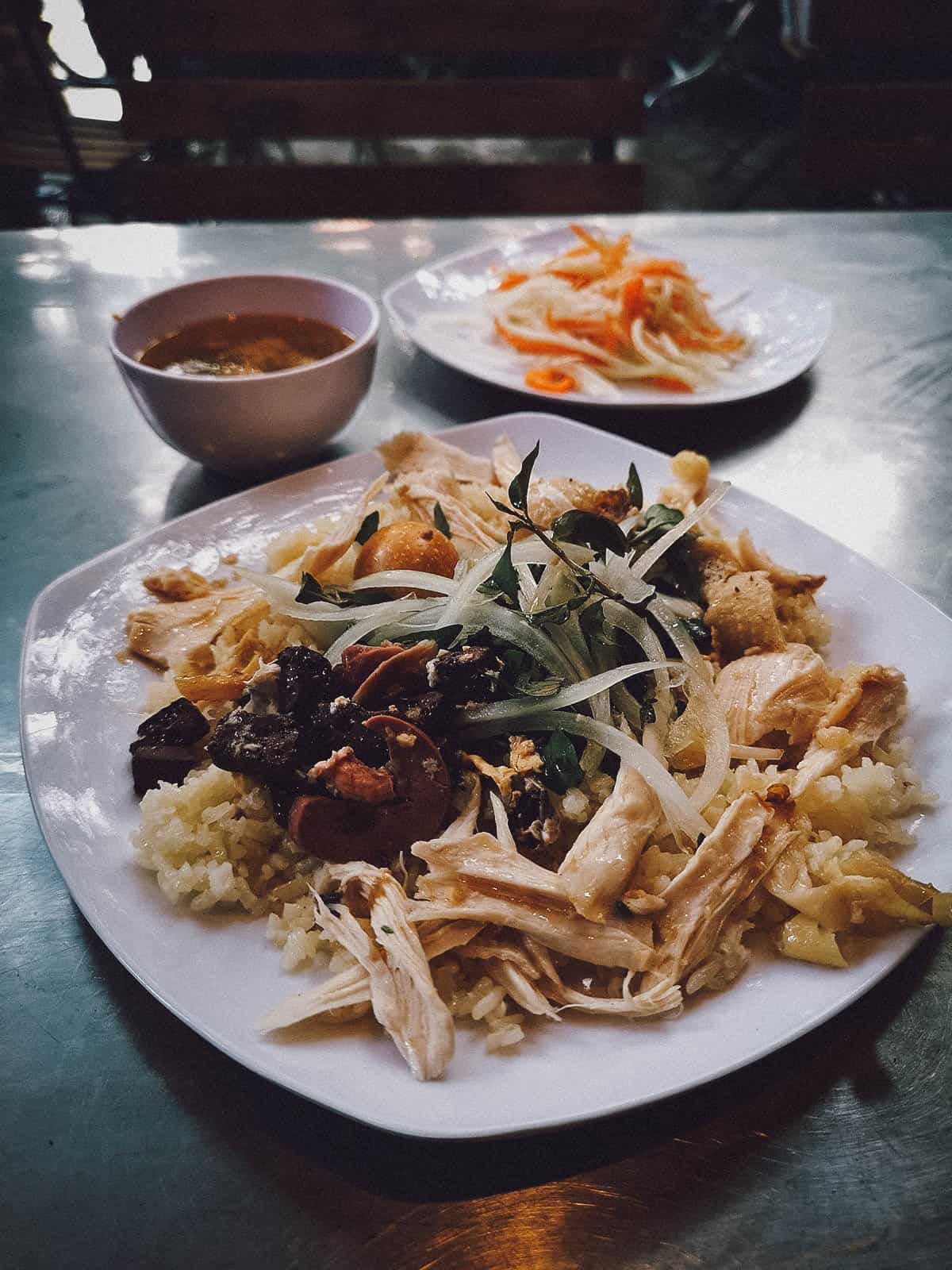 Where to Try It: Long Com Ga, Com Ga Ba Buoi
Expect to Spend: About VND 35,000 per order of com ga
9. Eat White Rose Dumplings
White Rose dumplings or banh bao banh vac are dumplings made by the White Rose Restaurant. This Hoi An institution has been serving these iconic dumplings for four generations now.
White Rose dumplings are unique to Hoi An. Filled with spiced minced shrimp or pork, their skins are made with the same alkaline water used to make cao lau noodles, giving them a similarly firm and chewy texture.
You'll find many stalls and restaurants offering White Rose dumplings in Hoi An. These are all sourced from White Rose Restaurant but I suggest trying them at the restaurant itself. They have just two items on their menu – White Rose dumplings and fried wontons also known as "Hoi An pizza".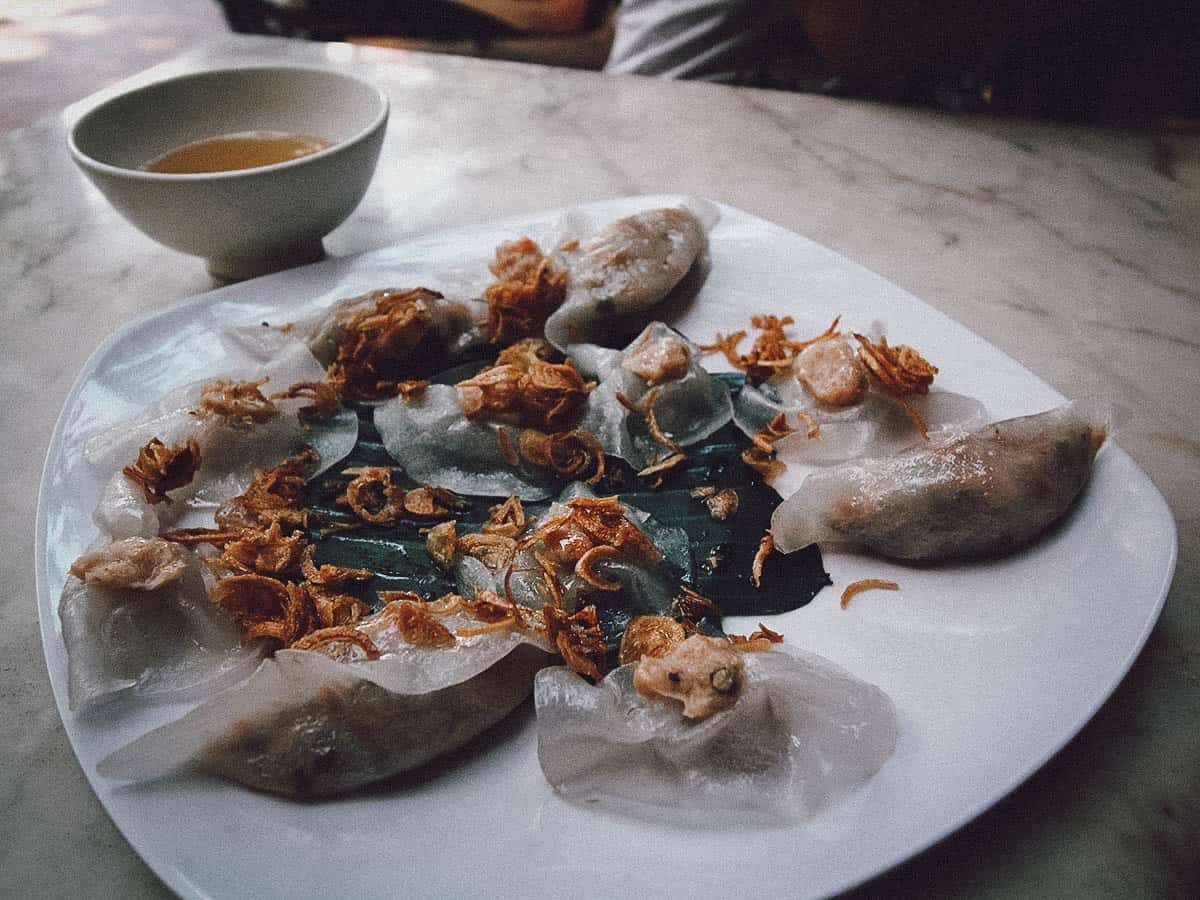 Expect to Spend: About VND 70,000 per order of white rose dumplings
10. Get a Custom-Tailored Suit or Dress
Getting a custom-tailored suit or dress is one of the most popular things to do in Hoi An. The town's tailoring tradition goes back many generations so you'll find dozens of tailoring shops in Hoi An that can skillfully recreate exact replicas of whatever you want in 24-48 hours.
With that said, be careful where you go because I've read that not all tailors are honest. You can ask your hotel for help or refer to this article for recommendations.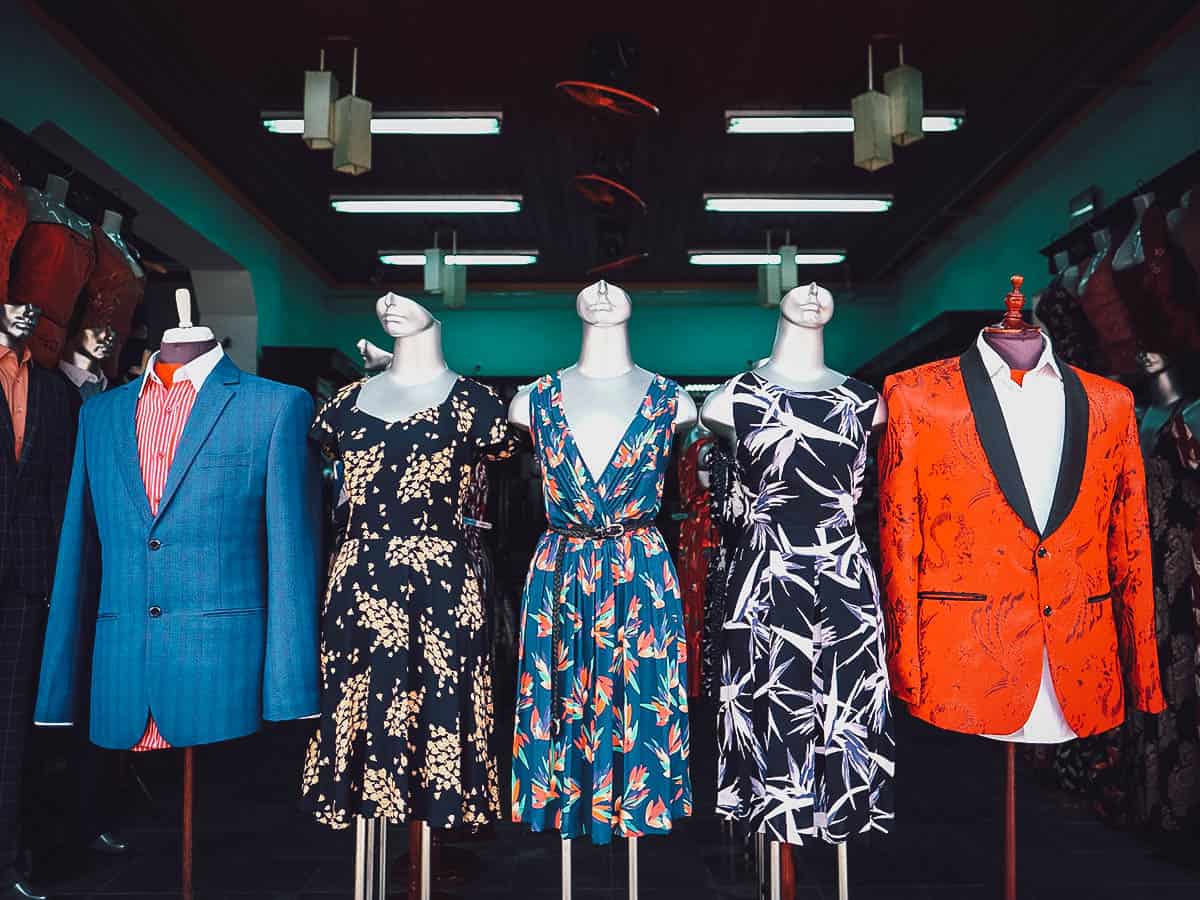 Photo by Tee11 via Shutterstock
FINAL THOUGHTS
Hoi An is one of our favorite cities to visit in Vietnam. Not to live in, but to visit. The city is charming, it's compact, it's got great food, and there are plenty of things to do in Hoi An for first-time visitors.
In my opinion, Hoi An is a little too touristy to stay in for a prolonged amount of time, but if it's your first time visiting, then there are few destinations in Vietnam more impactful than Hoi An.
Personally, I'll never forget the first time I saw the Ancient Town at night. We were having drinks by the river then walked our bikes through the Ancient Town to get back to our hotel.
I didn't know what to expect so seeing all the lanterns lit up made me feel like I had fallen asleep at the bar and woken up in a fairy tale. It truly was magical.
I hope you have a similar experience on your first visit to Hoi An.
Disclosure
Some of the links in this guide are affiliate links. We'll earn a small commission if you make a purchase or booking at no additional cost to you. As always, we only recommend products and services that we use ourselves and firmly believe in. We really appreciate your support as this helps us make more of these free travel guides. Thank you!