We've been to Japan many times, but the majority of our trips have been to the most popular cities like Tokyo, Osaka, Kyoto, and Sapporo. There is still so much more to experience in Japan which is why I was thrilled to receive that email from JR Central. They invited me to explore the Chubu region in central Japan using a Takayama Hokuriku Pass.
We've been visiting Japan at least once every year but this was my first time to travel in the country on a JR pass. What the Takayama-Hokuriku Tourist Area Pass does is allow you unlimited travel in central Japan so you can explore destinations like Kanazawa, Fukui, Toyama, Nagoya, and Shirakawa-go. It is so convenient.
If you've already been to the usual places like Tokyo and Osaka and are looking to experience something different in Japan, perhaps in the Chubu region, then the Takayama Hokuriku Pass will be very useful to you.
Save This on Pinterest!
No time to read this now? Click on the red save button and pin it for later!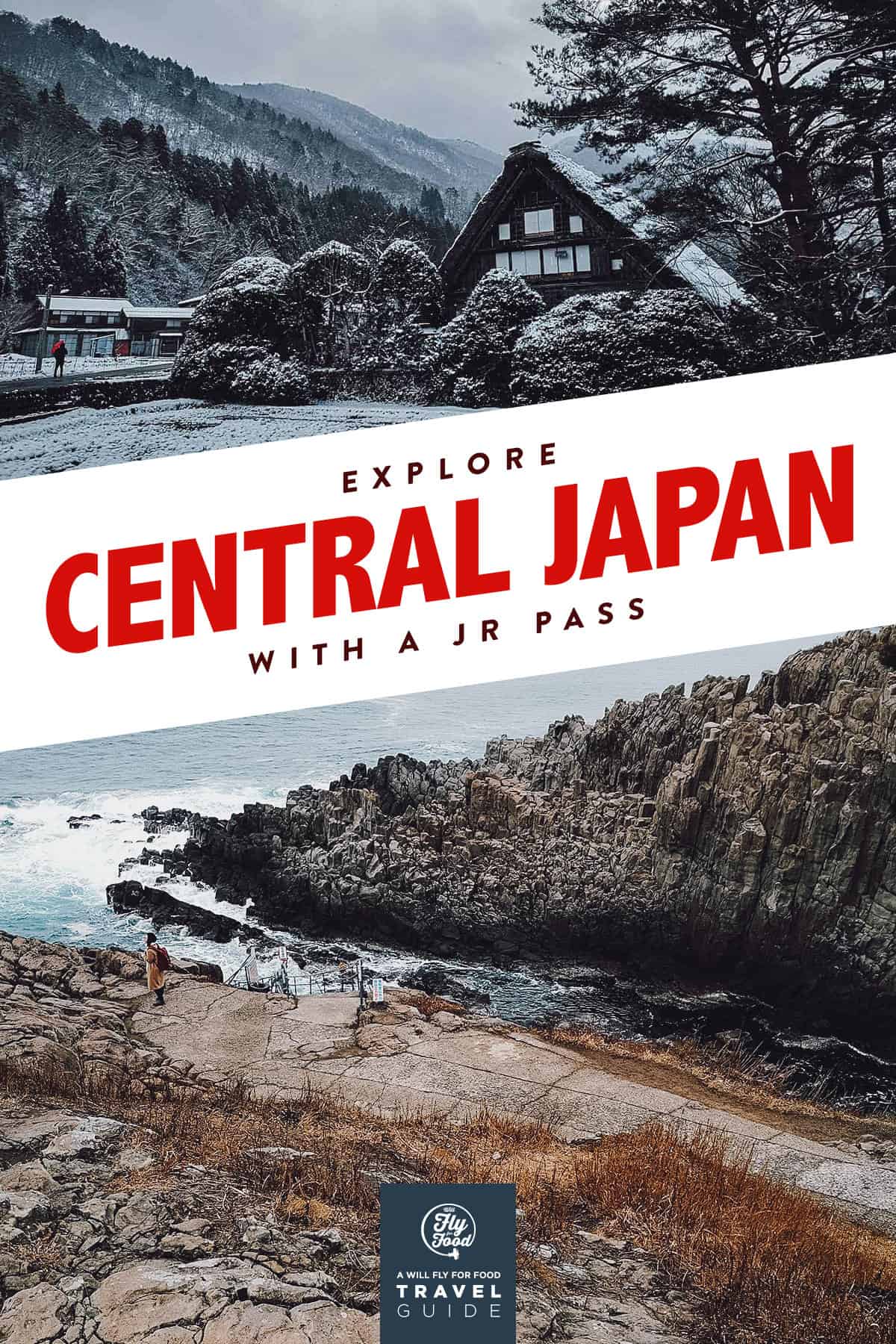 GUIDE TABLE OF CONTENTS
WHAT IS THE TAKAYAMA-HOKURIKU AREA TOURIST PASS?
The Takayama Hokuriku Pass is a rail pass that allows non-Japanese tourists unlimited travel in central Japan for five (5) consecutive days. Pass holders can travel by JR train between multiple cities in the Chubu region like Nagoya, Takayama, Kanazawa, Toyama, and Fukui, as well as to Osaka and Kyoto in the Kansai region. They can also travel by bus to UNESCO World Heritage Sites Shirakawa-go and Gokayama.
The pass can be purchased at multiple JR stations in Japan for JPY 15,280 for adults and JPY 7,640 for children (ages 6-11). If purchased outside of Japan through official partners like Klook or KKday, then the pass will cost just JPY 14,260 and JPY 7,130 respectively.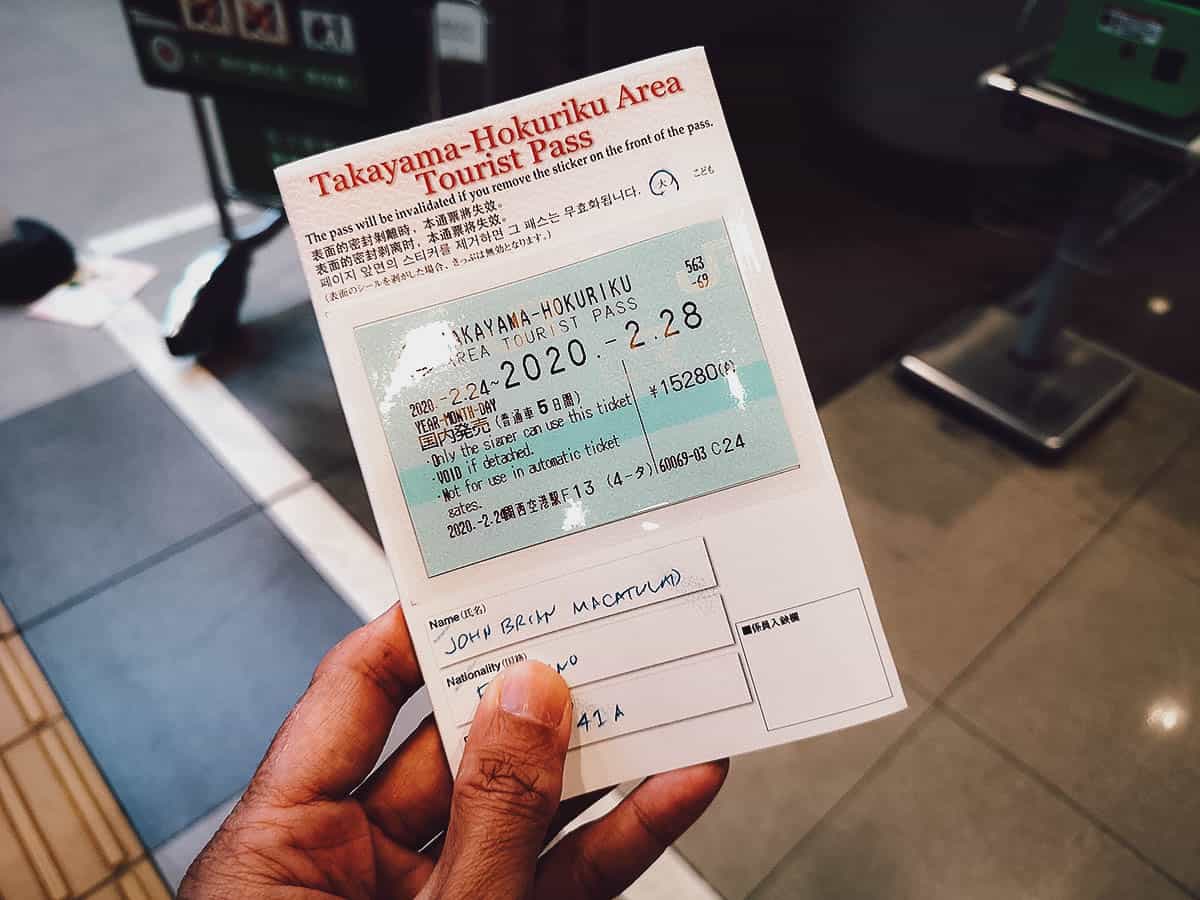 The map below shows the areas covered by the Takayama Hokuriku Pass. Pass holders can travel along these routes as often as they want within the validity of their pass. You can jump to the FAQs section of this guide for more information about the Takayama-Hokuriku Area Tourist Pass.
Please note that the map below is a simplified version. The pass is also valid for JR conventional lines in Osaka. You can check out the Tourist Pass website for a map showing all available routes.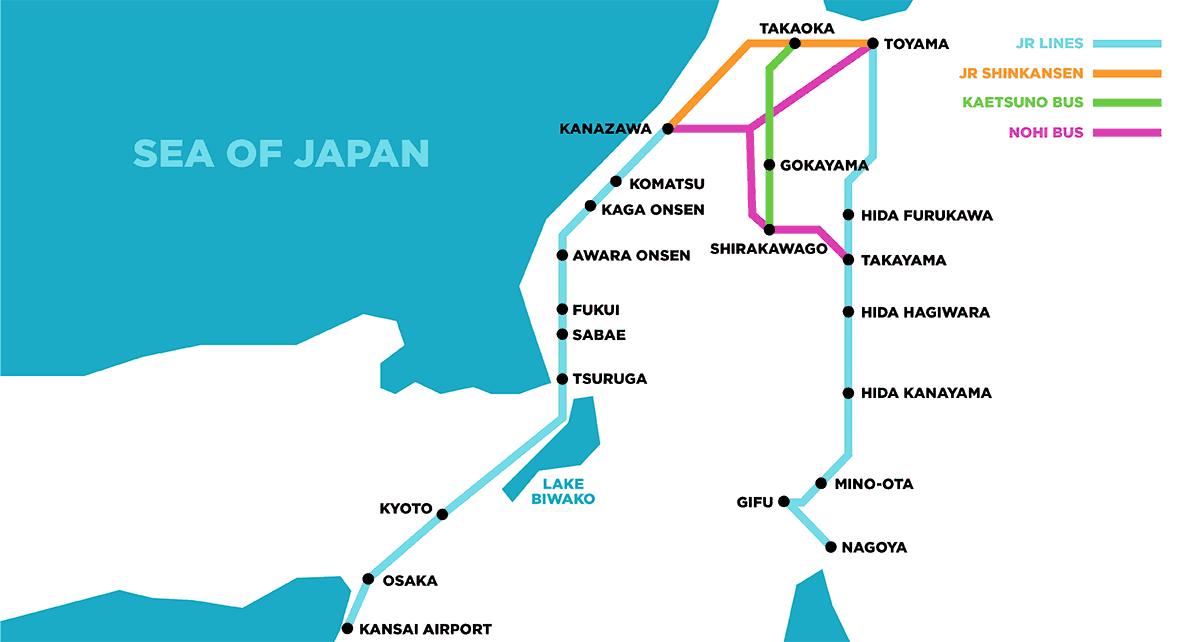 PLACES YOU CAN VISIT
This isn't an exhaustive list but enumerated below are some of the top attractions you can visit in the Chubu and Kansai regions using a Takayama-Hokuriku Area Tourist Pass. If you need help in planning your trip, then be sure to check out our 5-day Chubu itinerary.
Osaka
Osaka and Kyoto need little introduction. They're two of the most visited cities not just in the Kansai region, but in all of Japan.
Kansai International Airport (KIX) is located in Osaka so it's one of the most popular entryways into Japan. Osaka is home to Universal Studios Japan and is known for being one of the best food cities in the country, famous for regional specialties like takoyaki and okonomiyaki. You can refer to our Osaka travel guide, Osaka itinerary, and Osaka food guide to help you plan your trip.
If you refer to the map above, then you'll see that KIX is serviced by the Takayama Hokuriku Pass. On this press trip, I arrived in Japan via KIX and claimed my pass at Kansai Airport Station. I used it to take a train to Awara Onsen in Fukui.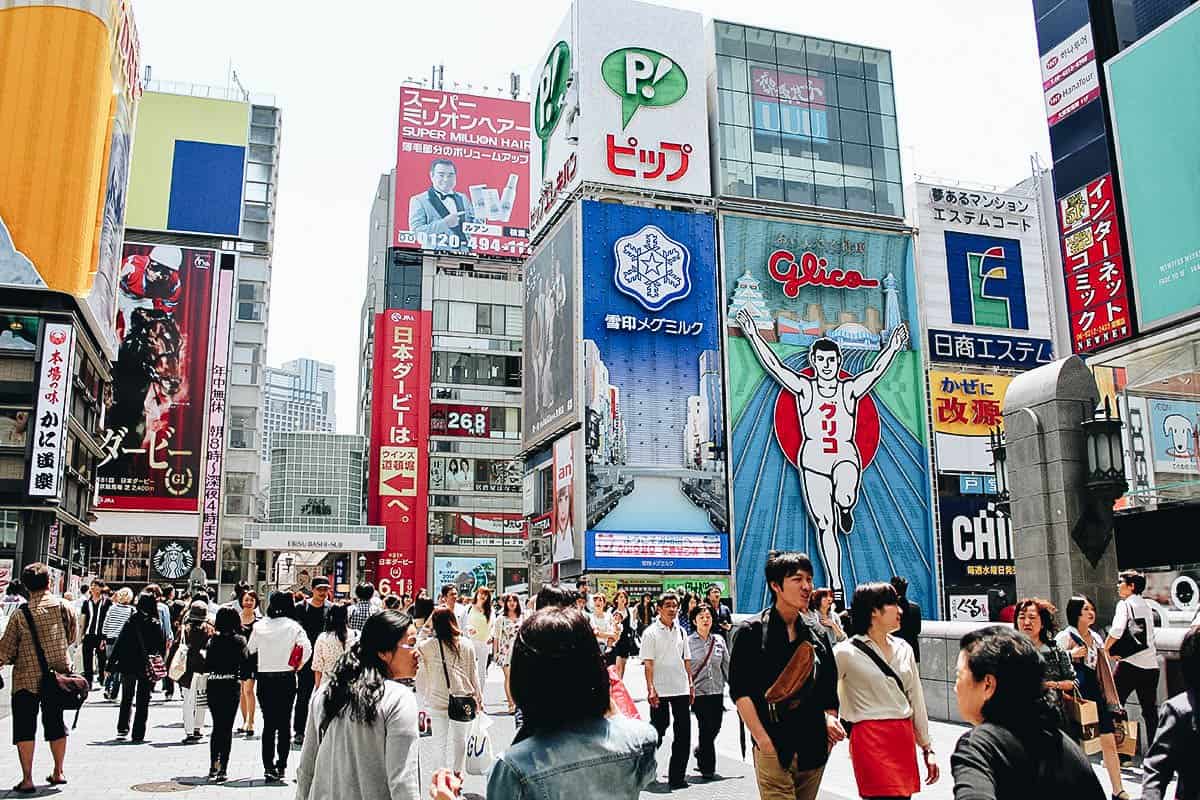 HOW TO GET THERE: Use your pass to go to any valid station in Osaka. I suggest going to JR Namba Station. The famous Dotonbori and Shinsaibashi areas are just a short walk from there.
Kyoto
Kyoto is my favorite city in Japan. It's considered the country's cultural capital and where you'll find many of Japan's most famous Shinto shrines, Buddhist temples, palaces, and landscaped gardens.
Kyoto is also known for its food. It has the third most Michelin Stars in the world (second in Japan) and it's considered the birthplace of kaiseki, a traditional multi-course dinner which is like the Japanese equivalent to western haute cuisine.
Just my opinion, but there is so much to see and do in Kyoto that I recommend saving it for another trip. You could easily spend five days in Kyoto alone. You can refer to our Kyoto travel guide, Kyoto itinerary, and Kyoto food guide for more information.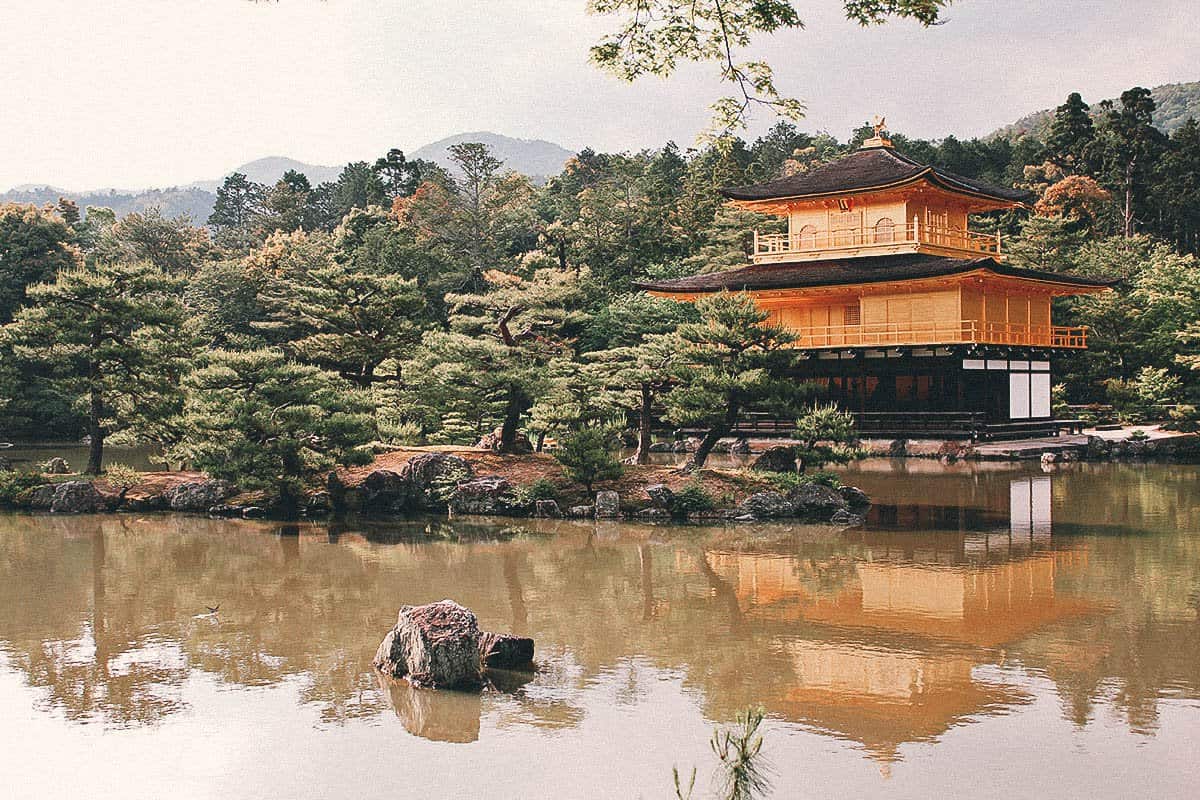 HOW TO GET THERE: Use your pass to go to Kyoto Station.
Fukui
Fukui is one of the least known prefectures in Japan, at least to foreign visitors. To be honest, I had never even heard of it before this trip which is why I was grateful for the opportunity to visit, thanks to my Takayama Hokuriku Pass.
Tojinbo
I spent the night in the hot spring town of Awara Onsen and visited a couple of Fukui's most famous attractions, including the magnificent Tojinbo cliffs. I had seen pictures of cliffs with columnar joints in Iceland but I had no idea you could find similar geological features in Japan!
Averaging thirty meters (98 ft) in height and stretching for over a kilometer (3,281 ft), this series of cliffs overlooking the Sea of Japan was absolutely spectacular.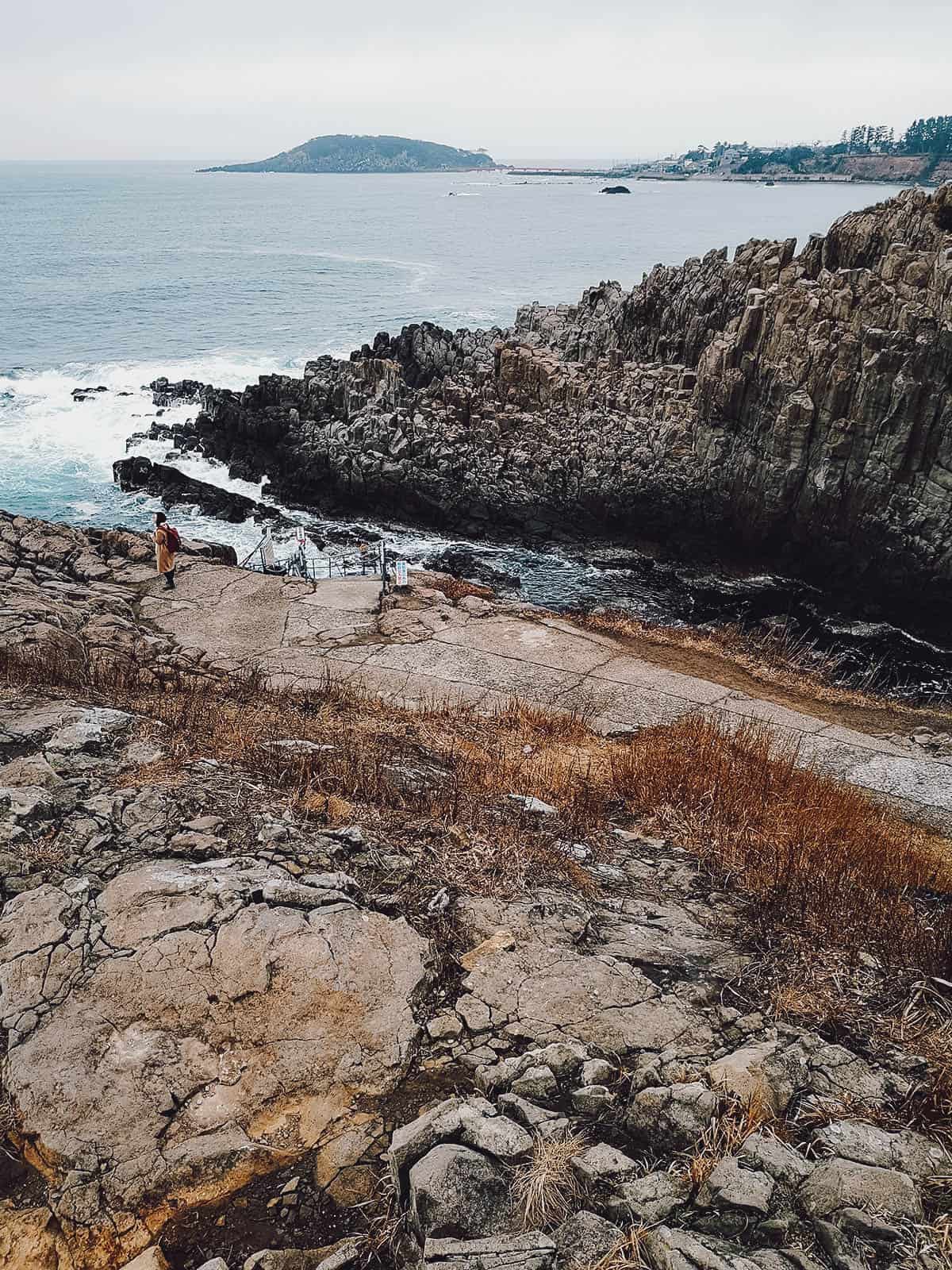 HOW TO GET THERE: Use your pass to go to Awaraonsen Station. Catch the 85 Tojinbo Line bus to Tojinbo (not covered by the pass). You can plot your trip using Google Maps.
Fukui Prefectural Dinosaur Museum
Along with the cliffs of Tojinbo, the Fukui Prefectural Dinosaur Museum is the most famous attraction in Fukui. I've been to museums with fossil exhibits before but never to one dedicated entirely to dinosaurs. If you were into dinosaurs as a kid, then you're going to love this place.
The Fukui Prefectural Dinosaur Museum is one of the leading dinosaur museums in the world. It was built in 2000, after a number of fossils were excavated in the area over a period of ten years. On display at the museum are over forty dinosaur skeletons and several life-sized animatronic dinosaurs, including the Tyrannosaurs Rex pictured below.
It's interesting to note that fossils from unique dinosaur species were excavated and first identified in Fukui, hence names like Fukuiraptor, Fukuisaurus, and Fukuititan.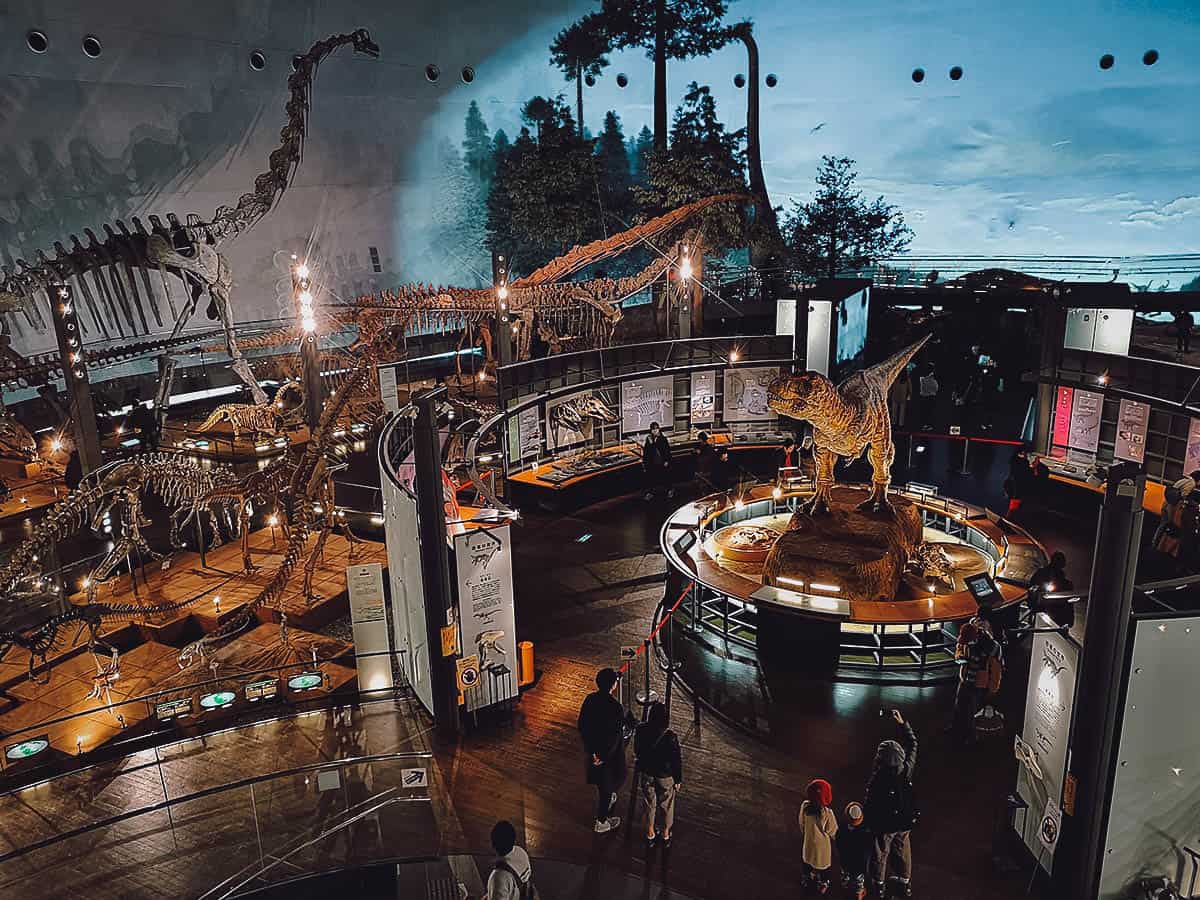 HOW TO GET THERE: Use your pass to go to Fukui Station. Catch a local bus to the museum (not covered by the pass). You can plot your trip using Google Maps.
Kanazawa
I had first visited Kanazawa in January of this year so I was happy to visit again using my Takayama Hokuriku Pass. It's the capital of Ishikawa prefecture and known for its many cultural attractions similar to Kyoto and Tokyo.
Kanazawa is famous for its old castle town, samurai district, and geisha entertainment districts. It has a few interesting museums as well, though its most famous attraction is undoubtedly Kenrokuen, one of Japan's three best landscape gardens and considered by many to be the most beautiful overall.
Pictured below is the spectacular Tsuzumi-mon Gate at Kanazawa Station. The city is located by the Sea of Japan so there's plenty of great seafood and sushi in Kanazawa.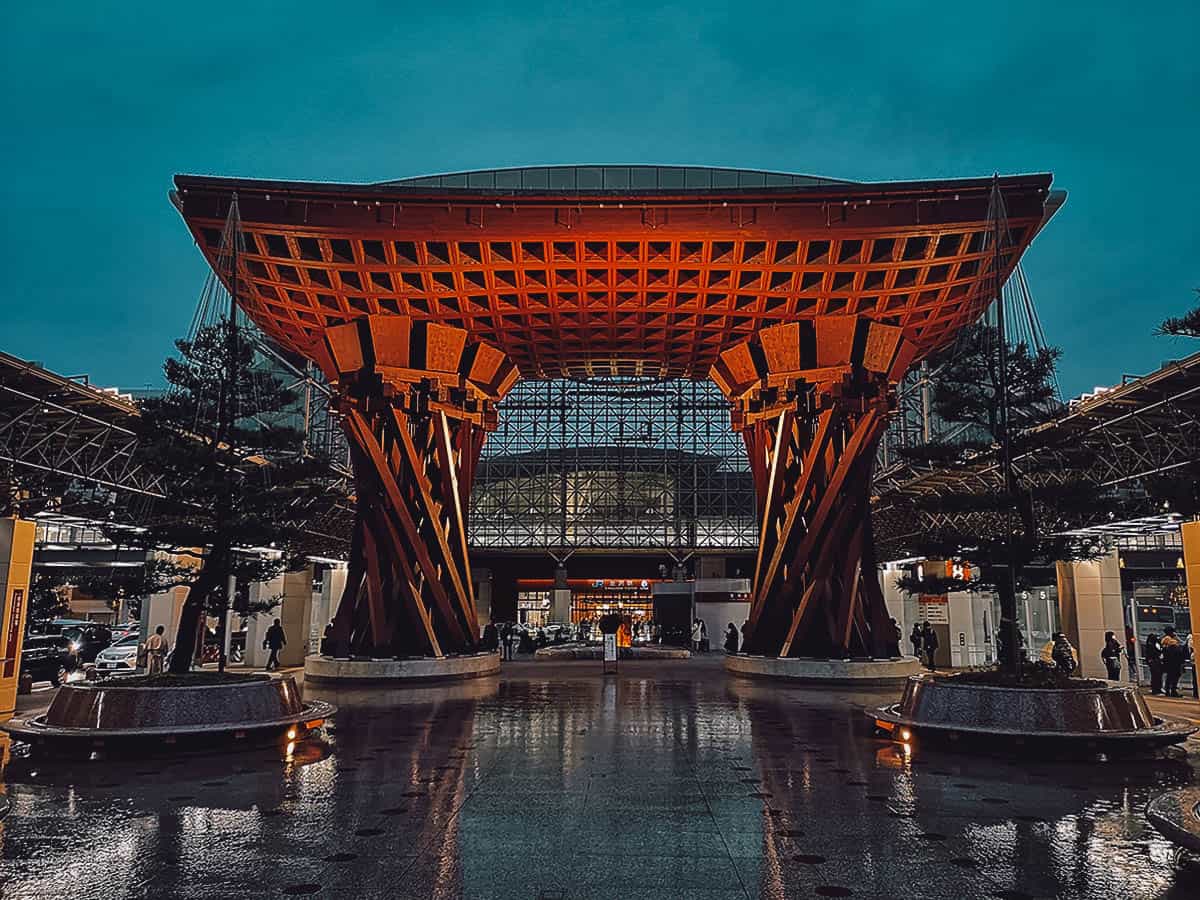 HOW TO GET THERE: Use your pass to go to Kanazawa Station.
Takaoka
Takaoka is a city in Toyama prefecture. It's historically known for its metal casting, an industry that still thrives to this day. I made a brief stop here to try my hand at tin casting. Pictured below are the chopstick rests I made. Neat right?
If you're planning on visiting Gokayama, then Takaoka is the ideal place to start. You can use your Takayama Hokuriku Pass to catch the Kaetsuno Bus from Shin-Takaoka to Gokayama.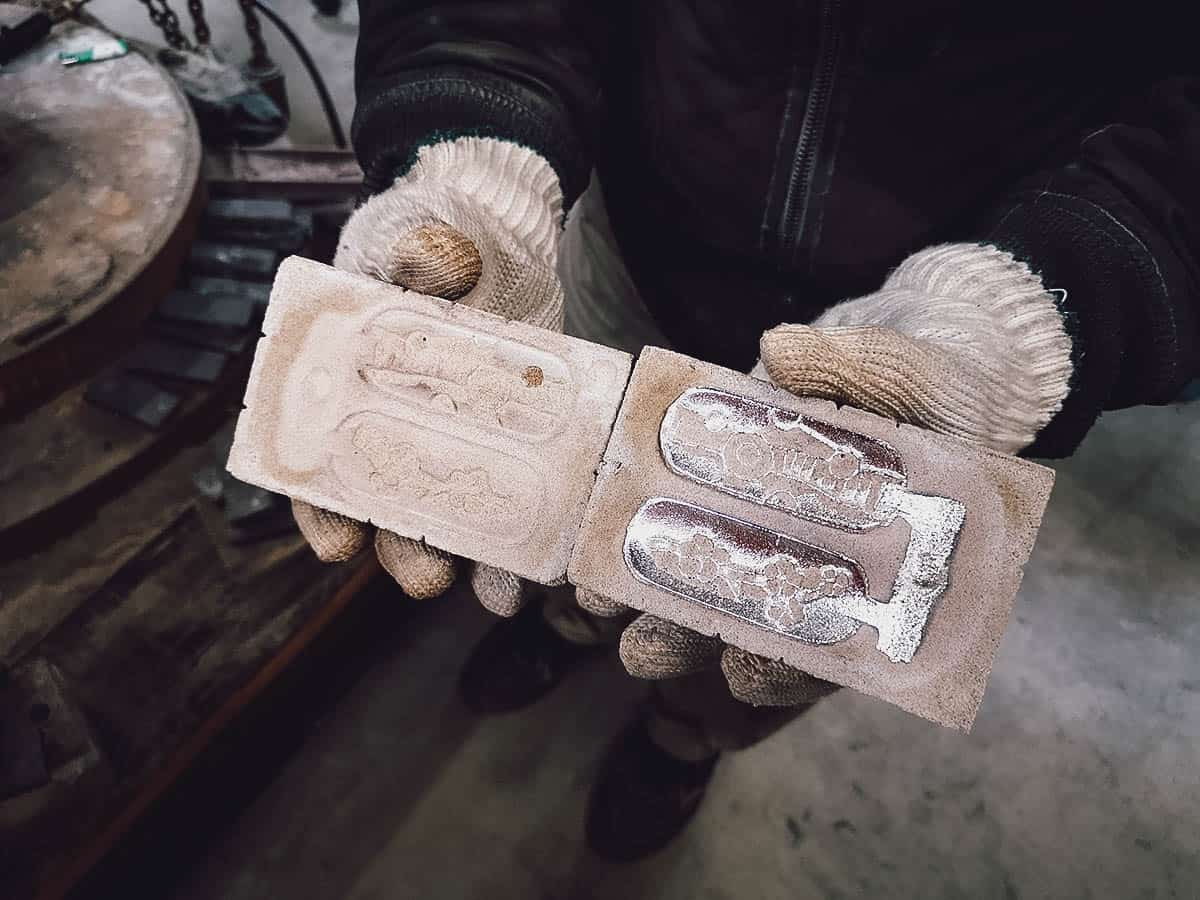 HOW TO GET THERE: Use your pass to catch the Shinkansen to Shin-Takaoka Station.
Toyama
Toyama City is the capital of Toyama Prefecture. We didn't spend much time here so I unfortunately don't know that much about it. It's described as a former castle town that's historically been a center for medicine in Japan.
After arriving by Shinkansen at Toyama station, we walked to Fugan Canal Kansui Park and had coffee at what The Travel website calls the most beautiful Starbucks in the world. I read that this is a great place as well to enjoy the cherry blossoms in Spring.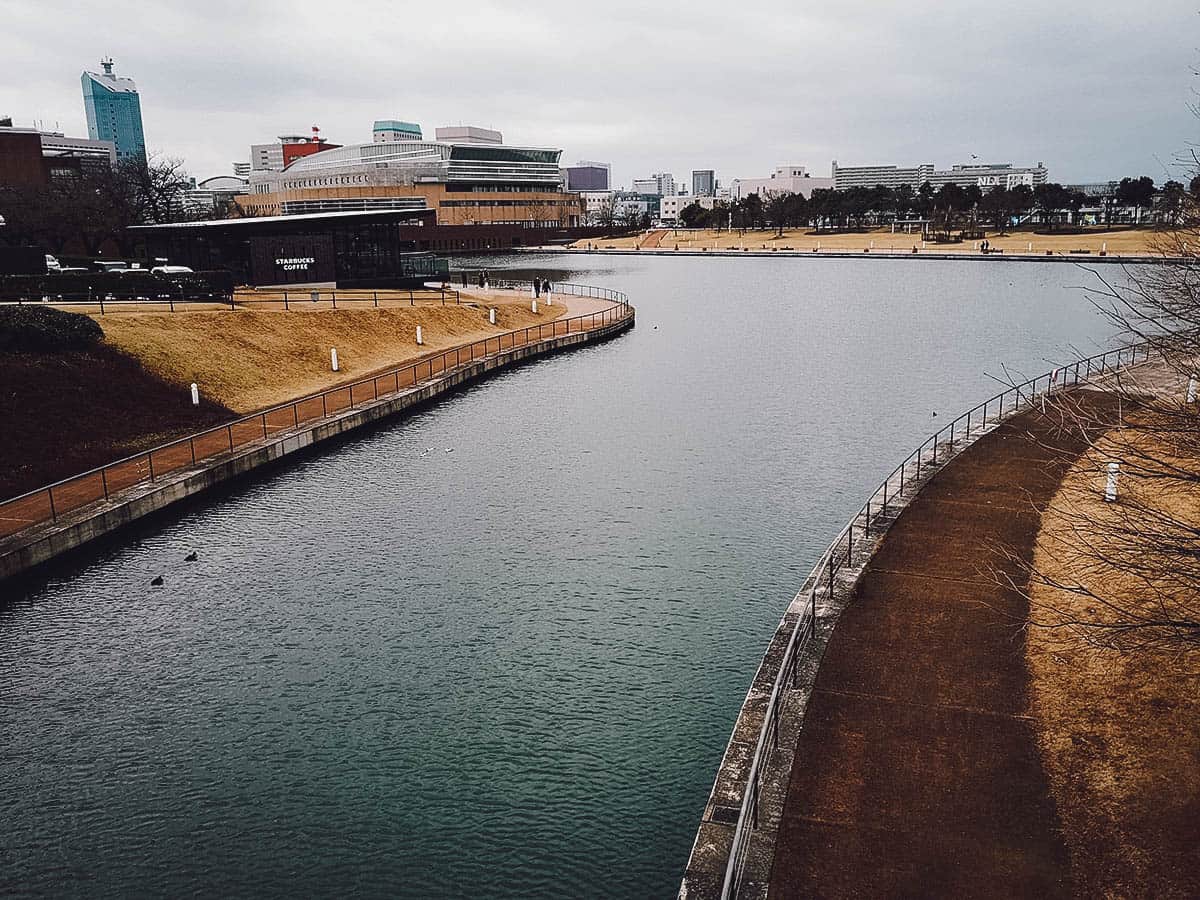 HOW TO GET THERE: Use your pass to go to Toyama Station. Fugan Canal Kansui Park is about a 10-minute walk from there.
Hida Furukawa
If you like traditional Japan, then you're going to love Hida Furukawa. It has a similar vibe to Takaoka and Takayama with its koi-filled canals and neighborhoods of traditional Japanese wooden houses. And like Takayama, a famous festival is held here every year which features large drums and beautifully decorated floats.
Fans of the hit anime film Kimi no Na wa will be excited to learn that a few of the scenes in the movie were based on actual locations in Hida Furukawa.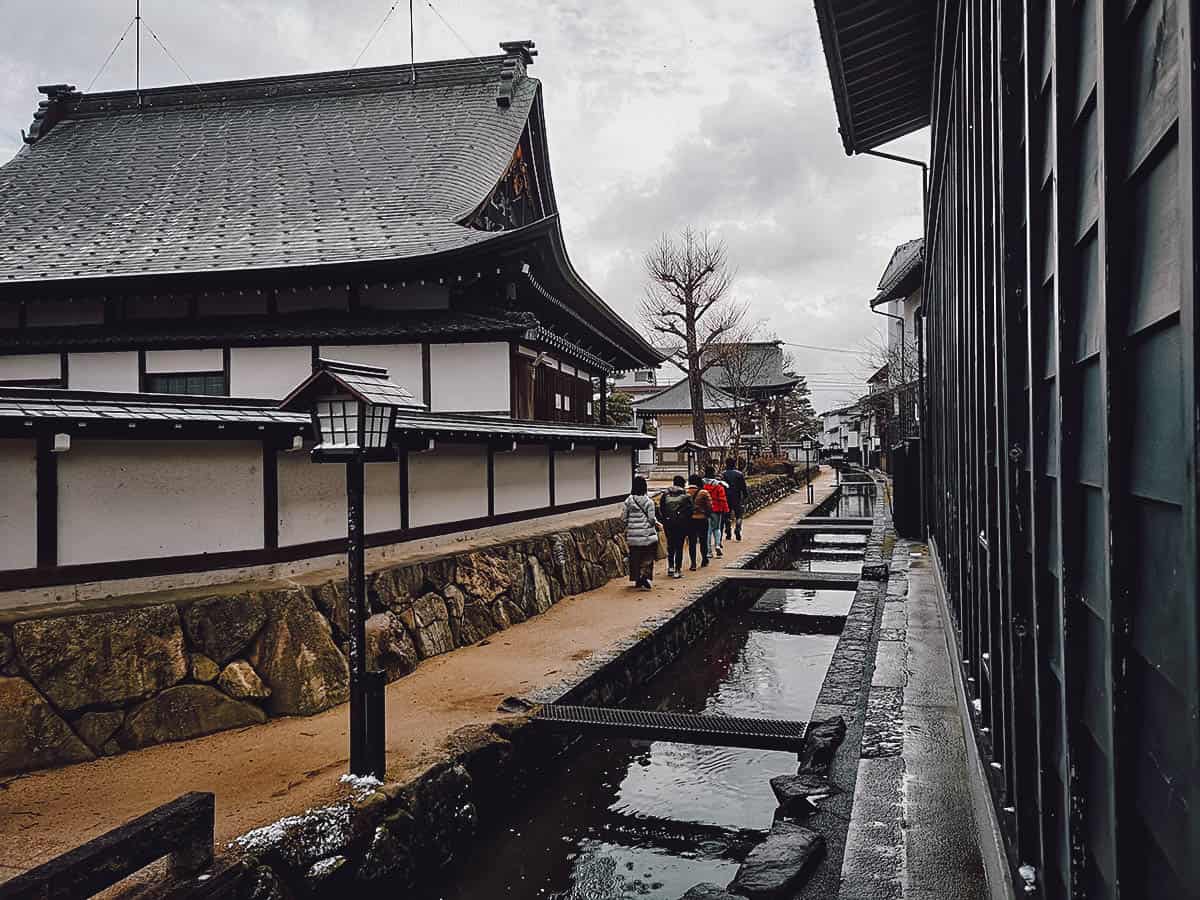 HOW TO GET THERE: Use your pass to go to Hida Furukawa Station.
Takayama
Like Kanazawa, I had traveled to Takayama on my own in January so I was pleased to visit this place again. It's a lovely atmospheric town famous for its traditional wooden houses and laid back rural vibe. It's also home to the Takayama Festival which is considered by many to be one of the best festivals in Japan.
Aside from its atmospheric vibe, one of the things I enjoyed most about Takayama is its abundance of Hida Beef. It's said to be one of the best beef brands in Japan. We had it in many forms, none more delicious perhaps than Hida Beef sushi. Don't miss it.
If you're planning on visiting Shirakawa-go, then Takayama is the ideal place to start. The bus ride to Shirakawa-go is less than an hour from here.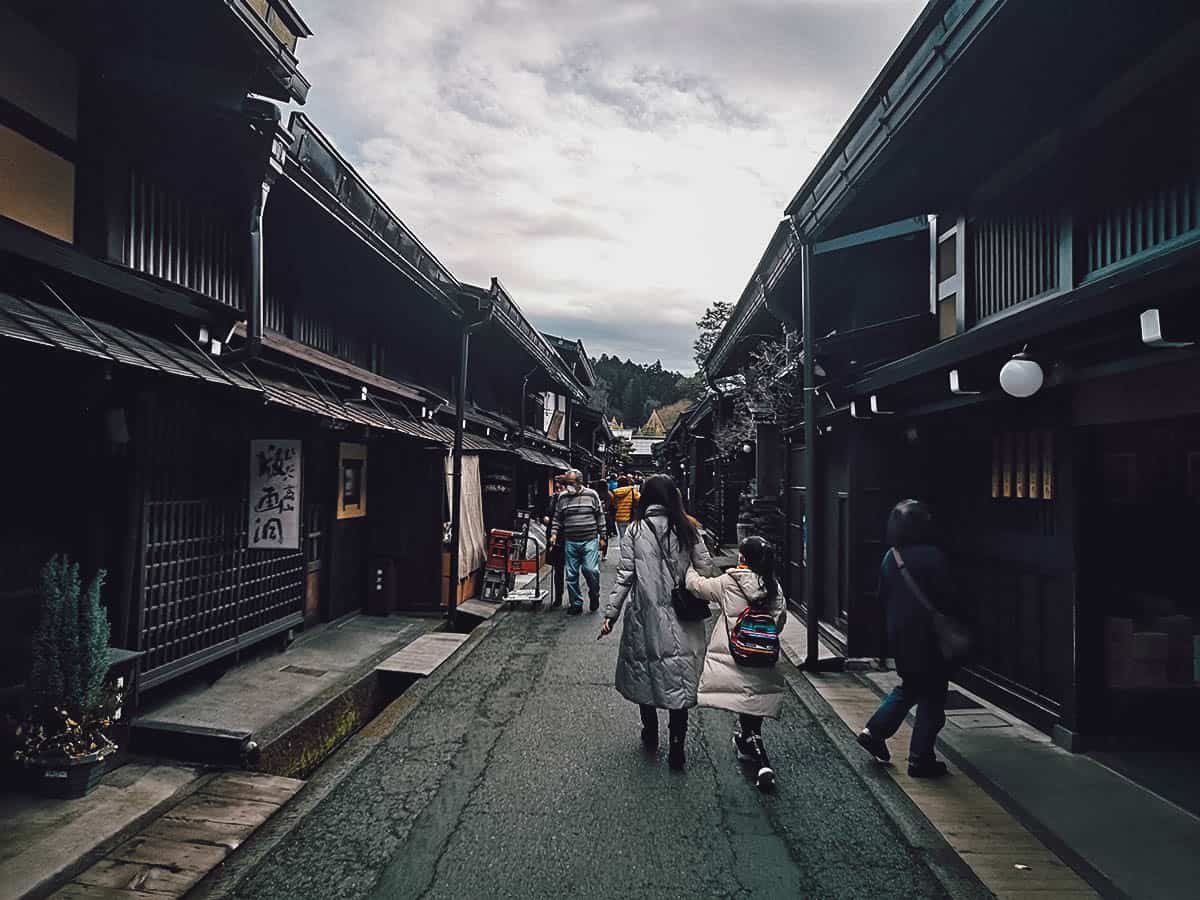 HOW TO GET THERE: Use your pass to go to Takayama Station.
Shirakawa-go
Thanks to social media, this UNESCO World Heritage Site has exploded in popularity in recent years. It features traditional gassho-zukuri farmhouses known for their steep thatched roofs that are designed to withstand large amounts of heavy snow.
I visited Ogimachi (the main village in Shirakawa-go) twice in the span of a month, the first time without snow and the second while it was snowing. It's beautiful any time of the year but it looks absolutely magical when covered in a fresh blanket of snow. If you're visiting the Chubu region in winter and have never been to Shirakawa-go, then you absolutely need to spend a few hours there.
You can refer to our Shirakawa-go winter travel guide for help in planning your trip.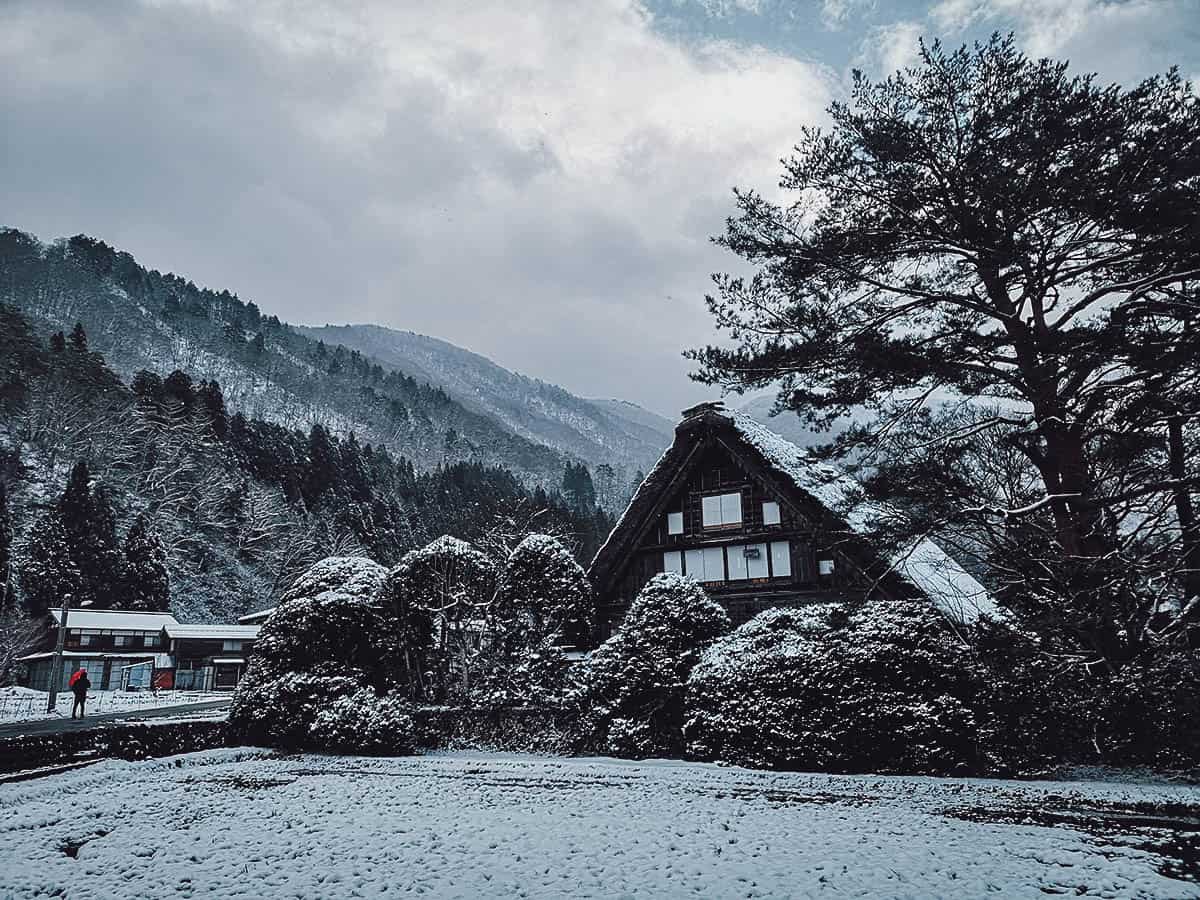 HOW TO GET THERE: Use your pass to catch a Nouhi Bus to Shirakawa-go, either from Takayama, Kanazawa, or Toyama stations. Reservations may be required (refer to FAQs below). You can also catch a Katesuno Bus to Shirakawa-go from Shin-Takaoka Station.
Gokayama
Gokayama is also a UNESCO World Heritage Site. It's a little harder to get to but it's more intimate and less crowded than Shirakawa-go. I haven't been to Gokayama but I imagine it's more authentic in feel than the often touristy Shirakawa-go.
You can use your Takayama Hokuriku Pass to visit both Gokayama and Shirakawa-go by Kaetsuno Bus from Shin-Takaoka Station. Like Shirakawa-go, the term Gokayama refers to a region, with the most beautiful villages in the region being Suganuma and Ainokura. Buses will stop at both.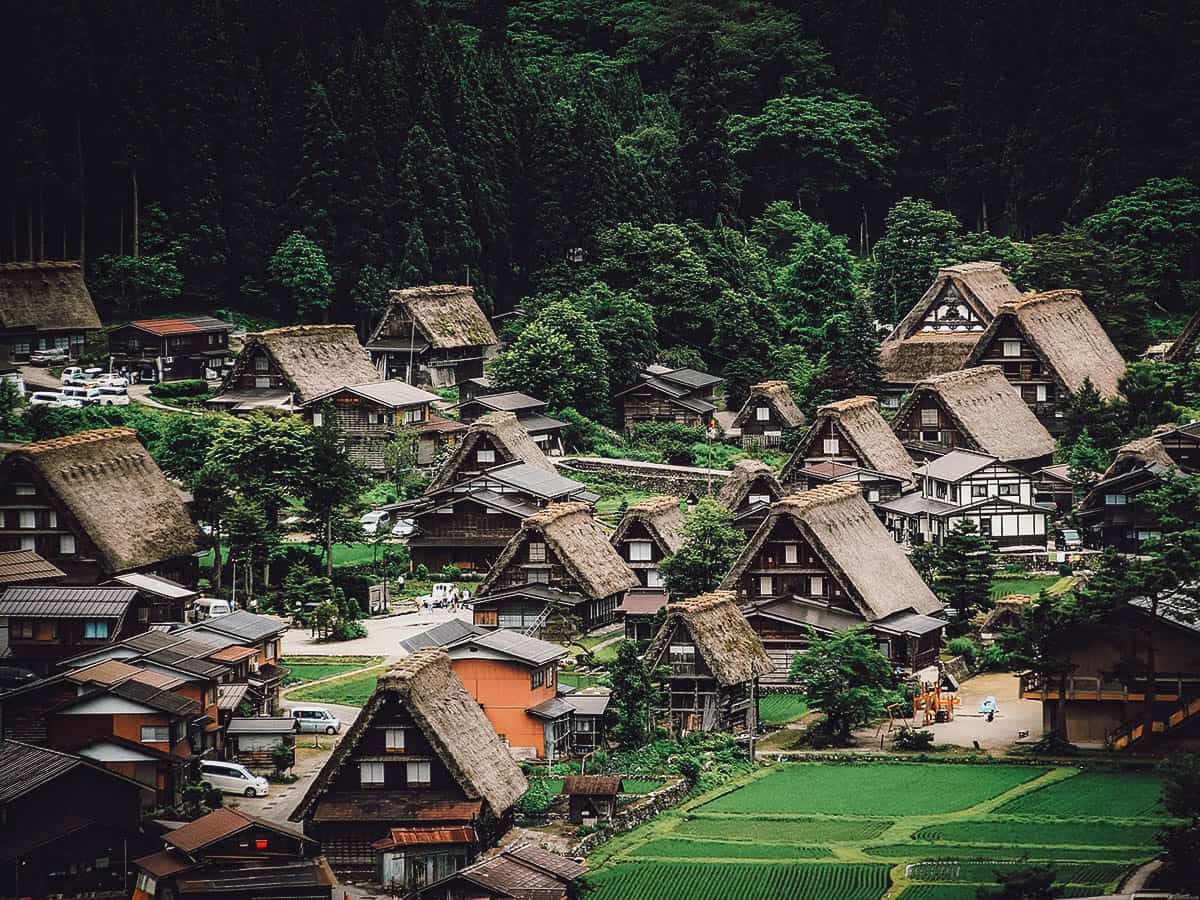 HOW TO GET THERE: Use your pass to catch a Kaetsuno Bus to Ainokura or Suganuma bus stops from Shin-Takaoka Station.
Photo by Aranami via Shutterstock
Nagoya
Nagoya was another city I traveled to on my own and again with my Takayama Hokuriku Pass. It was the last city we visited on our press trip with JR Central. I flew back to Manila from Chubu Centrair International Airport which is about 35 km south of Nagoya.
Nagoya is the capital of Aichi prefecture and the largest city in the Chubu region. It's home to a few interesting attractions like the Toyota Commemorative Museum of Industry and Technology, SCMAGLEV and Railway Park, and the Nagoya City Science Museum. The Toyota Motor Corporation maintains its headquarters just outside of Nagoya which is why you'll find a few Toyota-related attractions there.
I visited the Toyota Techno Museum on my own and was surprised to learn that the Toyota company started off as an automatic loom manufacturer known as Toyoda. It's a fascinating museum that's worth visiting even if you aren't particularly interested in cars.
Perhaps even more surprising was how much I enjoyed the regional food in Nagoya. Like Osaka, it's one of Japan's best food cities, especially among locals. Be sure to try hitsumabushi, miso katsu, doteni, and kishimen when you're there.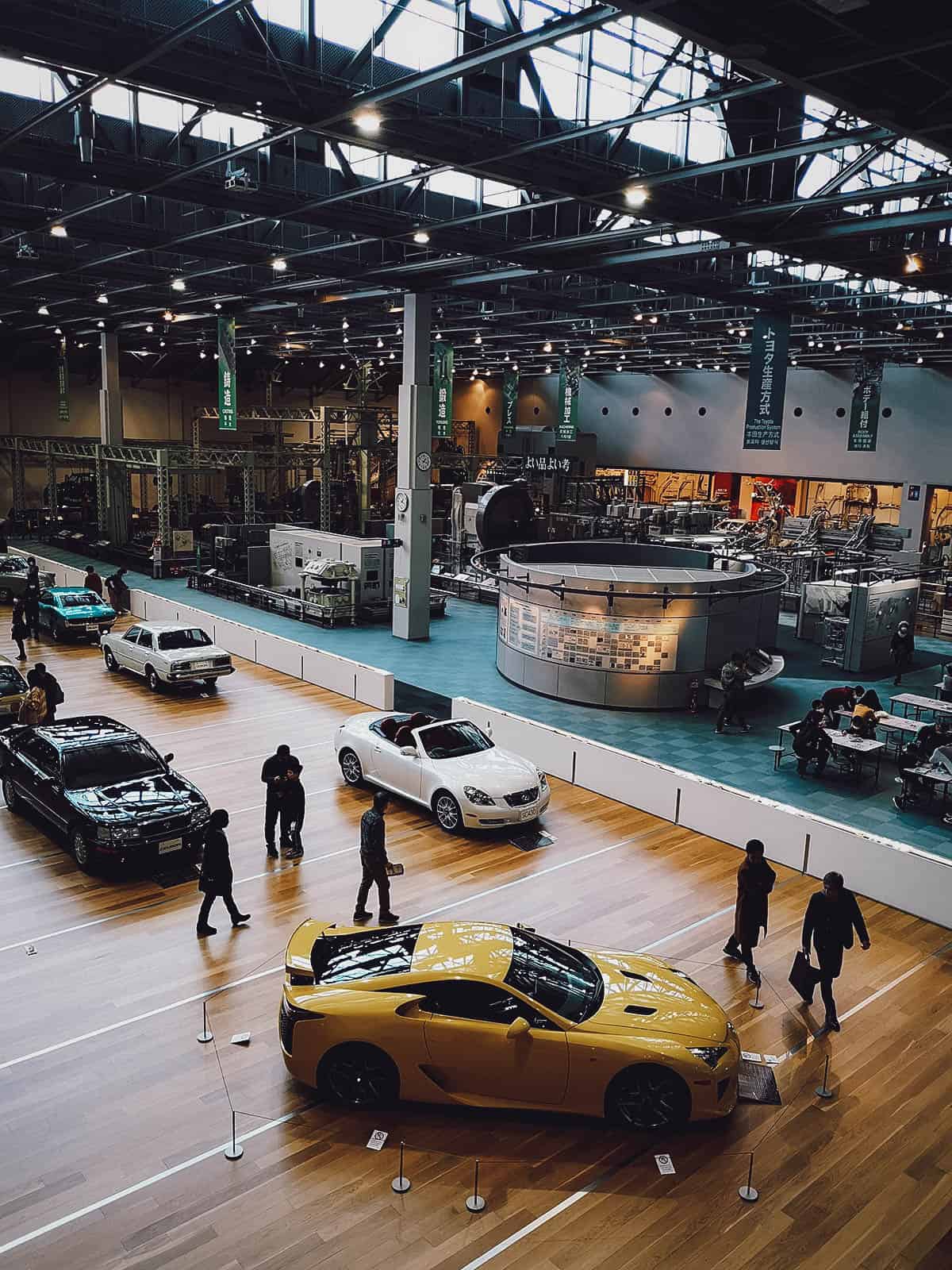 HOW TO GET THERE: Use your pass to go to Nagoya Station.
FREQUENTLY ASKED QUESTIONS (FAQs)
How much is the Takayama-Hokuriku Tourist Area Pass?
The Takayama Hokuriku Pass costs JPY 15,280 for adults and JPY 7,640 for children (ages 6-11) if you buy them in Japan. But if you purchase them in advance, before arriving in Japan, then they cost just JPY 14,260 and JPY 7,130 respectively.
Who can use the Takayama Hokuriku Pass?
Only non-Japanese residents on a temporary visitor visa can use the pass. Japanese residents cannot use it.
Where can I buy it?
You can purchase a Takayama Hokuriku Pass from many JR stations in Japan or through the JR West website. The cost will be JPY 15,280 for adults and JPY 7,640 for children. To save money, I suggest purchasing them instead through a trusted agent like Klook or KKday.
You can refer to the Tourist Pass website for more information on where to buy the Takayama Hokuriku Pass.
How long is it valid for?
The Takayama Hokuriku Pass is valid for five (5) consecutive days. The validity period is based on calendar days, not 24-hour periods. So even if you started using it at 11PM on January 1st, January 1st will still count as your first full day. The validity period will be indicated on your pass.
Is the pass transferrable?
No, it isn't. It can only be used by one person. The pass holder must carry his/her passport at all times for verification.
Is it worth it?
If you're the type of traveler who likes to move often on a trip, then it is absolutely worth it. But you have to use it everyday to maximize its value.
For example, if you arrive at KIX and plan on visiting Kyoto, Kanazawa, Toyama, Shirakawa-go, Takayama, and Nagoya in five days, then you'll be spending at least JPY 24,150 on transportation (estimated fare from Hyperdia). But if you purchase a Takayama Hokuriku Pass from Klook or KKday, then you'll only be spending JPY 14,260. HUGE savings.
Do I need to reserve seats?
It isn't required for trains, but you can if you want to. JR trains have cars with reserved seats and cars with non-reserved seats. With a Takayama Hokuriku Pass, you can avail of up to four (4) reserved seats for free (excluding Limited Express Haruka and the JR Hokuriku Shinkansen between Kanazawa and Toyama). Anything beyond the fourth will be subject to the standard reserved seating fee.
Seats on Takayama-Kanazawa buses will need to be booked in advance. Some buses between Takayama and Shirakawa-go can be boarded without advanced booking. You can refer to the Nouhi Bus website for information on reserved and non-reserved buses.
How do I make seat reservations?
For trains, you can reserve seats at the JR station ticketing office. Make sure you do this before boarding. If you don't need a reserved seat, then just show them your Takayama Hokuriku Pass and proceed to a non-reserved car.
You can make bus reservations at the station or in advance by phone (English and Japanese spoken):
Nohi Bus Reservation Center: 0577-32-1688 (9AM-6PM)
Hokutetsu Bus Ticket Office: 076-234-0123 (9AM-6PM)
If you're traveling during a peak period, then you may want to book bus seats in advance.
Where can I get more information?
If you need more information about the Takayama-Hokuriku Tourist Area Pass, then you can go to the Tourist Pass website.
TRAVEL TIPS
1. Plan your Trip Well
To maximize the value of your Takayama Hokuriku Pass, then you'll need to be efficient in your trip planning. You can either create your own itinerary or have a destination expert help you. Sygic Travel and Viahero can help you do that.
SYGIC TRAVEL: Creating an itinerary for one city can sometimes be daunting. All the more for a multi-city trip in just five days! Thankfully, there's Sygic Travel to make it a little easier. I've been using this free trip planning app for several years now. It helps me make an efficient itinerary by allowing me to pin all points of interest on a map then grouping them together by location. It's available for free on iOS and Android.
VIAHERO: If you'd rather have a destination expert plan your trip for you, then you can use ViaHero. ViaHero is a travel planning service that links travelers with local experts to create custom itineraries in different destinations around the world, including Japan. If you'd like to try them out, then you can get a 5% discount on their services if you enter WILLFLYFORFOOD upon checkout using our link.
2. Use Hyperdia
You'll be riding intercity trains a lot while exploring the Chubu region with your Takayama Hokuriku Pass. There's no better resource for up-to-the-minute train schedules than Hyperdia. This free commuter app will give you exact train departure and arrival times and will tell you all you need to know to make your way from one city to the next.
WEBSITE: hyperdia.com | DOWNLOAD: iOS / Android
3. Navigate with Google Maps
Hyperdia is great for intercity travel in Japan, but there's no better navigation app than Google Maps. It'll tell you exactly how to get from point A to point B either by walking or using any city's local transportation system. It's very reliable and easy to use and something I can't imagine traveling without.
4. Rent a Pocket Wifi Device
Having a constant wifi connection is so important these days, especially when traveling. Having access to Hyperdia and Google Maps alone justifies the cost.
You can connect to the internet in Japan either through a sim card or a pocket wifi device. Personally, we prefer connecting via pocket wifi devices because it's simpler, but it's really up to you. Either way, you can book them in advance through Klook. Follow the links to purchase a 4G sim card or rent a 4G pocket wifi device (7GB data | Unlimited data). They're available for pickup at major airports throughout Japan.
5. Check for Discount Passes
There are many websites that offer discount passes to tours and services. The websites we've used the most are Klook, Kkday, and Get Your Guide. Just type in the city in the search box for a list of travel deals (Kanazawa, Nagoya, Kyoto, etc). Even if I don't buy anything, it's always worth a look because I often find interesting activities that I wouldn't normally think of myself.
6. Get Travel Insurance
Whether or not to get travel insurance is something we think about before every trip. Some trips may call for it more than others. Basically, if we plan on doing anything physical, anything that could get us injured, then travel insurance is a must.
When we do feel the need for travel insurance, we buy it from World Nomads or SafetyWing. They're both leading travel medical insurance providers used by many long-term travelers. Check out my article on why we buy travel insurance for more information. You can follow the links to get a free quote from World Nomads or SafetyWing.
7. Bring the Right Power Adapter
Japan has Type A or Type B electrical outlets so be sure to bring the right power adapters for your devices. Electrical voltage is 100V and the standard frequency is 50/60Hz.
8. Learn Basic Japanese Etiquette
Japan is a country of many unwritten rules. You're a foreigner so you aren't expected to know all of them, but it would be good to familiarize yourself with the basics. Check out this great overview on Japanese etiquette for travelers.
VISA INFORMATION (for Filipinos)
Philippine passport holders need to secure a tourist visa to Japan. The entire application process is coursed through a travel agency so you don't have to go to the Embassy of Japan.
I coursed mine through Reli Tours & Travel and at the time, they charged PHP 950 if you're applying as a tourist, and PHP 2,000 if you'll be visiting friends or relatives. This was in late 2016 so application fees may be higher now. It should take between 3-7 days to process.
Check out my post on how to apply for a Japan tourist visa for a step-by-step process and a list of accredited agencies.
Disclosure
I visited the Chubu region on a 5-day press trip sponsored by JR Central. They paid for my airfare, hotels, and meals and provided me with a Takayama-Hokuriku Tourist Area Pass and a pocket wifi device in exchange for an honest account of the experience. As always, all thoughts, words, and opinions expressed in this post are mine and mine alone.
Some of the links in this guide are affiliate links, meaning we'll get a small commission if you make a purchase at no added cost to you. We only recommend products and services that we use ourselves and firmly believe in. We really appreciate your support as this helps us make more of these free travel guides. Thank you!