This cooking class was awesome. We booked several tours in Vietnam but this cooking class in Hoi An was our favorite. Not only was it one of the most fun things we did, it was also the most rewarding, especially for someone like me who's done little more than boil pasta in his life.
We enjoy eating local food on our trips, but to actually learn how to make these Vietnamese dishes yourself before eating them is a different kind of experience. It puts you on both sides of the table and gives you a better understanding and appreciation for the cuisine. At Thuan Tinh Island Cooking School, they make it easy for you so previous kitchen experience isn't a prerequisite. On top of doing all the tedious mise en place for you, they guide you through each step of every dish so your success is pretty much guaranteed.
Definitely my kind of cooking class! 😆
Save This on Pinterest!
No time to read this now? Click on the red save button and pin it for later!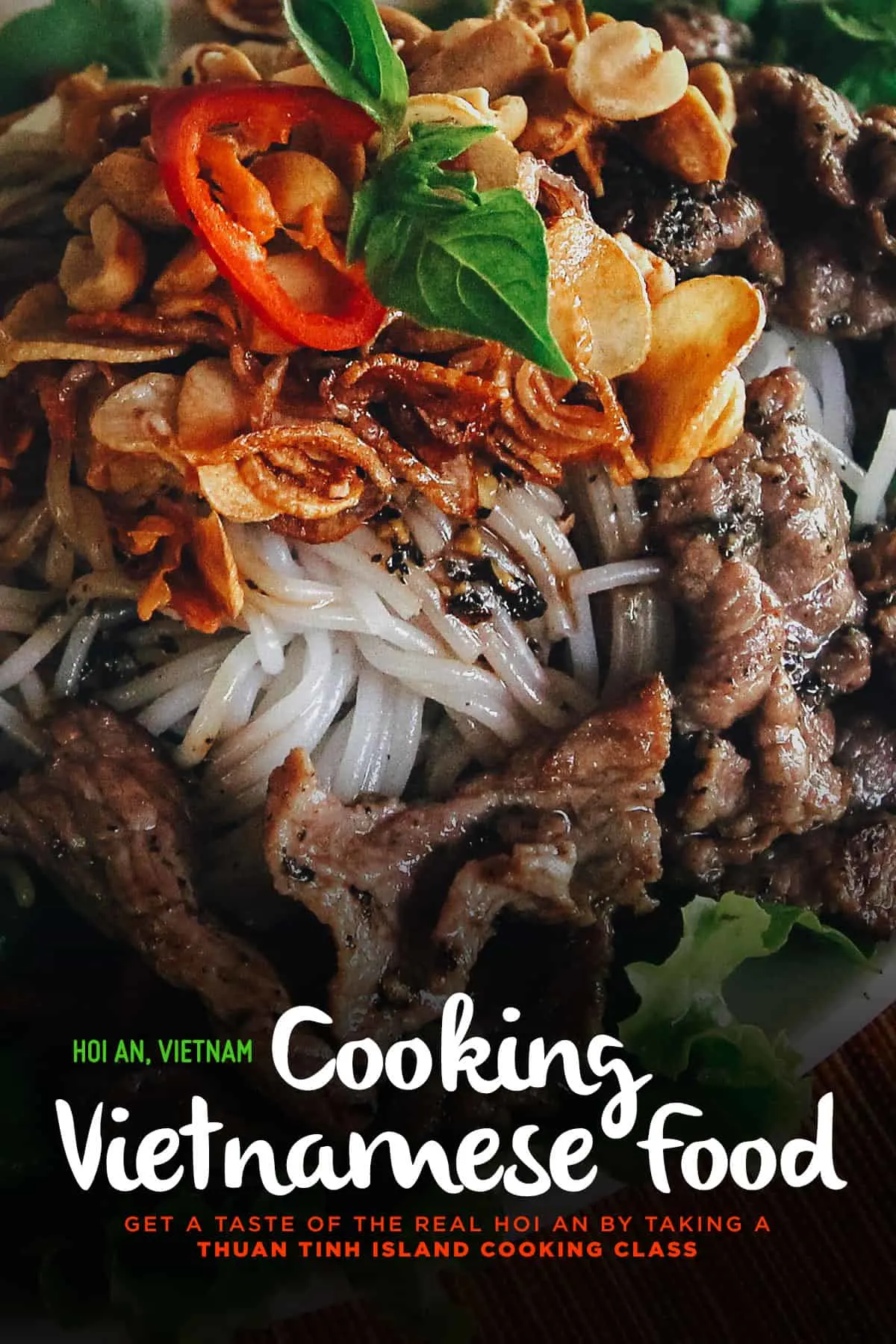 Thuan Tinh Island Cooking Class
We took the Thuan Tinh Island Cooking Class in April of 2017 and paid USD 34 each. That included all the food and ingredients for four dishes, fresh fruit, unlimited water and juice, and round trip transportation to and from our hotel. Pretty good deal right? They even gave us cool multipurpose vegetable prepping tools to bring home as souvenirs.
They picked us up from our hotel at around 8:30AM and dropped us off at Hoi An Central Market to get all our ingredients.

Bananas and plantains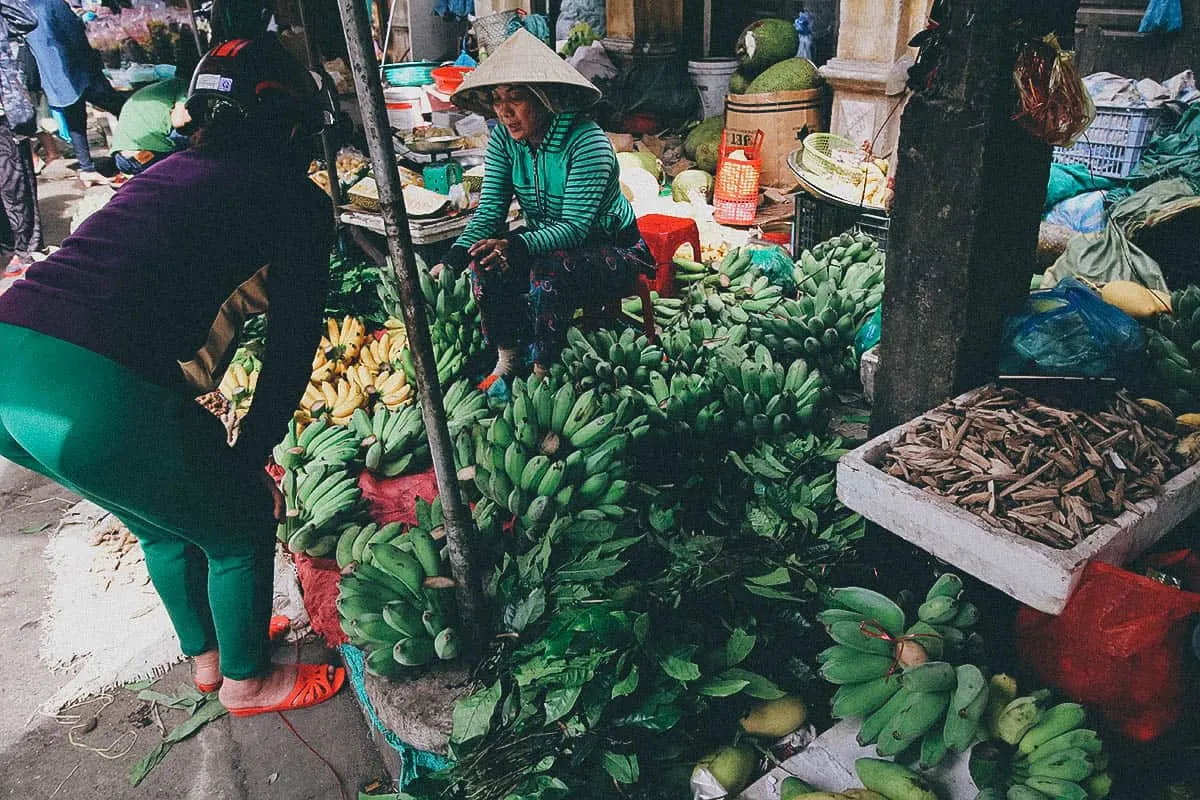 There's our awesome instructor Hien (?) explaining to us the different types of Vietnamese chili.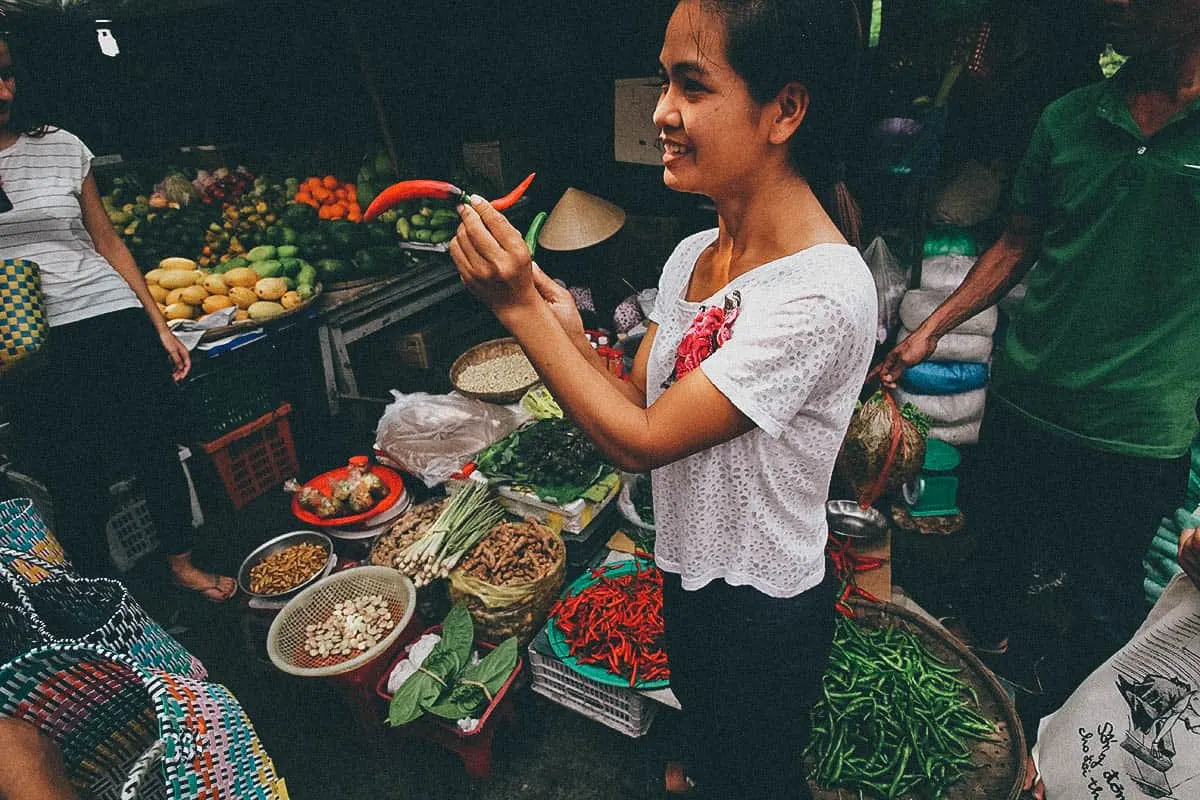 Vegetables and pineapples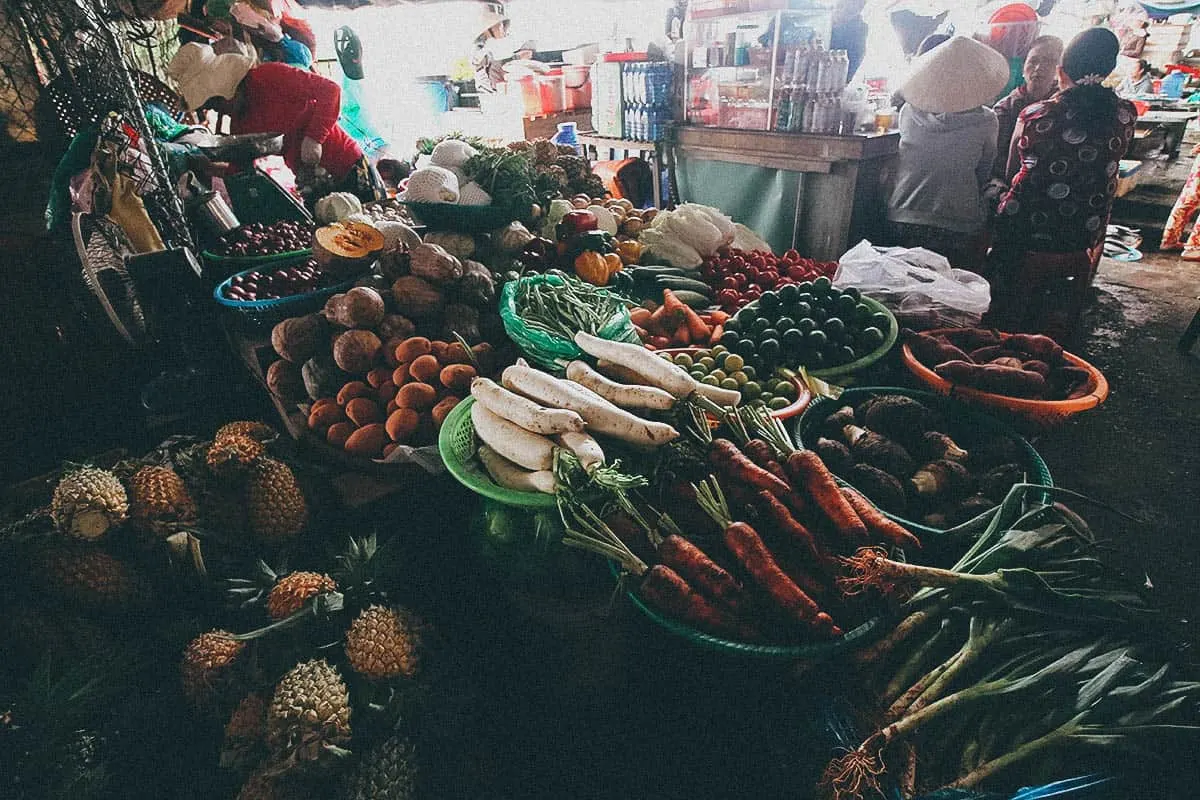 Phở bò ha noi was one of the dishes we'd be making today so we picked up a few bunches of these phở noodles.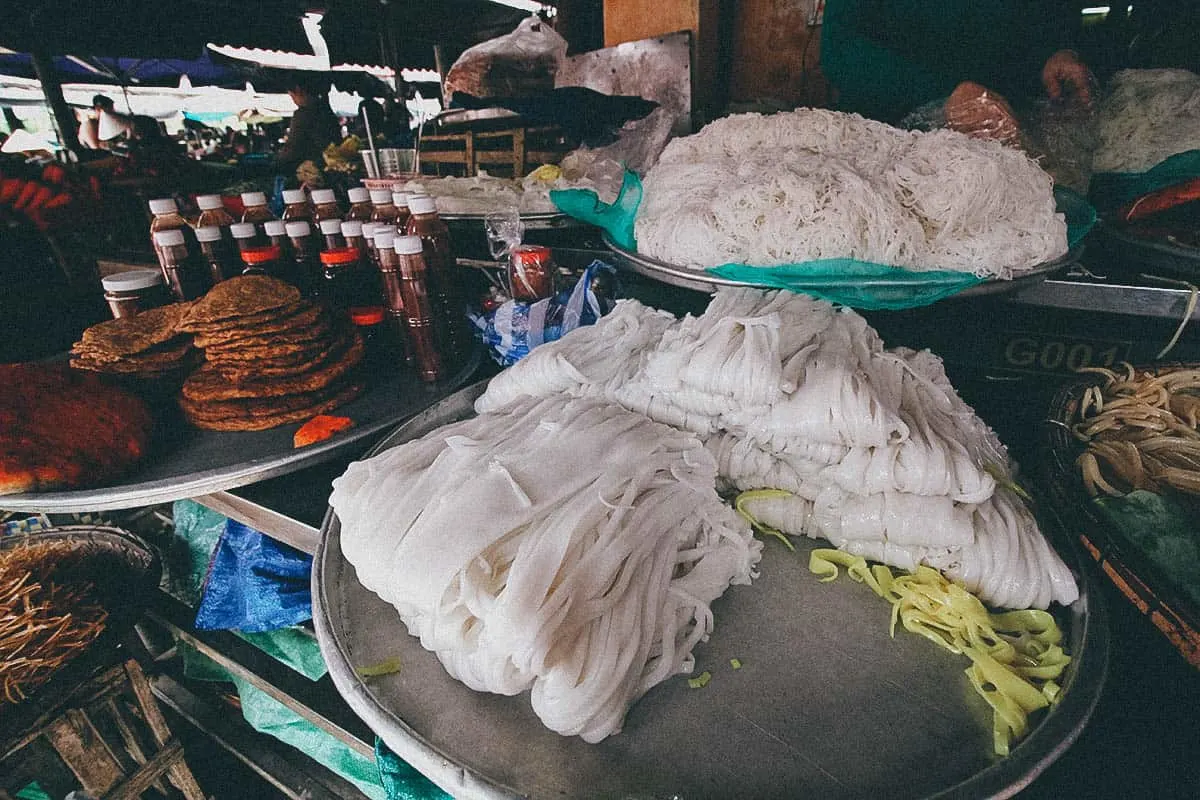 Butcher selling different cuts of pork. According to Hien, anything unsold at the end of the day would be turned to giò lụa or Vietnamese pork sausage. You can see a couple of rolls of it on the left there wrapped in banana leaves.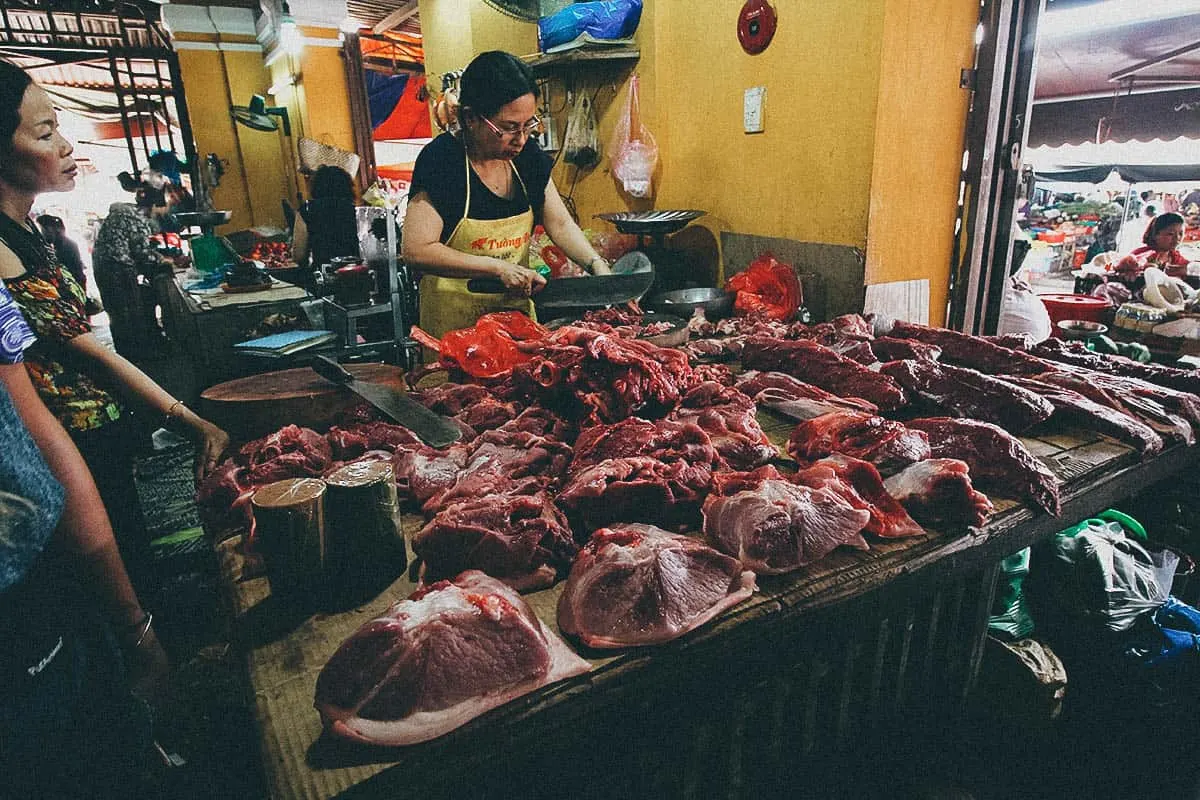 Fish and other types of fresh seafood. Fishermen come in at around 7AM to sell the day's catch to the vendors.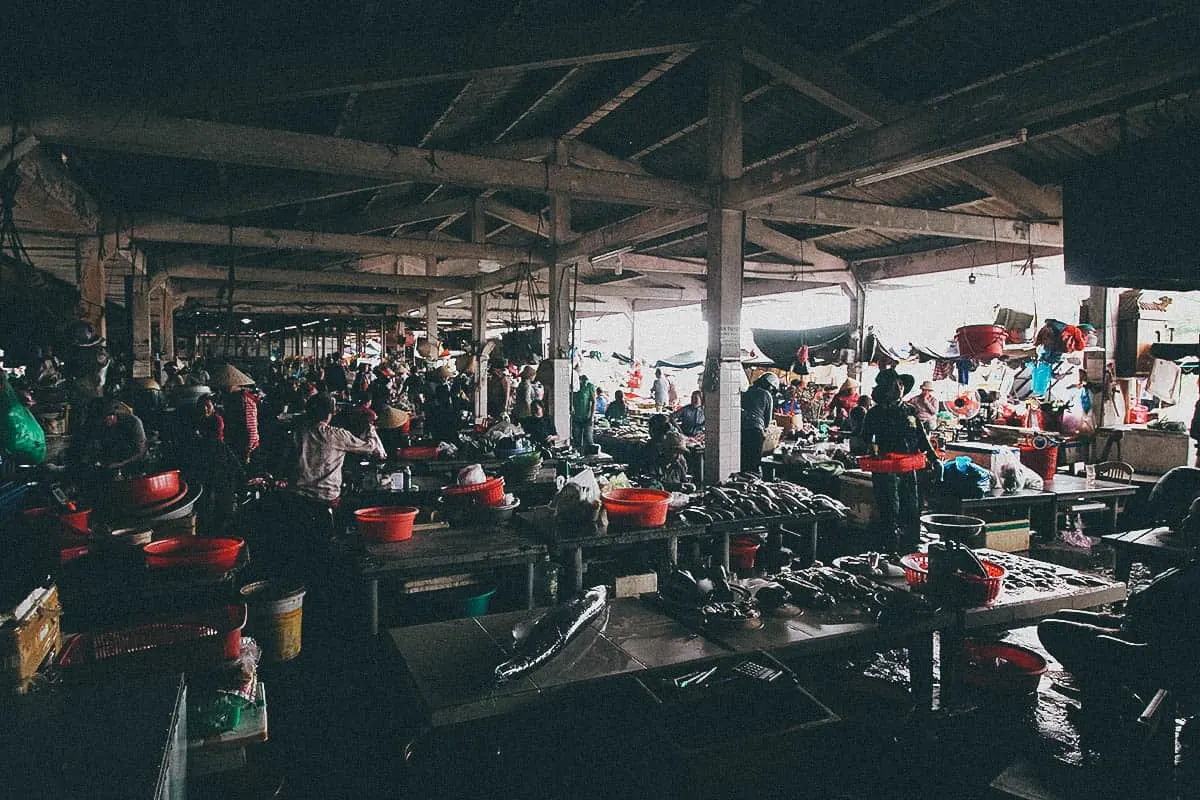 I think this woman was selling freshly grated green papaya. After buying all our ingredients, we walked to the nearby pier by the Thu Bon River to catch a boat to the cooking school.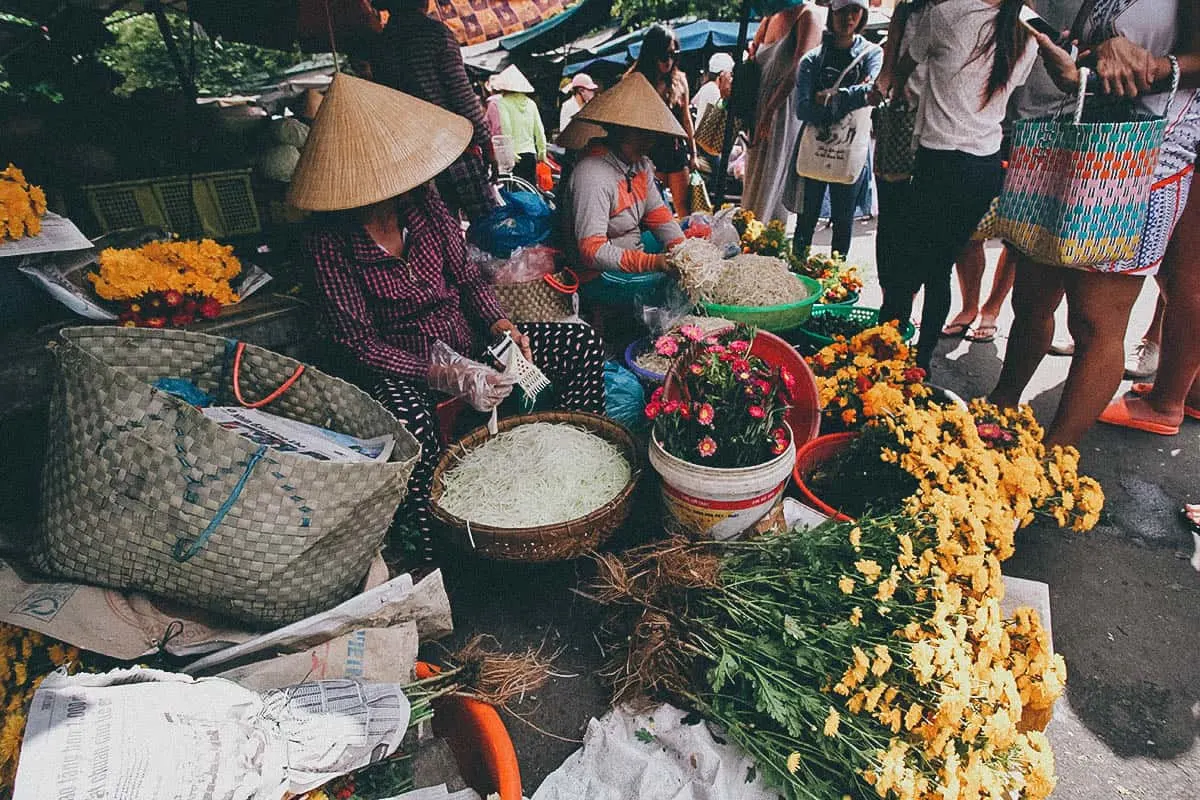 We would get off the boat and transfer to a van before getting into these small wooden paddle boats that could seat 5-6 people. It was a quick ride through a palm forest to the cooking school. We found out later that you can actually drive to Thuan Tinh Island from the market, but I guess they take you on these boats as part of the immersive Hoi An experience.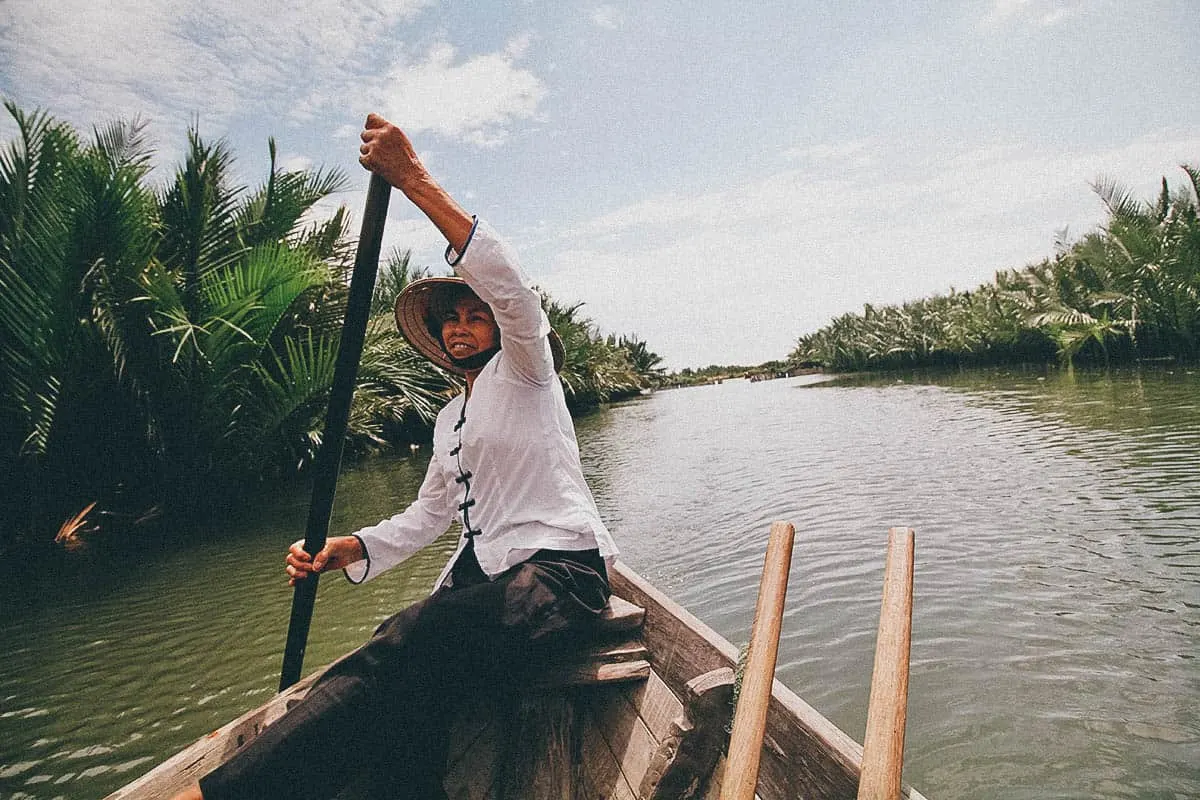 There's Ren rocking the nón lá or Vietnamese leaf hat.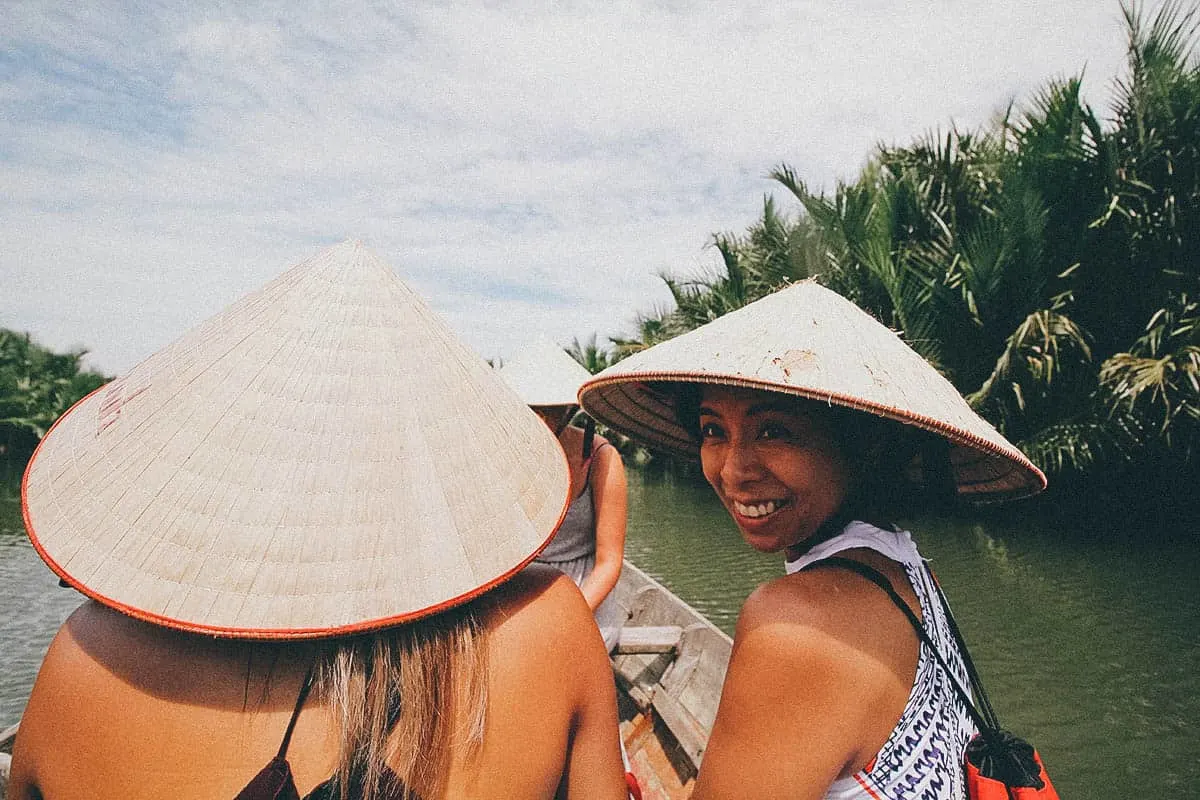 There's the other half of our party arriving at the school. We were a small class with just nine people. I think they keep all Thuan Tinh Island cooking classes small so the instructors can give everyone the attention they need.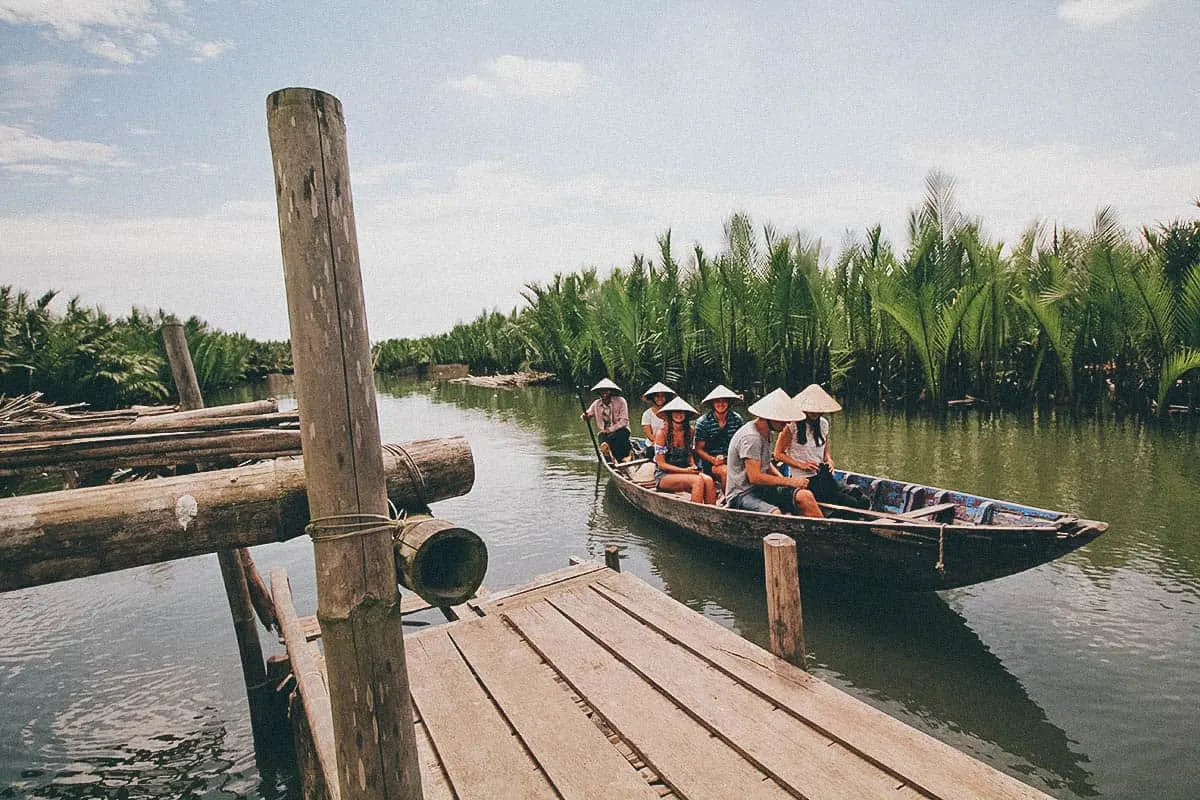 The setup they have here is amazing. I saw many places in Hoi An Ancient Town offering cooking classes but most, as far as I could tell, were in restaurants or hotels. I can imagine how cramped that must feel. Here at Thuan Tinh Island Cooking School, they have these large open-air bamboo pavilions where they stage multiple cooking classes at once. The space felt so bright and airy. See that certificate on the wall? Thuan Tinh Island Cooking School has a perfect 5-star rating on TripAdvisor, which was the main reason why I chose them. 😉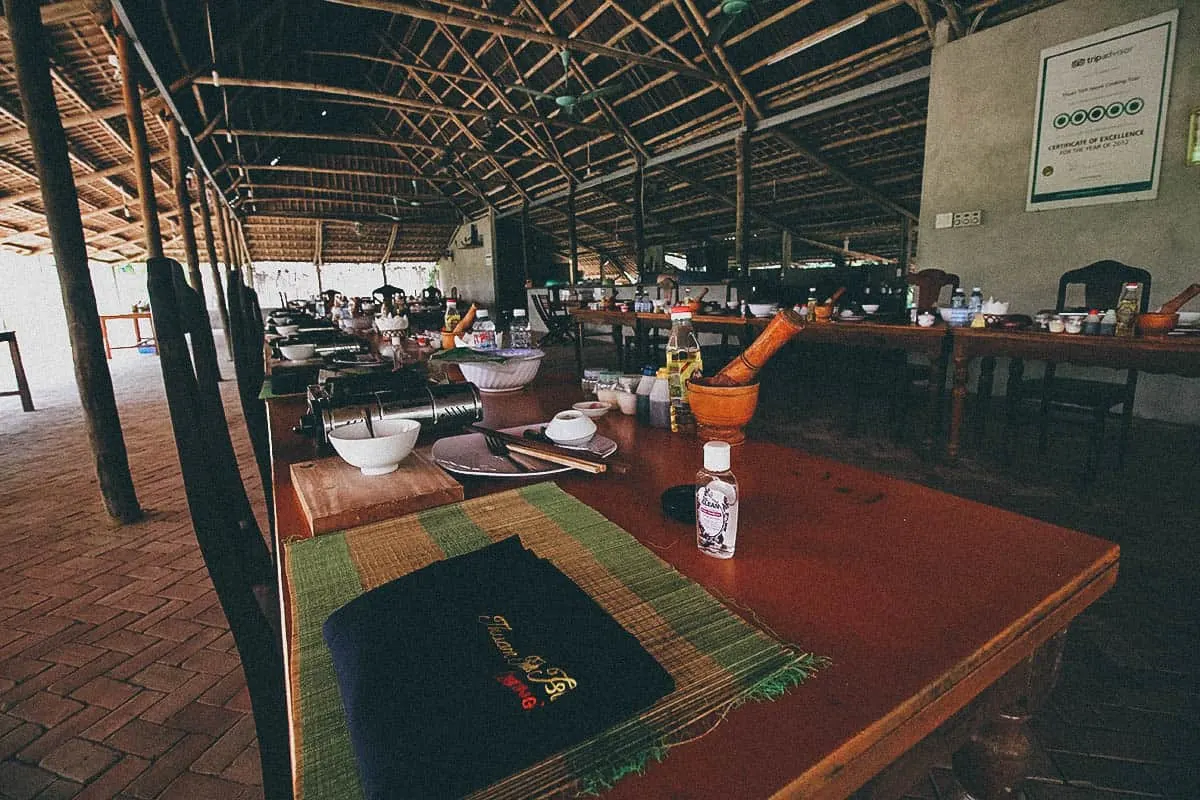 We each had our own set of cooking utensils and burners set up on tables arranged in a "U" shape. We were all facing inwards so we could see what everyone else was doing. It felt intimate without being crowded. Hien and her cooking demo station was at the open end of the U shape.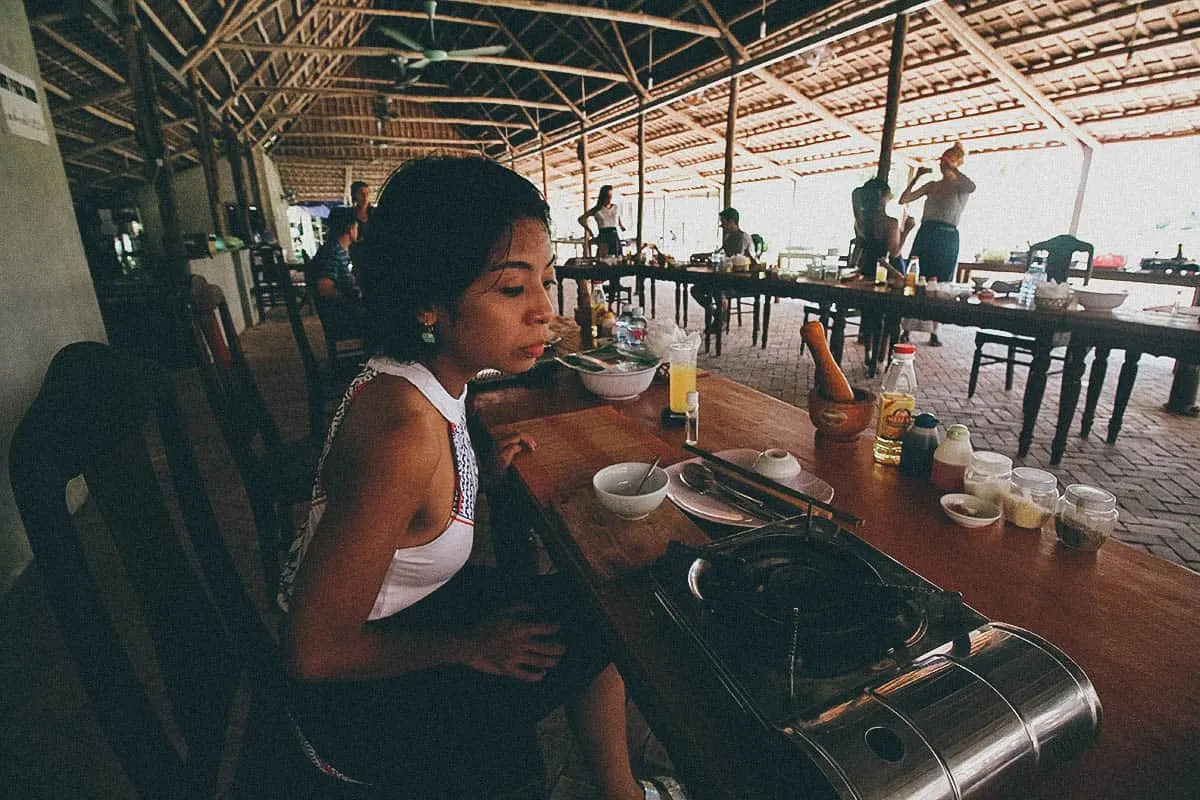 This was my station. That passion fruit juice was so good and refreshing. Whenever I finished my glass, someone would come and fill it back up. The staff was constantly taking away used utensils and plates and bringing in fresh ones as well. They have their system here down pat! They teach you to make fours dishes here – gỏi cuốn, bánh xèo, bún bò nam bộ, and phở bò ha noi.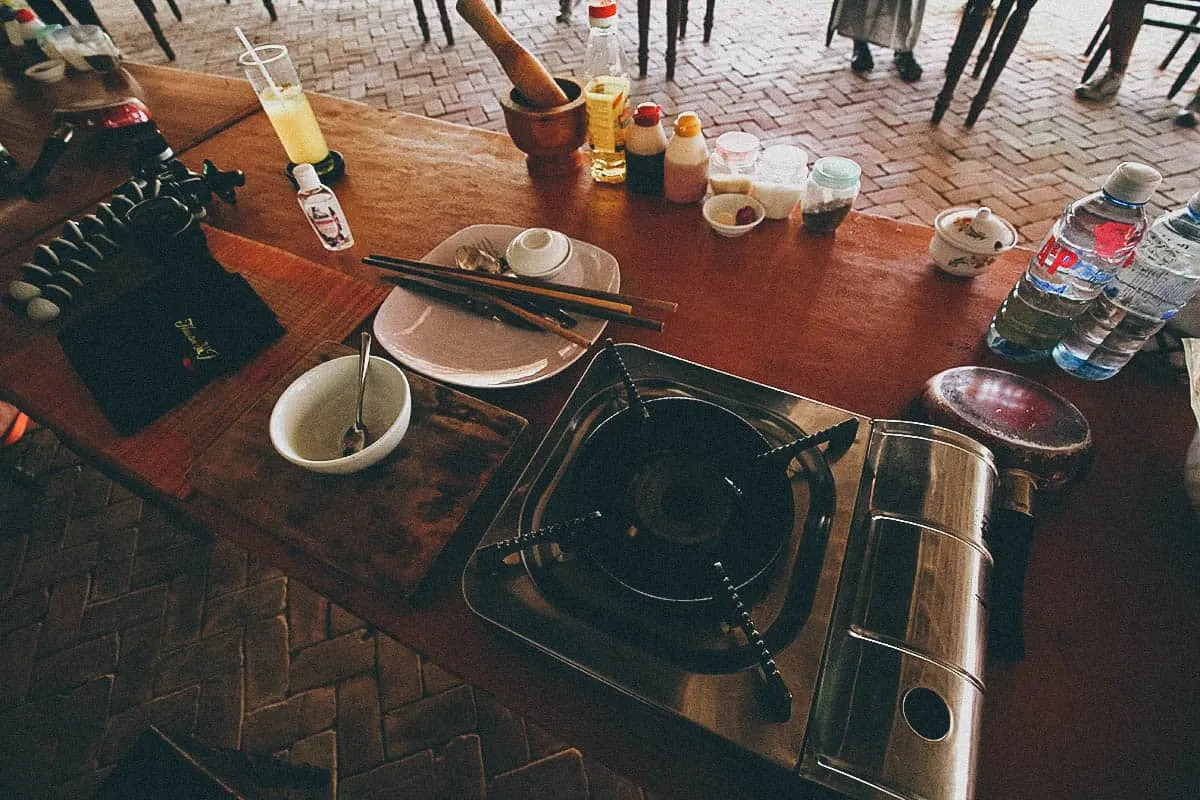 Gỏi Cuốn
The first dish we learned to make today was gỏi cuốn (nem cuốn in the north), which along with phở and bánh mì is recognized as a Vietnamese national dish. Gỏi cuốn is a fresh spring roll traditionally made with shrimp, pork, vegetables, herbs, and rice vermicelli wrapped in bánh tráng or Vietnamese rice paper. There's Hien showing us all the ingredients that go into a gỏi cuốn.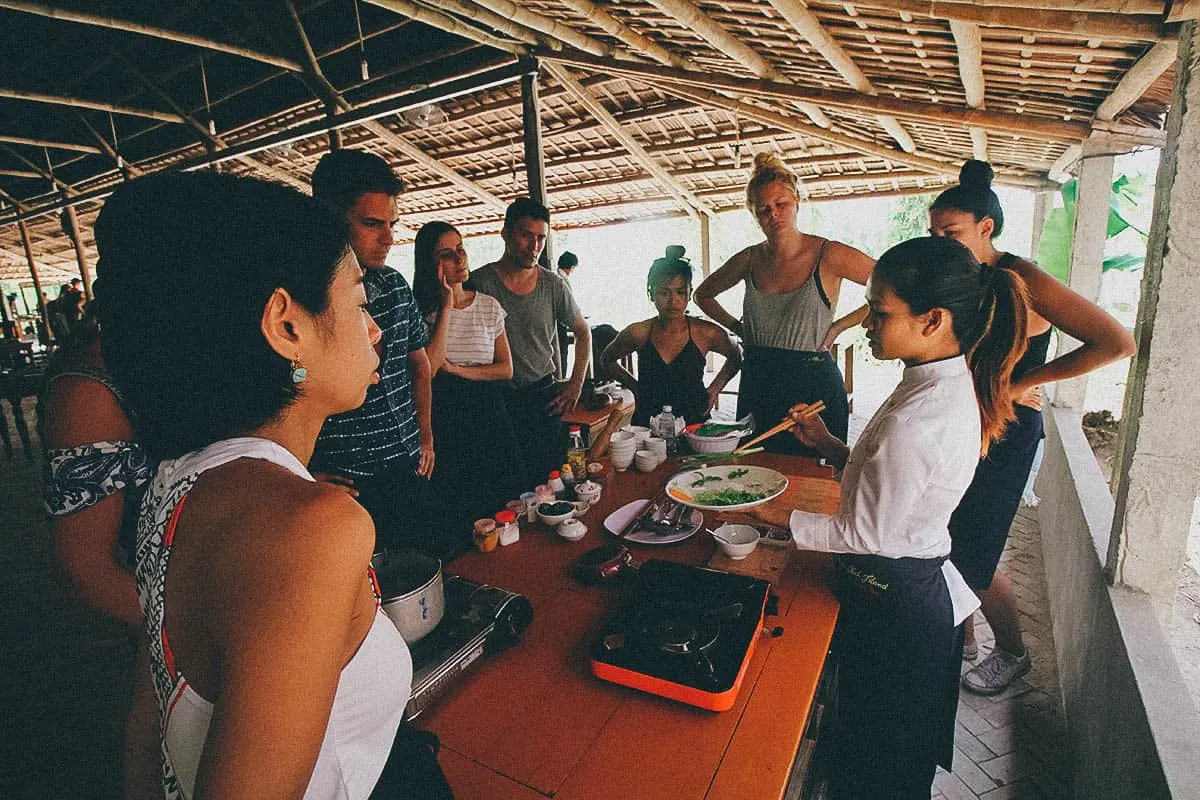 This was the version Hien made. Pretty right? Now we had to go back to our stations and try to do the same!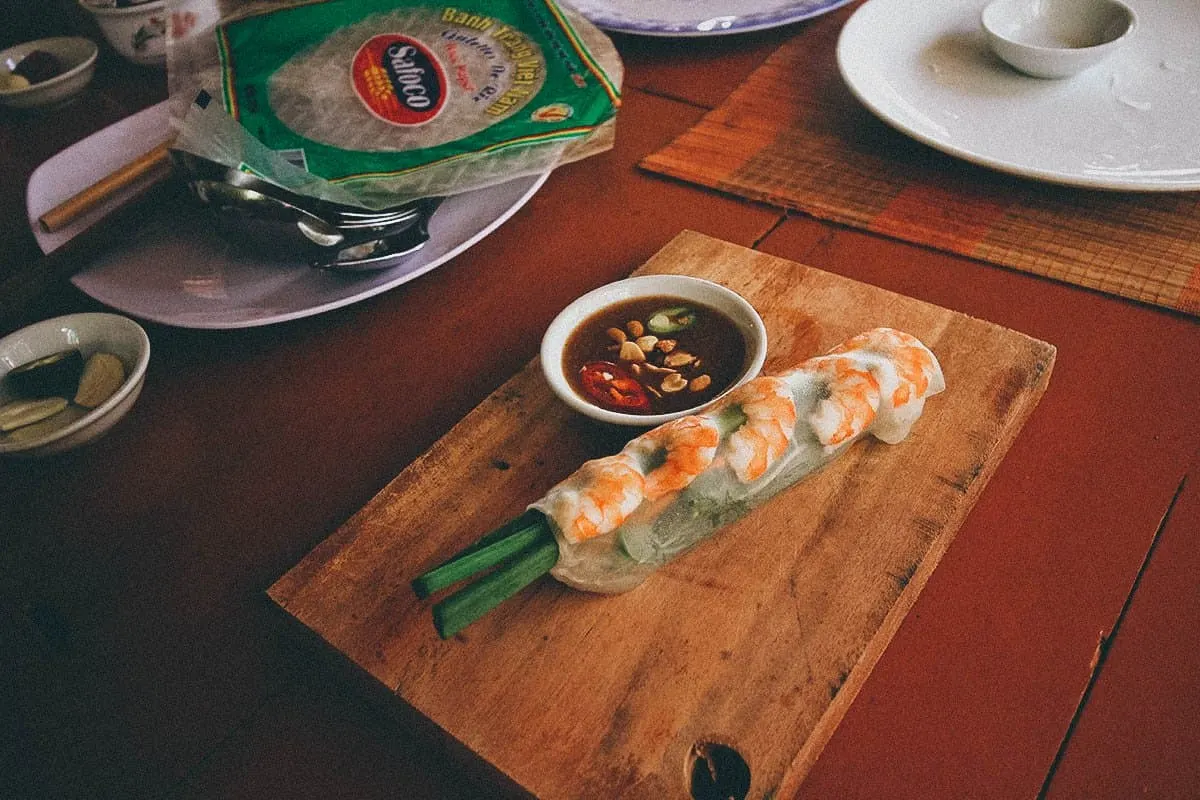 To make the roll, a sheet of rice paper is first dipped in water then laid flat on a chopping board. The chopping board helps soak up excess water to keep the paper from becoming mushy. You then lay the ingredients down beginning with the lettuce, followed by the herbs and veggies, then the pork. Rice vermicelli is then spread evenly on top before topping it all off with another lettuce leaf. You fold both sides of the rice paper and roll up from the bottom. Stop about 2/3 of the way to neatly arranged the shrimp in a row, color side down. This is to ensure that the colorful side of the shrimp is showing through the translucent rice paper. Add some chives then roll all the way up, making sure to have your chives sticking out from one end.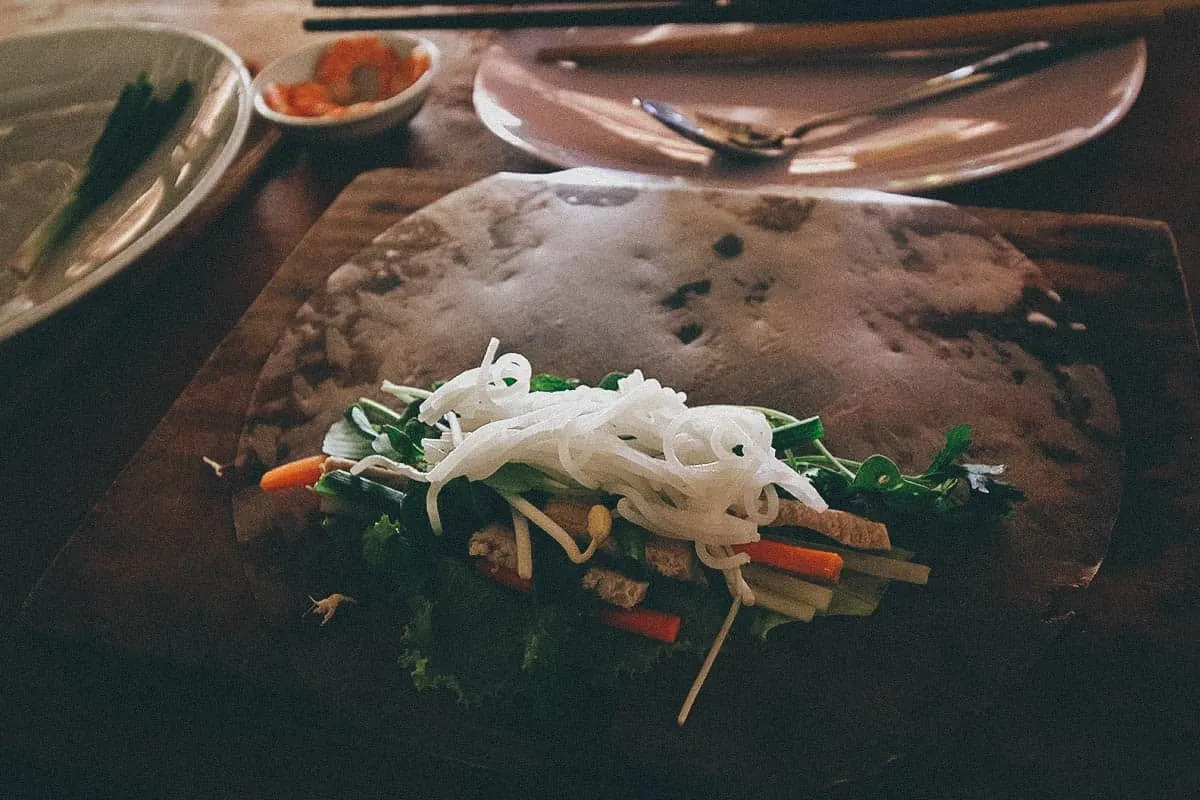 And voila! Looks easy right? This was the beautiful gỏi cuốn Ren made. Hien taught us how to make that nuoc leo as well, which is a peanut hoisin dipping sauce.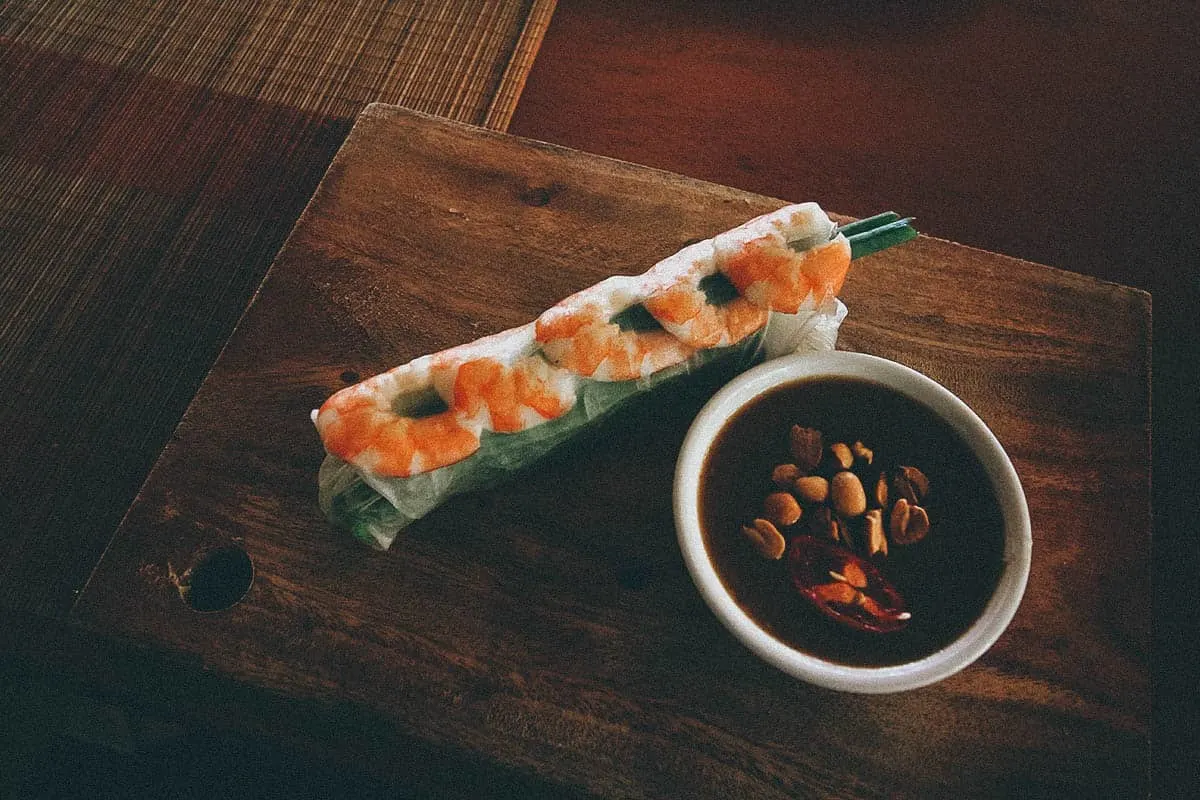 Perhaps it's not as easy as it looks. Here's the stumpy-looking version I made. 😆 I forgot to leave one end open which is why it looks so scrunched up. Oh well, at least it tasted as good as everyone else's. Follow the link to check out the full recipe for gỏi cuốn and nuoc leo.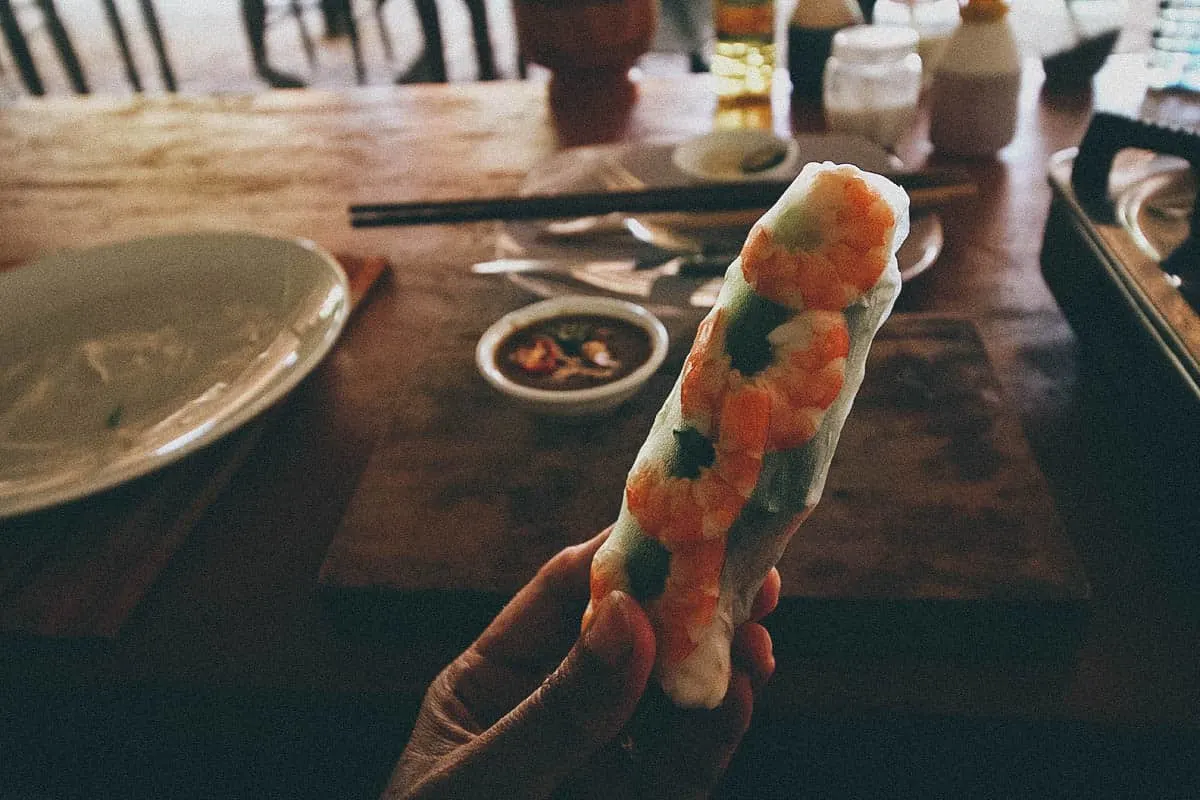 Bánh Xèo
Next up was bánh xèo which was one of my favorite things to eat in Vietnam. Bánh xèo is a crispy crepe made with fried rice flour batter filled with pork belly, shrimp, green onions, and bean sprouts. The batter is poured into a hot skillet then filled with the ingredients before being folded in half like an omelette. The name bánh xèo literally means "sizzling cake" because of the sound the rice batter makes when it hits the hot skillet.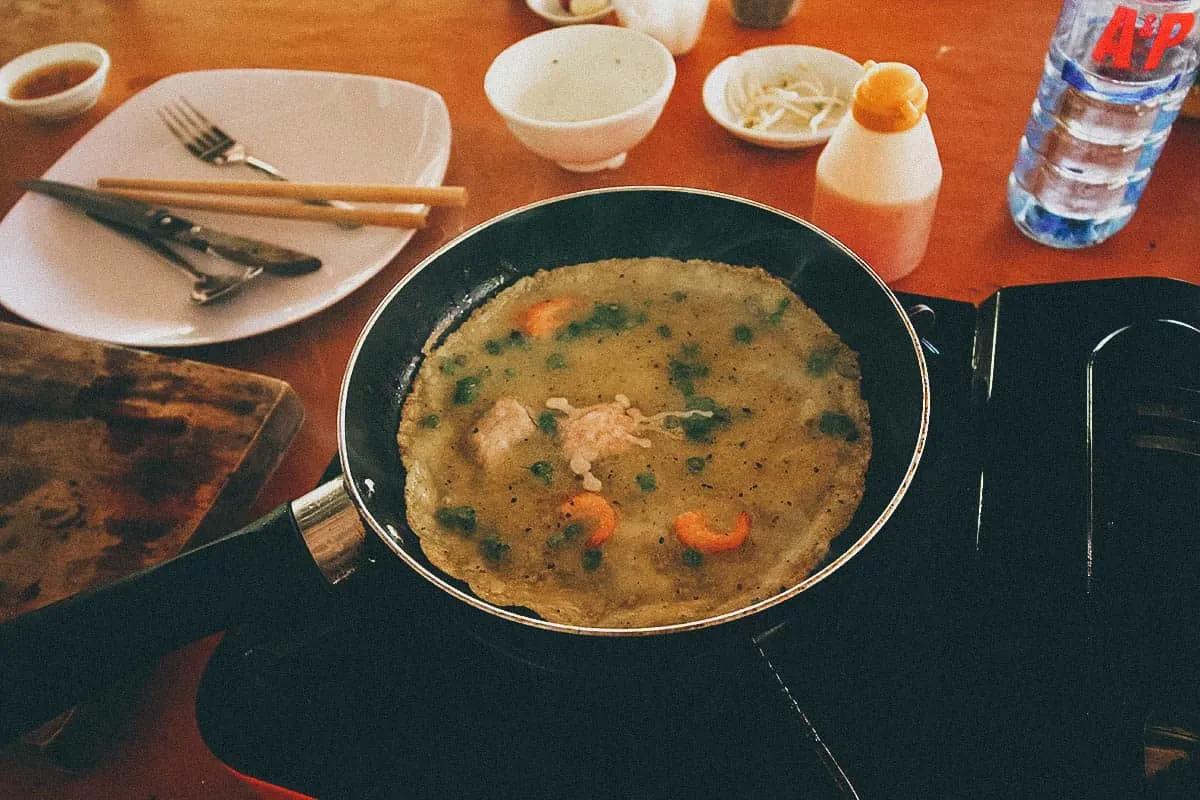 Once the bánh Xèo is fried and crispy, you wrap it in rice paper along with fresh herbs like coriander, mint, and perilla before dipping into nước mắm pha (or nước chấm), which is a fish-sauce-based dipping sauce. Crisp on the outside but moist on the inside, it's delicious and a lot of fun to eat. You'll find the exact bánh xèo recipe we learned at Thuan Tinh Island Cooking School following this picture.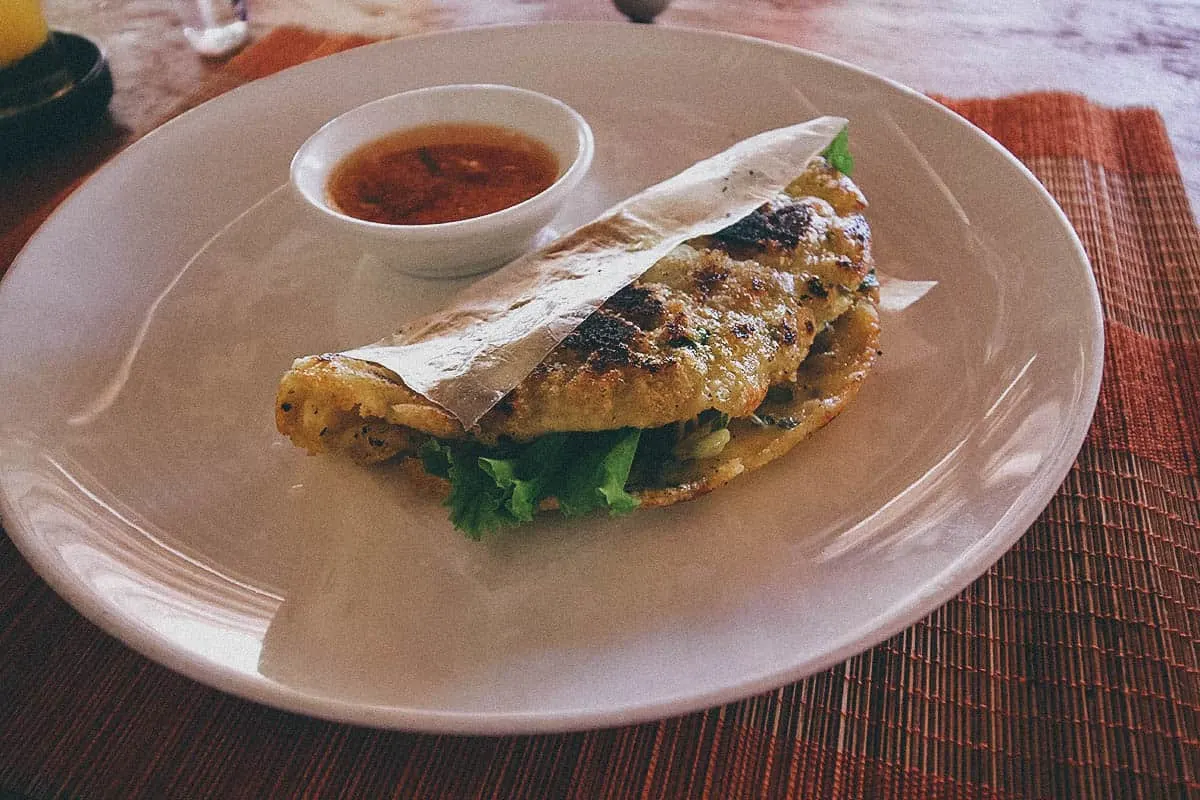 Bánh Xèo Recipe
INGREDIENTS
Pork, thinly sliced
Shrimp, small
Green onion
Bean sprouts
Fresh greens like lettuce, mint, and coriander
1 cup rice flour
Turmeric powder
Black pepper
Salt
Soybean oil
Coconut cream (optional)
DIRECTIONS
In a large mixing bowl, whisk together 1 cup rice flour, 1 tsp turmeric powder, 1 tsp black pepper, and a pinch of salt. Add water until the consistency is slightly thicker than milk. If you like, you can also add a small ladleful of coconut cream. Set batter to rest for 15 minutes. Alternatively, you can soak rice overnight and use a blender to make the batter.
Heat an 8″ non-stick pan over high heat. Add 3/4 Tbsp soybean oil. Add 2 very thin slices of pork and several tiny pieces of shrimp. Wait until the oil starts smoking. Pour half a small ladleful of batter and swirl the pan to coat evenly. The batter should sizzle when it hits the pan. Otherwise, your heat is too low. Pour another half a small ladleful on the side of the pan and swirl to coat the edges evenly. The crepe should be thin and of even thickness throughout (try not to have the middle thicker than the edges).
Reduce heat after 1 minute and cook to a crisp for 1-2 more minutes, drizzling a few drops of oil with a spoon on the outer edge of the crepe if necessary. The crepe should be a nice brown color. Add a few drops of oil to prevent the crepe from burning black.
Flip the crepe and crisp the other side for 1 minute. To flip, tilt the pan at a 45° angle with your wrist and forearm. Slide the crepe towards the outer edge of the pan and flip straight up mostly with your wrist.
Flip the crepe again and sprinkle 1 tsp chopped green onion and about 30 bean sprout strands. Fold the crepe in two like a taco to steam the bean sprouts inside, then transfer to a serving dish with lettuce, mint, and coriander. Serve with peanut hoisin sauce or nước chấm (fish sauce).
Nước Chấm Recipe
INGREDIENTS
2 cloves garlic
Sugar
Lime juice
Premium fish sauce
Water
DIRECTIONS
Pound 2 cloves of thinly sliced garlic with slices of red chili in a mortar. Transfer to a small sauce dish. Add 1 tsp sugar and squeeze in 1/8 tsp lime juice. Add 2 Tbsps premium fish sauce and 4 Tbsps water.
Adjust to taste with sugar, water, or fish sauce.
Bún Bò Nam Bộ
We then learned how to make bún bò nam bộ which is a stir-fried beef and vermicelli dish. The beautiful example below with the hand-cut flowers was made by Hien.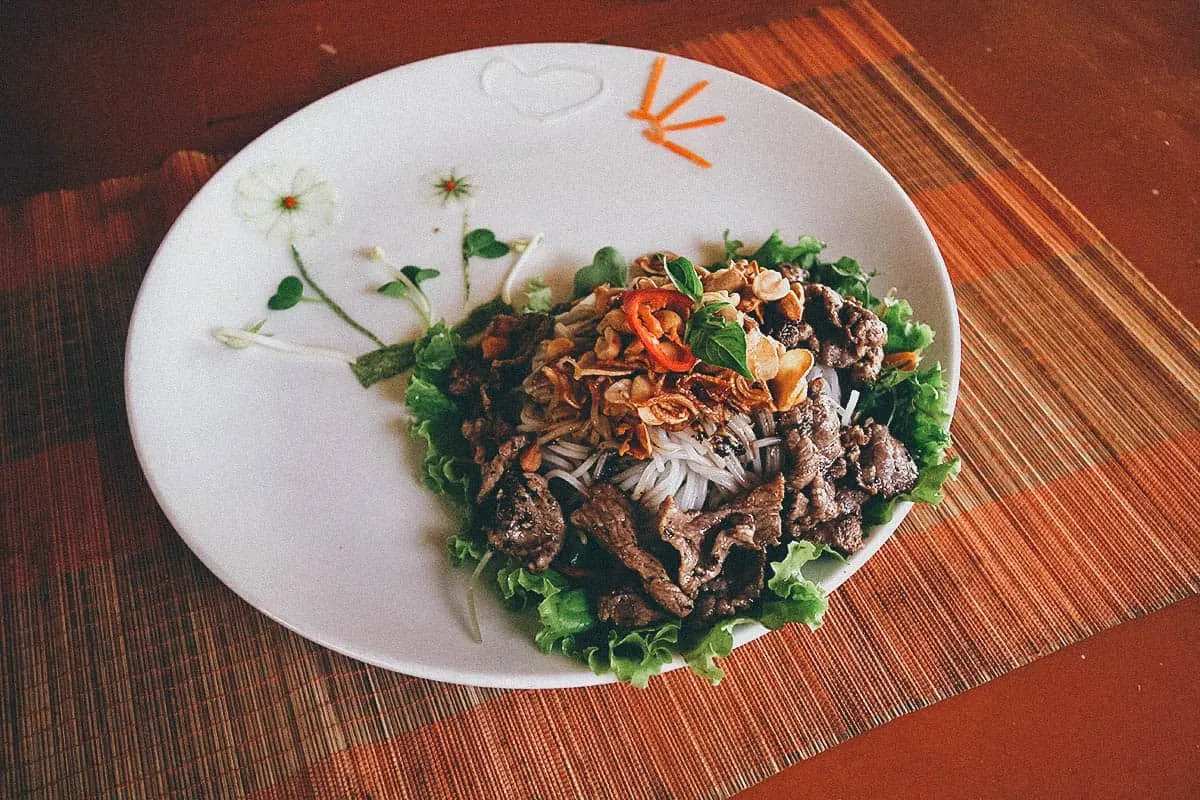 We were given time to arrange the lettuce and make vegetable designs on our plate using cucumbers, carrots, chili, and herbs. This was Ren's design. Cute right?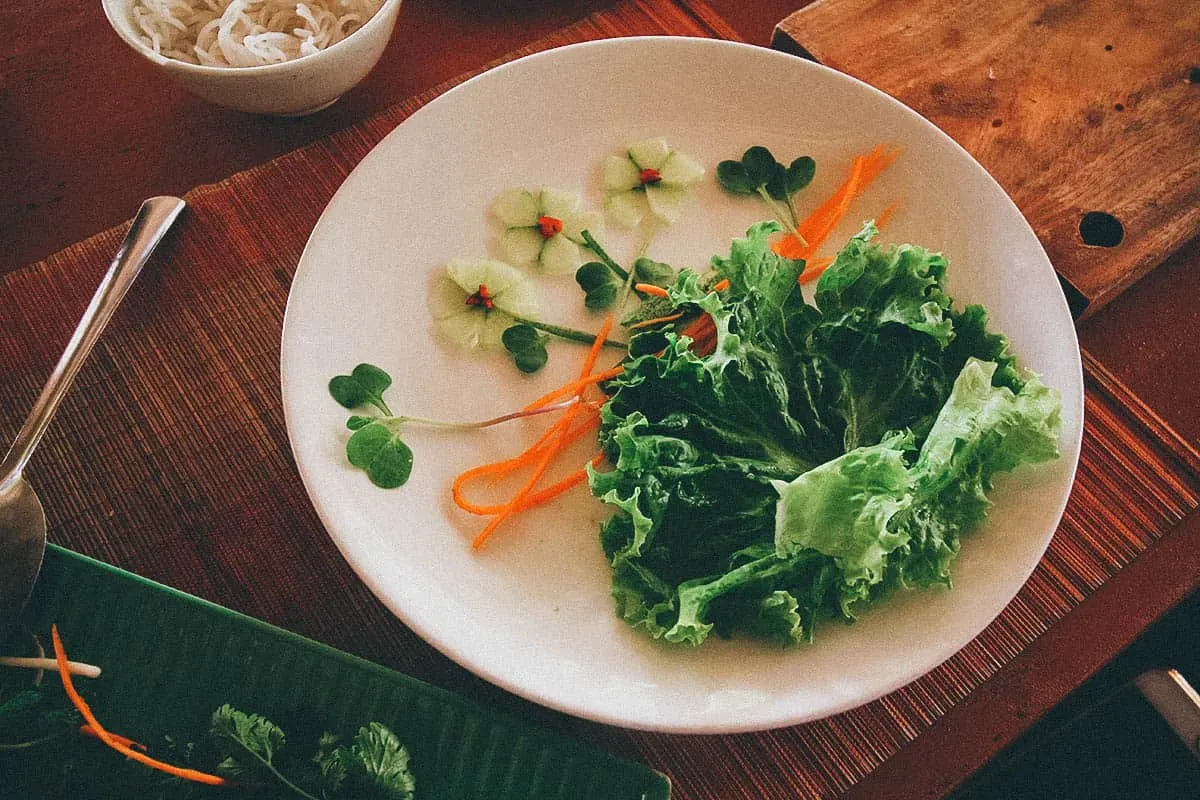 There she is now proud of her handmade vegetable garden. 🙂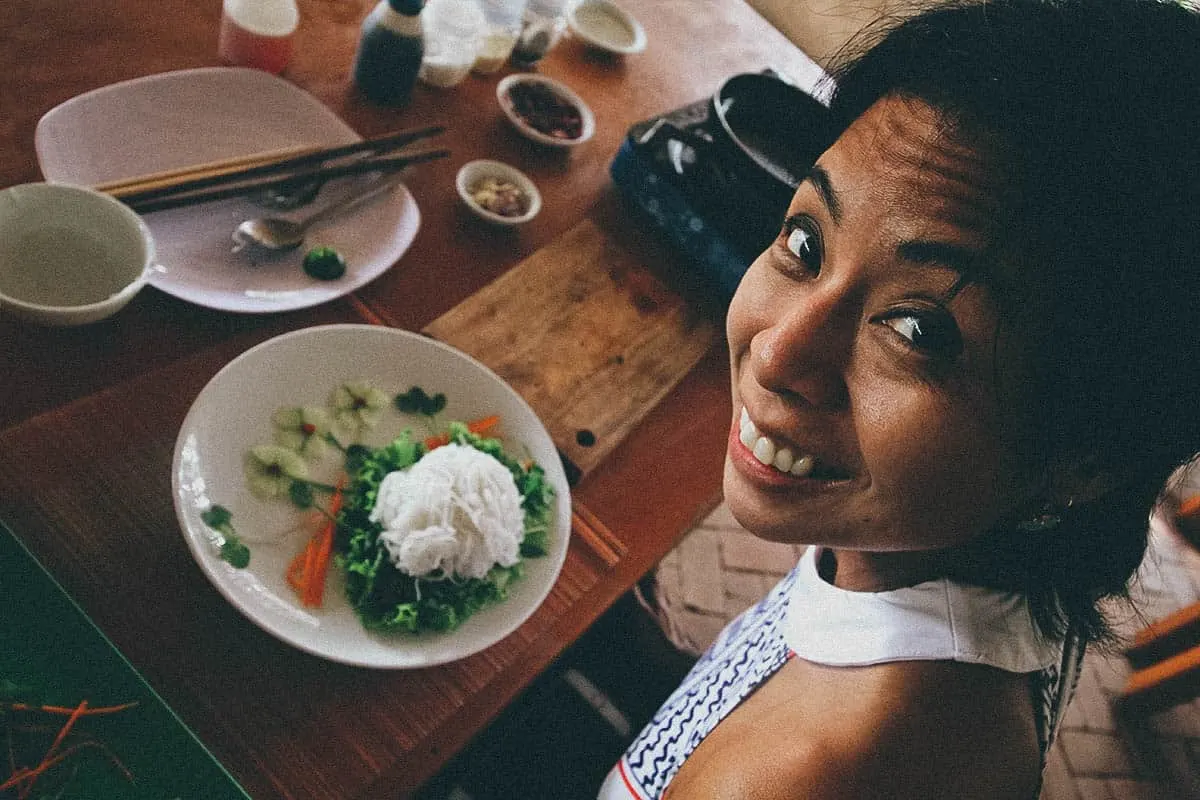 This was how it looked after she topped it with beef, vermicelli, roasted peanuts, and fried shallots. Beautiful! It tasted just as good as it looked too. It was savory, crunchy, a little sweet, and had nice contrast between the warm beef and cold sticky rice noodles.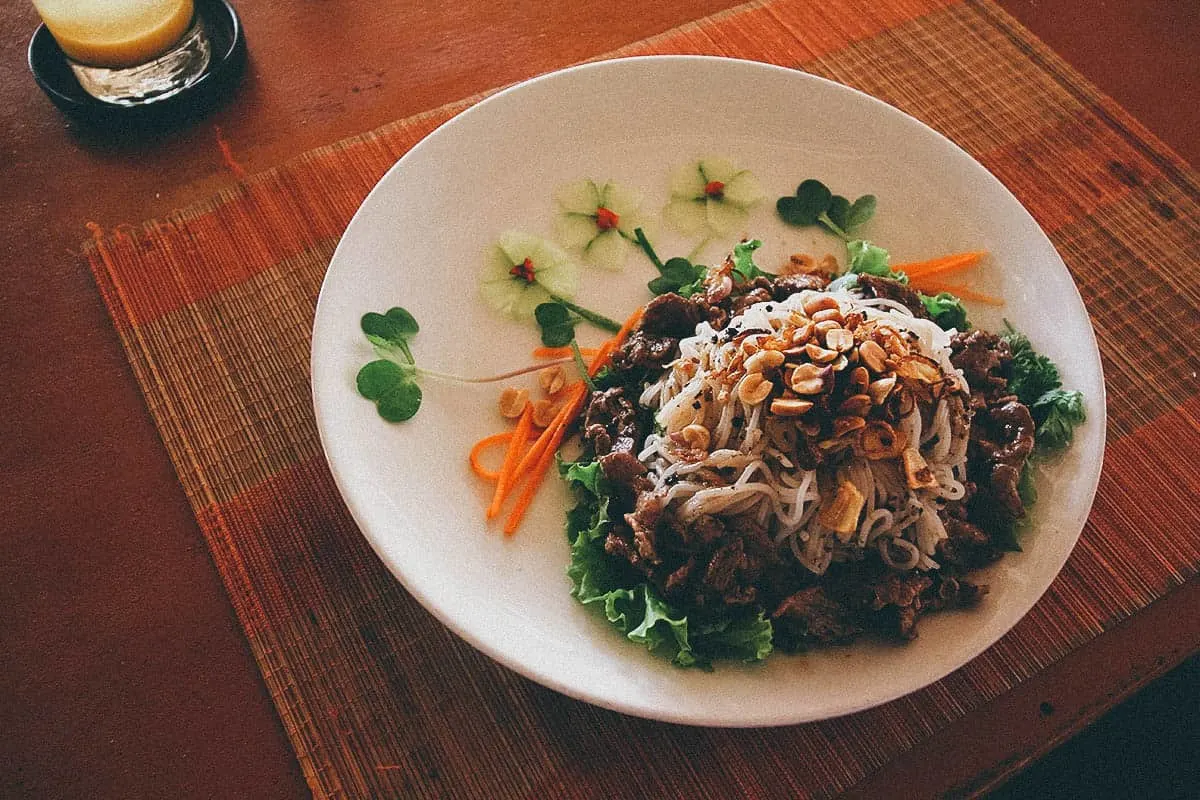 This was my bún bò nam bộ monster. 😆 Like the gỏi cuốn, mine may not have looked as pretty as Ren's but it tasted every bit as good. Recipe for the bún bò nam bộ flower garden (or monster) below.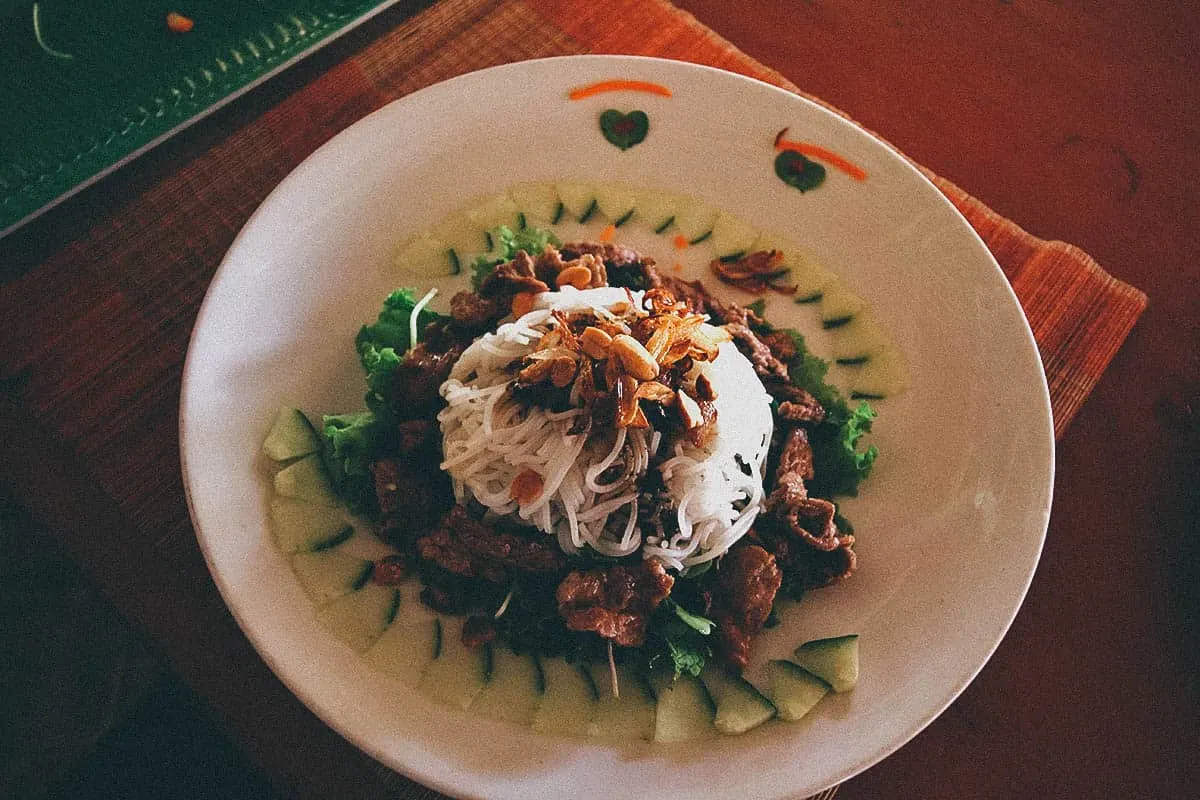 Bún Bò Nam Bộ Recipe
INGREDIENTS
1 package rice vermicelli noodles
Beef tenderloin, 9-10 thin slices
Peanuts
2 lettuce leaves, mint, and coriander
1 small carrot
1 small cucumber
1 red chili
Bean sprouts
Purple perilla (if available)
Shallots
1/2 garlic clove
Soybean oil
Beef broth
Chinese soy sauce
Premium fish sauce
Black pepper
Sugar
Lime or lemon juice
DIRECTIONS
Follow package directions and cook rice vermicelli noodles.
Cut 9-10 thin slices of beer tenderloin across the grain.
Roast 1 Tbsp raw peanuts until slightly burnt.
Chop 2 lettuce leaves and toss with some mint and coriander. Place in a large bowl as a bed of herbed salad.
Place around the salad small amounts of grated carrot, sliced cucumber, red chili slices, bean sprouts, chopped purple perilla (if available) for color. Place vermicelli on top.
Fry shallots sliced in rings and 1/2 garlic clove sliced with 1 Tbsp soybean oil over medium heat until brown. Set shallots/garlic aside to dry and keep the shallot-flavored oil in pan.
Sauté beef slices in the shallot-flavored oil over high heat until just cooked or slightly rare. Lay beef slices on top of the rice vermicelli.
Deglaze pan with 1 ladle beef broth. Add 1 Tbsp Chinese soy sauce, 1 dash premium fish sauce, 1 pinch black pepper, and 1 pinch sugar. Bring to a boil and squeeze in 7-8 drops of lime or lemon juice. While still hot, pour the reduction on top of the beef/vermicelli.
Sprinkle over with fried shallots/garlic and 1 Tbsp chopped freshly roasted peanuts. Garnish with coriander or mint and serve immediately.
Phở Bò Ha Noi
And now for the piece de resistance – phở bò ha noi or Hanoi-style beef phở. This was actually the first dish we started to make in class. The stock had to be left to simmer for over an hour so we moved to the other dishes first before returning to this one.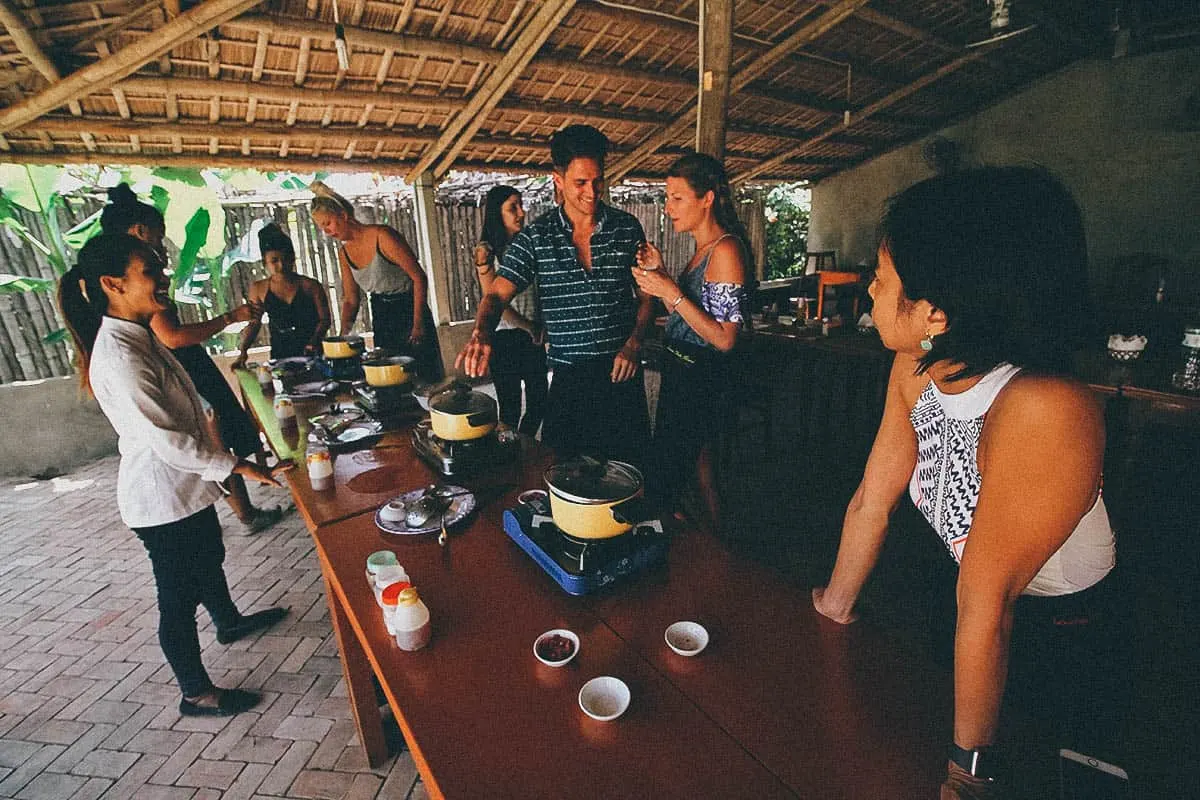 Here we are grilling shallots and ginger to concentrate their flavor before adding to the broth. On the right are the beef bones used as the base for the stock.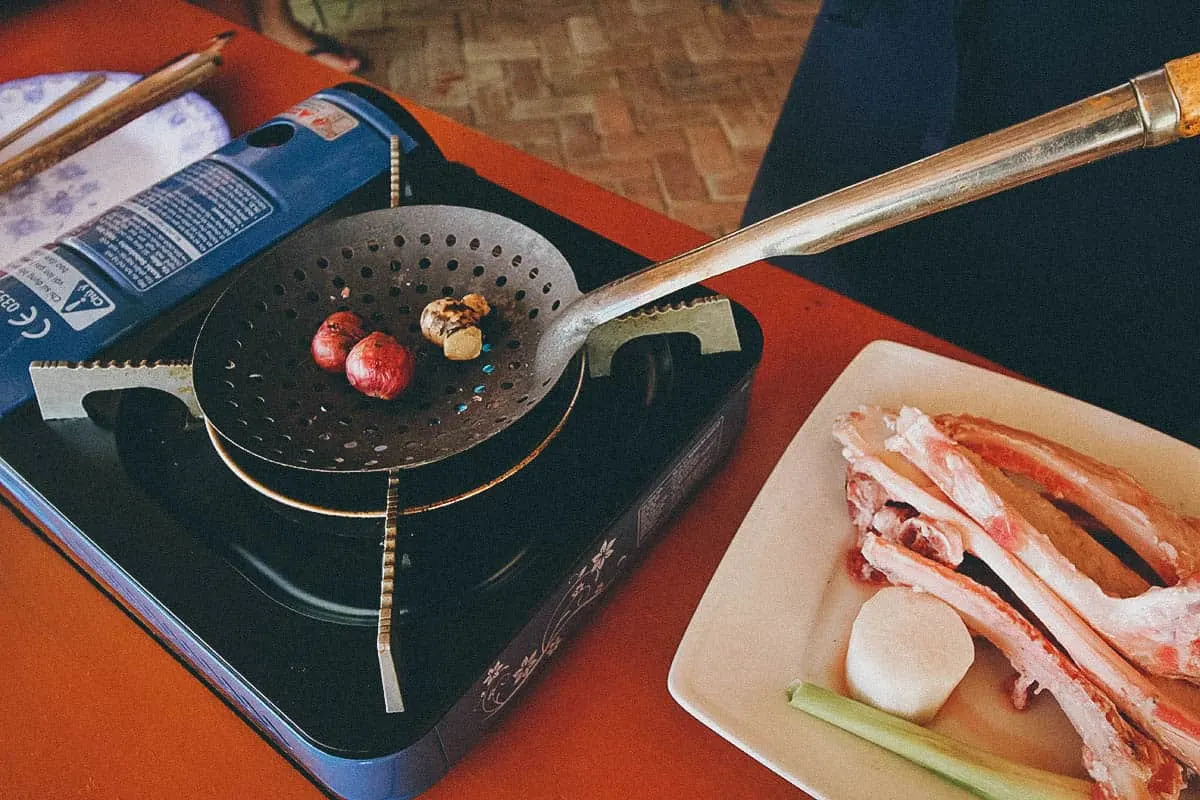 Ren's like: "Yeah, I'm making phở!" 😆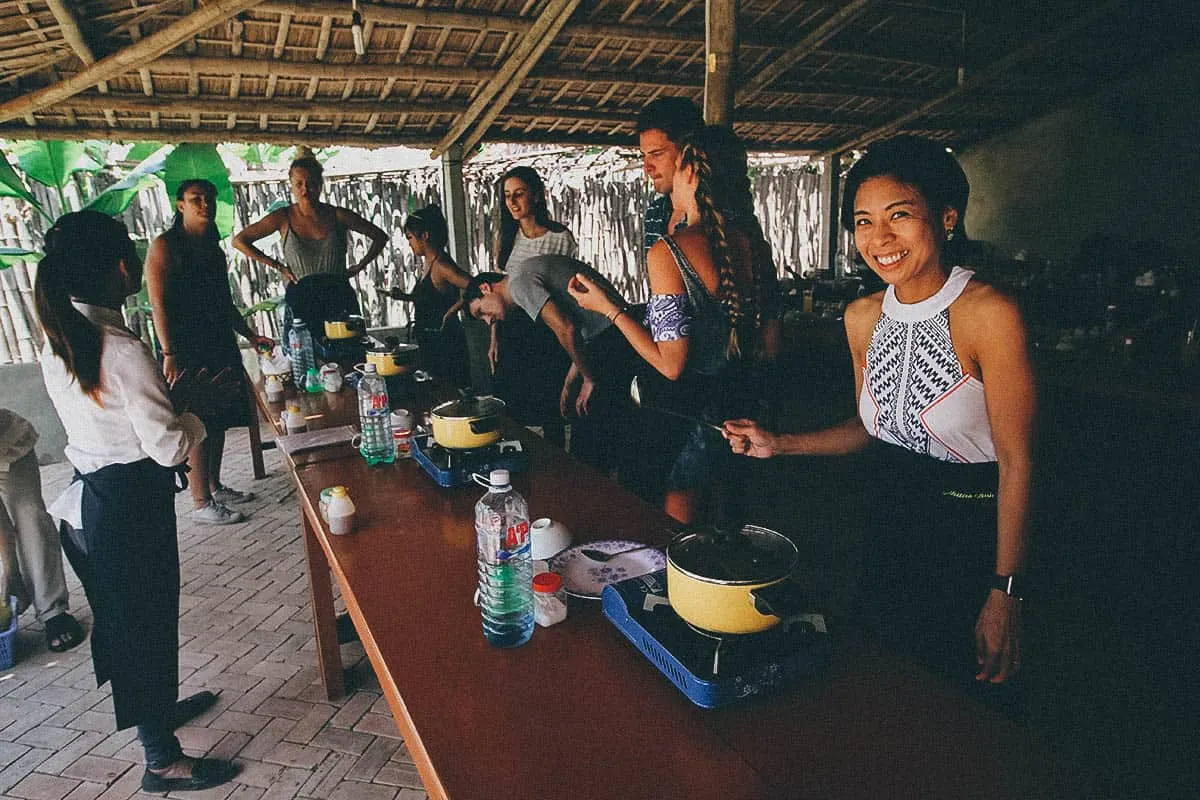 We learned that the secret to a good phở broth is to make it slightly over salty. This is because adding the noodles will soak up most of the flavor, leaving the broth bland. Be sure to taste your broth often and add salt, fish sauce, and/or water as needed.

After our broth was ready, we soaked the phở noodles in hot water for fifteen minutes before boiling over high heat for about 45-60 seconds until soft.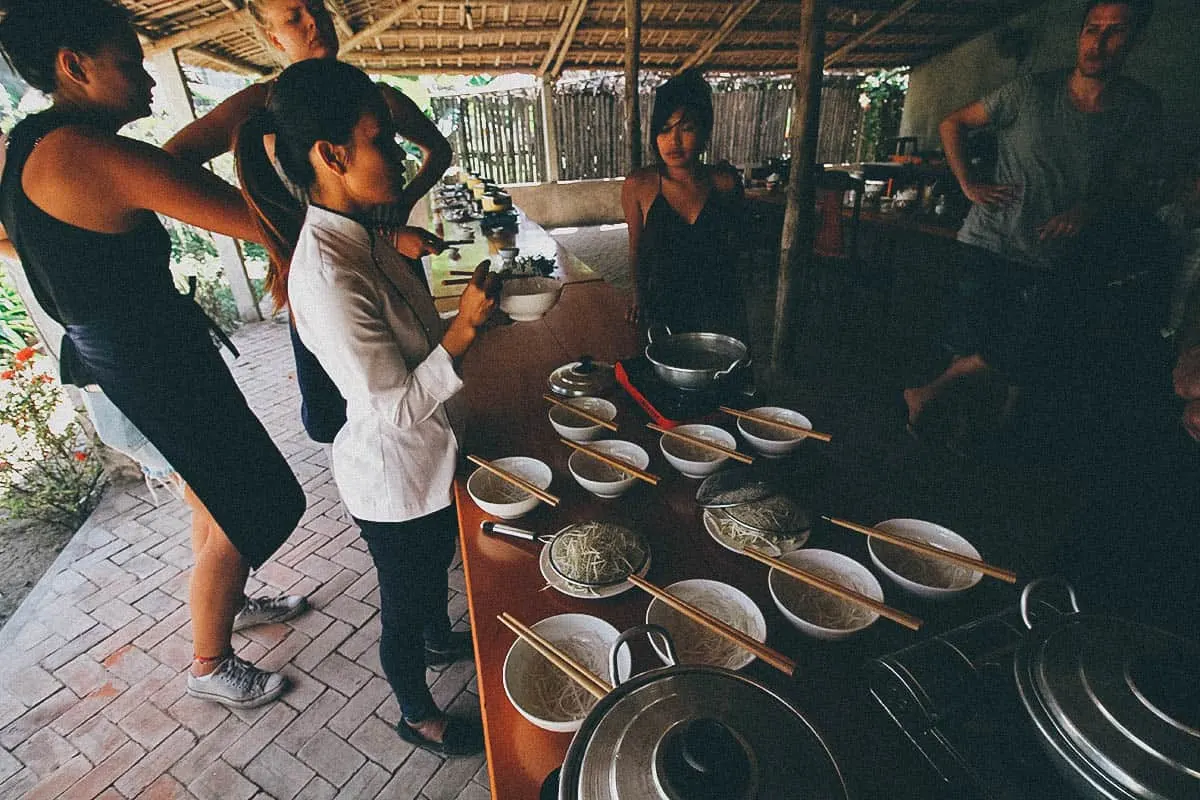 And boom! Our beautiful bowl of phở bò ha noi or Hanoi-style beef phở. As you probably know, phở is a Vietnamese national dish and arguably its most iconic. Follow the link to learn more about phở. I've posted the full recipe there as well.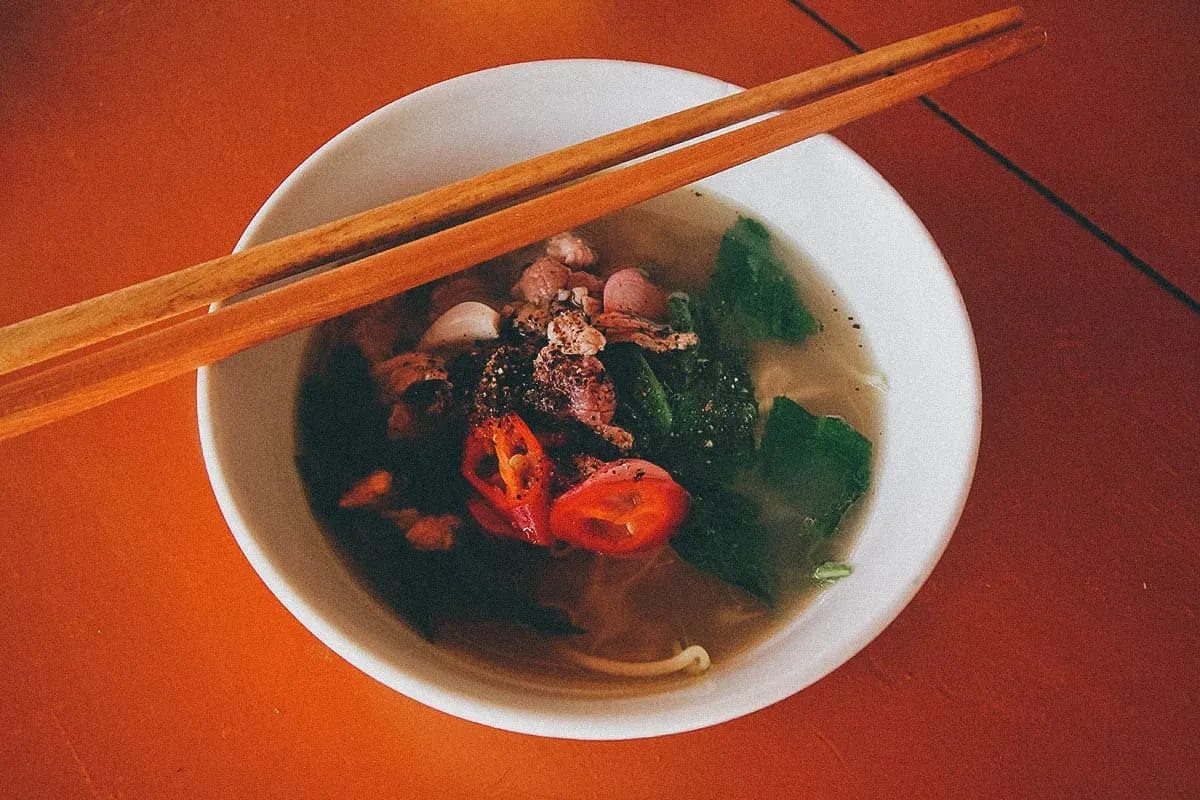 I took this picture while waiting for the van to take us back to Hoi An Ancient Town. A couple of farmers were harvesting peanuts so I approached them and asked if I could taste one. Freshly harvested peanuts are surprisingly good! They taste like raw peanuts but very herbal, almost like leaves. Ren didn't like it at all.

As described at the top of this post, this cooking class was one of the most fun things we did in Vietnam. It's a class that caters to beginners so there's no reason to be intimidated if you have little to no cooking experience like me. They do all the hard and boring stuff for you like deveining shrimp and mixing batter so all that's left is the fun part – actual cooking. We got to flip bánh Xèo, set fire to beef, and season our phở like salt bae. Tasty dishes are all but guaranteed here so even a knob like me wound up looking like Luke Nguyen by the end of the day.
Like I said, there are many cooking classes to choose from in Hoi An but Thuan Tinh Island Cooking School is one of the best and most reputable. Apart from the beautiful setting that made it fun and easy to cook, that perfect 5.0 rating on TripAdvisor pretty much speaks for itself.
Thuan Tinh Island Cooking School, Hoi An, Vietnam
Tel: +84 (0)906 477 770
Email: [email protected]
Cooking Class Fee: USD 34 per person (as of April 2017)
Disclosure
The TripAdvisor links in this post are affiliate links, meaning we'll get a small commission if you make a purchase or reservation at NO extra cost to you. We really appreciate your support as this helps us keep this website going. Thank you!