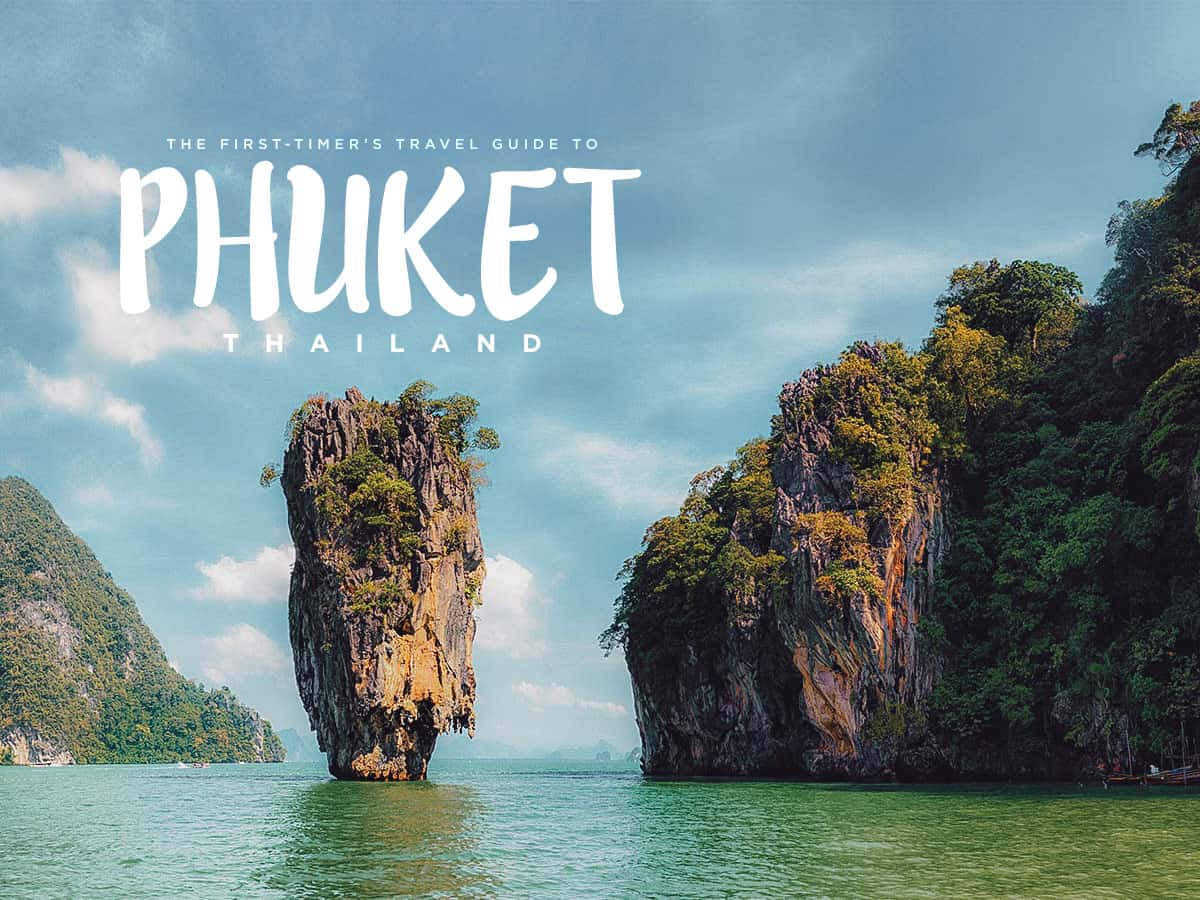 When I think of Phuket, I think of three things – its beaches, its limestone karsts, and its seafood. We experienced all three on our most recent trip, albeit in varying amounts thanks to August's inclement weather. We had copious amounts of seafood but very little of the other two. Not that I minded.
I had been to Koh Samui many years before so with both destinations being in southern Thailand, I expected Phuket to be similar. It was for the most part, but the one thing that did surprise me was the Russian. And by Russian, I mean the language. There was a lot of it. Many signs and ads were in Russian. Entire restaurant menus were translated into the Russian language.
I asked our hotel staff why that was and they said Phuket is marketed heavily in Russia, so a good chunk of the island's tourists during that time of year are Russian. I expected China or countries within Southeast Asia, but never Russia! It just goes to show what an international tourist destination Phuket has become.
No matter what country you're from or which language you speak, with the help of Google Translate, I hope this travel guide can help you plan that first trip to this dream island destination known as Phuket.
GUIDE TABLE OF CONTENTS
TRAVEL RESTRICTIONS
Because of the current global situation, travel guidelines change almost everyday. Our friends at SafetyWing created a website that lists detailed information on travel restrictions around the globe.
Before planning a trip to Phuket, be sure to check the Flatten the Curve website for information on travel restrictions to Thailand.
PHUKET AT A GLANCE
Phuket refers to both the province and the island in southern Thailand. It's the country's second smallest province but it's biggest island, home to beautiful white sand beaches along its southern and western coast and a spattering of smaller islands just off the mainland.
Explore the Old Town and you'll learn that tin mining used to be a major source of income for much of the island's history. The demand for tin petered out in the twentieth century and gave rise to other industries like rubber production and tourism, the latter being the province's main source of income for that last two or three decades.
Tourists flock to Phuket to enjoy its beaches and many luxurious resorts. Not only is Phuket the country's biggest island, but it's also its busiest, receiving an estimated ten million visitors annually.
BEST TIME TO VISIT
Phuket is a tropical island destination so the best time to go is largely dependent on the weather. Phuket is least rainy from around the end of November till mid-April, making this the ideal time to visit. The seas will be at their calmest as well.
NOV-APR: Weather-wise, this is the most ideal time to visit Phuket. However, it's also the busiest. High season starts in late November and goes till around mid-April, with peak months being January and February. If you'd like to go when the weather is best but are averse to crowds, then consider going in December or March. If you like getting into water fights, then you may want to go in mid-April for the Songkran Festival.
MAY-OCT: This is the monsoon season in Phuket. We were there in August and while we did enjoy a few sunny days, the unpredictability of the weather made it difficult to plan anything. When it rains it pours, and the wind can be frighteningly strong. I could see the waves crashing from our villa in Karon Bay and there was no way anyone was swimming in that ocean.
Climate: Annual Monthly Weather in Phuket
To help you better understand the monthly weather patterns in Phuket, I've created the average temperature and annual rainfall graphs below. Suggested months to visit are highlighted in orange.
Average Temperature


Annual Rainfall


TRAVELING TO PHUKET
There are several ways to get to Phuket depending on where you are, but most travelers will probably be flying into Phuket International Airport (HKT). It's located in the northern part of the island so you'll need to arrange for a transfer to your hotel.
BY SMART BUS: The Phuket Smart Bus is a new transportation service that launched in 2018. It takes passengers from the airport to Rawai, making 11 stops in-between. It makes stops in Bang Thao, Surin, Kamala, Patong, Karon, Kata, and Rawai, which is basically every recommended area along the island's western coast. At just THB 50-170 depending on your stop, this is the cheapest way to get to your hotel. Check the Phuket Smart Bus website for information on routes, stops, and fares.
BY AIRPORT BUS: This is what I took to get from the airport to the bus terminal in the Old Town. The fare is THB 100 and the journey takes a little over an hour. Follow the link to book tickets on the Phuket Airport Bus.
BY MINIVAN: There's a shared shuttle service called Samurai Five-O. It can take passengers from the airport to the Old Town (THB 230-250), Kata (THB 350-400), Karon (THB 350-400), or Patong (THB 300-350). It'll take you directly to your hotel but it may take longer depending on how many passengers need to be dropped off first. Click on the link for more information about Samurai Five-O.
BY PRIVATE TRANSFER: This is the fastest and most convenient way. Ren and her friends arrived a couple of days after I did and booked a private transfer to our hotel in Kata. You can try arranging for a transfer through your hotel or booking it in advance on Bookaway.
BY TAXI: I read about Phuket's infamous "taxi mafia" so I was averse to riding them in Phuket. Apparently, taxis and tuk-tuks control transportation on the island and have been known to charge extortionist fares. There are metered taxis and limousine taxis (fixed fare) you can catch from the airport, but I honestly don't know what the advantages are considering you can book a safer (and perhaps cheaper) private transfer in advance.
The above information assumes you'll be flying into Phuket, but there may be other ways to get there depending on where you are. I know for example that you can take a bus to Phuket from Bangkok, or a ferry and bus to Phuket from Koh Samui. These will be cheaper than flights so I suggest checking Bookaway to find route options available to you. You can click on the link or use the widget below.
WHERE TO EXCHANGE CURRENCY
The unit of currency in Thailand is the Thai Baht (THB). I used to exchange currency on every trip but I now find myself withdrawing more frequently from ATMs instead. It's more convenient and the rates are competitive.
We didn't exchange currency in Phuket but there are plenty of currency exchange offices in popular tourist areas like Kata and Patong. Just be sure to check the rates and ask if they charge a fee to find the best one. If you're spending any time in the Old Town, then you may want to try SuperRich. They're an official money changer in Thailand and are known for giving excellent rates. I've exchanged currency at their Bangkok branches and have always been happy with the rates.
NOTE: If you plan on withdrawing THB from an ATM, then be advised that some machines may give you the option of proceeding "with or without conversion". Always proceed WITHOUT conversion. Proceeding with conversion allows the foreign bank operating the ATM to do the conversion for you, usually at highly unfavorable exchange rates.
BEST AREAS TO STAY
The most popular coastal areas to stay in Phuket are Kata, Karon, and Patong. If you'd like a taste of Phuket history and culture, then the Old Town is the best place to stay.
Of those four places, I've stayed in Kata, Karon, and the Old Town. I'm not as big a fan of beaches so my favorite was the Old Town. It has the most interesting food on the island and is similar in look and feel to Penang in Malaysia. Keep in mind that it isn't as easy (or as cheap) to get around in Phuket, so it's important to choose an area that's right for you.
Listed below is a brief description of the most popular areas to stay in Phuket, along with a color-coded map to help you better understand where each of these areas are. Click on the link for an interactive version of the map. (Please note that marked areas are approximations only)
ORANGE – Kata
YELLOW – Karon
RED – Patong
GREY – Phuket Old Town
GREEN – Kamala
LIGHT BLUE – Bang Thao
PURPLE – Surin
DARK BLUE – Rawai / Nai Harn
I'll provide targeted links under each description but you can book accommodations in Phuket through Booking.com or Agoda.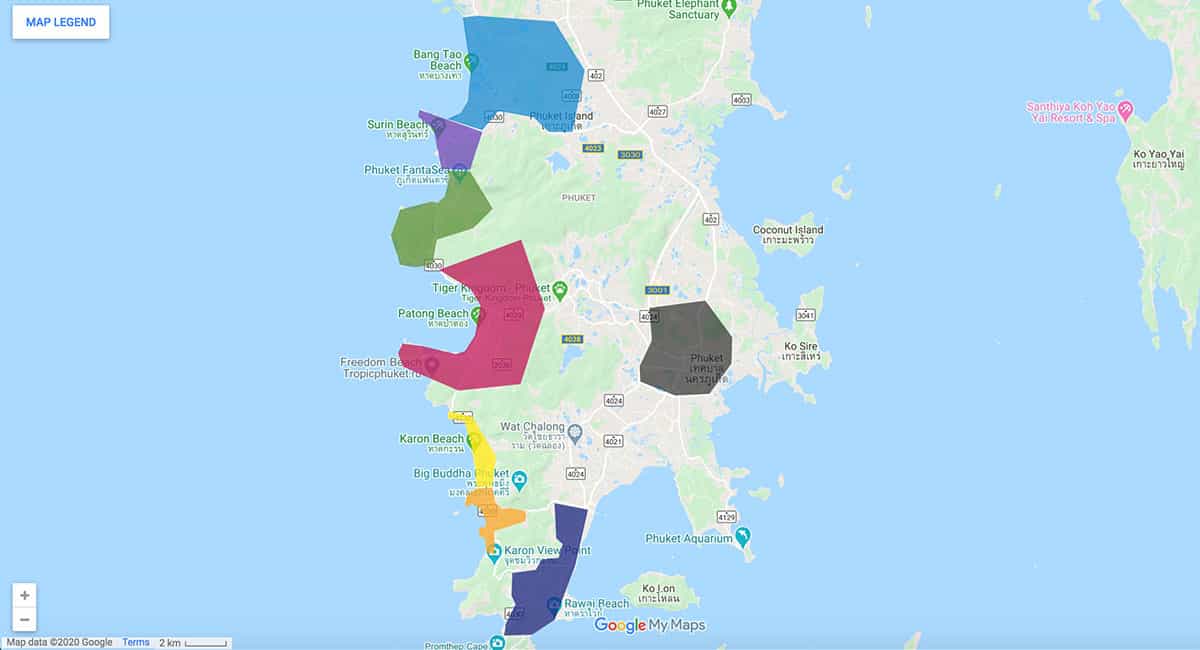 If you like Kata Beach but don't think this is the right hotel for you, then you can do a search on Booking.com or Agoda for alternate listings.
If you're traveling on your honeymoon or as a couple, then this is a great place to stay. You can book a room at Centara Villas Phuket on Booking.com or Agoda. Check out my article on Centara Villas Phuket for more pictures and information.
If you don't think Centara Villas Phuket is the right place for you, then you can check on Booking.com or Agoda for alternate listings in Karon.
PATONG
Patong is one of the busiest areas on the island, largely because of Bangla Road which is the center of Phuket nightlife. It has the densest concentration of bars and clubs with plenty of shops and restaurants. If you like to party, then this is where you'll want to be. However, many of the establishments along Bangla Road are known to be sleazy so it isn't for everyone. Check out Booking.com or Agoda for listings in Patong.
If you'd like to stay in the Old Town but don't think this is the right place for you, then you can search for alternate listings on Booking.com or Agoda.
KAMALA
Kamala is the area just north of Patong but it's nothing like it in terms of atmosphere. It's a quiet area, quieter than Kata or Karon but it does have a good number of restaurants, just not much in the way of nightlife. If you'd like a more relaxed stay in Phuket, then this is a good area to consider. Check out Booking.com or Agoda for listings in Kamala.
BANG THAO
Bang Thao is where you'll find the Laguna Complex which is a self-contained group of luxury resorts. The complex fronts a long stretch of beach and is home to multiple lagoons and a golf course. If you're traveling with family and don't care to explore the rest of the island, then this may be a good place to consider. Check out Booking.com or Agoda for listings in Bang Thao. You'll find plenty of hotels and resorts outside the complex as well.
SURIN
Surin is the area between Kamala and Bang Thao. It's home to one of the best and most exclusive stretches of beach on the island. If you want a quieter and more luxurious stay in Phuket, then this is probably where you'll want to be. Check out Booking.com or Agoda for listings in Surin.
RAWAI / NAI HARN
Rawai and Nai Harn Beach are at the southern tip of the island. We didn't explore this area but from what I understand, it's a favorite spot among locals. Rawai is described as being similar to Patong but quieter, and is the jumping off point for island trips by traditional Thai longtail boat. However, Rawai Beach is unsuitable for swimming so if you'd like to stay in this area, then it may be best to choose a hotel near Nai Harn Beach. It's said to be one of the nicest on the island. You can check Booking.com or Agoda for listings in Rawai / Nai Harn Beach.
THINGS TO DO
1. Lay on a Beach
Laying on a beach and doing absolutely nothing is one of the best things you can do in Phuket. It's home to long stretches of white sand beach that are among the best in Southeast Asia. But you already knew that. Pictured below is Kata Beach on a clear day in August.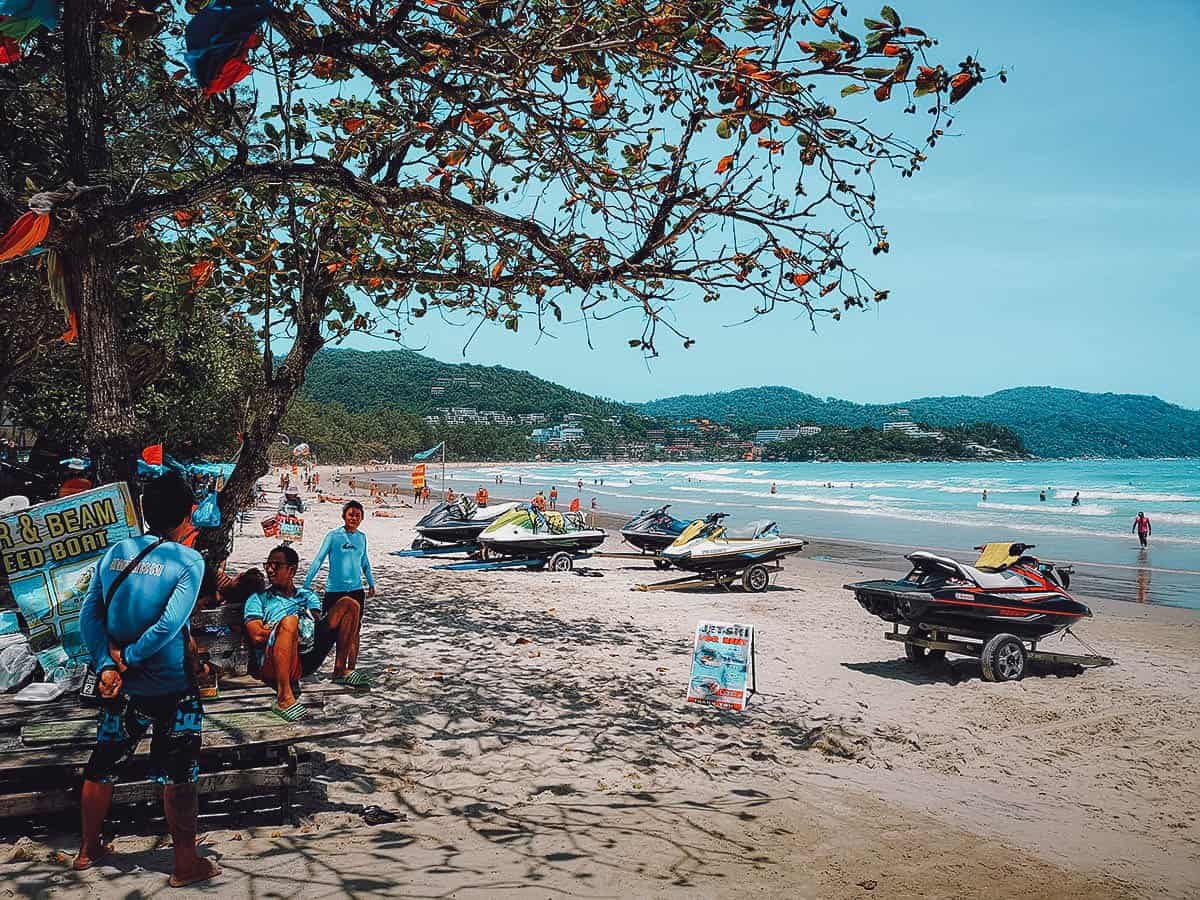 We didn't go sunbathing but we did camp out at one of Kata's beachside tables to drink ice cold beers and feast on fresh seafood. I do a lot of restaurant research for our trips but sometimes, spontaneous experiences at no name places like this one are the most memorable.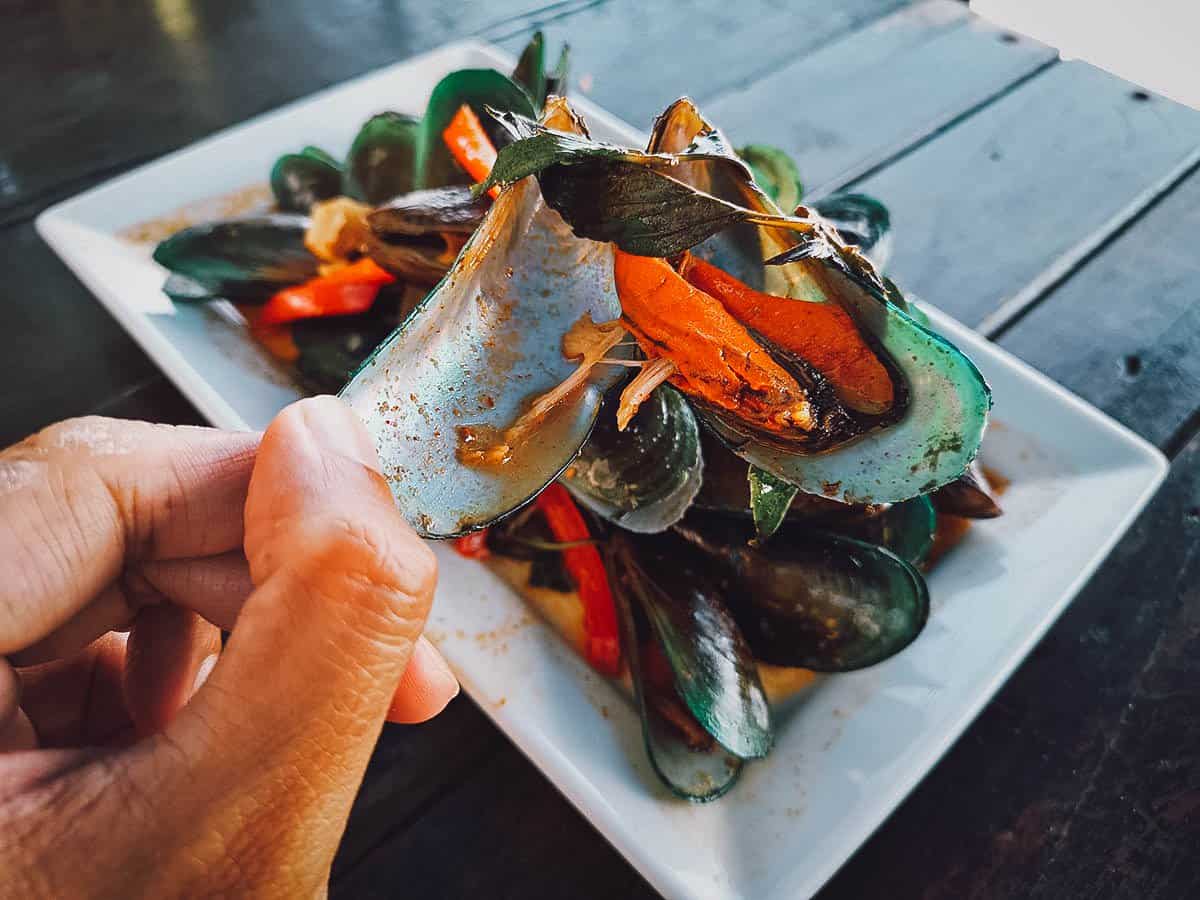 2. Hike to the Big Buddha
The Big Buddha is one of the most well-known attractions in Phuket. It sits above Nakkerd Hill, less than 10 km from Kata. At 45 meters tall (148 ft), it's the third-tallest statue in Thailand and can be seen as far away as the Old Town. The views from the Big Buddha are spectacular as well.
The Bug Buddha is accessible via a steep 6 km uphill road so it's best visited by car. It's in the vicinity of Wat Chalong and Karon Viewpoint so you can visit all three places on the same day. Depending on how long your car charter is, you can even visit the Old Town on the same trip.
3. Explore the Old Town
Most people come to Phuket for its beaches so the Old Town is often overlooked, which is a shame because for me, it's one of the most interesting towns on the island. It's home to a wealth of Sino-Portuguese architecture and temples, not to mention the best and most authentic Phuketian food. There are a lot of cute "Instagrammable" cafes in town too.
If you like Penang in Malaysia, then you'll enjoy Phuket Old Town as well. It's like a mini-Penang.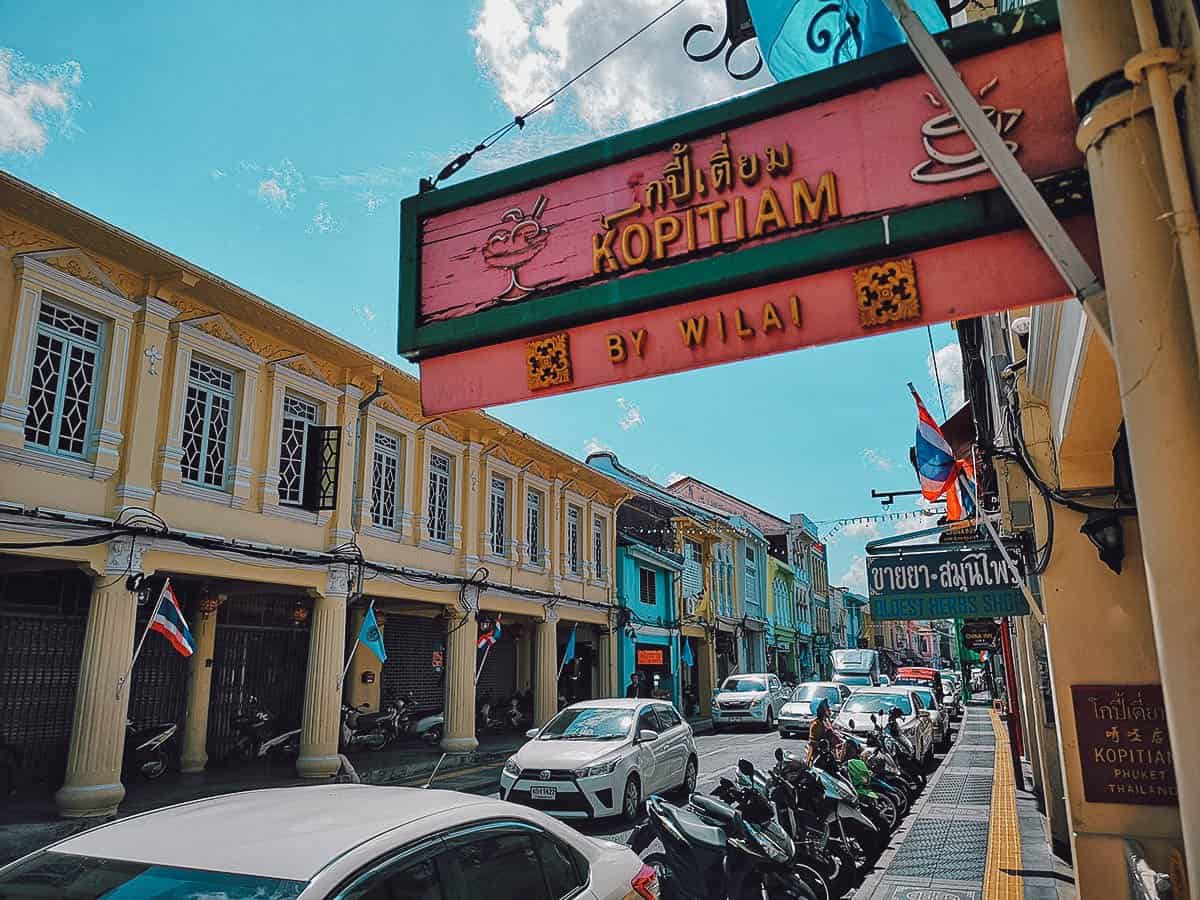 Like George Town in Penang, you'll find murals in the Old Town as well. This was taken at the mouth of picturesque Soi Romanee, a popular alley for Instagram photos. Make sure to visit the former governor's mansion (now the Blue Elephant restaurant and cooking school) and Chinpracha House for great examples of Sino-Portuguese architecture.
If you'd like to visit on a guided tour, then you can book one through Klook or Get Your Guide.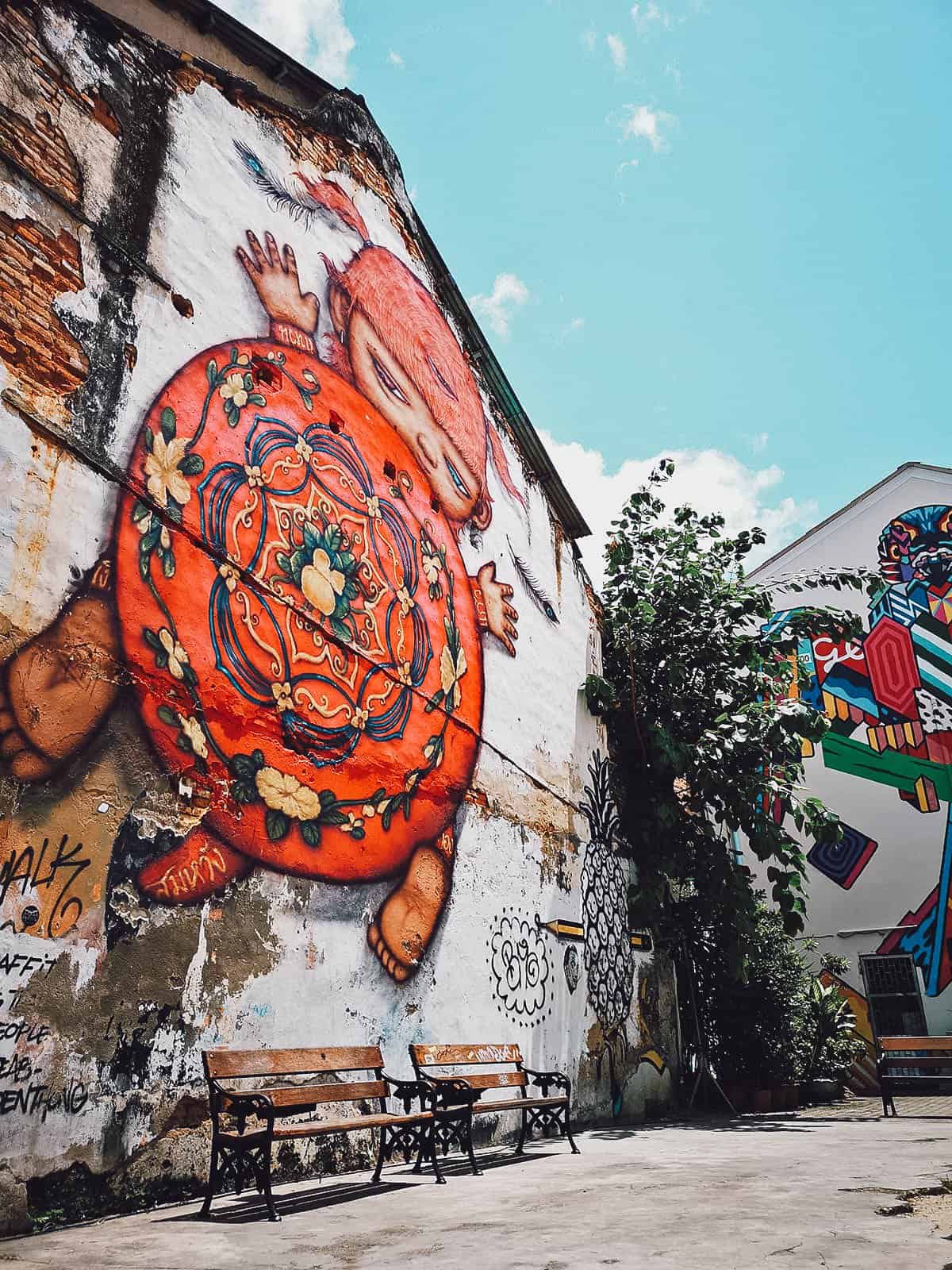 Estimated Time to Spend: At least half a day
4. See Three Bays from Karon Viewpoint
5. Pay Your Respects at Wat Chalong Temple
There are 29 Buddhist temples you can visit in Phuket, though none are more important or as impressive as Wat Chalong. It's Phuket's largest temple complex and features a 60 meter tall stupa (197 ft), at the top of which is housed a bone fragment from the Lord Buddha.
6. Check Out a Night Market
Thai night markets are always fun. Even if you don't buy anything, it's a great place to soak up the atmosphere over snacks and cold beers. I visited two in Phuket – the Kata Night Market and the Lard Ploy Khong or "Indy" Market in the Old Town. The former (pictured below) takes place everyday while the latter is held only from Wednesday till Friday at 4-10PM.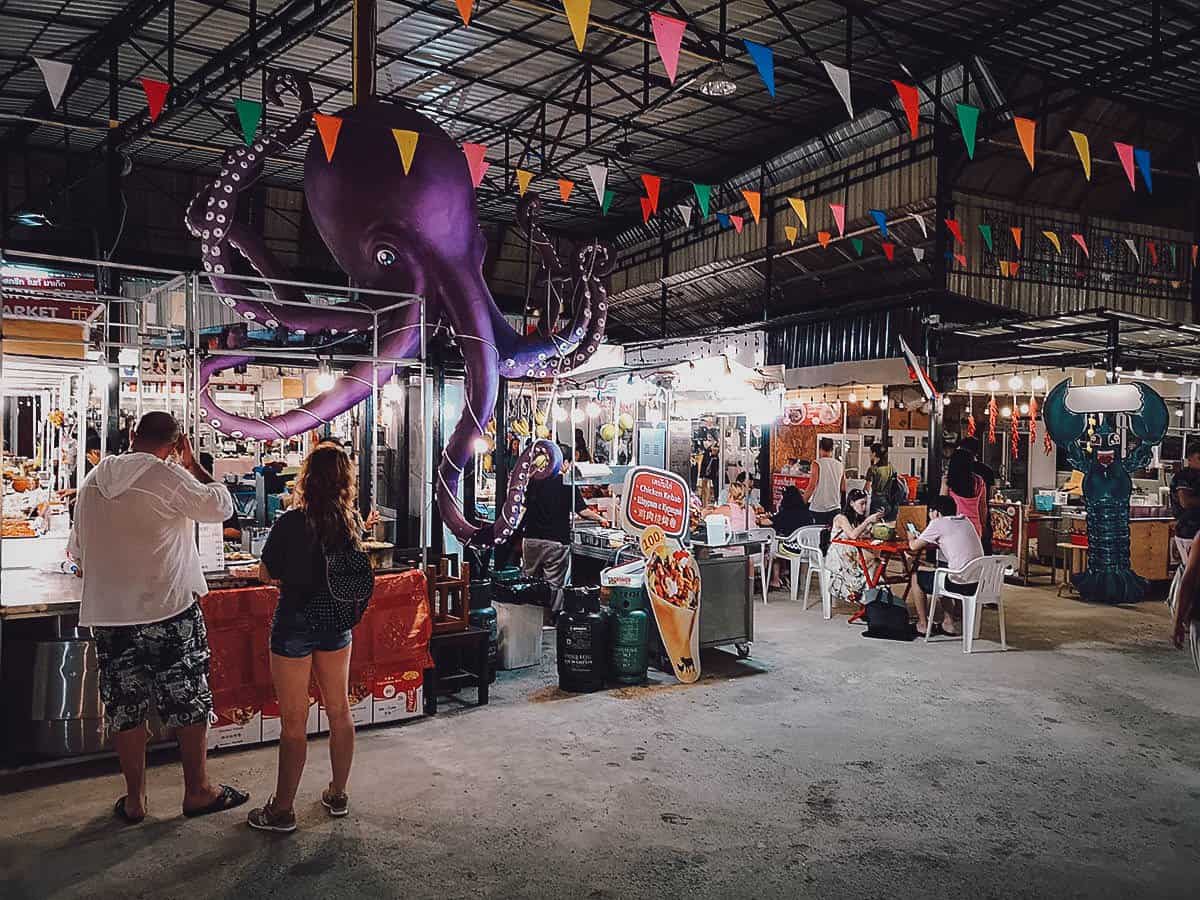 Scenes from the Indy Market. Check out this article on 9 night markets to visit in Phuket and where to find them.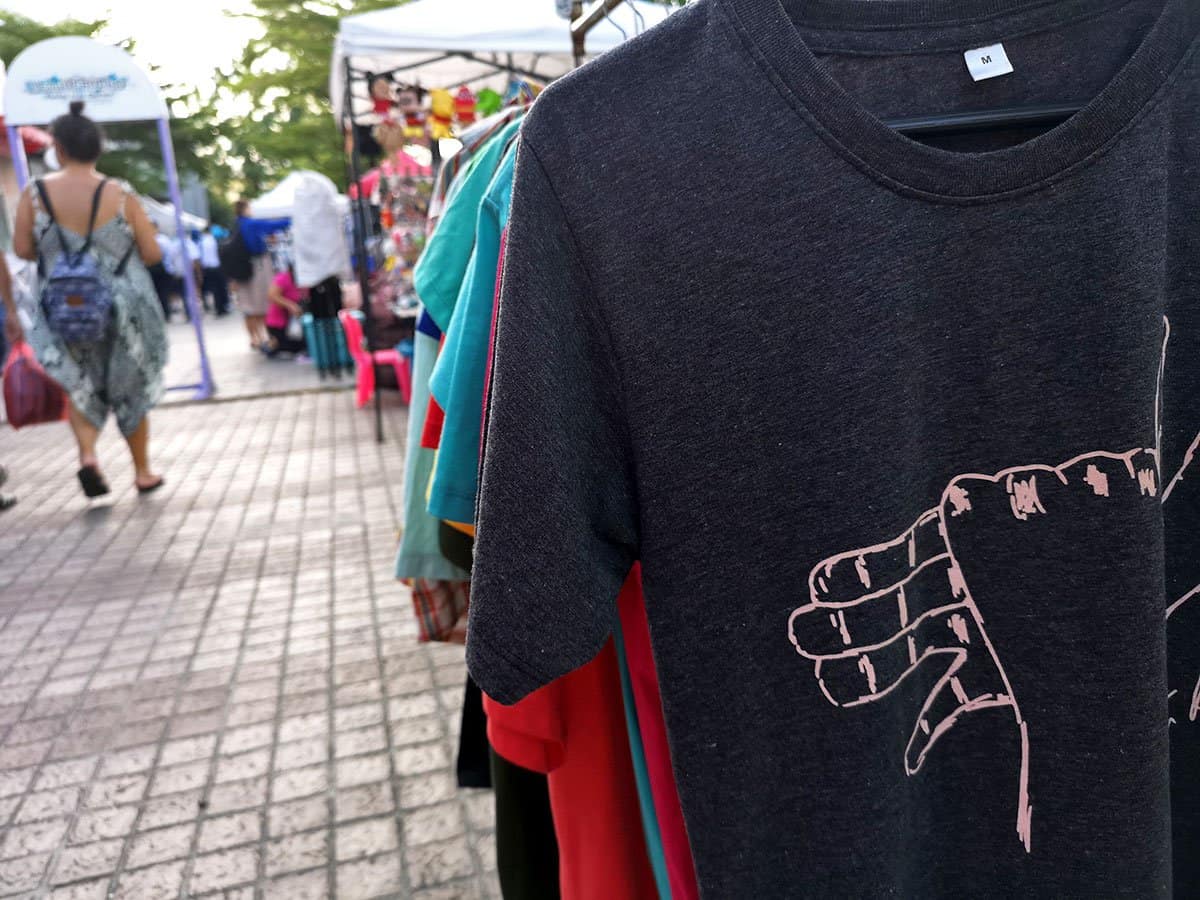 7. Go on a Food Tour
For me, there's no better way of getting to know a locality's cuisine than by going on a food tour with a knowledgeable local. I find that to be especially true in Phuket, which is home to a dying cuisine that you can't find just anywhere.
Phuket is overrun by tourists so all throughout the island are restaurants serving tourist-friendly Thai dishes like pad Thai and som tam, but venture into the Old Town and you'll find a much more interesting type of cuisine. True Phuketian food has many influences – most notably Hokkien and Malaysian – blended seamlessly in its distinct brand of Peranakan cuisine.
8. Take a Cooking Class
While going on a food tour is a great way to become acquainted with a new cuisine, there's no better way to really understand it than by taking a cooking class. It's one thing to taste a dish, but it's another to learn how to actually make it.
9. Party on Bangla Road
As described, Bangla Road in Patong is party central in Phuket. It's loud and sleazy in parts so it isn't for everyone, but if you're looking to party it up in Phuket, then this is the place to do it. It's like a more raucous version of Khao San Road in Bangkok.
It's easy enough to go bar hopping on Bangla Road, but if you'd like to hit some of the best spots with a local, then you may want to go on this Phuket pub crawl.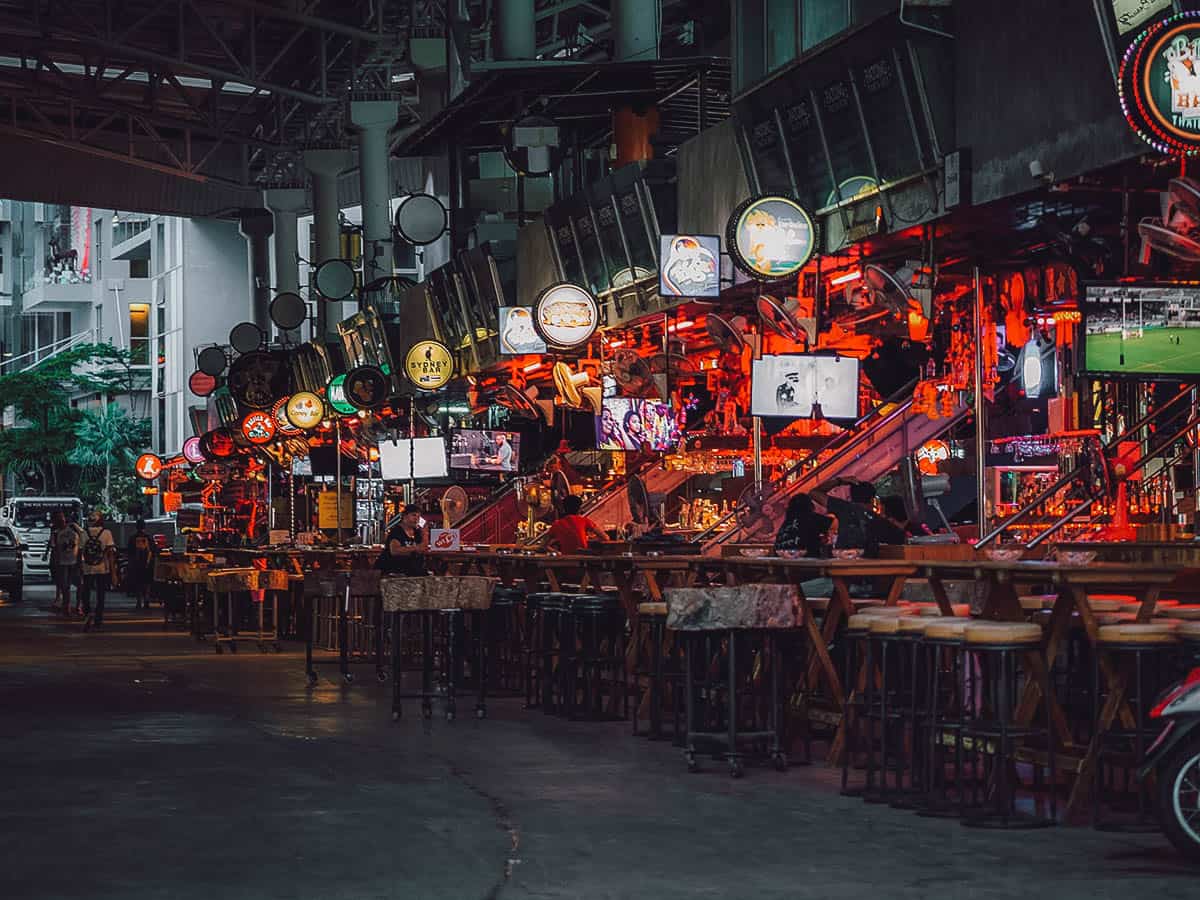 10. Get a Massage
Getting a massage on a tropical island should be on everyone's must-do list. I'm not even fond of massages but I got two in Phuket – one full body and one foot massage – and I was snoring like a fire truck within the first 15 minutes. Simply put, there's nothing better to do on an island than to relax, and there's no better way to relax on an island than by getting a massage.
There are plenty of massage parlors you can walk into without an appointment. The two we went to were both in Kata. But if you want the best experiences, then you may want to book a treatment at a proper spa.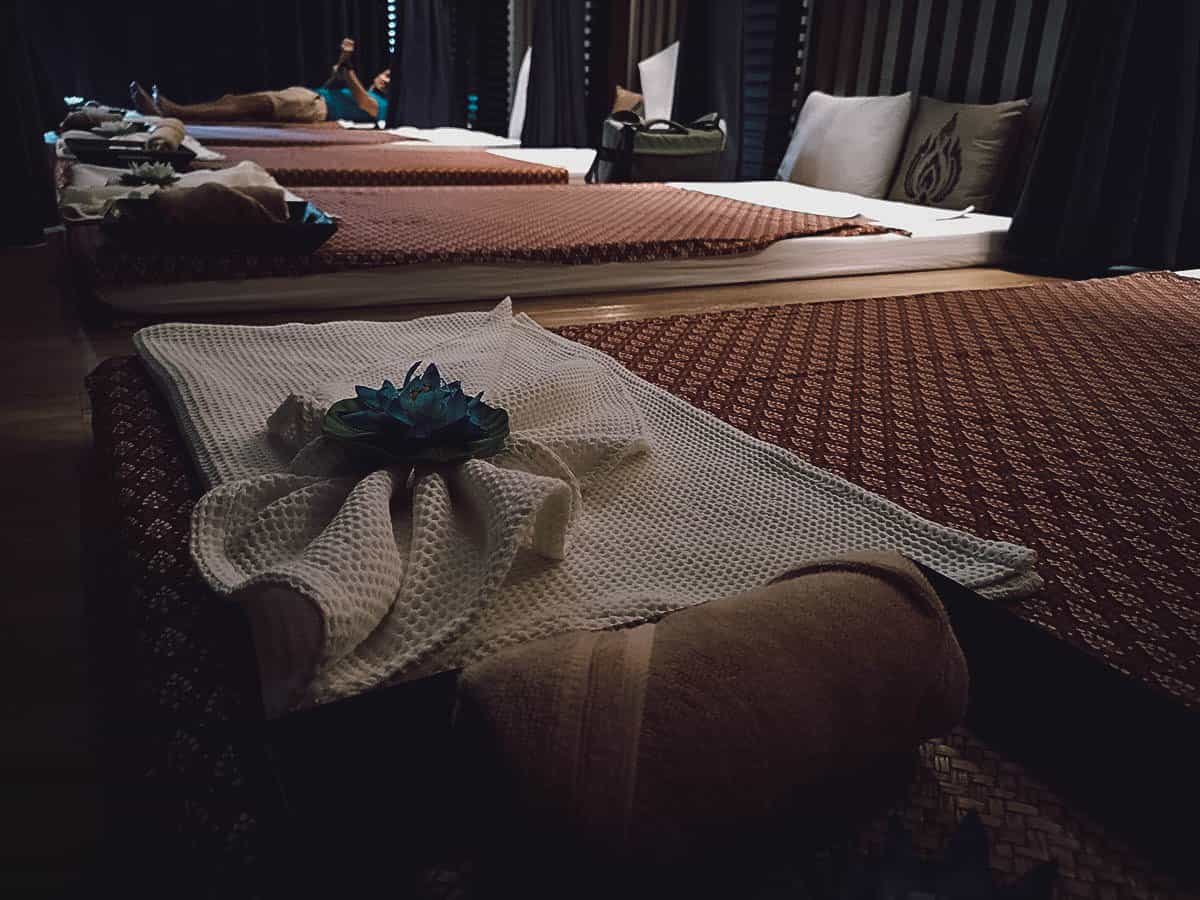 ISLAND HOPPING TRIPS
The weather in August was too erratic for us to do any of these trips, but if you visit Phuket in summer when the skies are clear and the ocean is more receptive, then here are a few island hopping trips you can take from the mainland.
1. Phang Nga Bay & James Bond Island
Phang Nga Bay is a 400 sq km bay between Phuket and the southern Thai mainland. It's known for its sheer limestone karsts that jut vertically out of the emerald green water, none more famous perhaps than Koh Ta Pu or James Bond Island. If you had time for just one island hopping tour in Phuket, then this should probably be it.
You can try booking a tour through your hotel or an online travel agency. Klook and Get Your Guide offer several Phang Nga Bay and James Bond Island tours. You can go by cruise, longtail boat, even by helicopter.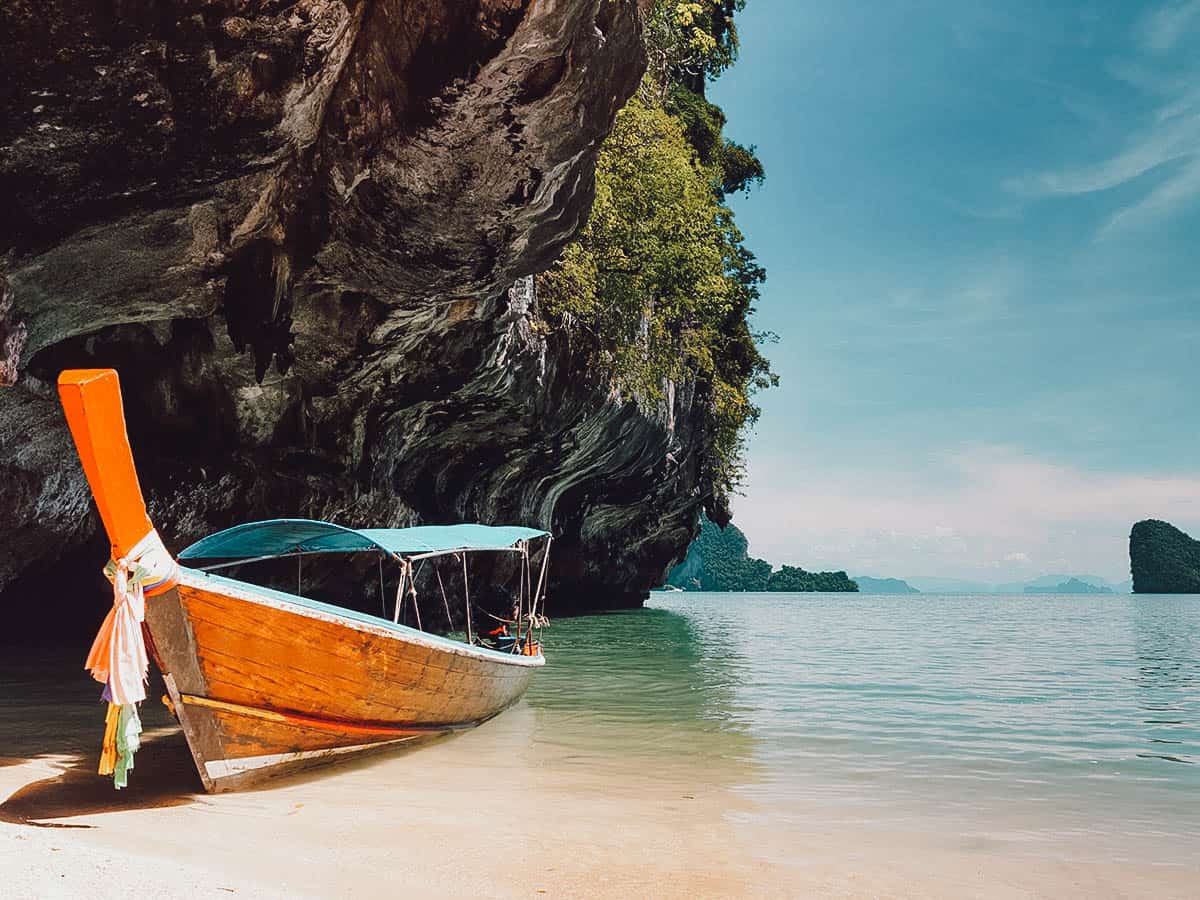 2. Koh Phi Phi
3. Similan Islands
Similan Islands is a set of unspoiled islands located about 84 km northwest of Phuket. It's known for its pristine white sand beaches and unusual rock formations that can be seen aboveground and underwater. Aside from its unique undersea topography, the chance to see manta rays and whale sharks makes the scuba diving around Similan Islands some of the most sought after in the world.
If you were hoping to experience that virgin paradise in Koh Phi Phi, then you should probably go to Similan Islands instead. Do take note that Similan Islands is only open to the public from around mid-October till mid-May. You can book a day tour on Get Your Guide.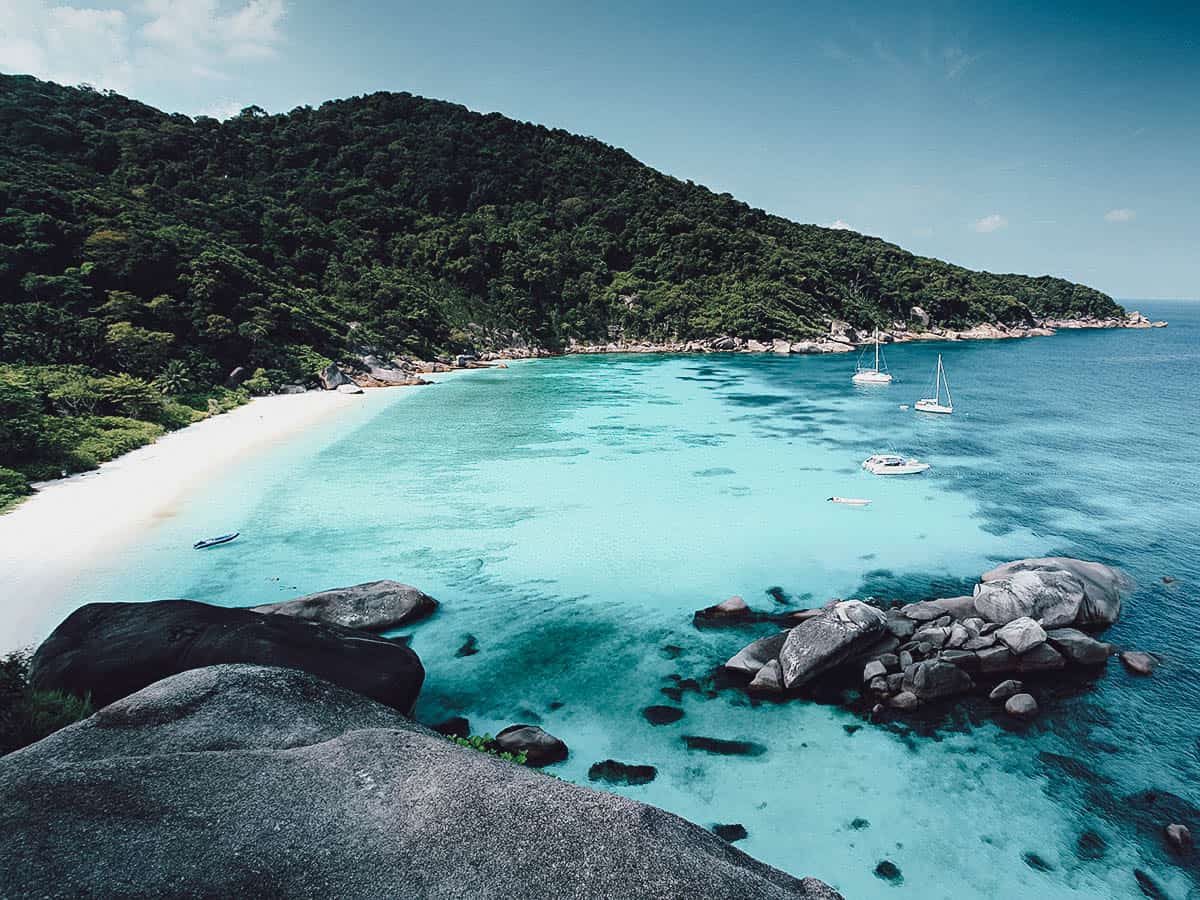 If you scuba dive, then your best chance to see manta rays and whale sharks is between February and April. With that said, there are plenty of marine wildlife to see at any time of the year like giant barracuda, batfish, scorpionfish, moray eels, and nudibranchs.
4. Other Islands
Along with the main island, Phuket is comprised of 32 smaller islands so there are other places you can visit aside from the ones listed above. There's Koh Racha Yai, Koh He (Coral Island), Koh Yao Yai, and Koh Bon, just to name a few. If you'd like to explore any of these other islands, then check out Klook's complete list of island hopping tours in Phuket.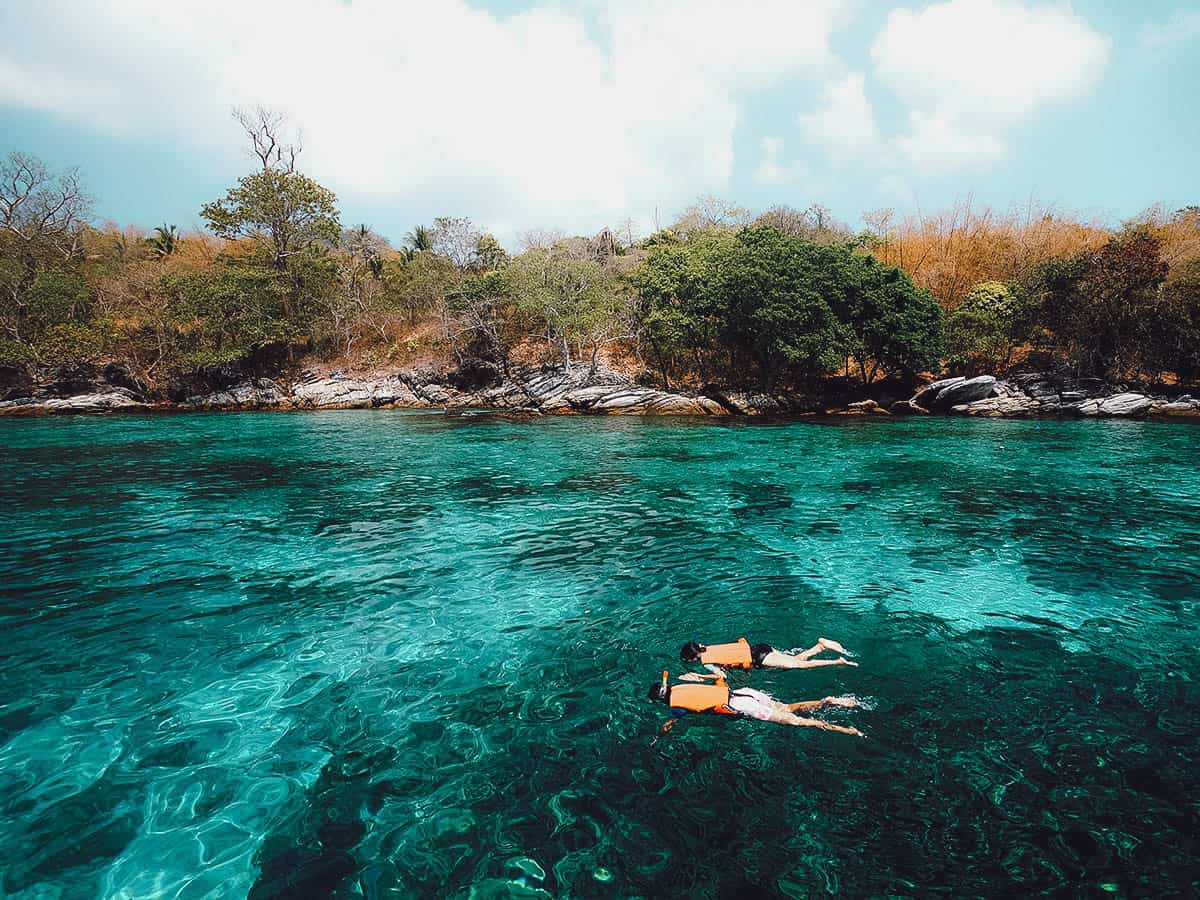 PHUKET FOOD GUIDE
It isn't hard to find great food in Phuket. From local crowd pleasers like pad Thai, seafood, and som tam to international fare like pizza and sushi, this island's got you covered. But if you'd like a taste of the real Phuket, then you need to go to the Old Town. I divided my time on the island between three areas – the Old Town, Kata, and Karon – to come up with this list of 10 must-eat restaurants in Phuket.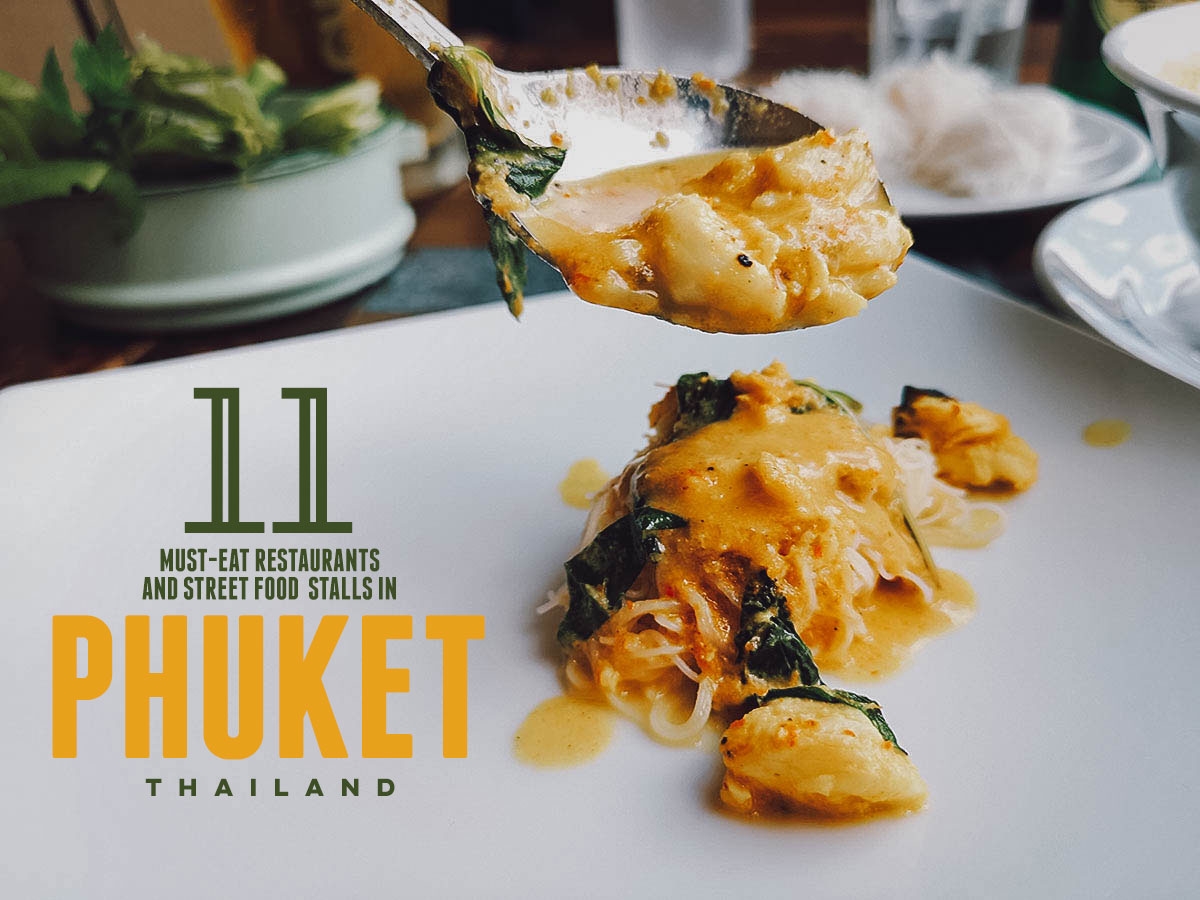 WHERE TO EAT
If you don't have time to visit all ten eateries in our Phuket food guide, then I recommend starting with these four.
1. Kwong Shop Seafood
2. Red Onion
3. One Chun Cafe & Restaurant
4. Raya
HOW TO GET AROUND
It isn't as easy or as cheap to get around in Phuket. There isn't a developed public transportation system and the "taxi mafia" allegedly controls much of the ground transportation on the island. To help make sense of it all, I've outlined below the available means of transport to get around the island.
TUK-TUK: What are known as "tuk-tuks" in Phuket are different from the tuk-tuks you'll find in Bangkok. Instead of the three-wheeled vehicles with handlebars, they're four-wheeled mini-trucks that are either red or yellow. Like taxis, tuk-tuks have a bad reputation in Phuket. They're more expensive here than anywhere else in Thailand, often charging a minimum of THB 200 even for the shortest of trips. On top of that, they've been known to take passengers to unsolicited stops like jewelry shops where they're given a commission. If you need to ride a tuk-tuk, then be sure to settle on the fare beforehand and tell the driver not to make any other stops.
TAXI: Taxis have the same reputation as tuk-tuks and charge similarly extortionist prices. If you're lucky enough to get a metered taxi, then good for you, but based on what I've read, they're few and far between. Exercise the same caution with taxis as you would with tuk-tuks.
GRAB: We took Grab a couple of times in Phuket. Though the rides felt safe, the fares were surprisingly high, at least three times what we would have paid in Bangkok for similar distances. From what I understand, these ridiculously high Grab fares are a ripple effect of the taxi mafia.
SMART BUS: As described, the Phuket Smart Bus travels between the airport and Rawai, making stops in Bang Thao, Surin, Kamala, Patong, Karon, and Kata. At just THB 50-170 per ride, this is a cheap and reliable way of traveling between towns along the western coast of the island.
SONGTHAEW: This is what I took to get from the Old Town to Kata. These old blue trucks or songthaews comprise the local bus system in Phuket. They're cheap – about THB 40 to Kata from the Old Town – but they're not the most reliable. There's no confirmed bus schedule and routes are limited, taking passengers from the Old Town to the main beach areas and back. Other than the three stations in the Old Town, there are no designated stops along its route so you're expected to stand by the main road and flag one down as it approaches. Follow the link for more information and an unofficial songthaew schedule.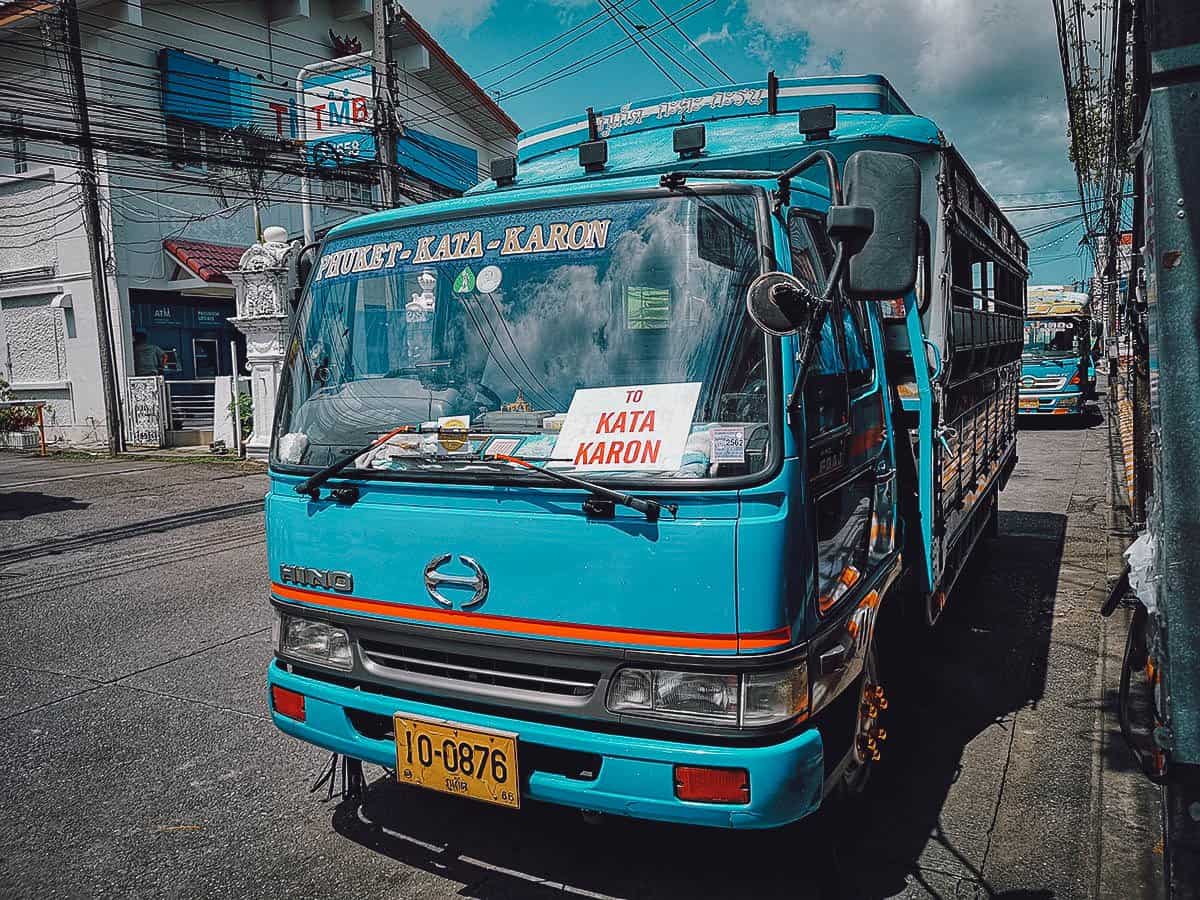 MOTORBIKE TAXI: This isn't the safest way of getting around but may be a viable option for short distances. You'll recognize motorbike taxis by the colorful vest the driver is wearing. Short trips should cost around THB 40 so be sure to agree on the fare before hopping on.
PRIVATE CAR CHARTER: If you're researching public transportation options to get to the island's main tourist attractions, then it'll be easier and more convenient to go by private car charter. If there are enough people in your group, then it may be a cost-effective solution as well. As described, you can visit the Old Town, Wat Chalong, the Big Buddha, and Karon Viewpoint all on the same day. Follow the link to book a private car charter through Klook.
No matter which mode of transport you choose, I highly recommend using the Google Maps app (iOS|Android) to navigate. It'll tell you exactly how to get from point A to point B, either by walking or public transportation. Had it not been for its GPS feature, then I wouldn't have known where to get off to get to my hotel in Kata from the Old Town. It's very reliable.
HOW MANY DAYS TO STAY / SAMPLE ITINERARY
Phuket is an island destination so it isn't the type of place you'll want to just rush through. But if you're pressed for time, then I'd say three full days is the absolute minimum. You can refer to this 3D/4N sample itinerary to help you plan your trip.
DAY ONE
• Lay on the beach and do nothing
DAY TWO
• Phuket Old Town
• Wat Chalong
• Big Buddha
• Karon Viewpoint
DAY THREE
• Island hopping tour
BUDGET / SUMMARY OF EXPENSES
Aside from transportation, Phuket is relatively inexpensive. How much to budget will depend on what you want to do, but if you were to consider just the most basic needs like accommodations, meals, drinks, and pocket wifi rental, then around THB 1,500 per day should be plenty. This assumes that you're traveling with one other person. Here's a quick breakdown of expenses:
ACCOMMODATIONS
I stayed in three different hotels ranging from USD 23-62 a night. If you go for mid-range accommodations, then you'll find plenty of nice hotel rooms for about USD 30-35 a night. Expect to pay much less if you're staying in a hostel dorm room.
MEALS
Food prices are highly variable in Phuket. If you eat Thai food at moderately priced restaurants, then expect to spend about THB 800 per day on meals and drinks. This will allow you to eat well without depriving yourself.
TRANSPORTATION
This is the most difficult to figure out because it depends on what you want to do. Many people go to Phuket and stay within the vicinity of their hotel, which is perfectly fine since beaches are the main draw on the island. Assuming you're staying in Kata and taking public transportation to the Old Town and Patong (and back), then expect to spend about THB 300 total on transportation. Keep in mind that this is only for in-trip transportation and doesn't include airport transfers.
POCKET WIFI RENTAL
If you split the rental cost of a pocket wifi device with one other person, then you'll each be paying about THB 75 per day.
TOTAL


This comes out to about THB 1,475 per person per day for accommodations, food, transportation, and pocket wifi rental. Ren and I are the middle of the road travelers who enjoy good food and drink (but not shopping), so this is a budget that works for us. Feel free to adjust based on your own personal travel habits.
TRAVEL TIPS
1. Plan your Trip with Sygic Travel or ViaHero
SYGIC TRAVEL: If you enjoy travel planning, then Sygic Travel will be useful to you. It's a free trip planning app that I've been using for several years now. It helps you make efficient itineraries by allowing you to pin points of interest on a map then grouping them together by location. It's available for free on iOS and Android.
VIAHERO: If you don't enjoy travel planning and would like to have a destination expert do it for you, then you can try ViaHero. ViaHero is a travel planning service that links travelers with local experts to create custom itineraries to different destinations around the world, including Phuket. If you'd like to try them out, then you can get a 5% discount on their services if you use our link.
2. Rent a Pocket Wifi Device
Having a steady connection to the internet is a must these days, especially when traveling. You'll need it to navigate, do research, and stay connected on social media. I have a terrible sense of direction so having access to Google Maps makes it indispensable for me.
Personally, we prefer renting pocket wifi devices but sim cards are fine too. Whatever works best for you. You can purchase a sim card or rent a pocket wifi device through Klook. You can pick them up at Phuket Airport or from either airport in Bangkok.
3. Check for Discount Passes
I buy vouchers to tours, pocket wifi rental, airport transfers, etc from a few websites. Among the sites I use, the ones that have the biggest inventory in Phuket are Klook and Get Your Guide.
I've already included many links above but what I've posted is just a fraction of their total inventory. If you'd like to find deals on tours, shows, attractions, spas, and restaurants, then you can search through these lists of Phuket deals on Klook and Get Your Guide. Even if I don't buy anything, I often learn about activities I wouldn't normally think of myself so it's always worth a look.
4. Get Travel Insurance
Travel insurance wasn't something we always thought about. But the older we get, the more we understand how important it is. The fact is, you never know what can happen on a trip.
With that said, we don't always get travel insurance. We follow a basic rule. If we plan on doing anything physical, anything that could get us injured, then we'll definitely get insurance. If not, then we may not since our credit cards entitle us to free basic travel insurance anyway (except medical). So it really depends on the trip.
When we do feel the need for it, then we'll buy insurance from World Nomads or SafetyWing. They're both trusted travel medical insurance providers used by many long-term travelers. Check out my article on why we buy travel insurance for more information. You can follow the links to get a free quote from World Nomads or SafetyWing.
5. Bring the Right Power Adapter
You'll find two-pronged round or flat sockets in Thailand, either Type A, Type B, Type C, or Type F. Be sure to bring the right power adapters for your devices. Electrical voltage is 220V and the standard frequency is 50Hz.
Have fun!
I'm not an expert on Phuket but I do hope you find this guide useful. I'm only sharing the things I learned from our trip. If you have any questions or suggestions, then please let us know in the comment section below. You're welcome to join our Facebook Travel Group as well.
Thanks for stopping by and have an amazing time in Phuket!
OUR GEAR
These are some of the things we brought with us to Phuket. Check our "What's in Our Backpack?" post for a complete list of our travel gear. (NOTE: The following links are Amazon affiliate links.)
Disclosure
This article contains affiliate links, meaning we'll earn a small commission if you make a booking at no extra cost to you. We only recommend products and services that we use ourselves and firmly believe in. We really appreciate your support as it helps us make more of these free travel guides. Thank you!