EDITOR'S NOTE: Traveleater Jayson Goetz is a graduate of Arizona State University. Here he shares with us some of the best burger joints in Phoenix.
The Phoenix Metro Area has become saturated with phenomenal burger joints from across the country. That's no surprise — the burger is America's quintessential comfort food. It can be enjoyed in a number of ways, but every Phoenix burger joint worth its salt is able to craft the classic burger with cheese with its own spin. As a burger enthusiast and a follower of burger news, I've singled out the best burgers in Phoenix at these seven restaurants.
Save This on Pinterest!
No time to read this now? Click on the red save button and pin it for later!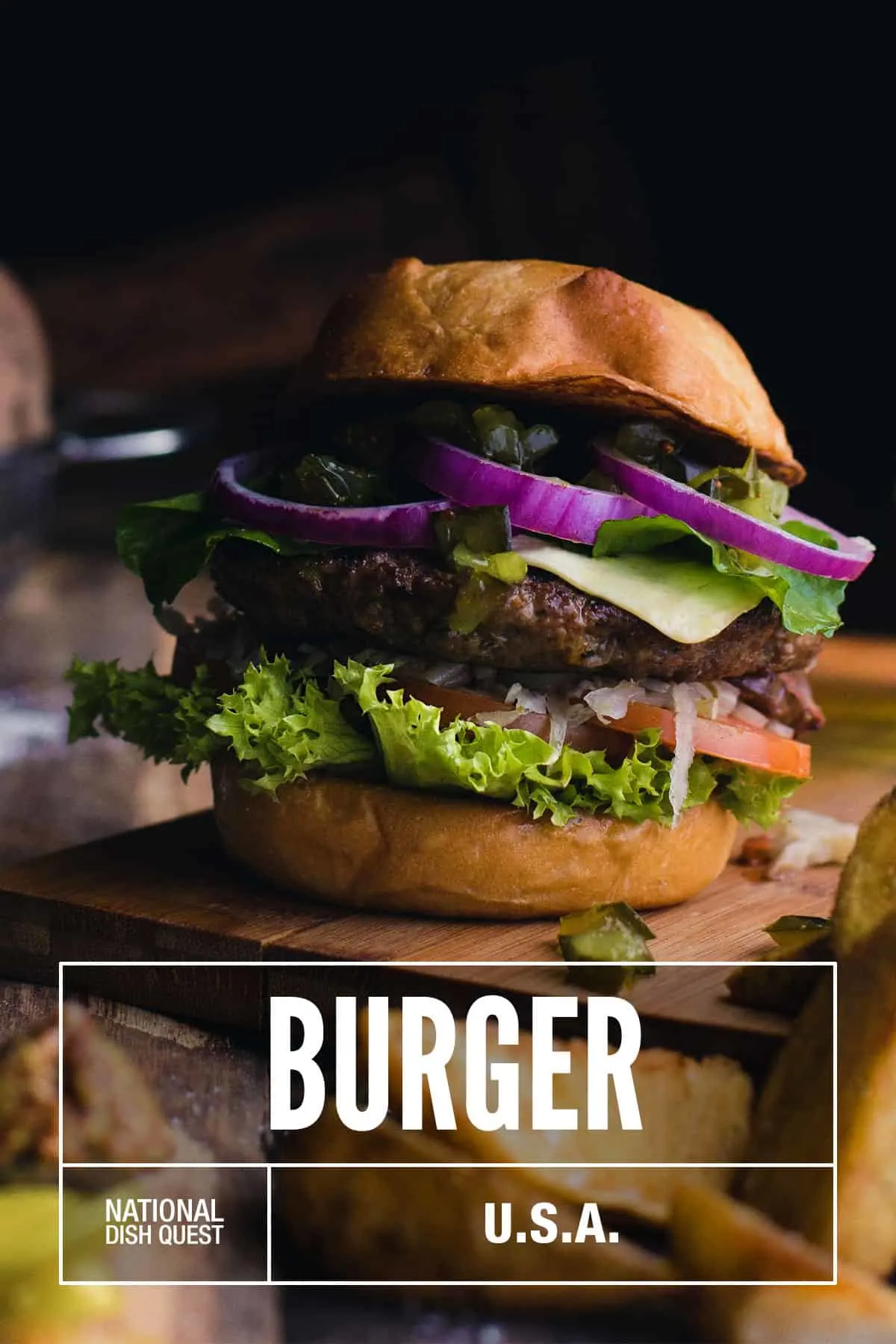 Photo by StockSnap via Pixabay
TOP 7 BURGER JOINTS IN PHOENIX, ARIZONA
1. Rehab Burger Therapy
First on the list is Rehab Burger Therapy, a burger joint that's well-known in Phoenix for its diverse menu and intimidating burger sizes. Its busiest location is in Old Town Scottsdale, but it has since expanded to include a location on Mill Ave in Tempe.
There are two burger sizes: Rehab represents a 10oz patty, and Relapse represents a 5oz patty. If you don't know what to order, I recommend the Know Poblano Burger. Piled high with sautéed spicy onions, grilled poblano peppers, and melted manchego cheese on 10 ounces of 100 percent USDA ground chuck, this spicy sandwich does not mess around. If you want something that's a little out of the ordinary, try the PB&J Burger for a surprisingly delicious combination of sweet and savory.
2. Five Guys Burger and Fries
Five Guys has two sizes for its burgers — the standard cheeseburger or hamburger is code for a sandwich with two beef patties, with single patty (the little cheeseburger) options available as well. After selecting your burger type, you can top it off with any of the standard burger toppings you can think of, including more unconventional options like jalapeno peppers and A1 Steak Sauce.
While Five Guys doesn't have a signature burger, it does have standout fries. Anyone who knows me knows I go to Five Guys for the fries, and I order a burger if I'm so inclined. You can't go wrong with either the Cajun style and Five Guys style options. No matter the size of well-seasoned, standard-cut fries, Five Guys staff will fill the to-go bag to the brim with fries.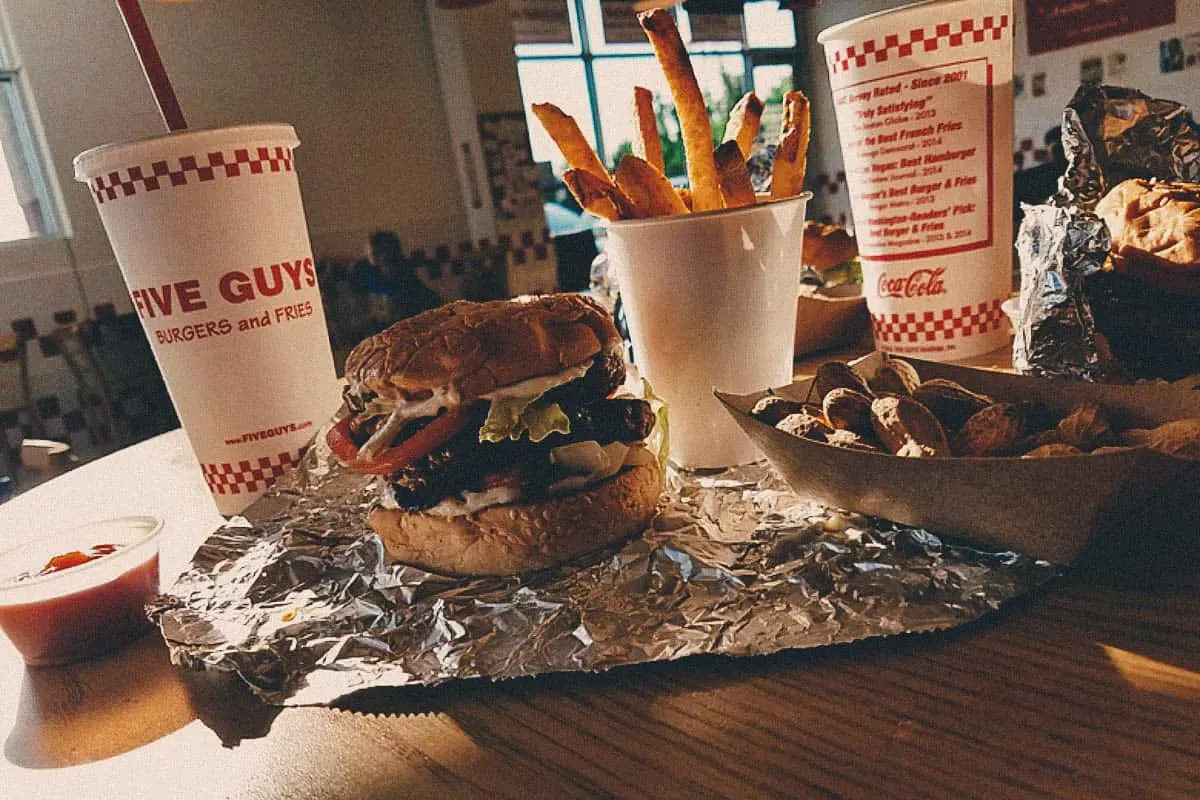 3. Shake Shack
Shake Shack is new to Phoenix and Scottsdale, having opened its locations in 2016. Since then, all of its locations have become extremely popular due to how close it is to other things to do in Phoenix. It has roots in New York City as a hot dog stand, and has grown to more than 30 locations worldwide.
This east coast burger chain is known for its ShackBurger, which is your basic burger that gets all the classic burger offerings right. It has a mysterious Shack Sauce to give this burger a memorable flair. Shake Shack's signature ShackBurger pales in comparison to the tangy, melt-in-your-mouth Smoke Shack. The added bacon tastes delicious with the special Shack Sauce. Pair it with an order of crispy crinkle-cut fries and a the frozen custard of the week.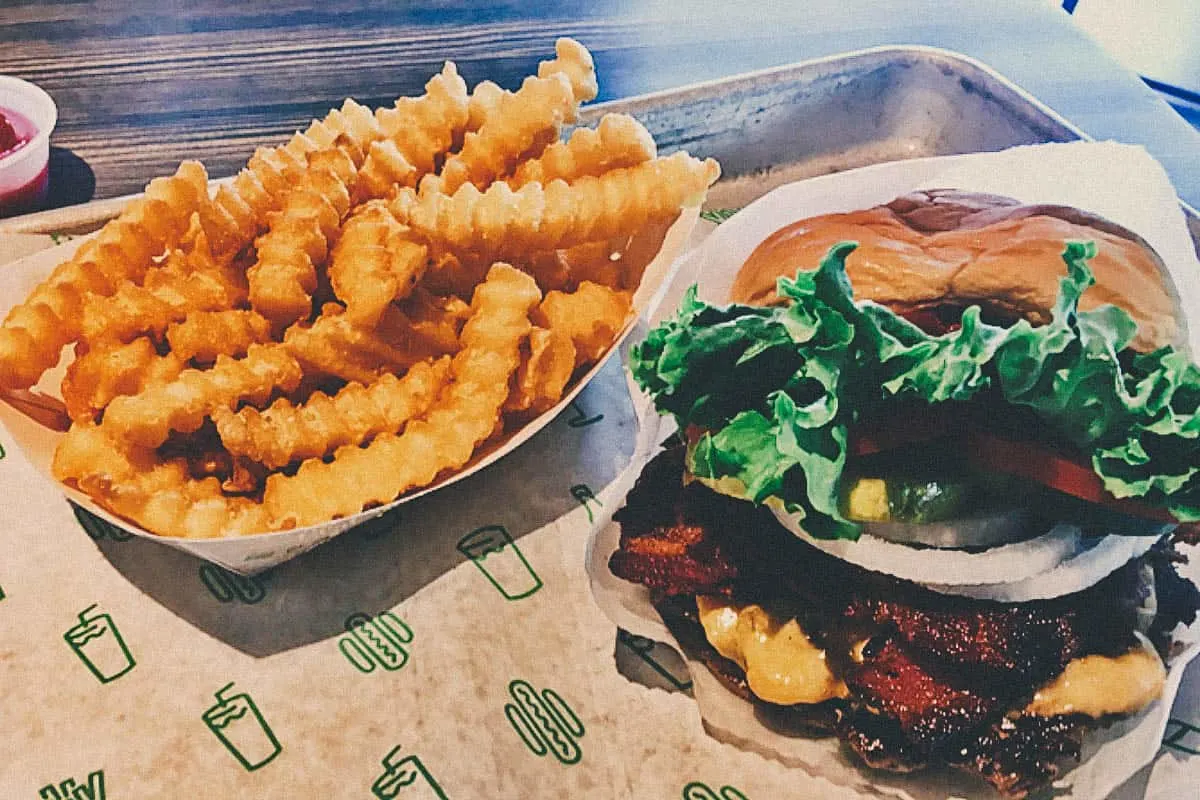 4. In-N-Out Burger
Few burger chains enjoy the fandom that In-N-Out Burger has cultivated over the years. This California-based food chain opened its first store in 1948 and has since spread to 300 locations in California, Arizona (of course), Nevada, Utah, and Texas — not too many states. On paper, In-N-Out's scant menu features burgers, fries, shakes, and drinks. Its basic options are subpar compared to other options on this list, despite the passionate following. The burgers are thin, and the fries fall flat. Going to In-N-Out may leave those not in the know with much to be desired.
But that's not why you visit In-N-Out. You go for the extras. The fast food chain's geographical exclusivity extends to its not-so-secret menu options. Most extra menu options are simply variations on the regular options, such as a 3×3 or a 4×4 denoting a load-up on burger patties and slices of cheese. Try ordering a burger Animal Style for extra spread, pickles and grilled onions to a mustard-grilled burger. Ordering something Protein Style serves the burger wrapped in lettuce rather than a bun.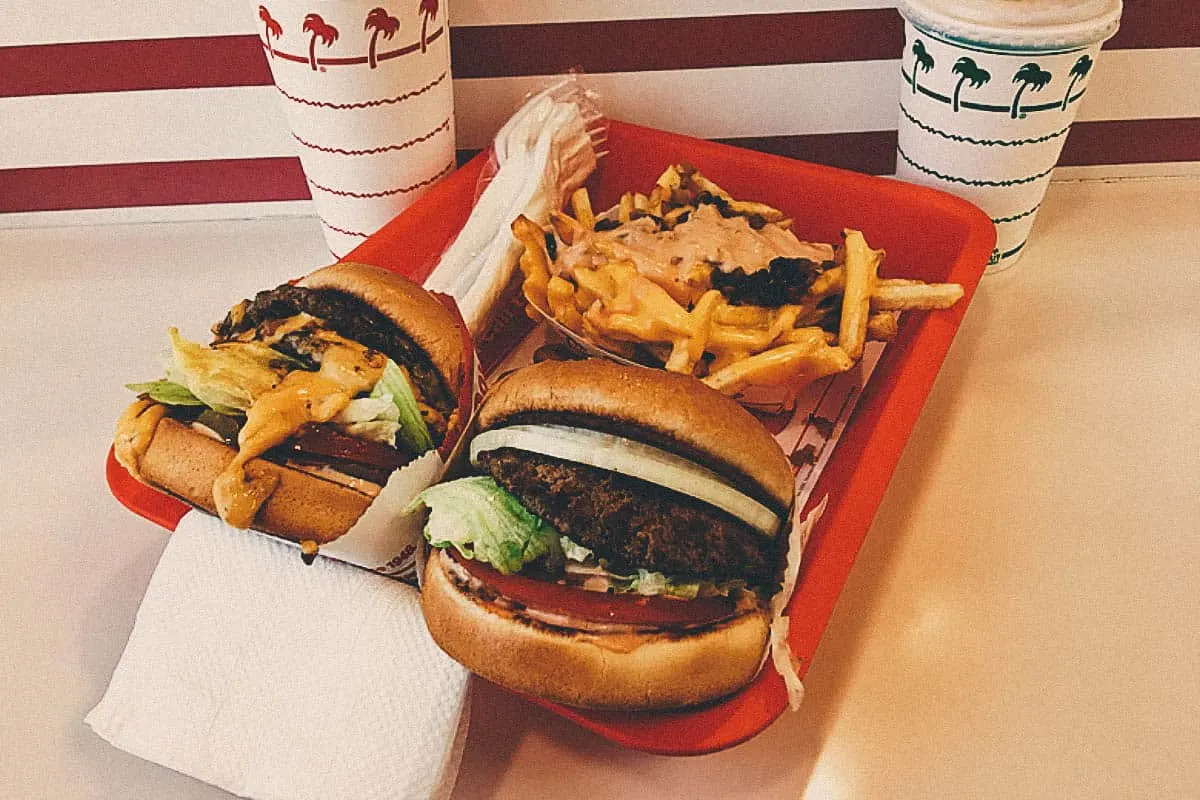 5. BurgerFi
Fast-growing BurgerFi is a strong newcomer among the list of fast casual burger joints. You make your order at a counter with a quick turnaround on made-to-order deliveries. BurgerFi uses high-quality ingredients to craft half a dozen gourmet burger options.
The burgers are very savory. The classic BurgerFi Cheeseburger uses double-stacked patties and comes with double American cheese, lettuce, tomato, BurgerFi sauce and optional bacon, while the brisket adds Swiss cheese, bleu cheese, and pickles. If you are looking for something different, BurgerFi has more creative menu options like a quinoa patty veggie burger and an all-day breakfast burger with fried egg, hash browns and maple syrup. In another interesting twist, all burgers are available in lettuce wrap instead of buns, much like In-N-Out.
6. Hopdoddy
Hopdoddy is an order-at-the-counter burger restaurant with a menu of milkshakes, sides, and craft beer options while you wait. Founded in Texas, Hopdoddy grinds all-natural Angus beef in-house. It's known for its creativity across more than a dozen burgers with fun names like the Primetime, El Diablo, Magic Shroom, and the Goodnight burgers.
The Classic Burger at Hopdoddy has thick slices of bacon, melted cheddar, and its secret sauce. It's simple and brilliant. The burgers are well-sized, they come a-la carte with shoestring fries as a separate order. The fries are sprinkled with parsley, and orders are large enough for 2-3 friends to share.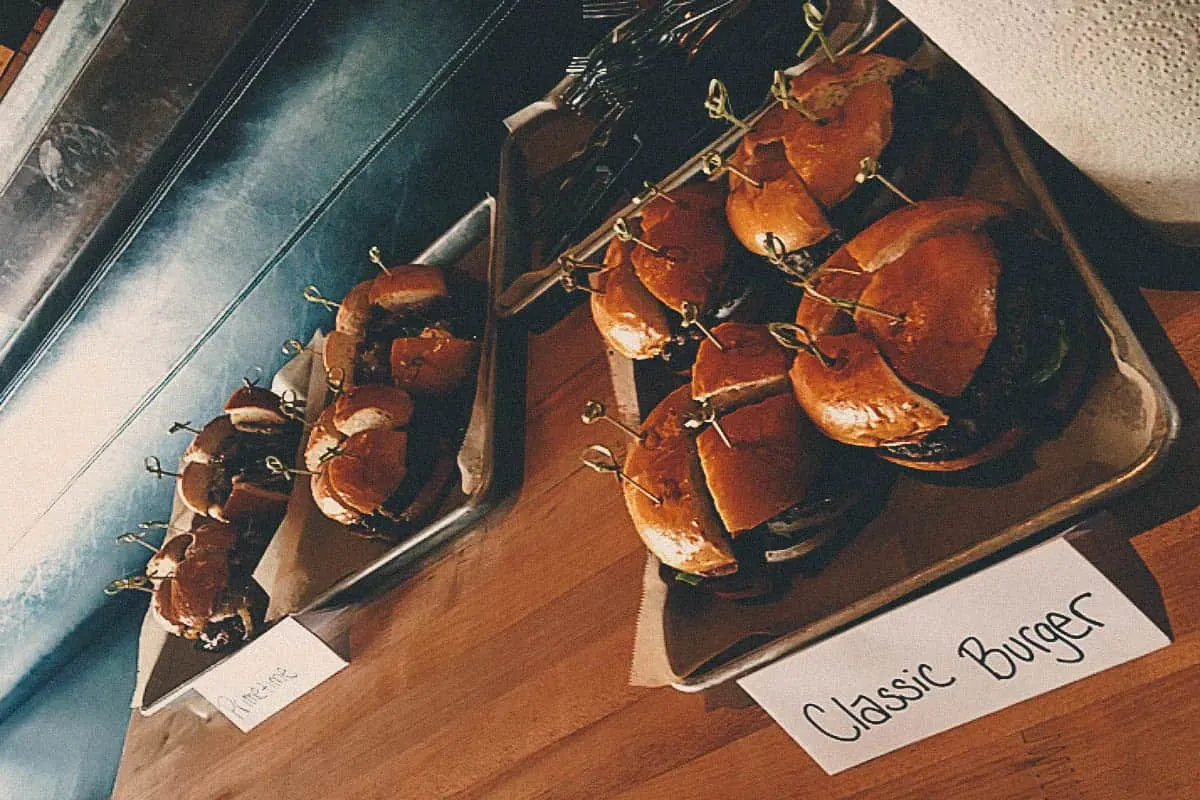 7. The Stand
One of the highest-rated burger places on Yelp, The Stand stands out among a crowded burger scene in Phoenix and Scottsdale. For instance, it's part burger joint and part taqueria, and the latter is reflected in the restaurant's atmosphere.
There's only one burger here: The Standard. It's a double-stacked burger with bacon, grilled onions, jalapenos, and American cheese. It's a well-crafted take on an American classic — if you think you need to change this burger into something else, you may want to consider eating somewhere else.
CONCLUSION
All of these restaurants have their own strengths and charms. Add these seven restaurants to your burger bucket lists and try them all.
Photos by Jayson Goetz