Ren and I love experiencing local food when we travel. The deeper a restaurant takes us into the local culinary culture, then the happier we are to have found it.
As an outsider looking in, it isn't always easy finding places like that, especially since many of them are located away from touristy areas. When you're in a country like Thailand where the primary language isn't English, it becomes even more of a challenge. Even after you've compiled a list of eateries you want to visit, next comes the task of putting them together in an itinerary. You have to pin each restaurant on a map and figure out the most efficient way to go from one place to the next. Can we do this group of restaurants in one day? Can we eat there after visiting that attraction? Can we go there via subway or do we have to Uber it? In our experience, it can be easy in some places like Osaka or Hanoi, but it can be a huge pain in the ass in others, like Bangkok.
Thanks to this amazing food tour by A Chef's Tour, you don't have to do any of that in Chiang Mai. They'll take you on a guided tour of some of the city's best local eateries, so all you had to do is show up and eat.
Save This on Pinterest!
No time to read this now? Click on the red save button and pin it for later!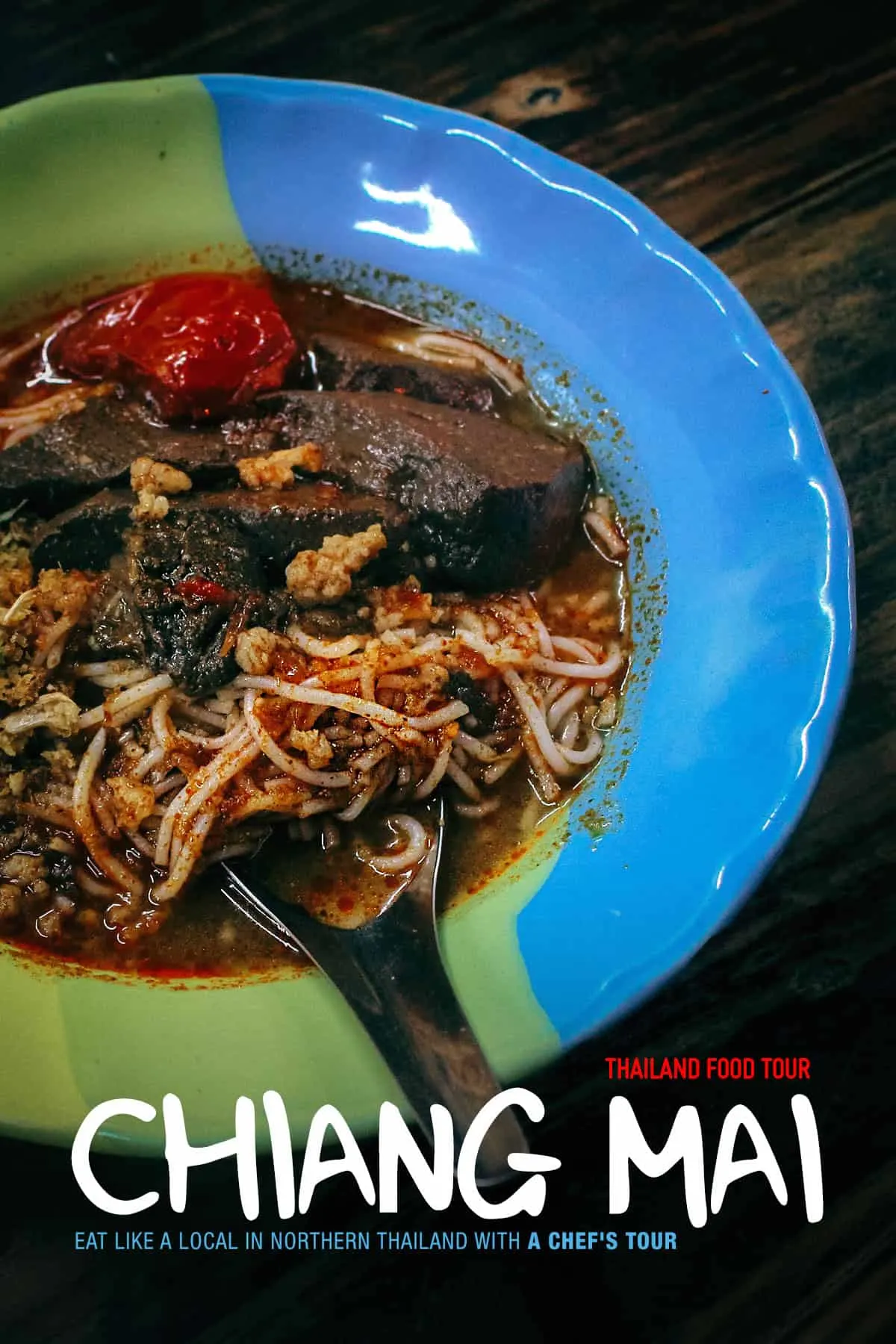 Chiang Mai Northern Food Tour by Truck
I expected this to be a walking tour similar to their Chinatown tour in Bangkok, but it wasn't. Instead, you'll ride around for four hours in style, in a private songthaew, as tour guide Moui takes you to some of Chiang Mai's best local markets and restaurants. Aside from the north gate food stalls, the places you'll be visiting are NOT on the tourist circuit. In fact, none are in the Old Town. These aren't the type of places you can easily find on your own so if authentic local dining experiences are your thing, then this tour is definitely for you.
As of March 2019, this tour costs USD 59 per person inclusive of food and drinks. Here's what you can expect when you take this tour as stated on A Chef's Tour's website:
4-hour guided ride around Chiang Mai
A ton of tastings at hidden street eats
Learn about the history and culture of Northern Thai cuisine
A guided walk and talk through local food markets
Refreshing Thai drinks and water
Fully licensed (foodie) guides
Small group size with a maximum of 10 guests (1-2 guides)
Wat Lok Molee
The tour starts at 5PM at Wat Lok Molee temple, which is located just outside the northern moat of the Old Town. Cross the moat and into the other side of the street and you'll find the temple around 400 meters west of Chang Phuak city gate. Soon as you enter the temple grounds, look to your left and seek out this four-headed statue at the base of a large decorated tree. Moui will be waiting for you here wearing a black A Chef's Tour shirt.
Tour-goers are encouraged to be here by 4:45PM, but if you have the time and haven't visited this temple yet, then you may want to come earlier to explore. Built sometime around the 14th century, Wat Lok Molee is one of Chiang Mai's oldest temples and is home to a massive chedi or stupa.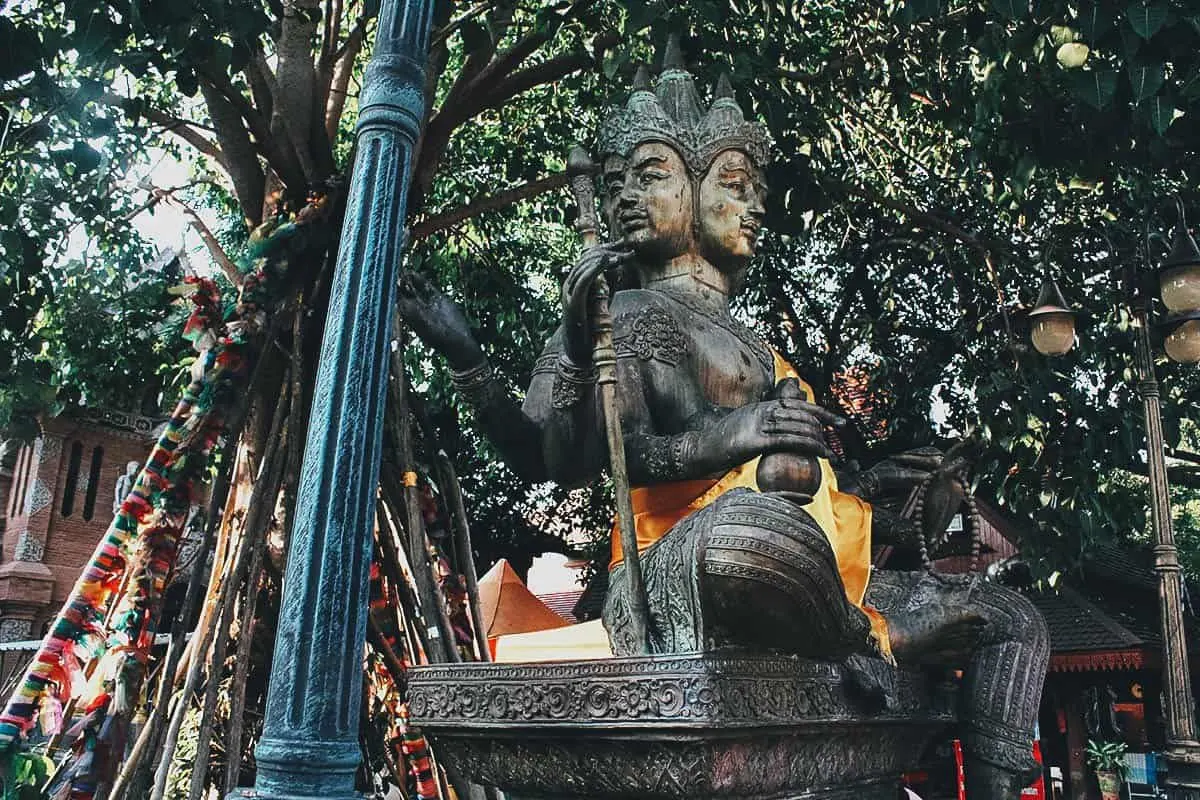 The Best Local Food Market in Chiang Mai
There were supposed to be five people on tonight's tour but two flaked and one decided to go the next night, so it was just myself, Renée, and tour guide Moui. Woohoo! Without anyone else on our tour, we could linger as long as we wanted and ask as many questions as we could think of. Our first stop was this wet market which according to Moui, is the best local market in Chiang Mai. Aside from the occasional expat, only locals visit this place. What an awesome start!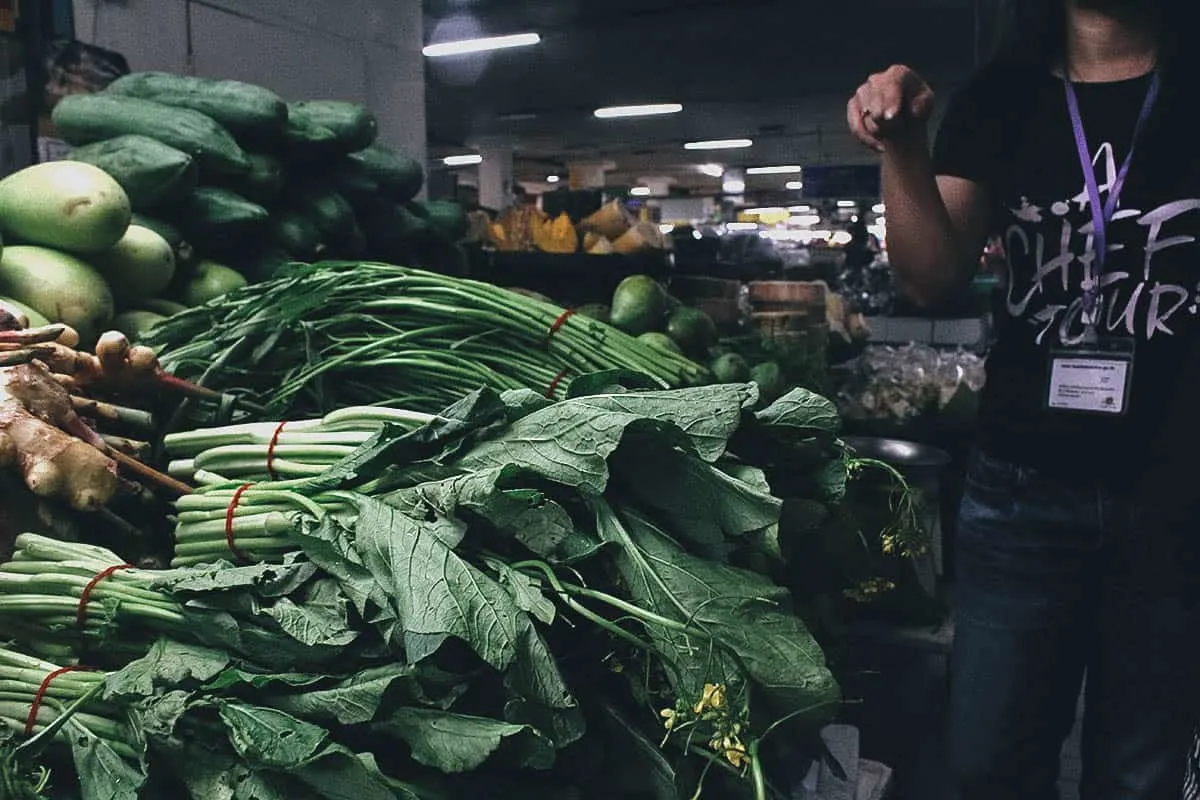 This market was surprisingly clean and pleasant for a wet market. It was well-orgazined and it didn't have any foul market smell. Check out all that Thai eggplant. About the size of golf balls, they're a key ingredient in Thai curries and nam prik (Thai chili paste). Notice those stalks of lemongrass bundled up with galangal and other stuff behind them? Those are the ingredients for tom yum bunched up and ready to go.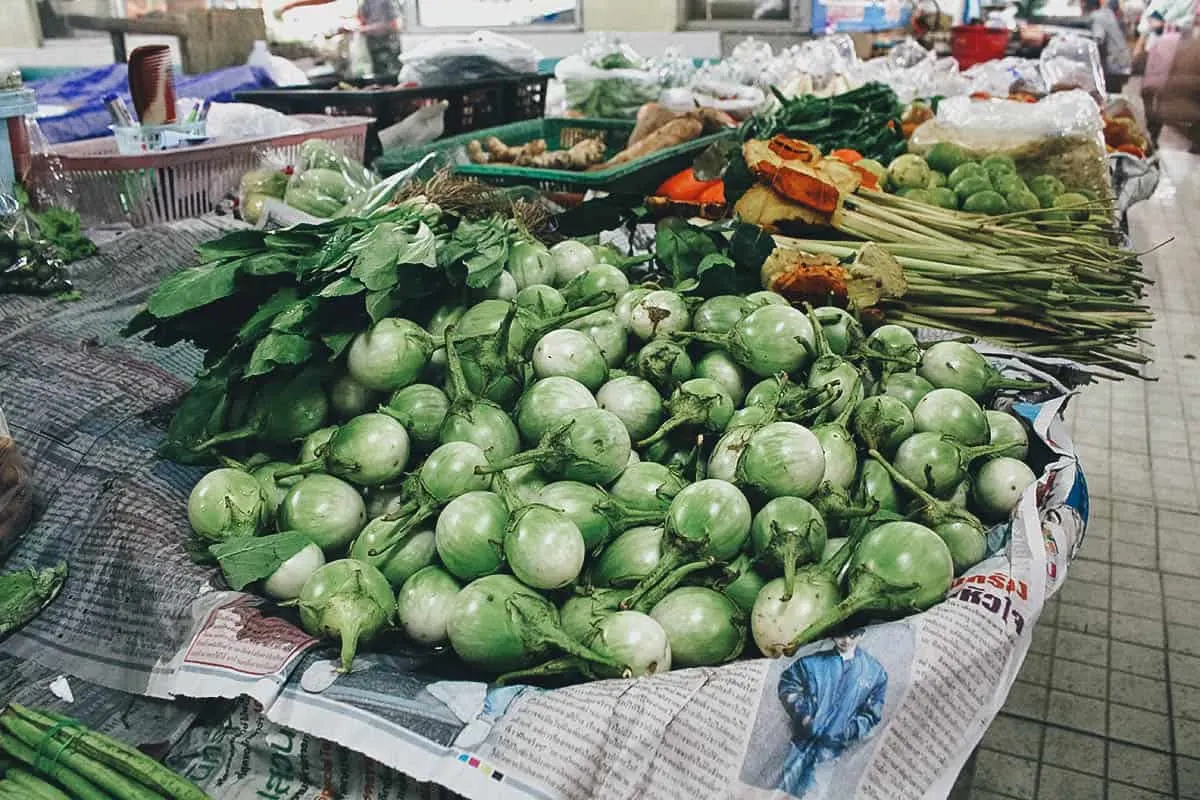 Here are a few different types of fried insects like crickets, grubs, and silk worms. Many people find them unappetizing but Ren and I don't mind them. They're crunchy and salty like nuts and go great with beer. Moui picked up a small bag of mixed insects so we could munch on them during the tour.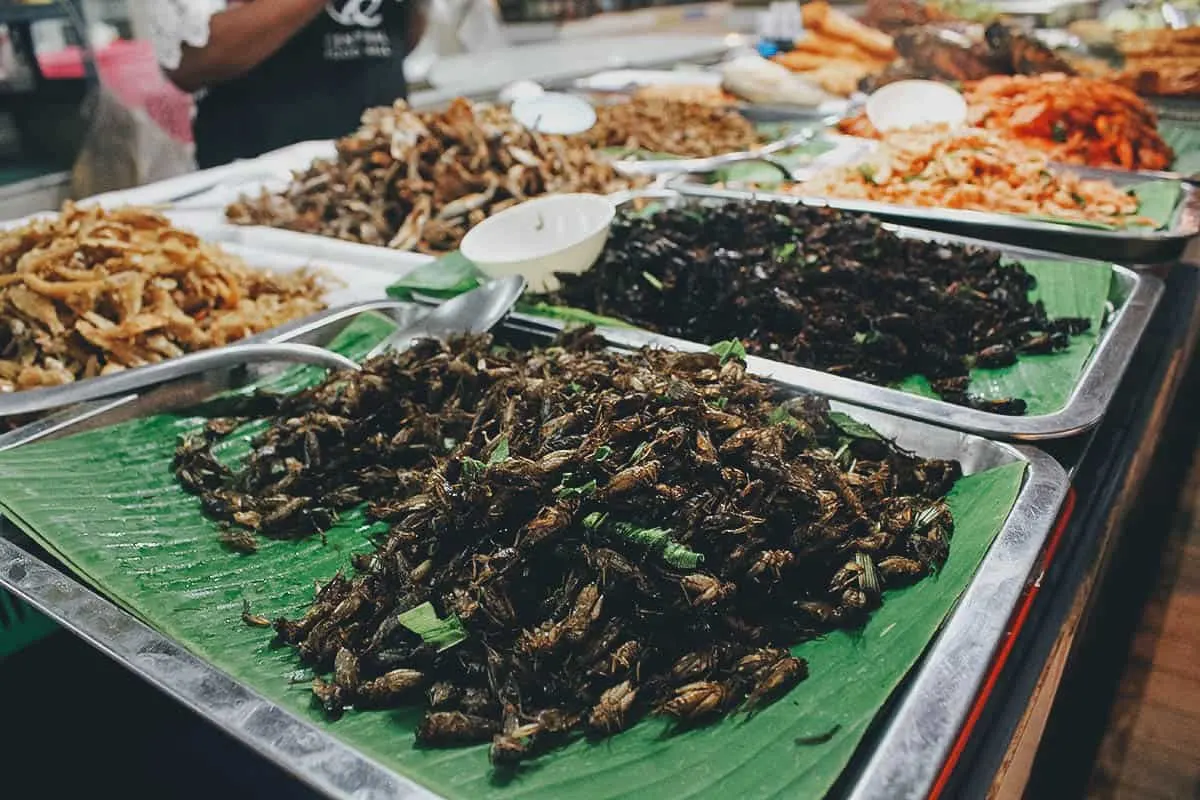 I though these were superworms at first but they're actually bamboo caterpillars. I used to keep reptiles as pets so I often had live superworms at home. I got a recipe from an insect cookbook so Ren and I dipped a few in batter once and fried them up like tempura. True story. 🙂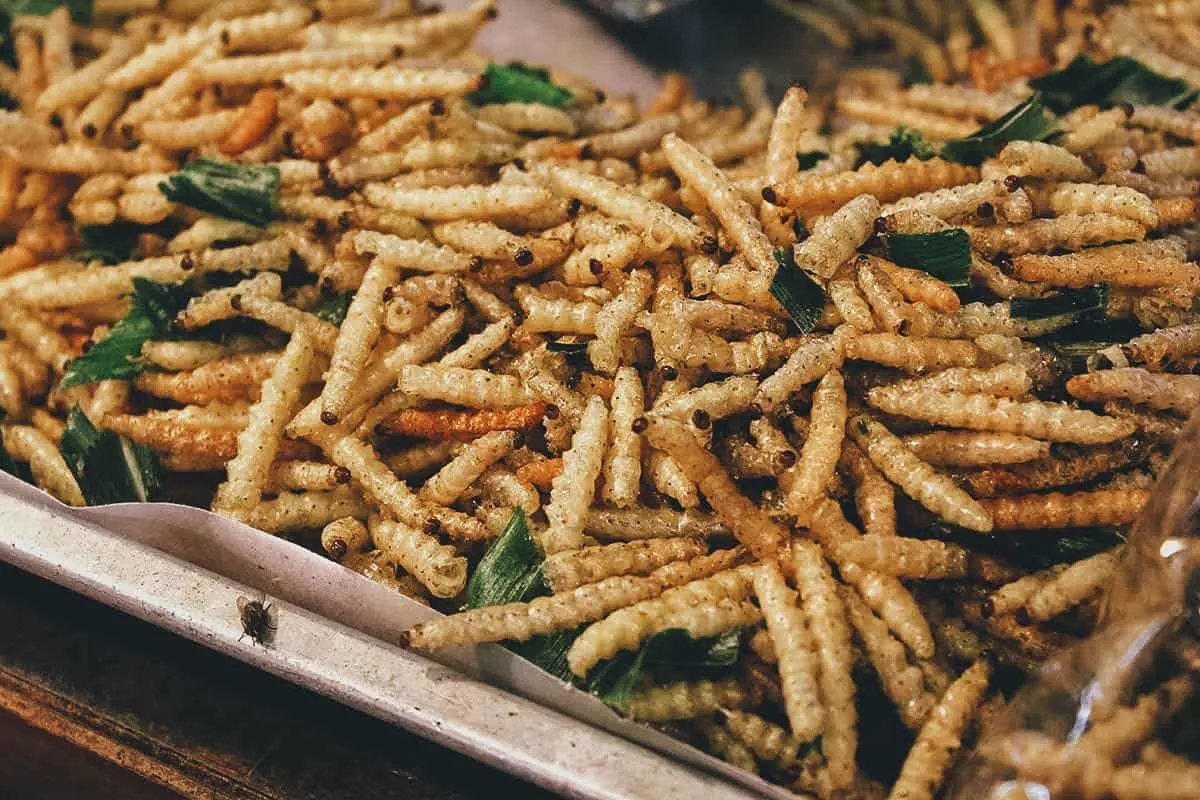 Eating smaller fried insects is easy, but munching on these giant water bugs whole would have been a challenge. 😆 Measuring about 3-4 inches long, they're chopped up and then their innards are scooped out and used as an ingredient for dips. We didn't try it today.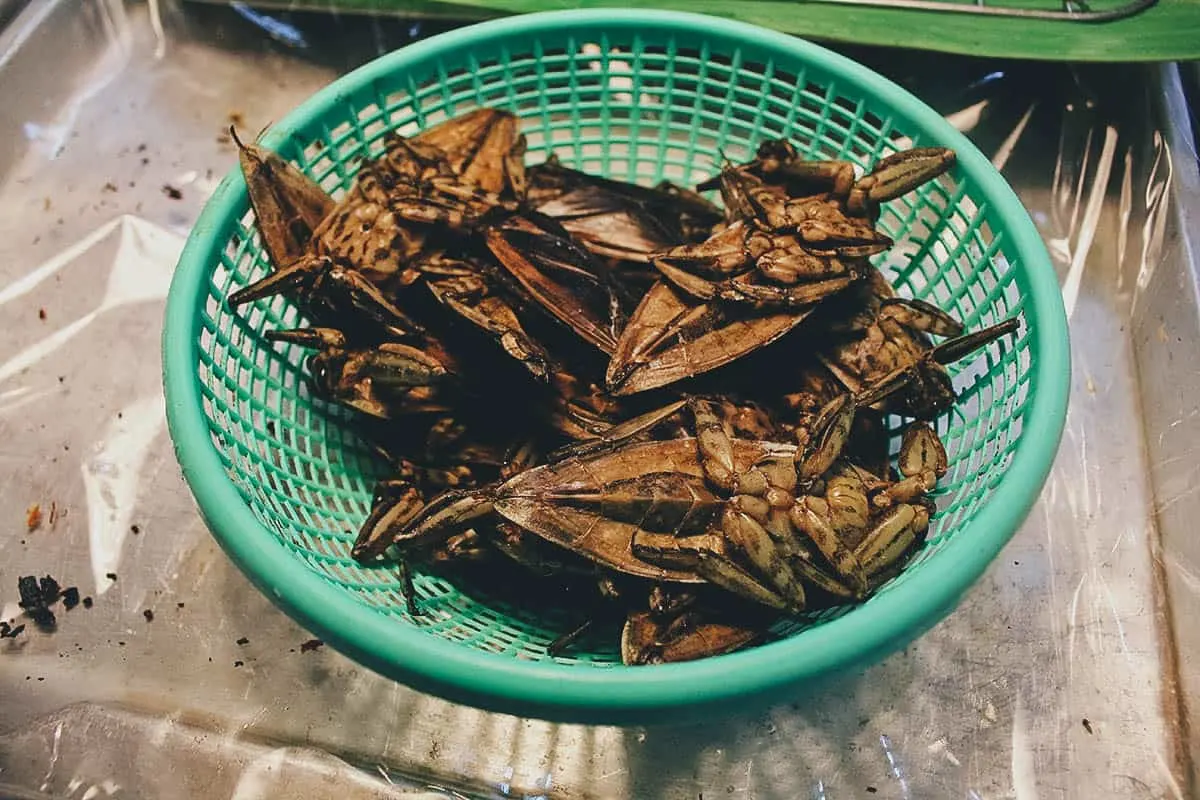 I don't know what these are but they look cool, like something you'd see at a molecular gastronomy restaurant!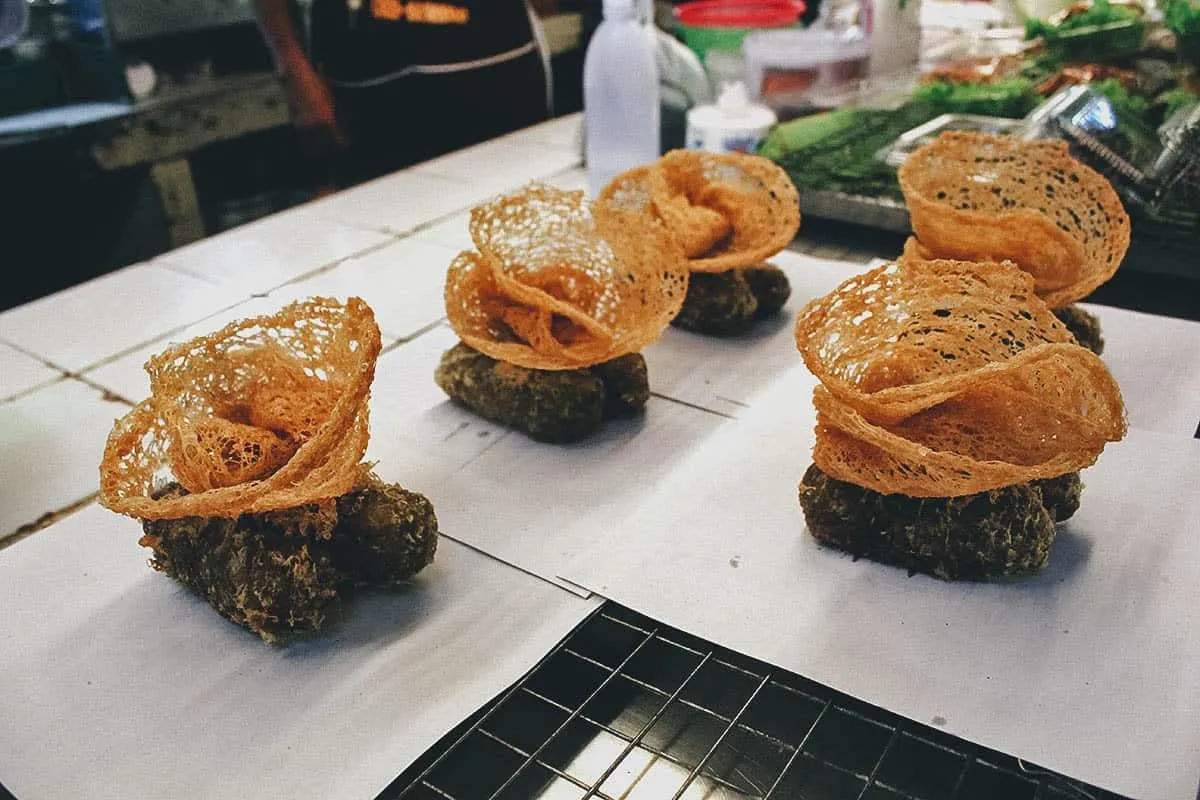 Moui told us that many people in Chiang Mai don't cook. If I heard her correctly, most apartments don't have kitchens so people often buy these pre-made bags of food. They're inexpensive and hassle-free. She picked up a few bags of food which we would eat at our next stop.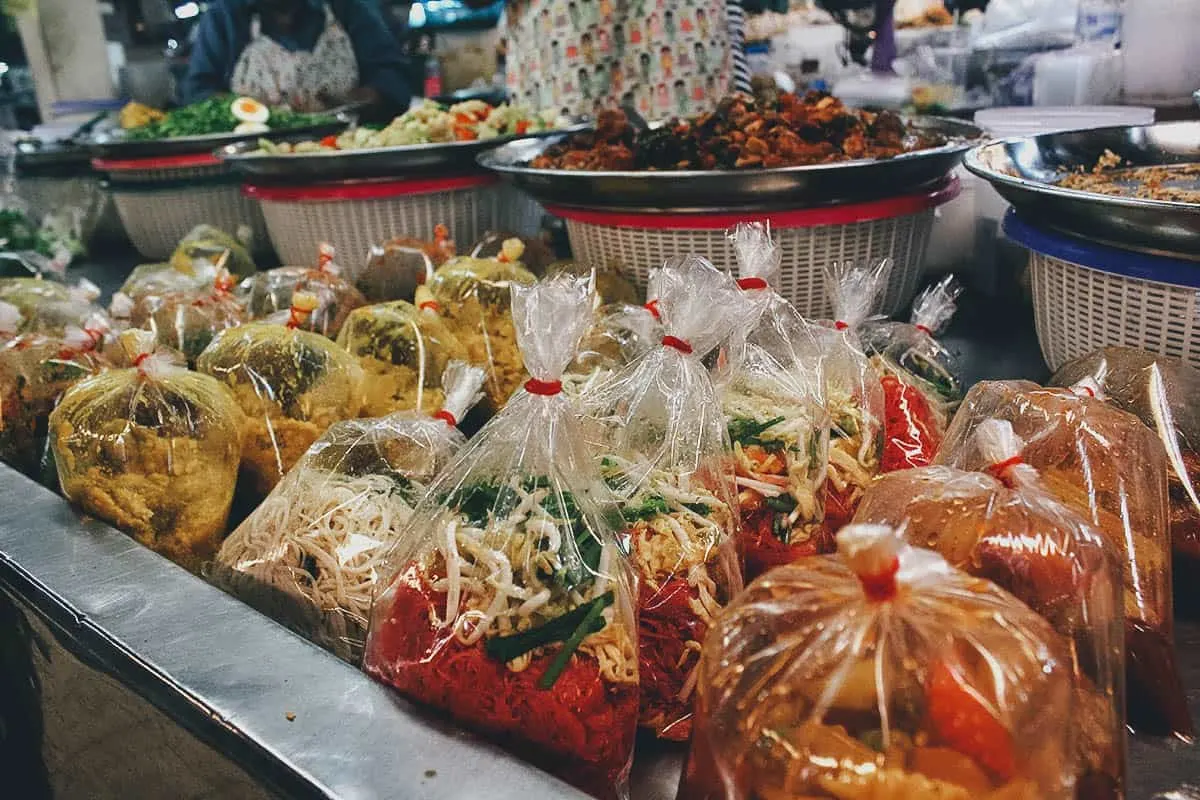 Aren't these giant green beans pretty? I always get a kick out of seeing them at markets.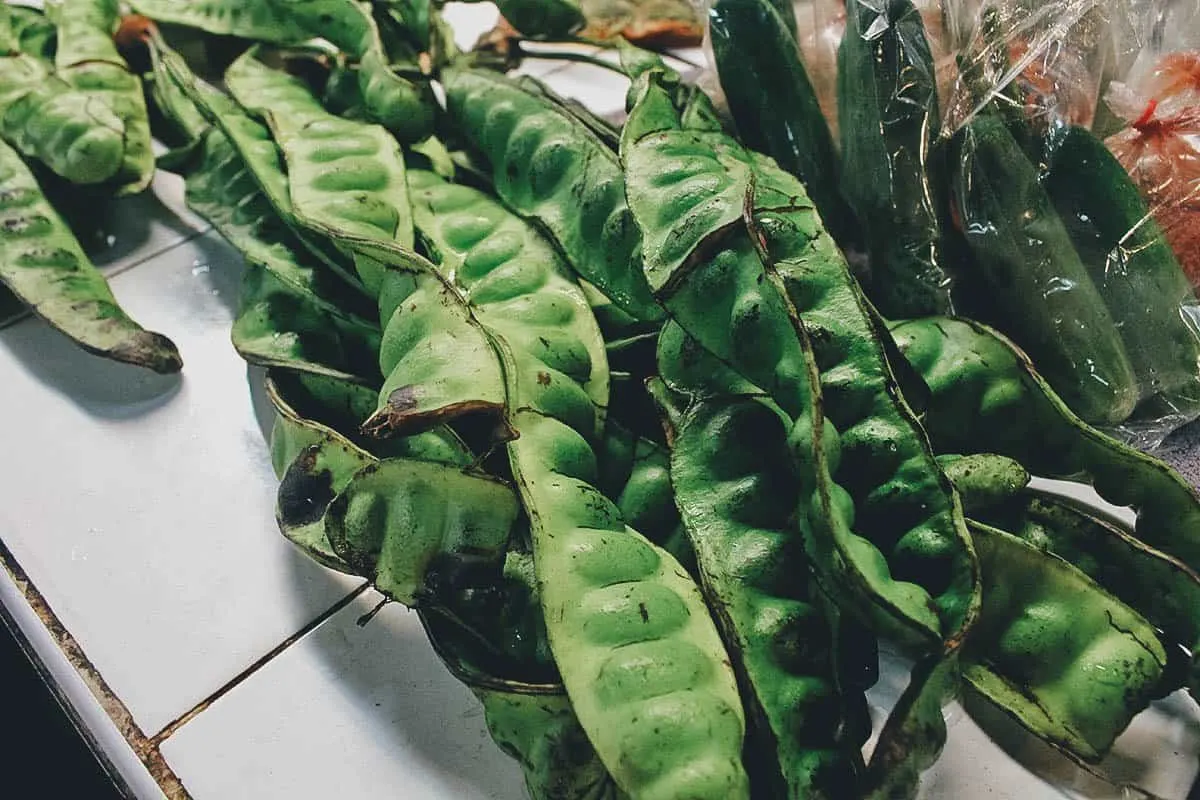 According to Moui, this humble stall sells the best sai oua or Northern Thai sausage in Chiang Mai. They're typically made with minced pork and a variety of herbs and spices. She told us that they're best eaten fresh off the grill so that's what we did! We had sai oua several times on this trip and these were definitely the best. They're absolutely delicious – smokey, spicy, fragrant, and packed with flavor. She bought us one bag each but I polished mine off in just a few minutes so Ren gave the rest of hers to me. 😆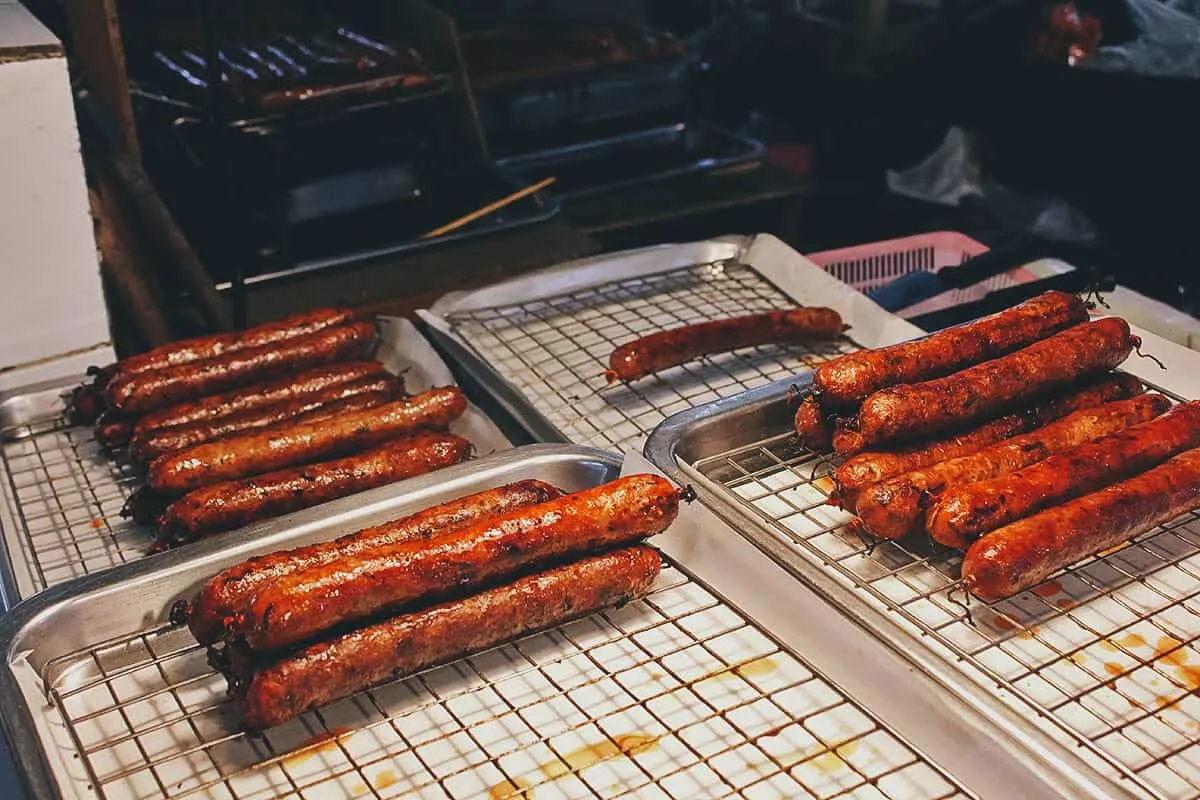 Burmese Shan Cuisine
After the market, we hopped into our songthaew and drove to this tiny Burmese restaurant. Here we would eat all the food she bought for us at the market, as well as a few of the restaurant's Shan-inspired dishes. The Shan people are an ethnic group that live mostly in Burma (Myanmar) but also inhabit certain parts of Thailand, China, and Laos. As we learned on this trip, Burmese cuisine has had much influence on the food of Chiang Mai and Northern Thailand.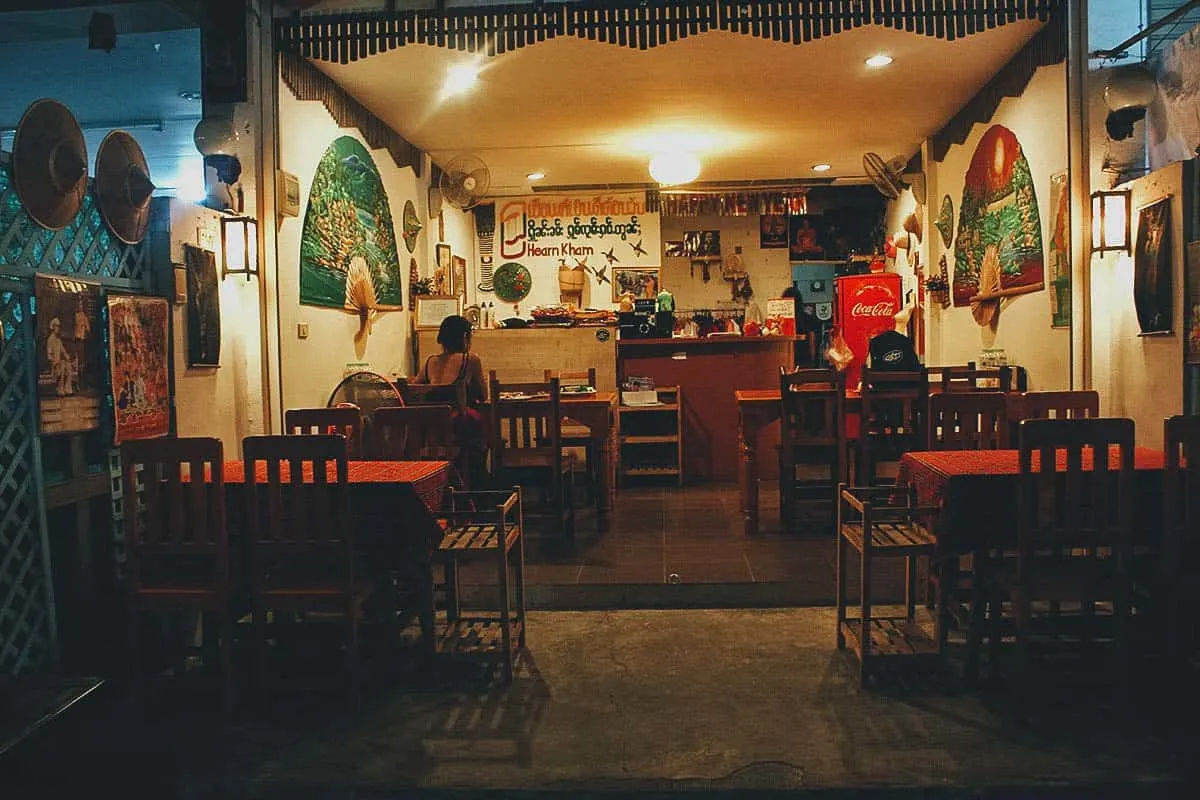 Burmese Dishes
I've never had Burmese food before so these dishes were completely foreign to me. This one is called nam pit pu or Shan chili sauce. It's made by pounding soybean with peanut, pepper, garlic, onion, and coriander. You take the fresh vegetables like Thai eggplant, wingbean, and pennywort and dip them in the sauce. It tasted fresh with a strong peanut flavor.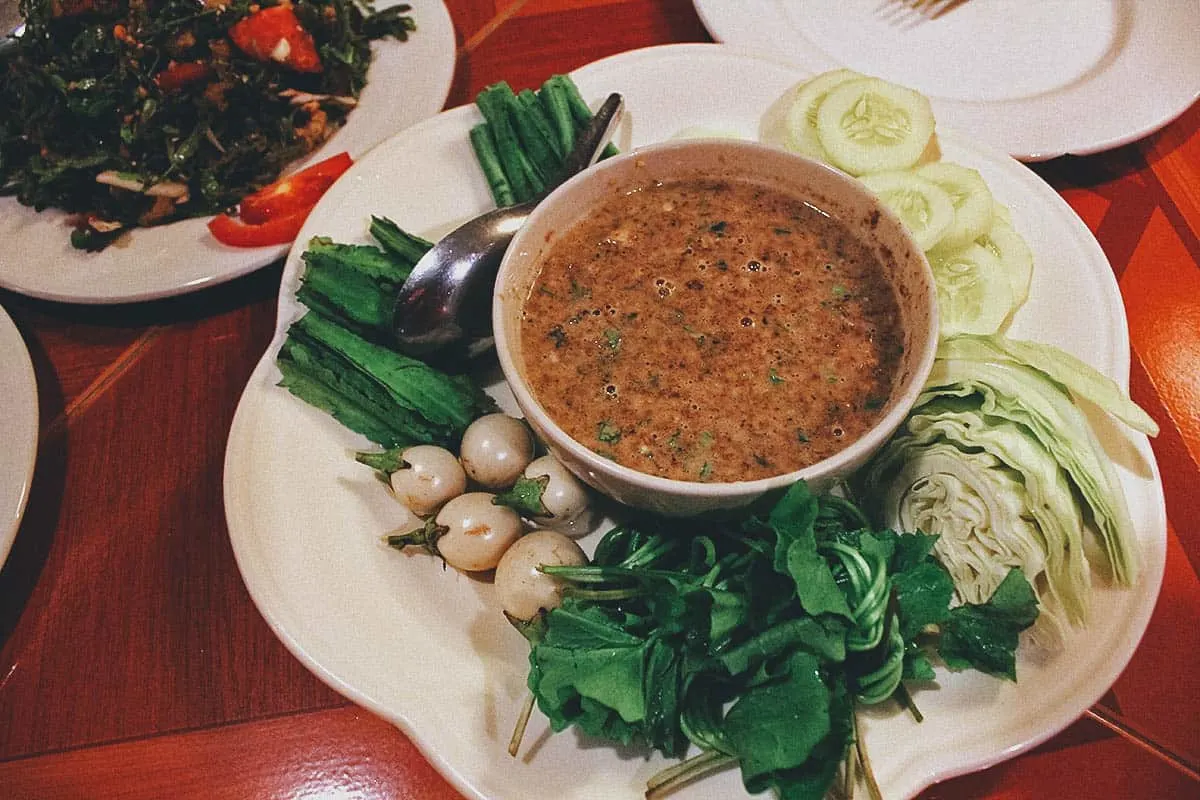 This tamarind leaf salad is called som kang sar and is made by mixing tamarind leaves with tomato, onion, pepper, and peanut.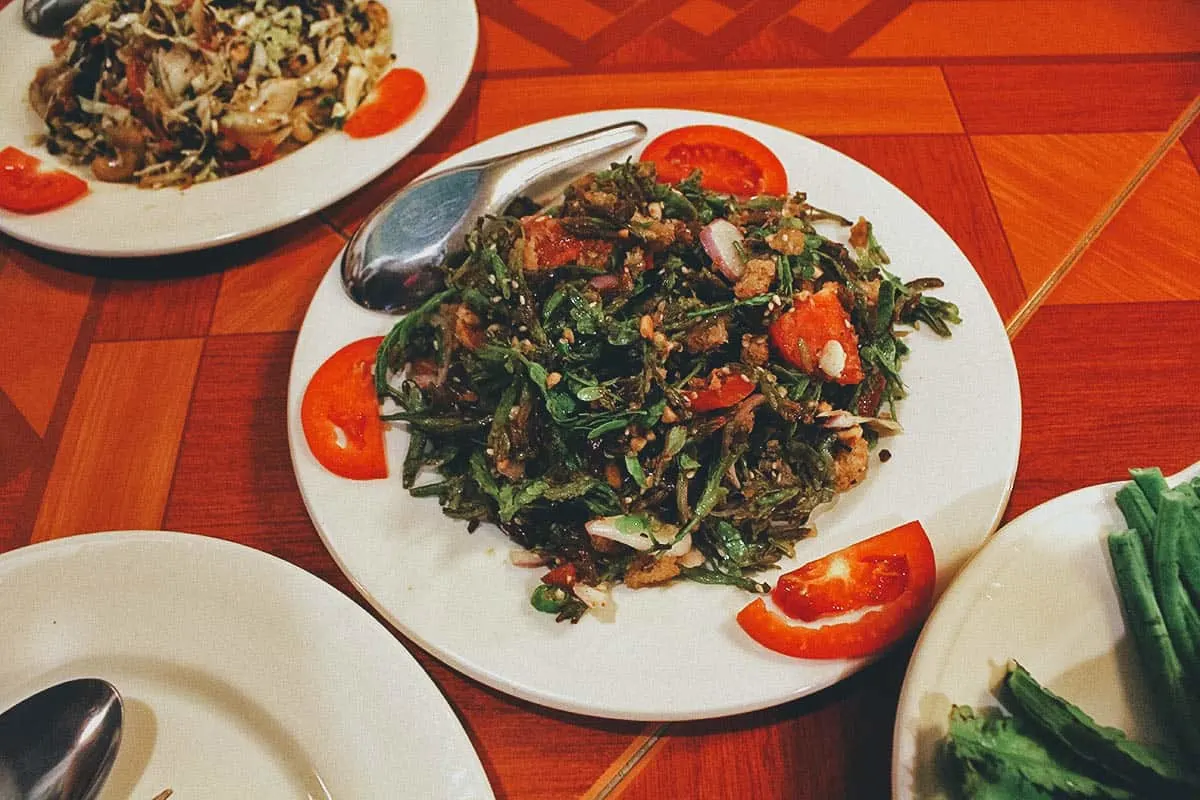 The third and final Burmese dish we tried is neng yam or tea leaf salad. It's made by mixing fermented tea leaves with tomato, onion, fried bean, and peppermint. This has been my sole experience with Burmese food but it's something I'd like to try again. All three dishes we had tonight were tasty and interesting. I read up on it and Burmese food is basically a mix of many influences, most significantly Indian, Chinese, and Thai.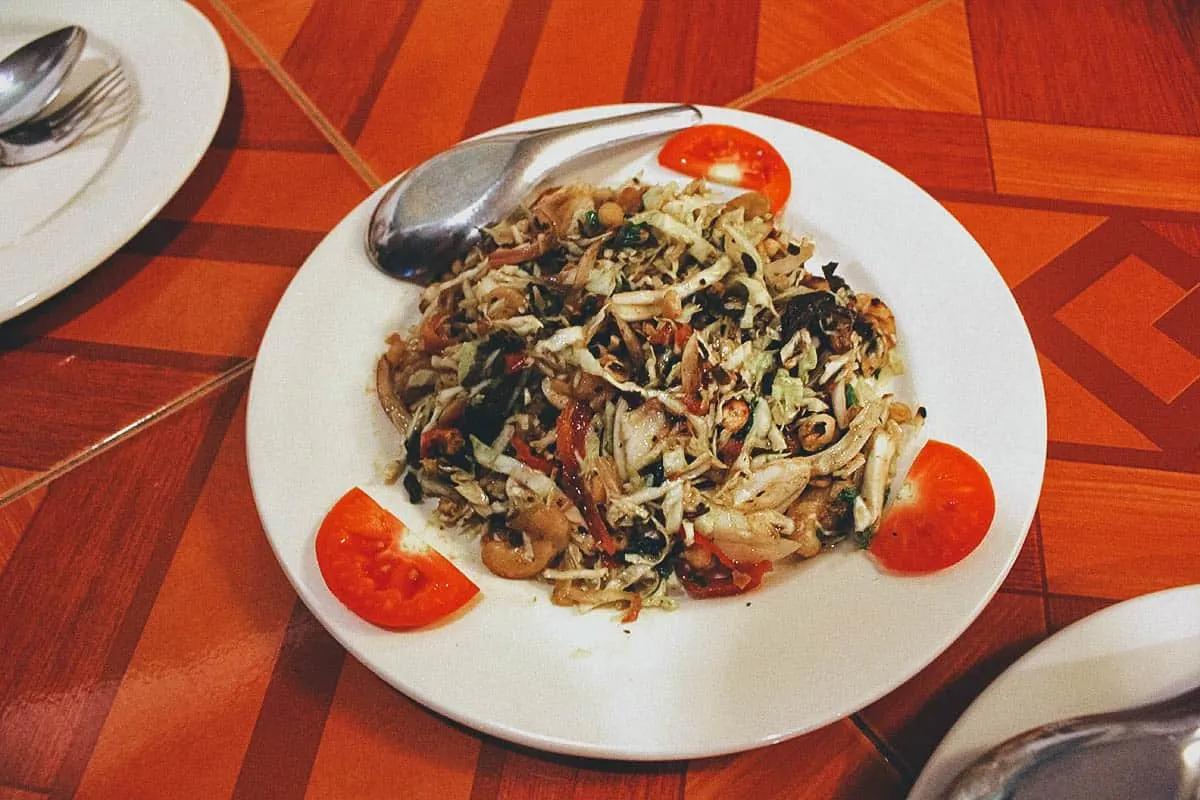 Dishes from the Local Market
These are the dishes Moui picked up from the market. Sorry about this, but there was so much going on that I don't recall what some of these dishes were! I just remember that they were good. I think this may have been a Thai banana blossom salad.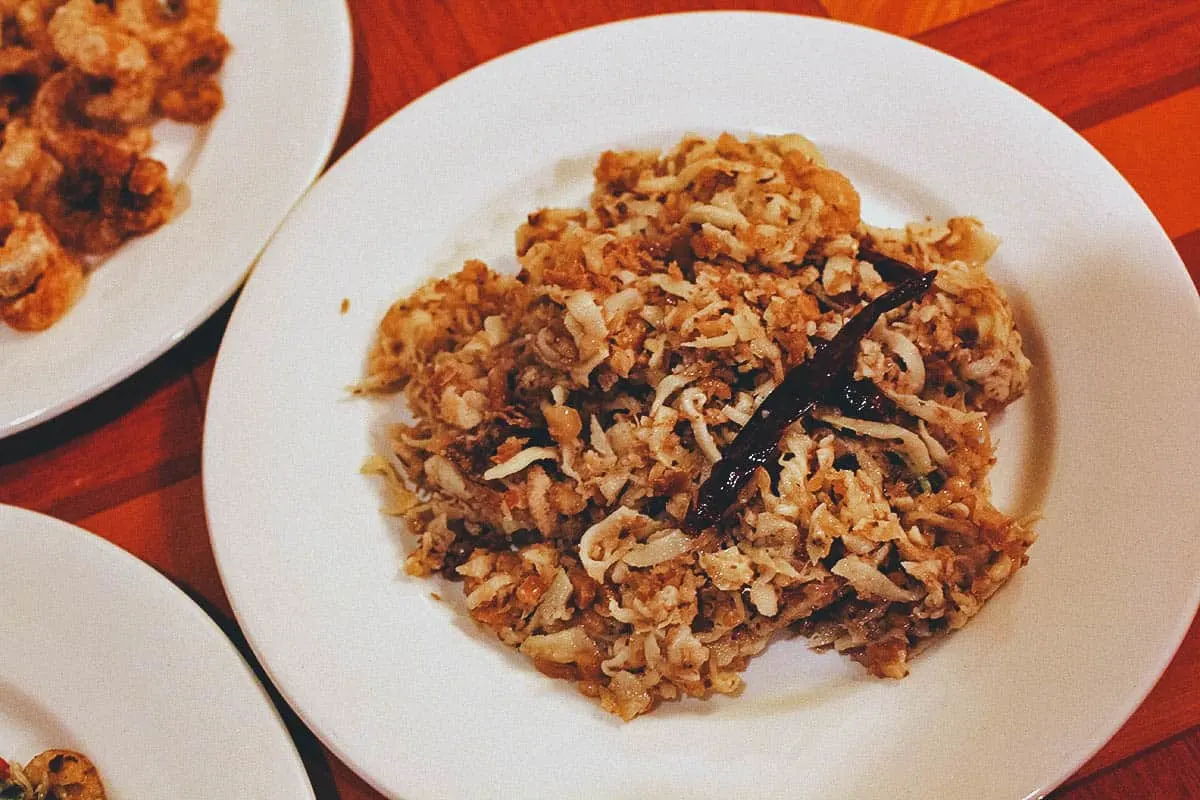 This looks to be some some type of stewed beef dish.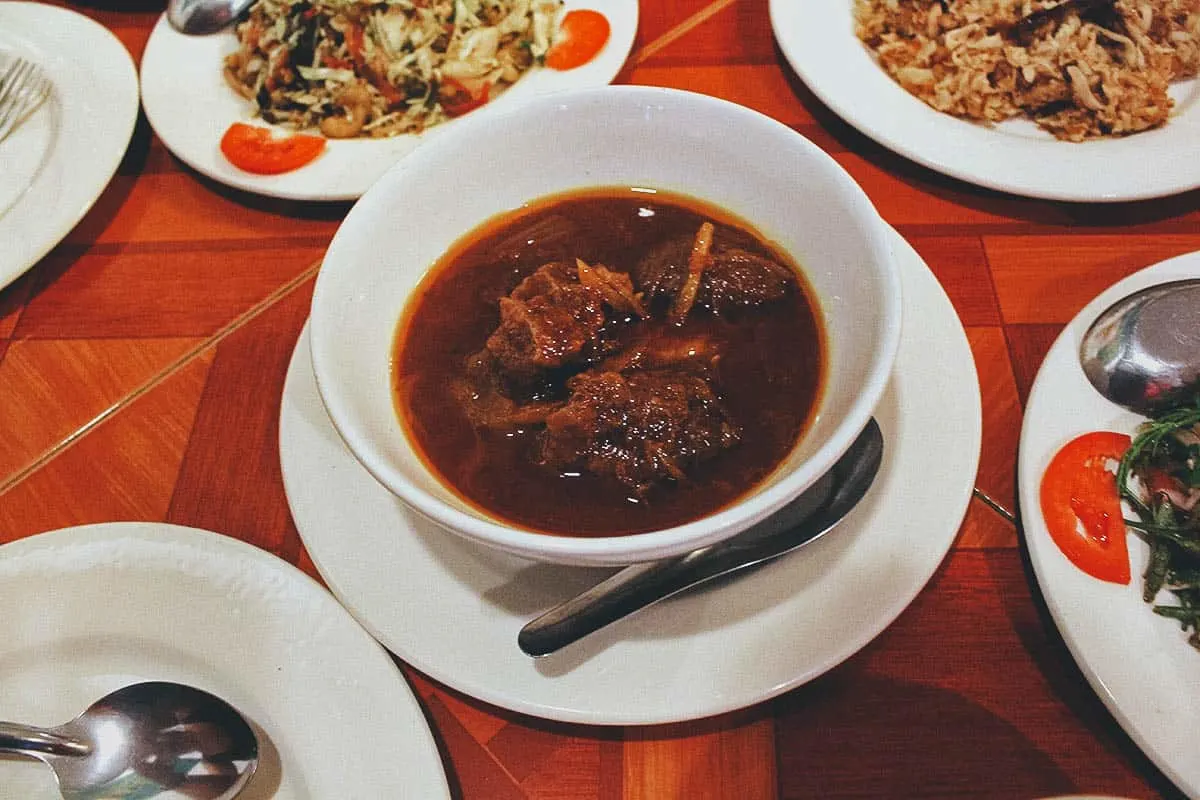 This was tasty and very interesting. Called miang kham, ingredients like shallot, bird's eye chili, ginger, garlic, lime, roasted coconut, peanut, and small dried shrimp are wrapped in fresh betel leaves then dipped in a palm or sugar cane syrup cooked with lemongrass, galangal, ginger, and fish sauce. It's an absolute explosion of flavor in one bite, simultaneously sweet, salty, sour, spicy, garlicky, and gingery. In fact, miang kham means "one bite wrap" with miang meaning "food wrapped in leaves" and kham meaning "bite". You need to try this!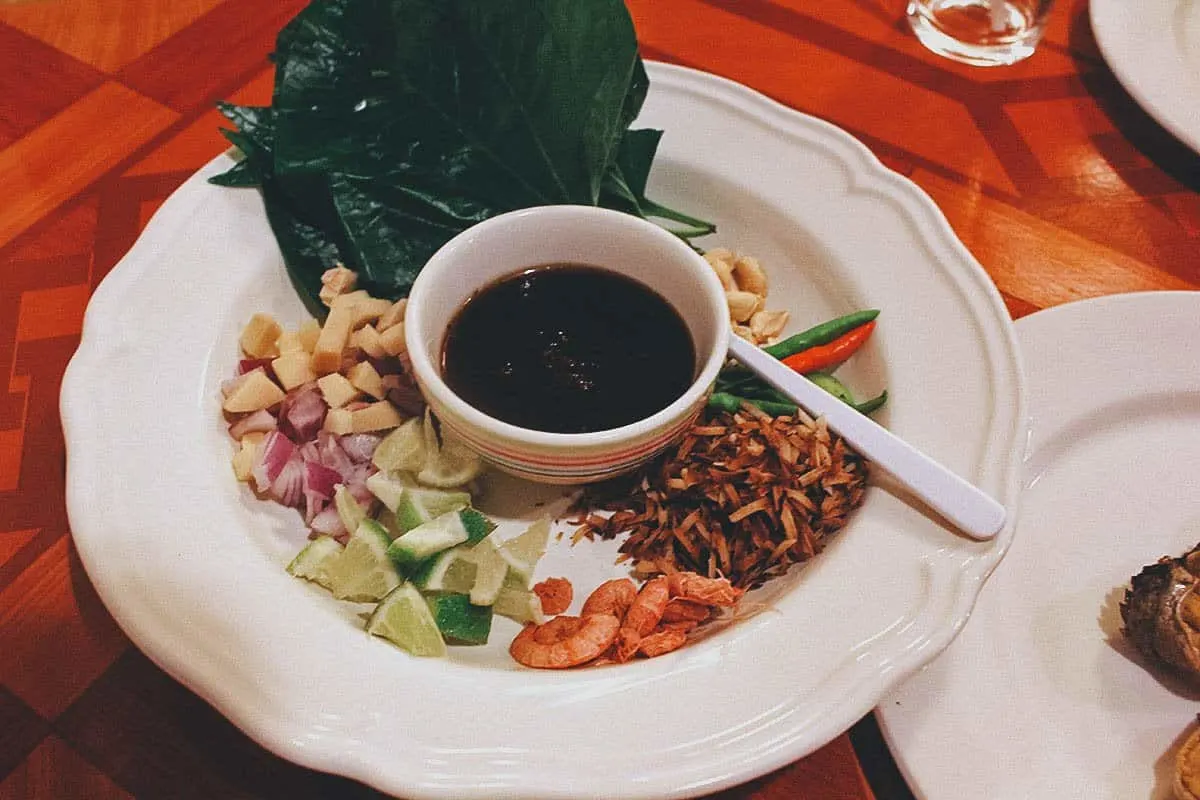 These green and red nam prik dipping sauces with pork cracklings were some of my favorite things to eat in Northern Thailand. You can put some sauce on the pork cracklings or use them directly as a scoop. Just don't double dip! It's a tasty crunchy snack that goes great with beer. According to Moui, the stall that sold these at the market is known for making some of the best green nam prik in Chiang Mai. They were both delicious!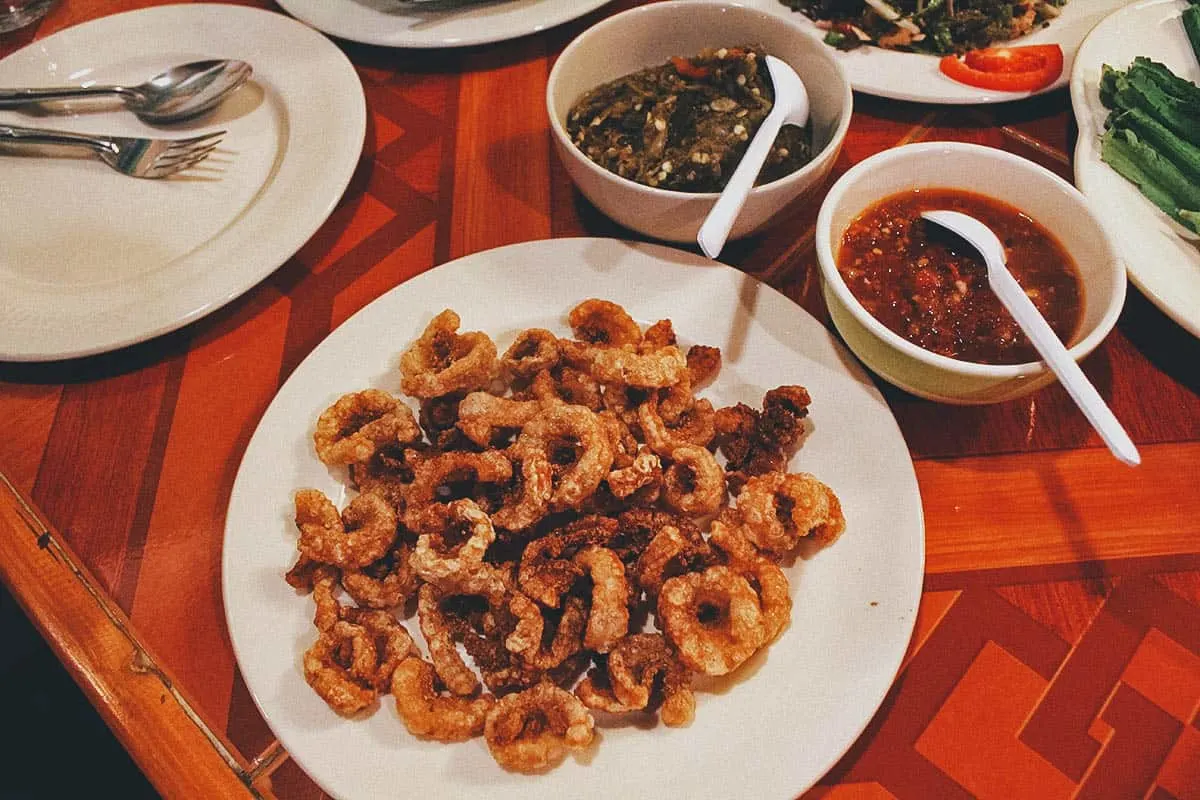 These were super interesting as well. I don't know exactly what type of crab these are but they're a species of small freshwater rice paddy crab. It's roe is turned into a paste then stuffed back into its shell. You eat it by taking small balls of sticky rice then using it to scoop out that rich and creamy crab paste. Yum! These rice paddy crabs are available only a few months out of the year so we were lucky to try this tonight.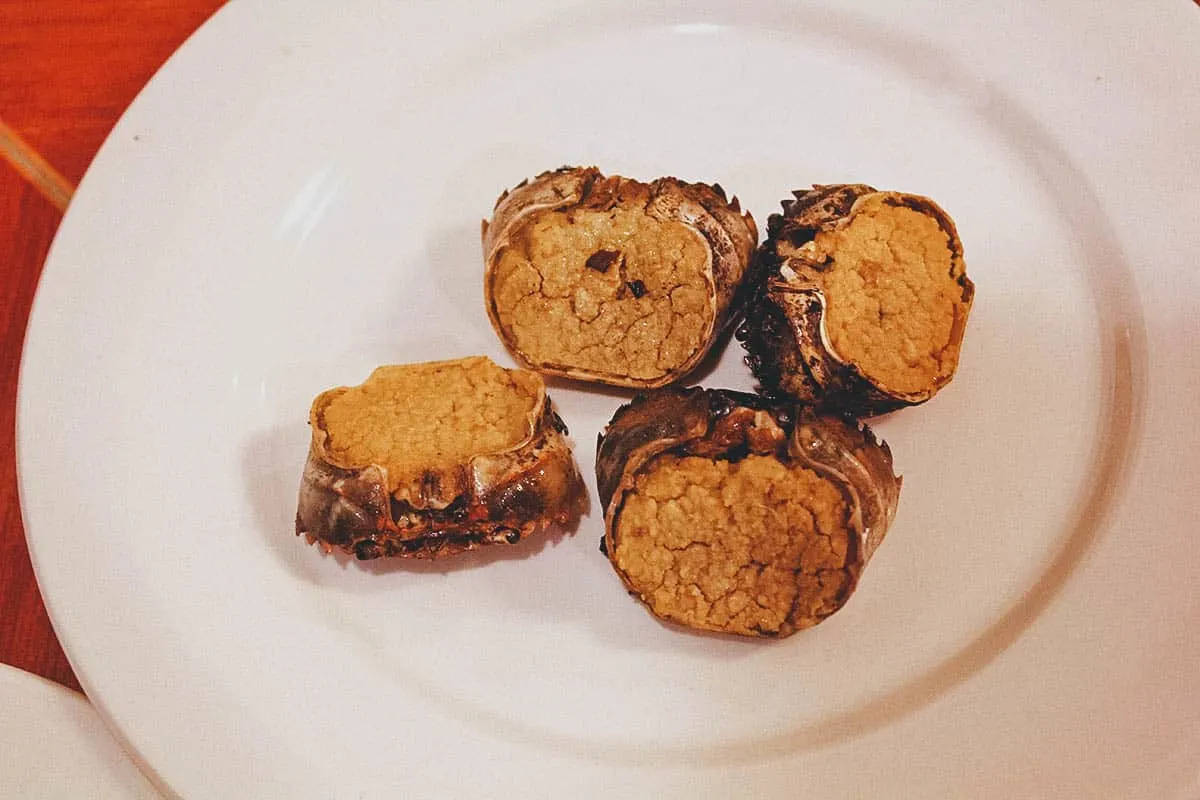 I think these sweet treats are called med kanun or mung bean yolk. They're made by mixing mung bean paste with egg yolk and sugar.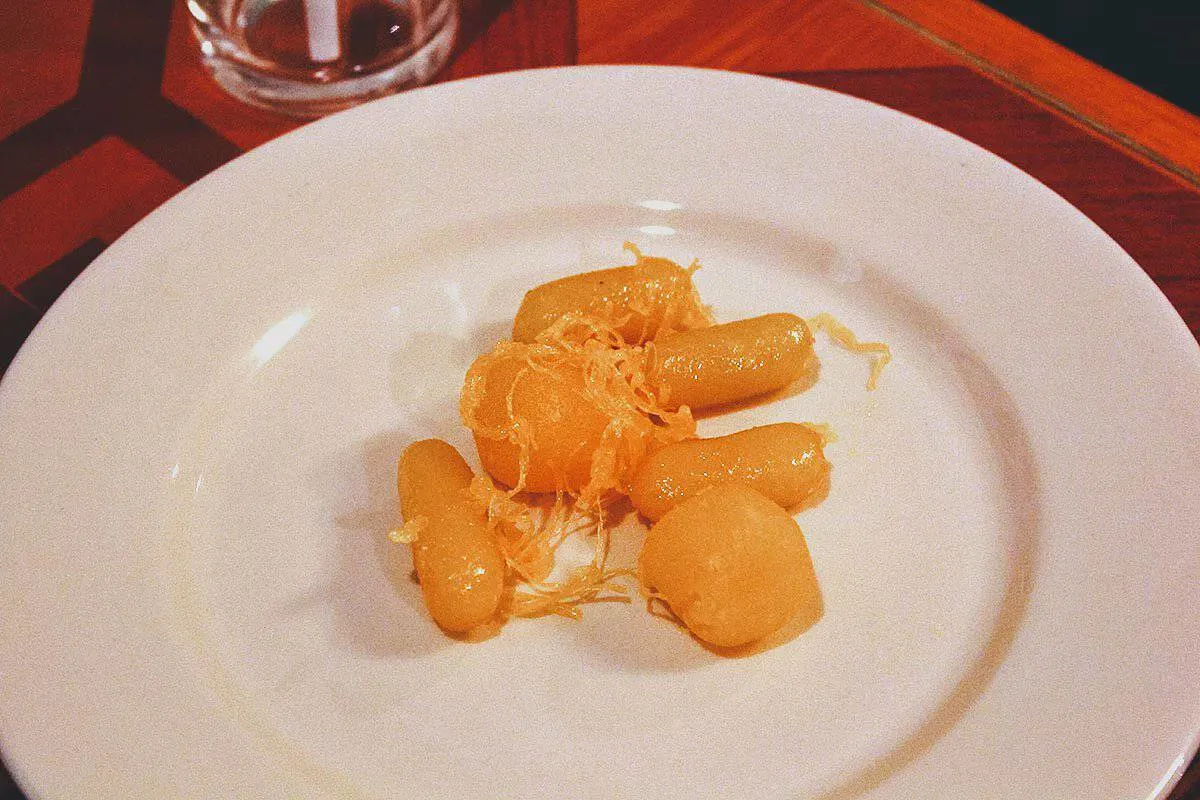 The Most Authentic Larb in Chiang Mai
All that food we ate at the Burmese restaurant was more than enough for dinner, but we were just getting started. Next up was this restaurant known for serving some of the best and most authentic larb or minced pork salad in Chiang Mai.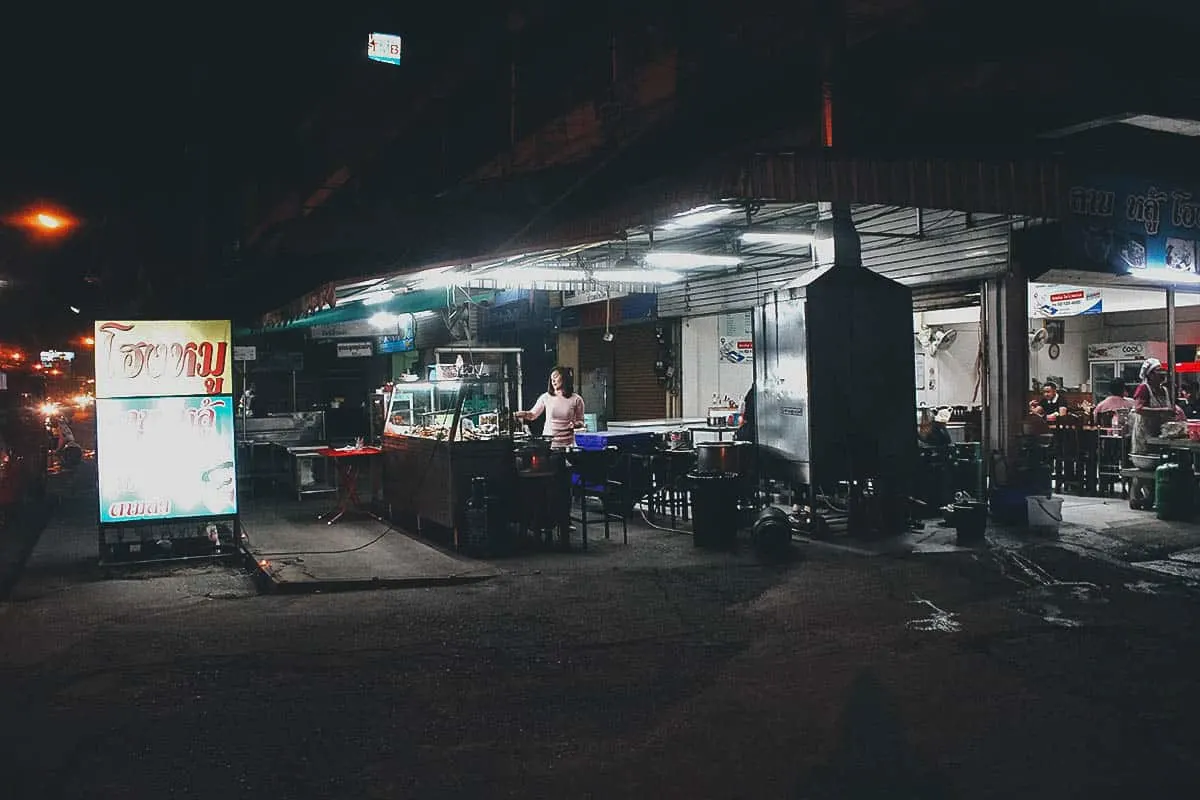 Different types of meat and offal on display. I spy with my little eye my favorite pork mesentery.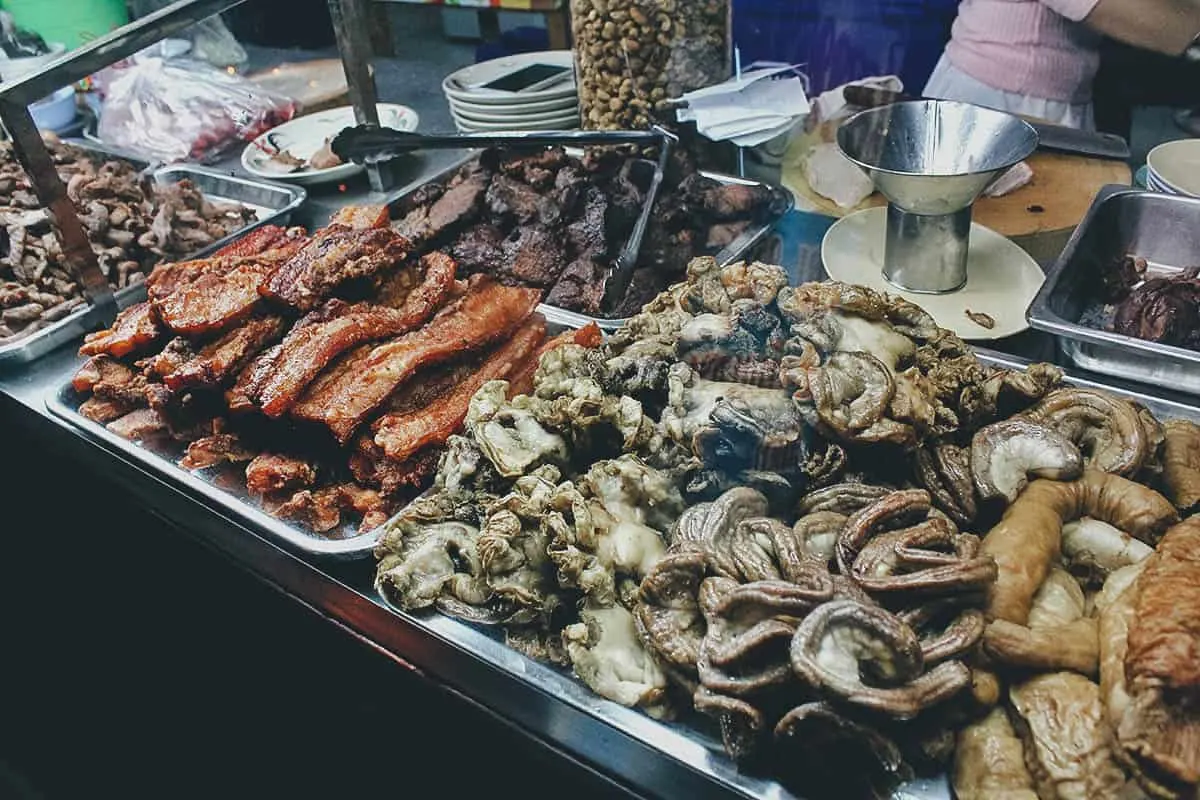 This restaurant was way off the tourist circuit so I doubt many foreigners come here. It's exactly the kind of place we look for when we travel! Aside from larb, they're also known for a controversial dish called lou. It's controversial because the main ingredient in lou is raw pig's blood. Yes, you read that correctly. Lou is raw pig's blood soup.
Ren and I are adventurous eaters who'll try anything once, but we had to draw the line with this dish. It's a good thing we did because according to Moui, one of her aunts lost her hearing after eating a bowl of lou. Yikes! Raw pork is dangerous in any form which is why many Northern Thai men eat it as a show of machismo. Anthony Bourdain tried lou and liked it, but I'd proceed with caution if I were you!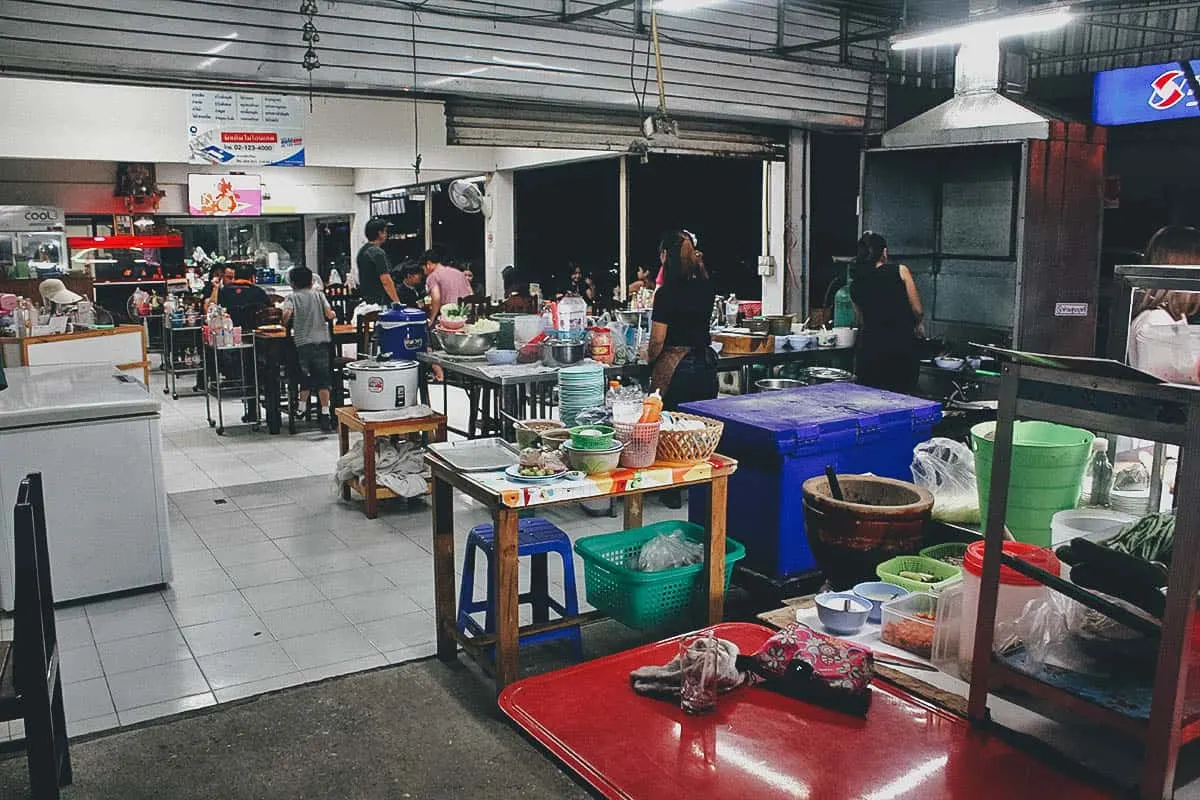 Here are two less dangerous but super delicious pork dishes – naem and larb.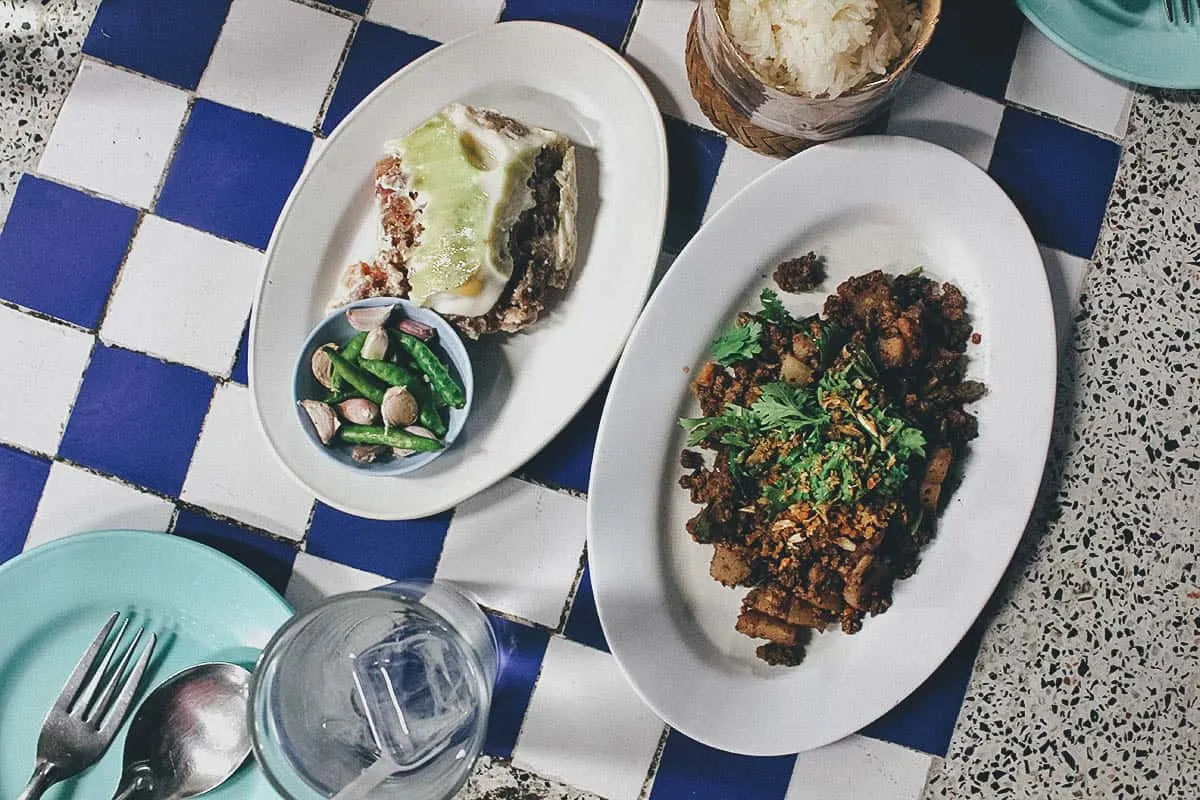 I don't know the Thai name for this preparation of naem but it may be chin som mok. It's made with naem which is fermented pork sausage. Pork is preserved by mixing it with cooked sticky rice, chili pepper, garlic, sugar, salt, and potassium nitrate, then allowing it to undergo lactic acid fermentation. Served with garlic and bird's eye chili, it's sour, meaty, and very delicious, especially when eaten with sticky rice.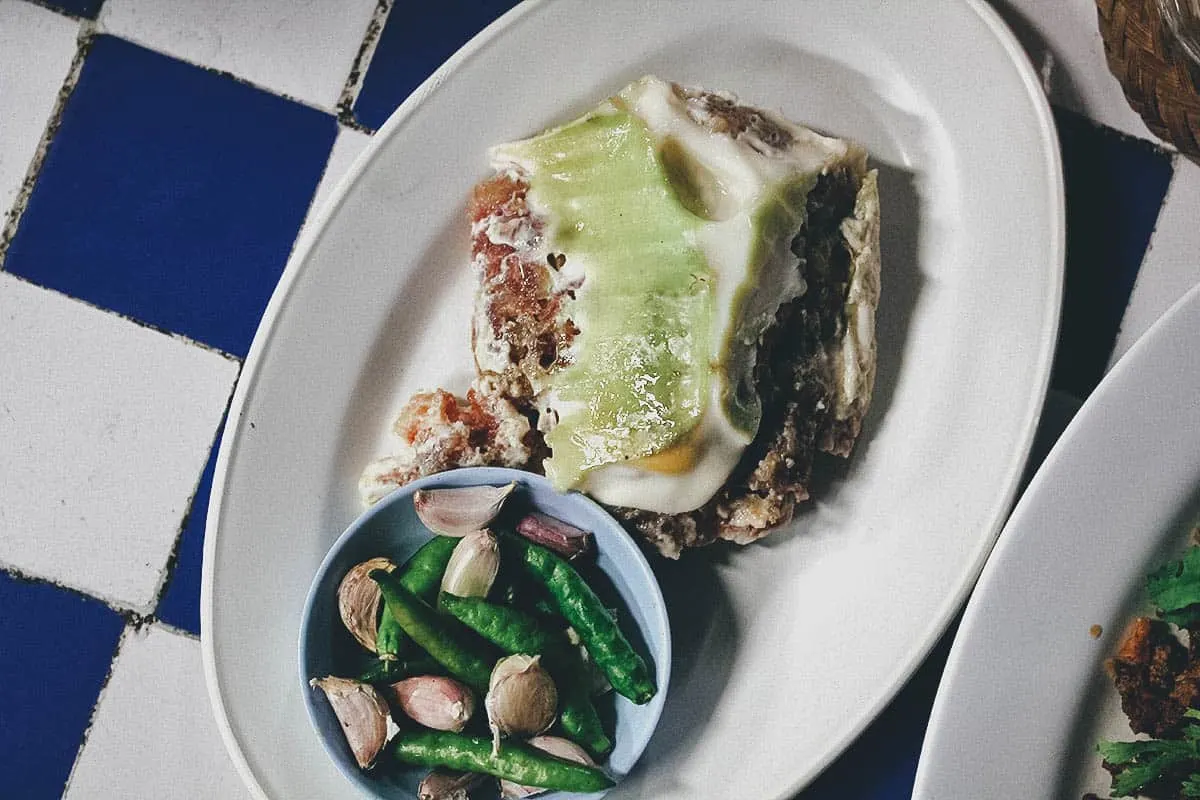 I had often come across larb in my research before our trip, so something told me it was an important Northern Thai dish. As it turns out, it is. Larb is a type of pork salad dish that's often regarded as the national dish of Laos. It's popular in the Isaan region of Thailand where the majority of the population is of Lao descent.
There seems to be a few versions of this dish but I believe this one is the Lao or Isaan style of larb. Eaten with sticky rice, it's made by flavoring minced meat like pork, chicken, duck, or beef with fish sauce, chili flakes, lime juice, toasted sticky rice, and an assortment of fresh herbs. We tried larb a few times on this trip and this was by far the best. Ren loves asking people what their hypothetical last meal would be, and for Moui, it would be larb. She said it reminds her of her childhood when her father used to make this dish. I think it's pretty clear she knows a good larb when she tastes it. 😉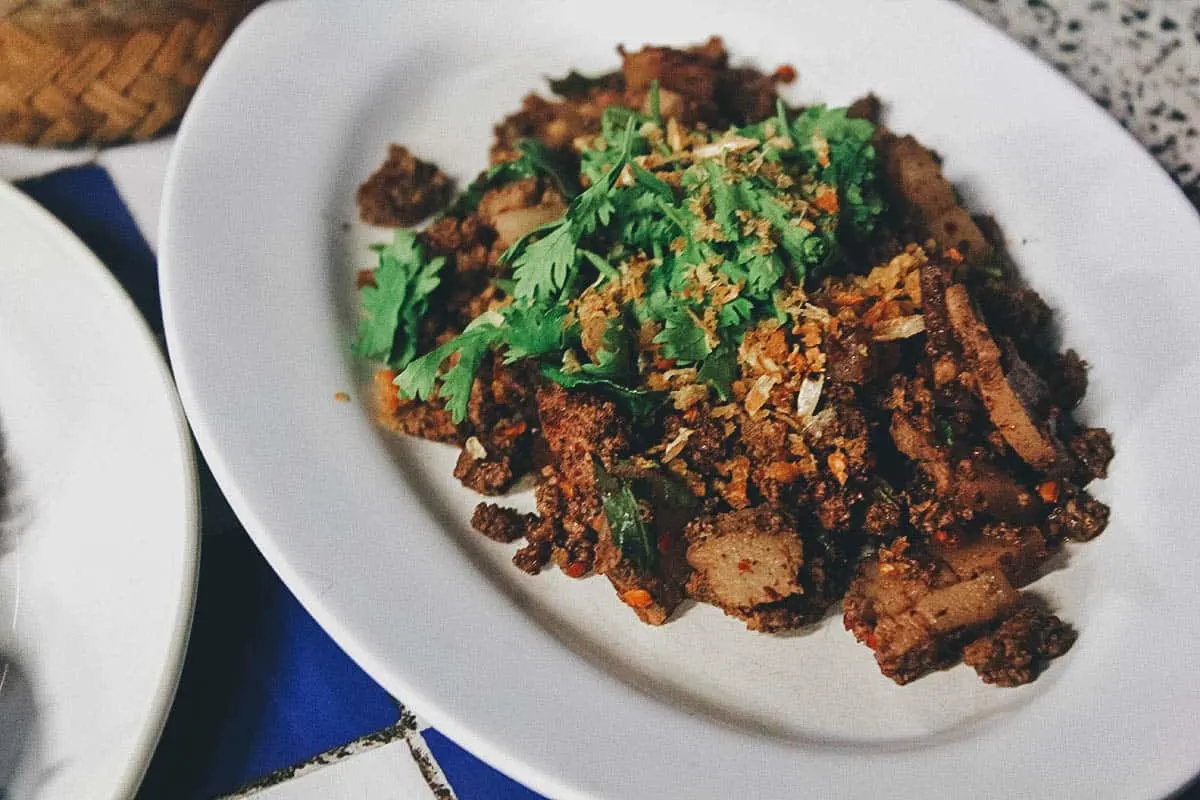 A Delicious Bowl of Nam Ngiaw
I wanted to try nam ngiaw in Chiang Rai but unfortunately, we didn't have time. Luckily, it was on tonight's itinerary. Moui took us to one of Chiang Mai's best nam ngiaw food stalls on our next stop.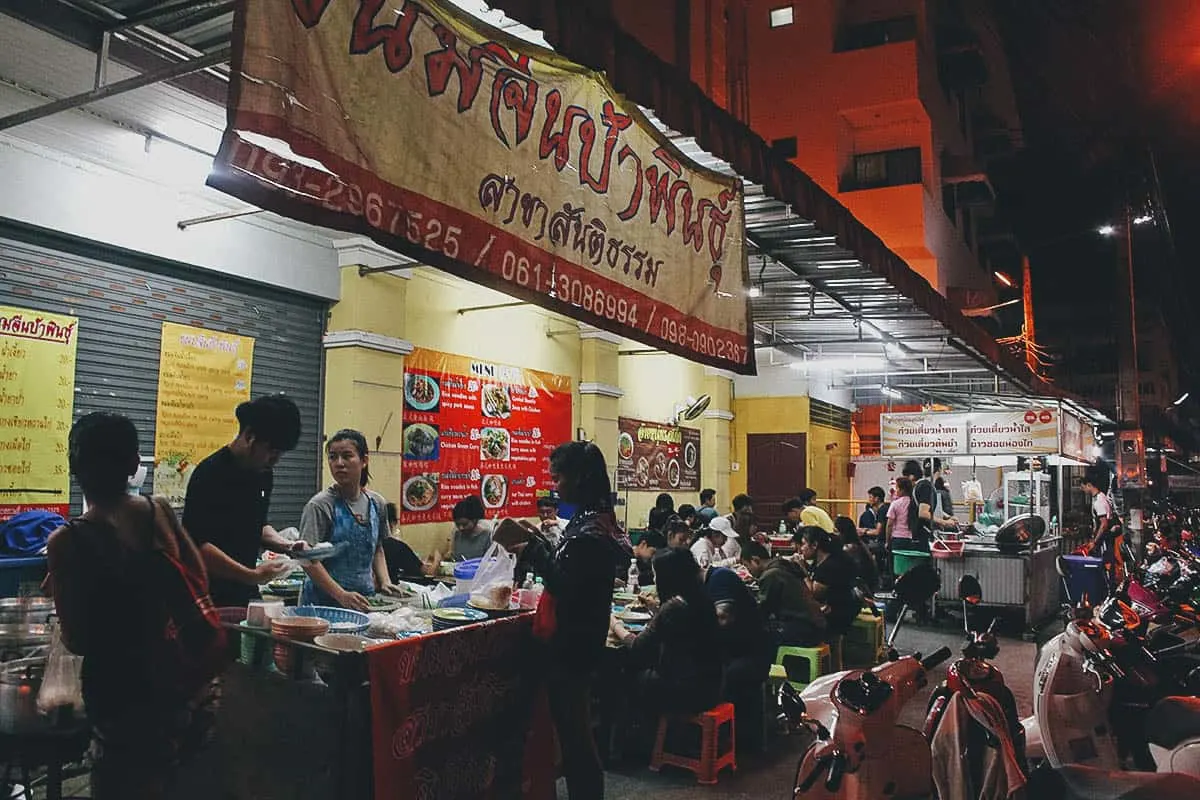 These vats contain different types of broth for the various dishes they serve here. I believe that big red one is for the nam ngiaw. It looks tomatoey and spicy!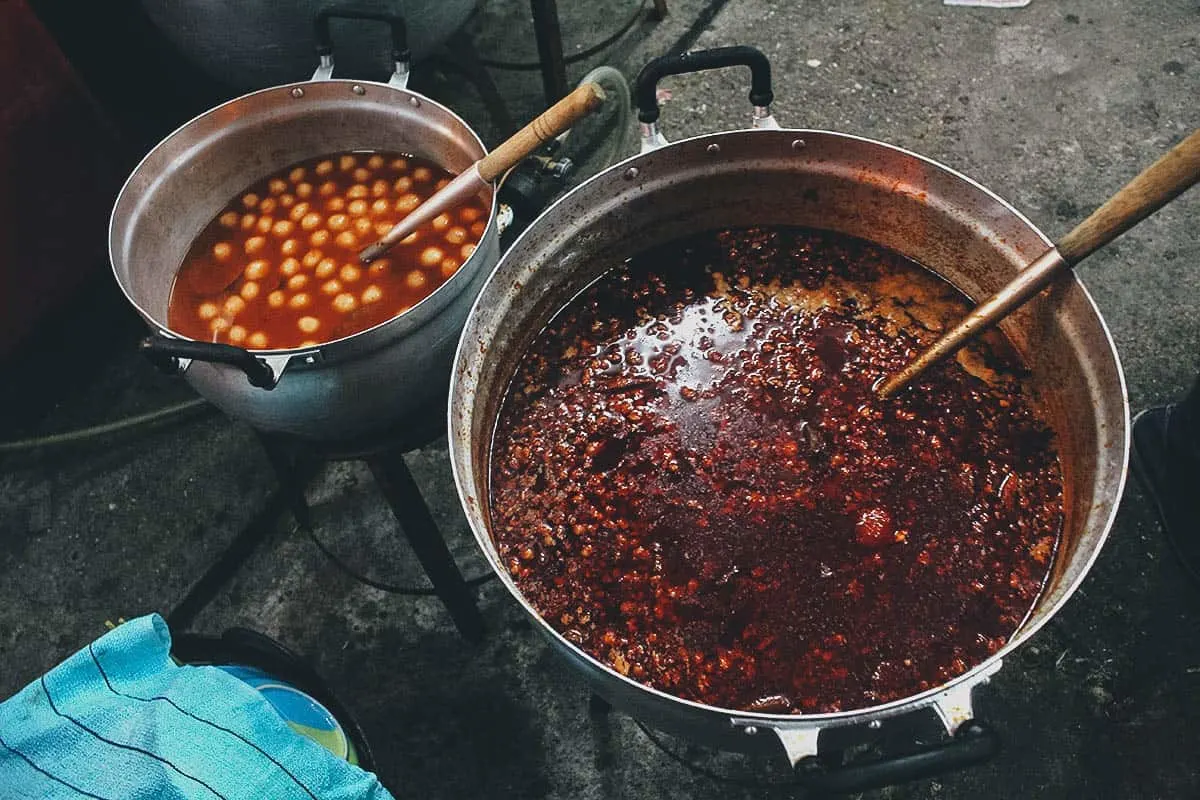 Nam ngiaw is a Shan noodle soup made with a tangy tomato base that includes beef or pork, dry roasted chili, garlic, tua nao (fermented soybean), and cubes of congealed blood. It's served with khanom jeen or fermented rice vermicelli, crunchy raw vegetables like bean sprouts and cilantro, and a side of pork rinds. The redness of the broth looked menacing but it isn't spicy at all. It's more tart and tomatoey with loads of crunch from the uncooked vegetables. Check out those delicious hunks of pig's blood! Like larb, nam ngiaw is an important dish and one of the most beloved in Northern Thai cuisine.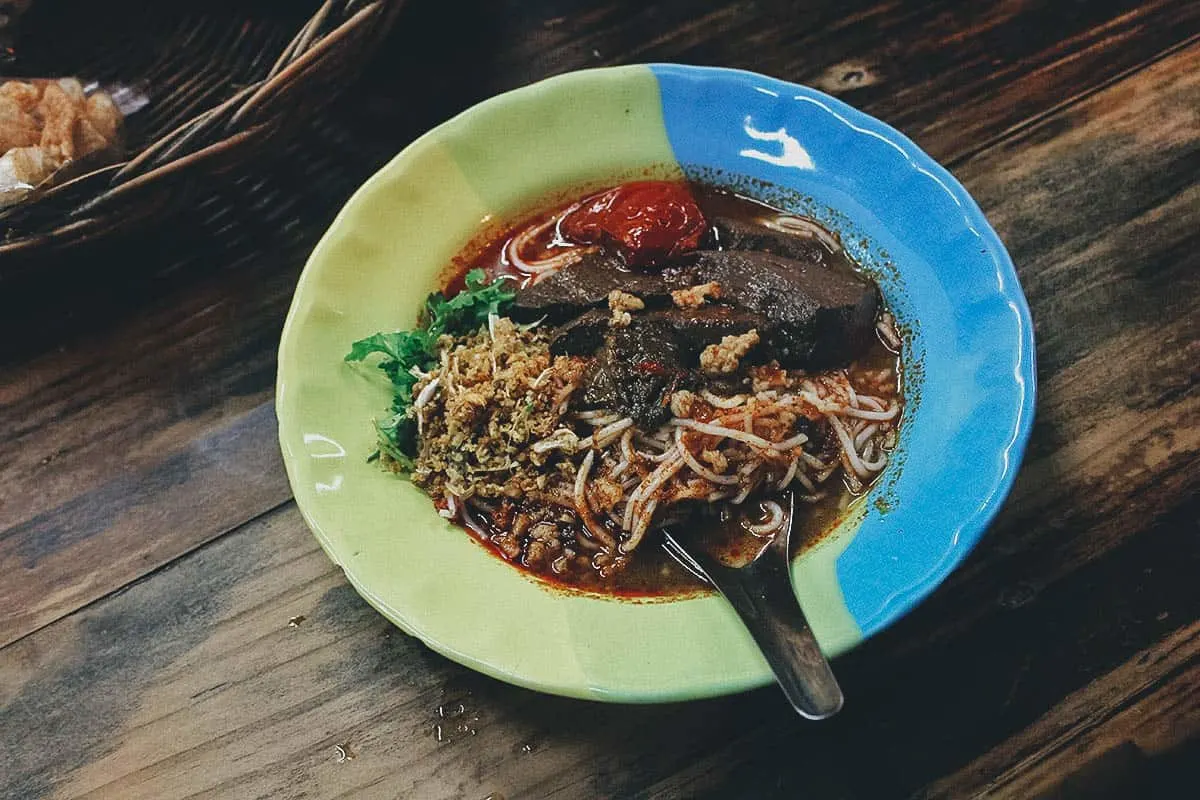 North Gate Food Stalls & The Legendary Cowboy Hat Lady
For the tour's last stop, we head back to where it all started, to the north gate food stalls which is just a short walk from Wat Lok Molee. Being so close to the Old Town, this is the only area on tonight's tour frequented by tourists. It's home to one of Chiang Mai's most legendary food stalls and vendors – Khao Kha Moo Chang Phueak and the Cowboy Hat Lady. More on that later.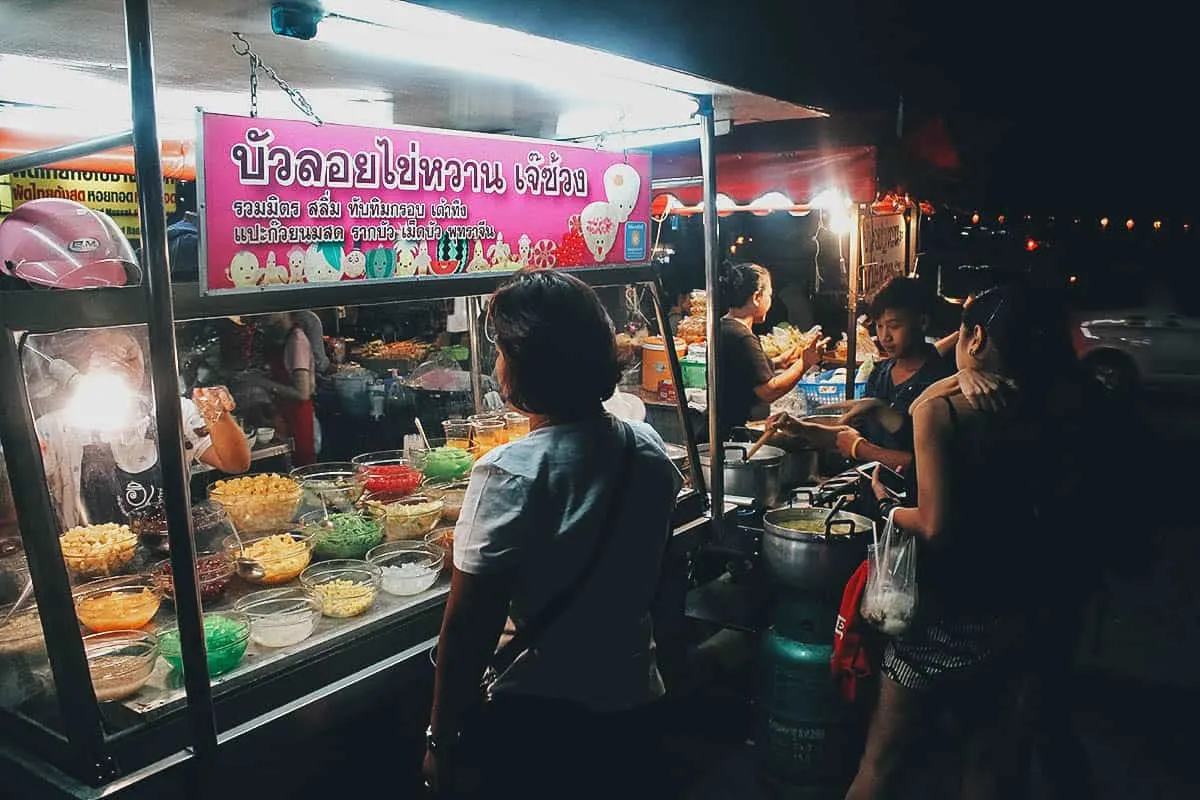 We were stuffed to the gills at this point so it was time to wind down with dessert. Pictured here are ingredients for a Thai iced dessert similar to halo-halo, a popular dessert in Filipino cuisine.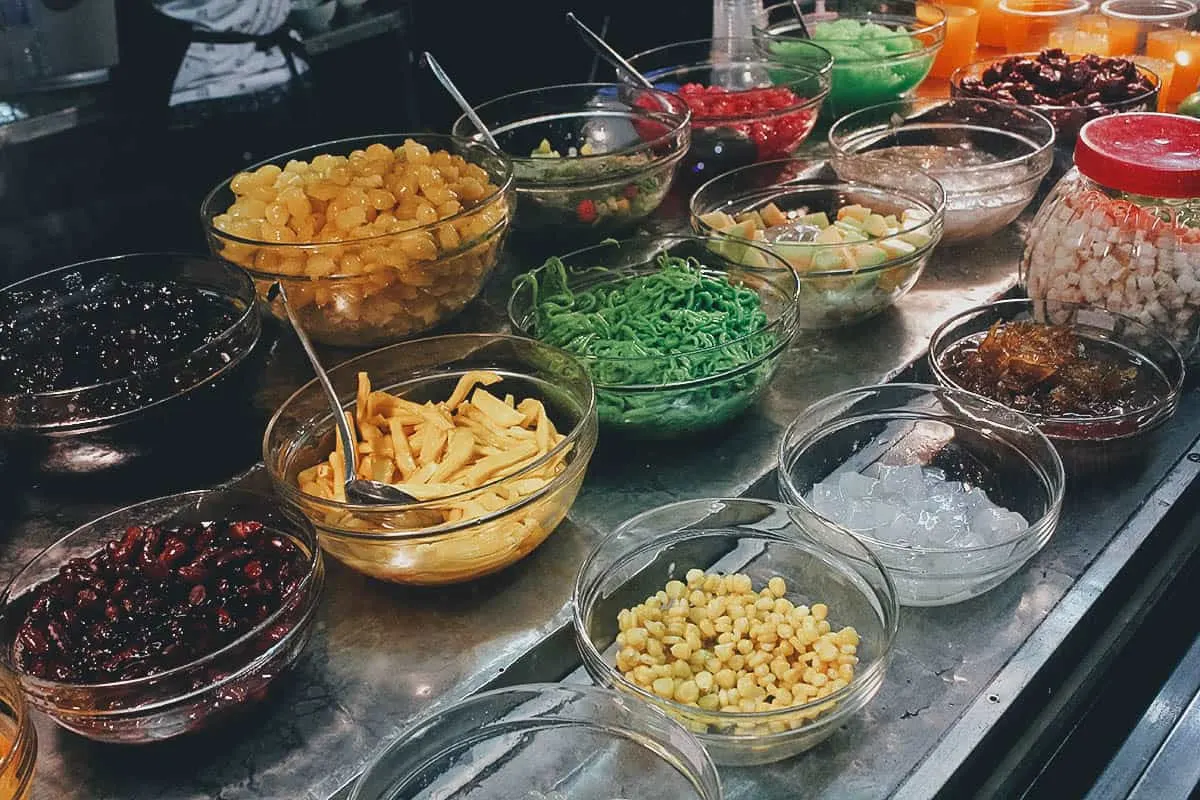 I don't know what it's called but the first dessert we tried was this dish made with what looked to be tapioca pearls in a coconut milk soup.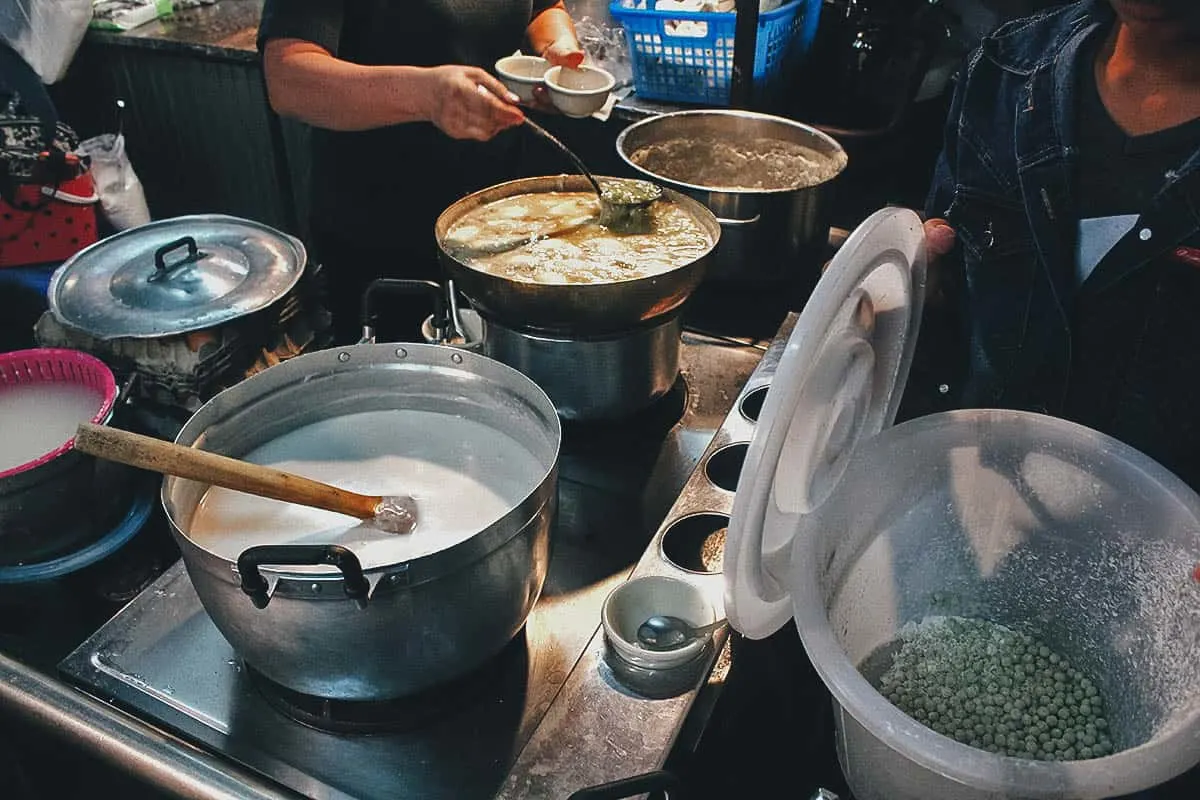 Here's a closer look. I'm not actually sure if those are tapioca pearls. Is that egg with it? I didn't catch the details of this dish but it was very good. Served warm, it's creamy and just mildly sweet.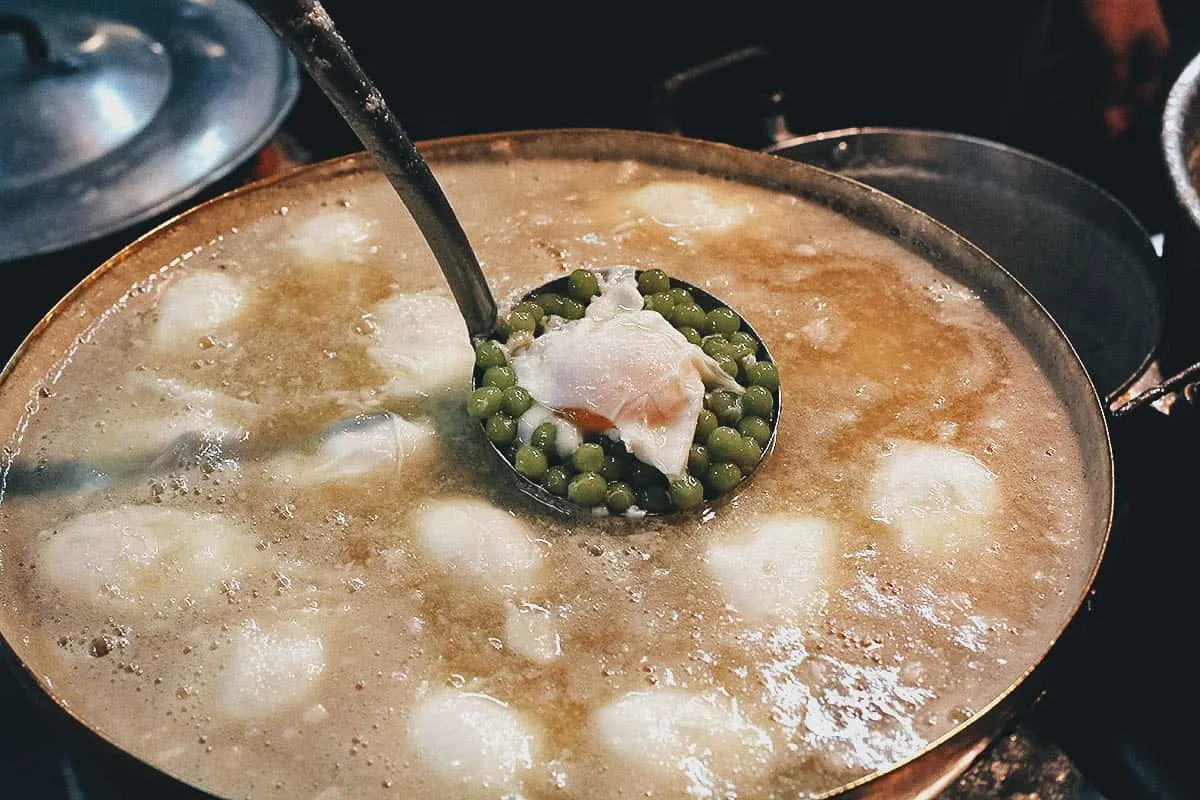 Aren't these pretty? Moui offered to get us fresh fruit smoothies but we were too full at this point.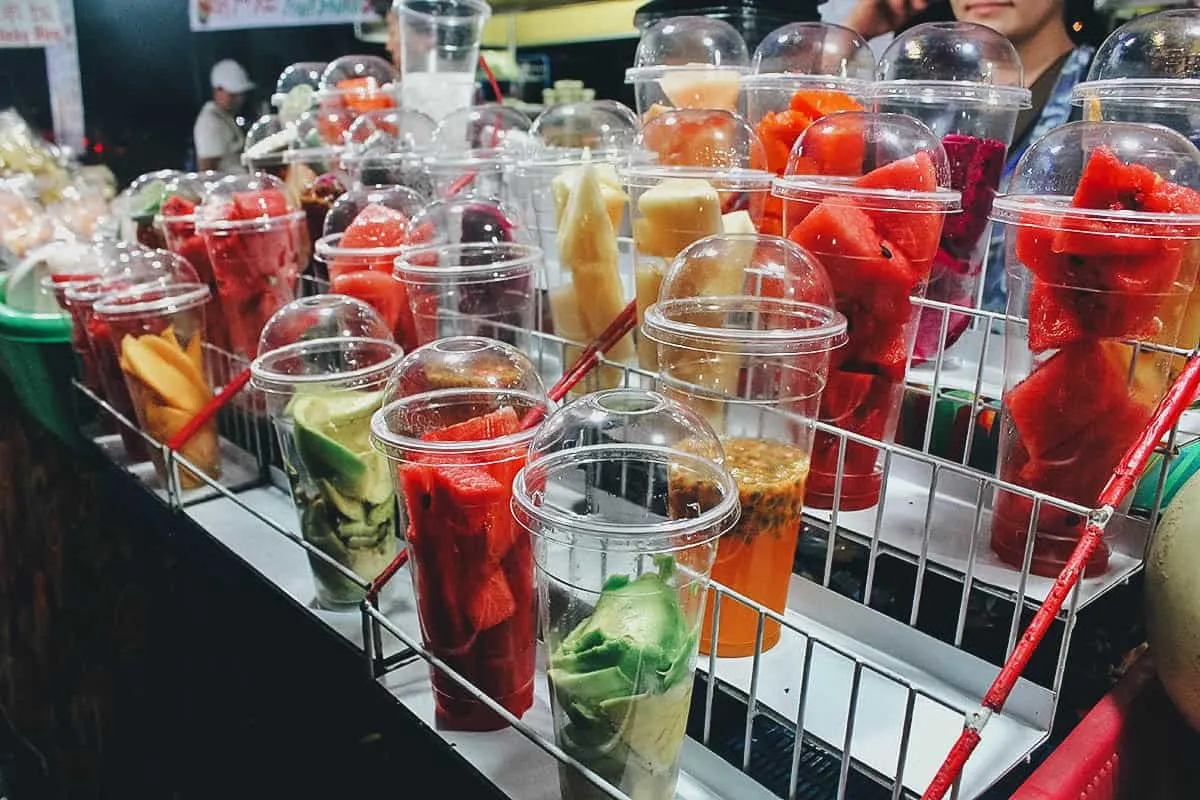 For tonight's final dish, Moui introduced us to a gingery bowl of silken tofu.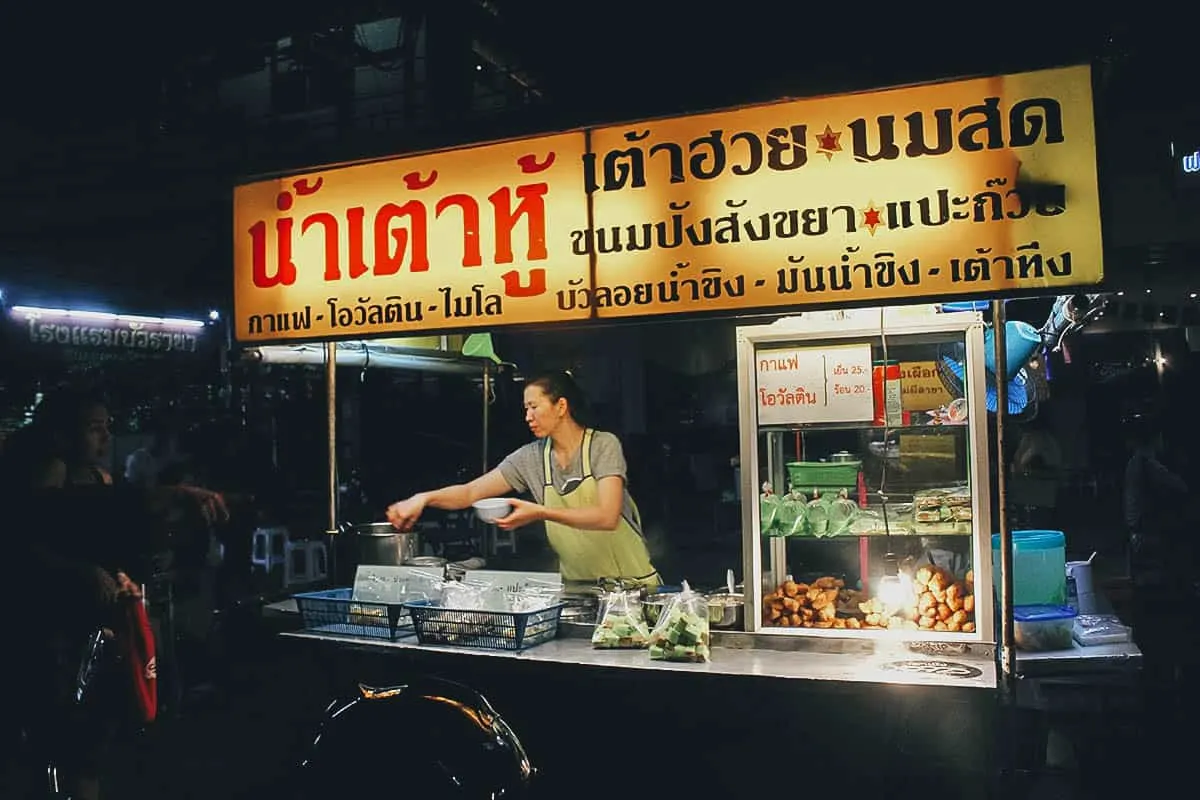 Taho or silken tofu with caramelized brown sugar is a popular street food snack in the Philippines. Called tau hu nam king, this Thai version is similar to that except it's made with a fiery ginger-infused syrup. It's sweet and spicy and leaves you with a slight burning sensation as it slides down your throat. It reminded me of a similar Vietnamese dessert called tàu hũ nước đường.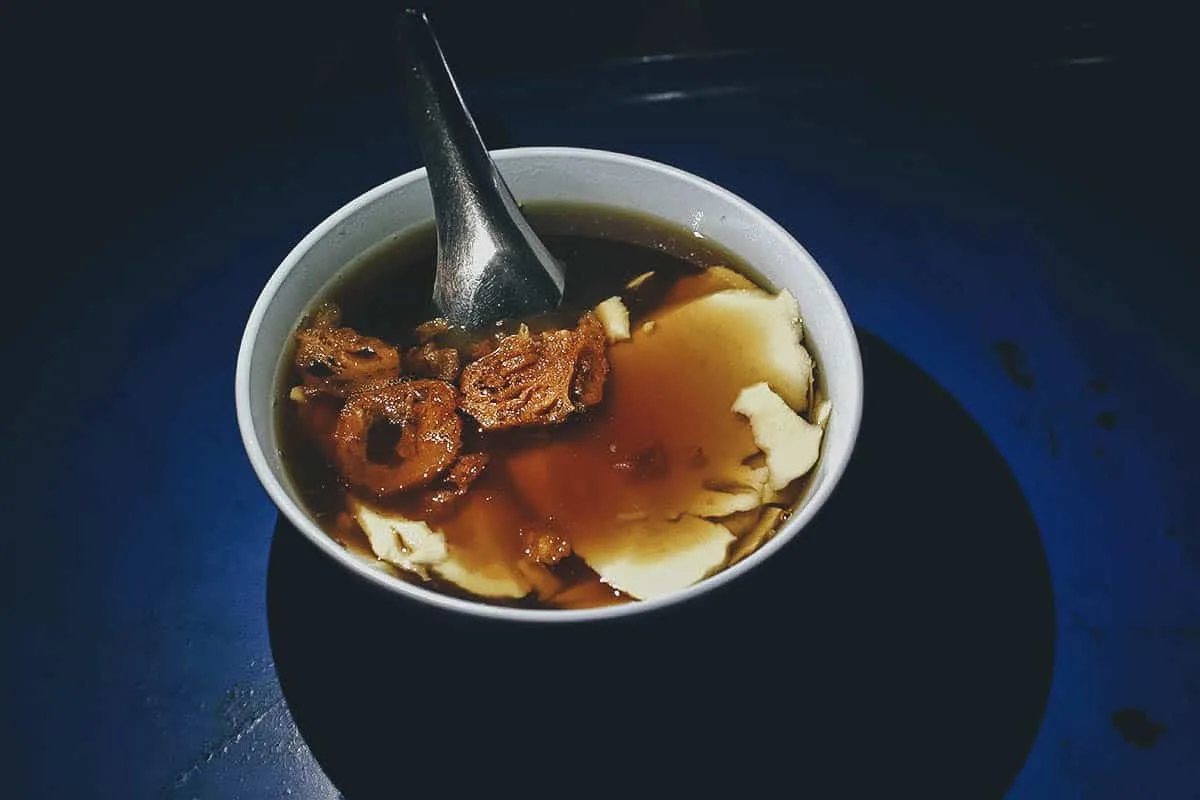 Here's Chiang Mai's famous Cowboy Hat Lady! Doesn't she look badass with that hat? Many people have described her as a Chiang Mai institution. From opening till closing, her tiny street food stall of braised pork leg over rice is constantly inundated with people. When we were there, cars and motorbikes would stop by the side of the road and get her food to go!
According to Moui, she started wearing the hat because the lights from her stall bothered her eyes. It turned out to be a brilliant piece of marketing because she's been known as Chiang Mai's Cowboy Hat Lady ever since. We had already tried her heavenly braised pork leg over rice a few days before so we decided to skip it, but this will be one of your stops on Moui's tour.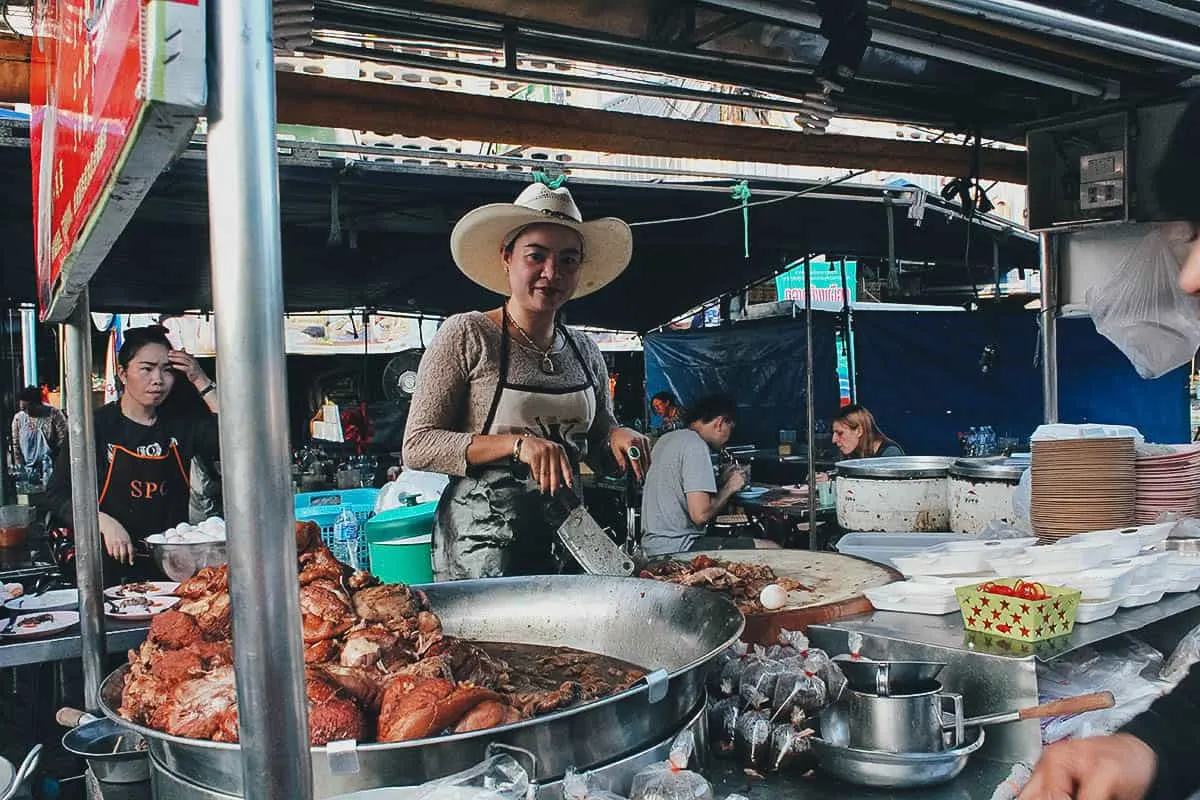 The cowboy hat may have been a clever marketing gimmick, but the success of her stall boils down to this plate of khao kha moo or braised pork leg cooked in Chinese five spice. Served over rice with a medium-boiled egg, the pork was exceedingly tender and practically fell off the bone. This is a definite must-try in Chiang Mai. Filipinos may recognize this dish as being similar to pata tim.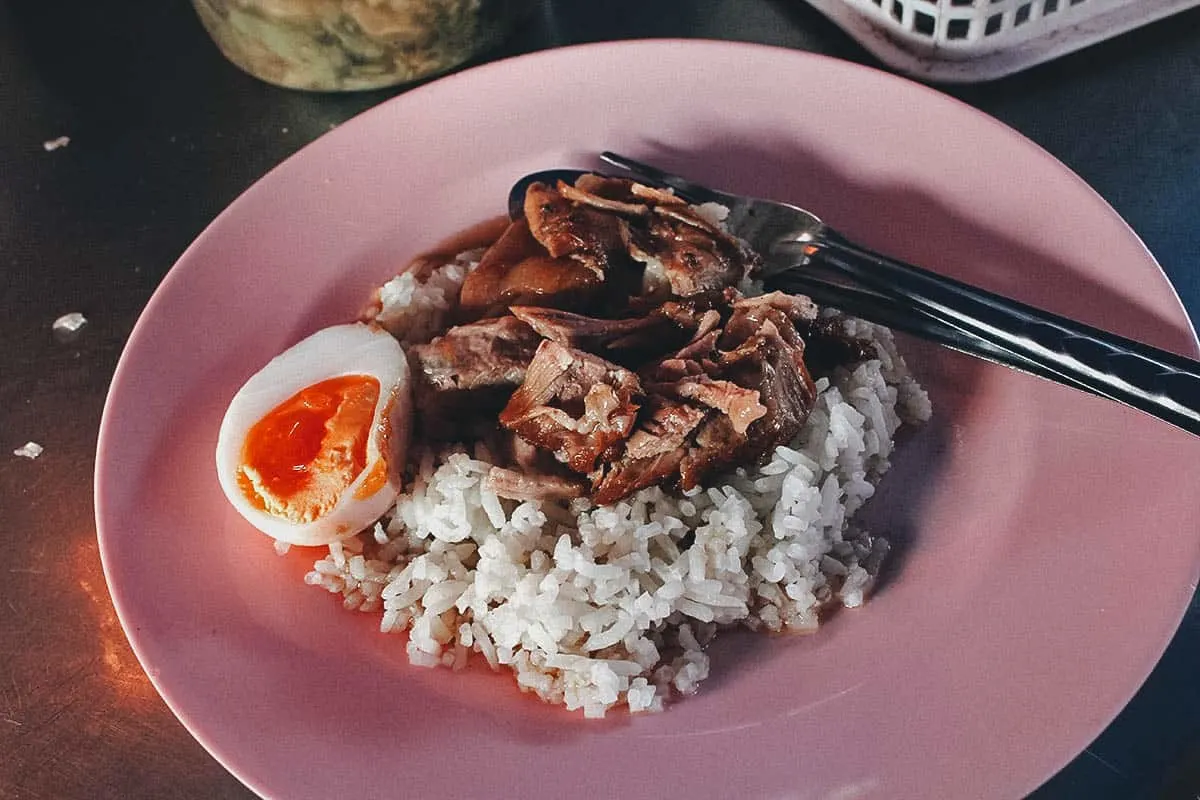 As described, we did the Bangkok Backstreet Food Tasting Tour so I expected this one to be a Chiang Mai version of that tour. But it's actually very different. While the Bangkok tour is a purely walking tour that takes you through the back alleys of Chinatown, this one is more a hidden restaurant tour that takes you to some of Chiang Mai's best local eateries. It's a deep Chiang Mai culinary experience that any serious food lover should do. If you're visiting both cities and have the time, then I strongly urge you to do both.
I posted pictures but I left out restaurant names out of respect for Moui and A Chef's Tour. If you want to experience any of the places mentioned in this post, then it's best for you to go on this tour. Moui is an enthusiastic and knowledgeable guide who can give you a much better explanation of all the dishes we had and the history behind them. With many of the eateries way off the tourist circuit, it'll be difficult for you to do this on your own anyway.
A Chef's Tour
Website: achefstour.com
Facebook: achefstour
Twitter: achefstour
Instagram: achefstour
Pinterest: achefstour
Email: [email protected]
Cost: USD 59 per person (inclusive of food)
Disclosure
By chance, I saw a tweet from A Chef's Tour inviting bloggers to join their tour for free in exchange for an honest account of the experience. Naturally, I jumped on it. As always, all words and opinions expressed in this post are mine and mine alone.
For more Chiang Mai travel tips, check out our First-Timer's Travel Guide to Chiang Mai, Thailand