EDITOR'S NOTE: Traveleater Valur Sævarsson from Reykjavik shares with us a list of ten must-try foods in Iceland.
According to many statistics, Iceland is one of the world's happiest and safest places on the planet. It's a remote island with a small population, which resulted in the locals being very peaceful and family-oriented, and there's a strong bond and trust within the community.
More than a third of the population lives around the country's capital, Reykjavik, which has over 200 restaurants in the center, serving traditional and modern Icelandic food. A very popular and beloved way to experience authentic Reykjavik food is the walking tours the city offers for tourists to experience the best Icelandic food.
Save This on Pinterest!
No time to read this Icelandic food guide now? Click on the save button and pin it for later!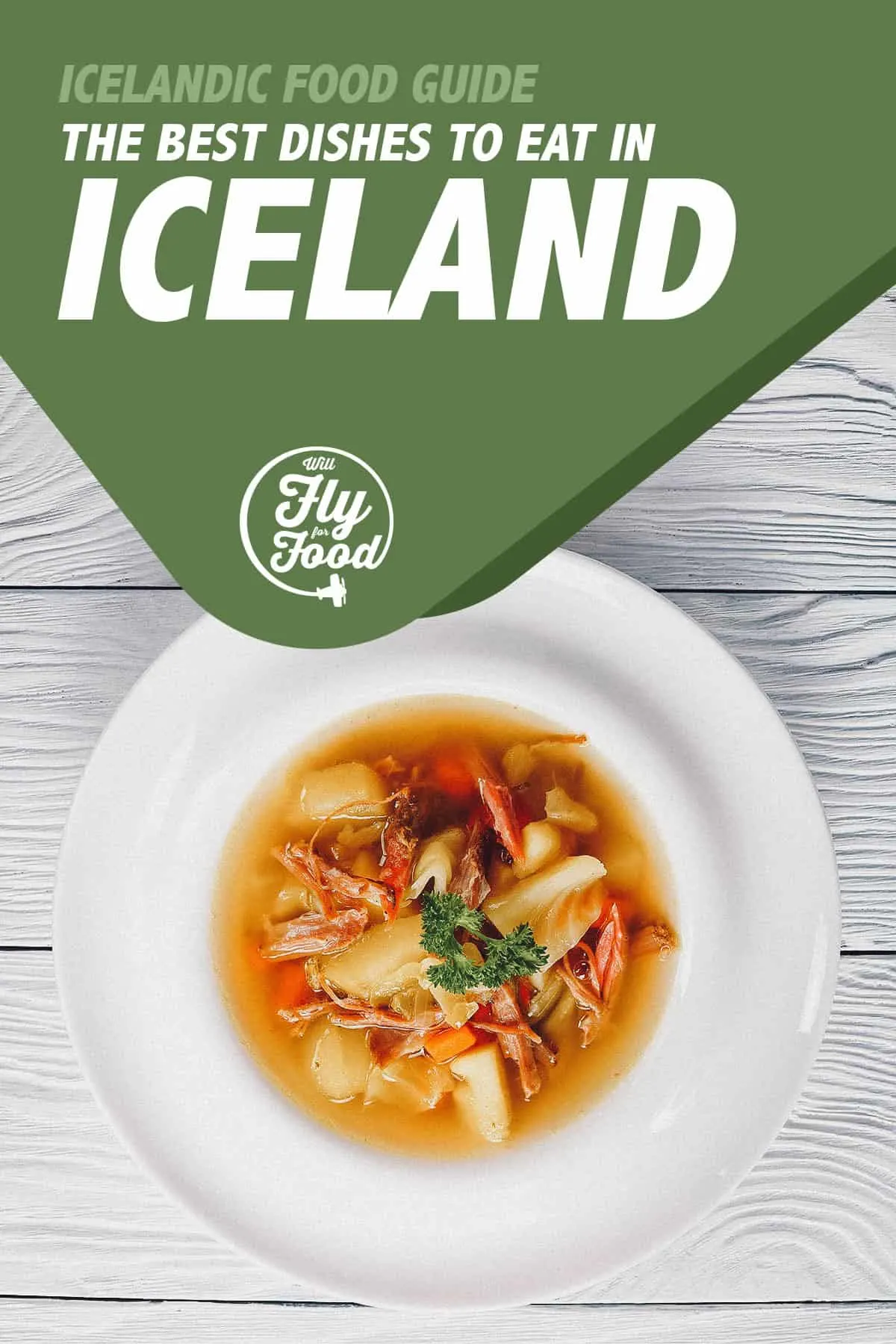 Photo by from my point of view via Shutterstock
WHAT IS TRADITIONAL ICELANDIC FOOD?
Traditional Icelandic food is made of all sorts of seafood and grass-fed lamb. Due to Iceland being a remote island south of the Arctic circle, surrounded by the cold Atlantic ocean, with a mostly barren land, there weren't many foods in Iceland available for the locals to eat, for long centuries.
The hard-built Icelanders (Íslendingar) had to endure the long and cold months eating lamb that they were breeding (since the first settlers brought them over with themselves) and catching seafood.
Luckily, the cold and clean Atlantic Ocean is home to one of the healthiest types of sea life. So while the traditional Icelandic cuisine could be called simple to some extent, it's one of the healthiest on the globe. The signature alcohol they consume is strong and spirituous, symbolising the relentless people of this land.
THE BEST ICELANDIC FOOD & DRINKS
1. Hangikjöt (Smoked Lamb)
Icelandic smoked lamb is the preferred Christmas dinner for the Icelanders. It's everything that a holiday Icelandic dish needs to be: very tender, healthy and delicious.
As lunch or dinner it's consumed as a warm dish, traditionally served with cooked potatoes, white bechamel sauce, peas, and pickled red cabbage. As a cold snack, it's similar to ham, that you can put on a slice of bread as topping.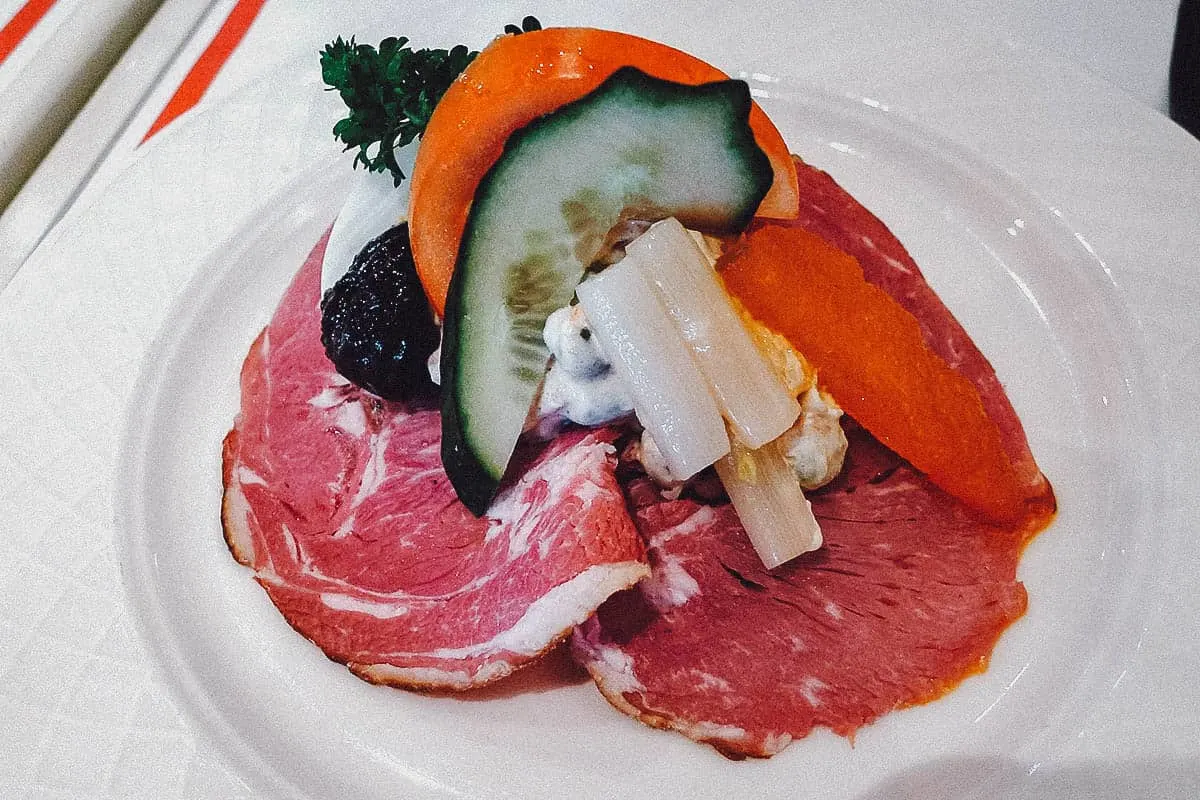 "Smoked Lamb" by Person-with-No Name, used under CC BY 2.0 / Processed in Photoshop and Lightroom
2. Kjötsúpa (Lamb Soup)
Kjötsùpa is considered by many to be the most national Icelandic food that you can name. It's originally translated to meat soup, because for long centuries lamb was equivalent to meat. There weren't any other types of meat to consume or very little.
Kjötsùpa is made from the organic, free-roaming, grass-fed lamb, and the collection of some hearty vegetables that the locals were able to grow on these harsh lands (such as potato, carrots, onion).
It's still a very popular food in Iceland, served in restaurants or made in households. Perfect for cold winter days to give you an energy boost.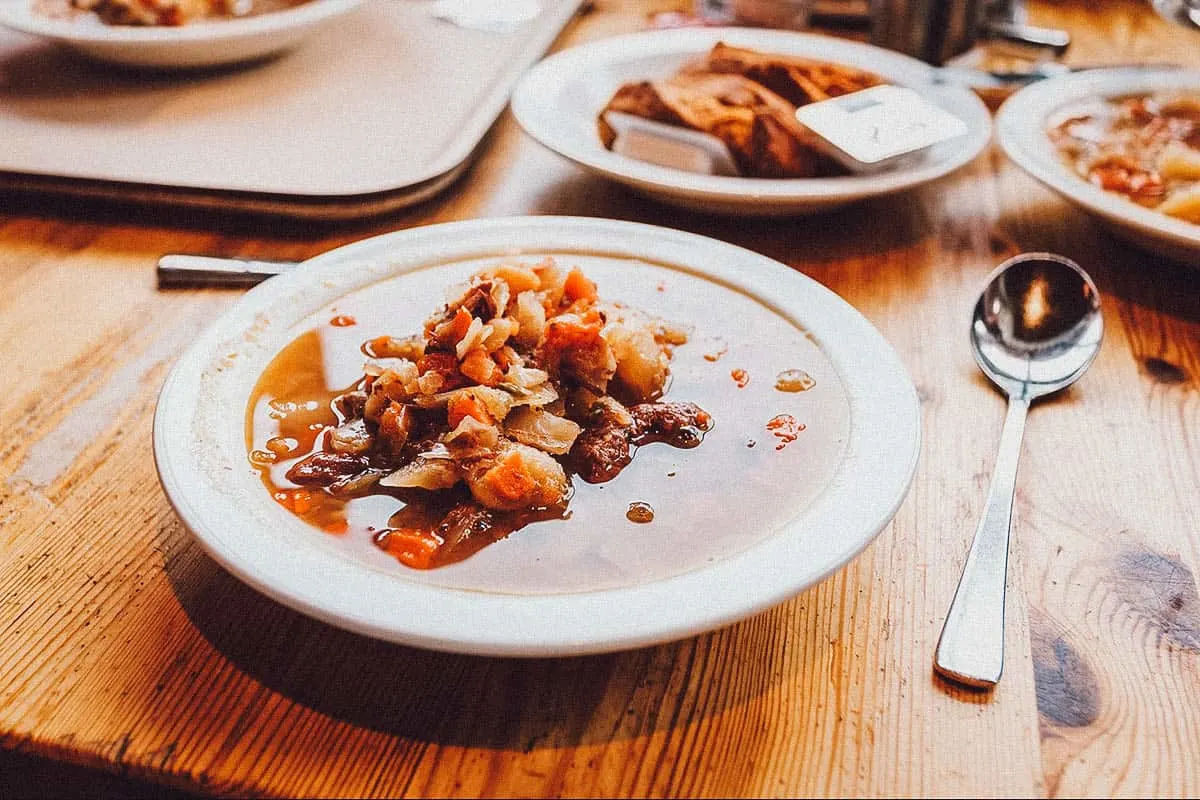 Photo by vvoe via Shutterstock
3. Pylsur (Lamb Hot Dog)
Icelandic lamb hot dog is beloved by locals and tourists alike. Reykjavik's notorious Bæjarins Beztu Pylsur hot dog stand (which translates to "best hot dogs in town") has been proudly serving them since 1936, near the harbor.
The signature Icelandic hot dog is made out of fresh Icelandic lamb, served on a warm bun, with raw white onions, crispy fried onions, topped with ketchup, remoulade (mayo, capers, mustard, herbs), and pylsusinnep (brown mustard).
4. Atlantic Cod
Perhaps after salmon, cod is easily the most popular and common type of saltwater fish in the world. We're certain you've already tried cod, because it's sold in supermarkets everywhere around the globe, but the one being caught or farmed in the Atlantic Ocean is the healthiest there is.
Thanks to the rich marine life of the Atlantic Ocean, Icelandic cod is able to consume a lot of healthy seafood and can grow quite large. This results in them not having many natural predators left so they're able to multiply fast and naturally.
Icelandic restaurants all have fresh cod on their menus, and many of them also offer "catch of the day", which can happen to be cod. Matur og drykkur, a Reykjavik restaurant that prides itself in being the protector of traditional Icelandic cuisine, also serves codhead, a centuries old dish.
This actually doesn't look as scary as it sounds. The codhead is being roasted in a barbecue for 40 minutes, and has a lot of tender, rich meat on it to consume.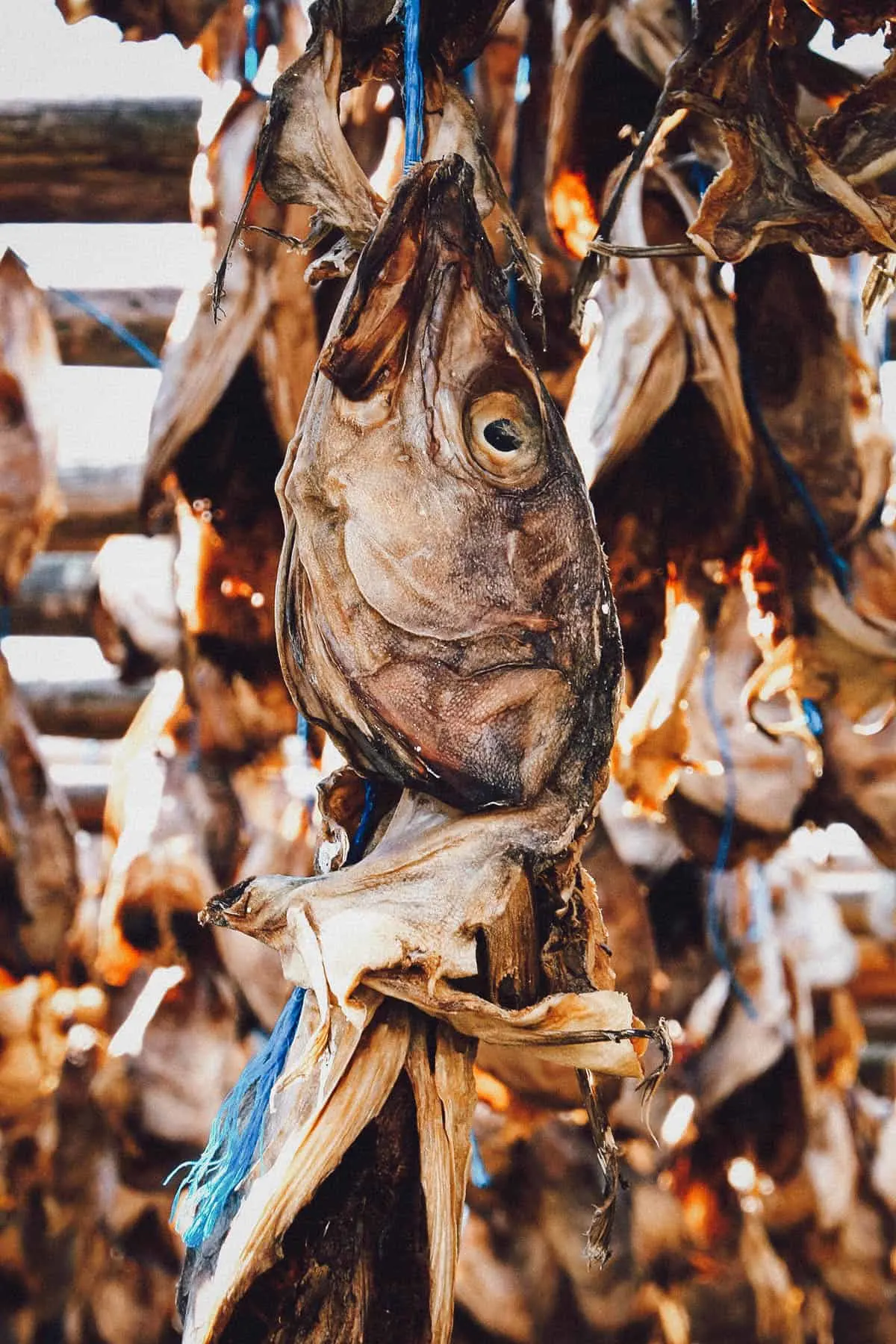 "Hardfiskur, Iceland" by DavideGorla, used under CC BY 2.0 / Processed in Photoshop and Lightroom
5. Langoustine soup
The Icelandic Langoustine (meaning small lobster) soup is one of the most sought-after dishes of Sægreifinn restaurant in Reykjavik. Icelandic lobster is caught in the wild (and never farmed) in the South Coast waters of Iceland.
The lobster has a very tender meat, rich in flavor, the lobster soup is creamy and salty, a real delicacy for any time of the year. It's consumed with either toast or baguette slices.
6. Plokkfiskur (Fish Stew)
Plokkfiskur is the national stew of Iceland. A simple but tasty mix of cooked and mashed Atlantic cod, flour, milk, potatoes and onions, seasoned with salt and pepper.
Centuries ago, the idea was to use and mix up all the leftovers from other Icelandic foods, hence the Plokkfiskur came to be. This practice and some others (for example eating codhead) are perfect characteristics of the old Icelandic mentality: food in Iceland was scarce and hard to come by, so they cherished it and never wasted a bite of it.
Plokkfiskur is a really good combination with homemade rye bread, a special Icelandic type of bread.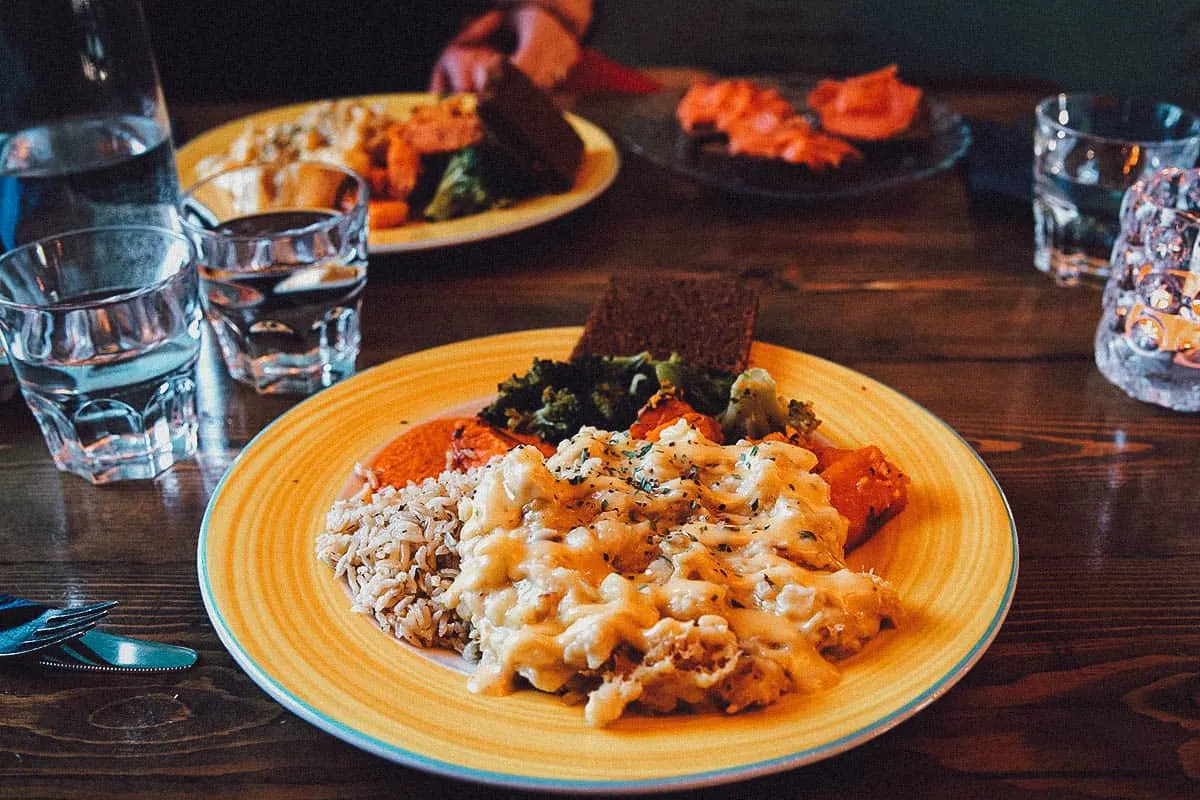 "Plokkfiskur" by Sheep"R"Us, used under CC BY-NC-ND 2.0 / Processed in Photoshop and Lightroom
7. Arctic Char
Arctic char is found in Icelandic fresh waters (Iceland has many crystal clear rivers, lakes and streams). It's the most common freshwater fish on the island and the country is the largest Arctic char producer in the world.
It's caught and also farmed, but no artificial products or medicaments are used on them. You might not be that familiar with this type of fish, but it is part of the Salmonidae family, which means it's closely related to salmon. It has a light, sweet and buttery taste, similar to salmon and also trout (somewhere in the middle between them).
Arctic char has a large variety of ways that it can be consumed. It can be cooked, smoked, grilled, broiled, barbecued, it can be consumed with mushrooms, vegetables, fries, you can get really creative with how you prepare it to fit your own taste.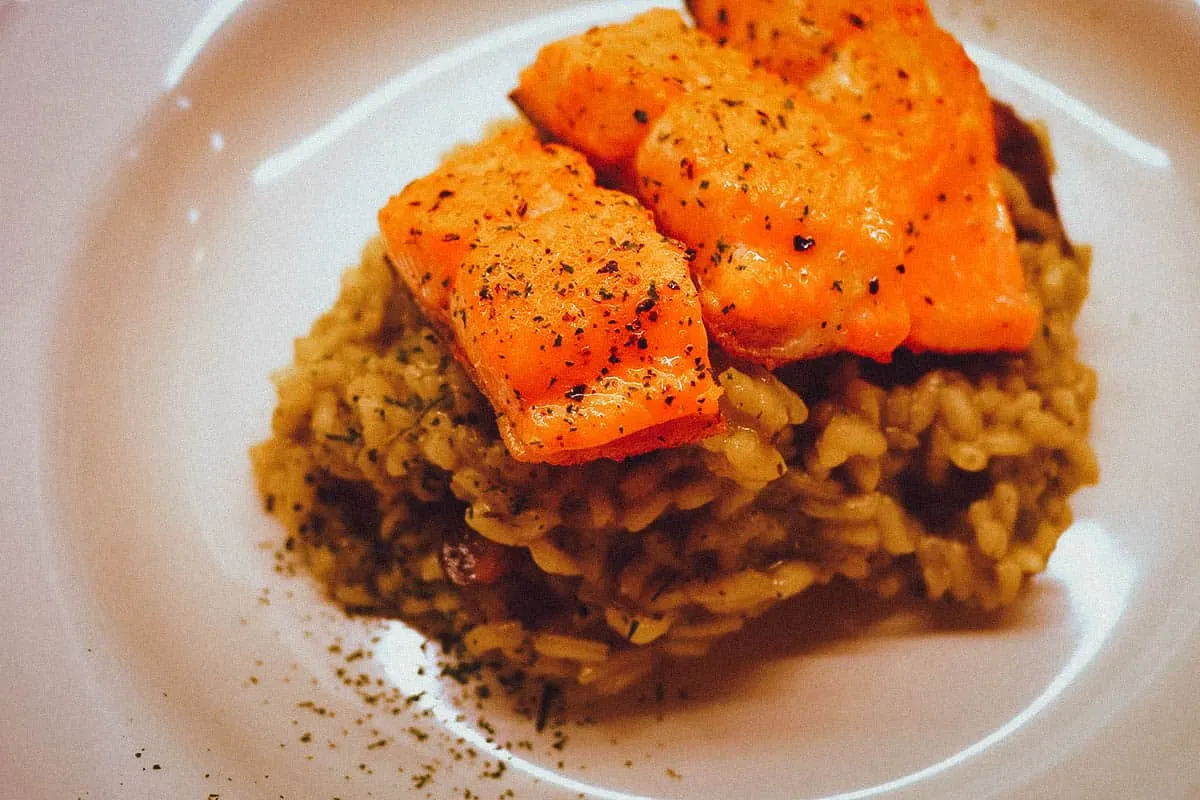 "Arctic char" by Aitor Garcia, used under CC BY-SA 2.0 / Processed in Photoshop and Lightroom
8. Brennivín
Now let's talk about some locally made or consumed Icelandic alcoholic beverages. We must start the list with Brennívín of course, also nicknamed Black Death, because you know, what else should a Viking drink be called?
Brennivín is a strong schnapps made of fermented grain, containing absolutely no added sugar, originating from Scandinavia, and it's an important part of Icelandic culture since the 16th century.
It is often consumed after main dishes (famously after the fermented shark dish called Hàkarl). It goes well with seafood plates.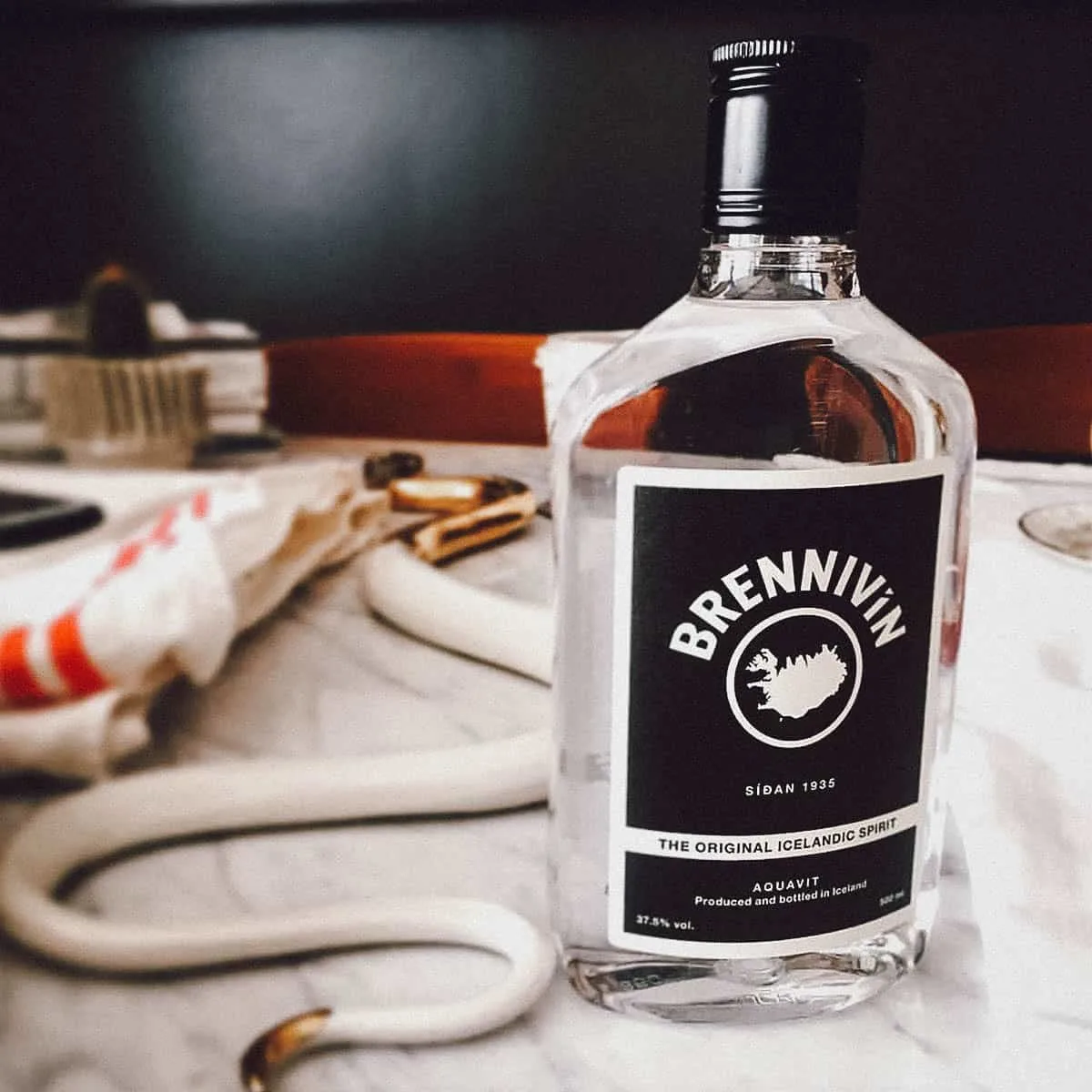 "Brennivin from Iceland" by Dennis Yang, used under CC BY 2.0 / Processed in Photoshop and Lightroom
9. Flòki Whiskey
The Icelandic Floki whiskey is named after the first settler who stepped on Icelandic soil, a Norseman called Hrafna-Flòki. It is strictly made only from ingredients found in Iceland (freshwater, herbs, barley).
Its taste palate is vanilla, white coffee, fresh bread, pepper, and bubblegum, with a spicy finishing taste.
10. Opal & Tòpas
The Icelanders' favorite liquors taste like menthol and eucalyptus, and are consumed since childhood (OK let us explain).
The company who makes these spirits also produces non-alcoholic chewable candies, with the same flavors, so Icelandic children are already familiar with the flavors of this drink from a young age, before being old enough to start consuming the actual alcohol.
By the time they are allowed to drink Opal and Tòpas, the taste of these beverages are associated with their good old memories, and favorite candies. We can't decide if that's genius or mad, but it surely does seem to work in Iceland.
FINAL THOUGHTS
by JB & Renée
We haven't been to Iceland but it's on our list. When people talk about it, they're at a loss for words when trying to describe its unearthly beauty. It's known to be one of the most beautiful places on the planet.
Many tourists who travel to Iceland are lured by its natural beauty but it's nice to know that the traditional foods in Iceland are a draw in itself. Thanks to Valur, we now know that Icelandic food is something to look forward to as well.
If you're planning a trip to Reykjavik and enjoy trying new food, then I hope this Icelandic food guide leads you to some memorable meals.
Thank you Valur for sharing this insightful article on Icelandic food!
Disclosure
Some of the links in this Icelandic food guide are affiliate links, meaning we'll get a small commission if we make a sale at no added expense to you. We only recommend products and services that we use ourselves and firmly believe in. We really appreciate your support as this helps us make more of these free travel guides. Thank you!