Like you, we enjoy going on tours when we travel. We've been lucky to have knowledgeable guides who can explain to us the history of a UNESCO World Heritage Site or take us to the least touristy floating market. Some are more enthusiastic than others but most, if not all, do a good enough job in reciting the facts to us in clear, albeit rehearsed detail.
But once in a while, we'll get lucky and wind up with a guide who's so in love with what they do. They have such a passion and connection to the place they're showing us that their faces light up when recounting its history.
They don't speak in practiced monotone, they don't fumble for lines or struggle to answer questions. They share facts then color it with their own personal anecdotes and experiences, details that bind them to that place and bring it to life.
They tell stories about walking down that historic alley as a schoolgirl and eating that iconic street food snack at festivals. They describe a place with so much love and enthusiasm that in the end, you can't help but fall in love with it too.
Pema, a true-blooded Phuketian from A Chef's Tour, is that kind of guide.
Save This on Pinterest!
No time to read this now? Click on the red save button and pin it for later!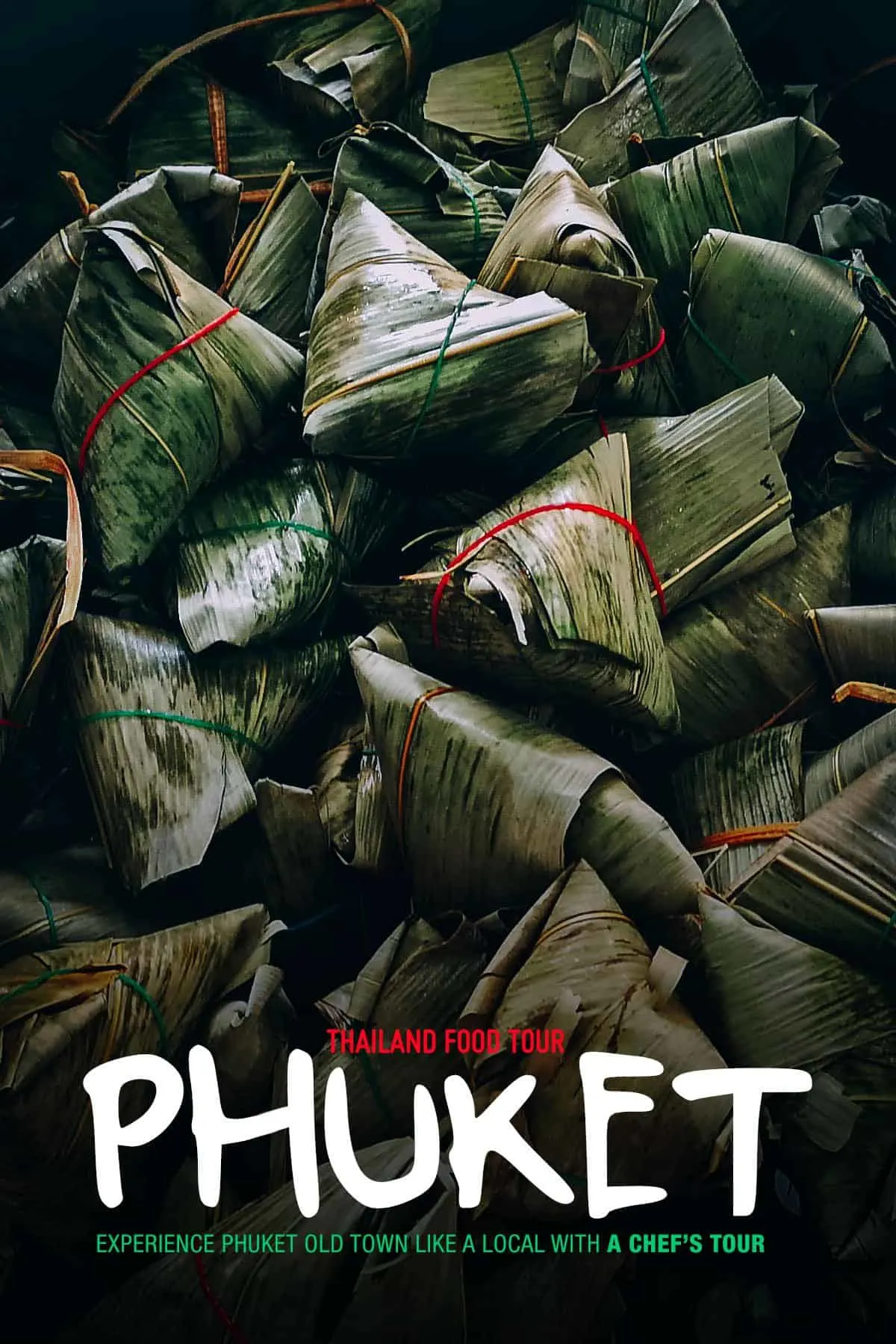 Phuket Old Town Food Tour
A Chef's Tour is a tour provider that offers these fascinating food-focused tours in Thailand and India. Apart from this one, they offer tours in Bangkok, Chiang Mai, and Pai in Thailand, and Mumbai, Delhi, and Kolkata in India. They'll be expanding to more cities in other countries as well. If you like to traveleat like we do, then you're going to love A Chef's Tour.
This is Pema. She was born and raised in Phuket and knows this town like the back of her hand. We met up at the steps of Phuket Town Central Market where she'd give me a brief tour before taking me around her city. This Phuket Old Town Food Tour costs USD 59 per person and lasts over four hours. You can book it on A Chef's Tour or Get Your Guide. Be sure to check both links as one or the other may be offering a discount.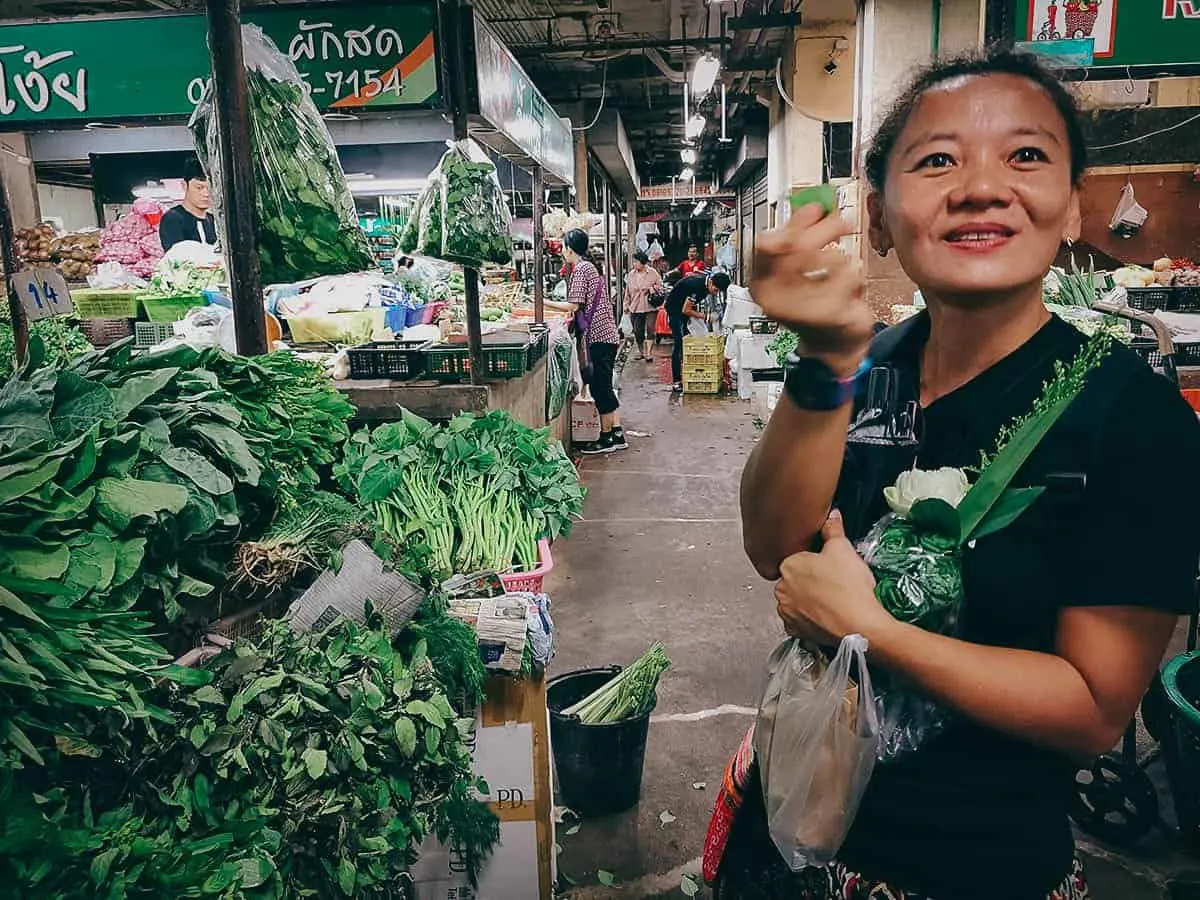 Pema took me around the market where I watched people do typical market things like fermenting vegetables and extracting milk from fresh coconuts. She'd pick up a few bags of Phuket Thai food from notable stalls which we'd eat shortly after this market visit.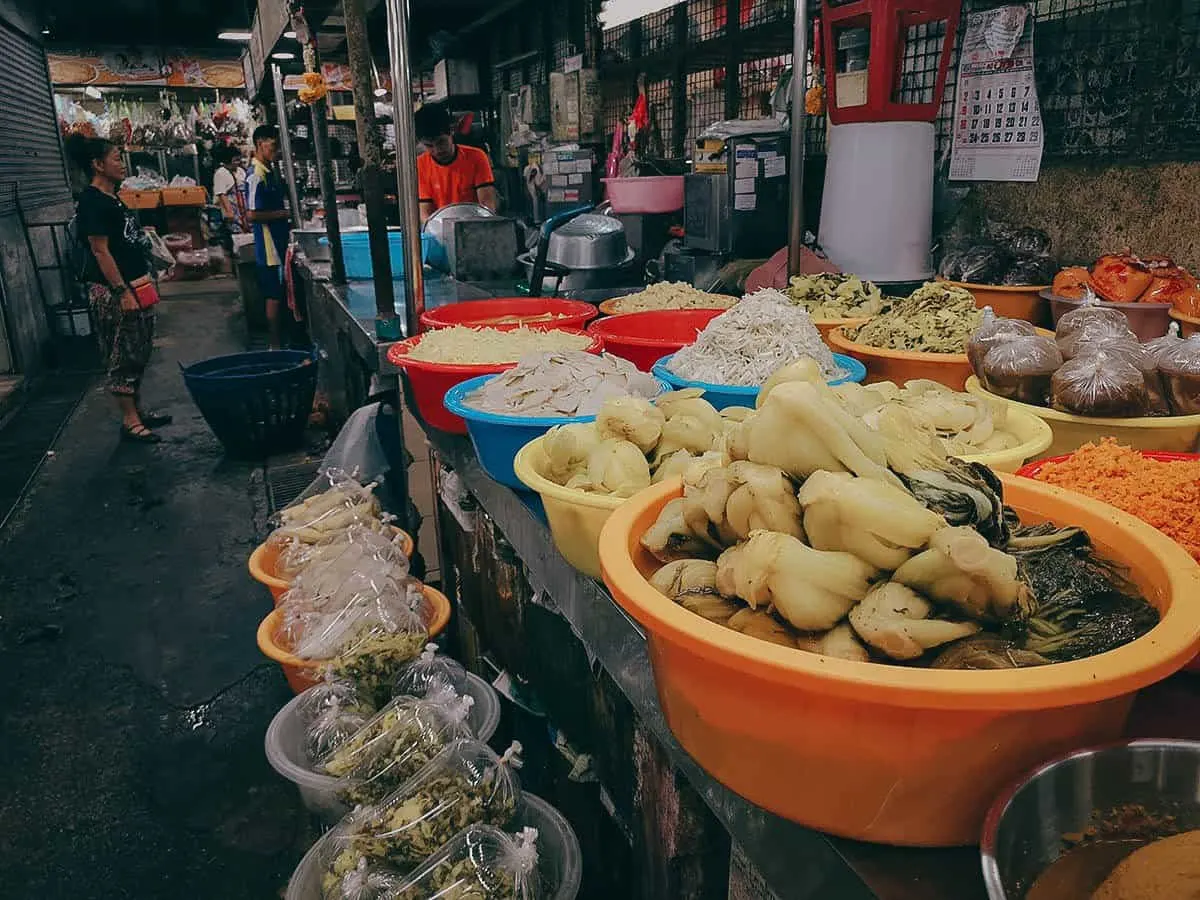 A spread of fresh vegetables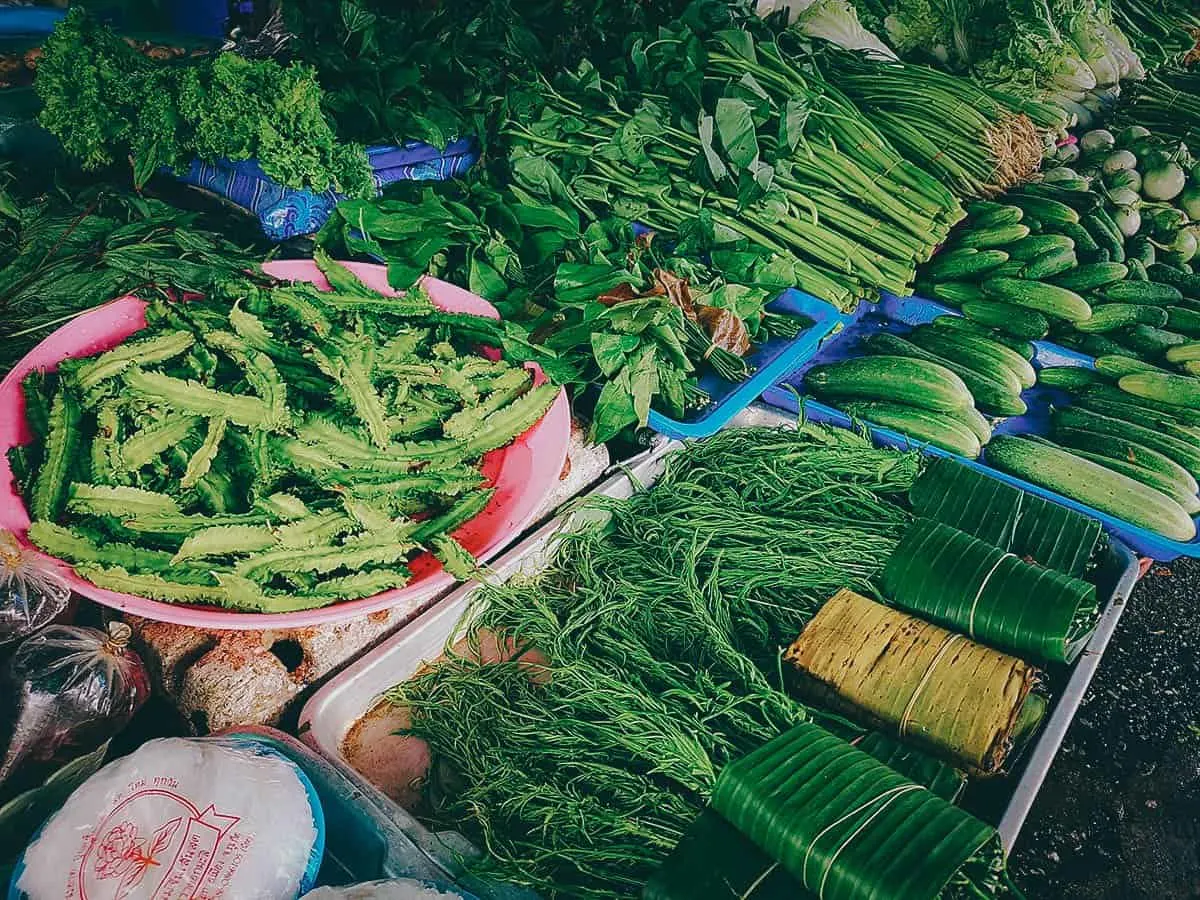 We made a quick stop at this Thai Muslim stall. Pema is a gregarious person who knows many of the shopkeepers and business owners in town. She'd stop and spend a few moments chatting with everyone, which made for more fun and personable encounters. I couldn't understand anything but I could tell they were having fun.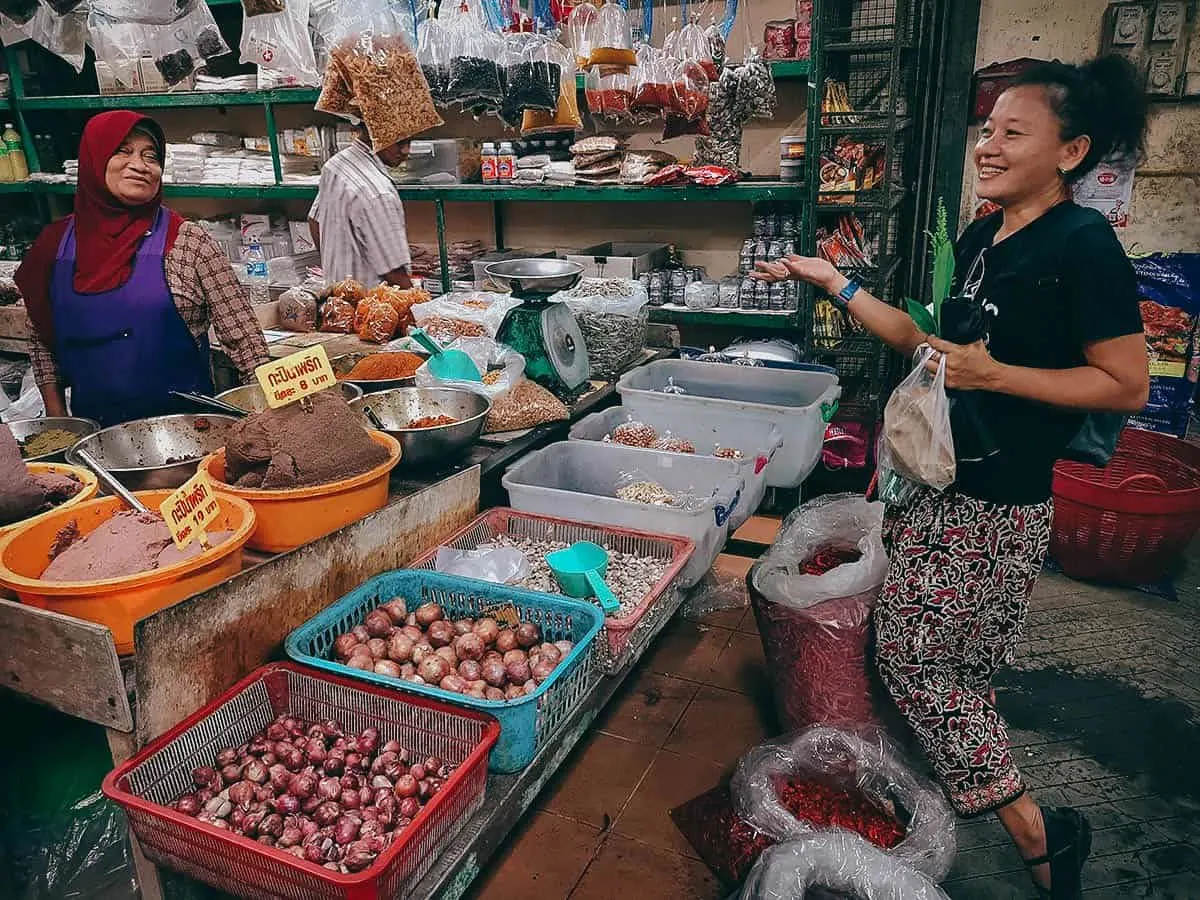 After leaving the market, we proceeded to this Burmese tea shop and restaurant to have our first meal.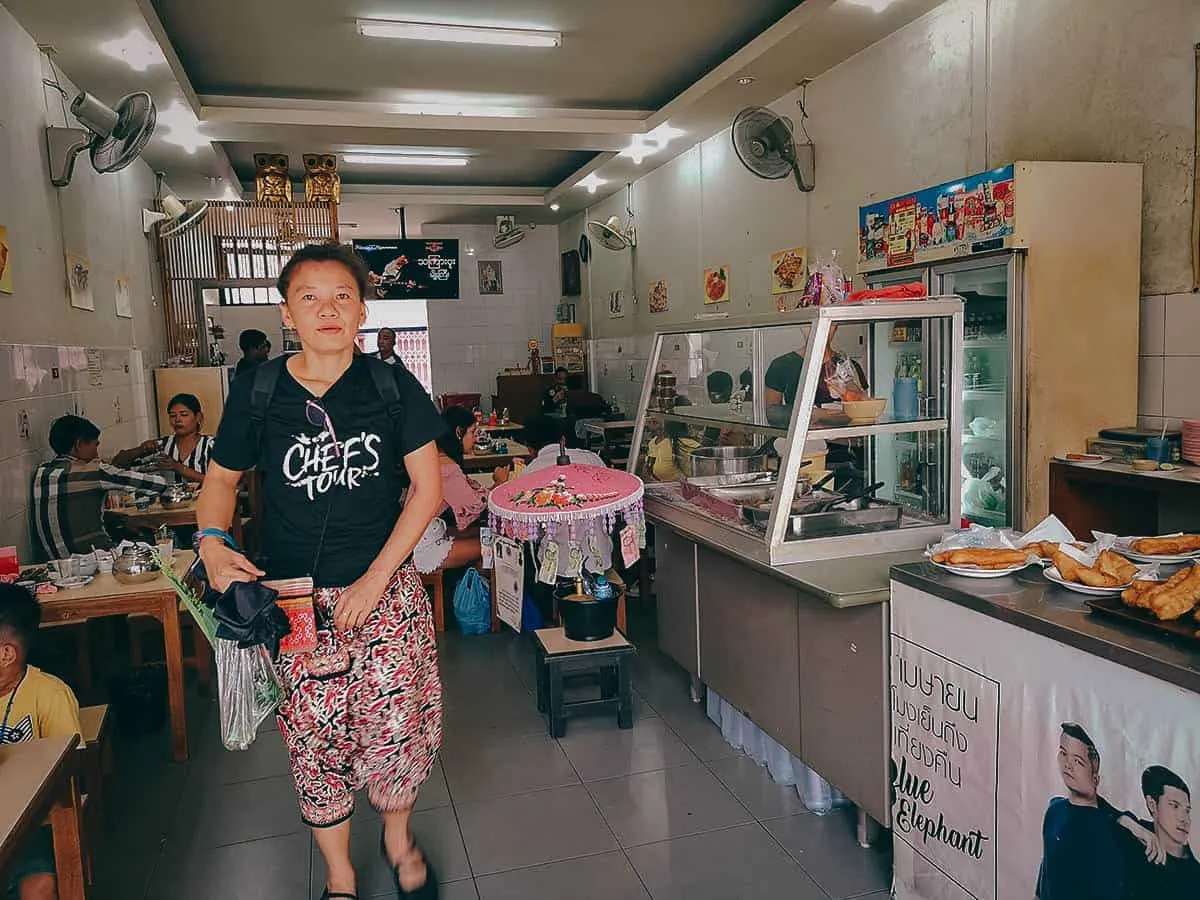 Here we enjoyed a spread of freshly baked naan bread, samosas, chickpea daal, and Burmese beef curry, along with the goodies Pema bought from the market. Can you believe this was just the first of about ten food stops we'd be making today? I've been on almost all of these food tours from A Chef's Tour and every one of them offers a surprising amount of food. Remember to pace yourself if you go on this tour!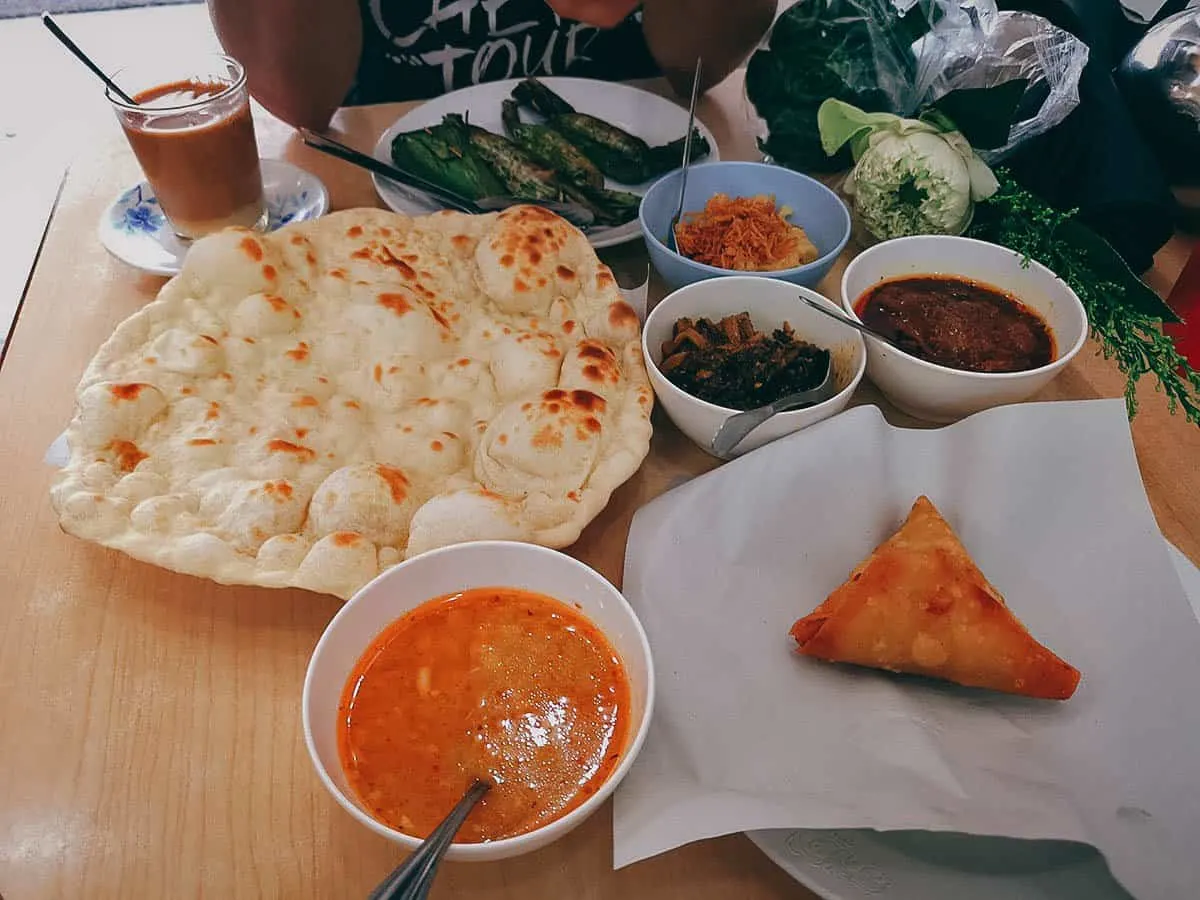 Pema breaks open and shows me the savory filling inside this glutinous rice snack. It's wrapped in banana leaves then grilled over coals.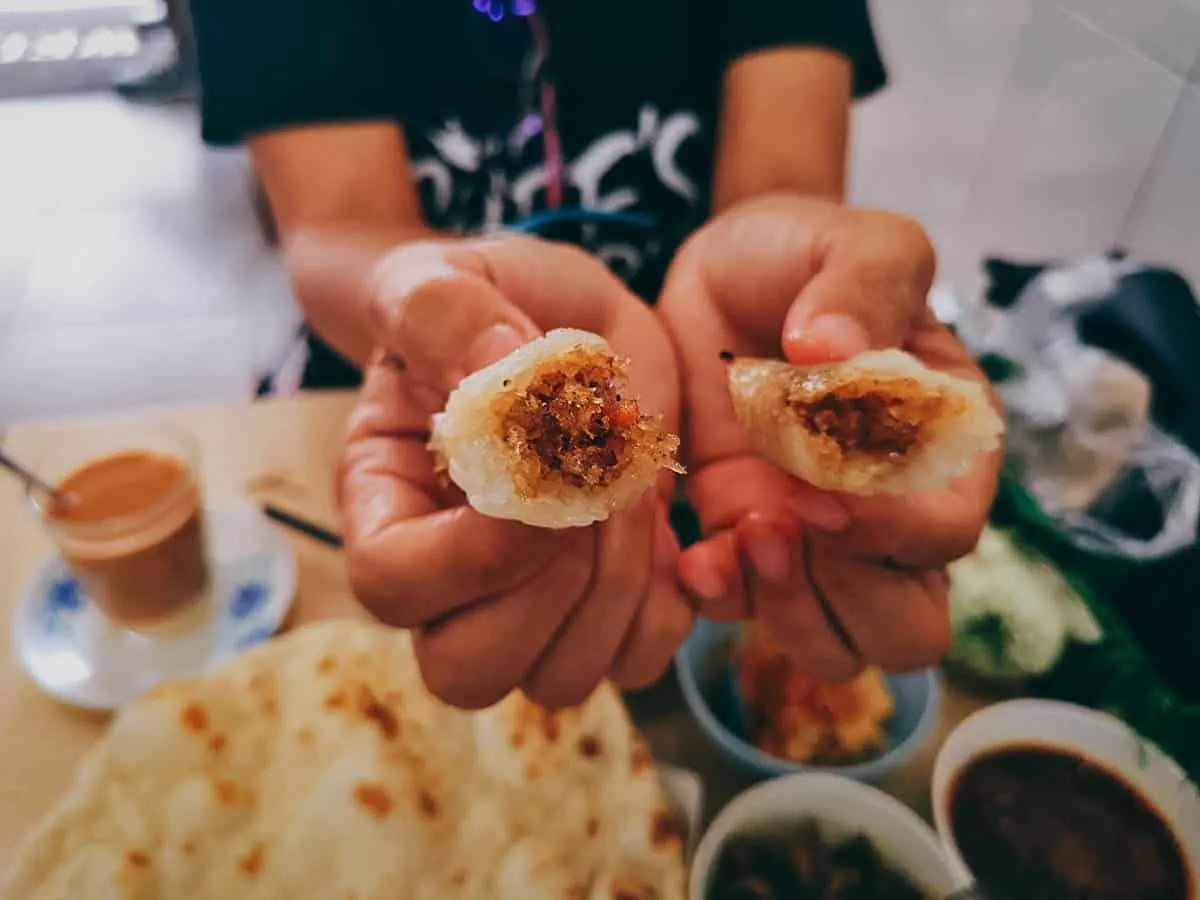 A delicious bite of Burmese beef curry wrapped in fluffy naan. I had my first experience with Burmese food in Chiang Mai and learned that the cuisine is a mix of many influences, most significantly Indian, Chinese, and Thai. The dishes we had today were clearly Indian-inspired.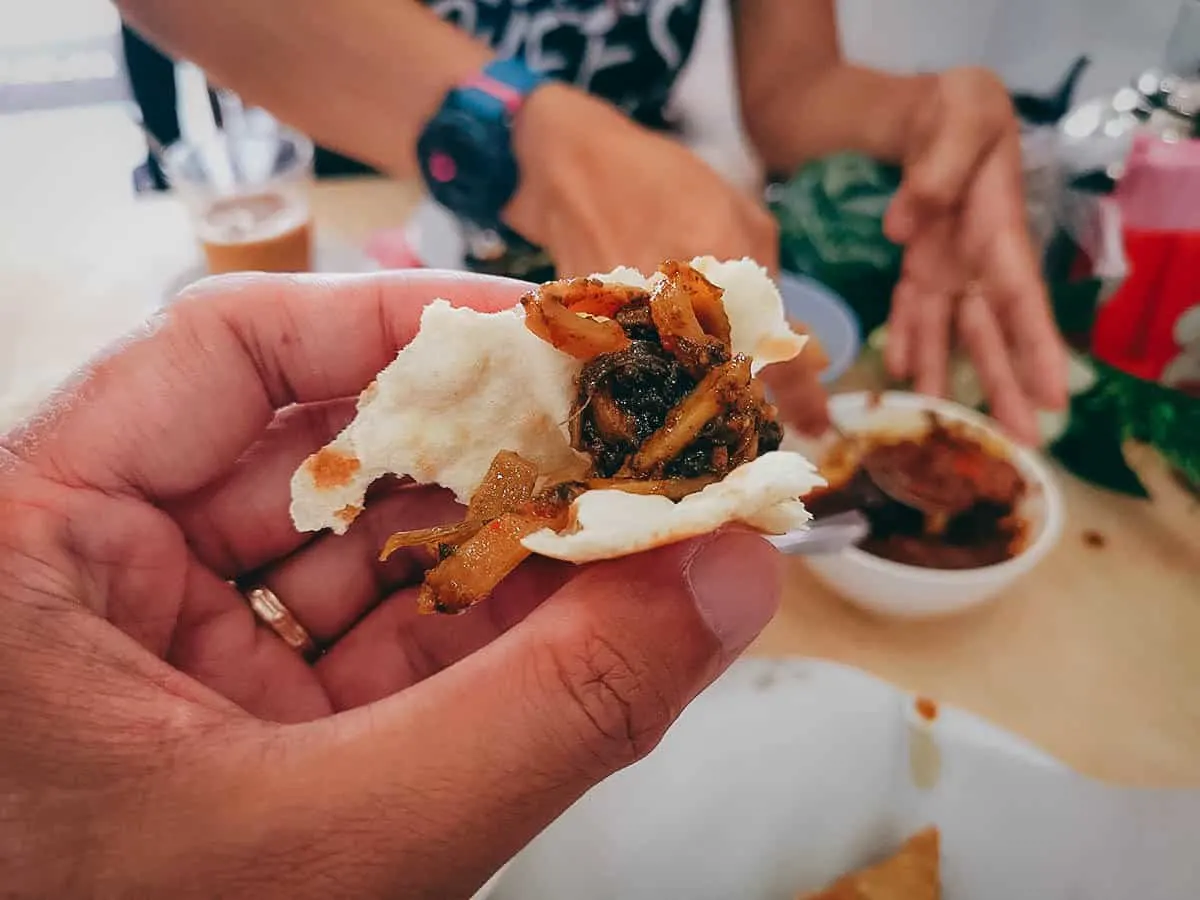 Pema told me that every October, Phuket hosts a big vegetarian festival that's become famous for its extreme celebrations. The festival is founded on the belief that abstinence from meat during the 9th lunar month leads to good health and peace of mind.
One of the popular dishes to eat at the festival are these steamed banana leaf parcels filled with glutinous rice. Similar dishes exist throughout Asia but in Thailand, I believe they're called bajang. According to Pema, this family-run shop makes some of the best in Phuket.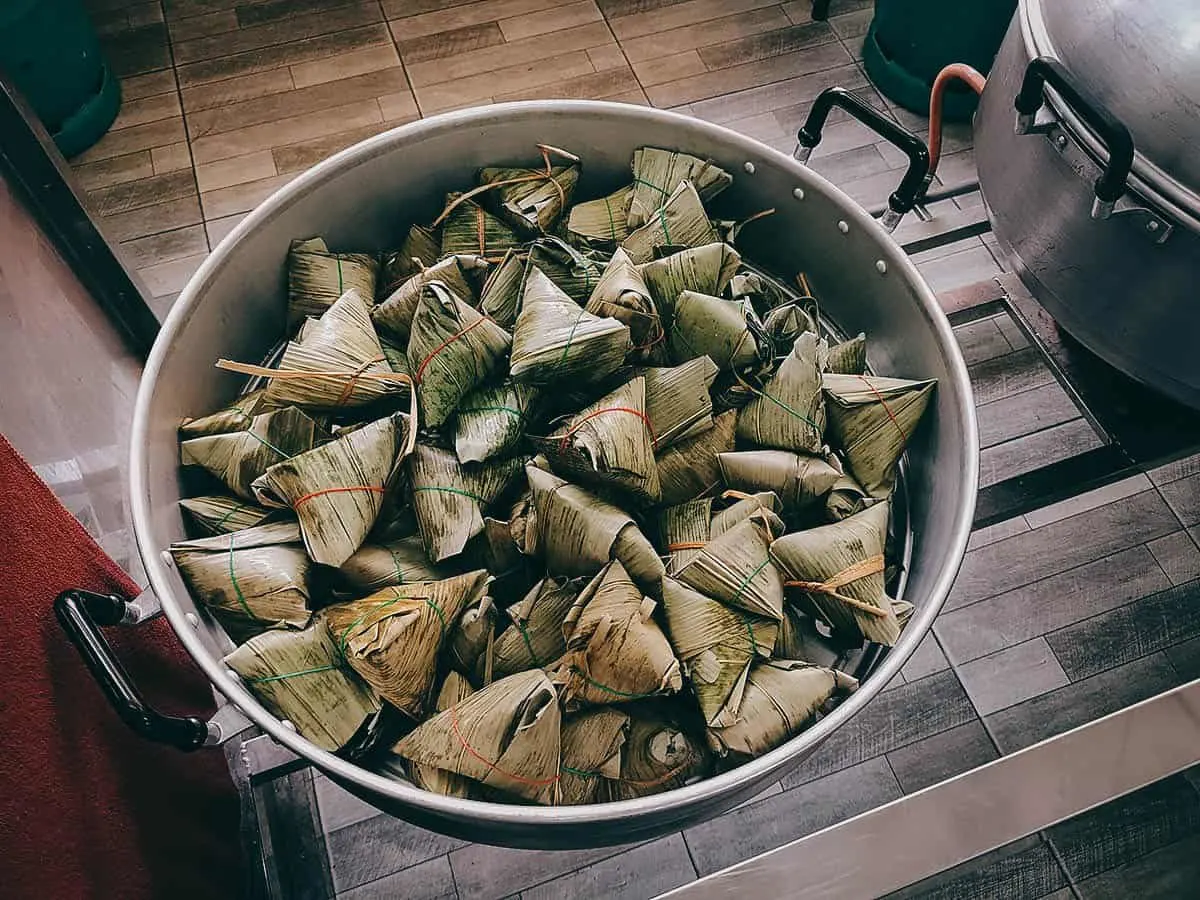 Here they are assembling the rice parcels. If I remember correctly, the shop is now being run by the third generation owner/cook. Pema said that he's got some creative flair in the kitchen and often puts his own spin on traditional dishes like bajang.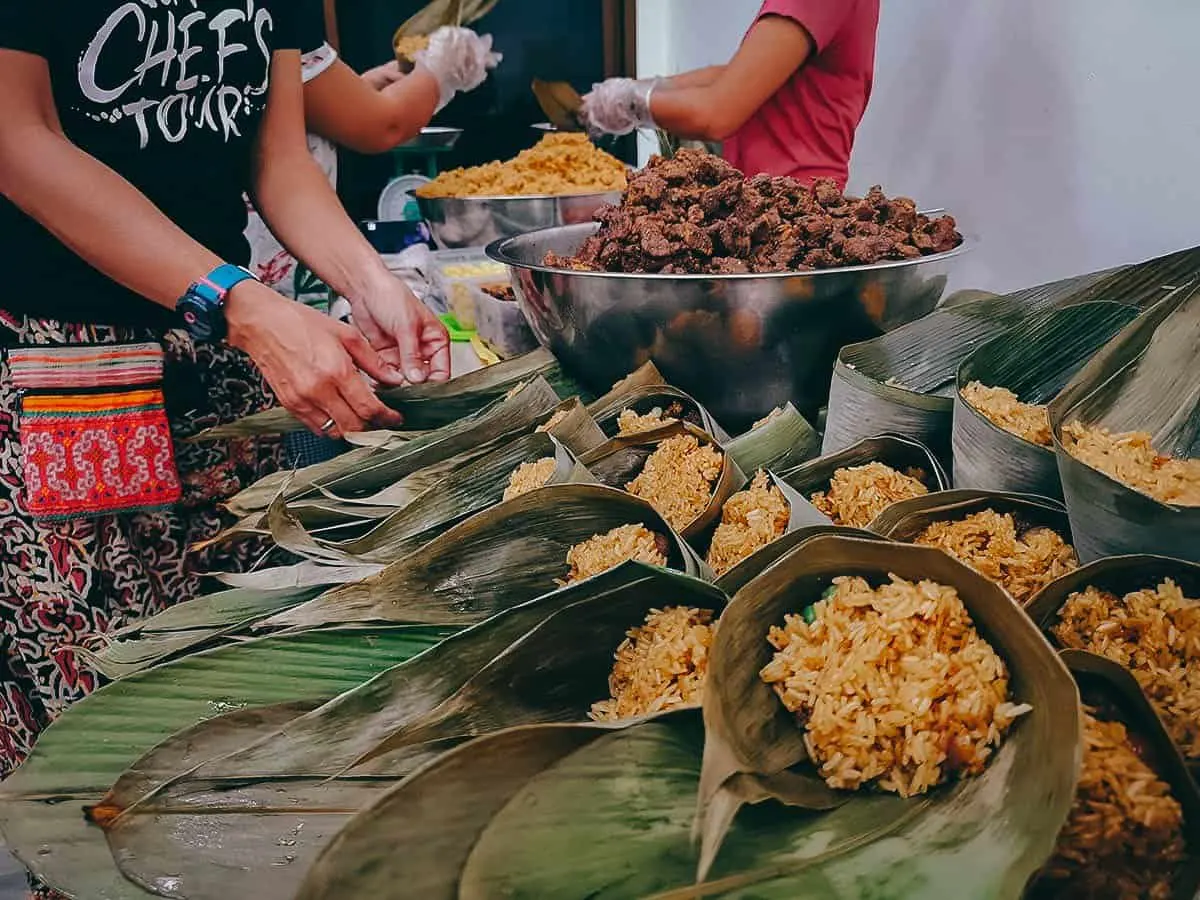 This is what the bajang looks like. It's basically glutinous rice mixed with spices and a variety of ingredients like chestnuts, mushroom, red bean paste, mung bean, and different types of vegetables and meat. Since it wasn't the time of the festival, we had ours with pork.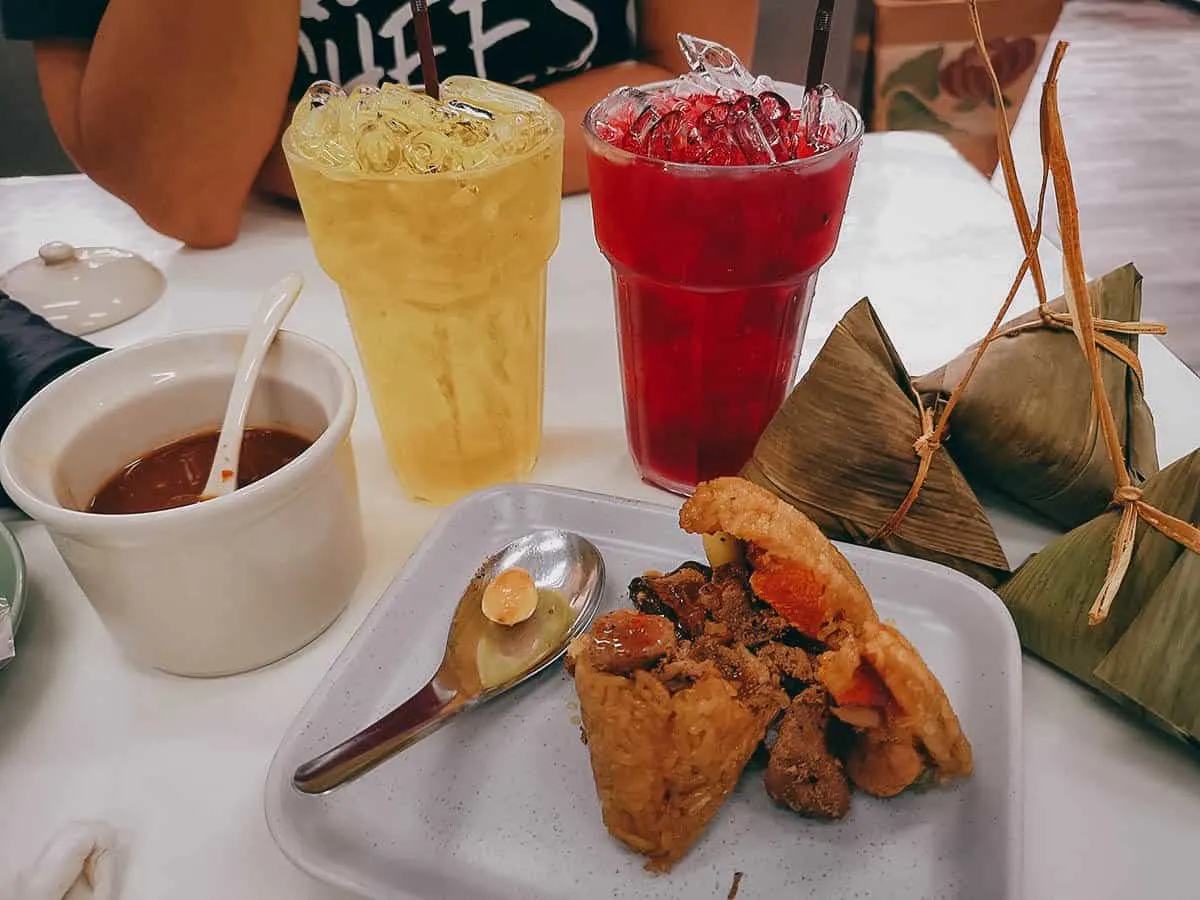 Next up was this street food stall selling kanom jeen. Kanom jeen refers to thin fresh noodles made from rice fermented for several days. It's boiled and made into noodles by extruding the dough through a sieve into boiling water. The noodles are then served in many different kinds of stock like coconut milk and fish curry. We had our kamon jeen today with this spicy fermented fish-based sauce.

My beautiful bowl of kanom jeen. Pema warned me that the sauce is spicy and it was, but I loved it. It's hot and spicy, a little pungent, and delicious. It's served with a side of fresh leafy vegetables which you break apart and sprinkle on top of your kanom jeen.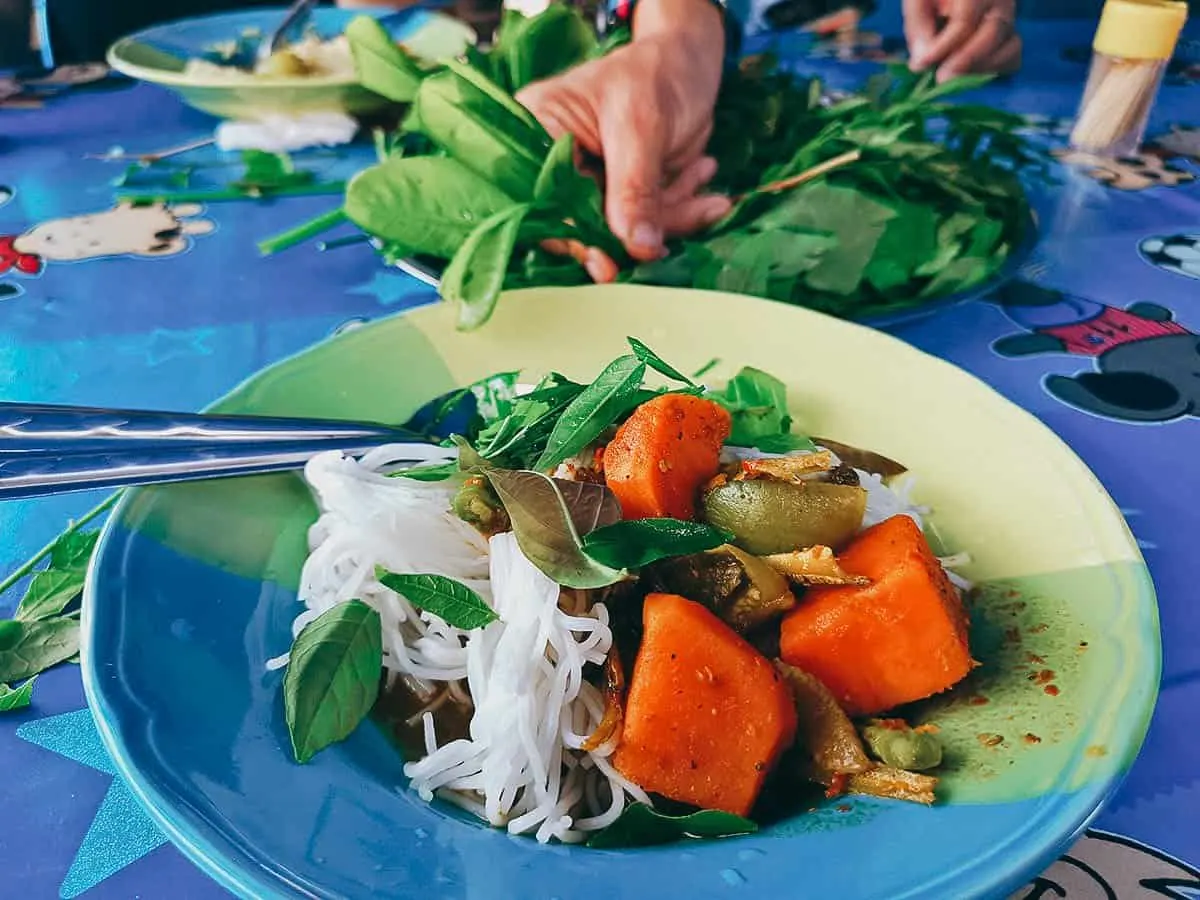 To wash down our kanom jeen, we enjoyed these plastic bags filled with exotic juices. We had the corn and pennywort, both of which were refreshing and delicious. I would have loved to try the others as well if only we didn't have so much eating still ahead of us!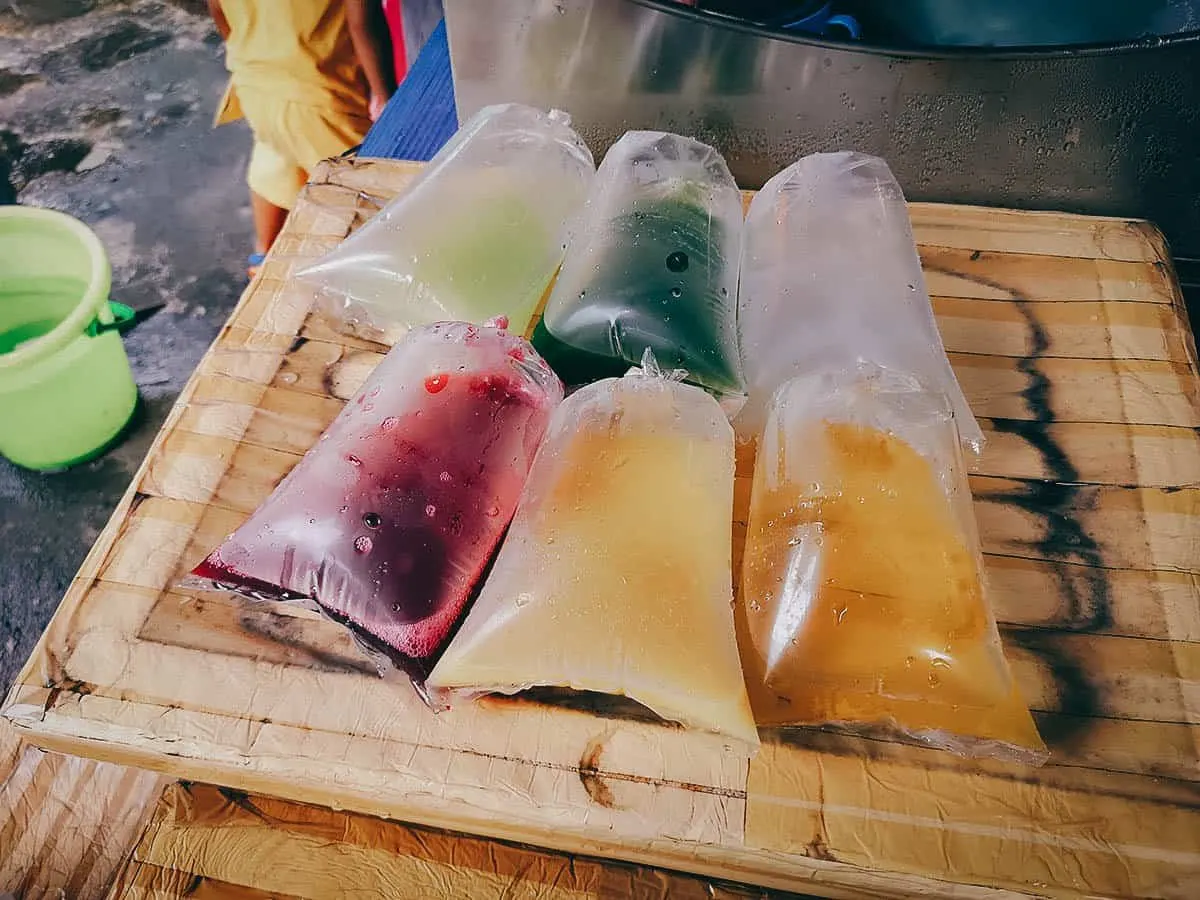 I started to rain mid-tour so we had to seek shelter. Luckily, Pema knew exactly where to go. We ducked under the awning of a building where this elderly woman was selling different types of treats, including these red tortoise cakes. They're made with glutinous rice flour and contain a sweet filling. The one I had was filled with delicious red bean.
According to Pema, they're shaped like tortoises because tortoises are a symbol of longevity and are believed to bring good fortune and prosperity. I'm guessing the red color is for good luck as well. Pema explained how the woman's children have been asking her to stop selling these treats because of her age, but she refuses to listen. She enjoys what she does too much.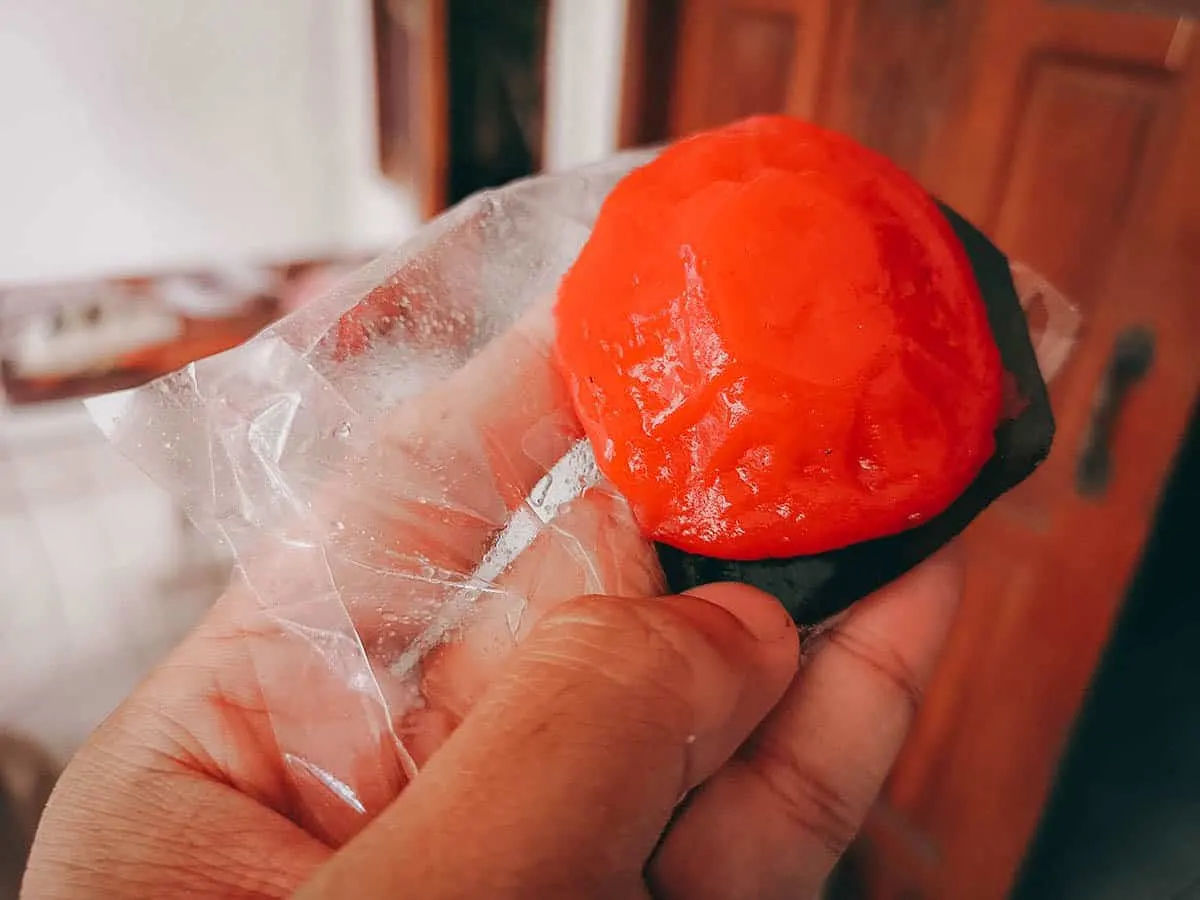 After the rain subsided, we walked to this shop which is known for serving some of the best Hokkien noodles in Phuket. They're also known for serving a kick ass yen ta fo. I enjoyed many of the things we ate today but this was easily my favorite stop on the tour.
If I remember correctly, the shop has been run by these two sisters (and maybe a brother) for the past thirty years. They make their noodles by hand which is part of the reason why their food is so good. Pema told me that I was lucky to eat here. The elderly sisters have no one to take over the restaurant once they're gone, so it may not be around for much longer. Boo!

The restaurant's famous Hokkien noodles with fishballs and wontons. This bowl of silky and chewy noodles was absolutely delicious. It's very popular with both locals and tourists as evidenced by the long line of people waiting to get a table.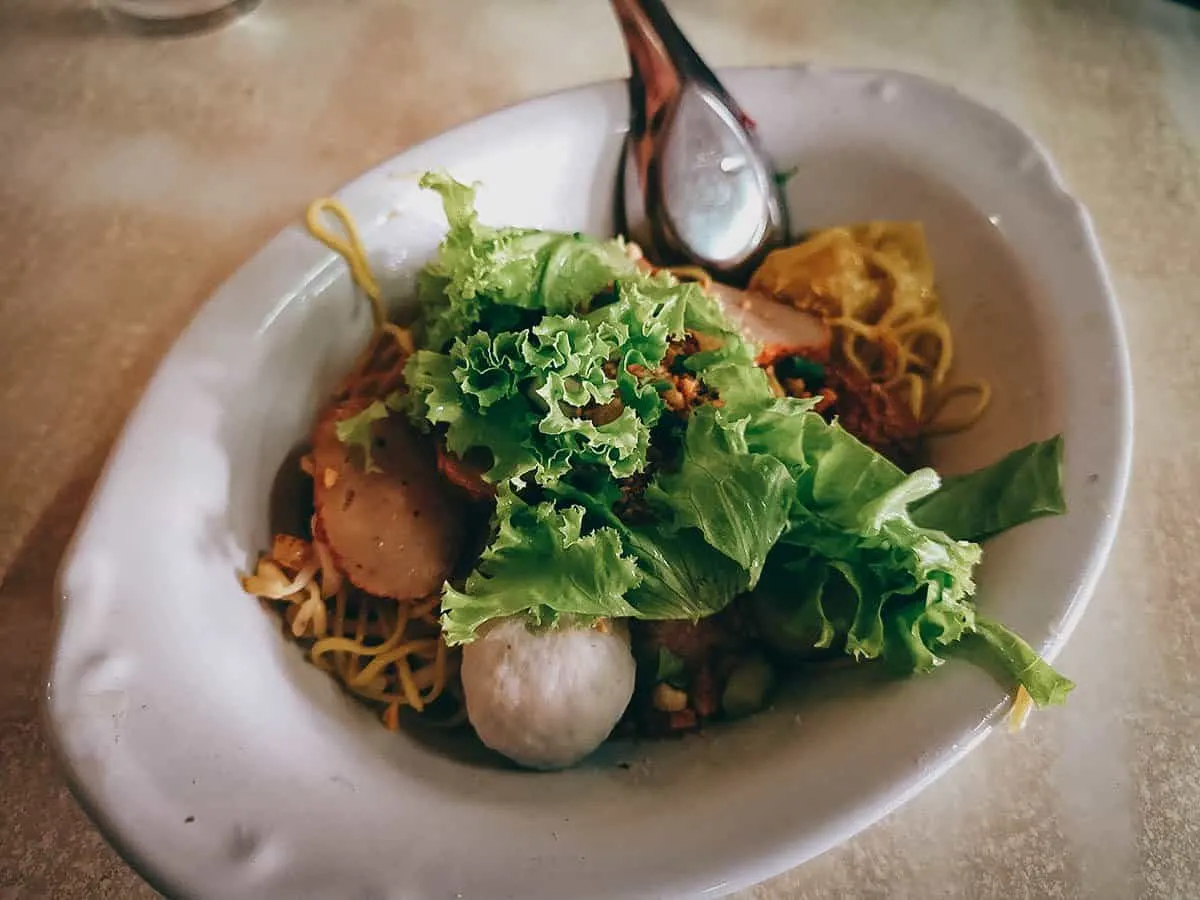 As good as the Hokkien noodles were, I think this bowl of yen ta fo may have been even better. Notice the pinkish broth? It comes from fermented soybean paste which imparts a sweet, almost flowery essence to the broth. I'm not sure what ingredients are usually put into a bowl of yen ta fo, but this one had wide rice noodles, fishballs, tofu, greens, and congealed pig's blood cake. It was incredibly tasty with a wonderful mix of textures.
Pema usually orders just the Hokkien noodles for tourists, perhaps because the yen ta fo may be a little too exotic, but I had read about the dish before I was curious to try it. I suggest you do too.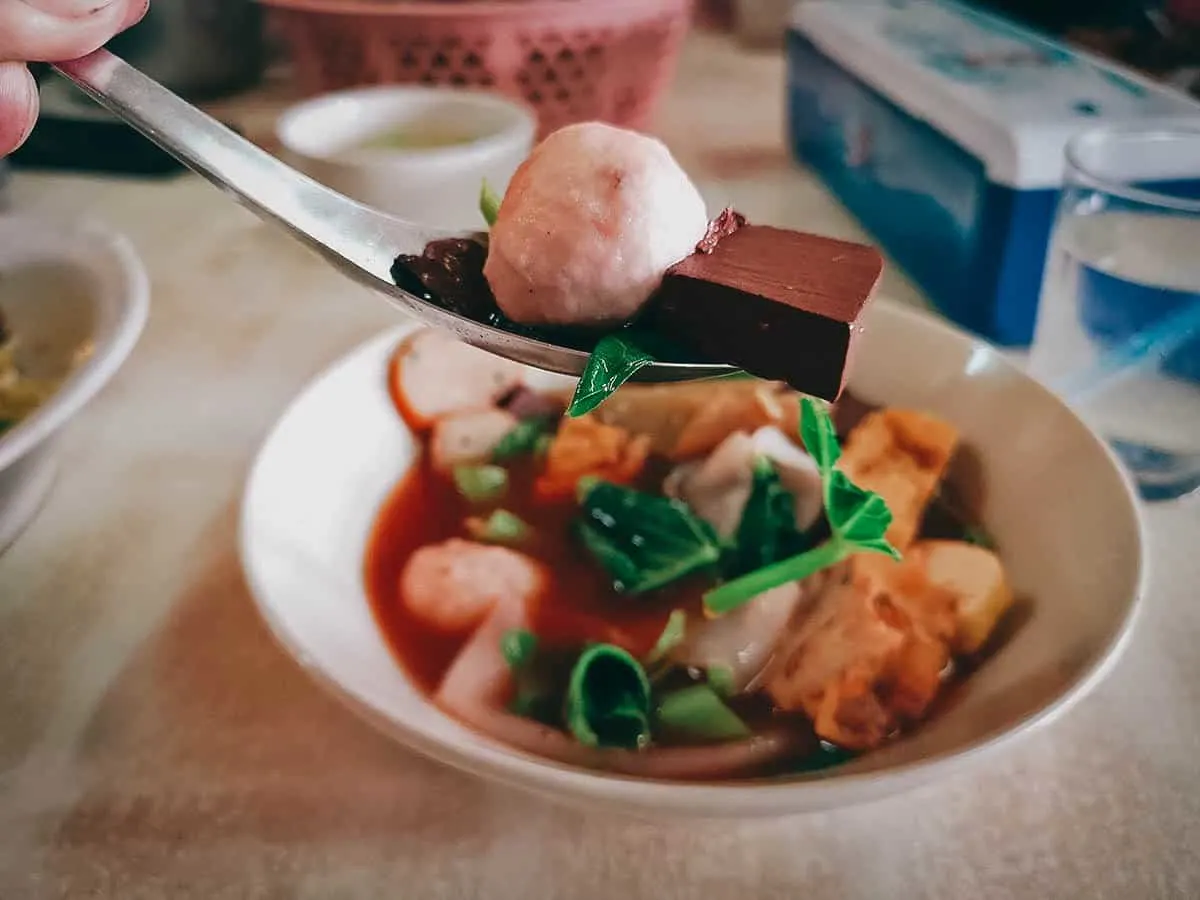 We then proceeded to this famous food court called Lock Tien Food Court. I read that this place is famous with local Phuketians as well as Thai tourists from other parts of the country. I had visited this place on my own the day before to have some o-eaw, but today Pema had me try the por pia.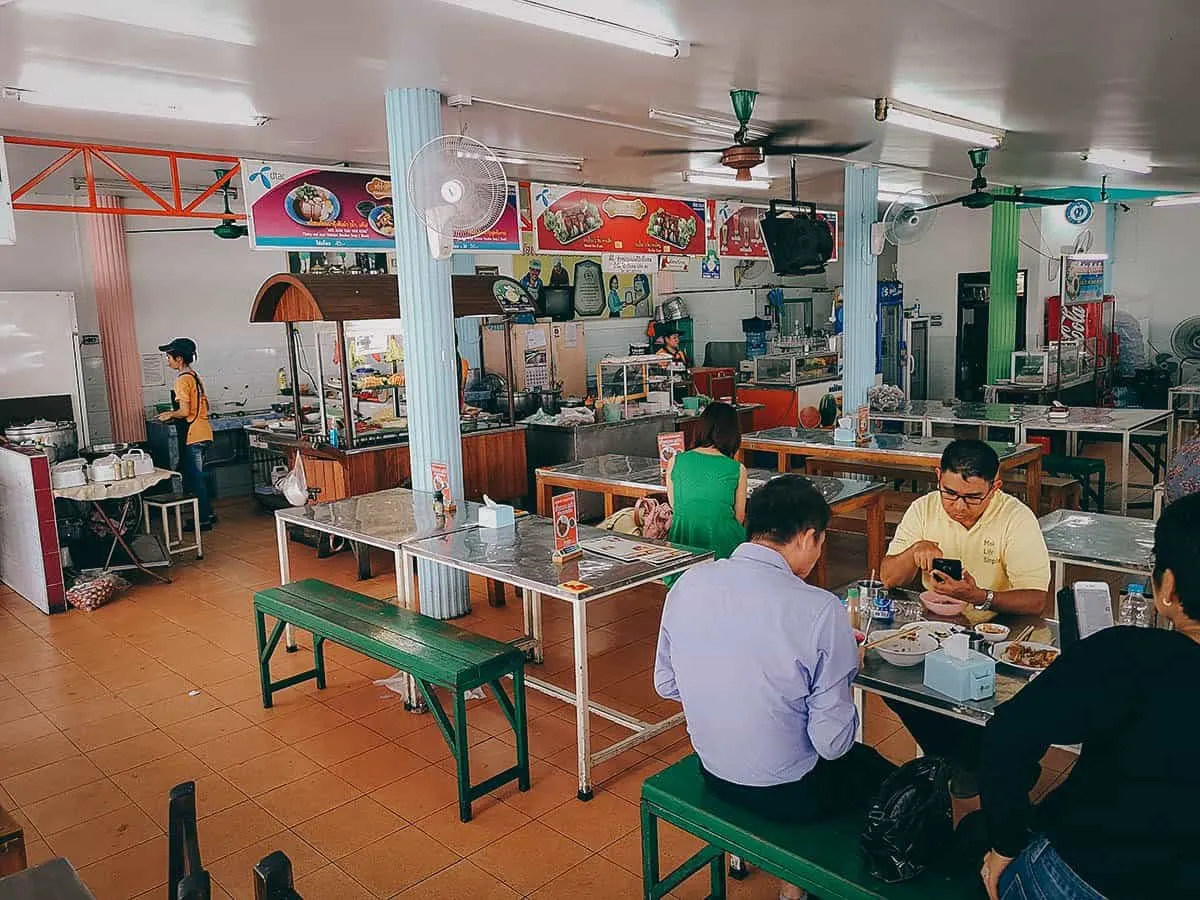 Por pia is a type of fresh spring roll popular in many parts of Southeast Asia. You can't tell from this still picture but this man was feverishly making por pia after por pia. He was putting them together so quickly he looked like a one-man por pia assembly line! Pema told me that he runs marathons which explains the boundless energy.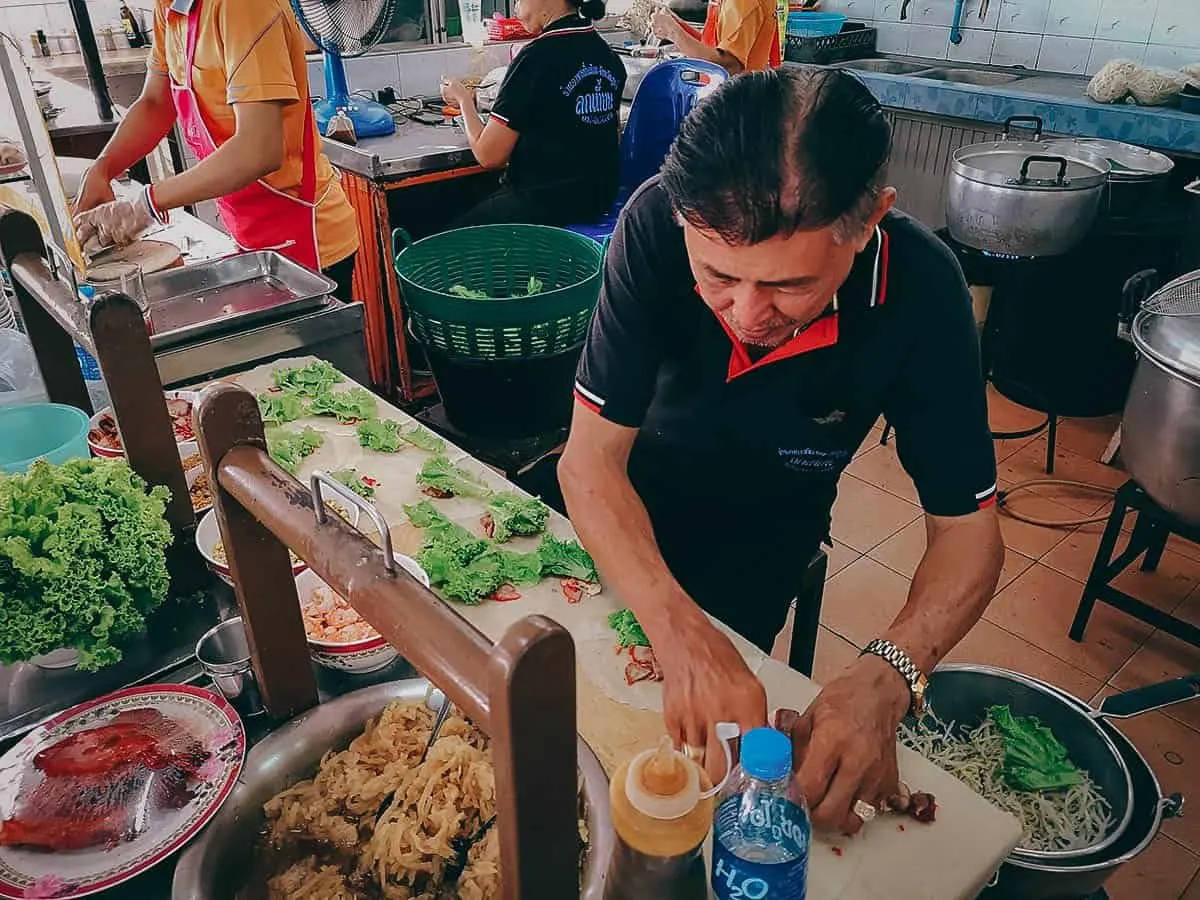 The most delicious por pia. One roll was slathered in sweet sauce and the other in spicy. I had the spicy.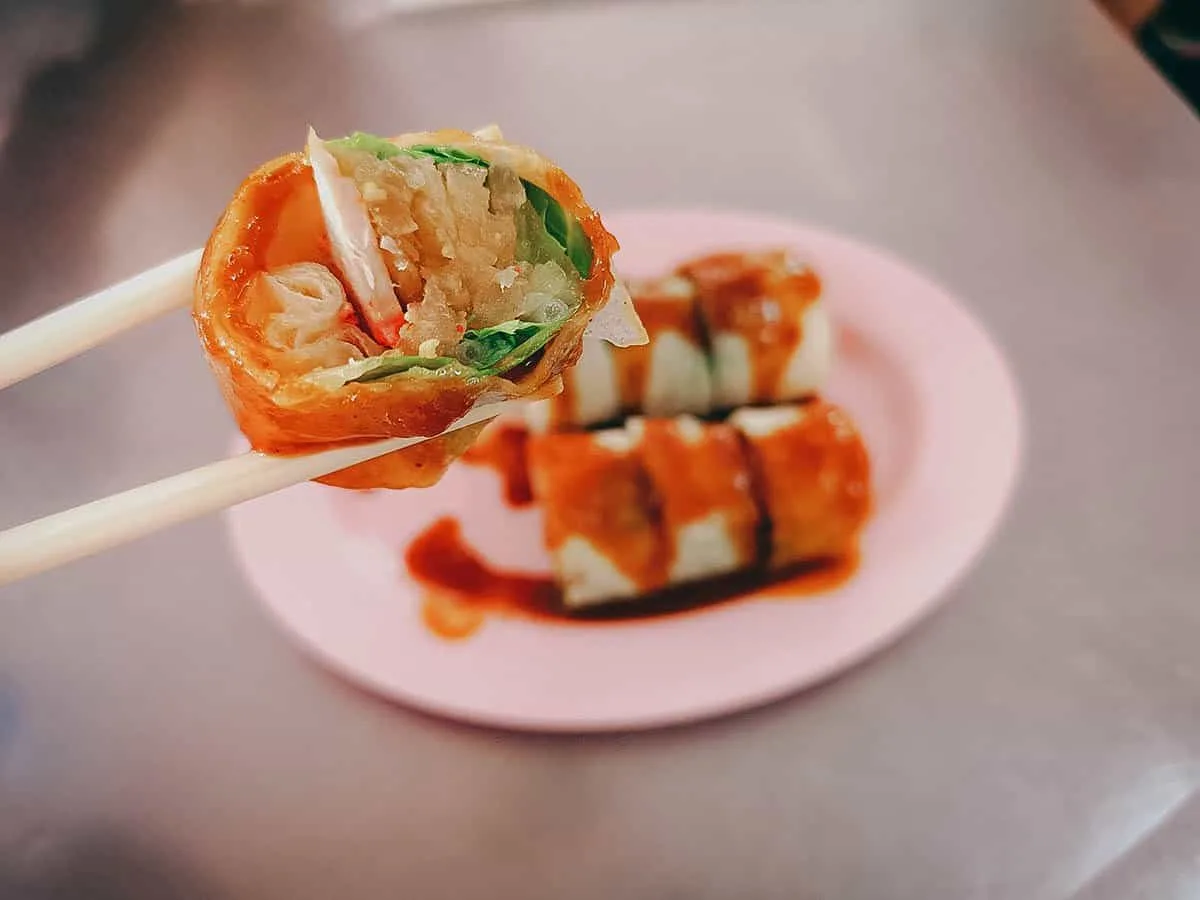 When Pema found out I had been to Lock Tien the day before to try the o-eaw, she took me to a different stall which she says serves the best o-eaw in Phuket Old Town. O-eaw is a Thai shaved ice dessert made with banana jelly, beans, and syrup.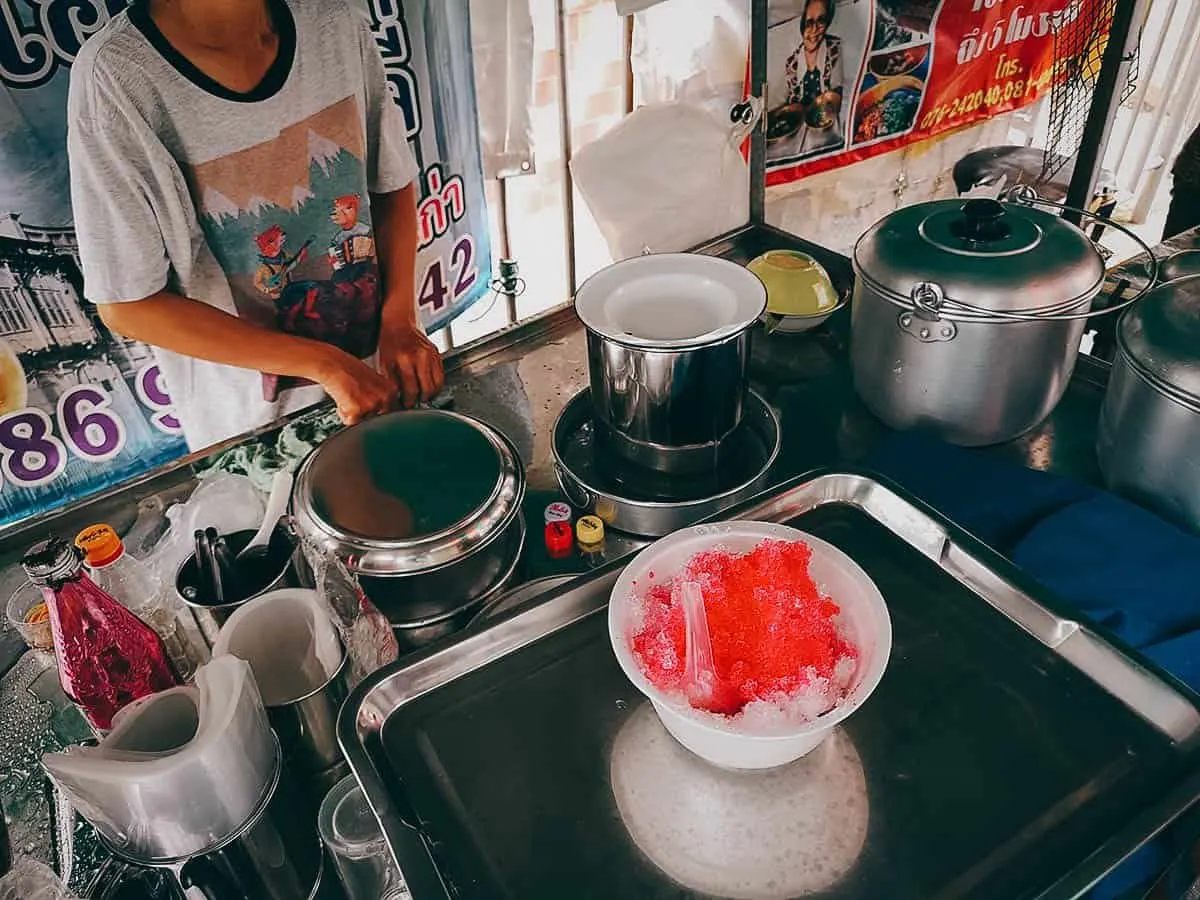 Here's Pema posing with her o-eaw in front of the o-eaw mural.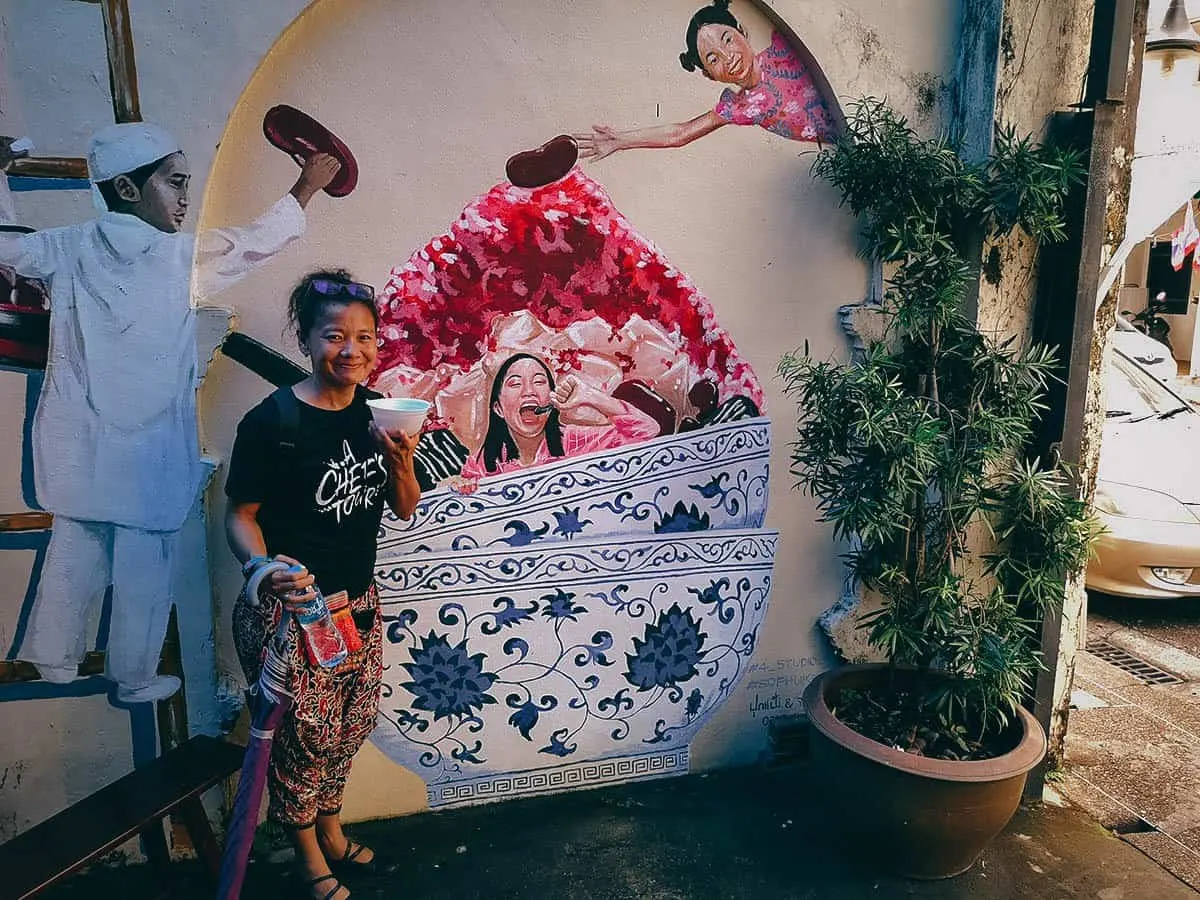 Next up was this famous Muslim shop known for their sweet roti, coffee, and tea.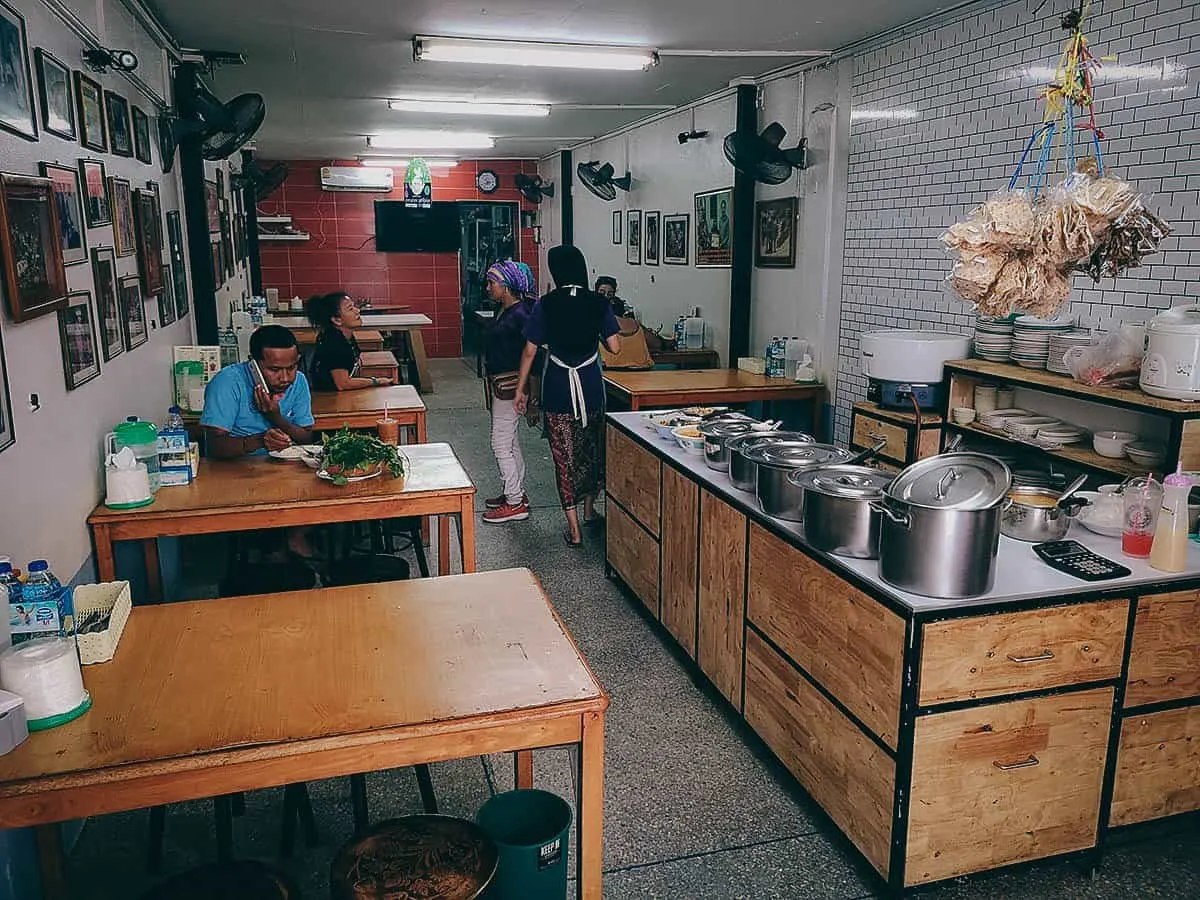 Iced coffee, black coffee, and tea. They make their coffee nice and strong, just the way I like it.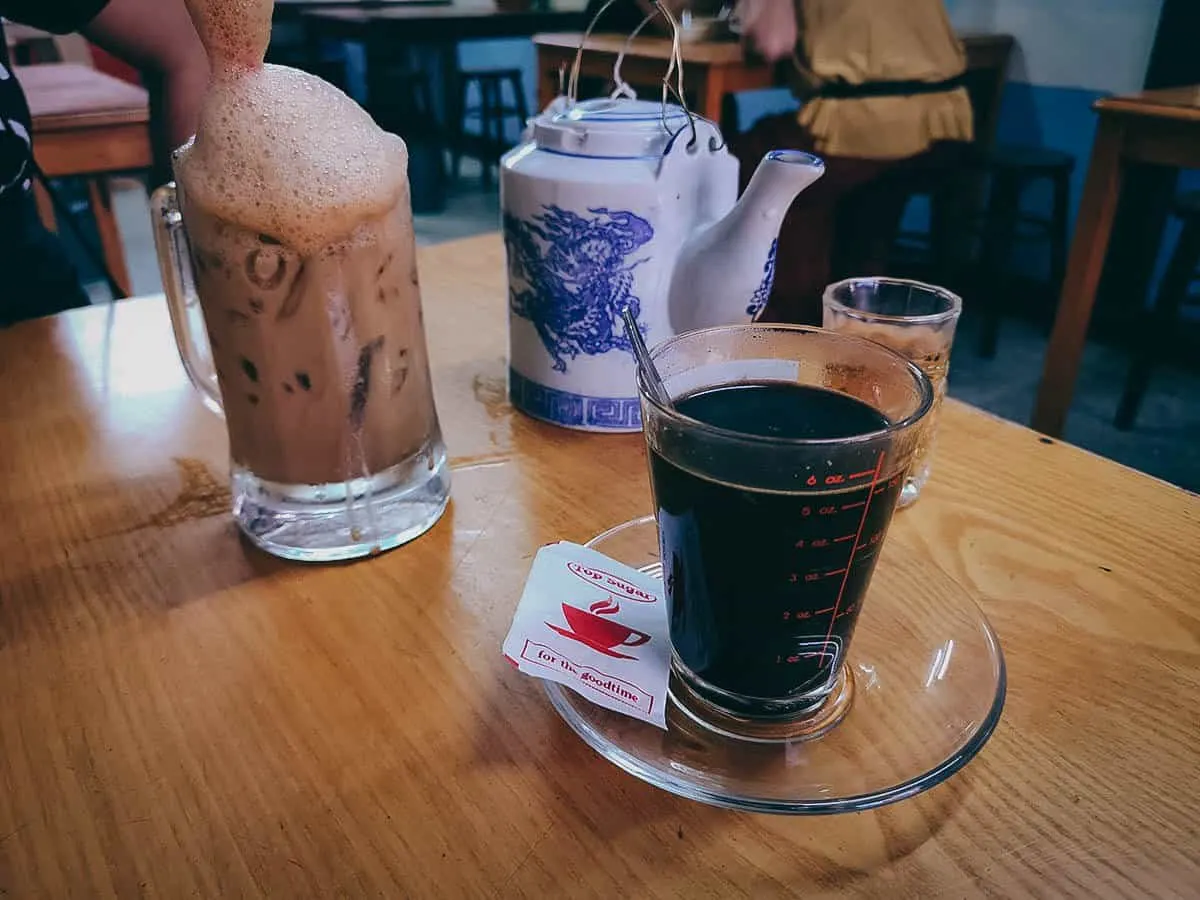 The sweet roti with banana and condensed milk was delicious. I've only had savory roti before so having it in dessert form like this was awesome. It was a great dessert to end this tour with.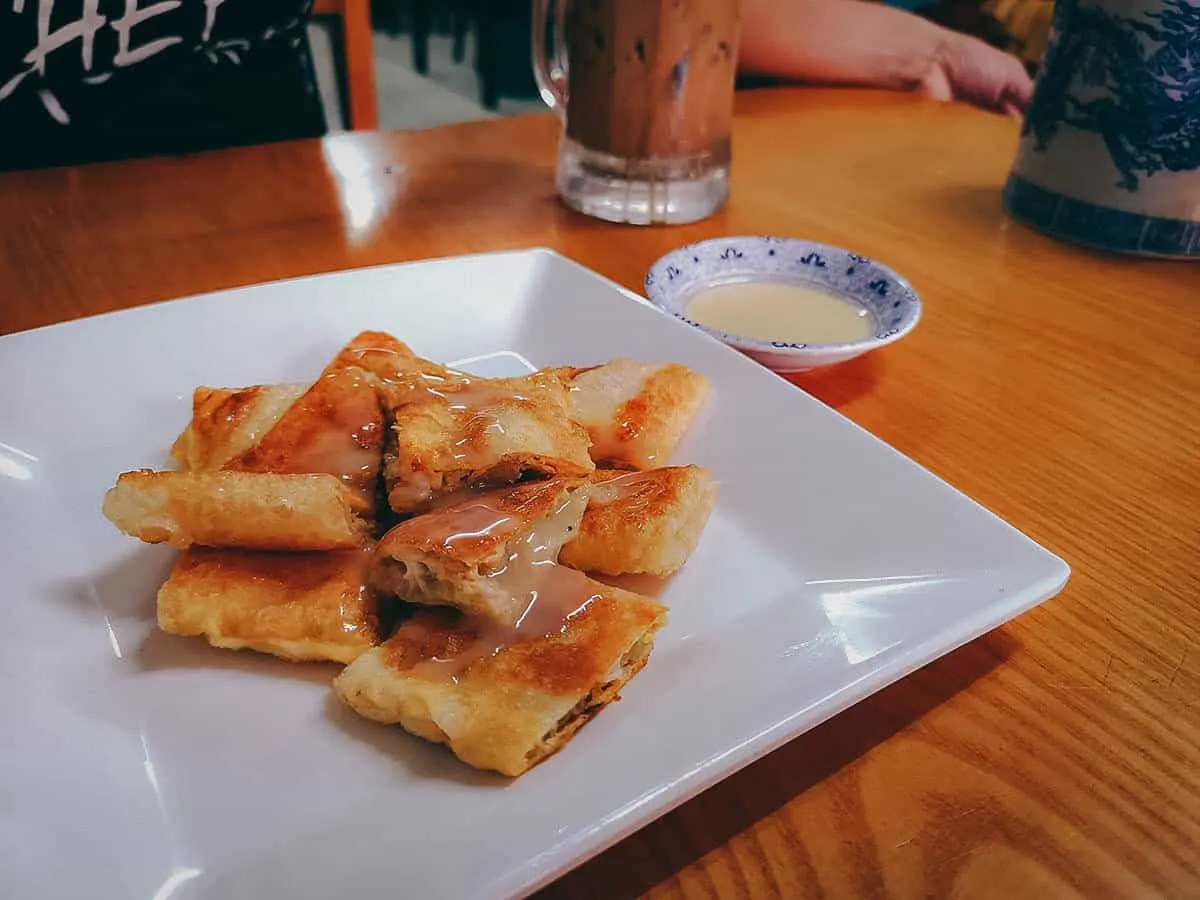 Did I say the tour was over? As with all of these tours from A Chef's Tour, just when you think it's over, there's another dish waiting for you around the corner. This beautiful smokey plate of chicken satay with cucumber salad and peanut sauce was indeed the last dish on this tour. Whew, I made it!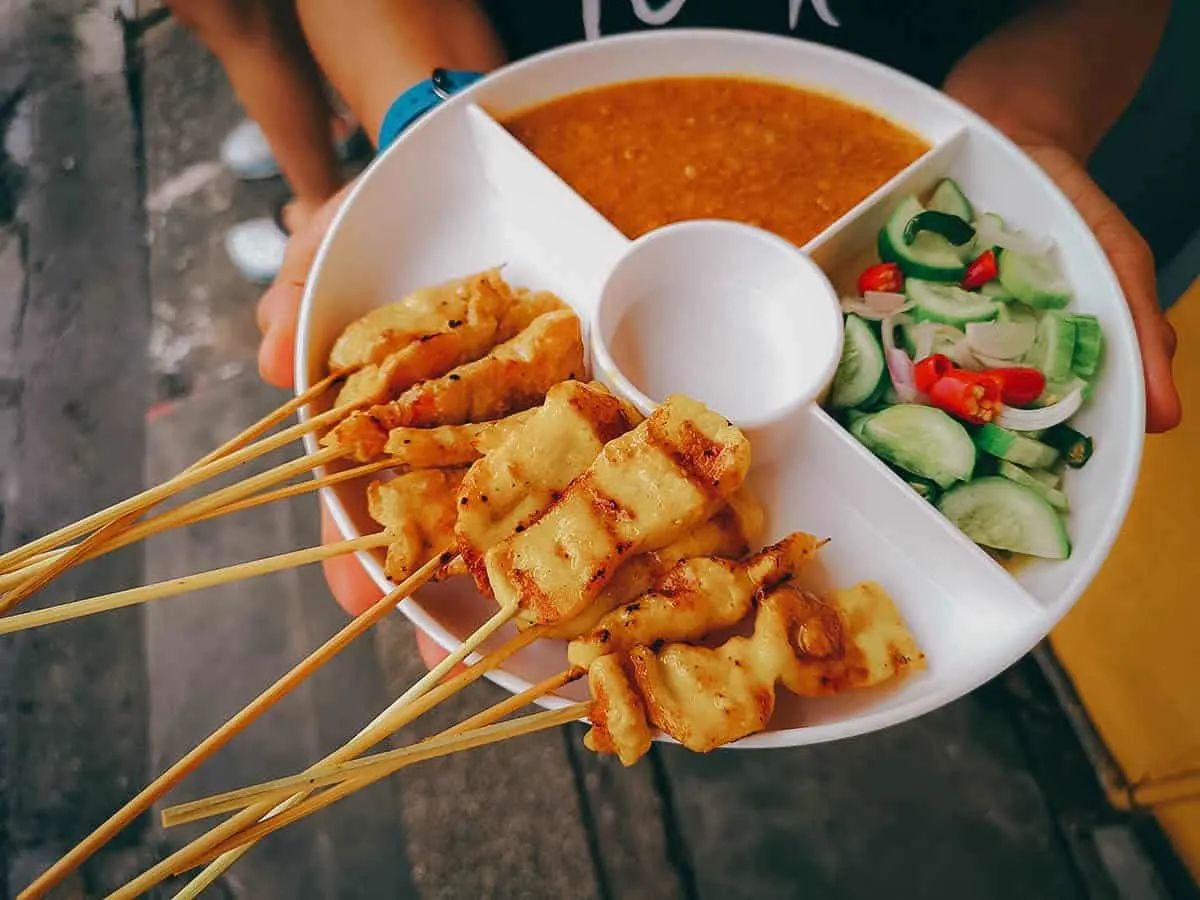 Around Phuket Old Town
This tour may be food-focused, but it isn't just about the food. It's about Phuket Old Town as seen through the eyes of a joyful local. Between eateries, Pema would guide me through alleys and show me old buildings that weren't on the tourist trail, so they seemed to be of little interest. But she made them interesting. They formed a part of her life which she was now sharing with me. In doing that, she breathed an energy and intimacy to the tour that made the town feel like a living, breathing treasure trove of memories.
Jui Tui Shrine
Early in the tour, we made a stop at Jui Tui Shrine which is one of the oldest and most respected temples in Phuket Old Town. Here Pema would teach me how to properly bow to Buddha. You're supposed to get on your knees and bow three times with your palms and forehead touching the ground. I never knew that so I was happy to learn. In fact, I would practice it myself a few days later at a temple in Karon. She'd teach me how to use the fortune sticks and wooden prayer blocks as well.
Jui Tui Shrine is the main temple in Phuket so it plays a major role in the aforementioned Phuket Vegetarian Festival.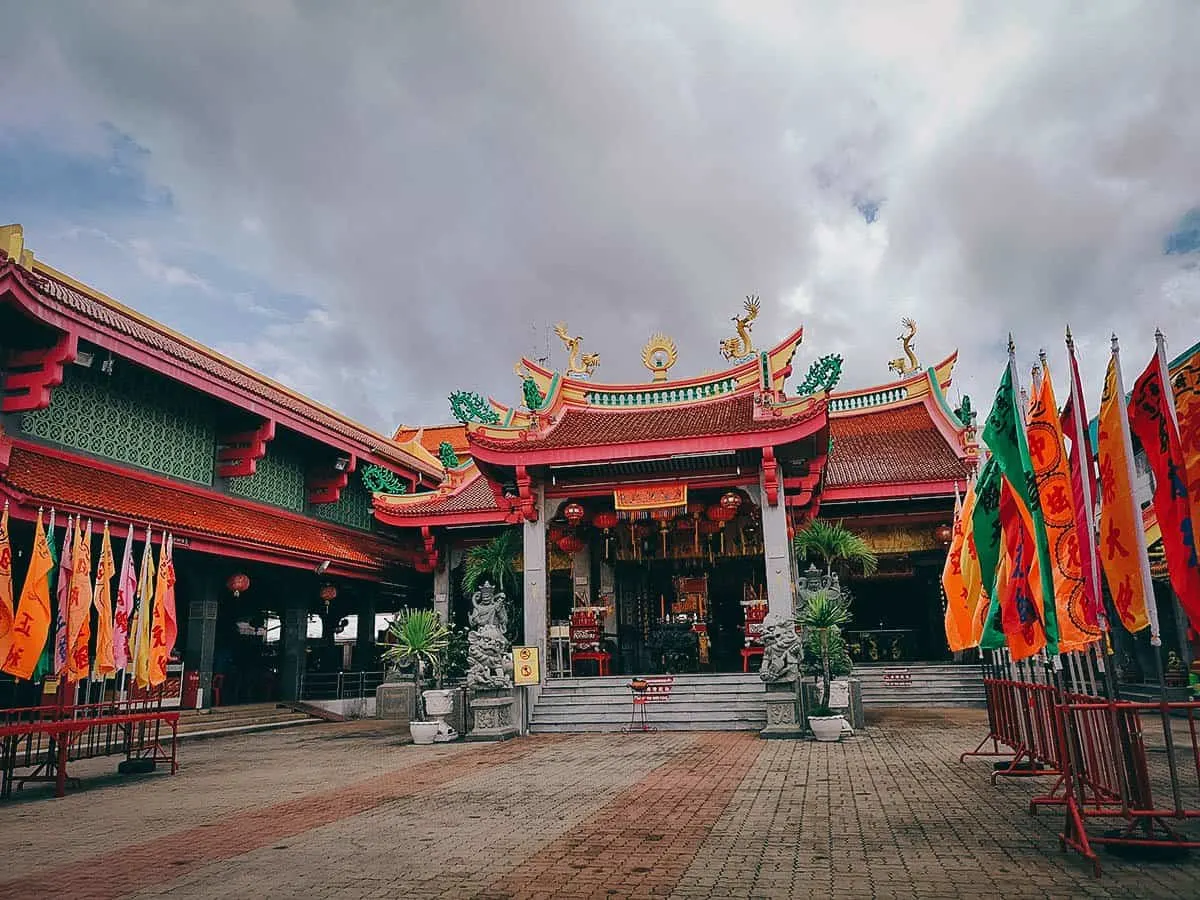 Blue Elephant Restaurant & Cooking School
This striking mansion is one of the most beautiful and famous buildings in Phuket Old Town. It's referred to as the "Governor's Mansion" though if I understood Pema correctly, it was never the governor's house. Instead, it belonged to a wealthy, powerful man whose influence extended back to Phuket's tin mining days. At the time, dense forest separated this mansion from the heart of town so Pema told me that the owner's wife used to dislike living here.
Today, it's home to a prominent cooking school and fine dining restaurant called Blue Elephant, which is considered by many to be the very best in Phuket.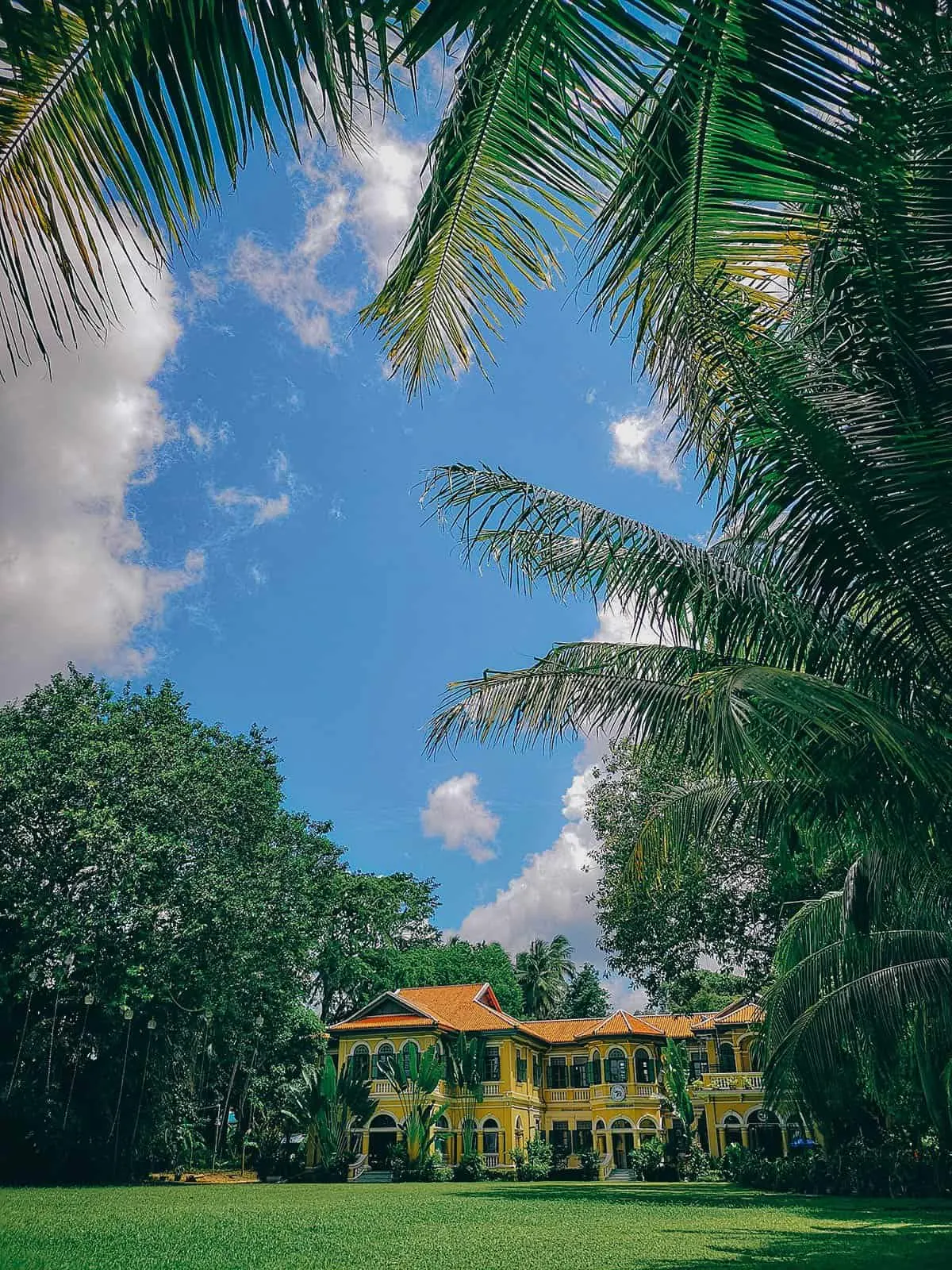 Pema knew the manager so we just walked in unannounced and he showed us around. Here's a shot of the main dining room. Beautiful isn't it? I didn't get to eat here but if you're looking to have a special meal in Phuket, then Blue Elephant is definitely one to consider. They have branches in Bangkok, Paris, and Brussels as well.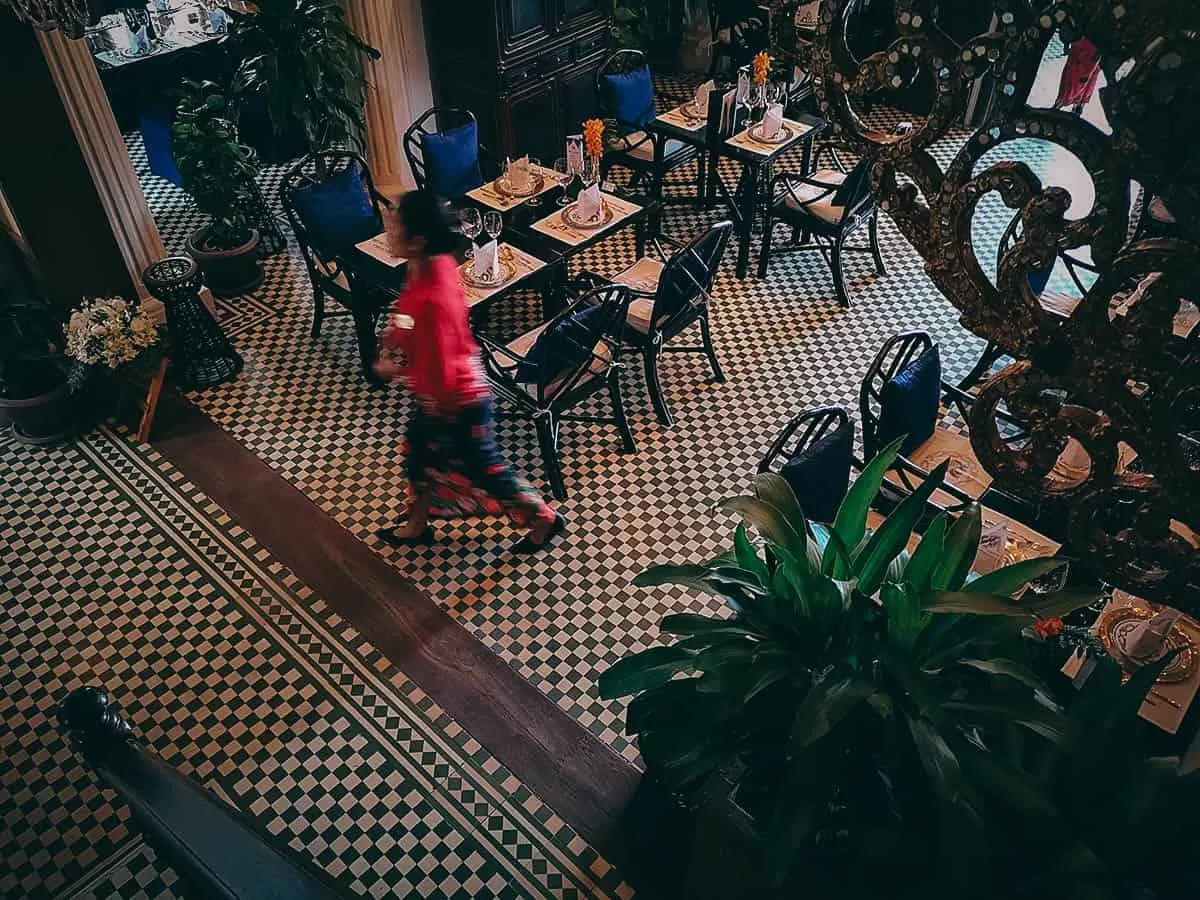 The manager took us into the area where they conduct cooking classes. If you're interested in booking a cooking class at Blue Elephant, then you can do so through Cookly.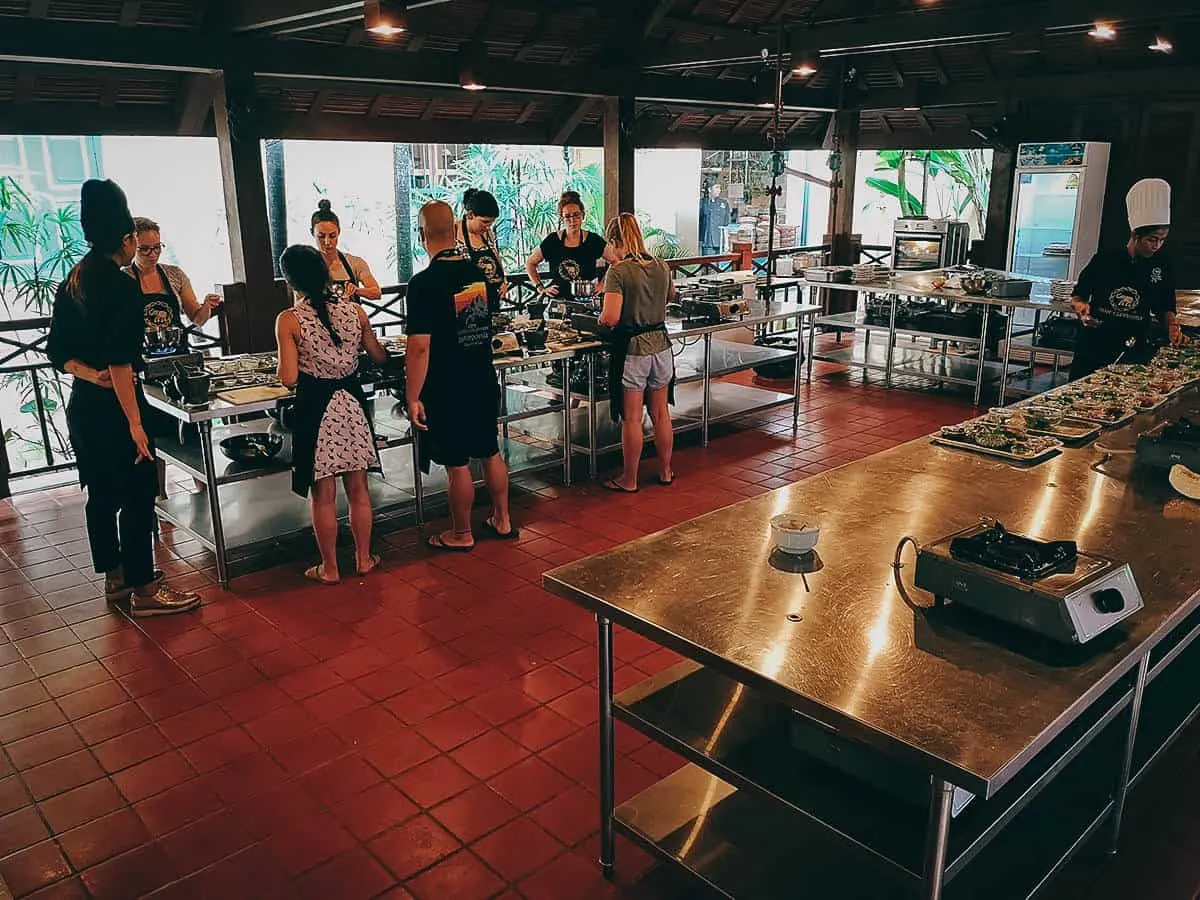 The Oldest Herb Shop in Phuket
In the heart of the Old Town is this time capsule of a store that's known for being the oldest herb shop in Phuket. Before we walked in, Pema told me to pay attention to the owner's face. Stoic and almost frozen, his expressions never change. They didn't.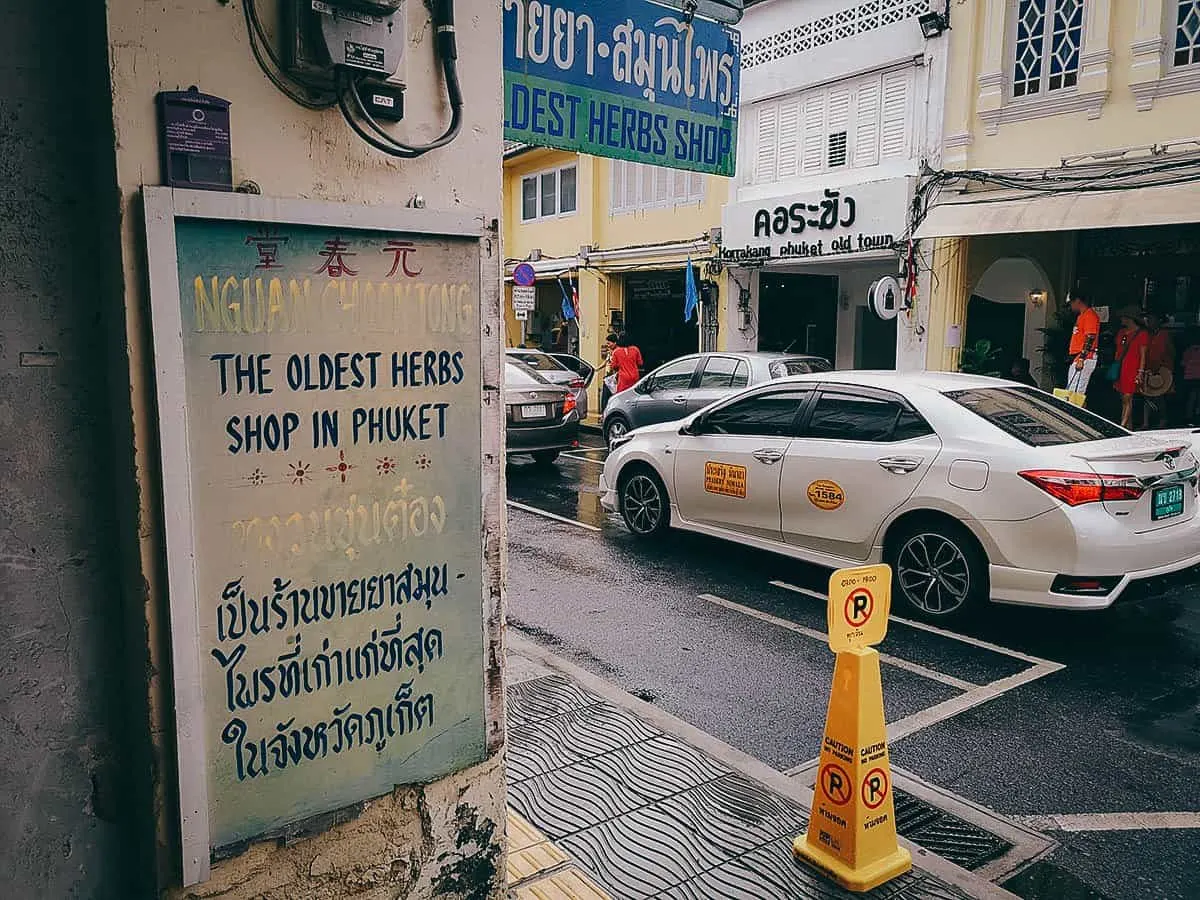 Isn't this beautiful? It's a drawer filled with different types of dried herbal remedies. They were selling t-shirts here as well but they were of the generic touristy type. I suggested to the owner's son to print vintage-looking shirts that said "The Oldest Herb Shop in Phuket". So if you visit the shop and see shirts like that, then you'll know where the idea came from.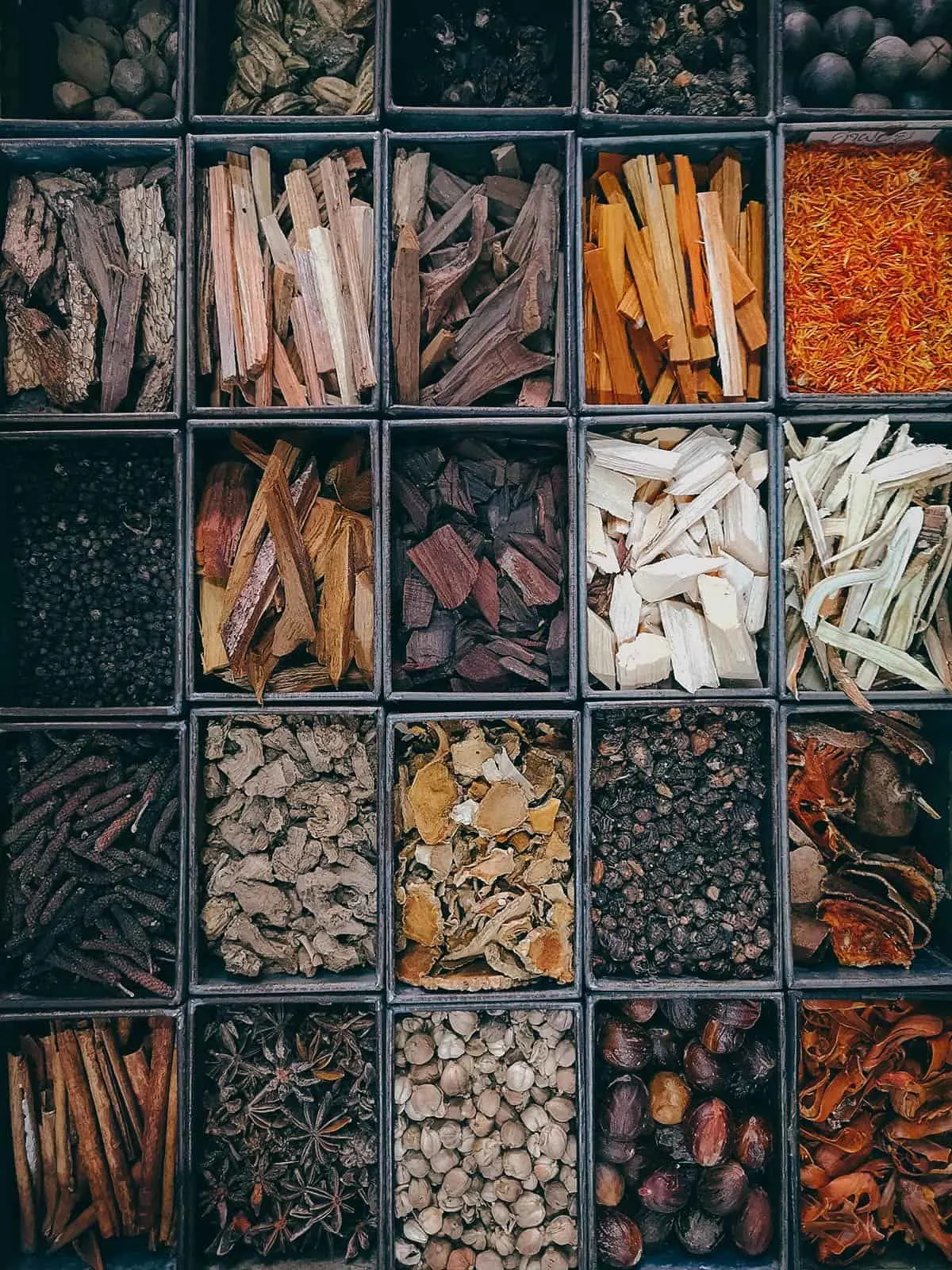 Soi Romanee
This picturesque alley may be one of the most popular Instagram backdrops in Phuket today, but it once served as the town's red light district not too long ago. The name Soi Romanee roughly translates to "naughty with the ladies".
When she was a schoolgirl, Pema recounted how her mother would tell her to never walk down this street on her way to school. She sometimes would anyway.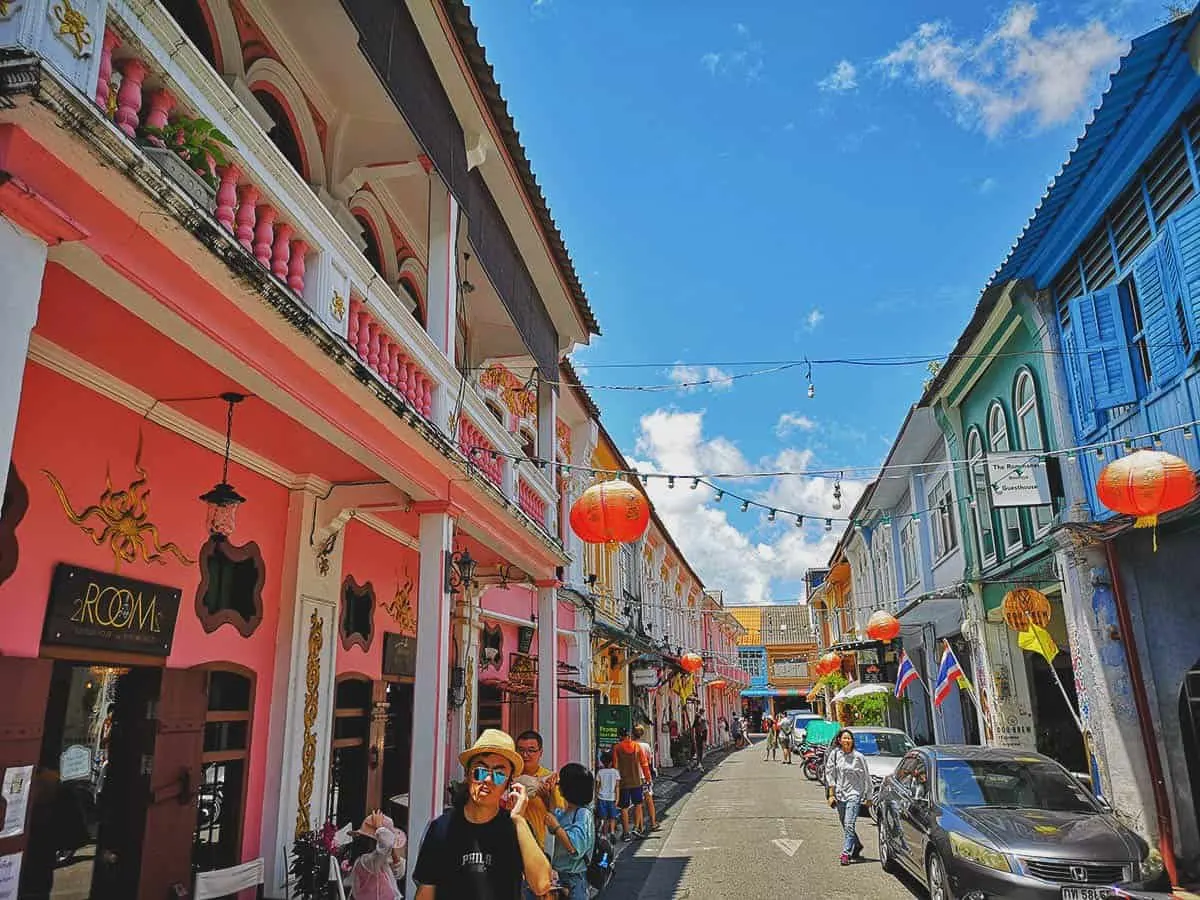 Like Penang
Walking around town, you'll find these colorful murals brightening up the sides of buildings. I told Pema that it reminded me of Penang, and she admitted that's where the town got the idea from. Tourism is much about the 'gram these days, so having these fun colorful paintings to serve as backdrops for your #ootd is always a good idea.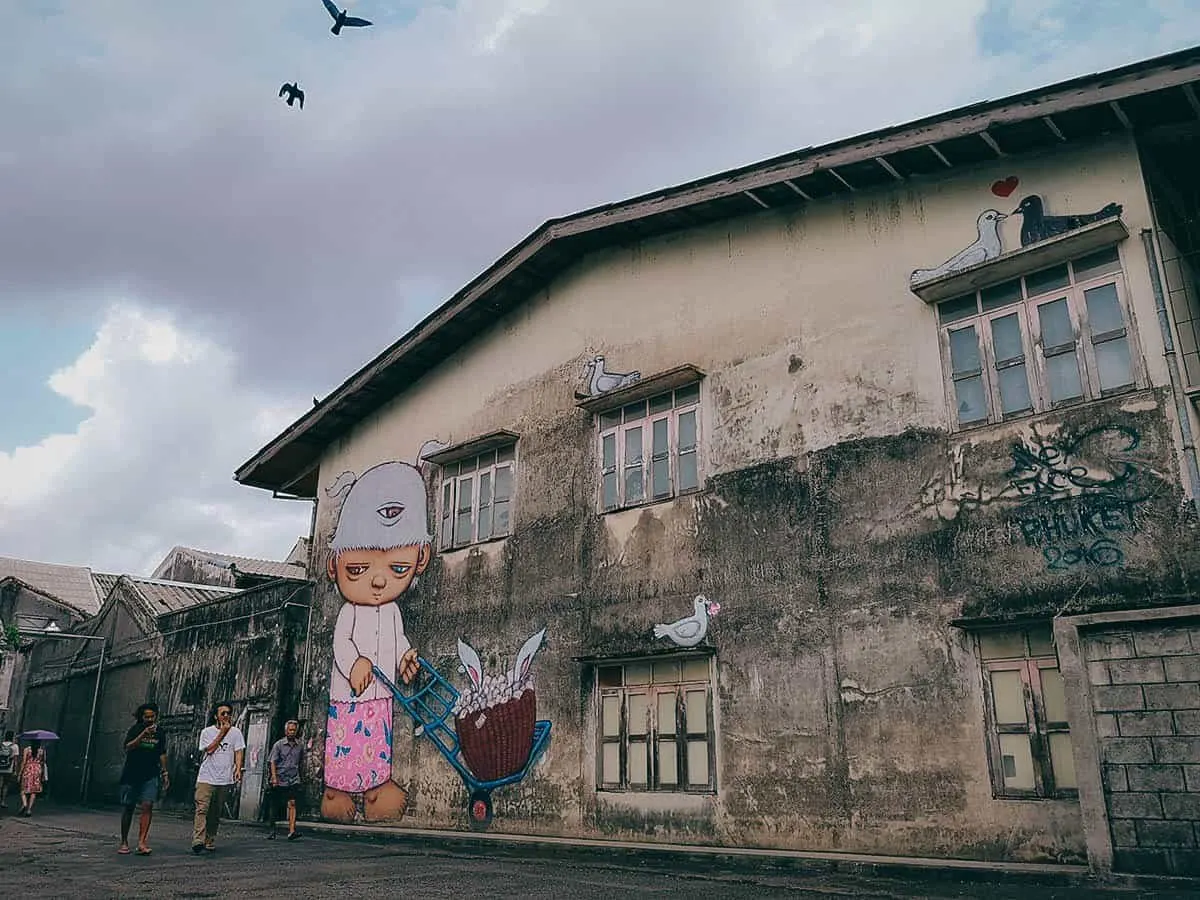 Here's a particularly colorful one on the corner of Soi Romanee and Thalang Road.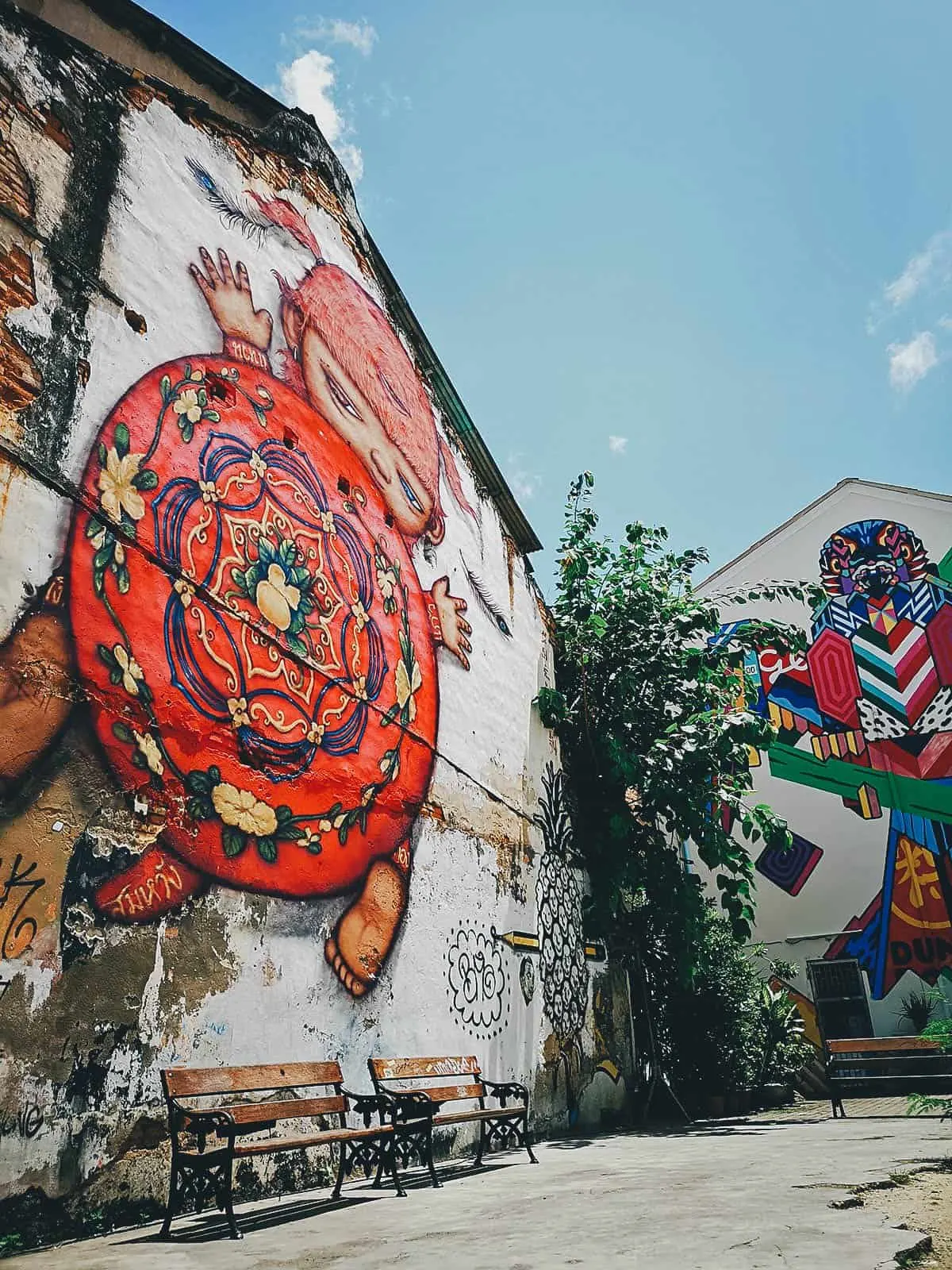 This one was on the side of the building serving those delicious skewers of chicken satay.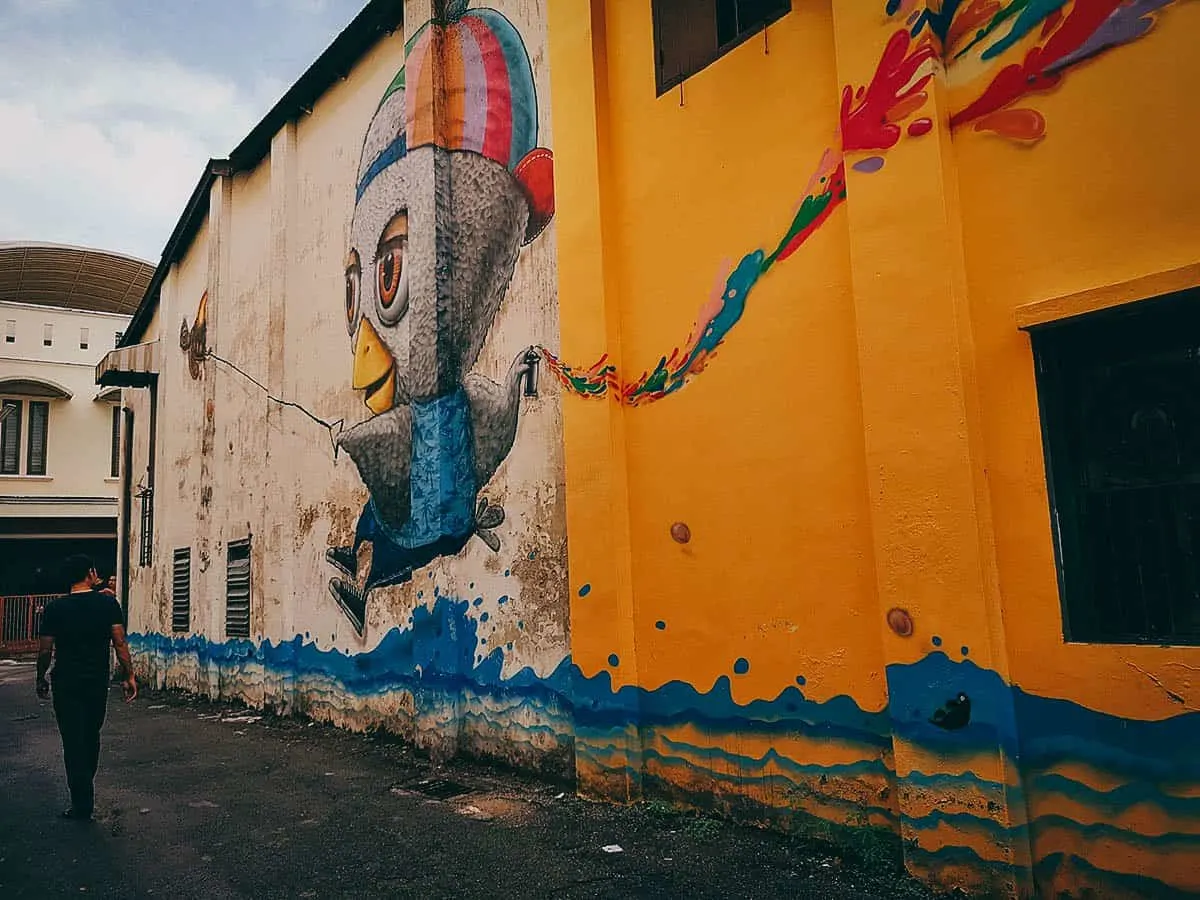 Looks a lot like Penang doesn't it? Sino-Portuguese architecture like this is characteristic of Phuket Old Town. I didn't expect to like it but the old town turned out to be far and away my favorite part of Phuket island.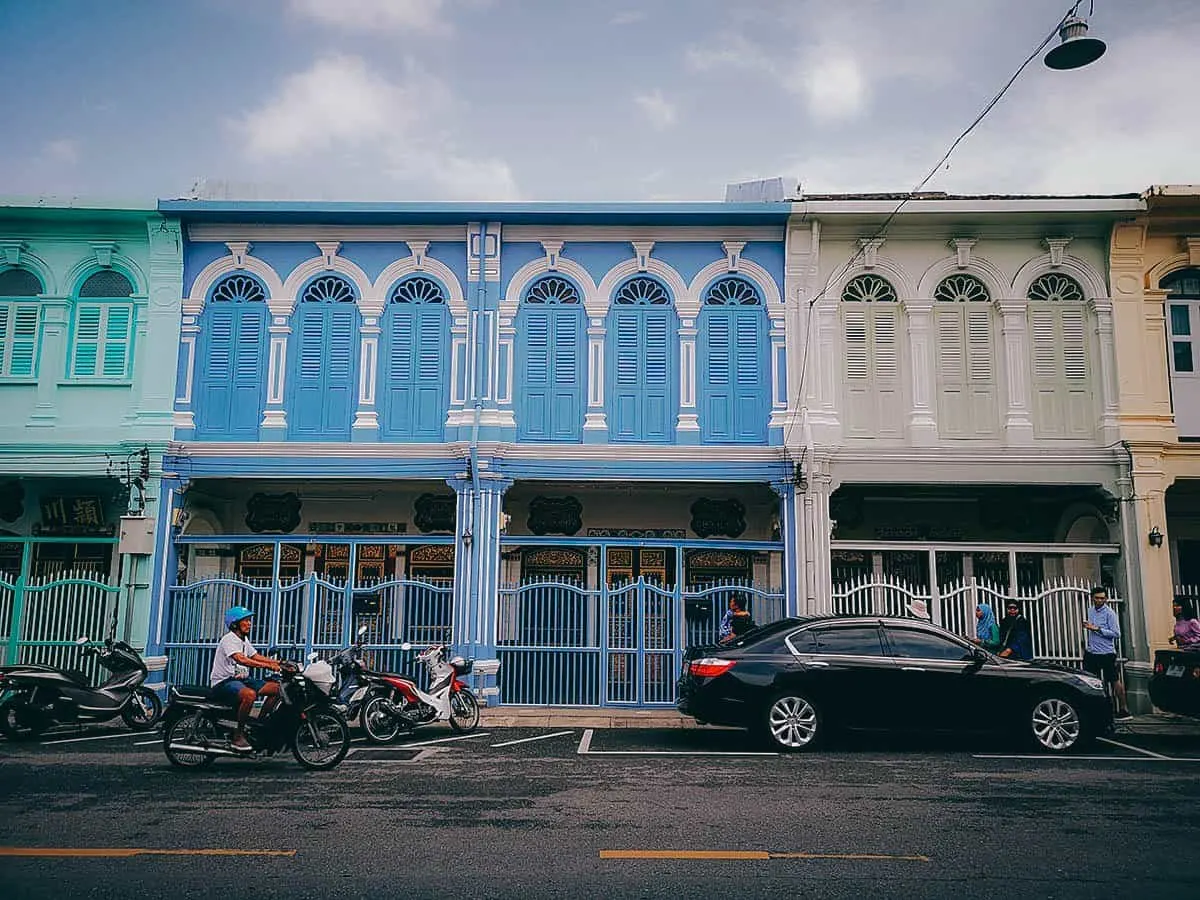 Conclusion
This was supposed to be a four hour tour but Pema had so many interesting stories to tell that it stretched to six and a half! Luckily, I didn't have anything to do till later that evening so I had all the time in the world to listen. I appreciated hearing all her stories because it made me feel more connected to the town.
Through her, I learned that Jui Tui Shrine is one of the most important temples in Phuket, and that the oldest herbal shop in town has been open since 1917. I learned where to find the best bajang and the tastiest Hokkien noodles in town. But honestly, any guide could have told me that.
What I was truly appreciative about, was hearing how the old man behind Lock Tien's famous por pia was an experienced marathon runner with multiple finishes under his belt. I enjoyed hearing about the old lady's passion for making tortoise cakes, and I was amused by the herbalist's face remaining unchanged in spite of Pema's attempts to make him smile. Honestly, I had to keep myself from laughing until we were out of his shop.
These aren't things that any guide could have told me. Pema sharing all these stories made me feel like I knew this town and its people a little better. It made the experience more personal, and that to me is what makes this tour so special. And let's not forget about all that delicious food either.
If you're visiting Phuket and looking for a fun, informative food tour, then you should seriously consider this one. Pema is an excellent guide with an infectious enthusiasm for her town, a town that seems to hold as much wonder for her now as it did when she was a little girl. At the end of her tour, don't be surprised if you love it too.
As described, this Phuket Old Town Food Tour costs USD 59 per person inclusive of all food and drink. You can book it on A Chef's Tour or Get Your Guide.
A Chef's Tour
Website: achefstour.com
Facebook: achefstour
Twitter: achefstour
Instagram: achefstour
Pinterest: achefstour
Email: [email protected]
Cost: USD 59 per person (inclusive of food and drink)
Disclosure
A Chef's Tour offered me a complimentary food tour in exchange for an honest account of the experience. As always, all words and opinions expressed in this post are mine and mine alone.
Some of the links in this guide are affiliate links, meaning we'll get a small commission if you make a purchase at NO extra cost to you. We only recommend products and services that we use ourselves and firmly believe in. We really appreciate your support as this helps us make more of these free travel guides. Thank you!