EDITOR'S NOTE: Traveleater Jakob Polaco shares with us his favorite recipe for Pad Thai.
Pad Thai is a street food item that everyone has pretty much heard of at this point. It is a global dish, and one which can taste completely different depending on where it was served.
Without diving into the deep end of traditional versus farang, there are certain notes I look for when eating this beloved Thai dish.
I used to work very long days at one of the Sukhumvit restaurants in Bangkok, and after rushing to catch that midnight train back to my guesthouse, there was a gentleman whipping up late night noodle bliss. Juicy shrimp gave great texture next to the fried tofu soaking up the funky tamarind spiked sauce, all with plenty of crispy fried egg adding richness. It was cheap and reliably satisfying.
I recently passed along the same corridor looking for my beloved bowl, but the cart is no longer there, possibly due to the new street food regulations in the area.
I have since cooked many varieties of this beloved dish, but this is the way I most enjoy eating it, with a simple combination that equally represents the separate flavors and textures.
I sincerely hope you enjoy this recipe as much as I have. This dish, along with so many others, can be found in the Thai Cooking Masterclass from Spice Vagrant. For all Will Fly For Food readers, there is a free Pad Thai video tutorial included in the free trial version of the course.
Enroll in the FREE TRIAL of the Thai Cooking Masterclass here.
Save This on Pinterest!
No time to try the recipe now? Click on the red save button and pin it for later!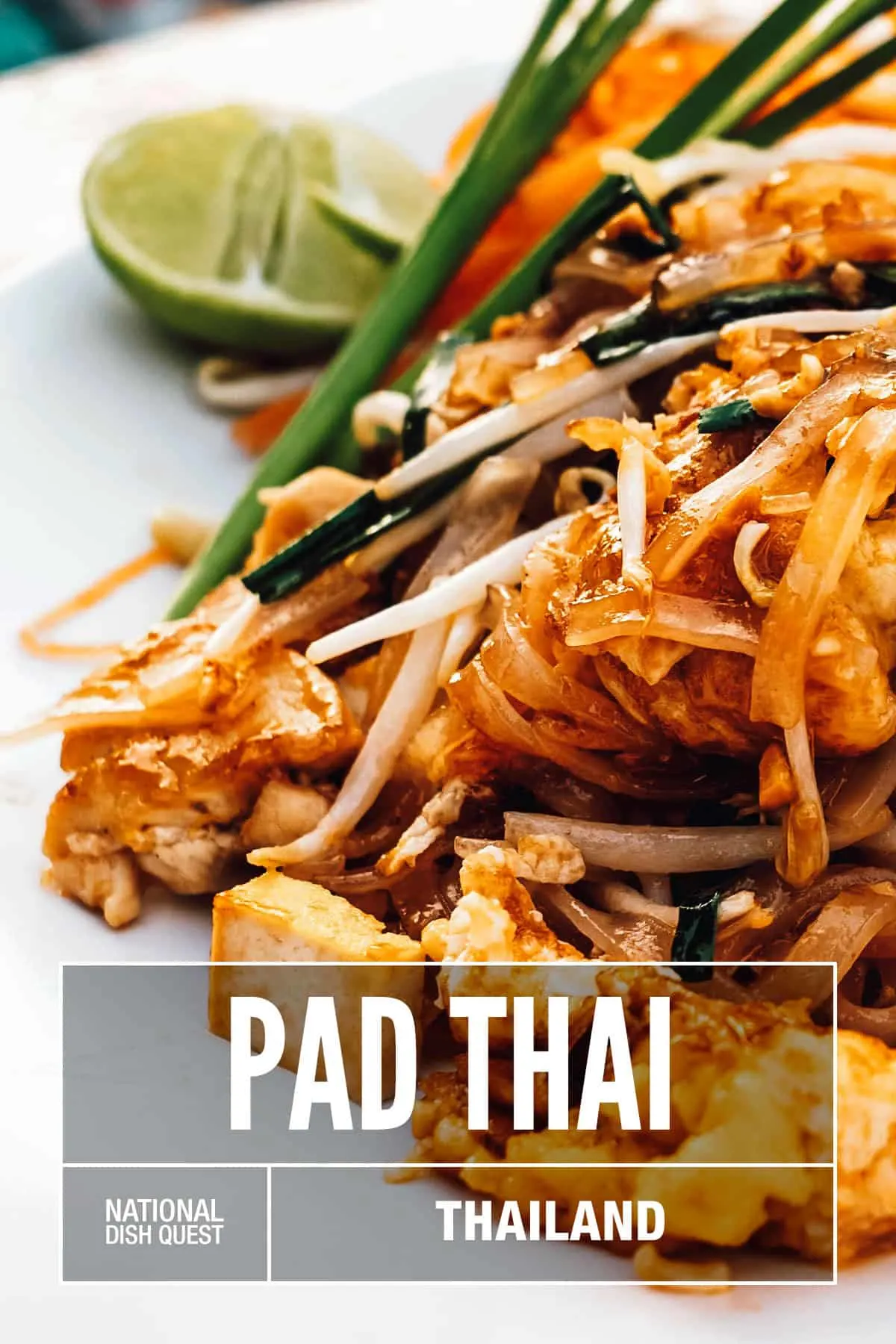 Photo by ctwtn via Pixabay
PAD THAI RECIPE
Servings: 4 / Prep time: 1 hour
INGREDIENTS
For Fried Tofu
1/4 pound extra firm tofu (cut into 2″ by 1/2″ pcs)
1 quart vegetable oil
3 tsps salt
For Phat Thai Sauce
1 1/2 ounces palm sugar, pounded lightly
1 1/2 ounce seedless tamarind, softened in 1/4 cup hot water
3 Tbsps fish sauce
1/4 cup water
For Phat Thai
1 Tbsp vegetable oil
1 tsp dried shrimp, rinsed, patted dry, and toasted
1 tsp chopped garlic
1/2 pound shrimp, peeled and deveined
1 tsp ground white pepper
1/2 cup scallions, cut in 2″ lengths
1 egg
1 pound Pad Thai noodles, soaked in hot water until pliable, then drained and rinsed in cold water (I use medium cut Three Ladies Rice noodle)
1/4 cup bean sprouts, rinsed and patted dry
2 Tbsps roasted, unsalted peanuts
For Garnish
Few sprigs of cilantro
Pinch of chili flake
Lime wedge
DIRECTIONS
Begin by frying the tofu. Place a wok over a medium-high flame, and heat the oil until a piece of tofu sizzles when placed in the oil. Fry, working in batches, until all of the tofu is a nice even golden color. You will have to gently separate the tofu as it fries to avoid sticking. Pull them from the oil when the are slightly lighter than you're looking for, as they will darken slightly as they cool. Season with 1 teaspoon of salt while they are hot. Set the fried tofu aside for later use.
In a blender, combine all of the sauce ingredients, and puree smooth.
Begin cooking the Pad Thai by heating 1 tablespoon of oil in a wok over high heat. Add the dried shrimp and garlic and stir briefly. Add the shrimp in a single layer to the wok, and season with 1 teaspoon salt and 1 teaspoon ground white pepper.
Sear well on one side and flip the shrimp. Scoot the shrimp to the side of the wok and add green onions directly to the bottom of the wok and stir-fry briefly. Add the fried tofu and toss to combine.
Scoot everything to one side of the wok and make room for an egg. Pour the egg into hot oil at the bottom of the wok and season with salt and pepper. Add a teaspoon more oil if needed. When the egg is cooked on the bottom, flip and fold in with the rest of the ingredients.
Add the noodles to the pan and stir-fry briefly, so the noodles can actually sear a little. Add ½ of the sauce and simmer hard to reduce. When the sauce has reduced slightly, and the seasoning is to your liking, toss to combine. Add the bean sprouts and peanuts and combine gently. Taste again for seasoning and add more sauce if needed. The remaining sauce will store sealed, indefinitely.
To plate, evenly distribute all of the ingredients among the plates, garnish with cilantro, chili flake and lime wedges. Serve immediately. Most noodle dishes in Thailand are eaten with chopsticks, with a fork and spoon at the table being optional.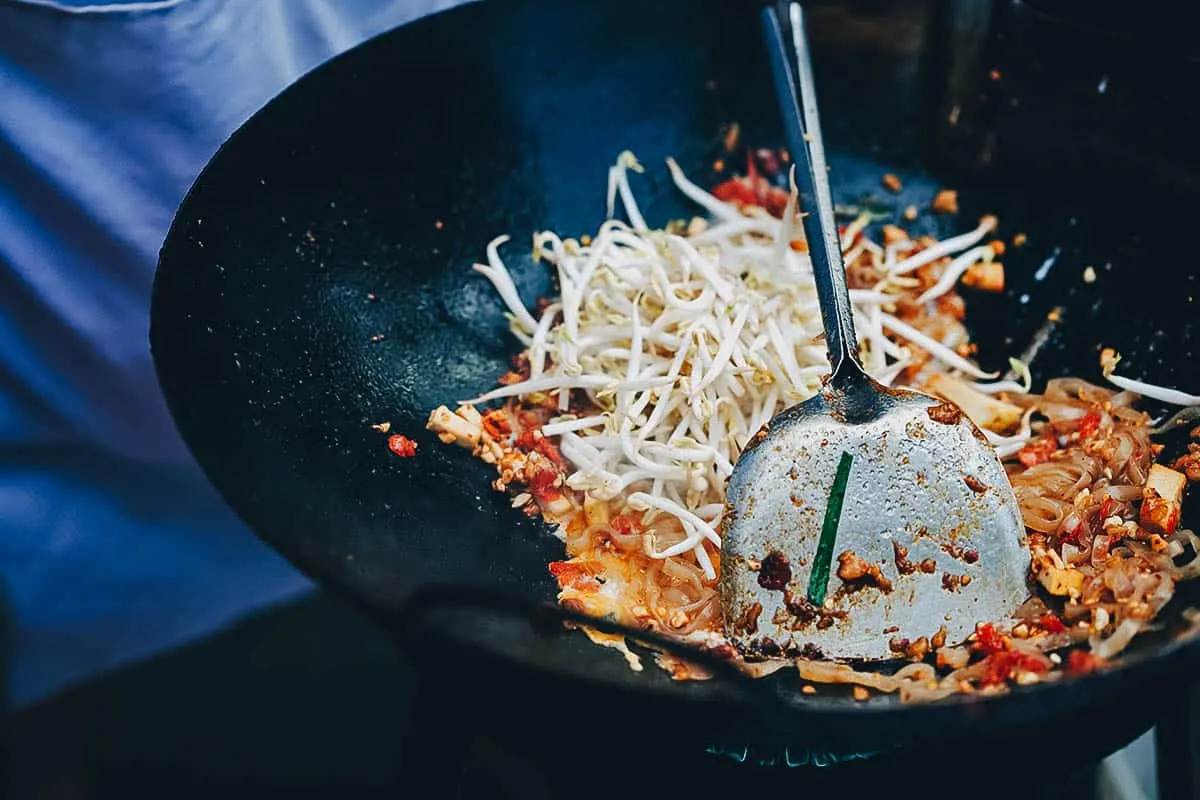 "Pad Thai" by Charles Haynes, used under CC BY-SA 2.0 / Processed in Photoshop and Lightroom