In almost every country you visit, you'll come across a dish that will test how adventurous you really are. Sannakji in Korea and tamilok in Palawan are two that come to mind. Deemed too extreme for foreigners not named Andrew Zimmern, they may even be too much for some locals so there's no shame in chickening out! My sister-in-law is Korean and the thought of eating sannakji repulses her. In short, they aren't for everyone.
Satay is NOT one of those dishes.
Spelled sate in Indonesian and Malaysian but pronounced the same as the English "satay", this is a dish that's hard not to like and one of the first things I would look for on any return visit to either country.
Save This on Pinterest!
No time to read this now? Click on the red save button and pin it for later!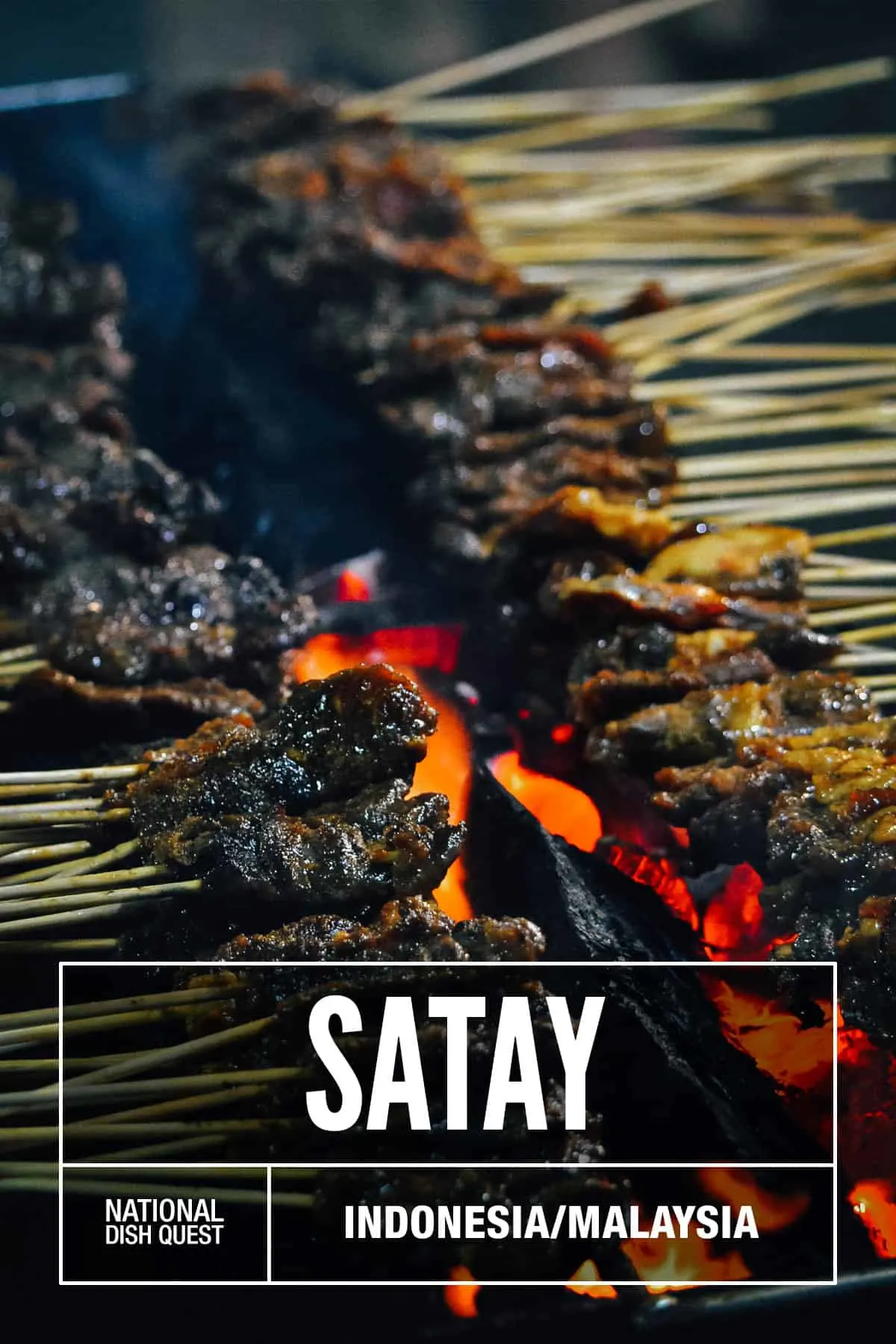 Photo by blazejosh via Pixabay
WHAT IS SATE/SATAY?
Sate is a seasoned and skewered meat dish that originated from the Indonesian island of Java. Different types of meat are marinated in turmeric and other ingredients before being grilled over coals and served with a variety of sauces, most commonly peanut or sate sauce.
Though its exact origins are unclear, the most common belief is that sate was adapted from Indian kebabs introduced to Java by Muslim traders in the early 19th century. Since its invention, the dish has spread throughout the Malay Archipelago and taken root in neighboring countries like Malaysia, Singapore, Brunei, Thailand, East Timor, and the Philippines. In Malaysia as in Indonesia, sate has become so popular that it's now recognized as a national dish.
Bouquets of sate waiting to be grilled at a streetside stall in Kuala Lumpur.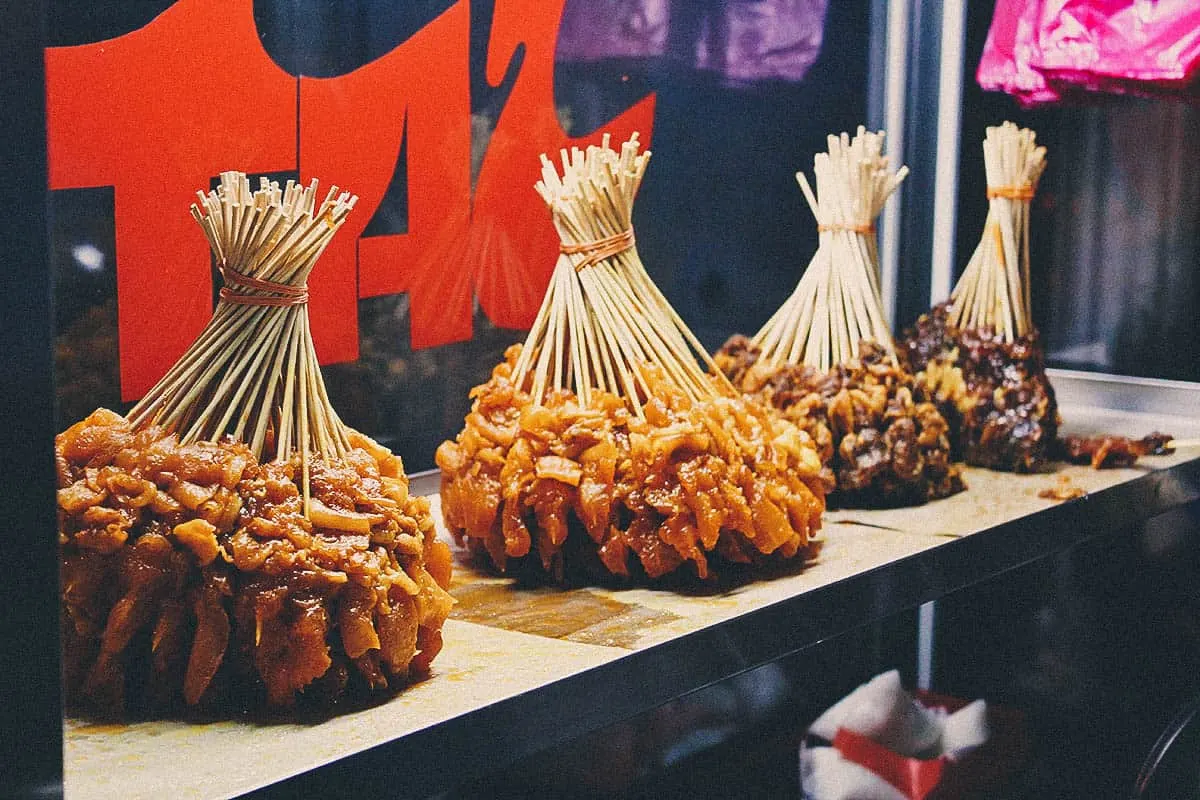 We had these on a trip to KL in 2013. Five sticks each of the chicken and beef cost just RM9.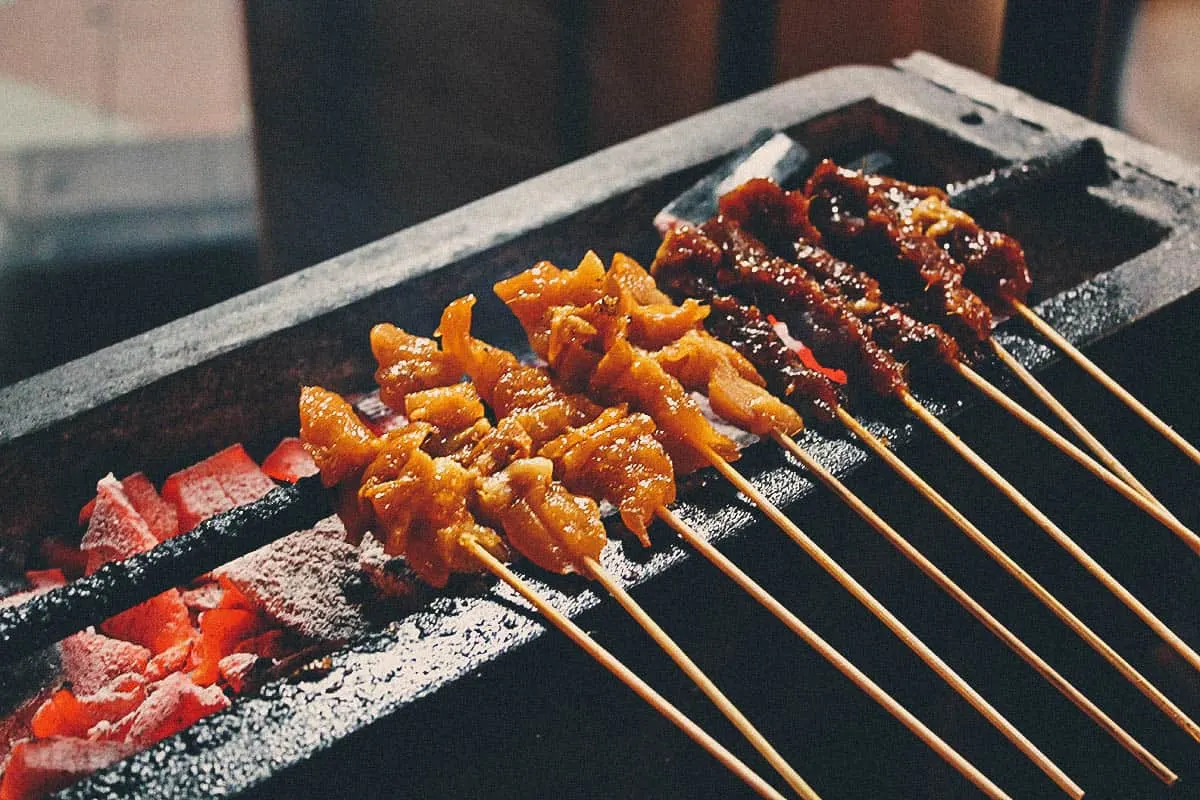 Welcome to Malaysia! What a wonderful first meal this was. Charred and smokey, we enjoyed these sticks of sate with bottles of Skol beer on our first night in KL.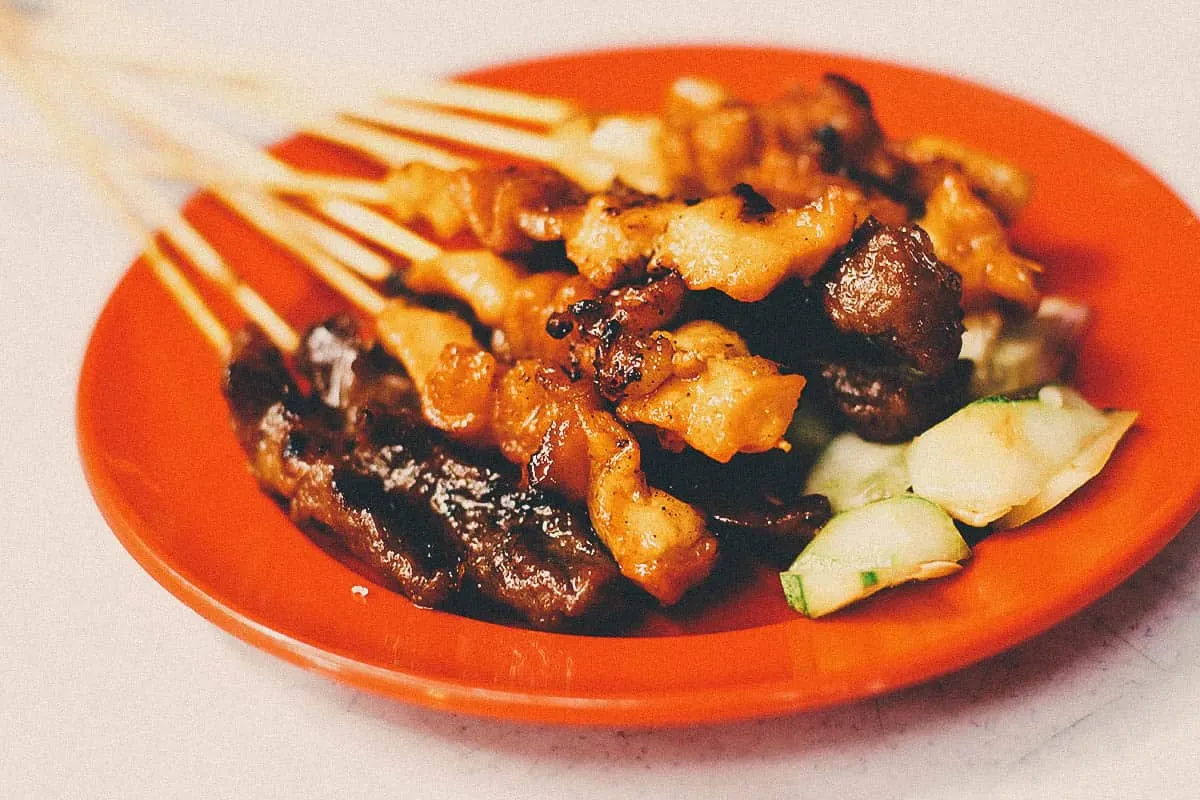 What you're looking at below is a type of communal steamboat or hot pot called lok lok. Popular in Penang, I didn't realize it at the time but lok lok is apparently considered a type of sate as well. Diners would sit around a table with a central pot of boiling water surrounded by skewered food ranging from seafood to meats and vegetables. Sticks are colored according to price and you grab whichever you want and dunk them into the pot to cook. Those three bowls on the right are the sauces. If I remember correctly, they had peanut sauce, chili, and kecap manis (sweet soy sauce).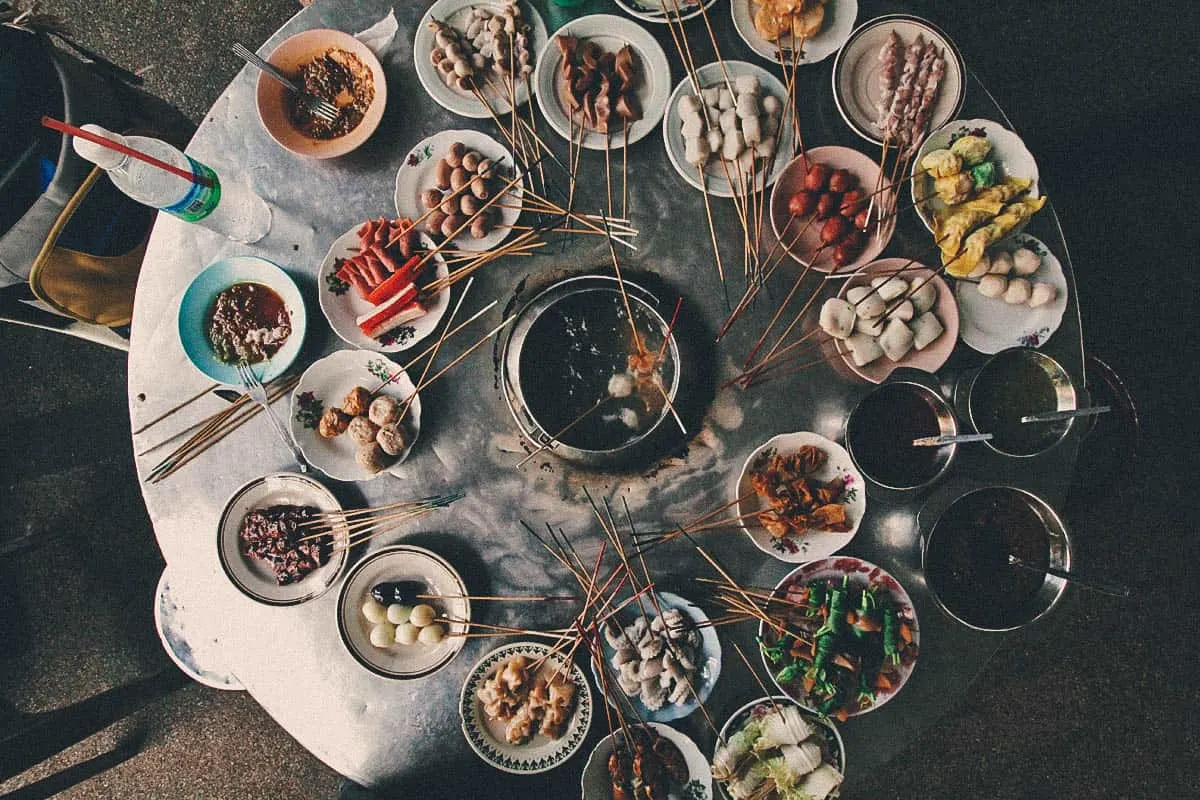 This plate of sate babi (pork satay) drenched in kecap manis was from a trip to Ubud, Bali, Indonesia in 2010. Indonesia has the widest variety of sate in the world and you can enjoy it everywhere, from humble street food stalls to fine dining restaurants.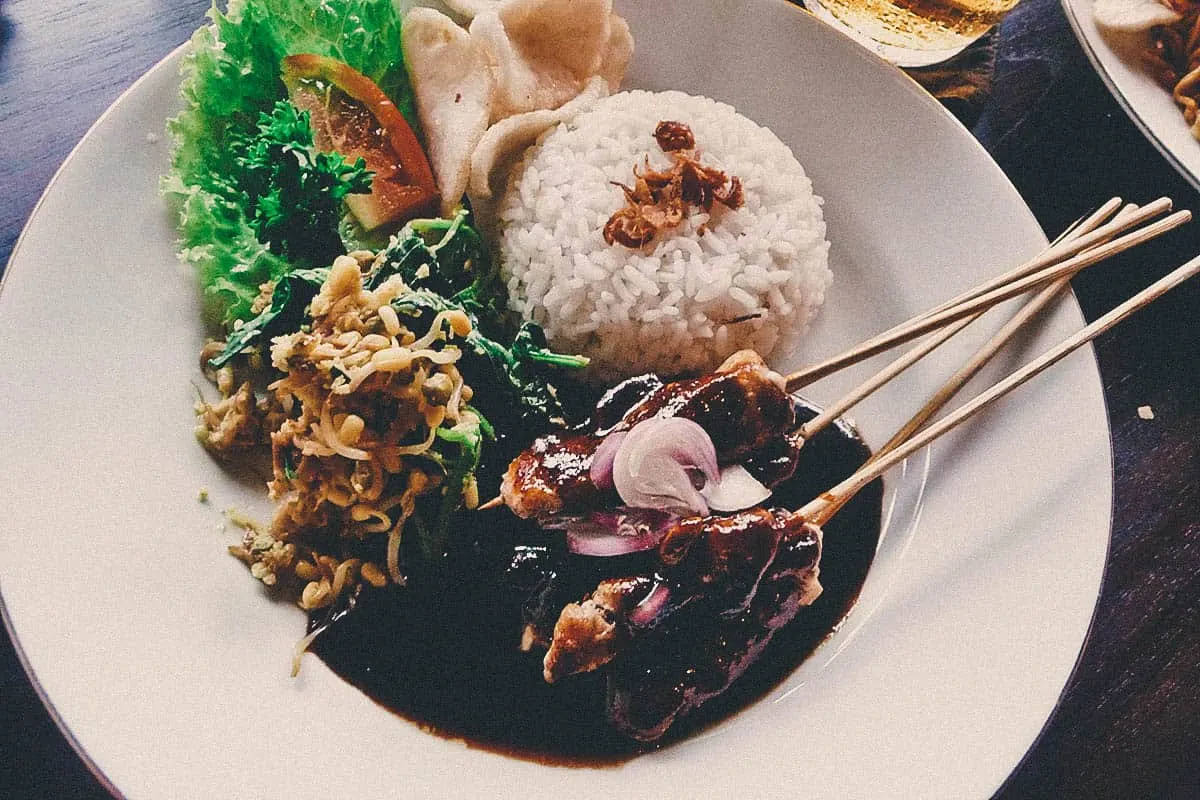 MALAYSIAN CHICKEN SATAY WITH PEANUT SAUCE RECIPE
INGREDIENTS
For Chicken Satay
4 chicken legs and thighs (preferred) or 4 chicken breasts, boneless and skinless
For Satay Spice Paste
1 tsp coriander powder
2 stalks lemongrass, white parts only
6 shallots, peeled
2 cloves garlic, peeled
4 Tbsps cooking oil
1 tsp chili powder
2 tsps turmeric powder
4 tsps of kecap manis (Indonesian sweet soy sauce)
1 tsp oyster sauce
Bamboo skewers (soaked in water for 2 hours to avoid burning)
1 cucumber, skin peeled and cut into small pieces
1 small onion, quartered
For Satay Peanut Sauce
1 1/2 cup dry roasted peanuts (unsalted)
1 cup water
1 Tbsp sweet soy sauce (Kecap manis)
1 1/2 Tbsp sugar (palm sugar preferred)
1/8 tsp salt
1/4 cup oil
1 heaping Tbsp tamarind pulp (soaked in 1/4 cup water for 15 minutes, squeeze tamarind pulp for juice and discard pulp)
For Peanut Sauce Spice Paste
6-8 dried red chilies, seeded and soaked in warm water
3 cloves garlic
3 shallots
2 lemon grass (white parts only)
1 inch ginger (galangal preferred)
1 Tbsp coriander powder (optional)
DIRECTIONS
For Chicken Satay
Cut chicken meat into small cubes.
Grind spice paste ingredients in food processor. Add in a little water if needed. Marinate chicken pieces with spice paste for at least 12 hours, not to exceed 48.
Thread meat onto bamboo skewers and grill for 2-3 minutes on each side. Serve hot with fresh cucumber slices and onions.
For Satay Peanut Sauce
Crush peanuts coarsely with mortar and pestle or mini food processor then set aside.
Chop spice paste ingredients and blend until fine. Heat oil and fry spice paste until aromatic. Add peanuts, tamarind juice, water, sugar, and sweet soy sauce, then stir thoroughly. Simmer in low heat and continue stirring for about 3 minutes until peanut sauce becomes smooth. Serve at room temperature with chicken satay.
* * * * *
And voila! Follow the steps above and this is what you'll wind up with. Love those grill marks on the chicken! You like my pathetic attempt at food styling with the awkwardly placed peanuts? 😆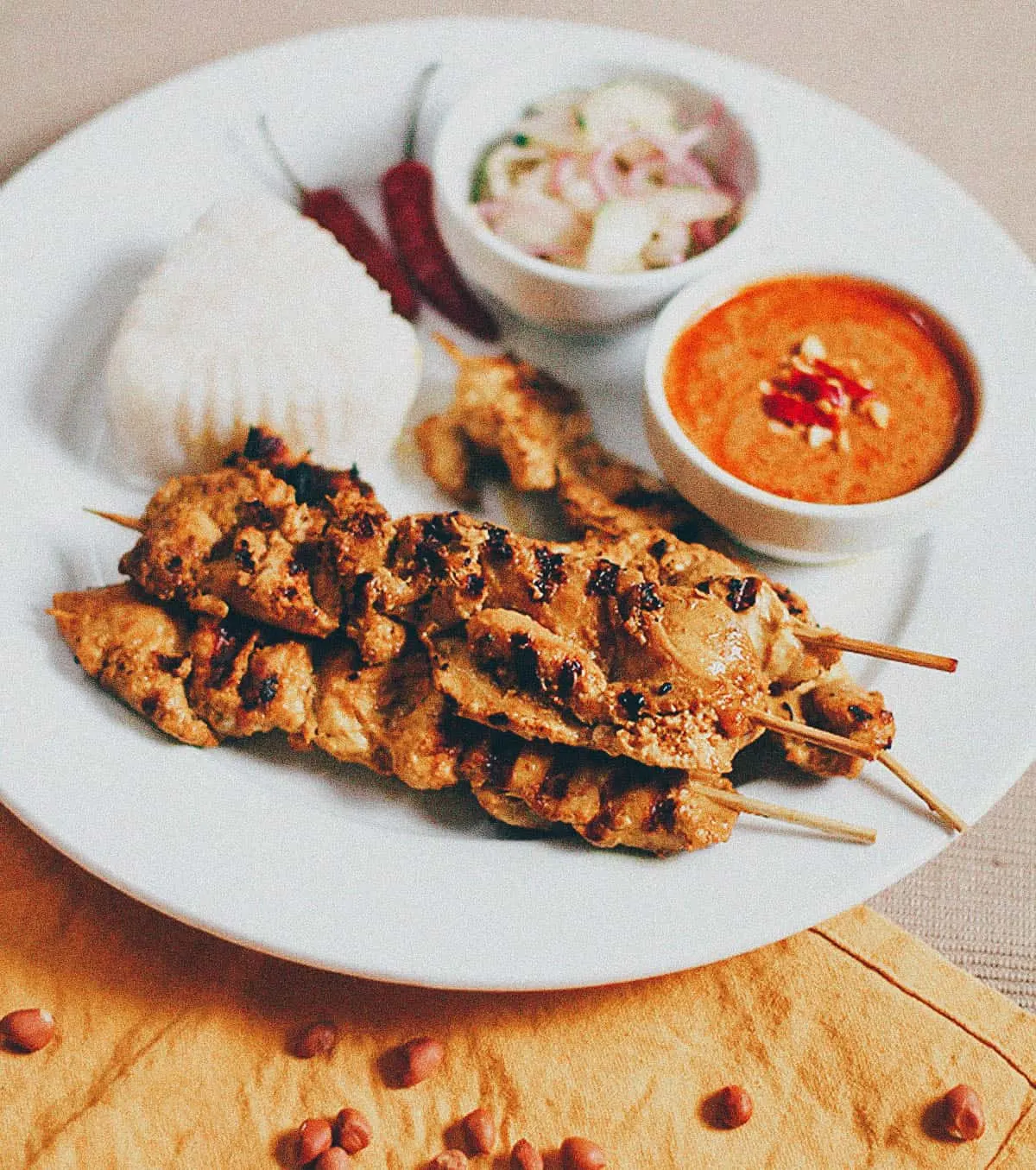 This wasn't included in the steps above but if you're a fan of smokey flavor, then you can try dhungar-smoking the chicken. Dhungar-smoking is a quick smoke process popular in Indian Awadhi cuisine. It allows you to easily smoke food right on your stovetop.