We were guests recently at Centara Grand at Central Plaza Ladprao in Bangkok. Shortly after checking in, we met with the hotel's manager to discuss our itinerary for the next two days. He talked about the hotel briefly before diving into Suan Bua Thai Restaurant.
He described the restaurant and its chef in length, talking about its menu of Thai court dishes from the royal kitchen of King Rama V. He even went into detail about the restaurant's unique rice which is grown on volcanic soil in the northeast region of Thailand. Clearly, he was proud of this restaurant and expressed his hopes for its ultimate inclusion into the Bangkok Michelin Guide. After enjoying a meal here, I can see why.
Ren and I have eaten at a handful of Michelin-starred restaurants on trips. That doesn't qualify us as experts but I do believe this restaurant has a case. We've had Thai food countless times before, but never quite like this. Artfully presented and refined in taste, this is next level Thai cuisine.
Save This on Pinterest!
No time to read this now? Click on the red save button and pin it for later!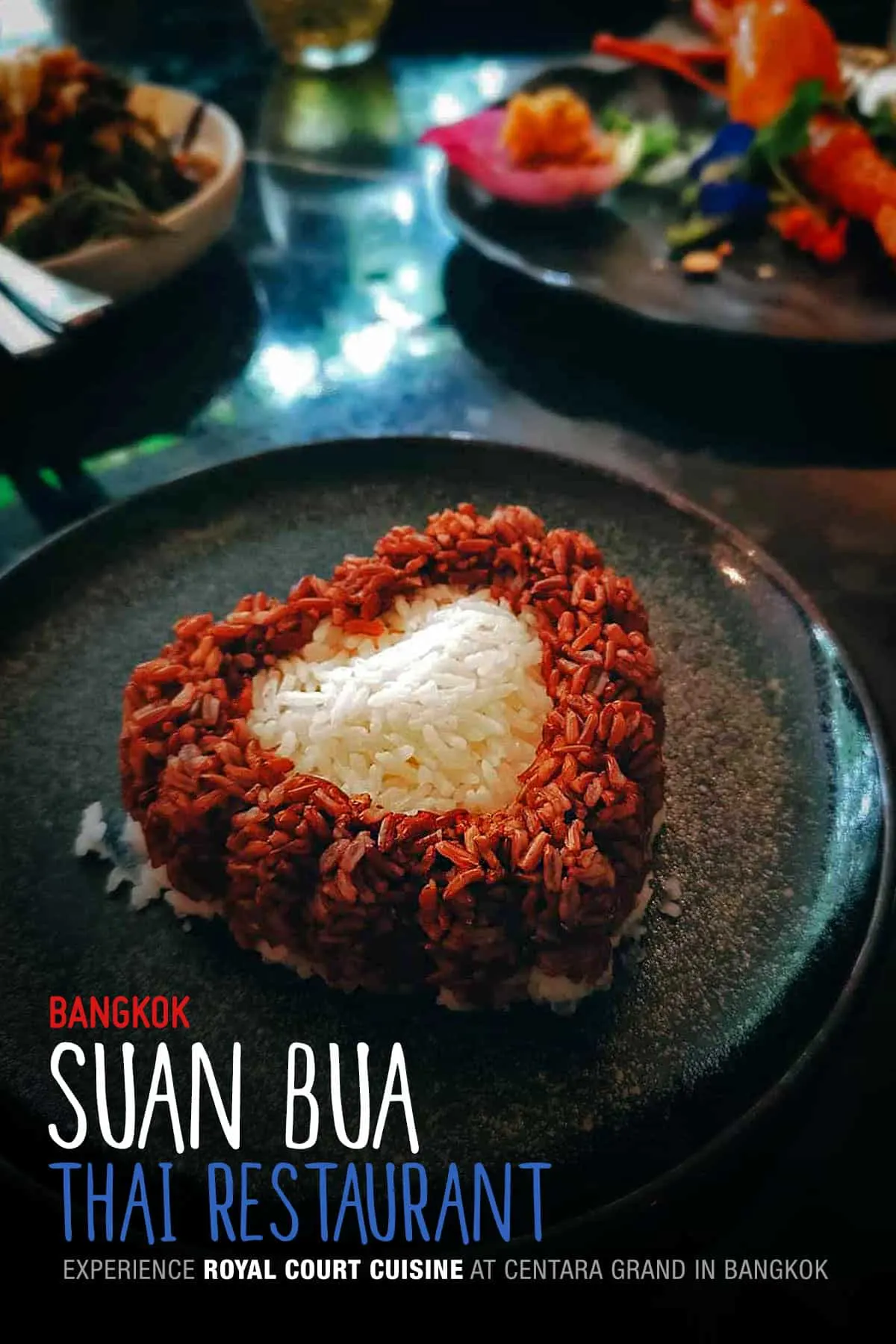 Suan Bua Thai Restaurant
Centara Grand at Central Plaza Ladprao is a 5-star hotel near Chatuchak Park in Bangkok. The hotel has seven highly-regarded restaurants, none more impressive perhaps than Suan Bua Thai Restaurant. This post is solely about Suan Bua but I'll publish an article about the hotel and its other restaurants soon.

The restaurant has a casual but elegant interior. I like the simple organic textures and how many of the tables mix chairs with sofa benches.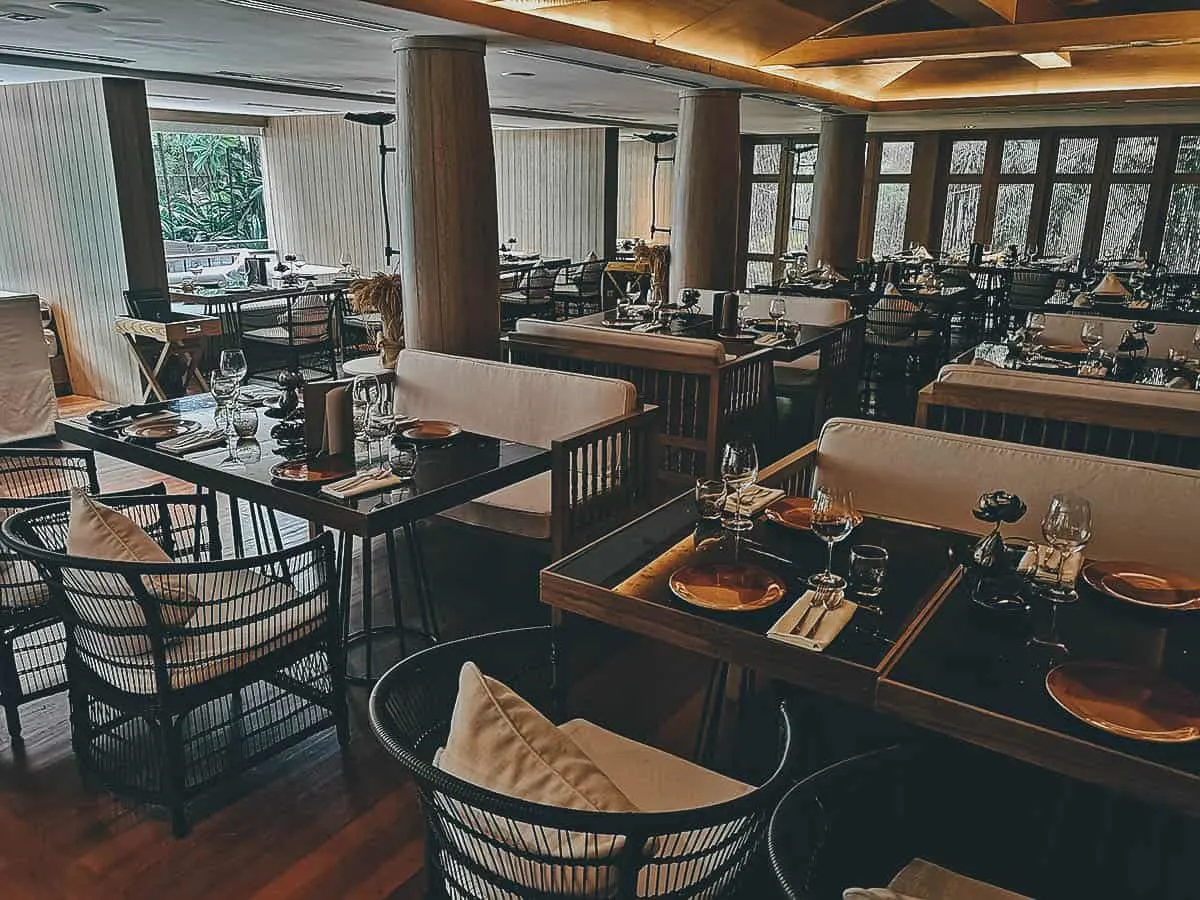 We enjoyed lunch with two of the hotel's PR managers who did a great job with the ordering. They started us off with this delicious pair of mocktails.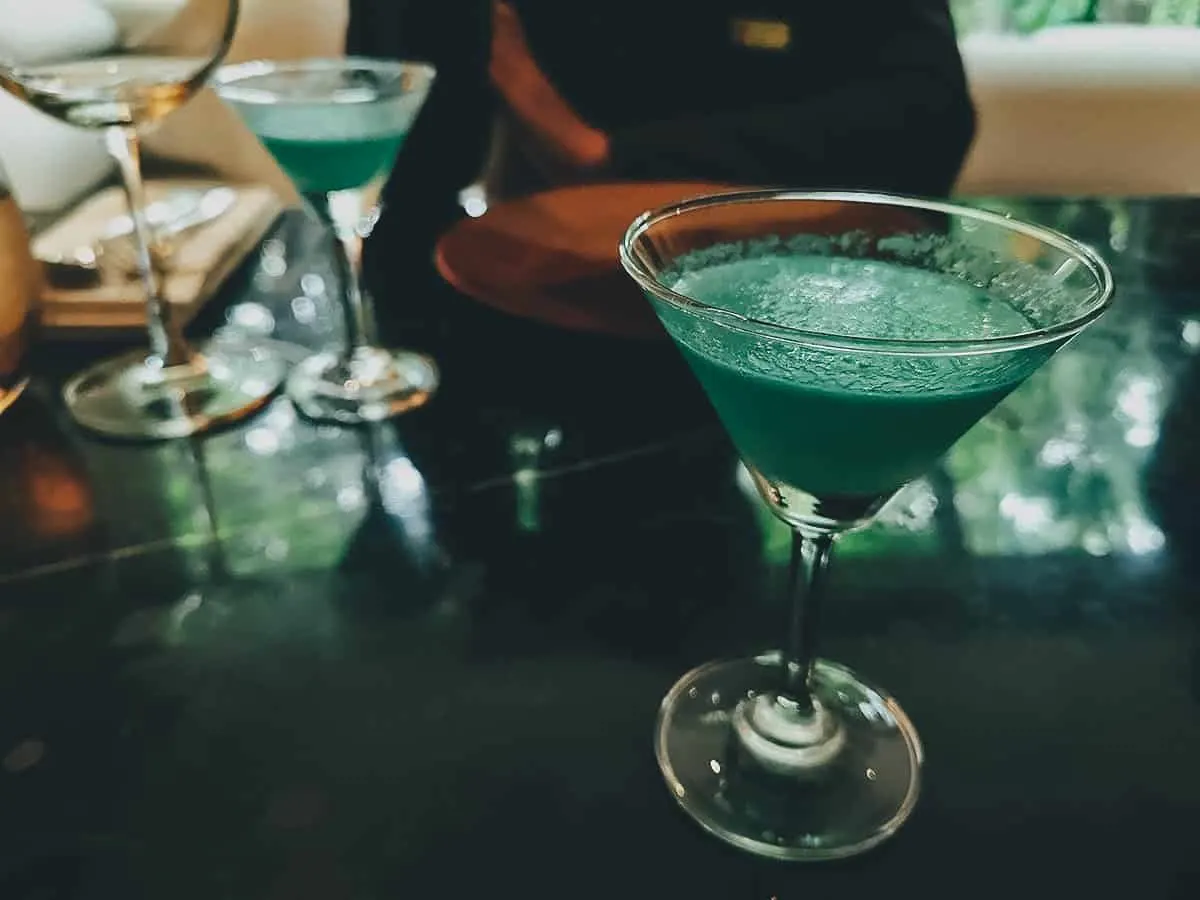 Sorry, but I didn't catch what these mocktails were. They both tasted fruity and refreshing, this one tangier than the first.

For our first course, we were served this amuse-bouche which is Chef Por's take on Thai omelette. It's garnished with an edible butterfly pea flower. Pretty isn't it? If I understand correctly, the restaurant serves diners with these bite-sized morsels to kickstart their meal, regardless of what they order. The day's amuse-bouche changes on a regular basis.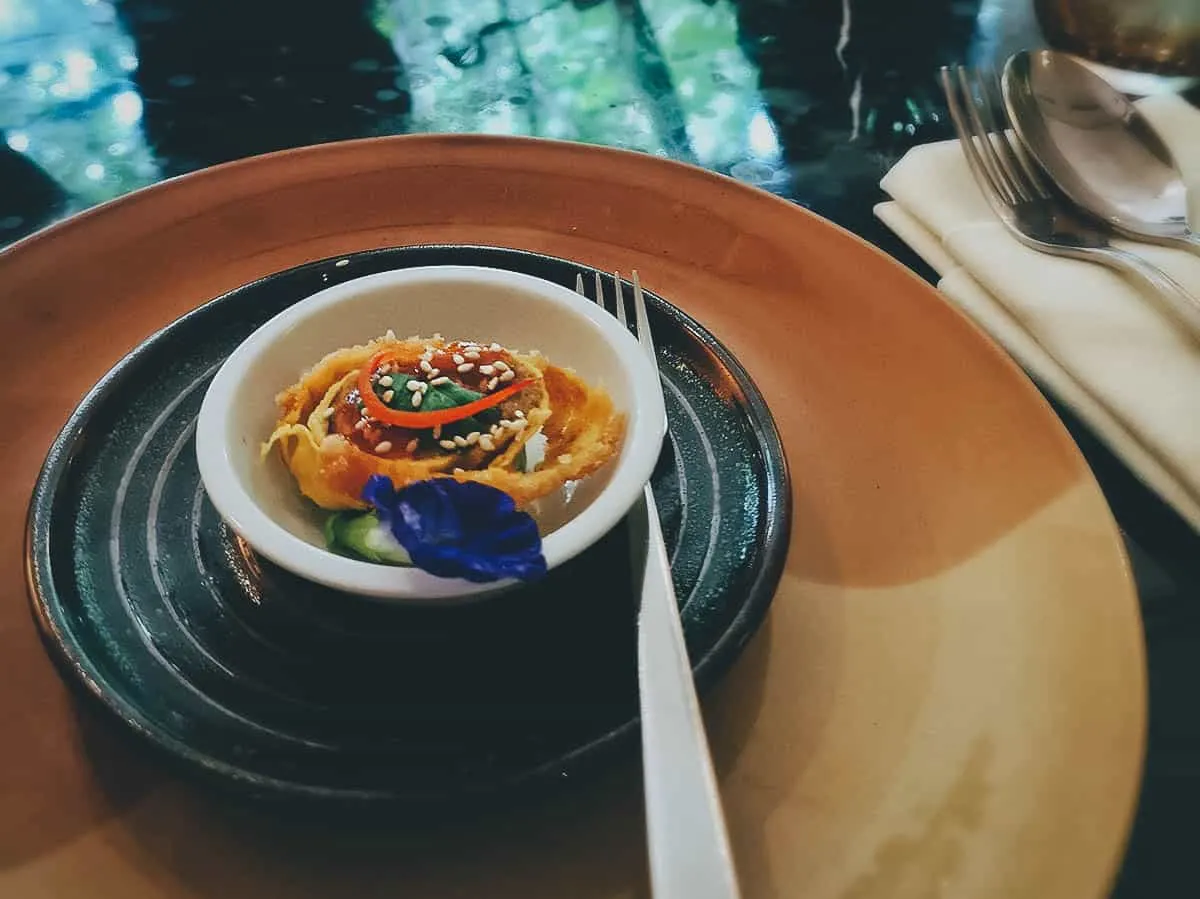 This Thai samphire and crab meat salad (yum cha-kram nuea poo, THB 390) was delicious and very interesting. It was my first time to try samphire which is a type of succulent plant that grows in salty waters. According to Chef Por, the plant is harvested from estuaries with brackish water.
If you look at the picture below, there's an unseasoned sprig of samphire sticking out from the top. He had us try that first before digging into the dish, to see how it tastes in its natural form. It tasted exactly like the environment it grows in – salty and briny, just like the ocean! It was delicious, especially with those whole chunks of crab meat mixed with roasted shallots, garlic, and dried chili. There was a hint of sweetness and sourness to the dish too. We tried a lot of dishes today but I kept going back to this one as I found it so interesting.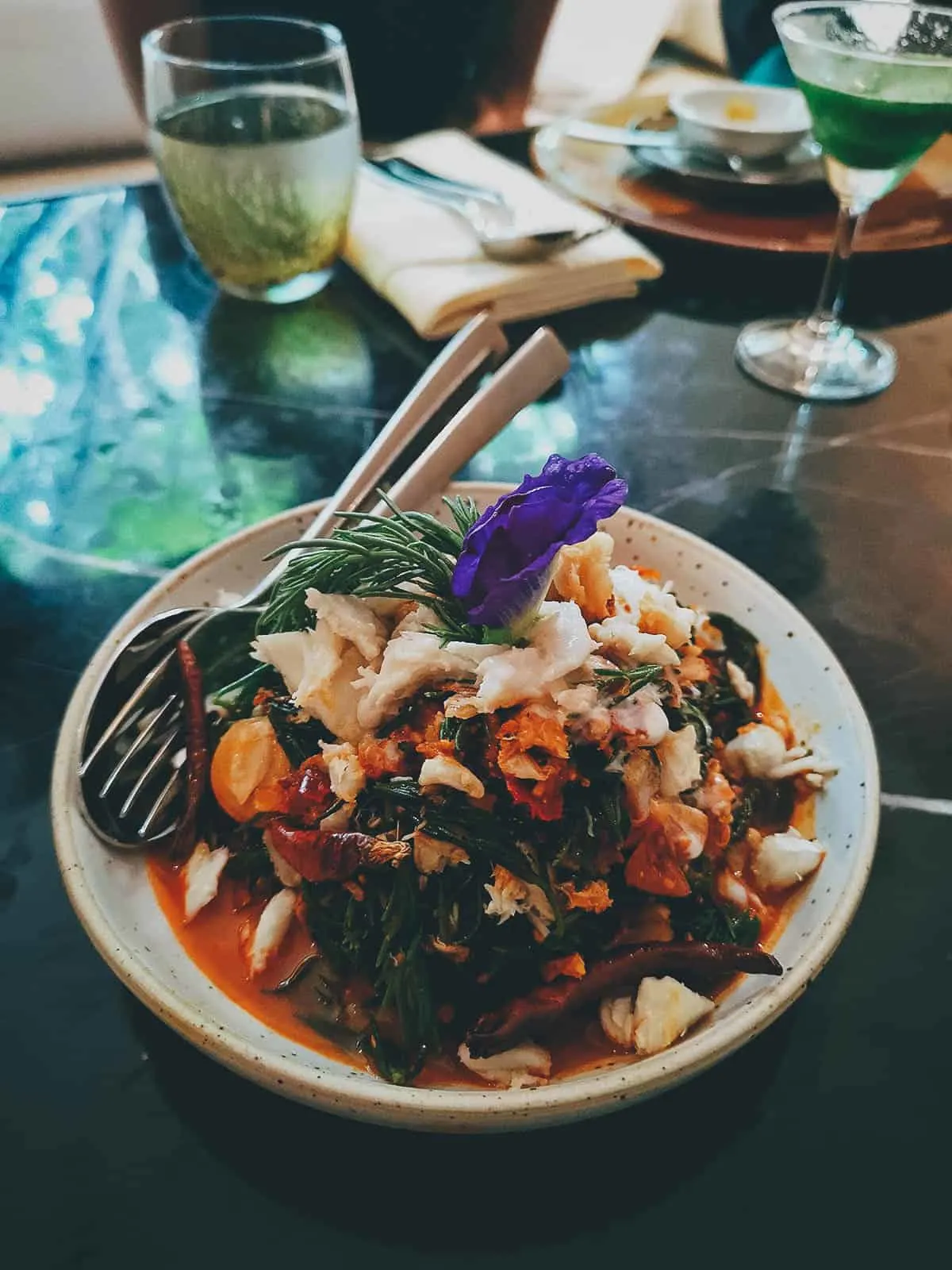 Chef Por plates all his dishes creatively but this river prawn in lotus leaves with sweet sauce (mieng goong foo kleab bua, THB 350) may have been the most beautiful. It's gorgeous! Deep-fried and breaded hunks of prawn are placed in whole lotus leaves with roasted peanut and coconut, before being drizzled with a sweet sauce made from palm sugar, coconut, galangal, and lemongrass. You're meant to eat the whole thing in one bite. Gladly!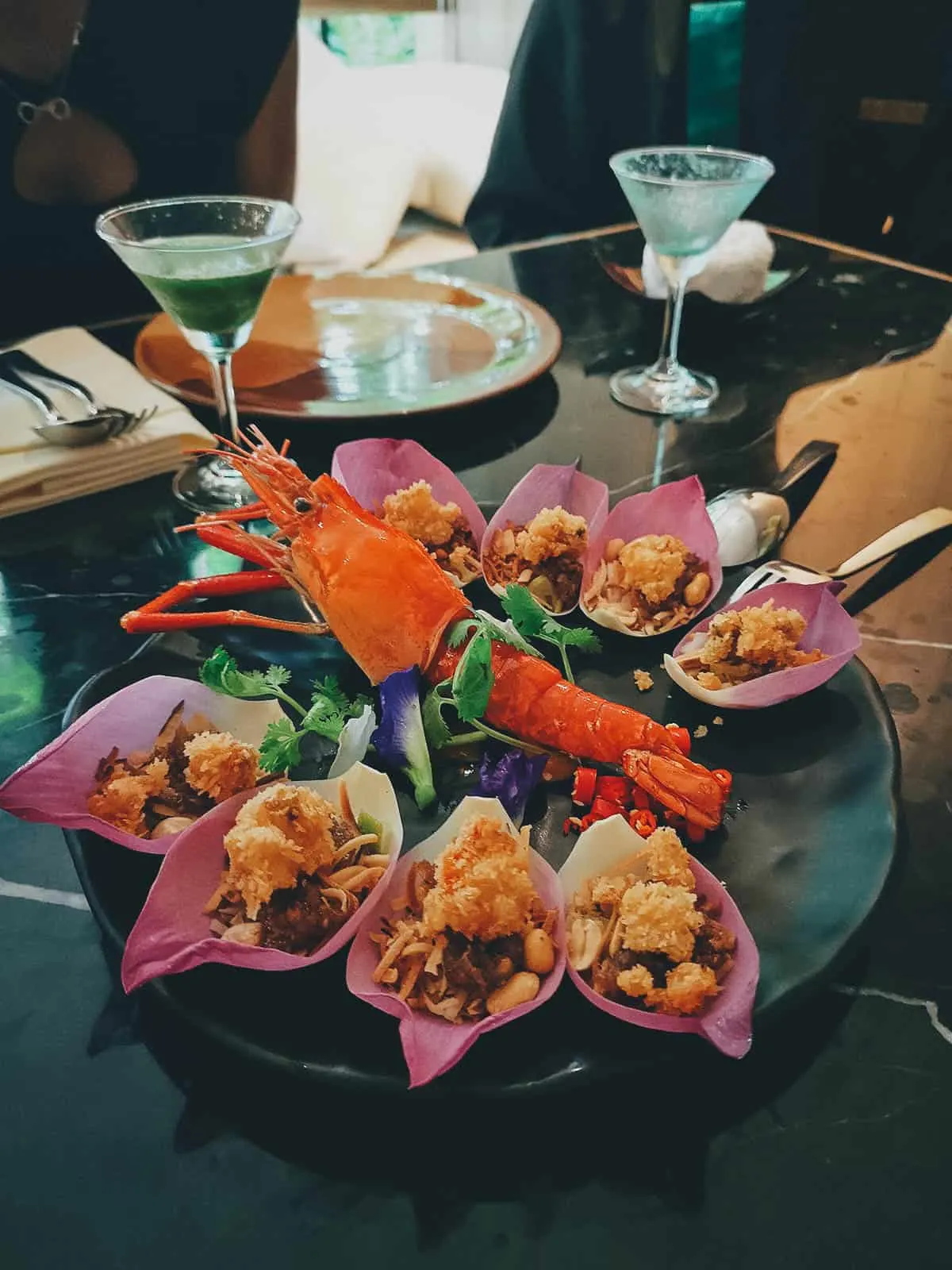 In the majority of Asian restaurants, rice is just a side dish but at Suan Bua, it gets equal billing. This is the duo of rice that the hotel manager was so excited for us to try. It's made with sangyod brown rice and Hom Mali white rice grown on Buriram Volcano soil. Love it!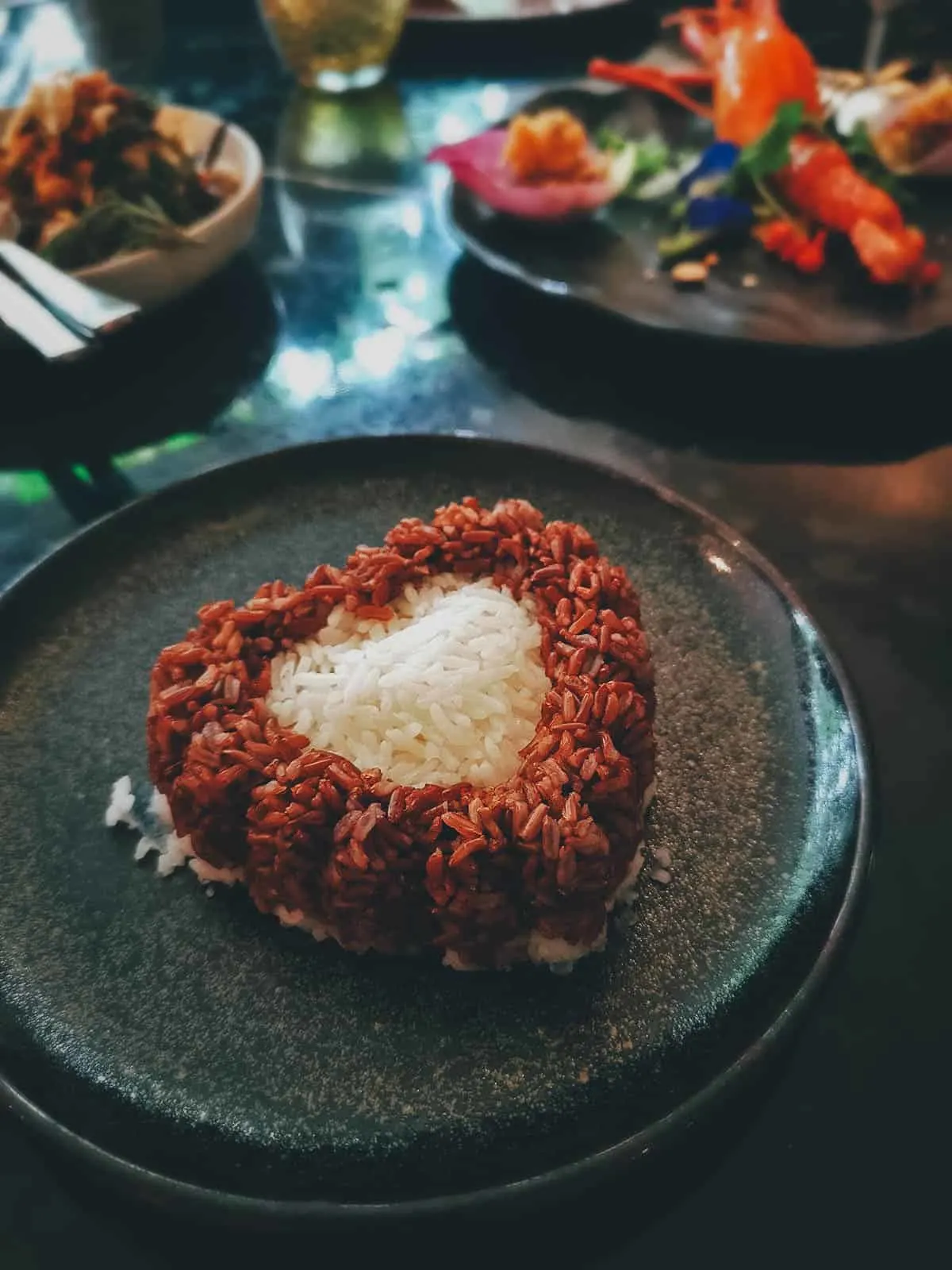 As described, Chef Por's dishes are always so artfully plated, garnished with things like butterfly pea flowers, fresh herbs, and chili for splashes of color. What you're looking at here is a deep-fried whole sea bass topped with fresh Thai herbs (pla kapong tod samoon prai, THB 790). The sea bass fillets are sliced and deep-fried before being put back into the fish for a more dramatic presentation.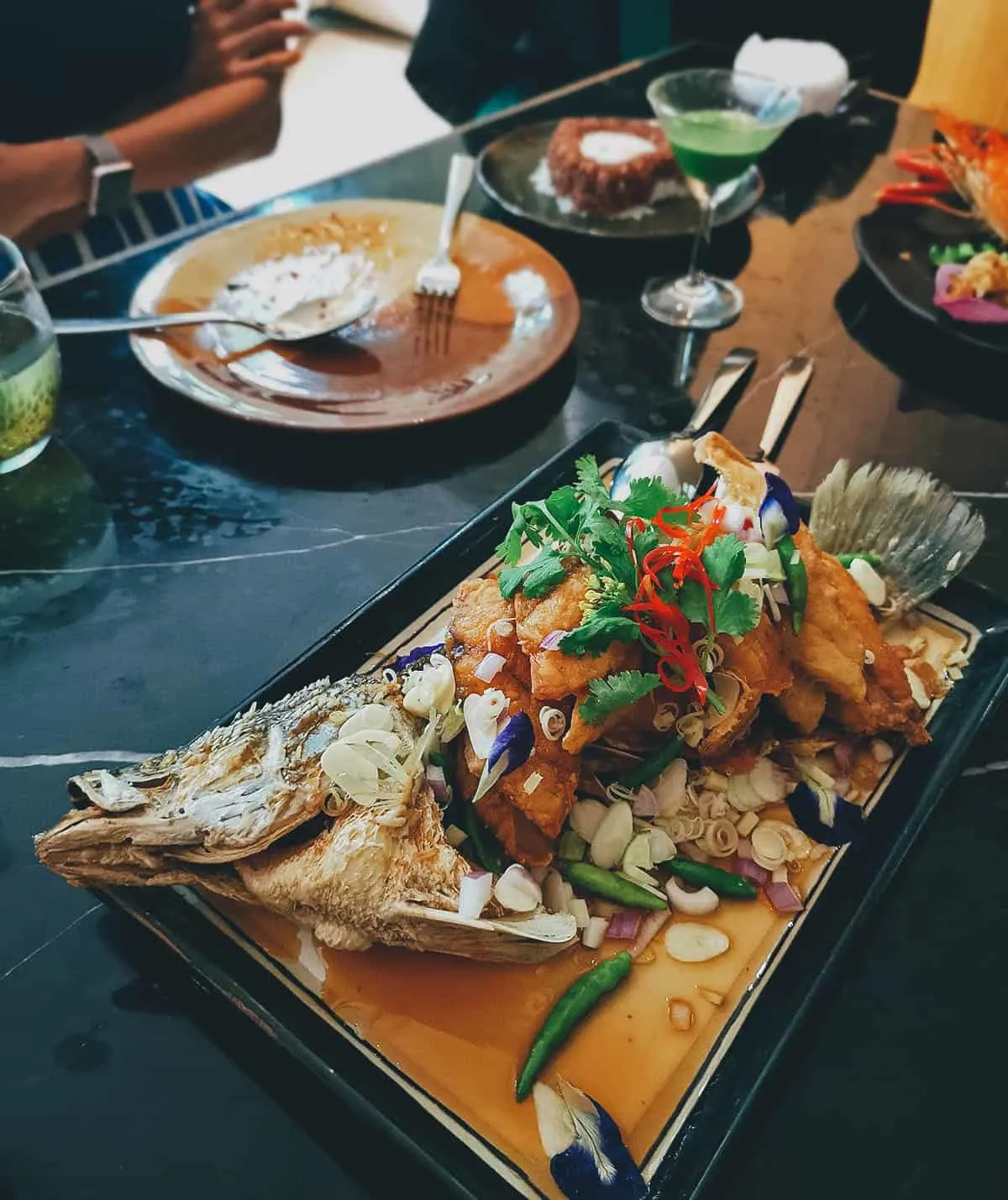 This was one of my favorite dishes from today's meal. Most non-Thais have heard of tom yum, the hot and sour soup that's considered a Thai national dish. This particular version, known as tom goong yang prung sod Rama V (THB 420), is from a recipe that originated from the royal kitchen of King Rama V. It tastes distinctly different from your typical tom yum and is a rendition that most people have never heard of, not even Thais!
Many of Chef Por's dishes are derived from traditional royal recipes. He aims to keep the original flavors intact whilst presenting the dishes in a more contemporary way. This version of tom yum is a good embodiment of Chef Por's philosphy. For me, it's the perfect representation of what Sua Bua is all about – traditional but modern royal Thai food that's both familiar and new. Like the samphire starter, I found myself repeatedly slurping spoonfuls of that broth throughout the meal. It's so interesting and delicious.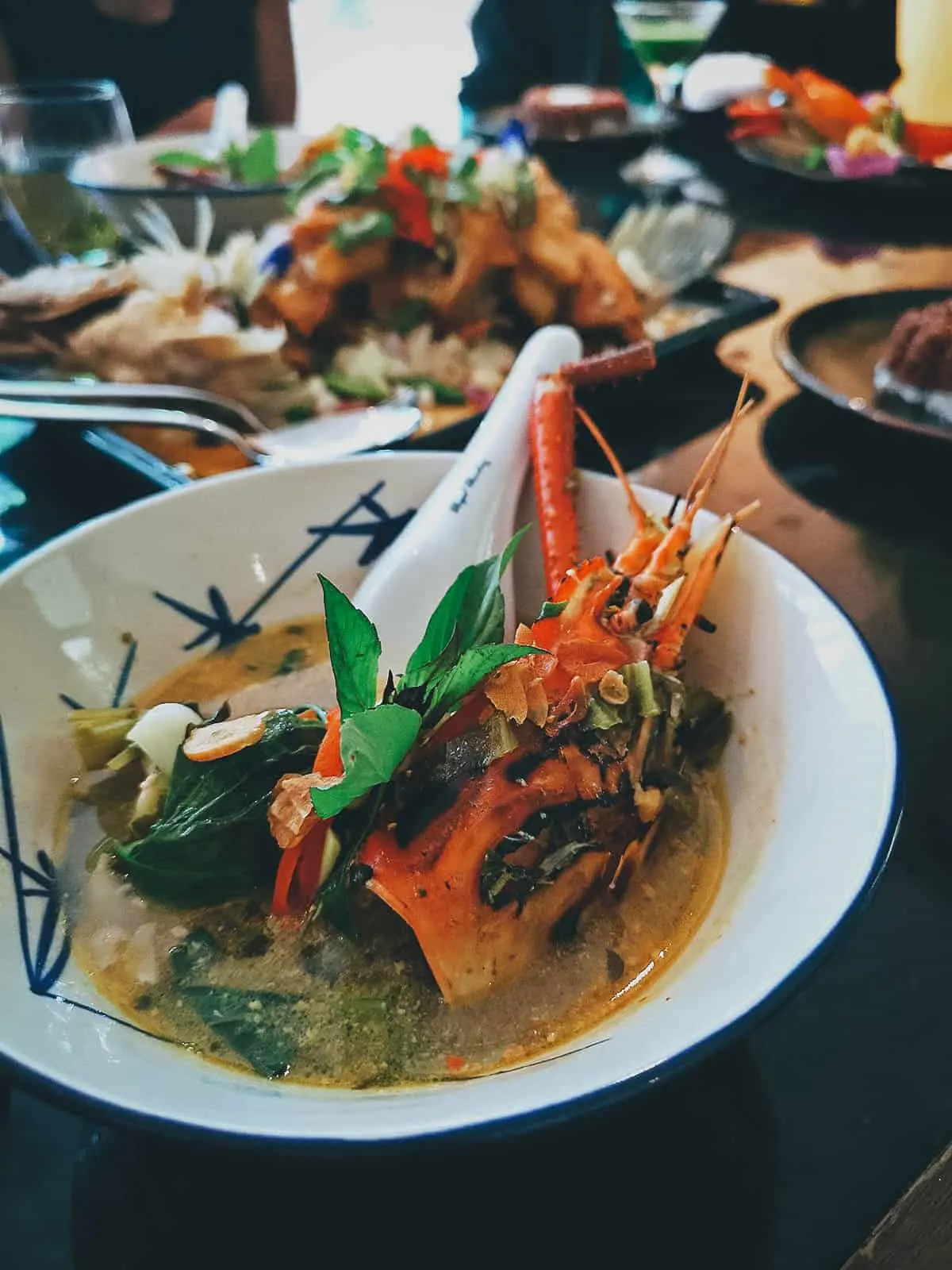 Ren loves lamb so this was the one dish we requested today. Chef Por's braised New Zealand lamb shank in massaman curry (gang massaman nong gae, THB 790) is absolutely delicious. It's braised for six hours so the meat is fall-off-the-bone tender. I could practically smack the table with my fist and the meat would just slide off that bone. It's so good.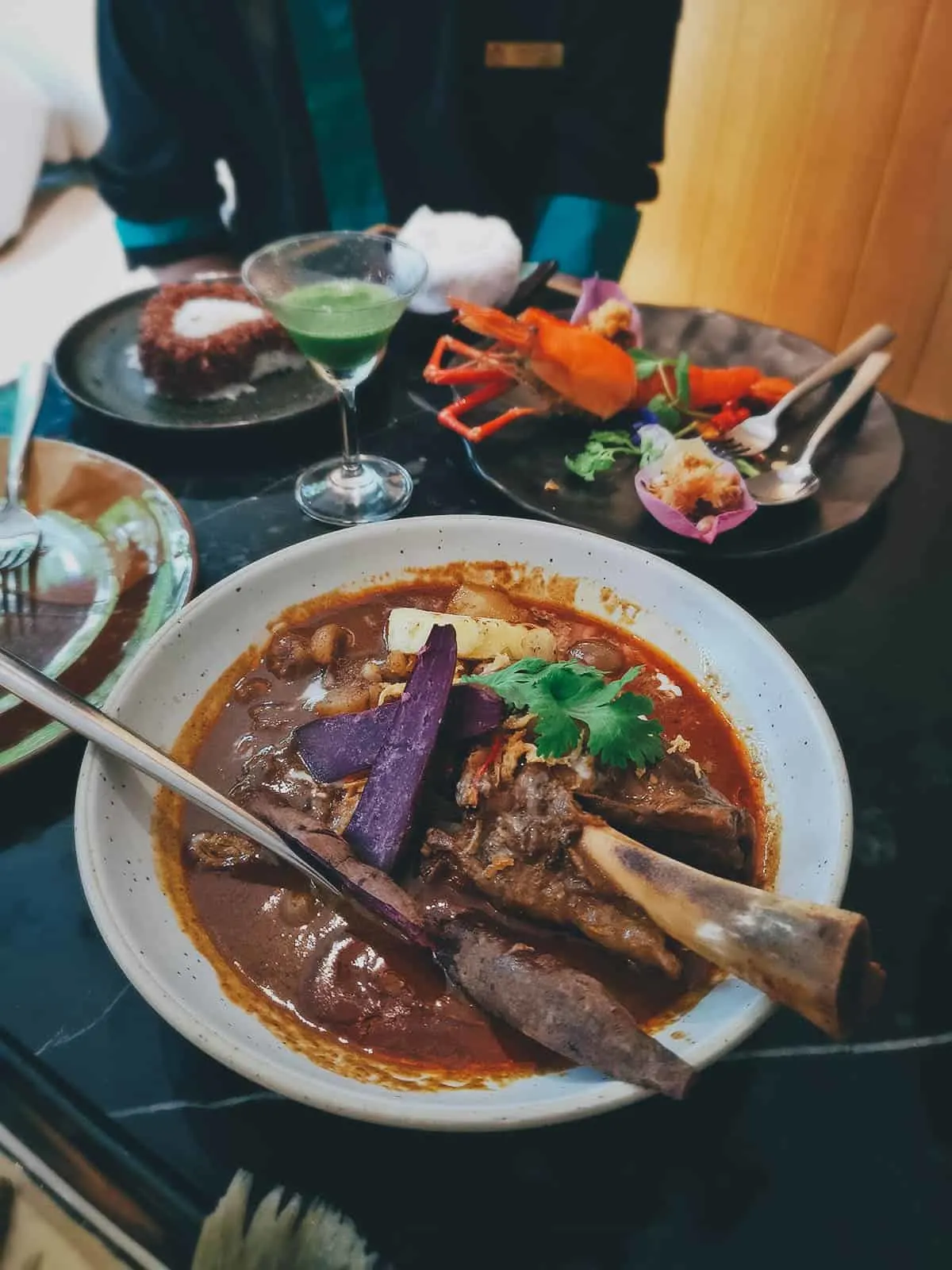 I like snails so this Phuket sea snail curry with wild betel leaves (gang kua hoy wan bai cha-plu, THB 450) was another of my favorite dishes from today's meal. The sea snails are sourced from Phuket and are larger than your typical snails. They were firmer in texture with more snap. Rich and creamy with the earthy flavor of snail, give me a bowl of this sea snail curry and a plate of rice and I'm a happy man.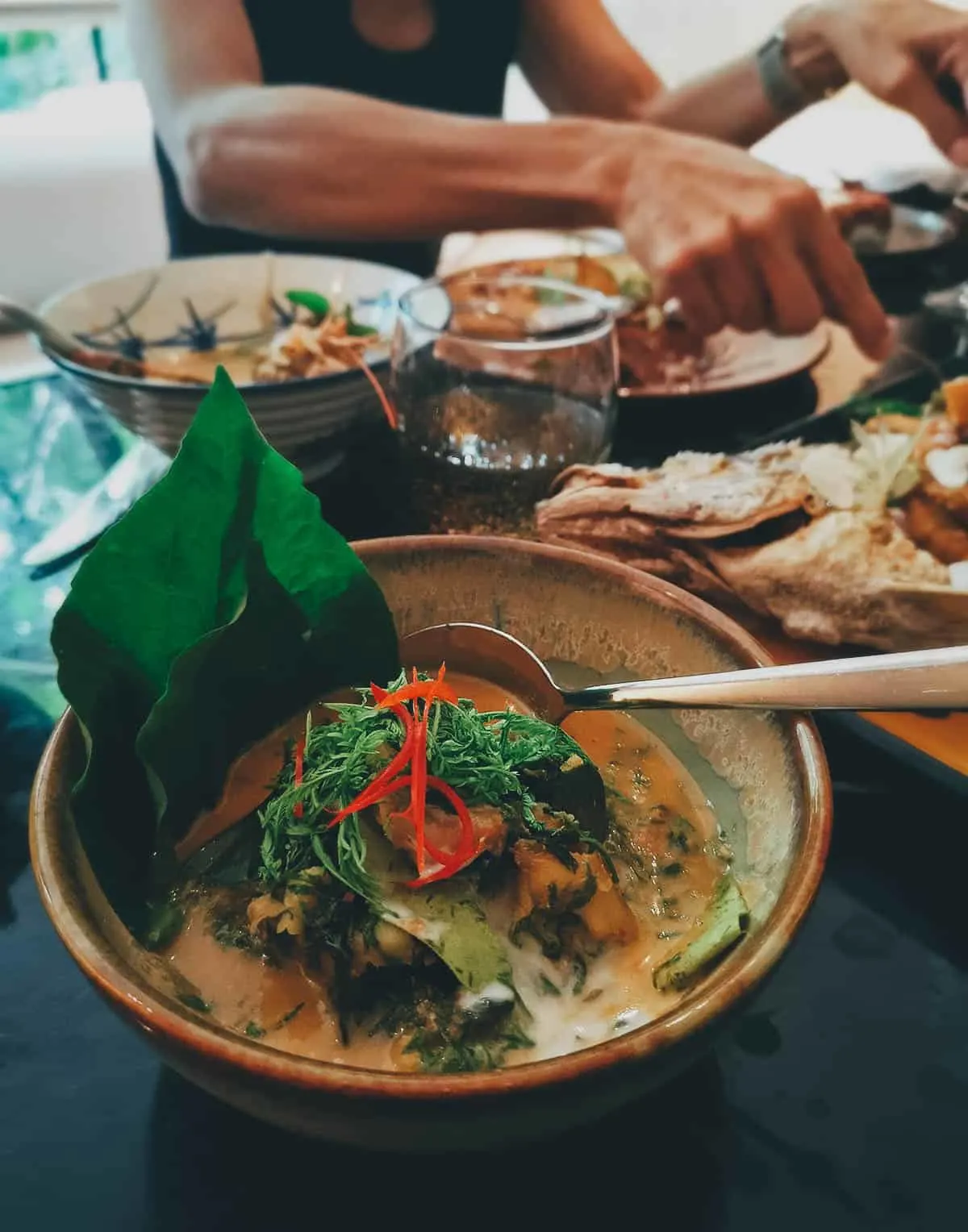 This pork dish was interesting too. It's a hot and sour soup with Kurobuta pork (tom jiew nuae Wagyu rue moo Kurobata, THB 450), though it can be made with Wagyu beef flank as well. According to Chef Por, it was concocted by King Rama V's kitchen as a healing dish, something that was given to members of the royal family whenever they felt under the weather. Comforting and rejuvenating, think of it as the royal Thai equivalent of chicken noodle soup.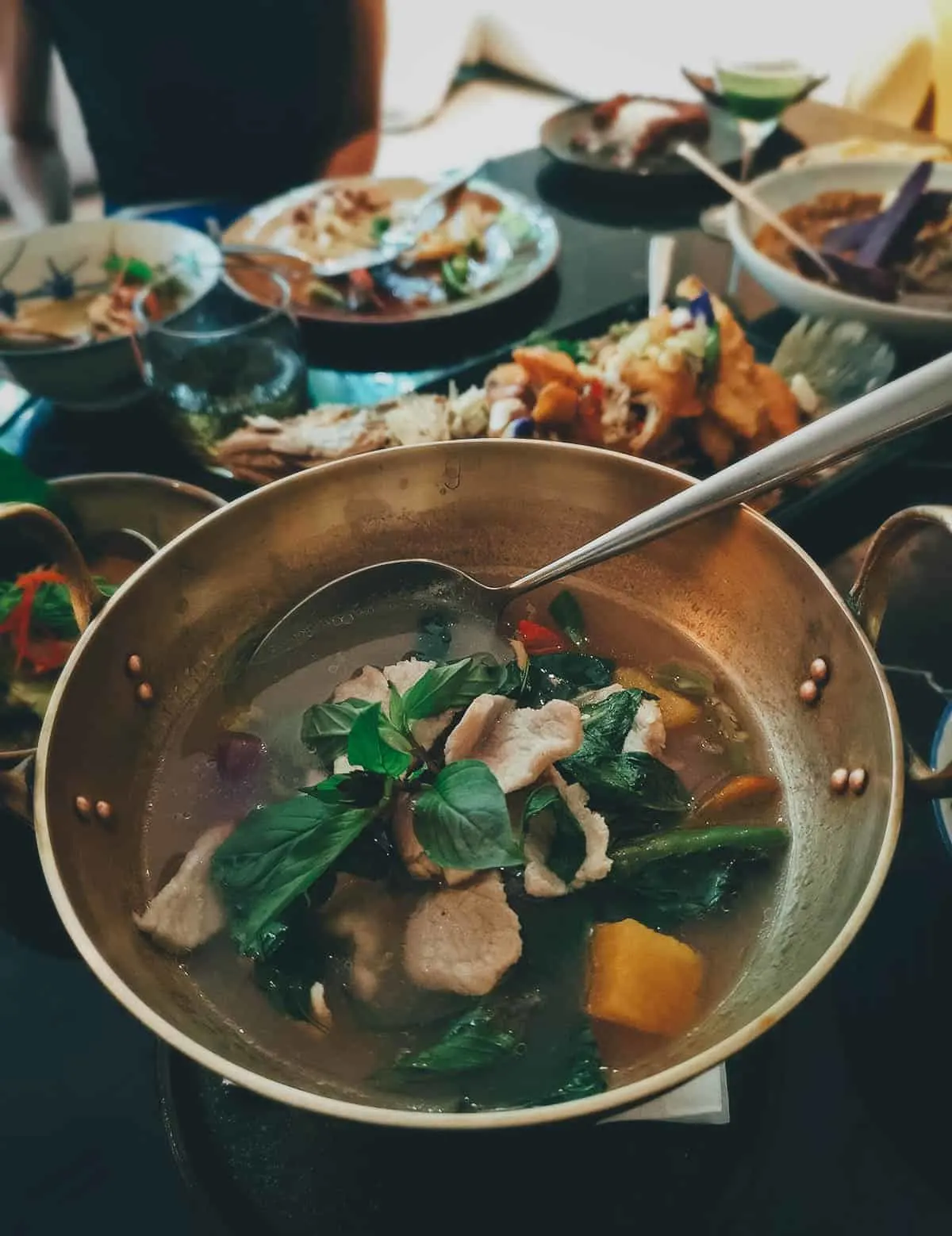 This Thai custard bread with vanilla ice cream (kanom pung sang ka ya bai toey kub i-tim vanilla, THB 250) was the first of two desserts we were served today. It was fascinating because Ren and I enjoyed Thai fried bread with pandan cream on our last trip to Thailand, so we instantly recognized this as a refined version of that popular Bangkok street food snack. So creative and delicious!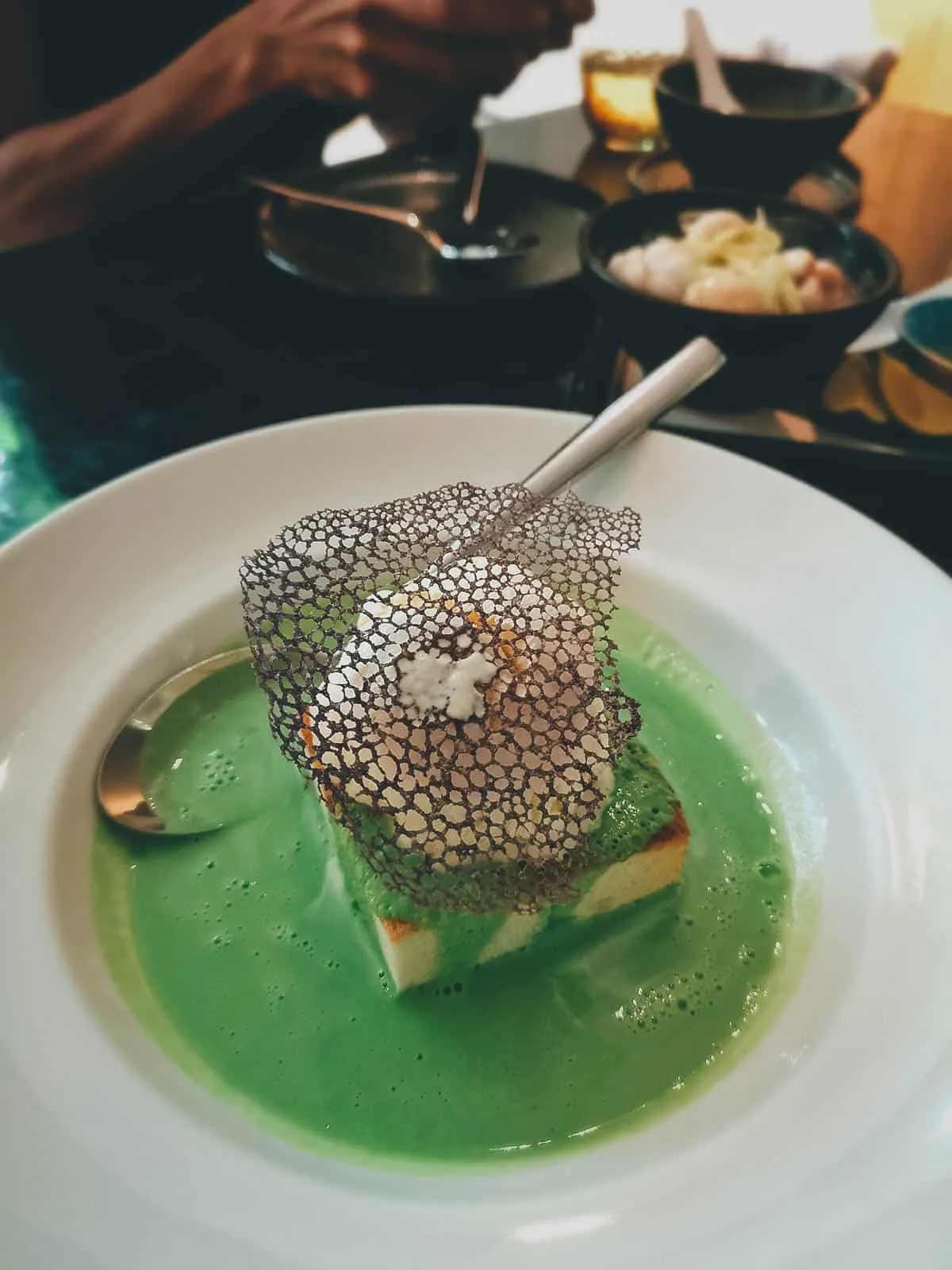 With Chef Por's court cuisine narrative, it was only fitting that we ended today's lunch with this bowl of tropical fruits in scented syrup (som chun king Rama V, THB 250) – a dessert rooted in King Rama V's kitchen. This bowl contained the sweetest bites of mangosteen and lychee in scented syrup on ice, topped with fried shallots and finished with lime.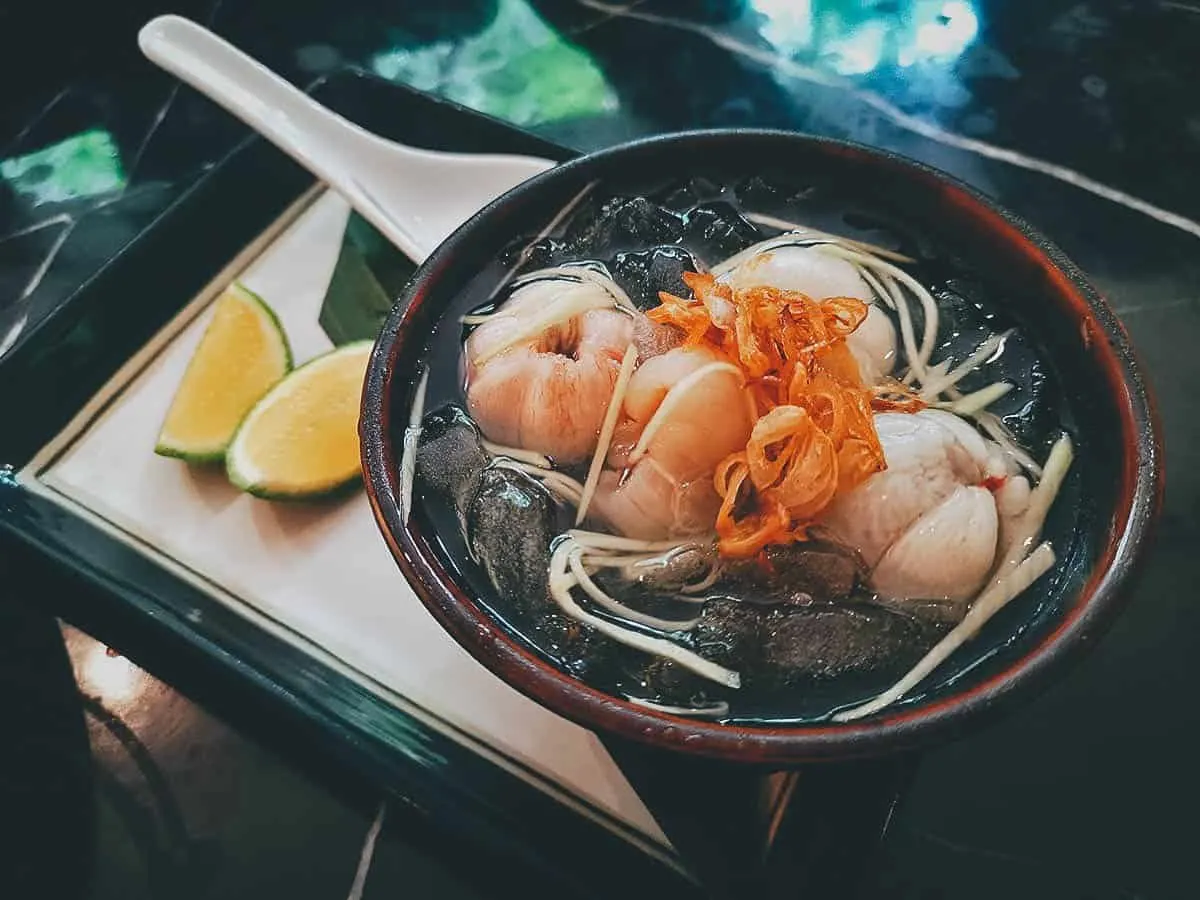 A comforting end to a fabulous meal, even their coffee was excellent and beautifully presented.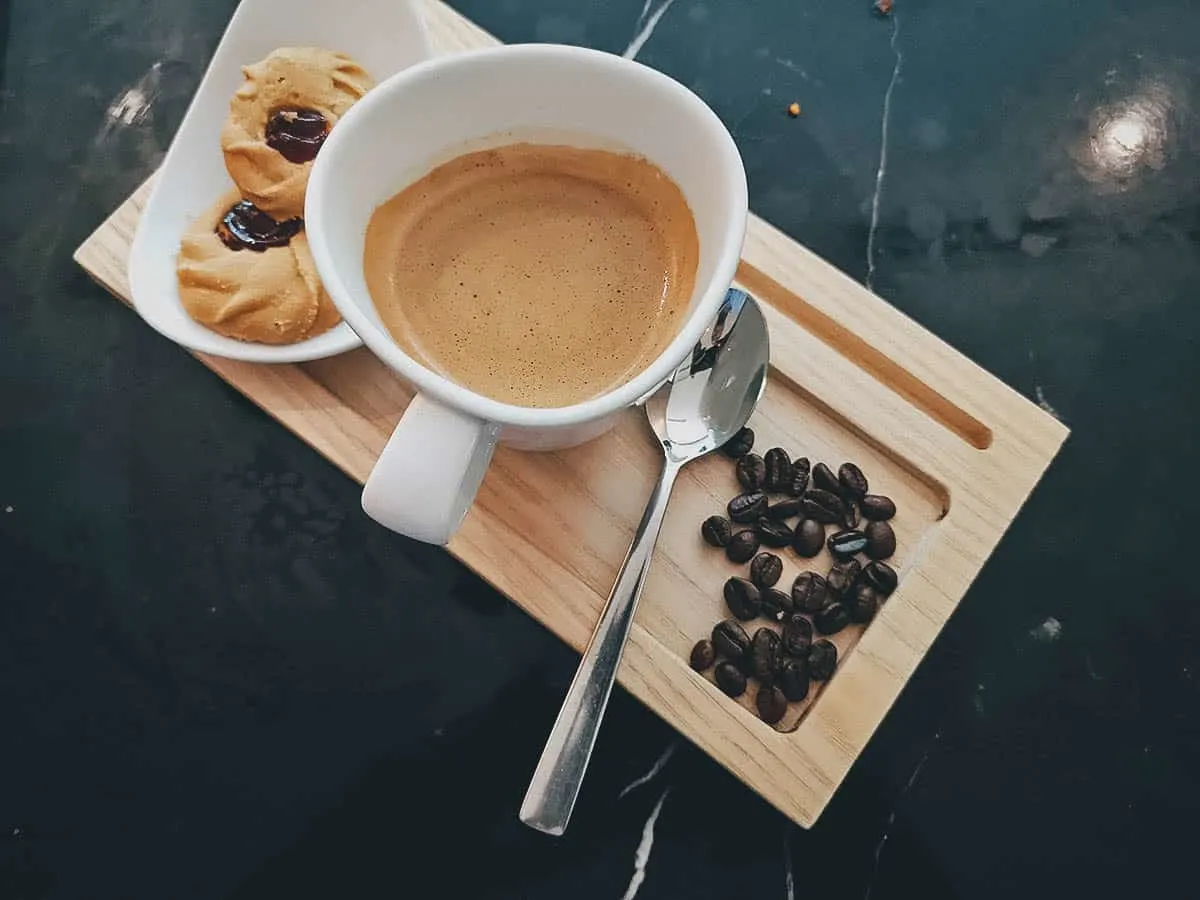 Chef Santiphap "Por" Petchwao
Here's Ren and Chef Por sharing a laugh. We had the pleasure of his company for a good portion of our lunch. He and Ren hit it off, especially after finding out that they were born just two days apart!
Working for many years as a stock analyst, his passion for cooking would always lure him into the kitchen, a passion he developed as a young boy helping his grandmother ground spices and making curry pastes from scratch. It's to her that he attributes learning the fine art of balancing flavors. His love for cooking would ultimately draw him into the kitchen for good, giving up his career in the financial sector to further his culinary ambitions at Dusit Thani College. He would intern under some of Thailand's leading restaurants and chefs, spending several years honing his craft before making a home here at Suan Bua.
Chef Por, thank you for the eye-opening lunch. We appreciate you taking time out of your busy schedule to sit with us. Having you explain each and every dish made the experience that much more meaningful. I thought I was familiar with Thai cuisine but now I realize how much more there is to be discovered. I can't wait to eat at Suan Bua again on our next trip to Bangkok, to experience more of your food and enjoy the dishes we didn't get to try today. Krab kob pra kun mak krub!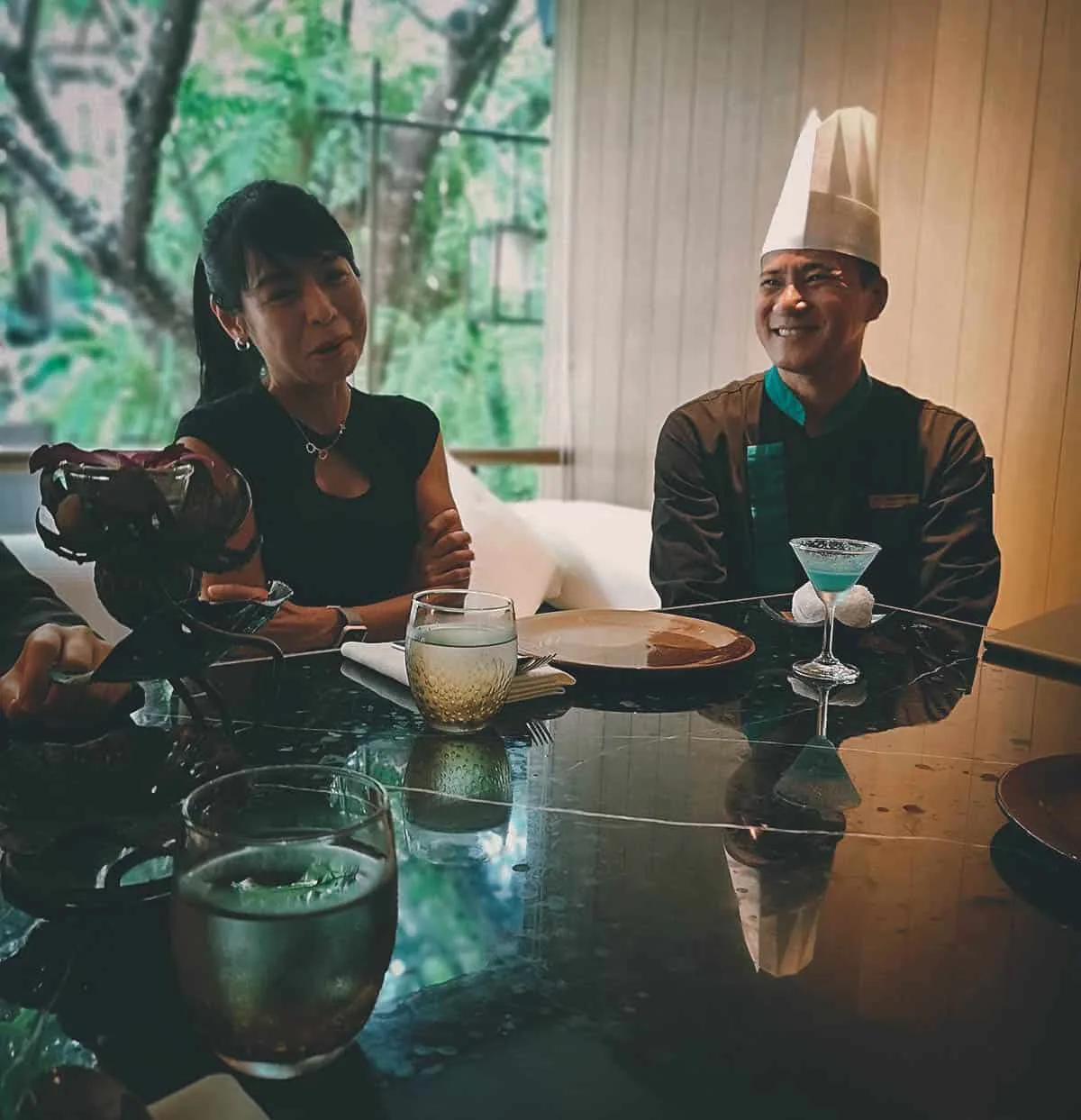 Conclusion
When the hotel manager expressed to us his desire to see Suan Bua on the Bangkok Michelin Guide, it got me excited for lunch, but I honestly didn't think anything more of it. Every fine dining restaurant wants to make it into the Michelin Guide but few are truly deserving. That's what makes it such a select list.
After today's lunch, I could certainly relate to his optimism and wouldn't be surprised if Suan Bua eventually makes it to that coveted list. Chef Por's food is artful, refined, and thoughtfully presented. It's honest and authentic cooking that expresses Chef Por's opinion on what Thai cuisine should be like. Most important of all, it's delicious.
As good as his food is, I would love to see Chef Por come up with a degustation menu at Suan Bua. Every Michelin-starred restaurant we've been to offers one. It would be a great way for him to express his creativity and showcase his full repertoire of flavors and techniques. He can take diners on a multi-course journey through royal Thai cuisine, each bite representing a chapter in his story.
We've been lucky to experience Japanese, French, Peranakan, Chinese, Korean, Indian, Taiwanese, Indonesian, and Spanish-Filipino degustation menus in our travels, but never Thai.
Seeing as how we fly for food, we'd fly to Bangkok just for that.
Suan Bua Thai Restaurant at Centara Grand, Central Plaza Ladprao
Central Grand Plaza, 1695 Phaholyothin Rd., Chatuchak, 10900, Thailand
Tel: +66 2 541 1234 ext. 4068
Website: centarahotelsresorts.com
Email: [email protected]
Operating Hours: 11:30AM-2:30PM, 6-10:30PM, daily
HOW TO GET THERE: Take the MRT to Phahon Yothin Station. From there, it's about a 10-minute walk to the hotel. Alternatively, you can take a taxi or Grab to Centara Grand at Central Plaza Ladprao.
Disclosure
We were guests of Centara Grand at Central Plaza Ladprao. We were given a free two-night stay, lunch at Suan Bua, and cocktails at Blue Sky in exchange for an honest account of the experience. As always, all words and opinions expressed in this post are mine and mine alone.