When you think of important archaeological sites in Southeast Asia, one place immediately comes to mind – Angkor Wat. It's part of a temple complex that attracts over 2 million tourists to Siem Reap every year.
Like everyone else, we were drawn to Siem Reap by Angkor Wat. At the time, we didn't know anything else about Siem Reap so it was basically the only reason we were there.
But after spending a few days in the city, we realized that the Angkor temples aren't its only draw. It's home to interesting architecture, a thriving food scene, and a surprising nightlife that make it a favorite destination for both backpackers and expats. We were intrigued.
Angkor Wat may be its main draw but there's enough to see and do in Siem Reap to keep you busy between temple visits.
VISIT SIEM REAP QUICK LINKS
This travel guide to Siem Reap is long. For your convenience, I've compiled links to hotels, tours, and other services here.
HOTELS
Top-rated hotels in the Old French Quarter, the best area to stay for first-time visitors to Siem Reap.
TOURS
OTHER SERVICES
Save This on Pinterest!
No time to read this Siem Reap travel guide now? Click on the save button and pin it for later!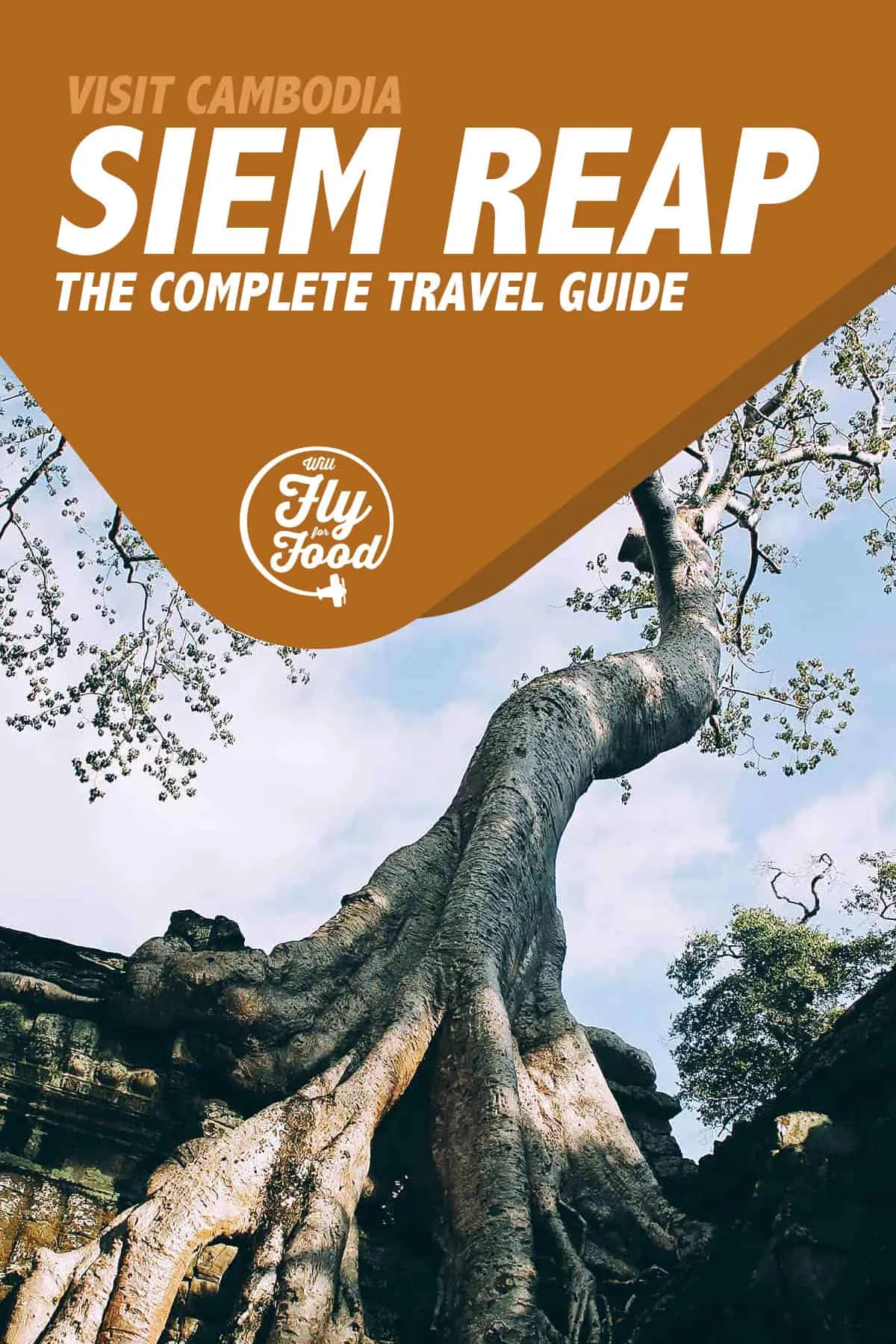 GUIDE TABLE OF CONTENTS
SIEM REAP TRAVEL RESTRICTIONS
Because of the current global situation, Siem Reap travel guidelines have been changing often. Our friends at Booking.com created a website that lists detailed information on travel restrictions around the globe.
Before doing any serious planning, be sure to check Booking.com for information on travel restrictions to Cambodia. If you do decide to visit Siem Reap, then you may want to seriously consider getting travel insurance with COVID coverage.
CAMBODIA VISA
Depending on your passport, you may need a visa and other travel documents to visit Cambodia. Check out iVisa.com to learn about the requirements and to apply for a visa (if necessary).
SIEM REAP AT A GLANCE
Siem Reap refers to both the province and its capital city. It's the second most visited city in Cambodia, after Phnom Penh.
The vast majority of people go to Siem Reap for the temples. Angkor Wat is the most famous but it's just one of over a thousand in Angkor Archaeological Park.
The park covers an area of over 400 sq km and contains the remains of the different capitals of the Khmer Empire. Built between the 9th and 15th centuries, they're collectively a UNESCO World Heritage Site and one of the most important archaeological sites in Southeast Asia.
BEST TIME TO VISIT SIEM REAP
Cambodia has two seasons — wet and dry. The wet season is from May to October while the dry season is from November till April.
Choosing the best time to visit Siem Reap can be tricky because you almost have to choose between sunny weather and heavy crowds or fewer tourists but lots of rain. We went in December when the weather was perfect but the crowds at the popular temples were unbearable.
As a compromise, it may be a good idea to shoot for the shoulders months of November and March. They fall between rainy and dry seasons and immediately before and after peak tourist season which starts in December and goes till February.
NOV-APR: This is the dry season in Siem Reap. It's the coolest and driest time of the year but it's also the busiest. Expect heavy crowds and hotel prices to be at their highest during this time.
MAY-OCT: This is the rainy season. It's hottest around May while September and October are typically the wettest months. We had friends visit in May and they couldn't get over how hot it was. It was already hot in December so I can only imagine what it must be like in late April or May.
Climate: Annual Monthly Weather in Siem Reap
Follow the link for more on Siem Reap's weather. For your convenience, I've created the average temperature and annual rainfall graphs below. Suggested months to visit are colored in orange.
Average Temperature

Annual Rainfall
TRAVELING TO SIEM REAP
The majority of visitors will be flying in to Siem Reap. Flying is the quickest way to get there but people traveling to Siem Reap from major hubs like Phnom Penh and Bangkok may take the bus as well.
BY PLANE: People traveling by plane will be arriving at Siem Reap International Airport (REP). It's about 9 km northwest of the downtown area. We got to the city center by tuk tuk but you can also get there by taxi or van. The journey takes less than half an hour. You can arrange for transportation at the airport or in advance through Bookaway.
BY BUS: If you're traveling on a budget, then a cheaper alternative is to travel to Siem Reap by bus. It takes longer than a flight but it's also much cheaper. Backpackers coming from Bangkok or Phnom Penh will often travel by bus. You can check for routes and purchase tickets on Bookaway (from Bangkok | from Phnom Penh).
This guide assumes you'll be arriving by plane or coming from a major hub like Bangkok or Phnom Penh. If you're coming from somewhere else, then you can check Bookaway to find route options available to you. You can click on the link or use the widget below.
WHERE TO EXCHANGE CURRENCY
The unit of currency is the Cambodian Riel (KHR) but US Dollars (USD) are widely used and accepted in Cambodia. Unless you're paying for small items from a street vendor, then there's really no need to carry KHR because most transactions will be done in USD.
If you arrive in Cambodia with any currency other than USD, then it's best to exchange it for USD and not KHR. Click on the link for a map of currency exchange offices in downtown Siem Reap.
A better option may be to withdraw USD from an ATM. USD is so widely used that it's actually harder to find ATMs that dispense KHR than USD. Just be sure to inform your bank that you plan on using your ATM card overseas so they don't flag any transactions.
TIP: Some ATM machines will ask if you'd like to proceed with or without conversion. Always proceed WITHOUT conversion. Proceeding with conversion authorizes the foreign bank operating the ATM to do the conversion for you at rates favorable to them. According to this article, the difference in rates can be as high as 10%.
BEST AREAS TO STAY IN SIEM REAP
The downtown area of Siem Reap isn't that big so you can easily get around on foot. As long as you stay within walking distance of Pub Street, then you shouldn't have any problems getting around. Personally, I think the Wat Bo area is the best place to stay.
To help you understand where all these recommended areas are, I've created the color-coded map below. Click on the link for a live version of the map. (Please note that marked areas are approximations only)
BLUE – Old French Quarter
RED – Wat Bo
ORANGE – Charles de Gaulle
PURPLE – National Road 6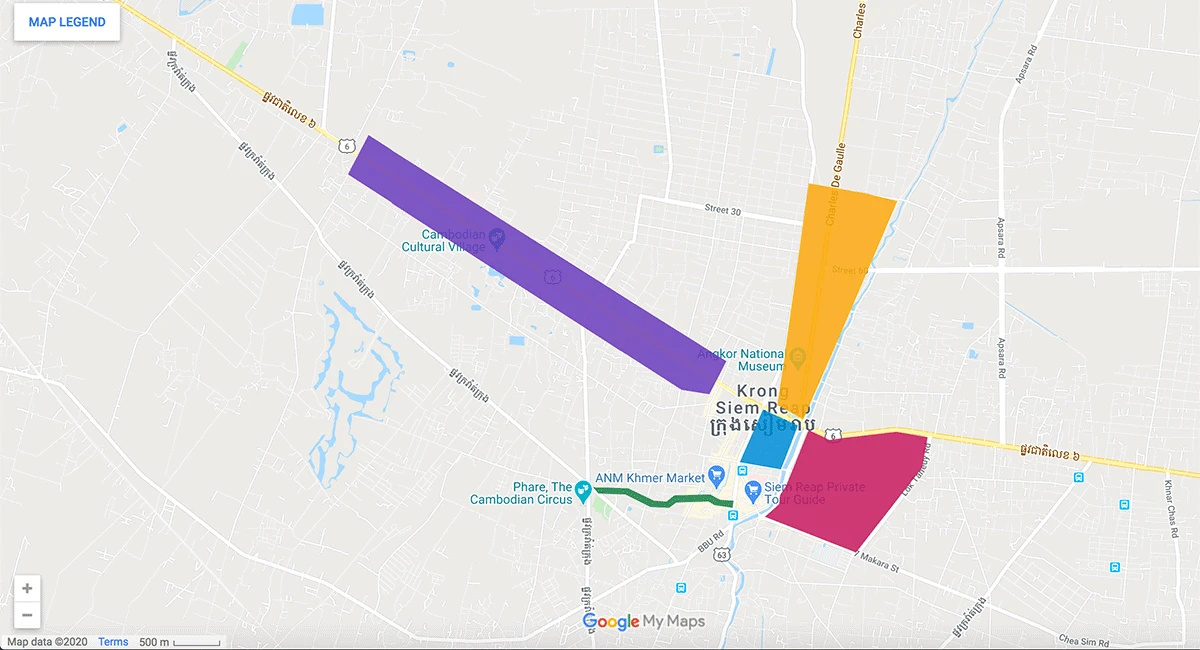 OLD FRENCH QUARTER
The Old French Quarter refers to the area north of Pub Street (Street 08). It's characterized by lovely heritage buildings built in the French colonial style. If it's your first time in Siem Reap, then this is one of the most convenient places to stay, especially if you want to be near Pub Street.
Pub Street is the heart of Siem Reap's nightlife. It consists of a cluster of restaurants, cafes, and bars, many of which stay open (and play loud music) till around midnight. You'll want to book a hotel towards the south of the Old French Quarter if you want to be near Pub Street. You can search for hotels in the Old French Quarter on Booking.com. Check out some of the top-rated hotels in the area:
WAT BO
This was where we stayed. Named after one of the city's oldest temples – Wat Bo – it refers to the area east of the Old French Quarter, on the other side of the Siem Reap River.
The area around Pub Street can get pretty loud at night so we preferred staying here. It's much quieter and only about a 10-minute walk to Pub Street. Many of the city's best restaurants seem to be located in this area as well.
The hotel we stayed at doesn't seem to be around anymore but there are plenty of hotels to choose from in the Wat Bo area on Booking.com. Check out some of the top-rated hotels in the area:
CHARLES DE GAULLE
If you're in Siem Reap mainly to visit Angkor Wat and don't really care to stay near Pub Street, then the area around Charles de Gaulle Boulevard is a great place to be. It's the main road from downtown Siem Reap to Angkor Wat, and where you'll find the majority of the city's large 5-star luxury hotels.
You can search for hotels along Charles de Gaulle Boulevard on Booking.com. Check out some of the top-rated hotels in the area:
NATIONAL ROAD 6
National Road 6 is the main highway between the airport and downtown Siem Reap. Like Charles de Gaulle Boulevard, it's dominated by large hotels and may be an attractive option for people looking to stay closer to the airport. You can search for accommodations along National Road 6 on Booking.com. Check out some of the top-rated hotels in the area:
You can also book hotels and homestays in Siem Reap using the handy map below.
WHICH TEMPLES TO VISIT IN SIEM REAP
The majority of tourists come to Siem Reap to visit the Angkor temples. People know about Angkor Wat but it's just one of many temples scattered in an area of over 400 sq km. To visit them, you'll need to buy an Angkor Pass at the Angkor Wat ticket office. Prices are as follows:
One day – USD 37
Three days – USD 62
Seven days – USD 72
The 3-day pass is valid for one week while the 7-day pass is valid for a month. You don't have to use them on consecutive days.
Unless you have a keen interest in the Angkor temples and want to see as many as you can, then I think the 3-day pass is perfect. It'll give you more than enough time to explore the most popular temples which include Angkor Wat, Ta Phrom, Angkor Thom, and Banteay Srei. You'll have time to visit a few more and go back to Angkor Wat at sunrise.
Visiting just those four will give most people a fulfilling Angkor experience. Temple fatigue is a real thing and the temples can look a little "same same" after the first few. You can check my article on Angkor Archaeological Park for more pictures and information.
Listed below are the four most popular Angkor temples and two more that we visited using our 3-day pass. To get around, we chartered a tuk tuk with a driver through our hotel. You can arrange for a tuk tuk through your hotel or book one in advance through Klook.
It's easy enough to hire a tuk tuk and explore the temples on your own, but if you'd like to have a guide explain everything to you, then you may want to go on a tour. You can book one through Klook or Get Your Guide.
1. Angkor Wat
Angkor Wat is the jewel of the Angkor complex and its most famous temple. Built in the 12th century, it's recognized as the largest religious monument in the world.
Angkor Wat is a Hindu temple dedicated to Vishnu. It's one of the proudest examples of classical Khmer architecture and a national symbol of Cambodia. If you're into photography, then you'll want to visit Angkor Wat twice – once during the day and again at sunrise.
2. Ta Phrom
Ta Phrom is one of the most photogenic temples in the Angkor complex. It's home to giant roots reclaiming the ruins and was used as a filming location for the Tomb Raider movie. These massive roots enveloping the temples were spectacular and a highlight in Siem Reap.
3. Angkor Thom & Bayon Temple
Angkor Thom was the last and most enduring capital of the Khmer Empire. Covering an area of 9 sq km, it's a massive complex and the second most visited structure in Siem Reap, after Angkor Wat.
The highlight at Angkor Thom is the Bayon Temple which features around 200 of these massive stone heads. Each of these towers supports 2-4 gigantic smiling faces in various states of preservation.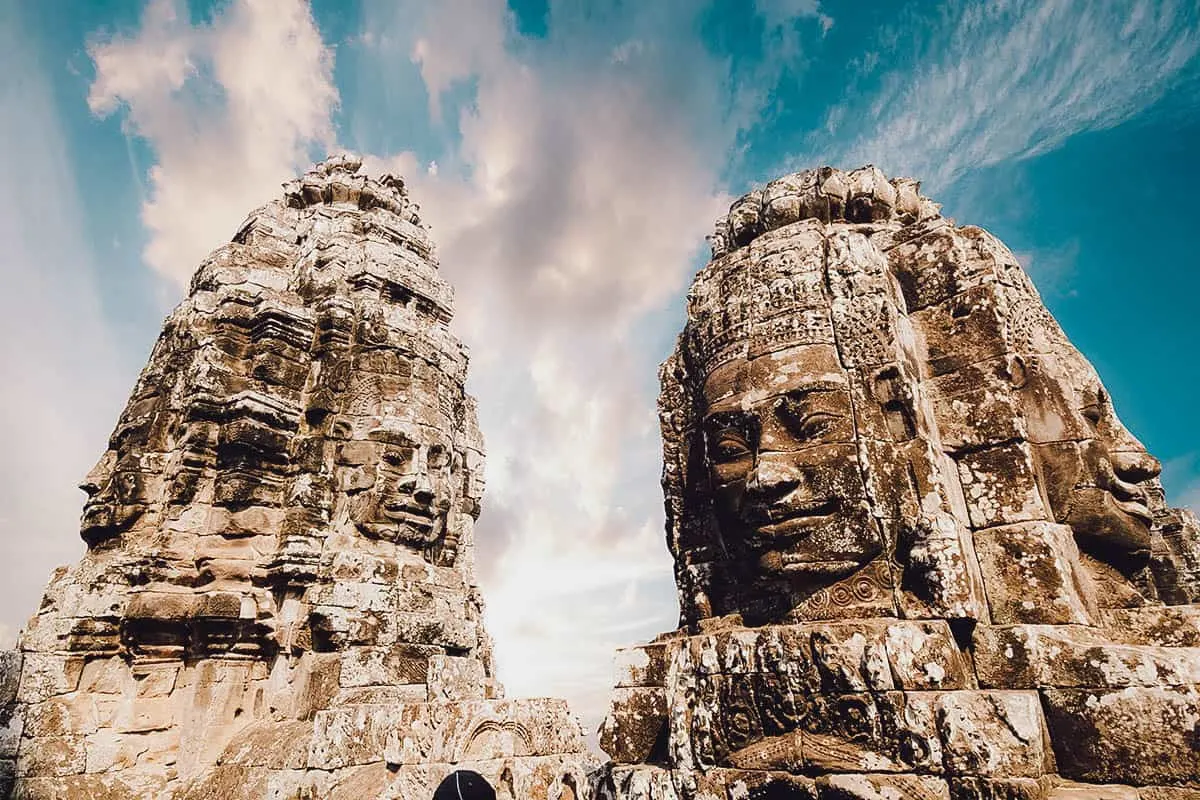 Photo by Waj via Shutterstock
4. Banteay Srei
Banteay Srei was my favorite temple in Siem Reap. It's one of the smaller temples at the complex but it's also one of its most unique and well-preserved. It's the only temple made from pink sandstone and features the most intricate temple carvings.
Banteay Srei is located about an hour north of the city center. I hired a tuk tuk through my hotel to take me there and back. If you'd like to go on a guided tour that takes you to Banteay Srei, then you can book one through Klook or Get Your Guide.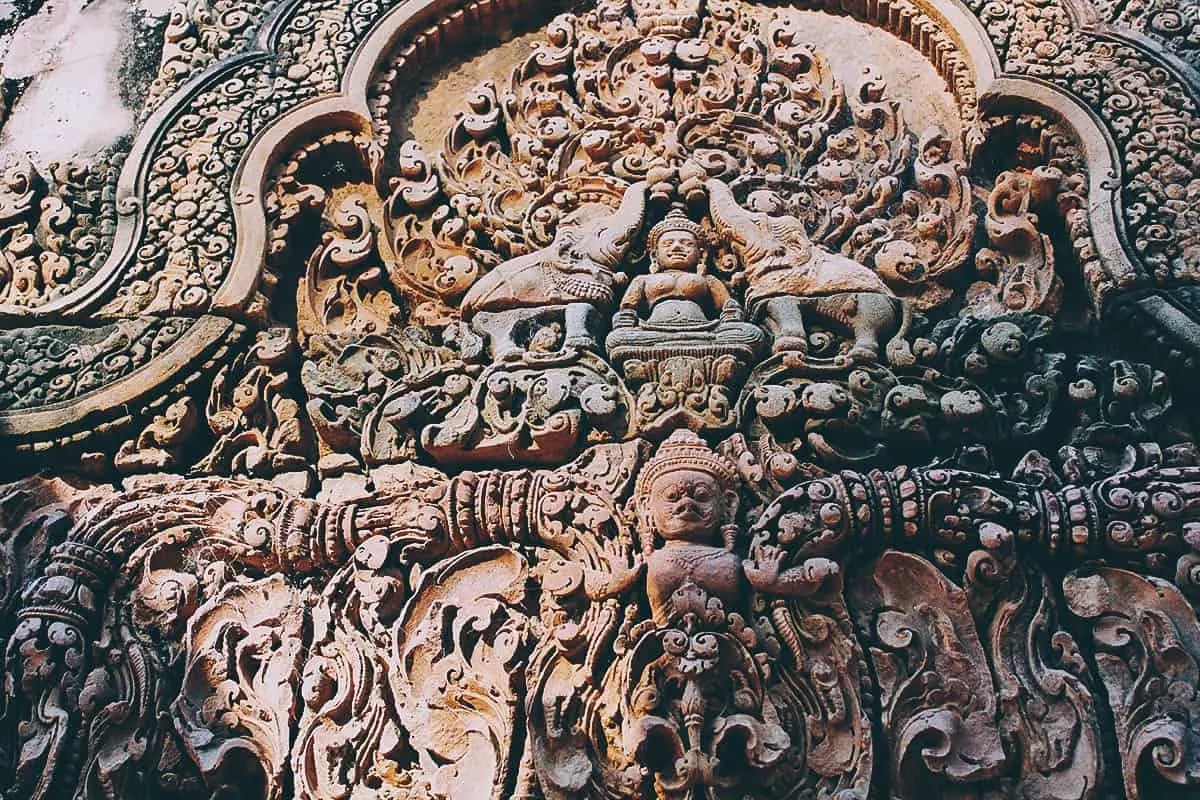 5. Ta Keo
Ta Keo is described as a "temple mountain" built entirely of sandstone. When you climb the steps to its uppermost pyramid, you'll understand the "mountain" part of the description. The four stairways are shockingly steep and take you up to the temple's summit which is perched 21.5 meters (70.5 ft) above the ground.
6. Phnom Bakheng
Phnom Bakheng is one of the most visited temples in Siem Reap, largely because its a popular tourist spot for sunset views of Angkor Wat. It's always mobbed with people at sunset making it one of the most threatened temples at the complex. Personally, I don't think it's worth it.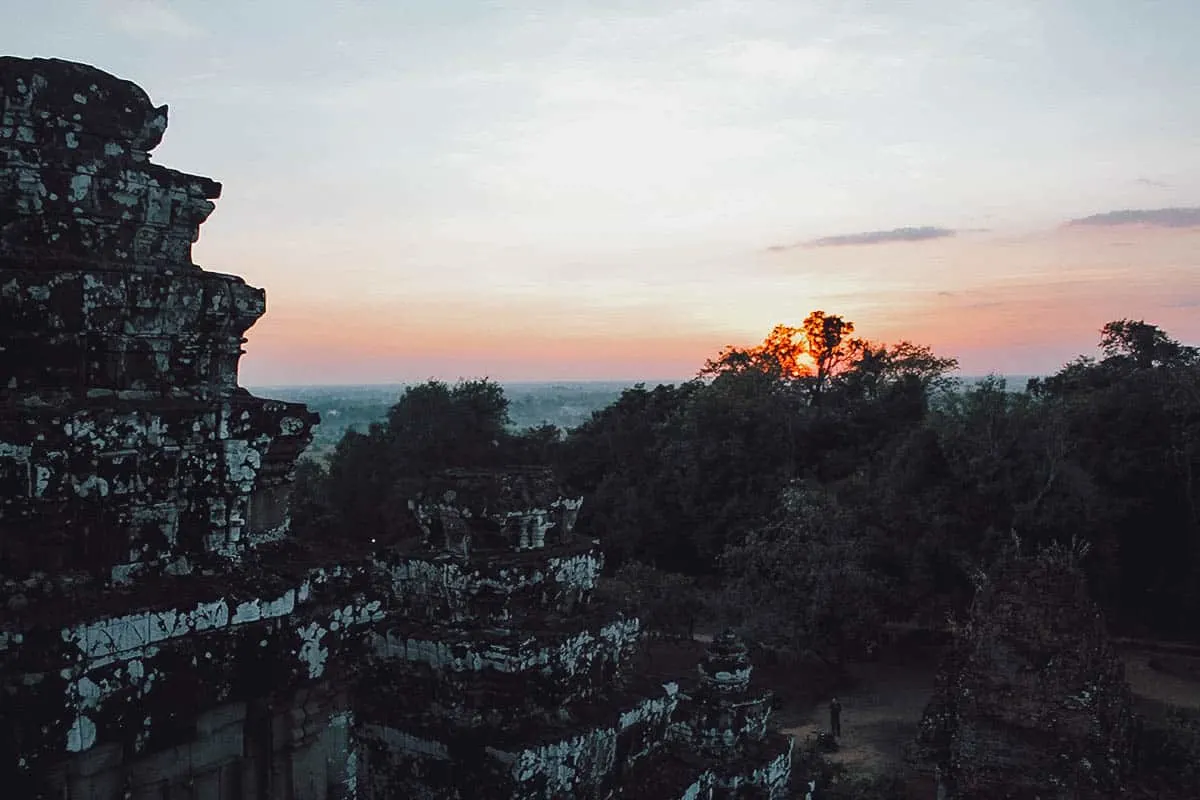 THINGS TO DO IN SIEM REAP
1. Get that Sunrise Shot
The Angkor temples are impressive at any time of the day, but they're most spectacular at sunrise or sunset. My tuk tuk driver took me to Angkor Wat shortly after 4AM to secure a good spot. I thought I'd be one of the few people there but a small army of shutterbugs showed up to get that iconic sunrise shot.
You can make arrangements with your hotel or book a sunrise tour through Klook or Get Your Guide.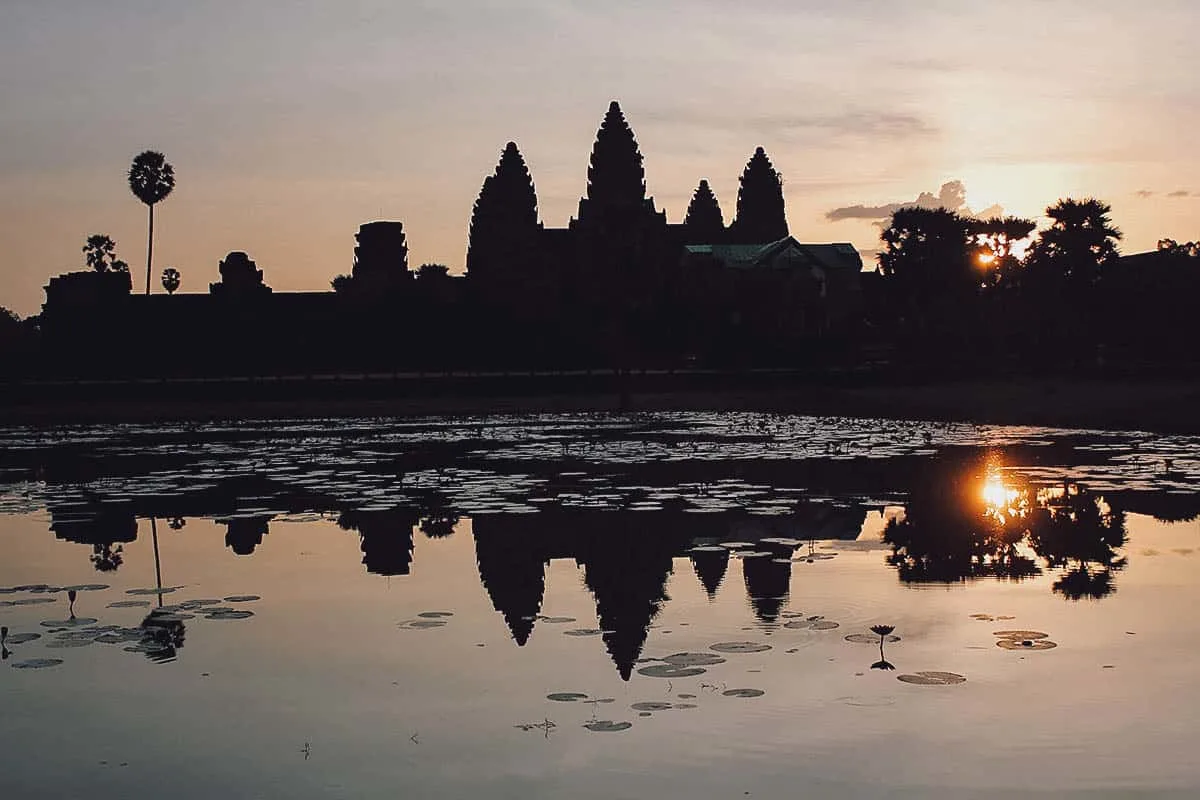 2. Dine and Party at Pub Street
Pub Street refers to a neon-lit area teeming with restaurants, bars, and clubs. It's a touristy area that's at the heart of Siem Reap's rambunctious nightlife.
Technically, Pub Street refers to Street 08 but I think it's used to refer to the area immediately surrounding this street. It's relatively quiet during the day but it gets fairly loud and boisterous at night. People who like to party will be spending every night in Siem Reap at Pub Street.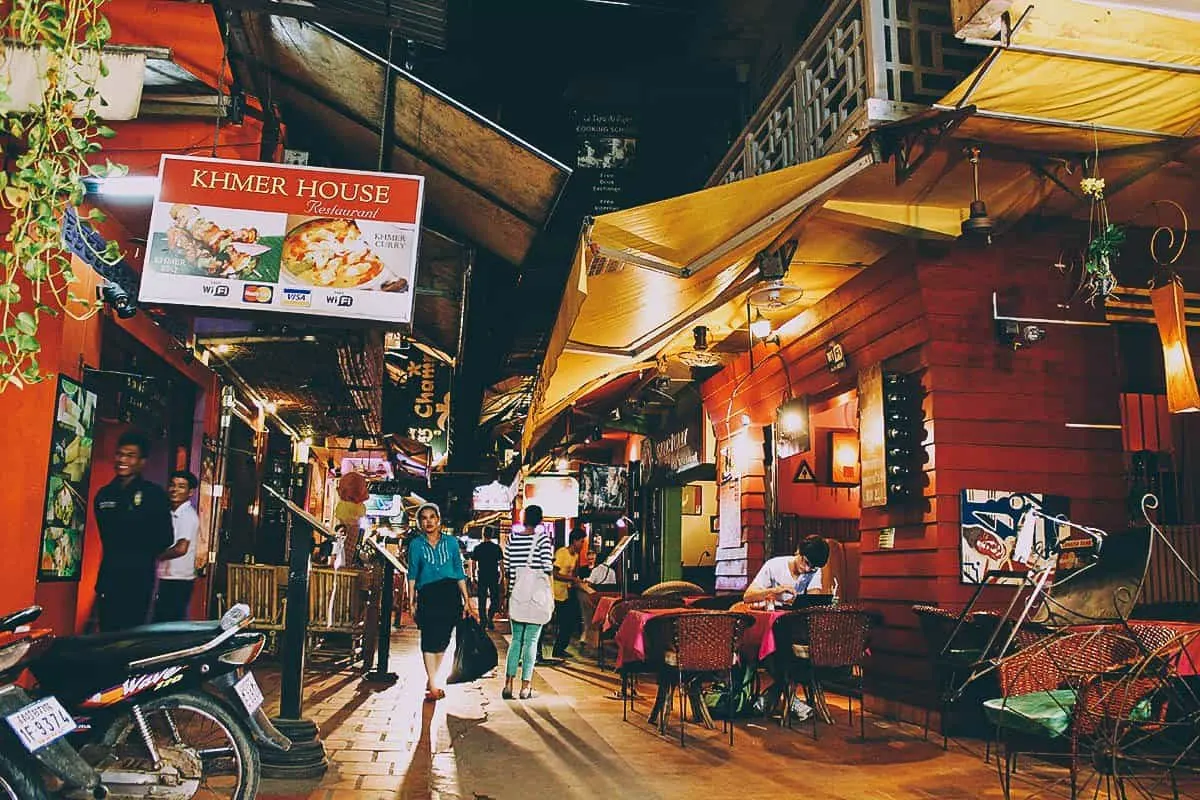 The majority of restaurants in and around Pub Street are touristy. They offer cheap beers and a variety of international cuisines. We tried the phnom pleung or Cambodian bbq which features a variety of meats that you cook yourself on small tabletop grills.
We opted for the most exotic set meal consisting of kangaroo, crocodile, snake, beef, and shrimp. The meat was fairly tough but it was a fun experience nonetheless. You can check my article on phnom pleung for more pictures.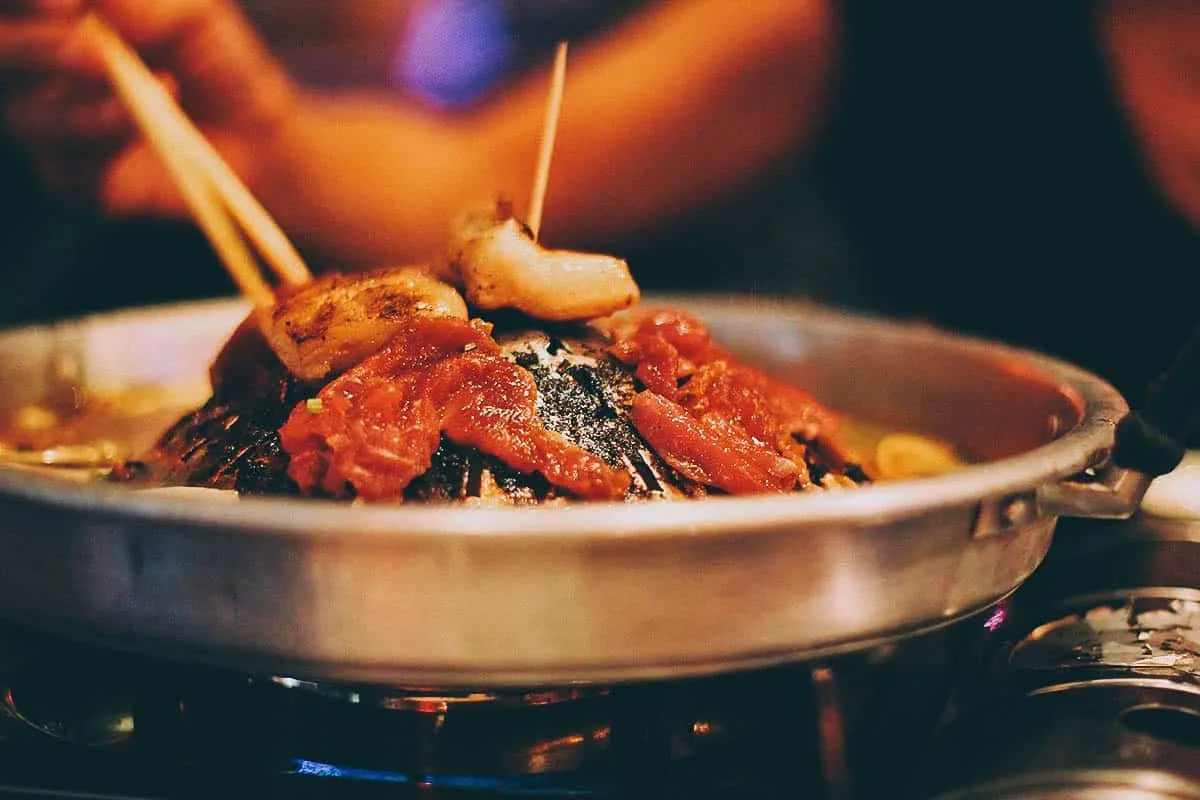 3. Go on a Bike or Vespa Tour
We explored the Angkor Circuit on a tuk tuk but people who enjoy biking may want to rent a bicycle or go on a bike tour. It's a fun way of going from temple to temple. Just be sure to wear a hat and use sunscreen because it can get scorchingly hot in Siem Reap.
Our hotel had bicycles for rent so you can probably arrange for one through yours. If not, then you can rent one through Get Your Guide. There are plenty of bike tours (Klook | Get Your Guide) and Vespa tours you can book as well.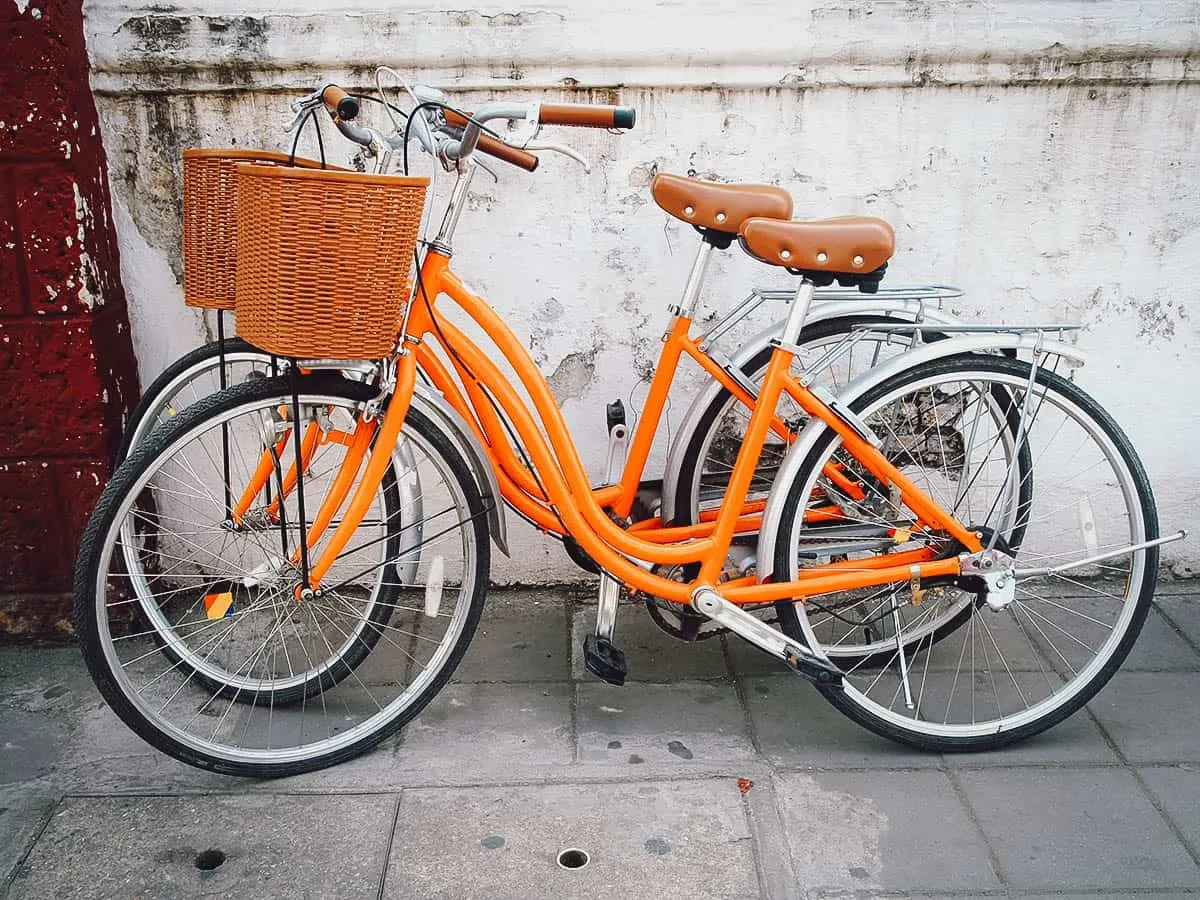 Photo by aodaodaodaod via Shutterstock
4. Buy Spices and Souvenirs at a Market
We enjoy visiting markets on trips. It's part of the Southeast Asian experience and often the best place to buy spices, food products, and other souvenirs.
Open since the 1920s, the Psah Chas or Old Market is mostly for tourists these days but it's a convenient place to buy things like dried packaged fruit, spices, shirts, silver, scarves, and other souvenirs.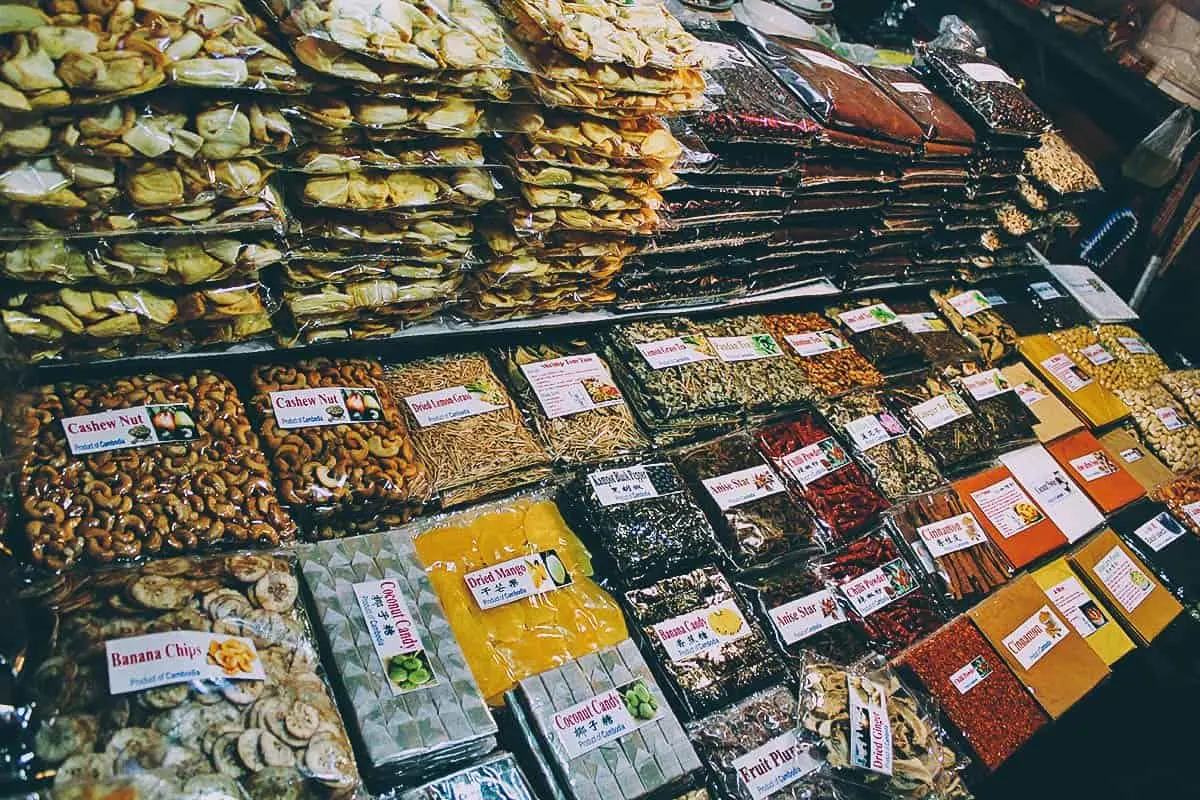 If you want something a little more upscale, then you can visit one of the many night markets in Siem Reap. There are a few in the downtown area, some of the most popular being the Siem Reap Night Market, the ANM Khmer Market, and the Art Center Night Market.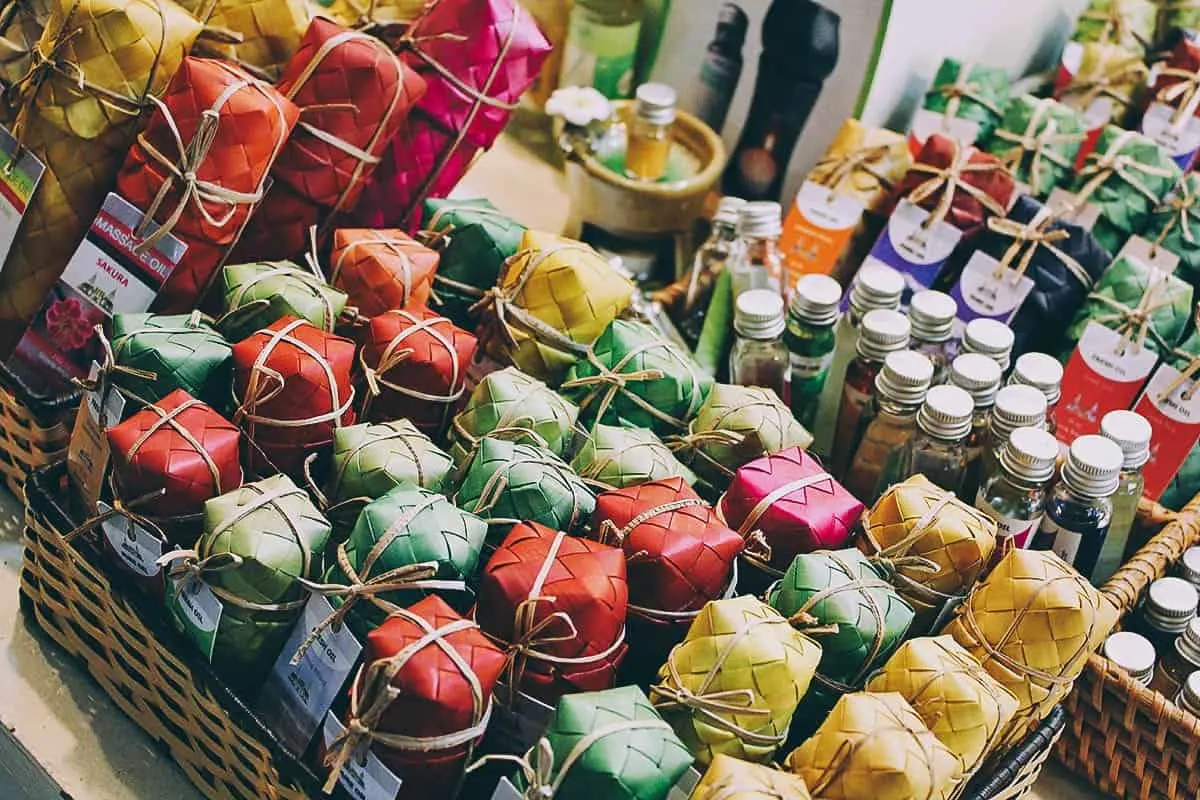 5. Visit the Landmine Museum and the Banteay Srey Butterfly Center
If you're visiting Banteay Srei Temple, then stopping at the landmine museum and the Banteay Srey Butterfly Center on your way back to the city center is a great way to maximize your trip.
As its name suggests, the landmine museum tells the story of landmines in Cambodia and their enduring impact on the country. Entrance to the museum is USD 5. You can check my article on the Landmine Museum for more pictures and information.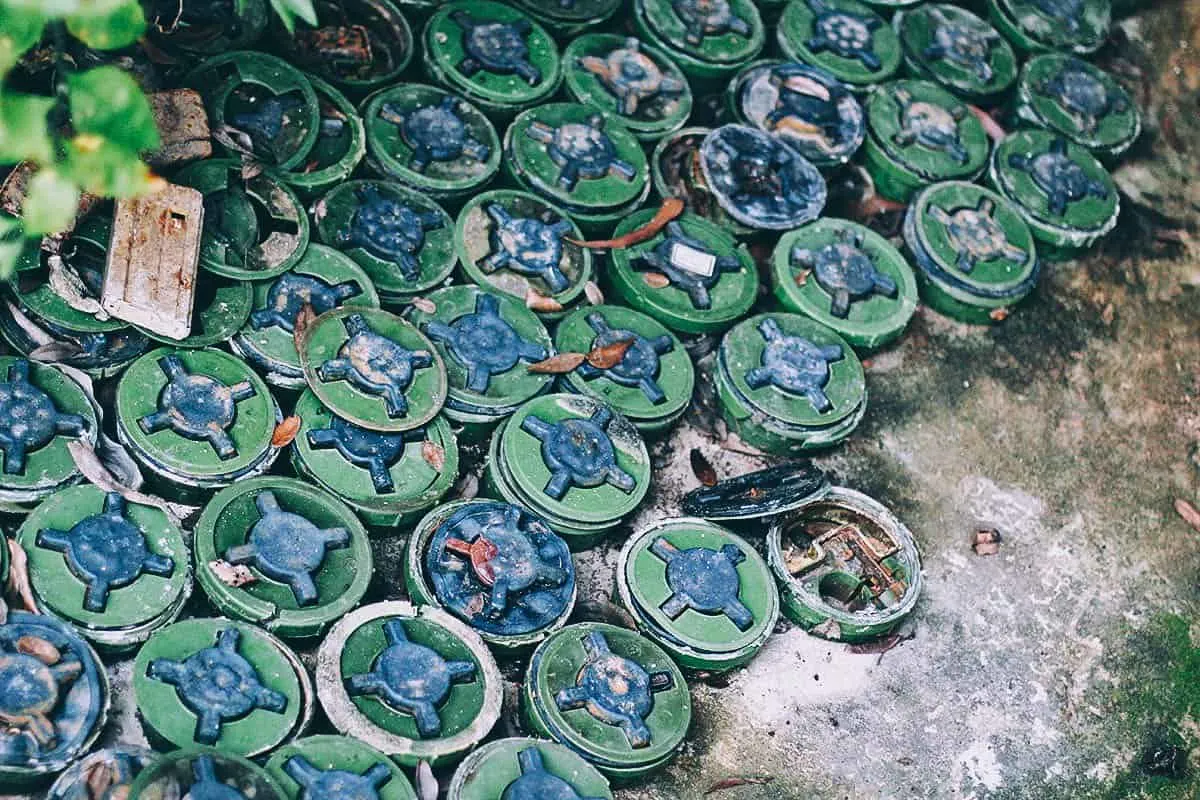 The Banteay Srey Butterfly Center (BBC) is the largest butterfly sanctuary in Southeast Asia. Admission is USD 4.
As described, it's best to visit both places on your way back from Banteay Srei Temple. But if you'd rather not go to the temple, then you can book this guided tour that takes you to just the butterfly center and the landmine museum.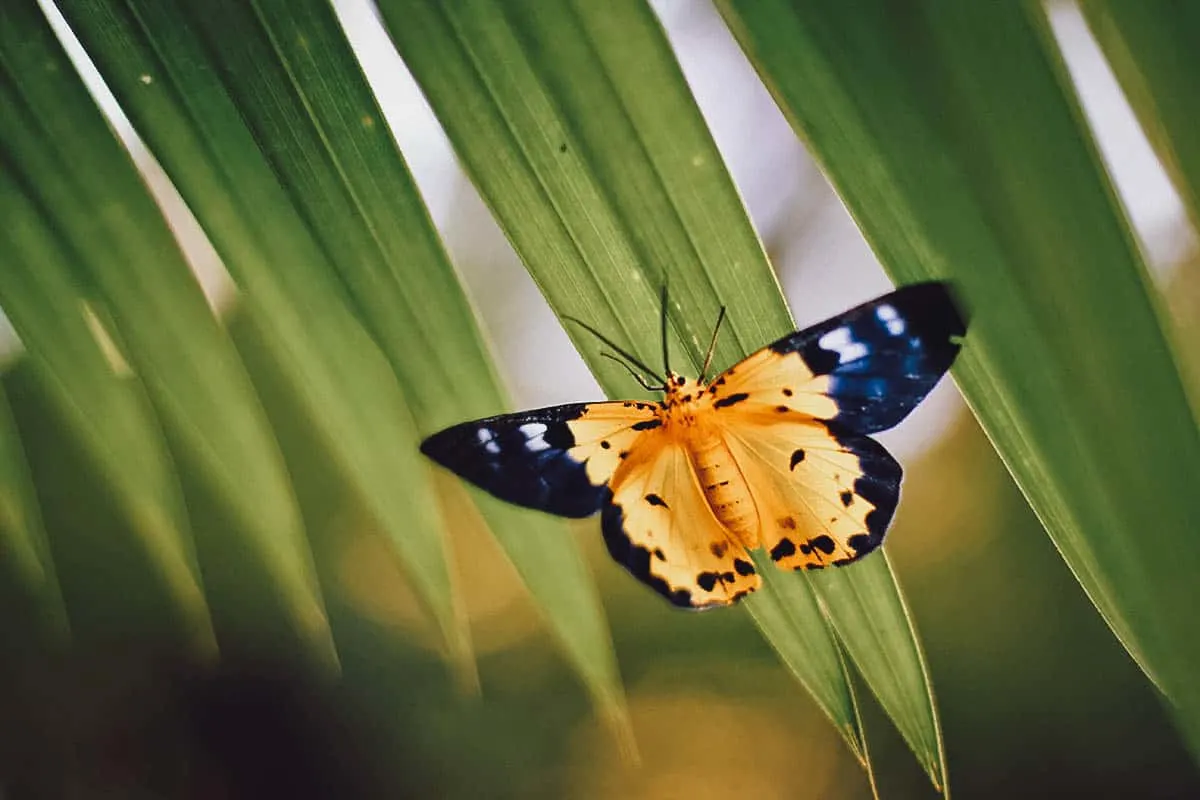 6. Enjoy Phare, the Cambodian Circus
Phare Ponleu Selpak is Cambodia's leading circus and their answer to Cirque du Soleil. It's a performance arts show that tells uniquely Cambodian stories through music, dance, and acrobatics.
We don't usually watch shows like this on trips but I've read nothing but rave reviews about Phare. Like Cirque du Soleil, they don't use any animals in their performances.
You can check the Phare website for more information and to purchase tickets. You can also get tickets on Klook.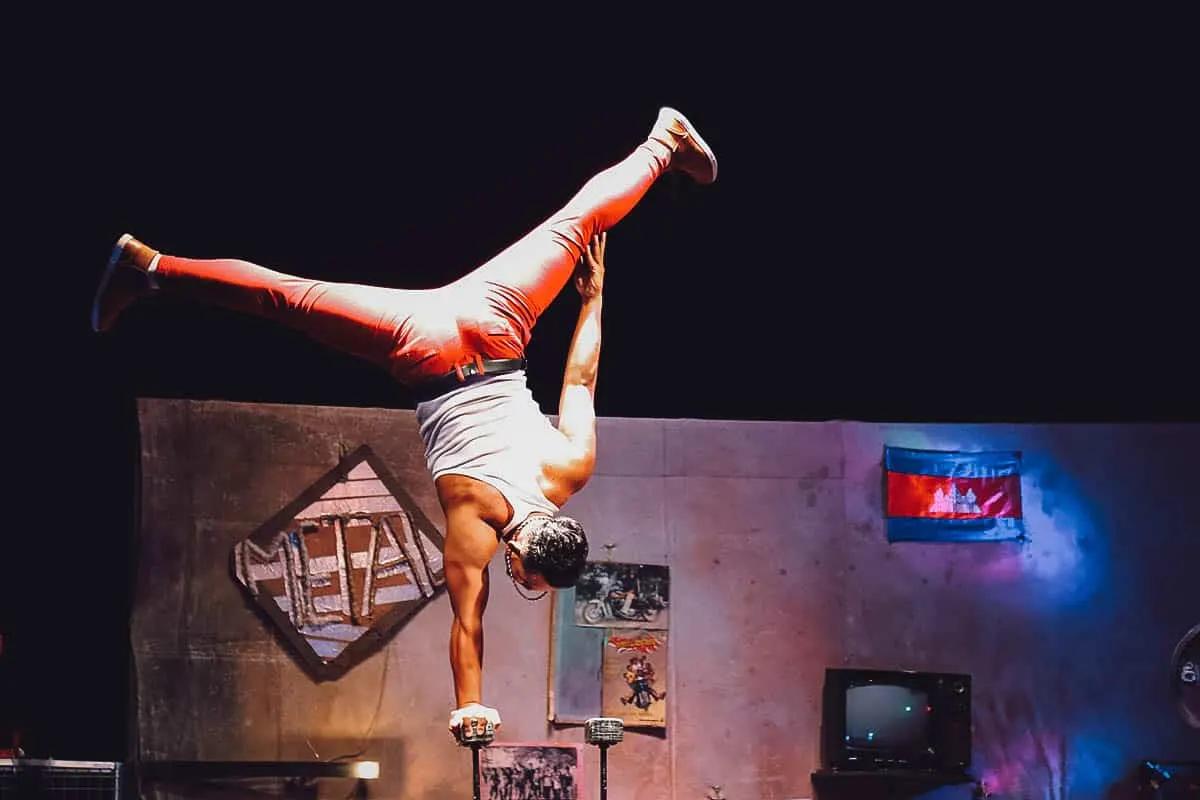 "Phare Circus, Siem Reap, Cambodia" by flowcomm, used under CC BY 2.0 / Processed in Photoshop and Lightroom
7. Take a Cooking Class
Ren loves to cook so we try to take a cooking class wherever we go. We haven't taken one in Siem Reap but we have taken classes in Phuket, Chiang Mai, Hoi An, Ubud, and Tokyo. Eating unfamiliar food is fun as it is, but actually learning how to make it is even better. It gives you a deeper understanding of the local cuisine.
Cookly is an online tour provider that focuses on cooking classes. They offer one-day cooking classes in many cities around the world, including Siem Reap. For me, there's no better place to book cooking classes while traveling than Cookly. Click on the link to search through available cooking classes in Siem Reap.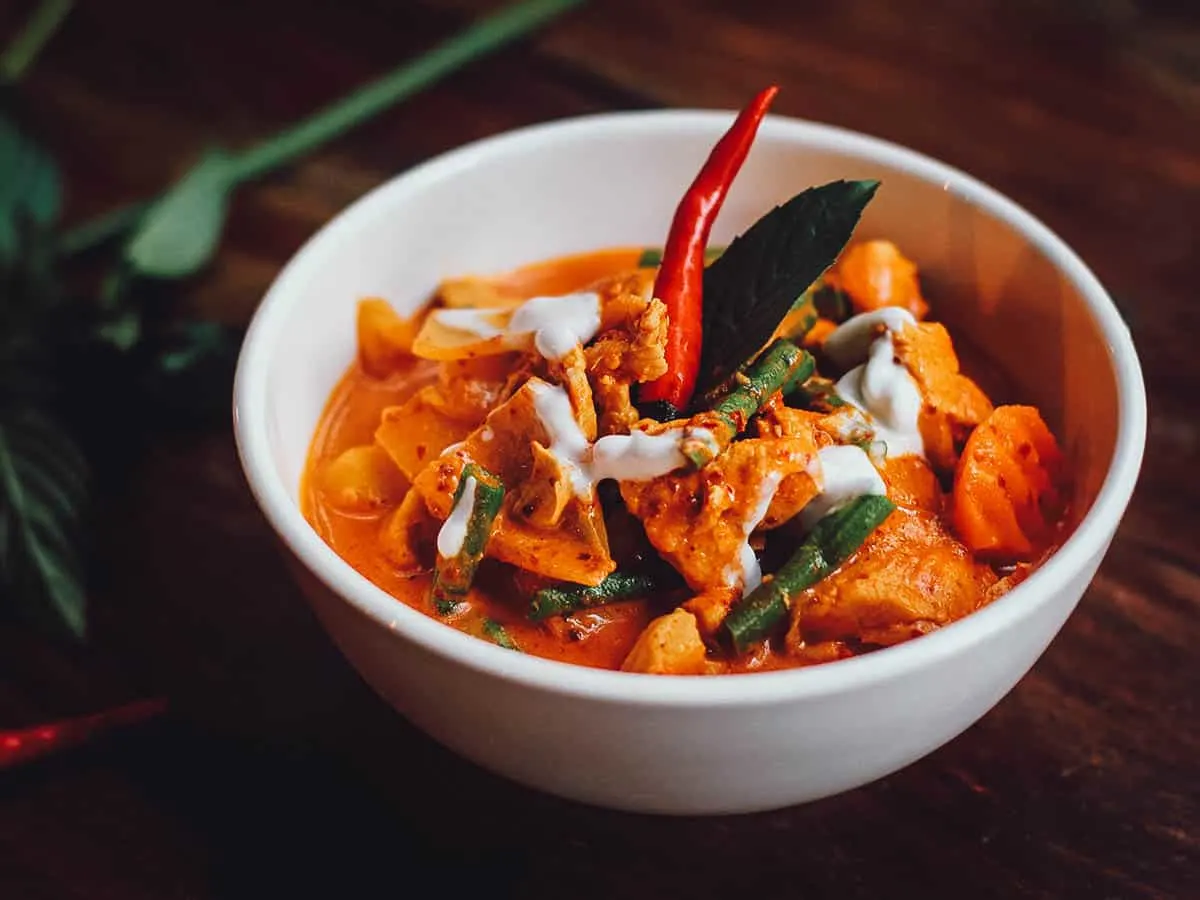 Photo by Narin Hem via Shutterstock
DAY TRIPS FROM SIEM REAP
1. Tonle Sap
Many tourists who visit Siem Reap make day trips to Tonle Sap. It's a large lake just 16 km (10 miles) south of the city center. It covers an area of at least 2,700 sq km and is recognized as the largest freshwater lake in Southeast Asia.
Tonle Sap is a biodiversity hotspot that's home to over 300 species of fish and other animals. It connects to the Mekong River and is an important food source that provides more than half of the fish consumed in Cambodia.
The lake is known for its size and biovidersity but what makes Tonle Sap truly interesting are its floating villages. Propped up on towering stilts, these floating villages are home to an estimated 80,000 ethnic Vietnamese, Khmer, and Cham people who subsist by fishing in the lake's waters.
If you'd like to go cruising on Tonle Sap and visit its floating villages, then you can book one of many tours on Klook or Get Your Guide.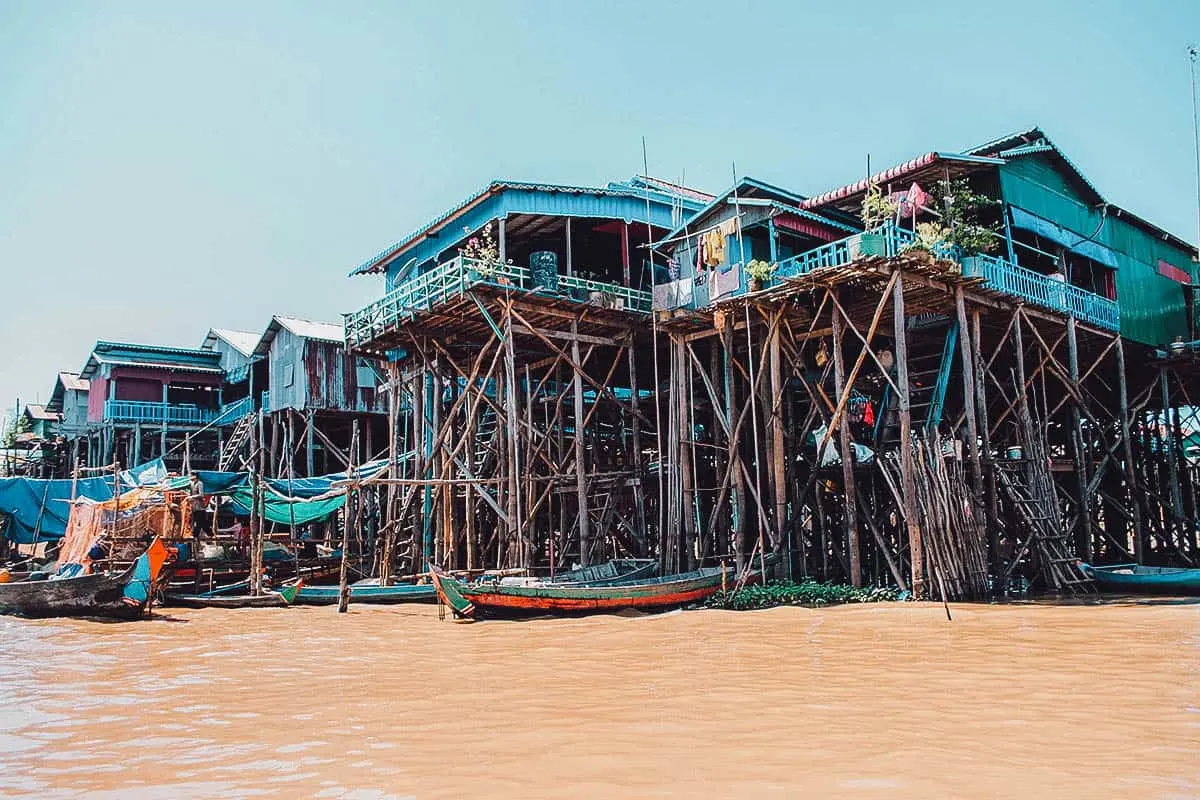 Photo by Pier Giorgio Carloni via Shutterstock
2. Phnom Kulen National Park
Phnom Kulen is a national park about 70 km (43.5 miles) northeast of downtown Siem Reap. It covers an area of about 374 sq km and features waterfalls, archaeological sites, and a reclining Buddha statue carved into a large sandstone boulder.
Perhaps most interesting about Phnom Kulen is the Kbal Spean archaeological site. Also known as the "Valley of a Thousand Lingas", it features intricate Yoni and Linga carvings etched into the rocks and riverbed of the Kbal Spean River.
You can book a guided tour to Phnom Kulen National Park on Klook or Get Your Guide.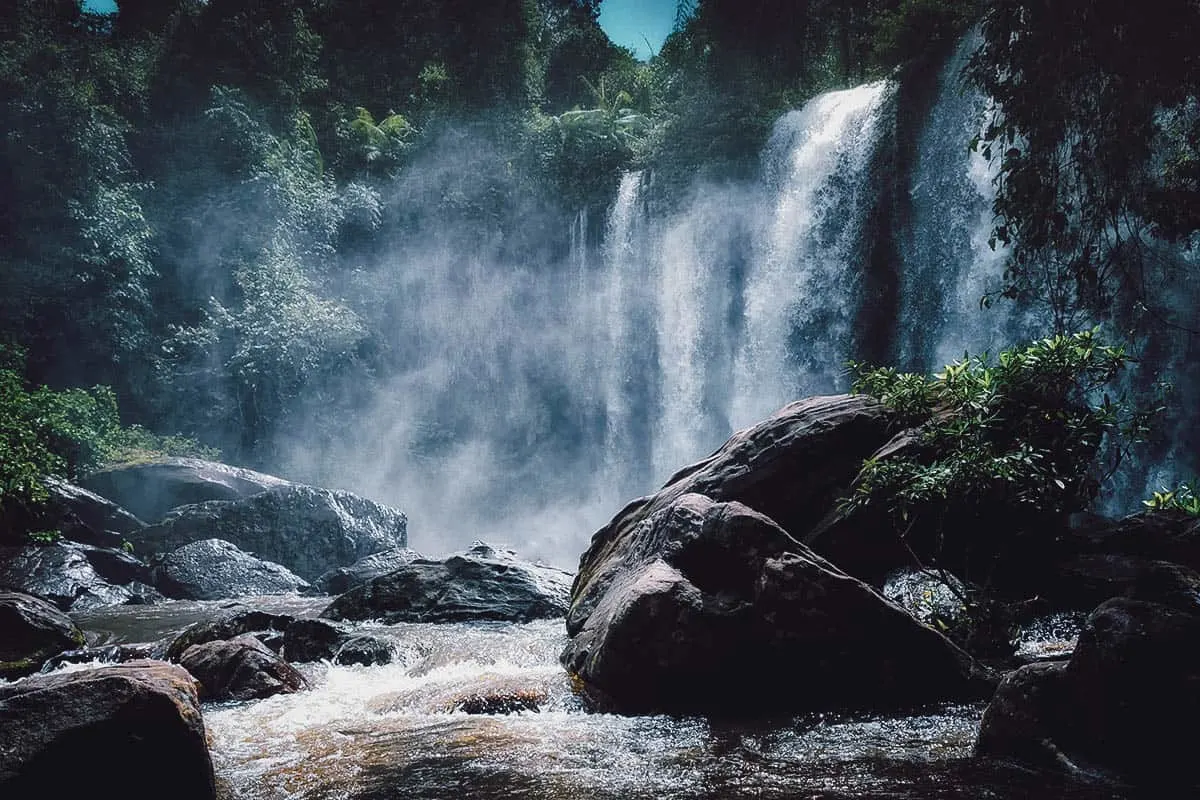 Photo by Dmitri Kalvan via Shutterstock
WHERE TO EAT IN SIEM REAP
1. Viroth's
Viroth's was recommended to us by a restaurateur friend. It's a lovely Khmer restaurant with a simple but elegant interior along Wat Bo Road. They've been open for over ten years and are consistently a TripAdvisor Traveller's Choice awardee.
Viroth's is one of the best restaurants in Siem Reap and a much better option than anything around Pub Street. Considering the ambiance and good food, dishes are reasonably priced with a meal for two amounting to about USD 25-30. Check out my article on Viroth's for more pictures and information.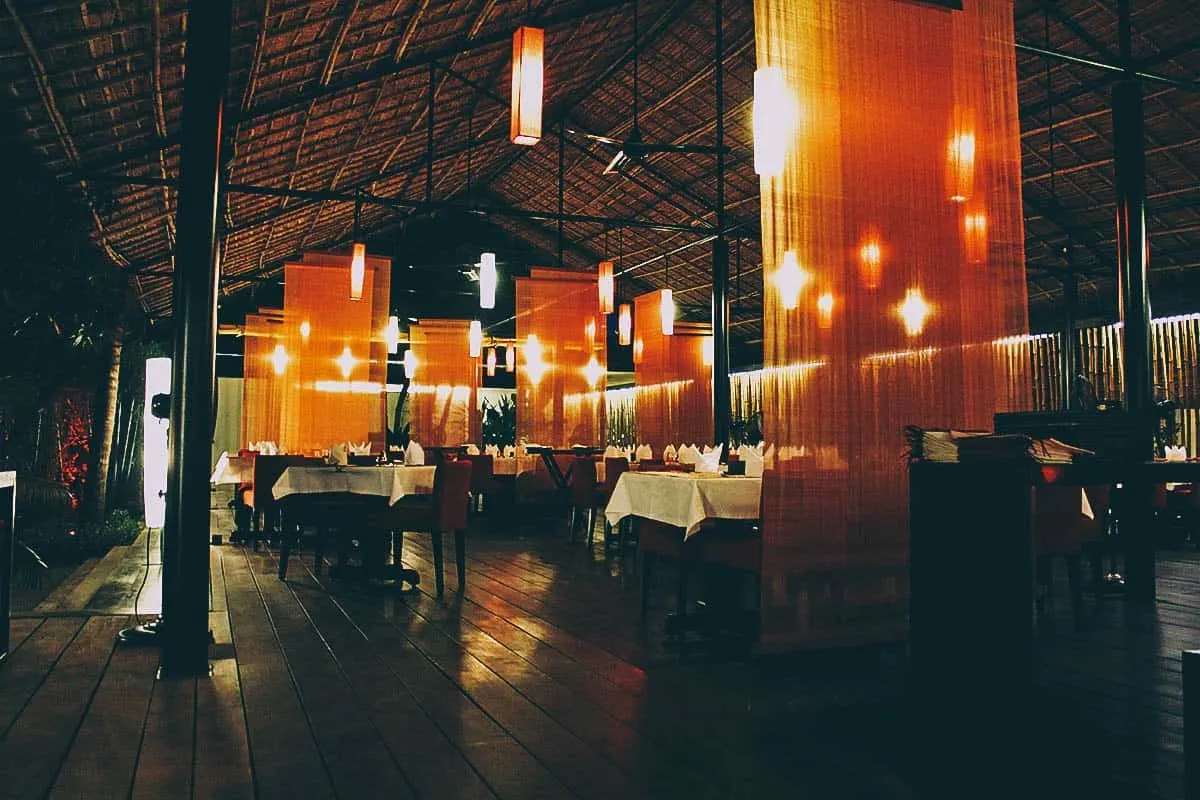 2. The Square 24
Like Viroth's, The Square 24 is a beautiful restaurant that serves excellent Khmer food in the Wat Bo area. Their food is just as good but a bit pricier, around USD 15-20 per person.
The Square 24 has to be one of the prettiest restaurants in Siem Reap. Like Viroth's, they're consistently a TripAdvisor Traveller's Choice awardee. You can refer to my article on The Square 24 for more pictures and information.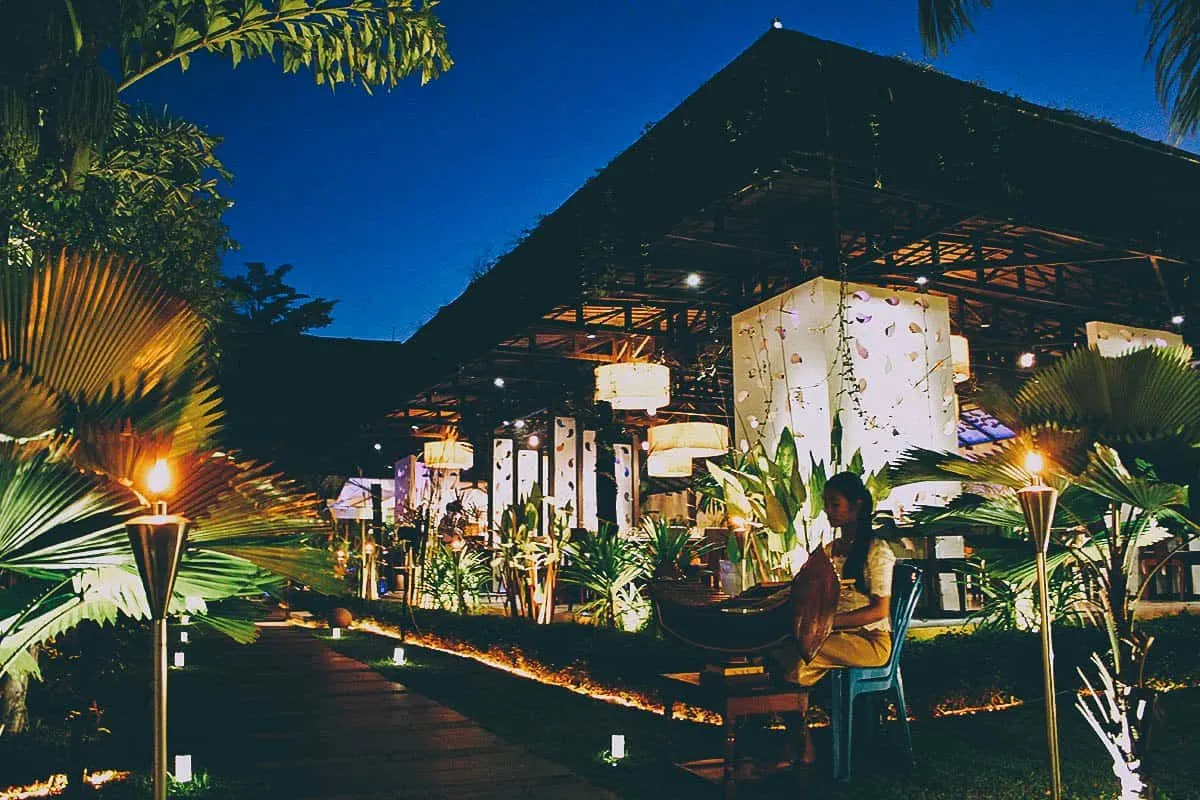 POINTS OF INTEREST IN SIEM REAP
To make it easier for you to visualize where everything is, I've pinned most of the places recommended in this guide on a map. Click on the link for a live version of the map.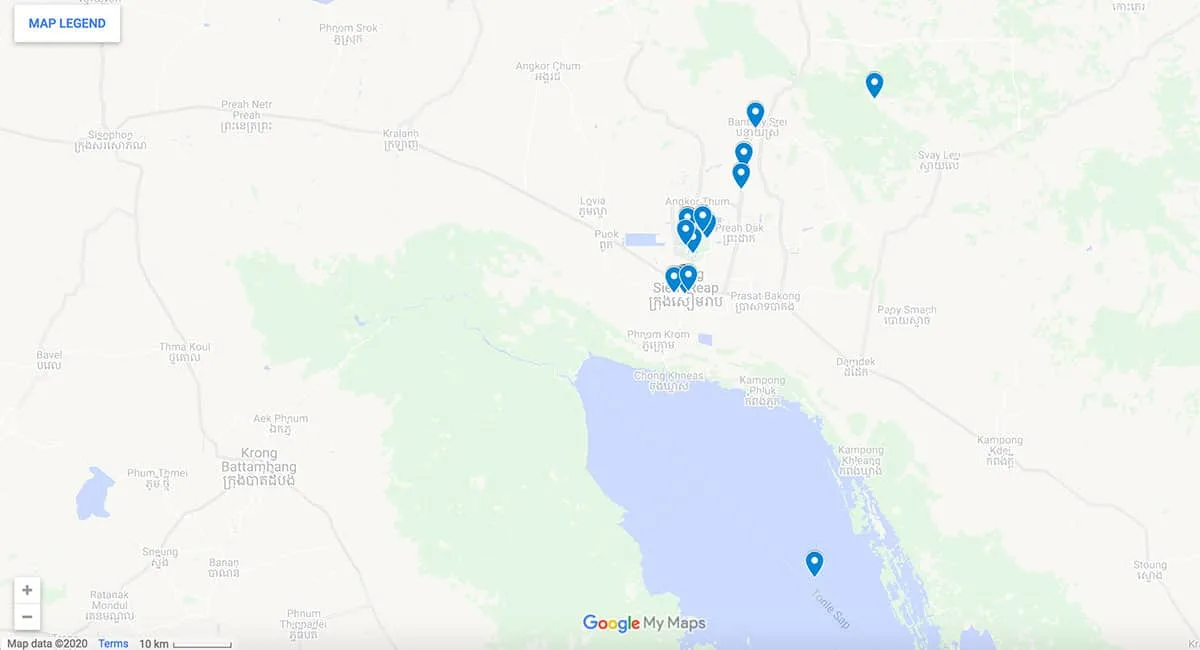 HOW TO GET AROUND IN SIEM REAP
Unless you rent a bicycle or charter a car, then a tuk tuk will be your primary means of transportation in Siem Reap. It's cheap and convenient and the breeze from the ride feels a lot like air-conditioning after a hot, exhausting day exploring the Angkor temples.
A typical tuk tuk can comfortably seat four people and you can arrange for one through your hotel or negotiate a deal with one of the many drivers around town. We did everything through our hotel though the latter option may be cheaper.
If you'd prefer to get around in an air-conditioned vehicle, then you can arrange for a car with driver through your hotel or through Klook. Klook offers cars and minivans that can seat up to 4 or 10 people respectively.
Based on my research, you can expect car rental prices to be at least double the rates of a tuk tuk.
HOW MANY DAYS TO STAY / SIEM REAP ITINERARY
A trip to Siem Reap revolves around the Angkor temples. If you're only interested in the major temples plus a few more, then the 3-day Angkor pass will be enough. Here's a 3D/3N Siem Reap itinerary to help you plan your trip.
DAY ONE
• Angkor Wat
• Angkor Thom / Bayon Temple
• Ta Keo
• Ta Phrom
• Pub Street
DAY TWO
• Banteay Srei
• Landmine Museum
• Banteay Srey Butterfly Center
• Phare, the Cambodian Circus
DAY THREE
• Angkor Wat at sunrise
• Day trip to Tonle Sap or Phnom Kulen National Park
SIEM REAP TRAVEL TIPS
1. Dress Appropriately When Visiting the Temples
Remember to dress appropriately when visiting the Angkor temples. Wear pants or skirts that go below the knees and shirts that cover the shoulders. These temples are sacred to Cambodians so skirts, small shorts, tank tops, and other items of revealing clothing are not allowed within the temple grounds.
2. Rent a Pocket Wifi Device
Having reliable access to the internet is so important these days, especially when traveling. You'll need it to do research, check emails, and stay connected on social media. If you plan on biking from temple to temple on your own in Siem Reap, then you'll need it to navigate so you don't wind up in Thailand.
We usually reserve a pocket wifi device through Klook before our trip and pick it up at our destination country. But that option doesn't seem to be available in Siem Reap. You'll need to pick it up or have it delivered to you before flying to Cambodia.
You can check Klook for pocket wifi rental options. They offer sim cards as well. Personally, we prefer pocket wifi devices but either is fine.
3. Check for Siem Reap Travel Deals
I get travel deals from several different websites. The sites I use the most are Klook and Get Your Guide. They're trustworthy sites that typically offer the biggest selection at the best prices.
You can search through these lists of Siem Reap tours and travel deals on Klook and Get Your Guide. Even if I don't wind up buying anything, I often learn about interesting activities that I wouldn't normally think of myself so it's always fun to look.
4. Get Travel Insurance
Whether or not to get travel insurance is something we consider before every trip. If we're just going on a quick traveleating trip and not doing anything physical, then we probably won't get it. But for a place like Siem Reap where you could fly off the side of a temple, then I think it's a good idea.
We buy travel insurance from SafetyWing or Heymondo. They're both popular travel insurance companies often used by many long-term travelers. You can follow the links to get a free quote from SafetyWing or Heymondo. Will Fly for Food readers get 5% off on Heymondo when purchasing a policy using our link.
5. Bring the Right Power Adapter
Cambodia has Type A, Type C, or Type G electrical outlets so be sure to bring the right power adapters for your devices. Electrical voltage is 230V and the standard frequency is 50Hz.
Have Fun!
I'm not a Siem Reap expert but I do hope that you find this post useful. I'm only sharing some of the things that I learned from our trip. If you have any questions or suggestions, then please feel free to leave them in the comment section below. You're welcome to join our Facebook Travel Group as well.
Thanks for stopping by and enjoy your time playing tomb raider at Angkor Archaeological Park!
OUR GEAR
These are some of the things we brought with us to Siem Reap. If you'd like to see what other gear we use, then you're welcome to have a look inside our backpack. (NOTE: The following links are Amazon and other affiliate links.)
Disclosure
Some of the links in this Siem Reap travel guide are affiliate links, meaning we'll get a small commission if we make a sale at no added expense to you. We only recommend products and services that we use ourselves and firmly believe in. We really appreciate your support as this helps us make more of these free travel guides. Thank you!