EDITOR'S NOTE: Traveleater Joseph Simborio is a bass guitarist and collector of chelo kebab memories. Here he shares his knowledge on the Thai bowl of deliciousness known as tom yum goong.
It was in the middle of a heavy downpour when I set out to visit this popular hole-in-the-wall Thai restaurant many years ago. It was dinner time, and the place was packed when I arrived, with customers waiting to be seated even at the outdoor tables despite being exposed to the elements.
If you find yourself in this kind of restaurant situation, the food must be worth the wait. After almost an hour, I took my place at one of the outdoor tables and started going through the menu. Under the not-so-favorable weather conditions, there's only one go-to Thai dish I just had to order: a steaming bowl of tom yum goong.
Save This on Pinterest!
No time to read this now? Click on the red save button and pin it for later!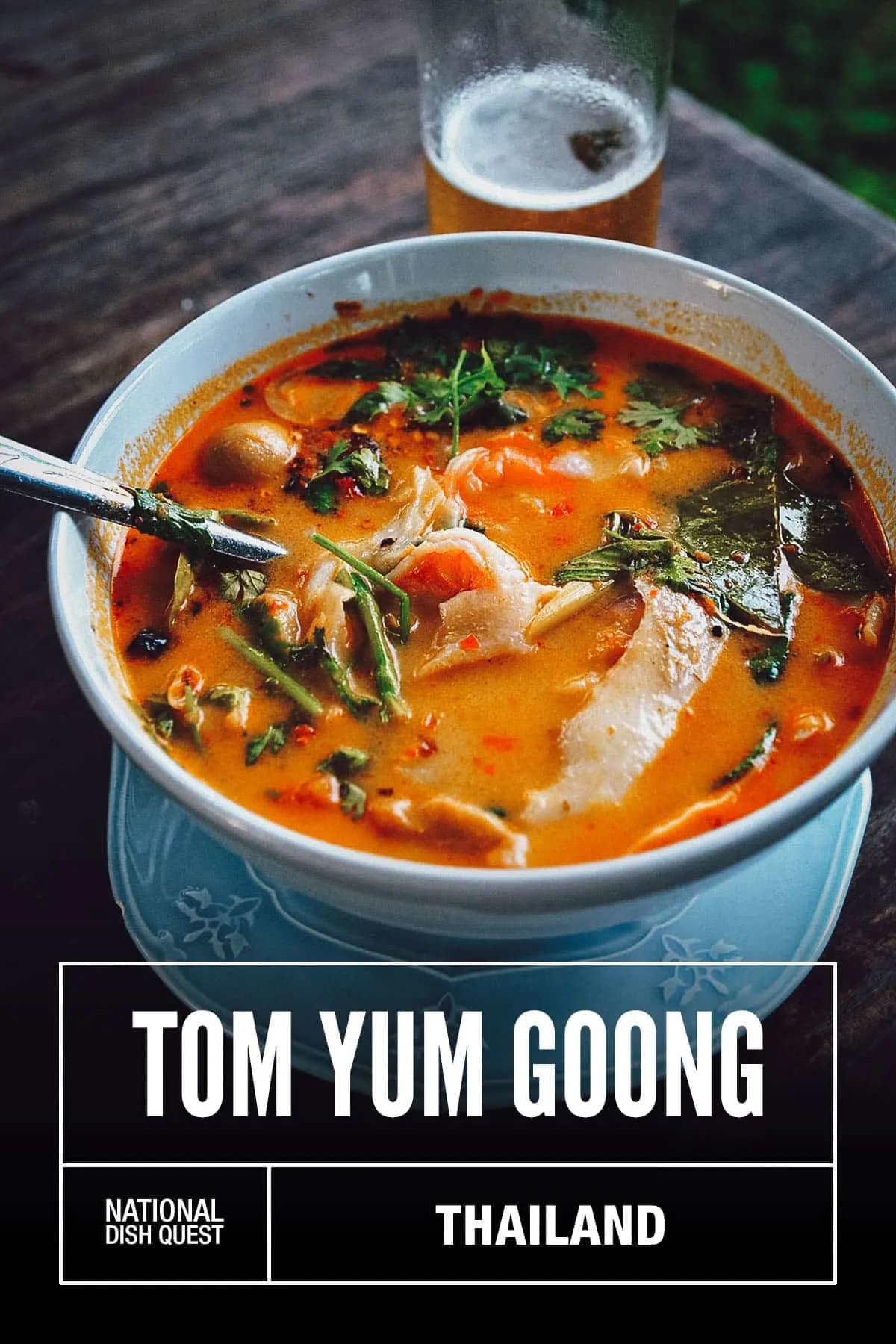 PHOTO: Takeaway, CC BY-SA 3.0, via Wikimedia Commons / Processed in Photoshop and Lightroom, added text
WHAT IS TOM YUM?
Also called tom yum kung, this hot and sour shrimp soup is generally touted as the dish that defines Thai cuisine. It's derived from the Thai words "tom," which refers to the boiling process, "yam," a Thai spicy and sour salad, and "kung" for shrimp. There's not much information about its origins, but many locals say it's a central Thai soup that emerged due to the abundance of freshwater shrimp mainly from the Chao Phraya River.
The dish is prepared by boiling shrimp heads in water to make the perfect stock for the soup. Thai roasted chili paste or nam prik pao is added to give that distinct spicy flavor, with lemongrass, galangal, kaffir lime leaves, lime juice, fish sauce, and crushed red chili peppers infusing the broth with a mouth-watering aroma.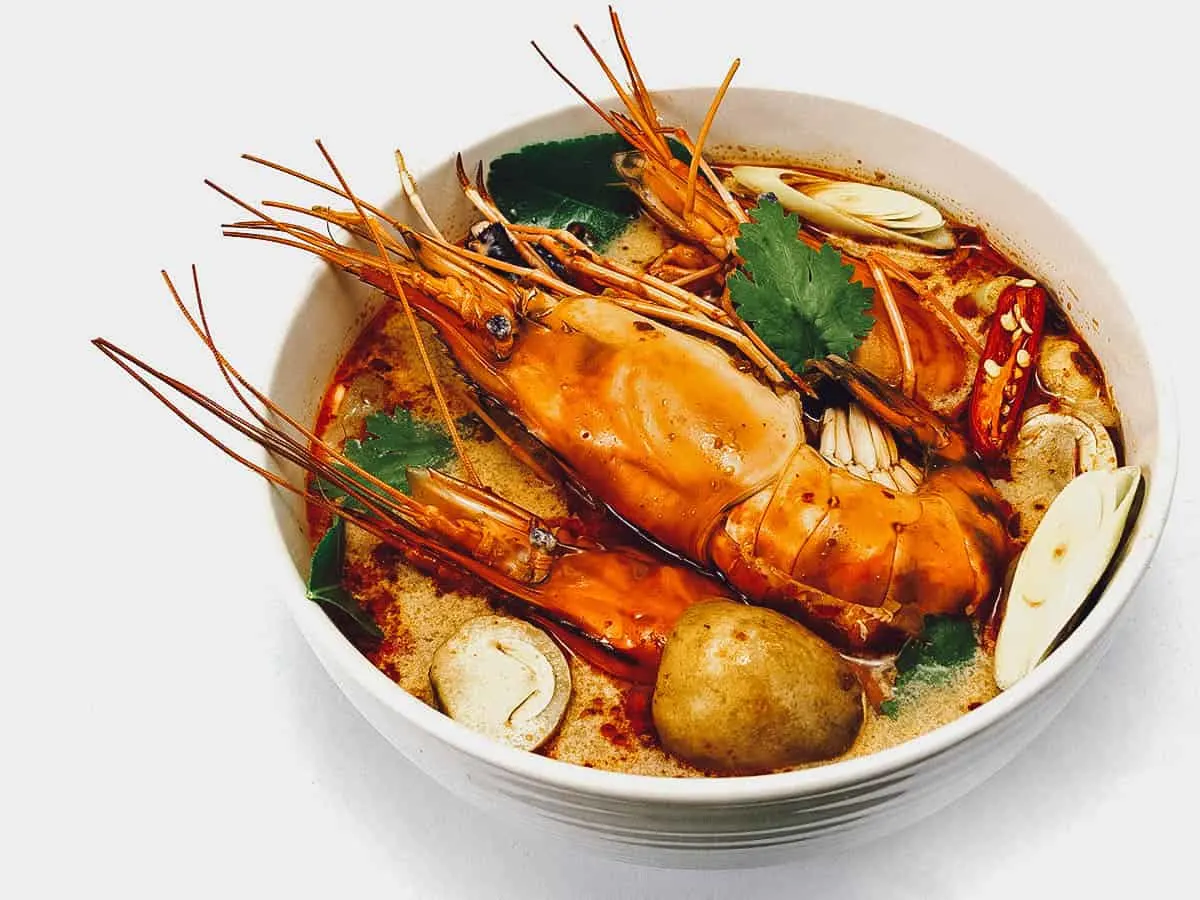 Photo by Waratharn via Pixabay
VARIATIONS OF TOM YUM
Tom yum is so simple to prepare that it has spawned other variations using different ingredients. There's the one with the clear broth called tom yam nam sai, and the creamier, opaque broth we all know and love using either evaporated milk, which is tom yum nam khon, or coconut milk, called tom yum kathi.
Other types differ in the meat used in the soup. There's fish for tom yam pla, a clear fish soup that used to be more popular before tourists started coming to Thailand since fresh fish is readily available almost anywhere in the country. Fish with firm flesh that doesn't fall apart after boiling is generally preferred.
The chicken version is called tom yum khai, while tom yum kha mu is made with pork leg, requiring a longer cooking time under a low fire. The more evolved version is called tom yum po taek or tom yum thale, which is cooked with mixed seafood that includes shrimp or prawns, squid, mussels, and fish.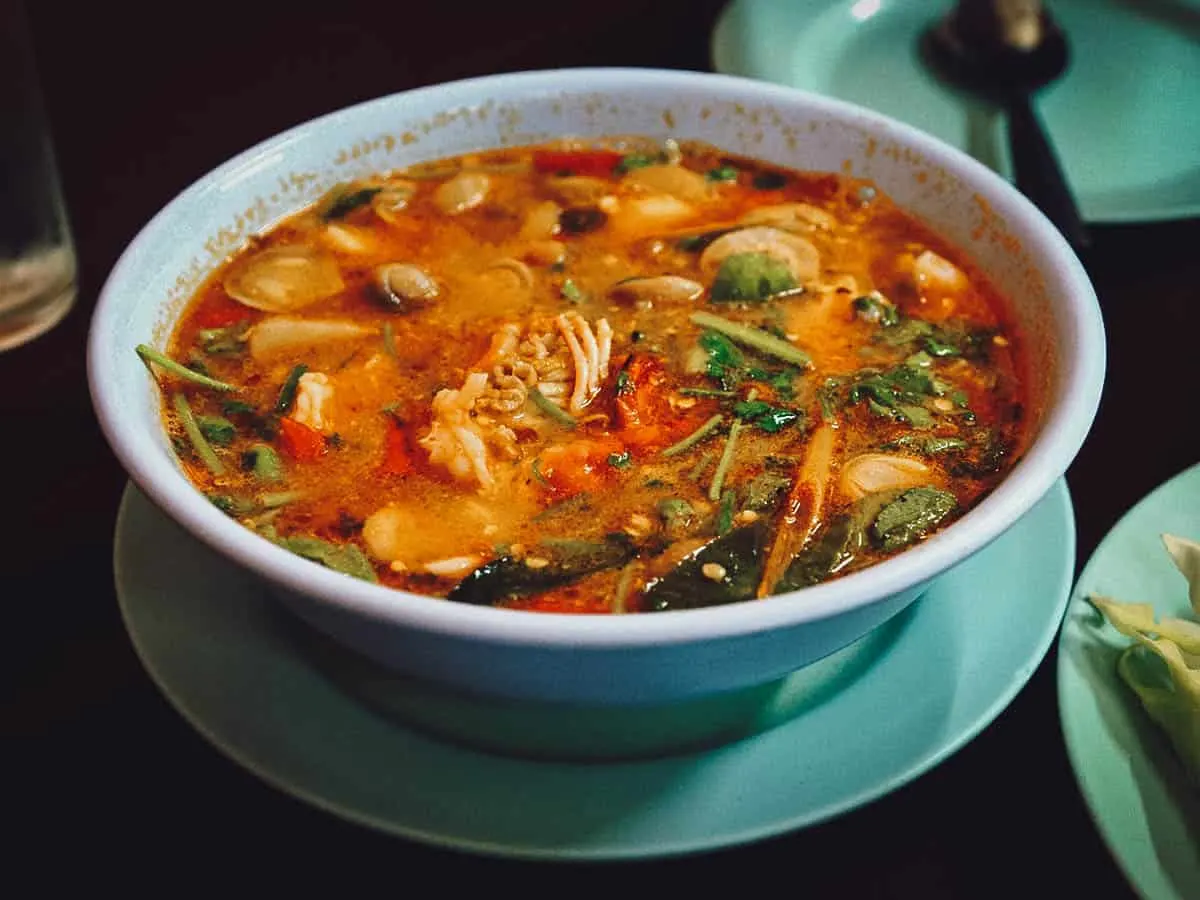 PHOTO: Takeaway, CC BY-SA 3.0, via Wikimedia Commons / Processed in Photoshop and Lightroom
DELICIOUS & HEALTHY
In Thai culture, it's believed that this magical concoction is not only considered healthy, but it also medicinal. The herbs offer different healing properties
Lemongrass can help relieve excess gas in the stomach or intestine, boost urine secretion, reduce body temperature, and prevent the spread of certain bacteria.
Lime helps prevent cough, colds, flu, and scurvy.
Kaffir lime not only removes the strong smell of food, but its juice can also cure cough, dandruff, and some types of stomach pains.
Pictured below are pre-bundled "tom yum sets" available for purchase at many markets in Thailand.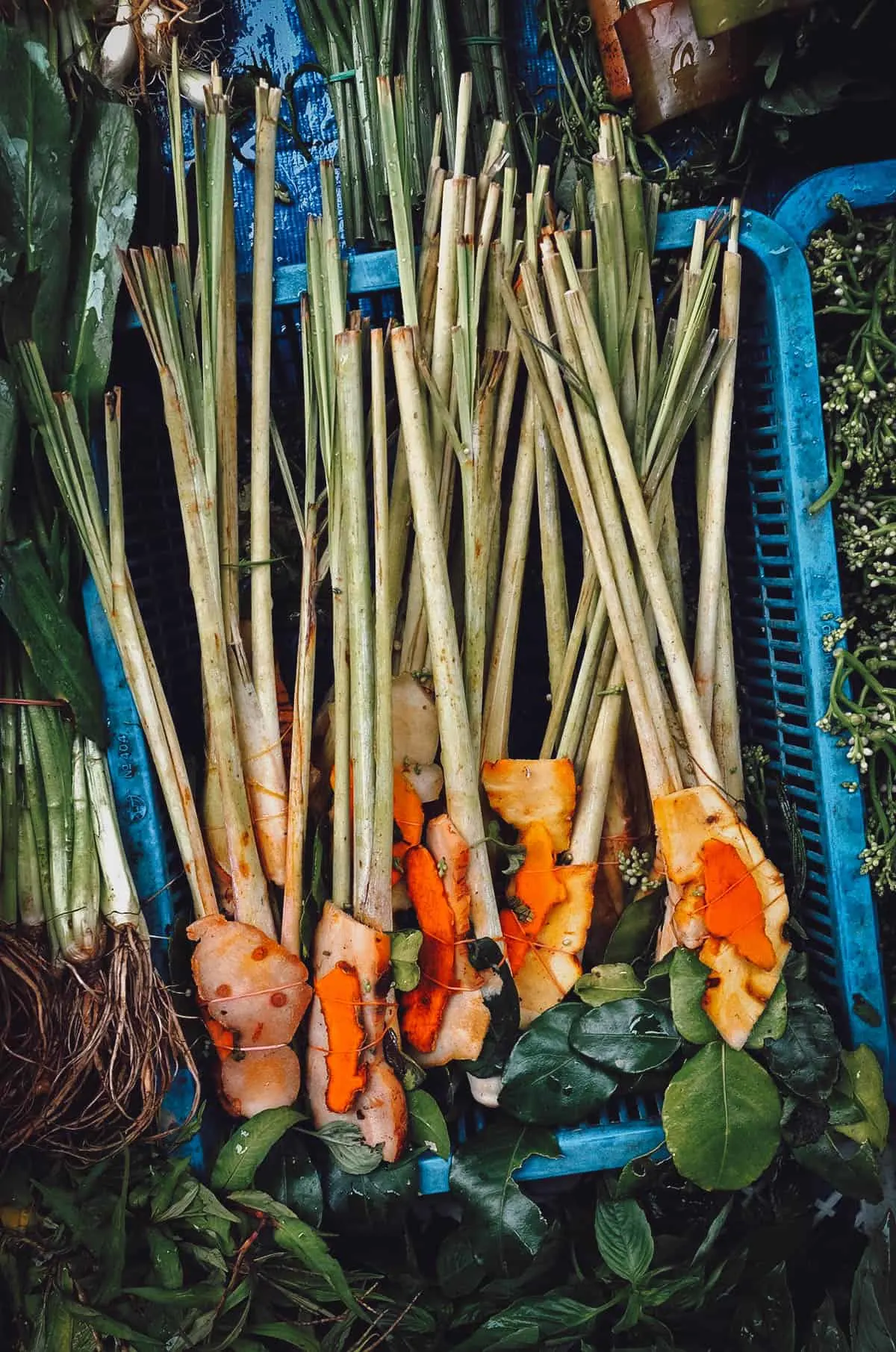 PHOTO: Takeaway, CC BY-SA 3.0, via Wikimedia Commons / Processed in Photoshop and Lightroom
FINAL THOUGHTS
Of course, I had the one with the works—shrimp, squid, clams, and fish with added mushrooms in a steaming hot and sour, creamy broth. In my first spoonful, I realized there was no other perfect time to have tom yum. The combination of my growling stomach, the cold and wet weather, and the flavorful hot soup delivered a knockout combo that absolutely hit the spot.
If you have never tried Thai food before, tom yum is a good place to start. It's perfect with rice, Thai omelet, and perhaps pad thai. As a first-timer, you can never go wrong with this soup dish. It's an exquisite mix of hot and tangy flavors that gives you a unique taste of Thailand.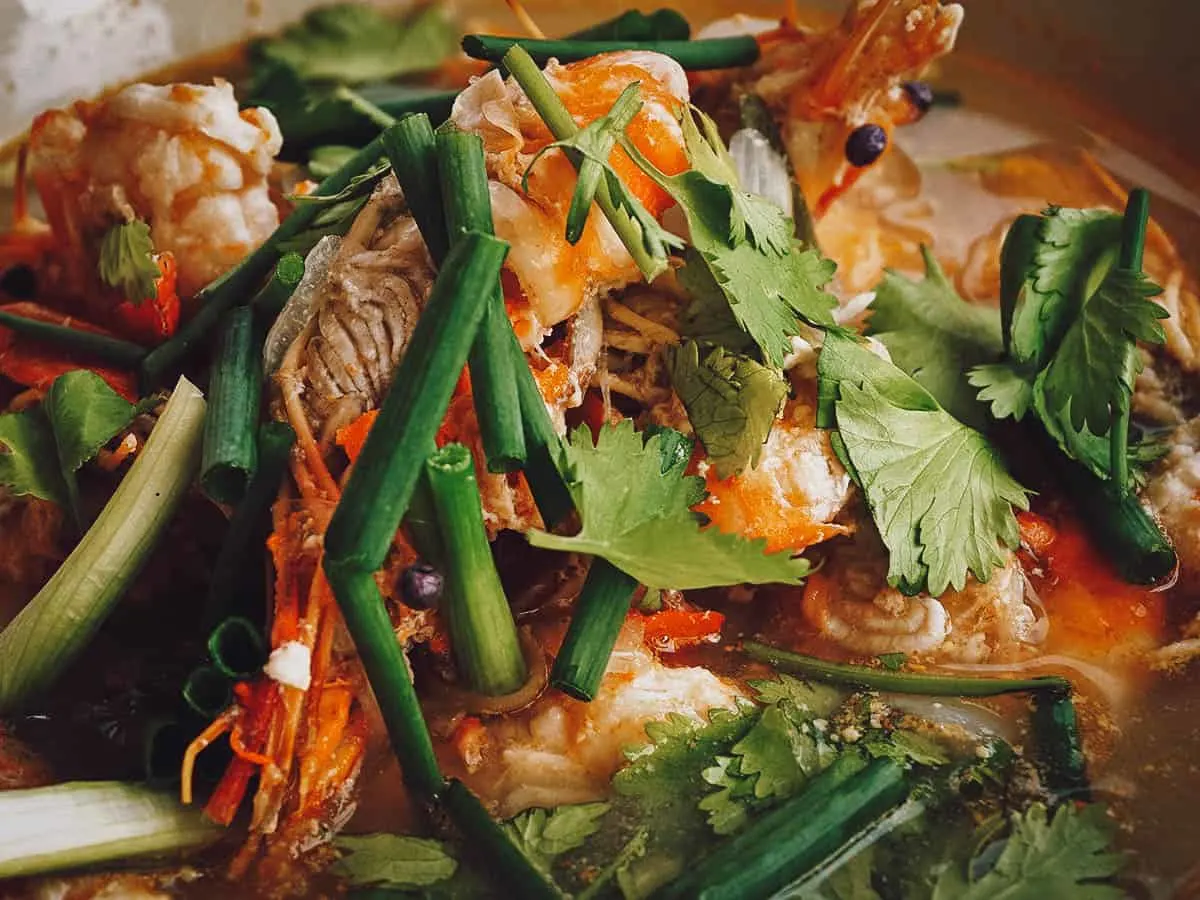 Photo by naturepost via Pixabay
Featured image by minipukkik via Pixabay