Ren and I travel for food. We enjoy going to places with good food and experiencing as much of its local cuisine as possible. That means learning what to eat, then trying to find the best examples of each dish.
But as a foreigner, how do I know that what I'm tasting really is the best or most authentic? There's only so much research can tell you, especially when it comes to something as unquantifiable and subjective as taste.
The way I see it, unless you've been eating a particular dish for a long time, like most of your life the way locals do, then you can't expect to pick up on the subtle nuances that differentiate great from just ok.
You need to have knowledge of that dish first, which is why we enjoy taking cooking classes when we travel. It's a great way to familiarize yourself with the local cuisine and get a better understanding of how it's supposed to taste.
We recently spent a week in Phuket and took this fun cooking class with Karn at Phuket Easy Thai Cooking. She's an engaging and passionate cook who took us under the hood of dishes like Thai green curry, tom yum, and pad Thai, to show us exactly what goes into making these popular Thai favorites.
Save This on Pinterest!
No time to read this now? Click on the red save button and pin it for later!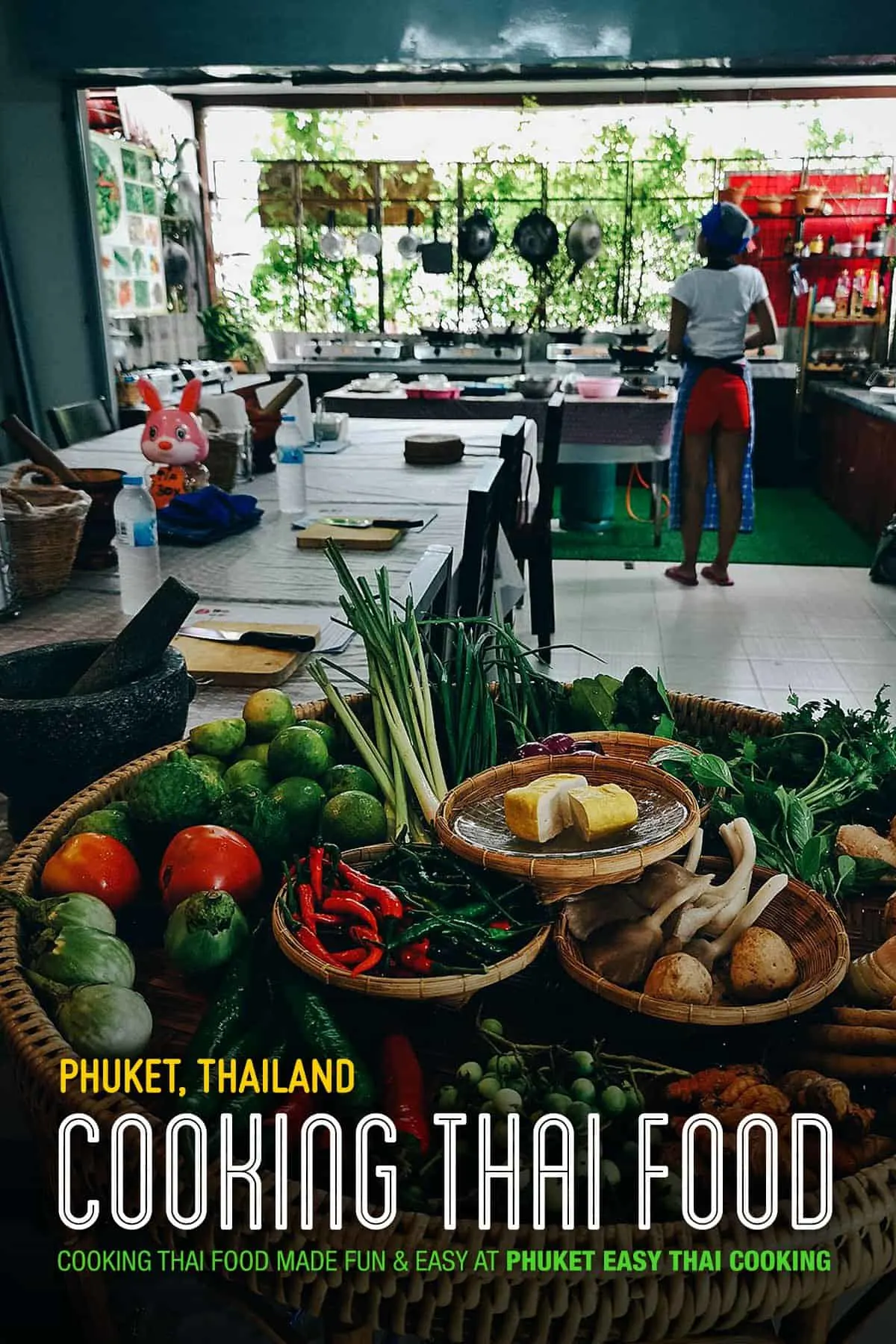 Phuket Easy Thai Cooking
We're Cookly Ambassadors and booked this cooking class through their website. It costs USD 55 per person and lasts about 4.5 hours, beginning at either 9:30AM or 2:30PM. Both classes start with a market visit to pick up your ingredients. Nice shirt Reneelicious.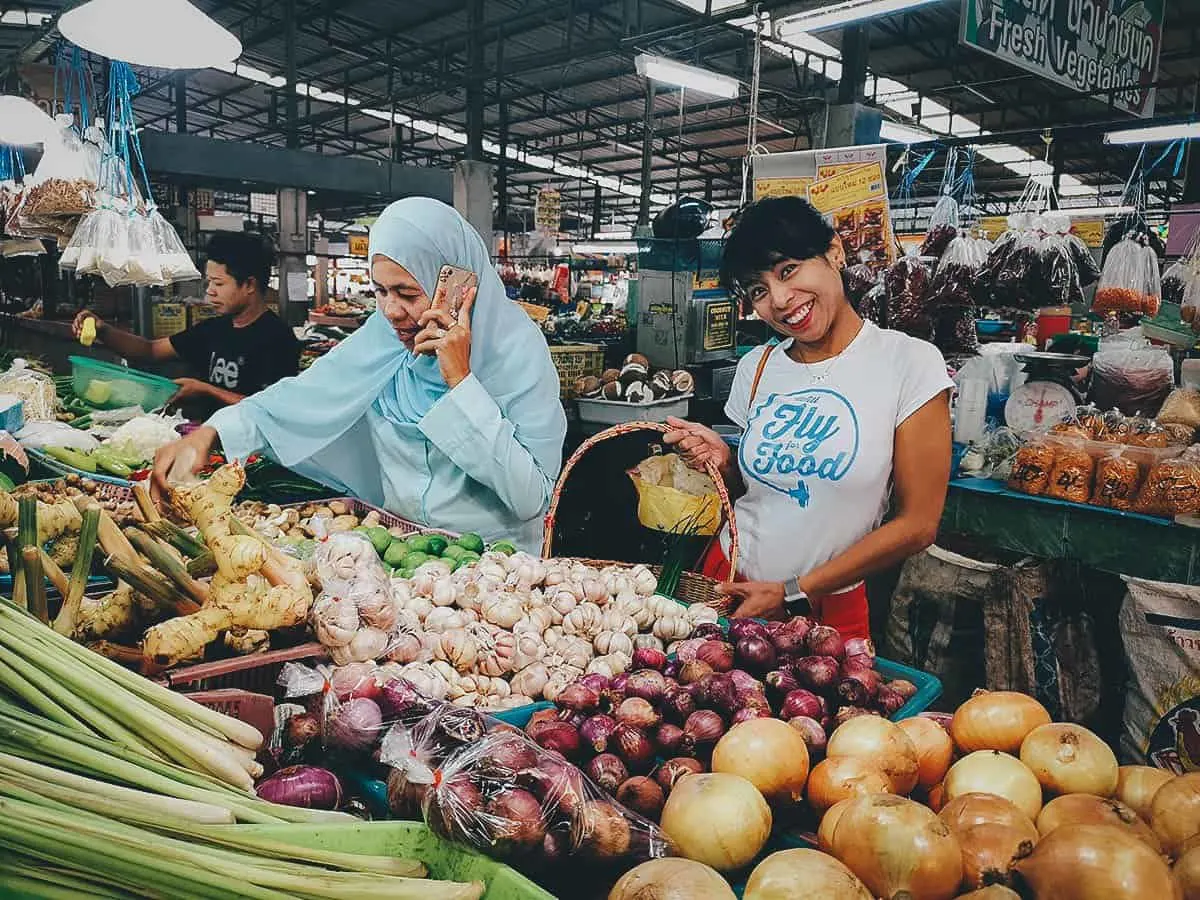 Ren hamming it up for the camera. Not to be outdone, instructor Karn hams it up too. She's really funny so it made for an entertaining four hours. She told us there were supposed to be four other people for this morning's class but they had to cancel. Private lesson woohoo!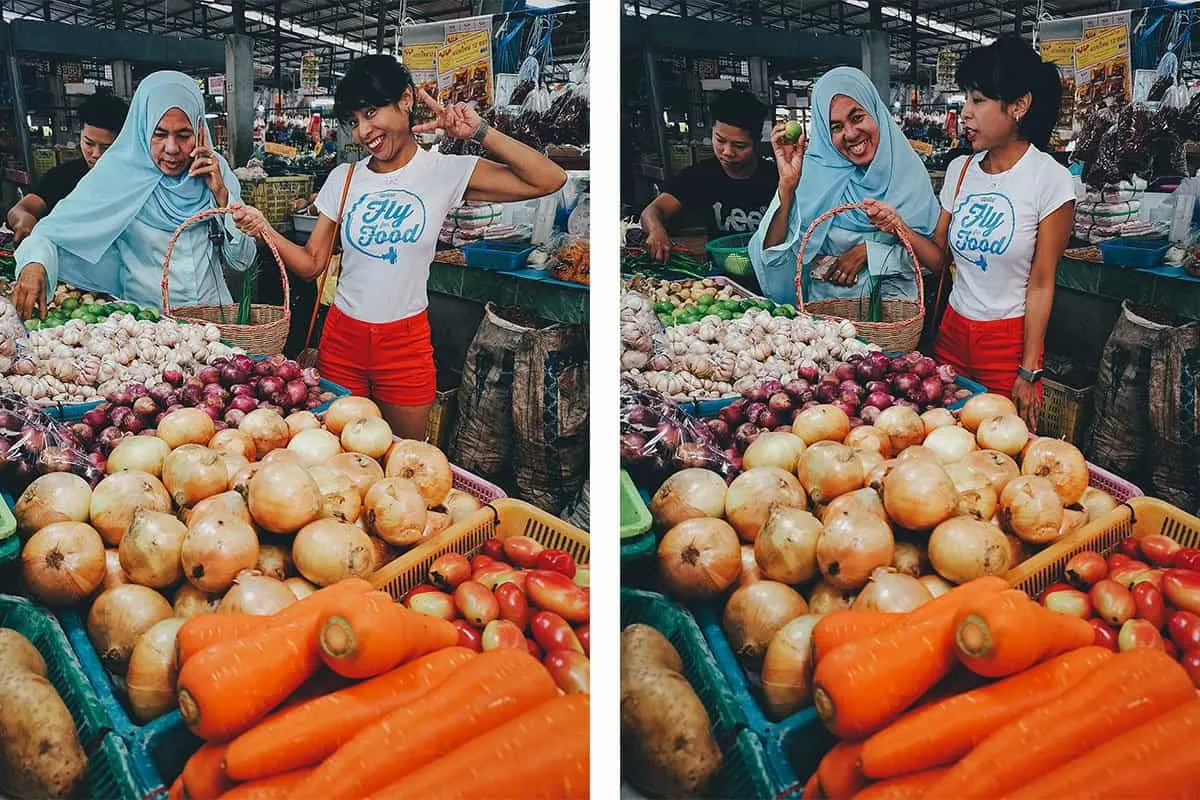 Before proceeding to her cooking school, we made another stop to pick up some coconut milk and cream. We would use it for the Thai green curry and tom yum.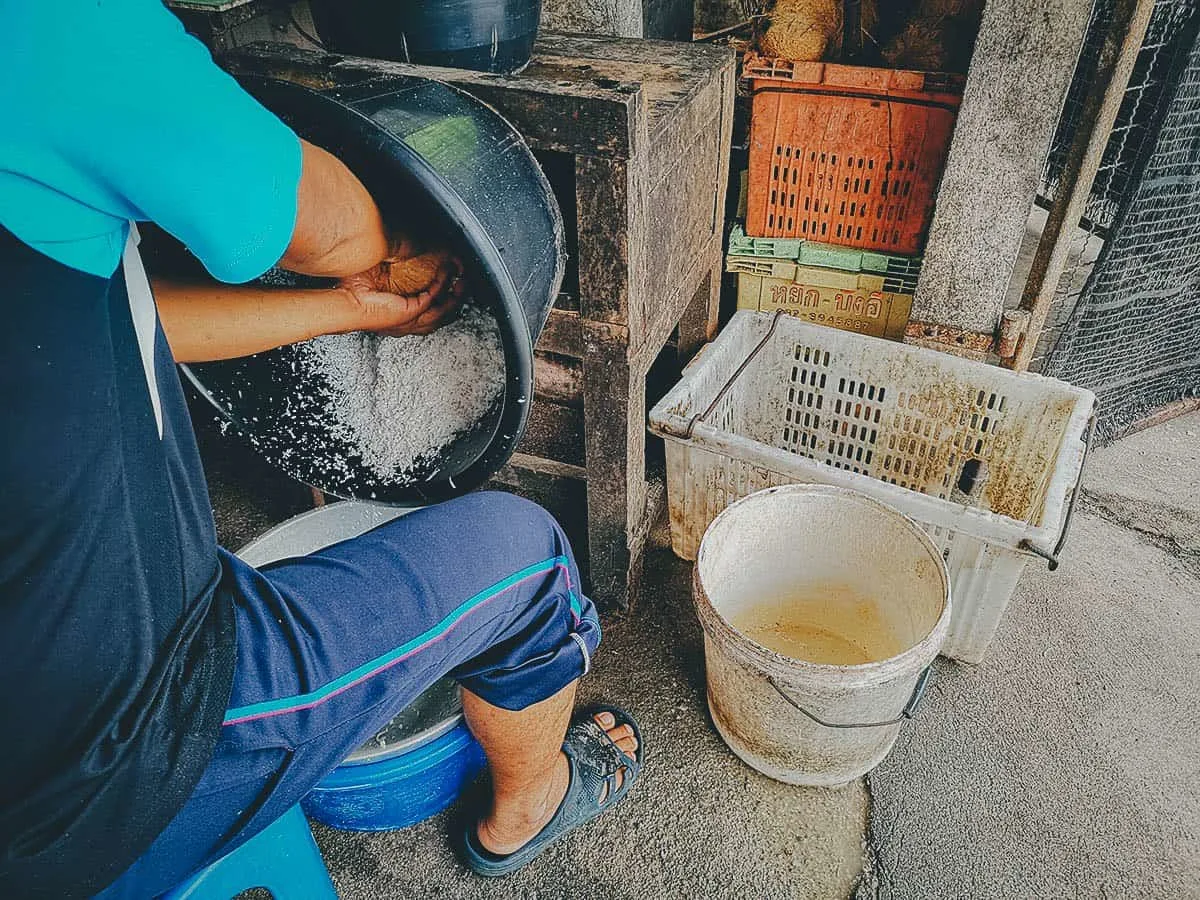 We've taken a few cooking classes before but this was the first time we got to harvest herbs ourselves, which was really cool. Instructor Karn has a small herb garden outside where she grows key ingredients like lemongrass and basil.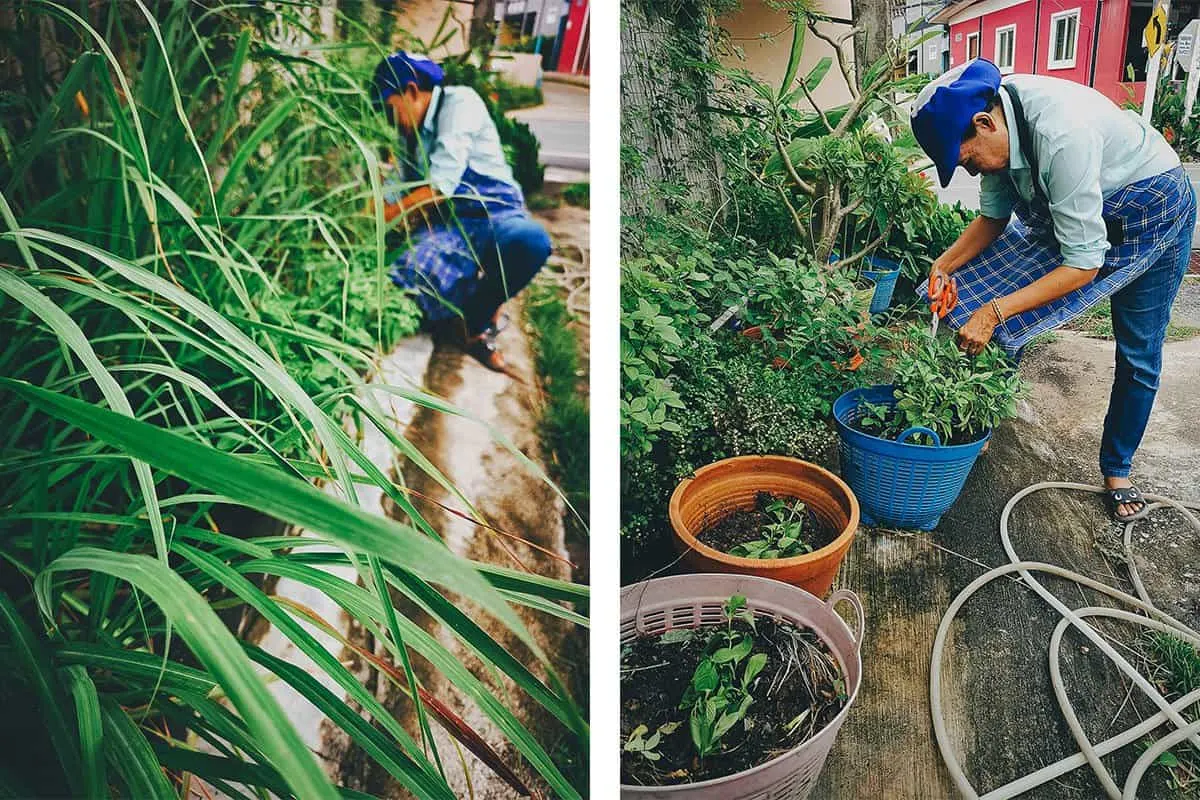 Aren't these pretty? They're edible flowers from the Clitoria ternatea or butterfly pea plant. We made tea with them today but you'll often find them used as a garnish to beautify dishes.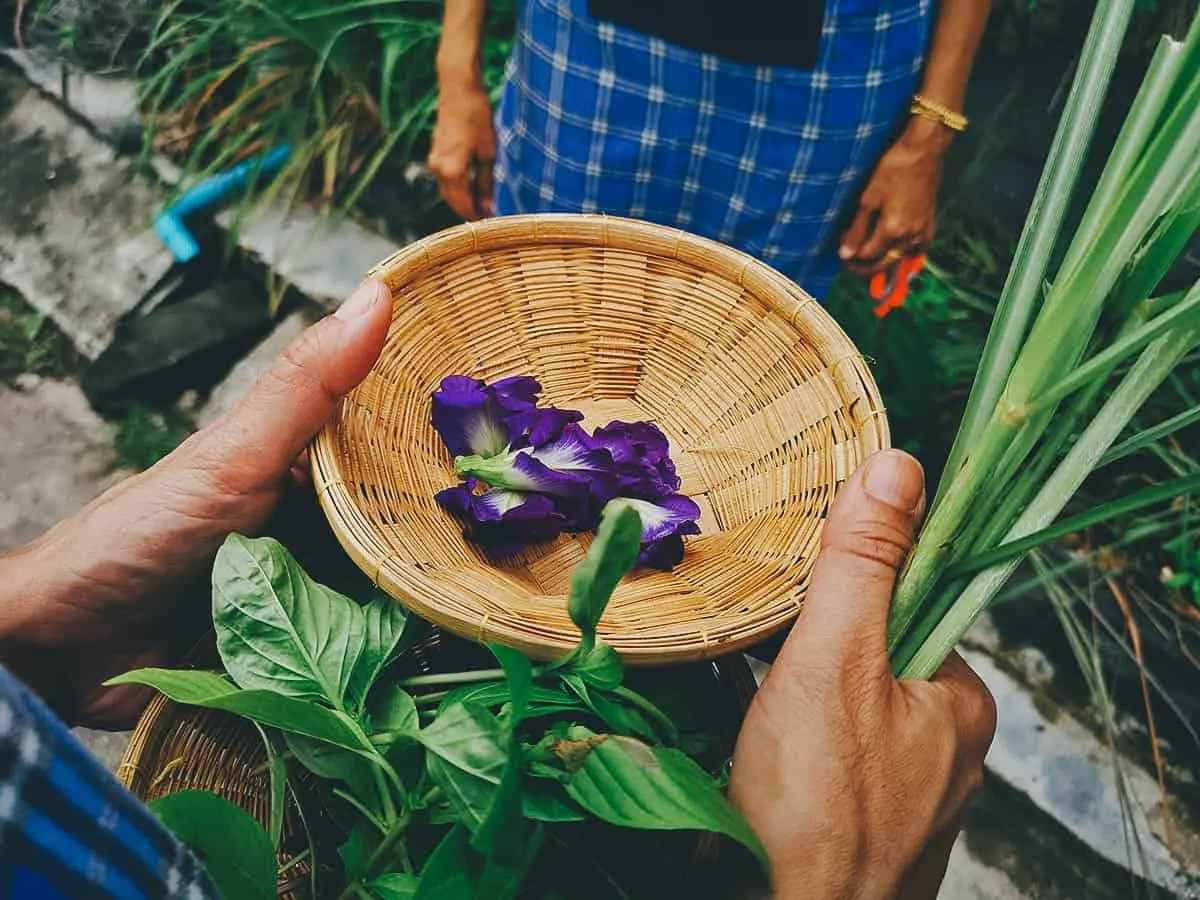 There's Ren taking a good whiff of that freshly picked basil, eager to make magic with it in the kitchen! I read there are three types of basil commonly used in Thai cuisine – Thai basil, holy basil, and lemon basil.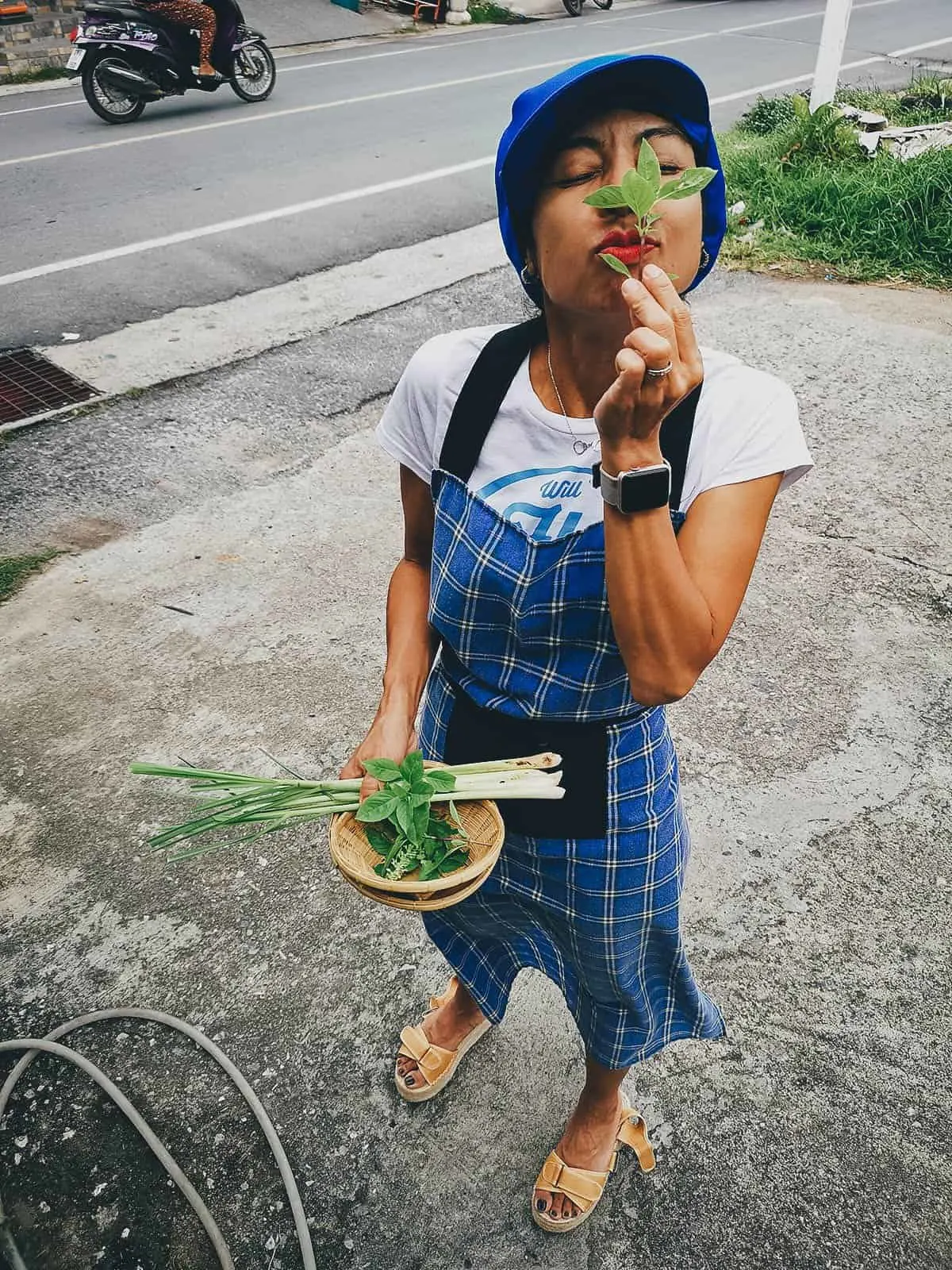 How beautiful does that khantoke pedestal look? It contains many of the fresh ingredients we'd be using today.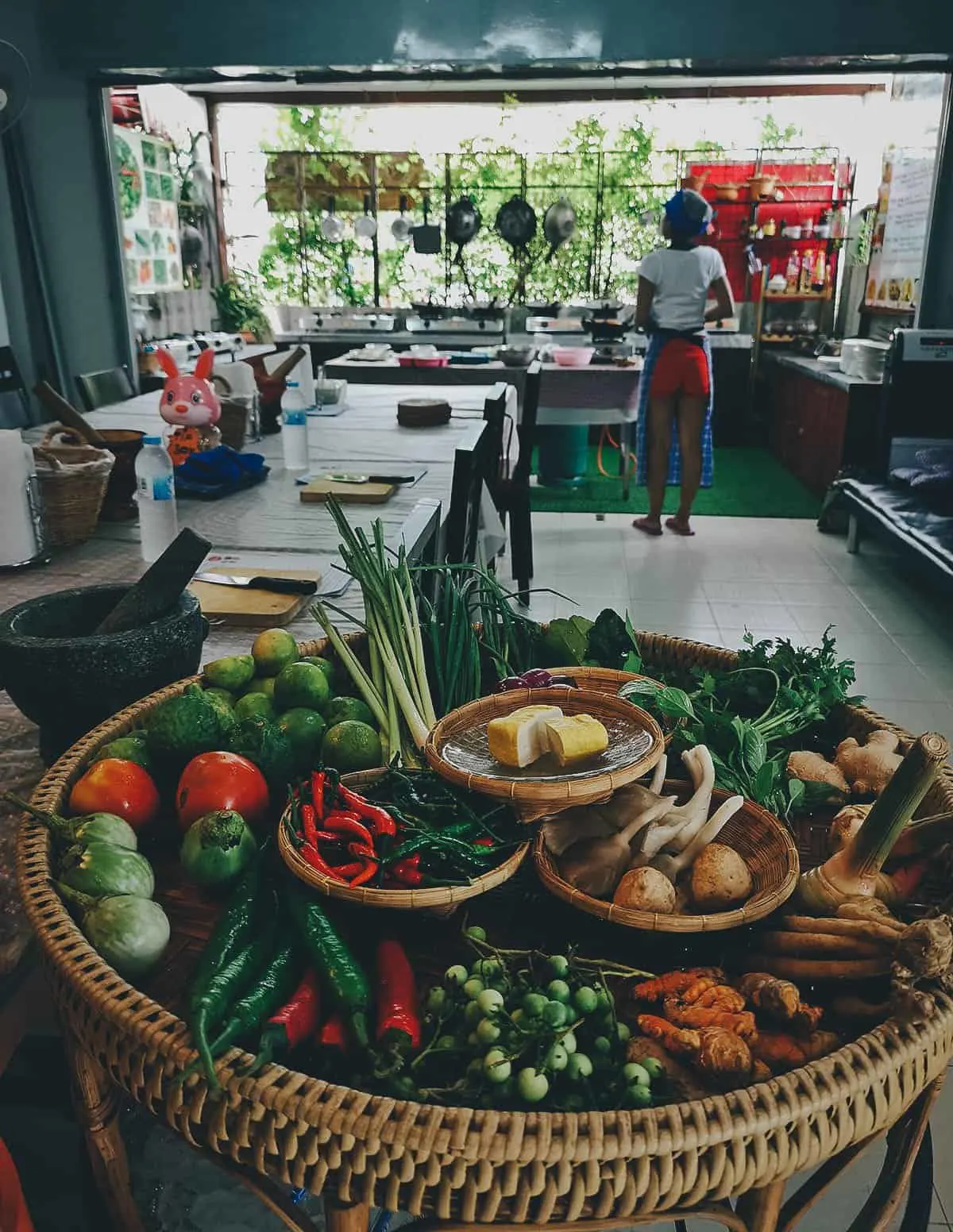 This one contains all the dried ingredients.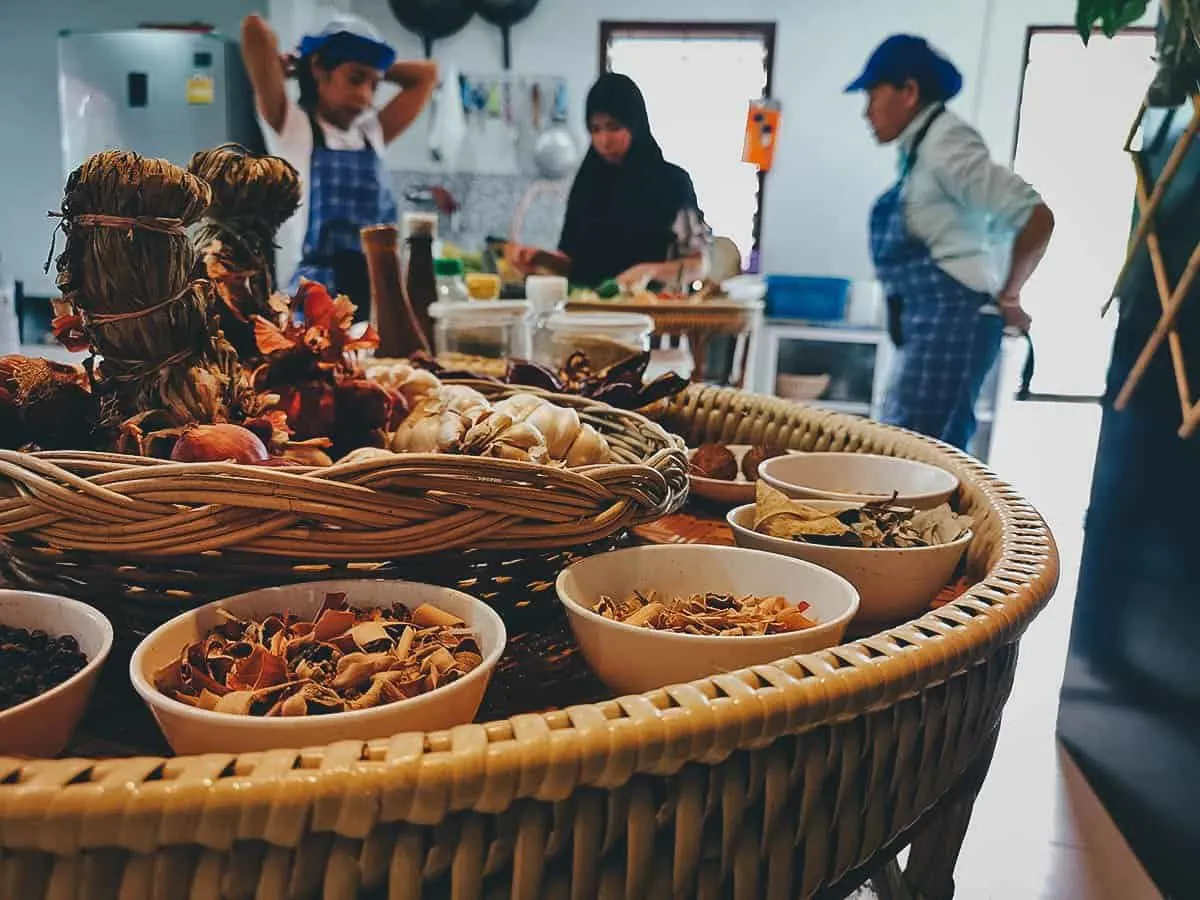 Instructor Karn starts us off with a lecture while we enjoy butterfly pea flower tea. Made with an infusion of the Clitoria ternatea flower and dried lemongrass, it starts off blue but turns purple when you spritz some lime into it, because of the acidity. So pretty!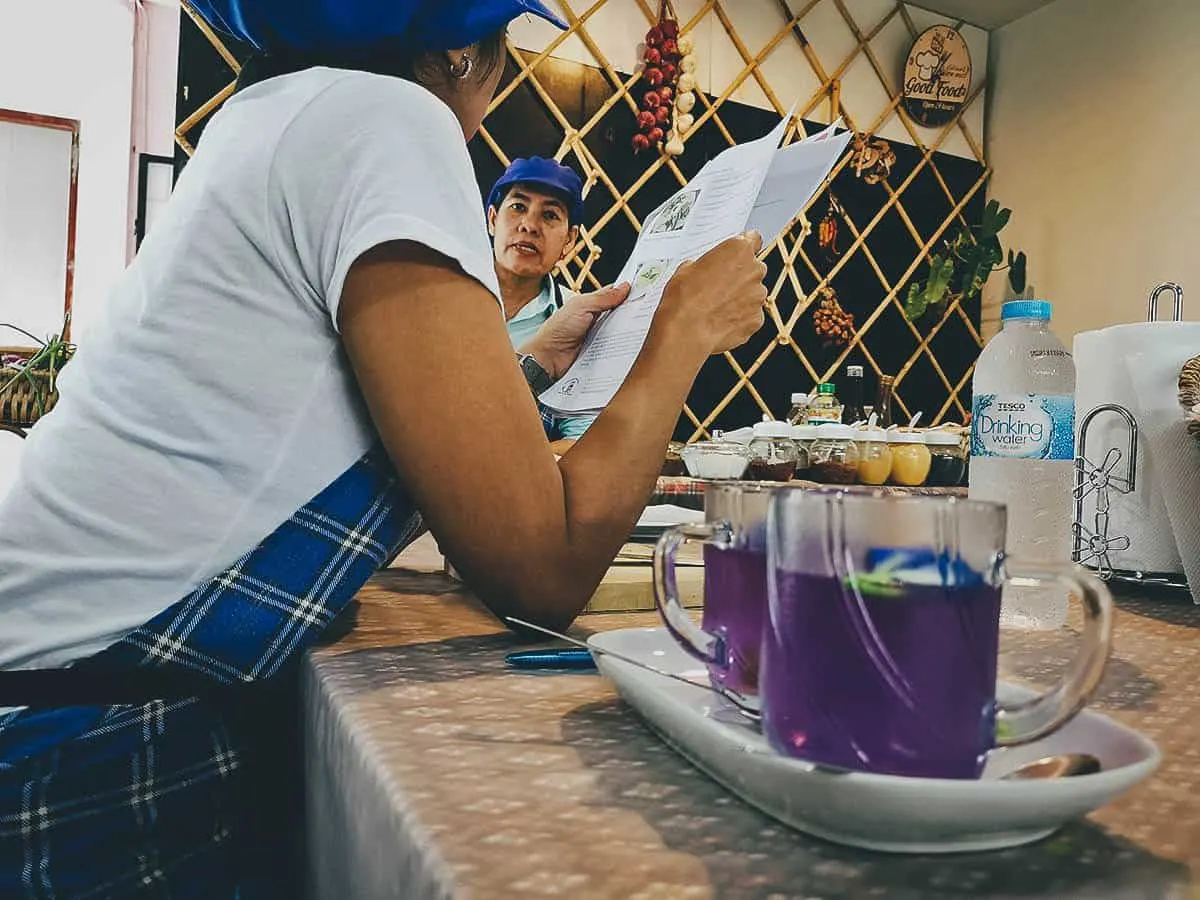 Instructor Karn takes the time to explain each and every ingredient to us. In that bottle is a Thai spice mixture we'd be using for the green curry paste.

And so the prepping begins. Thai food is easy to cook but it takes a long time to prepare. You have to cut, slice, chop, and mash so many ingredients before you can even hit the burners!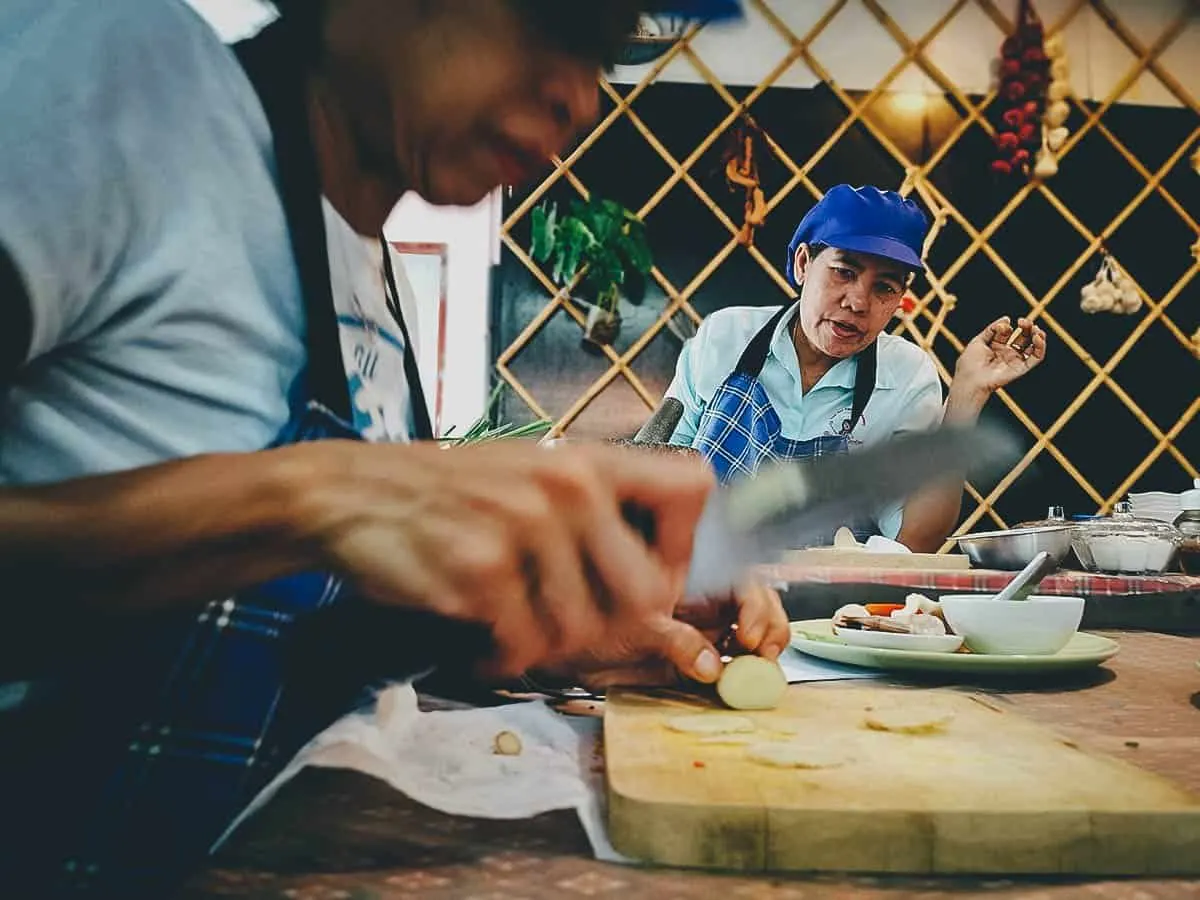 After what seemed like an eternity for (hungry) me, all the prepping was finally done so we were ready to cook. Separated into individual plates are the ingredients for the three dishes we'd be making today – tom yum, chicken green curry, and pad Thai. Can you tell which plate of ingredients corresponds to which dish?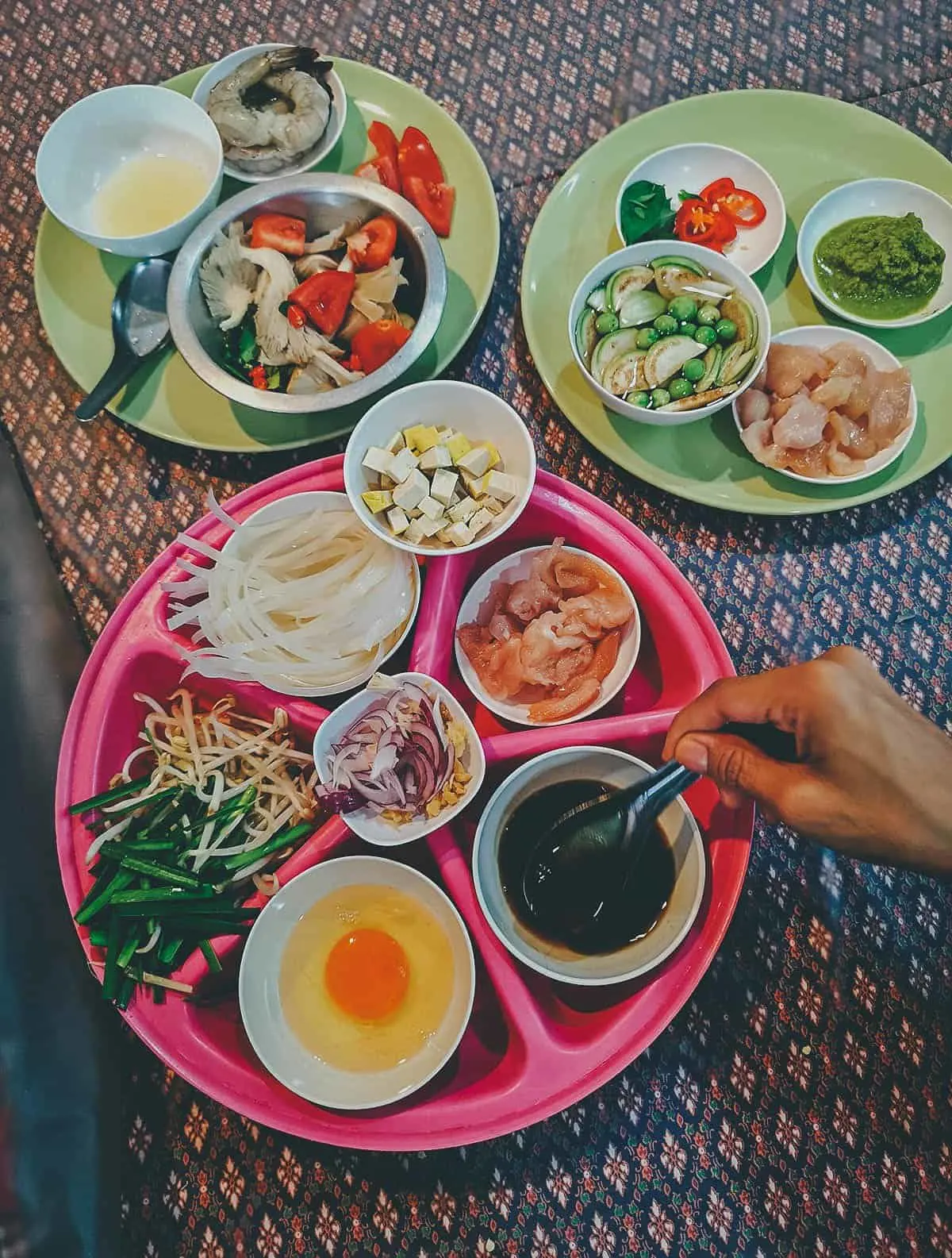 Bananas in Coconut Milk
We actually learned to cook four dishes today, the fourth being a dessert of bananas in coconut milk. But we didn't cook this one ourselves. Instructor Karn just explained it to us while doing the demo herself. Not sure what it is with desserts, but that's happened to us on previous cooking classes in other countries too.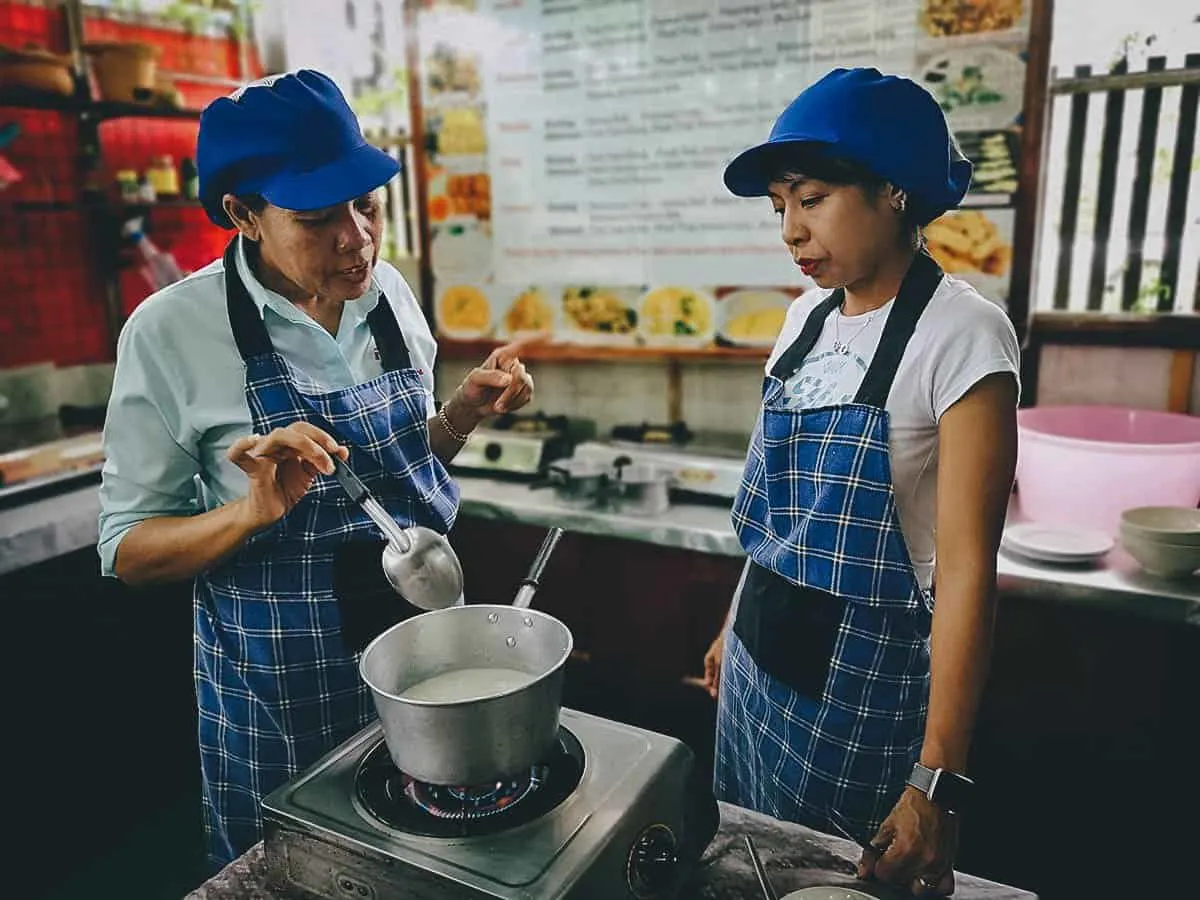 Thai Green Curry with Chicken
Before she lets you cook, Instructor Karn will do a demo first for every dish. She guides you step by step, explaining her methods clearly and letting you taste the dishes at varying stages so you know what to expect.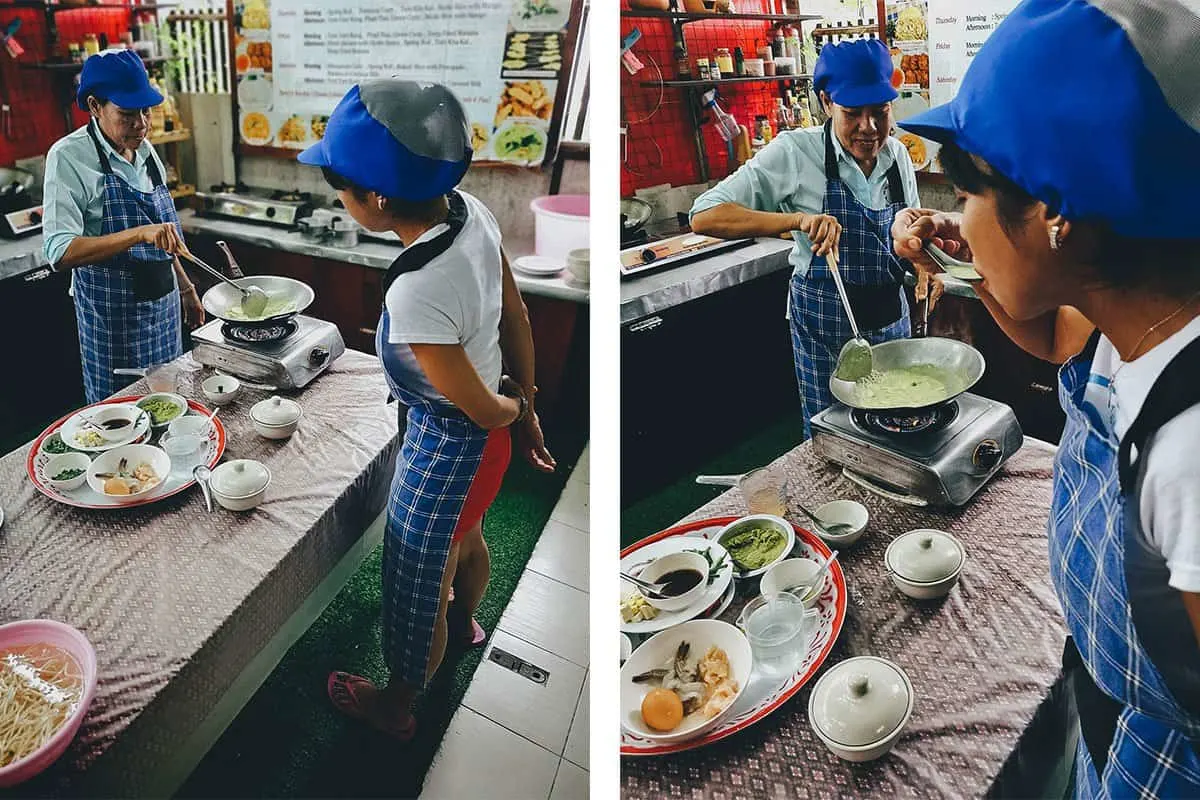 Now it's Ren's turn. Compared to how long it took to prep all the ingredients and prepare the green curry paste, cooking the chicken green curry didn't take long at all. I'd say about 80% of the effort to make Thai green curry goes into the prepping, mostly to create the paste. Over a dozen ingredients goes into making that green curry paste from scratch. The rest is just mixing up all the ingredients in a heated pan until it's cooked.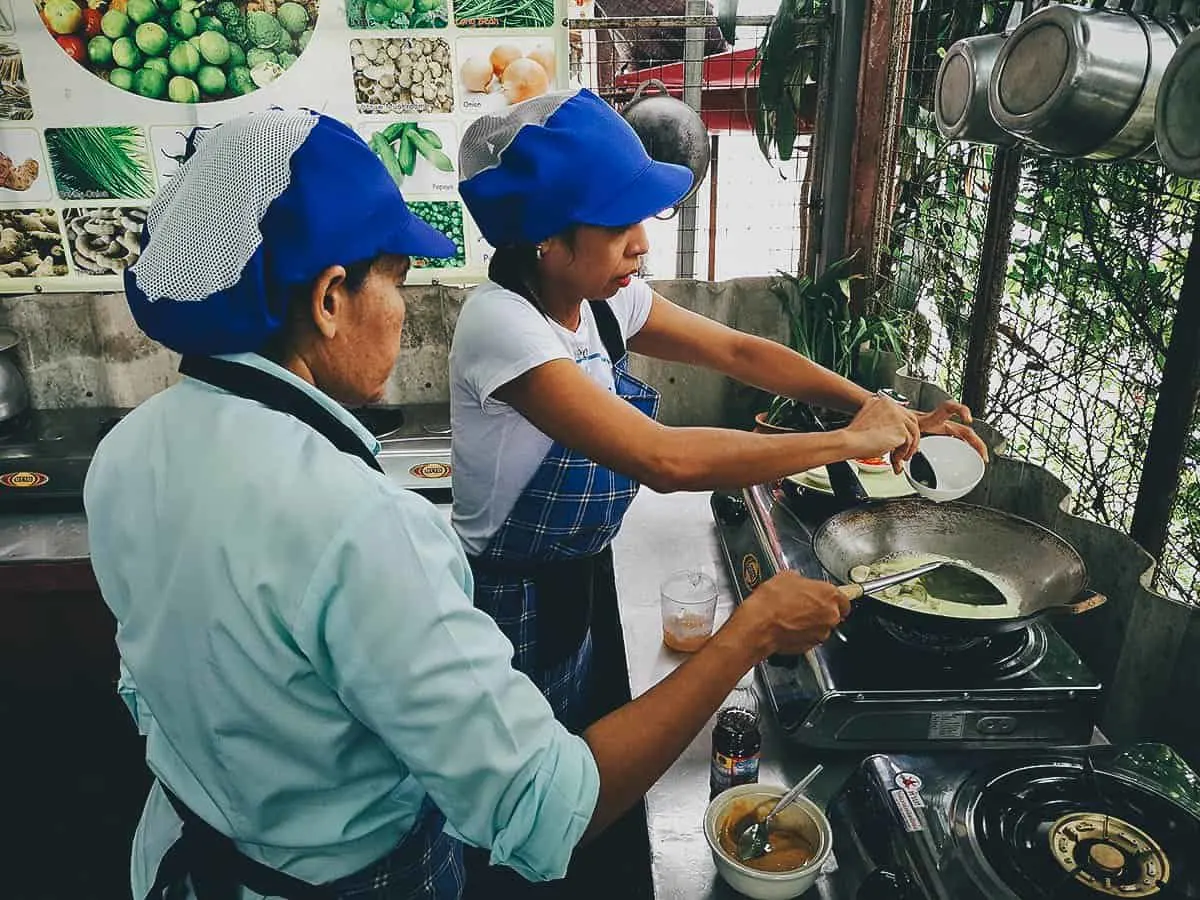 "Can you taste my green curry please? Did I do good?" Aside from the green, there are several other types of Thai curry, some of the most popular being red, yellow, and massaman.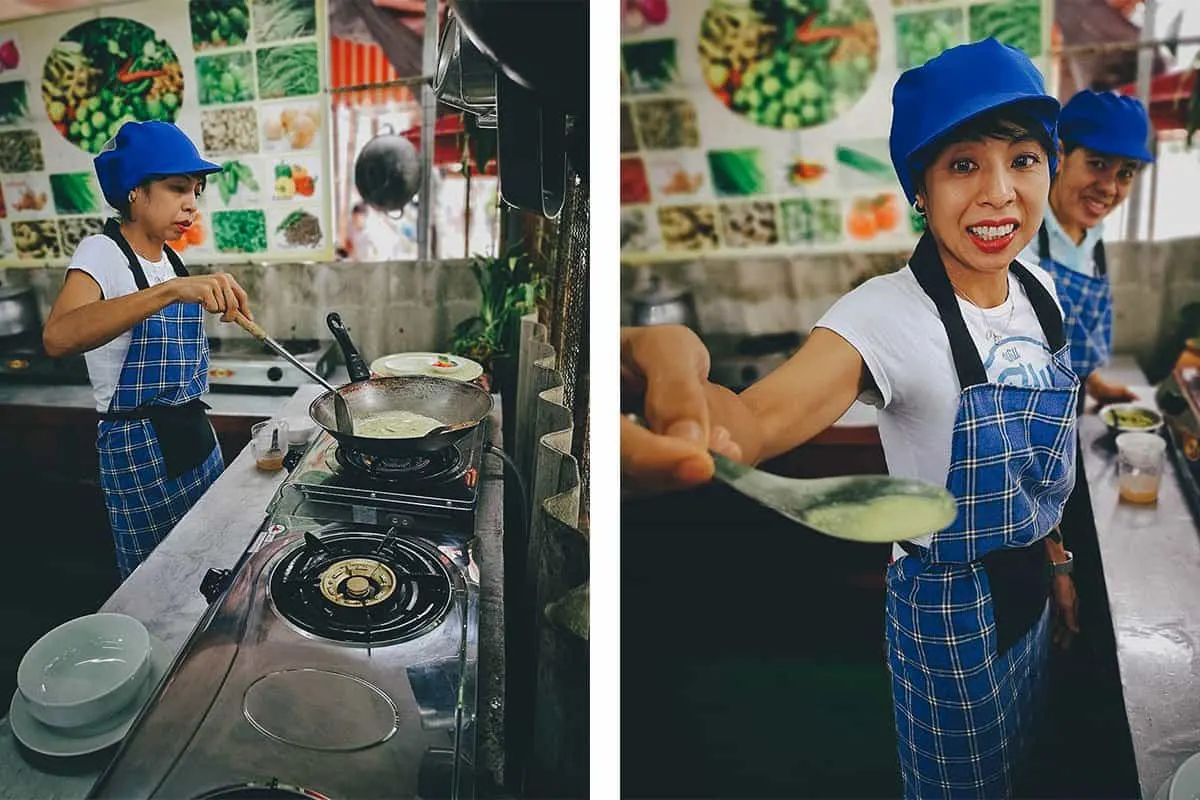 I made Thai green curry in a Chiang Mai cooking class last year so I challenged Ren to make a better one today. She did. It was delicious and my favorite dish from today's class. Leave me in a corner with a bowl of this curry and a plate of rice and I'm a happy man.

Tom Yum Goong
Now it's time for the tom yum. If you've never had it, tom yum (or tom yam) is a type of hot and sour soup usually cooked with prawn. It's one of the most popular dishes in Thai cuisine and considered a national dish. The word tom refers to the boiling process while yam refers to a Thai spicy and sour salad. By that, I guess tom yum is basically a "boiled salad" but it tastes a lot more complex than that. The word "goong" refers to the freshwater prawn often used in the dish.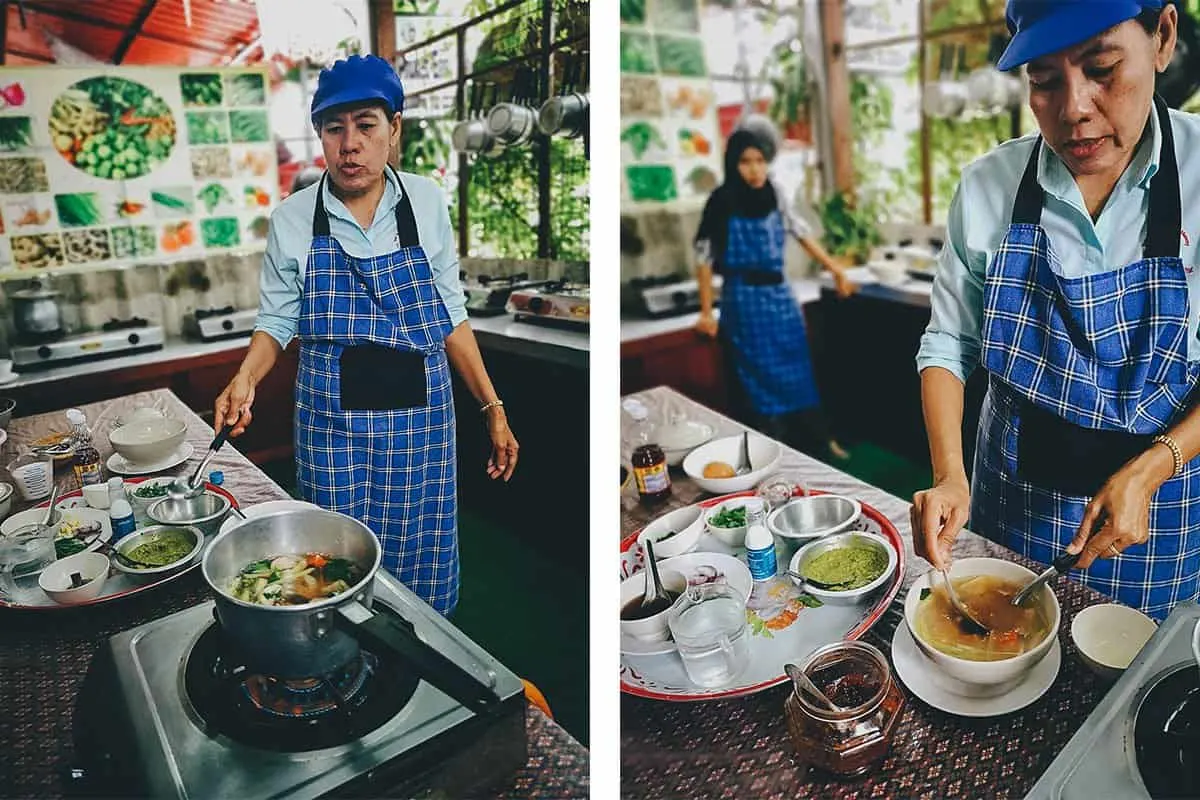 It was fascinating watching Instructor Karn prepare the tom yum. She had us taste the broth during several stages of its preparation. First on its own, then after adding lime, then shrimp paste, then coconut milk. It gave you a good understanding of how the tom yum flavors develop and become more full-bodied with the addition of each ingredient. Awesome!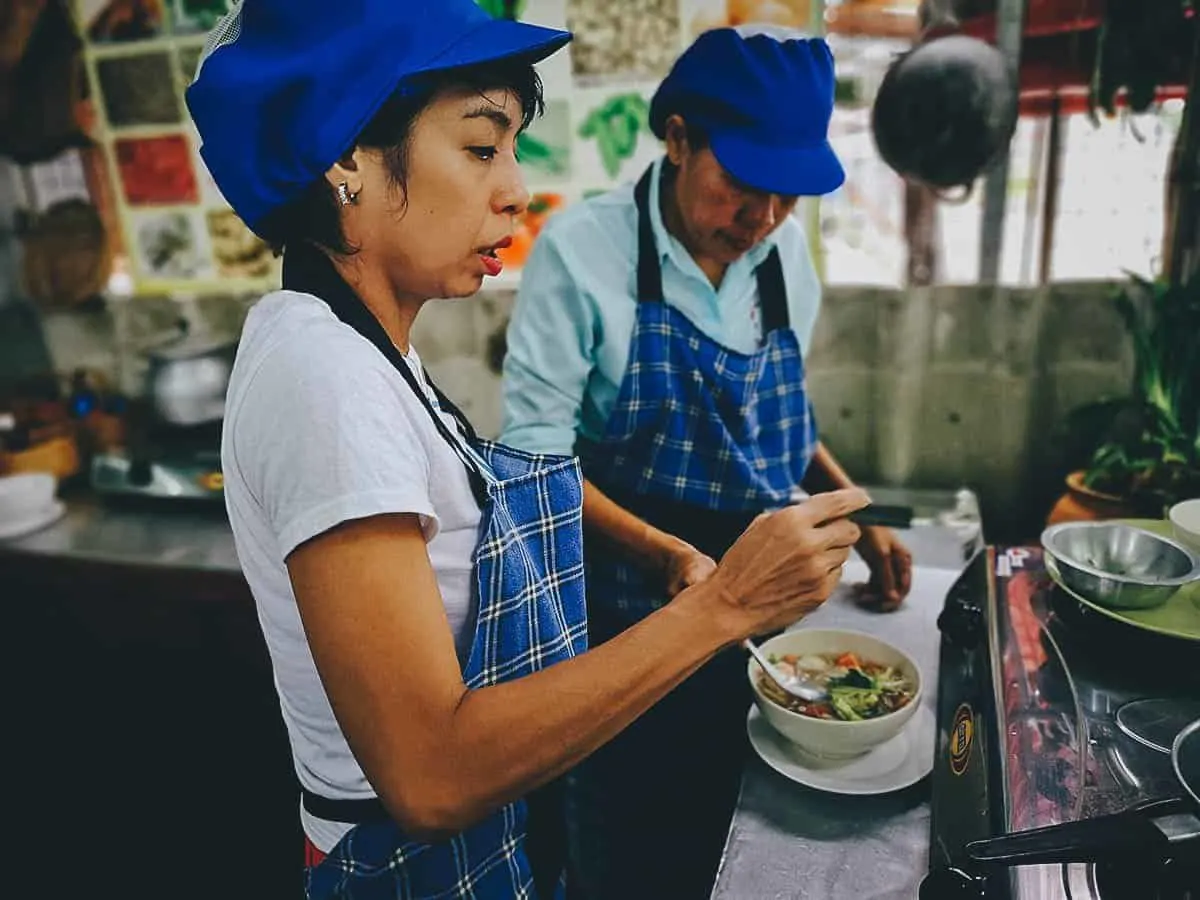 Tom yum goong is one of the most popular versions of this dish, especially among foreigners, but there are several versions of this hot and sour soup. For example, there's tom yum kha mu, made with pork leg, and another made with chicken called tom yum kai. But regardless of the version, kaffir lime leaves, lemongrass, and galangal are the three key ingredients that form the foundation of any tom yum.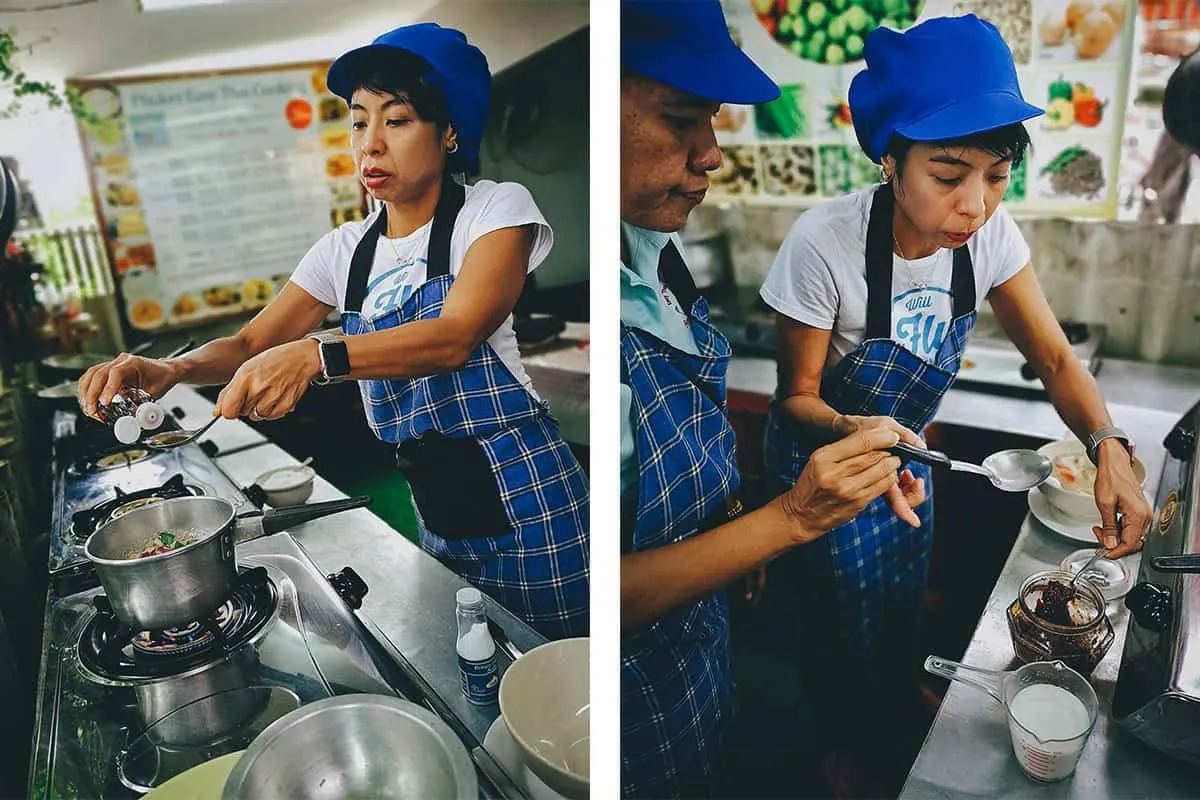 Reneelicious with her delicious bowl of tom yum. People enjoy tom yum for its balance of flavor and texture. It's hot, spicy, and sour, hitting you with a pleasant and mild burning sensation in your throat with every spoonful. Some recipes, like ours today, call for coconut milk which imparts a nice creaminess to the soup.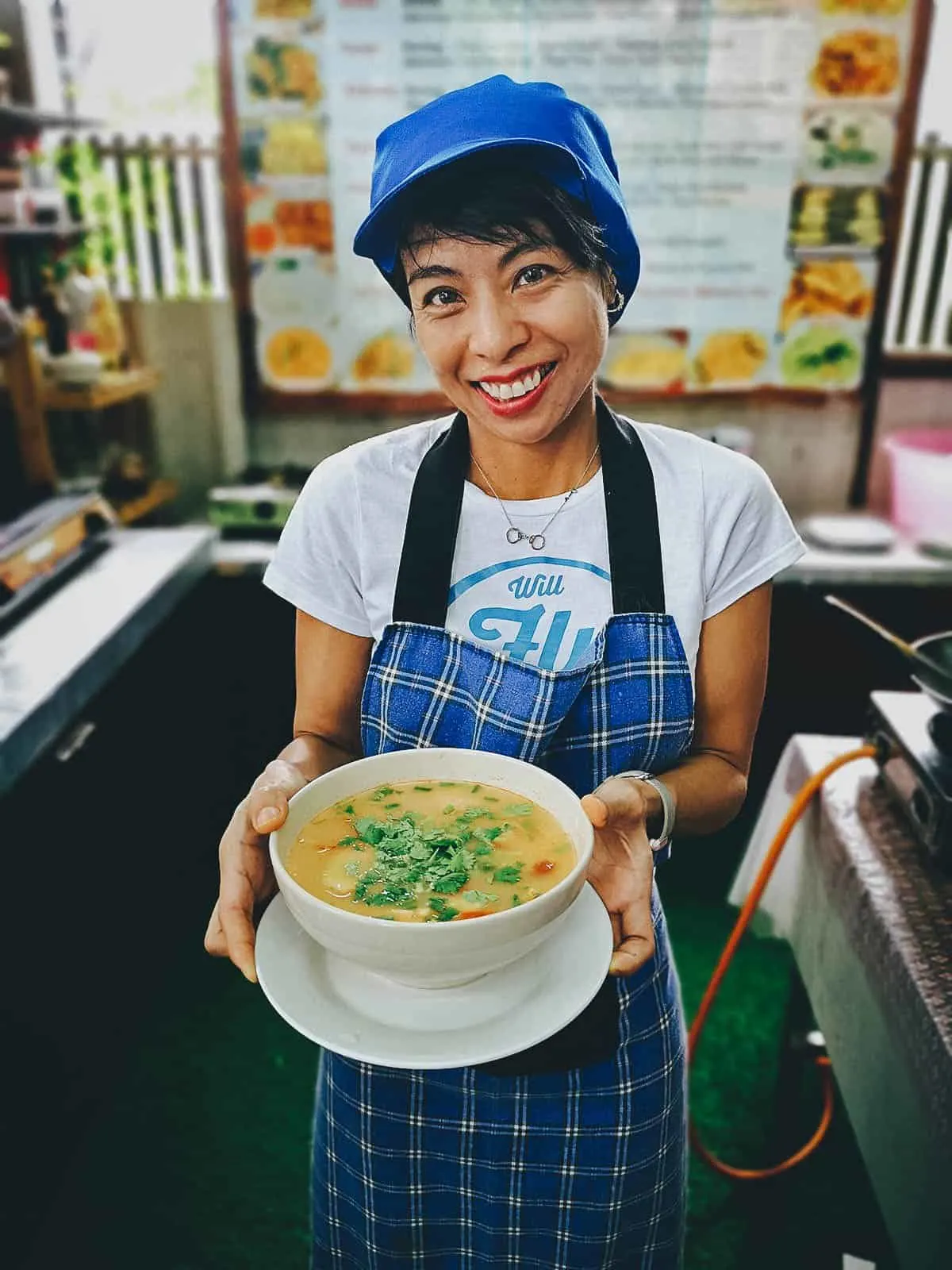 Pad Thai
Pad Thai is arguably the most recognizable dish in Thai cuisine, at least to foreigners. It's a stir-fried rice noodle dish served at restaurants and as street food throughout Thailand. Instructor Karn began by stir-frying tofu in a pan before adding shallots, pickled radish, chicken, pork, and an egg. She then threw in the noodles before pouring in the sauce like you see here.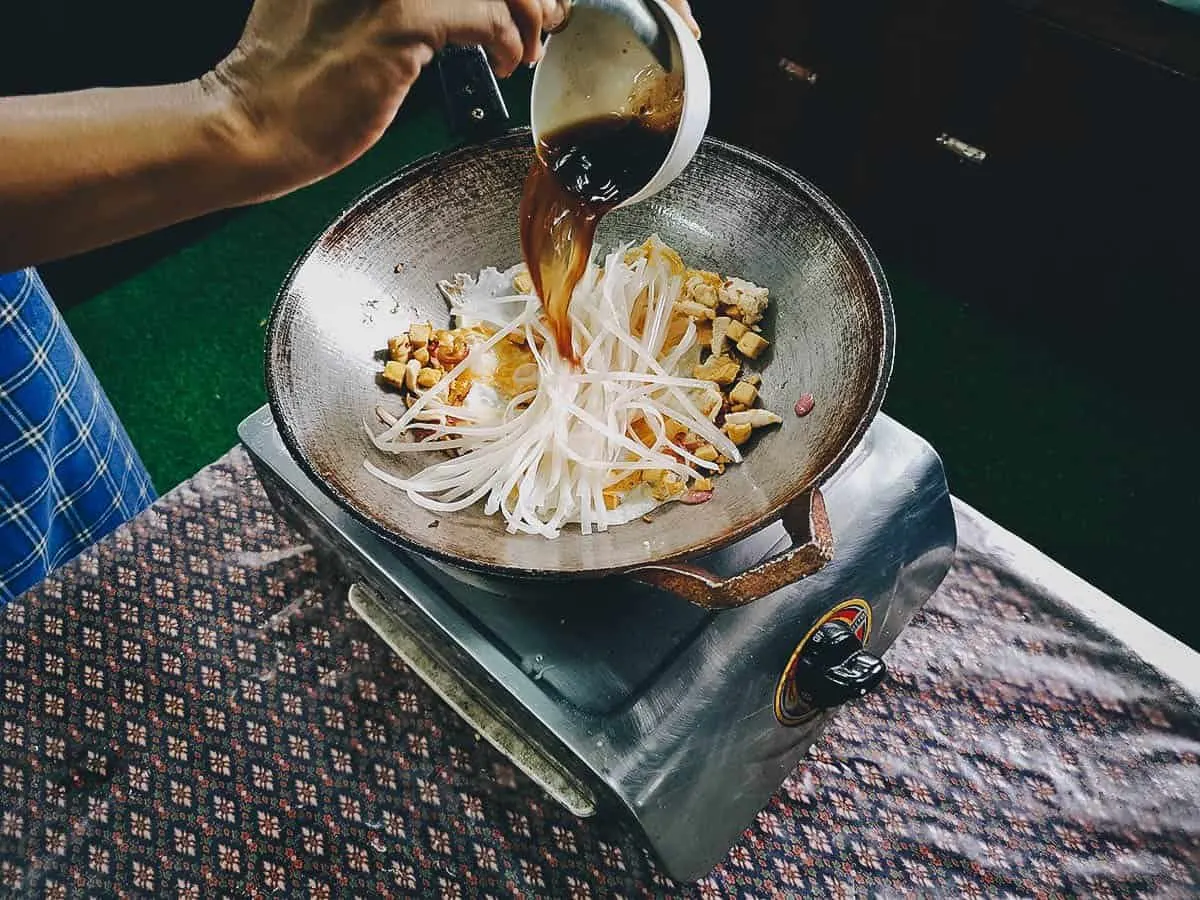 Pad Thai can thank World War II for its popularity. Thailand suffered a rice shortage during the war which prompted the government to promote noodles in an effort to reduce domestic rice consumption. This ultimately led to the creation of pad Thai, which like tom yum is now considered a Thai national dish.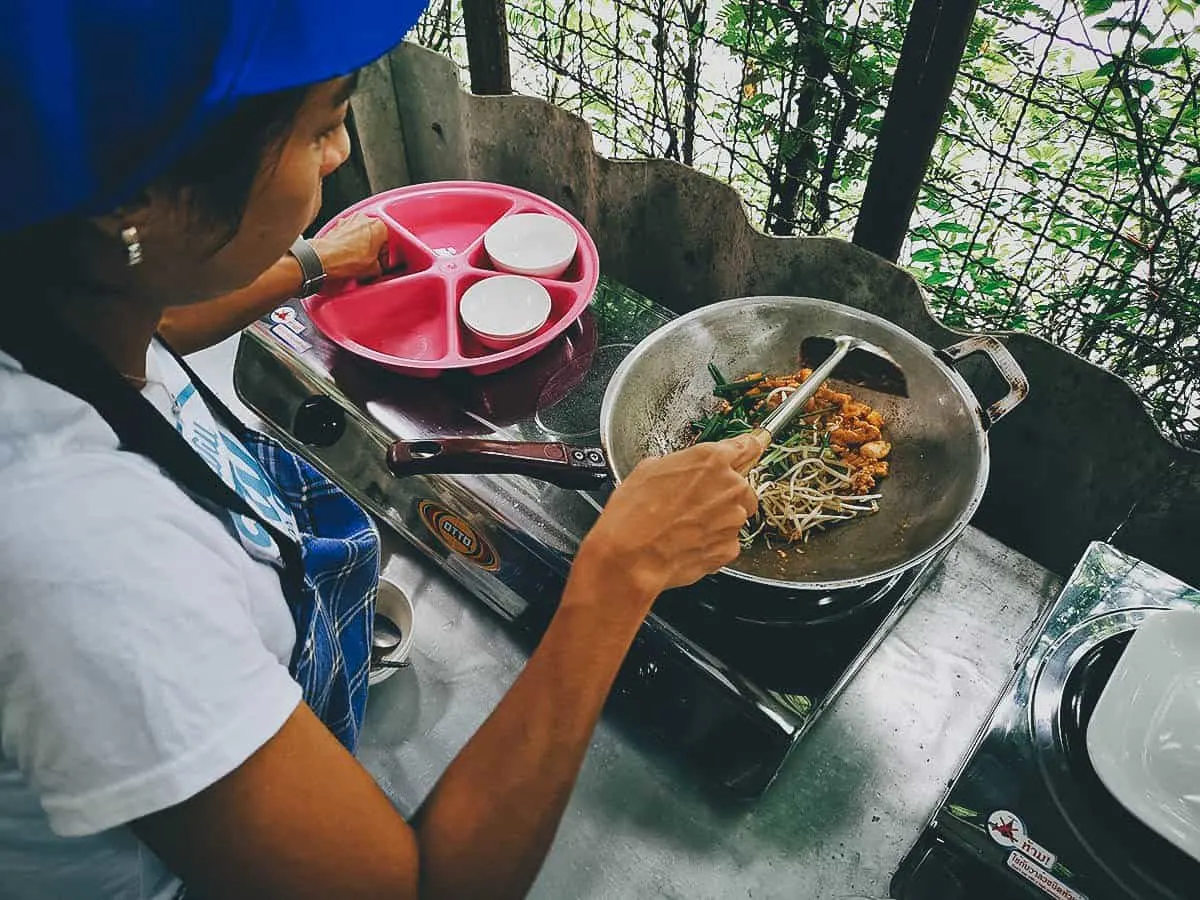 Beautiful isn't it? For me, few Thai dishes are as comforting as a plate of freshly cooked pad Thai. Like tom yum, people enjoy it for its balance of flavor and texture. You get sweet, savory, sour, chewy, and crunchy with every bite. I love it!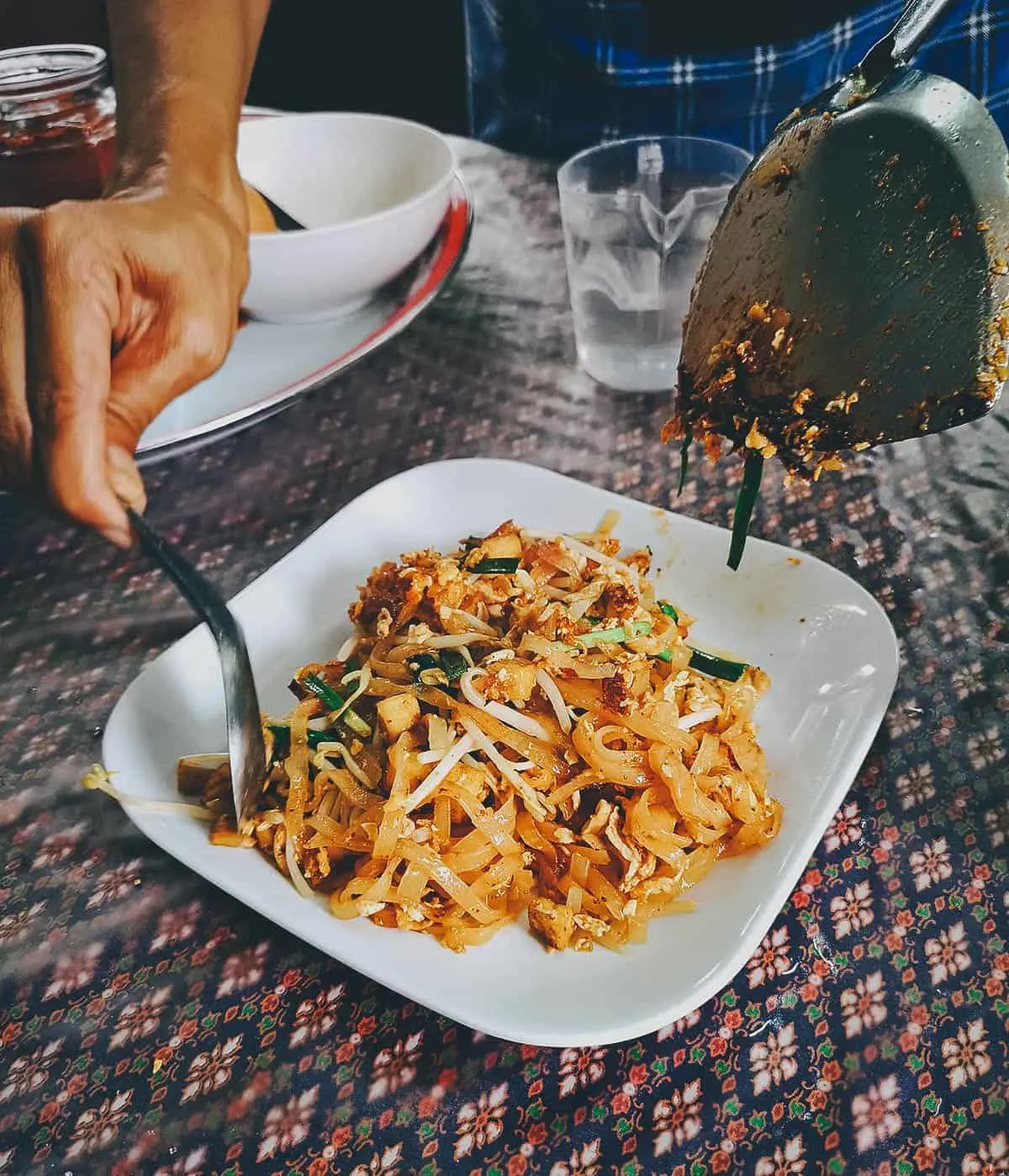 Reneelicious proudly showing off her plate of pad Thai. Now leet's eat!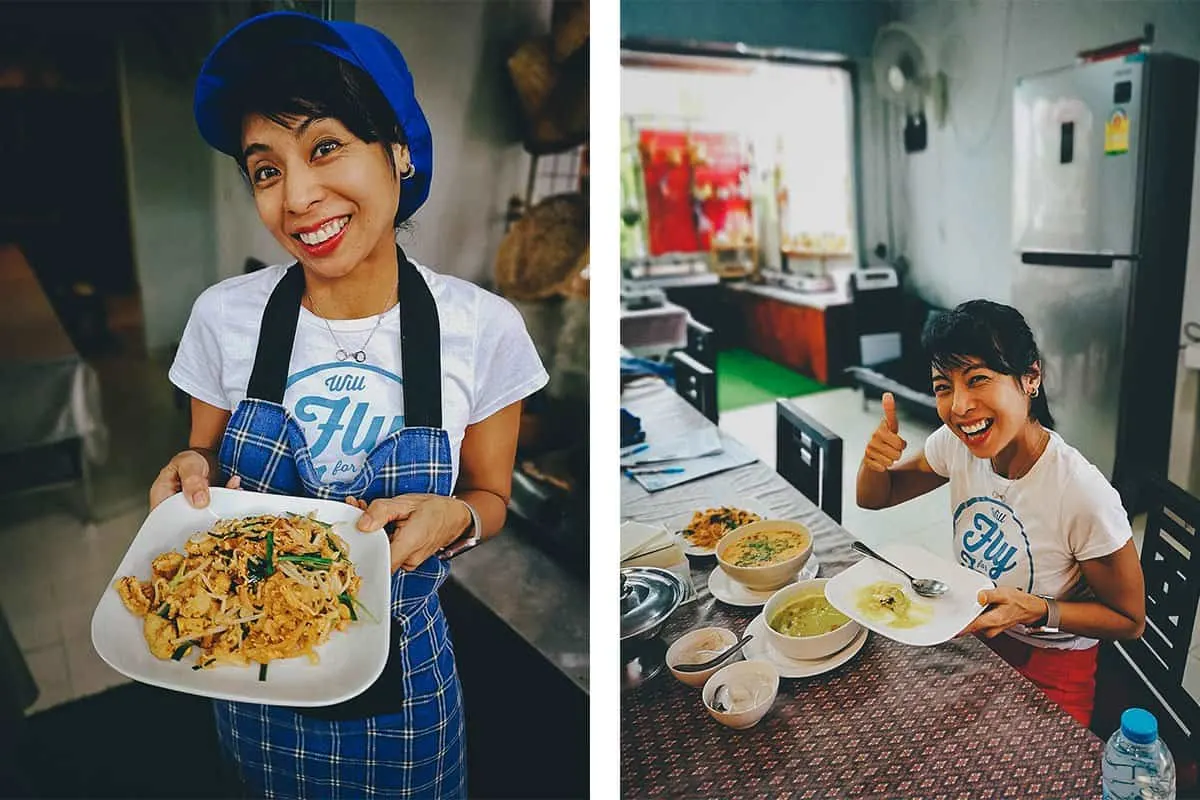 Cookly
We're Cookly Ambassadors and booked this Phuket Easy Thai Cooking class through their website. Cookly is an online booking platform that focuses on cooking experiences throughout the world. They offer classes not just in Thailand and Asia, but in many other parts of the world as well like Europe and the Americas. I like to think of them as the AirBnB of cooking classes.
If you enjoy taking cooking classes when you travel, then check out the Cookly website before your next trip. They offer many, many cooking classes per destination. At the time of this writing, they offer thirty in Phuket alone. Simply put, there's no single better resource for travel-focused cooking classes than Cookly.
Conclusion
As described at the top of this post, I don't think there's a better way of understanding the local cuisine in Phuket than by taking a cooking class. Seeing what goes into each dish gives you an appreciation for it, an insight that less experienced people like myself wouldn't get from simply eating it at a restaurant. I learn why dishes taste the way they do and understand the importance of using fresh ingredients. In Thai cuisine, it's very important.
Karn's class is fun and engaging. She cracks jokes throughout the class which makes the time go by quickly. We had a lot of fun bantering with her! She speaks good english and explains her methods well, making it easy to follow what she's doing. If you'd like to take a break from tanning during your stay in Phuket, then I highly recommend booking her class. It costs USD 55 per person and includes pick up and drop off at your hotel.
You can follow the link for more information and to book this Phuket Easy Thai Cooking Class with Cookly. Please note that the curriculum changes per day and time. Here's what you can expect to cook depending on when you book:
Monday (AM)
Green Curry Paste
Tom Yam Koong
Pad Thai
Green Curry with Chicken
Sticky Rice with Mango
Monday (PM)
Curry Paste
Chicken Satay with Pea Nut Sauce
Tom Kha Kai
Pad See-Ew
Sticky Rice with Mango
Tuesday (AM)
Panang Curry Paste
Fish Cake
Papaya Salad
Panang Curry
Bua Loi Khai Waan
Tuesday (PM)
Green Curry Paste
Tom Yam Koong
Pad Thai
Green Curry with Chicken
Bua Loi Khai Waan
Wednesday (AM)
Green Curry Paste
Tom Yam Koong
Pad Thai
Green Curry with Chicken
Banana in Coconut Milk
Wednesday (PM)
Curry Paste
Fried Cashew Nut
Tom Kha Kai
Fried Basil Leaves
Banana in Coconut Milk
Thursday (AM)
Panang Curry Paste
Spring Roll
Panang Curry
Tom Kha Kai
Sticky Rice with Mango
Thursday (PM)
Green Curry Paste
Tom Yam Koong
Pad Thai
Green Curry with Chicken
Sticky Rice with Mango
Friday (AM)
Green Curry Paste
Tom Yam Koong
Pad Thai
Green Curry with Chicken
Deep Fried Banana
Friday (PM)
Curry Paste
Fried Oyster Sauce
Spring Roll
Tom Kha Kai
Deep Fried Banana
Saturday (AM)
Massaman Curry Paste
Massaman Curry with Chicken
Spring Roll
Baked Rice in Pineapple
Banana in Coconut Milk
Saturday (PM)
Green Curry Paste
Tom Yam Kung
Phad Thai
Green Curry with Chicken
Banana in Coconut Milk
Phuket Easy Thai Cooking
51/6 Moo.4 Soi Madsayid Wiset Rd., Rawai, Muang, Phuket 83130
Tel: +66 (0) 887 659 731, +66 (0) 896 930 876
Website: phuketeasythaicooking.com
Facebook: buikarn
Email: [email protected]
Class Times: 9:30AM-2PM, 2:30-7PM
Cost: USD 55 per person (CLICK HERE to book through Cookly)
Disclosure
We're Cookly Ambassadors so we were able to book this class through their website at no expense. I told them we'd be in Phuket so they presented us with several cooking class options on the island, and we chose this one. As always, all words and opinions expressed in this post are mine and mine alone.
The Cookly links in this post are affiliate links, meaning we'll get a small commission if you make a purchase at NO extra cost to you. We really appreciate your support as it helps us keep this website going. Thank you!