If you're familiar with our blog, then you'll know how much Ren and I prioritize food when we travel. And not just any food, but legit authentic local food, the kind of food served by hole-in-the-walls off the tourist circuit and frequented largely by locals.
The problem is, it isn't always easy to find places like that. When you do a Google search for a destination's must-eat restaurants, the majority of articles are from non-local travelers like us. While many of those articles provide good information, I often get the feeling that they don't go as deep into the local food culture as I'd like.
If I can find them, I prioritize articles from trusted bloggers or locals, people whom I know share the same passion for local food experiences as we do. But when a country's primary language isn't English, like Thailand, then those articles can be harder to find.
Which is why I was ecstatic to learn about A Chef's Tour. I was mindlessly scrolling through my Twitter feed over breakfast one morning when I chanced upon this tweet: "Any #travelblogger or #travelwriter in or going to Bangkok or Chiang Mai want a free food tour? DM us #travel #achefstour." A street food tour in Bangkok led by local chefs, cooks, and foodies?!
At the time, I wasn't even following them on Twitter so I saw this as a sign. It sounded exactly like the kind of food experience we look for when we travel so naturally, I pounced on the opportunity. I'm so happy I did.
Save This on Pinterest!
No time to read this now? Click on the red save button and pin it for later!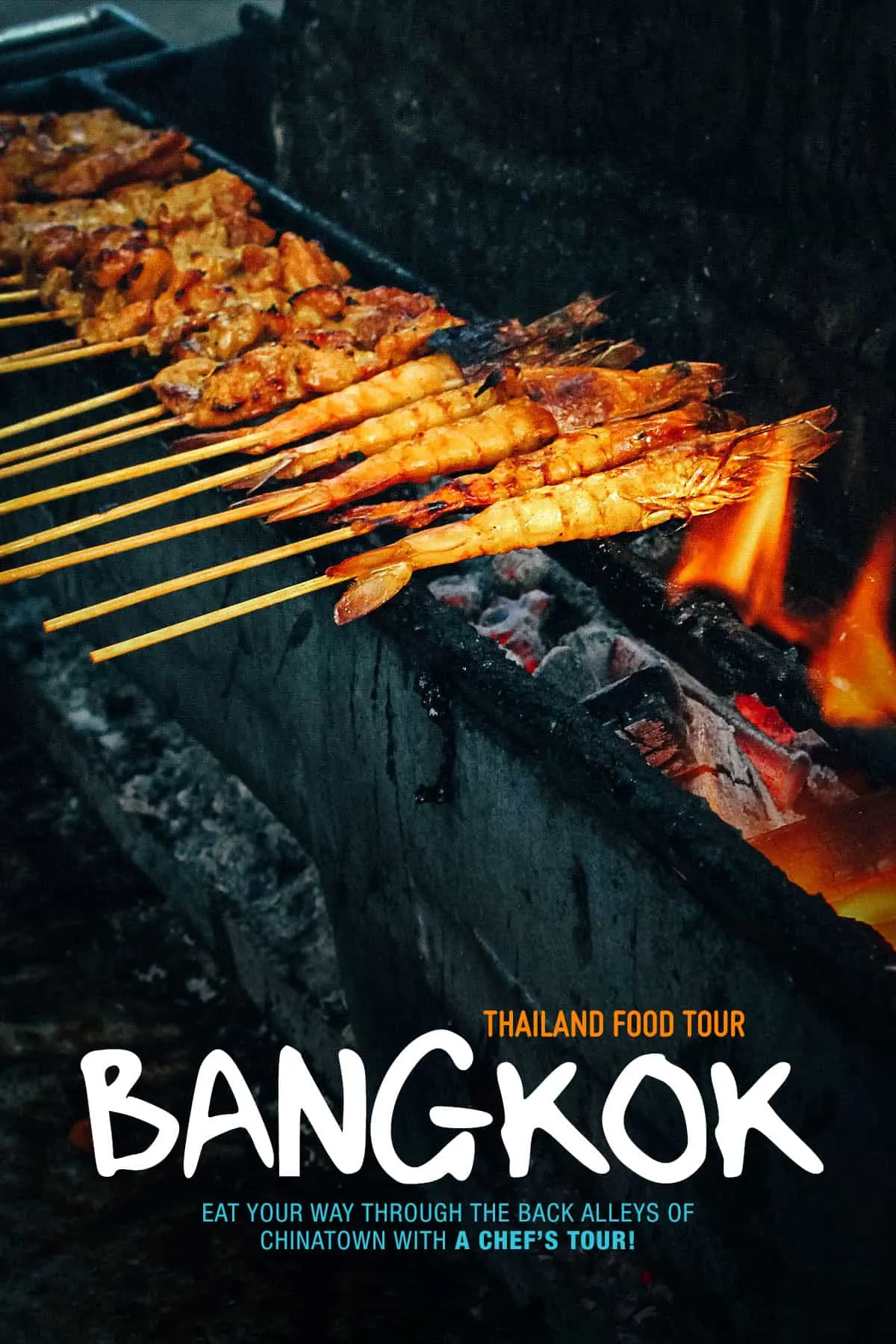 Bangkok Backstreet Food Tasting Tour
This street food tour takes you through the back alleys of Bangkok's Chinatown. You'll be guided by Chef Nutth Sammerwong who owns a restaurant in Hua Hin District. Imagine that, a bona fide Thai chef and restaurateur taking you on a 4-hour guided street food tour of Bangkok's Chinatown. Seriously, does it get any better than that?
As of March 2019, this tour costs USD 59 per person inclusive of food and drinks. You can book it on A Chef's Tour or Get Your Guide. Here's what you can expect when you take this tour (as stated on A Chef's Tour):
4-hour guided walk through the backstreets of Yaowarat (Bangkok's Chinatown)
A ton of tastings at hidden street eats
Learn about the history and culture of Thai cuisine
Great photo opportunities
Refreshing Thai drinks and water
Fully licensed guide (who's also a chef)
Small group size with a maximum of 8 guests

Our tour started at 4:30PM. We met Nutth (pronounced Natt) at the famous Chinatown Gate at the start of Yaowarat Road. It's this big red gate within the center of a roundabout. You'll receive detailed instructions on how to get there when you sign up for the tour.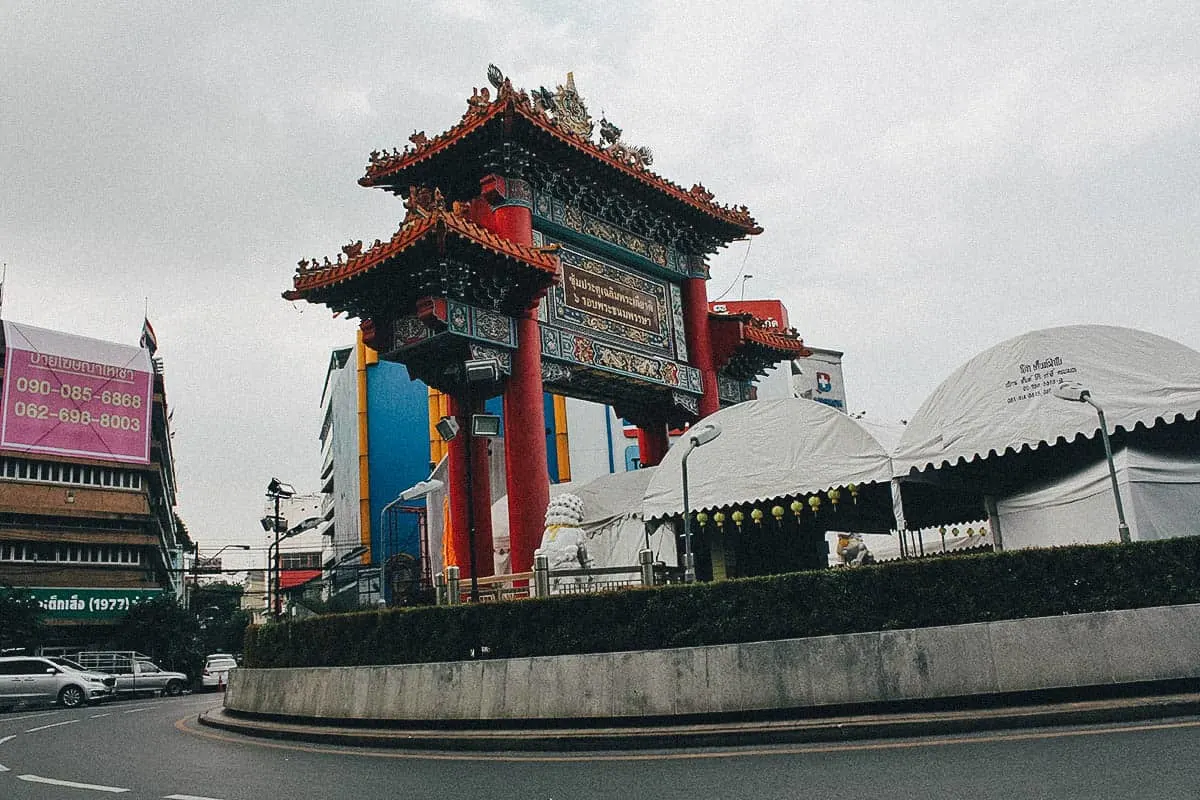 Our first stop was this shop that serves some type of herbal tea. I don't remember exactly what it was but it was good. I find myself enjoying these herbal drinks more and more as I get older. 😆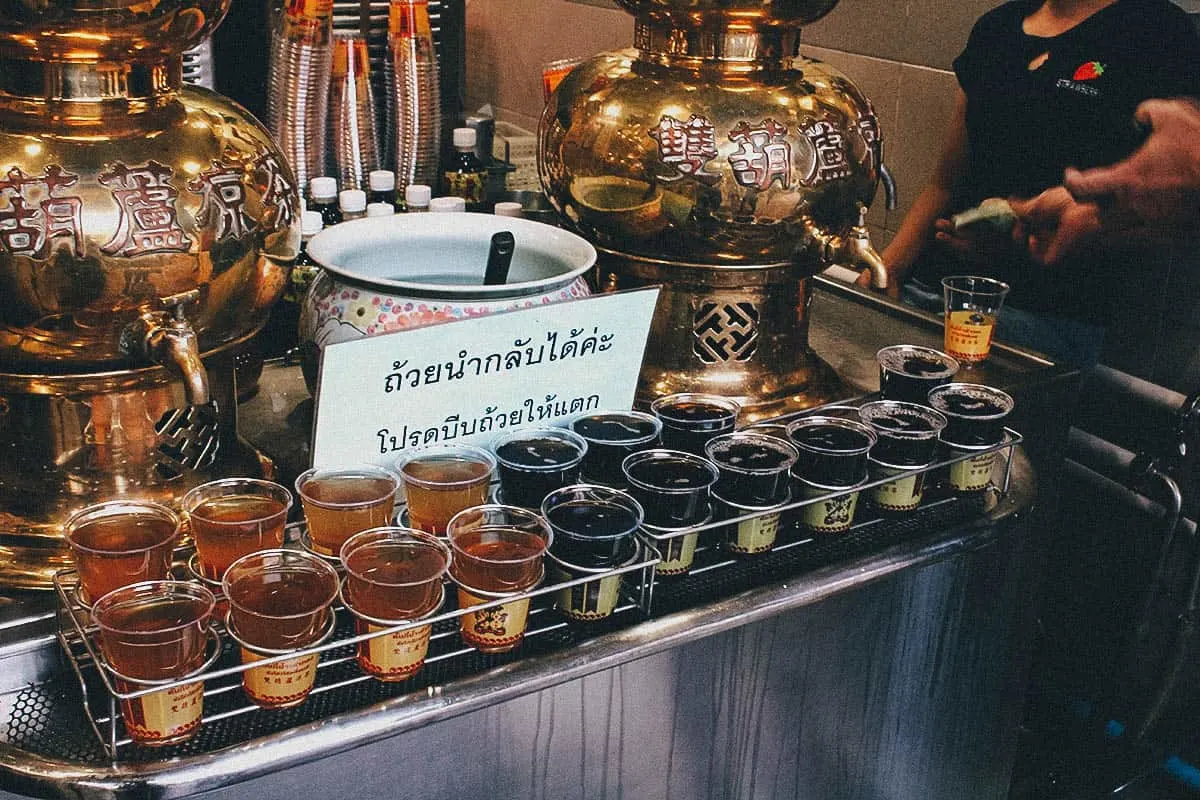 Next up were these pan-fried parcels stuffed with Chinese green chives and covered in nam jim sauce. Delicious!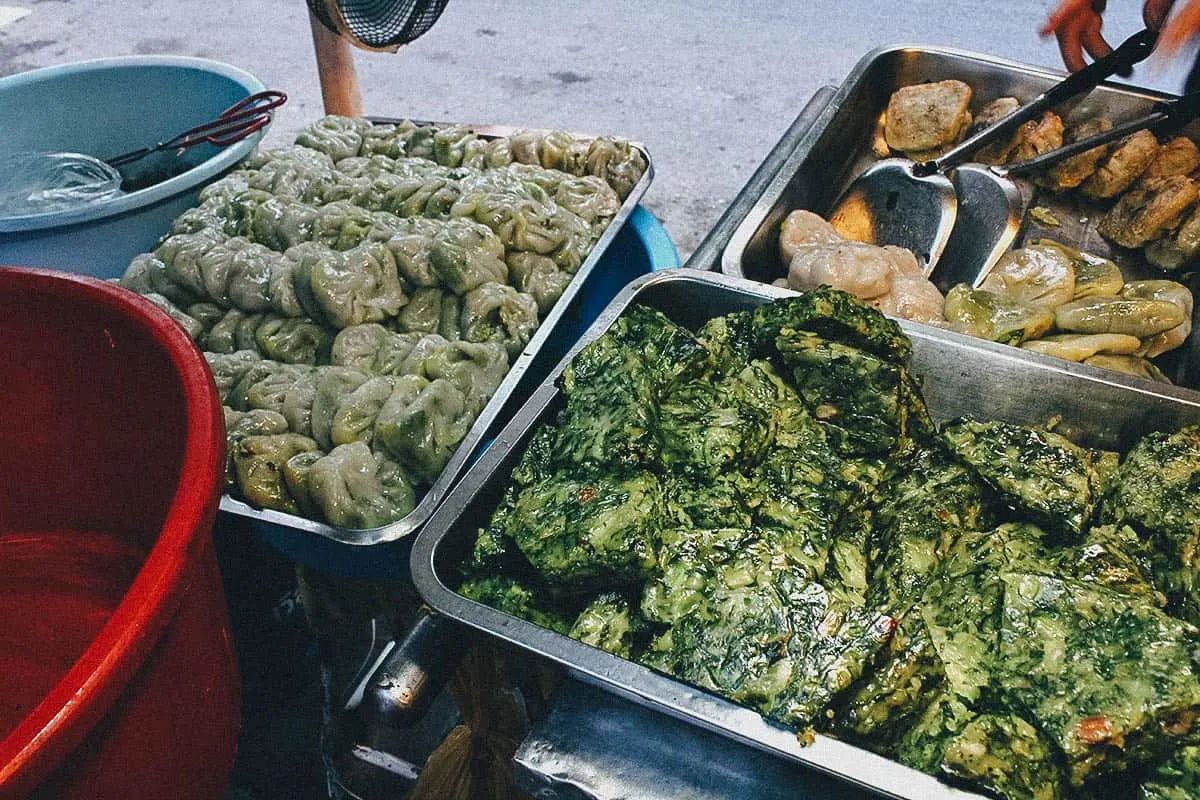 When you sign up for this tour, they'll advise you not to eat too much for lunch that day. It's a good idea to heed their advice because they do give you a TON of food. Nutth fed us so much we were practically begging him to stop by tour's end. 😆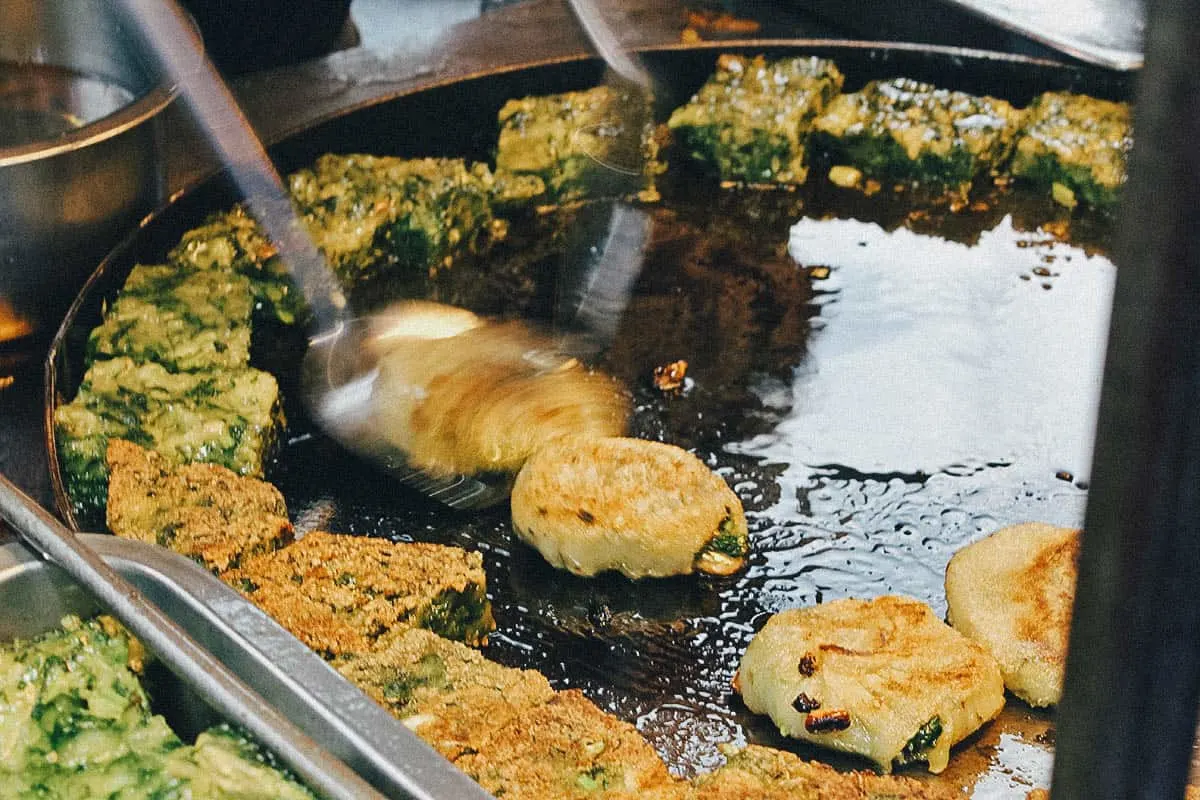 Here's a better look at those pan-fried parcels. There were just two other people in our group, an Australian couple, so this serving was meant for four.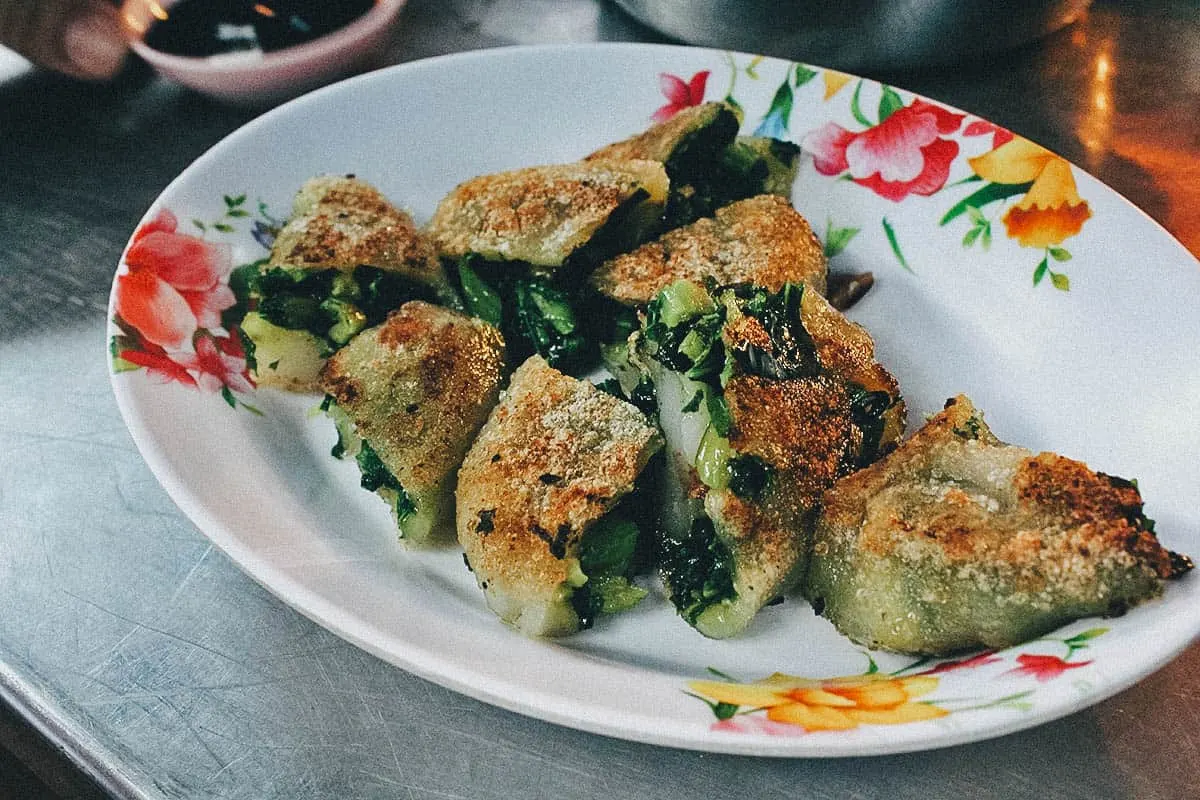 Time for some Thai satay! But…but…are we supposed to share that one stick between four people?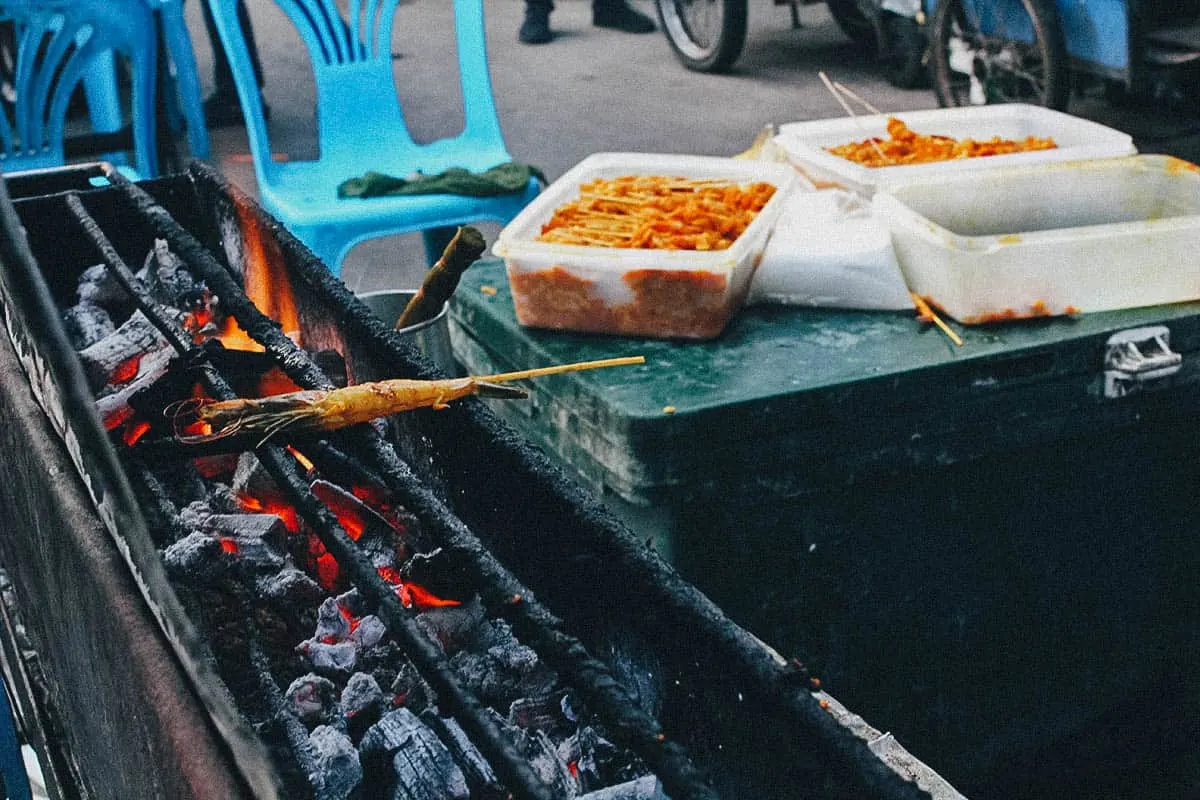 Now that's more like it! The shrimp skewers were actually for someone else. What we had were the chicken skewers.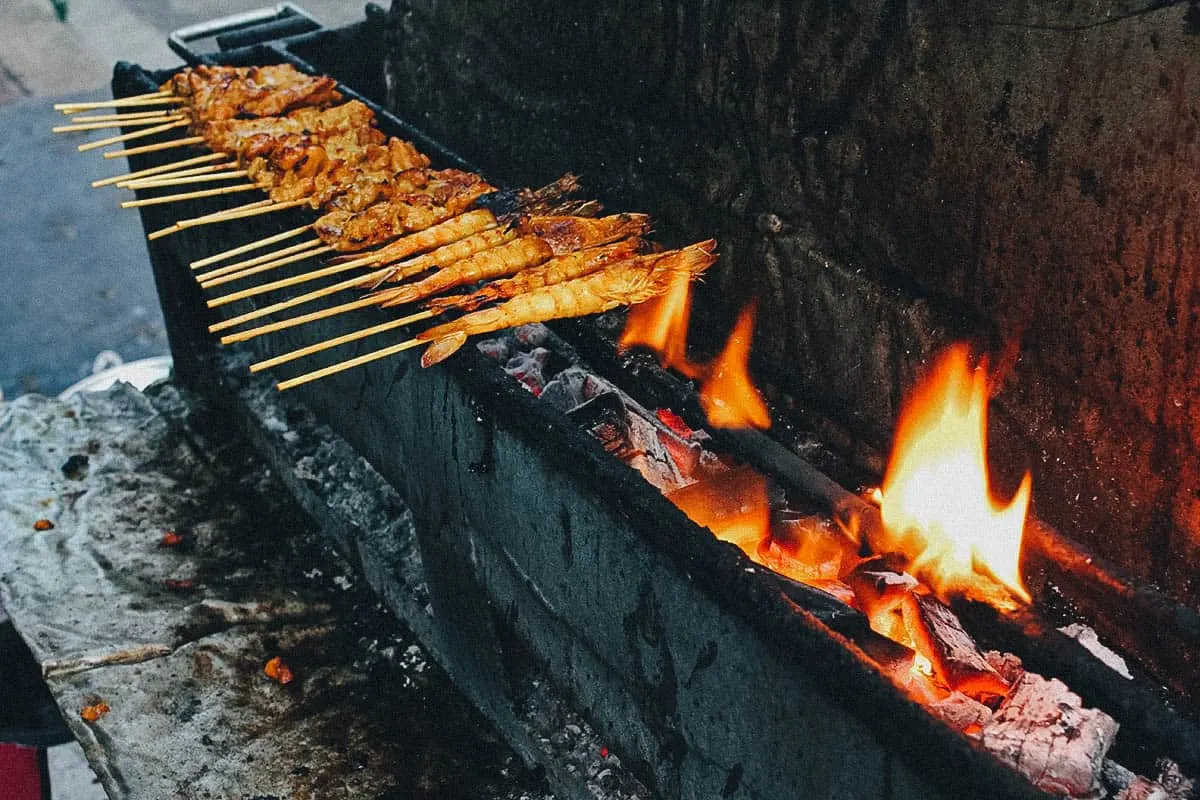 Here's our grilled coconut chicken skewers served with a rich peanut satay sauce and tangy ajat cucumber relish. On the left there is an order of chwee kueh. Ren and I recognized it instantly as it was one of the most memorable things we ate in Singapore last year.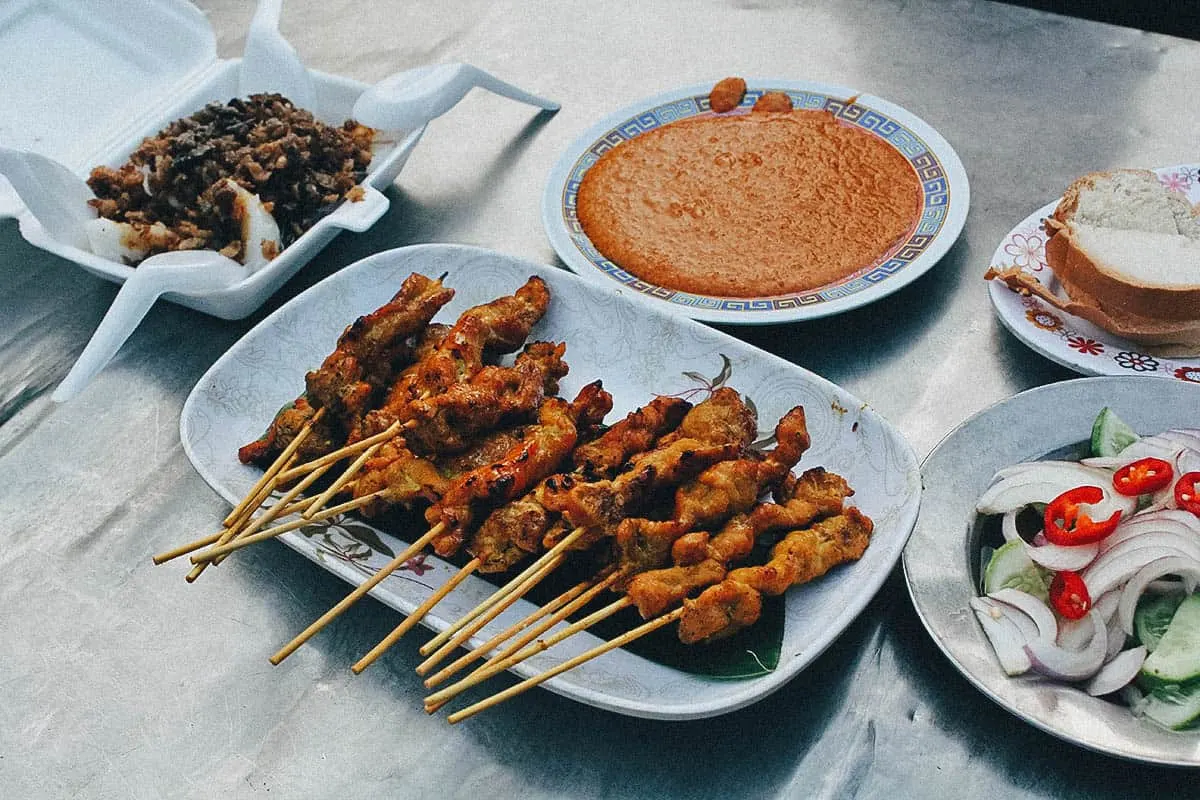 The chwee kueh came from this humble roadside stall. According to Nutth, this family has been selling chwee kueh at this very spot for over thirty years now. I LOVE finding places like this.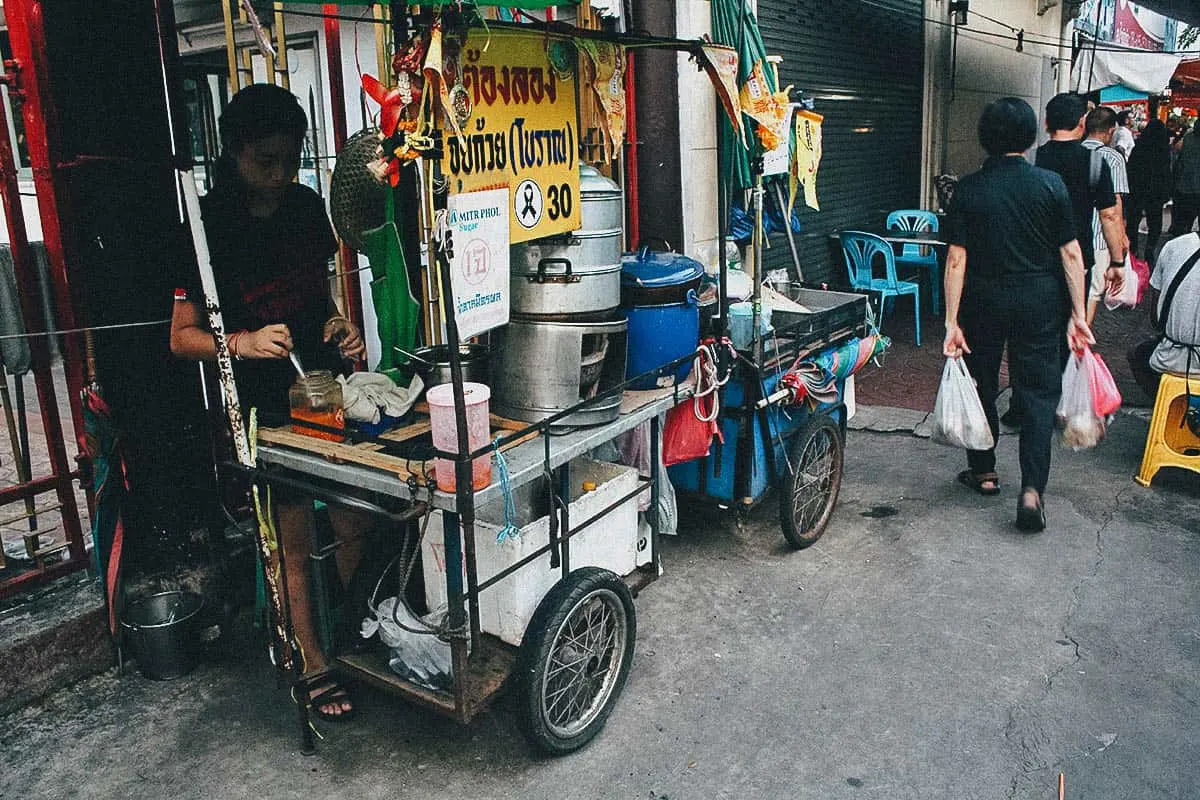 Here's a closer look at the chwee kueh. If you've never had it before, it's a type of steamed rice cake from Teochew cuisine topped with diced preserved radish and typically served with a side of chili sauce. This was very tasty though perhaps not as pungent in flavor as the ones we had in Singapore.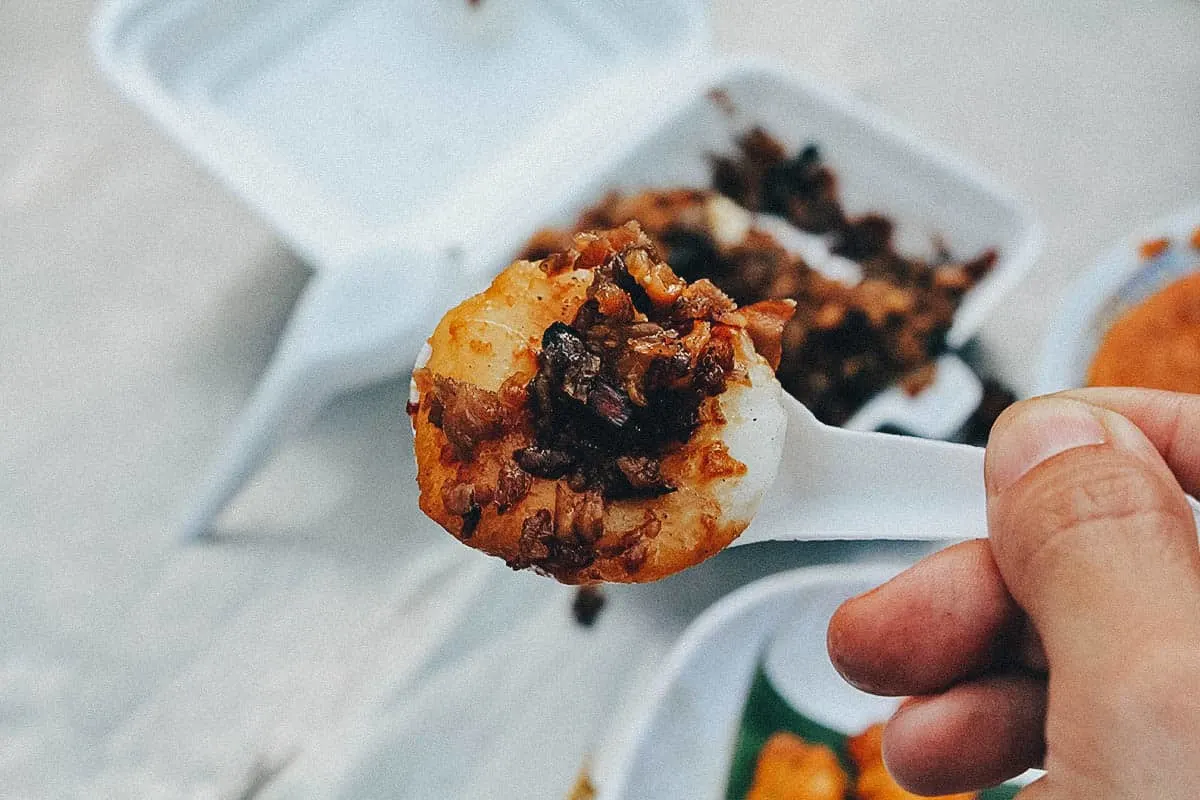 Sorry, I can't remember exactly what this dish was. It was some type of fresh vegetable salad.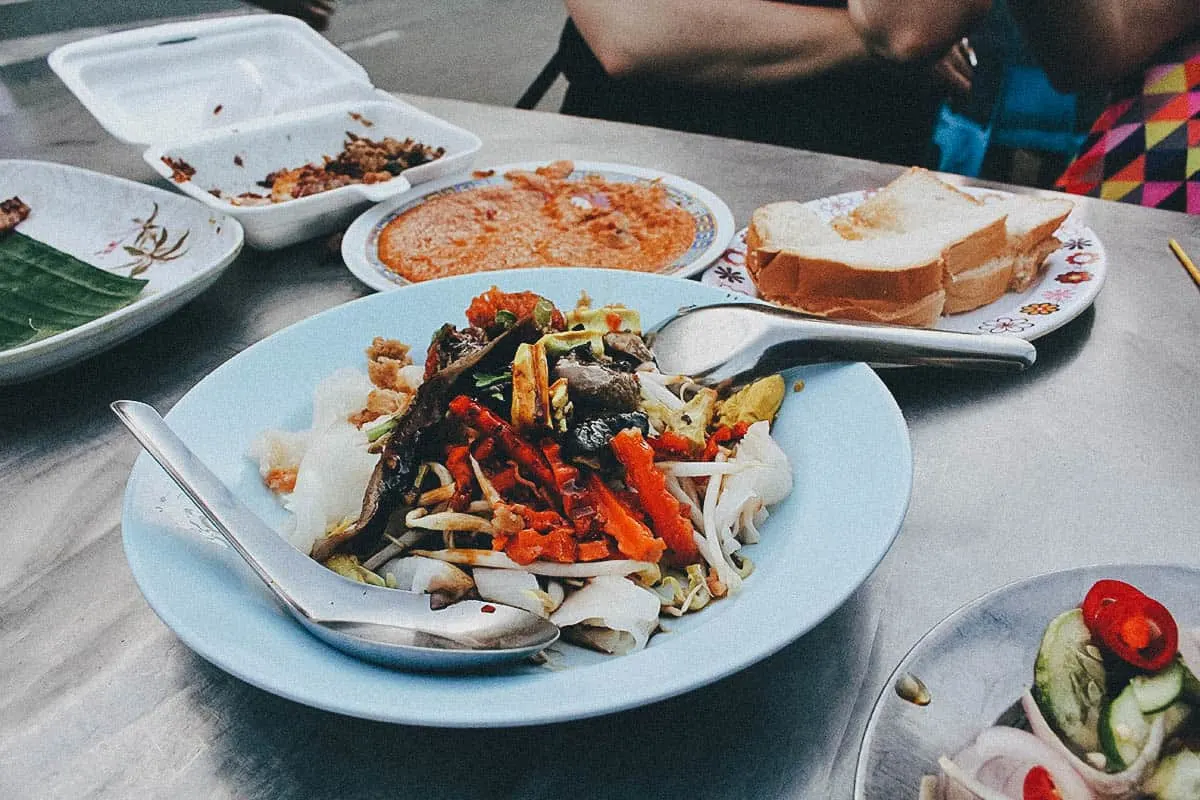 Now here's some street food we Filipinos are familiar with! Skewered on bamboo sticks and grilled over coals, offal like pork chitterlings, intestines, ears, and congealed blood are some of the most popular forms of Filipino street food. It looks like Thai people enjoy them too.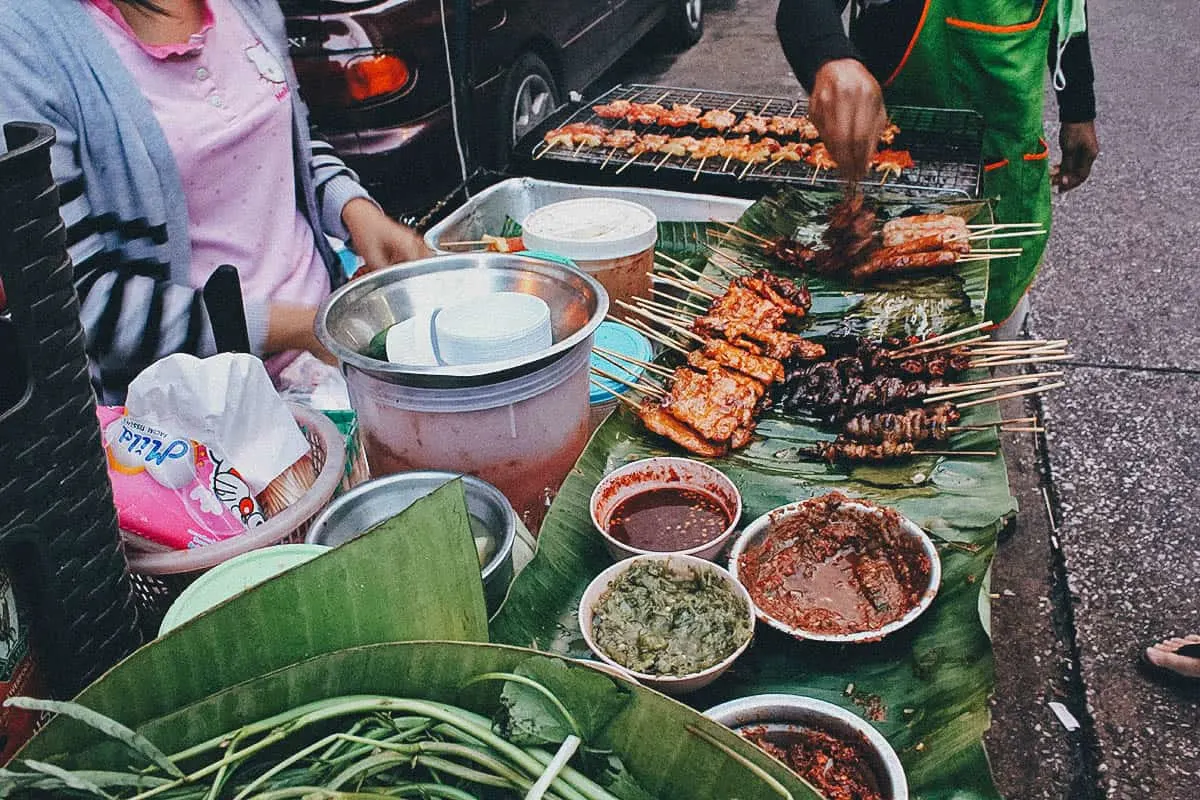 Grillin' like a villain! I love that smell.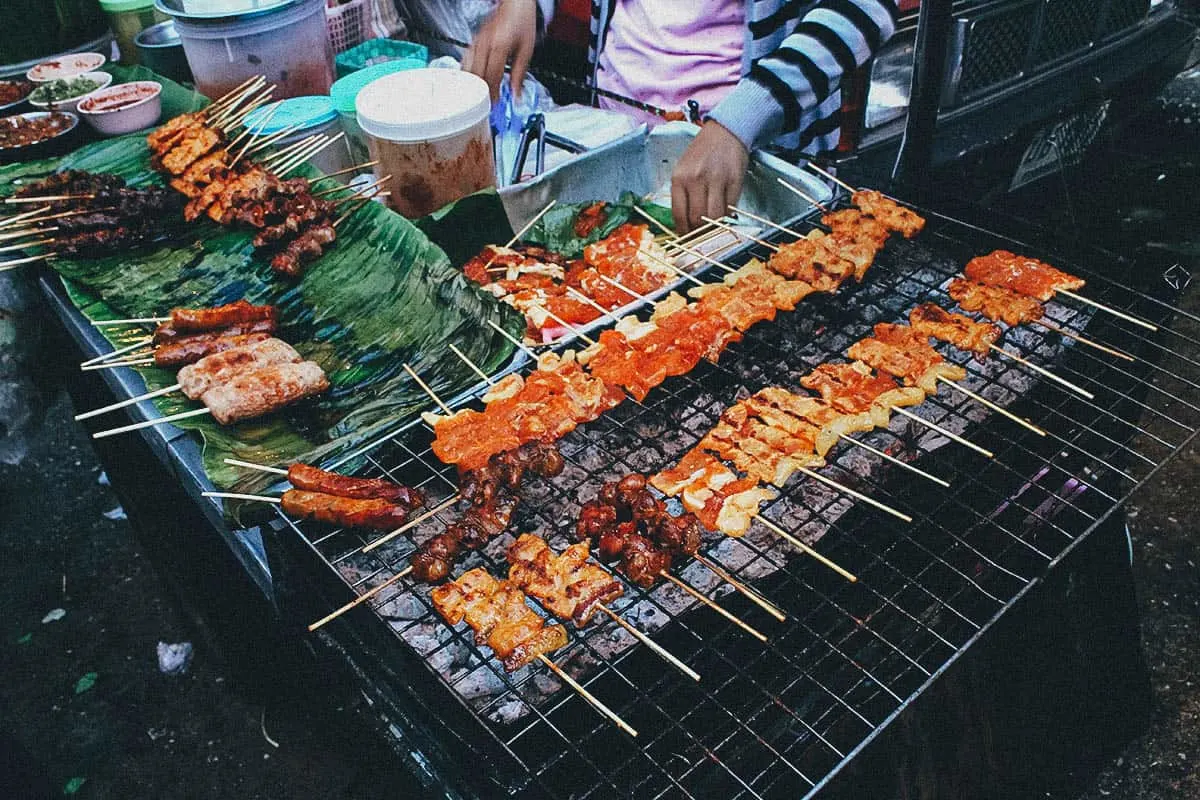 These sauces seem to be the main difference between the Thai and Filipino versions of this street food. In the Philippines, we prefer dipping them in a spiced vinegar dip. Here, they use any of these five spicy dipping sauces. Every one of them looks like they're loaded with chili! I asked Nutth which of the five was the spiciest and he pointed me to the red one at the bottom. It was spicy but tolerable, and loaded with flavor.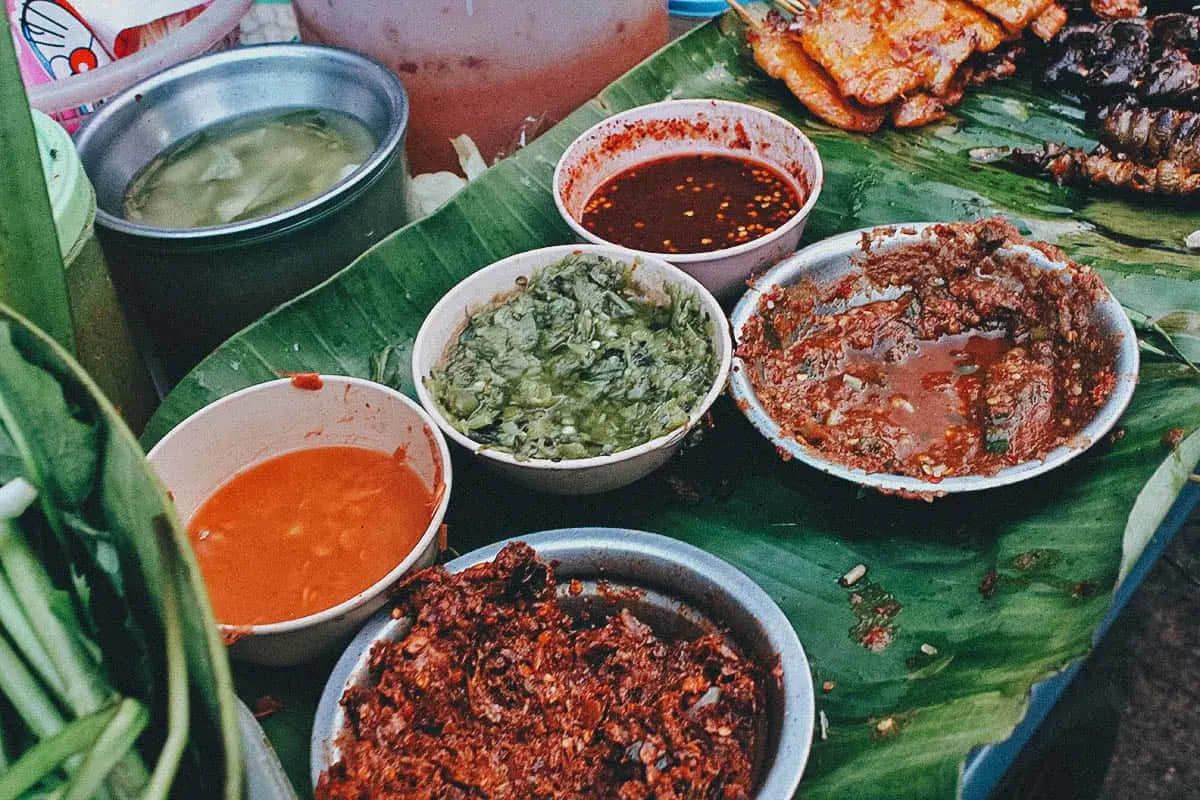 I was so happy when Nutth took us to this place. I had often read about it and we were actually planning on eating here on our own! This humble roadside stall with the red stools is considered by many to be the very best place to get Thai curry rice in Bangkok. It was one of the places I was most excited about visiting so it was awesome to see it on this tour's itinerary.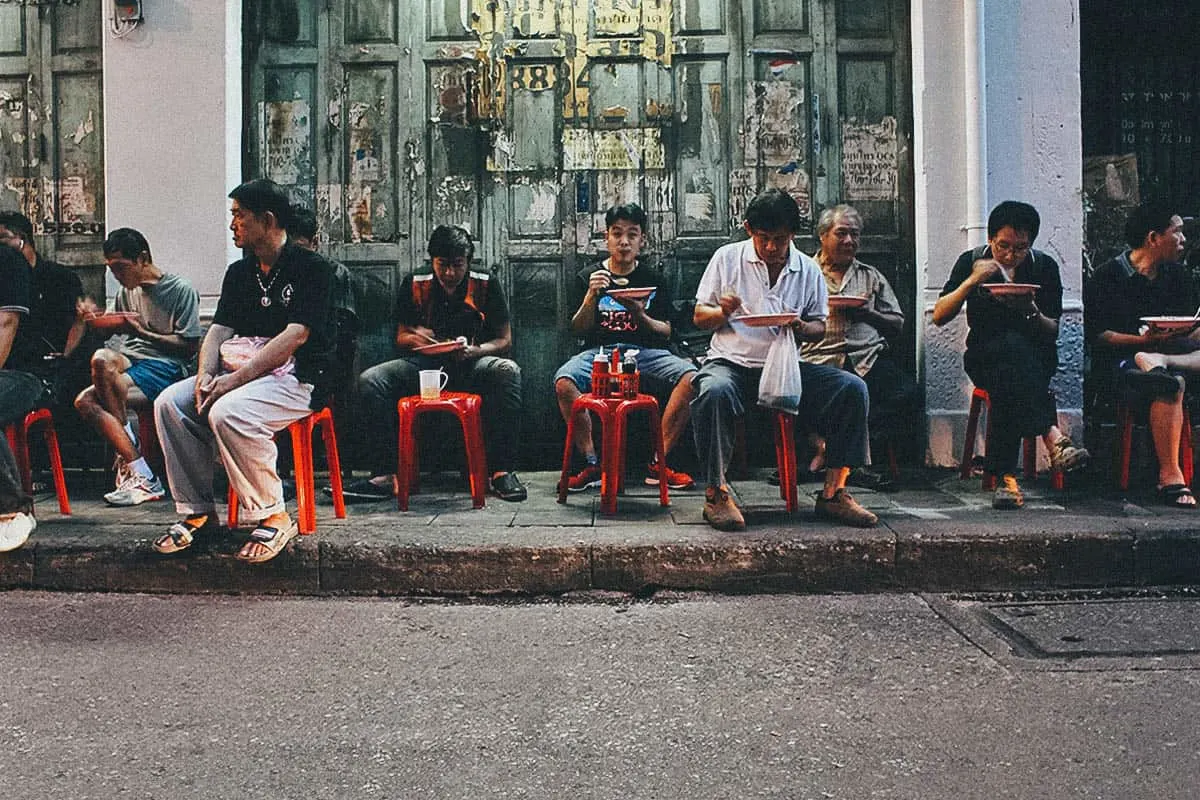 I've heard that the owners have a reputation for being the Soup Nazis of Thai curry. If you're unsure of what to order by the time you get to the front of the line, then they'll send you back. So be sure to order with confidence! If you can't because you're a clueless foreigner like me, then just point at the first delicious thing you see. 😆

This stall was featured in the Bangkok episode of Luke Nguyen's Street Food Asia. In that segment, he described how fast-paced this place was, not to mention slightly dangerous. See those cars zipping by? You always need to be aware of traffic here lest that bowl of tasty Thai curry rice be your last meal. It's heavenly yes, but you don't want it to be THAT heavenly. 😆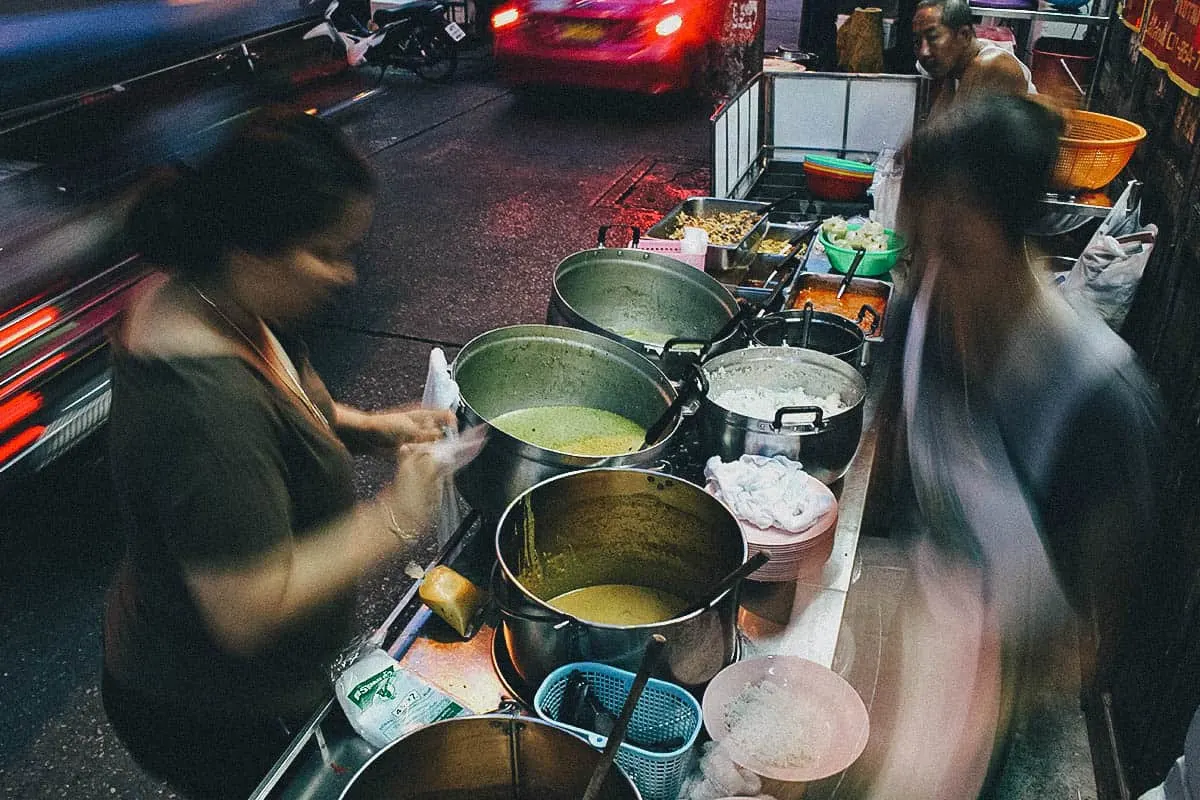 This place is so popular that it's pretty much packed like this at any time of the day. From what I've read, they've been serving curry rice at this very corner for decades. Like the chwee kueh stall, I absolutely love places like this.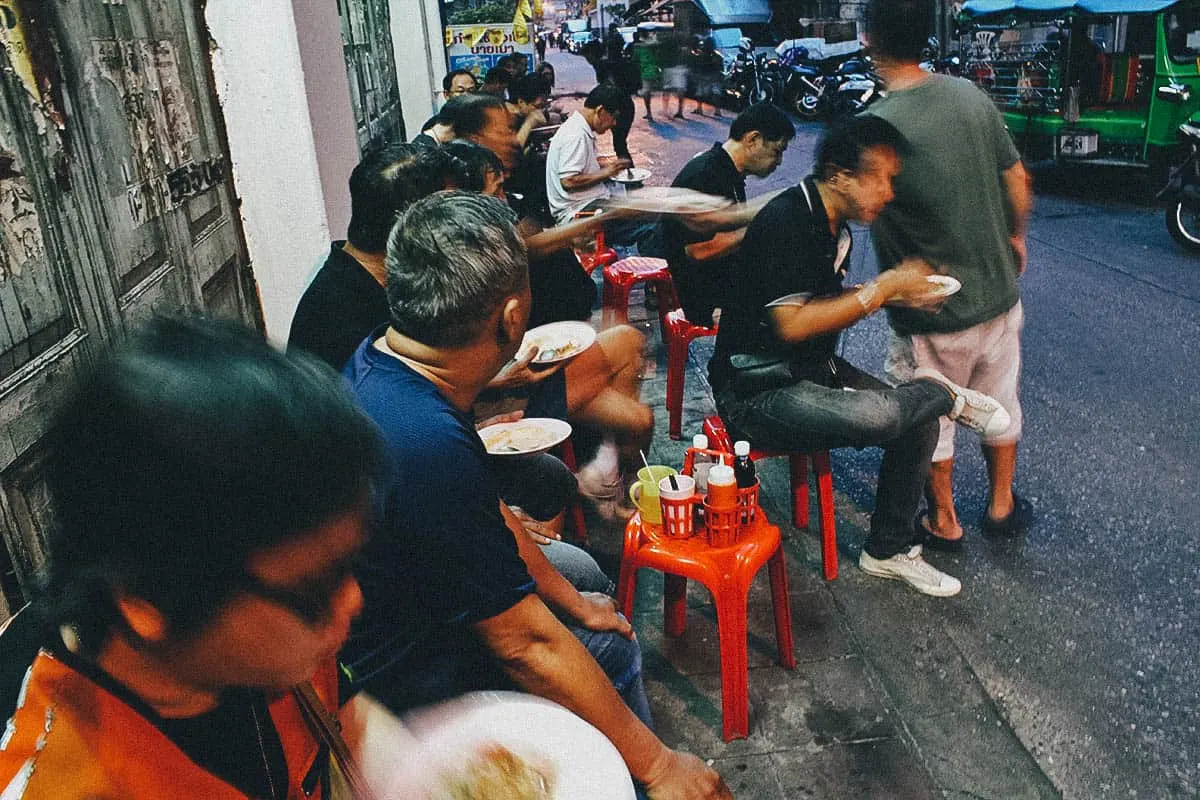 That heavenly bowl of Thai curry with chicken and noodles. I'd risk getting run over for this any day. So creamy and delicious! If we didn't have so many restaurants and street food stalls to visit on this trip, then I would have loved to come back here for another round.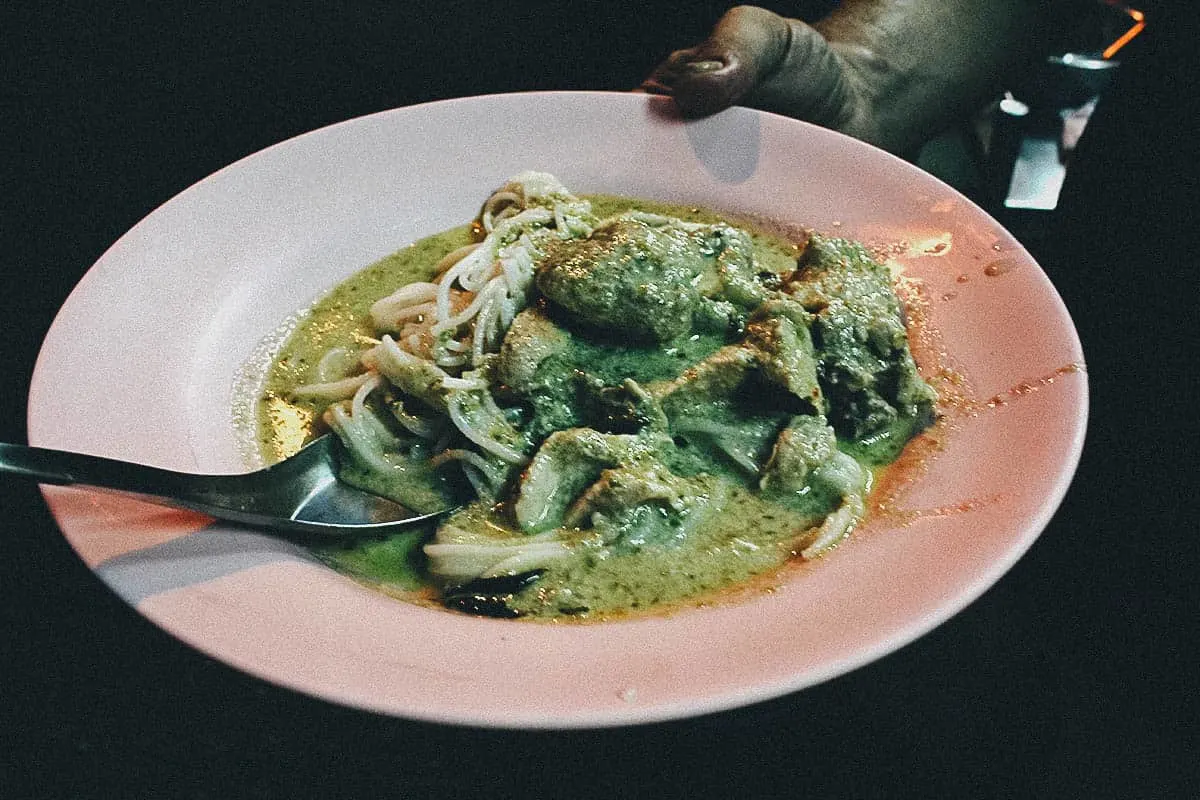 After inhaling that bowl of curry rice, Nutth took us to this traditional Yaowarat townhouse to enjoy cold chrysanthemum tea. It had a floral scent and was very refreshing.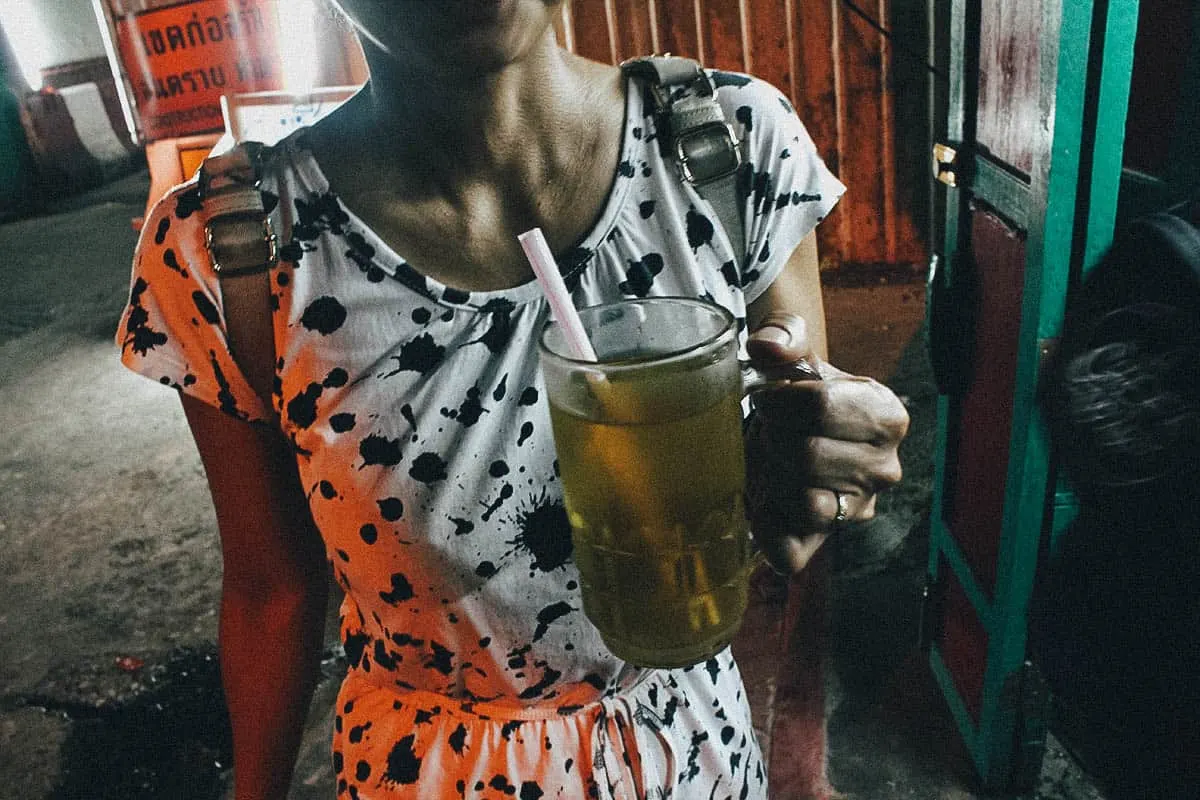 Next up was this Chinese restaurant that's been around for over a hundred years if I remember correctly. I was chatting with the owner and he showed me a video featuring the best 5 places to eat in Chinatown, and of course his place was on it! Awesome!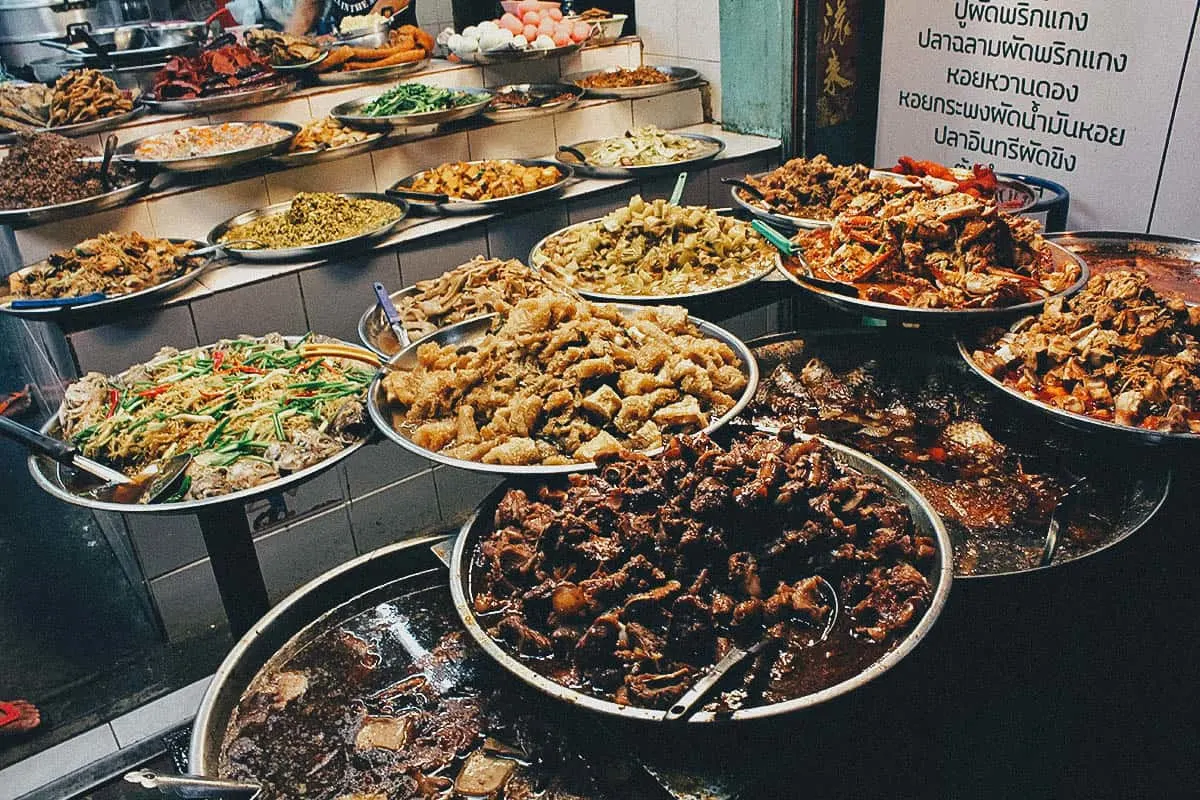 We tried several dishes here, including this stewed crab. Very tasty!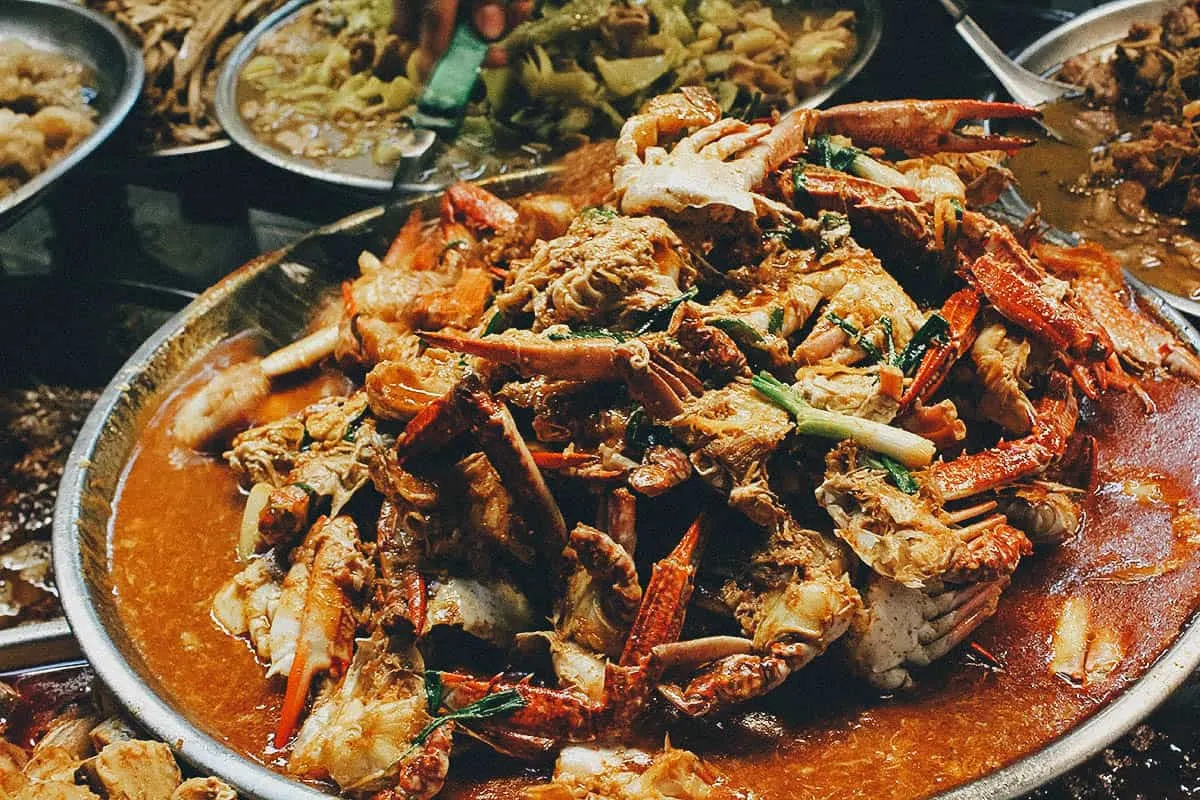 I don't remember what this was but it seemed to be a popular dish here as well. I think it might be morning glory vegetables.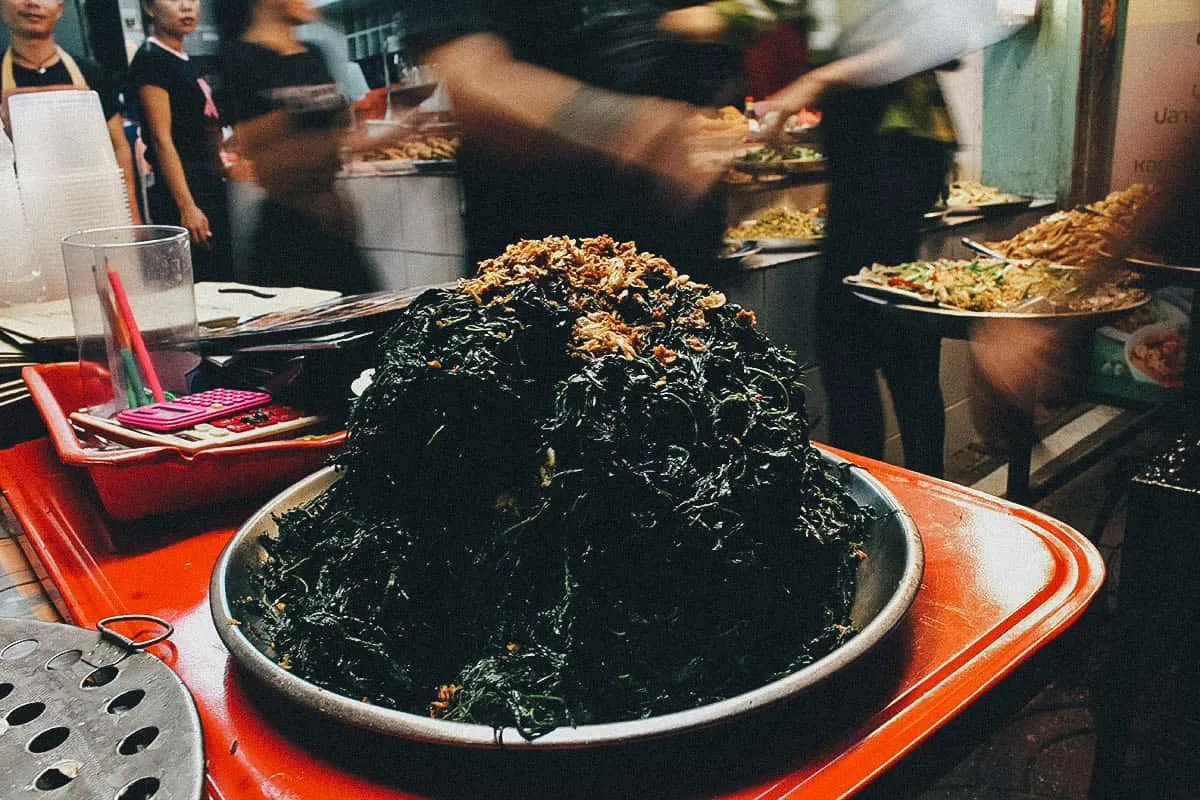 We then moved on to the first of several dessert places on tonight's itinerary. As good as everything's been to this point, we were stuffed to the gills so we were more than happy to move on to dessert. We were excited to learn that this dessert stall is also considered one of the 5 best places to eat in Chinatown. They serve many desserts, one of the most popular being a Thai iced dessert with water chestnuts, sweetened yam, and lotus root. I was already halfway through our bowl before I remembered to take a picture. 😆 You'll get a better appreciation for it in the video at the bottom of this post.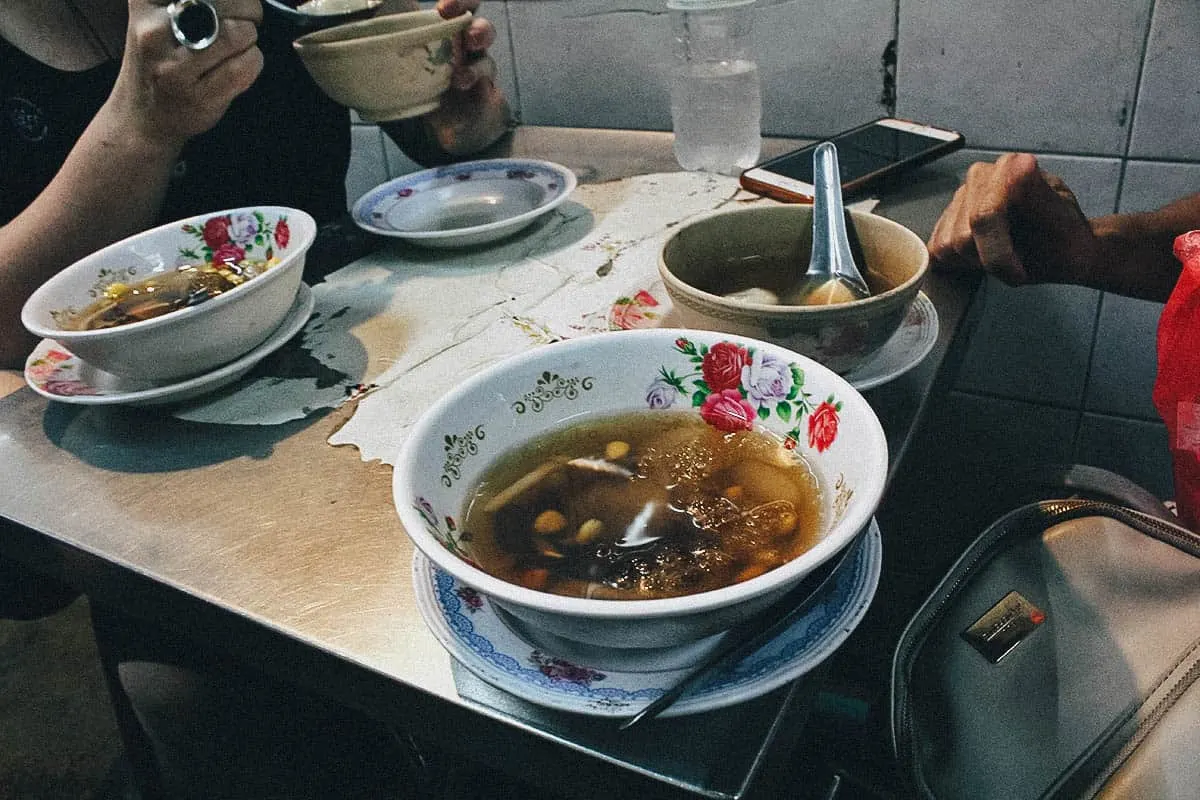 We may have been winding down our tour, but it looks like Chinatown was just beginning to wake up. The vibe here was electric. According to Chef Nutth, they do the tour here in Chinatown because there's always something interesting (and delicious) going on. I can't blame him.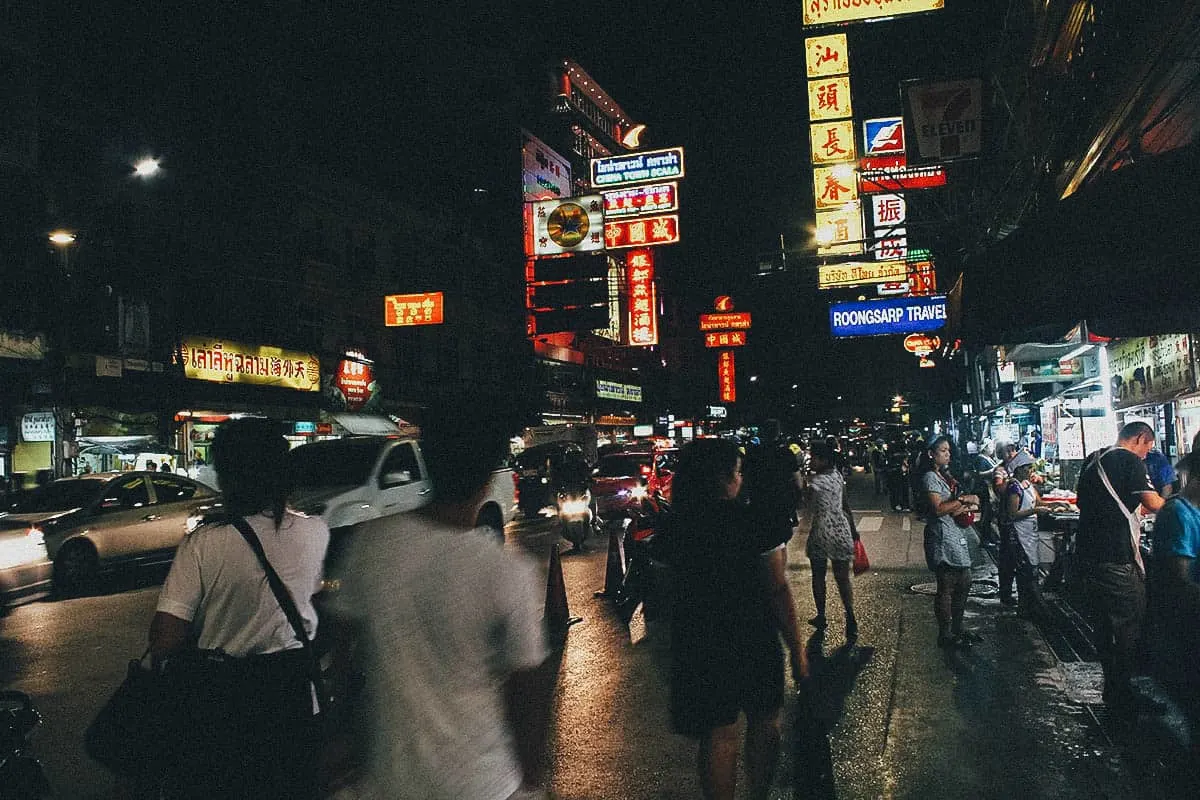 This dessert was interesting. It's called Dragon's Beard Candy and is a traditional Chinese treat made by hand. It was fascinating to watch them make it, though it looks incredibly laborious.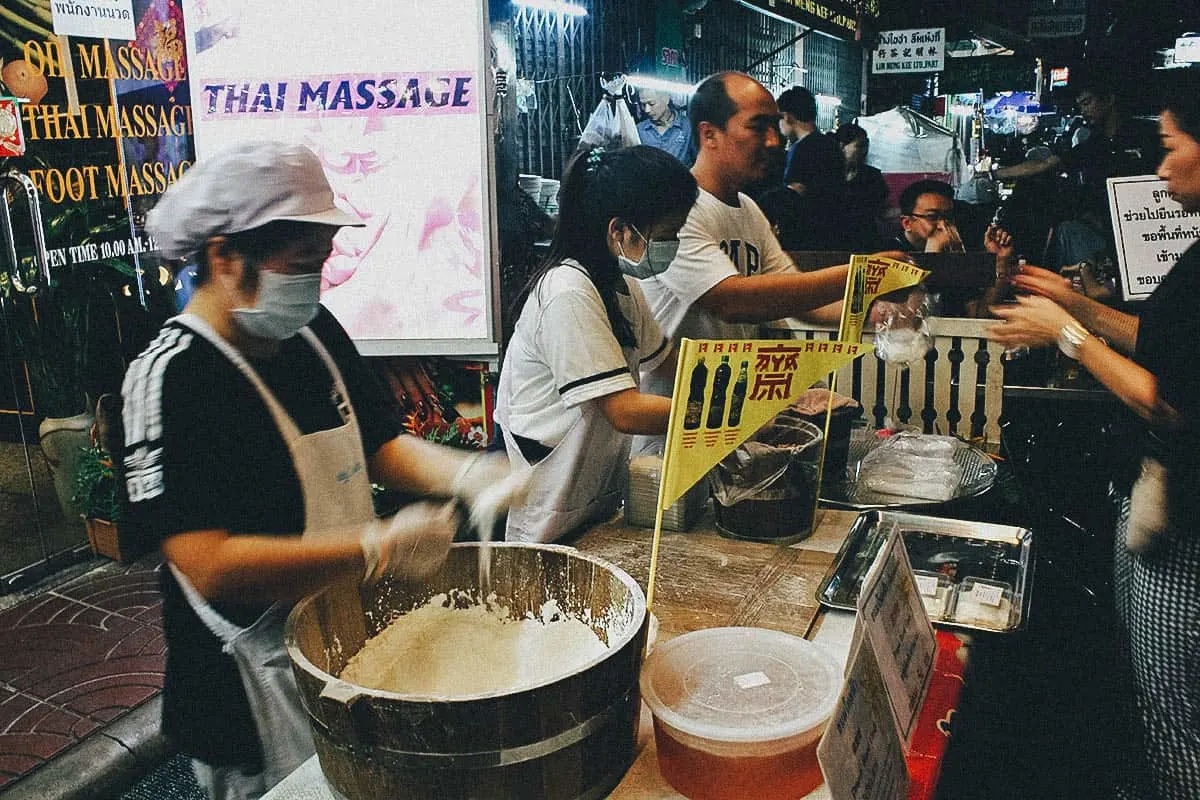 To make it, a gooey sugar-based gel is dipped into sugar dough then shaped into a ring resembling a doughnut. The dough is then pulled, twisted, stretched, and folded repeatedly into long paper-thin strands. It's hard to describe but you'll get a better understanding of the process by watching the video at the bottom of this post.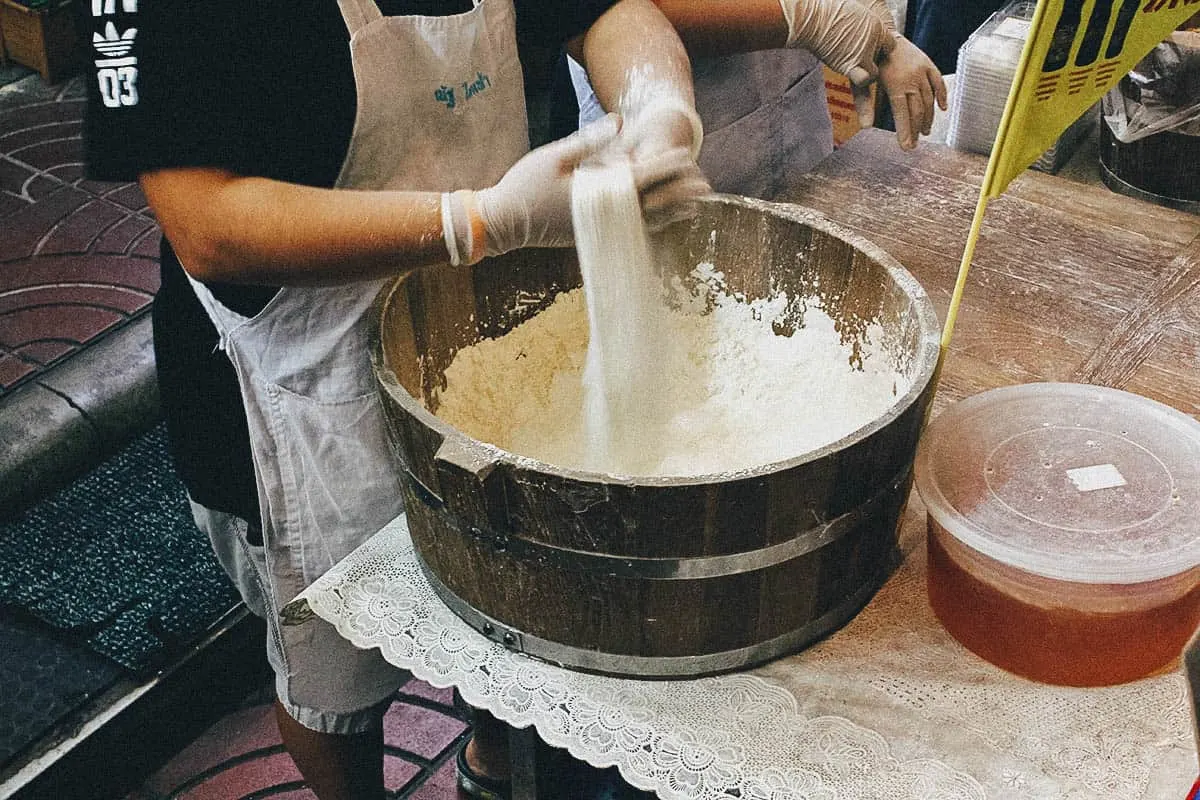 When ready, the strands are cut into small sheets and used as a wrapping for crushed peanuts. Delicate, airy, and just mildly sweet, the texture of Dragon's Beard Candy is unlike anything I've ever experienced. Very interesting indeed!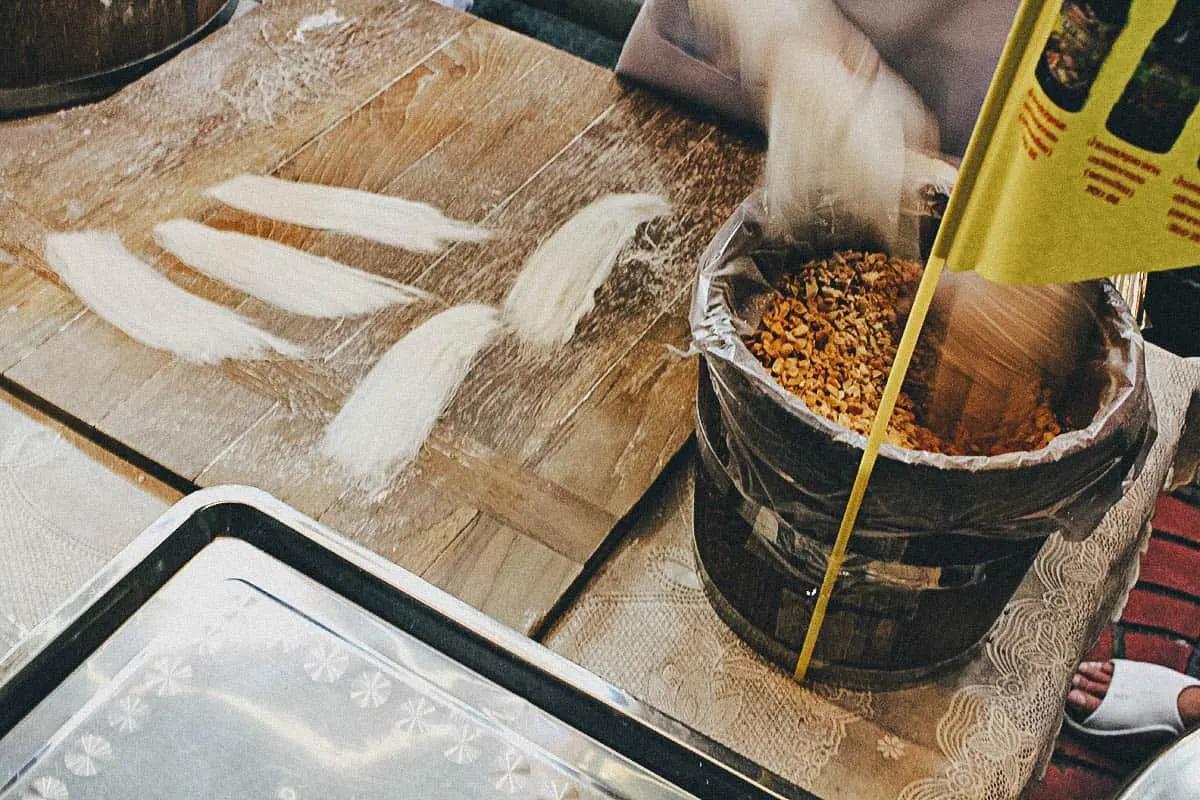 As interesting as the Dragon's Beard Candy was, this may have been my favorite dessert of the evening. I love mango sticky rice and this one, served from a street cart, was one of the best we had in Thailand. Thai mangoes are among the sweetest in the world, second only to Filipino mangoes of course. 😉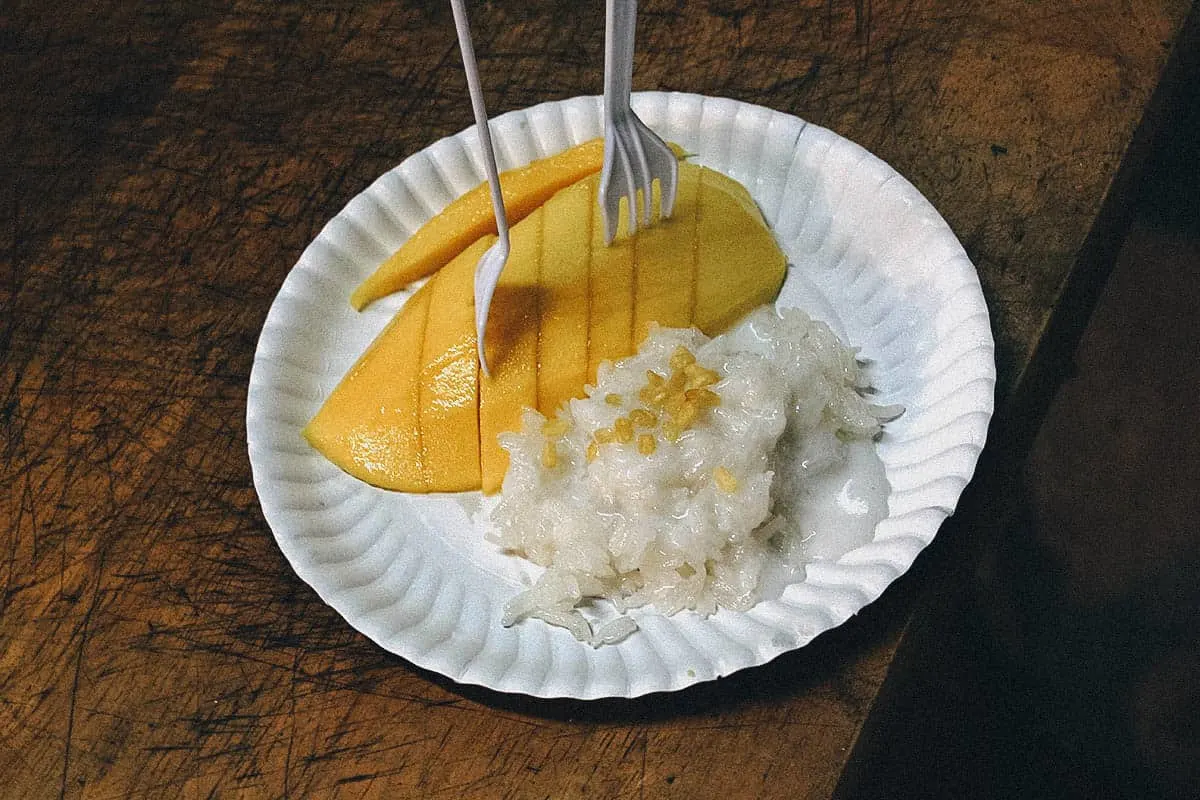 For our last dessert and dish, we stoped at this popular Thai doughnut stall. We came at just the right time, when they were making a new batch, so we got to watch the entire process.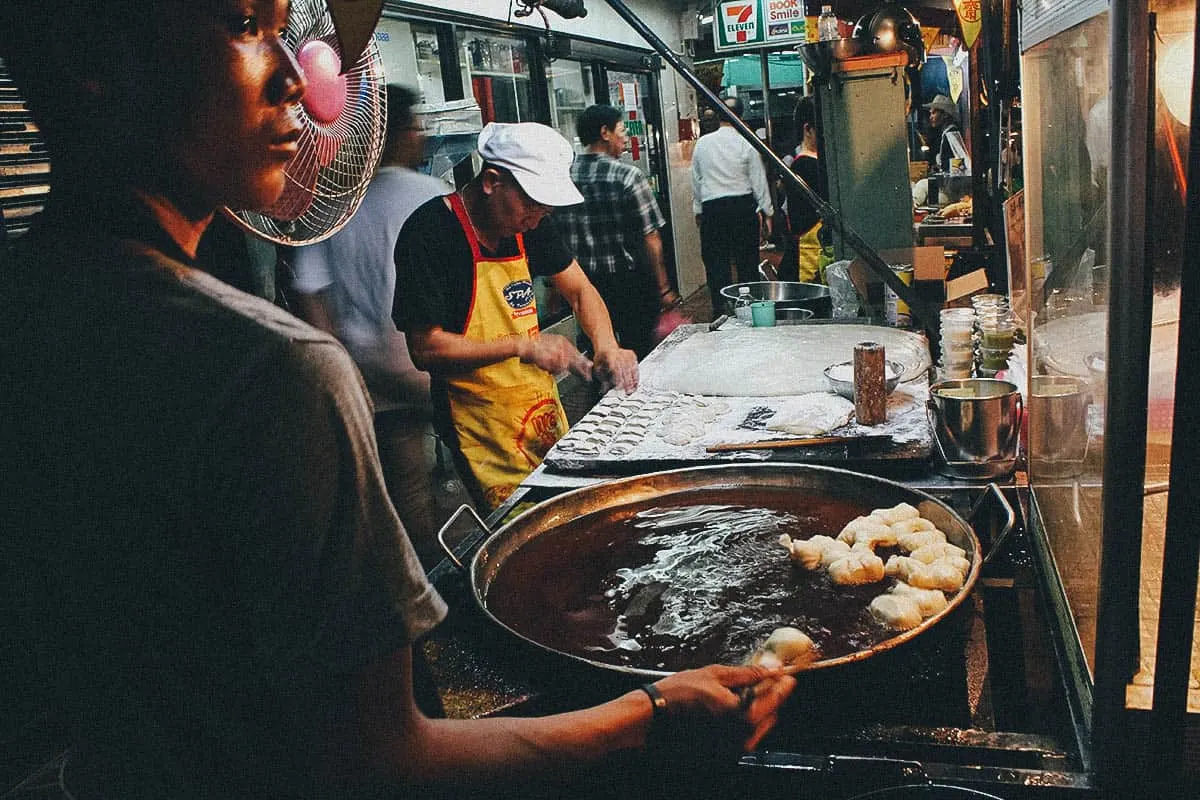 The main doughnut maker kneads, stretches, dusts, and cuts a sheet of dough into these even-sized pieces.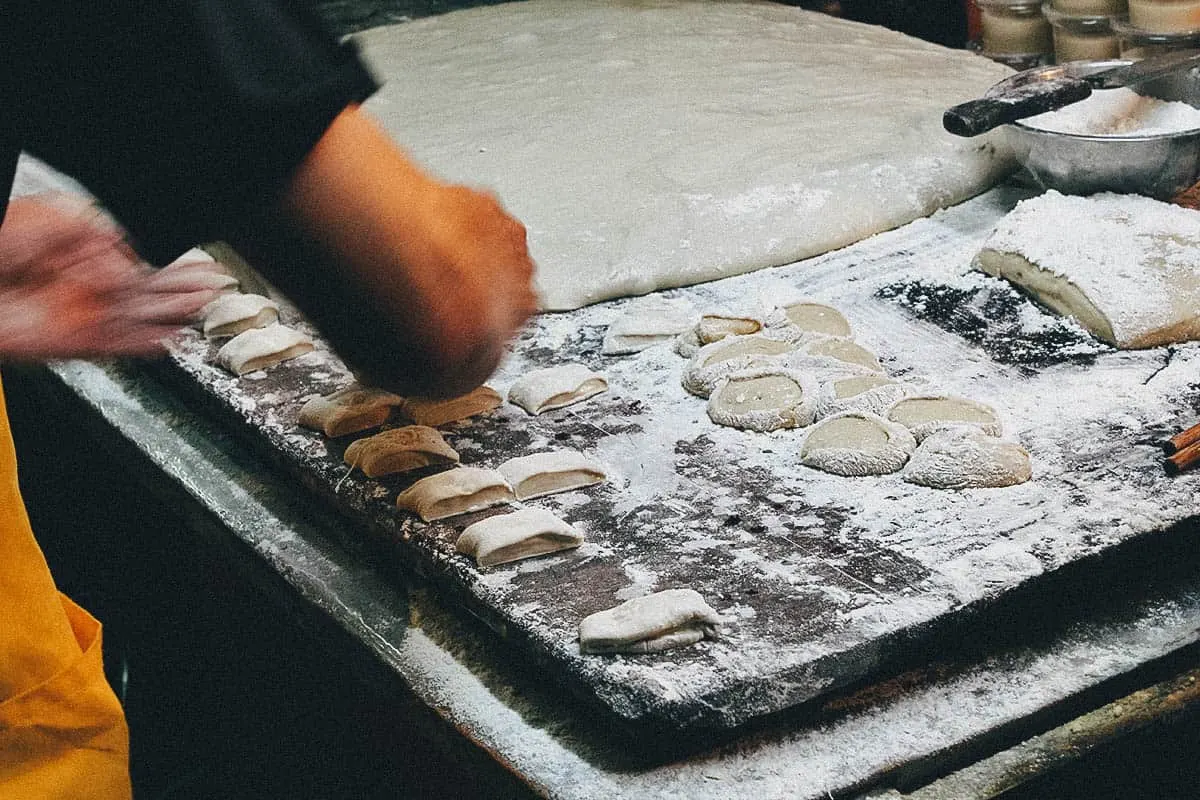 I'm not sure why he does this, but he then sticks two pieces of dough together before sticking them in the fryer. For aesthetics I suppose?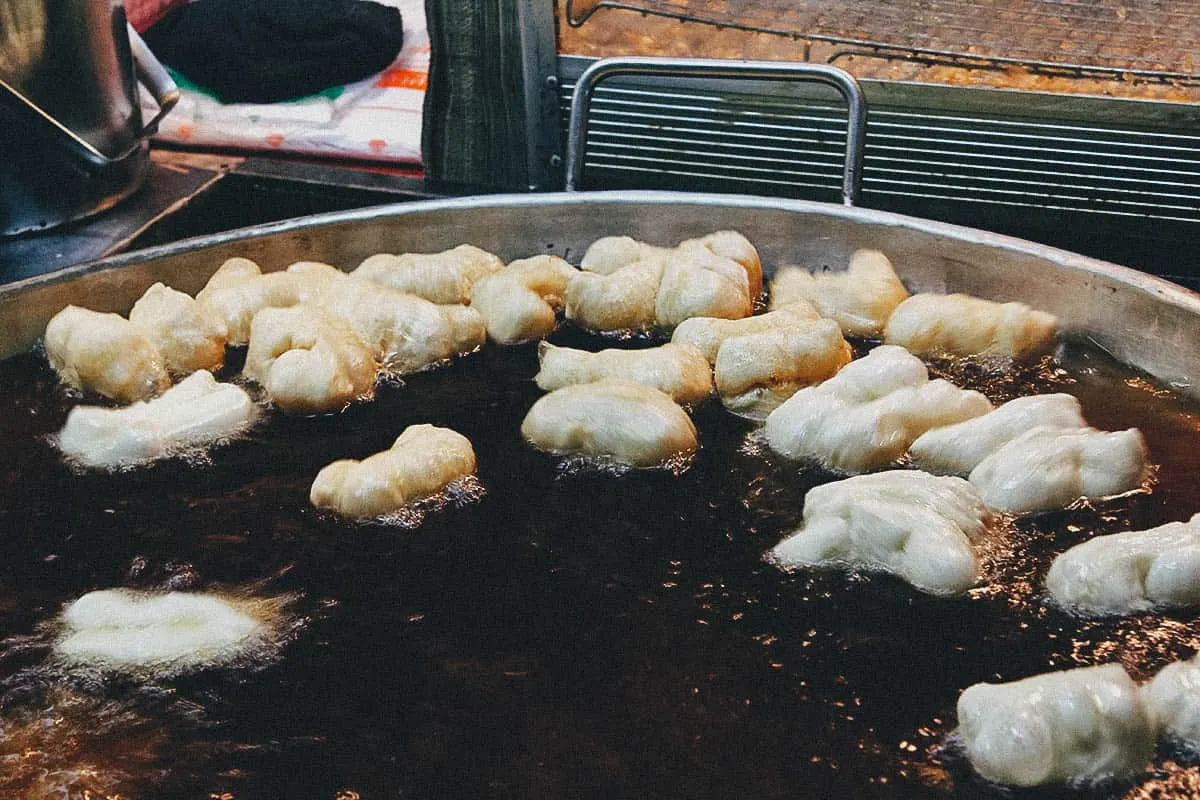 By the time the doughnuts were ready, a hefty crowd had gathered around the stall eager to buy bags of freshly made Thai doughnuts. They were served with a rich and delicious pandan leaf dipping custard. As described, I was stuffed at this point but I couldn't help stuffing my face some more with these doughnuts. So darn crunchy, fluffy, and good.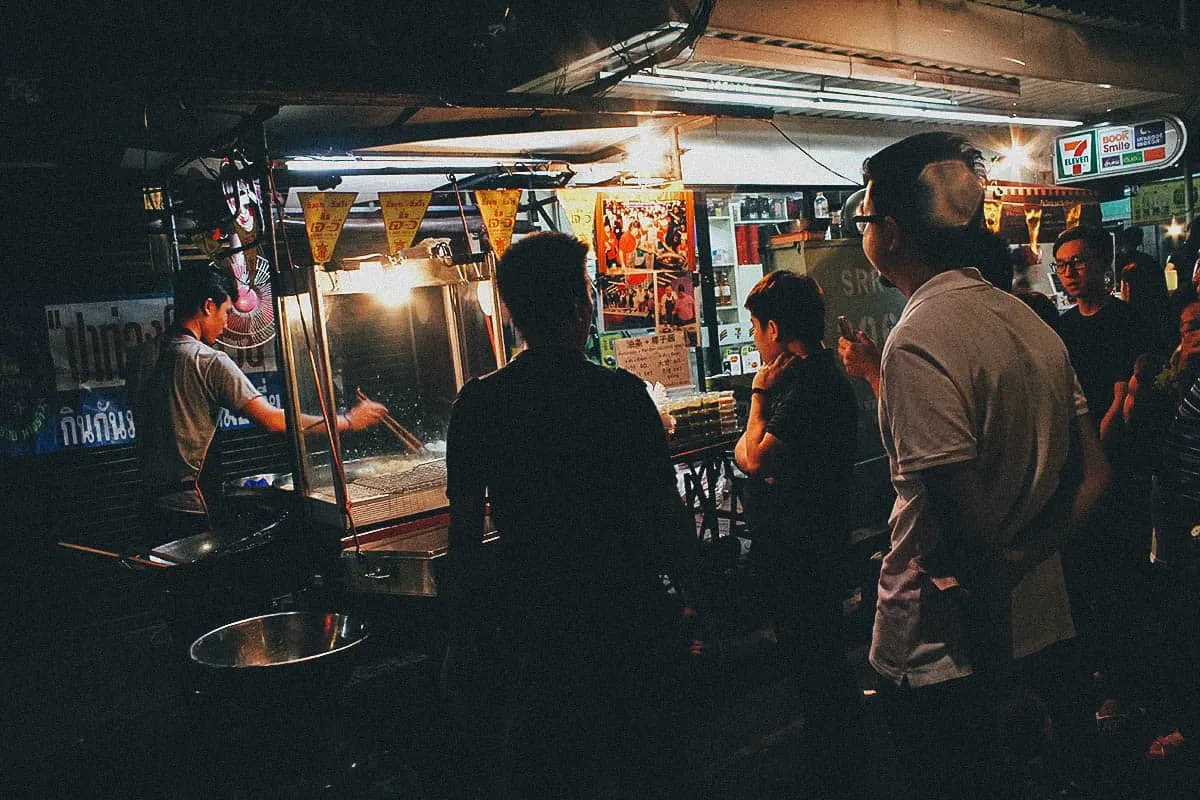 With our tour coming to an end and my belt at its last notch, we take one last look at Chinatown before saying good night and parting ways. Thank you so much Chef Nutth and A Chef's Tour for having us. It was an amazing night of street food and we loved every minute (and morsel) of it.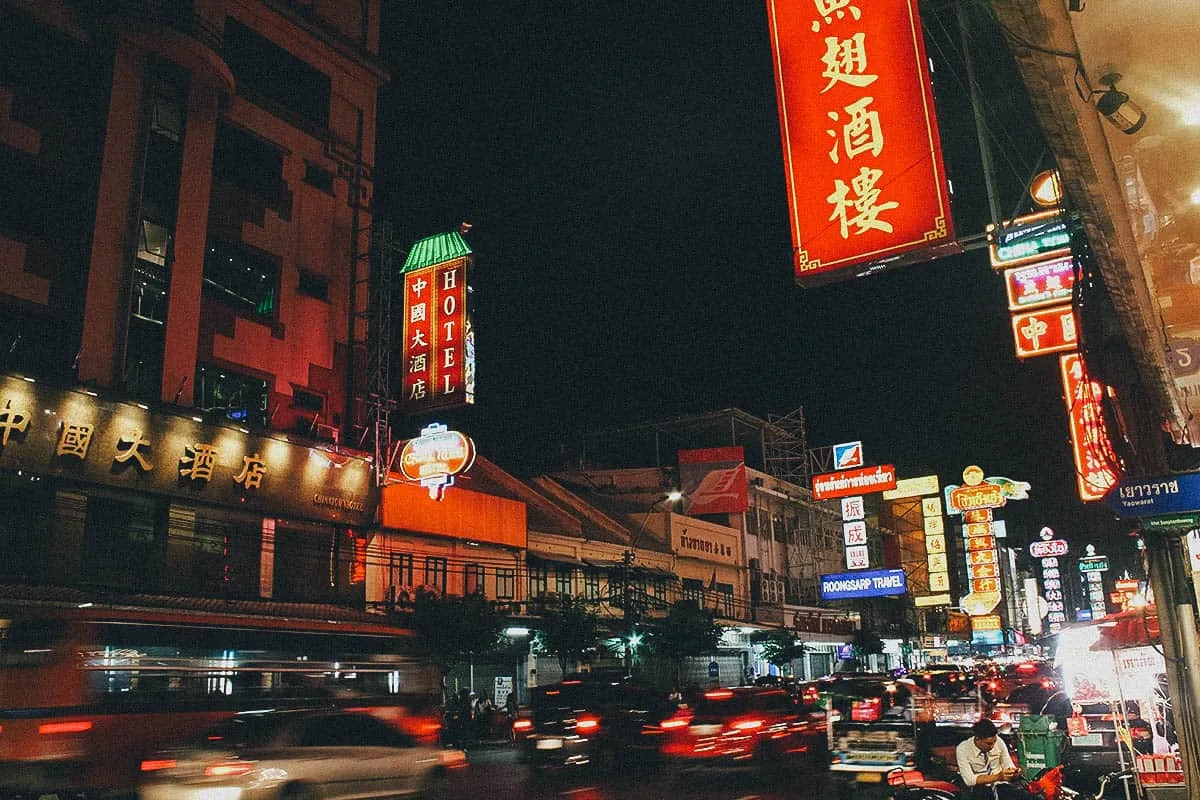 As previously mentioned, they advised us not to eat too much for lunch on the day of our tour. Of course, I didn't listen to them so I was nearly bursting at the seams midway through. The tour starts fairly early, at 4:30PM, so if you can, then I suggest having a big breakfast and skipping lunch altogether. As you can see above, they give you a lot of food, much more food than most people can eat I think. Our tour lasted over 4 hours and covered almost 20 different types of food and drink. If you're adventurous with food and enjoy exploring local cuisine, then this is a tour you'll probably want to do.
If you'll be traveling to Chiang Mai, then you may be interested in their Chiang Mai food tour as well. We did it a couple of weeks after this one. I was expecting a similar type of walking tour but it's actually quite different. Instead of walking from stall to stall and eating street food, we rode around in a songthaew and visited several local restaurants, including a market. Most of the places we went to we would never have found on our own. Apart from uber popular "cowboy hat lady", every place we visited was off the tourist circuit and frequented mostly (if not only) by locals. Like this Bangkok tour, it was awesome.
Like I said at the top of this post, I try to look for eateries and food experiences that take us deep into a destination's local food culture. That's exactly what we got with A Chef's Tour.
A Chef's Tour
Website: achefstour.com
Facebook: achefstour
Twitter: achefstour
Instagram: achefstour
Pinterest: achefstour
Email: [email protected]
Cost: USD 59 per person (inclusive of food)
Disclosure
By chance, I saw a tweet from A Chef's Tour inviting bloggers to join their tour for free in exchange for an honest account of the experience. Naturally, I jumped on it. As always, all words and opinions expressed in this post are mine and mine alone.
Some of the links in this guide are affiliate links, meaning we'll get a small commission if you make a purchase at NO extra cost to you. We only recommend products and services that we use ourselves and firmly believe in. We really appreciate your support as this helps us make more of these free travel guides. Thank you!
For more Bangkok travel tips, check out our First-Timer's Travel Guide to Bangkok, Thailand