Bandung is the capital of West Java province in Indonesia. The majority of Bandung's population is of Sundanese descent, so most of the food you'll find there is Sundanese in origin. The Sundanese people are an Austronesian ethnic group that migrated to Java between 1,500-1,000 BC.
I know little about Sundanese cuisine (and Indonesian food in general) but based on what I've read, Sundanese food is characterized by its freshness, by simple and clean tastes exemplified by a fondness for raw vegetables. Some of the most famous Sundanese dishes we tried include Soto Bandung, batagor, siomay, lotek, and surabi.
We spent a few days in Bandung with our local foodie guide Tommy, sampling as many Sundanese (and other Indonesian) dishes as we could find. Some we discovered through research while others are Tommy's own personal recommendations. This list of ten is what we came up with.
Save This on Pinterest!
No time to read this now? Click on the red save button and pin it for later!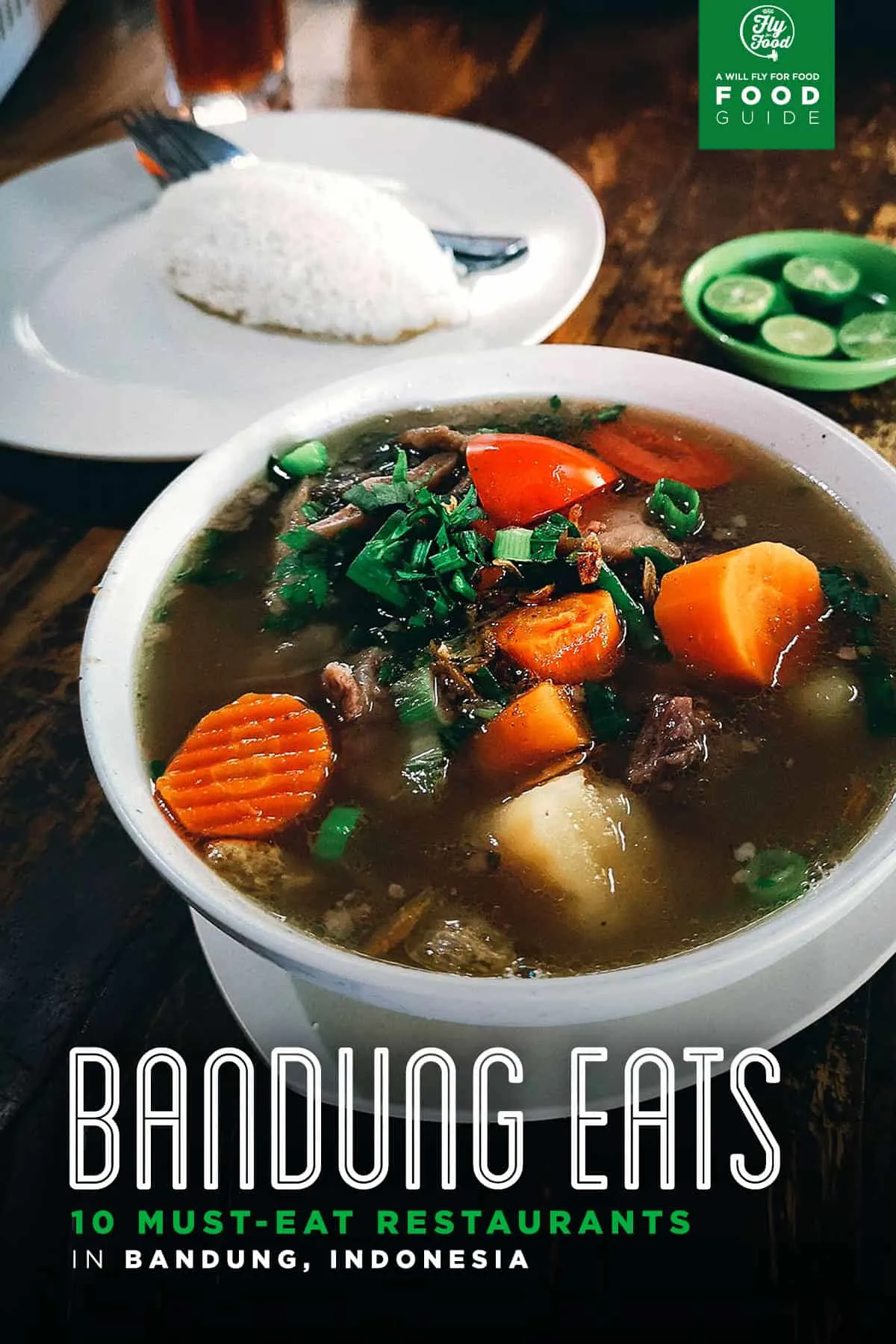 10 MUST-EAT PLACES IN BANDUNG
Attractions in Bandung are spread out. You'll probably spend as much time in the north and south as you will in downtown Bandung. To make it easier for you, I've divided these ten eateries by location, starting with central Bandung. You can jump to the map at the bottom of this post to see exactly where they are.
CENTRAL BANDUNG
These are the eateries located in downtown Bandung. They're easy to get to on foot from Jalan Braga.
1. Batagor Kingsley
Batagor Kingsley is a Bandung institution. Open since 1982, it's a favorite stop among Jakartans who make the trip to Bandung on weekends. They're known for a few dishes like bakso, mie, and siomay, but as their name suggests, their most famous dish is their batagor which is a type of fried fish dumpling.
In the upper right of this picture is a plate of batagor along with bowls of yamien and bakso. Yamien is a type of dry egg noodle dish topped with chicken and green vegetables. Depending on what type of soy sauce is used to make it, it can be either savory or a little sweet – variations that seem to apply to many Indonesian dishes. We enjoyed ours savory with a bowl of bakso or baso, which is a type of Indonesian meatball commonly made from beef surimi, though it can be made with other ingredients as well like chicken, pork, fish, or shrimp.
I'll describe the batagor in more detail below but the bakso and yamien were delicious. Bakso was Ren's favorite thing to eat during our two weeks in Indonesia. You can find it pretty much anywhere, from street food carts to restaurants to food courts.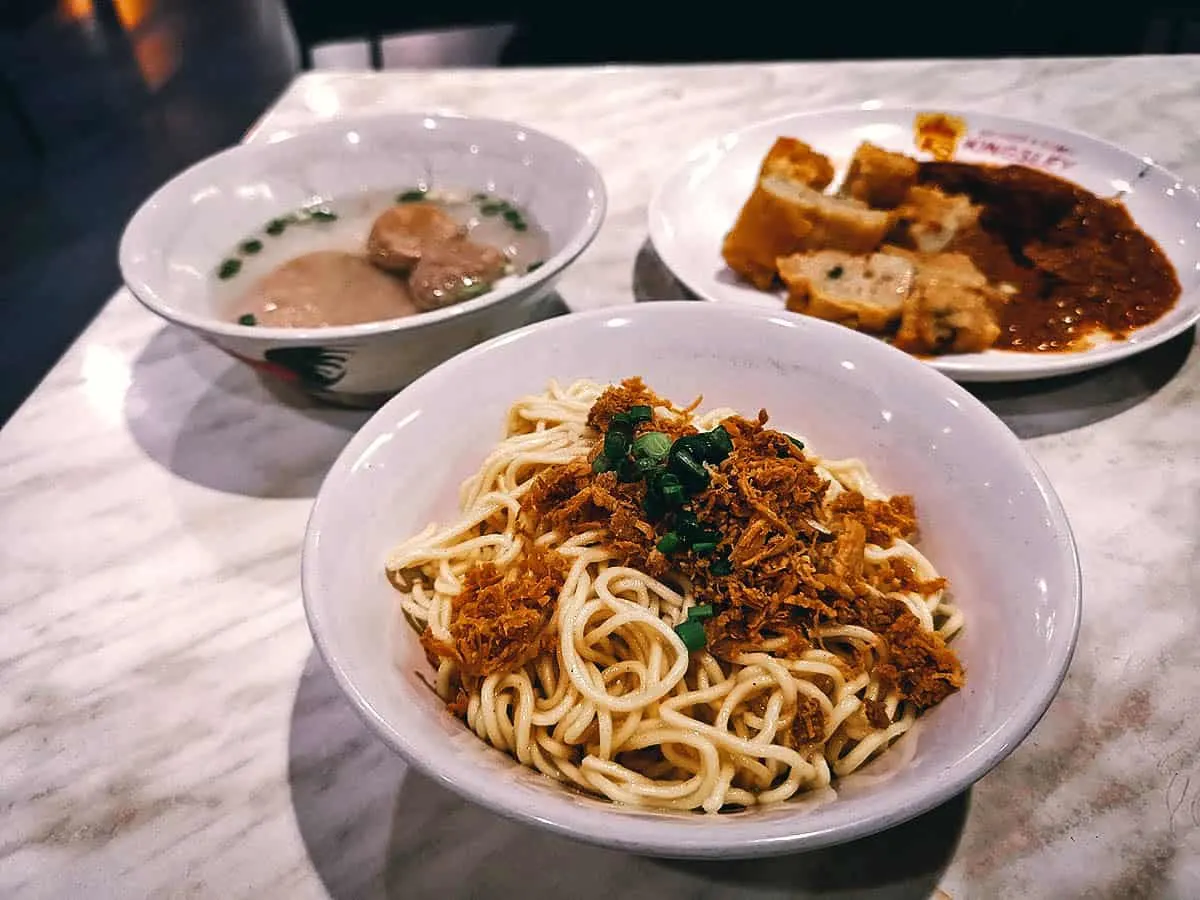 Pictured below is their famous batagor along with a plate of siomay. As described, batagor is a type of fish dumpling made from fish paste stuffed into wonton or tofu skin then deep-fried in palm oil. From what I understand, the only difference between batagor and siomay is that batagor is deep-fried while siomay is steamed. We enjoyed them both.
Batagor Kingsley has a reputation for serving some of the best batagor in Bandung. You can have it either in a soup or served dry with a sweet-savory peanut sauce. The term batagor is an abbreviation for bakso tahu goreng which translates to "fried tofu meatballs".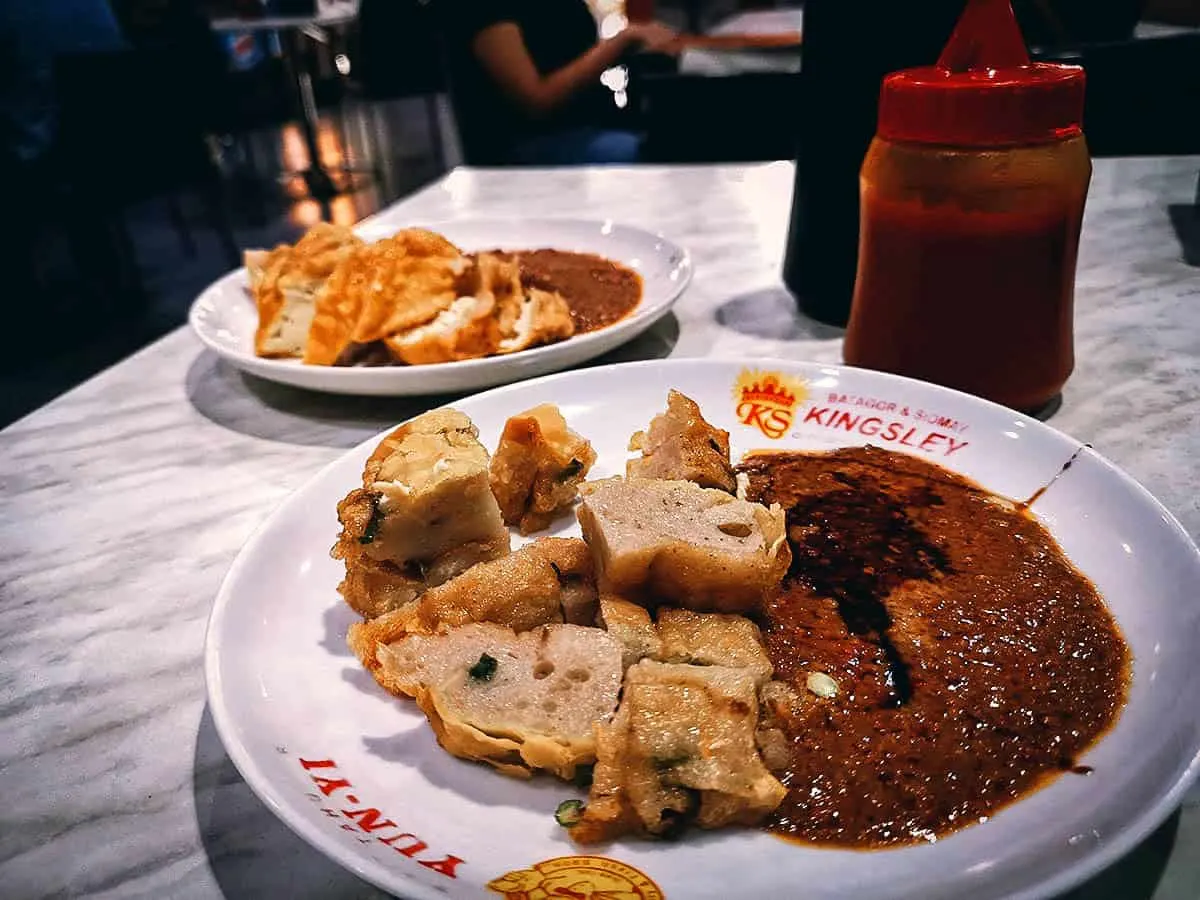 I read that eating batagor at Batagor Kingsley is a tradition amongst many Jakartans traveling to Bandung on weekends. To them, a trip to Bandung almost wouldn't be complete without enjoying a meal here.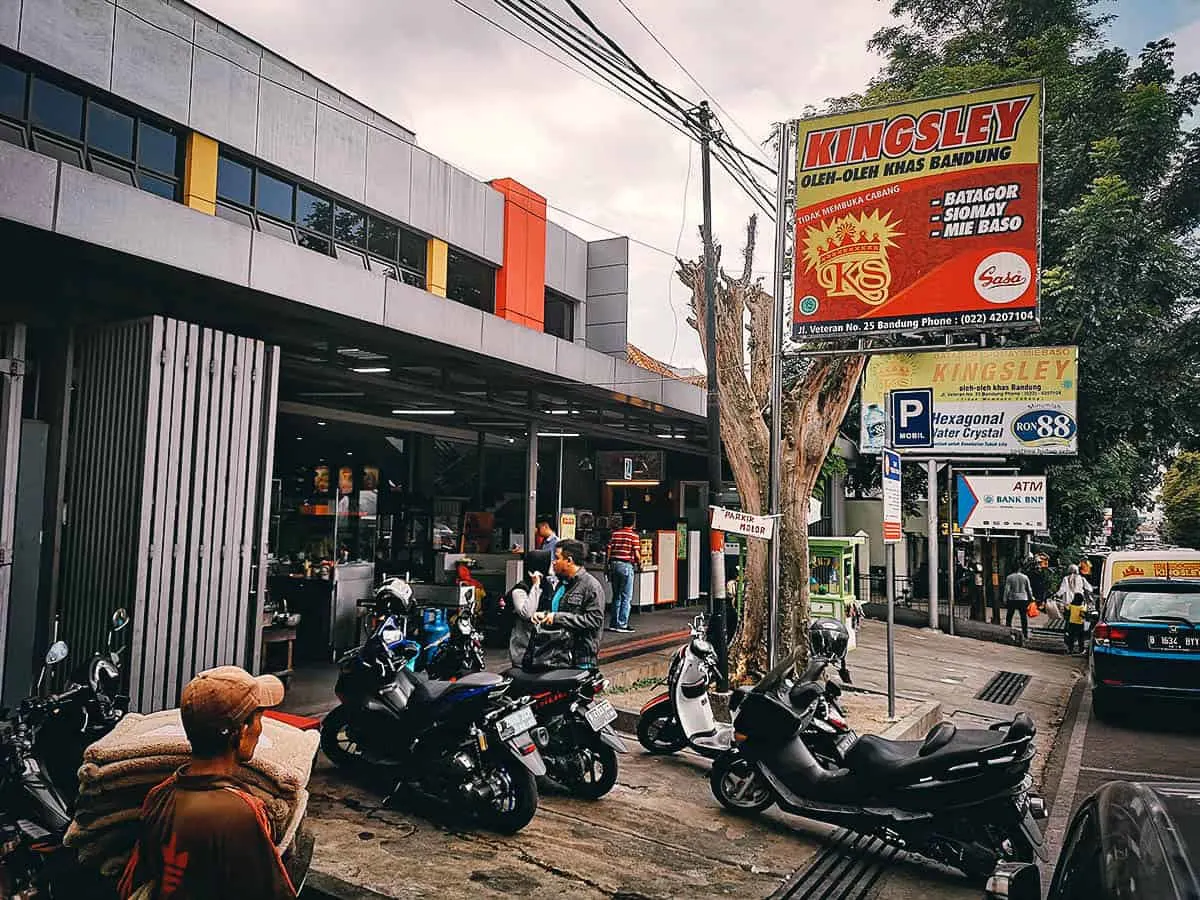 Batagor Kingsley
Address: Jl. Veteran No.25, Kb. Pisang, Kec. Sumur Bandung, Kota Bandung, Jawa Barat 40112, Indonesia
Operating Hours: 8AM-8PM, Fri-Wed (closed Thurs)
Expect to Pay: Between IDR 29,000-45,000 per dish
2. Mie Rica Kejaksaan
If you enjoy spicy food, then eating here is a must. Open since the 1960s, Mie Rica Kejaksaan is known for their fiery bowl of noodles with spicy minced pork called mie rica.
I adore spicy food so this was one of my favorite things to eat in Indonesia. I have a high tolerance for heat so I'm often disappointed by supposedly spicy dishes, but this one was every bit as hot as advertised. It sets your mouth on fire without numbing down the taste. Flavor-wise, it reminded me of an Indonesian version of spaghetti bolognese, but very very spicy. Enjoy with caution!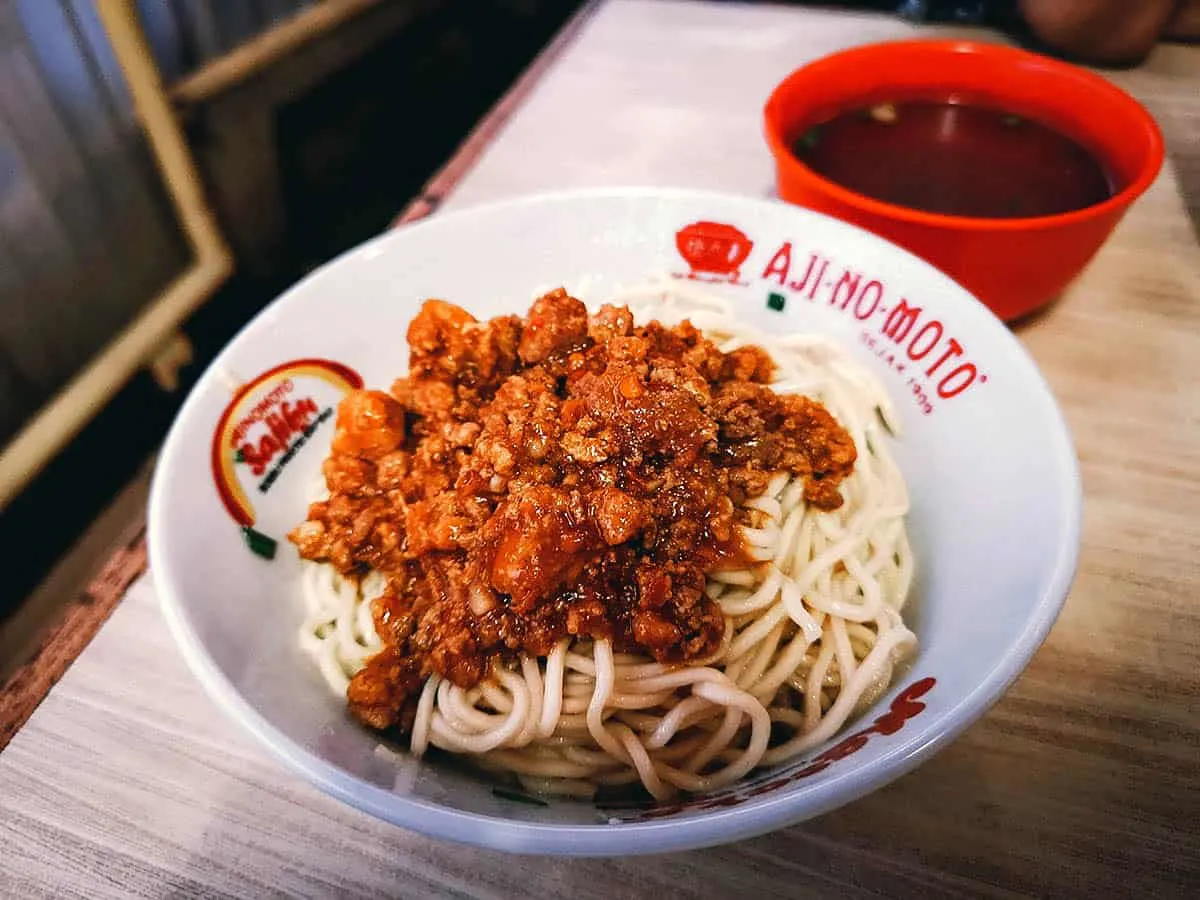 Mie Rica Kejaksaan is located in what looks to be an old house just off Jalan Braga. Prepare for a wait because this place is very popular among locals.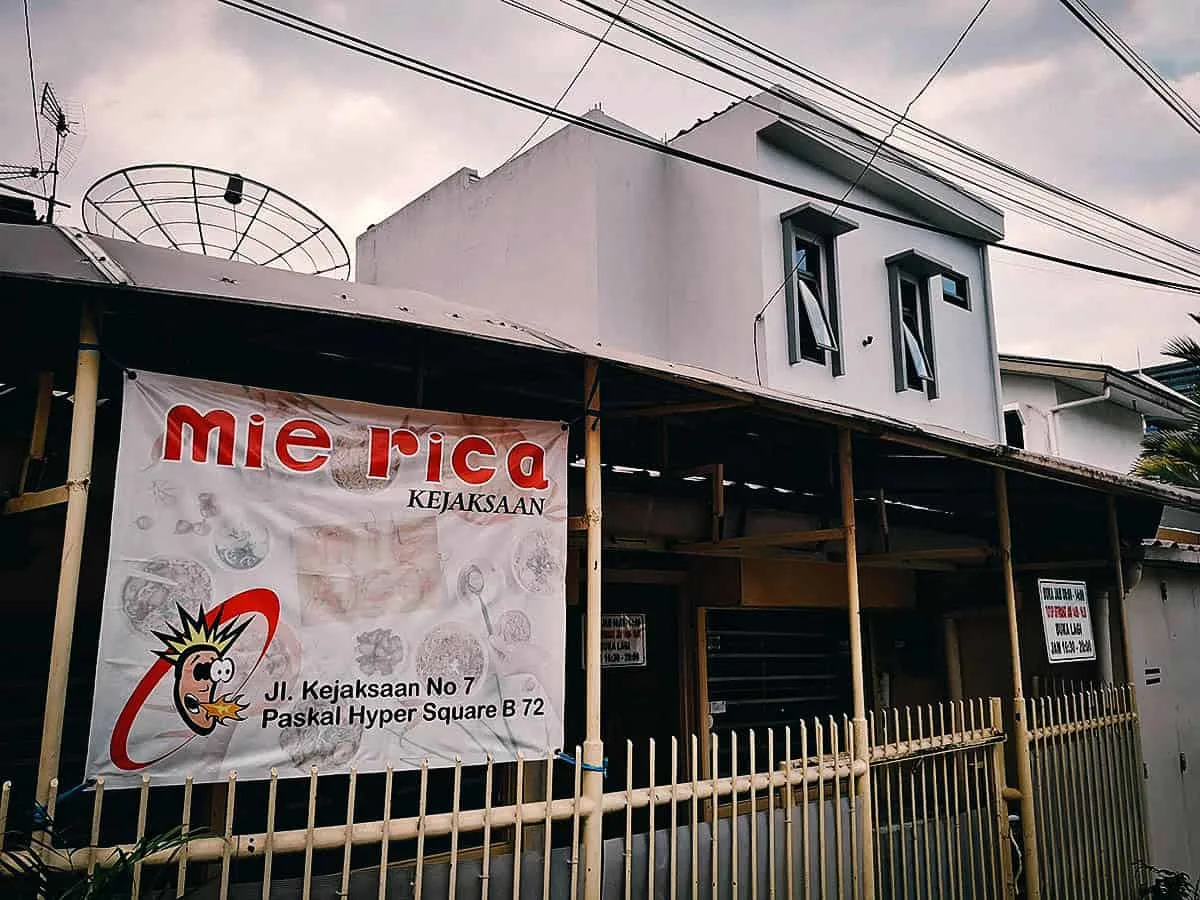 Mie Rica Kejaksaan
Address: Jl. Kejaksaan No.7, Braga, Kec. Sumur Bandung, Kota Bandung, Jawa Barat 40111, Indonesia
Operating Hours: 8AM-2PM, 4:30-9PM, daily
Expect to Pay: IDR 34,000 per bowl of mie rica
3. Wedang Ronde Jahe Alkateri
This is an interesting dessert. Ronde or wedang ronde is an Indonesian dessert of glutinous rice balls served in hot ginger syrup. The rice balls come in two sizes – small and big – with the bigger balls filled with ground peanut and sugar.
If you aren't used to the taste of ginger, then you might find the soup too strong, maybe even offensive. It's pungent, spicy, sweet, hot, and zingy. Like herbal medicine, you can feel the insides of your throat being coated with a warm tingly sensation with every spoonful. It's a pleasant feeling, especially if you have a sore throat.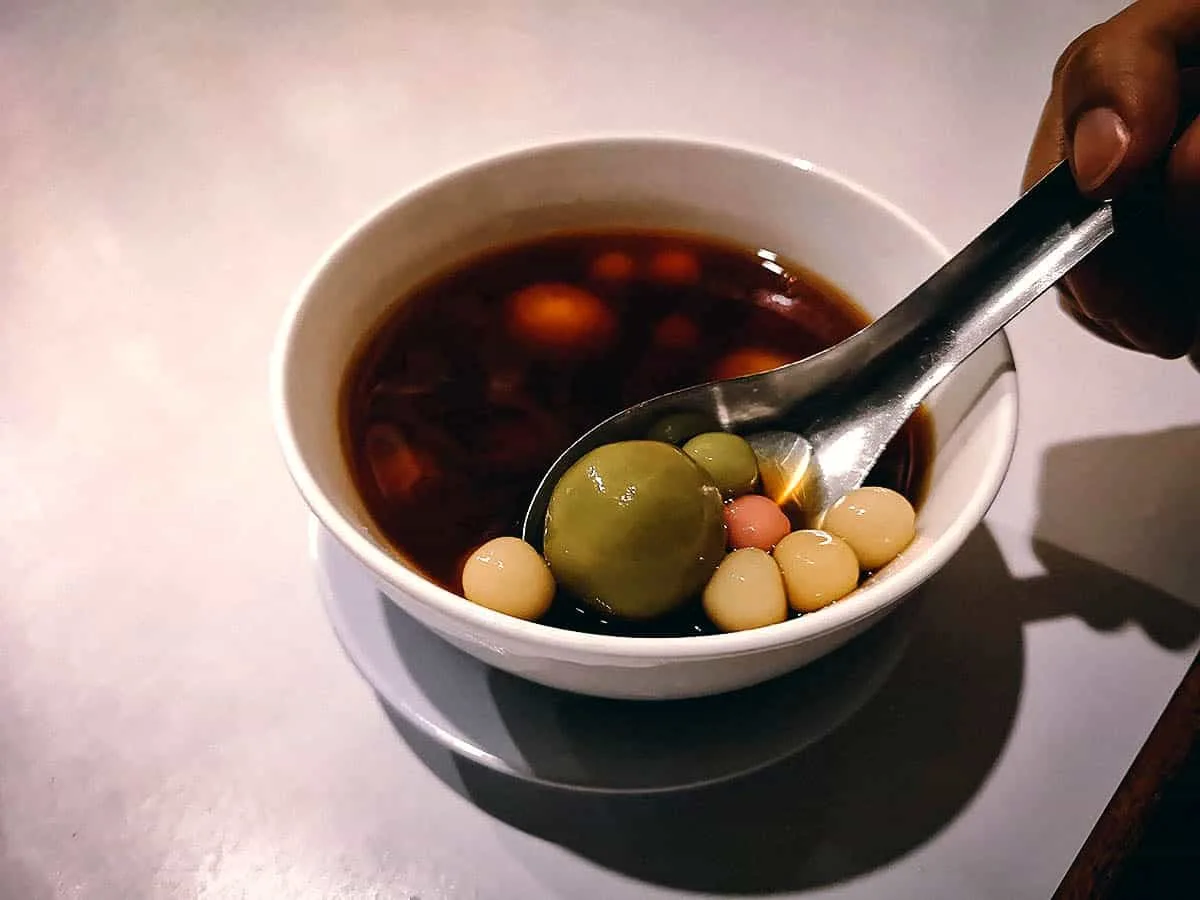 Bite into the chewy rice balls for a punch of sweet nutty flavor. I loved the texture and flavor of these mochi-like rice balls.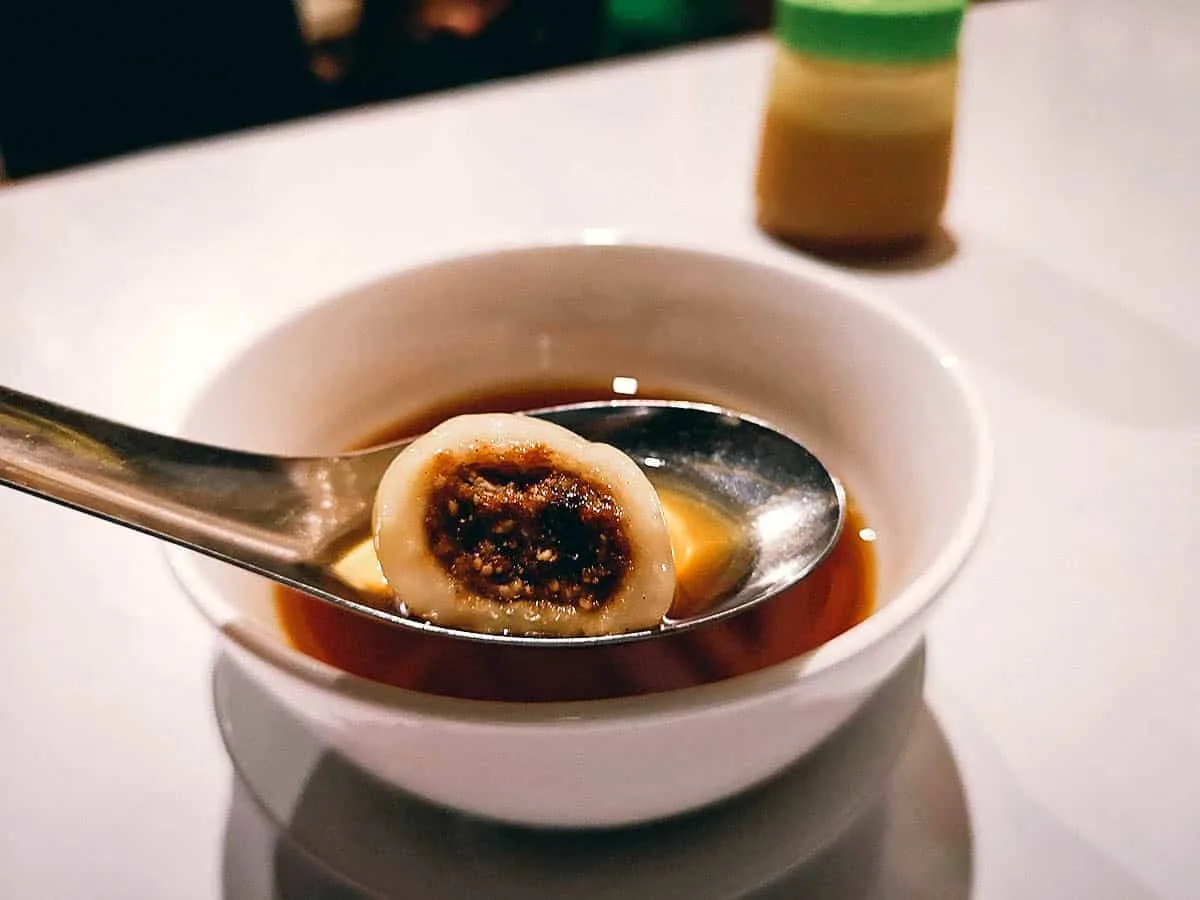 Wedang Ronde Jahe Alkateri is located at the end of this alley so it's easy to miss. You can refer to our location map to see exactly where it is as it isn't the easiest place to find.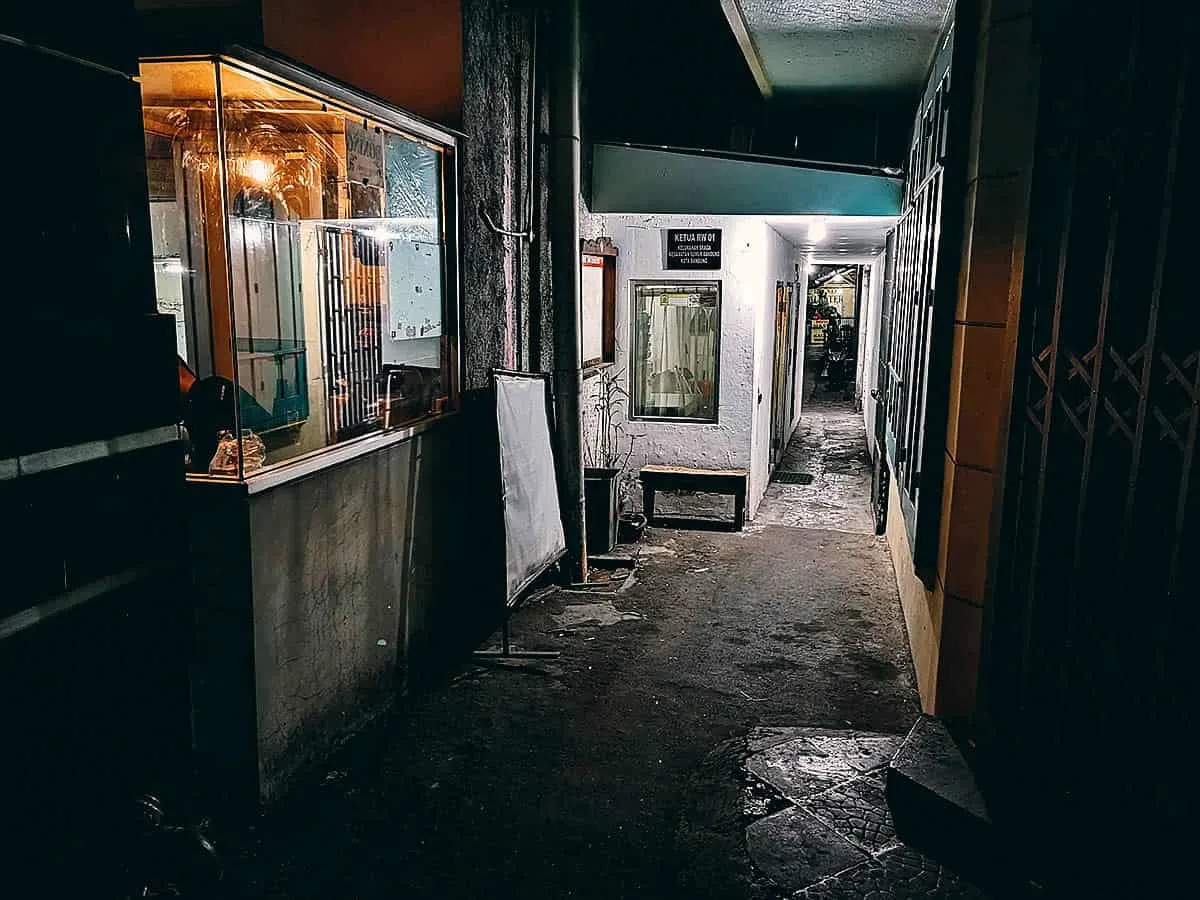 Wedang Ronde Jahe Alkateri has been serving some of Bandung's best ronde since 1984.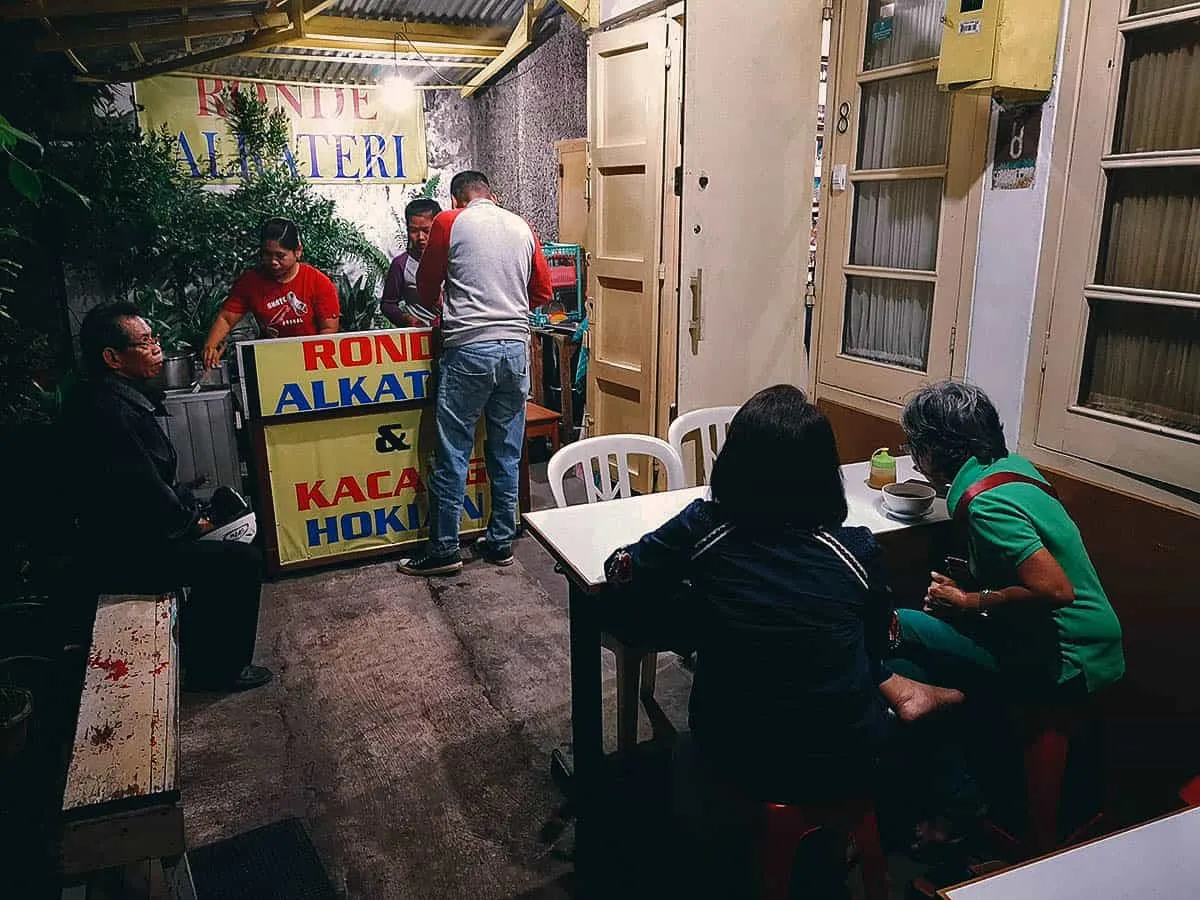 Wedang Ronde Jahe Alkateri
Address: Jl. Alkateri No.01, Braga, Kec. Sumur Bandung, Kota Bandung, Jawa Barat 40111, Indonesia
Operating Hours: 6-10PM, Mon-Sat (closed Sundays)
Expect to Pay: IDR 18,000 per bowl of ronde
4. Amanda Brownies
I normally wouldn't include a brownie place on an Indonesian restaurant list, but this isn't your everyday brownie. Amanda Brownies steams their brownies instead of baking them, producing the softest and fluffiest brownies I've ever tasted in my life. You can get them in different flavors like tiramisu and blueberry but we got a box of the original – chocolate.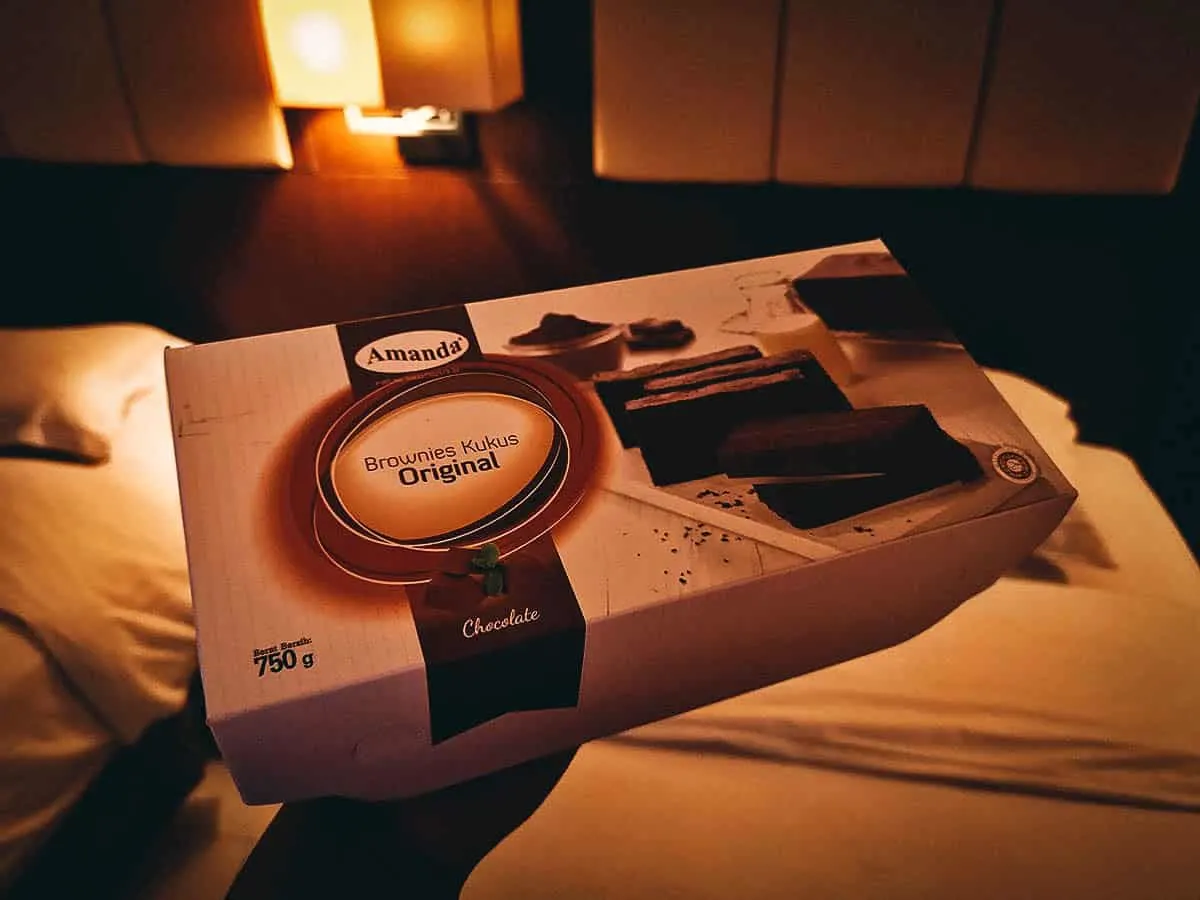 I'm not usually a fan of brownies but these were terrific. They're super soft and fluffy with a rich chocolate flavor that isn't too sweet. We took this box with us to Yogyakarta and Bali and the brownies stayed nice and moist throughout.
Amanda Brownies is a chain with multiple branches in Bandung. We went to the one near Paskal Market.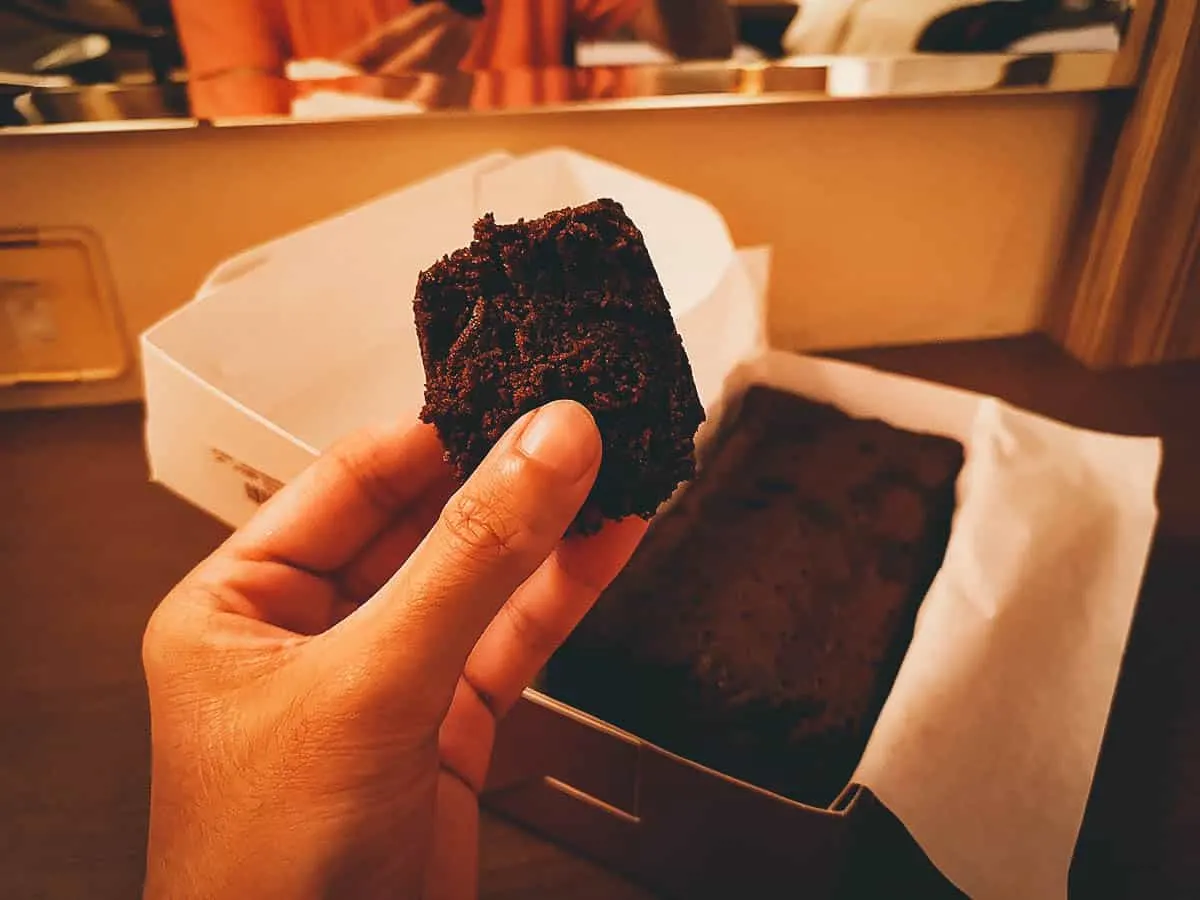 Amanda Brownies
Address: Paskal Hyper Square Blok A No. 43, Jl. Pasir Kaliki No.25-27, Kb. Jeruk, Kec. Andir, Kota Bandung, Jawa Barat 40181, Indonesia
Operating Hours: 7AM-9PM, daily
Expect to Pay: IDR 36,000-64,000 per box, depending on the flavor
NORTHERN CENTRAL BANDUNG
These places are still in central Bandung but a little farther north so they're harder to get to on foot. You'll see what I mean when you look at the map below. It's best to visit them going to or coming back from a day trip up north.
5. Dapur Dahapati
Dapur Dahapati is a traditional Indonesian restaurant that serves many dishes, but we were here for one thing only – their sop buntut which is said to be the best in Bandung. We had found this place on our own through research, but Tommy knew this restaurant well, confirming that their sop buntut is indeed the best in the city.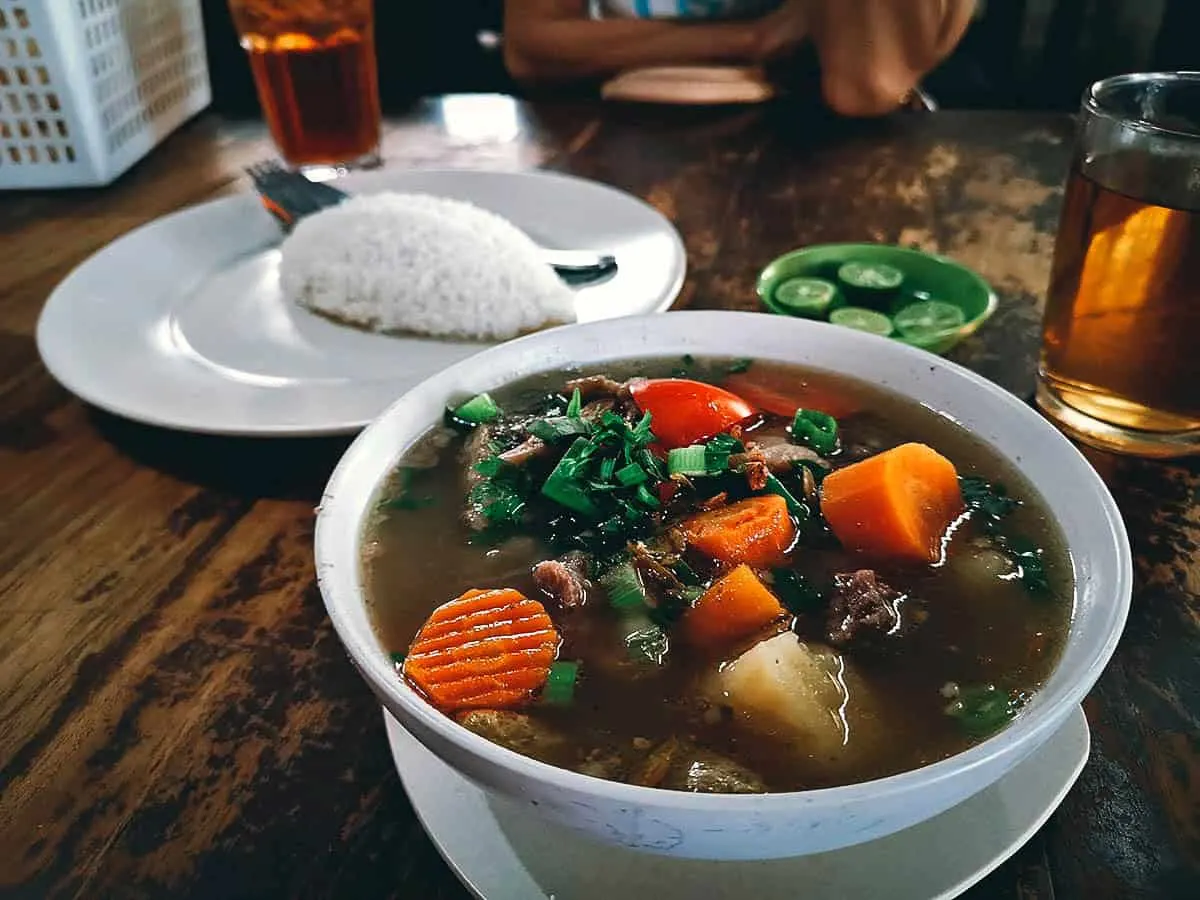 Sop buntut is Indonesian oxtail soup. It's made with chunks of oxtail served in a clear beef broth containing a variety of ingredients like boiled potatoes, carrots, tomatoes, leeks, celery, and fried shallots. They served ours with a plate of white rice and calamansi for some zing. Delicious!
Here's a chunk of that oxtail which is cooked for several hours till it's fall-off-the-bone tender. Sometimes, it's grilled after boiling to give it a nice smokey flavor. They make a version as well called sop buntut goreng where the oxtail is fried and served dry with the soup served in a separate bowl. Yum!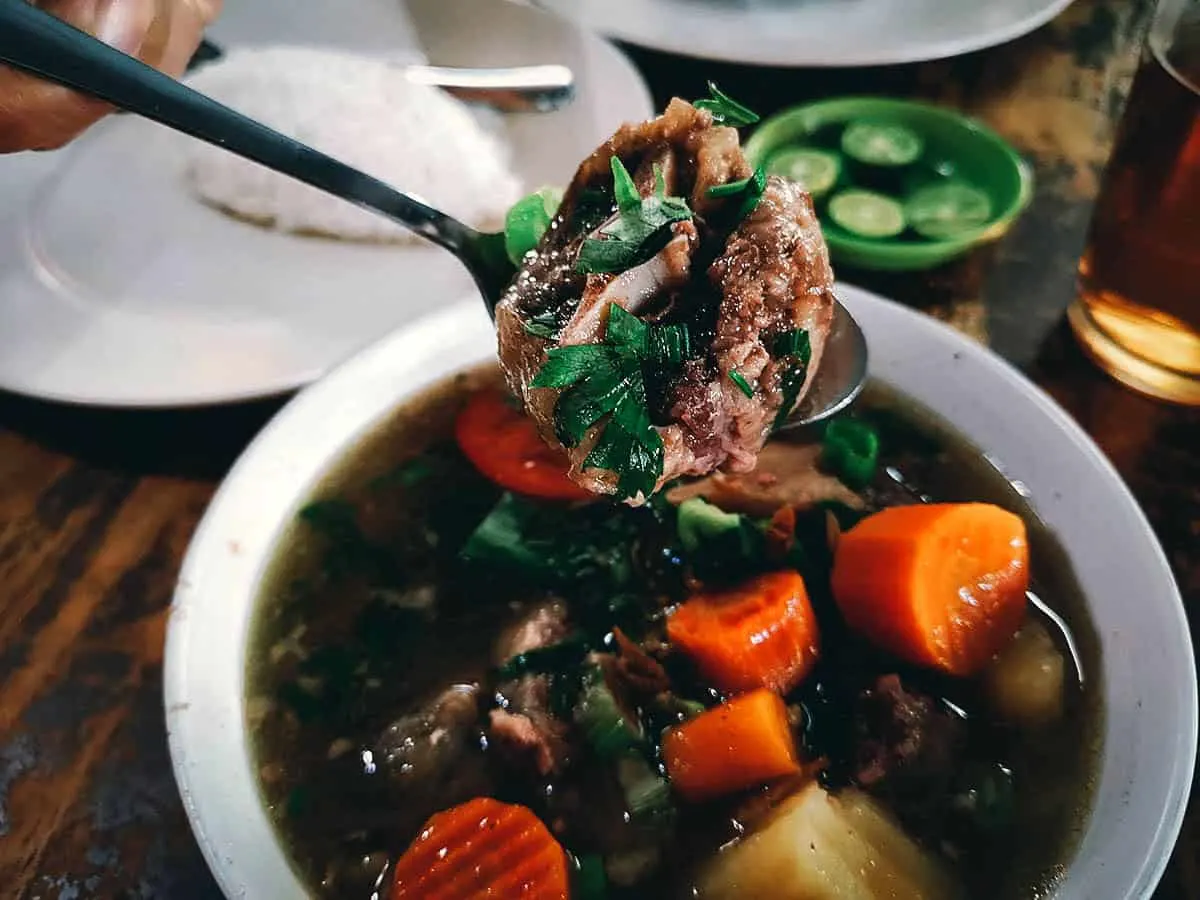 Dapur Dahapati is located about 4 km north of Jalan Braga, so it's best visited en route to the north. We had breakfast here with Tommy on our way to Dusun Bambu Resort.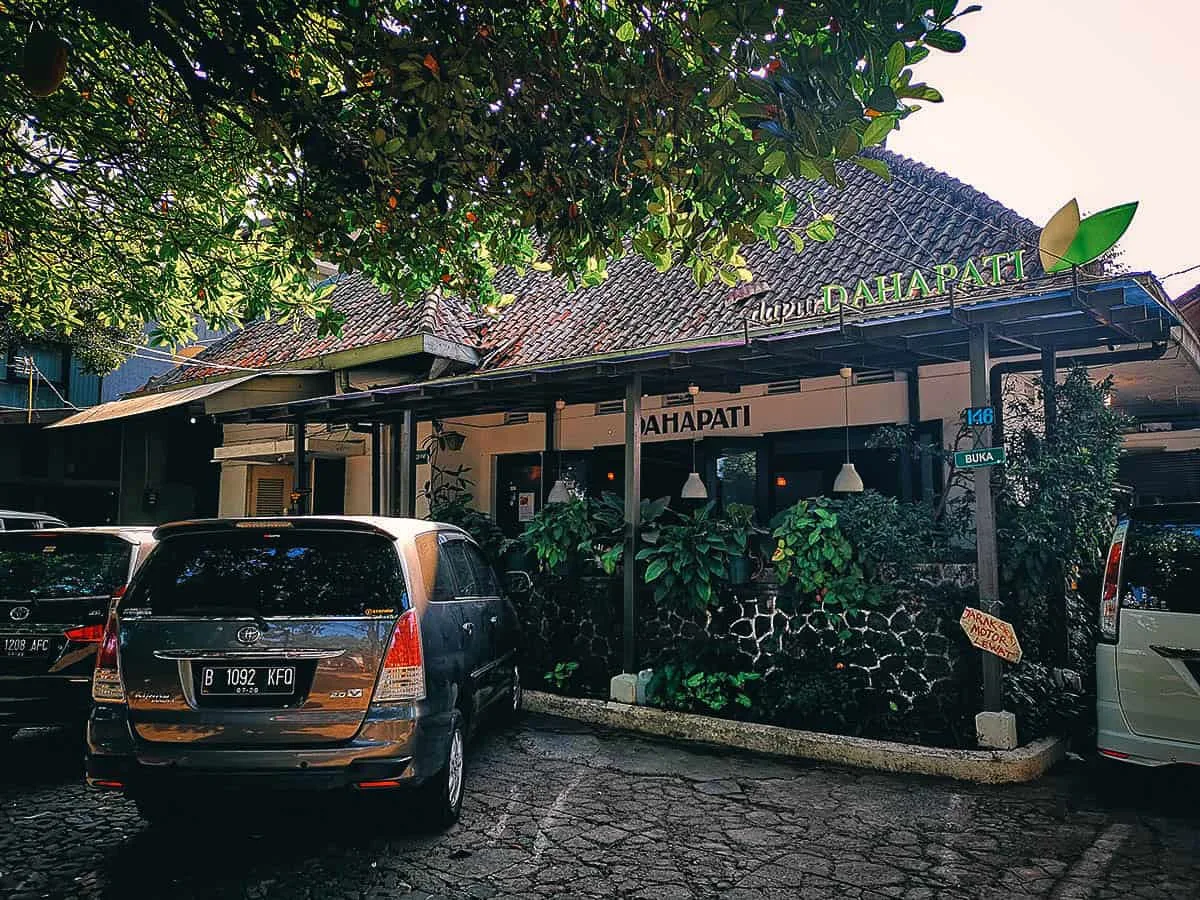 Dapur Dahapati
Address: Jl. Cipaganti No.146, Cipaganti, Kecamatan Coblong, Kota Bandung, Jawa Barat 40131, Indonesia
Operating Hours: 8AM-9:30PM, daily
Expect to Pay: IDR 75,000 per bowl of sop buntut
6. Martabak San Francisco
Tommy took me here. According to him, Martabak San Francisco has been serving some of Bandung's best martabak since 1967. Martabak is a popular street food dish that's enjoyed throughout Indonesia and in other parts of Asia like Singapore and Malaysia.
Martabak is available in savory and sweet versions, each looking completely different from the other. Savory martabak looks like a large stuffed crepe while the sweet version looks more like a thick pancake topped with a variety of ingredients. Tommy told me that many locals buy martabak here to give as gifts.
Martabak San Francisco makes what seems like an infinite number of varieties. I got this classic sweet martabak made with dark chocolate and banana. Rich, crisp, and fluffy like American pancakes, it was absolutely delicious and something I wouldn't mind having right now!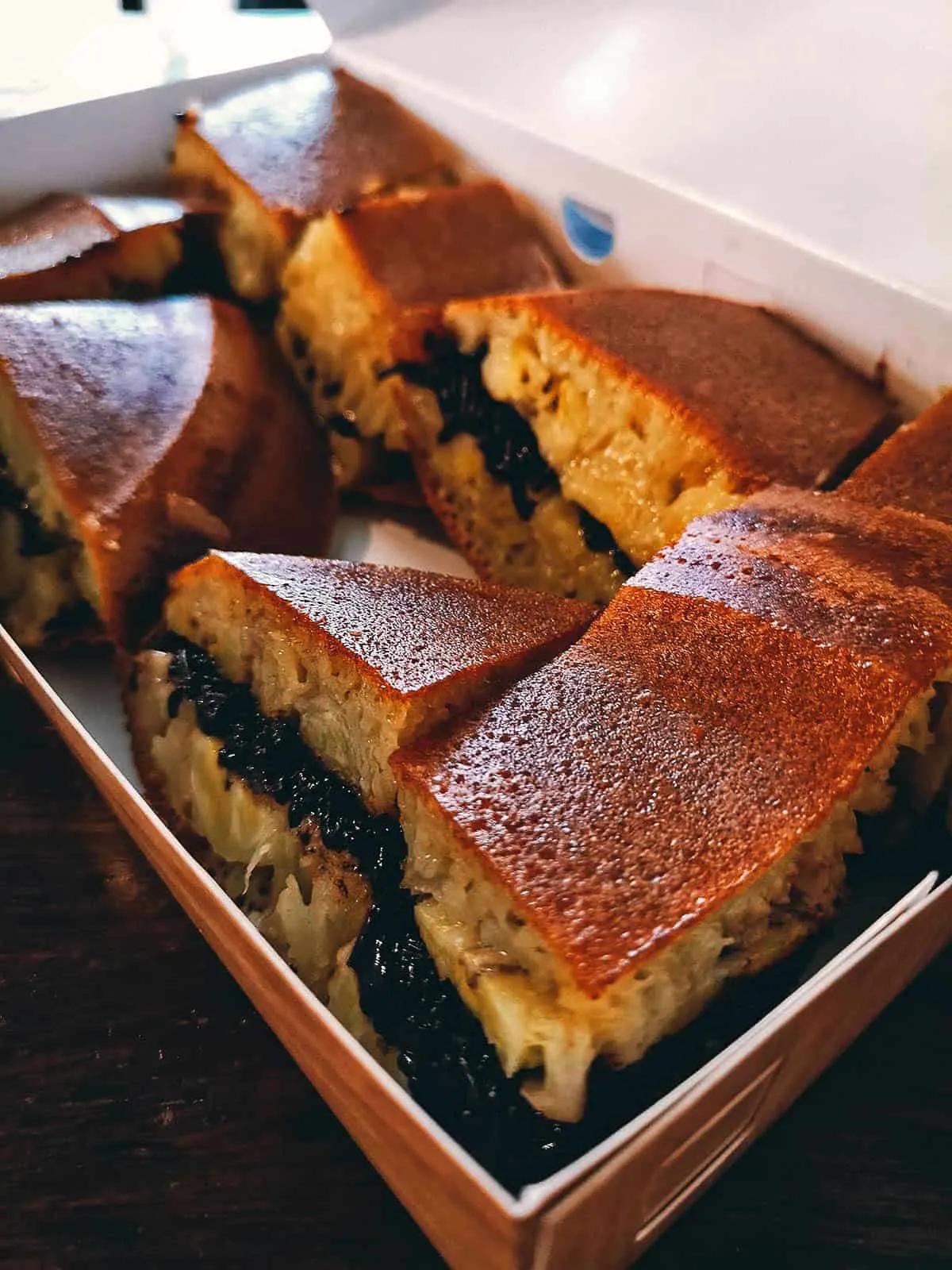 There are a few Martabak San Francisco branches but the one Tommy took me to is near the Bandung Institute of Technology, about 3 km north of Jalan Braga.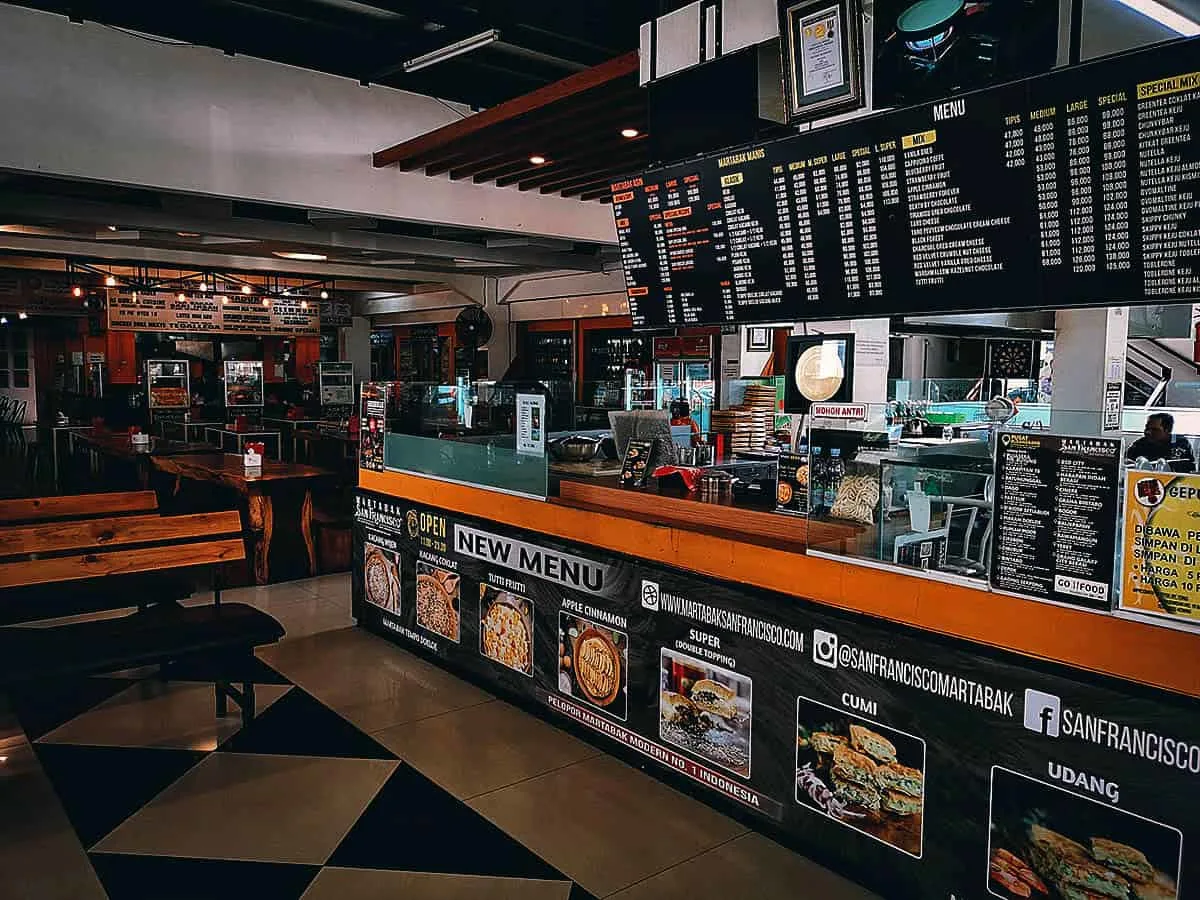 Martabak San Francisco
Address: Jl. Burangrang Dalam No.42, Burangrang, Kec. Lengkong, Kota Bandung, Jawa Barat 40262, Indonesia
Operating Hours: 11AM-11PM, Sun-Fri / 11AM-11:30PM, Sat
Expect to Pay: Around IDR 40,000-100,000 per martabak, depending on the size and flavor
7. Surabi Imut
Surabi or serabi is another type of Indonesian pancake made from rice flour cooked in a clay pot over charcoal. Traditionally, it's served with a sauce of palm sugar and coconut milk, though like martabak, it's now topped with a variety of different ingredients.
We left the ordering to Tommy and he chose one with banana, another with oncom which is a Sundanese food product similar to tempeh, and my favorite of the three – surabi topped with durian. All were delicious.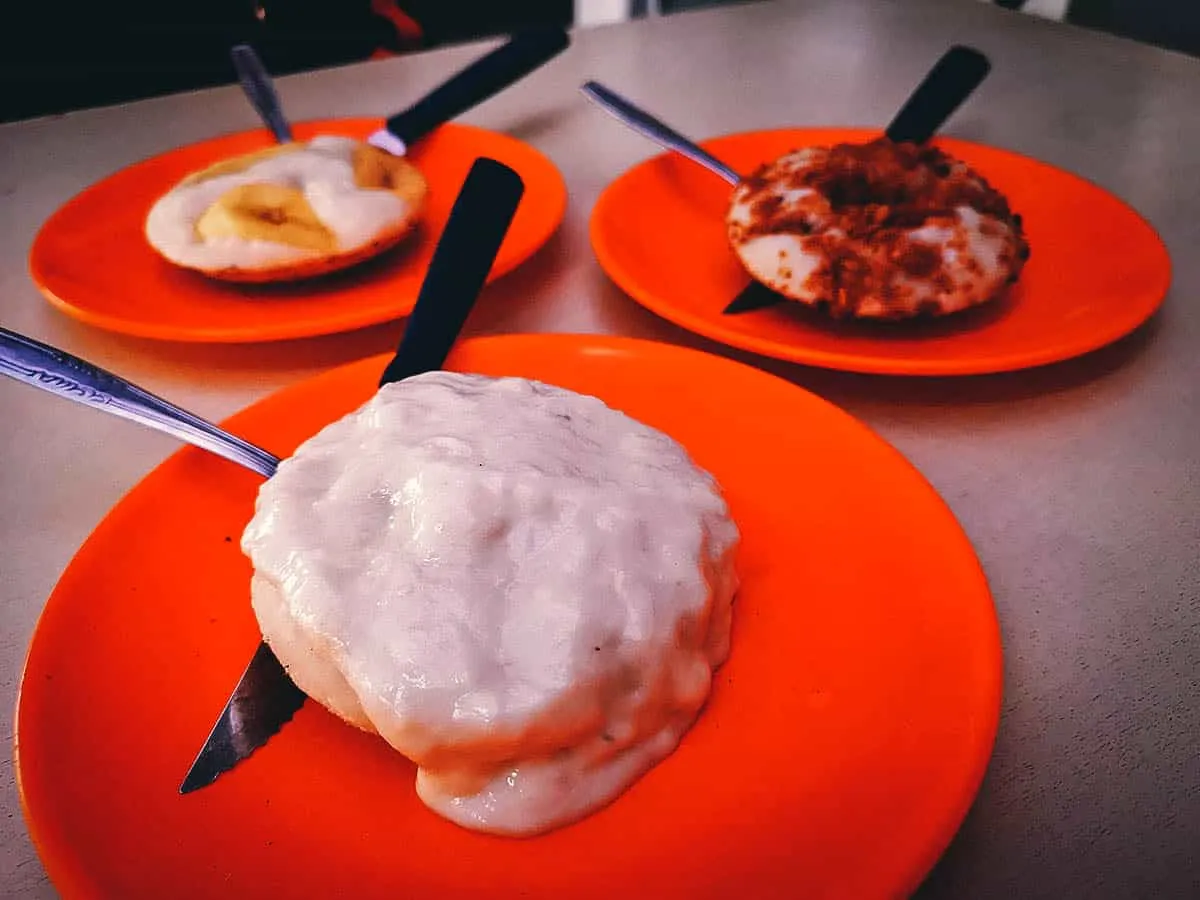 At the front of the restaurant are these clay pots where they cook the surabi over a bed of hot coals. The Bandung version of surabi, which is described as being drier and firmer with a pancake-like texture, is considered one of the best versions of surabi in Indonesia.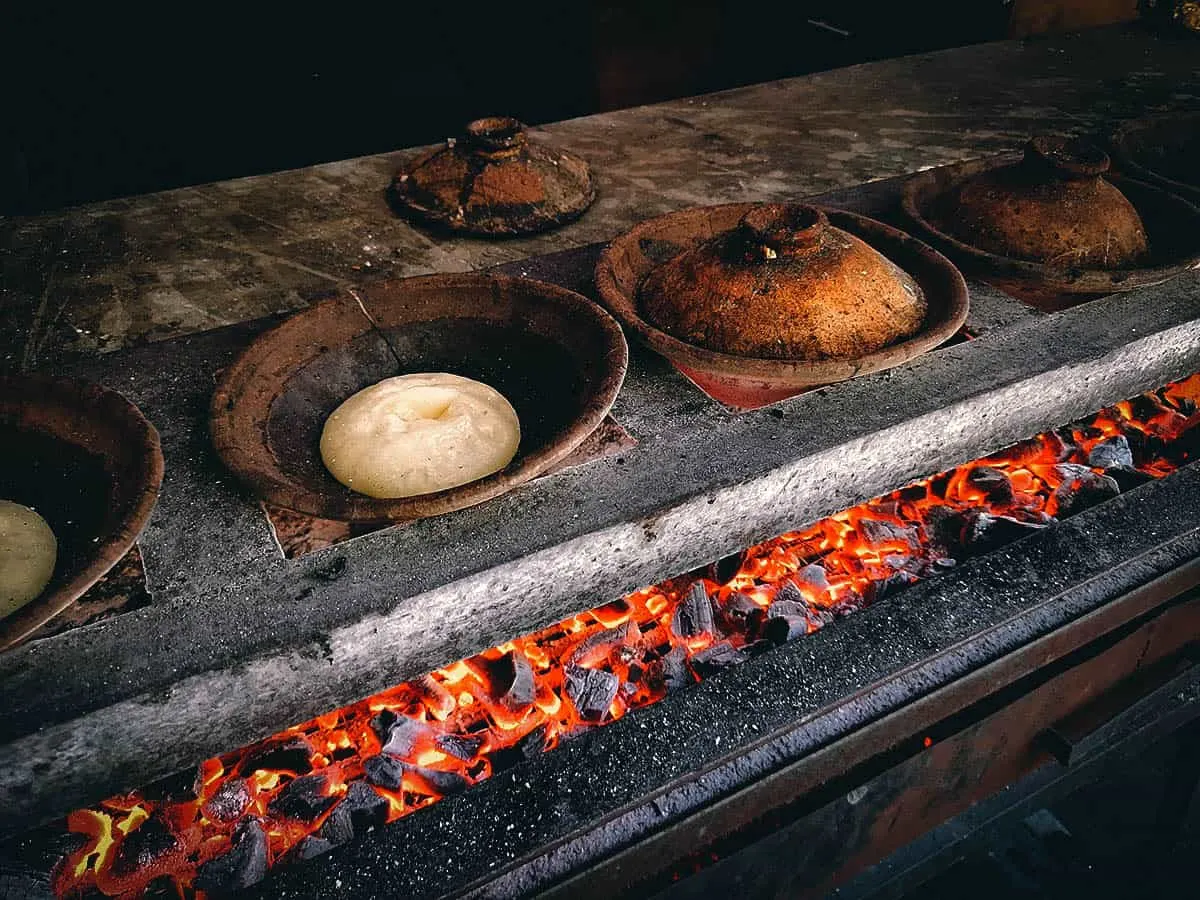 Located by the side of the main road, Surabi Imut is located about 7 km north of Jalan Braga so it's best visited on your way back to the city from northern Bandung. It makes for a great snack after a day at Dusun Bambu Resort and Lembang Floating Market.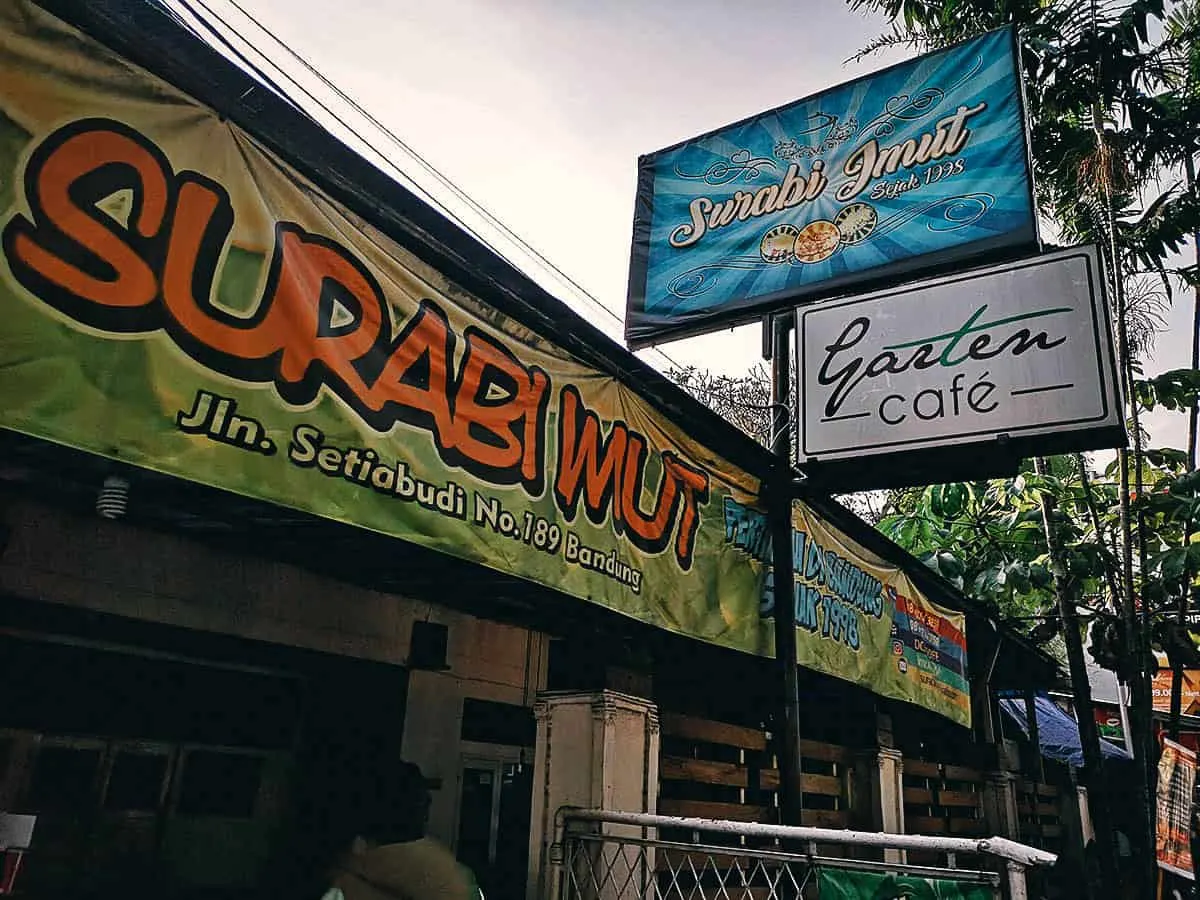 Surabi Imut
Address: Jl. Gegerkalong Hilir No.55, RT.07/RW.04, Gegerkalong, Kec. Sukasari, Kota Bandung, Jawa Barat 40153, Indonesia
Operating Hours: 10AM-11:21PM, daily
Expect to Pay: IDR 6,000-15,500 per surabi
NORTHERN BANDUNG
About an hour north of central Bandung are popular tourist attractions Dusun Bambu Resort and Lembang Floating Market. If you visit Bandung, then you'll probably make a day trip to those two resorts. Listed below are two places where you can grab a bite to eat in northern Bandung.
8. Tahu Susu Lembang
Tahu Susu Lembang is a food court in northern Bandung. It seems customary for northern Bandung day-trippers to stop here before making the drive back to the city. Inside the food court are stalls selling different types of food items, none more popular than its tofu products.
Pictured below is a vendor deep-frying the most delicious bits of milk tofu. This is what we came here for.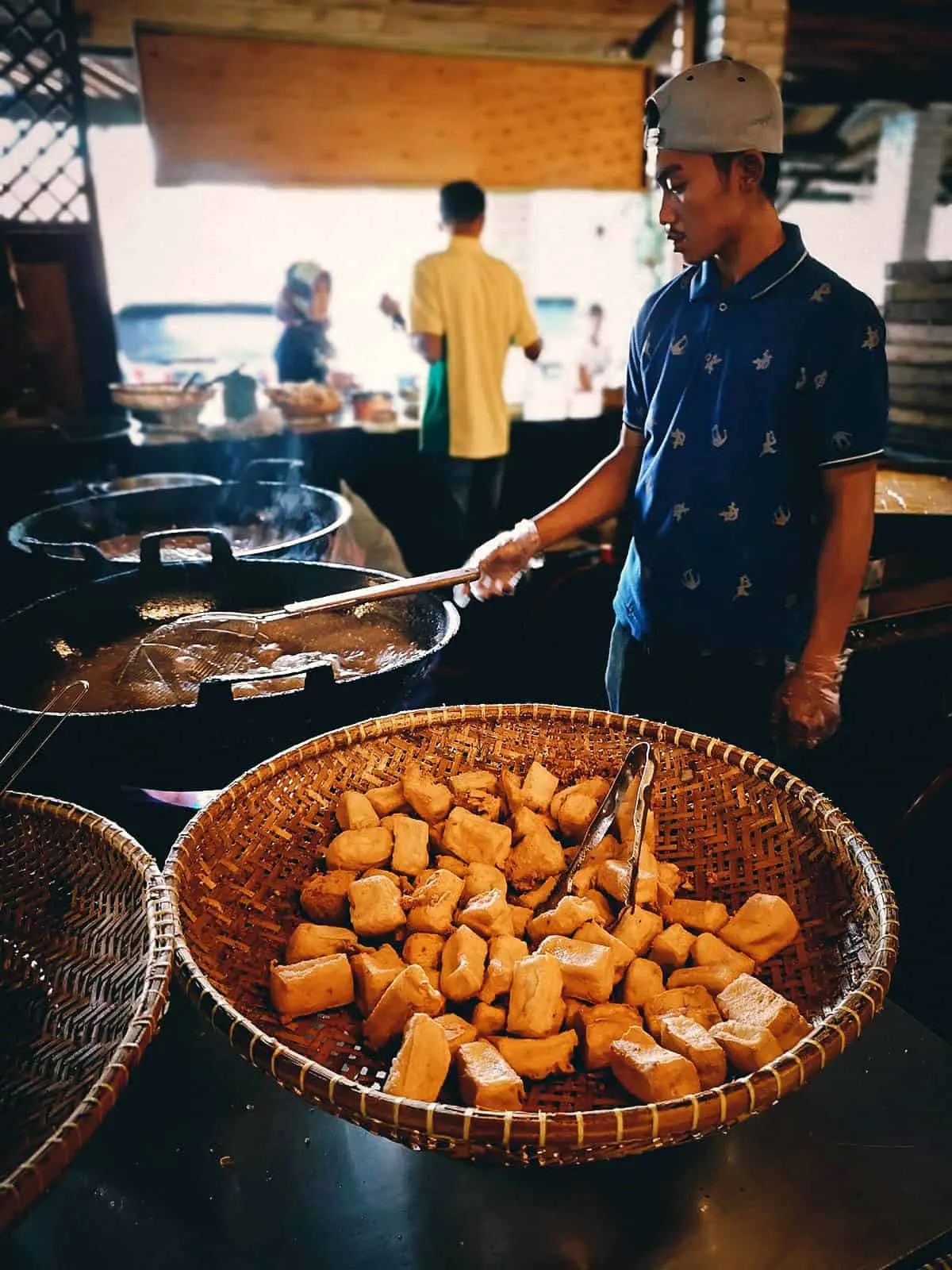 If you're a fan of tofu, then you need to try these. Served with whole pieces of fresh green chili, these cubes of deep-fried milk tofu are crisp on the outside and incredibly soft and creamy on the inside. Take a bite and it practically dissolves in your mouth. I've never had fried tofu with fresh chili before and I was surprised by how well the combination went. So good!
If I remember correctly, this small box of about nine or ten pieces went for something like IDR 15,000.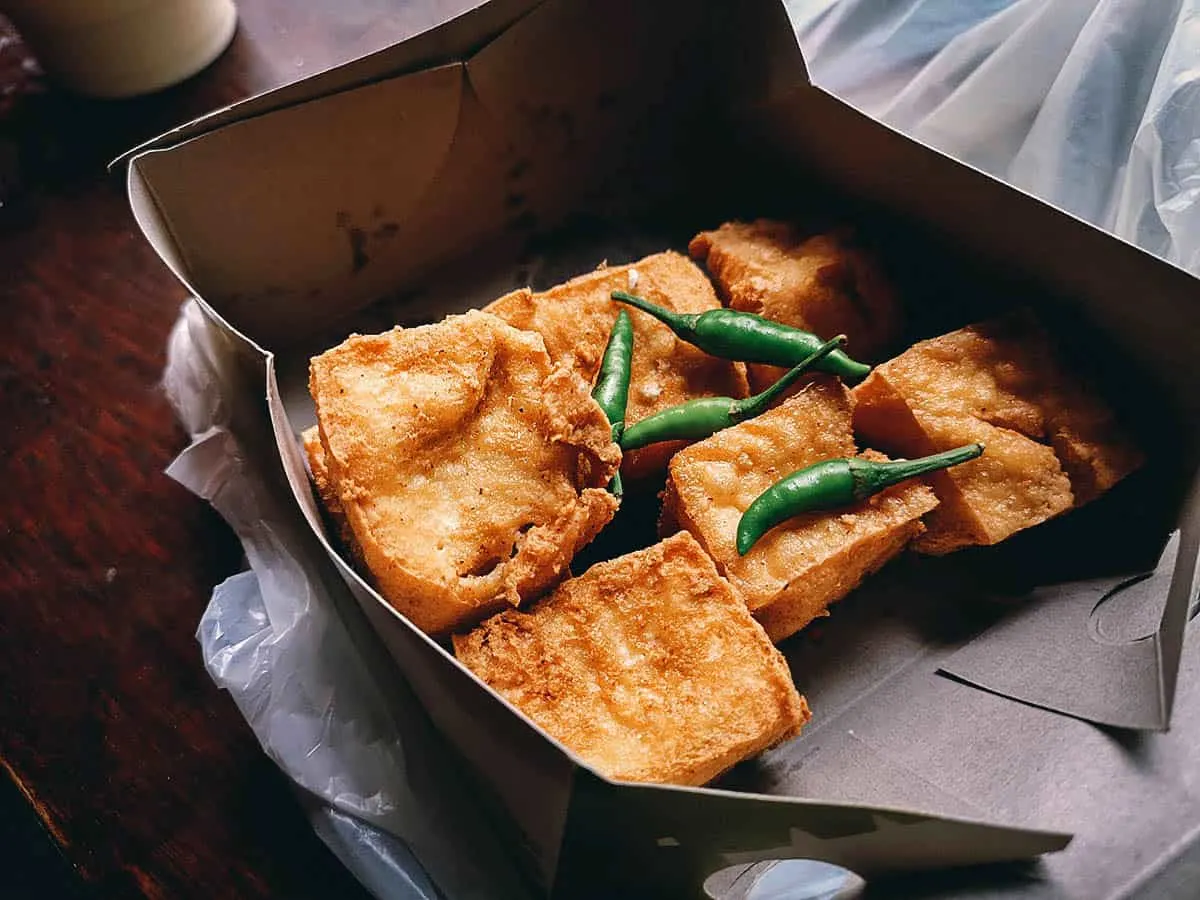 These glasses of soy milk were so refreshing and perfect with the fried tofu. I could have had three or four of these!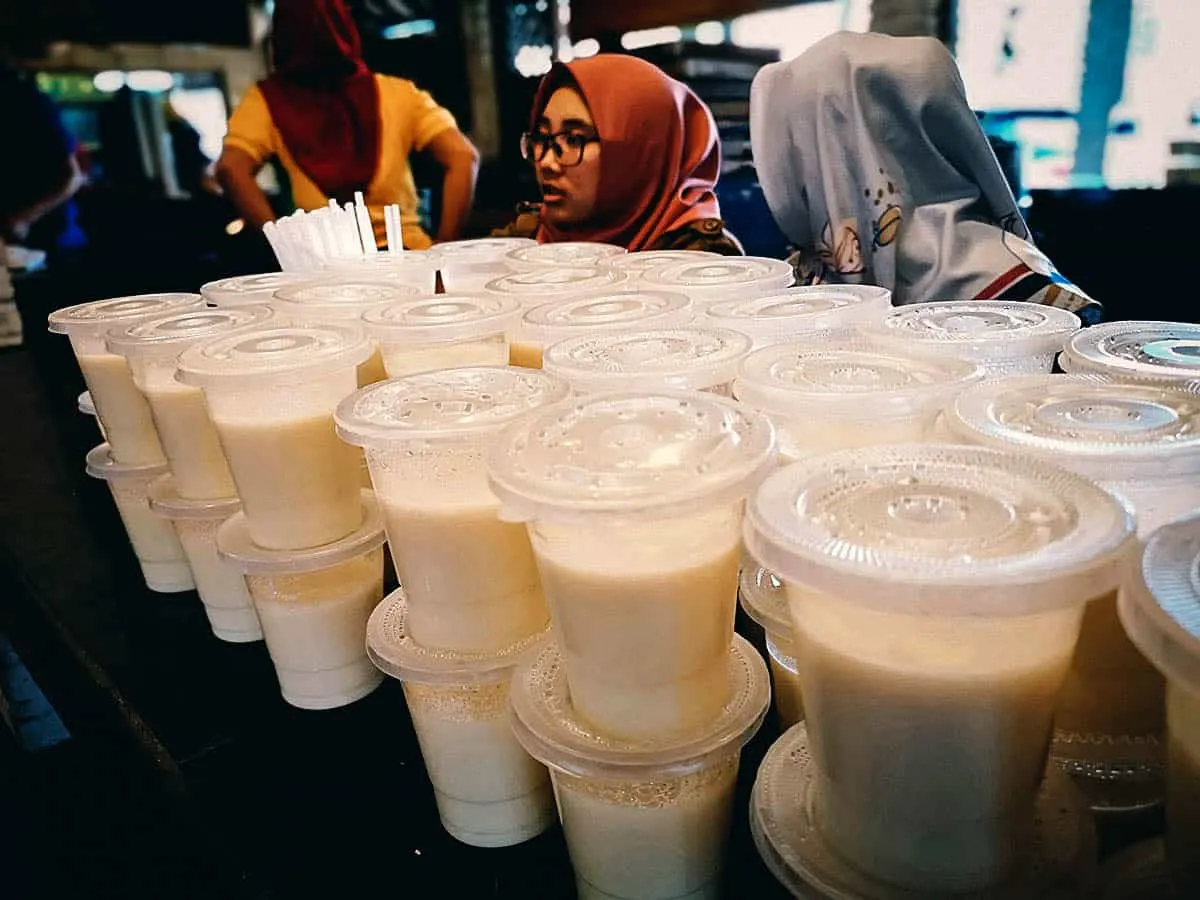 When I read about Tahu Susu Lembang, I was afraid it might be touristy. It is to some degree, but it didn't matter. Their tofu products are awesome and a must-try in northern Bandung.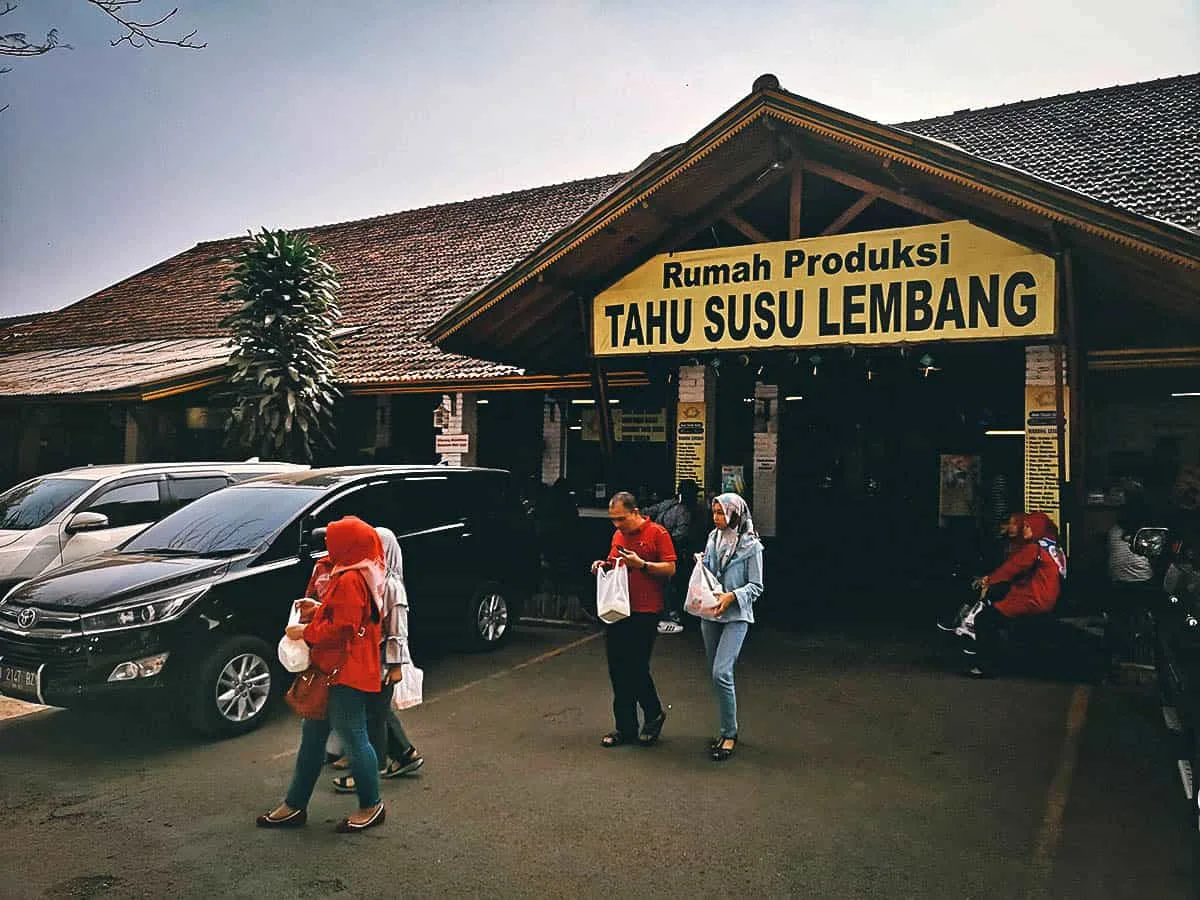 Tahu Susu Lembang
Address: Jalan Raya Lembang – Bandung No.177, Jayagiri, Lembang, West Bandung Regency, West Java 40391, Indonesia
Operating Hours: 8AM-7PM, Mon-Fri / 8AM-8PM, Sat-Sun
Expect to Pay: About IDR 15,000-30,000 for fried tofu, depending on the size
9. Warung Nasi Sida Mulya
After spending the morning at Dusun Bambu Resort, we asked Tommy to recommend a good local place for lunch and Warung Nasi Sida Mulya was where he took us. This is where we had Bandung's famous version of soto.
Soto is a traditional type of Indonesian soup made with meat and vegetables. One of the most popular versions is soto ayam which is made with chicken, but in Bandung, they make it with beef. But what makes the Bandung version unique is the addition of radish which gives it crunch and a nice peppery kick. This bowl had fried soy nuts as well which gave it even more texture.
Quick trivia question: Do you know what the difference is between soto and sop? Both pertain to soup-like dishes, but soto refers to traditional Indonesian soups while sop is used to describe Indonesian soups with a foreign influence, at least according to Wikipedia.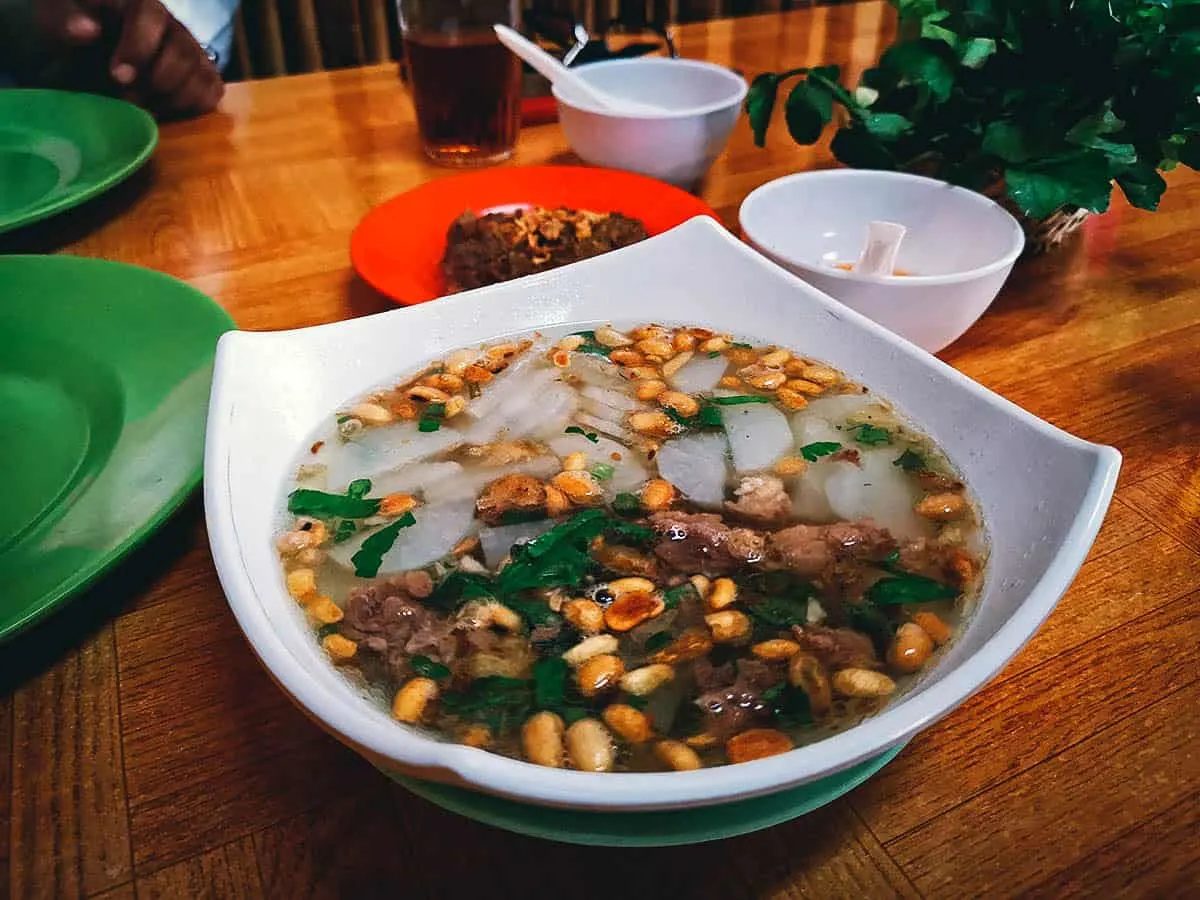 Warung Nasi Sida Mulya is a simple restaurant serving traditional Indonesian food. I suggest eating here rather than at touristy Dusun Bambu Resort or Lembang Floating Market. The food is better, cheaper, and more authentic.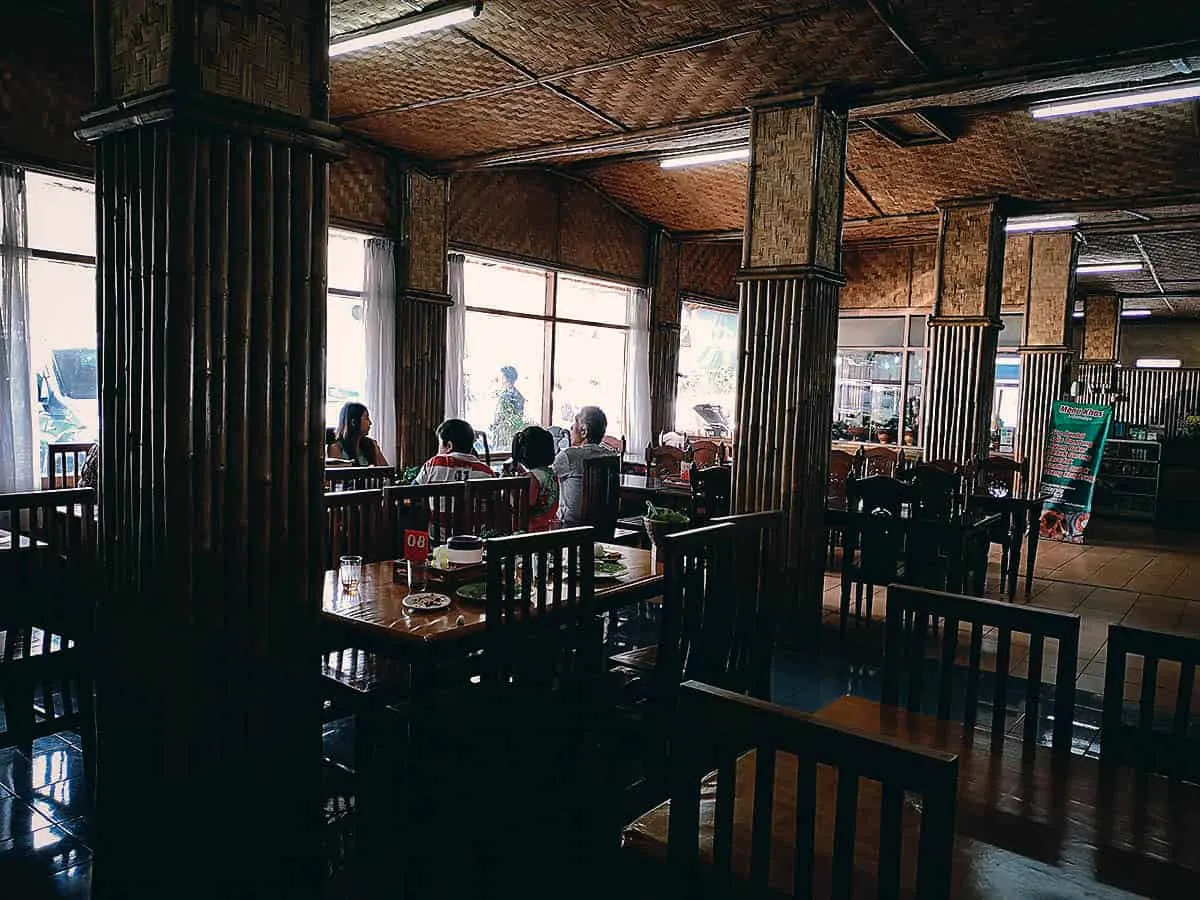 Warung Nasi Sida Mulya
Address: Jl. Kolonel Masturi No.226, Karyawangi, Kec. Parongpong, Kabupaten Bandung Barat, Jawa Barat 40559, Indonesia
Operating Hours: 8AM-9PM, daily
Expect to Pay: Around IDR 25,000 per dish
SOUTHERN BANDUNG
10. Bebek Unti
This is probably the most interesting restaurant on this list, not because of the food, but the venue. Bebek Unti is the restaurant of the Puri Sakanti Nature Family Resort in southern Bandung. It's noted for its water cabanas over a manmade pond filled with freshwater fish. You can feed and watch them swimming beneath your feet while you eat.
I visited Kawah Putih and other notable attractions in southern Bandung with Tommy. I asked him to pick a place for lunch and this was where he took me.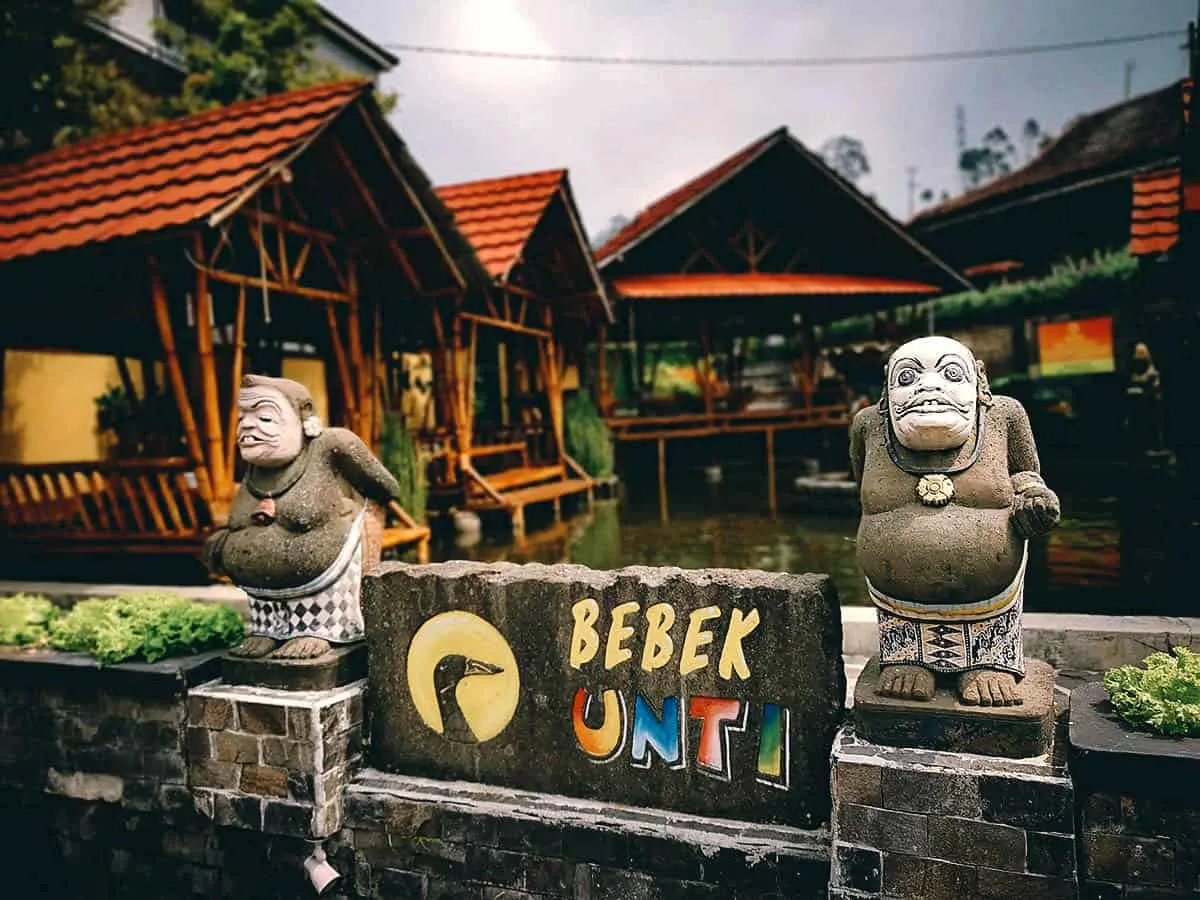 As always, I let Tommy do the ordering. For our entrees, he got us two types of duck – one grilled (bebek bakar) and the other fried (bebek goreng). I like bebek goreng, having eaten it in Bali, but this was my first time to try bebek bakar. The grilled was served with some type of green sambal while the fried came with blocks of deep-fried tofu. Both were delicious – lean, gamey, and very tasty.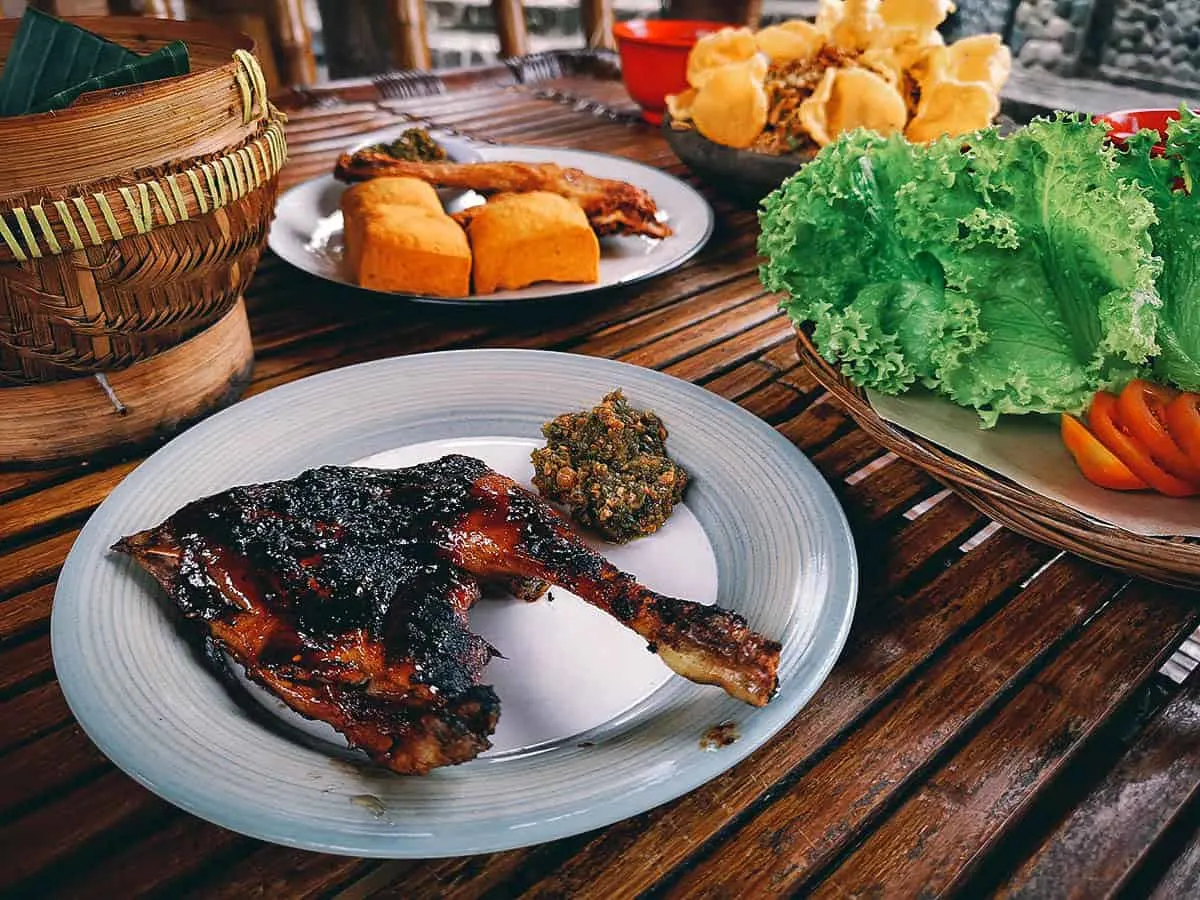 Pictured below is a beautiful plate of lotek which is the Sundanese/Javanese version of gado-gado. Like soto, sate, and nasi goreng, gado-gado is considered an Indonesian national dish.
Gado-gado or lotek is basically an Indonesian salad made with boiled, blanched, or steamed vegetables and a host of other ingredients like hard-boiled egg, potato, tofu, tempeh (fermented soybean), and cireng (fried tapioca starch). It's served with a peanut sauce dressing that gives it that sweetness characteristic of many Indonesian dishes.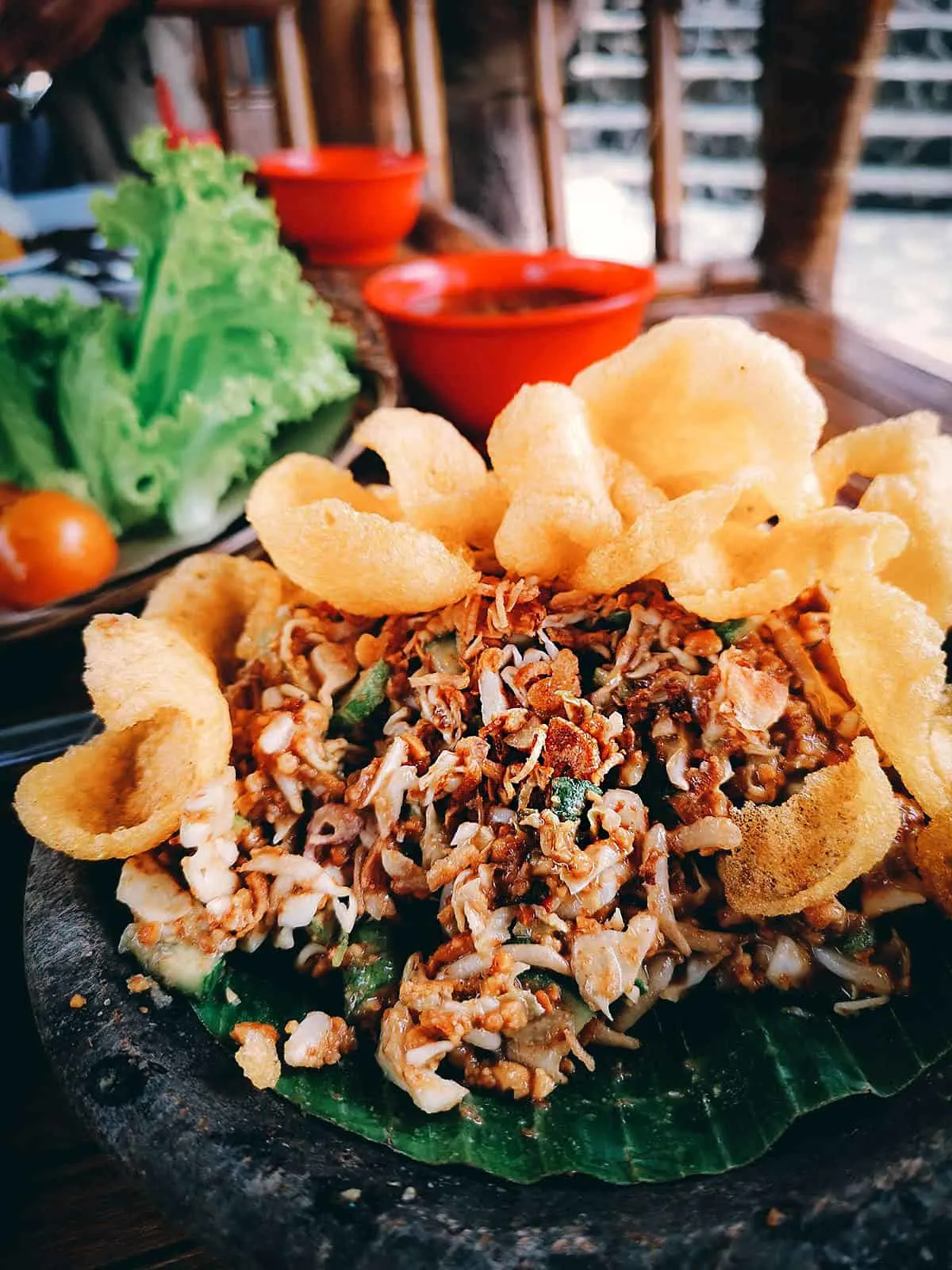 Bebek Unti
Address: Jl. Ciwidei No. 6, Alamendah, Rancabali, Alamendah, Rancabali, Bandung, Jawa Barat 40973, Indonesia
Expect to Pay: Around IDR 30,000 per dish
LOCATION MAP
To help you find these restaurants, I've pinned all ten to the map below. You'll find a few others as well that we wanted to go to but couldn't find time for.
As you can see, these restaurants are spread out from north to south so some of them can only be visited with a rental car. If you're looking to rent a chauffeured car to visit northern and southern Bandung, then you can reserve one through Klook. That's what we did for two consecutive days and we didn't have any problems.
There are plenty of restaurants to explore in Bandung but I hope this list of ten points you in the right direction. If you need more help planning your trip, then you can download our Indonesia itinerary from our EAT-ineraries page. It covers Bandung, Jakarta, Yogyakarta, and Bali.
Thanks for reading and enjoy eating your way through Bandung!
For more Bandung travel tips, check out our First-Timer's Travel Guide to Bandung, Indonesia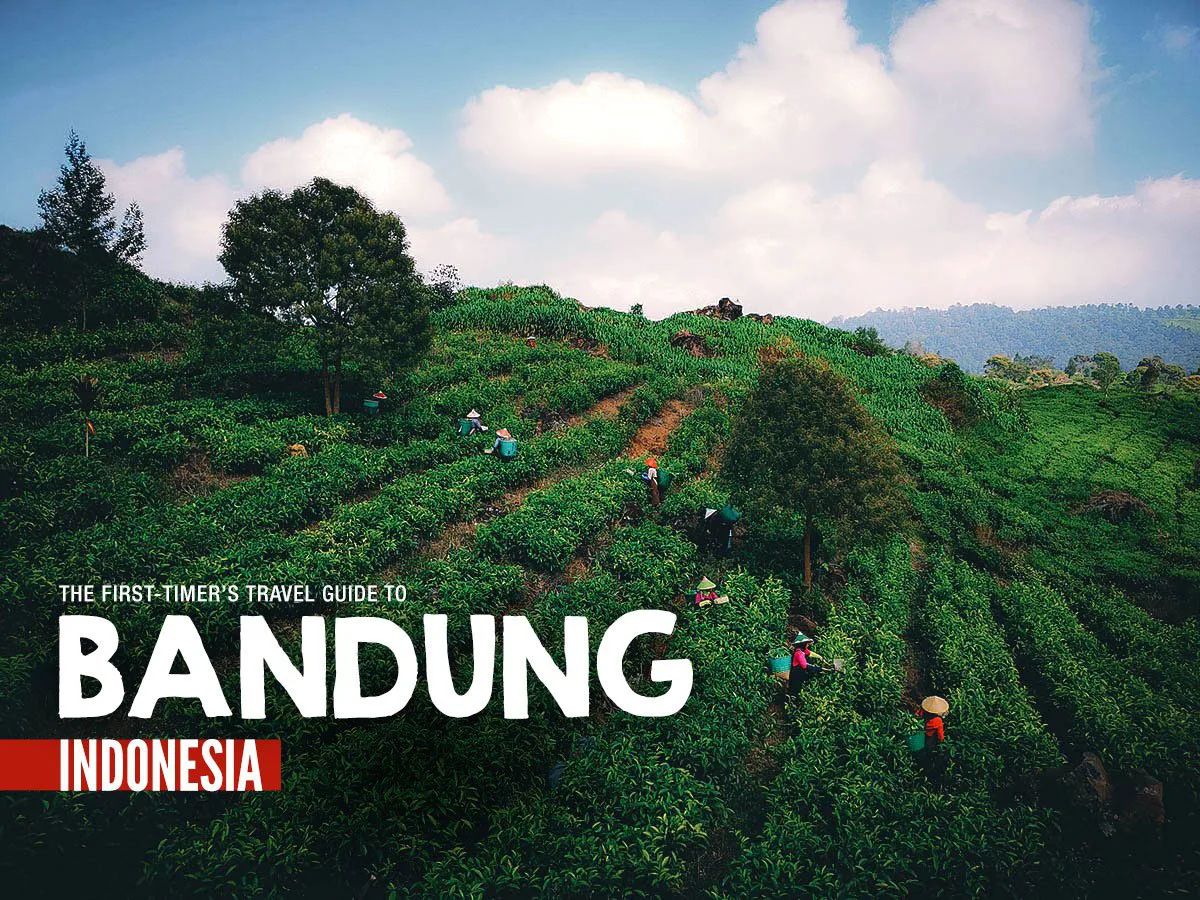 Disclosure
The TripAdvisor links in this post are affiliate links, meaning we'll earn a small commission if you make a reservation at no added expense to you. We really appreciate your support as this helps us keep this website going. Thank you!