It was my first time in Greece but Greek food wasn't unfamiliar to me. It's a popular and influential cuisine that can be enjoyed in many countries outside of Greece.
Globalization has brought far-flung dishes to our dinner table so I was already familiar with popular Greek dishes like gyros, saganaki, dolmadakia, and moussaka. But like any serious food lover, I wanted to experience each and every one of those dishes in Greece.
In my opinion, until you've tried a dish where it's actually from, then you can't say you've truly had it. It's like saying you've experienced the beauty of a Santorini sunset from looking at a postcard.
As expected, my love for Greek cuisine grew exponentially after visiting Athens and Santorini. I've had a lot of amazing Greek food in my life but every Greek dish I knew tastes even better in Greece.
If you want to experience the best of Greek cuisine, then this article will show you twenty of the most delicious Greek foods to look out for.
WHAT IS TRADITIONAL GREEK FOOD?
Like many of the Mediterranean cuisines, Greek food was shaped by the "Mediterranean Triad" of olives, grains, and grapes. These staple crops formed the foundation of traditional Greek cuisine.
Olives and wine are central to the cuisine while wheat is the basic grain. Many Greek recipes call for the use of olive oil and feature vegetables like tomatoes, aubergine, and okra. Common herbs and spices used to flavor Greek dishes include oregano, mint, thyme, and fennel.
The country's climate and terrain favor the breeding of goats and sheep over cattle while fish and other seafood dishes figure prominently in the Greek coastal diet.
A great variety of cheese can also be found in Greek cuisine, some of the most popular being feta, kasseri, and kefalotyri.
THE BEST FOOD IN GREECE
To help organize this list, I've broken the twenty dishes down by category. Click on the links to jump to any section.
APPETIZERS
1. Dolmadakia
Dolmadakia (or dolmades) is the Greek word for a family of stuffed dishes popular in the Balkans, the South Caucasus, Central Asia, and the Middle East.
Grape or cabbage leaves are stuffed with a variety of ingredients like onion, parsley, mint, dill, and rice. Minced meat is also used though the meatless versions are more common. Depending on the filling, they can be served hot or cold with or without a dip or sauce.
Dolmadakia are shaped like short cigars and boiled until the leaves are very tender. Like many Greek dishes, they're drizzled with olive oil and served with lemon wedges.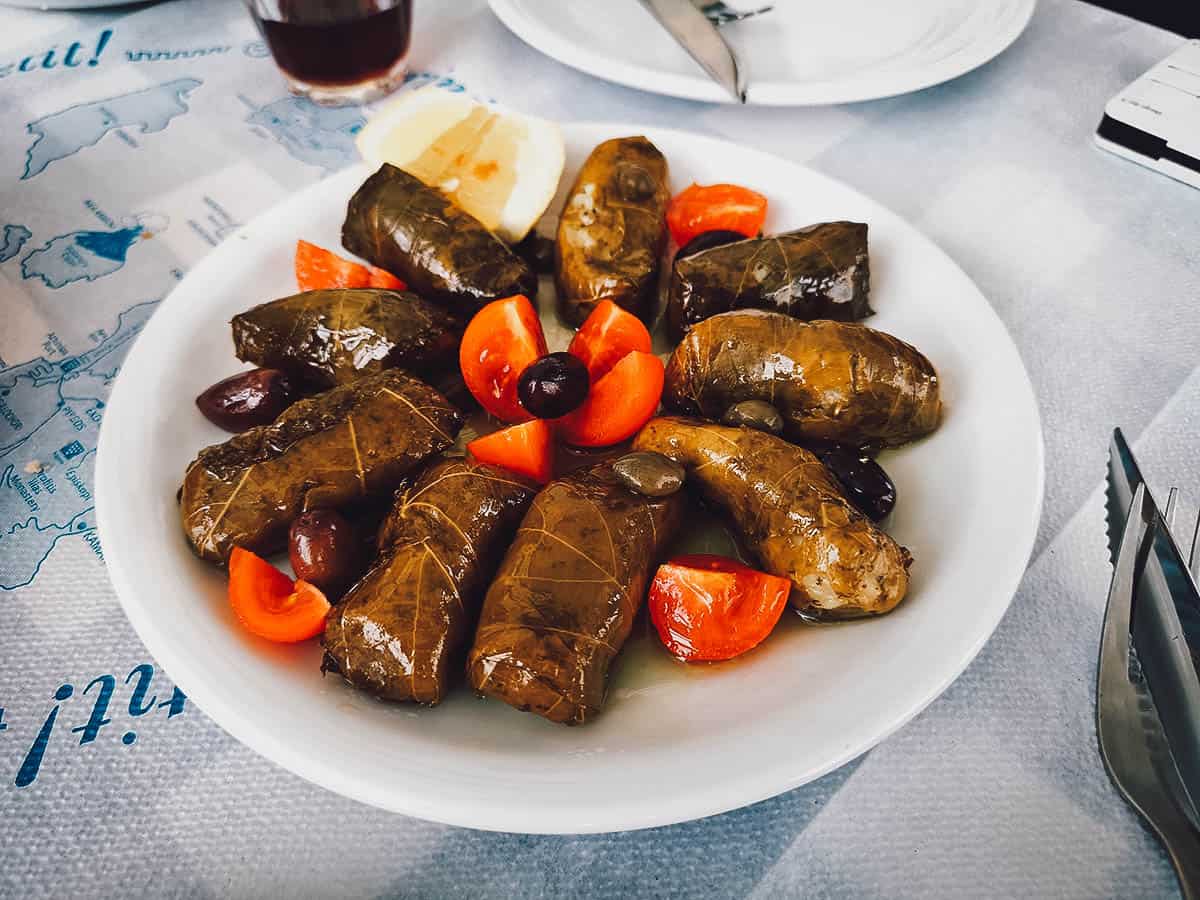 2. Saganaki
Strictly speaking, a saganaki is a small frying pan used in Greek cuisine. But it also refers to a number of dishes that are prepared using this pan, the most well-known being an appetizer of fried cheese.
Saganaki can be made with a variety of cheeses like halloumi, graviera, and kefalograviera. To prepare, the cheese is melted in the pan until bubbling and served with a spritz of lemon, pepper, and some bread.
Saganaki is one of my favorite Greek appetizers but I've only had it with cheese. Other saganaki dishes include shrimp saganaki and mussels saganaki.
Outside of Greece, particularly in North America, Greek restaurants will often serve saganaki flambeed. The servers will shout "Opa!" before dousing the flames with lemon and serving you the dish. They didn't do that in Greece.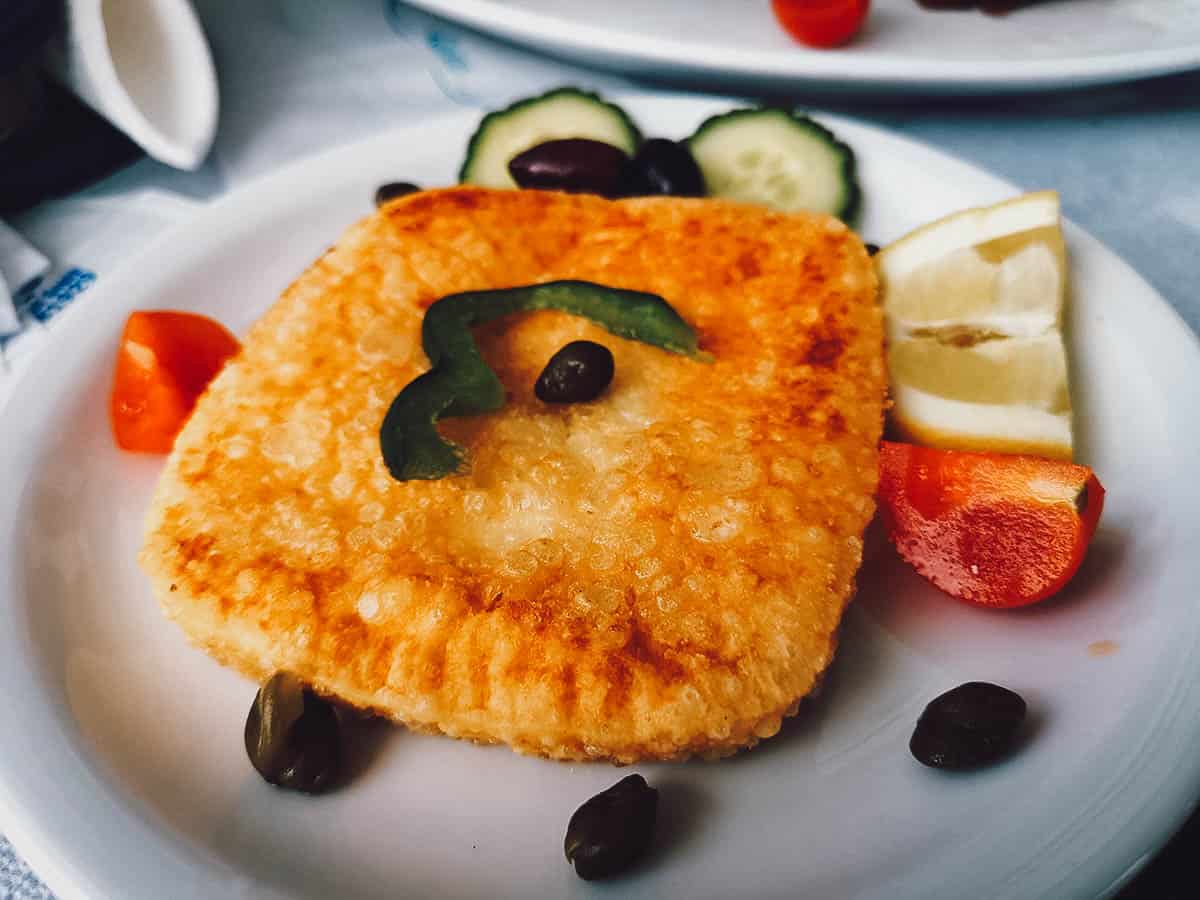 3. Ntomatokeftedes
Ntomatokeftedes is one of the dishes you need to try when you visit Santorini. It refers to these crunchy and juicy fritters made with Santorini's famed cherry tomatoes.
Keftethes (or keftedes) in Greek means meatball. It's a staple in Greek cuisine but people who couldn't afford to make it with meat used whatever ingredients they could find. Throughout the country you'll find fritters made with different types of legumes, vegetables, herbs, and seafood.
In Santorini, a local type of cherry tomato (ntomataki) is produced which led to the invention of ntomatokeftedes. Like the island's vineyards, ntomataki isn't irrigated. It receives all its moisture from evening mist which results in a sweeter and less watery type of tomato.
Ntomatokeftedes is made with a thick, deep-fried batter of Santorini tomatoes, onion, pepper, mint, and oregano. It's considered a staple dish in Santorini cuisine.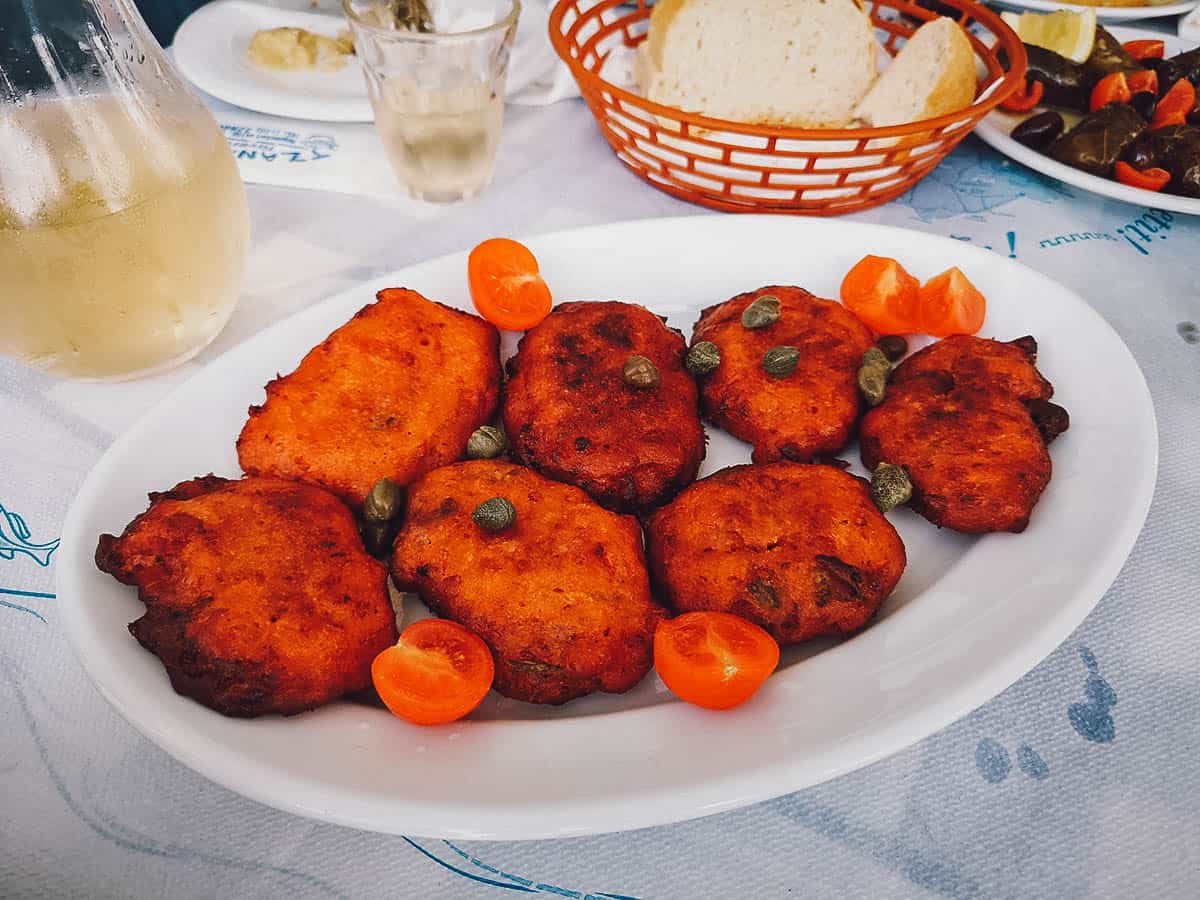 4. Spanakopita
Spanakopita means "spinach pie" and refers to a savory Greek pastry made with a spinach and feta cheese filling. It's a type of borek pastry that's also common in Turkish cuisine.
Spanakopita is typically made with spinach, feta cheese, onion, herbs, and egg. Feta is the preferred type of cheese though other types of white salted cheese like kefalotiri may also be used.
SOUPS / SALADS
5. Greek Salad
Many Greek dishes are simple dishes that highlight the freshness of its ingredients. No dish exemplifies this better than the classic Greek or horiatiki salad.
Greek salad is made with fresh tomatoes, cucumbers, onions, capers, and kalamata olives. It's topped with a block of feta cheese and dressed with olive oil, salt, pepper, and oregano.
In Santorini, they make it with the island's famed cherry tomatoes and capers. We had this Greek salad at the lovely Tavern Tzanakis restaurant in Megalochori. It's a family-owned restaurant that serves delicious home-cooked Greek food.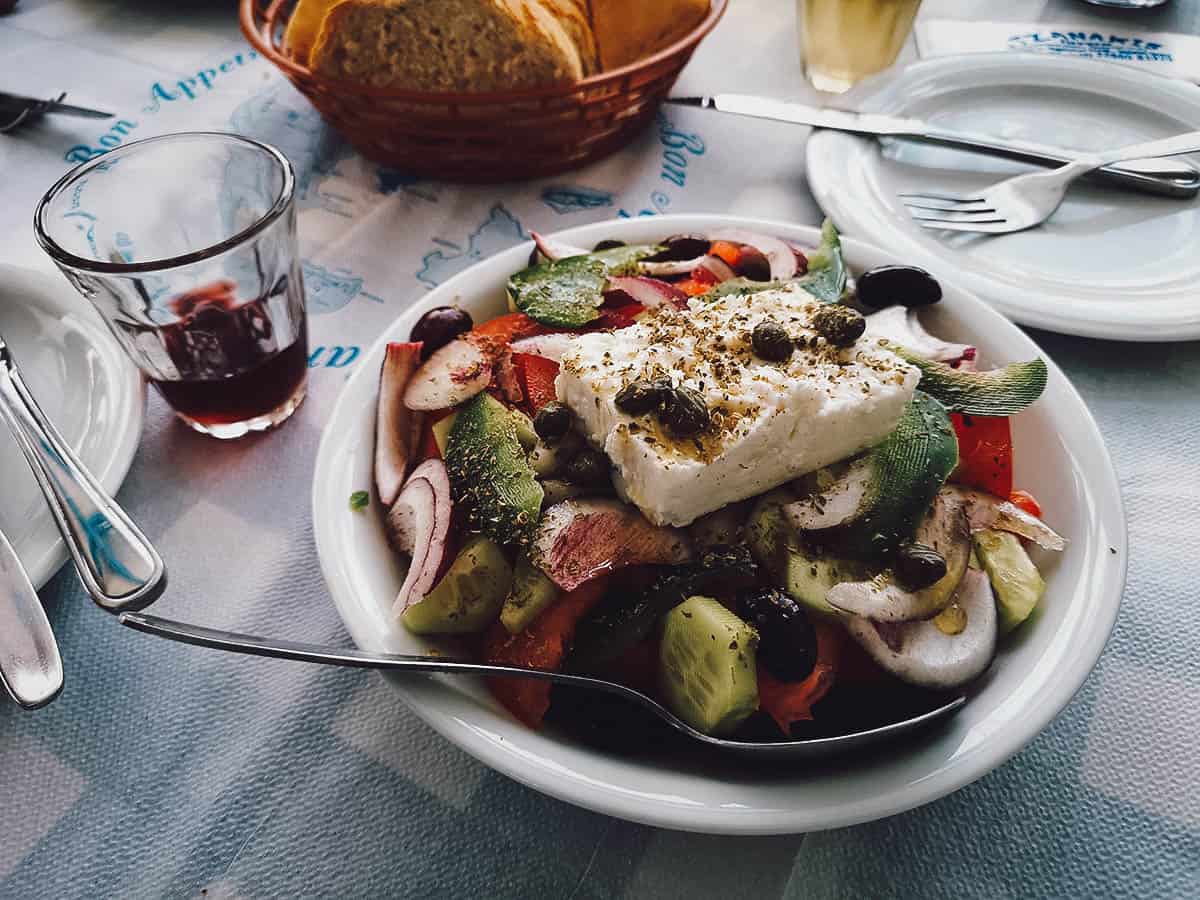 6. Magiritsa
Magiritsa is a Greek national dish. It refers to a dense and filling Greek soup made with lamb offal, greens, onions, and dill. It's the opening meal that breaks the Greek Orthodox Fast or Lent.
Magiritsa is made with the lamb's head and neck, along with its intestines, heart, and liver. The lamb parts are cleaned and boiled whole before being cut up into smaller pieces and simmered. It's prepared on Holy Saturday and consumed immediately after the Easter midnight church service.
DIPS / SIDES
7. Fava
Like ntomatokeftedes, one of the dishes that best represents Santorini cuisine is fava. It refers to a yellow split pea puree served with onions, herbs, capers, and olive oil.
In Greece, fava refers to yellow split peas so it shouldn't be confused with fava bean dip that's made with broad beans. I like to think of it as the Greek version of hummus. It's mildly flavored and delicious to eat with crusty bread.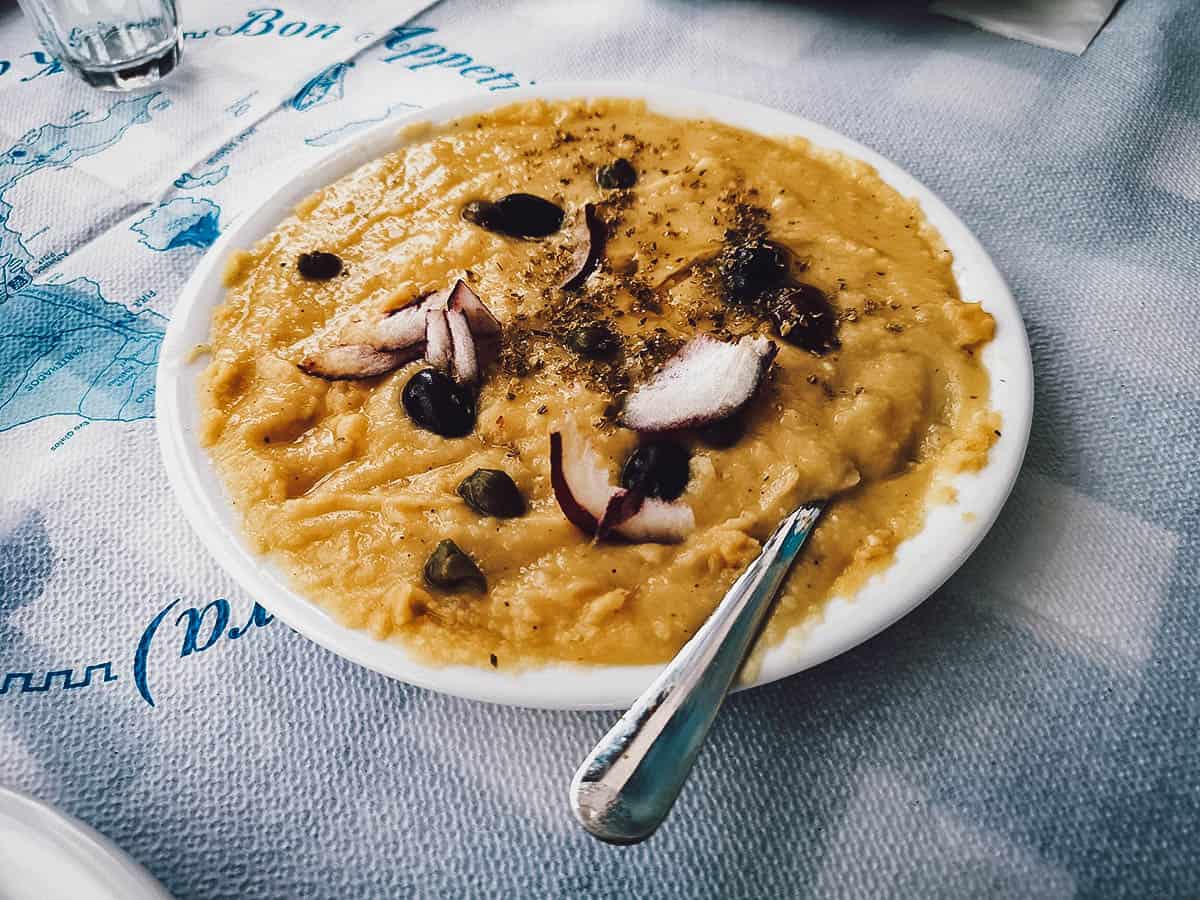 8. Tzatzki
Tzatziki is a popular Greek dip made with strained yogurt mixed with cucumber, garlic, salt, and olive oil. Lemon juice is sometimes used along with herbs like dill, mint, and parsley.
Tzatziki exists in various forms in the cuisines of the Middle East and southeastern Europe. It can be consumed as a dip, sauce, or even a soup, but in Greece, it's commonly served as a meze or appetizer. It's meant to be eaten with bread and vegetables like fried eggplant or zucchini.
I've had this dish many times before but the tzatziki in Greece is so much better. We had this thick and creamy tzatziki as a side dish to our souvlaki at Lucky's Souvlakis in Santorini.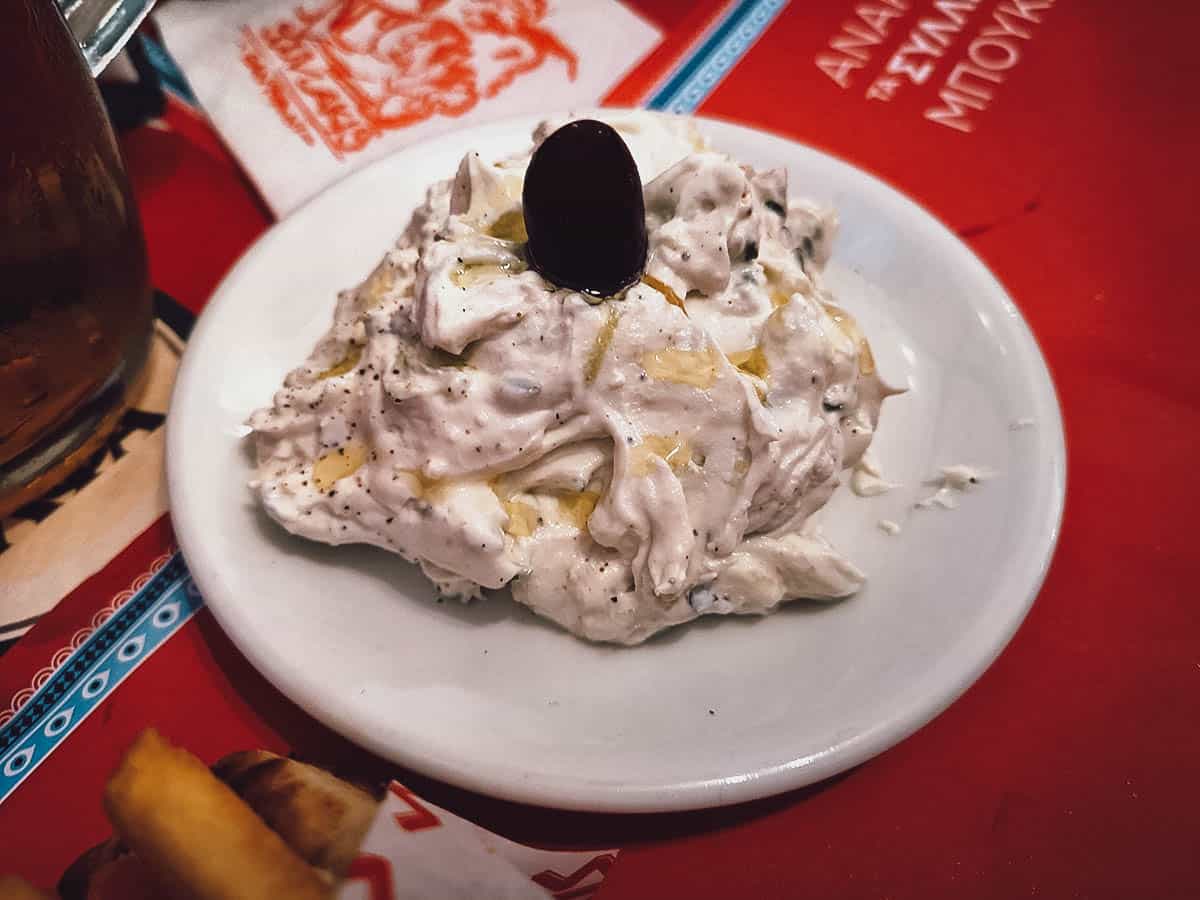 MEAT / SEAFOOD
9. Keftethes
Kofta refers to a family of meatball dishes popular in the cuisines of many countries in the Balkans, South Caucasus, Middle East, Central Asia, and the Indian subcontinent. In Greek cuisine, they're known as keftethes (or keftedes).
10. Giouvetsi
Giouvetsi or youvetsi is an oven-baked Greek pasta dish made with kritharaki (similar to orzo), meat, and tomato sauce. Meats like chicken, lamb, or beef are often used though it can be made with seafood as well.
We had this terrific seafood giouvetsi with shrimp and mussels at Metaxi Mas, a small restaurant in Exo Gonia considered by many locals to be one of the best restaurants in Santorini.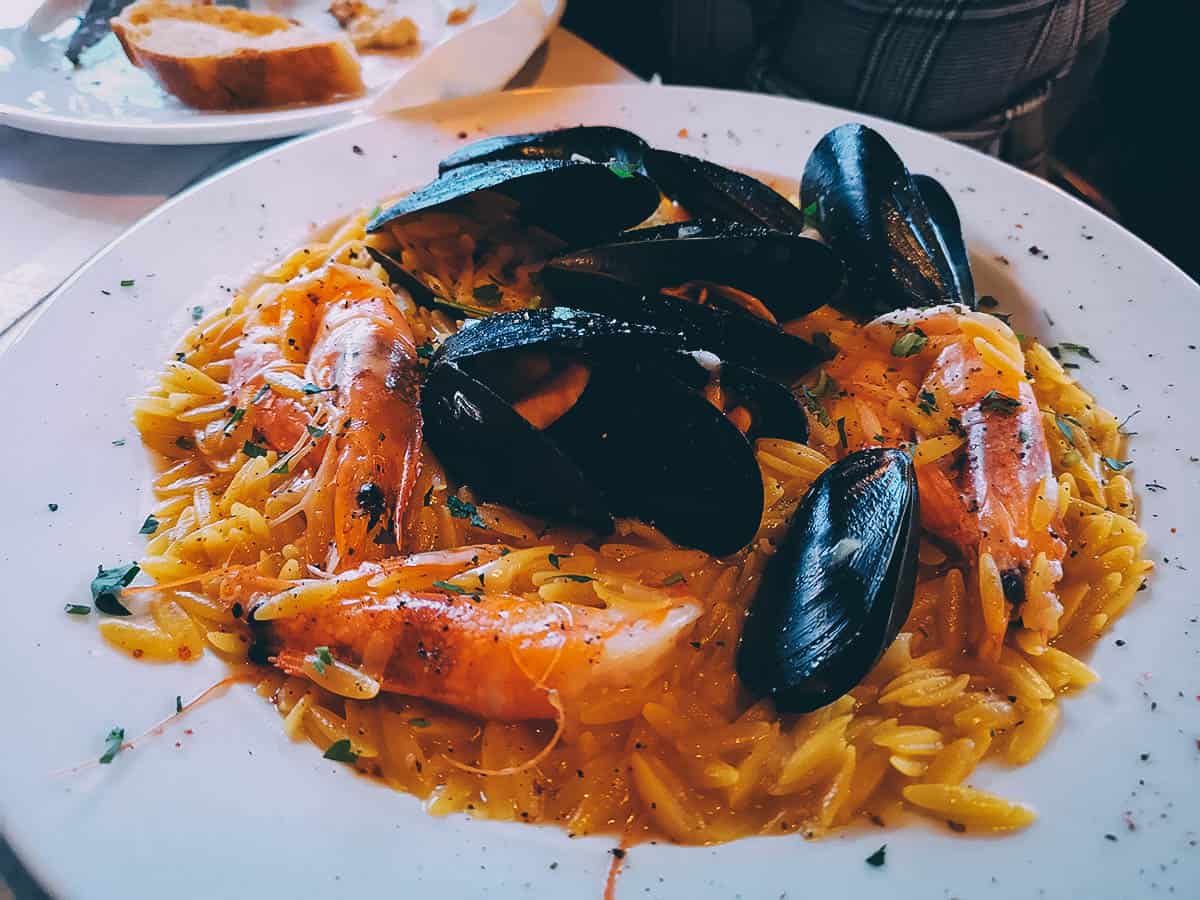 11. Paidakia
Lamb is featured prominently in Greek cuisine. It's used in many traditional dishes like moussaka, souvlaki, magiritsa, and kleftiko. We had lamb often in Greece, but one of our favorite dishes was this platter of paidakia or Greek lamb chops.
Lamb chops are marinated in olive oil, mustard, thyme, and garlic before being grilled over hot coals or on a grill pan. They're seasoned with salt and pepper and typically served well done. From what I've read, most Greeks aren't fans of medium rare.
Greek lamb chops are usually served with lemon wedges and a side of roasted potatoes. We enjoyed ours with some pita bread and tzatziki at Mikas Grill House in Paiania.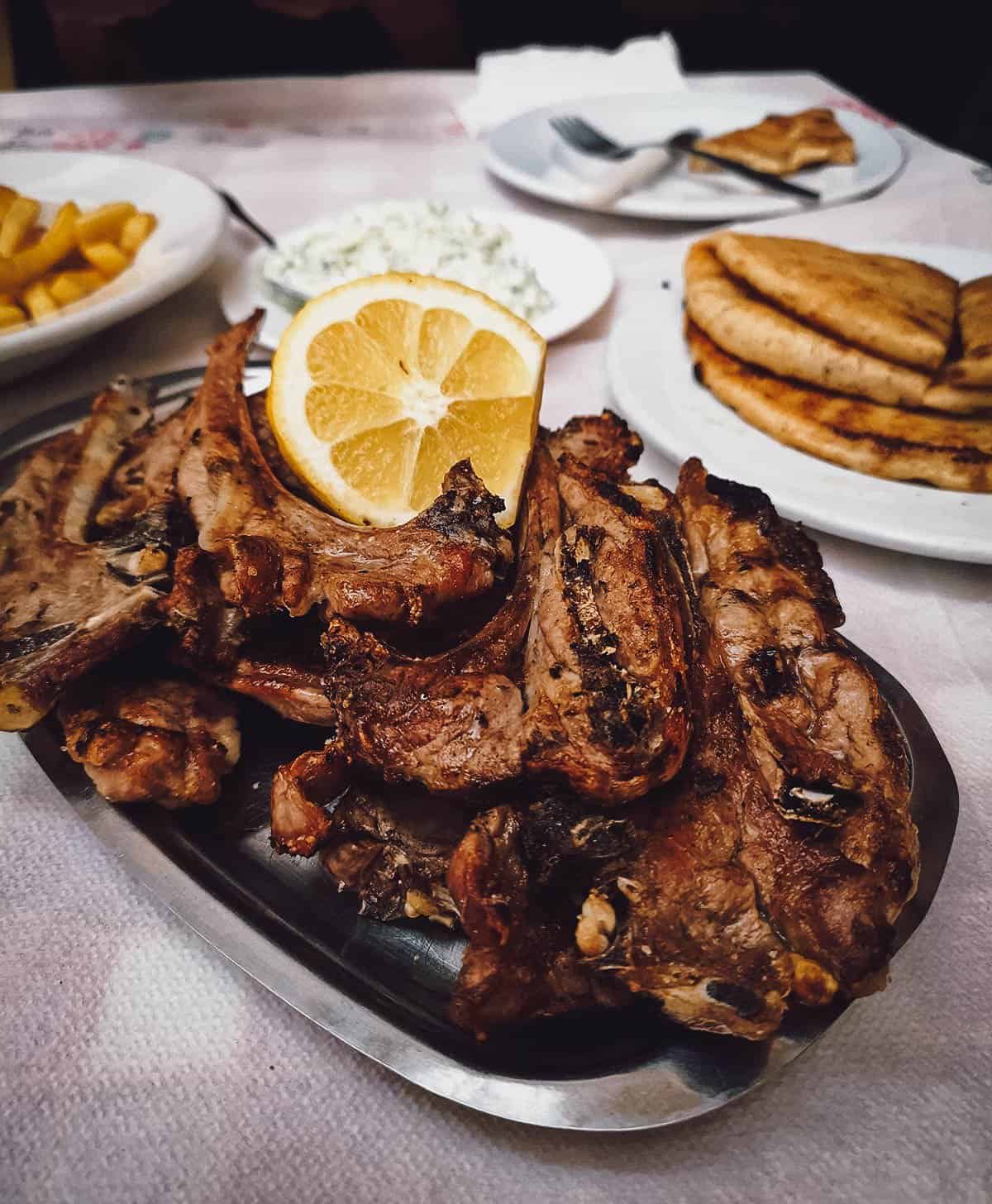 12. Moussaka
Moussaka is one of the most well-known Greek foods. It's a Greek national dish made with layers of minced meat (typically lamb) and eggplant topped with a bechamel sauce.
The modern-day version of Greek moussaka consists of three layers that are cooked separately before being assembled and baked together. The bottom layer consists of sliced eggplant, the middle layer of ground lamb, and the top layer of bechamel sauce. The layers are assembled in a pan and then baked until the top layer is browned.
We has this terrific moussaka at the O Thanasis restaurant in Monastiraki. I found this restaurant when doing research for the best places to eat in Athens.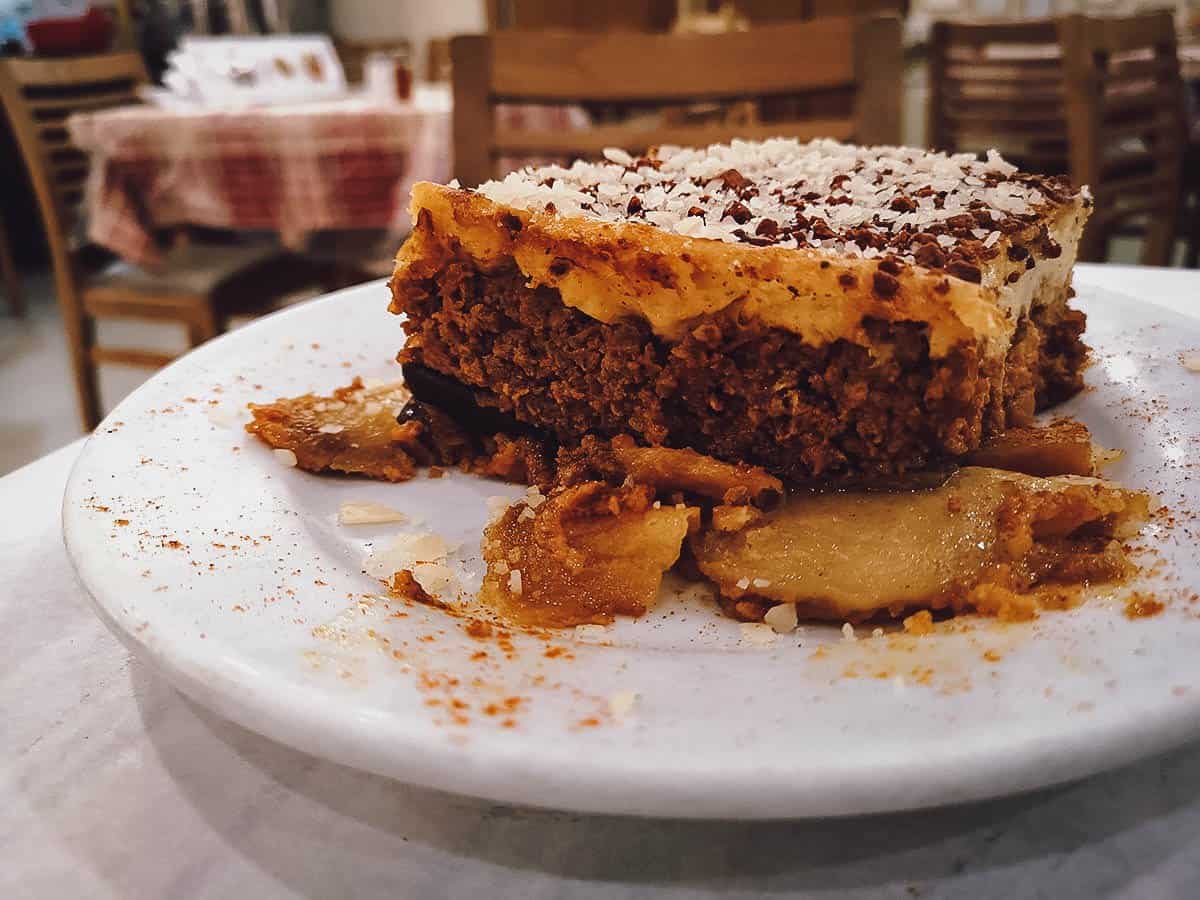 13. Gyros
Outside of Greece, gyros is arguably the most famous dish in Greek cuisine. It's a dish made with grilled meat shaved off a vertical rotisserie, much like shawarma or the Turkish doner kebab.
Pork and chicken are often used though gyros can be made with lamb and beef as well. It can be served in pita bread as a wrap (pictured below) or as a plated portion with fried potatoes, vegetables, tzatziki, and lemon.
The gyros wrap is one of my favorite dishes in Greek cuisine. It's a simple but delicious Greek street food that's easy to eat on the go.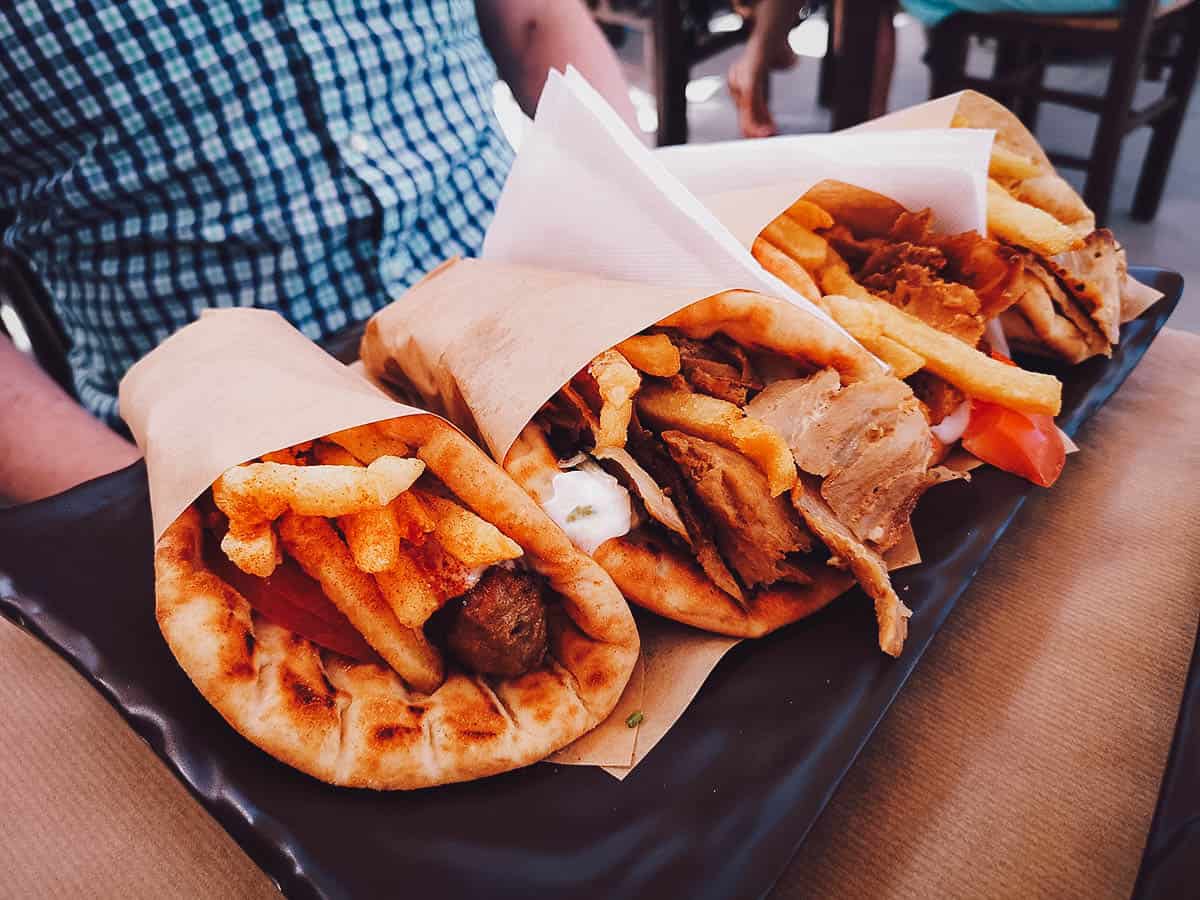 14. Souvlaki
Like gyros, the souvlaki is a popular Greek street food and one of the most well-known dishes in Greek cuisine. In fact, it looks quite similar to gyros and can lead to confusion between the two.
Souvlaki consists of grilled pieces of meat served on a skewer. Like gyros, it's served in plated portions with vegetables, fried potatoes, pita, and tzatziki. But it can also be served in a wrap. So what exactly is the difference between souvlaki and gyros?
I did a lot of digging to find the answer and based on what I've read, the main difference seems to be in how the meat is prepared and cooked. Souvlaki is made with small pieces of skewered grilled meat while gyros consists of meat shaved from a vertical spit.
There may be other differences but it doesn't really matter. Both are delicious and two of the best dishes you can have in Greece.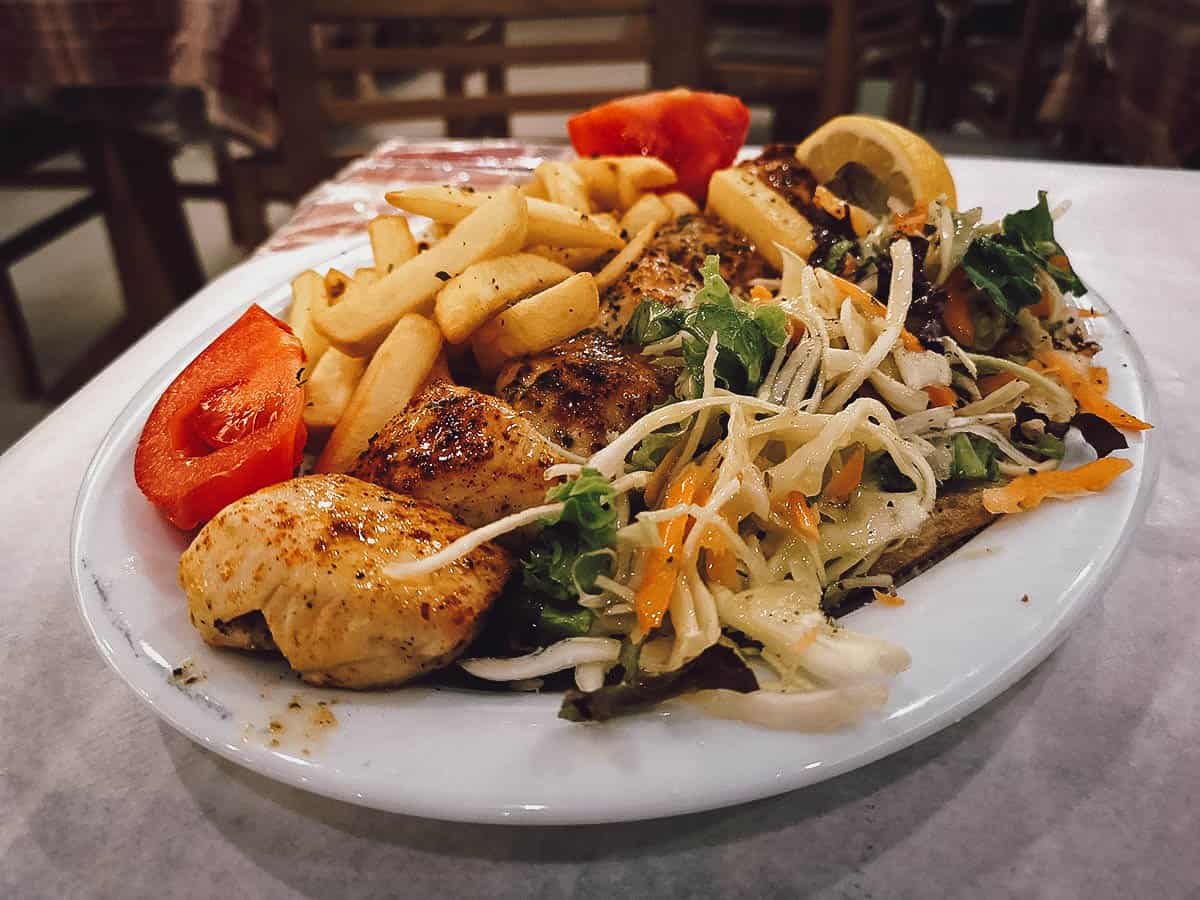 15. Octopus
Due to its long coastline, seafood favors heavily in the Greek diet. Visit the Greek islands and you'll find a plethora of seafood dishes made with fish, shrimp, mussels, lobster, and squid.
One of my favorites is octopus. You'll find it served at virtually every Greek restaurant in Santorini. It's usually prepared simply, just grilled and seasoned with olive oil and fresh herbs. With seafood this fresh, that's pretty much all you need.
For a memorable seafood dinner in Santorini, try booking a table at Ammoudi Fish Tavern. It's located in Ammoudi Bay, a tiny fishing port about 300 steps below the town of Oia. It's a great place to have seafood while watching Santorini's legendary sunset.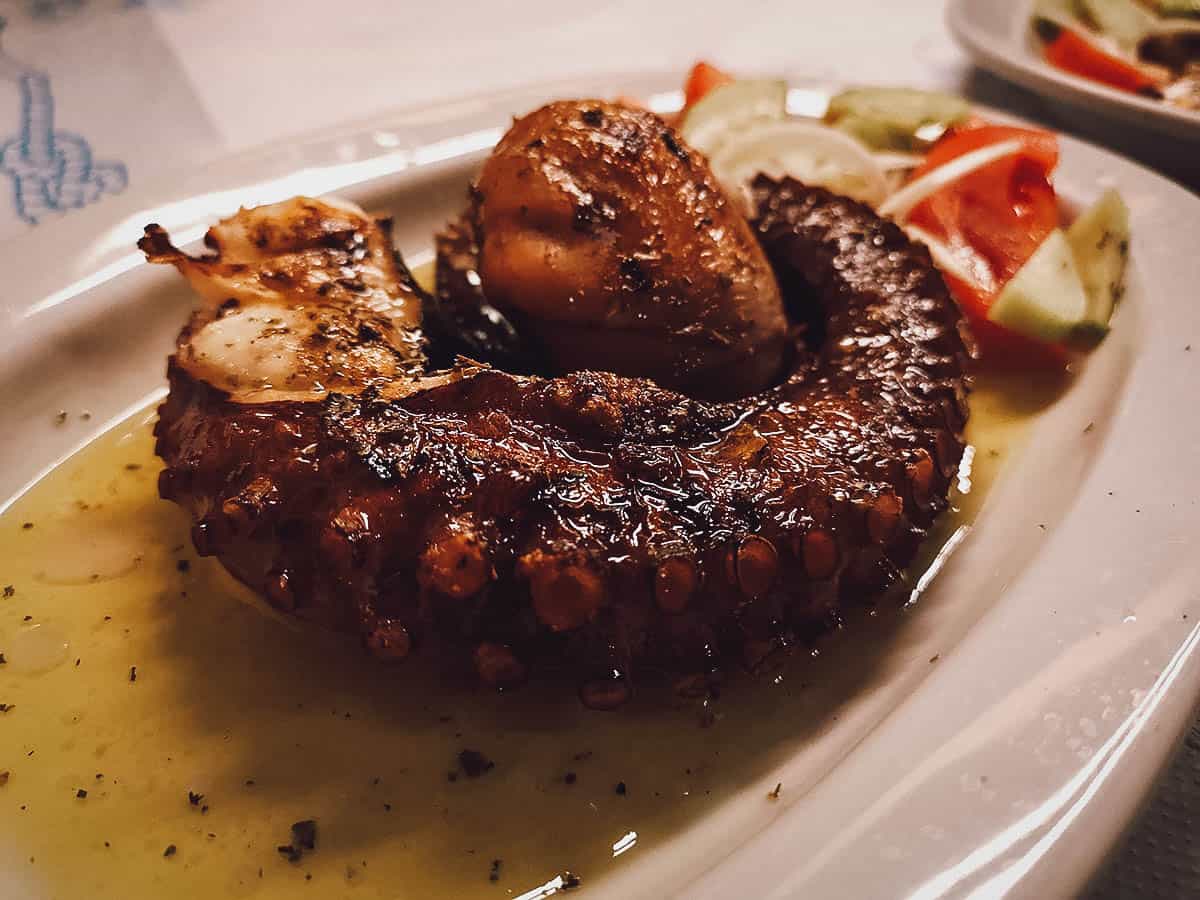 DESSERTS
16. Baklava
Baklava is the most famous dessert on this list. It's a rich and sweet dessert pastry made with layers of phyllo dough filled with chopped nuts and held together with syrup or honey.
The exact origins of baklava are unclear but it's a much disputed dish that's claimed by many cultures. It's popular in Greece and in many other countries in the Balkans, the South Caucasus, the Middle East, Central Asia, and Egypt.
Whatever its true origin, baklava is considered a part of Greek cuisine. It's a delicious dessert and a must-try dish in Greece.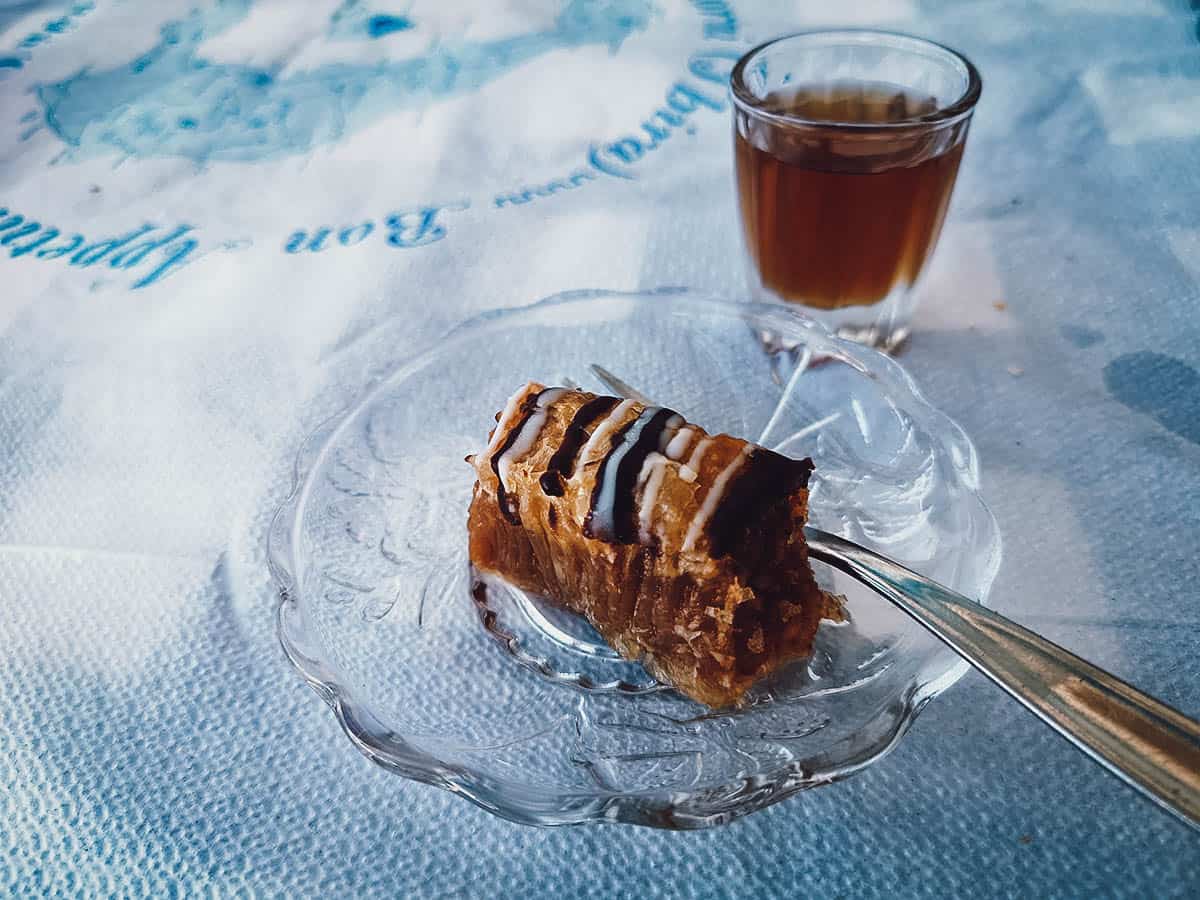 17. Galaktoboureko
Galaktoboureko is a Greek dessert made with semolina custard baked in a phyllo pastry. Its name means "milk borek" and like spanakopita, it belongs to a family of filled pastries made with phyllo dough.
Galaktoboureko can be made in a pan with phyllo layered on top and at the bottom, or it can be rolled into individual portions. It's coated with a clear sweet syrup and may be flavored with lemon, orange, or rose.
I loved this dessert. It's rich and creamy with a silky, custardy texture similar to flan.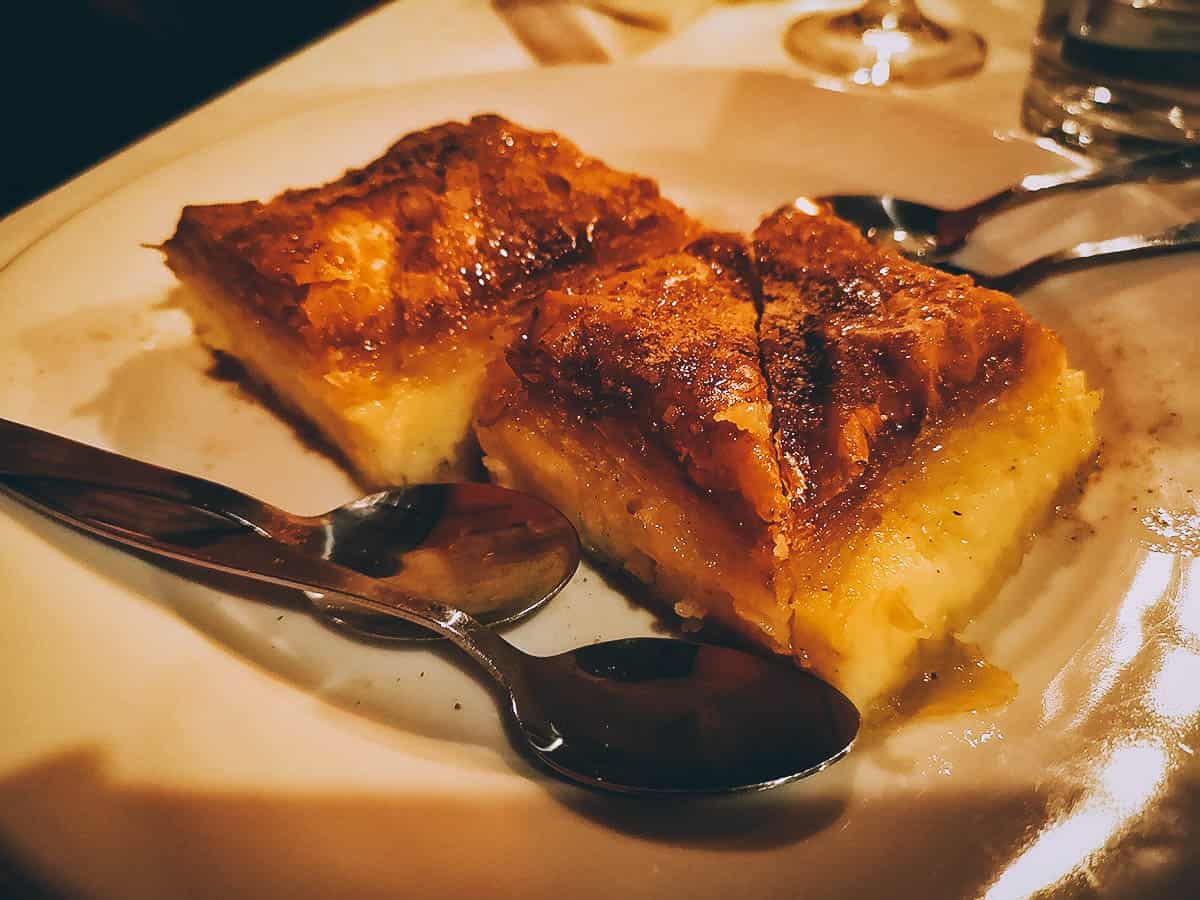 18. Kataifi
Kataifi refers to a Greek dessert made with buttery and crispy kataifi dough. It's stuffed with chopped walnuts and scented with ground clove and cinnamon before being doused in a lemon-scented syrup.
19. Loukoumades
Loukoumades are bite-sized puffy dough balls soaked in a sweet honey syrup. They're deep-fried so they're crispy and golden on the outside but fluffy and airy on the inside.
20. Samali
Samali is a type of semolina cake that belongs to a sweet and sticky class of Greek desserts known as siropiasta. It's made with coarse semolina instead of flour and Greek yogurt instead of milk. It's also made with mastic resin which is what gives the cake its unique flavor and aroma.
Like many of the desserts on this list, samali seems to exist in other cuisines within the region. In Turkey, we tried a very similar cake called sambali.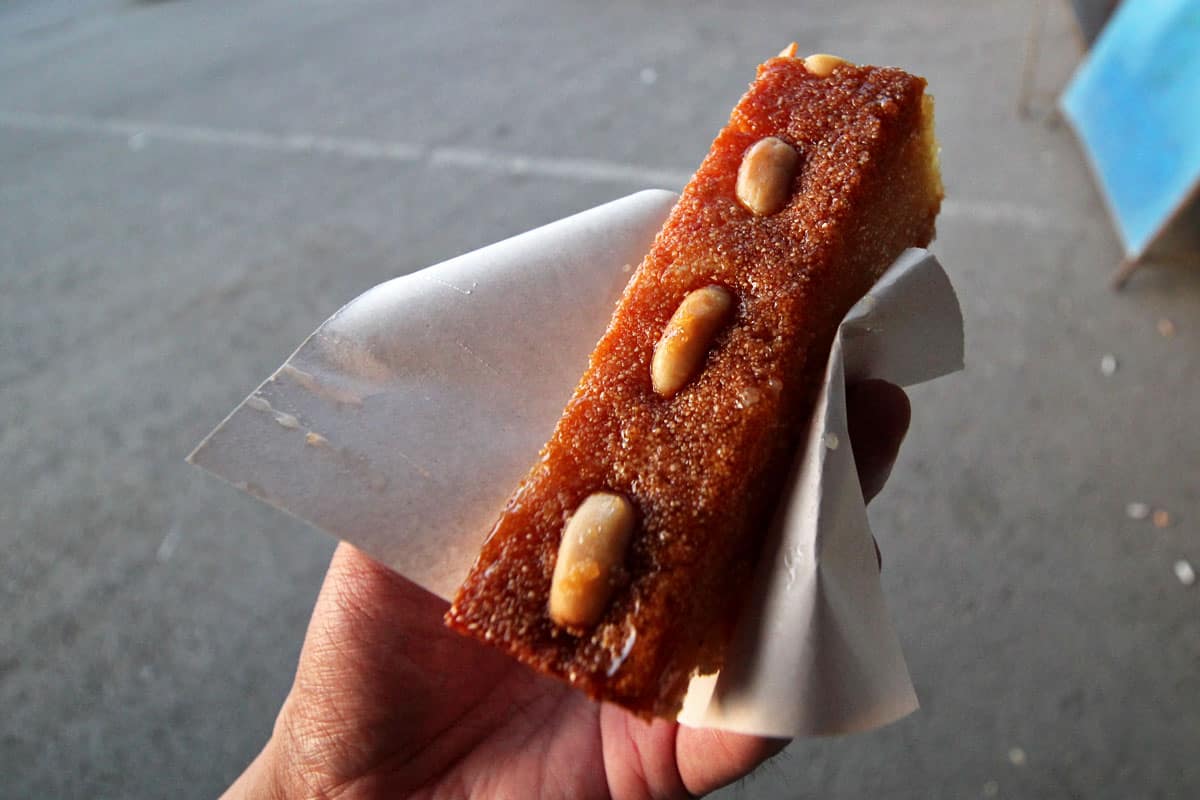 FINAL THOUGHTS
When I was writing an article on the world's best countries for food, Greece was originally on it. It was part of our top twelve, but then I remembered Singapore.
I wanted to cap it at twelve so I had to choose between the two. In the end, I went with Singaporean food based on personal preference and what I perceived to be a greater diversity in culinary influences. Plus, I already had Turkish food on the list and both cuisines share many similarities.
But that doesn't take anything away from Greek food. It's still one of our favorite cuisines and something we'll look for no matter where we are in the world. It would definitely be in Ren's top twelve.
I find that the food you grew up with is usually the food that comforts you the most. Well, I didn't grow up eating Greek food but I still find it to be very comforting. You just feel good when you eat it.
Do you feel the same way about Greek food? Is it one of your favorite cuisines? Let us know in the comments below!
Disclosure
Some of the links in this guide are affiliate links, meaning we'll get a small commission if we make a sale at no added expense to you. We only recommend products and services that we use ourselves and firmly believe in. We really appreciate your support as this helps us make more of these free travel guides. Thank you!