In my opinion, Spain is one of the world's best countries for food. It's home to an influential cuisine that's given birth to globally appealing dishes like paella, tapas, and churros.
Having grown up in the Philippines, Spanish food is very familiar to us. Many Filipino dishes were either introduced by Spain or adapted from Spanish cuisine like arroz caldo, pochero, afritada, and ensaymadas.
On our most recent trip to Europe, we dedicated over half our time to Spain so we could really sink our teeth into Spanish cuisine and try as many traditional Spanish dishes as we could.
We visited prominent Spanish food cities like Barcelona, Madrid, Granada, and San Sebastian, along with lesser known but equally delicious destinations like Logroño and Oviedo to come up with this Spanish food guide with 45 must-try dishes in Spain.
If you're planning a trip to the Iberian peninsula and looking for the best food in Spain, then this Spanish food guide will give you plenty to look forward to.
SPANISH FOOD QUICK LINKS
If you're planning a trip to Spain and want to really learn about the cuisine, then you may be interested in going on a food tour or taking a cooking class.
TOURS
Save This on Pinterest!
No time to read this Spanish food guide now? Click on the save button and pin it for later!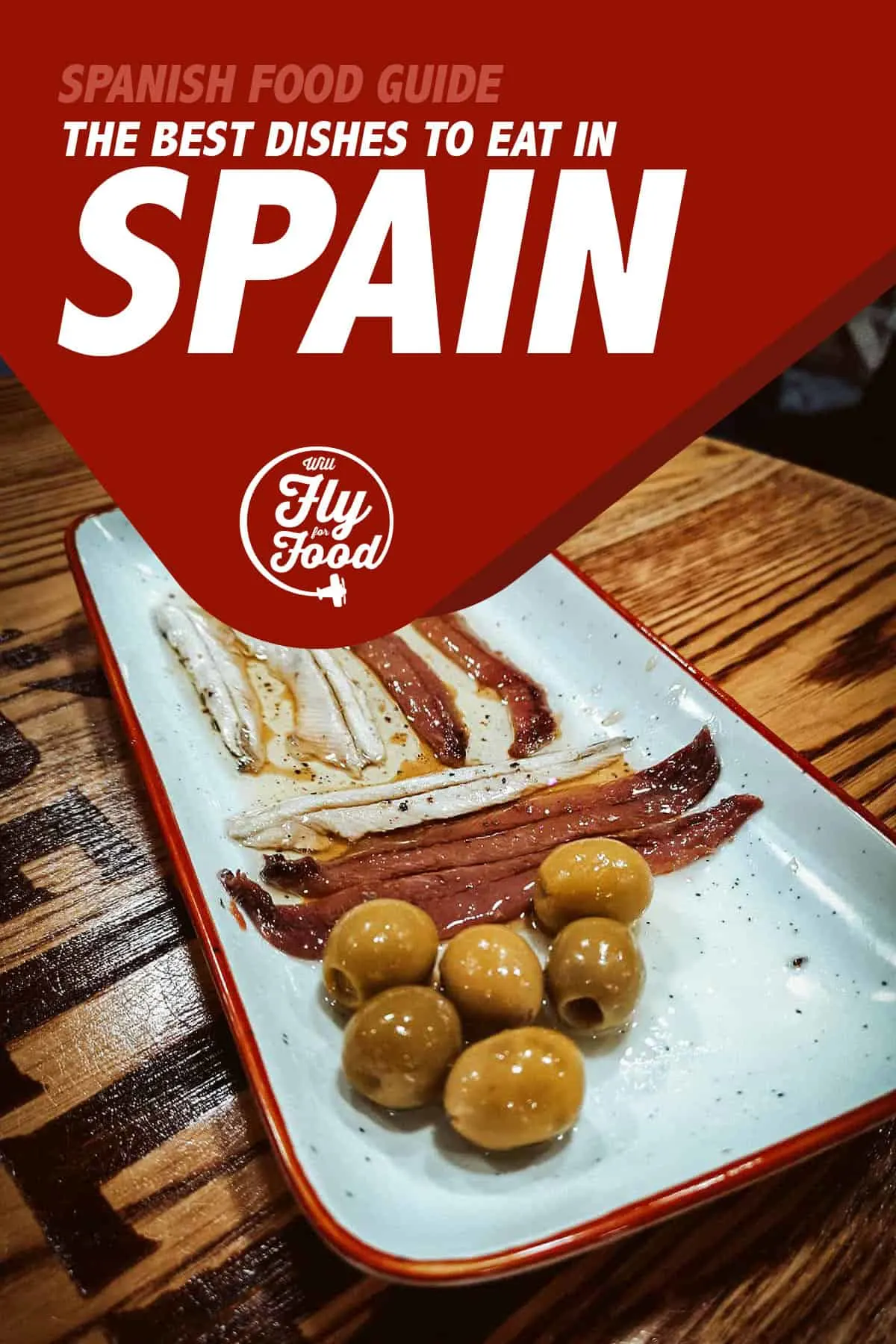 WHAT IS TRADITIONAL SPANISH FOOD?
Spain is the largest producer of olive oil in the world. It favors heavily in Spanish cuisine and is used as the base in many sofritos or vegetable sauces.
Garlic is a universal ingredient in Spanish cooking while some of the most essential herbs and spices include saffron, pimenton, oregano, rosemary, and parsley. Chicken and pork are most common though different types of poultry, meat, and seafood are consumed on a regular basis in Spain.
More than Spanish food itself, what I found most fascinating were the people's eating habits. Spanish people eat dinner late, around 9-10PM, because they have lengthy lunches that take anywhere between 2-3 hours.
Lunches in Spain typically start at around 2PM so it's customary for businesses to close for several hours during the day. Lunches only take about an hour but Spanish people like to partake in sobremesas. This refers to the practice of staying at the table and socializing after a heavy meal.
From sobremesas to pintxos bar hopping to aperitivo time, this social component is what largely defines Spanish food culture. It's a trait that many former Spanish colonies understand very well.
We got it after all, from Spain.
MUST-TRY TRADITIONAL SPANISH FOOD
To help organize this Spanish food guide, I've divided the 45 dishes by category. Click on a link to jump to any section.
TAPAS / PINTXOS
Tapas refers to a family of appetizers or snacks popular in Spanish cuisine. They're one of the most well-known Spanish foods so over half this guide consists of these small dishes that you can enjoy all throughout Spain.
Pintxos refers to a type of tapas popular in northern Spanish regions like the Basque Country, La Rioja, Cantabria, Asturias, and Navarra. They're typically skewered onto a piece of white bread with a toothpick to hold the ingredients in place.
1. Aceitunas
As described, Spain is the biggest producer of olive oil in the world so it only follows that aceitunas or olives are one of the most common tapas. They're typically served pickled and can be stuffed with a filling of anchovies or red bell peppers.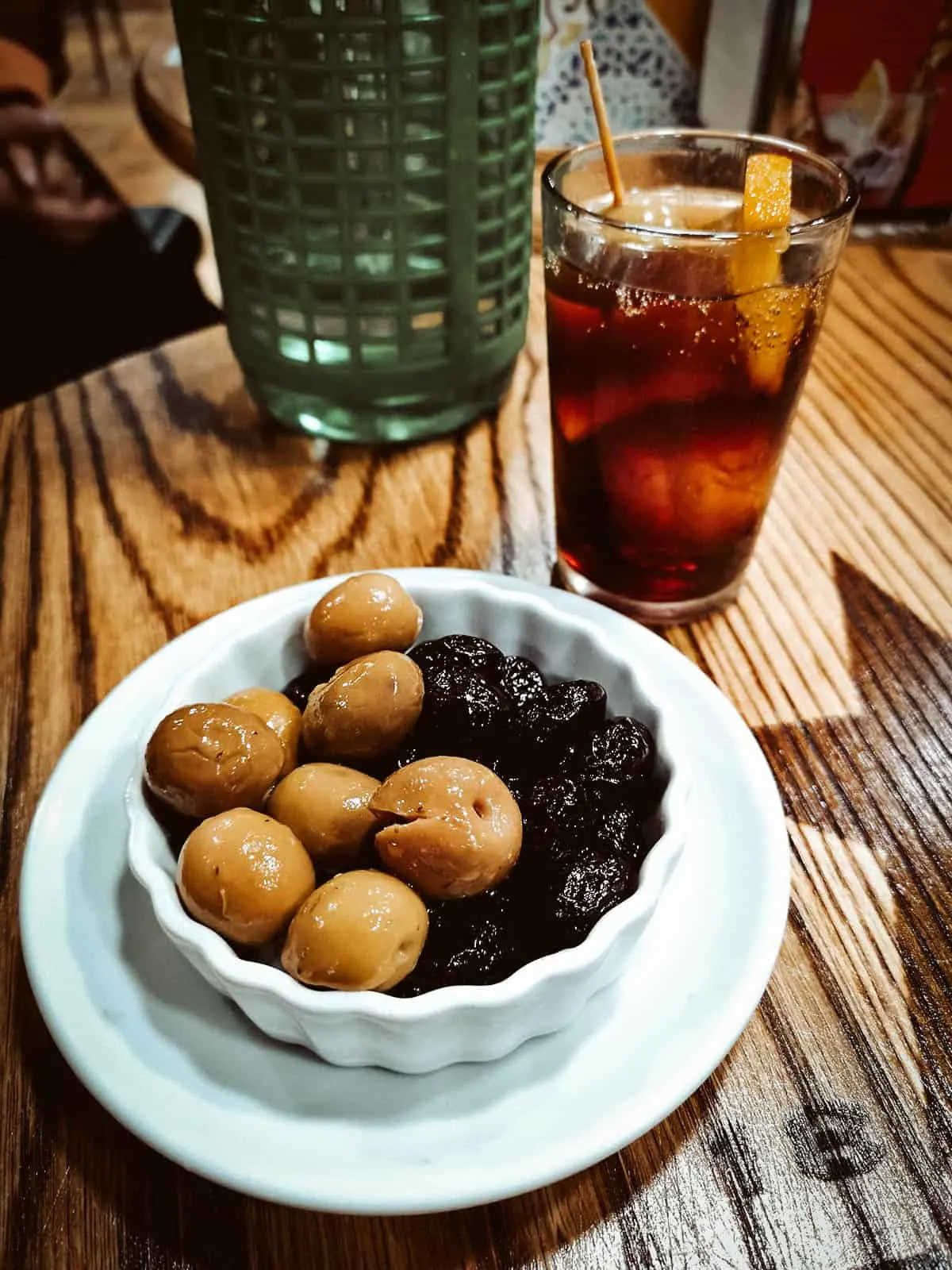 2. Tortilla Española
Tortilla española or tortilla de patatas is one of the most well-known Spanish foods. It refers to a Spanish omelette traditionally made with eggs, potatoes, and olive oil.
Tortilla española is often served as tapas or as a side dish. It can be made with onions, though the addition of onions is often met with controversy. Sincebollistas (without-onionists) believe that onions have no place in an authentic Spanish tortilla.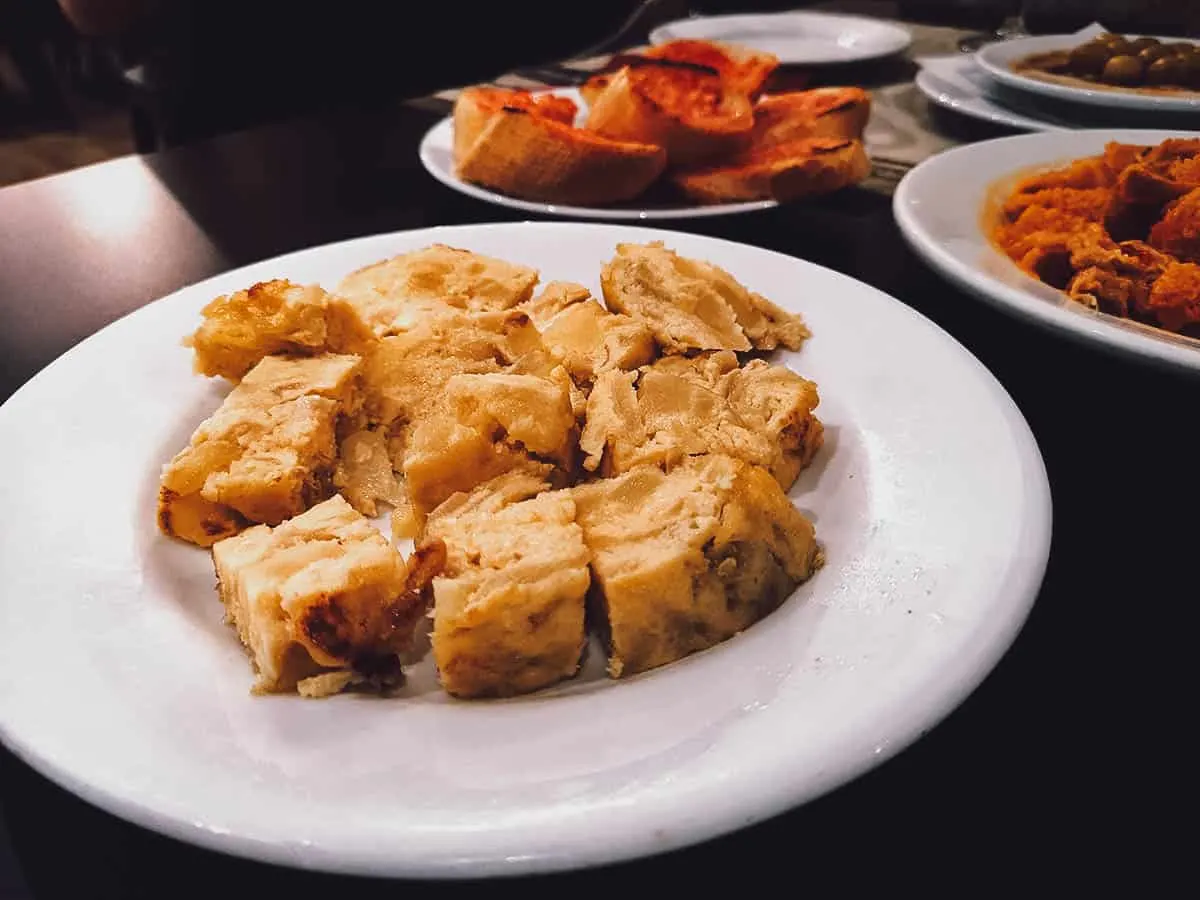 3. Patatas Bravas
Patatas bravas or papas bravas is a popular Spanish tapa or side dish made with white potatoes cut into irregular chunks or cubes. They're deep-fried in olive oil and served with salsa brava and mayonnaise or aioli. Salsa brava refers to a mildly spicy Spanish tomato sauce made with paprika.
Patatas bravas are originally from Madrid though it's become one of the most popular tapas dishes throughout Spain.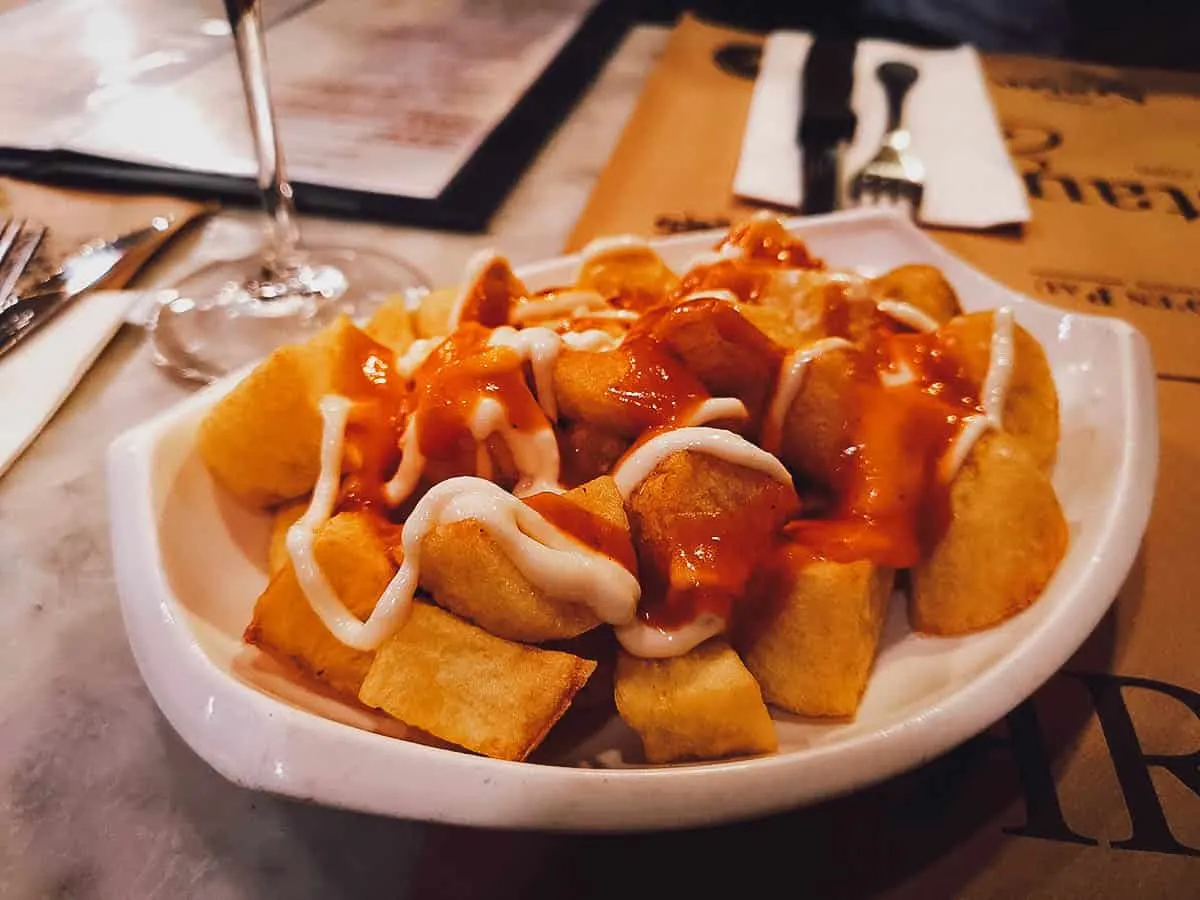 4. Calcots
A calcot is a variety of scallion popular in Spanish Catalan cuisine. They're similar to leeks and are larger and milder in flavor than a typical green onion.
In Spain, calcots are harvested between November and April and are best consumed during the calcotada season, which happens around February and March. We visited Barcelona in late April and were lucky enough to catch the tail end of the season which is often extended due to its popularity.
Calcots are typically grilled over an open fire and wrapped in newspaper to keep them tender. They're served on warm terra cotta tiles and eaten with a salvitxada sauce made with almond, tomato, garlic, pepper, vinegar, and olive oil.
The calcots I had below were deep-fried in batter, presumably after being grilled, and served with a mildly spicy salsa brava.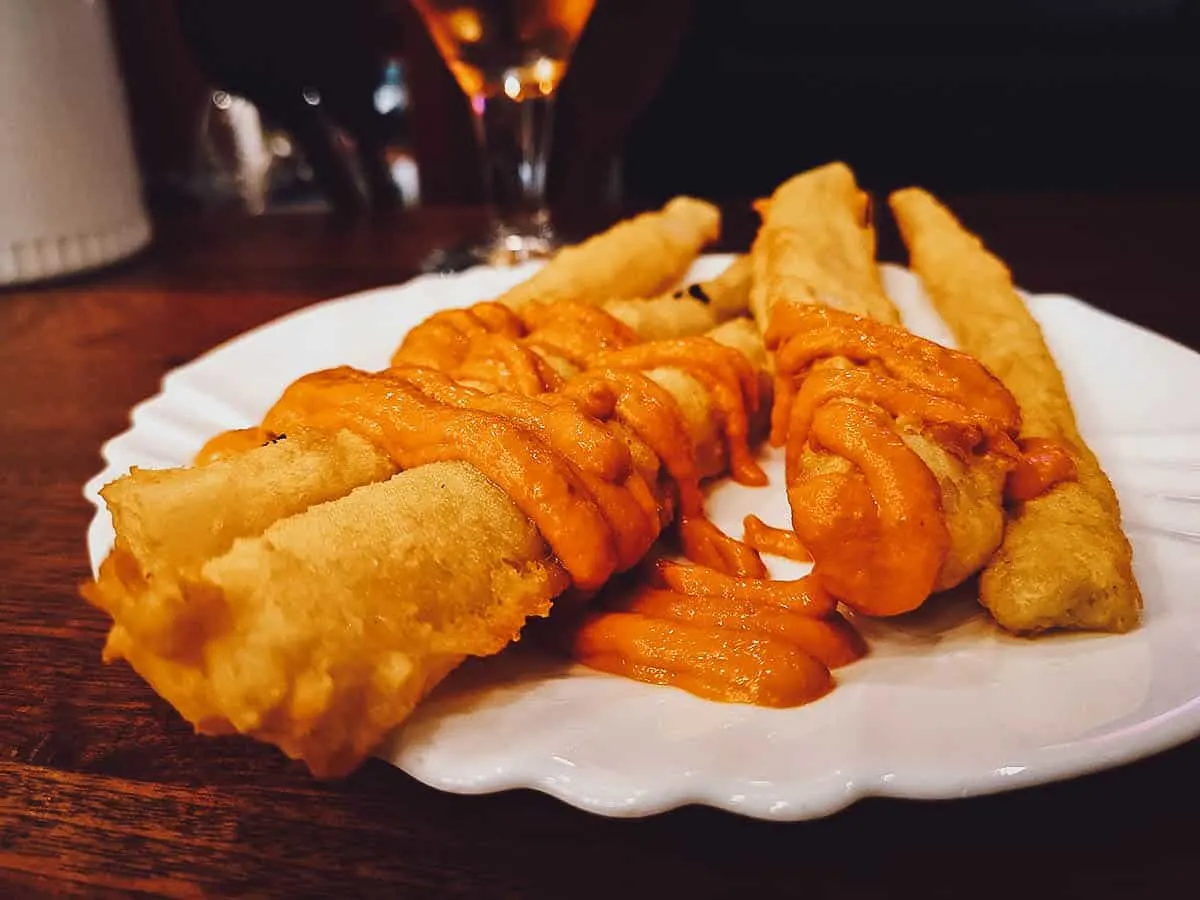 5. Padron Peppers
Padron peppers are a type of Spanish pepper that grow in the municipality of Padron in Galicia. Protected by EU law, they're a Protected Designation of Origin (PDO) food product under the name Pimiento de Herbón.
Padron peppers are small, about 5 cm (2 inches) in length, and typically bright green to yellow green in color, though they can also be red. What makes them interesting is that about 10-25% of padron peppers are naturally hot while the rest are mild.
Whether a padron pepper matures to be hot or mild is linked to how much water and sunlight it receives as it grows. Until you eat it, there's no way of knowing if a particular pepper will be mild or hot.
Padron peppers are customarily fried in olive oil until the skin blisters and the pepper collapses. They're sprinkled with coarse salt and often eaten with bread as tapas.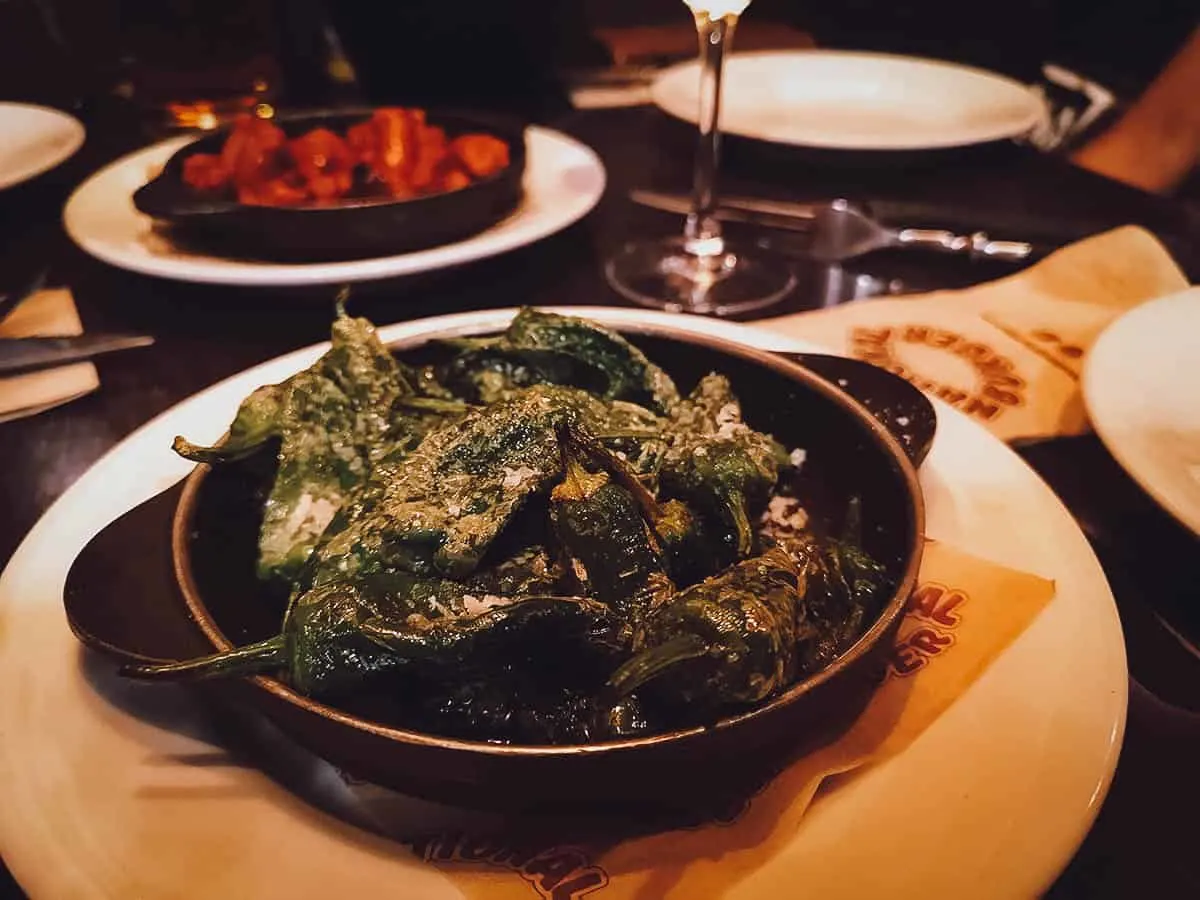 6. Pintxos de Txampis
There are many delicious types of pintxos in San Sebastian but pintxos de txampis or mushroom pintxos is one of our favorites. It refers to a type of pintxo made with a stack of two or three cremini mushroom caps stuffed with shrimp.
You can find pintxos de txampis at some bars in San Sebastian but the best are made in Logroño. A couple of Spanish locals told us that Logroño has really mastered this dish and they weren't kidding. Dripping in garlic and butter, they're absolutely delicious and one of the best tapas or pintxos we had in Spain.
Logroño is the capital of La Rioja province and located about two hours south of San Sebastian. If you're comfortable renting a car, then I highly recommend spending an afternoon there. You can check our Logroño pintxos guide for suggestions on what and where to eat.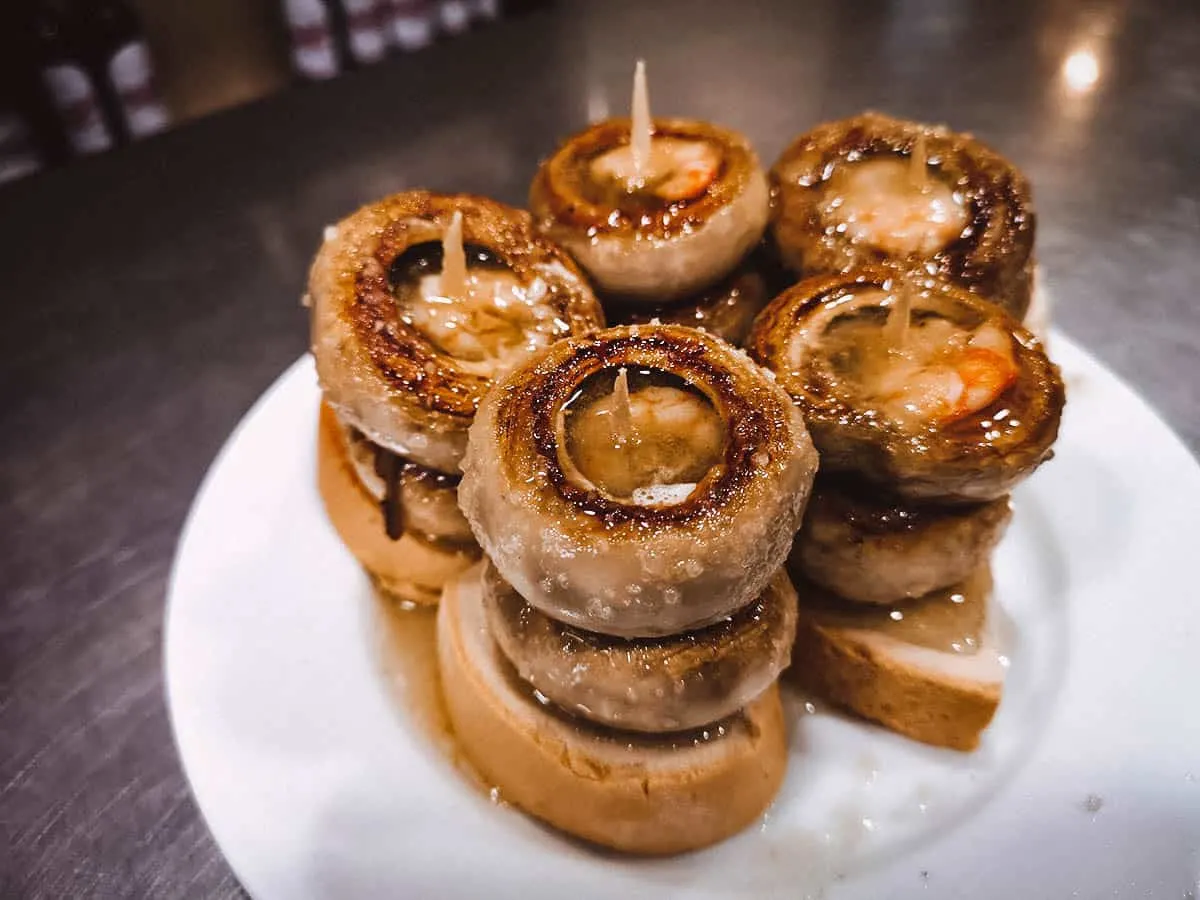 7. Queso de Cabrales
Queso de Cabrales is a type of Spanish blue cheese made by rural dairy farmers in Asturias. It can be made with pure unpasteurized cow's milk, or blended with goat's and/or sheep's milk to give the cheese a stronger, spicier taste.
Aside from its flavor, what makes Queso de Cabrales interesting is how it's produced. It's made exclusively with milk from herds raised in the Picos de Europa mountain range.
After being left to cure and harden in cylindrical molds for about two weeks, the cheese is aged for an additional two to five months in natural limestone caves.
The high humidity (90%) and cool temperature (7–13°C / 45–55°F) promote the growth of penicillium molds which causes blue-green veins to form throughout the cheese. This is what gives the cheese its characteristic flavor.
Like Roquefort and Gorgonzola, Queso de Cabrales is a famous European blue cheese that enjoys Protected Designation of Origin status.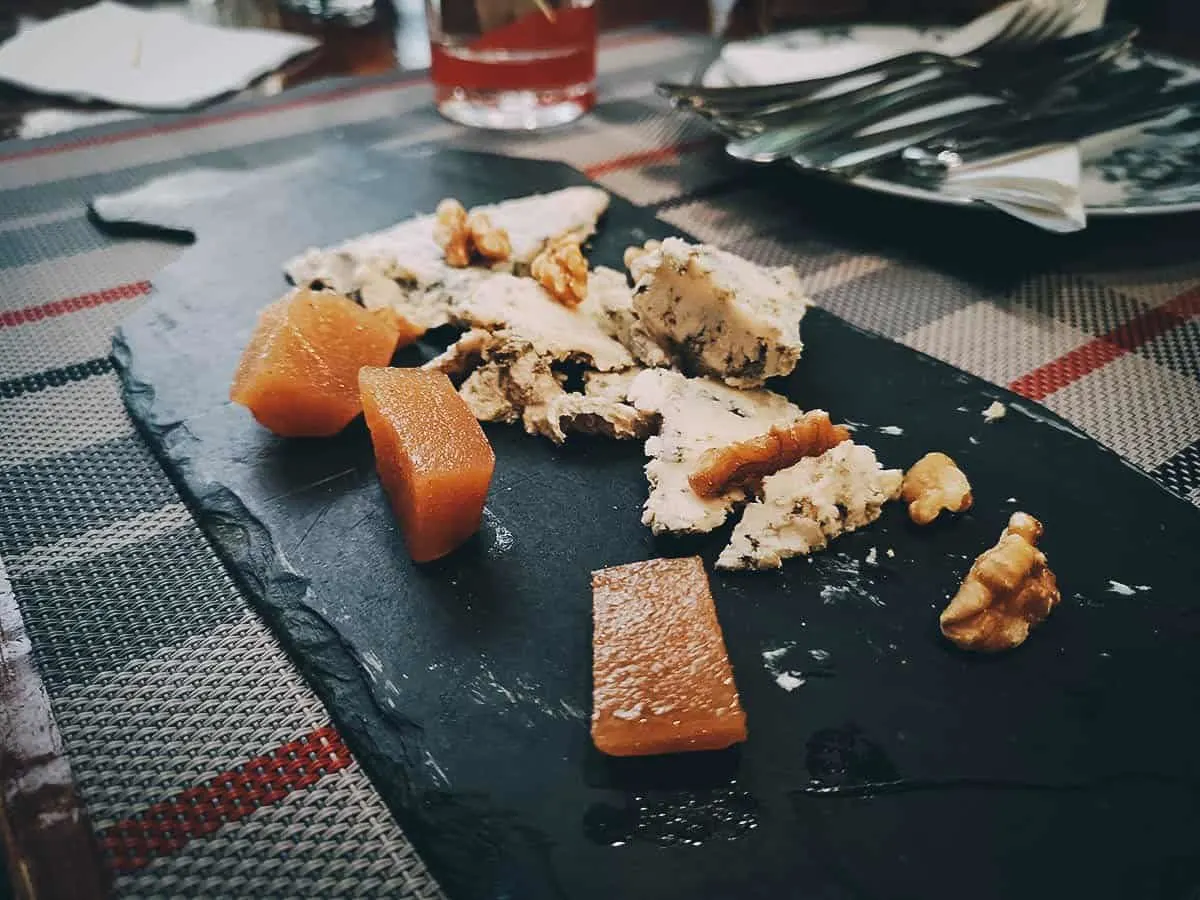 8. Anchoas / Boquerones
Anchoas and boquerones are popular Spanish foods that you can enjoy throughout Spain. They both refer to Spanish tapas dishes made with anchovies.
If I understand correctly, anchoas refers to salt-cured anchovies while boquerones refers to fresh or uncured anchovies. The darker fillets below are the anchoas while the lighter ones are the boquerones, or more specifically, boquerones en vinagre (marinated in vinegar). The deep-fried version of boquerones is called boquerones fritos.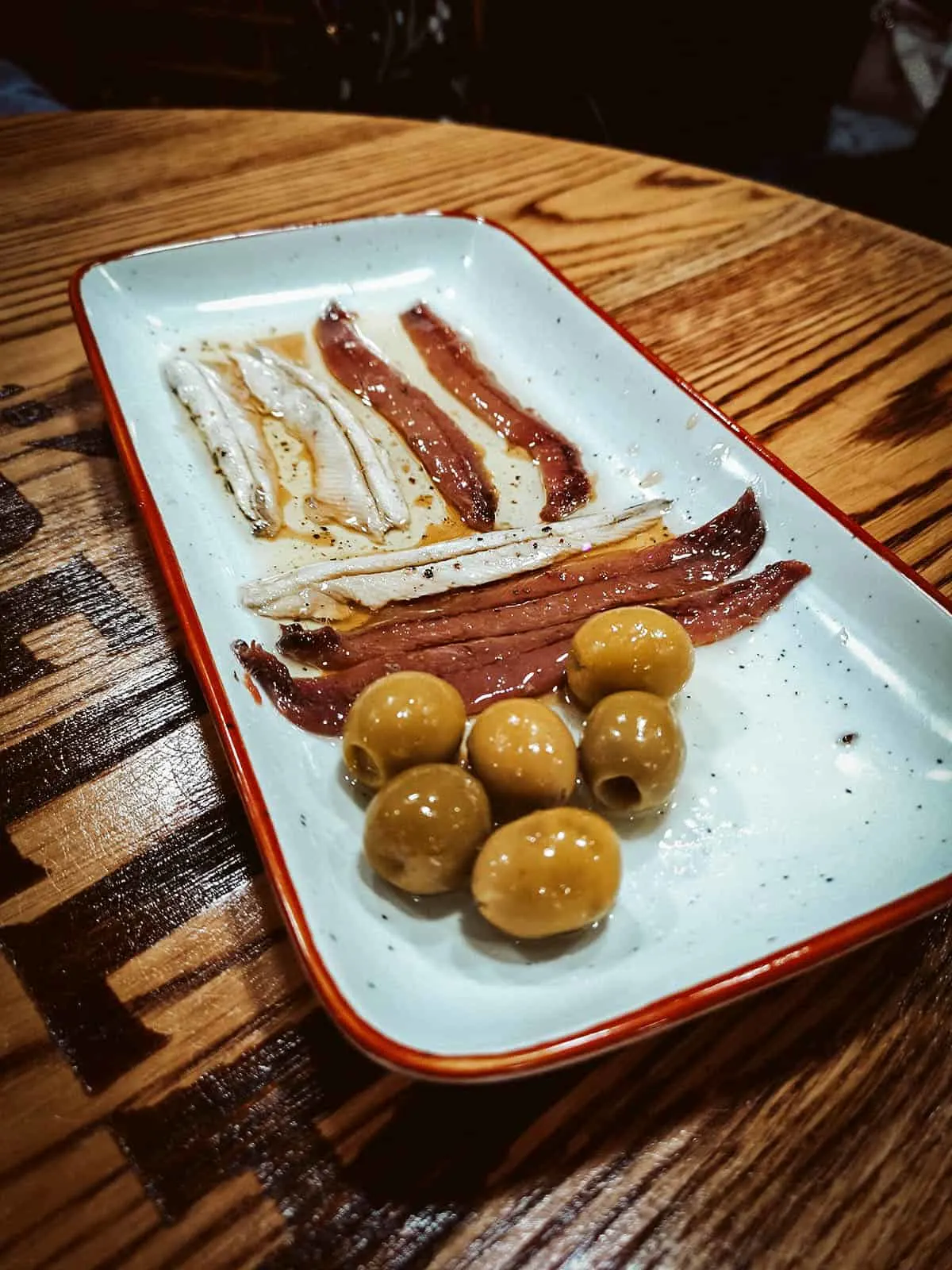 9. Gambas al Ajillo
Gambas al ajillo is one of the most popular Spanish foods. It's well-known even outside of Spain and refers to a popular Spanish dish of prawns sauteed with loads of garlic and olive oil. The term gambas al ajillo translates to "shrimp with garlic" or "garlic shrimp".
Gambas al ajillo is often served with a loaf of Spanish crusty bread which you can use to mop up the garlicky olive oil.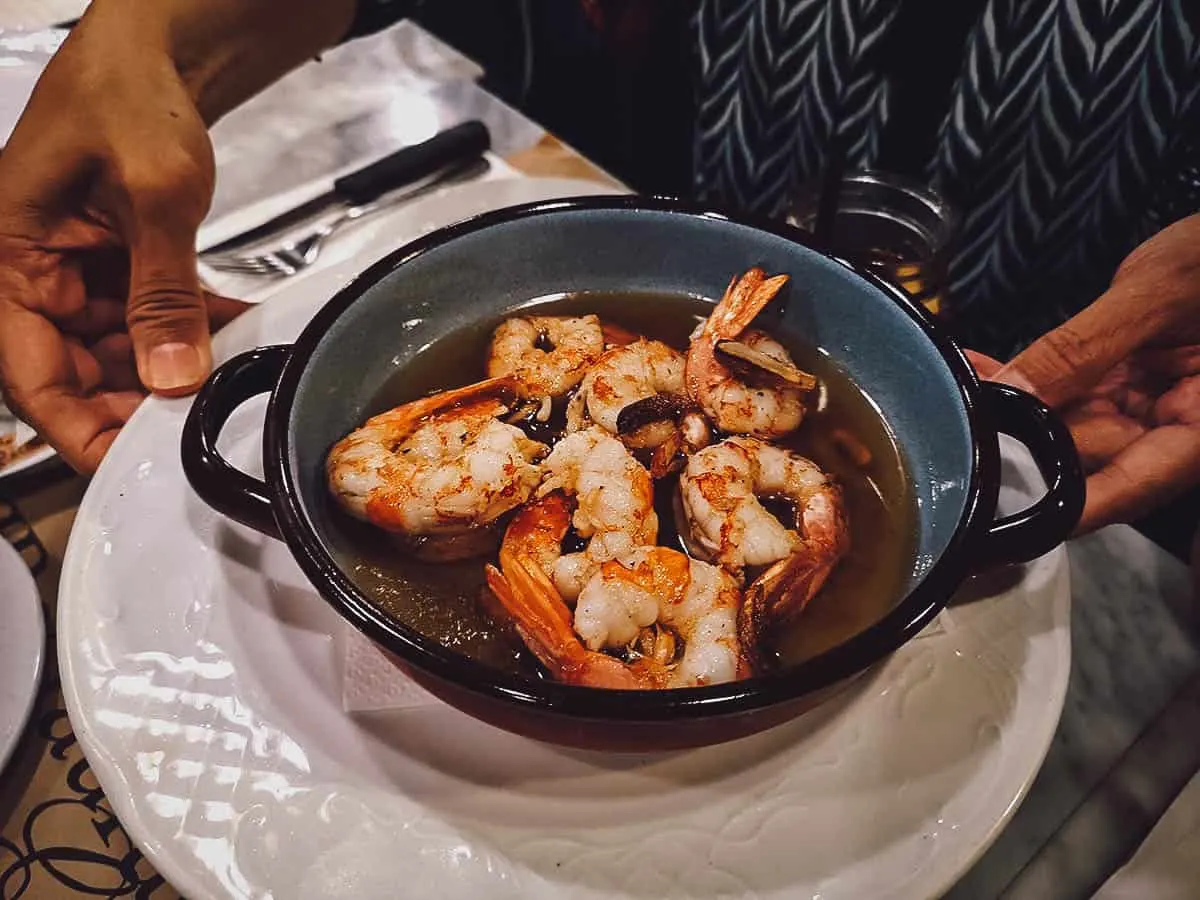 10. Chipirones Fritos
Chipirones fritos may not be as well-known as gambas al ajillo but they're equally delicious. It refers to a Spanish tapas dish of battered and deep-fried baby squid or small cuttlefish. They're served with a wedge of lemon and are especially popular in the southern regions of Spain.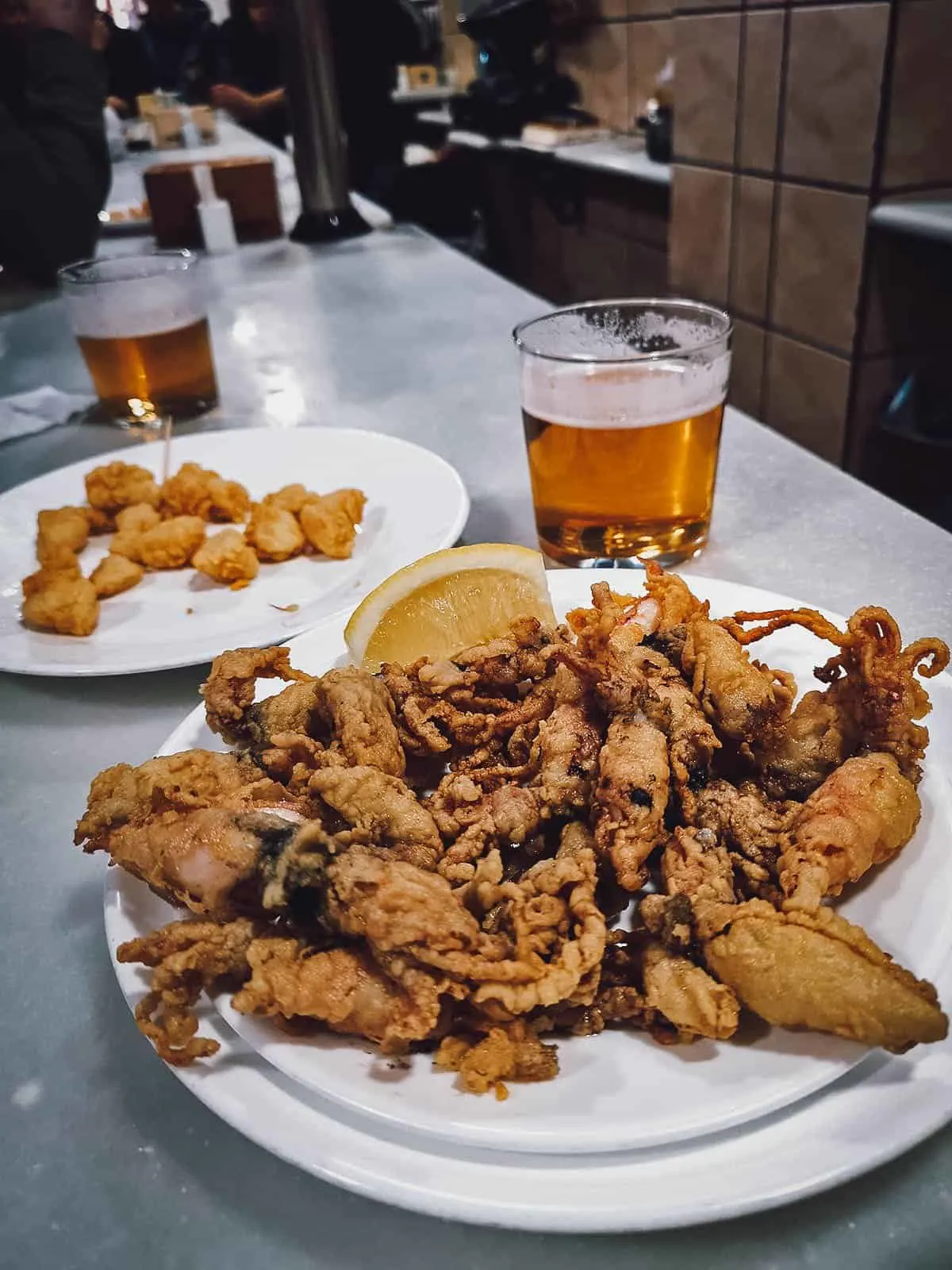 11. Mejillones
Mejillones is the Spanish word for mussels. It's a popular ingredient for tapas and can be prepared in a number of ways, like mejillones en escabeche (marinated), mejillones al vapor (steamed), mejillones a la marinera (marinera sauce), and mejillones rellenos (stuffed).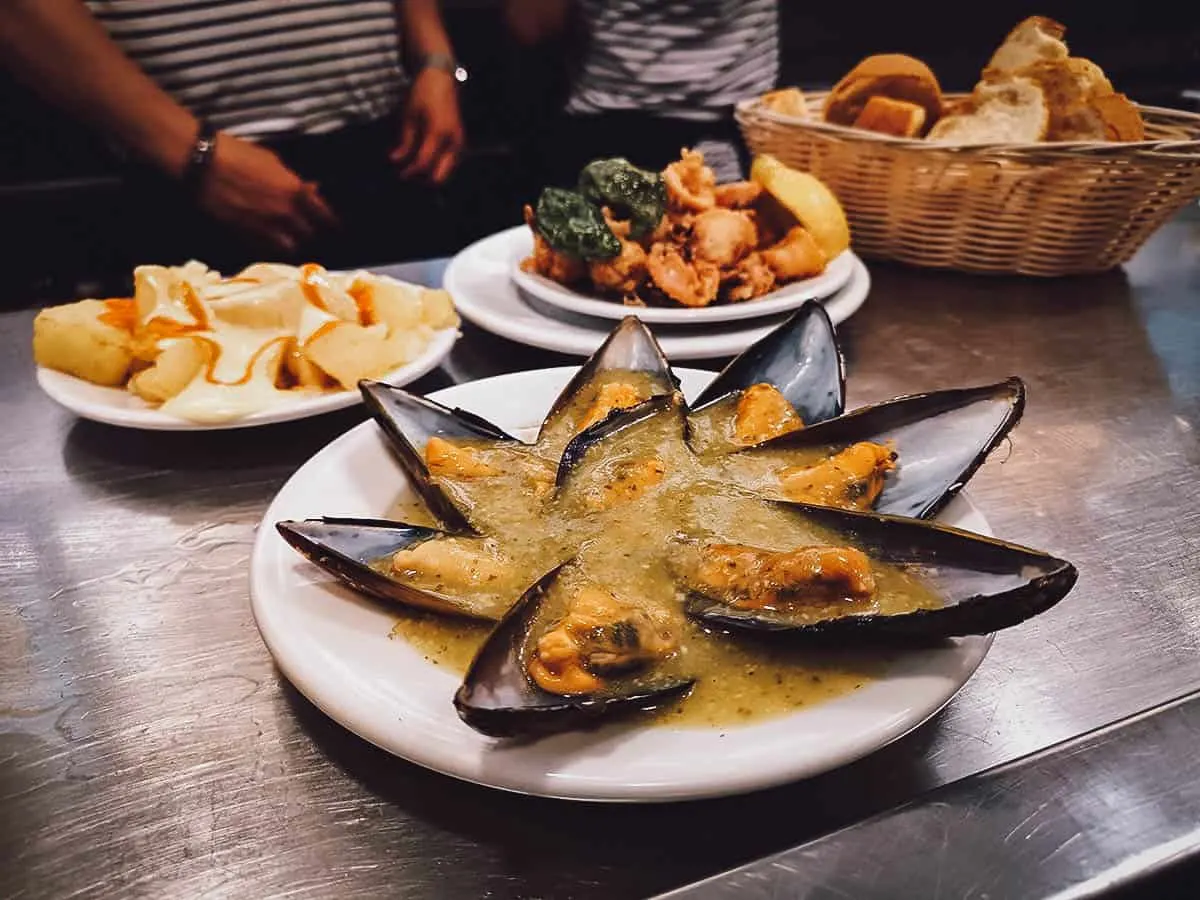 12. Navajas
Navajas is the Spanish word for razor clams. In Spain, they're typically served "a la plancha" which means they're grilled on a flat metal plate. They're cooked with olive oil, garlic, and fresh parsley and served with a wedge of lemon.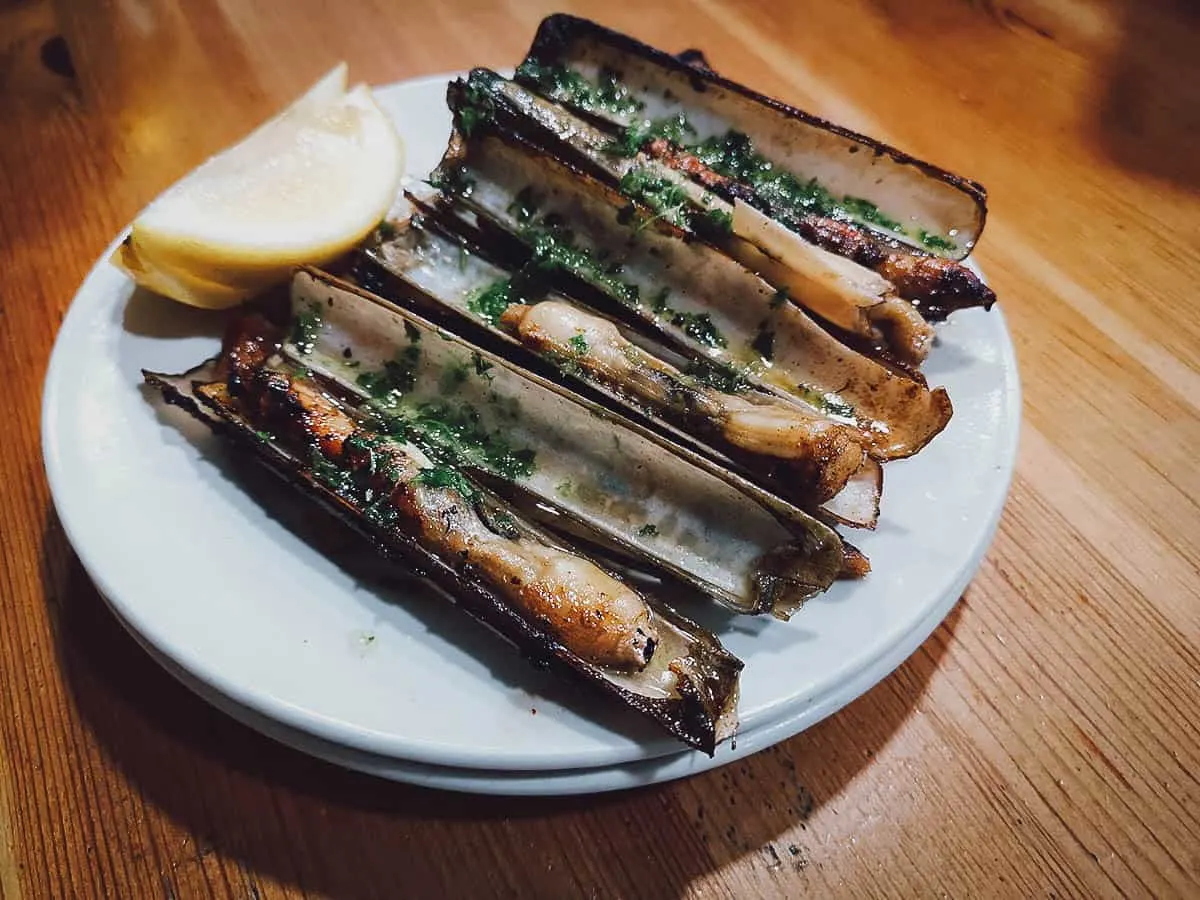 13. Bacalao
Bacalao is one of the most popular Portuguese foods but it's widely consumed in Spain as well. It refers to salted cod that can be prepared in a number of ways, some of the most popular being bacalao con tomate (tomato sauce), bacalao a la Vizcaina (stewed), and bacalao al pil pil (with garlic and olive oil).
At tapas bars, we've had bacalao served in croquetas, as fritters, or topped over pieces of bread. Pictured below are hefty chunks of bacalao pintxos from a bar in Logroño.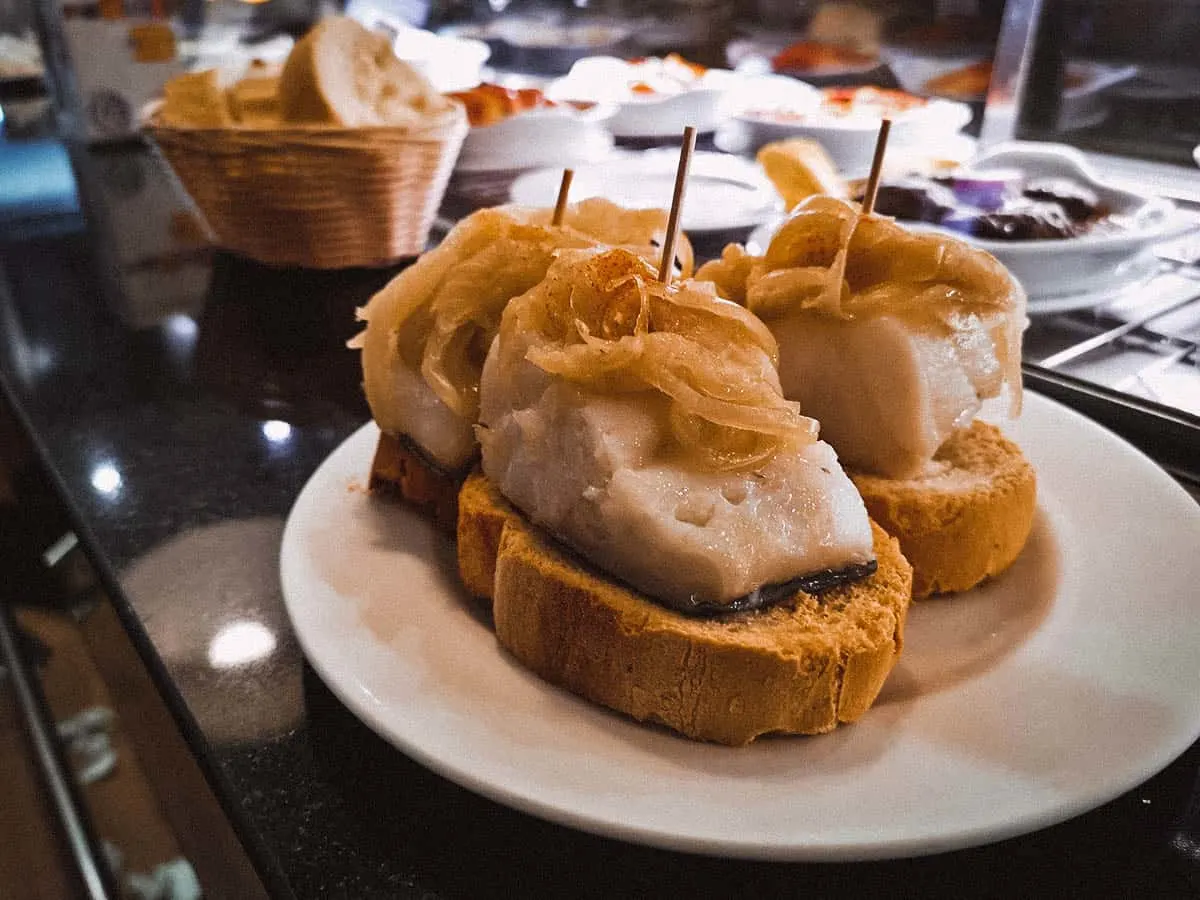 14. Pulpo a la Gallega
Pulpo a la gallega (or polbo a feira) refers to a traditional Galician-style dish of boiled octopus served with a generous amount of paprika.
To make pulpo a la gallega, the octopus is boiled in a copper cauldron for 40-90 minutes until it achieves a texture that's neither rubbery nor overcooked, similar to al dente pasta. It's then trimmed into bite-sized pieces with scissors and sprinkled with coarse salt, sweet and spicy paprika, and drizzled with olive oil.
This popular Spanish dish is traditionally served on a wooden plate with bread and enjoyed with red wine.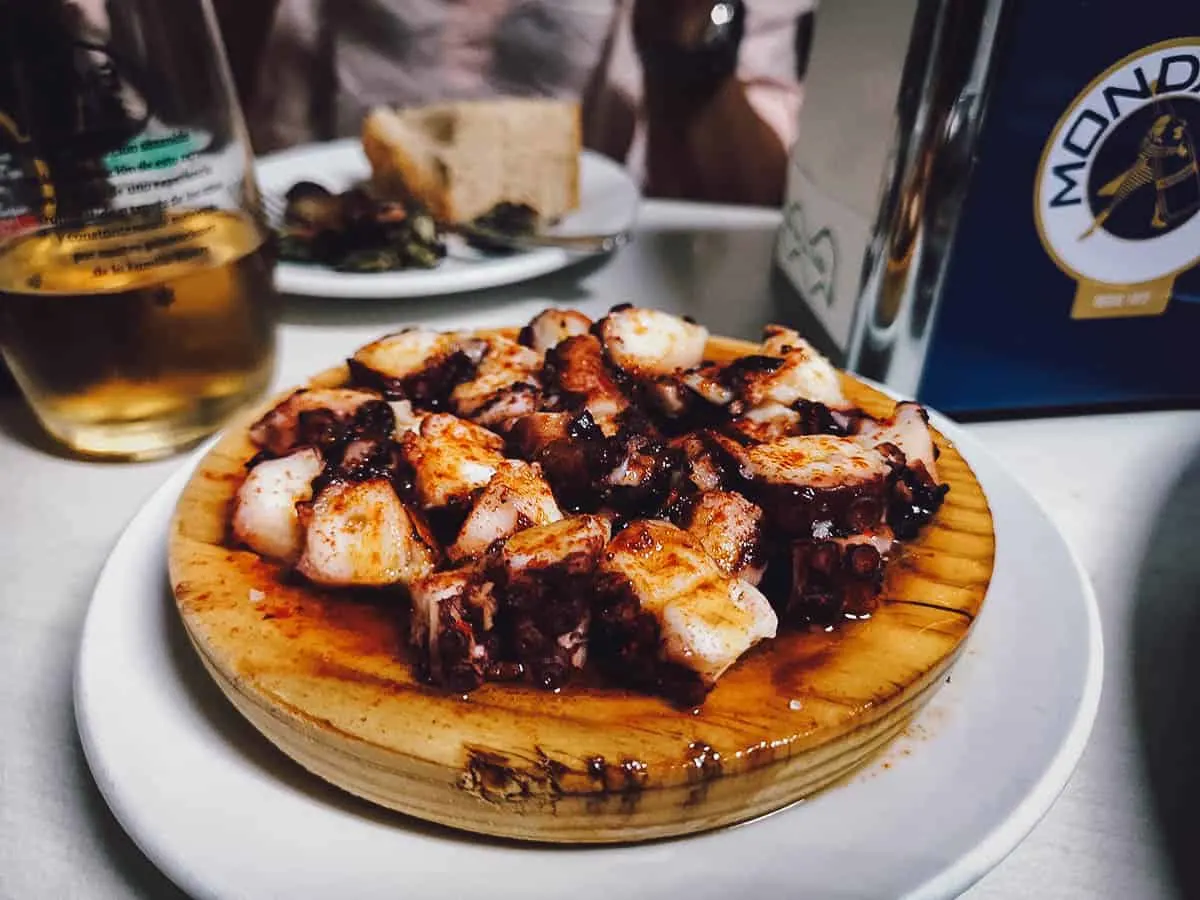 15. Percebes
These odd, claw-like creatures are called percebes or gooseneck barnacles. Like pulpo a la gallega, they're a delicacy in Galicia and along the Portuguese coast.
Percebes are nicknamed "Lucifer's Fingers" because of their devilish appearance and the fact that they're notoriously difficult to harvest. They grow on craggy rocks in the ocean's intertidal zone where crashing waves feed them a steady diet of plankton. They're impossible to farm so percebes divers have to risk life and limb to harvest them.
We had percebes several times in Spain and Portugal and they were always prepared the same way – boiled in seawater and served as is. To eat, you squeeze the barnacle at the bottom so the flesh pops out from the top. They taste like the ocean and have a meaty, firm texture similar to sea snails.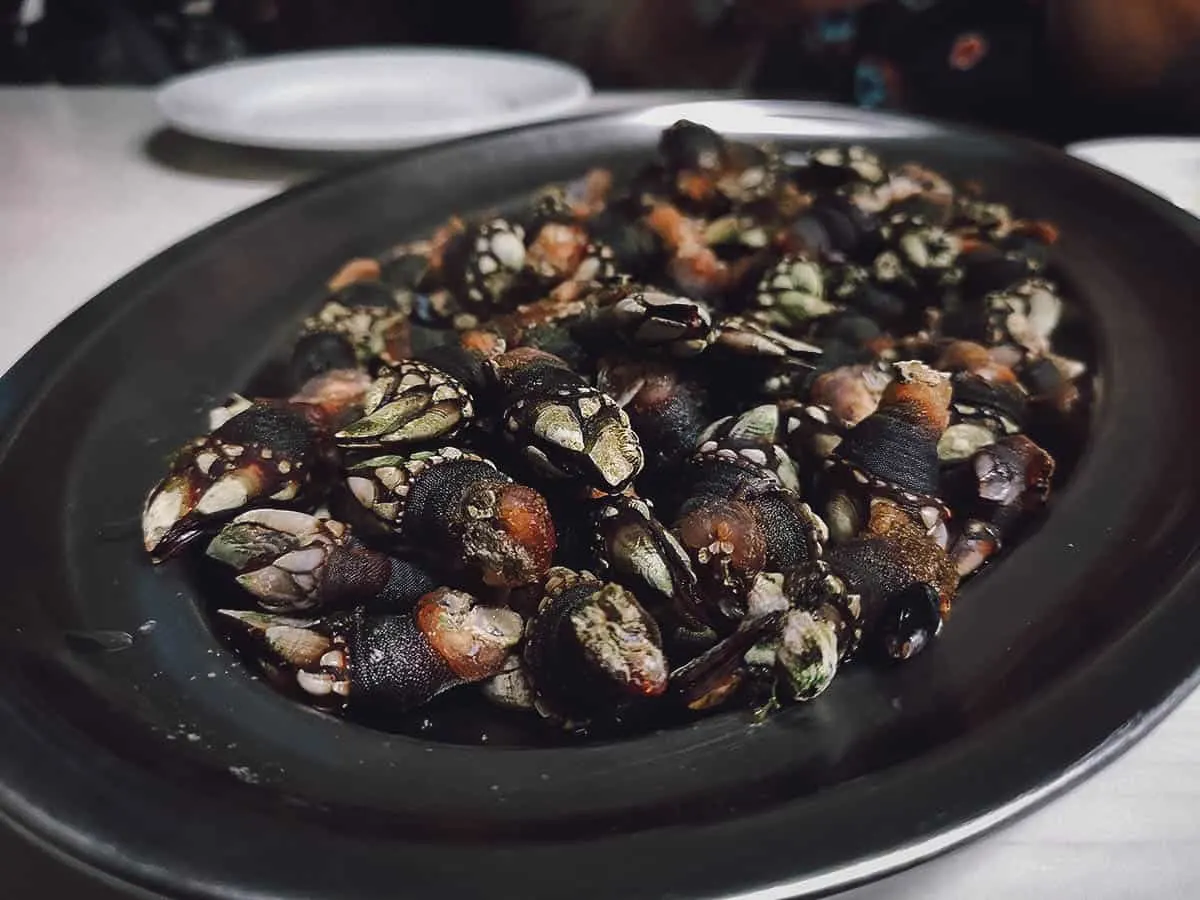 16. Jamon Iberico de Bellota
Jamon iberico refers to a type of dry-cured Spanish ham made from Iberico or Black Iberian pigs. It's one of the best and most sought after cured hams in the world, famous for its smooth texture and rich savory-sweet taste.
The finest grade of jamon iberico is known as jamon iberico de bellota. It's made from Iberico pigs that freely roam the oak forests of Spain and Portugal and feed almost exclusively on a diet of acorns.
Jamon iberico de bellota is cured for 36 months and can be made from pure bred or non-pure bred Iberico pigs. Black label jamon iberico is made from 100% pure-bred pigs and is considered the finest type of Spanish jamon.
Like paella, jamon iberico is one of the most well-known and sought-after Spanish foods. It's a dish that you absolutely must try in Spain.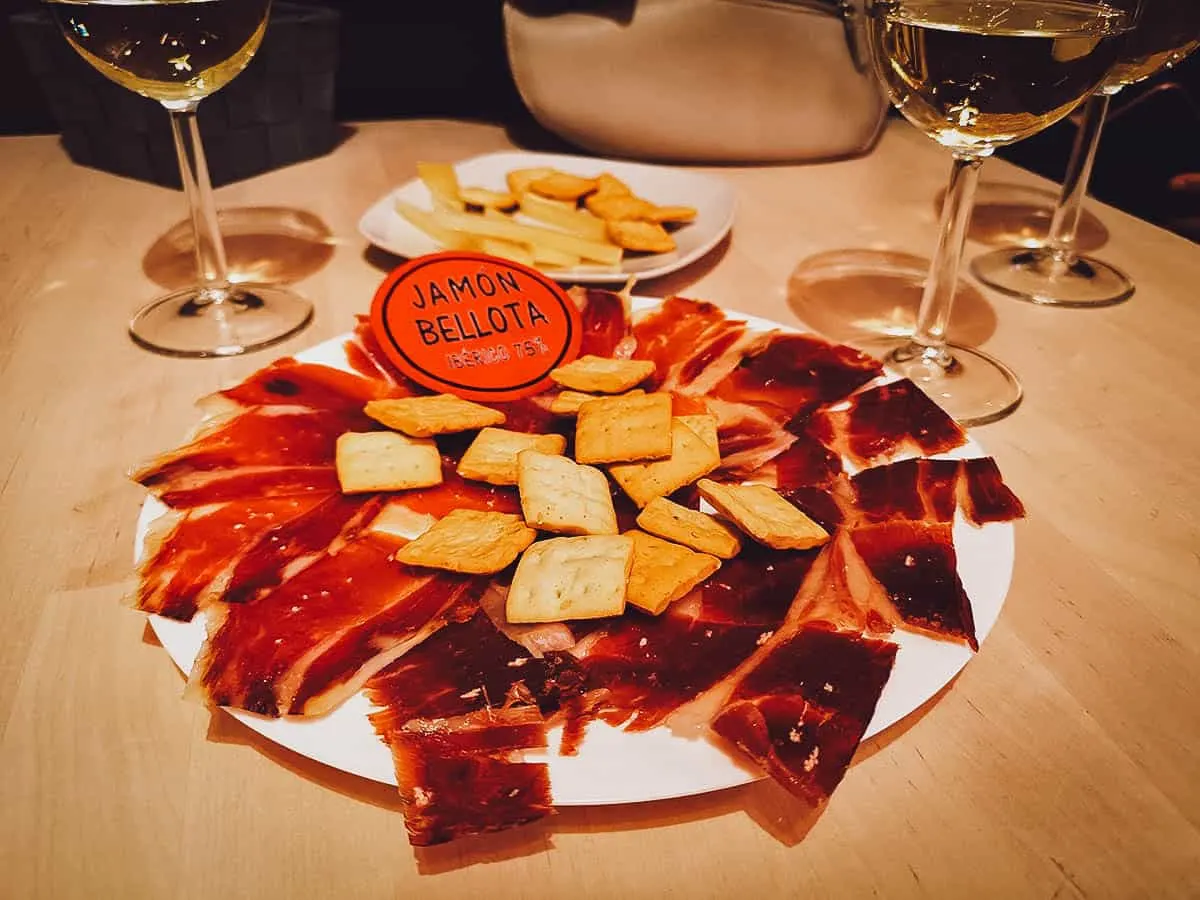 17. Chorizo
Chorizo refers to a fermented and cured smoked sausage popular in Spanish cuisine. It's typically made from coarsely chopped pork and pork fat seasoned with garlic, pimenton, and salt.
There are hundreds of varieties of Spanish chorizo, though they're generally classified as either spicy (picante) or sweet (dulce) depending on the type of pimenton used. They can be either short or long, hard or soft, and can be eaten as tapas or used as an ingredient in other Spanish dishes.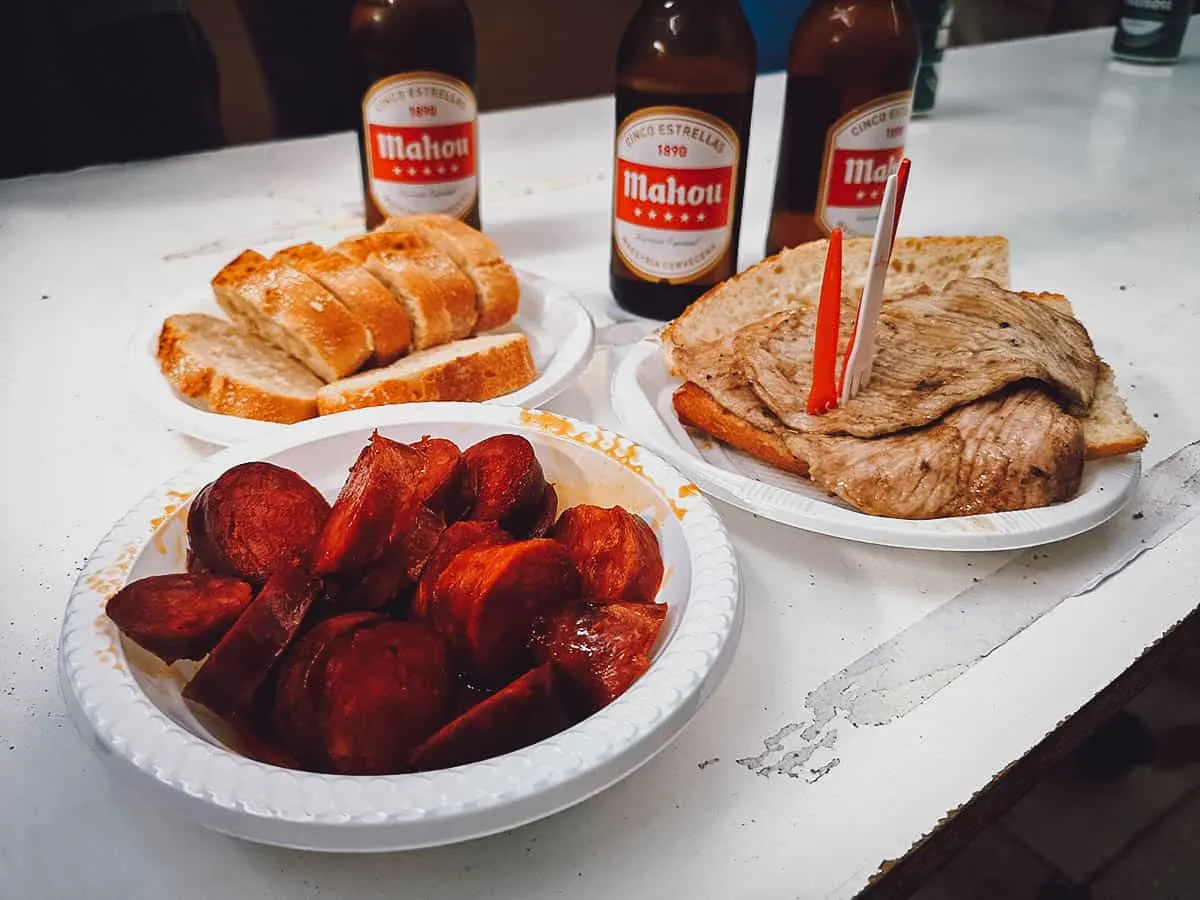 18. Albondigas
Albondigas refers to Spanish meatballs. They're believed to be a Berber or Arabic dish that was introduced to Spain during the period of Muslim rule. The term albondigas is derived from the Arabic word "al-bunduq" which means hazelnut or small round object.
Spanish albondigas are typically made from pork or beef and served in a tomato sauce, either as tapas or as the main course.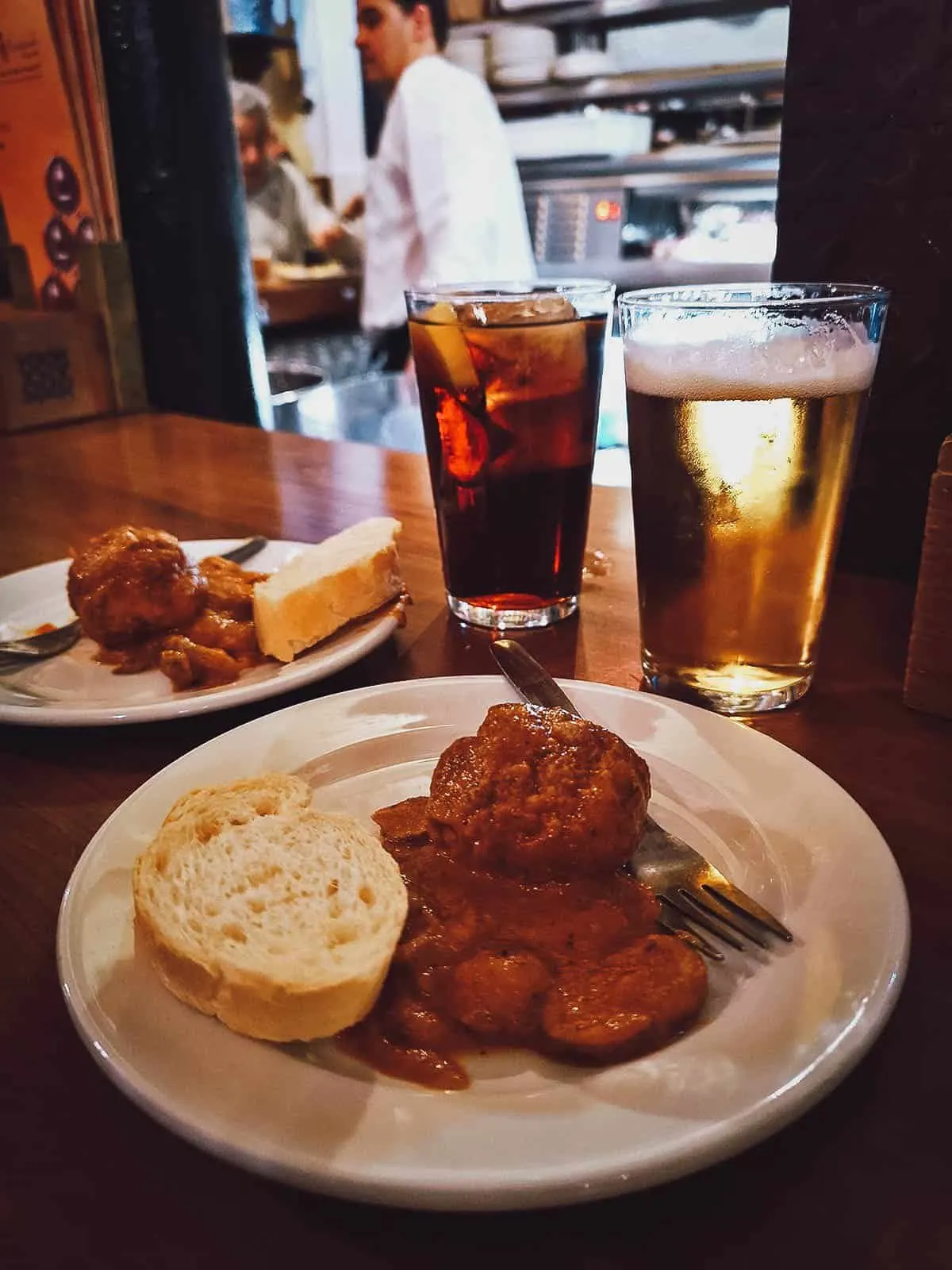 19. Croqueta
The croqueta is one of the most popular tapas dishes in Spanish cuisine. It refers to a Spanish croquette typically made with a thick bechamel sauce that's breaded and deep-fried.
Croquetas are usually filled with jamon, chicken, or bacalao but they can be stuffed with any number of ingredients. You can find less traditional croquetas made with various ingredients like mushroom, blood sausage (morcilla), tuna, and cuttlefish cooked in its own ink.
We're used to eating croquettes made with mashed potato but this was the first time we've tried them with bechamel sauce. Bechamel croquettes have a taste and texture that's quite different from croquettes made with potato.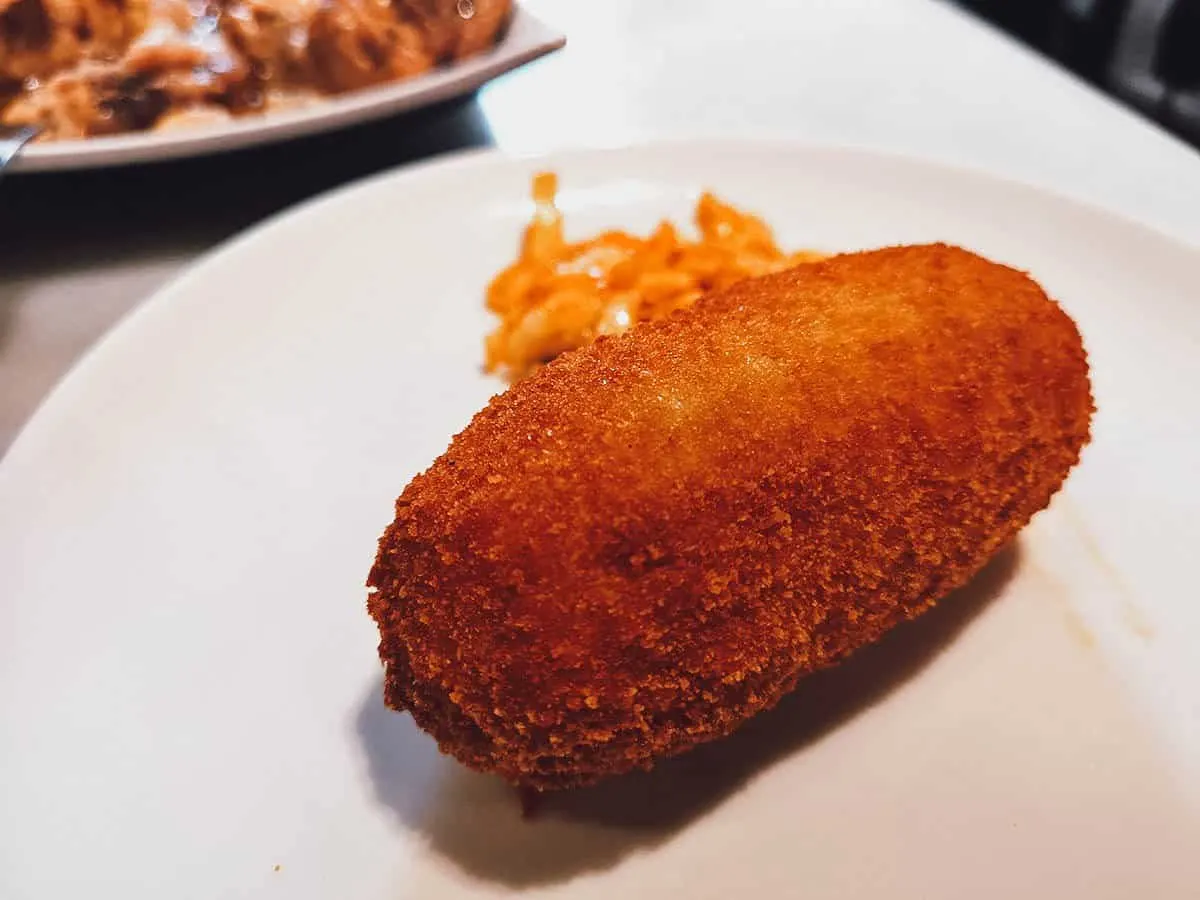 20. La Bomba
La bomba refers to a type of Spanish croquette made with mashed potato and meat. It can be found throughout Spain but it's largely associated with Barcelona where it was invented.
La bomba was created in the mid-1950s by La Cova Fumada. It's an iconic Spanish tapas bar in the former fishing neighborhood of La Barceloneta. Meaning "the bomb" in Spanish, la bomba got its name from a customer who exclaimed – "Wow! This is a bomb!" – after tasting the spicy sauce on top.
La bomba is filled with beef and/or pork and topped with aioli and this legendary sauce. At La Cova Fumada, you can have the sauce either spicy or very spicy.
La bomba is available at many Spanish tapas bars throughout Barcelona but you may want to have it at La Cova Fumada where it was invented.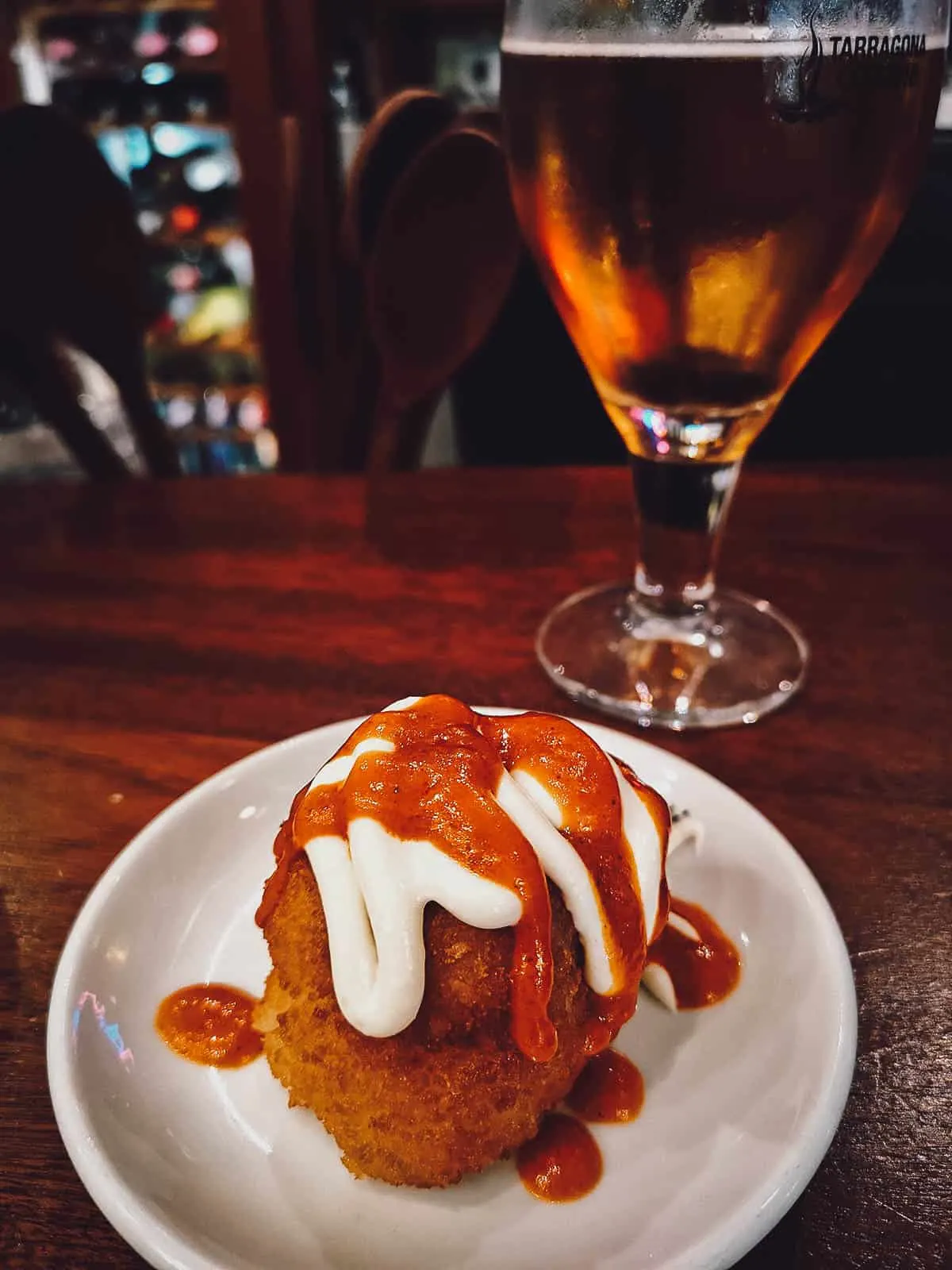 21. Pinchos Morunos
Pinchos morunos or pinchitos are kebab-like skewers of meat. They're a traditional Spanish dish of Moorish origin and typically made with pork or chicken.
To prepare, small cubes of lean diced pork or chicken are marinated in olive oil and a spice blend known as ras el hanout. Recipes vary but this spice blend can be made with up to forty different spices like cumin, oregano, thyme, coriander, turmeric, paprika, nutmeg, and cinnamon.
The seasoned meat is threaded onto skewers and traditionally cooked over charcoal. They're often served with pieces of bread, wedges of lemon, and wine.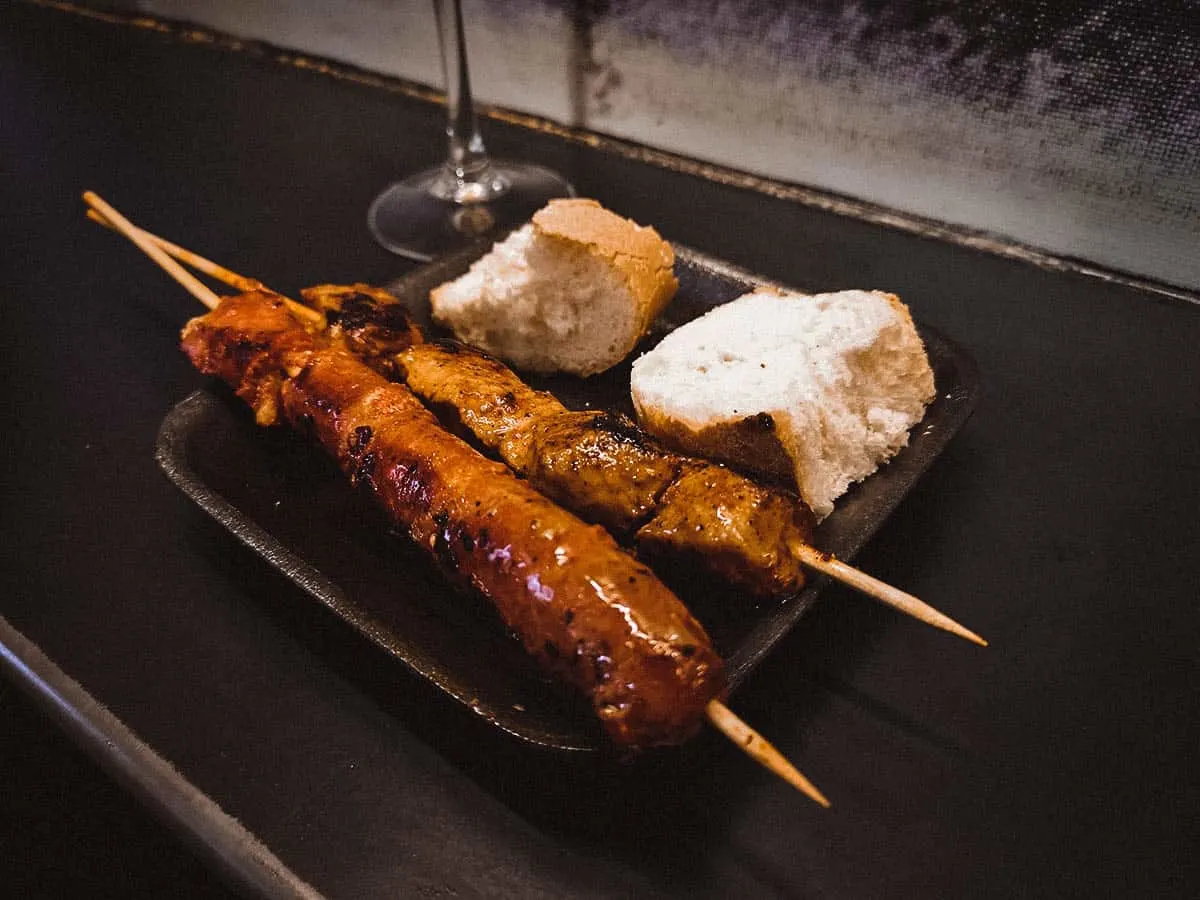 22. Morcilla
Morcilla is the Spanish word for blood sausuage. It can be found in many cultures throughout the world, including Spanish cuisine where it exists in many variants.
One of the most popular types of Spanish blood sausage is morcilla de Burgos. It's made primarily with pork blood and fat, rice, onions, and salt. Other varieties include morcilla patatera made with roughly mashed potatoes and morcilla dulce which is a sweeter type of blood sausage.
Morcilla is typically fried, grilled, stewed, or roasted and is used as an ingredient in many Spanish dishes like croquetas, omelettes, and puff pastries.
Pictured below are the delicious morcilla tapas we enjoyed at a Spanish tapas bar in Granada. It was served over soft white bread and topped with pine nuts.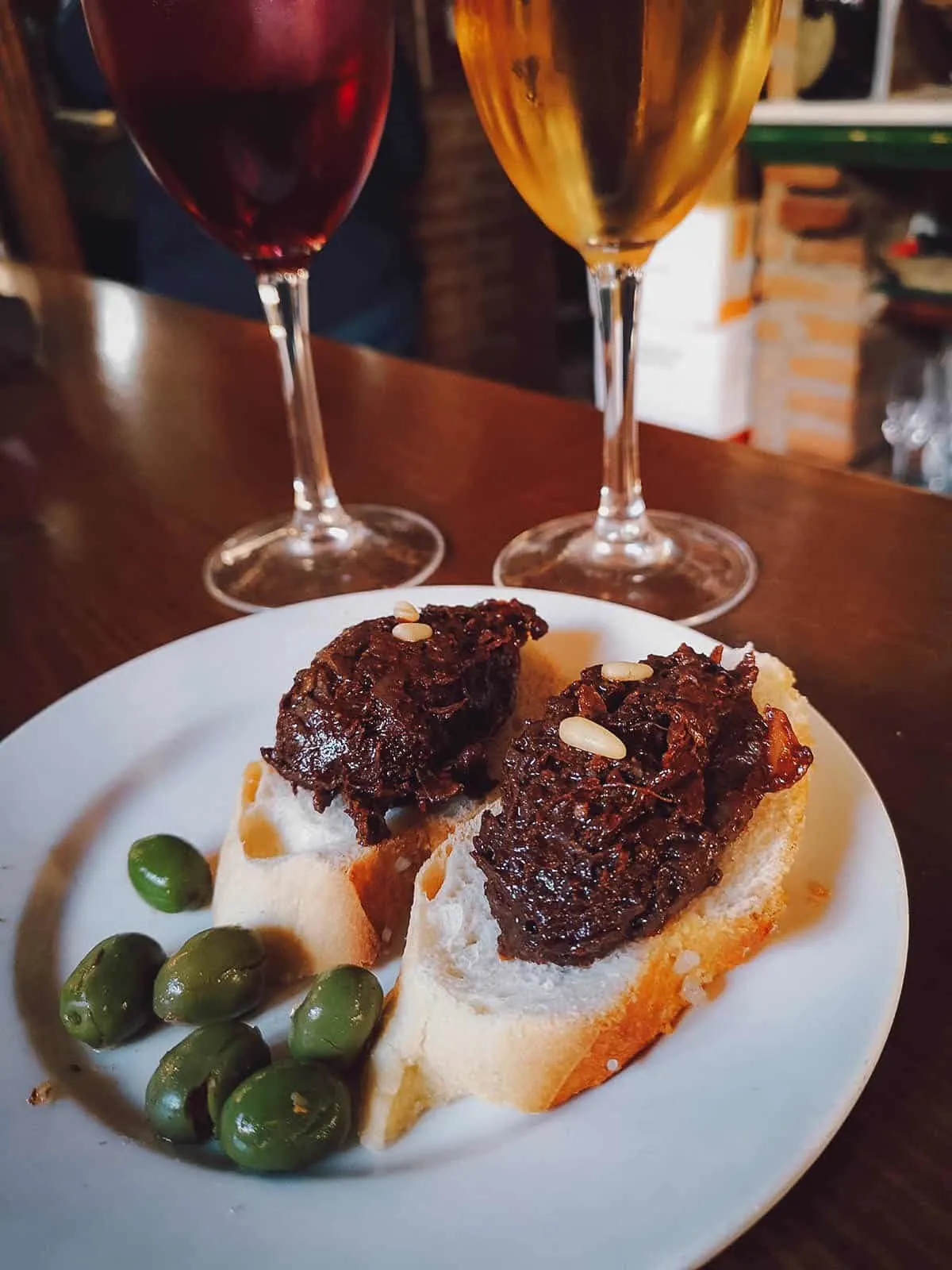 23. Pintxos with Foie Gras
I don't know if there's a formal name for this type of pintxo but you'll find them at many pintxos bars in San Sebastian. It's a type of warm pintxo made with foie gras served over a piece of crusty Spanish bread.
In the foreground below is foie a la plancha and behind it is solomillo con foie. Foie a la plancha is made with just grilled foie gras while solomillo con foie includes hefty chunks of sirloin. Both are sensational and something you should eat as often as you can while in San Sebastian.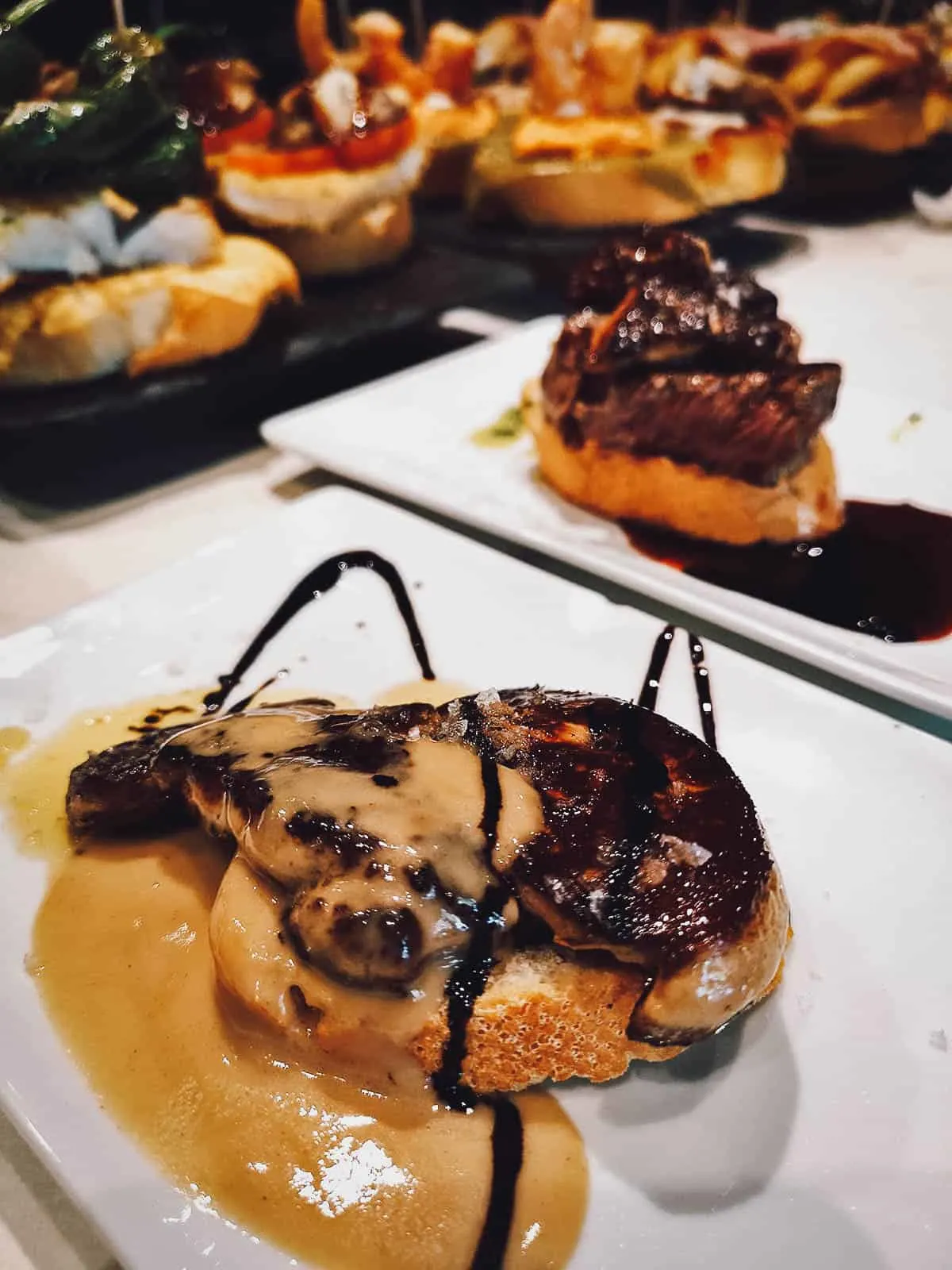 24. Oreja a la Plancha
Oreja a la plancha refers to a Spanish tapas dish made with pork ears. Popular in Madrid, pig's ears are chopped into slices or cubes then grilled in olive oil with different spices and seasonings. It's typically served with bread in a salsa brava or spicy tomato sauce.
In Madrid, oreja a la plancha is often served with mushroom, bacon, and wedges of lemon. In the Basque Region, it's served with salsa vizcaina which is a sauce made with onions, garlic, and red peppers.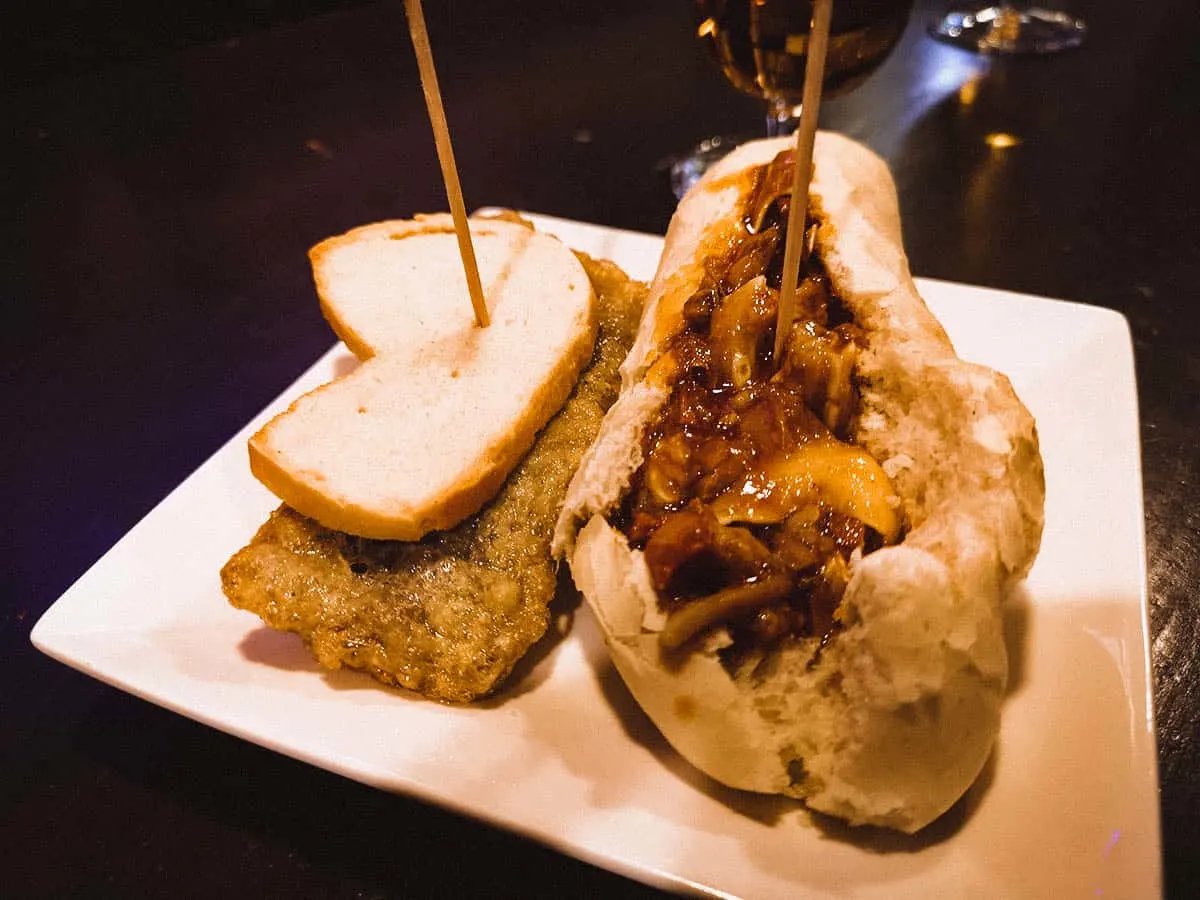 BREADS / SANDWICHES
25. Pa Amb Tomaquet
Pa amb tomaquet or pan con tomate is one of the most well-known Spanish foods. It's especially popular in Catalonia where it's considered a staple Spanish food.
Pa amb tomaquet is a traditional Spanish food classic of toasted or untoasted white bread rubbed over with fresh tomato and (sometimes) garlic, and seasoned with olive oil and salt. It's served at many Spanish restaurants and bars, either as tapas or as a side dish to accompany any meal from breakfast to dinner.
We enjoyed pa amb tomaquet at nearly every meal in Barcelona. Some Spanish restaurants will serve the bread already brushed with the tomato mixture while others will let you do it yourself.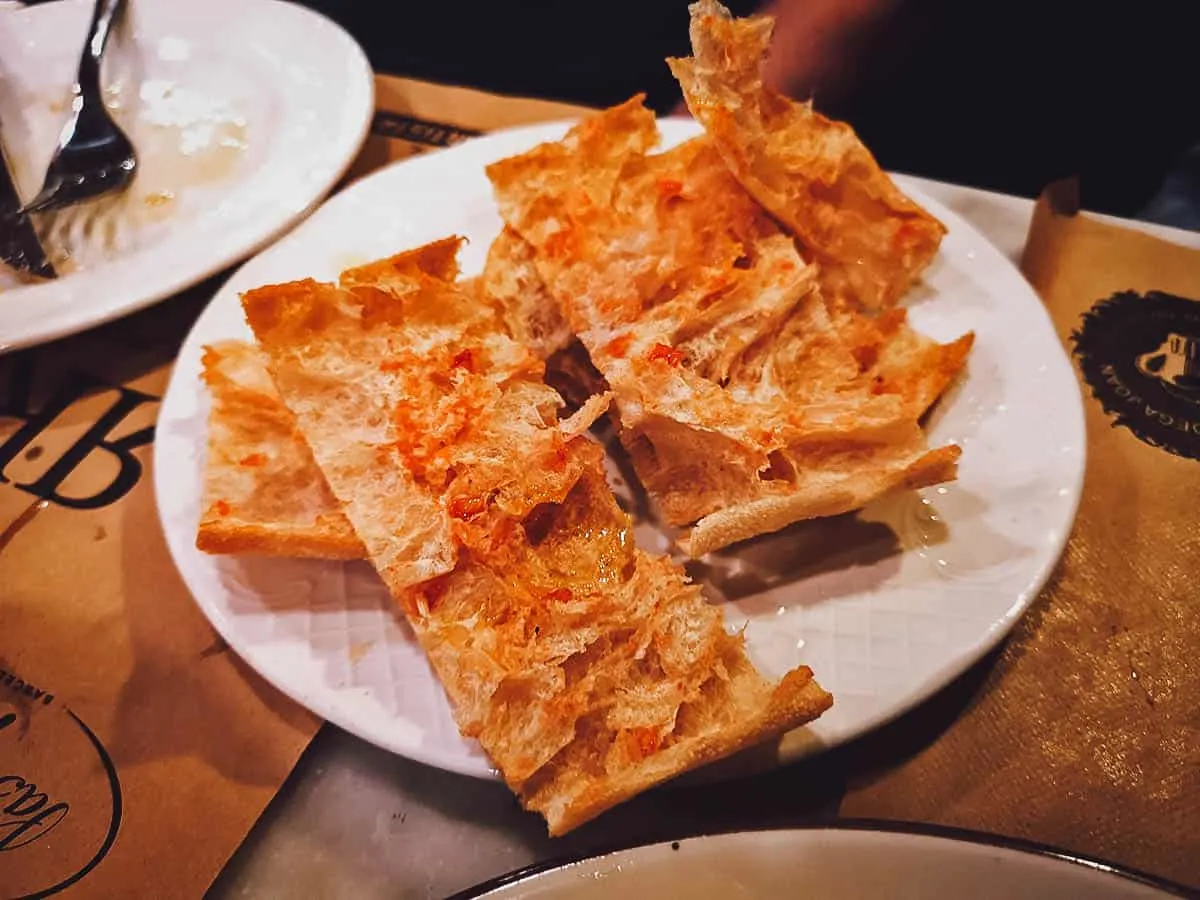 26. Bocadillo de Jamon
Bocadillo de jamon refers to a sandwich made with a Spanish-style baguette layered with slices of ham like jamon serrano or jamon iberico.
At its most basic, it can be made with just white bread and jamon but it can also be filled with other ingredients like manchego cheese, tomato, roasted piquillo peppers, and black olives. To make it even more flavorful, the bread is often brushed with olive oil, tomato, and garlic ala pa amb tomaquet.
You can find bocadillo de jamon pretty much anywhere in Spain. Personally, I find it hard walking into a jamoneria and not walking out munching on one of these simple but delicious sandwiches.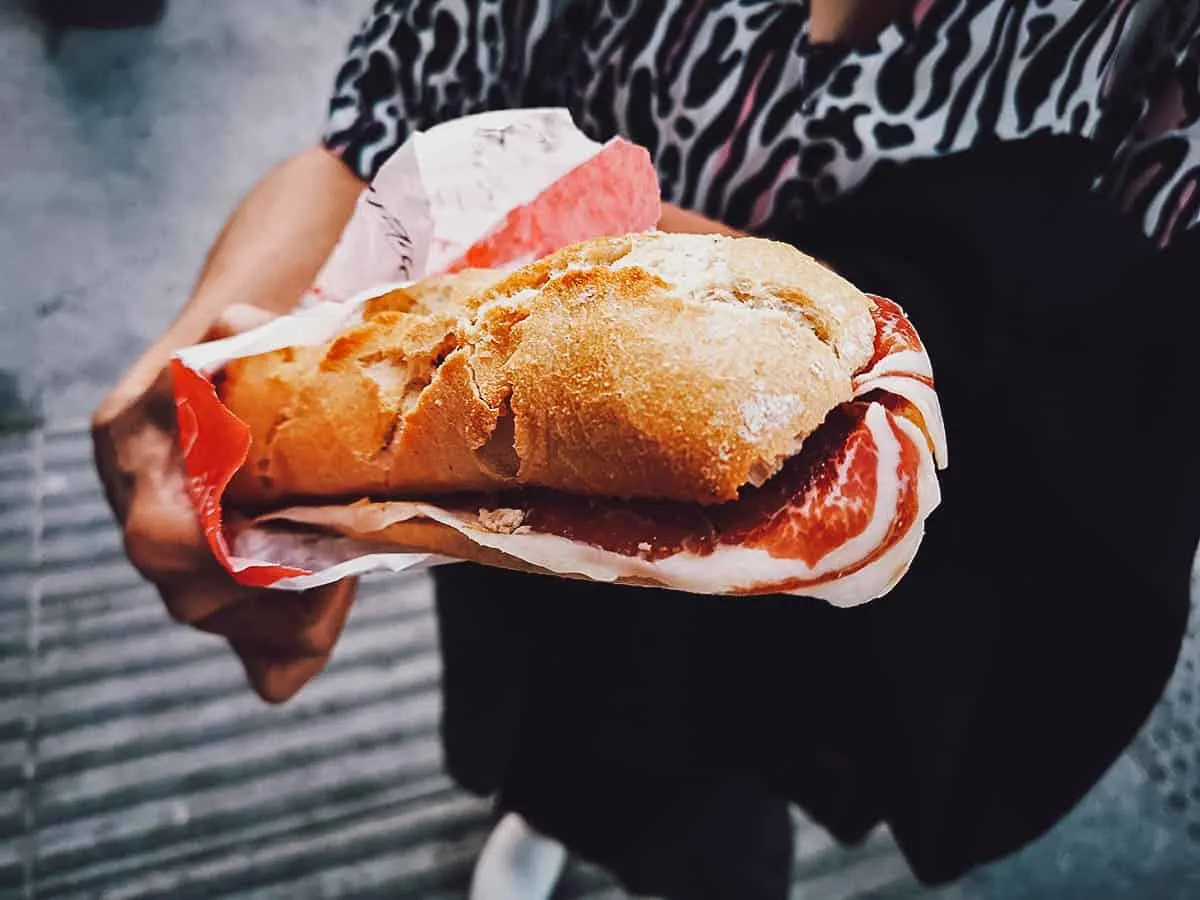 27. Bocadillo de Calamares
Bocadillo de calamares refers to a Spanish squid sandwich popular in Madrid. You can find it at many Spanish bars and shops throughout the capital, especially around Plaza Mayor.
To prepare, squid is cut into one-centimeter thick rings and battered in flour before being deep-fried in olive oil. It can be served on its own in a Spanish-style baguette or topped with a mildly spicy sauce made with tomato, mayonnaise, and garlic.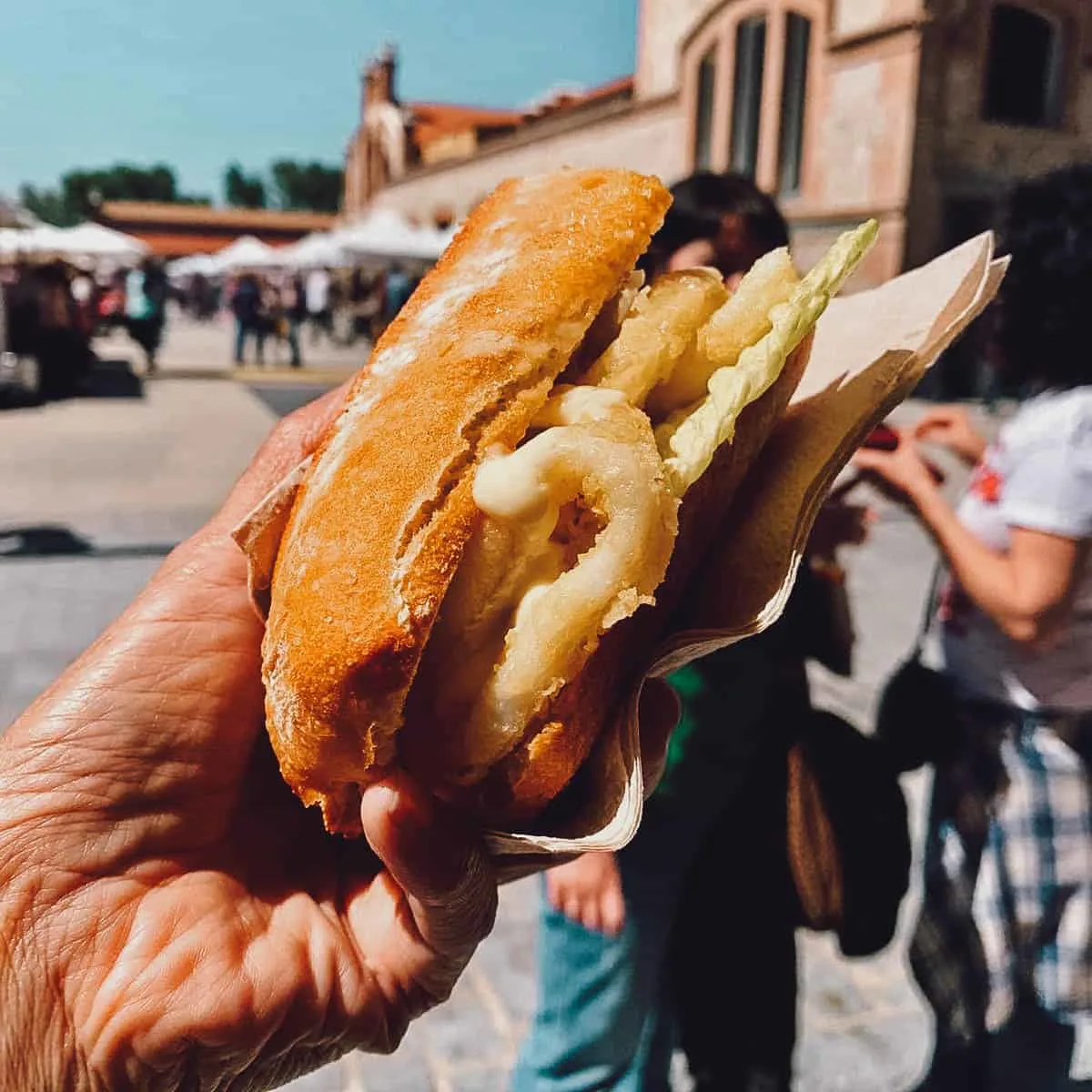 MAINS
28. Paella
Paella is one of the most famous dishes in Spanish cuisine. This hugely popular rice dish is available throughout Spain and is considered by many to be a Spanish national dish, though it has its roots in Valencia.
Paella refers to a traditional Spanish rice dish made with round grain rice, saffron, olive oil, meat, seafood, beans, and green vegetables. It gets its name from the wide shallow pan with two side handles used to cook the dish, traditionally over an open fire.
Paella has become one of the most popular Spanish dishes outside of Spain. It's made with any number of ingredients though to the Valencian, there are only two authentic versions of paella – paella valenciana and paella de marisco (seafood paella).
You can read more about this hugely popular Spanish rice dish in my article about paella.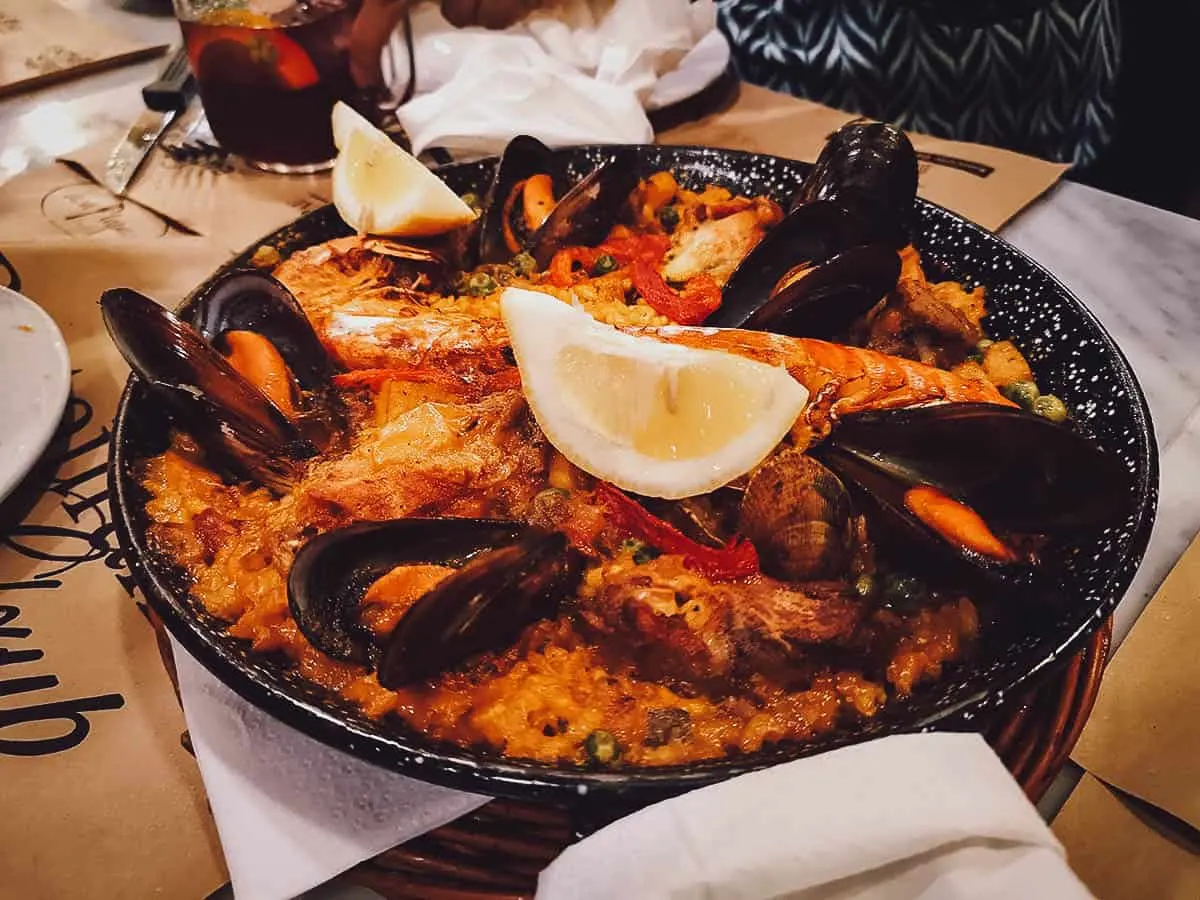 29. Fideua
Fideua refers to the lesser known cousin of paella. Originally from the coast of Valencia, it's almost identical to seafood paella except its made with noodles instead of rice.
Fideua is typically made with a variety of seafood and thin, chopped up noodles similar to spaghettini or angel hair pasta. It isn't as filling as traditional seafood paella which some people may prefer.
Pictured below is the delicious fideua negra I enjoyed in Barcelona. It's made with squid ink which turns the entire dish (and your teeth) black.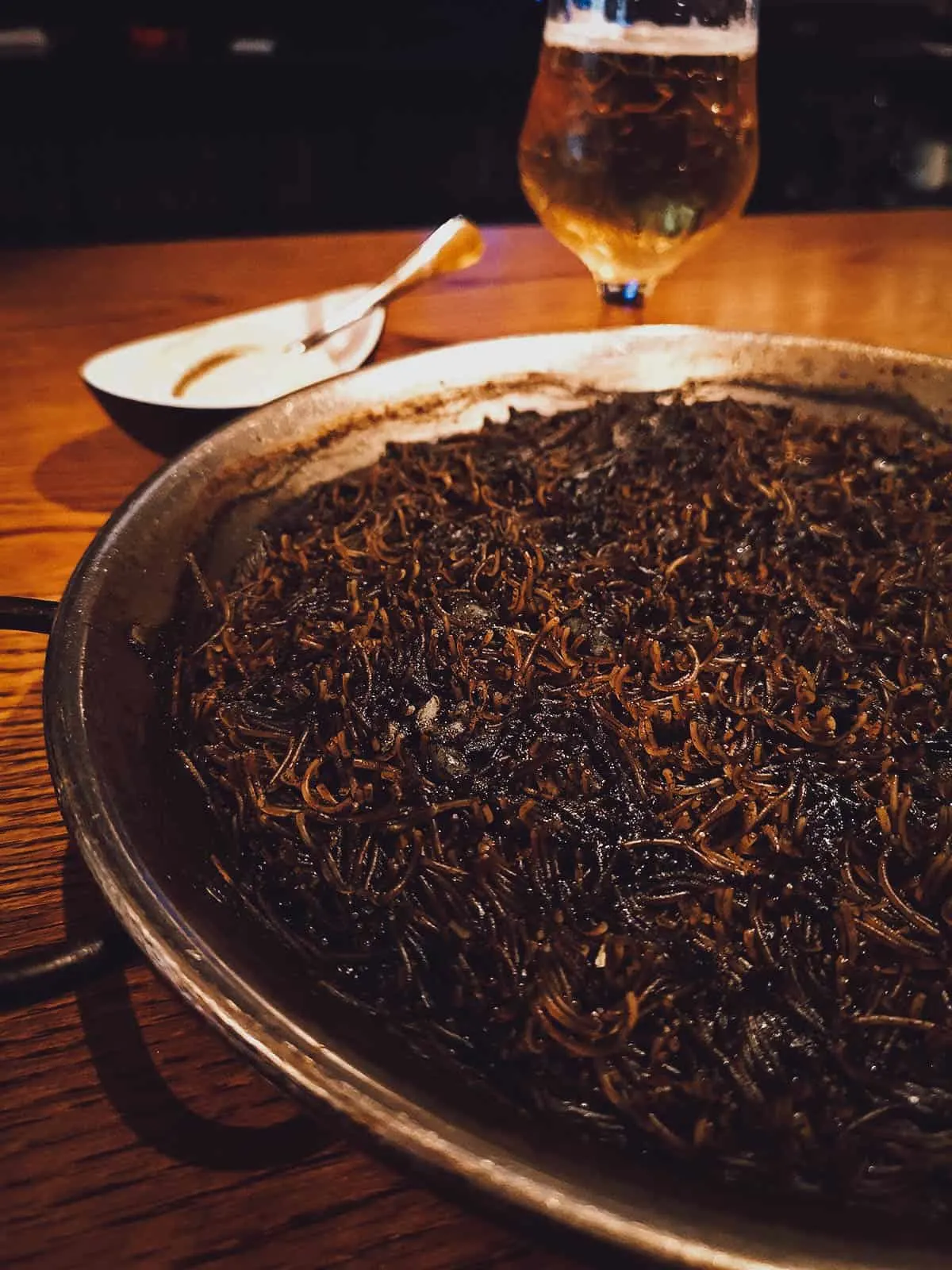 30. Callos
Callos is another popular Spanish dish. It's a stewed tripe dish available throughout Spain, though it's typically associated with Madrid where it's known as callos a la madrileña.
In Madrid, callos is traditionally made with beef or pork tripe, pork snout and trotters, chorizo, serrano ham, morcilla, pimenton, and soup vegetables like carrot and onion. It's cooked slowly until the tripe is tender and the broth becomes rich in gelatin from the pork bones and cartilage.
Callos is one of my favorite Spanish foods and something we enjoy often in the Philippines. The Philippine version is made with chickpeas which they don't seem to use in Spain, at least not in Madrid.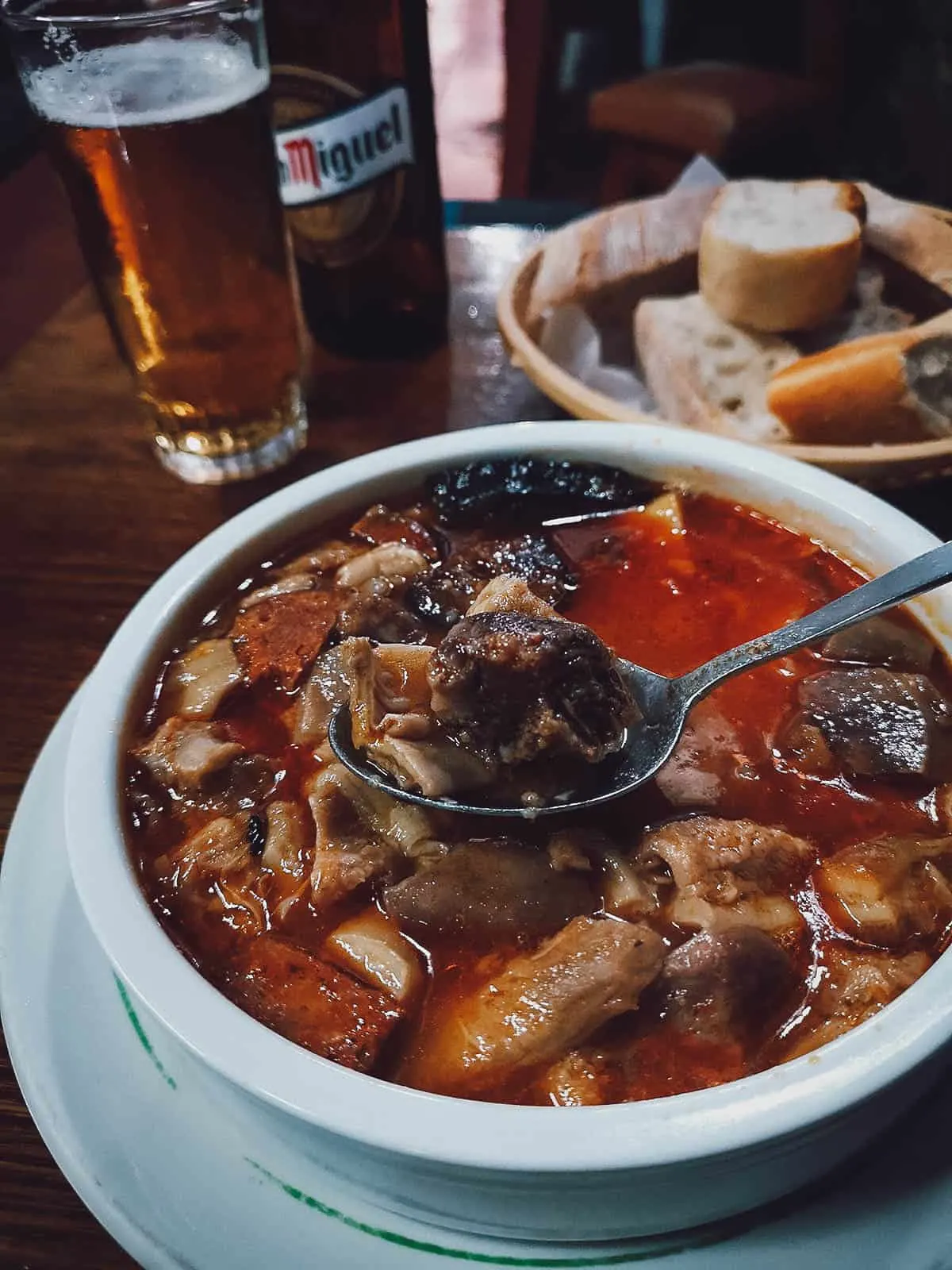 31. Fabada Asturiana
Fabada asturiana refers to a Spanish bean stew made with fabes de la granja, a type of large white bean from Spain. Fabada is originally from Asturias in northwestern Spain but it's widely available throughout the country, even at Spanish supermarkets where it's sold in cans.
Fabada is a rich and filling traditional Spanish dish that's most commonly eaten in winter. It can be served as a starter or main course and is made with a variety of meats like asturian chorizo, lacon gallego (Galician dried ham), bacon, and morcilla.
We enjoyed this hearty bowl at La Corte de Pelayo, a popular restaurant in Oviedo that was a finalist in the 2018 Fabada World Championships.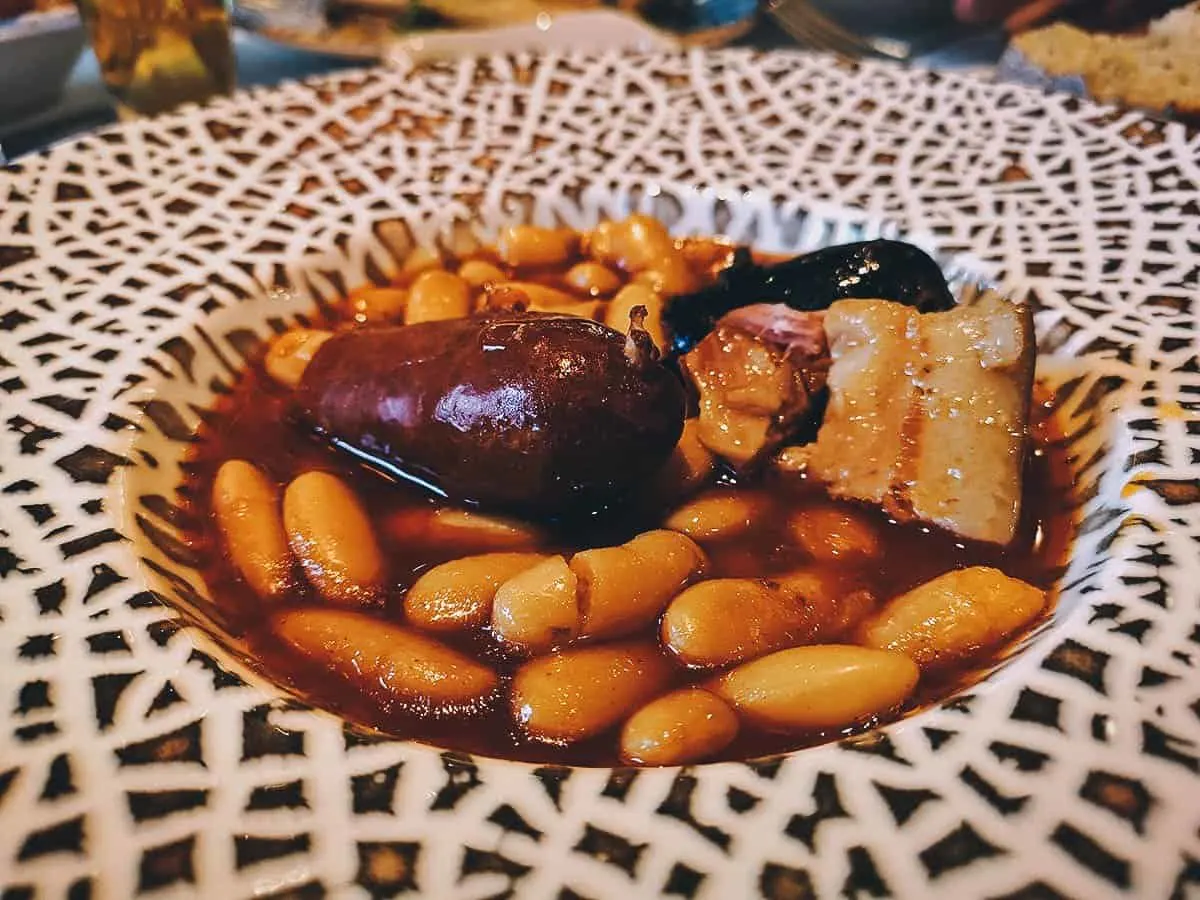 32. Cap i Pota
Cap i pota refers to a classic Catalan stew made with slow-cooked beef head and leg. Cap means "head" and pota means "leg".
During the postwar period in Spain, chicken and steak were luxuries so Spanish people improvised and created dishes using less desirable animal parts like the head, offal, and sweetbreads.
From what I understand, Spanish dishes like cap i pota have become less fashionable in modern times. It's considered rustic "grandmother food" but we were fortunate to experience it on an excellent Barcelona food and wine tour.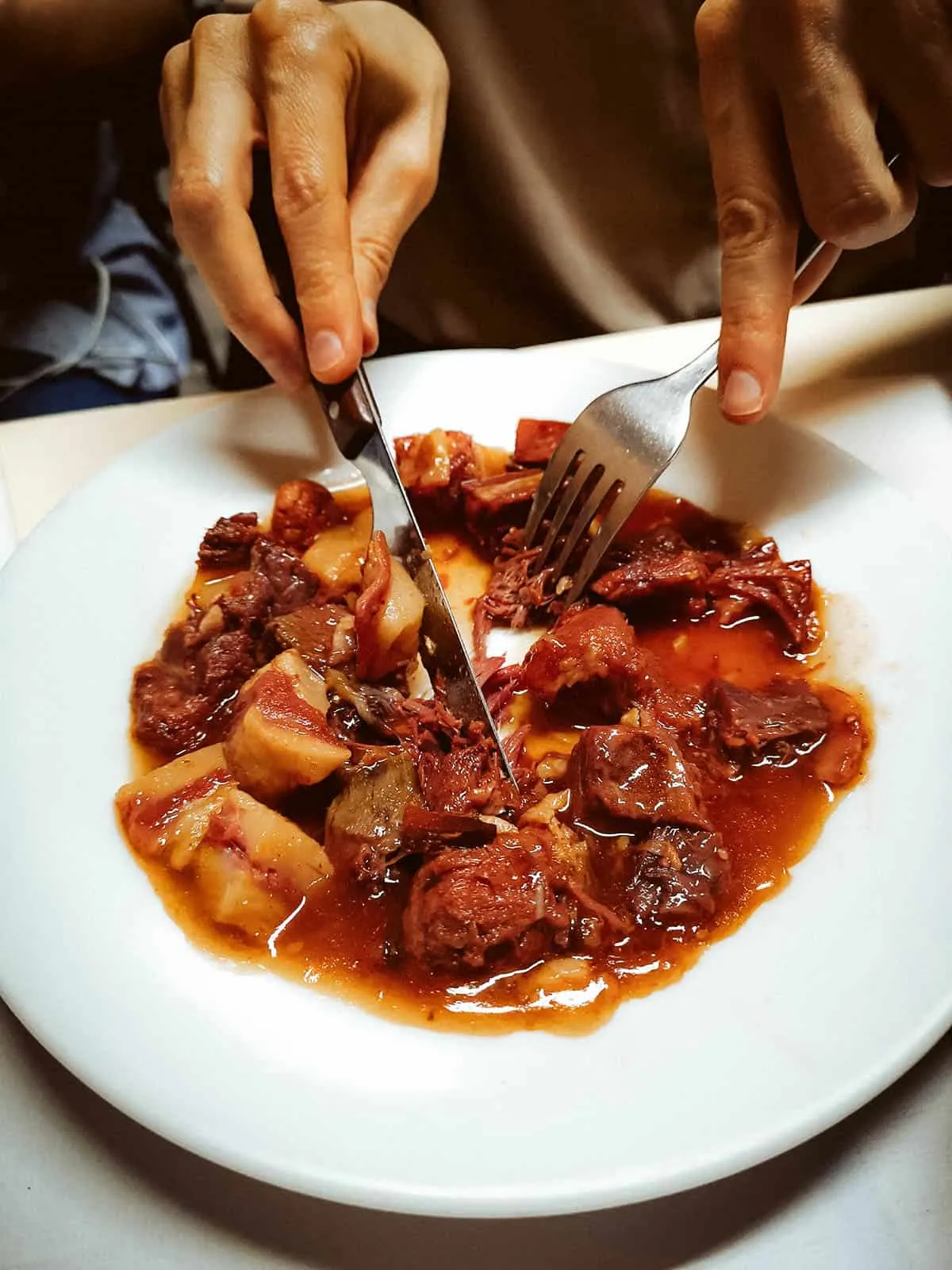 33. Rabo de Toro
Rabo de toro refers to a traditional Spanish dish of braised oxtail. From what I understand, it was originally made with bull tail though it's now more commonly prepared with oxtail or cow tail.
Rabo de toro is originally from the Andalusian region of Spain where it was traditionally made after bull fights. It's become popular throughout Spain, especially in Madrid where bullfighting is apparently still a thing.
Oxtail is extremely bony and tough so it needs to be slow-cooked for several hours over a low flame. Once softened, it becomes fatty and gelatinous and practically dissolves in your mouth. Personally, it's one of my favorite cuts of meat.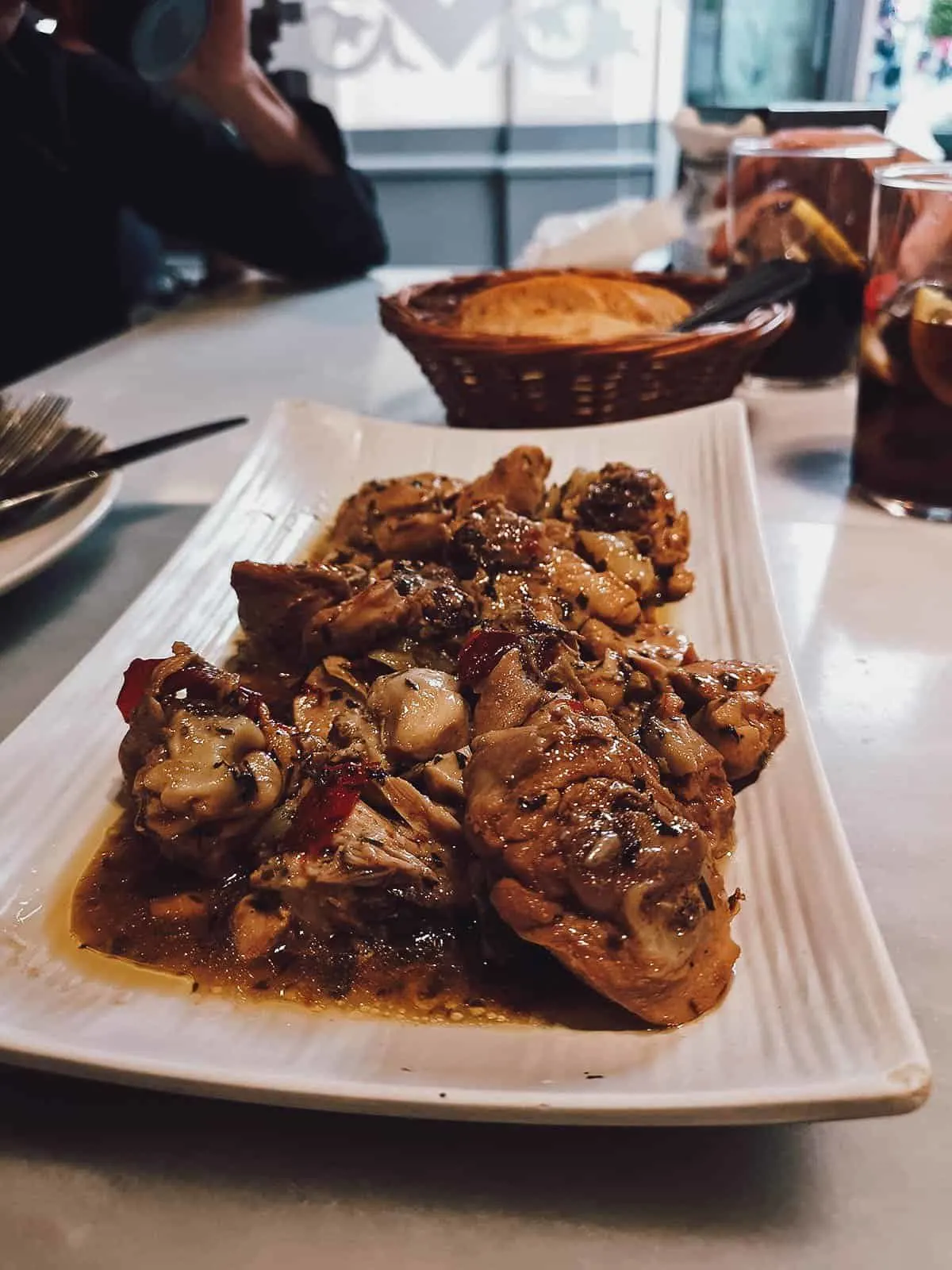 34. Botifarra amb Mongetes
Botifarra amb mongetes means "sausage with beans" and refers to a classic sausage and bean stew from Catalonia. It's made with Iberian white kidney beans and Catalan sausage made from pork and spices.
Botifarra is typically made from lean cuts of pork thigh and shoulder, bacon, coarse ground black pepper, and sea salt. Depending on the butcher, they can be made with other ingredients as well, giving rise to variations like black botifarra (with boiled pork blood), botifarra d'arros (with boiled rice), bisbe (with tripe), and botifarra d'ou (with egg).
Unlike fabada asturiana where the beans are boiled, the beans in botifarra amb mongetes are fried and garnished with chopper garlic and parsley.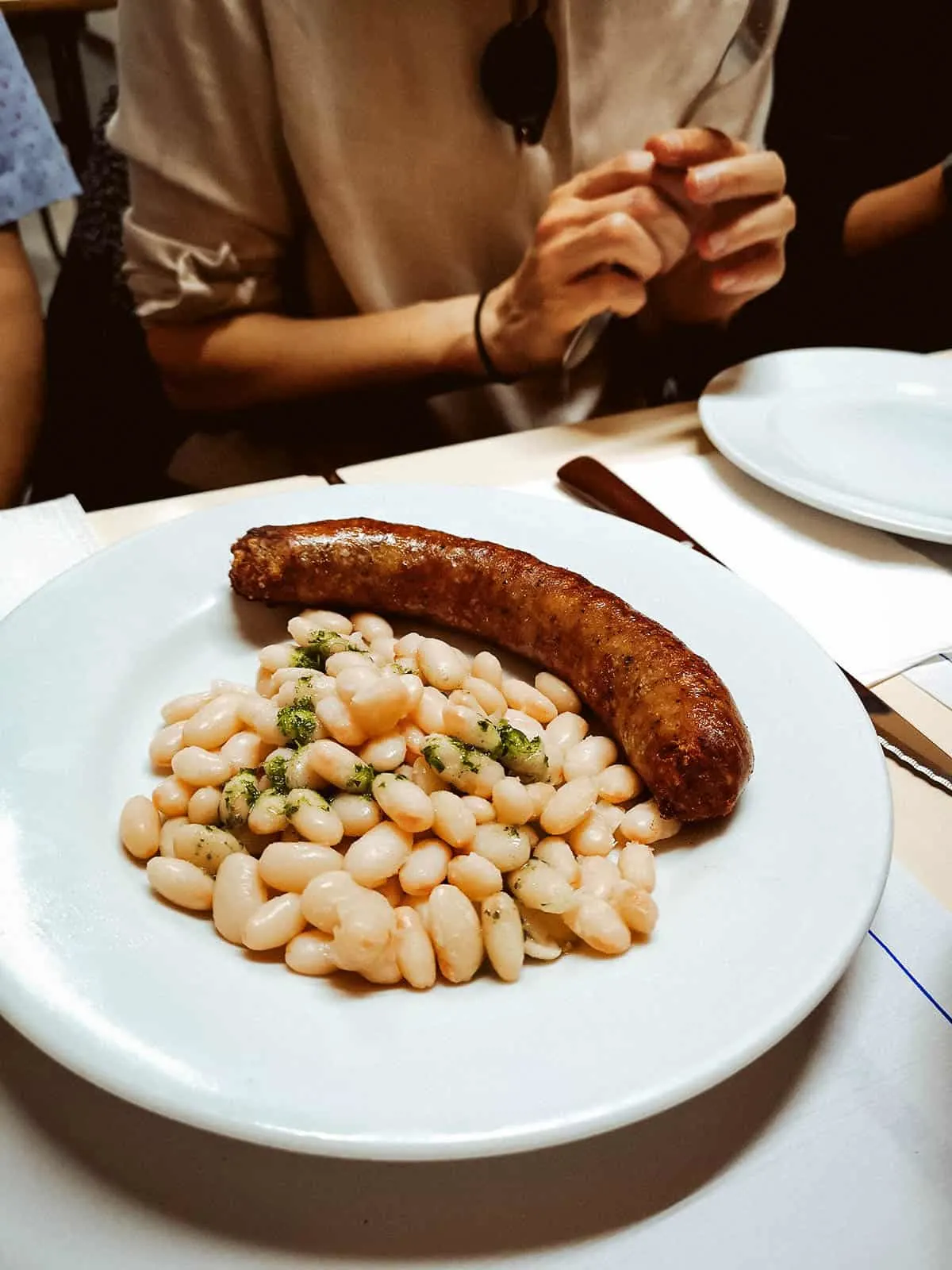 35. Cachopo
Like fabada, cachopo is a popular Spanish dish in the Asturias region of Spain. It consists of two breaded and fried veal fillets layered with ham and cheese and served with a side of fried potatoes.
Cachopo is traditionally made with veal though it can be made with other proteins as well like fish, chicken, and pork. They can be stuffed with a variety of ingredients like mushroom, pepper, and foie gras.
I grew up in an era where veal was considered inhumane but apparently, that no longer seems to be the case. Housing calves in tiny crates was outlawed in the UK in 1990 and the rest of Europe in 2007, with an increasing number of farmers hoping to change public perception by producing ethically-raised veal.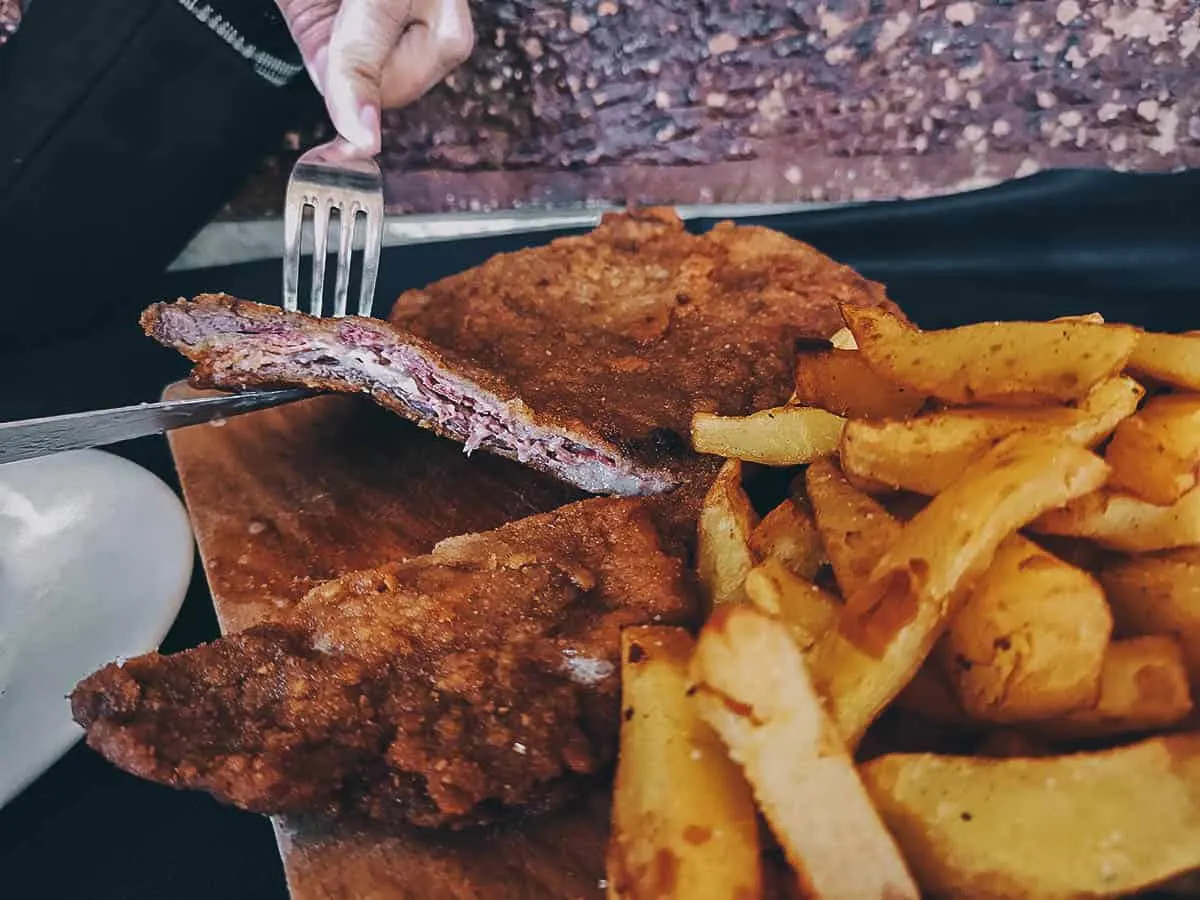 DESSERTS
Be sure to check out our article on Spanish desserts for more suggestions on what delicious sweet treats to look for in Spain.
36. Churros con chocolate
The churro is one of the most popular and beloved pastries in Spanish cuisine. It's popular in Spain and Portugal and in former Spanish and Portuguese colonies like the Philippines and Latin America.
Churros are Spanish fried-dough pastries that are typically eaten for breakfast or as a snack with hot chocolate or cafe con leche. They're fried till crunchy and maintain a ridged surface after being piped through a churrera – a syringe-like tool with a star-shaped nozzle.
Churros are among the most popular Spanish foods and can be enjoyed pretty much anywhere, from pastry shops to street food carts.
The plate of churros con chocolate below was from the iconic Chocolateria San Gines, one of the most famous chocolaterias in Madrid. They can be served curled, straight, or in spiral form.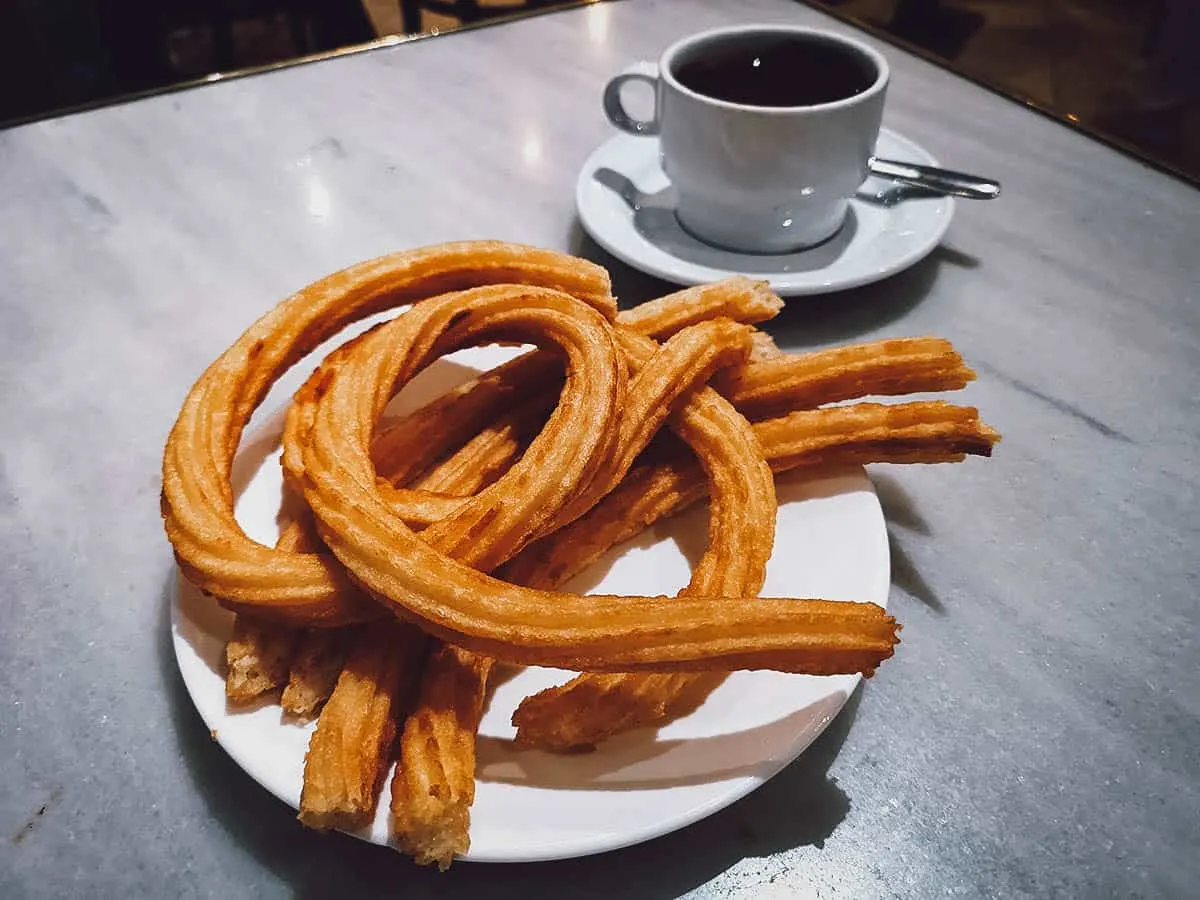 37. Basque Burnt Cheesecake
As its name suggests, Basque burnt cheesecake is a type of Spanish cheesecake from the Basque region. It's a crustless cheesecake with a burnt top that was invented by the La Viña bar in San Sebastian.
New York cheesecake has long been one of my favorite desserts in the world but Basque burnt cheesecake is even better. Unlike a typical baked cheesecake that's firm throughout, Basque burnt cheesecake is soft and fluffy around the edges and gooey and more molten towards the center. It's absolutely delicious.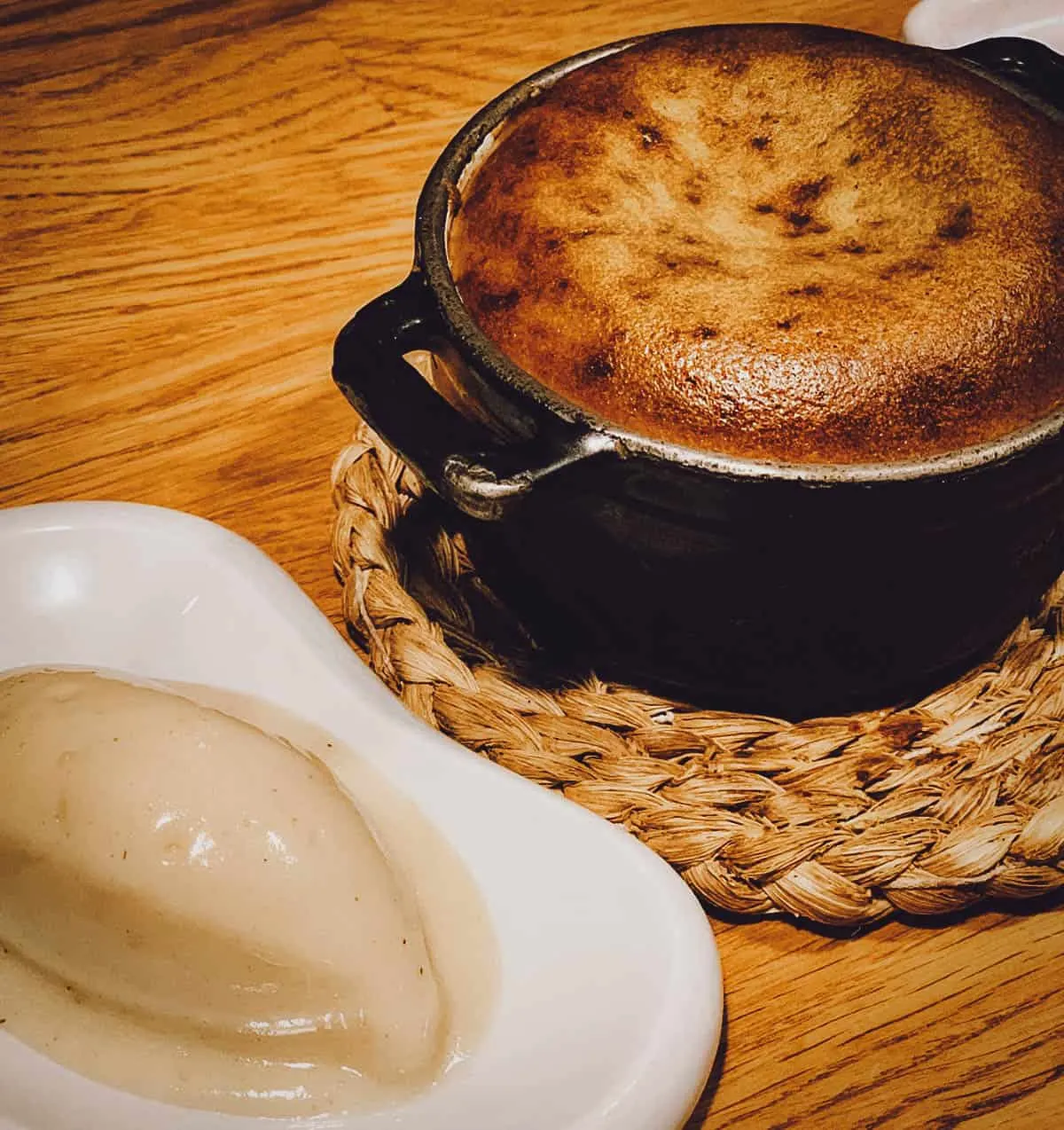 38. Crema Catalana
Crema catalana is basically the Spanish version of creme brulee. While creme brulee is made with cream and aromatized with vanilla, crema catalana is made with milk and aromatized with cinnamon and lemon zest. As its name suggests, it's a Spanish dessert popular in Catalan cuisine.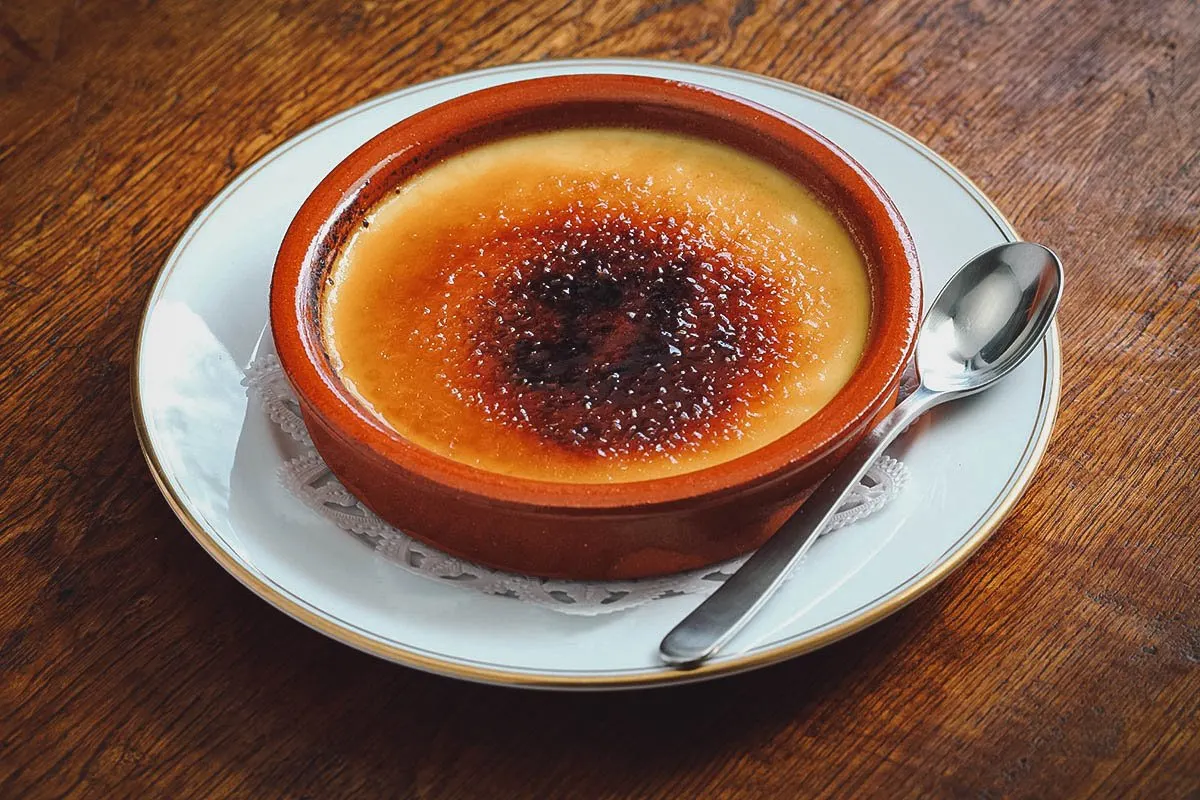 Photo by asimojet
39. Mel i Mato
Mel i mato is another Spanish dessert popular in Catalan cuisine. It consists of honey and mato which is a subtly sweet fresh cheese made from goat, sheep, or cow's milk.
A chunk of mato is served on a plate and drizzled with a generous amount of honey. It can be presented on its own or served with nuts, jam, and dry or fresh fruit.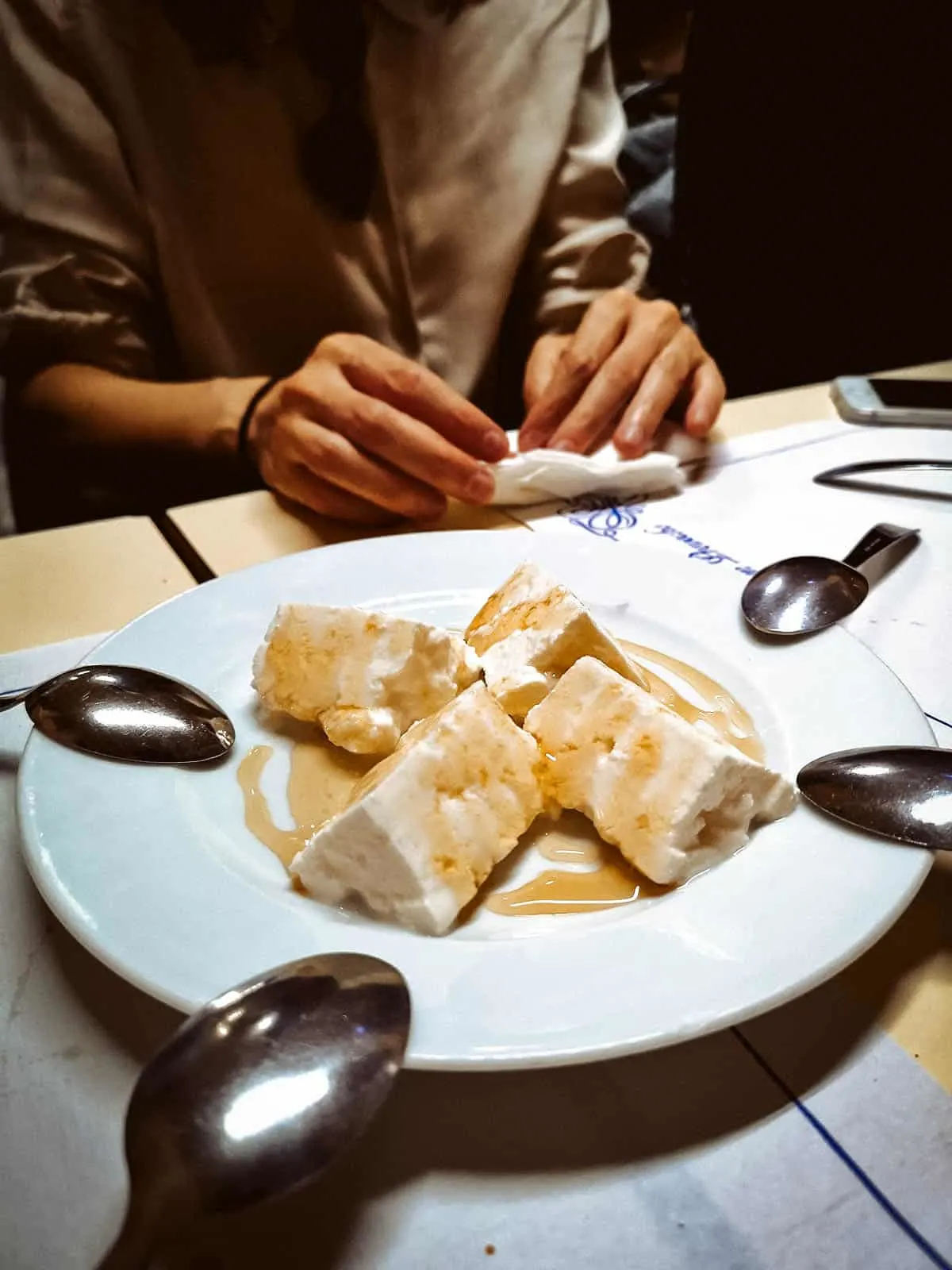 40. Carbayon
Carbayon is a type of Spanish almond puff pastry popular in Oviedo. It's filled with a mixture of egg, ground almonds, cognac, and sugar which is then covered with a crusty layer made with lemon juice, syrup, and cinnamon.
This almond pastry is so beloved in Oviedo that it's considered a cultural symbol of the city.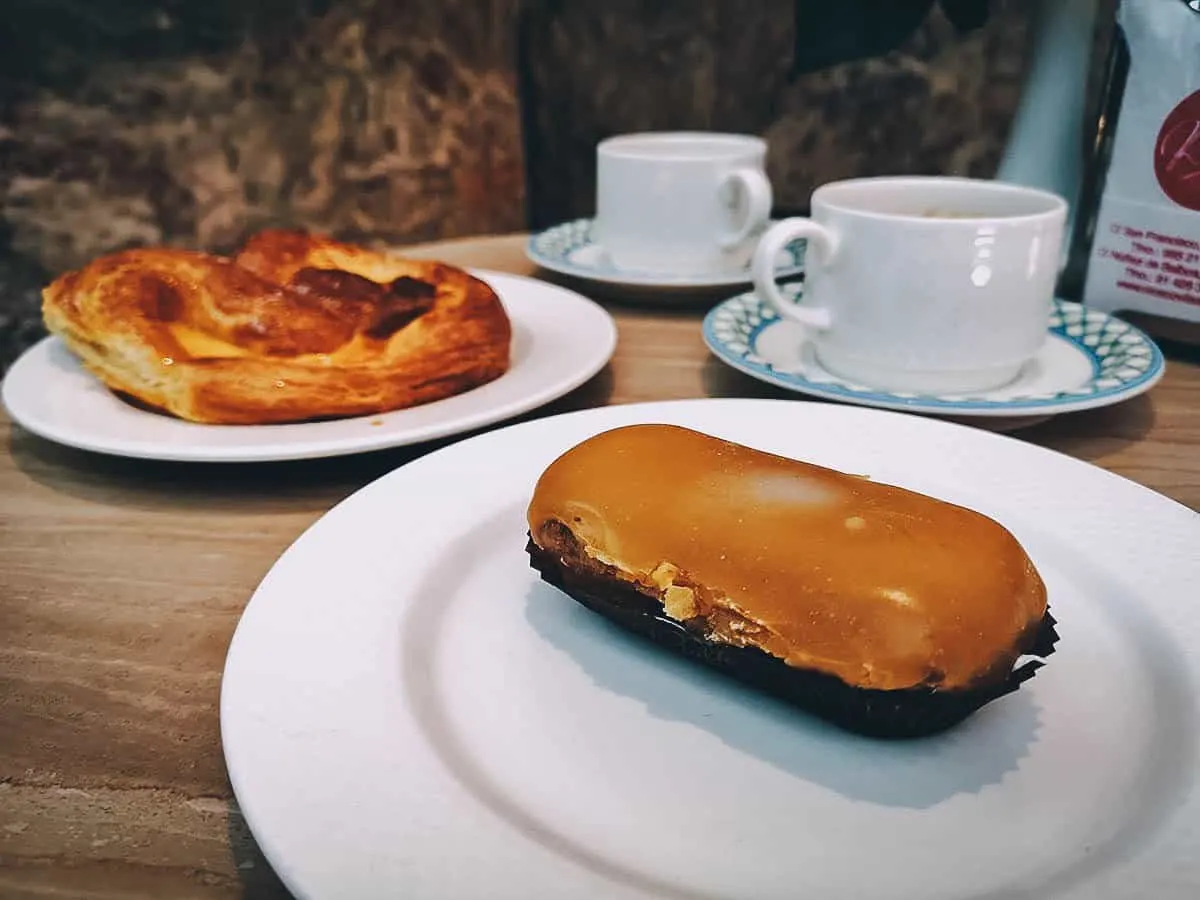 41. Pionono
Pionono is a type of Spanish pastry from the Andalusia region. It's originally from Santa Fe which is a small town about 12.5 km (7.8 miles) west of Granada.
The pastry consists of two parts – a bottom layer of rolled pastry drenched with syrup and a crown of toasted cream. It's soft, sweet, and spongey and typically consumed in just a few bites.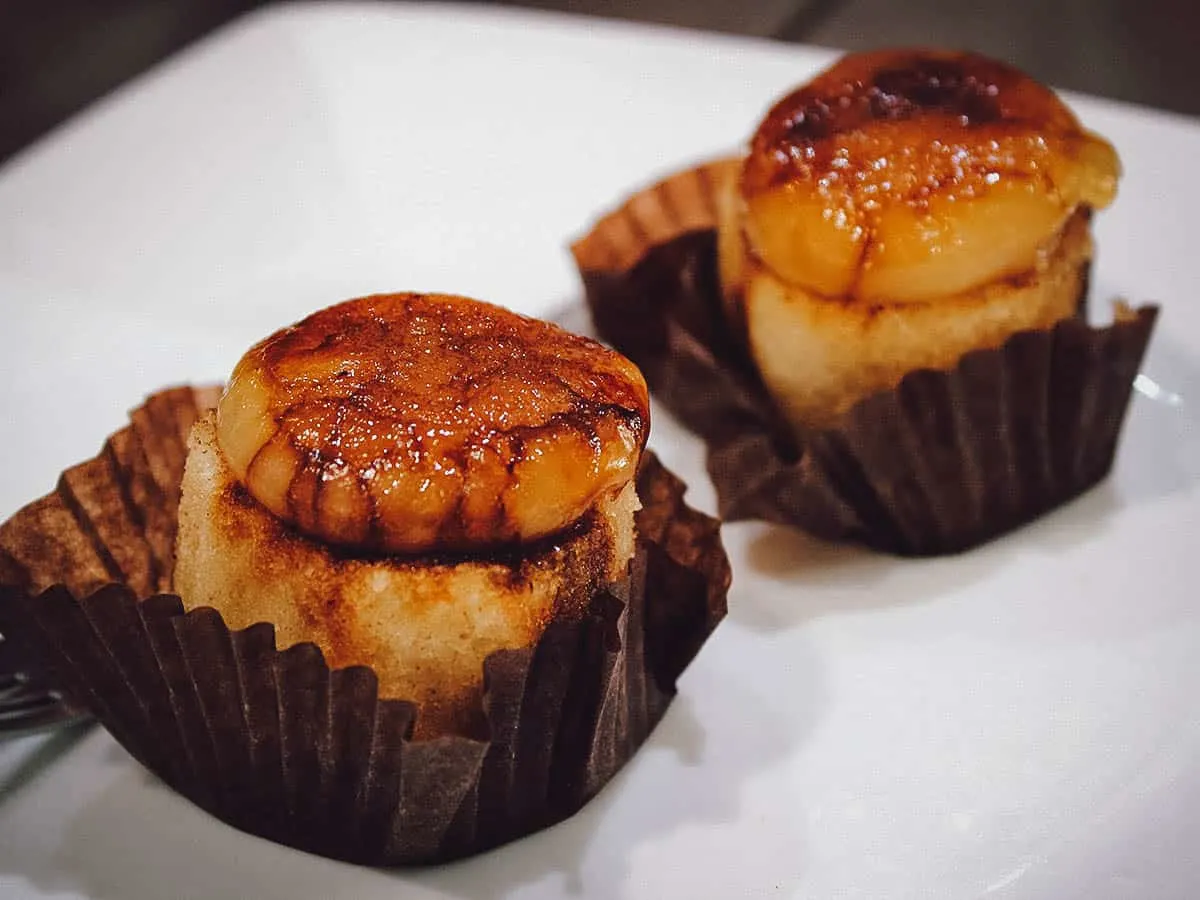 Photo by Jimenezar via Shutterstock
DRINKS
42. Vermut
Vermut is the Spanish word for vermouth. It refers to an aromatized fortified wine flavored with various botanicals like roots, barks, flowers, seeds, herbs, and spices.
Vermut is hugely popular in Spain where it's enjoyed as an aperitif. Over the weekends, Spanish people will often go to bodegas or vermuterias to have vermut and tapas before proceeding to lunch.
You can enjoy vermut on its own or spritzed with a bit of carbonated water using a sifon. It's quite sweet and goes very well with the acidity of aceitunas.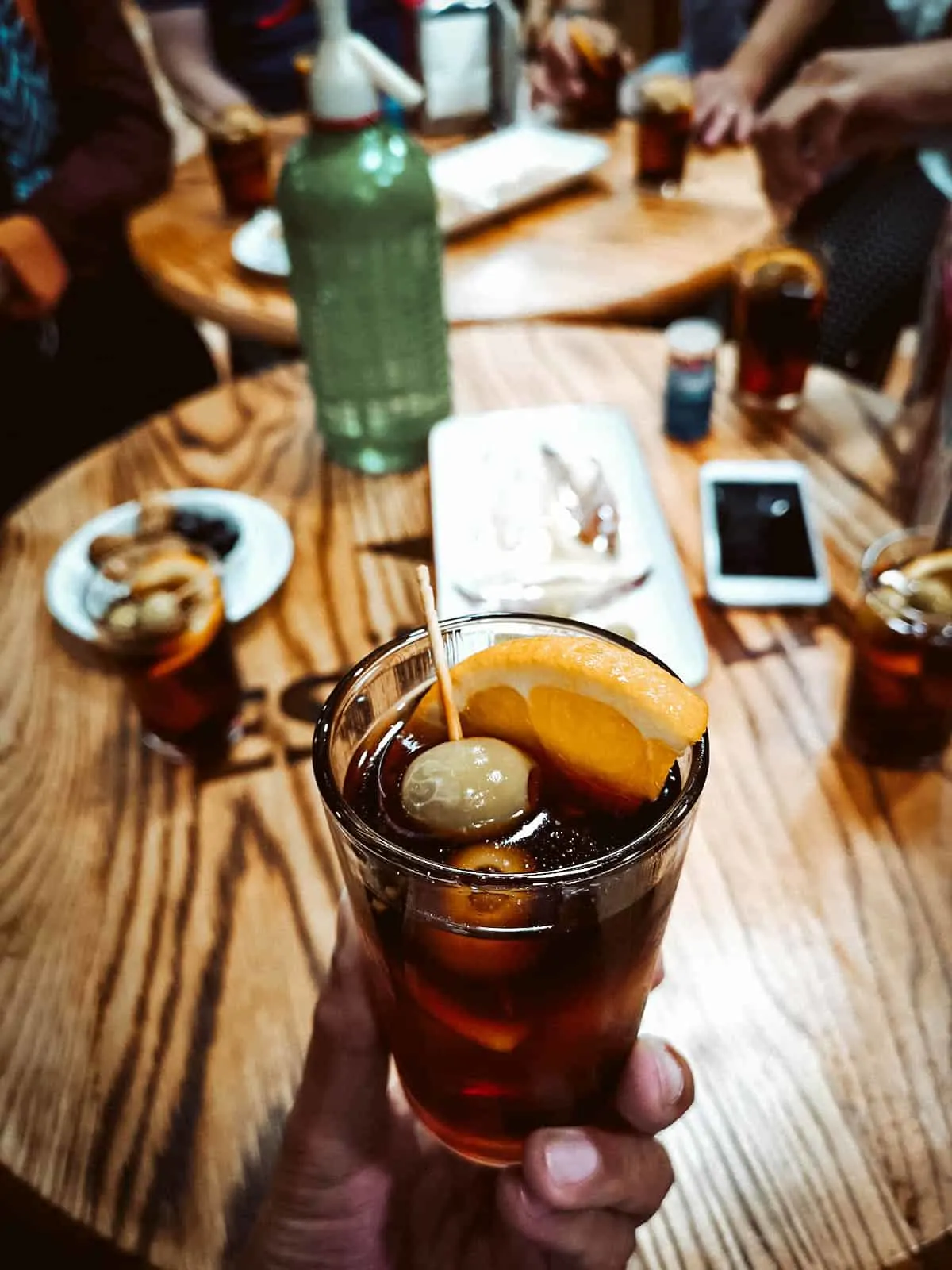 43. Sherry Wine
Sherry or vino de jerez is a type of Spanish fortified wine made primarily from palomino grapes grown in the Jerez-Xeres-Sherry region of Andalusia. It's fortified with destilado and can range in color from light to dark.
Sherry is a DOP wine, meaning a bottle must be produced within the Sherry Triangle and adhere to a specific set of regulations to carry the "Sherry" label.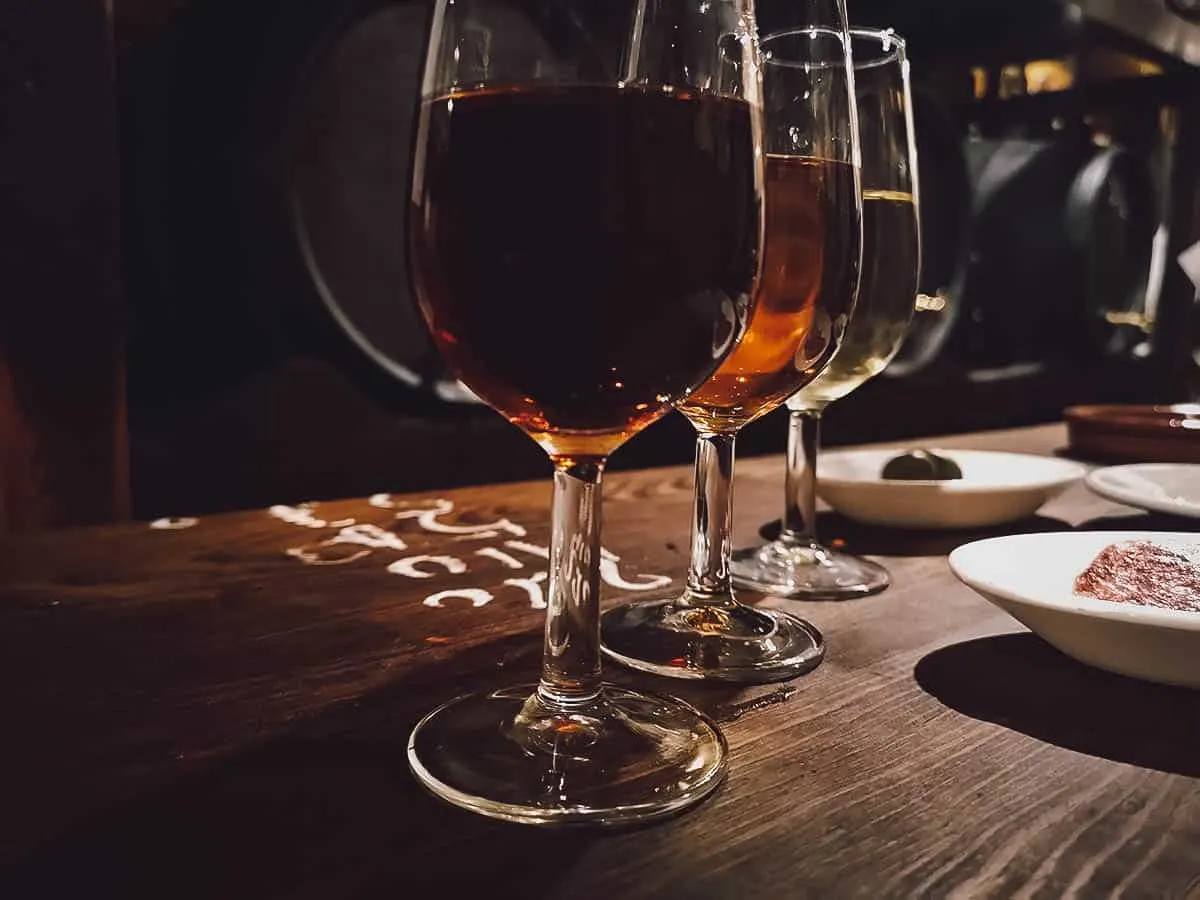 44. Basque Cider
Basque cider or sagardoa is an alcoholic apple cider drink popular in the Basque region. Spanish apples are put through a natural fermentation process to produce a sharp-tasting drink that's somewhat earthy and straw-like in flavor.
The best time to try Basque cider is during the txotx season which goes from around mid-January until April or May. Txotx refers to the act of pouring cider directly from the barrel and pairing it with a traditional Spanish menu of cod, steak, cheese, apple jelly, and walnuts.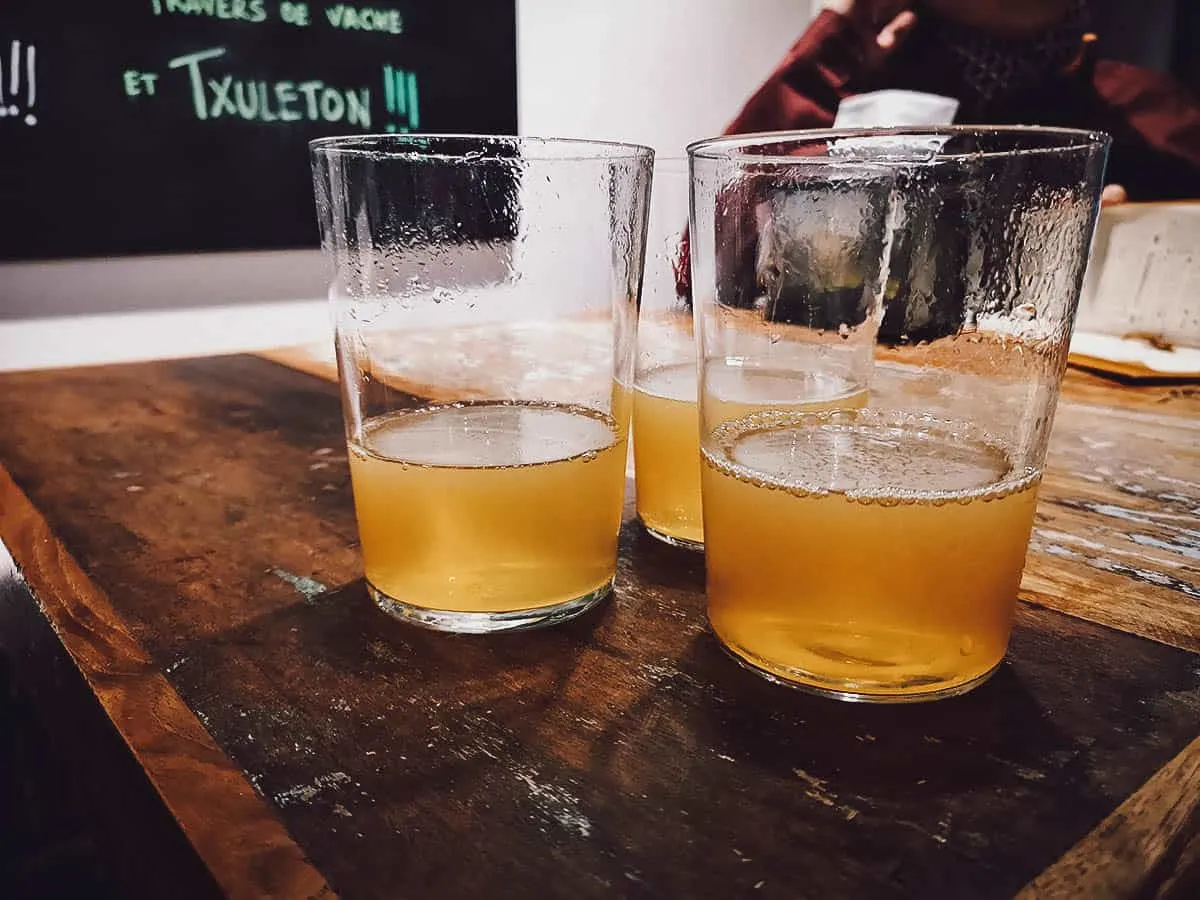 45. Carajillo
Carajillo refers to a hot Spanish coffee drink spiked with brandy, whisky, or anisette. At its most basic, it's made by pouring brandy into a freshly brewed glass of coffee, but more elaborate versions exist that call for the partial burning of the alcohol with sugar, cinnamon, coffee beans, and lemon rind.
According to our Spanish tour guide in Barcelona, the name carajillo stems from the word coraje which means "courage" in Spanish. It dates back to the time when Cuba was a Spanish province and troops would spike their coffee with rum to give them a boost of courage.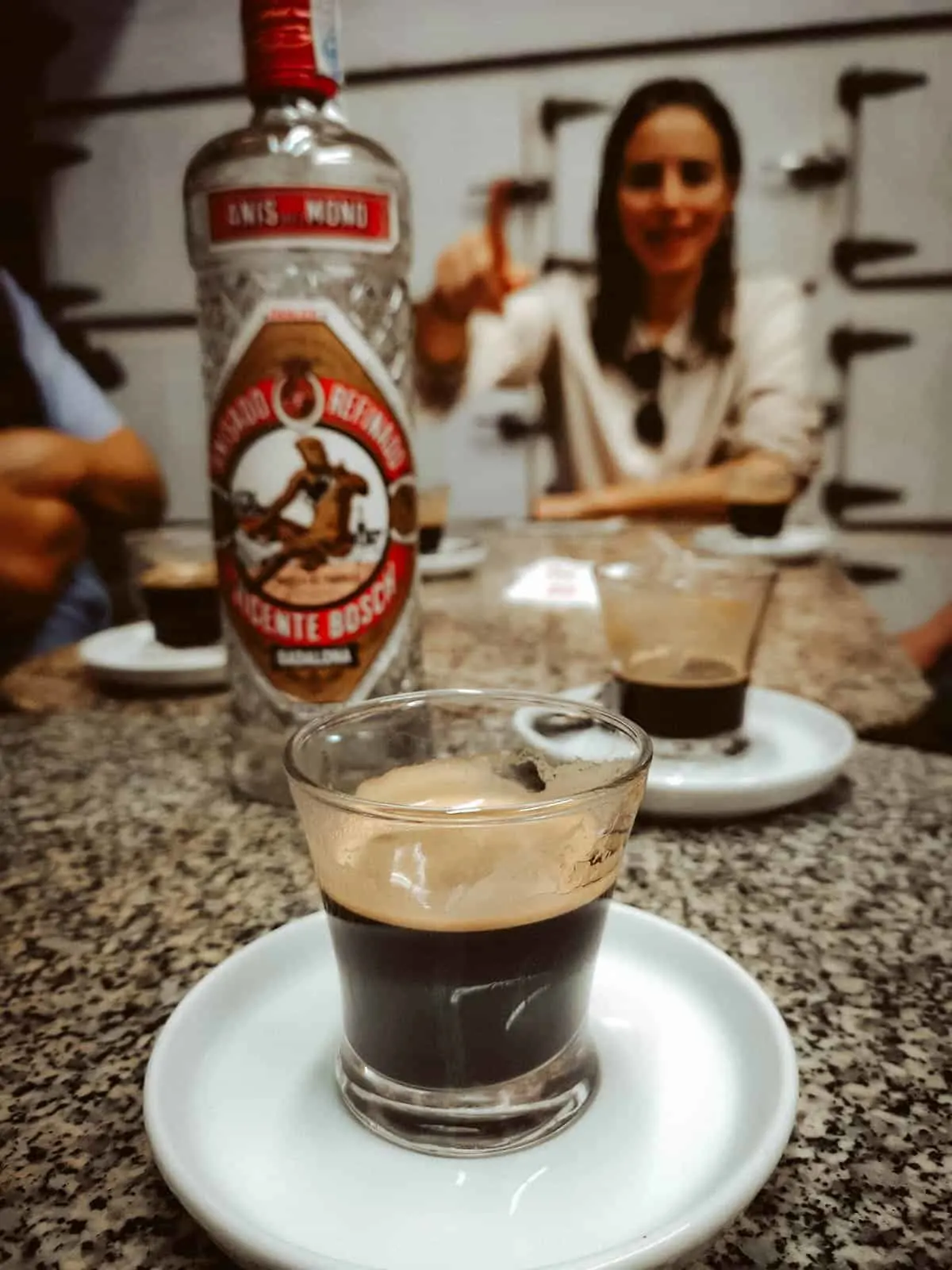 SPANISH FOOD TOURS
No one knows Spanish food better than a local so what better way to experience Spanish cuisine than by going on a food tour? A food-obsessed local will take you to the city's best spots and explain every dish to you in more detail.
We went on a Spanish food tour in Barcelona and it turned out to be one of our favorite days in Spain. Check out Get Your Guide for a list of food and drinking tours in Barcelona and in other cities throughout the country.
SPANISH COOKING CLASSES
Aside from food tours, taking cooking classes is one of our favorite things to do on trips. Eating Spanish food is one thing but learning how to make it is another. For me, taking a cooking class is one of the best ways to learn about an unfamiliar cuisine. Check out Cookly for a list of cooking classes in Barcelona and in other cities throughout Spain.
FINAL THOUGHTS ON TRADITIONAL SPANISH FOOD
As with all our food guides, this Spanish food list is by no means a finished product but I do hope it leads you to some terrific food in Spain.
Because of our affinity to Spanish food and culture, we're already planning a return trip to Spain. And when that trip happens, we'll stay for no less than three months.
We want to immerse ourselves in the culture and really sink our teeth into Spanish cuisine. With so much good food in Spain, we want to discover and experience as many traditional Spanish dishes as we can. This first edition of our Spanish food guide is a good start but it's only just beginning to scratch the surface of Spanish cuisine.
Thanks for reading and we hope you have a wonderful time eating all this delicious food in Spain. If you have recommendations on other must-try Spanish foods, then please let us know in the comments below. Salud!
Disclosure
Some of the links in this Spanish food guide are affiliate links, meaning we'll earn a small commission if you make a booking at no added expense to you. We only recommend products and services that we use ourselves and firmly believe in. We really appreciate your support as this helps us make more of these free travel guides. Gracias!