EDITOR'S NOTE: This article was verified by Lazar Ioana Alis, a writer and Romanian food expert based in Tecuci, Romania.
When doing research for this article on Romanian food, I often came across this Romanian cookbook and food blog – From Dill to Dracula (Amazon affiliate link). The book's title was telling because for many non-Romanians, the story of Count Dracula is still the first thing that comes to mind when they think of Romania.
The legend of Vlad Dracula is the most famous but there are so many compelling reasons to visit this lesser known gem in southeastern Europe. Romania's medieval castles and painted monasteries are must-visits while its Carpathian Mountains and pastoral countryside offer much to adventure seekers and nature lovers.
If you thrive in big cities, then you'll want to spend a good chunk of your time in Bucharest. Once nicknamed "Little Paris" and now touted as the "new Berlin", Romania's capital buzzes with excitement and is perhaps one of the most underrated cities in Europe.
And then there's the food.
If you travel to eat like we do, then mouthwatering dishes like mititei, ciorbă, pasca, and sarmale will give you even more reasons to visit Bucharest and Romania. In fact, this Romanian food guide will give you forty! Poftă bună!
ROMANIAN FOOD QUICK LINKS
If you're planning a trip to Romania and want to really dive into the cuisine, then you may be interested in joining a food tour or taking a cooking class.
TOURS
Save This on Pinterest!
No time to read this article on traditional Romanian foods? Click on the save button and pin it for later!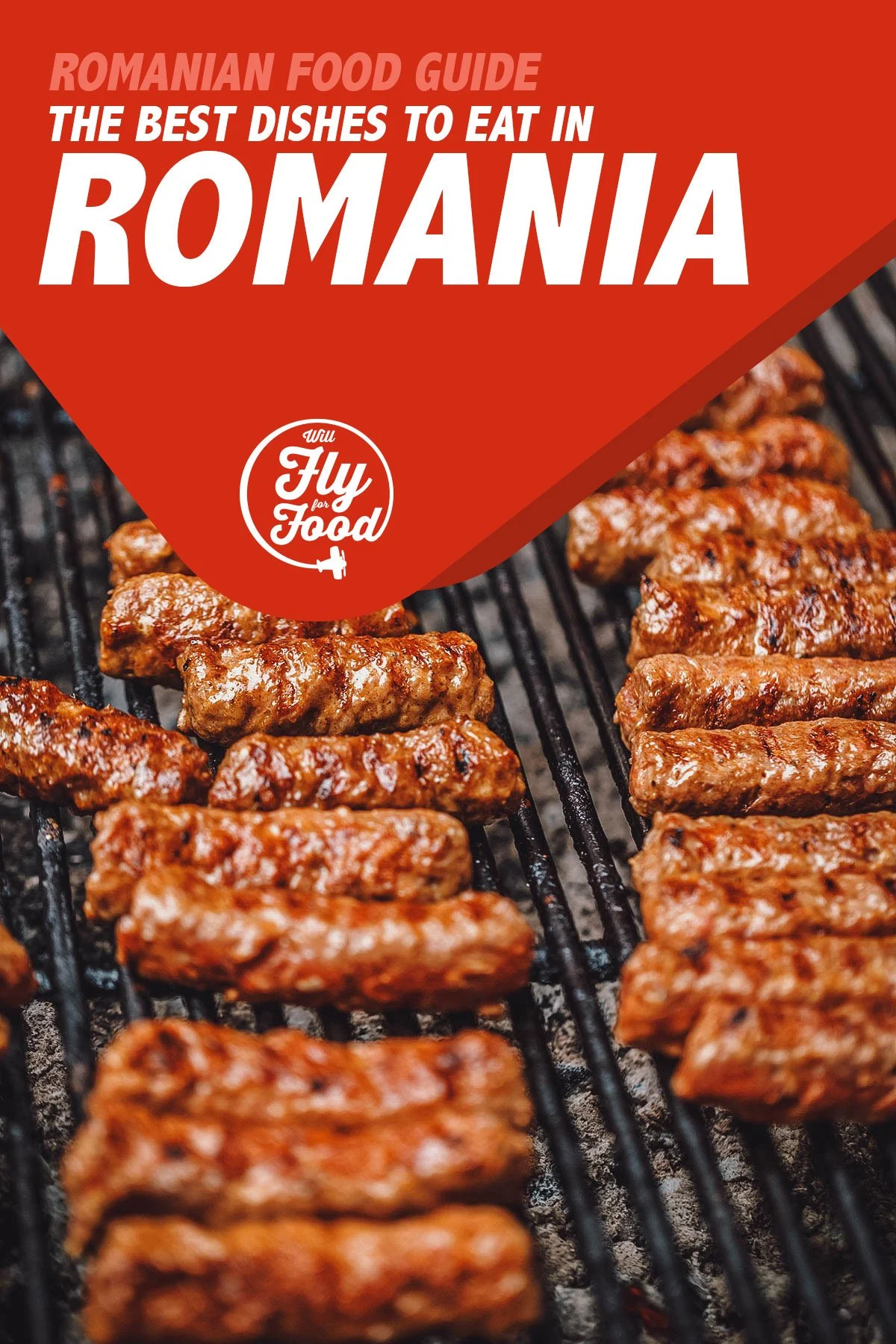 Photo by grafvision
WHAT IS TRADITIONAL ROMANIAN FOOD?
Romanian food is a mix of local Dacian traditions and foreign influences, mostly from ancient Roman, Turkish, Hungarian, and Balkan cuisines.
Ancient Dacians existed on a diet consisting mostly of roasted meats, fruits, honey, and aromatic wines. They excelled at breeding cattle and growing crops but they weren't as skilled at preparing dairy products. They drank raw sheep's and cow's milk and ate their vegetables boiled.
Because of the country's prime geographic location, ancient Romanians were always under the threat of invasion so they learned to eat on the move. They became accustomed to eating raw herbs and salad vegetables and dry curing raw meat.
The Roman occupation brought with it dishes and culinary techniques like pastries (plăcintă, pască), soups, breads, and cold-pressed olive oil. This was followed centuries later by the Ottoman influence and the introduction of now common dishes like meatballs, kebabs, sour soups (borș or ciorbă), stuffed peppers (ardei umpluţi), cabbage rolls (sarmale), and Turkish delight.
From the 1700s onwards, Romanian food started to become more westernized and modernized with Austro-Hungarian, Russian, French, Greek, and Italian influences making their way into different parts of the country.
Sadly, with the arrival of communism in 1947, Romanian gastronomy took a step back with the censorship and elimination of western influences. Even after it ended, this difficult period left a lasting imprint on the culinary sensibilities of Romanians. Many craved the novelty and slick branding of international fast food at the expense of classic Romanian cuisine.
THE BEST TRADITIONAL ROMANIAN DISHES
This article on traditional Romanian food has been organized by category to make it easier to digest. Click on a link to jump to any section of the guide.
STARTERS / SALADS / SIDES / SNACKS
1. Ardei Umpluţi
If you enjoy Balkan food, then this first Romanian dish will be familiar to you. Ardei umpluţi means "stuffed pepper" in Romanian and refers to the local version of dolma, a popular dish consisting of hollowed-out peppers stuffed with ground meat and rice.
Stuffed peppers are popular in many countries throughout the Balkans and beyond like Bosnia and Herzegovina, Serbia, Croatia, Albania, Georgia, and Armenia. They can be made with any type of vegetable but in Romania, ardei umpluţi refers specifically to bell peppers – mostly yellow, but also red and kapia peppers – stuffed with a filling of ground pork, white rice, herbs, onion, garlic, and spices.
Depending on the cook and the region in Romania, it can be stuffed with different spices and herbs and other ingredients like mushrooms, cheese, carrots, and tomatoes. After stuffing, the peppers are traditionally boiled in a tomato sauce with bay leaves and seasonings before being served with a dollop of sour cream or yogurt.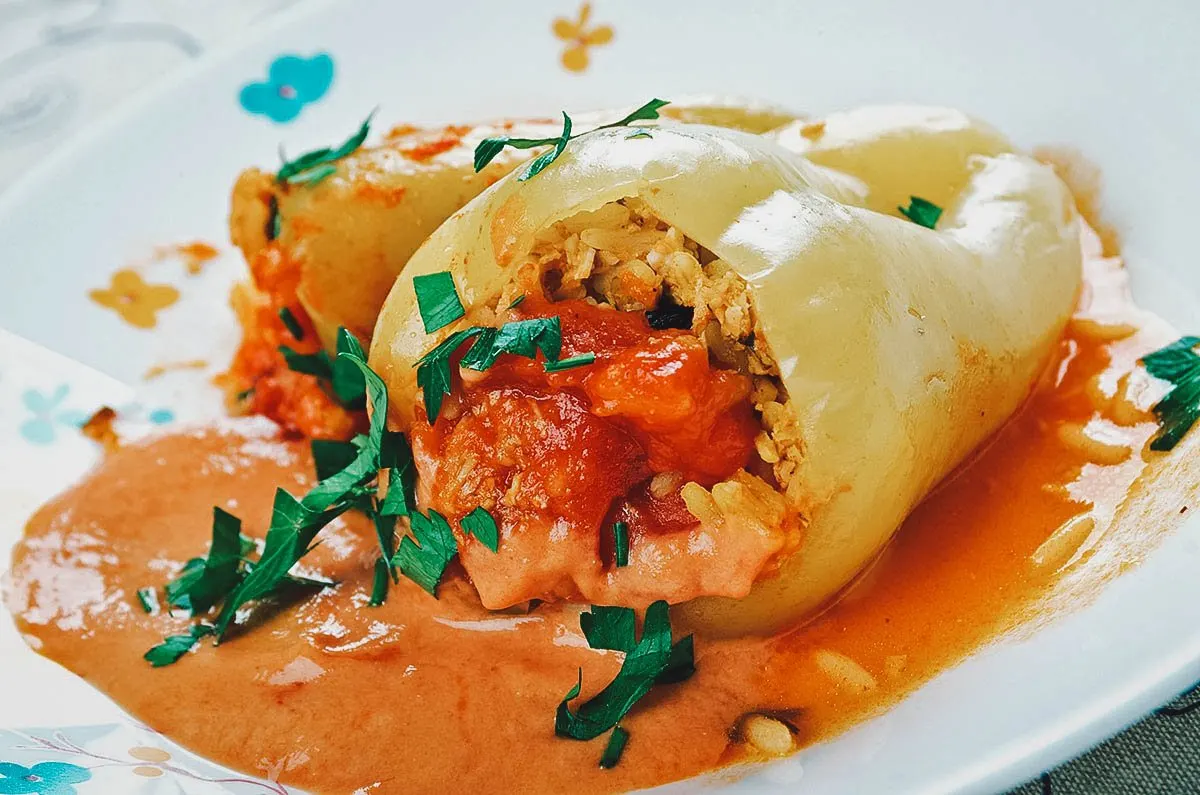 Photo by fanfon
2. Salată de Boeuf
Salată de boeuf literally means "beef salad" and refers to the Romanian equivalent of olivye salad, more commonly known as Russian salad. It's a type of potato salad that was invented and popularized by Chef Lucien Olivier, a Russian chef of Belgian and French descent who offered the salad at his Hermitage restaurant in Moscow in the 1860s.
As its name suggests, salată de boeuf was traditionally made with beef but these days, it can be made with other proteins like chicken, turkey, and occasionally pork. They're mixed with finely diced potatoes, root vegetables, and murături (Romanian pickled vegetables) before being smothered in mayonnaise and garnished with bits of vegetables and hard-boiled eggs. In some parts of Romania, sweet mustard may be mixed in as well.
Like sarmale (stuffed cabbage rolls), salată de boeuf is typically a holiday dish in Romania. It's often prepared to celebrate the Christmas, New Year, and Easter seasons.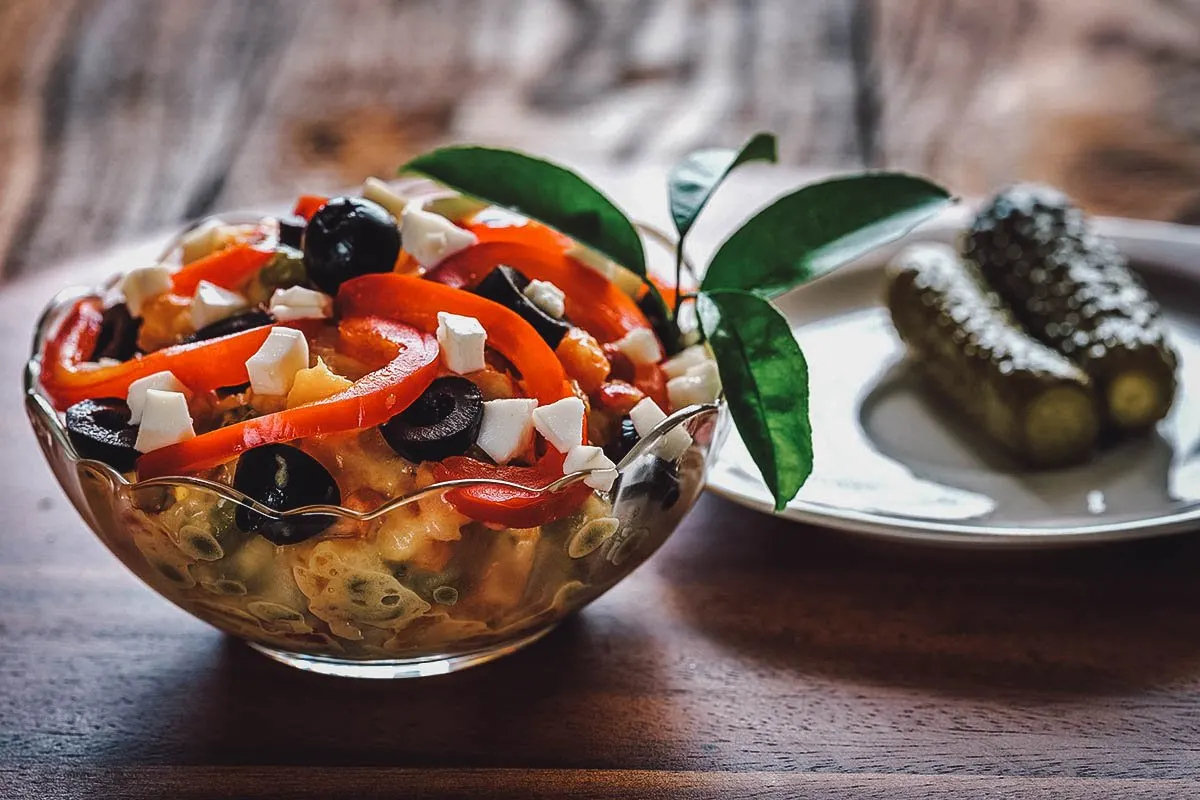 Photo by fanfon
3. Salată de Vinete
Salată de vinete is a popular Romanian eggplant salad or dip made with roasted and puréed aubergine mixed with sunflower oil, lemon juice, and salt. It's very similar to Lebanese baba ghanoush except it isn't made with any tahini (toasted sesame seed paste).
Salată de vinete typically contains just four ingredients – eggplant, lemon juice, sunflower oil, and salt – but it can be made with additional ingredients as well like garlic, onions, and homemade mayonnaise. It's typically enjoyed in the summer with crusty bread and slices of fresh tomatoes.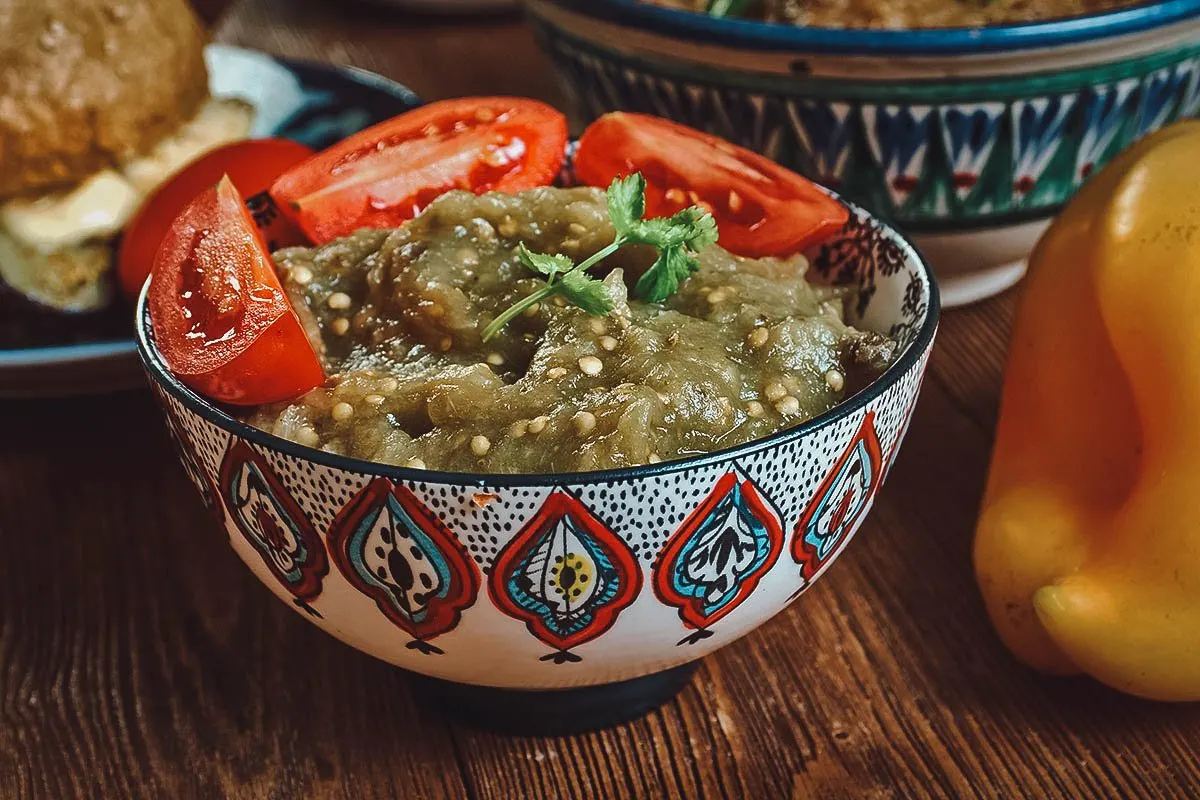 Photo by fanfon
4. Ardei Copți
Ardei copți refers to a type of Romanian roasted pepper salad. It's a simple side dish or spread made with roasted bell peppers seasoned with salt and doused in a mixture of vinegar and olive oil. Optionally, it can be topped with slices of garlic before serving.
Ardei copți pairs well with salată de vinete. It's often eaten with Romanian meat dishes and as a spread on crusty bread.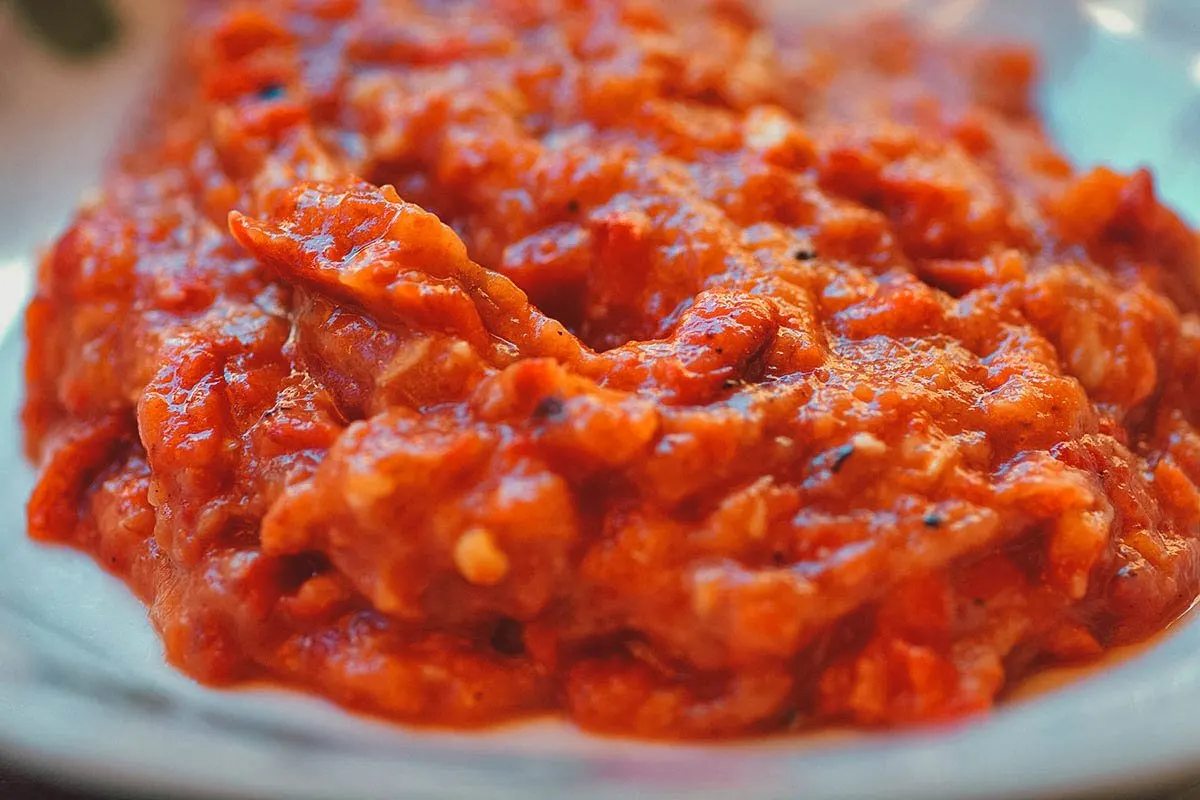 Photo by SingerGM
5. Varză Călită
Varză călită literally means "stewed cabbage" and refers to a type of braised sauerkraut served at many Romanian restaurants. It's a simple side dish consists of fresh cabbage slowly simmered with tomato paste, onions, sweet peppers, carrots, bay leaves, salt, pepper, and fresh dill.
Varză călită can be served cold or hot, often with smoked pork and paired with mămăligă.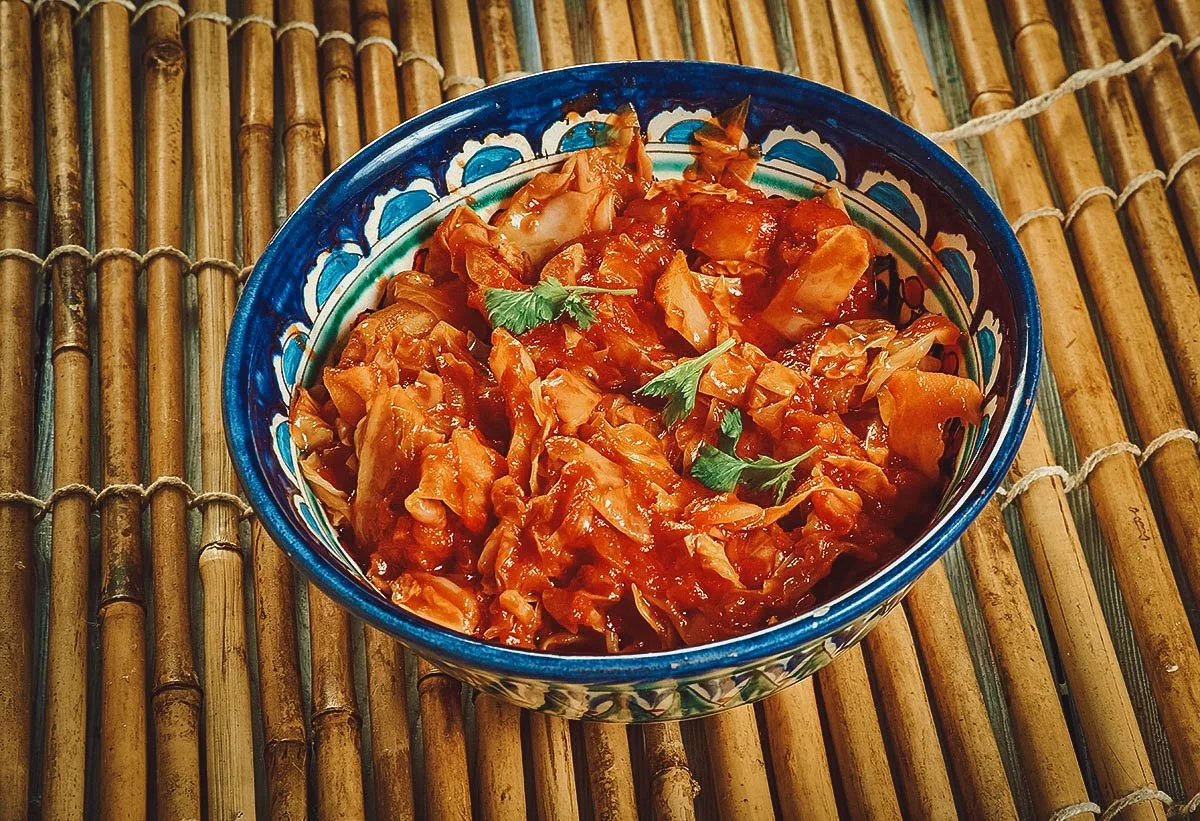 Photo by fanfon
6. Zacuscă
If salată de vinete and ardei copți sound appealing to you, then you'll definitely want to try this next Romanian dish. Zacuscă is a traditional Romanian vegetable spread made with roasted eggplant and red peppers as its main ingredients. You can think of it as the Romanian version of ajvar.
Romanian recipes for this popular condiment vary but it's typically made with roasted eggplant, tomato paste, sautéed onions, and gogoșari, a type of Romanian sweet red pepper. It's usually seasoned with bay leaves, salt, pepper, and olive oil and can be made with additional ingredients like carrots, celery, zucchini, parsley, and mushrooms.
Like ajvar, zacuscă is typically made in large batches in autumn – when eggplant and gogoșari are in season – and then stored in jars for consumption through the winter. It's usually enjoyed as a spread with bread, often on a platter with different types of Romanian cheese, cold cuts, and slices of red onion.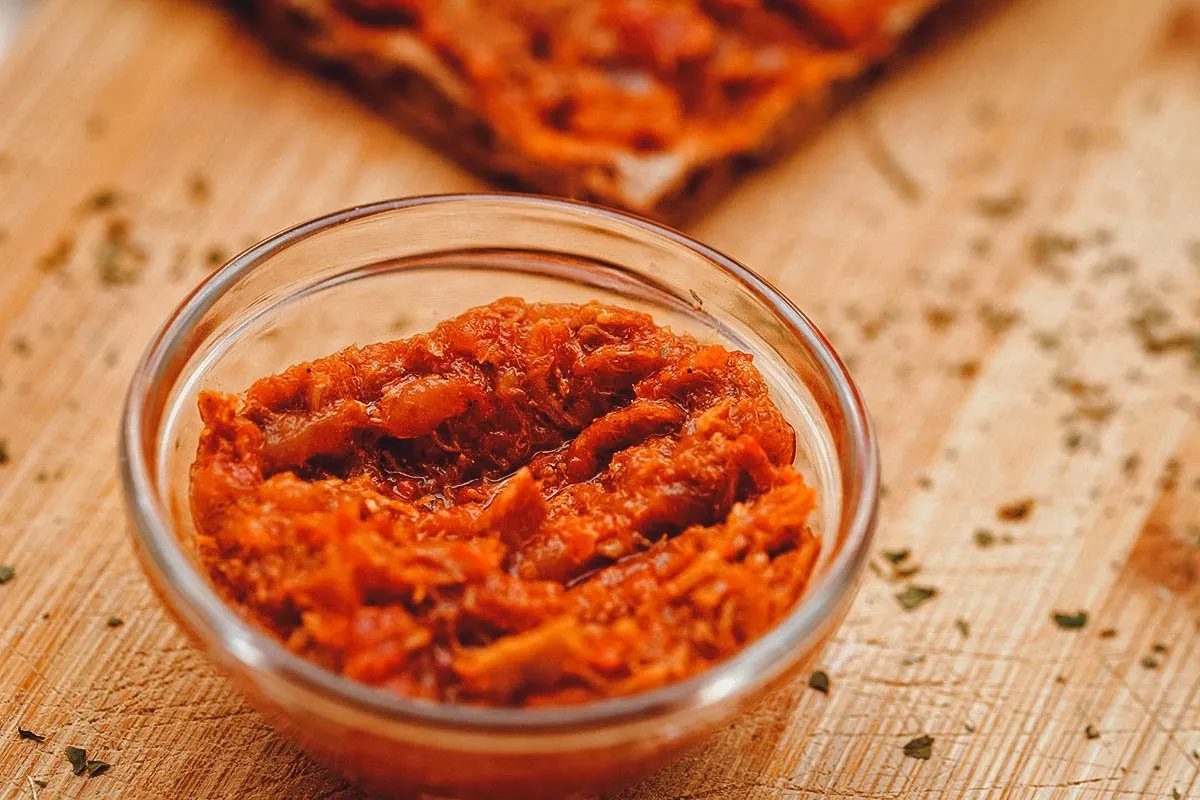 Photo by kitzzeh
7. Mămăligă
Like sarmale, mămăligă is one of the most important dishes in traditional Romanian cuisine and considered by many to be a national dish. Similar to polenta, it refers to a type of traditional Romanian porridge made from boiled cornmeal, water, salt, and butter (or sunflower oil).
Mămăligă is traditionally cooked in a round-bottomed cast iron pot known as a ceaun or tuci. After it cools down and hardens, the porridge is sliced with a piece of string and served with sour cream, herbs, and fresh Romanian cheese. It can also be crushed and served in a bowl of milk, grilled, or pan-fried in oil or lard.
Mămăligă is a humble Romanian dish that was cooked mostly by peasants as a substitute for bread. Today, it's consumed throughout the country, even at upscale restaurants, and is considered a staple food in Romania.
Mămăligă is a versatile ingredient that can be used to make other Romanian dishes. Pictured below is bulz, a traditional Romanian food consisting of mămăligă shaped into balls or patties and stuffed with a creamy filling. The balls can be grilled, baked, or pan-fried until a crunchy crust forms on the outside.
Bulz can be made in different ways but the most popular stuffing is a mixture of butter and brânză de burduf – a soft Romanian sheep's cheese – along with bacon or ham. After grilling, it's usually served with sour cream and butter and topped with a fried egg.
Depending on its size, bulz can be enjoyed for breakfast, as a snack, or as a side dish to larger meals.
Photo by johny007pandp
8. Covrig
Covrig refers to a type of Romanian pretzel. It's made with leavened dough that's twisted and baked before being sprinkled with large salt granules and some type of seed, commonly poppy, sesame, pumpkin, or sunflower seeds.
Covrigi are among the most popular street foods in Romania. They're available at Romanian pretzel shops called covrigarie or simigerie and can be enjoyed plain or with a variety of fillings like sausage, cheese, fruit, and chocolate.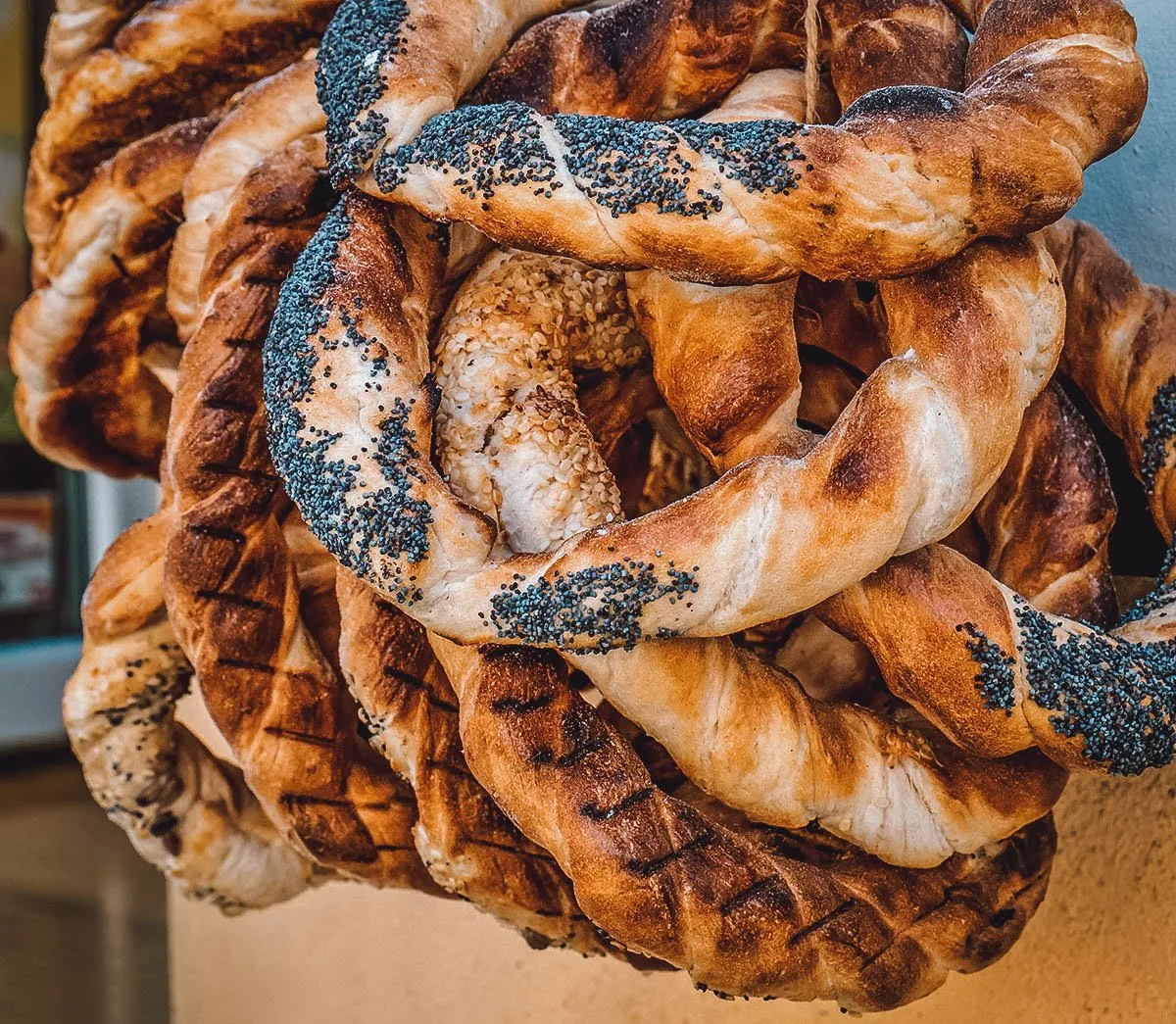 Photo by CristiCroitoru
9. Plăcintă
Plăcintă is a classic Romanian pastry that's also popular in Moldovan and Ukrainian cuisine. It consists of a thin and round piece of dough that can be filled with various ingredients. Depending on its filling, it can be enjoyed as an appetizer or for dessert.
Plăcintă is traditionally made with a yeasted dough though it can be made with puff pastry, filo, or shortcrust pastry as well. They can be baked or fried and filled with savory or sweet ingredients like brânză de burduf (Romanian sheep's cheese), urdă (soft whey cheese), telemea (brined cheese), mashed potatoes, apples, sour cherries, pumpkin, and different types of ground meat mixed with herbs, nuts, and spinach.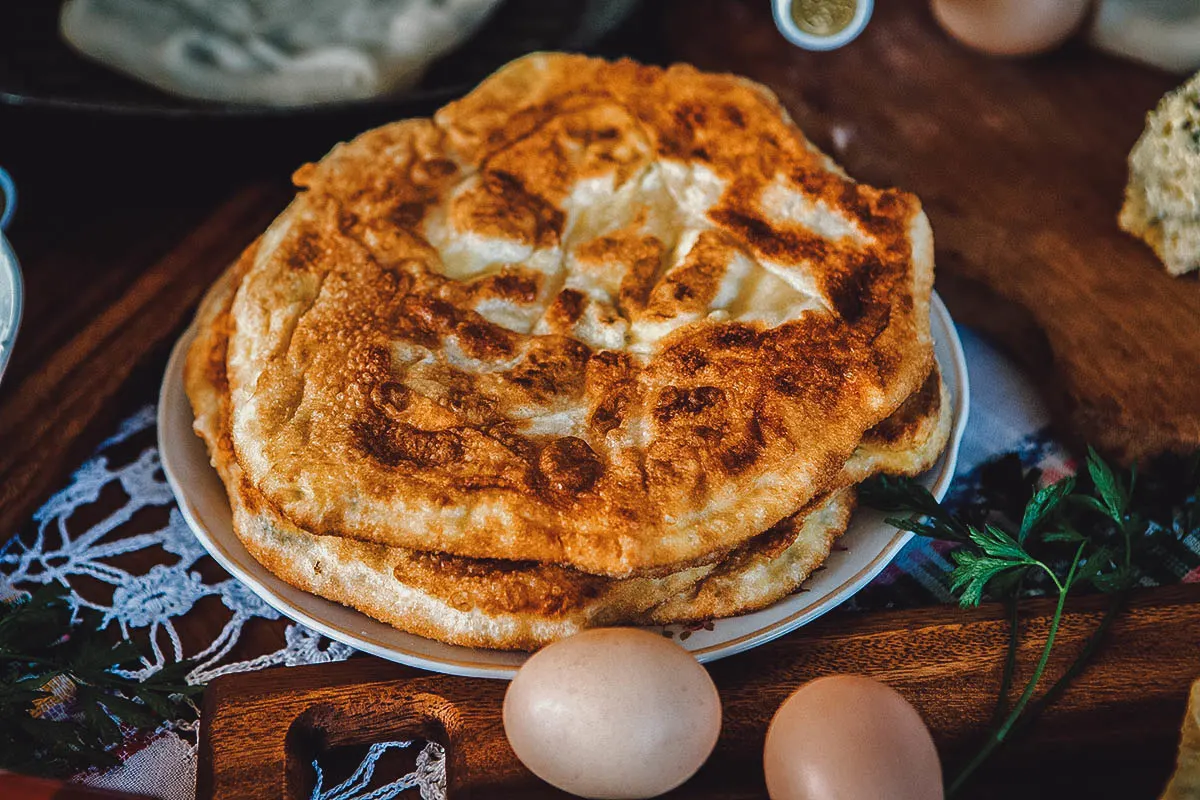 Photo by romeovip
10. Brânzoaice
Brânzoaice (or poale-n brâu moldovenești) is a type of baked patry popular in Moldovan-Romanian cuisine. Like plăcintă, it can be enjoyed as a savory snack or sweet dessert depending on how it's made.
When made into a savory pastry, brânzoaice is typically filled with a salty Romanian cheese like telemea. If eaten for dessert, sweet fillings are added to the recipe like farmer's cheese, sugar, raisins, and honey.
SOUPS / STEWS
11. Ciorbă
Ciorbă refers to a family of traditional Romanian soups. They can be made with a variety of meat and vegetables and are known for their distinct acidic flavor derived from souring agents like borș, lemon, vinegar, lovage, or sauerkraut juice.
Pictured below is ciorbă de burta or Romanian beef tripe soup. It's a popular type of ciorbă made with beef tripe, sour cream, garlic, pureed carrots and onions, eggs, and vinegar. Often served with hot chili peppers, sour cream, and/or vinegar, tripe soup is something you'd typically find at any Romanian restaurant in the country.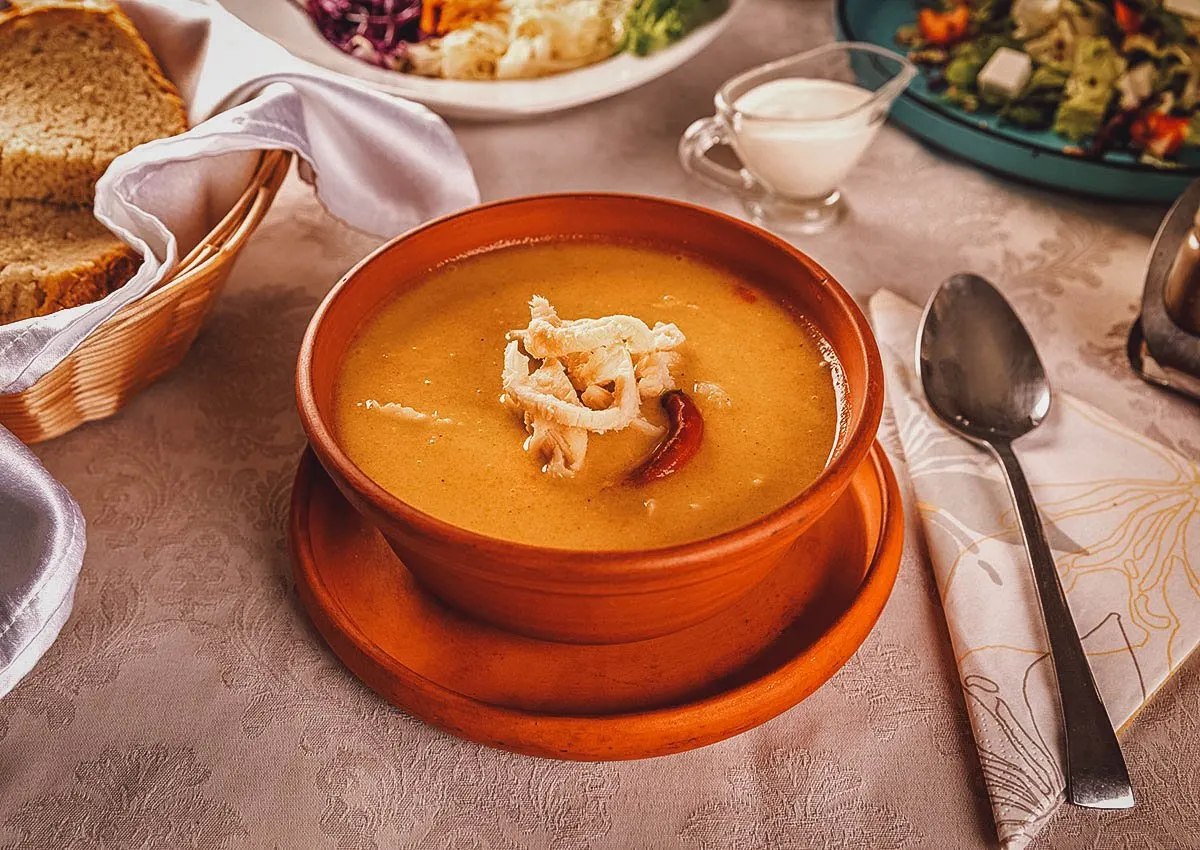 Photo by grafvision
Ciorbă de fasole refers to a Romanian bean soup that can be made with or without meat. Meatless versions are popular during times of fasting and typically consist of beans cooked with a variety of vegetables and herbs like carrots, celery, raw onions, tomatoes, parsley, thyme, lovage, and lobodă.
When made with beans and smoked meat, the soup becomes known as ciorbă de fasole cu afumătură. Originally from the western regions of Romania, this thick and hearty bean and smoked meat soup is especially popular in winter where it's often served with hot chili peppers.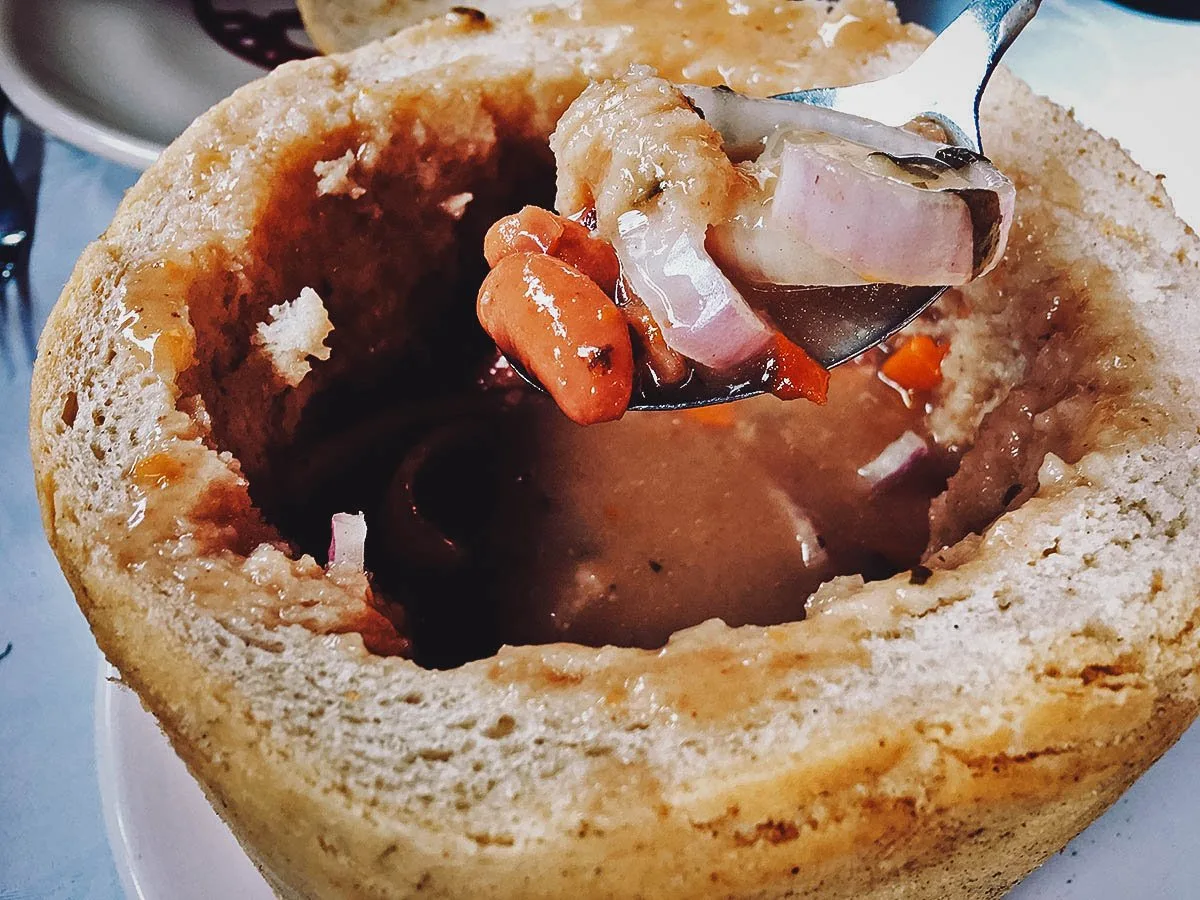 Photo by angeluisma
Ciorbă radauteana is a type of ciorbă made with chicken as its main ingredient. Often touted as a hangover cure or remedy for the common cold, it's made with chicken and other ingredients like sweet red peppers, onions, garlic, carrots, celery, parsley, sour cream, and lemon juice.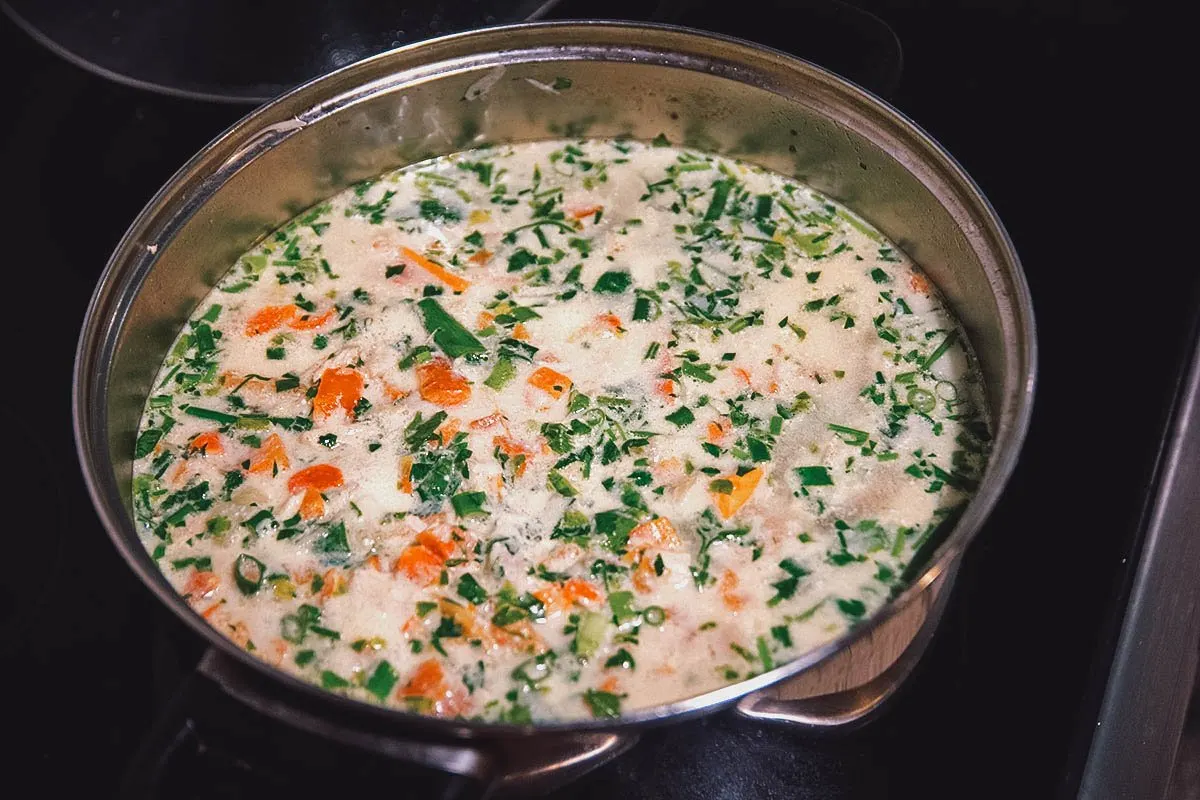 Photo by SingerGM
Ciorbă de perisoare refers to a type of Romanian meatball soup made with herbed pork, beef, chicken, or turkey meatballs cooked in a sour broth with tomato paste, vegetables, lovage, vegeta (all-purpose seasoning), and eggs.
12. Supă
Supă refers to another family of traditional Romanian soups, different from ciorbă. Supă is typically lighter, sweeter, and made with a clearer broth while ciorbă is generally thicker and flavored with a souring agent. Supă is usually served with carrots and onions (and sometimes noodles or dumplings) while a bowl of ciorbă contains meat and different vegetables.
Pictured below is a bowl of supă de pui cu tăiței, or Romanian chicken soup with noodles. When made with dumplings instead of noodles, the dish is known as supă de pui cu găluște.
13. Gulaș
Gulaș refers to the Romanian equivalent of goulash, a popular Hungarian beef stew seasoned with paprika and other spices. It initially took root in the Ardeal region of Romania before spreading to other parts of the country.
There are probably as many recipes for gulaș as there are Romanian cooks, but at its most basic, it's made with meat (usually beef or pork), onions, and paprika. Other common ingredients include tomatoes, garlic, carrots, red peppers, parsley, bay leaves, and cumin.
A hearty and filling meal often served with mămăligă and garlic, Romanian gulaș is typically made with dumplings but it can be made with potatoes as well.
Photo by angeluisma
14. Fasole cu Ciolan Afumat
Fasole cu ciolan afumat refers to a classic Romanian pork and bean stew. It's a hearty and comforting dish made with dried beans and smoked pork hocks stewed with onions, carrots, tomato paste, cumin, paprika, bay leaves, and seasonings.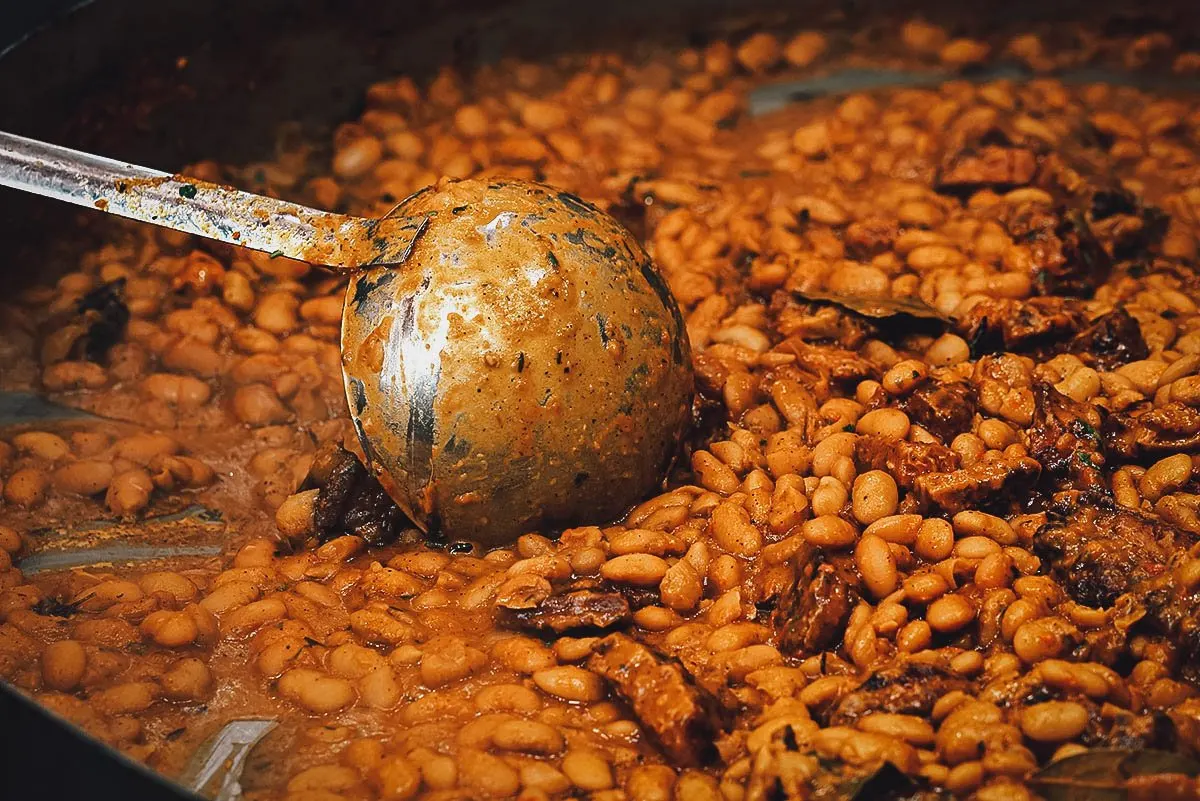 Photo by conceptw
15. Ostropel de Pui
Ostropel de pui literally means "chicken stew" and refers to a traditional dish in Romanian cuisine consisting of chicken cooked in a thick tomato sauce flavored with garlic, spring onions, pepper, and different spices. It's commonly made with chicken thighs or drumsticks but other proteins like pork, rabbit, or lamb can be used as well. Even the meat can be removed altogether and substituted with potatoes or similarly substantial vegetables.
To make ostropel de pui, chicken is fried and then added to a boiling mixture of water, oil, tomato purée, garlic, onions, and flour. The stew is cooked until the sauce thickens before being garnished with parsley and served with a side of mămăligă or boiled/mashed potatoes.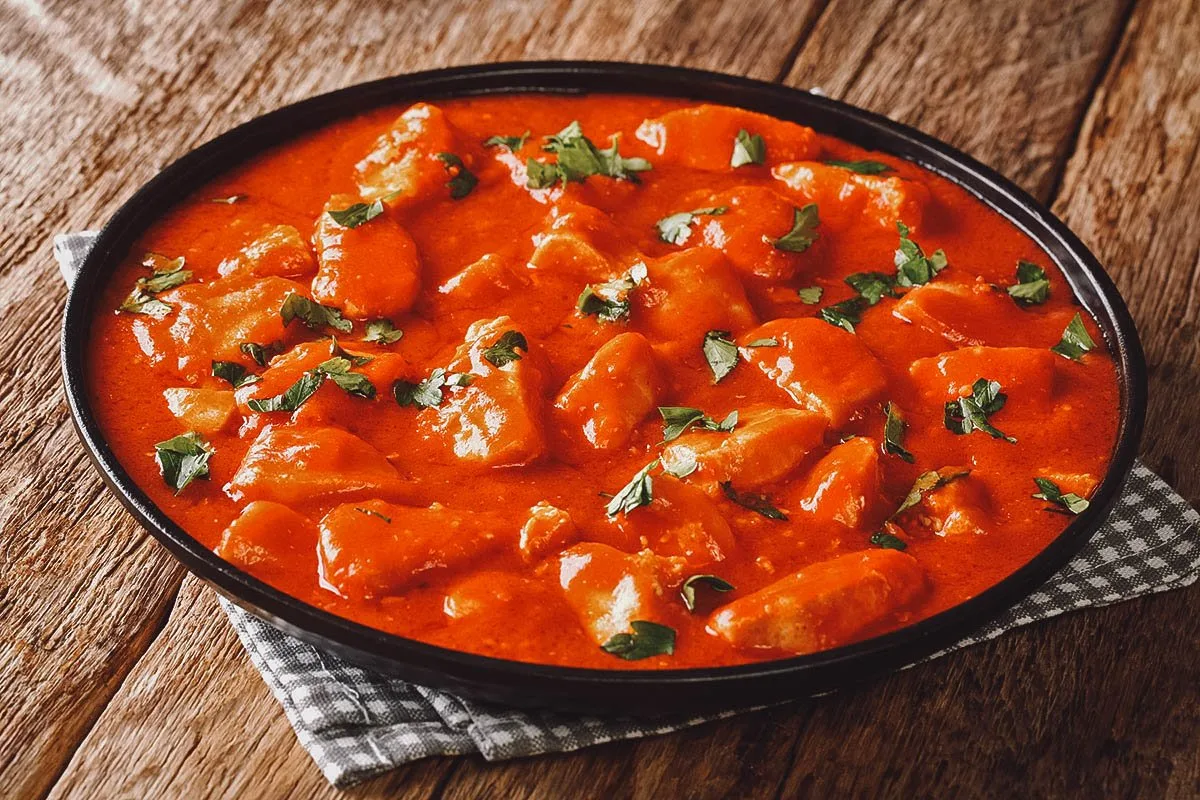 Photo by lenyvavsha
MEAT / POULTRY
16. Mititei
No Romanian food guide worth its weight in mămăligă can ever be complete without mititei (or mici), a type of Romanian grilled meat roll or skinless sausage made with a mixture of beef, lamb, pork, garlic, and spices. It's the local version of ćevapi and widely considered to be a Romanian national dish.
Mititei in Romanian means "little ones". These popular grilled minced meat rolls are made with ground meat (beef, lamb, pork) seasoned with a host of herbs and spices like garlic, black pepper, anise, coriander, thyme, savory, and paprika. They're typically grilled outdoors at Romanian barbecues and enjoyed with french fries, mustard, and pickled vegetables called murături. As you can imagine, they also go very well with beer.
Mititei are consumed throughout Romania but they're believed to have been invented at a restaurant in Bucharest sometime in the late 19th century. According to legend, the cook ran out of sausage casings one day so he was forced to improvise and cook the skinless sausages directly on the grill.
The dish caught on and has since become one of the most popular Romanian dishes and a staple at every barbecue. They can be found everywhere – at Romanian restaurants, pubs, street food stalls, and picnics. They've become the go-to dish to celebrate International Workers' Day where an estimated 30 million mititei are grilled and consumed on May 1st every year.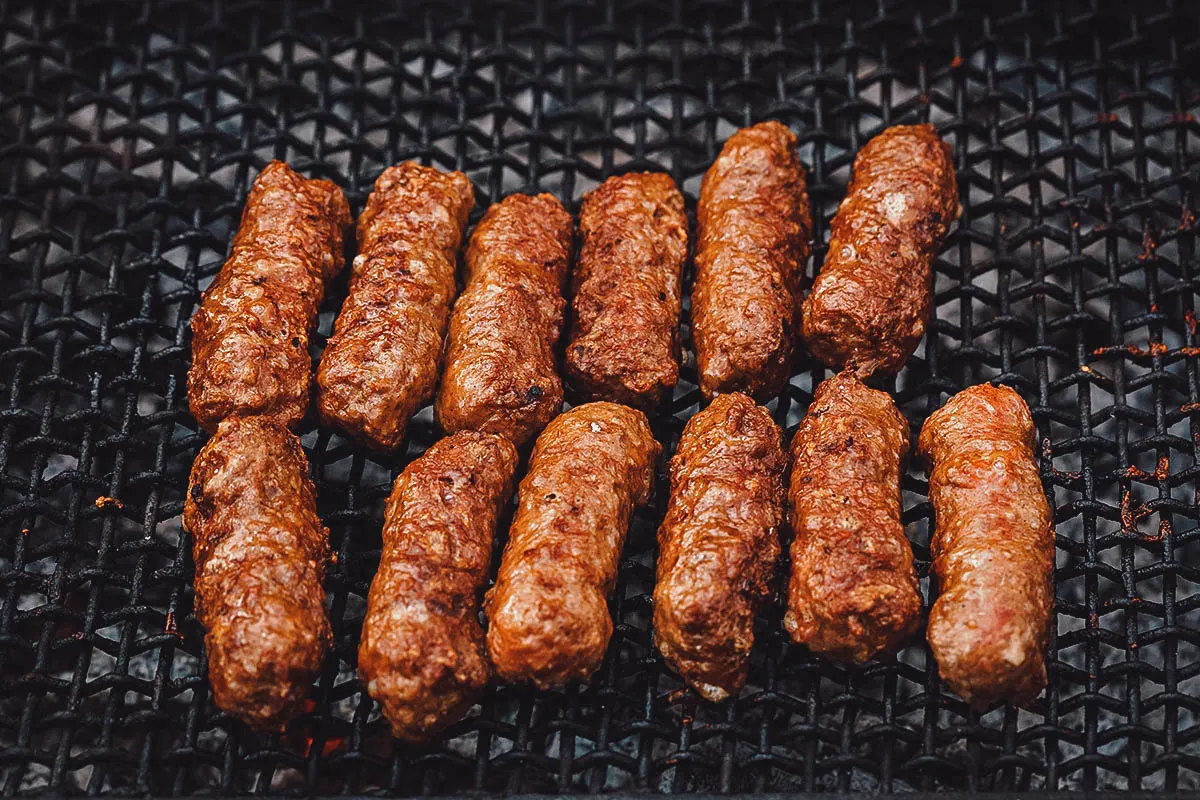 Photo by icefront
17. Slănină
Slănină is the Romanian term for salo, a traditional dish consisting of cured slabs of pork fatback. It's commonly eaten as a snack in many European countries like Romania, Russia, Ukraine, Hungary, Lithuania, and Czechia.
Salo can be prepared in different ways depending on where it's from. It can be dry salted or brine cured and made with or without the skin. Unlike bacon, it contains little to no lean meat and can be smoked or flavored with paprika, garlic, salt, black pepper, and other seasonings.
In Romania, slănină is prepared by curing pork fat in brine for 2-3 weeks and then smoking it for several days. It can be eaten raw or cooked and used as an ingredient in Romanian cooking. When eaten as a snack, it can be grilled, fried, or enjoyed as is with bread, Romanian cheese, and red onions.
Photo by florin1961
18. Rasol
Rasol refers to a traditional Romanian dish made with meat, potatoes, and various vegetables like carrots, tomatoes, and onions boiled together. Chicken and pork are the most common proteins though it can be made with different types of fresh meat and poultry like beef, duck, turkey, and goose.
Rasol is usually served on a plate with some stock and a side of horseradish, mujdei (mixture of minced garlic, sunflower oil, water, and spices), sour cream, and mămăligă.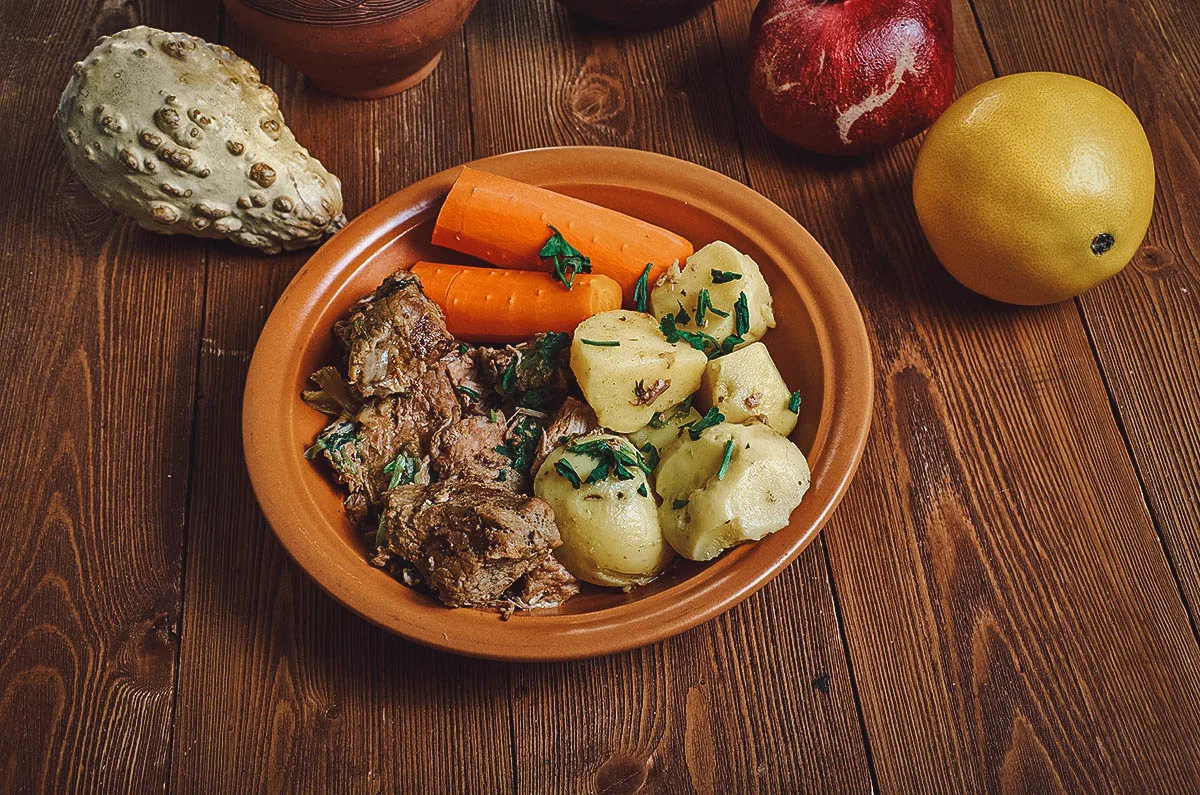 Photo by fanfon
19. Ciulama
Ciulama refers to a traditional Romanian and Moldovan dish made with meat and/or mushrooms served in a white roux sauce. It's commonly made with chicken (ciulama de pui), turkey (ciulama de curcan), or veal (ciulama de vițel) and served with a side of mămăligă or mujdei.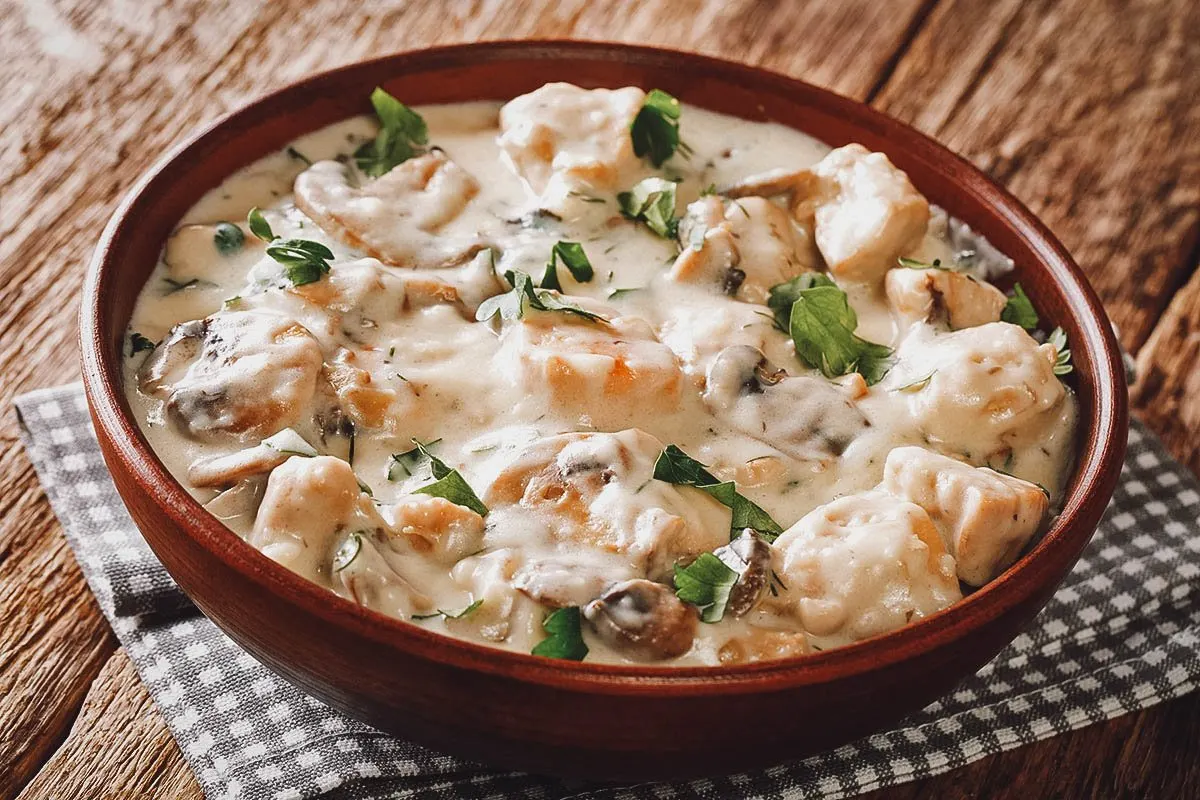 Photo by lenyvavsha
20. Drob de Miel
If you're fortunate enough to be in Romania over Easter, then you may get a chance to try drob de miel, a traditional dish made with lamb offal. It's also known as "lamb haggis" and is the star of every Easter table in Romania.
What's great about drob de miel is that it's made with the less glamorous but often more delicious parts of the lamb (at least in my opinion). The lamb's liver, spleen, heart, lungs, and kidneys are boiled, minced, and then mixed with green onions, garlic, milk-soaked bread, parsley, dill, and raw eggs to form the dish's filling. Traditionally, it's made with lamb offal but it can be made with chicken liver as well.
Hard-boiled eggs are added to the mixture before the loaf is wrapped in the lamb's caul (fatty membrane) and baked in an oven. When cooked, the dish is sliced and enjoyed like meatloaf.
Drob de miel is traditionally made with caul though more modern versions are frequently made with pasta sheets or puff pastry instead.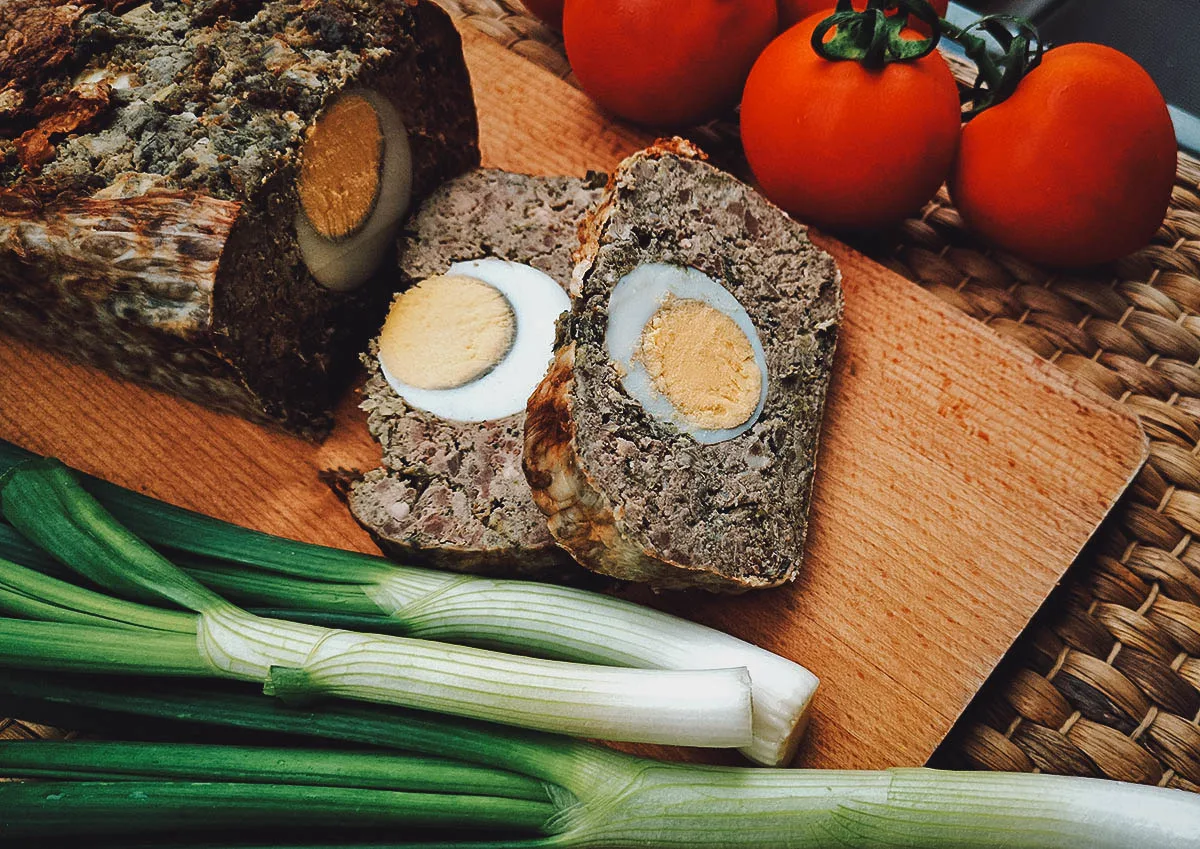 Photo by roxanabalint
21. Sarmale (Romanian Cabbage Rolls)
Similar to ardei umpluţi, sarmale is the Romanian version of a stuffed vegetable dish popular in many Balkan countries and beyond like Serbia, Bosnia and Herzegovina, Croatia, Greece, Turkey, Ukraine, and Lithuania. It refers to a sub-type of dolma consisting of cabbage or vine leaves stuffed with a minced pork and rice filling.
Like dolma, sarma can be made in different ways in different countries. In Romania, it typically consists of pickled cabbage leaves wrapped around a dolma-like filling of minced pork, rice, onions, and seasonings. The stuffed cabbage rolls are then simmered with smoked bacon, tomato juice, and thyme before being served with bread, mămăligă (Romanian polenta), and lots of sour cream.
Depending on the time of year, sarma in Romania can be made with just mushrooms and vegetables as well. Known as sarmale de post, they're made without any type of meat filling.
Sarmale is so popular in Romania that it's considered by many to be a national dish. It's comforting and absolutely delicious. It can be enjoyed at any time of the year though it becomes especially popular around Christmas and Easter.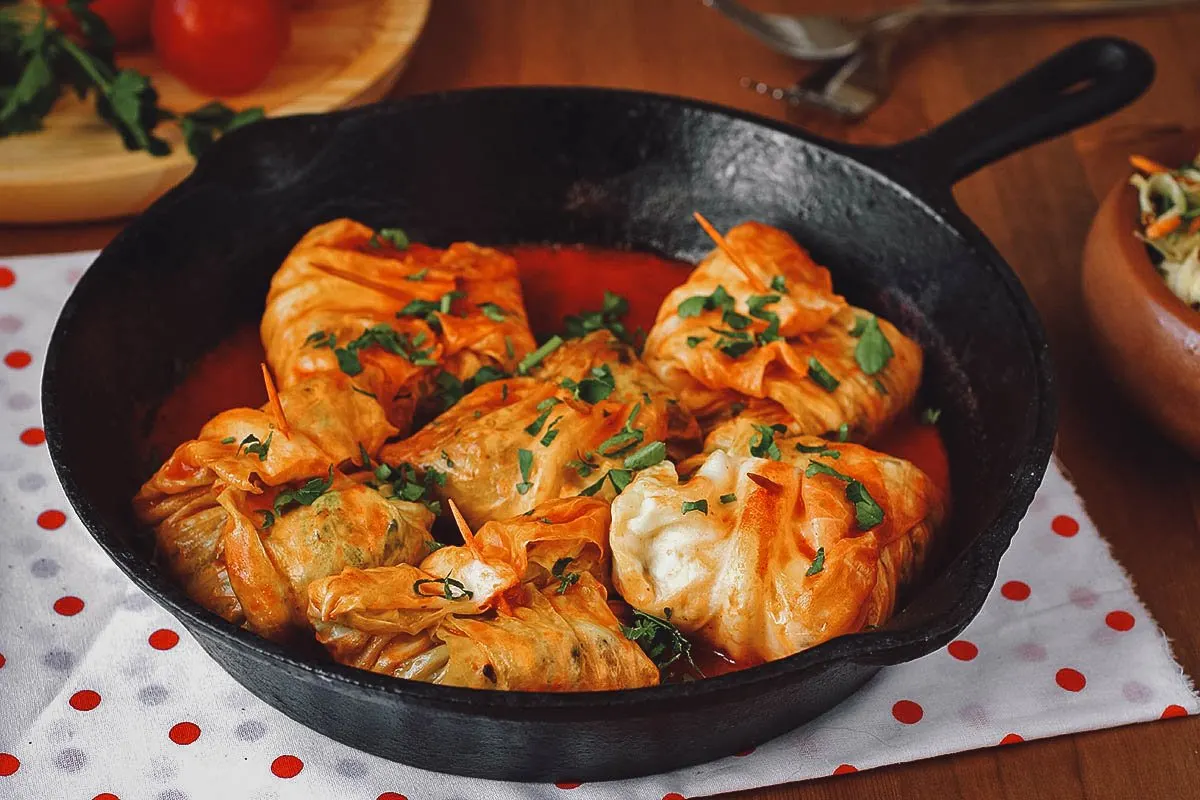 Photo by Lovelymama
22. Varză a la Cluj
If you like Romanian cabbage rolls, then you'll probably enjoy varză a la cluj. It refers to a Transylvanian casserole made with cooked sour cabbage layered with seasoned minced meat, onions, rice, tomato sauce, and sour cream.
Varză a la Cluj is a specialty of Cluj-Napoca in northwestern Romania. It's served at many restaurants throughout the city, often with a side of sour cream, hot peppers, and mămăligă.
Photo by NoirChocolate
IGNAT DAY FOODS
Ignat or St. Ignatius Day happens on December 20 and officially marks the start of the Christmas season in Romania. It's become less popular among younger Romanians but it's a tradition that's still observed in many parts of the countryside.
Following this Romanian tradition, a pig is traditionally sacrificed on December 20 by rural families each year. The pork meat is then used to make a variety of Christmas dishes, many of which I'll describe in this section.
23. Cârnați
Cârnați refers to garlicky Romanian pork sausages. They can be smoked or dry-cured and made with a variety of herbs and spices like garlic, paprika, thyme, chili flakes, black pepper, and salt.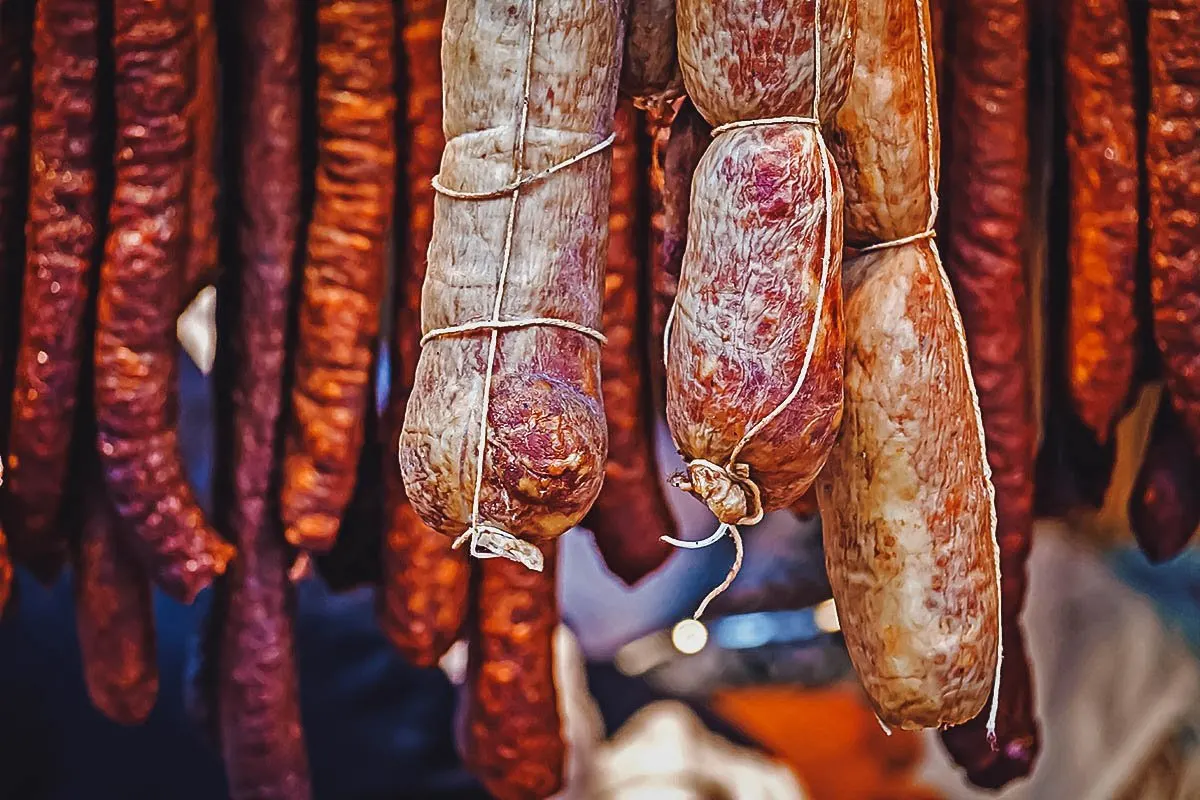 Photo by florin1961
24. Jumări
Jumări refers to the dried pork that's left over after rendering the fat and flavoring it with various seasonings like garlic, onions, and salt. Typically enjoyed in winter as a snack, you can think of it as a type of Romanian pork rind or pork crackling.
Jumări is often added to other Romanian dishes to give them more flavor – varză cu jumări, fasole cu jumări, etc.
25. Piftie
Piftie (or răcitură) is a traditional Romanian meat aspic made with boiled pig parts, chopped vegetables, garlic, bay leaves, and parsley. The cooked ingredients are placed in a bowl and filled with a meat broth before being refrigerated and allowed to congeal.
Piftie is typically made with the lesser parts of the pig like the ears, tail, and feet. It's traditionally served as an appetizer over Christmas, New Year's Eve, and Easter.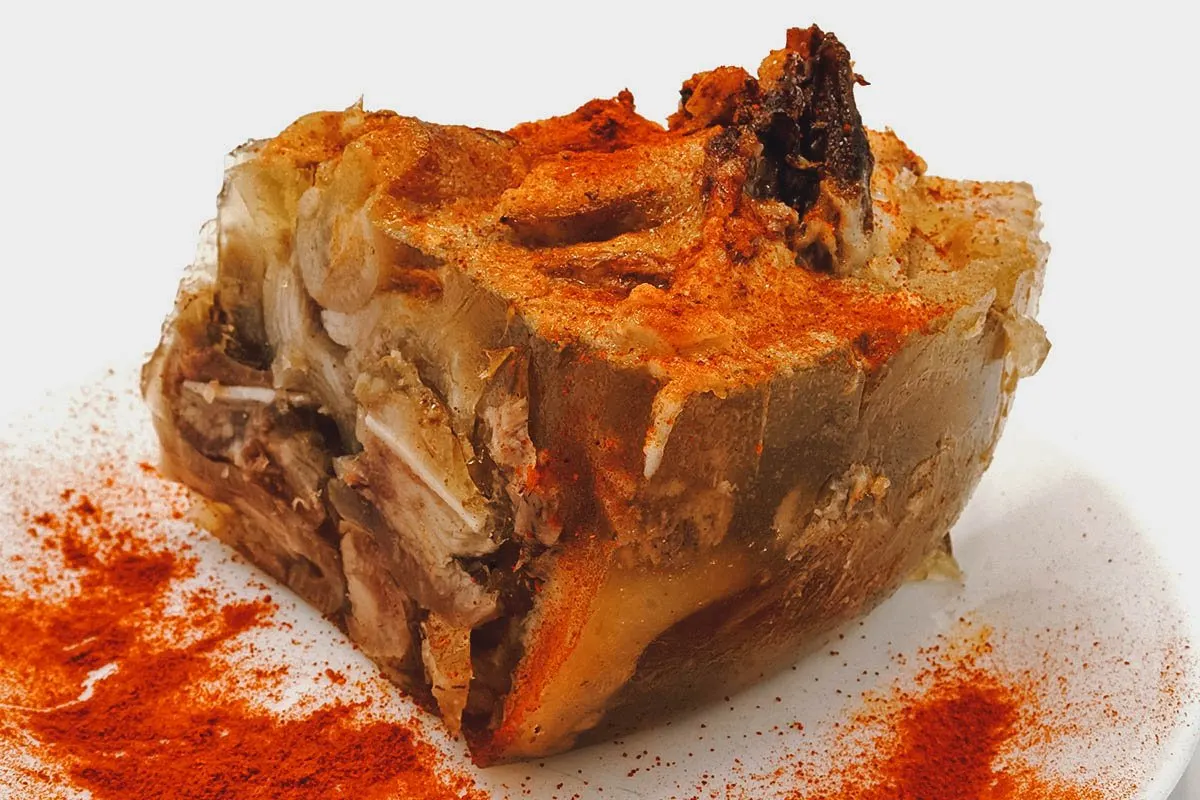 Photo by fotosen
26. Tochitură
Tochitură is a delicious Romanian dish made with pork, smoked bacon, and smoked sausages. Similar to a stew but with very little sauce, it can be made in different ways depending on where it's from. Pork is common though it can also be made with other types of meat like beef, lamb, chicken, and offal.
Recipes vary but there are generally two types of tochitură in Romania – ones made with tomato sauce and ones made without. The latter is more traditional but the former is more common and what you'd typically find at a Romanian restaurant. When using tomato sauce, the meats are left to cook in their own fat and juices first before a minimal amount of sauce (with minced garlic) is added at the end.
Like many dishes in this Romanian food guide, tochitură is often paired with mămăligă. It's also common to serve it with a fried egg and a salty sheep cheese like telemea or brânză de burduf.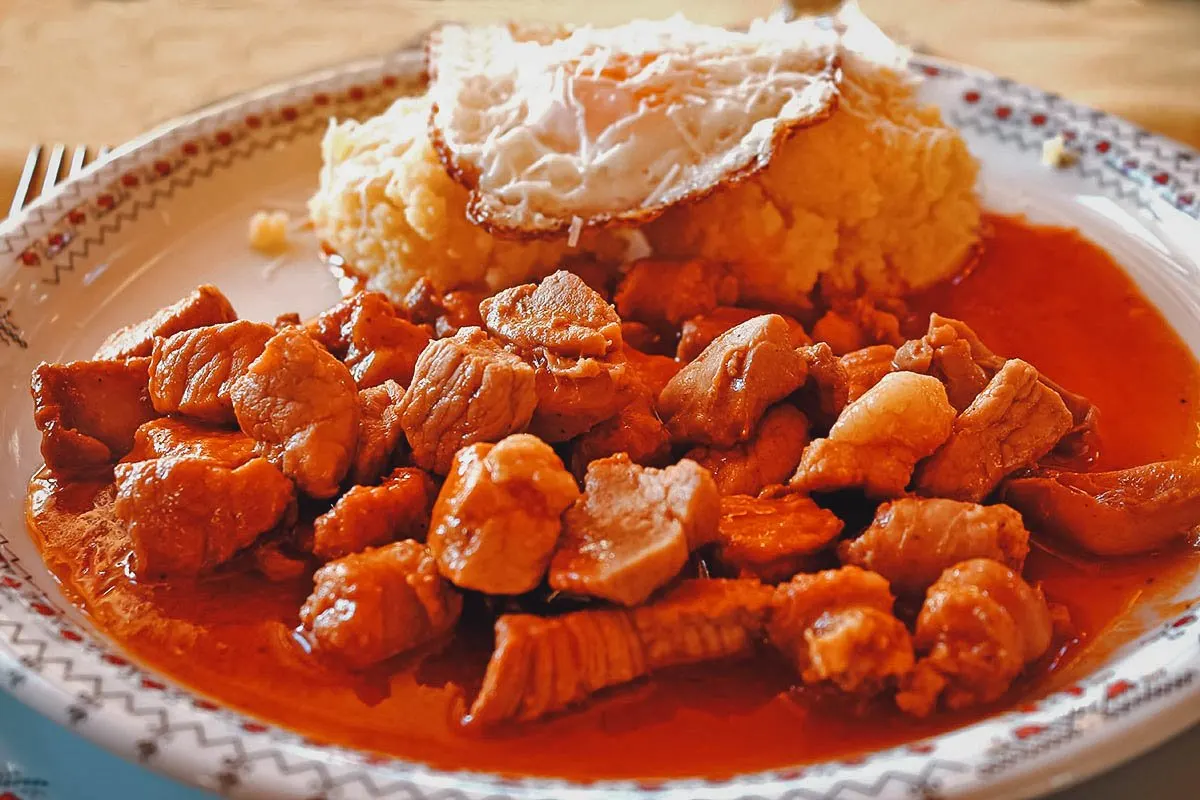 Photo by mirceadobre78
27. Pomana Porcului
Pomana porcului literally means "pig's alms" and refers to the Romanian meal traditionally prepared for the men who took part in the pig's slaughter. It's a simple dish made with various cuts of pork, offal, and sausages fried in lard and served with mămăligă, mijdei, or onions.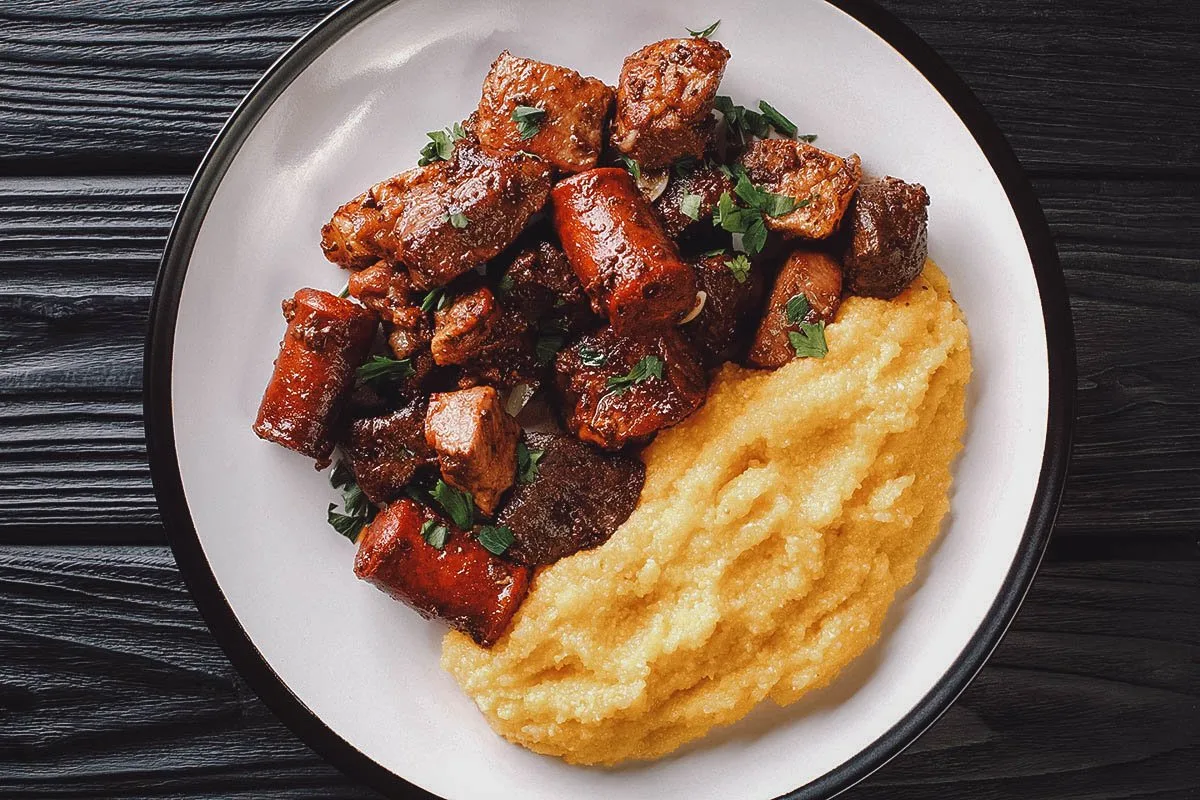 Photo by lenyvavsha
CHEESE
28. Caș
Caș refers to a type of fresh Romanian cheese. It's made by curdling sheep's or cow's milk with rennet, and then draining the whey. This produces a semi-soft white cheese that's smooth in texture and fresh and slightly acidic in flavor.
Caș is typically unsalted (or just lightly salted) and often eaten for breakfast with eggs and different vegetables like tomatoes, onions, and cucumbers. It can also be incorporated into Romanian salads and pies and used as the base to make other Romanian cheeses like cașcaval, brânză de burduf, and telemea.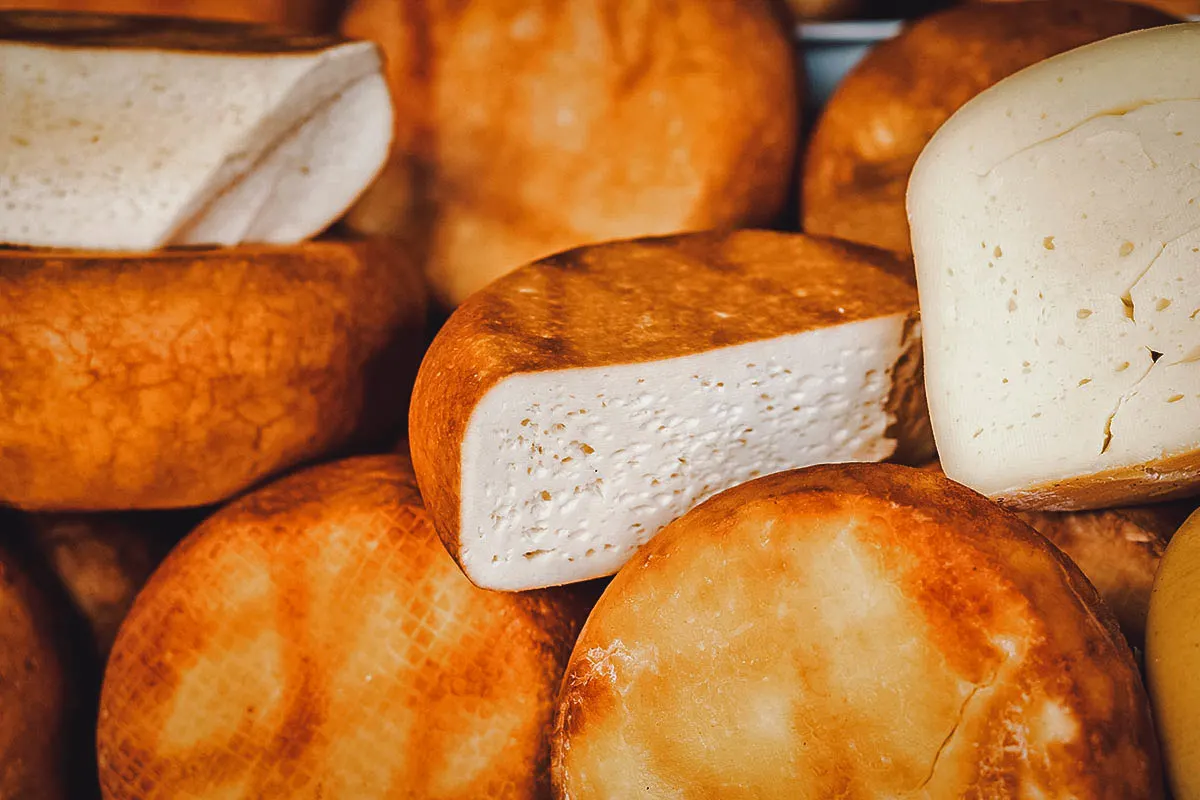 Photo by gerasimov
29. Cașcaval
The term cașcaval refers to any number of hard and semi-hard yellow cheeses in Romania. It's used to describe local cheeses like dobrogea (sheep's milk), rucăr (cow's milk), and penteleu (sheep's and cow's milk), but it can also be used to refer to non-Romanian cheeses like Swiss Emmental and Dutch gouda. Basically any semi-hard yellow cheese can be referred to as cașcaval in Romania.
Cașcaval is generally mild, salty, and slightly sharp in flavor. It's often served raw as an appetizer and used as an ingredient in many Romanian dishes like cașcaval pane (fried cheese) and mămăligă. In the mountainous region of Vrancea, it's often smoked (cașcaval afumat) to give it a more refined and complex taste.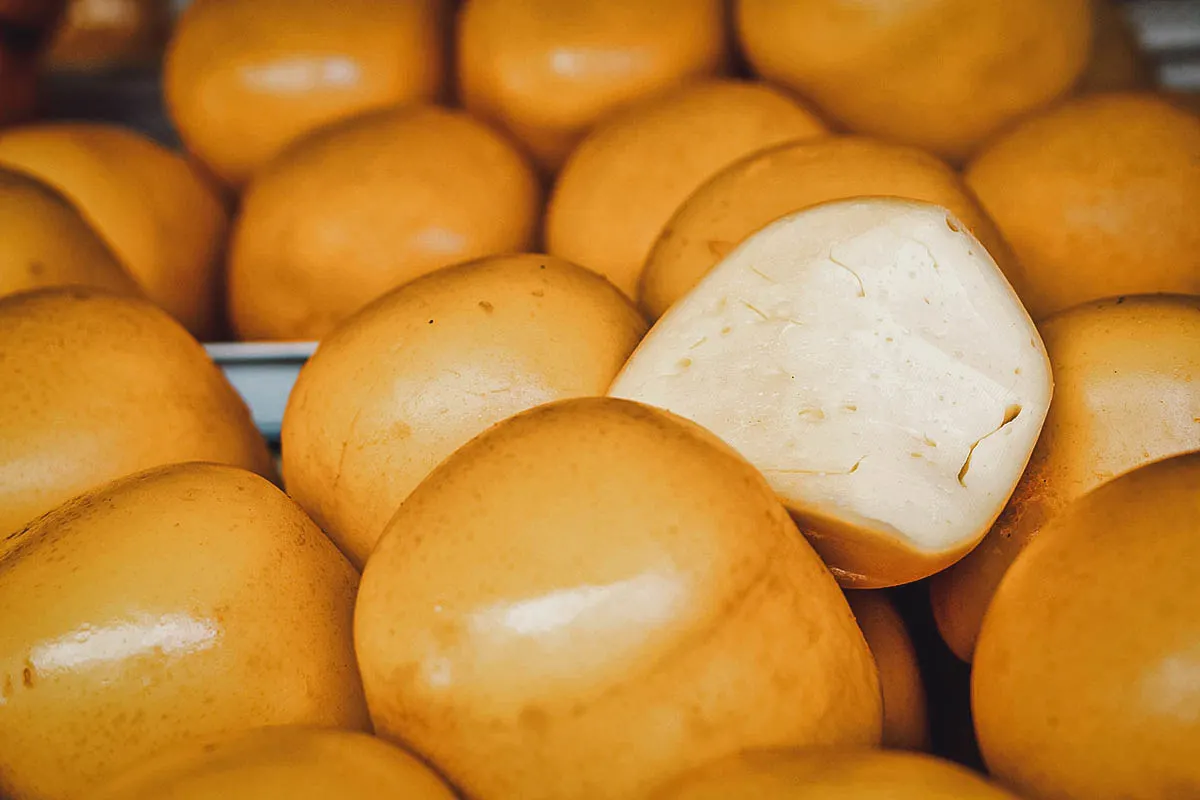 Photo by gerasimov
30. Brânză de Burduf
Brânză de burduf is a saltier type of Romanian cheese made with sheep's (and sometimes buffalo's) milk. A bit soft in texture but intense in flavor, brânză de burduf is also referred to as brânză frământată which means "kneaded cheese". This is in reference to how the cheese is made.
Brânză de burduf is produced by slicing, salting, and then hand-mixing caș in a bowl. The mixture is then stuffed in a sheep's stomach or skin, or in a tube of pine bark (pictured below) to give it a distinct pine resin aroma. The cheese is typically aged for a few weeks to a few months to ripen and intensify its flavor.
Pictured below is brânză de burduf aged in tubes of pine bark and casings made from sheep stomach or skin.
31. Năsal
Năsal refers to a unique and hyper-regional type of Romanian cheese produced in Țaga, Transylvania. It's a smear-ripened cheese that's aged in a natural cave in Țaga, imparting it with a deep and earthy flavor that's impossible to replicate anywhere else.
According to legend, Țaga commune was once controlled by a cruel count who starved his people. To survive, they were forced to steal the count's cheese which they hid in a cave. When they retrieved the cheese, it changed from white to reddish yellow and developed an odd odor. To their surprise, the cheese was also delicious.
When the count discovered what they had done, he seized the cave and used it to age his cheese. From that point, cheeses aged in that cave became known as Năsal, after the small village where the cave was located in Transylvania.
This origin story is merely a legend but the cave in Năsal is very real. It contains naturally-occurring Brevibacterium linens, the same type of odor-inducing bacteria found on human skin (think foot odor). Combined with a stable temperature and humidity, the bacteria or fungus growing on the rind is what gives năsal its robust flavor.
Thanks to the cave's unique microbiological conditions, it's virtually impossible to produce năsal anywhere else. It's extremely limited in production and best paired with fruits, nuts, onions, and Romanian red wine.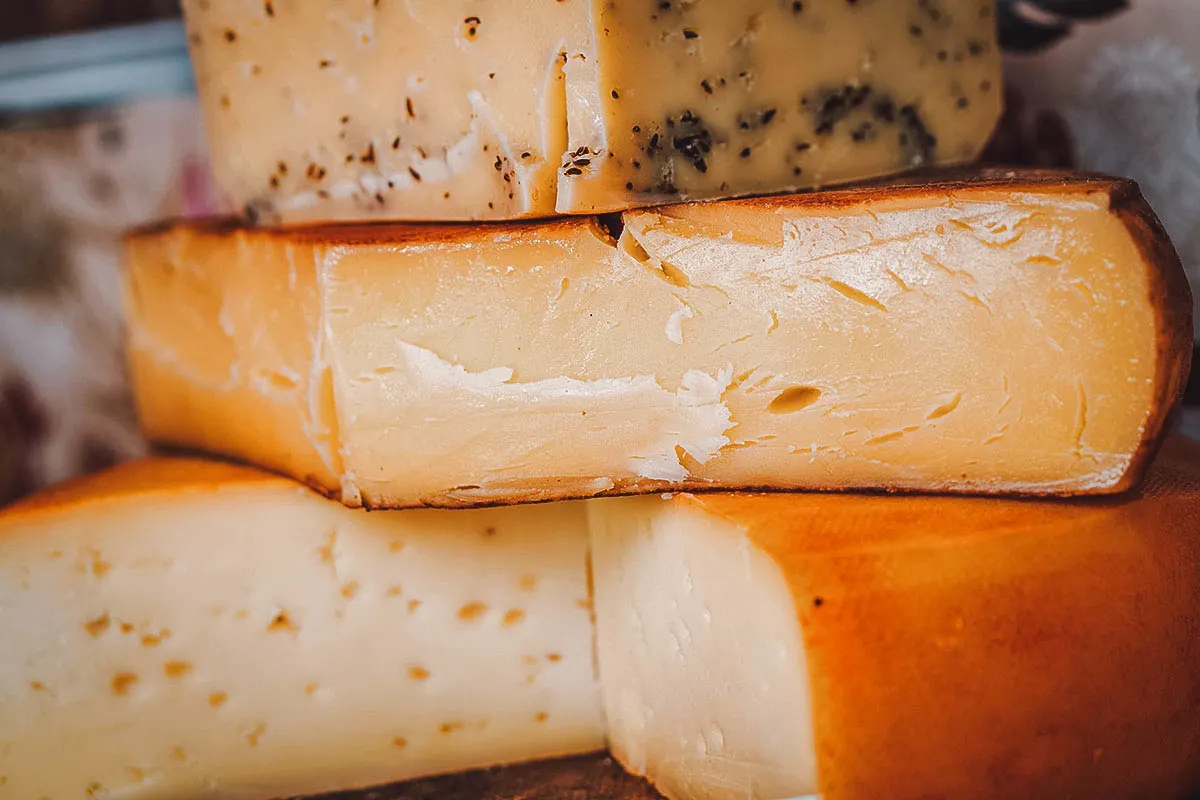 Photo by gerasimov
32. Telemea
Telemea is a type of Romanian cheese produced by storing caș in brine for several weeks or months. It's traditionally made from sheep's milk though it can be made from cow's, goat's, or buffalo's milk as well.
Telemea is a soft or semi-soft white cheese with a creamy texture and a tangy aftertaste. Known for its salty flavor and high-fat content, it's the most widely consumed cheese in Romania. It's often enjoyed as a table cheese with snacks, as an ingredient in salads and other Romanian dishes, or as a simple meal with onions, tomatoes, cucumbers, olives, and crusty bread.
Several varieties of telemea exist but the most well-known is telemea de ibăneşti. Produced in Romania's Gurghiu Valley, it has the distinction of being just the second Romanian food product to be awarded PDO (Protected Designation of Origin) status.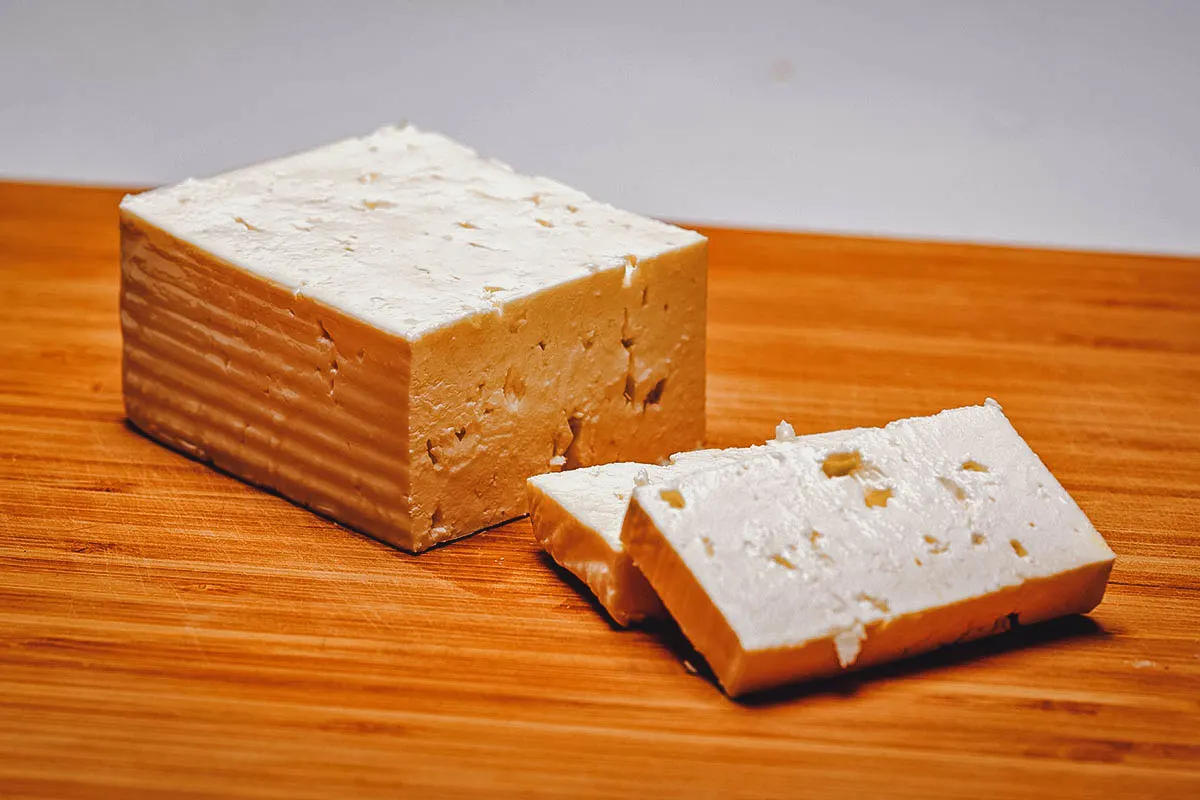 Photo by czamfir
33. Urdă
Urdă refers to a type of Romanian sweet cheese produced from the whey of sheep's, cow's, or goat's milk. It's made by heating whey until a silky, grainy, and sweet-tasting paste is produced. Known for its smooth, crumbly texture and sweet milky flavor, it's used as an ingredient or filling in several Romanian pastries and desserts.
DESSERTS / DRINKS
34. Cozonac
Cozonac is a traditional Romanian sweet bread associated with Easter and Christmas. It's popular in Romania and in other parts of southeastern Europe like Bulgaria (kozunak), Serbia, Macedonia, and Greece.
Visually, cozonac looks like a loaf of bread but because of its sweetness, it's considered to be more of a cake in Romania. Recipes vary but it's typically made with a basic dough consisting of flour, milk, butter, eggs, sugar, and salt. Depending on the region, the dough can be enriched with additional ingredients like raisins, lokum (Turkish delight), lemon or orange zest, walnuts, hazelnuts, vanilla, and rum.
Cozonac can be rectangular or round, simple of braided, and is usually made with a sweet walnut paste filling mixed with poppy seeds, cocoa powder, rum, or raisins. The filling takes the form of swirls which add to the characteristic look of the cake.
Cozonac is typically enjoyed with a hot cup of coffee or tea or a glass of milk. It's such an important Romanian tradition that no Easter or Christmas celebration can ever be complete without it.
35. Pasca
Like cozonac, pasca is a traditional Romanian dessert bread that's always baked for Easter. It starts with a dough similar to cozonac except it's made with a sweet cheese filling studded with raisins. Bready on the outside but rich and creamy in the middle, you can think of it as a cross between a soft panettone and a cheesecake.
Together with drob de miel and cozonac, pasca forms an important part of the Romanian Easter tradition. It was traditionally brought to church the night before Easter to be blessed before consumption.
As with most Easter breads, pasca carries certain religious meanings. The white cheese filling added to the cozonac dough (usually Romanian cow's cheese, farmer's cheese, or cottage cheese) is said to symbolize the risen Christ as well as the Holy Spirit.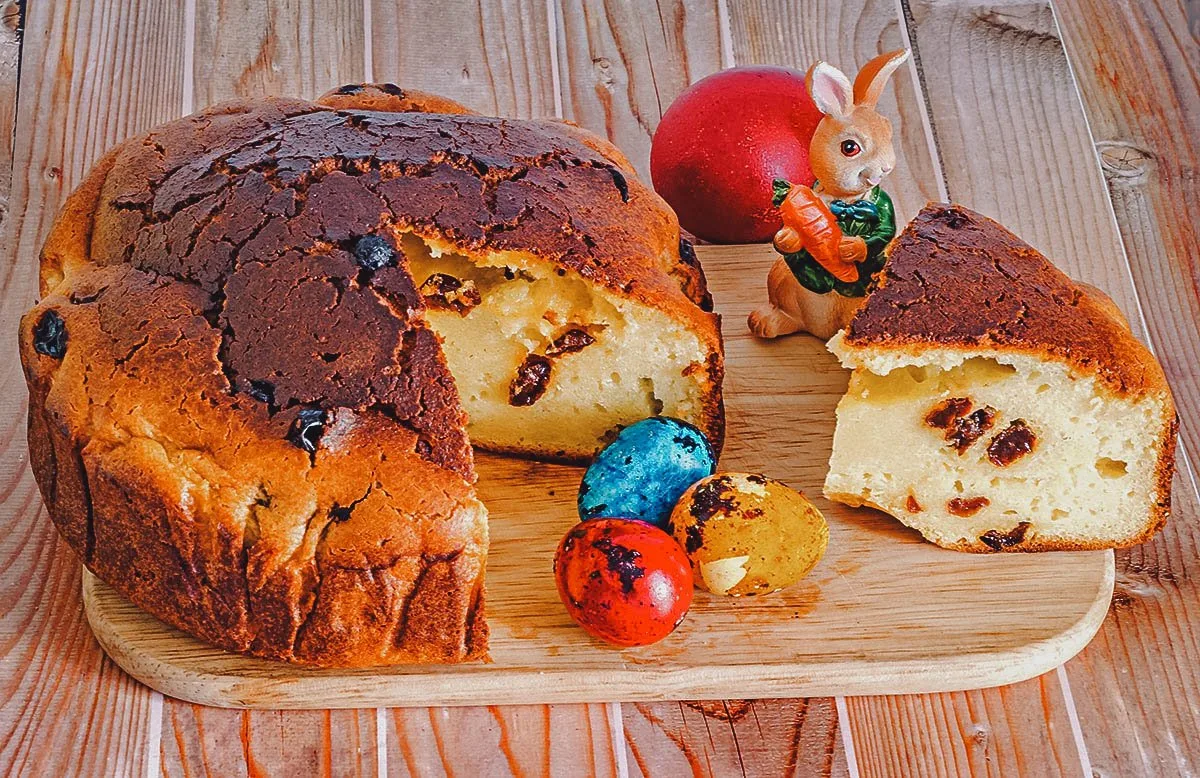 Photo by ncristian
36. Gogoși
Gogoși (or pancove, pampuște) are Romanian fried pastries similar to doughnuts. Unlike American-style doughnuts, they're made without a hole and often filled with a variety of ingredients like jam, chocolate, sweet cream cheese, or feta cheese.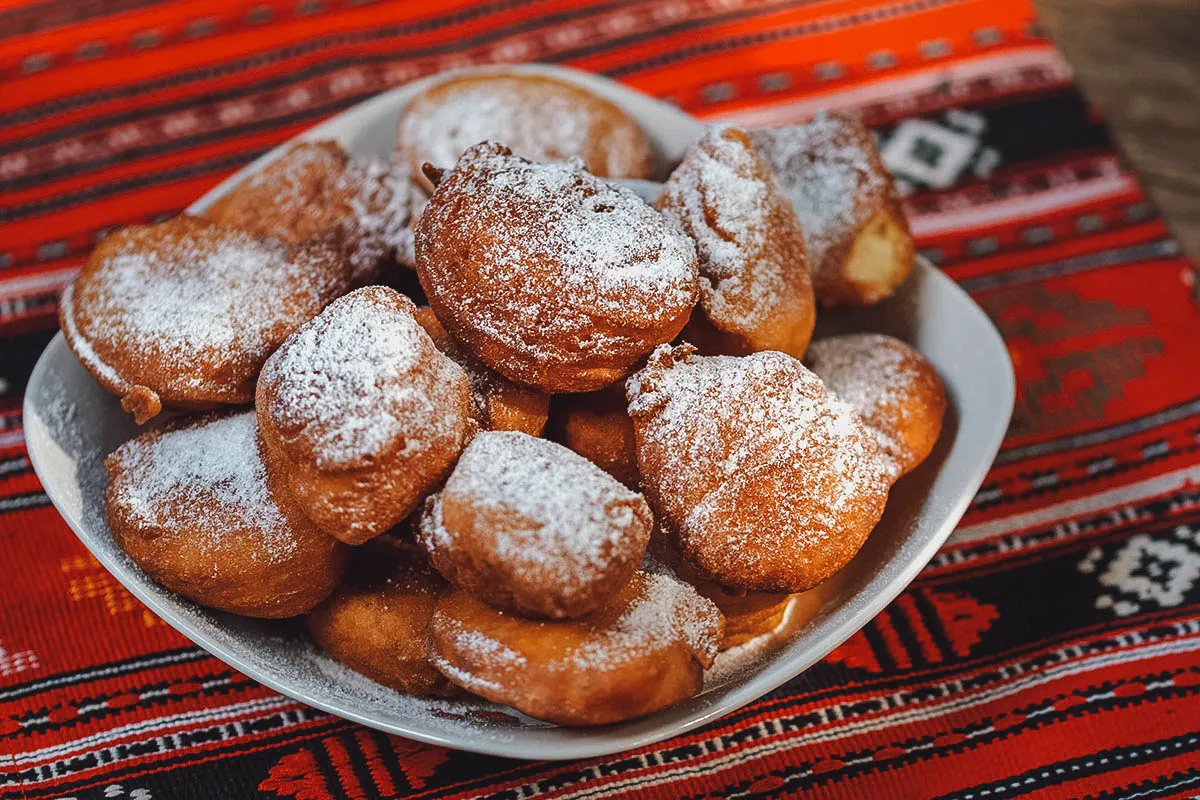 Photo by pfongabe33
37. Mucenici
Mucenici is a traditional dessert that's made just once a year in Romania. It refers to a honey and walnut pastry that's traditionally prepared on March 9th to celebrate a Christian feast of the same name – Mucenici or Forty Martyrs of Sebaste. The feast coincides with the start of the agricultural year so Romanians would bake these pastries to honor the event.
Mucenici are known for their distinctive shape that resembles the figure "8". They exist in two versions. In the Moldova region, the dough is baked and then soaked in syrup before being glazed with honey and dusted with walnuts and sugar.
In the Mutenia region, the figure 8s are much smaller. Instead of being baked, they're boiled in water with sugar and then served with cinnamon and crushed nuts, like a sweet soup.
The feast of the Forty Martyrs of Sebaste is celebrated in honor of Roman soldiers who were sentenced to die for not wanting to give up their Christian faith. There are several variations to the story but according to one account, the martyrs were drowned in a lake. After they drowned, flowers rose to the surface which is why this traditional dessert is shaped like an 8, to resemble garlands.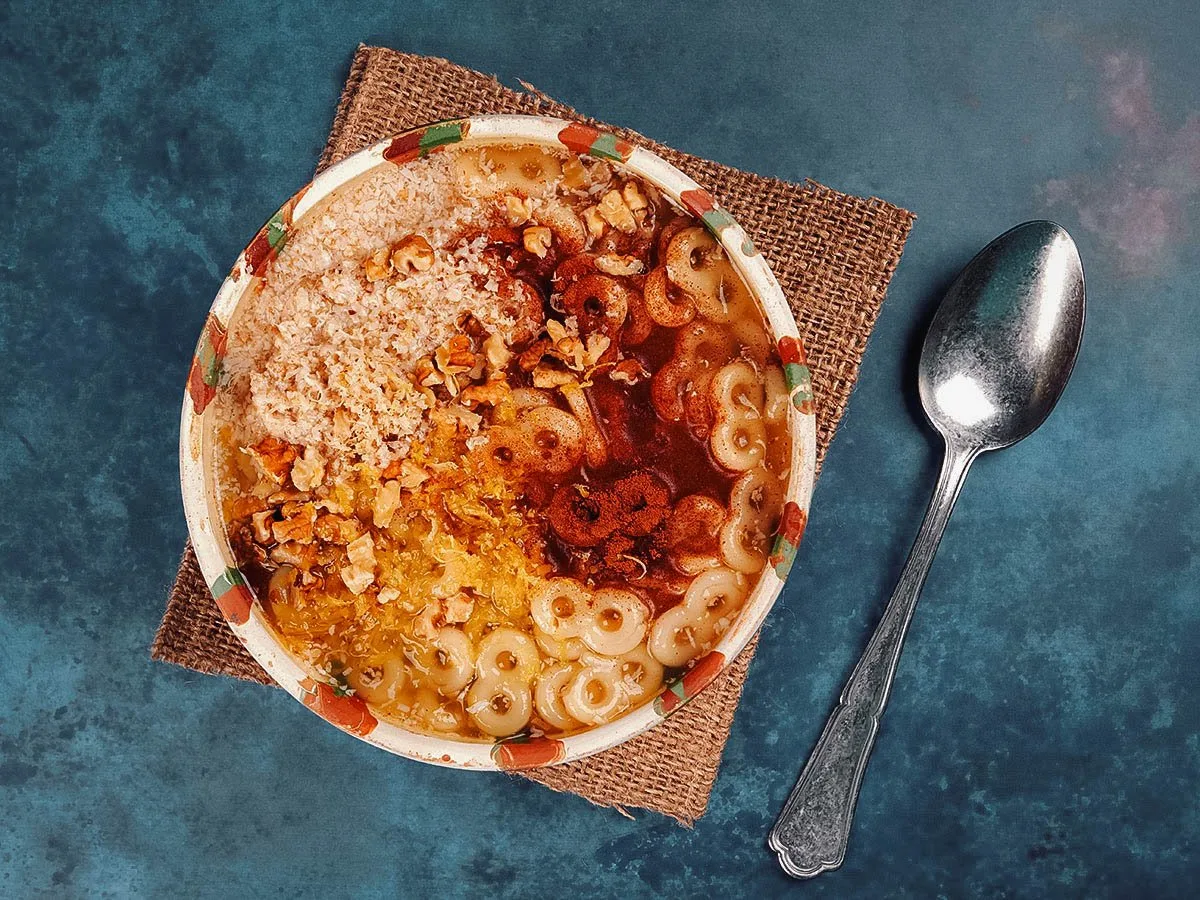 Photo by tcostachioiu
38. Cornulețe
Cornulețe refers to Romanian and Moldovan crescent cookies traditionally baked for holidays and other special occasions. It's made with a dough enriched with vanilla, rum, and citrus zest and filled with various dessert ingredients like chocolate, jam, walnuts, farmer's cheese, raisins, and Turkish delight.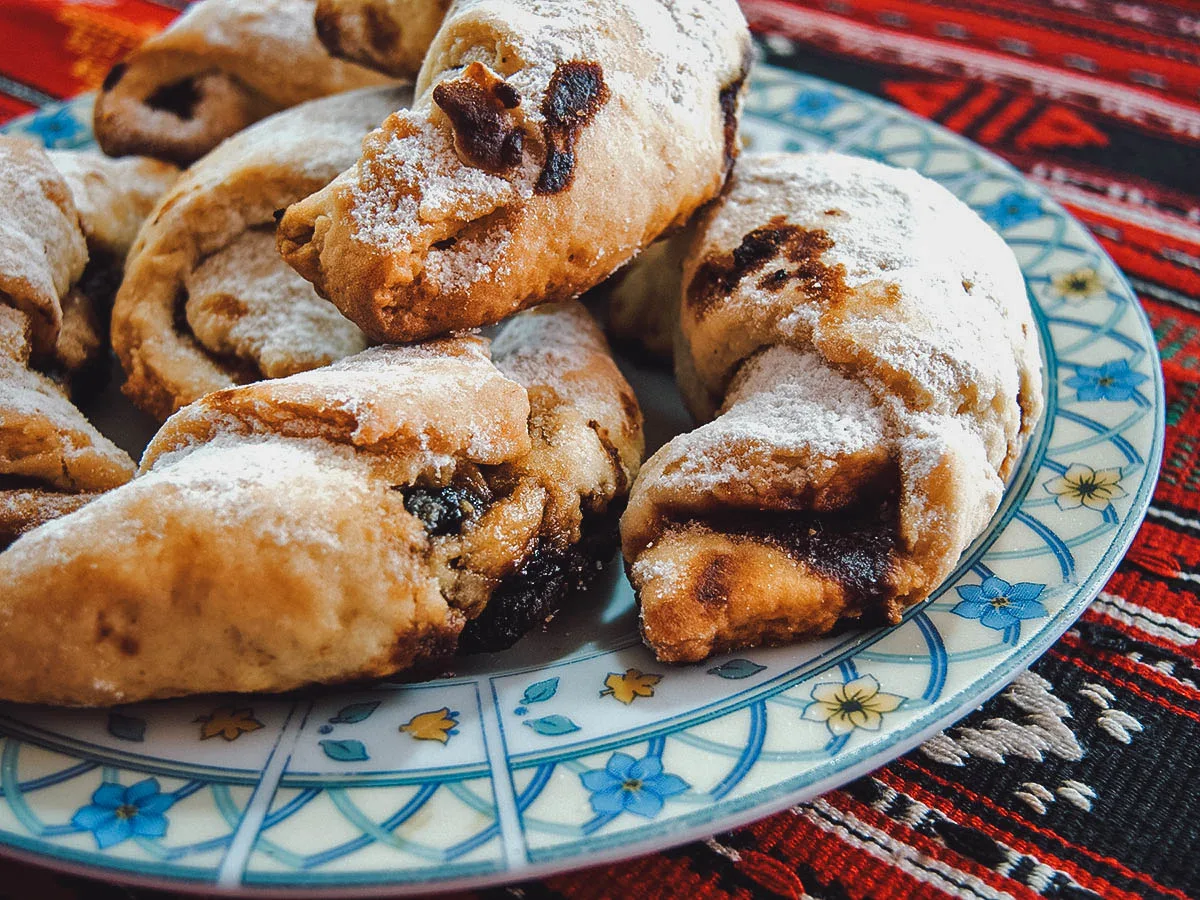 Photo by pfongabe33
39. Găluște cu Prune
Găluște cu prune literally means "plum dumplings" and refers to a Romanian dessert made with plums wrapped in potato dough. It's a popular dessert in many Central and Eastern European countries like Poland, Hungary, Bosnia and Herzegovina, Czechia, and Slovakia.
To make these delicious dumplings, a potato dough similar to gnocchi is wrapped around sweet plums. The plum-filled dumplings are then boiled in water before being rolled in a sweet and buttery bread crumb mixture. After cooling, they're traditionally served with a dollop of sour cream.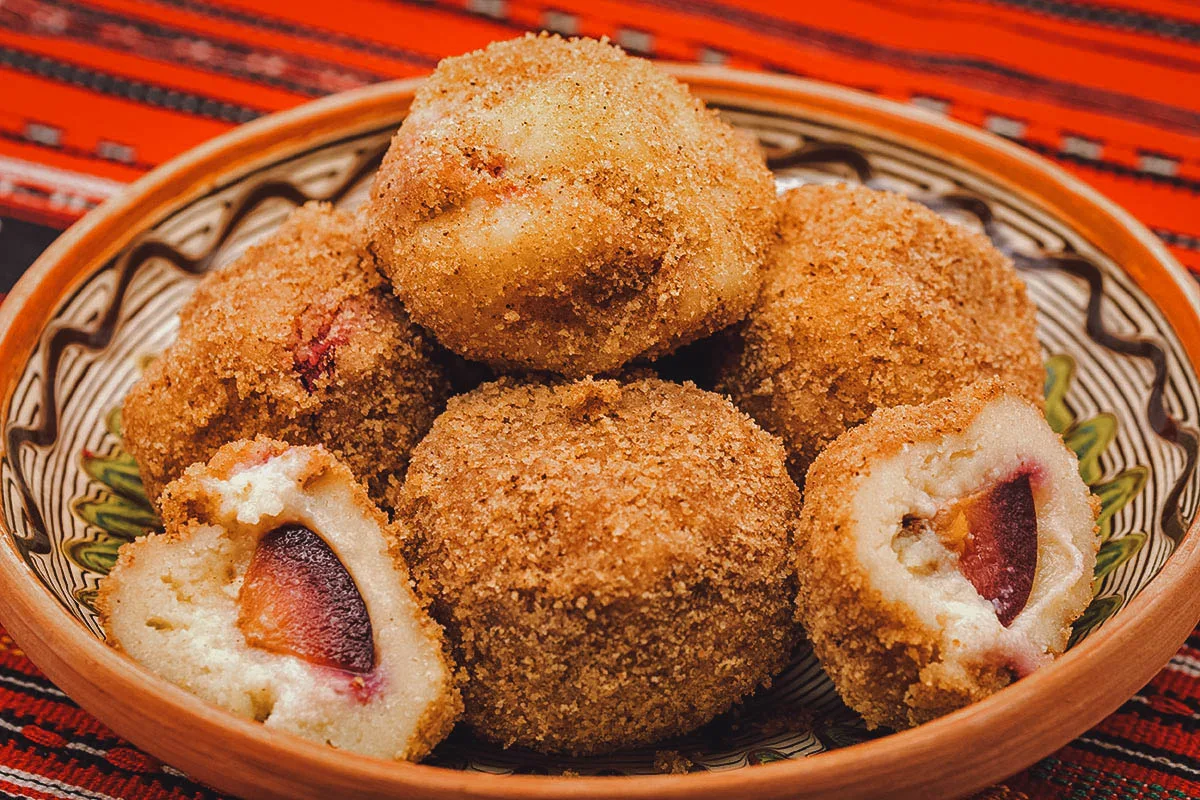 Photo by pfongabe33
40. Țuică
If găluște cu prune looks appealing to you, then you may enjoy ţuică, a signature Romanian liquor made from plums. Romania produces over 300,000 plums each year so if it doesn't wind up in a dumpling, then it'll probably end up in a glass of this traditional plum brandy.
Served cold in summer and hot in winter, ţuică is a source of national pride in Romania. It's used for toasting at social gatherings like weddings and baptisms, and is often taken as an aperitif before a meal. When guests arrive in a new home, they're often offered a glass of ţuică.
Țuică is traditionally prepared from early October until early December. The plums are fermented for about 6-8 weeks before being distilled and left to age in oak barrels for up to ten years.
Depending on how it's made, a bottle of ţuică will typically contain about 20-60% alcohol. When it's double-distilled, it can be referred to as pălincă, fățată, horincă, or întoarsă, depending on the region.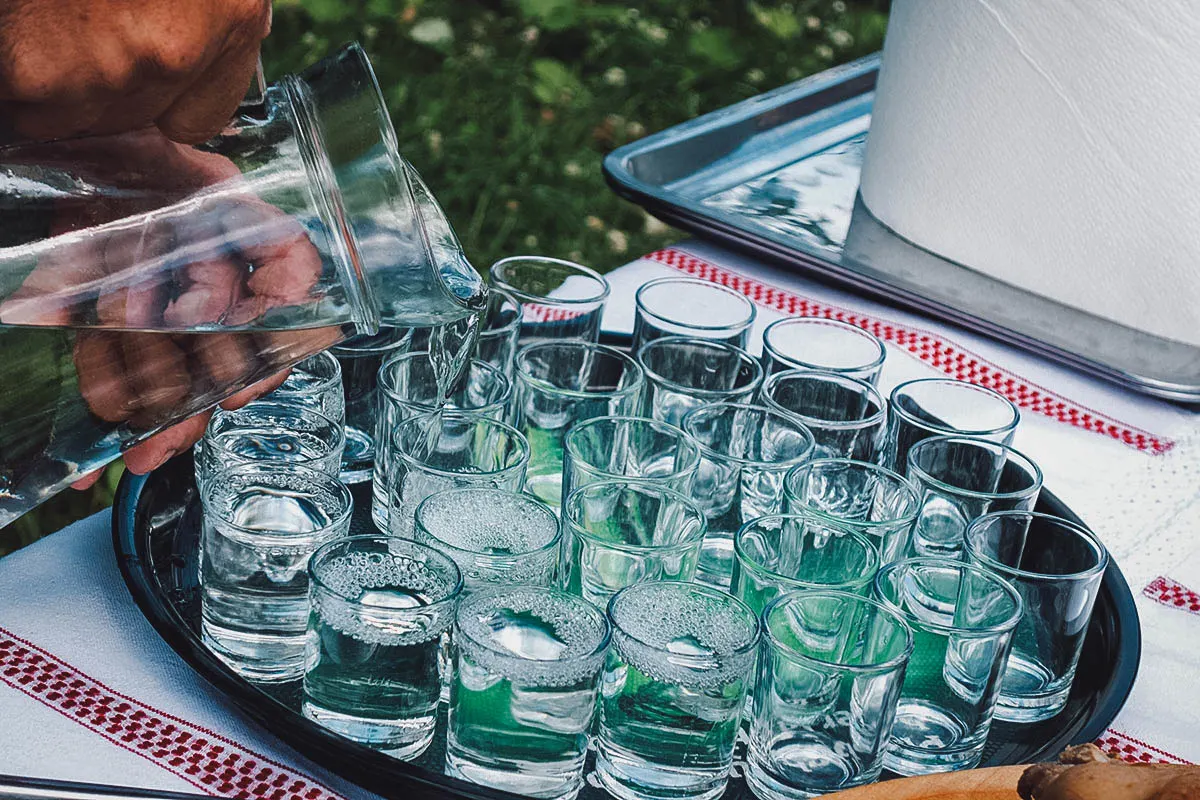 Photo by photonxt
ROMANIAN FOOD TOURS
There's much to learn about Romanian food and one of the best ways to do that is to go on a food tour. Simply put, no one knows Romanian cuisine better than a local. Not only will a knowledgeable guide lead you to the city's best restaurants and markets, but they'll be able to explain all the dishes to you in more detail. Check out Get Your Guide for a list of Romanian food tours in Bucharest and in other destinations throughout the country.
FINAL THOUGHTS ON TRADITIONAL ROMANIAN FOOD
Thanks to popular culture, Dracula is foremost on many people's minds when it comes to Romania. But as this article on Romanian cuisine illustrates, it's hardly the only thing of interest in this lesser known southeastern European country.
If you don't have a taste for blood (or exaggerated legend stories), then I hope this Romanian food guide gives you something more delicious to look forward to on your next trip to Romania.
Disclosure
Some of the links in this article on Romanian food are affiliate links. If you make a booking, then we'll earn a small commission at no additional cost to you. As always, we only recommend products and services that we use ourselves and firmly believe in. We really appreciate your support as it helps us make more of these free travel and food guides. Thank you!
Cover photo by ciaobucarest. Stock images via Depositphotos.