EDITOR'S NOTE: Traveleater and German food expert Ana Raicic shares with us 25 traditional dishes you need to try on your next trip to Germany.
Germany is a large country and as such, you'd expect an immense variety of traditional food. But the basics of German cuisine are surprisingly common across most regions.
Traditional German food focuses mostly on bread, potatoes, and various types of meat. Standout regions include the north, where you'll find more fish-based dishes because of its proximity to the sea, and the southern regions of Bavaria and Swabia where you'll find influences of Austrian and Swiss cuisines.
FOOD IN GERMANY QUICK LINKS
If you're visiting Germany and want to learn more about German cuisine, then you may want to go on a food tour.
TOURS
Save This on Pinterest!
No time to read this article on traditional German foods? Click on the save button and pin it for later!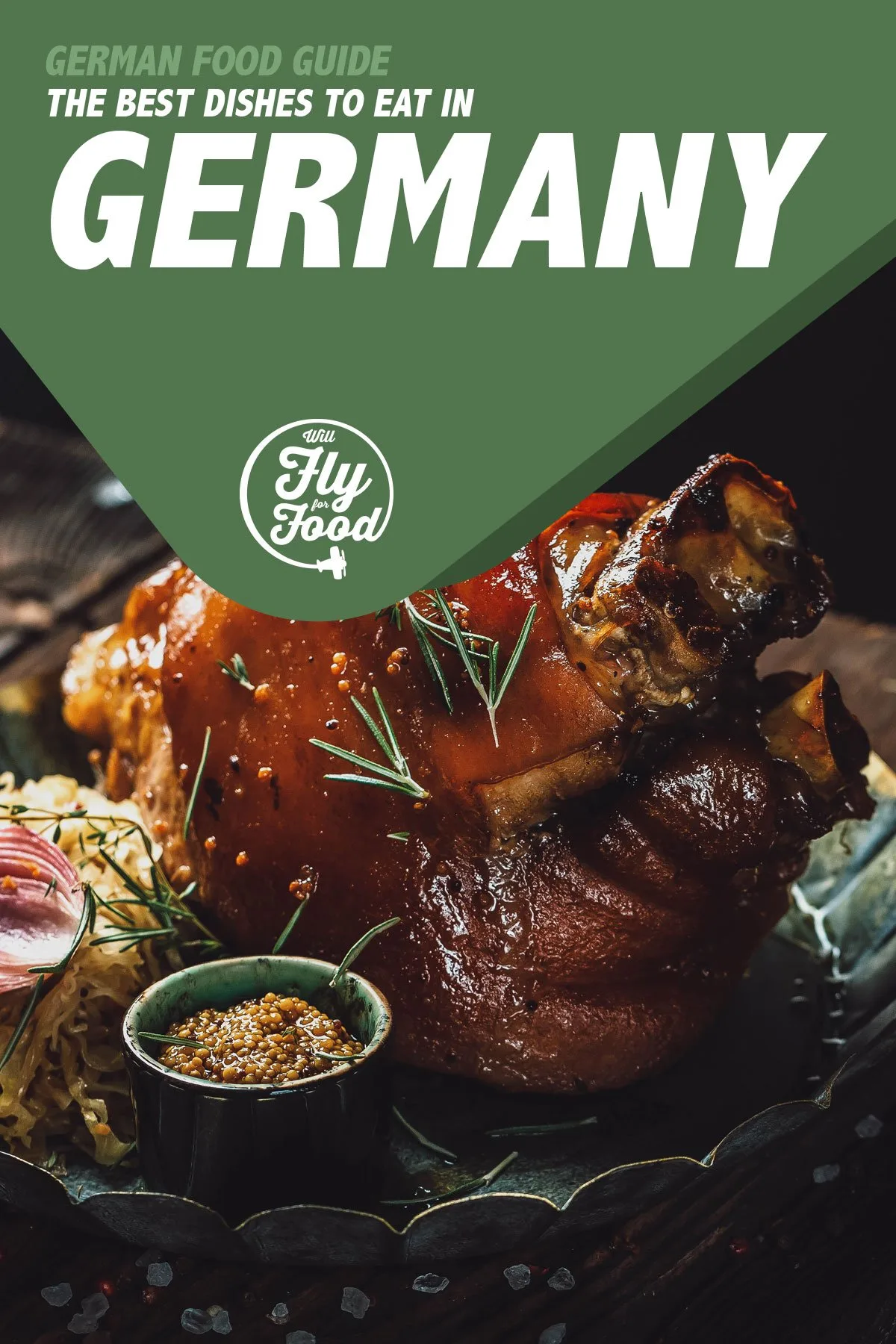 Photo by sweet marshmallow
WHAT IS TRADITIONAL GERMAN CUISINE?
Traditional German food might seem simple but it has uniformity and incredible regional variety at the same time. It has also been influenced by Eastern European, Austrian, northern Italian, and Swiss cuisines.
The prevalent ingredients used in German cuisine are meats in various forms – like pot roasts, stews, and sausages. Potatoes are the most important ingredient for side dishes. Cabbage is equally important as it's used to prepare sauerkraut and sauteed red cabbage. These simple but versatile ingredients are excellent vessels for spice mixes and regional preparations.
As for dessert, Germans are masters of fruit desserts, especially desserts made from apples which are ubiquitous in Germany. Many forms of dessert knödel filled with fruit are also popular.
Germans love a good pastry. Bakeries are full of sweet treats with quark and berry, apple, and nut fillings. They also have a special relationship with ice cream so ice cream parlor menus are always filled with a multitude of mouthwatering choices.
MUST-TRY GERMAN DISHES
This article on traditional German food has been organized by category to make it easier to go through. Click on a link to jump to any section of the guide.
SOUPS / STARTERS / SIDES
1. Eintopf
The German word eintopf literally translates to "one pot" and denotes German dishes that are made in one pot. These are soups and stews that represent a full meal and often contain legumes (like peas, beans, or lentils), vegetables (most often cabbage, swede, carrots, and potatoes), and grains (such as barley, pasta, or bread).
Traditionally, German eintopf is made by cutting vegetables and sauteeing them in a pot, before adding the softer vegetables, potatoes, and meat. The broth is then added and simmered for a while until the meat is cooked through and the stew has thickened to the desired consistency.
The beauty of eintopf is that it can be made from anything, so it's often prepared as a clean-out-your-fridge dish. It's typically seasoned with black pepper, parsley, and salt, along with cumin seeds to aid in digestion.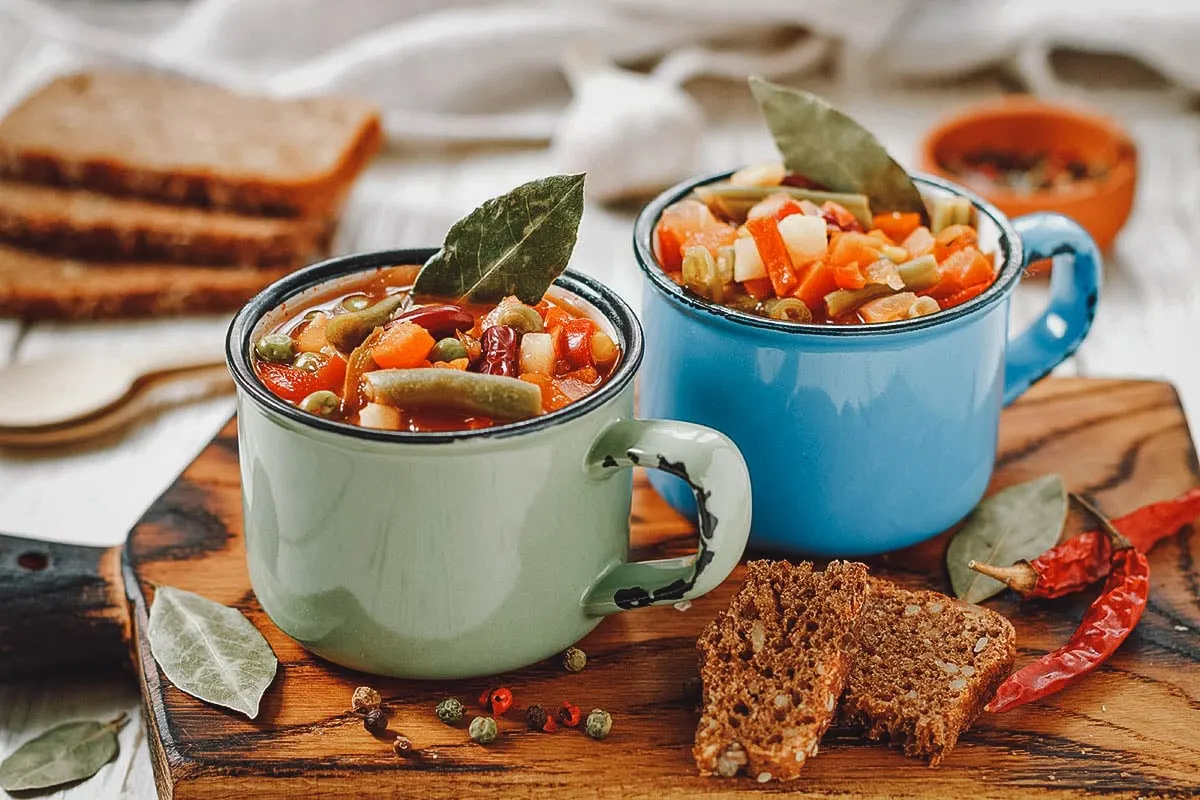 Photo by Viktory Panchenko
2. Maultaschen
Maultaschen are German dumpling pockets made from pasta dough filled with meat, onions, and vegetables. They are an EU-protected dish originating in the historical region of Swabia, which is now part of Bavaria and Baden-Württemberg.
Today, at least one stage of production of the original Swabian maultaschen needs to be carried out in the region of origin, for it to be called that.
To make maultaschen, the pasta dough is first rolled out. The stuffings are prepared according to the recipe and blended into a smooth filling. The pasta dough is then filled with the stuffings and folded before being cooked in soup or salted water.
After cooking, maultaschen is typically served in one of three ways – (1) in the soup; (2) with butter and fried onions, often with German potato salad; and (3) pan-fried in slices with eggs, onions, and cheese.
The fillings for maultaschen vary significantly, from meaty versions made with pork, beef, and smoked pork belly to vegetarian variations containing just onions, parsley, leeks, and bread.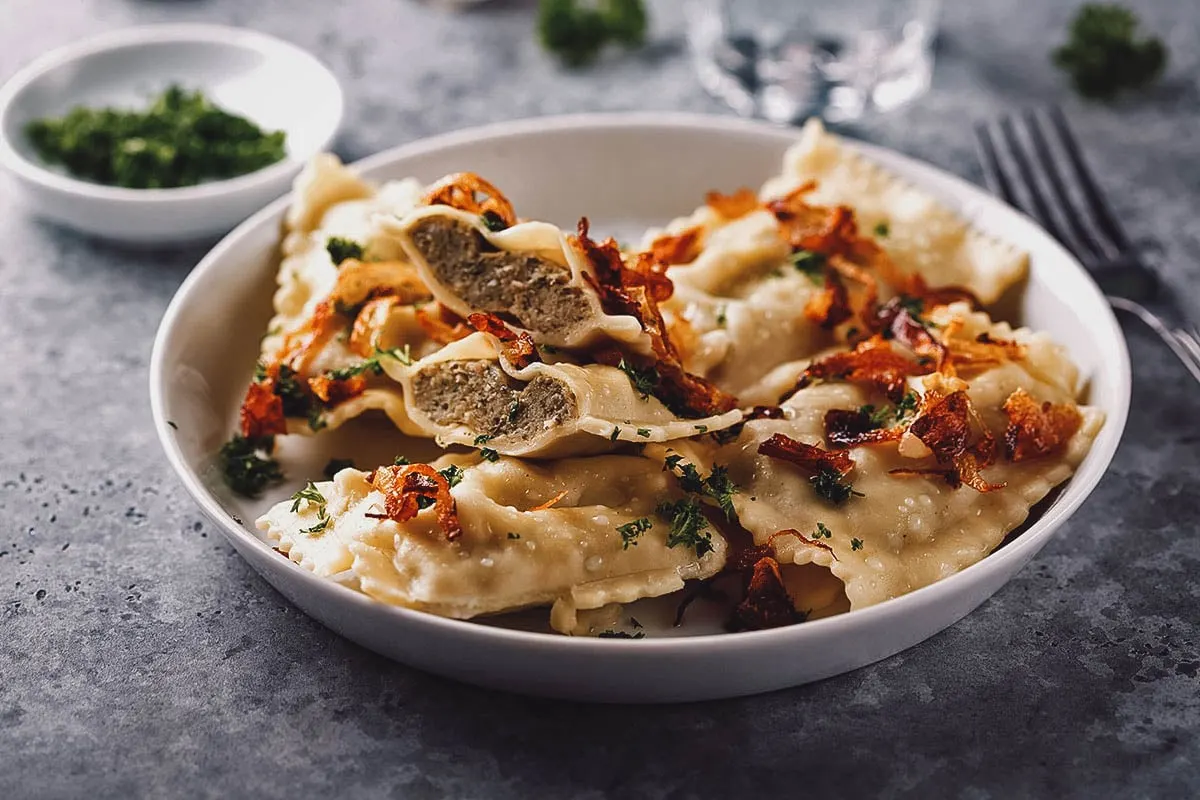 Photo by MariaKovaleva
3. Spätzle
Spätzle refers to a Swabian egg-based type of pasta or dumpling, made out of a thinner batter that's traditionally scraped directly into boiling water and cooked. The dumplings are then scooped out and cooled in a bowl of icy water to prevent overcooking.
Today, spätzle are extremely common and can easily be found at most German restaurants and markets. They're also a popular comfort food and come pre-packaged in supermarkets.
Spätzle can be used in a variety of German dishes. The most well-known is probably the käsespätzle, which is made with spätzle mixed with cheese and fried onions. They're also used as a side dish with meat dishes like rouladen, sauerbraten, and pot roasts with gravy. Käsespätzle is known as käsknöpfle in Liechtenstein, where it's considered a national dish.
Sweet spätzle are a lesser-known treat, originating in the region of Allgäu. Kirschspätzle and apfelspätzle are mixed with fresh cherries and grated apples, respectively, and then dressed with a buttery, sugary glaze spiced with cinnamon and sometimes nutmeg. Kirschspätzle is predominantly a summer dish, while apfelspätzle is most commonly served in autumn.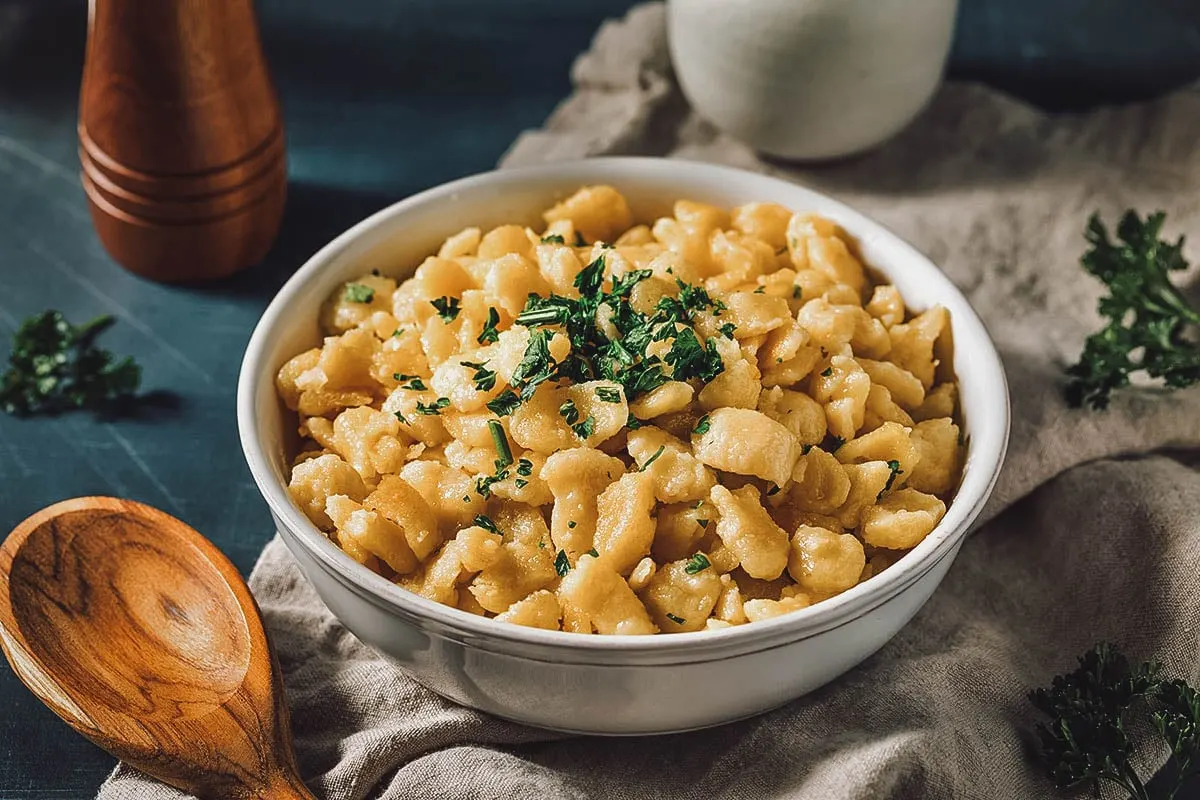 Photo by Brent Hofacker
4. Knödel
Knödel is a type of boiled dumpling that's traditionally made out of flour, bread, potatoes, or quark. They're common in many Central and Eastern European countries like Austria, Hungary, Czechia, and Bosnia and Herzegovina but they have a special place in German cuisine.
Savory options are most often served as a side dish with roasted meats and sauces, but some types – like the leberknödel (literally "liver dumplings") – can be served in a traditional clear broth instead of maultaschen or pasta.
Some traditional savory varieties of knödel include the ubiquitous semmelknödel (bread dumplings), kartoffelknödel (potato dumplings), thüringer klöße (raw potato dumplings), and palatinate dampfnudeln (yeast dumplings).
Sweet dumplings are a lovely treat for especially cold days. Some varieties can be found all over Germany like zwetschkenknödel (filled with plums), grießklößchen (made from semolina), and quarkknödel (filled with quark). Sweet dampfnudeln is served with vanilla custard or fruit compotes while germknödel (yeasted wheat flour dumpling) is traditionally served with vanilla sauce and filled with plum jam.
Most of these German dumplings are made by mixing the main ingredient – usually flour, cubed bread (you can even buy dumpling bread in the supermarket!), cooked potatoes, or quark – with egg to act as a binder. Either flour, breadcrumbs, or coarse meal is then used to act as a thickener. The dumplings are shaped into balls before being cooked in boiling water and served as a side dish.
Today, knödel or klöße (another word for dumpling) are a characteristic feature of German festive cuisine and can be found on the Sunday menus of many traditional German restaurants.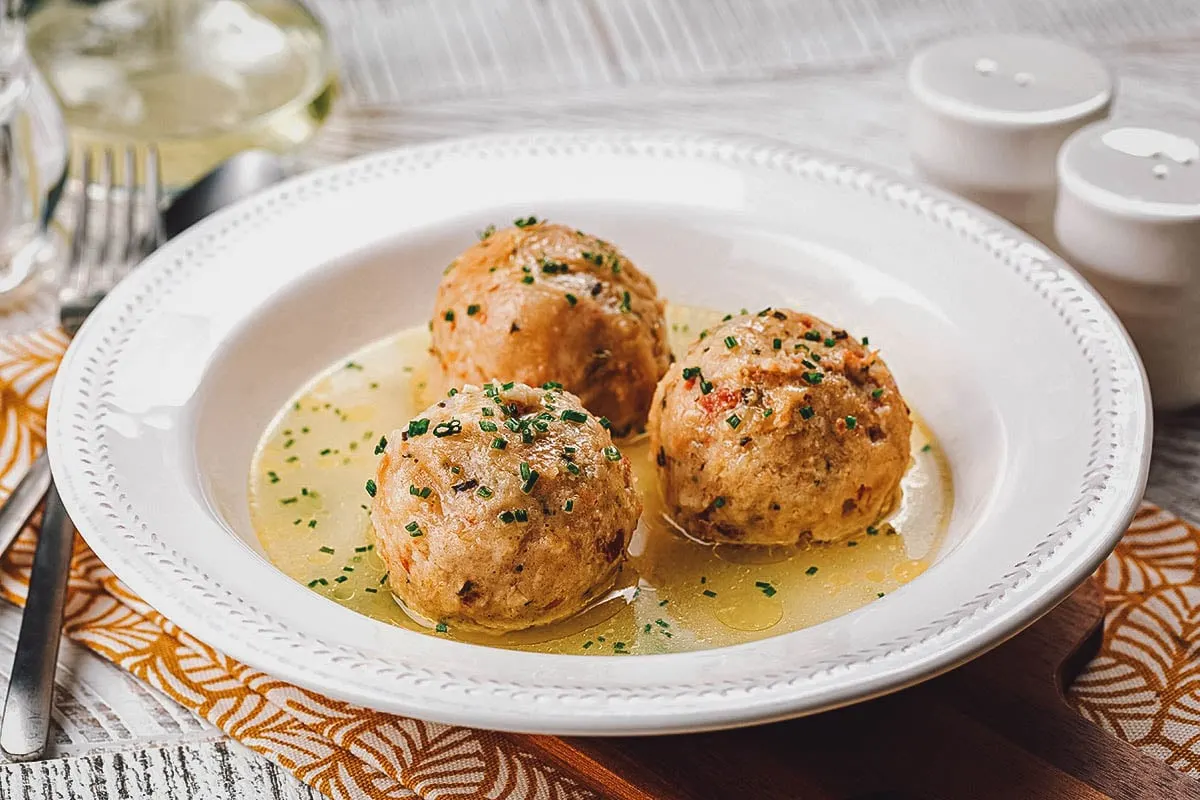 Photo by OlgaBombologna
5. Kartoffelsalat
German potato salad is pretty much the same as any type of potato salad. It's prepared out of boiled potatoes which are cooked with or without skin, sliced, and then mixed with a dressing and other ingredients. It's a ubiquitous side dish that you'll find at most German restaurants with sausages and roasted meats.
The two distinct styles of German potato salad are charcaterized based on the presence of mayonnaise in the dressing.
In southern Germany, potato salad dressing doesn't contain mayonnaise but it's prepared out of meat broth, vinegar, oil, salt, pepper, and mustard. This style of potato salad can be eaten warm or cold.
In northern Germany, potato salad dressing usually contains mayonnaise. Sometimes, it's made with a combination of mayonnaise and yogurt as a way to lighten the dressing. The result is a smooth German potato salad that can be served either cold or at room temperature. It's the perfect accompaniment to any type of German sausage or meat dish.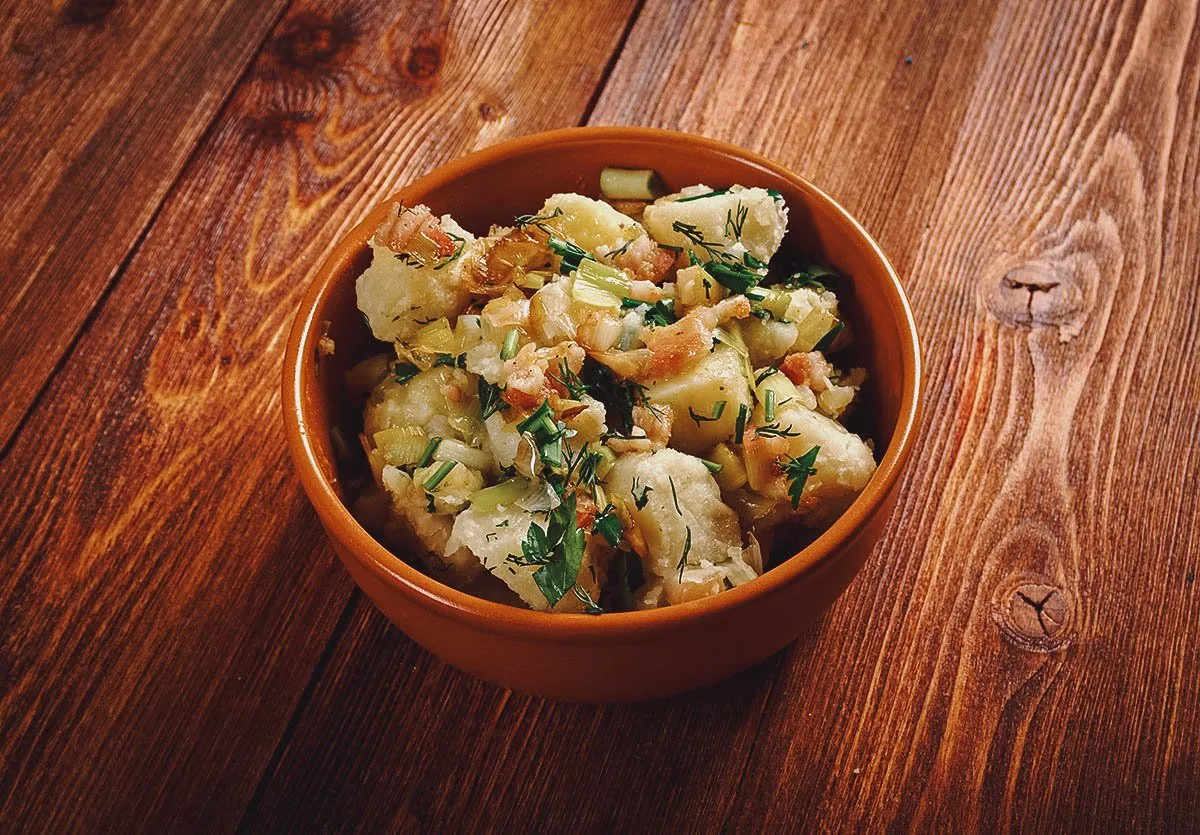 Photo by Fanfo
6. Kartoffelpuffer
Kartoffelpuffer, kartoffelpfannkuchn, or reibekuchen all refer to a type of German potato pancake, similar to American hash browns, Jewish latkes, Irish boxty, and Swiss rösti. These fried potatoes are commonly served at German restaurants as a side dish.
Kartoffelpuffer are prepared by first grating raw potatoes and onions, and then squeezing as much water out of the potatoes as possible. This step is very important because it ensures that the exterior of the pancakes remains crispy after frying.
The potatoes are then mixed with onions, flour, salt, and egg to form a batter. Typically, they're spiced only with salt, nutmeg, and parsley. The batter is then spooned into hot oil and cooked until the fried potatoes are crispy on both sides.
Typically, potato pancakes are eaten either as a standalone dish with sauerkraut and lettuce, sour cream, or with sugar and apple sauce. They can also be served as a side dish with meat.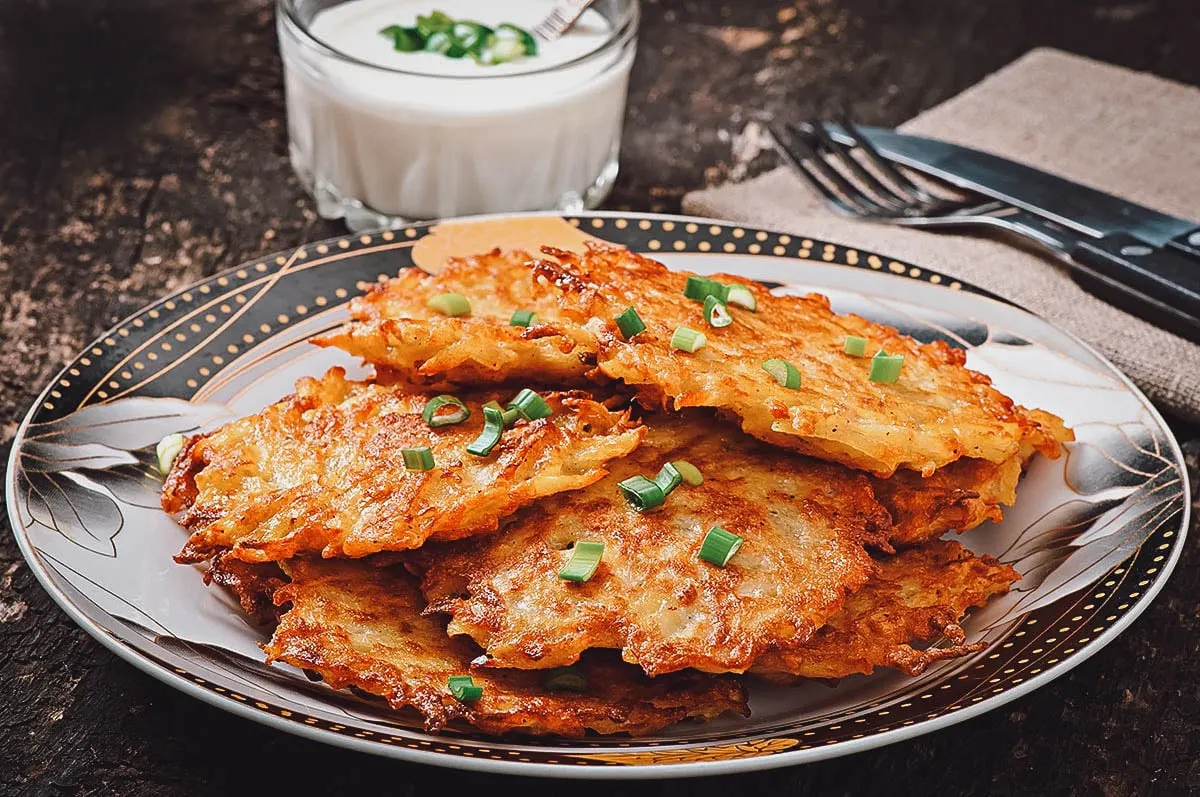 Photo by Timolina
7. Bratkartoffeln
German bratkartoffeln refers to a tasty dish consisting of thinly sliced pan-fried potatoes. The potatoes aren't deep-fried like French fries. Texturally, they're more similar to crispy roasted potatoes. A staple at any German restaurant, they make for a wonderful side dish to sausages, steaks, and roasts.
To make bratkartoffeln, potatoes are thinly sliced and left in a cold water bath for a couple of minutes to drain and wash off any starches. The potato slices are then cooked in a covered pan with clarified butter or oil. Before the potatoes finish cooking, onions are added to the pan which is then left uncovered to help crisp up the potatoes.
Germans are very particular about their bratkartoffeln, which should be cripsy on the outside but soft in the middle. The best bratkartoffeln are well-seasoned with salt and pepper. They can also be enhanced with butter, chives, and bacon.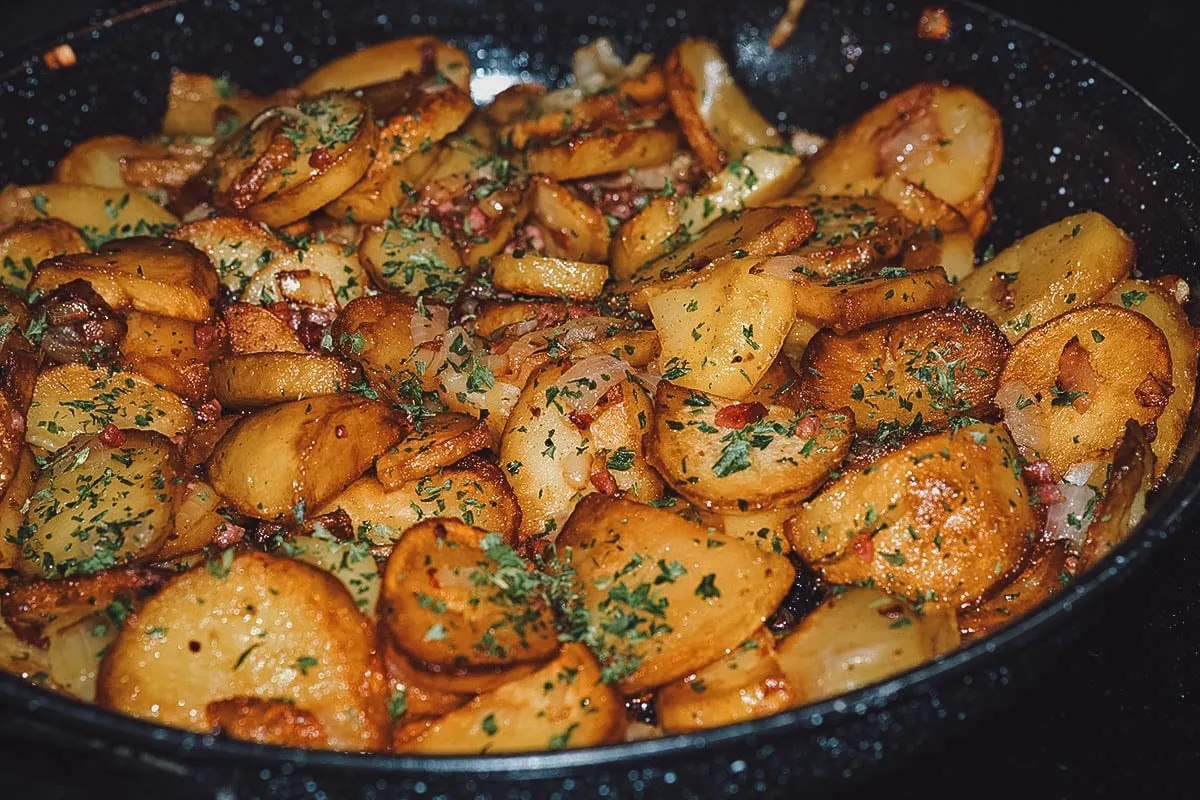 Photo by V.Vanacore
8. Zwiebelkuchen
This German specialty dish is a type of cake made from steamed or raw onions, diced bacon, cream, and caraway seeds. The cake can be made either with yeasted dough or shortcrust pastry.
The Swabian version of zwiebelkuchen is usually round and resembles a French quiche lorraine, while zweibelkuchen from other parts of Germany can be square or rectangular. In most regional varieties, the onions are steamed or sauteed before baking, except in Saxony-Anhalt and Saxony where the onions are used raw.
Zwiebelkuchen is a characteristic fixture of autumn German food traditions. It's commonly served at wine festivals in the German wine-producing regions of Württemberg, Baden, Rhine, Moselle, Saar, Nahe, Palatinate, Hesse, and Franconia.
Zwiebelkuchen is typically served warm, often with beer, a glass of wine, or federweißer, which is a type of German specialty wine that's halfway between grape juice and wine.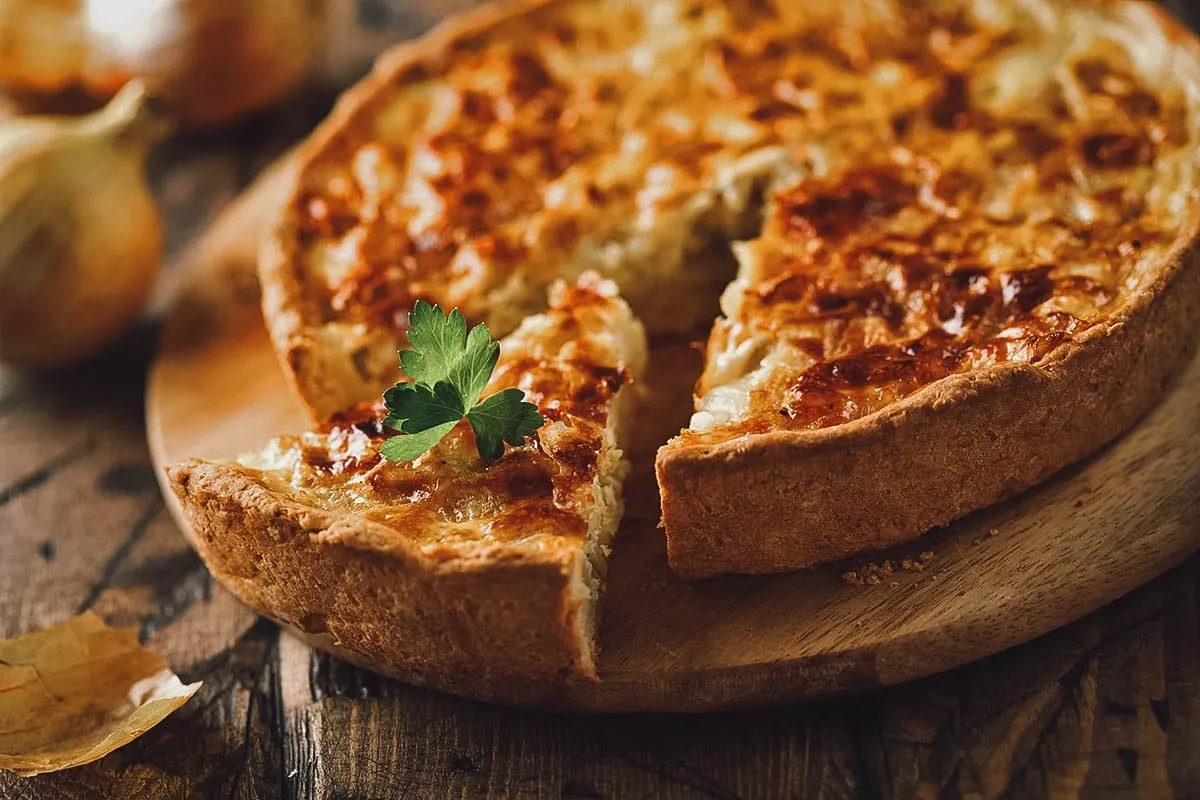 Photo by MariaKovaleva
MEATS / MAINS
9. Labskaus
Labskaus is a traditional German dish made with potato, beef, and beetroot. It's common in northern Germany, particularly in the cities of Hamburg, Bremen, and Lübeck.
Traditionally, labskaus is prepared by first boiling salted or fresh meat in broth. The meat is then minced with boiled potatoes, herring, pickled beetroot, and gherkins before being fried and enhanced with bay leaves, nutmeg, cloves, allspice, pepper, and coriander.
Labskaus is typically served with fried eggs, herring filets, and gherkins. Several regional variations exist, but the essential ingredients of potatoes and cooked beef remain the same everywhere in Germany.
Lebskaus is a mainstay on the menus of traditional German restaurants in Schleswig-Holstein, Bremen, Hamburg, and northern Lower Saxony.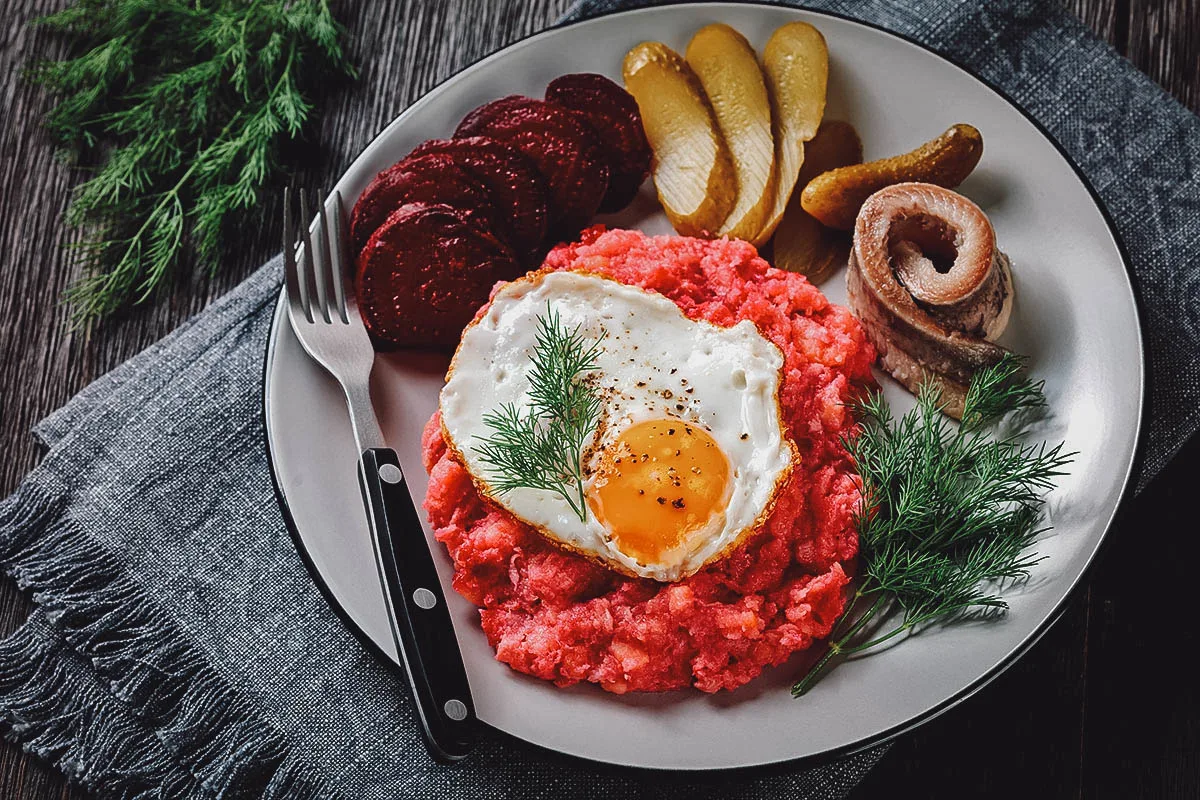 Photo by from my point of view
10. Bratwurst
Bratwurst refers to a type of German sausage most often made with pork, though it can also be made with veal or beef. Like most German foods, it can also come in several regional varieties.
Bratwurst of all kinds is extremely popular in Germany and is often served as a snack with a white bread roll and mustard. In German pubs and traditional German restaurants, bratwurst is served with a side of sauerkraut or potato salad and a slice of dark rye bread or pretzels. Bratwurst is also a key ingredient in a proper German grillen (barbecue).
Some of Germany's most popular types of bratwurst include thüringer bratwurst, nürmberger rostbratwurst, schlesische bratwurst, rote wurst, and rostocker bratwurst.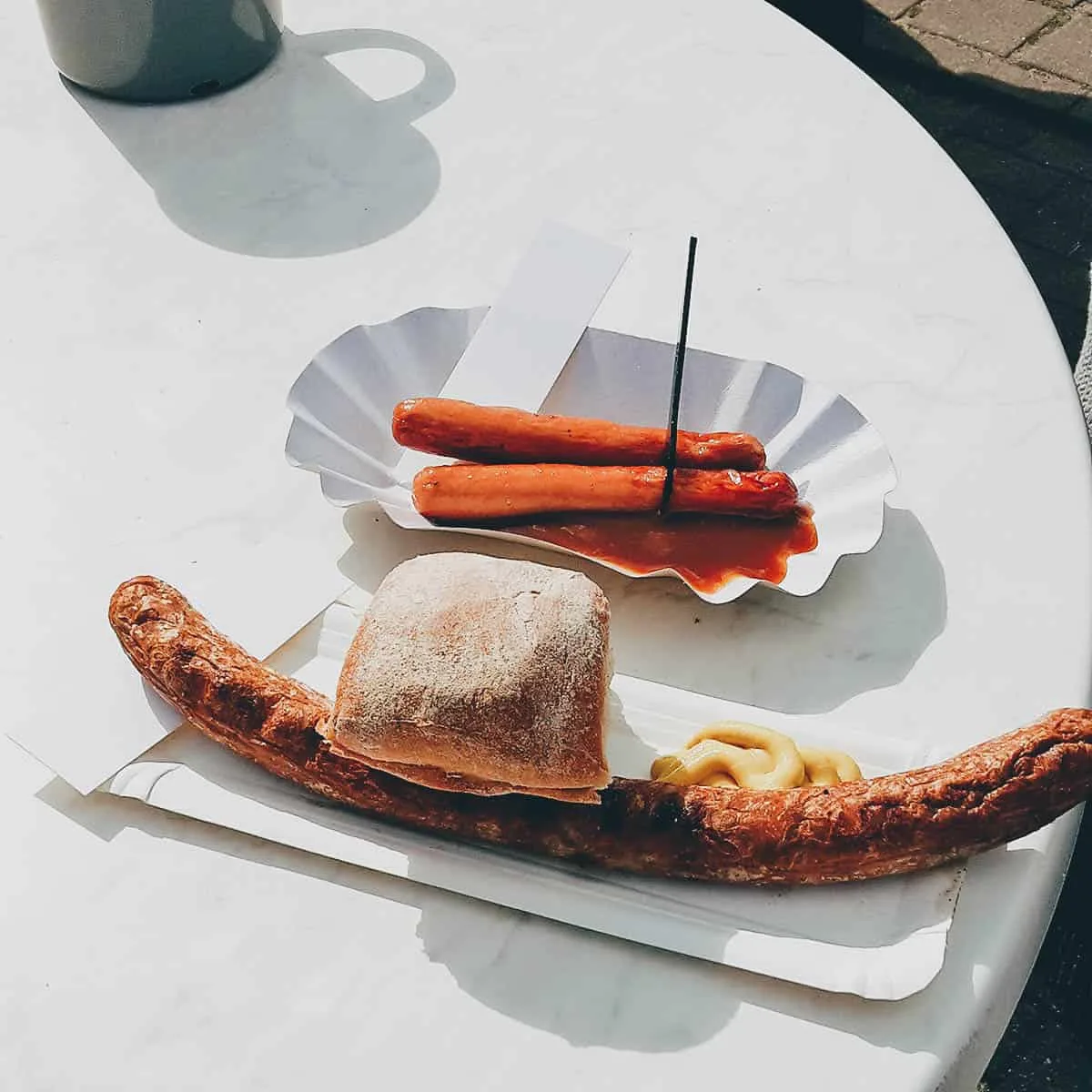 11. Weisswurst
The name weisswurst means "white sausage" in German. A traditional Bavarian specialty, this German sausage is made from minced veal and bacon and gets its name from its light color. Traditionally, it's spiced with parsley, lemon, mace, onions, ginger, and cardamom.
Weisswurst is traditionally prepared in the morning and eaten no later than lunchtime. Originally, this was because they weren't smoked or preserved, which meant they were highly perishable.
Weisswurst are generally small sausages, about 12 cm long and three to four cm thick. They're cooked for about ten minutes and often served in warm water to keep them from cooling down too much.
Today, weisswurst sausages are commonly served (especially in Bavaria) with Bavarian sweet mustard, a pretzel, and a pint of weißbier.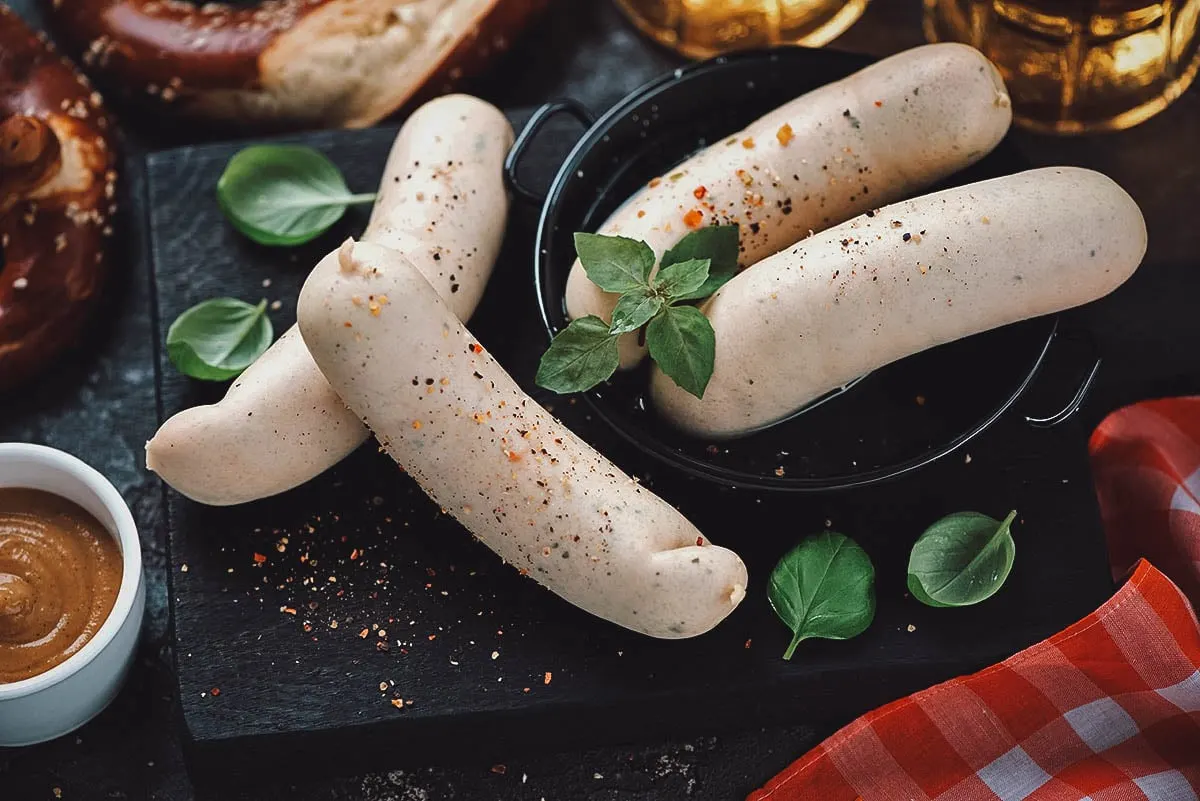 Photo by Nickola_Che
12. Currywurst
One of Germany's most popular snack foods, the currywurst was invented in Berlin sometime after the Second World War. The dish consists of fried or boiled sausage, served whole or sliced, and topped with a tomato-based sauce and curry powder or ketchup.
Currywurst is a national dish in Germany and you can find many street vendors selling it everywhere. It's also a mainstay on the menus of pubs and restaurants.
This popular German food has two variants, with or without casing. In both instances, they're first fried as a whole sausage and then either cut into rounds and served with sauce or cut into two halves and served with sauce. The sauce (or sometimes sausage first) is then sprinkled with curry powder.
Sometimes, you can ask for your currywurst to be served with cayenne, crushed chili flakes, Worcestershire sauce, or chopped raw onions with chili. Currywurst is served with either french fries, a small soft bread roll, or a slice of bread to mop up the sauce.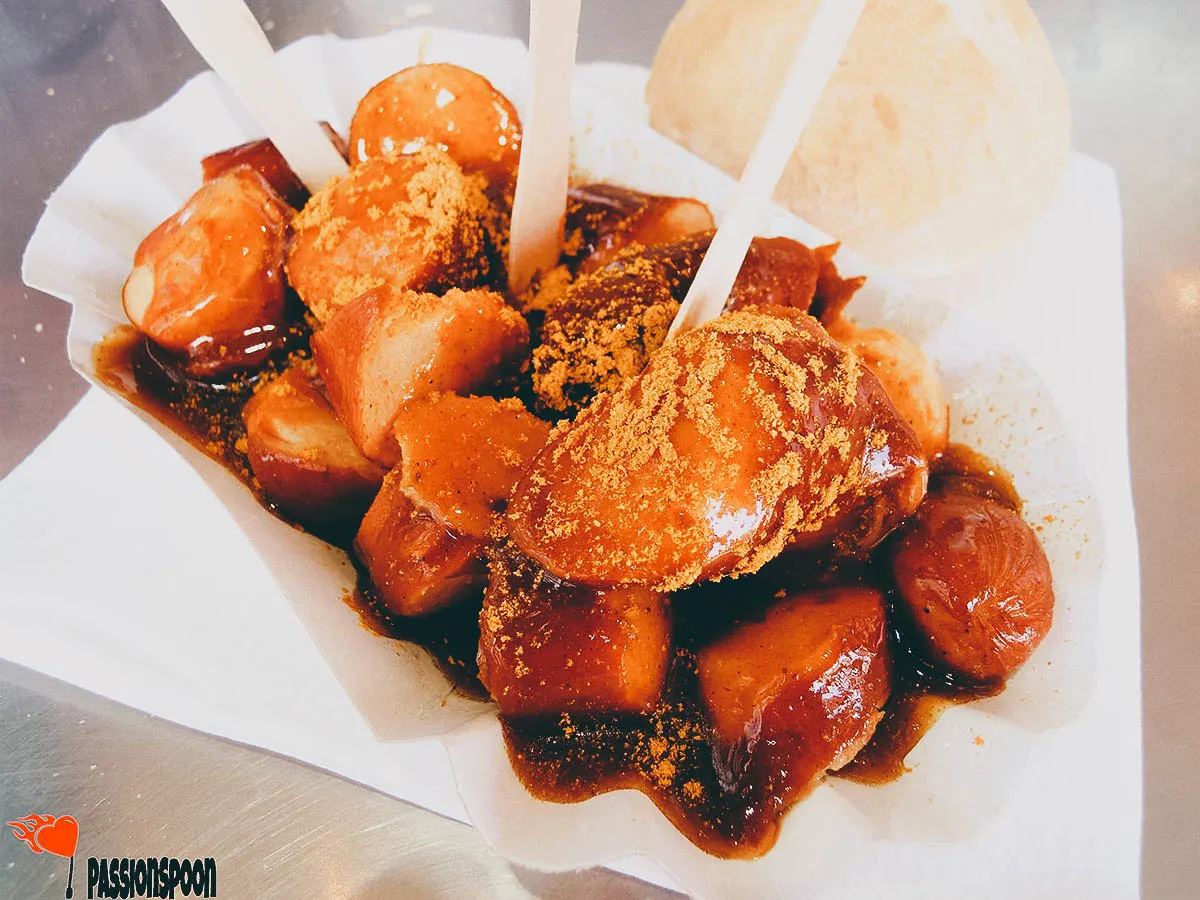 13. Rouladen
Rouladen in German means "rolled" and refers to a type of meat roll, usually made with either beef or veal.
Rouladen consists of one thin long slice of meat that's stuffed with bacon, onions, mustard, and pickles, and then rolled. The rolls are then seared on the stove and cooked in a stew. The rolls can either be sliced for serving or served as individual rolls called fleischvogel, which literally means "meat birds".
The traditional sides to German meat roll dishes are sauteed red cabbage or sauerkraut. Depending on the region, a form of potatoes (either boiled, mashed, or roasted), spätzle, or dumplings can also be served.
Rouladen can be found on the weekend or holiday menus of traditional German restaurants throughout Germany.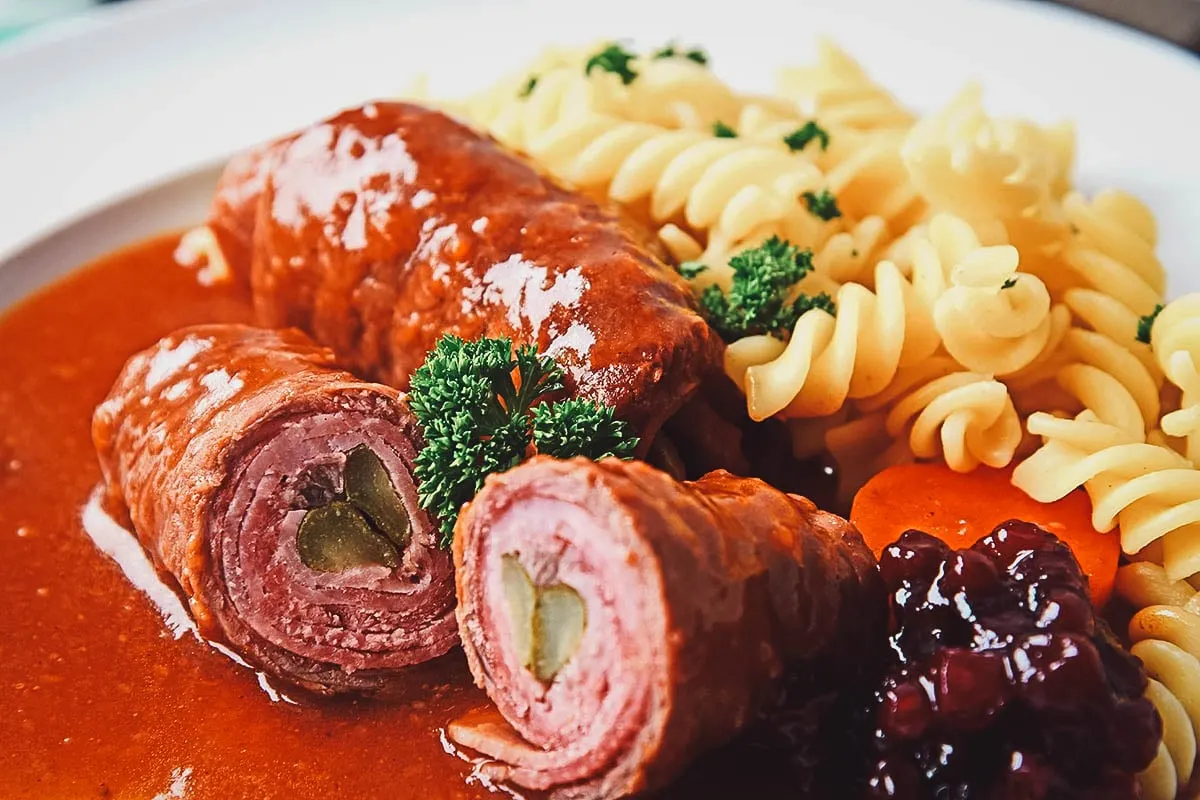 Photo by PosiNote
14. Sauerbraten
Sauerbraten is a type of German pot roast dish made with meat that's been marinated for several days in a mixture of vinegar, water (or wine), onions, carrots, bay leaves, cloves, and peppercorns. Traditionally, it was stored in a cool cellar for a few days to allow the cut of meat to tenderize and become infused with flavor.
As with several other traditional German dishes, sauerbraten is highly varied regionally. However, the cooking process is mostly the same.
To make sauerbraten, the cut of meat is first seared to give it color. The pot is then deglazed with the leftover marinade and filled with water or stock for stewing. The sauce is then seasoned with traditional sweeteners like raisins, sugar beet syrup, apple sauce, and special sauce-thickening gingerbread cakes.
You can find sauerbraten on the menus of most restaurants serving German cuisine, usually with a choice of traditional side dishes like knödel and pasta.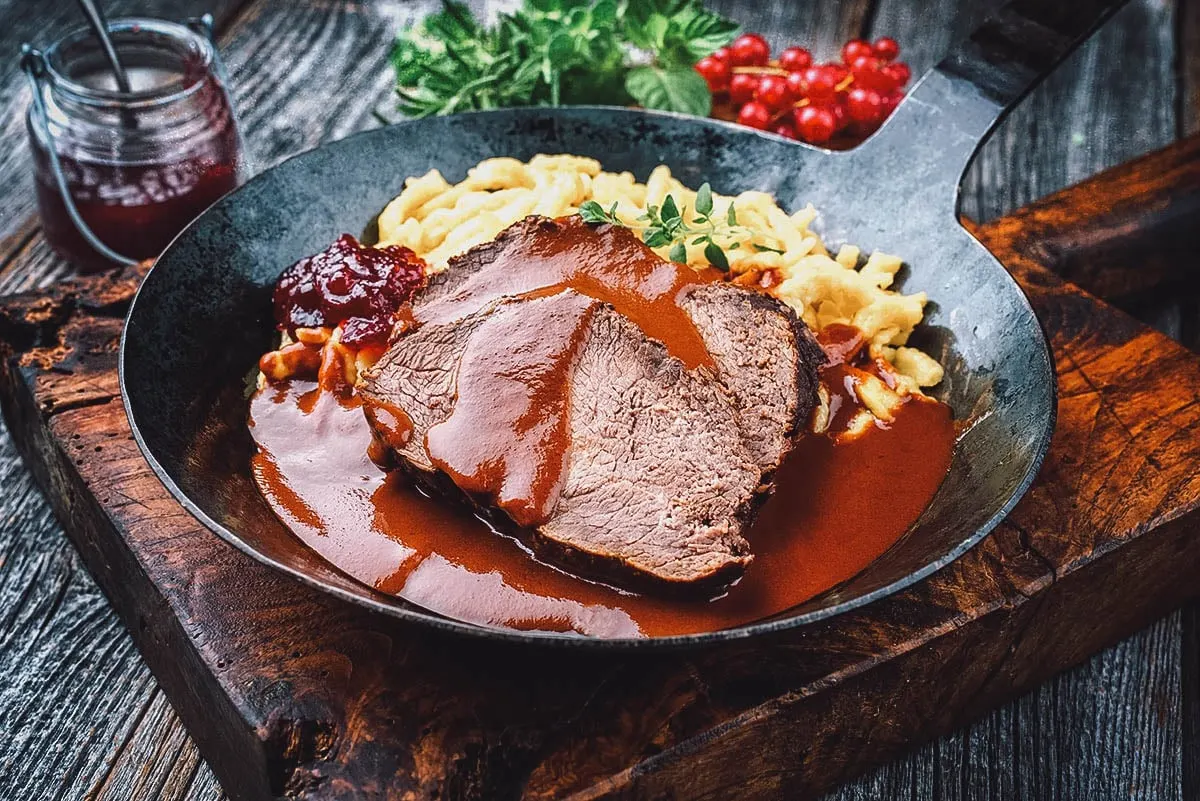 Photo by hlphoto
15. Hasenpfeffer
Hasenpfeffer is a ragout made with rabbit or hare meat flavored with onions and a wine and vinegar marinade.
To prepare the stew, rabbit meat is first marinated in oil, brandy, and select spices. The meat is then stewed with onions, red wine, lemon juice, and chopped liver. The final and most important ingredient of hasenpfeffer is rabbit or pork blood. Stemming from the time when every part of the animal was used, the blood is added to thicken the sauce and give it a creamy, silky texture.
Today, hasenpfeffer is mostly prepared using just wine as it's become more difficult to find blood to use in the dish. The stew is traditionally served with knödel and red cabbage.
Hasenpfeffer is delicious but you may have a harder time finding it in Germany. Unlike many of the German foods on this list, it isn't common on the menus of even the most traditional German restaurants.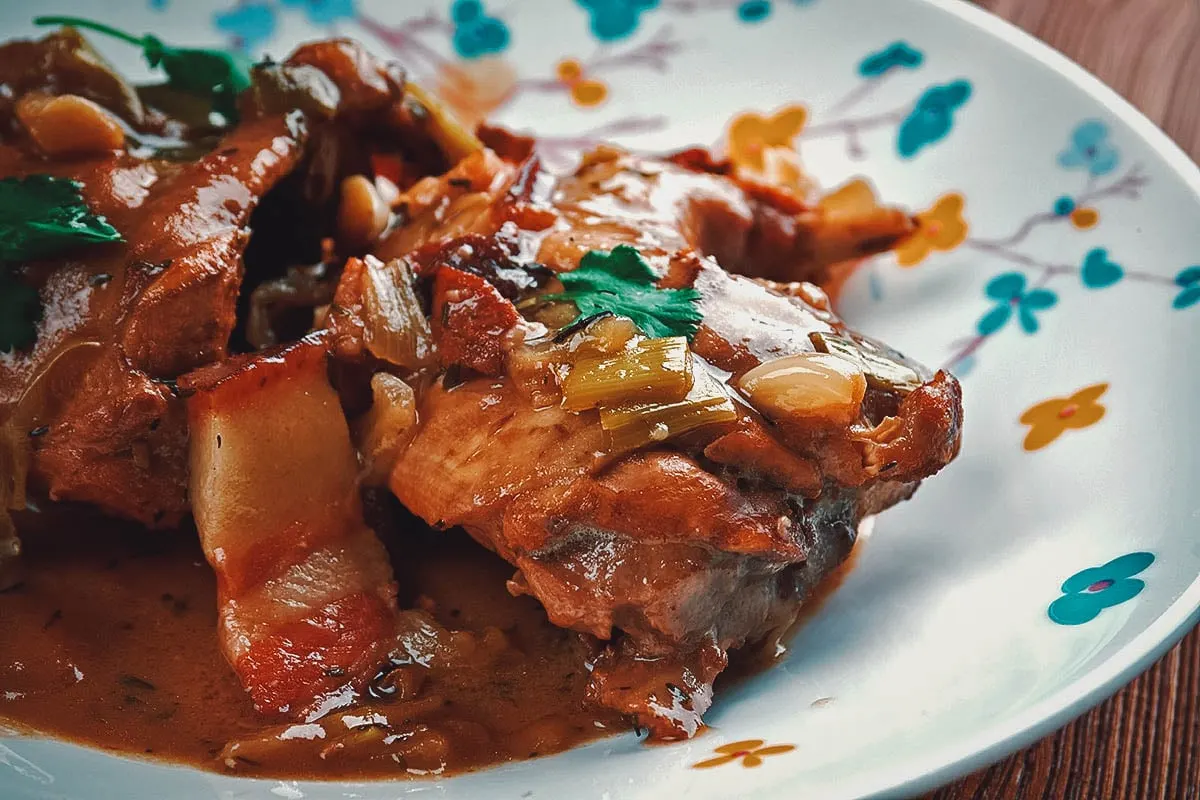 Photo by Fanfo
16. Eisbein with Sauerkraut
Eisbein in German literally means "ham hock", but it can also refer to the way the dish is prepared. Like most German dishes, there are two main ways of preparing it. In northern Germany, the hock is cured and then boiled, while in the south of Germany, the same cut of meat is usually oven-roasted or grilled without pre-curing.
The prepared ham hock is used in simple but filling dishes. In Berlin, it's cooked in a bean puree while in Franconia, it's served with sauerkraut, mashed potatoes, or bread.
Like hasenpfeffer, you'll need to exert more effort to try eisbein in Germany. Your best bet is to go to traditional German restaurants on weekends or venture outside of the big cities.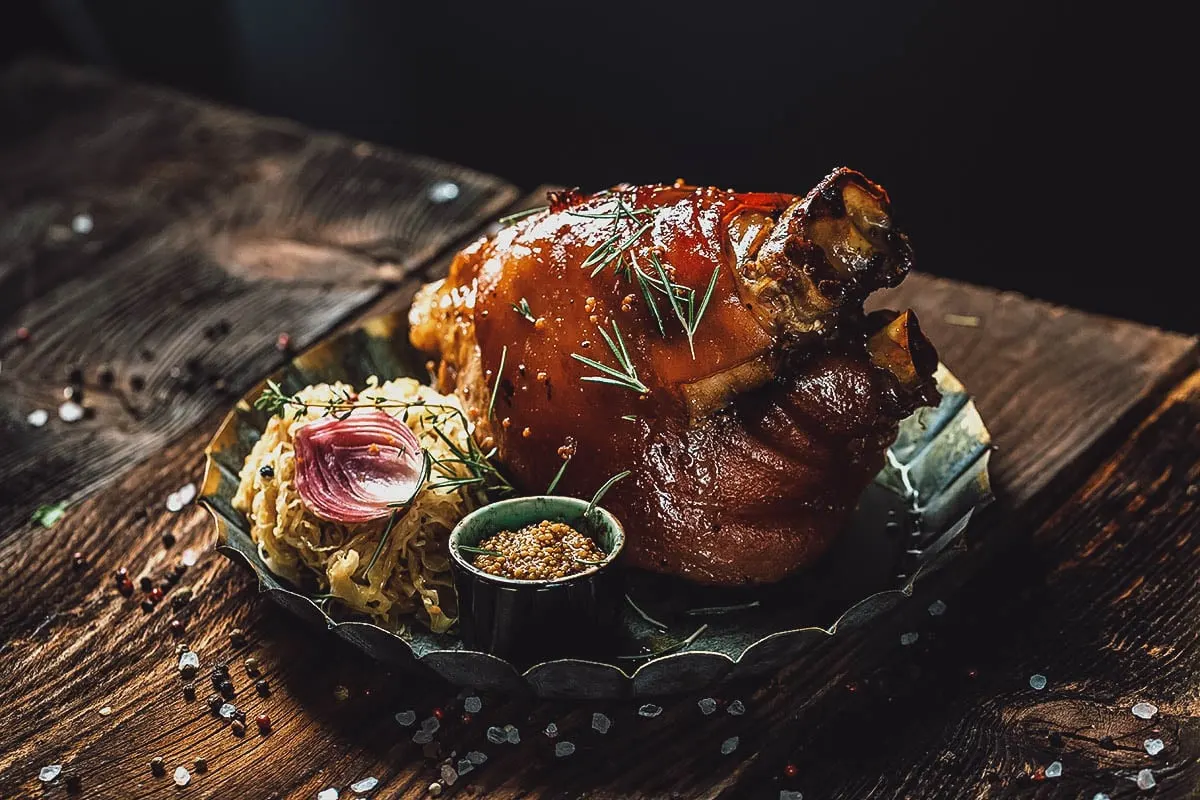 Photo by sweet marshmallow
BREAD
17. Bauernbrot
Bauernbrot is the German term for a crusty, "farmer's" loaf that's made from a mix of flours, usually rye and wheat flour. The bread is prepared using a sourdough starter with salt, yeast, and water.
Bauernbrot is one of the most common types of German bread and can be found anywhere in Germany. It's usually a round loaf, not scored, and baked without a tin. Its characteristic crust is floured and crackly, giving it a rustic appearance.
Regionally, the flours and their quantities vary, but the most special regional version of bauernbrot is from Saxony. It can sometimes be made with mashed potatoes or potato flour in the dough, giving the bread an extra soft and uniform crumb to contrast with its crusty exterior.
Germans love their bread and the best bread is always found at the local baker early in the mornings. So remember to wake up early on your next visit to Germany!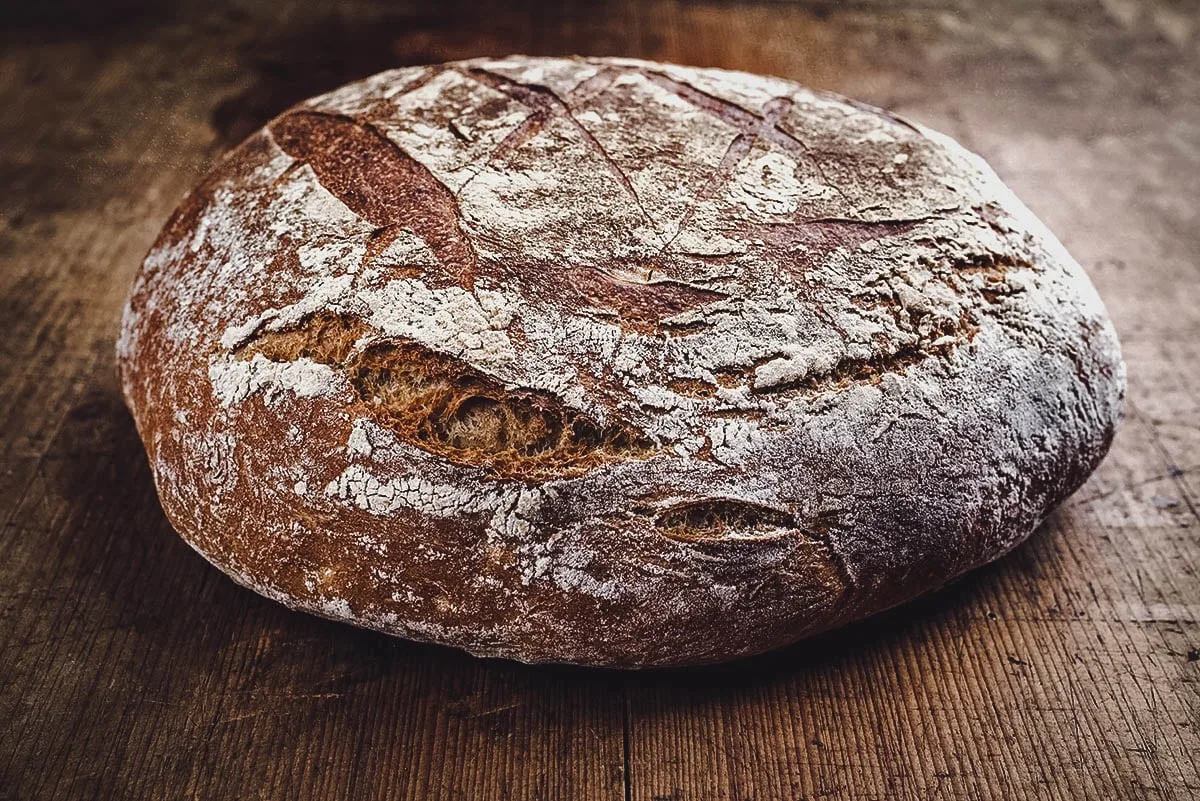 Photo by hlphoto
18. Vollkornbrot
Vollkornbrot is the German term for bread that's made with whole grain flour. This German bread is darker than other types of bread and comes in a variety of shapes and sizes, with or without the addition of seeds.
Like bauernbrot, vollkornbrot is one of Germany's best-loved breads, and the best loaves are always snatched up early from the local bakery.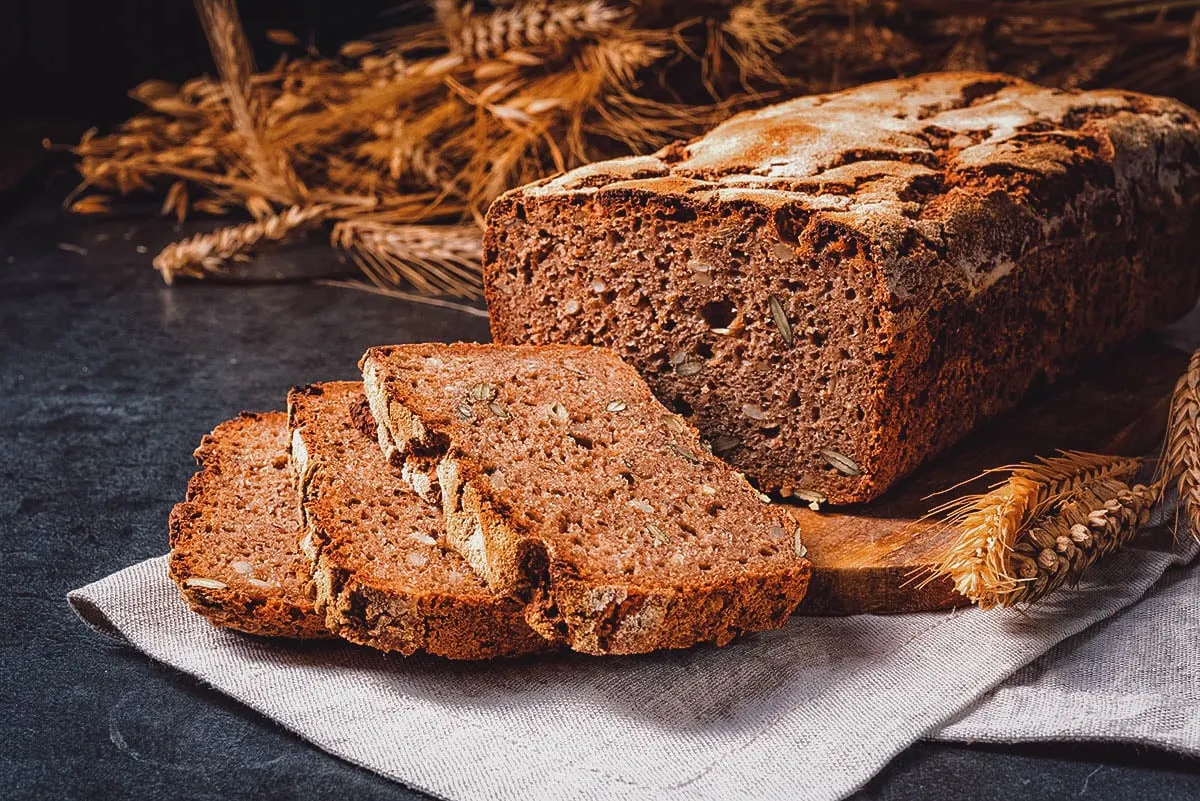 Photo by Dar1930
19. Brezel
Brezel is the German word for "pretzel". It refers to a traditional leavened dough pastry that's beloved throughout Germany.
Pretzels are made from yeast dough that's been enhanced with butter for softness. After proofing, it's divided and rolled into 30 cm long strands which are then shaped into traditional pretzel form.
Before baking, the strands are boiled for about 30 seconds in a solution of baking soda or more traditionally, in lye. They're then sprinkled with toppings and baked in an oven until that beautiful golden brown pretzel color is achieved.
Sweet pretzels are also popular in Germany, especially in the form of a St. Martin's pretzel that's traditionally sold around the 11th of November (St. Martin's Day). St. Martin's pretzels are made from yeasted dough and sprinkled with cinnamon sugar before serving.
The Palm Sunday pretzel is also a well-known sweet pretzel, sold around Palm Sunday. You can also find the so-called Olgabrezeln – named after Queen Olga of Württemberg – that are made from puff pastry.
The main difference between Bavarian and Swabian pretzels is that the former is evenly thick throughout while the latter is noticeably thicker in the middle.
Pretzels are a beloved snack all across Germany. You can typically find them sold at market stands, in supermarkets, and in bakeries.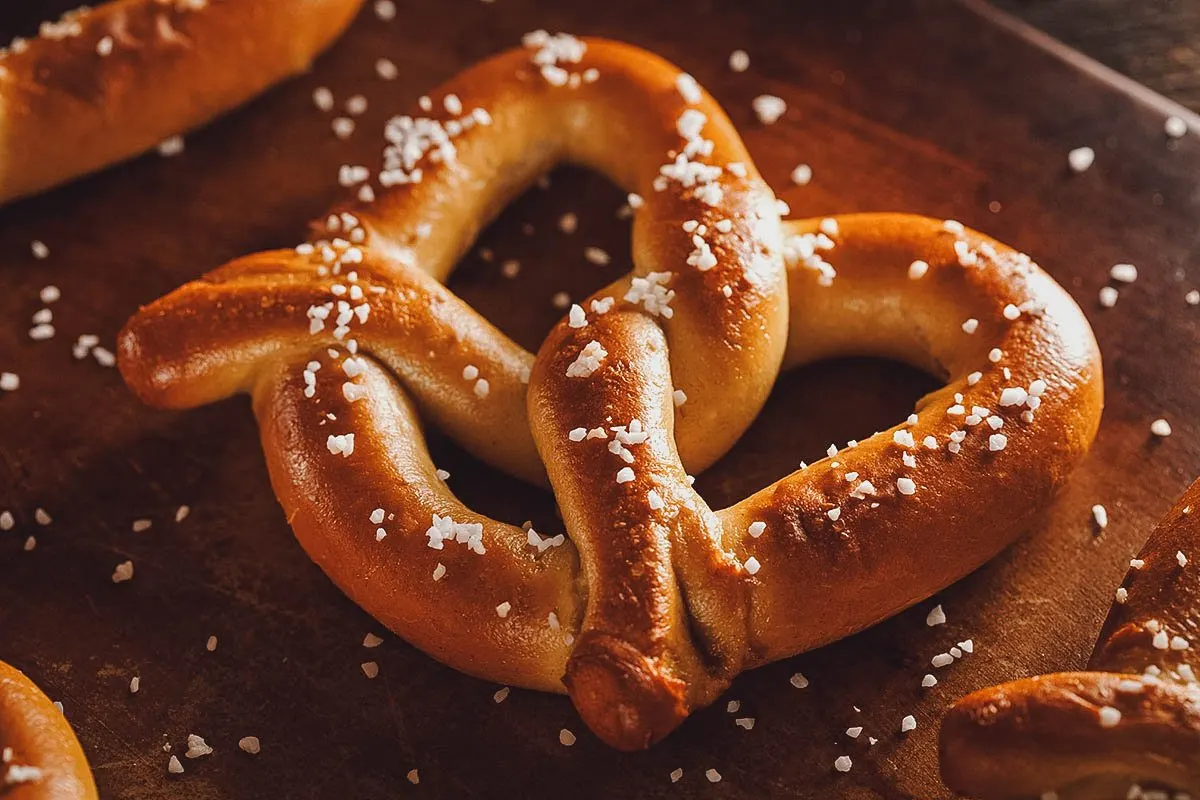 Photo by bhofack2 via Depositphotos
20. Stollen
Stollen (or simply stolle) is a festive German spiced loaf cake that's typically filled with dried fruit, marzipan, or poppy seeds. Stollen can be made all year round, but they're especially popular during Christmas when they're referred to as christstollen or weihnachtsstollen.
Stollen is made from a high-fat sweetened yeast dough filled with raisins, other dried fruits, marzipan, and poppy seeds. The dough is baked in a loaf pan and then slathered with melted butter and dusted in powdered sugar. That way, the cake stays moist and keeps for longer.
A particularly special variety of stollen is the Dresden stollen which is protected by the EU. It differs from other kinds of stollen in its higher proportion of raisins in the dough.
Stollen is a popular holiday cake but it can be found in supermarkets all year round, so you shouldn't have any problems finding it in Germany no matter when you go.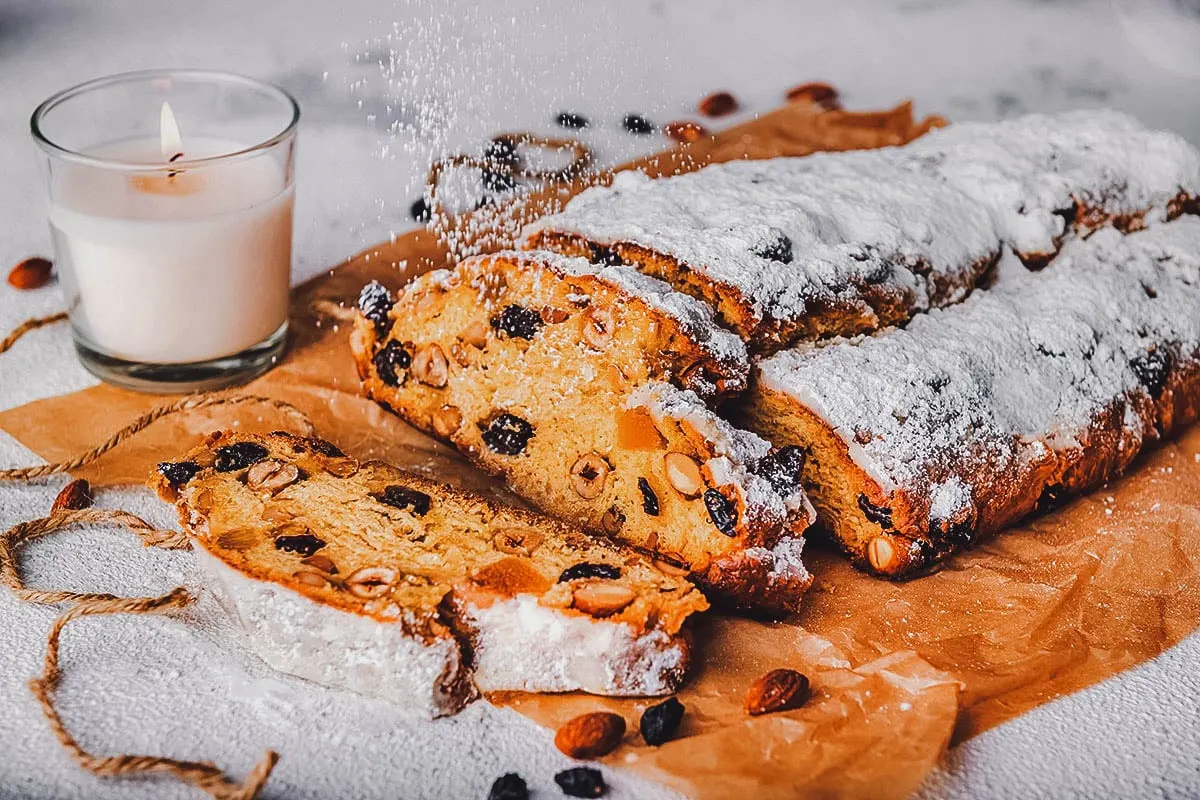 Photo by Yevgeniya Abayeva
DESSERTS / DRINKS
21. Apfelstrudel
Originally from Austria, apfelstrudel consists of baked rolled dough filled with apples. The dough is commonly made with filo pastry but it can also be made with puff pastry, yeast dough, or quark dough.
Traditionally, the filo pastry for apfelsrudel is made at home. It's filled with apples (cubed, sliced, or grated), dark raisins, and breadcrumbs and sprinkled with cinnamon and granulated sugar. It's then rolled into a log and slathered with butter before being baked in an oven.
German apfelstrudel is often dusted with icing sugar and can be served cold or warm with vanilla sauce, vanilla ice cream, or whipped cream.
Apfelstrudel is a beloved dessert and its variants can be found almost anywhere in Germany. It's commonly made at home as well, especially in autumn when apples are in season.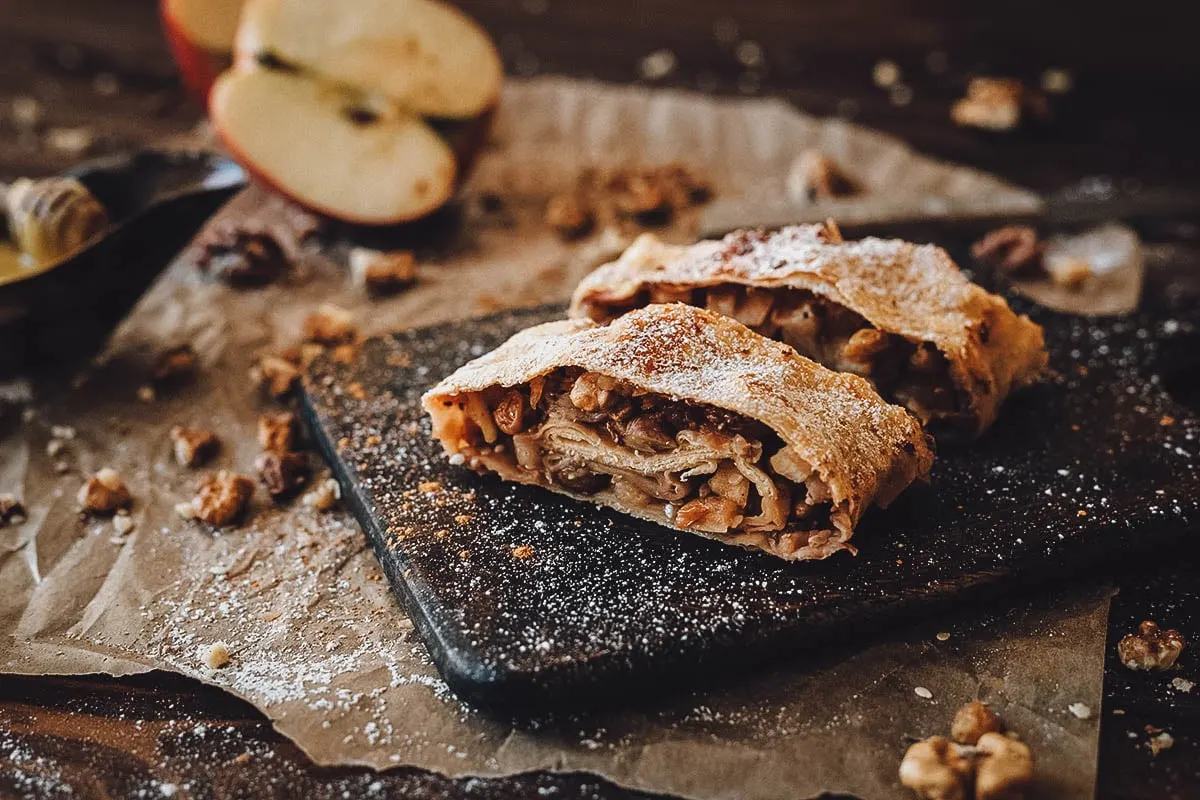 Photo by La Bella Studio
22. Schwarzwälder Kirschtorte
Schwarzwälder kirschtorte or "black forest cake" is one of the most popular German desserts. Its name is derived from the liquor that's used to moisten the layers of chocolate sponge – schwarzwalder kirschwasser.
Schwarzwälder kirschtorte is made with chocolate sponge cake, generous layers of cream, cherry fillings, and preserved cherries. Chocolate shavings are traditionally used for decoration.
Even today, the cake is popular and widely available throughout Germany. You can find it in many German pastry shops, but especially in the Black Forest region where it's a popular dessert on the menus of traditional German restaurants.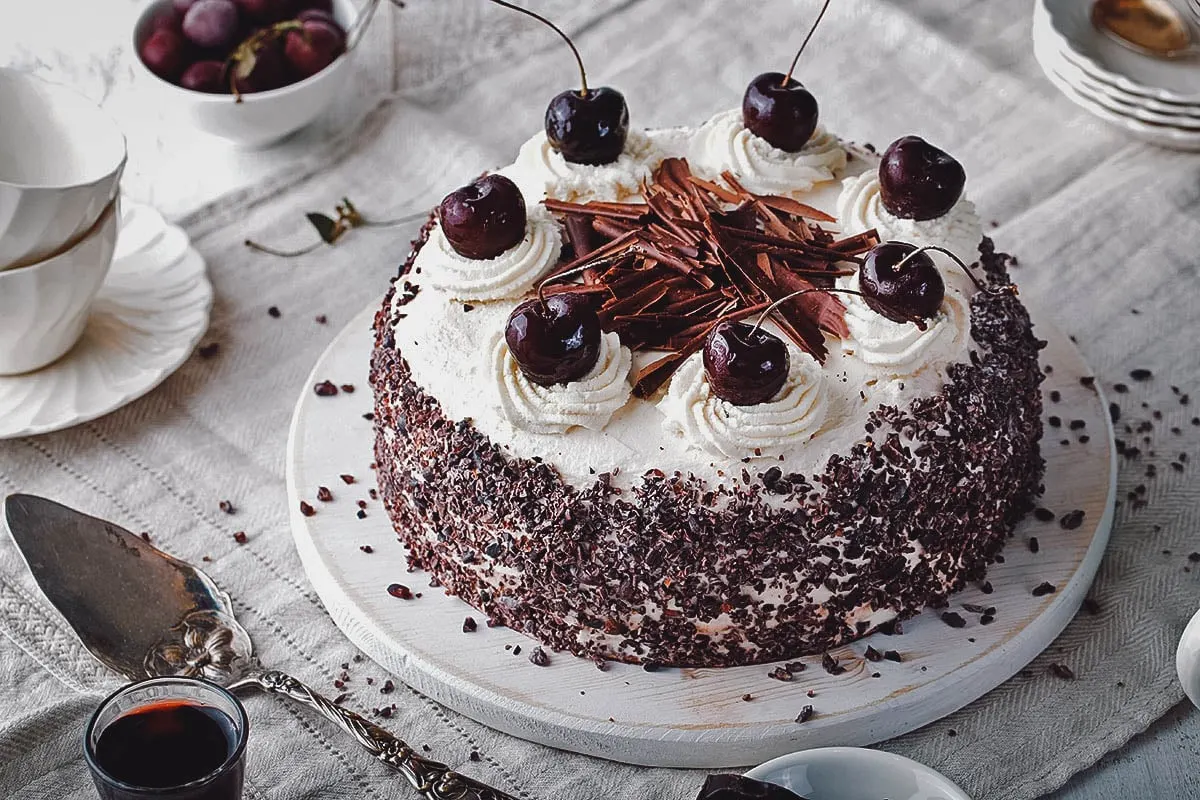 Photo by Anna_Pustynnikova
23. Spaghettieis
As previously described, Germans love ice cream and all ice cream desserts. Spaghettieis resembles a bowl of spaghetti with sauce and grated parmesan cheese, hence the name.
This German ice cream specialty is made with ice cream that's been pressed through a potato ricer or spätzle-making tool. The ice cream strands are served over a mound of chilled whipped cream and then topped with strawberry sauce and white chocolate shavings.
Traditionally, spaghettieis was made with vanilla ice cream but today, there are many other flavors like chocolate or hazelnut topped with chocolate sauce, caramel, blueberry, raspberry, and other sauces. Most German ice cream parlors will serve a variety of spaghettieis flavors, as well as children's spaghettieis, which is smaller and traditionally topped with little chocolate candies.
Spaghettieis is served all year round, as long as the local ice cream parlor is open, and is always a nice Sunday treat.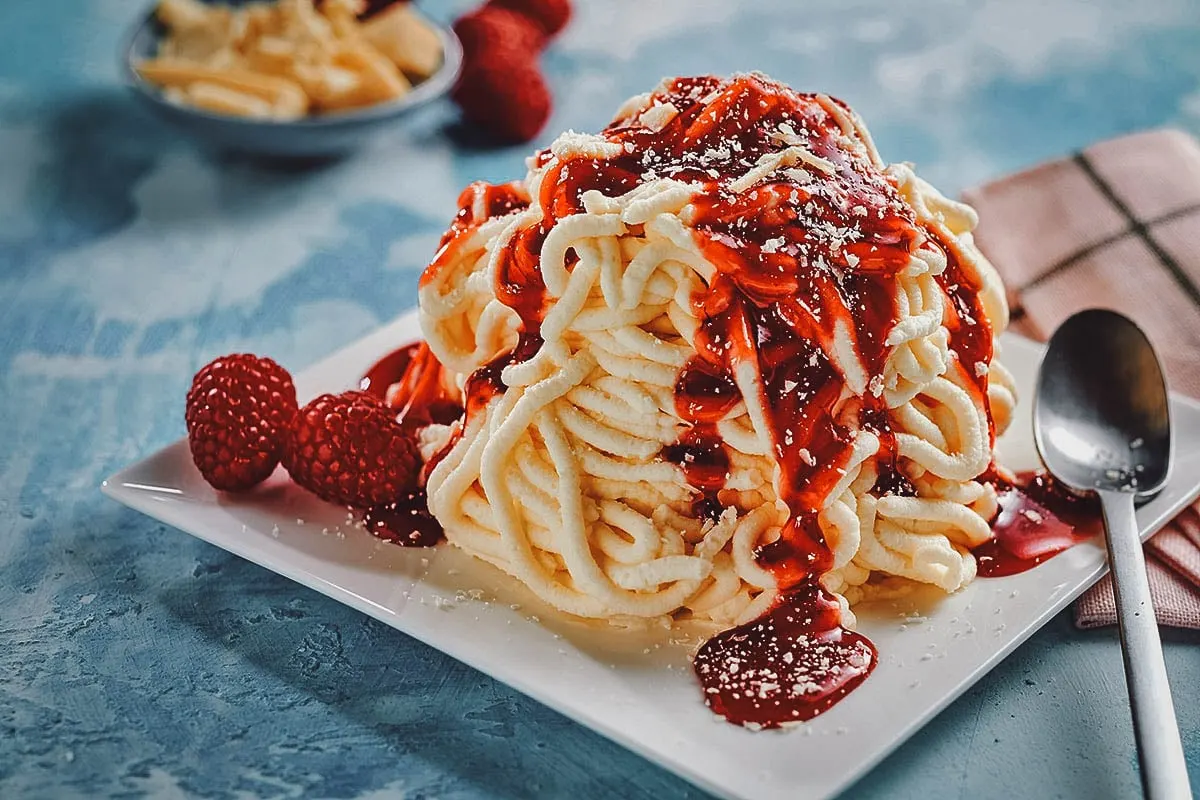 Photo by stockcreations
24. Hefeweizen (German Beer)
Hefeweizen refers to a popular type of German beer made with a high proportion of wheat malt. These beers are also referrd to as weizenbier or weißbier.
The most widely available version of hefeweizen is the Bavarian weizenbier. However, these German wheat beers don't really differ much by region, only by brewery. Each brewer uses their own recipe but the beer must contain at least 50% wheat malt to be considered a wheat beer. Hefeweizen is usually unfiltered and cloudy, and light in color.
The proliferation of hefeweizen typically denotes that summer has started in Germany. Typically, any German pub, bar, or restaurant will have a decent selection of beer on tap so finding and tasting hefeweizen should be easy.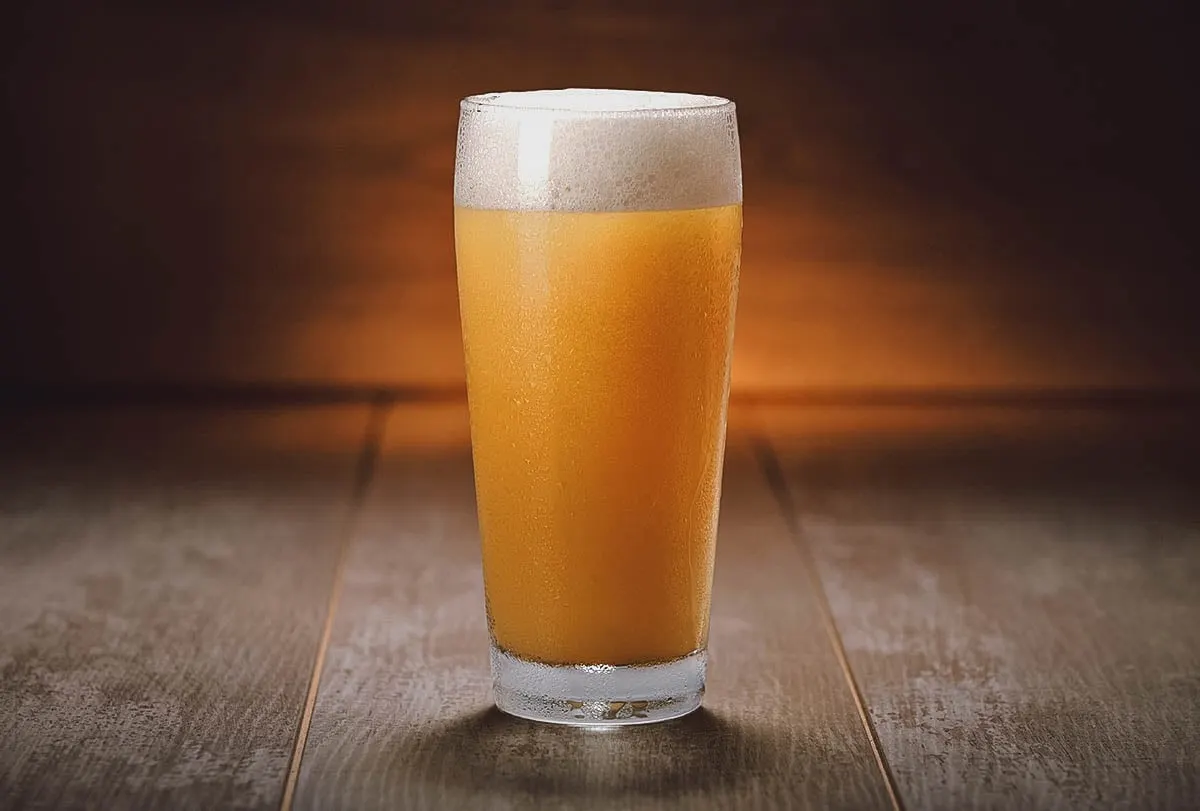 Photo by El Nariz
25. Riesling
Riesling refers to a German white grape variety. One of the most important grape varieties in Germany, it originated in the Rhine region but it can now be found throughout the world.
Today, Riesling is one of the most widespread German wines. German riesling is lively and fresh, often with recognizable fruity notes.
If you're visiting any of the wine-growing regions of Germany – like the Moselle Valley, Rheingau, or Franconia – then sampling the local wines is a must.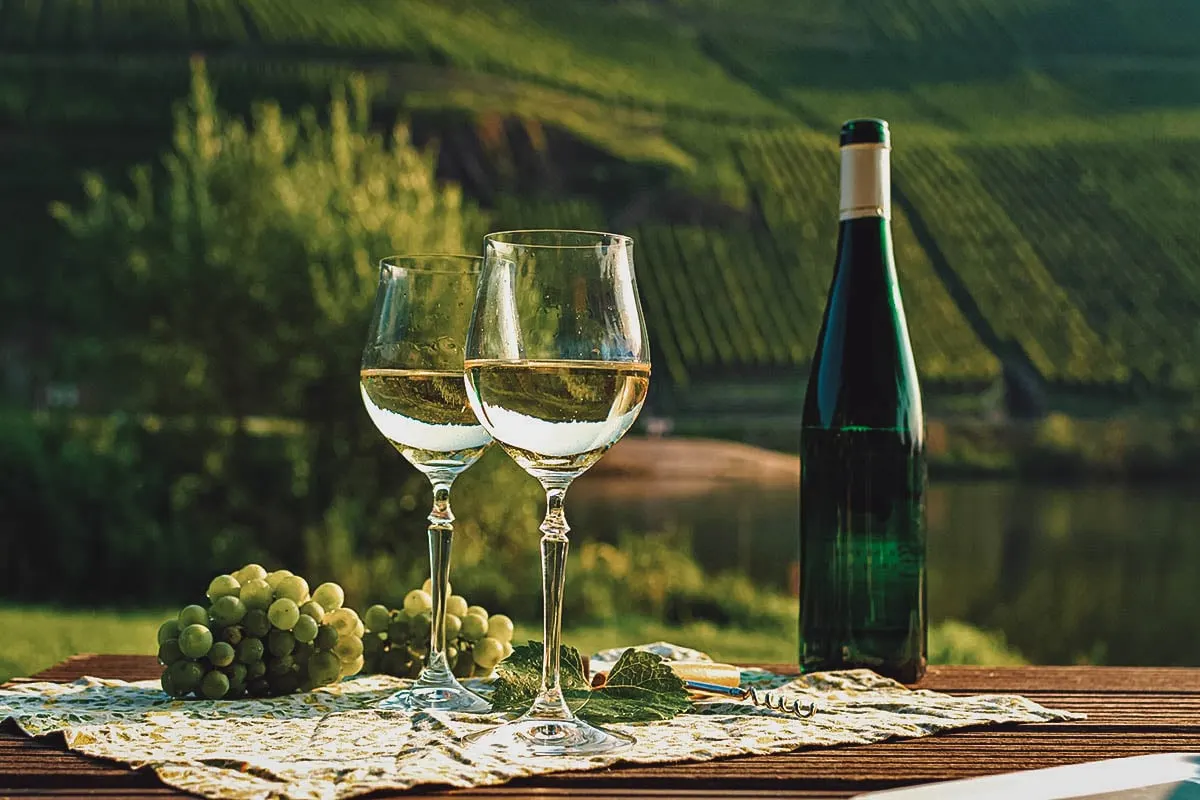 Photo by barmalini
FINAL THOUGHTS ON TRADITIONAL GERMAN FOOD
German food is at the same time coherent and highly varied, which in a way summarizes the entire country.
Germans pride themselves on good, simple foods like bread, sausages, and fruit desserts. While German food is often overlooked in favor of its much more famous neighbor France, it's important to recognize that Germany also has many outstanding dishes, many of which should be tasted and celebrated.
Disclosure
Some of the links in this article on traditional German food are affiliate links, meaning we'll earn a small commission if you make a booking at no added cost to you. We really appreciate your support as it helps us write more of these free travel and food guides. Thank you!
Cover photo by sweet marshmallow. Stock images via Shutterstock.