Before our trip to Budapest, the only Hungarian dish I was familiar with was goulash.
I gravitate towards traditional food when we travel so in my research on what and where to eat in Budapest, almost everything I read about told me to expect dishes that were similar to the food in Prague.
While we found much of that to be true with dishes like chicken paprikash, beef goulash soup, and langos, what I didn't expect was to find an exciting contemporary food culture that would have me revise my Budapest food itinerary midway through our trip.
At first glance, Budapest looks every bit the classical city with its overwhelmingly gothic and neoclassical architecture. But it's also incredibly hip and exciting. Budapest is forward thinking in its approach to art and design and much of that creativity seems to have carried over into its food.
The food in Budapest runs the gamut from traditional to trendy, from classic to contemporary. If you're looking for a diverse Budapest food experience, then this list of thirteen of the best Budapest restaurants has you covered.
Save This on Pinterest!
No time to read this article on the best Budapest restaurants? Click on the save button and pin it for later!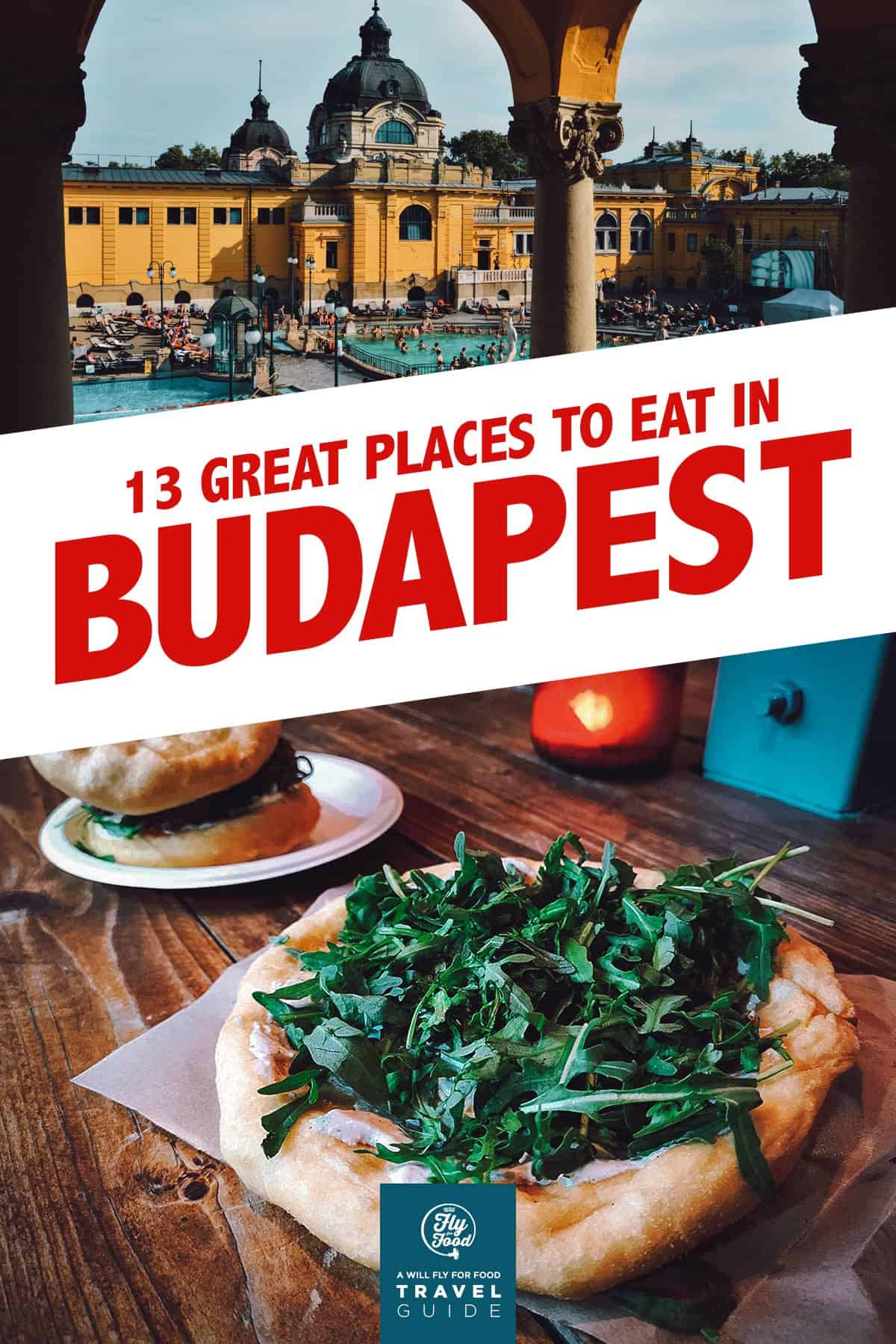 WHERE TO EAT IN BUDAPEST
1. Bambi Eszpresszo
This was the first restaurant I went to in Budapest. As soon as I dropped off my bags at our AirBnB, I took a tram to the Buda side to have a late breakfast at Bambi Eszpresszo.
As mentioned at the top of this guide, I was most curious about traditional Hungarian food in Budapest so what drew me to Bambi Eszpresszo was its authenticity. It's described as a genuine communist-era neighborhood bar that doubles as a cafe.
It isn't some trendy brunch spot trying to look like a retro dive. It's the real deal and you feel it as soon as you walk in.
The doily tablecloths speak for themselves, as does the red faux-leather upholstery that hasn't been changed since 1961. This place looks like a time capsule!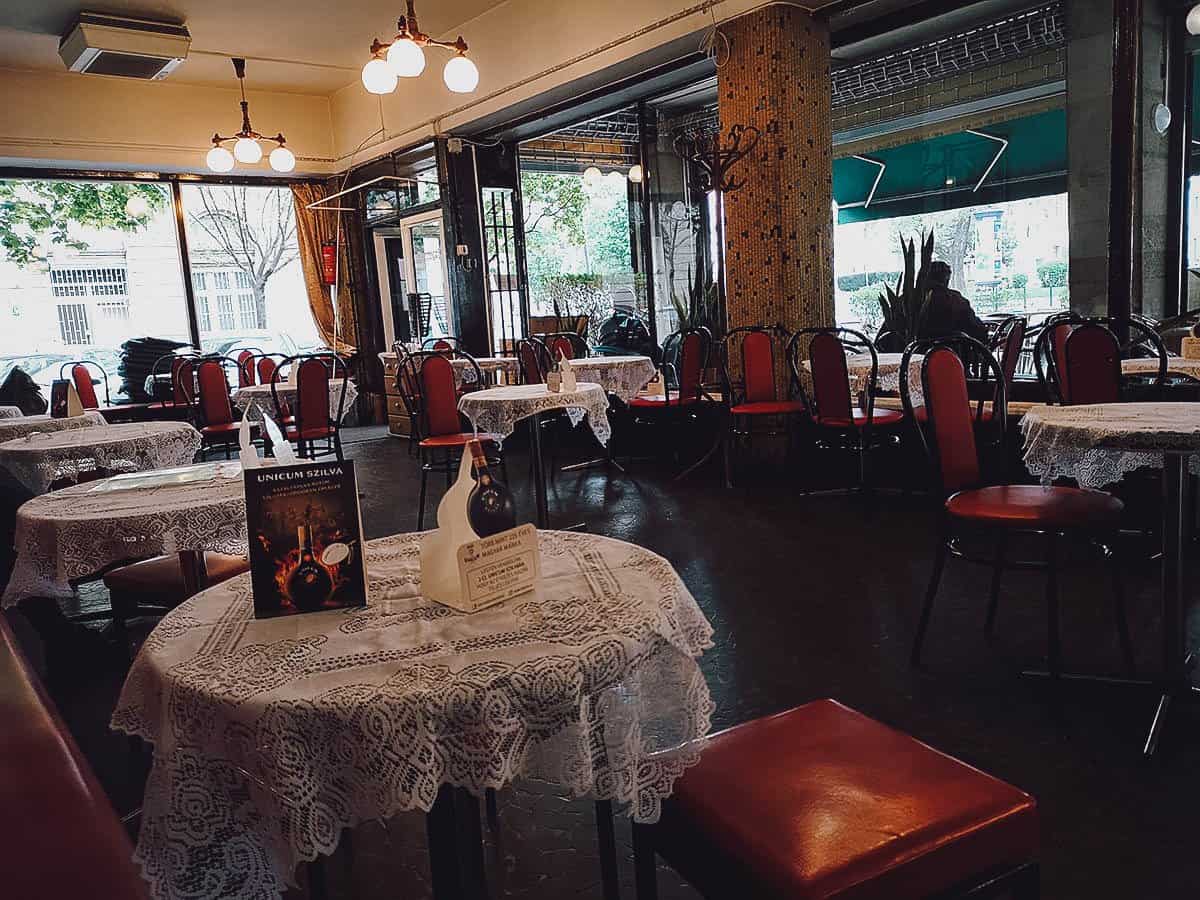 Bambi Eszpresszo serves mostly soft drinks and spirits but they do offer a few breakfast dishes like toast with ham, sausages, and omelettes.
I had black coffee and this Hungarian virsli which is like a long and thin boiled Frankfurter sausage served with bread and mustard. It was delicious and one of the best sausages I've ever tasted in my life. The snap on that casing was amazing!
That group of older gentlemen a few tables away from me was playing some type of card or board game. They're clearly neighborhood regulars which further spoke about the authenticity of this restaurant.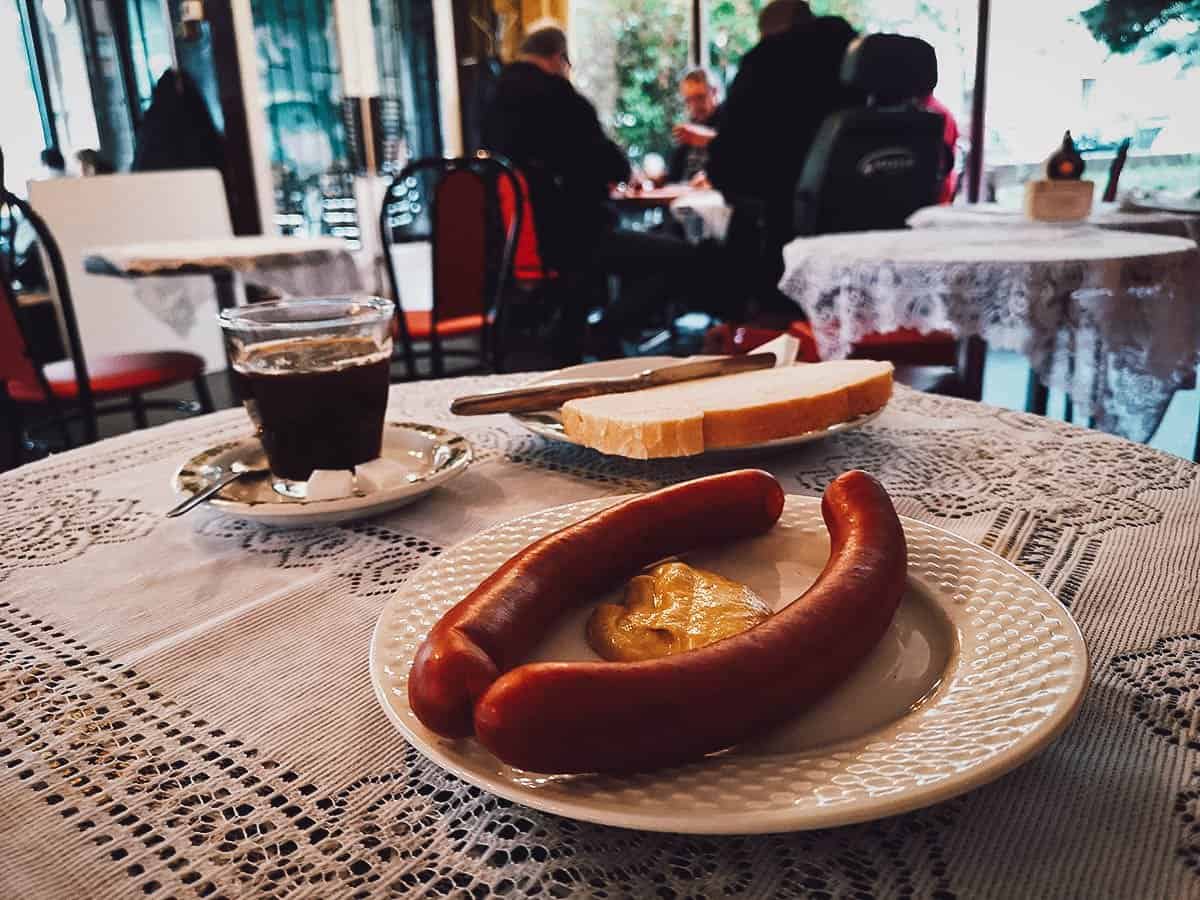 I enjoyed the unpretentious neighborhood vibe of Bambi Eszpresszo so much that I ordered a pint of Dreher beer to wash down that delicious breakfast. Welcome to Budapest!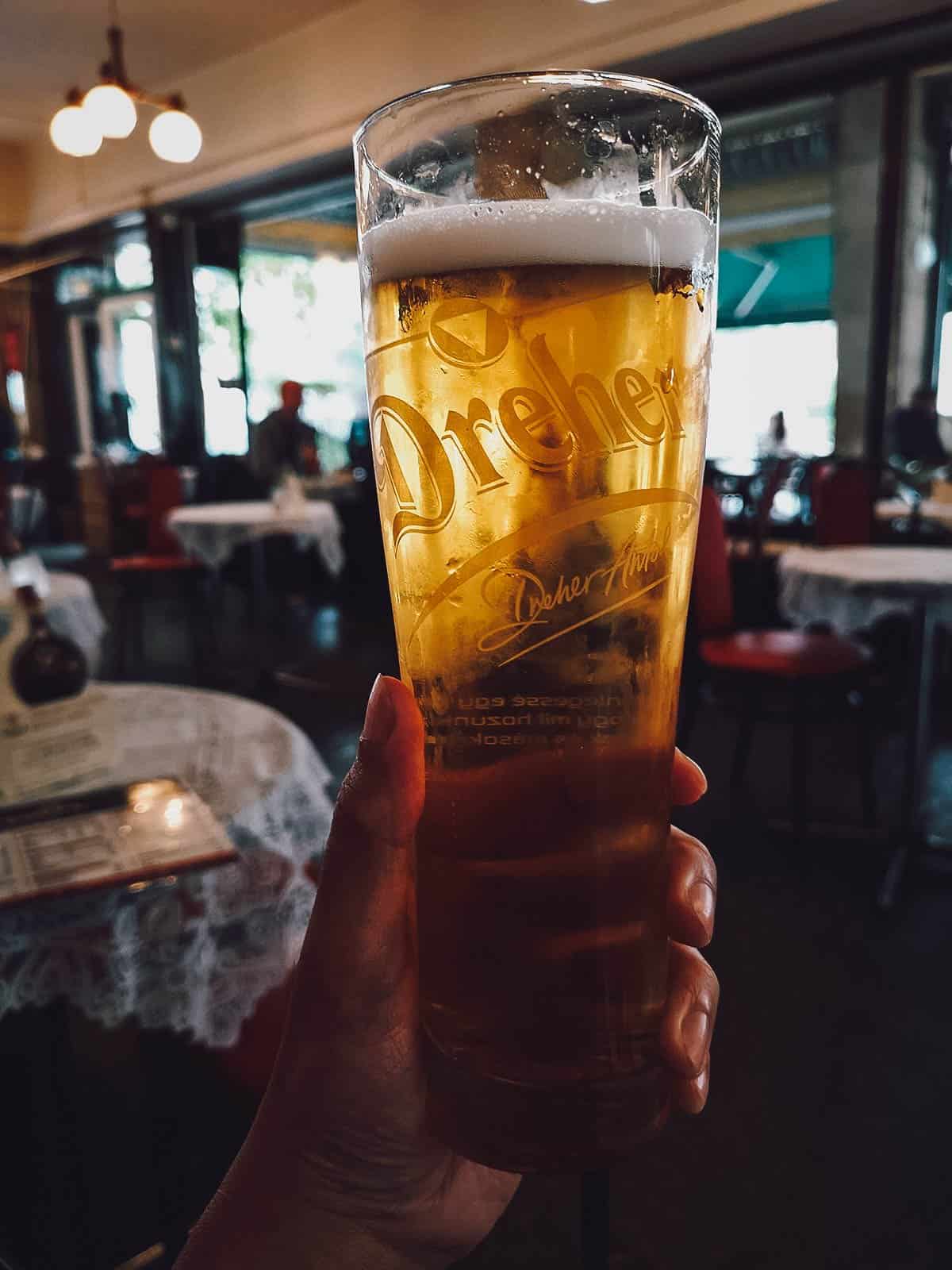 Bambi Eszpresszo is located on the Buda side, just past the Margaret Bridge. It's about a 3-minute walk from Margit hid, budai hidfo H Station.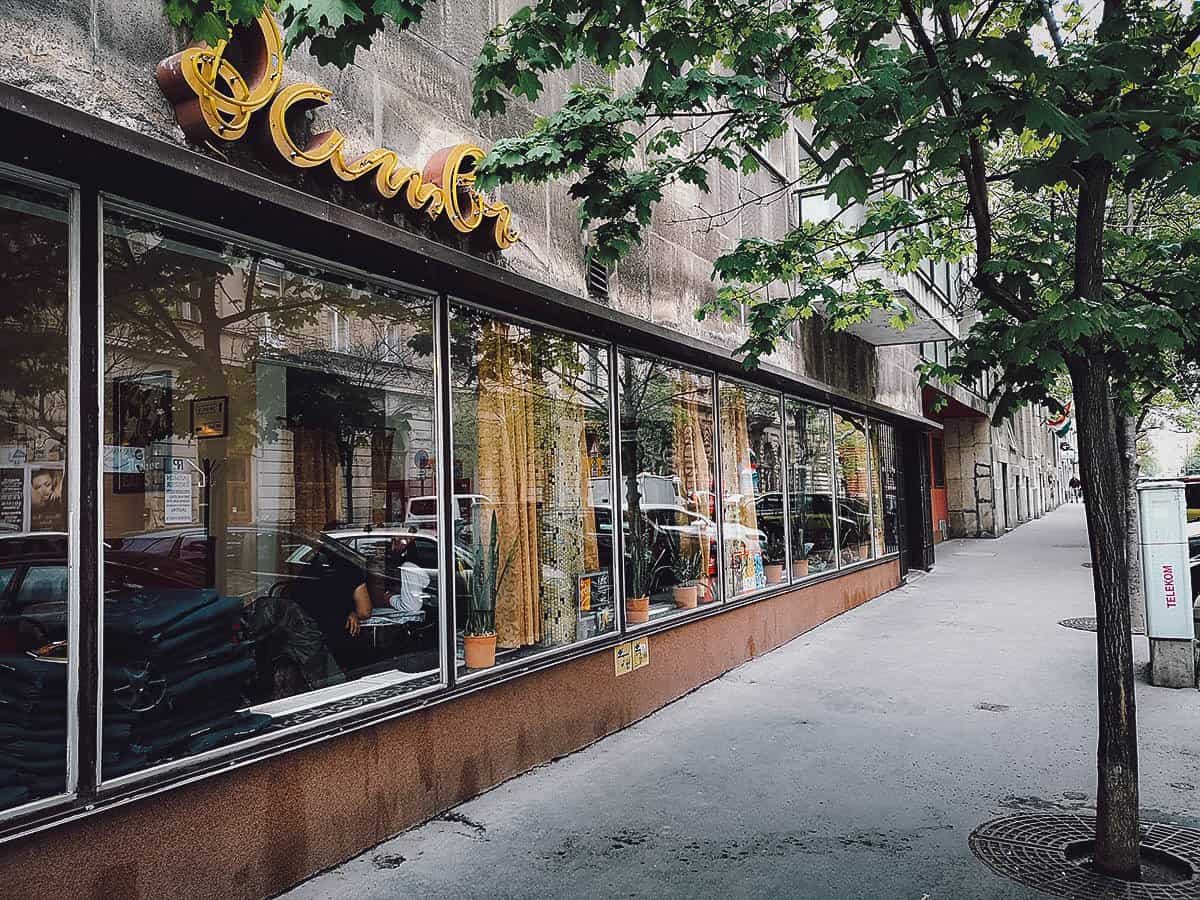 Bambi Eszpresszo
Address: Budapest, Frankel Leó út 2-4, 1027 Hungary
Operating Hours: 7AM-10PM, Mon-Fri / 9AM-10PM, Sat-Sun
What to Order: Breakfast, spirits, wine, beer
Expect to Pay: About HUF 800-1,200 for breakfast
2. Baltazar Budapest Grill and Boutique Hotel
Goulash is an Hungarian national dish and something you should have at least once in Budapest. It's a hearty soup made with cubes of beef, potatoes, and vegetables seasoned with hot paprika and other spices.
A few local publications pointed to Baltazar Grill on the Buda side as one of the best restaurants in Budapest to try classic Hungarian Goulash.
It's a trendy-looking restaurant in a boutique hotel that serves comfort fare like burgers and ribs along with classic Hungarian dishes like chicken paprikash, tripe stew, and beef goulash soup.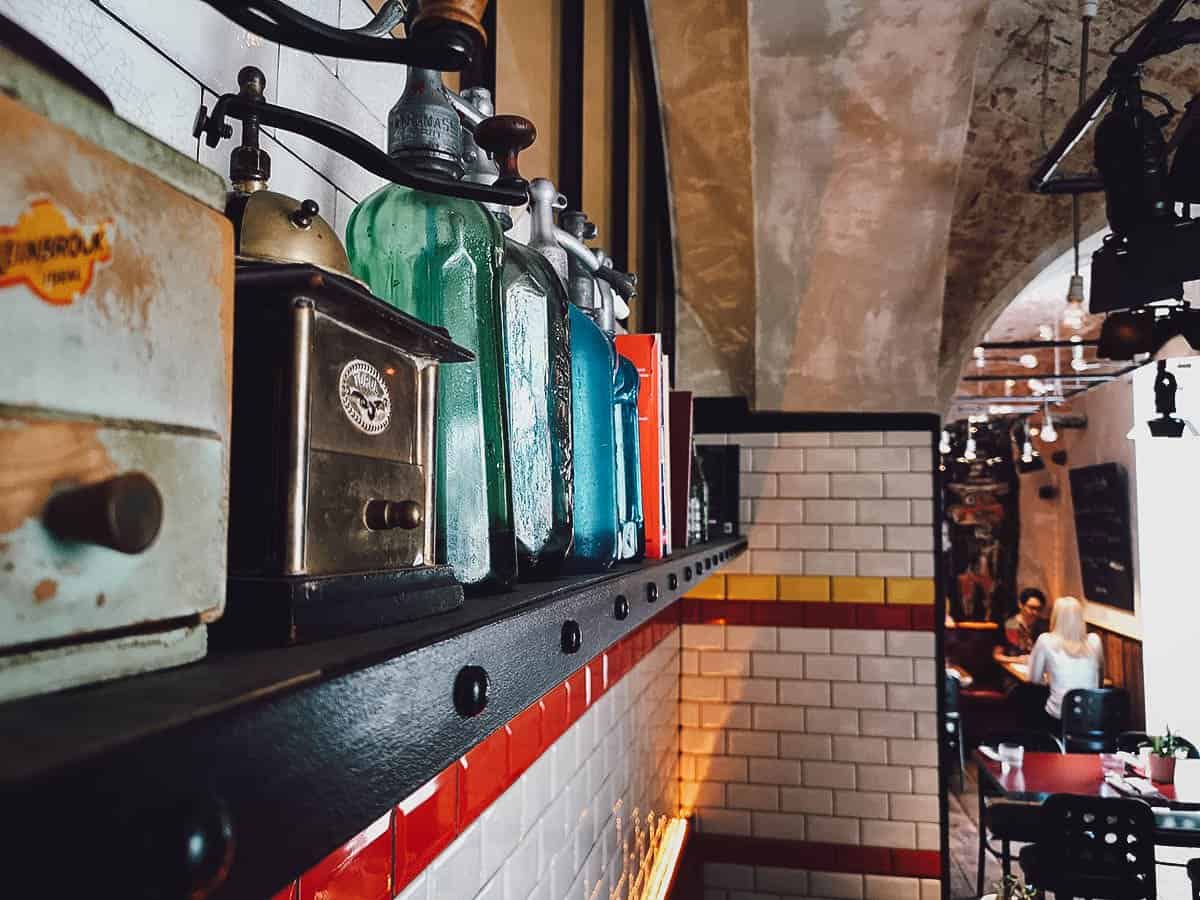 Baltazar Grill's beef goulash soup is served in a small red pot with some freshly baked homemade bread. If you look at the spoon in the picture below, you'll see that Baltazar Grill makes their goulash with csipetke which are Hungarian pinched egg noodles shaped like small dumplings.
This goulash was tasty enough but to be honest, we expected it to be much better considering its rave reviews. The beef wasn't as tender as I hoped. It was great dunking the crusty bread into the paprika-spiced broth but the soup wasn't as thick as I expected it to be.
I really wish I had tried beef goulash at another restaurant in Budapest so I could compare. I'm obviously not a goulash expert so I'm basing this feedback on my limited experience.
As the We Love Budapest website suggests, this may be how classic Hungarian goulash is supposed to taste. I'll find out more on our next trip to Budapest.
In any case, give Baltazar Grill's goulash a try and let us know what you think. You can also check out Offbeat Budapest for more recommendations on which restaurants in Budapest serve the best goulash.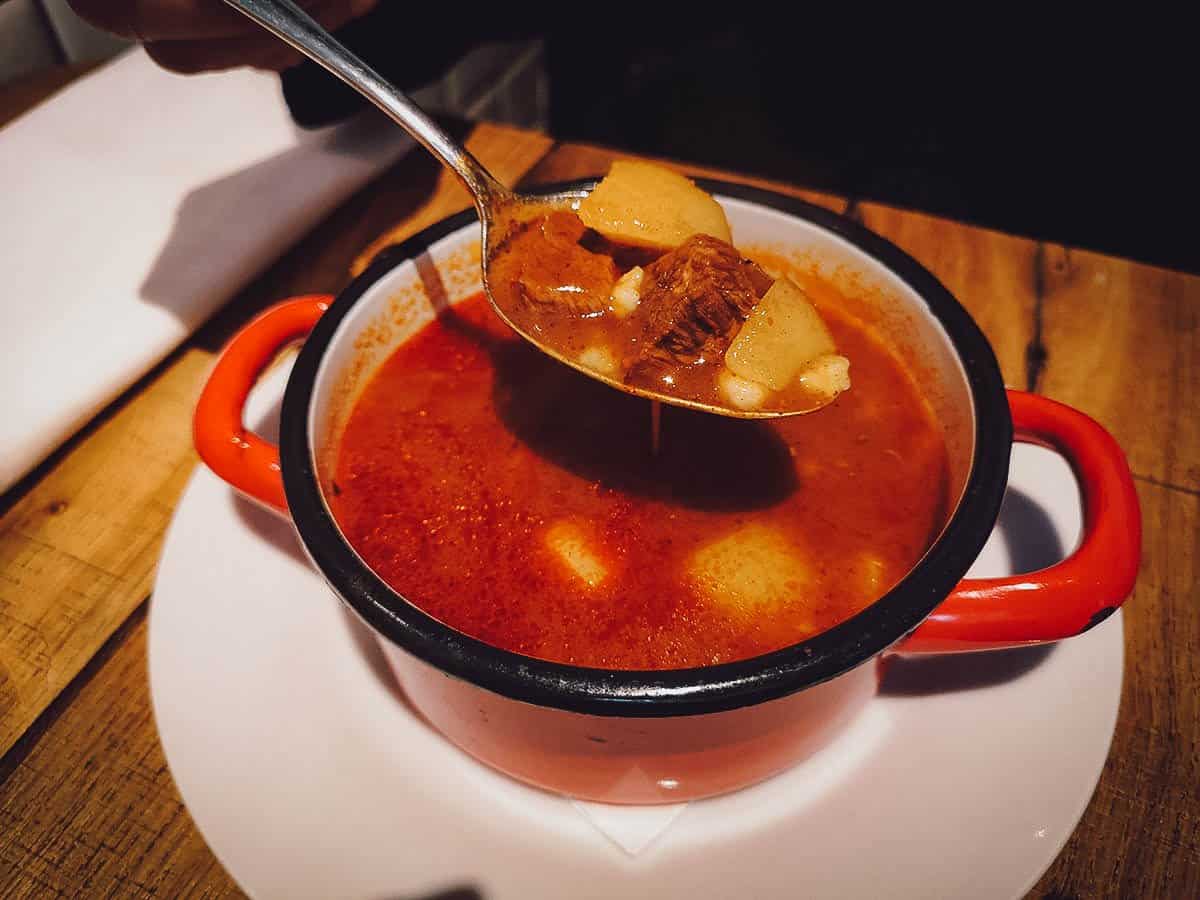 Paprikash is another classic Hungarian dish and a Budapest food favorite. It's a stew typically made with chicken or veal, loads of paprika, and sour cream. It's often served with a side of nokedli or Hungarian egg noodle dumplings.
Because it's made with so much paprika, chicken paprikash actually tastes quite similar to goulash. The buttery nokedli were delicious and went well with the paprika-spiced chicken.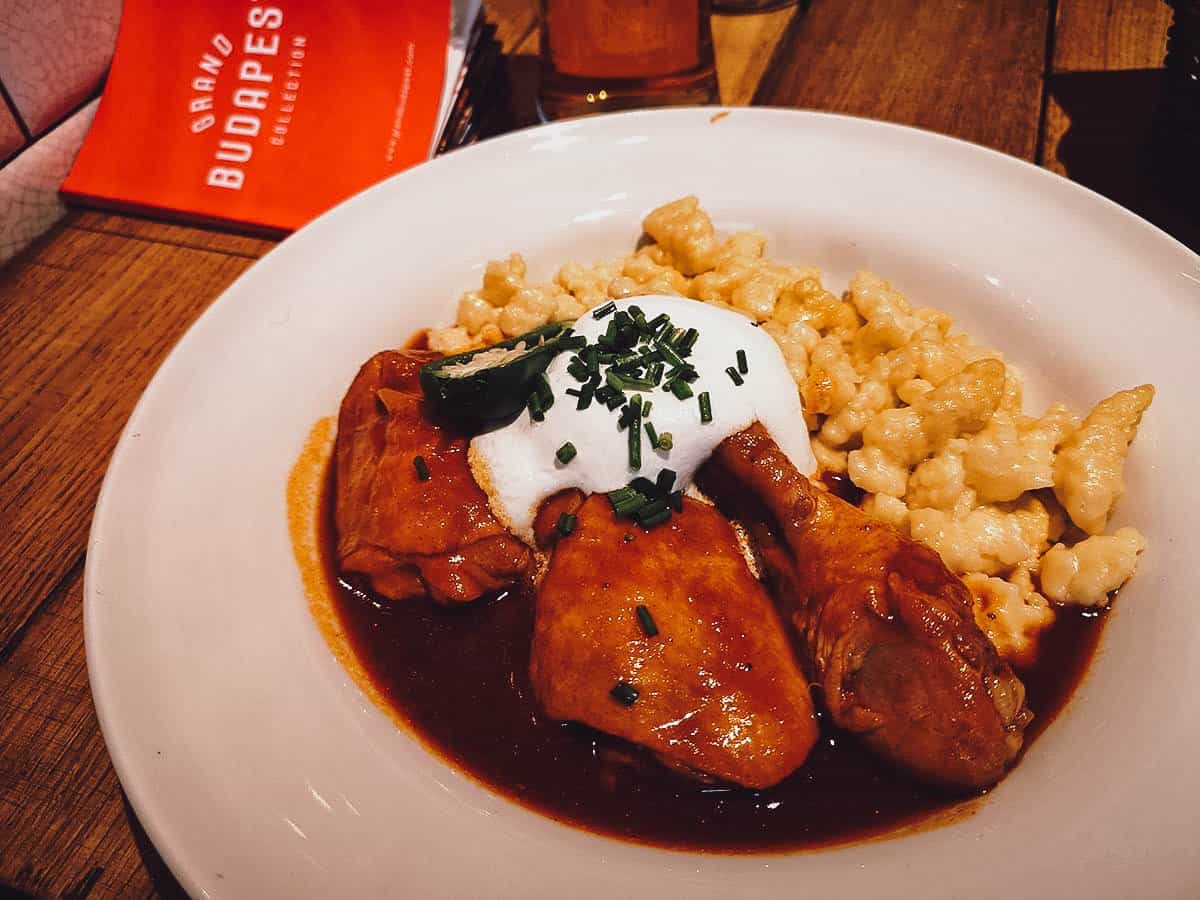 Baltazar Budapest Grill and Boutique Hotel is located on the Buda side, about a 5-minute walk from Matthias Church and Fisherman's Bastion. They're a TripAdvisor Certificate of Excellence awardee with a solid 4-star rating.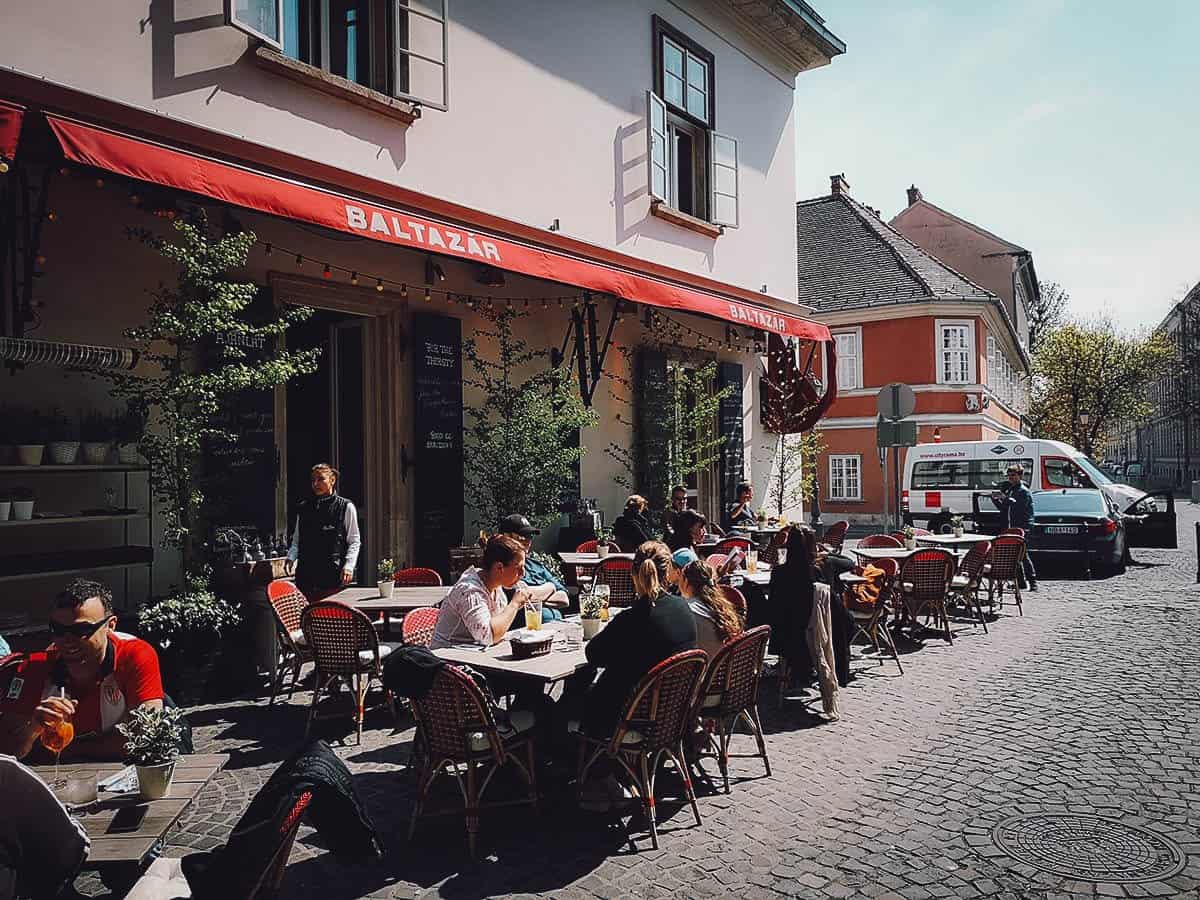 Baltazar Budapest Grill and Boutique Hotel
Address: Budapest, Országház u. 31, 1014 Hungary
Operating Hours: 7:30AM-11PM, daily
What to Order: Beef goulash soup, chicken paprikash, burgers
Expect to Pay: About HUF 5,000-6,000 per person with drinks
3. Bors GasztroBar
Bors GasztroBar is where we first got a taste of modern Hungarian food in Budapest. They pride themselves on being purveyors of gourmet Budapest street food (not fast food!) like baguette sandwiches, soups, stews, salads, and pasta dishes.
As you can probably tell from the style of their menu and the colorful names they give their dishes, Bors GasztroBar oozes energy and creativity. And you can taste it in their food.
Among all the restaurants we visited, this was my hands down favorite. They really do serve some of the best street food in Budapest.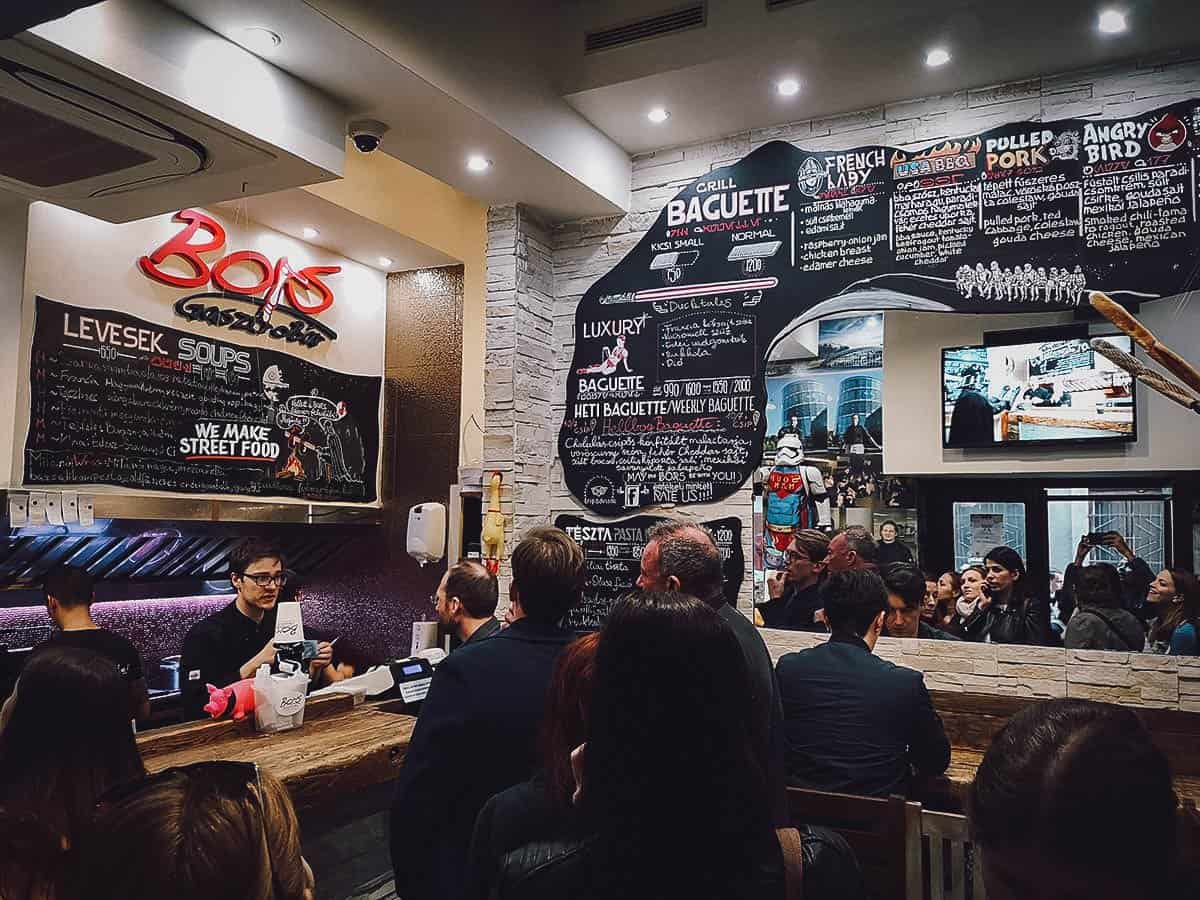 I asked the server for soup recommendations so I don't remember exactly what this was, but it was unbelievably delicious. It was so flavorful.
It's the type of dish that makes you wide-eyed when you take that first bite, simply because you weren't expecting it to be that good. It's amazing and just one of many inventive soup and stews they have at Bors GasztroBar.
I took photos of their menu but unfortunately, it's in Hungarian. I did a quick google search and some of their colorful soup creations include "ginger-blueberry fruit soup with mandarin panna cotta" and "caramel French mustard pheasant ragout soup".
Bors GasztroBar is a street food shop so they serve everything in easy-to-eat takeaway containers.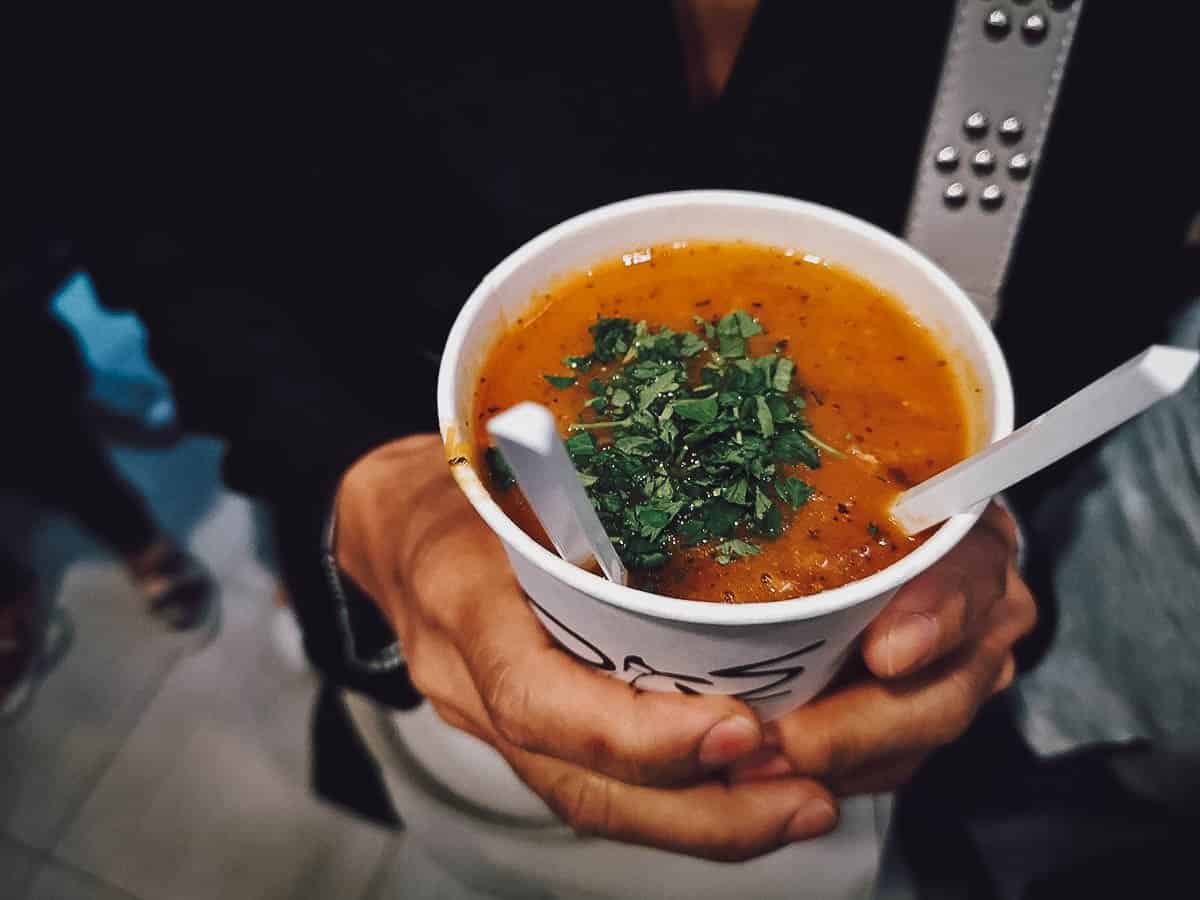 This is the French Lady, one of Bors GasztroBar's signature baguette sandwiches. It's made with chicken breast, raspberry onion jam, and edamer cheese. Like the soup, it was absolutely delicious and perhaps the single best dish we had in Budapest.
It seems that everything they serve is delicious, but these grilled baguette sandwiches are Bors GasztroBar's bread and butter. You can get them in half or full portions.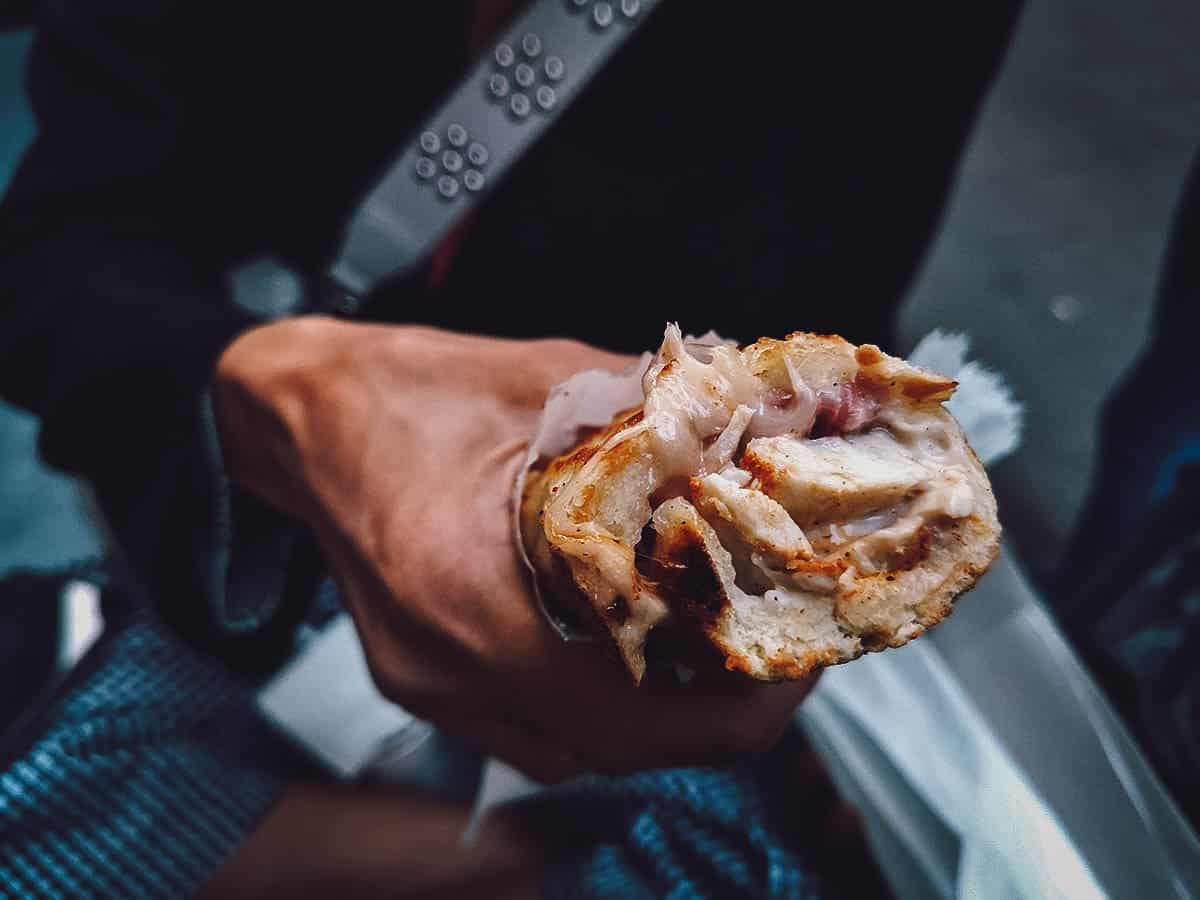 Bors GasztroBar is located along Kazinczy Street in the Jewish Quarter, on the same block as Szimpla Kert and Karavan street food park. It's a trendy and vibrant area with plenty of interesting shops, bars, and restaurants serving some of the best food in Budapest.
Bors GasztroBar is a TripAdvisor Certificate of Excellence awardee with a perfect 5-star rating, even after over 3,200 reviews. This isn't surprising considering how good their food is. One local reviewer described it as his go-to place whenever he has friends visiting Budapest.
As you'd expect, the place is popular so be prepared for a queue, but it does move reasonably quickly. The place is small with no tables inside, just counters and bar stools.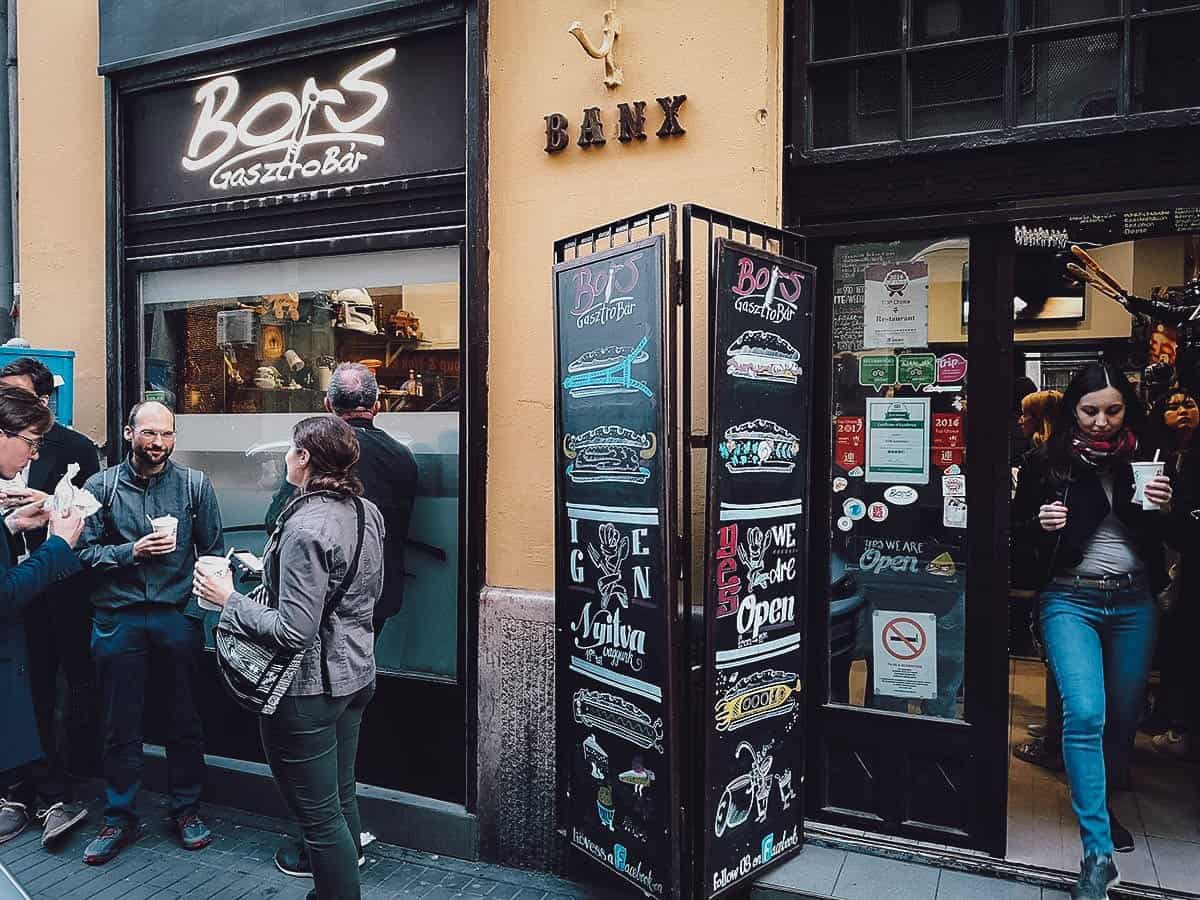 Bors GasztroBar
Address: Budapest, Kazinczy u. 10, 1075 Hungary
Operating Hours: 11:30AM-9PM, daily
What to Order: Grilled baguette sandwiches, soups, stews
Expect to Pay: About HUF 750 (half) / HUF 1,200 (full) for grilled baguette sandwiches
4. Langos Burger
Langos Burger is an award-winning Budapest street food stall located at the Karavan food park. As their name suggests, they specialize in langos which is another classic Hungarian dish. But as their name also implies, they make their langos with a twist.
A 2018 survey of top chefs, food writers, and bloggers declared Langos Burger to be one of the ten best street food stalls in Europe. Sounds like my kind of place!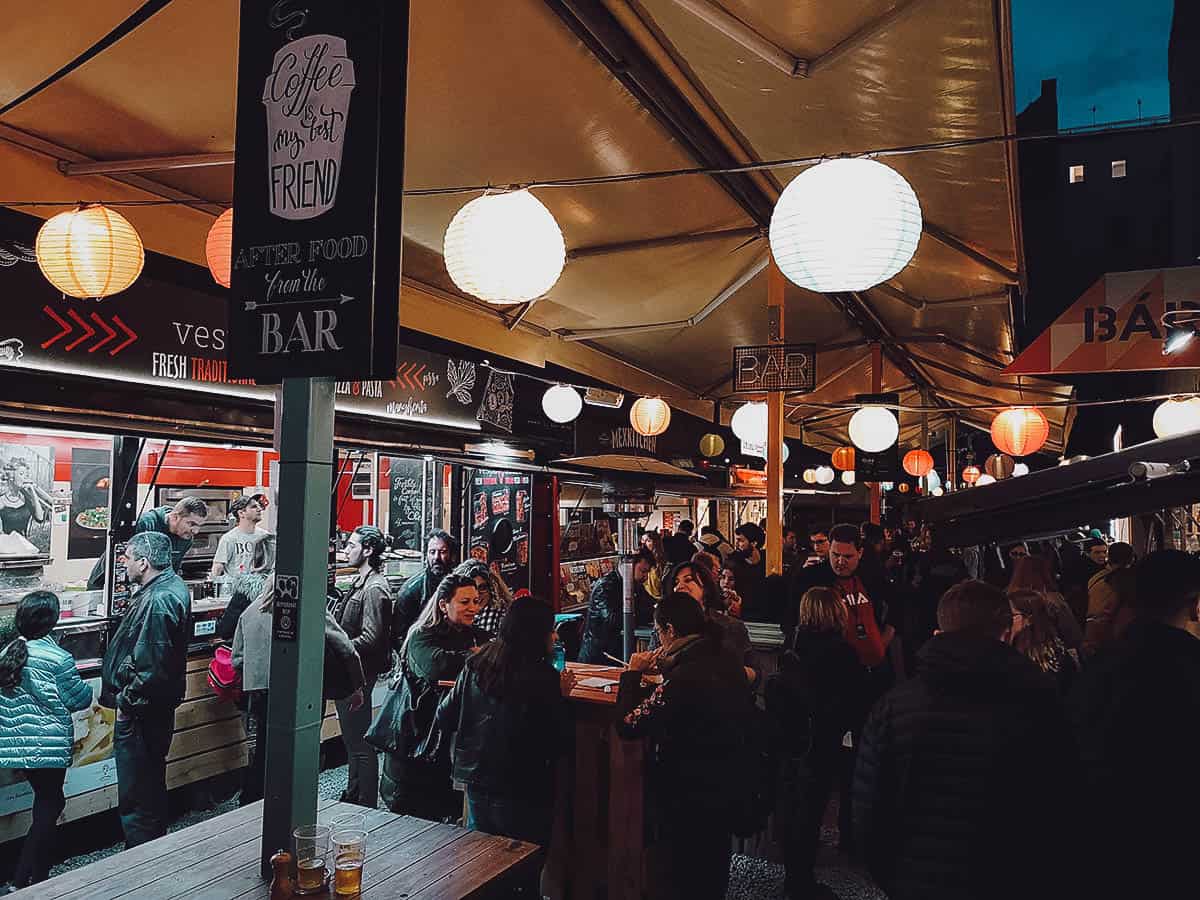 A langos is a traditional Hungarian dish of deep-fried dough. It's a Budapest food favorite that can be topped with any number of ingredients, though the classic version is made with just sour cream and grated cheese.
We had the version topped with arugula and sheep cheese. Crisp on the outside and soft and doughy on the inside, it was delicious and much better than I imagined it would be.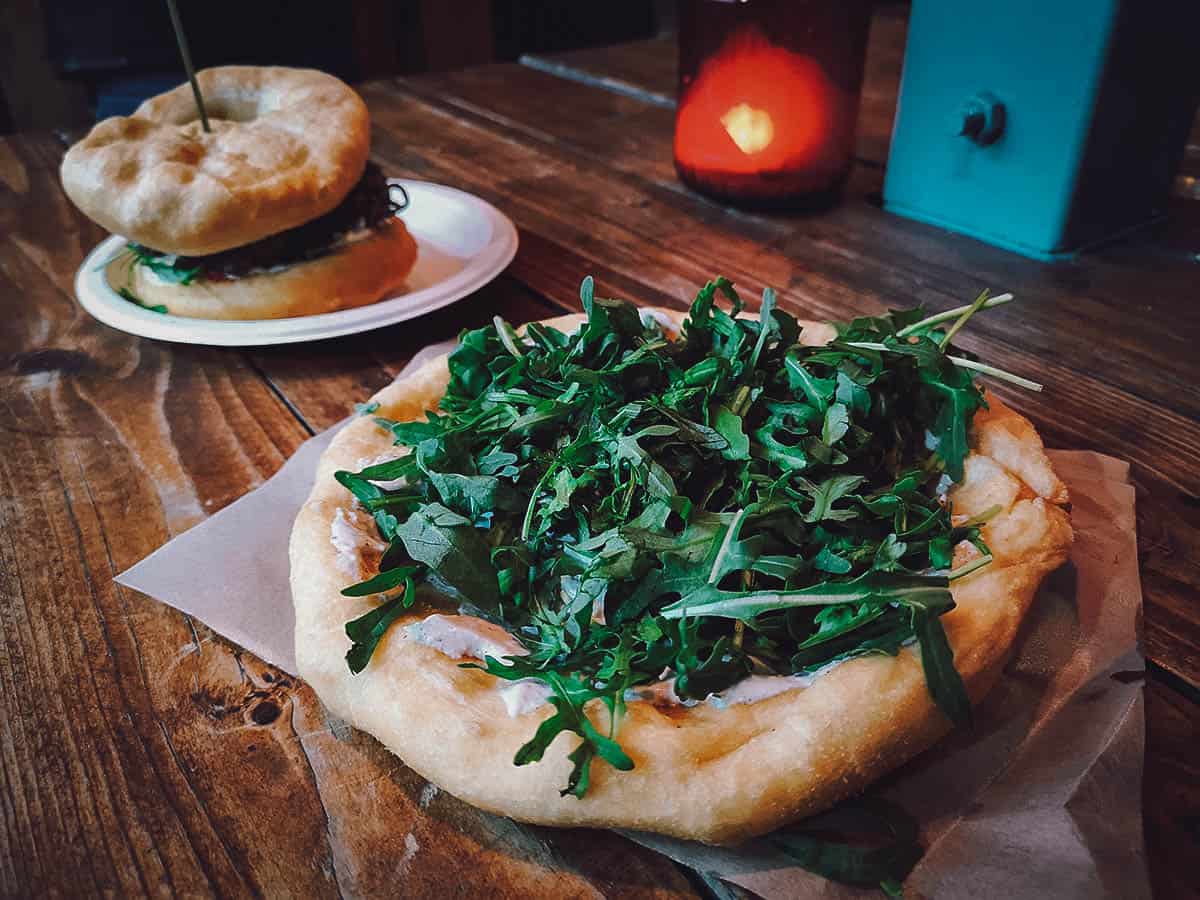 This is the fusion dish that gives this street food stall its name. They call it the langos burger. Using traditional langos for buns, you can get it with beef, pork, or chicken patties.
We went with the langos beef burger made with arugula, sheep cheese, and grilled paprika. Juicy and perfectly cooked, the beef patty was delicious to eat with the crisp but doughy langos buns. It was so good.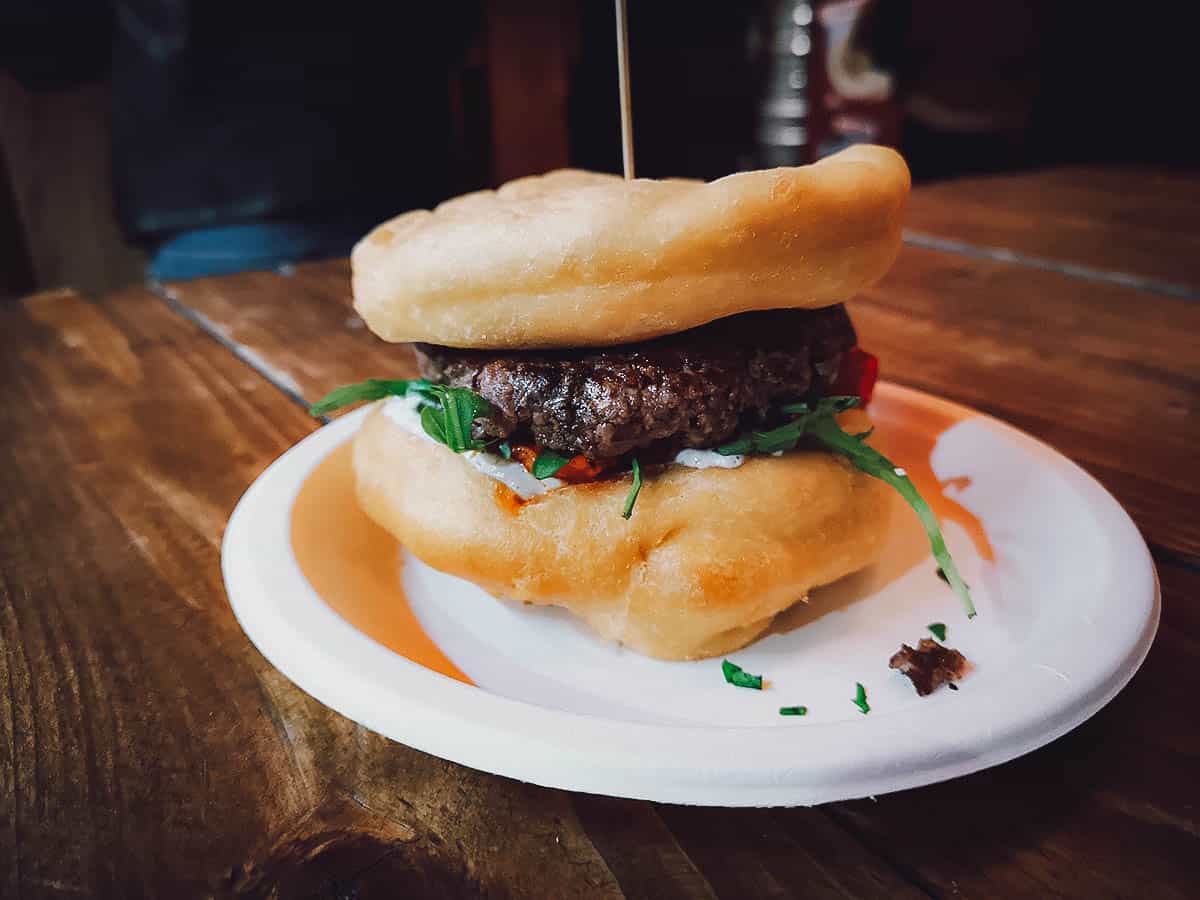 Langos Burger is located inside the Karavan street food park. It's a fun open air food park with maybe 10-15 street food stalls in the Jewish Quarter. It's a great place to go for cheap street food in Budapest.
About two doors to the left of Karavan is Szimpla Kert, Budapest's most famous ruin bar.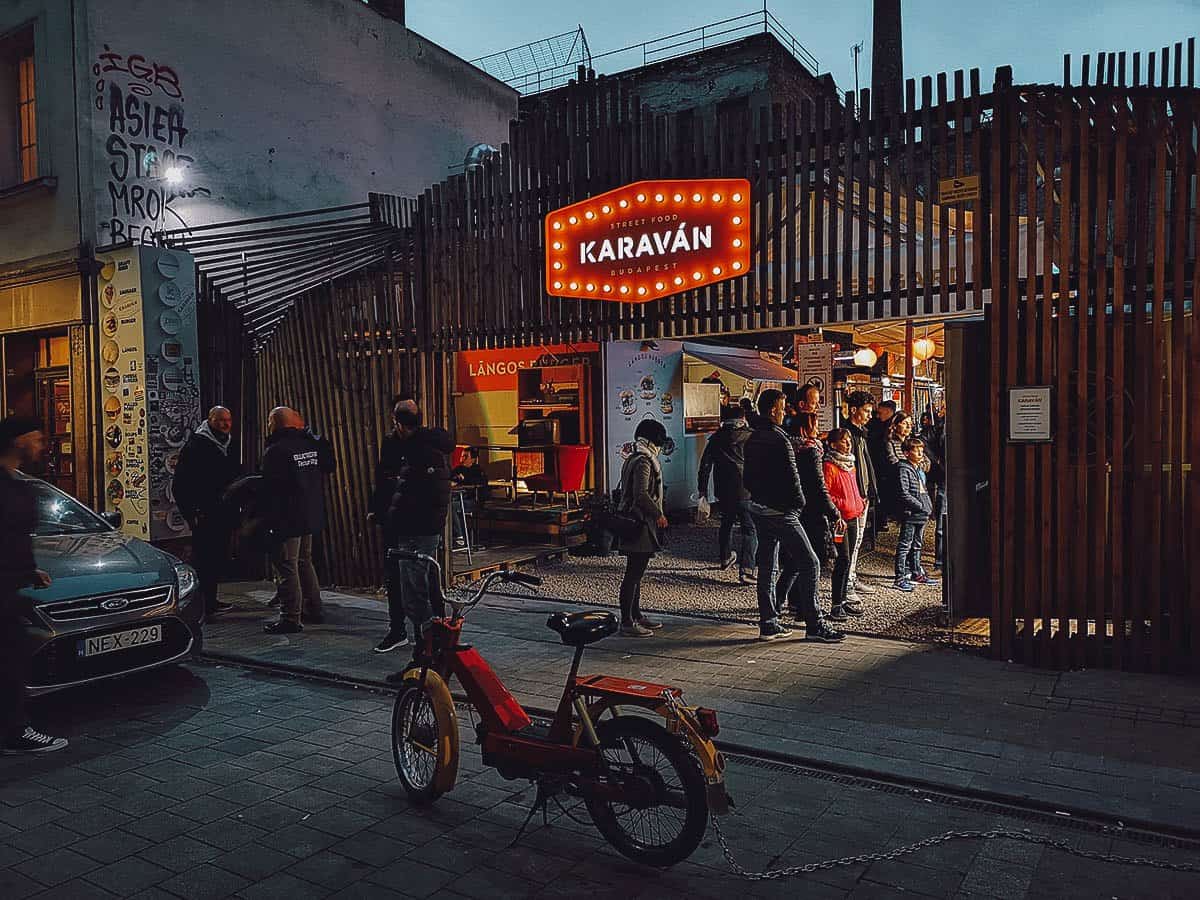 Langos Burger
Address: Budapest, Kazinczy u. 18, 1075 Hungary
Operating Hours: 11:30AM-2AM, daily
What to Order: Langos burger, classic langos
Expect to Pay: About HUF 1,100 (classic) / 1,690 (burger) for langos
5. Stand25 Bisztro
If you'd like a more refined meal in Budapest without breaking the bank, then Stand25 Bisztro is a great place to go. It's helmed by Chefs Szullo Szabina and Tamas Szell, the same duo behind the one-Michelin star Stand restaurant, one of the best restaurants in Budapest.
Stand25 Bisztro is a Michelin Bib Gourmand awardee that offers 2- or 3-course lunch and dinner menus featuring modern interpretations of traditional Hungarian food.
For one of our starters, we had this beautiful grilled eggplant tartare with Vaszoly cheese and pumpkin seeds.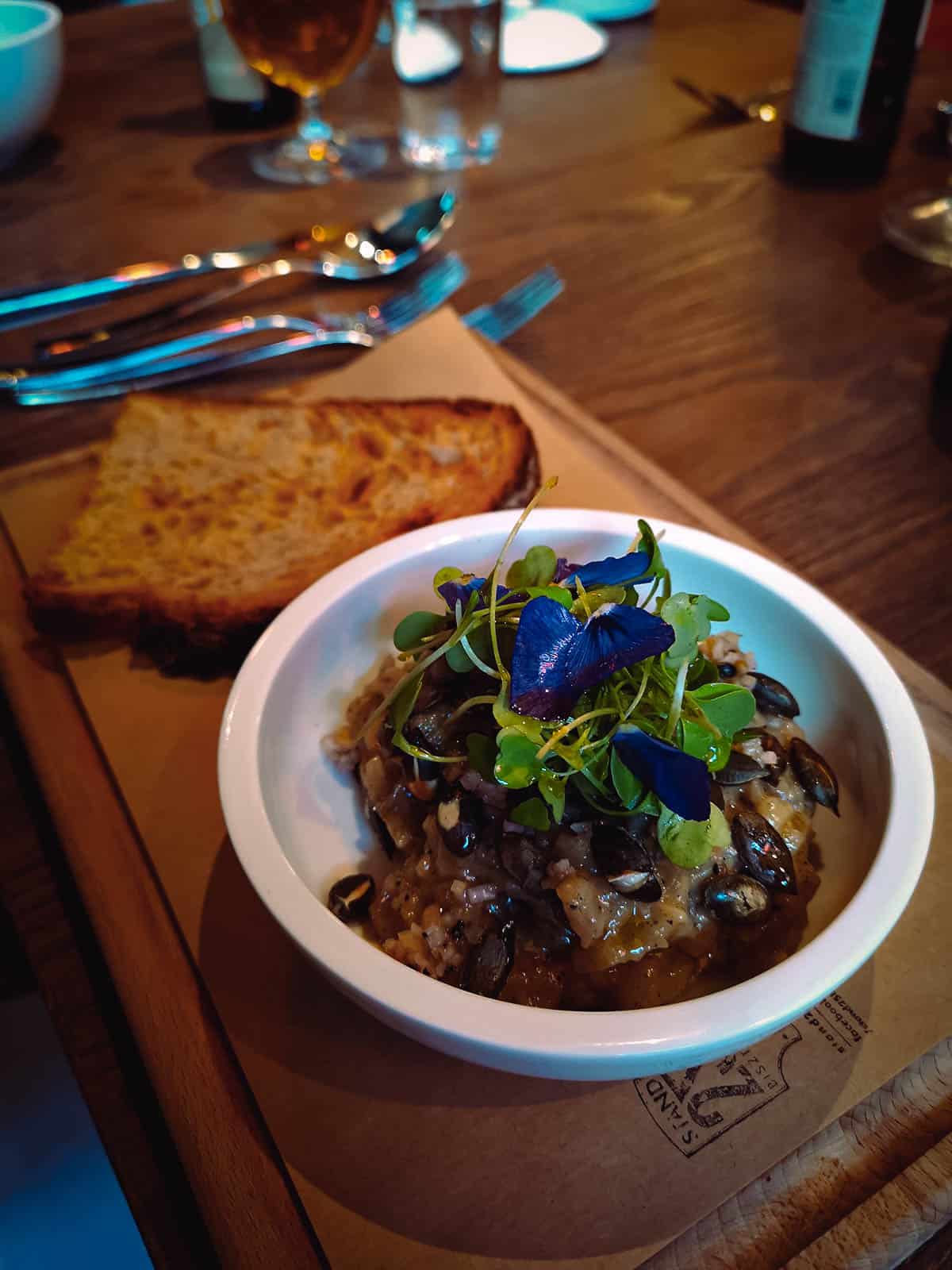 Every dish at Stand25 Bisztro was inventive and delicious but this meatloaf with yellow pea puree and gravy may have been our favorite. It was made with Mangalica pork which is an Hungarian breed of domestic pig prized for its fatty marbled meat. It's often hailed as the "Kobe beef of pork".
Check out my article on Stand25 Bisztro for more pictures of this fabulous meal.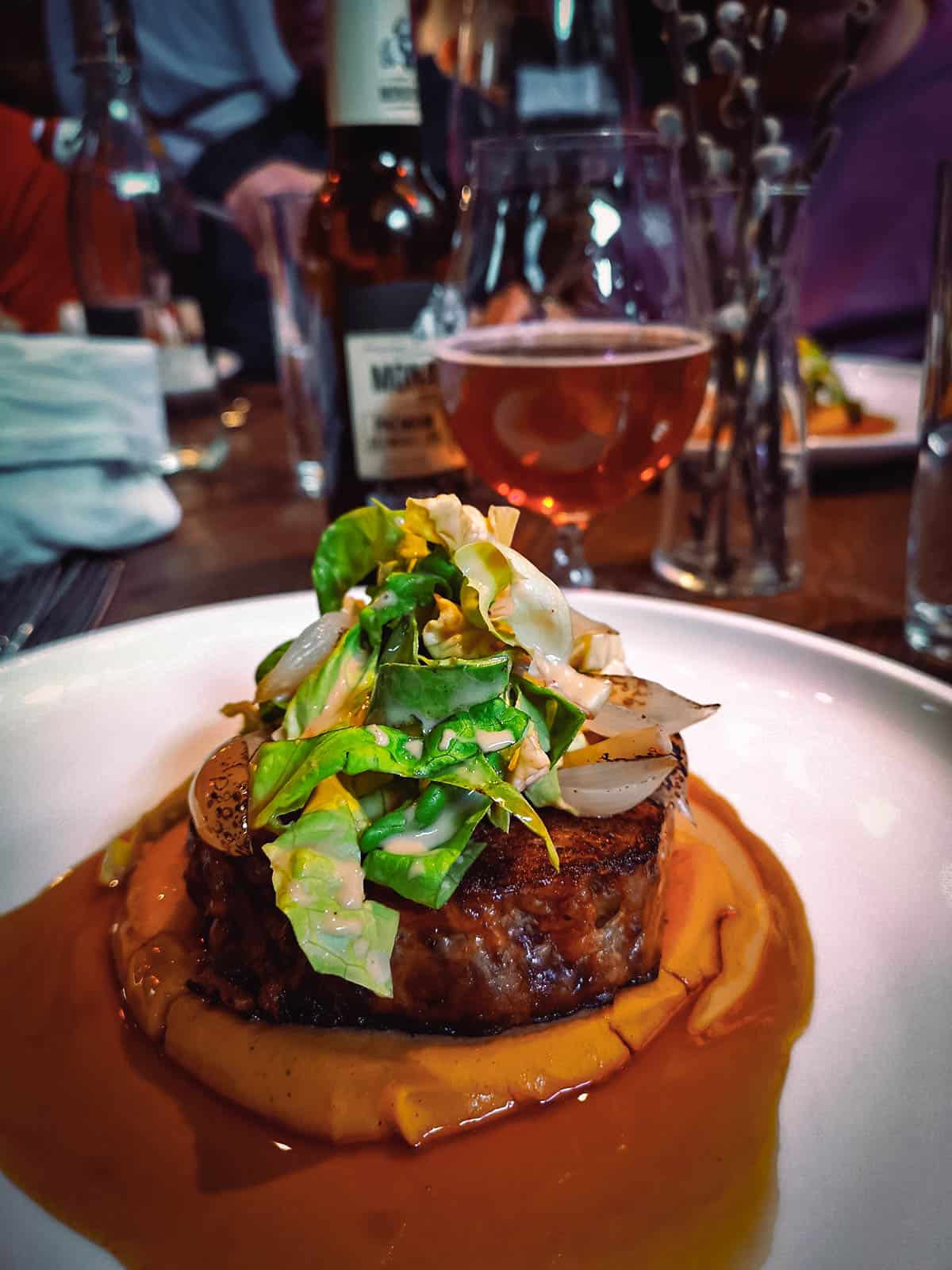 Oddly enough, Stand25 Bisztro is located in an open air space within the Hold Street Food Market. Situated next to meat and produce stands, it's an unexpected informal setting that belies award-winning gourmet food.
NOTE: It looks like Stand25 has since moved to a new location. They're now located along Attila Street on the Buda side. You can refer to their website for more information.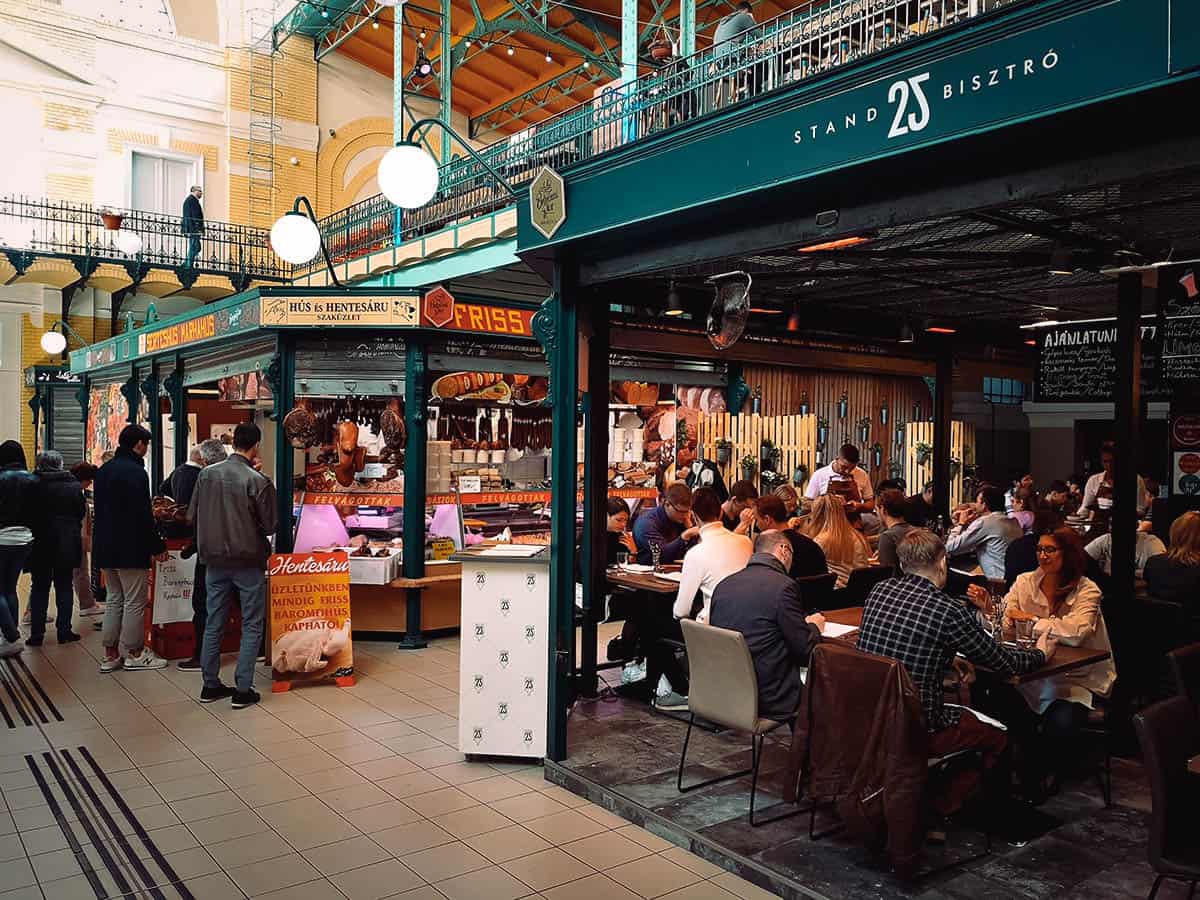 Stand25 Bisztro
Address: Budapest, Attila út 10, 1013 Hungary
Operating Hours: 12NN-2PM, 6-10PM, Mon-Sat (closed Sundays)
What to Order: 2- or 3-course set meals
Expect to Pay: At least HUF 4,500++ (2-course) / HUF 5,400++ (3-course)
6. ToLTo
After enjoying modern Hungarian baguette sandwiches and langos burgers, how about going for a modern Hungarian hot dog?
ToLTo offers these beautiful grilled sausage sandwiches made with unexpected ingredients like pork sausage with peanut butter and chili, paprika-chili pork with kumquat, and chicken sausage with roasted pumpkin seed. Say what??
Ren and I went with this wild boar sausage with shiitake mushroom, wakame salad, chinkiang sauce, and spirulina sponge in a home baked bun. How wild is that?! It was every bit as delicious as it was beautiful.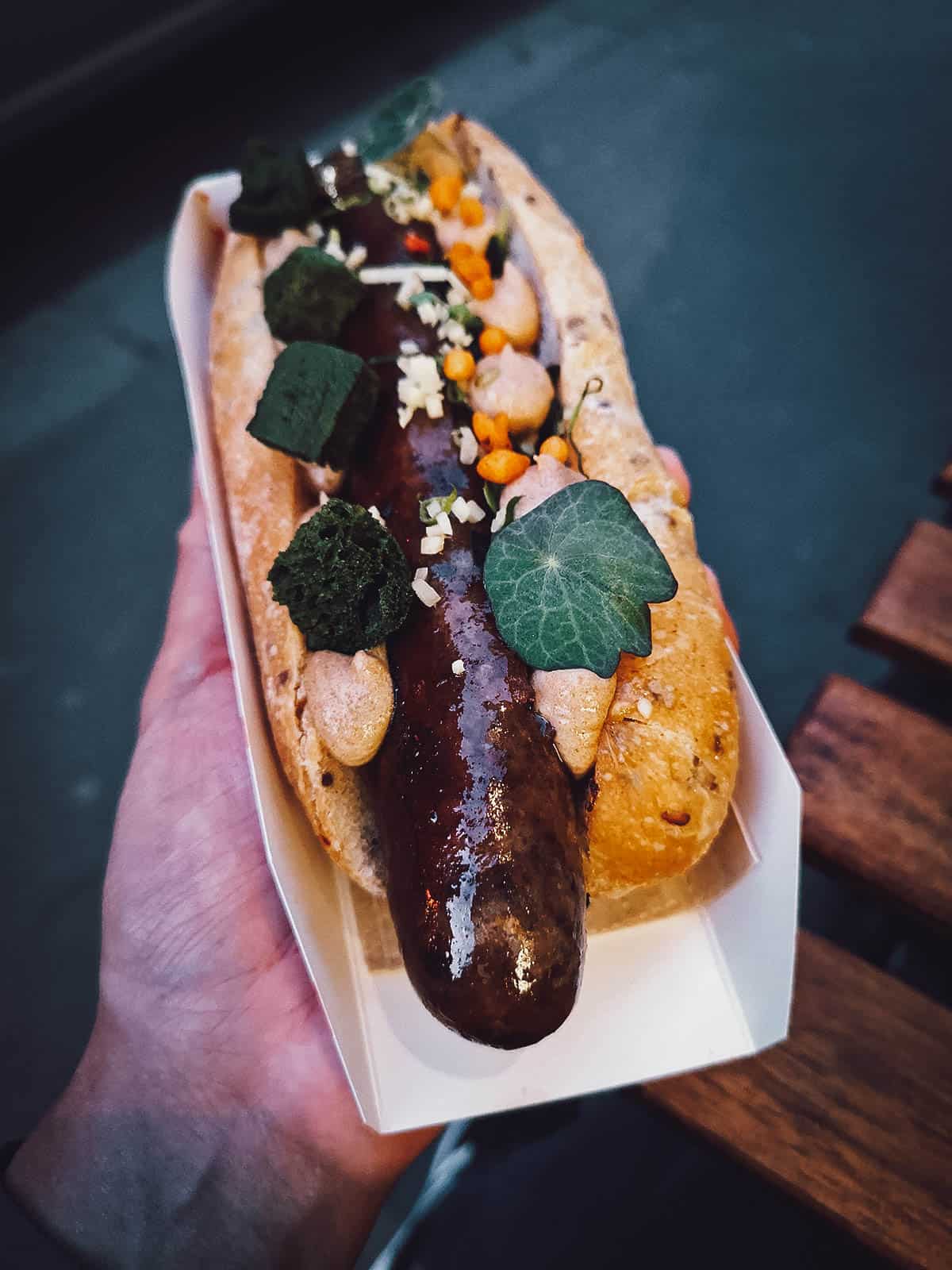 We washed down our tasty grilled sausage sandwiches with ice cold Budapest lager. I LOVE this city.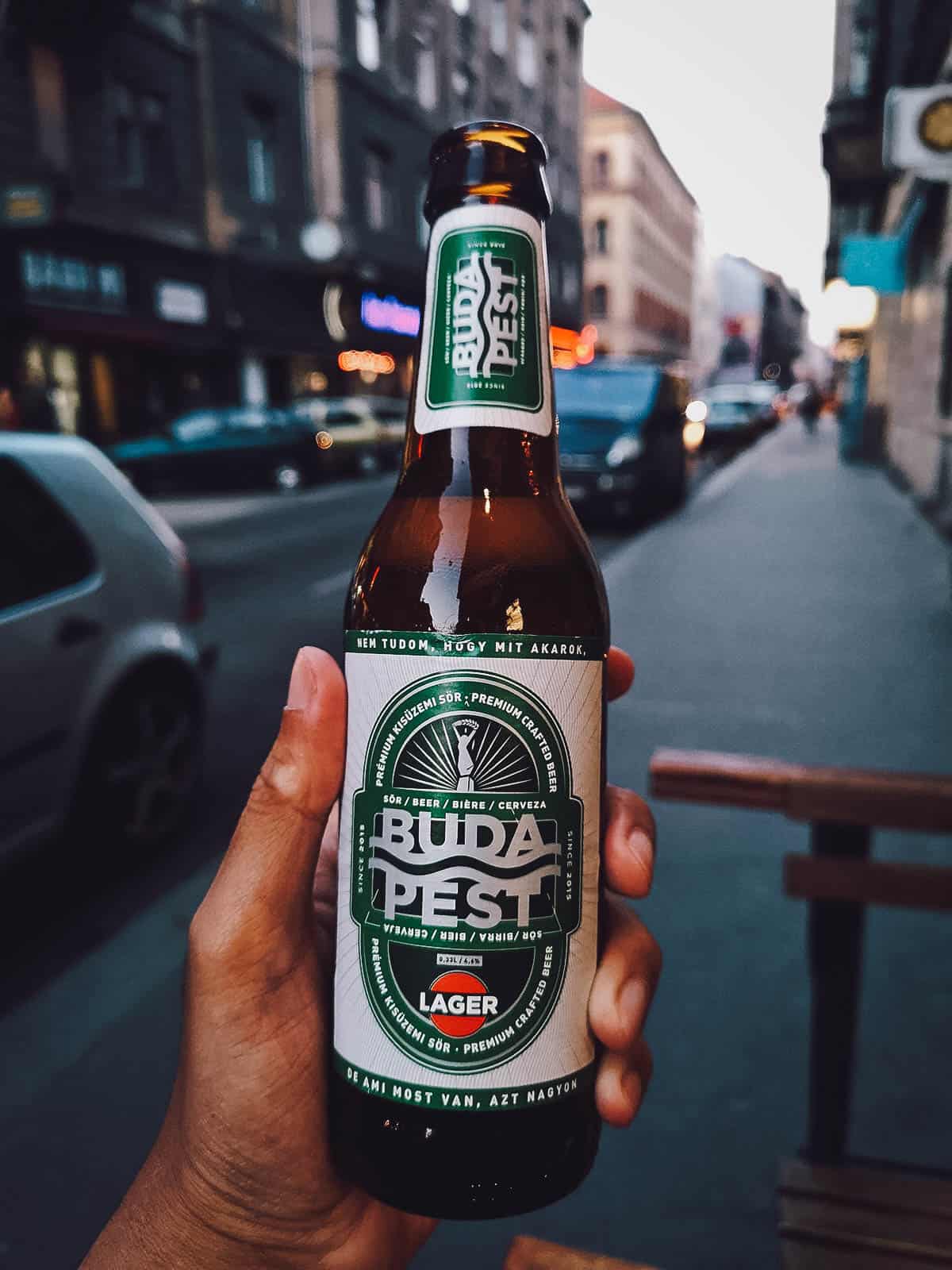 ToLTo is located in the Jewish Quarter, about a 5-minute walk from Bors GasztroBar. They're a TripAdvisor Certificate of Excellence awardee with a near-perfect 4.5-star rating and over 1,000 reviews.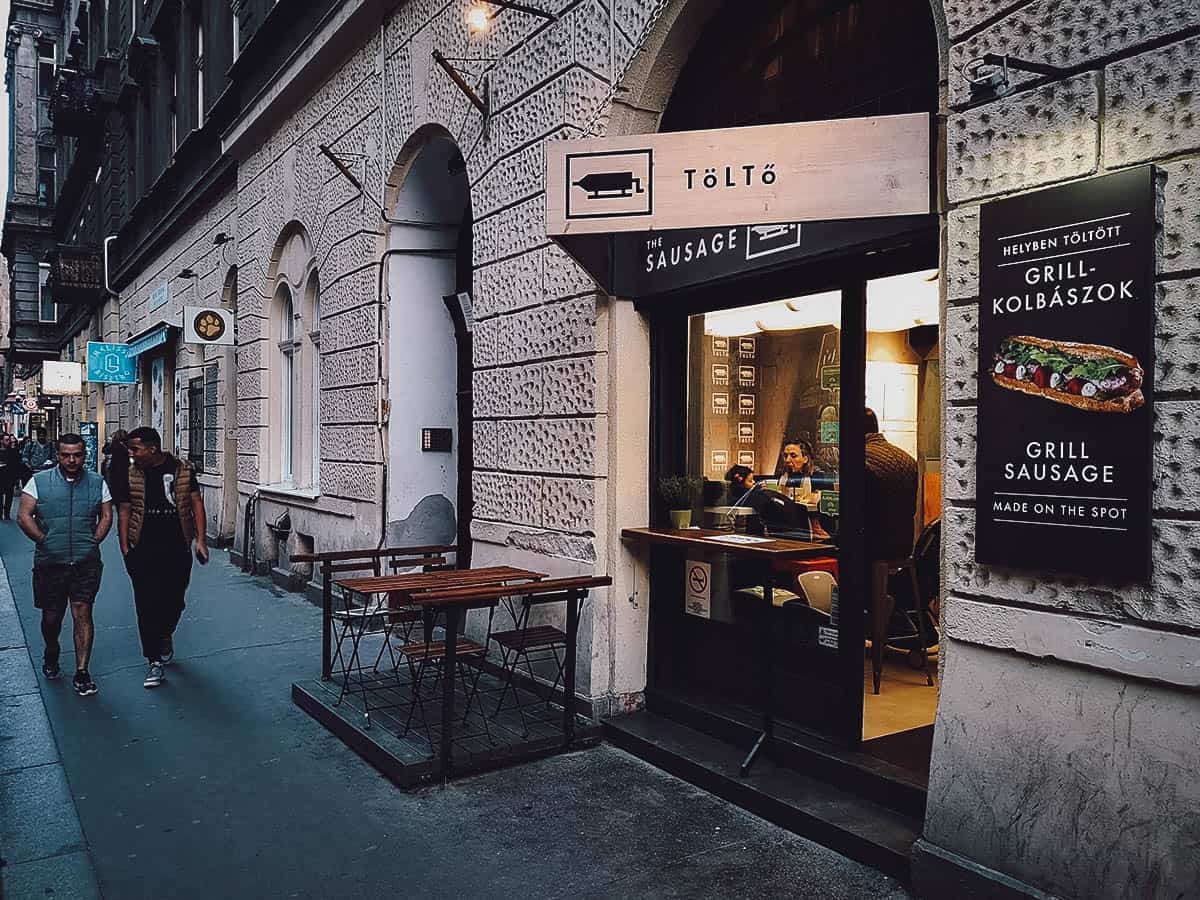 ToLTo
Address: Budapest, Wesselényi u. 31, 1077 Hungary
Operating Hours: 11:30AM-9:30PM, Mon-Thurs / 11:30AM-10PM, Fri-Sat / 11:30AM-9PM, Sun
What to Order: Grilled sausage sandwiches
Expect to Pay: About HUF 1,600 per sandwich
7. Il Buco Pizza and Pasta
Like burger shops, there are many delicious-looking pizzerias in the city. It seems to be a popular comfort food in Budapest. Located near our AirBnB, we'd walk by Il Buco Pizza and Pasta everyday and be intrigued by the smells wafting from its door, so we decided to give it a try.
We didn't know anything about it so we weren't really expecting much, but it turned out to be much better than we thought. This seems to be a common sentiment among its reviewers.
Unlike a few of the trendier entries on this list, Il Buco is a traditional pizzeria offering standard Italian pizza and pasta dishes. We started off with this caesar salad to whet our appetite.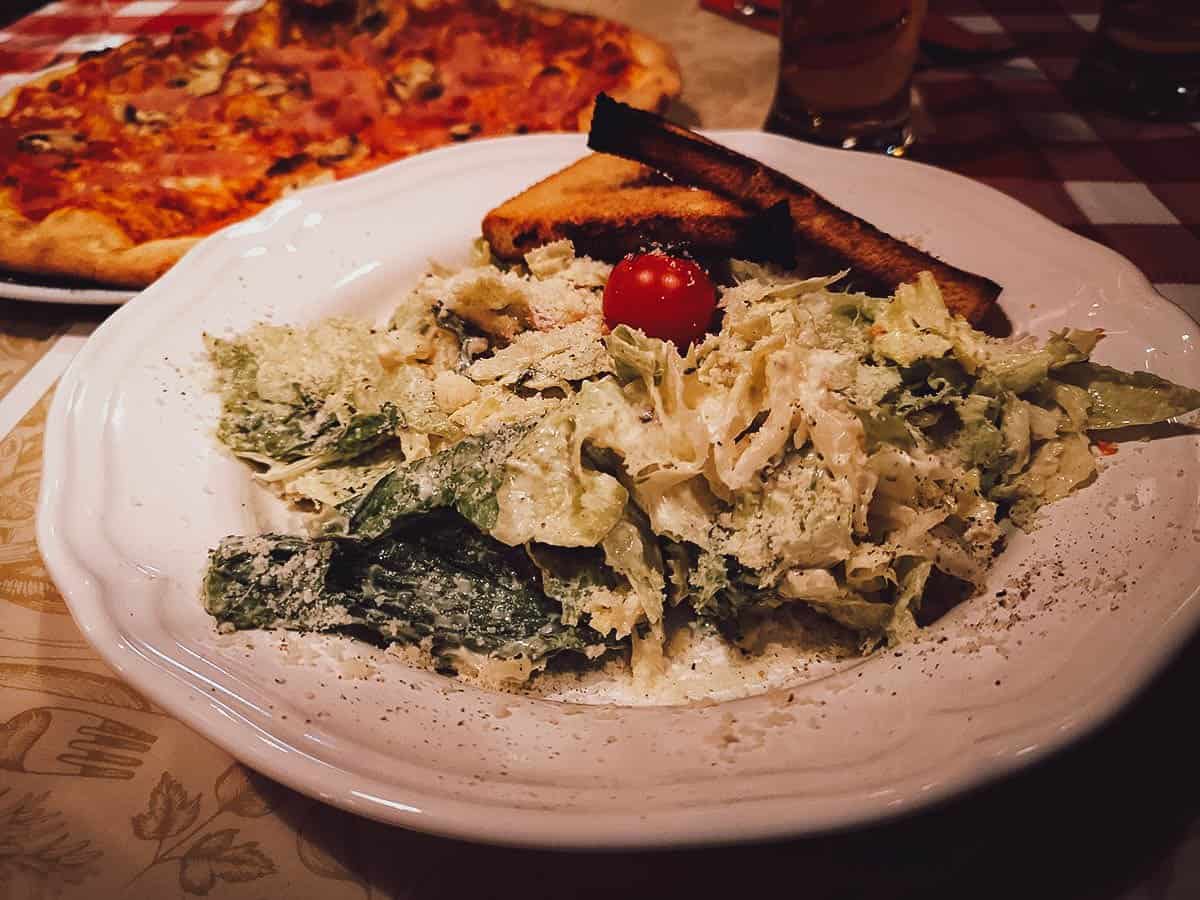 They offer over a dozen types of hand-tossed pizza on their menu. We went with this classic prosciutto e funghi. It was delicious with a crispy thin crust that was nice and airy and melted in your mouth when you took a bite.
The Hungarian owner was quite friendly so we stayed and chatted with him for a bit. He told us he had spent a few years of his life living in Italy which is where he learned his craft.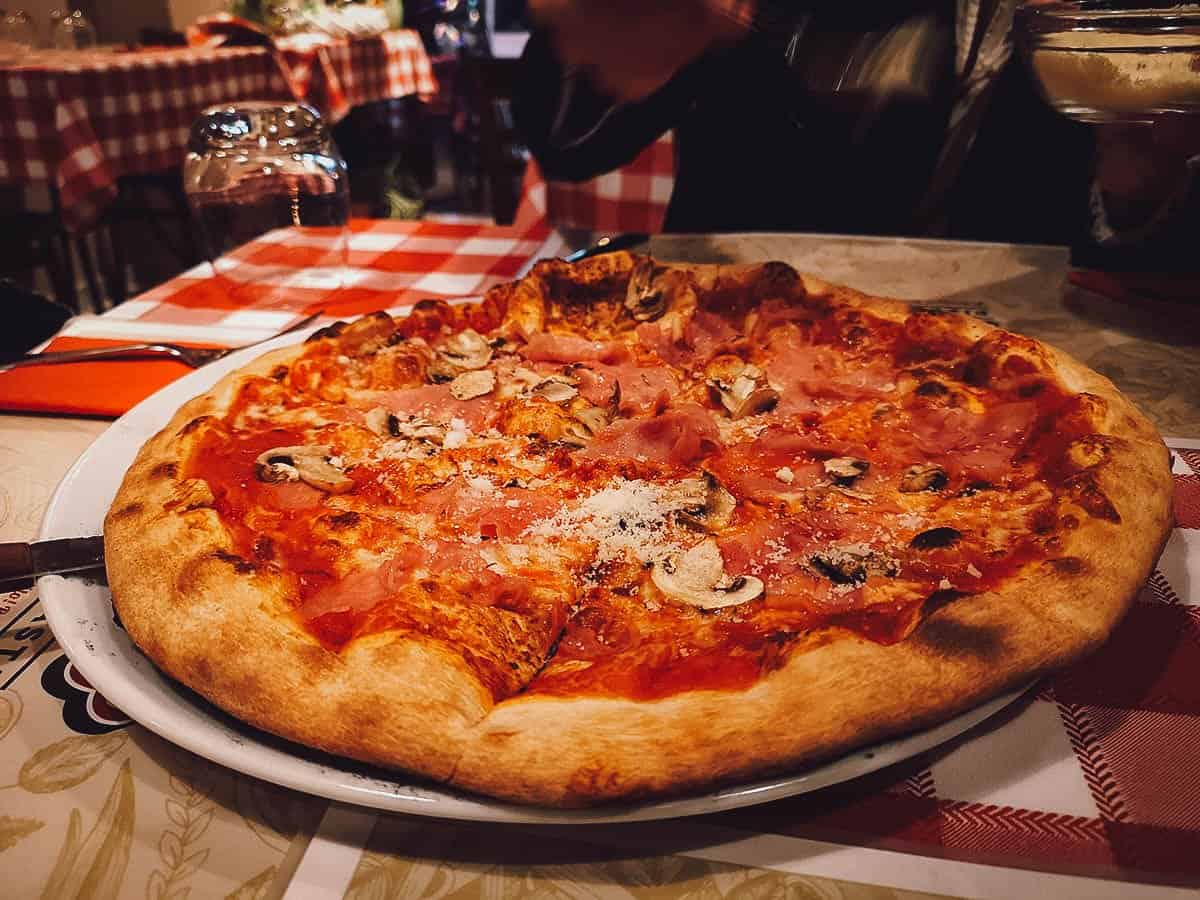 Il Buco Pizza and Pasta is located along Kiraly Utca, a street that runs parallel to Andrassy Avenue.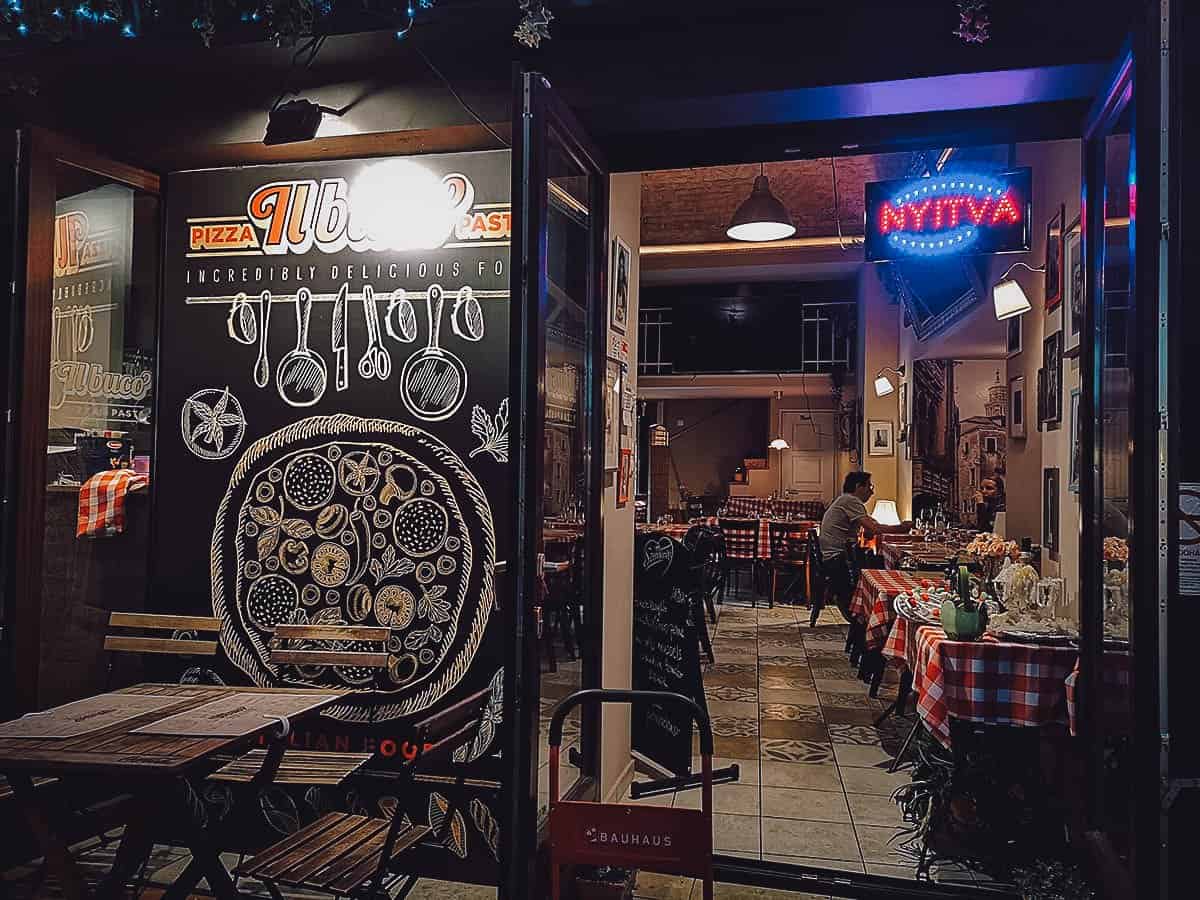 Il Buco
Address: Budapest, Király u. 58, 1068 Hungary
Operating Hours: 12NN-10PM, daily
What to Order: Pizza, pasta
Expect to Pay: About HUF 2,300 per pizza
8. 9BAR
9BAR is a great place to have coffee and a light breakfast. It's near St. Stephen's Basilica so you can stop here before visiting the basilica and continuing on to the Buda side.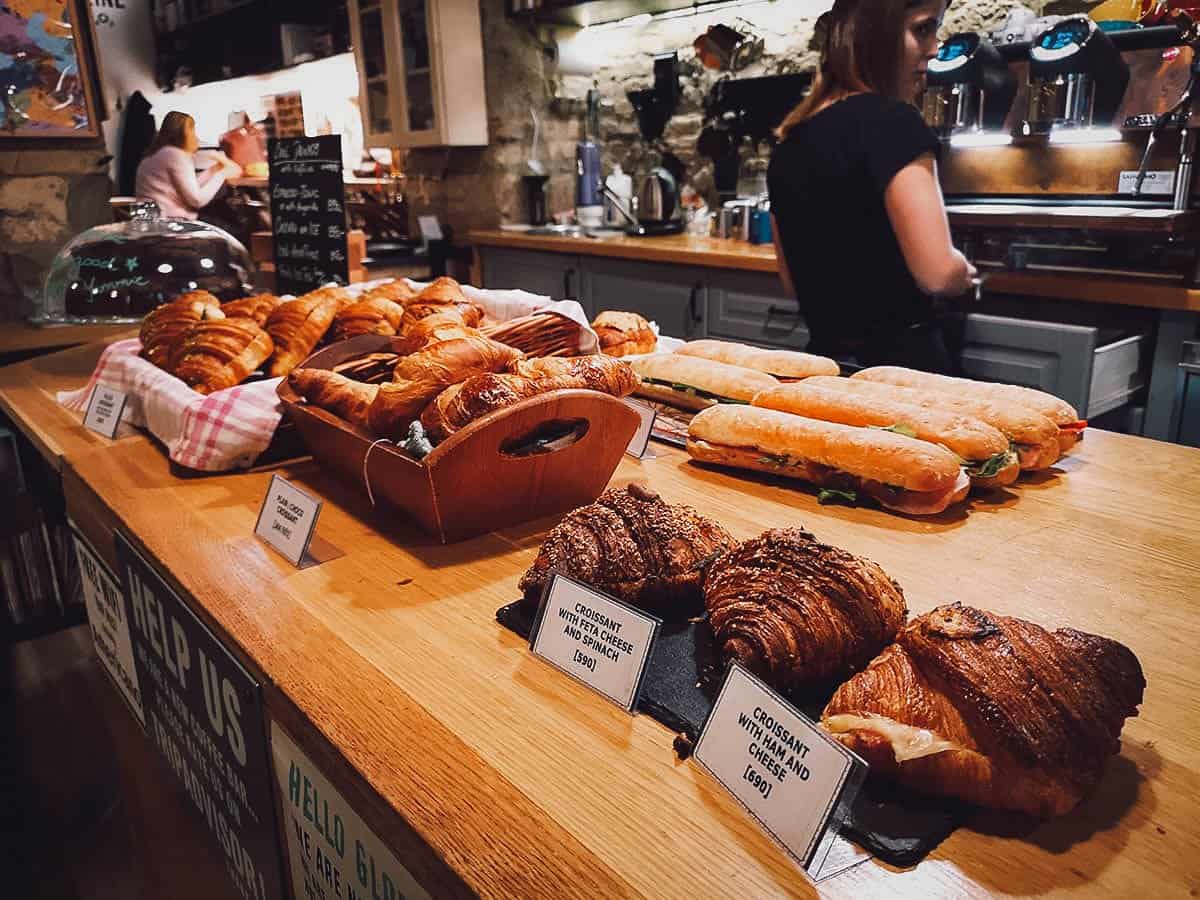 As one article puts it, 9BAR is a new wave coffee house that serves both exotic and classic Italian blends. They make amazing croissants and offer a good selection of sandwiches and cakes as well.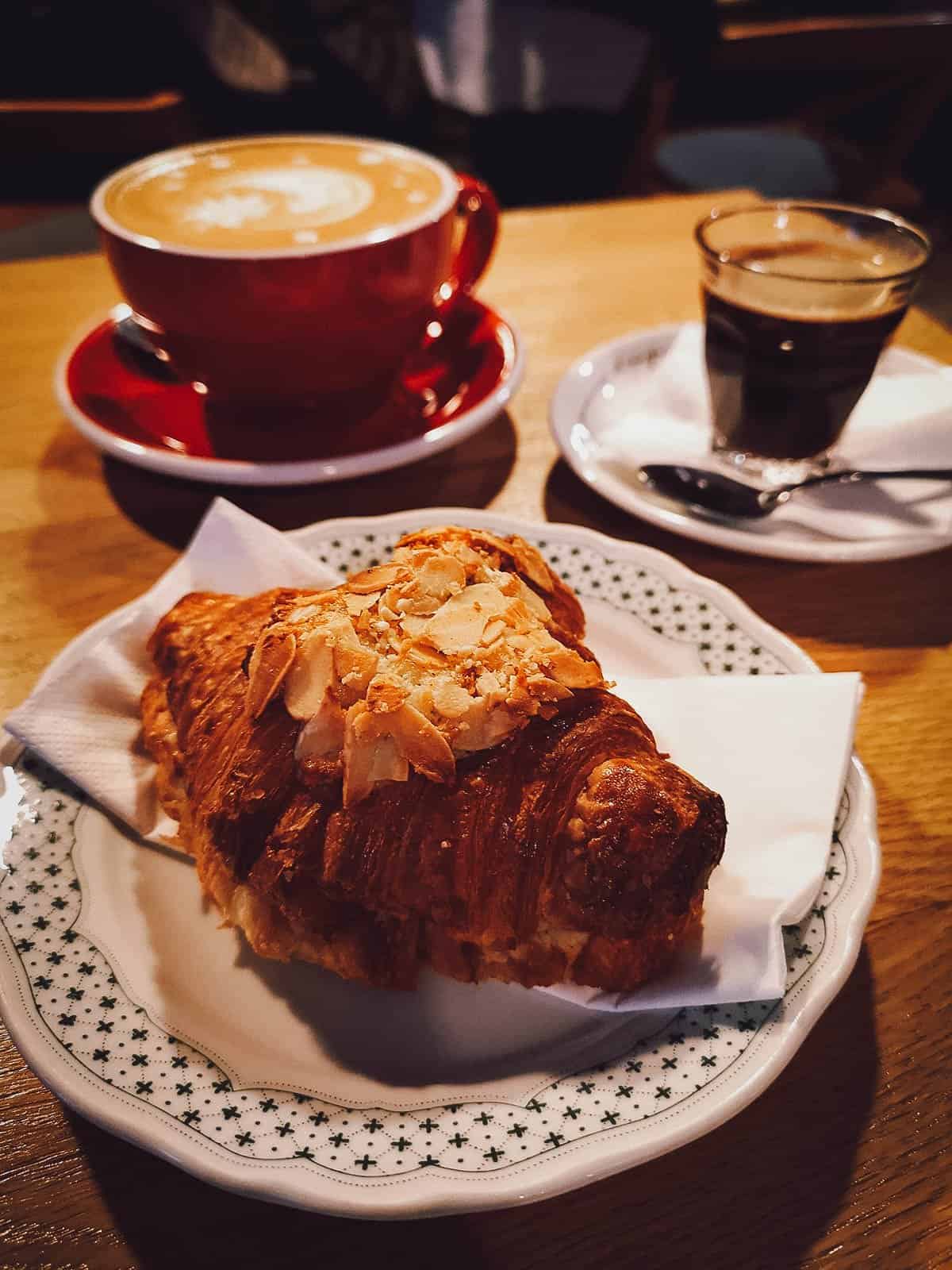 9BAR is a 2-minute walk from St. Stephen's Basilica. They're a TripAdvisor Certificate of Excellence awardee with a perfect 5-star rating, even after almost 1,300 reviews.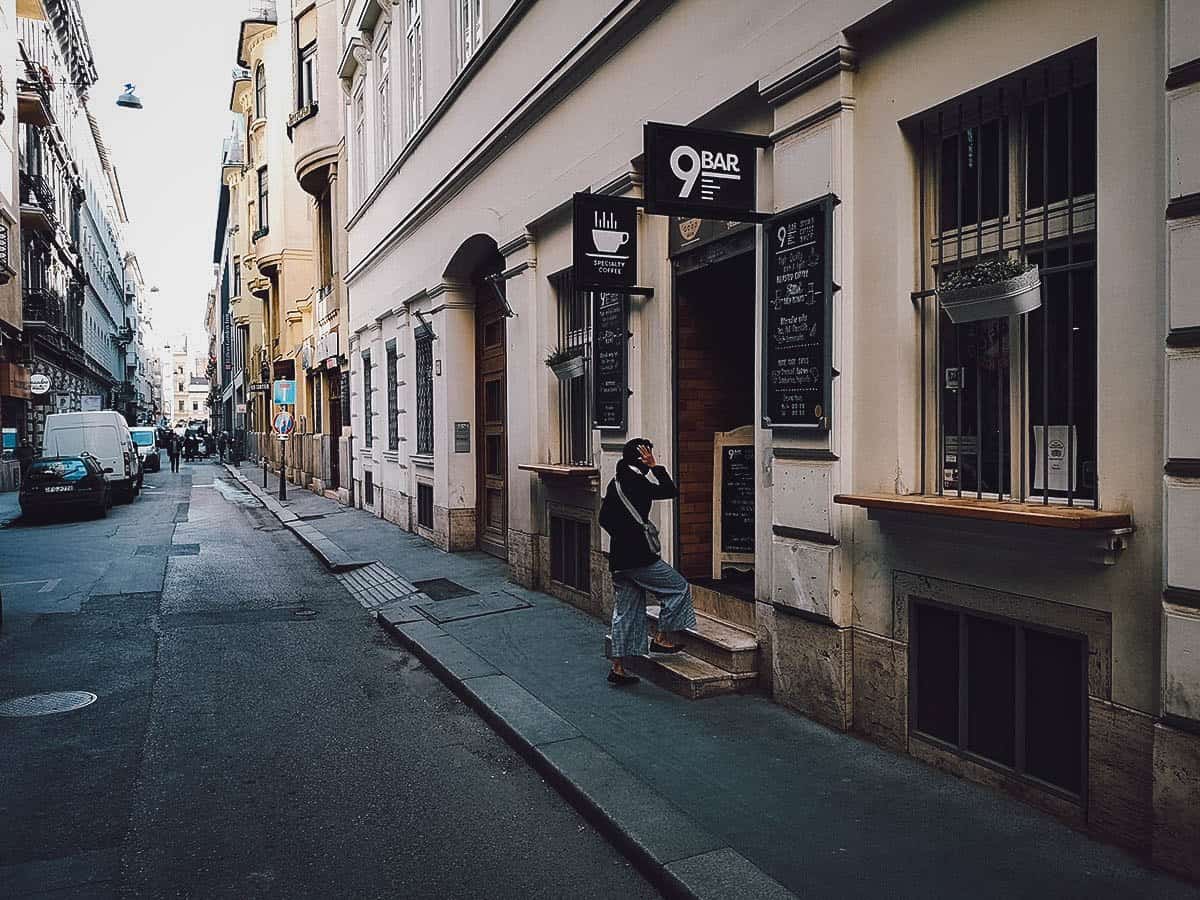 9BAR
Address: Budapest, Lázár u. 5, 1065 Hungary
Operating Hours: 8AM-6PM, Mon-Fri / 8AM-4PM, Sat (closed Sun)
What to Order: Coffee, croissants, sandwiches
Expect to Pay: About HUF 1,000-1,200 for coffee and a croissant
9. Molnar's Kurtoskalacs
This was one of the biggest surprises from our trip. I had often come across kurtoskalacs in my research but I wasn't overly excited about it, until I got to try it at Molnar's Kurtoskalacs.
Kurtoskalacs or chimney cakes are spit cakes specific to Hungarians from Transylvania. Popular in both Hungary and Romania, they're made by wrapping yeast dough around baking spits and roasting them over charcoal.
While roasting, the cakes are basted with melted butter until their surface caramelizes and forms a shiny golden brown crust.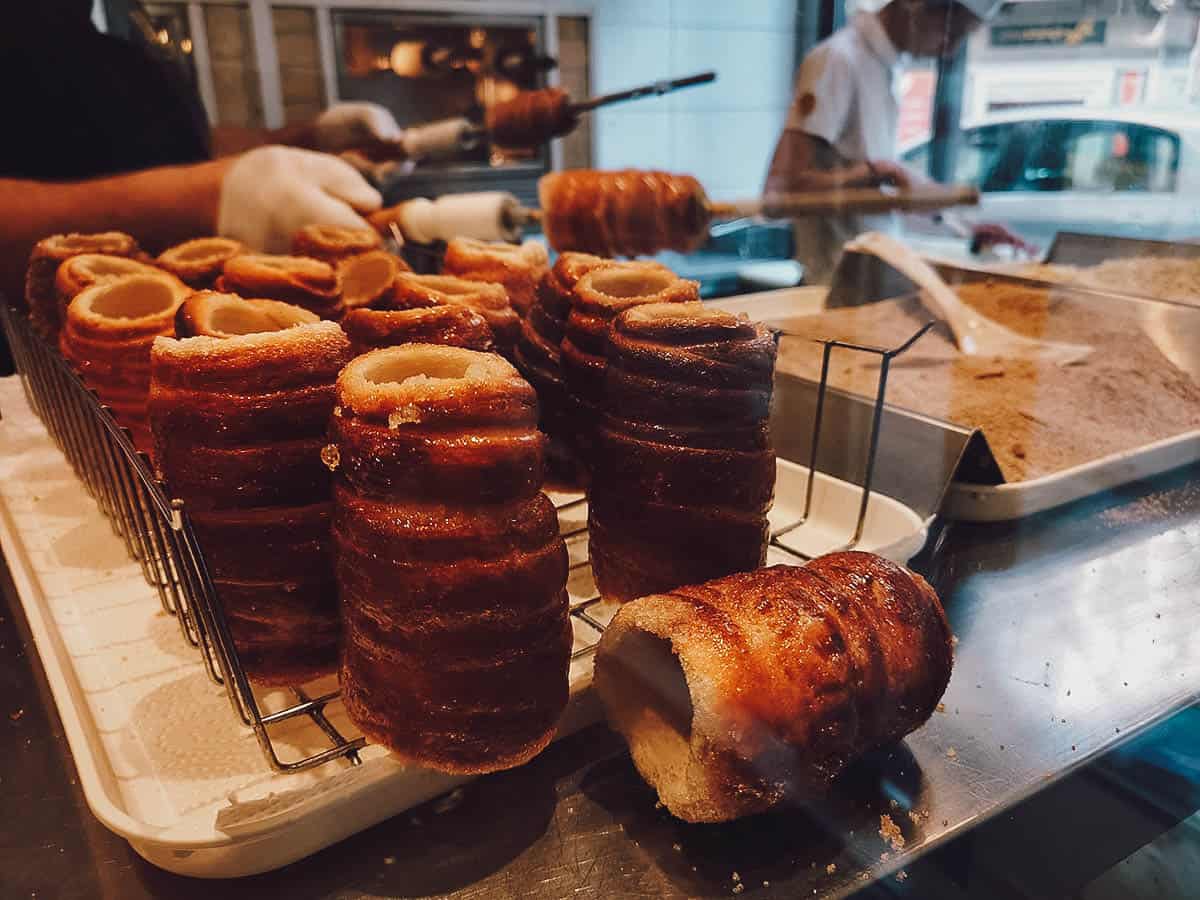 When cooked, kurtoskalacs are typically dusted with ground walnut or powdered cinnamon but you can get them in other flavors as well like vanilla, almond, chocolate, and coconut.
I wasn't expecting much but the first bite blew me away. Kurtoskalacs are delicious! They have a crisp caramelized coating and a soft, buttery interior. Texturally, it was like eating a cross between a cake and a croissant. They're so good and another Budapest food favorite.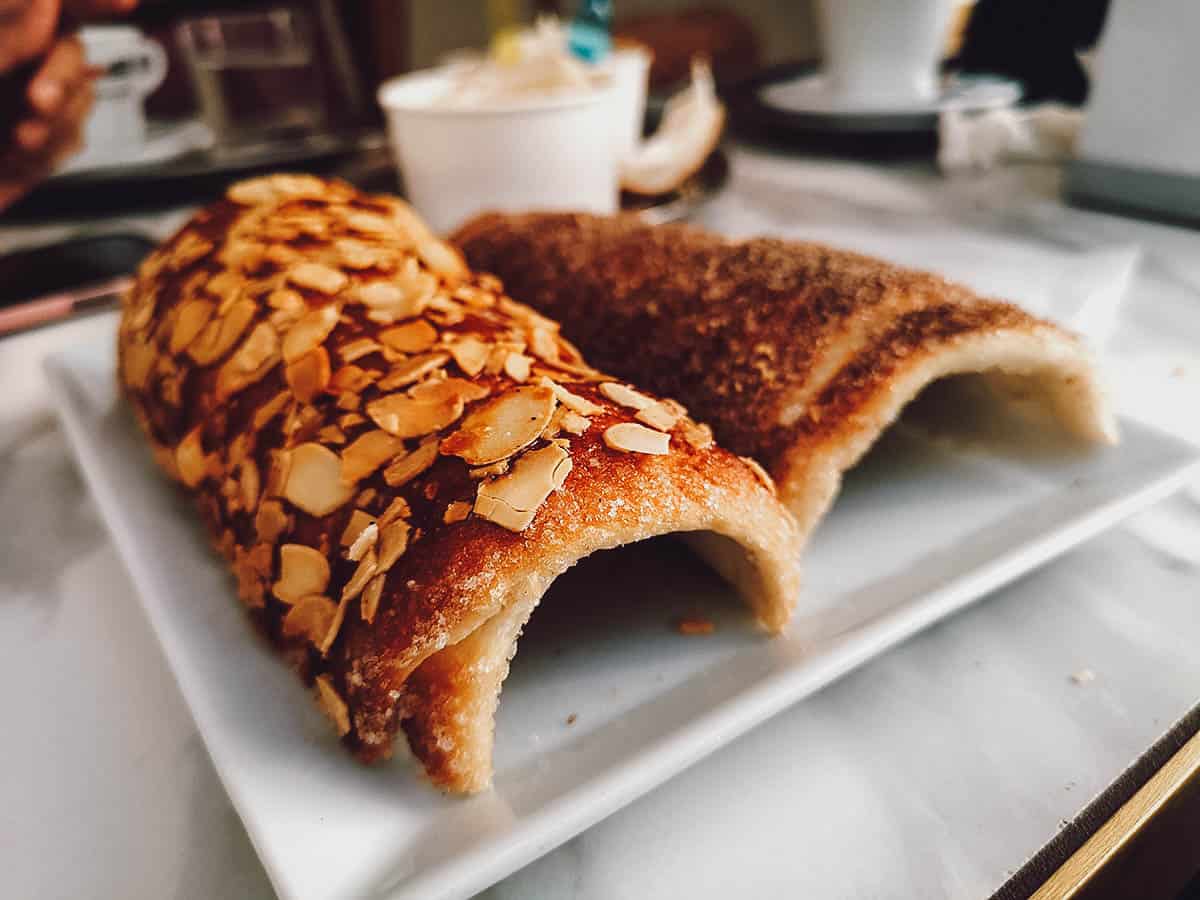 We enjoyed the chimney cakes so much that we decided to try the version filled with soft serve ice cream. My god, these were pure heaven.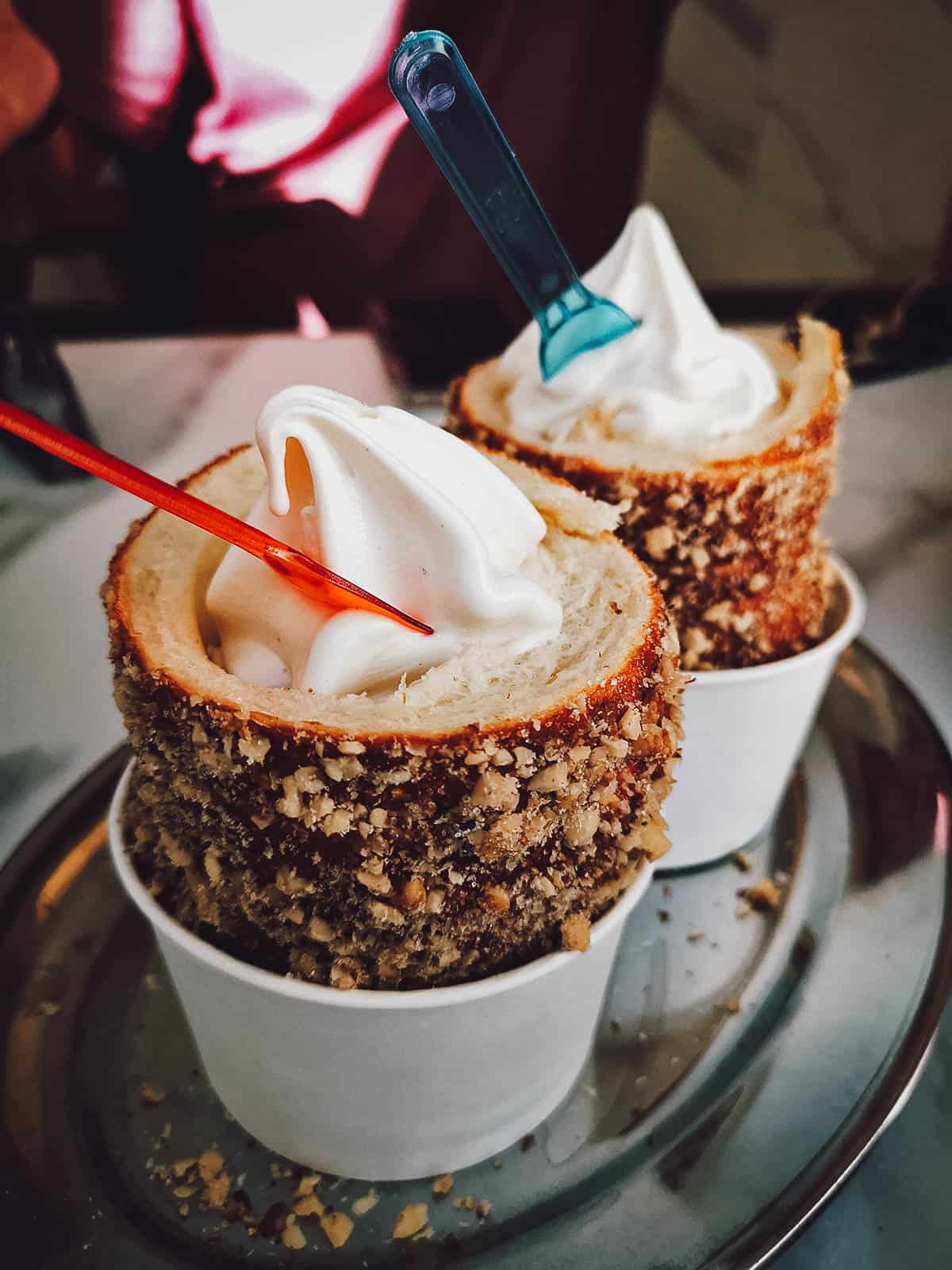 You can get a better appreciation for the cake's texture in this picture. This is what it looks like when you tear it apart. It tears away in spiral form.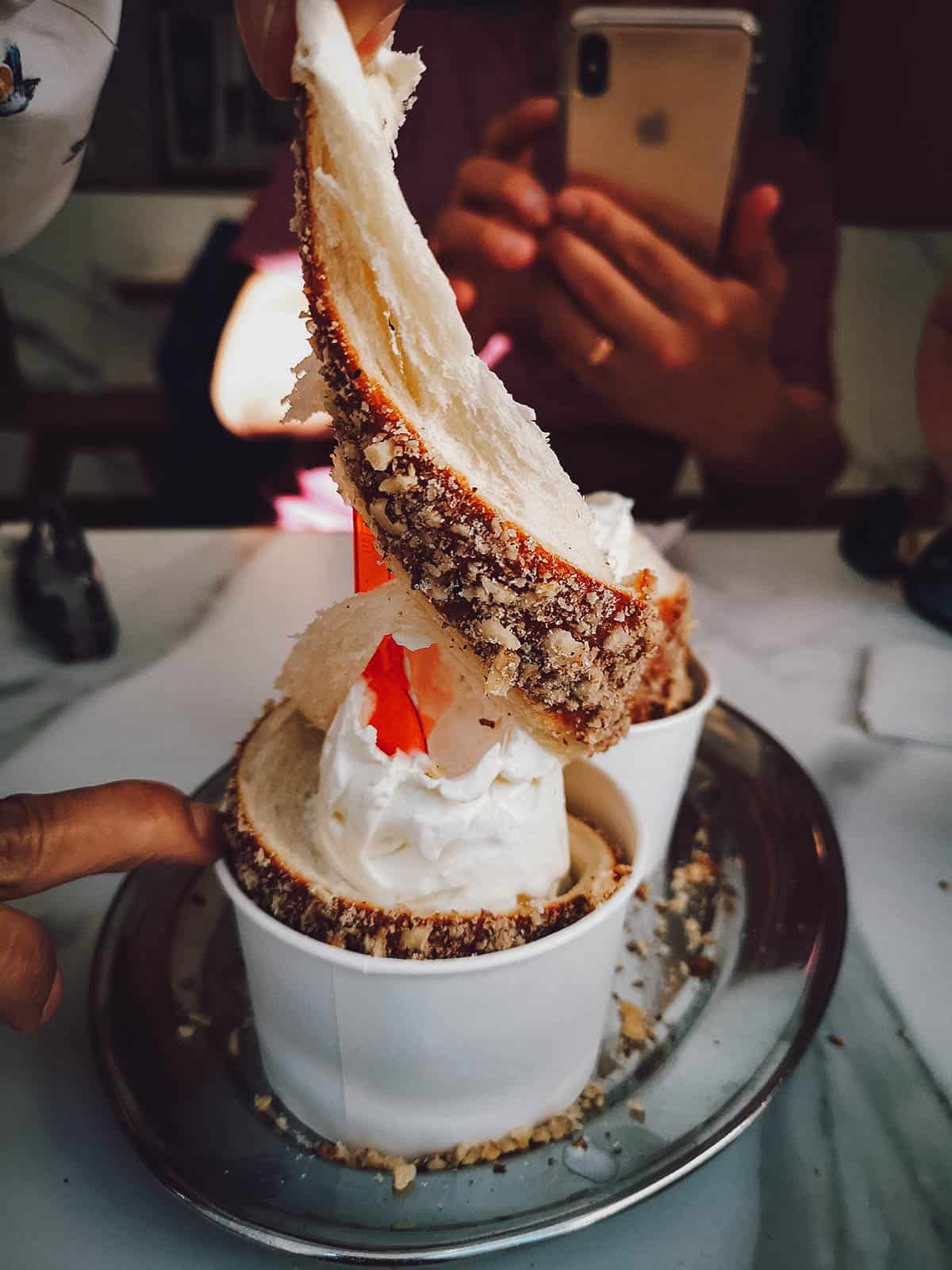 Located near Elisabeth Bridge, Molnar's Kurtoskalacs is cited by many local publications for being one of the best restaurants in Budapest to try chimney cake. They're a TripAdvisor Certificate of Excellence awardee with a stellar 4.5-star rating and over 1,350 reviews.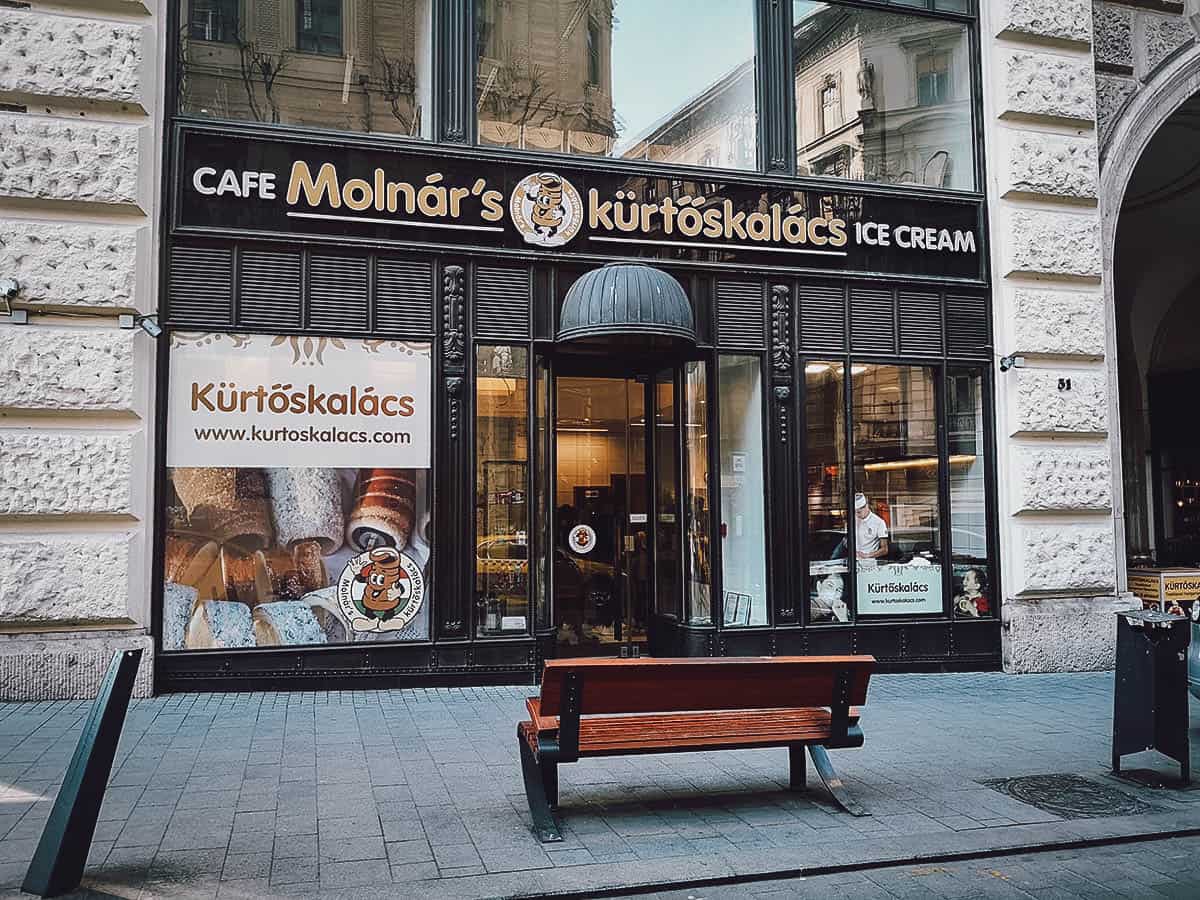 Molnar's Kurtoskalacs
Address: Budapest, Váci u. 31, 1052 Hungary
Operating Hours: 9AM-10PM, daily
What to Order: Kurtoskalacs
Expect to Pay: About HUF 990 (kurtoskalacs) / HUF 2,190 (kurtoskalacs with ice cream)
10. Ruszwurm Confectionery
Another cake you need to try in Budapest is dobos torte or drum torte. Considered Hungary's signature cake, it's a type of sponge cake layered with chocolate buttercream and topped with a hard caramel coating.
Open since 1827, Ruszwurm Confectionery is one of the oldest pastry shops in Budapest. It's located near Matthias Church and is known for being one of the best places to have dobos torte and other pastries in Budapest. Check out this mouthwatering selection of cakes.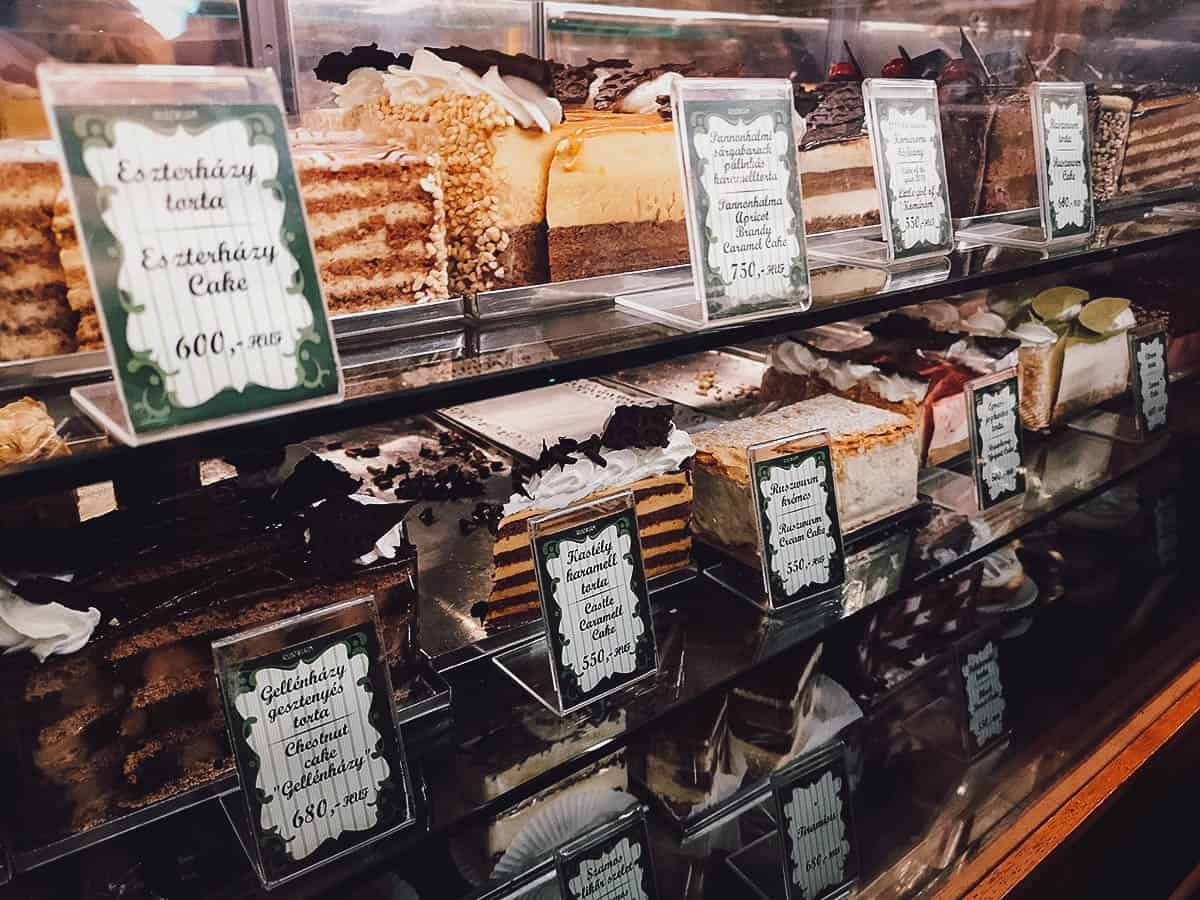 Dobos torte is named after the chef who invented it in 1884 – Jozsef C. Dobos. Cooling techniques were limited at the time so he wanted to create a pastry that would keep longer.
He accomplished this by coating the sides of the cake with ground hazelnuts, chestnuts, walnuts, or almonds. Together with the hardened caramel top, the wall of nuts helped keep the cake from drying out, thereby giving it a longer shelf life.
Dobos torte has a crackingly hard caramel top and multiple layers of chocolate buttercream. It's rich and chocolate-y and not too sweet.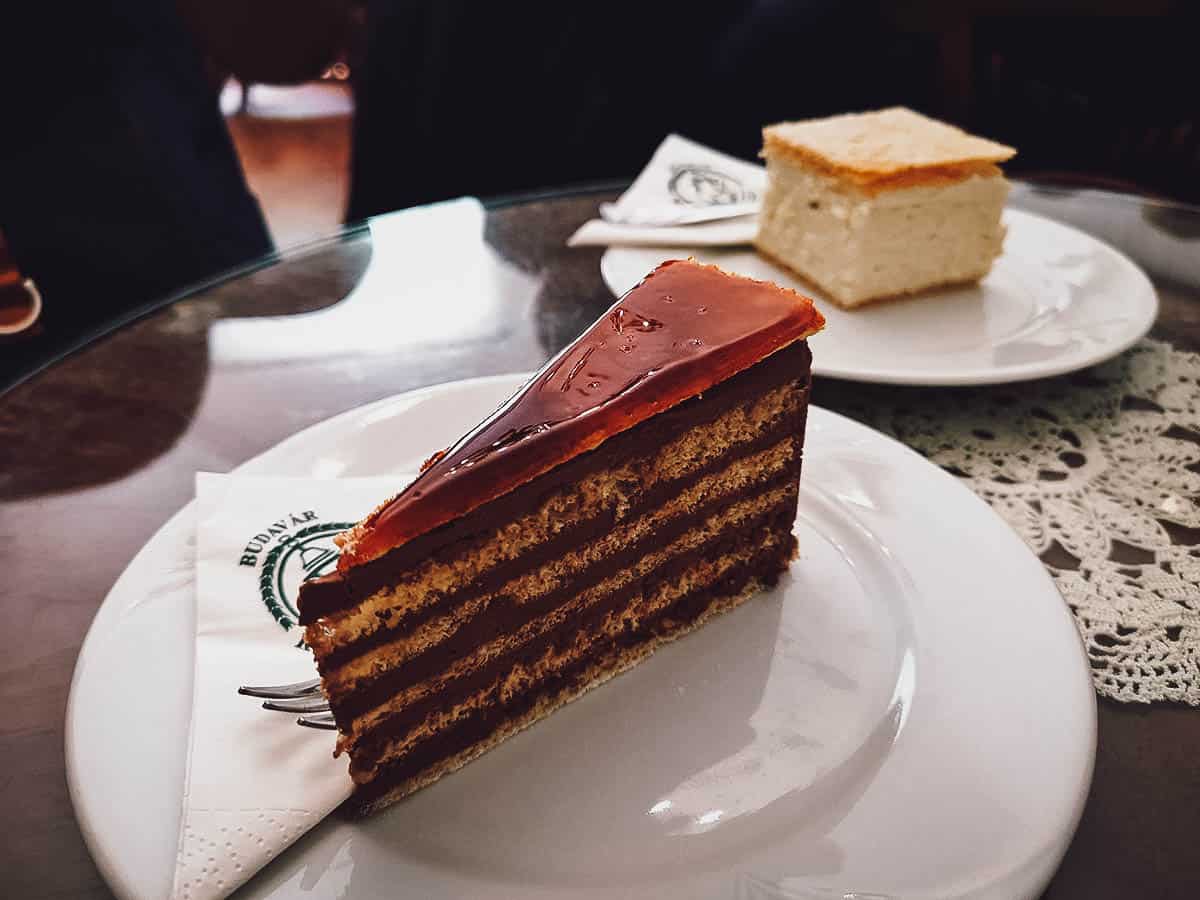 We intended to have just the dobos torte but every table seemed to be enjoying this cream cake as well. Called kremes in Hungarian, it consists of a generous amount of smooth pastry cream sandwiched between two layers of puff pastry.
Soft, rich, and creamy, I actually preferred this kremes to the dobos torte. It was delicious and perfect with coffee.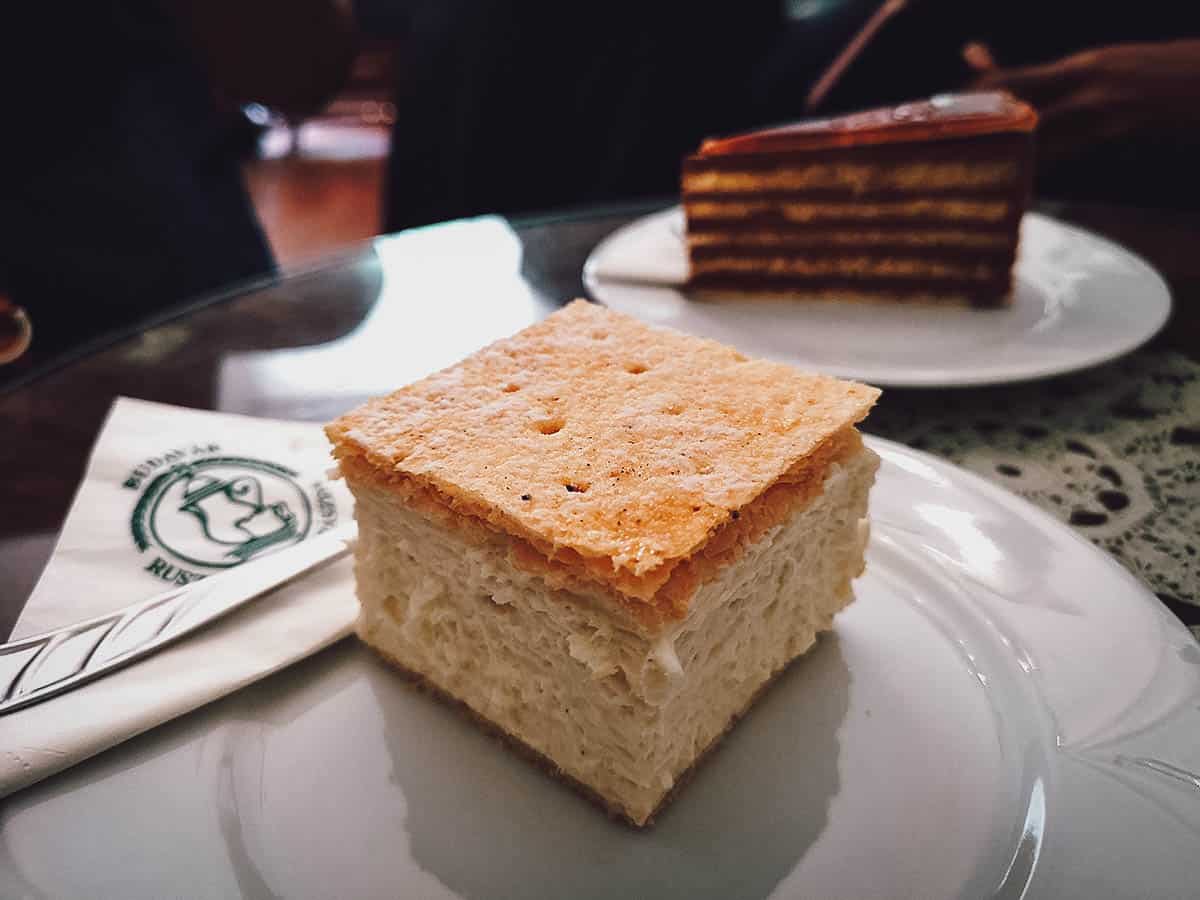 Located less than a hundred meters from Matthias Church, Ruszwurm Confectionery is a Budapest institution. It's the perfect place to stop for coffee and cake after visiting Matthias Church and the Fisherman's Bastion.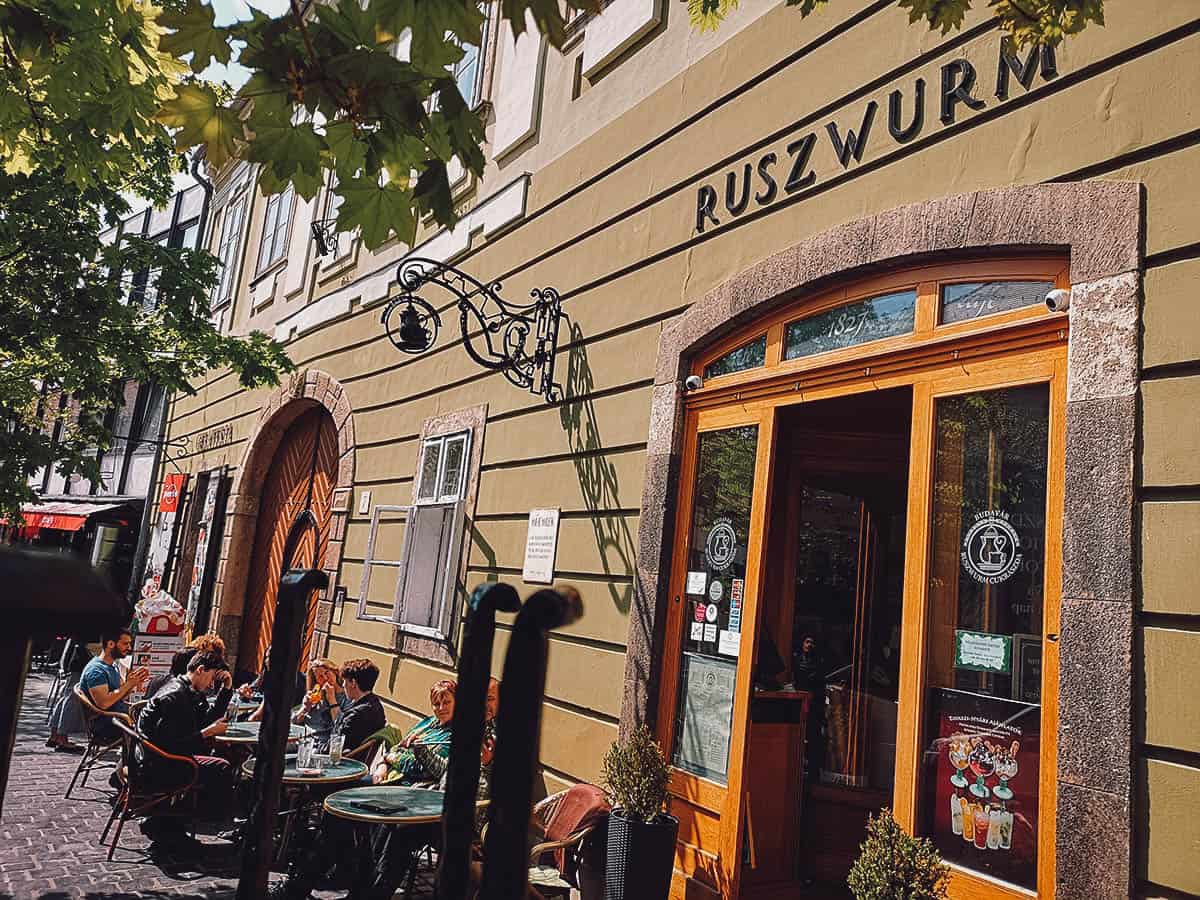 Ruszwurm Confectionery
Address: Budapest, Szentháromság u. 7, 1014 Hungary
Operating Hours: 10AM-6PM, daily
What to Order: Cakes
Expect to Pay: About HUF 600-800 for a slice of cake
11. Gelarto Rosa
Have you seen those rose-shaped gelato cones on Instagram? In Budapest, Gelarto Rosa near St. Stephen's Basilica is the place to go to have them.
You choose 2-4 flavors then the servers will prepare the gelato in the shape of a flower.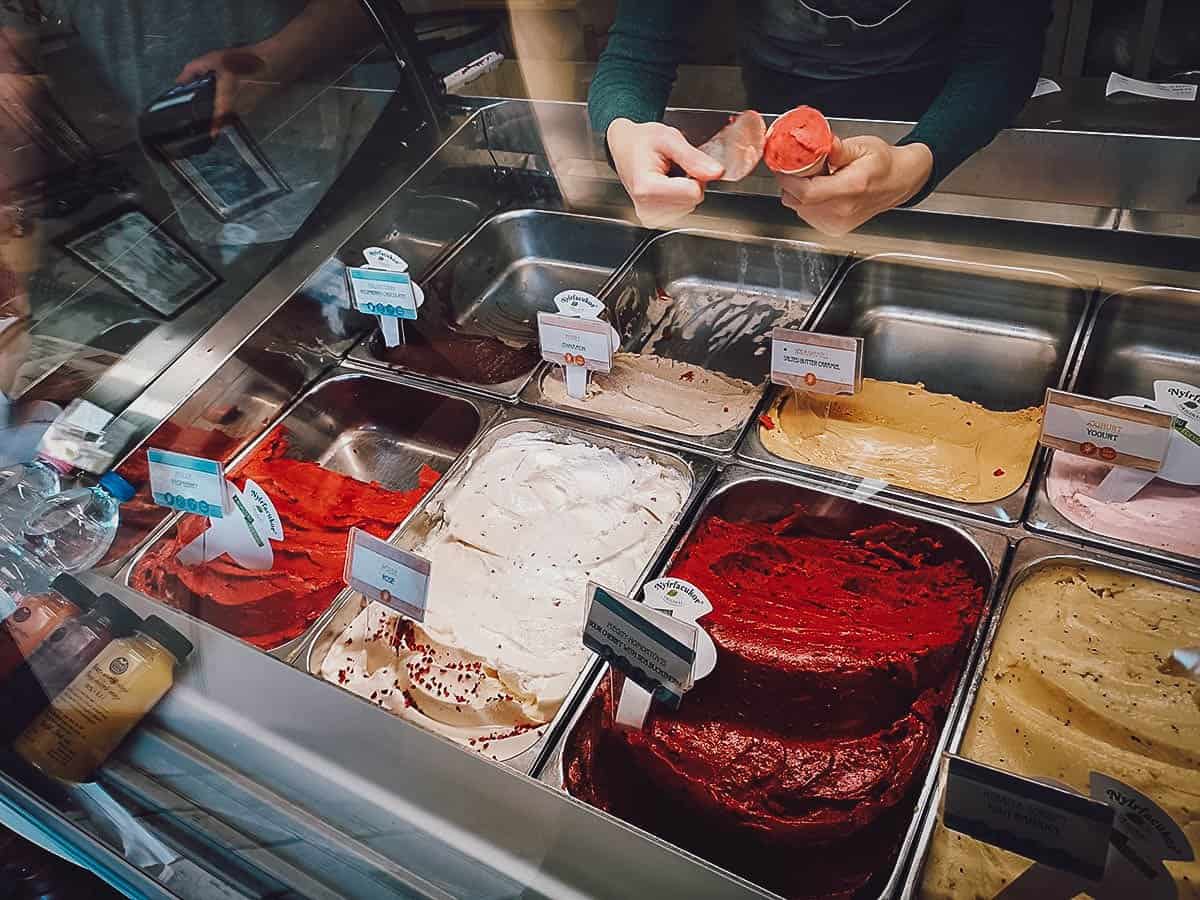 And there you have it! The perfect St. Stephen's Basilica shot. It may be touristy and cliched but who cares? It's gelato, it's pretty, and it tastes damn good.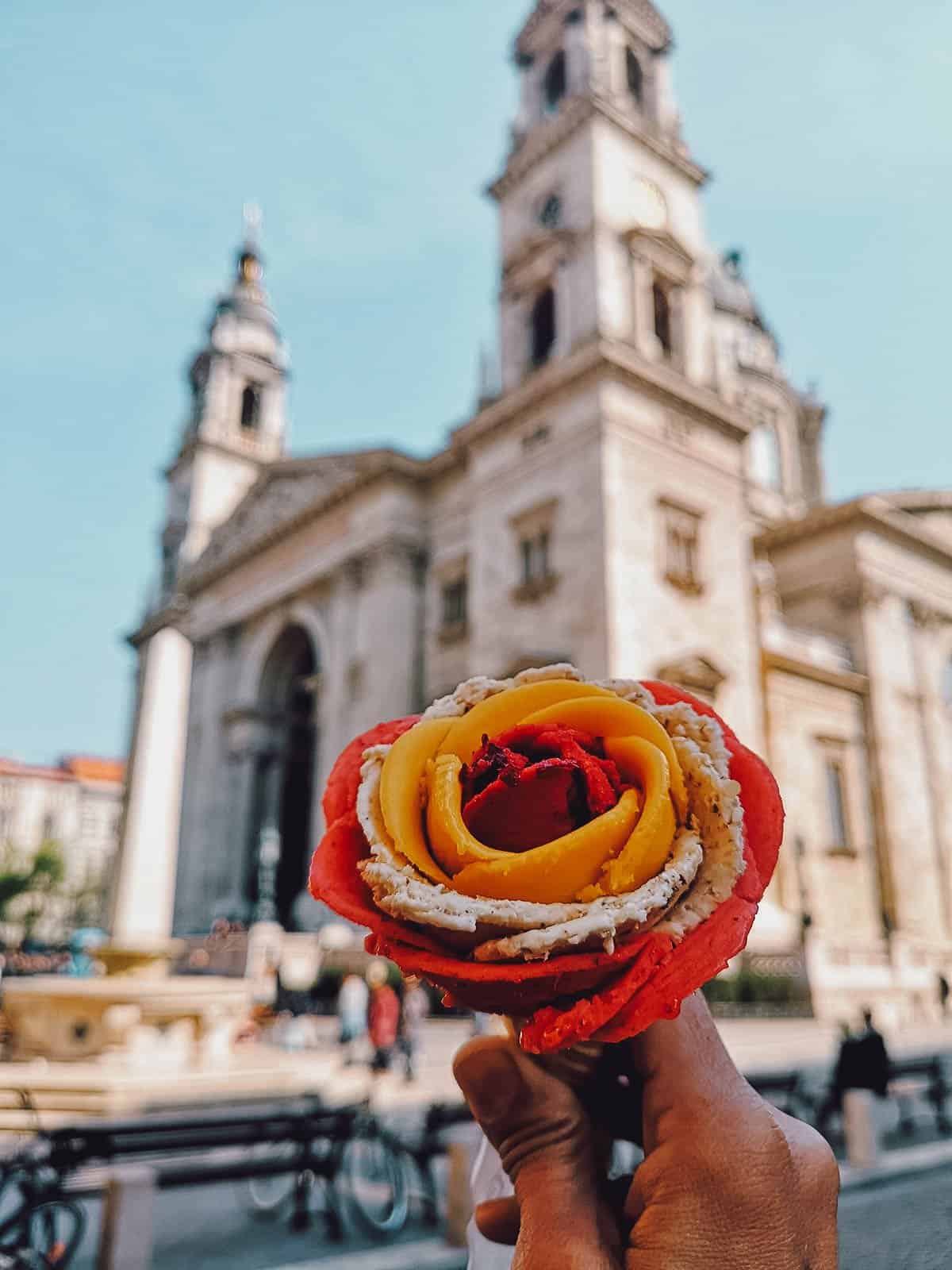 Gelarto Rosa is about 50 meters from St. Stephen's Basilica.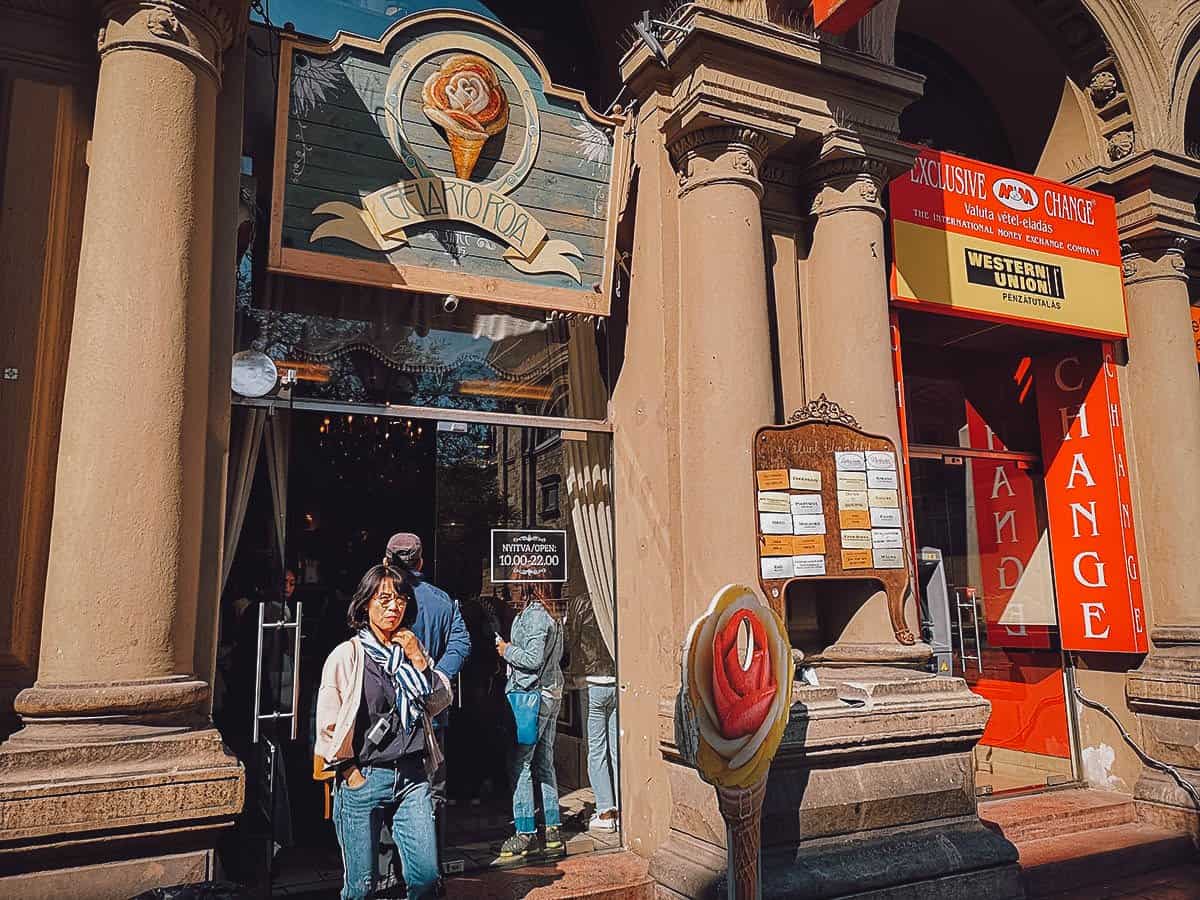 Gelarto Rosa
Address: Budapest, Szent István tér 3, 1051 Hungary
Operating Hours: 10AM-10PM, daily
What to Order: Rose-shaped gelato
Expect to Pay: About HUF 800-1,100 for 2-4 flavors
12. The Box Donut
If you think rose-shaped gelato is so last year, then perhaps you'd prefer to spruce up your IG feed with a square-shaped donut instead. Located around the corner from Gelarto Rosa is The Box Donut and their delicious cream-filled square donuts.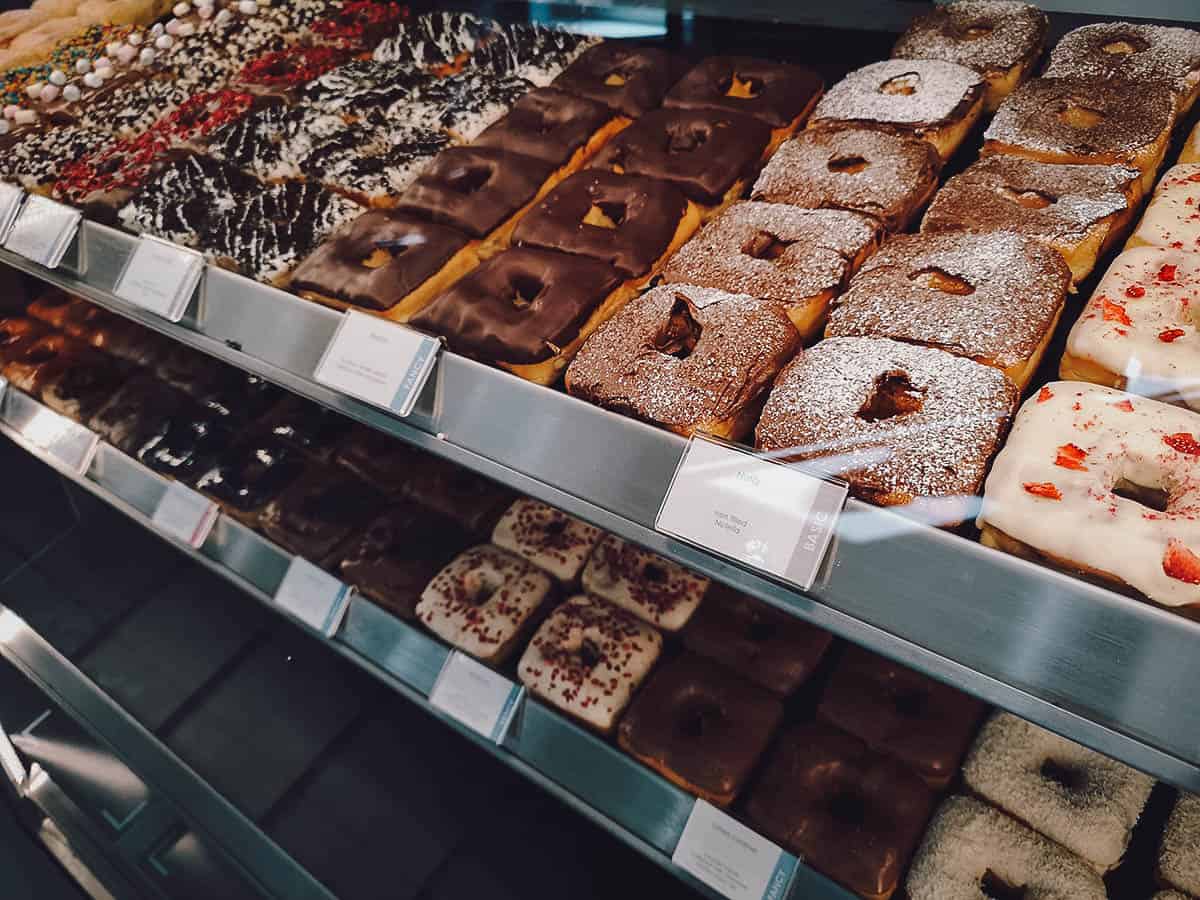 What do you think? A decent alternative to gelato ice cream cones? Maybe not. Ha!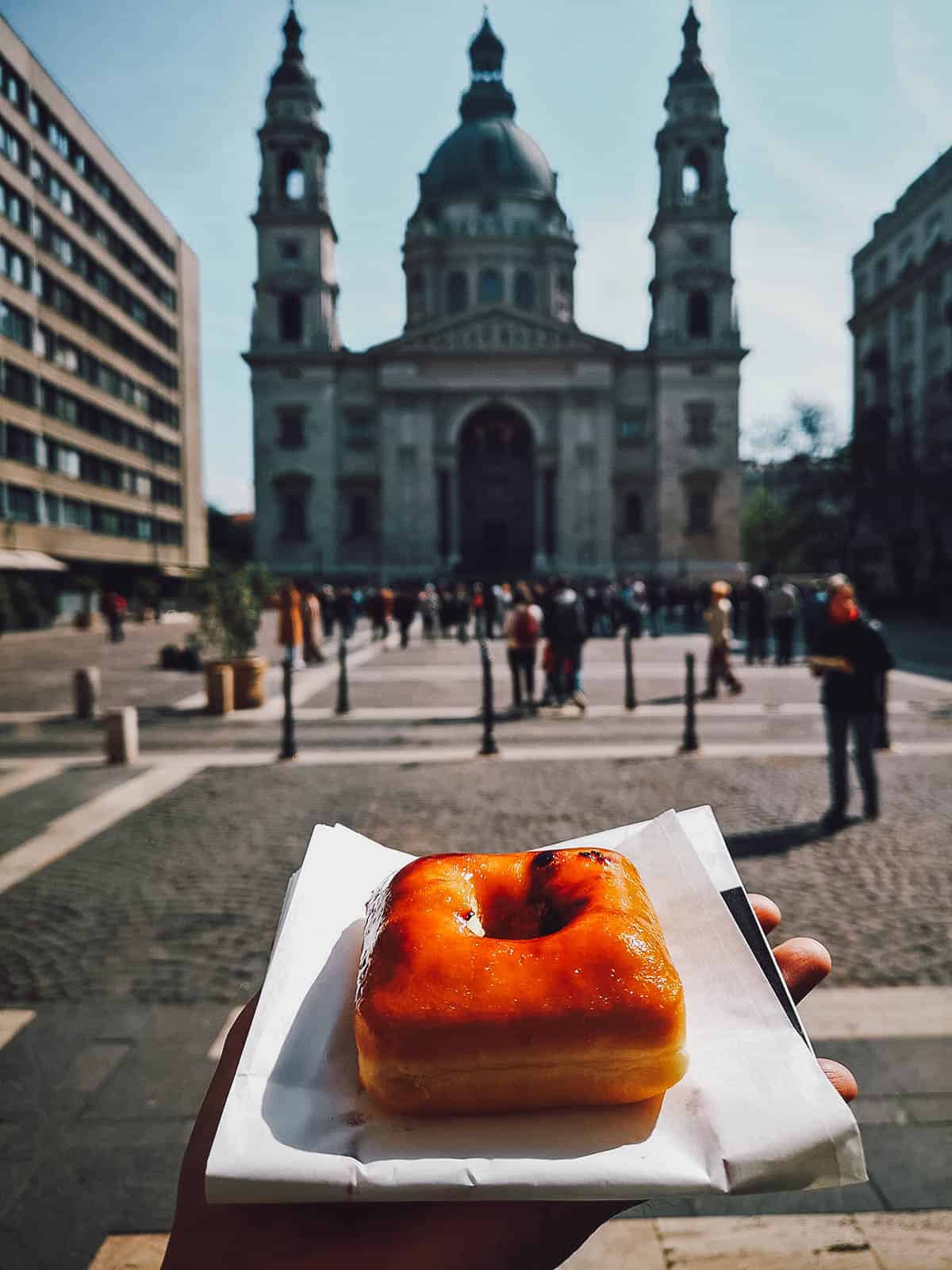 How good does this look? We got this creme brulee and a blueberry, both of which were delicious.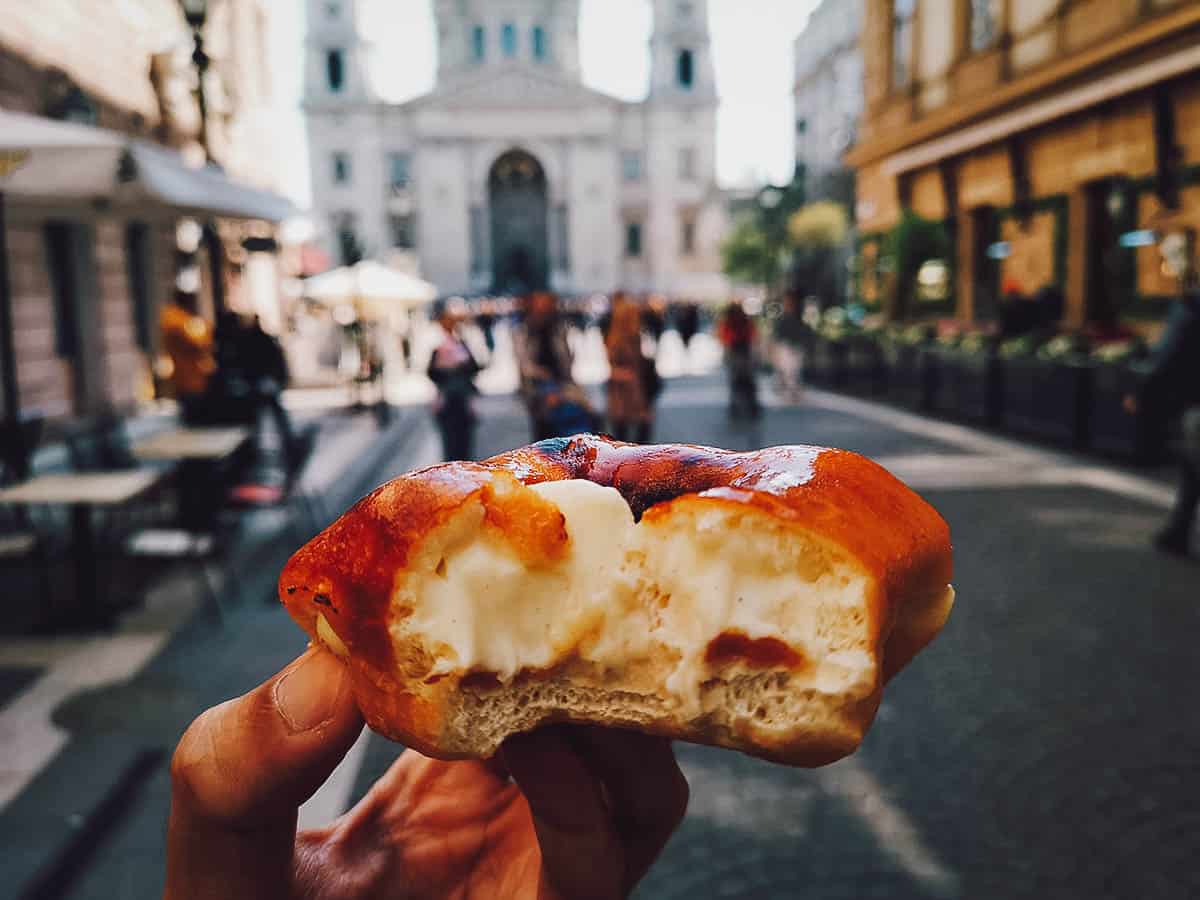 Like Gelarto Rosa, The Box Donut is a Certificate of Excellence awardee with an impressive 4.5-star rating on TripAdvisor.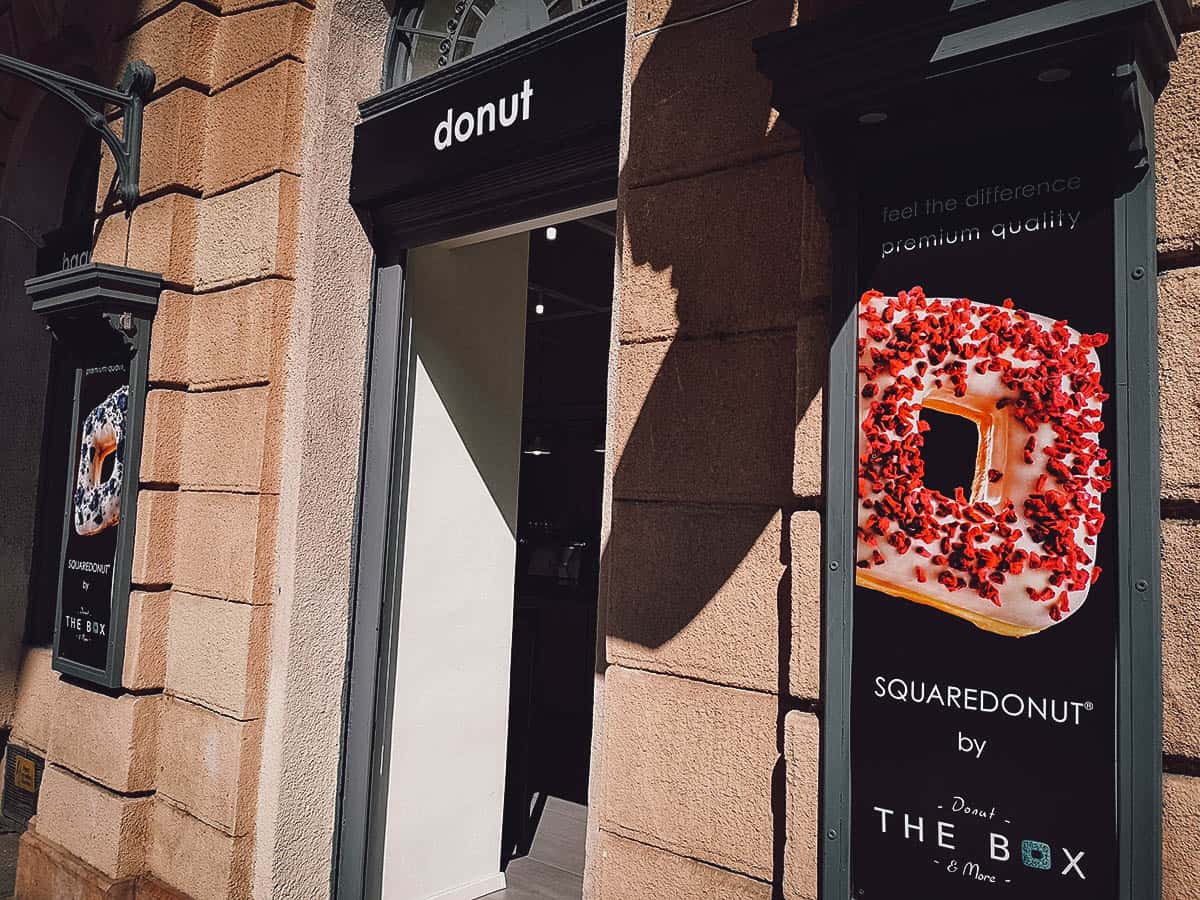 The Box Donut
Address: Budapest, Teréz krt. 62, 1066 Hungary
Operating Hours: 7:42AM-8:08PM, Mon-Sat / 9:42AM-8:08PM, Sun
What to Order: Squaredonuts
Expect to Pay: About HUF 550 per donut
13. Gozsdu Udvar
We found this place by chance, which goes to show how many cool pockets there are to be discovered in Budapest.
Gozsdu Udvar refers to a cluster of seven buildings and six interconnected courtyards in the Jewish Quarter. It houses a series of interesting restaurants, bars, cafes, galleries, and shops.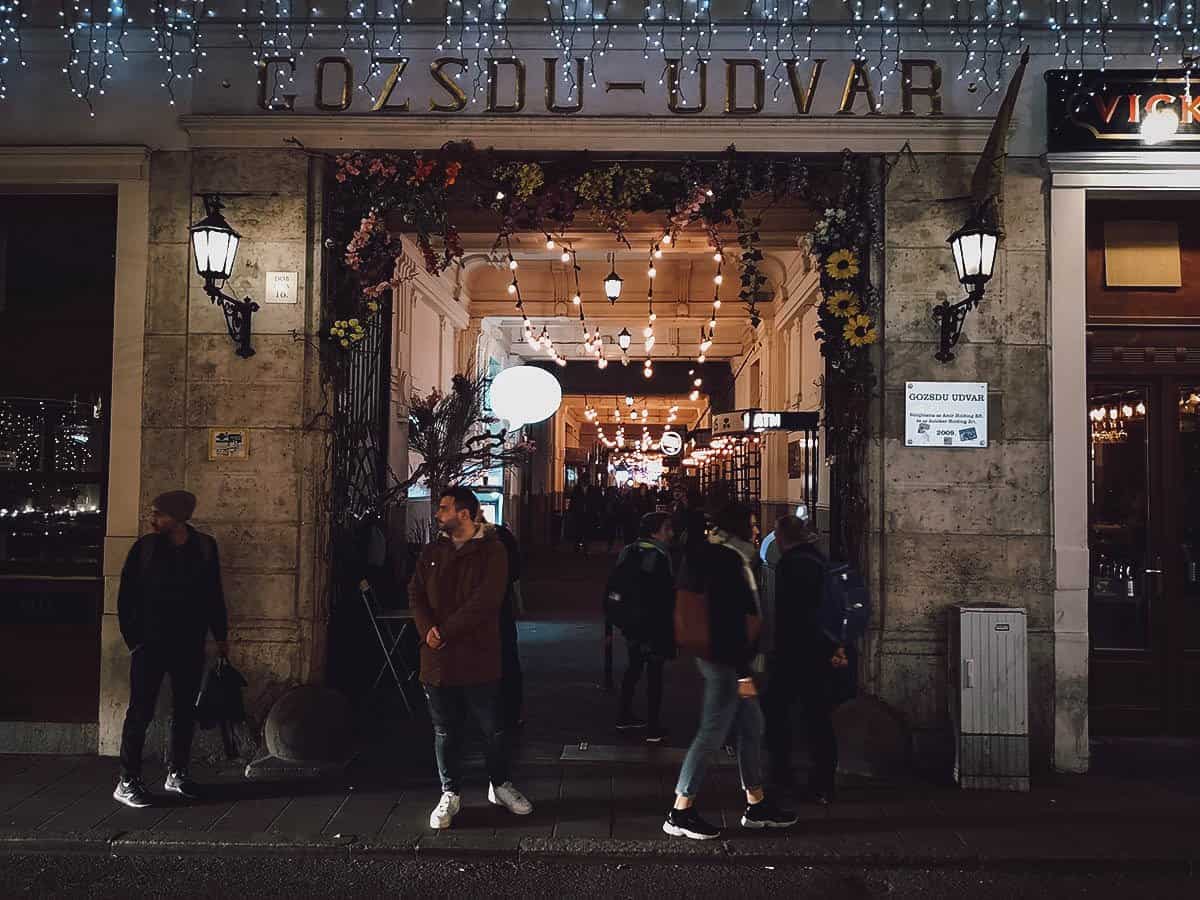 This place is lively and a lot of fun. It's similar in vibe to the area around Szimpla Kert, though perhaps with a slightly older clientele.
There are plenty of great-looking restaurants at Gozsdu Udvar but we already had dinner so we just stopped at some random bar for a quick drink. Do check this place out as many of the establishments here look promising.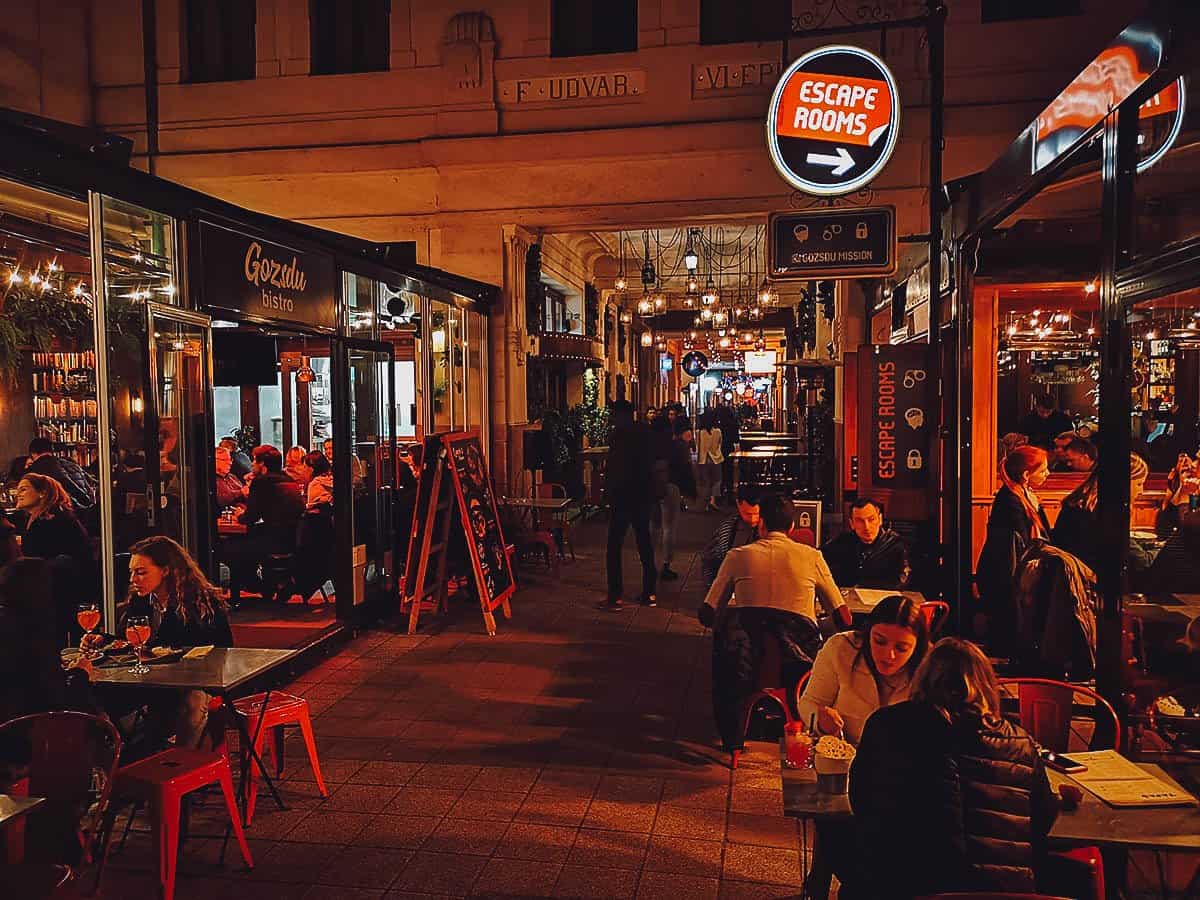 Can you spot Ren? Gozsdu Udvar is a TripAdvisor Certificate of Excellence awardee with an impressive 4.5-star rating.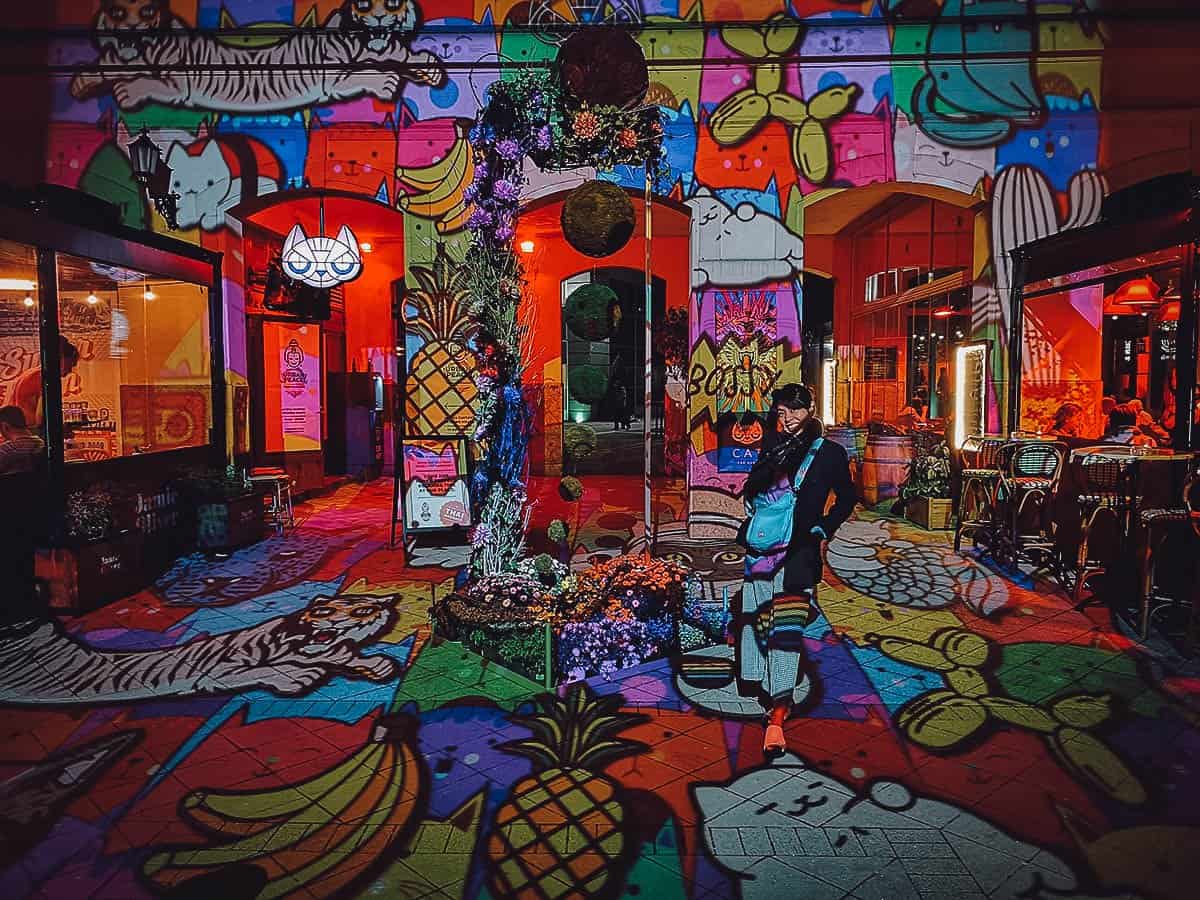 Gozsdu Udvar
Address: Budapest, Gozsdu udvar, 1075 Hungary
Operating Hours: 10AM-3AM, daily
BUDAPEST FOOD TOURS
It goes without saying that no one knows the food in Budapest better than a local, so what better way to experience Budapest's cuisine than by going on a food tour? A knowledgeable local will guide you to the best restaurants and markets in Budapest and explain all the Hungarian dishes to you in more detail. Check out Get Your Guide for a list of Budapest food tours.
LOCATION MAP
To help you find them, I've pinned all the Budapest restaurants recommended in this guide on an interactive map, including a few others that we couldn't get to. Most are located in the Pest side which is the trendier, less touristy part of the city.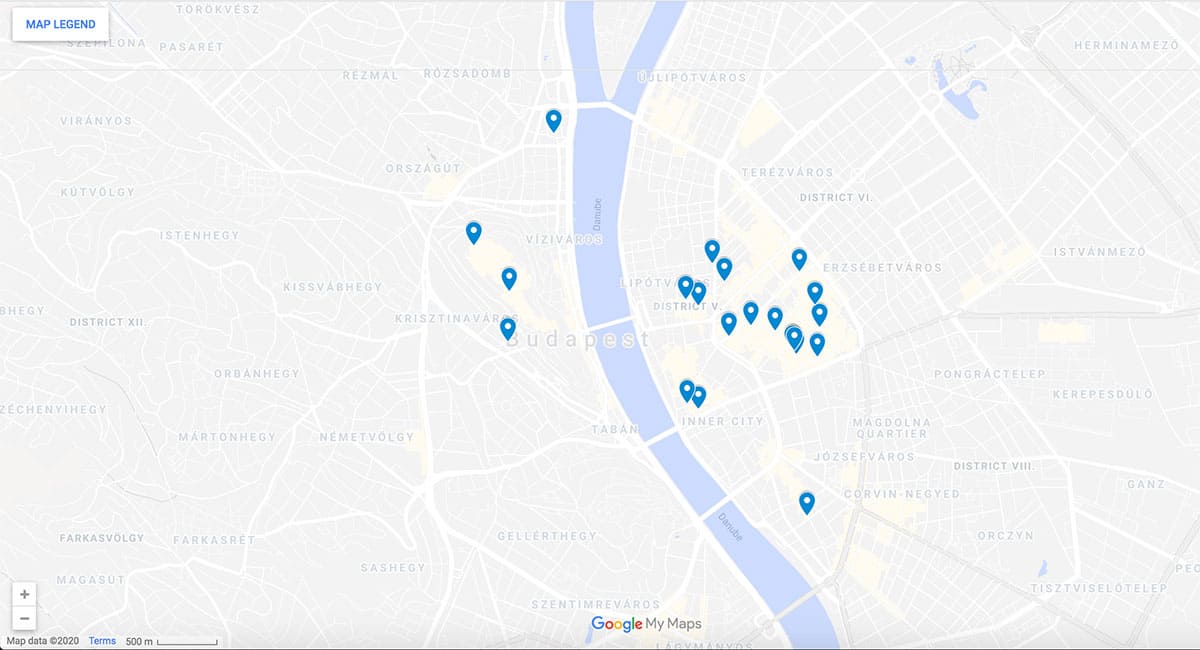 Budapest is such a vibrant and exciting city. It's bursting with creative energy which is something I never expected. And as you can see above, that creative energy translates into the food.
There are only a handful of cities that we've fallen in love with to such a degree that we actually want to move there. Budapest is one of those cities.
We're excited to go back and explore more of Budapest. And next time, we'll stay much longer so we can do a deep dive into the cuisine, both traditional and modern. I bet we could come up with food guides on just the trendy burger bars and pizzerias alone!
Until then, I hope this food guide of thirteen leads you to some great meals in Budapest. Believe me, there are plenty.
Disclosure
Some of the links in this Budapest food guide are affiliate links, meaning we'll earn a small commission if you make a booking or reservation at no added cost to you. As always, we only recommend products and services that we use ourselves and firmly believe in. We really appreciate your support as this helps us make more of these free travel guides. Thank you!