If you look at a map, then you'll see that Ecuador is a small country, one of the smallest in South America. But in spite of its size, it's a geographically diverse region featuring four distinct landscapes – the Andean highlands, Amazon jungle, Pacific coast, and the wildlife-rich Galapagos Islands.
Ecuador's varied topography and wildly different climates make it an exciting place to visit for adventure seekers. But also for Traveleaters looking for interesting food.
As you'll find in this guide on traditional Ecuadorian food, much of this equatorial country's diversity carries over into its rich and delicious cuisine.
ECUADORIAN FOOD QUICK LINKS
If you're planning a trip to Ecuador and want to really dive into the cuisine, then you may be interested in joining a traditional Ecuadorian food tour or taking a cooking class.
TOURS
Save This on Pinterest!
No time to read this article on the food in Ecuador? Click on the save button and pin it for later!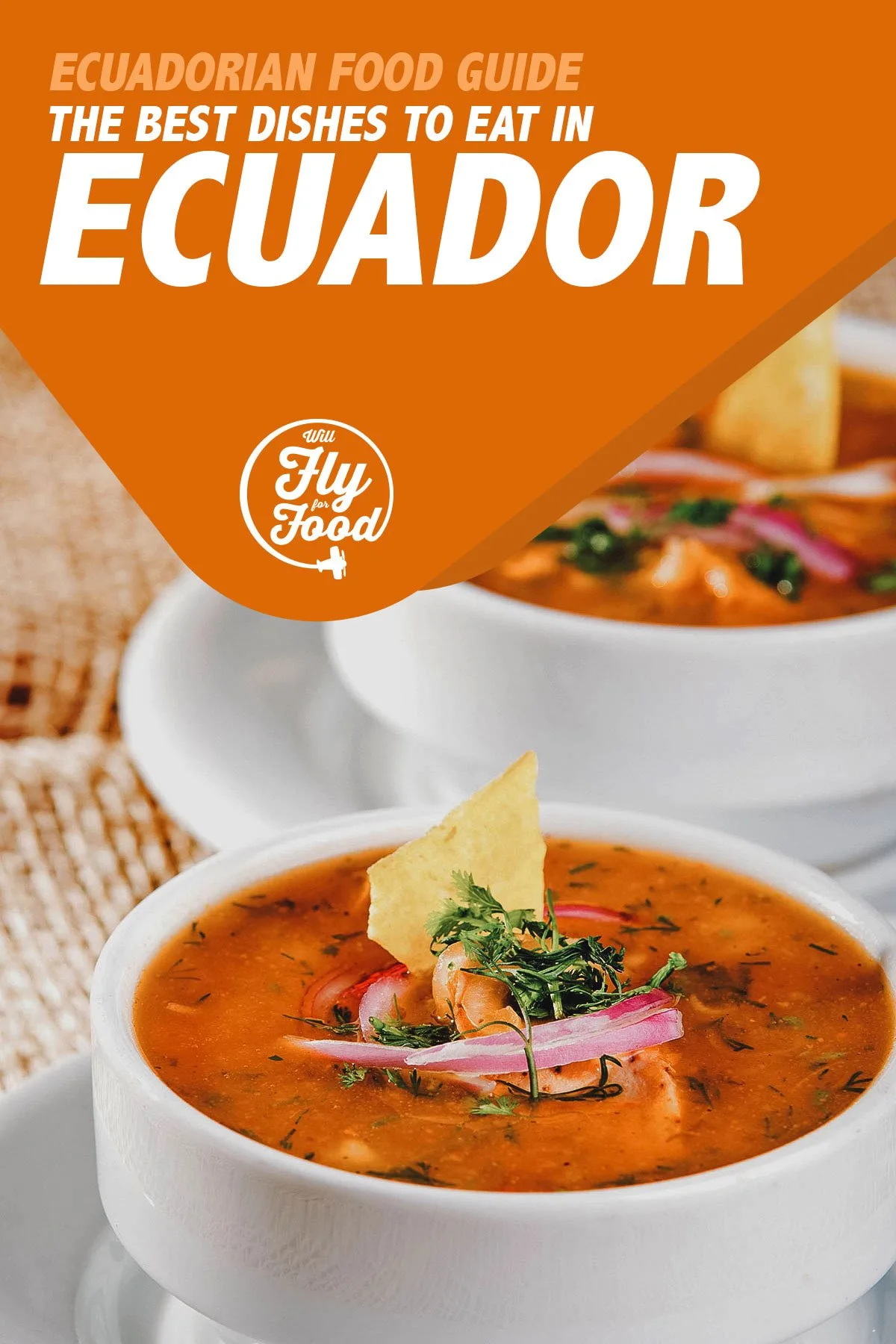 Photo by pxhidalgo
WHAT IS TRADITIONAL ECUADORIAN FOOD?
For a small country, the food in Ecuador is diverse and can vary greatly by region and altitude.
In the coastal regions, a variety of seafood, grilled steak, and chicken dishes are popular and commonly served with carbohydrate-rich foods like rice, lentils, and fried plantains. In the mountainous regions, hornado (roasted pork), chicken, beef, and cuy asado (roasted guinea pig) are more common and typically consumed with rice, potatoes, and corn.
Like many tropical countries, Ecuador is rich in fruits. Common Ecuadorian fruits include passionfruit, naranjilla, pitaya (dragon fruit), tree tomato, bananas, and green plantains. It was interesting to learn that Ecuador is the world's biggest exporter of bananas, accounting for about a third of all global shipments.
Green plantains are an important part of Ecuadorian cuisine and figure prominently in many breakfast dishes, soups, sides, snacks, and street food dishes.
THE BEST OF ECUADORIAN CUISINE
This article on traditional Ecuadorian food has been organized by category to make it easier to digest. Click on a link to jump to any section of the guide.
STARTERS / SNACKS / SIDES
1. Empanadas de Viento
The empanada is a staple snack enjoyed in many countries throughout Latin America. Originally from Spain, its name stems from the Galician word empanar, which means "to bread" or "to wrap in bread". It's become a very popular dish in many former Spanish colonies like Ecuador, Chile, Venezuela, Argentina, Bolivia, and the Philippines.
An empanada is a baked or fried turnover pastry made with dough folded over a filling. Depending on where it's from, it can be filled with various ingredients like ground meat, potato, cheese, tomato, hard-boiled egg, raisins, and corn. In Ecuador, you'll find several variations of this traditional food but the most common is empanada de viento.
Empanada de viento refers to an Ecuadorian-style fried empanada filled with cheese (and sometimes onions). A popular breakfast dish or street food, it doesn't sound as interesting as the more elaborate empanadas but what makes it unique is the granulated sugar that's sprinkled on top after deep-frying in oil. The combination of stringy cheese, onions, and sugar with the crispy fried pastry shell is absolutely delicious.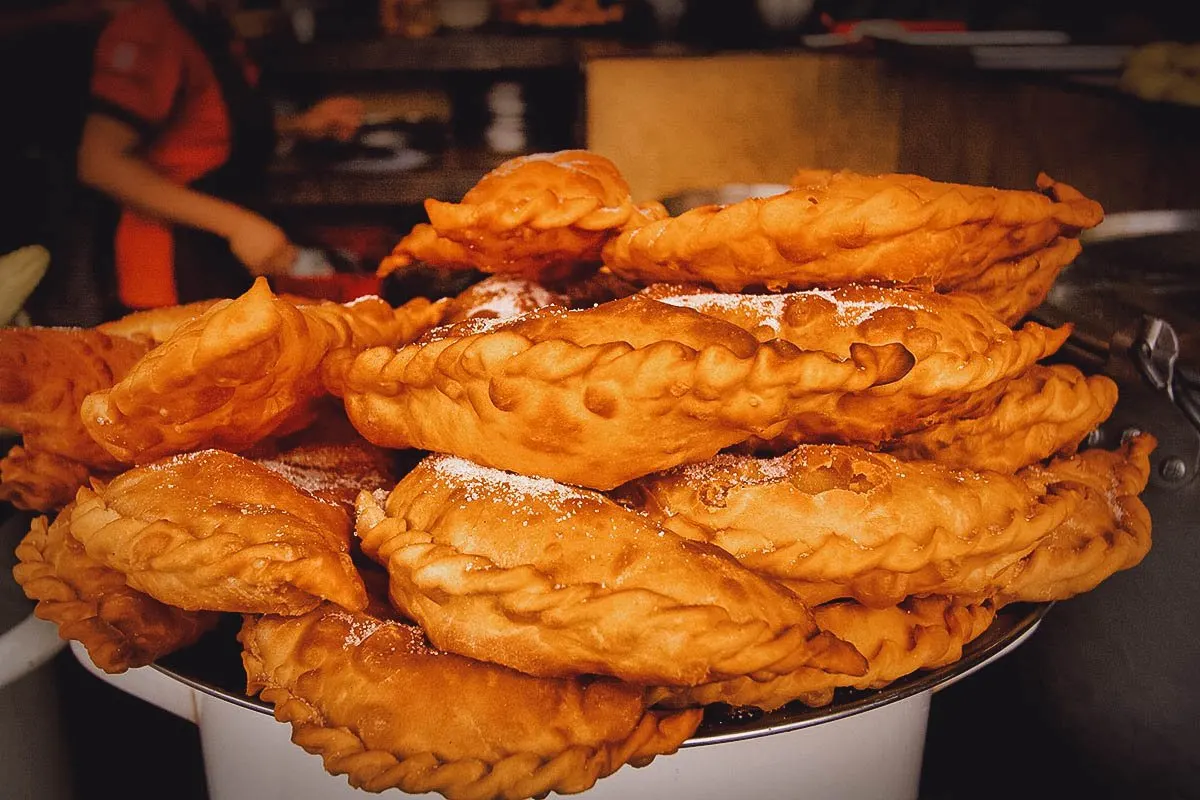 Photo by pxhidalgo
For people who understand Spanish, you may be wondering how this Ecuadorian-style empanada got its name. Empanadao de viento literally means "wind empanada" and refers to how these fried pastries are filled mostly with air. Apparently, the empanada puffs up with air no matter how much cheese you put in them so don't blame your street vendor if yours seems to have more air than cheese!
Empanada de viento is the most common but you can try other types of empanada in Ecuador like empanada de morocho (made with corn flour), empanada de verde (made with green plantains), and empanada de mejido (made with sweet custard, cheese, and raisins).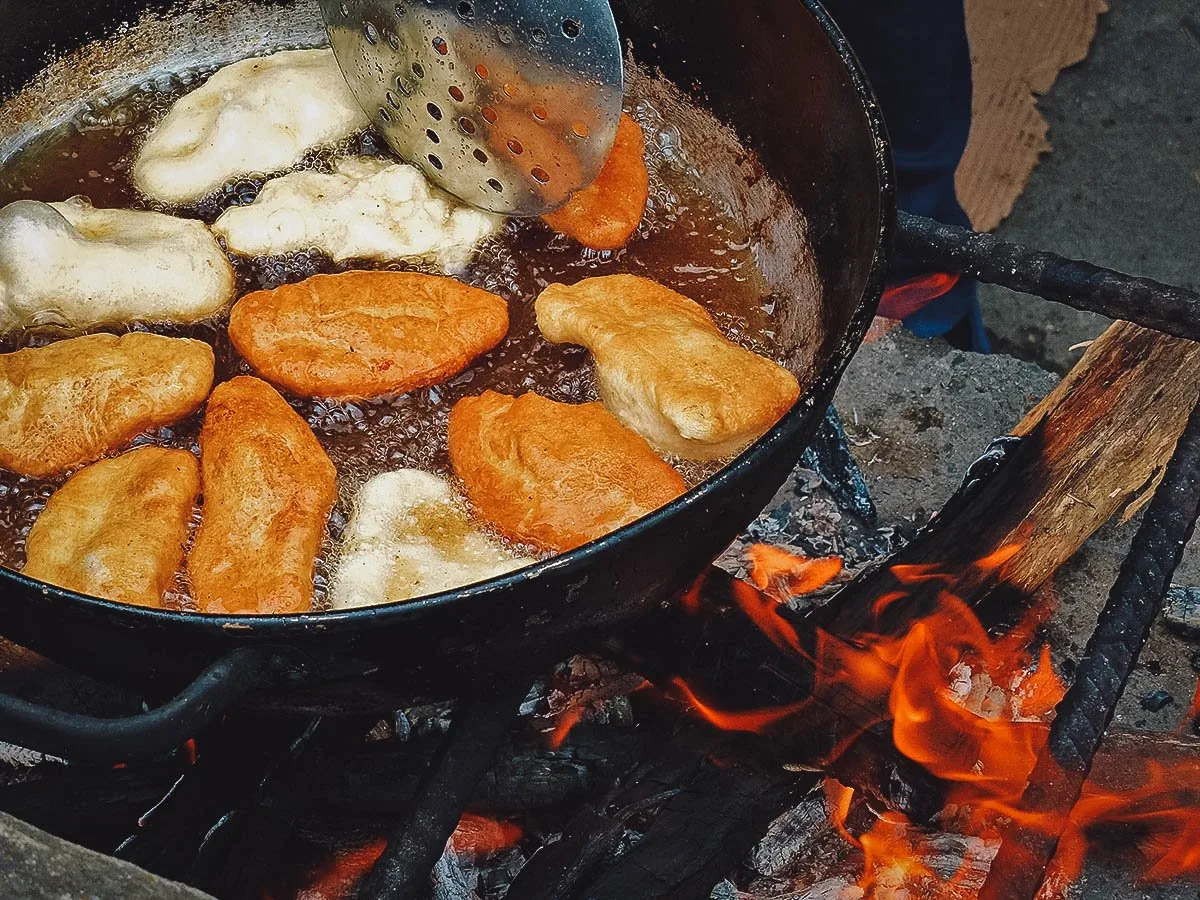 Photo by ireneuke
2. Humitas
The humita is a traditional dish from South America that pre-dates the Hispanic period. It's an ancient dish made with fresh choclo that's pounded into a paste and then wrapped in corn husk before being steamed or boiled in water. It can be found in countries throughout the Andean region like Ecuador, Peru, Bolivia, Chile, and northwest Argentina.
In Ecuador, humitas are typically made with freshly ground corn, onions, garlic, cheese, eggs, and heavy cream. They're similar to tamales except humitas are made with fresh corn instead of masa. They're popular in the Ecuadorian Highlands where they're typically eaten for breakfast or as a mid-day snack with coffee.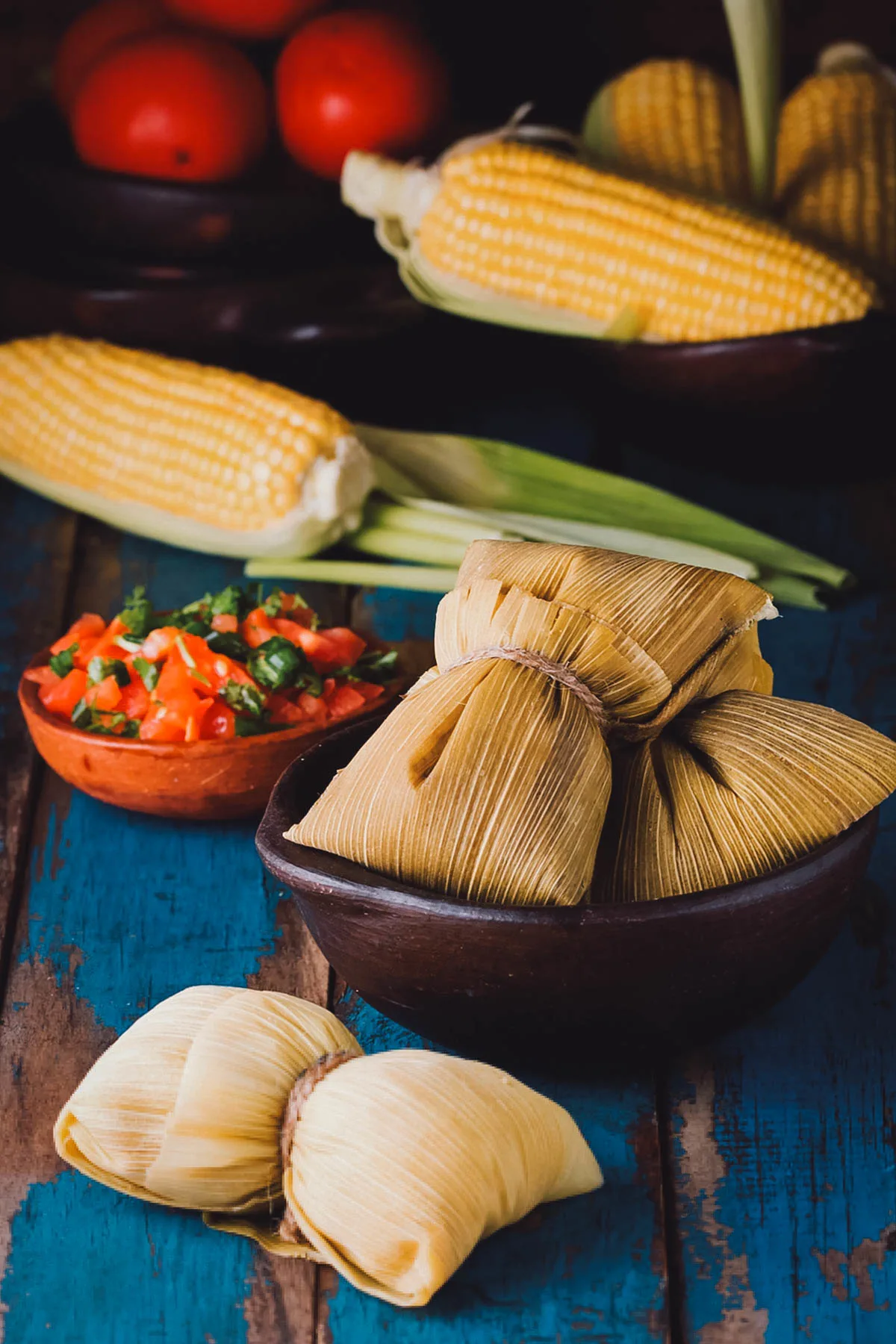 Photo by Blinovita
3. Salchipapas
Salchipapas refers to a widely consumed street food dish made with thinly sliced pan-fried beef sausages served with a mound of french fries. Originally from Lima in Peru, it's become a popular street food snack in many countries throughout Latin America like Ecuador, Colombia, Bolivia, Chile, and Argentina.
Salchipapas is a portmanteau word for salchicha (sausage) and papa (potatoes). It can be toped with various condiments like ketchup, mustard, and hot sauce and served with a variety of side dishes like cheese, lettuce, tomatoes, red onions, and a fried egg. It's a greasy but delicious dish that's easy to make.
If you'd like to make this street food classic yourself, then check out this recipe from popular Ecuadorian food blog Laylita's Recipes. Topped with tomato onion curtido salsa and a homemade salsa rosada, it looks absolutely delicious!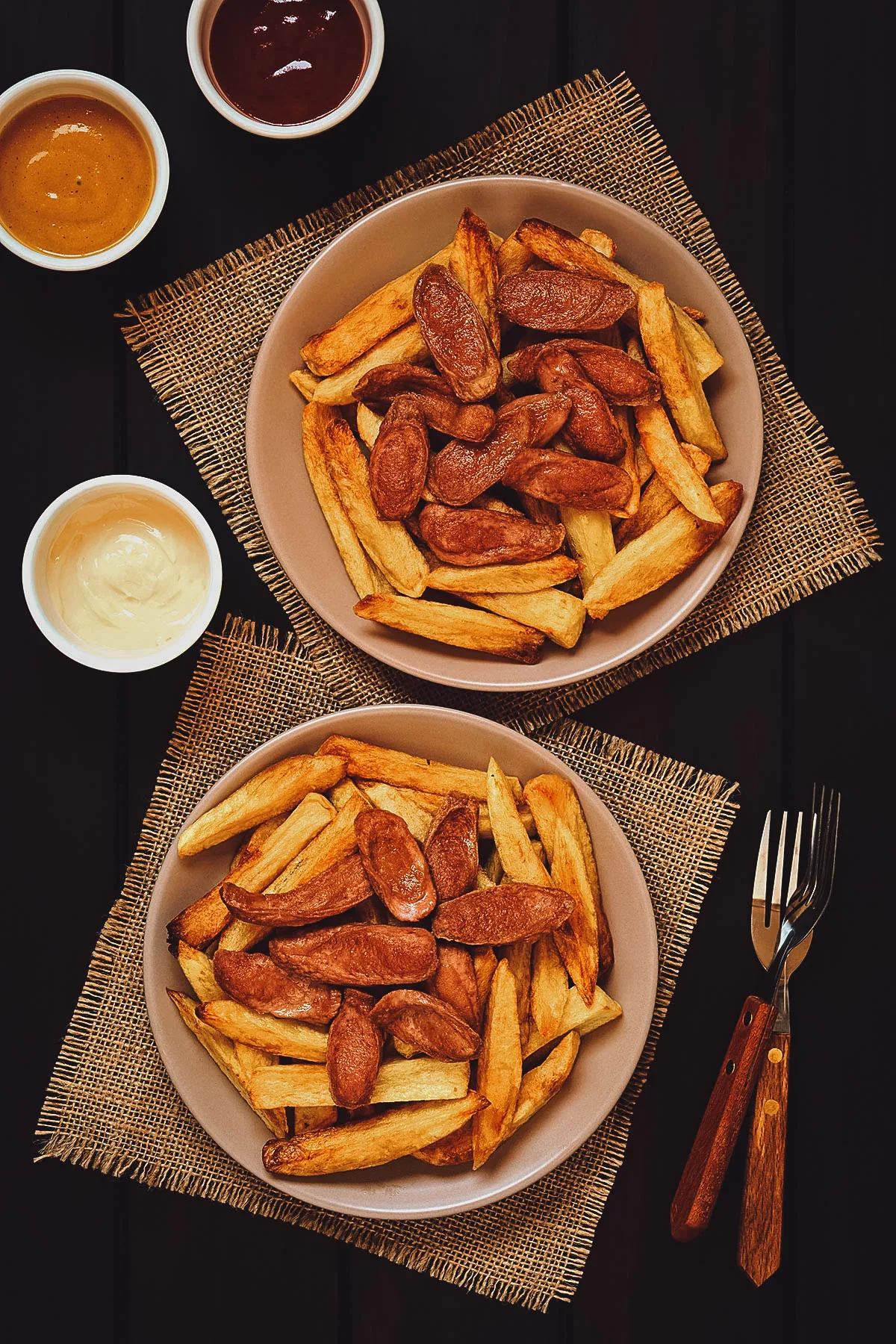 Photo by ildi_papp
4. Llapingachos
Llapingachos are Ecuadorian fried potato cakes made with boiled and mashed potatoes seasoned with onions and spices and stuffed with cheese. The potato patties are cooked on a griddle till they're golden brown and crispy on the outside and soft and creamy on the inside.
These delicious fried potato cakes are typically served with salsa de mani (creamy peanut sauce) and eaten for breakfast or lunch with different side dishes like chorizo sausages, avocados, fried eggs, lettuce, and a pickled red onion and tomato salad. If you like some heat in your food, then you can enjoy them with a good drizzle of aji criollo hot sauce.
Like humitas, llapingachos pre-date Hispanic times and are a delicious example of Ecuadorian Highland food. Its name stems from the Kichwa word llapina, meaning "to crush into a soft and mushy consistency".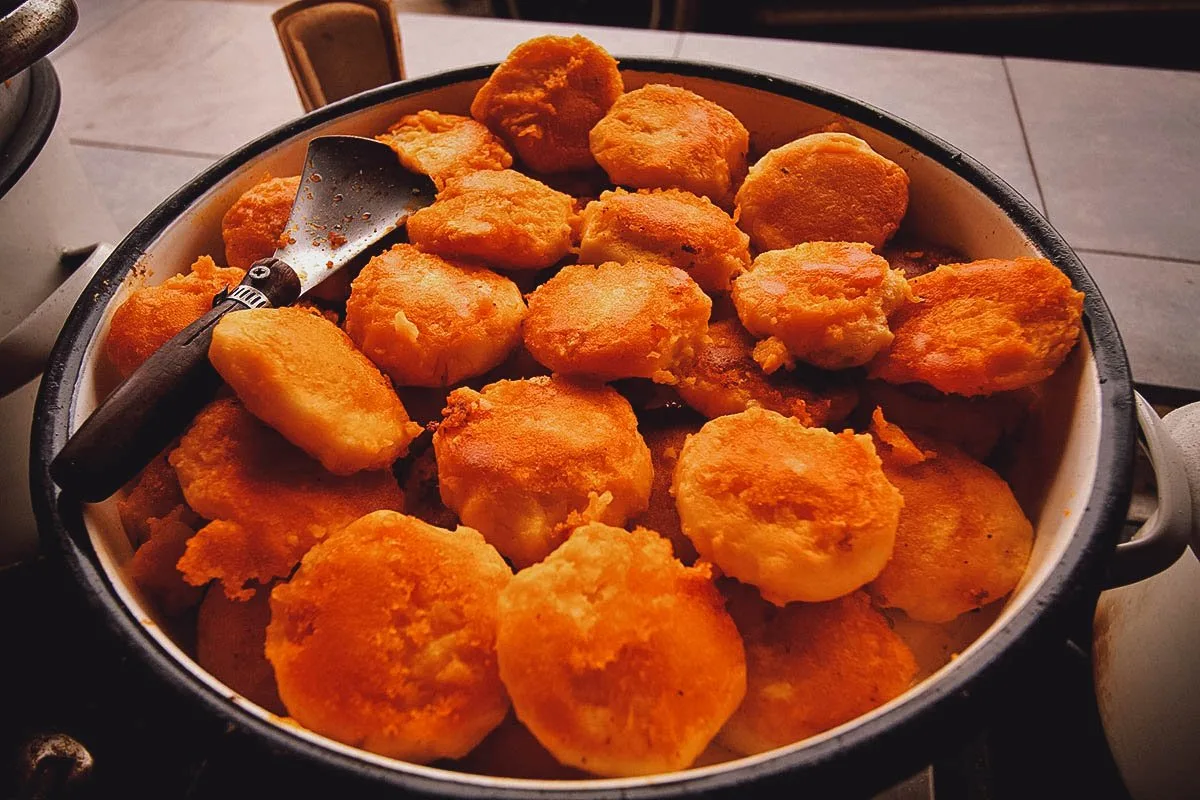 Photo by pxhidalgo
5. Bolon de Verde
Bolon de verde literally means "big green ball" and refers to a popular traditional food in Ecuador made with mashed cooked green plantains stuffed with cheese and/or chicharrones (Ecuadorian deep-fried fatty pork). Popular in the coastal regions of Ecuador, they're shaped into fist-sized balls and then deep-fried till crispy.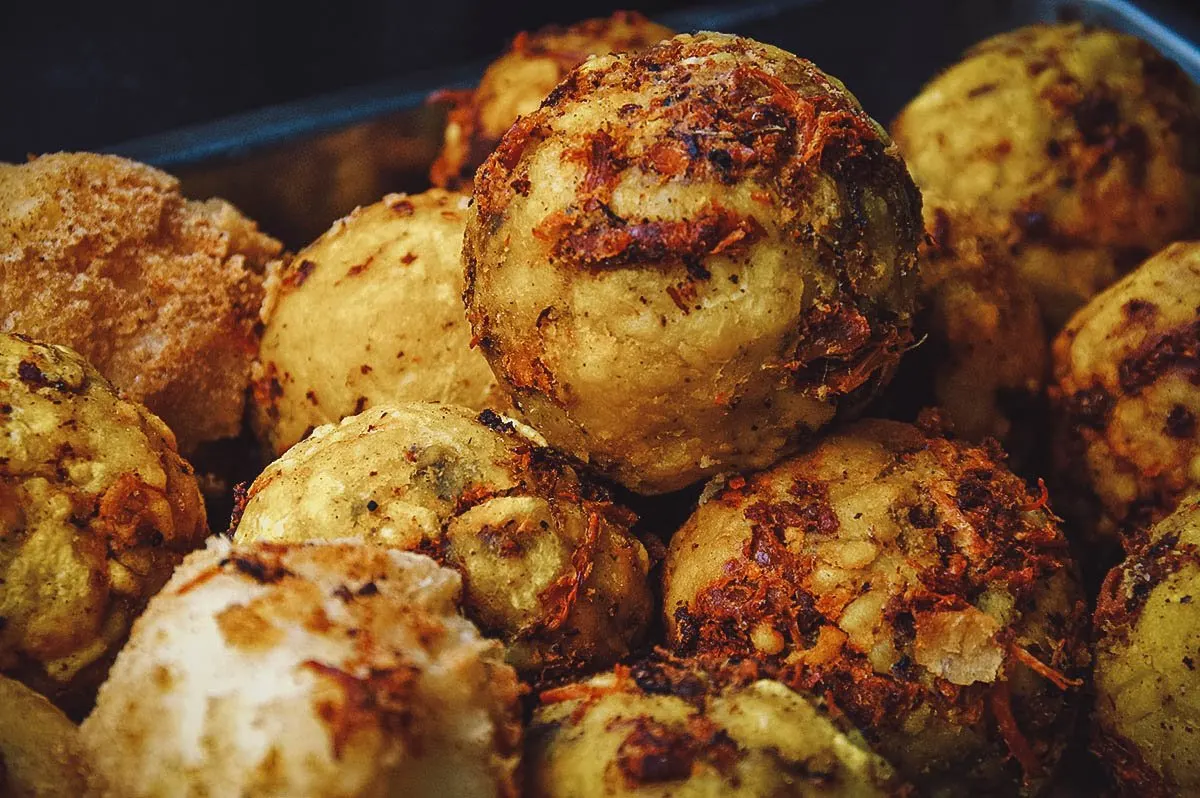 Photo by pxhidalgo
Early risers may be wondering, "What is a typical breakfast in Ecuador?" Well, you're looking at it.
Bolon de verde is generally served for breakfast or brunch in Ecuador, often with hot sauce, avocado slices, tomatoes, and a fried egg. They also make for a delicious side dish or appetizer.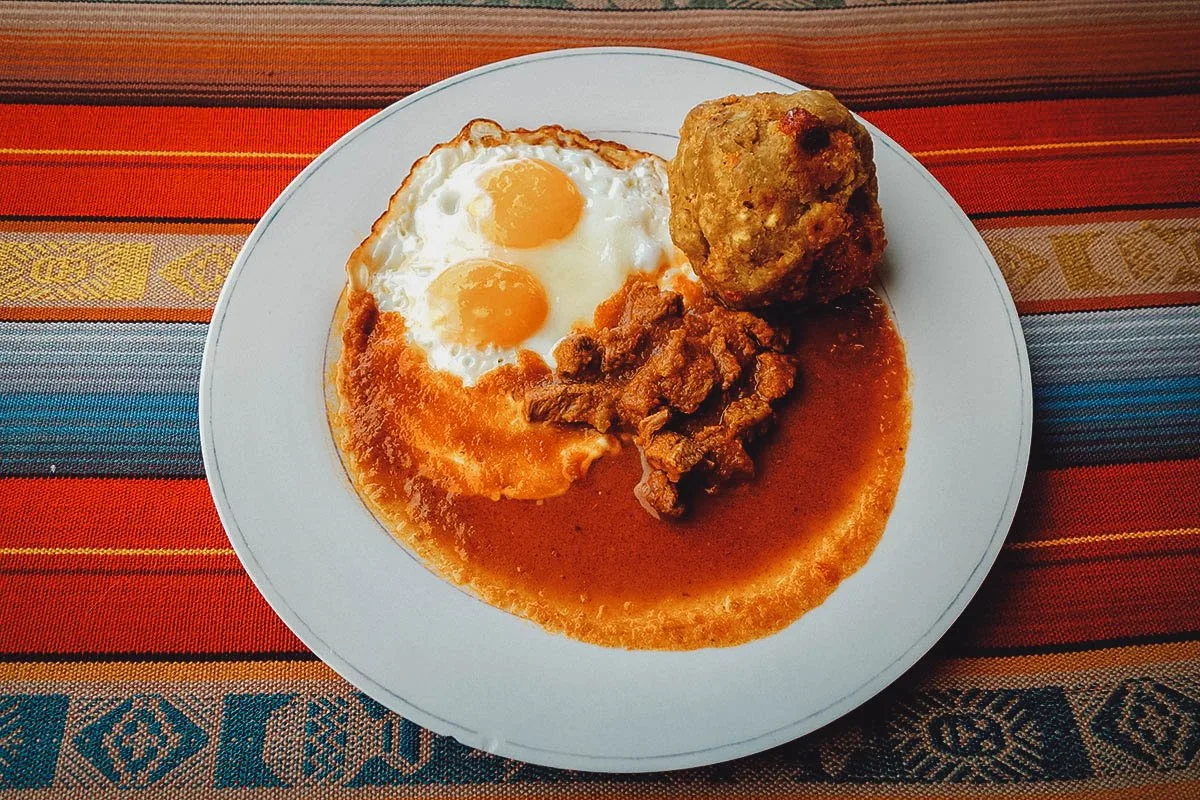 Photo by pxhidalgo
6. Muchines de Yuca
If bolon de verde looks appealing to you, then you may want to try muchines de yuca as well. It refers to a traditional food in Ecuadorian cuisine consisting of deep-fried cassava balls or spheres filled with cheese. They're popular in the coastal regions of Ecuador where they're typically served for breakfast with fried eggs or as an appetizer with hot sauce and a small salad.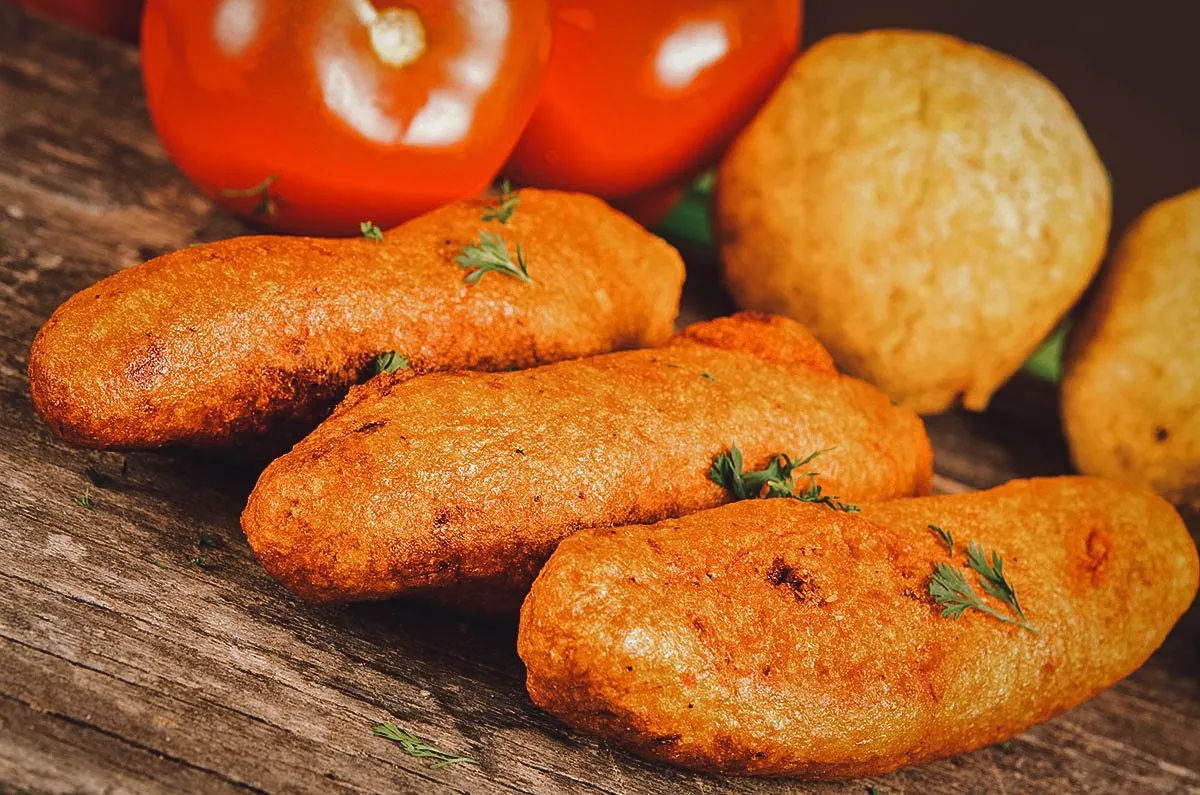 Photo by pxhidalgo
7. Chifles
Chifles are thinly sliced chips made from green plantains. These crunchy plantain chips are a popular snack or side dish in Ecuador and can also be found in varying forms in other countries throughout Latin America like Peru, Bolivia, Guatemala, the Dominican Republic, Puerto Rico, and Venezuela.
To make these crunchy plantain chips, green plantains are submerged in salt water after removing the peel. They're then cut into thin slices, either across to make round slices or lengthwise to make strips. The slices are then deep-fried in oil till golden brown and crispy.
Fried plantain chips in Ecuador can be savory, sweet, or spicy. They can be enjoyed on their own as a snack or eaten as a side dish with other traditional dishes like encebollado and ceviche.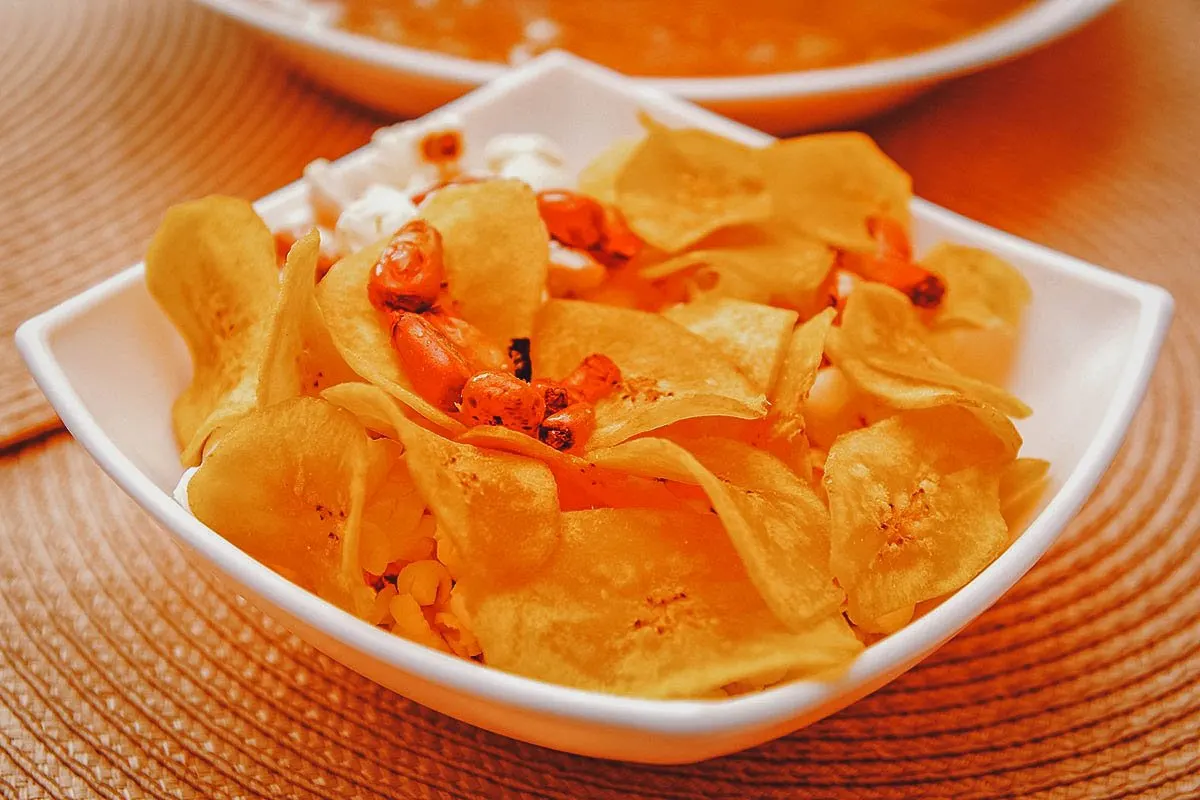 Photo by pxhidalgo
SOUPS / STEWS
8. Locro de Papa
Locro refers to a thick and hearty stew consumed by people living in the Andean region of South America. Depending on where it's from, locro can be made with different ingredients but in Ecuador, it's typically made with potato and cheese.
Locro de papa or Ecuadorian potato soup or stew is made with local potatoes, onions, garlic, queso fresco (fresh cheese), milk, and spices. The ingredients are simmered and cooked together before adding the cheese which melts into the thick broth. Soups like locro de papa are often served as the first course in Ecuadorian meals, usually with avocados and aji hot sauce.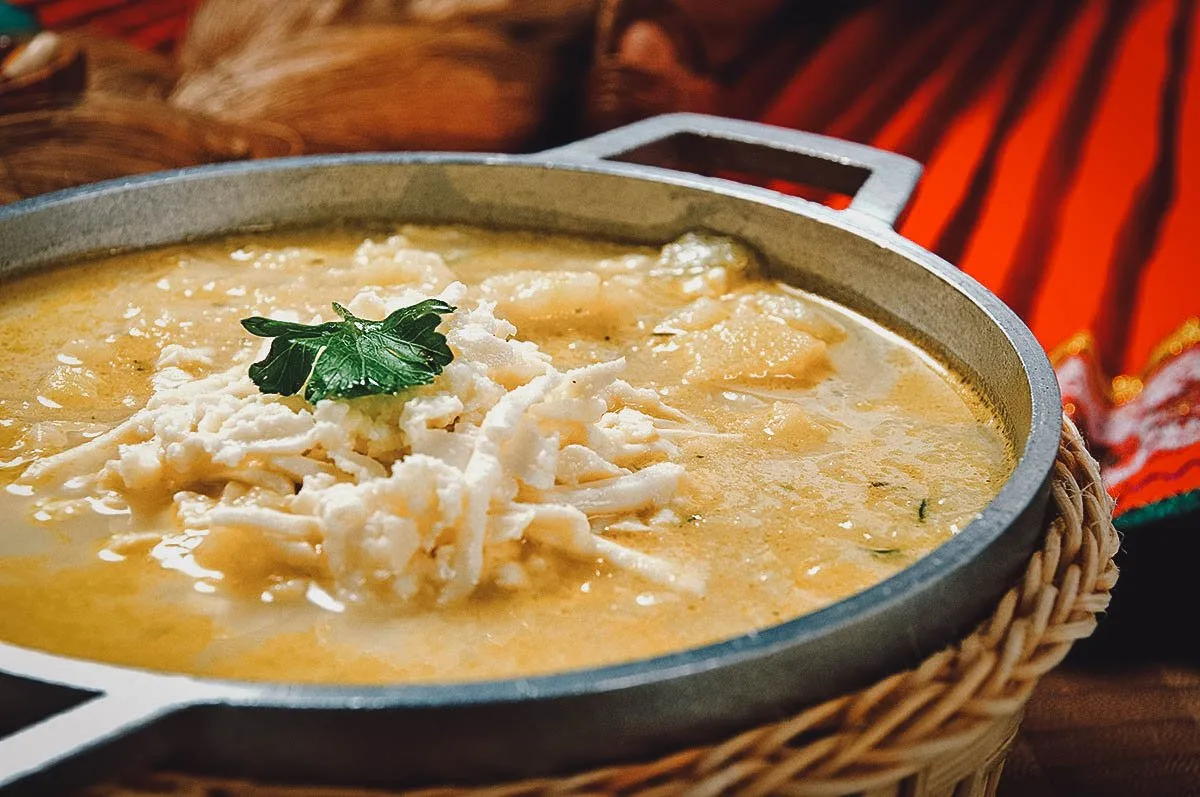 Photo by scornejor
9. Encebollado de Pescado
No Ecuadorian food guide worth its weight in green plantains can ever be complete without encebollado de pescado, a delicious fish soup or stew widely regarded to be a national dish in Ecuador. Its name literally means "oniony fish soup" and is in reference to the pickled red onions used in the soup.
Encebollado is typically made with fresh albacore tuna, yuca (cassava root), tomatoes, onions, cilantro, and spices. A sofrito serves as the base for this delicious fish stew which is always topped with curtido, a type of Ecuadorian salsa made with red onion rings and tomatoes pickled with lime juice. Most Ecuadorian meals are served with a small salad and that salad is usually curtido.
Encebollado is consumed throughout the country but it's especially popular in the coastal regions of Ecuador. It can be eaten at any time of the day, often with side dishes and condiments like crunchy plantain chips, toasted corn nuts, avocado slices, and lime juice.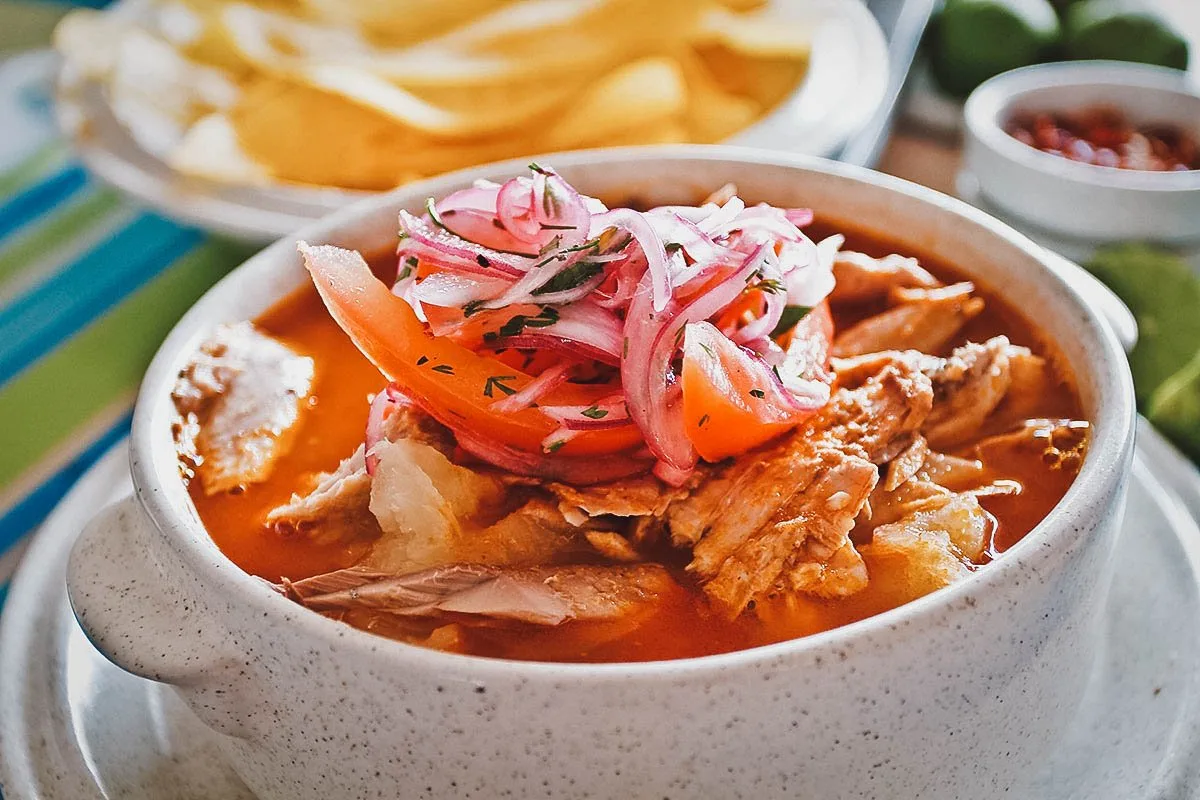 Photo by pxhidalgo
10. Fanesca
Visit Ecuador in March or April and you may get the chance to try fanesca, an Ecuadorian Easter soup made with bacalao (dried and salted cod) and many other ingredients. It's a very traditional food in Ecuadorian cuisine that's made just once a year to celebrate Easter and Lent.
Recipes for fanesca vary but it's a rich and highly symbolic soup made with a plethora of ingredients like bacalao cooked in milk, sambo (figleaf gourd), zapallo (pumpkin), mellocos (Andean potatoes), and twelve different kinds of beans and grains. The bacalao symbolizes Jesus while the beans represent the twelve apostles. They can vary from cook to cook but common beans and grains used include lentils, peas, corn, habas (fava beans), and chochos (lupines).
As if all those ingredients didn't sound filling enough, fanesca must be served with a variety of side dishes like hard-boiled eggs, fried plantains, avocados, hot peppers, queso fresco (fresh cheese), empanadas, and white onions marinated in lime juice. Hearty and filling and often the only meal enjoyed by Ecuadorians on Good Friday, it truly is a special soup fit for a king!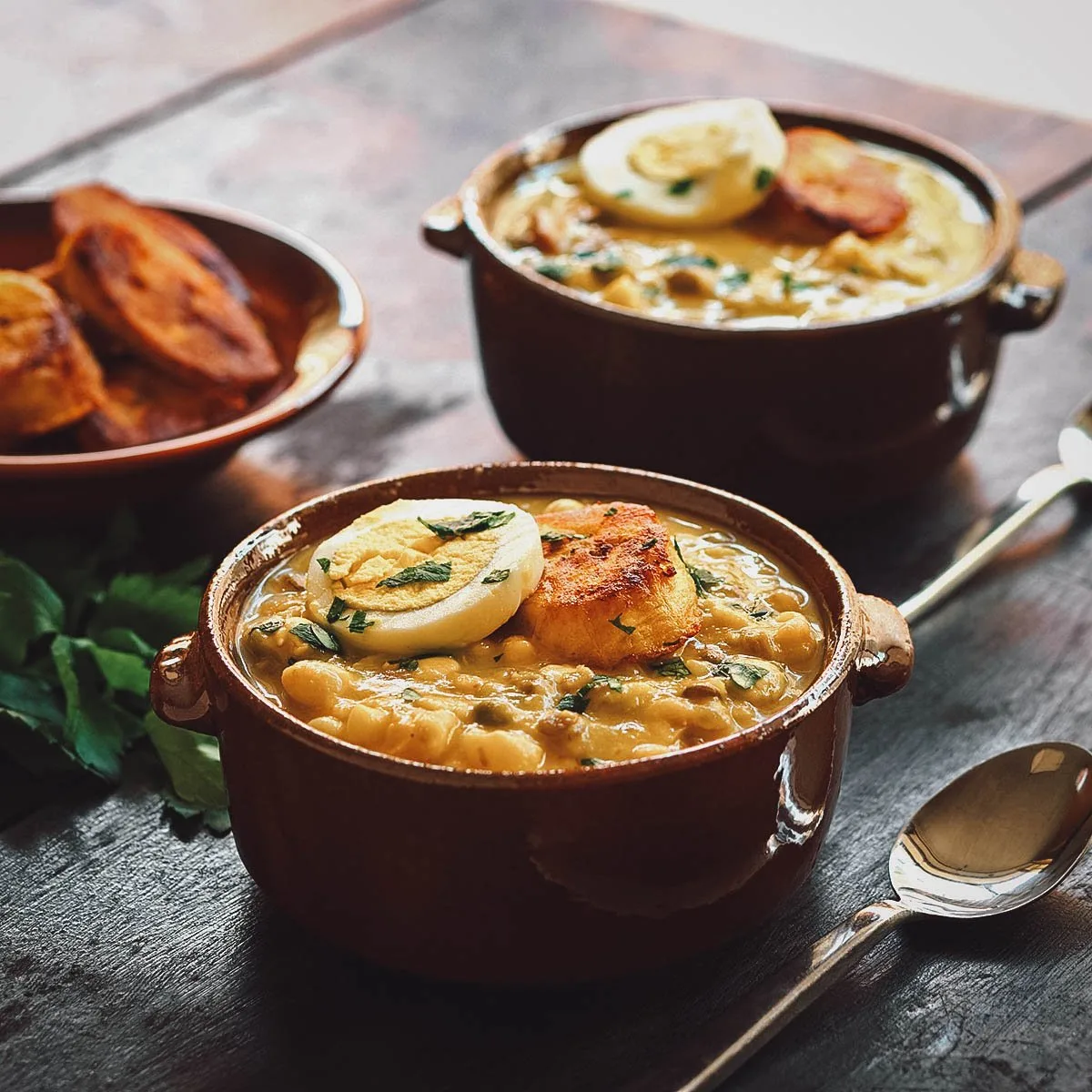 Photo by ildi_papp
11. Guatita
If you like offal and alcoholic beverages, then guatita will be one of your favorite dishes in Ecuador. Meaning "little belly" in Spanish, it refers to a traditional Ecuadorian tripe stew made with a peanut and potato sauce. Widely considered to be a national dish, its blend of starch, salt, and spice make it an effective hangover cure after a night of partying in Quito.
Guatita is a Saturday and Sunday morning favorite commonly served with white rice, curtido, avocados, and hot sauce. In spite of its alleged restorative properties, it can be enjoyed at any time and is available pretty much anywhere in the country, from fancy restaurants to street food vendors to Ecuadorian homes.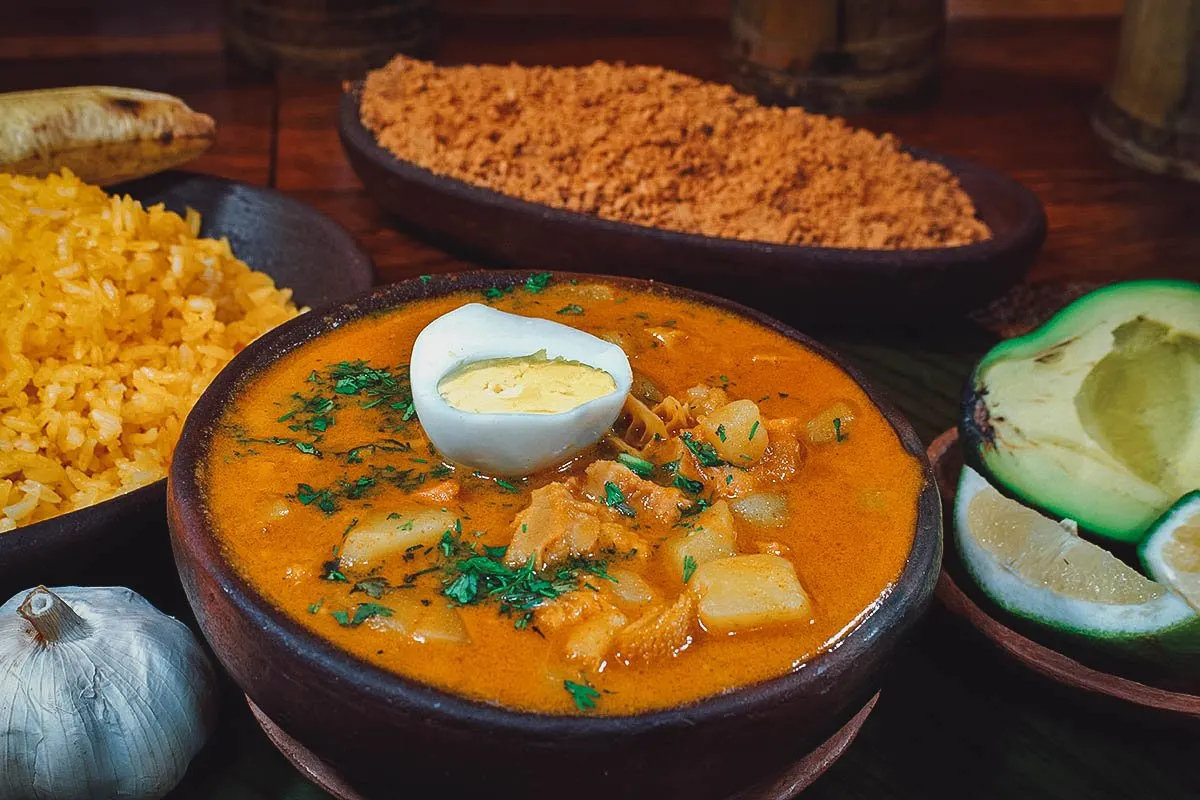 Photo by alejomiranda
BREAD
12. Pan de Yuca
Bread made from yuca flour and cheese exists in varying forms throughout Latin America. In Brazil, it's known as pão de queijo. In Argentina and Paraguay, people refer to it as chipas. Colombians have pan de queso while Bolivians refer to their version as cuñape. In Ecuador, these small cheesy breads made from cassava flour are known as pan de yuca.
Pan de yuca is typically enjoyed for breakfast or as an appetizer or snack. When served warm and fresh from the oven, it has a slightly crunchy, firm crust and a soft spongy interior.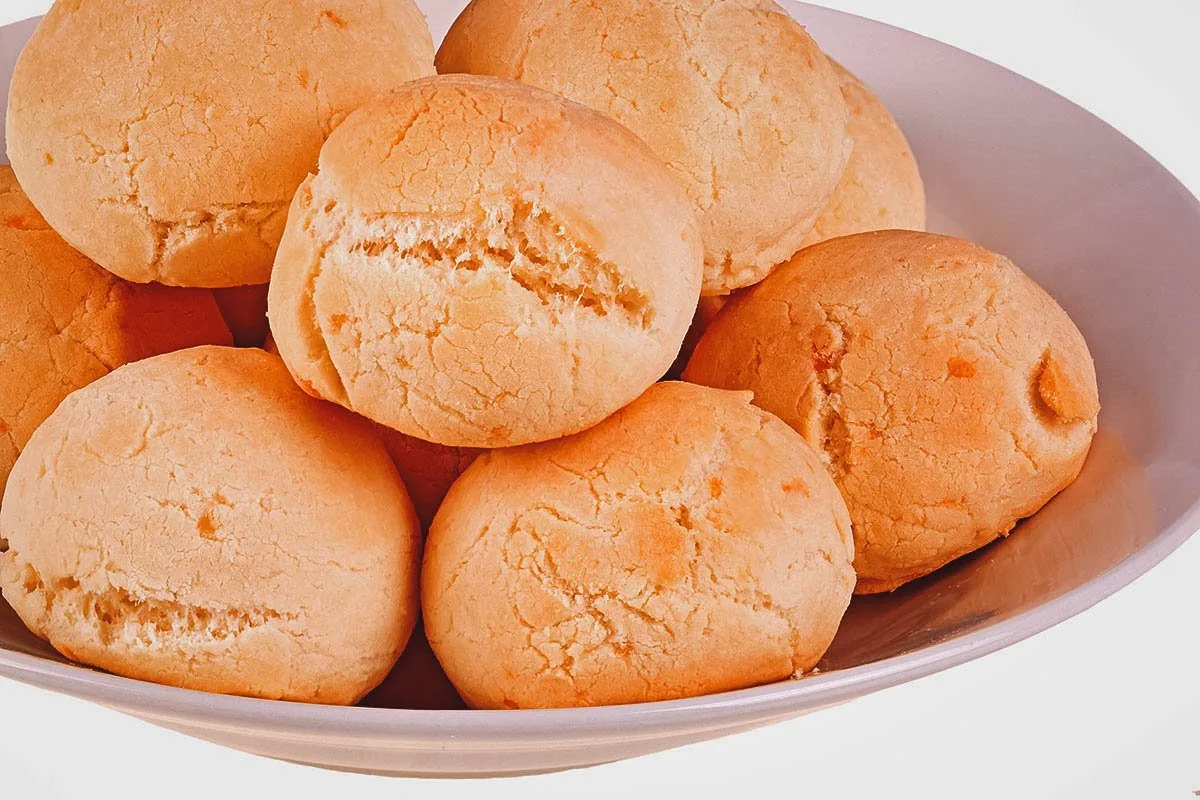 Photo by sgoodwin4813
13. Guaguas de Pan
These colorful little sweet breads are known as guaguas de pan, or "bread babies". Shaped like babies swaddled in blankets, this traditional dish is made on November 2nd to celebrate El Dia de los Difuntos or the Day of the Deceased.
The Day of the Deceased is celebrated in some form in many countries throughout Latin America, Europe, and the Philippines. It's meant to honor the memory of friends and relatives who've passed away. In Ecuador, this is done with the preparation of guaguas de pan and a purple corn and fresh fruit drink called colada morada. Guaguas de pan are made with a sweet bread dough, similar to brioche, and sometimes stuffed with sweet fillings.
I'm originally from the Philippines so I'm quite familiar with this tradition. Families would go to the cemetery to visit deceased relatives and bring flowers and food. By eating near the graves, families symbolically "share" their food with the dead. It's an important tradition that can often last the entire day (or longer).
In Ecuador, the tradition of creating doll-like rolls of bread is believed to have pre-Hispanic roots. An ancient tribe that lived around present-day Quito made corn flour figurines for Aya Marcay Quilla, a celebration to honor deceased ancestors. Over time, guaguas de pan and the celebration of the dead became intertwined with Spanish traditions and the Catholic church.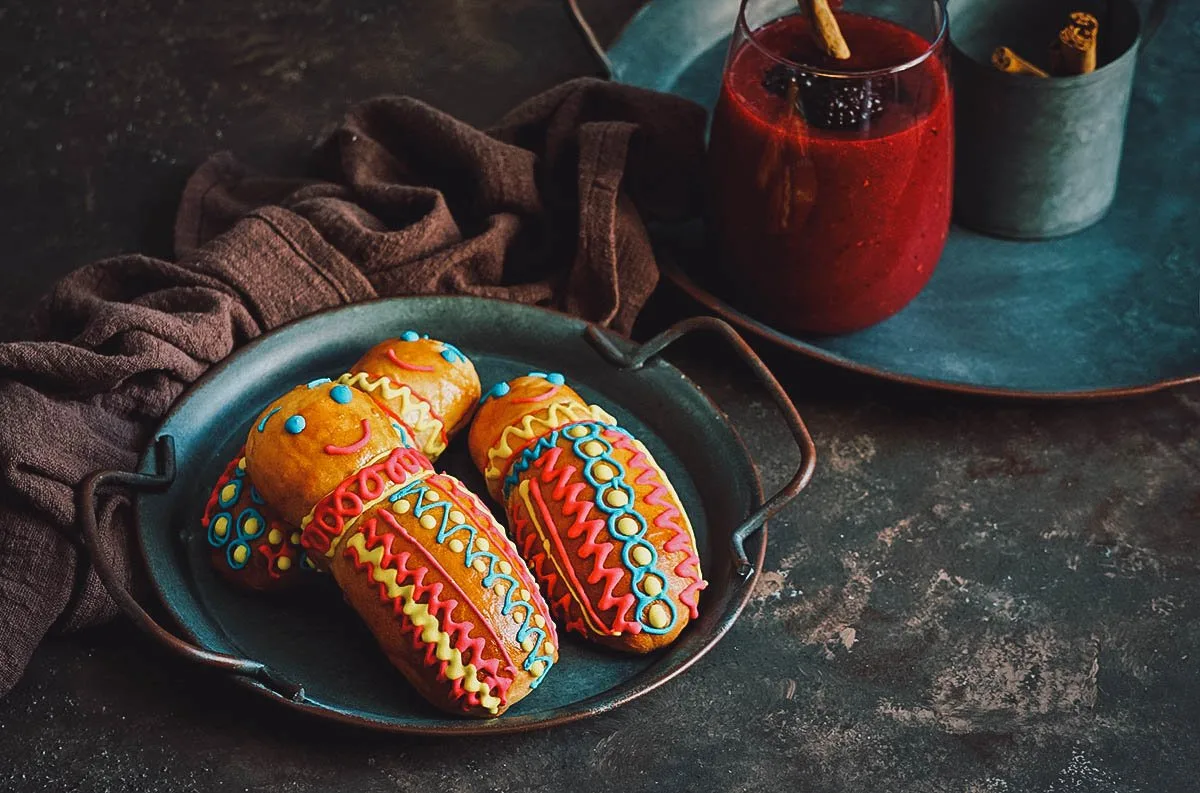 Photo by BelarusianArt
MEAT / SEAFOOD
14. Hornado
Hornado refers to the Ecuadorian version of roasted pig. It consists of a whole pig marinated in a mixture of spices made with onions, garlic, cumin, chicha (fermented corn), and annatto before being slow-roasted over hot coals for several hours, often overnight.
Hornado is a common sight at Highland markets. Depending on where you are in Ecuador, they can come with different side dishes but they're generally served with llapingachos (fried potato cakes), mote (boiled corn), chicharrones, and some vegetables. Most will be served with a sauce like agrio (vinaigrette salsa) or tamarillo (tree tomato aji sauce).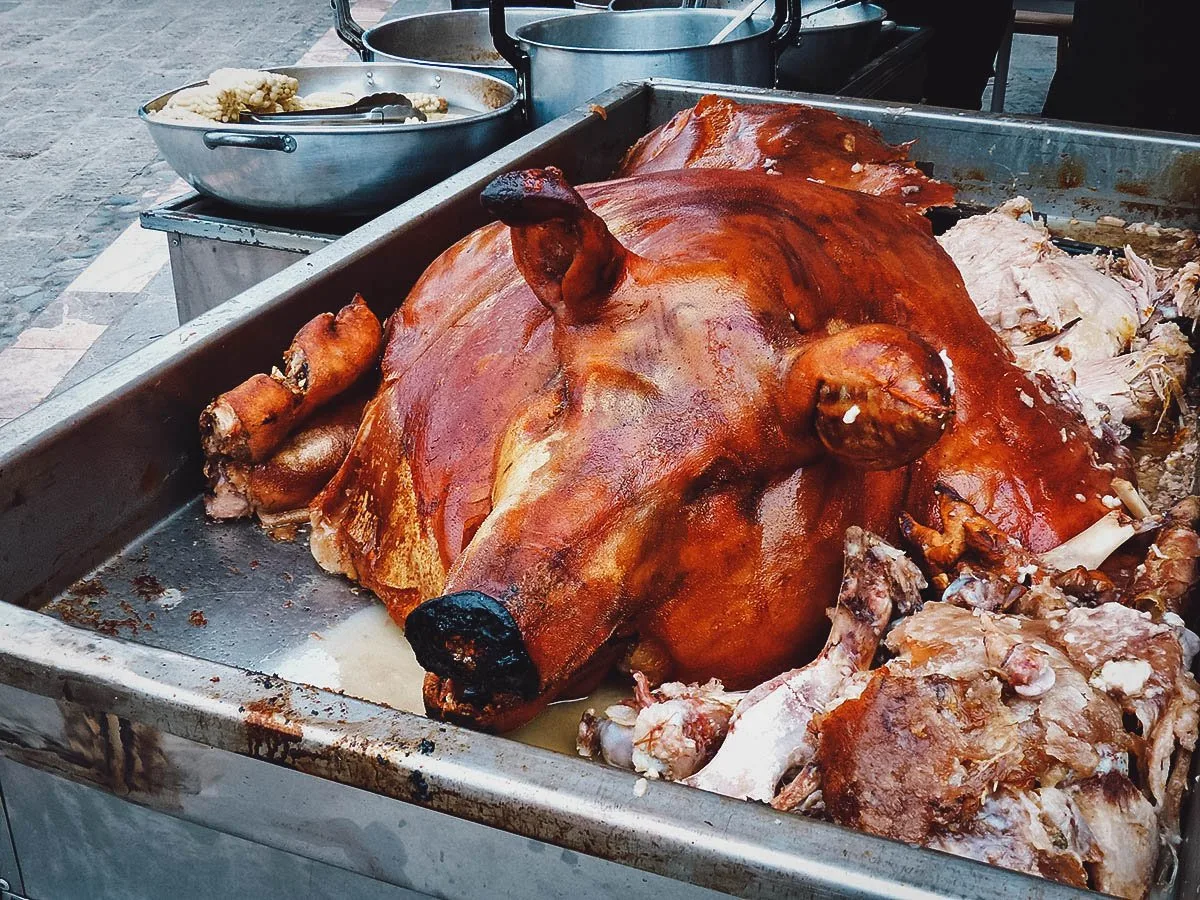 Photo by ireneuke
15. Fritada de Chancho
If hornado isn't enough to satisfy your pork cravings in Ecuador, then you need to have fritada de chancho. It refers to a delicious braised pork dish made with chunks of pork slowly cooked in a mixture of orange juice, onions, garlic, and cumin.
Because of its name, people think that fritada de chancho is a fried pork dish but it's actually braised. The pork is cooked in a mixture of orange juice and water until the liquid is reduced and the meat is browned in its own fat. Depending on where you have it in Ecuador, it can be served with various side dishes and sauces like llapingachos (fried potato cakes), fried plantains, fava beans, corn, and agrio.
Fritada de chancho is considered a weekend dish in Ecuador. People would leave the city over the weekends and drive to the countryside to have fritada at village restaurants and roadside eateries called huequitos.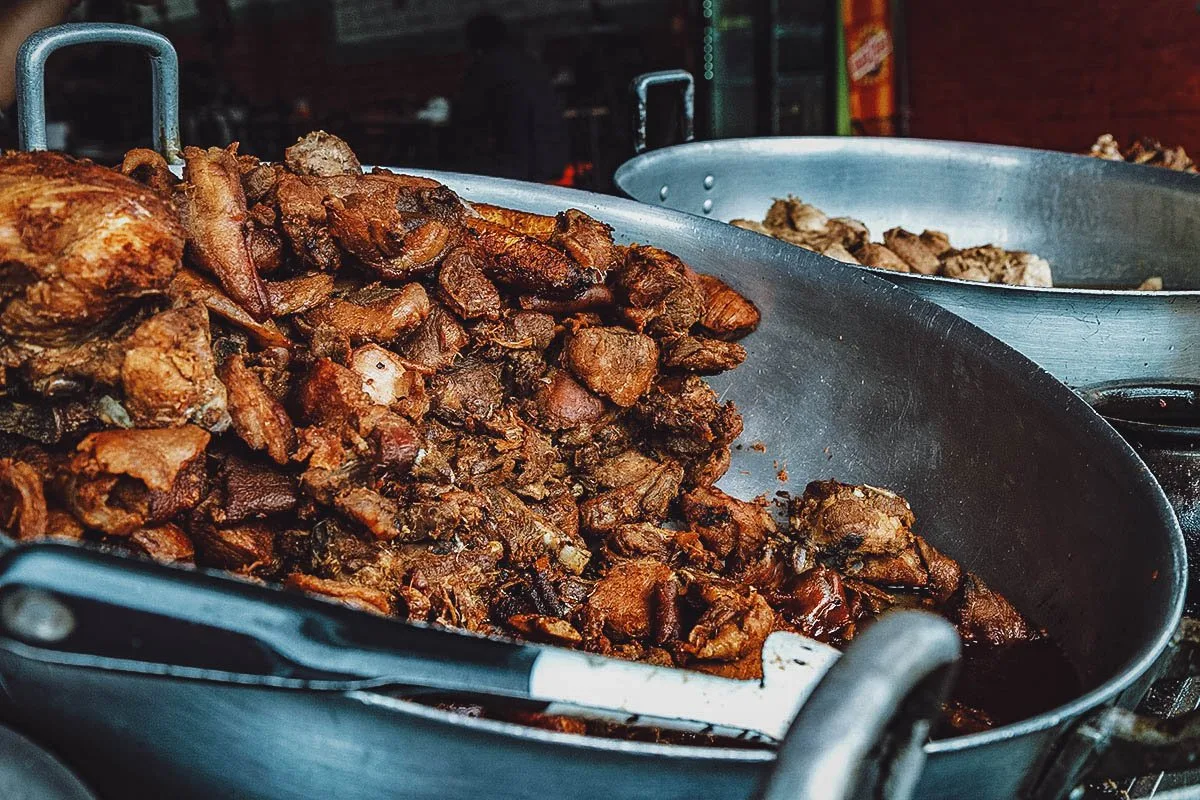 Photo by Wirestock
16. Cuy Asado
If you're familiar with Peruvian food, then this next dish needs little introduction. Cuy asado means "roast guinea pig" and refers to a dish of…well, roasted guinea pig! Whether roasted, grilled, or fried, cuy is just as popular a food source in Ecuador as it is in Peru.
Although the guinea pig may be viewed as a pet in North America, in the Andean region, they're livestock. They've always been raised for their meat which has often been described as being similar to rabbit.
Roasted guinea pig may be one of the more unusual Ecuadorian foods on this list but it's an important part of Ecuadorian cuisine and culture. As with any cultural food, I think it's something you need to try to fully immerse yourself in Ecuador.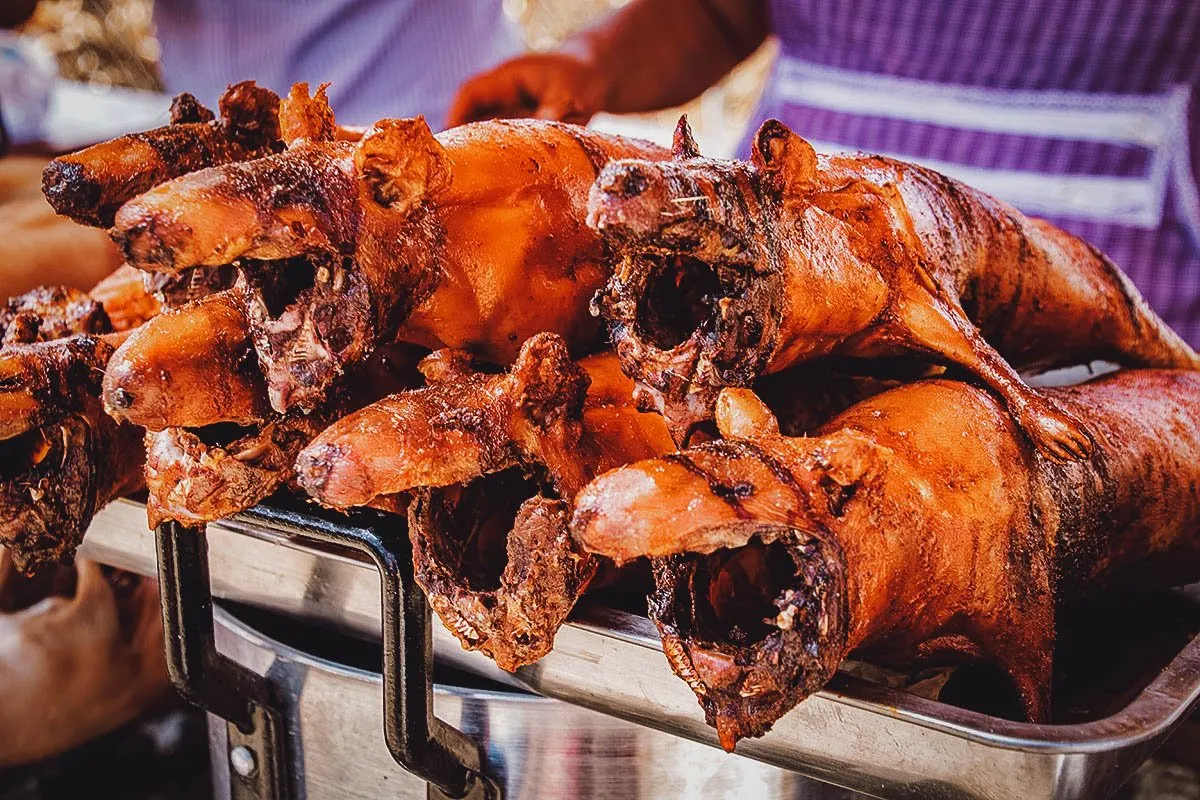 Photo by mindstorm
It's interesting to learn that guinea pig meat was the main source of protein for Ecuadorians before cattle was introduced to the country. As such, it was never an everyday meal but more of a status symbol, a luxury that only people with enough money could eat.
Cuy can be prepared in several ways but one of the most popular and delicious ways to have guinea pig is to roast it over an open charcoal fire.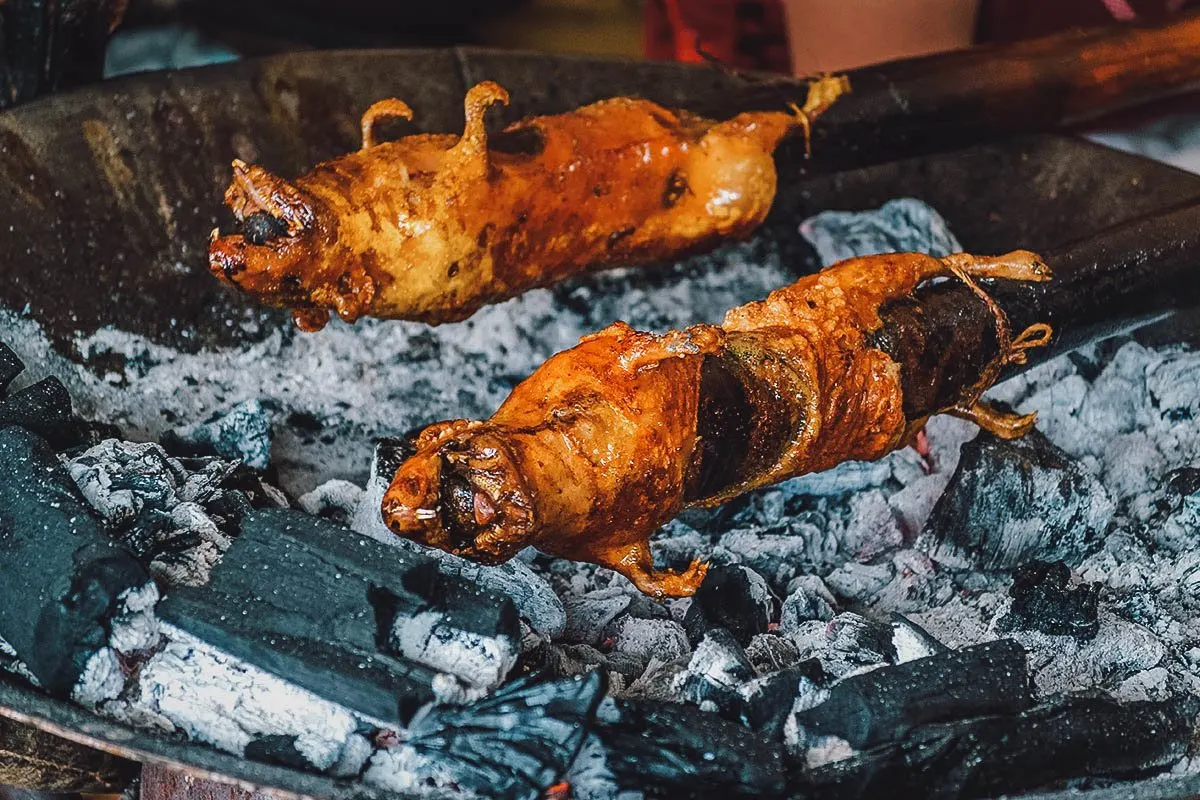 Photo by DanFLCreativo
17. Seco de Chivo
Seco de chivo refers to an Ecuadorian goat stew made with pieces of goat or sheep meat browned in a sauce with fried vegetables, garlic, onions, peppers, tomatoes, panela (unrefined whole cane sugar), herbs, and spices. A fermented liquid is then added to the pot and simmered until it reduces and forms a thick sauce.
There are several ways to make this traditional dish, all revolving around the type of fermented liquid used to make the stew. It can de made with chicha (fermented corn beverage), beer, or naranjilla juice – a tart, tomato-like fruit found mainly in Ecuador and Colombia. It's this liquid that largely determines how the dish will eventually taste.
Ecuadorians have their preferences as to which liquid is best, but the most traditional way of making seco de chivo is with chicha. No matter what it's made with, it's a delicious Ecuadorian dish traditionally served with arroz amarillo (yellow rice), fried plantains, and slices of avocado.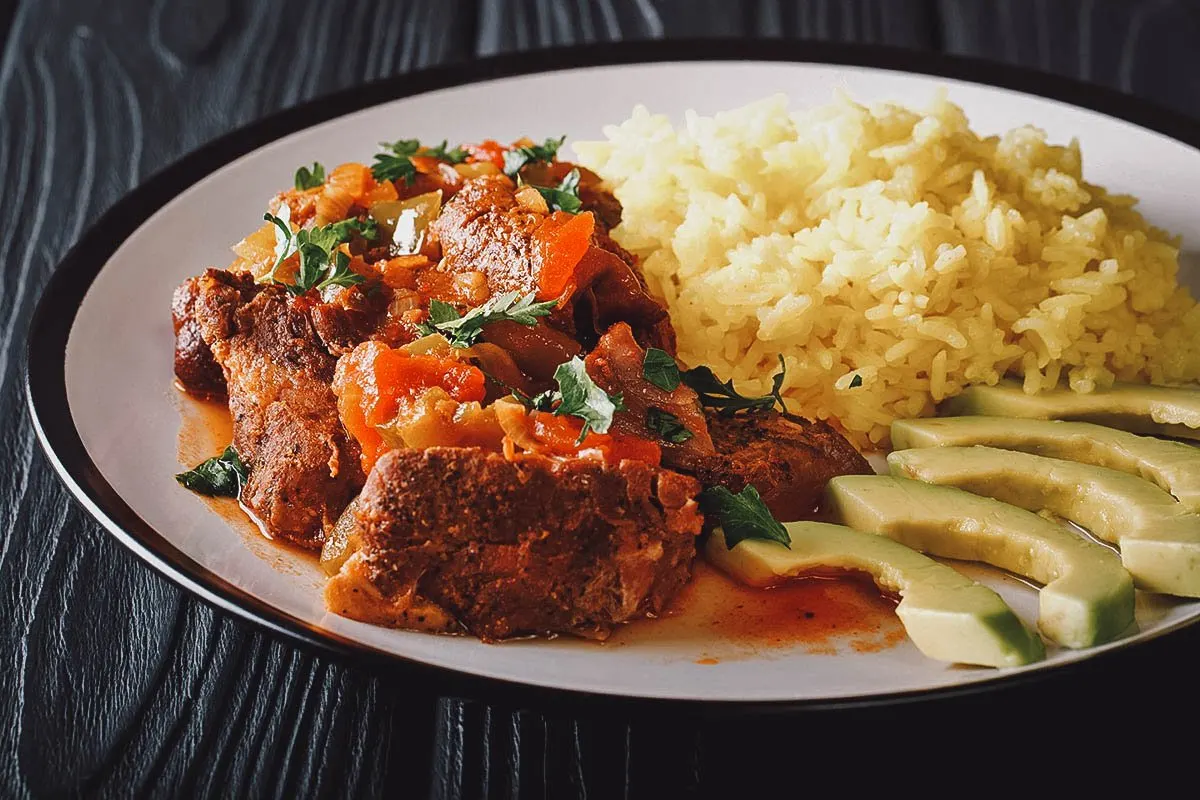 Photo by lenyvavsha
18. Pescado Encocado
Pescado encocado refers to a traditional Ecuadorian fish dish made with coconut sauce. Popular along the coastal regions of Ecuador, it consists of fish seasoned with lime juice, orange juice, and spices and then cooked in a sauce with onions, bell peppers, coconut milk, and cilantro. It's commonly made with corvina though different types of fish and other seafood can also be used.
Pescado encocado is traditionally served with white rice and fried plantains. If you'd rather not have it with sweet fried plantains, then it can also be served with green plantain chips. The white rice is a must as it's the best way of soaking up all that deliciously rich coconut sauce.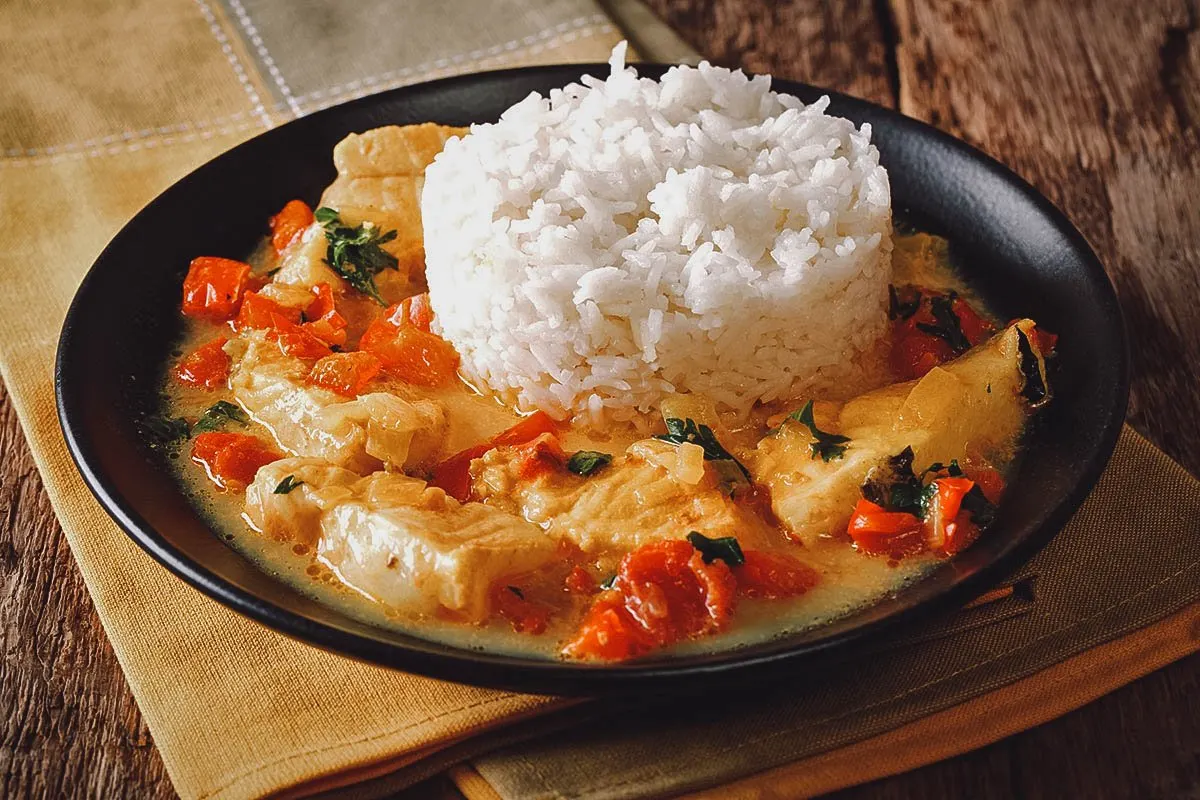 Photo by lenyvavsha
19. Ceviche
Like roasted guinea pig, ceviche is another dish that's traditionally associated with both Ecuador and Peru. One of the most important traditional dishes in Peruvian and Ecuadorian cuisine, it consists of fresh raw fish and other seafood cured in lemon or lime juice.
In Ecuador, ceviche can be made with different types of raw seafood but two of the most popular are fish ceviche (ceviche de pescado, pictured below) and shrimp ceviche (ceviche de camarón). Ecuadorian fish ceviche can be made with any type of sashimi-grade white fish cured in a mixture of lime juice, garlic, and hot peppers. After curing, it's mixed with lime-marinated red onions, bell peppers, tomatoes, and cilantro before serving.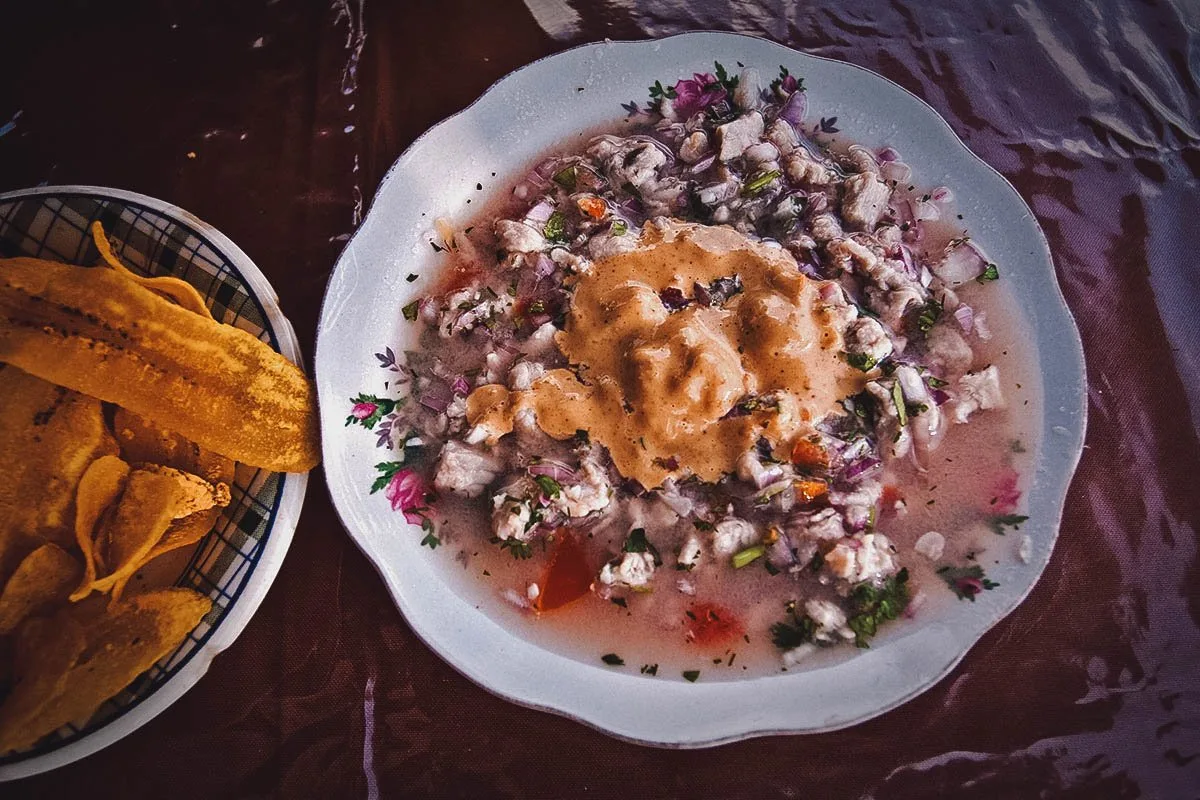 Photo by pxhidalgo
Pictured below is Ecuadorian shrimp ceviche. Unlike fish ceviche, the shrimp in ceviche de camarón is actually cooked with heat rather than just being denatured. After cooking, the shrimp is marinated in lime juice and mixed with fresh vegetables like bell peppers, tomatoes, and thinly sliced red onion before serving.
Other popular types of Ecuadorian ceviche are made with octopus, scallops, oysters, and black clams. Ceviche is consumed throughout the country but it's an especially popular dish in the coastal regions of Ecuador. It's often served with hot sauce and various side dishes like chifles (crunchy plantain chips), patacones/tostones (twice fried plantain chips), and toasted corn nuts.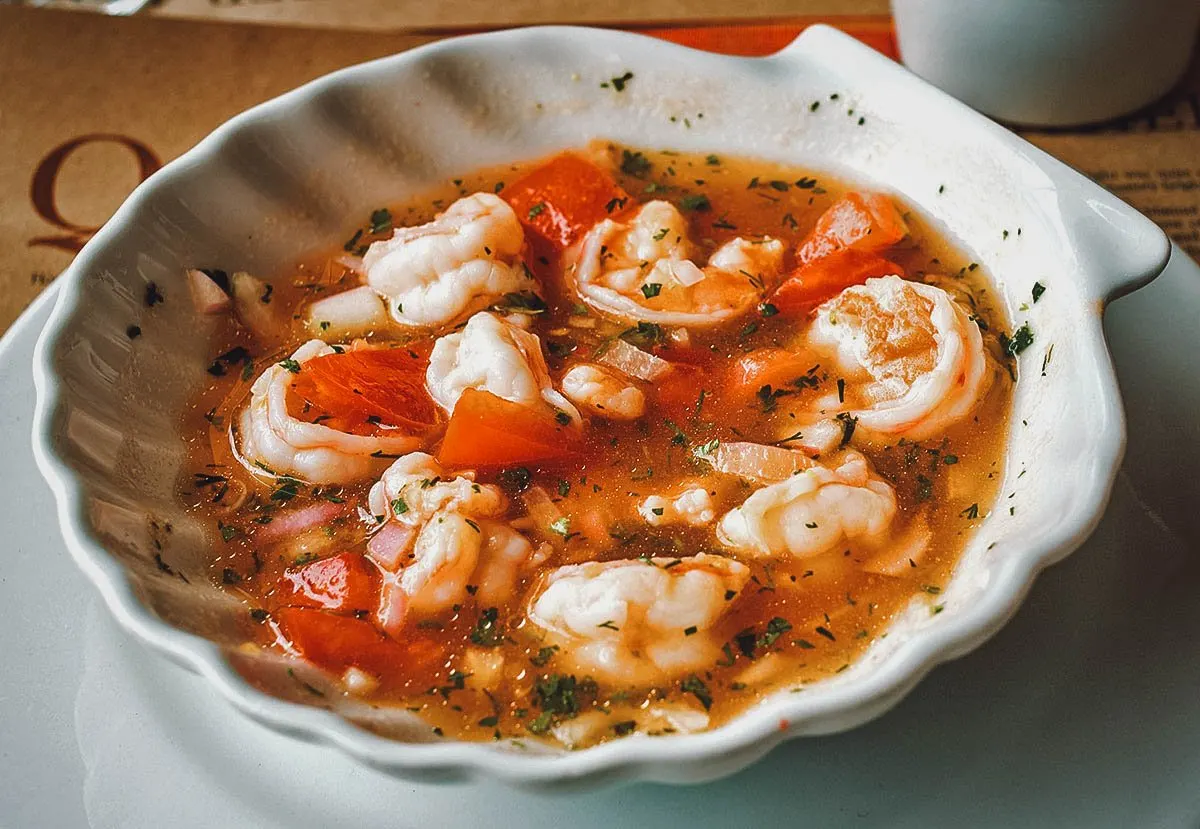 Photo by javarman
DESSERTS / DRINKS
20. Quimbolitos
You can't explore the food in Ecuador without trying out some of the most delicious Ecuadorian desserts. A good place to start would be quimbolitos. A distant cousin of the humita, the quimbolito is a very traditional food in Ecuadorian cuisine consisting of steamed corn cakes wrapped in achira leaves.
To make quimbolitos, a dough made with corn flour, wheat flour, eggs, butter, milk, and sugar is wrapped in achira leaves before being steamed in a pot. They're similar to humitas or tamales except they're fluffier and more cake-like in texture. Quimbolitos are traditionally decorated with one or more raisins before serving.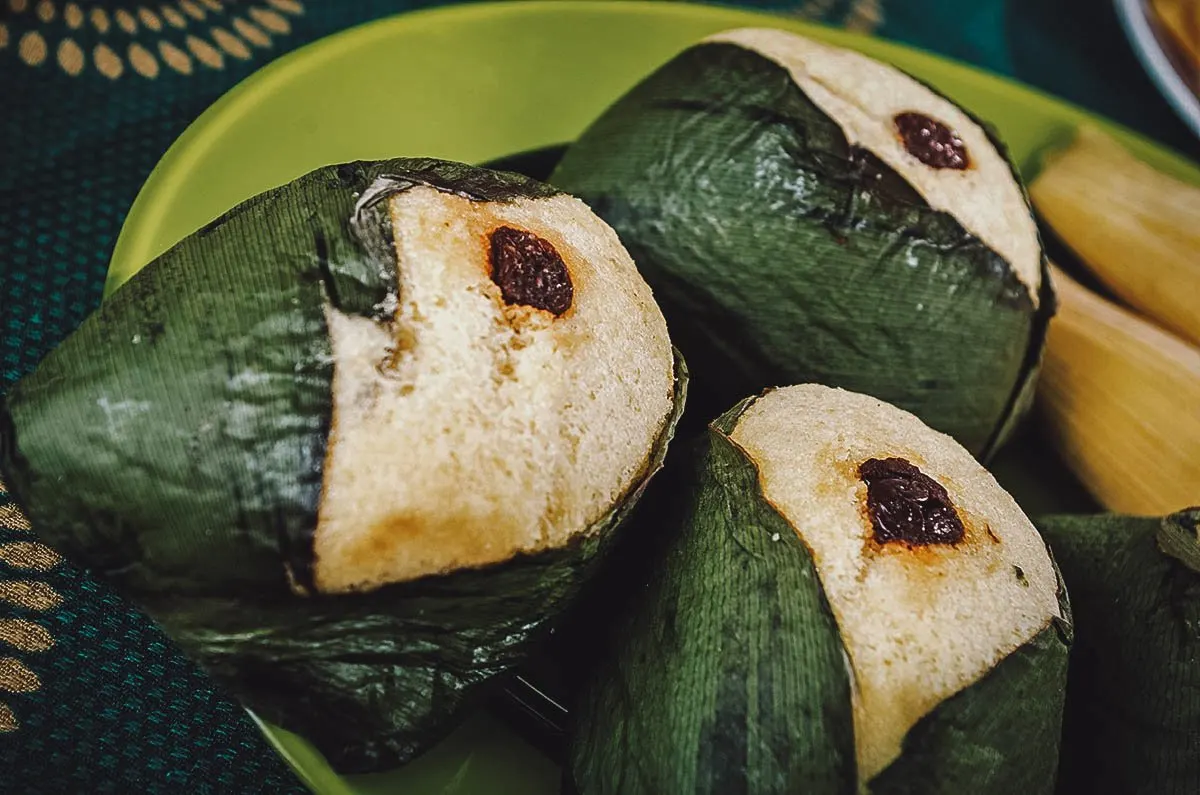 Photo by pxhidalgo
21. Pristiños
If you visit Ecuador around the holidays, then you may get to try these delicious fritters called pristiños. They're a traditional Christmas dessert in Ecuador consisting of fried pastries served with miel de panela (piloncillo syrup). Pristiños are traditionally shaped like crowns but they can be made into other shapes as well.
If you're familiar with Latin American desserts, then you may find them to be similar to buñuelos. Pristiños are made with baking powder while buñuelos are made with yeast. In Ecuador, both are typically served with miel de panela.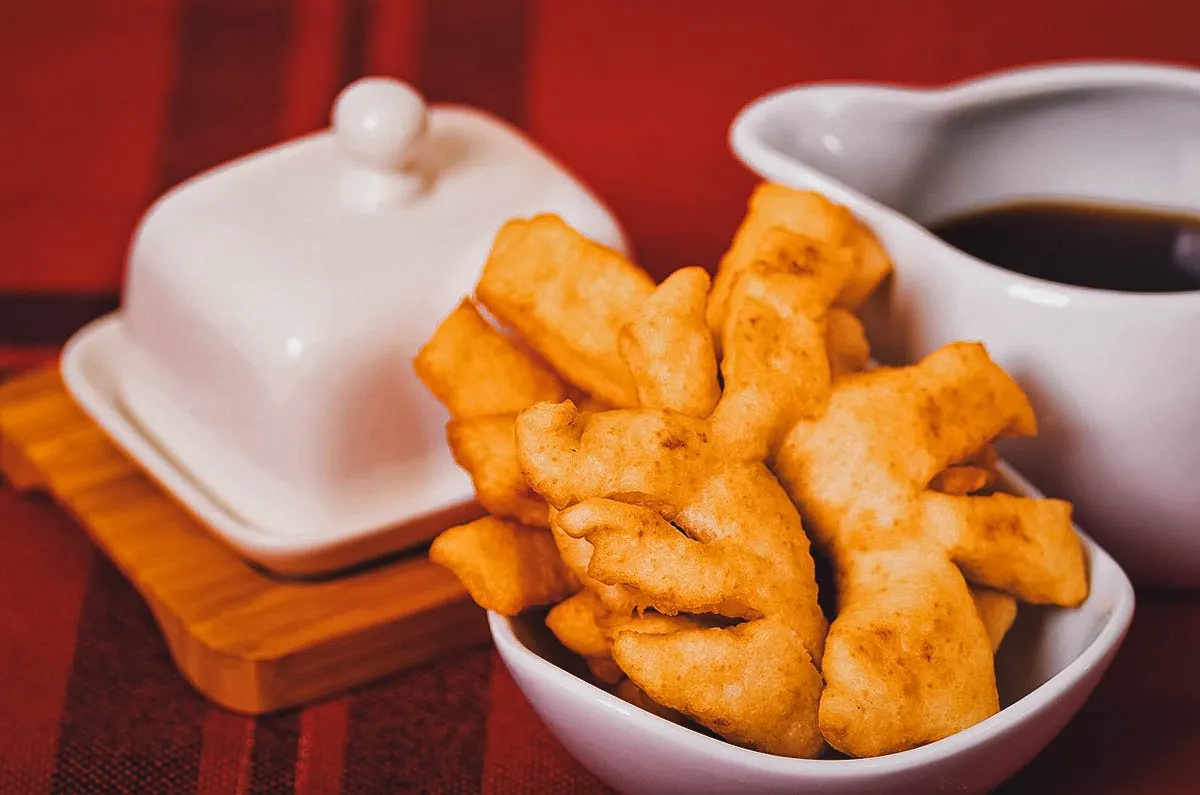 Photo by pxhidalgo
22. Dulce de Higos
Dulce de higos literally means "sweet figs" and refers to a simple Ecuadorian dessert of fig preserves cooked in miel de panela spiced with cinnamon and clove. Also known as higos pasados, they're usually paired with a slice of queso fresco (fresh cheese) to help balance the sweetness of the caramelized figs.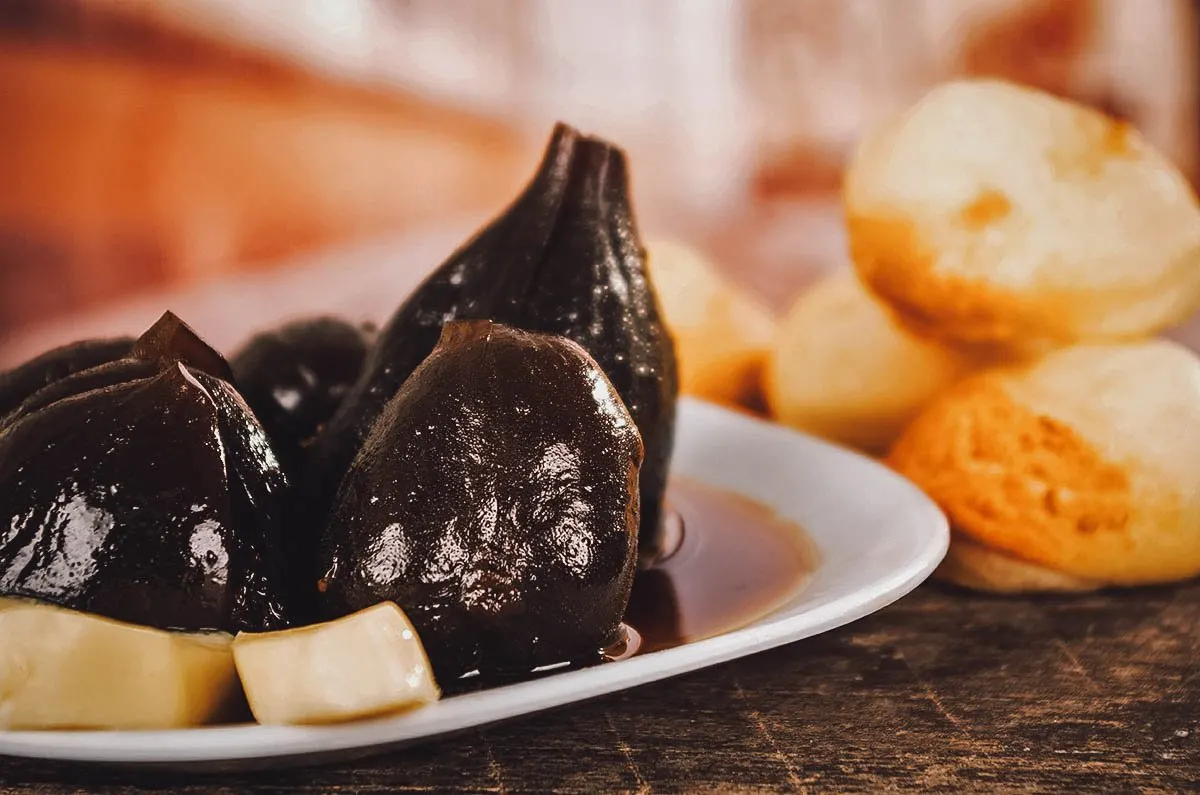 Photo by pxhidalgo
23. Naranjilla
Naranjilla is a popular fruit in Ecuador and in other Latin American countries like Costa Rica, Panama, and in Colombia, where it's known as lulo. Its name literally means "little orange" though it's actually more closely related to tomatoes, peppers, or eggplant.
Naranjilla is known for its tart and very acidic flavor. It's made into juices, smoothies, and cocktails and is often used as an ingredient in Ecuadorian desserts and savory dishes like seco de chivo and other meat stews.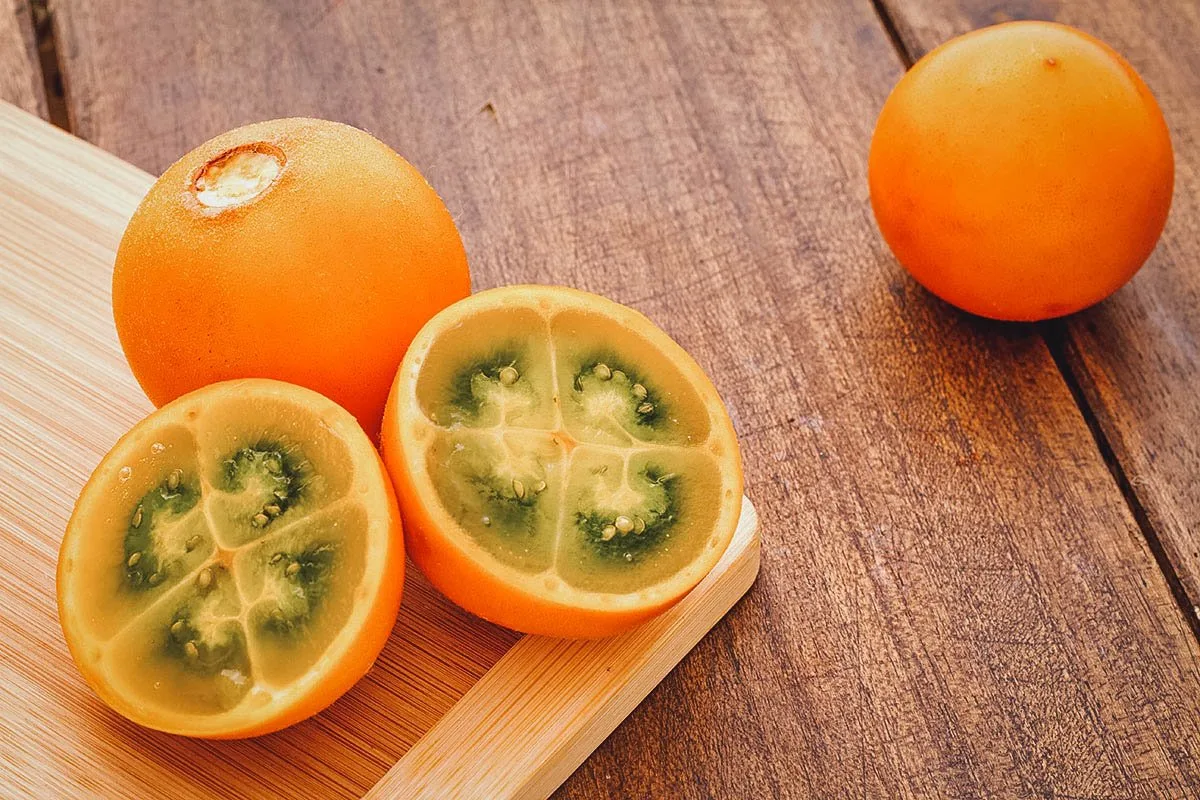 Photo by CUNDO
24. Morocho
Morocho refers to an Ecuadorian sweet drink made with dried cracked hominy corn, milk, cinnamon, raisins, and sugar. Served warm and thick like pudding or a milkshake, it's a classic Ecuadorian street food commonly sold at markets and by the roadside.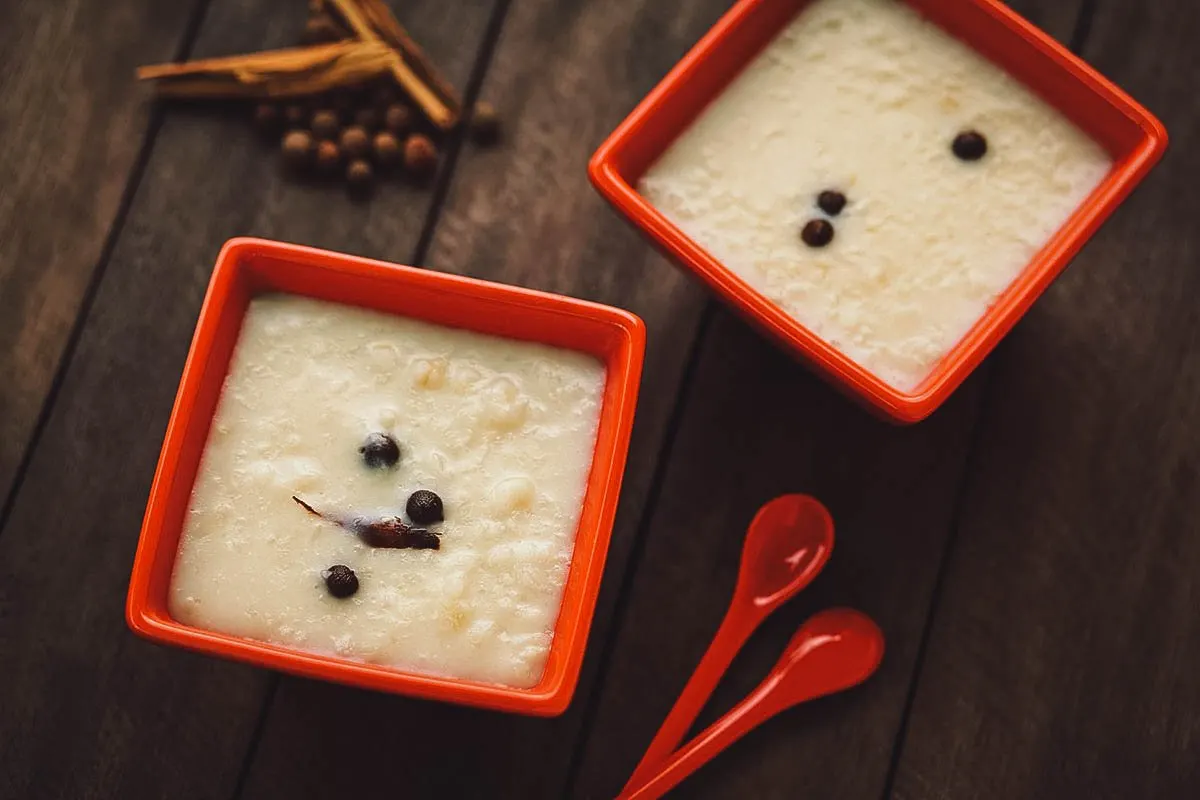 Photo by ildi_papp
25. Colada Morada
Together with guaguas de pan, colada morada is traditionally prepared on November 2nd in Ecuador to celebrate El Dia de los Difuntos or the Day of the Deceased. It's a thick drink made with fruits, spices, panela (unrefined whole cane sugar), and purple corn flour.
Recipes for colada morada vary but common fruits and spices used include naranjilla, mortiños (wild blueberries from the Andean region), blackberries, strawberries, pineapple, peaches, ishpingo (Ecuadorian cinnamon), and cloves. Like guaguas de pan, it's an ancient Ecuadorian drink that's existed in the region well before the arrival of the Spanish.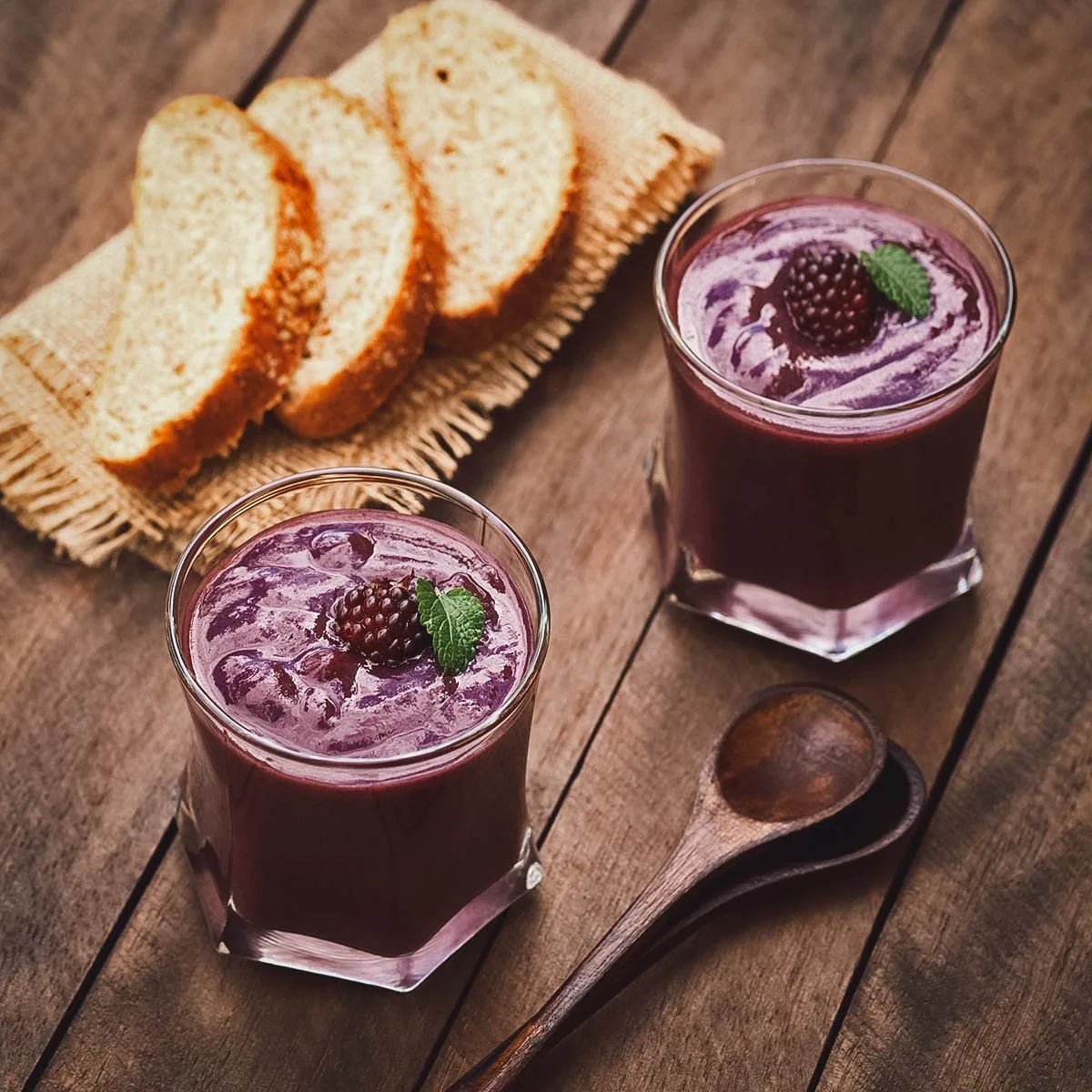 Photo by ildi_papp
ECUADORIAN FOOD TOURS
It goes without saying that no one knows Ecuadorian food better than a local, so what better way to experience the best of Ecuadorian cuisine than by going on a food tour? Not only will a food-obsessed guide take you to the city's best restaurants, markets, and street food stalls, but they'll be able to explain all the dishes to you in more detail as well.
Check out Get Your Guide for a list of Ecuadorian food tours in Quito and other destinations throughout the country.
FINAL THOUGHTS ON THE FOOD IN ECUADOR
Ecuador has much to offer to outdoor adventurers, but also to people who travel for food. This is hardly an exhaustive list but we do hope it whets your appetite and gets you even more excited to visit Ecuador. ¡Buen provecho!
Disclosure
Some of the links in this article on Ecuadorian food are affiliate links. If you make a booking, then we'll earn a small commission at no additional cost to you. As always, we only recommend products and services that we use ourselves and firmly believe in. We really appreciate your support as it helps us make more of these free travel and food guides. Thank you!
Cover photo by pxhidalgo. Stock images via Depositphotos.