I'll go right out and say it – we LOVE our Ooni pizza oven.
We got the Ooni Karu and it's been our favorite toy since we used it to make our first Neapolitan-style pizza. I use the word "toy" because it's so much fun and easy to use that it almost feels like you're playing when you're churning out these restaurant-quality pizzas.
Like many people, pizza is one of our favorite comfort foods. We travel for food but I'm almost embarrassed to admit that we've never been to Italy. It's a trip we need to make to try authentic versions of our favorite Italian dishes, at the very top of which is Neapolitan pizza.
Learning to make pizza in Naples is high on our list of priorities and a big reason why we decided to get an Ooni pizza oven. It's the closest and most affordable way for us to make Neapolitan-style pizzas at home.
If you've been on the fence about getting one, then perhaps this article on how to use an Ooni Karu pizza oven will convince you to go for it.
Save This on Pinterest!
No time to read this guide on Ooni pizza ovens? Click on the save button and pin it for later!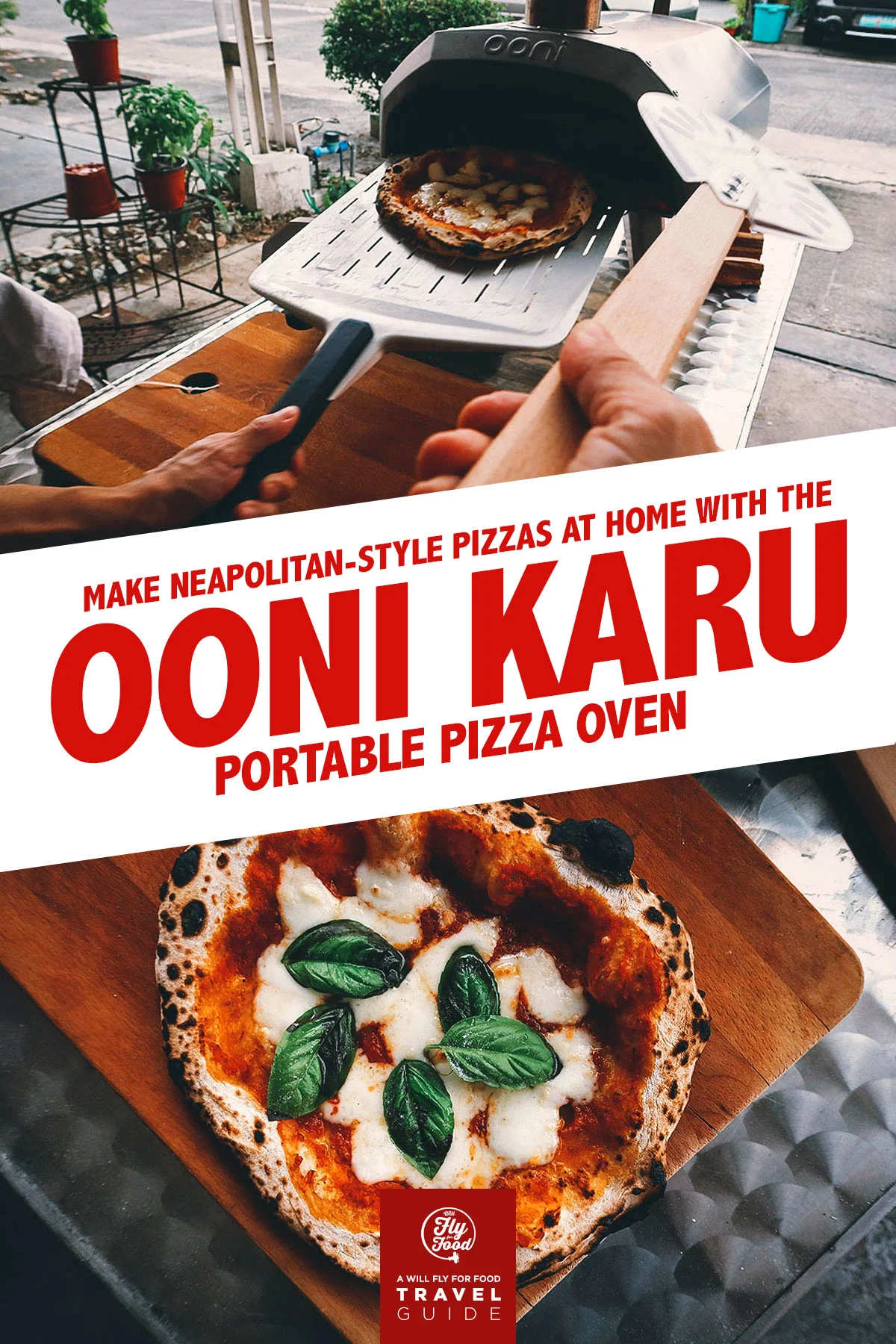 OONI GUIDE TABLE OF CONTENTS
I'll cover a few topics about Ooni pizza ovens in this article so you're welcome to jump to any section using the links below.
WHAT ARE OONI PIZZA OVENS?
Ooni is an outdoor pizza oven company based in Edinburgh, Scotland. The company was originally called Uuni and was started by a husband and wife team who wanted to create restaurant-quality pizzas at home.
Many domestic ovens can't reach the temperatures needed to achieve that restaurant-quality pizza taste. Wood-fired ovens at the time were bulky and expensive so they developed a portable and affordable wood-fired oven suited for high-temperature baking.
The original Uuni pizza oven was launched on Kickstarter in 2012 and was an instant success. The first model weighed about 5 kg (11 lbs) and could reach temperatures of up to up to 500°C (932°F) in 15-20 mins. This allowed users to cook 12-inch Neapolitan-style pizzas in 60 seconds and give them that restaurant-quality wood-fired taste.
Ooni has since produced several pizza oven models, a few of which have won multiple awards. The company officially changed their name from Uuni to Ooni in 2018 to make it easier for international consumers to pronounce the name correctly. Uuni means "oven" in Finnish and is pronounced the same as Ooni – oo-nee.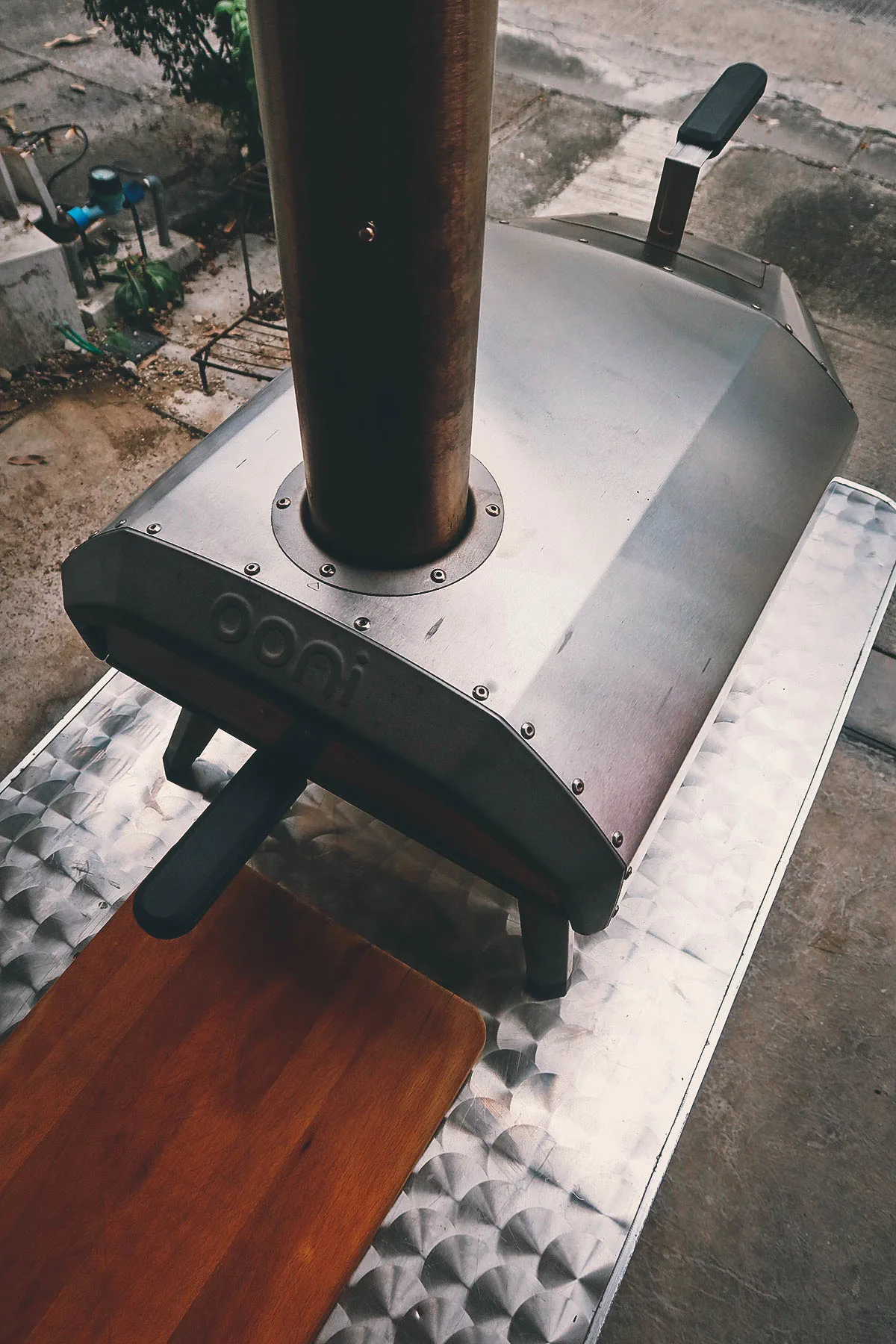 Ooni pizza ovens allow you to create restaurant-quality Neapolitan-style pizzas like these in just 60 seconds!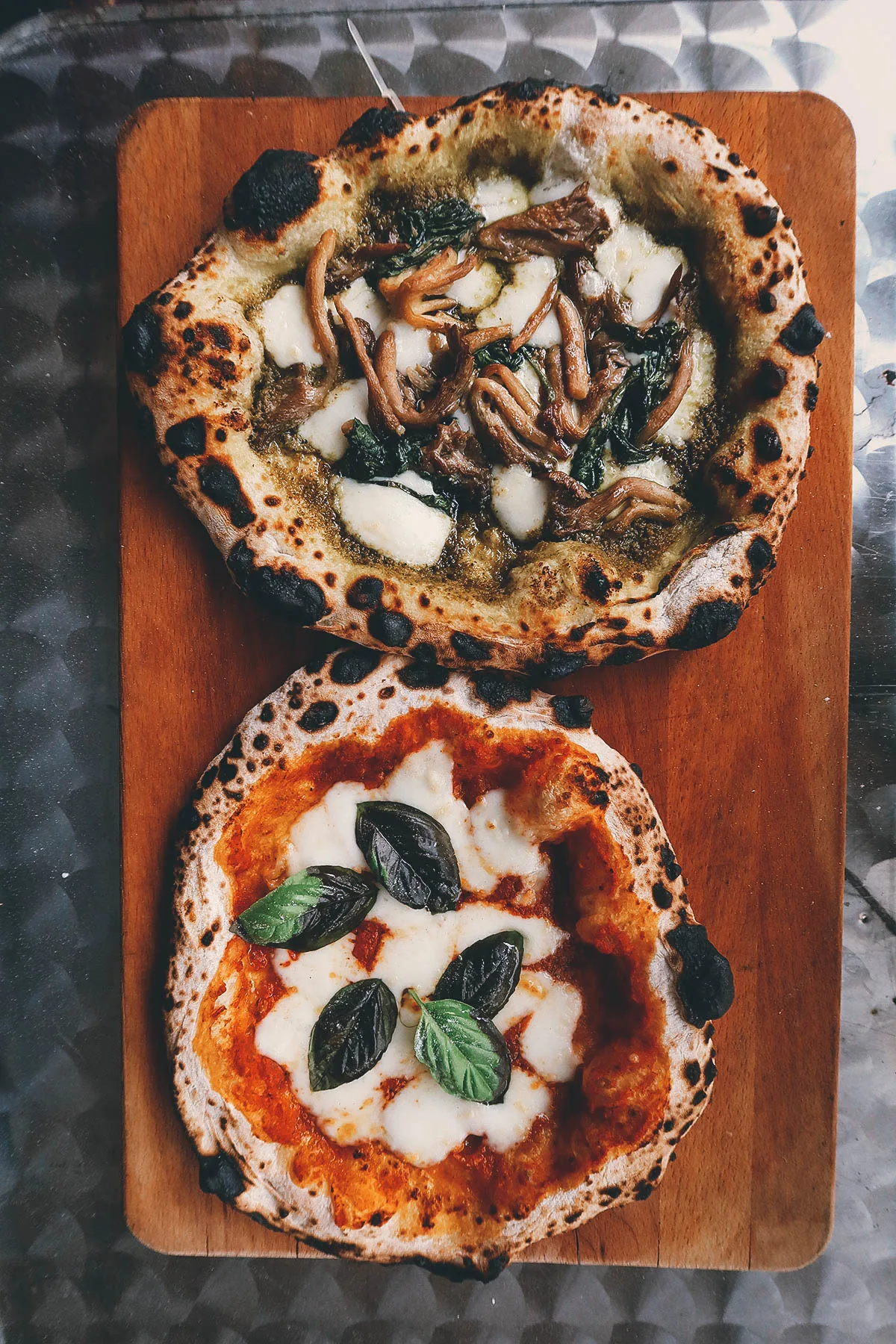 OONI FYRA vs OONI KODA vs OONI KARU vs OONI PRO
There's an Ooni pizza oven for everyone. As of this writing, there are five Ooni ovens available on the market – Ooni Fyra 12, Ooni Koda 12, Ooni Koda 16, Ooni Karu 12, and Ooni Pro 16. Each has its pros and cons which I'll describe in some detail below.
OONI FYRA
The Ooni Fyra is a hardwood-pellet-fueled pizza oven that can make up to 12-inch pizzas. It weighs in at 10 kg (22 lbs) and can reach 500°C (932°F) in just 15 mins.
PROS:
• Most affordable Ooni oven
• Highly portable
• Fueled by wood pellets that burn faster and more easily
• No need to chop wood
CONS:
• No gas option
• Wood pellets may not be as readily available in some countries
• Wood pellets may be more expensive in the long-term
OONI KODA
The Ooni Koda is a gas-powered pizza oven that comes in two versions – the original for 12-inch pizzas and a newer version for 16-inch pizzas.
The Ooni Koda 12 weighs in at just 9.25kg (20.4 lbs) and can reach 500°C (932°F) in 15 mins. The Ooni Koda 16 is considerably bulkier at 18.2 kg (40.1 lbs) and takes about 20 mins to reach the maximum temperature of 500°C (932°F).
PROS:
• Gas-powered so it's easier to reach and maintain the desired temperature
• Gas may be cheaper in the long-run than wood
• The larger version allows you to cook more dishes
CONS:
• Runs on gas so it may not be as portable
• No wood-fired flavor
OONI KARU
The Ooni Karu is a multi-fuel pizza oven that can run on wood, charcoal, and gas. It comes in two versions – the original for 12-inch pizzas and the latest model for 16-inch pizzas. The smaller version weighs in at 12 kg (26.4 lbs) while the bigger model is substantially heavier at 28.4 kg (62.6 lbs).
Whether by wood, charcoal, or gas, both models can reach the maximum temperature of 500°C (932°F) in just 15-20 mins. In our experience, it takes a little longer to reach the optimal temperature when cooking by gas.
Other than the size (and price), the only real difference between the two is that the Ooni Karu 16 comes with a hinged glass door that allows you to see your pizza as it cooks without having to open the door.
OONI KARU 12 PROS:
• Best value for money
• Multi-fuel versatility
• Highly portable
OONI KARU 12 CONS:
• Gas burner accessory not included in base unit
• Need to chop wood
OONI KARU 16 PROS:
• Hinged glass door
OONI KARU 16 CONS:
• Most expensive Ooni oven
• Gas burner accessory not included in base unit
• Bulky and not as portable
OONI PRO
The Ooni Pro is a multi-fuel pizza oven that's basically a larger version of the Ooni Karu. It can make up to 16-inch pizzas and weighs in at a much heftier 22 kg (48.5 lbs).
PROS:
• Multi-fuel versatility
• Larger size allows you to cook more dishes
CONS:
• Most expensive Ooni oven
• Gas burner accessory not included in base unit
• Bulky and not as portable
• Need to chop wood
WHERE TO BUY AN OONI PIZZA OVEN
Once you've chosen the Ooni pizza oven that's right for you, you can purchase it online through ooni.com or Amazon. Click on the links below for more information and to purchase your Ooni oven. (Please note that these are affiliate links)
HOW TO USE AN OONI KARU PIZZA OVEN
If you just purchased an Ooni Karu, then you can follow these step-by-step instructions to learn how to properly use your new pizza oven using firewood.
We've been making Neapolitan-style pizzas twice a week with our Ooni Karu. The oven is pretty easy to use and we're comfortable with the process now, but we've made a few mistakes along the way which I'll share with you in this section.
Setting Up the Wood/Charcoal Tray
This may seem self-explanatory to some but I had to watch the Ooni demo to figure out how to properly set up the wood/charcoal tray. Please refer to the picture below.
The side of the tray with the handle should be facing the front/opening of the Ooni Karu pizza oven. The part with the ventilation slits and Ooni logo comes off and doesn't fit in perfectly inside the tray. It fits in at an angle so it can be a bit confusing how to properly set it up inside the tray.
The Ooni logo should be right side up and facing the front/opening of the oven. Once you have this properly set up, then you can insert the tray into your Ooni Karu and push it all the way to the back.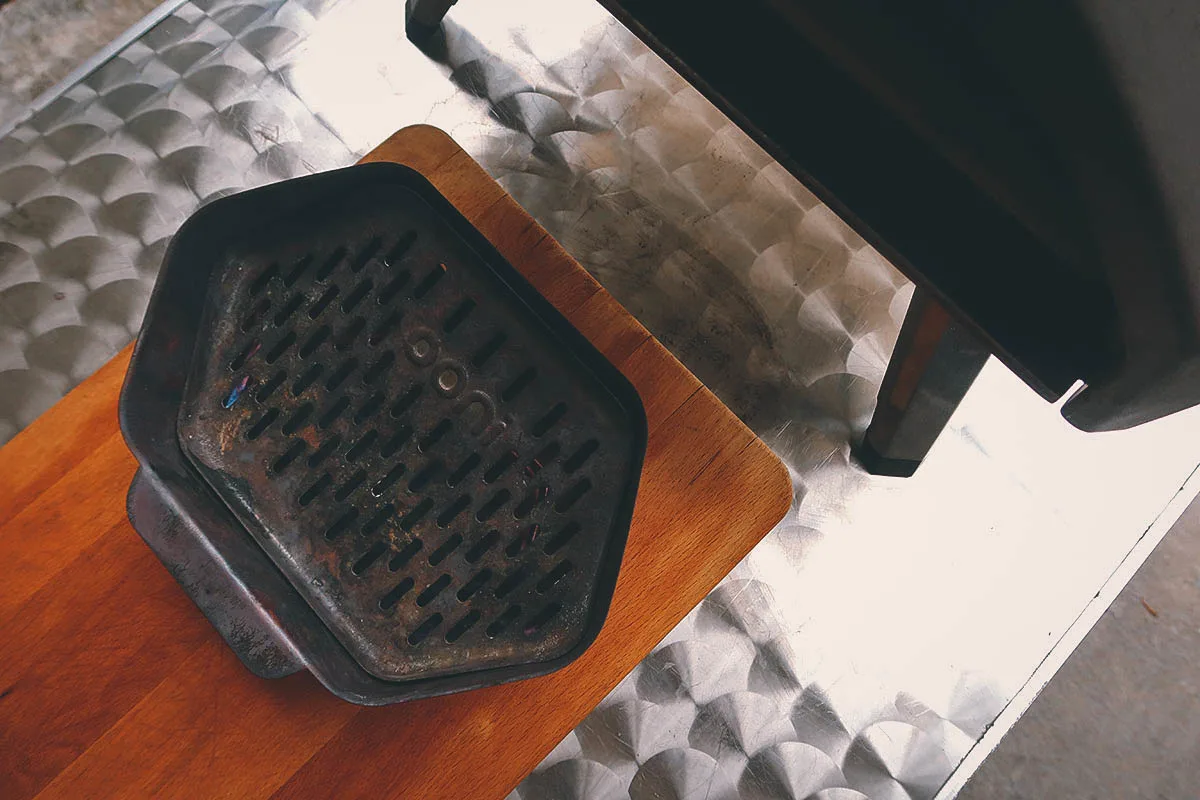 Getting the Fire Started
The Ooni demo shows you how to get your fire going using wood shavings as a firestarter. You can purchase some on Amazon. They advise against using lighter fluid or any type of spirit to light the fire, presumably because it can add an undesirable taste to your pizza. I would agree.
We have a butane torch which makes the process much easier and eliminates the need for a firestarter. I highly recommend getting one. It's also important to get the right type of firewood and cut them to the ideal size. You can jump to the Ooni pizza oven tips section of this guide for more details.
Layer about 5-6 pieces of firewood into the hatch. It's important not to put too much firewood at the beginning because you'll need to keep adding more to reach the desired temperature of about 500°C (932°F). Never put too much wood that you can't completely close the hatch.
I never have even-sized pieces of firewood so I like to start with the bigger pieces at the bottom and layering smaller pieces on top of that.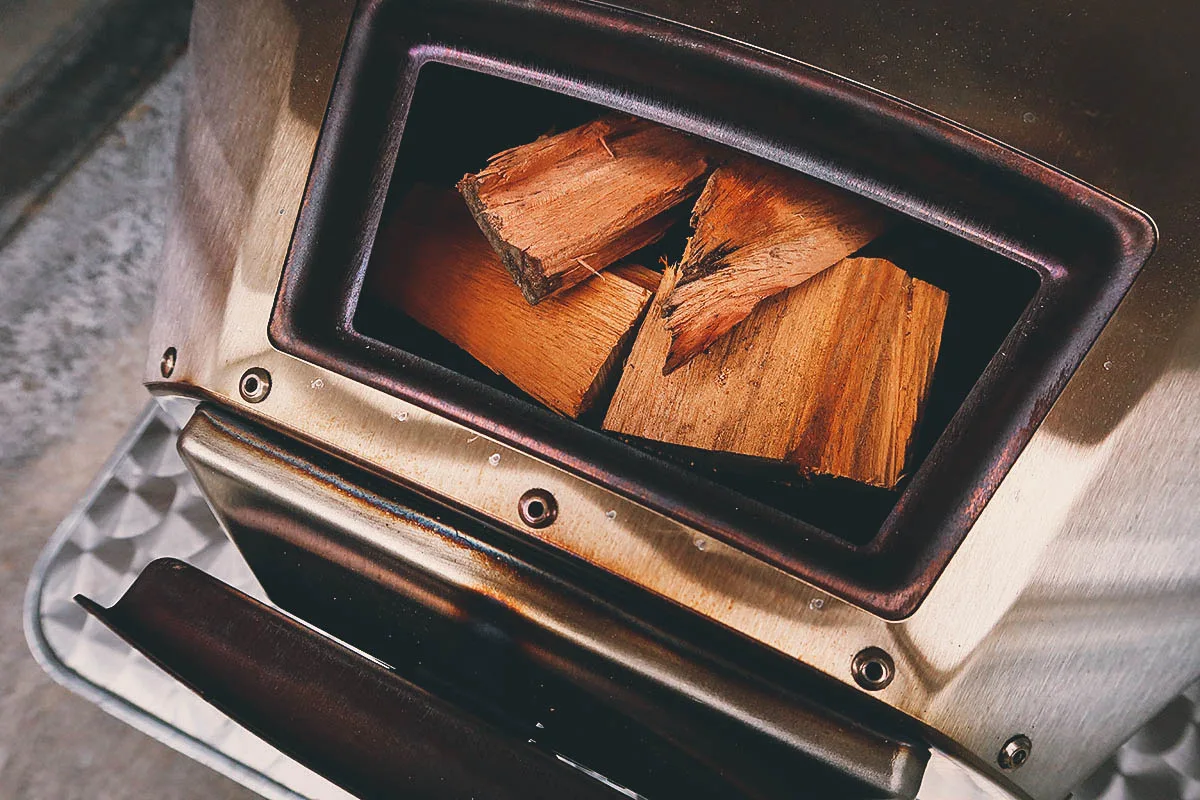 If you have a butane torch*, then you can use it to get your fire going. If you aren't using a firestarter, then getting the wood to burn constantly isn't as easy at the beginning so I typically blowtorch the wood continuously for about 30 seconds to a minute. Once I have a small fire going, then I switch off my torch and shut the hatch.
It takes about 15 minutes to reach the desired temperature with the Ooni Karu so I set my timer as soon as I first shut the hatch. The time it takes to reach the optimal temperature can vary depending on how quickly you can get the fire raging. Sometimes it takes less than 15 minutes, other times it can take longer.
*Please be extra careful when using a blowtorch. It can be easy to forget just how hot it can burn so always be mindful of the flame when using one. Always point it away from anyone and anything!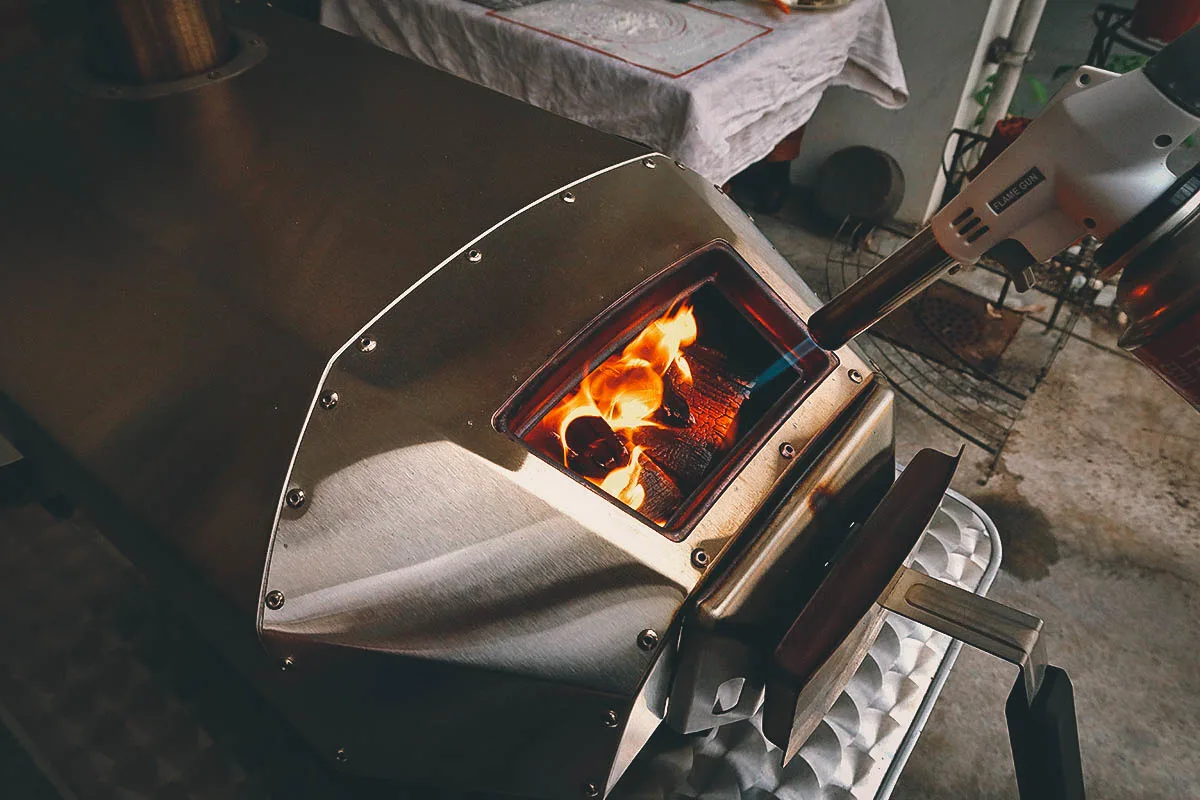 Just because you've gotten a small flame going doesn't mean your work is done. You have to keep feeding the hatch with more wood to get the fire raging. During those 15 minutes, I'm constantly checking the hatch and feeding it with more wood to reach the optimal intensity.
You'll know when the fire is just right when the flames practically shoot out from the back when you open the hatch. That's the intensity you need to reach the desired temperature of 500°C (932°F). Attempting to cook your pizza at less than that may lead to an undercooked bottom so it's very important for you to achieve this temperature.
Checking the Temperature
Using your infrared thermometer, open the front of your Ooni pizza oven and point to the middle of the pizza stone to get a temperature reading. You may need to do this several times before hitting that optimal temperature, but be sure to replace the front door right away. Opening the front door releases heat so try to do this as few times as possible.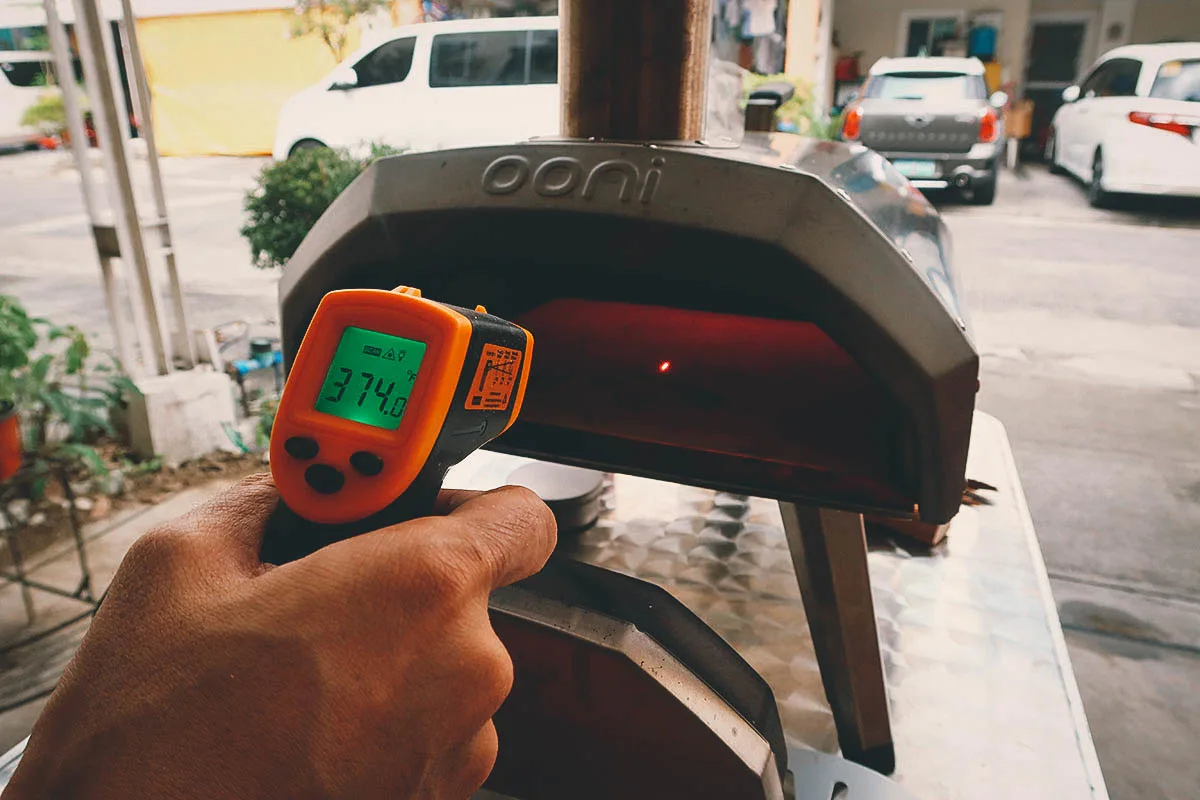 Cooking the Pizzas
I let Ren know as soon as the temperature hits 400-430°C (752-806°F) so she can start assembling the first pizza. This takes her just a few minutes so by the time she's done putting it together, I'm confident that the temperature inside the oven is at or close to 500°C (932°F).
At that temperature, it'll take just 60 seconds to cook your pizza so it's important to slide the uncooked pizza into your Ooni oven as swiftly and as smoothly as possible. To do that, make sure that your pizza peel is dusted well with flour, preferably with something with a coarser texture like semolina flour or corn meal. Just be careful when using corn meal because it tends to burn when it lands on the pizza stone.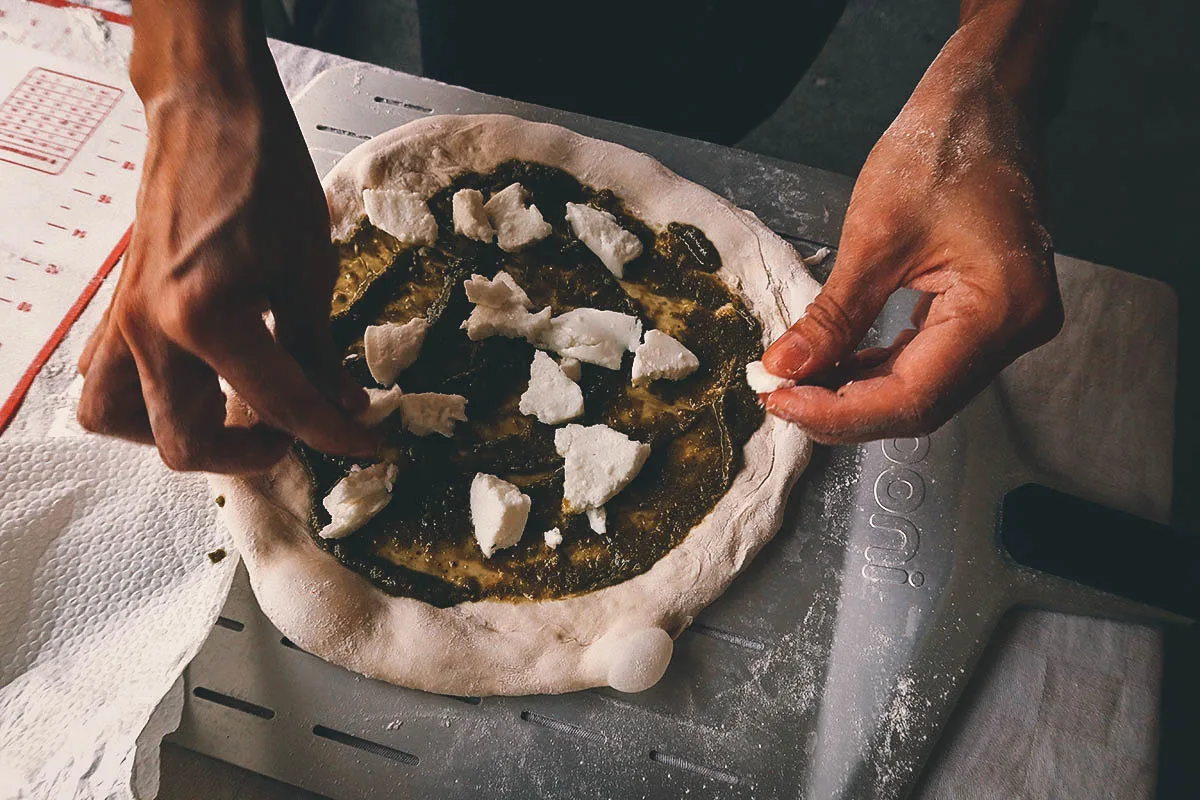 While Ren is cooking the pizza, I make sure that the fire is continuously raging in the back. When cooking with wood in our Ooni Karu, we've learned that the temperature can go down as quickly as it goes up so it's important to keep the fire burning as intensely as possible.
We learned this through trial and error but this is the cooking method that works for us:
Slide in the pizza and immediately close the door.
After exactly 20 seconds, open the door and rotate the pizza 180°. We highly recommend using a turning peel for this. Keep the front open.
After exactly 10 seconds, rotate the pizza again.
Watch the pizza carefully. After another 10 seconds, rotate the pizza again to make sure any undercooked edges are cooked more evenly.
Rotate the pizza again after 10 more seconds, and then one final time after another 10 seconds. The pizza should be in the Ooni oven for no more than a total of 60 seconds.
Remove the pizza and close the front door. Chances are, the temperature has gone down a bit. If you're cooking more than one pizza, then you'll need to get it back up again to the optimal temperature before cooking the next one.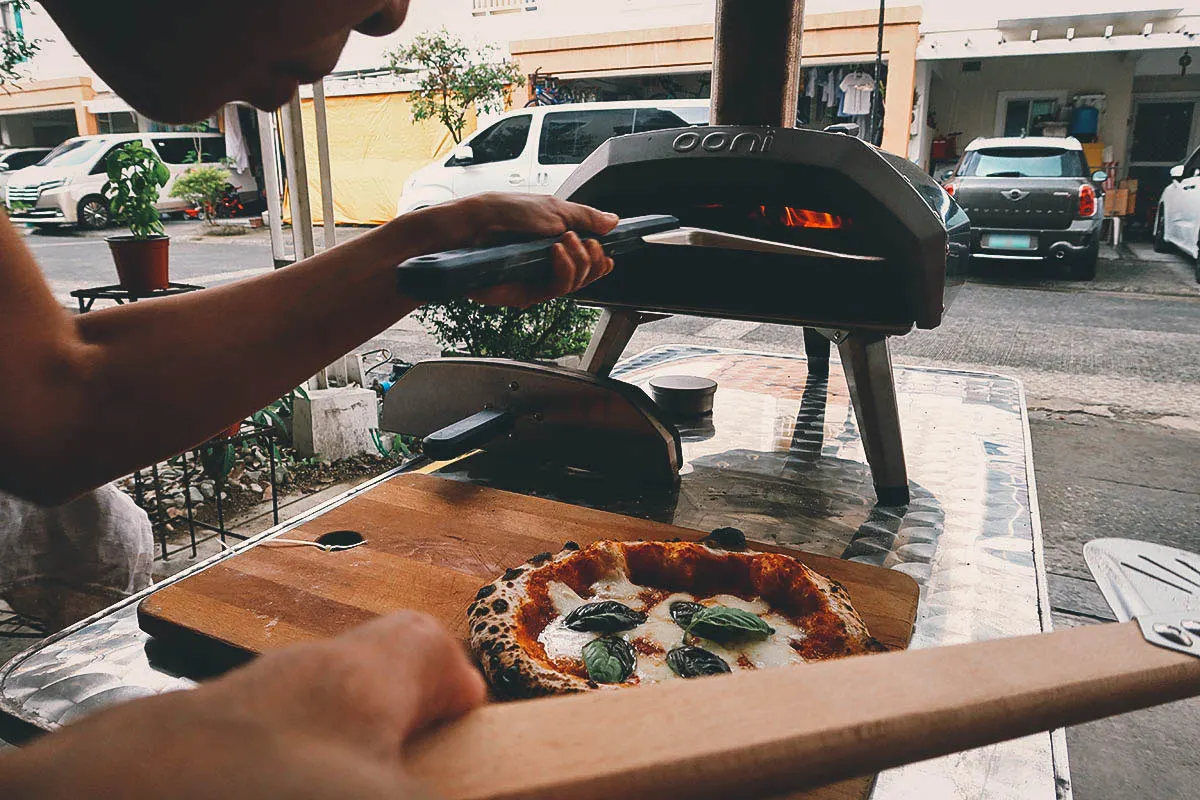 On our first ever attempt, we didn't rotate the pizza and kept the door closed for the full 60 seconds. This led to one side of the pizza crust being completely charred and black.
A few people reported the same problem online so others suggested shielding the top of your pizza with the pizza peel while the bottom cooks. We tried this and while it does work, we found that rotating the pizza a few times works even better.
You may not have to rotate it as often as we do but it's important to rotate the pizza at least once during the cooking process. You can experiment with this until you find a cooking method that works for you.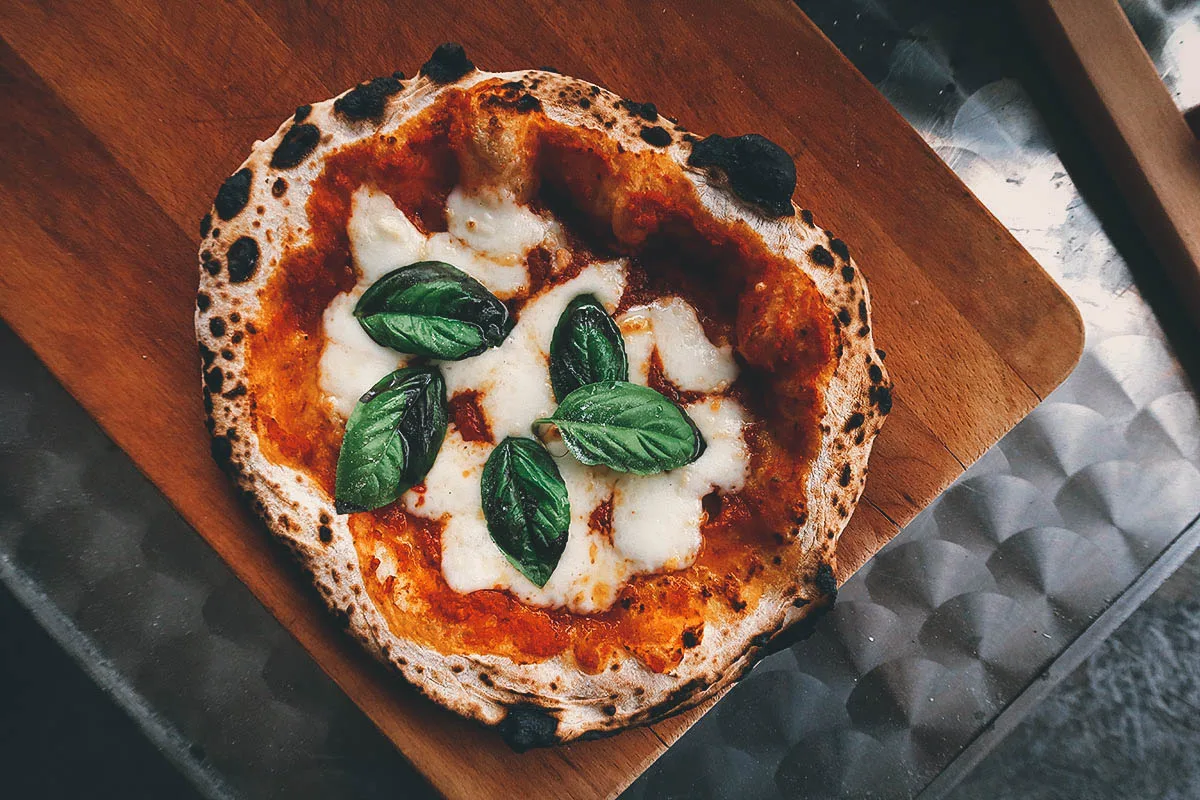 We use our Ooni Karu twice a week and make two pizzas every time. If you need to make more than two, then I think cooking with gas would be better. It's easier to keep the temperature stable, unlike with wood or charcoal where the temperature is more prone to fluctuations.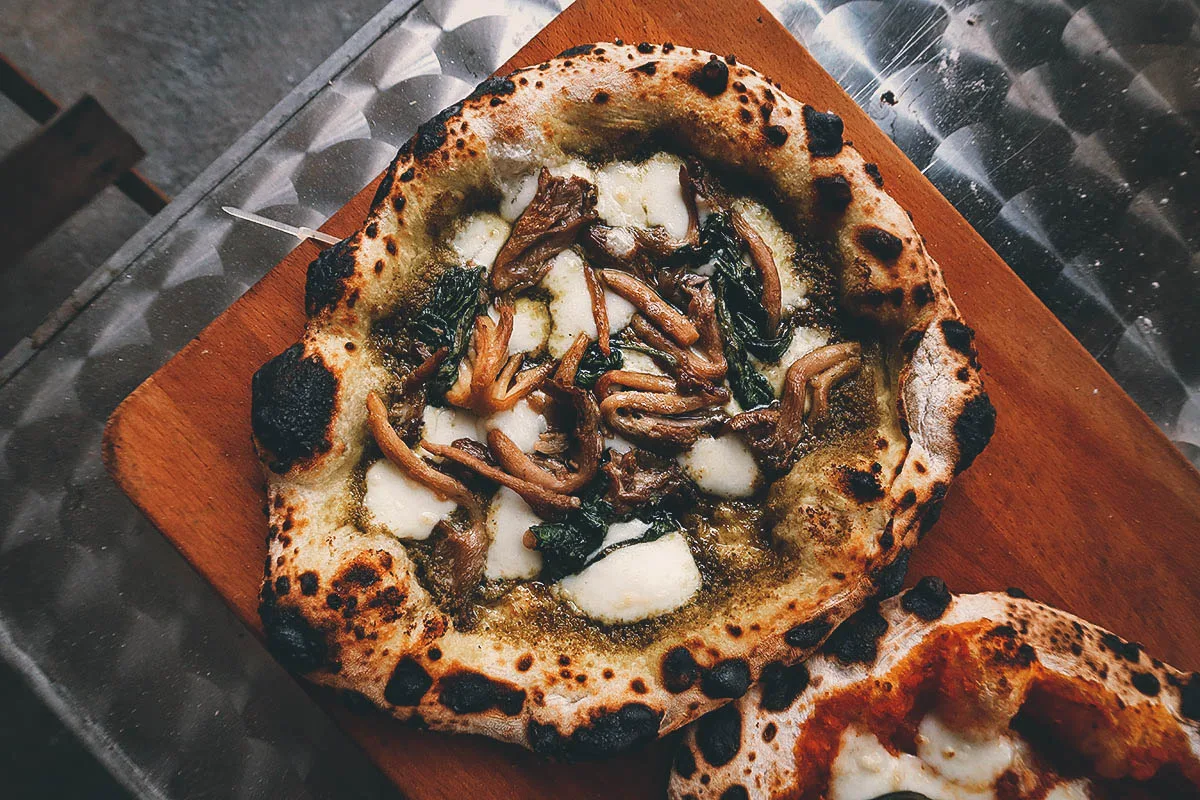 Check out that beautiful puffy crust! I won't get into it here but Ren does a long cold fermentation to prepare our pizza dough. This is something she had to experiment with to develop a recipe that works for us.
RECOMMENDED OONI PIZZA OVEN ACCESSORIES
These are the tools we use ourselves to make pizza-making with our Ooni oven as fun and as easy as possible. Methods vary from person to person so it's important to come up with a process and set of tools that work for you.
1. Dough Scraper
This is self-explanatory. You'll need a dough scraper to cut and work with sticky dough. We use a simple plastic dough scraper but you can get fancier stainless steel ones on Amazon.
2. Pizza Peel
You only have 60 seconds to cook the perfect Neapolitan-style pizza with your Ooni oven so you'll need a good pizza peel to do the job right. We went with Ooni's 12-inch perforated pizza peel but you have plenty to choose from on Amazon. Just be sure to pick the correct-sized peel for your Ooni pizza oven.
3. Turning Peel
When we first started making pizzas with out Ooni pizza oven, we would turn the pizza using kitchen tongs and a metal spatula. They did the job but the tongs would flatten our beautiful puffy crust and the spatula didn't have the right build to turn our pizzas easily and efficiently. Again, you only have 60 seconds to cook your pizza so you need a tool that does the job well.
This turning peel was a game changer for us. It enables us to rotate our pizzas so much more easily and with confidence. We purchased a generic turning peel online but you can get one on Amazon.
4. Ooni Gas Burner
This is a no-brainer. If you chose the Ooni Karu, then it's probably because you wanted an Ooni pizza oven that would allow you to cook with wood, charcoal, and gas. The Ooni gas burner for the Ooni Karu 12 is an optional accessory that you can pick up on Amazon.
5. Infrared Thermometer
You'll need an accurate infrared thermometer to check the temperature of your pizza stone. They make these for people and for industrial use. Obviously, you need one that isn't for humans. You can get one on Amazon.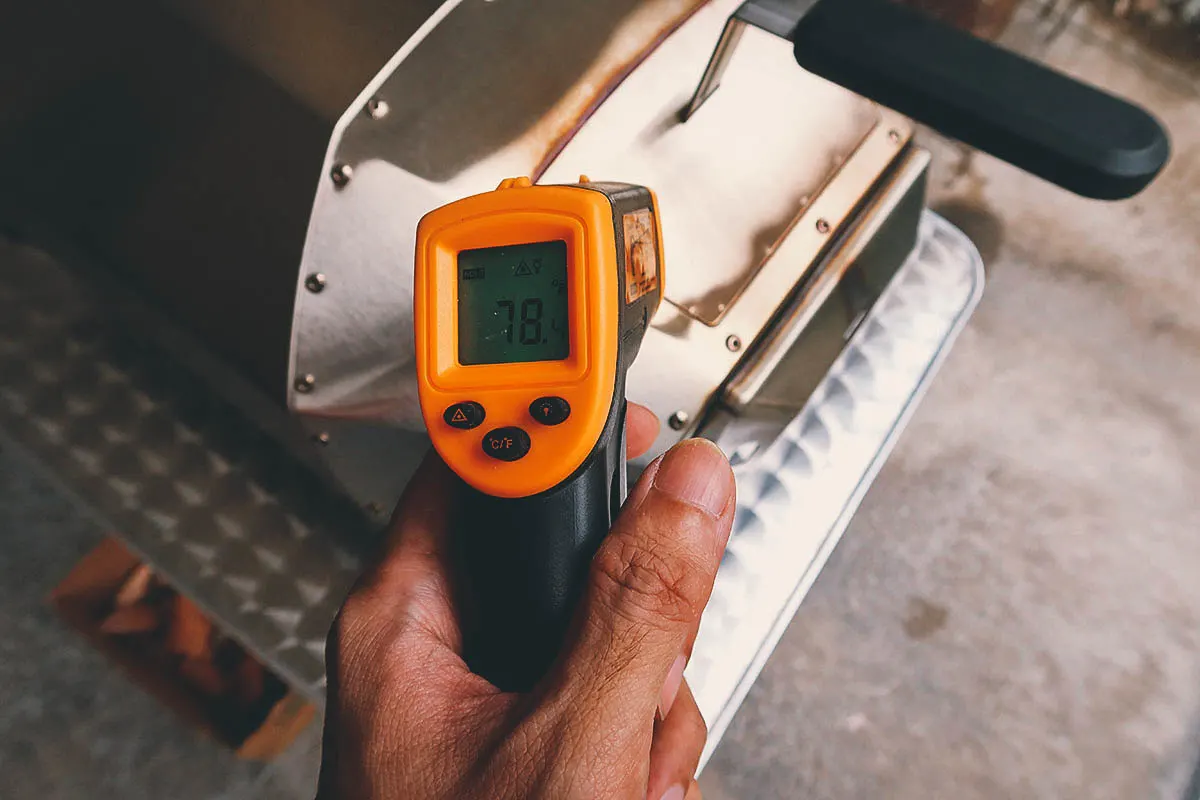 6. Butane Torch
This is a huge timesaver for us. It helps me get the fire blazing much faster and it eliminates the need for a natural firestarter. You can choose from one of many highly-rated kitchen torches on Amazon. Just be careful when you use it to prevent any accidents.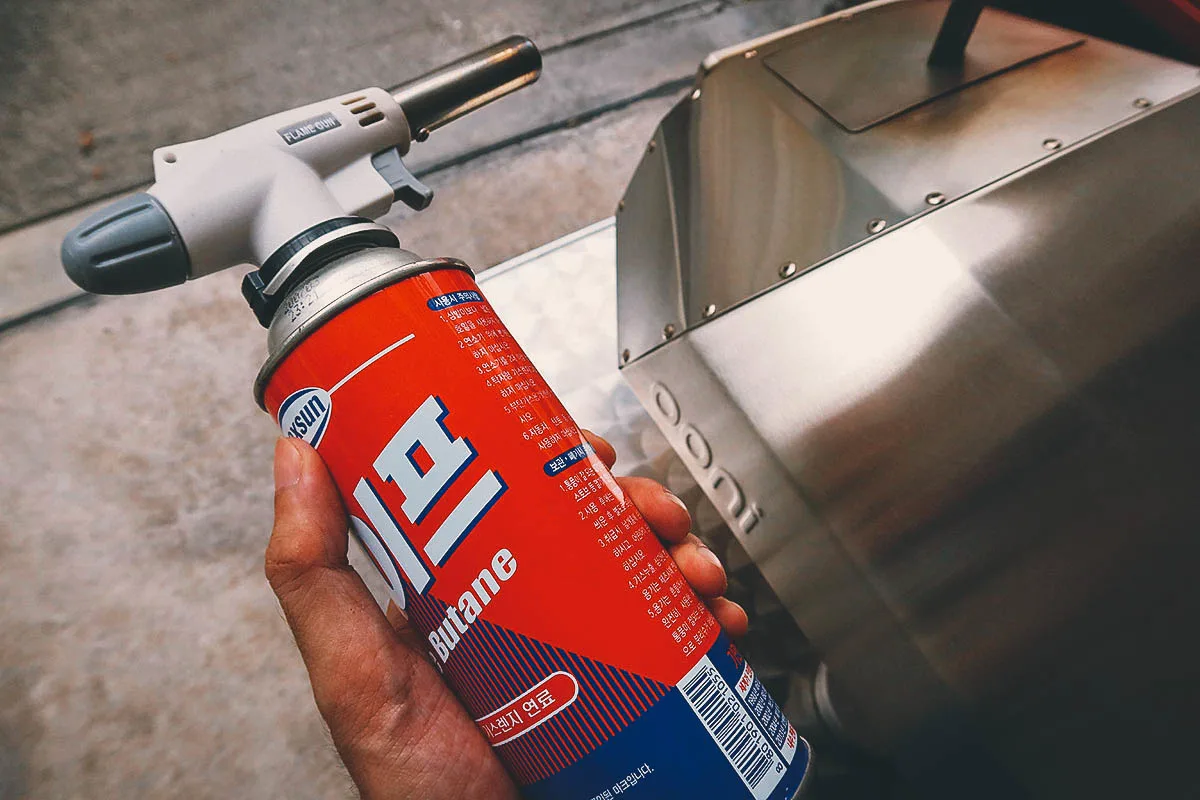 7. Pizza Cutter
You'll need a good pizza cutter to deftly slice through your Neapolitan-style pizza in one motion. You can pick one up on Amazon.
8. Pizza Stone Brush
The only part of your Ooni oven that you'll need to clean is the pizza stone. Sauce and ingredients may fall onto the stone while cooking so you'll need a non-abrasive oven brush to scrape away the charred bits. You can pick one up on Amazon.
OONI PIZZA OVEN TIPS
1. Use Hardwood
Ooni recommends using hardwoods in your Ooni Karu or Ooni Pro. Because they're more dense, they burn longer and produce more heat than softwoods. We get ours from a local supplier but you can purchase firewood for cooking on Amazon.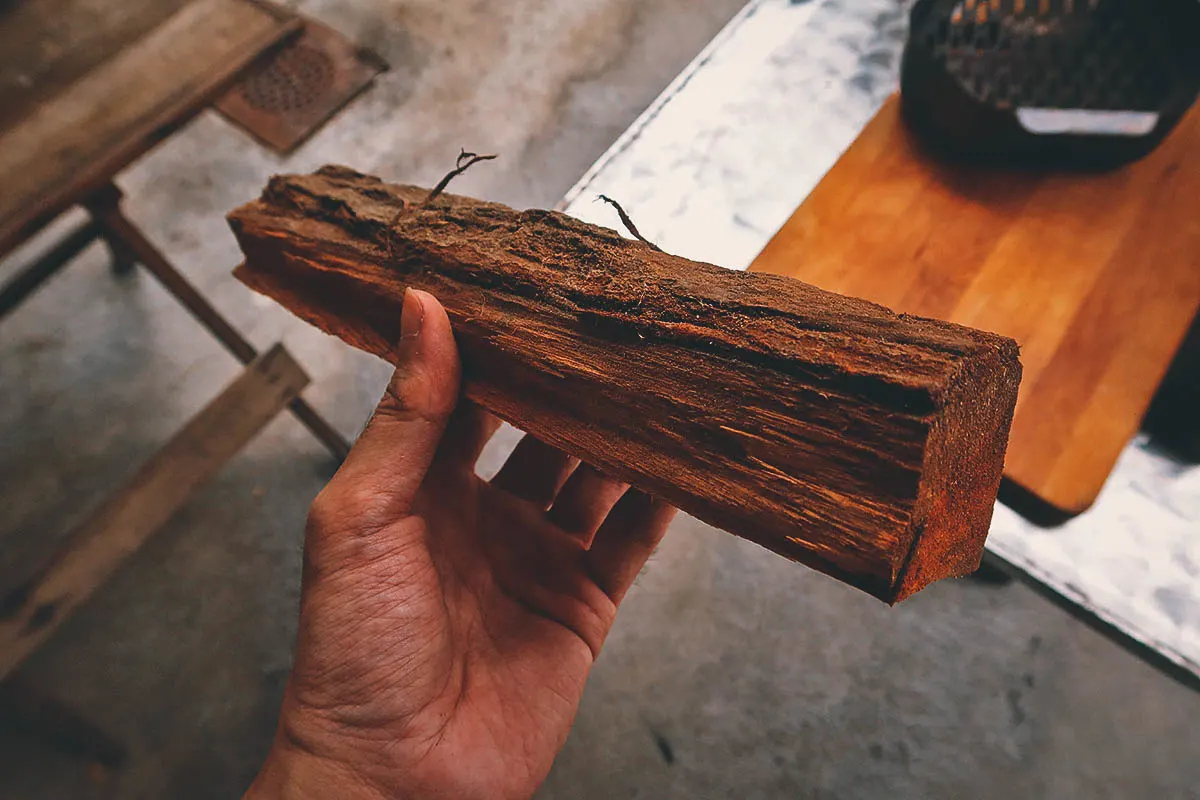 2. Cut Your Firewood to the Right Size
Standard firewood comes in 8-inch to 16-inch logs so you'll need to cut them to the right size to fit into your Ooni Karu or Ooni Pro. I use a handheld saw but many people use an axe.
Based on my experience with the Ooni Karu, the ideal size is about 4-5 inches long and 1-inch thick, or even smaller. I find that this is the ideal size for fitting into the hatch when you need to keep the fire going. Any bigger and you may have a more difficult time fitting it in with all the burning wood that's already in there.
I can't cut every piece of wood to this ideal size but that's fine. The larger and thicker pieces like the one on the right below are good for starting off your fire because they burn longer. I place them art the bottom of the tray then layer smaller pieces on top.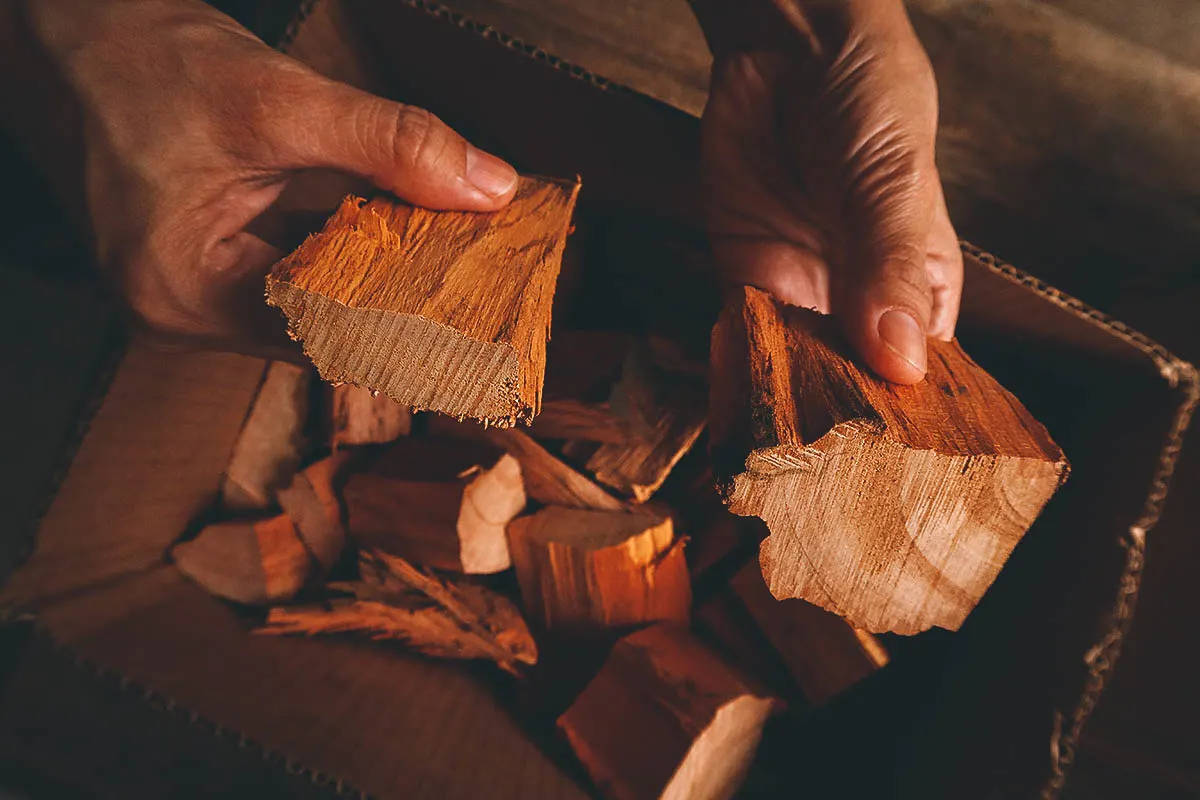 3. Clean Your Ooni Pizza Oven Properly
One of my favorite things about Ooni pizza ovens is that they're easy to maintain. You don't really have to disinfect them because they burn at such a high temperatures that they basically clean themselves. Just keep the following things in mind when maintaining your Ooni pizza oven.
NEVER use water to clean any part of your Ooni oven.
If you have a wood- or charcoal-burning oven, then you can just wipe down the insides with a dry cloth to keep the soot from building up. Personally, I use two cloths – one for the interior and another for the exterior.
Don't use any abrasive materials like steel wool that could scratch your Ooni oven.
Wipe down your oven only after it's cooled down completely.
4. Clean Your Ooni Pizza Stone Well
You don't have to clean your Ooni pizza oven but you do have to clean your pizza stone. The reason for this is that burnt food and flour can build up on the surface of the stone and impart an undesirable flavor to your pizza the next time you use the oven.
Ooni recommends using a non-abrasive pizza oven brush that you can purchase on Amazon. It's made with bamboo bristles and has a built-in scraper that you can also use to remove any fallen food inside the oven.
5. Wear Gloves if Necessary
I made the mistake of turning the chimney damper while our Ooni pizza oven was in use and burnt my fingers. Ouch!
I bought gloves shortly after but I haven't used them much because I find them too cumbersome. Instead, I just remind myself that the steel parts of the oven get super hot when in use to keep myself from touching it. I haven't burned myself since!
But if you do feel the need for pizza oven gloves, then you can pick up a pair from Amazon.
FREQUENTLY ASKED QUESTIONS (FAQs)
Does cooking pizza with wood or gas make any difference?
Not really. We've cooked pizzas with wood, charcoal, and gas and the difference is minimal at best. It may matter for dishes that take longer to cook but for a 60-second pizza, it doesn't really matter. In our experience, cooking with charcoal is the messiest and most labor-intensive while cooking with gas is the easiest (by far). Cooking with wood is the most fun.
Is it hard to maintain the temperature when cooking multiple pizzas?
It can be, when cooking with wood. Temperatures can fluctuate very quickly so it's important to keep checking on the fire and feed it when necessary. If you plan on cooking multiple pizzas – ie five or more – then I suggest cooking with gas. It's much easier.
Are you happy with your Ooni Karu 12?
Yes, 100%. Even with the release of the Ooni Karu 16, I still would have gone with the Ooni Karu 12. I like its portability and multi-fuel capability. Even though pizzas don't taste much different when cooked with wood or gas, I like having that option for other dishes.
FINAL THOUGHTS
I can't express enough just how much we love our Ooni pizza oven. Before we chose the Ooni Karu, we considered getting the Ooni Pro because the larger size would have given us the freedom to cook other dishes as well. But after using the Ooni Karu and learning how much heavier the Ooni Pro is, then I couldn't be happier with our decision.
I truly believe that the Ooni Karu is the best Ooni pizza oven. It offers an ideal balance of versatility, portability, and price. The size of the Ooni Pro would have been nice but not at the expense of portability, which is one of the reasons why this beautiful outdoor pizza oven was developed in the first place.
If you've been on the fence about getting an Ooni pizza oven, then I highly recommend just going for it. It's a great oven that will help you create truly restaurant-quality Neapolitan-style pizzas.
If you have any questions or suggestions, then please let us know in the comment section below. Thanks for reading and have an awesome time making pizzas with your Ooni oven!
Disclosure
This guide contains affiliate links which will earn us a small commission if you make a purchase at no additional cost to you. We really appreciate your support as it helps us make more of these free user guides. Thank you!