Budapest is cool. You won't know it when you first arrive but spend 24 hours there and you'll soon realize what a hip and trendy city Budapest really is.
Within minutes of arriving in Budapest, you'll notice its flamboyant architecture. Often called the "Paris of the East", you can't help but appreciate what a beautiful city it is, built on either side of the Danube River with grand buildings and centuries-old thermal baths. Seeing that side of Budapest sort of conditions your mind to expect an historical, though perhaps unexciting experience.
But nothing can be further from the truth.
Spend a day exploring the Pest side and you'll quickly realize that there is so much more to Budapest than its gargoyles and complex past. Its classical facade belies an energy and grit that we didn't feel in other European cities.
The cool fonts on storefronts, the funky boutiques, the innovative restaurant scene, and exciting bar concepts reveal an edgy side to Budapest often overshadowed by its gothic exterior.
It's funny, only after our trip did I start reading about this cool side of Budapest. Many people describe it as one of the most exciting cities in Europe.
Visit Budapest and you'll know exactly what they mean.
VISIT BUDAPEST QUICK LINKS
This Budapest travel guide is long. For your convenience, I've compiled links to hotels, tours, and other services here.
HOTELS
Top-rated hotels in District I, one of the best areas to stay for first-time visitors to Budapest.
TOURS
OTHER SERVICES
Save This on Pinterest!
No time to read this Budapest travel guide now? Click on the save button and pin it for later!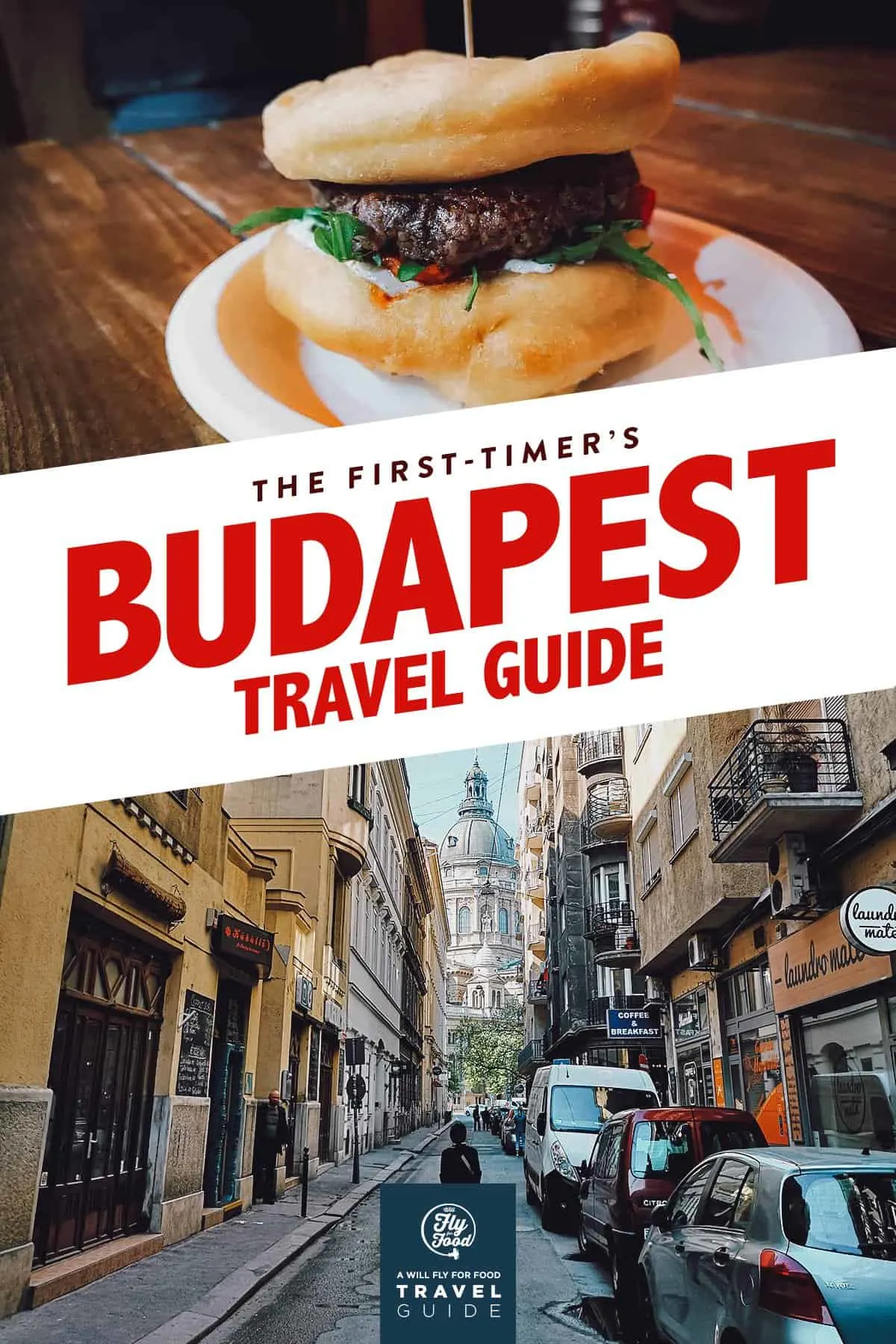 TRAVEL GUIDE TABLE OF CONTENTS
BUDAPEST TRAVEL RESTRICTIONS
Because of the current global situation, Budapest travel guidelines change almost everyday. Our friends at Booking.com created a website that lists detailed information on travel restrictions around the globe.
Before planning a trip to Budapest, be sure to check Booking.com for information on travel restrictions to Hungary. If you do decide to visit Budapest, then you may want to seriously consider getting travel insurance with COVID coverage.
HUNGARY VISA
Depending on your passport, you may need a visa and other travel documents to visit Budapest. Check out iVisa.com to learn about Budapest travel requirements and to apply for a visa (if necessary).
BUDAPEST AT A GLANCE
Budapest is the capital of Hungary and its most populous city. It consists of three towns – Buda, Obuda, and Pest – which were unified in 1873 and given the name Budapest.
The part of Budapest located on the western bank of the Danube River is referred to as Buda while the area to its east is Pest. Obuda forms part of District III on the Buda side, one of 23 in Budapest.
Buda is the hillier side of Budapest and where you'll find Buda Castle (Royal Palace), while Pest is relatively flat and home to numerous stately buildings like the Hungarian Parliament and the Hungarian State Opera House.
Collectively, this central area on either side of the Danube River is classified as a UNESCO World Heritage Site. As a first-time visitor, this is where you'll be spending most of your time in Budapest.
BEST TIME TO VISIT BUDAPEST
The best time to visit Budapest is in early fall (Sept-Oct) or late spring (Apr-May). These are shoulder seasons in Budapest with ideal weather.
MAR-MAY: Spring is one of the best times to visit Budapest. The weather is pleasant and there are a few festivals you can attend, particularly in May. Noteworthy festivals for food lovers include the Gourmet Festival, Rosalia Festival, and Budapest Beer Week.
JUN-AUG: Summer is peak tourist season in Budapest. It's the hottest and busiest season of the year so it may not be the best time to go to Budapest. Plus, hotel room rates will be at their highest.
SEPT-NOV: Like spring, autumn is the best time to visit Budapest. The summer heat and crowds have dissipated and visitors will be treated to fall colors and a host of festivals. The Budapest Wine Festival and Jewish Cultural Festival take place in September while October is highlighted by Oktoberfest.
DEC-FEB: Budapest experiences cold winters. Snowfall is common so it's one of the most picturesque times of the year to go to Budapest, if you can tolerate cold weather. Christmas is peak season in Budapest so expect thicker crowds and higher hotel prices.
Climate: Annual Monthly Weather in Budapest
For more on the weather in Budapest, check out these climate graphs from holiday-weather.com. I've also created the average temperature and annual rainfall graphs below with the most ideal months to visit marked in orange.
Average Temperature

Annual Rainfall

TRAVELING TO BUDAPEST
Budapest is located in the heart of central Europe. We flew to Budapest from Athens but there are many ways to get there depending on where you are.
By Plane
There are many flights that go to Budapest from different cities in Europe. You can do a search on a flight aggregator like Skyscanner to find cheap flights to Budapest Ferenc Liszt International Airport (BUD).
Budapest Airport is located about 16 km southeast of the city center. You can make your way to downtown Budapest in one of the following ways.
Bus
This is what I did. It's the cheapest way to get into downtown Budapest from the airport. The 100E bus costs HUF 1,500 and will take you directly into Budapest (Kalvin ter, Astoria, and Deak ter) in 30-45 mins. It runs every 20 mins with the last bus leaving the airport at 1:20AM.
Before exiting the arrival terminal, there's a booth on the far left side where you can purchase tickets to the 100E bus. I believe there's a ticket dispenser next to the bus stop as well. You'll need to purchase your ticket before boarding the bus.
It's worth noting that there's a cheaper and more frequent bus, the 200E. However, it doesn't take you all the way to the center of Budapest. You'll need to get off at Ferihegy rail station then transfer to a train to Nyugati Station. It won't cost much less so I don't think it's worth the hassle.
Shuttle
If you're looking for a convenient but cost-effective way of getting to your hotel from the airport, then the miniBUD shared shuttle service is perhaps the best option. It'll take you directly to your hotel.
However, since this miniBUD shuttle is a shared service, then it may take longer than the 100E bus depending on how many stops it needs to make.
If that isn't a problem, then you can book tickets in advance through the miniBUD website or Get Your Guide. I believe the cost varies depending on how many people you have in your group so be sure to check both sites to find the better deal.
Another option is to go by flibco shuttle bus. It'll take you from Budapest Airport to designated spots in the downtown area. You can book flibco shuttle bus tickets on Bookaway.
Private Transfer
This is more expensive but it's the most convenient way of getting from the airport to your hotel in downtown Budapest. You can book a private transfer through Get Your Guide.
Taxi
Taxis should cost about the same as private transfers, perhaps a little less. Only the Fotaxi company is authorized to provide unreserved taxis at Budapest Airport so be sure to book one only from the official taxi stand outside the arrival terminal.
By Train
Budapest has three international railway stations and is well-connected by train to many central European cities. We didn't take a train to go to Budapest but we did take one from Budapest to Prague. You can search for train routes to Budapest on Trainline.
By Bus
Traveling by bus is one of the cheapest ways to get around. You can search for bus routes to Budapest on Bookaway.
By Car
Traveling by car is a great way to explore Budapest and many parts of Europe. It gives you the freedom to stop wherever you want, whenever you want.
If you're looking to rent a car and driving to Budapest, then you can rent one on Rentalcars.com.
WHERE TO EXCHANGE CURRENCY
Hungary is a member of the European Union (EU) but the country's unit of currency is the Hungarian Forint (HUF).
I withdrew HUF from an ATM so I didn't have to exchange currency in Budapest, but if you do need to exchange currency, then I read that Correct Change in the Pest side is a good place to do it.
Personally, I prefer withdrawing from ATMs. Rates are competitive and I don't have to bring as much foreign currency with me.
If you plan on using your ATM card abroad, then it's a good idea to inform your bank beforehand. That way you don't run into any issues. In my experience, my ATM card works in some machines but not in others.
NOTE: Some ATMs may ask if you'd like to proceed "with or without conversion". Always proceed WITHOUT conversion. Proceeding with conversion authorizes the foreign bank operating the ATM to do the conversion for you, usually at unfavorable rates.
BEST AREAS TO STAY IN BUDAPEST
Budapest has 23 districts. If it's your first time in the city, then I think districts I, V, VI, VII, VIII are the best areas to stay. If you look at a map of Budapest, then you'll understand why.
They're right in the heart of Budapest, on either side of the Danube River, and put you close to many of the city's top tourist attractions.
Listed below are five of these recommended districts along with a color-coded map to help you understand where they are. Follow the link to view a live version of the map. (Please note that marked areas are approximations only)
BLUE – District I (Varkerulet)
RED – District V (Belvaros)
GREEN – District VI (Terezvaros)
PURPLE – District VII (Erzsebetvaros)
ORANGE – District VIII (Jozsefvaros)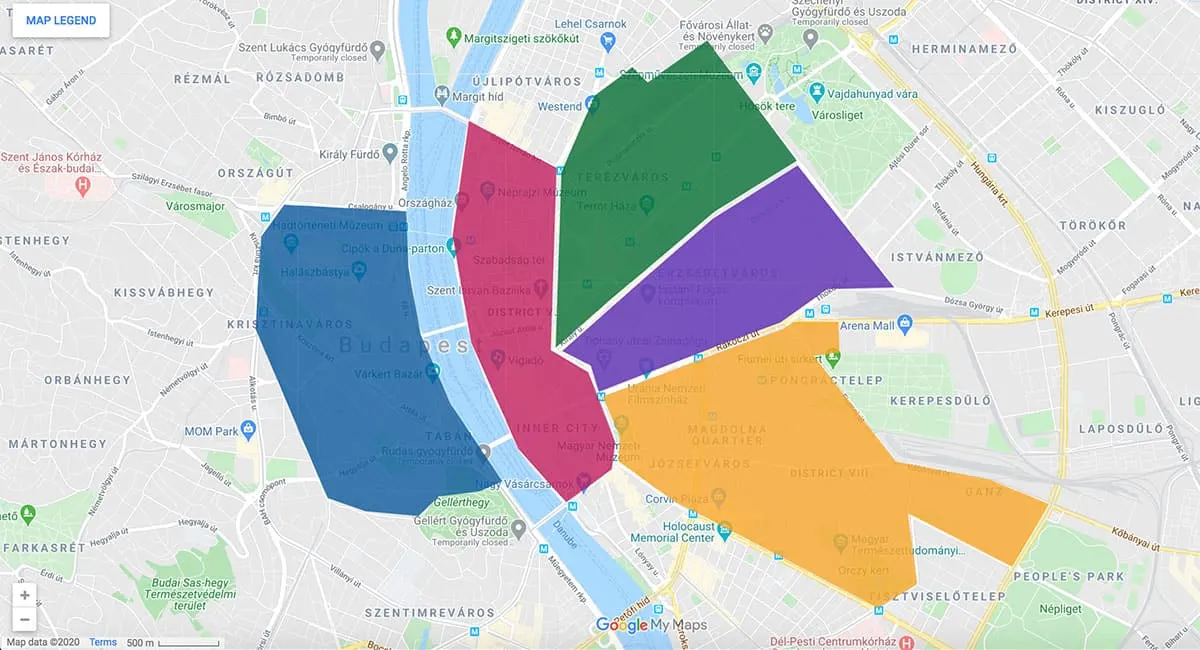 DISTRICT I
District I or Varkerulet is the Castle District and the only district on this list located on the Buda side. It's home to Buda Castle (Royal Palace), Matthias Church, and the Fisherman's Bastion which are among the most visited tourist attractions in Budapest.
Some people say that District I is the best area to stay in Budapest for first-time visitors. If you like historical attractions, then District I is definitely for you. You can search for hotels in District I on Booking.com or Agoda. Check out some of the top-rated hotels in Varkerulet:
DISTRICT V
District V or Belvaros is the area directly opposite the Castle District on the other side of the Danube River. It's where you'll find arguably the most impressive building in Budapest – the Hungarian Parliament Building.
District V is also home to the Shoes on the Danube memorial and St. Stephen's Basilica. If you stay here, then it's easy to reach Széchenyi Chain Bridge and walk to the Castle District. You can search for accommodations in District V on Booking.com or Agoda. Check out some of the top-rated hotels in Belvaros:
DISTRICT VI
District VI or Terezvaros is where you'll find Andrassy Avenue, an upscale boulevard of Neo-Renaissance mansions often referred to as the Beverly Hills of Budapest.
It's also home to the Hungarian State Opera House, the House of Terror, and Nyugati Railway Station which is one of the main train terminals in Budapest.
We stayed at a big and beautiful 3-bedroom Budapestay Apartment on Liszt Ferenc Square. Budapestay Apartments is a series of modern self-catering apartments on Liszt Ferenc Square and Andrassy Avenue.
Liszt Ferenc Square is a great area to stay at in Budapest. Right outside the building is a series of restaurants and bars so you never have to go far to get a bite to eat. Oktogon metro station is nearby as well.
If you'd like to stay in District VI, then you can search for listings on Booking.com or Agoda. Check out some of the top-rated hotels in Terezvaros:
DISTRICT VII
District VII or Erzsebetvaros is the historic Jewish Quarter. It's home to many interesting restaurants, cafes, boutiques, and the city's famed ruin bars. It's also where you'll find the Dohany Street Synagogue which is the largest synagogue in Europe.
For me, Erzsebetvaros is one of the coolest areas to stay in Budapest. I loved its energy at night and its vibrant and exciting restaurant scene.
District VII was where we spent most of our time when we weren't sightseeing in Budapest. You can search for accommodations here on Booking.com or Agoda. Check out some of the top-rated hotels in the Jewish Quarter:
DISTRICT VIII
We didn't get to explore District VIII as much but Jozsefvaros is described as one of the coolest and edgiest neighborhoods in Budapest. It's an up-and-coming area that's home to a trendy restaurant scene, ruin bars, galleries, and second-hand shops. It's also where you'll find the Hungarian National Museum.
Jozsefvaros has been called one of the hottest districts in Europe. This is definitely where we'll be staying on our next trip to Budapest. You can search for accommodations in District VIII on Booking.com or Agoda. Check out some of the top-rated hotels in Jozsefvaros:
You can also book hotels and home stays in Budapest using the handy map below.
PLACES TO VISIT IN BUDAPEST
1. Castle Quarter
The Castle Quarter or Varnegyed is one of the main tourist areas in Budapest. Located on top of Castle Hill in District I on the Buda side, it's the oldest part of Budapest and where you'll find Buda Castle (Royal Palace), Matthias Church, and the Fisherman's Bastion.
You can easily explore the Castle Quarter on your own but if you'd like to go on a guided walking tour, then you can book one on Get Your Guide.
Matthias Church
Matthias Church is one of the most famous churches in Hungary. Built in the 11th century, it was used as a coronation church by Hungarian kings and a mosque by Ottoman Turks before becoming a Roman Catholic church.
St. Stephen's Basilica on the Pest side is more grand but Matthias Church is the more beautiful building, noted for its gothic style and colorful roof covered in diamond-patterned tiles.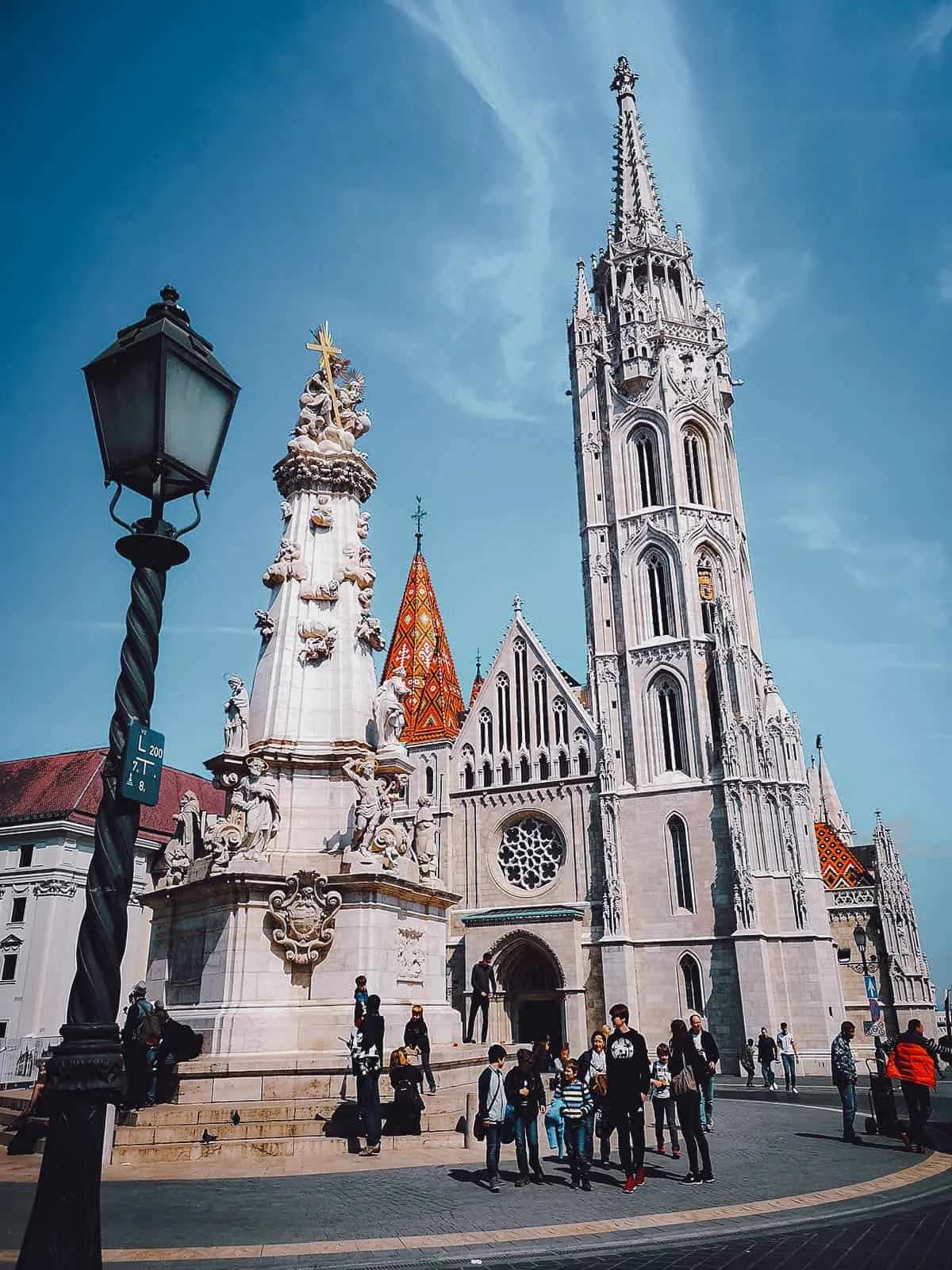 Admission: HUF 2,500
Estimated Time to Spend: About 30 mins – 1 hr
Fisherman's Bastion
Just a few steps from Matthias Church is the Fisherman's Bastion, a fortification and viewing platform offering some of the best views of Budapest and the Danube River.
Does the Fisherman's Bastion remind you of anything? Some people believe that it served as the inspiration for the Walt Disney logo.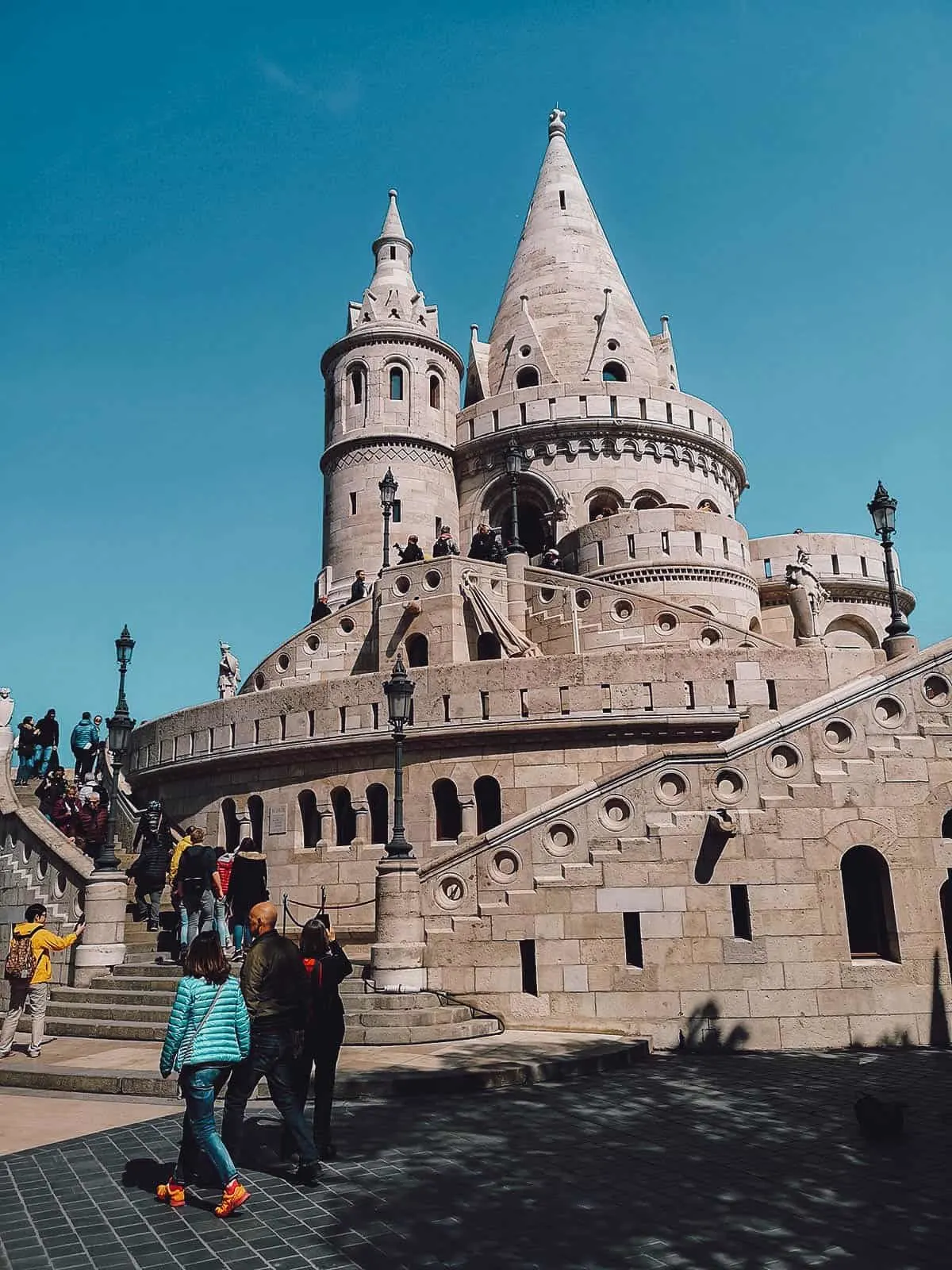 Admission: FREE (lower terraces), HUF 1,000 (upper towers)
Estimated Time to Spend: About 30 mins
Buda Castle (Royal Palace)
Built in the 13th century, the original Buda Castle or Royal Palace suffered considerable damage during the Turkish occupation so much of what you see today is a reconstruction. It's an impressive building that now houses the Hungarian National Gallery and the Budapest History Museum.
You'll need to pay admission to enter either museum but you can explore the area around the Royal Palace for free.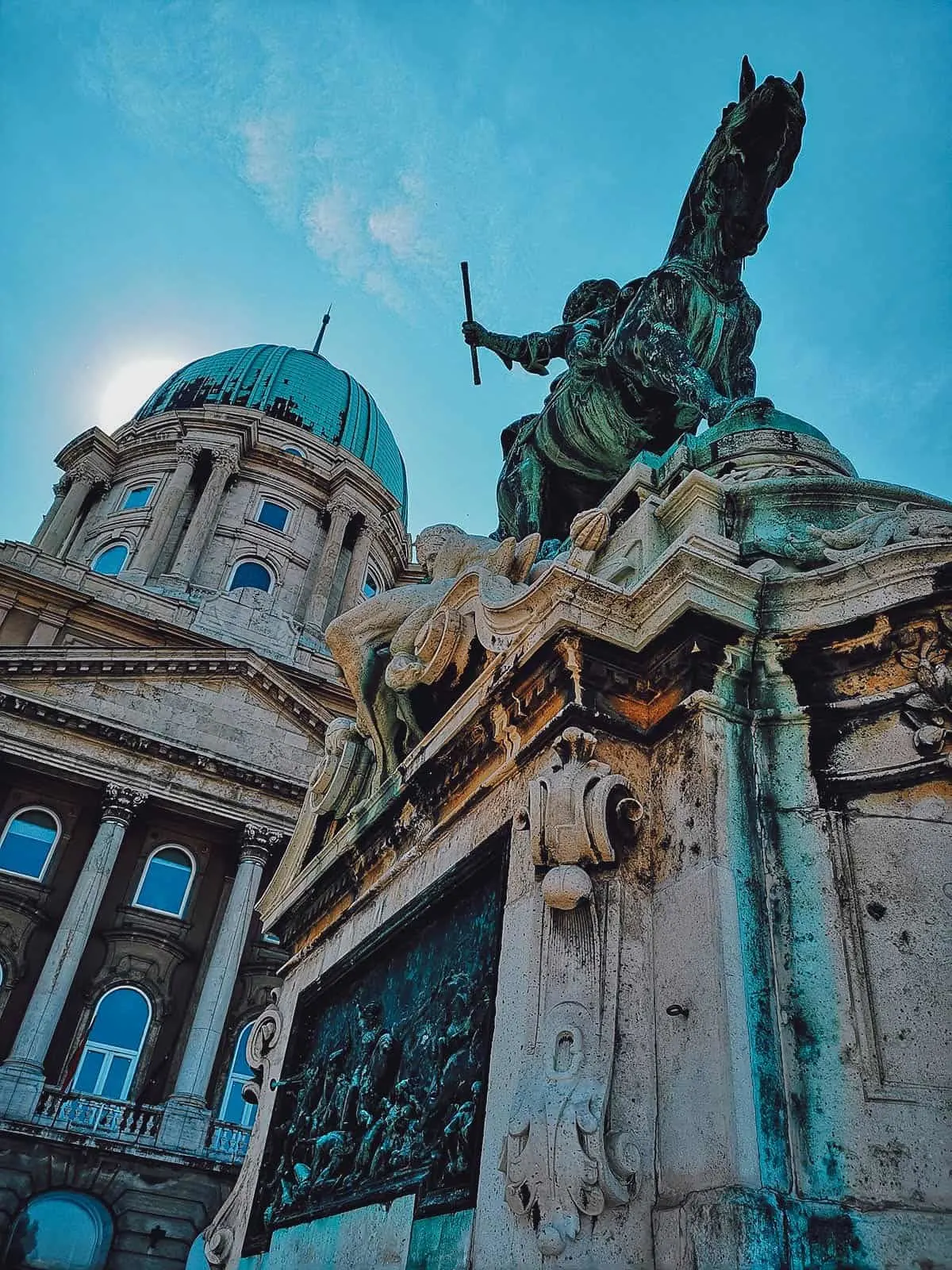 Admission: HUF 3,400 (Hungarian National Gallery), HUF 2,400 (Budapest History Museum)
Estimated Time to Spend: Between 2-5 hrs
The Castle Quarter is located on top of Castle Hill (Varhegy) so walking will be very difficult. To get to the top, you can either ride the funicular, take the hop-on hop-off shuttle, or go on a guided tour.
We went with the castle shuttle which would drop us off at various points so we could explore the Castle Quarter on our own.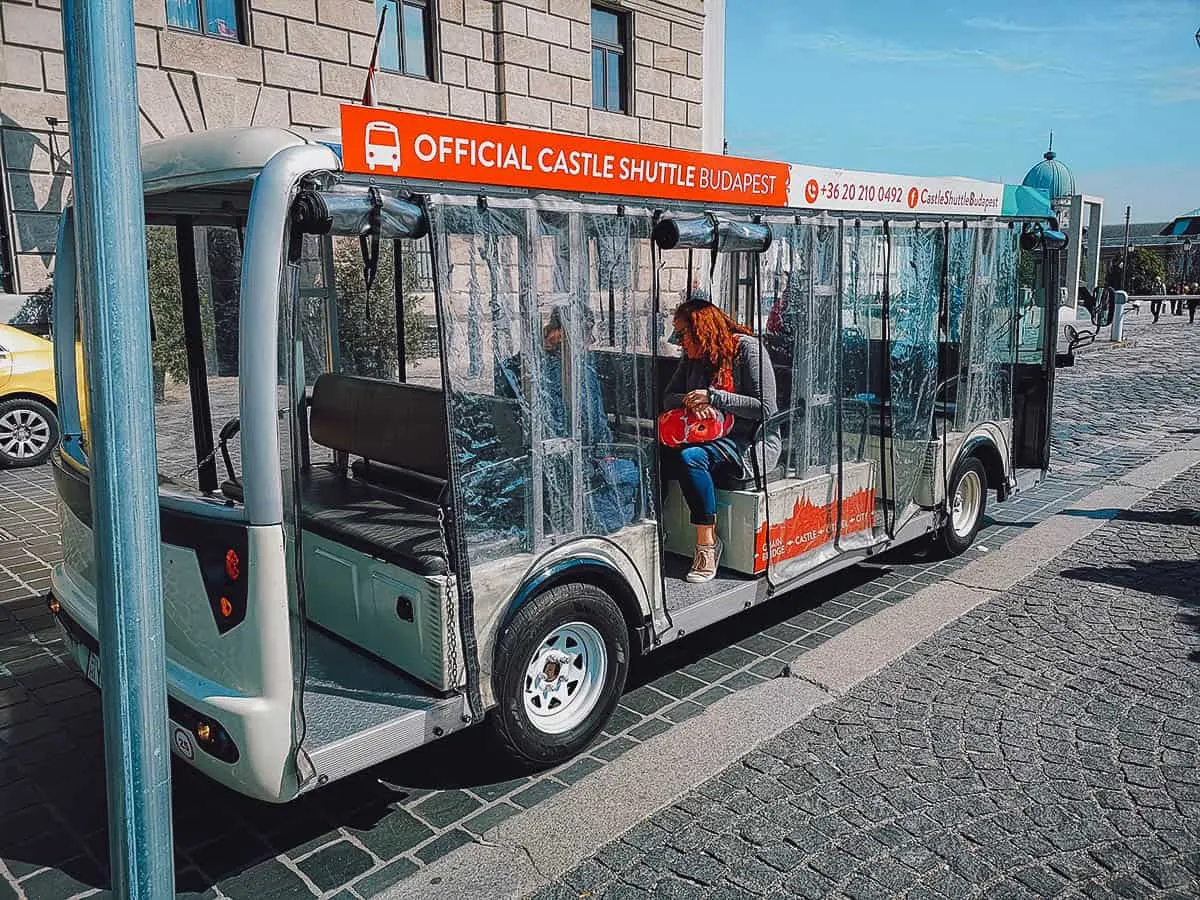 2. Hungarian Parliament Building
The Hungarian Parliament Building is impressive. There are many stunning buildings in Budapest but few if any are more jaw-dropping than the Hungarian Parliament building.
Built in 1902 along the Danube River, the Hungarian Parliament is the third-largest parliament building in the world. It boasts 691 interior rooms, 10 courtyards, and 12.5 miles of staircase. On display in its domed Hexagonal Hall is the Crown of St. Stephen, the royal Hungarian crown that commemorates the first Christian king of Hungary.
We admired it only from the outside but if you'd like to go in, then you can buy tickets on the Hungarian National Assembly website or book a guided tour. Based on what I've read, Hungarian Parliament tours are popular so it's a good idea to book tickets in advance.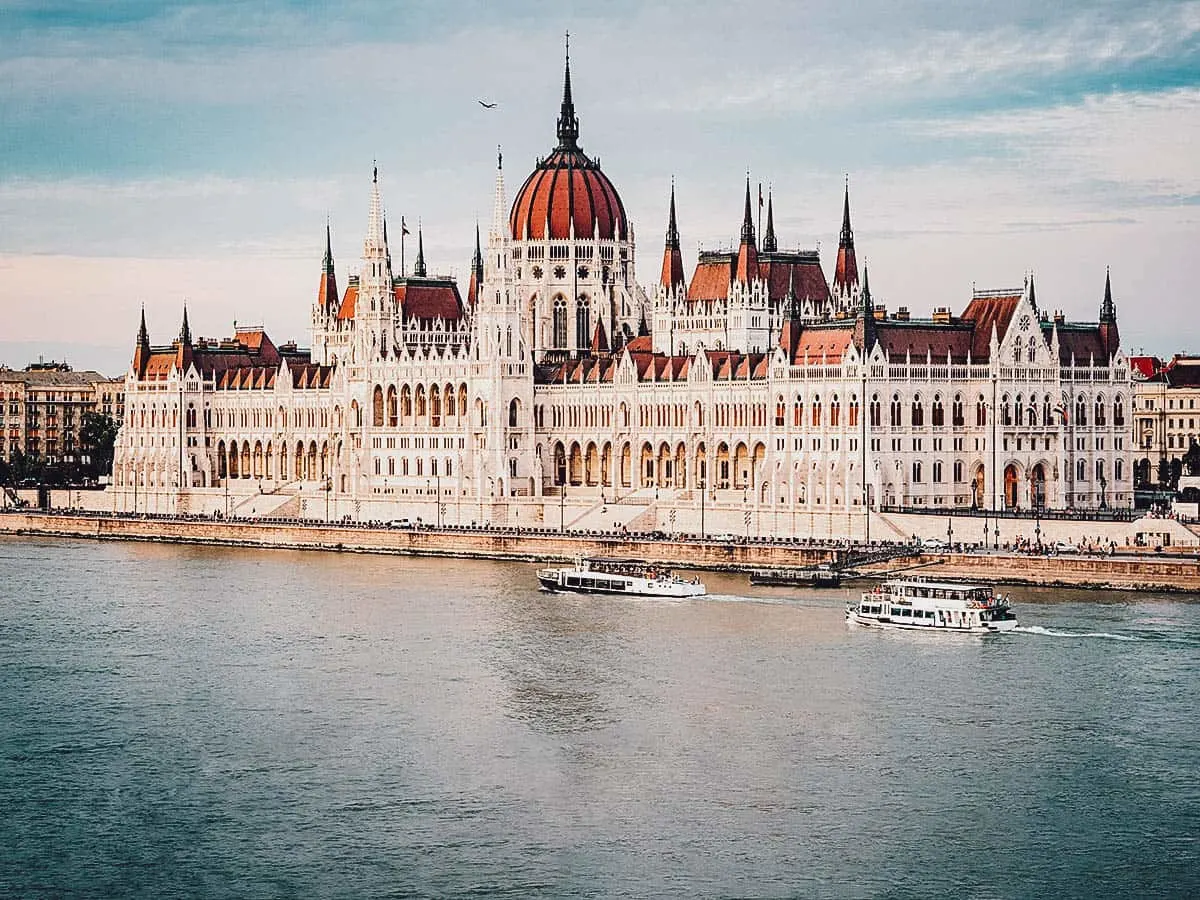 Photo by Matteo Gabrieli via Shutterstock
Admission: HUF 5,000 (EU citizens), HUF 10,000 (non-EU citizens)
Estimated Time to Spend: About 45 mins
3. Shoes on the Danube Bank
Located along the Danube, just a short walk from the Hungarian Parliament building is this haunting memorial dedicated to the Jews executed by the Hungarian Nazi Party during World War II.
Shoes on the Danube Bank depicts cast-iron shoes in different styles and sizes to represent the thousands of Jews shot by the Arrow Cross Party during World War II. Shoes were a valuable commodity during the war so victims were made to remove them before being shot into the Danube River.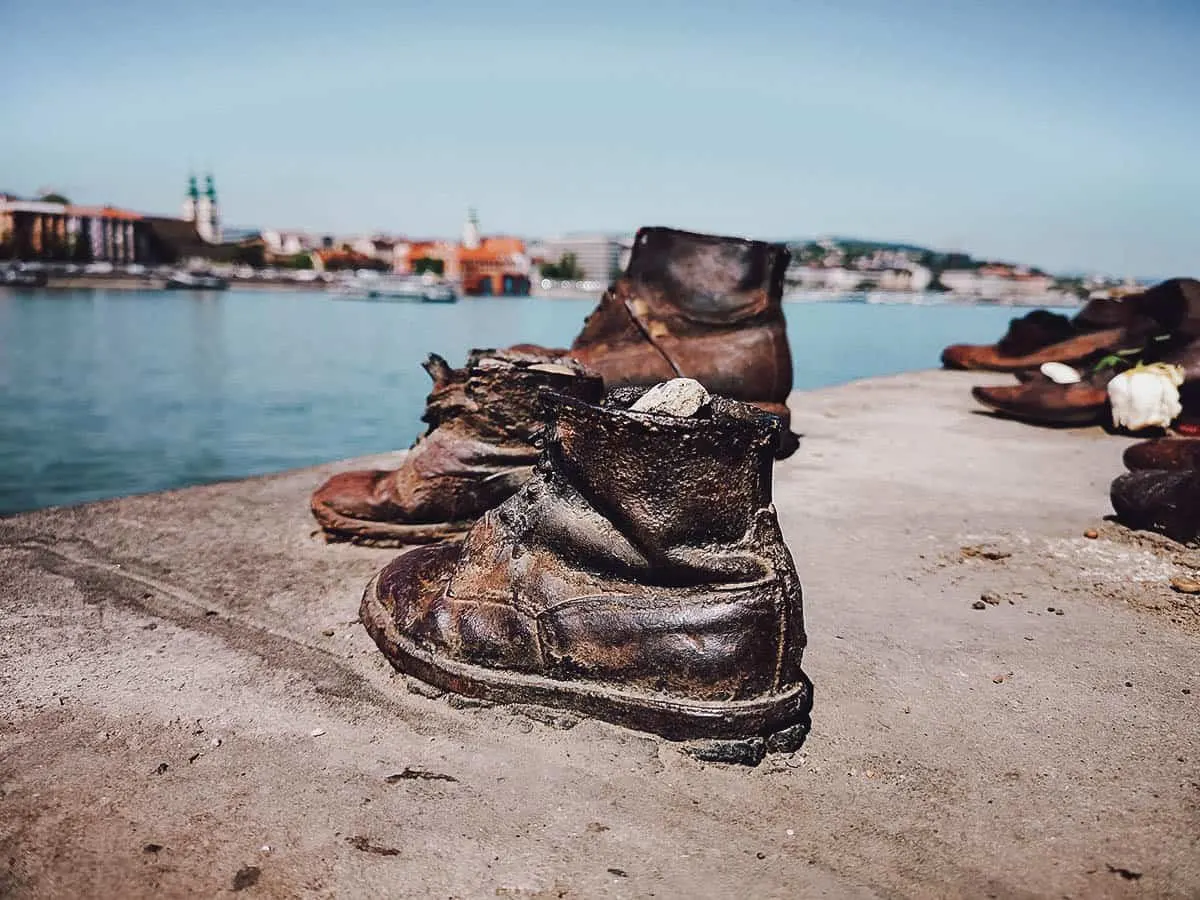 Admission: FREE
Estimated Time to Spend: About 15 mins
4. St. Stephen's Basilica
St. Stephen's Basilica is the biggest church in Budapest. Located just a short walk from the Hungarian State Opera House, it's home to the mummified hand of Stephen I – Hungary's first king – and is considered the most sacred Catholic church in the country.
You can easily visit on your own, but if you have a keen interest in Catholic churches, then perhaps you'd like to visit St. Stephen's Basilica on this guided tour.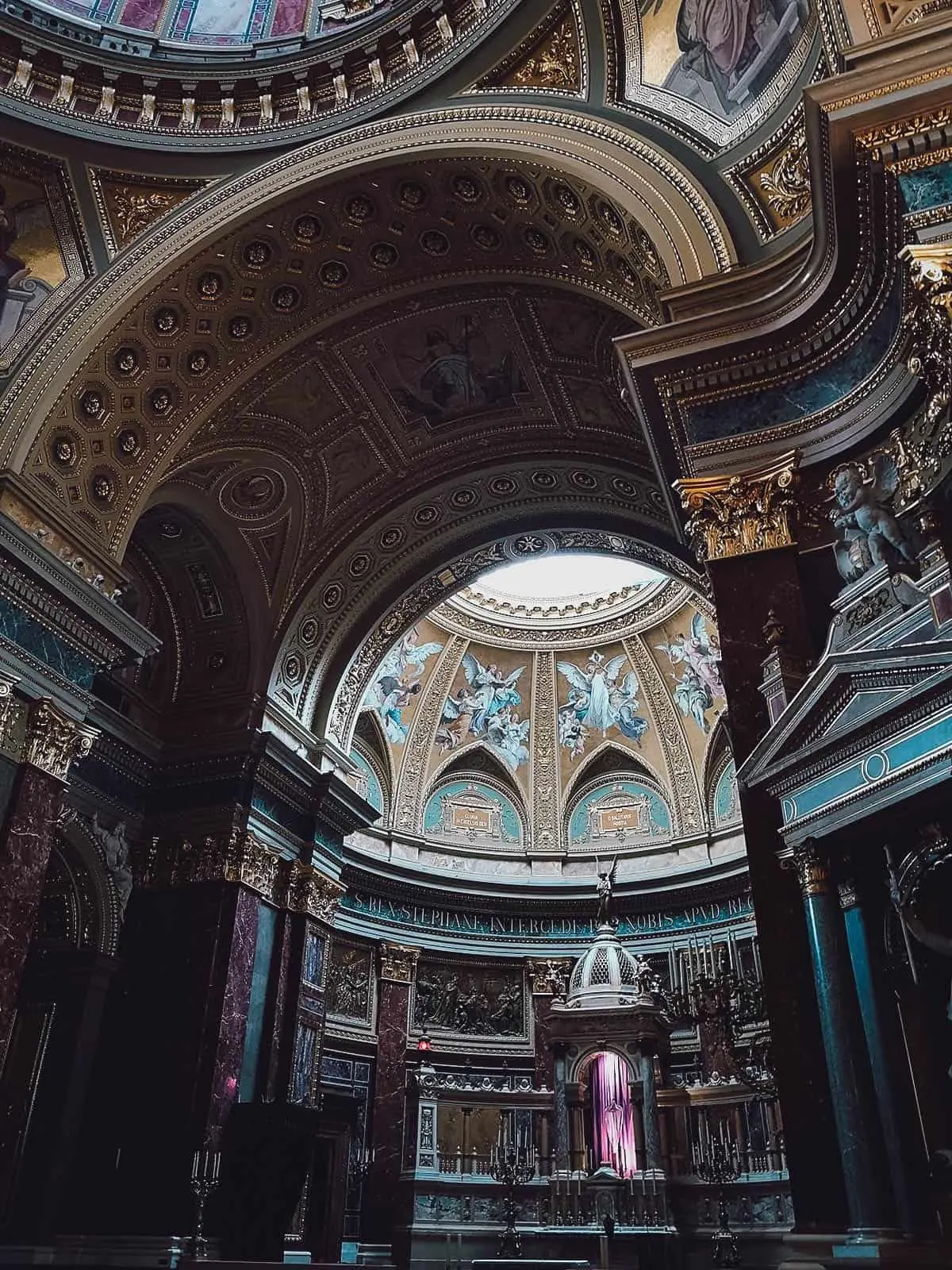 Admission: HUF 200 (church), HUF 1,200 (dome)
Estimated Time to Spend: About 30 mins – 1 hr
5. Great Synagogue
The Dohany Street Synagogue is the biggest synagogue in Europe. It was built in 1859 and contains a mixture of Byzantine, Gothic, and Romantic architectural styles.
Aside from the synagogue itself, inside the complex is the Heroes' Temple, the Jewish Museum, a graveyard, and a memorial site. You can pay for admission at the gate or book a guided tour that stops at the Great Synagogue.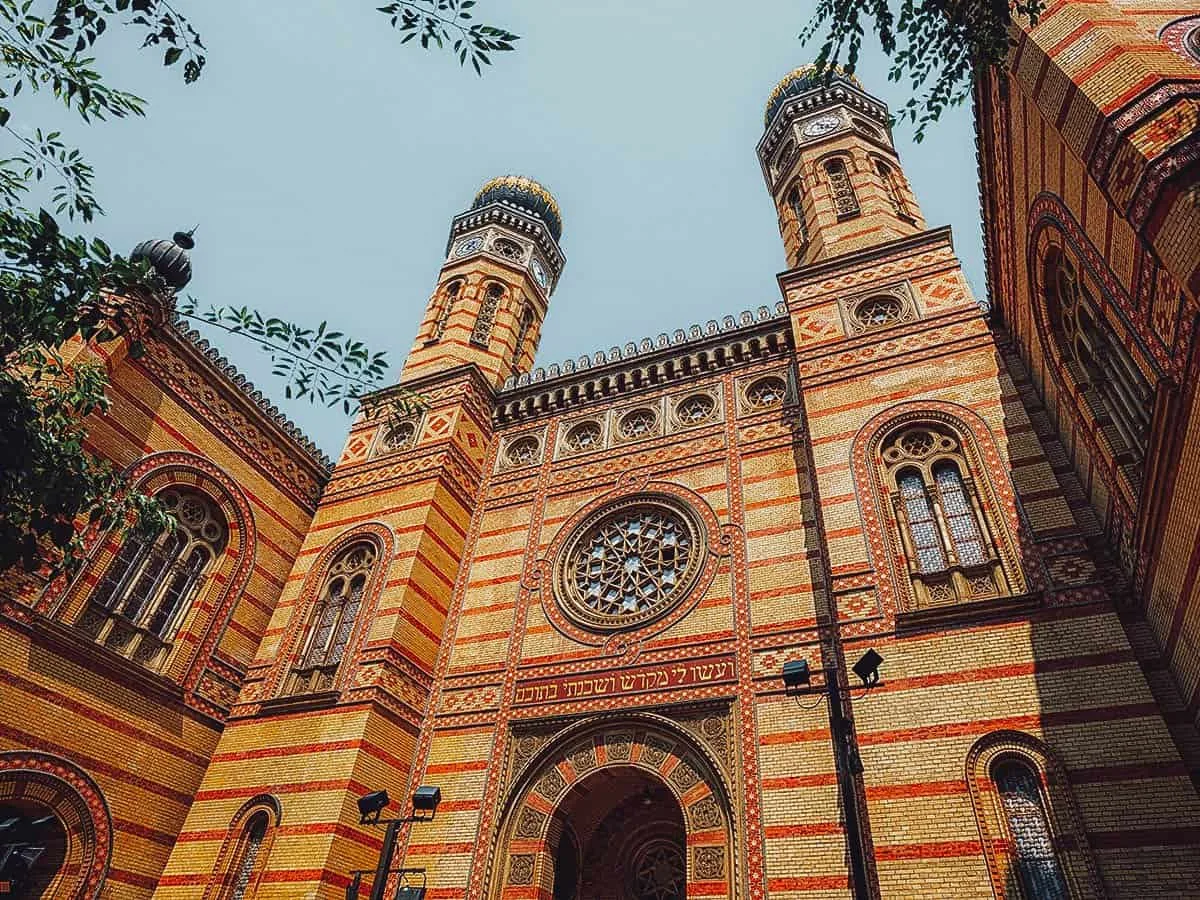 Photo by Boris Stroujko via Shutterstock
Admission: HUF 5,000
Estimated Time to Spend: About 2 hrs
6. Great Market Hall
Just a short walk from the Hungarian National Museum is the Great Market Hall, the biggest and oldest indoor market in Budapest. Housed within a gorgeous 19th century building, inside the market are dozens of food and souvenir stalls spread out over two floors.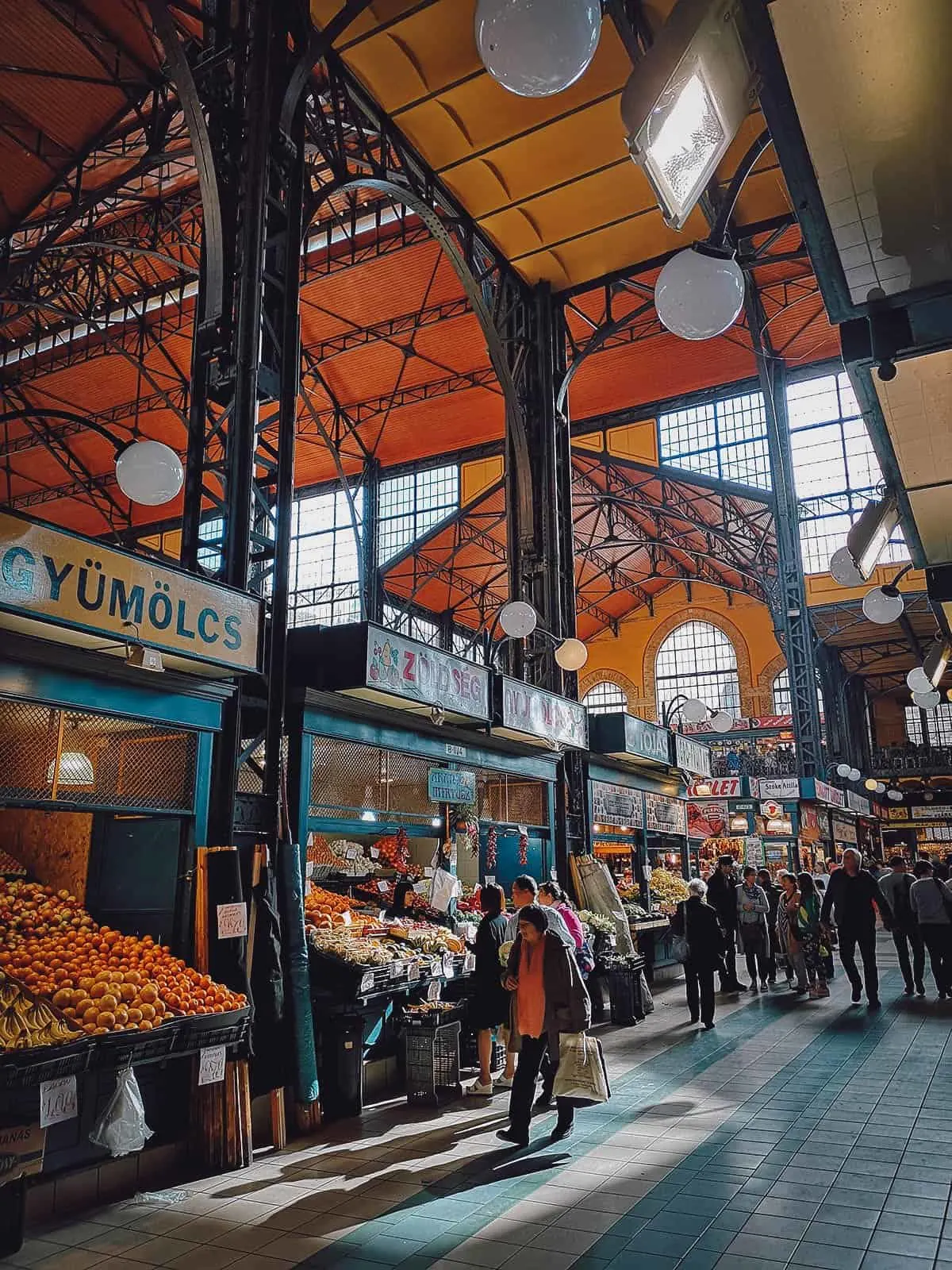 Admission: FREE
Estimated Time to Spend: About 1 hr
7. House of Terror
The House of Terror is a museum located along Andrassy Avenue, in a building that served as the former headquarters of both the Hungarian Arrow Cross Party (Hungary's Nazi Party) and the AVO/AVH Communist Terrorist Organizations.
The House of Terror museum features exhibits recounting the history and atrocities committed by the Hungarian Nazi party, much of them taking place within this very building.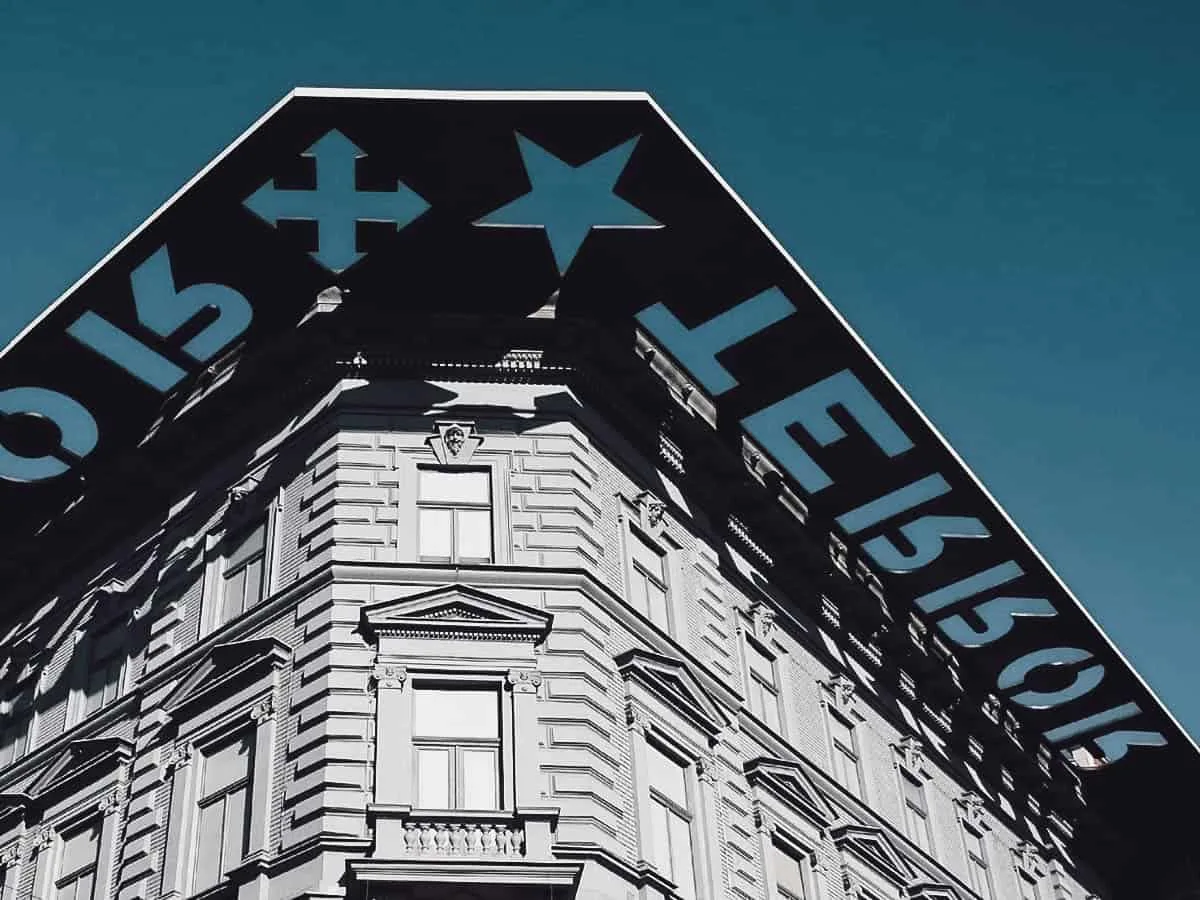 Photo by Bartlomiej K. Kwieciszewski via Shutterstock
Admission: HUF 4,000
Estimated Time to Spend: About 2 hrs
THINGS TO DO IN BUDAPEST
1. Soak at Széchenyi Baths
Soaking in a thermal bath is one of the most popular things to do in Budapest. There are several thermal bath facilities in the city but Széchenyi Baths is by far the most popular. Chances are, you've seen pictures and videos of it on social media.
Széchenyi Baths is the largest medicinal bath facility in Europe. Located in Budapest City Park, it features fifteen indoor thermal pools and three outdoor pools, including one with a whirlpool. The water in these thermal pools reach temperatures of up to 40°C (104°F). They're rich in minerals and are said to be good for various ailments like joint pain, arthritis, and poor blood flow.
Check out the Széchenyi Baths website for a list of bath services and prices. You can purchase bath packages on the spot or in advance through Get Your Guide.
If you have a lot of time to spare, then you might want to spend the whole day at City Park, the largest green park in Budapest. Aside from Széchenyi Baths, Budapest City Park home to many other attractions like Heroes' Square, Vajdahunyad Castle, the Museum of Fine Arts, a botanical garden, and a large public ice skating rink in winter.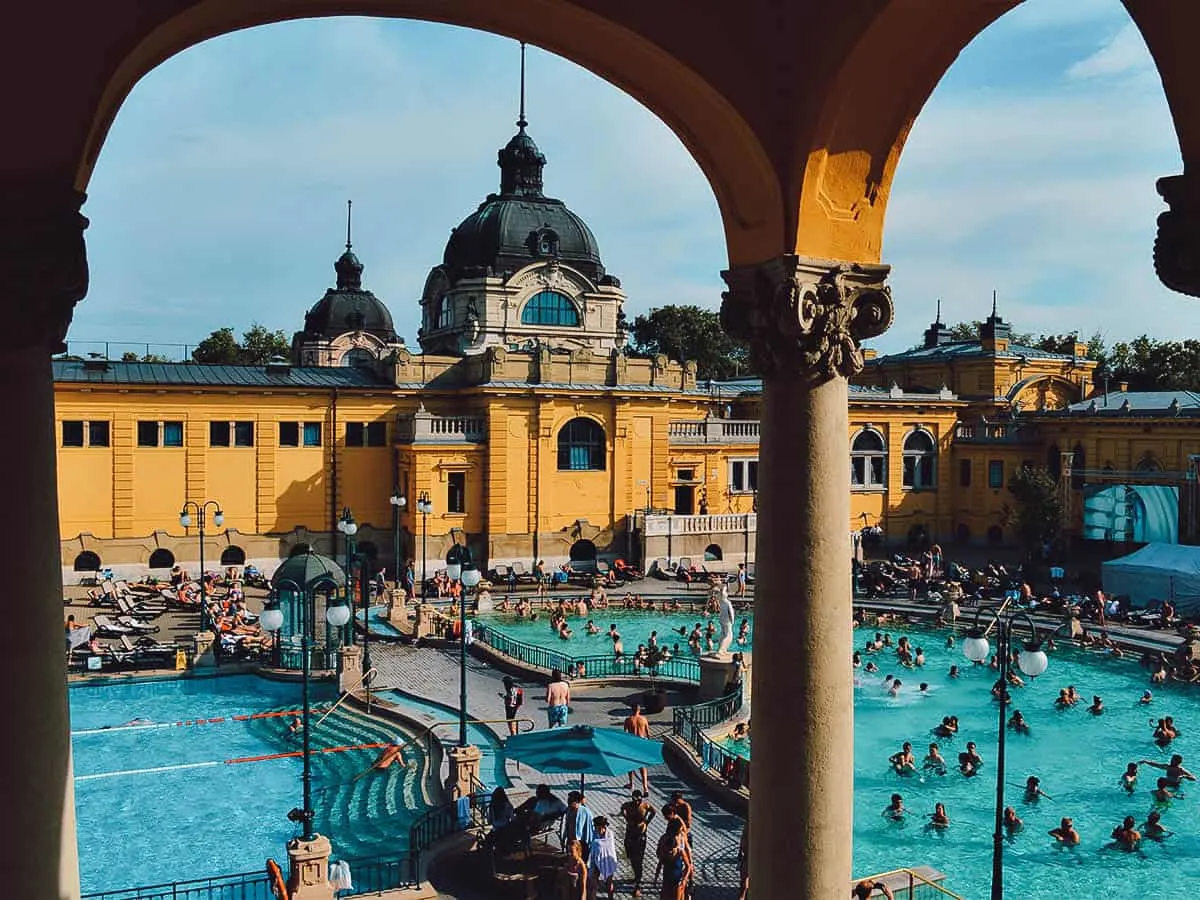 Photo by Anna Dunlop via Shutterstock
Admission: Starts at HUF 9,400 per person
Estimated Time to Spend: At least 2 hrs
2. Go on a Danube River Cruise
If you like boats, then going on a Danube River cruise is a must.
Locals commute on the river everyday so we were content catching a ferry from Boraros ter H (Petofi hid) terminal to the Hungarian Parliament Building (just before Margaret Island). But if you'd like to go on a proper cruise, then you can book one on Get Your Guide.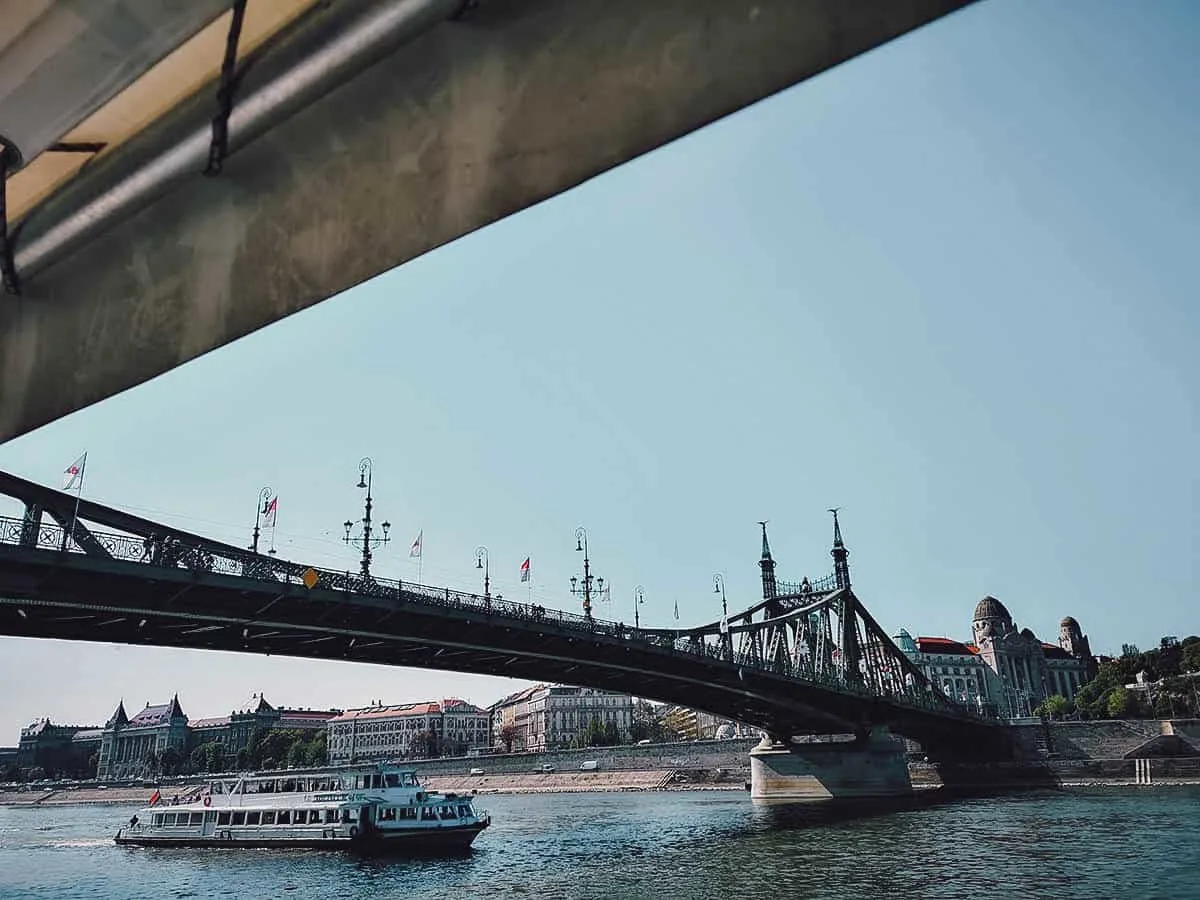 Pictured below is Boraros ter H (Petofi hid) ferry terminal. We took the D12 ferry from here and got off at Kossuth Lajos ter M to visit the Hungarian Parliament building.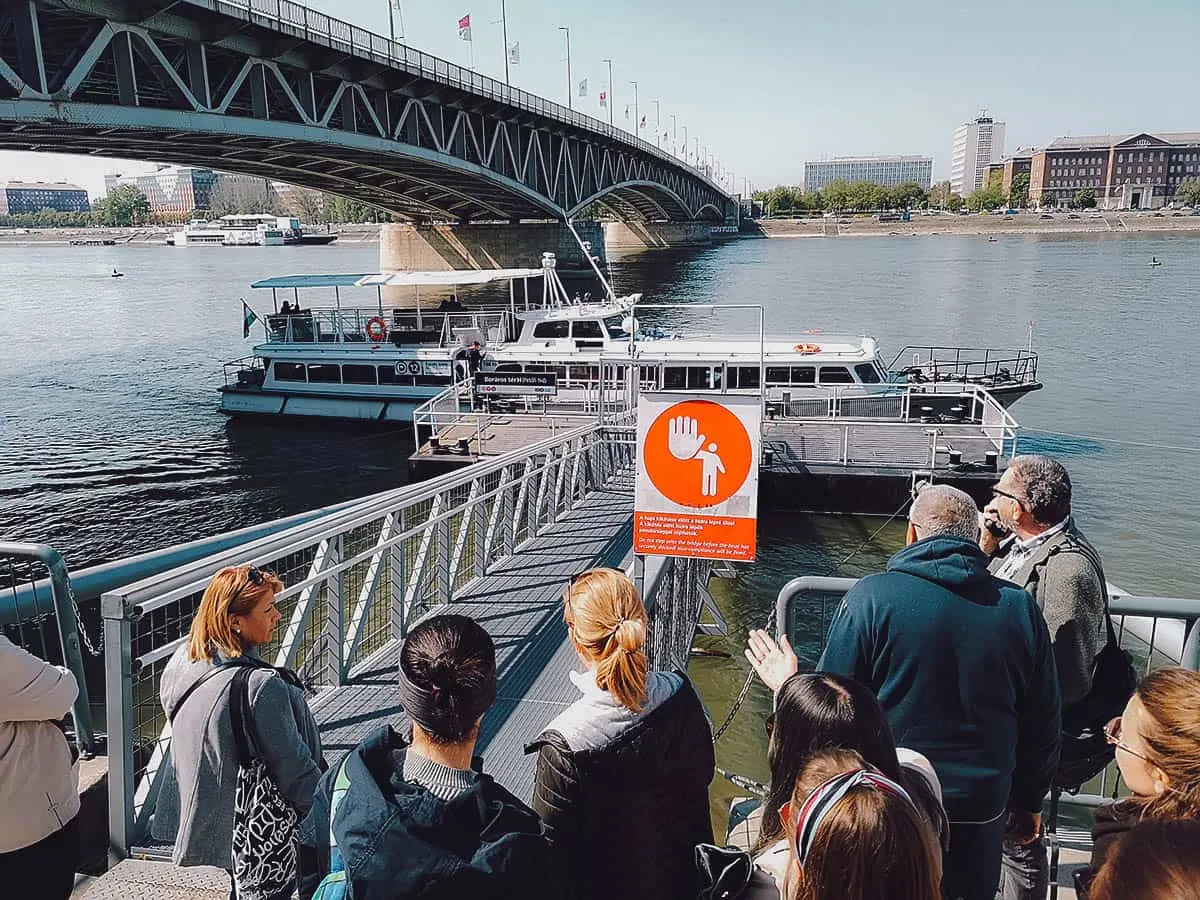 3. Party at a Ruin Bar
Ruin pubs have become synonymous with the Budapest nightlife scene. Called romkocsma in Hungarian, a ruin pub is basically a drinking establishment located inside an abandoned building.
Pictured below is the Szimpla Kert ruin bar in the Jewish Quarter. It's the original ruin bar and considered the city's most iconic. You can refer to this article for more on Budapest's famed ruin bars.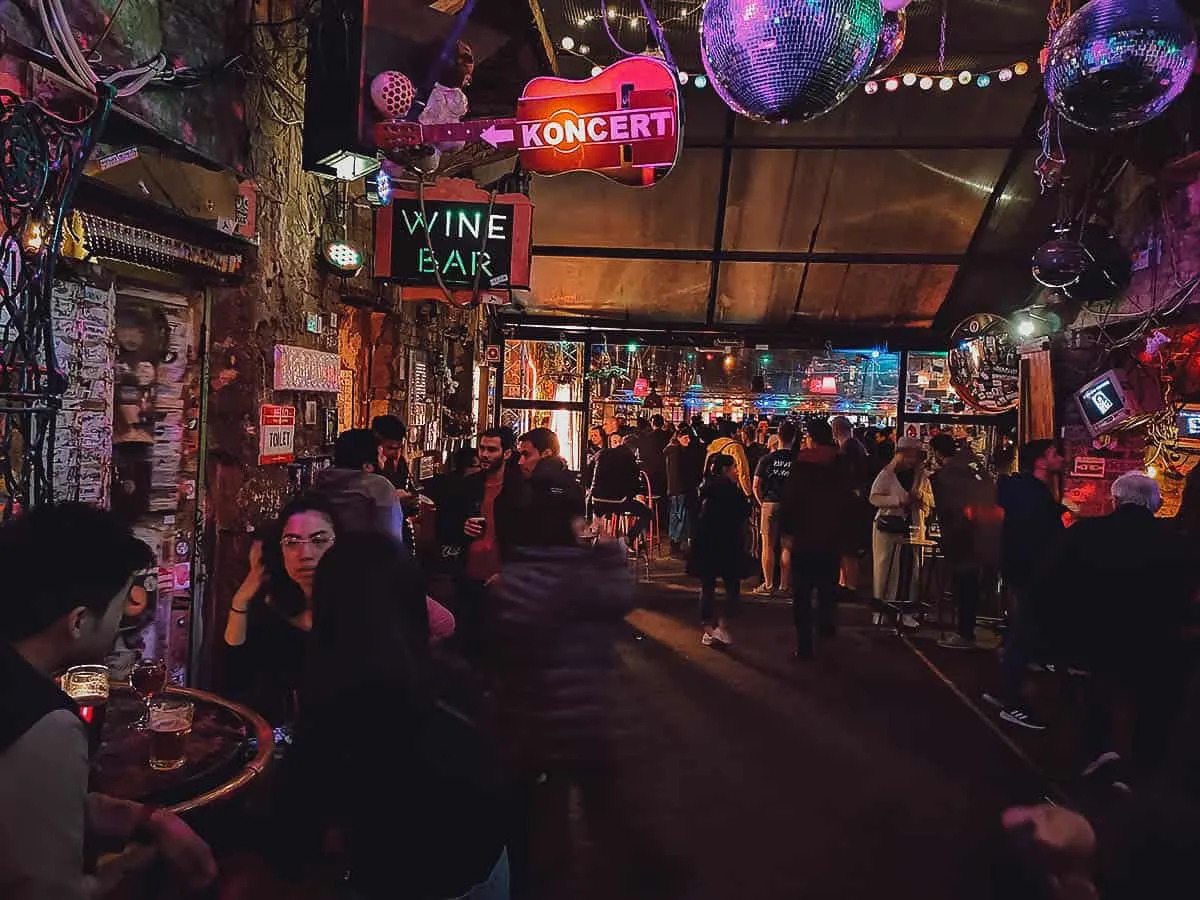 4. Go on a City Sightseeing Tour
We explored Budapest on our own but there are plenty of city sightseeing and walking tours you can go on.
Segway Tour
A Segway tour is perhaps one of the most fun ways of exploring Budapest. A couple people in our group did a segway tour in virtually every European city we visited, including Budapest. You can book a Segway tour on Get Your Guide.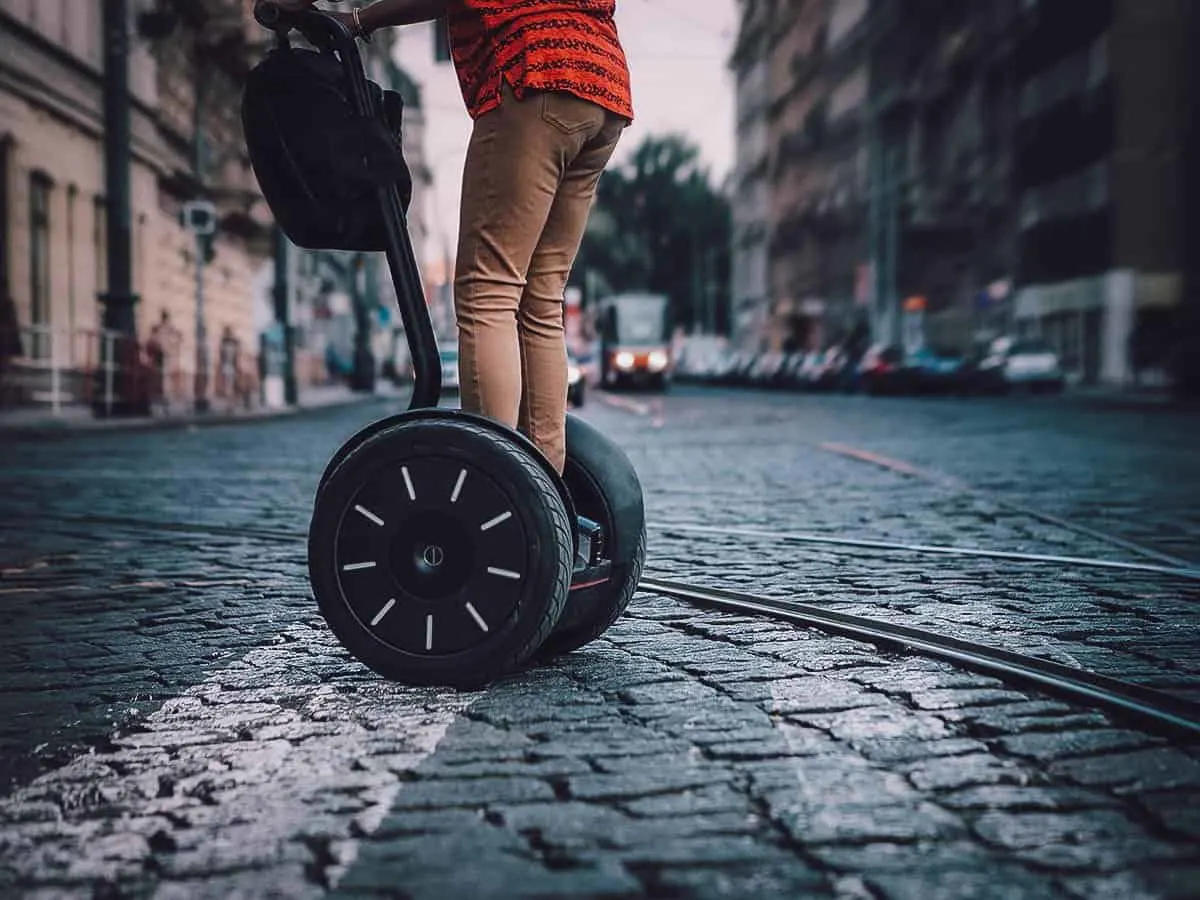 Photo by Soloviova Liudmyla via Shutterstock
Bike Tour
Segways are fun but they're relatively slow and don't cover as much ground. If you'd like to explore a larger area in Budapest, then it may be better to go on a bike tour.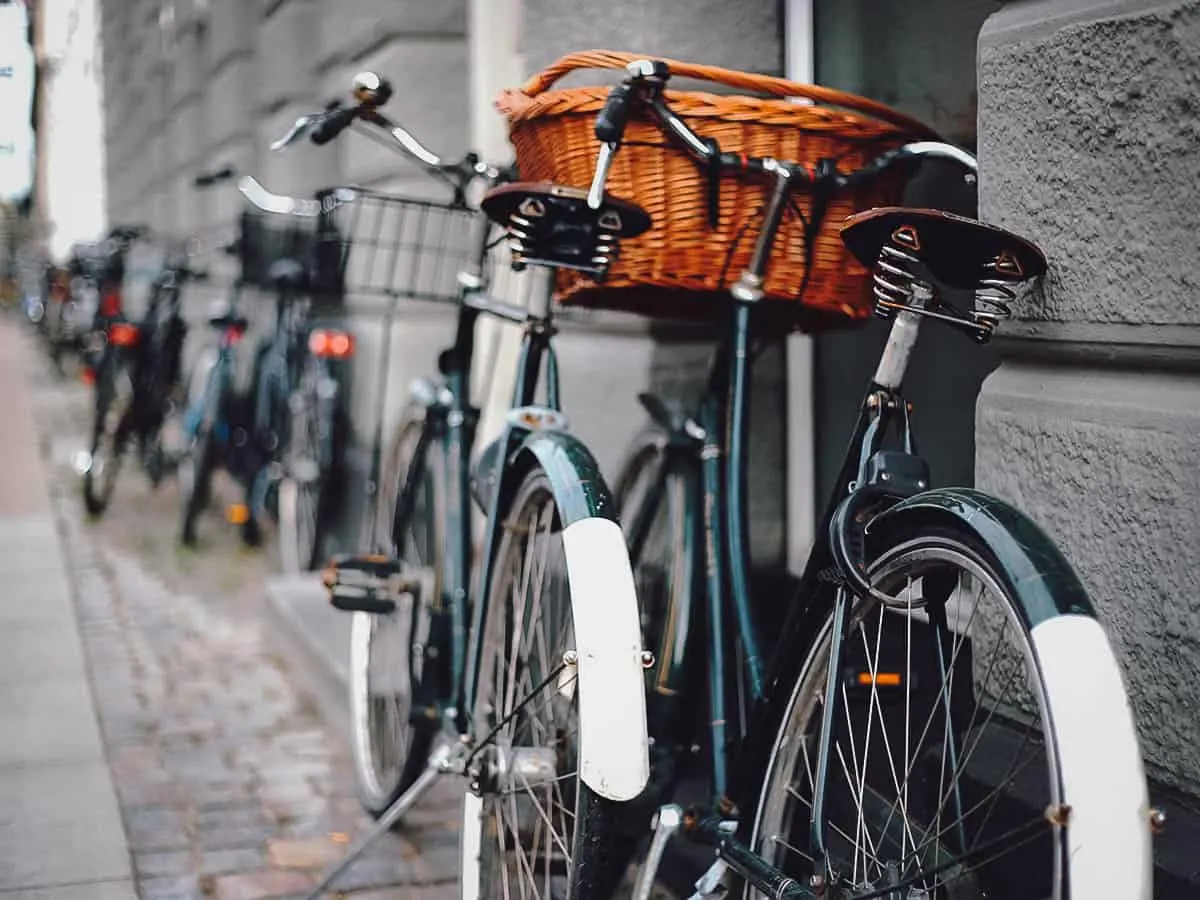 Photo by CAN KAYA via Shutterstock
Hop On Hop Off Tour
This isn't as much fun as the previous two but it's the quickest and most efficient way of seeing as much as you can of a city in a limited amount of time.
These double-decker buses ply set routes and take you to popular tourist attractions in Budapest like the Hungarian Parliament building, the Castle District, and the Great Synagogue.
You can hop on and off as often as you like for the duration of your pass. Typically available in 24-, 48-, and 72-hr tickets, you can purchase hop-on hop-off passes in advance through Get Your Guide. Some even include a Danube River cruise.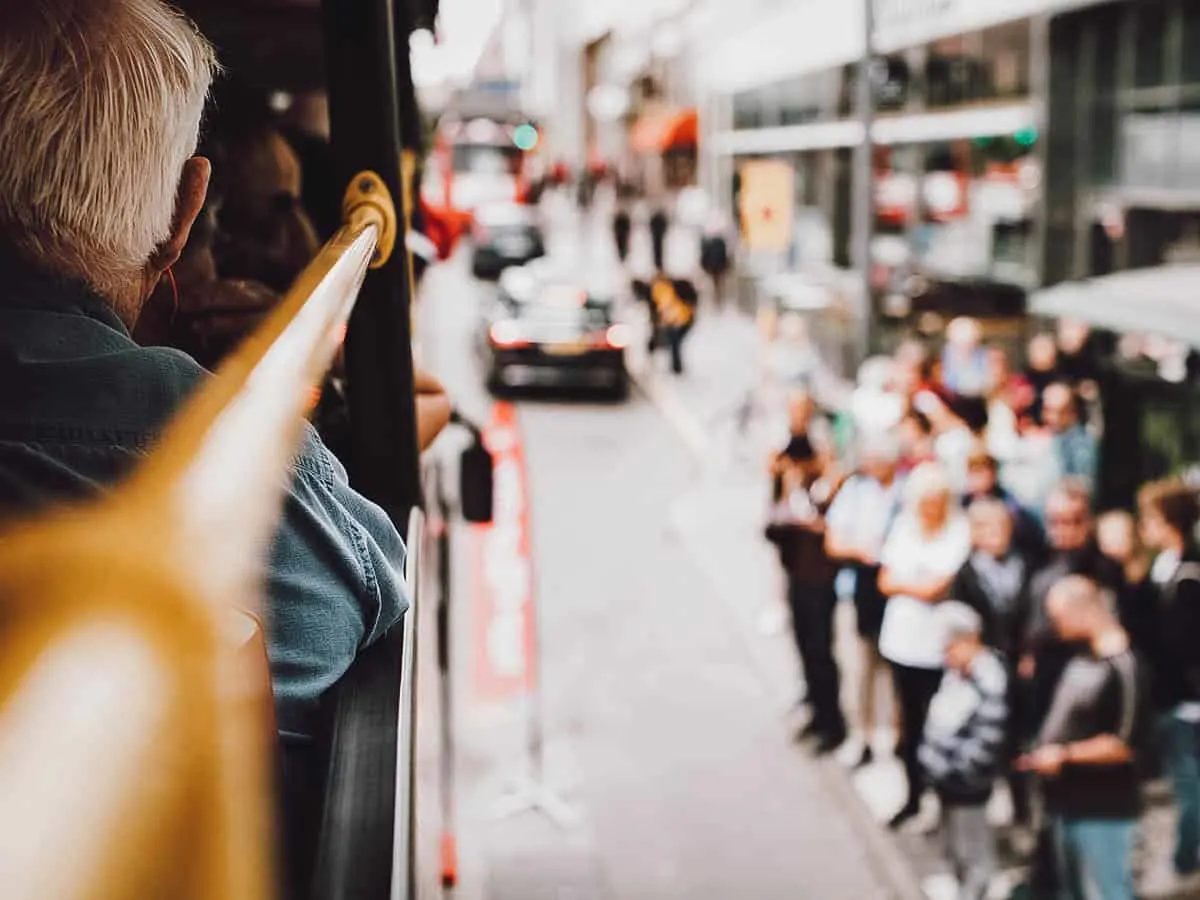 Photo by Nazar Skladanyi via Shutterstock
5. Drink Tokaji
Tokaji or Tokay refers to wines grown in the Tokaj region of Hungary. The region is known for producing sweet dessert wines affected by noble rot, which is a type of mold (botrytis cinerea) that develops on the grapes. When the mold dries out under the sun, it concentrates the grape's sugars giving the wine its distinct flavor.
Like Portugal's Port wine, Tokaji has been given Protected Designation of Origin (PDO) status. For wine to carry the Tokaji name, it needs to be produced in the Tokaj region using specific varieties of grape.
There are many wine bars where you can try Tokaji in Budapest, two of the most recommended being Kadarka and Veritas. Both are located in District VII.
If you'd like to learn more about Tokaji, then you may be interested in going on a guided day tour to Hungary's Tokaj wine region.
DAY TRIPS FROM BUDAPEST
1. Memento Park
Memento Park is still located in Budapest. However, it's well outside the city center in District XXII, about an hour's commute on public transportation from District I.
Unless you have a keen interest in Hungary's communist period, then it isn't a priority for most first-time visitors. Visit this city park only if you've seen the top tourist attractions and you have enough time left in Budapest.
Memento Park is an open-air museum with large statues dedicated to Hungary's communist era. There are statues of popular communist figures like Marx, Lenin, and Engels, as well as several Hungarian communist leaders.
You can visit Memento Park on your own using public transportation or you can go as part of a communist-themed tour.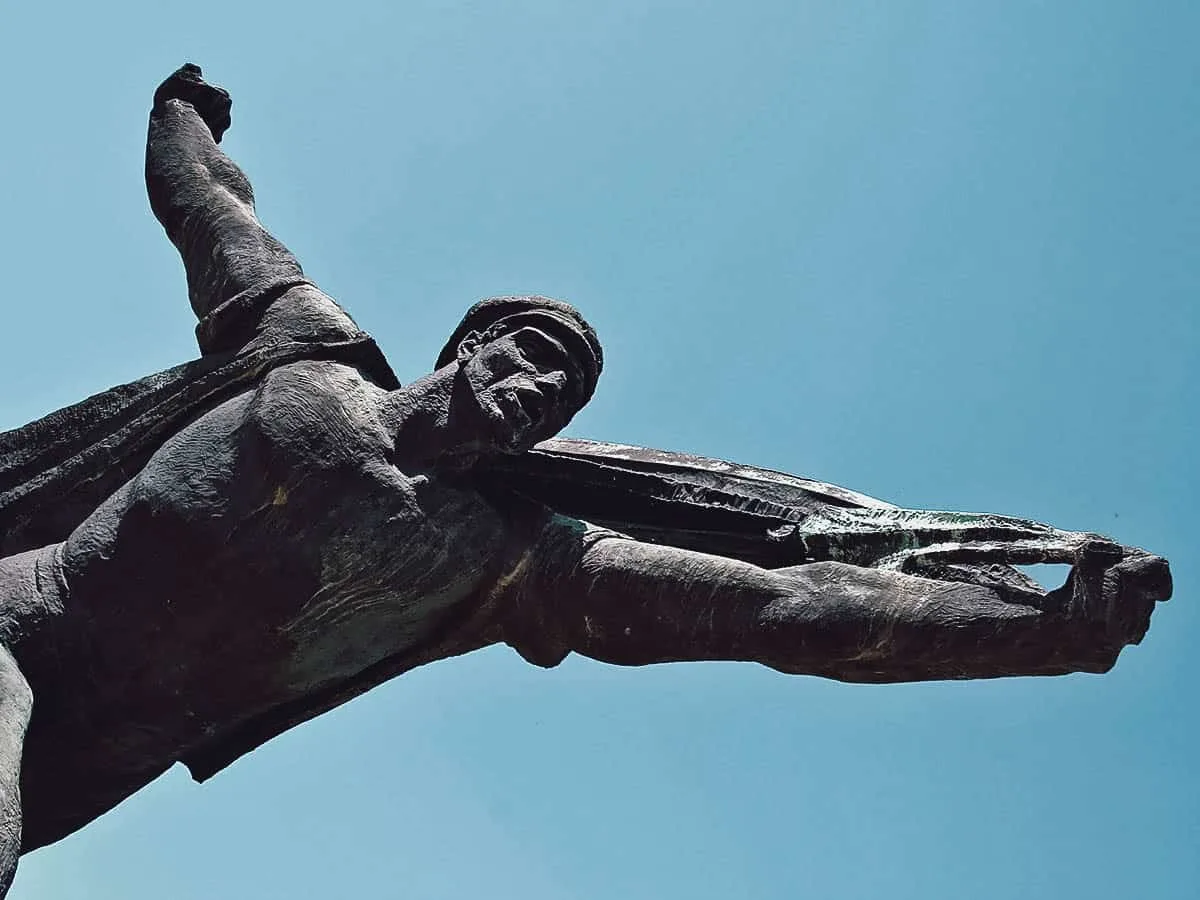 Photo by VanderWolf Images via Shutterstock
Admission: HUF 3,000
Estimated Time to Spend: About 1-2 hrs
2. Danube Bend & Szentendre
The Danube Bend refers to a curve in the Danube River near the castle town of Visegrad. This curve is often described as the most beautiful section of the Danube, home to several historical riverside towns like Visegrad, Nagymaros, Vac, and Esztergom.
You can easily explore the towns along the Danube Bend using public transportation, or you can go on a guided tour. The majority of Danube Bend tours will make stops at Visegrad, Esztergom, and Szentendre, a lovely artist's village with roots in Serbian culture.
Located about 25 km north of the city center, Szentendre is the most visited riverside town from Budapest. In fact, there are many guided day tours that focus solely on Szentendre.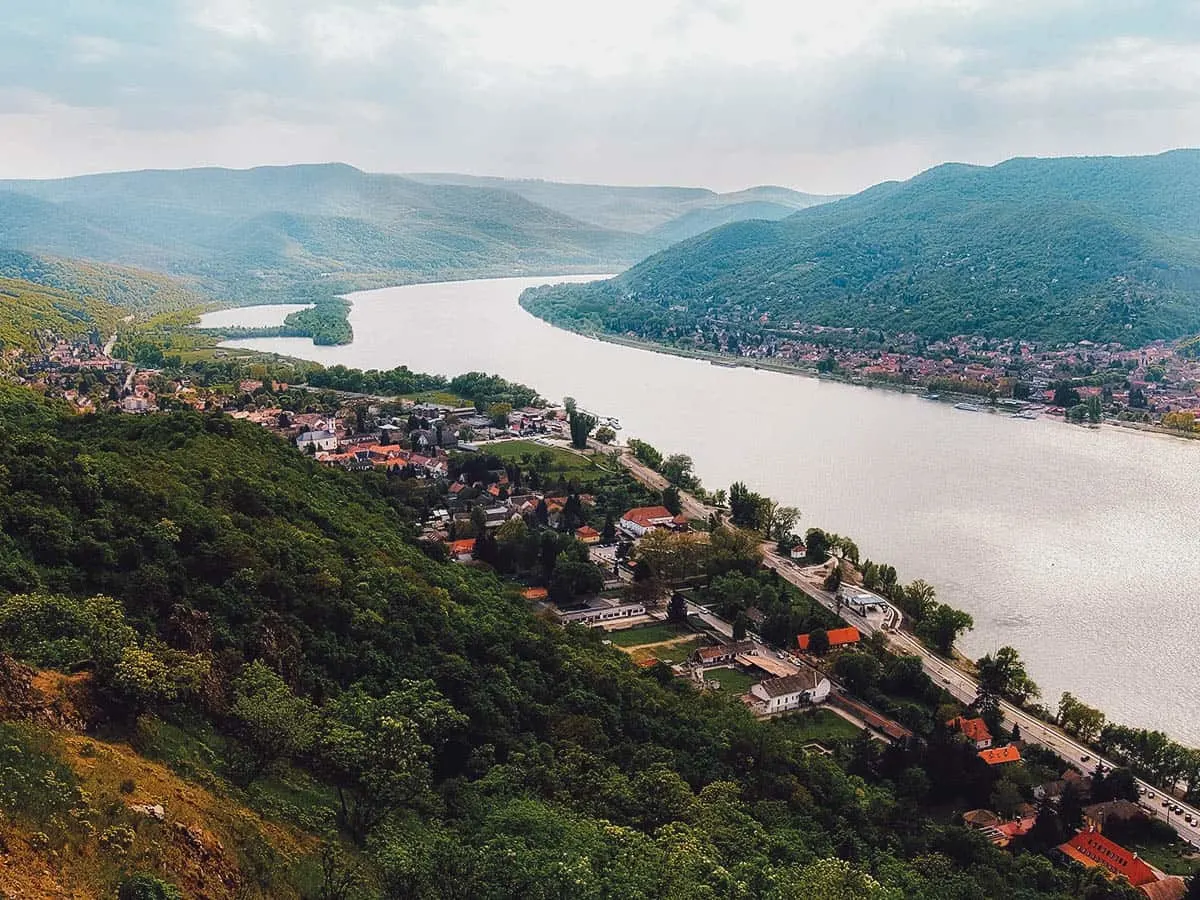 Photo by LeicherOliver via Shutterstock
3. The Puszta
The Puszta region is a vast wilderness of shrubs and grassland in the Great Hungarian Plain. Meaning "barren" or "empty" in Hungarian, it describes an area of about 52,000 sq km characterized by treeless pastures, steppes, meadows, and wetlands.
Large ranches with shows displaying Hungarian horsemanship are the main draw in the Puszta. It's where the ancient Magyars honed and refined their horse culture for over two millennia. You can book guided tours to the Puszta on Get Your Guide.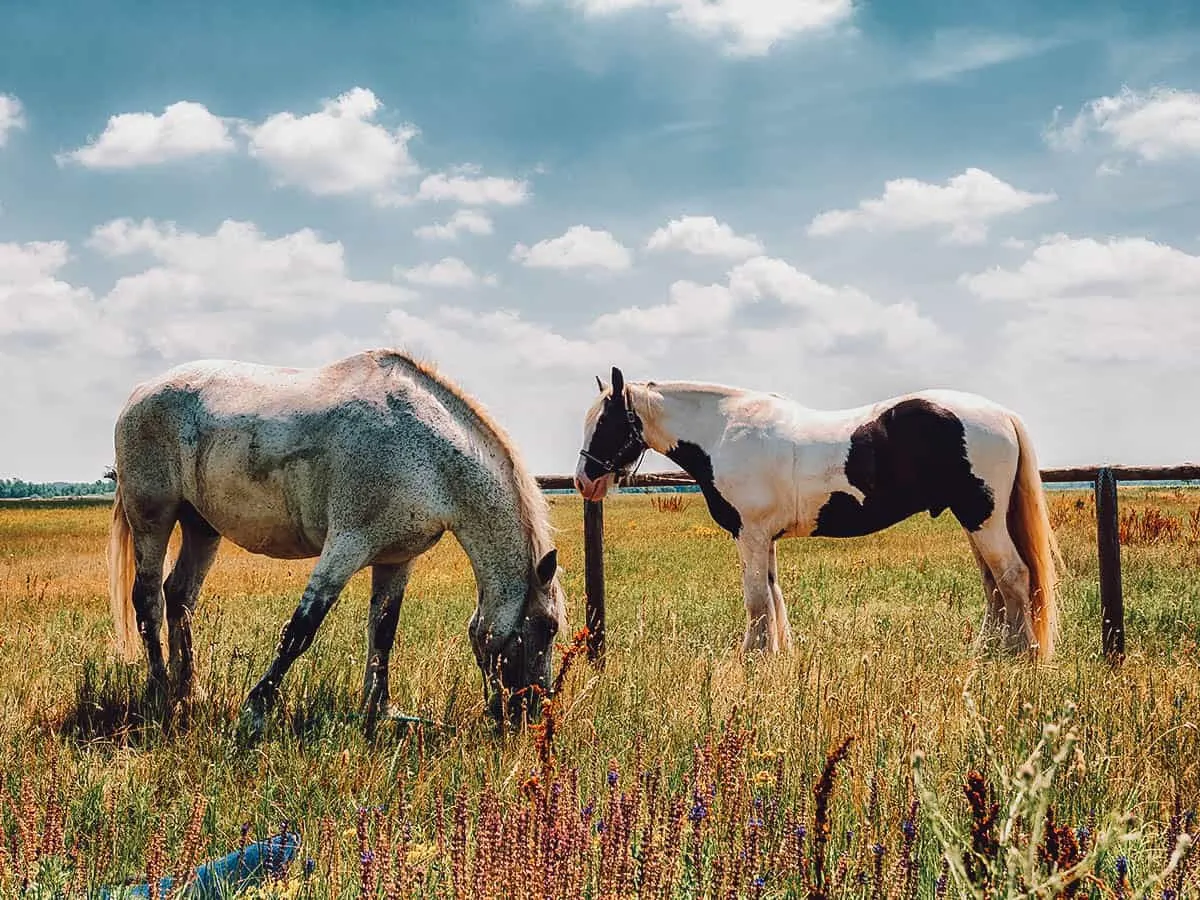 Photo by Karl Allen Lugmayer via Shutterstock
4. Lake Balaton
Lake Balaton is the largest freshwater lake in Central Europe. Located about 80 km southwest of Budapest, it's a popular tourist destination known for its volcanic mountains, vineyards, historic villages, and thermal spa resorts.
There are a number of Lake Balaton day tours you can book through Get Your Guide. Many of them include wine tastings and cruises on the lake.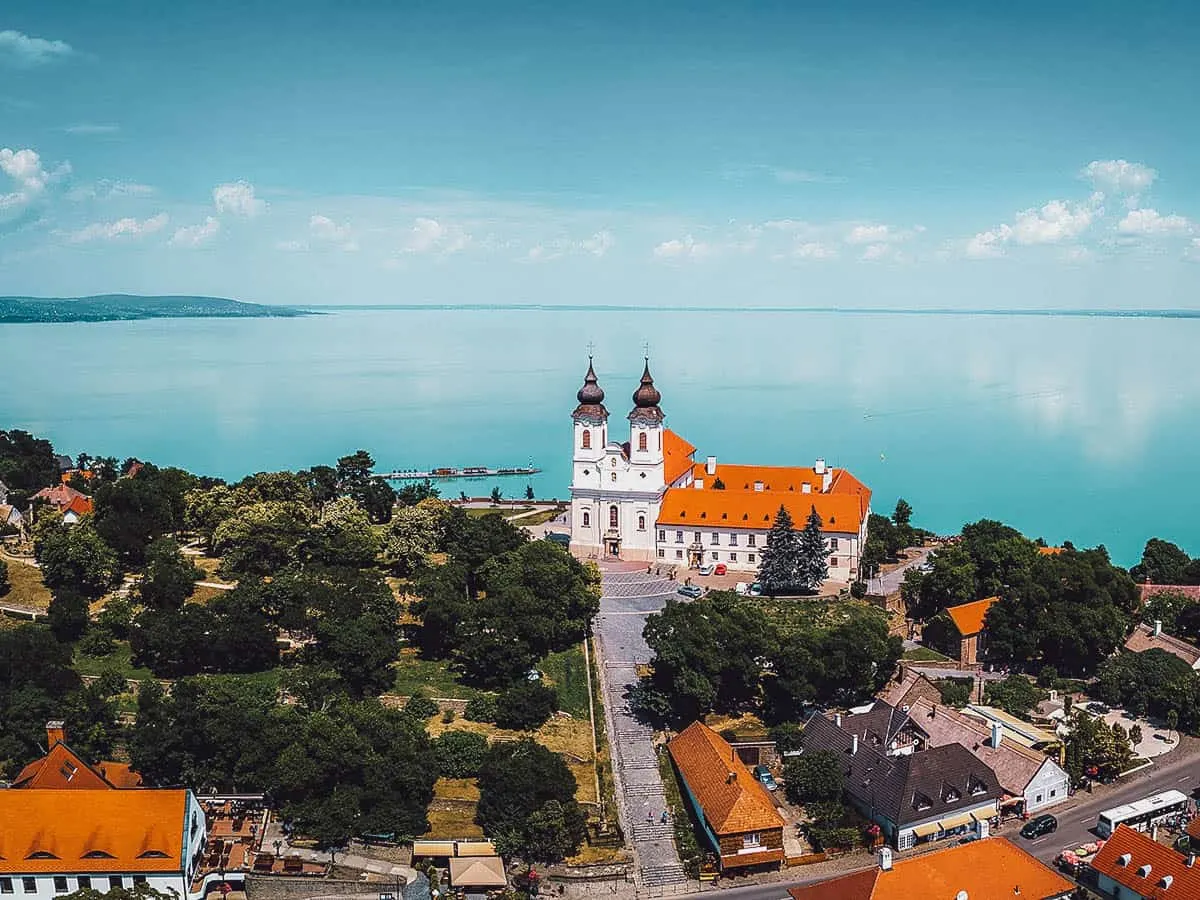 Photo by ZGPhotography via Shutterstock
HUNGARIAN FOOD
Do you like sampling the local cuisine when you travel? If you do, then be sure to check out our list of traditional Hungarian dishes that you need to try on your next trip to Budapest.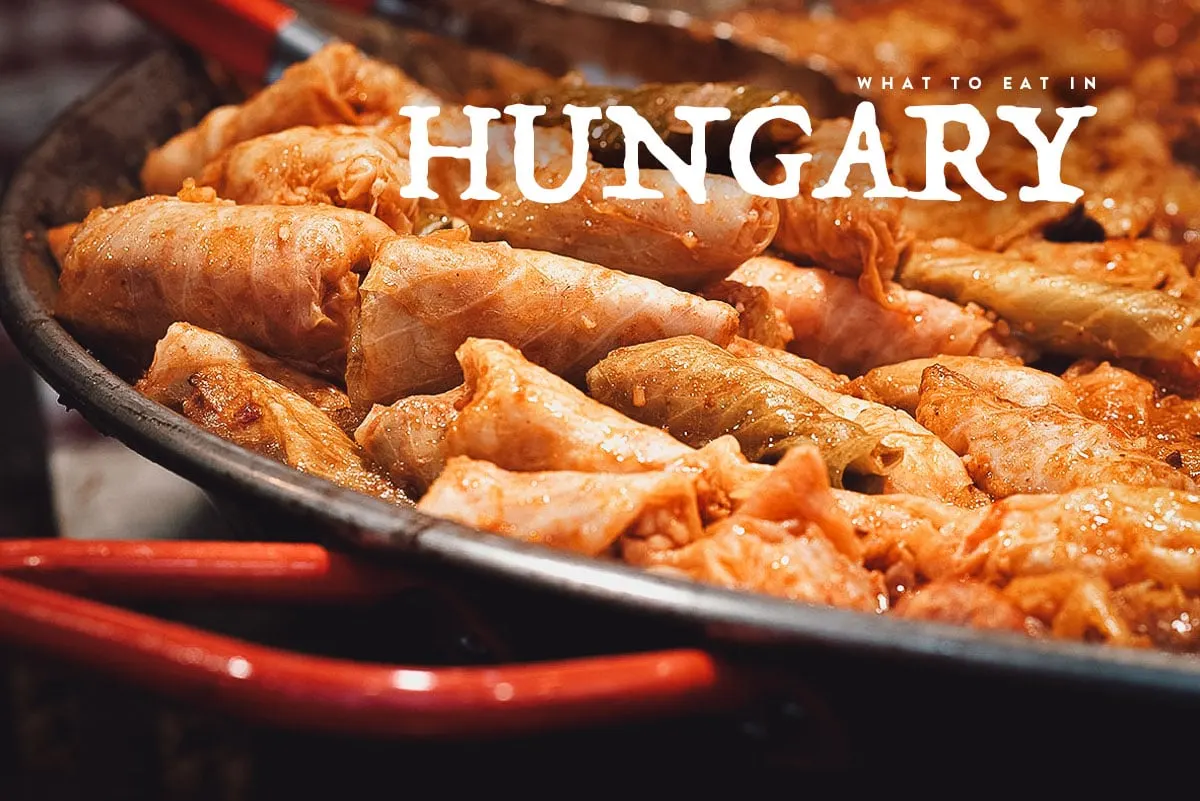 WHERE TO EAT IN BUDAPEST
Budapest has a great restaurant scene. It's got amazing street food and interesting food halls to go with its wealth of traditional restaurants serving tasty Hungarian cuisine. Check out our food guide for a list of some of the best restaurants in Budapest.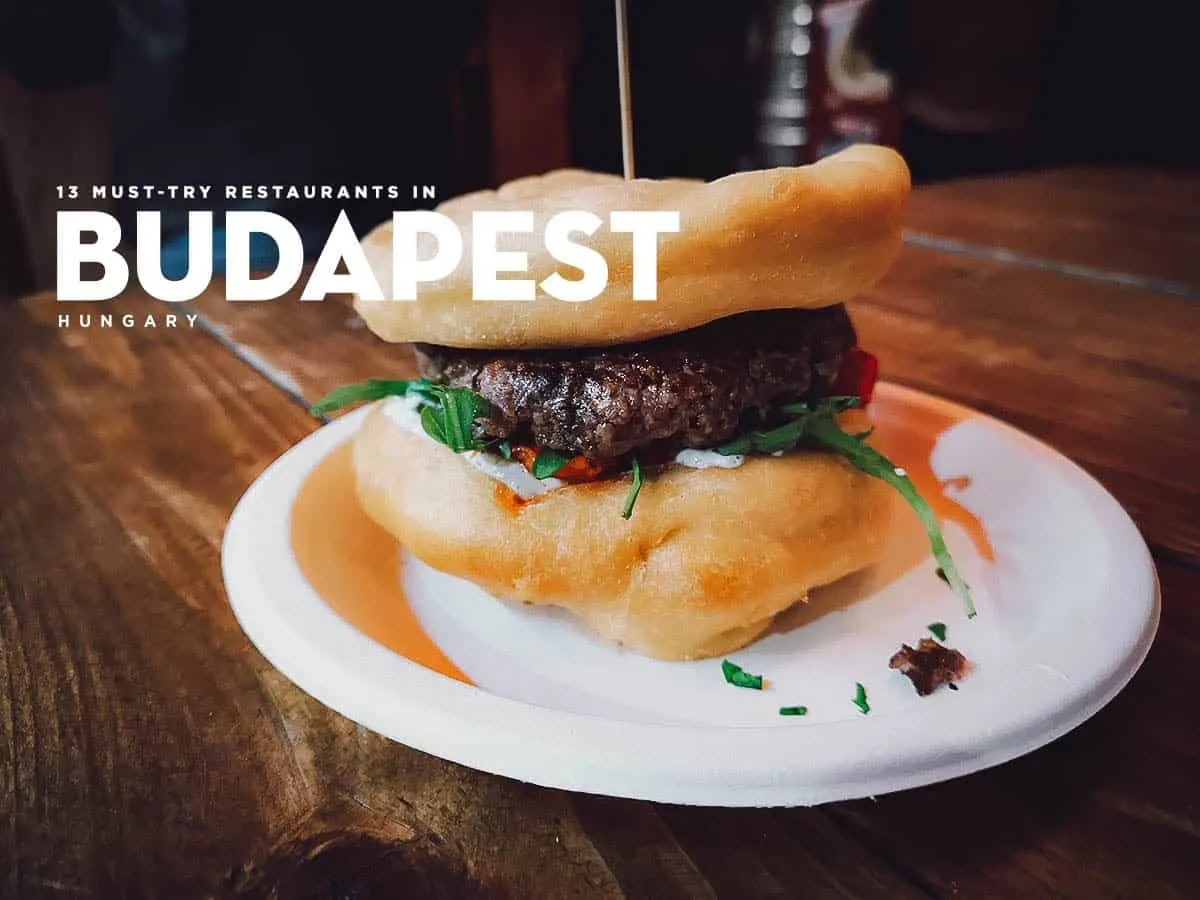 Thirteen may be too many for most people so I've listed five of our favorites below. Be sure to click through to the full food guide for more pictures and information.
1. Bambi Eszpresszo
This was where I had my very first meal in Budapest. The thought of having sausages and beer in what was described as a genuine communist-era neighborhood bar was so intriguing to me.
The moment you walk in and see its doily tablecloths and grizzled groups of regulars, you'll know that Bambi Eszpresszo is the real deal. It looks like a time capsule.
I had black coffee, a pint of Dreher beer, and Hungarian virsli sausages that were among the best sausages I've ever tasted in my life. If we lived in Budapest, then I'd be a regular here too.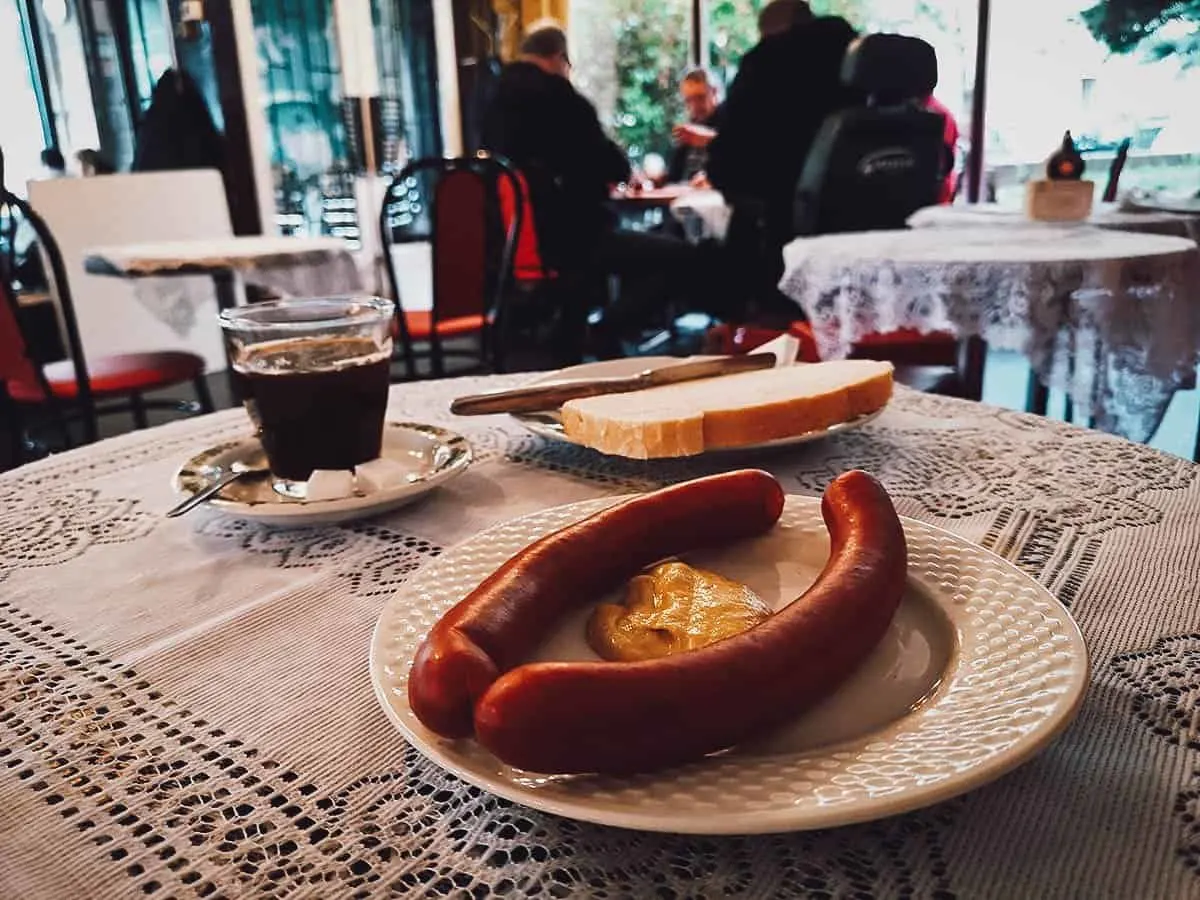 2. Bors GasztroBar
This was one of my favorite restaurants in Budapest. Bors GasztroBar is a small takeaway restaurant that serves modern interpretations of Hungarian street food.
Located in the Jewish Quarter, just north of the Hungarian National Museum and a few doors down from Szimpla Kert, Bors GasztroBar offers an inspired menu of soups, stews, salads, and pasta dishes, but their baguette sandwiches are their bread and butter.
We had a soup and the French Lady, a signature baguette sandwich made with chicken breast, raspberry onion jam, and edamer cheese. Both were fantastic.
Bors GasztroBar is popular so expect a line when you get there. It's definitely worth the wait.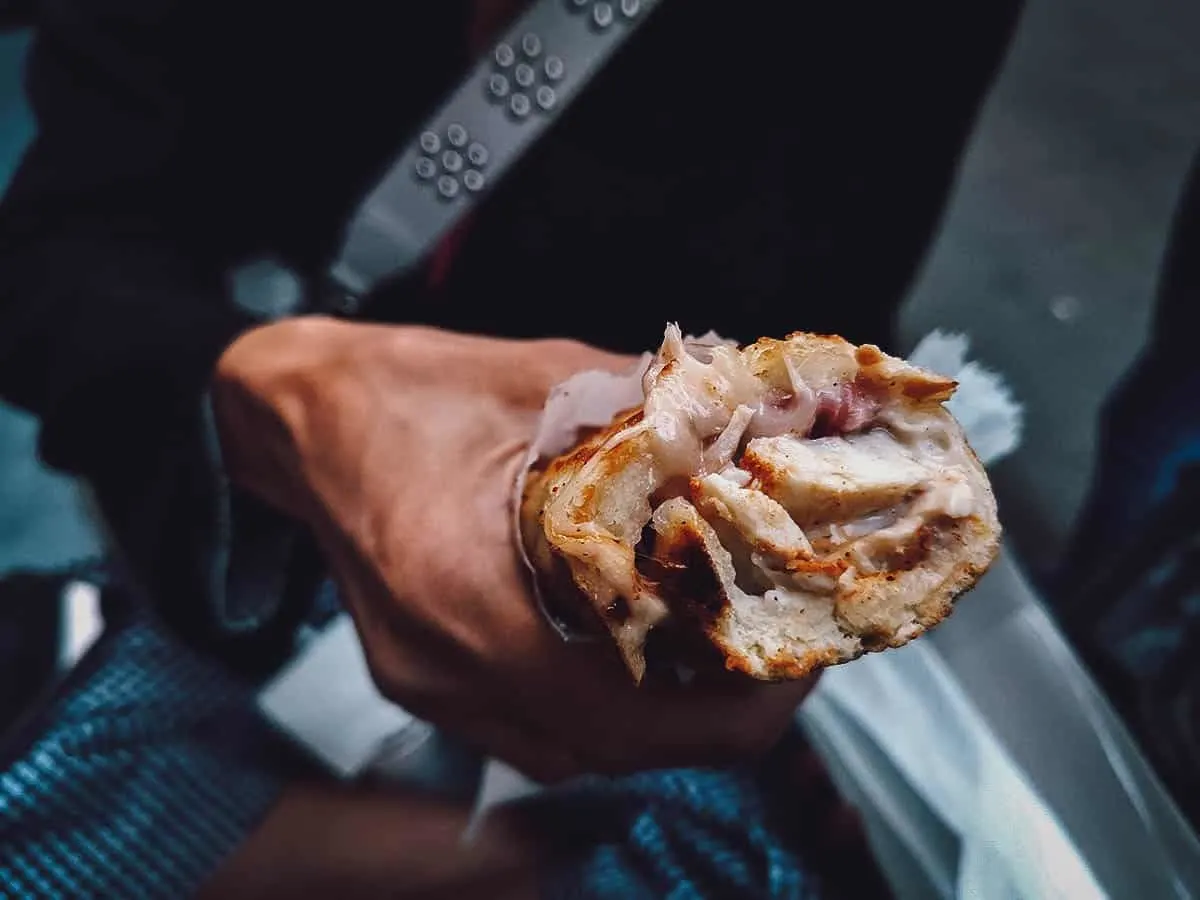 3. Langos Burger
Langos Burger is a street food stall at Karavan, a food park located just a couple of spaces away from Szimpla Kert. They offer just two things on their menu – langos and langos burgers.
A langos is a traditional Hungarian dish of deep-fried dough topped with any number of ingredients. We had our langos covered in a forest of fresh arugula and sheep cheese. It was delicious – crisp on the outside and soft and doughy on the inside, like a doughnut.
As its name suggests, a langos burger is a beef, pork, or chicken patty sandwiched between two langos "buns". We had the beef served with arugula, sheep cheese, and grilled paprika and it was very tasty as well.
In 2018, Langos Burger was voted one of the ten best street food stalls in Europe by a panel of chefs and food writers. Don't miss it.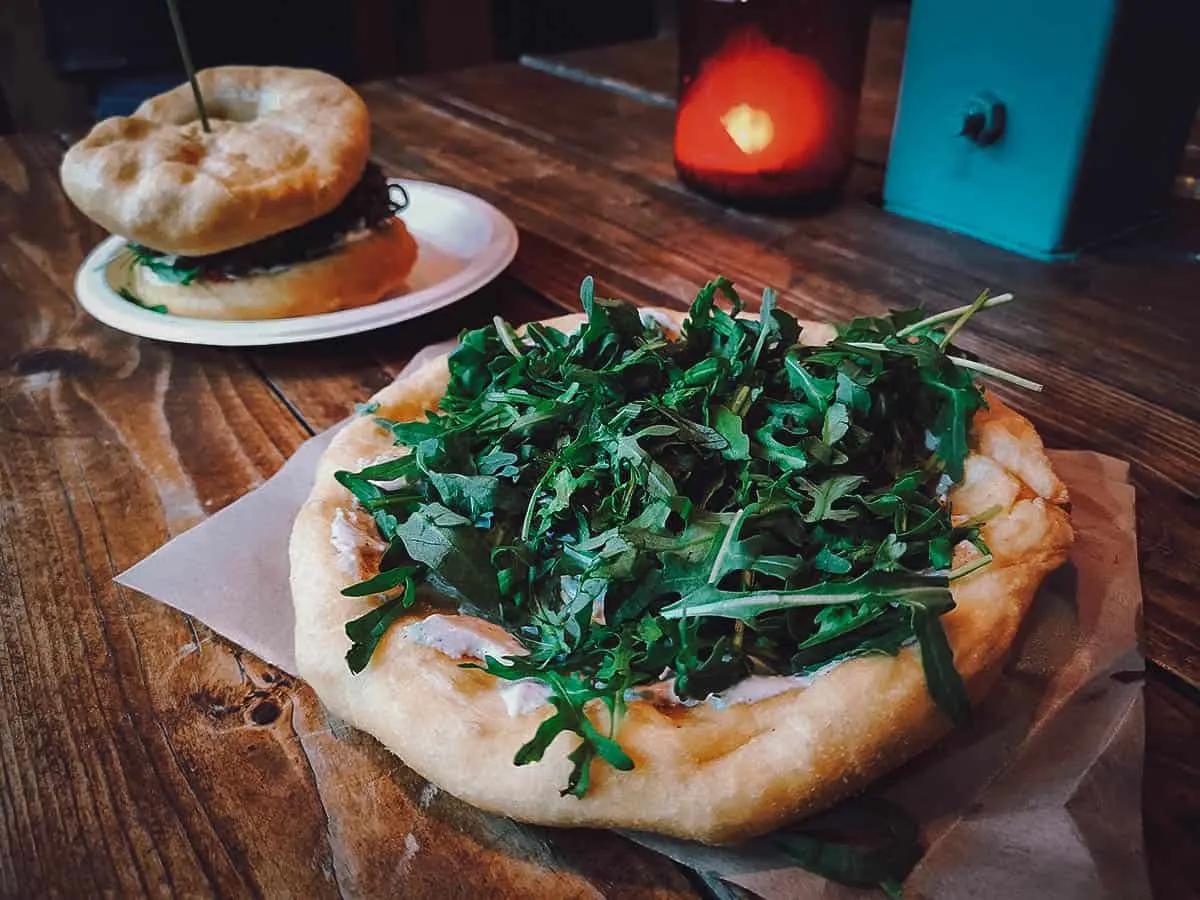 4. Stand25 Bisztro
If you'd like a refined but unpretentious meal in Budapest, then make reservations at Stand25 Bisztro, a Michelin Bib Gourmand awardee that offers 2- or 3-course menus featuring modern interpretations of traditional Hungarian food.
Stand25 Bisztro is headed by the chef duo of Szullo Szabina and Tamas Szell, the same chefs behind the one-Michelin star Stand restaurant on the Pest side. Stand25 seems to be the more relaxed bistro version of the upscale Stand restaurant.
Pictured below is a delicious meatloaf dish made with Mangalica pork, which is an Hungarian breed of domestic pig. Prized for its fatty marbled meat, it's often referred to as the "Kobe beef of pork".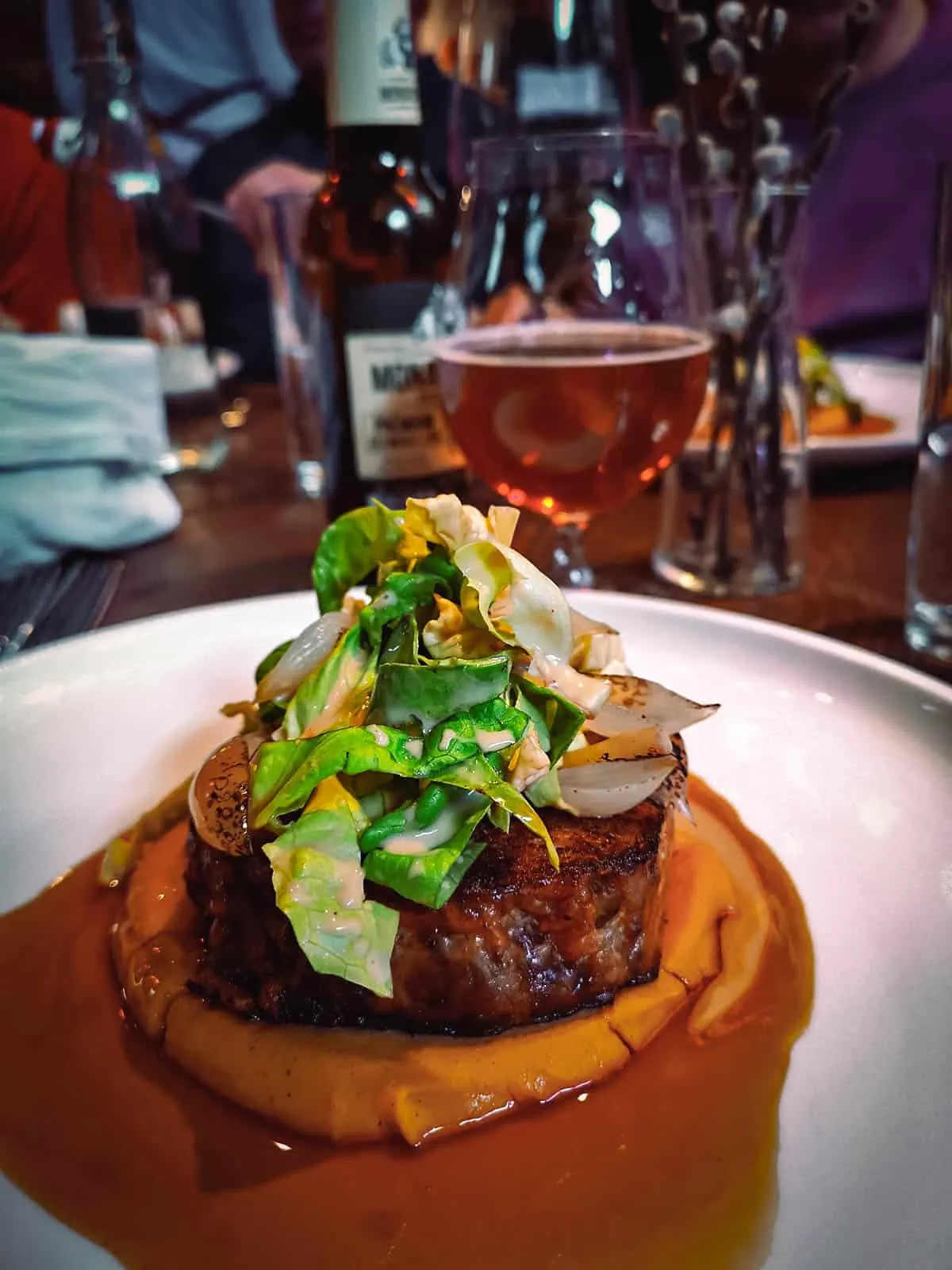 5. Molnar's Kurtoskalacs
Kurtoskalacs refers to a traditional Hungarian and Romanian dessert. Known as spit cakes or chimney cakes, they're made by wrapping yeast dough around baking spits then roasting them over charcoal.
While roasting, the cakes are basted with melted butter to create a shiny caramelized crust. When cooked, the cakes are dusted with ground walnut or powdered cinnamon, though other ingredients can be used.
Crisp on the outside but soft and buttery on the inside, these kurtoskalacs are absolutely delicious. We enjoyed them so much we wound up getting a second serving filled with soft serve ice cream. Wow!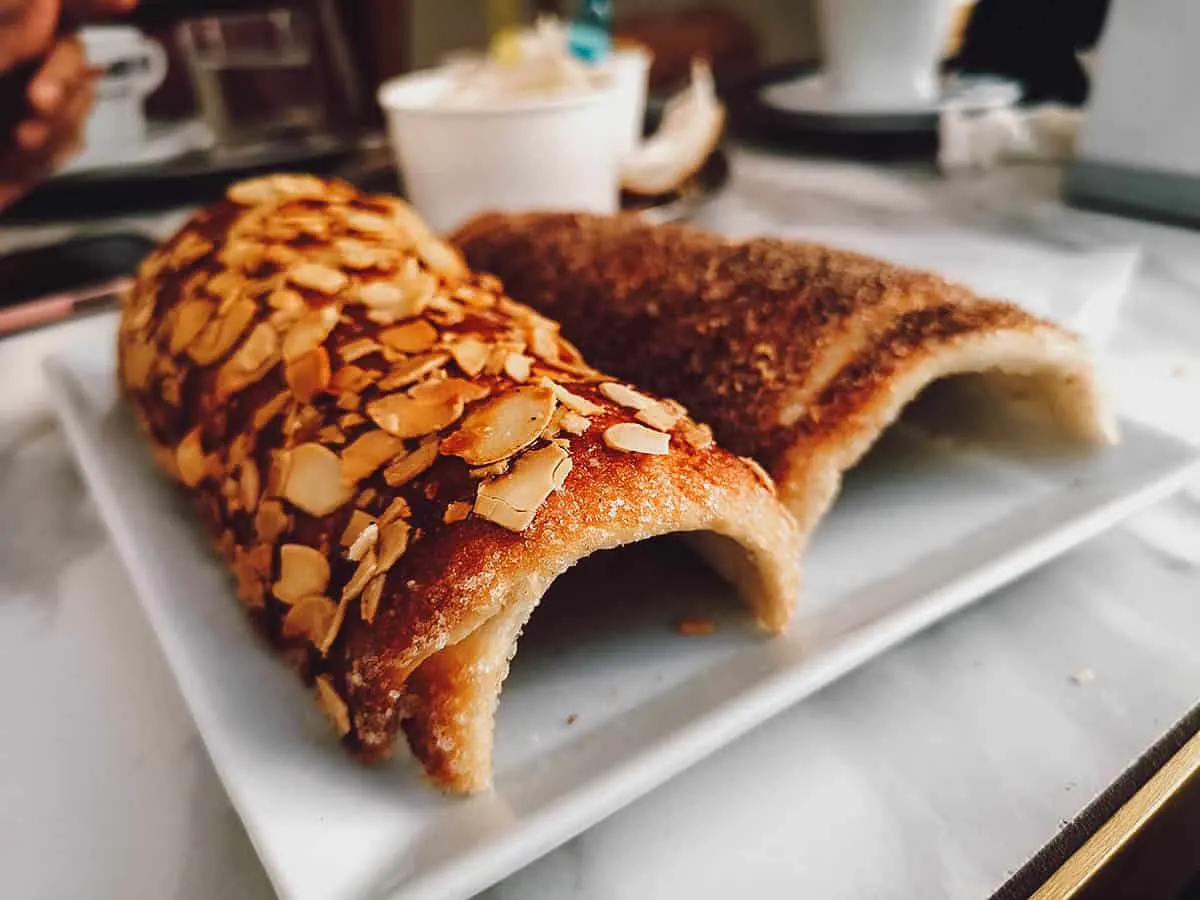 POINTS OF INTEREST IN BUDAPEST
To help you better understand where everything is, I've pinned the places recommended in this Budapest travel guide on this map. Follow the link to open the live map in a new window.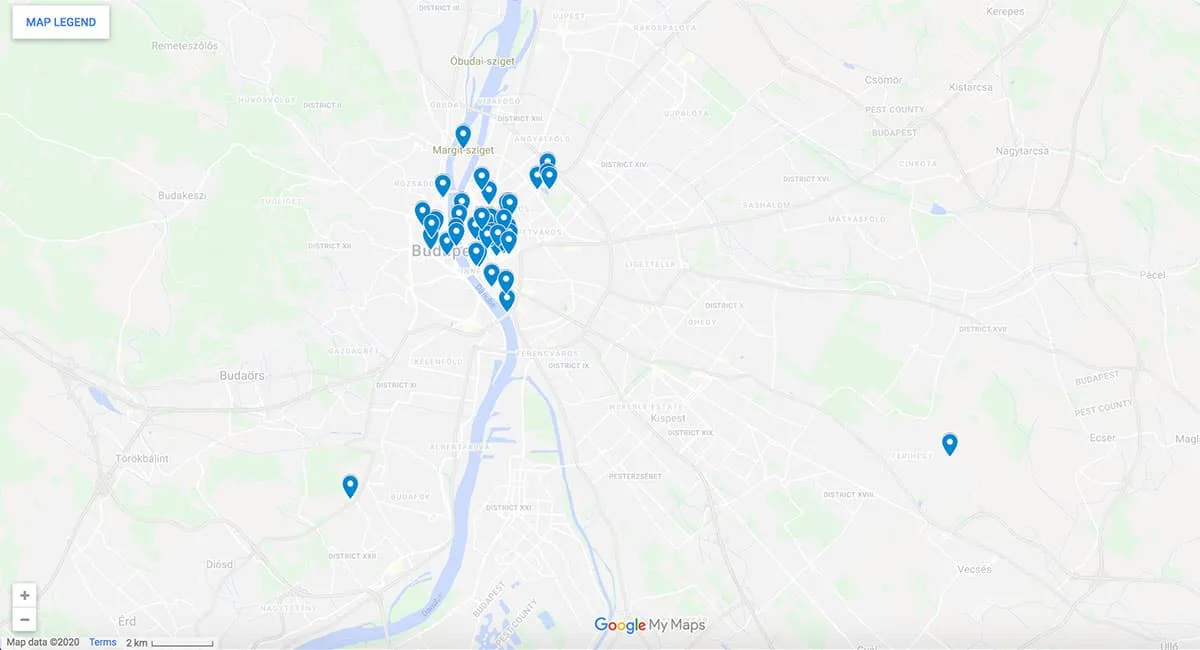 HOW TO GET AROUND IN BUDAPEST
Getting around Budapest is easy. It's a very walkable city but it also has an extensive metro, tram, bus, and ferry system. You can use the Bolt app to book rides and the city has a bike sharing system called BuBi Bike.
I enjoy walking so I got around mostly on foot, but I did use the tram, metro, bus, and ferry at some point during our trip. Transportation was never a problem.
If you plan on going sightseeing and using public transportation often, then a Budapest Card may be a good investment.
I'll discuss the different modes of transportation in more detail below but I suggest downloading the Google Maps app (iOS | Android) if you haven't already. It's accurate and reliable and will tell you all the possible ways to get from point A to point B using any city's public transportation system.
Public Transportation
Budapest's public transportation system is extensive and efficient. It's comprised of the metro, trams, buses, the suburban railway, and ferries. I'll describe each mode of transportation in more detail but listed below are a few key points to remember.
To use public transportation in Budapest, you'll need to purchase single tickets at HUF 350 each. They're available in blocks of ten for HUF 3,000. We bought ours at the airport arrival terminal but tickets can be purchased from ticket offices at most metro stations and from BKK Ticket vending machines. You can also purchase single tickets on buses but they'll cost HUF 450 each.
As soon as you board, it's important to validate your ticket. Once it's validated, it'll be good for 80 mins during the day and 120 mins at night.
Single tickets are valid only for single uninterrupted trips WITHOUT transfer on trams, buses, and the suburban railway. Transfers are allowed only on the metro. If you need to make a transfer during your journey, then you can purchase a transfer ticket (instead of a single ticket) for HUF 530.
Budapest travel cards that give you an unlimited number of trips for 24 hrs, 72 hrs, and 1 week are also available. These are different from the Budapest Card. You can read more about Budapest travel cards and other types of tickets on the BKK website.
Metro
The Budapest Metro consists of 4 lines – M1 (yellow), M2 (red), M3 (blue), and M4 (green). Lines operate daily from 4:30AM till 11:30PM. As described above, transferring between metro lines using single tickets is allowed. Follow the link for a Budapest Metro map.
Tram
Budapest's tram system is more extensive than the metro with over 30 lines operating on almost 160 km (100 miles) of track. I used these yellow trams more often than the metro as they provided a more scenic way of getting around the city.
Follow the link for a map showing the tram, metro, and suburban railway system in Budapest. Most tram lines operate from 4:30AM till 12:30AM.
Bus
There are two types of buses in Budapest – regular buses and trolley buses which are electric buses attached to overhead cables. Depending on where you are and where you need to go, buses may be more convenient than trams or the metro.
In our case, Google Maps advised us to catch a trolley bus from Széchenyi Baths back to our hotel. With Google Maps, you don't need to have a city's public transportation system memorized which is why it's such a valuable travel tool.
HEV (Suburban Railway)
The HEV is Budapest's suburban railway network. You can use it to reach the city's outer limits and beyond, like on a day trip to Szentendre for example. Single tickets are valid within the city limits but you'll need an extension ticket to go beyond.
BKK Boat (Ferry) – Service Temporarily Suspended (Jan 2023)
Single boat tickets cost HUF 750 each. It may not be the most efficient means of transport but it's a great way of experiencing the Danube without paying for a river cruise.
In our case, we took the scenic Tram 2 which runs along the Pest waterfront to Boraros ter H (Petofi hid) ferry terminal. From there, we took a ferry to Kossuth Lajos ter M to visit the Hungarian Parliament building.
Bolt / Taxi
Bolt is the Uber of Budapest but instead of unmarked cars, it uses taxis. If you need to book a ride safely in Budapest, then this is your best option. You can download Bolt on iTunes or Google Play.
I read that you should never hail cabs in Budapest because some taxi drivers are out to scam tourists. If you need to catch a taxi, then go only with a reputable company like Fotaxi. You should call them to send a taxi your way but if you can, then it's best to book one with Bolt.
BuBi Bike
BuBi Bikes is Budapest's bike sharing system. To use these lime green bikes, you'll be charged a one-time fee of HUF 120. This gives you three free minutes of use, after which you'll be charged HUF 40 per minute.
You can purchase your BuBi Bike ticket with a bank card using the touchscreen terminal at docking stations. However, MOL Bubi app reviews are poor so it may be better to purchase it through the MOL Bubi website instead.
HOW MANY DAYS TO STAY / BUDAPEST TRAVEL ITINERARY
We enjoyed Budapest so much that we want to go back and stay for at least a month. Obviously, not everyone has a month, but there's so much to see and experience in Budapest that first-time visitors should stay for a minimum of three days.
Three full days will give you enough time to see the top attractions in Budapest and explore the city's many cool neighborhoods.
Here's an abridged version of our Budapest travel itinerary which suggests what you can do with 3 days in Budapest. Be sure to click through to the full travel itinerary for more details.
DAY ONE
• Andrassy Avenue
• St. Stephen's Basilica
• Great Synagogue
• Budapest City Park
• Heroes' Square
• Széchenyi Baths
• Szimpla Kert
DAY TWO
• Széchenyi Chain Bridge
• Matthias Church
• Fisherman's Bastion
• Buda Castle (Royal Palace)
• Hungarian State Opera House
• House of Terror
• Mazel Tov
DAY THREE
• Great Market Hall
• Danube River Cruise
• Margaret Island
• Hungarian Parliament Building
• Shoes on the Danube Bank
• Gozsdu Udvar
BUDAPEST TRAVEL TIPS
1. Plan your Trip with Sygic Travel
I've been using Sygic Travel for many years now. It's a trip planning app that allows you to pin points of interest on a map then group them together by location to create as efficient an itinerary as possible. You can download it for free on iOS or Android.
2. Stay Connected in Budapest
Having a reliable internet connection is a must these days, even more so when you're away on a trip. You'll need it to navigate, do research, and stay connected on social media. Having access to Google Maps alone justifies the cost.
We brought Pokefi devices with us so we didn't need to rent any in Europe. But if you want to stay connected in Budapest, then you can purchase an eSIM through Klook.
3. Validate and Keep Your Ticket
Always remember to validate your ticket as soon as you board public transportation or enter a metro station. Inspectors may ask you to present your ticket so be sure to keep it with you for the entire duration of your journey. Getting caught without a validated ticket will result in a hefty fine.
4. Get a Budapest Card
If you plan on using public transportation often and visiting many of the city's top attractions, then a Budapest Card may be a worthwhile investment.
It's valid for 1-5 days and will entitle you to unlimited travel on public transportation along with a slew of benefits like free entry to museums, walking tours, luggage storage, and discounts at thermal baths and restaurants.
You can purchase the Budapest Card on Get Your Guide. Check out the Budapest Card website for more information.
5. Check for Budapest travel deals
There are many ecommerce websites that offer deals on tours and other travel-related services. For your trip to Budapest, I suggest checking out Get Your Guide. It's a leading travel booking platform that offers a wide selection of deals on walking tours, transfers, and more.
6. Rent a Car
Transportation in Europe is easy and efficient, but one of the best ways to explore the continent is by renting a car. It gives you the most freedom.
We didn't rent one in Hungary but we did rent cars in Spain and Santorini. It gave us the freedom to go wherever we wanted, whenever we wanted.
If you're considering renting a car to explore Hungary and central Europe, then you can do so through Rentalcars.com.
7. Get Travel Insurance
We don't always get travel insurance. It depends on where we're going, what we'll be doing, and how long we'll be away for. For this trip to Europe, it was a necessity.
Whenever we do feel the need for insurance, we get it from SafetyWing or Heymondo. They're both popular travel insurance companies used by many digital nomads. You can follow the links to get a free quote from SafetyWing or Heymondo. Get 5% off on Heymondo when using our link.
8. Bring the Right Power Adapter
Hungary has Type C or Type F electrical outlets so be sure to bring the right power adapters for your devices. Electrical voltage is 230V and the standard frequency is 50Hz.
Have Fun!
I'm hardly an expert on Budapest but I do hope that you find this travel guide useful. I'm only sharing some of the things I learned from our trip. If you have any questions or suggestions, then please leave them in the comment section below. You're welcome to join our Facebook Travel Group as well.
Thanks for reading and have an amazing time in Budapest, the jaw-dropping Hungarian city fittingly known as the Paris of the East!
OUR GEAR
These are some of the things we brought with us to Budapest. For a complete list of our travel gear, have a look inside our backpack. (NOTE: The following links are Amazon and other affiliate links.)
Disclosure
Some of the links in this Budapest travel guide are affiliate links, meaning we'll earn a small commission if we make a sale at no added cost to you. We only recommend products and services that we use ourselves and firmly believe in. We really appreciate your support as this helps us make more of these free travel guides. Thank you!