EDITOR'S NOTE: We know about high tea and fish n' chips but do we really know what Londoners eat? Traveleater Martin Dunne of Travels with My Belly shares this insightful look on 6 London food favorites that locals love to eat.
Welcome to London! It's grey and raining? Yeah, it kind of does that. You're hungry?! Gawd blimey (as we don't say) well, we don't want anybody hangry (hungry/angry) in this fair city. You want some local food when you visit London? You came to the right place, my friend…
I was born and have lived here in London all my life. I want to share with you six foods Londoners REALLY eat. Much of this list features foods you won't find listed in other articles.
FOOD IN LONDON QUICK LINKS
Eating at local restaurants is great, but so is going on a food tour. Check out some of the most popular food-related tours and activities in London.
TOURS
Save This on Pinterest!
No time to read this London food guide? Click on the save button and pin it for later!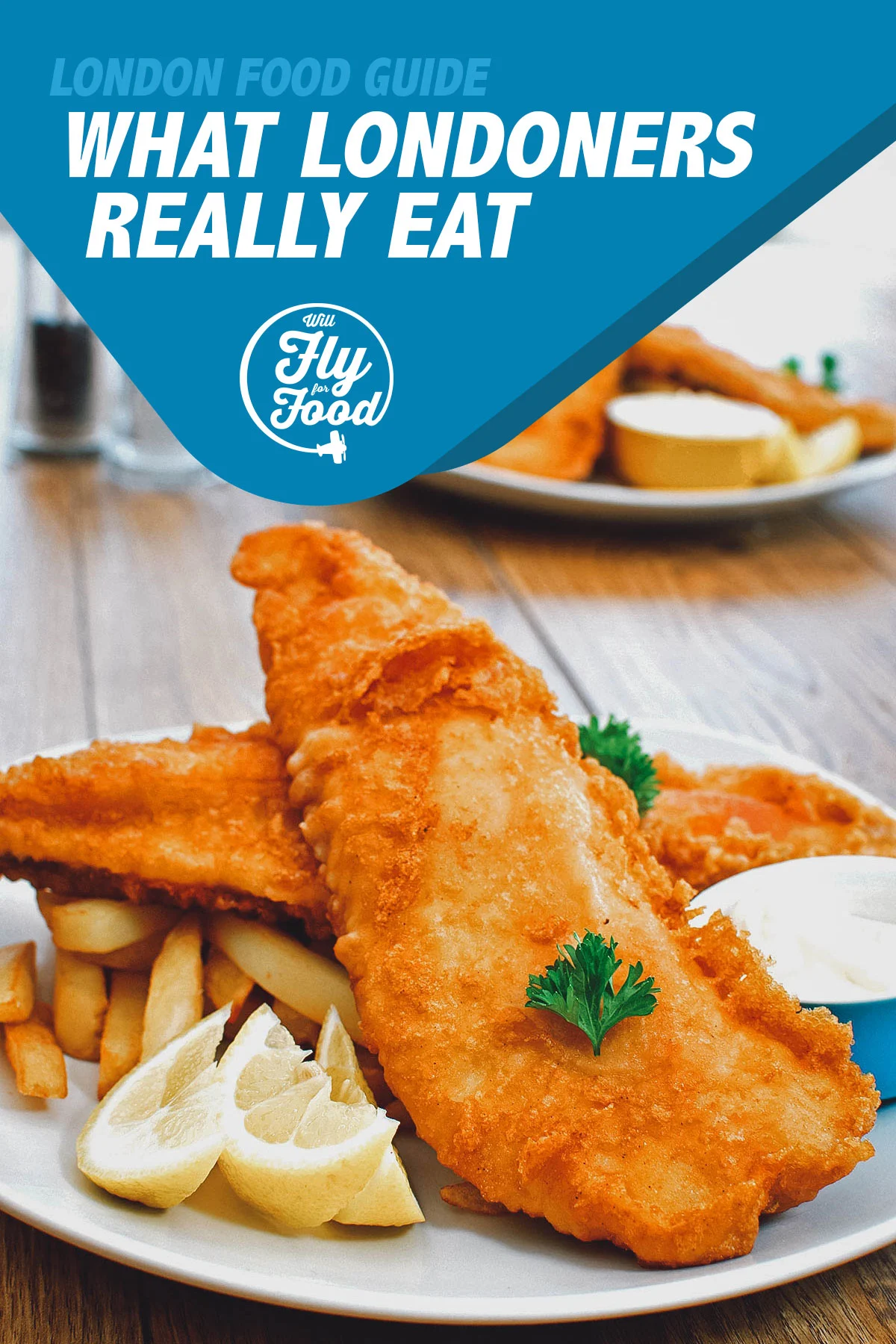 Pinterest and cover photos by nupix via Depositphotos
WHAT TO EAT IN LONDON
NOT EVERYDAY FOOD IN LONDON
From Sunday roast and Yorkshire pudding to the "ultimate traditional British dessert" sticky toffee pudding, many guides have been written on what to eat while visiting London. But I think most of these articles are misleading for those that want to truly eat like a local.
Much of the things listed, while they are eaten, and they are tasty, are not common everyday foods we eat here in London. For most people they will be occasional treats.
These articles are missing a lot of the food that is wildly popular and widely eaten.
Pie, Mash, and Liquor
First, let's take the famous pie, mash, and liquor. These restaurants are dying out. Today there are few, they are vanishing from our streets.
Pie and mash shops, even in their heyday, were only found mostly in East London. Traditional pie, mash, and liquor isn't something most Londoners eat. There are many Londoners that have never tasted it at all!
"The Pie and Mash Club is a group of enthusiasts who meet regularly in pie shops across London and the south-east. Anyone brought up in London before the 1970s or 80s would be familiar with pie and mash. When the club formed 25 years ago, there were 57 pie and mash outlets with London postcodes. The latest closures reduce that number to 22."

London Loses its Appetite for Pie and Mash, The Financial Times
The Full English Breakfast
The famous full English breakfast, aka the fry up is another example. What is a fry up? This is a large serving of fried proteins and carbs on a plate that will make your doctor weep and your undertaker rub their hands with glee.
Although it can vary, a fry up normally consists of sausages, bacon rashers, fried eggs, mushrooms, black pudding, fried potato of some form, baked beans, and a grilled tomato so we can pretend it's a tiny bit healthy.
Do we eat fry ups in London? Yes, and it is popular! The thing is though, it's not something that people eat on a regular basis. It's an occasional treat. Generally most people are not eating this sort of thing every day or even every week. You would be dead within a year or shopping at a tent shop for your clothing.
Afternoon Tea
For those unfamiliar, it's a tower of cakes, sandwiches, and scones served with a pot of tea at lunch time. For those that are familiar, I'm sorry to burst your bubble but most of us are not eating that.
It may be a thoroughly British tradition but for most of us, it's viewed as quite a touristy thing or an occasional rare treat. To give you some context and perspective, I have only ever eaten this once in my entire life.
WHAT PEOPLE IN LONDON REALLY EAT
1. Nando's
Nando's is a chain restaurant with branches worldwide. It's a Portuguese chicken restaurant born in South Africa but embraced in the UK culture with an enthusiasm and devotion that's hard for outsiders to fathom. Come to think of it, I'm not really sure that I understand it either.
Currently a London man is attempting to eat at every Nando's in the world. Nando's is so ingrained in our culture that it's entered our language in the form of "cheeky Nando's." It's inspired memes, jokes, music, art, and more. Even Prince William loves Nando's.
So what is this force of nature? Nando's serves flame grilled peri-peri chicken. Peri-Peri is a spicy sauce that the chickens are marinated in. You can get your chicken marinated in various degrees of Peri Peri spice heat or opt for a mild lemon and herb. A particular selling point of the chain is the bottles of various peri peri based hot sauces to which customers can help themselves to.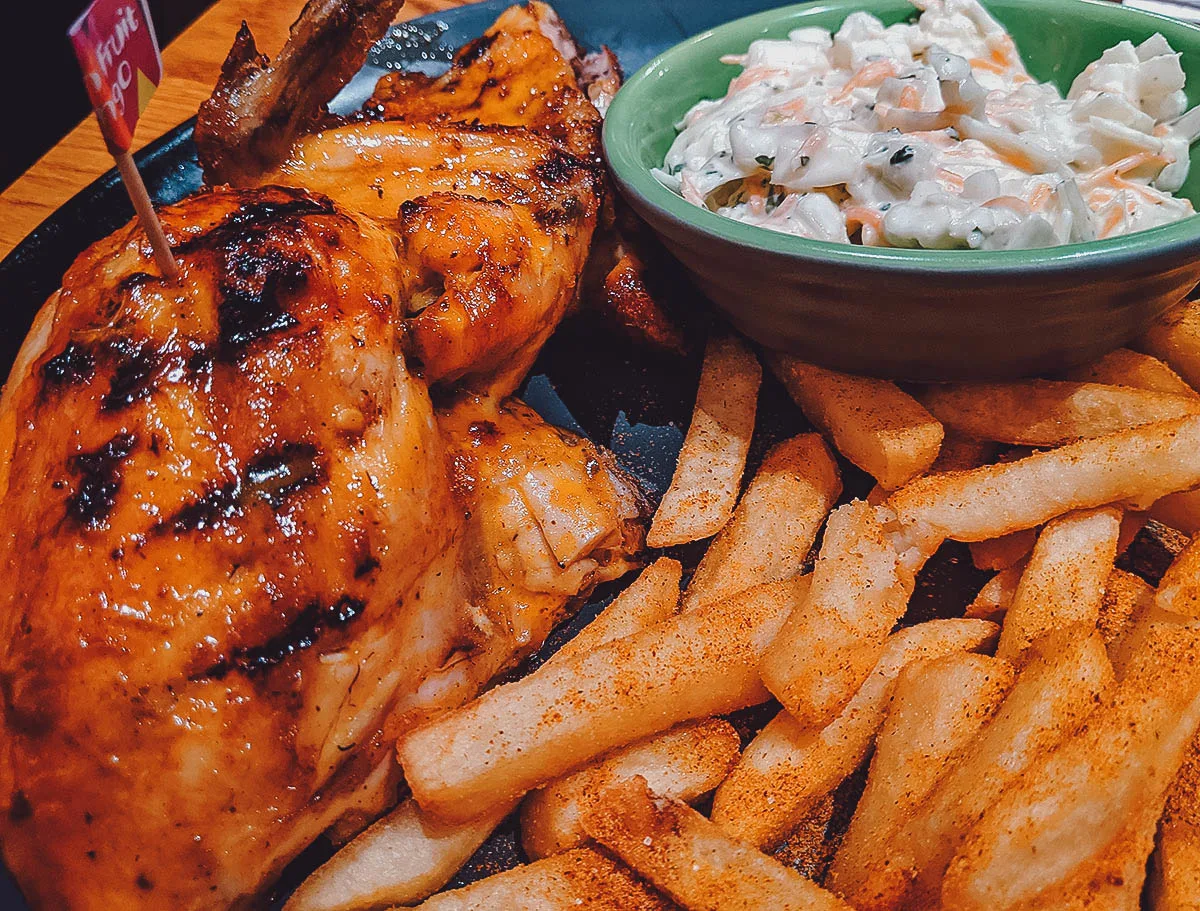 2. Greggs
Greggs started out as a bakery but now concentrate on the eating-on-the-go market. They sell hot savoury baked goods and cakes along with sandwiches and salads.
They are insanely popular but I don't think they're really known about outside of the UK. The world blindly goes about its business without knowing the joys of a steak bake or sausage roll.
"The bakery chain – born in 1951 – has seen a 25% rise in recent profits and has a bigger UK presence than McDonald's and Starbucks."

The Guardian
I like to describe them as the McDonald's of Britain because they are so ubiquitous and popular. Indeed, McDonald's has around 1,300 compared to around 2,000 Greggs stores!
Greggs is an insanely popular and well loved brand. It's particularly famous for it's sausage rolls. Britain recently lost it's mind when Greggs released vegan versions of it's famous sausage roll and steak bake!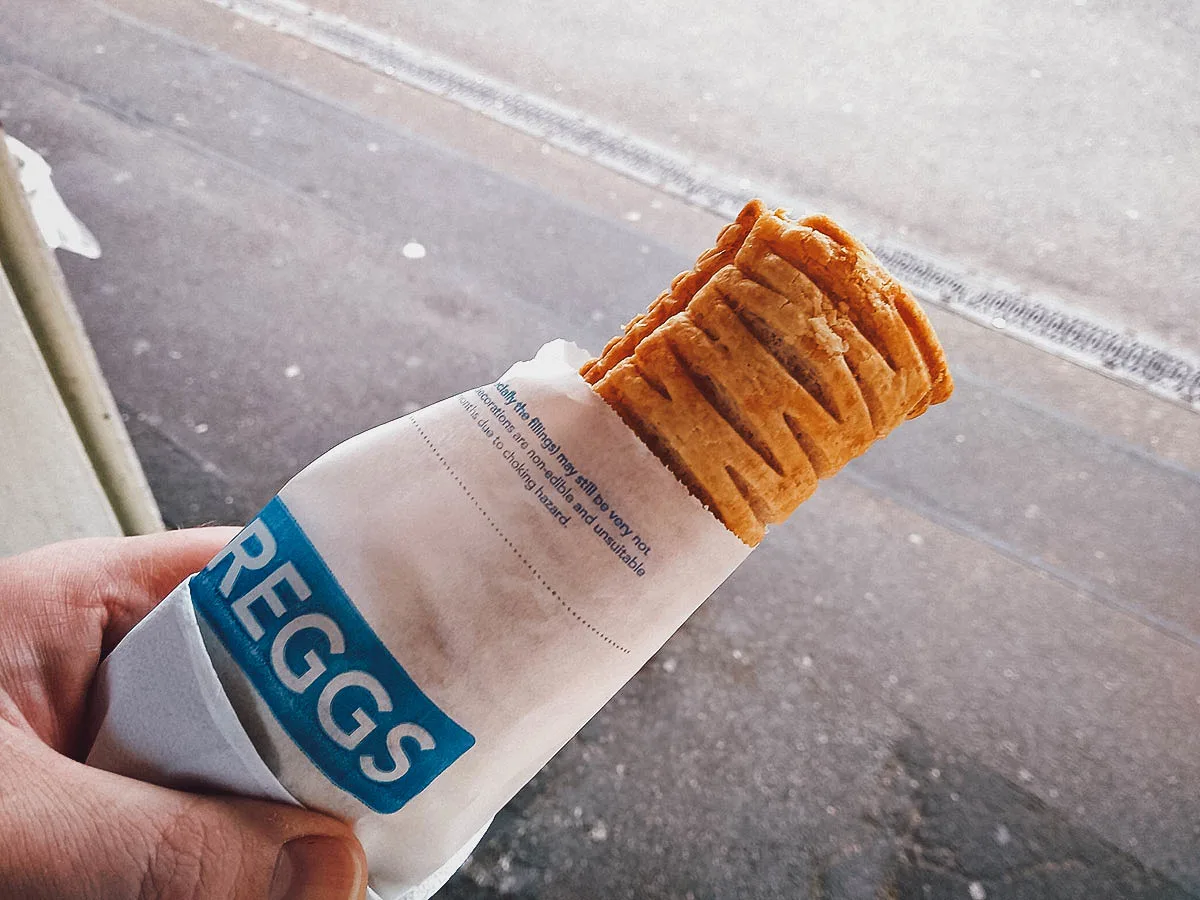 "A Gregg's vegan sausage roll at West Croydon Station." by bob walker, used under CC BY-SA 2.0 / Processed in Photoshop and Lightroom
3. Kebabs
Another London food favorite is the kebab. Kebabs are eaten from lunch till dinner and beyond but it's enshrined in our culture as drinking food. Pretty much every culture has "drinking food." This is food that either goes with alcohol or consumed after a night out or in the morning to help with the inevitable hangover.
The kebab is the food in London that you get on the way home after a night out. You'll find most kebab shops open way into the night after many other choices have shut. So if you want a taste of our culture (covered in chilli sauce) head to the kebab shop after a night at the pub!
"Since the first official kebab shop opened in North London in 1966, there are now over 20,000 kebab outlets in the UK selling around 2,500 tonnes of lamb and chicken doner a week."

Culture Calling
A kebab is a Turkish or Greek dish depending on who you ask. Both have kebabs but the one we primarily have here in the UK is the Turkish version.
A kebab, for those unfamiliar, is skewered meat cooked over heat which is then stuffed into a pita bread along with vegetables. The most common choice here is the doner kebab. Minced meat is packed into a log shape and cooked on a rotating spit before it's sliced into thin ribbons.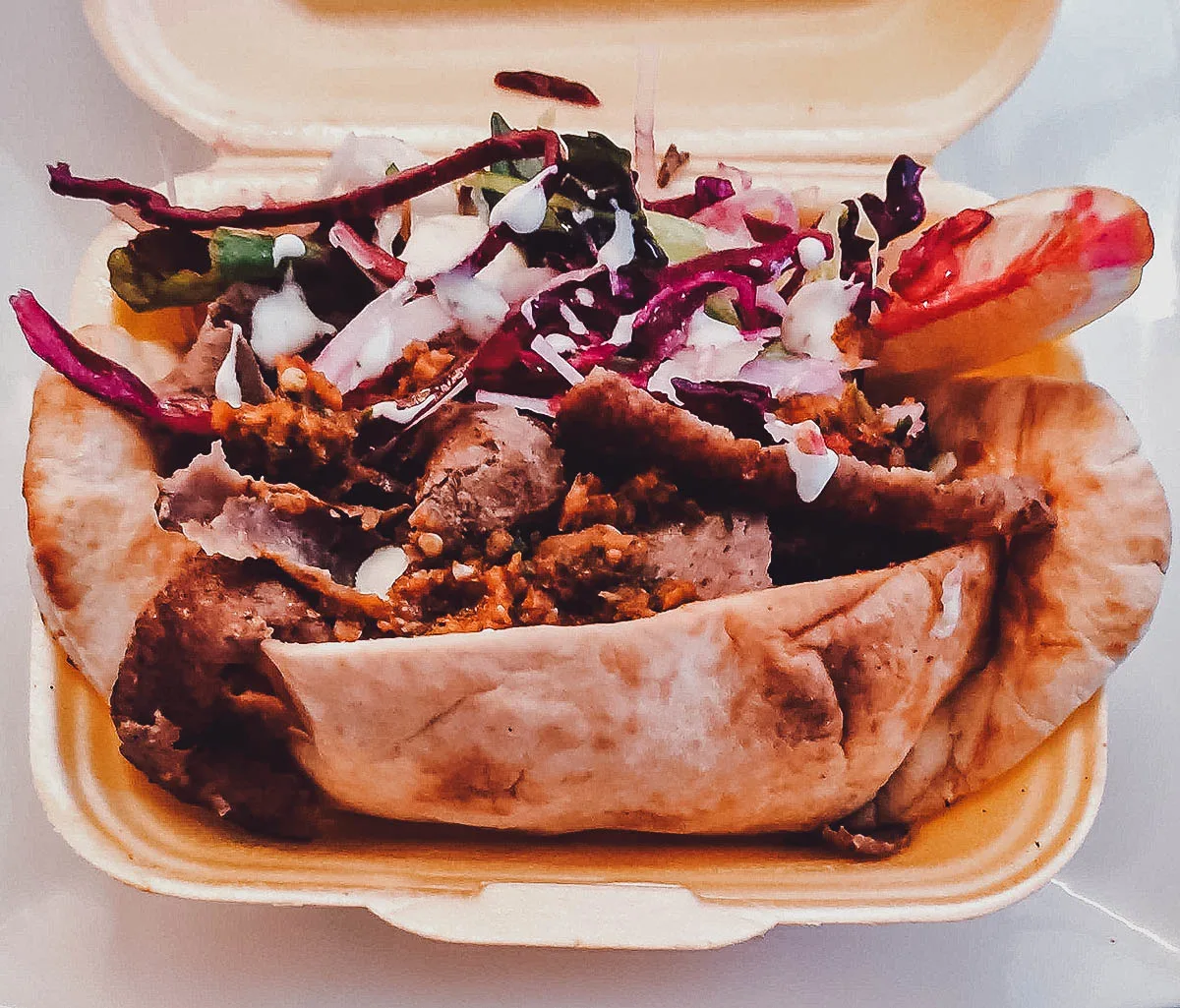 4. Curry
Thanks in part to its huge South Asian population, curry is a massively popular food in London . The most popular dish is chicken tikka masala which has often been voted Britain's most popular food and is always in any top 10 list.
Chicken tikka is just as much a part of British culture as fish and chips or a Sunday roast with Yorkshire pudding. Indeed, chicken tikka is often regarded as the UK's national dish.
"It is widely considered the country's national dish, and in 2001 British Foreign Secretary Robin Cook gave a speech in which he hailed chicken tikka masala as a symbol of modern multicultural Britain."

Britannica
Surprisingly chicken tikka is actually British in origin. An example of fusion food. Its exact origins are a little murky, as with most food inventions, but the most popular story is that chicken tikka masala was invented in Scotland.
Apparently an Indian chef decided to cater to a customer's western tastes and combined a standard chicken curry with cream or tomato soup (depending on the version) and the legend was born.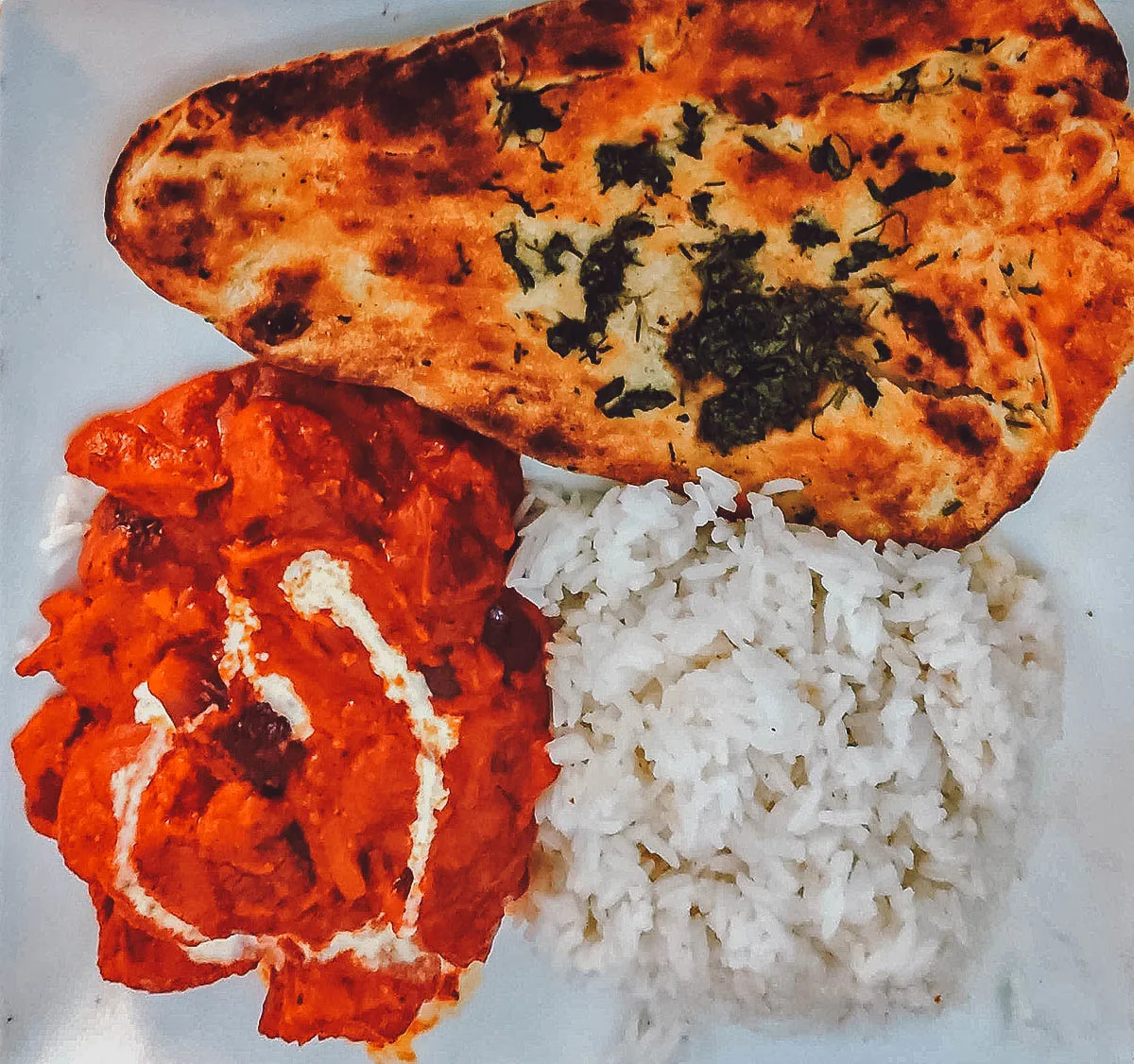 5. Sandwiches
There is a British food so ubiquitous around the world that you probably don't even know it's British – the sandwich. The story goes that it was invented by The fourth Earl of Sandwich, John Montagu in the 18th century. The lord was a notorious gambler who loved to play cards. Apparently one night he was so into his game of cards that he didn't want to stop to eat.
He called for some meat placed inside two slices of bread to enable him to eat and play cards at the same time! The town still exists today and is in fact called Sandwich after the Lord and his invention. And yes, sandwiches are a local speciality.
Britain loves sandwiches.
"About 11.5 billion sandwiches a year are eaten in the UK."

British Sandwich Association
There's a British Sandwich Association which even holds it's own sandwich Oscars style awards every year called The Sammies.
The pre-packaged sandwich was also invented here in the UK to satisfy our hunger for sandwiches! Marks & Spencer, a UK department store, was the first to come up with the idea of packaging the sandwich to go.
"In 1979, the British store chain Marks & Spencer introduced a small range of chilled, pre-made sandwiches sold in wedge-shaped boxes, sealed to keep them fresh. As they proved popular, a small experiment involving five stores rapidly grew to more than one hundred stores. Within a year, the store was looking for ways to manufacture sandwiches at an industrial scale. By the end of the decade, the British sandwich industry had become worth £1bn. In 2017, the British sandwich industry made and sold £8 billion worth of sandwiches."

Wikipedia
Obviously, sandwiches are available just about everywhere but Pret is a well-loved and popular sandwich chain you could try if you want a more sophisticated sandwich. Pret A Manger (mostly shortened to just Pret) is extremely popular.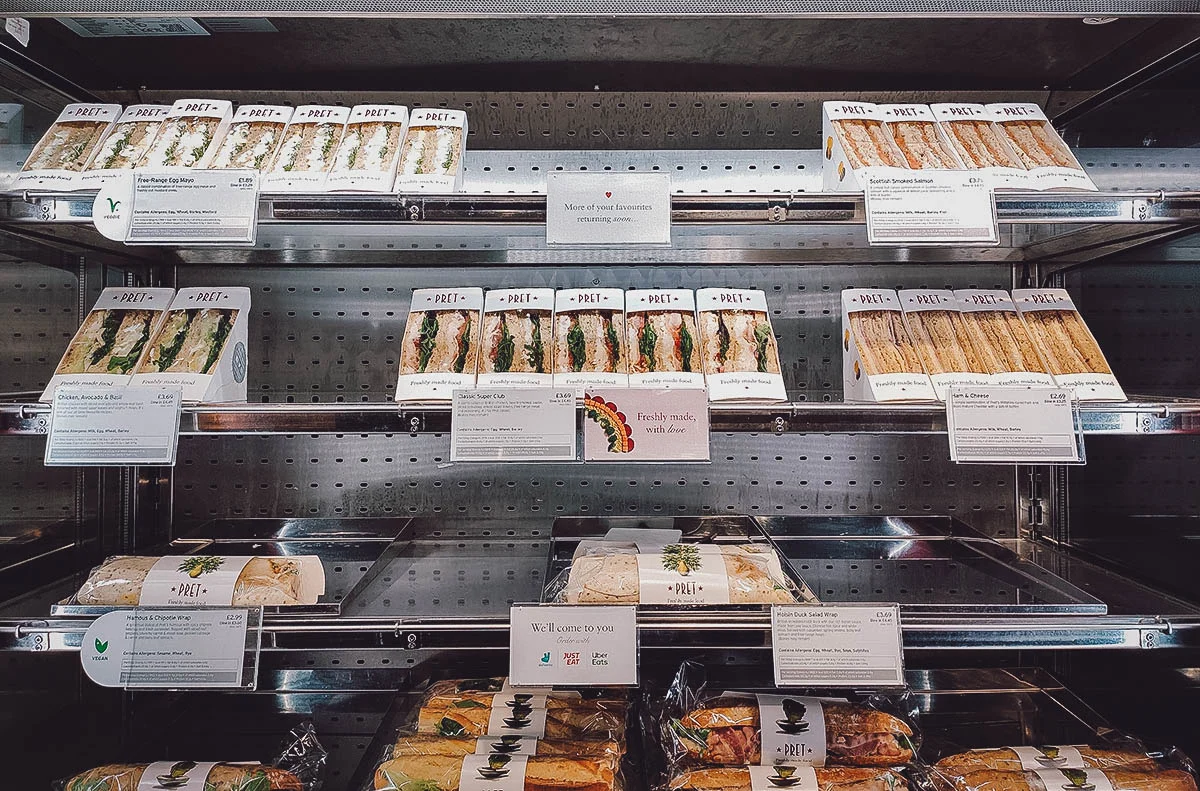 6. Fish and Chips
For the last entry, I wanted to include something that always gets featured on lists that we actually DO eat a lot of but eat differently here in London and the south. At the time of writing there are currently over 10,500 fish and chips shops in the UK!
"382 MILLION MEALS FROM FISH AND CHIP SHOPS EVERY YEAR. That's six servings for every man, woman, and child."

National Federation of fish and chips
However, there are some regional differences. "Up north" they like gravy with their chips. They also enjoy "scraps" which are bits of batter left over from frying the chips. The chips, are often cooked in lard rather than sunflower/vegetable oil that's common in the south. The preference of battered fried fish is also different.
So what's popular in London? Well, firstly we prefer cod rather than haddock. Although both are available along with rock and plaice. We don't have gravy on our chips but a pot of curry sauce is extremely popular.
Many chip shops (chippies) here in London are run by people of Chinese heritage. Quite a few chip shops are also Chinese takeaways. Here you can get your chips with a pot of Chinese BBQ sauce to pour over your chips! Many of these places also offer fusion combinations such as the carb-tastic fried rice and chips. There are many different combinations.
So order like a local Londoner and get cod and chips with a pot of curry sauce! If you would like to read a little bit more about the fish and chip north/south divide you can do so by clicking here.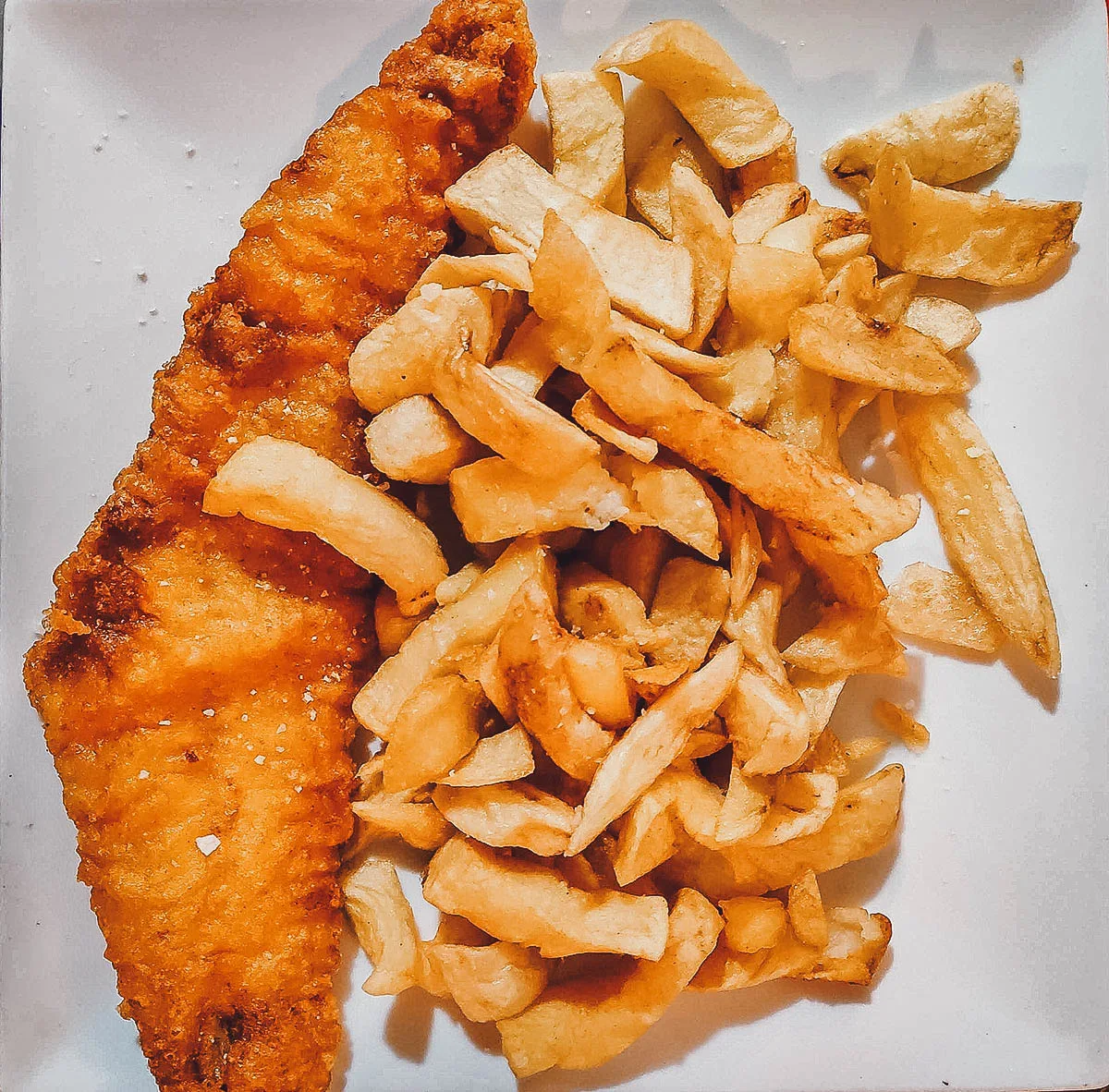 LONDON FOOD TOURS
It goes without saying that no one knows the food in London better than a local, so what better way to experience London's food than by going on a food tour? A food-obsessed guide will take you to London's best restaurants and markets and explain all the dishes to you in more detail. Check out Get Your Guide for a list of London food and drinking tours.
FINAL THOUGHTS ON THE FOOD IN LONDON
So hopefully you've enjoyed this article on the food in London and next time you're in town you can eat like a local! I think it's interesting that only two of the six foods listed are from British cuisine. London is multi-cultural like perhaps no other place on Earth. I often see people surprised when they come here just how many nationalities there are.
This is probably London's biggest foodie plus point. We don't have a particularly strong food culture of our own. We've embraced the foods and traditions from so many peoples and places. Some were blown here along trade winds from spice islands and tropical paradise. Some came with refugees or immigrants looking for work and a better life.
There has to be few places on this earth that has such a vast array of foods from around the world. Go to a street food market here in London and you probably won't find any British food there. You'll find vendors selling Japanese, Moroccan, Russian, Italian, Polish, Thai, Chinese, African, and any number of other cuisines.
Those following me for a while will be fully aware of my love for Thai food. I'm often asked if it's difficult for me to cook Thai here in the UK. The answer is no! Most of the ingredients I need are available at any standard supermarket. Not just Thai, you can buy Polish meats and breads, Chinese sauces, Caribbean jerk seasoning, Indian and Pakistani foods, and much more. London is a culinary magpie.
So another answer to the question of how to eat like a local is to enjoy anything and everything that the cuisines of the world has to offer because most of it is available here in London. Nothing says home like food. Nothing says friendship like sitting and eating together. To know each other's food is to know each other.
Disclosure
Some of the links in this London food guide are affiliate links. We'll earn a small commission if you make a purchase at no extra cost to you. We only recommend products and services that we use ourselves and firmly believe in. We really appreciate your support as it helps us make more of these free travel guides. Thank you!
Photos by Martin Dunne