EDITOR'S NOTE: Please be advised that this Manila travel guide hasn't been updated to reflect 2023 prices and travel guidelines. We'll update it as soon as we can. Thanks for your patience.
It's been over two years since I wrote the first edition of this Manila travel guide. I decided to write it after hearing more than one foreigner describe Manila as the scariest city they've ever visited. I don't know where they stayed or what happened that made them say that, but it inspired me to write a travel guide that put traveler safety first. I certainly didn't want anyone visiting my home city and having a negative or even traumatic experience.
But the thing is, focusing so much on safety inadvertently put my city in a negative light. Without meaning to, I may have made it seem worse than it actually was. Sure, we have our share of taxi scammers and purse snatchers, but don't many destinations around the world have those too? Surely Manila isn't worse than any other third world metropolis? I wanted tourists to have fun in Manila but I realized after some time that putting so much emphasis on traveler safety wasn't the right approach. It shed light on the negative instead of focusing on the positive aspects of my city and Filipinos in general.
Many travel bloggers have come to Manila and fallen in love with my city and its people, so much so that some of them are actually considering moving here. And they all said the same thing – when you're here, you're family. We Filipinos are known for our hospitality. Travel safety is a concern no matter where you go, but the chance to be welcomed like family isn't something you can find just anywhere. I wanted the new edition of this guide to be a reflection of that.
GUIDE TABLE OF CONTENTS
TRAVEL RESTRICTIONS
Because of the current global situation, travel guidelines change often. Our friends at SafetyWing created a website that lists detailed information on travel restrictions around the globe.
Before doing any serious planning, be sure to check the Flatten the Curve website for information on travel restrictions to the Philippines.
MANILA AT A GLANCE
Manila is the capital city of the Philippines. Strictly speaking, it refers to one specific city but it's also used as a blanket term for the whole metropolitan area. When people say "Manila", they can either be referring to the actual city of Manila which is home to the capital's most recognized attractions like Intramuros and Fort Santiago, or they can be using it to refer to the entire metropolitan area which consists of several cities like the city of Manila, Makati, Pasay, and Quezon City. Does this make sense?
According to Wikipedia, Manila is the most densely populated city in the world (as of June 2016). If you've ever driven through Manila's rush hour traffic, then you won't argue with that. The Philippines is a developing country with a dearth of well-paying jobs in the provinces. Many Filipinos flock to Manila looking for work which is part of the reason why the city has become so densely populated.
I've lived in Manila most of my life and I'll agree it isn't the prettiest city. But if you give it a chance, then you'll find that there's much to love here.
BEST TIME TO VISIT MANILA
More often than not, Manila is a stopover for many travelers so there isn't really a "best time" to visit. Just know that there are two seasons — dry and rainy. Dry season is from December-May while rainy season is from June-November. March-May is the hottest and most humid time of the year with temperatures frequently exceeding 40°C (104°F). July-September are the wettest months while December-February are the coolest, making it the most ideal time to visit. This holds true for most of the Philippines.
Climate: Annual Monthly Weather in Manila
For more on the weather in Manila, check out this climate data from weather-and-climate.com. I've also created the average temperature and annual rainfall graphs below. Best months to visit are colored in orange.
Average Temperature


Annual Rainfall


HOW TO GET THERE
The majority of international flights will be arriving at Ninoy Aquino International Airport (NAIA) Terminal 1. Terminal 2 services Philippine Air Lines only, while the few airlines not served by Terminal 1 will land at Terminal 3.
Regardless of where you land, the best ways to get to your hotel from the airport are by UBE Express Bus, Grab, or private transfer. Personally, I always use Grab. There are metered and coupon taxis as well but I've never used them.
BY UBE EXPRESS BUS: A fleet of air-conditioned buses called UBE Express services passengers to and from the airport. Buses are equipped with onboard wifi and cost PHP 150 each way. You can purchase tickets at the airport kiosks when you arrive or you can buy them in advance through the UBE Express booking website. It services all three airport terminals and takes passengers to and from designated stops along several routes. You can follow the link for more detailed information about UBE Express and their bus routes.
BY GRAB: Despite being known as an app-based service, you'll be able to book a ride with Grab even if you don't have a smartphone or wifi connectivity. Grab booths can be found at these locations:
Terminal 1: Main arrival curbside
Terminal 2: Inner arrival curbside between Bays 7 and 8
Terminal 3: Secondary arrival curbside between Bays 5 and 6
Terminal 4: Curbside
BY PRIVATE TRANSFER: It'll probably be more expensive but if you'd like to book a private airport transfer, then you can do so through Bookaway.
Most travelers will probably fly to Manila but there may be other ways to get there depending on where you are. Check out Bookaway to search for route options available to you. You can click on the link or use the widget below.
WHERE TO EXCHANGE CURRENCY
The best place to exchange currency in Manila is at a licensed money changer. Their rates are generally 10-20% better than banks. The rate at the airport is terrible so be sure to change no more than USD 100 there. That'll get you to your hotel and give you enough pesos to spend on your first day until you can find a money changer.
There are plenty of money changers in Manila, including malls, so you can ask your hotel where the nearest (and best) one is. Be wary of anyone who approaches you on the street offering a great exchange rate. These are scams so avoid them like the plague. Exchange your currency only at licensed money changers and be sure to count your pesos before leaving the counter.
WHERE TO STAY IN MANILA
In my opinion, the Poblacion area in Makati is the best place to stay in Manila. It's located near the commercial business district so there are plenty of shops, restaurants, bars, and convenience stores in the area.
There are many hotels to choose from in Poblacion but I can recommend the three below based on personal experience. You can also check Booking.com or Agoda for alternate listings in Poblacion/Makati.
BACKPACKER: Z Hostel
A hip, centrally located hostel in Poblacion, Makati, Z Hostel is perfect for backpackers and group travelers. It's clean and well-designed with mostly dorm-type accommodations. Over the weekends, it has a small roofdeck that turns into a lively bar with DJs and live music. You can make a reservation through Booking.com or Agoda. Be sure to check both sites to find the best deal.
BOUTIQUE: La Casita Mercedes
This is the type of place Ren and I love staying at when we travel. La Casita Mercedes is an old Filipino house that was renovated and reopened as a 7-room bed and breakfast in 2015. If you're traveling as a couple and want peace and quiet, then this is a great place to stay. You can make a reservation through Booking.com or Agoda. Be sure to check both sites to find the best deal.
BUSINESS: City Garden Grand Hotel
City Garden Grand Hotel is a 4-star hotel just a few minutes' walk from Z Hostel and La Casita Mercedes. It's central location makes it ideal for business or leisure travelers to Manila. Considering it's a 4-star hotel in Makati, rates are reasonable with Standard rooms starting at around PHP 3,785 a night. You can make a reservation through Booking.com or Agoda. Be sure to check both sites to find the best deal.
HOW TO GET AROUND
Commuter Apps
Booking rides through Grab is the best way to get around Manila. It isn't the cheapest, but it's the safest and most convenient. Downloading and using the app will require a constant internet connection which is why I'm suggesting you rent a pocket wifi device or purchase a sim card while you're in the Philippines. For your convenience, I've listed the Grab location and approximate fare for each of the recommended destinations in this guide.
If you're considering using anything other than commuter apps, don't. As much as I would love to heap praises on our public transportation system, I can't at this time. Here's why:
Regular Taxis
Don't get into a regular taxi. They don't have the best reputation, even among locals. Many are rundown and smelly and we often hear about taxis being used to commit scams and thefts (or worse). With that said, I'm not saying all taxi drivers are evil. Many are good, honest people. But for your safety and peace of mind, then it's best that you stay away from regular taxis for now.
Public Buses
Forget buses. Not only are many of them rundown, bus drivers are the worst. They drive like fucking maniacs. A kiwi friend of mine who lived in Manila for a year told me that he was never sure he'd get out of a bus alive. I'm sure he was exaggerating but you get my point.
Jeepneys (?)
Public jeepneys aren't the most comfortable means of transportation but they're an iconic part of Philippine culture so feel free to ride them at least once. It's a memorable experience and the cheapest way to get around. I've never personally used it, but there's a mobile app from sakay.ph that can help you navigate Manila's often confusing public transportation system.
MRT
As much as I would love to recommend the MRT (subway system) as an ideal means of transportation for tourists, I can't. At least not until they make improvements. The most common complaints include how scorchingly hot train stations are and how crowded trains get during rush hour (not enough trains!). The MRT has potential but until they address certain issues, it isn't the best way to get around the city. Check out this video on an American's thoughts on Manila's MRT system.
Please be advised that my recommendations above reflect my personal thoughts and opinions at this time. They may change if improvements are made. I'll be sure to update this page if they do because there's nothing I want more than a public transportation system we locals can be proud of.
THINGS TO DO IN MANILA
1. Tour Intramuros on a Bamboo Bike with Bambike Ecotours
Historic Intramuros is without a doubt the premier tourist attraction in Manila. Known as the Walled City, this 0.67 sq km walled area (0.26 sq mi) WAS the City of Manila during the Spanish Colonial Period. You can explore Intramuros on your own but one of the most fun ways to experience it is on sustainable bamboo bikes made in partnership with one of the Philippines' most respected NGOs, Gawad Kalinga.
2. Do the Binondo Food Wok with Ivan Man Dy
Have you seen the Philippine episode of No Reservations with Anthony Bourdain? If so, then you might recognize Ivan. He was one of Anthony's guides in Manila. A fun gastronomic tour that takes you through the back alleys of Binondo, there's no better or more delicious way of exploring Manila's Chinatown than this. Highly recommended.
3. Marvel at Juan Luna's Spoliarium at the National Museum
The National Museum is Manila' foremost museum and houses what's widely considered to be the most internationally renowned piece in Philippine art history — Spoliarium by national artist Juan Luna. A cultural treasure measuring a gargantuan 422 cm x 767.5 cm, this painting of dying gladiators received a gold medal at the Exposición Nacional de Bellas Artes in Madrid in 1884.
The National Museum is comprised of three buildings — The National Art Gallery which showcases visual artworks, the Museum of the Filpino People which houses important historical artifacts, and the Planetarium. Needless to say, you can spend an entire day visiting all three. The National Museum went through a major renovation in 2012 so the buildings look and feel brand new.
4. Enjoy the Manila Bay Sunset over Buckets of Beer at Mall of Asia (MOA)
Manila Bay is renowned for its sunsets and there are few better vantage points than Mall of Asia. Fronting the bay, its the third largest shopping mall in the Philippines.
To catch the sunset, head on up to the second floor around 5 PM and look for signs pointing you to Seaside Boulevard. There you'll find a row of al fresco restaurants facing Manila Bay. Pick any restaurant that appeals to you and order a bucket (6 bottles) of San Mig Lights or Pale Pilsens. Kick back and enjoy the light show.
5. Satisfy Your Sweet Tooth at the Dessert Museum
If you're going to Mall of Asia, then you may want to pay a visit to the Dessert Museum as well, especially if you like sweets and posting your #ootd on Instagram. It's a fun and unique candy-filled attraction that boasts eight themed rooms, each inspired by a different dessert.
6. Go Bargain Hunting at Greenhills Shopping Center
Greenhills Shopping Center (or "Greenhills" for short) is a bargain hunter's paradise. You can find almost anything there like mobile phones, gadgets, jewelry, clothing, fashion accessories, watches, shoes, bags, etc. It's also home to a good amount of quality knock-offs. Just be aware of any laws that your country may have about the importation of counterfeit goods before you go crazy buying fakes.
Like Mall of Asia, you can book a half-day shopping experience at Greenhills Shopping Center through Klook.
Grab fare from Poblacion: Around PHP 299 each way (Destination: Greenhills Shopping Center)
7. Watch Science come Alive at the Mind Museum
This place was fun. If you're traveling with kids, then the Mind Museum is a great way to spend a couple of hours. Not only will they be learning about things like Bernoulli's Principle, magnetic fields, and Einstein's theory of gravity, but they'll be doing it in the funnest way imaginable. The Mind Museum is located at the BGC (Bonifacio Global City) as well which is home to some of Manila's trendiest bars and restaurants.
8. Get a Massage
Massages are cheap in Manila and pretty good. You can get a full body massage for around PHP 350. Just be sure that you go to a LEGITIMATE massage parlor and not a sex den masquerading as one.
There are many legitimate massage parlors around so just ask your hotel where the nearest one is. If you're staying in Poblacion, then I recommend Nuat Thai near A Venue Mall. You can refer to the map at the bottom of this post or ask your hotel for directions. You can also book a massage through Klook. Massages are hard work so be sure to give your masseuse a good tip (PHP 50-100).
DAY TRIPS FROM MANILA
If you're staying a few days in Manila, then here are a few day trips you can take from the city.
1. Masungi Georeserve
This is the place that went viral on social media not too long ago. Located about 1.5 hours from Makati, Masungi Georeserve is a geological park and conservation area in Baras, Rizal. It's home to a hiking trail featuring rope walls, hanging bridges, and unique viewing platforms suspended over limestone karsts and overlooking a lush tropical rainforest. If you had time to take just one day trip from Manila, then this should be it.
2. Taal Volcano
A trip to Tagaytay is one of the most popular day trips locals make from Manila. Tagaytay is a holiday town about 2 hrs south of Manila which features cooler climates and a picturesque view of Taal Volcano.
Located in the middle of a lake, Taal Volcano is one the most active volcanos in the Philippines with 33 historical eruptions, though don't let this frighten you. Like many Filipinos, we've been making weekend trips to Tagaytay for as long as I can remember and I don't recall the volcano ever being a concern.
3. Taal Heritage Town
Have you heard of the historic town of Vigan in Ilocos Sur? Think of Taal Town as a mini-version of Vigan, but just 2 hours south of Manila. It's home to a wealth of Spanish colonial heritage houses and the biggest church in Southeast Asia. If you don't plan on doing a Taal Volcano trek, then it's possible to pair this with a trip to Tagaytay.
4. Mount Pinatubo
If one active volcano isn't enough for you, then you can pay a visit to Mt. Pinatubo as well. Many people may not remember it, but Mt. Pinatubo was the volcano that produced the second largest terrestrial eruption of the 20th century. Turning day into night, it erupted in 1991 and covered Manila in a blanket of ash.
5. Corregidor Island
If you're interested in WWII history, then a visit to Corregidor Island is a must. Because of its strategic location at the entrance of Manila Bay, Corregidor has long been fortified with coastal artillery to defend Manila against attacks from enemy warships.
During WWII, it played a vital role in the liberation of the Philippines from Japanese forces. Today, it's a popular tourist attraction featuring military installations used during the war.
ON FILIPINO FOOD
45 MUST-TRY FILIPINO DISHES
Renowned food personality Andrew Zimmern once said that Filipino food will be the next big thing. I believe it with all the features on Filipino food I've been seeing more and more on social media. There are many delicious things to eat in the Philippines but in my opinion, these are the dishes that you absolutely must try. Click on the link for a list of the best and most interesting food in the Philippines.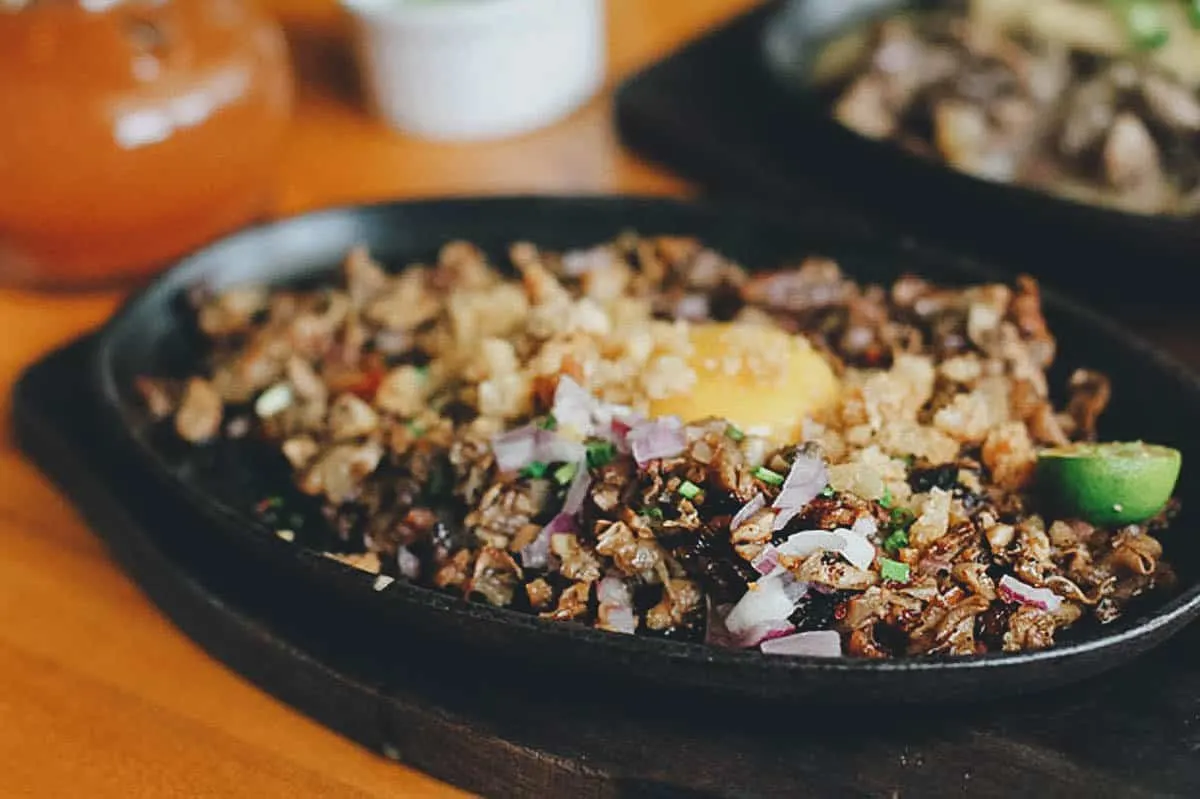 FILIPINO STREET FOOD
If street food is your thing, then you need to check out this guide. From fish balls to ukoy to that notoriously bizarre Filipino dish called balut, check out this post for a list of Filipino street food dishes you can try in Manila.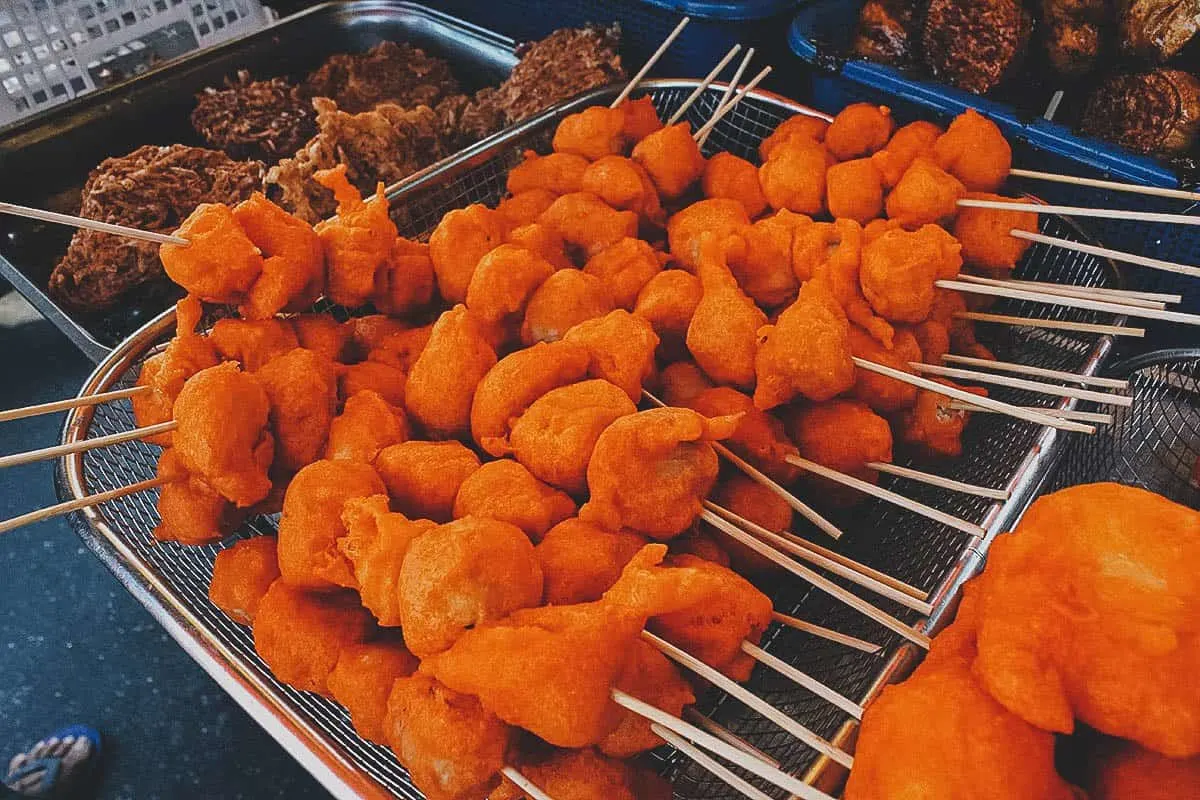 POBLACION FOOD CRAWL
Poblacion is one of the hippest and trendiest areas in Manila. It's fast becoming a food and arts hub in the city, which is part of the reason why I think it's the best place to stay in Manila. With all the interesting restaurants popping up in the neighborhood, it's recently been the subject of many lifestyle shows and blog posts. Check out my post for a list of popular restaurants you can visit on a Poblacion food crawl.

WHERE TO EAT IN MANILA
This was the hardest section to write being a food lover from Manila. How could I narrow it down? These restaurants may not be the trendiest, but they made the list for what in my mind are the most important reasons — longevity, accessibility, price, and overall experience.
Tailored for travelers getting their first taste of Filipino food, we chose restaurants that serve authentic Filipino cuisine and have withstood the test of time.
EDITOR'S NOTE: I recently published a guide to the best restaurants in Manila. You may want to check that out for a bigger and more updated list.
1. Blackbeard's Seafood Island
There's no Filipino dining experience more fun than a boodle fight. A tradition that started in the Philippine military, a boodle feast consists of a central mound of food – typically grilled Filipino food – piled high on banana leaves. Diners are seated around the spread and expected to eat kamayan-style, which means to "eat with one's hands". Many restaurants offer boodle feasts but one of the most popular is Blackbeard's Seafood Island. They have many branches in Manila, including Mall of Asia.
2. Abe
Abe belongs to the iconic LJC group of restaurants that's been serving excellent Filipino cuisine for over 30 years. It's one of the first restaurants I think of when entertaining foreign guests. Popular dishes include the Lamb Adobo, Crispy Pork Adobo ni Lola Ising, Bamboo Rice (pictured below), and Sikreto ni Maria (sticky rice dessert with ripe mangoes and macapuno ice cream). For more adventurous eaters, I suggest trying the Betute (stuffed frogs) and Arobong Kamaru (sauteed crickets).
5. Seaside Market on Macapagal Boulevard
If you like fresh seafood, then you'll enjoy the Seaside Market along Macapagal Boulevard. A fish market to table concept, you'll buy your seafood from the wet market then have it cooked by one of the many restaurants in the complex. Seafood doesn't get any fresher than this.
6. Gerry's Grill
Gerry's Grill is arguably the most popular Filipino grill restaurant in Manila. The food is good and inexpensive, making it a favorite watering hole among locals. I suggest trying the Inihaw na Liempo (grilled pork belly), Inihaw na Baby Pusit, and the Adobong Puso Rice (pictured below). They're also known for their Pork Sisig, a hugely popular bar appetizer made with chopped pig's face, ears, and chicken liver.
HOW MANY DAYS TO STAY / SAMPLE ITINERARY
As previously described, Manila is a stopover destination for most travelers so there's no need to stay too long. If you won't be doing any day trips from Manila, then three days should be plenty. You can extend your stay based on how many day trips you want to do.
Here's a sample 4D/3N Manila itinerary I put together to help you plan your trip. I made it four days to give you time for one or two of the recommended day trips.
DAY ONE
• Go on an Intramuros Tour
• Visit the National Museum
• Enjoy the sunset at Mall of Asia
DAY TWO
• Visit Taal Heritage Town
• Enjoy the sunset at a restaurant in Tagaytay overlooking Taal Volcano
DAY THREE
• Do the Binondo Food Wok
• Look for bargains at Greenhills Shopping Center
DAY FOUR
• Visit the Mind Museum and Bonifacio Global City (BGC)
• Get a massage
• Go on a Poblacion food crawl
BUDGET / SUMMARY OF EXPENSES
Assuming you're traveling with one other person, then a budget of around PHP 2,500 a day per person should be plenty. This takes into account accommodations, 2 daily meals (apart from free hotel breakfast), pocket wifi rental, and commuter app transportation. You can adjust your budget depending on which of the suggested tours you want to do and how much you want to shop. Here's a quick breakdown of expenses:
ACCOMMODATIONS
This is highly subjective. It depends on several factors like hotel preference and number of travel companions. Let's start at the low end and say PHP 750 a night per person.
MEALS
Again, this is subjective, but based on my recommendations, we can say around PHP 800 a day per person.
POCKET WIFI RENTAL
If you're sharing the cost with one other person, then you'll be paying PHP 225 per day.
TRANSPORTATION
This is the most difficult to pin down because it obviously depends on where you want to go. Plus, there's Manila's notoriously horrendous traffic. Assuming you'll be using Grab and following my suggested itinerary, then we can say around PHP 700 a day per person.
TOTAL


This comes out to around PHP 2,475 a day per person. Keep in mind that this estimate doesn't include tour costs and miscellaneous expenses like shopping or car rental. If you plan on taking public transportation and not spending as much on food, then you can do it with even less. Ren and I are middle of the road travelers who enjoy good food and drink, so the recommended budget is a good baseline for travelers like us. Adjust accordingly based on your own travel habits.
TRAVEL TIPS
1. Plan your Trip with Sygic Travel
I've been using this free trip planning app for several years now. It enables you to plot points of interest on a map, including your hotel, so you can see exactly how far you need to travel between points. You can then group attractions together per day based on their location. Check out my post on the Sygic Travel app for more information.
2. Rent a Pocket Wifi Device
This guide hinges on getting around using commuter apps so it's imperative that you have wifi access. Many public places like your hotel and cafes do have free wifi but the connection isn't as good nor as reliable. For that reason, I suggest renting a pocket wifi device (Klook | Get Your Guide) or buying a sim card so you have uninterrupted wifi access at all times. You can either pick them up from Ninoy Aquino International Airport or have them delivered to your hotel.
3. Check for Discount Passes
Klook is my favorite booking platform when it comes to finding deals on interesting tours and attractions in Asia. They often have the biggest selection at the best prices and their website is super easy to use. If you're looking for deals on things like tours, airport transfers, and activities, then you can search through these lists of Manila attractions on Klook.
4. Get Travel Insurance
You may not need it as much in Manila but if you're traveling to less developed parts of the Philippines, then I'd say travel insurance is a must. Much of our infrastructure isn't as developed and if you go to places like Batad or Sagada where you can easily lose your footing when hiking, then having travel insurance will be a godsend.
We buy travel insurance from SafetyWing. They're a popular travel insurance provider used by many long-term travelers. Click on the link to get a free quote from SafetyWing.
5. Give around 10% Gratuity
As mentioned up top, the Philippines is a tipping country, a practice that we probably inherited from the Americans. However, it isn't as regimented (or expected) as the US so you're free to give whatever you want. Filipinos are generally nice so they won't chase you down for giving them a bad tip.
When you get your bill, check if service charge has already been included. Most will be 10%. If so, then you can give an additional PHP 20 on top of it, more if you're a large group. If service charge hasn't been included, then leaving a 10% tip would be nice. You're welcome to leave more if you're happy with the service of course. It'll be much appreciated.
Mabuhay!
As described up top, many travelers gloss over Manila. It may not be as beautiful as other destinations in the Philippines but I hope this guide convinces you that my city has a lot to offer if you give it a chance. If you have any questions, then please feel free to post them in the comment section below or join our Facebook Travel Group. We'd love to hear from you.
Thanks for stopping by and enjoy Manila and the Philippines!
Disclosure
We were invited by City Garden Grand Hotel for the sole purpose of reviewing their hotel. They never asked to be included in this guide but I added them anyway to provide more choices to a larger demographic of travelers. Everything else on this guide was paid for by us and added at our own volition. No one asked to be added, no one knew they were going to be included.
This article contains affiliate links so we'll earn a small commission if you make a purchase at no extra cost to you. We only recommend products and services that we use ourselves and firmly believe in. We really appreciate your support as this helps us make more of these free travel guides. Thank you!
Featured photo via Shutterstock