Osaka will forever be near and dear to our hearts. It was my first return trip to Japan in almost twenty years. I've been back a total of five times in six years, and if the world rights itself in 2021, then we'll be back for a sixth.
Tokyo is phenomenal but it's a little too big and overwhelming for me. I much prefer Osaka for its size. There are plenty of things to do and its regional food culture is one of the most well-known in Japan. Do you like okonomiyaki and takoyaki? They both originated in Osaka.
Osaka is home to Universal Studios Japan and it's location in the Kansai region makes it a great jumping off point to fascinating destinations like Kyoto and Nara.
There's much to love about this city that's become one of our favorites in Japan. If you're visiting Osaka for the first time, then this comprehensive travel guide will tell you all you need to know to plan your trip.
GUIDE TABLE OF CONTENTS
TRAVEL RESTRICTIONS
Because of the current global situation, travel guidelines have been changing very often. Our friends at SafetyWing created a website that lists detailed information on travel restrictions around the globe.
Before planning a trip to Osaka, be sure to check the Flatten the Curve website for information on travel restrictions to Japan.
OSAKA AT A GLANCE
Osaka is Japan's third largest city by population and the central metropolis of the Kansai region. It's a food lover's paradise which is why it remains one of our favorite cities to visit in Japan.
If Tokyo is Japan's most exciting city and Kyoto its center for culture and the arts, then Osaka is one of its most delicious. It has a history of abundance, having played a vital role in the management of the nation's economy and the distribution of its goods.
During the Edo period, feudal lords throughout Japan would deliver rice, produce, and other goods to Osaka for later distribution to Edo or modern-day Tokyo.
This led to an abundance of resources, earning Osaka the nickname tenka no daidokoro or "the nation's kitchen". Today, that name has evolved to describe the city's reputation as a gourmand's paradise.
BEST TIME TO VISIT OSAKA
We've been to Osaka in February, May, November, and January and they were all great times to go. The weather in Osaka is relatively temperate so there really isn't a bad time to visit. Winters do get cold but not unbearably cold as it does in other cities like Sapporo.
If you'd like to experience the cherry blossoms, then late March to early April is an ideal time to go. If autumn foliage is what you're after, then shoot for October to November.
DEC-FEB: This is winter in Osaka so it's the coldest time of the year. It's also the best time to have crab and fugu, both of which are considered winter dishes.
MAR-MAY: Spring is one of the most beautiful times to visit Osaka. The weather starts warming up, kicking off cherry blossom season which typically begins around the end of March. The blossoms will be in full bloom by the first week of April. As beautiful as Osaka is during this time, it's also peak season so expect thicker crowds and higher than usual hotel prices. The same goes for the first week of May which is the Golden Week holiday for local Japanese.
JUN-AUG: This is summer in Osaka. If you don't like too much heat and humidity, then you should probably avoid these months. It's typically hottest in August and rainiest in June and July.
SEPT-NOV: October to November is an ideal time to visit Osaka. The weather is similar to spring and the autumn foliage is lovely, especially from around mid- to late-November. We were there in late November on our most recent trip and spent the day in beautiful Minoo to enjoy the colors of fall. November may be a great time to have crab and fugu as well as it's the start of the winter season.
Climate: Annual Monthly Weather in Osaka
Check out holiday-weather.com for more on the weather in Osaka. To help you understand it better, I've created the average temperature and annual rainfall graphs below. Suggested months to visit are colored in orange.
Average Temperature


Annual Rainfall


TRAVELING TO OSAKA
From KIX
If Osaka is your point of entry into Japan, then you'll be arriving at Kansai International Airport (KIX). It's the main access hub to the Kansai area. There are several ways to get from KIX to downtown Osaka.
BY TRAIN: For me, traveling by train is the best way to get from the airport to your hotel. However, multiple train lines service the KIX-Osaka route so it's important to figure out which train line works best for you depending on where you're staying. Check out this article from the Osaka Station website to learn the differences between these lines.
You can purchase train tickets at the gate but it looks like you can get a significant discount if you buy them in advance. Click on the links to book tickets for the Haruka Airport Express (Klook | Get Your Guide) or the Rapi:t Express. The Haruka Express will take you to Tennoji and Shin-Osaka stations while the Rapi:t Express will take you to Namba station.
No matter which line you choose, you can check train timetables with Hyperdia. Hyperdia and Google Maps are the best tools to navigate Japan's highly efficient but often confusing rail system. They'll give you all the information you need like train schedules, fares, and journey times. Jump down to the TRAVEL TIPS section of this guide for more information on Hyperdia and Google Maps.
There are transportation passes you can get that are valid for travel between KIX and Osaka. Jump to the HOW TO GET AROUND section of this guide for more information.
BY BUS: We've never done this but you can take a limousine bus from KIX as well. Unlike trains, they run on a 24-hr schedule so this may be the better option if you're arriving at off-hours. The journey takes about an hour and the one-way fare from KIX to Osaka station is JPY 1,600 for adults. You can refer to the Kansai Airport transportation website for a timetable. Tickets can be purchased at the airport but you can get them in advance through Klook as well.
BY TAXI: Going by taxi is one of the most convenient options, especially if you have a lot of luggage, but it's also the most expensive. A taxi to Osaka station takes around 50 minutes and will run you around JPY 20,000.
BY PRIVATE TRANSFER: Booking a private transfer is the most convenient option, but it will also be expensive. If you'd like to arrange for a private transfer in advance, then you can do so through Klook or Get Your Guide (Option 1 | Option 2).
From Other Parts of Japan
If you're already in Japan, then you can take a train to Osaka from wherever you are. You can refer to hyperdia.com for train routes and schedules.
People on a multi-city tour of Japan may be interested in purchasing a JR Pass. It'll give you unlimited use of all JR national trains in Japan – including the Kansai Airport Express Haruka, Shinkansen bullet trains, and the Narita Express – for a consecutive number of days. 7-, 14-, or 21-day JR Passes are available for purchase on Klook, Get Your Guide, or Japan Rail Pass.
WHERE TO EXCHANGE CURRENCY
The unit of currency in Japan is the Japanese Yen (JPY).
BANKS / POST OFFICES: Banks and post offices have long been the most reliable places to exchange foreign currency in Japan. However, the process is often slow. I've exchanged currency at a few banks and there's always paperwork to be filled out so the process can take time (around 30 minutes).
LICENSED MONEY CHANGERS: I've never exchanged currency at a licensed money changer in Japan, but I've read that they're reliable and rates are comparable. You can refer to this guide for a list of recommended money changers in Osaka.
KINKEN SHOPS: Kinken shops are small stores that buy and sell unused event tickets. Some of them also exchange currency. I exchanged currency at a kinken shop in Tokyo and got great rates. In Osaka, there are kinken shops outside major metro stations.
TIP: When withdrawing local currency from an ATM, it'll sometimes ask you if you want to proceed "with or without conversion". Always proceed WITHOUT conversion. Proceeding "with conversion" means that the foreign bank operating the ATM will do the conversion instead of your local bank. This almost always leads to horrible exchange rates. According to an article on Medium, the difference between rates can be 10% or more.
BEST AREA TO STAY
Osaka is divided into 24 wards, each with many interesting neighborhoods. These are the places we've stayed at so far.
I've created the color-coded map below to help you understand where all these recommended areas are. Click on the link for an interactive version of the map. (Please note that marked areas are approximations only)
YELLOW – Shinsaibashi
GREEN – Namba
RED – Nipponbashi
BLUE – Umeda
ORANGE – Around Osaka Castle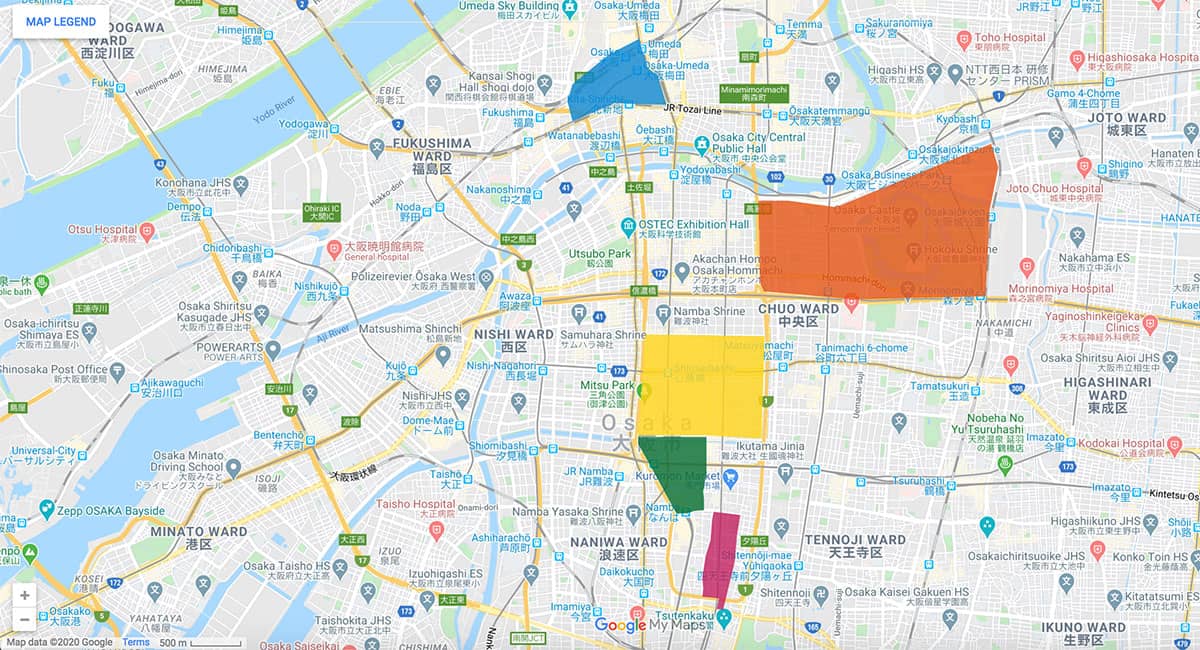 We stayed at Best Western Hotel Fino Osaka Shinsaibashi (Yes, that Best Western) on our first trip to Osaka in 2014. If you can get a room here at a reasonable rate (around USD 70), then I suggest staying here. It's a good business hotel located just a few minutes' walk from Shinsaibashi Shopping Arcade.
You can book a room here on Booking.com or Agoda. Be sure to check both sites to find the best deal. You can also check these links for alternate listings in the Shinsaibashi/Namba areas: Booking.com | Agoda.
UMEDA
We haven't stayed in Umeda but this is probably the second most convenient place to be in Osaka, after the Shinsaibashi and Namba areas. It's the city's main business and transportation district and features many malls, shops, restaurants, and hotels. You can check these links for listings in Umeda: Booking.com | Agoda.
PLACES TO VISIT
1. Universal Studios Japan
Universal Studios Japan needs little introduction. It's one of Osaka's most visited attractions, and with good reason. It's fun no matter what your age.
Favorite attractions include The Wizarding World of Harry Potter, the Minions, Transformers, and Jurassic Park themed rides. A 1-day pass to Universal Studios typically costs JPY 7,800 for adults and JPY 5,400 for kids, but you can sometimes get a discount if you purchase advanced tickets through KKday or Get Your Guide. KKday offers many types of combo passes as well so be sure to check all the Universal Studios Japan deals on their website.
2. Cup Noodles Museum
If you're a fan of instant noodles, then you need to visit the Cup Noodles Museum. It's a free museum dedicated to instant noodles and serves as a tribute to its creator and founder, Momofuku Ando. They have a branch in Yokohama as well.
3. Osaka Aquarium Kaiyukan
Holding nearly 11,000 tons of water, Kaiyukan is one of the world's largest aquariums. It's main tank measures a remarkable 34 meters long by 9 meters deep. The aquarium is home to many interesting exhibits, each one mimicking different ecosystems from around the world like the Great Barrier Reef, Antarctica, and Japan's forests.
Admission to the aquarium is JPY 2,400 for adults and JPY 1,200 for kids ages 7-15. Tickets are available at the gate though you can purchase them in advance through Klook or Get Your Guide.
4. Harukas 300
There's no better place to get a bird's eye view of Osaka than the Harukas 300 observation deck. Situated 300 meters (984 ft) above the ground in the Abeno Harukas building, it gives you dramatic views of the entire city.
Aside from the observatory, the building is also home to an art museum on the 16th floor and the Kintetsu department store. Covering over 100,000 square meters of retail space, it's the largest department store in Japan.
5. Umeda Sky Building
If the views at Harukas 300 aren't enough for you, then you may want to visit the Floating Garden Observatory as well. At 173 meters (567.5 ft) above the ground, on top of the ultramodern Umeda Sky Building, it isn't as high as Harukas 300 but it's views are just as remarkable.
The Umeda area is home to many malls, shops, restaurants, and cafes so you may want to spend an entire day exploring the area. This is where you'll find some of the city's best depachikas as well.
6. Osaka Castle
Osaka Castle is the city's most popular historical attraction. It's considered one of Japan's most famous landmarks, set in a beautiful spacious park and surrounded by 600 cherry trees.
It's beautiful any time of the year but it's especially picturesque in spring. If you're visiting Osaka in late March to early April, then this is a terrific place to see (and take selfies with) the cherry blossoms.
THINGS TO DO
1. Shop in Shinsaibashi, Eat in Dotonbori
This is the heart of Osaka. If Shinsaibashi is the city's premier shopping district, then Dotonbori in Namba is its kitchen. Visiting Osaka without making a stop here would be like going to Paris without seeing the Eiffel Tower. It's a gastronomical sin!
If it's your first time in Osaka, then we highly recommend staying in the Shinsaibashi or Namba areas because this is exactly where you want to be. Check out my post on Shinsaibashi and Dotonbori in Osaka for more pictures and information.
2. Eat like a Local
Needless to say, local knowledge is king, especially when it comes to food. Some of the best things we've eaten on trips have come from local tips. One of my good friends is from the Kansai region so many of the places we've visited were recommended by him.
If you don't have a friend to show you around, then there's always Magical Trip. Magical Trip is a fun tour company that offers small group tours led by locals in several Japanese cities, including Osaka.
They do offer non-food tours as well but what interests us the most are the food tours. We haven't gone on any of their food tours in Osaka but we did go on this Shinjuku food tour in Tokyo and this Gion food tour in Kyoto.
On our next trip to Osaka, we'll try this Namba bar hopping food tour or this Dotonbori street food crawl. Oishi!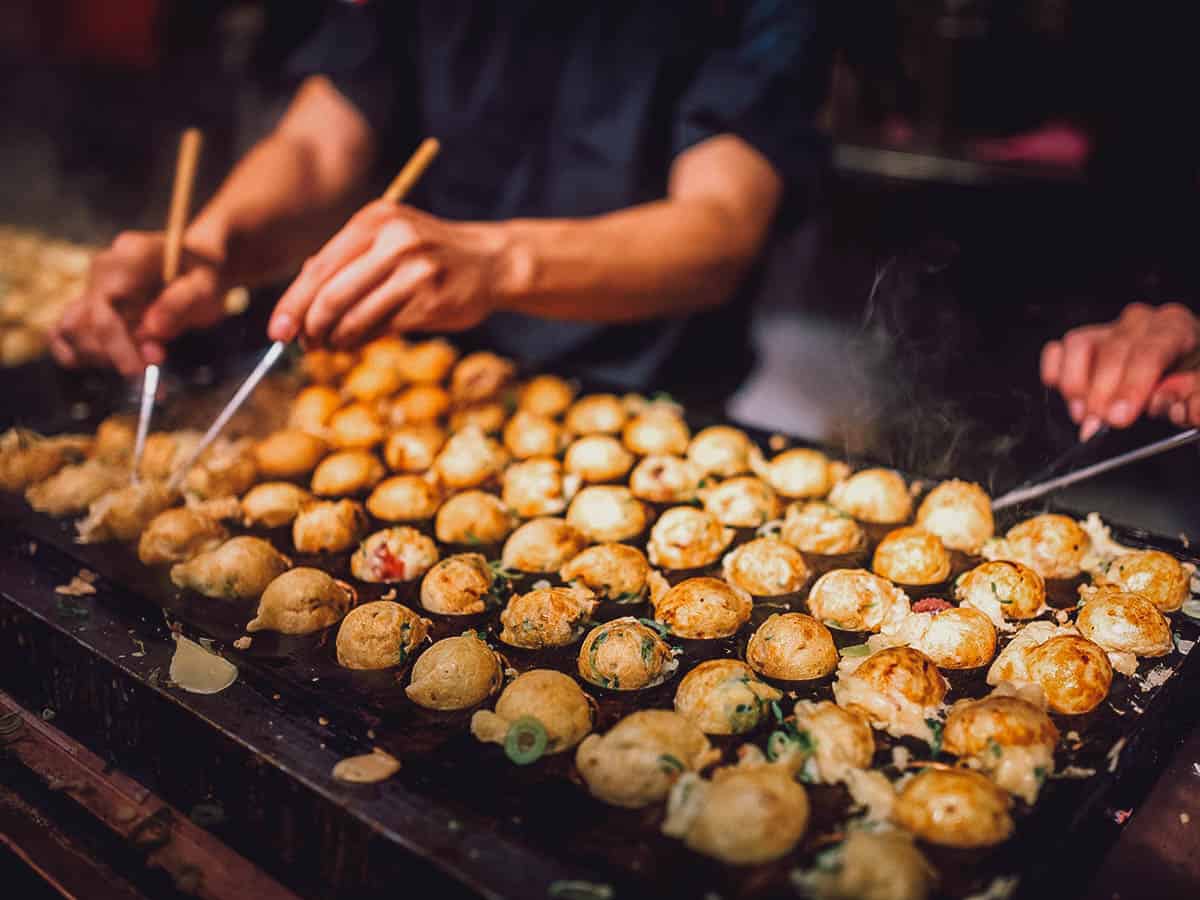 3. Eat the Best Street Food at Kuromon Ichiba Market
Nicknamed "Osaka's Kitchen", many of the city's chefs purchase their ingredients at Kuromon Ichiba Market. It's home to some of the best and freshest seafood in Osaka.
Delicacies like uni, diver scallops, otoro, oysters, octopus, and unagi can be enjoyed here as street food. And for cheap too! Kuromon Ichiba Market is one of our favorite places in Osaka and one we try to visit on every return trip to the city.
4. Go Cruising in a Go Kart
If you're a fan of the Mario Kart game, then you're going to love this go karting experience. For 1-2 hours, you can wear funny costumers and drive around downtown Osaka in go karts. It looks like so much fun.
We wanted to do this but we didn't have time to get international driver's permits before our trip. If you're looking for something fun and wacky to do in Osaka, then it doesn't get better than this. It's so uniquely Japan!
You can book a street go karting experience on Klook.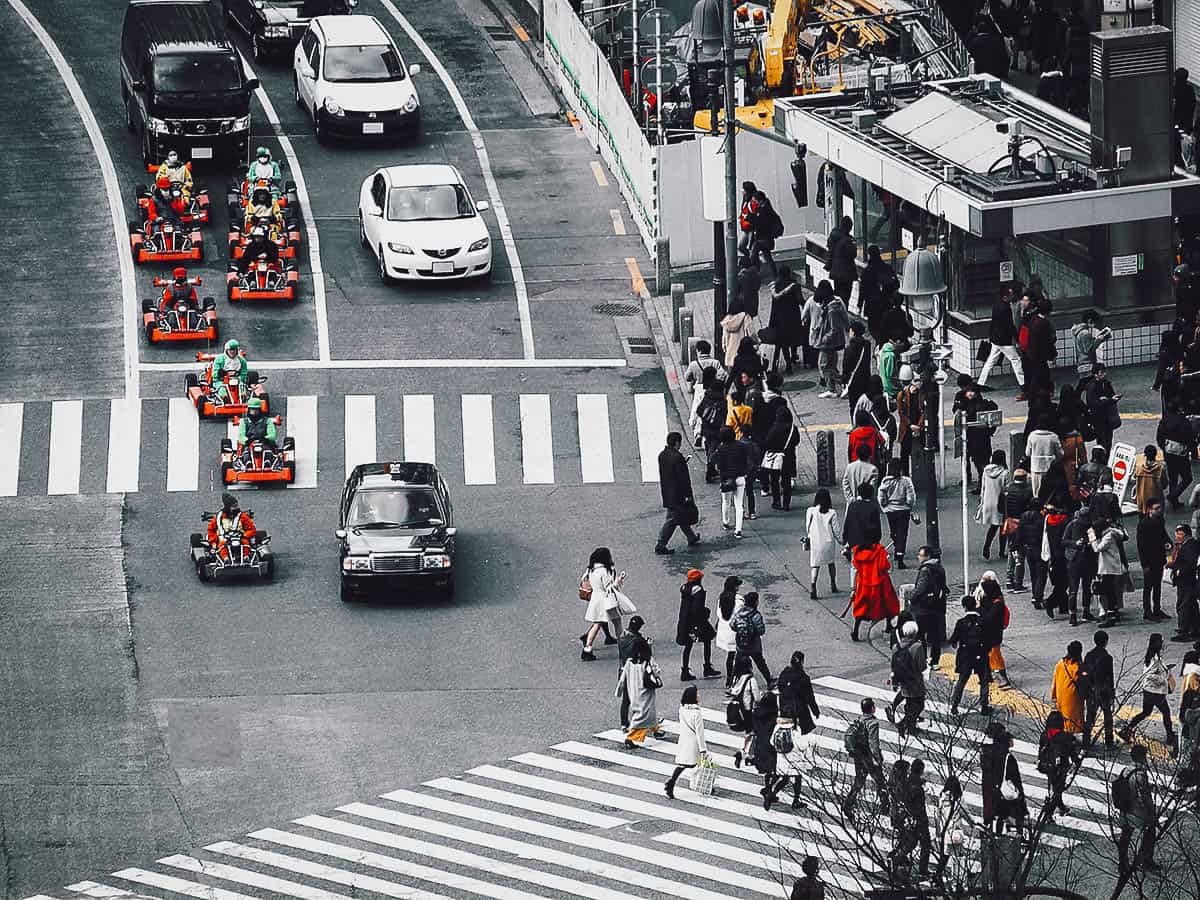 5. See What Designer Fruit Looks like at a Depachika
I had heard of those USD 200 designer melons before but I had never actually seen one until we visited a depachika.
A portmanteau of depato meaning "department store" and chika meaning "basement", a depachika is a super high-end food hall located at the basement of luxury department stores. It's where you'll find a wide range of decadent food products, often with exorbitant price tags to match.
6. Eat Maple Leaf Tempura in Minoo
I've been wanting to visit this place ever since I saw this video from Great Big Story. Minoo (or Minoh) is a city in Osaka prefecture about 15 km (9.3 miles) north of Osaka city.
Minoo is home to a national park with picturesque hiking trails, a waterfall, and maple leaf tempura. Known locally as momiji, it's said to be the only place in the world where you can have this unusual crunchy sweet treat.
I read momiji is available pre-packaged throughout the year but if you want it fresh, then you'll need to go in the fall. We visited in late November and we were treated to freshly fried momiji and a fireworks display of autumn foliage.
7. Go Bargain Hunting at Don Quijote
If you like bargains, then you're going to love this place. Shopping in Japan doesn't have to be expensive and Don Quijote is proof of that. Like Daiso shops, Don Quijoute is a discount chain store with over 160 branches throughout Japan. There are several in Osaka, including a big one near Harukas 300.
Many of their branches are like mini department stores with several stories of products ranging from groceries to electronics to clothing to dildos. Yes, dildos. And not just any old dildos, but tax-free dildos!
Visit the Don Quijote website to find the blue penguin nearest you.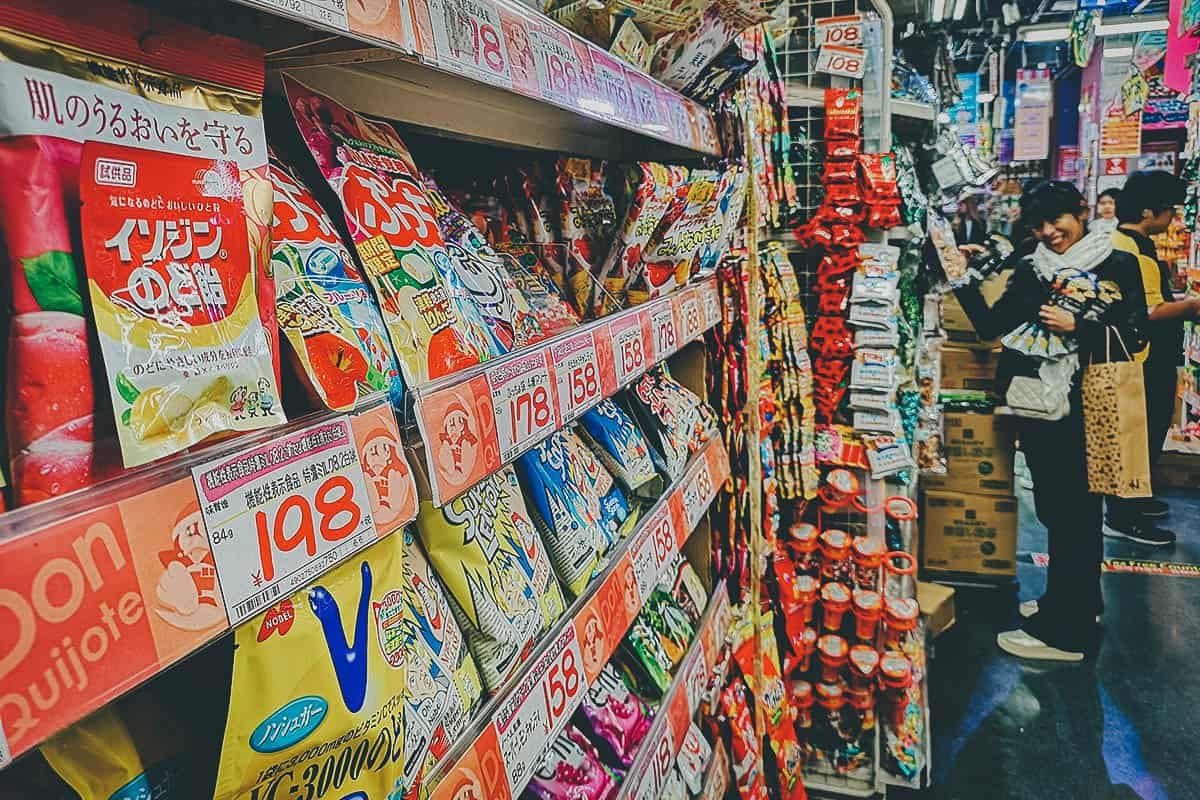 8. Take a Cooking Class
Ever since we took this awesome cooking class in Hoi An, Vietnam, Ren and I have been searching for cooking classes wherever we go. It's just a fun, hands-on way of getting to know the local cuisine.
There are many websites that offer cooking classes, but I suggest searching for one on airKitchen or Cookly. Both are booking platforms that offer cooking classes in different cities around the world.
We haven't taken one in Osaka but I did take a cooking class in Tokyo. Click on the links to search for cooking classes in Osaka on airKitchen and Cookly.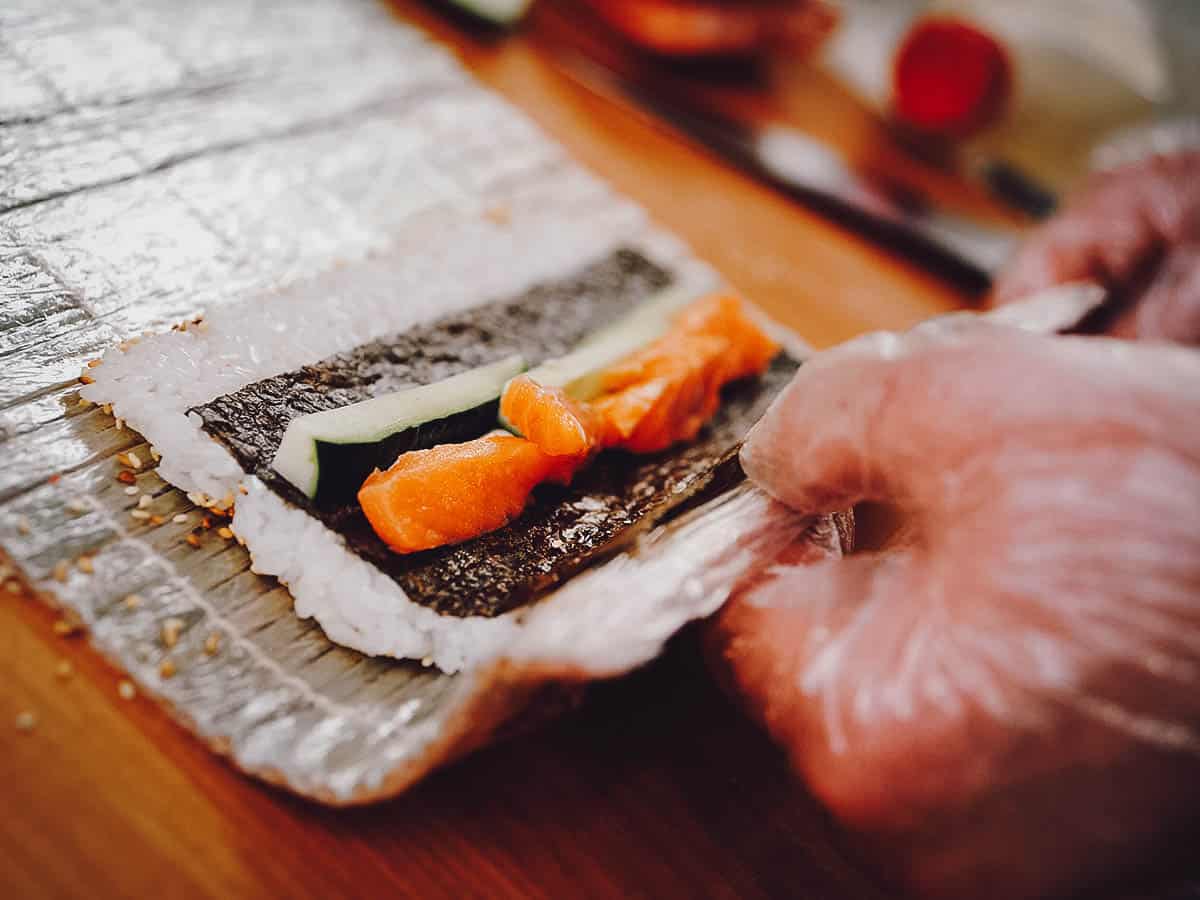 If you're interested in more unconventional things to do in Osaka, then check out this interesting list of off-the-beaten path attractions in Osaka and Kyoto. I like unusual places myself so I'll surely be visiting some of those places on out next trip to the Kansai region.
DAY TRIPS FROM OSAKA
There's plenty to keep you busy in Osaka, but if you're already visited its top attractions, then you may want to go beyond the city. Check out our article on some of the best day trips from Osaka. Listed below are a few of our favorites.
1. Kyoto
Every list of side trips from Osaka should begin with Kyoto. It's beloved by the Japanese and has long been considered one of the country's centers for arts, culture and cuisine.
So important is Kyoto to the Japanese experience that not many travelers visit Osaka without spending a few days here as well. It's less than half an hour away and can easily be visited on daily trips from Osaka.
2. Nara
Like Kyoto, many travelers visit Nara from Osaka. It's second only to Kyoto in its wealth of temples, shrines, and traditional gardens in Japan.
Apart from its cultural sites, Nara is best known for its parks with tame Sika deer. There are an estimated 1,200 Sika deer in Nara which visitors can feed with these sika senbei or "deer crackers". Nara is less than an hour from Osaka making it an ideal place for a day or overnight trip.
3. Himeji Castle
I've visited a few castles in different cities in Japan, and Matsumoto Castle and Himeji Castle are my favorites. They're by far the most striking and are two of Japan's twelve remaining original castles (not reconstructed).
Himeji Castle is the biggest and most visited castle in Japan. Known as the White Heron Castle, its a UNESCO World Heritage Site known for its brilliant white exterior and imposing hilltop location.
4. Nagoya
Nagoya is the capital of Aichi prefecture and the largest city in the Chubu region. Like Osaka, it's one of the best Japanese cities to visit for food. It's where you'll find some of our favorite regional delicacies like hitsumabushi and miso katsu.
Aside from its terrific food, Nagoya is home to the Toyota Motor Corporation and to several interesting museums like the Toyota Techno Museum, the SCMAGLEV and Railway Park, and the Nagoya City Science Museum.
Nagoya is over 180 km (112 miles) from Osaka but thanks to the Shinkansen, you can get there in about an hour. You can purchase Shinkansen tickets at the station or in advance through Klook.
5. Kinosaki Onsen
Kinosaki Onsen is a lovely onsen town about two and a half hours from Osaka. It's an atmospheric place known for its seven public hot springs or soto-yu.
Many people visit Kinosaki Onsen to go onsen hopping in winter. You feel SO GOOD afterwards. No wonder it's so popular among the Japanese!
JAPANESE FOOD GUIDE
We adore Japanese food. If I had to eat just one cuisine for the rest of my life, then it would definitely be Japanese.
If you enjoy Japanese cuisine as much as we do, then our Japanese Food Guide may be of interest to you. It lists some of the most popular dishes in Japan as well as regional specialties by prefecture, including Osaka.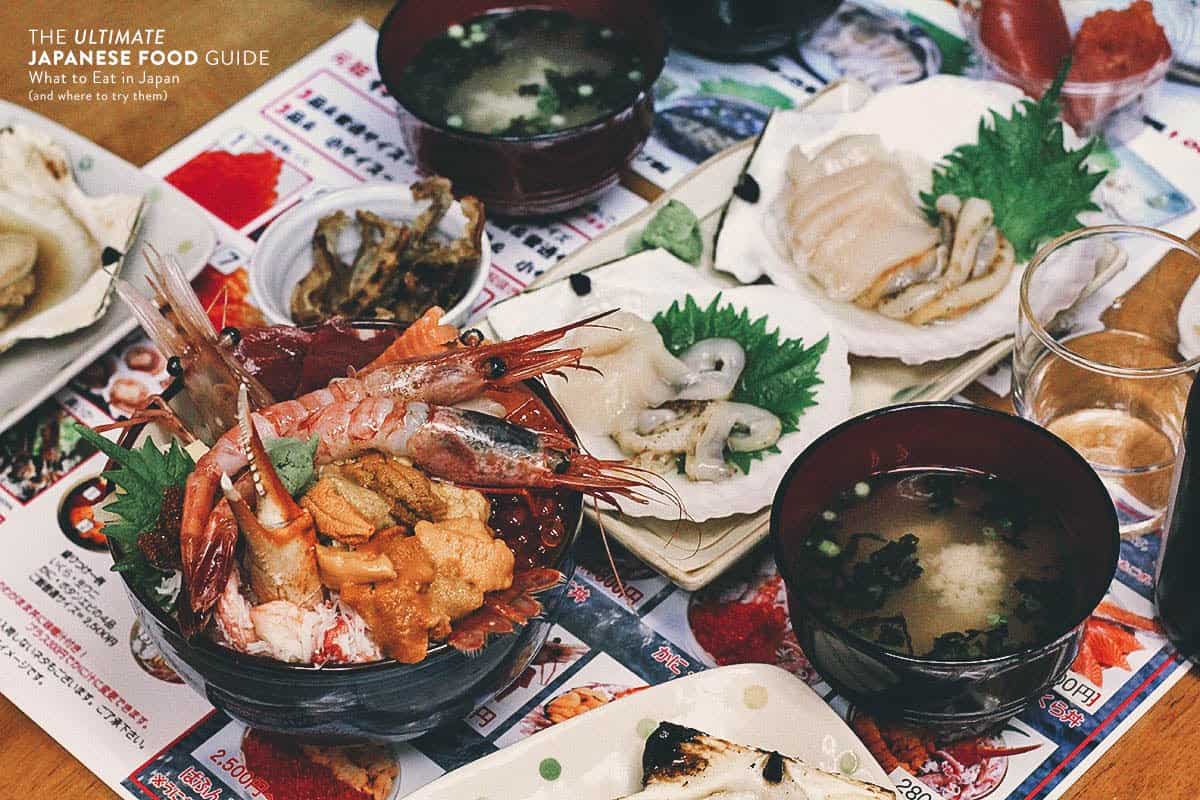 WHERE TO EAT
As described, Osaka is home to some of the best food in Japan. If you're looking for the best places to try delicious dishes like okonomiyaki, takoyaki, and ramen, then check out our food guide for a list of some of the best restaurants in Osaka.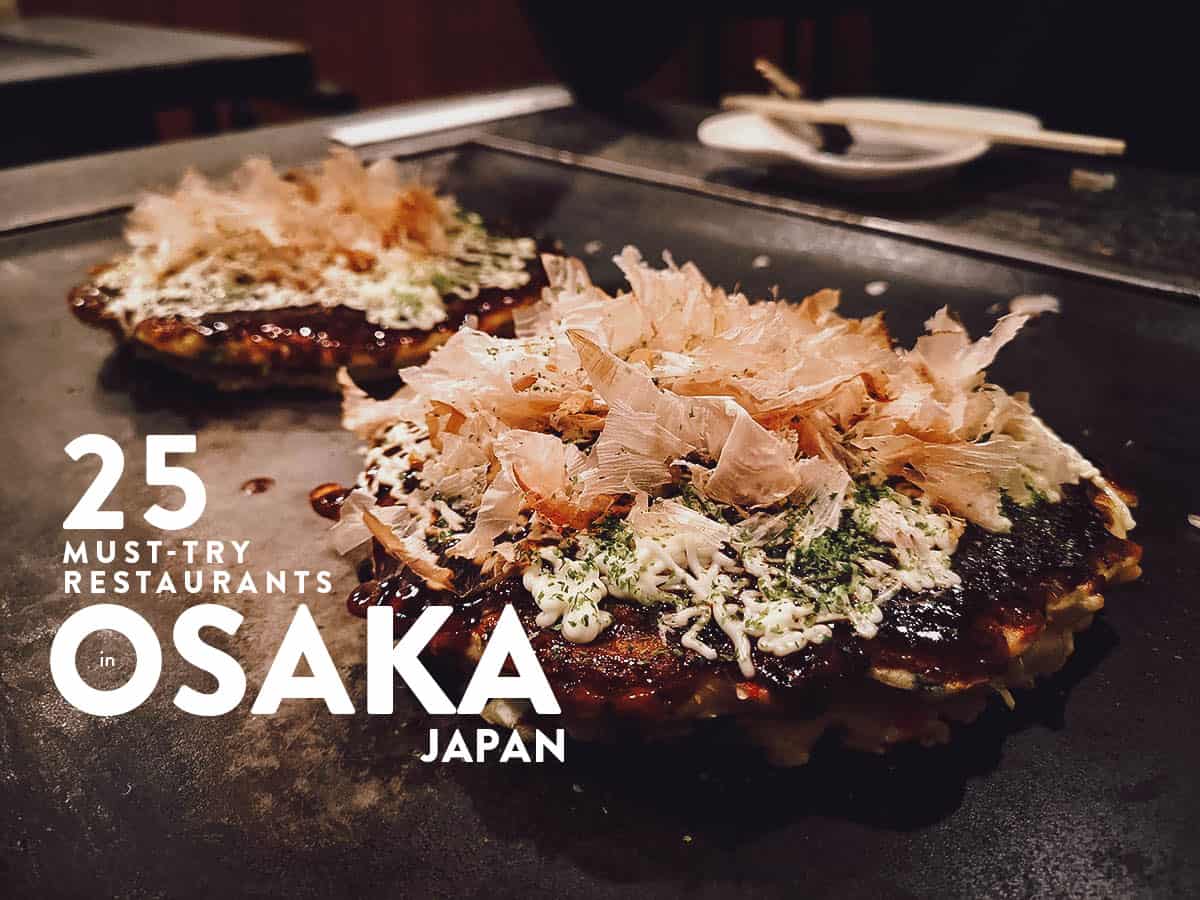 25 will be too many for most travelers. To help you narrow it down, we've listed six of our favorites below. But be sure to click through to the full Osaka food guide for more pictures and information.
1. Okonomiyaki Mizuno
Okonomiyaki and takoyaki are two core Osaka dishes so they're something you need to have, especially if it's your first time in the city. Okonomiyaki is a savory-sweet pancake made with wheat flour batter and other ingredients like green onion, seafood, pork belly, vegetables, and cheese.
2. Takoyaki Tamaya
As described, takoyaki is one of Osaka's most important dishes so it's something you need to try. Similar to okonomiyaki, takoyaki is made with wheat four batter and filled with octopus (tako), tempura scraps, pickled ginger, and green onion.
3. Kura Sushi
Kura Sushi is one of the most popular kaiten-zushi (conveyor belt sushi) chains in Japan. It's my Japanese friend's go-to place for sushi whenever he wants something good but inexpensive.
4. Rai Rai Tei
Like sushi, ramen is one of the best dishes you can have in Japan. There are more popular chains like Ippudo and Ichiran (specializing in Fukuoka's Hakata ramen) but for us, Rai Rai Tei is one of the best ramen chains around.
5. Tempura Tentomi
Like sushi, tempura is one of our favorite Japanese dishes. We wanted to eat at a really good tempura restaurant in Osaka but the problem was, many are expensive. Thankfully, we found Tempura Tentomi.
6. Tsurugyu
This place is all about Kobe beef. We wanted to try this legendary brand of beef but we were afraid of its exorbitant prices. Luckily, we had insider knowledge.
Tsutomu used to work at a 5-star resort and this place was recommended to him by his meat supplier. According to him, Tsurugyu serves genuine Kobe Beef minus the certification, why is why it's so much cheaper.
HOW TO GET AROUND
The subway system in Osaka is very efficient. It's probably the only mode of transportation you'll need. However, it's comprised of several lines and often requires multiple transfers, so it can be a little confusing. But if you rent a pocket wifi device and have access to Hyperdia and Google Maps, then you should be fine.
Like the rail system, the sheer number and variety of transportation cards in Japan can be confusing. I've narrowed it down to the most pertinent ones below to make it less intimidating. For more information, you can check out this article on Osaka travel passes.
Osaka Amazing Pass
One highly recommended option is the Osaka Amazing Pass. Available in 1- or 2-day variants, this tourist pass will not only give you unlimited use of the subway and bus system in Osaka, but it'll give you free access to 35 of the city's key attractions as well like Osaka Castle and the Floating Garden Observatory at Umeda Sky Building. Please note that the 2-day version must be used on consecutive days.
JR Kansai Area Pass / Kansai Thru Pass
If you'll be riding the train a lot to get around the Kansai region, then you may consider getting a JR Kansai Area Pass or a Kansai Thru Pass (Klook | Get Your Guide).
They're both unlimited use passes, the main differences being that JR Kansai Area Passes are for JR trains and need to be used on consecutive days (1-4 day variants), while Kansai Thru Passes are for non-JR trains and can be used on non-consecutive days (2- or 3-day variants). Though they're for use on different train lines, both can get you to Osaka from KIX.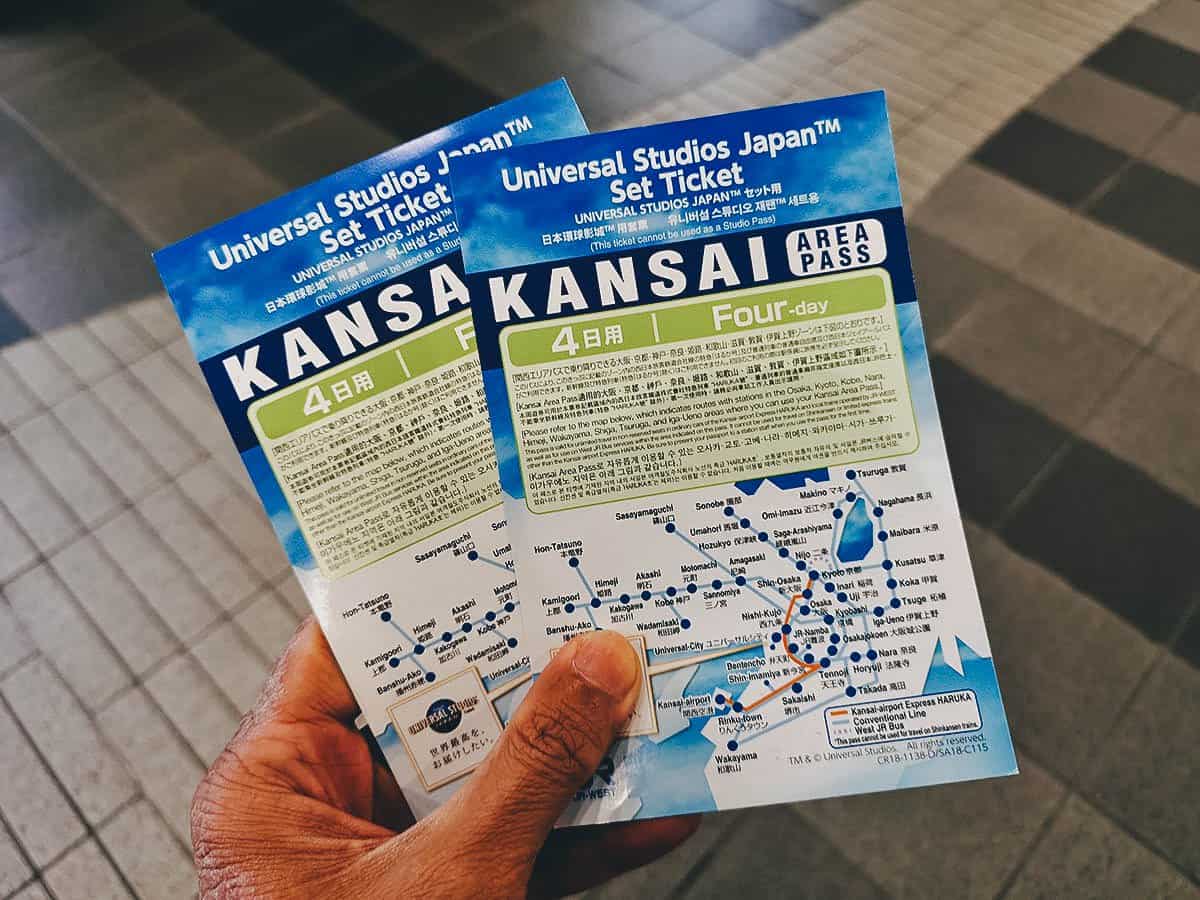 ICOCA IC Card
Another option is to get an ICOCA IC Card. It isn't an unlimited use pass like the JR Kansai Area Pass but it'll give you discounts on JR trains (including the Kansai Airport Express Haruka), the subway, private railways, and buses. It's rechargeable so you can think of it as a stored value card similar to Seoul's T-Money Card.
JR Pass
Lastly, if Osaka is just one of many stops on a countrywide tour of Japan, then a JR Pass may be a good investment. As described, it'll give you unlimited use of all JR national trains in Japan – including the Kansai Airport Express Haruka, Shinkansen bullet trains, and the Narita Express – for a consecutive number of days. You can purchase a JR Pass in 7-, 14-, or 21-day variants from Klook, Get Your Guide, or Japan Rail Pass.
HOW MANY DAYS TO STAY / SAMPLE ITINERARY
Assuming you're spending time only in Osaka, then 3 days should be enough. It'll give you enough time to visit all the major attractions in the city.
Here's a quick 3D/4N Osaka sample itinerary to help you plan your trip. Be sure to click through to our full 3-day Osaka itinerary for more details.
DAY ONE
• Harukas 300
• Kuromon Ichiba Market
• Namba (Dotonbori)
• Shinsaibashi
• Umeda Sky Building
DAY TWO
• Osaka Castle
• Osaka Aquarium Kaiyukan
• Cup Noodles Museum
• Minoo
DAY THREE
• Universal Studios Japan
BUDGET / SUMMARY OF EXPENSES
Japan has a reputation for being an expensive country. While that may be true compared to countries in Southeast Asia, you don't have to spend an arm and a leg to have a great time.
Assuming you're sharing mid-level accommodations with one other person, then a daily budget of around JPY 5,000 per person should be enough. This takes into account your accommodations, transportation, meals, drinks, and pocket wifi rental. Here's a quick breakdown of expenses:
ACCOMMODATIONS
This depends on multiple factors like hotel preference and number of travel companions. You can get a decent room for less than JPY 4,000 a night. Expect to pay much less if you're staying at a hostel.
MEALS
Osaka is all about good food so this is probably one thing you shouldn't scrimp too much on. If you stick to moderately priced meals like ramen or okonomiyaki, then I'd say around JPY 2,000-2,500 a day per person is enough. If you want to spend less, then cheap but good meals can be had at convenience stores like Family Mart, Lawson, or 7-Eleven.
POCKET WIFI RENTAL
If you're sharing the cost with one other person, then you'll each be paying JPY 390 per day.
TRANSPORTATION
Assuming you're staying only in Osaka, then a transportation budget of around JPY 500 a day per person should be enough.
TOTAL


This comes out to about JPY 4,890 a day per person. Keep in mind that this estimate doesn't include shopping or admission fees. If you plan on going to Universal Studios Japan or taking any day trips, then you can add the cost to this baseline budget.
TRAVEL TIPS
1. Plan your Trip with Sygic Travel or ViaHero
SYGIC TRAVEL: If you enjoy travel planning, then you're going to find Sygic Travel useful. I've been using this free trip planning app for several years now. It allows me to pin all points of interest on a map – like our hotel, restaurants, metro stops, and tourist attractions – then grouping them together by location so I can create as efficient an itinerary as possible. It's available for free on iOS and Android.
VIAHERO: If you don't enjoy trip planning as much and would rather have a destination expert do it for you, then you can try ViaHero. ViaHero is a travel planning service that links travelers with local experts to create custom itineraries to different cities around the world, including Osaka. If you'd like to try them out, then you can get a 5% discount on their services if you use our link.
2. Rent a Pocket Wifi Device
A constant wifi connection is a must when traveling these days, especially in Japan. There are few free wifi zones in this country so you'll need it to navigate the subways, convert currencies, and learn how to say "where is the nearest Kura Sushi" in Japanese. Having access to Hyperdia and Google Maps justifies the cost. We never go anywhere now without renting a pocket wifi device first.
You can stay connected to the internet in Japan by renting a pocket wifi device or buying a sim card. We always rent pocket wifi devices but sim cards are fine too. You can arrange for them in advance through Klook (4G pocket wifi | 4G sim card) or Get Your Guide.
3. Use Hyperdia
As I've mentioned often in this guide, Hyperdia will be invaluable to your Japan trip. You'll be riding trains a lot, frequently changing lines and services, and this website will tell you exactly how to get from one station to the next. It's accurate and reliable and especially useful for intercity travel.
WEBSITE: hyperdia.com | DOWNLOAD: iOS / Android
4. Navigate with Google Maps
Hyperdia is great for intercity travel but when it comes to navigation apps, nothing beats Google Maps. It'll tell you exactly how to get from point A to point B either by walking or using any city's local transportation system. Having both will make traveling in Japan so much easier.
5. Check for Discount Passes
I've purchased discount vouchers from several e-commerce travel platforms but the sites I use the most are Klook, KKday, and Get Your Guide. They offer travel deals in many cities around the world, including Osaka. Even if I don't buy anything, it's always fun to look because I often learn about interesting new tours and activities.
6. Get Travel Insurance
Whether or not to get travel insurance is something we discuss before every trip. Though we do get it more often now, we don't always buy travel insurance. It depends on the trip.
If we're just going to a city like Osaka to eat for a few days, then we probably won't get it since our credit cards come with basic travel insurance anyway. But if we plan on doing anything physical like wrestling with alligators or rolling boulders uphill, then we'll definitely pick up a policy.
We get insurance from World Nomads or SafetyWing. They're both reliable travel medical insurance providers used by many digital nomads. Check out my article on why we buy travel insurance for a breakdown of the two. You can follow the links to get a free quote from World Nomads or SafetyWing.
7. Bring the Right Power Adapter
Japan has Type A or Type B electrical outlets so be sure to bring the right power adapters for your devices. Electrical voltage is 100V and the standard frequency is 50/60Hz.
8. Learn Basic Japanese Etiquette
Japan is unlike any country we've ever visited. It's quirky in many ways and has a lot of unwritten rules. You don't want to unknowingly offend anyone, so it's a good idea to familiarize yourself with some of the rules. Here's a good overview on Japanese etiquette for tourists.
VISA INFORMATION (for Filipinos)
If you're a Filipino citizen, then you'll need to be granted a tourist visa to visit Japan. You'll need to apply at one of the travel agencies accredited by the Embassy of Japan. Personally, I applied through Reli Tours and Travel in 2016 and was granted a 5-year multiple entry visa. The entire process took about 5-7 days.
Check out my post on how to apply for a Japan tourist visa for more information.
Have fun!
I've been to Osaka five times in the last six years but I don't know everything. With that said, I do hope that you find this guide useful as I'm only sharing the things I've learned from our trips. If you have any questions or suggestions, then please feel free to ask us in the comment section below. You're welcome to join our Facebook Travel Group as well.
Thanks for stopping by and have fun eating your way through Osaka!
OUR GEAR
These are some of the things we brought with us to Osaka. If you'd like to see what other gear we use, then you can check out our "What's in Our Backpack?" post. (NOTE: The following links are Amazon affiliate links.)
Disclosure
This travel guide contains affiliate links, meaning we'll earn a small commission if you make a booking at no extra cost to you. We only recommend products and services that we use ourselves and firmly believe in. We really appreciate your support as this helps us make more of these free travel guides. Thank you!