You're in Japan dude, so keep left.
I told myself that over and over after exiting Namba subway station, but I kept veering right anyway. Disoriented by my DSLR, I'd look up from my viewfinder and find myself drifting right and walking headfirst into a sea of humanity. Only in Shibuya had I seen crowds bigger than this.
"Sumimasen, sumimasen!" I would say in embarrassment as I ducked and dodged oncoming traffic. Waiting for a big enough gap between pedestrians, I'd jump back to the safety of the left, only to find myself right where I started at the next photo-op.
"Ooooh look at that!" Click Click. Fuck.
That's pretty much what walking in Shinsaibashi and Dotonbori was like, which was unsurprising considering that we were right in the heart of Osaka. We loved every minute of it.
VISIT SHINSAIBASHI & DOTONBORI QUICK LINKS
To help you plan your trip to Osaka, we've put together links to recommended hotels, tours, and other services here.
HOTELS
Top-rated hotels in Shinsaibashi and Namba, the best area to stay for first-time visitors to Osaka.
TOURS
OTHER SERVICES
OSAKA TRAVEL GUIDE
If you're visiting Osaka for the first time, then be sure to check out our detailed Osaka travel guide. It'll tell you everything you need to know – like where to stay, which restaurants to visit, how much to budget, etc. – to help you plan your trip.
EXPLORE SHINSAIBASHI & DOTONBORI
Shinsaibashisuji Shopping Arcade
Located near Shinsaibashi Station on the Osaka Metro Midosuji line, Shinsaibashi suji shopping street is the premier shopping area in Osaka. It's around 600 meters long and filled with trendy boutiques, retail chains, and luxury department stores like Daimaru, UniQlo, H&M, Bulgari, and Zara.
Surprisingly, you can find many bargains in Shinsaibashi. Never the impulse shopper, Ren carefully deliberates every purchase and compares prices before pulling the trigger.
Going postal at H&M, she went home from Shinsaibashi with three shopping bags full of great bargains. Contrary to popular belief, Japan doesn't always have to be unaffordable.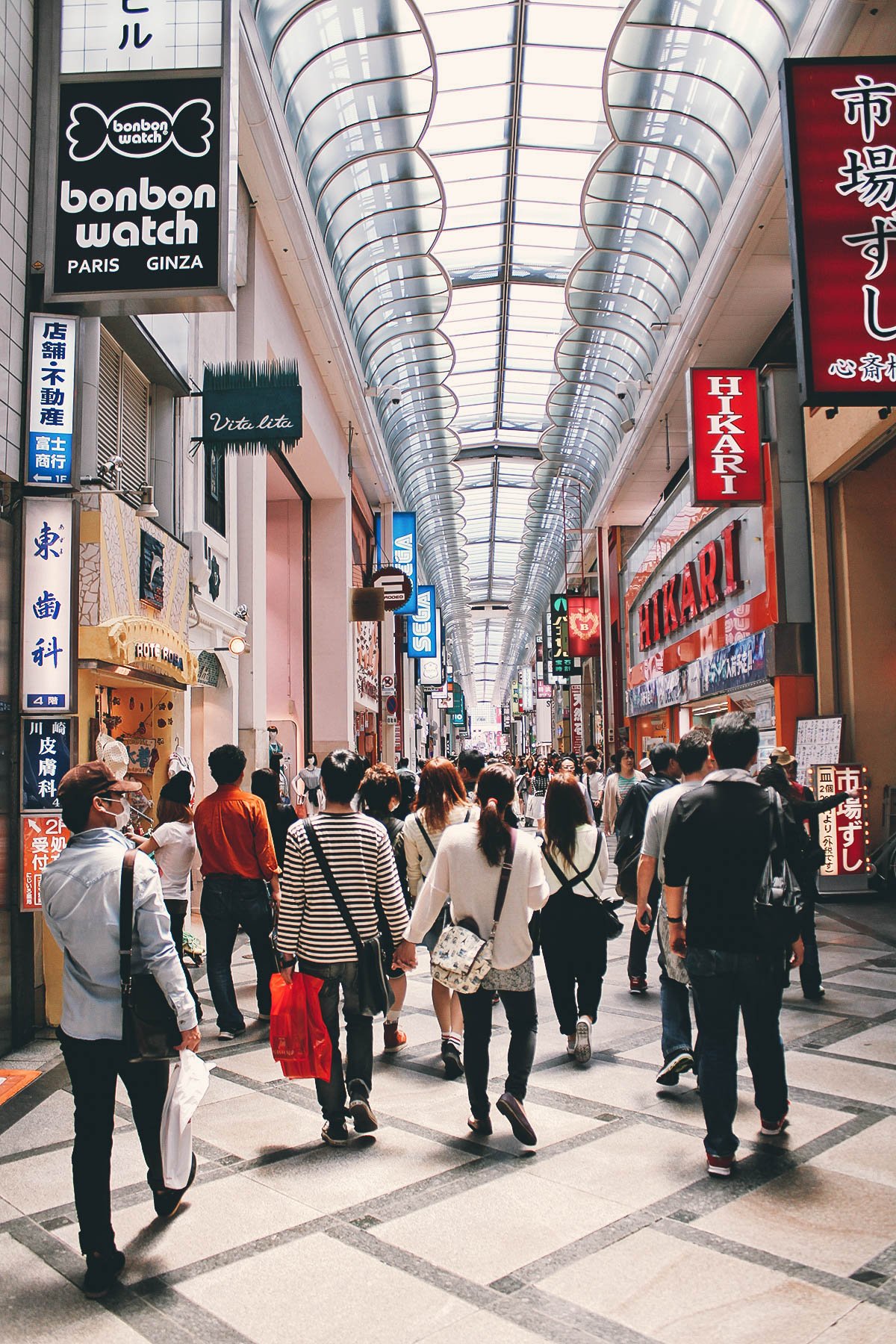 There's no shortage of visual stimuli in Shinsaibashi.
The Shinsaibashi area is named after Shinsaibashi Bridge. Built in 1622, Shinsaibashi Bridge was a famous landmark before it was removed in 1964 after Nagahorigawa Canal was filled in.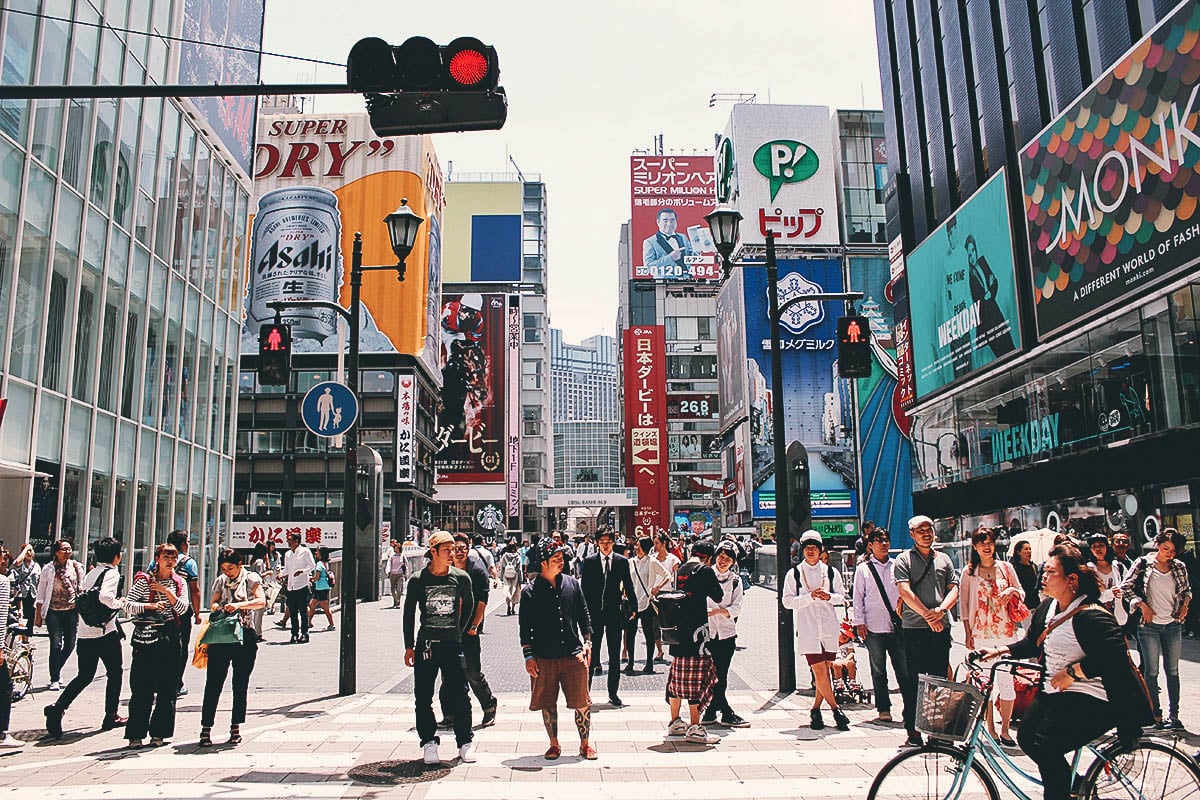 At Shinsaibashi, you'll find restaurants, cafes, and shops lining both sides of the arcade.
These photos were taken pretty early in the day, but Shinsaibashi gets absolutely jam-packed by around noon on weekends. You could literally jump up and be carried away by the wave of shoppers. It got so bad at one point that Ren and I decided to get off this main strip and walk on a parallel street instead.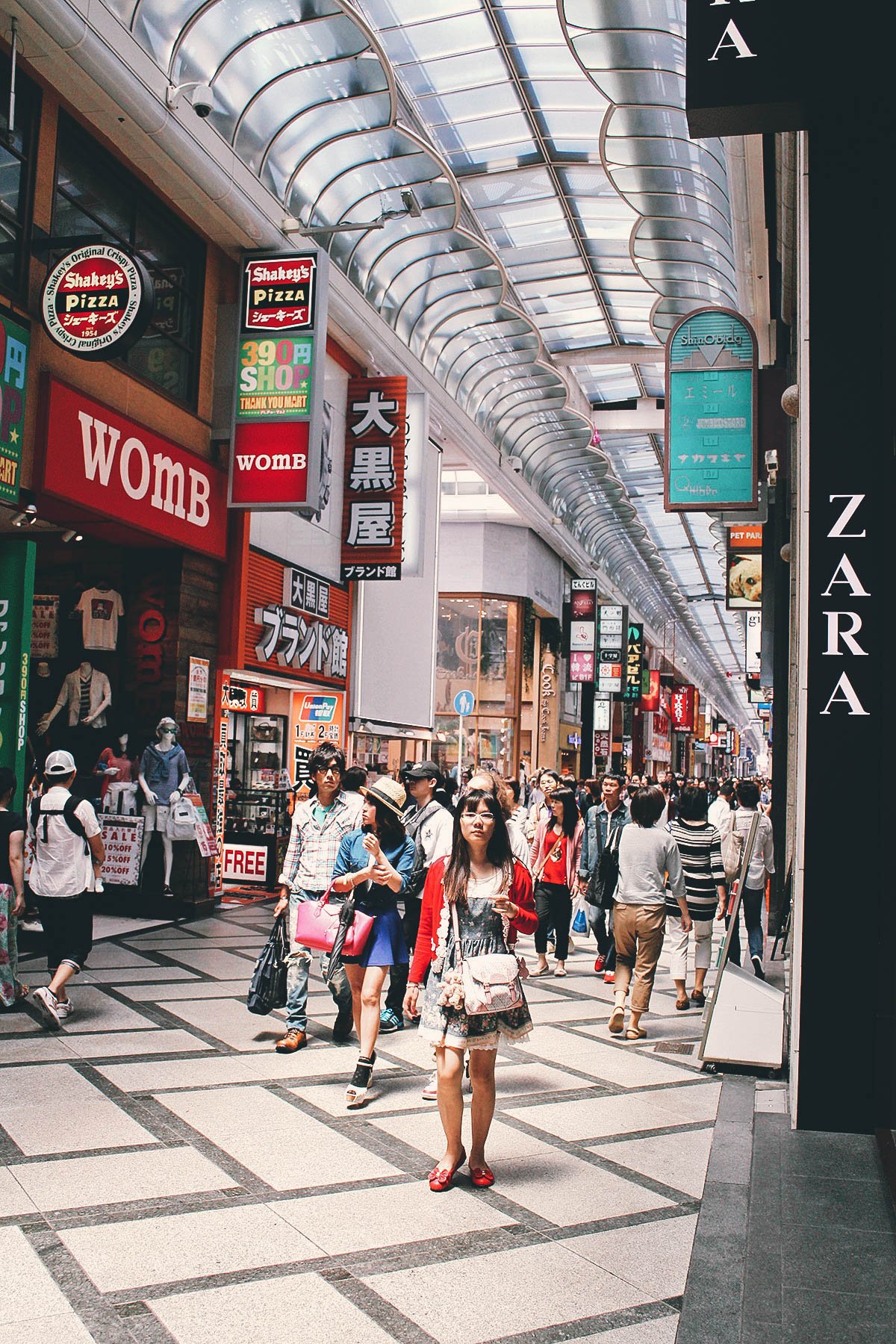 Dotonbori Street, Dotonbori Canal, and the Entertainment District
Crossing the street and out of the covered arcade, you'll walk into this open area and see the large famous Glico man sign. That's when you know you're in Dotnobori.
Originally installed in 1935, the giant Glico Man is Dotonbori's most iconic landmark. It's a symbol for Glico, the Japanese food company that makes Pocky.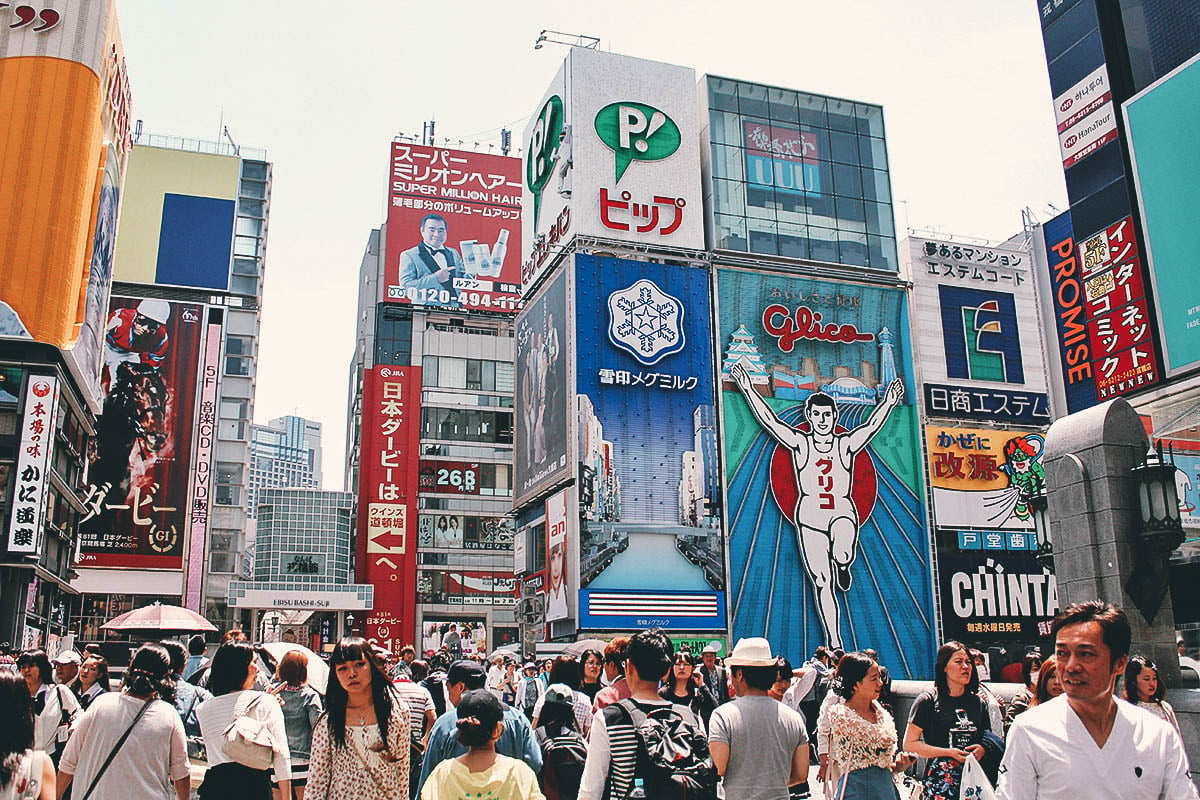 If Shinsaibashi is for shopping, then the Dotonbori area is for dining. Many people describe Osaka as the culinary capital of the world. If that's true, then Dotonbori is its city hall. This place is a glutton's wet dream. On acid.
Built in 1960, another famous Dotonbori landmark is the mechanized crab outside the Kani Doraku crab restaurant. Famous for serving all kinds of crab, Kani Doraku – together with Zuboraya and Kinryu Ramen – are among the most popular restaurants in Dotonbori.
Like the shopping in Shinsaibashi, there are fantastic bargains to be had in Dotonbori on Japanese food. The Japanese street food is amazing, and cheap too!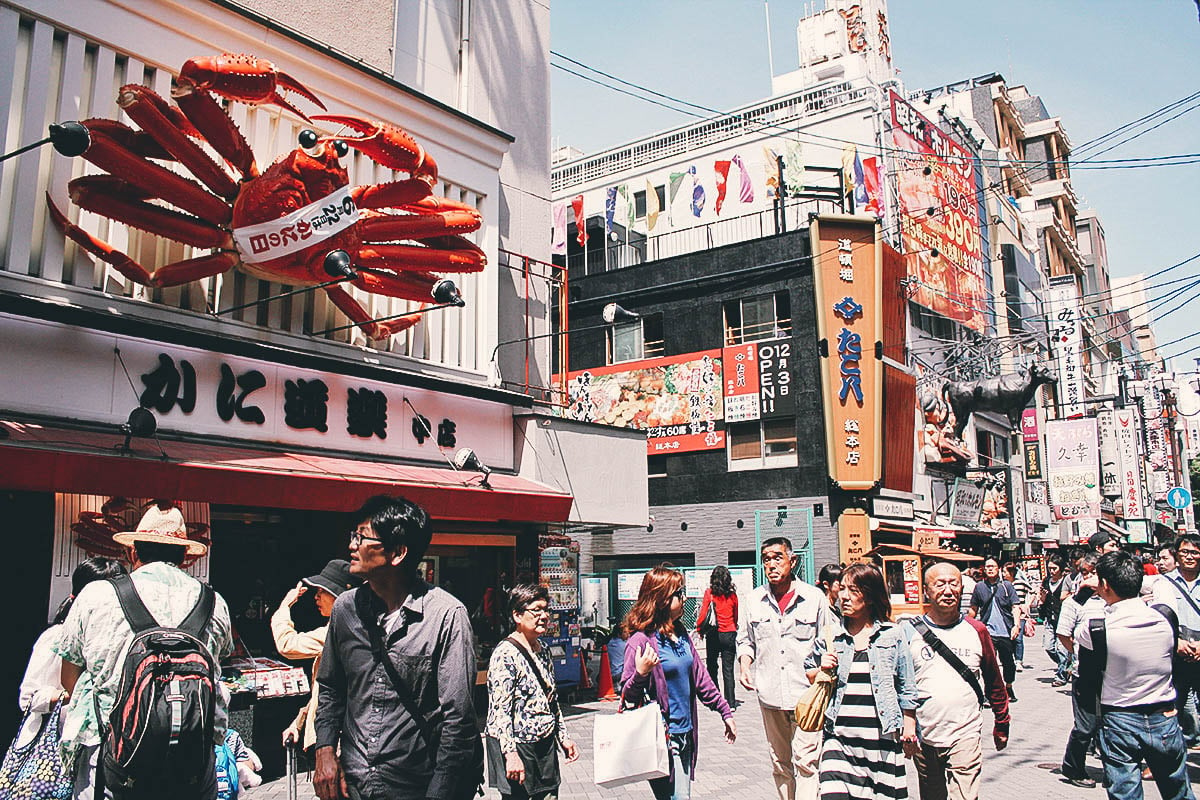 Crazy built-up signs everywhere in Dotonbori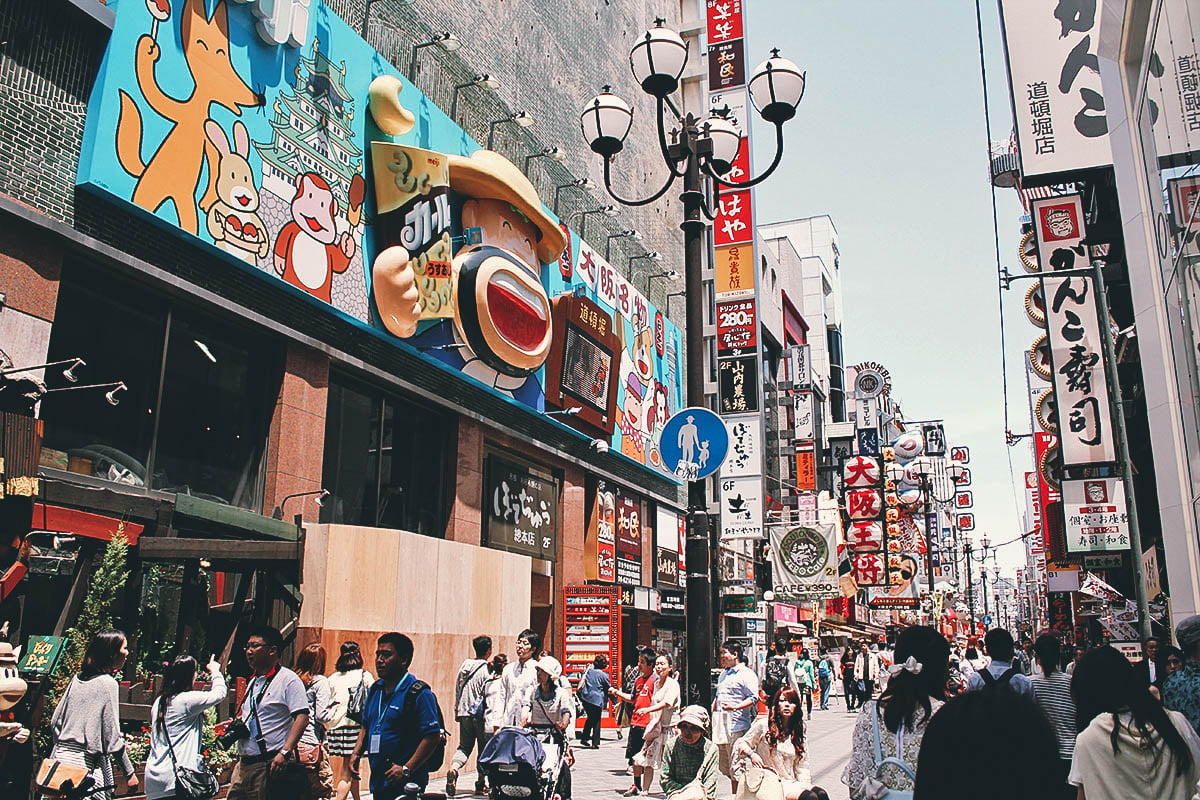 Hmmm, I wonder what this stall is selling. You'll find lots and lots of takoyaki and okonomiyaki restaurants and street food stalls in Dotonbori.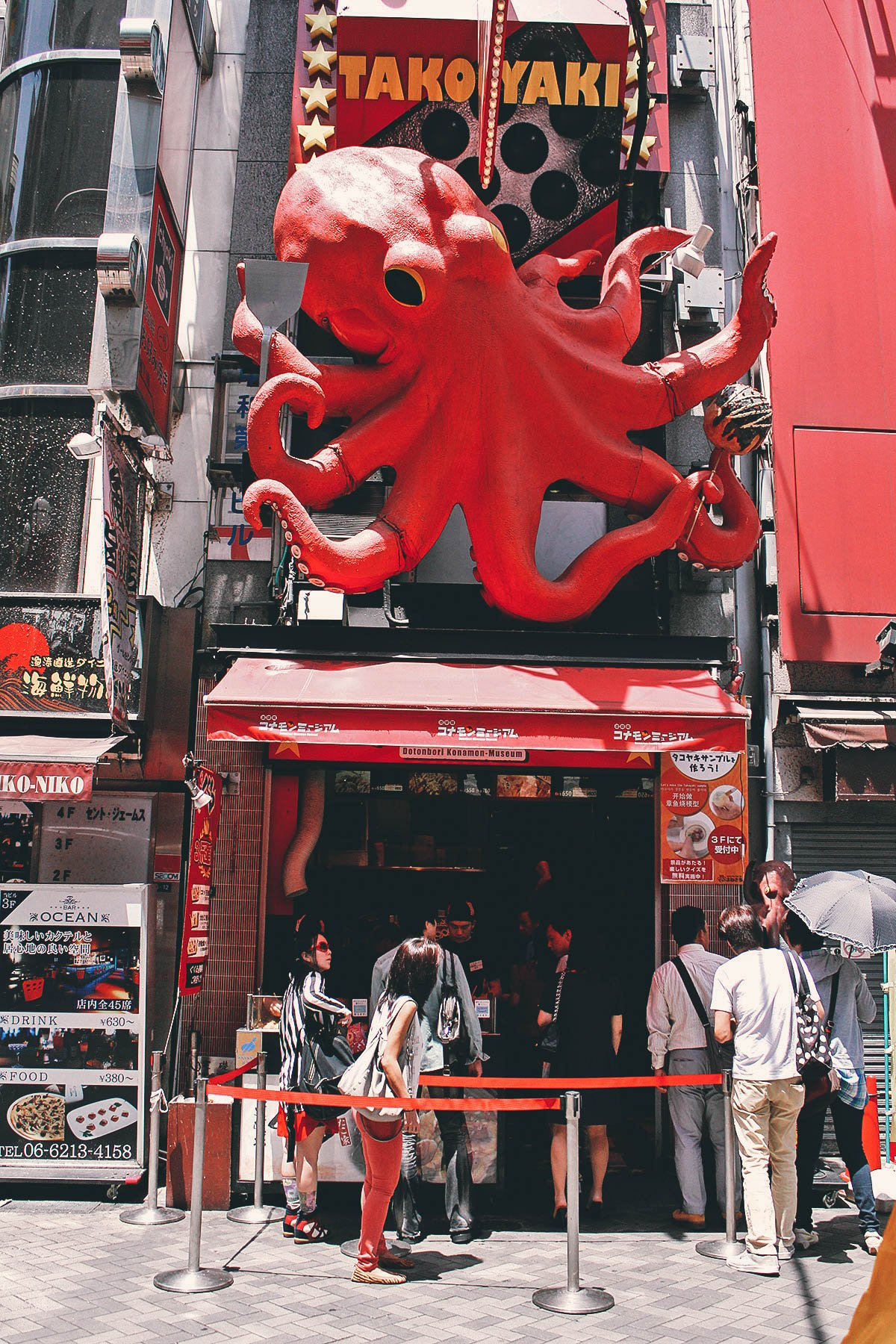 Giant nigiri sign and blowfish lantern in Dotonbori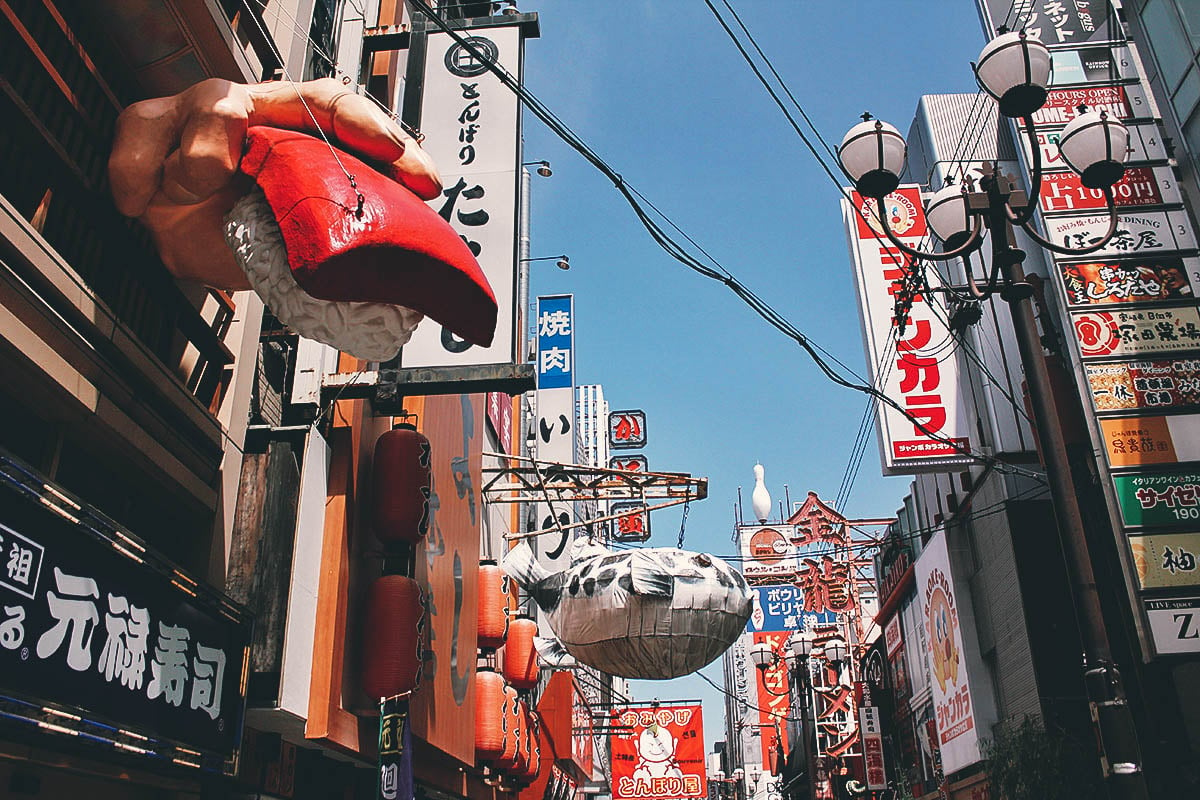 With all these crazy 3D signs and neon lights, Dotonbori is like Disneyland for gourmands. On acid. I can't tell if this dude is just serious or seriously taking a shit.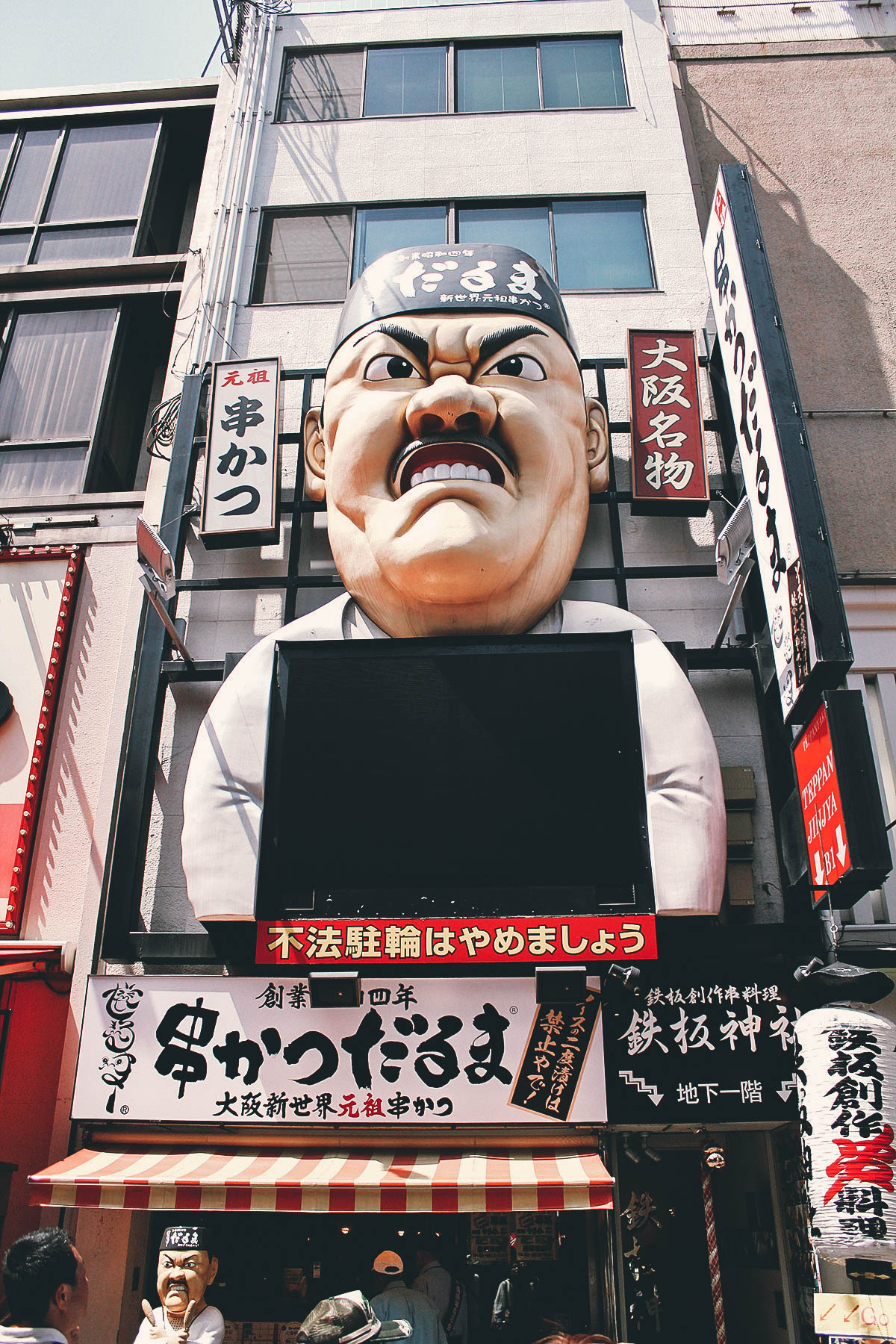 Fugu on top of fugu on top of fugu in Dotonbori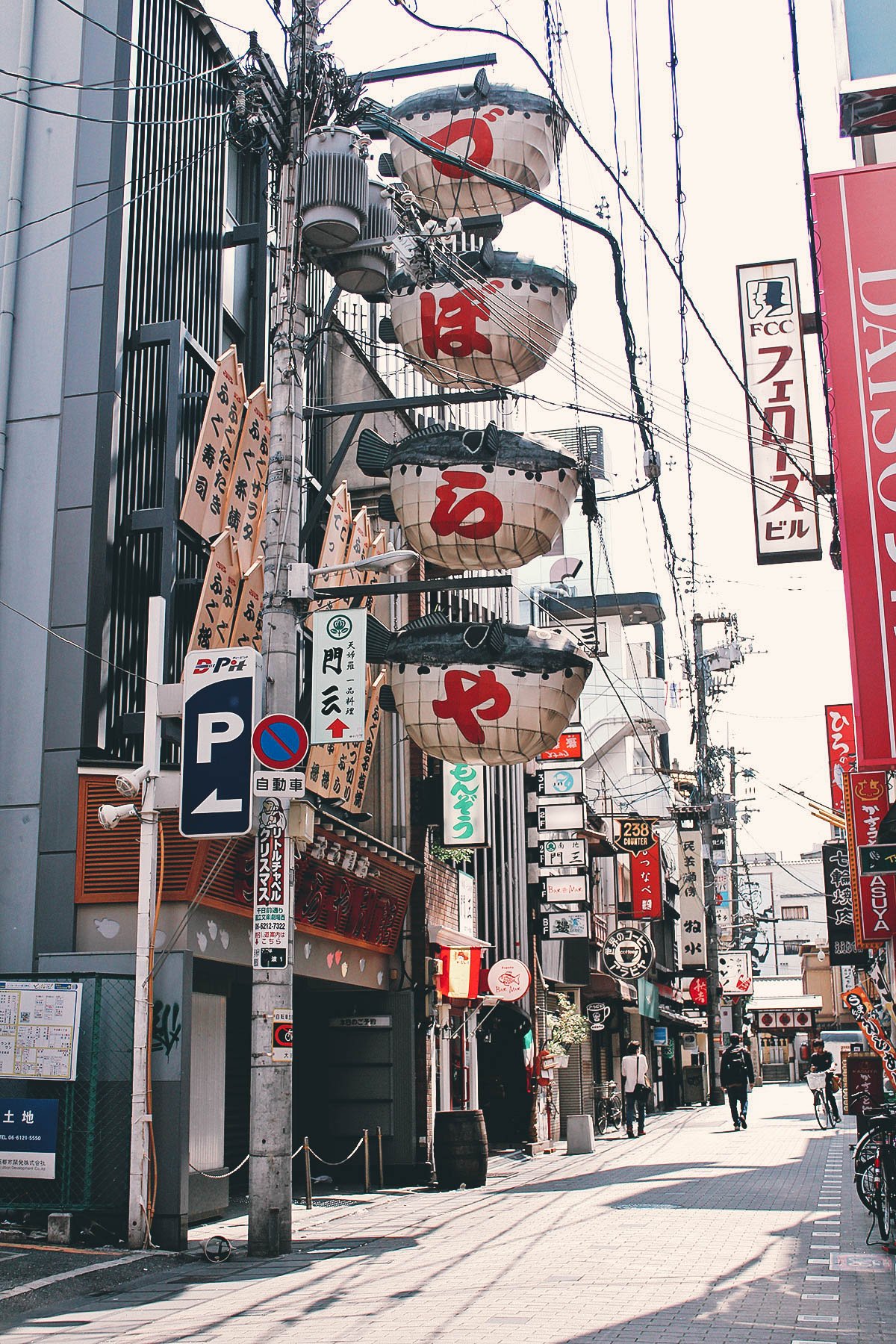 If you've got money to burn in Shinsaibashi-Dotonbori, then perhaps you'd be interested in this building.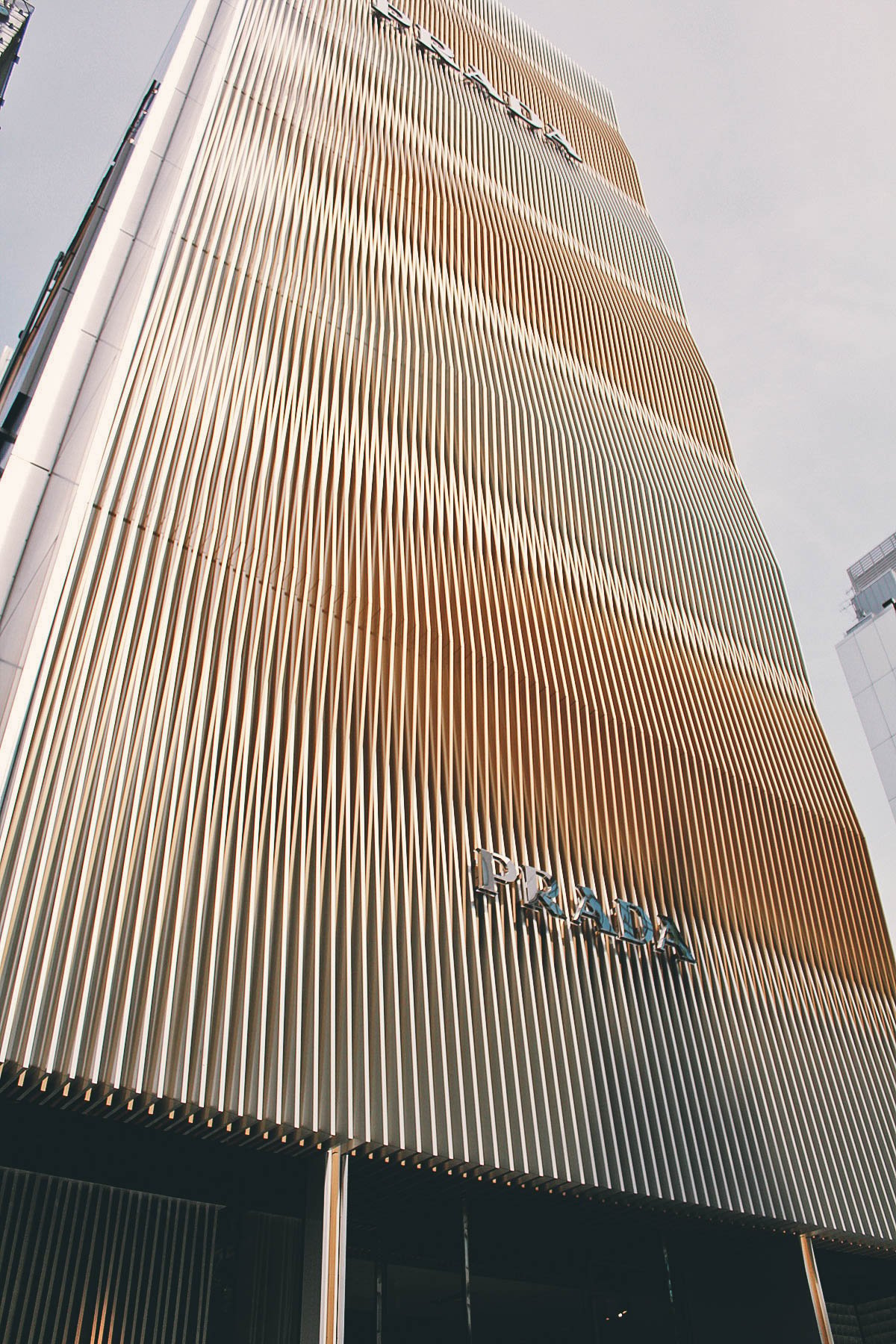 FINAL THOUGHTS ON SHINSAIBASHI & DOTONBORI
If you're traveling to Osaka, then you will wind up at Shinsaibashi and Dotonbori at some point. That's a given. Going to Osaka without making a stop here is like going to Paris without seeing the Eiffel Tower. It just doesn't happen. In fact, you'll probably wind up staying in the Shinsaibashi-Dotonbori area which is what we did. And we loved every minute of it.
Enjoy the shopping in Shinsaibashi and savor the eating in Dotonbori, because you won't find many places like this in the world. Just always remember to keep left.
If you'll be visiting Osaka primarily for the food (like us), then you may want to check out our guide on Japanese food.
Shinsaibashi Shopping Arcade & Dotonbori
Located in the Minami area, the Shinsaibashi and Dotonbori areas can be reached via the JR Namba Station. CLICK HERE for more information.
Disclosure
Some of the links in this article on Shinsaibashi and Dotonbori are affiliate links, meaning we'll earn a small commission if you make a purchase at NO extra cost to you. We really appreciate your support as it helps us keep this free website going. Thank you!