Tripomatic, my favorite travel app, is now known as Sygic Travel. If you've come across our travel guides before, then you'll know what a fan I am of this app. It makes travel planning easier and more fun.
To be honest, I didn't know what to make of this change at first. I had never heard of Sygic until this merger. But as it turns out, Sygic is a family of world-class GPS navigation apps used by over 150,000,000 drivers. It's flagship app — Sygic GPS Navigation & Maps — is said to be one of the most advanced GPS navigation apps available. It offers 3D offline maps, door-to-door voice guided navigation, live traffic & police radar/speed camera warnings, even parking suggestions with information about availability and price! Needless to say, Sygic know GPS navigation.
Tripomatic was a travel planning app with GPS navigation so this partnership with Sygic can only mean good things.
Sygic Travel Free Version
If you've already been using Tripomatic, then you'll find that the interface of Sygic Travel is pretty much still the same. If you're new to this, then the first step would be to go to the Sygic Travel website or download the app on your mobile device and set up a free account (links at the bottom of this post). Sygic Travel is free to use, but you can upgrade to a premium version for USD 18.99. More on Premium's features later.
You can create your trip from a desktop or mobile device. Personally, I prefer doing it from a desktop. It's much easier with a full keyboard and a larger screen. Once you've downloaded the app, your trip will automatically sync across all your devices.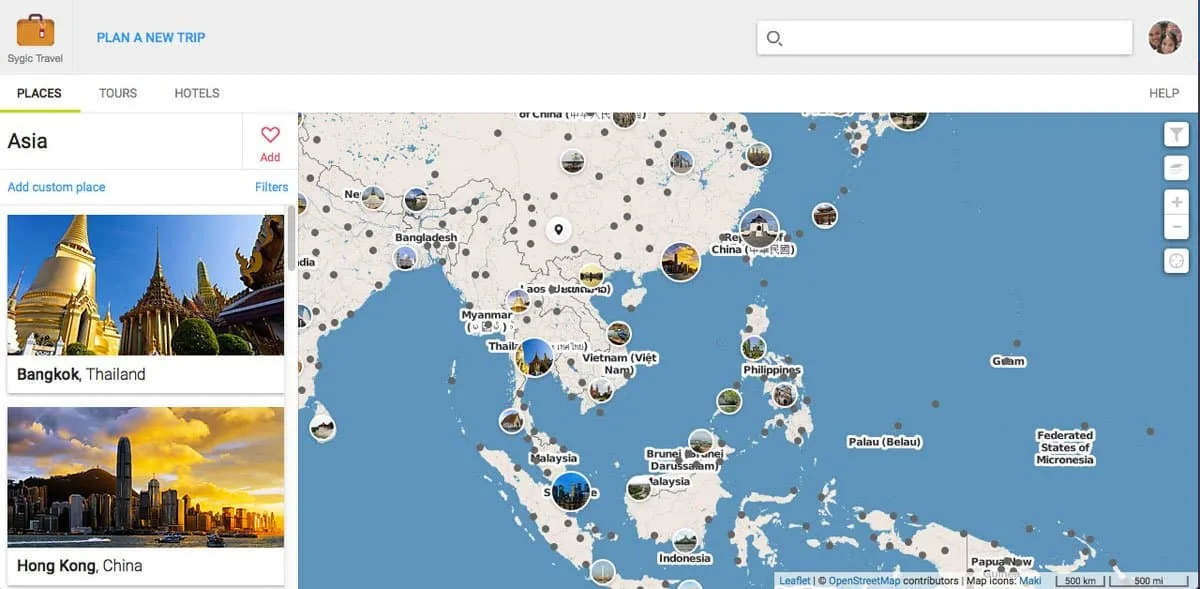 You can start by clicking "PLAN A NEW TRIP" and entering your destination.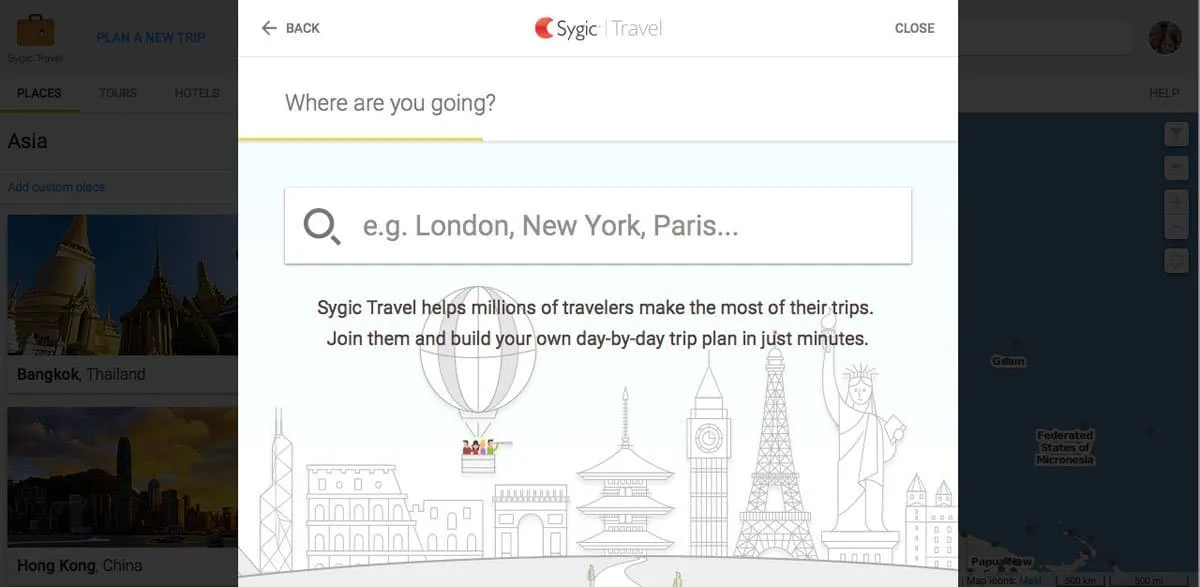 Suggestions may then pop up with ready-made itineraries for your chosen destination. I like doing everything myself from scratch so I skip this.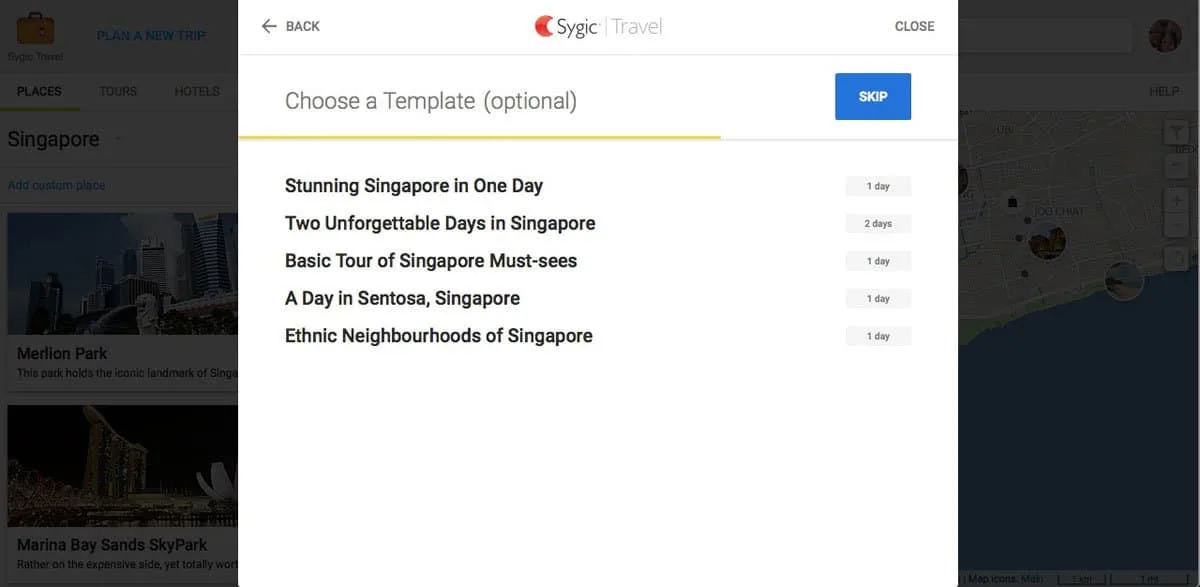 You can then input the dates of your trip, the hotel or place where you'll be staying, and your port of entry. If you don't have a place yet, then you can add it later. You'll find plenty of hotels on the Sygic Travel map to choose from.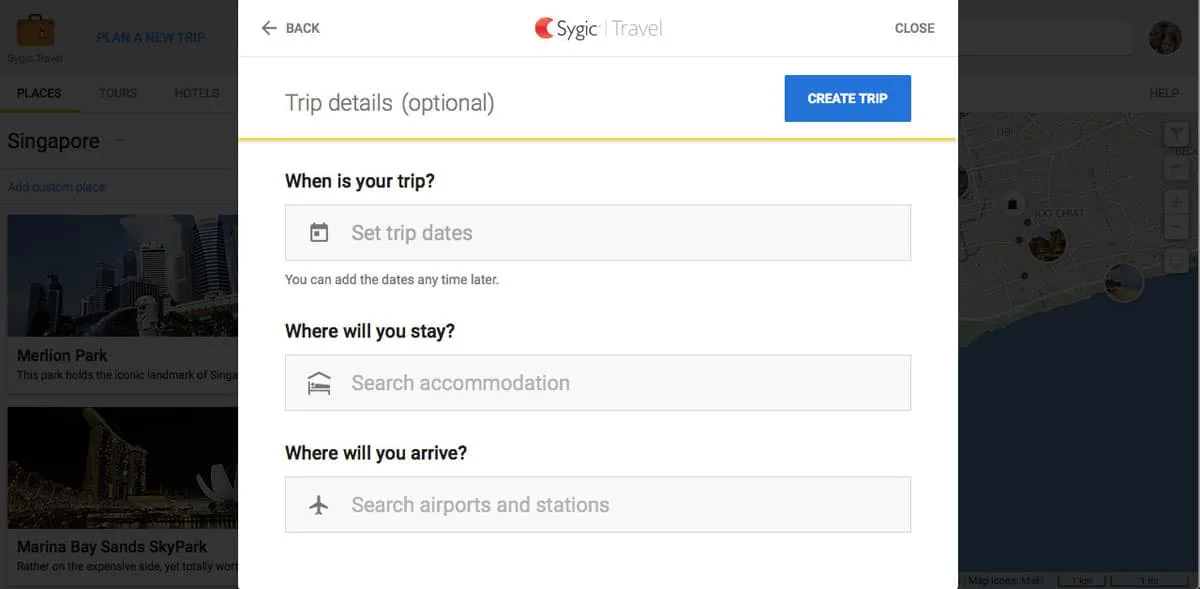 Once you've created your trip, a map of your destination will appear. On it you'll find various points of interest like popular tourist attractions and hotels so you can go ahead and start planning your itinerary. If you already entered a hotel, then it will automatically appear on each day of your trip.
What's daunting about planning an itinerary to a new destination is that you have no idea where all the attractions are in relation to one another. How far is Singapore Zoo from Maria Bay Sands? Can I do them on the same day? In what order should I visit all these places? With Sygic Travel, you can see exactly where each point is on the map so you can plan your trip efficiently.
From experience, I've found that the map which Sygic Travel uses knows where all the major attractions are, but it only knows a handful of restaurants (if any). For most people, this may not be an issue. But if you fly for food like we do, then you'll need a way to locate and add them to your itinerary. Once I've done all my research and figured out which restaurants we'd like to visit, I'll then find their addresses and exact locations using TripAdvisor and/or Google Maps, then manually input each one as a "custom place" on my Sygic Travel map. It can be a pain I know, but it's something I'm willing to do.
You see that white rectangle in the screenshot below? You can enter any location's address there and the app will pinpoint exactly where it is on the map so you can add it to your itinerary. This is one of the main reasons why I love this app. It's hard enough to efficiently create an itinerary. But when you have to add specific restaurants, sometimes even obscure food stalls on the corner of this and that street, it becomes even more challenging. Sygic Travel makes it easier and allows you to visualize your trip on a map.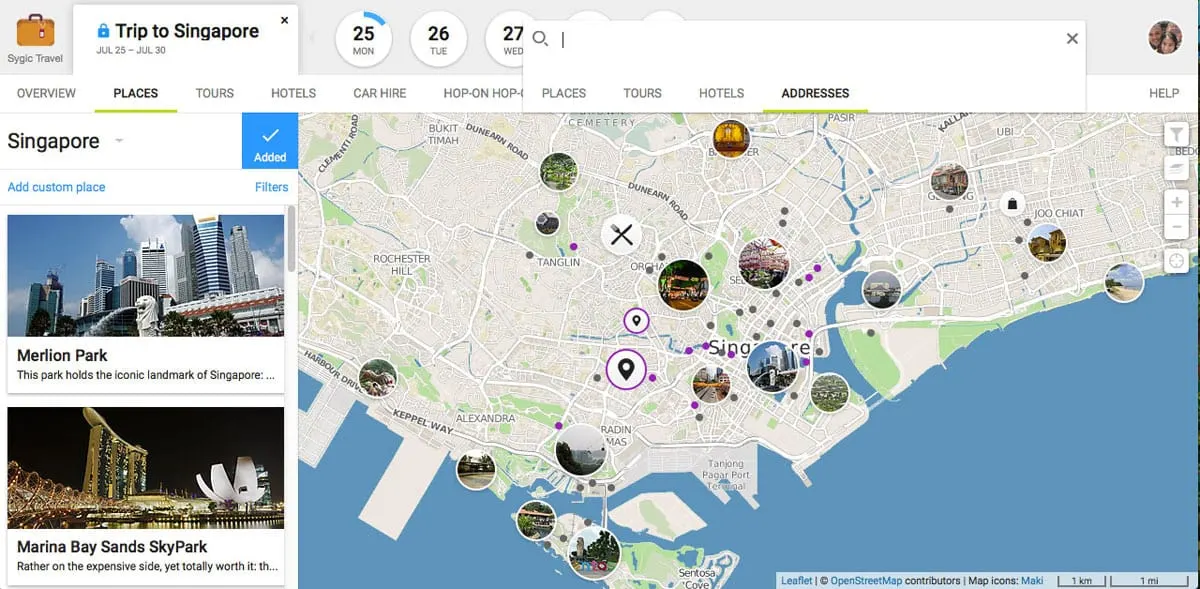 Here's an example of what one day from a completed itinerary looks like. As you can see, it starts from the airport and takes us around the vicinity of our hotel. If you look at the left panel, you'll see the order of attractions we intend to visit including distance and approximate transit times between each place (whether on foot or by vehicle). The app also suggests how long you should stay at each attraction which you can modify as desired. Do you see those blue lines that wrap around each day? That's Sygic Travel adding up total time spent at each attraction together with transit times so you have an idea how much (or how little) you've planned per day. How cool is that?
If you want to reorder places or move them between days, then you can easily do so by clicking "EDIT" on the left pane. It'll allow you to drag places to change the order or drag them to a different day entirely. Transit times and total time per day will then be automatically updated.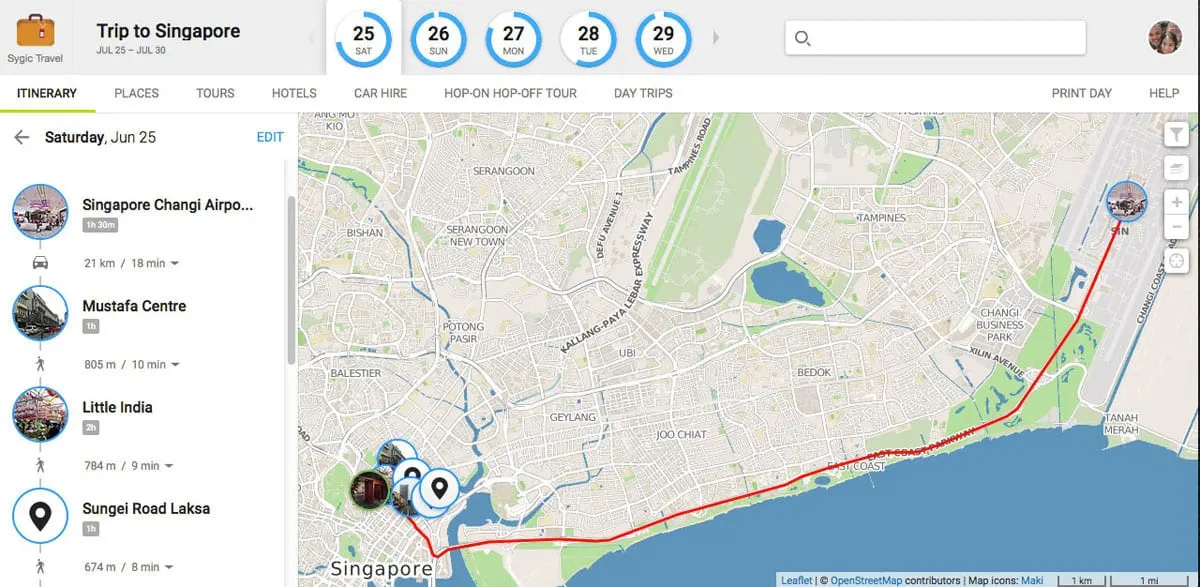 Once you've completed your itinerary, you can download it to print, share it on social media, even embed it in a website. Downloading the app and logging in to your account on a mobile device will automatically give you access to an itinerary you created from a desktop. The free version of Sygic Travel requires you to have an internet connection to access your map, so I suggest renting a pocket wifi device during your trip.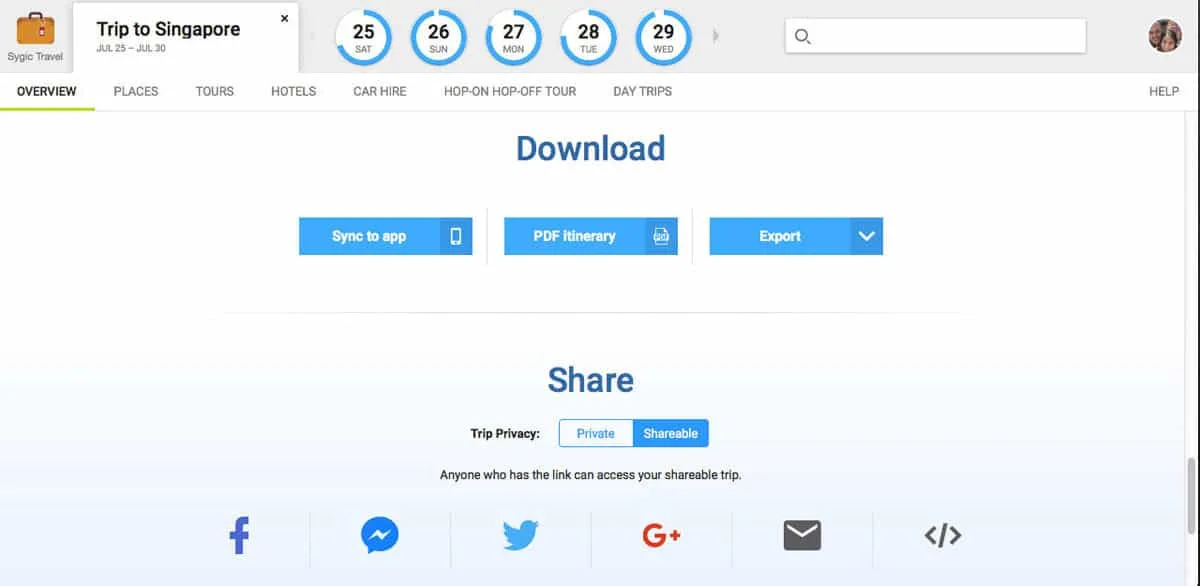 With a steady internet connection and location services turned on, you can use the Sygic Travel app as a GPS tracking device to "easily" make your way between points on your itinerary. I put "easily" in quotation marks because I find the app slow and buggy and generally more difficult to use compared to the desktop version. More on that later.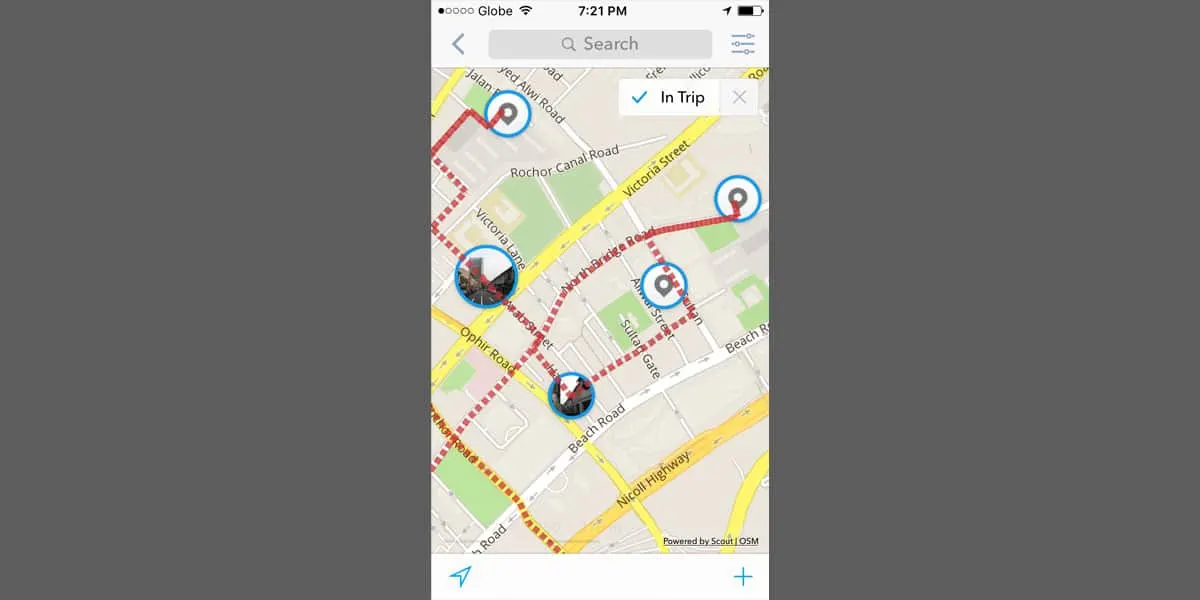 Sygic Travel Premium
Now on to Premium. I've been using the free version of the app for over two years now and just recently got upgraded to Premium (thanks Sygic Travel!). I haven't used it on an actual trip yet so I can't describe it from experience, but what Premium does is it allows you to download offline maps which you can access even without an internet connection. If I remember correctly, the free version of the app also enables you to download offline maps, but for a fee. On Premium, it's all free.
What I'm really curious about is the offline navigation guidance as indicated in the right pane. Sygic GPS Navigation is available offline so I guess the recent partnership made this possible. This would be extremely helpful for travelers who don't have a constant internet connection. I'll try it out on an upcoming trip and let you know how it goes.
The Premium upgrade is available for USD 18.99. Sygic Travel puts it on sale from time to time (as low as USD 9.99) so be sure to follow their Facebook page for announcements.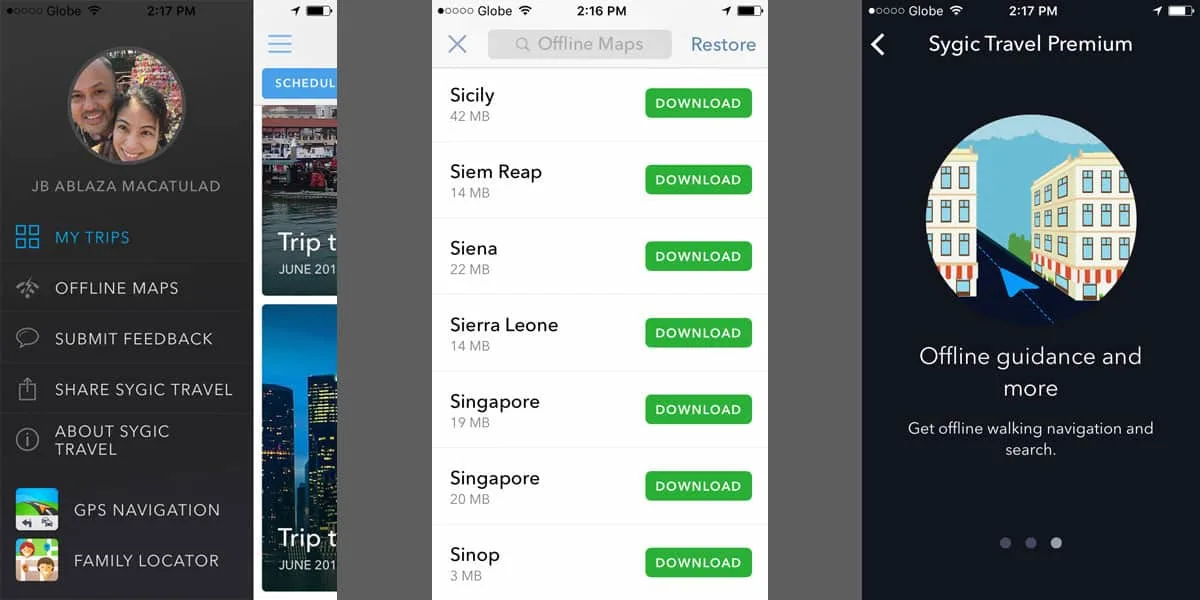 Now for the negatives. As useful as this app is, it isn't perfect. As already mentioned, the map they're using can only locate major attractions and hotels. It can't find restaurants nor does it even show subway stations. I wish they gave you the option of using Google Maps. You can find pretty much anything on Google Maps so that would be a huge timesaver. Having to find each location on Google Maps first before pinning it on Sygic Travel can be a pain.
Another thing, you can't put multiple cities in one trip. We're going on a multi-city trip in Japan this February 2017 and I had to create a different trip for every city we'll be visiting. This isn't as big of a concern as the map issue but it would be nice to have that capability.
As previously mentioned, the app could be better. Maps with all your pinned points of interest can be extremely slow to load. It isn't reliable so I wind up navigating with the Google Maps app when we're on an actual trip. Their navigation and maps are so much better.
To summarize, I create our itineraries using Sygic Travel from a laptop before our trips, then navigate when we're on a trip using the Google Maps app. That combination has been working very well for us.
Despite its flaws, Sygic Travel is still my favorite travel app. It makes planning for a trip so much easier. But the map and app issues are big concerns for me, so if a competitor released a similar app with a better map, then I'd switch in a heartbeat. (Sorry Sygic Travel!) But until then, Sygic Travel is my go-to travel planning solution.
If you're looking for a good travel planner, then I suggest giving Sygic Travel a try. Download links below.
Sygic Travel
Website: Sygic Travel
Facebook: SygicTravel
Email: [email protected]
Disclosure
I had been a user of the free version of Tripomatic since 2014 until I got a free upgrade to the Premium version earlier this year. As always, all thoughts and opinions on this post are mine and mine alone.
Some of the links in this post are affiliate links, meaning we'll get a small commission if you make a reservation at NO extra cost to you. We really appreciate your support as this helps us keep this website going. Thank you!