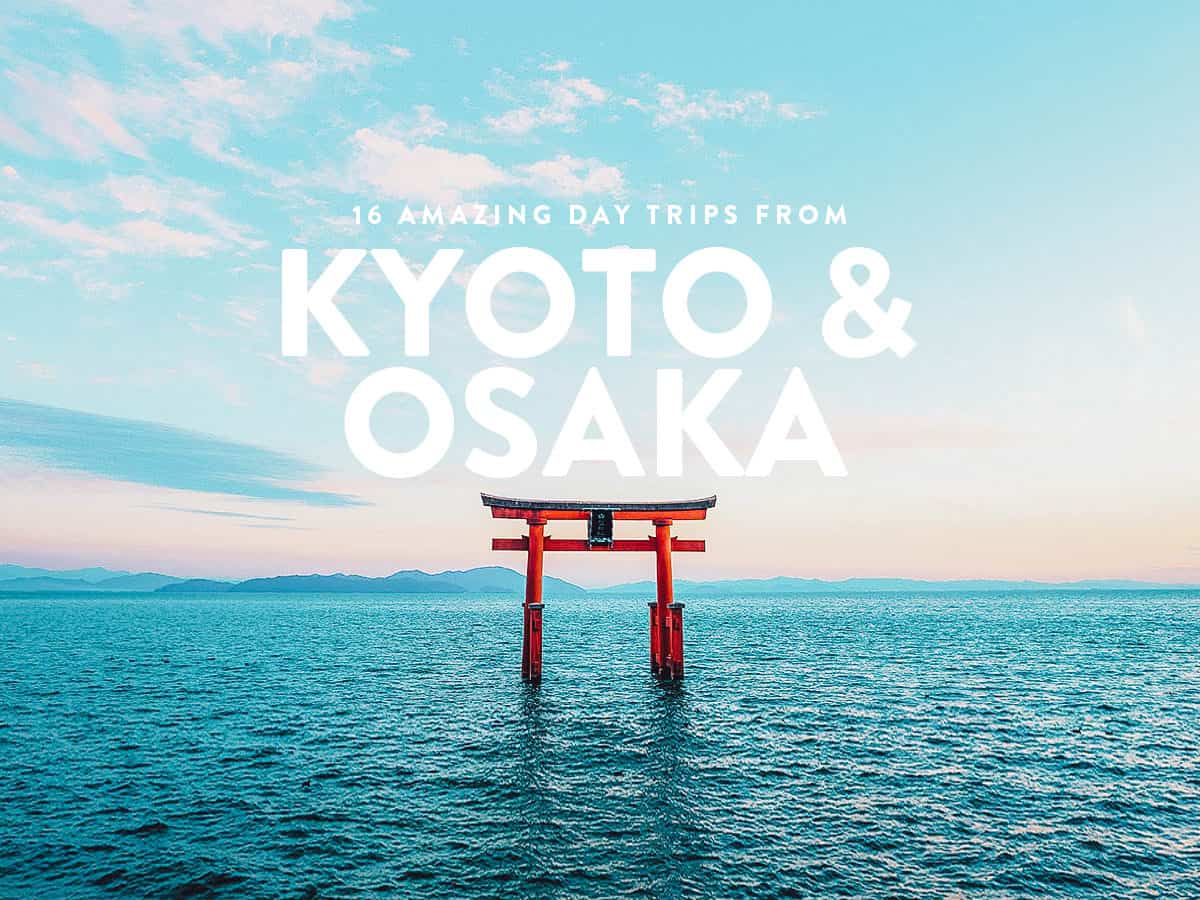 The Kansai region is our favorite area in Japan, and a lot of that has to do with Osaka and Kyoto. We've explored many parts of the country through the years but those two cities, especially Kyoto, remain our favorites.
We enjoy it so much that we plan on staying in Kyoto for 2-3 weeks on our next trip to Japan. We want to immerse ourselves in the city and use it as a base to explore new areas and revisit intriguing destinations like Kinosaki Onsen and Nagoya.
If you're visiting the Kansai region and staying long enough in Osaka or Kyoto, then you may want to spend a few of those days making day trips. Listed below are 16 of the best day trips you can make from Kyoto or Osaka.
BEST DAY TRIPS FROM KYOTO & OSAKA
Osaka and Kyoto are less than half an hour apart by JR train so every destination listed in this guide is easily accessible from either city. Beneath each listing are directions on how to get there from Osaka or Kyoto along with approximate fares and travel times.
Please be advised that these are estimates only. Considering the distance, I chose routes that had the best balance between cost and travel time but these will vary depending on which trains you choose and what time you leave.
For exact fares and travel times, you can use Hyperdia and Google Maps to plot your trip.
1. Arashiyama
Arashiyama is a district in Kyoto but it's far enough away from the city center that it merits its own trip. Plus, there's lots to see and do there so you'll want to stay for at least half a day.
Arashiyama is one of our favorite places in Kyoto. It's a stunningly beautiful area known for scenic attractions like Tenyru-ji Temple, Moon Crossing Bridge, Iwatayama Monkey Park, and most famous of all – Arashiyama Bamboo Grove (pictured below).
Arashiyama is home to lots of quaint shops, restaurants, and cafes so it's easy to lose track of time and spend the whole day there. For the best pictures, you may want to rent a kimono from one of the shops in town.
When it isn't too crowded, the bamboo groves and Tenryu-ji Temple make wonderful backdrops for photos. Tenryu-ji is a UNESCO World Heritage Site and considered the most important temple in Arashiyama.
2. Lake Biwa
Lake Biwa is the largest freshwater lake in Japan. It gets its name from it shape which is said to resemble a biwa or a Japanese short-necked lute. At over four million years old, it's estimated to be the 13th oldest lake in the world.
Lake Biwa consists of about 235 km (146 miles) of shoreline offering plenty of outdoor-related activities like windsurfing, paddle boarding, cruising, hot spring baths, and island hopping.
Visitors in summer can go swimming at one of the lake's many popular beaches like Omimaiko Beach or Shiga Beach. If you visit in winter, then you can go skiing or snowboarding in Biwako Valley which is accessible via a cable car near the lake's western shore.
Along the perimeter of the lake are hotels, ryokans, and resorts, many of which have hot spring facilities. If you'd like to soak in a hot spring, then Ogoto Onsen along the western bank is a good place to visit. Be sure to look out for Shirahige Shrine which is a Shinto Shrine known for its "floating" torii gate (pictured below).
3. Nara
Nara is one of the most popular day trips you can make from Kyoto or Osaka. It's an historically significant city famous for its free-roaming sika deer and wealth of traditional temples and shrines.
Nara once served as Japan's first permanent capital. It became the country's seat of government in 710 and held that distinction until 784 when the capital was moved to Nagaoka. It stayed there for ten years before being moved to Kyoto where it remained for the next thousand plus years.
When it comes to its abundance of cultural attractions, Nara is second only to Kyoto. It's home to the Historic Monuments of Ancient Nara which is a group of eight historical sites collectively inscribed as a UNESCO World Heritage Site.
Of these eight attractions, none are more important perhaps than Todai-ji Temple (pictured below). It's a large Buddhist complex that houses the world's biggest bronze Buddha statue.
But as culturally significant as Nara is, it's perhaps become better known for its herds of inquisitive deer that tourists can feed with shika senbei crackers. The deer are cute and make for great pictures but do be careful because they can become quite aggressive with food.
4. Mt. Rokko
Mt. Rokko is the highest peak in Hyogo's Rokko mountain range. It offers spectacular views of Kobe and Osaka Bay, especially at sunrise and sunset which is when the picture below was taken.
One of my best friends lives near the base of Mt. Rokko so we'd take the funicular up to the top to have drinks and enjoy the view. The view from the top station (Sanjo Station) is great, but it's even better from the observation deck at Rokko Garden Terrace which is a tourist center with a few restaurants and shops.
To get around Mt. Rokko, you can catch a bus from Sanjo Station to the Garden Terrace and to other family-oriented attractions like Alpine Botanical Garden, the Musical Box Museum, and Country House nature park.
According to my friend, trekking is popular on Mt. Rokko. If you're fit, then you can forgo the funicular and hike up to the summit instead. If you want to soak in an onsen, then you can take a cable car to Arima Onsen which is a famous hot spring town on the opposite side of the mountain.
If the views from Mt. Rokko aren't pretty enough for you, then you can catch a 20-minute bus ride to the summit of Mt. Maya. Nicknamed the "Ten Million Dollar Night View", it's regarded as one of the three best night views in Japan.
5. Mt. Koya
If you have a keen interest in Buddhism, then you may want to spend the day at Mt. Koya. Located in Wakayama prefecture, Mt. Koya or Koyasan refers to a large Buddhist settlement that serves as the center for Shingon Buddhism.
Shingon Buddhism was introduced to Japan in 805 by Kobo Daishi. Revered as one of Japan's most important religious figures, he had wandered the country for years in search of a suitable center for Shingon Buddhism. He ultimately settled upon Mt. Koya and began construction of the original Garan temple complex in 826.
Since then, Mt. Koya has become the site of over a hundred temples covering an area of about 18 sq km (7 sq mi). It was inscribed as a UNESCO World Heritage Site in 2004 and serves as the first and final stop on the Shikoku 88 Temple Pilgrimage.
6. Himeji Castle
I've visited a few castes in Japan. Some of them can look fairly similar, but two stand out – Matsumoto Castle and Himeji Castle. They're two of the most beautiful castles I've been to in Japan.
Known as the White Heron Castle, Himeji Castle stands out because of its brilliant white exterior and imposing hilltop location. It's revered as perhaps the single most spectacular castle in Japan because of its size, beauty, and remarkable state of preservation.
Himeji Castle is the largest and most visited castle in Japan. It's one of the country's first UNESCO World Heritage Sites and one of Japan's twelve original castles (Matsumoto Castle is another). Unlike many Japanese castles, it was never destroyed by fire, earthquake, or war.
7. Amandohashidate
Amanohashidate is a narrow pine-covered sandbar that spans Miyazu Bay in northern Kyoto. Together with Matsushima Bay in Miyagi and Itsukushima Shrine's "floating" torii gate, it's considered one of Japan's three most scenic views.
The name Amanohashidate roughly translates to "bridge in heaven" because the sandbar is said to resemble a pathway between heaven and earth. It's best appreciated from the mountains on either side of the bay.
The picture below was taken from Amanohashidate View Land which is a small theme park located on the south side of the sandbar. You can get to the top via a chairlift or by monorail to enjoy some of the best views of Amanohashidate.
Measuring just 20 meters (66 ft) wide at its narrowest point, this slender sandbar is home to nearly 8,000 pine trees. A lovely walking trail spans the entire length of the sandbar which you can cross in about 45 minutes on foot or 15 minutes on a bicycle. You can rent a bicycle from one of the many shops around Amanohashidate Station.
The sandbar is definitely the highlight but be sure to explore the areas on either side of the bay as well. They're home to a few small temples and shrines like Chionji Temple, Nariaiji Temple, and Motoise Kono Shrine.
8. Nagoya
Nagoya is the capital of Aichi prefecture and the largest city in the Chubu region. It's one of Japan's main industrial and transportation hubs, not to mention one of its best cities for Japanese food.
Nagoya is home to the Toyota Motor Corporation and a few Toyota-related museums like the excellent Commemorative Museum of Industry and Technology, or Toyota Techno Museum for short (pictured below). Other notable museums include the SCMAGLEV and Railway Park and the Nagoya City Science Museum.
If you travel for food like we do, then you're going to love Nagoya. According to a Japanese friend of mine, it's one of three cities that the local Japanese often visit when they travel for food, the other two being Hiroshima and Fukuoka.
Nagoya is home to fantastic regional dishes like miso katsu, kishimen, doteni, and my personal favorite – hitsumabushi. I've eaten my way through many cities in Japan and Nagoya is definitely one of my favorites.
Nagoya is over 130 km (81 miles) from Kyoto and Osaka but thanks to the Shinkansen, you can get there in an hour or less. You can purchase Shinkansen tickets at the station or in advance through Klook (Kyoto | Osaka).
9. Kinosaki Onsen
Kinosaki Onsen is an atmospheric onsen town in northern Hyogo. It's been welcoming guests to its hot spring baths since the 8th century and is one of the best and most traditional onsen towns you can visit from the Kansai region.
We've visited many Japanese cities and towns but Kinosaki Onsen gave me one of my most memorable first impressions in Japan. The moment I walked out of Kinosakionsen Station, I felt as if I had stepped into a different era.
Kinosaki Onsen is known for its network of traditional wooden buildings and a willow-lined canal that runs through the center of town. Onsen-goers in yukatas and getas (wooden clogs) can be seen strolling around town as they move from soto-yu to soto-yu.
Kinosaki Onsen has seven of these soto-yus or public hot spring baths. If you're visiting for the day, then you can use all seven public onsens for JPY 1,300.
10. Fukui
Fukui is one of Japan's lesser known prefectures, at least to foreign visitors. It's located in the Chubu region and can be visited using the aforementioned Takayama Hokuriku Pass.
There isn't as much to do in Fukui City but there are a few interesting attractions you can visit outside the city center. None are more spectacular than Tojinbo Cliffs (pictured below) – a one-kilometer stretch of cliffs with columnar joints that I had no idea existed in Japan!
The cliffs were breathtaking but equally impressive was the Fukui Prefectural Dinosaur Museum. Opened in 2000, it's recognized as one of the leading dinosaur museums in the world.
On display at the museum are forty dinosaur skeletons, including several species like Fukuiraptor and Fukuisaurus that were first excavated and identified in Fukui. You'll also find a few life-like animatronic dinosaurs that roar and snap at passing tourists. It's a fun place to spend a couple of hours.
Other notable attractions include Eiheiji Temple – a center for Japanese Zen Buddhism, and Maruoka Castle – one of the twelve remaining original castles in Japan.
11. Okayama
Okayama is the second largest city in the Chugoku region, after Hiroshima. It's an Edo period castle town famous for its landscaped garden – Koraku-en. Together with Kanazawa's Kenroku-en and Mito's Kairaku-en, Koraku-en is considered one of the three most beautiful landscaped gardens in Japan.
Okayama is also famous for its castle – Okayamajo – which is located just across the river from Koraku-en. It's often referred to as Crow Castle because of its striking black exterior. Unfortunately, the original castle was destroyed in World War II so the castle that stands today is a reconstruction built in 1966.
12. Naoshima Island
Located in Kagawa Prefecture, Naoshima is a small island in the Seto Inland Sea known for its contemporary art museums, outdoor sculptures, and interesting architecture.
Naoshima was a sleepy island until a billionaire Japanese art patron gradually converted it into one of the most unique places in the world to appreciate art. It features several museums designed by renowned Japanese architect Ando Tadao and showcases the work of internationally recognized artists like Jasper Johns, Claude Monet, David Hockney, and Bruce Nauman.
13. Tottori
Located along the coast of the Sea of Japan, Tottori is famous for its large sand dunes measuring up to 50 meters (164 ft) high and 2 km (1.2 miles) wide.
These sand dunes have been sculpted for thousands of years by river sand washing out to sea and being redeposited along the coast by the ocean's currents. They span roughly 16 km (10 miles) of coast and offer visitors the chance to go sandboarding or paragliding.
Fans of sand castles will enjoy the Sand Museum, a fun museum showcasing large sand sculptures created by different artists from around the world.
14. Kanazawa
Located in the Chubu region, Kanazawa is the capital of Ishikawa prefecture and nicknamed "Little Kyoto" for its beautifully preserved neighborhoods and wealth of cultural attractions.
During the Edo period, Kanazawa served as the seat of the Maeda Clan, the second most powerful feudal clan in Japan. It became a culturally significant city which like Kyoto, survived the air raids of World War II, keeping its historical districts intact.
Among Kanazawa's most noteworthy attractions are its well-preserved samurai and geisha districts and Kenroku-en. Kenroku-en is a stunning landscaped garden, which like Okayama's Koraku-en, is considered one of the three most beautiful in Japan.
If you love sushi like I do, then you're going to adore Kanazawa. Kanazawa shares a border with the Sea of Japan so it's known for some amazing seafood. Sushi in Kanazawa was terrific and relatively cheap compared to other cities in Japan.
Omicho Market is a great place for sushi and other types of seafood. Be sure to look out for kabura zushi as well. It's a type of fermented nare sushi that's a specialty of Kanazawa. You can refer to our article on the best things to do in Kanazawa for more suggestions.
15. Hiroshima
As I described in this article on the best things to do in Hiroshima, I instinctively associate Hiroshima with three things – the Peace Memorial Park, okonomiyaki, and oysters. They're three of the most popular things you can do in Hiroshima.
Peace Memorial Park and Museum commemorate the victims of the atomic bomb in World War II, a catastrophic event that claimed the lives of over 140,000 people.
We've visited the Atomic Bomb Museum in Nagasaki but I found the Peace Memorial Museum to be more powerful. It shares many first-hand victim accounts, the majority of which are from children. It's an important museum but not the easiest to get through.
As previously described, many local Japanese consider Hiroshima to have some of the best regional food in Japan, with two of the most important dishes being okonomiyaki and oysters.
If you've had okonomiyaki in Osaka, then you'll notice that the Hiroshima version is slightly different. Personally, I prefer Hiroshima okonomiyaki. You can check out our food guide for suggestions on where to eat in Hiroshima.
Located in the Chugoku region, over 325 km (202 miles) from Osaka and Kyoto, you'd think that Hiroshima would be too far away to visit on a day trip but it isn't. Thanks to the Shinkansen, you can get there in less than 2 hours.
16. Miyajima Island
Formally known as Itsukushima, Miyajima is an island in Hiroshima Bay located about an hour south of Hiroshima City. It's home to Itsukushima Shrine and its giant "floating" torii gate, a UNESCO World Heritage Site and one of the three most celebrated views in Japan.
Itsukushima Shrine is Miyajima's most famous attraction, but there are plenty of other fun things to do on the island. It's to home to a thriving population of wild sika deer, scenic hiking trails that take you up Mt. Misen, and some of the best oysters in Hironshima.
Miyajima Island can easily be visited from Hiroshima City, but because of the distance, I decided to split them into two day trips from Osaka or Kyoto. Hiking on Mt. Misen is one of the best things you can do on Miyajima and that alone will take up most of your day.
If you don't plan on going hiking, then I'd say it is possible to experience the best of both Hiroshima City and Miyajima Island on the same day.
Disclosure
Some of the links in this guide are affiliate links, meaning we'll get a small commission if you make a purchase at NO extra cost to you. We only recommend products and services that we use ourselves and firmly believe in. We really appreciate your support as this helps us make more of these free travel guides. Thank you!