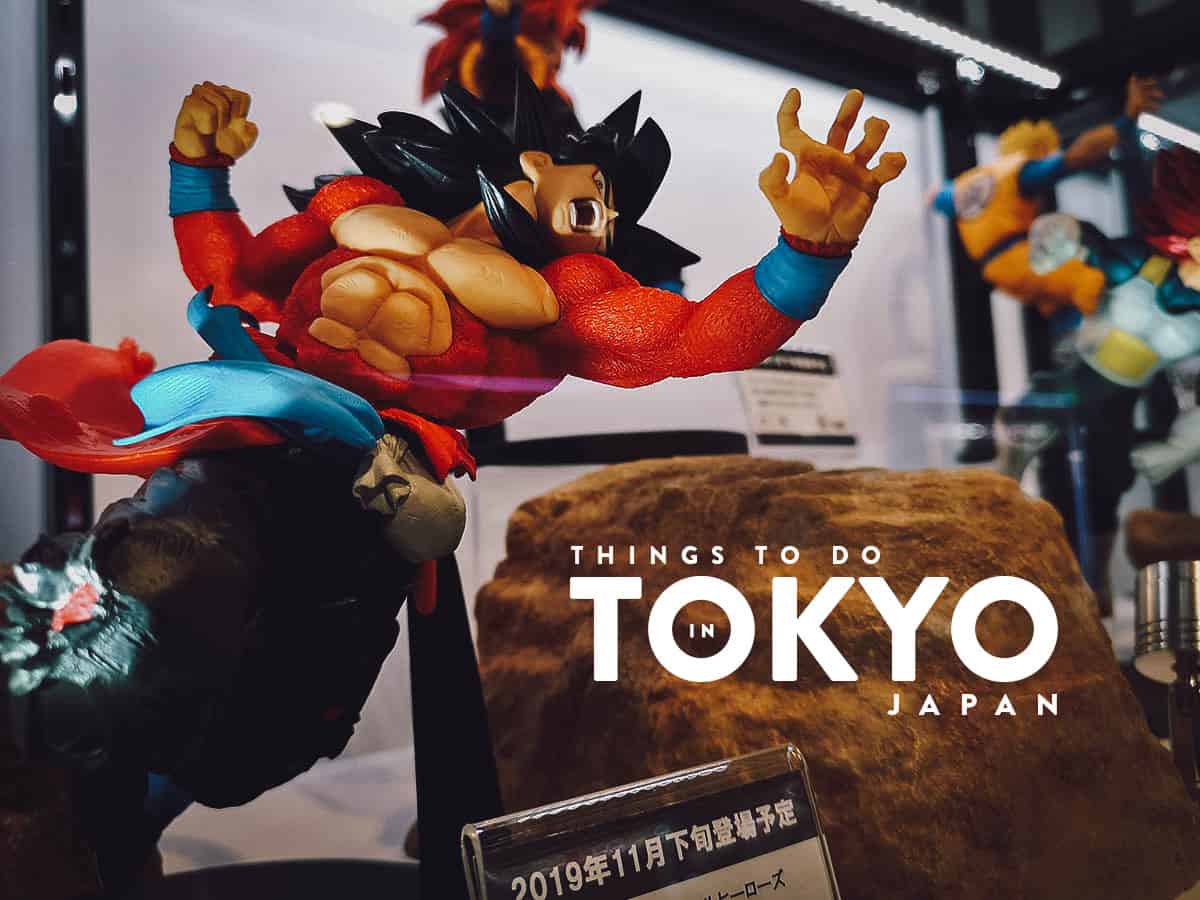 When I was doing research for a recent trip to Tokyo, I found many blog posts recommending 1- or 2-day Tokyo itineraries.
The world's biggest city, and one of its most exciting, in just one or two days? That sounded crazy to me.
There is so much to see and do in Tokyo that two days seemed hardly enough time to cover it. Traveling between neighborhoods alone will take up a good chunk of your time. While I understand that some people may not have as much time to play with, one or two days won't do Tokyo justice.
If you have the flexibility, then I think a 5-day Tokyo itinerary is ideal. You can spend four days exploring Tokyo's top attractions and restaurants, then on the fifth day, you can go beyond the city as there are many fascinating places you can visit on a day trip from Tokyo.
If you're visiting Tokyo for the first time and want to truly experience the city, then this 5-day Tokyo itinerary will be helpful to you. It's a realistic itinerary that features all the best restaurants and places to visit for first-time travelers to Tokyo.
WHAT TO DO IN TOKYO IN 5 DAYS
Listed below are Tokyo's top attractions and a few recommended restaurants. You can jump to the location map to see exactly where they are in the city.
QUICK GLANCE
DAY ONE
• Meiji Shrine
• Yoyogi Park
• Harajuku Area
• Harajuku Gyoza Lou (lunch)
• Omotesando
• Rainbow Pancake (snack)
• Takeshita Dori
• Shibuya Area
• Shibuya Crossing
• Hachiko Statue
• Oreryu Shio Ramen (dinner)

DAY TWO
• Ginza Area
• UNIQLO Flagship Ginza Store
• Nakagin Capsule Tower
• Tsukiji Outer Market
• Nisshin Tasuke (snack)
• Sushi Katsura (lunch)
• Odaiba Area
• teamLab Borderless
• DiverCity Tokyo Plaza
• 好美家 (dinner)
• Shinjuku Area
• Omoide Yokocho
• Golden Gai
• Godzilla Head
DAY THREE
• Yayoi Kusama Museum
• Koishikawa Korakuen
• Kisaburo Nojo (lunch)
• MOMAT
• Tokyo Imperial Palace
• Akihabara Area
• Ueno 500 Bar (dinner)
DAY FOUR
• Senso-ji
• Tokyo Skytree
• Edo-Tokyo Museum
• Miyako (lunch)
• Hie Shrine
• Tokyo Tower
• Zozo-ji
• Savoy (dinner)
DAY FIVE
• Day Trip
DAY 1
Meiji Shrine
Located right next to Harajuku Station, Meiji Shrine is a Shinto shrine dedicated to the deified spirits of Emperor Meiji and his consort, Empress Shoken. It's located within a 70-hectare forested area adjacent to Yoyogi Park.
Pictured below is the torii gate at the southern entrance to Meiji Shrine, near Harajuku Station. The shrine's main buildings are located deep inside the forest, so you'll need to walk about ten minutes from the southern or northern entrances (near Yoyogi Station) to get there. It's a pleasant walk with a dense forest of trees on either side.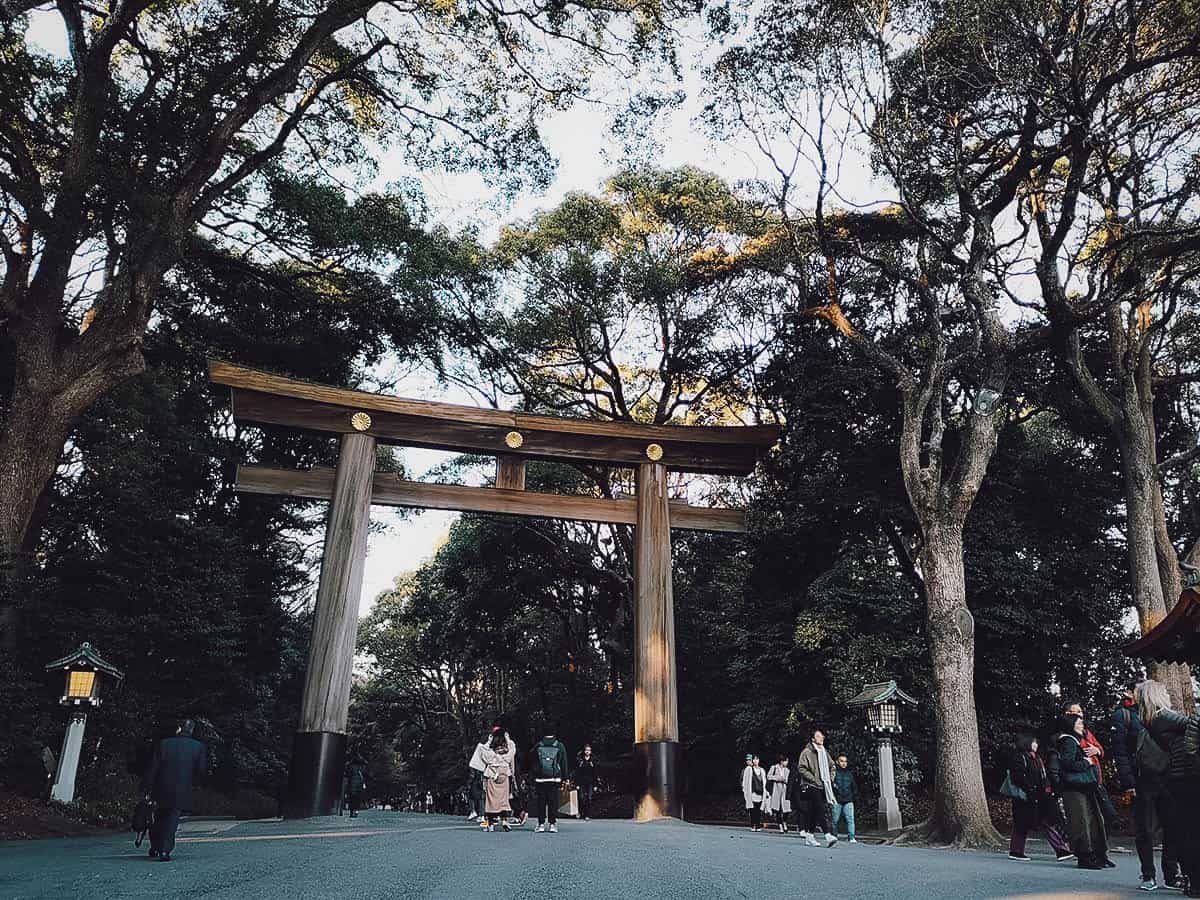 This is the shrine's main hall. Walk through the gate and you'll find a large central courtyard inside. I didn't go but within the forested area is a museum and inner garden that you may want to visit as well.
Meiji Shrine was built in 1920, eight years after the passing of Emperor Meiji who was the first emperor of modern Japan. It's one of the most important and visited religious landmarks in Tokyo.
Yoyogi Park
Yoyogi Park (Yoyogi Koen) is one of Tokyo's biggest public parks. It's located in Shibuya, near Meiji Shrine and Harajuku. It's a peaceful area with lots of trees, ponds, benches, and grassy open spaces.
Harajuku
Harajuku needs little introduction. It's the heart of Tokyo's kawaii culture (culture of cuteness) with its cutting edge fashion boutiques, trendy food outlets, and outlandishly dressed Japanese teenagers. Though the area has largely been associated with Tokyo's kawaii culture, Harajuku isn't only for the young.
The name Harajuku refers to a district in Shibuya, with two of its most famous areas being Takeshita Dori and Omotesando. Takeshita Dori caters to the youth while Omotesando draws in a more adult clientele.
You can easily explore Harajuku on your own, but if you'd like to have a guide take you to its best spots, then you may be interested in either of these tours from Klook and Get Your Guide.
Harajuku Gyoza Lou
You're probably hungry at this point so before exploring Harajuku, you may want to have lunch first at Harajuku Gyoza Lou. It's a popular restaurant that specializes in gyoza, which are Japanese dumplings filled with ground meat and vegetables.
Omotesando
Omotesando is a wide tree-lined avenue that's often referred to as Tokyo's version of Champs-Elysees. It's a one-kilometer stretch of brand name shops, high-end boutiques, cafes, and restaurants that cater to a more adult crowd.
Omotesando is easy enough to explore on your own, but if you'd like to go with a guide, then this food tour takes you to both Omotesando and Harajuku.
Rainbow Pancake
If you're in the mood for a sweet treat, then Rainbow Pancakes is a great place to go. They specialize in these ultra fluffy souffle pancakes which were all the rage on social media.
Takeshita Dori
When people who've never been to Tokyo think of Harajuku, they're probably thinking of Takeshita Dori. It's a narrow walking street that's become a symbol of Harajuku with its trendy boutiques, quirky cafes, and fast food outlets geared towards Tokyo's youth. Chances are, if there's a fashion trend raging in Tokyo, then it started here at Takeshita Dori.
Kawaii culture has become such an important part of Japanese pop culture that a visit to colorful Takeshita Dori is a must-do, no matter what your age. Just know that it's a popular area so it will be crowded, especially on weekends.
This picture was taken at around 3PM on a Saturday. It was easily the busiest area we visited in Tokyo.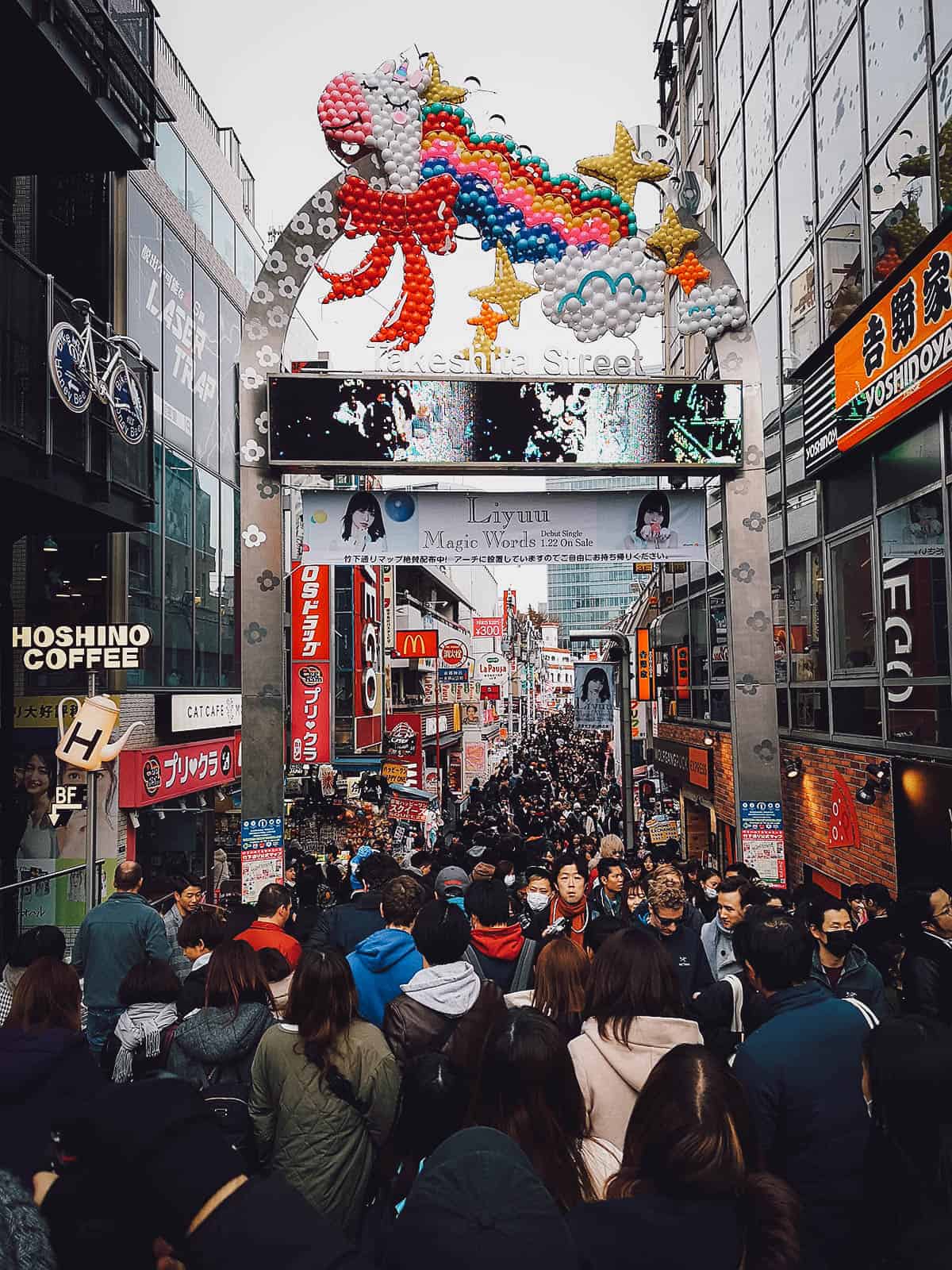 Shibuya
Shibuya is one of the liveliest and most well-known areas in Tokyo. It's a popular entertainment district known for its seemingly endless array of shopping and dining options. Like Harajuku, it's a hotbed for the latest fashion and entertainment trends.
We aren't as into shopping so we didn't stay too long in Shibuya, but if you're interested in doing some serious shopping, then you can refer to this Shibuya guide for a list of the area's most popular shopping complexes and department stores. You can also check out Klook and Get Your Guide for a list of attraction and restaurant deals in Shibuya.
Shibuya Crossing
One of the area's most famous features is Shibuya crossing, a large intersection fronting Shibuya Station. It's a popular tourist spot that's often referred to as the world's busiest intersection.
Hachiko Statue
Oreryu Shio Ramen 俺流塩らーめん 円山町店
There are plenty of restaurants in Shibuya but if you're in the mood for ramen, then Oreryu Shio Ramen is a great place to go. It was recommended to us by a local so we knew their ramen would be delicious.
DAY 2
Ginza
Ginza is Tokyo's premier shopping and dining district. Similar to Fifth Avenue in New York City, it features a wealth of big brand names, upscale boutiques, art galleries, and restaurants.
If you're looking for the best in name brand shopping and cosmetics in Tokyo, then Ginza is where you should go. It's estimated that one square meter in the most prime areas of Ginza is worth about ten million yen, making it one of the most expensive pieces of real estate in Japan.
If you'd like to have lunch or dinner in Ginza, then you can check out Klook for a list of restaurant deals.
UNIQLO Ginza Store
We aren't that into shopping but there was one place we definitely wanted to go to in Ginza – UNIQLO. Occupying twelve floors with a total retail space of 4,959 square meters, it's the brand's ninth flagship store and their biggest one to date.
Nakagin Capsule Tower
Tsukiji Outer Market
About a 15-minute walk from Ginza Station is one of Tokyo's most famous attractions – Tsukiji Outer Market. It became famous for the tuna auctions that used to be held at its inner market, before it was moved to Toyosu. However, the outer market with its many seafood shops and restaurants remains open.
Tsukiji Outer Market gets pretty crowded during the day so it's best to go early. Many restaurants and street food stalls open at 5AM and will close at noon or early in the afternoon.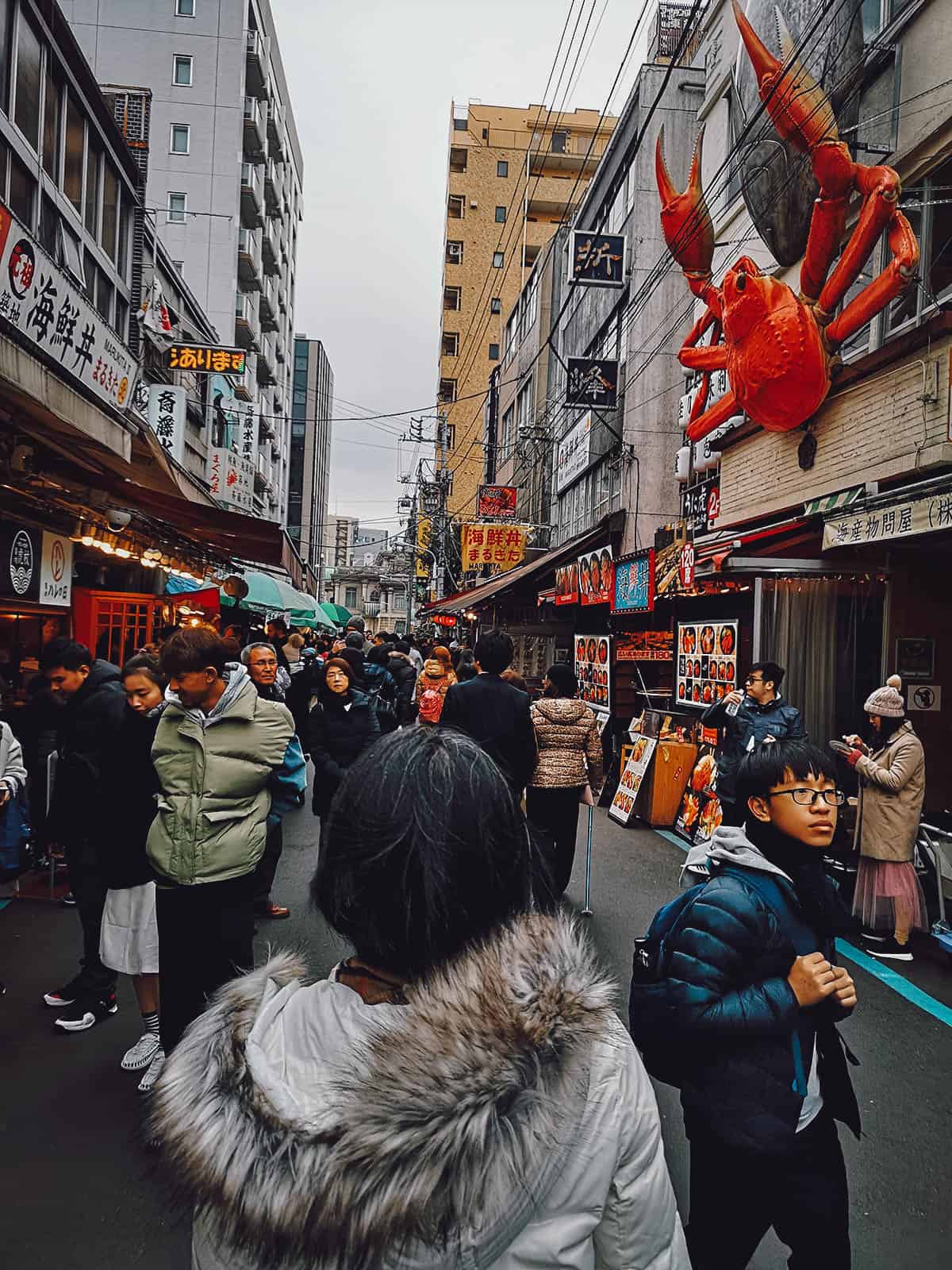 Check out these golden orange blooms of uni. The seafood at Tsukiji Market is as fresh as it gets.
Nisshin Tasuke
There is so much delicious seafood to be had at Tsukiji Outer Market, but if you're in the mood for unagi (barbecued eel), then head straight to Nisshin Tasuke. They're known for relatively cheap unagi donburi bowls and these grilled seafood skewers.
Sushi Katsura
If you'd rather sit down to a proper lunch, then a great place to go is Sushi Katsura. They're located just a couple of blocks from Tsukiji Outer Market and offer good sushi at affordable prices.
Odaiba
Odaiba is interesting. It's a popular shopping and entertainment district on an artificial island in Tokyo Bay. It started off as a set of smaller man-made islands built towards the end of the Edo Period as a form of naval defense.
Over a century later, the islands were joined together via landfills in an ambitious project that aimed to turn Odaiba into a futuristic shopping and entertainment district. Clearly, they've succeeded.
Characterized by fascinating museums, exhibits, shopping centers, and buildings, Odaiba was far and away the most futuristic area we visited in Tokyo. There is so much to see and do in Odaiba that you could easily spend the entire day there.
teamLab Borderless
The Borderless exhibit by the teamLab art collective is one of the most popular attractions in Odaiba. You may have seen it on social media. It's a multimedia exhibit featuring interactive digital displays spread out over a 100,000 square meter space.
Tickets are available at the gate, but teamLab Borderless is still one of the hottest exhibits in Tokyo so you may want to purchase them in advance through Klook, especially if you plan on visiting on a weekend.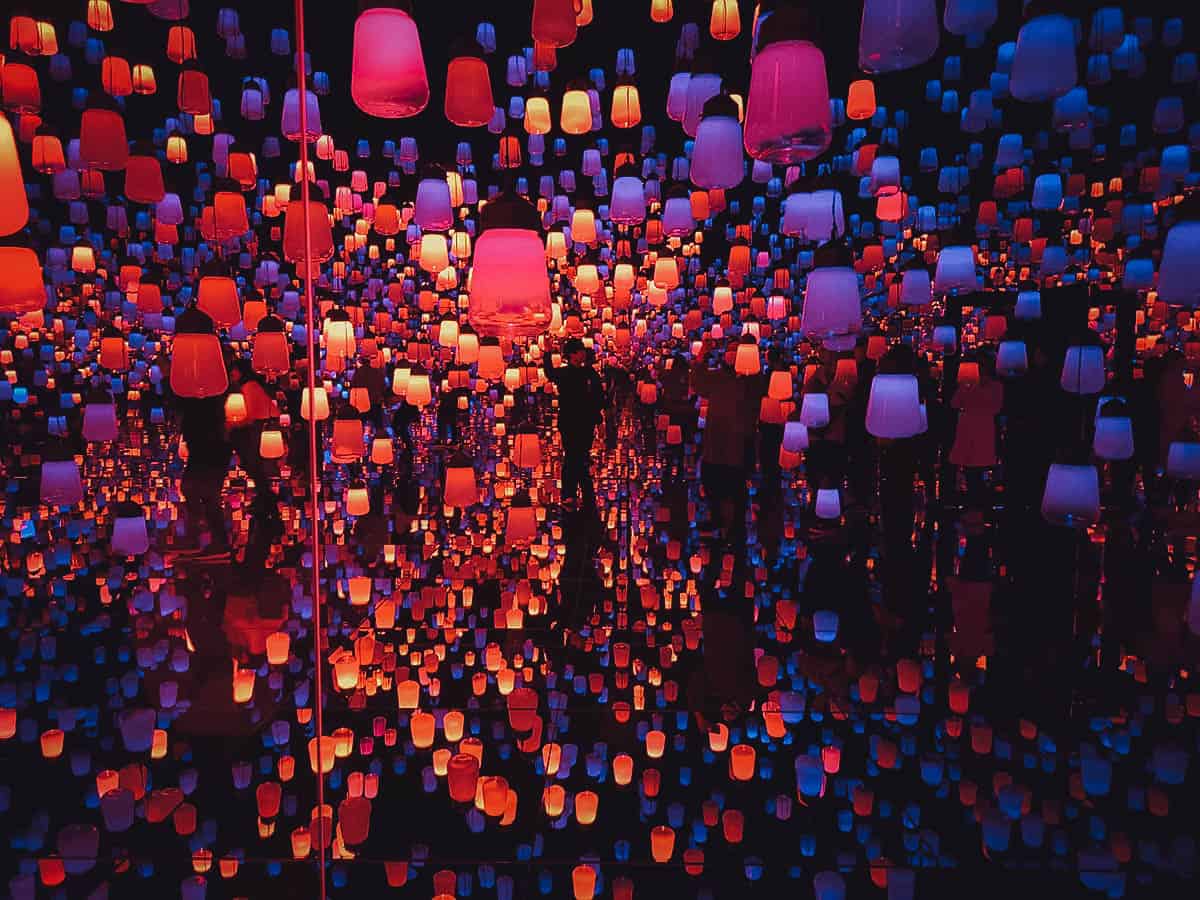 The Crystal World – an exhibit featuring floor to ceiling LED rope lights – is one of the most popular and visually striking at teamLab Borderless.
DiverCity Tokyo Plaza
I didn't go inside but DiverCity Tokyo Plaza is a shopping and entertainment complex that features attractions related to the Gundam anime series.
Towering in front of the complex is a 19.7 meter tall replica of the RX-0 Unicorn Gundam robot. It's an impressive sight and worth a quick visit, even if you aren't a fan of the show.
好美家
About seven kilometers north of Odaiba is the Tsukushima area. It's one of the best places in Tokyo to have monjayaki, which is like a runnier version of okonomiyaki. It's a quintessential Tokyo dish and something you should have while you're there.
Shinjuku
Like Shibuya, Shinjuku is one of Tokyo's most popular neighborhoods. It refers to the large shopping, dining, and entertainment areas surrounding Shinjuku Station, the world's busiest railway station.
There's a lot to see and do in Shinjuku so you can refer to this Shinjuku guide for more information. You can also check out Klook and Get Your Guide for a list of attraction and restaurant deals in Shinjuku.
If you're as passionate about food as we are, then you may be interested in this Shinjuku food tour as well. It's a fun Tokyo food tour that takes you to three food stops in Shinjuku.
Omoide Yokocho (Piss Alley)
Omoide Yokocho is a popular watering hole located just outside Shinjuku Station. It consists of about sixty tiny izakayas (Japanese pubs), one after the other on either side of a tight alleyway.
Omoide Yokocho literally means "memory lane" though it's more commonly referred to as Piss Alley. This harkens back to the late 1940s, during the early days of the strip when public restrooms weren't available and drunk patrons had little choice but to relieve themselves in the alleyway.
Facilities have improved greatly since then, with Omoide Yokocho now being one of most frequented areas to get a drink and bar food in Shinjuku. Popular dishes include yakitori, ramen, kushiyaki, and nikomi, a type of beef tendon stew.
Golden Gai
Golden Gai is another great place to get a drink in Shinjuku. Located in Kabukicho, Shinjuku's red light district, Golden Gai is a network of six narrow alleyways with over 200 tiny izakayas and restaurants.
The tour guide from our Shinjuku food tour took us to Golden Gai and told us that it's a favorite meeting place for Tokyo's creatives like musicians, photographers, artists, and writers. I can definitely see that.
It's an interesting neighborhood and somewhat of a time capsule. It's said to provide a glimpse of what Tokyo used to look like, back when entire neighborhoods were comprised of narrow alleyways and two-story buildings. Check out Get Your Guide for a list of tours that take you to Golden Gai.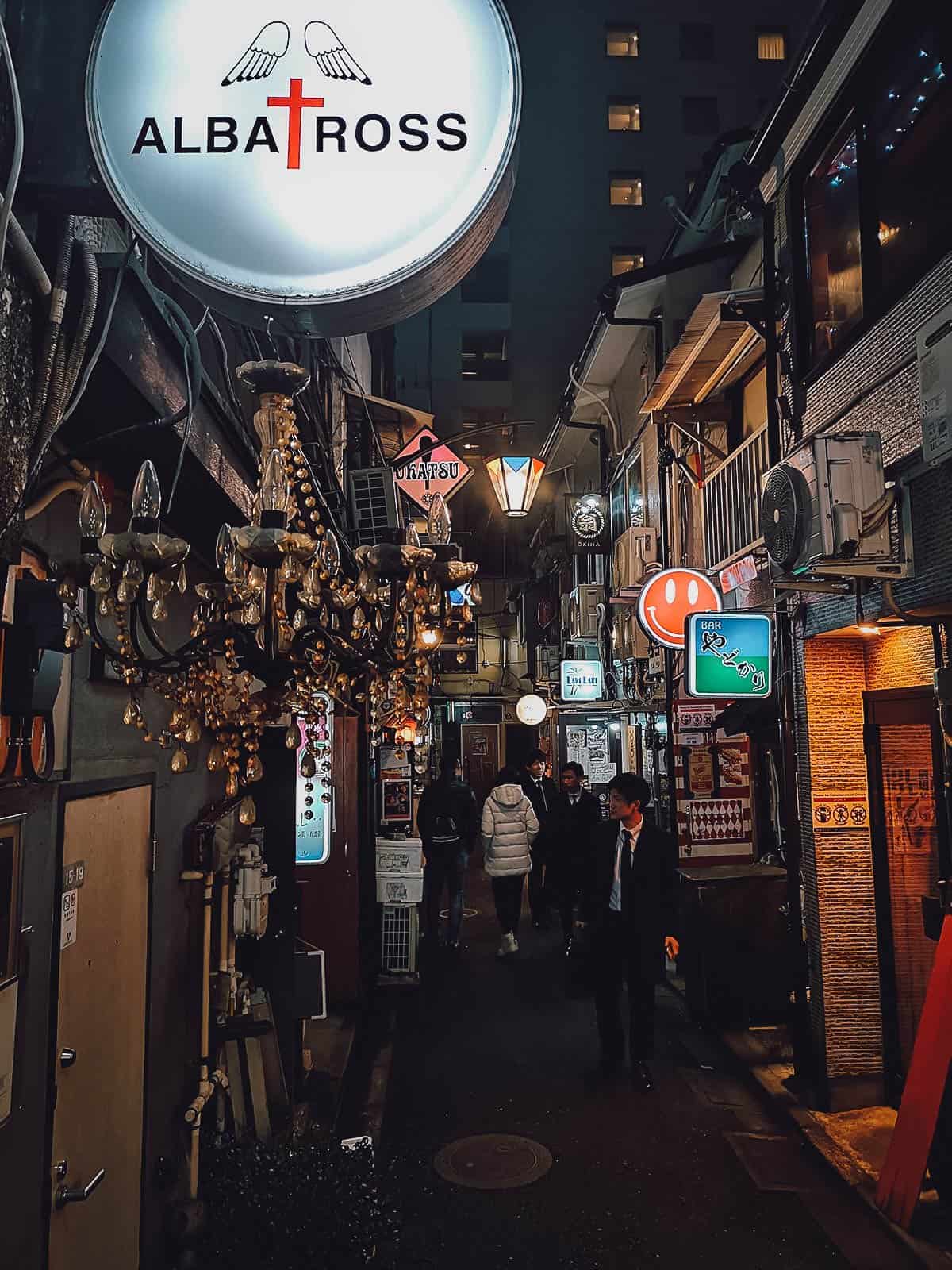 If you're a fan of the Ramen Nagi chain, then you'll be pleased to know that the very first branch is located here in Golden Gai. According to our tour guide Nori, it's still considered one of the best ramen shops in Shinjuku.
What's funny is that Nori didn't even know that Ramen Nagi is now an international chain with branches in the Philippines, Singapore, Taiwan, Hong Kong, and Shanghai. He was just as surprised to learn that as we were to see the original shop!
Godzilla Head
Can you see Godzilla? We passed this giant Godzilla head on our way to Golden Gai.
DAY 3
Yayoi Kusama Museum
I really wanted to go to this museum. Unfortunately, I didn't see the notice on their website advising guests that all tickets must be purchased in advance. They don't sell tickets at the door so we couldn't get in. Bummer.
Yayoi Kusama is a Japanese contemporary artist who shot to fame in recent years thanks to social media. She works primarily in sculpture and installation but dabbles in other creative disciplines as well, like painting, film, and fashion. She's best known for her work with brightly colored polka dots which according to her, helps keep her mental health issues at bay.
Luckily, I was able to see one of her paintings at the MOMAT and a few of her outdoor sculptures at the City Art Museum in Matsumoto, where she's originally from.
Koishikawa Korakuen
I love Japanese landscaped gardens. They're an oasis in frenzied Japanese cities like Tokyo.
Koishikawa Korakuen is one of Tokyo's oldest and best gardens. It's beautiful throughout the year though it's best viewed during the fall and spring seasons. Maple and gingko leaves turn vibrant shades of red, orange, and yellow in autumn, while February through March is a great time to see plum and cherry blossoms.
Kisaburo Nojo
If you like eggs, then I suggest having lunch at Kisaburo Nojo. It's about two stops north of Koishikawa Korakuen. They specialize in tamago kake gohan, a popular comfort food in Japanese cuisine consisting of steamed rice topped with raw egg and soy sauce.
MOMAT
MOMAT refers to the National Museum of Modern Art. As its name suggests, it's a modern art museum dedicated to the works of Japanese artists from the Meiji period onwards. It's a good-sized museum with an interesting selection of Japanese art.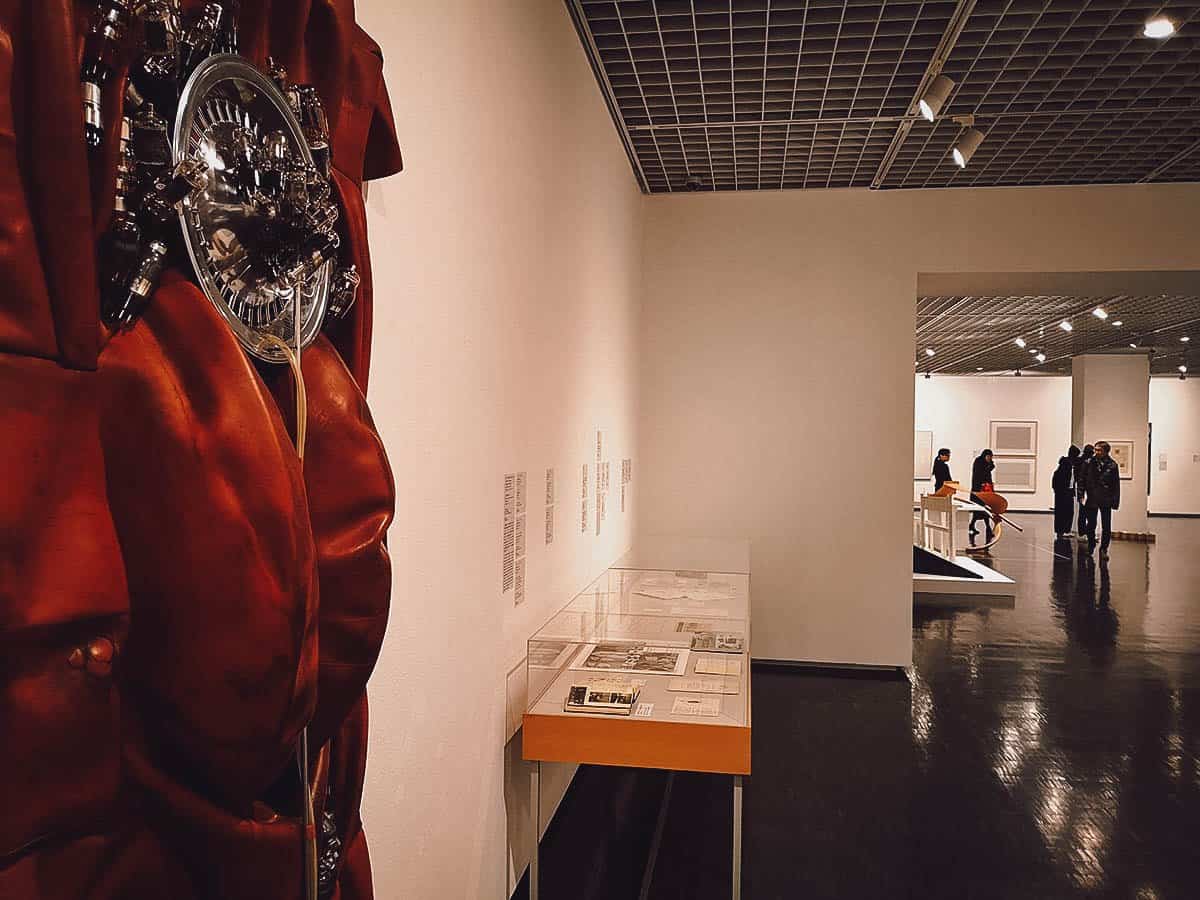 This was a relaxing zen-like exhibit that seemed to invite museum-goers to sit for a few moments of quiet reflection.
Aside from the art, I enjoyed the museum's size. It isn't too big to be overwhelming or too small to not be worth the effort.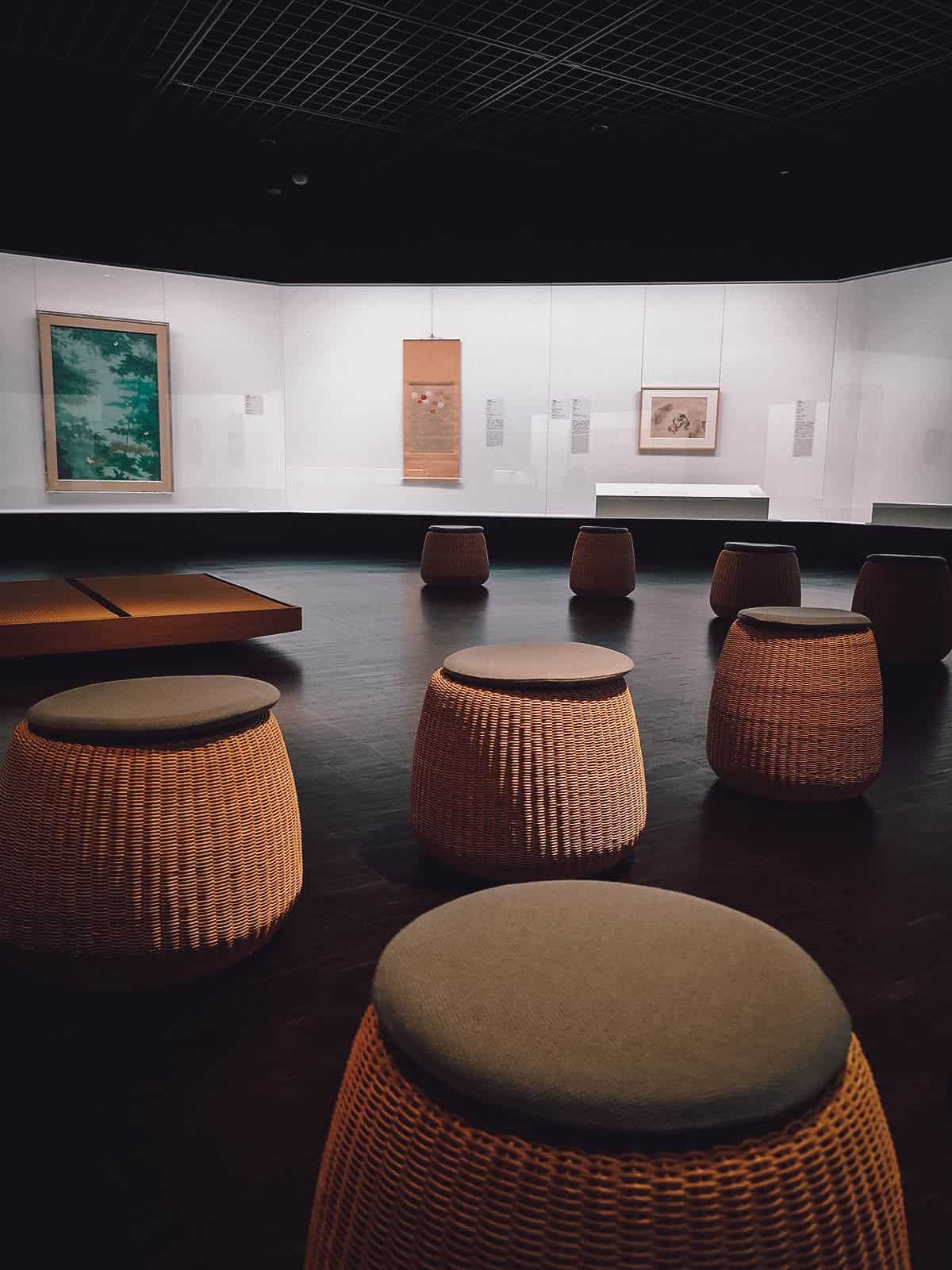 Tokyo Imperial Palace
The Tokyo Imperial Palace is the main residence of Japan's Imperial Family. It's located at the former site of Edo Castle, just a short walk from MOMAT. Unfortunately, it was closed on the day I tried to go.
From what I understand, visitors can't enter the inner grounds of the palace. Only certain areas may be visited but entrance to any buildings is prohibited. The Imperial Palace East Gardens are also open to the public.
Akihabara
When you think of electronics, arcades, or anime in Tokyo, the first place that comes to mind is Akihabara. It's a neon-lit orgy for the senses that's recognized as the heart of otaku culture (diehard fan) in Tokyo.
Hundreds of electronic shops and arcades can be explored in Akihabara. They range from tiny one-man stalls to entire buildings with six or seven floors of gadgets and video games.
This red building with the SEGA logo is probably an arcade. Not just one or two floors, but the entire building.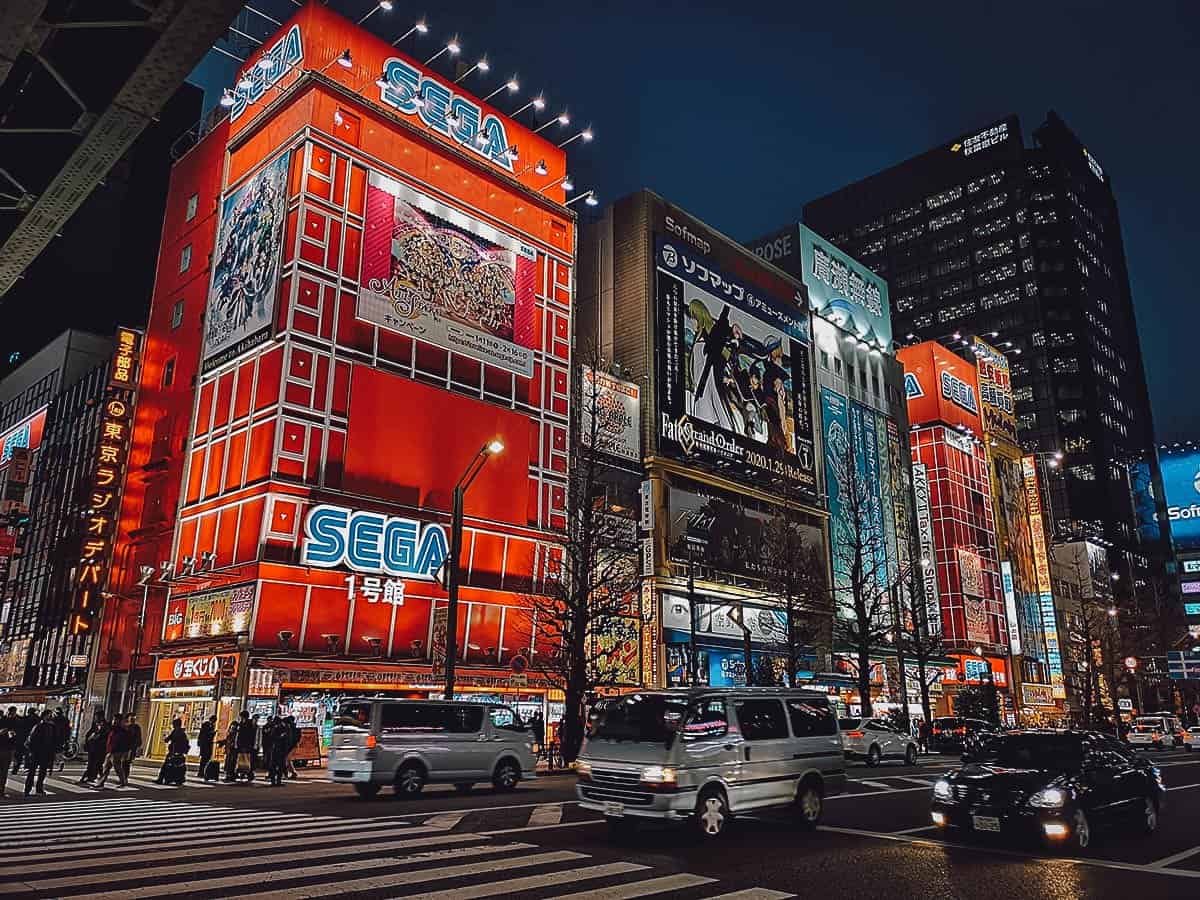 Being the heart of otaku culture in Tokyo, you'll find plenty of anime and manga shops throughout Akihabara. Many of the claw machine games offer collectible figurines as prizes. I almost lost all my money trying to win the one below.
Manga cafes and maid cafes are popular in Akihabara as well. Manga cafes are internet cafes that let you read comics and watch DVDs, while maid cafes are establishments with waitresses dressed up to look like maids or anime characters.
Ueno 500 Bar
About a kilometer north of Akihabara is the Ueno area with this intriguing "one coin bar" called Uneo 500 Bar. One coin bars are establishments that offer everything on their menu for JPY 500 or less.
Ueno 500 Bar offers many different types of thin crust pizzas and tapas. All you have to do is order one drink and you can have as many JPY 500 pizzas as you want. This would be a great place to wind down with pizza and beer after exploring Akihabara.
DAY 4
Senso-ji
Sensoji in Asakusa isn't just one of Tokyo's most popular temples, it's also its oldest. Completed in 645, legend has it that this Buddhist temple was built after two brothers fished a statue of Kannon – the Goddess of Mercy – out of the Sumida River. Whenever they tried to put it back in the river, it would always return to them.
To get to the temple, visitors will need to go through Kaminarimon which is the outer gate of Sensoji. It's recognized as the symbol of both Asakusa and the city of Tokyo.
Between Kaminarimon and Hozomon, the temple's second gate, is a stretch of shops selling different types of snacks and souvenirs. Just beyond Hozomon is Senoji's main hall and its five-storied pagoda.
Tokyo Skytree
Our hotel was in the Sumida area so we'd walk by Tokyo Skytree everyday. It's a television broadcasting tower that's recognized as a symbol of Tokyo.
Measuring 634 meters in height, it's the tallest structure in Japan. To appreciate its height, you can go up to its two observation decks for a bird's eye view of Tokyo. The observation decks are 350 and 450 meters above the ground.
Edo-Tokyo Museum
Miyako
Like 好美家, Miyako is known for serving a core Tokyo dish. They specialize in fukugawa meshi which is a dish of clam and long onion cooked in miso and topped over rice. It's named after the area in Tokyo where it originated from – Fukugawa.
Hie Shrine
Hie Shrine is a Shinto shrine located in the heart of urban Tokyo. Unlike Meiji Shrine which is nestled within a forested area, Hie Shrine is located on a hill in a busy commercial and business district.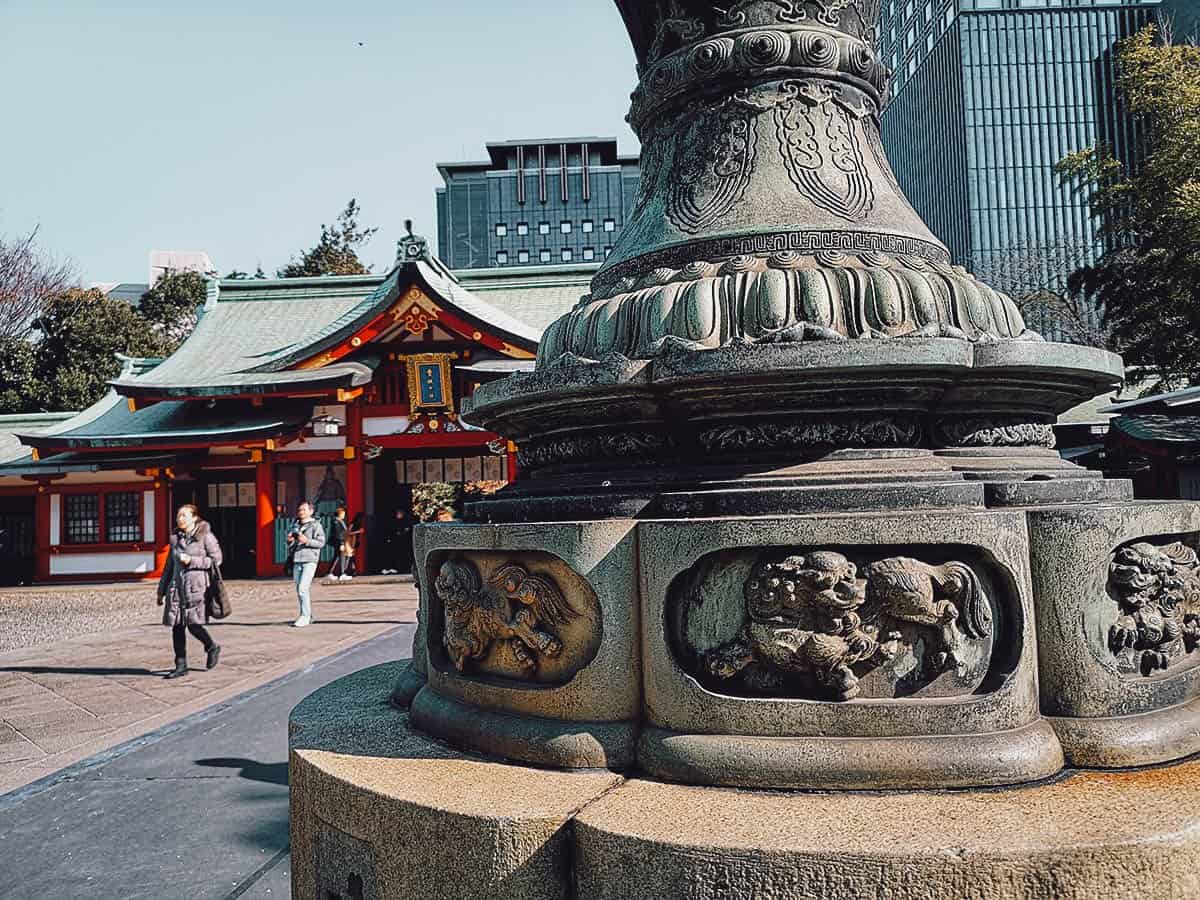 The best part about Hie Shrine is the set of orange torii gates towards the back of the temple. I've been to temples with torii gates before but they're usually in a wooded area away from the city. It was interesting to find them here in the middle of Tokyo's concrete jungle.
Tokyo Tower
When I first saw pictures of Tokyo Tower, I didn't understand its appeal. It just looked like a red version of the Eiffel Tower. What was so interesting about that?
Only when I saw it in person, juxtaposed against the crisp blue sky, did I finally understand. It's a marvelous sight and well worth a visit in Tokyo.
Measuring 333 meters high, Tokyo Tower is a broadcast antenna which at one point was Japan's tallest structure, until Tokyo Skytree was built. Like Tokyo Skytree, Tokyo Tower has two observation decks offering sweeping views of the city, though at more modest heights of 150 and 250 meters.
Zozo-ji
Zozoji is the head temple of the Jodo sect of Buddhism in the Kanto region. Located near Tokyo Tower, it's an easy place to visit after a trip to the tower's observation decks.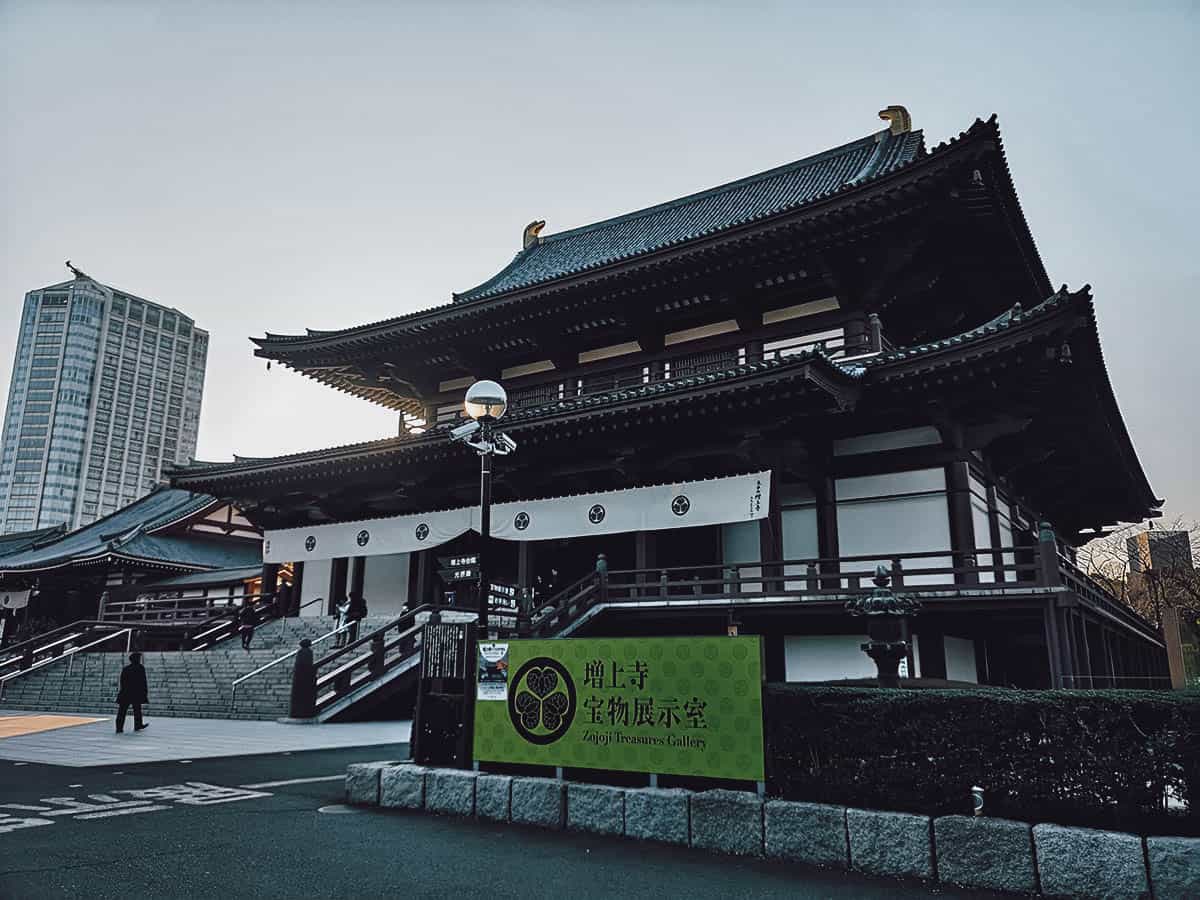 Savoy
Do you watch Chef David Chang's Netflix series Ugly Delicious? This is the pizzeria he featured in one of the show's episodes.
As described, Tokyo makes great pizzas. In fact, they're so good that some people claim they're even better than the pizzas in Italy. We haven't been to Italy so we can't offer an opinion on that, but the pizzas at Savoy are the best damn pizzas we've ever had in our lives. Seriously, wow.
DAY 5
There are more than enough interesting attractions and neighborhoods to fill up your itinerary in Tokyo. But if you have the time, then you may want to go on a day trip as well.
Tokyo's public transportation system is so efficient that places like Hakone (pictured below), Kamakura, Kawagoe, and Nikko are just a train ride away. If you'd like to go on a day trip, then check out my article on 12 of the best day trips you can make from Tokyo.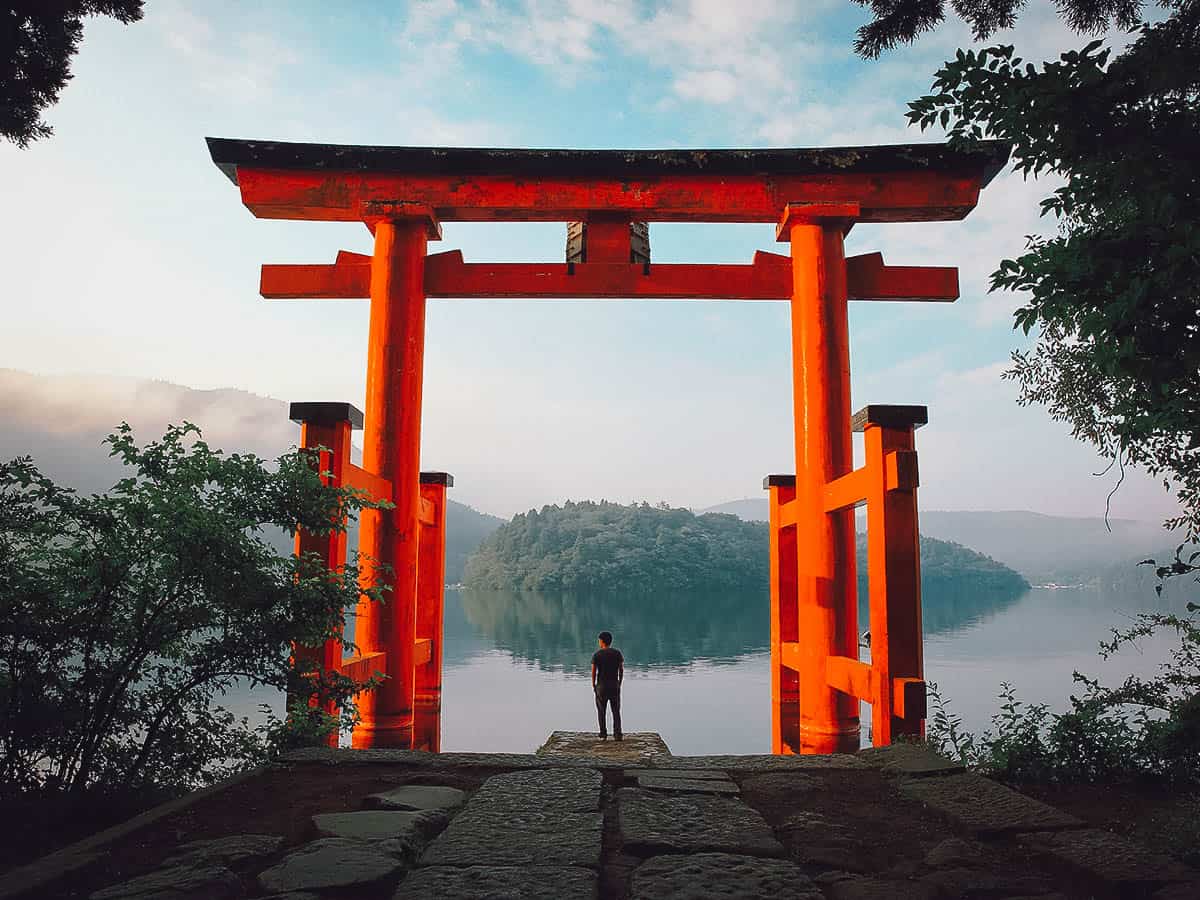 LOCATION MAP
To help you understand where these attractions are in relation to one another, I've pinned them all on a map. Click on the link to open the interactive map in a new window.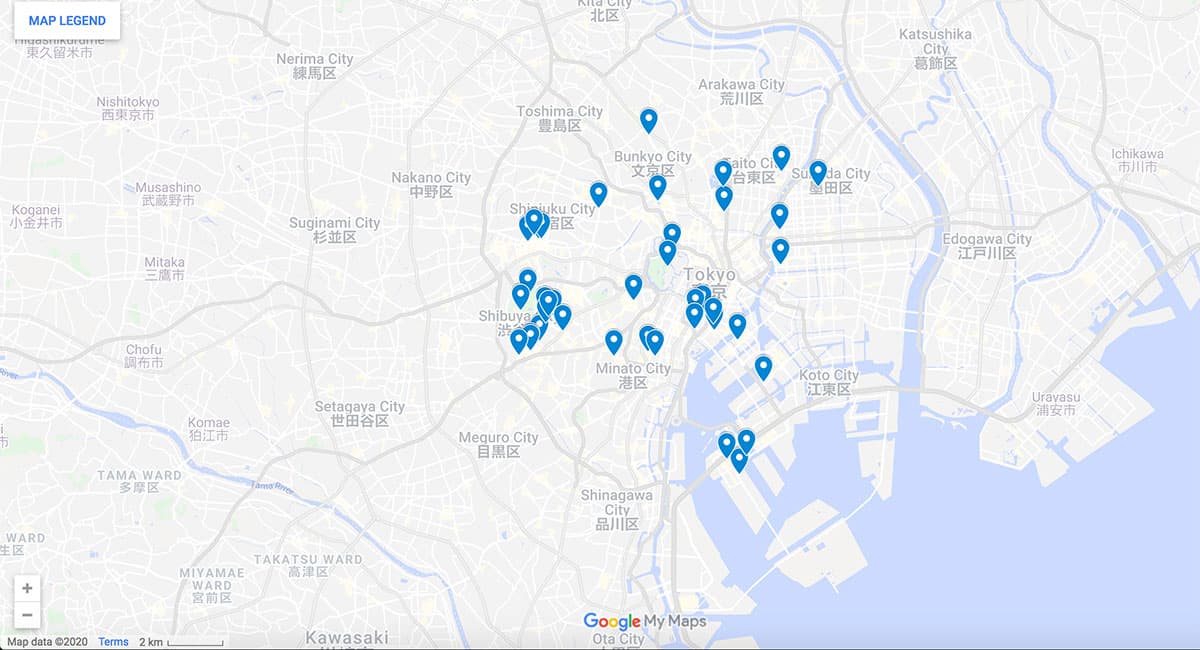 Disclosure
Some of the links in this guide are affiliate links, meaning we'll get a small commission if you make a purchase at NO extra cost to you. We only recommend products and services that we use ourselves and firmly believe in. We really appreciate your support as this helps us make more of these free travel guides. Thank you!