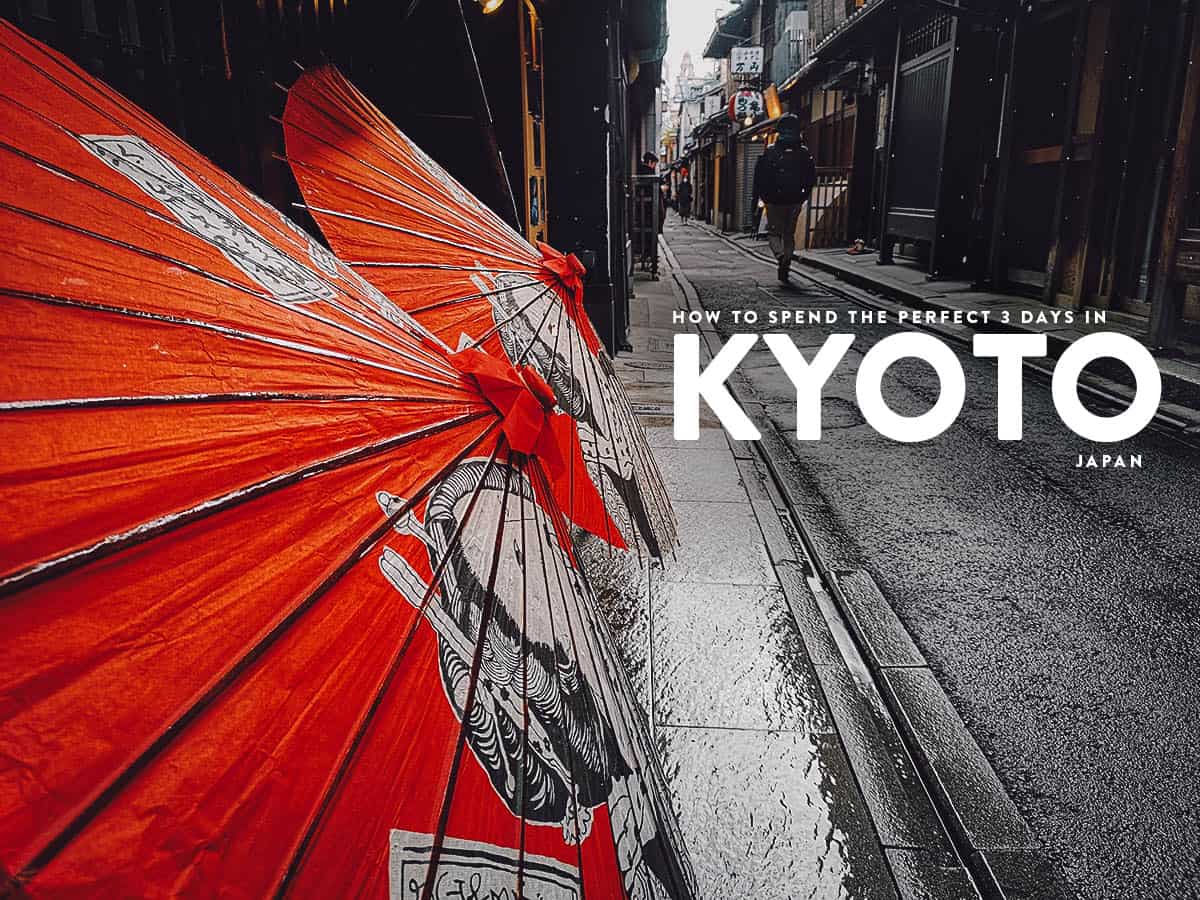 Japan is my favorite country in the world and Kyoto my favorite city in Japan. It has everything I love about this fascinating country.
Kyoto has long been regarded as Japan's historical and cultural center. Unlike fast-paced Tokyo, it's an atmospheric city with an even pace. It's home to over a thousand temples and shrines and some of the most interesting and delicious food in Japan.
I've been to Kyoto four times in six years but every trip still feels like the first. We enjoy it so much that we plan on staying there for a full month on our next trip to Japan. We want to slow down, take our time, and experience the city more like locals.
Not everyone has a month to spare so I've come up with a more practical itinerary for first-time visitors. If you have limited time, then this itinerary will show you the best of Kyoto in just three days.
WHAT TO DO IN KYOTO IN 3 DAYS
Listed below are Kyoto's top tourist attractions and a few recommended restaurants. You can jump to the location map at the bottom of this article to see exactly where they are in the city.
Attractions in Kyoto are spread out so it's a good idea to get a transportation pass. If you follow this itinerary, then I suggest getting a 2-day Kansai Thru Pass (Klook | Get Your Guide) or an ICOCA IC Card. You can refer to our Kyoto travel guide for more information about each card.
This article assumes you'll be exploring Kyoto on your own, but if you'd prefer to go on a guided tour, then there are plenty to choose from on Klook or Get Your Guide.

QUICK GLANCE
DAY ONE
• Kiyomizu-dera
• Sannen-zaka / Ninen-zaka
• Hokan-ji
• Yasaka Koshindo
• Kodai-ji
• Yasaka Shrine
• Hachidaime Gihey
• Gion District
• Kamo River
• Pontocho Alley
• Nishiki Market
• Gion Kappa
DAY TWO
• Arashiyama Bamboo Grove
• Tenryu-ji
• Unagi Hirokawa
• Togetsukyo Bridge
• Ninna-ji
• Ryoan-ji
• Kinkaku-ji
• Kura Sushi
• Pontocho Alley

DAY THREE
• Fushimi Sake District
• Fushimi Inari Taisha
• Menya Inoichi Hanare
• Nijo-jo
• Ginkaku-ji
• Wadachi
DAY 1
The first day of this Kyoto 3-day itinerary will take you around the city's historic Higashiyama Ward and Gion District. You'll be visiting a lot of temples and shrines, all within minutes of each other, so you can get around without using a transportation card.
Nearly every attraction in Kyoto is postcard-perfect. If you'd really like to spruce up your Instagram feed, then you may want to rent a kimono. You can do so through Klook or Get Your Guide (Option 1 | Option 2).
Kiyomizu-dera
You'll start at Kiyomizu-dera which is one of the most famous Buddhist temples not just in Kyoto, but in all of Japan. Founded in 780, it's a UNESCO World Heritage Site famous for its large wooden stage built without the use of a single nail.
There is much to see and do at Kiyomizu-dera so it's best to get an early start, ideally around 8AM if you can. If you like taking pictures, then it's better to arrive even earlier (it opens at 6AM) because the temple does get crowded.
Aside from the wooden stage, another key point of interest is Otowa Waterfall. It's a sacred waterfall from where the temple gets its name. Kiyomizu-dera means "Pure Water Temple". Visitors are allowed to drink from three separate streams, with each stream providing a different benefit.
Other notable structures at Kiyomizu-dera include Jishu Shrine, Okunoin Hall, and Koyasu Pagoda. Like Otowa Waterfall, they're steeped in folklore and are believed to bring good fortune to those who visit.
Kiyomizu-dera is surrounded by foliage and is one of the most dramatic places in Kyoto to see the cherry blossoms in spring and the leaves turning color in autumn. Illumination events are held there from late March till mid-April and from mid-November till early December.
Sannen-zaka / Ninen-zaka
From Kiyomizu-dera, make your way down to Sannen-zaka and Ninen-zaka streets. These twin pedestrian roads are characterized by traditional Japanese houses on either side. It's an historic district known for being one of the most atmospheric and well-preserved areas in Kyoto.
Many of the houses along Sannen-zaka and Ninen-zaka have been converted into shops, teahouses, cafes, and restaurants. Like Kiyomizu-dera, it can get pretty crowded so it's best to go early in the morning.
Hokan-ji
Hokan-ji or Yasaka Pagoda is a five-storied pagoda just a couple hundred meters from Ninen-zaka. It's a symbol of Kyoto and one of the most recognizable structures in Higashiyama.
Yasaka Koshindo
Around the corner from Hokan-ji is Yasaka Koshindo, the most colorful temple in Kyoto. I found it by chance when I was looking for the best angle to photograph Hokan-ji. It's so eye-catching that you can't help but notice it.
What look like colorful little balls hanging throughout the temple are actually little monkey figures called kukuri-zaru. Their hands and feet are tied together so they resemble round, ball-shaped talismans made of cloth.
Followers of Koshin-shinko, a folk faith in Japan, believe that desires are what keep wishes from coming true. It's believed that sacrificing and leaving one's desires tied up with kukuri-zaru will lead to the fulfillment of wishes and the betterment of the person.
Kodai-ji
About a 5-minute walk from Yasaka Koshindo is Kodai-ji, a Zen Buddhist temple built in memory of Toyotomi Hideyoshi, one of Japan's most important historical figures. He was a Japanese feudal lord who was regarded as the second "Great Unifier" of Japan.
Aside from the mausoleum housing Hideyoshi and his wife Nene, Kodai-ji is known for its beautiful Zen gardens, its halls with richly decorated interiors, and a small museum featuring lacquerware, paintings, and other artwork and manuscripts.
Yasaka Shrine
About an 8-10 minute walk from Kodai-ji is Yasaka Shrine, one of Kyoto's most famous Shinto shrines. Also known as Gion Shrine, it's situated on the border between the Higashiyama and Gion districts.
Yasaka Shrine is best known for the Gion Matsuri, a summer festival held every July. It dates back over a thousand years and features a procession with massive floats measuring up to 25 meters (82 ft) in height. It's arguably the most popular festival in Japan and a great reason to visit Kyoto in July.
Hachidaime Gihey
You're probably starving after several hours of temple hopping in Higashiyama. Thankfully, lunch is just across the street from Yasaka Shrine, at Hachidaime Gihey.
Hachidaime Gihey is a popular restaurant known for serving kaiseki meals for dinner and inexpensive set meals for lunch. For around JPY 1,500-2,500, you can have a set lunch with meat or seafood, rice, miso soup, and an assortment of pickled vegetables. I had the chicken karaage set for JPY 1,650.
Gion District
After refueling with lunch, you can explore Kyoto's iconic Gion District. It's the area around Shijo Avenue between Yasaka Shrine and the Kamo River. It's arguably the most famous geisha district in Japan and one of Kyoto's most atmospheric and alluring neighborhoods.
The Gion District consists of a labyrinth of traditional wooden machiya houses. It was originally established to accommodate the needs of visitors to Yasaka Shrine before evolving into one of the most exclusive geisha districts in Japan.
Gion has the highest number of geishas so it isn't uncommon to see geikos (geisha in the Kyoto dialect) and maikos (geisha apprentice) walking from ochaya to ochaya (teahouse). From what I understand, they're very secretive and try to draw as little attention as possible.
I explored the Gion District on my own during the day and again on this evening Kyoto food tour with Magical Trip. If you enjoy street photography, then this is a great area to get lost in for an hour or two.
Kamo River
Exploring the Gion District will ultimately lead you to the Kamo River. It's a peaceful area and a popular walking spot for locals. You'll often find people jogging or walking their dogs by the river.
Pontocho Alley
Cross the short bridge to the other side of the Kamo River and make the first right into a narrow pedestrian alleyway. This is Pontocho Alley. It's another geisha district that runs parallel to the Kamo River.
Pontocho Alley stretches for about 700 meters and is filled on either side with restaurants and izakayas ranging from the moderately priced to the exclusive. Like the Gion District, it's an atmospheric area that makes you feel like you're in a different era in Japan.
Nishiki Market
From Pontocho Alley, walk about 10 minutes west to Nishiki Market, one of the most popular market streets in Kyoto. Nicknamed "Kyoto's Kitchen", it consists of five blocks with over a hundred stalls selling cooked food, produce, pickled vegetables, and kitchenware.
If you're getting hungry again at this point, then Nishiki Market is a great place to snack on local delicacies like tako tamago, rice crackers, amazake, and anything made with matcha.
Gion Kappa
If you check out our Kyoto food guide, you'll see that there are plenty of good restaurants between Nishiki Market and Gion. They're all excellent choices but I suggest ending your day with dinner and drinks at Gion Kappa restaurant, a popular izakaya in the Gion District.
DAY 2
The second day on this itinerary will take you to the western outskirts of Kyoto, to Arashiyama District and its famed bamboo groves. It's one of the most popular and photographed areas in the city.
Arashiyama is rife with picture-taking opportunities. If you're considering renting a kimono, then this is a great place to do it. We rented one to take pictures at the bamboo groves and Tenryu-ji and came out with some of our most memorable photos in Kyoto. You'll find a few kimono rental shops in the Arashiyama area.
Arashiyama Bamboo Grove
The entire Arashiyama area is beautiful but its bamboo groves are without question its most well-known attraction. It features a walking path that cuts through a picturesque natural forest of bamboo.
The bamboo groves are always open so you're free to go whenever you like. Being one of the most photographed areas in Kyoto, it often attracts a sea of people so it's a good idea to go as early as you can.
Tenryu-ji
Located right next to the bamboo groves, Tenryu-ji is the most important Buddhist temple in Arashiyama. It's a UNESCO World Heritage Site and ranks first among Kyoto's five great Zen temples.
Unagi Hirokawa
After you've had your fill taking photographs at Tenryu-ji and the bamboo groves, it's time to fill up on a beloved Japanese delicacy – unagi. Personally, it's one of my favorite Japanese dishes.
About a minute down the road from Tenryu-ji is Hirokawa, a former Michelin-starred restaurant that specializes in unagi or barbecued eel. My Japanese friend took us here on a previous trip to Kyoto.
When we had lunch at Hirokawa, the restaurant had one Michelin Star but they seem to have lost it since then. They did close for many months to renovate so that may have something to do with it.
Togetsukyo Bridge
The bamboo groves and Tenryu-ji are the most popular but there's a lot more to Arashiyama than just those two attractions. It's a nationally designated Historic Site and Place of Scenic Beauty.
Pictured below is Togetsukyo Bridge, a well-known landmark in Arashiyama. There are plenty of shops, restaurants, and cafes to explore on either side of the bridge, not to mention a few temples, an art museum, even a monkey park. You can refer to this Arashiyama guide for more information.
The area is surrounded by foliage which makes it especially picturesque in spring and fall. You'll be visiting fewer attractions on the second day of this itinerary so I recommend spending at least half a day exploring and soaking up the atmosphere in Arashiyama.
Ninna-ji
After exploring Arashiyama, you can catch a train to Ninna-ji, the second of four major temples on today's itinerary. Like Tenryu-ji, it's an important Buddhist temple and a UNESCO World Heritage Site.
Ninna-ji is known for the Goten, a palatial building that served as the residence of the temple's head priest who was also a member of the Imperial Family. It's surrounded by beautiful rock and pond gardens and a grove of Omuro Cherry trees.
Omuro trees are known to bloom late, typically around mid-April, making Ninna-ji a great place to catch the cherry blossoms during the latter half of sakura season.
Ryoan-ji
After Ninna-ji, you can walk to nearby Ryoan-ji, another Buddhist temple and site of Japan's most famous rock garden.
Before reaching the rock garden, you'll be greeted by a large pond with manicured trees and benches along its edges. It's a beautiful, tranquil area and a great place to just sit and enjoy the view. There's even a small shrine on a tiny island that you can go to by bridge.
Ryoan-ji is in a heavily wooded area with lovely walking trails that take you around the temple grounds. They lead to the Hojo or head priest's former residence where you can view the rock garden. It consists of a rectangular plot of pebbles with fifteen rocks laid out on patches of moss that resemble islands.
To be honest, I don't understand what makes this particular rock garden better than others but it's obviously held in high regard. I asked my Japanese friends as well and they don't seem to know either.
Kinkaku-ji
Kinkaku-ji is the last temple on today's itinerary and the most striking. Known as the Golden Pavilion, it's a Zen Buddhist temple that's completely covered in gold leaf.
Sitting at the edge of a large pond, Kinkaku-ji was the retirement villa of shogun Ashikaga Yoshimitsu. Upon his wishes, it was converted into a Zen temple after his death.
Shimmering in gold and reflected perfectly on the pond's surface, it's one of the most eye-catching and unique-looking temples in Kyoto. In fact, there's an interesting story about how the temple was burned down by a fanatical monk who deemed it "too beautiful".
Kura Sushi
From Kinkaku-ji, you can proceed to Kura Sushi for dinner. It's a famous kaiten-zushi chain with hundreds of locations in Japan, Taiwan, and the US. Luckily, they have a branch just a 10-minute walk south from Kinkaku-ji.
We've been to a few kaiten-zushi chains in Japan but Kura is easily our favorite. Not only do they serve good sushi, but nearly every plate costs just JPY 100 (about USD 1).
Pontocho Alley
If you aren't ready to call it a night after dinner at Kura Sushi, then you can catch a bus back to Pontocho Alley for a nightcap.
DAY 3
The first day on this itinerary took you to the Higashiyama and Gion areas. The second day brought you to the western outskirts of Kyoto.
On the third and final day, you'll be exploring popular tourist attractions scattered throughout different parts of the city.
Fushimi Sake District
Visiting the Fushimi District opened my eyes to sake. I went on a sake tasting tour with A Chef's Tour and the experience gave me a much better understanding and appreciation for sake.
The Fushimi sake district is a traditional sake brewing district in southern Kyoto. It's home to nearly forty breweries, making it the second largest sake district in Japan behind only Nada in Kobe. What makes the sake produced in Fushimi so special is the soft water that flows freely from the area's underground springs.
There are a few breweries and museums open to the public so you're free to explore the area on your own. But if you'd really like to learn about sake, then it's best to book a guided tour.
Fushimi Inari Taisha
After your sake lesson, stumble and catch a train to Fushimi Inari Taisha, a well-known Shinto shrine known for its thousands of orange torii gates. Like Arashiyama's bamboo groves, it's one of the most popular and photographed locations in Kyoto.
The shrine's torii gates lead visitors through a heavily wooded trail up Mount Inari. The hike to the summit takes around 2-3 hours but you're free to stop and turn back whenever you like.
Menya Inoichi Hanare
You're probably starving after hiking up Mount Inari so catch a train and head over to Menya Inoichi Hanare for a bowl of Michelin-starred ramen.
Menya Inoichi Hanare is a Michelin Bib Gourmand ramen shop near Nishiki Market. They're known for making well-crafted bowls of ramen using only premium ingredients. I read that they put a lot of time and effort into creating their bowls of ramen, and it shows.
Nijo-jo
Nijo-jo was the castle residence of Tokugawa Ieyasu, the first shogun during Japan's Edo Period. It's a UNESCO World Heritage Site with beautiful landscaped gardens and a residential palace that features an interesting alarm system.
The Ninomaru Palace is Nijo-jo's main attraction. It served as the home and office of the shogun and is known for its nightingale floors which squeak when stepped on. This was to alert the shogun and his bodyguards of any potential intruders.
The nightingale floors are fun but what I enjoyed most about Nijo-jo were its gardens. It features a traditional Japanese garden, a plum orchard, and about 400 cherry trees planted throughout the castle grounds. They're of different varieties so you can find cherry trees blooming at Nijo-jo from late March until the end of April.
Ginkaku-ji
Ginkaku-ji or the Silver Pavilion is the last temple you'll be visiting on this 3-day itinerary. As described, it was patterned after Kinkaku-ji and built as the retirement villa of Ashikaga Yoshimasa, the grandson of Ashikaga Yoshimitsu. Like his grandfather, he asked that it be converted into a Zen Buddhist temple after his passing.
Despite its name, Ginkaku-ji isn't covered in silver. It has a relatively modest appearance compared to the more striking Kinkaku-ji. Like the Golden Pavilion, it's situated along the edge of a pond and next to a walking path that leads you through the temple's meticulously maintained Japanese gardens.
Wadachi
For your final dinner in Kyoto, hop on a bus and head back to the Gion District and Wadachi, a gaijin-friendly bar that serves different types of sake and izakaya food at reasonable prices.
Every order of sake comes in a glass tokkuri (flask) and goes for just JPY 500 (plus tax). They offer an extensive menu with simple but delicious dishes like edamame, chicken karaage, deep-fried tofu, and a number of local Kyoto specialties.
LOCATION MAP
To help you better understand this itinerary, I've pinned all the attractions and restaurants recommended in this guide on a map. Click on the link to open the interactive map in a new window.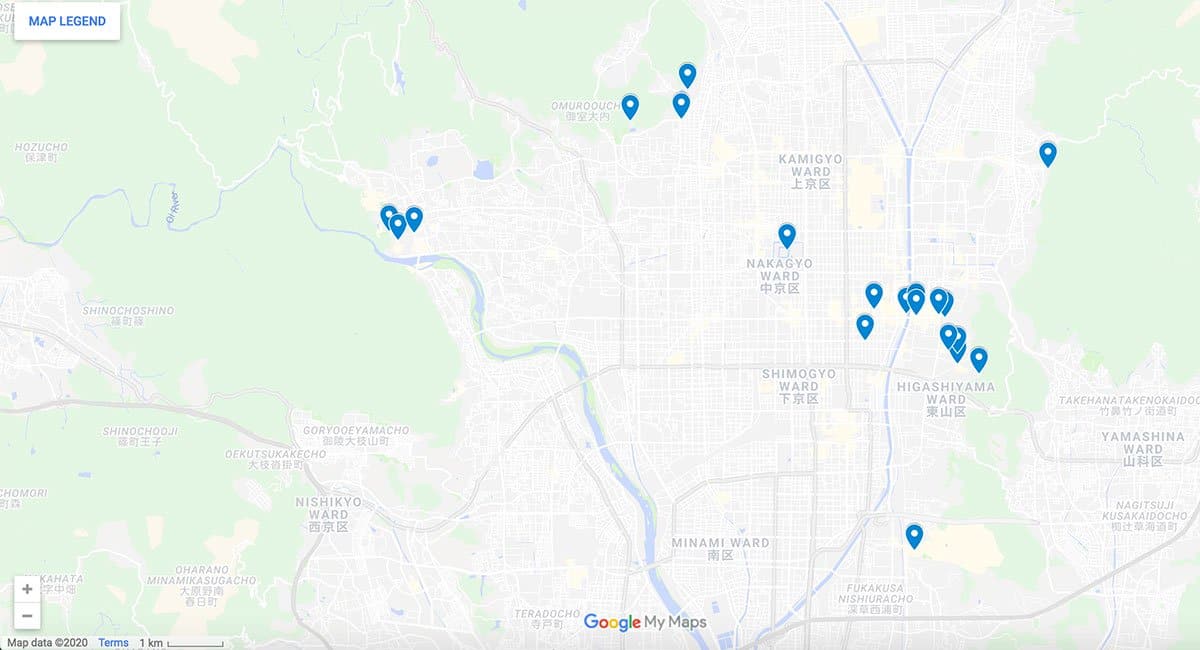 Disclosure
Some of the links in this guide are affiliate links, meaning we'll get a small commission if you make a purchase at NO extra cost to you. We only recommend products and services that we use ourselves and firmly believe in. We really appreciate your support as this helps us make more of these free travel guides. Thank you!