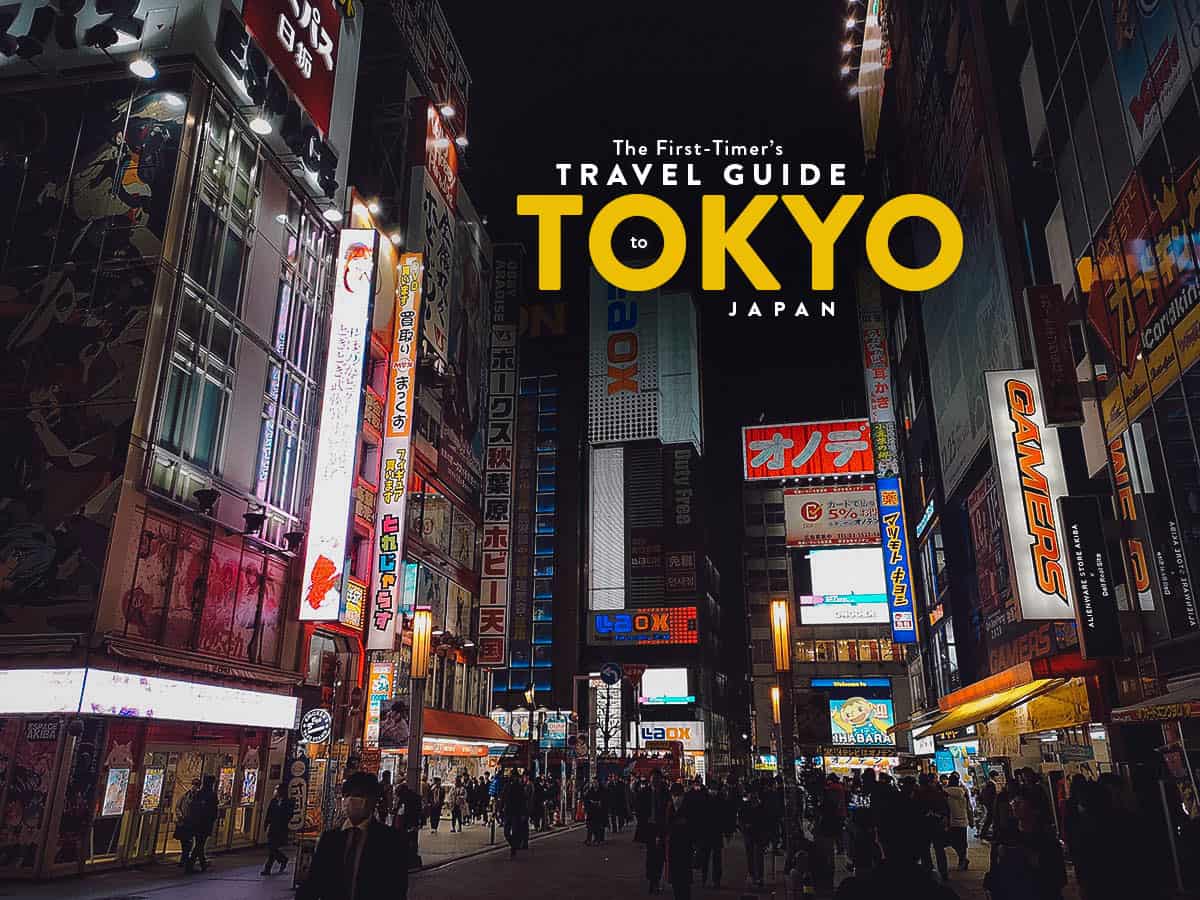 Tokyo is one of the most exciting cities not just in Japan, but in the world. It is an absolutely massive metropolis with a never-ending list of fun and interesting things to do.
Writing a travel guide to Tokyo is something I've been wanting to do for some time now. I've been putting it off because of how daunting a task I knew it would be.
With so many things to see, to do, to eat, and to experience in Tokyo, I wanted to write a Tokyo travel guide that would do this incredible city justice, something that would make any first-time visitor's stay as memorable and as fun-filled as possible.
With the Tokyo Olympics looming, I decided that this was finally the year so I recently spent five weeks in Japan, mostly in Tokyo, to write this comprehensive first-timer's travel guide.
If it's your first time visiting Japan's capital, then I hope this travel guide helps you make the most of your time in Tokyo.
GUIDE TABLE OF CONTENTS
TRAVEL RESTRICTIONS
Because of the current global situation, travel guidelines have been changing on a regular basis. Our friends at SafetyWing created a website that lists detailed information on travel restrictions around the globe.
Before planning a trip to Tokyo, be sure to check the Flatten the Curve website for information on travel restrictions to Japan.
TOKYO AT A GLANCE
Tokyo is the capital of Japan. It's the world's largest city with an urban population of over 38.5 million people. It's one of Japan's 47 prefectures and is part of the Kanto region on the southeastern side of Honshu, Japan's main island.
Tokyo started off as a humble fishing village called Edo before becoming a prominent political center and castle town in the 17th century. In 1868, Empreror Meiji moved the imperial seat from Kyoto to Edo, renaming the city Tokyo meaning "Eastern Capital".
Today, Tokyo is a major financial, technological, and cultural hub. It's a global leader in the arts, media, fashion, and entertainment industries.
It has many excellent museums, temples, and gardens, and its extensive rail system makes day trips to neighboring prefectures a possibility.
But perhaps best of all, is its food.
Known for its many delicious dishes like sushi, ramen, and monjayaki, Tokyo is the world's standard bearer for gastronomy, boasting over twice as many Michelin Stars as its closest rival Paris.
In fact, some people claim that the world's best pizza isn't in Italy, but here in Tokyo.
BEST TIME TO VISIT
You may come across articles claiming that Tokyo is a year-round destination. While that may be true, some months are definitely better than others.
Spring and Fall are typically the best times to visit Tokyo. The weather is ideal and it gives you the opportunity to experience the cherry blossoms in spring and the colorful foliage of fall.
SEPT-NOV: Autumn is generally one of the most beautiful times of the year to visit Japan. Personally, it's my favorite. I love the colors of fall and the weather is perfect. Leaves start turning color at the end of October so the optimal time to see the fall colors is in November. You can enjoy them at Tokyo's parks like Koishikawa Korakuen but they're best appreciated on day trips to less urban areas like Hakone or Kamakura.
DEC-FEB: Winter isn't the best time to visit Tokyo but I wouldn't necessarily call it bad either. I was there in January and February on my last trip and while it did get cold on some days, it wasn't unbearable. If you want to go skiing or snowboarding in Japan, then winter is obviously the best time to go. There are a few ski resorts you can visit on a day trip from Tokyo, but serious skiers may want to continue north to Sapporo in Hokkaido, home of the best powder in Japan.
MAR-MAY: Spring, like autumn, is one of the best times to visit Japan. The weather is ideal and flowers are in bloom. If you're visiting Tokyo for the cherry blossoms, then early to mid-April is when you should go. Just know that this is high season and one of the busiest times to visit Japan. Plan your trip well in advance. Weather-wise, May is great too but Golden Week is peak season for domestic travel in Japan.
JUN-AUG: Summer is high season in Japan and among its hottest and rainiest months. It'll be warmer, more humid, and more crowded, and perhaps not the most comfortable time to go.
Climate: Annual Monthly Weather in Tokyo
For more on Tokyo's weather, check out these climate graphs from holiday-weather.com. I've also created average temperature and annual rainfall graphs with the most ideal months to visit marked in orange.
Average Temperature


Annual Rainfall


TRAVELING TO TOKYO
Tokyo's Haneda Airport (HND) and Narita International Airport (NRT) are the busiest airports in Japan. While some international flights do go through Haneda, it's primarily a domestic airport so the majority of international travelers will be arriving via Narita.
You'll need to arrange for transfers to your hotel from either Narita or Haneda airports. Narita is about 65 km east of central Tokyo while Haneda is about 17 km south.
By metro is generally our preferred means of airport transfer because it's cheap, efficient, and often the fastest, but listed below are the different ways you can get to your hotel from either airport.
FROM NARITA INTERNATIONAL AIRPORT (NRT)
BY METRO
Narita terminals 1 and 2 have metro stations in their respective basements. If you arrive at Terminal 3, then you can walk to Terminal 2 or catch a free shuttle bus between terminals to ride the metro.
JR NARITA EXPRESS: This is the fastest way to get to Tokyo Station from Narita. It's a direct train that takes about 1 hr and costs around JPY 3,000. From Tokyo Station, you can then take a connecting train to your hotel. The JR Narita Express is fully covered by the JR Pass so if you're planning on getting one, then this will be one of your best options. You can purchase a JR Pass through Klook or Japan Rail Pass.
JR SOBU LINE: The JR Sobu Line (Rapid) is slower but much cheaper than the JR Narita Express. It takes about 90 minutes to get to Tokyo Station and costs JPY 1,340.
KEISEI SKYLINER: The Keisei Skyliner will get you to Nippori Station in about 40 minutes. From there, you can catch a connecting train to your hotel. The Keisei Skyliner typically costs JPY 2,520 but you can get it for just JPY 2,249 if you purchase it in advance through Klook. You can also get it bundled with a Tokyo Subway Ticket. I'll talk more about the Tokyo Subway Ticket in the HOW TO GET AROUND section of this guide.
KEISEI LIMITED EXPRESS: This is the slower but much cheaper alternative to the Keisei Skyliner. It can get you to Nippori Station in about 75 minutes for JPY 1,050.
BY BUS
LIMOUSINE BUS: You can catch a direct limousine bus to Tokyo Station or to several major hotels in central Tokyo for JPY 2,804. To check if your hotel is part of the serviced route, you can click on the link for a list of service areas. You can book limousine bus tickets in advance through Klook.
DISCOUNT BUS: You can take the "Airport Bus TYO-NRT" from Narita Airport to either Tokyo Station or Ginza Station. The trip takes about 90 minutes and costs JPY 1,000 during normal hours and JPY 2,000 during off-hours.
BY CAR
PRIVATE/SHARED TRANSFER: This is the most convenient way of getting to your hotel from Narita Airport but it's also one of the most expensive. Klook (Shared | Private) and Get Your Guide offer airport transfers from Narita to your hotel in downtown Tokyo.
TAXI: This will be the most expensive option. It'll cost you about JPY 30,000 to get to your hotel in central Tokyo.
FROM HANEDA AIRPORT (HND)
BY METRO
TOKYO MONORAIL: You can take the Tokyo Monorail from Haneda Airport to Hamamatsucho Station. The journey takes about 20 minutes and the fare is JPY 500. From there, you can catch a connecting train to your hotel.
KEIKYU RAILWAYS: Take the Keikyu Airport Line to Shinagawa Station. The trip takes about 20 minutes and costs JPY 300. You can then catch a connecting train to your hotel.
BY BUS
LIMOUSINE BUS: The same limousine bus that services Narita also services Haneda. You can check this list to see if your hotel is serviced by this route. Limousine bus transfers from Haneda cost JPY 1,250 and you can purchase tickets in advance through Klook.
BY CAR
PRIVATE/SHARED TRANSFER: Klook (Shared | Private) and Get Your Guide (Shared | Private) offer airport transfers to central Tokyo from Haneda.
TAXI: A taxi ride to central Tokyo will cost you anywhere between JPY 5,000-11,000, depending on the destination and time of day.
FROM OTHER PARTS OF JAPAN
If you're arriving in Japan via a different city (ie Osaka, Fukuoka, Nagoya, etc), then one of the best ways to get to Tokyo is by train. Japan is very much a train society with an extensive and highly efficient railway system.
You can do a search on Hyperdia to find the different ways you can get to Tokyo by train from wherever you are in Japan. It's accurate and very reliable.
If you plan on doing a lot of intercity travel in Japan, then a JR Pass may be a good investment. It'll give you unlimited travel on JR trains for the duration of your pass.
Visit Klook, Get Your Guide, or Japan Rail Pass for more information and to purchase a JR Pass.
WHERE TO EXCHANGE CURRENCY
The unit of currency in Japan is the Japanese Yen (JPY).
BANKS / POST OFFICES: Banks and post offices are among the most reliable places to exchange foreign currency in Japan. However, they aren't the fastest. I've exchanged currency at a few banks and there's always some paperwork involved so the process may take some time (around 15-30 minutes).
LICENSED MONEY CHANGERS: I've never exchanged currency at a licensed money changer in Japan, but I read that they're reliable and rates are competitive. You can refer to this guide for a list of recommended money changers in Tokyo.
KINKEN SHOPS: Kinken shops are small stores that buy and sell unused event tickets. Some of them also exchange currency. I bought discounted DisneySea tickets and exchanged currency at this kinken shop in Shinjuku. I got good rates and didn't have any problems but I've read that the the biggest and perhaps most reliable kinken shop chain in Tokyo is Daikokuya.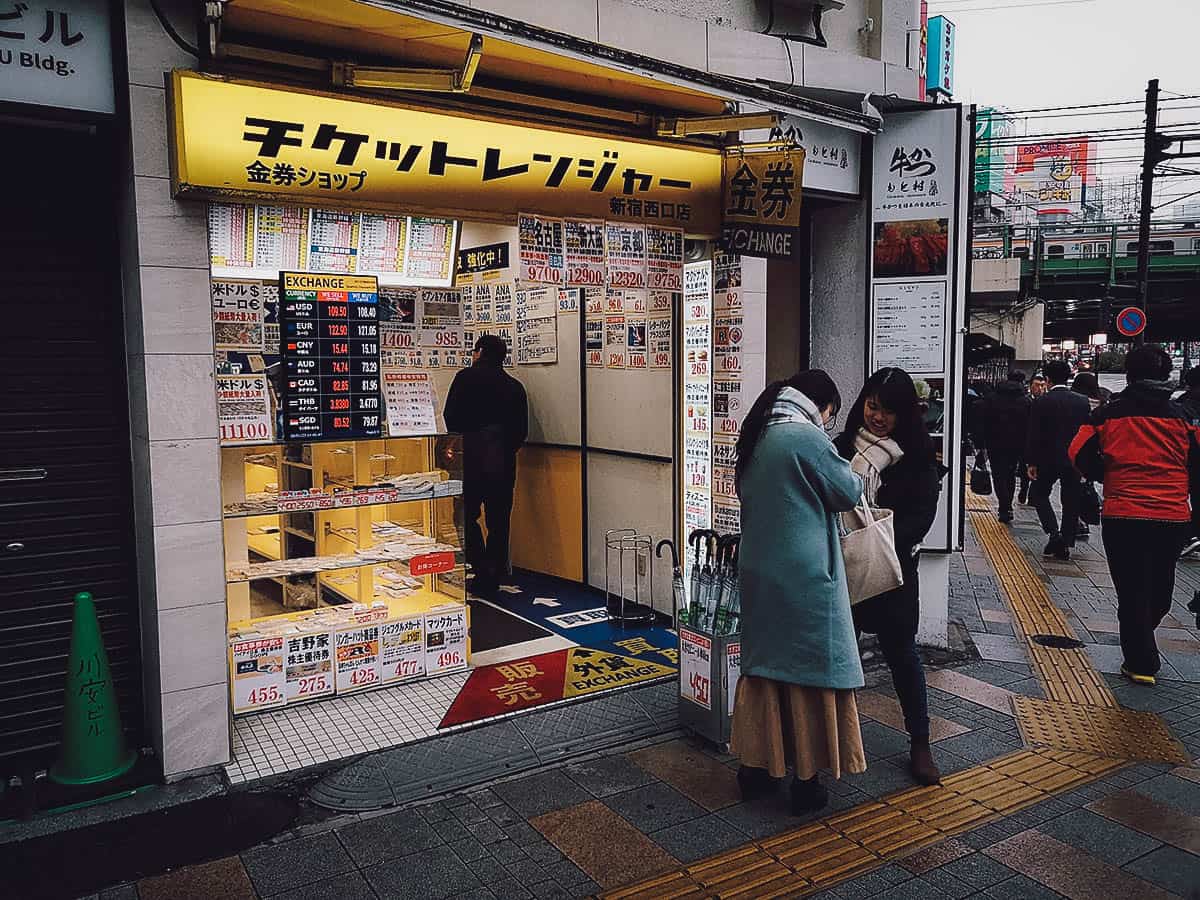 CURRENCY EXCHANGE MACHINES: I haven't seen these too often but I did exchange currency at a currency exchange machine in Nagasaki once. They're like ATMs but they exchange currency. Just insert your foreign currency and out comes the JPY equivalent. They're super easy to use and can be found in popular tourist areas like shopping arcades and large train stations.
ATM MACHINES: This is our preferred way of acquiring JPY in Japan. Rates are often competitive and it saves us the trouble of having to carry too much foreign currency. Just be sure to let your local bank know that you intend to use your ATM card abroad so you don't run into any problems. In my experience, my ATM card works in some machines but not in others. In Japan, I have the best luck using 7-Eleven and post office ATMs.
Please note that some ATMs may ask if you'd like to proceed "with or without conversion". Always choose WITHOUT conversion so your local bank does the conversion. Proceeding with conversion authorizes the foreign bank operating the ATM to do the conversion, usually at terrible rates. According to this article, the difference in rates can be as high as 10%.
BEST AREAS TO STAY
In spite of its size, Tokyo's extensive metro system makes it possible to stay in many different areas. Getting around won't be a problem in Tokyo.
Do a search for the best areas to stay in Tokyo and the majority of people will point you to Shinjuku. I would agree. Shinjuku is a lively area with lots of shops and restaurants, making it one of the most convenient areas to stay in Tokyo.
Listed below are some of the best places to stay in Tokyo, along with a color-coded map to help you better understand where each of these areas are. Click on the link for an interactive version of the map. (Please note that marked areas are approximations only)
RED – Shinjuku
PURPLE – Shibuya / Harajuku
YELLOW – Ginza
BROWN – Tokyo Station
LIGHT BLUE – Akihabara
ORANGE – Ueno
GREEN – Asakusa
PINK – Sumida
DARK BLUE – Roppongi
GRAY – Odaiba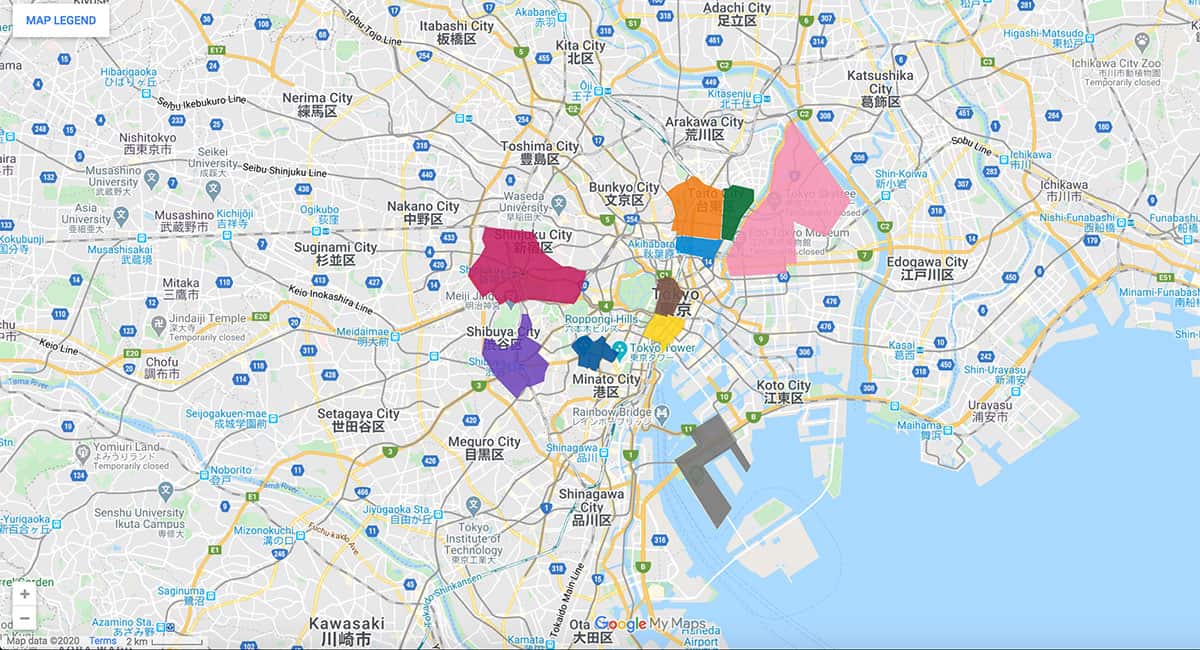 SHINJUKU
As described, Shinjuku is the best place to stay in Tolkyo. It's a major transportation hub with thousands of restaurants, bars, and shops. It's great during the day but it gets even better at night when all its neon signs are lit up.
You could honestly stay in Shinjuku the entire time in Tokyo and never leave. There is so much to see and do there. Check out the neighborhood section of this guide for more on Shinjuku.
You can search for accommodations in Shinjuku on Booking.com or Agoda. If you can find one that suits you, then I suggest booking a hotel close to Shinjuku Station.
SHIBUYA / HARAJUKU
Shibuya is another great shopping area in Tokyo that's similar in feel to Shinjuku, though perhaps with a younger crowd. It's also a major transportation hub with plenty of shops, restaurants, and cafes.
There's lots to see and do in Shibuya though it doesn't quite have the same vibe and energy as Shinjuku, especially at night. You can jump to the neighborhood section for more on Shibuya.
You can search for accommodations in the Shibuya area on Booking.com or Agoda. If you can, try to find a hotel near Shibuya Station.
Harajuku is a neighborhood within Shibuya Ward. It refers specifically to the area around Harajuku Station, between the Shibuya and Shinjuku areas. It's famous for being the heart of kawaii (cute) culture and extreme teenage fashion in Tokyo. You can read more about Harajuku in our neighborhood guide.
If you'd like to stay in Harajuku, then you can search for accommodations on Booking.com. Finding a hotel near Harajuku Station gives you easy access to the Shinjuku and Shibuya areas. We actually walked to Harajuku from Shibuya Station.
GINZA
You can think of the Ginza District as Tokyo's equivalent to Fifth Avenue in New York City. It's a posh neighborhood that's home to luxury hotels, big name brands, and high-end restaurants. You can refer to our neighborhood guide for more on the Ginza District.
If you'd like to stay in Ginza, then you can search for accommodations on Booking.com or Agoda. Within walking distance from the Ginza area is Tokyo's most famous fish market – Tsukiji Market.
TOKYO STATION
Just north of Ginza is Tokyo Station which is the city's main transportation hub. If you're planning on taking the Shinkansen to Nagoya, Kyoto, or Osaka, then this is a convenient area for you to stay.
Ginza, the Imperial Palace, and MOMAT are within walking distance and there are plenty of restaurants to choose from. You can search for accommodations around Tokyo Station on Booking.com or Agoda.
AKIHABARA
Akihabara is another famous area in Tokyo. It's considered the heart of otaku (diehard fan) culture and where you'll find building after building filled with arcades games, electronics, maid cafes, and anime shops.
Check out our neighborhood guide for more on Akihabara. You can search for accommodations there on Booking.com or Agoda.
UENO
If you'd like to stay in a more traditional part of Tokyo, then Ueno may be for you. It isn't as exciting an area as Harajuku, Akihabara, or Shinjuku, but it puts you close to some of Tokyo's top cultural attractions like Tokyo National Museum and Ueno Park. Plus, accommodations in Ueno are generally cheaper.
I didn't spend too much time in Ueno but I did explore the park and Ameyoko, a lively market street with lots of inexpensive dining options. You can search for accommodations in Ueno on Booking.com or Agoda.
ASAKUSA
Directly to the east of Ueno is Asakusa, a similarly traditional area known for its temples and other historical attractions. It's where you'll find Senso-ji, Tokyo's oldest temple and one of its most visited.
Asakusa is similar to Ueno so if you're searching for cheaper accommodations in Tokyo, then this is a good place to look. You can search for accommodations in Asakusa on Booking.com or Agoda.
You can book a room at Oak Hostel Sakura on Booking.com or Agoda. If you'd like to stay in Sumida but don't feel this is the right hotel for you, then you can do a search on Booking.com for alternate listings.
ROPPONGI
Roppongi is another well-known area that's considered one of the best places to stay in Tokyo. It's a more upscale multinational area with great museums, restaurants, shopping centers, and bars.
Ren and I had dinner in Roppongi one night and you could feel from walking around that it is indeed a wealthier, more cosmopolitan part of town. Similar to Ginza, but less commercial. You can read more about Roppongi in the neighborhood section of this guide.
Visit Booking.com or Agoda to search for accommodations in Roppongi.
ODAIBA
Odaiba is one of the strangest areas in Tokyo. It's strange in the sense that it doesn't feel like a real neighborhood, which in some ways, it isn't.
Odaiba is a popular shopping and entertainment district built on a man-made island in Tokyo Bay. The buildings here are some of the most futuristic-looking in Tokyo. It's home to many family-oriented attractions, including the popular teamLab Borderless digital museum. You can jump to our neighborhood guide for more on Odaiba.
Being in Odaiba makes you feel a bit detached from the rest of Tokyo, but if you're traveling with young kids, then this is probably one of the best areas to stay. You can search for accommodations in Odaiba on Booking.com or Agoda.
INTERESTING NEIGHBORHOODS IN TOKYO
1. Shinjuku
Shinjuku is one of Tokyo's 23 wards but the name is more often used to refer to the large entertainment, shopping, and dining area around Shinjuku Station, the world's busiest train station.
We loved Shinjuku because there are literally thousands of restaurants to be discovered here, ranging from fine dining establishments to tiny hole-in-the-walls. Had it not been for my need to cover as much of Tokyo as possible, then we could have stayed the entire time in Shinjuku and been completely content.
There are countless bars and restaurants you can visit in Shinjuku, but two areas you definitely shouldn't miss are Omoide Yokocho and Golden Gai. They're small pockets within the Shinjuku area comprised of interesting bars, restaurants, and izakayas.
2. Shibuya
Like Shinjuku, Shibuya is one of Tokyo's 23 wards but the name is often used to refer to the popular commercial area around Shibuya Station. It's a vibrant high-energy area that's similar in feel to Shinjuku.
Just outside Shibuya Station is Shibuya Crossing, a crosswalk that's often referred to as the world's busiest intersection. On the plaza next to the crossing is a statue of one of the world's most famous dogs – Hachiko.
Shibuya is regarded as a center for youth fashion and culture in Tokyo. There are dozens of department stores here with hundreds of shops, so if you're goal is to go shopping in Tokyo, then Shibuya is where you want to be.
3. Harajuku
Located between Shibuya and Shinjuku Stations along Tokyo's Yamanote Line, Harajuku refers to the area immediately around Harajuku Station. It's the heart of Tokyo's kawaii culture, famous for its quirky fashion boutiques, trendy restaurants, and Japanese teenagers dressed in outlandish outfits.
Popular areas to visit in Harajuku include Takeshita Dori and Omotesando. Takeshita Dori is where you'll find this culture of cuteness while Omotesando is a tree-lined boulevard that's often referred to as the Champs-Elysees of Tokyo. It's filled with higher-end shops and boutiques that cater to a more adult crowd.
Right next to Harajuku Station are Yoyogi Park and Meiji Shrine. Yoyogi Park is a quiet public park with lots of trees while Meiji Shrine is a Shinto shrine dedicated to Emperor Meiji and Empress Shoken.
Geographically, Harajuku is part of Shibuya Ward. It's about a 20-minute walk from Shibuya Station but you can ride the metro if you like. It's just one stop away.
4. Akihabara
If you're into arcade games, electronics, anime, or manga, then Akihabara needs little introduction. It's the epicenter of Otaku culture in Tokyo.
I was blown away by Akihabara. Like Shinjuku and Shibuya, it's an energetic neon-lit area that's great to explore at night. The sheer number of electronics shops and arcades was mind-numbing. You literally had entire buildings filled with just arcade games.
I'm a bit of a toy geek myself so I enjoyed perusing all the anime shops in Akihabara. It's where you'll find many of Tokyo's maid cafes as well.
4. Ginza
Ginza is Tokyo's premier shopping district. It's where you'll find many of Tokyo's high-end department stores, luxury boutiques, and fine dining restaurants.
We're fans of the UNIQLO brand so we went to Ginza to go shopping at its 12-floor flagship store, its biggest one to date. Tsukiji Outer Market, Tokyo's famed fish and seafood market, is about a 15-minute walk from here.
5. Odaiba
Odaiba is the futuristic entertainment district of Tokyo. It's built on an artificial island in Tokyo Bay and known for its many family-friendly attractions like interactive museums, digital exhibits, and shopping centers.
We visited two popular attractions in Odaiba – the teamLab Borderless digital museum and the towering Unicorn Gundam robot outside Divercity Tokyo Plaza. They're just two of the many fun things you can do on the island.
6. Roppongi
Roppongi is a more upscale district in Tokyo that's popular with foreigners and expats. We had dinner at the original Savoy in Roppongi one night and we enjoyed the area's contemporary vibe. It felt quieter and less commercial than Ginza.
The area is home to Roppongi Hills, a modern entertainment complex featuring dozens of shops and restaurants. At its center is Mori Tower, one of Tokyo's tallest buildings and where you'll find the Tokyo City View observation deck and Mori Art Museum.
According to our food tour guide, Mori Art Museum is one of the city's best museums while Tokyo City View is one of its best observation decks. You can get discounted tickets to both on Klook.
PLACES TO VISIT
The attractions listed below were some of my favorites to visit in Tokyo. It's just a fraction of all the places you can visit so if you'd like more suggestions, then you can refer to our 5-day Tokyo itinerary.
1. Meiji Shrine
Meiji Jingu or Meiji Shrine is one of Japan's most important shrines. In the first days of the new year, over 3 million devotees visit the shrine to say the year's first prayer.
Meiji Shrine is a Shinto shrine dedicated to the deified spirits of Emperor Meiji and his consort, Empress Shoken. It was built in 1920, eight years after the passing of Emperor Meiji who was the first emperor of modern Japan.
2. Senso-ji
Like Meiji Shrine, Senso-ji is one of Tokyo's most popular religious landmarks. Built in 645, it's Tokyo's oldest Buddhist temple and dedicated to the Goddess of Mercy, Kannon.
Senso-ji is located in Asakusa, about a minute away from Asakusa Station. It's known for its outer gate Kaminarimon which is recognized as a symbol of both Asakusa and the city of Tokyo. Between Kaminarimon and Senso-ji is a fun stretch of shops selling different types of snacks and souvenirs.
3. Koishikawa Korakuen
Koishikawa Korakuen is one Tokyo's oldest and most beautiful landscaped gardens. Built during the Edo Period (1600-1867), it features meandering walking trails through trees, ponds, streams, and rock formations.
4. Tsukiji Outer Market
Tsukiji Outer Market is the most famous fish market in Tokyo and one of its most popular attractions. Located about a 15-minute walk from Ginza Station, it became famous for the tuna auctions formerly held in its inner market.
The tuna auctions have been moved to Toyosu Market but Tsukiji's outer market is still open and as busy as ever. It's a great place to experience Japan's market atmosphere while feasting on a delicious array of seafood and street food.
5. teamLab Borderless
Borderless is a multimedia exhibit by the teamLab art collective. Located in Odaiba, it's comprised of multiple rooms with interactive digital displays spread out over a 100,000 square meter space.
The Borderless exhibit is an immersive sensory experience and one of the more unique and memorable things you can do in Tokyo. Tickets are available at the gate but the Borderless exhibit is popular so you may want to get them in advance through Klook.
6. MOMAT
MOMAT is short for the National Museum of Modern Art. As its name suggests, it's a modern art museum dedicated to the work of Japanese artists from the Meiji period onwards.
7. Yayoi Kusama Museum
Yayoi Kusama is a Japanese contemporary artist known for her large-scale sculptures and installations covered in polka dots. She dabbles in other creative disciplines as well like painting and film but she's best known for her sculptures.
I was really looking forward to visiting this museum. Unfortunately, we found out only when we got there that purchasing advanced tickets online is a must. They only let in a certain number of visitors at a time so you need to choose a specific time slot.
8. Tokyo Skytree
We stayed in Sumida so we'd walk by Tokyo Skytree everyday. It's a television broadcasting tower that's currently the tallest structure in Japan.
THINGS TO DO
1. Get a Drink at Omoide Yokocho or Golden Gai
Omoide Yokocho and Golden Gai are two of the most interesting "micro-neighborhoods" we visited in Tokyo. Both are clusters of tiny restaurants and izakayas in Shinjuku.
Omoide Yokocho literally means "Memory Lane" but it's more often referred to as "Piss Alley". This monicker dates back to the 1940s when Omoide Yokocho didn't have public restrooms, leaving inebriated patrons little choice but to relieve themselves in the alley.
Facilities have greatly improved since then, making Piss Alley one of the most popular places to get a drink in Shinjuku. Located just outside Shinjuku Station, Omoide Yokocho is packed with tiny izakayas serving drinks and bar food like yakitori, ramen, and nikomi.
If you'd like to experience Omoide Yokocho with a guide, then you can book a tour through Get Your Guide (Option 1 | Option 2 | Option 3)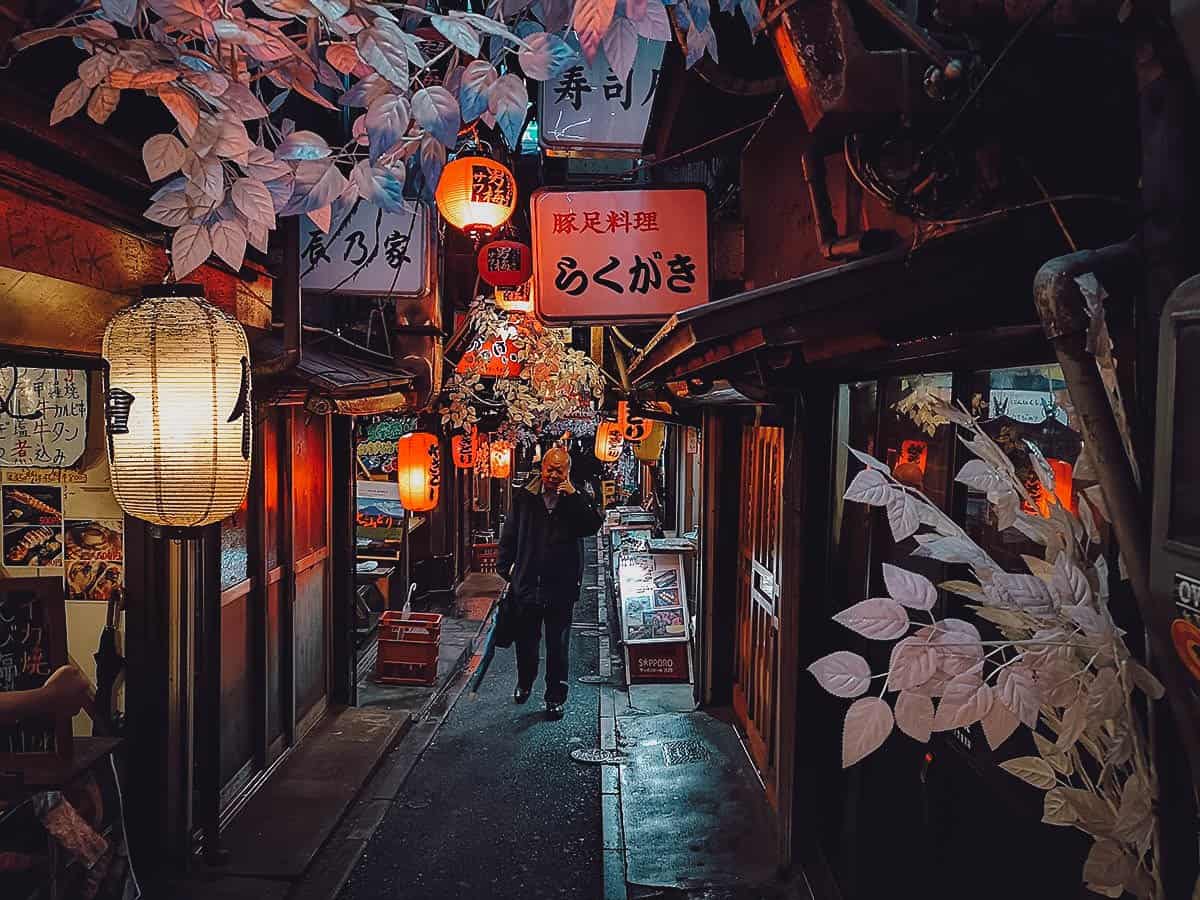 About a 10-minute walk from Omoide Yokocho is Golden Gai, an equally interesting network of six narrow alleyways with over 200 tiny bars and restaurants. Comprised of 2-storey structures, it's said to provide a glimpse into what Tokyo used to look like not too long ago.
According to our food tour guide, Golden Gai is a favorite hangout among Tokyo's creatives like artists, photographers, film directors, and writers. Like Omoide Yokocho, it's teeming with character and a great place to get a drink. Check out Get Your Guide for a list of tours that take you to Golden Gai.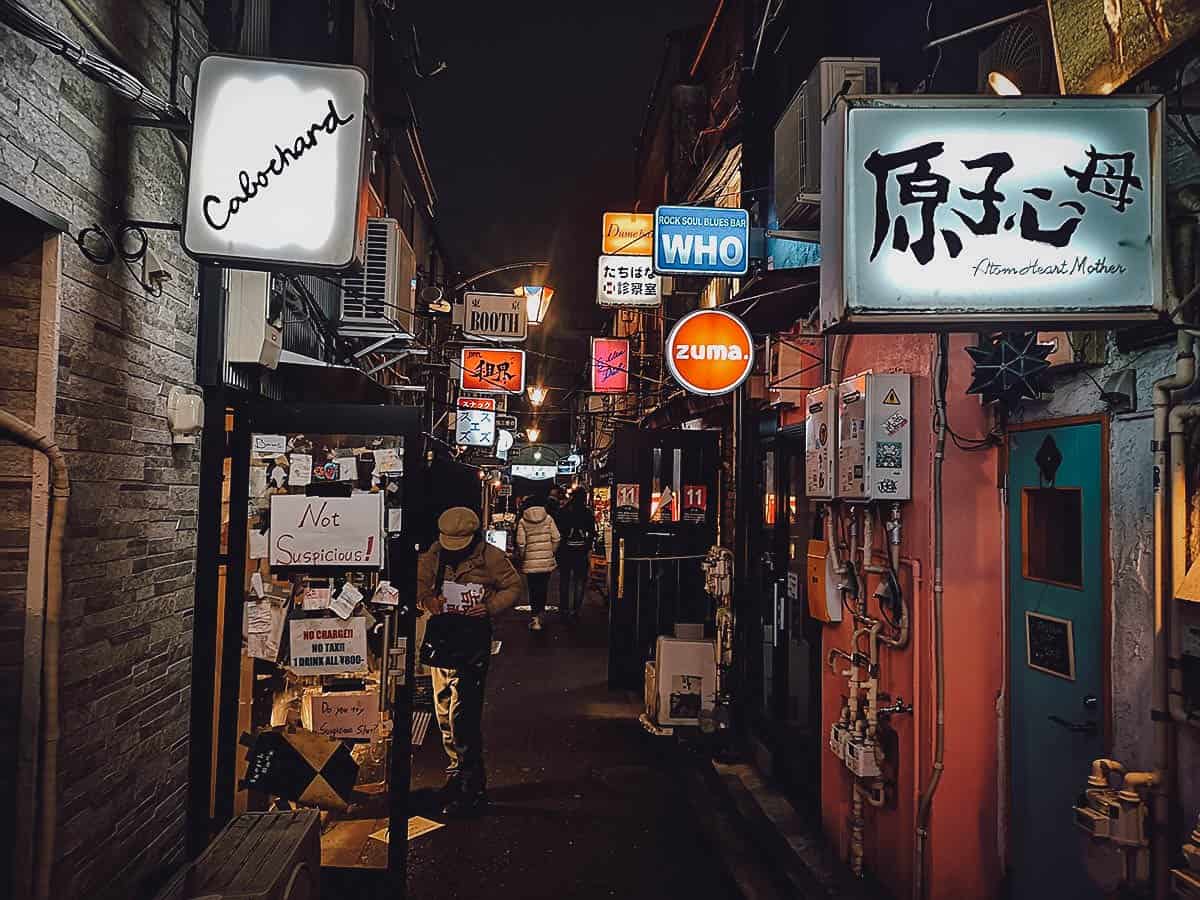 2. Go on a Food or Bar Hopping Tour
We love going on food or bar hopping tours because they often lead us to local hole-in-the-walls that we may not find ourselves. Research can get us pretty far but sometimes, we need the help of locals to find the most obscure places.
In Tokyo, we went on this fun Shinjuku food tour with Magical-Trip. Our guide Nori took us to three restaurants and walked us through some of Shinjuku's most interesting spots like Omoide Yokocho and Golden Gai.
You can check out my article on this Shinjuku Tokyo food tour for more pictures and information. If it interests you, then you can book a Tokyo food or bar hopping tour on Magical-Trip or Klook.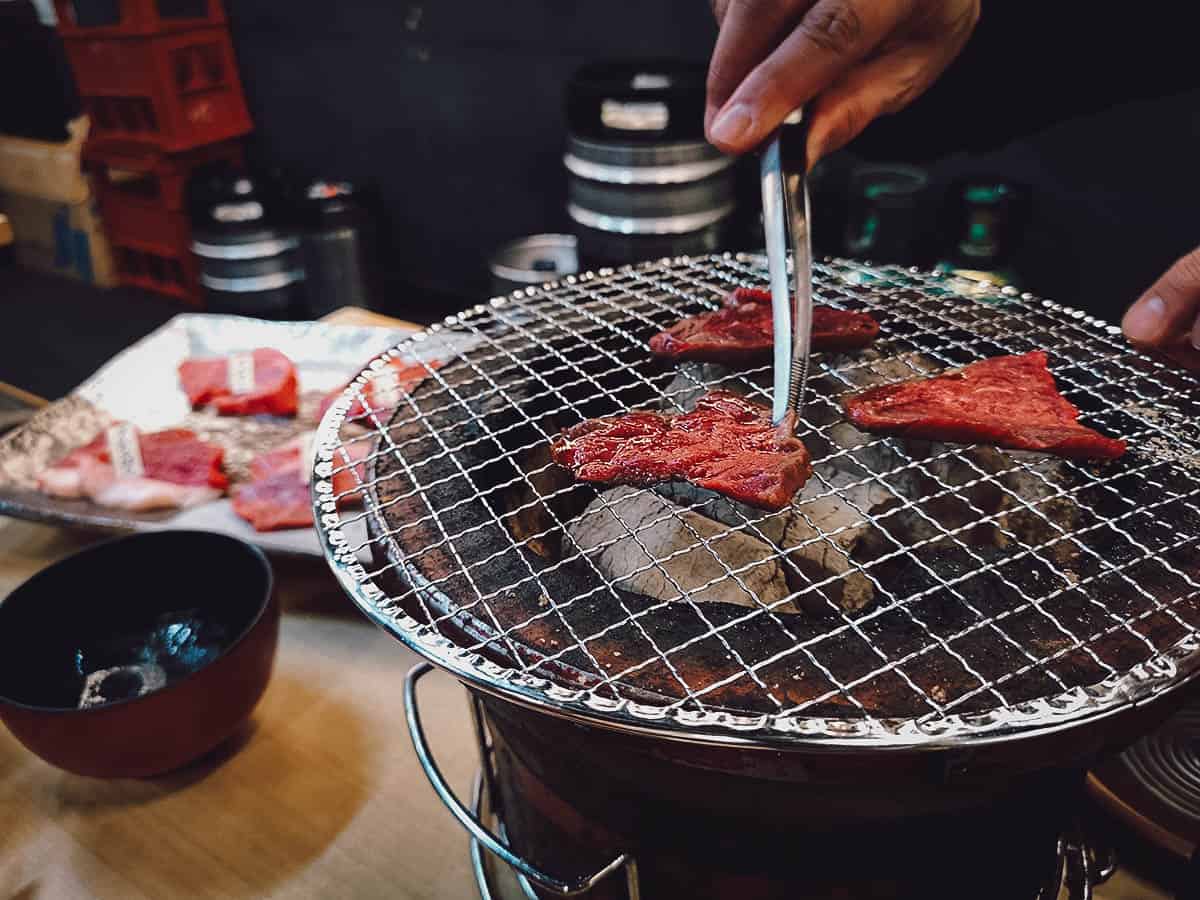 3. Rent a Kimono
People love exploring Tokyo in kimonos. It's a great way of experiencing the city and coming away with some amazing photos. We haven't done it in Tokyo but we did it in Kyoto, and we wound up with some of the best pictures we've ever taken in Japan.
If you'd like to rent a kimono in Tokyo to spruce up your Instagram feed, then you can do so on Klook.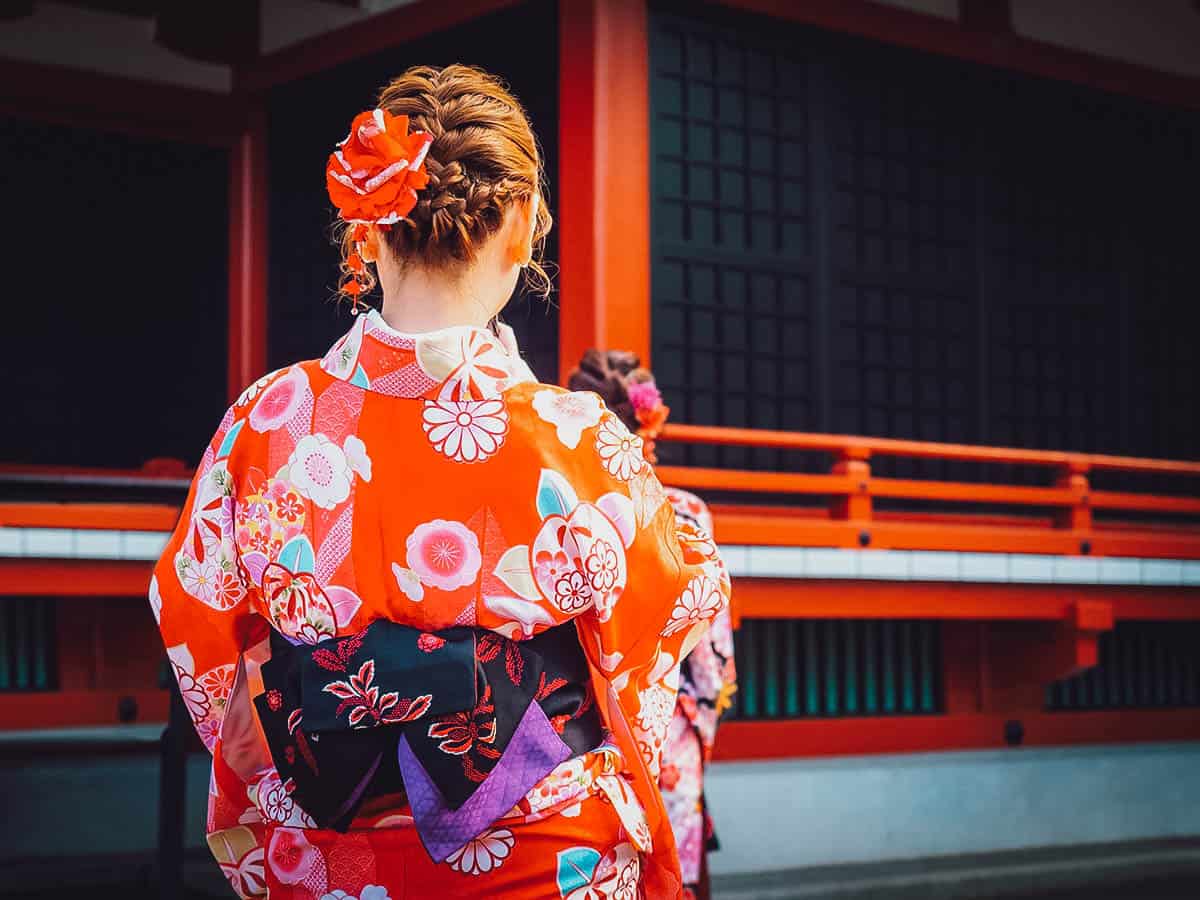 4. Go to a Maid Cafe
Maid Cafes are a type of cosplay restaurant popular in Tokyo. Waitresses dress up in maid costumes and act like servants while treating cafe customers like their masters and mistresses.
Maid Cafes have become quite popular and can be found in different parts of Tokyo (and Japan), but most are still clustered in Akihabara where the trend began.
You can refer to this article for some of the best Maid Cafes in Akihabara. Klook offers vouchers to Maidreamin, the first Maid Cafe recommended on that list.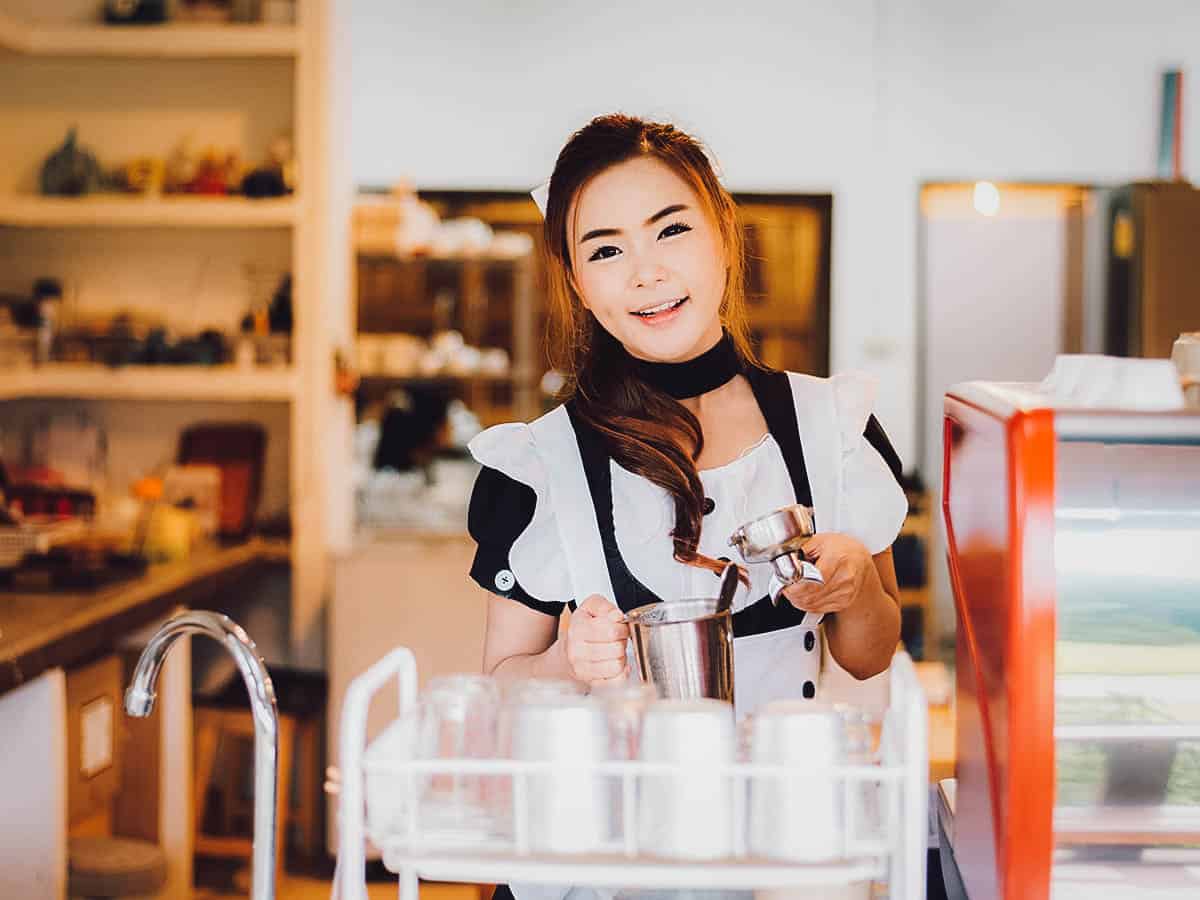 5. Take a Cooking Class
Going on food tours is great for finding obscure hole-in-the-walls, but if you'd like to learn more about a cuisine, then taking a cooking class is one of the best things you can do. It's like looking under the cuisine's hood.
I took this fun cooking class in Tokyo where I learned to make classic Japanese dishes like udon, tempura, and tamagoyaki. You can search for cooking classes in Tokyo on airKitchen or Cookly. There are hundreds to choose from.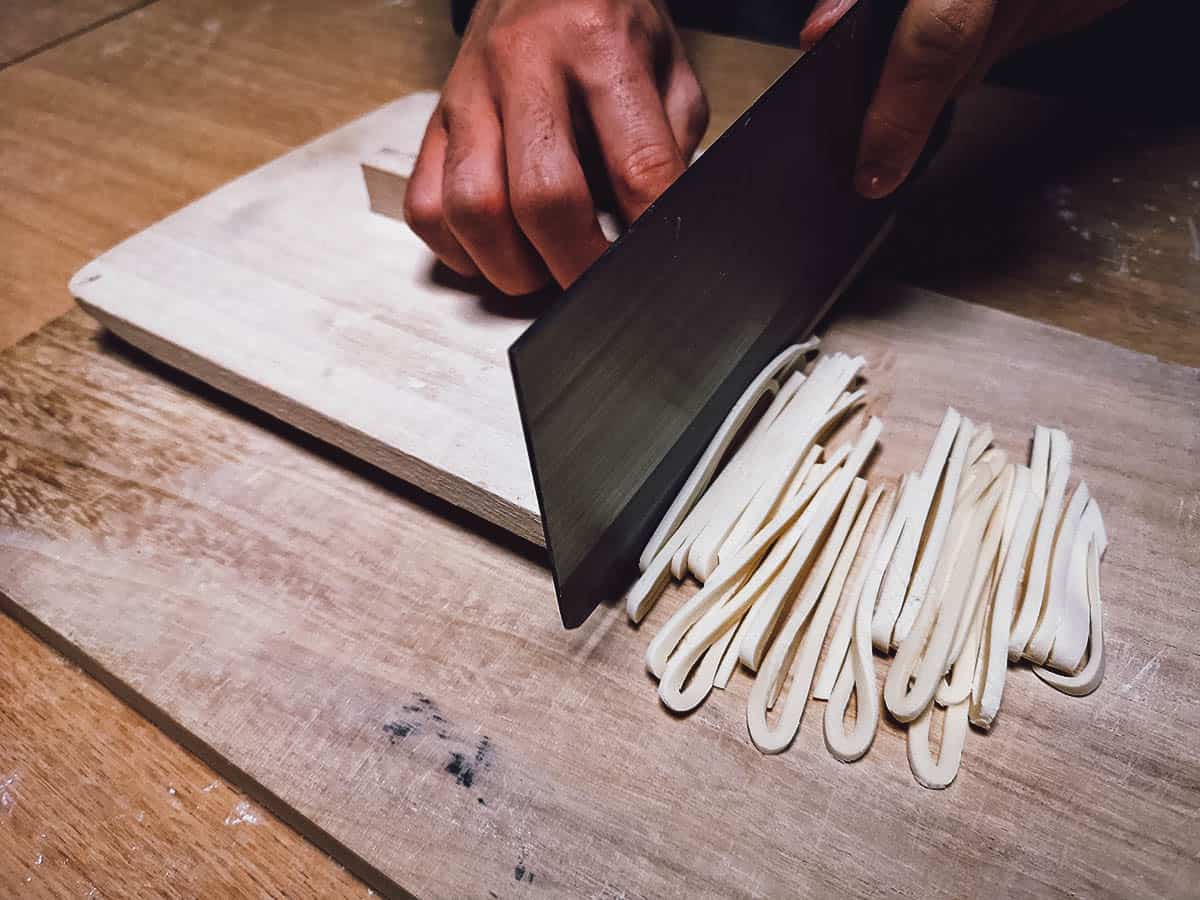 6. Go Cruising in a Go-Kart
This is one of the wackiest things you can do in Tokyo. For 1-3 hours, you can wear cosplay costumes and cruise around downtown Tokyo in go karts. It looks hilarious and a lot of fun.
Ren and I wanted to do this but we didn't have time to get international driver's permits before our trip. If you're looking for something fun and unique to do in Tokyo, then it doesn't get much better than this. It's so Japan!
You can book your go karting experience in Tokyo on Klook or Get Your Guide.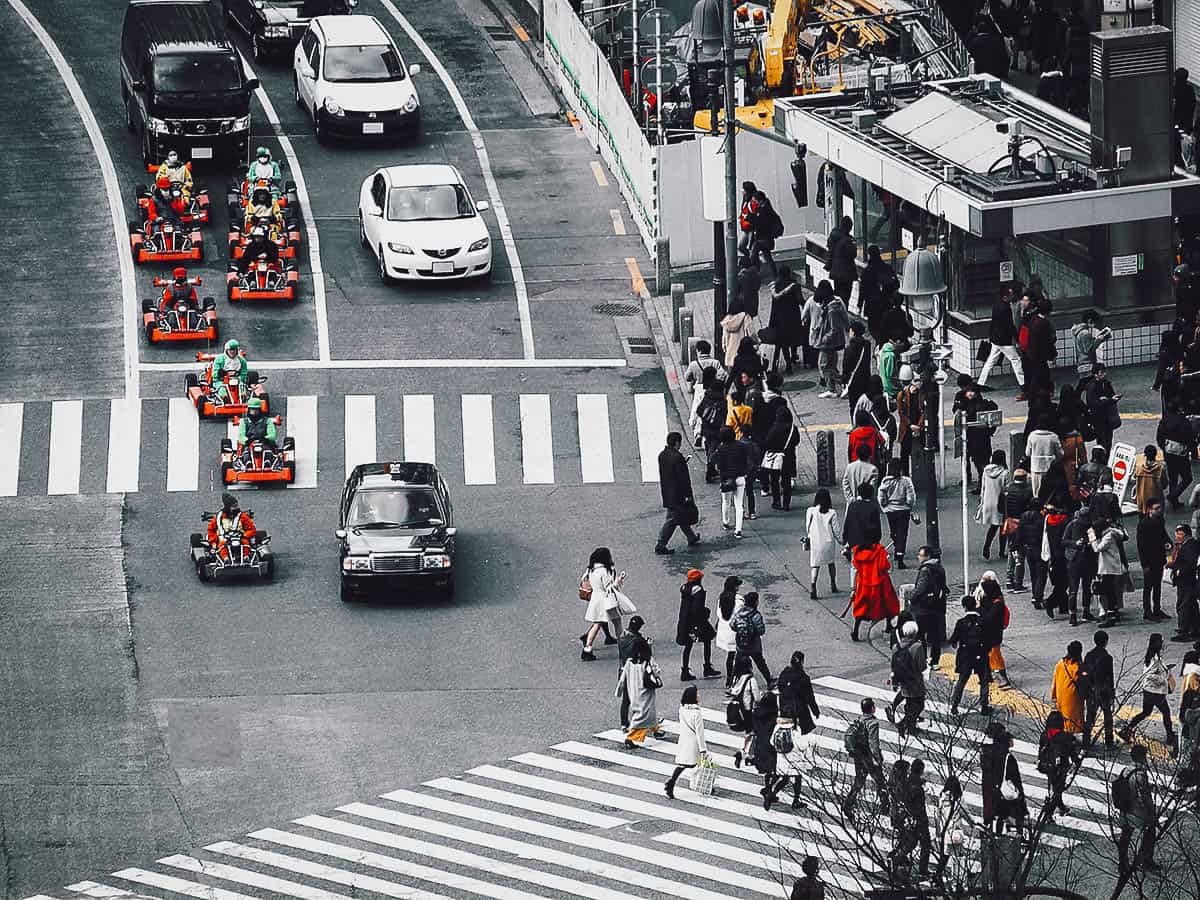 7. Watch Sumo
Watching a sumo tournament or practice is something I've been wanting to do in Japan. My brother and sister-in-law experienced a sumo practice in Tokyo and said it was one of the best things they did in Japan.
Ryogoku District in Sumida Ward is known as Tokyo's Sumo Town. It's home to the sumo stadium (Ryogoku Kokugikan), sumo stables, and many chanko restaurants. Chanko nabe is the hot pot dish that wrestlers eat to maintain their massive bulk.
Sumo wrestling matches are held every January, May, and September. If you'll be in Tokyo during those months, then maybe you'd like to catch a tournament.
Otherwise, there are other sumo-related experiences you can do like attending a sumo practice, eating a chanko nabe lunch, and more. You can check Klook, Get Your Guide, or Magical-Trip for a list of sumo-related activities in Tokyo.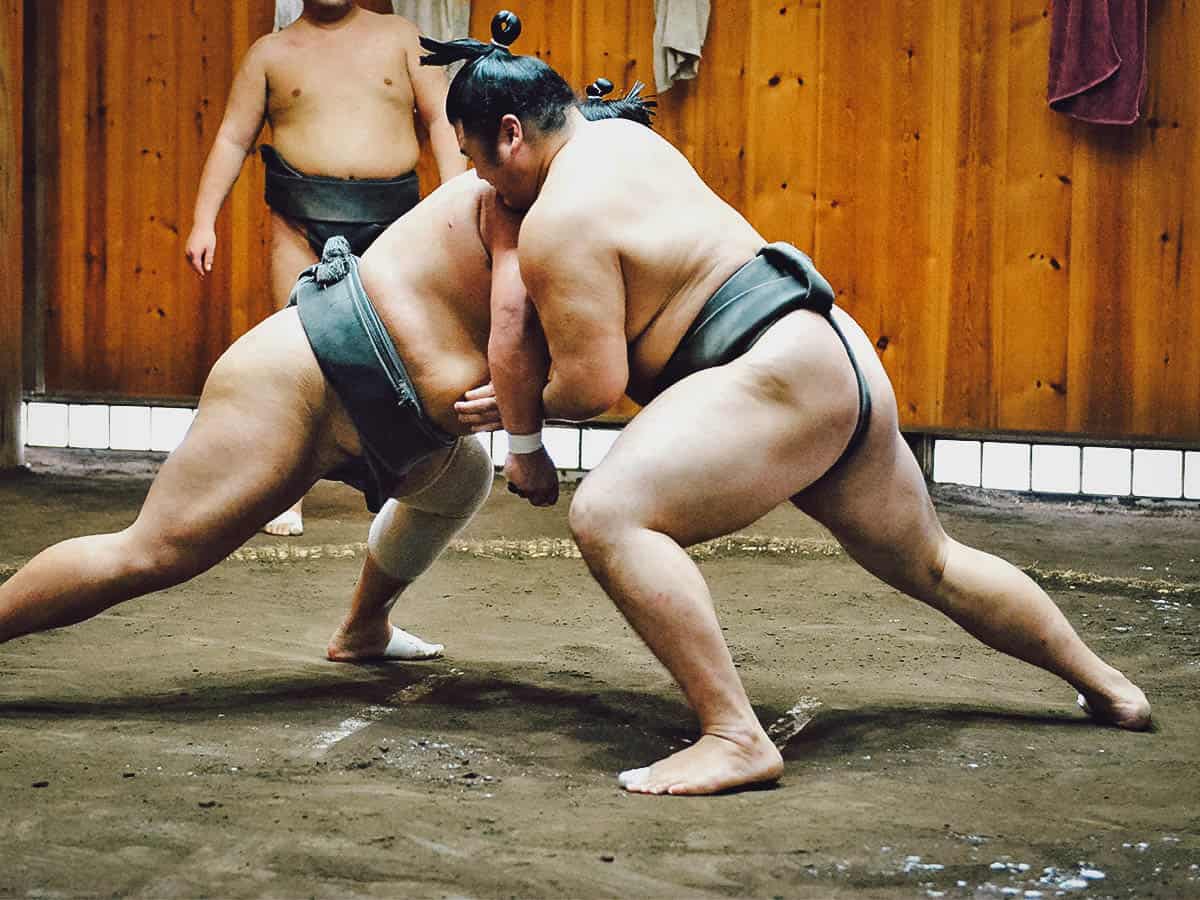 DAY TRIPS FROM TOKYO
If you're spending enough time in Tokyo, then you may want to take a day trip (or two). Because of Tokyo's ultra-efficient railway system, there are multiple day trips you can make from the city.
Listed below are five of the most popular but be sure to click through to our list of the best day trips from Tokyo for more suggestions. It'll have more information about the following day trips as well.
1. Tokyo Disney Resort
They may have "Tokyo" in their names but Tokyo Disneyland and Tokyo DisneySea aren't actually in Tokyo. They're in Urayasu city in neighboring Chiba prefecture, about an hour east of central Tokyo.
If you're visiting Japan with kids, then going to either Disney resort may already be on your agenda. But even if you aren't, it's a fun way of spending the day in Tokyo. Tokyo Disney Resort is the most unique in the franchise because it's the only one that The Walt Disney Company doesn't have an ownership stake in.
Ren and I spent the day at Tokyo DisneySea and loved it. It truly is a unique experience and unlike any other Disney theme park we've ever visited. I suggest going to Tokyo DisneySea (instead of Tokyo Disneyland) as it's the only one of its kind in the world.
2. Kawagoe
Kawagoe is an atmospheric castle town in Saitama prefecture, less than an hour northwest of Tokyo. Nicknamed "Little Edo", it's famous for its many well-preserved warehouses and traditional buildings that evoke an historic Edo-period feel.
Many of the old buildings along the town's main Kurazukuri Street have been converted into restaurants, shops, and teahouses, so one of the best things you can do in Kawagoe is to eat street food and soak in the town's atmosphere.
Be sure to seek out Kashiya Yokocho as well. It's a narrow alley with a cluster of small candy shops selling a selection of traditional Japanese sweets.
3. Kamakura
Located in Kanagawa prefecture, Kamakura is one of the most popular day trips you can make from Tokyo. It's nicknamed the "Kyoto of eastern Japan" because of its impressive collection of cultural attractions.
There are many interesting temples and shrines in Kamakura, but it's biggest draw is the Great Buddha of Kamakura. It's an 11.4-meter tall bronze statue of the Buddha located on the grounds of Kotokuin Temple.
4. Lake Kawaguchiko
Lake Kawaguchiko is the easiest of the Fuji Five Lakes to visit on a day trip from Tokyo. Located in Yamanashi prefecture, it's an onsen town that offers some of the most breathtaking views of Mt. Fuji.
5. Hakone
A trip to Hakone in Kanagawa prefecture is perhaps one of the best day trips you can make from Tokyo. Like Lake Kawaguchiko, it's an onsen town that offers spectacular views of Mt. Fuji.
Located about two hours southwest of Tokyo, Hakone is known for its many onsen resorts, temples, shrines, hiking trails, and art museums. There's quite a lot to see and do there so an early start is a must.
Among the most popular activities in Hakone include soaking in an onsen, riding a pirate ship across Lake Ashinoko, and riding the ropeway to Owakudani – an area with volcanically active geysers.
JAPANESE FOOD GUIDE
Japanese is my absolute favorite cuisine in the world and a big reason why we visit Japan often, at least once a year if we can. If you love Japanese food as much as we do, then you may want to check out Japanese food guide. It includes popular dishes in Japan as well as regional specialties by prefecture, including Tokyo.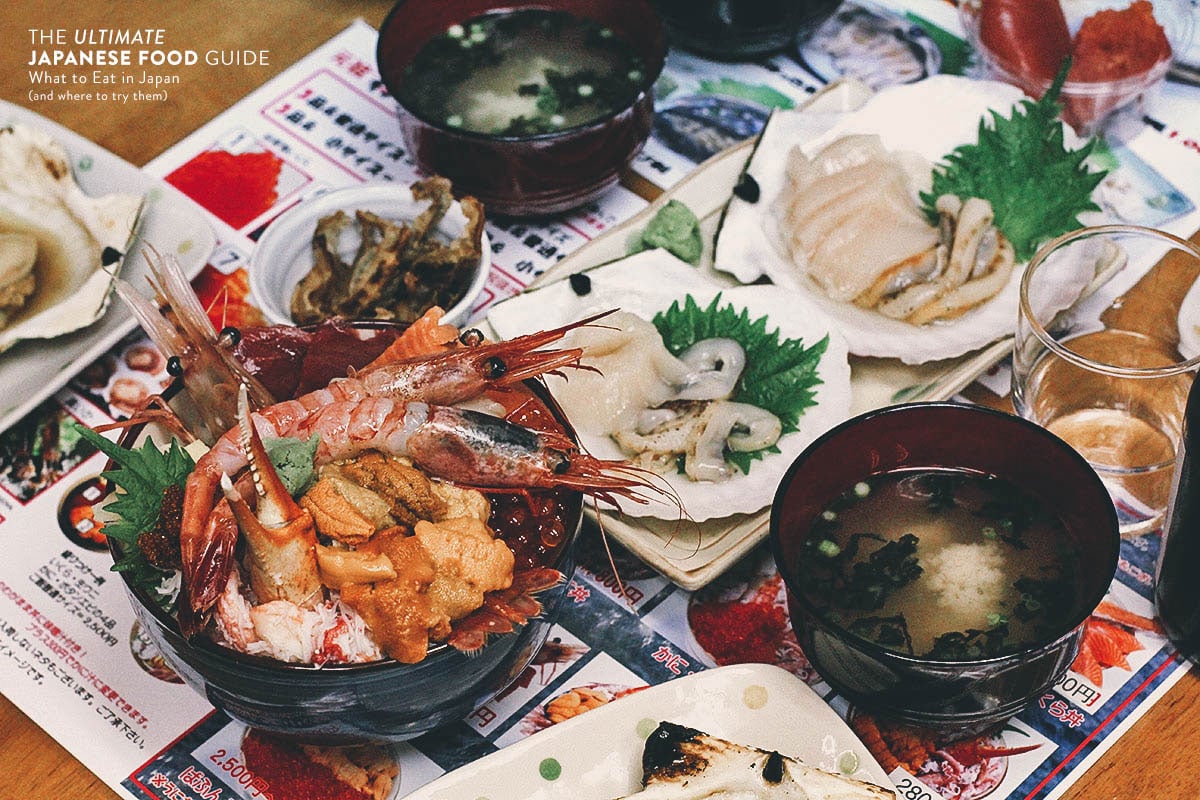 WHERE TO EAT
18 Must-Try Restaurants in Tokyo
Food is why we travel so it was important for me to come up with as complete a Tokyo food guide as possible. I didn't want to just find the city's best sushi bars or its best ramen restaurants. I wanted to explore Tokyo's regional food so I could create as well-rounded a food guide as I could.
The result is this Tokyo food guide with 18 must-try restaurants. If you're wondering where to eat in Tokyo, then I hope this list of eighteen can lead you to some great meals.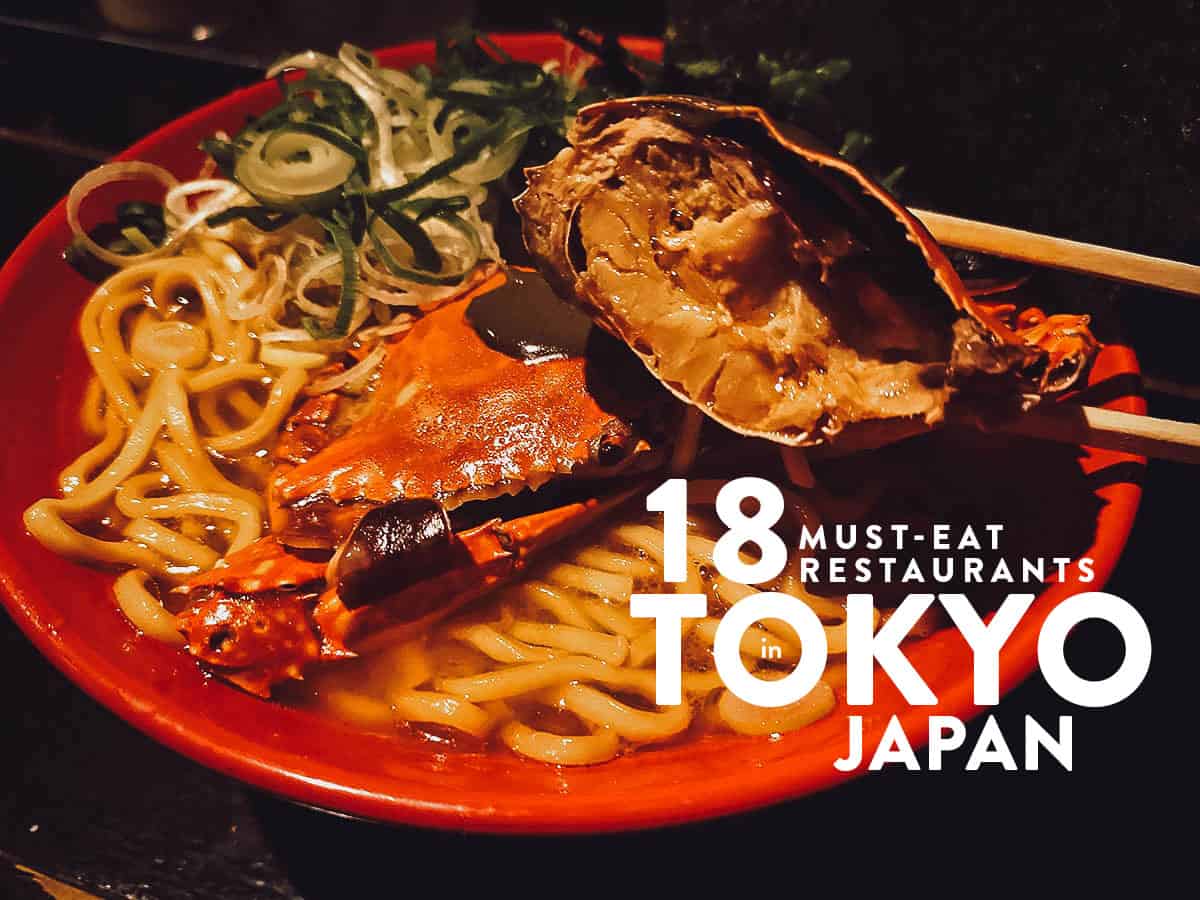 Eighteen may be too many for most people so I've listed six of our favorites below to give you as well-rounded a Tokyo food experience as possible. Do check out our full Tokyo food guide for more pictures and information about each of these restaurants.
1. 麺処いのこ平和台店
This was one of our best meals in Tokyo. The ramen at this neighborhood restaurant is unbelievable.
麺処いのこ平和台店 was recommended to us by a Japanese local who was reluctant to tell us about it at first. He was fine with us going there, but he didn't want me to share the information publicly because according to him, lines were long enough.
Thankfully, they have three branches so he let me post the address of the branch he doesn't go to. Ha! You can refer to our full Tokyo travel guide to see where it is.
2. Sushi Katsura
Excluding kaiten-zushi restaurants, cheap good sushi isn't as easy to come by in an expensive city like Tokyo. Thankfully, we found Sushi Katsura.
Located just off Tsukiji Outer Market, one reviewer described Sushi Katsura as a serious contender for cheapest good sushi in Tokyo. This lunch sushi set with nine pieces of nigiri, six pieces of maki, and one tamago set me back just JPY 1,280.
3. 好美家
When my Japanese friend was giving me restaurant recommendations in Tokyo, he told me that I couldn't talk about Tokyo food without talking about monjayaki. It's considered quintessential Tokyo food.
Made with pan-fried batter, monjayaki is a dish similar to okonomiyaki. Dashi or water is added to the batter which makes it runnier. When cooked, monjayaki doesn't quite solidify into pancake form the way okonomiyaki does. It stays soft and gooey, like melted cheese.
4. Miyako
Another dish that's considered core Tokyo food is fukagawa meshi. It's a dish of clam and long onion cooked in miso and topped over rice.
Like monjayaki, you need to go to a specific part of Tokyo to try the best versions of fukagawa meshi. The most delicious fukagawa meshi can be found in the area where it originated from – Fukagawa.
5. Kisaburo Nojo
Kisaburo Nojo specializes in tamago kake gohan, a popular Japanese comfort food of steamed rice topped with raw egg and soy sauce. According to my Japanese friend, it's like the Japanese equivalent of the American PB&J.
Kisaburo Nojo offers an all-you-can-eat tamago kake gohan buffet featuring premium eggs sourced from different farms in Japan.
6. Savoy
It may seem odd to add a pizzeria to a Japanese food guide, but as mentioned earlier in this article, Tokyo makes incredible pizzas that rival those in Italy.
If you're a fan of the Ugly Delicious series with David Chang, then you may recognize Savoy as one one of the places featured on the pizza episode of the show.
They serve just two types of pizza at Savoy – margherita and marinara. We haven't been to Italy yet so we can't compare, but these were easily the best pizzas we've ever had in our lives. They were simple but perfect.
As one reviewer wrote in his review of Savoy: "The best pizza isn't in Italy, it's in Tokyo!"
HOW TO GET AROUND
Tokyo is massive but it has such an extensive and efficient metro system that getting around was never a problem. I used mostly the subway and I never had to walk too far to get from any metro station to my destination.
If you plan on following this guide, then you'll be riding the trains a lot so it's a good idea to get a transportation card. I used a combination of two in Tokyo – a 72-hr Tokyo Subway Ticket and a Suica IC Card.
Tokyo Subway Ticket
If you plan on using Tokyo's local metro a lot (ie several times a day) then a Tokyo Subway Ticket will be very useful to you. It'll give you unlimited rides on the Toei and Tokyo Metro Lines for 24 hrs, 48 hrs, or 72 hrs. I was in Tokyo for over a week so I got two 72-hr tickets.
You can refer to this Tokyo subway map to see which lines you can use it for. The Toei and Tokyo Metro Lines should get you anywhere you need to go within the city limits.
If you're not sure if it's worth it for you, then you can get an estimate on subway fares using Hyperdia or Google Maps. In my case, it was worth it on most days but not all so I made sure to start using my 72-hr tickets on consecutive days when I knew I'd be commuting a lot.
You can buy Tokyo Subway Tickets at the airpot (Narita and Haneda) or at metro stations, but you can sometimes get a discount if you purchase it in advance through Klook or Get Your Guide.
If you'll only be traveling within Tokyo's city limits, then the Tokyo Subway Ticket should be enough. But if you plan on taking day trips outside the city or eventually moving on to another city in Japan, then you should get an IC Card as well.
Suica / Pasmo IC Card
An IC Card is basically a stored value card similar to Seoul's T-money Card or Hong Kong's Octopus Card. It won't save you on fares but it'll save you from the hassle of having to buy single journey tickets every time.
For trips on the Toei and Tokyo Metro Lines, I used the Tokyo Subway Ticket. For anything else like bus rides and trips beyond the city limits, I used the Suica IC Card.
After Tokyo, I spent four more weeks traveling through Japan and the Suica IC Card worked everywhere – on trains, buses, ferries, and trams – from Tokyo to Fukuoka. You can even use it to pay for things at convenience stores.
When your balance runs low, you can top it up at machines found in every subway station. It is so incredibly convenient and a must when using public transportation in major cities in Japan.
The Pasmo IC Card is pretty much the same thing as the Suica IC Card. The only real difference is the companies that offer them. The Suica IC Card is owned by Toei and Tokyo Metro while the Pasmo IC Card is operated by JR, but they both give you the same benefits. Getting either card is fine.
If you'd like to purchase a Suica IC Card, then you can do so in advance through Klook.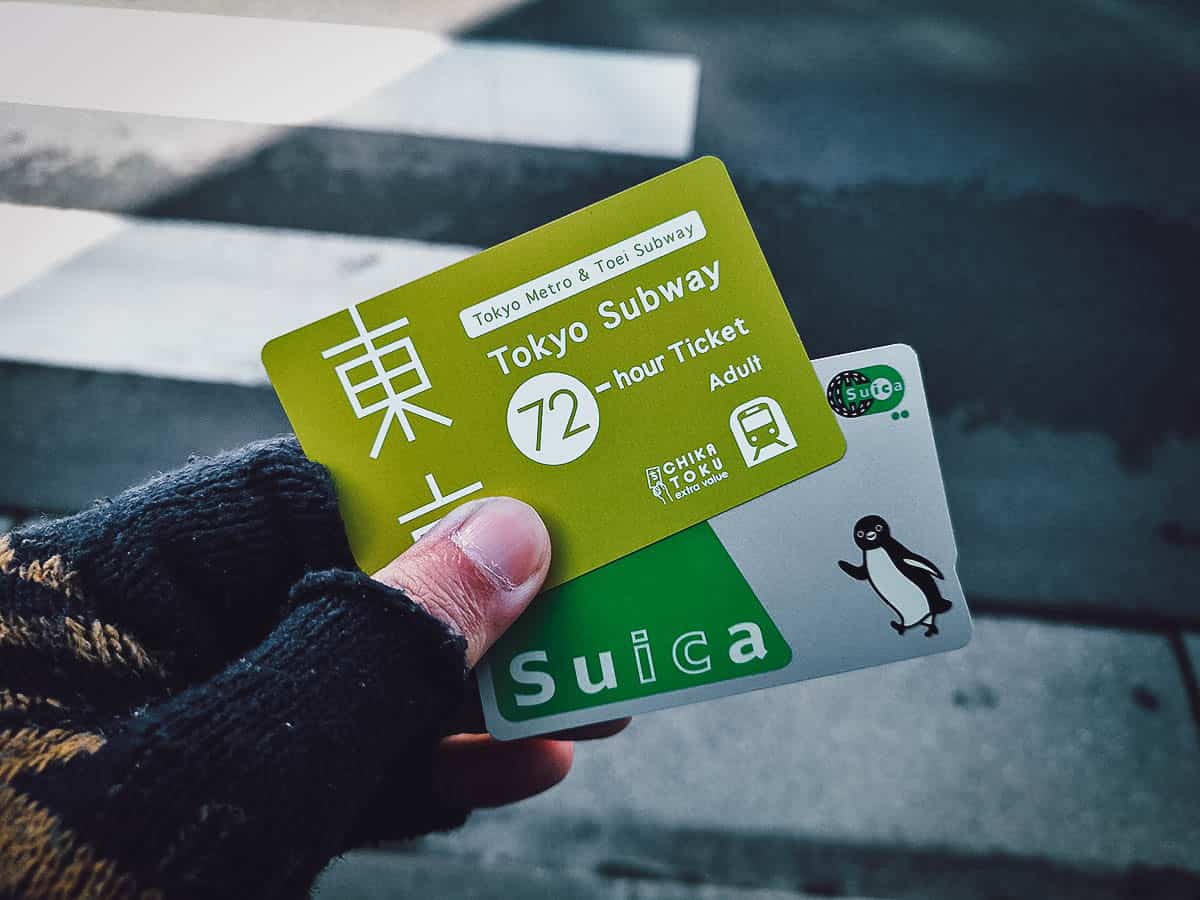 HOW MANY DAYS TO STAY / SAMPLE ITINERARY
Tokyo is such a big city with much to see and do so I was surprised to find people saying that you can experience its highlights in just two days. That sounded ludicrous to me.
Sure, it's possible to visit one attraction, snap a quick selfie, then rush to the next one, but how much of Tokyo are you really experiencing? For a fulfilling Tokyo experience, I'd say four days is a minimum, but five is ideal.
There are so many interesting day trips you can make from Tokyo so I think five days is the perfect amount of time for any first-time visitor. Listed below is a synopsis but be sure to click through to our 5-day Tokyo itinerary for the full version.
DAY ONE
• Meiji Shrine
• Yoyogi Park
• Harajuku
• Shibuya

DAY TWO
• Ginza
• Tsukiji Outer Market
• Odaiba
• Shinjuku
DAY THREE
• Yayoi Kusama Museum
• Koishikawa Korakuen
• MOMAT
• Tokyo Imperial Palace
• Akihabara
DAY FOUR
• Senso-ji
• Tokyo Skytree
• Edo-Tokyo Museum
• Hie Shrine
• Tokyo Tower
• Zozo-ji
DAY FIVE
• Day Trip
BUDGET / SUMMARY OF EXPENSES
Tokyo isn't cheap. You probably already know that. But that doesn't mean you can't have a great time without breaking the bank. There are ways to save like staying in cheaper areas like Ueno, Asakusa, or Sumida and eating at convenience stores.
Assuming you'll be sharing a modest hotel room with one other person, then a budget of around JPY 6,500 per day should be enough. This takes into account your hotel room, meals, transportation, and pocket wifi rental. Here's a quick breakdown of expenses:
ACCOMMODATIONS
This is highly variable, especially in a city like Tokyo where you can stay in a cheap dorm room or at an expensive ryokan. At Oak Hostel Sakura in Sumida, I paid JPY 1,300 a night for a dorm room bed and JPY 5,000 for a private room. Room rates vary greatly so it depends on your budget and hotel preference.
MEALS
Food is generally expensive in Tokyo. The cheapest meal I had was a JPY 550 kaisendon bowl in Ueno. Ramen typically cost around JPY 800-1,000 per bowl. Convenience stores can save you money but not as much as you think. I ate only konbini food one day and I still wound up spending over JPY 2,000. Like hotel rooms, food prices can be highly variable in Tokyo but a budget of around JPY 3,000 per day should be good.
TRANSPORTATION
If you plan on staying only in central Tokyo, then a transportation budget of around JPY 500 per day should be enough.
ENTRANCE FEES
If you check listed admission fees in the PLACES TO VISIT section of this guide, then you'll find that this varies greatly as well. It costs just JPY 300 to enter Kosihikawa Korakuen but a ticket to teamLab Borderless will set you back JPY 3,200. People's tastes vary so I won't include admission fees in the suggested budget. You can add them yourself based on which attractions you want to visit.
POCKET WIFI RENTAL
Renting a pocket wifi device with unlimited data from Klook will cost about you JPY 780 per day.
TOTAL


This comes out to about JPY 6,400 a day per person. Ren and I are middle of the road travelers who enjoy good food and drink, so the recommended budget works for travelers like us. Feel free to adjust based on your own travel habits.
TRAVEL TIPS
1. Plan your Trip with Sygic Travel or ViaHero
SYGIC TRAVEL: If you enjoy planning every detail of your trips like I do, then you may find Sygic Travel useful. It's a free trip planning app that allows you to create efficient itineraries by pinning points of interest on a map then grouping them together by location. I've been using it for several years now to create all our itineraries. It's available for free on iOS and Android.
VIAHERO: If you don't enjoy trip planning as much and would rather have someone else do it for you, then you may want to check out ViaHero. It's a travel planning service that puts you in contact with destination experts so they can create a custom itinerary for you based on your preferences. They have destination experts in different cities around the world, including Tokyo. If you'd like to try them out, then you can get a 5% discount on their services if you use our link.
2. Rent a Pocket Wifi Device
Having a reliable wifi connection is important anywhere, but especially in a huge megacity like Japan where there's a language barrier. You'll need it to translate signs, convert currencies, and navigate the very efficient but also very confusing metro system.
You can connect to the internet in Japan using a sim card or a pocket wifi device. Personally, we prefer connecting via pocket wifi devices because it's simpler, but it's really up to you.
Follow the links to purchase a 4G sim card or rent a 4G pocket wifi device through Klook (7GB data | Unlimited data) or Get Your Guide. Be sure to reserve it at least a week prior to your trip.
3. Use Hyperdia
As described, you'll be riding trains a lot in Tokyo (and Japan in general) so this free commuter app will be very useful to you. It'll help you decipher the often confusing railway system.
Hyperdia is accurate and reliable but I don't find it as user-friendly as Google Maps so I typically use it just for intercity travel. If I need to figure out the local transportation system, then I use Google Maps.
WEBSITE: hyperdia.com | DOWNLOAD: iOS / Android
4. Navigate with Google Maps
As mentioned above, Hyperdia is great for intercity travel but there's no better navigation app than Google Maps. It'll tell you exactly how to get from point A to point B either by walking or using any city's local transportation system. It's super reliable and something I never travel without.
5. Get a Discount on Disney Tickets at a Kinken Shop
Disney Resort tickets are expensive. They're even more expensive now but at the time of our trip, a one-day passport cost JPY 7,500 for adults. Thankfully, we were able to save a little on the cost by buying them from a kinken shop.
A kinken shop is a ticket resale store found throughout Japan, usually near train stations or in shopping arcades. They buy and sell unused train passes, vouchers, and tickets to different events like concerts, sporting games, and amusement parks.
Prices vary but we got our one-day passports for JPY 7,200 apiece from a kinken shop near Shinjuku station. It wasn't a huge discount but in a city as expensive as Tokyo, every little bit counts.
Kinken shops are legitimate businesses but be sure to read the terms of the ticket you're buying. The one-day passports we bought were expiring in about three months, which was fine in our case. You can check out this article on kinken shops for more information.
6. Plan for Long Commutes
This was the one thing I didn't take into account when planning our itinerary. Tokyo is huge so it can often take time to get from one destination to the next.
When creating your itinerary, don't cram too many activities in one day. It makes everything so much more stressful and less enjoyable when you find yourself having to rush from one place to the next.
Take your time and enjoy yourself. Travel isn't a race.
7. Look for Travel Deals
There are many websites that offer discounts on tours and other travel-related services. For Tokyo, I suggest going through Klook, Magical-Trip, Get Your Guide, and Kkday. They're all leading travel ecommerce sites that offer a wide range of activities in different cities around the world, including Tokyo.
8. Get Travel Insurance
Whether or not to get travel insurance is something we deliberate on before every trip. It usually depends on three factors – where we're going, how long we'll be away for, and what we'll be doing. I was in Japan for over a month so I definitely felt the need for insurance.
When we need insurance, we buy it from World Nomads or SafetyWing. They're both leading travel medical insurance providers used by many long-term travelers. Check out my article on why we buy travel insurance for more information. You can follow the links to get a free quote from World Nomads or SafetyWing.
9. Bring the Right Power Adapter
Japan has Type A or Type B electrical outlets so be sure to bring the right power adapters for your devices. Electrical voltage is 100V and the standard frequency is 50/60Hz.
10. Learn Basic Japanese Etiquette
Mindfulness and etiquette are of the utmost importance in Japan. As a foreigner, we aren't expected to know all the rules but it would be good to familiarize ourselves with the basics. Check out this great overview on Japanese etiquette for travelers.
VISA INFORMATION (for Filipinos)
Philippine passport holders need a tourist visa to enter Japan. The application process is coursed through accredited travel agencies so you don't have to go to the Embassy of Japan.
I coursed mine through Reli Tours & Travel and at the time, they charged PHP 950 if you're applying as a tourist, and PHP 2,000 if you'll be visiting friends or relatives. It usually takes between 3-7 days to process.
Check out my post on how to apply for a Japan tourist visa for a step-by-step process and a list of accredited travel agencies.
Have fun!
I'm not an expert on Tokyo but I do hope you find this travel guide useful. I'm only sharing the things I learned from our trips. If you have any questions or comments, then please feel free to leave them in the comment section below. You're welcome to join our Facebook Travel Group as well.
Arigato gozaimasu and have an amazing time getting lost in translation in Tokyo!
OUR GEAR
These are some of the things we brought with us to Tokyo. For more of our gear, check out our "What's in Our Backpack?" post. (NOTE: The following links are Amazon affiliate links.)
Disclosure
Some of the links in this guide are affiliate links, meaning we'll earn a small commission if we make a sale at no added cost to you. We only recommend products and services that we use ourselves and firmly believe in. We really appreciate your support as this helps us make more of these free travel guides. Thank you!