I was on a press trip to Japan's Chubu region a couple of years ago and one of our guides said that "there's nothing in Nagoya". I understood what she meant, though I didn't agree with her.
Before my first trip to Nagoya, I wasn't overly enthusiastic about visiting this metropolis in Japan's central Chubu region. It seemed more urbanized than other Japanese cities and lacked the traditional charm I had come to love from cities like Kyoto and Kanazawa.
When people visit Japan, especially first-timers, they tend to look for temples, kimonos, and torii gates. Being a highly urbanized city, Nagoya doesn't have as much of that which is probably why our guide said what she did. But that hardly means there's nothing in Nagoya.
Nagoya is the birthplace of Toyota. The Toyota Techno Museum is one of the best museums I've ever visited in my life and I'm not even a car enthusiast. Nagoya is also the administrative headquarters of JR Central and home to the interesting SCMAGLEV Railway Park and Museum, which conveniently, is just a short walk from Legoland.
Best of all, Nagoya is home to one of the best regional cuisines in Japan. My Japanese friend told me that it's one of three cities that many local Japanese visit when they travel for food, the other two being Fukuoka and Hiroshima. The regional food in Nagoya is so good that they even have a term for it – Nagoya meshi.
If you like trains, automobiles, and amazing Japanese food, then you'll find that there's much to love about Nagoya. This detailed Nagoya travel guide will tell you all you need to know to plan your trip.
VISIT NAGOYA QUICK LINKS
This travel guide to Nagoya is long. For your convenience, I've compiled links to hotels, tours, and other services here.
HOTELS
Top-rated hotels around Nagoya Station, the most convenient area to stay for first-time visitors to the city.
TOURS
OTHER SERVICES
Save This on Pinterest!
No time to read this Nagoya travel guide now? Click on the save button and pin it for later!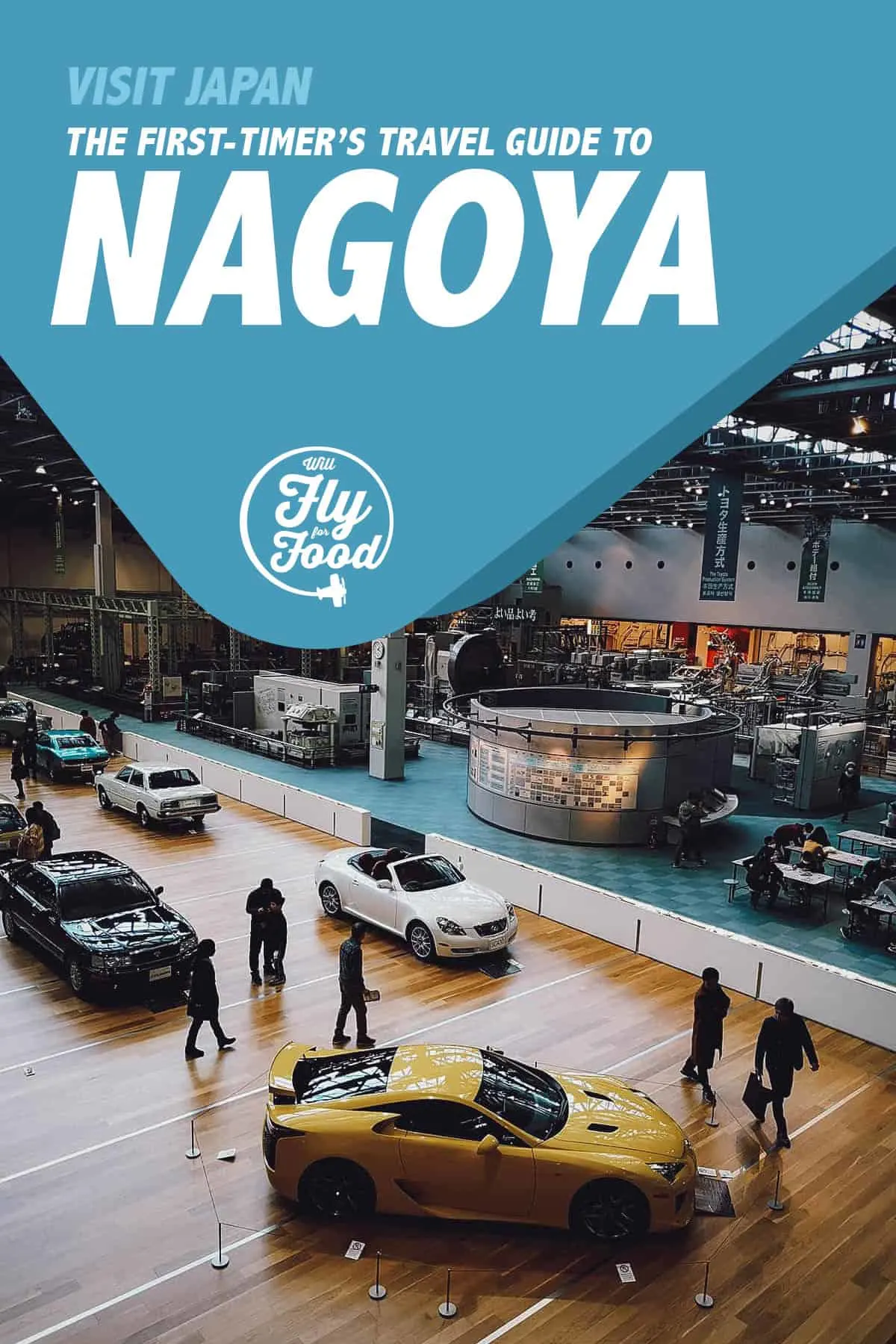 GUIDE TABLE OF CONTENTS
NAGOYA TRAVEL RESTRICTIONS
Due to the current global situation, Nagoya travel guidelines have been changing frequently. Our partners at Booking.com created a website that lists detailed information on travel restrictions and advisories around the globe.
Before planning a trip to Nagoya, be sure to check Booking.com for information on travel restrictions to Japan. If you do decide to visit Nagoya, then it's highly recommended that you get travel insurance with COVID coverage.
JAPAN VISA
Depending on what type of passport you carry, you may need to secure a visa and other travel documents to enter Japan. Check out iVisa.com for a list of requirements and to apply for a visa (if necessary).
If you're a Philippine passport holder residing in Manila, then check out our guide on how to apply for a Japan tourist visa for a step-by-step process.
NAGOYA AT A GLANCE
Nagoya is the capital of Aichi prefecture and the largest city in Japan's central Chubu region. Like Tokyo and Osaka, it's one of the country's major ports and transportation hubs. It's home to one of Japan's biggest international airports and remains an important center for the automotive, aviation, and ceramic industries.
In spite of Nagoya's highly industrialized present, it's interesting to note that the region is regarded as the center for samurai and ninja culture in Japan. It's the birthplace of Oda Nobunaga, Toyotomi Hideyoshi, and Tokugawa Ieyasu – the three samurai feudal lords and national heroes credited for unifying the country in the 16th century. During the early Edo period, it's estimated that 70% of the nation's daimyo warlords were from Nagoya and its surrounding areas.
In spite of its history and key role in driving the country's economy, Nagoya has a reputation for being one of Japan's most boring cities. I don't know how it got that reputation but if you travel for food like we do, then Nagoya meshi will give you plenty to be excited about. It's known for many regional dishes and ingredients, none more important (and delicious) perhaps than mame or red miso.
BEST TIME TO VISIT NAGOYA
Nagoya's climate is similar to nearby destinations like Tokyo, Kyoto, and Osaka. It's pretty much a year-round destination though spring and fall are typically the best times to visit Nagoya. The weather is mild and you'll get a chance to experience the cherry blossoms in spring and the fall colors of autumn.
MAR-MAY: Weather-wise, March-April is one of the best times to visit Nagoya. Days are mostly dry and sunny with temperatures hovering around 15-20°C (59-68°F). Cherry blossoms in Nagoya are typically in full bloom around the end of March to early April. Nagoya isn't as popular as Kyoto or Tokyo and may be the more pleasant option for viewing the cherry blossoms in spring. If you don't like crowds, then be sure to avoid Golden Week (end of April – early May) which is peak season for domestic travel in Japan.
JUN-AUG: Summers in Nagoya are hot and humid. It's the rainiest time of the year and may not be the most pleasant time to visit Nagoya.
SEPT-NOV: October-November is another great time to visit Nagoya. The weather is mild with temperatures hovering around 13-18°C (55-64°F). If you'd like to experience the colors of autumn, then it's best to go in late November. September is still hot and rainy in Nagoya and perhaps not the best time to go.
DEC-FEB: Winters are cold in Nagoya but not cold enough to see snow. If you enjoy winter sports and don't mind colder weather, then Nagoya makes for a good base to do skiing and snowboarding trips. You'll find multiple ski resorts within two hours of the city.
Climate: Annual Monthly Weather in Nagoya
Check out climatestotravel.com for more on Nagoya's weather. For your convenience, I've created the average temperature and annual rainfall graphs below. Suggested months to visit are indicated in orange.
Average Temperature

Annual Rainfall

TRAVELING TO NAGOYA
There are many ways to get to Nagoya from where you are. You can check Bookaway or use the widget below to find route options available to you.
From Chubu Centrair International Airport
People flying into Nagoya will arrive at the Chubu Centrair International Airport. There are several ways to get to downtown Nagoya from the airport.
BY TRAIN: This is the fastest and most convenient way of getting to the city from the airport. The Meitetsu Railway Company offers direct services from Chubu Airport to Meitetsu Nagoya Station. The fastest is the μ Sky Limited Express. It'll get you into the city in about 28 minutes. You can purchase tickets at the gate or in advance through Klook.
BY BUS: You can also travel by bus from the airport to the Meitetsu Bus Center which is located right next to Nagoya Station. The hourly Centrair Limousine Bus service will get you into the city in around 88 minutes. There are 14 roundtrips everyday and you can purchase your tickets on the spot.
BY TAXI: Traveling by taxi is convenient but expensive. The fare for a medium-sized taxi between the airport and Nagoya Station will cost you around JPY 15,000.
BY PRIVATE TRANSFER: Like taxis, going by private transfer is convenient but expensive. Prices vary depending on where you're going and the size of your group. You can check for rates and book a private transfer on Klook or Get Your Guide.
From Other Parts of Japan
Although you can fly into Chubu Airport, many people will already be in Japan and will probably take a train to Nagoya. If that's the case, then you can check hyperdia.com for train routes and schedules.
If you'll be doing a multi-city tour across Japan, then you may be interested in purchasing a JR Pass. It'll give you unlimited use of all JR trains for the duration of your pass. You can purchase 7-, 14-, or 21-day JR passes through Klook or Japan Rail Pass.
If you're planning on exploring just the central Chubu region, then you may be interested in getting the Takayama-Hokuriku Pass instead. It'll give you unlimited travel between cities within the Chubu region (Nagoya, Hida Takayama, Kanazawa, Shirakawa-go, etc.) for five consecutive days.
Check out my article on the Takayama-Hokuriku Area Tourist Pass for more information. You can purchase the pass on Klook. You can also check out our 5-day Chubu itinerary to help you plan your trip.
WHERE TO EXCHANGE CURRENCY
The unit of currency in Japan is the Japanese Yen (JPY).
BANKS / POST OFFICES: Banks and post offices have traditionally been the most reliable places to exchange currency in Japan. However, the process is slow and requires some paperwork. I've exchanged currency at a few banks in Japan and the process can take up to half an hour.
KINKEN SHOPS: Kinken shops are small stores that buy and sell unused event tickets. Some also exchange currency. I exchanged currency at a kinken shop outside Shinjuku Station in Tokyo and got excellent rates. In Nagoya, you should be able to find kinken shops outside major metro stations like Nagoya Station.
CURRENCY EXCHANGE MACHINES: I haven't seen them very often but I did exchange currency through a machine in Nagasaki once. It was super easy. Just insert your foreign currency and out comes the JPY equivalent. You may be able to find them at popular tourist and shopping areas in Nagoya.
ATM MACHINES: This is our preferred method of exchanging currency in Japan. Rates are often comparable and it saves us from the trouble of having to bring too much foreign currency into Japan. I suggest letting your bank know that you plan on using your ATM card abroad so you don't run into any problems. In my experience, my card works best at convenience store and post office ATMs in Japan.
TIP: When withdrawing local currency from an ATM, some machines may ask you if you'd like to proceed "with or without conversion". NEVER choose "with conversion" because doing so will authorize the foreign bank operating the ATM to do the conversion for you, usually at highly unfavorable exchange rates. You can refer to this article on Medium for more information.
BEST AREAS TO STAY IN NAGOYA
There are a few good areas for travelers to stay in Nagoya. I've created the color-coded map below to help you understand where these suggested neighborhoods are. Click on the link for a live version of the map. (Please note that marked areas are approximations only)
RED – Around Nagoya Station
BLUE – Sakae
GREEN – Osu
PURPLE – Kanayama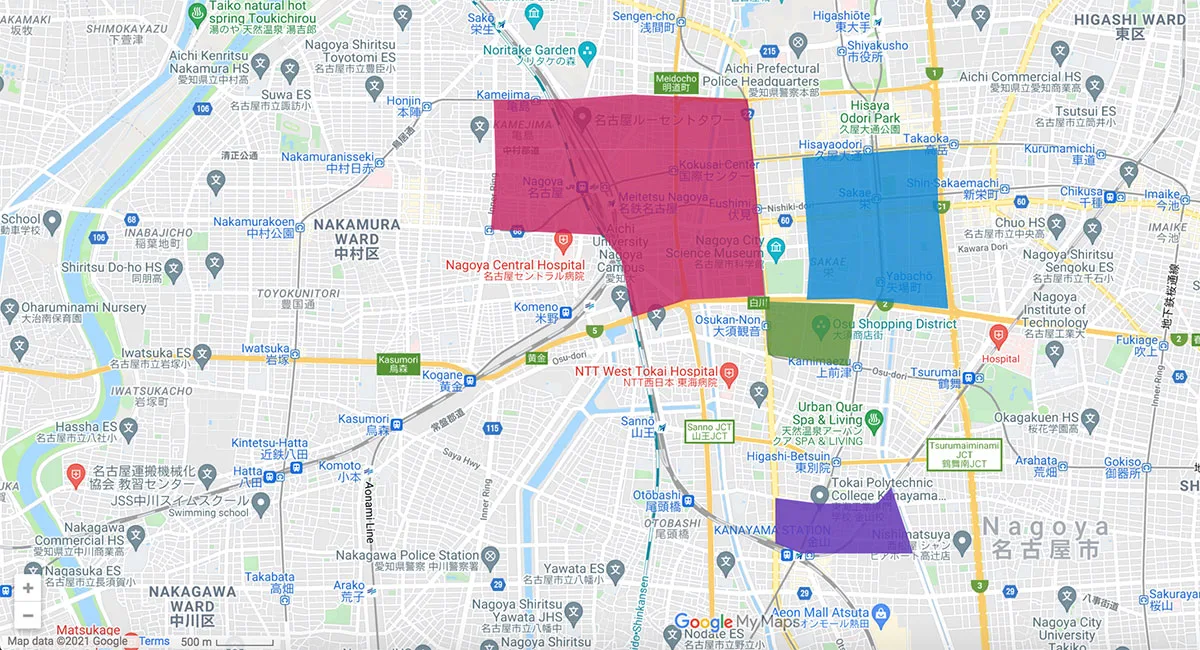 AROUND NAGOYA STATION
If it's your first time in Nagoya, then it's best to stay around Nagoya Station. It's a busy commercial area in the heart of the city with plenty of restaurants, izakayas, cafes, and shopping. It'll make it easy for you to get around as well.
I stayed at Nagoyaeki Access Hotel which is a clean and modern 2-star hotel located just a short walk from Nagoya Station. My room had a desk and a television and was bigger than the average business hotel room in Japan, which I appreciated. There are plenty of convenience stores and restaurants around the hotel as well.
You can book a room at Nagoyaeki Access Hotel through booking.com or Agoda. If you'd like to stay in the neighborhood but don't think this is the right hotel for you, then you can click on these links for alternate listings : booking.com or Agoda. Check out some of the top-rated hotels around Nagoya Station:
SAKAE
Sakae refers to the area just east of Nagoya Station. It's the city's main entertainment district and home to many local restaurants and izakayas. If you want access to local food and don't want to be too close to the train station, then Sakae is a good place to consider. You can find a hotel in Sakae through booking.com or Agoda. Here are some of the top-rated hotels in the area:
OSU
Just south of Sakae is Osu, another area that offers plenty of entertainment, food, and shopping options in Nagoya. It features a main shopping street and is close to Osu Shopping Arcade and Osu Kannon temple, one of the most popular tourist attractions in the city. You can search for a hotel room in Osu on booking.com. Check out some of the top-rated hotels in the area:
KANAYAMA
Kanayama refers to the area just north of Kanayama Station. I didn't have time to explore this area but I read that it's known for its plethora of small local restaurants, many of which are tucked away in back alleys. If you'd prefer to stay in an area with interesting local food, then Kanayama may be a good place to consider. It'll put you closer to popular tourist attractions like Atsuta Shrine and Shirotori Garden as well.
You can book a room in Kanayama through booking.com or Agoda. Check out some of the top-rated hotels in the area:
You can also book hotels and homestays in Nagoya using the handy map below.
PLACES TO VISIT IN NAGOYA
Contrary to what some people may say, there's actually quite a lot to do in Nagoya. It may not have as many cultural attractions but there's plenty to see and do for first-time visitors. Listed below are the city's top attractions but click on the link for more suggestions on what to do in Nagoya.
1. Toyota Commemorative Museum of Industry and Technology
Aside from the food, visiting this museum was my favorite thing to do in Nagoya. Like many Asians, I grew up with Toyotas so visiting the Toyota Commemorative Museum of Industry and Technology, or Toyota Techno Museum for short, was special for me.
It's a huge museum that traces the history of the Toyota company all the way back to its roots as an automatic loom manufacturer. There's much to see with many interactive exhibits so visiting this museum will keep you busy for at least 2-3 hours.
The Toyota Techno Museum is one of three Toyota-related museums you can visit in Nagoya. The other two are the Toyota Kaikan Museum and the Toyota Automobile Museum, both of which are about an hour away from central Nagoya. The Tyoota Techno Museum is the most accessible being just one stop away on the metro from Nagoya Station.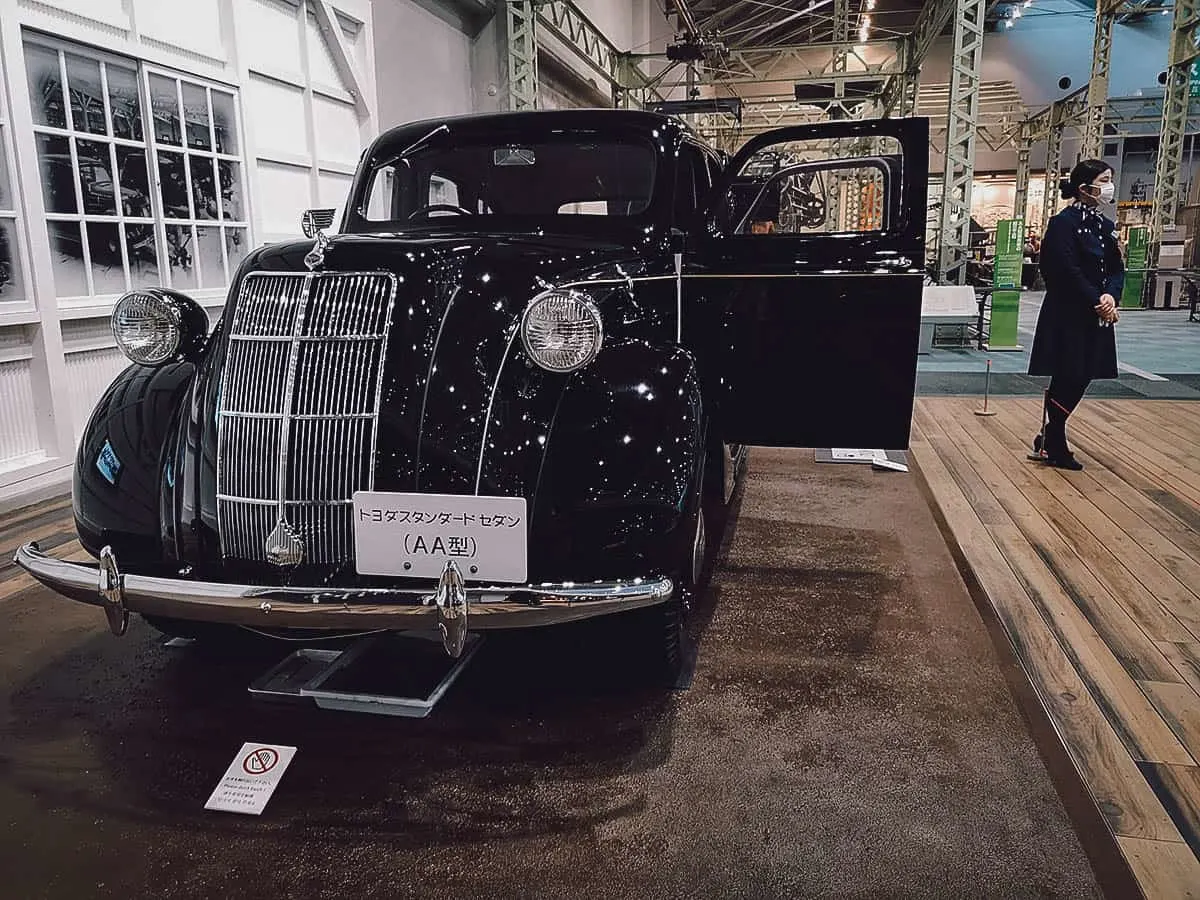 Suggested Length of Visit: 2-3 hrs
Admission: JPY 500
Operating Hours: 9:30AM-5PM, Tue-Sun (closed Mondays)
Nearest MRT Station: Sako station
2. Atsuta Shrine
Atsuta Shrine is one of Japan's most important shrines. It was built sometime between 71 and 130 AD to house the Kusanagi no Tsurugi, an ancient sword that's considered one of the Three Sacred Treasures of Japan.
Atsuta Shrine is located in a large forested area of about 200,000 square meters (2,153,000 sq ft). It features many walking trails and smaller shrines so it makes for a quiet green getaway from the steel and concrete of urban Nagoya.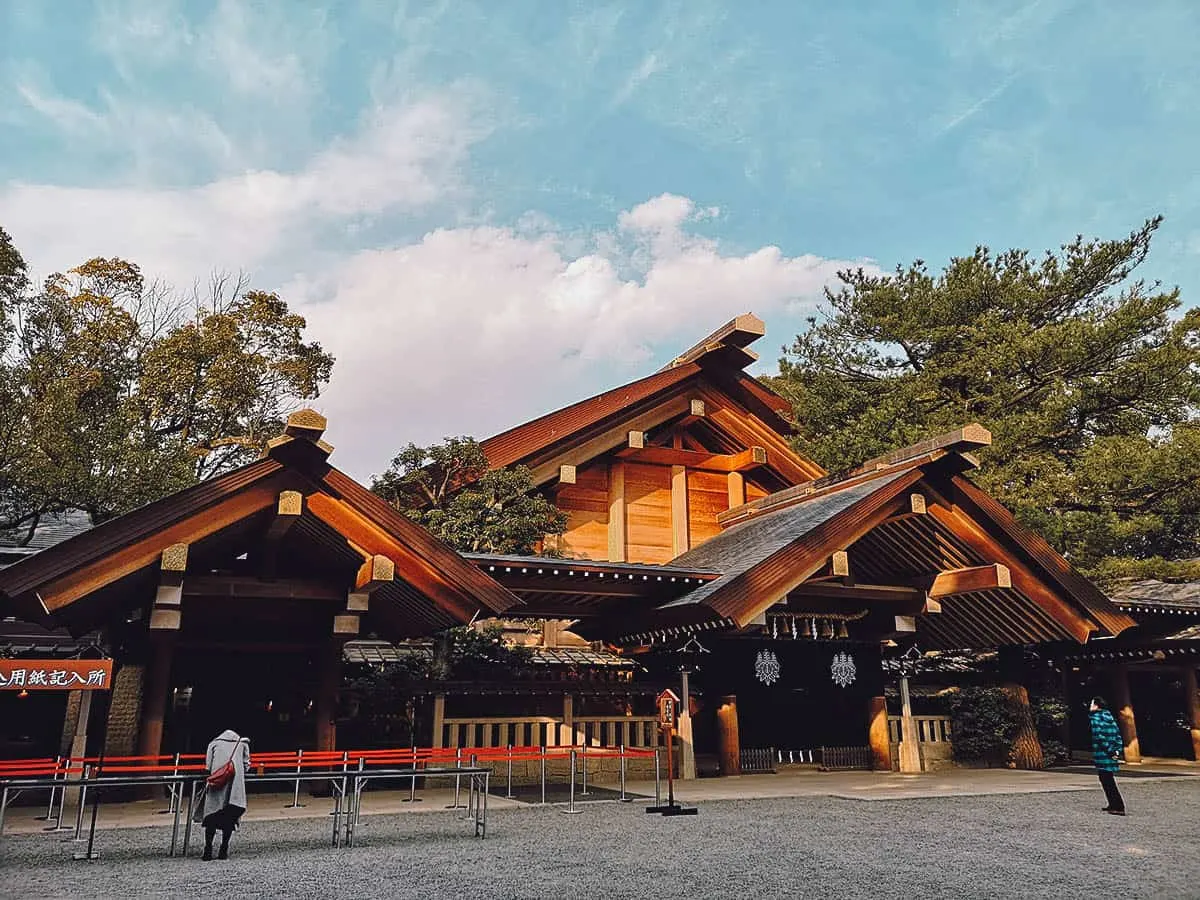 Suggested Length of Visit: 1 hr
Admission: FREE
Operating Hours: 24 hrs
Nearest MRT Station: Jingu-Mae Station
3. Shirotori Garden
Located less than a kilometer from Atsuta Shrine, Shirotori Garden is another oasis in Nagoya. It's a Japanese landscaped garden occupying an area of about four hectares.
I've been to Shukkei-en in Hiroshima, Koishikawa Korakuen in Tokyo, and Kenroku-en in Kanazawa and I always enjoy sitting on a bench and taking in the atmosphere of these landscaped gardens. They're so beautiful. Like all Japanese gardens, Shirotori Garden's features are meant to represent Japan's landscape in miniature.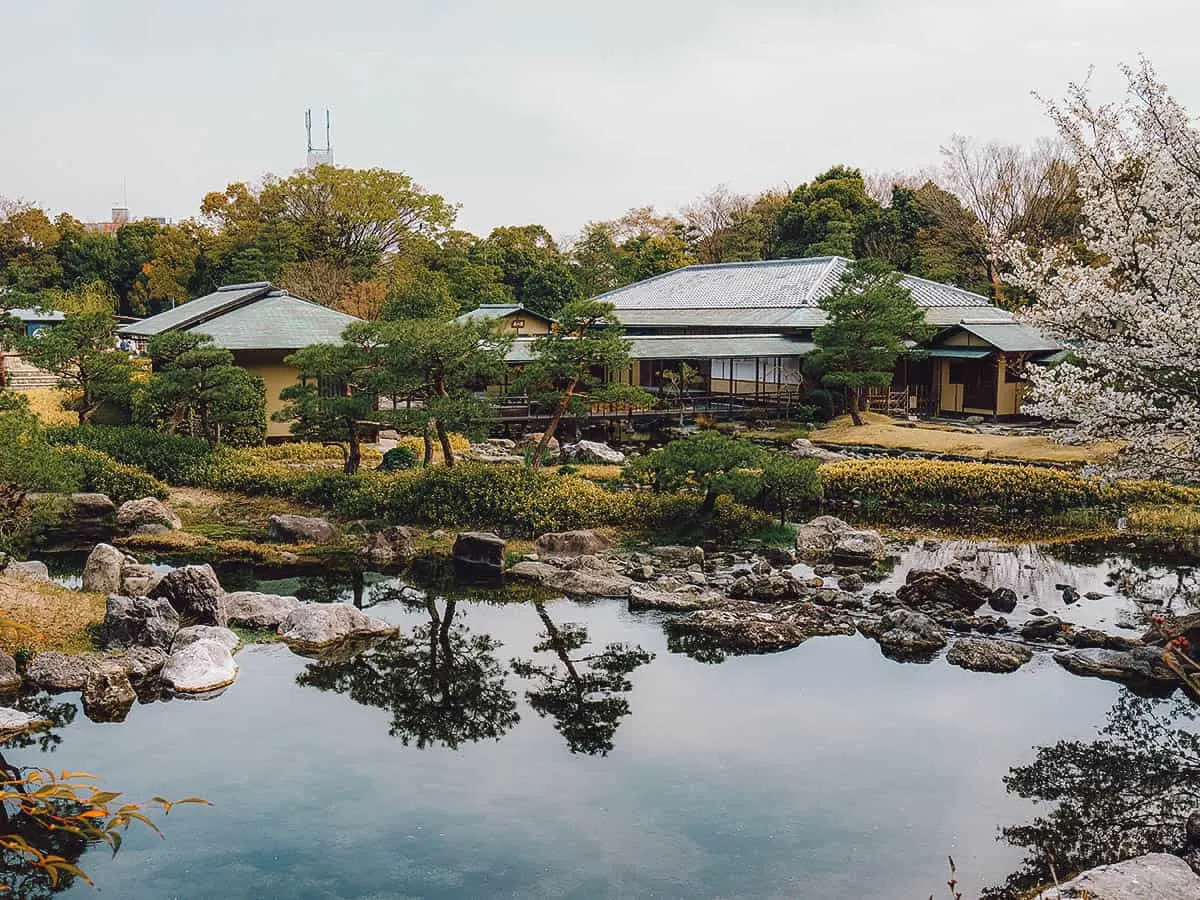 Photo by rolling rock via Shutterstock
Suggested Length of Visit: 1 hr
Admission: JPY 300
Operating Hours: 9AM-5PM, Tue-Sun (closed Mondays)
Nearest MRT Station: Atsuta Station
4. SCMAGLEV and Railway Park
If you like trains, then you need to visit SCMAGLEV and Railway Park. It's the museum of Central Japan Railways (more commonly known as JR Central) and features over three dozen trains – from historic steam locomotives to the shinkansen to the most modern magnetic levitating trains. SCMaglev is short for superconducting maglev train – the fastest rail vehicle ever built.
SCMAGLEV and Railway Park is located near the same metro station as Legoland, so people traveling with kids may have time to visit both on the same day.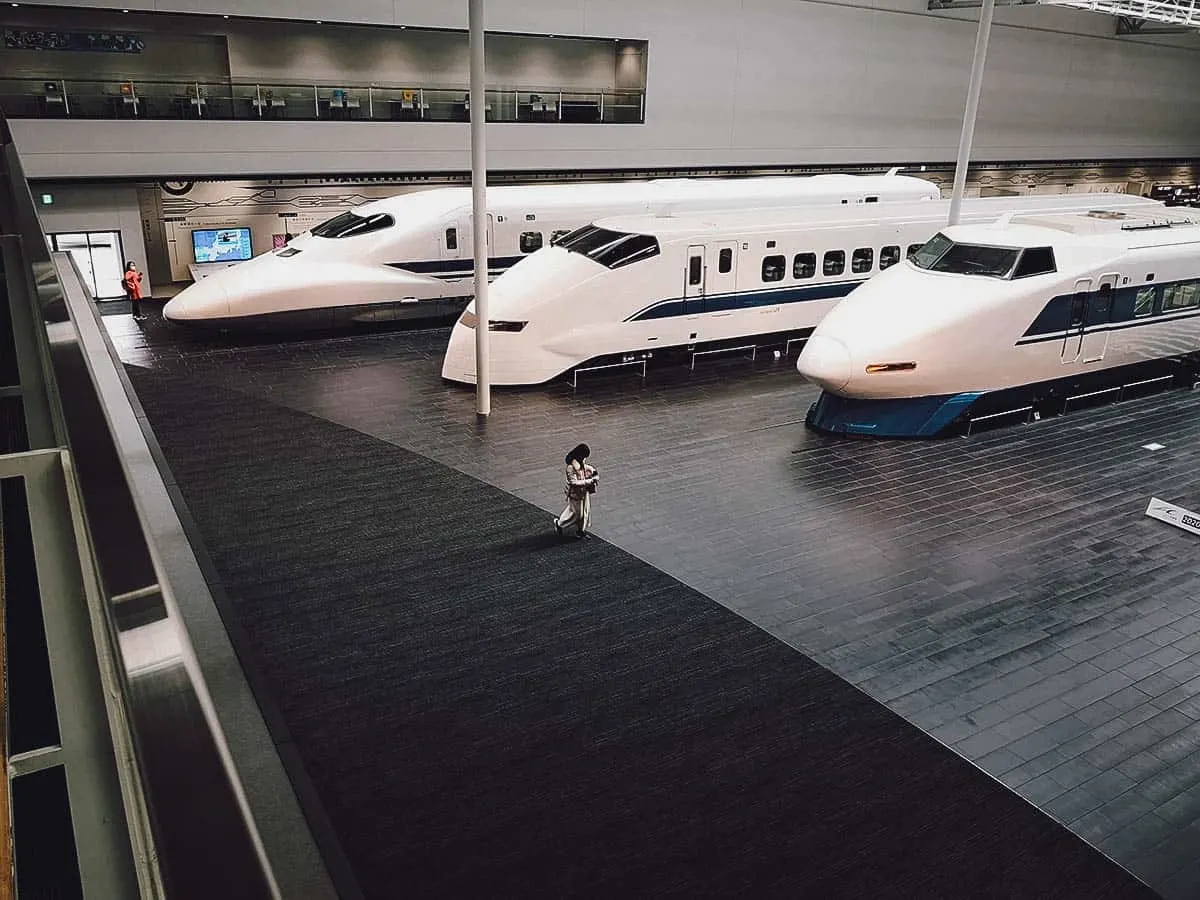 Suggested Length of Visit: 2 hrs
Admission: JPY 1,000
Operating Hours: 10AM-5:30PM, daily
Nearest MRT Station: Kinjofuto station
5. Osu Kannon
Osu Kannon is a popular Buddhist temple known for a large wooden statue of Kannon, the goddess of mercy. It was carved by Kobo Daishi who was an important figure in Japanese Buddhism. The temple is also home to Shinpukuji Library which houses several of Japan's national treasures and important cultural properties.
People visiting Osu Kannon may want to check out the Osu Shopping Arcade as well. Located right next to the temple, it's a series of covered shopping streets with over 400 restaurants and shops, many of which specialize in electronics, anime, and cosplay. It's been likened to the Akihabara district in Tokyo.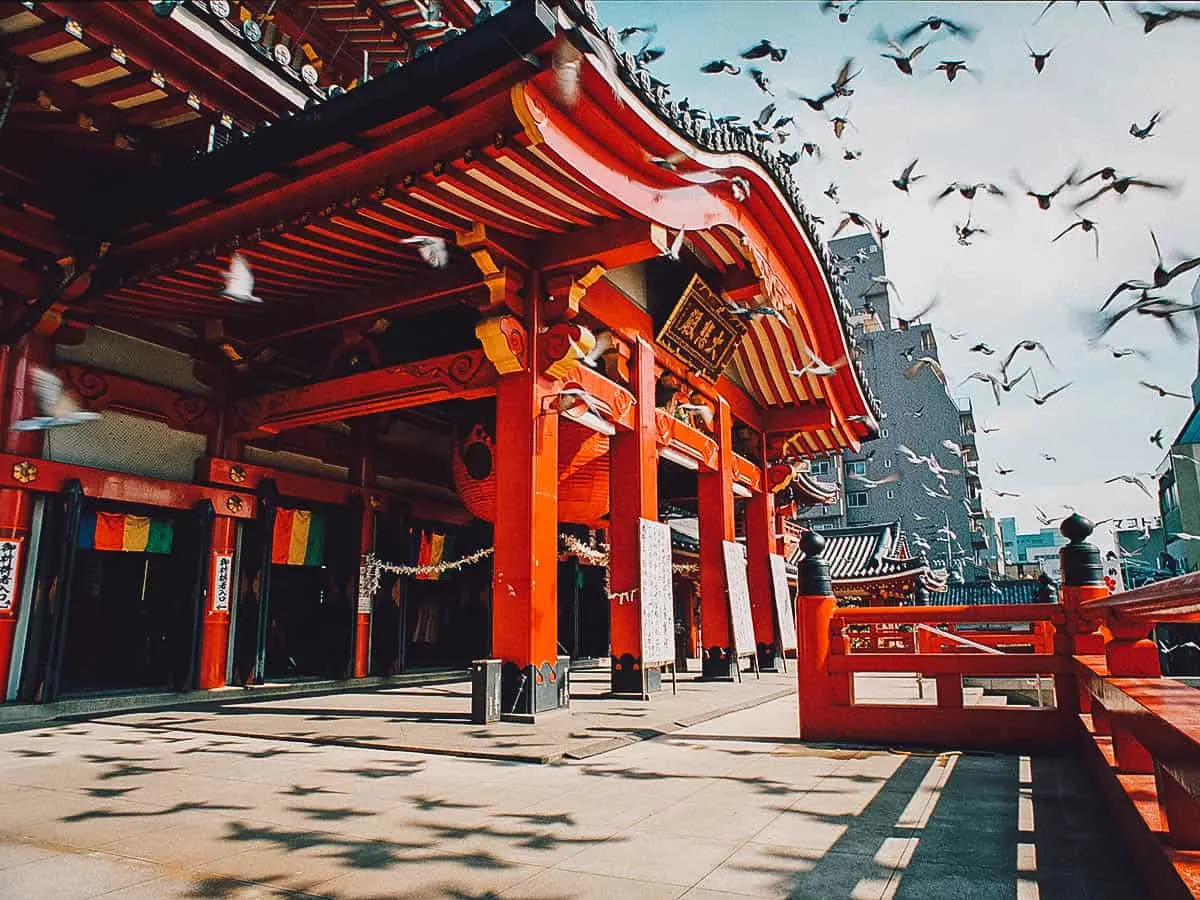 Photo by David Quixley via Shutterstock
Suggested Length of Visit: 30 mins
Admission: FREE
Operating Hours: 24 hrs
Nearest MRT Station: Osukan-non station
THINGS TO DO IN NAGOYA
1. Go on a Food Tour
What better way to experience Nagoya meshi than by going on a food tour? I enjoy discovering and visiting restaurants on my own, but if you really want to learn about the local food, then you may be interested in going on a guided tour. Check out byFood for a list of food tours in Nagoya.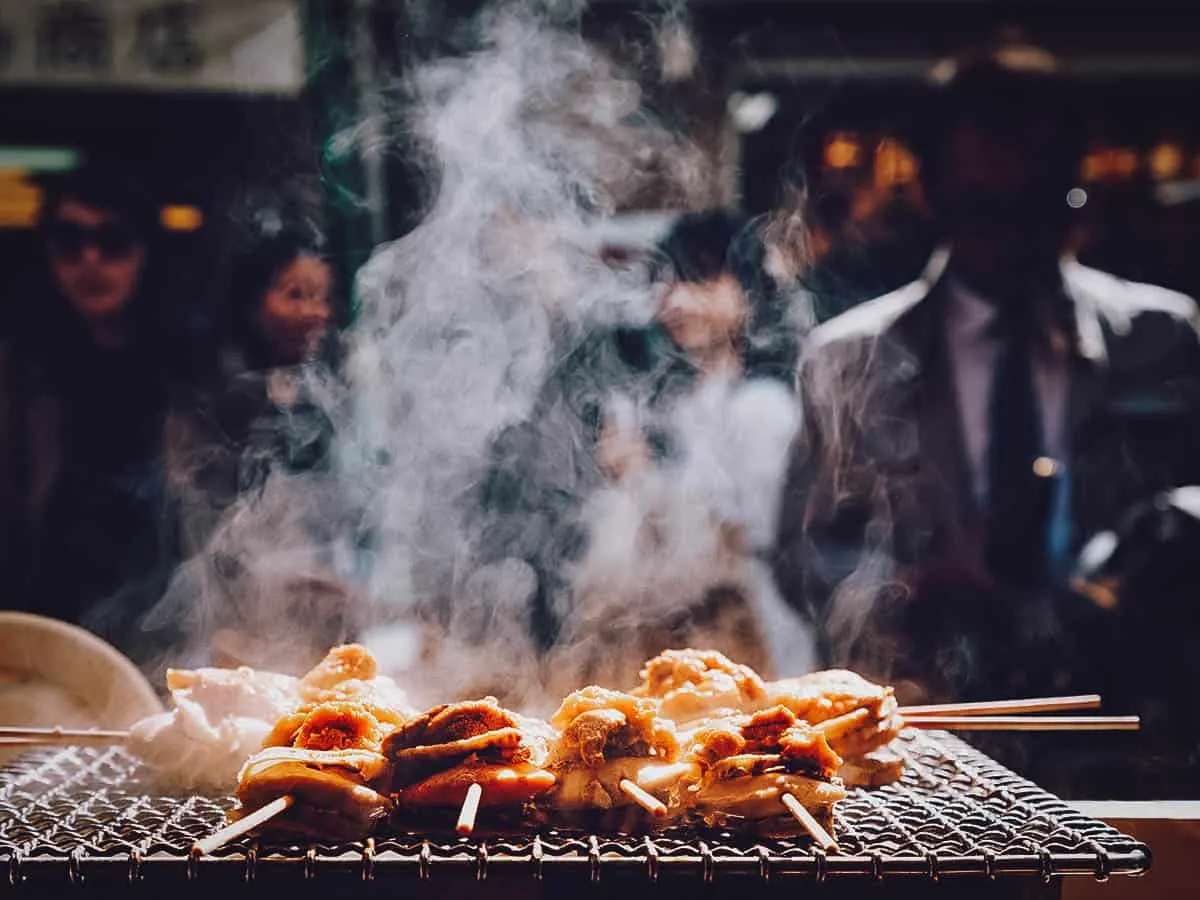 Photo by Gumpanat via Shutterstock
2. Visit a Maid Cafe
Have you heard of Japan's maid cafes? They're a popular type of cosplay restaurant where the servers are dressed up as maids and treat their customers like masters and mistresses. They're just another odd but fun attraction that makes Japan the uniquely quirky destination that it is.
There appears to be a few maid cafes to choose from in the Osu area but the Maidreamin chain is one of the most popular. You can get meal set vouchers to Maidreamin Nagoya in advance through Klook.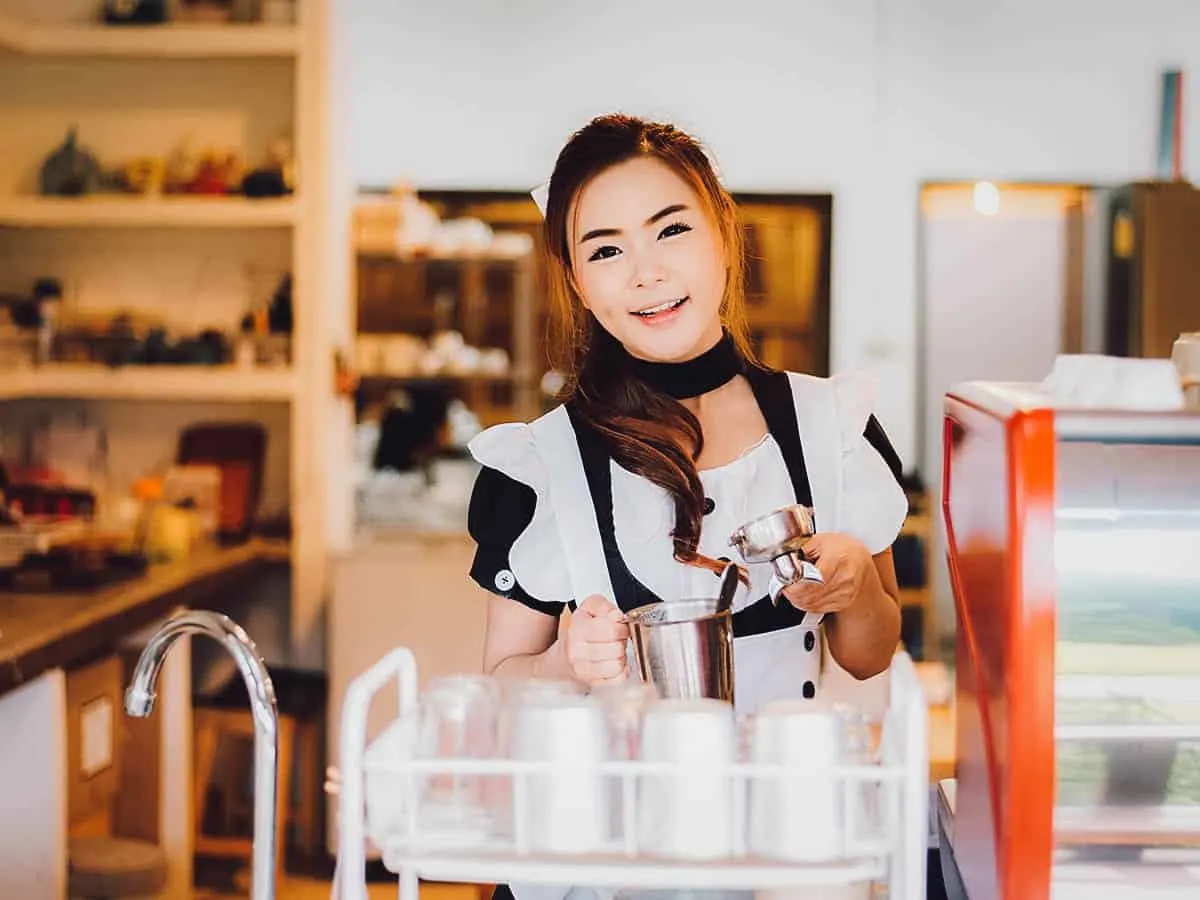 Photo by WPixz via Shutterstock
3. Go Shopping at Don Quijote
If you like bargain shopping, then you're going to love Don Quijote (Donki for short). It's a popular chain of discount shops with dozens of outlets throughout the country. Like Daiso, you can find anything and everything at a Don Quijote. They sell things like snacks, electronics, cosmetics, socks, cellphone cases, household items, and souvenirs.
The biggest Don Quijote branches are comprised of multiple floors and feel almost like mini department stores. You can check the Don Quijote website for a list of branches in Nagoya.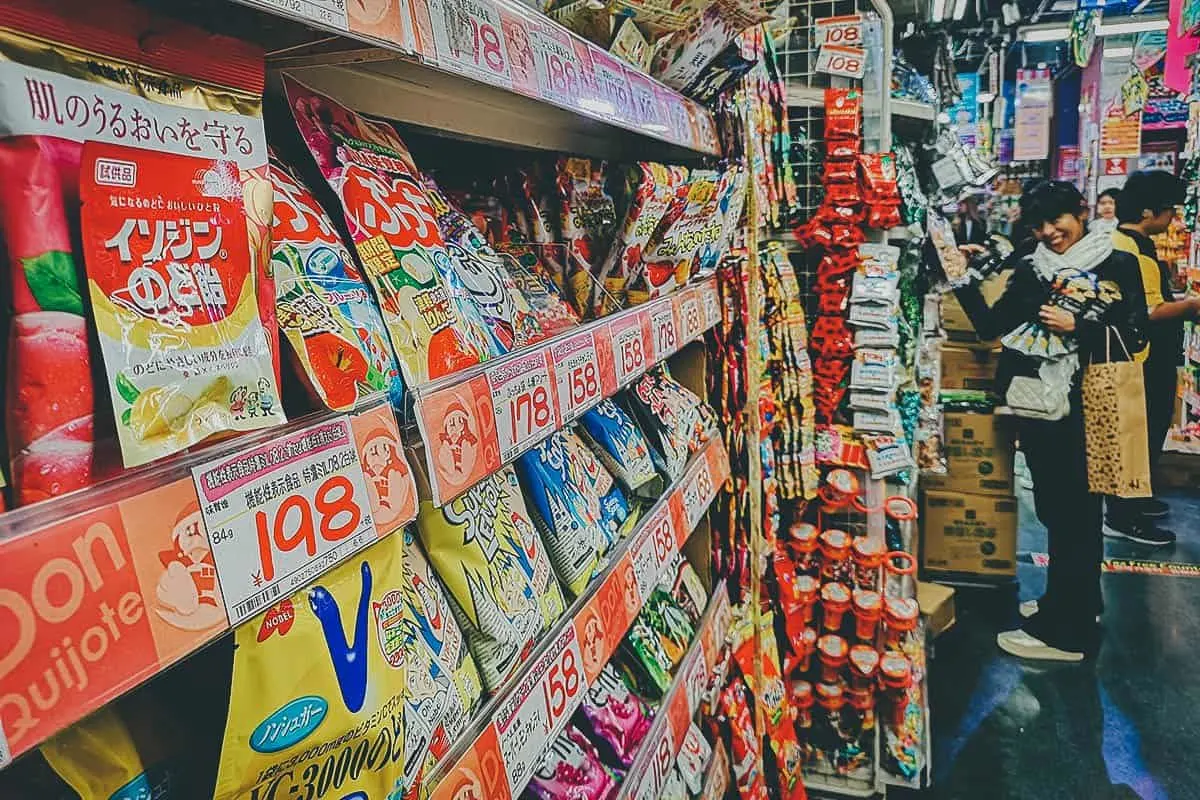 DAY TRIPS FROM NAGOYA
Nagoya is centrally located so there are a few day trips you can make from the city. Listed below are some of the most popular and realistic.
1. Nabana no Sato
If you visit Nagoya sometime between mid-October to early May, then you may want to spend the day at Nabana no Sato. Located less than a hour away in Kuwana City, it's a botanical garden that's home to one of the biggest illumination displays in Japan. It features seven installations with over 8 million LED lights, including two tunnels of light each measuring over 100 meters (328 ft) long.
Nabana no Sato is part of Nagashima Resort which is also home to Nagashima Spa Land amusement park, a water park, a hot spring complex, and an outlet shopping mall. There's a lot to do there so you might want to make a whole day of it.
Nagashima Resort and Nabana no Sato are easy enough to get to on your own, but if you'd like to go on an organized tour, then you can book one through Klook.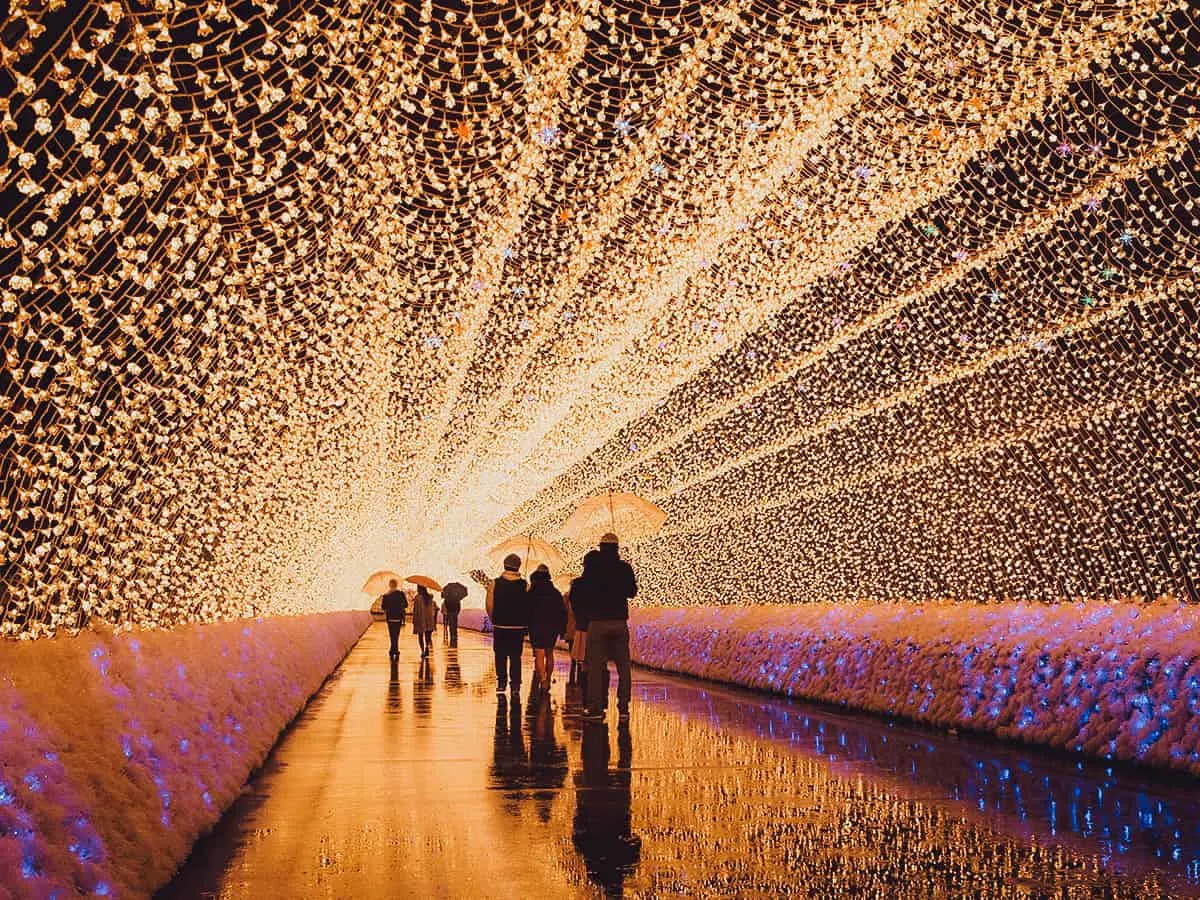 Photo by Phubet Juntarungsee via Shutterstock
Travel Time: Around 50 mins
2. Kiso Valley
Kiso Valley refers to an area that runs alongside the Central Alps mountains in Nagano. It's home to an ancient and historically important trade route known as the Kisoji. During the Edo period, the Kisoji was combined with other routes to form the Nakasendo – a 500 km path that served as one of two means of transport between Kyoto and Edo.
To provide rest, food, and accommodations to merchants traveling along the Nakasendo, post towns like Magome, Tsumago, and Narai were developed every few kilometers in the Kiso Valley. Today, a few of these post towns have been preserved to look exactly like they did during the days of the Nakasendo.
The towns in the Kiso Valley are about 1.5-2 hrs northeast of Nagoya. You can go there on your own using public transportation.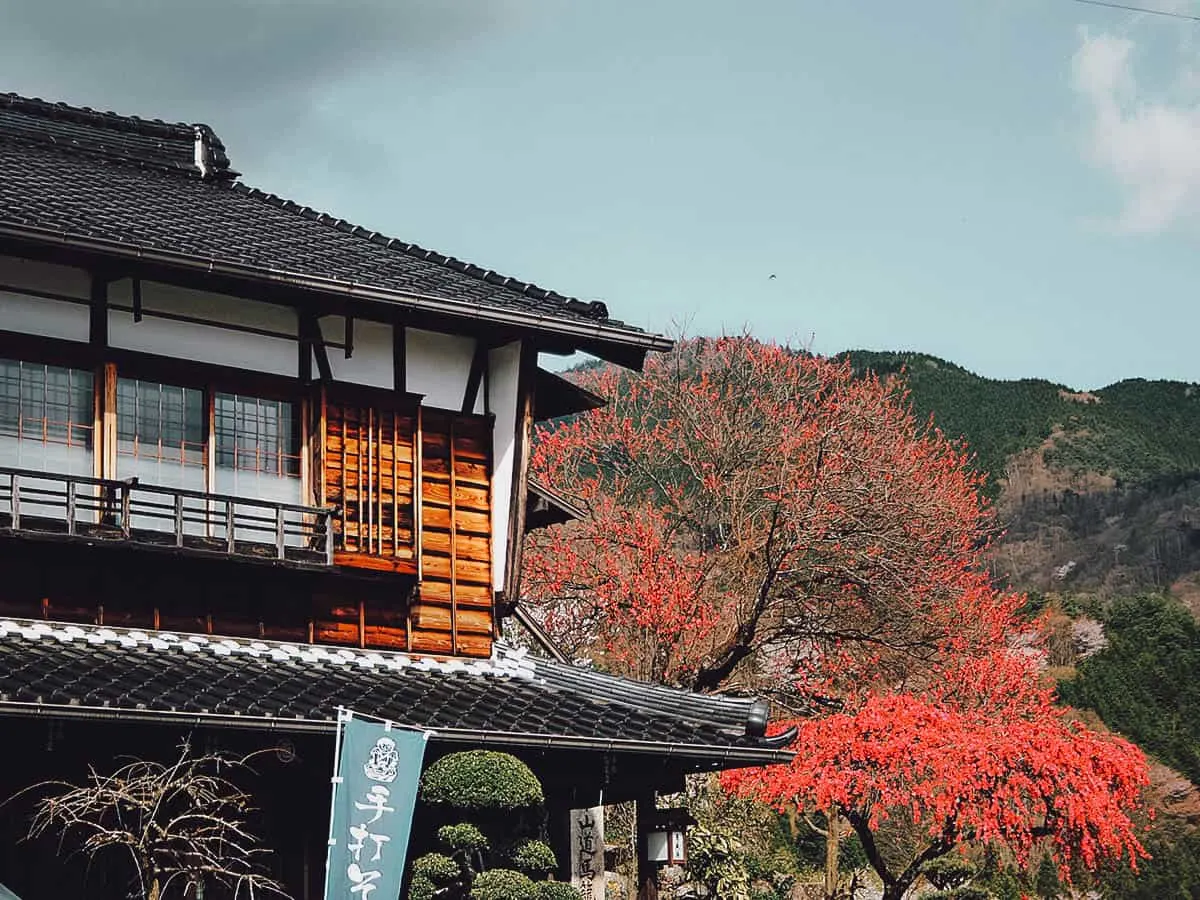 "Magome, Kiso Valley" by DavideGorla, used under CC BY 2.0 / Processed in Photoshop and Lightroom
Travel Time: Around 1.5-2 hrs
3. Hida Takayama
Takayama is a small city in the mountainous Hida region of Gifu prefecture. It gained prominence during the feudal ages for its high-quality timber and surplus of skilled carpenters. Today, it's known for its beautifully preserved old town and for being home to one of Japan's best festivals – the Takayama Festival.
Hida Takayama is about 2.5 hours north of Nagoya. It's doable though a bit far for a day trip, so if you'd feel more comfortable going on an organized tour, then you can book one through Klook (option 1 | option 2). Shirakawa-go is about an hour away from Takayama so people wanting to visit both destinations from Nagoya can book a combined tour (option 1 | option 2).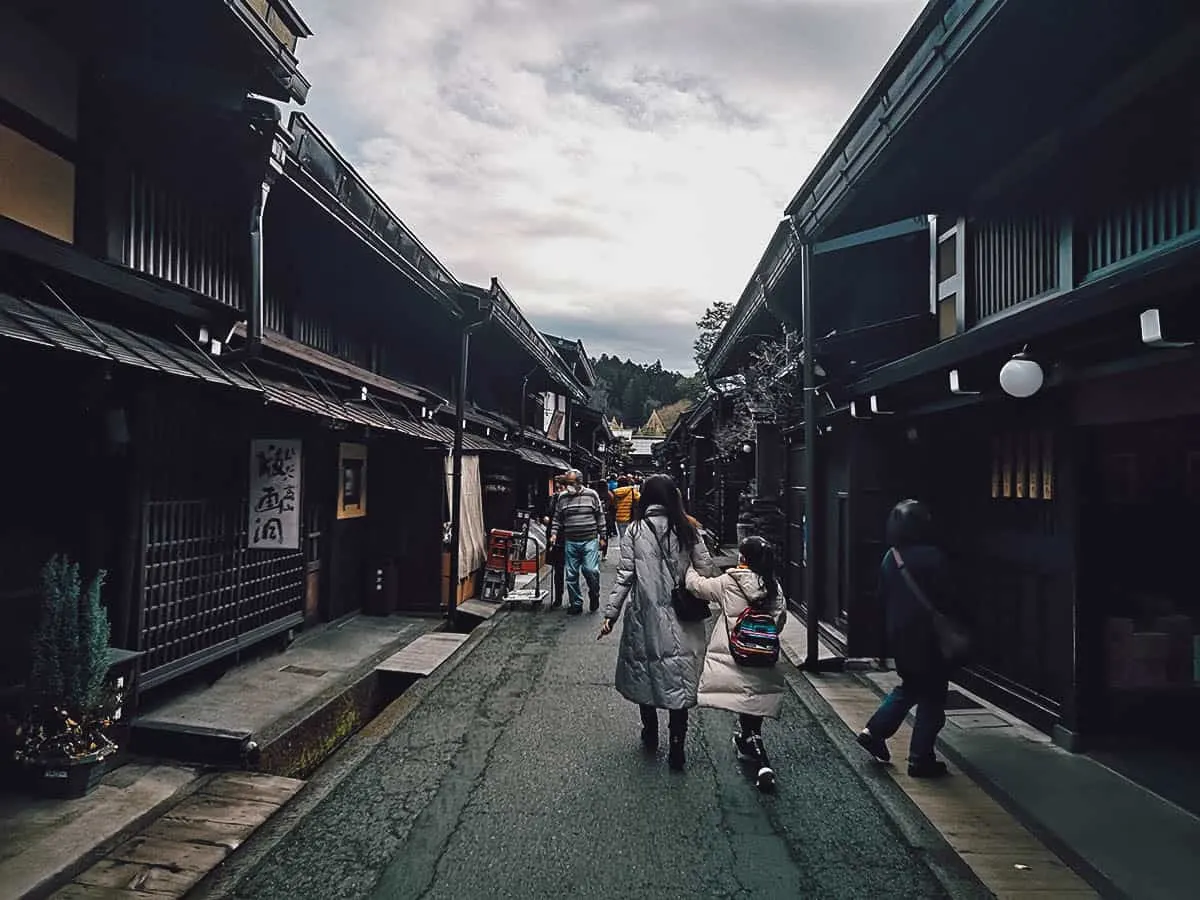 Travel Time: Around 2.5 hrs
4. Shirakawa-go
Shirakawa-go is a village located in the remote Shogawa River Valley in Gifu prefecture. It's a UNESCO World Heritage Site famous for its traditional gassho-zukuri farmhouses and their distinct slanted thatched gable roofs. The village can be covered in up to two meters of snow so the roofs are built at a steep angle to allow heavy snow to easily fall off in winter.
Shirakawa-go is beautiful at any time of the year though it's best visited in winter when it's covered in a thick blanket of snow. The direct Gifu Bus can get you to Shirakawa-go from Nagoya in about three hours but you can also visit on a guided tour. Klook offers tours that take you to both Shirakawa-go and Hida Takayama (option 1 | option 2).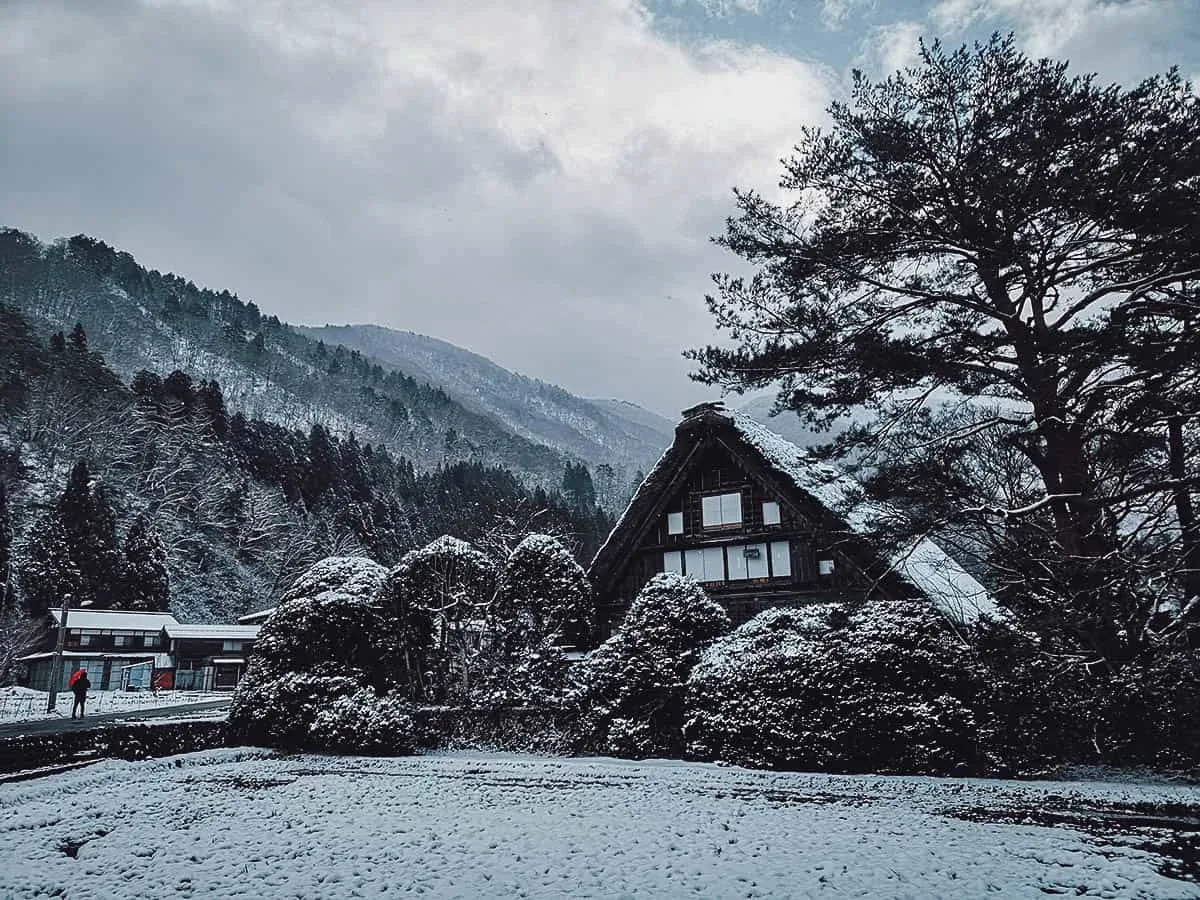 Travel Time: Around 3 hrs
JAPANESE FOOD GUIDE
I love Japanese food. It's my favorite cuisine in the world and a big reason why we love visiting Japan. If you enjoy Japanese food as much as we do, then check out our Japanese food guide and Japanese dessert guide for a list of the best and most interesting dishes to try in Japan.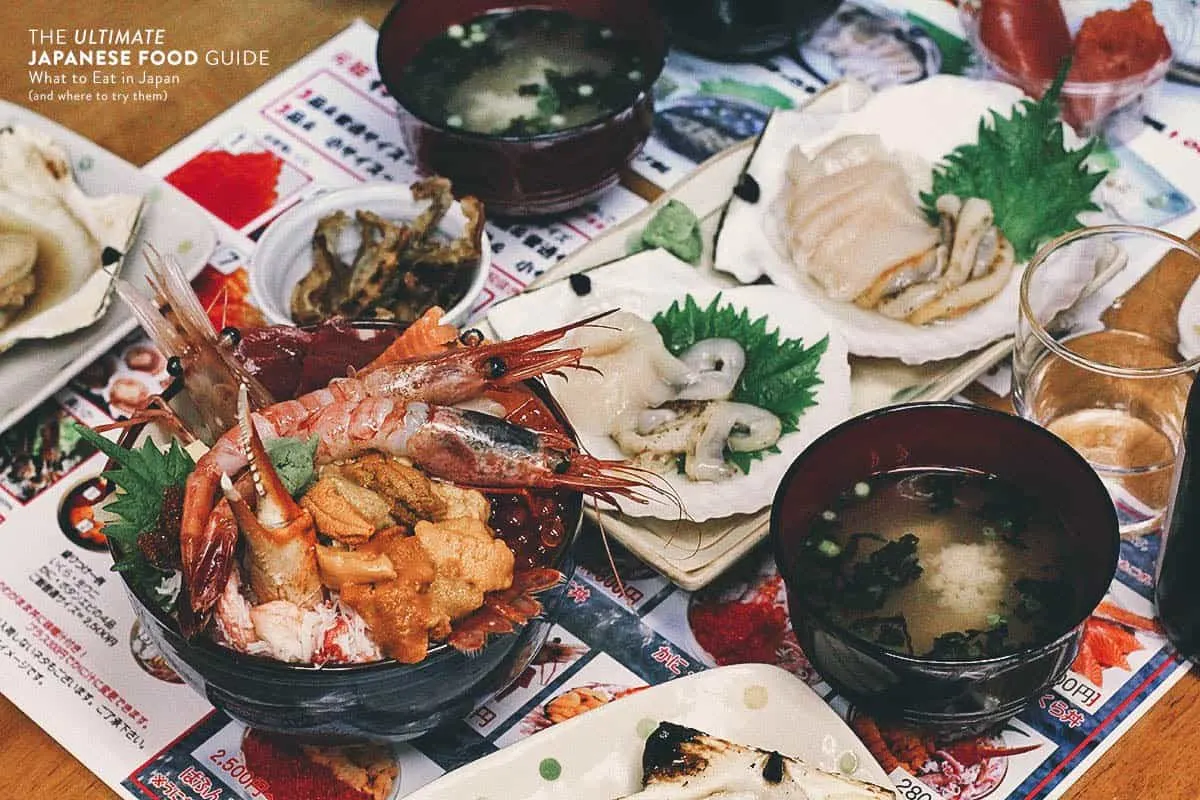 WHERE TO EAT IN NAGOYA
As described, Nagoya is known for its food. There are many delicious things to try in the city but some of the most well-known Nagoya meshi dishes include miso katsu, hitsumabushi, kishimen, tenmusu, and doteni. Check out these restaurants to try some of the best examples of these dishes.
1. Yabaton
Nagoya is known for its red miso. If you could try just one dish in Nagoya, one dish to represent Nagoya meshi, then it should probably be miso katsu. It's a regional version of tonkatsu or deep-fried breaded pork cutlet drenched in a thick rich miso sauce. I've always been lukewarm about tonkatsu but I'm a big fan of miso katsu. It's so good.
You can have miso katsu anywhere in Nagoya but one of the best places to try it is Yabaton. They use Hatcho miso, the best type of red miso, and make their pork cutlets with Kurobuta pork, a breed of black pig from Kagoshima that's often referred to as the "Kobe beef of pork".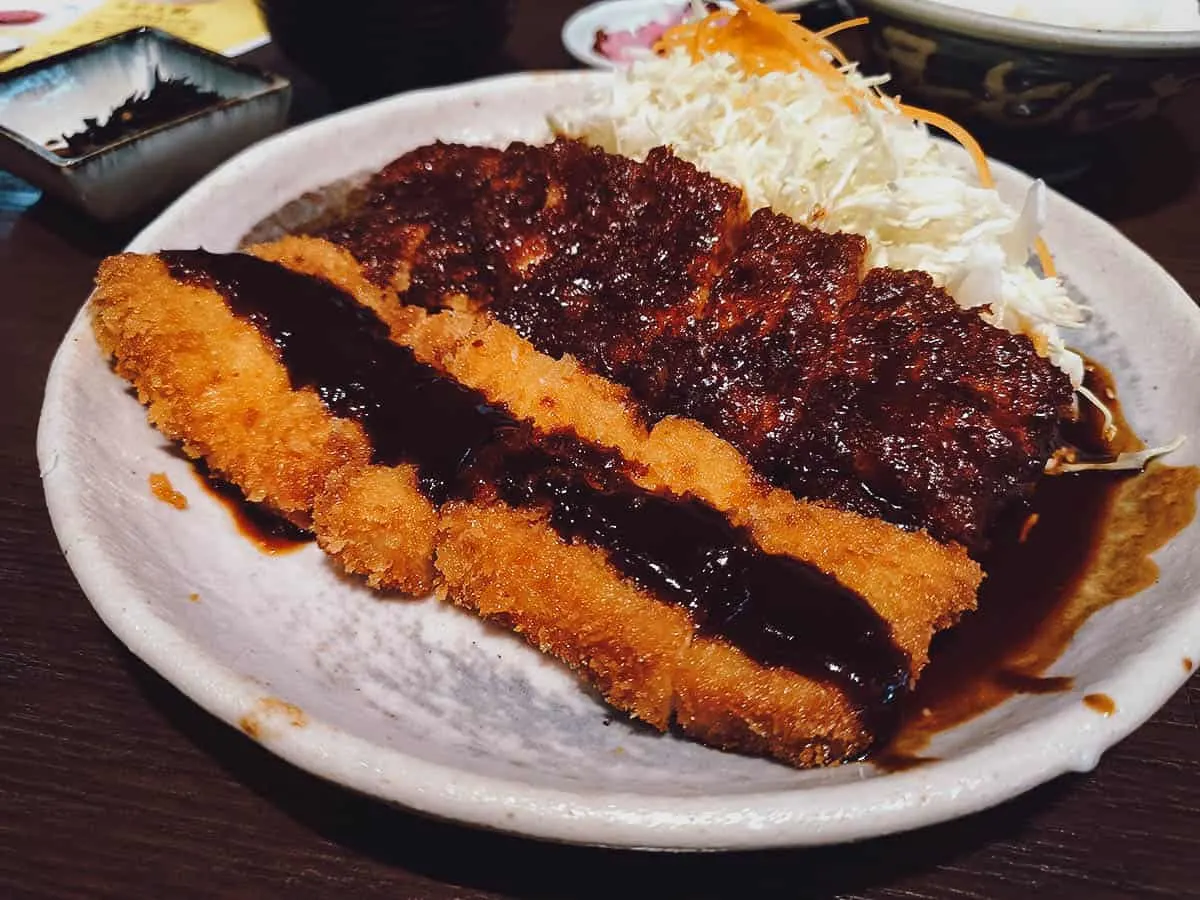 I went to the main branch but Yabaton has many outlets throughout Nagoya. You can check their website to find an outlet near you.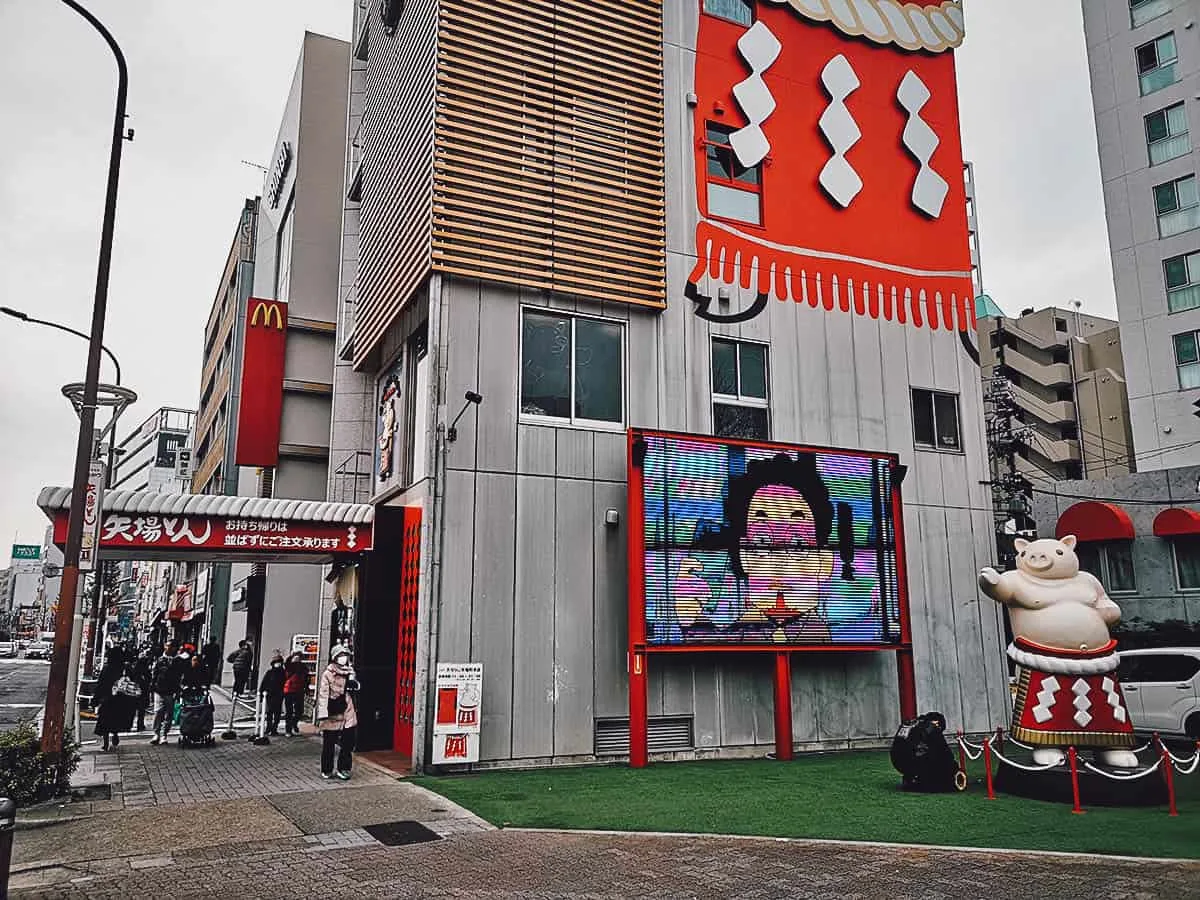 2. Maruya
If you like unagi, then you're going to love hitsumabushi. It's a type of barbecued eel dish that's a specialty of Nagoya and Aichi prefecture.
Hitsumabushi is similar to unadon or unajyu but what makes it different is how it's eaten. Served with a few condiments like wasabi, nori, grated radish, and Japanese pepper, it's meant to be consumed in three stages – the first stage on its own with rice, the second with the condiments, and the third with some dashi poured into your bowl.
It's a unique and interesting way of eating eel that may not be as familiar to people as unagi donburi.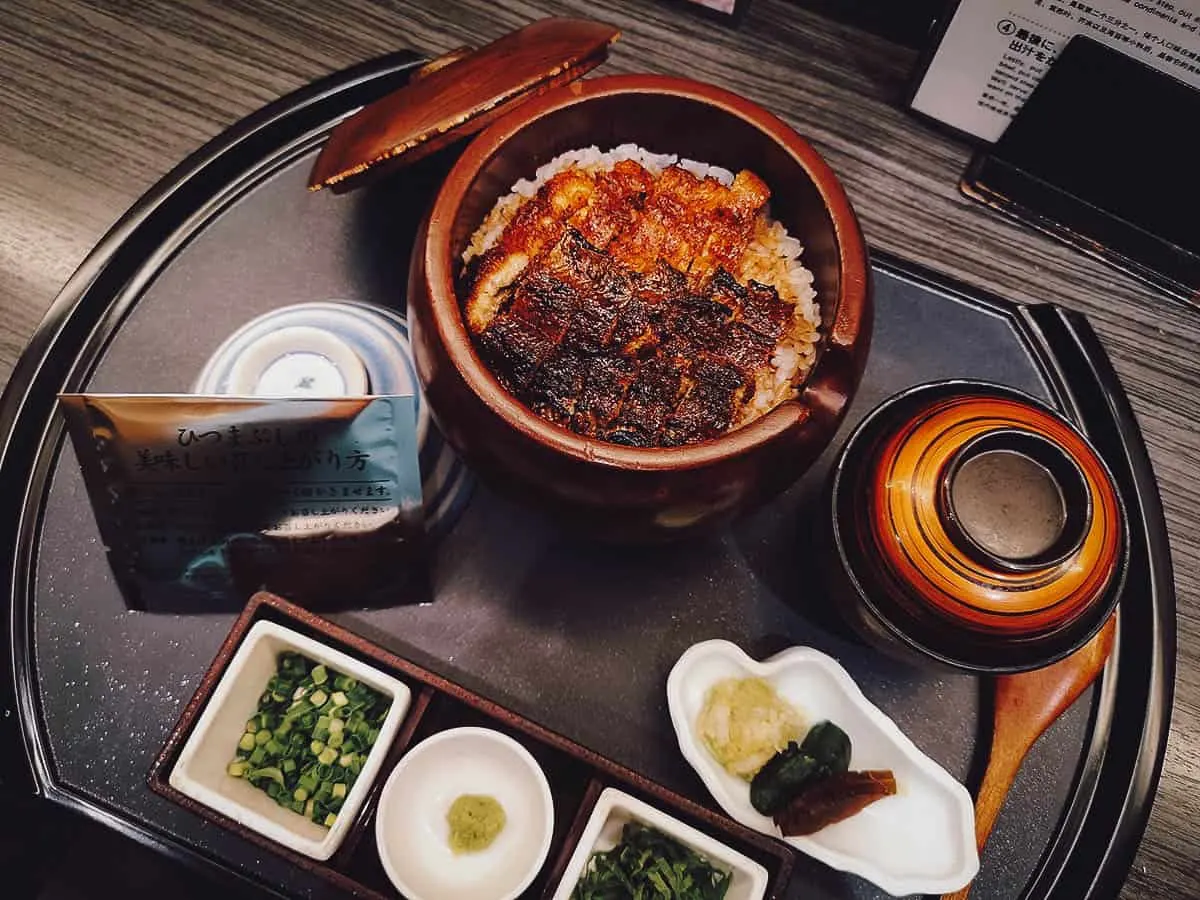 Hitsumabushi is delicious but it's also pricey. The smallest portion at the best restaurants will set you back at least JPY 3,500. If you want the best, then Atsuta Horaiken is a popular choice.
For a more affordable but still excellent option, then head over to Maruya. At the time of my visit, their smallest portion started at just JPY 2,500. Their main branch is conveniently located inside Nagoya Station.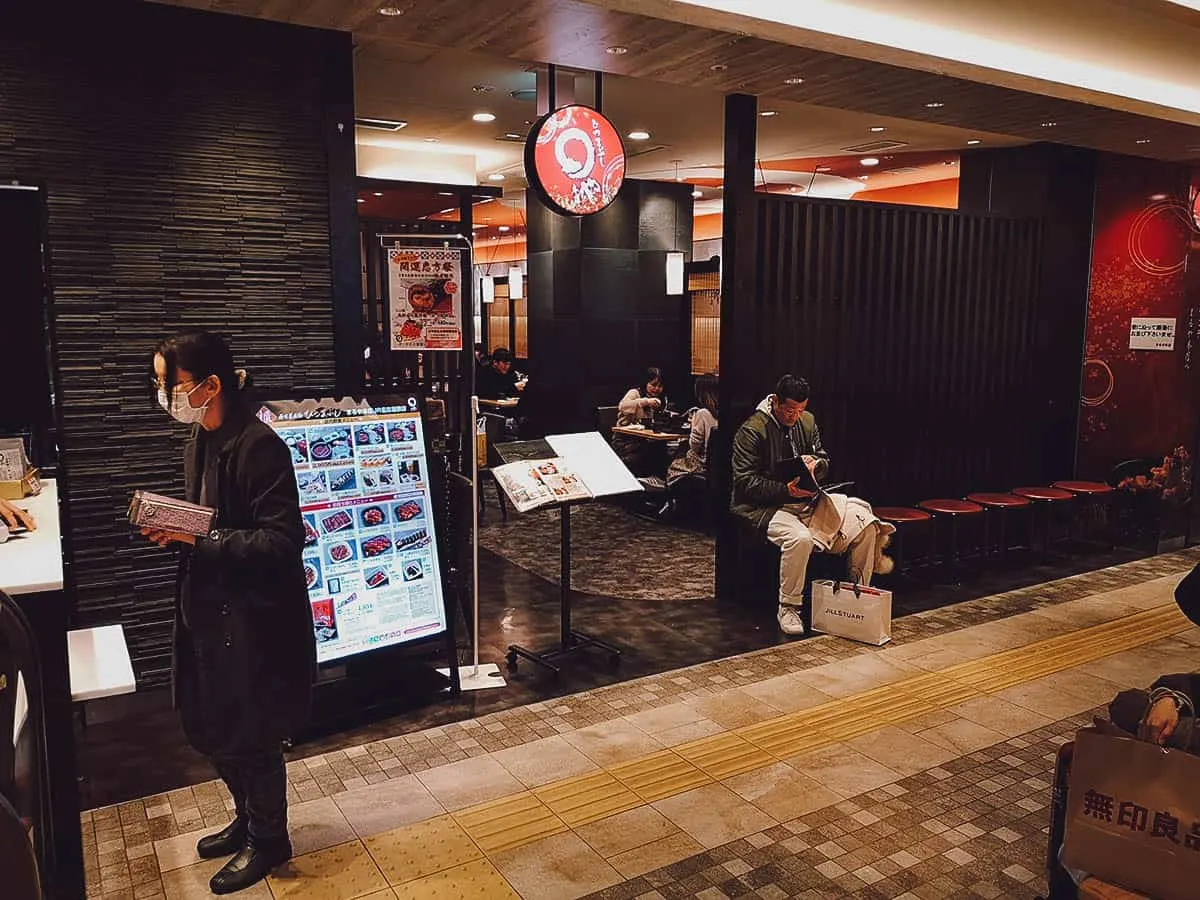 3. Nadai Kishimen Sumiyoshi
Kishimen is a type of broad and flat udon noodle that's a specialty of Nagoya. It can be served hot or cold and seasoned with salt, soy sauce, miso, or curry. The most traditional version of kishimen appears to be served in hot broth and topped with steamed fish cakes, deep-fried tofu, green onion, spinach, and bonito flakes.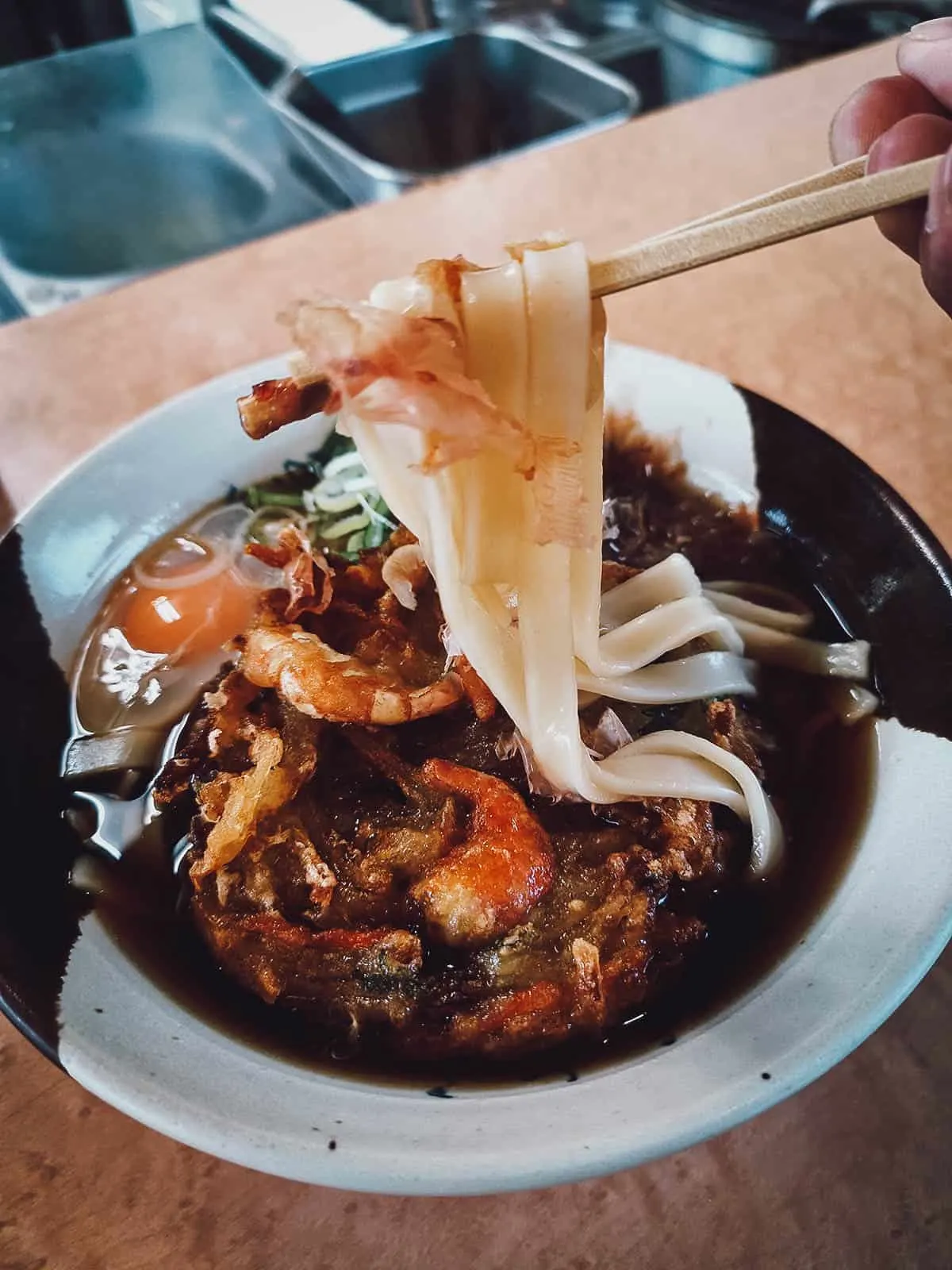 Kishimen is a common Nagoya comfort food that can be enjoyed anywhere in the city. I tried it at Nadai Kishimen Sumiyoshi while waiting for my train. It's located on the platform between tracks 10 and 11 at JR Nagoya Station.
4. Tenmusu Senju
Tenmusu is a type of bite-sized snack made with a rice ball and a chunk of ebi tempura wrapped in nori. It was invented in Mie prefecture but is now considered a Nagoya dish.
You can enjoy tenmusu on its own or as part of a bento box. I got this takeaway pack of six from Ganso Tenmusu Senju, the restaurant credited for inventing the dish.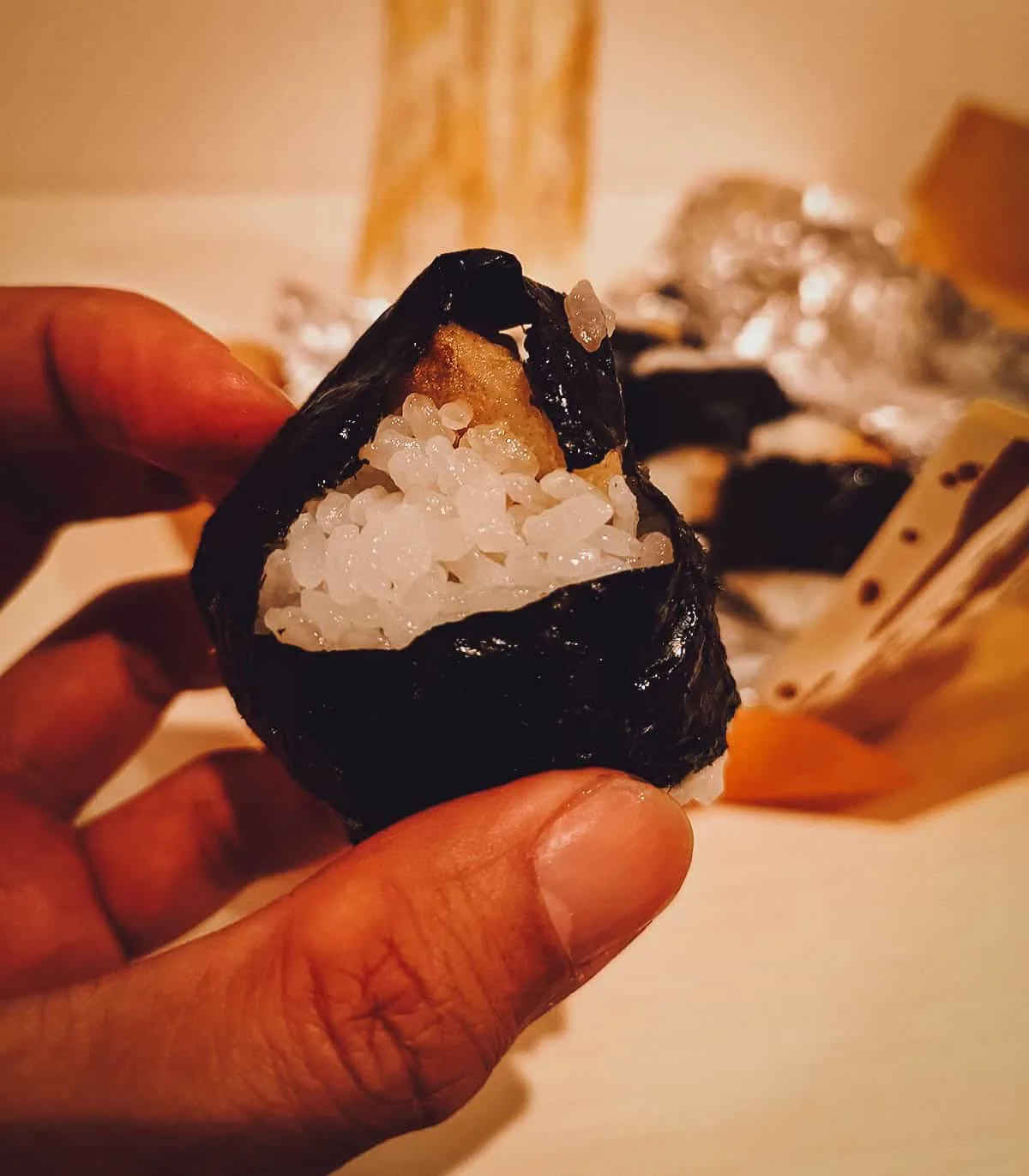 The original branch of Ganso Tenmusu Senju is located in Tsu City in Mie, but they've since opened a few branches in Nagoya as well. Pictured below is their main Nagoya branch in Osu.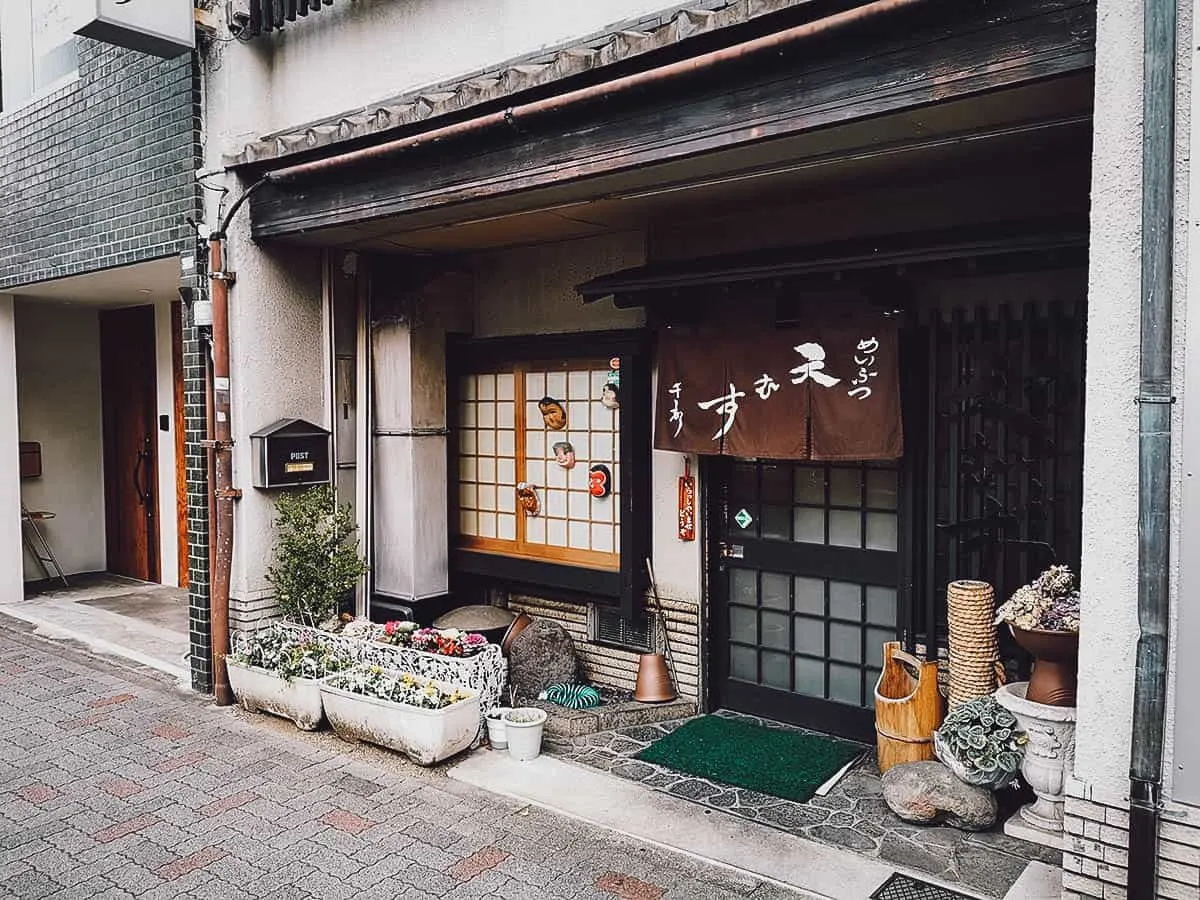 5. ちょいのみ酒場 せんて 名駅西口本店
I read there were many good izakayas around Nagoya Station so I randomly walked into this one. It was a good choice because aside from the usual kushiyaki/yakitori skewers, they also had the two dishes I was looking for – doteni and tebasaki karaage.
Doteni refers to a dish made with beef tendon, innards, and daikon radish simmered in Hatcho miso sauce, while tebasaki karaage refers to Japanese deep-fried chicken wings. Both are staple izakaya dishes and something you need to try in Nagoya.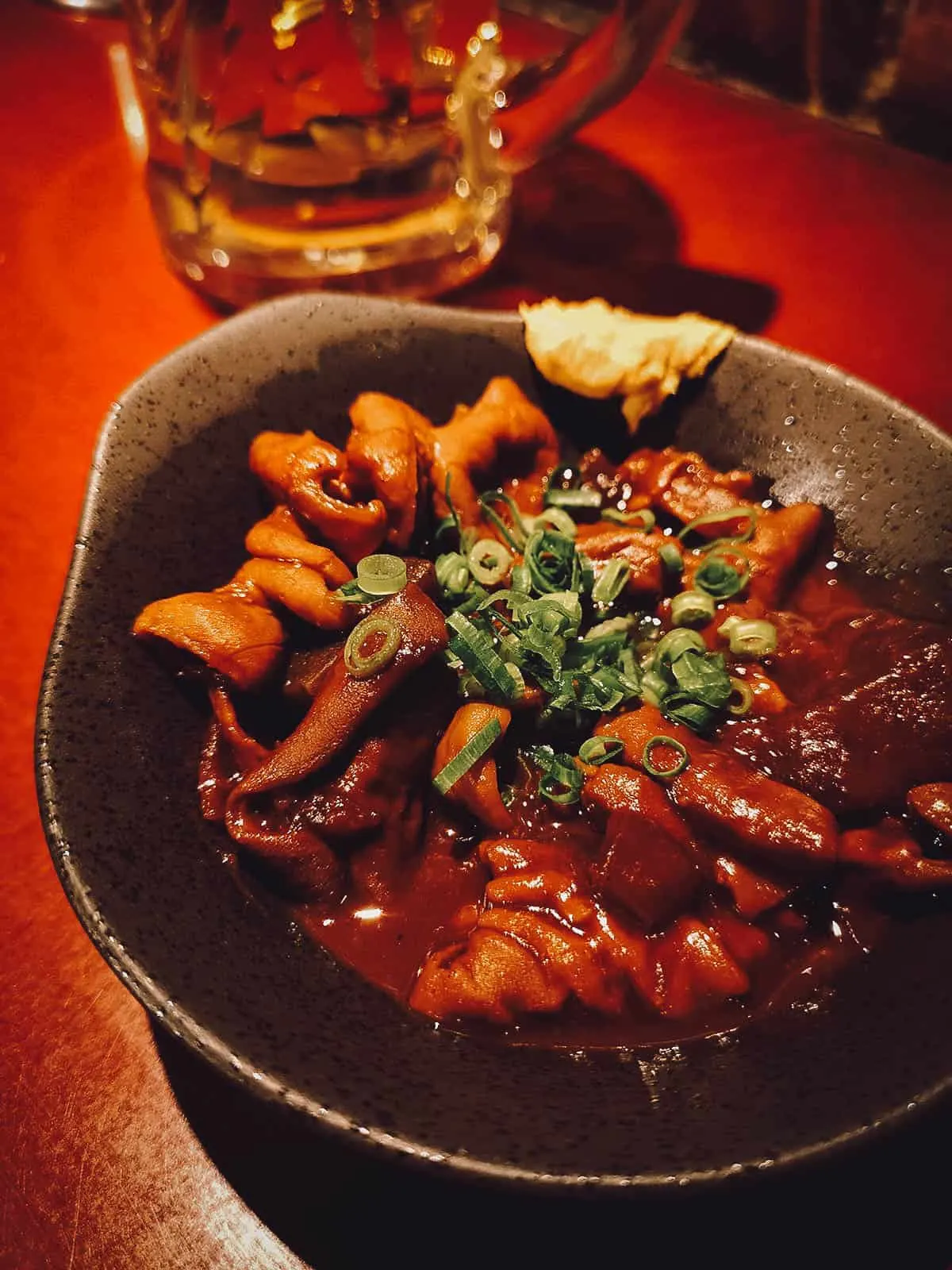 I don't know its English name but ちょいのみ酒場 せんて 名駅西口本店 is located across the street from Nagoya Station. If you can't find it, then there are plenty of other izakayas to choose from just outside the station.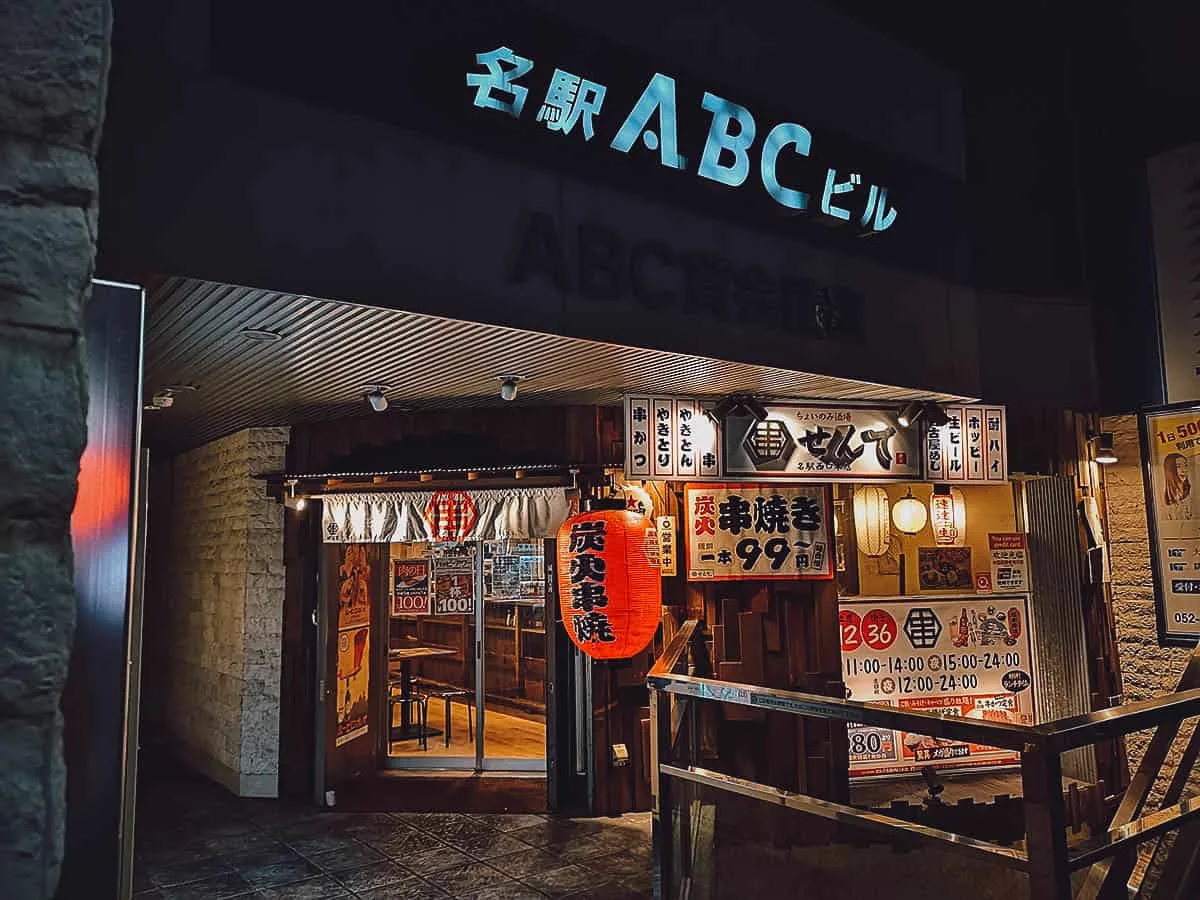 POINTS OF INTEREST IN NAGOYA
To help you understand where everything is, I've pinned most of the places recommended in this Nagoya travel guide on a map. Click on the link for a live version of the map.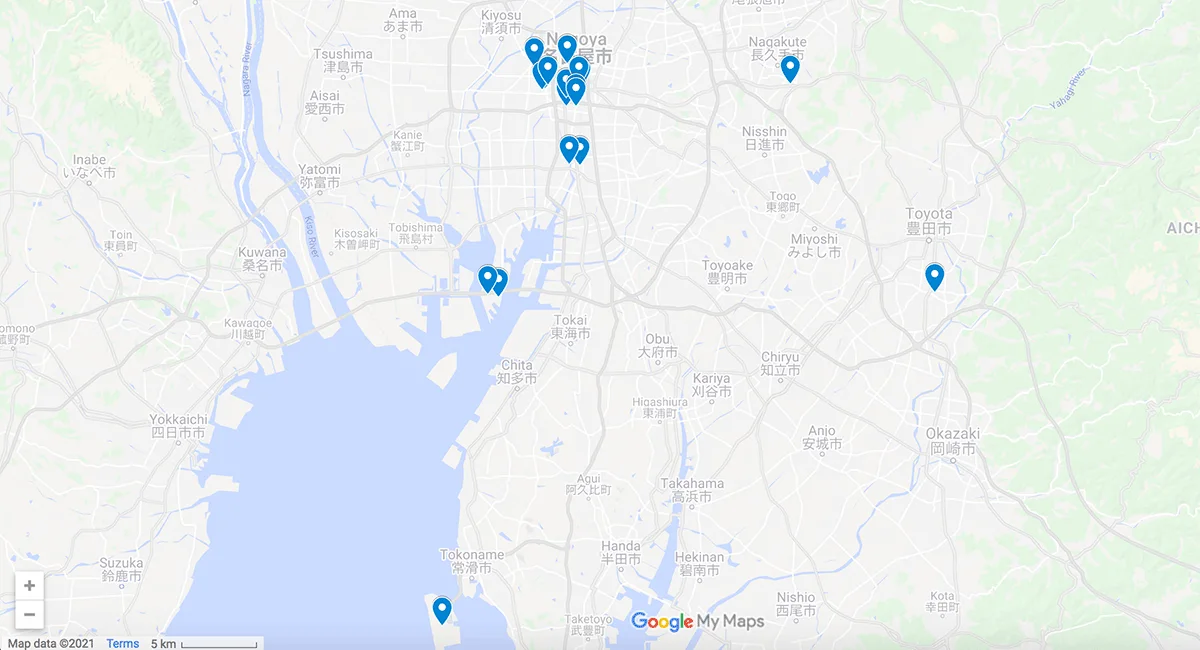 HOW TO GET AROUND IN NAGOYA
Like any big city in Japan, getting around Nagoya by public transportation is easy. It's serviced by multiple railway companies and six subway lines, along with a network of bus lines. If you navigate with Google Maps (iOS / Android), then you should have little problem getting around.
Depending on how long you'll be staying in Nagoya and Japan, then it may be a good idea to get a transport pass, especially if you plan on using public transportation a lot. The many different options for tourist passes in Japan can often be confusing so I've listed down the most useful Nagoya transport passes below.
1-Day Subway Pass
The 1-day subway pass will give you unlimited rides on Nagoya's metro system for JPY 760. If you plan on using the subway a lot on one calendar day and don't intend to use the bus, then this is the right pass to get. You can purchase these from metro station vending machines and ticket windows.
1-Day Subway & Bus Pass
The 1-day subway and bus pass costs JPY 870 and will give you unlimited access to Nagoya's metro and bus lines, including the Meguru Loop Bus. If you plan on doing most of your sightseeing in one day, then this is a good pass to consider. You can purchase these at any metro station or on the bus.
Meguru Loop Bus 1-Day Pass
I didn't use the Meguru Loop Bus but it's another convenient way for tourists to see many of Nagoya's major attractions. The bus starts at Nagoya Station and will take you to the following stops:
Toyota Techno Museum
Noritake Garden
Shikemichi
Nagoya Castle
Tokugawaen, Tokugawa Art Museum, Hosa Library
Cultural Path, Futaba Museum
Nagoya City Archives South
Nagoya TV Tower
Hirokoji-Sakae
Hirokoji-Fushimi
The Meguru Loop Bus costs JPY 210 per ride, but the 1-day pass will give you unlimited rides for just JPY 500 along with discounts to many of Nagoya's tourist attractions. You can purchase the 1-day pass on any Meguru bus or at purchase locations throughout the city.
It's important to note that the Meguru Loop Bus only operates from Tuesday to Sunday. It runs every 20-30 minutes on weekends and every 30-60 minutes on weekdays.
Manaca / Toica IC Cards
Manaca and Toica IC Cards are stored value cards similar to Osaka's ICOCA and Tokyo's Suica and Pasmo IC Cards. They can be used on trains, buses, ferries, and trams not just in Nagoya, but in many cities throughout Japan. On a previous trip, I purchased a Suica IC Card in Tokyo and used it in other cities like Nagoya, Osaka, Kyoto, and Fukuoka. The Manaca and Toica IC Cards will allow you to do the same.
IC Cards won't give you a discount on fares but they'll save you from the trouble of having to buy single journey tickets every time. Personally, I do a lot of walking and can rarely justify getting a 1-day pass so IC Cards are my preferred transport cards in Japan.
When your balance runs low, you can top them up at machines found in every metro station. You can even use them to pay for items at convenience stores. They're super convenient and a good card to have if you plan on visiting mulitple cities in Japan. Click on the link for more information on Japan's IC Cards.
HOW MANY DAYS TO STAY / NAGOYA ITINERARY
If you're visiting Nagoya just to see its top tourist attractions, then two full days is enough. But if you have a keen interest in food and/or cars and want to visit all three Toyota museums, then aim for at least three days. Here's a sample 2D/2N Nagoya itinerary to help you plan your trip.
DAY ONE
• Toyota Techno Museum
• Nagoya Castle
• Nagoya TV Tower
• Oasis 21
• Osu Kannon
• Osu Shopping Arcade
DAY TWO
• SCMAGLEV and Railway Park
• Shirotori Garden
• Atsuta Shrine
• Nagoya City Science Museum
NAGOYA TRAVEL TIPS
1. Plan your Trip with Sygic Travel
If you're obsessive like me and enjoy planning out every minute of your itinerary, then you're going to enjoy Sygic Travel. It's a free trip planning app that allows me to pin all points of interest on a map so I can create as efficient an itinerary as possible. You can download it for free on iOS and Android.
2. Stay Connected
Having uninterrupted access to the internet is so important these days, especially when you're in a foreign country with a language barrier like Japan. You'll need it to do research, translate signs, and navigate its efficient but often very confusing rail system.
You can stay connected in Japan by renting a pocket wifi device or buying a sim card. We prefer pocket wifi devices because we find them easier to use, but either is fine. You can arrange for them through Klook (pocket wifi | sim card) or Get Your Guide.
3. Bookmark Hyperdia or Get the App on your Mobile Device
Hyperdia (and Google Maps) will be your new best friend in Japan. You'll need it to make sense of Japan's highly efficient but often confounding railway system. Not only will it give you precise train arrival and departure times, but it will tell you exactly how to get from one platform to the next. It makes commuting so much easier so be sure to download the app or bookmark the website on your mobile device.
WEBSITE: hyperdia.com
4. Check for Nagoya Travel Deals
There are many online marketplaces that sell travel deals to different destinations around the world. For Japan, one of my favorites is Get Your Guide. Before becoming a partner, I was a customer for many years and can vouch for them 100%.
Even if I don't buy anything before a trip, it's always fun going through their sites just to see what's available. I often learn about attractions and activities that I wouldn't have known about otherwise. Click on the link for a list of Nagoya travel deals on Get Your Guide.
5. Get Travel Insurance
The decision to get travel insurance is something we deliberate on before every trip. If all we'll be doing is spending a couple of days eating and shopping in a city like Singapore, then we may not feel the need for it. But if we plan on doing anything physical that could get us injured, then we'll definitely pick up a policy.
When we do feel the need for insurance, we always get it from SafetyWing or Heymondo. They're both popular travel insurance companies used by many long-term travelers. Follow the links to get a free quote from SafetyWing or Heymondo. Get 5% off on Heymondo when using our link.
7. Bring the Right Power Adapter
Japan has Type A or Type B electrical outlets so be sure to bring the right power adapters for your devices. Electrical voltage is 100V and the standard frequency is 50/60Hz.
8. Learn Basic Japanese Etiquette
Japan is unique. It's a country with many unwritten rules so it's easy to commit a cultural faux pas without even realizing it. You wouldn't want to offend anyone so I suggest checking out this overview on Japanese etiquette for tourists before your trip.
Have Fun!
I'm not an expert on Nagoya but I do hope you find this guide useful. I'm only sharing some of the things I've learned from my trips. If you have any questions or suggestions, then please let us know in the comment section below. You're welcome to join our Facebook Travel Group as well.
Thanks for stopping by and have an amazing time in Nagoya!
OUR GEAR
These are just some of the things we brought with us to Nagoya. See what's in our backpack for a complete list of our travel gear. (NOTE: The following links are Amazon and other affiliate links.)
Disclosure
This Nagoya travel guide contains affiliate links, through which we'll earn a small commission if you make a booking or purchase at no additional cost to you. As always, we only recommend products and services that we use ourselves and can personally vouch for. We really appreciate your support as it helps us make more of these free travel guides. Arigato gozaimasu!