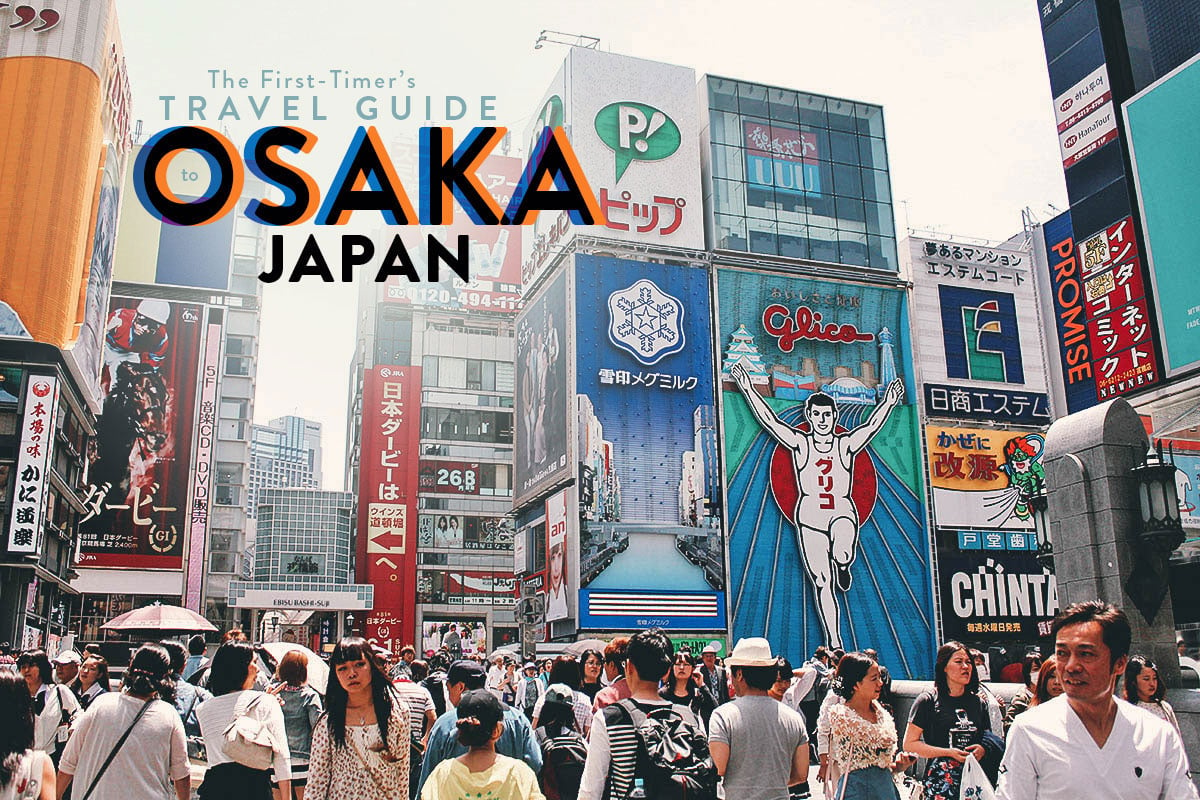 The First-Timer's Travel Guide to Osaka, Japan
I love Osaka. I love everything about it – the atmosphere, the weather, the shopping, the food. ESPECIALLY the food. Ask anyone who knows me, and they'll tell you: "Yes, JB looooves Osaka." Depending on who you ask, you may even get a matching eye roll. 🙄
I talk up Osaka whenever I can because I really do think it's that cool. Before our trip, the only other Japanese city I had been to was Tokyo. That was nearly 20 years ago and I remember being shocked at how expensive everything was. It put me off to Japan and made me apprehensive to visit again. For two decades, I was under the impression that the entire country was pricey, and it wasn't until our trip to Osaka that my views changed. On that trip, I learned that Japan may indeed be more expensive than Southeast Asian countries, but it isn't out of reach. Not all of Japan is as expensive as Tokyo, and it is possible to have a good time there without breaking the bank. Apprehensive as I was about revisiting Japan, I now want to explore as much of it as I can. And I have Osaka to thank for that.
With so many interesting destinations to visit in the world, we rarely want to experience the same city twice. Osaka is one of the few exceptions. We travel for food and with Osaka's rightful reputation as the "Nation's Kitchen", you can be guaranteed that we'll be back again and again.
GUIDE TABLE OF CONTENTS
BEST TIME TO VISIT
Unlike Kyoto, the majority of Osaka's attractions are indoors or within an urban setting so there really is no best time to go. It's a year-round destination so it all depends on which season you prefer or how tolerant you are to hot and cold weather. If you'd like to see the cherry blossoms, then you need to go in Spring (March-May). If you're hoping to catch the colors of Autumn, then October-November is the time to go. The weather is mild in Spring and Fall so either season would be an ideal time to visit.
Despite its cold winters, food lovers may want to consider visiting Osaka in Winter (December-February) as well. Crab and fugu (blowfish) are quintessential Winter dishes in Japan so the colder months are the best time to have them. My friend Tsutomu who lives in neighboring Hyogo told me that Japan imports their crab from Russia during the off-season. Not the best!
HOW TO GET THERE
If you're flying in to Japan, then chances are you'll be arriving at Kansai International Airport (KIX). It's the main access hub to the Kansai area. From KIX, you can take a train directly to your hotel. You can check hyperdia.com for train schedules.
If you're traveling in a group or have a lot of luggage and would prefer to arrange for a private transfer, then you can do so through Klook or Kkday. Follow these links to book private airport transfers from KIX on Klook or Kkday. You'll find other options for transfers on that page as well.
If you're already in Japan, then you can take a train to Osaka from wherever you are. You can check hyperdia.com for train routes and schedules. If you're doing a multi-city tour of Japan, then you may be interested in purchasing a Japan Rail Pass. It will give you unlimited use of all JR national trains in Japan, including Shinkansen bullet trains and the Narita Express, for a consecutive number of days.
HOW LONG TO STAY
As mentioned up top, Osaka is often referred to as the "Nation's Kitchen" so food is a big part of the Osaka experience. There are a few fun attractions like Universal Studios and Osaka Aquarium, but much of your time will be spent eating and shopping. For gastronomically inclined travelers, I'd say 3 full days in Osaka should be a minimum. The more days you spend there, the more meals you get to enjoy. Personally, I'd stay about 4-5 days.
HOW MUCH MONEY TO BRING
Japan is pricier than Southeast Asian countries but it isn't prohibitively expensive like many people think. For example, you can have a good meal at a restaurant for around JPY 1,500. If you'd like to save on food, then you can buy prepackaged meals at convenience stores like 7-Eleven and Family Mart. The street food in Dotonbori or Kuromon Ichiba Market is pretty awesome and inexpensive too. If you stick to places like that, then you can eat well with a budget of around JPY 1,500-2,000 per day.
Assuming you'll be traveling with one other person, then you'd be pretty comfortable with JPY 8,000-10,000 per day in Osaka. That includes all meals, transportation, a modest hotel room for two, and pocket wifi rental. You can adjust depending on how much you want to shop or eat, but JPY 8,000-10,000 each is a good baseline for two people traveling together. If you'd like to go to any of the attractions listed below, like Universal Studios, then you need to factor in the cost of admission to your budget.
Another thing, bear in mind that Japan is still mostly a cash society. Some places like hotels and big department stores accept credit cards but for the most part, you'll be paying in cash so be sure to bring enough with you.
WHERE TO EXCHANGE CURRENCY
Banks and post offices are the best places to exchange currency in Japan. Based on what I've read, people seem to prefer post offices because the transactions are faster. I exchanged currency at a bank and the process did take some time. I had to fill a bunch of paperwork then wait for the transaction to complete. If you're arriving in Osaka via Kansai International Airport, then you can exchange a small amount there, just enough to get you into the city, then change the rest at a bank or post office.
Alternatively, you can also withdraw JPY from an ATM. The rates are competitive. Just be sure to advise your bank you'll be using your ATM card overseas so you don't run into any problems. In my experience, my ATM card works in some machines but not in others.
WHERE TO STAY: Best Western Hotel Fino Osaka Shinsaibashi
In my opinion, the Shinsaibashi-Dotonbori area is the best place to stay in Osaka. It's the heart of the city and where you'll be doing most of your shopping and eating.
We got a good deal so we stayed at Best Western on our last trip. It's a good business hotel just a few minutes walk from Shinsaibashi Shopping Arcade. However, people have informed me that room rates at Best Western tend to fluctuate quite a bit. Sometimes it's as low as what we paid (around USD 65 a night), but other times it can be 3 times as much! You can try your luck on Booking.com or Agoda. Be sure to check both sites to find the best rate.
If you can't get a good deal, then you can browse through the links above for other listings in Osaka. Alternatively, you can look for accommodations on AirBnB as well. If you're new to the site, then you can get USD 31 free travel credit via THIS LINK. No matter which site you wind up booking with, I suggest finding accommodations in the Shinsaibashi-Dotonbori area as it really is the most convenient place to stay.

Approximate Room Rate: USD 93 per night (as of June 2017)
WHERE TO GO / WHAT TO DO
1. Shinsaibashi-Dotonbori
The heart of Osaka. If Shinsaibashi is the city's premier shopping district, then Dotonbori is its kitchen. Visiting Osaka without making a stop here would be like going to Paris without seeing the Eiffel Tower. It's a sin! As mentioned above, I highly recommend you stay in the Shinsaibashi-Dotonbori area because this is exactly where you want to be.
Check out my post on Shinsaibashi and Dotonbori in Osaka for more pictures and information.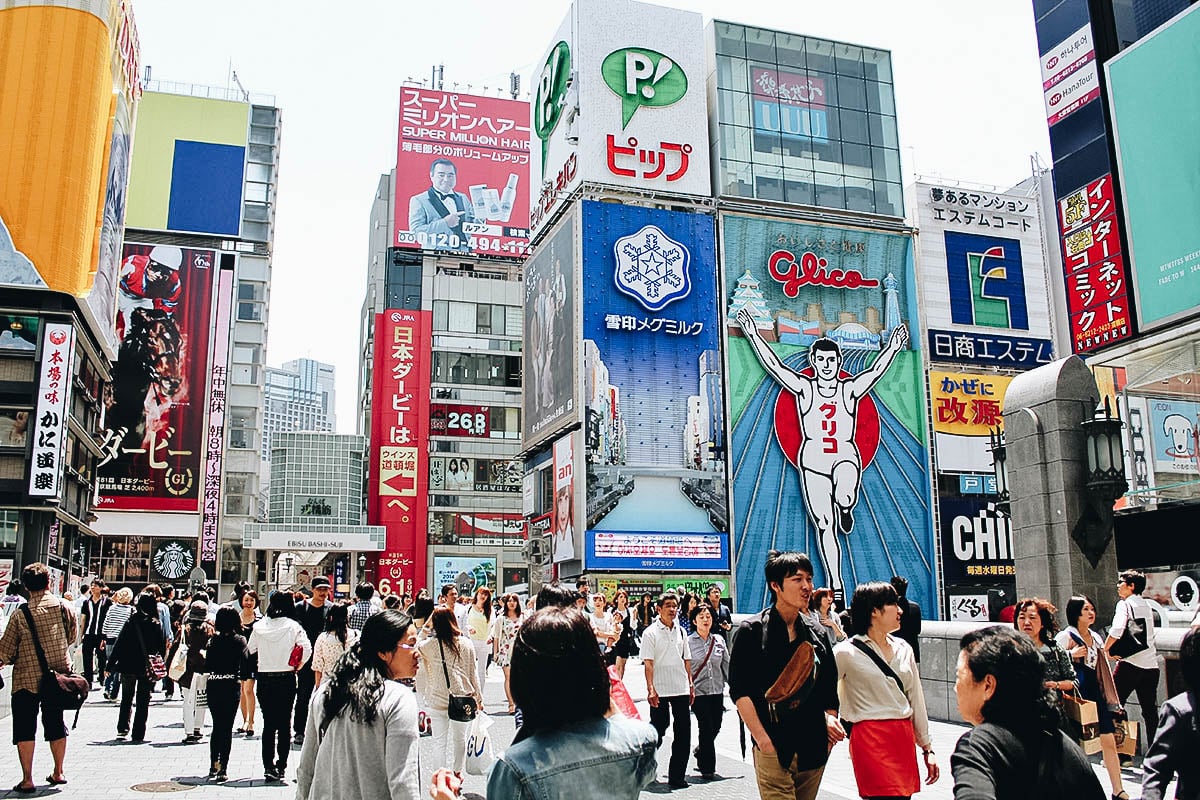 2. Kuromon Ichiba Market
Nicknamed "Osaka's Kitchen", many of the city's chefs purchase their ingredients here. It's home to some of the best and freshest seafood that we've ever tasted. Delicacies like uni, diver scallops, otoro, oysters, octopus, and even Kobe beef can be enjoyed here as street food. And for cheap too! We LOVED this place.
Check out my post on Kuromon Ichiba Market in Osaka for more pictures and information.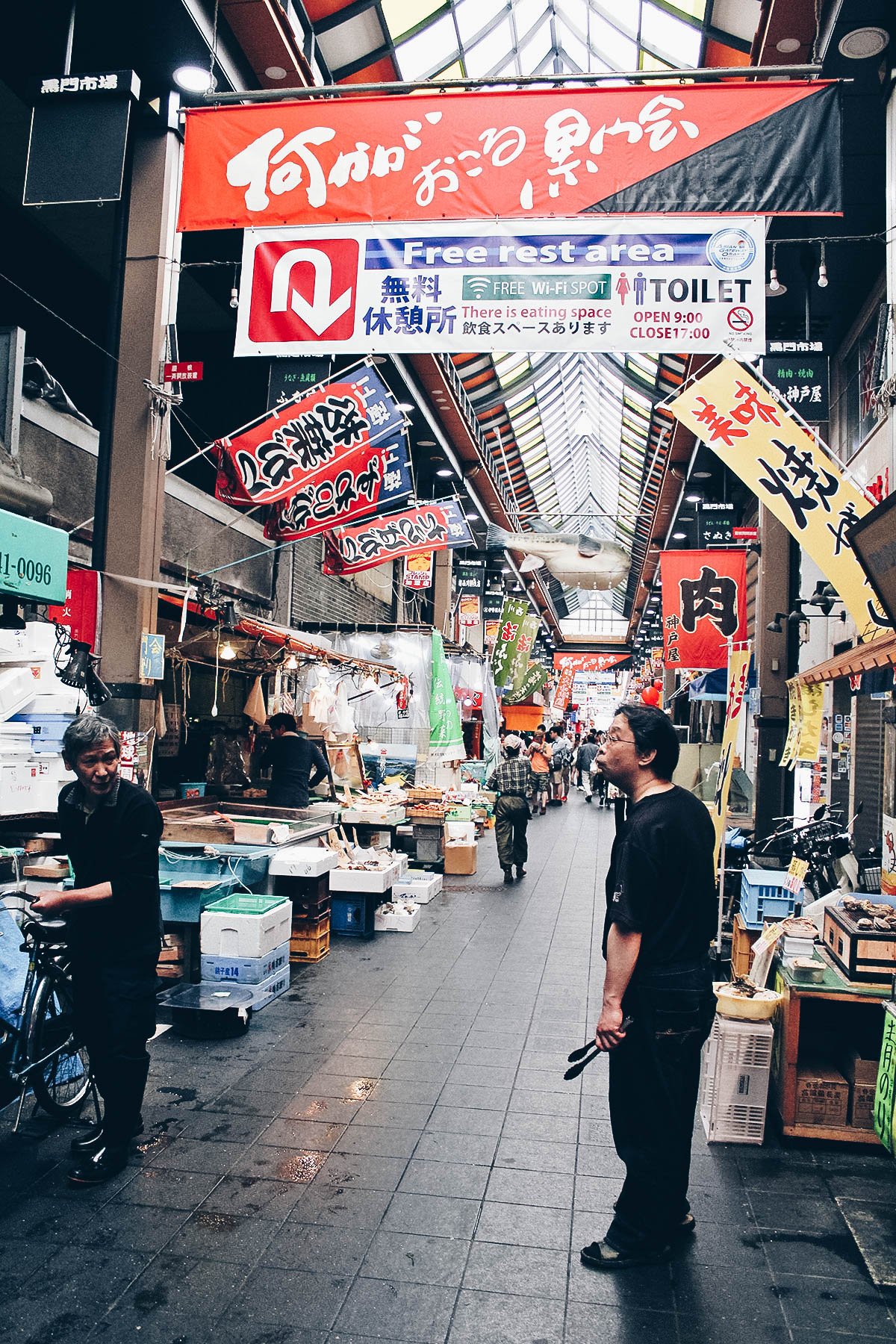 3. Universal Studios Japan
Universal Studios is one of Osaka's most visited attractions, and it isn't hard to understand why. Favorites include The Wizarding World of Harry Potter, Backdraft, Jurassic Park, and Spiderman themed rides. A 1-day pass to Universal Studios is JPY 7,600 for adults and JPY 5,100 for kids, but you can sometimes get a discount if you purchase advanced tickets on Klook or Kkday. Follow these links to buy Universal Studios tickets from Klook or Kkday. Both sites have other Universal Studios deals as well so be sure to browse all their listings: Klook | Kkday.
Check out my post on Universal Studios Japan for more pictures and information.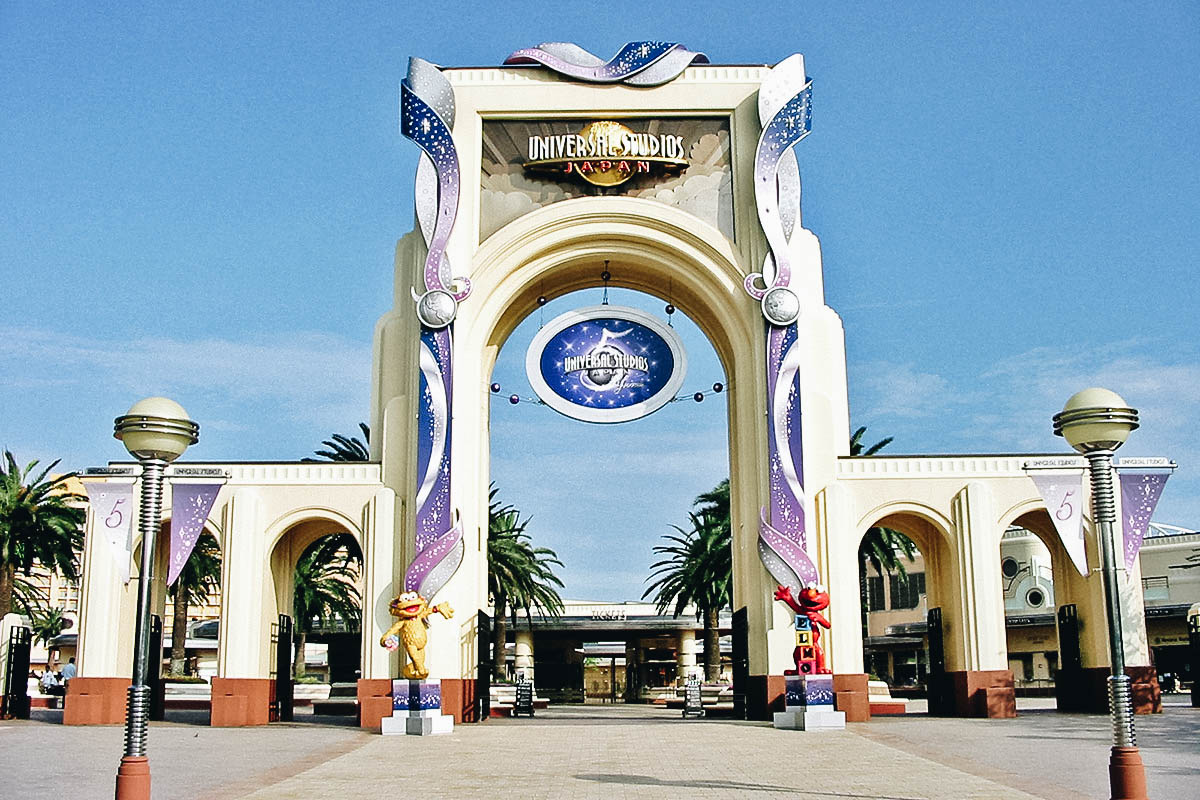 Suggested Length of Visit: Full day / Admission: JPY 7,600 for adults, JPY 5,100 for children
PICTURE CREDIT: ユニバーサル・スタジオ・ジャパン 2006年7月 投稿者撮影 Universal Studios Japan Photo by momopy June 2006
4. Osaka Aquarium Kaiyukan
Holding nearly 11,000 tons of water, Kaiyukan is one of the world's largest aquariums. It's so big in fact, that it's main tank is 30 feet deep and home to two juvenile whale sharks (Rhincodon typus). Cetacean freedom advocates be warned though – they house dolphins here as well.
Check out my psot on Osaka Aquarium Kaiyukan for more pictures and information.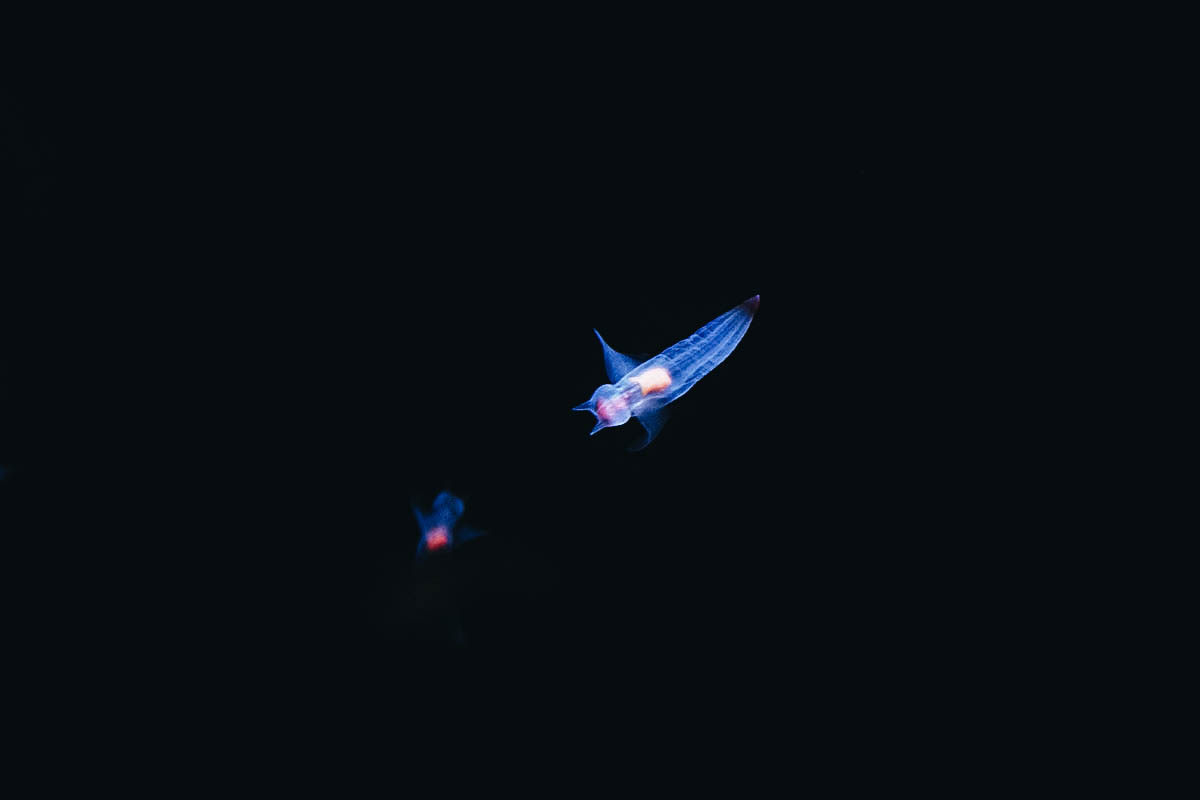 Suggested Length of Visit: 2-3 hrs / Admission: JPY 2,300 for adults
5. Umeda Sky Building
There's no better place to get a bird's eye view of Osaka than the Floating Garden Observatory. 173 meters above ground atop the ultramodern Umeda Sky Building, it gives viewers a 360° panoramic vista of the entire city. At its basement, gourmands will be pleased to find a food court designed as a Japanese street from the early Showa period. It's home to Okonomiyaki Kiji, purveyors of arguably the best okonomiyaki in all of Osaka.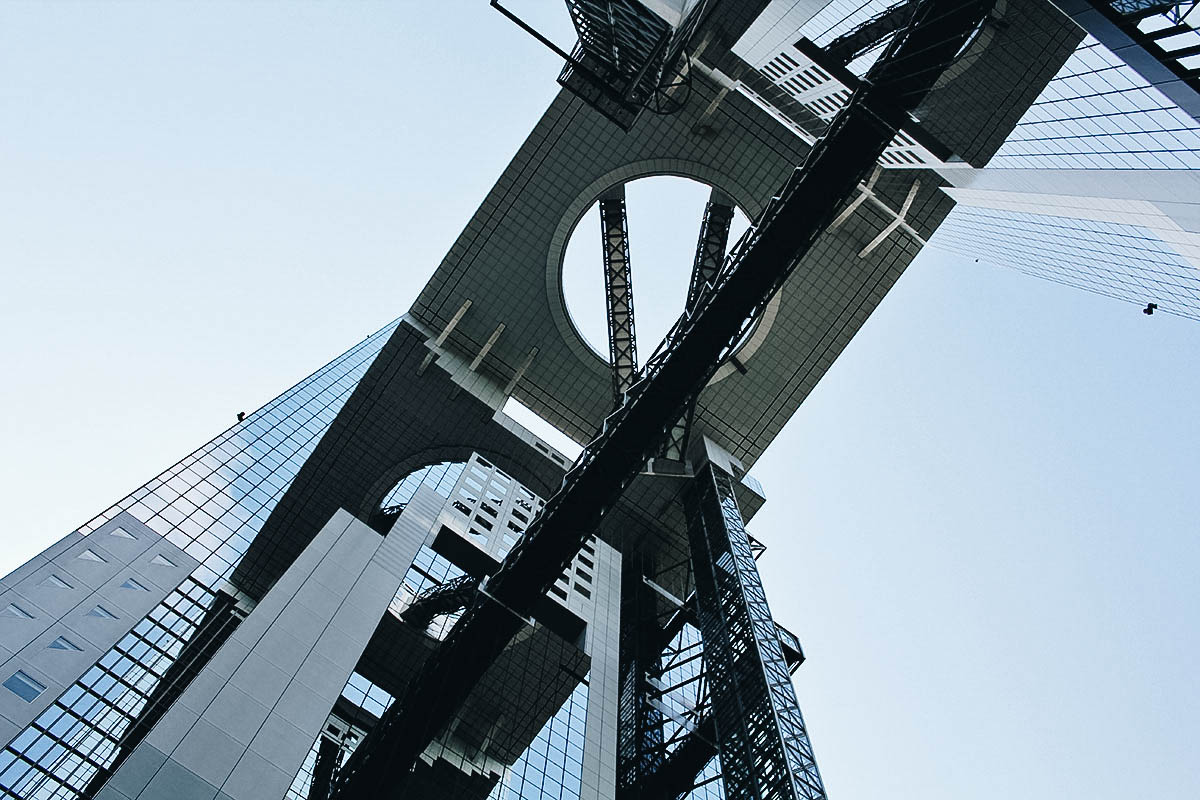 Suggested Length of Visit: 1-1.5 hrs / Admission: FREE until 38th floor, JPY 1,000 to Floating Garden Observatory (top viewing deck)
6. Grand Front Osaka
Home to the Knowledge Center and Umekita Dining Floor, Grand Front Osaka is a mall unlike any other. Remarkable for its "labs" and interactive exhibits, most of the stores here aren't the type that you'd find in your typical shopping mall. It's a fun place to spend a couple of hours. Be sure to enjoy a drink and some good chow at the ultratrendy Umekita food court as well.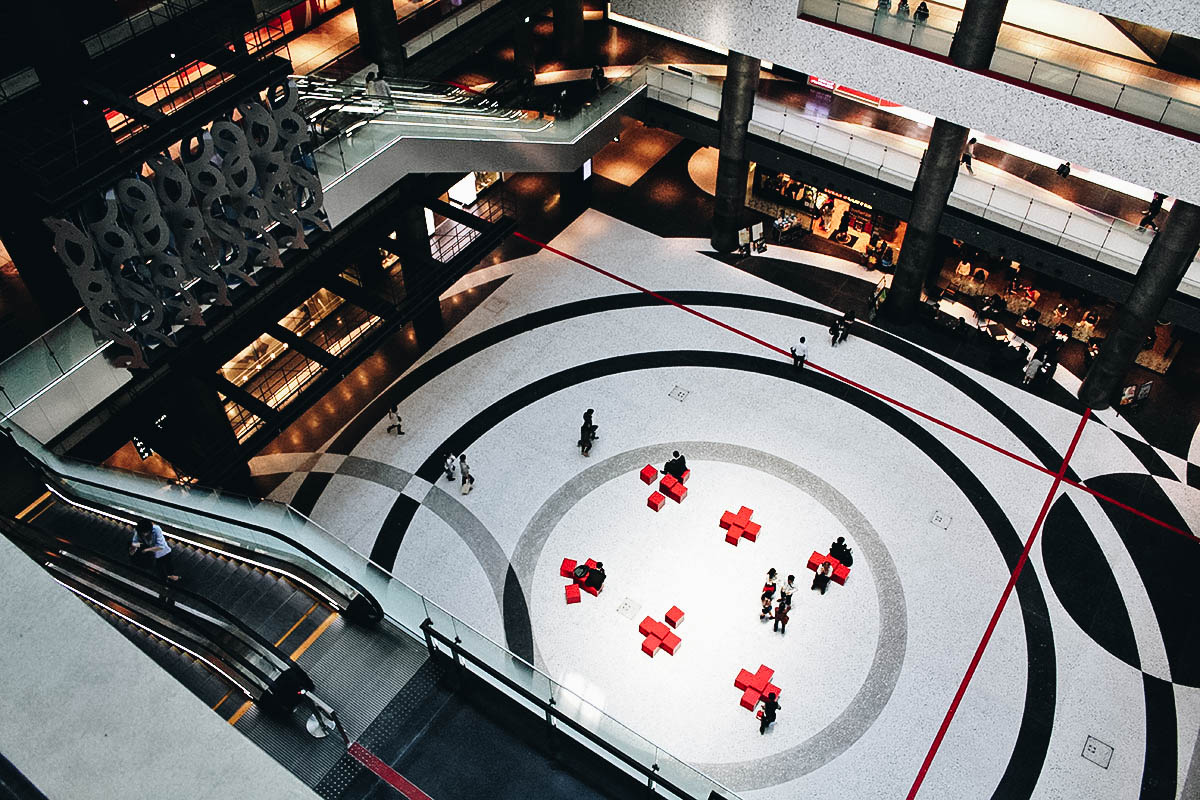 7. Osaka Castle
I asked my Japanese friend Tsutomu if we should go to Osaka Castle and he said: "No, there's nothing there dude" so we didn't bother. 😆 If you like that sort of thing though, then you may want to pay it a visit. It's considered one of Japan's most famous landmarks and is home to 600 cherry trees. If you're going to Osaka in Spring, then it's a great place to see the cherry blossoms.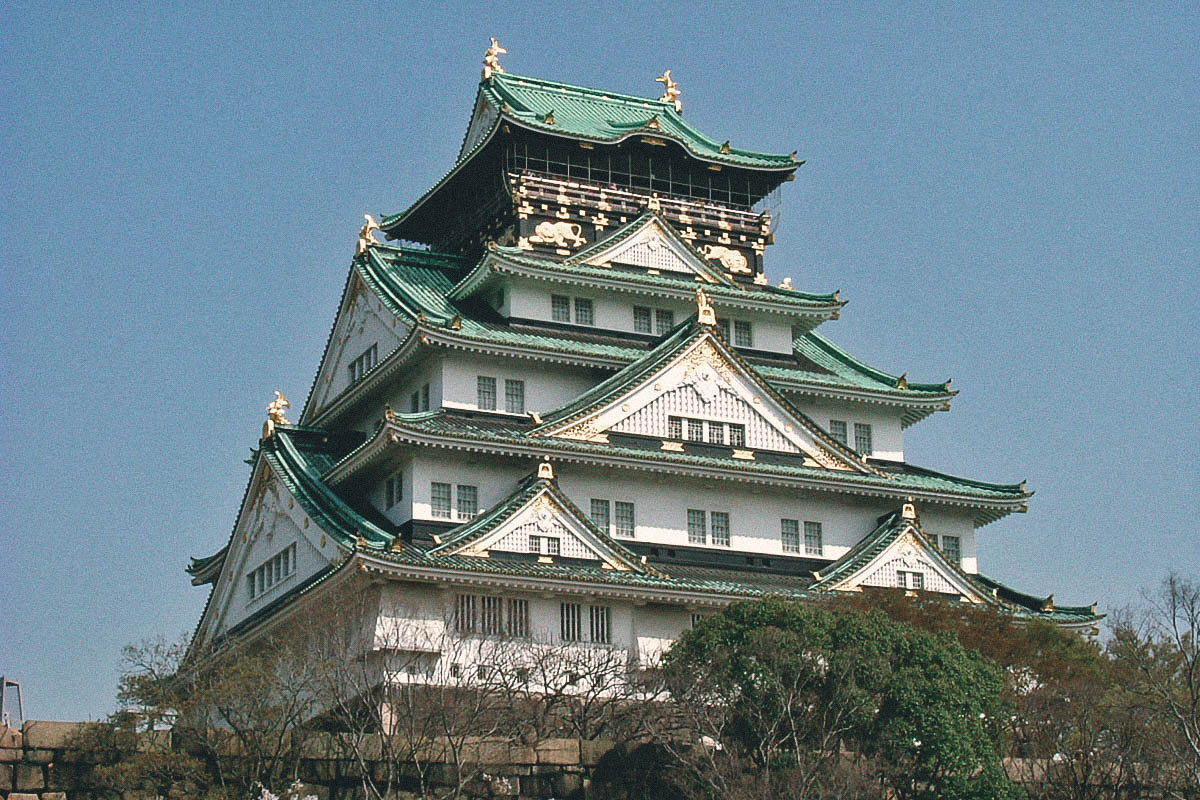 Suggested Length of Visit: 1-2 hrs / Admission: JPY 600 (Castle Tower), JPY 250 (Nishinomaru Garden)
8. Don Quijote
If you like bargains, then you're going to love this place. Shopping in Japan doesn't have to be expensive and Don Quijote is proof of that. Like Daiso shops, Don Quijoute is a discount chain store with over 160 branches throughout Japan. There are several in Osaka, including a couple in Dotonbori. Many of their branches are like mini department stores with several stories of products ranging from groceries to electronics to clothing to household goods. Best of all? Everything is tax-free.
Visit the Don Quijote website to find the blue penguin nearest you.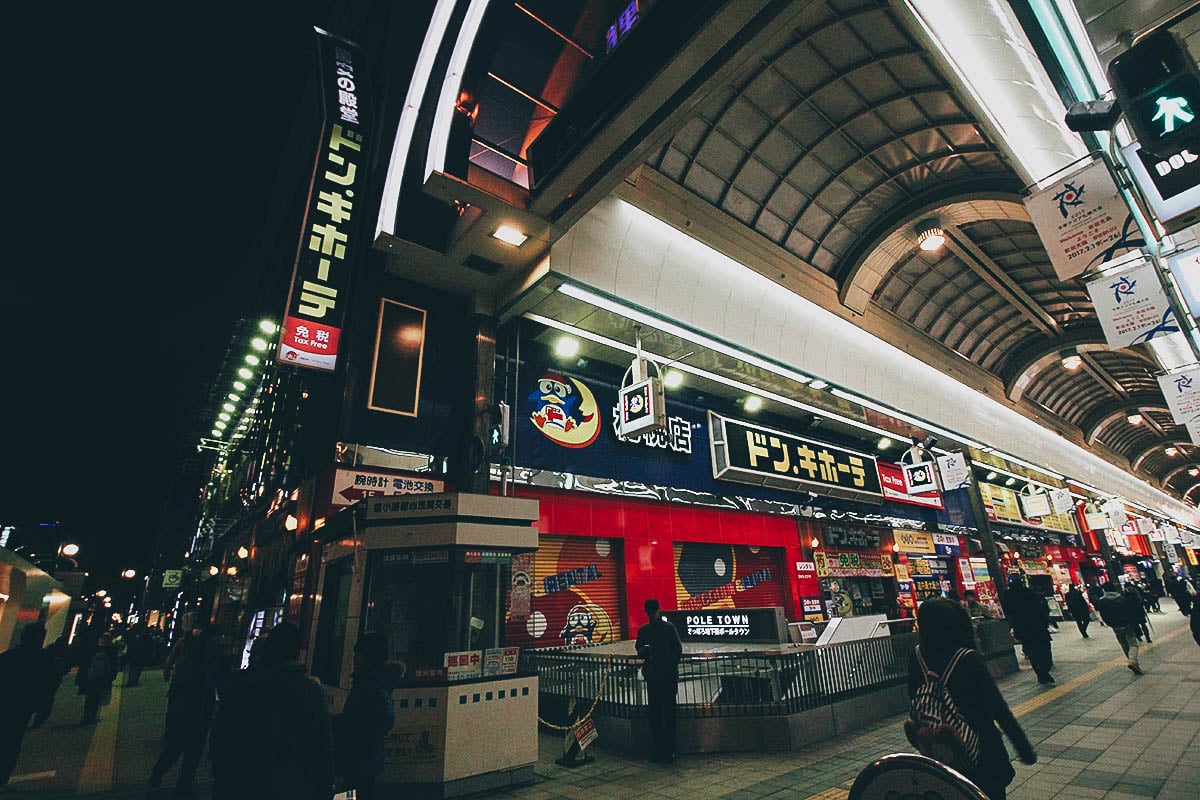 NOTE: The Don Quijote branch pictured above is in Sapporo.
If you're interested in more unconventional things to do, check out this interesting list of off-the-beaten path attractions in Osaka and Kyoto. I like unusual places myself so I'll surely be visiting some of those places on out next trip to the Kansai region.
THE ULTIMATE JAPANESE FOOD GUIDE
I adore Japanese food. It's my absolute favorite cuisine in the world and a big reason why we love visiting this country. If you enjoy Japanese food as much as we do, then you need to read our Japanese Food Guide. It includes popular dishes in Japan as well as regional specialties by prefecture, including Osaka.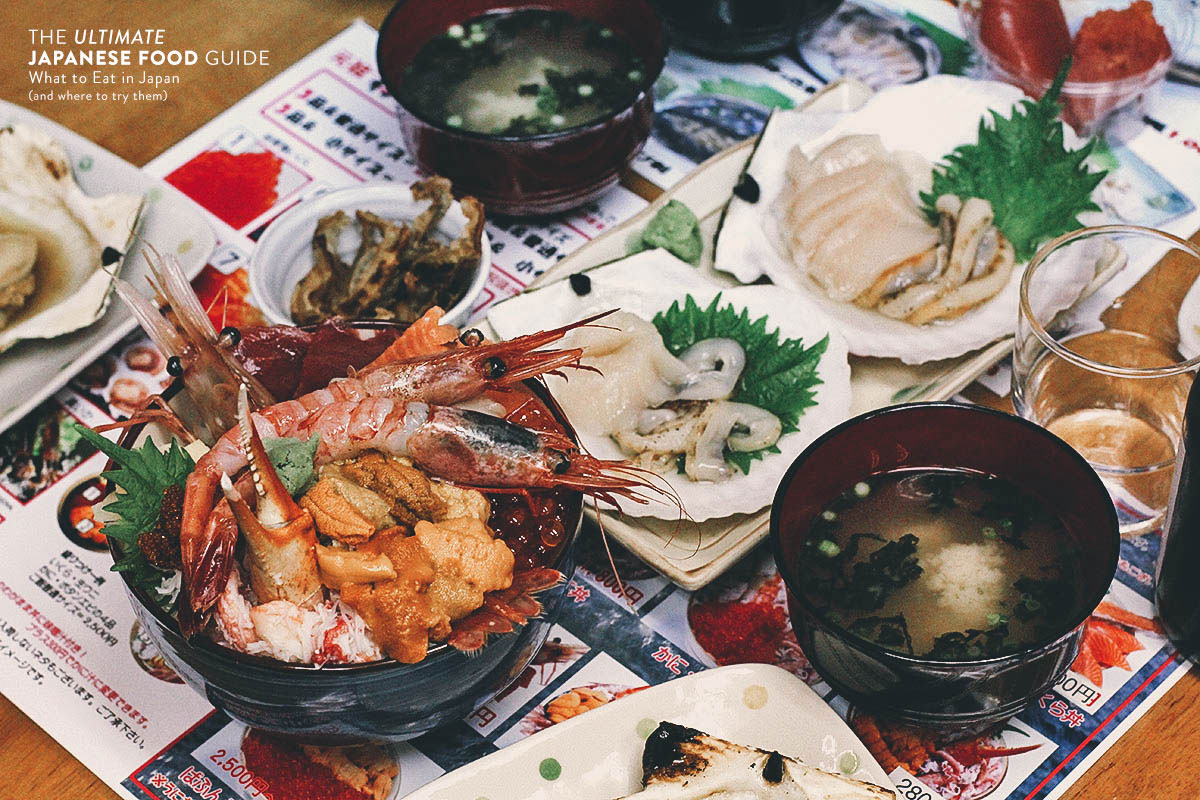 WHERE TO EAT
1. Kura Sushi
One of the most popular kaiten-zushi (conveyor belt sushi) chains in Japan, a meal at Kura Sushi isn't just cheap and delicious, it's super fun too. Every single plate of sushi on that conveyor belt – from maguro, to hamachi, to unagi, to chuotoro, to hotate, to katsuo – goes for an even JPY 100. At the time, that was equivalent to about one dollar. I LOVED this place.
Check out my post on Kura Sushi in Japan for more pictures and information.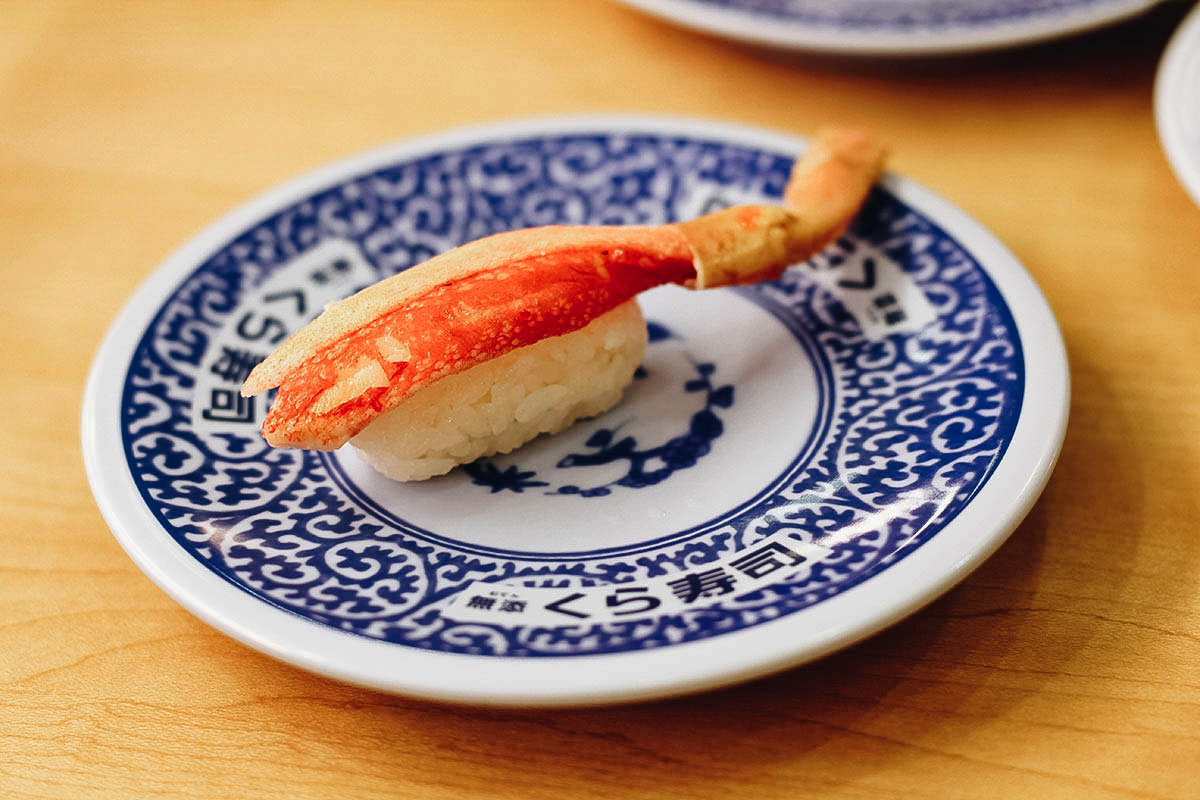 Expect to Pay: Around JPY 1,000-1,500 per person with drinks
2. Fujiya 1935
Once cited by the Diners Club as one of the world's 50 best restaurants, Fujiya 1935 used to have the maximum 3 Michelin stars but it seems to have lost one since our meal here. Bummer. Helmed by Spanish-trained chef Tetsuya Fujiwara, we enjoyed a seven-course lunch here in celebration of my 40th birthday and it was one of the best dining experiences I've ever had.
Check out my post on Fujiya 1935 in Osaka for more pictures and information.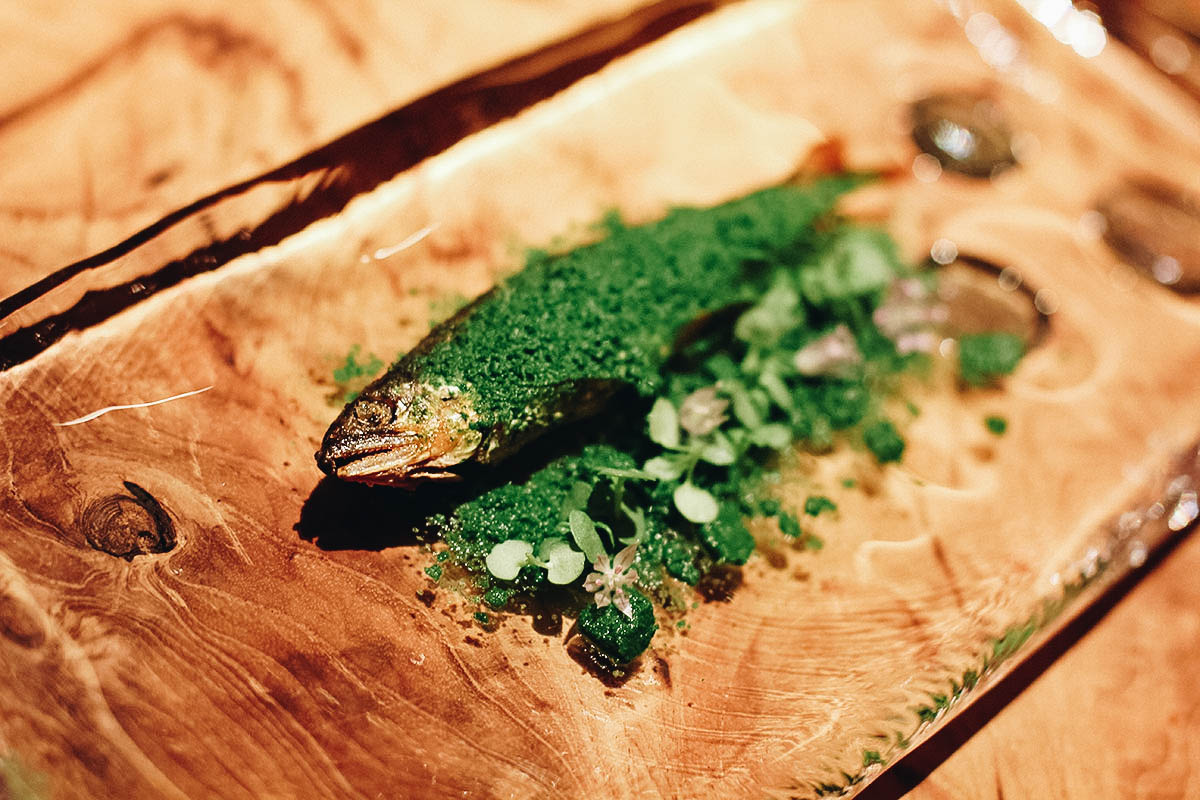 Expect to Pay: JPY 7,200 per person for lunch with drinks / JPY 15,000 per person for dinner with drinks
3. Tsurugyu
This place is all about Kobe beef. We wanted to try this legendary brand of beef but were afraid of its exorbitant prices. Luckily, we had insider knowledge and a very generous friend.
My Japanese buddy Tom used to work at a hotel resort and he heard about this place from his meat supplier. Apart from serving top quality meat, it's fairly priced for Kobe beef which is why it came so highly recommended. Cooked yakiniku style right at your table, it was delicious and everything I expected it to be. Seriously, if you've been wanting to check off Kobe beef from your bucket list, then this is the place to do it.
Check out my post on Tsurugyu in Osaka for more pictures and information.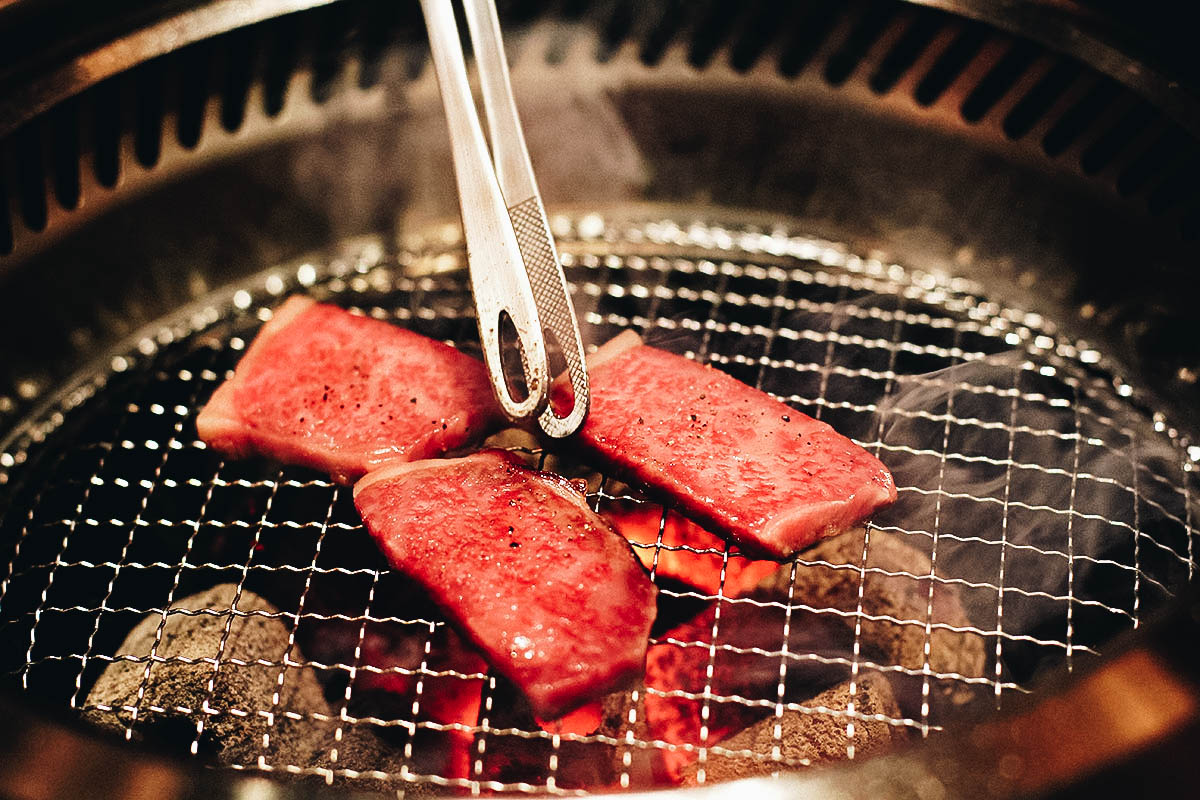 Expect to Pay: Around JPY 6,500 per person with drinks
4. Iroha
We enjoyed a fantastic thirteen-course kaiseki dinner here at Iroha. Owner of 1 Michelin star to date, it's helmed by chef/owner Masatoshi Yoshimoto who specializes in fish. The second of two kaiseki meals we enjoyed in Japan, Iroha is more traditional Japanese while Fujya 1935 is modern fusion. Both were outstanding.
Check out my post on Iroha in Osaka for more pictures and information.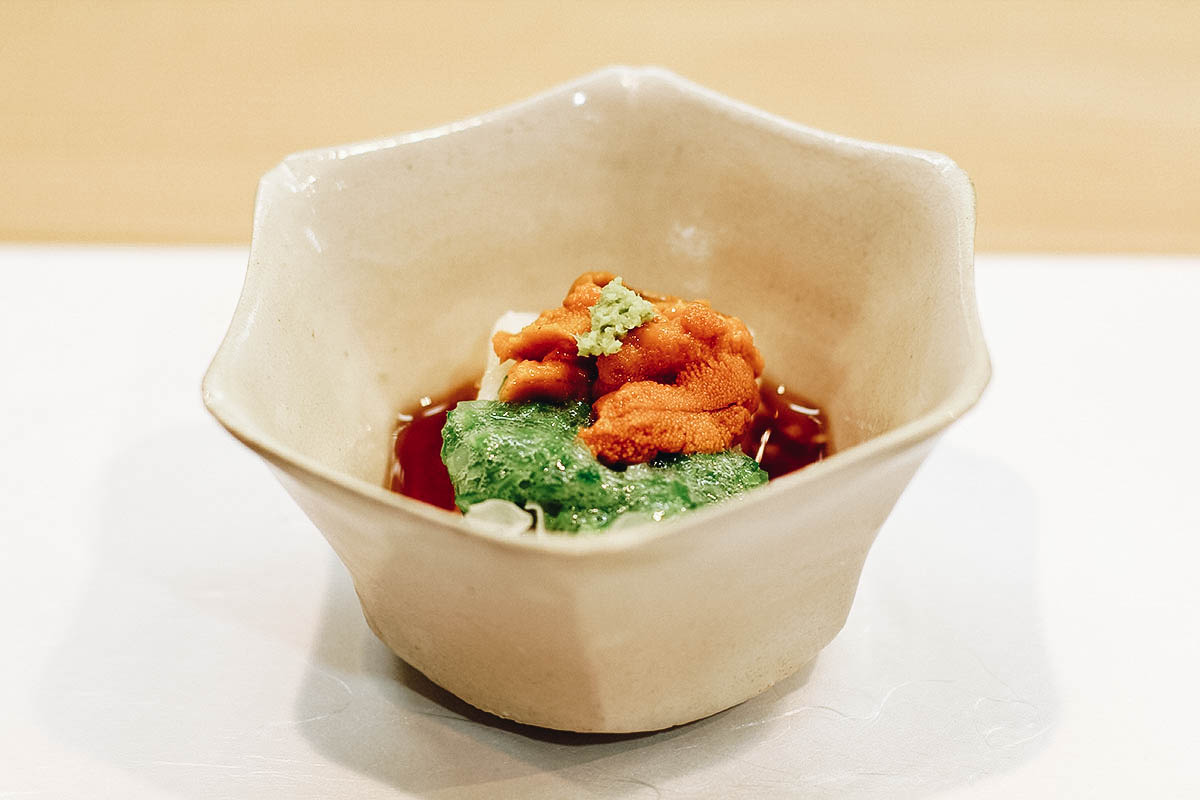 Expect to Pay: JPY 12,000 / 15,000 per person for dinner with drinks
5. Jinen Shimizucho
Jinen is a restaurant just a few minutes walk from Best Western. It's home to some fantastic sushi. Pictured below are the most delicious pieces of unagi and anago sushi. Both are types of eel but unagi is freshwater while anago comes from the sea. Both were seriously good!
Check out my post on Jinen in Osaka for more pictures and information.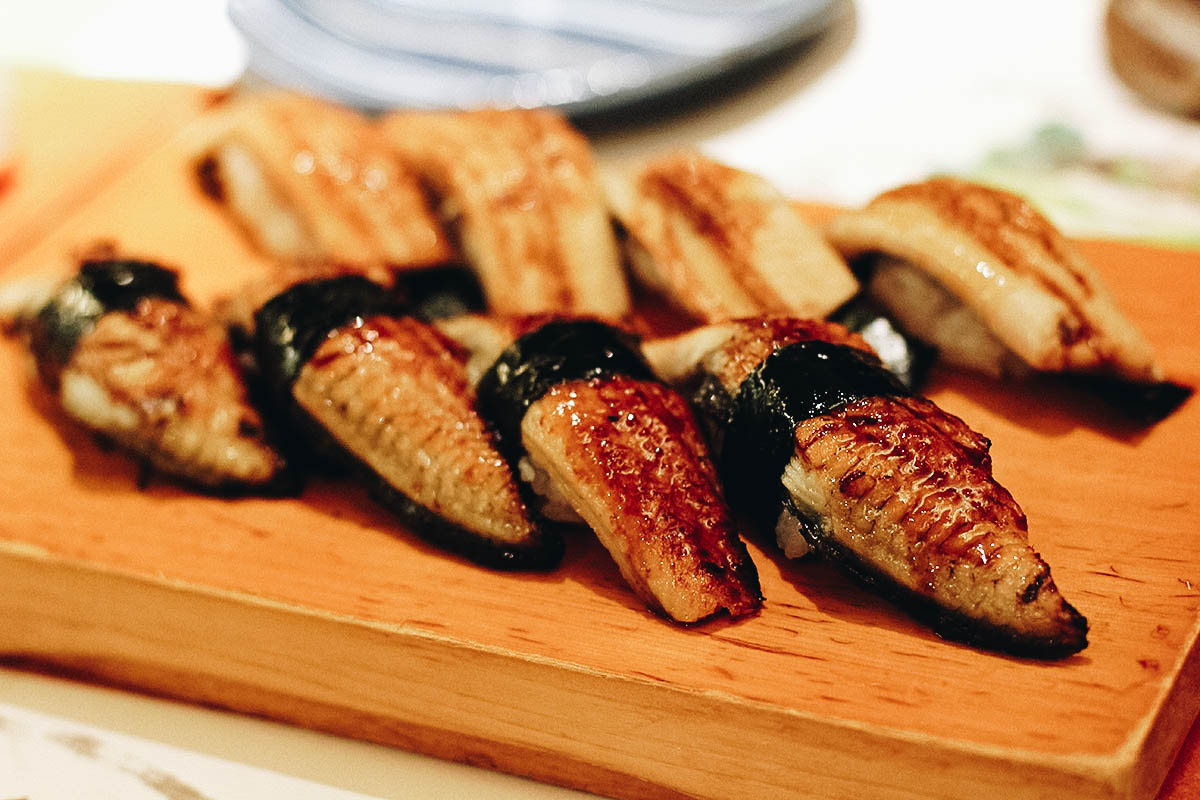 Expect to Pay: Around JPY 4,000 per person with drinks
6. Zuboraya
If you've been wanting to cross fugu off your bucket list, then Zuboraya is a good place to do it. A chain of restaurants specializing in highly toxic pufferfish, I don't know if they serve the best fugu in town but it will give adventurous eaters a chance to try this curious but potentially dangerous delicacy.
Check out my post on Zuboraya in Osaka for more pictures and information.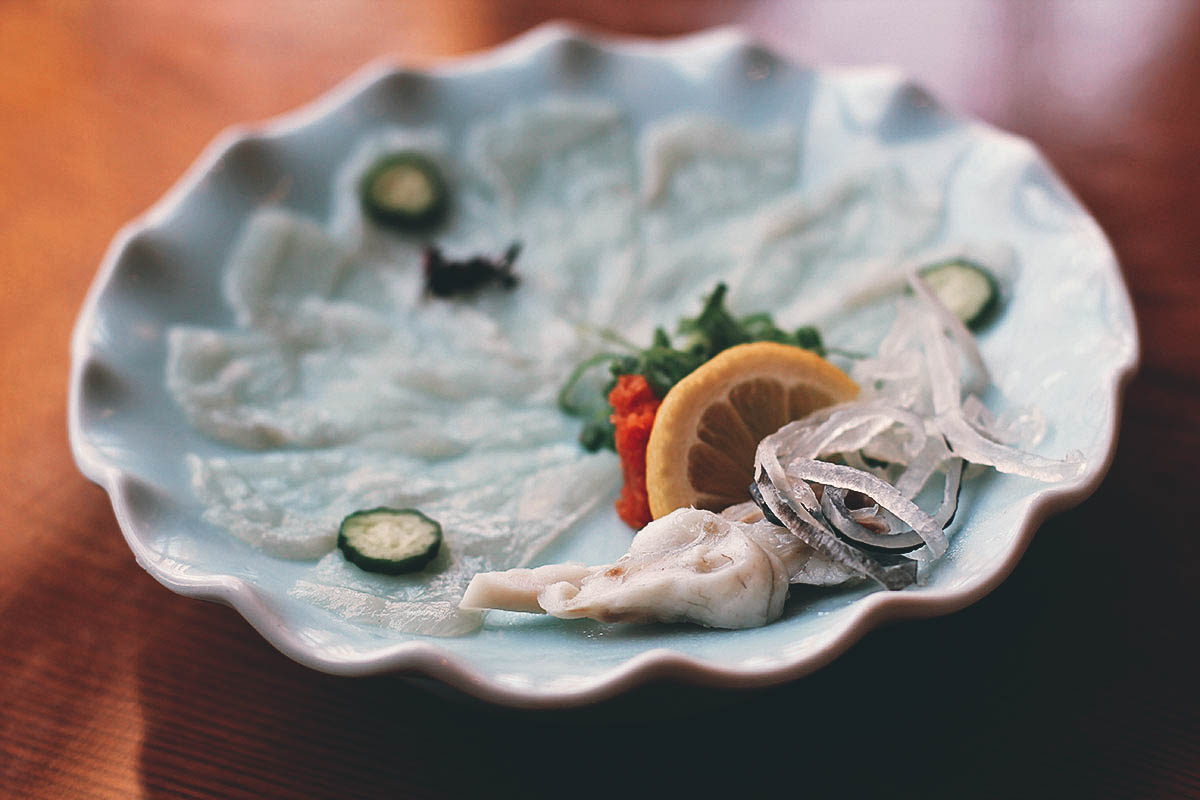 Expect to Pay: Around JPY 2,000-3,000 per person with drinks (lunch)
Gourmands will be pleased to know that there are at present 90 restaurants with at least one Michelin star in Osaka. I've included two above, both of which I'm happy to recommend. Follow the link for the complete list of Michelin-starred restaurants in Osaka.
INTERACTIVE MAP
To help you get your bearings, I've created this interactive map so you get a better sense of where everything is. Most of the places recommended in this guide are pinned on this map. (Tap on the thumbnail below to open up in full screen mode on mobile.)
SIDE TRIPS FROM OSAKA
I recently went on a FAM trip of Western Japan that opened my eyes to this part of the country. There's so much more to the Kansai region than Osaka, Kyoto, and Nara! If you have enough time and want to do side trips from Osaka (with or without a Japan Rail Pass), then here are a few places to consider.
1. Kyoto
Every list of side trips from Osaka should begin with Kyoto. It's beloved by the Japanese and has long been considered one of the country's most innovative centers for arts and culture. So important is Kyoto to the Japanese experience that not many travelers visit Osaka without spending a few days here as well. It's less than half an hour away and can even be visited on daily trips from Osaka.
Check out my First-Timer's Travel Guide to Kyoto for more information.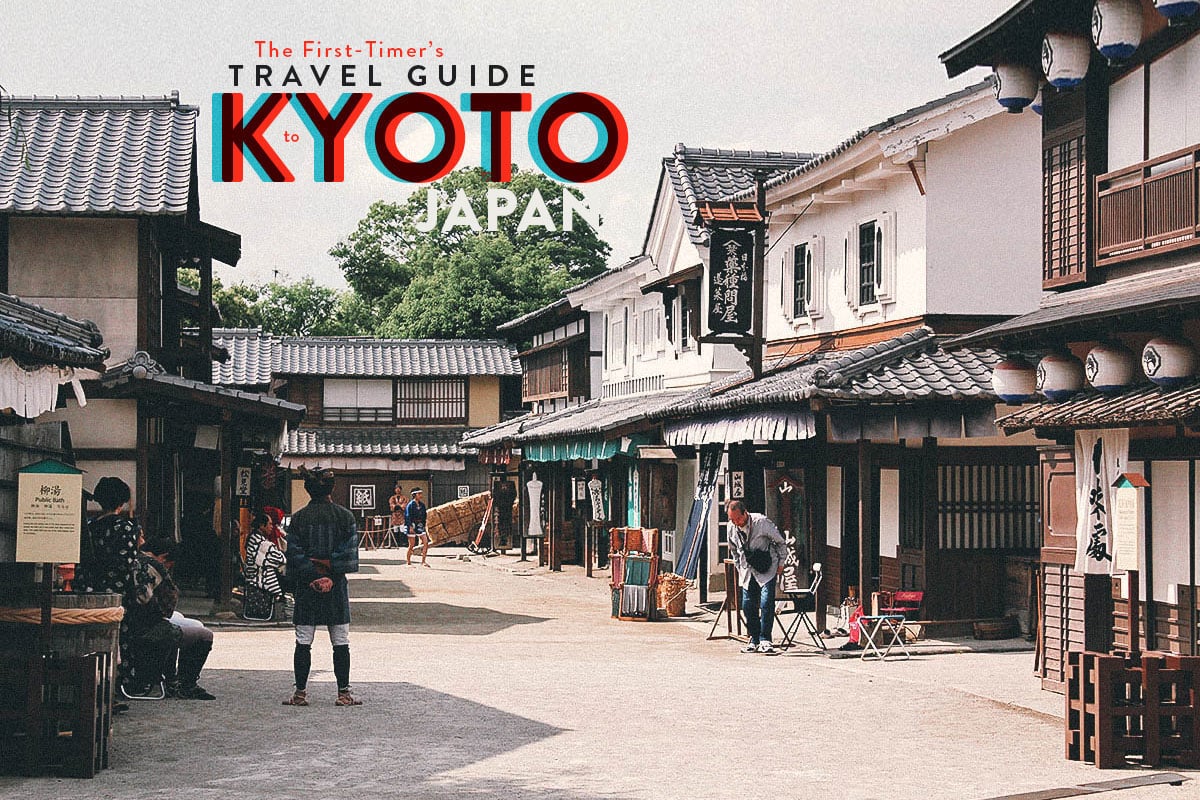 Fare from Osaka: Around JPY 400 each way
2. Nara
Like Kyoto, many travelers visit Nara from Osaka. It's second only to Kyoto in its wealth of temples, shrines, and traditional gardens in Japan. Apart from its cultural sites, Nara is best known for its parks with tame Sika deer. There are an estimated 1,200 Sika deer in Nara which visitors can feed with sika senbei or "deer crackers". Nara is less than an hour from Osaka making it an ideal place for a day or overnight trip.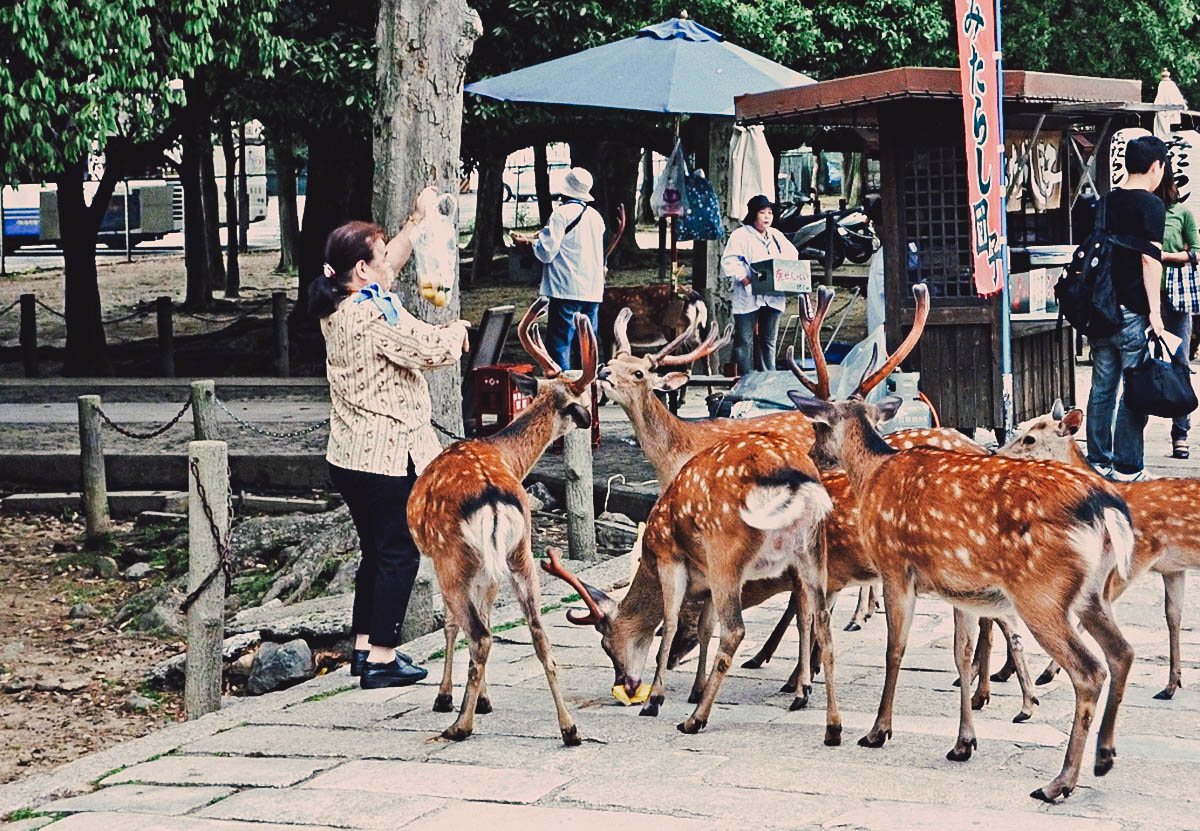 Fare from Osaka: Around JPY 800 each way
Picture by John Hill (Own work) [CC BY-SA 4.0], via Wikimedia Commons / Processed in Photoshop and Lightroom
3. Kinosaki Onsen
Kinosaki Onsen is a lovely onsen town about two and a half hours from Osaka. It's an atmospheric place known for its seven public hot springs or soto-yu. Many people visit Kinosaki Onsen to go onsen hopping in Winter. Ren and I recently went to hot springs in Yufuin and Kurokawa Onsen in Kyushu and we loved it. You feel SO GOOD afterwards. No wonder it's so popular among the Japanese! You can go to hot spring baths in many places but I suggest going to an onsen town like this one. The experience is completely different.
Check out my post on Kinosaki Onsen for more pictures and information.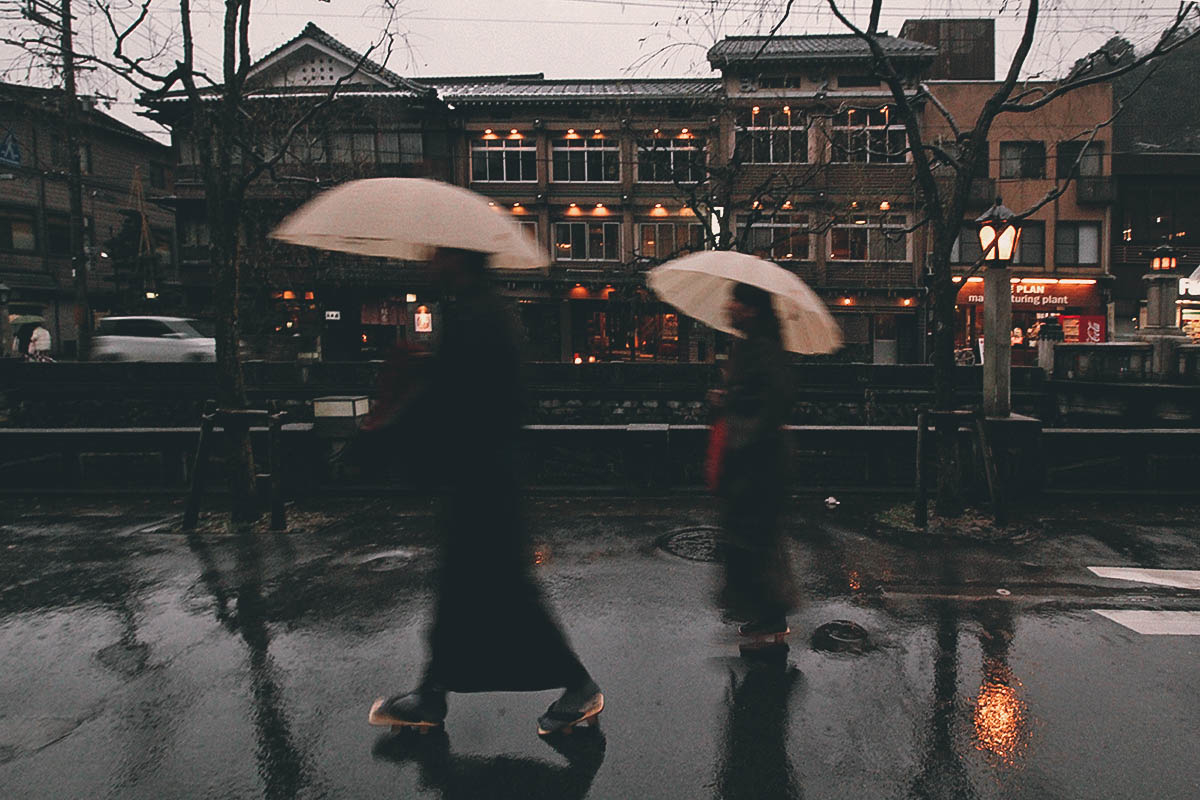 Fare from Osaka: Around JPY 5,080 each way
4. Kannabe Highlands
Many travelers want to experience skiing in winter and you can do so here at Kannabe Highlands. It's about three hours from Osaka and is home to a few small ski resorts. There you can go skiing, snowboarding, even snowshoe hiking!
Check out my post on Kannabe Highlands for more pictures and information.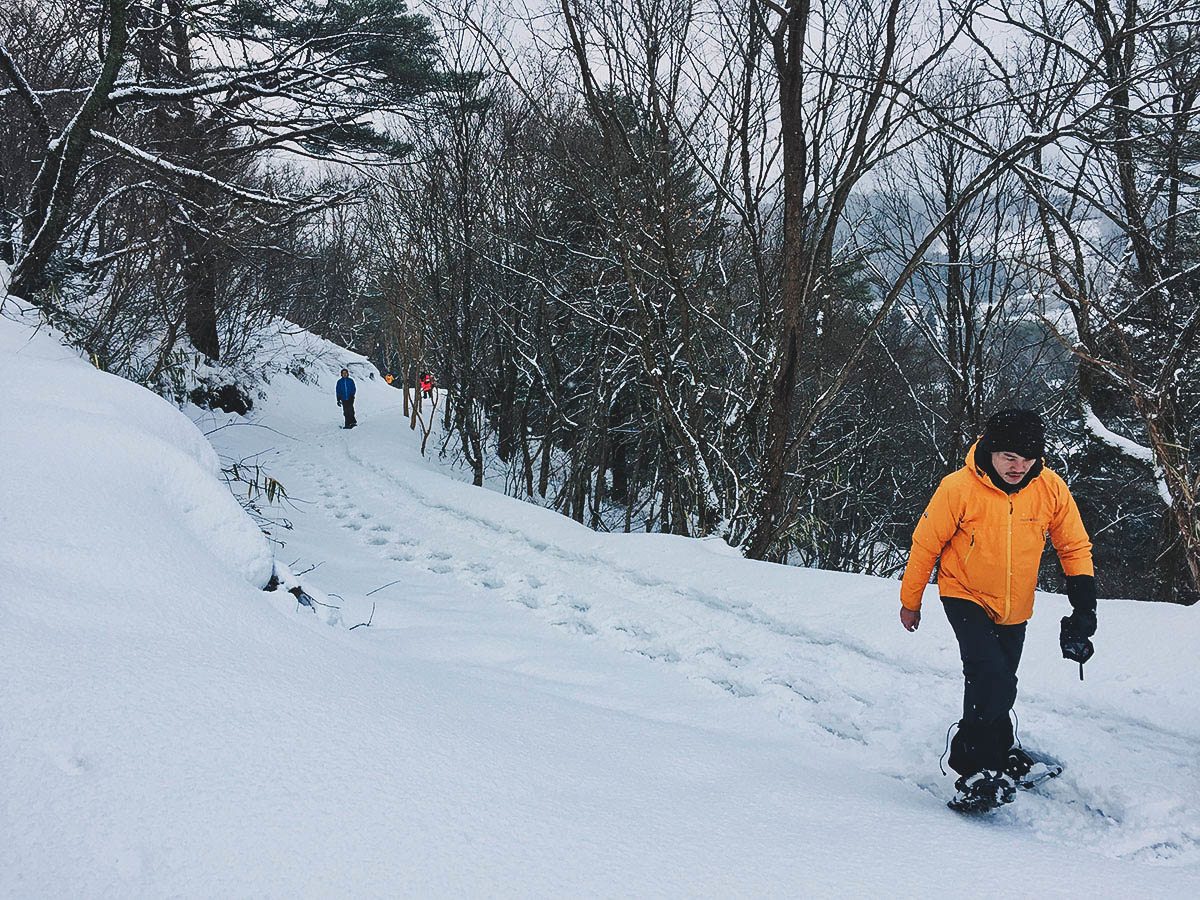 Fare from Osaka: Around JPY 3,020 each way
5. Amanohashidate
Amanohashidate is a long and slender sandbar that's considered one of the three most scenic views in all of Japan. It's just a little over two hours away by train so you can do it on a day trip from Osaka. People who prefer not to rush may want to stay the night though.
Check out my post on Amanohashidate for more pictures and information.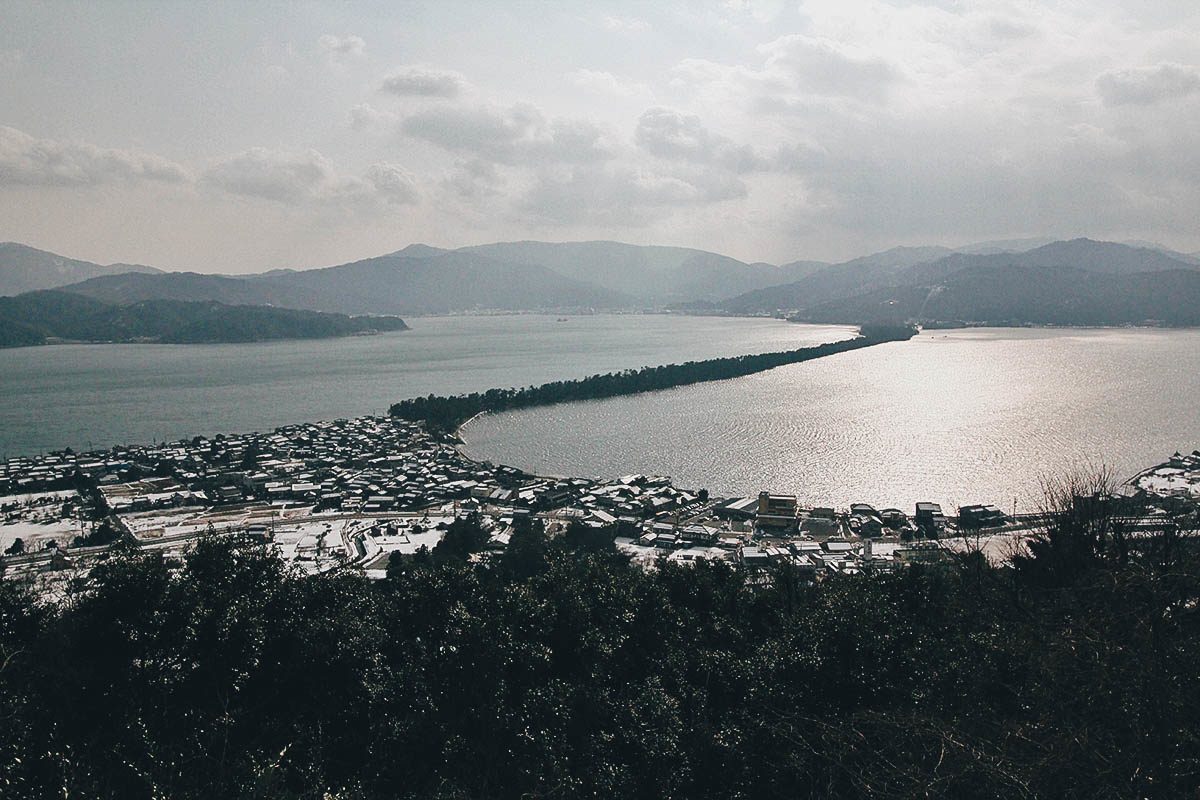 Fare from Osaka: Around JPY 3,250 each way
TRAVEL TIPS
1. Rent a Pocket Wifi Device
A constant wifi connection is a must when traveling these days, especially in Japan. There are few free wifi zones in this country so you'll need it to do research, navigate the subways, convert currencies, etc. Having access to Hyperdia alone justifies the cost. We never go anywhere now without renting a pocket wifi device first.
You can preorder a device from many pocket wifi providers and have it sent to your hotel, or you can pick it up at their airport counter upon arrival. On this trip to Sapporo, Japan WifiBuddy was kind enough to send us their Platinum Plus WifiBuddy to review (pictured below). It's their highest-end model that boasts LTE speeds and comes with a power bank. We've rented many pocket wifi devices on our travels and this one easily had the best battery life of any device we've used. On some days, we didn't even need to use the power bank.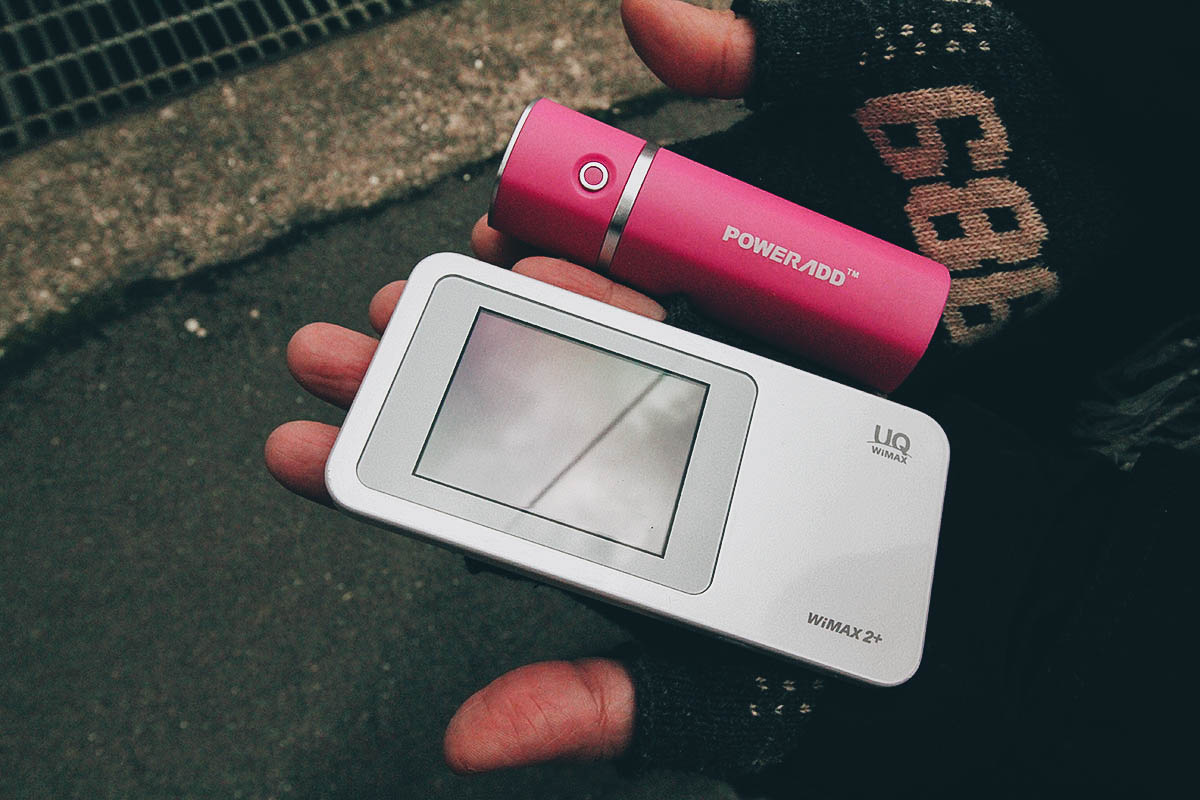 Conveniently, the device has two modes – High Speed mode and High Speed Plus Area mode. High Speed mode works great in the city but we did notice it has difficulty connecting in more remote locations like Teine ski resort. We'd switch to High Speed Plus Area mode as needed and the connection would be great. Just be sure not to use that mode too often since exceeding the 7GB monthly data limit will slow the device down to 3G speeds until the 1st day of the next month. If you stay on High Speed mode, then you'll have 10GB of LTE speeds per 3-day period.
You can rent the Platinum Plus for USD 75 a week (USD 10.71/day) or USD 173 for thirty days (USD 5.77/day). They do have other devices and wifi plans so you can follow this link to rent a pocket wifi device from Japan WifiBuddy.
Alternatively, you can rent a 4G pocket wifi device from Klook or Kkday. Follow these links to rent a pocket wifi device from Klook or Kkday. No matter where you rent a device from, be sure to reserve it at least a couple of weeks prior to your trip.
2. Bookmark Hyperdia or Get the App on your Mobile Device
Referenced up top, this website will be your new best friend while in Japan. You'll be riding the subway a lot, frequently changing lines and services, and this website will tell you exactly how to get from one station to another. It's very detailed, providing several route options with fare prices and travel times. Train arrival and departure information is very accurate as well. I can't stress enough how handy this website is. It's a lifesaver for commuters in Japan.
WEBSITE: hyperdia.com | DOWNLOAD: iOS / Android
3. Plan your Trip with Sygic Travel (formerly Tripomatic)
I love this app. Sygic Travel is a free app that allows you to plot points of interest on a map, including your hotel, so you can see how far you need to travel between points. It allows you to lump attractions that are in close proximity to each other so you can minimize travel time. With pocket wifi, it can turn your mobile phone into a GPS tracking device so people with a poor sense of direction never get lost again. Pretty sweet right? Check out my post on the Sygic Travel app for more information.
4. Check for Discount Passes
There are many websites that offer discount passes to tours and services. The websites I've used the most are Klook and Kkday. They offer deals in many cities around the world, including Osaka. If you want to find deals on tours, airport transfers, activities, etc, then you can search through these lists of Osaka attractions on Klook or Kkday. As described above, they even offer discount tickets to Universal Studios. You'll also find interesting activities that you wouldn't normally think of yourself so it's definitely worth a look.
Another good website to look through is Viator. I haven't used it as much (probably because of the less pleasing interface) but they're actually one of the leading online providers of tours and activities. They're owned by TripAdvisor so you know they're solid. You can follow this link to search through tours and activities in Osaka on Viator.
5. Get Travel Insurance
To be honest, it was only recently when we started buying travel insurance. Back when we traveled just once or twice a year, travel insurance felt like an extra expense, one we didn't need. But now that we travel more often, I understand how important it is. Fact is, you never know what can happen on the road. It's one of those things that you hope you never have to use, but if you do wind up needing it, then you'll be thanking the gods that you had it. Or cursing them if you didn't.
Though I do find it more necessary now, it's still up to you if you think you need it. A 3-day trip to Singapore just shopping and eating may not really call for insurance but if you plan on doing more active things like bungee jumping, horseback riding, or even going on a city bike tour, then I'd say travel insurance is a must.
We buy travel insurance from World Nomads because every long-term traveler I know recommends it. From the sound of it, they're the best in the industry by a mile. Not only do they provide a high coverage limit for medical expenses (up to USD 5 million with the Standard package), they also cover things like trip delays, missed flight connections, theft/loss of passport and luggage, etc. Follow the link or use the widget below to learn more and get a free travel insurance quote from World Nomads. It's super quick and easy.
6. Bring the Right Power Adapter
Japan has Type A or Type B electrical outlets so be sure to bring the right power adapters for your devices. Electrical voltage is 100V and the standard frequency is 50/60Hz.
7. Learn Basic Japanese Etiquette
When in Rome, do as the Romans do. In other words, don't be a stupid gaijin. You don't have to know all the rules, but you can learn a few basics that will make you more palatable as a traveler. Here's a good overview on Japanese etiquette for travelers. This, for me, is the main difference between a traveler and a tourist, understanding the importance of respect. You wouldn't appreciate anyone being disrespectful in your home, would you?
HOW TO GET AROUND
The subway system in Osaka is very efficient and the only mode of transportation you'll need. However, it's comprised of several lines and often requires multiple transfers, so it can be a little confusing. But if you rent a pocket wifi device and bookmark hyperdia.com on your smartphone, then you should be fine.
We didn't get any discount travel passes in Osaka because there were few areas outside of Shinsaibashi-Dotonbori that we wanted to go to. But if you'll be doing a lot of traveling within the area, then a travel pass may be a good investment. As mentioned above, the subway system is comprised of many lines servicing different areas, so you can check out this article on Osaka Travel Passes for information on which travel pass would best suit your needs.
For Filipinos
VISA INFORMATION
If you're a Philippine passport holder, then you'll need to secure a tourist visa to Japan. The entire application process is coursed through a travel agency so you'll never have to go to the Japanese Embassy. I went with Reli Tours & Travel and they charge PHP 950 if you're applying as a tourist, and PHP 2,000 if you'll be visiting friends or relatives. It takes between 3-7 days to process.
Check out my post on how to apply for a Japan tourist visa for a step-by-step process and a list of accredited agencies.
HOW TO GET CHEAP AIRLINE TICKETS
Ever since I scored my first piso fare from Cebu Pacific, I've been hopelessly addicted to cheap airline tickets. Our tickets to Osaka had a base fare price of PHP 10. After taxes, fuel surcharges, and a shared 20 kg baggage allowance, the total fare came out to just under PHP 6,000 each roundtrip. How awesome is that?
These piso fare tickets are limited and sell fast, so you have to be quick. For our Osaka tickets, I had to try three separate times before finally getting them. They just kept selling out before I could complete the transaction! To give yourself an advantage, I suggest liking their Facebook page and following them on Twitter to quickly find out about these seat sales. If you check off "Get notifications" on Facebook, then you'll receive instant alerts every time they post something new.
Other airlines that fly from Manila to KIX are Jetstar Asia and Philippine Airlines. Of these three carriers, Jetstar Asia seems to have the best flight schedule with an estimated arrival time of 11:50 AM, as opposed to after 7 PM for the other two.
Have fun!
I'm not an expert on Osaka but I do hope that you find this guide useful. I'm only sharing some of the things I learned from our trip. If you have any suggestions or simply want to share your own experiences, then please feel free to do so in the comments section below. You're welcome to join our Facebook Travel Group as well. We'd love to hear from you.
Thanks for stopping by and enjoy your trip!
OUR GEAR
These are some of the things we brought with us to Osaka. As you can tell, I document a lot of content for this blog so most of the things I bring are photo and video equipment. 😆 If you'd like to see what other gear we use, then you can check out our "What's in Our Backpack?" post. (NOTE: The following links are Amazon affiliate links.)
Disclosure
Japan WifiBuddy was kind enough to let us use their Platinum Plus WifiBuddy on our most recent trip to Japan. As always, all thoughts and opinions expressed in this post are mine and mine alone.
Some of the links in this guide are affiliate links, meaning we'll get a small commission if you make a purchase at NO extra cost to you. We only recommend products and services that we use ourselves and firmly believe in. We really appreciate your support as this helps us make more of these free travel guides. Thank you!
JB and Renée are the Traveleaters behind Will Fly for Food, a travel blog for the gastronomically inclined.  They enjoy experiencing food from different cultures so they've made it their mission to try every country's national dish.  Read more about them and their National Dish Quest here.