Where to Stay in Osaka, Japan: New Otani Osaka Hotel
Ren and I never spend too much on accommodations when traveling so staying in a hotel as nice as the New Otani is a rare and welcome treat. Together with a group of bloggers/media from multiple countries, I was invited by Cebu Pacific Airlines and Universal Studios Japan to experience the new limited time attractions at Universal Cool Japan 2017. The New Otani was a co-sponsor of the event and they graciously put us up in these awesome rooms for two nights in Osaka.
The Room
Ren used to be a travel agent so she's familiar with the New Otani. She said it's a great five-star hotel although perhaps not as trendy as some of today's newer hotels. It's super comfortable though with big rooms. Too bad Ren couldn't join me on this FAM trip as she would have really enjoyed this room. 🙁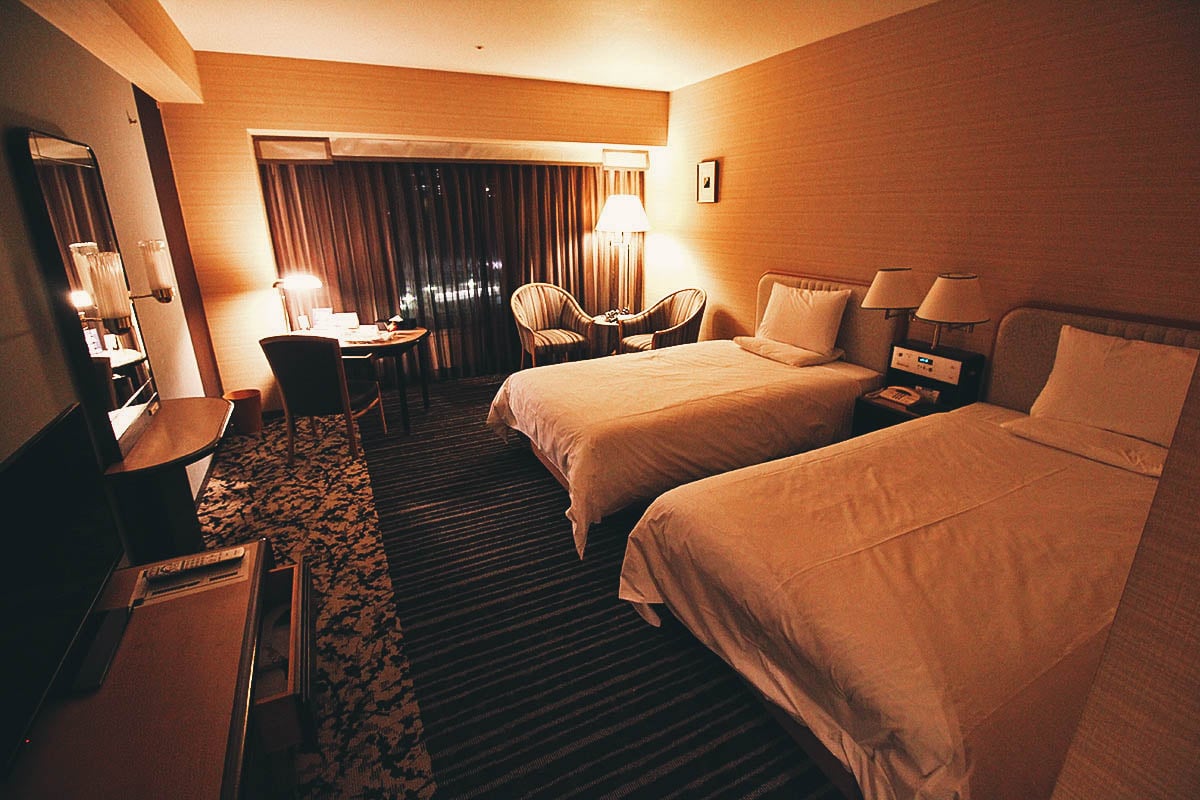 As mentioned above, the New Otani was a co-sponsor with Universal Studios Japan so they provided us with this fun canvas tote bag. They left that pouch of cosmetics too which I brought home for Ren. Thank you!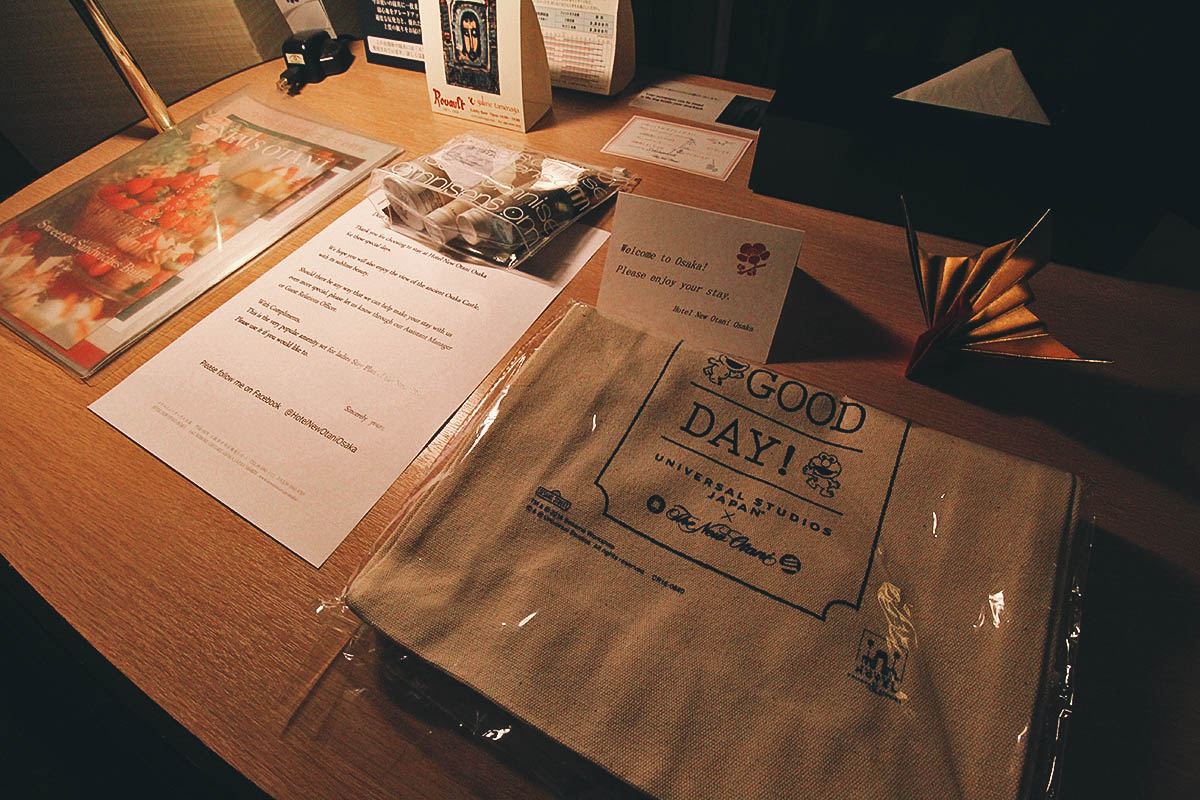 One of my favorite things about Japan – the smart toilet. I could sit on that thing for days. ♥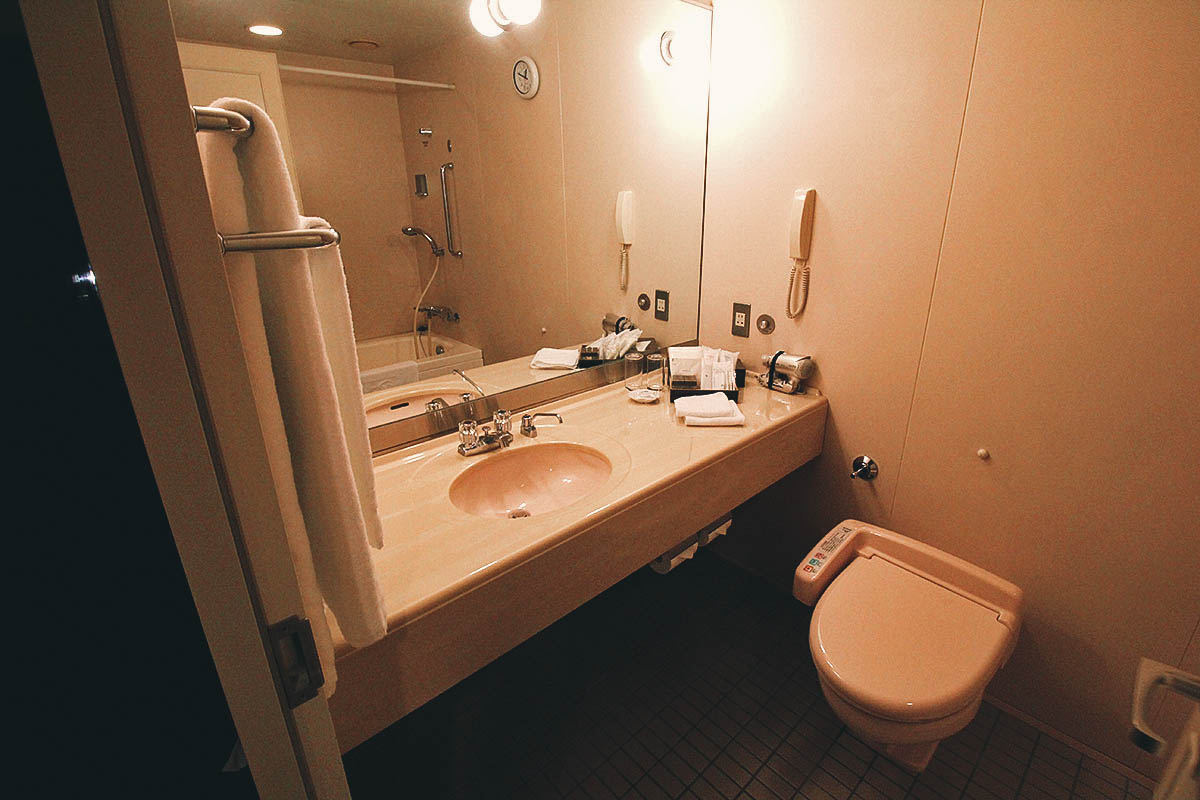 Swimming pool for rubber duckies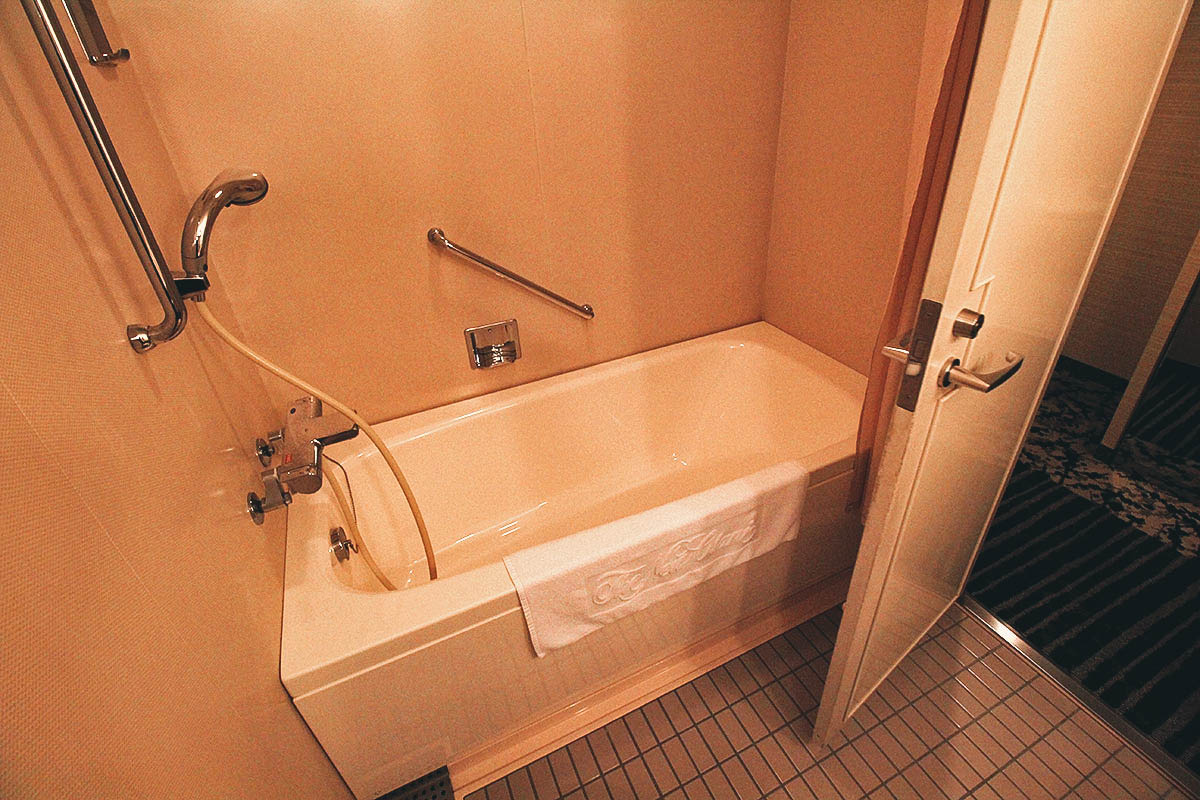 I didn't realize until the morning how prime my room was. All of us bloggers/media were staying on the 8th floor in rooms facing Osaka Castle. Can you see it there in the distance? It's the one building that doesn't belong. 😆 Thanks so much for hooking us up with this killer view New Otani! It was great having a view of the river as well.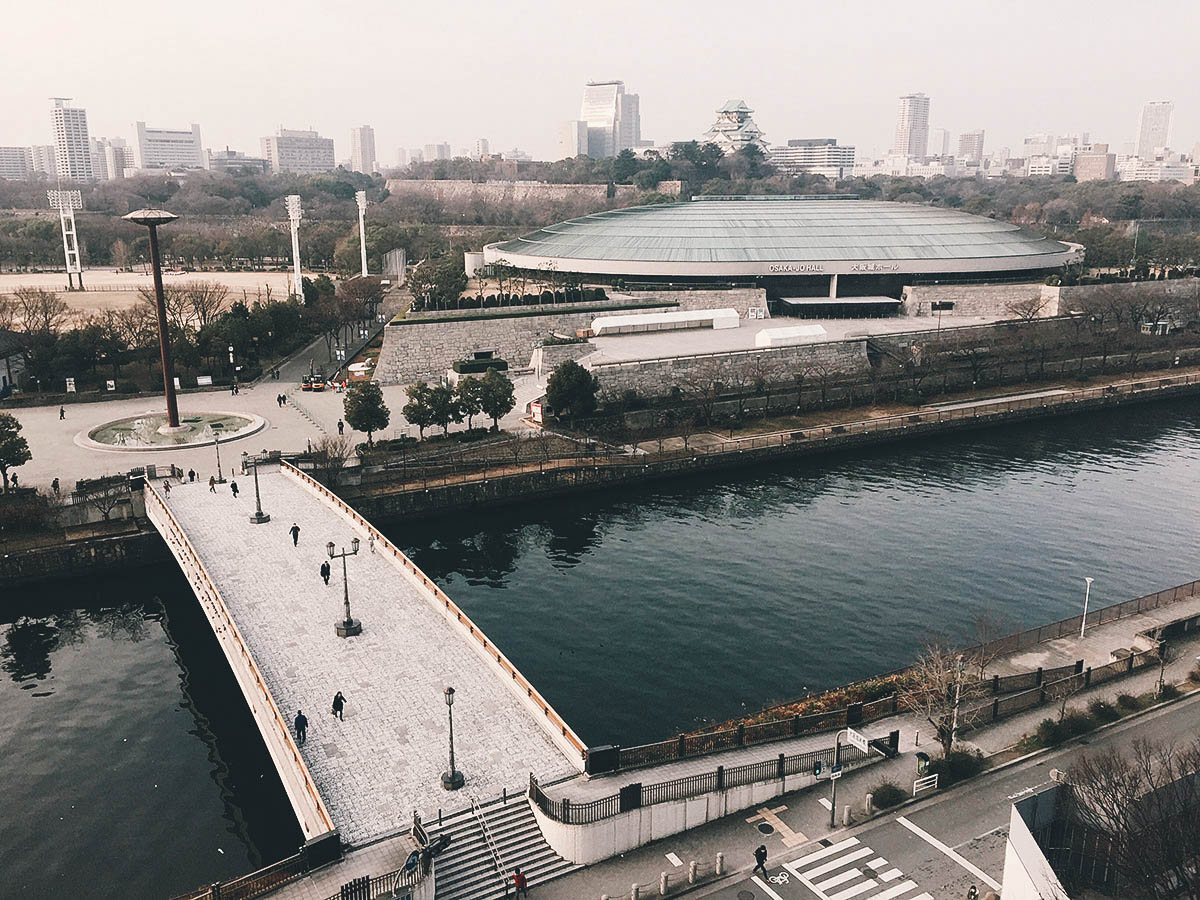 Super Breakfast
When they give you a fold-out map just for breakfast, you know it's gonna be super! 😆 We stayed at the New Otani for two nights so we were each given two (super!) breakfast coupons to Satsuki restaurant. The breakfast spread was divided into a Japanese and Western section. You can see some of the offerings in the short video below.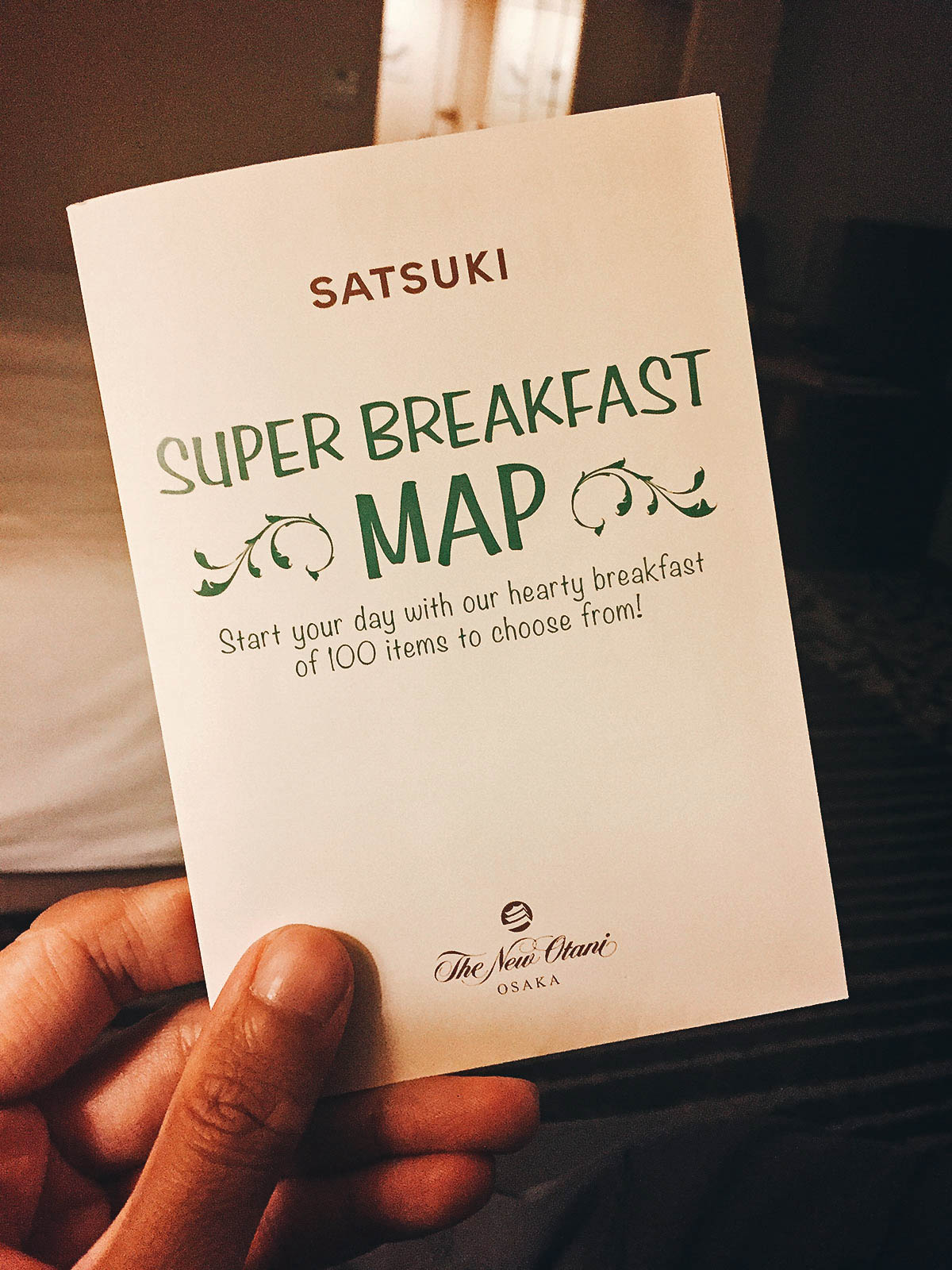 Quick video I put together of the room and the awesome breakfast buffet at Satsuki.
East side breakfast of Japanese dumplings, onsen egg, miso soup, veggies, salmon, and fish cakes. Yum!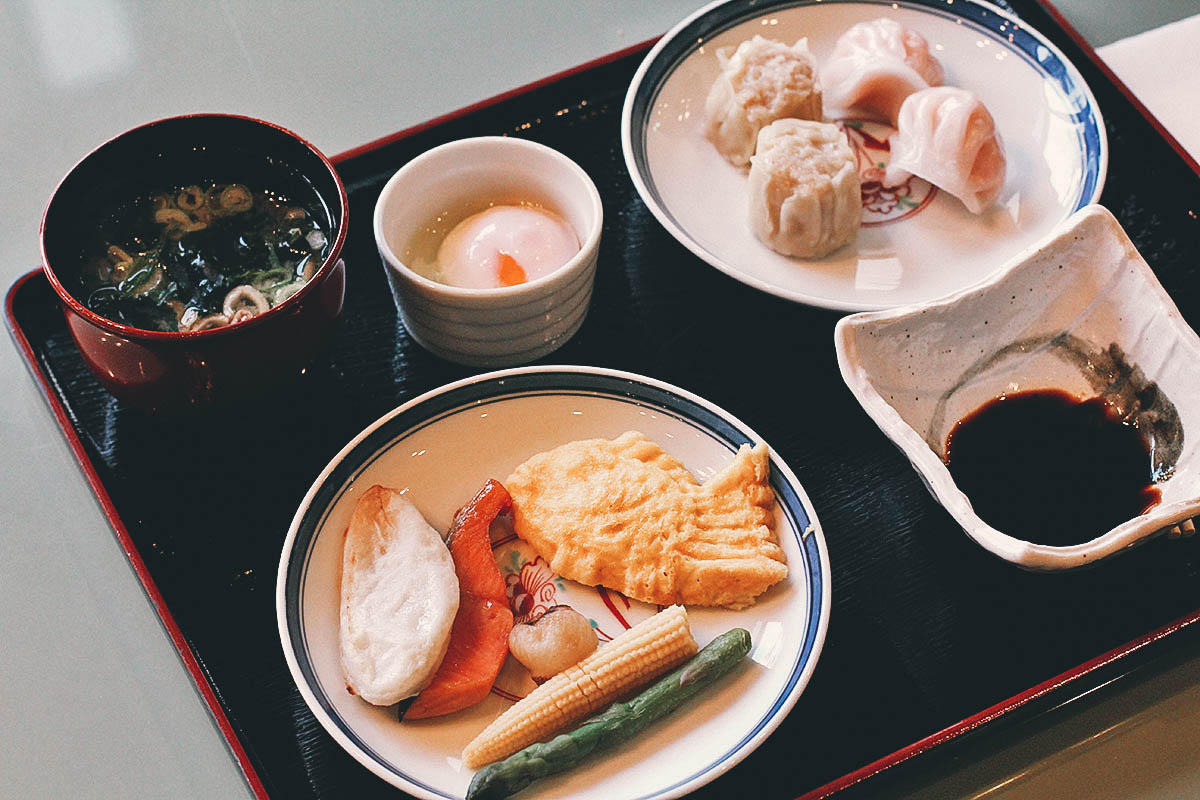 Isn't that fish-shaped scrambled egg cute?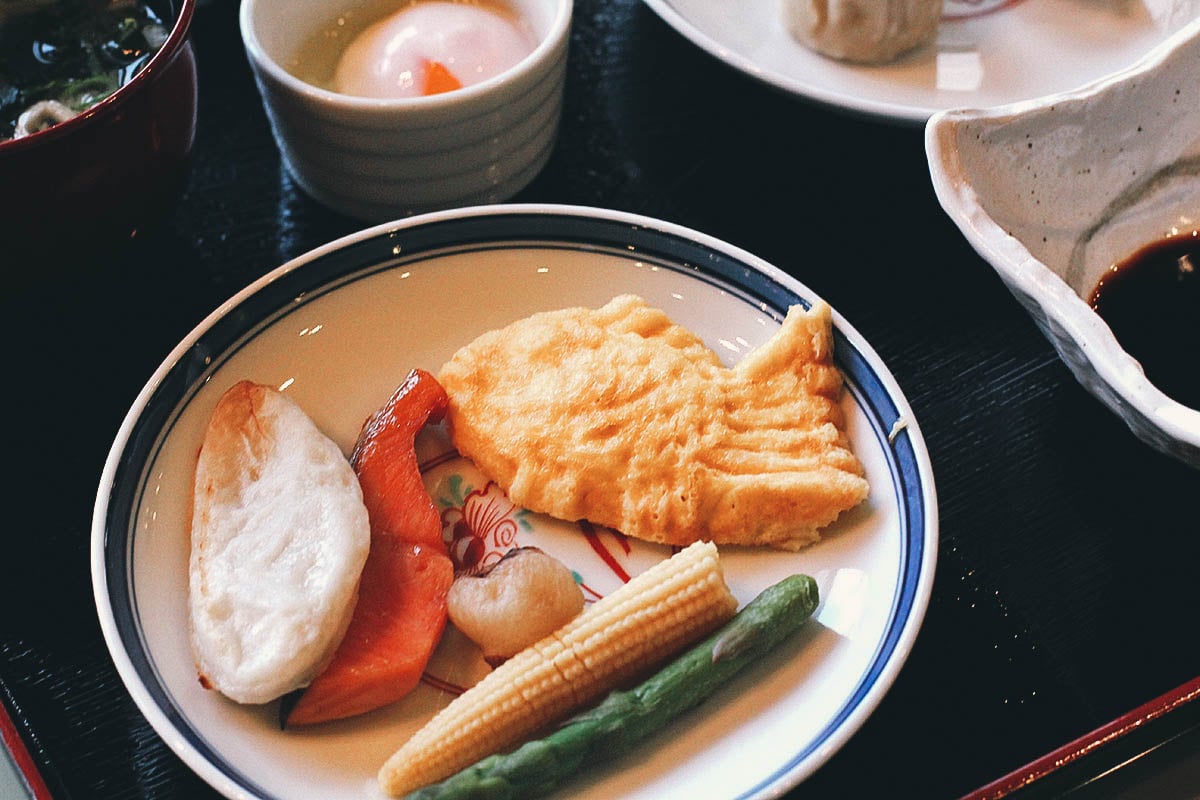 West side. I wound up making one trip to the west and two to the east. 😉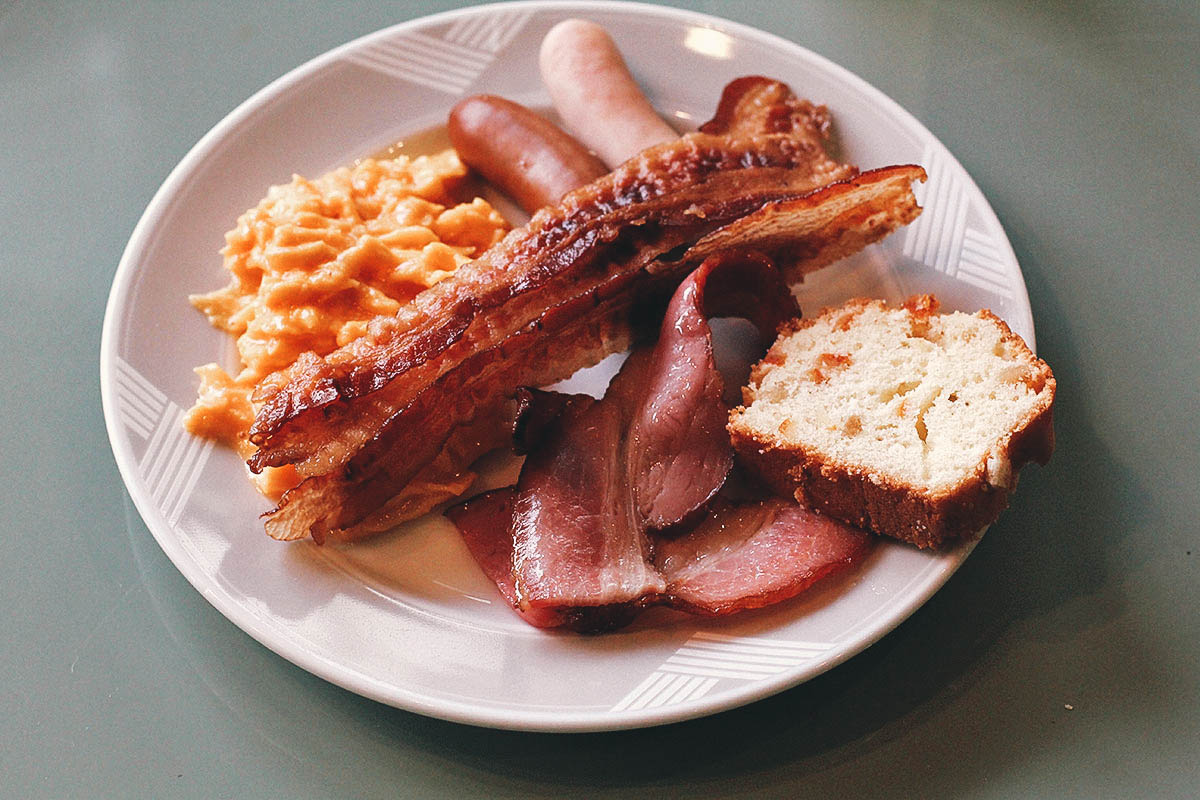 As described up top, we rarely stay at hotels as nice as this one so I really appreciated being put up here. If ritzier hotels like this one are your thing, then the New Otani is one to consider in Osaka. It's a short walk from Osaka Castle which is one of the city's most popular tourist attractions.
Unfortunately, there don't seem to be too many shops or restaurants in the area. It's in a quiet area far from the excitement of Shinsaibashi and Dotonbori. In fact, I walked around the first night hoping to eat at a good kaiten-zushi place but all I could find was a convenience store. The hotel seems to be in a business district so I don't think you'll find too many commercial establishments here, especially at night.
If you'd like to make a reservation at the New Otani, then you can do so through Booking.com or Agoda. Prices often vary so be sure to check both sites to find the best deal. You'll be surprised at how low room rates can sometimes go. I just checked on Agoda today (31 January 2017) and rooms here are going for just USD 89 a night. That's a great deal for a five-star hotel! 😯
New Otani Osaka Hotel
1-4-1 Shiromi, Chuo-ku, Osaka Japan 540-8578
Tel: +81-6-6941-1111
Fax: +81-6-6941-9769
Website: newotani.co.jp/en/osaka
Facebook: HotelNewOtaniOsaka
Email: info@osaka.newotani.co.jp
Approximate Room rate: JPY 26,000 per night (as of January 2017)
HOW TO GET THERE:
From Kansai Airport, take the JR train to Tennoji station. Transfer to the Osaka Loop Line and get off at Osakajokoen station. The hotel is about a 5-minute walk from there.
MAKE A RESERVATION: Booking.com | Agoda
Disclosure
I was a guest of New Otani Osaka Hotel and given free room and board for two nights. Along with a group of bloggers/media from multiple countries, I was invited by Cebu Pacific Airlines, Universal Studios Japan, and JR West to experience the new limited time attractions at Universal Cool Japan 2017. As always, the opinions expressed in this post are mine and mine alone.
Some of the links in this post are affiliate links, meaning we'll get a small commission if you make a purchase at NO extra cost to you. We really appreciate your support as it helps us keep this website going. Thank you!