Best Western Hotel Fino Osaka Shinsaibashi: Where to Stay in Osaka, Japan
Contrary to popular belief, good hotel rooms in Japan don't have to be expensive. Take this Best Western for example.
Like the majority of business hotels, the rooms here are small, but perfect for couples or single travelers. We stayed in one of their Moderate Double rooms that measures a modest 15 square meters. Without question, it's one of the smallest hotel rooms that we've ever stayed in, but it also happened to be one of the most comfortable and well amenitized, providing everything from robes, to slippers, to stationery, to toiletries, to a hair dryer, even a shoe horn.
The bed is so comfortable that it's coma-inducing, while the toilet and shower, as you'll see from the pictures below, are the stuff of legend. Located in the heart of Shinsaibashi just a few minutes walk from all the shops and restaurants, the hotel is centrally located as well with a 7-Eleven directly across the street and a subway stop just a few meters away.
You'd think that a hotel room like that would be expensive, but it isn't. Staying here on two separate legs, we paid a modest ¥5,600 for the first weeknight, and ¥7,520 a night over the weekend in May 2014.
Not bad. Not bad at all.
Work station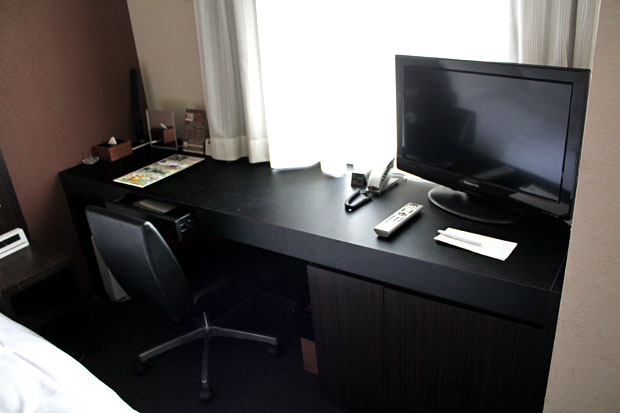 L: One of the most comfortable beds that I've ever slept on. Firm but not too firm with a down comforter and buckwheat hull pillows to support your neck, I have trouble sleeping in most hotel beds but none whatsoever here.
R: As mentioned up top, the best toilet EVER! More on that below.



What Ren wants as a 10th year wedding anniversary present. With features like a seat warmer, front and back washing, and spray pressure control at your fingertips, can you really blame her?! Some public toilets even sprayed air freshener and made courtesy flushing sounds. God, I love Japan. 😆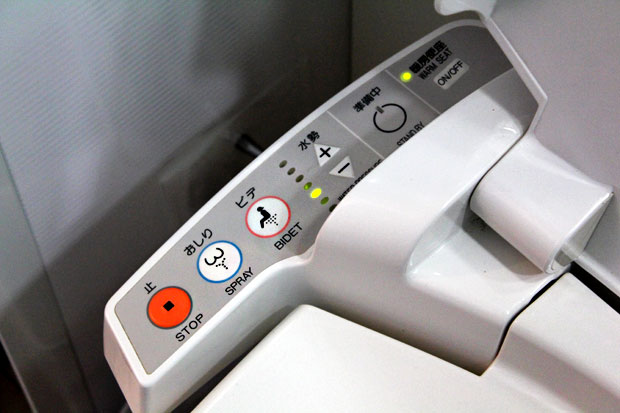 If you thought the toilet was awesome, check out the mirror. Behind the spot where your face is estimated to be are heaters to keep that area from fogging up when you take a shower. How effing cool is that?! The Japanese really do think of everything!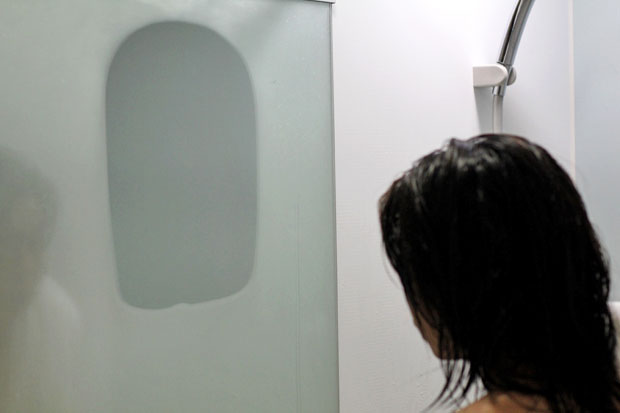 We really enjoyed our stay at Best Western. The location is super convenient so I suggest you stay here or find a similar hotel in the Shinsaibashi-Dotonbori area. You can make a reservation at Best Western through Booking.com or Agoda.
NOTE: A reader had advised that the prices for Best Western seem to have gone through the roof since our stay. I did a dummy booking to check and he was right. Prices now seem to be 2-3 times what we paid per night, even more! Not sure what the story is with this dramatic price increase but please be aware of this when making a booking. I don't know if it's of significance, but I made the booking in October 2013 for a stay in May 2014. Did the seven month lead time contribute to the low room rate? I'm not sure, but if you can't get a good room rate at Best Western, then I suggest looking for an alternative in the Shinsaibashi-Dotonbori area. As advised, you can do a search on Booking.com or Agoda.
Best Western Hotel Fino Osaka Shinsaibashi
1-2-19 Shinsaibashi, Chuo-ku, Osaka, Osaka Prefecture 542-0083, Japan (Shinsaibashi / Nanba / Tennoji / South Area)
Tel: +81 6-6243-4055
Email: fino-osakashinsaibashi@bwhotels.jp
Website: osaka.bwhotels.jp
Approximate Room Rate: ¥5,600 on weekdays / ¥7,520 on weekends (as of May 2014)
Check-in: Starts at 3PM
Check-out: Until 10AM
HOW TO GET THERE:
Take the Sakaisuji subway line and get off at Nagahoribashi station. The hotel is about a 1-minute walk from exit 5A. CLICK HERE for more information.
MAKE A RESERVATION: Booking.com | Agoda
Disclosure
The hotel links in this post are affiliate links. If you make a reservation, then we'll get a small commission at NO extra cost to you. We really appreciate your support as this helps us keep this website going. Thank you!
JB is one half of Will Fly for Food and its chief itinerary maker.  He's the one to blame for all the crappy photos and verbal diarrhea on this blog.  Don't listen to him.
Latest posts by JB Macatulad (see all)