Ren's cousin met Greek director and cookbook author Christos Sourligas in Athens and he told her an interesting story about the city's MRT.
According to him, it took the city much longer than anticipated to complete the metro system because every time they'd dig, they'd discover ancient ruins. They'd stop digging, pack up, then move to another location when boom, they'd find more ruins. This would happen again and again, forcing the city to delay the project and redraw their plans so as not to damage the newly discovered relics.
I loved hearing that story because for me, that was Athens. It's one of the world's oldest and most important cities, remembered by history as the cradle of Western civilization and birthplace of democracy.
And the evidence, is right beneath your feet.
VISIT ATHENS QUICK LINKS
This travel guide to Athens is long. For your convenience, I've compiled links to hotels, tours, and other services here.
HOTELS
Top-rated hotels in Plaka, one of the most convenient areas to stay in Athens.
TOURS
OTHER SERVICES
Save This on Pinterest!
No time to read this Athens travel guide now? Click on the save button and pin it for later!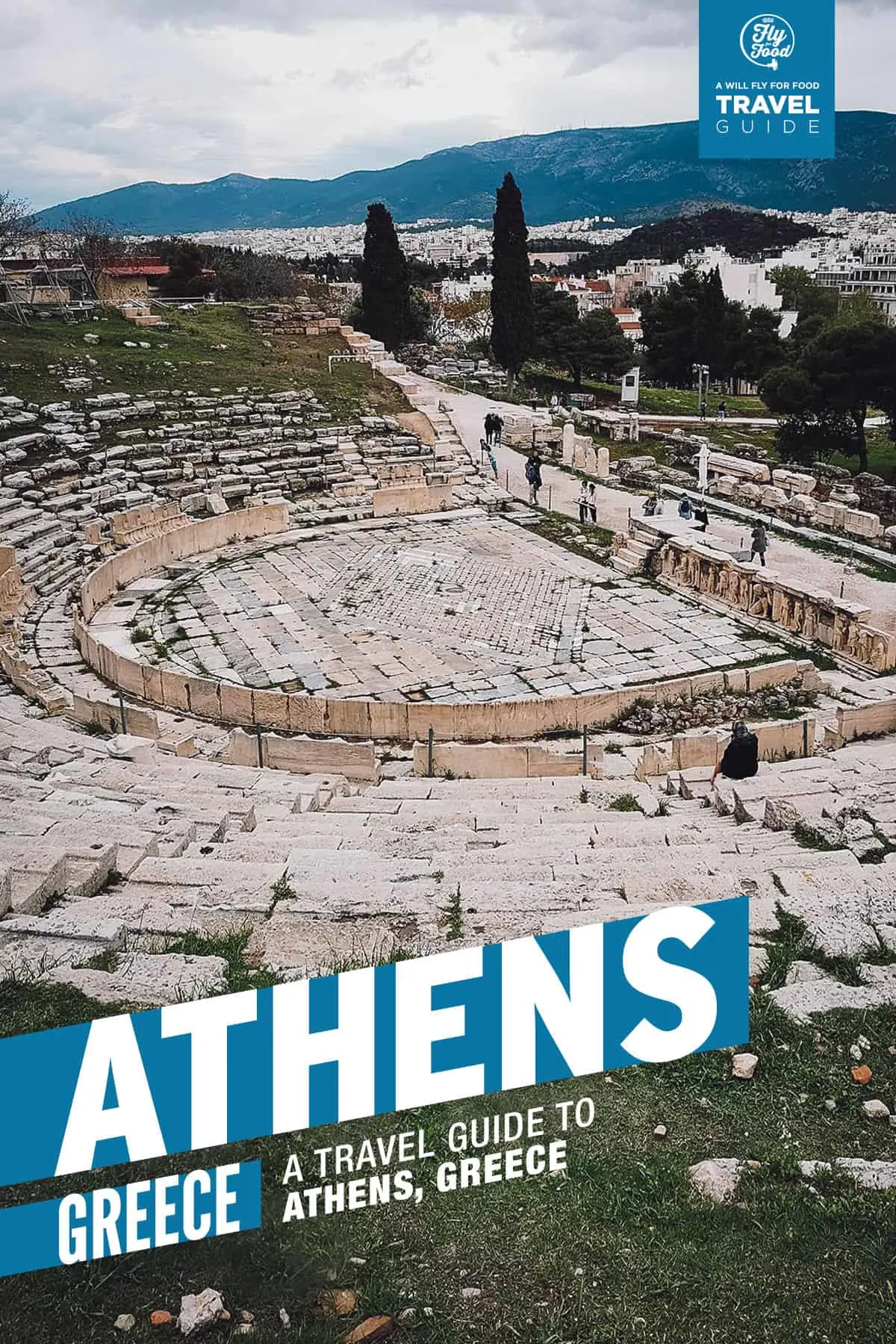 GUIDE TABLE OF CONTENTS
ATHENS TRAVEL RESTRICTIONS
Because of the current global situation, Athens travel guidelines have been changing on a regular basis. Our friends at Booking.com created a website that lists detailed information on travel restrictions around the globe.
Before planning a trip to Athens, be sure to check Booking.com for information on travel restrictions to Greece. If you do decide to visit Athens, then you may want to seriously consider getting travel insurance with COVID coverage.
GREECE VISA
You may need a visa and other documents to visit Greece depending on your passport. Check out iVisa.com to learn about the requirements and to apply for a visa (if necessary).
ATHENS AT A GLANCE
Athens is the capital of Greece and its largest city. It's one of the world's oldest cities with a recorded history spanning over 3,400 years. Home to Plato's Academy and Aristotle's Lyceum, it was a center for philosophy and the arts, and was a powerful city-state whose rise to prominence was tied to the development of the Port of Piraeus.
Today, Athens remains the financial, political, cultural, and economic capital of Greece. Piraeus Port is still one of the world's busiest. It's home to the Acropolis and the famed Parthenon, and became the first city to host the modern-day Olympics in 1896. It would host it again in 2004, becoming one of just a few cities in the world to host it more than once.
BEST TIME TO VISIT ATHENS
The best time to visit Athens is from March till May and September till November. The weather is mild with clear skies and fewer tourists.
MAR-MAY: This is springtime in Athens and one of the best times to go. We were there in early April. The weather was lovely but still a bit chilly. There were plenty of tourists, especially at the Parthenon, but not enough to make the experience uncomfortable.
JUN-AUG: This is summer in Athens and not the best time to go if you want to avoid the heat and crowds. Hotel prices may also be at their highest during this time.
SEPT-NOV: The fall is another great time to visit Athens. It's similar to spring in terms of the weather and tourist density.
DEC-FEB: Athens experiences relatively mild winters though December is its rainiest month and may not be the most comfortable time to go.
Climate: Annual Monthly Weather in Athens
To help you better understand the climate in Athens, I've created the average temperature and annual rainfall graphs below. Suggested months to visit are highlighted in orange.
Average Temperature

Annual Rainfall

TRAVELING TO ATHENS
Most visitors to Athens will be arriving via Athens International Airport (ATH). It's about 32 km east and less than an hour from the city center.
BY SUBWAY: This is what we did. We never travel with a lot of luggage so going by MRT is our preferred means of transport. In Athens, the metro station is right across the street and a one-way ticket costs around EUR 10. If you get roundtrip, then it costs EUR 18 but the return ticket has a validity period of just 48 hours.
BY BUS: At around EUR 6 each way, going by bus is the cheapest way of getting into the city. The X95 bus will drop you off at Syntagma Square while the X96 will take you to Piraeus Port. Tickets can be purchased from a small blue kiosk after exiting the terminal. Be sure to validate your ticket once you've boarded the bus.
BY PRE-BOOKED TRANSFER: This is more expensive but it's the most convenient way of getting into the city from the airport, especially if you're traveling with large luggage. Many people recommend Welcome Pickups which is a 24/7 taxi service that takes you into the city for about EUR 38 (EUR 54 between 12MN-5AM). This may be the best option if you're traveling to Athens with enough people. You can also pre-book airport transfers through Get Your Guide. For people traveling alone, they have shuttle bus transfers for around EUR 20.
BY TAXI: Taxis cost the same as Welcome Pickups, getting you into the city center at a fixed rate of about EUR 38 (EUR 54 between 12MN-5AM).
We flew to Athens but there may be other ways to get there depending on where you are. You can go to Bookaway to search for route options available to you.
WHERE TO EXCHANGE CURRENCY
The unit of currency in Greece is the Euro (EUR).
I withdrew EUR from an ATM so I didn't have to exchange currency in Athens. You can exchange currency at banks or currency exchange offices in popular tourist areas like Plaka and Syntagma, but you may be better off just withdrawing EUR from an ATM. The rates are competitive and you won't have to bring as much foreign currency with you.
NOTE: Some ATMs may give you the option of proceeding "with or without conversion". Always proceed WITHOUT conversion. Proceeding with conversion authorizes the foreign bank operating the ATM to do the conversion for you, often at terrible exchange rates.
BEST AREAS TO STAY IN ATHENS
Based on our experience, there are three convenient areas to stay in Athens.
The first is in the city center close to the Acropoolis. There are distinct neighborhoods within this downtown area which I'll describe in more detail below. The second is near Piraeus Port, for travelers taking a ferry to the Greek islands. And the third is near Athens International Airport and Rafina Port.
I've created the color-coded map below to help you better understand where each of these areas are. Click on the link for a live version of the map. (Please note that marked areas are approximations only)
LIGHT BLUE – Koukaki
RED – Plaka
PURPLE – Syntagma
GREEN – Psiri
ORANGE – Kolonaki
YELLOW – Near Athens Airport / Rafina Port
DARK BLUE – Near Piraeus Port
I'll provide targeted links under each description but you can book accommodations in Athens through Booking.com or Agoda.
DOWNTOWN ATHENS
This is where you'll want to stay if it's your first time in Athens. It'll put you close to historical sites, metro stops, and plenty of restaurants, bars, and shops.
All these sub-neighborhoods are within walking distance of each other so in my opinion, it doesn't matter as much where you stay as long as you're in this general downtown area.
Koukaki
This is where we stayed. It's a short walk from the Acropolis and surprisingly local in feel considering how close it is to the city's most famous tourist attraction. We stayed at a lovely one-bedroom AirBnB with a kitchen (USD 35/night).
The area is home to plenty of non-touristy shops and restaurants, and the Akropoli MRT station is just minutes away. If the Acropolis is a priority, then this is about as great a location as any.
Click on the link to book the same AirBnB we did. If you don't think it's the right place for you, then you can search for alternate listings in Koukaki on Booking.com or Agoda. Here are a few top-rated hotels in Koukaki:
Plaka
The Plaka neighborhood is one of Athens' oldest and most charming, characterized by narrow streets and historic buildings. It's busier and more touristy than Koukaki but we didn't mind that at all. It really is a lovely place to stay and like Koukaki, very central. We probably spent most of our time in Athens here. Check out these top-rated hotels in Plaka:
You can search for more accommodations in Plaka on Booking.com or Agoda.
Syntagma
Syntagma is the main square in Athens and one of the most important areas in the city. Located just north of the Plaka neighborhood, it's home to the Parliament building and is considered the seat of modern-day Greek government.
There are plenty of shops, restaurants, and bars in the area, along with metro and bus stops that take you to key points in the city like Athens Airport and Piraeus Port. Check out these top-rated hotels in Syntagma:
Check out Booking.com or Agoda for more listings in Syntagma.
Psiri
This was one of my favorite neighborhoods in downtown Athens. It's off Monastiraki square and feels like an artsier, more trendy side to Athens. There are plenty of cool-looking neighborhood bars and restaurants here.
I found lots of great street art in Psiri so I spent a good amount of time just exploring its streets and photographing the murals. On our next trip to Athens, I'd like to stay here. Check out these top-rated hotels in Psiri:
You can search for more listings in Psiri on Booking.com or Agoda.
Kolonaki
We didn't spend as much time here but if you like high-end shopping, then Kolonaki is probably where you'll want to be. Located at the base of Lycabettus Hill, it's home to the city's most upscale boutiques and luxury brands like Gucci, Armani, Chanel, and Balenciaga. Check out these top-rated hotels in Kolonaki:
Check out Booking.com or Agoda for more listings in Kolonaki.
NEAR ATHENS AIRPORT / RAFINA PORT
If you're only staying one night in Athens and catching an early flight out, then finding accommodations near the airport may be best. Downtown Athens is at least 45 minutes away so it'll be more convenient to stay here.
At the end of our 5-week trip to Europe, we were flying out of Athens Airport so we booked an AirBnB in nearby Paiania (USD 39/night).
Rafina Port is near the airport as well so you may want to stay here if you're catching an early ferry from Rafina. You can do a search on Booking.com or Agoda to find listings near Athens Airport and Rafina Port. Here are a few of the top-rated hotels in the area:
NEAR PIRAEUS PORT
Piraeus Port is one of Europe's busiest passenger ports. Most travelers taking a ferry to the Greek islands like Santorini will board here.
It's easy enough to get to via the Athens Metro (last stop on the green line), but if you're catching an early ferry the next day, then you may want to stay here. Check out these top-rated hotels near Piraeus Port:
Check out Booking.com or Agoda for more listings near Piraeus Port.
You can also book hotels and homestays in Athens using the handy map below.
PLACES TO VISIT IN ATHENS
1. Acropolis
The Acropolis is an ancient citadel that sits on top of a hill overlooking the city. It's a UNESCO World Heritage Site and easily the most important attraction in Athens.
It's comprised of multiple structures built in the 5th century BC, none more impressive than the Parthenon (pictured below). It's a former temple dedicated to the city's patron, the goddess Athena.
If it's your first time in the city, then you'll want to dedicate a good amount of time to the Acropolis. We don't often get tour or audio guides but when we do, it's usually at historically significant places like this. We did that in Ephesus and Aphrodisias in Turkey and came away with a much better understanding and appreciation for both places.
I didn't see any audio guides at the Acropolis but you can book guided tours with skip-the-line tickets on Get Your Guide.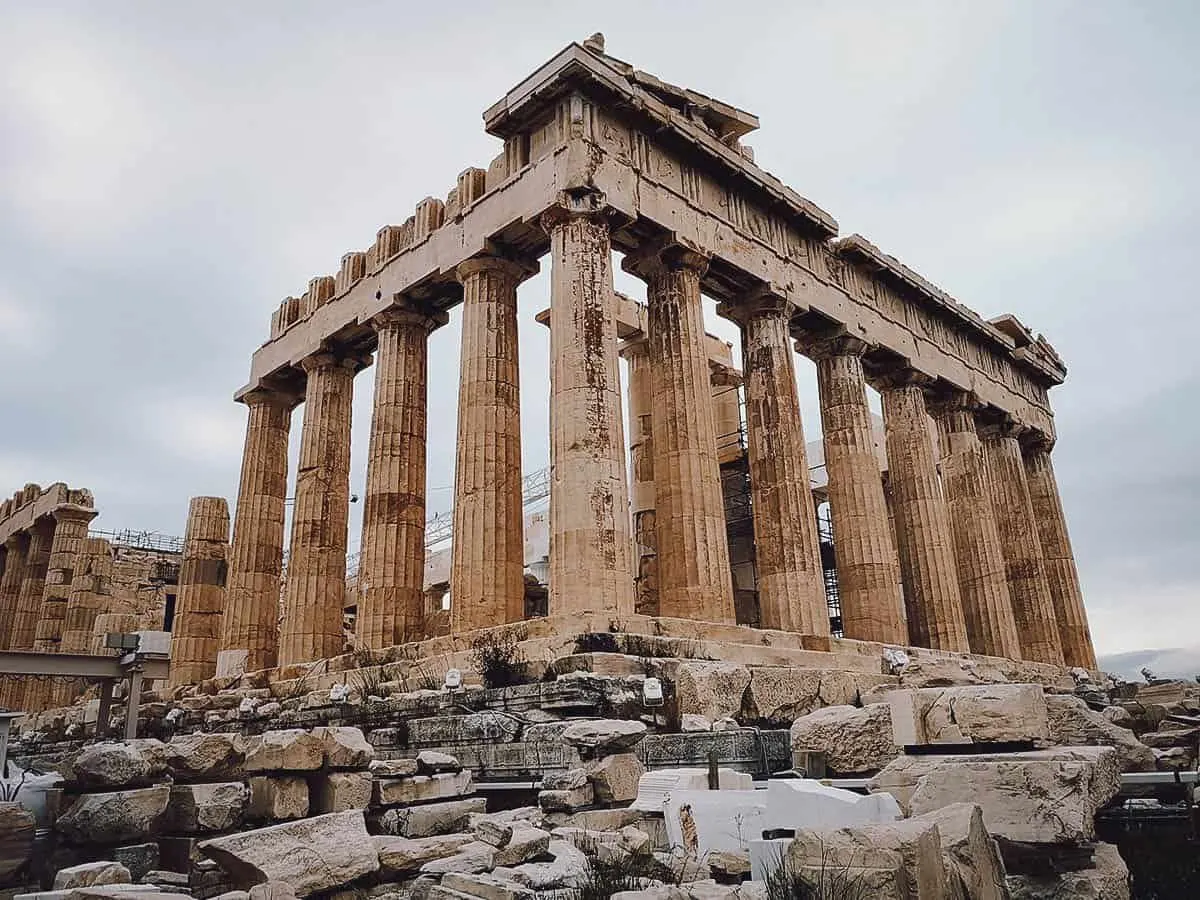 Pictured below is the Theater of Dionysus, widely believed to be the world's first theater and birthplace of Greek tragedy. It isn't technically part of the Acropolis but your basic entrance ticket gives you access to it as well.
Other notable buildings at the Acropolis include Herodes Theater (featured photo), Athena Nike Temple, Propylaea, and Erechtheum. All of these are included in the EUR 20 Acropolis entrance ticket, but if you're planning on visiting more archaeological sites in Athens, including many of the places listed in this guide, then you may want to get the special ticket package.
Again, if you really want to learn about the Acropolis, then I strongly suggest getting a guide. It's hard to appreciate what we don't understand, especially if what we're looking at are old columns and fragments of rocks. If you'd rather not get a guide, then an alternative would be to visit the Acropolis Museum.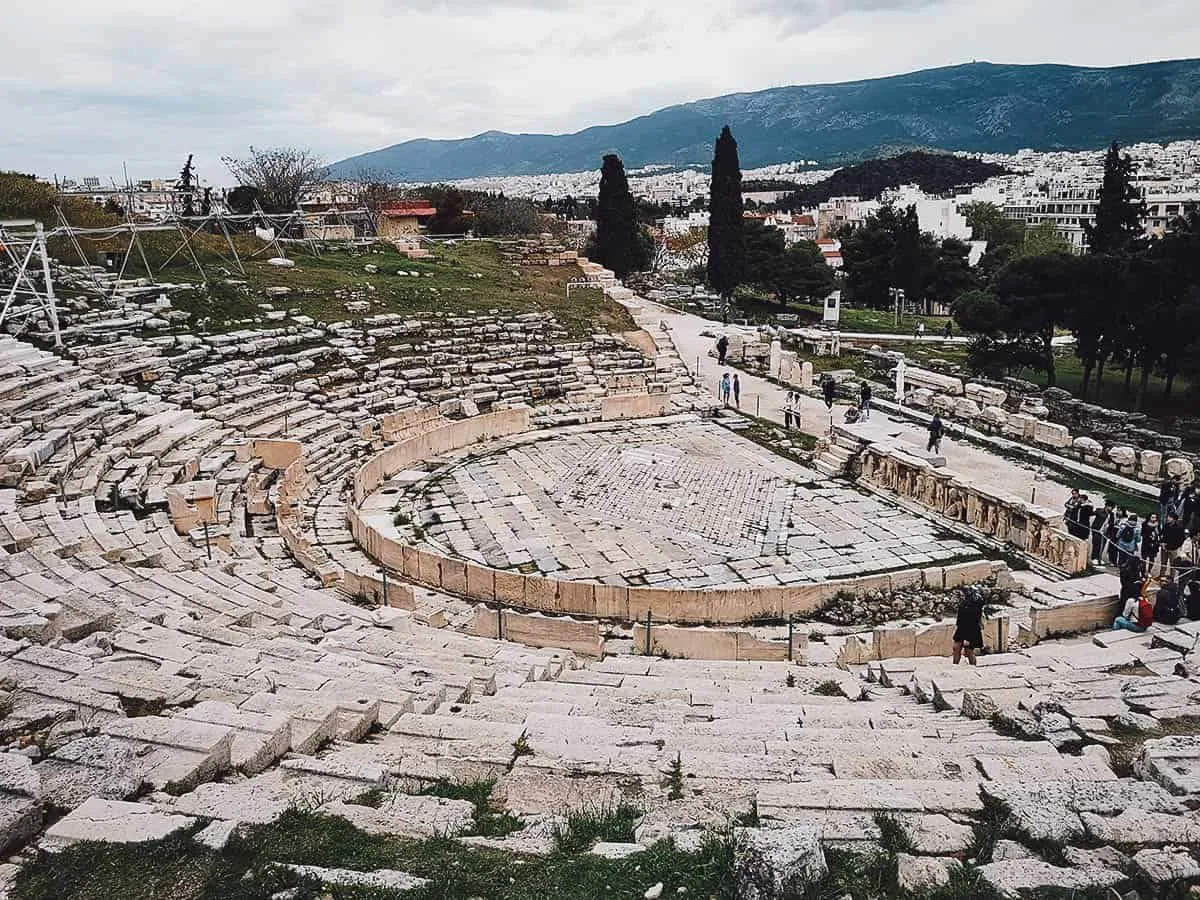 Estimated Time to Spend: 3-4 hrs
Admission: EUR 20 (Acropolis and Theater of Dionysus)
2. Ancient Agora of Athens
The Ancient Agora of Athens is one of the most famous examples of an ancient Greek agora, which is an open-air gathering place used for political and artistic events.
It's located northwest of the Acropolis so it's a good place to visit after admiring the Parthenon. Get Your Guide offers guided tours that include both.
I found the structure pictured below interesting. Known as the Tower of the Winds, it's considered the first meteorological station in the world and is located in the Roman Agora, which is to the east of the Ancient Agora. Entrance to both agoras is included in the special ticket package.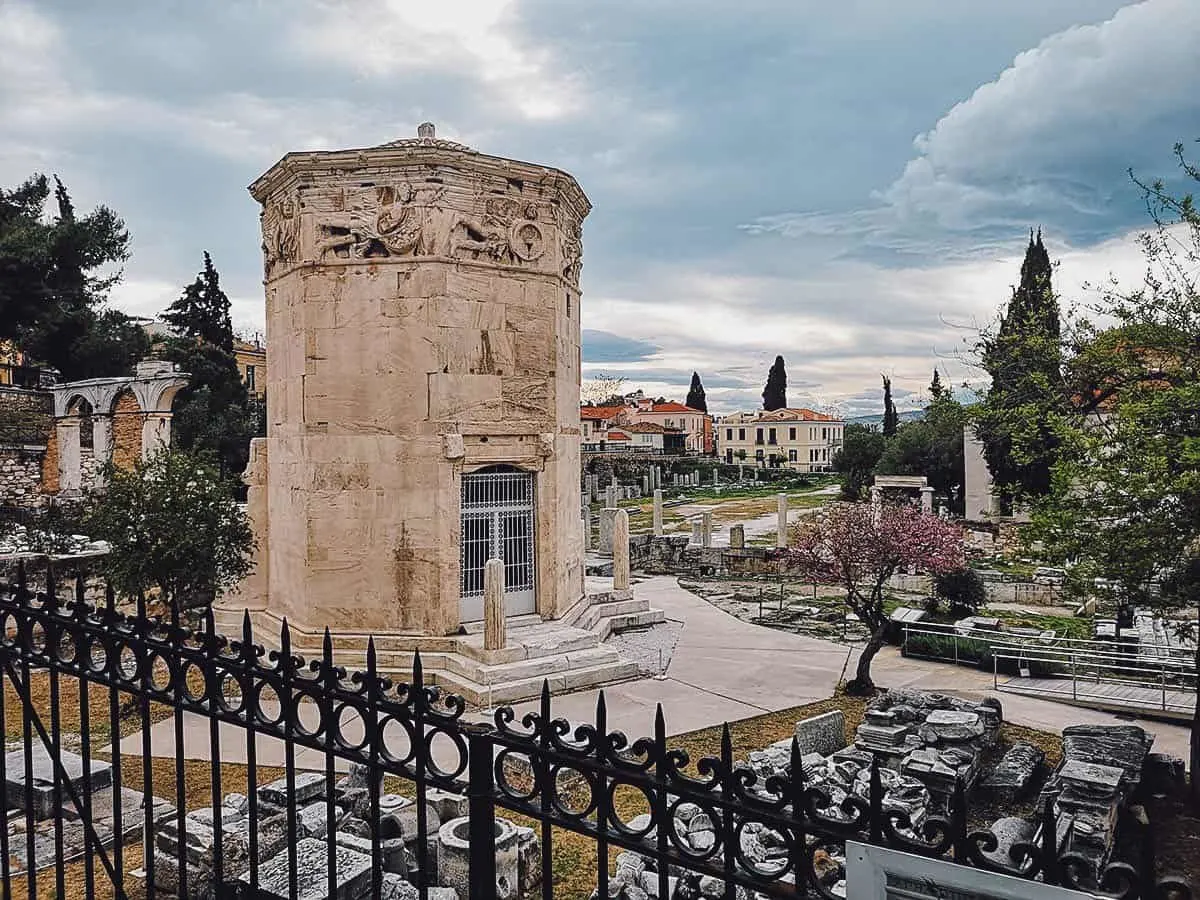 Estimated Time to Spend: 1-2 hrs
Admission: EUR 12
3. Temple of Olympian Zeus
As its name suggests, the Temple of Olympian Zeus was an impressive temple dedicated to Zeus. He was referred to as "Olympian Zeus" because of his position as head of the Olympian gods.
Like the Ancient and Roman Agoras, entrance to this temple is included in a few guided tours and the special ticket package.
The temple was closed when I got there so I took this picture through the perimeter fence. Only a few columns stand today but the Temple of Olympian Zeus was once the largest temple in Greece.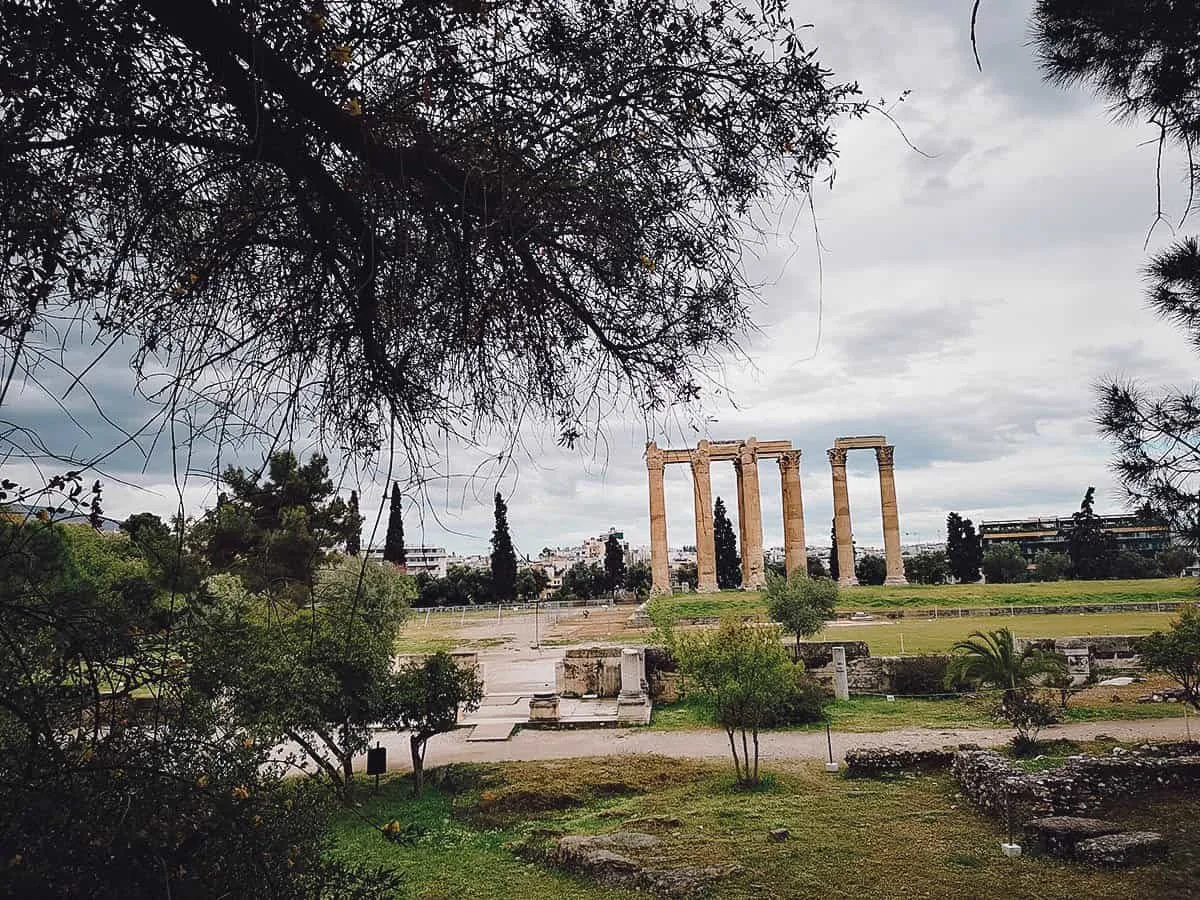 Estimated Time to Spend: 1-2 hrs
Admission: EUR 6
4. Panathenaic Stadium
If you're a fan of the Olympic Games, then you'll probably want to make a stop here. The opening and closing ceremonies of the very first modern Olympics were held at this stadium in 1896. It was again used as an Olympic venue in 2004 and is the only stadium in the world built entirely of marble.
You can visit on your own but if you'd like to go with a guide, then Get Your Guide offers many tours that include stops at the Panathenaic Stadium.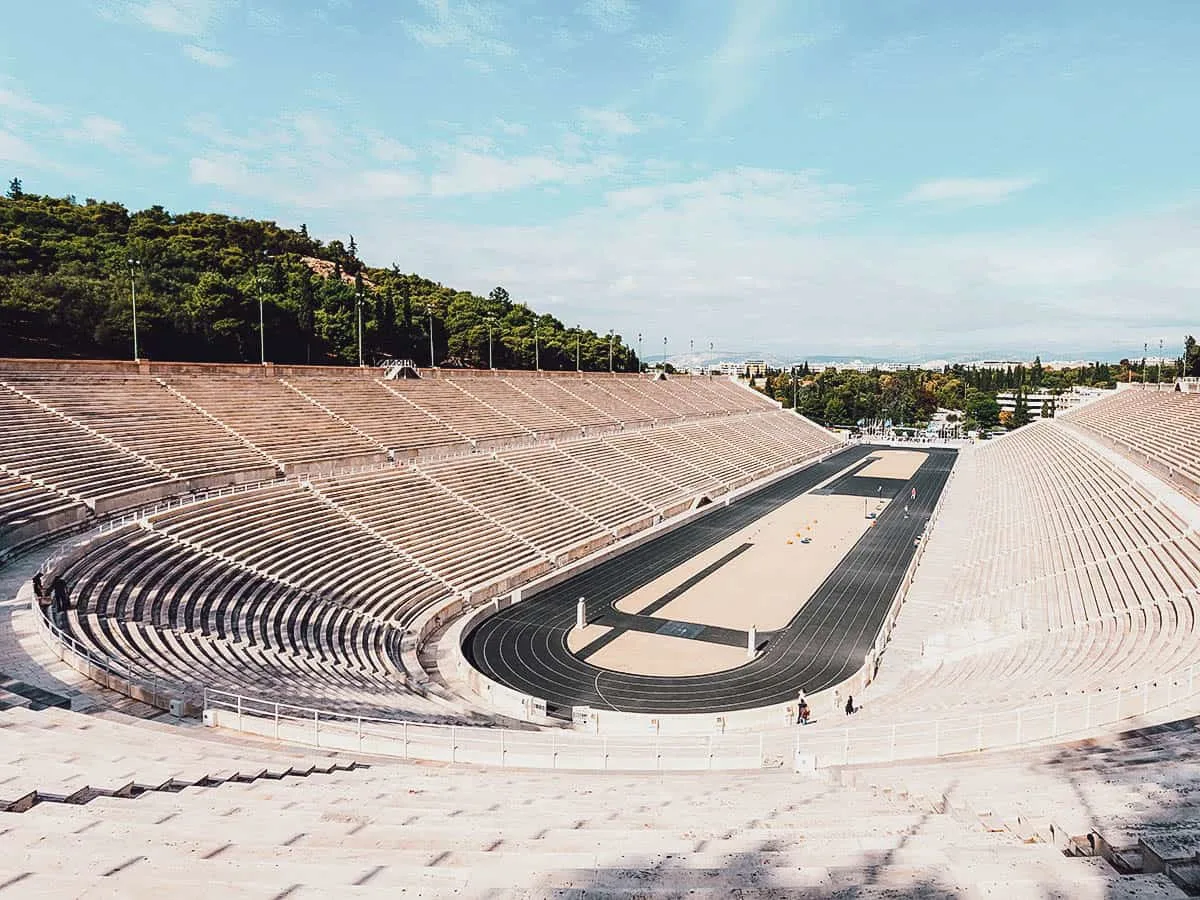 Photo by saiko3p via Shutterstock
Estimated Time to Spend: 1 hr
Admission: EUR 5
5. Lycabettus Hill
In the distance there is Lycabettus Hill, the highest point in central Athens. You can reach the top by car or funicular for spectacular views of the Acropolis and Athens. There's a chapel, open-air theater, and restaurant at the top. I took this picture from the Acropolis.
Get Your Guide offers many tours that take you up to Lycabettus Hill.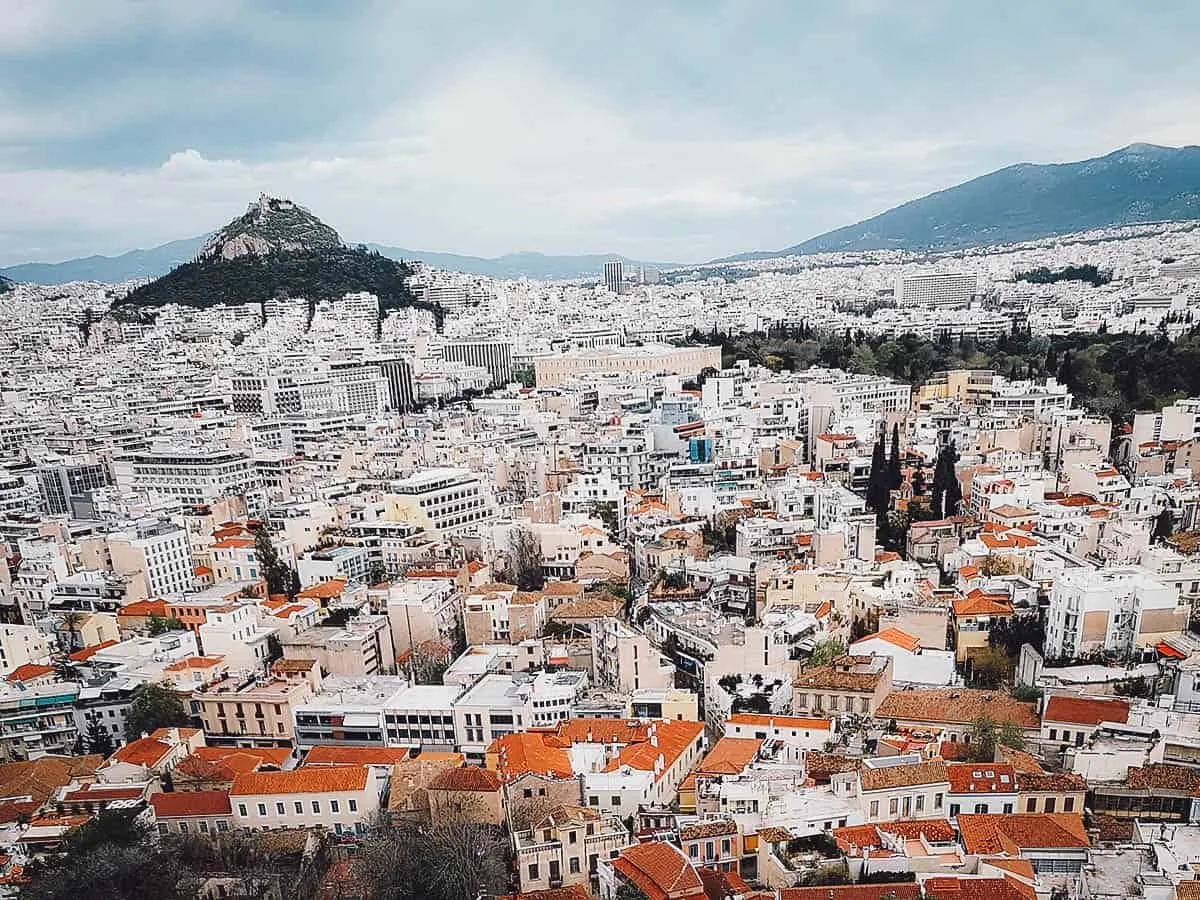 Estimated Time to Spend: 1 hr
Funicular Cost: EUR 10 (roundtrip), EUR 7 (one-way)
THINGS TO DO IN ATHENS
1. Visit the Acropolis Museum
If you'd rather not go on a guided tour of the Acropolis, then an alternative would be to visit the Acropolis Museum first. Located just south of the Acropolis, it's a modern building that's home to nearly 4,000 relics from the archaeological site.
As described, we visited Ephesus in Turkey a few years ago but not without going to the Ephesus Museum first. Some archaeological sites aren't in the best condition so visiting the archaeological museum will help you appreciate the actual site.
If you have a particular interest in ancient Greek history, then you may want to check out the National Archaeological Museum as well. The Acropolis Museum houses artifacts only from the Acropolis archaeological site, but on display at the National Archaeological Museum are relics from different excavation sites throughout Greece.
You can purchase entrance tickets to the Acropolis Museum and the National Archaeological Museum at the gate or in advance through Get Your Guide. There are plenty of guided tours as well that include admission to the museums.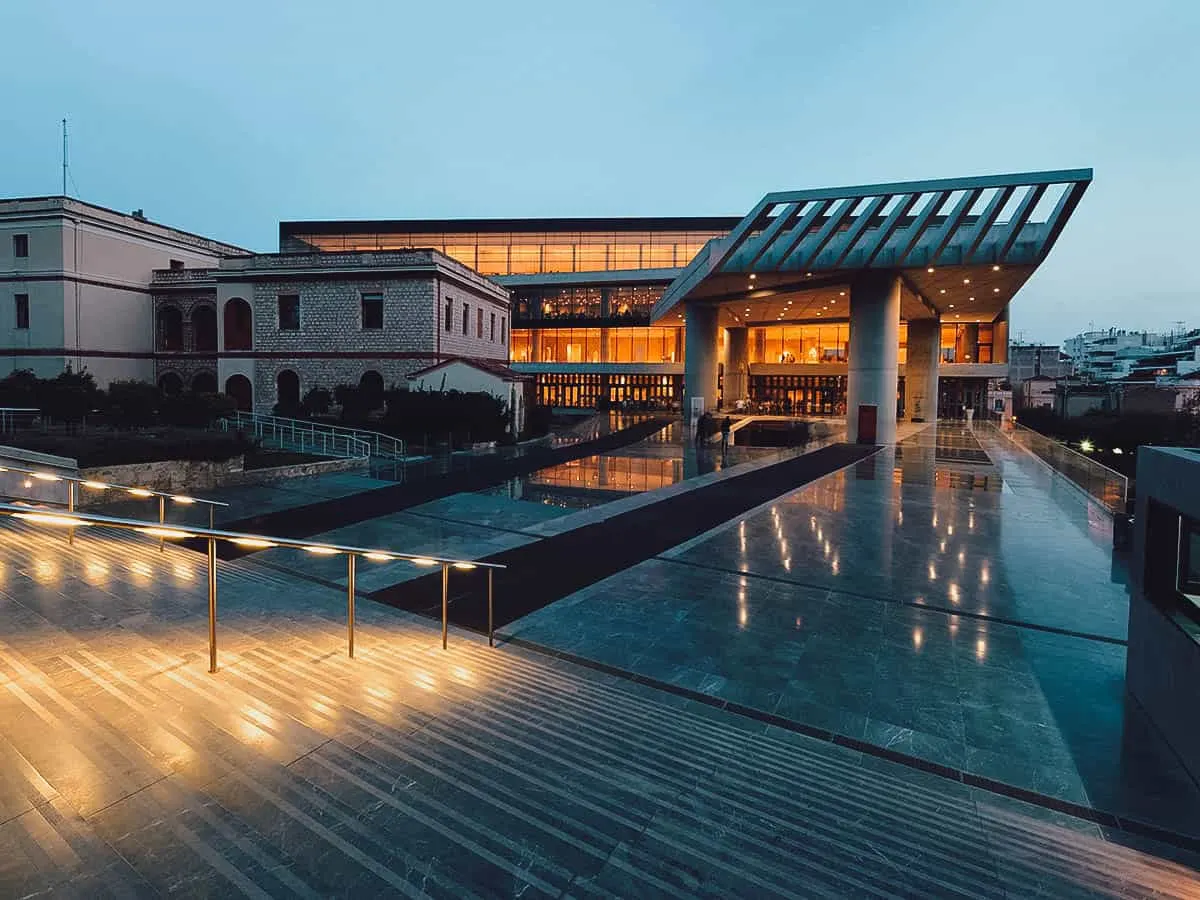 Photo by Paul Shark via Shutterstock
Estimated Time to Spend: 2-3 hrs
Admission: EUR 10
2. Explore the Neighborhoods
There's a wealth of interesting archaeological sites in Athens, around which are equally interesting neighborhoods like Plaka, Monastiraki, and Psiri. I had fun just walking around and enjoying the atmosphere.
You can take the Athens metro to get from one site to the next, but I think going on foot is better. They aren't that far apart and walking will allow you to appreciate the city's charming network of alleyways and interesting architecture.
It's hard to know where one neighborhood ends and the next one begins, but I think this was taken somewhere in Plaka.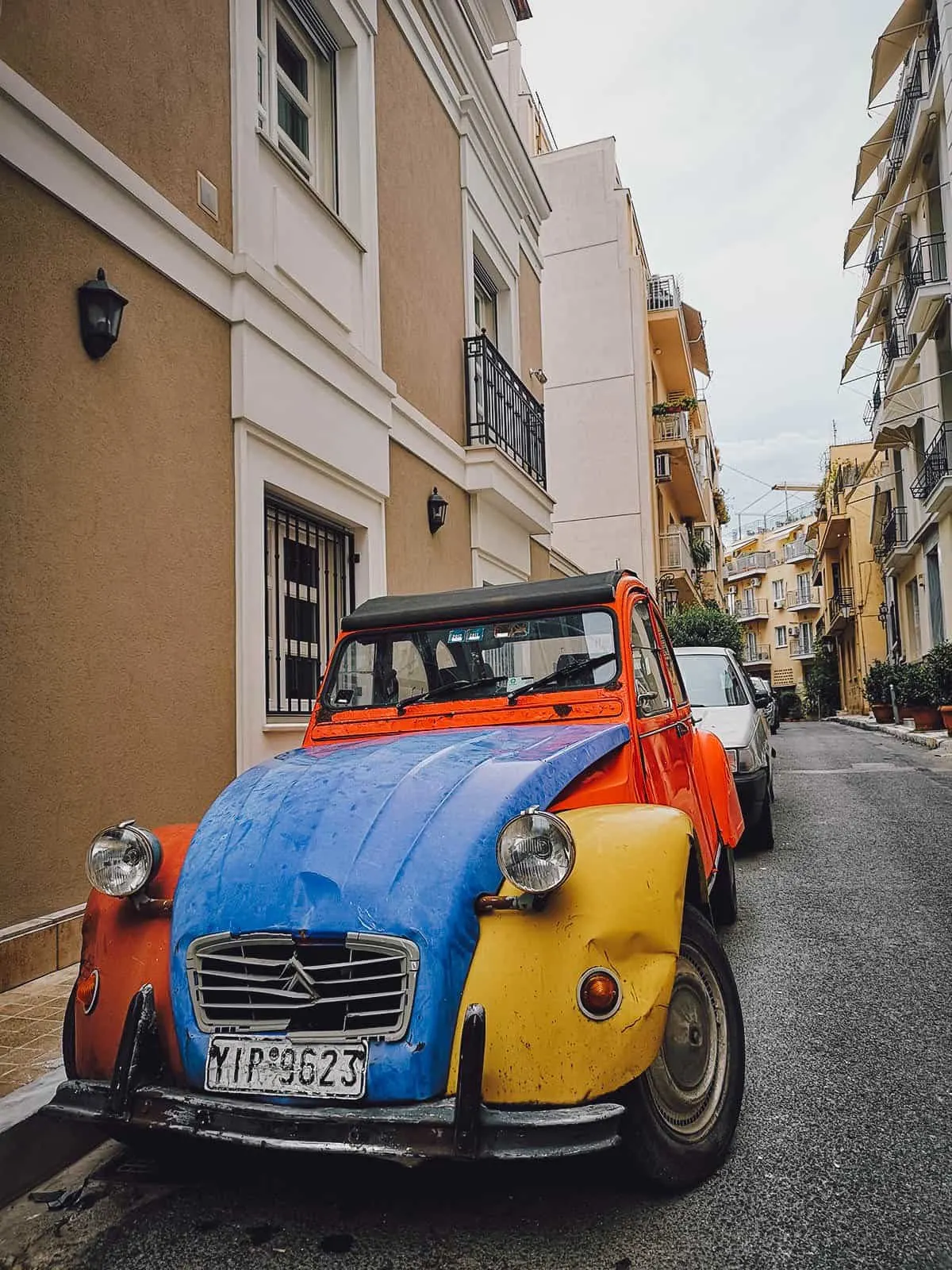 This was taken on Pitakki Street on my way to Psiri. This alley was a precursor to all the great street art I'd find waiting for me in Psiri.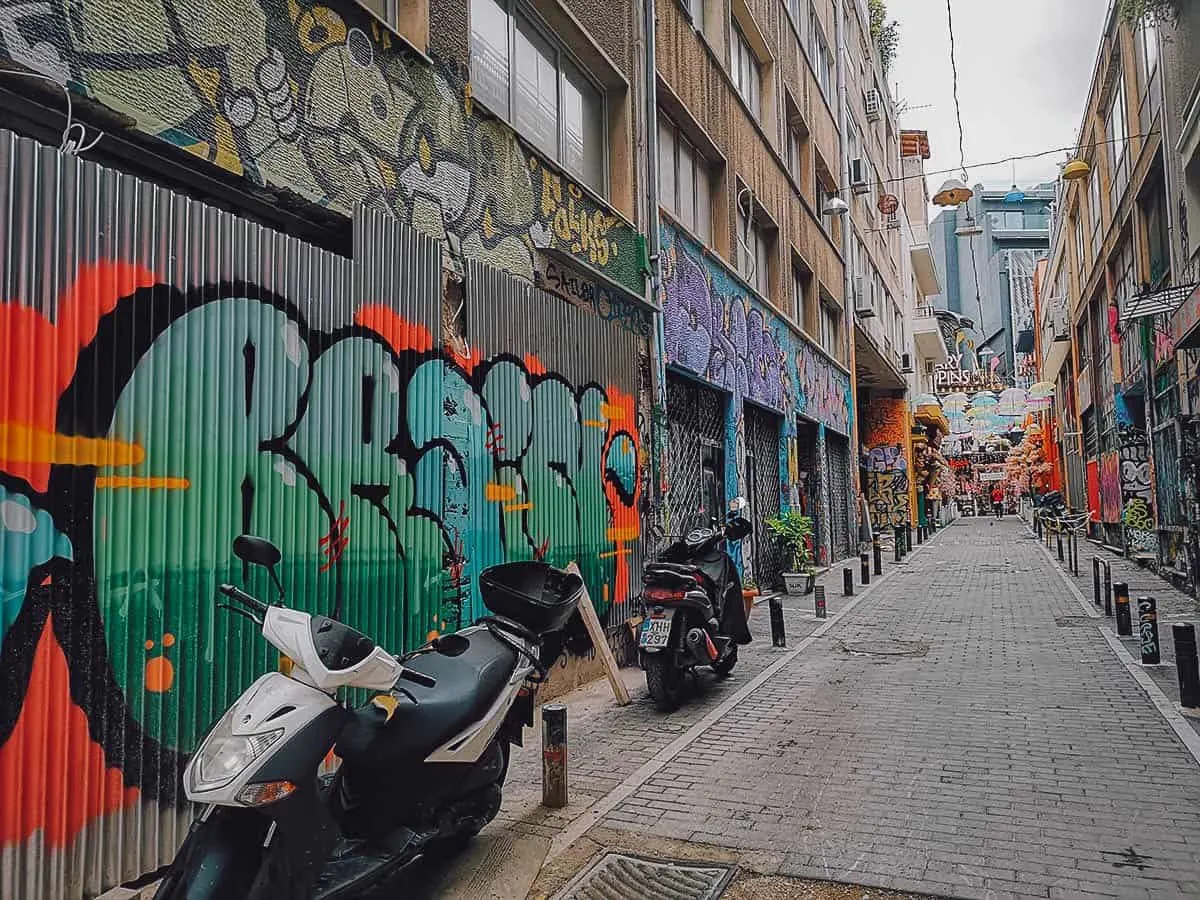 Psiri was one of my favorite neighborhoods in Athens. There were so many interesting bars and restaurants here. This area felt much more local and authentic compared to the charming but touristy Plaka and Monastiraki.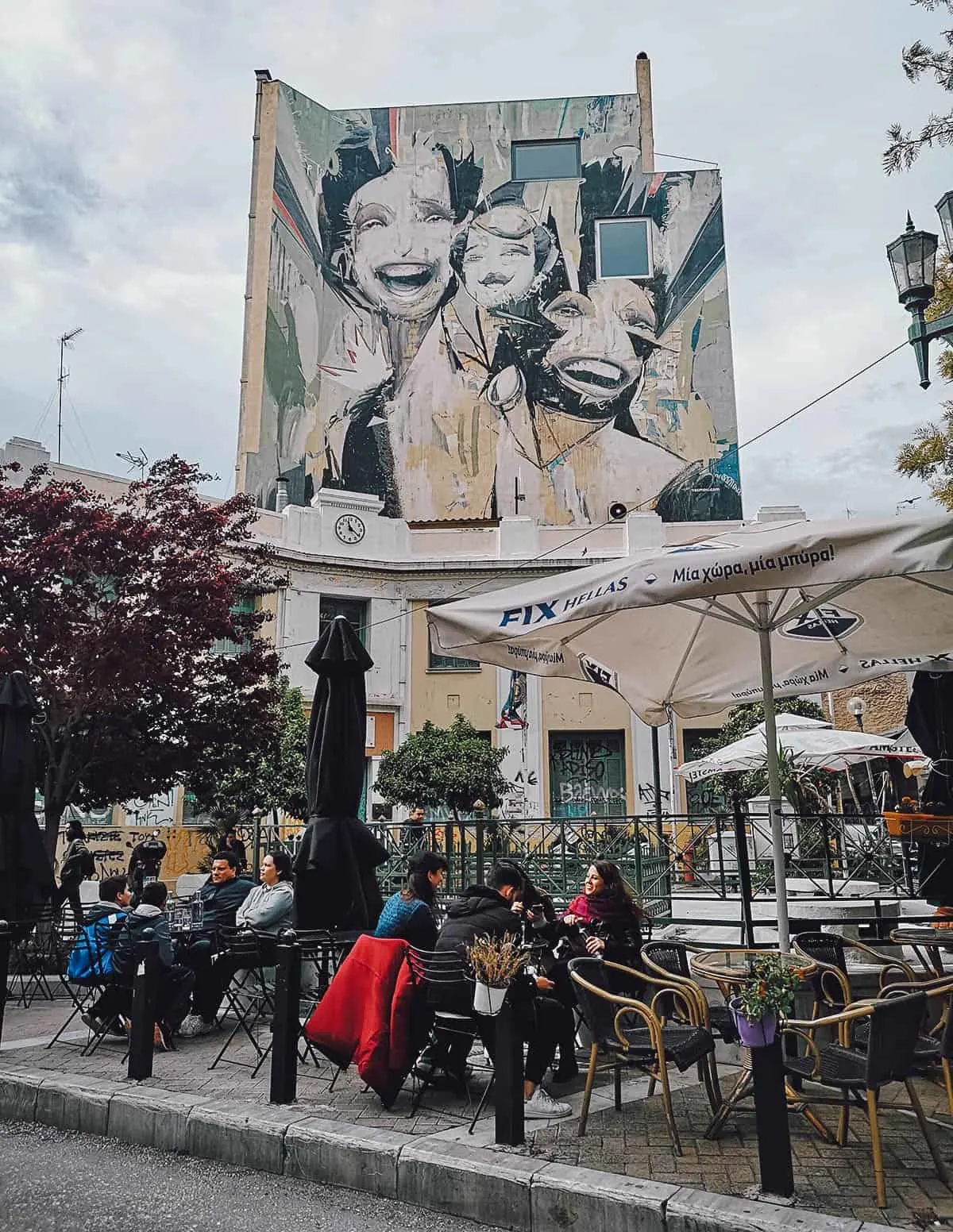 Estimated Time to Spend: At least half a day
3. Watch the Changing of the Guard at the Tomb of the Unknown Soldier
I didn't get to see this but the changing of the guard is always an interesting spectacle anywhere. It's a choreographed ritual carried out with much precision and pride.
In Athens, you can witness it at the Tomb of the Unknown Soldier in Syntagma Square. It's free to watch and takes place everyday, every hour on the hour.
If you happen to be in Athens on a weekend, then you may want to watch the much more elaborate Grand Change that happens at 11AM every Sunday.
You can go to the Tomb of the Unknown Soldier to watch the changing of the guard on your own, or you can witness it as part of a guided tour.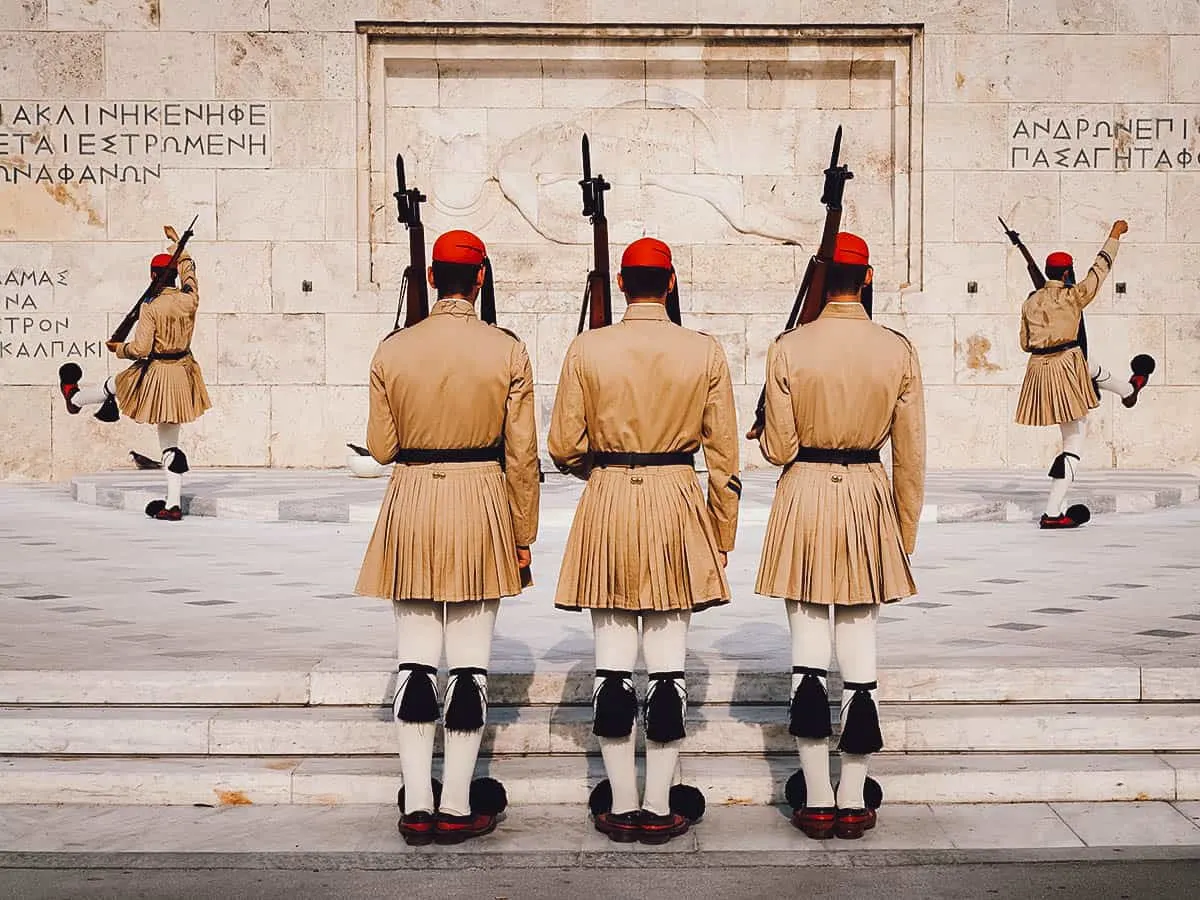 Photo by Alexander A.Trofimov via Shutterstock
Estimated Time to Spend: About 15 mins
Admission: FREE
4. Enjoy a Drink at a Rooftop Bar in Monastiraki Square
Ren's cousin told us that when Christos has friends visiting Athens, he likes to take them to one of the rooftop bars in Monastiraki. Why? Because they offer some of the best views of the Acropolis.
There are a few to choose from but we went to 360 Cocktail Bar in Monastiraki Square. We were there at sunset and as you can see below, Christos wasn't lying.
The Parthenon looked absolutely magical at that hour, like something out of an epic tale.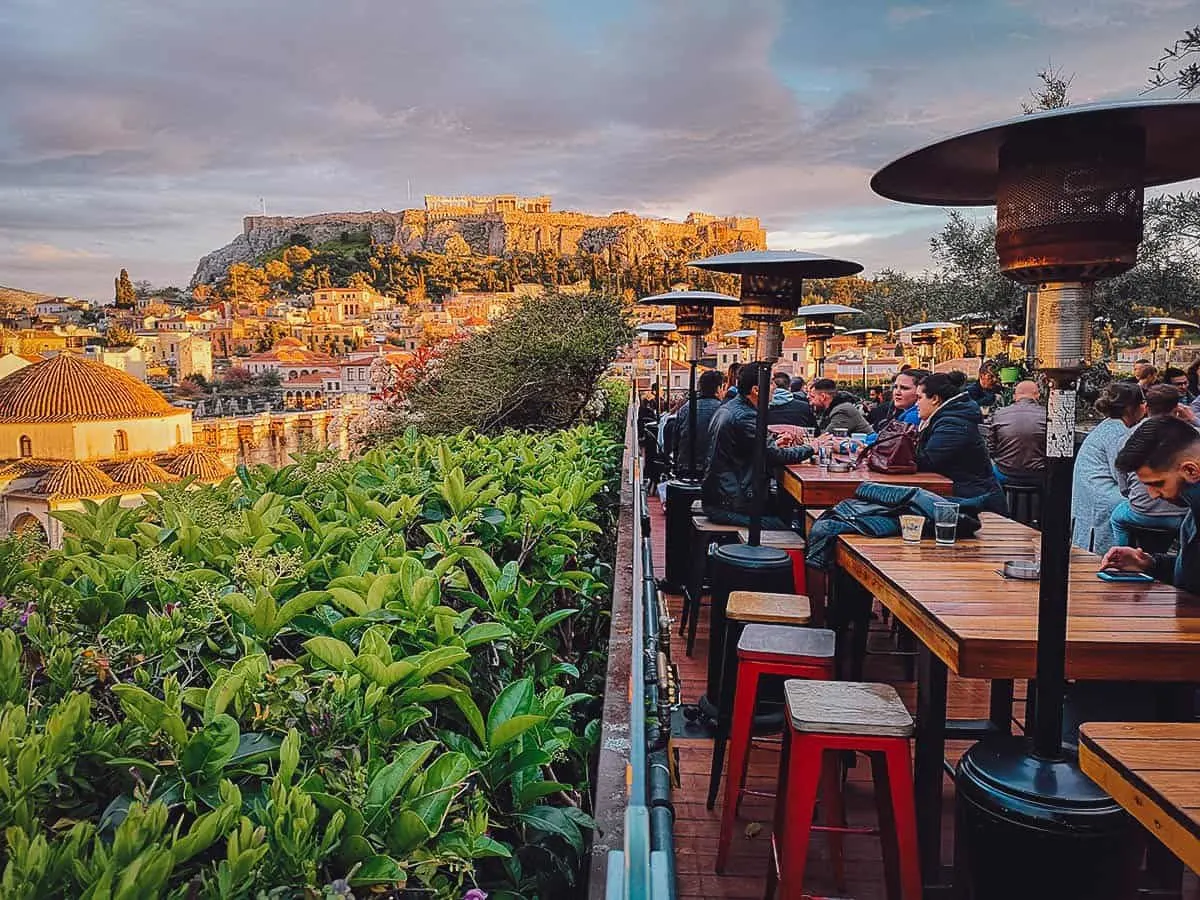 5. Go on a Culinary Walk
We went on a food tour in Barcelona with Culinary Backstreets and were super impressed with the experience. They give terrific in-depth culinary walks in different cities around the world, offering great insight not just on the local food, but on the local culture as well.
Culinary Backstreets offers a few food tours in Athens. In fact, that's how I found out about To Kafeneio. A reviewer went on one of their culinary walks and fell in love with both the tour and that restaurant.
Follow the link to check out Culinary Backstreet's food tours in Athens. If you key in the FLY4FOOD promo code, then you'll get a 5% discount upon checkout. This applies to any of their culinary walks.
You can also check Get Your Guide for a long list of Athens food tours.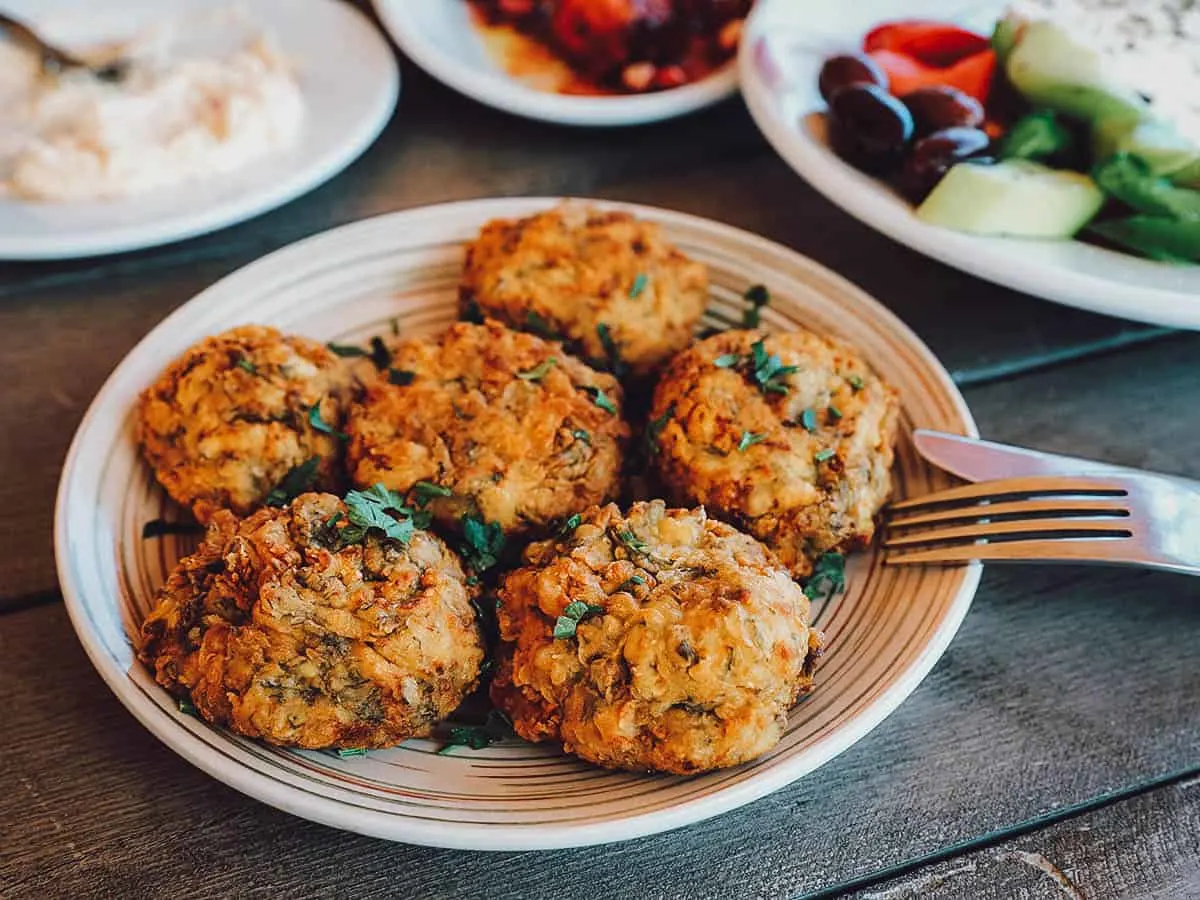 Photo by Victoria Kurylo via Shutterstock
Length of Tour: 5.5 hrs
6. Take a Cooking Class
We didn't have time to do it in Europe but we enjoy taking classes whenever we travel. So far, we've done it in Hoi An, Chiang Mai, Phuket, and Bali. The way I see it, there's no better way to learn about an unfamiliar cuisine than to take a cooking class. It's like looking under the cuisine's hood.
If you like to cook and want to learn more about Greek cuisine, then you may want to take one of these cooking classes in Athens. They're curated by Cookly which is an online aggregator for cooking classes in different cities around the world. They're the single best resource I've seen for booking short-term cooking classes while traveling.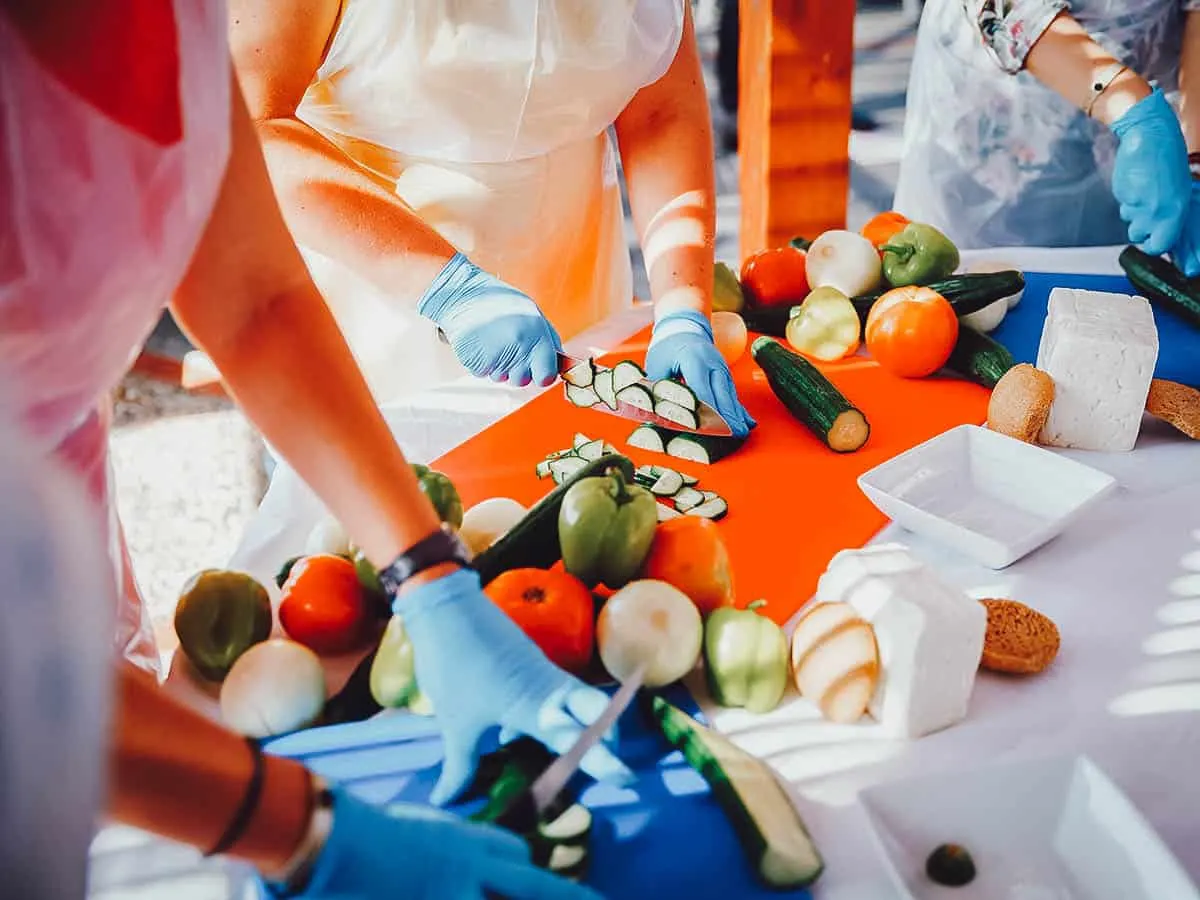 Photo by Alexxxey via Shutterstock
Length of Class: 2.5-4 hrs
7. Go Graffiti Hunting
One of the things that surprised me most about Europe was the graffiti. It's everywhere. Some were good, more were bad, but Athens had some of the best examples I saw in the five countries we visited on our trip. The street art in the artsy Psiri neighborhood was amazing.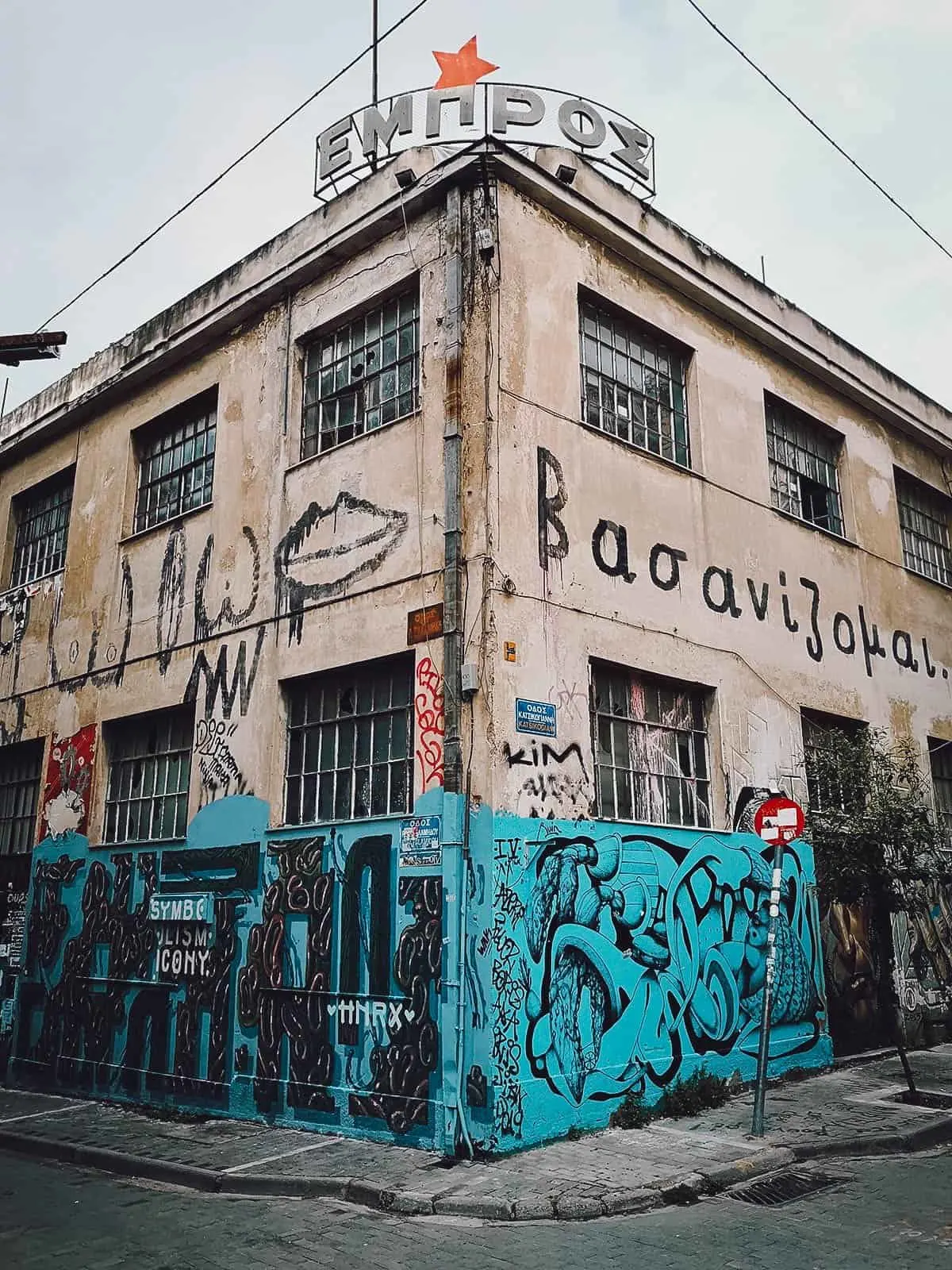 I ran into a photographer taking pictures of all the street murals like I was, and he told me that he's writing a book documenting the street art in Athens.
If you like art and want to take a breather from the city's myriad historical attractions, then you may want to explore Psiri and seek out amazing murals like this one. I didn't know about it at the time but I would have loved to go on this Athens street art tour.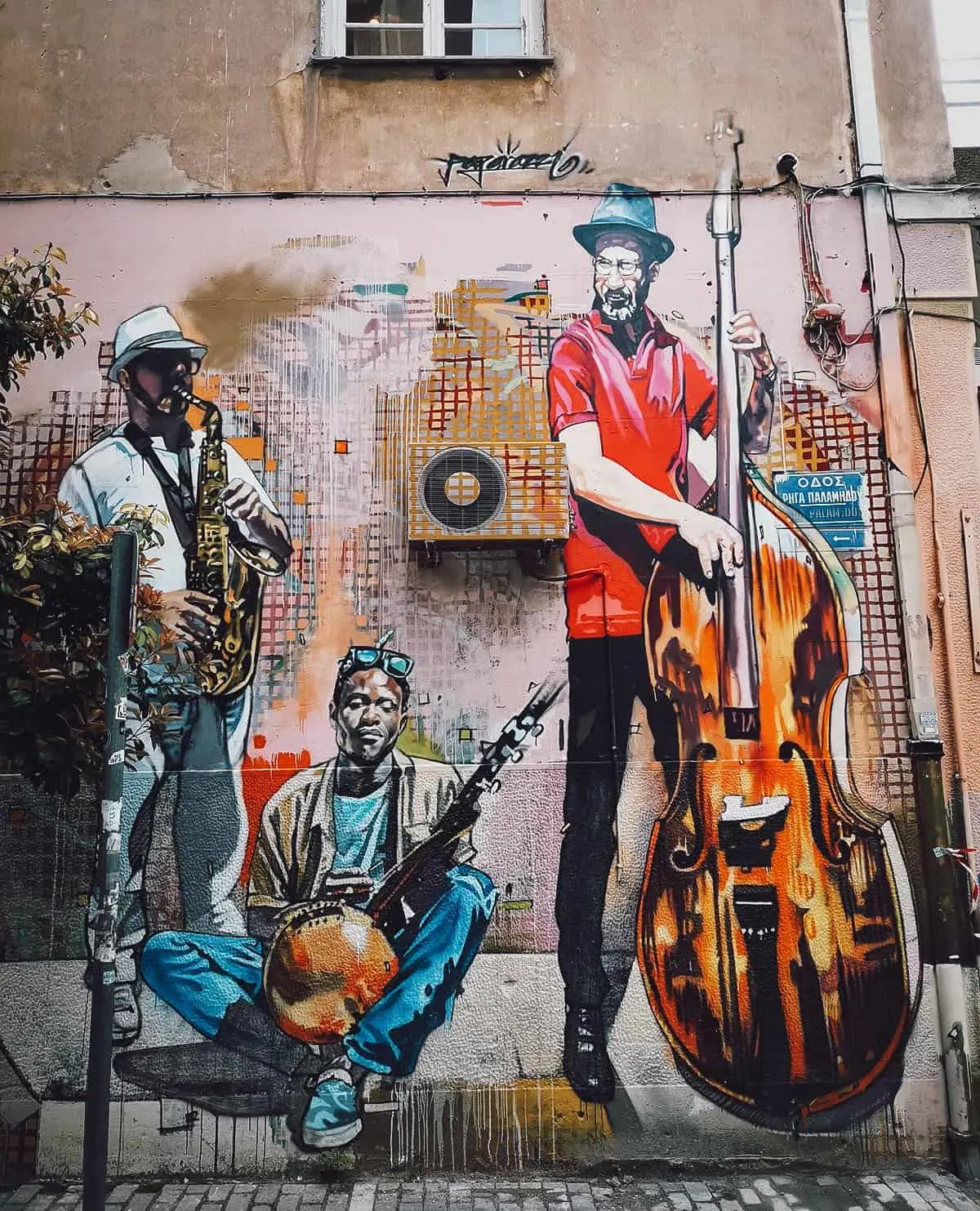 Estimated Time to Spend: 1-2 hrs
DAY TRIPS FROM ATHENS
1. Temple of Poseidon
If the attractions in Athens aren't enough to sate your appetite for all things archaeological, then you may want to take a day trip to the Temple of Poseidon in Cape Sounion.
Located about an hour-and-a-half south of the capital, this temple dedicated to the god of the sea is recognized as one of the major monuments of the Golden Age of Athens. You can book a day tour to the Temple of Poseidon from Athens on Get Your Guide.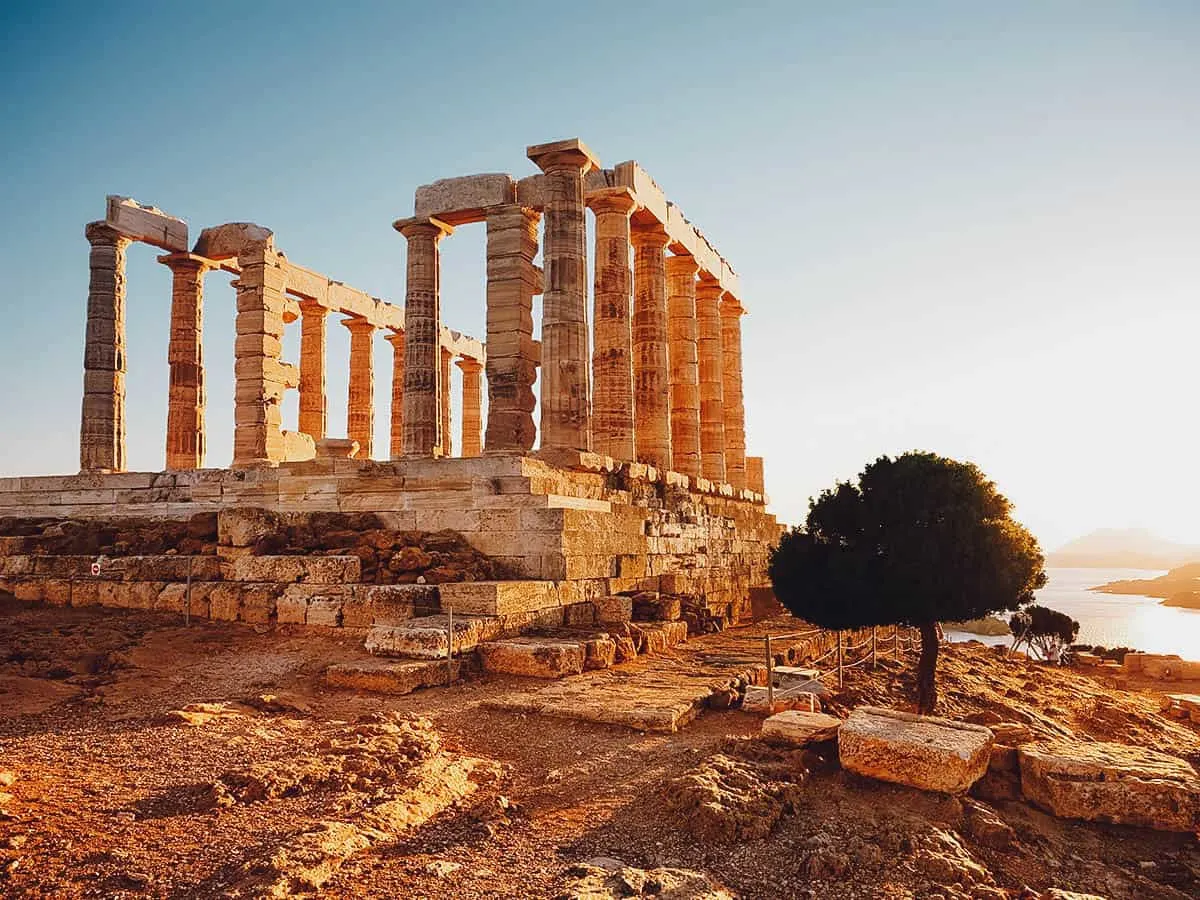 Photo by WitR via Shutterstock
Length of Tour: Around 4-5 hrs
2. Delphi
Delphi is a UNESCO World Heritage Site located on Mt. Parnassus, about two-and-a-half hours northwest of Athens. It was an important religious sanctuary that was home to the oracle of Apollo, who gave cryptic advice to individuals and city states.
Delphi was so important that it was once considered the center of the world by the ancient Greeks. You can book a day tour to Delphi from Athens on Get Your Guide.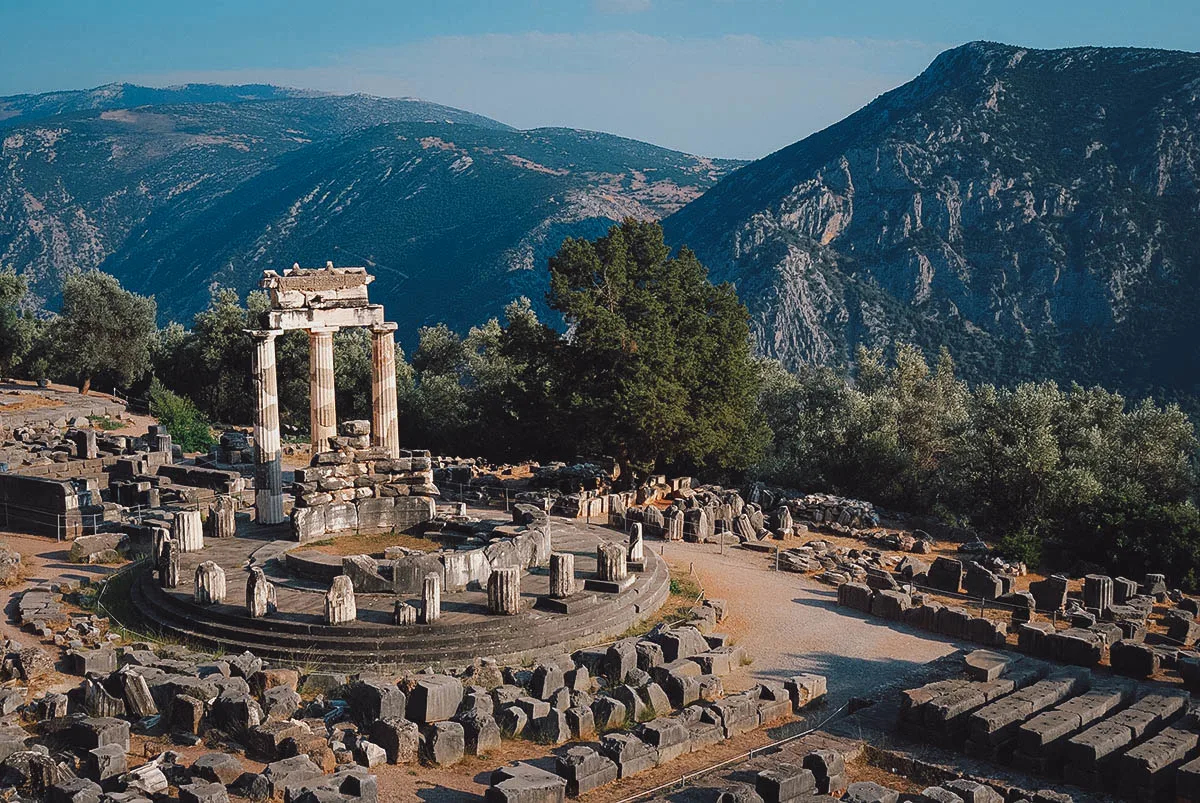 Photo by emicristea via Deposit Photos
Length of Tour: Full Day
3. Hydra, Poros, & Aegina
Cruising the islands is one of the best things you can do in Greece. If you don't have time to visit any of the famous Greek islands like Mykonos or Santorini, then you can go on a day cruise of the Saronic Islands from Athens. Get Your Guide offers several scenic day cruises to the islands of Hydra, Poros, and Aegina.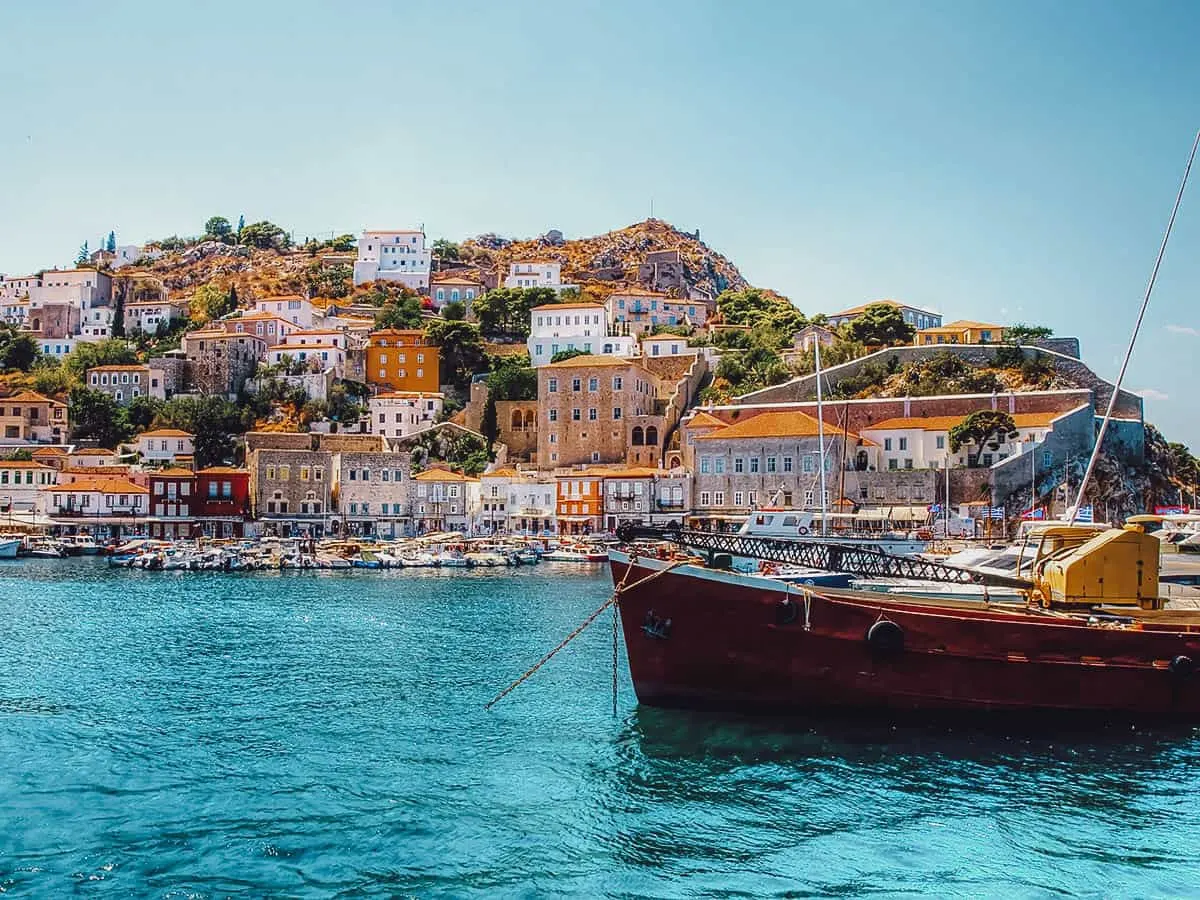 Photo by f8grapher via Shutterstock
Length of Tour: Full Day
4. Meteora
I've been fascinated by the monasteries of Meteora ever since my sister sent me a postcard from her visit many moons ago. Unfortunately, we didn't have time to go on this trip so we'll have to leave it for the next.
Located about four hours northwest of Athens, Meteora is known for its monasteries built precariously on top of towering rock formations in central Greece. It's a mind-blowing sight and not something you can find just anywhere in the world.
Meteora deserves a few days to do it justice but people pressed for time can do a day trip from Athens. Check out Get Your Guide for tour options.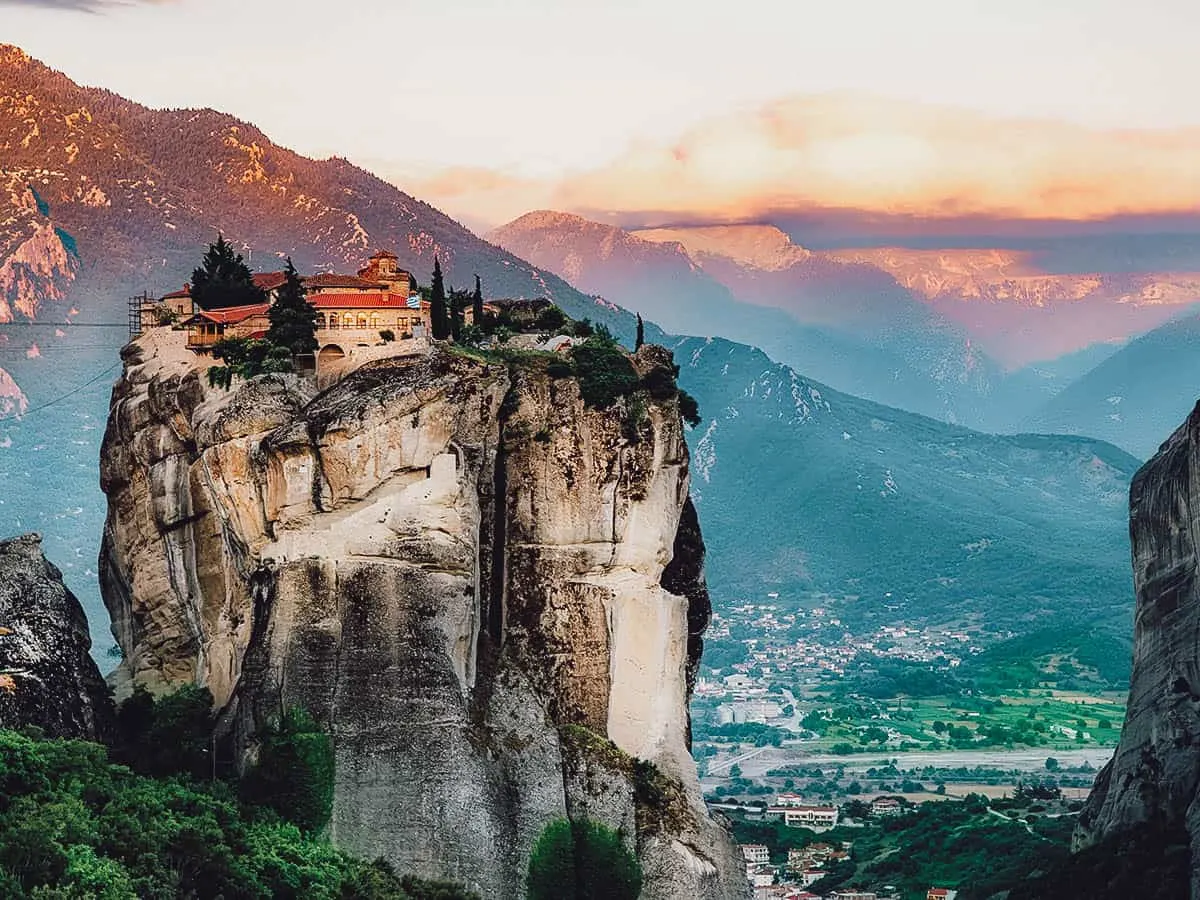 Photo by Cristian Mircea Balate via Shutterstock
Length of Tour: Full Day
GREEK FOOD GUIDE
Like many of the Mediterranean cuisines, Greek cuisine is based on the "Mediterranean triad" of wheat, olive oil, and wine. If you're interested in local cuisine and wondering what to eat in Athens, then check out our Greek food guide for a list of twenty must-try dishes in Greece.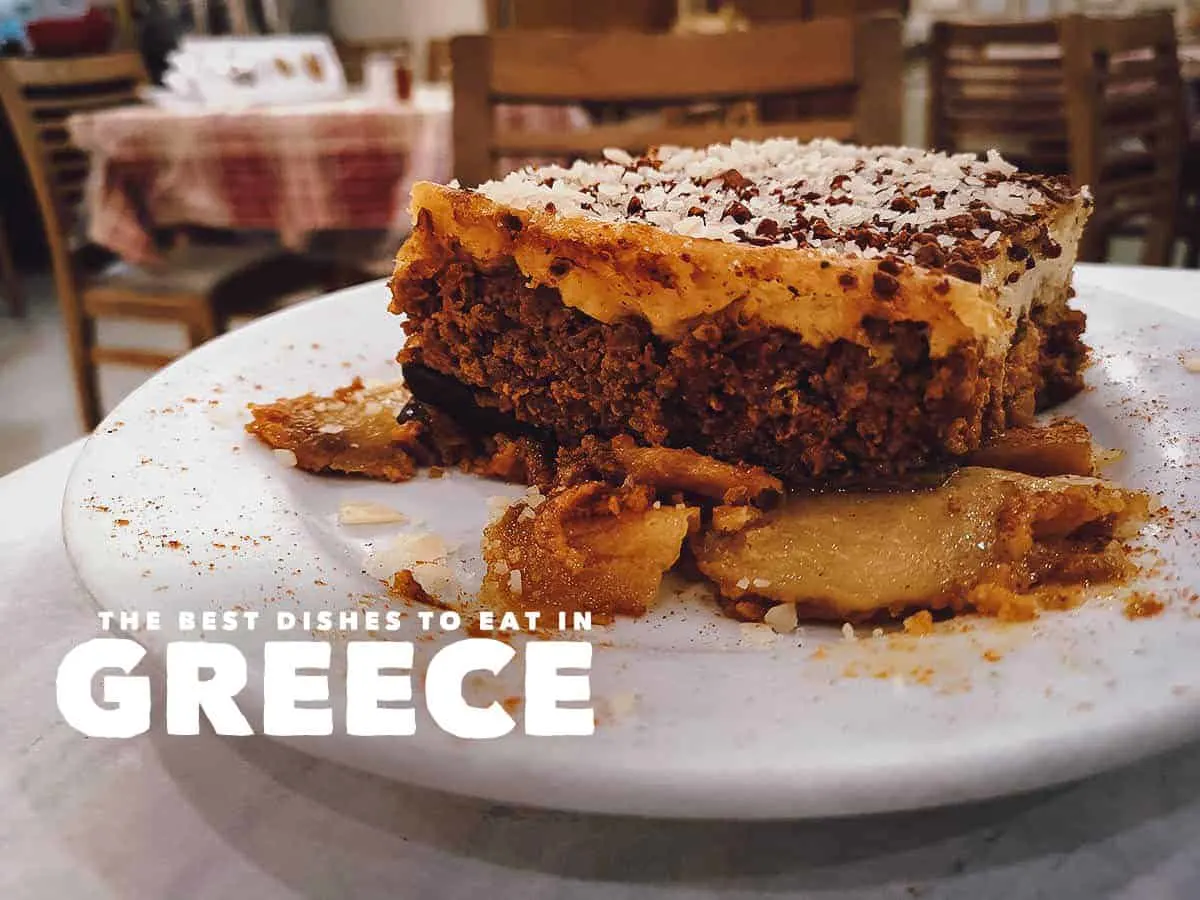 WHERE TO EAT IN ATHENS
We spent little more than one full day in Athens so we didn't get to explore as many restaurants as we wanted to, but the few that we went to were very good.
1. To Kafeneio
As described, I learned about this place from a reviewer who went on a food tour with Culinary Backstreets. He said it was his favorite restaurant from all the places they visited on the tour. In fact, he enjoyed it so much he want back on his own the following day!
Located in Plaka, To Kafeneio is a family-run Greek restaurant known for serving classis Mediterranean dishes, none more famous perhaps than their keftedes me saltsa domata, or Greek meatballs in tomato sauce. It features the secret sauce of the restaurant's first chef, a sauce that's become so famous in these parts that it's referred to simply as "THE sauce".
Behind it is a Cretan salad they call "Koupa". It's a delicious salad of tomato, onions, feta cheese, kritamo (samphire), and herbs in a crunchy bread bowl made of soaked barley rusk. I believe it's similar to dakos which we had in Santorini.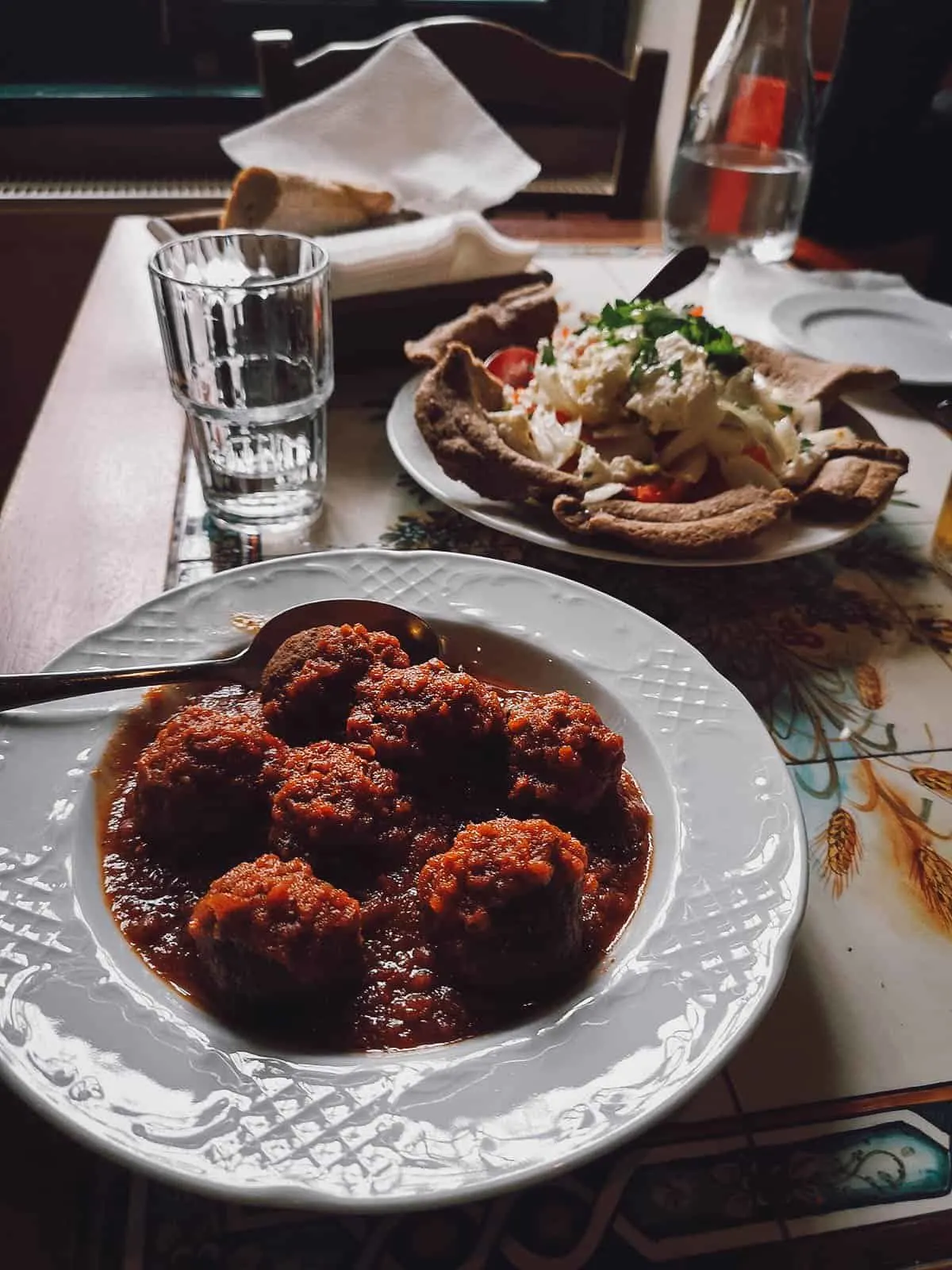 To Kafeneio is located in an alley in Plaka. We sat inside but they have outdoor seating as well. They're a TripAdvisor Certificate of Excellence awardee with a near-perfect 4.5 star rating. Follow the link for a map.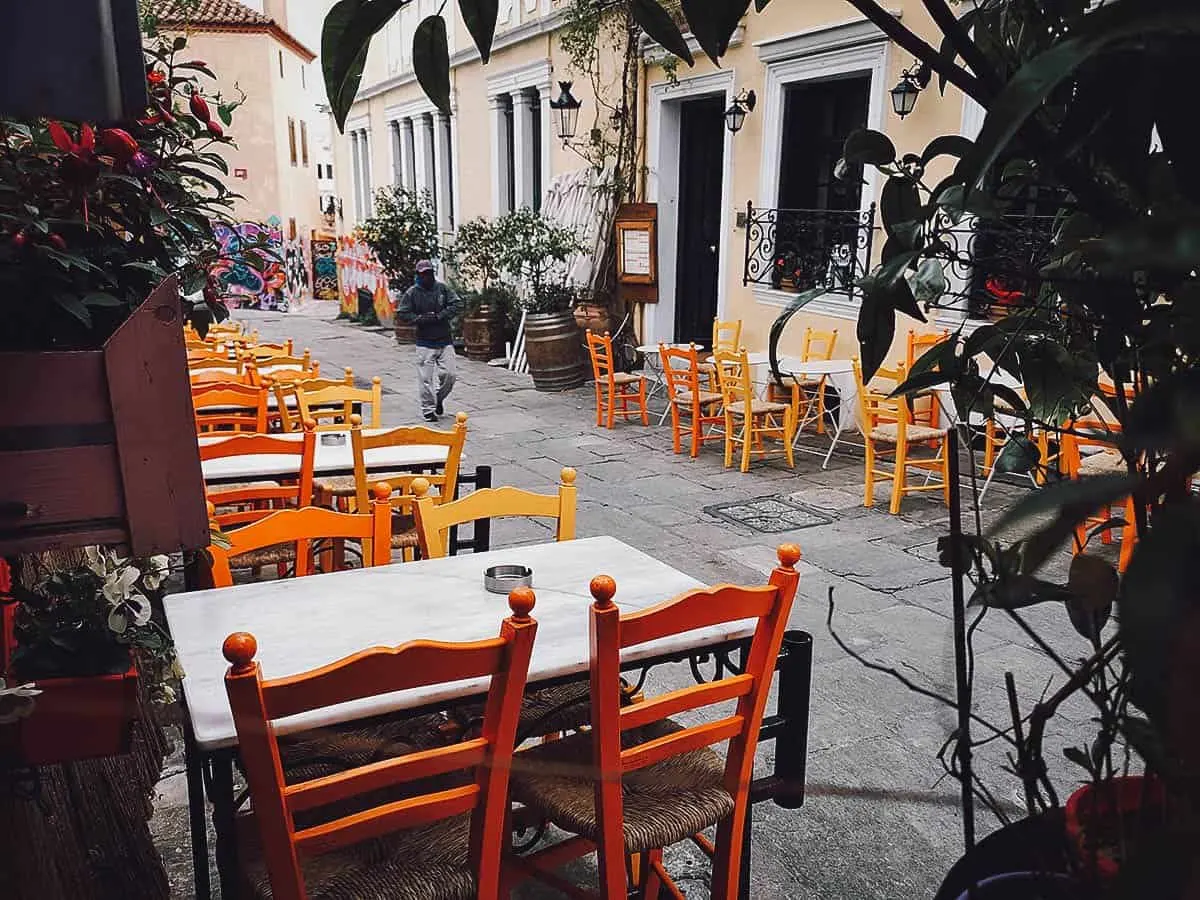 2. O Thanasis
I Googled "best souvlaki in athens" and one of the places my search led me to was O Thanasis. Located in Monastiraki, they offer classic Greek comfort food like souvlaki, gyro, and moussaka.
Pictured below is a delicious dish called saganaki which is a type of fried cheese made in a small frying pan.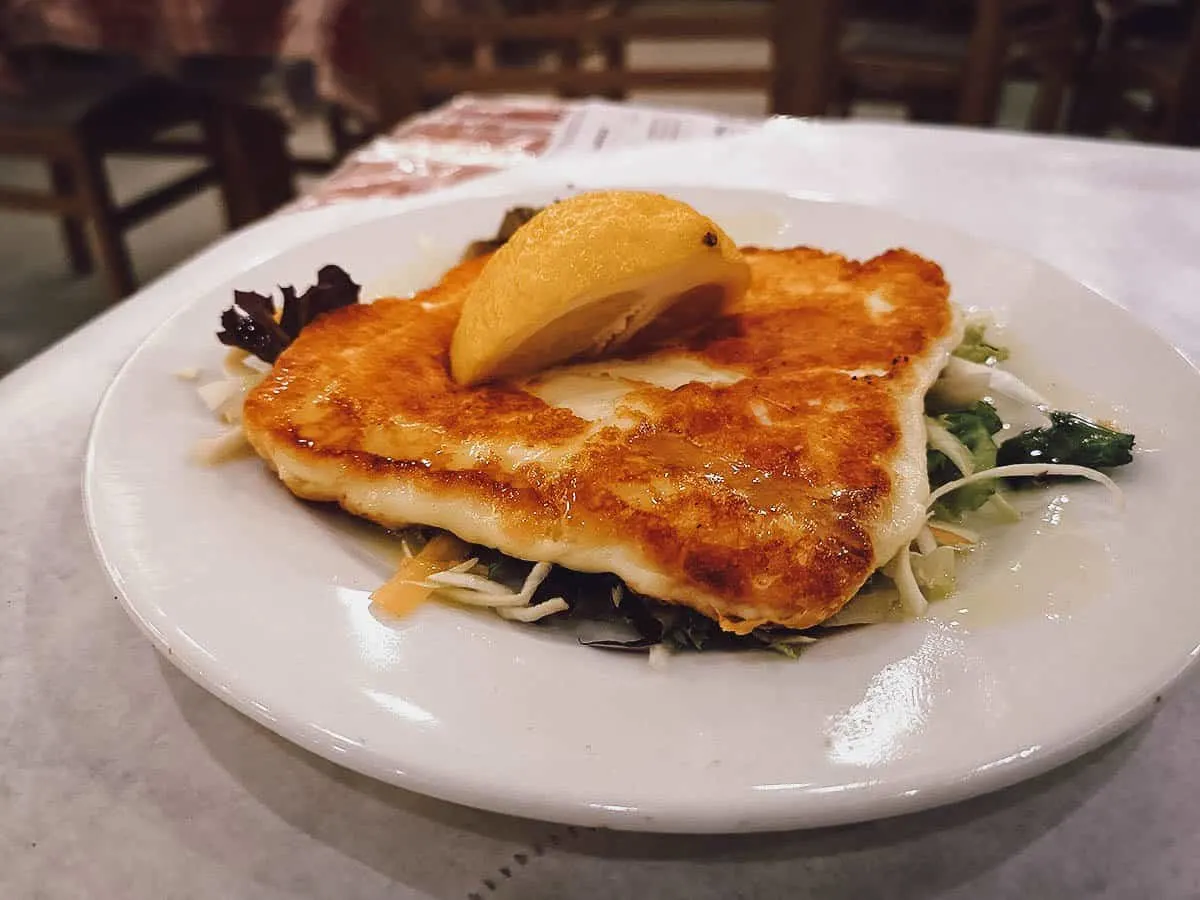 Can a trip to Greece ever be complete without a taste of souvlaki? A souvlaki is a popular Greek food made with grilled pieces of skewered meat.
It's typically made with pork or chicken and served with vegetables, fried potatoes, pita bread, and tzatziki (yogurt dip). You can have it wrapped in pita as well, like a sandwich.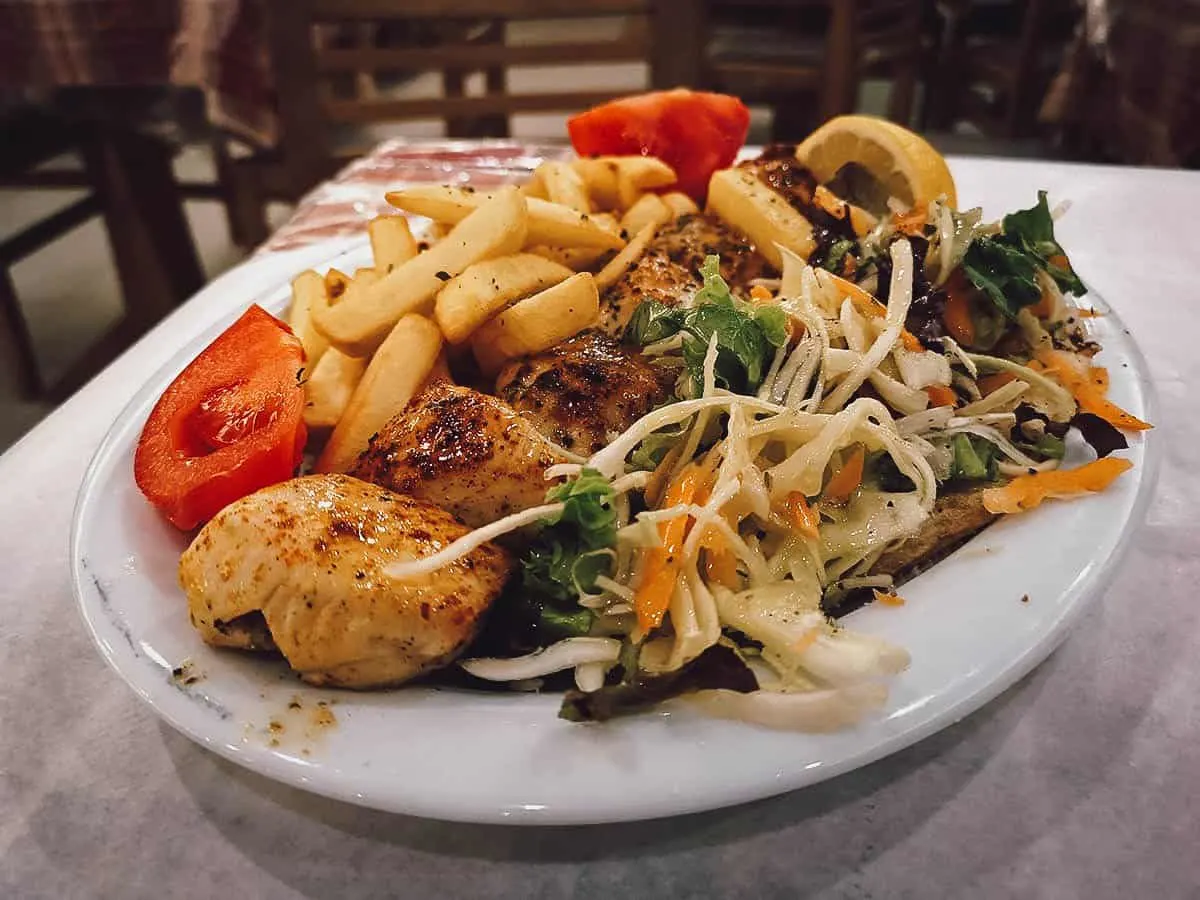 Like souvlaki, moussaka is one of the most popular Greek dishes. It's similar to lasagna but instead of pasta, it's made with layers of sliced eggplant.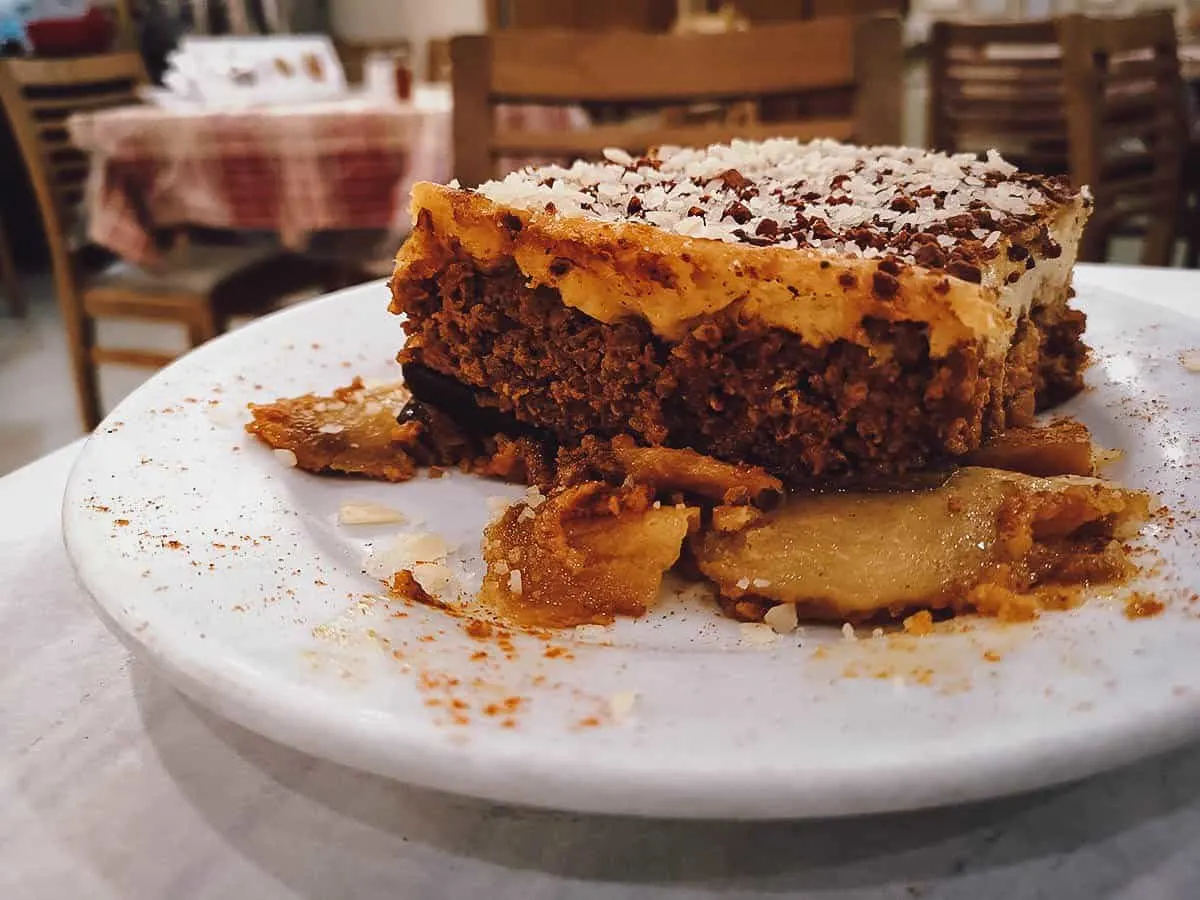 O Thanasis is located just off Monastiraki Square. They're a TripAdvisor Certificate of Excellence awardee with a commendable 4-star rating.
3. Yiaourtaki – CLOSED
Located in Monastiraki Square, Yiaourtaki is a dessert shop specializing in crepes and Greek yogurt. Greek yogurt tastes similar to regular yogurt except it's been strained to remove most of its whey, resulting in a thicker consistency. I love Greek yogurt and ate it almost everyday in Greece.
Have a cup at Yiaourtaki if you've never tried it before. You can have it topped with a variety of ingredients like these black cherries in syrup. Personally, I think Greek yogurt is perfect on its own.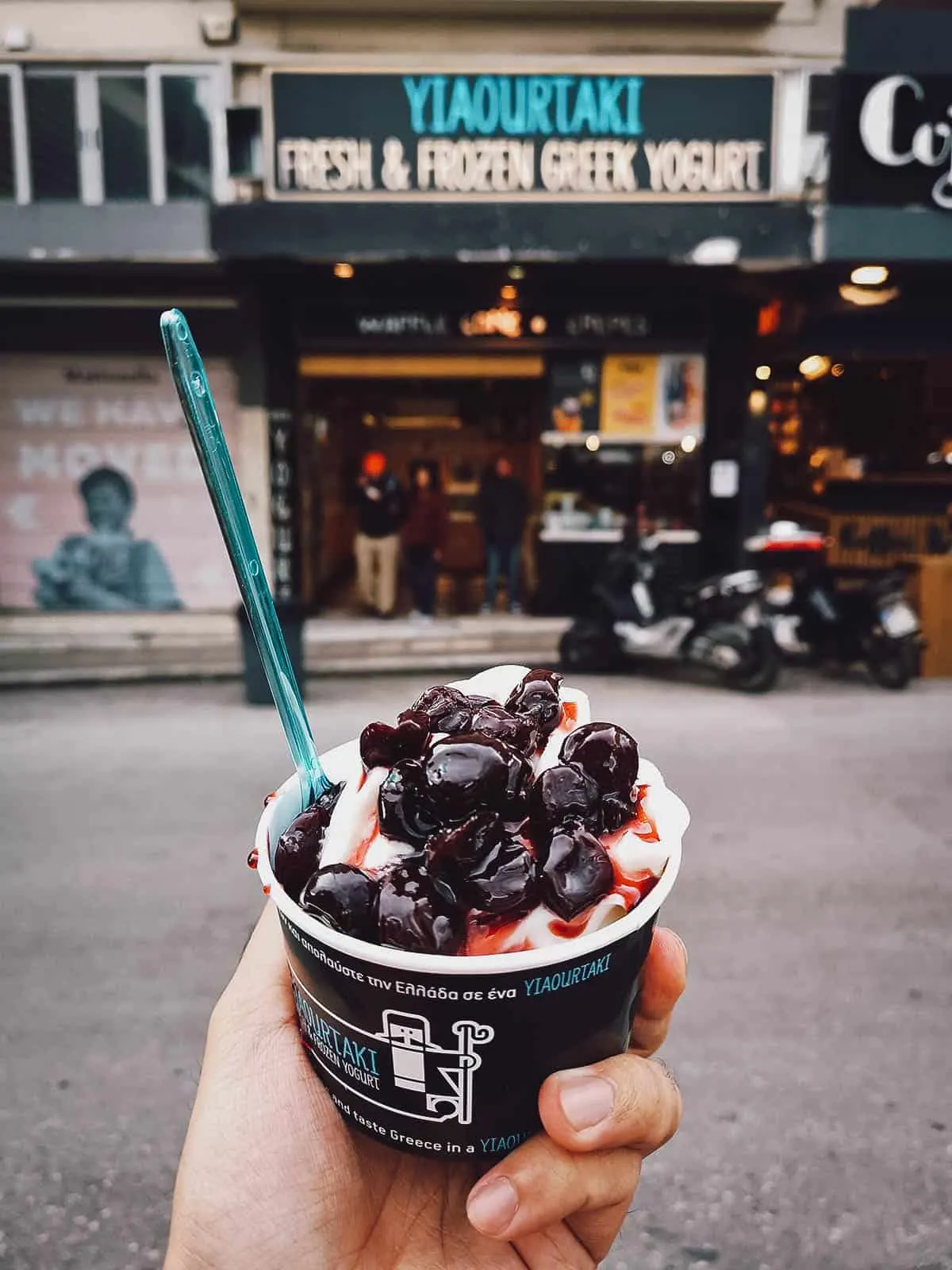 4. Mikas Grill House
This restaurant is located near the airport so only eat here if you're staying in Paiania. We asked our AirBnB host for recommendations and she directed us here, to Mikas Grill House where we had some of the best lamb chops we've ever tasted in our lives.
This platter of roast lamb chops was seriously delicious. We enjoyed it with pita, fries, tzatziki, and a carafe of white wine, all for about EUR 25.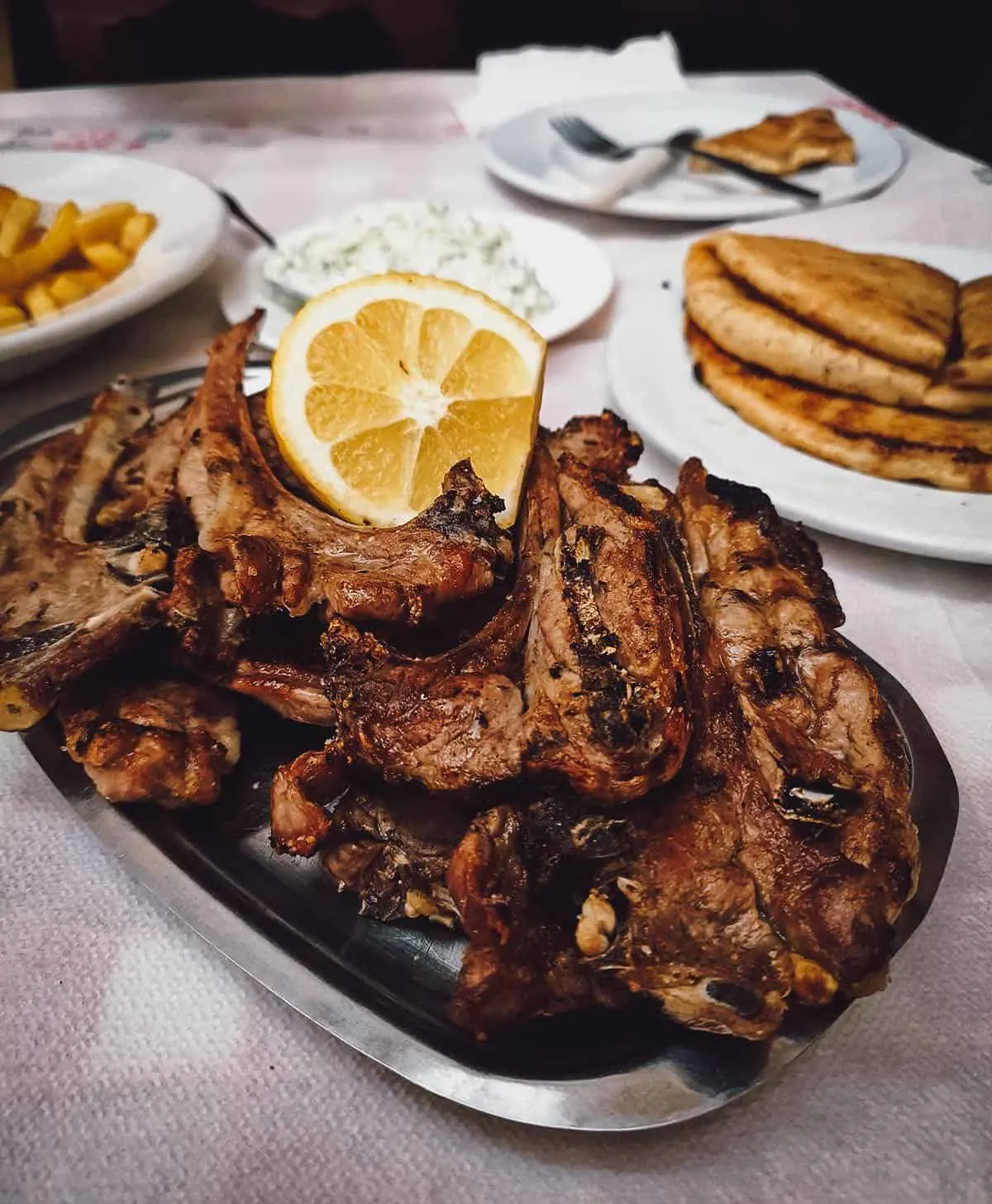 Mikas Grill House is located in Paiania. If you're looking to stay near the airport, then Paiania is a convenient choice. Be sure to eat here if you do.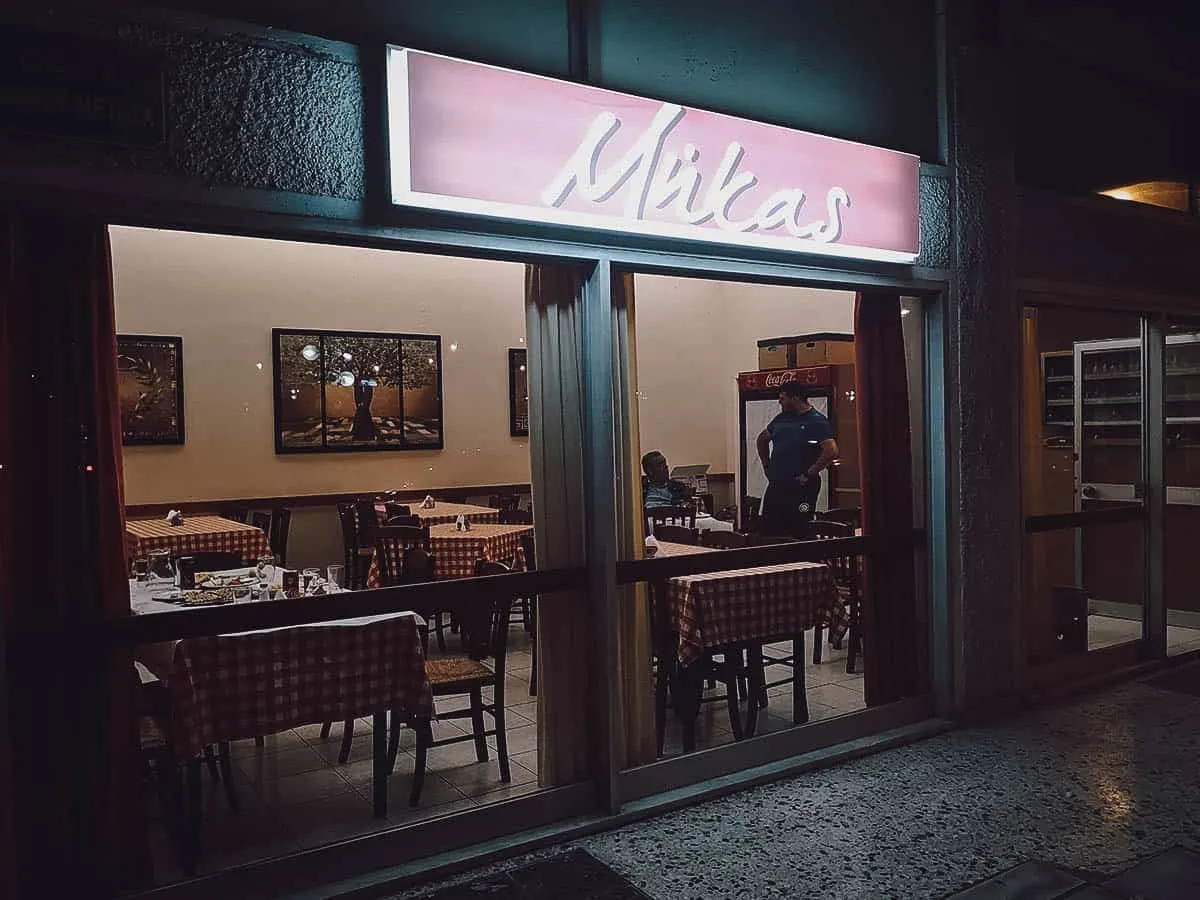 POINTS OF INTEREST IN ATHENS
To help you better understand where everything is, I've pinned all the places recommended in this guide on this map. Click on the link for a live version of the map.
HOW TO GET AROUND IN ATHENS
The Athens MRT is efficient and convenient. As a tourist, it'll take you pretty much anywhere you need to go in the city. We didn't take the bus but I'm sure it's efficient and easy to use as well.
There are three types of "Ath.ena" tickets you can get that are valid for use on all types of public transportation. You can get a 90-minute ticket (EUR 1.20), a 24-hour ticket (EUR 4.10), or a 5-day ticket (EUR 8.20). You can also get a 3-day tourist ticket (EUR 20) that includes airport transfers. All are valid for unlimited travel for the duration of your ticket. Follow the link for more information on Ath.ena tickets.
I'll talk about it more in the next section but I think a 3-day stay is ideal for first-time visitors so the 3-day ticket is probably best. It's valid for use on the X80 bus as well which will take you from Syntagma Square to Piraeus Port.
As convenient as Athens public transportation is, if all you'll be visiting are the major sights within the downtown area, then I think walking is best. Most of the places recommended in the PLACES TO VISIT and THINGS TO DO sections of this guide are near three metro stations – Akropoli, Syntagma, and Monastiraki – all of which are about 1 km from each other.
It seems like more trouble taking the subway than walking. I walked everywhere in downtown Athens and never found any place too far. If you don't have any mobility issues, then I suggest walking as it'll give you a better feel and appreciation for the city's many interesting neighborhoods.
Whether you decide to walk or use the public transportation system, I highly recommend using the Google Maps app (iOS|Android). It'll tell you exactly how to get from point A to point B, either by walking or public transportation. It's accurate and very reliable.
HOW MANY DAYS TO STAY / ATHENS ITINERARY
To be honest, we didn't plan on spending time in Athens. It was our entry point into Europe so we stayed just one full day before flying south to Santorini.
To put it bluntly, if it's your first time in the city, then staying for just one day would be a mistake. To think that one full day is enough for Athens would be doing one of the world's oldest and most historically significant cities a grave injustice.
How long you stay will depend on how interested you are in archaeological sites, but I say three days is the minimum. It'll give you enough time to visit the major tourist attractions in downtown Athens and perhaps do a day trip as well.
Assuming you arrive early in the morning on the first day, here's a sample 3D/3N Santorini itinerary to help you plan your trip.
DAY ONE
• Plaka
• Syntagma Square
• Monastiraki
• Psiri
• Lycabettus Hill
DAY TWO
• Acropolis Museum
• Acropolis
• Theater of Dionysus
• Ancient Agora of Athens
• Roman Agora
• Temple of Olympian Zeus
• Panathenaic Stadium
DAY THREE
• Day Tour (Temple of Poseidon, Delphi, or Saronic Islands Cruise)
ATHENS TRAVEL TIPS
1. Plan your Trip with Sygic Travel
I plan all our trips using this free travel app. It enables me to pin all the places we want to go to on a map – including our hotel and subway stops – so I can see where everything is in relation to one another. That way I can easily group places of interest by day and come up with an efficient itinerary. Check out my post on the Sygic Travel app for more information.
You can view our Athens itinerary on Sygic Travel or download it as a Word doc from our EAT-ineraries page. It covers Athens and Santorini.
2. Rent a Pocket Wifi Device
Having steady and reliable access to the internet is so important these days. It allows you to navigate, convert currencies, and search for the best souvlaki in Monastiraki. Having access to Google Maps alone makes it a necessity. It makes traveling less stressful and so much more enjoyable.
We own Pokefi pocket wifi devices so we didn't have to rent one in Europe. But if you need a device that works in Greece and Europe, then you can rent one through Get Your Guide.
3. Get the Special Ticket Package
If all you're interested in is the Acropolis, then you can just get the Acropolis basic ticket. It gives you access to the Acropolis and the Theater of Dionysus for EUR 20.
But if you want to visit more archaeological sites, then the special ticket package will be a good investment. For just EUR 30, it will give you access to the following sites for a period of five days:
The Acropolis and Theater of Dionysus
Ancient Agora of Athens
Roman Agora
Temple of Olympian Zeus
Kerameikos Cemetery
Hadrian's Library
Archaeological Site of Lykeion
If published admission fees are up-to-date, then paying separately for each of these places will cost you a total of EUR 64.
4. Validate Your Transport Ticket
I saw a sign on the subway that said all riders must validate their ticket, lest they risk a fine of 60 times its value. This seems to be the case in many cities throughout Europe, including Budapest and Prague.
Regardless of which type of Ath.ena ticket you get, always remember to validate soon as you board. This is self-explanatory for the metro as you'll need to go through turnstiles to board the trains, but it's easier to forget on buses and trams. Don't forget!
5. Beware of Pickpockets
Some European cities are known for the prevalence of pickpockets. Unfortunately, Athens is one of them.
My brother-in-law had his passport stolen on our very first day. He's pretty sure it happened while riding a crowded subway train. The thief fished it out of his front pocket and he barely felt a thing. These guys know what they're doing so it's best to come prepared.
I had heard all the stories so I ordered pickpocket-safe travel pants before our trip. By coincidence, SCOTTeVEST contacted me a few weeks before our flight to Europe and offered to send me free travel gear. I accepted their offer and canceled my order with the other company.
They sent me their bestselling Tropiformer jacket, a pair of travel pants, and travel boxers. All were equipped with hidden pockets that kept our passports, credit cards, and emergency cash safe during our 5-week stay in Europe. Thank you!
If you're looking to buy travel gear that keep your valuables safe, then I highly recommend SCOTTeVEST. Check out their range of products on Amazon to find travel garments that work best for you. If you walk around with a backpack, then I suggest putting a lock on it as well.
6. Be Wary of Scams
There are scammers in big cities everywhere and Athens is no exception. We heard about people who'll try to put unwanted bracelets on your wrists only to charge an exorbitant price for them after, something like EUR 20 for a friendship bracelet. If you have to tell them off, then tell them off. You can be firm without being rude.
Multiple people tried to approach us in Monastiraki Square offering things like flowers or even a simple fist bump. We had read about their m.o. so we didn't allow them to get close. You shouldn't either. Always be on the alert and never entertain suspicious people.
7. Check for Tour Vouchers
I purchase travel deals on things like tours and transfers from multiple sites, but for destinations in Europe, I only look at one site – Get Your Guide. They offer the biggest selection and have the most user-friendly website.
If you're looking for interesting tours and other travel-related activities in Athens, then I suggest searching through Get Your Guide.
8. Rent a Car
This is something we want to do on our next trip to Europe. It's easy to get around Greece and the EU by train or plane but if you'll be visiting multiple countries and want the most freedom, then you may want to consider getting a rental car.
We didn't rent one in Athens but we did in Santorini and Spain and it gave us the freedom to go wherever we wanted, whenever we wanted.
It was especially memorable in Spain as it allowed us to drive from San Sebastian to Santiago de Compostela at our own pace, making stops in cities and towns we fancied like Bilbao, Comillas, Oviedo, and Lugo.
If you're thinking of booking a rental car in Greece or anywhere else in Europe, then you can do so through Rentalcars.com.
9. Get Travel Insurance
Whether or not to get travel insurance is something we think about before every trip. For us, it depends on what we'll be doing. If we plan on doing anything that could cause us bodily harm, things like skiing or even riding a bicycle, then we'll definitely get it. If not, then we may not. It really depends on the trip.
When we do feel the need for travel insurance, then we'll buy it from SafetyWing or Heymondo. They're travel insurance providers frequently used by many long-term travelers. Click on the links to get a free quote from SafetyWing or Heymondo. Get 5% off on Heymondo when using our link.
10. Bring the Right Power Adapter
You'll find Type C or Type F electrical outlets in Greece so make sure you bring the right power adapters for your devices. Electrical voltage is 230V and the standard frequency is 50Hz.
Have Fun!
I'm not an expert on Athens by any stretch of the imagination but I do hope you find this guide useful. I'm only sharing the things I learned from our trip.
If you have any questions or suggestions, then please let us know in the comment section below. You're welcome to join our Facebook Travel Group as well.
Thanks for stopping by and have an awesome time exploring the ruins in Athens!
OUR GEAR
These are some of the things we brought with us to Greece. See what's in our backpack for a complete list of our travel gear. (NOTE: The following links are Amazon and other affiliate links.)
Disclosure
This Athens travel guide contains affiliate links, meaning we'll earn a small commission if you make a booking at no extra cost to you. We only recommend products and services that we use ourselves and firmly believe in. We really appreciate your support as it helps us make more of these free travel guides. Thank you!