I do a lot of food research before our trips. It's important for me to find the best local restaurants so I consult food blogs, crowd review websites, and online food magazines to get good leads.
With that said, research can only take me so far. No matter how many hours I spend poring over articles and reading reviews, I know nothing compares to local knowledge, knowledge that can only be found on the ground.
I think it goes without saying that locals know their food best. They know how something is supposed to taste. They can distinguish authentic from inauthentic and they know exactly where to take you to have those soulful and genuine dining experiences. Unfortunately, many are off the beaten path and aren't as easy to find on Google.
Those are the types of places I look for in every city so it's no surprise food tours often become the highlight of our trips. As expected, that was the case again in Barcelona when we went on this fascinating bodega tour with Culinary Backstreets.
Save This on Pinterest!
No time to read this now? Click on the red save button and pin it for later!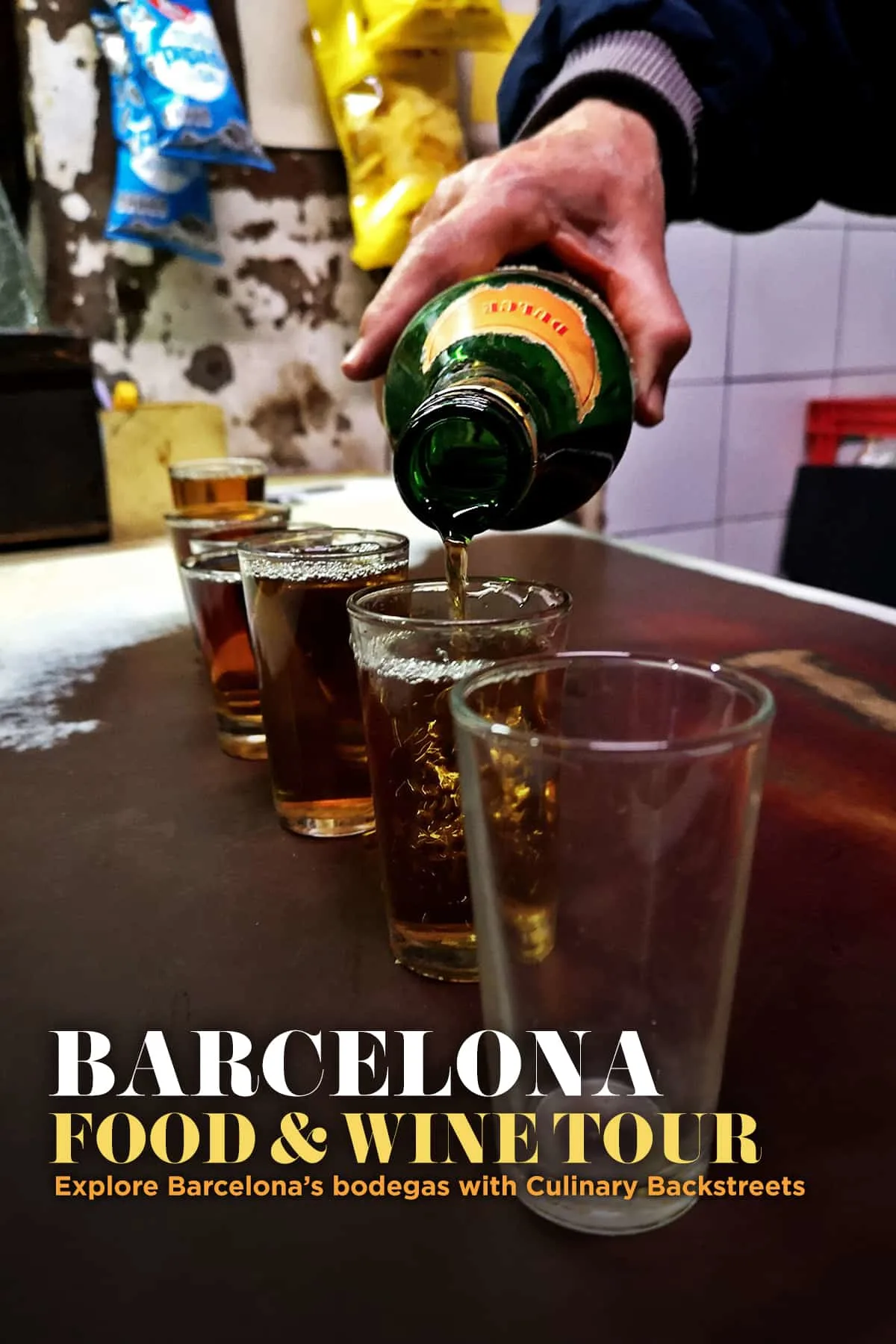 What is Culinary Backstreets?
Culinary Backstreets is one of the world's leading food tour providers. They offer what they call "Culinary Walks" in over a dozen cities around the world.
According to our guide Paula, it was founded in 2009 by two Americans living in Istanbul. It started off as a food blog called Istanbul Eats before quickly growing into the network of food writers, correspondents, and walk leaders that it is today.
When you go on one of their walks, you'll realize that Culinary Backstreets is about more than just food. Their aim is to highlight the human side of the story as much as the culinary, providing travelers with great food experiences while giving local establishments and food artisans the recognition and support they deserve.
If you have a sincere interest in food, and in the stories behind it, then you need to go on one of their Culinary Walks.
Bodega: Barcelona Barrio Tradition, in Bulk
At present, Culinary Backstreets is offering three walks in Barcelona. This bodega tour was the most appealing to us so we booked it on the afternoon of Ren's 50th birthday. What better way to celebrate this milestone than by traveleating our way through this city we've been talking about visiting for years?
The tour costs USD 135 per person and includes all food and drink. Available from Tuesday till Sunday at 11AM and 4:30PM, it lasts for 4.5 hours and can accommodate a maximum of seven people.
Follow the link for more information and to book this bodega tour. If you key in the FLY4FOOD promo code, then you'll get a 5% discount upon checkout. This applies to any walk on Culinary Backstreets.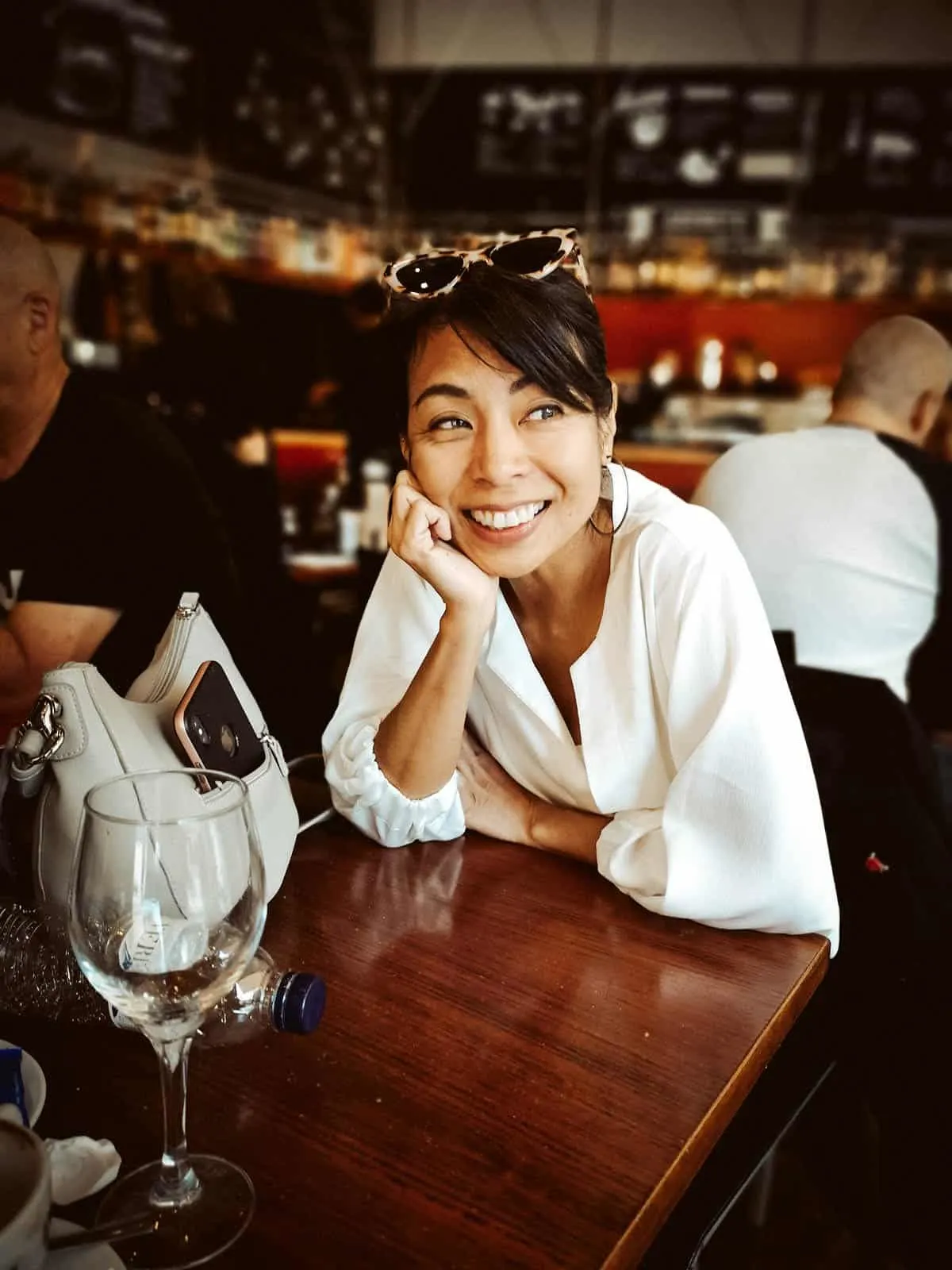 We met up with our walk leader Paula at the corner of Ronda de Sant Pau and Carrer de Sant Antoni Abat, just a few steps from Mercat de Sant Antoni. She's Culinary Backstreets's chief correspondent in Barcelona. Originally from the northwest of Spain, she's been living and working in Barcelona for almost 20 years and knows this city like the back of her hand.
*There were a couple of people on our tour that weren't part of our group. I've obscured their faces out of respect for their privacy.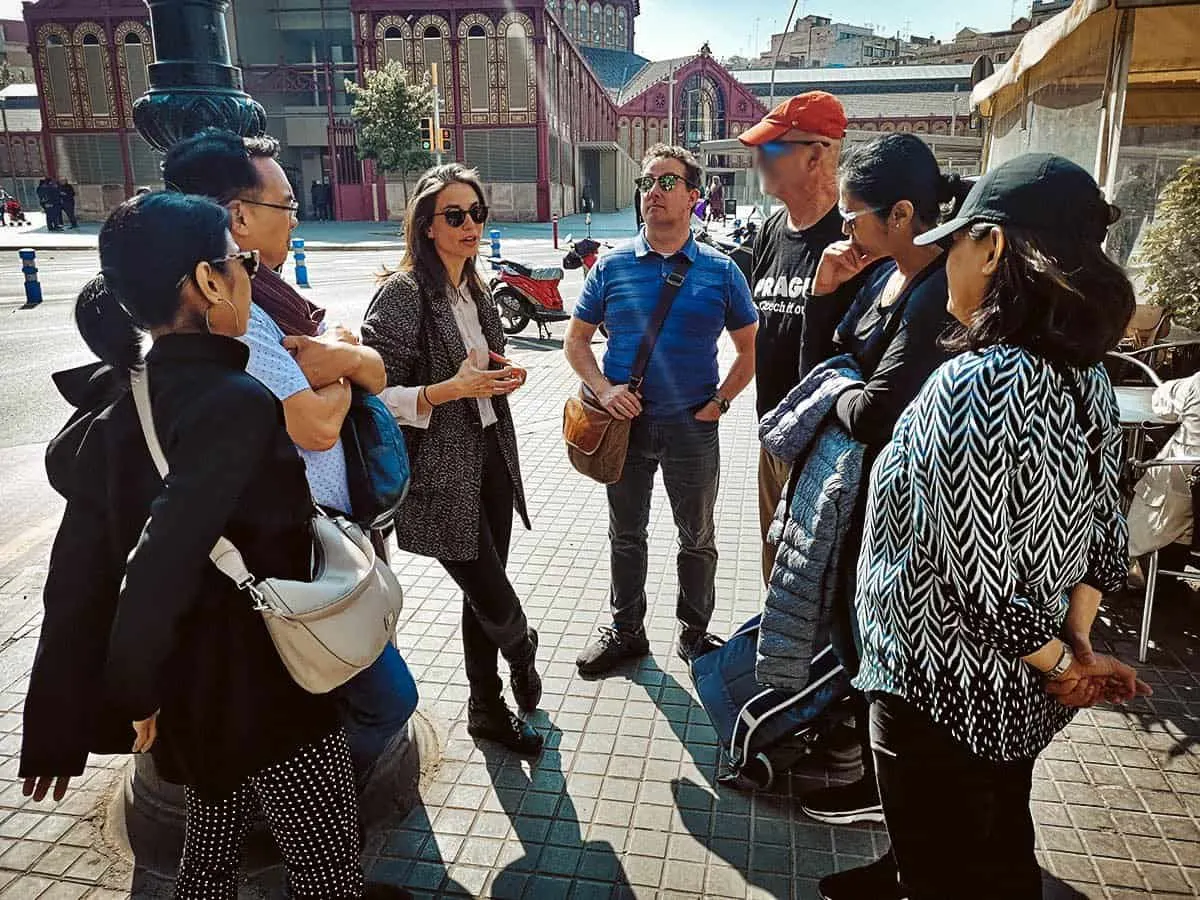 Mercat de Sant Antoni
Our first stop on today's tour was Sant Antoni Market, a traditional market in this beautiful red metal building in the Eixample Esquerra neighborhood. According to Paula, many Spanish markets these days have been transformed into food halls. The locals didn't want that to happen to this market, so inside you'll still find stalls selling a range of products like clothes, shoes, and houseware.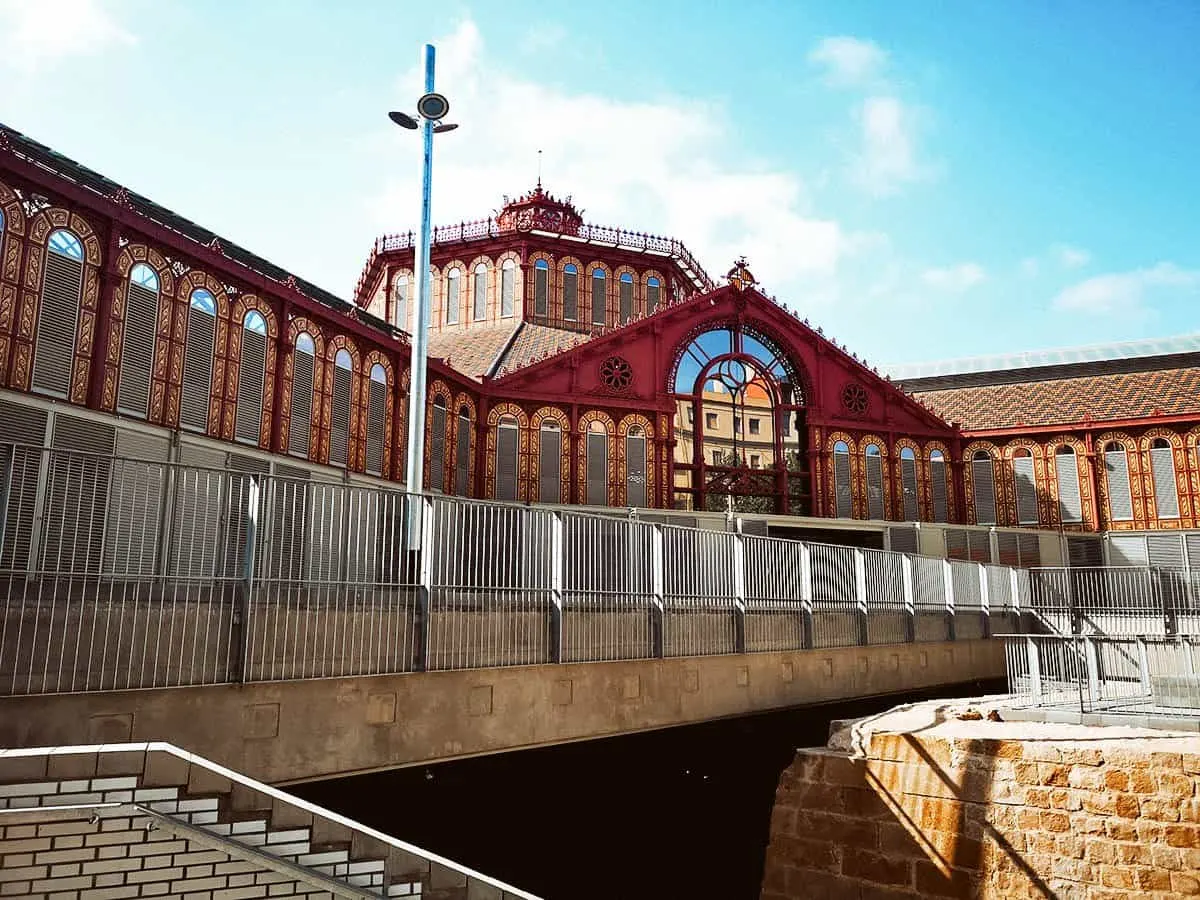 The market is busiest early in the morning. By the time we got there, the market was virtually empty with many of the stalls already shuttered and closed.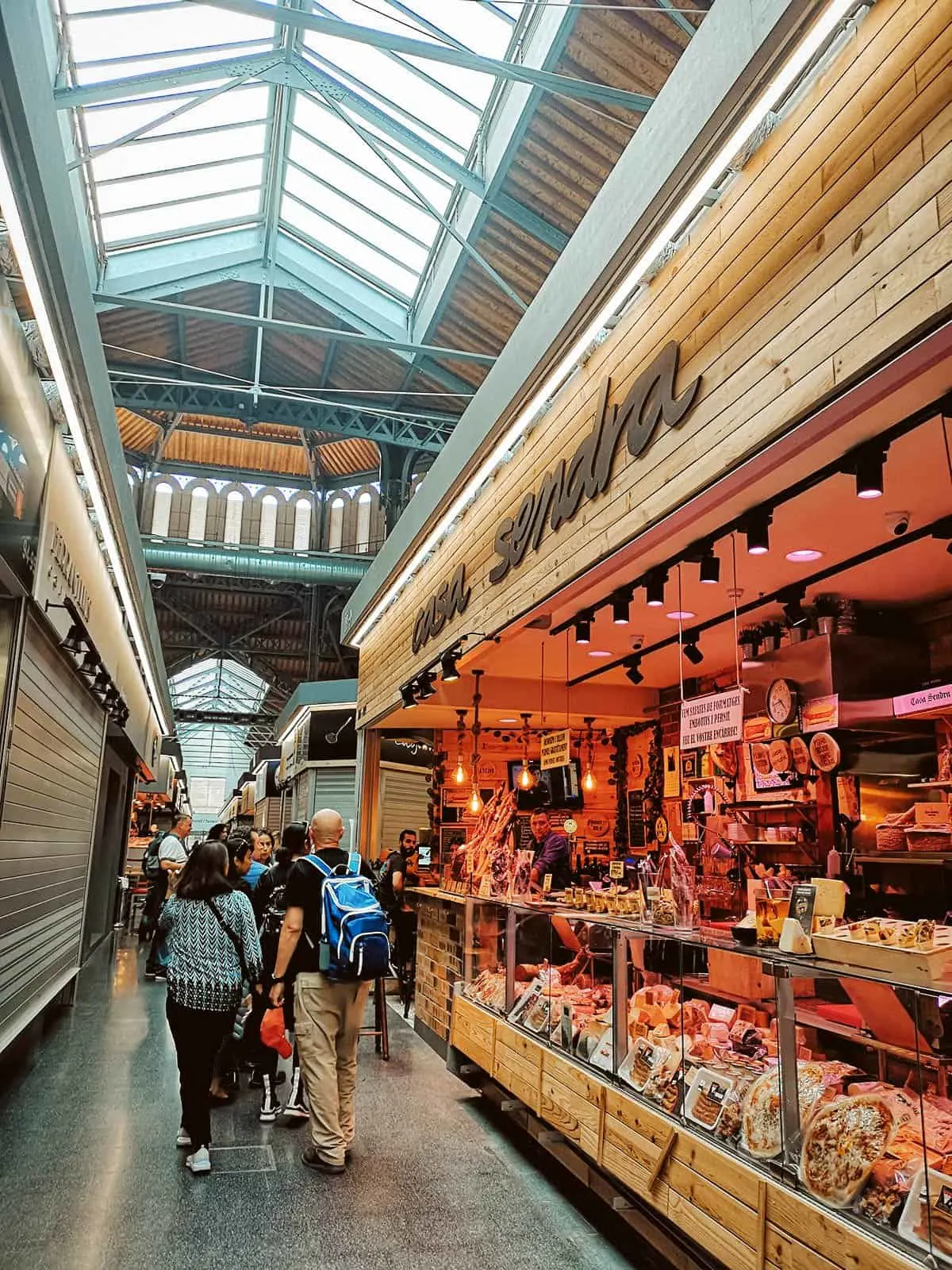 Barcelona is a coastal city so seafood is abundant here and never in short supply.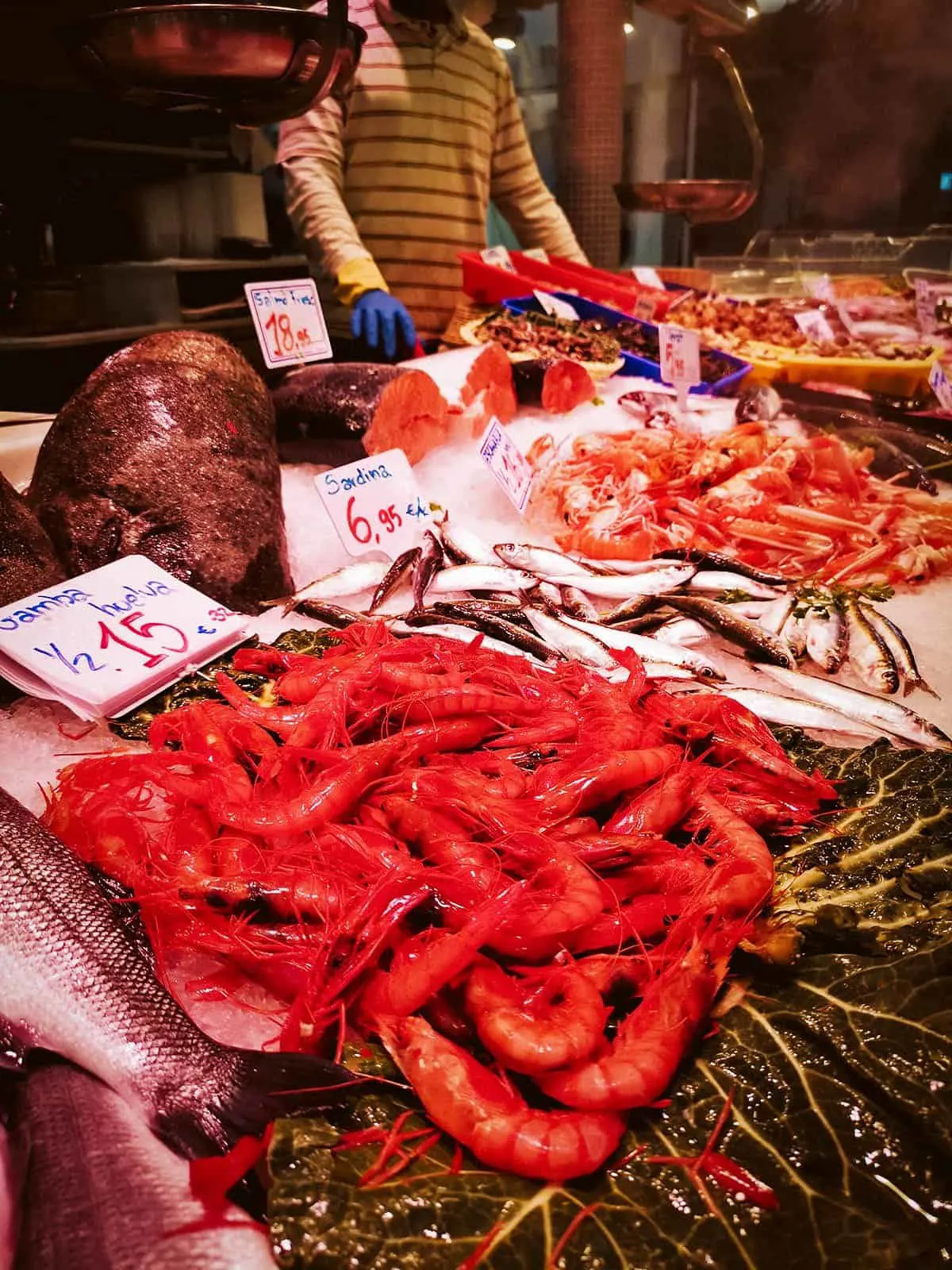 Paula took us to this family-run stall that specializes in bacalao or dried and salted codfish. Like Portugal, bacalao is popular in Barcelona and a staple in Catalan cuisine.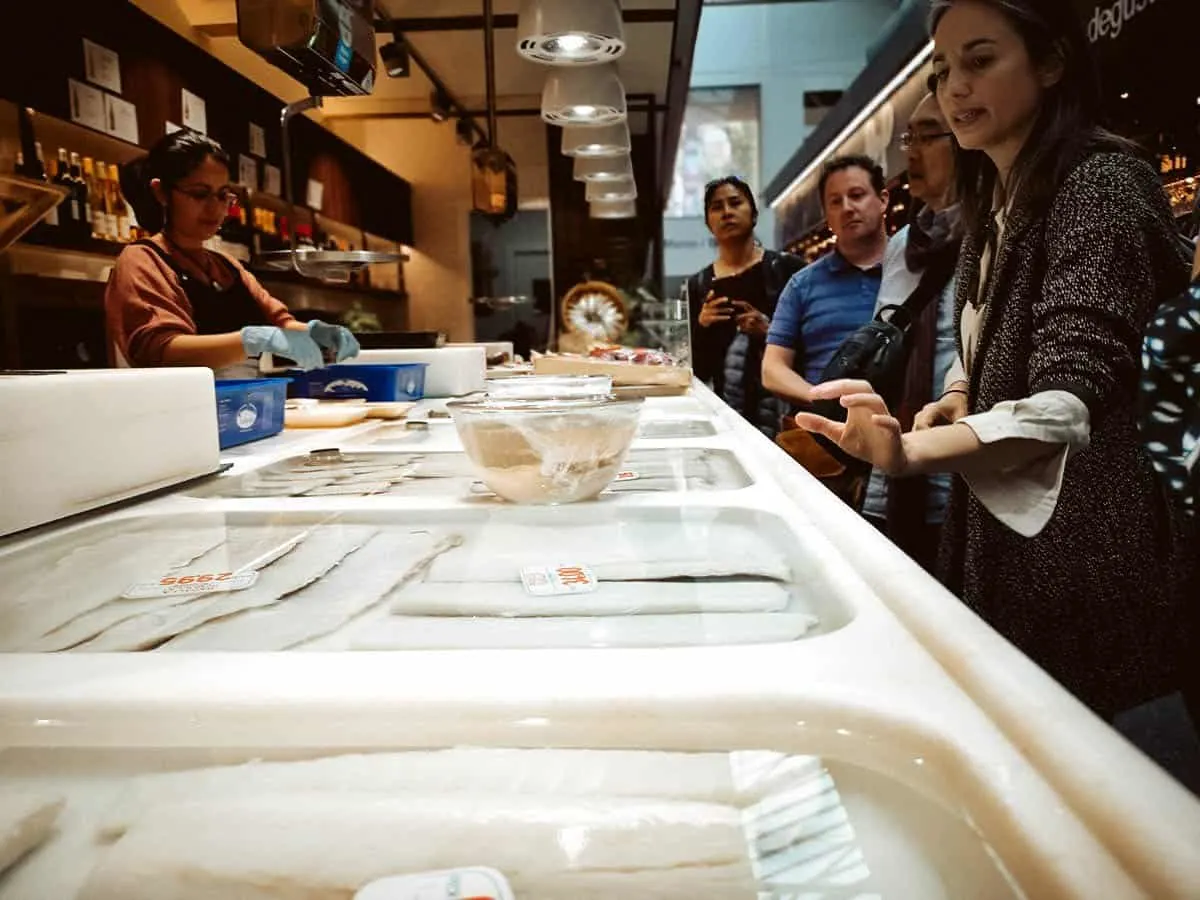 It's funny how many of today's most beloved delicacies started off as poor man's fare. The popularity of bacalao began in the middle ages, when it was preserved under salt for many months, making it a cheap and accessible food for the lower classes. Now it's a staple food in all of the Iberian peninsula.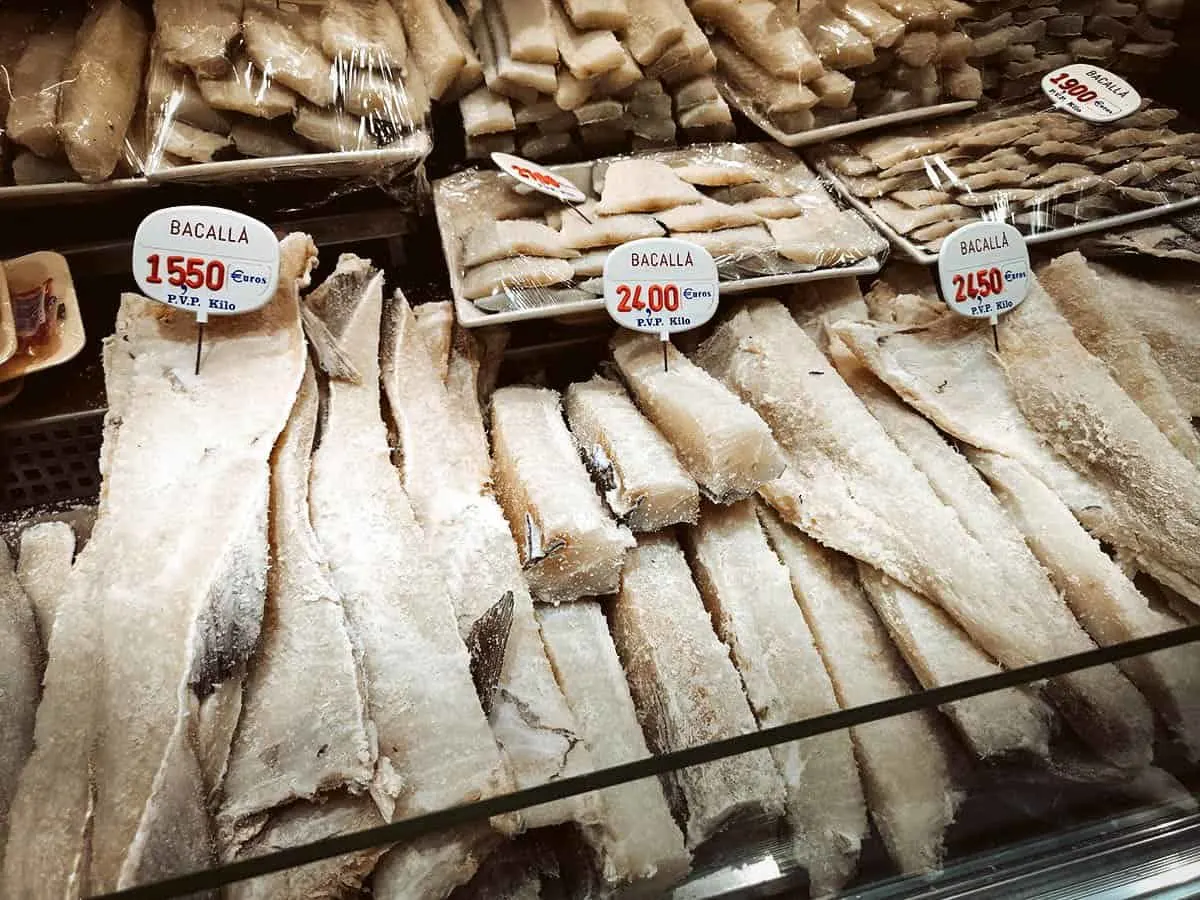 Bacalao fritter, our first bite from today's tour. Delicioso!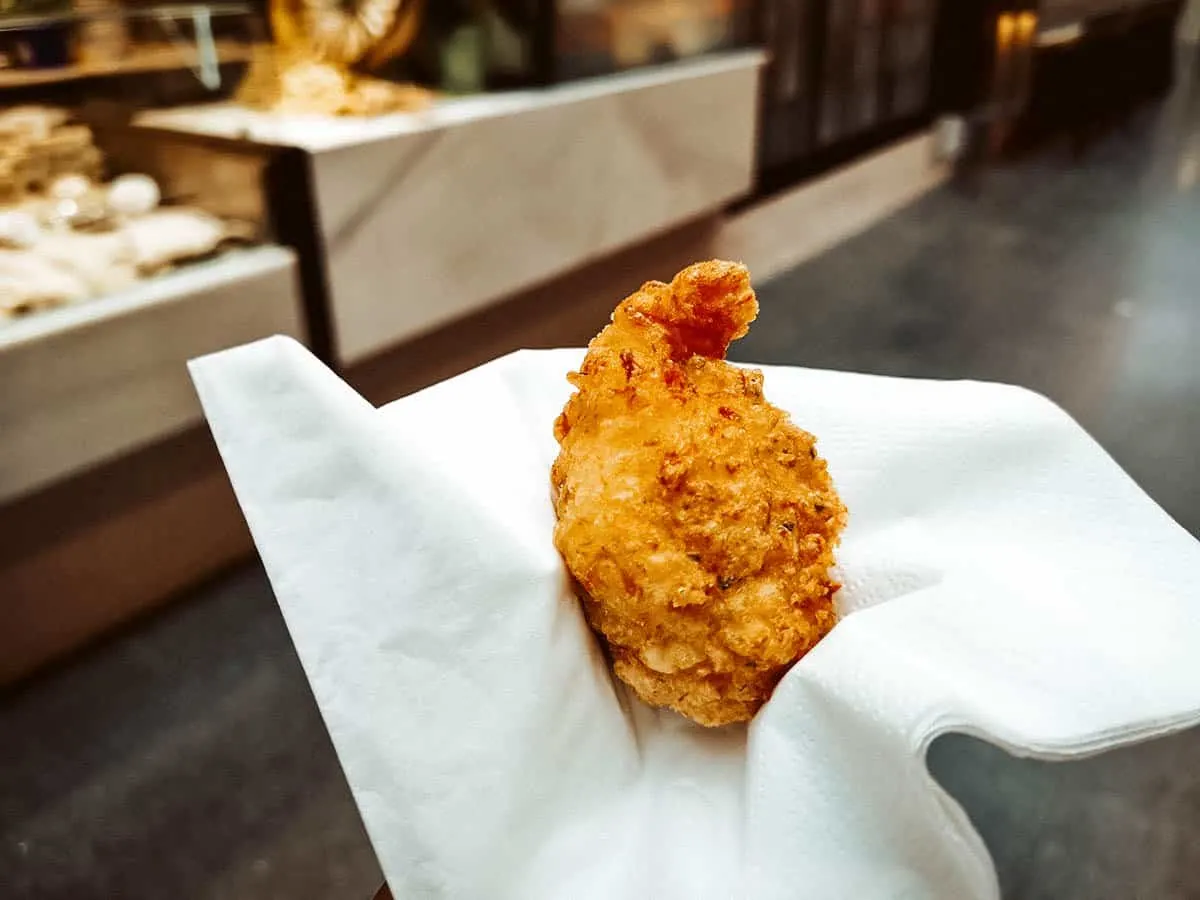 PAULA: "And this stall has been selling fresh and dried prod…WHAT'S THAT??" *steals a potato*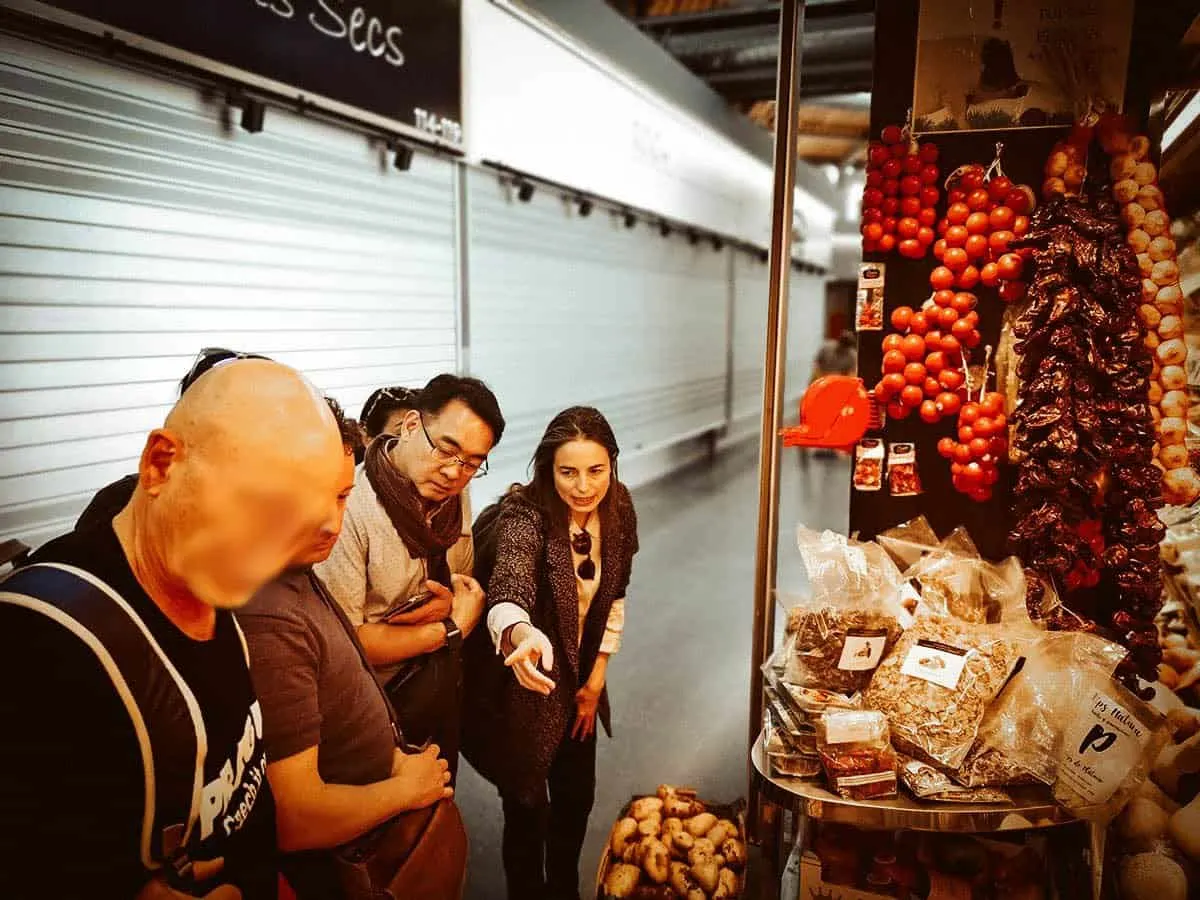 What is a Bodega?
After Sant Antoni Market, we proceeded to our first bodega. Strictly speaking, a bodega refers to the warehouse where wine is stored. It literally means "wine shop or cellar". But based on what we learned on this walk, the term seems to encompass much more than that. In the words of Culinary Backstreets:
"A bodega can be a corner store or a corner bar, or sometimes even a wine cellar with a small kitchen serving refined riffs on traditional Spanish foods. In Barcelona, a bodega is all of these, but most of all, it is the beating heart of the neighborhood."
If local experiences are what you're after in Barcelona, then it doesn't get any more authentic than a visit to a neighborhood bodega.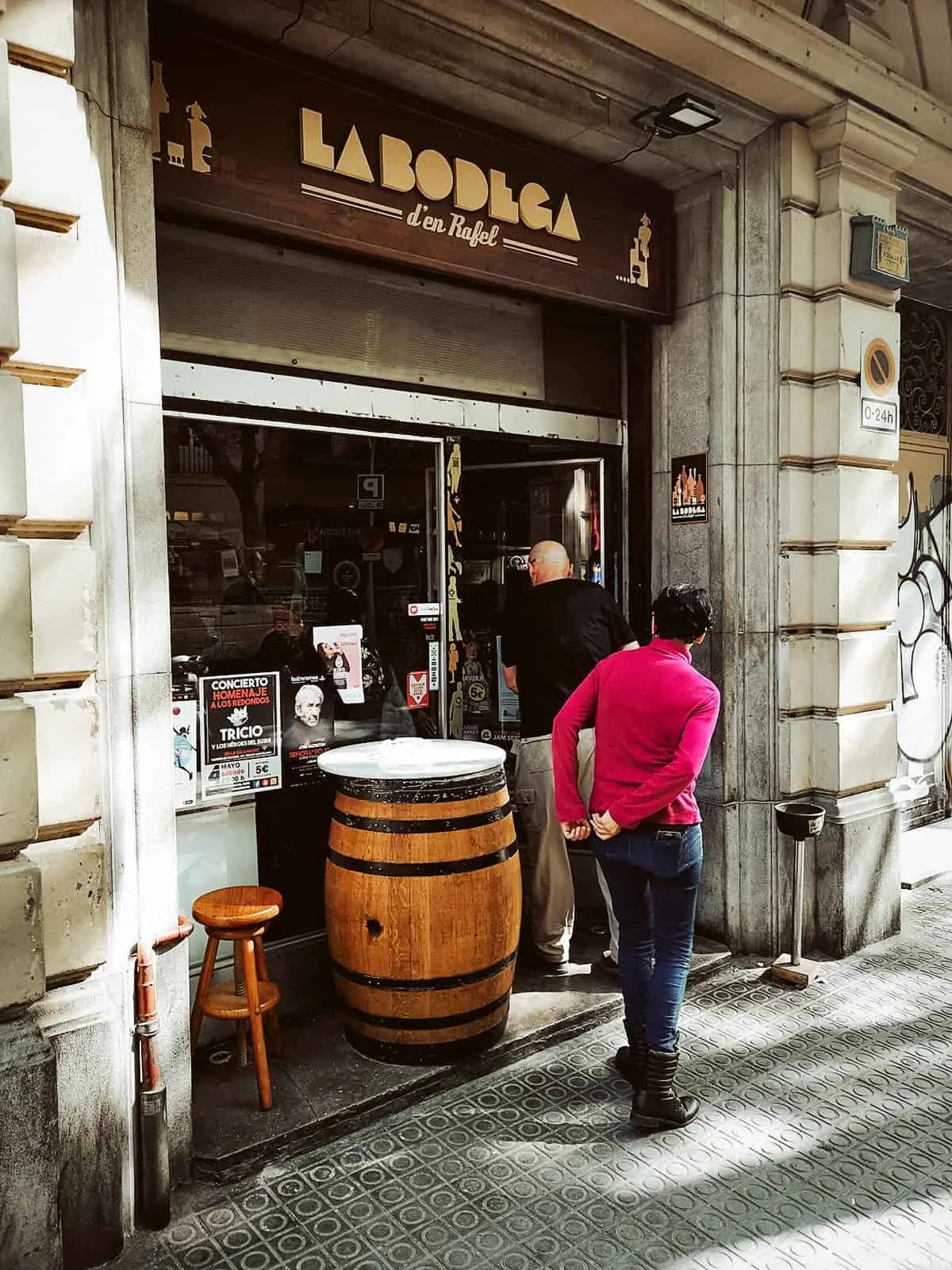 Bodegas seem to be informal by nature, a place where locals go to have a quick drink or bite to eat before going on their way. Many of the bodegas we went to have a long history as well. According to Paula, the tiles on the right are still the original tiles from when this bodega first opened many decades ago.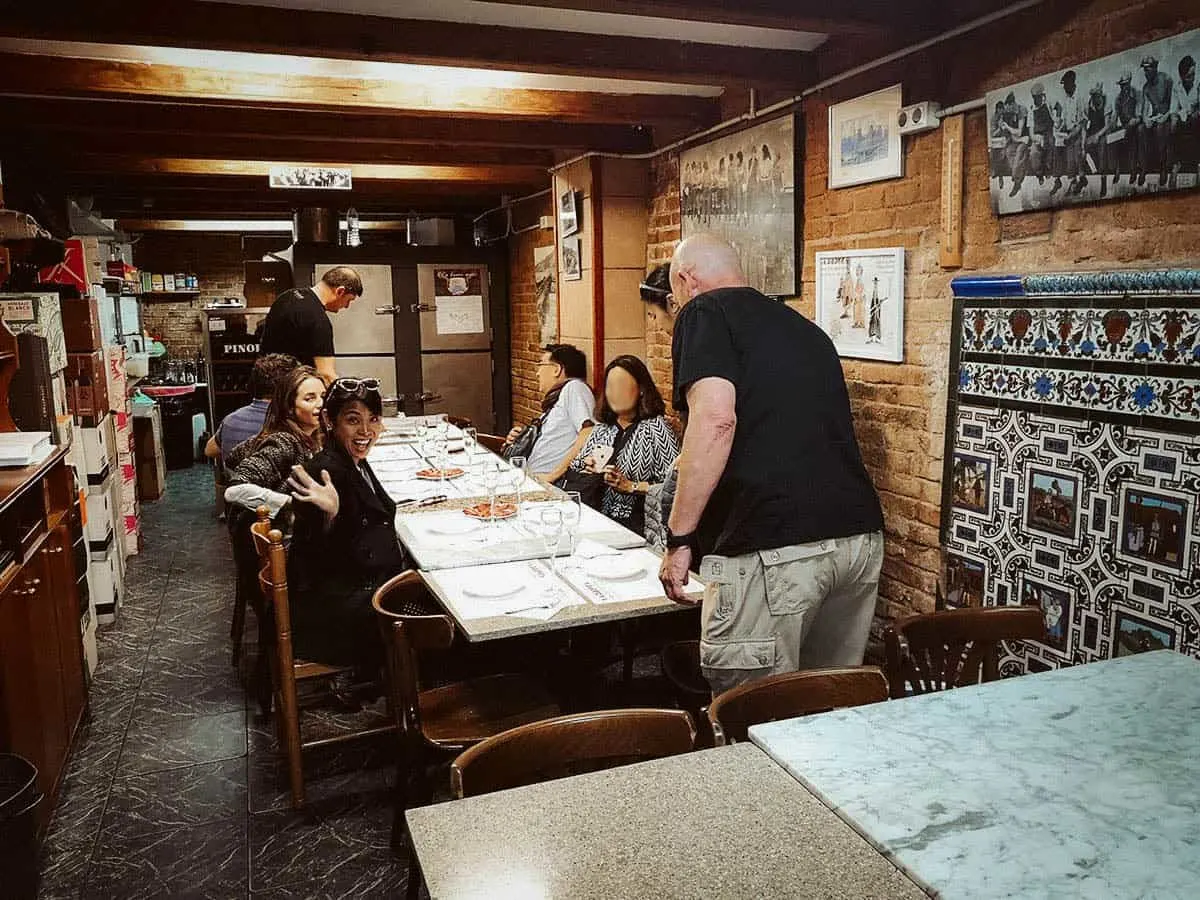 A beautiful plate of jamon Iberico, one of the absolute best things you can have in Spain. If you've been to Spain or want to go to Spain, then you already know what this is and why it's so prized.
Considered the finest cured ham in the world, jamon Iberico is made from black Iberian pigs that are allowed to roam freely and feed on a natural diet of grass, herbs, acorns, chestnuts, and roots. The very best variety is known as jamon Iberico de bellota, bellota meaning "acorn". Those pigs are fed an exclusive diet of acorns in the days leading up to their slaughter.
Paula explained that the ham is salted and left to dry for two weeks, before being rinsed and left to dry for another four to six weeks. Depending on the producer, the curing process can then take anywhere between 12-48 months.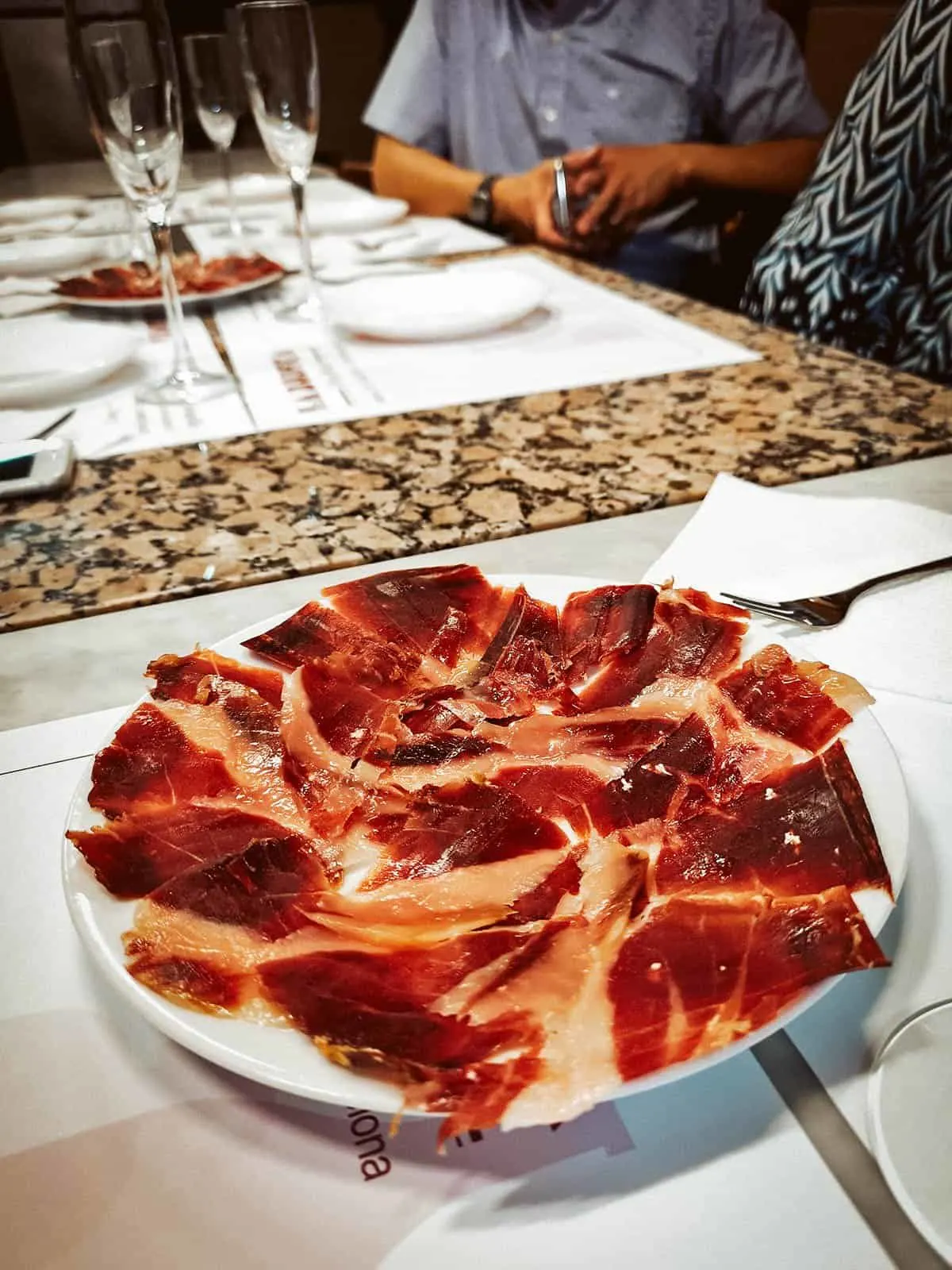 Together with our jamon Iberico, we were served plates of what I think were bacalao and pa amb tomaquet. Pa amb tomaquet or pan con tomate is bread that's been rubbed over with garlic and tomato before being seasoned with salt and olive oil. It's considered a staple dish in Catalan cuisine.
With this being a bodega tour, these flutes of cava or Spanish sparkling wine would be the first of many drinks we'd be enjoying on this walk. ¡Salud!

It was early in the tour so we could still walk in straight lines.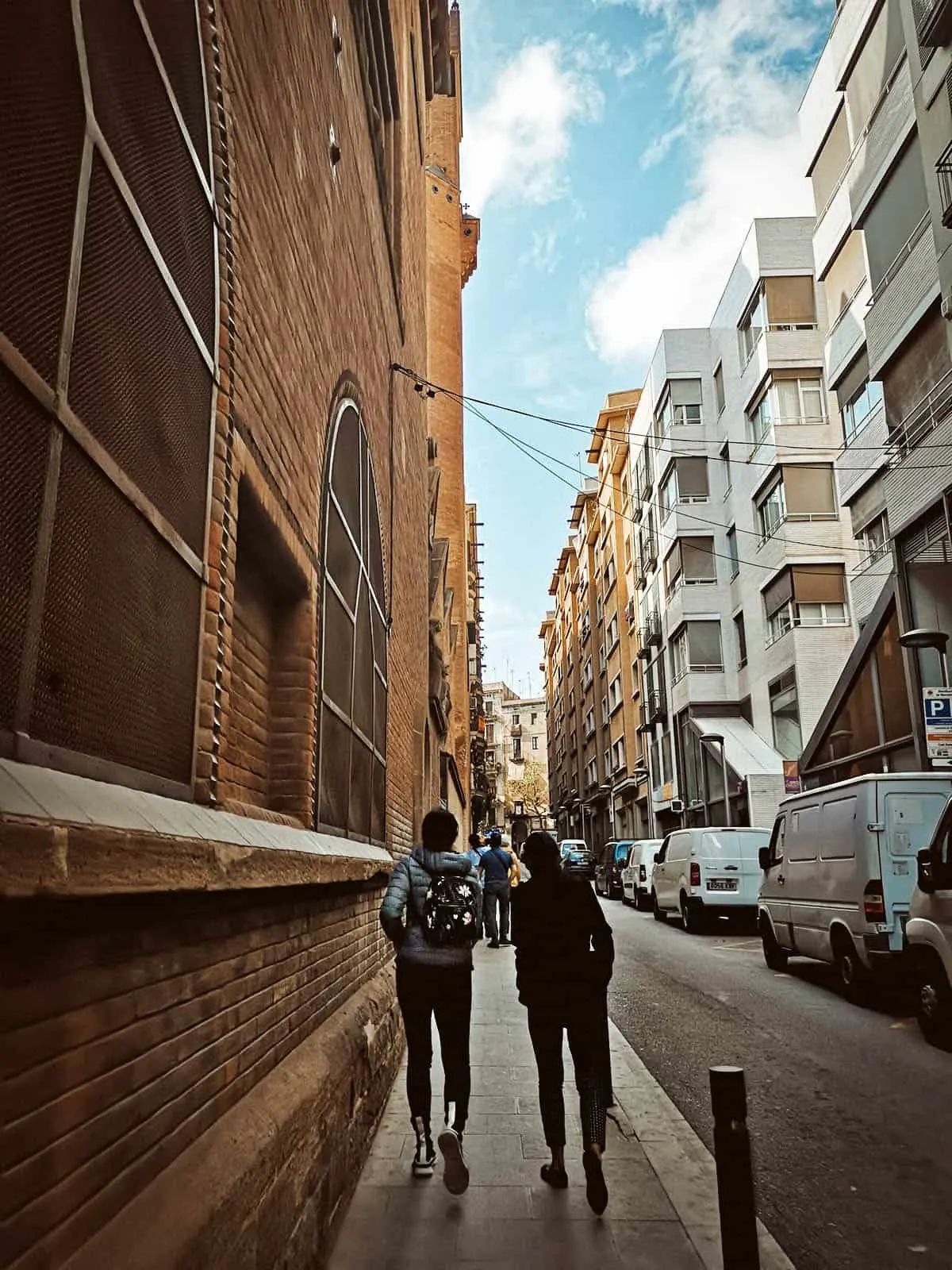 Our second bodega which for me, was one of the most memorable.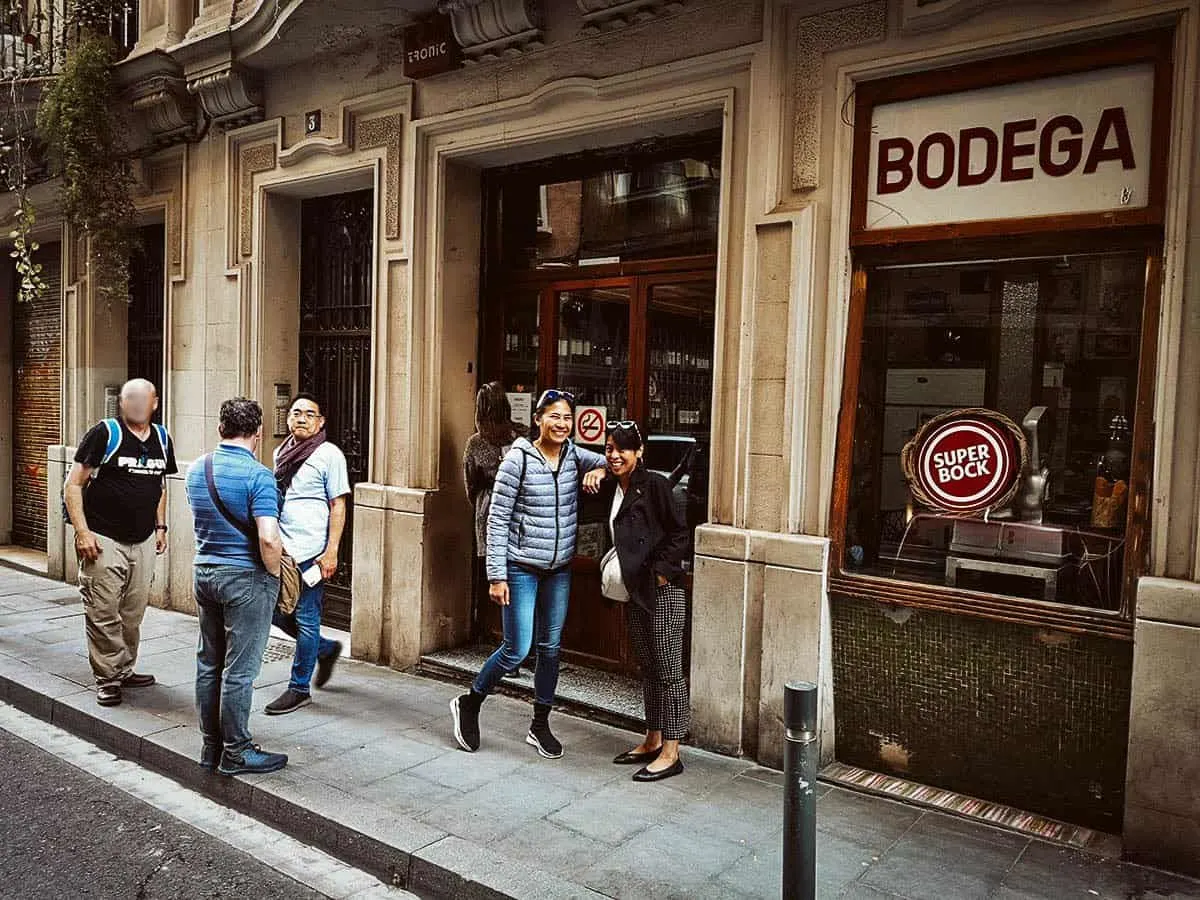 This bodega was tiny, with just two or three small tables and a bar.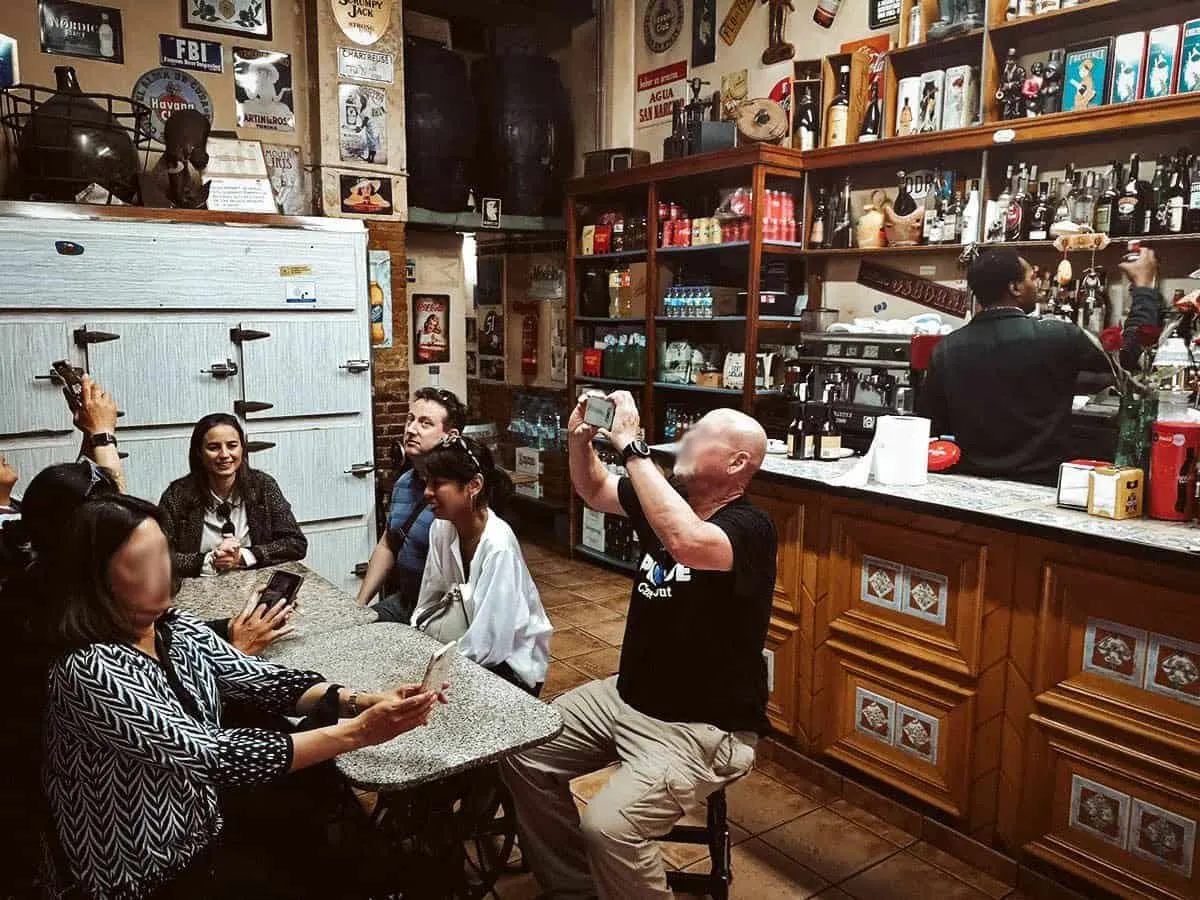 Barrels by the ceiling and an old refrigeration unit by the wall. This bodega had so much character.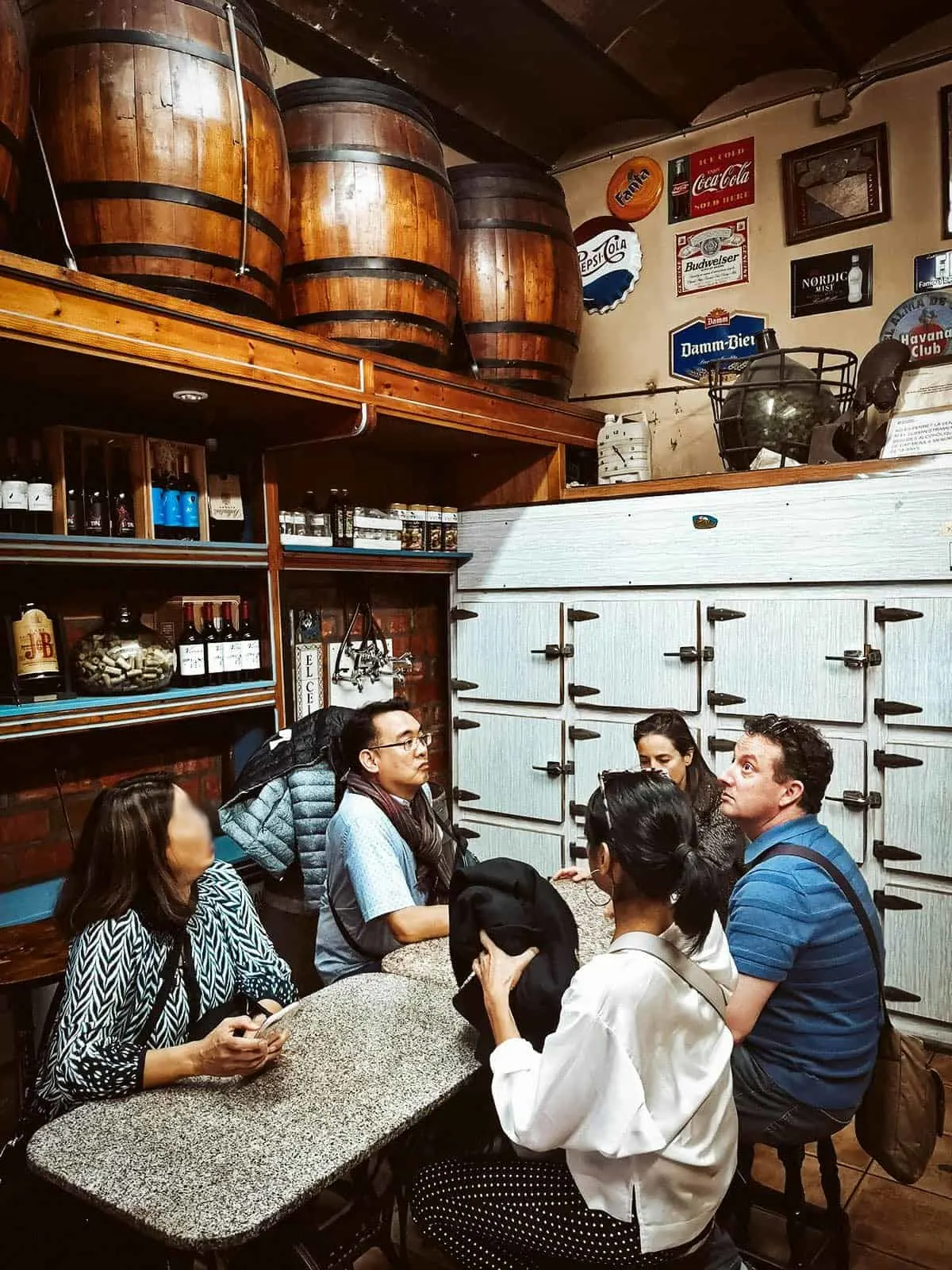 At this bodega we'd have carajillo, which is coffee spiked with brandy, whisky, or anisette. According to folklore, carajillo stems from the word coraje, which means courage in Spanish. The drink is said to date back to the time when Cuba was a Spanish province, and troops would spike their coffee with rum to give them courage.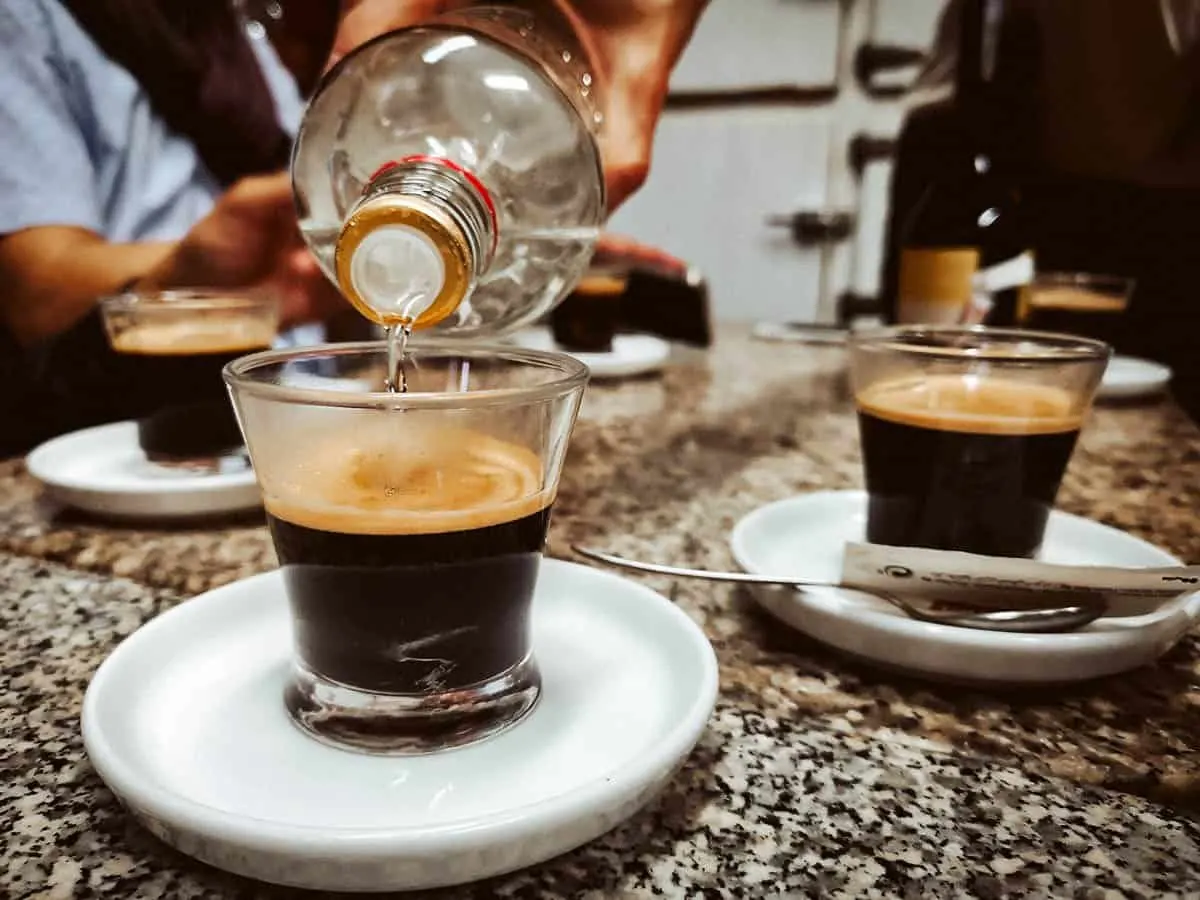 Beautiful, isn't it? It's a bottle of Vicente Bosch Anis del Mono Dulce, or sweet anise. It's noted for the monkey figure on its label which according to Paula, was viewed as an exotic creature at the time. From what I understand, Vicente Bosch is considered one of the finest brands of Spanish anise liqueur. It was delicious mixed with the robust black coffee.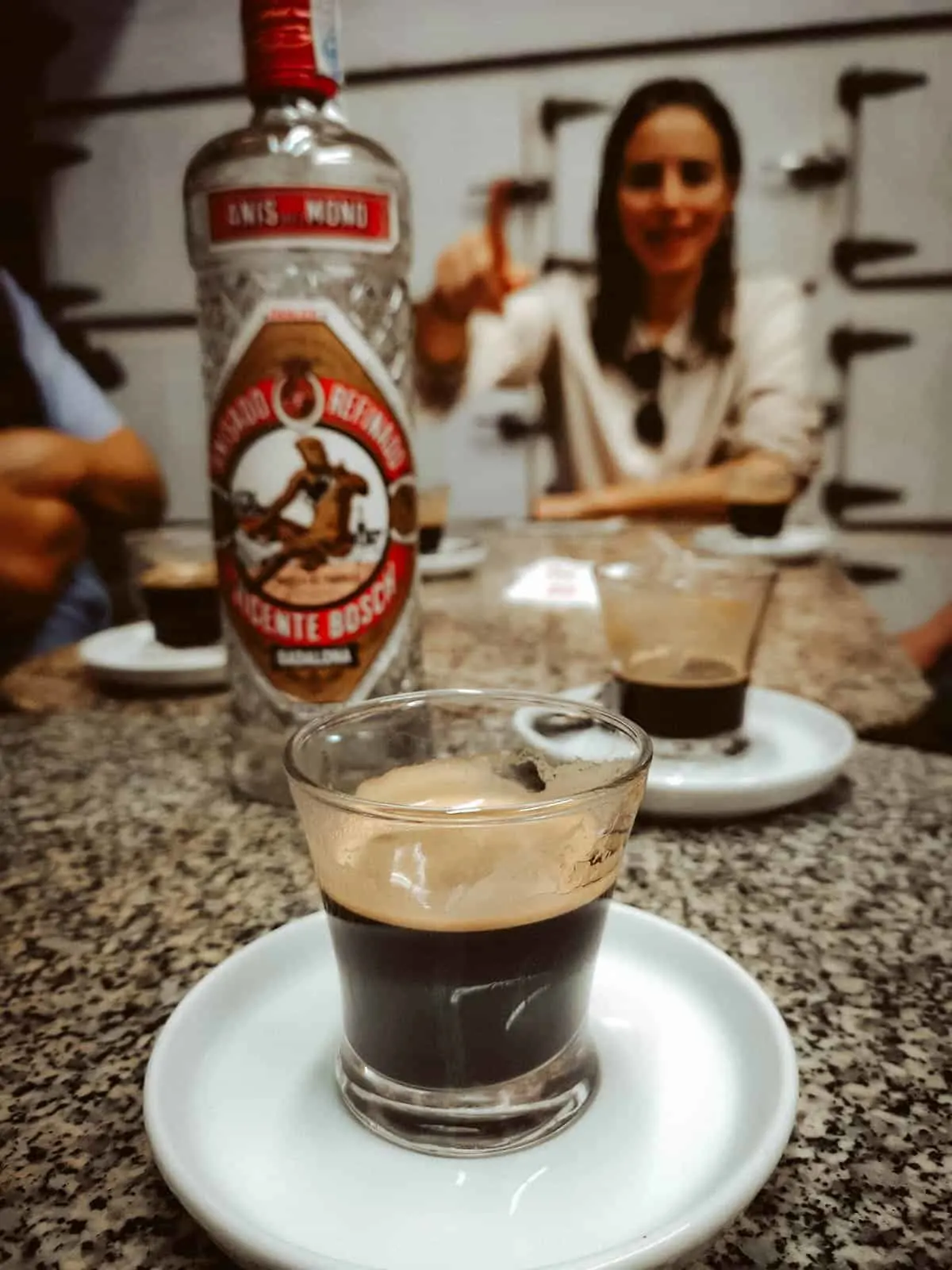 On to the next bodega which was one of the biggest we'd visit on this walk.

Here we'd learn how to drink from a porron, which is a traditional glass wine pitcher typical of Catalonia.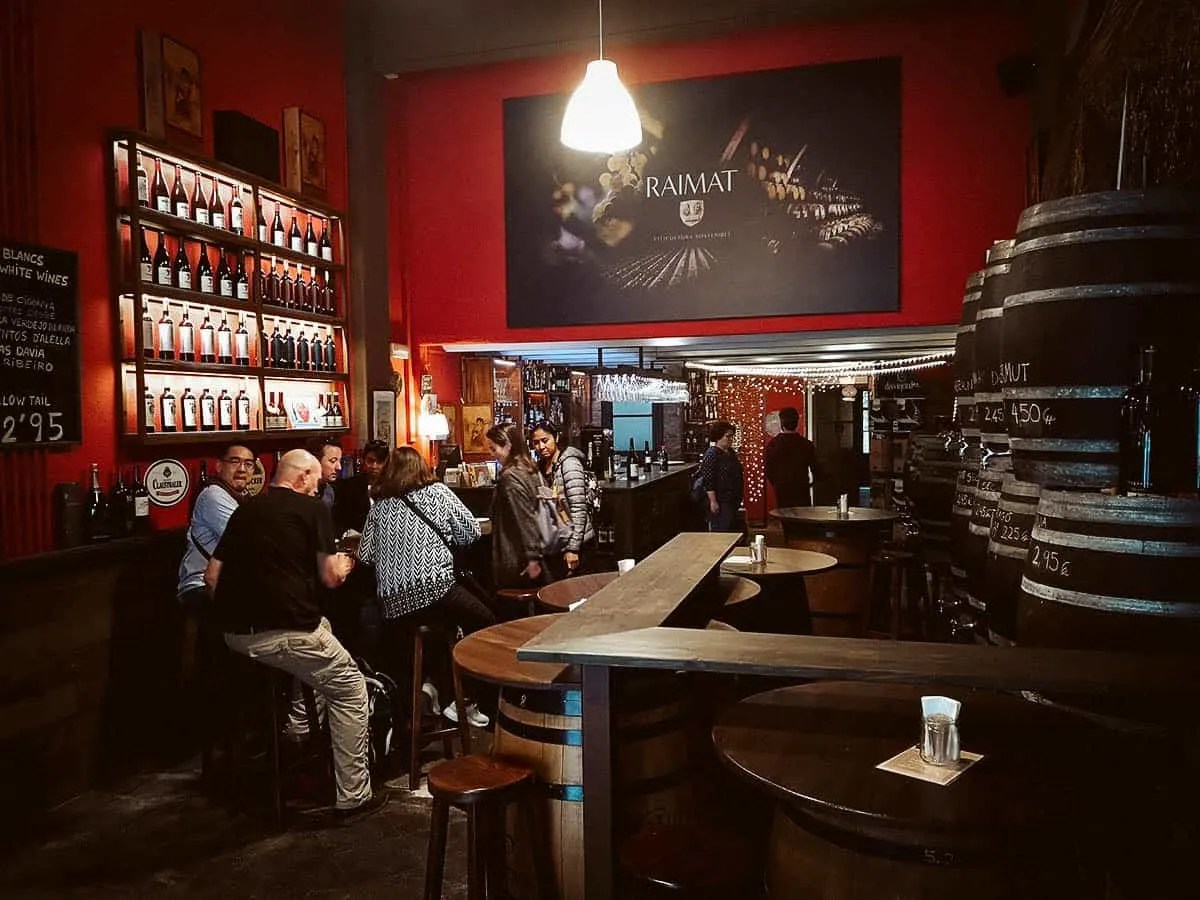 Barrels of goodness waiting to make people like me very happy.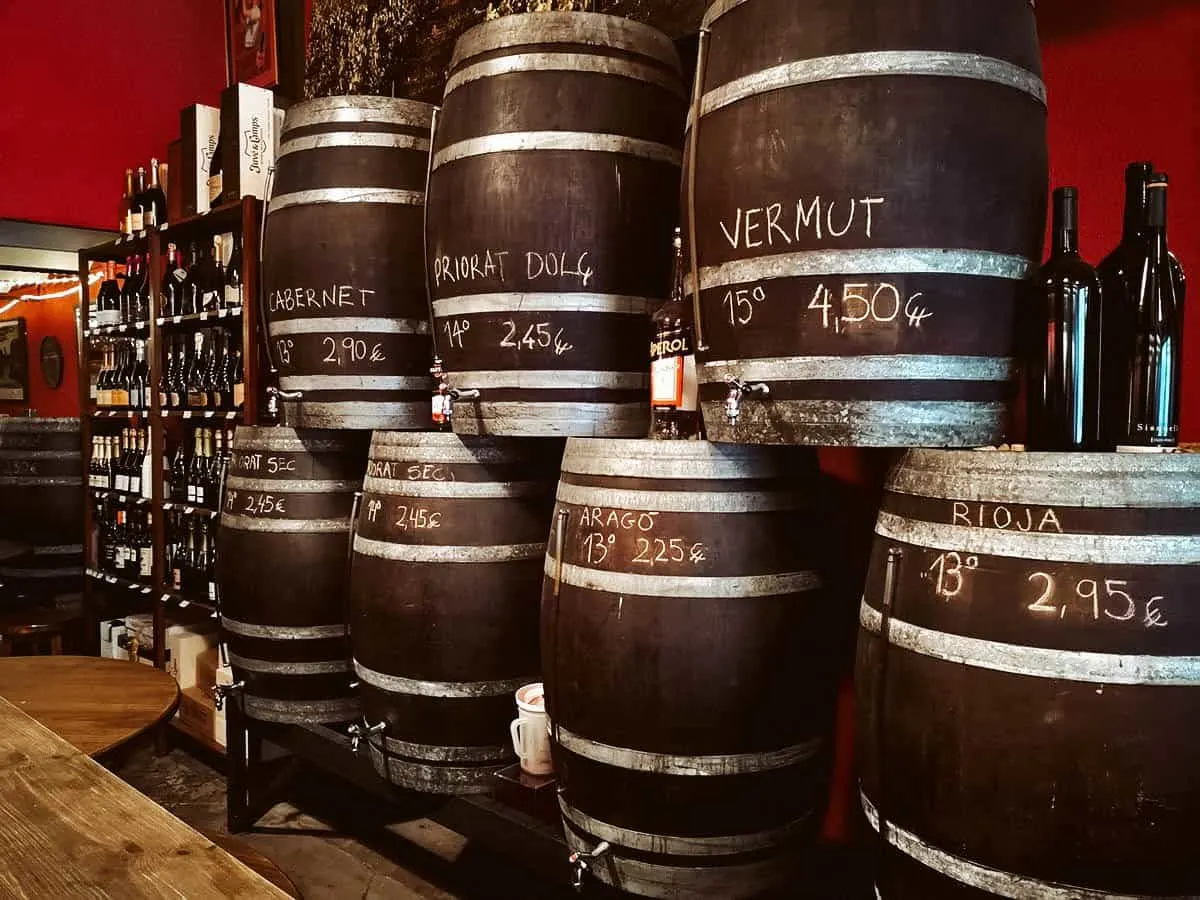 Here's Paula demonstrating how to properly drink wine from a porron. You start by bringing the spout close to your mouth mouth then tilting it forward slowly until the liquid starts pouring out. You're then meant to tilt your head back while drinking, all the while keeping your other hand beneath your chin to prevent any spillage from soiling your clothes. She makes it look easy but trust me, it's harder than it looks.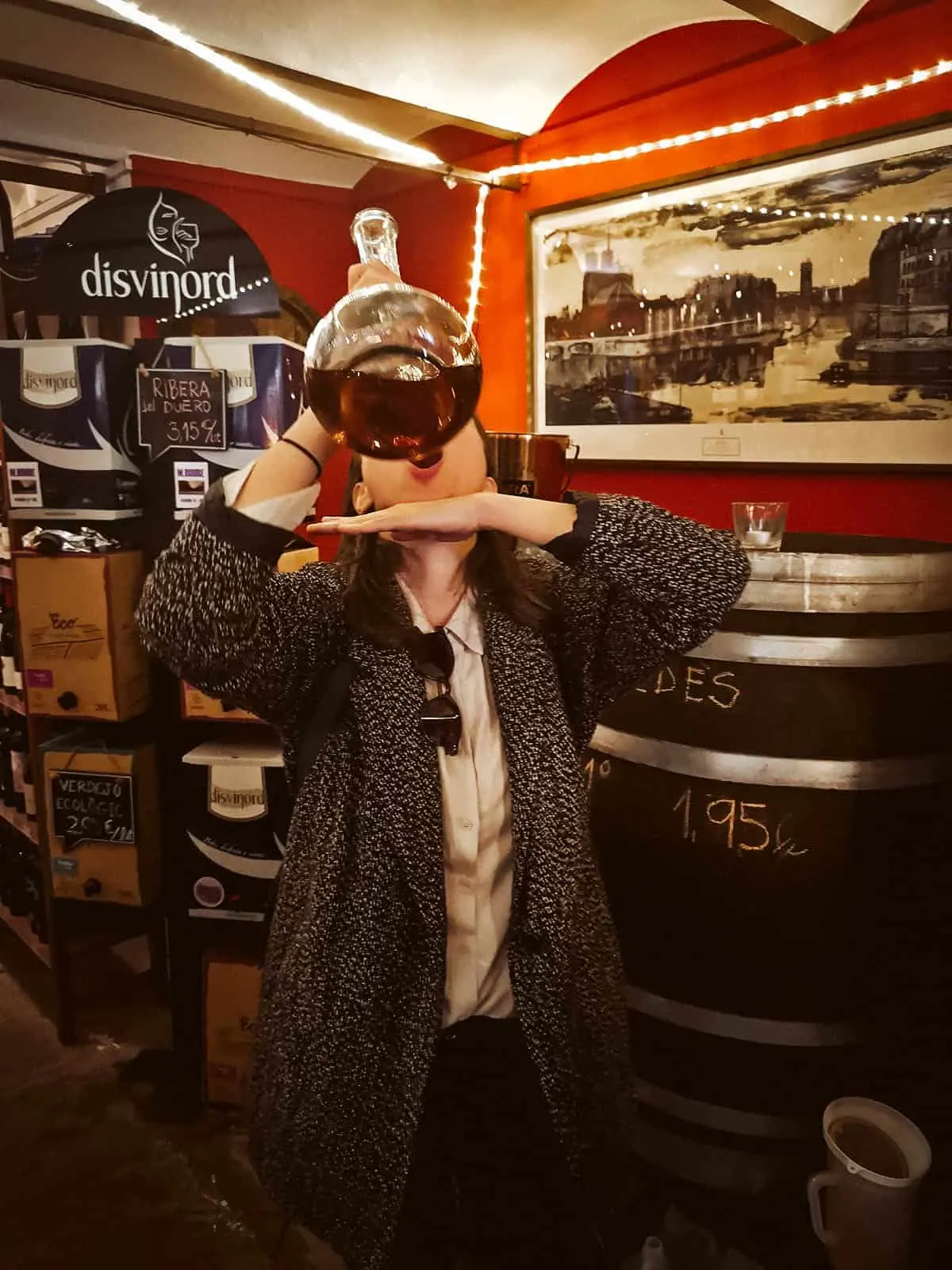 My brother-in-law Eamonn looking terrified as he gives it a go. The point is to not let the spout touch your mouth, which is exactly why the porron was invented. It fosters communal drinking by allowing people to take swigs of wine from the same vessel without having it touch their lips.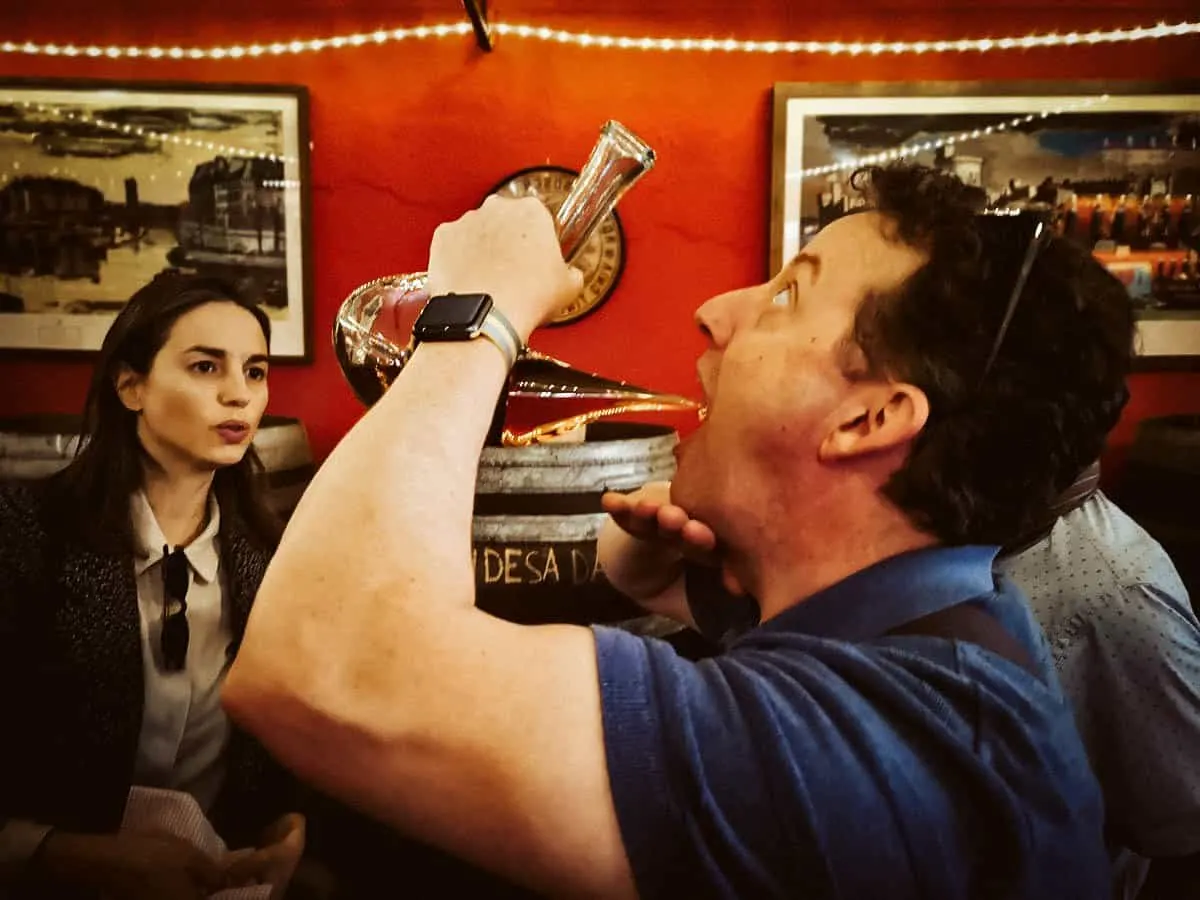 Here's Ren showing us all how it's done. Chug chug chug!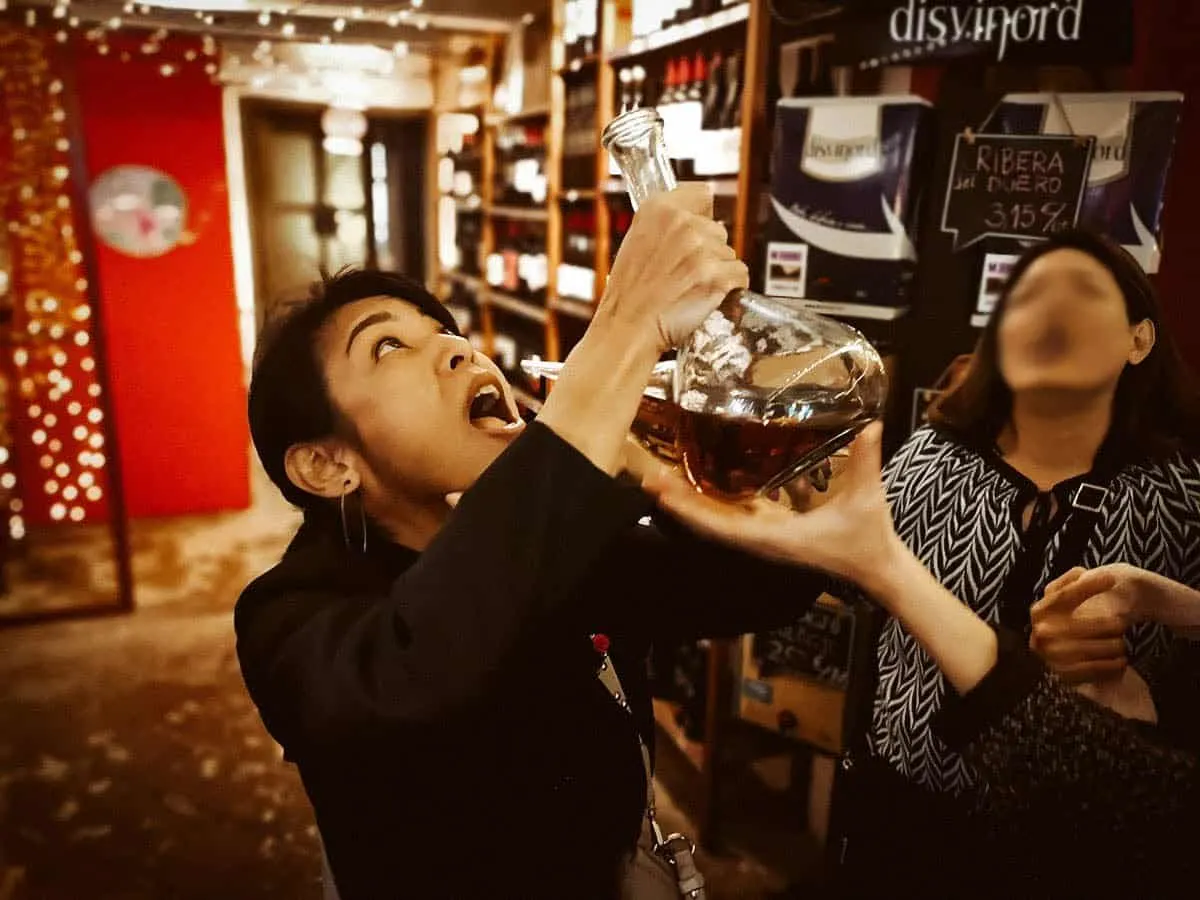 Isn't it beautiful? I would have loved to bring one home as a souvenir. I read that porrons were popular till the mid-twentieth century, but the tradition is slowly being lost. It's now viewed as more of a novelty than anything.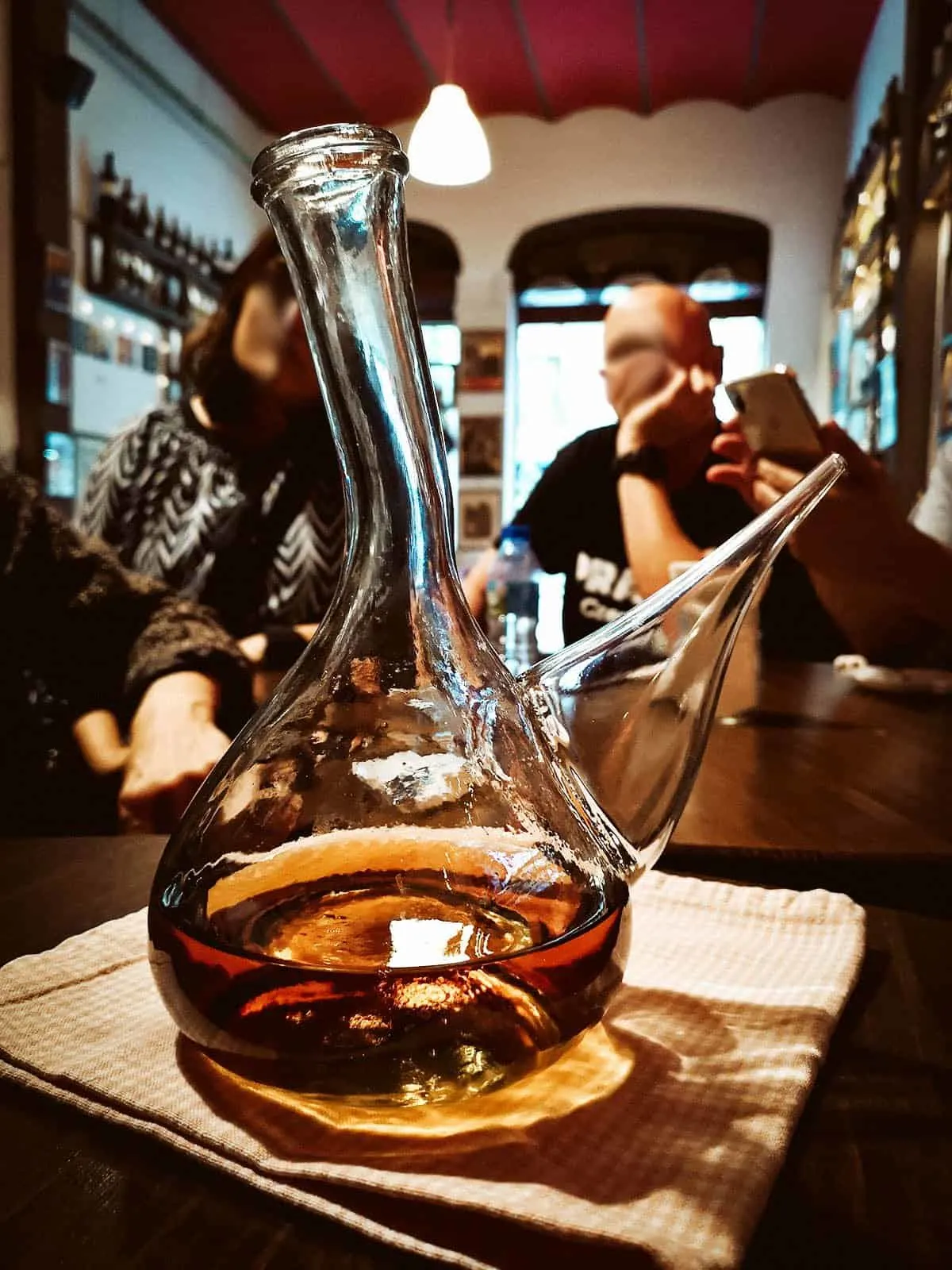 Back to glasses, this one filled with another white wine. I'm not a seasoned wine drinker but everything we had on this walk was fantastic. Paula is a wine enthusiast who's worked as a wine writer so she really knows her stuff.
We were served these conservas of sardines to pair with the white wine. Conservas are tin cans of seafood commonly eaten at tapas bars in Spain and Portugal.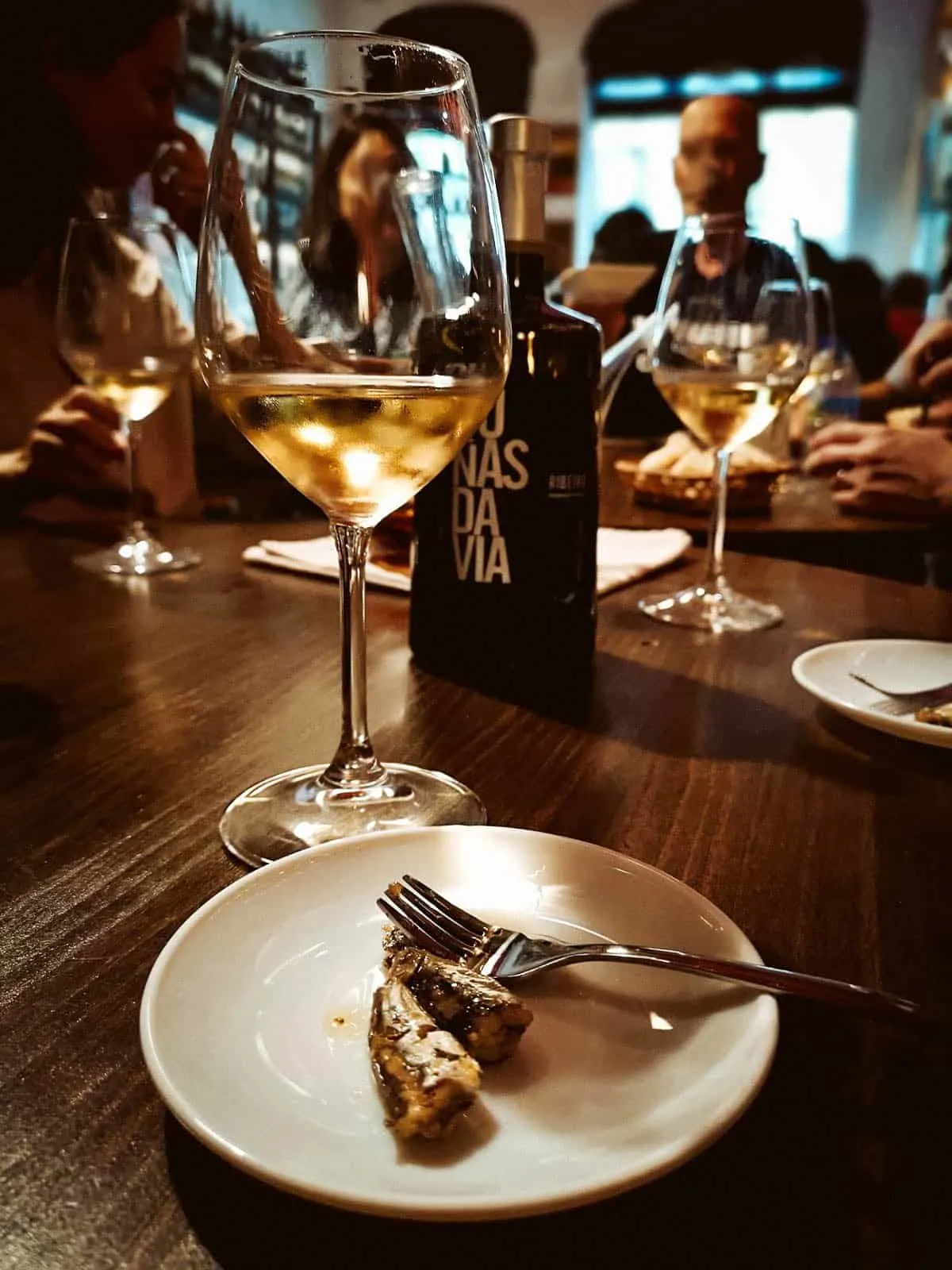 The white wine was followed by a house red served with sausages and picos or Spanish bread sticks.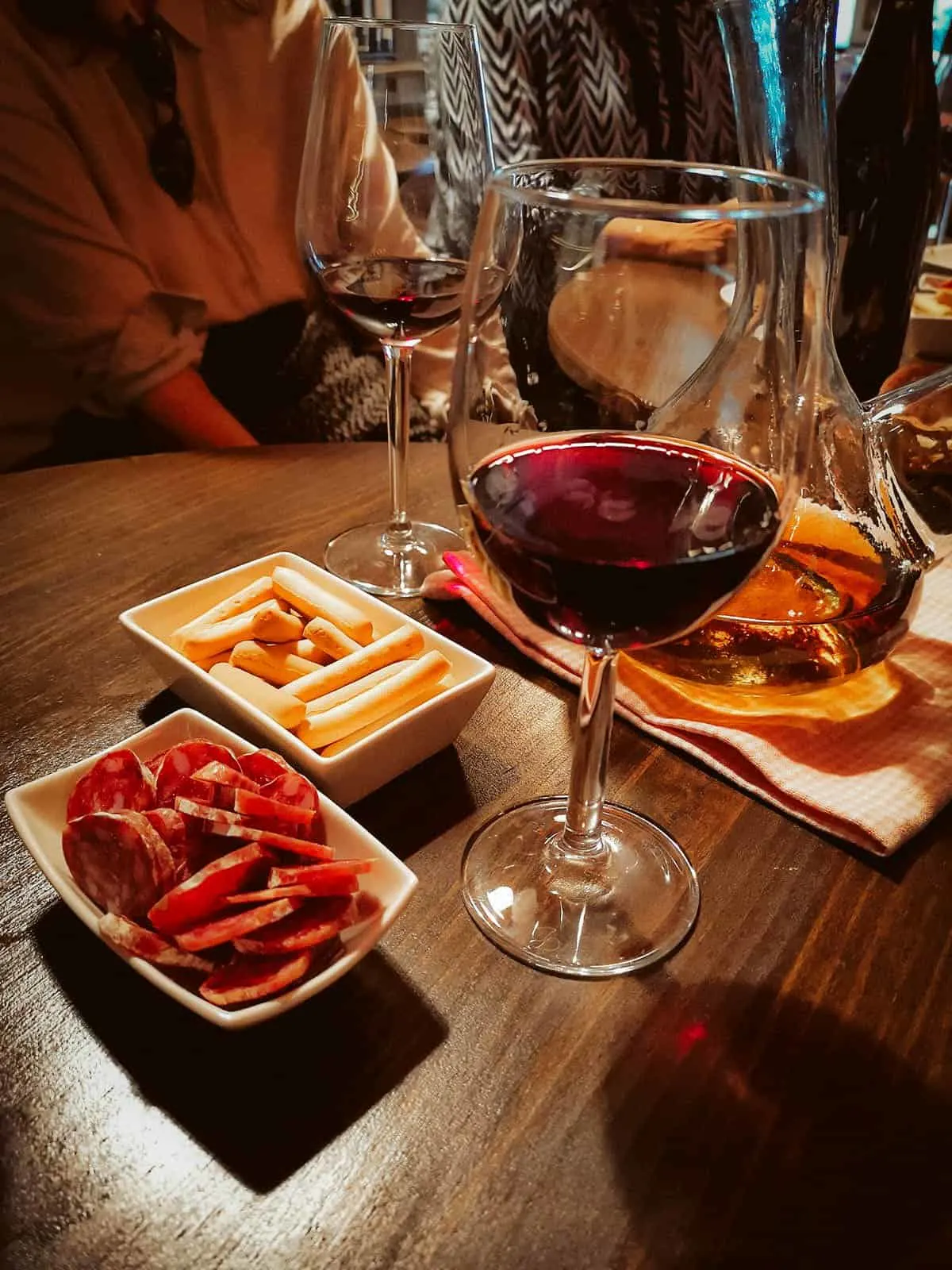 Speaking of conservas, our next stop was this family-run bodega also known for serving different types of conservas.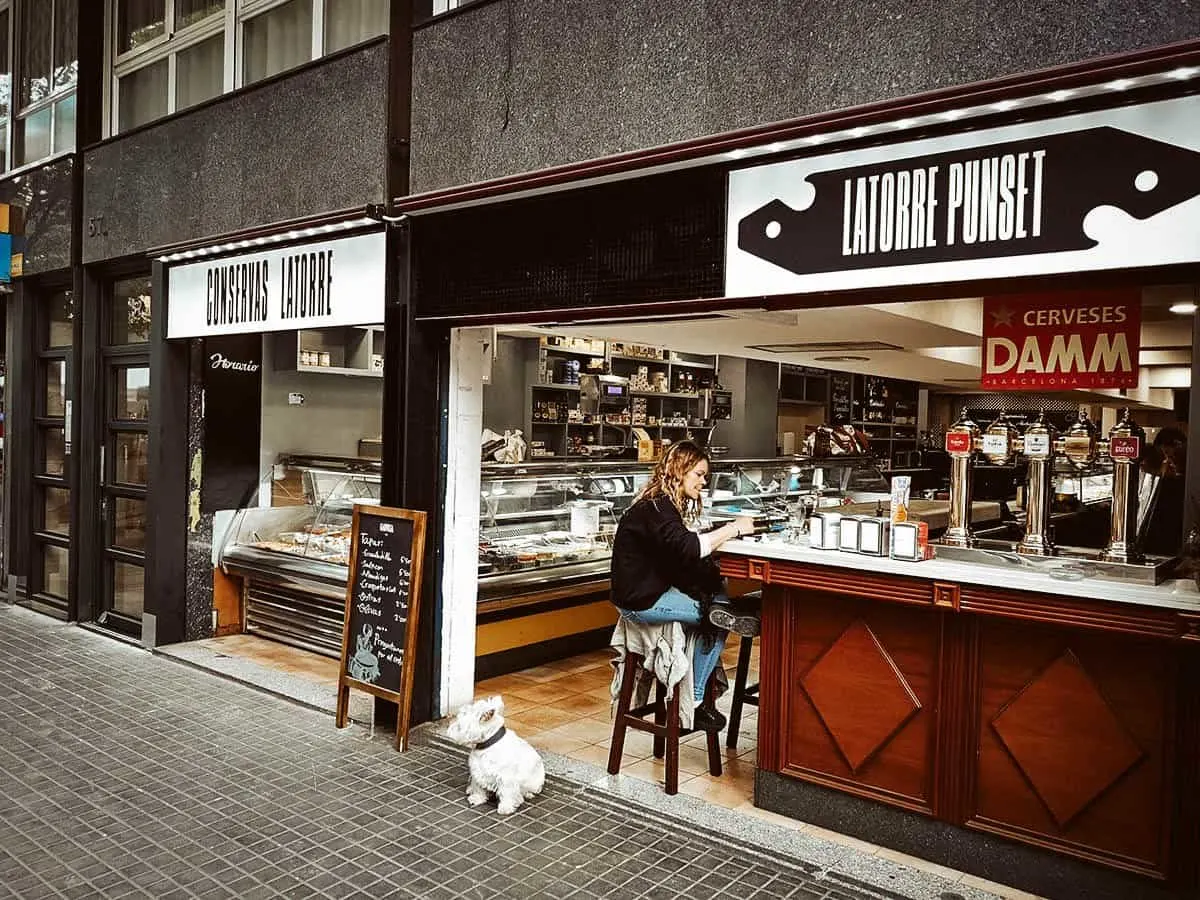 This bodega was a revelation and would prove to be one of our favorite stops on this walk. There are two reasons why.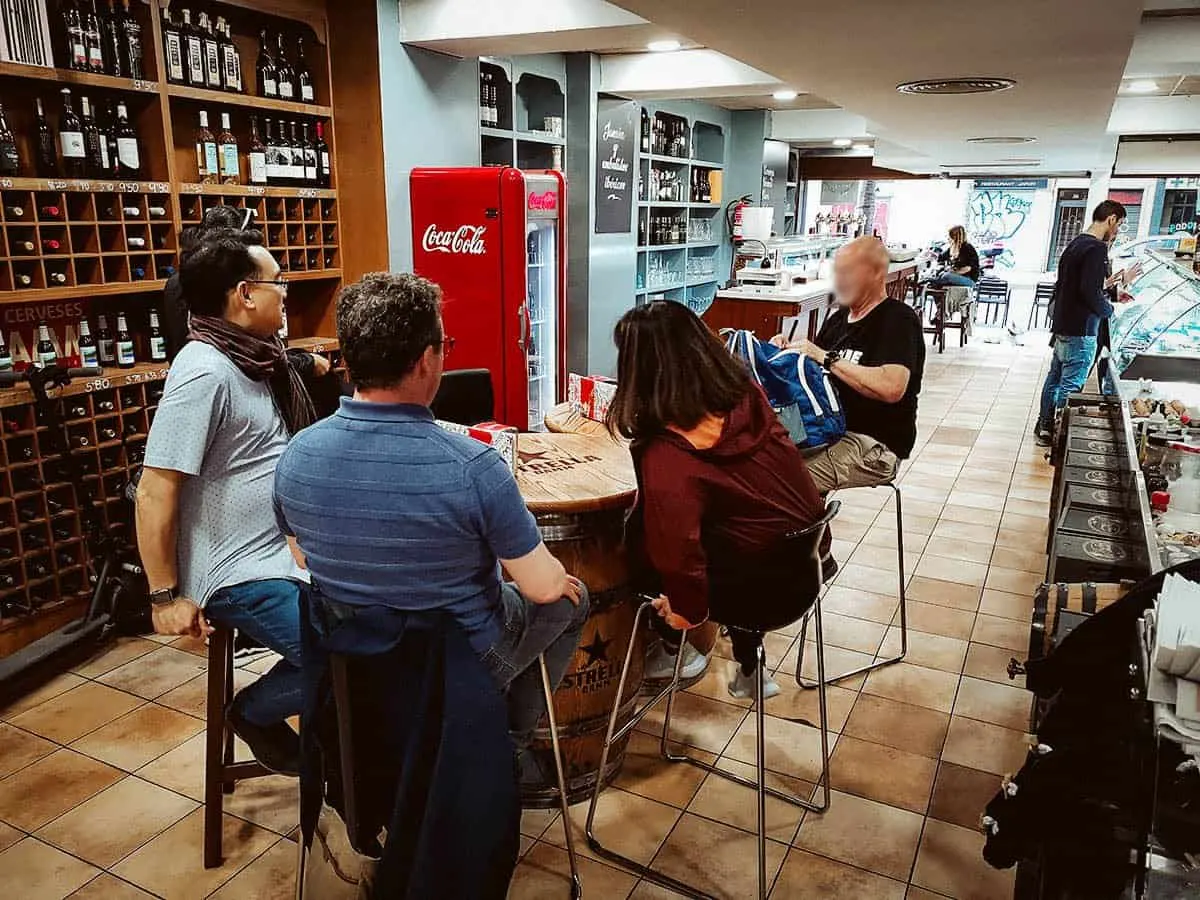 The first had to do with these light and dark anchovies with olives. We had anchovies all throughout our seventeen days in Spain but these were the best. They were so immensely flavorful, especially the dark!
The proper technique is to skewer an anchovy fillet into an s-shape with a toothpick then pierce an olive at the end. That way you can eat them together in one bite. They go so well with alcohol.
In Spain, I often saw the words boquerones and anchoas on menus. I found this a little confusing because from what I understand, both terms refer to anchovies. I did some reading and it seems that "anchoas" refers to cured anchovies, while "boquerones" refers to fresh or uncured anchovies. Based on that, I believe the light anchovies were boquerones while the dark were anchoas.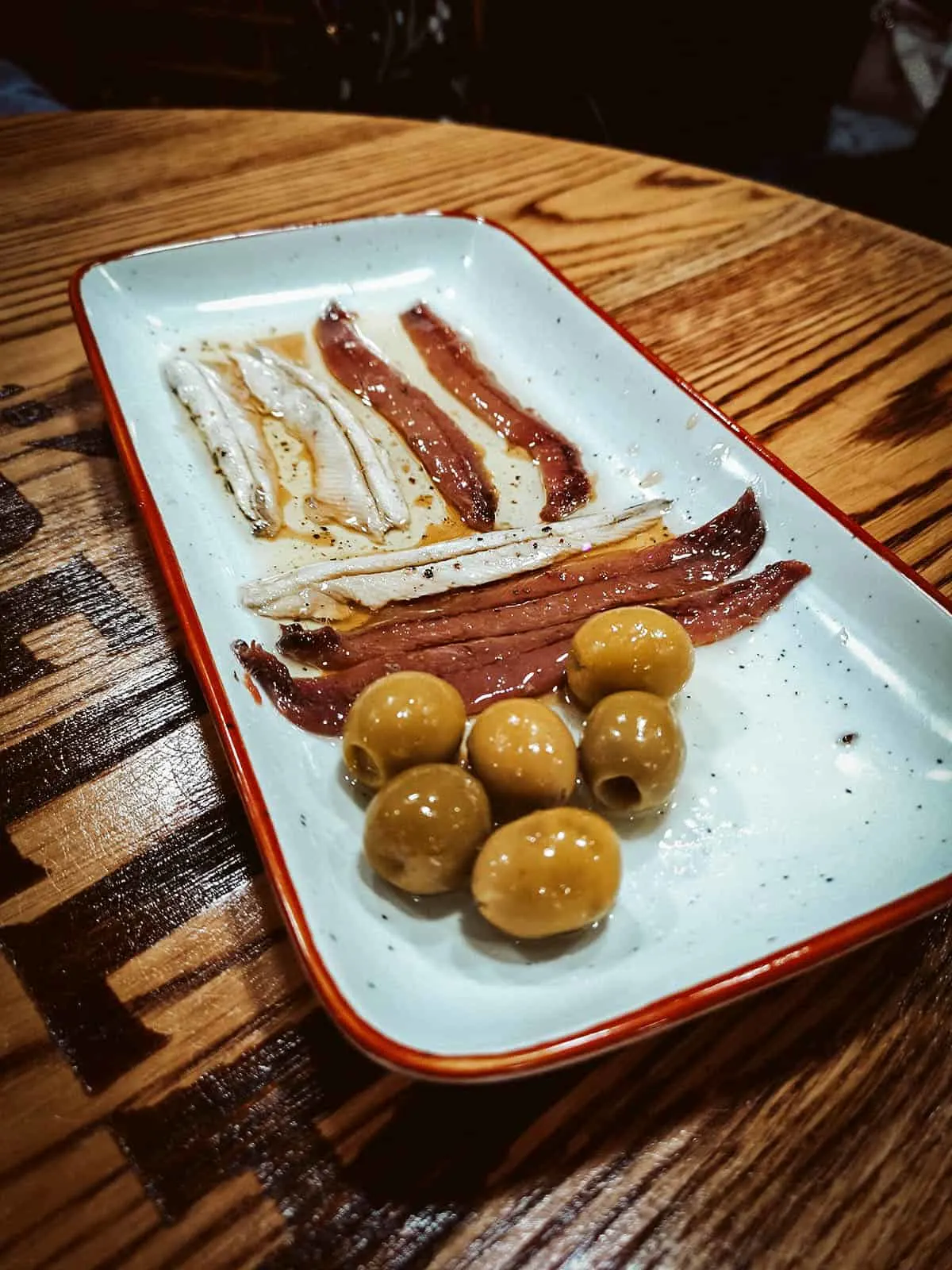 These glasses of vermut were the second reason why we enjoyed this bodega so much. Vermut or vermouth is a fortified wine, meaning it's ordinary red or white wine made stronger with the addition of alcohol like brandy or eau-de-vie. It's then aromatized with herbs and other botanicals and typically served as an aperitif.
Vermut is hugely popular in Barcelona and in other parts of Spain. In fact, we had it in every city we visited after Barcelona. Considered a social drink, the Spanish go to a vermuteria or bodega to enjoy it as an aperitif before moving on to lunch or dinner.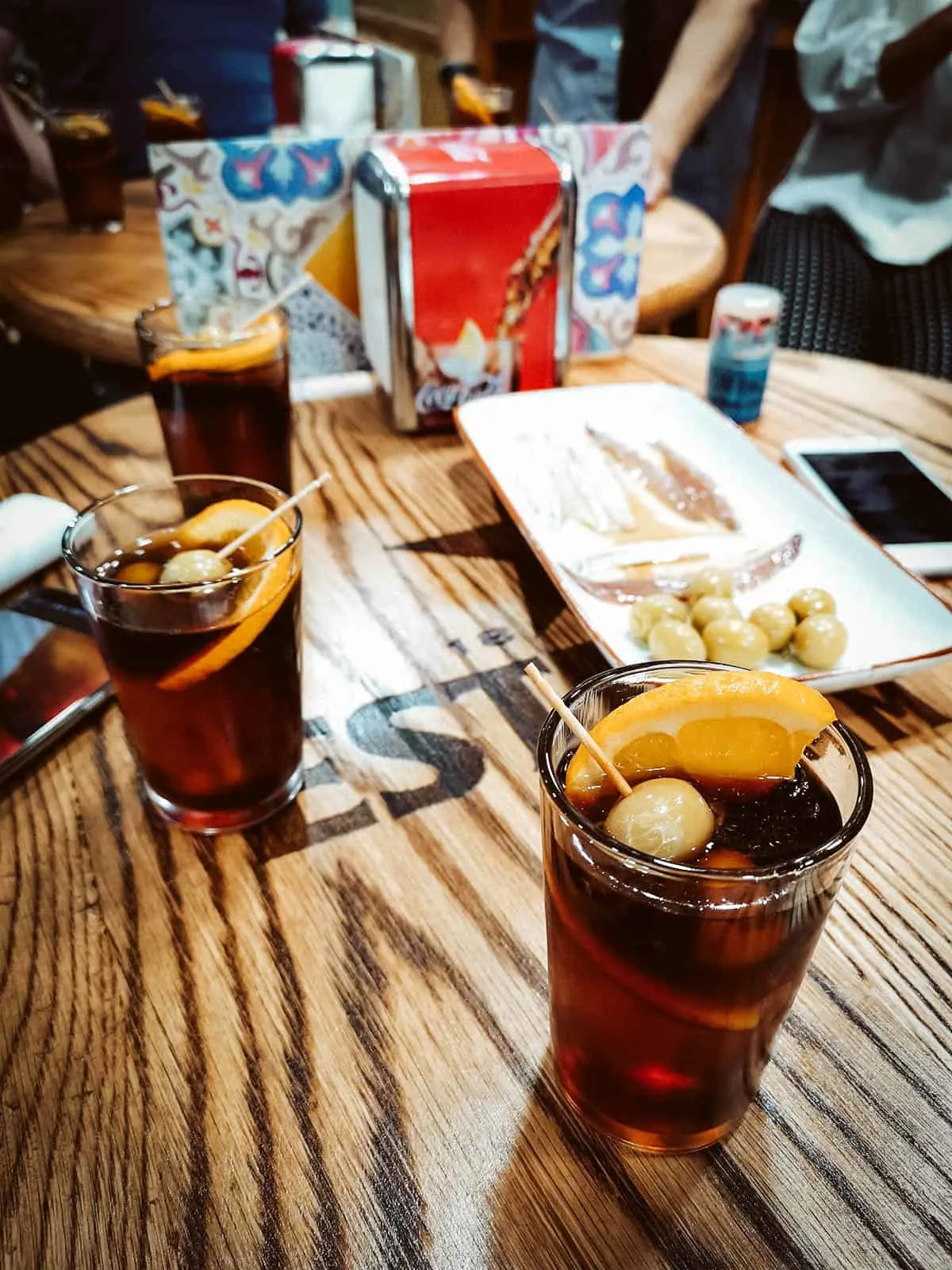 Many people enjoy vermut on its own, but I find it to be a little sweet. Personally, I think it's perfect when spritzed with a bit of carbonated water which you can dispense using a sifon. Vermut + anchovies + bodega = Spanish heaven.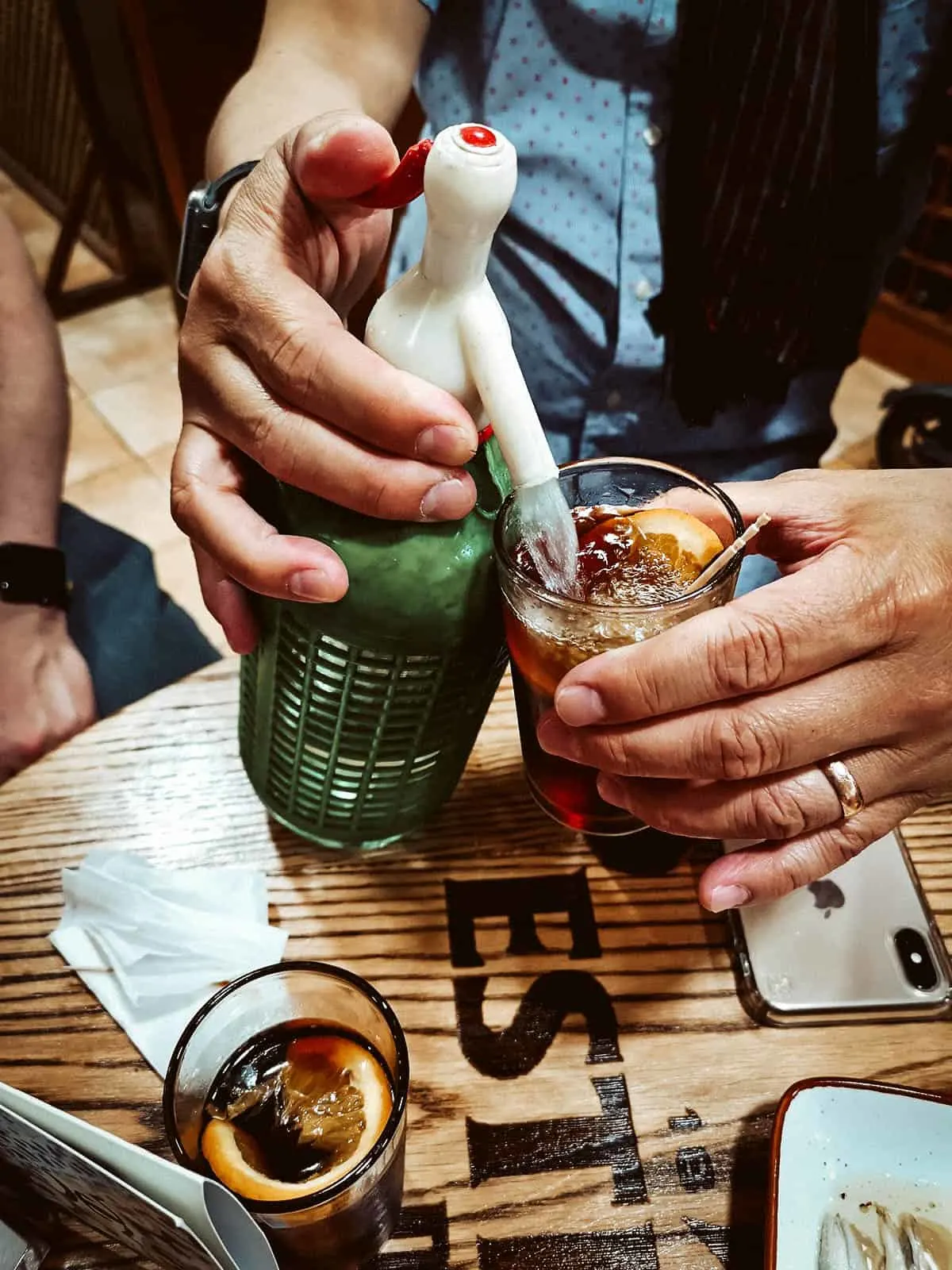 Over the weekends, I read that the Spanish enjoy aperitivo time from noon till 2PM. They go to a bodega or vermuteria to have vermut and tapas before lunch. We were in Spain for just a little over two weeks but cultural tidbits like that made one thing very clear, these Spanish really know how to enjoy life.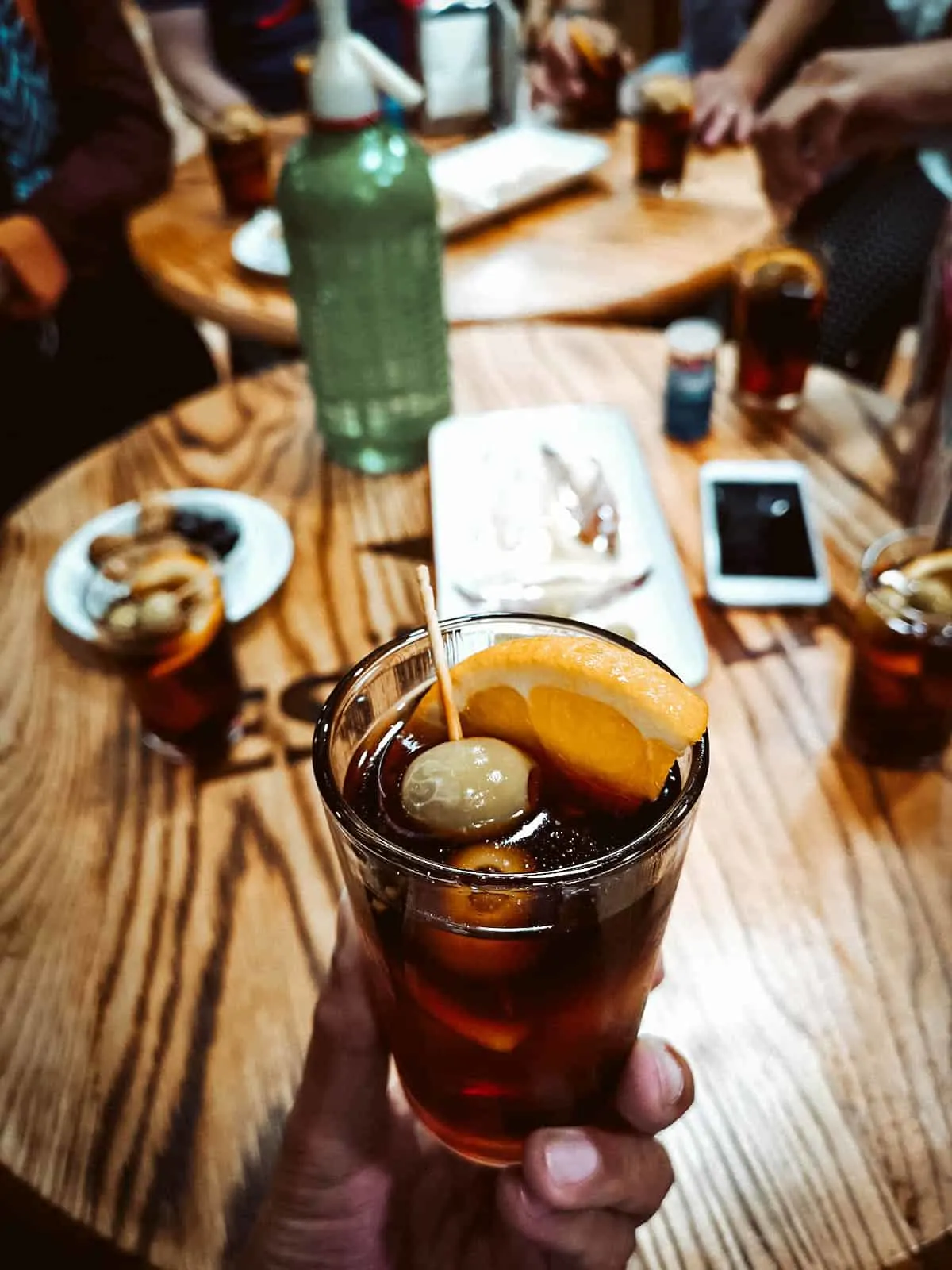 Olives to complement the sweetness of the vermut. A taxi driver in Athens told us that Spain is the largest producer of olives in Europe, followed by Italy then Greece.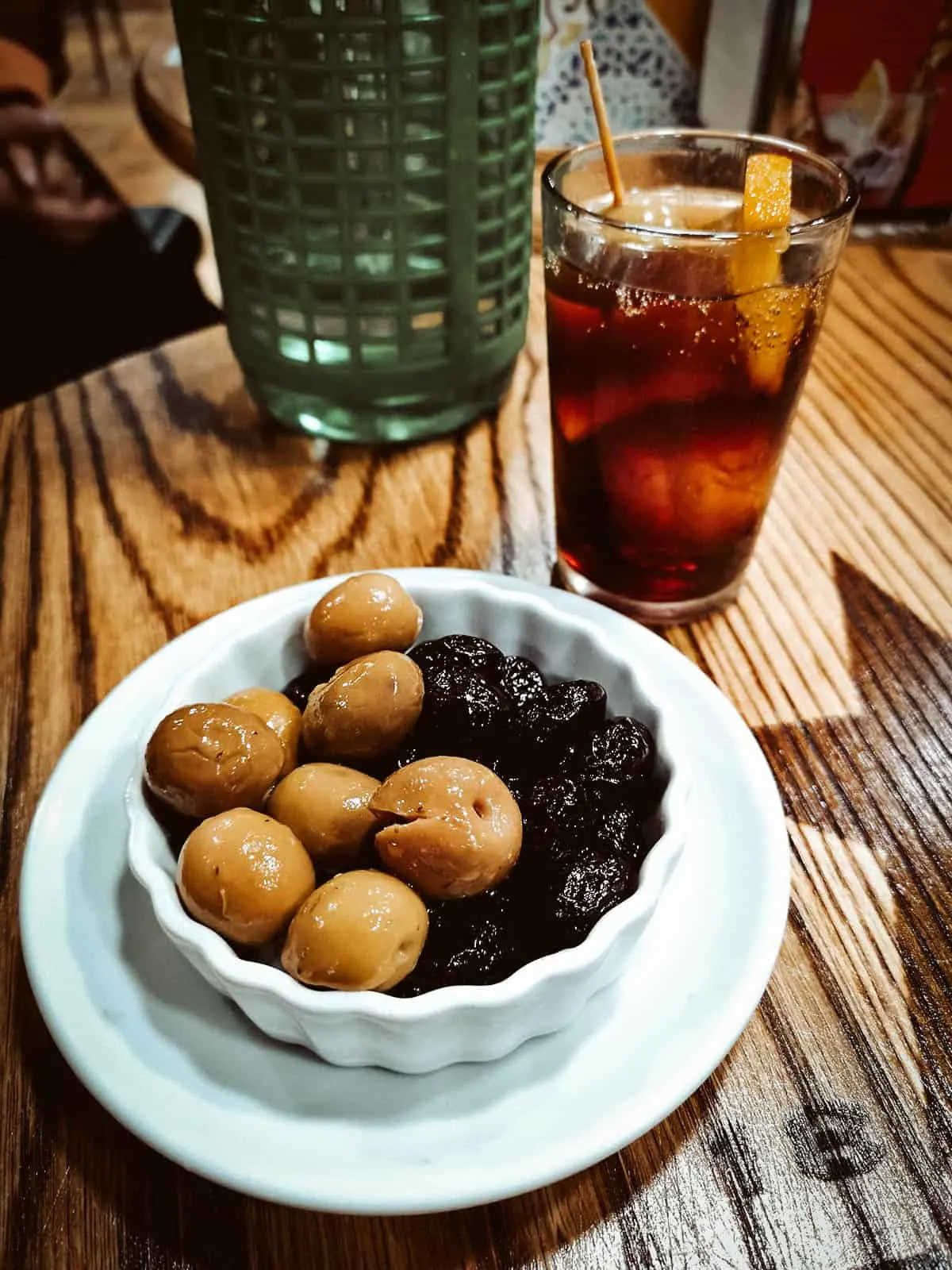 Here's the beautiful birthday girl looking happier and happier after every bodega.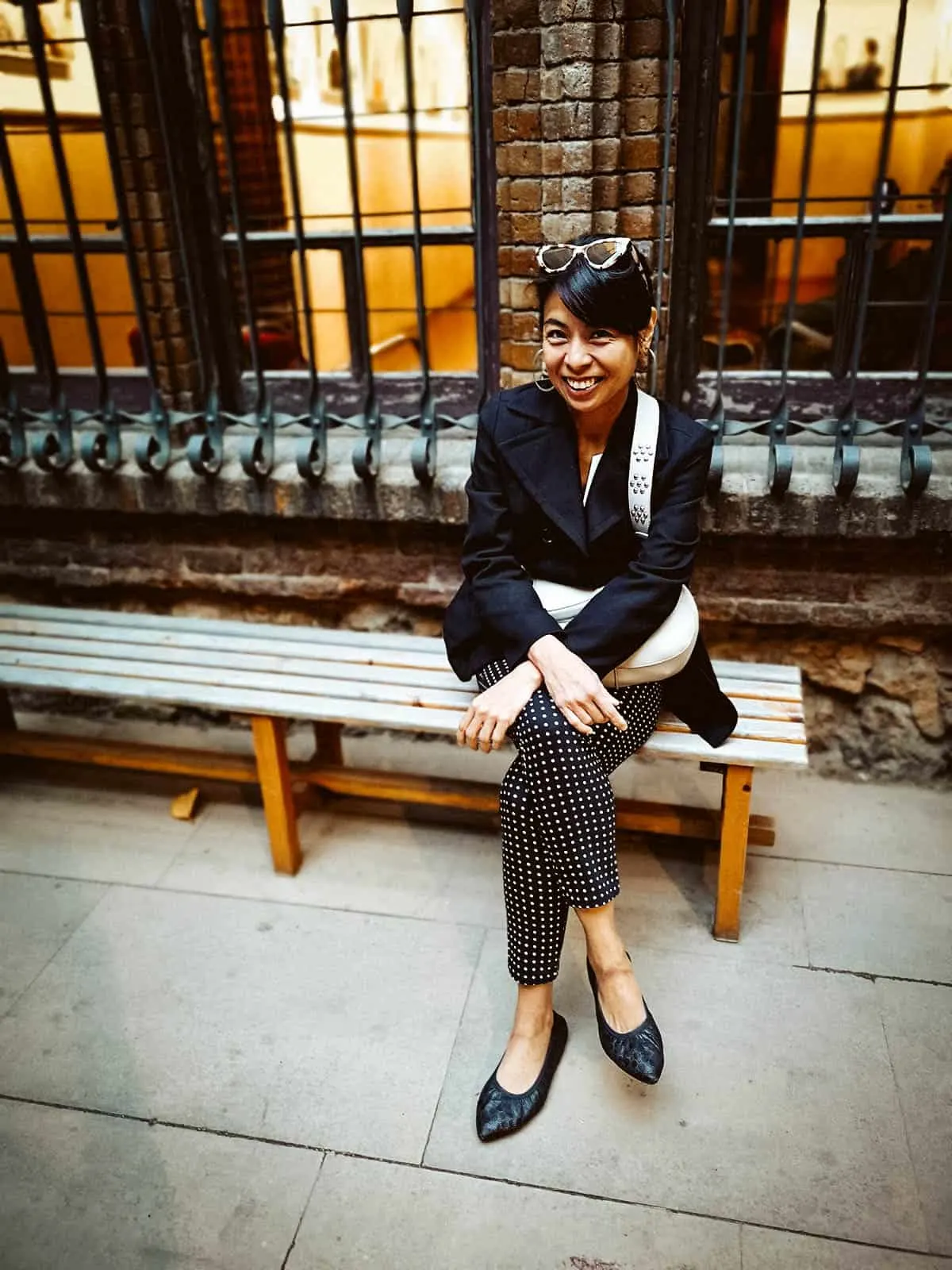 This was the smallest bodega we visited, but what it lacked in size it more than made up for in character. Just look at this place! Would you ever notice a place like this on your own? This is exactly why we enjoy traveleating with locals, because only through them can you discover hidden gems like this one.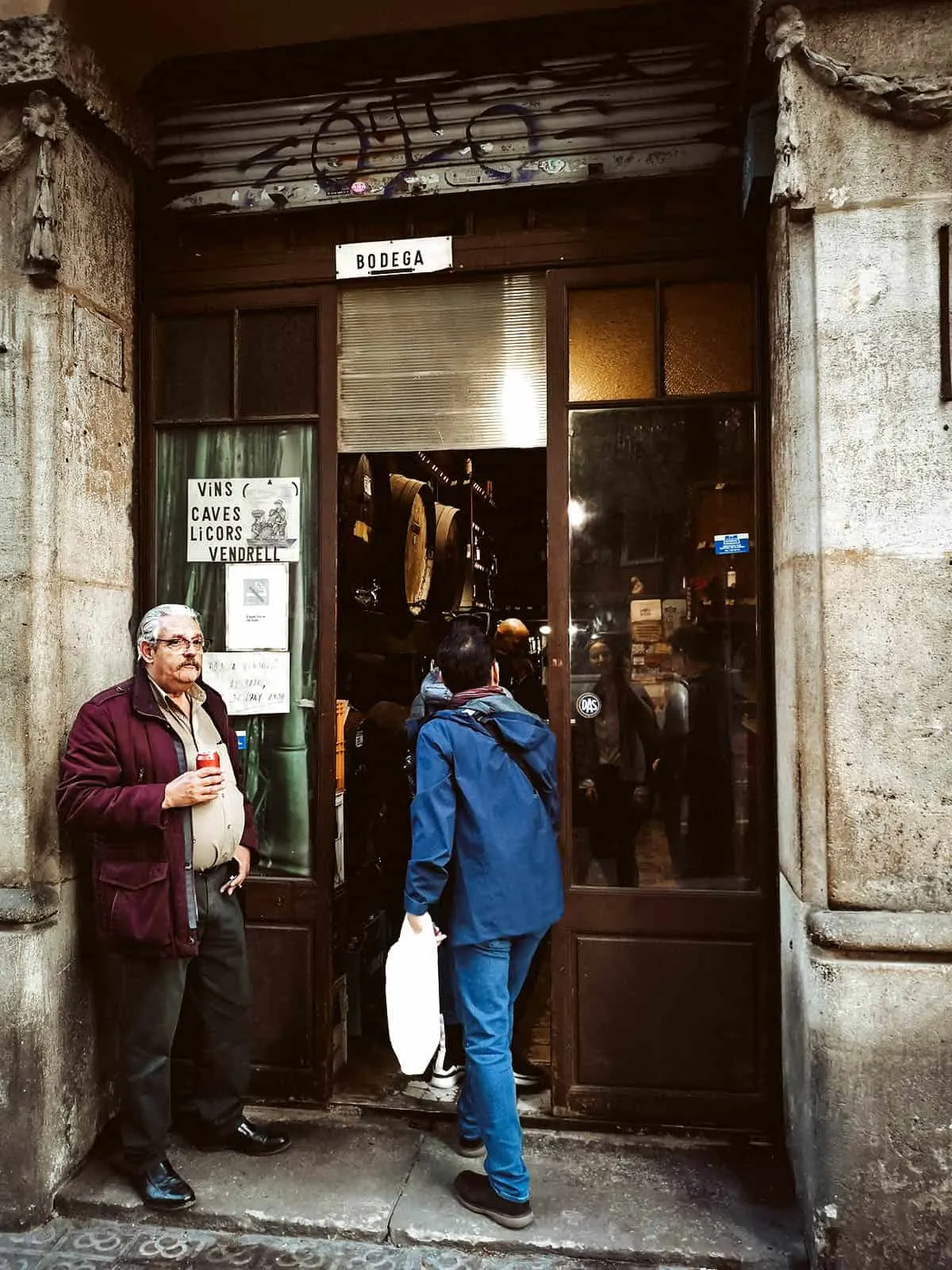 This bodega didn't have any tables. It was standing room only with barely enough room for twenty people. Dusty barrels occupied half the room and worn floor tiles revealed the path customers have been taking for decades to go in and out of the bodega.
I hadn't been to any bodegas before today, but I imagined them to be just like this one. It looked, felt, and smelled authentic.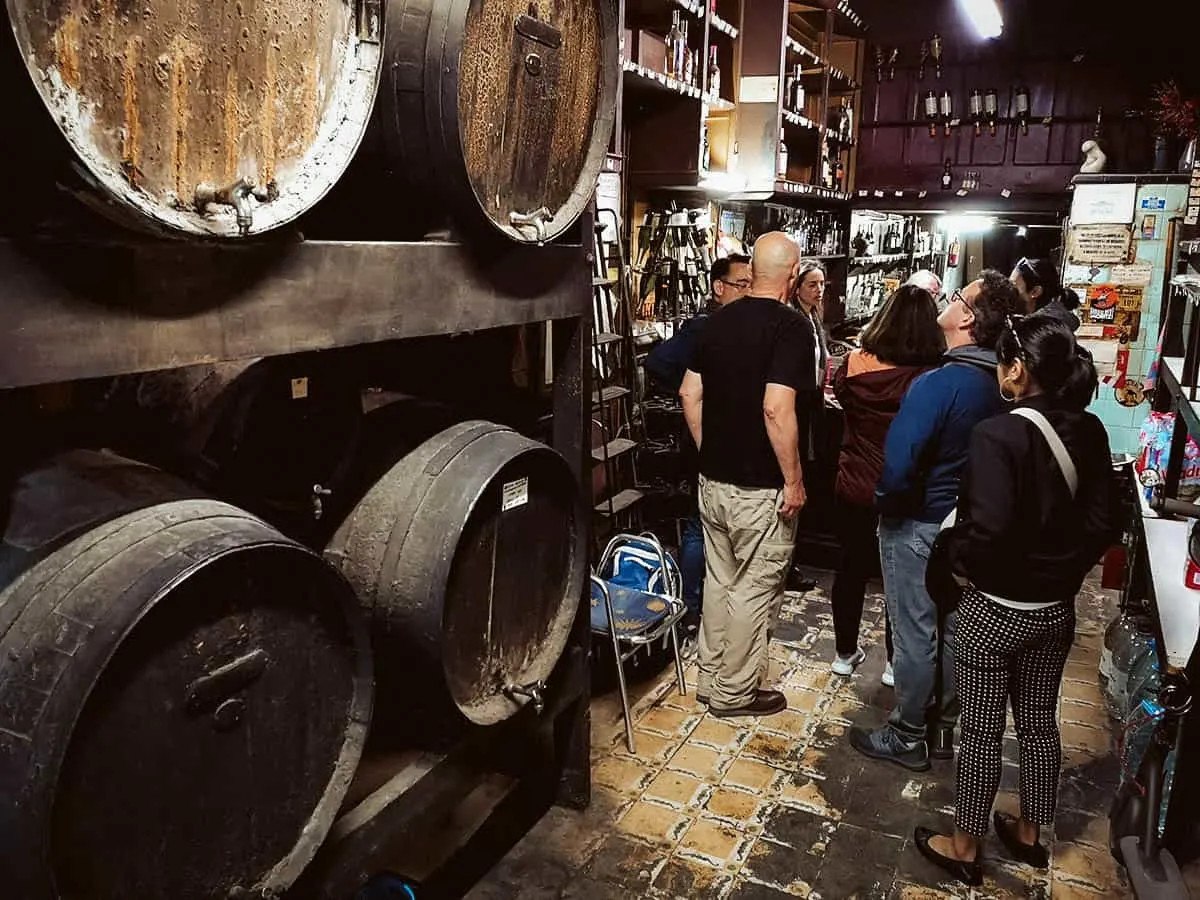 This was our fifth bodega so things started to get a little hazy at this point. I think this was some type of sweet Spanish wine.
Notice the glasses? I loved how ununiform they were. This bodega cared little about crystal or fancy cutlery. In spaces like this, it's all about the food and drink.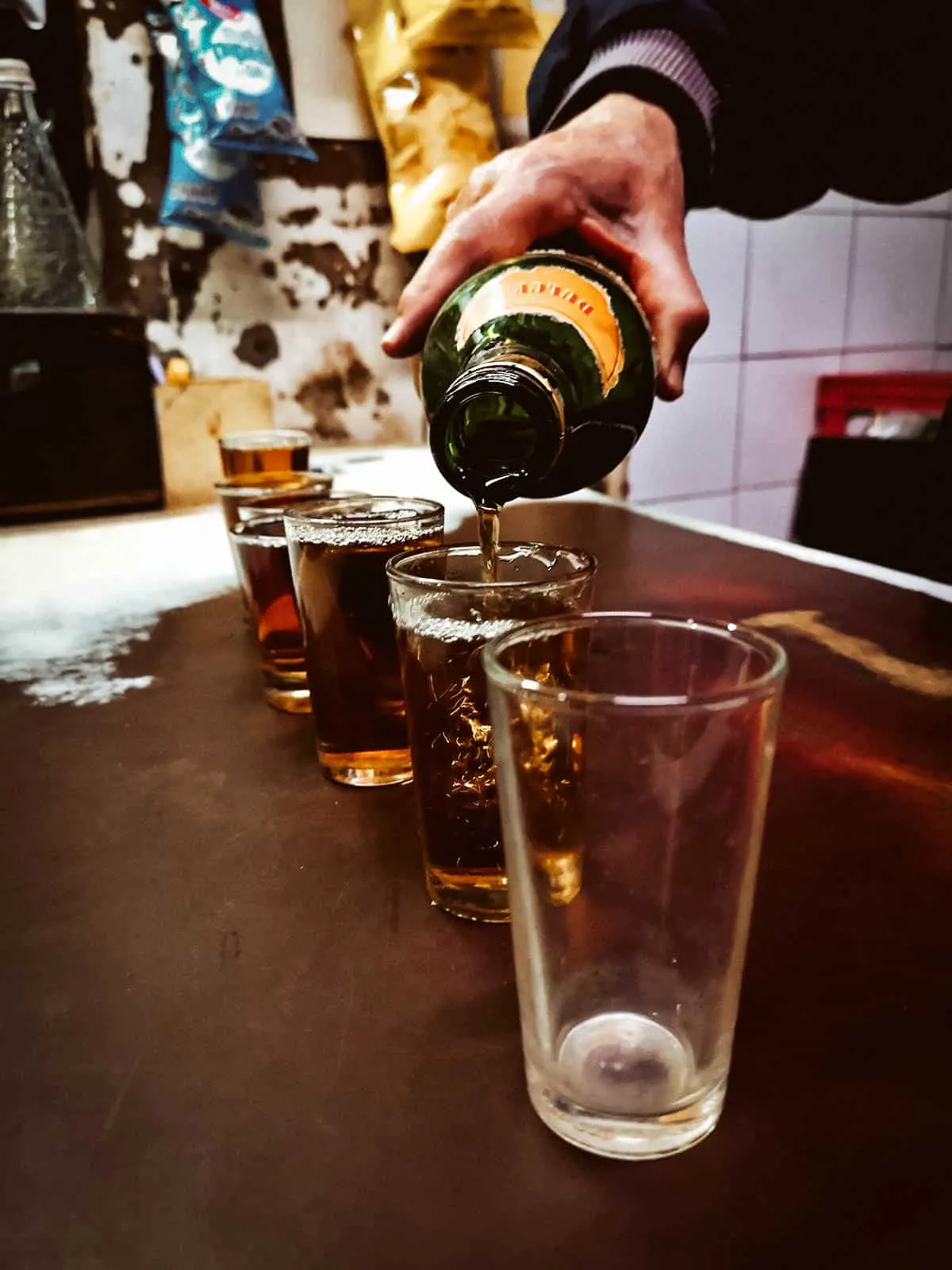 I don't know what type this was but I read that sweet Spanish wine is world-renowned. Spain is known for its varieties of sweet Sherry, Malaga, Moscatels, and sweet reds made from Garnacha grapes.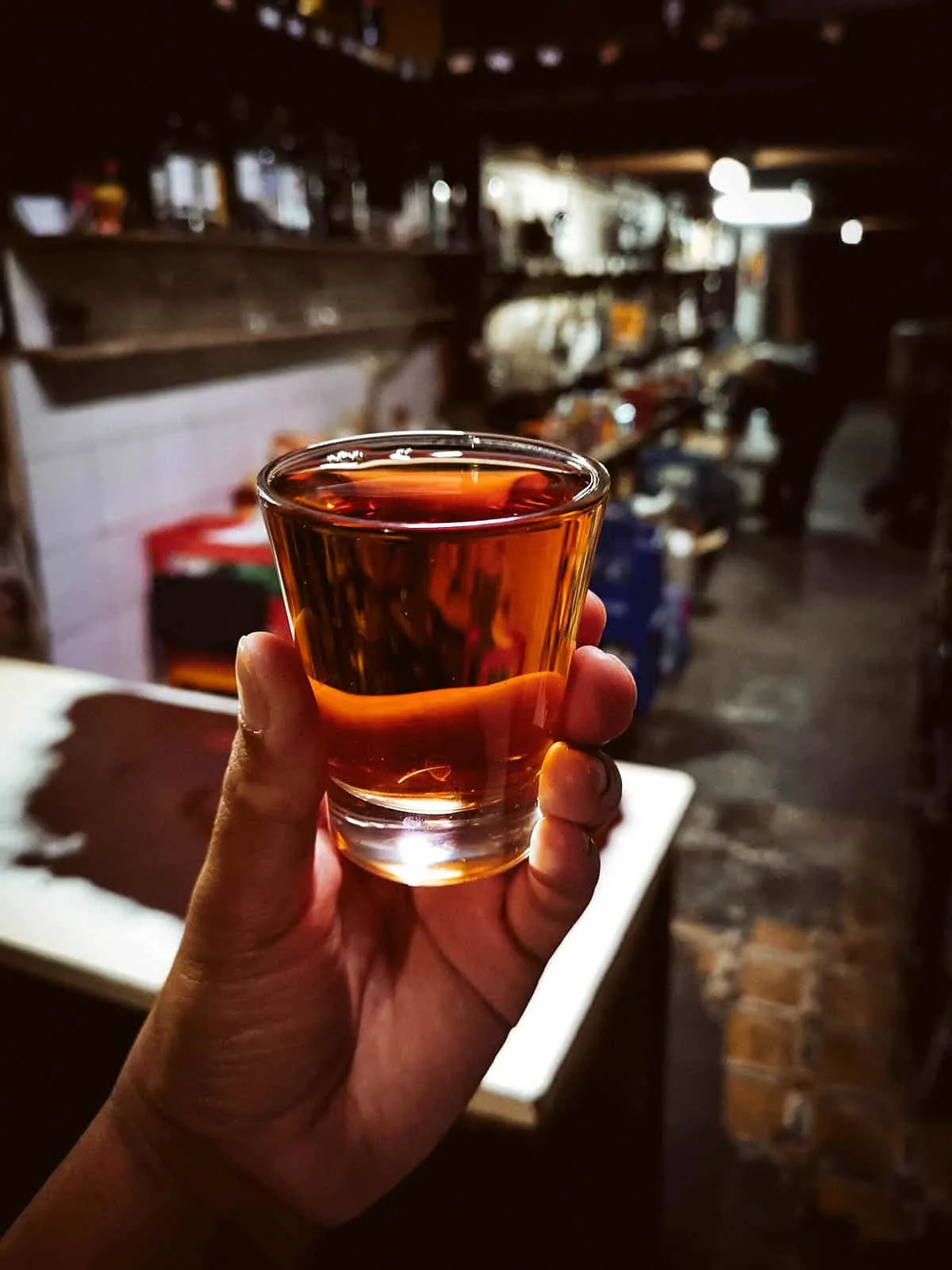 ¡Salud! This was our last day in Barcelona and what a day it's been, all thanks to Paula and Culinary Backstreets.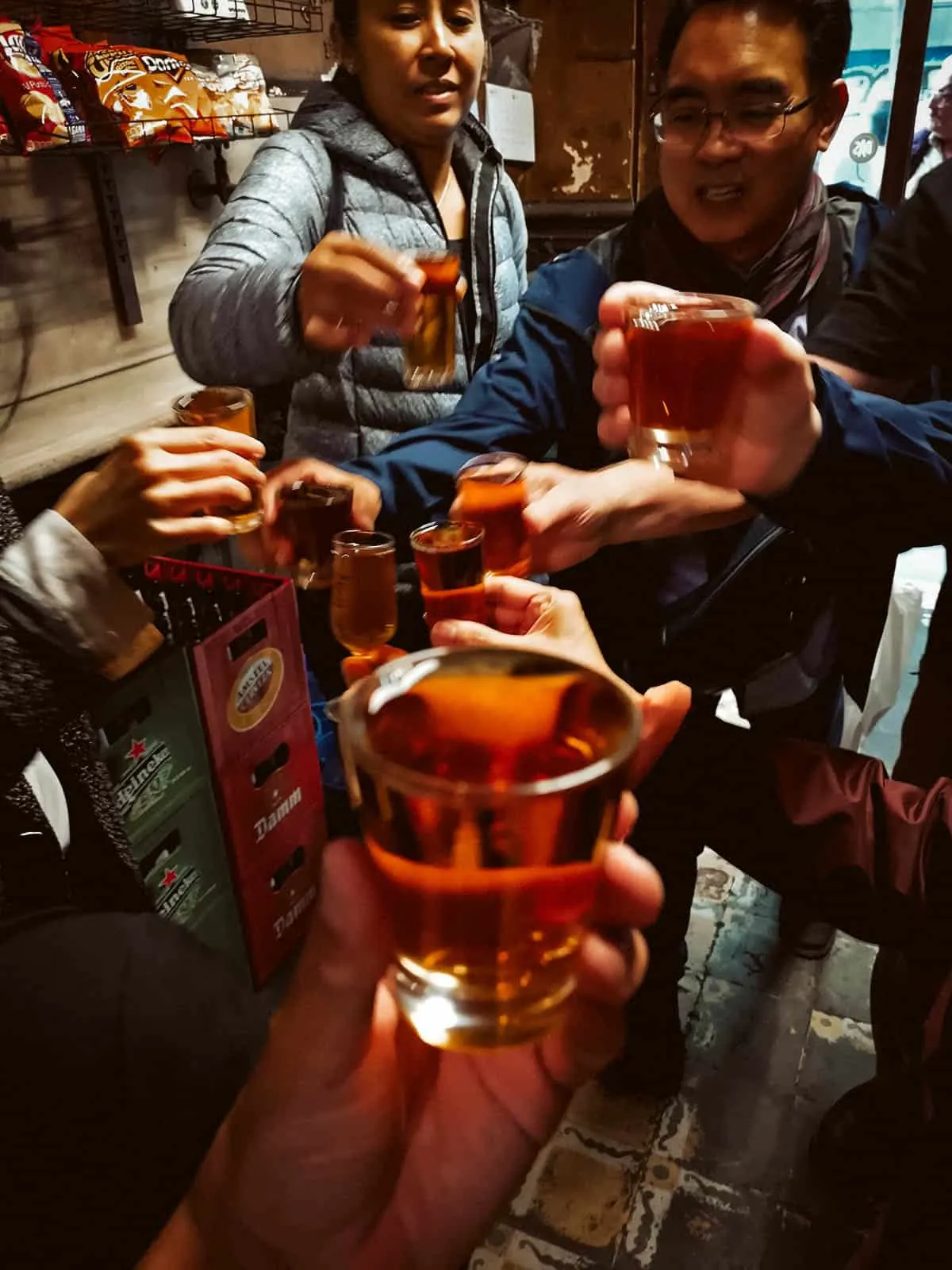 Cheers to the lovely birthday girl! What a journey it's been so far and I look forward to discovering (and tasting) even more of this world with you. ♥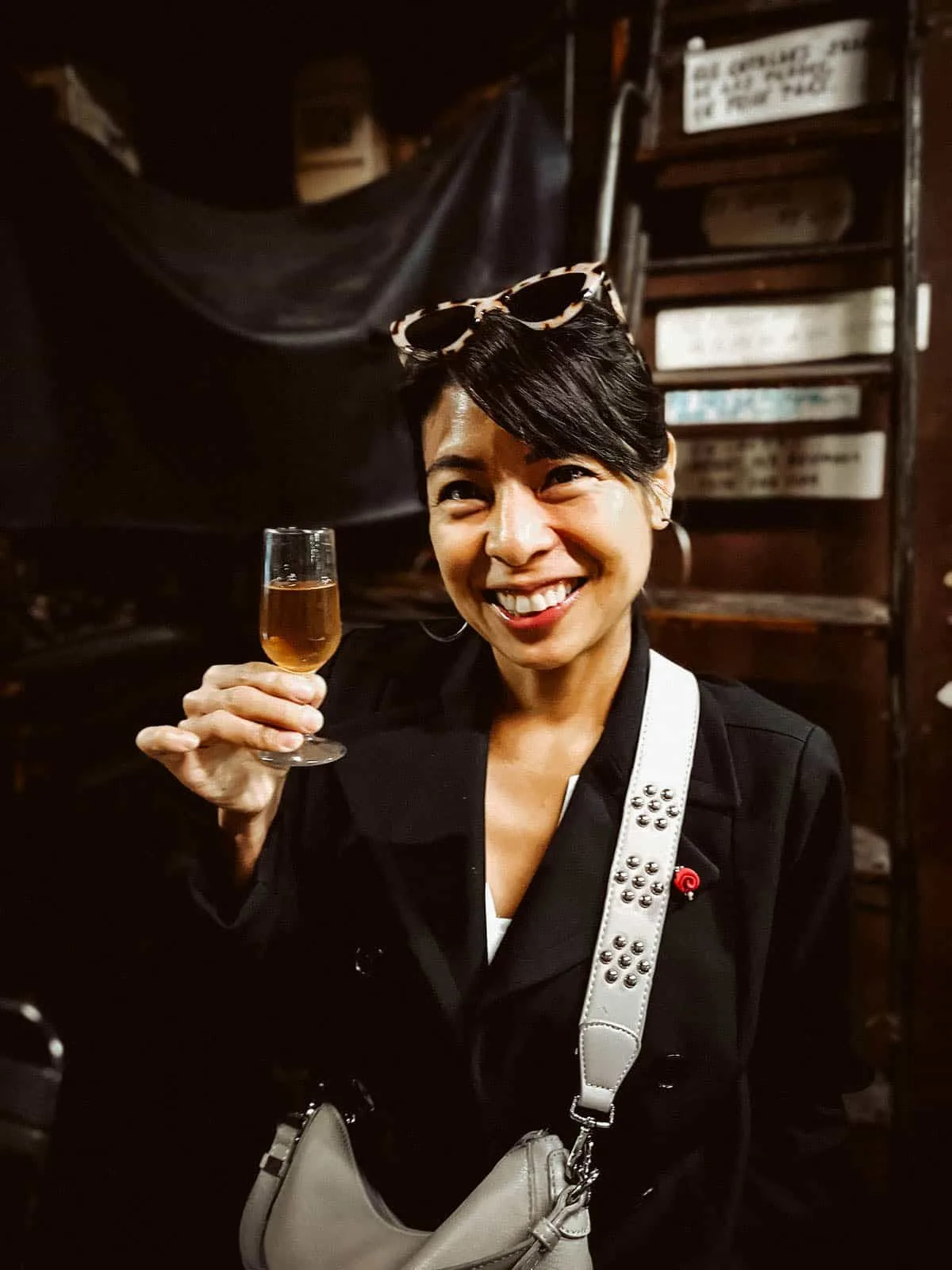 Paula conversed with the owners while we enjoyed our sweet wine. There's a community building aspect to these bodegas that reminded me of sari-sari stores in our native Philippines. Neighborhood locals would come for a drink and a quick chat before going on their way. People come and go as they please and shopkeepers know everyone by name. If there's a football match on TV, then a small crowd may gather to cheer and watch it together.
Like Irish pubs or Japanese izakayas, these bodegas seem to be a fixture in everyday life here and an integral part of Spanish culture.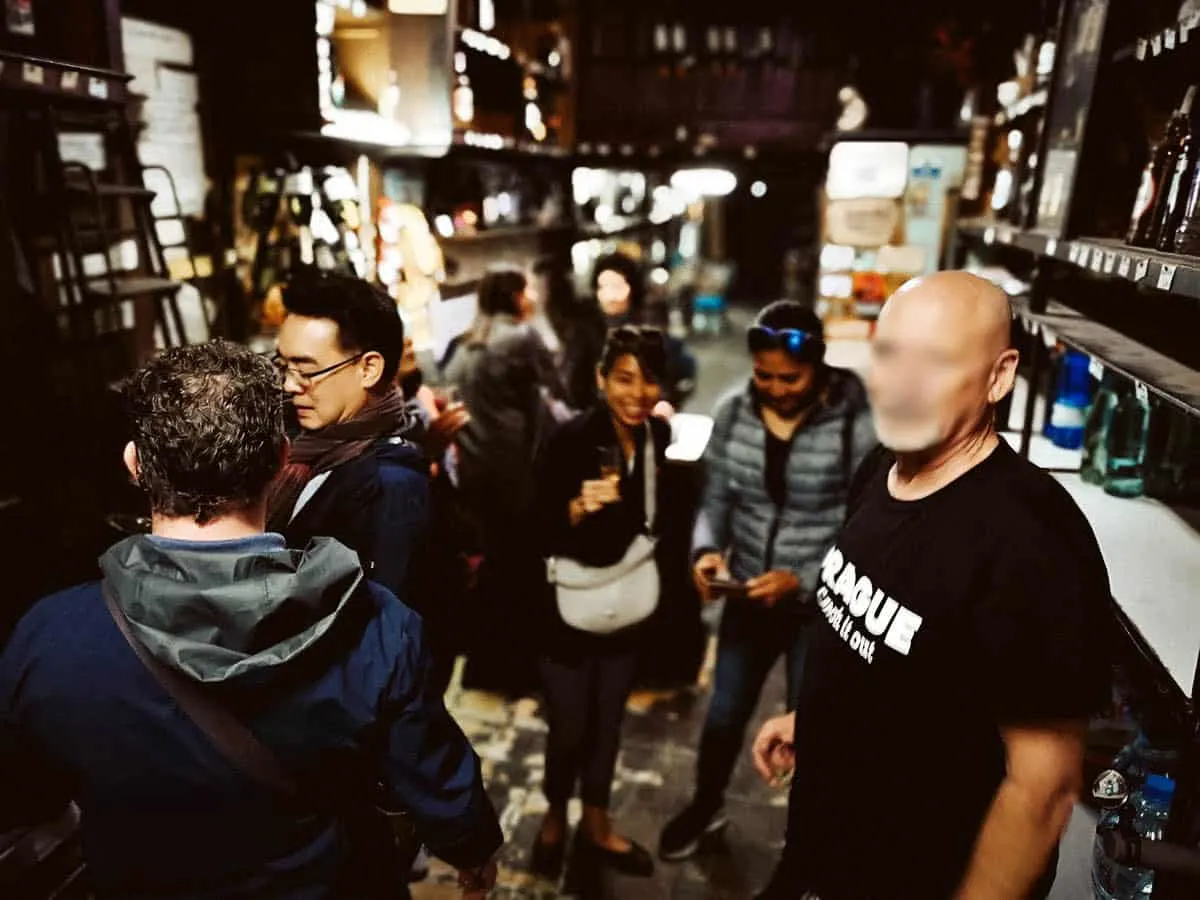 For our last stop, Paula took us to this family-run restaurant that's become a gathering place for fans of FC Barcelona.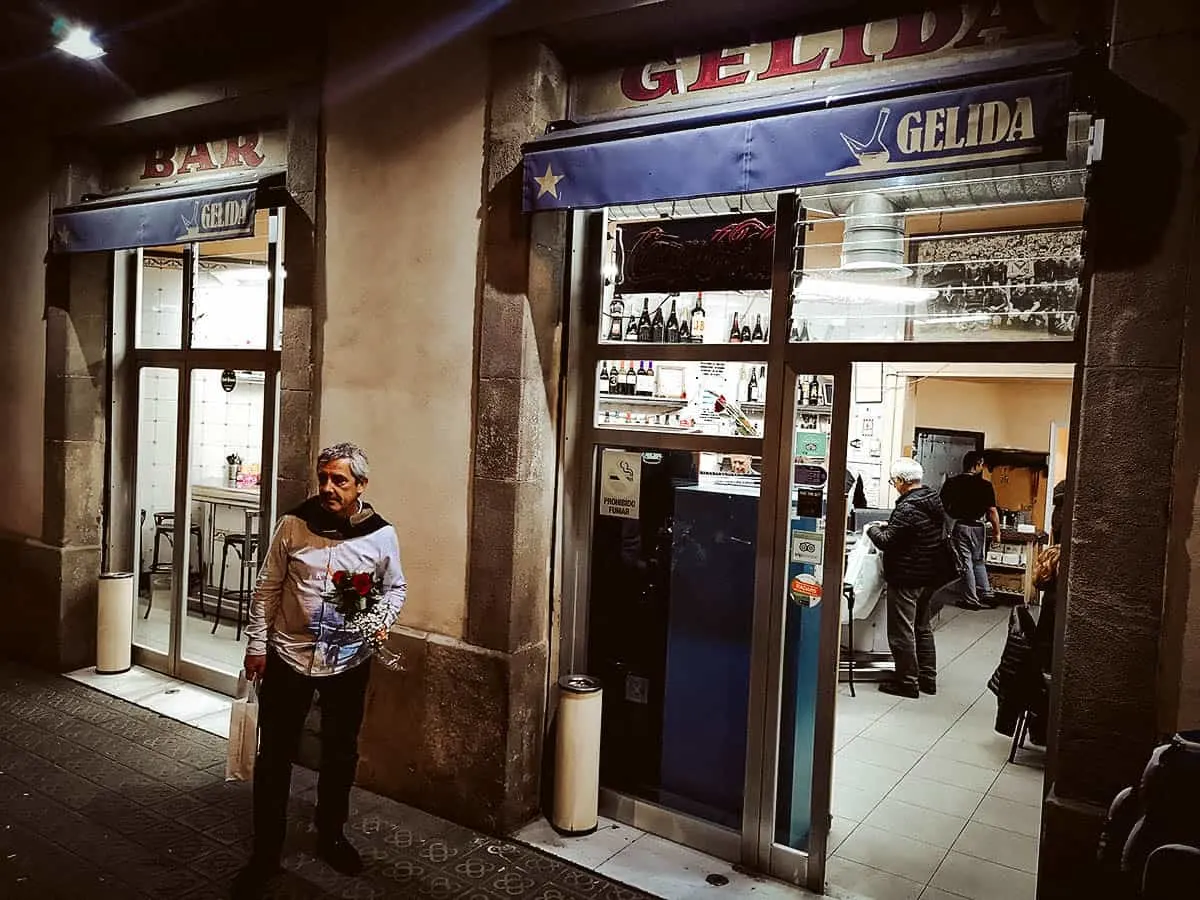 Note the television screens and pictures on the walls. I don't remember the full story but Paula said this place has become a neighborhood hangout for FC Barcelona fans. They congregate here to watch live matches on TV.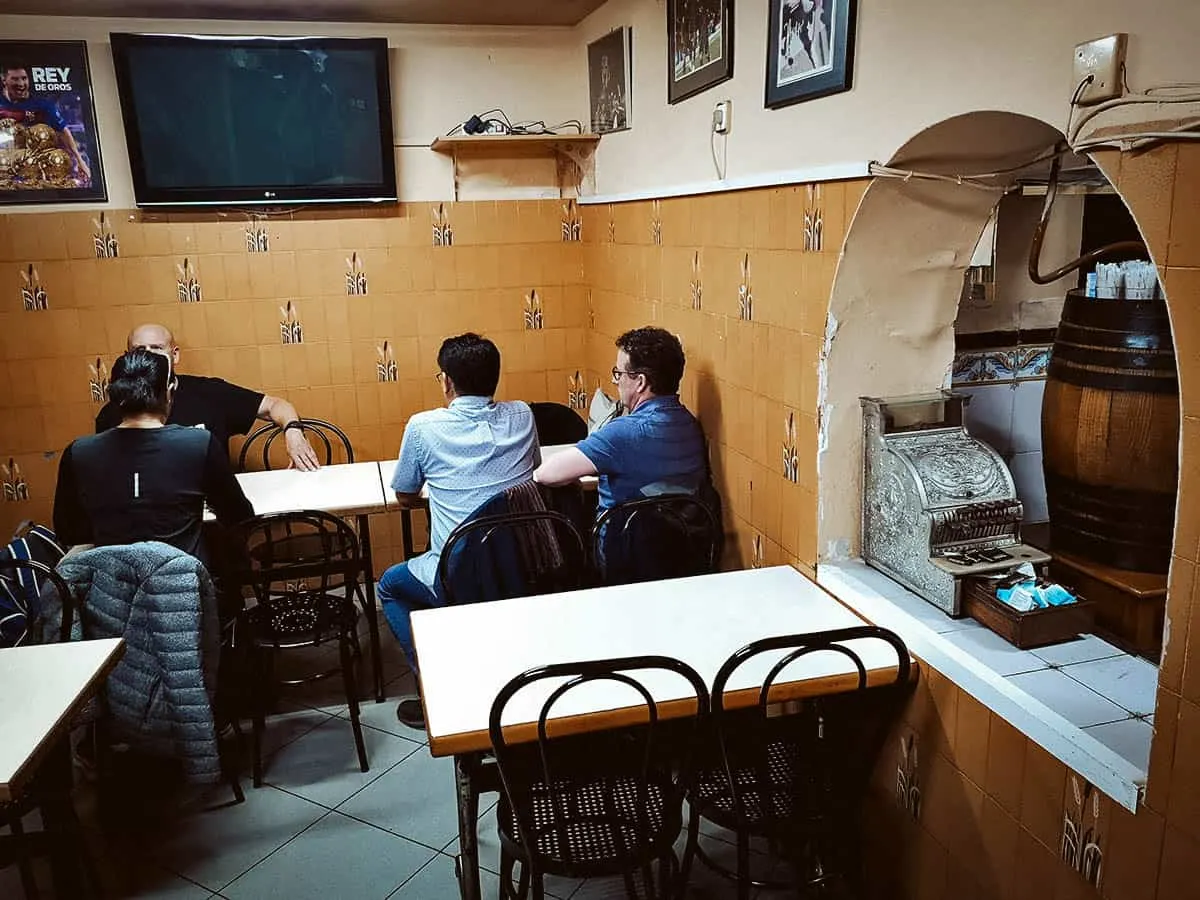 If every other stop on this walk was the appetizer, then this clearly was the main course. We'd enjoy our most substantial meal here, starting with this botifarra amb mongetes or botifarra served with white beans. Botifarra is a type of Catalan sausage made with pork and spices.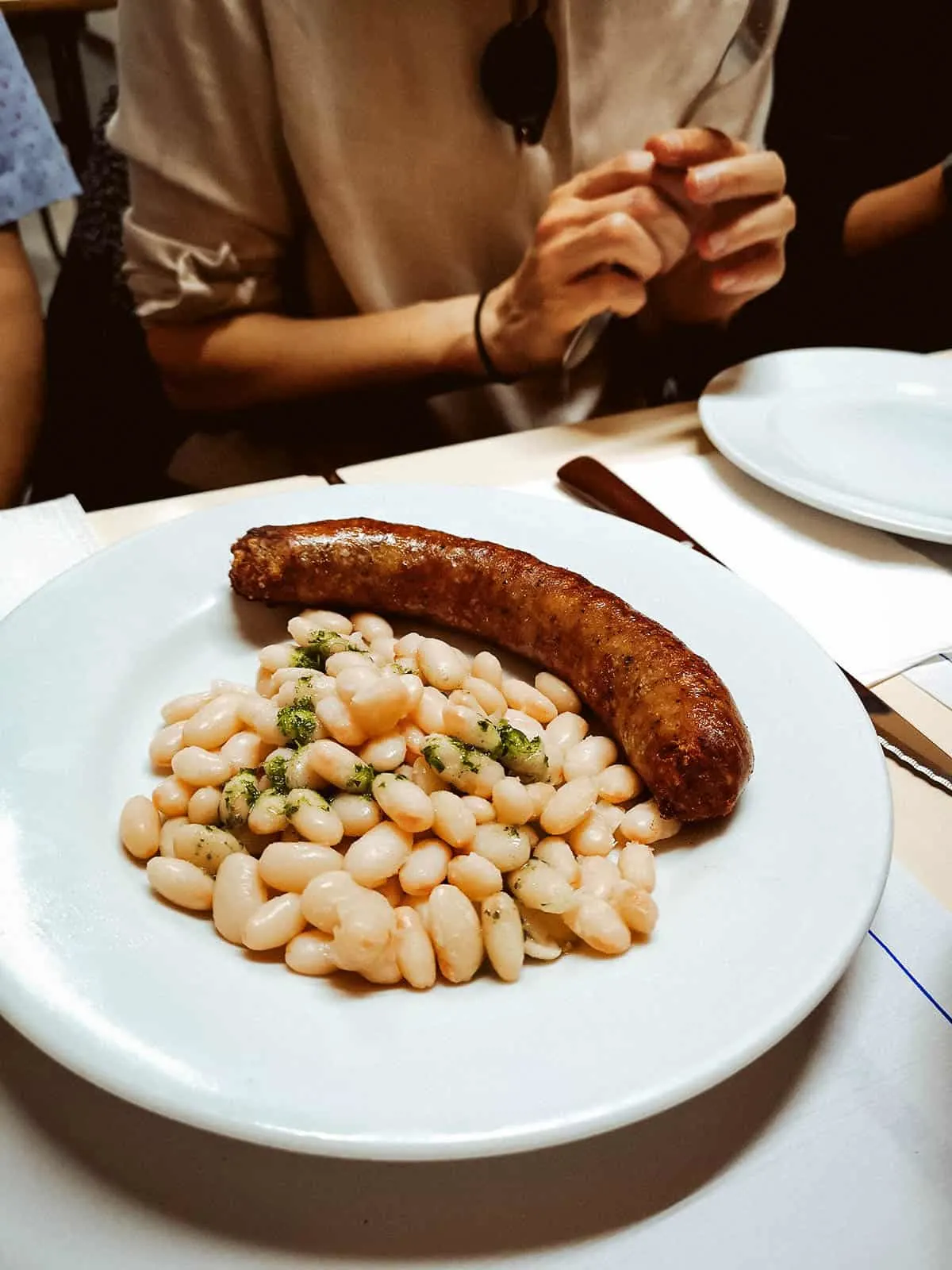 Another porron of wine to wash down the sausage and beans. But we didn't actually drink from this porron, we just poured the wine into glasses.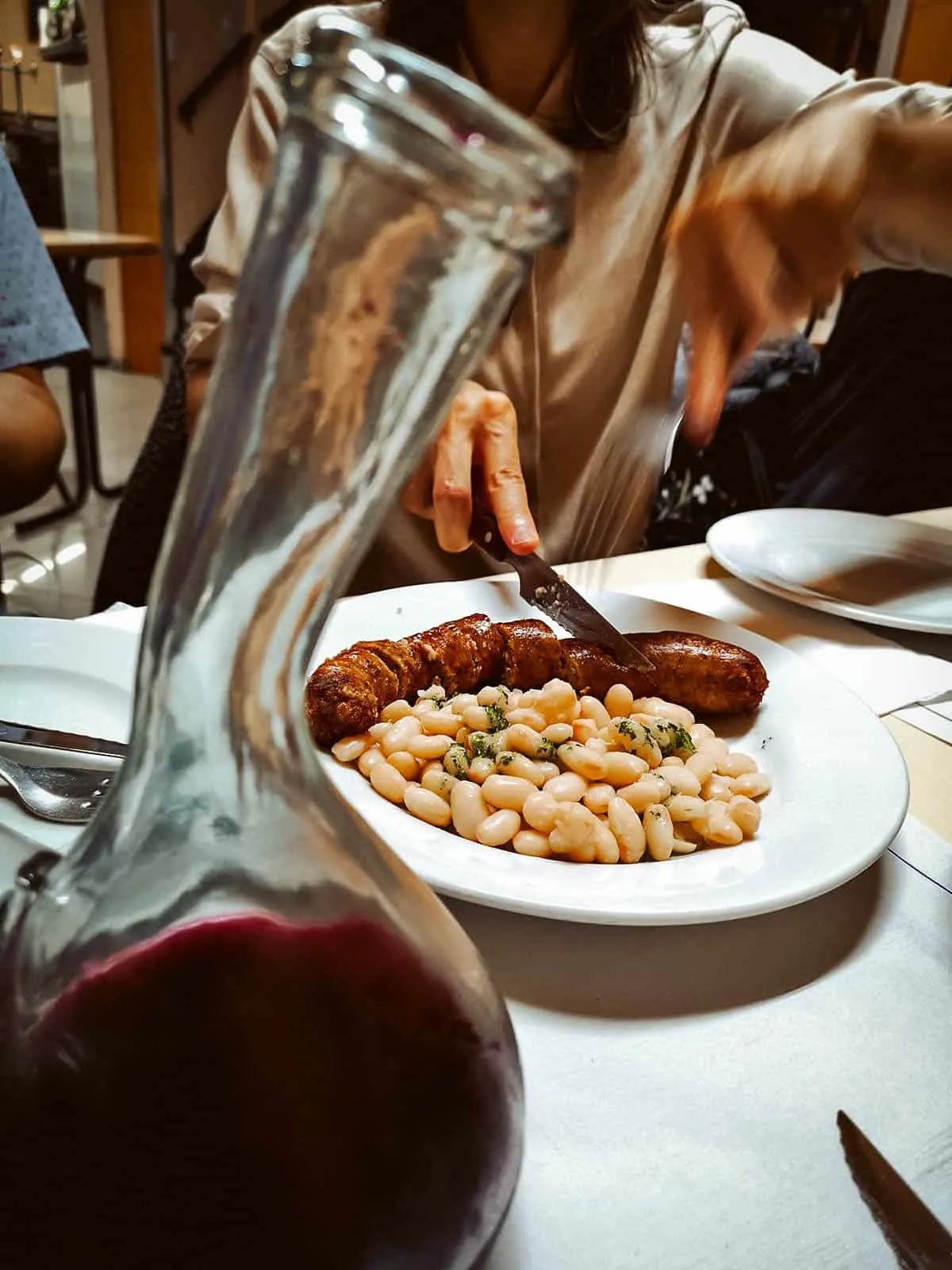 This was one of my favorite dishes from today's walk. It's a plate of cap i pota which is a classic Catalan dish. It's name refers to the cuts of beef used to make the stew, namely cap (head) and pota (leg). As you can see in this picture, the meat is slow-cooked till fork tender. Mama mia!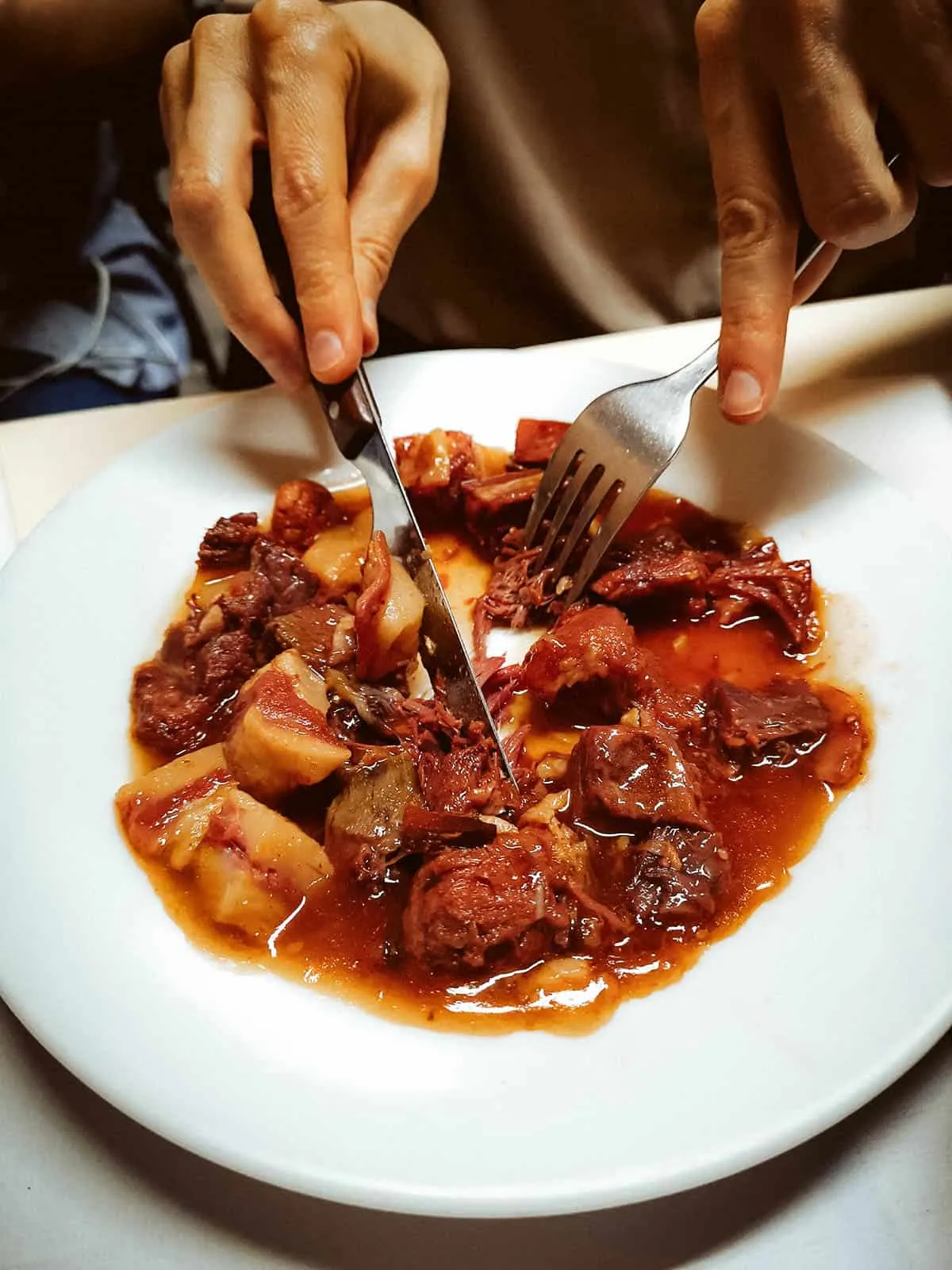 I don't remember exactly what this dish was, but it may have been fricando de vedella, or braised veal.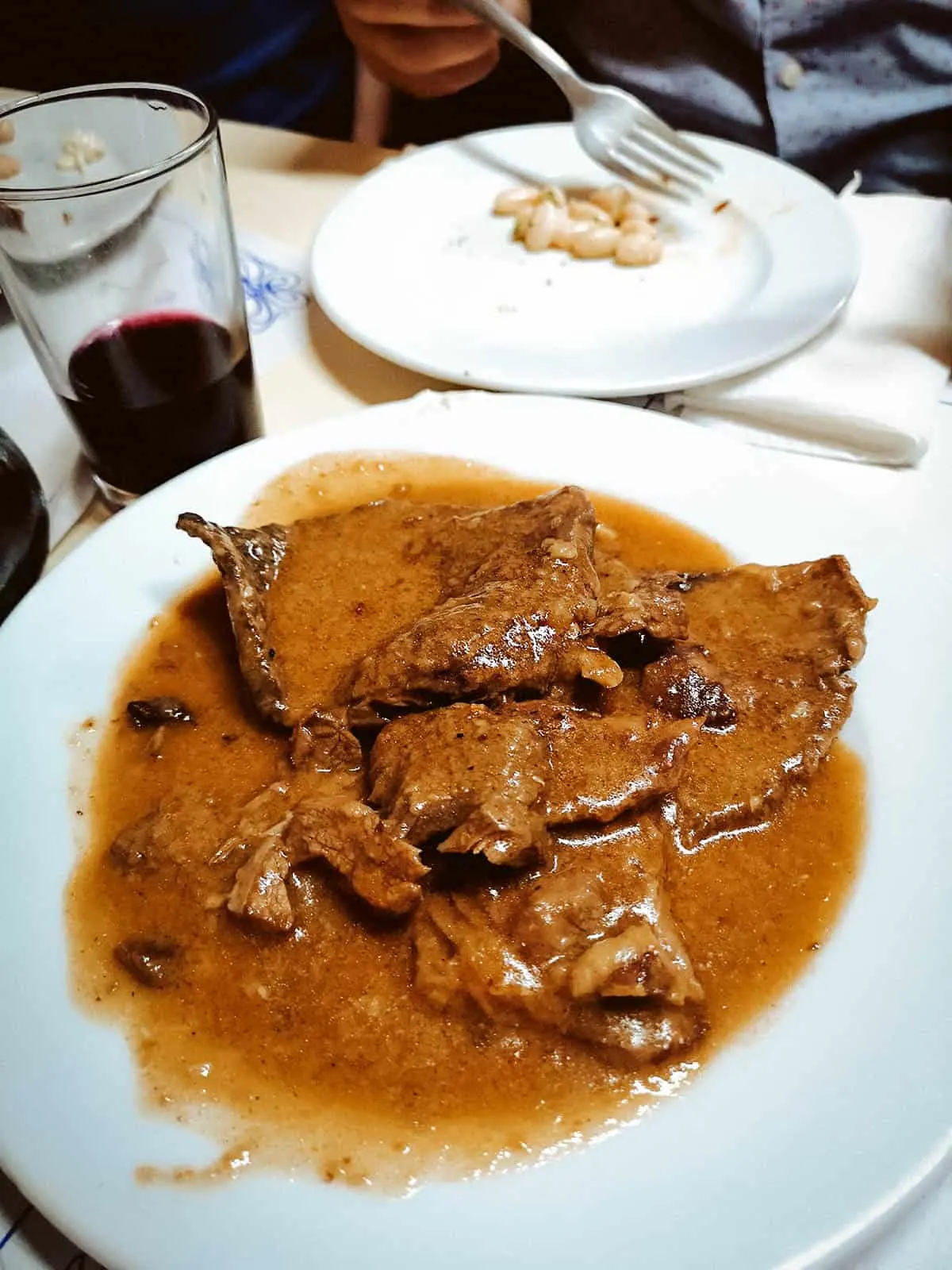 A plate of mel i mato to conclude a fantastic walk. It's a classic Catalan dessert of fresh cow or goat's milk cheese topped with honey.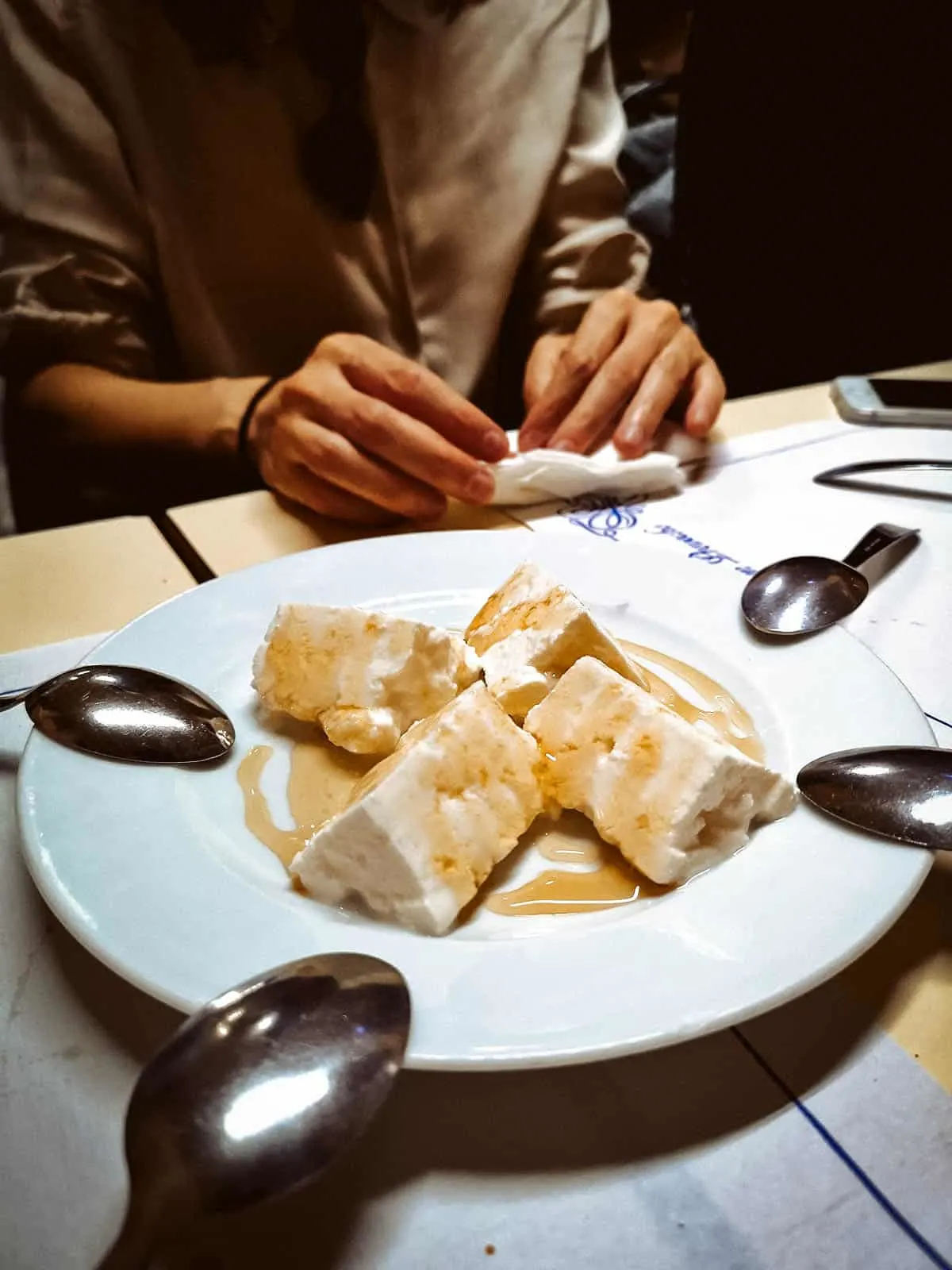 Here's the gang showing our appreciation for Paula, and vice-versa. Thank you so much Paula for taking us on this eye-opening walk through Barcelona's bodegas. We ate a lot, we drank a lot, and best of all, we learned a lot. This was one of the best experiences we had in our entire seventeen-day trip through Spain. Muchas gracias Paula y Culinary Backstreets!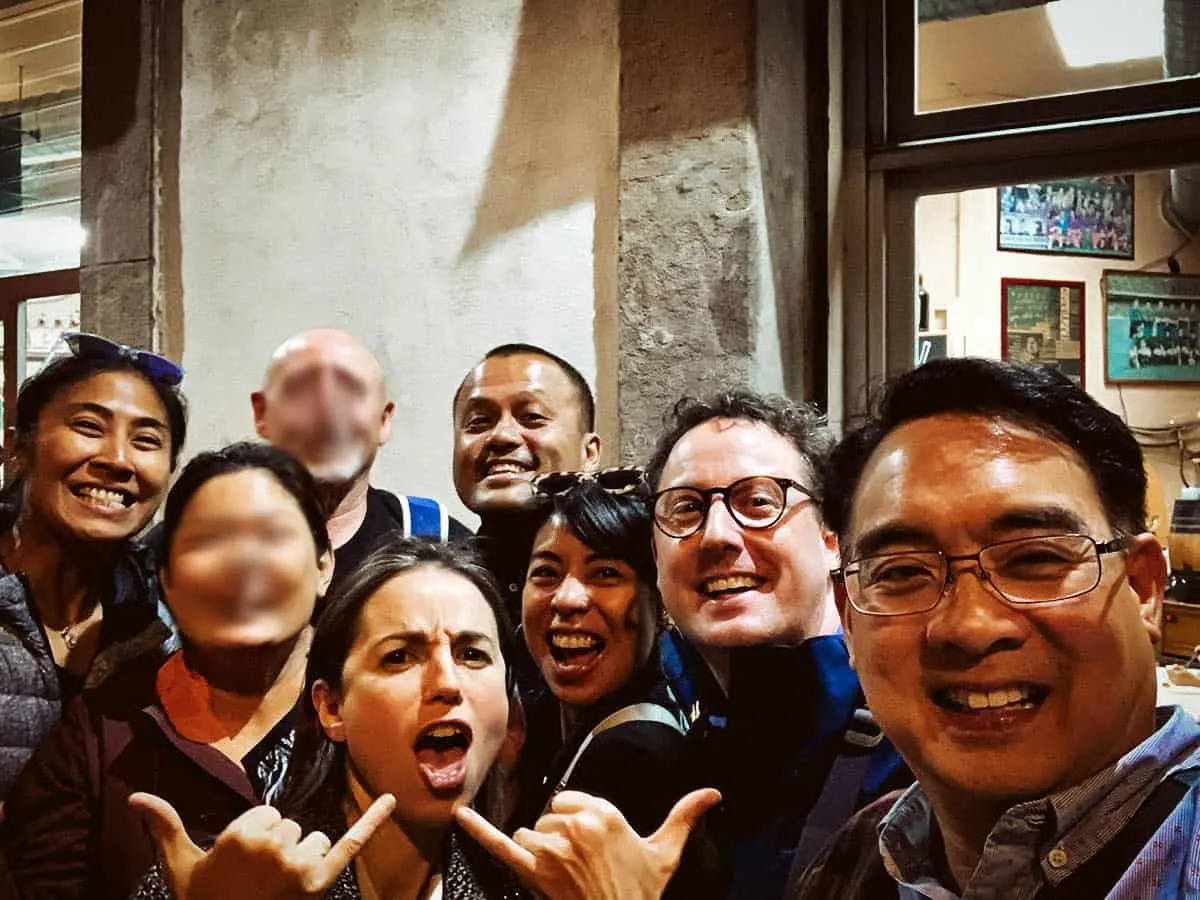 Conclusion
In parting, Paula gave each of us this beautiful eater's guide to Barcelona. Written by Culinary Backstreets and sold on their website, it contains over 150 pages of recommendations to the city's best restaurants, markets, vermuterias, bodegas, and more.
I did a ton of restaurant research before this trip but on the next one, this is all I'll be bringing. An eater's guide written by food-obsessed locals is all we need.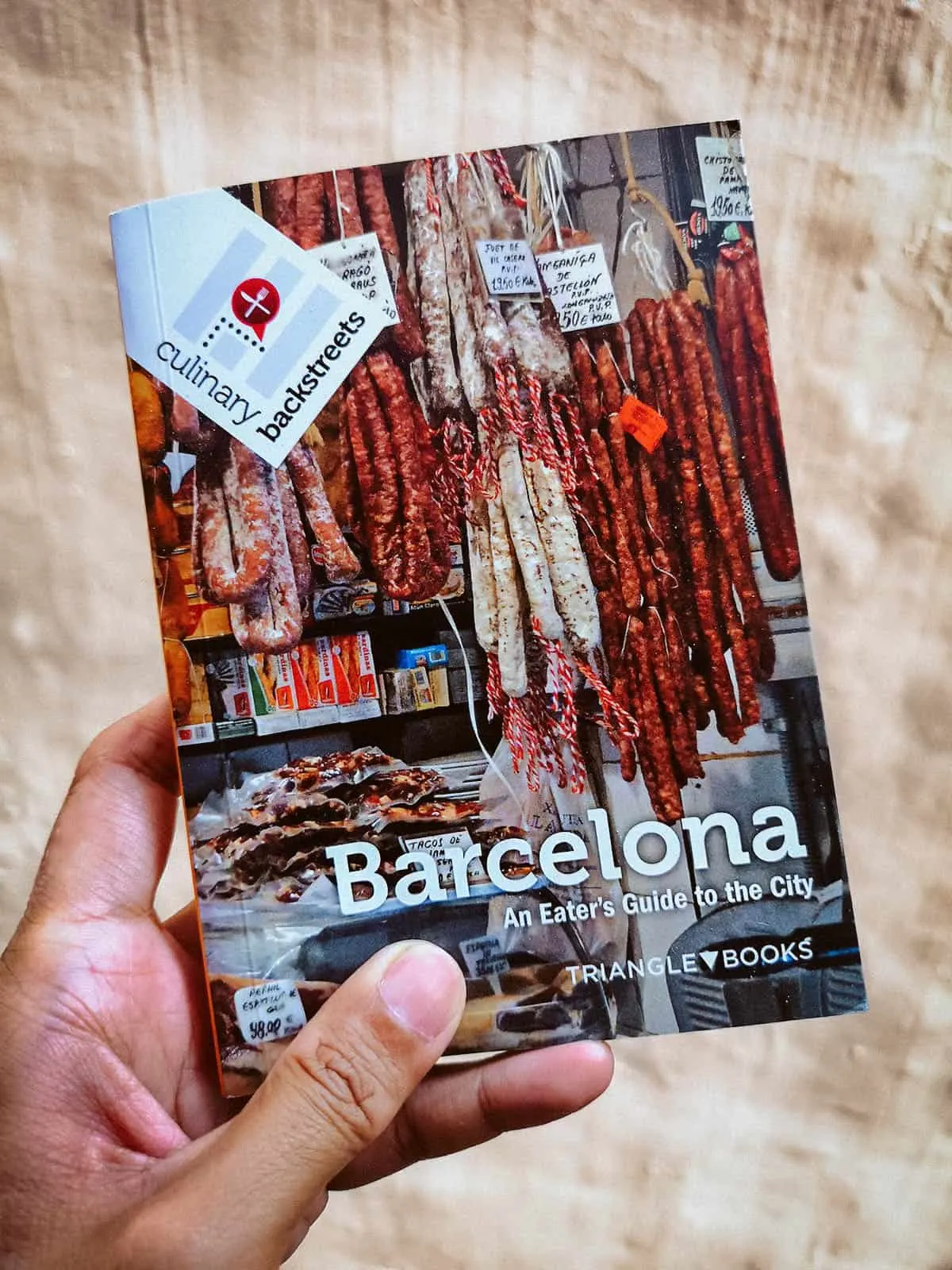 If you've read through this entire post, then it's pretty obvious that I enjoyed this tour immensely. We all did. Paula took us to deeply local places that we never would have found on our own. As described, we would have walked by some of these establishments without even giving them a second glance! These are exactly the types of places I look for on every trip.
With that said, Culinary Backstreet's walks are pricier than other food tours, but in my opinion, they're worth it. Lesser tours are just about the food. These walks give you so much more, and it has everything to do with the people behind Culinary Backstreets.
Culinary Backstreets is comprised of seasoned food writers and correspondents. Read one of their stories and you'll find them touching on cultural and sociopolitical issues that are related to but not limited to food. For a lack of a better word, their approach to the food experience is academic and it carries over to how they craft these walks. In their words:
"Our approach is different than most tour companies. Each of our culinary walks is the outcome of considerable research. We work with academics in the field and our own team of experienced professionals – both guides and local journalists. Our ongoing publishing of articles, from restaurant reviews to features about the intersection of food and culture, constantly feeds new material into the culinary walks, so they evolve and constantly improve. Though costly, we believe that this is how to create the quality experiences we strive for."
If you're visiting Barcelona and want to have an authentic food experience that goes beyond what you see on your plate, then I highly recommend going on this bodega walk with Culinary Backstreets. You can book it via this link.
As described, it costs USD 135 per person and you can get a 5% discount if you key in the FLY4FOOD promo code upon check out. Happy traveleating!
Culinary Backstreets
Website: culinarybackstreets.com
Facebook: CulinaryBackstreets
Twitter: CBackstreets
Instagram: culinarybackstreets
Pinterest: cbackstreets
YouTube: CulinaryBackstreets
Email: [email protected]
Cost: USD 135 per person
Availability: Tues-Sun
Disclosure
Culinary Backstreets sponsored my tour in exchange for an honest account of the experience. The rest of the members in our group paid for their tours. As always, all thoughts, words, and opinions expressed in this post are mine and mine alone.
Some of the links in this post are affiliate links, meaning we'll earn a small commission if you make a purchase or booking at no added expense to you. We really appreciate your support as this helps us keep this website going. Thank you!